Feature Image: Pithoragarh-Tanakpur Road widening work going and muck being dumped in Saryu river under Chardham project. (Manoj Matwal, April 2019) 
The Supreme Court appointed Ravi Chopra committee has submitted the report on Char Dham Road. It has not said NO to the all weather road which is the slogan of Gadkari and rest of the Union Government. It has in fact, going by the Union Ministry of Road Transport's' circular, as late as 2018, suggested that the road be of 5.5 m width with necessary precautions. It has provided elaborate justifications and reasons why it took this decision. And yet twelve govt members of the committee, claiming in the name of religion (as per interview by one of these twelve members in media today) has insisted that the road should be of 10 m width. Not bothering that religion was not part of their mandate, not bothering what impact such a road will have on the Ganga (and the impact will be massive, we will know the full extent only if the impacts are scientifically assessed), on Himalayas (again starting from deforestation, landslides, flash floods and so on will be unbelievably huge) and on people and future generations. One only hopes the Supreme Court will see through the mindlessness of the economic fundamentalism being pushed in the name of religion and not allow the proposal to go ahead.
The Union Environment Ministry is clearly out to destroy even the Bhagirathi Eco-Sensitive Zone by sanctioning the Zonal Master Plan without due process and in complete violation of the letter and spirit of the Bhagirathi notification. This will further open the flood gates for destruction of remaining stretch of Bhagirathi, considered original Ganga stream as it flows from Gangotri. Again one hopes the judiciary will strike this down.
One wonders what is the NMCG, National Mission for Clean Ganga, whose mandate is Ganga rejuvenation, is doing amidst all this? Why is it silent?
GANGA Uttarakhand Char Dham Road Project: SC panel submits two reports Ravi Chopra in his "Main Report" has referred to a road ministry's circular of 2018, which had recommended adopting 'intermediate carriageway of 5.5 meter" for hilly terrains. He has said this was discovered by some members after the critical discussion on 'road width'. He said, had the circular been available earlier there would have been no voting. Chopra, in his report, said he sought members' opinion in view of 2018 circular, but 13 of them still supported double lane with paved shoulder, notwithstanding the evidence.
-Stating that the division of the HPC as unfortunate for the Himalayas, Chopra said the allegation of undermining the majority vote was unfortunate. "If the majority chooses to tread a path which contradicts the court's directions and TORs and even ignores MoRTH's own 2018 circular, I believe that the most judicious way is to leave it to the wisdom of the Supreme Court. That is what I have done." https://timesofindia.indiatimes.com/india/split-on-char-dham-project-sc-panel-submits-2-reports/articleshow/77044969.cms
Approval accorded to Zonal Master Plan of Bhagirathi ESZ Uttarakhand friends say: "Disgraceful effort to put a false picture in the official press release." https://pib.gov.in/PressReleseDetailm.aspx?PRID=1639387  (17 July 2020)
HYDRO POWER PROJECTS
Opinion Stop Hydropower in North East They don't fill any gap; are financially unviable; lead to displacement; there's a high risk of geological mishaps. These projects are financially unviable and are likely to burden India's financial institutions with non-performing assets, while adversely affecting the health of state electricity distribution companies.
– An analysis of the Etalin Hydropower (3,097 Megawatts) project shows cumulative cash flow during the loan life-cycle of 23 years to be negative, despite a highly favourable levelled tariff of Rs 4.32 per unit. At prices being offered in auctions for round-the-clock power supply today (prices are likely to drop further in future), the project will be unable to even service its loan of Rs 17,500 crore.
– There is a supply glut in the energy market. The market for energy is saturated and there is a negligible shortage in peak demand (which was only 0.7% in the last 18 months). This is likely to continue in the future, well beyond the current decade.
– This rationale is no longer applicable for new projects, as hydropower loses ground to hybrid solutions — a mix of solar and spare thermal capacity, for instance — that offer round-the-clock power and are priced at low, competitive rates. Power storage — specifically battery technology — is rapidly evolving. A report by McKinsey & Company, The New Rules of Competition in Energy Storage, predicts: "The total cost of energy-storage systems should fall 50 to 70% by 2025 as a result of design advances, economies of scale, and streamlined processes".
– Regular landslides in the monsoons have also been disruptive. A study by the Institute of Earth and Environmental Sciences, University of Potsdam, Germany, estimates that at least 25% of hydropower projects in the India, Nepal and Bhutan's Himalayas are likely to face severe damage from quake-triggered landslides. Then there are risks from glacial melt and lake bursts due to the unpredictable nature of the volume and velocity of the water.
– hydropower projects will lead to further deterioration in distribution companies (discom) finances. If the government supports the Etalin Hydropower project, for example, by mandating a Power Purchase Agreement at Rs 4.32, the estimated implicit taxpayer-funded subsidy (considering the current opportunity options available) would be about ~11,480 crore. This does not consider the inevitable power transmission losses from a remote location in the Northeast to its user destination. Moreover, The economics of power generation are likely to change substantially in favour of consumers in this decade, which will affect revenues and profitability.
– The existing projects in the Northeast do not pass even the most basic tests in the social responsibility checklist that financial institutions seek from their borrowers. https://www.hindustantimes.com/analysis/stop-building-hydropower-projects-in-the-northeast/story-p4eYlb3Bpcd09QLee5EU5L.html   (17 July 2020)
Here Ashwini Chitnis & Shripad Dharmadhikary explain why Etalin project,  if  started, will be a stranded, unviable asset for Arunachal Pradesh and the nation.  https://arunachaltimes.in/index.php/2020/07/18/hydropower-push-in-arunachal-looming-threat-to-stranded-assets/   (18 July 2020)
Himachal Pradesh Shongtong Karcham Story a Stark Precursor to Dilution of Environment Laws  Tikendra Singh Panwar, former mayor of Shimla, writes how norms are being violated in implementation of the 450 MW Shongtong Karcham HEP in Kinnaur dist in HP on Sutlej River and how communities are fighting against odds and state is siding with the violators. https://www.newsclick.in/Shongtong-Karcham-Story-Stark-Precursor-Dilution-Environment-Laws  (18 July 2020)
Governor seeks early investment clearance for Renukaji dam project -In a written communiqué to Union minister for Jal Shakti, water resources, river development and Ganga rejuvenation Gajendra Singh Shekhawat, the governor said that the state is committed towards fulfilling the objectives of the project and all technical clearances have been obtained. https://www.hindustantimes.com/cities/hp-governor-seeks-early-investment-clearance-for-renukaji-dam-project/story-pbxTnQaTv68ytKGwWNkPlJ.html   (14 July 2020)
DAMS
Sardar Sarovar Dam Even after three decade, affected await rehabilitation 
Detailed account of how poor is the rehabilitation of Sardar Sarovar affected people. https://sabrangindia.in/article/three-decades-many-sardar-sarovar-dam-affected-persons-still-await-rehabilitation  (13 July 2020)
Telangana Rain spells trouble for Kondapochamma oustees This report shows how poor is rehabilitation and how insensitive is the Telangana govt. https://www.thehindu.com/news/national/telangana/rain-spells-trouble-for-kondapochamma-oustees/article32109111.ece  (17 July 2020)
Andhra Pradesh NGT removes stay on Rayalaseema lift irrigation project NGT on July 13 removed the stay on the Rayalaseema lift irrigation scheme and gave the green signal for calling tenders for it. The NGT, however, directed the Centre to explain whether the project requires environmental clearances and the case has been posted to August 11. Strangely this was based on contention of the state govt that these are mostly old projects with minor modifications and are within the water allocation by tribunal. https://timesofindia.indiatimes.com/city/vijayawada/ngt-removes-stay-on-rayalaseema-li-project/articleshow/76946618.cms   (14 July 2020)
Tamil Nadu Tamaraipakkam dam to be renovated at a cost of ₹4 cr The Water Resources Department (WRD) will soon begin improvement works at Tamaraipakkam dam, one of the oldest across Kosasthalaiyar river. Built in 1868, this structure plays a crucial role in storing and diverting surplus water for Chennai's drinking water supply. Officials said it was from this dam that surplus water from the Poondi reservoir is diverted to Cholavaram reservoir through a 13-km upper supply channel and further to the Red Hills reservoir.
-Located 15 km downstream of Poondi reservoir, one of the prime storage points for city's water supply, the Tamaraipakkam anaicut, built near Ammanambakkam village, Tiruvallur district, is nearly 190.80 m long. Portions of the dam were damaged during the 2015 floods, said officials. The WRD will soon call for bids to take up repair work at a cost of ₹4 crore.
-During the torrential rains in 2015, the apron of the structure, which helps in controlling the floodwater flow and dissipates the energy of flow effectively, was damaged. The department plans to repair the apron with concrete blocks and also the shutters. Similarly, the four sand vents that help in releasing the silt accumulated at the dam would be repaired. The river banks near the dam have been damaged over the past several years.
-The work would be taken up in August with financial assistance from NABARD (National Bank for Agriculture and Rural Development). "Repairing these structures are important to prevent the anicut from further damage. It is a three-month project. We plan to complete major portions of repair before the onset of the northeast monsoon in October," said an official. https://www.thehindu.com/news/cities/chennai/tamaraipakkam-dam-to-be-renovated-at-a-cost-of-4-crore/article32096165.ece  (16 July 2020)
Kerala KSEB sets-up new state-specific Dam Safety Review Panel KSEB has constituted a new state-specific Dam Safety Review Panel (DSRP), comprising Kerala Water Resources Department (KWRD), Geological Survey of India (GSI) and KSEB officials as members, for inspection of dams. Until now, the DSRP members were mostly from outside the country. But with Covid-19 proving to be a spoilsport, the government decided to form a panel from within the state. https://www.newindianexpress.com/states/kerala/2020/jul/13/kseb-sets-up-new-state-specific-dam-safety-review-panel-2168955.html  (13 July 2020)
INTERSTATE WATER DISPUTES
CAUVERY Poor Cauvery release by Karnataka may aggravate Tamil Nadu's water woes -During its June meeting, the Cauvery water management authority, told the Karnataka government to release 9.19tmcft of water for June and 31.24tmcft for July as prescribed by the Tribunal and later modified by the Supreme Court if the flow in the river basin is normal. The authority is likely to meet in the monthend.
-Sources in the regulation committee said the technical committee will look into the hydro-meteorological observations on Wednesday. A member of the meteorology department will also participate. "The committee will look into all aspects. Since the Kerala government expressed its inability to take part in the meeting due to lockdown measures, no decision will be taken on anything that will adversely affect Kerala," said a source. Good rainfall in Wayanad and Kabini regions will help Tamil Nadu get its due share. https://timesofindia.indiatimes.com/city/chennai/poor-cauvery-release-by-karnataka-may-aggravate-tamil-nadus-water-woes/articleshow/76953015.cms  (14 July 2020)
Mahadayi dispute SC will hear in-person petitions on Mahadayi river: Goa CM -Goa has opposed any diversion of waters of the River Mahadayi which originates in the Western Ghats in Karnataka takes a detour via Maharashtra and enters Goa as the Mandovi. The Mahadayi river basin drains an area of 2032 sq km, out of which an area of 375 sq km lies in Karnataka, 77 sq km in Maharashtra and rest in Goa.
-Both the Goa and Karnataka governments have, for very different reasons, challenged the final award granted by the Mahadayi Interstate Water Disputes Tribunal which in a verdict in August 2018 granted Karnataka a total of 13.42 Thousand Million Cubic Feet (TMC) of water out of their demand for from their total claims of 36.558 TMC of water.
-While Goa has approached the Supreme Court arguing that Karnataka shouldn't be allowed to divert any water owing to the fact that the Mahadayi river is a water deficient river, Karnataka had approached the Supreme Court arguing that the tribunal erred in granting it only 13.42 TMC of water. https://www.hindustantimes.com/india-news/supreme-court-will-hear-in-person-petitions-on-mahadayi-river-says-goa-cm/story-xbdKBlGjpoOKtpUn1Zh4jM.html  (125 July 2020)
KRISHNA Krishna management board to hold online meeting on July 22 CWC, MoWR and all the state representatives to meet online in their once in six month meeting. https://www.thehindu.com/news/national/tamil-nadu/krishna-management-board-to-hold-online-meeting-on-july-22/article32107525.ece  (17 July 2020) 
URBAN RIVERS
Musi, Hyderabad Plan to revive Musi near completion Unfortunate, beautification, shrub removal, fogging works costing crores is termed as river revival plan here. There is no detail of proposed road project probably happening along Musi.
– In a bid to rejuvenate and beautify Musi, the Musi Riverfront Development Corporation Ltd (MRDCL) is setting up rain gardens, removing shrubs to reduce mosquito menace, and clearing silt from the riverbed for free flow of water from Bapughat to Nagole Bridge. The works, taken up at a cost of `8.5 crore, are nearing completion. https://www.newindianexpress.com/cities/hyderabad/2020/jul/18/plan-to-revive-musi-river-nears-completion-2171342.html  (18 July 2020)
RIVERS
SANDRP Blog Rivers stories; Walking across India-I
In this Photo Blog Siddharth Agarwal provides some brilliant photos of the rivers he crossed during the months walking East across India with Paul Salopek on the Out of Eden Walk. Part 1 of three part series covered about 500 kilometers walk over about 28 days, between Agra and downstream of Allahabad. He was lucky to have been able to walk as part of that historic retracing of the human evolutionary path and he invites us to join that trip through these photos. Please join Siddharth, flow with him and share this widely. https://sandrp.in/2020/07/15/river-stories-walking-across-india-i/  (15 July 2020)
Rivers flow slow: Poet Pramod Tiwari Such a beautiful and enlightening poem by Pramod Tiwari. Sadly the senior journalist and lyricist from Kanpur passed away in March 2018. The poem was uploaded on you tube in April 2020. https://www.youtube.com/watch?v=8cfJD8C9QCo
Gujarat Complaint against 'illegal' disposal of polluted water from Ankaleshwar industrial area Salim Patel of of the South Gujarat-based NGO Prakruti Suraksha Mandal has complained to the Gujarat Pollution Control Board (GPCB) about an illegal pipeline disposing of untreated effluent from Ankleshwar industrial area. He said, the polluted water was found to be discharged into Amlakhadi, a tributary of Narmada river, through an illegal pipeline near Piraman village. https://www.counterview.in/2020/07/complaint-against-illegal-disposal-of.html  (18 July 2020)
Assam In-principle approval for tunnel under the Brahmaputra This is the first time that India will be constructing an under-river tunnel, Hindustan reported and it will close to the Chinese border. It will be longer than the underwater tunnel being built by China below the Taihu Lake in Jiangsu province, it further reported.  The four-lane tunnel will link Gohpur and Numaligarh towns. https://www.hindustantimes.com/india-news/centre-gives-in-principle-approval-for-tunnel-under-the-brahmaputra-amid-tension-with-china-report/story-aA9pwE331qA5SUjVcmUOJN.html   (14 July 2020)
GANGA Uttarakhand Govt ambivalent on saints' demand to revoke controversial order-The community of saints in Haridwar has asked the Uttarakhand government to retract an order over declaring a stretch of the Ganga as an escape channel after former CM Harish Rawat apologized on Wednesday for the "mistake" of his administration.
-The Congress-led government had issued an order declaring part of Ganga from Sarvanand Ghat, Bhoopatwala till Shri Daknesheswar Mahadev temple, passing through sanctum sanctorum of Brahama Kund, Har-Ki-Pauri as an escape channel on December 14, 2016. This meant Har-Ki-Pauri ghat is not on the main river Ganga course and thus did not come under NGT directive that prohibits construction activities within 100 metre of the Ganga river.
-The order of the then Congress government meant construction activities could go on, bringing relief to many ashram owners, hoteliers, dharamshala owners and shopkeepers whose establishments were coming under 100-metre belt. https://www.hindustantimes.com/india-news/uttarakhand-govt-ambivalent-on-saints-demand-to-revoke-controversial-order-on-ganga/story-VxfpiRrl2pvyVcF0603oMM.html  (16 July 2020)
Uttarakhand Following some rainfall on July 17, the water level in Yamuna rose in Naugaon area Uttarkashi. The Yamuna basin has been facing significant rainfall deficit this year so far. (Image by Tilak Ramola)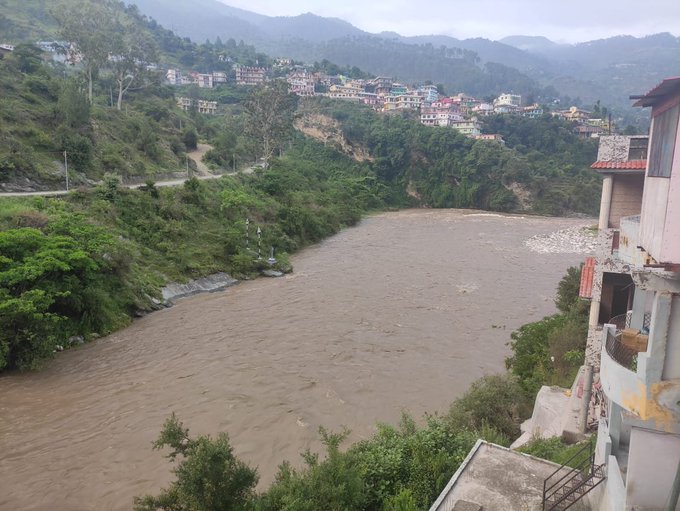 Haryana Recovery of environmental compensation from polluting units remains a challenge for HPCB Despite NGT's clear orders (Nov 2019), polluting units in Haryana aren't complying with the environmental standards and making recovery of compensation an uphill task for the state pollution control board. A consolidated report of the Central Pollution Control Board (CPCB) submitted to the NGT mentions the non-compliance of erring units. https://www.hindustantimes.com/chandigarh/recovery-of-environmental-compensation-from-polluting-units-remains-a-challenge-for-hpcb/story-dpNgHxdBHE6sLW1H1gztEN.html  (14 July 2020)
Delhi Shift Millennium Bus Depot from Yamuna flood plains: NGT panel The committee noted that the DTC had been given a temporary space for establishing the bus depot during the 2010 Commonwealth Games for maintaining and operating low floor buses.
-At the depot, several buses are washed and the waste water is discharged into an open space in the floodplain area, the committee noted. The two-member committee said on inquiry, it was apprised by a DTC representative that the corporation also repairs and maintains buses at the depot. The DTC is operating without consent, it said. https://economictimes.indiatimes.com/news/politics-and-nation/shift-millennium-bus-depot-from-yamuna-flood-plains-ngt-appointed-panel/articleshow/76797770.cms  (05 July 2020)
RIVERS BIODIVERSITY
Dolphin numbers decline in Chambal There are just 68 dolphins left in 435-kilometre-long Chambal river sanctuary which passes through three states (Madhya Pradesh, Uttar Pradesh and Rajasthan), according to the latest census report of Madhya Pradesh forest department. The report came out in last week of June.
– According to the census report, dolphins' number in Chambal river has been reduced by 13 per cent in four years. The decreasing trend is continuing from 2016 when there were 78 dolphins.
-In 2006, the Supreme Court's Central Empowered Committee (CEC) ordered a ban on mining in the sanctuary area to save the flora and fauna of the river. "But illegal sand mining and consumption of water is so rampant that it is putting the whole ecosystem of the river in danger," said Jyoti Dandotiya, chief scientist of the Deori Gharial Eco-park in Chambal sanctuary in Morena.
-PCCF, wildlife, SK Mandal said, "The decrease in number of dolphins is a matter of concern but Chambal is a lifeline for three states and the locals of MP, UP and Rajasthan are withdrawing water daily. Similarly, illegal sand mining is rampant in Bhind and Morena in MP and Dholpur in Rajasthan. Forest teams face so many life threatening attacks while taking actions against illegal sand mafia. Forest team needs support of locals, which they never get."
-WII, Dehradun, scientist Qamar Qureshi, who is doing a research on dolphins in Chambal, said, "The maximum carrying capacity of dolphins in Chambal is 125. It's a rare species of dolphins – platanista gangetica – and has been declared endangered by International Union for Conservation of Nature (IUCN). It requires at least 3 metre depth and 266.42-289.67 m3 per sec flow of water for sustainable habitat."
-"But perennial problems like illegal extraction of sand from the river bed and water withdrawal projects in Morena, Dholpur and Kota are disturbing the whole ecosystem of the river and decreasing the water level and flow. It needs to be addressed properly to save the dolphins as well as ghariyal," he added.
-"The dolphins were spotted for the first time in 1985 in Chambal river near Etawah. That time, the number was more than 110 but poaching reduced the number. Now poaching is not at all a problem but unfavourable habitat is. Not only dolphins, but population of ghariyals has also been affected," said Dandotiya. https://www.hindustantimes.com/india-news/dolphin-number-dips-in-chambal-river-experts-raise-concern/story-cxZFf1gM2TI46Q5y4Zu1jO.html  (15 July 2020)
Maharashtra New genus of fresh water fish found -The new fish genus is called 'Waikhomia hira'. 'Waikhomia' is derived from the surname of Professor Waikhom Vishwanath, a well-known taxonomist with the department of life sciences of the Manipur University, while hira means diamond.
-"The name 'Waikhomia' for the new genus is a tribute to Professor Vishwanath Waikhom for his exemplary contributions to improving our knowledge on freshwater fish of north-east India, and for promoting fish taxonomy as a science in the country," said Dr. Rajeev Raghavan, an assistant professor of Kerala University of Fisheries and Ocean Studies (KUFOS).  https://www.hindustantimes.com/india-news/new-species-of-freshwater-fish-found-in-maharashtra-named-after-manipur-professor/story-sMryQvRIbQBDGy3f0cbfeP.html  (02 July 2020)
Uttar Pradesh Four carnivorous species of tortoise released into Ganga The stretch of the Ganga river from Rajghat to Ramnagar Fort was declared Tortoise sanctuary, a wildlife protected zone, in 1989 under the Wildlife (Conservation) Act-1972, while the turtle breeding centre was established at Sarnath in 1987.
-Turtle eggs were procured from the Chambal river for hatching at the Sarnath breeding centre before releasing in the sanctuary area in the Ganga after attaining adulthood.
-According to records of the Kashi Wild Life Division, so far over 42,000 turtles were reared at the Sarnath breeding centre in Sarnath and released into the Ganga. Till 1993, when the first phase of Ganga Action Plan (GAP) had been completed, 28,920 tortoises were dropped into the Ganga. With the end of GAP-I, the tortoise breeding project was also stopped in 1993. Later, the forest department revived the programme in 2005. https://timesofindia.indiatimes.com/city/varanasi/four-carnivorous-species-of-tortoise-released-into-ganga/articleshow/76412252.cms  (17 July 2020)
FISH, FISHERIES, FISHERFOLKS
Goa 'Marina in Zuari will affect fishing' Traditional fishermen in Zuari bay have expressed apprehensions about the adverse impact a marina in the river would have on their fishing activities and have claimed that hundreds of them stand to lose their livelihoods.
-In a statement, the fishermen, under the banner of the All Goa Small Scale Responsible Fisheries Union, alleged that the marina in the Zuari would have long-term and irreparable impacts on the ecosystem. Fishermen along the northern banks at Odxel, Nauxim, Cacra and Siridao and at Sancoale and Chicalim in the south have been traditionally carrying out fishing activities since times immemorial.
– An area of one lakh square metres will be taken up by the marina while a vast area will be reclaimed on the waterfront. This will result in different types of impacts, some of which will be long-term and irreparable, the union stated.
Zuari river is a known fish biodiversity hotspot, with many species of shellfish comprising bivalves, crabs and other species.  The union demanded the scrapping of the project in the interest of protecting the ecology and people's livelihoods. https://timesofindia.indiatimes.com/city/goa/marina-in-zuari-will-affect-fishing/articleshow/76778782.cms   (04 July 2020)
Andhra Pradesh Industrial effluents pose threat to Pulasa fish in Godavari Now it is the time for fish lovers who await eagerly to taste 'Pulasa', only available between June and August and its cost also varies depending on it size and weight. People like to purchase Pulasa though its price is skyrocketing. People enjoy its taste.
– The tasteless 'Ilisha' metamorphoses itself into a delicious Pulasa. The biological name of Pulasa is Hilsa. The fish starts it journey upstream for breeding as the sweet Godavari water starts merging into Bay of Bengal. The fish is available in the sea with the name of Ilisha during the rest of the year. Many people mainly officials and politicos send Pulasa to their top bosses to get their blessings. As the travel of Ilasa ends at Sir Arthur Cotton Barrage at Dowleswaram many fishermen wait at the barrage to catch it.
– Ilasa swims 90 km from Bay of Bengal to Sir Arthur Cotton Barrage at Dowleswaram for 12 hours and transforms into a tasty variety. A matured Hilsa lays nearly 0.1-2.0 million eggs in fresh water and after one year it reaches into a size 40-60 cm prior to their migration into freshwater. One kg of Pulasa costs Rs 2,000-4,000, the price may increase depending on its size and weight. But the industrial effluents being released into River Godavari posing problem to Pulasa. https://www.thehansindia.com/andhra-pradesh/industrial-effluents-pose-threat-to-pulasa-fish-in-godavari-633868  (16 July 2020)
RIVERBED MINING
Uttarakhand 2 kids died in mining pit In a tragic incident, two kids from poor families have died after falling into deep illegal sand mine pits in Khoh river, Kotdwar on July 12, 2020. The state govt has been promoting large scale riverbed mining in the state under river training policy. The riverbed are being dug in unsustainable manner. The report says dug up minerals have to be put along the banks but govt is selling it off. This is totally avoidable disaster made to happen.
This slideshow requires JavaScript.
Clips of local media report on the tragic incident. 
https://www.loksanhita.com/uttarakhand/kotdwar-two-innocent-children-drowned-in-khoh-river-due-to-drowning/  (12 July 2020)
Kotdwar people have pleaded administration to put a halt on riverbed minerals storage activities in village area during night hours as it was creating huge noise pollution. http://brightpost.in/rural-unhappy-with-the-movement-of-tractors-and-dumpers-in-storage-contrary-to-the-standards-made-in-the-middle-of-the-village/  (18 July 2020)
Excessive riverbed mining activities have been affecting people and water sources in Kotdwar. https://dainikjayantnews.com/overload-damparo-sai-sadke-wa-peyjal-line/   (10 July 2020)
Himachal Pradesh Mining mafia active in Una's Swan river Illegal mining of sand and gravel in the Swan river in Una district is going on with impunity, mainly during early morning hours. The mining mafia uses a large number of tractor trolleys to carry out the illegal activity near the main bridge over the Swan that connects Santoshgarh with Tahliwal. The mining in the riverbed and 100 metres from the bridge is banned during the monsoons because of the threat of flash floods. Still the authorities concerned have turned a blind eye to the illegal activity in the river.
-The Union Ministry for Water Resources had given the state government over Rs 1,100 crore in the past one decade for the canalisation of the river and its 70 tributaries. Through the canalisation of the river the state government had managed to reclaim thousands of acres of fertile land from the floodplains of the river. The Swan is also critical for maintaining the underground water level in Una district.
-However, illegal mining is now threatening the canalisation project on the Swan and also severely damaging the ecology of the river. According to Prabhat Bhatti, an environmental activist, the area where illegal mining is taking place is the habitat and breeding ground of rare bird species such as Sarus crane. https://www.tribuneindia.com/news/himachal/mining-mafia-active-in-unas-swan-river-109913   (18 July 2020)
Haryana NGT forms joint committee on Yamuna mining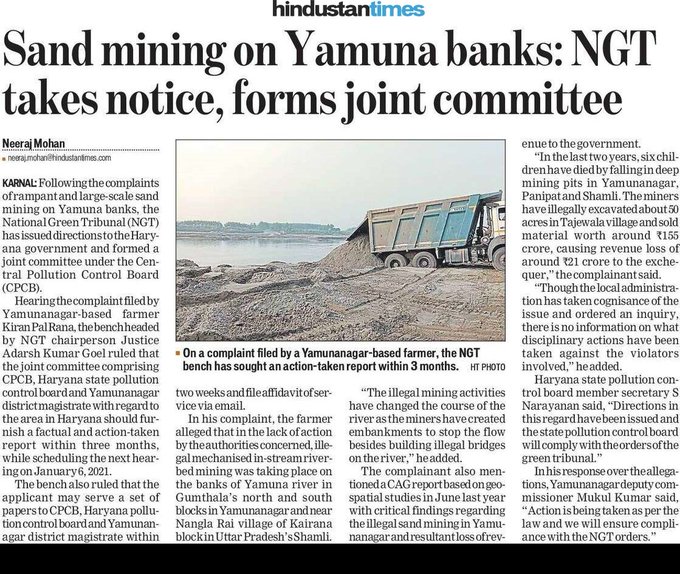 Hearing the complaint filed by Yamunanagar-based farmer Kiran Pal Rana, the bench headed by NGT chairperson Justice Adarsh Kumar Goel ruled that the joint committee comprising CPCB, Haryana state pollution control board and Yamunanagar district magistrate with regard to the area in Haryana should furnish a factual and action-taken report within three months, while scheduling the next hearing on January 6, 2021. https://www.hindustantimes.com/cities/sand-mining-on-yamuna-banks-ngt-takes-notice-forms-joint-committee/story-B61gaBR0SRLlTfd25acUzM.html  (17 July 2020)
पानीपत- यमुना खादर के राई नांगल गांव में किए जा रहे रेत के अवैध खनन पर हरियाणा एवं पंजाब हाई कोर्ट ने अगले आदेश तक रोक लगा दी है। नेशनल ग्रीन ट्रिब्यूनल ने भी इस मामले में संज्ञान लिया है। कुंडला, पत्थरगढ़ और तामशाबाद के ग्रामीणों ने खनन वाली जमीन पर अपना दावा जता कर हाई कोर्ट में अपील दायर की थी। इस मामले की अगली सुनवाई अब 5 अगस्त को होगी। -उत्तरप्रदेश सरकार ने अप्रैल 2020 में राई नांगल के नाम से पांच वर्ष के लिए खनन का ठेका छोड़ा था। कुंडला पत्थरगढ़ के ग्रमीणों ने इसका खुल कर विरोध किया। दोनों पक्षों में विवाद गहरा गया। https://www.jagran.com/haryana/panipat-high-court-stay-on-illegal-mining-of-sand-in-forty-acres-20524600.html  (18 July 2020)
Andhra Pradesh New corporation to track sand mining The state cabinet on Wednesday (July 15) decided to set up a separate corporation to monitor mining and supply of sand. It will be part of the ministry of mines and have no truck with AP Mineral Development Corporation (APMDC).
The government had changed the sand policy last year and cancelled mining and supply activity by private contractors. APMDC had been engaged in this activity for the past one year. However, with complaints pouring in, the government decided to create a separate corporation to streamline mining and supply. The new corporation will monitor all sand mines in the state, sand stock points and vehicles transporting sand to avoid smuggling.
-The cabinet also cleared the proposal to bring in AP Fish Feed Control Act 2020 to ensure quality feed for the aqua sector. About Rs 17,000 crore worth of fish feed is marketed every year in the state and the farmers are losing heavily due to spurious or poor quality feed, the minister said. The government would open laboratories to check the quality of the feed, the minister said. https://timesofindia.indiatimes.com/city/vijayawada/new-corporation-to-track-sand-mining/articleshow/76986713.cms  (16 July 2020)
Goa 'Allow mining till 2037' govt to SC -The Goa mining case may come up for hearing in the apex court on Thursday (July 16). Mining in Goa came to a standstill in March 2018 after the Supreme Court quashed 88 mining leases. https://www.news18.com/news/india/mining-in-goa-should-be-allowed-till-2037-says-state-govt-ahead-of-sc-hearing-2717563.html  (15 July 2020)
WETLANDS, LAKES, WATER BODIES
Maharashtra Govt 2018 mangrove report challenged The Conservation Action Trust has approached the Bombay High Court to save a very large tract of mangrove land in Goregaon. In a public interest litigation filed in the court, the non-government environment conservation group has alleged that instead of being restored, the mangroves have now been subjected to "change of user from no development zone to a residential and special development zone".  https://mumbaimirror.indiatimes.com/mumbai/civic/goregaon-mangrove-land-ngo-calls-2018-state-report-misleading-wants-change-in-dp/articleshow/76931147.cms   (13 July 2020)
Goa Biodiversity board to use GIS data to map wetlands -Goa State Biodiversity Board (GSBB) will seek access to information on the geographic information system (GIS) mapping of all water bodies in Goa currently being undertaken by the water resources department (WRD).
The board's member secretary Pradip Sarmokadam said the biodiversity management committees (BMC), formed under the board in villages across the state, are in the process of identifying wetlands and water bodies in their jurisdictions.
He said the committees are also carrying out detailed mapping of the biodiversity supported by these wetlands and water bodies. The WRD data will help them in the process, he said.
-This is the first time such mapping of the state's water bodies is being undertaken. Except for rivers, the exact location of all other water bodies will be mapped during the exercise, including lakes, ponds, wells, nullahs, streams, springs and even reservoirs. With GIS mapping, WRD aims to enable online monitoring of any activity in and around a water body, thus making faster action possible in case of any violation.
-Meanwhile, the Goa State Wetland Authority is in the final stages of notifying the century-old Bondvoll lake in Santa Cruz as Goa's first official wetland. Sarmokadam said that work has already begun to get 35 other areas notified as wetlands. https://timesofindia.indiatimes.com/city/goa/biodiversity-board-to-use-gis-data-to-map-wetlands/articleshow/74543121.cms  (09 March 2020) 
WATER OPTIONS
Punjab Village youths revive filty pond Interesting report on efforts being made by Baljinder and Gurpreet of Shreenh Wala Brar to free their village pond of encroachments and filth in Ferozepur. https://www.tribuneindia.com/news/features/filthy-pond-turns-into-lake-two-young-men-change-the-face-of-their-village-111836  (12 July 2020)
Haryana Diversification can save 954 bn litres of water The claim of saving 954 MCM of water in single crop season in Haryana seems a bit exaggerated. https://www.tribuneindia.com/news/haryana/government-diversification-can-save-954-bn-litres-of-water-in-haryana-114091  (17 July 2020)
Uttar Pradesh Interesting experiment by young farmers of Banda: बांदा के बबेरू ब्लॉक में पड़ने वाले गांव अंधाव में 'खेत का पानी खेत में- गांव का पानी गांव में' अभियान के तहत जल संरक्षण के लिए नया प्रयोग शुरू किया गया है। शोध छात्र और जल संरक्षण के लिए काम करने वाले पर्यावरण कार्यकर्ता रामबाबू तिवारी ने बताया कि गांव की 300 बीघे खेतों में मेड़ बनाकर बरसात के पानी के संग्रहण के लिए काम किया जा रहा है। रामबाबू ने बताया कि सरकारी मदद के बिना गांव के लोग इस विधि ने न सिर्फ बरसात के पानी के सदुपयोग की दिशा में काम कर रहे हैं बल्कि इससे अपनी खेती-किसानी के लिए लाभ लेने की तैयारी में हैं। https://navbharattimes.indiatimes.com/state/uttar-pradesh/others/banda-village-experiments-for-conservation-of-rain-water-in-fields/articleshow/76477595.cms  (20 June 2020)
GROUNDWATER
Details of online course entitled: Water, Society and Sustainability offered by IIT Kharagpur.  The course can be meaningful to anyone interested in and working on water.
Key highlights:
– discusses emerging frameworks on water research including socio-hydrology, hydrosocial, political ecology and critical physical geography;
– focuses on South Asia and explores how and why ongoing water research can be mobilized within the South Asian context
– covers wide range of case studies from rural, urban and peri-urban contexts – establishes why radicalizing water research is imperative during the Anthropocene (or the 'Capitalocene')
3:43 mins introductory clip that captures the essence of the course: https://www.youtube.com/watch?v=pWvkN5qdvL8
Enrolment and registration link: https://swayam.gov.in/nd1_noc20_hs46/preview   
For any further clarifications relating to enrolment and registration, you can write to: Saurabh Sharma (saurabhsharmasep18@gmail.com) and/or Shreyashi Bhattacharya (shreyashi.b123@gmail.com).  
Uttar Pradesh Presence of heavy metals in western UP's groundwater A groundwater toxicology study, conducted in nine districts of western UP by CSIR-IITR, Lucknow, has found high levels of calcium, iron, fluoride, sulphate and other elements in a majority of villages and urban areas, making the water unfit for drinking.
-The chemical content test of the Hindon basin groundwater was commissioned by the UP groundwater department last year. The study revealed that, among all west UP districts, Agra"s groundwater was the worst.
-The report said that a total of 337 villages and urban areas of Saharanpur (96), Muzaffarnagar (70), Shamli (29), Meerut (26), Baghpat (33), Ghaziabad (21), Agra (25), Firozabad (13) and Gautam Buddh Nagar (24) were selected for groundwater sampling.
-Of the total samples, groundwater in 237 villages has excessive iron, excess calcium in 240 villages, high levels of fluoride in 68 villages and sulfate in 12 villages. Groundwater in the rest of the villages has various other metal contents in excess. https://www.outlookindia.com/newsscroll/presence-of-heavy-metals-detected-in-west-up-groundwater/1865722  (14 June 2020)
Haryana Fall in groundwater table reason behind crack – Experts attribute widening of the crack to the depletion in the ground water table. They say Ateli block has recorded a fall of 46 m in the water table in the past two decades, rendering subsurface formation weak and fragile, resulting in the wide crack.
-This has come to fore during the preliminary investigation by an Assistant Geologist on the direction of Deputy Commissioner RK Singh. "The average water level of Ateli block was 25.93 m in June 2000. In the next two decades, the water table declined drastically. It fell to 71.69 m in June 2019 with the average fall of 45.76 m in the past 19 years. One of the major causes is overexploitation of ground water," states the inquiry report. It recommends a survey by the GGSI. https://www.tribuneindia.com/news/haryana/decline-in-water-table-caused-crack-in-mahendragarh-field-experts-112461   (14 July 2020)
URBAN WATER
NGT asks govt to ban RO-purifiers that demineralises water -NGT on July 14, directed the MoEF to issue by the year-end a notification banning RO purifiers where total dissolved solids (TDS) in water are below 500 milligrams per litre. "Even after one year, further extension of time has been sought by MoEF on the ground of lock-down. Let necessary action be now completed positively by December 31, 2020," the bench said. The NGT had earlier said the delay in compliance with its order is causing harm to public health and environment and it be complied with expeditiously. https://www.thehindu.com/news/national/ngt-asks-govt-to-ban-ro-purifiers-that-demineralises-water/article32075468.ece  (14 July 2020)
Delhi 75% illegal borewells in 2 districts A DJB report on identified illegal ground water extraction shows that North West and South West districts together account for 75% of the 19,661 illegal bore-wells uncovered by inspectors. In a welcome step, DJB has sealed 7,248 of the 19,661 illegal points. "We will close the remaining 12,413 illegal units in two months," the DJB official assured. Of these 12,413, the two worrisome districts account for 10,104. https://timesofindia.indiatimes.com/city/delhi/digging-deep-75-of-illegal-borewells-in-two-districts/articleshow/76968780.cms  (15 July 2020)
The pilot at Palla is being taken to next level with a 25 acre pond created on Yamuna flood plain at Palla to recharge groundwater during coming flood season. 35 piezometers are installed around the pond, upto a distance of 2 km to check the direction of water recharge from the pond to the aquifers. If the pilot project is successful, it would be expanded to an area of 1,000 acres by creation of reservoirs between Palla and Wazirabad. https://indianexpress.com/article/cities/delhi/delhi-water-storage-plan-at-palla-gets-new-push-with-creation-of-pond-6512776/   (19 July 2020)
Karnal Sensors to keep a tab on water Under the Smart City project, water supply to the Karnal city will be connected to the Supervisory Control and Data Acquisition (SCADA). The board of directors has given the nod for the project, which is expected to make the water supply system more efficient and effectively monitor its working. Tender for the project will be called shortly. https://timesofindia.indiatimes.com/city/gurgaon/haryana-sensors-to-keep-tab-on-water-supply-in-karnal/articleshow/76918932.cms  (12 July 2020)
Madurai Depleting Vaigai dam level The scanty rainfall received during the southwest monsoon and the depleting water level in Vaigai dam have raised concern over the possible shortage in supply of drinking water to parts of Theni and Madurai districts. Despite the onset of the monsoon, Theni district recorded less rainfall. As a result, the water level in Vaigai dam stood at 32.71 feet on Monday (July 13), against the total level of 71 feet.
-The official added that though the current water availability in Vaigai dam may not be sufficient to sustain the drinking water needs for the upcoming months, the additional water received to Periyar dam can be diverted to Vaigai dam. "This will ensure that sufficient drinking water is available," he added. A Madurai Corporation engineer said that there was sufficient water to continue the supply of drinking water on alternate days for the next three months. https://www.thehindu.com/news/cities/Madurai/depleting-vaigai-dam-level-raises-concern-over-possible-drinking-water-shortage/article32071212.ece  (13 July 2020)
Pune Water level falling fast in dams This season, rainfall recorded over Pune district is 404.6 mm as on July 17, 17 per cent above normal for this time of year. Most of the existing reserves in all these dams are from last season, but these, too, are fast depleting in the absence of continuous rainfall during June and July. Due to surplus reserves last season, Pune city had not experienced major water shortage so far. https://indianexpress.com/article/cities/pune/pune-water-reserves-dams-6511037/  (17 July 2020)
JJM/ RURAL WATER SUPPLY
'Nal Se Jal' still has long road to cover  -The 'Nal Se Jal' scheme under this mission targets to provide tap connections to every household of the country till 2024. In the seven months of 2019-20, around 84.83 lakh rural households were provided with tap connections. However, the government figures suggest that out of 19.04 crore rural households in the country, only 3.23 crore households have tap connections while the remaining 15.81 crore households are yet to be provided with tap connections.
-The government said that its objective is to cover nearly 16 crore households in a time-bound manner while ensuring the functionality of already provided connections. This means that 3.2 crore households are to be covered every year, that is nearly 88,000 tap connections are required to be provided on a daily basis. https://www.financialexpress.com/economy/tap-connections-given-to-1-lakh-rural-houses-per-day-modis-nal-se-jal-still-has-long-road-to-cover/2027026/   (17 July 2020)
AGRICULTURE
Assam Switch to flood resistant paddy slow Farmers in flood-prone areas of Assam have been harvesting the water-resistant Swarna Sub1, developed by the Indian Council of Agricultural Research and the Manila-based International Rice Research Institute, since 2009. But the switchover from traditional varieties of paddy has been slow. https://www.thehindu.com/news/national/other-states/amid-deluge-assam-farmer-stands-out-with-flood-resistant-paddy/article32060811.ece  (12 July 2020)
Punjab Farmers trying DSR method -Farmers and agricultural experts say that large scale use of alternative technique — such as the DSR — to plant paddy could be a long-term solution to the issue of stubble burning, a key contributing factor to air pollution, causing breathing problems among people across country's northern region. https://www.thehindu.com/news/national/other-states/punjab-farmers-find-a-better-way-to-grow-paddy/article32060408.ece  (12 July 2020)
EPW Punjab's Agricultural Labourers in Transition Conducted by the Ludhiana-based Punjab Agricultural University's senior economist Sukhpal Singh and Shruti Bhogal, from the Centres for International Projects Trust, New Delhi. This longitudinal study of three decades, in 1987–88 and 2018–19, reveals the transition in agricultural labour households and highlights an occupational shift in agricultural labour households in Punjab. https://www.epw.in/journal/2020/26-27/review-rural-affairs/punjabs-agricultural-labourers-transition.html  (June 2020)
Maharashtra About Kisan connects Shows how Kissan Connect was born starting with 11 farmers when lockdown started to now expanded to 480 farmers that have collectively sold vegetables and fruits worth 2.75 Cr, completing 80 000 deliveries. https://timesofindia.indiatimes.com/india/maharashtra-farmers-field-to-city-business-bears-3-crore-fruit-in-last-4-months/articleshow/77044920.cms  (19 July 2020)
MONSOON 2020
Skymet North India likely to receive good rainfall in 3 days Himachal Pradesh is also witnessing severe rainfall this year so far, but its not mentioned here.
G P Shrama, President, Meteorology Skymet:- Officially, monsoon has covered the entire country. It happened way back in the last few days of June itself. But northern India is having very little rainfall.
-In Rajasthan, for days and sometimes weeks together it does not rain there. Four states in the northern parts of India are not having much rainfall. It has been more than normal in Maharashtra, Gujarat and Madhya Pradesh.
-Bihar, which used to be perennially a deficit pocket has excessive rains, The eastern and north-eastern parts of the country have had good rainfall along with the central parts. The sufferers have been the northern states of Punjab, Haryana including Delhi NCR and parts of Rajasthan. They are rain deficient to the tune of more than 20% at some places. https://economictimes.indiatimes.com/markets/expert-view/north-india-likely-to-receive-good-rainfall-in-3-days-skymet/articleshow/77000459.cms  (16 July 2020)
IMD -The met department has issued a red category warning for most of northeast including Assam and Meghalaya, Arunachal Pradesh, Nagaland and sub Himalayan West Bengal on July 19, 20 and 21 and an orange category warning for entire north and northwest India including Delhi, Himachal Pradesh, Uttar Pradesh, Bihar and Uttarakhand for the same period. Red category warning indicates that local and disaster control authorities take action to prevent any flooding or landslide disasters. An orange category warning indicates that disaster management and local authorities should prepare for disaster control.
-"We have started impact based warnings for 12 cities in India including Delhi, Mumbai, Shimla, Dehradun, Shillong, Guwahati and others. When we have a consensus on the likely impact, we issue an impact-based warning. For example, in the northeast particularly Assam, the rivers are already overflowing so landslides and flooding is likely based on our assessments. The World Meteorological Organisation (WMO) has been emphasising that we alert people on the weather will do. The assessment is based on a multi hazard approach," said RK Jenamani, senior scientist, national weather forecasting centre.
-IMD for the first time this month has started issuing impact-based warning in its daily bulletins so that common people understand the significance of a particular weather forecast and take precautions accordingly. Earlier this month when Mumbai faced extremely heavy rains, IMD had warned of localised flooding; disruption of traffic and utilities. On Saturday, IMD warned of landslides in upper reaches and flooding as the impact of extremely heavy rains in the northeast. https://m.hindustantimes.com/india-news/heavy-rainfall-may-trigger-landslides-in-n-e-bengal/story-fFbQEdhvNK388NjtXTDYdM_amp.html   (19 July 2019) 
FLOODS 2020
SANDRP Blog CWC flood forecasting: Inadequate, non-transparent, inconsistent As over 4 million people in the flood prone areas of North East go through second wave of floods and Ganga basin enters the long flood season, nation's focus should be on one particular agency, Central Water Commission which is not only the only flood forecasting agency, but is also answerable in multiple other ways for the recurring flood disaster. As this article tries to illustrate, CWC's flood forecasting is inadequate, non transparent and inconsistent. Plz Read, Share and send feedback. https://sandrp.in/2020/07/17/cwc-flood-forecasting-inadequate-non-transparent-inconsistent/   (17 July 2020)
Editorial State of deluge It was great to see editorial in a national newspaper on July 17, 2020 as we write this, on the issue of ongoing floods particularly in North East India. It asks some right, tough questions: "Assam needs to jettison outmoded flood control measures… the unplanned expansion of the city… has led to severe encroachments in the wetlands, low lying areas, hills and shrinkage of forest cover. The denuded hills and loss of wetlands lead to artificial floods". But the name Central Water Commission and its sister organisation in North East, the Brahmaputra Board (BB) was completely missing in the Editorial. This is very serious omission. https://indianexpress.com/article/opinion/editorials/state-of-deluge-assam-floods-6509523/  (17 July 2020)
Assam  Brittle embankments add to flood woes A better report on Assam Floods 2020: Ill-maintained or poorly constructed river embankments have added to Assam's flood woes this year. The daily flood summary provided by the Assam State Disaster Management Authority (ASDMA) says 197 earthen embankments have been damaged or breached.
– ASDMA officials admit that the brittle embankments have often compounded flood management plans. A factor is the last-moment schemes submitted by the Water Resources Department that is tasked with maintaining and constructing the embankments. "Embankments are repaired or constructed from the State Disaster Response Fund, but the schemes for release of money were submitted in May, when the flood season in Assam starts. The quality of work suffers obviously," an official said, declining to be quoted.
– "In two decades of study, we have found that human casualty, farm and infrastructure damage have been proportionate to the breaching of embankments. In the absence of long-term alternatives, the government has to invest in sturdier, durable embankments to ensure that the situation does not deteriorate every year," Mr. Partho Jyoti Das said. But this may be problematic: Sturdier, durable embankments can give temporary relief to some areas, but they are essentially flood transfer mechanisms.
– Chief Executive Officer of ASDMA, M.S. Manivannan, said the breaching of embankments had complicated matters as much as periodic high-volume discharge of water from the adjoining hills of Bhutan, Arunachal Pradesh and Nagaland. "But our planning based on the mapping of vulnerable areas has succeeded in rescuing many people. Personnel of the National Disaster Response Force and the State Disaster Response Force were placed ahead of the rainy season in these areas for prompt action," he said.
– Other plans that the ASDMA began working on in 2019 — more than 90 people were killed in floods that year — was the elevated relief shelter, inspired by the traditional chang-ghar (house on stilts) of the Mising people who live in flood-prone areas. Three have been built and four, each to accommodate 1,000 people, are planned in 2021. https://www.thehindu.com/news/national/other-states/brittle-embankments-add-to-flood-woes/article32117698.ece  (17 July 2020)
Kaziranga requires floods to flourish According to experts, flooding does no harm to the Kaziranga national park as it is a unique part of the lotic ecosystem. It is essential for the survival of the flora and fauna of the region. "It is a riverine ecosystem, not a solid landmass-based ecosystem. The system won't survive without water", said P Sivakumar, Director of KNPTR.
– Kaziranga floods help in the replenishment of the water bodies and the floodwaters serve as a breeding ground for the fishes. It also aids in the development and maintenance of the alluvial savanna woodlands, tropical deciduous forests, and wetlands found in the area. Also, since the area is dominated by herbivores, i.e., plant-eaters, the existence of grasslands to feed its population is a prerequisite. The prevalence of annual inundations prevents the growth of woodlands, which may prove fatal for the survival of wildlife.
– When the water rises beyond a certain level, animals move towards Karbi Anglong, which is a natural highland. However, this journey to the safer ground is filled with challenges for wildlife due to the construction of roads and a multitude of human settlements. They often get caught by poachers. Some animals enter human habitations and destroy crops, causing enormous troubles for peasants. Locals sometimes kill animals as a consequence. Some animals meet their end via road accidents. Others are caught by tribals for bushmeat.
– Artificial highlands in KNPTR do help in lowering down animal casualties but it is not feasible to build more as they are likely to cause harm to the natural ecosystem. The Supreme Court's order to ban all types of mining and human activities along the park's southern boundary is an essential welcoming step. The building of animal corridors for the safe movement of animals is the best solution to the problem. Regular patrolling of these passages by forest officials and heavy penalties for poachers can provide some relief. Thus, the real focus must be on ensuring the safe movement of animals to the Karbi hills, which are natural refuge sites for animals. https://edtimes.in/indias-one-ecosystem-requires-annual-floods-to-flourish/  (18 July 2020)
Brahmaputra river at Neamatighat flood forecast site in Jorhat district and Tezpur flood forecast site in Sonitpur district has narrowly missed breaching previous highest flood level on July 17, 2020.  https://twitter.com/CWCOfficial_FF/status/1282559434594512898 https://twitter.com/CWCOfficial_FF/status/1282934721249333248
NEEPCO starts releasing water from Doyang HEP in Nagaland, on July 15, 2020. https://www.sentinelassam.com/north-east-india-news/assam-news/neepco-releases-excess-water-from-doyang-hydro-electric-dam-489080
Arunachal Pradesh Dobu river causing large scale erosion Swelling of the Dobu river due to the monsoon rains has resulted in large-scale damage on both its banks.  The overflowing water coming down from the Maane-Lipin hill has damaged around five acres of standing crops in Nari and Lumpo villages and eroded a large portion of a plantation site near Nari town on the left bank.
-The locals here have sought immediate relief and necessary government help to control the flood and erosion cjaused by the river. Engineers said that "concrete cement embankment with boulder wall covering at least 1.5 km length is necessary for effective protection." https://arunachaltimes.in/index.php/2020/07/17/dobu-river-causing-large-scale-damage-anti-erosion-scheme-sought/   (17 July 2020)
West Bengal TEESTA RISES – SINGTAM UNDER THREAT – 14-YR-OLD SWEPT AWAY IN TEESTA BAZAR A 14-years-old kid Sujal Tamang swept by Teesta River.
While playing football below Teesta Bazar last evening, the ball dropped into the river. Sadly the unlucky kid was swept while trying to fetch the ball. As Teesta rises many settlements along the river have come under threat, one question is being asked repeatedly – Did we really need those dams? https://www.facebook.com/TheDarjChron/posts/1693806220757152   (12 July 2020)
Bihar Sattarghat raod bridge damaged The swollen Gandak on Wednesday (July 15) eroded the north side approach road to newly constructed Sattarghat road bridge and disrupted traffic on this route. Otherwise, the flood situation in East Champaran has slightly improved as the floodwaters of Bagmati and Lalbakeya rivers and their tributaries spread to some areas in 10 blocks were receding fast on Wednesday (July 15).
-CM Nitish Kumar had inaugurated the 1,440-metre-long bridge over Gandak river on June 16 this year through videoconferencing. This bridge connects Gopalganj to East Champaran district. CM Nitish had laid the foundation stone for this bridge on April 5, 2012 and it connects the Ram-Janaki circuit and reduces the distance between Motihari and Chhapra by 45 kms.
Meanwhile, Burhi Gandak river was flowing above the danger mark at Lalbegiya ghat. Floodwaters of Burhi Gandak river spread to the low-lying areas in 27 villages of 9 panchayats of Banjariya block. Floodwaters also entered the official building of Banjariya block and circle offices in East Champaran. The hilly rivers like Tilawe and Bangari were also in spate and playing havoc in the area since Tuesday (July 14). https://timesofindia.indiatimes.com/city/patna/erosion-of-approach-road-disrupts-traffic-on-sattarghat-overbridge/articleshow/76987281.cms  (16 July 2020)
Uttar Pradesh  Water Minister Tells Officials to Organise Pujas to 'Control' Flooding With the water level of several rivers rising in Uttar Pradesh due to continuous rainfall last week, state water resources minister Mahendra Singh has instructed the irrigation department to hold regular pujas (prayers) by those rivers in order to "control" possible flooding in the areas around them. https://thewire.in/government/up-water-minister-floods-puja  (13 July 2020)
Punjab Govt spent Rs 50 cr on flood management CM explains steps taken to reduce flood impacts, only time will tell if these are sufficient. https://www.outlookindia.com/newsscroll/rs-50-cr-spent-on-flood-management-measures-pb-cm/1898052   (18 July 2020)
Krishna Basin Almatti discharge brings down Krishna water level Very interesting report from TOI, Kolhapur. It says:
– Almatti discharge has been increased to reduce backwaters in Sangli district, and already water level at Irwin Bridge in Sangli has come down from 10 ft on Saturday (July 11) to 8.3 ft. Panchaganga river water level declined from 23ft on Saturday to 17.7ft on Sunday. However, eight barrages are still submerged.
– A senior official of the irrigation department's Kolhapur division said: "We are in touch with the north Karnataka irrigation department. On our request, Almatti the discharge has started. By August 15, we will ensure that the dams are not filled beyond 50% to avoid flooding. To achieve this target, frequent discharges will be done."
– In Bhima basin, only Gangapur and Darna dams have filled up to some extent, rest have no increase in storage in first two weeks of July as rainfall has been very low since June. https://timesofindia.indiatimes.com/city/kolhapur/almatti-discharge-brings-down-krishna-water-level/articleshow/76946603.cms   (14 July 2020)
Uttarakhand
Cloudburst and heavy rains have wreaked havoc in Pithoragarh's Munsyari region, leaving three people dead and six missing. The incident occurred in Madkhot area's Tanga village on Sunday (July 19) night and so far two bodies have been rescued. https://www.timesnownews.com/india/article/uttarakhand-cloudburst-in-pithoragarh-3-dead-6-missing/624142  (20 July 2020)
In this July 19 video shared by local people, a season stream some 1 km upstream Lakhwar dam site in Vikas Nagar, Dehradun is seen in flash flood spate following heavy rainfall last evening.
In this July 17 video shared by unknown on social media vehicles are seen stranded in Yamuna riverbed at Gangani in Badkot tehsil Uttarkashi after sudden rise in water level of river.  Portion of a bridge at the site connecting scroes of villagers to district headquarter was washed away in 2013 floods and has not been repaired since then causing great difficulties to villagers to cross the river.
The huge pipe running downhill belongs to 6 mw Gangani small hydro project. The head of project is located some 2km upstream and it keep abruptly changing water level in river suiting to it needs and following rainfall.
URBAN FLOODS
Delhi Following heavy rainfall in national capital on the intermittent night of July 18-19, about dozens of homes got washed away in Anna colony behind WHO building at ITO after flash flood spell in strom water drain knwon as Sen Nursing Nullah passing along settlements as shown in this viral social media video.
It appears there was a sinkhole in the bed of the drain and more information is required on the issue. https://indianexpress.com/article/cities/delhi/delhi-rains-water-logging-minto-bridge-house-collapse-anna-nagar-slum-video-death-toll-6513257/  (19 July 2020)
LANDSLIDES
West Bengal 3 killed in landslide Three people died after a landslide occurred at Lodhama area in Darjeeling district on Friday night (March 13, 2020). The landslide occurred due to heavy rainfall in the area. https://timesofindia.indiatimes.com/city/kolkata/landslide-kills-three-in-darjeeling/articleshow/74624518.cms  (14 March 2020)
Study Previously unknown faults at the foot of the Himalaya discovered -Data from an oil and gas exploration company has now helped geologists discover a series of faults at the foot of the Himalaya. The international team notes that this fault system in the southeastern region of Nepal has the potential to cause earthquakes in the densely populated country.
-The team looked at seismic reflection data, which are routinely collected by exploration companies looking for oil and gas. In this method, seismic waves are produced by small explosions at multiple sources, and many recorders called geophones record the sound echoing off layers beneath the surface. https://www.thehindu.com/sci-tech/energy-and-environment/previously-unknown-faults-at-the-foot-of-the-himalaya-discovered/article32125385.ece  (18 July 2020)
US Geophysics Roger Bilhalm warns about impending Himalayan mega quake and how it could be damaging. Not by quake itself but because of unsafe buildings. A quack of magnitude higher than 8 can happen at one or upto three places, anytime, today or may be in next hundred years, anywhere across 2000 km stretch. But that it will occur is a certainty and Himalayas is the only place on land anywhere on earth where this is a possibility. In 1934 quack, liquefaction of sediment along the rivers and landslide dams on rivers lead to a lot of damage, as also in 1950. https://timesofindia.indiatimes.com/home/sunday-times/all-that-matters/himalayas-the-only-place-in-the-world-where-a-large-quake-can-occur-on-land-says-geophysicist-roger-bilham/articleshow/77043174.cms  (19 July 2020)

ENVIRONMENT
Over 60 former bureaucrats urge Centre to withdraw draft EIA 2020 "It is clear that what the amended policy [EIA] really intends to do is to considerably dilute the existing process of granting environment clearances and to prevent any public scrutiny of the project proponents' actions," the former officers said in their letter. "Many of the changes have, in fact, been proposed to circumvent the past decisions of the NGT and the Courts." https://scroll.in/latest/967280/over-60-former-bureaucrats-urge-centre-to-withdraw-draft-environment-impact-assessment-policy  (12 July 2020)
Assam Govt orders judicial probe into illegal coal mining in Dehing Patkai A release from the CM's Office on Saturday (July 18) said that a one-man inquiry panel comprising retired Gauhati High Court Judge Brajendra Prasad Katakey would "investigate the allegations against coal mining in the sanctuary since 2003". The panel is required to submit its report within six months.
In April, a conditional clearance by the National Board of Wildlife's (NBWL) to a coal mining project by Coal India Limited (CIL) in the Saleki Proposed Reserve Forest (PRF) of the Dehing Patkai Elephant Reserve had sparked protests in the state. https://indianexpress.com/article/north-east-india/assam/assam-orders-one-man-inquiry-committee-to-investigate-illegal-coal-mining-in-dehing-patkai-6512349/   (19 July 2020)
CBI Arrests NTPC Official For Taking Rs 1 Lakh Bribe -The CBI has arrested a manager of the National Thermal Power Corporation (NTPC) Phalodi, Jodhpur, for allegedly receiving Rs one lakh as bribe for clearing bills and allowing smooth functioning of work relating to cleaning of a solar plant of the PSU, officials said on Thursday (July 16). The accused was identified as Om Prakash, the Central Bureau of Investigation (CBI) said.
-In a press release, the probe agency said that a case was registered on a complaint against the manager under Section 7 of PC Act, 1988 (as Amended in 2018) on the allegations that the accused demanded a bribe of Rs 3,50,000 from the complainant for smooth functioning of the work relating to cleaning of a solar plant at Bhadla in Phalodi, Jodhpur district. https://www.ndtv.com/india-news/cbi-arrests-ntpc-official-for-taking-rs-1-lakh-bribe-2264049  (16 July 2020)
CLIMATE CHANGE
'Understanding what happens between 5,000-8,000 mts on Mt Everest will estimate how glaciers respond to future warming' FASCINATING: Almost all the ice in the Himalaya, which supplies water to hundreds of millions downstream, is found between 5,000 and 8,000 meters, yet we know almost nothing about what the current climate is like up there, says climate scientist and National Geographic explorer Tom Matthews. To better our understanding of climate change, Mathews along with a team of sherpas and climate scientists Baker Perry, Mariusz Potocki, Tenzing Chogyal Sherpa and Tracie Seimon embarked on a journey called 'Expedition Everest' in 2019 to install a network of weather stations on Mount Everest, including the highest weather station on Earth at 27,600 feet above sea level. The purpose behind the project was to perform a detailed scientific assessment of Mount Everest through establishing these weather stations, and crucially, through that, monitor climate variables at elevations critical for regional water resources and how glaciers will respond to future warming.
– Tom Matthews: During the expedition we saw evidence that the Khumbu glacier now sits tens (or even hundreds) of metres below this mark where the glacier used to sit earlier.
– We also saw evidence of an interesting and quite concerning phenomena. We observed widespread melting going on during our climb – meltwater rivers to jump over at Camp II (about 6,500 m above sea level), for example. The air temperatures never climbed above freezing up there during that time of the year, so it was a surprise to see so much melt. The weather station data have since helped us understand this better – it is the intense sunshine that heats the snow/ice surface up to be quite a bit warmer than the air. This is a concern because if it is already melting up there, it means the region's glaciers may be even more sensitive to climate warming than previously thought.
– What we found on Mt Everest, the apogee of the Hindu Kush Himalaya mountain system seems to match observationally with what we have observed in the world's other great high-mountain range, the Andes of South America. At the uppermost reaches of the biosphere — Earth's life zone — the alpine ecosystem is expanding to occupy terrain being exposed by rapidly diminishing ice cover as mountain glaciers melt away. On Mt Everest, we have started with an initial snapshot of data from just one year, and we must fill in the knowledge gaps with additional data through repeated visits and using photographs from past expeditions and images from satellites that help us place our observations into longer-term contexts.
– One of the most pronounced effects of climate change in the Khumbu region is the rapid melting of glaciers. The glaciers in this region have already lost 13 per cent of their total area in the last three decades. What's more alarming is the rate of melting, which has accelerated in recent years.
The rapid melting of these glaciers brings about numerous associated risks for the people and environment in the region, the most prominent being the formation of glacial lakes. The formation of glacial lakes poses great risks to downstream communities due to their potential to cause outburst floods. There are already more than 340 glacial lakes in the region, with two of them considered potentially dangerous glacial lakes. The region has already faced numerous glacial lake outburst floods (GLOFs), among which the Dig Tsho GLOF of 1985 was particularly destructive. In addition to destroying settlements downstream, this event also led to the complete destruction of a newly constructed mini hydropower station and was one of the most consequential events of the time.
– The other implication of climate change for the region has been in terms of water availability. Much of the drinking water used in the villages of Namche, Khumjung and Khunde, which are the largest villages in the region, comes from a glacier 10 kilometres north, called Gyajo Glacier. However, this glacier has been rapidly losing mass and continues to recede at an alarming rate. https://indianexpress.com/article/world/national-geographic-expedition-everest-interview-climate-change-6509017/  (19 July 2020)
Report Snow cover in Himachal shrunk this year Himachal Pradesh GLOF report of Apr 2020 (http://www.hpccc.gov.in/documents/Final%20glof%20report.pdf ) has estimated a marginal decrease — 0.72% — in the snow cover of Himalayan rivers originating in Himachal Pradesh owing to climate change. It said the analysis, aimed at assessing snow cover in the region between October 2019 and May 2020, has shown that it shrunk by 146.23 sq km compared to the same period the year before. https://theswaddle.com/snow-cover-that-feeds-himalayan-rivers-has-shrunk-this-year-report/  (14 July 2020)
Flowers are likely to climb up the Himalayas as temperature rises -Uttarakhand, where the species is the state tree and supports the local economy, reports of early flowering of R. arboreum (locally called buransh) have elicited concerns over the sensitivity and responses of plants to temperature and rainfall (snow) changes in the warming Himalayas.
-Adding to the growing discourse on climate sensitivity of species, their ability to keep pace with the changes, and oncoming conservation challenges, a recent study has predicted that R. arboreum is likely to move towards higher elevations in Himachal Pradesh and Uttarakhand to cope with climate change.  https://india.mongabay.com/2020/07/the-flowers-likely-to-climb-up-the-himalayas-as-temperature-rises/  (02 July 2020)
SOUTH ASIA
Monsoon Rain in South Asia Across southern Asia, more than four million people have been hit hard by monsoon floods that have destroyed homes and structures, drowned entire villages and forced people to crouch on rooftops hoping for rescue. Rainfall has been heaviest this year in northeast India, Bangladesh, Bhutan, Myanmar and Nepal, according to the Southeast Asia Flash Flood Forecast System, which is affiliated with the United Nations. https://www.nytimes.com/2020/07/15/world/asia/monsoon-asia-bangladesh-india.html   (15 July 2020)
Nepal Around Rs 4bn worth of damages to roads and hydro projects The massive landslides and floods caused by the incessant rainfall have damaged physical infrastructure related to roads, bridges and hydropower projects worth around four billion so far in the ongoing monsoon.
– The nationwide torrential heavy rain and landslides have disrupted the power generation of almost 500 MW from different hydropower projects worth around Rs 2.73 billion. According to the Nepal Electricity Authority (NEA), some projects of the NEA and private sector failed to produce energy due to floods. NEA's projects of 240 MW and private sector's projects generating 250 MW were hit. Prabal Adhikari, spokesperson for NEA, said the power production, transmission and supply system across the country were badly affected by the rain. He added that NEA's powerhouses were generating just 40 % of their capacity. Country's largest Kaligandaki 'A' Hydropower Project of 144 megawatts has been closed since Friday as the water level rose in the Kaligandaki River. However, the project officials were able to resume the power supply from Tuesday. Similarly, powerhouses of 70 MW Mid-Marsyangdhi Project, 16 MW Trishuli and 14 MW Devighat of Trishuli are closed. https://thehimalayantimes.com/business/around-rs-4-billion-worth-of-damages-to-roads-and-hydro-projects/   
NEPAL landslides: 1. Three children of the same family died after they were buried under the debris of a landslide in Machhapuchhre Rural Municipality-8 of Kaski, on Friday (July 17, 2020). https://thehimalayantimes.com/nepal/three-of-a-family-died-as-landslide-burries-their-house-in-kaski/
A landslide reoccurred at Pulpingkatti in Bhotekoshi rural municipality-4 on July 16, 2020. Two people of a same family died and three went missing. https://english.khabarhub.com/2020/17/112875/
Here Dave Petley on recent landslides: https://blogs.agu.org/landslideblog/2020/07/14/nepal-landslides/   (14 July 2020)
Bangladesh From some of the heaviest rains in a decade that has created monsoon flood, a third of Bangladesh is already underwater, and at least 1.5 million people are already affected, marooned or have left their homes for higher ground along with their cattle and other belongings with villages and roads flooded. Almost four million people have been hit by this monsoon floods in South Asia. https://countercurrents.org/2020/07/floods-third-of-bangladesh-underwater/   (15 July 2020)
Pakistan Construction on Diamer-Bhasha began Pakistan on Wednesday (July 15, 2020) began constructing with Chinese funding the long-held-up Diamer-Bhasha dam that partly lies in the Gilgit-Baltistan area of Pakistan-occupied Kashmir. This is the second time China has stepped in to finance the project after other potential sources of funding failed to materialise, partly because of Indian opposition to its construction on territory it claims.
– China first pitched in with funds in 2017 but Pakistan withdrew from the deal the following year when China insisted on owning the project once it was complete. On May 14 this year, amid the face-off between Indian and Chinese soldiers along the Line of Actual Control in Ladakh, Pakistan signed a Rs 442-billion contract with a joint venture of the state-owned PowerChina and the Frontier Works Organisation (the military engineering arm of the Pakistan army) for the 450MW project, with China dropping the ownership condition. https://www.telegraphindia.com/world/pakistan-occupied-kashmir-diamer-bhasha-dam-with-china-funds/cid/1786454  (16 July 2020)
Bhutan Great to see Bhutan starting to look at solar, wind among other sources for electricity. https://kuenselonline.com/hydropower-besides-bhutan-looks-at-renewable-energy/  (17 July 2020)   
CHINA
Record floods raise questions about Three Gorges Dam As China counts the costs of its most punishing flood season in more than three decades, the role played by the massive and controversial Three Gorges Dam – designed to help tame the Yangtze river – has come under fresh scrutiny. Fan Xiao, a geologist and critic of Three Gorges said Three Gorges and other major dam projects could even make flooding worse by altering the flow of sedimentation down the Yangtze. The project's need to generate electricity has also undermined flood control, he said. https://www.reuters.com/article/us-china-floods-threegorges/record-floods-raise-questions-about-chinas-three-gorges-dam-idUSKCN24F0E2   (14 July 2020)
The Three Gorges Dam in China is facing second round of flooding this season, second flooding of the Yangtze could be stronger than the first one earlier this month, according to the Changjiang Water Resources Commission. The inflow was 50 000 cumecs on Friday (July 17 2020), to increase to 55000 by evening. The earlier flood this season peaked at 53000 cumecs on July 2.  https://www.chinadaily.com.cn/a/202007/17/WS5f113324a31083481725a3d8.html  (17 July 2020)
-Three landslides in Dunhao town in a mountainous part of Chongqing left six dead, the city's Emergency Management Bureau said. Downriver, fire fighters and others finished filling in a 188-meter (620-foot) break in a dike on Poyang Lake, China's largest freshwater lake, Xinhua said.
-The dike gave way nine days ago, flooding 15 villages and agricultural fields in Jiangxi province, the news agency said. More than 14,000 people were evacuated. China's worst floods in recent years were in 1998, when more than 2,000 people died and almost 3 million homes were destroyed, mostly along the Yangtze. https://www.hindustantimes.com/world-news/floods-kill-14-in-china-as-water-peaks-at-three-gorges-dam/story-ce5QbvNHd8sskXGGBfjbZM.html  (18 July 2020)    
YANGTZE FLOODS: As of July 16, the main stream of the middle and lower reaches of the Yangtze River have exceeded alarming water levels for 12 consecutive days. Some sections of the river will continue to rise, the ministry said.
Local authorities at Taihu, China's second-largest freshwater lake located in the southern part of the Yangtze River Delta region, on Friday morning raised their flood control emergency response status to Level I, the highest in the response system, as water levels continue to rise due to heavy rains.  https://www.globaltimes.cn/content/1194864.shtml  (17 July 2020)
At 8 a.m. on Saturday ( July 18), the inbound flow of water into Three Gorges Dam reached 61,000 cumecs (highest so far this year) while the outbound flow was 33,000 cumecs, with 45 % of floodwater withheld in the reservoir, according to the China Three Gorges Corp. The water level of the reservoir has reached 160.17 meters, more than 15 meters higher than the flood limit level. It is expected that this round of floods will recede after it peaked on Saturday, but a new round of floods is forecast to arrive around July 21.  http://en.people.cn/n3/2020/0718/c90000-9712229.html   (18 July 2020)  
THE REST OF THE WORLD
SANDRP Blog Ireland Supreme Court holds dam operator responsible for 2009 floods In a landmark, trend setting judgement last week, the Ireland Supreme Court delivered an important ruling that the dam operator ESB (Electricity Supply Board), was guilty of negligence in operation of its two dams leading to extensive flood damage to buildings on the campus of UCC in Nov 2009. The Supreme Court verdict came after earlier High Court ruling had also held the dam operators responsible for negligence in operation of the dams.
There is so much we need to learn from this case and judgement to make our dam operators responsible. We also need our judiciary to take note of these cases while dealing with the operation of dams in India. Please, Read, share and send comments. https://sandrp.in/2020/07/14/ireland-supreme-court-holds-dam-operator-responsible-for-2009-floods/  (14 July 2020)
NILE BBC report suggests water level behind GERD may have started rising, but it also says its due to rains. Let us wait and see. https://www.youtube.com/watch?v=wTICrW4iHoU&feature=youtu.be
Report Coronavirus masks, gloves polluting Europe's rivers -Europe's major rivers are littered with surgical masks and medical gloves discarded by people protecting themselves against coronavirus, scientists have reported. The rubbish adds to plastic pollution already clogging the continent's major waterways, research organisation Tara Ocean Foundation told France Inter radio on Sunday (July 12).
-During the month of June, researchers "systematically found gloves and masks" along the banks and beaches of rivers across Europe said Romy Hentinger, head of international cooperation at the foundation.
-The Tara Foundation recently concluded a scientific survey of nine major rivers — the Elbe, Rhine, Seine, Rhone, Garonne, Loire, Tiber, Thames and Ebro — to measure concentrations of microplastics. The expedition from May to November 2019 found them in 100 percent of the water samples they collected, showing that particles had already broken down before being carried out to the sea.
-Contrary to what was once thought, bits of plastic in ocean water are not broken down by UV rays and salt. Around eight million tonnes of plastic end up in the world's oceans every year. https://phys.org/news/2020-07-coronavirus-masks-gloves-polluting-europe.html   (13 July 2020)
Study Fresh groundwater flow essential for coastal eco-system -Researchers have developed the first global computer model of groundwater flow into the world's oceans. Their analysis shows 20% of the world's coastal ecosystems – such as estuaries, salt marshes and coral reefs – are at risk of pollutants transported by groundwater flow from the land to the sea. https://www.sciencedaily.com/releases/2020/03/200309130016.htm  (09 March 2020)
Study Distribution of water during drought -In this study, the researchers investigated the water fluxes in the critical zone with stable isotopes in the water. Stable isotopes in water can be used as "markers" to determine flow paths, age and origin of water. For a comprehensive understanding, it is not only the absolute amounts of the water flows in the landscape that are important, but also how long the water is stored on site and which flow paths it takes. When this information is integrated with data on vegetation dynamics, tracer-based modeling can reveal some of the most important processes in the ecohydrological system, such as where and at what rate plants draw water from the soil. https://phys.org/news/2020-07-drought.html  (17 July 2020) 
Compiled by SANDRP (ht.sandrp@gmail.com)
Also see: DRP News Bulletin 13 July 2020 & DRP News Bulletin 06 July 2020
Follow us on: www.facebook.com/sandrp.in; https://twitter.com/Indian_Rivers