A number of reports have appeared that show that the state of a number of rivers of India, including Hindon, Yamuna, Ganga and Cauvery has improved during the current lockdown due to Covid 19 crisis. That is indeed great news. At Kanpur and Varanasi there are reports that suggest the dissolved oxygen level has gone above 8 ppm and BOD level has gone down below 3 ppm at a number of places. While lack of industrial effluents entering the rivers due to closure of industrial units is a major reason, there are other reasons that has led to this situation, including above average winter rainfall, high snowfall now melting with onset of summer, reduction of irrigation water demand and also stoppage of sand mining along the rivers. The reduction of cultural activities including puja, bathing and cremations have also contributed to this situation.
The biggest lesson we can learn from this cleaner rivers after so many decades is that if our pollution control boards at the state and central level were doing their duty to ensure that no untreated effluents from the industries and also urban sewage enter the rivers, it is not that difficult to achieve cleaner rivers. But unfortunately there is no political will to achieve this simple and legally enforceable objective.
CAUVRY; Karnataka Pandemic keeps pollution away The strict enforcement of 21­ day lockdown due to the coronavirus pandemic has turned out to be a boon for the Cauvery and other rivers in the old Mysuru region as the prohibition of industrial and religious activities has helped reduce the pollution level in river waters.
– According to Karnataka State Pollution Control Board (KSPCB), the quality of water in Cauvery and tributaries like Kabini, Hemavati, Shimsha and Lakshmanathirtha is back to what it used to be decades ago. – While some industries were discharging untreated effluents/chemicals into Cauvery, pilgrims were dumping tonnes of waste materials, including clothes every day.
– The fate of other rivers is not very different. Untreated sewage from residential areas; pollutants from industries; religious waste materials from pilgrims and construction debris had been polluting the rivers. Waters of these rivers contained hazardous elements such as lead, fluoride, faecal coliform and some suspended solids in highly dangerous quantities.
– It is evident that the lockdown has significantly brought down the pollution level in rivers, said the sources in KSPCB. However, the board will shortly test water samples at the Regional Laboratory in Mysuru under the national program, "Monitoring of Indian National Aquatic Resources and the Global Environmental Monitoring Scheme," said the sources.
– Seventy­year­old Marigowda at Karighatta said he had not seen such "clear and pure water" in the Cauvery in the last three decades. According to Nanjamma of Mandya Koppalu, the colour of water used to be greenish black at some places and bluish­black at some others till March 22. Residents of Agrahara, Maralagala, Doddi Palya, Dodda Palya, Chikka Palya, Chinnanayakana Halli and Mahadevapura on the Cauvery course near Srirangapatna wished something could be done to preserve the quality of its Cauvery water after the withdrawal of lockdown. https://www.thehindu.com/news/national/karnataka/cauvery-tributaries-in-old-mysuru-region-look-cleaner-as-pandemic-keeps-pollution-away/article31210429.ece  (30 March 2020)
According to reports, elderly people on the banks of the river in Karnataka say they have not seen the river in this clear form in several decades. With industrial units not working due to the shutdown and effluents not flowing into the river, the Cauvery is breathing free again. What this essentially means is that the river is asking to be given a chance to survive, healthily. All it needed was just one week of a shutdown to show its resilience.  https://thefederal.com/opinion/in-shutdown-cauvery-breathes-life-again-shows-dispute-has-little-to-do-with-river/  (01 April 2020)
Punjab Effluent discharge in Ludhiana's Buddha Nullah drops Amid closure of industry and infrastructure projects, the discharge of sewage and effluents in the Buddha Nullah, dubbed as the city's toxic vein, has also reduced significantly.
Jasvir Singh, sub-divisional officer (SDO) with the discharge wing of the irrigation department said, "The effluent discharge into the nullah has receded significantly after the closure of industry units. On March 2, an average of 255 cubic feet per second (cusecs) of discharge was recorded, on March 16, the discharge fell to 220 cusecs, while on Sunday it was merely 197 cusecs."
Of the total 2,423 industrial units in Punjab polluting the Sutlej, the majority, 2,028, are in Ludhiana, including 228 dyeing and 1,649 electroplating and surface treatment units which directly or indirectly release untreated waste into the nullah. https://www.hindustantimes.com/cities/lockdown-effect-effluent-discharge-in-ludhiana-s-buddha-nullah-drops/story-uUFPVk7yWWxBRW727eztwK.html  (30 March 2020)
Collect samples of Buddha Nullah water, NGT urged As industrial waste seemed to be visibly reduced in Buddha Nullah now, activists have sought from the National Green Tribunal to order sampling of nullah water to check the pollution levels. There have been no industrial production since curfew was imposed in the state.
– The activists have demanded the collection of samples of nullah water should be videographed. A major source of pollution in the nullah, dyeing and electroplating units have been lying closed since lockdown was announced in the country.
– Convener of Naroa Punjab Manch Gurpreet Singh Chandbaja said: "I have written to the NGT panel and requested it to collect water samples from Buddha Nullah. At present, all industries are lying closed owing to lockdown. However, domestic sewage and dairy waste are still being discharged into the nullah."
– The Manch has also demanded sampling of water at inlet and outlet points of all sewerage treatment plants located at Ballo Ke, Bhattian and Jamalpur. Water samples should be collected from all major points of Buddha Nullah, he added.
"It has come to light that the state government authorities have allowed industries to start operations. Before the industries start operations, it is necessary to collect water samples from Buddha Nullah and all STPs in the city," he added.
– Meanwhile, a few videos have gone viral on the social media. The video makers claim that pollution in Buddha Nullah has considerably reduced since the industries were shut down amid the Covid threat.  https://www.tribuneindia.com/news/ludhiana/collect-samples-of-buddha-nullah-water-ngt-urged-63893  (01 April 2020)
Maharashtra Lockdown breathes life into polluted creeks, rivers – Life is also bouncing back in otherwise polluted patches and near the mouths of rivers, rivulets and nullahs in the metropolitan region, as industrial effluent and other waste that flows into them daily, has reduced in volume by 50%, confirm senior MPCB officials.
– With the rivers springing back to life, birds are flocking in larger numbers and minus the noise from traffic, their chirping is audible. Officials said these areas are experiencing a return to nature.
-They said around 60% of the industrial units in the region are closed; only pharma, petrochemical units and distilleries producing sanitizers are working inside industrial estates amid the shutdown.
– Taloja creek, Navapur creek in Tarapur and patches of the Waldhuni near Ulhas creek are the stretches where the river has rejuvenated. The fish may take a little longer to replenish in these otherwise polluted zones. https://timesofindia.indiatimes.com/city/mumbai/mumbai-region-lockdown-breathes-life-into-polluted-creeks-and-rivers/articleshow/74859330.cms  (28 March 2020)
GANGA Uttar Pradesh Health of river improves due to lockdown Himanshu Thakkar, environmental activist and water expert, coordinator of SANDRP, said the improvement is a temporary respite. "Due to lockdown, industrial activities are at the lower level. There would definitely be less effluent generation and discharge but the improvement is a temporary respite. What is required is more stringent regulations," he said.
– "The NMCG is just tinkering with symptoms. They are putting up new infrastructure, creating new agreements, giving more incentives for industries but if there is no transparency or accountability then there is not going to be any change," he said. However, no official report has been released on the improvement of water quality yet.  https://economictimes.indiatimes.com/news/politics-and-nation/lockdown-health-of-river-ganga-improves/articleshow/74946264.cms  (02 April 2020)
Himanshu Thakkar, co-ordinator at SANDRP told NDTV, "Alongwith lockdown there is increased waterflow due to unseasonal rainfall and snowfall in some parts. Religious activities have decreased, especially in Varanasi, where lesser cremations are happening. The current scenario should shape our future approach of how authorities should minimise industrial effluents in the water bodies."  https://www.ndtv.com/india-news/cleaner-river-water-better-air-quality-positive-effects-of-lockdown-2206553  (05 April 2020)
– According to the real time water monitoring data of the CPCB, out of the 36 monitoring units placed at various points of the Ganga river, the water quality around 27 points was suitable for bathing and propagation of wildlife and fisheries. https://www.tribuneindia.com/news/nation/lockdown-helps-improve-health-of-ganga-64936  (03 April 2020)  
Bhim Singh Rawat, of SANDRP said improvements have also been seen in Ganga (should be Yamuna) around Mathura. "The organic pollution level still gets diluted in the river but it is the chemical pollution by industries that destroys river"s self cleansing properties. The self-cleansing properties have improved due to which the water quality has improved," he said. https://www.outlookindia.com/newsscroll/lockdown-health-of-river-ganga-improves/1788569  (02 April 2020) 
Kalika Singh, the regional officer at UPPCB at Varanasi, says the water has improved in terms of both colour and quality. "The dissolved oxygen level upstream is 8.7mg per litre and it is 8.1 mg per litre downstream, which is good enough for bathing," he says. It is widely accepted that healthy water has a dissolved oxygen level of at least 7 mg/litre, although CPCB's bar is marginally lower.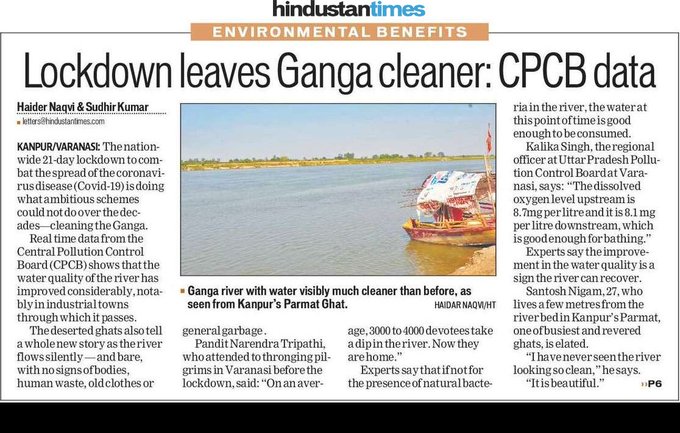 – CPCB has three real time monitoring stations in Kanpur. One is upstream of the Ganga Barrage, the second, downstream of the barrage, and the third is at Shuklagunj. The monitoring station located upstream reported on March 28 that the dissolved oxygen level was 8 mg/litre, BOD was 2.1 mg/litre, ph was 7.90 and ammonia, 0.49 mg/litre. At station number two downstream, dissolved oxygen level was 7.90 mg/litre, BOD, 1.21 mg/litre, ph, 7.91 and ammonia, 1.1 mg/litre. The third station reported a dissolved oxygen level of 8.51 mg/litre, BOD, 2.1 mg/litre, ph, 7.68 and ammonia, 0.79 mg/litre. The chemical oxygen demand was less than nine at all the three monitoring points. It should be less than 10 mg per litre.
– PK Mishra , a professor at the department of chemical engineering at the Indian Institute of Techonology-Banaras Hindu University, says: "30% of the total BOD load is due to industries along the river Ganga, which amounts to 130 to 150 tons per day. The total effluent dumped into the Ganga is around 6500 to 6700 MLD (in) its UP stretch and onwards. Around 10% is toxic load from industries, which is equal to approximately 700 MLD. Since all the major grossly polluting industries are closed due to the lockdown, this toxic load is not entering the river now." https://www.hindustantimes.com/india-news/anxiety-more-time-to-study-for-40k-students-stranded-in-kota/story-LgCluBkrFEITG9qyX16IEI.html  (04 April 2020)
– "One-tenth of the pollution in the Ganga river comes from industries. As industries are shut due to lockdown, the situation has become better. We have seen a 40-50 percent improvement in the Ganga. It is a significant development," Dr PK Mishra, Professor at Chemical Engineering and Technology, IIT-BHU, said.
– "Due to rainfall on March 15-16 in areas where Ganga flows, the water level has also increased, which means that its cleaning capacity has also increased. There is a considerable improvement if we look at the pre-lockdown period and after March 24," he added.  https://www.ndtv.com/india-news/yamuna-rivers-water-looking-cleaner-amid-lockdown-due-to-covid19-delhi-jal-boards-raghav-chadha-2206419  (05 April 2020)
– Locals in Varanasi are happy. "There is a lot of difference when we see the water of the Ganga river today and what used to be earlier. Today, the water looks clean. One of the biggest reasons behind this is that today all factories are closed. People are not taking bath at the ghats. If this is the condition in 10 days, then I believe Ganga river will be like it used to be earlier," one local said.
– Another one added: "The water in the Ganga river has become clean during the lockdown. Nobody must have thought that the lockdown would have such an impact on the weather. We feel happy looking at the clean water in the river Ganga."
– Besides Varanasi, locals in Kanpur also resonated similar sentiments and said that water in the Ganga river has seen improvement. "The water of Ganga is clean as compared to earlier. It is good to see this," said a local. https://www.livemint.com/news/india/lockdown-makes-ganga-water-significantly-cleaner-11586022134242.html  (04 April 2020)
In the backdrop of coronavirus pandemic, the Ganga-Aarti at the 'Har Ki Pauri' Ghat in Haridwar will be live-streamed for the devotees. This comes after the Haridwar District Magistrate, C Ravishankar issued an order prohibiting the entry of visitors to the Ganga Aarti until March 31 as a precautionary measure against the spread of COVID-19. It has been advised by the government to avoid large public gatherings.  https://www.hindustantimes.com/cities/coronavirus-ganga-aarti-at-haridwar-to-be-live-streamed-for-devotees/story-IaltMPoJTcMOYvyDvdMyPL.html  (19 March 2020)
PTI sourced Hindi report about improvement in Ganga, Yamuna, Hindon rivers water quality.
YAMUNA Delhi Factories shut, river water sparkles State of Yamuna has also improved, Yamuna Monitoring Committee has asked CPCB and DPCC to study the state of Yamuna in this lockdown phase.  https://timesofindia.indiatimes.com/city/delhi/delhi-factories-shut-yamuna-water-sparkles/articleshow/74988548.cms  (05 April 2020)
– However, with labs and most government offices also shut, the pollution control boards and the Yamuna monitoring committee are yet to quantify the quality of improvement, with experts pointing out that the boards are losing "a lifetime opportunity" to study the changes to the river. Pollution control board officials said they will start the river quality assessment April 6. https://www.hindustantimes.com/noida/easy-flows-the-yamuna-as-effluent-discharge-stops-assessment-likely-soon/story-BRJ1vhI9SJPCYkFBLZgjBM.html  (05 April 2020)
Haryana Here is Panipat drain no. 2 near Shimla Gujran images of May 2016 (SANDRP), April 2020 (Balraj). Villagers say water remarkably clean, no industrial waste. See link how it was ruining villagers lives and river Yamuna.  https://sandrp.in/2016/05/03/shimla-gujran-in-yamuna-baisn-journey-from-a-flourishing-village-to-a-living-hell/
Uttar Pradesh This report claims remarkable changes in Yamuna river water quality at Mathura.  https://www.youtube.com/watch?v=X8ZUrzUaHAE  (30 March 2020)
Devotees from Mathura and villagers from Bateshwar which downstream Agra say there is improvement in river water quality on account of lockdown impact. https://twitter.com/Indian_Rivers/status/1245320385425485824  (01 April 2020)
Oba villagers say increase in Yamuna water level which is possibly due to release of more water from Okhala Barrage on account of Agra canal maintenance work. They also find the water less stinking.  
Agra When US president Donald Trump visited Agra on February 24, water was released by upstream barrages, but it did not reach Agra. Trump, however, did not go to the rear side of the Taj Mahal, otherwise the polluted and dry Yamuna would have disturbed him. But for the last 25 days or so, we are enjoying a rare view of Yamuna at the Etmauddaula View Point park. The river bed is under water and birds have returned," said River Connect Campaign member Jugal Kishore Shrotriya who conducts a daily arti of Yamuna to mobilise locals to keep the river clean.
– River activist Devashish Bhattacharya said, "Perhaps due to the lockdown due to COVID-19, industries in Haryana and Delhi are not drawing water from the river. We have had several spells of rain in March, which could have raised the water level." Water level in Vrindavan and Mathura had also seen a steady rise in the past few weeks.
– In Agra, surplus water from the Ganga Jal Pipeline was also being released in the Yamuna. The two water works in Agra receive 140 cusec of water continuously from the 130 km long pipeline. The entire quantity is not used. The excess goes into the Yamuna, according to a local corporator Anurag Chaubey.
– The river behind the Taj Mahal, along Mahtaab Bagh has come alive, offering a breathtaking view. Due to the lockdown, the Taj Mahal, for the first time in its history, is relaxed and breathing freely, deprived of the daily human load, as all monuments have been shut down in Agra for visitors. The Archaeological Survey of India is utilising the opportunity to clean up and carry out repairs long overdue.
– The city too is largely pollution free, due to restrictions on movement of vehicles. Only an occasional ambulance or a police vehicle can be seen on the Fatehabad road, which has the largest concentration of hotels. https://timesofindia.indiatimes.com/india/covid-19-lockdown-for-a-change-yamuna-flows-cleaner-and-full/articleshow/74972145.cms  (03 April 2020)
HYDRO POWER PROJECTS
Arunachal Pradesh Work on the Subansiri project restarts, residents fear downstream impacts. The article should have highlighted the major gains of the movement and also underlined the duplicity of the authorities rather than saying that the anti dam movement is demoralised.  https://www.thethirdpole.net/en/2020/04/06/mega-hydel-project-in-himalayas-steamrollers-objections/  (06 April 2020)
Documentary The film Surya Ganga / Sun Ganges is streaming on Netflix now! Do watch this panoptic story on India's rivers, big energy projects, climate and in the midst of it all, an incorrigible Naseeruddin Shah. https://www.netflix.com/title/81217749
MoEF  Some relevant decisions of the FAC meeting held on Feb 27, 2020: – Diversion of 280.54 ha forest land for Talong Londa Hydro Electric Project (225 MW) in East Kameng District of Arunachal Pradesh by GMR Londa Hydro Power Pvt. Ltd: DEFERRED the proposal and recommended that:
Inputs be obtained from Wildlife Division of the Ministry, particularly with respect to findings in DSS analysis and points raised by BNHS.

The User agency shall share the study report with the State Govt and same shall be vetted by Wildlife Institute of India (WII) at the cost of user agency. Independent view of WII in this regards will be obtained.
– Diversion of 75.304 ha of forest land for construction of 180 MW Bajoli- Holi Hydro Electric Project in favour of GMR Bajoli Holi Hydro Power Pvt. Ltd in Bharmour Forest Division in Chamba District of Himachal Pradesh. Permission for felling of additional number of 12 trees and use of non-diverted degraded/blank forest land in lieu of diverted dense forest land of almost equal area. APPROVED.
– Diversion of 365.66 ha (i.e. 319.02 ha. for Lower Reservoir + 22.50 ha. for Power House & TRC Outlet + 6.96 ha. for Penstock + 8.02 Ha for Intake Structure + 2.43 ha. for Tail Race Channel and 6.73 ha. for Internal Roads) of forest land in Gani RF, Kurnool Range for Integrated Renewable Energy Project, Pinnapuram of Greenko Energies Pvt. Ltd., Hyderabad. APPROVED. http://forestsclearance.nic.in/writereaddata/FAC_Minutes/31130125512101DraftFACMoM27022020.pdf 
DAMS
Maharashtra BMC to rope in experts for hydro power plant at Vaitarna dam Two months after CM Uddhav Thackeray approved the setting up of a hydro power generation plant at the Middle Vaitarna dam, located on the outskirts of the city, the civic body plans to rope in expert consultants for the project. The civic body has now floated tenders to hire a consultant firm which will check the feasibility of the project and prepare a report. The power plant is expected to produce 25 Mw of power.
– The consultant will suggest how the project can be operated on a built, operate and transfer basis, that is, the contractor selected will build the plant, operate it for a few years and then transfer the same to BMC. The official said there may be some technical challenges to the project as this is the first time that such a project is being implemented by the BMC and there will be more clarity on the plan once the consultant submits their report.  https://www.hindustantimes.com/cities/bmc-to-rope-in-experts-for-hydro-power-plant-at-vaitarna-dam/story-mE9OPeIFt8cFX1ld55cklK.html  (21 Feb. 2020)
Four women were killed and three people sustained injuries when soil caved in near Adasa Patkakhedi village in Nagpur district on Feb. 21 morning, police said. Anusaya Hirdey Tekam (45), Varsha Shamlal Madavi (26), Sunita Kailas (35) and Rampyari Udaysingh Kakoria (18), all residents of Seoni district of Madhya Pradesh, were engaged in digging work along with 30 others to build a small dam when the incident happened, an official said.  https://mumbaimirror.indiatimes.com/mumbai/other/nagpur-four-women-killed-at-dam-site-as-soil-caves-in/articleshow/74254621.cms  (22 Feb. 2020)
A similar incident has taken place in Fatehpur district of Uttar Pradesh in June 2017.  https://hindi.news18.com/news/uttar-pradesh/fatehpur-four-women-killed-as-soil-caves-in-fatehpur-1005764.html 
Tamil Nadu Site inspection begins for building check dams across River Bhavani Officials of the Public Works Department (PWD-Planning) have started inspecting various spots in River Bhavani where five check dams are to be constructed at a cost of ₹ 18 crore.
– The 217-km-long River Bhavani originates in The Nilgiris and enters Silent Valley National Park in Kerala and flows back towards the State and through Mettupalayam reaches Bhavani Sagar Reservoir. Water from the reservoir is released into River Bhavani that flows through Kodiveri Anicut and joins River Cauvery at Kooduthurai.
– During monsoon, surplus water from the reservoir remains unutilised and mixes with River Cauvery. Hence, farmers were demanding construction of barrage or check dams to conserve water. Water from the river could serve the drinking water needs in town panchayats and panchayats in the district apart from irrigating agricultural land. The river flows for a distance of 91 km in the district.
– The State Government proposed to construct check dams and a team from Tamil Nadu Water Resources Development Cell inspected eight spots in the river to conduct a feasibility study. It was decided to finalise five places for constructing check dams. – On Feb. 6, a PWD team inspected a spot near Jambai village and surveyed the river. Officials said that all the spots would be inspected for finalising the construction area.
– But farmers wanted barrages instead of check dams, as more water could be stored. Subi. Thalapathy, president of Thadapalli – Arakankottai – Bhavani River Pasana Vivasayigal Sangam said that checks dams could store only meagre quantity of water and hence the government should go for barrages. He wanted the government to hold discussions with farmers' associations before finalising the project.  https://www.thehindu.com/news/cities/Coimbatore/site-inspection-begins-for-buildingcheck-dams-across-river-bhavani/article30766079.ece  (08 Feb. 2020)
Completion of shutter repair works in KRP Dam likely by June Two and half years after the Krishnagiri Reservoir Project (KRP) Dam's shutter breached spawning concerns over the dam's structural safety, the replacement of shutters of the dam is gaining momentum here. The works on the erection of shutters of KRP Dam has sped up, with 5 of the 7 shutters that were taken up for replacement completed. As on March 2, five shutters were already erected in place, and the works on the 6th shutter has commenced.
– The dam's first shutter had breached from corrosion in 2017, and the shutter was replaced a year later under the State funds. The reservoir's full capacity of 52 feet was lowered after the breach raised concerns on the structural safety of the other shutters. In 2018, the project to replace the remaining shutters was set in motion, under the funds of World Bank under its DRIP in place here.
– With the works under progress, any Summer showers will not allow storage in the reservoir. The water storage is at crest level with 25 feet, and any inflow above that will be let out. The erection of shutters 2,3,8, 4 and 7 were completed but miscellaneous works such as welding, blasting, sand blasting, primer works remain. The authorities are hopeful the shutter works would be fully completed by June, a little ahead of the schedule assigned to the contractor. The dam would be ready in time to receive inflow from the monsoons after June. https://www.thehindu.com/news/cities/Coimbatore/completion-of-shutter-repair-works-in-krp-dam-likely-by-june/article30975891.ece  (03 March 2020)
Kerala Survey on for building dam on Kabani's tributary The Kabani basin under the Cauvery division of the Water Resources Department is gearing up to construct a dam across the Moolithodu rivulet, a tributary of the Kabani, in Edavaka grama panchayat, to tap a small percentage of water awarded by the Cauvery Water Dispute Tribunal a few years ago. The project envisages collecting 0.3 tmcft of water after constructing an earthen dam across the Moolithodu rivulet to irrigate 1,411 hectares of land in Thondarnadu, Edavaka, and Vellamunda grama panchayats in the district, Mr. Unnikrishnan said.
The tribunal had awarded 30 tmcft of water to the State from the three river basins of the Cauvery such as the Kabani in Wayanad (21 tmcft), the Bhavani at Attappady in Palakkad (6 tmcft) and the Pambar in Idukki (3 tmcft) but, the government was yet to formulate any projects to utilise the water allotted to the State.
As every year, 96 tmcft of water flows into the Cauvery from its catchment area in Wayanad, the government plans to construct dams across seven streams in the district such as the Kadamanthodu, Thondar, Chundalipuzha, Noolpuzha, Kallampathy, Thirunelly, and Peringottupuzha to utilise the water allotted by the tribunal.
The proposals for two dams in Wayanad across the Chundali and Kadamanthodu was frozen a few years ago after a public protest. However, the government is adopting measures to implement the Kadmanthodu project with the support of the public in the wake of the desertification process that has started in grama panchayats such as Mullankolly, Pulpally, and Poothadi on the Kerala-Karnataka border.
The Banasura Sagar dam, the largest earthen dam in the country and the second largest in Asia, in the Kabani river basin was built to support the Kakkayam hydroelectric power project. It was also aimed at providing water for irrigation but the target is yet to be achieved even after ₹53 crore was spent on the project. The full potential of the Karapuzha irrigation project is also yet to be tapped owing to technical reasons. https://www.thehindu.com/news/national/kerala/survey-on-for-building-dam-on-kabanis-tributary/article31005258.ece  (07 March 2020)
IRRIGATION
Tamil Nadu State finishes on top in micro-irrigation coverage A perusal of data on the website (https://pmksy.gov.in/mis/rptAchievement.aspx) reveals that during the inaugural year of the programme (2015-16), Tamil Nadu had just about 32,290 hectares under micro-irrigation, lagging behind several States such as Telengana (39,864 ha), Rajasthan (56,345 ha), Karnataka (64,220 ha), Andhra Pradesh (94,104 ha) and Gujarat (about 1.43 lakh ha).
Tamil Nadu saw an improvement next year but that was only incremental. It was from 2017-18 that the State made giant strides when the coverage reached about 1.05 lakh ha. A year later, the coverage went up by about 67,000 ha and during 2019-20, the overall figure was 2.06 lakh ha, surpassing the performance of consistently high-performers such as Andhra Pradesh and Karnataka. Last year, the two southern States could cover about 95,520 ha and 1.41 lakh ha respectively. As for 2019-20, officials of the Tamil Nadu Agriculture department assert that the coverage is 2.18 lakh ha with an expenditure of ₹1,112 crore.
However, as regards the cumulative total coverage under the PMKSY during 2015-2020, Tamil Nadu occupies the fourth spot with about 5.62 lakh ha, according to the PMKSY website. The first place goes to Karnataka (8.16 lakh ha) followed by Andhra Pradesh (7.17 lakh ha) and Gujarat (7 lakh ha). At the all-India level, 43.71 lakh ha of lands were brought under micro irrigation in the last five years. https://www.thehindu.com/news/national/tamil-nadu/tn-finishes-on-top-in-micro-irrigation-coverage/article31258885.ece  (04 April 2020)
Kerala Restoration of Check dams yet to begin The restoration of damaged check dams in Kozhikode, which is one of the effective measures to fight water scarcity during the summer season, is yet to begin in various local bodies owing to the shortage of funds and the delay in the timely submission of proposals by local administrators for approval.
– Water level in several potable water sources, including wells and ponds located closer to such damaged check dams in villages, has already come down signalling tougher days ahead. Farmers who ventured into small-scale vegetable farming projects are the worst hit in villages like Kuttiyadi where the Irrigation Department is yet to take stock of the damaged check dams. After the two previous episodes of floods and landslips, the condition of the majority of check dams is piteous.
– The height of the majority of check dams will have to be increased further to improve storage capacity. De-silting too is required in many areas. Though there have been proposals to make use of the labour force under the MGNREGS only very few local panchayats have finalised such projects.
– The latest directive of the government to include all future MGNREGS projects under GIS tagging too is likely to impede the execution of restoration work. Many of the 70 grama panchayats are yet to prepare a list of worksites to be geotagged. The delay is also likely to affect other drought mitigation projects to be executed with the support of MGNREGS workers. "In Kuttiyadi panchayat alone, there are over 10 small check dams that require maintenance. The wooden panels used to regulate water flow are all in a worn-out condition," says V. Sajan, a farm organisation leader. He warns that water scarcity will trouble more rural families with poor planning in the area.
– Apart from the restoration of old check dams, the demand to construct new ones remain unaddressed in many areas where drought affected potable water sources. Since unscientific constructions without proper study about the terrain and soil quality are likely to affect the proper percolation of water, there is now a restriction on constructing temporary check dams by the local residents, which has again doubled the responsibility of the Irrigation Department to act without delay. https://www.thehindu.com/news/cities/kozhikode/restoration-of-check-dams-yet-to-begin/article30892420.ece  (23 Feb. 2020)
Telangana Free power policy for farmers will exact a steep environmental cost Unless state changes Free Power Policy to farmers quickly, its policies will hurt the medium, small and marginal farmer, who make up 85% of its agricultural sector. https://scroll.in/article/957733/in-telangana-the-free-power-policy-for-farmers-will-exact-a-steep-environmental-cost  (31 March 2020) 
URBAN RIVERS
SANDRP Blog How did Champa Nadi (river in Bhagalpur, Bihar) become Nala (drain)? In this Guest Blog, Dr. Ruchi Shree explains how Champa river of Champanagar, a small suburb in Bhagalpur district of Bihar degraded from being a river to a Nala (drain). This part 1 of her series on this subject. Please Read and Share.  https://sandrp.in/2020/04/05/how-did-champa-nadi-river-in-bhagalpur-bihar-become-nala-drain/  (05 April 2020)
Nag, Nagpur JICA Extends ODA Loan of INR 1,864 Cr Japan International Cooperation Agency (JICA) has signed an agreement with the Government of India to provide an Official Development Assistance (ODA) loan of 29,082 million Japanese Yen (approximately INR 1,864 Crore) for the 'Project for Pollution Abatement of Nag River in Nagpur'.
– The objective of the Project is to improve the quality of water by abating pollution of Nag River and Pili River in Nagpur, Maharashtra, by developing appropriate sewerage systems in related river basins, thereby contributing to the urban environment improvement.
– The ODA loan agreement was signed between Dr. C.S. Mohapatra, Additional Secretary, Department of Economic Affairs, Ministry of Finance and Mr. Katsuo Matsumoto, Chief Representative, JICA India. National River Conservation Directorate (NRCD), Ministry of Jal Shakti, Government of India will be the Executing Agency for the project implementation period including overall l supervision, monitoring and reporting of the Project.
– Nagpur City, with a population of 2.5 million is developing and urbanizing rapidly. As a result of the polluted rivers, the concerned area is severely contaminated, causing harmful effects on the living environment of people staying in river basins in North and Central zones.
-Japan's support to India's Water and Sanitation sector consists of ODA loans of over 722 billion Japanese Yen (approximately INR 48,000 Crore) for various projects in Maharashtra, Assam, Odisha, Goa, Rajasthan, Delhi, Uttar Pradesh, Haryana, Tamil Nadu, Kerala and Karnataka amongst other states. https://thelivenagpur.com/2020/04/01/jica-extends-oda-loan-of-inr-1864-crore-for-the-project-for-pollution-abatement-of-nag-river-in-nagpur/   (01 April 2020)
Indrayani, Pune Toxic foam on river sparks concern across Alandi Appearing like snow, the froth is full of industrial and residential waste. Residents alleged that industrial effluents from industrial units within Pimpri Chinchwad Municipal Corporation limits are being released into the river at multiple places. There have been repeated instances of fish dying in the river in the last few years. The post-mortem reports revealed that the fish died due to intake of toxic chemicals, said the AMC authorities.
– Thousands of devotees from various parts of the state take a dip in the river before visiting Saint Dnyaneshwar Maharaj temple in the town. "It's one of the most revered towns in the state, but the government has not paid enough heed to the civic issues. River pollution has been a big concern for devotees here, but no agency has taken the matter seriously. The government has been carrying out infrastructure work along the river bank under the pretext of development, but it doesn't seem to have a solution to water pollution," Kate, who has corresponded several times with the revenue department of Khed tehsil, said.
– The river water is used for drinking in the town. "But we have appealed to people to use the water only for domestic purpose to prevent health-related issues," said Samir Bhumkar, chief officer, AMC. He said that there is no other water source for the temple town. "Many residents do not use tap water for drinking purpose considering the condition of the river throughout the year. Several agencies are aware of pollution sources. Unless we look into the root cause, it will be difficult to address the matter," said Vaijayanta Kamble, president, AMC. https://timesofindia.indiatimes.com/city/pune/toxic-foam-on-indrayani-river-sparks-concern-across-alandi/articleshow/72975885.cms  (26 Dec. 2019)
Khoh, Kotdwar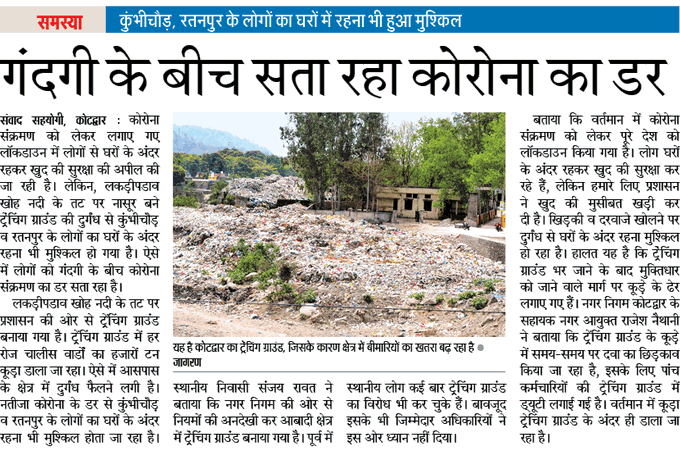 This report says trenching ground built on the bank of Khoh river. https://epaper.jagran.com/epaper/06-apr-2020-105-garwal-edition-garwal-page-7-page-1.html#  (06 April 2020)
RIVERS
SANDRP Blog People of the free-flowing Aghanashini A PHOTO BLOG ON AGHNASHINI RIVER "I don't know my age. But I know that I have been coming to this river since I was a child everyday to collect bivalves." Janaki Amma told us while wading waist-deep in the Aghanashini estuary. Janaki Amma is at least 70 years old and has the agility of a ballet dancer as she plunges inside the limpid water one more time, and comes up with a new haul of bivalves in a wicker basket tied to her waist.
Through his photos, Abhay Kanvinde shows us the glimpse of a living estuary and its people: People fishing, collecting bivalves, harvesting shrimps, drying fish, making salt, growing riverine-rice, ferrying across the banks, worshiping riverine gods and even protecting a sacred grove of mangroves in the Estuary! Aghanashini is truly a gem: A river that needs not only protection, but celebration for performing multiple tasks at the local and the global scale! Please, Read, Watch and Share. https://sandrp.in/2020/03/31/people-of-the-free-flowing-aghanashini/  (31 March 2020)
Yamuna Jayanti 2020: Bridges-Connecting People, Disconnecting River? Bridges are essential infrastructure across a river. However, more and more bridges are being built on rivers without understating or assessing their impacts. There is hardly any debate or discussion on governance and decision making process or minimum distances to be maintained between two bridges or limiting the number of bridges on given stretch, considering what the river can support.
This report on Yamuna Bridges illustrates this reality. But this would be equally true for most rivers. Please, Read, Share and send feedback. https://sandrp.in/2020/04/02/yamuna-jayanti-2020-bridges-connecting-people-disconnecting-river/  (02 April 2020)
Parineeta Dandekar's (Marathi) article in Loksatta on April 4, 2020 on Bhaktimarg and Gyanmarg on Rivers. https://www.loksatta.com/bara-gaoncha-pani-news/article-on-devotion-and-knowledge-of-the-river-abn-97-2123311/   
Veditum India Seeing, feeling and discovering River Betwa and its people Fascinating account of a walk along the Betwa river in Bundelkhand in Madhya Pradesh: "Chandrabhan from Jarkhar village says the Betwa has flooded twice this year and he has lost his entire Urad and Soya crop. Frequent flooding of the river has washed away four inches of top soil in the past decade and weakened his crop yield. He blames soil erosion and flooding on sudden releases of water from upstream barrages and dams…
The Betwa was dammed to follow the command of man. While canals irrigated swathes of agricultural land, farmers replaced crops: replacing low-profit, but rain-fed Jowar (Sorghum) and Makka (Maize) with high-profit, water-intensive wheat and Soyabean. However, the new crops need much more water which the drought-prone Betwa valley could not provide." Do watch the photos in the interactive map. Its amazing.  http://www.veditum.org/upstream/betwa/discovering-betwa-and-its-people/  (03 April 2020)
Veditum India has finished Betwa River walk. Here the walkers share few extracts from their reflections at the end of the walk.  http://www.veditum.org/editorial/walking-to-river-betwa-source-moving-upstream/
Steve Lockett on FB post comment, "Betwa lost its forest, and its water; and in revenge, it exacts greater amounts of soil and top soils from fields each year." There's always a price to pay. As Mohit Rao discovers, those paying the toll are the ones least able to afford it.
Uttarakhand बलखाती काली और उसके रहस्य भारत और नेपाल की सीमा तय करती काली नदी के वार पार उत्तराखंड और नेपाल में रोटी-बेटी का युगों पुराना रिश्ता है और अब कई सालों से इसी काली नदी के तट बंध पर पंचेश्वर बाँध बनाये जाने की तैयारियां हैं जिसका डूब क्षेत्र कितने रस्ते, मकान दुकान कस्बे डुबाएगा? जैसे सवालों का आंकलन करने को सरकार की डी पी आर प्रगति की कई किश्तें जारी हो गईं हैं. विकास और विनाश के सही समय की तलाश कर रहीं हैं.  https://www.kafaltree.com/kali-river-and-its-drainage-system/  (31 March 2020)
Report नदी का स्वास्थ्य जिस प्रकार सभ्य समाज में प्रत्येक मनुष्य के स्वास्थ्य का ध्यान रखा जाता है। उसके बीमार होने पर उपचार किया जाता है। बीमारी असाध्य न बने इस हेतु भगीरथ प्रयत्न किये जाते हैं वैसे ही प्रयत्नों की आवश्यकता नदी व जलग्रहण क्षेत्र में भी सतत् होती रहना चाहिए। इसकी पहली आवश्यकता है कि उसके स्वास्थ्य की निरंतर निगरानी होती रहे। अगर कहीं किसी भी रूप में कोई रोग ध्यान आए तो उसका तत्काल निदान किया जाना चाहिए।…लेखक – कार्तिक सप्रे. Unfortunately, the Narmada example is totally inappropriate considering how Narmada was treated when Mr Dave was Environment Minister or the govt of his party has been treating it. संपूर्ण आलेख : https://hindivivek.org/16863
Mandakani river This claims improvement in Madakani river water quality on account of herbal treatment being done as pilot project. https://www.youtube.com/watch?v=hX6wfB-77L0  (17 March 2020)
Hindi report on Mandakani river revival. https://mpbreakingnews.in/headlines/herbal-treatmeent-of-pollution-free-mandakini-started-in-chitrakoot/  (04 March 2020)
Report DMIC will have to extract 66% of water need from polluted rivers, 'depleted' aquifers "The large scale industrialisation that the DMIC envisions will also require immense amounts of water, which will be taken away from farmers and domestic users alike. In areas of Madhya Pradesh and Gujarat already suffering from severe water stress, the implementation of large scale industry will only make conditions worse. It is estimated that DMIC will have to extract two-thirds of the total water need from rivers and the rest from severely stressed groundwater aquifers, which are already polluted and overexploited. It is suggested that the regions where DMIC is planned face groundwater deficit, hence the water would be diverted from the rivers. Though all the utilisable flow in the rivers of the region is already fully utilised by current users, developing DMIC will overdraw the water and impact the health of the rivers as well."  https://www.counterview.net/2020/04/dmic-will-have-to-extract-66-of-water.html  (04 April 2020)
GANGA Uttarakhand Hindi dailies mention of Dharshu band in Uttrakashi turning into perennial landslide area post initiation of Chardham road work.  (05 April 2020)
YAMUNA Delhi The impact of the 21-day lockdown due to the coronavirus outbreak has reverberated through the floodplains, home to several hundred families who mostly grow vegetables for local markets in East Delhi. Over the last two weeks, most of their crop has rotted away as they were unable to sell it in markets.
– Even though many houses are equipped with a hand pump, the water is not fit for consumption. Many residents walk till Ashok Nagar to fetch water and, if fortunate, some packets of food that are being distributed. To get basic supplies, residents have to walk for over an hour, navigating through the lush green fields and through several police checkpoints, before they reach local markets in Chilla village.
– A little further down, near the Mayur Vihar flyover, around 200 ragpickers live on the river bank. A group of women squat under the shade of a tree, picking empty liquor bottles, while men sort through electric waste. They are waiting for the curfew to lift so they can sell the garbage to dealers in Nangloi. They had been banking on fish sellers to come with their boats and sell fish.  https://indianexpress.com/article/cities/delhi/for-farmers-on-yamuna-floodplains-city-markets-are-so-near-yet-so-far-6346433/  (04 April 2020)
Rajasthan Supply of Yamuna water doubles in 2019 Naveen Mahajan, Secretary, Water Resources Department was quoted by a national daily as, "For 15 years, Rajasthan has been raising the issue of short supply at various levels and in the meetings of Yamuna basin states and Upper Yamuna River Board (UYRB). Our efforts resulted in significant improvement of supply in 2019. From September to December, Rajasthan received 28,388 cusec of Yamuna water, which is more than double of 13,829 cusec that the state got in the same period of 2018."
– As per reports, Rajasthan was allotted 1.119 billion cubic meter of Yamuna river water among Himachal Pradesh, Rajasthan, Haryana, Uttar Pradesh and Delhi. However, Rajasthan was receiving 41 percent of its share due to short supply and unauthorised lifting in Haryana and Uttar Pradesh.
– Mahajan added, "The state government is now taking up repair and bank strengthening work to be able to receive water as per demand in the command area and share of state at Okhla barrage. Rs 1.45 crore has been sanctioned for restoring the capacities of the Rajasthan link canal in Haryana and Rs 70 lakh for the Bharatpur feeder in Uttar Pradesh.  https://egov.eletsonline.com/2020/01/supply-yamuna-river-water-rajasthan-doubles-2019/  (11 Jan. 2020)
RIVERS BIODIVERSITY
Andhra Pradesh Evidence of the presence of the fishing cat in mangroves of the Godavari delta is fuelling conservation efforts. 
https://www.livemint.com/mint-lounge/features/searching-for-the-fishing-cat-s-gleaming-eyes-in-the-velvet-night-11585925446701.html  (04 April 2020)
FISH, FISHERIES, FISHERFOLKS
COVID-19: Traditional fisherfolk left in the lurch They are not included in PM-Kisan and hence are not eligible for benefits similar to farmers. https://www.downtoearth.org.in/news/economy/covid-19-traditional-fisherfolk-left-in-the-lurch-70095  (30 March 2020)
Also see, at least a hundred thousand migrant fish workers are stranded in fishing boats off the Maharashtra coast. Meanwhile, the lockdown is a death blow to the livelihood of 16 million fishers and fish workers.  https://en.gaonconnection.com/lockdown-enforced-when-they-were-at-sea-so-lakhs-of-fishers-now-wait-in-deep-waters/  (2 April 2020)
Sayan Banerjee on FB post comments says similar to forest dependent communities is happening.
SAND MINING
Andhra Pradesh Along with Covid-19 control, AP begins sand mining to set economy rolling  Sand mining in the state was restarted on April 1 to ensure adequate sand reserves for the ensuing rainy season, according to M Madhusudan Reddy, Vice-Chairman and Managing Director, AP Mineral Development Corporation (APMDC). Sand mining is being taken up while ensuring there's no disruption to the measures being taken to tackle Covid-19, he said. The objective is to build up about 60 lakh tonnes of sand stockyards as decided by CM YS Jagan Mohan Reddy.
– Resuming sand mining assumes significance for the state economy as the construction sector requires about one lakh tonnes of sand per day at normal pace of construction. About 30 lakh registered workers are dependent on the sector. Andhra Pradesh is a sand-deficit state, with only 1.2 crore cubic metres of sand against the demand of two crore cubic metres. https://www.thehindubusinessline.com/news/along-with-covid-19-control-ap-begins-sand-mining-to-set-economy-rolling/article31224845.ece  (01 April 2020)
Bihar Delay in sand mining deals cost govt Rs 263 cr Projects hit The inordinate delays in settlement of ghats, procedural wrangle and arbitrary approach of senior officers not only led to serious embarrassment of the government in the court, but also made the mining department incur a loss of Rs 263.28 crore.
– The audit report of the Comptroller and Auditor General (CAG), which was laid in the state legislature recently, stated that the delayed approval of mining plan and environmental clearance and lackadaisical approach of the district collectors and mining officers in resorting to alternative mechanism for allowing sand mining in 14 districts led to the huge loss of revenue.
"The delay in taking decision to issue work order for sand mining, weak monitoring and supervision by the mines commissioners and the director, mines, led to non-settlement/operation of sand ghats in five of the 14 districts inspected during 2016-18, and subsequently the state suffered a loss of Rs 166.98 crore," the report notes. https://www.hindustantimes.com/cities/delay-in-sand-mining-deals-cost-govt-rs-263-crprojects-hit-mega-infra-projects-likepatna-airport-terminal-aiims-digha-elevated-road-suffer-delays/story-I8zHGOpkXo3eNNsaa4IlUM.html  (18 March 2020) 
NGT dismisses plea against govt's sand mining policy NGT on Dec. 12, 2019 dismissed a batch of applications filed against a Bihar government policy which allows artificial bifurcation of homogenous stretches of river bed in terms of sand mining. A bench headed by NGT"s judicial member S P Wangdi said that "Bihar Sand Mining Policy, 2019" was in conformity with the directions given by the Supreme Court and the "Sustainable Sand Mining Management Guidelines, 2016" in this regard.
– On applicants" argument that while framing the policy, the state did not state the source of power under which it was published, the NGT said "this contention appears to have been made overlooking the obvious power of the State to make policies, pass orders, issue administrative rules, circulares, instructions etc. in exercise of its executive powers so long as those are not violative of the constitutional and statutory provisions."
– It also rejected applicants" argument that restricting grant of leases only upto two to an individual in the "2019 Policy" was in violation of the provisions of Article 19 (1) (g) (right to practice any profession or to carry on any occupation, trade or business) of the Constitution of India, saying that the NGT was not the right forum to decide it.
– The applications had said, "Vide the said policy, the respondent no. 2 (…) have sought to artificially bifurcate identified units of the river in the garb of controlling exploitation imposing unreasonable restrictions in permitting one individual or entity to have only two blocks in violation of law." The 2019 policy was brought in haste…It is urged that the 2019 policy is in direct contravention of the judgments passed by the Supreme Court and the NGT," the application had said.
– It said that the 2019 policy was "in conflict with the "Sustainable Sand Mining Guidelines, 2016″ and an earlier decision of the SC as "it permitted division of river stretches in a district into contiguous blocks." The "Sustainable Sand Mining Management Guidelines, 2016" strictly "prohibits artificial breaking of homogenous stretches of river bed for granting leases for sand mining", the application said, adding that "the policy was required to be revisited to fit into the framework of the SC order". https://www.outlookindia.com/newsscroll/ngt-dismisses-plea-against-bihar-govts-policy-on-sand-mining/1684091  (12 Dec. 2019) 
WETLANDS, LAKES, WATER BODIES
Uttar Pradesh Authorities asked to demarcate Ekana wetland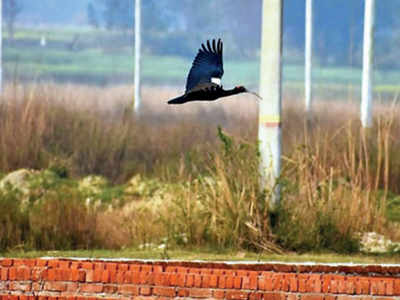 Taking a note of the concern raised on the fate of Ekana wetland in Gomtinagar Extension, the state government has directed authorities to demarcate the area as per revenue records and submit a report on what best can be done to conserve the wetland.  https://timesofindia.indiatimes.com/city/lucknow/authorities-asked-to-demarcate-area-of-ekana-wetland/articleshow/74412790.cms  (29 Feb. 2020)
GROUNDWATER
Study Groundwater affects Himalayan slips Researchers from Indian Institute of Geomagnetism (IIG) in their study, published recently in the Journal of Geophysical Research, have made the combined use of Global Positioning System(GPS) and Gravity Recovery And Climate Experiment (GRACE) data, to quantify the variations of hydrological mass.
– "Nobody till now has looked at the rising Himalayas from a hydrological standpoint," said the department of science & technology (DST) of the ministry which funded the study, noting how IIG's Ajish Saji and other scientists looked at this phenomenon through this innovative prism using satellite data.
– Simply put, sinking of Himalayan foothills and the Indo-Gangetic plain now cannot be attributed only to geological phenomena (tectonic activity associated with landmass movement or continental drift) but also to variations of water availability beneath the ground. https://timesofindia.indiatimes.com/home/science/groundwater-affects-himalayan-slip-as-the-mountains-dance-to-its-tune-says-new-study/articleshow/74618164.cms  (13 March 2020)
Tamil Nadu HC against giving groundwater for free to bottling units The Madras High Court on March 3 expressed surprise over the State government not collecting any money from drinking water packaging units for the groundwater drawn by them and suggested that the authorities concerned should give serious thought to levying appropriate charges, depending upon the quantity drawn.
– Justices Vineet Kothari and R. Suresh Kumar were taken aback when Advocate General Vijay Narayan informed them that groundwater was allowed to be extracted for free. When the drinking water packaging units were being run for commercial gains, why should the State provide water free of charge to such units, the judges wondered. The senior judge on the Bench said that the government did not let any mineral be exploited by private parties without payment of charges to the exchequer. Since everything under the ground belonged to the State, officials should not allow extraction of groundwater without claiming compensation, he added.
– He also said that the requirement of installing water meters at groundwater extraction sites would make sense only if the government used the readings to levy appropriate charges and not just to keep a tab on the quantity of water extracted, depending upon the classification of areas into critical, semi-critical and so on. The observations were made during the hearing of a public interest litigation petition in which the court ordered closure of all unauthorised drinking water packaging units across the State. Appearing on behalf of some of the closed units, senior counsel G. Masilamani and P.S. Raman said that the people were the ultimate sufferers due to the abrupt closure of units.
– Impressing upon the need for government authorities to take a quick decision on pending applications for renewal of licences and issuance of no objection certificates (NOC), the senior counsel said that the State was unable to provide potable drinking water to all and hence that void was being filled by private drinking water packaging units.
– Earlier, Special Government Pleader J. Pothiraj filed a compliance report stating that out of 261 recognised units in the State, 116 had applied for renewal of licence and NOCs for 132 had been cancelled for various violations. The remaining 13 units were closed down. Even among the 132 units whose NOCs had been cancelled, the extraction points of 124 units had been sealed. Apart from these 261 units, government officials had identified 552 illegal units and sealed all of them, the report read.
– On his part, advocate N. Ramesh, representing Chennai Metropolitan Water Supply and Sewerage Board (CWSSB), told the court that enactment of a new Groundwater (Development and Management) Act was under the government's consideration. Till then, CMWSSB had decided not to issue any new NOC or licence for extraction of groundwater for commercial purposes in Chennai. The board would, however, continue to issue transport permits for water extracted from the outskirts after obtaining due licence from the Revenue Divisional Officers concerned, to be transported to the packaging units situated in the city, he said.
– After hearing all of them, the Division Bench said that it would pass a comprehensive interim order in the case on March 4 and keep the PIL petition pending for continuous monitoring. https://www.thehindu.com/news/cities/chennai/high-court-against-giving-groundwater-for-free-to-bottling-units/article30976750.ece  (04 March 2020)
Punjab 'Groundwater in 3 Malwa districts poses risk' The chemical contamination of groundwater in southwestern region is posing a great health risk to people living there, points out a study conducted by the Central University of Punjab, Bathinda. To investigate the source, distribution and potential health risk assessment of groundwater quality, study was conducted in three districts — Bathinda, Ludhiana and Barnala — in the Malwa region, which were picked based on their dependency on groundwater for drinking, domestic, agricultural and industrial activities.
– The concentration of chemicals was found above permissible limits of World Health Organization (WHO) in majority of samples collected from three districts. The quality of water in Bathinda was found to be worst due to elevated levels of alkalinity, hardness, fluoride, uranium and nitrate, putting inhabitants of the district at higher health risk than Barnala and Ludhiana.
– A total of 450 samples were collected from hand pumps/tubewells located in residential, agricultural and industrial areas from all three districts — Bathinda (80), Barnala (90) and Ludhiana (280) — of which 220 were collected during pre-monsoon and 230 post-monsoon covering a total area of 8,427 sq km. The samples were analysed for nine trace elements — arsenic (As), cadmium (Cd), chromium (Cr), copper (Cu), iron (Fe), lead (Pb), selenium (Se), uranium (U), and zinc (Zn).
– According to the findings of the study, 80% of the samples from Bathinda had fluoride content exceeding the WHO limit, while half of the samples from Ludhiana district had higher fluoride concentration. Similarly, in case of uranium, 85% of samples from Bathinda exceeded the WHO drinking water norms limit, while 75% and 10% of samples from Barnala and Ludhiana, respectively, were found to be not as per the norms.
– The uranium content was the highest in Bathinda and decreased as one moved towards Ludhiana. The concentration of iron was high in Ludhiana, with 70% of samples having a higher concentration than the prescribed limits of Bureau of Indian Standards (BIS). The findings of the study based on total dissolved solids, alkalinity and hardness suggest that the groundwater in Bathinda, Barnala and few parts of Ludhiana districts is not fit for drinking purposes.
– The study held that Bathinda's location on lower elevation may be a strong reason for accumulation of chemicals by geogenic percolation of underground water. The study also held that less rainfall, high evaporation rate and alkaline environment were responsible for increasing contaminants in the district. https://timesofindia.indiatimes.com/city/chandigarh/punjabgroundwater-in-three-malwa-districts-poses-risk/articleshow/74644460.cms  (16 March 2020)
URBAN WATER
Chennai Metro water to increase supply to 830MLD Metro Water is likely to increase water supply to the usual 830 MLD within a month, said highly placed sources. Officials said, with maintaining hygiene being the key to ward off Coronavirus and water being the indispensable weapon in that battle, the government is considering to up supply from the current 650 MLD once Nemmeli desal plant starts functioning post maintenance.
– Though a spike in demand is not felt as of now, officials assure that there is enough storage to maintain increased supply. As of last weekend, four reservoirs together hold 6.36 tmcft apart from 74 cusecs received from Veeranam lake. Officials said this supply will comfortably last till June as all water-intensive enterprises such as malls, hotels, pools, theatres, industries and offices are closed for now.
– For the second time in 25 years, Chennai has received more than seven tmcft. This is the major source that is keeping the reservoirs half full and hence increased supply is very much possible. https://www.newindianexpress.com/cities/chennai/2020/apr/01/metro-water-to-increase-supply-to-830-mld-soon-2124163.html  (01 April 2020)
Down and out in time of lockdown The lockdown has been a double whammy for those who live in the city's slums. Their daily routine militates against social distancing – they are forced to crowd around for everything from toilets to the water tanker that turns up every two days. And now they can't go out to work either – most are dailywagers.  https://timesofindia.indiatimes.com/city/chennai/chennai-down-and-out-in-the-time-of-lockdown/articleshow/74976113.cms  (04 April 2020)     
Mangaluru Rise in inflow at Baje likely to reduce scarcity With the water level increasing by about three inches due to rain upstream at Baje Dam against the Swarna, from where water is supplied to Udupi city, the municipality is not expecting water shortage this summer. Last summer, the city had faced chronic water scarcity and the municipality had resorted to water rationing with many localities getting water once a week. The water level in the Baje dam on March 3 stood at 5.59 metres. Last year, the water level in the dam stood at 5.39 metres.
While the Baje Dam is about 18 km from here, the Shiroor dam, smaller than the Baje dam, is about 22 km from here. Last year, there was no water in the Shiroor dam in March. Municipal Commissioner Anand Kallolikar told The Hindu that last year the water inflow at Baje dam had stopped in January. There were no pre-monsoon showers upstream either, which led to chronic water scarcity in the city.
The work to remove silt taken up in the areas in two blocks behind the Baje dam — one from the behind the Baje dam to Mane bridge and the other from Mane Bridge up to Shiroor Mutt — in November-December 2019, has also increased the water storage capacity of the reservoir. The work was taken up after about eight years. https://www.thehindu.com/news/cities/Mangalore/rise-in-inflow-at-baje-dam-likely-to-reduce-water-scarcity-in-udupi-this-summer/article30976179.ece  (04 March 2020)
Bengaluru Board offers payment holidays Bengaluru As the city is completely shut, the Bengaluru Water and Sewerage Board (BWSSB) has offered a payment holiday with a promise not to disconnect the water supply.
– The utility, which supplies water to around 10 lakh households, commercial establishments and industries, has encouraged consumers to make the payment on its official website or through digital payment wallets such as PayTM, Google Pay and PhonePe etc. The BWSSB raises about Rs 100 crore from consumers every month. https://bangaloremirror.indiatimes.com/bangalore/others/bwssb-offers-payment-holiday-wont-disconnect-the-water-supply/articleshow/74873296.cms  (29 March 2020)
Thane Pre-monsoon work can start: collector The Thane collector had asked district authorities to permit pre-monsoon works. With most government offices working less than its total capacity, the pre-monsoon work might get delayed. Monsoon preparedness usually starts from April every year. Thane district collector Rajesh Narvekar said, "Pre-monsoon works such as road repair, sewage work, nullah cleaning, strengthening the power network, repair of utility cables and maintenance work are carried out before monsoon. The department can carry out these works but the contractors and labourers hired should carry a valid identity card with them." https://www.hindustantimes.com/cities/pre-monsoon-work-can-start-thane-collector/story-03vr5htM6zmhOH9NDFvHoO.html  (04 April 2020)
Report Where is the water to wash my hands? "This lockdown might be a workable solution for the rich and middle class, but isn't practical for the poor," says Himanshu Thakkar, coordinator of SANDRP. He feels the country has a huge problem of water management. "An estimated 78% of rural households and 59% of urban household don't have access to reliable water supply of necessary quality at within their homes. And on top of that you are told that you must wash hands. The lack of access to clean water is essentially a result of our poor management," he says. https://india.mongabay.com/2020/04/where-is-the-water-to-wash-my-hands/  (02 April 2020)
J Harsha, director, CWC also writes "In the long term, rhetoric and policies that confound themselves should cease and measures to increase water availability to the vulnerable population should be undertaken. To achieve this, not just funding, but incentives and accountability should be enhanced to overcome the hurdles of diverging policies and programmes between multiple levels of government.
Any procrastination in augmenting clean water to the vulnerable population will only weaken the nation's resilience to combat future disasters that are linked with water. Therefore, in addition to the appeals by celebrities, better water governance is fundamental for thwarting diseases like Covid-19 and other future healthcare challenges."  https://www.thestatesman.com/opinion/wash-your-hands-sure-but-wheres-the-water-1502874048.html  (05 April 2020)
Opinion Corona threat worsens water woes Samrat Basak During this crisis, water has emerged as a critical resource that can help limit the virus's spread by enabling individuals to practise personal hygiene. But in India's context there are concerns around water availability and supply service gaps which leave households, particularly in vulnerable communities, at high risk.  https://www.news18.com/news/opinion/glass-half-empty-coronavirus-threatens-to-worsen-indias-water-woes-2559005.html  (02 April 2020)
Study Testing sewage water may give clue about Covid-19 circulation – Scientists in the Netherlands found the virus circulating in sewage water even when cases of Covid-19 were very low and the outbreak was still in its early stages in Dutch cities. In another analysis, Chinese scientists have suggested the use of paper-based devices (analytical devices for rapid diagnostics of pathogens. For instance, paper-based testing kits for malaria) to trace these pathogens early on.
– "Sewage surveillance has been done for polio and non-polio viruses in the past. But testing sewage samples is not easy. We need RT-PCR now on a large scale for people. Swabs from sewage in cities can be extracted from the common duct in an area to test it. But I think that would be a post pandemic response in India. We need testing kits to be available right now. That's a priority," said Dr Shobha Broor, former head of microbiology at All India Institute of Medical Sciences (AIIMS), Delhi. India is testing at only about 36% of its capacity currently, according to the Indian Council of Medical Research.  https://www.hindustantimes.com/india-news/testing-sewage-water-may-give-clue-about-covid-19-circulation-study/story-jIgH37yczvOUyOgALiCusK.html  (01 April 2020)
WATER
EPW De-bureaucratising Water Governance Policy: Mihir Shah Committee Report 2016 and the Way Forward Indeed, Mihir Shah Committee Report 2016 lacked an ecosystem perspective to water management.  https://www.epw.in/engage/article/de-bureaucratising-water-governance-policy-mihir  (27 March 2020)
WATER POLLUTION
Report Indian drug companies try to gut antibiotic pollution controls – Yet in a series of submissions to the government, the Indian Drug Manufacturers Association (IDMA) – which represents leading pharmaceutical companies – has attempted to push back on the proposed regulations. Specifically, it has argued that the strict limits on pollution should instead be targets, and that large numbers of factories should be exempted from the rules.
– The government consultation on the proposed legislation – which sets out limits for 121 common antibiotics – closed in March. The law is due to come into effect in the next few months.
– The IDMA has lobbied both the MoEF&CC and the CPCB. In a letter to the ministry, the association claimed that if the proposed environmental measures go ahead, the industry would face "untold miseries from litigations and harassment by the activist and regulator alike". It also said that the coronavirus pandemic offered a "huge potential for business opportunity" for the Indian pharmaceutical sector to "capture the markets that were hitherto dominated by China". https://www.thebureauinvestigates.com/stories/2020-03-31/indian-drug-companies-try-to-gut-antibiotic-pollution-controls  (31 March 2020)
MoEF EIA not needed for bulk drug makers The exemption from EIA and public hearing for proposals from ALL drug makers indiscriminately, that too till Sept 30. So all such projects, even for manufacture beyond the huge six month period to be exempt? Huge implications for pollution and water use.  https://indianexpress.com/article/india/green-impact-assessment-not-needed-for-bulk-drug-makers-environment-ministry-6346443/  (04 April 2020)
DELHI WATER
How a dedicated team is trying best to ensure that everyone gets water in Delhi during lock down.  https://indianexpress.com/article/cities/delhi/jal-board-workers-water-supply-trucks-sanitation-poors-6348931/  (06 April 2020)
AGRICULTURE
Corona has pushed Bharat to brink – The sudden announcement of a countrywide lockdown has thrown life out of gear for most Indians. But for farmers who grow high-value perishable crops, it has led to an immediate and severe financial blow.
– The Centre has allowed wholesale markets to function as well as transport of all food items across the country, but in reality, the food supply chain is anything but smooth. Trucks and migrant labourers working in wholesale markets are in short supply and small retailers in urban centres are finding it difficult to access mandis due to lack of transport facilities.
– A bigger crisis may unfold when farmers across India begin harvesting winter crops like wheat, chickpeas and mustard beginning April. Will government procurement at support prices function normally? Any disruption in peak harvesting season will hurt small farmers disproportionately since they usually sell their produce right after harvest to repay loans and fund the next crop. https://www.livemint.com/news/india/corona-has-pushed-bharat-to-the-brink-11585845027852.html  (02 April 2020)
– Despite exemption orders, the seed and allied sectors are experiencing harassment and in some cases violence at the local levels. Seed hubs and production facilities are under pressure to shut and labourers and village level henchmen are using this opportunity to make unreasonable demands. Vigilantes in certain areas are blocking roads and not allowing the movement of labour. Transport services are not allowed to operate either. https://www.thehindubusinessline.com/economy/agri-business/agriculture-in-the-time-of-covid-19/article31248717.ece  (03 April 2020)
Punjab Trouble comes in three The fast-approaching harvesting season is turning out to be a nightmare for farmers and the state government's announcement to begin mustard and wheat procurement from April 15 and April 20, respectively, has added to their troubles.
– Farmers are desperately looking for farmhands to harvest the crop, worried about storing the grain, troubled by the increasing cost of holding on to the produce and the subsequent chaos that awaits them when the mandis are finally opened.
– "The procurement date announced by the government is far away. Farmers will be stressed out and exhausted way before that. The exodus of labourers from UP and Bihar is the most immediate problem. Harvesting will begin in a week and the government expects that my wife and I can handle the entire crop cutting by ourselves," says Krishan of Kirmara village in Hisar, adding that they managed a few farmhands but the police sent them packing.
– "The government expects us to delay harvesting, store our grain till the mandis open and then give us a bonus of Rs 50. The farmer will be finished by the end of this harvesting season," he says. He has planted wheat in 6.5 acres and mustard in 3.5 acres and says he requires at least 15 labourers for a week for the harvesting. https://www.tribuneindia.com/news/haryana/troubles-come-in-threes-for-farmers-65295  (04 April 2020)  
– The Ministry of Home Affairs has issued the fourth addendum to its notification, invoking the Disaster Management Act as per which shops of agricultural machinery, its spares (including supply chain) and repairs and shops for truck repairs on highways, preferably at fuel pumps, can remain open to facilitate transportation of farm produce. Besides, the tea industry, including plantations, can function with a maximum of 50 per cent workers.
– The ministry says it is the responsibility of the head of the organisation or an establishment to ensure the practice of social distancing norms and proper hygiene.
– The government advisory on precautions for harvesting and threshing of rabi crops and post-harvest, storage and marketing of farm produce also says farmers may delay wheat harvesting till April 20 without incurring any significant losses. https://www.tribuneindia.com/news/nation/more-exemptions-for-farming-allied-activities-65816  (05 April 2020)
Gujarat Vegetable farmers suffer losses, forced to leave produce to rot As per the official government website maintaining records of mandis across the country, prior to the lockdown around 11-16 tonnes of brinjals arrived at the Vadodara APMCs which reduced to 6-7 tonnes after the lockdown. Similarly cauliflower arrivals stood at 80-85 tonnes which reduced to 50 tonnes and onions reduced from 800 tonnes to 500 tonnes.As per the weekly sowing report of 2019, Vadodara has the maximum area covered for vegetables in the state, with Padra taluka in Vadodara often touted as the "vegetable bowl" of the state.
– The plight of Dinesh and Jayesh resonates across vegetable farms in Vadodara stemming from the disruption of the agricultural supply chain after the lockdown was imposed on March 25. The lockdown has not only prompted an exodus of migrant workers, depriving farmers of labour, but has also disrupted transport to an extent.
– Adding to their woes, the APMC markets for vegetables have now been functional at odd hours. While grain APMCs across the state are closed, vegetable APMCs were allowed to function with modified timings. The Sayajipura APMC market opens at 3 am and closed by 9 am. The Padra APMC market opens at 12 am and closes by 3 am. https://indianexpress.com/article/cities/ahmedabad/vegetable-farmers-suffer-losses-forced-to-leave-produce-to-rot-6346091/  (03 April 2020)
Opinion We need action plan to manage our agriculture, livestock sectors Vijay Sardana "During lockdowns, such as the present one, it is relatively easy to shut factories, IT parks, hotels, malls and multiplexes. But it is not so with agriculture and animal husbandry; these sectors will continue to produce. You cannot plug the udders of cows even if they are at home! It is the government's responsibility to ensure that farmers are able to keep their animals alive and market the crop that has been, or will be, harvested during the lockdown period. We need an immediate action plan to manage our agriculture and livestock sectors in the interest of both producers and consumers." https://indianexpress.com/article/opinion/columns/coronavirus-lockdown-agriculture-livestock-sector-impact-6337673/  (30 March 2020)
Promise of Pulses Through PDS Unlikely to See Fruition Anytime Soon The pulses will have to be milled before they are transported to different parts of the country, and both of these sectors are at a standstill because of the lockdown.  https://thewire.in/agriculture/pds-pulses-nirmala-sitharaman-relief-package-covid-19-lockdown  (02 April 2020)
Scientists develop new drought tolerant chickpea variety -A group of scientists from Department of Biotechnology's New Delhi-based National Institute of Plant Genome Research, University of Hyderabad and Indian Institute of Pulses Research has raised a genetically modified chickpea variety that shows high drought tolerance and high iron and zinc content in seeds by reducing the level of a plant growth substance called cytokinin in the root. https://www.thehindubusinessline.com/news/science/scientists-develop-new-drought-tolerant-chickpea-variety/article31208623.ece  (30 March 2020)
MONSOON
Climate Fluctuation That Could Improve Forecasts Remains Mystery FASCINATING: For meteorologists, problem that can keep them awake all night is called the Madden-Julian oscillation, or the MJO. It consists of patterns identified by two scientists (Roland Madden and Paul Julian at the National Center for Atmospheric Research) in 1971 that suggested a connection between far-flung weather extremes, like monsoons in India and hurricanes in the North Atlantic, and a large blob of warming water in the Indian Ocean. The patterns seemed to offer a step toward solving a global problem: the inability to forecast major weather events more than a few days before they occur. But those hopes have still not materialised. The Nature paper (see below) estimates the inability to predict weather extremes beyond more than a few days may cost the global economy as much as $2 trillion annually. U.S. damage alone amounts to $700 billion a year.
– Meanwhile, accumulating heat from climate change has doubled the size of the blob and increased the number and strength of extreme weather events. "The impact of this warming on the MJO life cycle is largely unknown," is how a study published by six scientists in the journal Nature described the phenomenon in November 2019. "This is a big challenge, and there could be huge rewards," explained Michael McPhaden, one of the authors of the study. The ideal goal, McPhaden explained in an interview, is to extend accurate weather predictions out to four weeks. According to one NOAA paper, the MJO's activities are so broad that they fall into a gap between weather predictions, which can be accurate up to 10 days, and climate predictions, which begin around 90 days. According to the Nature study, it expands every year by an area the size of California.
– The blob is also shifting course. The MJO has begun spending less time in the Indian Ocean and lingering five more days in an area scientists call the Maritime Continent in the West Pacific. The Maritime Continent consists of thousands of islands and peninsulas that make up Indonesia, Malaysia, Australia, New Guinea, the Philippines and Southeast Asia. Of the world's 20 best computer models, fewer than five reliably predict the MJO's workings in a way that jibes with actual observations. https://www.scientificamerican.com/article/a-climate-fluctuation-that-could-improve-forecasts-remains-a-mystery/  (31 March 2020)
WMO Coronavirus outbreak lockdown will affect forecasts Interesting, unforeseen fall out of Covid 19 lockdown: The lights that used to get meteorological data is no longer available and this will affect forecasts, WMO has said. Secondly, in countries like India, data from manually operated weather stations (IMD has 552 of them, states have additional ones) can also be affected, impacting data monitoring and forecasting.  https://www.hindustantimes.com/india-news/outbreak-lockdown-will-affect-forecasts-wmo/story-0cFa3p8RCACco1m5gkDMEK.html  (02 April 2020)
Study Rainfall decreasing over key agrarian states in Ganga, Brahmaputra basins Rainfall received over the Ganga and Brahmaputra river basins during the Southwest Monsoon season has decreased in the last three decades, according to a study by the IMD. This covers the states of Uttar Pradesh, Bihar, West Bengal, Himachal Pradesh, Nagaland, Meghalaya and Aranachal Pradesh.
– Changes in rainfall-bearing systems have been mainly attributed for this variation observed from 1989 to 2018, for which district-wise and state-wise rainfall was analysed. "It could be due to lesser number of rain-bearing synoptic systems, like depressions, that get formed in the vicinity of these states. Both Ganga and Brahmaputra basins have shown a decline in rainfall during 1989 – 2018," Pulak Guhathakurta, study lead and head of hydrometeorology, IMD Pune said. "For the last 10 to 15 years, most of northeast regions have showcased a decrease in rainfall. This is because many synoptic systems recurve and leave the northeast regions devoid of rainfall during the Southwest Monsoon," explained Guhathakurta.
– The states showing more dry days in the monsoon include coastal Andhra Pradesh, Bihar, north Chattisgarh, Jharkhand, Madhya Pradesh, Odhisha, Uttar Pradesh and West Bengal. On the contrary, fewer dry days were found over Karnataka, Maharashtra, Rajasthan and Punjab during the three decades under consideration. Additionally more rainy days (rainfall 6.5 cm or more) were recorded over Kutch-Saurashtra, Gujarat, north Tamil Nadu, Manipur, Mizoram and Uttarakhand. Lowest state-wise rainfall was recorded over Tamil Nadu (311.7mm) and Rajasthan (414.2mm) whereas Goa (2,878mm) received the highest rainfall among Indian states during the three decades. https://indianexpress.com/article/cities/pune/rainfall-decreasing-over-key-agrarian-states-in-ganga-brahmaputra-river-basins-imd-study-6339274/  (31 March 2020)
Goa has recorded the maximum monsoon rainfall over the past 30 years (2878.0 mm) followed by Meghalaya (2702.4 mm). Tamil Nadu reported the lowest (311.7 mm) followed by Rajasthan (414.2 mm). Pulak Guhathakurta, who heads the IMD's hydrometeorology wing in Pune, said a Parliamentary standing committee had asked for a report on the impact of the climate crisis on monsoon in the recent decades. "The ministry of earth sciences presented this analysis to the Committee in February but it is being made public on March 31, 2020," said Guhathakurta. https://www.hindustantimes.com/india-news/study-links-climate-crisis-to-low-rainfall/story-66vpO8oXoJdX1zc3DVOuMI.html  (01 April 2020)  
El Nino unlikely, boost for southwest monsoon this year The southwest monsoon in India is likely to get a boost this year as the IMD has predicted that El Nino, which often disrupts rainfall, is unlikely this year.
The weather office is expected to issue its formal monsoon forecast later in April. Meteorologists say that a low probability of El Nino is certainly good news for the monsoon, although the complex weather system depends on many other factors.
– Last year, the IOD turned positive towards the end of June, helping the first week of July with a record level of rainfall. "Of the six international climate models surveyed, most indicate neutral IOD for the coming months. One model briefly reaches positive levels at the end of autumn, while several tend towards negative levels during the southern hemisphere winter," the Australian weather office said. https://economictimes.indiatimes.com/news/politics-and-nation/el-nino-unlikely-boost-for-southwest-monsoon-this-year/articleshow/74923692.cms   (01 April 2020)
Warmer summer IMD has said the temperature in April-June across most parts is expected to be 0.5-1 degrees Celsius warmer than normal. The frequency of heatwaves is also likely to be slightly above normal in those three months.
– IMD says the higher warmth is expected over "most of the subdivisions of northwest, west, central, east and western peninsular India". In the core heat wave (HW) zone, a 40 per cent probability of maximum temperatures during April to June being above normal.
– This 'core heat wave zone' comprises Punjab, Himachal Pradesh, Uttarakhand, Delhi, Haryana, Rajasthan, Uttar Pradesh, Gujarat, Madhya Pradesh, Chhattisgarh, Bihar, Jharkhand, West Bengal, Odisha and Telangana, and the meteorological subdivisions of Marathwada, Madhya Maharashtra and Coastal Andhra Pradesh.
– "This in turn suggests that slightly above normal frequency of heat wave conditions are likely in the core HW zone during the season," said the department. It may be recalled that June 2019 was the hottest ever month recorded in India.  https://www.business-standard.com/article/economy-policy/imd-predicts-warmer-summer-experts-unclear-on-whether-it-halts-covid-19-120040100098_1.html  (01 April 2020)
Monsoon 2020 likely to be above normal: Weather Company "The evidence is clearly more weighted towards a wetter-than-normal season, and we have started with a 105 per cent of normal forecast, although there is clearly room to increase that value pending the next set of model forecasts and data available in early April. We also expect a 31 May monsoon onset, or 1 day earlier than normal," Weather Company said in its forecast on April 2. It added that a transition is expected from weak El Nino conditions towards La Nina conditions during the monsoon period, which will favour a large-scale atmospheric pattern that will become increasingly conducive to heavier rainfalls later in the season.  https://www.moneycontrol.com/news/trends/weather-trends/monsoon-2020-likely-to-be-above-normal-weather-company-5103071.html  (02 April 2020)
Delhi March 2020 becomes wettest month on record – In March 2020, Delhi received the highest amount of rainfall it ever has in the month of March, effectively making March 2020 the wettest one on record for the region.
– According to the India Meteorological Department's (IMD) regional met centre in New Delhi, Delhi's base monitoring station at Safdarjung recorded 109.6 mm rainfall between March 1 and 31, 2020—a whopping 589% more than its long-term average for the month, which is a mere 15.9 mm. In the process, March 2020 surpassed the previous record-holder, i.e. March 2015, during which Delhi had received rainfall worth 97.4 mm.
– Further, Delhiites also witnessed the fourth wettest March day on record last month, as the Safdarjung station recorded a 24-hour downpour worth 37 mm on March 15, 2020. In comparison, the highest single-day rainfall, at 62.2 mm, was observed way back in 1915.
– Each of Delhi's districts also recorded 'large excess' (LE) rainfall as compared to their respective long-term averages for March. Northeast Delhi led the way with 131.4 mm rain (852% LE), followed by North Delhi (105.5 mm, 1406% LE), New Delhi (81.2 mm, 386% LE), South Delhi (71.9 mm, 421% LE), East Delhi (59.2 mm, 329% LE), and lastly, Southwest Delhi (54.5 mm, 198% LE). Rainfall figures for central, west, and northwest parts of Delhi were not defined.
– These record-breaking rainfall figures were registered thanks to the barrage of at least seven western disturbances (WD) that hit the northern and northwestern states of India in March 2020. These WDs—storms driven by westerly winds that originate over the Mediterranean sea and pick-up moisture along the way—consistently caused unseasonal rains, snowfall, and thunderstorms over the region, creating unusually wet conditions for this time of the year.
– Now, the start of April is set to follow a similar route, as the IMD predicts a fresh WD will affect north and northwest India from the night of April 5.  https://weather.com/en-IN/india/news/news/2020-04-03-delhi-wettest-march-ever-records-589-rainfall-weather  (03 April 2020)
FLOOD
Jammu & Kashmir I&FC installs 9 automatic WLRs to record Jhelum, major tributaries water level Irrigation and Flood Control department (I&FC) had installed nine Automatic Water Level Recorders (WLRs) on River Jhelum at Sangam, Pampore, Ram Munshi Bagh & Asham and at its major tributaries including Sind, Lidder, Doodganga, Vaishaw & Rambiar.
– The German based technology Automatic Water Level Recorders are fitted with SIM cards, which will records water level data of river Jhelum on hourly basis and send it to the control room of Irrigation and Flood Control department. For better planning and preparedness to tackle flood like situation, department is further expanding network of Automatic WLRs across the valley to obtain instant data. The data as of now is being disseminated to various sections of media for real time information.
– This was revealed in a meeting convened by the Divisional Commissioner Kashmir Pandurang K Pole, here today to review the flood preparedness of Irrigation and Flood Control department (I&FC) in Kashmir. The meeting was further informed that 12.6 lacs sand and 80,000 Geo bags have been kept at different locations of river Jhelum and other water bodies. https://theins.in/2020/03/30/ifc-installs-9-automatic-wlrs-to-record-jhelum-major-tributaries-water-level/  (30 March 2020)
ENERGY OPTIONS
SECI, NTPC to set up 10,000-MW renewable energy parks– SECI and NTPC will be signing an agreement with the Rajasthan government for setting up two 5,000-MW renewable energy parks.
– "This arrangement would mark first phase of 25,000 MW Ultra Mega RE Park proposed in Jaisalmer, Rajasthan. Further, contours for setting up 25,000-MW RE park in Khavada, Gujarat were also finalised in consultation with the Ministry of Defence and Gujarat Govt," a statement from the Ministry of New and Renewable Energy said.
– MNRE also issued guidelines for Complete Solarisation of sun town, Modhera in Gujarat, the statement added.  https://www.thehindubusinessline.com/news/national/seci-ntpc-to-set-up-10000-mw-renewable-energy-parks-in-rajasthan/article31185794.ece  (27 March 2020)
THERMAL POWER
Virus lockdown to dent electricity demand by around 25 pc, say analysts -Power plants, which have been erected at high investments, were already reeling due to poor economic growth, with plant load factors falling below the halfway mark in the months leading to the Covid-19 outbreak.
– "Demand is expected to decline further in the coming weeks with more and more stringent measures related to lockdown being adopted by the government, further bringing down industrial and commercial activity in the country," Emkay said in a note.
– "The lockdown imposed by the Government is likely to adversely impact the all India electricity demand, with demand expected to decline by about 20-25 per cent on a year-on-year basis during the period of lockdown," domestic ratings agency Icra said in a report. https://energy.economictimes.indiatimes.com/news/power/virus-lockdown-to-dent-electricity-demand-by-around-25-pc-say-analysts/74904264  (31 March 2020)
– Peak electricity demand plunged 32% from 171,000 MW on 1 March to 117,000MW on 29 March. The reported numbers are at least a fourth lower than the year-ago peak demand levels and reflect the extent of demand erosion in the country. https://www.livemint.com/market/mark-to-market/d-j-vu-for-thermal-power-sector-as-the-lockdown-hits-demand-again-11585591786384.html  (30 March 2020) 
– The Grid stability in the country is maintained by keeping power frequency within a range specified by Central Electricity Regulatory Authority (CERC). Any deviation from identified frequency is managed by increasing or decreasing power flow in the grid. Sudden drop or increase in frequency causes a collapse.
– The PM's call for a blackout urging citizens to light a lamp, candle or shine a mobile flashlight to dispel the darkness spread by the coronavirus, is expected to result in sudden drop in electricity demand across the country and has even the potential to disturb grid frequency creating potential situation for a grid collapse.
– An official of PowerGrid Corporation, which operates the national grid of transmission network, said that though the situation calls for notice, it is not alarming and the grid operators are well prepared to handle sudden drop in power demand.
– As per power ministry data, on April 2, 2020, the maximum power demand met in the country stood at 1,25,817 ME, almost 20 per cent lower than April 2, 2019 figure of 1,68,326 MW.
– India's grid is connected as a wide area synchronous grid nominally running at 50 Hz. The permissible range of the frequency band is 49.95-50.05 Hz, as per CERC. The Union Government regulates grid frequency through national and regional load dispatch centres. States regulate intra-grids through State Load Despatch Center (SLDC).
– Two severe power blackouts affected most of northern and eastern India on 30 and 31 July 2012. The 30 July 2012 blackout affected over 400 million people while July 31 blackout affected 620 million people mainly in Northern India. In 2012, an estimated 27 per cent of energy generated was lost in transmission resulting in grid collapse. https://energy.economictimes.indiatimes.com/news/power/pms-april-5-blackout-call-puts-power-sector-on-alert-mode-to-maintain-grid-stability/74966251  (04 April 2020)
ENVIRONMENT
'Ex Post Facto' Environmental Clearance Unsustainable In Law: SC The Supreme Court, in a Judgement (in Civil Appeal 3175/2016 and others, see full judgement: https://www.livelaw.in/pdf_upload/pdf_upload-372030.pdf) date April 1, 2020 has reiterated that the concept of 'ex post facto' Environmental Clearance (EC) is against the fundamental principles of environmental jurisprudence. "…environment law cannot countenance the notion of an ex post facto clearance. This would be contrary to both the precautionary principle as well as the need for sustainable development", observed a bench comprising Justices D Y Chandrachud and Ajay Rastogi.
The SC upheld the 2016 order of NGT setting aside a circular issued by Ministry of Environment and Forests on 14 May 2002, which envisaged the grant of post facto ECs. The SC agreed with the NGT's finding that the circular was "unsustainable in law". The circular allowed industries which had commenced operations without obtaining EC in terms of the Environment Impact Assessment notification of 1994 to obtain the same by an extended date in 2003.
The Court explained the adverse effects of a retrospective EC as follows: "The reason why a retrospective EC or an ex post facto clearance is alien to environmental jurisprudence is that before the issuance of an EC, the statutory notification warrants a careful application of mind, besides a study into the likely consequences of a proposed activity on the environment. An EC can be issued only after various stages of the decision-making process have been completed. Requirements such as conducting a public hearing, screening, scoping and appraisal are components of the decision-making process which ensure that the likely impacts of the industrial activity or the expansion of an existing industrial activity are considered in a decision making calculous. Allowing for an ex post facto clearance would essentially condone the operation of industrial activities without the grant of an EC. In the absence of an EC, there would be no conditions that would safeguard the environment. Moreover, if the EC were to be ultimately refused, irreparable harm would have been caused to the environment."
However, the SC allowed the three industries in Ankleshwar, Gujarat, which were the subject of litigation, to continue the operations after paying compensation of Rs 10 Crores each. https://www.livelaw.in/environment/ex-post-facto-environmental-clearance-unsustainable-in-law-sc-154678  (02 April 2020)
Himachal Pradesh Factories shut in Baddi areas Industrial units in the bordering clusters of Baddi-Barotiwala-Nalagarh and Parwanoo in Solan district closed their manufacturing operations today after announcement of a total lockdown by the state government. Though pharmaceutical units and continuous process industries have been exempted from these orders, a large number of such units voluntarily shut their operations.  https://www.tribuneindia.com/news/himachal/factories-shut-in-baddi-area-60300  (24 March 2020)
Report Solid waste generation has come down in most south Indian cities Chennai Corporation recently reported that the solid waste generated within city limits since the beginning of lockdown has dropped nearly by half. On average, 5,400 metric tonnes of solid waste is collected from the city of Chennai every day. However, data of trash collected on March 30 and 31 shows that this number has fallen to 3,000 metric tonnes. The Chennai Corporation is reported to have collected 3,665.3 metric tonnes on March 30, which is 33% less than usual. On March 31, this was further reduced by a small quantity and stood at 3,309.4 metric tonnes.
As for Bengaluru, the quantity of waste generated during this lockdown has surprised even the officials. The average waste generated in Bengaluru from households on a daily basis is around 4,800 metric tonnes and there has been no significant drop in this amount in the city due to the lockdown.
Hyderabad, on the other hand, has shown a marginal drop by 1,000 to 1,500 metric tonnes. Srinivas Reddy, Executive Engineer, Solid Waste Management, Greater Hyderabad Municipal Corporation (GHMC), says Hyderabad, on average, generates 6,000 metric tonnes of solid waste. Since the lockdown, waste generation has dropped by 1,000- 1,500 metric tonnes. The official, however, attributes this drop to the reduced number of sanitation workers on the field.
In the port city of Visakhapatnam in Andhra Pradesh, officials tell TNM that the waste generated on a regular day amounts only up to 1,000 metric tonnes. "This would've fallen by around 100 to 200 metric tonnes now because the bulk waste generated by hotels, malls and restaurants have gone down since the lockdown. Also, people too are not doing much casual shopping so plastic waste at the domestic level has also reduced," says an official from the Corporation.
Kerala capital Thiruvananthapuram, on the other hand, is seeing much less trash compared to its southern neighbours. The public bins placed by the Corporation have no trash to collect since the lockdown began, says IP Binu, Health Standing Committee Chairman of the Thiruvananthapuram Corporation. According to the officer, in Thiruvananthapuram, biodegradable waste is usually made into compost in most of the homes under the Corporation, using the compost bins distributed by the local body. https://www.thenewsminute.com/article/lockdown-solid-waste-generation-has-come-down-most-south-indian-cities-121694  (02 April 2020)
Varun Madgaonkar comment on FB post, "Most of Bengaluru's eateries and malls generating waste in bulk are closed. How is that, this has not lead to significant drop in waste collection?? The data needs to be relooked."
Lockdown: Scientists record drop in seismic vibrations under Earth surface– Apart from air quality which has improved many folds in the last fortnight, scientists have also claimed that there is less seismic noise and vibrations under the earth's crust, according to a report by Nature.
– The report has highlighted that with substantial drop in the use of all modes of transport and drop in industrial activity, the usual hum of vibrations in Earth's crust has decreased. The report claims that the development could help seismologists detect earthquakes of even very small magnitude, signals of which were earlier drowned in the cacophony produced by various activities. https://www.financialexpress.com/lifestyle/science/coronavirus-lockdown-after-improvement-in-air-quality-scientists-record-drop-in-seismic-vibrations-under-earth-surface/1917394/  (02 April 2020)
SOUTH ASIA
IWT India seeks deferment of annual Indus meeting with Pak due to COVID-19, lockdown However, Islamabad is yet to respond to New Delhi's request, offficials added. Indus Commissioners of India and Pakistan are supposed to hold meeting by March 31 every year, according to the Indus Waters Treaty signed between the South Asian neighbours. Under the provisions of the Indus Waters Treaty, "the Commission shall meet regularly at least once a year, alternately in India and Pakistan". The last meeting of the Commission was held in Lahore in August 2018.
– On February 13, India's Indus Commissioner, P K Saxena had invited his counterpart Syed Mohammed Meher Ali Shah to hold the annual meeting of Permanent Indus Commission in the second half of March and requested for the proposed agenda, sources said.
– On March 12, the Pakistan commissioner accepted India's invitation, and agreed to meet his Indian counterpart in the last week of the month. He also stated that details of the proposed agenda shall be communicated in due course. https://energy.economictimes.indiatimes.com/news/power/india-seeks-deferment-of-annual-indus-meeting-with-pak-due-to-covid-19-lockdown/74830816  (26 March 2020)
Flow of water from rivers to Pak, stopped From Tribune of APRIL 2, 1970: "Parliament was informed today that no water from the three eastern rivers of Punjab — the Sutlej, the Beas and the Ravi — was flowing down into Pakistan from this morning with the expiry yesterday of the Indus Waters Treaty. The Minister for Irrigation and Power, Dr. K.L. Rao, informed agitated members in both the Houses that some 4,700 cusecs of water which was being allowed to flow into Pakistan under the Treaty till yesterday had since been diverted to the canals in Rajasthan, Haryana and Punjab. He said in reply to call-attention motions in both the Houses that India would be able to use the entire water in the three rivers for most part of the year but for a month or so during monsoons, some flood waters from the Beas would flow into Pakistan till the Pong Dam and the storage on the Ravi were completed." That was FIFTY years ago. The rhetoric is still the same. https://www.tribuneindia.com/news/this-day-that-year/flow-of-water-from-rivers-to-pak-stopped-64220  (02 April 2020)
India-Bangladesh COVID-19: Joint Inspection of Ganga for River Water Sharing Put Off In view of the lockdown, India and Bangladesh have extended stay of their teams that measure crucial hydrological data of Ganga in each other's countries, and also postponed the next month's high-level joint inspection under the Joint River Commission, sources said on March 29.
– The sources said Bangladesh has even agreed to take reading of the gauge post at the Farakka Barrage and Ganga Feeder Canal. Earlier, the teams would go in boats to take measurements, but due to the lockdown imposed in the wake of coronavirus pandemic that has been suspended, they added.
– Accordingly, from January 1 to May 31, three Indian teams take turn to go Bangladesh at Hardinge Bridge located in western part of the country. Roughly, each team comprising two engineers stay and monitor water levels at Hardinge Bridge for 50 days.
– From the Bangladesh side, two teams consisting of two members in each group are stationed at Farrakah Barrage and the Ganga Feeder Canal. The Bangladesh teams rotate after every 75 days. The two sides have also agreed to postpone India's visit to Hardinge Bridge under the Joint River Commission scheduled next month, the sources added. The Bangladeshi team had visited India earlier this year.   https://www.news18.com/news/india/covid-19-india-bangladesh-put-off-joint-inspection-of-ganga-for-river-water-sharing-2556123.html  (29 March 2020)
Bangladesh India's river water withdrawal causes encroachment, pollution The national river conservation commission in its latest annual report (Oct. 2019) has identified indiscriminate withdrawal of waters from the trans-boundary rivers upstream by India as a cause for accelerating the rate of river grabbing and river water pollution in Bangladesh.
– The report was scheduled to be placed at the Jaitya Sangsad in the next session of parliament reads that indiscriminate withdrawal of waters of cross-border rivers by India is depleting water levels in Bangladesh alarmingly resulting in the increase of pollution level for enhancement of density of the biochemical and chemical pollutants in river waters.
– The commission report identifies increase of salinity in river waters in Bangladesh as another adverse impact of the arbitrary withdrawal of river waters by India. 'In addition, the Indians discharge untreated sewage into the transborder rivers and a study carried out by Bangladesh Water Development Board unearths that 1.4 crore tonnes of sludge and sediments come through the transborder rivers from different parts of India, including Assam, Meghalaya, Tripura and West Bengal,' the river commission chairman Muzibur Rahman Howlader told New Age on Sept. 29, 2019.
– 'For withdrawal of water by the upper riparian country, rivers dry up during the lean period and the locals encroach on the land of the rivers for different development and agricultural activities,' he said. The indiscriminate withdrawal of river waters by India also seriously affected the ecosystems and environment of the river systems of the Padma, Meghna, Jamuna and their dependent rivers, he added.
– In the report, he said, the commission recommended the government to negotiate with India so that the country did not open all sluice gates to divert waters to Bangladesh during the monsoon that created huge untimely floods in the vast low-lying areas in the county damaging crops. 'We have also recommended that the government conducted morphological studies of the transborder rivers for identifying points and levels of withdrawal of waters by India and Myanmar,' Muzibur said. http://www.newagebd.net/article/86350/indias-river-water-withdrawal-causes-encroachment-pollution  (17 Oct. 2019)
Nepal Clashes erupt between Nepali locals, Chinese workers amid lockdown The locals in Nepal's Marsyangdi clashed with the employers of a Chinese company constructing a hydropower plant in Lamjung. The villagers protested the movement of trucks carrying construction materials of Nyadi Hydropower Project based at Thulobesi in Marsyangi Rural Municipality-6 of Lamjung district, a local online media portal, Khabarhub reported.
The locals were agitated as the workers had just returned from China. However, when two trucks used for transporting construction materials of the hydropower plant tried to enter their village by removing the blockage, the irate youths came out in protest. Nepali news portal Khabarhub added that the Chinese retaliated by picking up the indigenous dagger 'Khukuris' to intimidate the locals.  https://timesofindia.indiatimes.com/world/south-asia/go-back-clashes-erupt-between-nepali-locals-chinese-workers-amid-lockdown/articleshow/74913551.cms  (31 March 2020)
A local, Karan Thapa said, the clash ensued after the construction party tried to remove the blockage and enter our village. One of the two loaders have been damaged by the enraged villagers in the incident. According to a local employee of the hydropower project, Bishnu Raj Ghimire, both Nepali and Chinese nationals working for the project have not left their homes in fear of the locals. Reconciliation between the two sides was being carried out by security personnel, stated Police Inspector Om Prakash Pun of District Police Office, Lamjung. https://thehimalayantimes.com/nepal/locals-hydropower-project-employees-clash-during-lockdown-in-lamjung/  (31 March 2020)
This aggressive and rude attitude of the Chinese needs to be seen in the backdrop of an incident last year when a large number of Nepali workers were sent back from Taklakot in Tibet because a Nepali worker had murdered a Chinese woman.
More than 500 Nepalese workers were sent back during that period just because one of them had committed a crime. Nepali workers had then protested saying why should all of them suffer because of a single person's misdeed.
However, the Chinese side treated the entire group as one and blamed them for the action of an individual. The latest move portrays Chinese attitude as they tend to act as an authority as in their land in Nepal as well.
It should be noted that Wang Yun Peng, a Chinese businessman, had attacked a taxi driver in Thamel on March 13, 2020, alleging the latter of parking his taxi in front of his hotel. Locals of the area had retaliated the Chinese move fuelling confrontation between the two sides. https://english.khabarhub.com/2020/31/86030/  (31 March 2020)
Nepal Risky water future The first detailed climate assessment for the Western Nepal predicts that risks on water supplies, farmers and communities will be more severe than thought earlier. Himalayas has been recognised as Climate Change hot spot, within that W Nepal is even more vulnerable because of both its biophysical features and the low capacity of its people to adapt. The new research indicates that the highest temperature changes will take place in the mountains, while the greatest fluctuations in precipitation will affect the lower hills and Terai plains.
– The Coordinated Regional Downscaling Experiment for South Asia (CORDEX-SA) is building Regional Climate Models (RCMs) that represent South Asia at a finer scale. IWMI examined predictions from 19 of the COREX-SA RCMs at near-, mid-, and far-future scenarios. They then compared the results with trends observed in climate data gathered over the past half-century by the Nepal government. And finally, where gaps existed in the data collected by the first two methods, the team interviewed people to gather their perceptions on how the climate had changed over their lifetimes.
– It indicated that the change would vary even within the region's different geographical areas. For example, the monsoon was forecast to become wetter in the mountains but drier on the hills and plains, with more extreme climate events affecting both. This suggests that water scarcity could become a pressing issue in the Terai, while faster-melting glaciers from rising temperatures would be the main climate challenge in the mountains. Results from other studies have shown that glacier area already decreased by 25% throughout Nepal, just between 1980 and 2010. https://www.thethirdpole.net/en/2020/03/22/a-risky-water-future-for-western-nepal/  (22 March 2020)
CHINA
Hongkong NO TO DAM BUILDING: Loud call to leave rivers in peace A nearly nine minutes short video podcast of Karen Environmental and Social Action Network (KESAN) and Karen Human Rights Group (KHRG) uploaded quite recently showed that on the International Day of Action for Rivers approximately 1,700 villagers from Hpa-an and Hpapun or Mutraw districts came together, including other ethnic nationalities, at Hatgyi proposed dam site to protest against the dam projects on Salween River in Karen and other ethnic states.
The report said that altogether five proposed dam projects on the Salween River are still on the table, which have not been scrapped yet, upon which all the ethnic nationalities are protesting to be permanently shelved, as evident by the airing of all participant representatives at the gathering.  https://www.bnionline.net/en/news/no-dam-building-loud-call-leave-rivers-peace  (01 April 2020)
Cambodia No New Dams Planned for Mekong Mainstream Before 2030 A Cambodian Ministry of Energy official said on March 17, 2020 that Cambodia will not develop new mainstream hydropower projects on the Mekong River for the next 10 years, till 2030. Victor Jona, a spokesman of the Ministry of Mines and Energy, said the new master plan for Cambodia's energy needs included no planned dam construction along mainstream Mekong River for the next decade. However, Victor Jona also said the Cambodian government will study the potential construction of small- and medium-sized dams on Mekong tributaries and other sources of water. https://www.voacambodia.com/a/cambodian-official-no-new-dams-planned-for-mekong-mainstream-before-2030/5332171.html  (17 March 2020) 
ASIA
Georgia Tata Power starts commercial operations of Georgia hydro plant Private utility Tata Power on Monday said it has commenced commercial operations of 178 MW Shuakhevi hydro power project in Georgia. Adjaristsqali Georgia – a joint venture between Tata Power, Norway's Clean Energy Invest (CEI) and International Financial Corporation- is setting up a 187 MW of hydro project at a cost of around USD 500 million. It has now commissioned 178 MW of the total capacity.
AGL will soon commission the remaining 9 MW Skhalta hydro power project, which is also a component of the overall Shuakhevi project scheme, it said in a statement.  https://energy.economictimes.indiatimes.com/news/renewable/tata-power-starts-commercial-operations-of-georgia-hydro-plant/74885194  (30 March 2020)
THE REST OF THE WORLD
Ecuador Why did tallest waterfall suddenly disappear? Interesting does sudden disappearance of Ecuador's tallest waterfall have anything to do with Chinese-built Coca Codo Sinclair dam, what could hungry water lead to, why dams must release trapped sediments:- On February 2, something strange happened in Cayambe Coca Park in the Ecuadorian Amazon. The emblematic San Rafael waterfall, located on the Coca River between the provinces of Napo and Sucumbíos, disappeared from its home of thousands of years.
– The 150-metre-high waterfall – the highest in the country and a big tourist draw – stopped being part of the landscape. A huge hole appeared in the riverbed, just before the original fall. Now the water falls a few meters behind it, divided into three sections and with a less steep slope. The river flows under an arch that survived the collapse of the land, but from the place where it used to be photographed, it's as if it never existed.
– "There are many quite intense earthquakes here. In March 1987, a very strong one appeared that caused tremendous damage to the trans-Ecuadorian oil pipeline that passes right through it," Carrasco recalls. "That year I had the opportunity to evaluate the impact of the earthquake in that area. There were floods of up to 20 meters above the level of the valley where the river passes."
– For Cobo, it is very important to know if erosion in the area was monitored before and after the construction of the Coca Codo Sinclair hydroelectric plant, one of the largest in the country. Coca Codo Sinclair's diversion reservoir (the plant's intake is 'run-of-the-river', not from a dam) is some 20 kilometers upstream from the San Rafael waterfall.
– Coca Codo Sinclair is one of eight hydroelectric plants built by Chinese companies or financed by Chinese banks in Ecuador, part of plan to transform its electricity matrix that has so far depended mostly on coal-fired thermoelectric plants.
– The work, constructed by Sinohydro and financed by China EximBank, has had problems with cost overruns, worker strikes, and accidents such as the 2014 collapse of a pressure well that claimed the lives of 14 workers. It was inaugurated in 2016, four years later than scheduled.
– Emilio Cobo, coordinator of the South America Water Program at the International Union for the Conservation of Nature (IUCN) hypothesizes that the hydroelectric plant is indirectly related to the collapse of San Rafael.
– The Coca Codo Sinclair plant is not located on the river, but the diversion reservoir itself has a system of sand traps that remove sediment so as not to affect its operation. "When a river loses sediments, water increases its erosive capacity, an effect called 'hungry waters'," says Cobo. "All rivers carry eroded sediments from the soils and rocks on which they pass. All dams and reservoirs trap part of this sediment, especially heavy materials, and thus deprive the downstream river of its normal sediment load." Large reservoirs and dams will typically trap more than 90%, and sometimes 100%, of the incoming sediment, Cobo says.
– The clear water under a dam is said to be 'hungry' and will seek to recover its sediment load by eroding the river bed and banks, Patrick McCully writes in his book Silenced Rivers: The Ecology and Politics of Large Dams.
– While many Ecuadorian researchers find it hard to believe that the Coca Codo Sinclair plant influenced what happened with San Rafael, Emilio Cobo is convinced it was no coincidence. "A waterfall that has been there for thousands of years does not collapse, coincidentally, a few years after opening a hydroelectric project. These are processes that are in scientific papers and there is sufficient evidence that a dam can cause effects of this type on a river," he says.
– The collapse of San Rafael is such an important event for scientists that IUCN is set to hold an academic debate to find stronger scientific ground to determine what happened. Although geologist Alfredo Carrasco believes the collapse of the San Rafael waterfall to be a natural phenomenon, he agrees with Cobo and Celi that the current risk is that the river bed, upstream, will continue to erode and cause new landslides. "In the future, it could potentially affect the site where the waters of the hydroelectric project are captured. But we would have to do a risk analysis, I don't want to speculate too much," says Carrasco.
– For Jorge Celi, it is difficult for corrective measures to be taken unless the dam releases sediments. "If the sink deepens, the edges are more susceptible and new landslides could happen," he says.
– Cobo believes that there will be "very serious" impacts on infrastructure in the Coca River channel between the waterfall and the collection dam that could compromise the future of the hydropower plant. If the river depth increases by three or four meters, the structures of bridges will be compromised. Houses and other works could also be affected. He is sure there will be costs that the State will then have to deal with.
– Cobo is concerned about the impacts the erosive processes may have on freshwater species such as fish and macroinvertebrates, the groups that have lost most species in the last 30 years, according to the IUCN Red List of endangered species. Many more could follow.
– Ecuador has more rivers per square kilometer than any country in the world, but Cobo says there is said a regional concern about what happened at San Rafael and the state of Latin America's rivers.  https://news.mongabay.com/2020/03/why-did-ecuadors-tallest-waterfall-suddenly-disappear/  (18 March 2020)
This event was predicted in 2010, as reported by Mongabay at the time.  https://news.mongabay.com/2010/09/ecuadors-tallest-waterfall-to-be-destroyed-by-chinese-dam/  (07 Sept. 2020)
Revisiting the debate on large dams This is clearly a coloured and biased attempt at looking at WCD. The effort is possibly funded by DFID (or related institutions) which has been part of the Dam lobby. The article takes a rather uncritical view of the World Bank, IHA and Dam lobby. It makes rather unsubstantiatable statements like "dams are clearly back on the global agenda today" when contrary is true.  https://www.waterpowermagazine.com/features/featurerevisiting-the-debate-on-large-dams-7856450/  (03 April 2020)
Blog Hydropower…challenges & opportunities await? The misleading title notwithstanding, the hydro lobby fears the Covid 19 will make hydropower even less competitive. "For the hydropower sector, the pandemic risks hampering supply chains, delaying construction, reducing demand and making some projects uncompetitive… Low gas prices will be tempting for many countries seeking cheap electricity." https://www.hydropower.org/blog/hydropower-is-keeping-the-lights-on-%E2%80%93-challenges-opportunities-await  (27 March 2020)
USA Relentless floods A number of states, but particularly North Dakota, South Dakota and Minnesota has been facing relentless flooding since March 2019, along Mississippi and its tributary James River. Nasa comparative maps and message.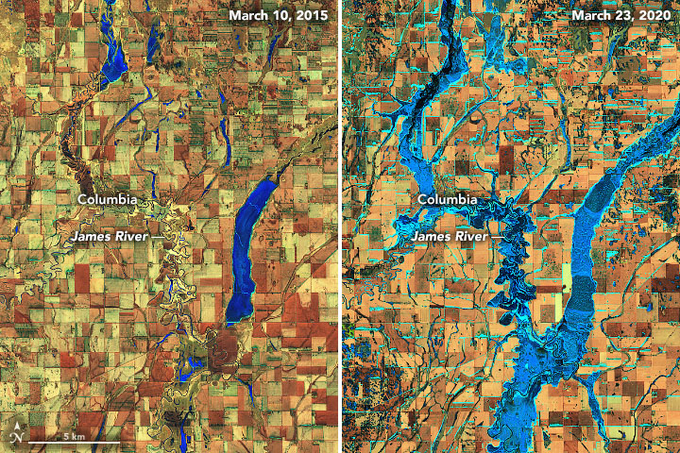 "While federal forecasters do not expect flooding in 2020 to be as severe or prolonged as during record-breaking 2019 floods, they do predict major to moderate floods in 23 states, especially North Dakota, South Dakota, and Minnesota."  https://earthobservatory.nasa.gov/images/146515/relentless-floods  (10-23 March 2020)
Colorado River Flow Dwindles as Warming-Driven Loss of Reflective Snow Energizes Evaporation  New USGS research indicates that streamflow in the Upper Colorado River Basin (UCRB) is decreasing by about 5% per degree Fahrenheit as a consequence of atmospheric warming, causing a 20% reduction over the past century. The study is recently published in Science (https://pubs.er.usgs.gov/publication/70209076). It finds that projected precipitation changes in the UCRB – where water demand already exceeds sustainable supply – are highly uncertain, and might (at best) partially ameliorate but not completely reverse the drying effect of the warming, while possible precipitation decreases could make matters worse.
– The USGS study used a new model and satellite-based observations to reproduce and explain the mechanism of flow reduction: Surface albedo (reflectivity) determines how much solar radiation is absorbed by the land surface and available to drive evapotranspiration. Albedo is highly sensitive to snow cover, which is an efficient reflector of solar radiation. As temperatures rise, more precipitation falls as rain instead of snow, and what snow does fall melts earlier in the year. The loss of snow exposes the land to increased solar radiation. The absorbed radiative energy is dissipated by further heating of the lower atmosphere and increased evaporative cooling.  https://www.usgs.gov/center-news/colorado-river-flow-dwindles-warming-driven-loss-reflective-snow-energizes-evaporation  (29 March 2020)
Debate continues about Klamath Dam removal. https://www.yahoo.com/news/largest-us-dam-removal-stirs-152009140.html  (29 March 2020)
EARTHEN DAM BREACH IN USA: The National Weather Service in Nashville issued on Friday a Flash Flood WARNING in northwestern Cumberland County and southeastern Putnam County in Middle Tennessee due to a dam break near Monterey. No injuries were reported, according to Putnam County officials. The flash flooding warning, active until 11:45 a.m. CST April 4, 2020, comes from a failure of an earthing dam at a private 17-acre lake. According to WKRN, Putnam County dispatch reported the failure around 5:47 p.m. CST. https://www.wate.com/regional-news/flash-flood-warning-issued-for-cumberland-putnam-counties-due-to-dam-break/  (03 April 2020)
NASA Research team releases new global groundwater maps NASA researchers have developed new satellite-based, weekly global maps of soil moisture and groundwater wetness conditions and one to three-month U.S. forecasts of each product. While maps of current dry/wet conditions for the United States have been available since 2012, this is the first time they have been available globally. These maps are distributed online by the National Drought Mitigation Center at the University of Nebraska-Lincoln (UNL) to support U.S. and global drought monitoring.
– Both the global maps and the U.S. forecasts use data from NASA and German Research Center for Geosciences's Gravity Recovery and Climate Experiment Follow On (GRACE-FO) satellites, a pair of spacecraft that detect the movement of water on Earth based on variations of Earth's gravity field. GRACE-FO succeeds the highly successful GRACE satellites, which ended their mission in 2017 after 15 years of operation.
– The model then produces, among other outputs, time-varying maps of the distribution of water at three depths: surface soil moisture, root zone soil moisture (roughly the top three feet of soil), and shallow groundwater. The maps have a resolution of 1/8th degree of latitude, or about 8.5 miles.
– One of the goals of the new global maps is to make the same consistent product available in all parts of the world—especially in countries that do not have any groundwater-monitoring infrastructure. Since the product has just been rolled out, the user community is only just beginning to work with the forecasts, but Wardlow sees a huge potential. The U.S. forecast and global maps are freely available (https://nasagrace.unl.edu/) to users through the drought center's data portal.  https://phys.org/news/2020-03-team-global-groundwater.html  (31 March 2020)
Report New perspective for real time & in-situ water quality monitoring "This innovative approach opens up a whole new method of monitoring and protection of water resources (groundwater, surface water, marine environment…) and wastewater management (industrial and urban effluents, sewage networks, WWTP bioprocesses…).
NODE offers real time information, decision making and support for process control operators. As a central element in NODE Solutions and Services, NODE microbial biosensors can be used to evaluate the organic load or to detect the presence of pollutants or toxic compounds in water. This integrated, energetically autonomous approach adapts to all types of measurement points in urban or industrial environments (eg, industrial discharges, sewage networks, the different stages of wastewater treatment processes…), or in natural environments (eg, storm water overflows, surface water, groundwater, water catchment areas…)."  https://www.envirotech-online.com/news/water-wastewater/9/hydreka/a-new-perspective-for-real-time-and-in-situ-water-quality-monitoring/51829  (27 March 2020)
UN, FAO and IFPRI say we are heading for a worldwide food shortage. https://www.wsws.org/en/articles/2020/03/30/unit-m30.html, https://www.ifpri.org/spotlight/ifpri-resources-and-analyses-coronavirus-disease-covid-19-pandemic, http://www.fao.org/news/story/en/item/1268059/icode/
Compiled by SANDRP (ht.sandrp@gmail.com)
Also see: DRP News Bulletin 30 March 2020 & DRP News Bulletin 23 March 2020
Follow us on: www.facebook.com/sandrp.in; https://twitter.com/Indian_Rivers