There is some good news this week. A survey has found existence of fishing cat and two otter species in Chilika lake – this was not known so far. However, this also underlines how little we know about India's aquatic biodiversity in our rivers, lakes and deltas. Its high time we have authentic baseline survey across India, hopefully in participation with the local communities who would already know so much about this. And may be rather urgently, once we are through with the current Covid-19 Crisis.
Odisha 3 flagship marshland species found in Chilika lake During a survey to estimate the occupancy of fishing cat in Chilika lake, Odisha, the presence of a viable, breeding population of the fishing cat was found. Along with this, the survey revealed the presence of two otter species — smooth-coated otter and Eurasian otter. The latter's presence in Chilika is especially significant as little is known about its distribution and abundance in India and it was not recorded previously from the lake. At present, the Irrawaddy dolphin and migratory birds are the focus of research and management interventions in Chilika. However, there is a need to develop a habitat management plan, introducing and following monitoring protocols for the three flagship species. https://www.downtoearth.org.in/blog/wildlife-biodiversity/three-flagship-marshland-species-found-in-odisha-s-chilika-lake-69760  (13 March 2020)
HYDRO POWER PROJECTS
Sikkim Hishey Lachungpa on traditional governance, dams & tourism Hishey Lachungpa, activist member of Lachung community, north Sikkim, talks to Ashish Kothari and Shrishtee Bajpai of Kalpavriksh about their still-active traditional governance system, the struggle against a hydro project, and attempts to deal with excessive, outside-led tourism in a fragile biocultural area. Conversation on sidelines of Dialogue on Rights of Rivers, Delhi, 6-7 March 2020. https://www.youtube.com/watch?v=8EEc54YaXUY  (19 March 2020)
Uttarakhand Hydro projects flout rules to maintain minimum Ganga flow This investigation highlights the opacity of India's Central Water Commission & that government minimum water flow standards for the Ganga are far too low to sustain the river & its people.  https://www.thethirdpole.net/en/2020/03/24/hydro-projects-flout-rules-to-maintain-minimum-ganga-flow/  (24 March 2020)
Arunachal Pradesh Dibang Multipurpose Project AAC lists out demands The Dibang Multipurpose Project Affected Area Committee – DMPAAC on Saturday made a series of demands to the State government regarding the proposed Rs 1,600 crore compensation to the affected people. The DMPAAC in the year 2013 has filed a petition against the executing agency, NHPC and is ready to revoke the petition if their 5-point demands are fulfilled in written form.  https://www.sentinelassam.com/north-east-india-news/arunachal-news/dibang-multipurpose-project-aac-lists-out-demands-to-arunachal-government/  (22 March 2020)
NTPC signs share purchase pacts to acquire govt stakes in THDCIL, NEEPCO for Rs 11,500 cr State-owned power giant NTPC on March 26 said it has signed share purchase agreements to acquire the government's stakes in THDCIL and NEEPCO for a total of Rs 11,500 crore. NTPC has entered into share purchase agreements (SPAs) with the central government to acquire its 74.496 per cent equity stake in THDC India Ltd (THDCIL) for Rs 7,500 crore and its 100 per cent equity in North-Eastern Electric Power Corporation Limited (NEEPC) for Rs 4,000 crore, the company stated in two separate BSE filings on March 26. https://www.moneycontrol.com/news/business/ntpc-signs-share-purchase-pacts-to-acquire-govt-stakes-in-thdcil-neepco-for-rs-11500-cr-5077931.html  (26 March 2020)
MoEF Minutes of the Expert Appraisal Committee on River Valley Projects, held on March 5, 2020, Key decisions.
Panari Pumped Storage Project (1800 MW) Dist Satna, Madhya Pradesh by Sri Siddharth Infratech & Services Pvt Ltd. For TOR: APPROVED

Nayagaon Pumped Storage Project (2000 MW), Dist Aurangabad, Maharashtra by Greenko Energies Pvt Ltd For TOR. APPROVED

Ukai Pumped Storage Project (2400 MW), Dist Tapi, Gujarat by M/s Greenko Energies Pvt Ltd For TOR. APPROVED

Shahpur Pumped Storage Project (2520 MW), Dist Baran, Rajasthan by Greenko Energies Pvt Ltd For TOR. APPROVED

Shaheed Lakhan Nayak SHEP, Dist Koraput, Orissa by Meenakshi Odisha Power Pvt Ltd For TOR. APPROVED

Demwe Lower HEP (1750 MW) in Lohit District of Arunachal Pradesh by Athena Demwe Power Pvt. Ltd For Amendment in EC. APPROVED

Sela Urthing HEP (202 MW), Near Village Sela Pithorgarh, Dist in Uttarakhand by M/s UJVNL Ltd. For ToR. APPROVED. http://environmentclearance.nic.in/writereaddata/Form-1A/Minutes/200320206F8JBC6N31.pdf
DAMS
Maharashtra Govt revokes land allotted to farmers affected by Koyna dam State government has cancelled the allotment of a plot to nine farmers who were project affected persons (PAPs) of the Koyna dam at Kharghar. The state claimed that the land was not used for agriculture, the purpose agreed to in the allotment deal.
– In July 2018, Sanjay Nirupam, who was Mumbai Congress president at the time, had alleged a scam in the allotment of the Navi Mumbai land. Nirupam had accused Devendra Fadnavis, chief minister at the time and BJP MLA Prasad Lad, of being involved in the alleged scam.
– Nirupam had claimed that the government had allotted a total of 24 acres of land to nine farmers as they were project affected persons. The former Congress chief had claimed that the farmers had sold this land to a private builder for Rs 3.6 crore on the same day, when the market value of the land was around Rs1,770 crore.  https://mumbaimirror.indiatimes.com/mumbai/other/koyna-dam-state-revokes-land-allotted-to-farmers-affected-by-project/articleshow/74037722.cms  (09 Feb. 2020)
INTERLINKING OF RIVERS
National States not on board, regulatory roadblocks States have valid reasons to object and statutory clearances are essential not roadblocks to look into practical aspects of river linking projects:- Jal Shakti Ministry officials said that so far, Telangana, Odisha, Madhya Pradesh, Kerala and the BJP-governed Karnataka have written to the Jal Shakti ministry opposing linking projects in their respective states.
– The Kerala assembly had last August passed a resolution against taking up the Pamba-Achankovil-Vaippar river linking project.
– Odisha has expressed its inability to go ahead with the Mahanadi (Manibhadra)–Godavari link that involves four other states: Maharashtra, Andhra Pradesh, Karnataka and Chhattisgarh. The Odisha government contends that the project will result in large-scale submergence in the state.
– Telangana has similarly cited the water balance at the Inchampalli dam site in the Godavari basin as the reason for its opposition to the Godavari (Inchampalli) -Krishna link project.
– The BJP-ruled Karnataka has written that it will not implement the Netravati-Hemavati link as it wants to utilise the Netravati water according to its own plan.
– Madhya Pradesh has also opposed the Parbati-Kalisindh-Chambal (PKC) link proposed by the National Water Development Authority. "The MP government has informed the ministry that it has taken up two important components of the PKC link — Mohanpura multipurpose project and Kundaliya dam — as major irrigation projects for its own requirements," said a senior ministry official, who did not want to be identified.
– Work on the project to link the Ken and Betwa rivers flowing through MP and UP was originally slated to start in 2015. Five years down the line, it is yet to take off. "Both states have failed to reach a consensus on their share of water from the river during the lean season when water flow is less," said the senior ministry official quoted above.
– Last month, Union Jal Shakti minister Gajendra Singh Shekhawat and senior ministry officials met their counterparts from the two states to iron out the differences. "But there has been no forward movement. With the BJP in power in UP and Congress in MP, the project has got caught in the politics of the two states," said a second official. https://theprint.in/india/states-not-on-board-regulatory-roadblocks-ndas-river-linking-project-flows-nowhere/376849/  (09 March 2020) 
RIVERS AS NATIONAL WATER WAYS
India to seek $70 ml for waterway connectivity grid in East The Shipping Ministry will be seeking a technical assistance grant of $70 million from the World Bank to build the Eastern Waterways Connectivity Transport Grid (EWaCTG). The project aims to provide seamless connectivity between National Waterway-1 (NW-1) and NW-2 through the Indo-Bangladesh Protocol (IBP) routes, and develop an economic corridor of 4,200 km of waterways and coastal shipping for Uttar Pradesh, Bihar, Jharkhand, West Bengal and the North-Eastern States. The seeking of grant has been appraised and recommended for approval by the screening committee of the Department of Economic Affairs.  https://www.thehindubusinessline.com/economy/logistics/india-to-seek-70-million-from-world-bank-for-waterway-connectivity-grid-in-east/article31089873.ece  (17 March 2020)
IRRIGATION
EPW Water Resource Management of the Damodar Valley Corporation The Study of water resource management of the Damodar Valley Corporation project for irrigation purposes reveal that illegal canal water utilisation has been increasing over the years. Water availability (per hectare) has been declining in the tail-end area compared to the head-reach and middle-reach areas in all seasons, which has led to differentiated agricultural productivity and crop patterns across different segments of the canal command area. Further, reduction of reservoir storage capacity and increased water demand for non-agricultural purposes have reduced the share of irrigation water and increased flood hazards in the monsoon season in the downstream area of the Damodar river.  https://www.epw.in/journal/2020/12/special-articles/water-resource-management-damodar-valley.html  (21 March 2020)
URBAN RIVERS
Cooum, Adyar, Chennai Brimming with sewage Mounds of debris, tonnes of waste and sewage — Chennai's rivers continue to get severely polluted as lorries openly dump raw sewage into the Cooum and Adyar rivers, and Buckingham Canal. Two weeks ago, a resident spotted a sewage lorry with a capacity of 24,000 litres emptying all its contents into a dry canal leading to the Cooum river near Red Hills-Madhavaram area.
– Secluded roads under bridges near Maduravoyal, Thiruverkadu and Poonamallee continue to be a hotspot for such illegal activity. Though police patrolling has increased under the Maduravoyal bypass along Noombal Road, close to 40 lorries still dump sewage into Cooum river every day, said residents. Four kilometres away, along 200 ft Vanagaram-Ambattur Bypass Road, the same activity continues to happen uncurbed for five years now.  https://www.newindianexpress.com/cities/chennai/2020/mar/26/brimming-with-sewage-2121551.html  (26 March 2020)
Kerala Quiet flows the Kodoor A year after the Meenanthara river in Kottayam was brought back to life, it's now the turn of the Kodoor river to flow clean and beautiful. Starting next month, a team of men and machines will swoop down on this 10-km long water body to clear and stabilize the river bed where trash and weeds hold sway. The project, to be implemented at a cost of ₹40 lakh, aims at cutting down the flood risk faced by the district ahead of the upcoming monsoon.
– According to K.Anil Kumar, convener of the Meenachil-Meenanthara and Kodoor River Linking initiative, the project envisages clearing of the weeds and dredging the channel to smoothen the flow of water. "The first phase of the project, that is from its origin point at Muvattumukku upto Kodimatha is being implemented by the major Irrigation department while the Inland Waterways Authority of India will carry out works in the remaining stretch up to the lighthouse at Pazhukkanila," he said. Besides ensuring uninterrupted water flow, the project also aims to reconnect the floodplain to the river channel and improve bank protection and stability.
– Additionally, a clean up drive is also taking place in the Meenanthara river between Vadavathoor and its merger point at Meenachil river. The drive is being carried out by utilizing an amount of ₹12.6 lakh sanctioned from the Disaster Management Fund of the Kottayam Collector. To feed it with water from the Meenachil river, a lift irrigation project is being established near Arumanoor. Meanwhile, the authorities are also slated to commence works to revitalize the Pazhukkanila rivermouth where the Kodoor and Meenachil rivers converge with the Vembanad lake.
– As part of it, a team of officials from the Kerala Irrigation Infrastructure Development Corporation carried out a preliminary survey of the waterbody two weeks ago. Sedimentation in the three km long water body has affected its aquatic life, besides raising the risk of flooding in areas surrounding the entire backwater network. Earlier, Finance Minister T. M. Thomas Isaac had announced the plans to desilt and breathe fresh life into the system by including it under the second Kuttanad package.  https://www.thehindu.com/news/national/kerala/quiet-flows-the-kodoor/article31145725.ece  (23 March 2020)
RIVERS
GANGA UttarakhandMatri Sadan head continues hunger strike Head of Matri Sadan Shivanand Saraswati, who is on a hunger strike since March 10 to save Ganga, refused to end his fast on March 21, while lamenting that Sadhvi Padmavati, another seer of the ashram who is also on a fast to protect the river, was not getting any support from the residents of Haridwar. "In Haridwar, everyone is earning money through Ganga, be it in the name of religion or tourism. Sadhvi Padmavati who is fighting to protect the river is not getting any support from residents of Haridwar." he told reporters. https://timesofindia.indiatimes.com/city/dehradun/matri-sadan-head-continues-hunger-strike-to-save-ganga/articleshow/74752443.cms  (22 March 2020) 
FISH, FISHERIES, FISHERFOLKS
West Bengal Overfishing drives Hilsa up the creek In a recent study, scientists questioning the sustainability of hilsa fishing practices in the northern Bay of Bengal region. They suggested that excess of licensed fishing trawlers are responsible for declining hilsa stock. From the estuary of the Ganga to deep in the Bay of Bengal, about 15,000 trawlers are hovering in the migratory path of the hilsa as the fish approaches the river to spawn, and on its way out.
– The study revealed that between 2002 and 2015, even though the number of boats engaged in fishing increased by 25%, the hilsa catch dipped by 13%. "In spite of the ban on nets with mesh holes less than 90 mm, such nets are used most of the time. A very large number of juvenile hilsa are caught regularly. Apart from this hundreds of nets, each around 1-2km long, block the mouth of the estuary. How will the fish enter the river?" asked Debasish Shyamal, district president of Dakhhinbongo Matsajibi Forum.
– The damage is twofold – the possibility of getting mature hilsa in the future is reduced, and it also hampers the reproduction of the fish. Shyamal further explained, "West Bengal has 158km coast line, comparatively smaller coast line than others but production rate is higher than other coastal states. Government is always pushing to increase production numbers without thinking the environmental consequences. In 2012 hilsa production in the state was 8510 tonnes. According to fisheries department data 14203 tonnes hilsa caught in 2016. As result trawlers involved in destructive fishing practices to increase production numbers." https://www.thequint.com/news/environment/overfishing-drives-west-bengals-hilsa-fishers-up-the-creek   (25 March 2020)
Crabs Unsung heroes of Sundarbans I believe that we have to make sure that the Sundarbans continues to provide food, work and safety to the people who need it—now and in the future. Why not start with the crabs and ensuring that only mature ones are taken?  https://www.thedailystar.net/shout/news/crabs-unsung-heroes-the-sundarbans-1885558  (26 March 2020)
SAND MINING
Tamil Nadu Officials in dark on sand mining Residents of Thiruvenganur near Thirumanur complained that some people were mining sand from Kollidam under the pretext of collecting savudu sand. The district administration and mineral department had given permission to the villagers to take savudu sand near Kollidam river, based on which they have been extracting it for about two months.
However now, villagers complained that some people were mining sand from the river, A complaint has been submitted to the Collector.
V Muthukumaran, an advicate, said, "Authorities have not specified how much sand can be taken. People collect river sand uncounted especially during night and no one inspects this activity."  https://www.newindianexpress.com/states/tamil-nadu/2020/mar/14/officials-in-the-dark-as-sand-mined-from-river-2116678.html  (14 March 2020)
Haryana Small video clip on illegal mining in river near Sanoli in Panipat district.  https://publicapp.co.in/video/sp_kb7mgh8kxw7ep  (19 March 2020) 
WETLANDS, LAKES, WATER BODIES
Kerala Demand to protect stream, wetland The execution of the second phase of the Thiruvalla bypass that passes through the core area of the Ramanchira wetland needs much care and foresight to avert calamities, say A.J.John, psychiatrist, T.K.Koshy, and Jossey, Ramanchira Protection Council (RPC) leaders. Developers have already started construction work at Ramanchira. Two streams that act as flood escape routes from the Ramanchira wetland to the opposite side of MC Road are under threat of conversion.
– A sizeable stretch of the Ramanchira stream has already been converted or encroached upon. Repeated pleas to protect the wetland and the stream have not been acted upon, the RPC leaders said. "Development sans practical wisdom, vision, and common sense will do more harm than good. Favouritism and corruption further worsen the situation, ultimately making the development project itself a public nuisance and threat to the ecosystem," they said. The council leaders said the perennial stream had been a key groundwater replenishment source in the locality and should be protected at any cost.
– The filth from drains in the town was being let out into the stream, polluting wells in the locality. Complaints raised before the civic body and the taluk administration too had failed to yield a positive impact, they said.  https://www.thehindu.com/news/national/kerala/steps-sought-to-protect-stream-wetland/article30987656.ece  (05 March 2020)
Rajasthan 
WATER OPTIONS
Jharkhand Solar energy help meet irrigation, drinking water, electricity needs in Gumla The project has opened up the option of irrigation for the farmers, which has changed their fortunes. "In the absence of rainfall, farmers lift water from the nearby Dhangaon Gaja Toli dam. The weekly cost of irrigation stands at Rs. 250-300 roughly. There is a fixed rate of Rs. 30 per hour," he said.
– Apart from irrigation, solar panels atop wells supply drinking water to households and solar microgrids light up homes. PRADAN is the implementing partner of this project in Jharkhand aided by its technical partner, Gram Oorja Solutions Private Limited, which is responsible for grid installations.
– In Gumla, the solar microgrid project has entered its fourth phase (2019-20) after starting off in 2016-17. Gumla block currently has five villages and Raidih 11 villages under the solar microgrid, covering a total population of 3343 in 4003 households. Seventeen villages are using solar-based lift irrigation and in eight villages, there is a solar-based drinking water system.
– Aside from irrigation and supplying drinking water, the project has a solar microgrid that's lighting up homes. Besides Gumla, there have been three kinds of solar power interventions in Khunti district too. These are household power supply through solar microgrids in nine villages, solar-based drinking water supply in four villages and solar lift irrigation projects in 11 villages, said Rajani Kant Pandey, team coordinator at PRADAN in Khunti. This year also, micro-lift irrigation projects are on in Khunti in six irrigation sites, he added. https://india.mongabay.com/2020/03/sunrays-light-up-dark-villages-in-jharkhand/  (17 March 2020)
Low cost drinking water technology -RWH with solar purification From Abstract: "A very simple and low cost drinking water technology (DWT) has been developed which uses appropriate rainwater harvesting methodology and solar purification. The costliest item in DWT is the storage tank. A possible mechanism for reducing this cost by the govt of India scheme has been indicated in the article. With cost reduction, this DWT can become a viable and economical solution for potable water in rural households."  https://www.currentscience.ac.in/Volumes/118/06/0872.pdf
GROUNDWATER
Gujarat Lignite plant in Bhavnagar polluting groundwater Gujarat State Electricity Corp Ltd, which is running a lignite-based power plant in Padva village of Ghogha taluka of Bhavnagar district has been alleged of dumping untreated effluents into a nearby check dam. The samples from the Gujarat Pollution Control Board have shown that the total dissolved solids, chemical and biological oxygen demand in an open well in the village and a nearby check dam are beyond the permissible limits. The claims further point out that the effluents seep in and pollute the groundwater of the rural areas in the vicinity which has harmed the agricultural crops and drinking water potability in the area. https://www.counterview.net/2020/03/lignite-based-power-plant-in-bhavnagar.html  (19 March 2020)
West Bengal Digital recorders to monitor depleting ground water level State government will soon start installing digital recorders to monitor the level of groundwater in various community blocks, where experts say the water level has depleted alarmingly because of unregulated extraction.
– "We would be installing digital recorders in at least 72 community blocks where groundwater has depleted alarmingly. These would help us to know, on a real time basis, the rate of depletion or whether some aquifers are getting recharged during monsoon," said Suvendu Adhikari, water resources minister.
– Senior officials of the department said that these 72 blocks, where the monitors would be installed, are either in the critical or semi-critical categories as far as groundwater level is concerned. There are 42 blocks in the state where the groundwater table has been found to be in the 'semi-critical' category and another 30 blocks where the water table is in the 'critical' category.
– This becomes all the more necessary because in Bengal at least 174 blocks have registered depletion of ground water table at the rate of more than 20 cm per year.  https://www.hindustantimes.com/india-news/digital-recorders-to-monitor-depleting-ground-water-level-in-bengal/story-ahoDXhjJ2MjhLkxeYpryEJ.html  (29 Jan. 2020)
Bihar Govt to bring groundwater conservation bill Deputy CM Sushil Kumar Modi said that a law will be framed soon to check water exploitation in stat. The Bill emphasizes setting up a regulatory system for water users in the area where the water level has seen a decline. "At a time when the world is struggling with water crisis, the state government will bring in the Bihar Ground Water Conservation Bill in the Assembly," he said, adding that efforts are on to popularise rainwater harvesting. He also requested IWWA to work on cheaper technologies to modify and reuse waste water.  https://www.newindianexpress.com/nation/2020/jan/17/patna-diary-ground-water-conservation-bill-soon-2090613.html  (17 Jan. 2020)
Tamil Nadu Groundwater exploitation must end Editorial Unchecked drawing of groundwater for commercial purposes contributes to water shortage. As much as residents may have grown to rely on such units to meet their drinking water needs, the cost of the exploitation of public resources for commercial gain is much greater than the `20 charged for a can of water. The HC on March 03 rightly slammed the strike for attempting to pressure the court and questioned how these units could be allowed to extract groundwater free of cost. The exploitation undoubtedly affects the future of every resident of the state. Better and sustained regulation as well as monitoring is essential. https://www.newindianexpress.com/opinions/editorials/2020/mar/04/exploitation-of-groundwater-must-end-in-tn-2111846.html  (04 March 2020)
Opinion Groundwater reaching dangerous level MA Siraj By annually drawing 251 bcm of groundwater, India tops the list of top 10 groundwater-extracting countries and is the largest user of the precious liquid from the bowels of the earth. By extracting 251 bcm, the nation exhausts a little over 62% of the GW resource annually. As for Karnataka, net availability of GW is 15 bcm. Of this, the state extracts 61%.
– According to D Subburaj, till recently regional director, Central Ground Water Board, of Karnataka's 176 taluks, 45 taluks fall under the category of over-exploited groundwater. Another eight are critical, 26 under a semi-critical category. The situation can be called safe only in 97 taluks. Bengaluru Urban and Rural districts and all surrounding districts fall under the over-exploited zone.
– An analysis of panel data across 370 districts within the country revealed that a reduction in power subsidy was correlated with a decrease in groundwater extraction. On average, a 10% reduction in power subsidy led to a 6.5% decrease in groundwater extraction.
– As for augmentation of groundwater source, nothing has been found more useful than rainwater harvesting. Subburaj says even if 80% of the rainwater falling on a 100 sq metre area could be harvested, it would lead to a collection of 48,000 litres of water, given the annual average of 60 cm rainfall.
– Unless the country wakes up to the dual challenge of replenishing the sources and regulating the growing demand for groundwater, the crisis is set to assume graver proportions.  https://www.deccanherald.com/opinion/in-perspective/groundwater-reaching-dangerous-levels-816761.html  (23 March 2020)
URBAN WATER
Maharashtra 'Rs 25K cr Marathwada Water Grid project a waste of money' Disputes within state, proposed projects, implementation, maintenance, funding, recovery, energy supply etc are among practical issues making water grid project impractical.
– Aurangabad-based Pradeep Purandare, water expert and retired associate professor at Water and Land Management Institute (WALMI), said the entire project is divided into ten parts. The first eight parts pertain to the internal water grid system of Marathwada. The last two deal with getting water from Konkan region, as well as, the catchment area of Krishna River.
– "The assumption of the project is that the dams would have water to be transferred from one place to another. But Marathwada has a water dispute with Nasik and Nagar. And the region itself gets limited water. Even Marathwada's biggest dam of Jayakwadi does not fill up every year. How will you transfer water when the dams hardly fill up," wondered Purandare.
– In the upstream of the Jayakwadi dam, there are 34 medium and big irrigation projects and hundreds of small projects. An analysis of the last 43 years (between the period 1975 to 2017) shows that for 24 years, or 56 percent of the time, water availability in the dam was inadequate during the Rabi season – which is when farmers sow the winter crops. The period between 2012-2015, all four years were especially bad. With erratic monsoons and sordid effects of climate change, observers say the bad years will outnumber the good ones, which means the other dams in Marathwada will be of no help.
– Purandare said that when the water availability is uncertain, the transfer of limited water could lead to chaos and politicisation of the issue. "Today, specific dam is supposed to be the source for a specific district. A politician might use his influence to ensure more water for his district while depriving others of their rightful share. It could be chaotic and trigger water disputes," he added.
– The entire model of Marathwada Water Grid project is based on Israel. Israel's national water company Mekorot Development and Enterprise is carrying out the master plan for technology of implementation. The company has signed a MoU with the government of Maharashtra. "There is a difference between Israel enforcing a plan and us emulating it. The scheme requires a certain law, discipline, and alertness. We do not have that," Purandare added.
– The project entails a pipeline of 1,300 kilometers which will require serious maintenance. Experts wonder if the state and its officials have the integrity and competence to carry that out sincerely enough.
– The existing 40-kilometer pipeline – from Jayakwadi to Aurangabad – is operating only at 50 percent capacity, triggering criminal wastage of water. Purandare asked if there are leakages and illegal connections on the current pipelines, "How are we to assume that the Water Grid pipeline would be immune from it?"
– Even in Latur, councillors don't know how much of that water is wasted when it's being transferred from the dam to people's homes. "The water is lifted from Dhanegaon dam, but how much of it actually reaches the people and how much of it is wasted is something we do not know," said a councillor on the condition of anonymity. "We need to install water meters for that and the corporation does not have money."
– The Israel model is not just difficult to emulate because of the state's inability to execute a plan so ambitious. Atul Deulgaokar, a senior environment journalist based in Marathwada's Latur district, said that Israel is a country which does not have problems related to energy and capital. "The Water Grid scheme is energy intensive, which means it will require heavy usage of electricity to pump water through the pipelines. In times of climate change, we have to think about conserving energy. This project does exactly the opposite. There are certain districts where the topography is such that we can use gravity for water transfers. That is the way to go forward," Deulgaokar said.
– Marathwada Water Grid project is following the hybrid model, in which the company implementing the scheme will be investing 60 percent of the money. Experts say when the companies invest money, they expect returns, and no municipal corporation in Marathwada is in a position to pay more for water.
– In July 2019, Latur's municipal corporation had a debt of Rs 350 crores, of which Rs 70 crore was just water bills. Councillor Ashok Govindpurkar said they spend Rs 12 crore a year for water. The recovery, however, is not even 10 percent of what they spend. "Half the expenses on water are for electricity bills because the water is pumped from dams built outside the city," he said.
– Urban local bodies across Maharashtra are in the same situation. There are 264 of them – 26 Municipal Corporations (MCs), 231 Municipal Councils and 7 Cantonment boards. The fourth finance commission report of Maharashtra that came out in 2015 said the "total deficit for Municipal Corporations and Municipal councils in Maharashtra comes to Rs 13,673.71 crores". It also noted, "During the period FY 2008 to 2014(BE), the (state) assistance to Urban Local Bodies has grown by almost 1.8 times."
– With added electricity bills, the water grid project will only increase their financial burden. Instead, Purandare said, the current Maharashtra government should focus on improving the efficiency of existing schemes, betterment of infrastructure that are already in place and water conservation at the demand level. "The government should seriously reconsider this project," Purandare said and added, "It will not quench Marathwada's thirst, and will make things worse. It is an absolute waste of money."  https://www.firstpost.com/india/maharashtras-ambitious-rs-25000-crore-marathwada-water-grid-project-a-waste-of-money-say-experts-8177611.html  (23 March 2020)
Mumbai Burgeoning water needs leave nearby villages parched Ironically, Mokhada, where four rivers flow, also receives 2,400 millimetres of annual rainfall. But the mountainous, rocky terrain means the water does not seep in to help the groundwater recharge, rendering borewells and wells virtually useless. And the river water is diverted, mostly to the financial capital of India, Mumbai, which is about 100 kilometers away.
– Sitaram Shelar, convener of Pani Haq Samiti, a collective organisation working on water-related issues, said when Mumbai sources water from these dams built outside the city, it deprives tribal districts like Palghar and Dahanu their rightful access to water. "When the adivasi communities migrate to Mumbai, we deny them water by terming them illegal," he said. "And even when they stay where they are, we rob them of water because Mumbai is too arrogant to do anything about its water requirements."
– The city of Mumbai receives majority of its water from dams built on Bhatsa, Tansa and Vaitarna. Currently, the city receives 3,850 million litres of water per day (mld), which is expected to increase to up to 5910 mld by 2030, according to the estimates of BMC. Even though the officials say that they plan to meet the increasing demand by recycling, reusing and harvesting the existing water, two more projects in the same tribal belt are underway.
– Gargai dam is set to come up on Vaitarna river in the district of Palghar, which would not only include relocation of hundreds of families due to inundation, but also push the district further into water scarcity. Once it is completed, it is expected to supply 440 mld of water to Mumbai.
– Another dam on the river Pinjal is mooted in the district. It is part of a larger river linking project. In 2015, Uma Bharti, as union water resource minister, had okayed a Rs. 14,500 crore project to link Damanganga, Wagh and Pinjal rivers. Former Maharashtra irrigation minister Girish Mahajan had told reporters, "After the completion of the project, 23 TMC (thousand million cu. m) of water will become available which will be enough to take care of Mumbai's needs up to 2050."
– Besides, in March 2018, activists staged a serious protest over the proposal of 89 percent water from Suryva dam – constructed over Kawdas and Dhamini rivers in Dahanu – being transferred for the twin cities of Vasai-Virar and Mira-Bhayandar, which fall under the Mumbai Metropolitan Region.
– All of these projects have met with serious resistance from tribals and activists in Palghar and Dahanu. Leading the protests, lawyer-activist, Brian Lobo, said the original idea of Pinjal dam or even Bhatsa was for agriculture purposes in the tribal belt. "Over the years, it has been diverted to Mumbai," he said.
– As a result, Kamal, who cultivates an acre of farmland in Brahmanpada with her husband Keshav Mahale, 47, said when the residents struggle for drinking water, irrigation for agriculture is a pipe dream. "We only cultivate crops based on monsoons," said Keshav. "The wells and borewells here are hardly of any use. Therefore, our major source of income is no longer agriculture but labour work. We go to Nasik, Badlapur or Kalyan. Men get Rs. 300 a day, and women get Rs. 250."
– The preferential treatment for cities over rural areas is not just limited to Mumbai. It is a common practice across Maharashtra. A November 2015 report had exposed the stark rural-urban divide, revealing the cities in the state get 400 percent more drinking water than villages even though 55 percent of Maharashtra is rural. The Konkan division, which includes Mumbai, has 1849 million cubic meters reserved. In contrast, the parched region of Marathwada gets 540 million cubic meters of water.
– An IIT study from 2016 had also pointed to the fact that Mumbai residents get far more water than what is required. The BMC supplies anywhere between 100 to 307 litres per capita per day (lpcd) depending on the topography, but the IIT pegs the daily requirement of water at 62 lpcd.
– Shelar said even after the preferential treatment, the distribution within the city is grossly unequal. "It leaves out at least 20 lakh residents from the city of 1.25 crores," he said. "They live in slums or dalit bastis. And they are forced to buy water from illegal vendors at twice the rate. The residents of plush neighborhoods, in the meantime, continue to waste water with impunity."
– According to data, between 1998 and 2018, the change in depth of groundwater level in Mumbai has been minus 34 percent. Janak Daftari, convener of Maharashtra Jal Biradari—a water conservation body, said Mumbai has currently outsourced its water stress to the adivasi areas. "Mumbai would eventually have to be serious about conserving water. Just the rooftop rainwater is 700 mld if we tap into that," said Daftari. "Mumbai gets a healthy rainfall. If we do rainwater harvesting seriously, it would go a long way in taking the load off the water resources outside the city."
– Rainwater harvesting, in fact, is one of the mandatory requirements for a residential project in Mumbai. However, observers say hardly anybody is following it with due diligence. Ajay Rathod, chief engineer, hydraulics department of BMC, accepted that the implementation could be better. "But our main focus is to fulfill additional water demand through recycling and reuse," he said.
– A BMC official said the corporation is planning seven Sewage Treatment Plants that would generate 2700 mld of water once they are ready. "It would take care of all the non-potable use of water," he said. According to a 2017 report, Mumbai flushes 2100 mn litres of sewage into the sea on daily basis.
– However, until the systems are in place, neither the authorities nor residents seem to understand the gravity of the water crisis. According to experts, about 25-30 percent of Mumbai's water supply accounts for Non-Revenue Water. "15 percent is generally an acceptable number," said Shelar. "Non Revenue Water includes leakages, evaporation, illegal connections, theft and free water supplied to institutions. 25-30 percent of 3,850 is anywhere between 950 to 1155 mld water. To put things in perspective, the city of Nagpur requires 800 mld of water."
– Further, Shelar said the city is making its life difficult through ill-planned development that does not take water bodies into consideration. "Apart from the three lakes, Mumbai has 227 water bodies," he said. "We have finished them with concretization. We have also ruined our rivers. Mithi being a shining example."
– In contrast, high rises with swimming pool on each floor are being mooted in some of the residential projects in Mumbai, said Shelar. "And the BMC is supposed to supply water to them," he added. "Why can't these buildings do rainwater harvesting and look after their own swimming pools? Is that a necessity when people do not have drinking water?"
– Daftari said when he had gone to educate people about rainwater harvesting in one of the upper middle class societies in South Mumbai, he did not know whether to laugh or cry. "I told them how it could be done by digging a reservoir in the building, and people said that they could park three cars in that room instead," he recollected. "The fact of the matter is that neither BMC nor citizens care about water conservation. We know we are in Mumbai, and the city going to get water no matter what." https://www.firstpost.com/india/mumbais-burgeoning-water-needs-leave-nearby-villages-parched-citys-wasted-and-free-supply-more-than-nagpurs-daily-need-8127461.html  (23 March 2020)
Report "Bengaluru, Bhopal among Indian cities with best water designs" As per a report titled, Cities with the Best Water Designs, by the World University of Design (WUD), Bengaluru, Bhopal along with Gujarat's Dholavira and Madhya Pradesh's Dhubela are among the cities and towns in India with some of the most interesting urban projects that manage, protect and conserve water supply. Globally, the cities which have led in adopting design as a strategic element in innovation processes to solve the looming water crisis are South Africa's Cape Town, Mozambique's Beira, and Peru's Lima. The report further pointed that it is time to seriously introspect on the importance of efficiently designing and managing the water resources in urban city planning.  https://www.outlookindia.com/newsscroll/bengaluru-bhopal-among-indian-cities-with-best-water-designs/1773276  (19 March 2020)
Noida Ganga water supply stopped for 10 days to repair canal With the state irrigation department shutting down the Upper Ganga Canal for the repair work to meet the demand for Haridwar Kumbh Mela scheduled for next year, Noida may see a 10-day-long water shortage. The Ganga water supply will be stalled for certain areas of Ghaziabad and Noida from March 23 till April 1, said officials.
– The Noida Authority, however, said that they will meet the demand using the borewells and ranney wells, which despite being in bad shape, can still meet the city's water demand. However, the quality of water quality may suffer.
– Officials from Jal Nigam have said that closing down the Upper Ganga Canal will see a shortage of about 182 MLD (million litres daily) of water supply for Noida alone.
– "Noida's daily demand is 340 MLD of which 182 comes from Ganga water. We have 384 tube wells and 9 ranney wells which are honestly not in very good shape due to depletion of groundwater. However, the demand will be met. Though the water quality would be slightly on the downside will and have high TDS, but people having reverse osmosis (RO)purifiers which can bring the TDS levles down," said BM Pokhriyal, deputy general manager (water), Noida Authority.  https://www.hindustantimes.com/noida/ganga-water-supply-stopped-for-10-days-to-repair-canal/story-8hj8uC9trDGWfwMeZGVwNM.html  (23 March 2020)
Indore  In 'Smart City', Some Are More Equal Than Others in Accessing Water "We are not authorised to send water tankers to those who do not have documents to prove that the land is theirs. So, these squatters are outside our supply area. But we do try and help them when we can," said a junior officer responsible for supplying water in the Sanwer area. Even in perhaps the most underprivileged part of the city, some are more equal than others when it comes to access to water.
https://science.thewire.in/environment/smart-city-indore-water-access/ (21 March 2020) 
Jammu & Kashmir Law enforcers turn violators It is not possible to highlight all the water-bodies that are being used as garbage dump sites by Municipal bodies across J&K , but one can say that Municipal institutions in Poonch , Rajouri , Ramban , Udhampur, Kulgam, Sopore, Kupwara are involved in this heinous crime. One can't only blame these Municipal institutions as authorities don't provide them necessary land for scientific disposal of waste. Govt needs to decentralize its waste management system and establish small landfill sites at different locations to ensure water-bodies are not used for garbage dumping. People who have some land available around their house should be motivated to undertake in-house compositing of organic waste. Financial allocation for sanitation, waste management and supply of safe drinking water has to be increased. https://www.greaterkashmir.com/news/opinion/law-enforcers-turn-violators/  (22 March 2020)  
Trichy Timely maintenance helps The routine maintenance work carried out by the civic body earlier this year in all their 10 major water heads have come in handy ahead of peak summer setting in. As the main borewells in Cauvery and Kollidam rivers have been cleaned, the city corporation said that even an increase in drinking water demand can be managed in the ensuing summer.
– Trichy city, with 65 wards, requires 135 MLD water. The quantum may surge between the months of April and June. The bitter lessons learnt during summer in 2017 wherein the by the city corporation was forced to supply water only on alternate days due to the dip in water yield, has pushed it to complete the maintenance work before the onset of summer.
– Cleaning the radial arms and other maintenance works were carried out in the six collector wells situated on river Kollidam and four on river Cauvery at an estimated cost of Rs 9 crore. https://timesofindia.indiatimes.com/city/madurai/timely-maintenance-helps-corpn-maintain-water-yield/articleshow/74783227.cms   (24 March 2020)
WATER POLLUTION
Opinion Laws Alone Won't Fix Pharmaceutical Pollution India fulfils 20% of the global demand for medicines and antibiotics. This means 20,000 of the 100,000 tonnes of the pharmaceutical products consumed globally every year are manufactured in our own backyard. The Patancheru-Bollaram industrial estate in Telangana is the largest bulk drug manufacturing site in India, followed by the Baddi Industrial area in Himachal Pradesh and the SIPCOT Industrial Estate in Cuddalore, Tamil Nadu. Low manufacturing costs have historically made India a coveted pharmaceutical production hub and the industry has also benefited from sustained government support in recent decades.
– However, the growth of the sector has come at a cost to the environment. Toxic chemicals are used extensively to manufacture drugs. Several studies have reported the contamination of air, water and soil in and around bulk drug manufacturing facilities in Patancheru, Baddi, Cuddalore and other places. Among these, Hyderabad has been a subject of several national and international investigations, some of which have found the groundwater in the region to be contaminated by toxins including lead, cadmium, arsenic and vanadium in concentrations several-thousand-times higher than those prescribed by the WHO and the Bureau of Indian Standards.
– In addition to toxic emissions from manufacturing, an equal threat is posed by antibiotic pollution. Active pharmaceutical ingredients (APIs) are released into the environment during the drug-manufacturing process. In the case of antibiotics, the release of untreated APIs in wastewater streams has been shown to contribute to the spread of antimicrobial resistance (AMR). AMR occurs when bacteria, fungi, viruses and parasites evolve resistance to common antibiotics, rendering them ineffective and thus making once curable infections like tuberculosis harder to fight off, or even impossible.
– In fact, India carries one of the world's largest burdens of drug-resistant pathogens, including the highest burden of multi-drug-resistant tuberculosis. An estimated 130,000, or 27%, of the world's tuberculosis cases occur in India. This is twice the number of cases in China, which has the second-highest number of people with tuberculosis globally. Two million deaths are projected to occur in India due to AMR by the year 2050.
– In 2019, the NGT commissioned a study of the Musi river to determine the extent of antibiotic pollution. In its report to the NGT, researchers from BITS Pilani-Hyderabad observed that all 90 bacterial strains they had isolated from 54 water samples were multi-drug-resistant; some of them were even extensively drug-resistant, a 'higher' category.
– Given the background of poor commitment to implementation of even court orders, the new proposed standards are a much-welcome intervention. However, successful pollution mitigation policies depend primarily on an efficient monitoring infrastructure and reliable data generation. Indian regulatory agencies fare poorly on both these counts.
– Another key element is to ensure robust implementation with regular controls and enforcement measures, including closing factories that have been found to be noncompliant and imposing high fines against the companies that operate them. Without robust implementation and enforcement, the ambitious rules will only be a smoke-screen for unsustainable practices.  https://science.thewire.in/environment/pharma-pollution-tuberculosis-antimicrobial-resistance-patancheru-bollaram-ngt/  (25 March 2020)
WATER
Jal shakti abhiyan was launched to end india's water woes. did it succeed? A review of the best and worst districts.  https://www.downtoearth.org.in/news/water/water-stressed-india-did-jal-shakti-abhiyan-help-69822  (22 March 2020)
The Thanjavur district ranked third in terms of water-conservation works under Jal Shakti Abhiyan.  https://www.downtoearth.org.in/news/water/water-stressed-in-india-in-thanjavur-an-outlier-in-need-of-conservation-measures-69861  (19 March 2020)
The contrast in the districts' JSA rankings of these two neighbouring Telangana district was due to proper implementation of schemes.  https://www.downtoearth.org.in/news/water/water-stressed-in-india-curious-case-of-2-neighbouring-telangana-districts-69854  (19 March 2020)
The South Goa district, which receives surplus rainfall, has repaired traditional mud bunds, desiltation of rivers and reviving old canals.  https://www.downtoearth.org.in/news/water/water-stressed-in-india-ground-water-mostly-neglected-in-rain-surplus-south-goa-69852  (19 March 2020)
Locals in W Bengal's Hooghly district say they have enough water; but there is huge draft of ground water.  https://www.downtoearth.org.in/news/water/water-stressed-in-india-perception-trumps-reality-in-bengal-s-hooghly-69812  (18 March 2020)
The Andhra Pradesh's Kadapa district, that was ranked first, could do even better if local officials are given freedom to choose, they say.  https://www.downtoearth.org.in/news/water/water-stressed-in-india-kadapa-officials-urge-bottoms-up-approach-69819  (18 March 2020)
Most structures claimed to be built under campaign in Gaya district don't reflect reality.  https://www.downtoearth.org.in/news/water/water-stressed-in-india-gaya-raises-several-questions-over-jsa-claims-69805  (17 March 2020)  
MONSOON
AGRICULTURE
Bundelkhand Hailstorm Triggered Cyclical Crisis Govt policies compensate only the landowner, while the sharecropper, who has borne much of the expense and labour for the crop, gets nothing.  https://thewire.in/agriculture/bundelkhand-agriculture-farmers-sharecroppers  (24 March 2020)
COVID 19, WATER, RIVERS, WILDLIFE
'Globally, 40% lack basic hand-washing facilities at home' Noting the critical water situation in India, Himanshu Thakkar, water expert and and coordinator of SANDRP, said an estimated 59% of urban houses and 78% of rural houses in the country did not have access to clean water at home even for drinking.
He said, "The situation is not improving rapidly as groundwater, India's main source of water, is over exploited and depleting in levels and deteriorating in quality. Moreover, the mismanagement is getting compounded under the climate change, which is the theme of the World Water Day 2020." https://timesofindia.indiatimes.com/india/globally-40-lack-basic-hand-washing-facilities-at-home/articleshow/74765952.cms  (23 March 2020)
Madurai Water scarcity raises hygiene concerns in slums Residents of MK Puram slum said they are facing a water crisis, particularly after the lockdown came into play. They allege that the corporation's water tankers are not regularly supplying them. https://timesofindia.indiatimes.com/city/madurai/water-scarcity-raises-hygiene-concerns-in-slums/articleshow/74879531.cms  (30 March 2020)
Maharashtra Latur's water supply gap reduced due to lockdown Water will be supplied in Latur city in Maharashtra once every seven days from the current gap of ten days, a senior official said on March 27. Latur is part of parched Marathwada region and is the state"s 16th largest city with 5 lakh residents. https://www.outlookindia.com/newsscroll/coronavirus-laturs-water-supply-gap-reduced-due-to-lockdown/1782230  (27 March 2020)
Punjab Effluent discharge in Ludhiana's Buddha Nullah drops Amid closure of industry and infrastructure projects, the discharge of sewage and effluents in the Buddha Nullah, dubbed as the city's toxic vein, has also reduced significantly.
Jasvir Singh, sub-divisional officer (SDO) with the discharge wing of the irrigation department said, "The effluent discharge into the nullah has receded significantly after the closure of industry units. On March 2, an average of 255 cubic feet per second (cusecs) of discharge was recorded, on March 16, the discharge fell to 220 cusecs, while on Sunday it was merely 197 cusecs." https://www.hindustantimes.com/cities/lockdown-effect-effluent-discharge-in-ludhiana-s-buddha-nullah-drops/story-uUFPVk7yWWxBRW727eztwK.html  (30 March 2020)
At a time when other northern states including Himachal, Haryana and Delhi are feeling helpless and unable to find solution to the problem of mass exodus of migrant workers belonging to other states back to their homes on foot, in the wake of lockdown, Punjab government on March 29 took a major decision and given a go ahead to the factories in state which are producing non-essential goods to resume operations but subject to fulfillment of several conditions. Some of the conditions include the factories will have to give the facility of free lodging, food and medical in house to their workers and also ensure that all the measures including social distancing too is followed by the workers.
The decision comes in the wake of hue and cry raised by several business associations which warned government that if the workers leave Punjab they will never be able to re-open their factories as almost 90 percent of the labour employed in the factories is from other states, mainly Uttar Pradesh, Bihar, Jharkhand, West Bengal etc. https://timesofindia.indiatimes.com/city/ludhiana/to-put-a-stop-to-workers-exodus-punjab-allows-factories-to-open/articleshow/74874508.cms  (29 March 2020)
Power Industry Within ten days, 26% fall in energy consumption India's daily power consumption has suffered a 26 per cent fall in less than ten days since 18 March. The fall, captured in official data released by Power System Operation Corporation (POSOCO), is attributed to the slump in the economic activity in the wake of the Coronavirus outbreak. The country's overall energy consumption dropped from 3,586 Gigawatt Hour (GWh) on 18 March to 2,652 GWh on March 26. The percentage fall in daily energy consumption itself has grown from 15 per cent to 26 per cent during this period. The steepest decline in consumption was recorded in the Western region where it fell 35 per cent to 771 GWh on 26 March as compared to 1,187 GWh on 18 March. https://energy.economictimes.indiatimes.com/news/power/coronavirus-impact-within-ten-days-26-per-cent-fall-in-indias-energy-consumption/74854825  (28 March 2020)
Hyderabad No water scarcity Hyderabad Metropolitan Water Supply and Sewerage Board (HMWS&SB) Managing Director M Dana Kishore on March 26 said that the water levels in Krishna (Akkampally) and Godavari (Yellamapally) are more than comfortable, despite the large scale consumption by people following the outbreak of SARS-CoV-2. https://www.newindianexpress.com/cities/hyderabad/2020/mar/27/no-scarcity-of-water-in-greater-hyderabad-limits-says-water-board-chief-2122123.html  (27 March 2020)
Gujarat Disruptions in labour and trading – fishing industry comes to a halt The multi-billion fishing industry, which employs around 3.5 lakh people in the state of Gujarat, has come to a grinding halt as traders and processors are facing labour shortage and transportation issues, following restrictions imposed due to the novel coronavirus (COVID-19) outbreak.  https://indianexpress.com/article/cities/ahmedabad/gujarat-vadodara-trading-fishing-industry-coronavirus-6331643/  (26 March 2020)
Kerala Dolphins return to the estuary at Fort Kochi At Fort Kochi in Kerala, river dolphins can be seen at the estuary, as cruise ships and other tourist boats are absent. Local fishermen say they have not seen so many pods of dolphins in recent past.  https://timesofindia.indiatimes.com/videos/city/kochi/covid-19-outbreak-fallout-river-dolphins-return-to-the-estuary-at-fort-kochi-in-kerala/videoshow/74762360.cms  (22 March 2020)
https://tvid.in/1xweifbu6o/toi
Ukraine 2 Sturgeons Rescued in 2 Countries in 2 Days Poachers are not afraid of viruses. Fortunately, the Ukrainian Izmail Frontier Detachment, the Bulgarian Border Police and the Executive Agency of Fisheries and Aquaculture (EAFA) are still very active during this most important period of sturgeon migration and spawning in the Danube. A 100 kg Beluga sturgeon was rescued in Bulgaria, and a 150 kg pregnant Beluga saved in Ukraine. Massive layoffs due to Covid-19 may put even more pressure on this, the most endangered species on the planet, as people search for alternative income sources. Protecting sturgeon and their habitats is crucial if we are to achieve the New Deal for Nature and People's goal of zero biodiversity and habitat loss by 2030. https://www.youtube.com/watch?v=Fp6ga0ByyZE  (20 March 2020)  https://wwf.panda.org/knowledge_hub/where_we_work/black_sea_basin/danube_carpathian/
ENVIRONMENT
Push for ease of doing business will weaken environmental checks on development projects Environment lawyer Ritwick Dutta told Mongabay-India that the notification overrides the principles of environment protection. "Instead of focussing on ensuring the protection of the environment, the [2020 draft] undermines the orders of the NGT which had ruled against post-facto approvals. The purpose of this notification is to legitimise illegalities done by industries. It seems to be emphasising that an industrial project that has violated environmental rules will have a right to seek approval for it as long as that project is permissible in the area. It is a mockery of the law," Dutta explained. "Therefore, the ministry deems it necessary to lay down the procedure to bring such violation projects under the regulations in the interest of the environment at the earliest point of time rather than leaving them unregulated and unchecked, which will be more damaging to the environment," the draft said.
– The draft said public consultation is exempted for projects that include modernisation of irrigation; building, construction and area development; inland waterways; expansion or widening of national highways; national defence and security; or those involving "other strategic considerations" as determined by the Central Government. It also includes all linear projects , such as pipelines in border areas, and all off-shore projects located beyond 12 nautical miles.
– "With this, it is now ensured that the construction industry will no longer require an appraisal from the expert panels of the environment ministry. Similarly, the term "strategic project" is used in the proposed [Environment Impact Assessment] notification, where public consultation is exempted. Defence and security-related projects are understandable but the governments can designate any other projects as of strategic importance in name of energy security, to steer it clear of any public consultation and push the project. It can be an irrigation project or a mining project," said Dutta.
– However, Dutta underlined that the term "border area" is defined as an "area falling within 100-km aerial distance from the line of actual control with bordering countries of India" which will end up covering a huge area in regions like North East or Northern India. "It leaves a lot to the discretion of the government," said Dutta. Uttar Pradesh-based environmentalist Vikrant Tongad emphasised that the draft notification is a huge setback. "A few years ago, the government started focusing on ease of business but today, with changes like these, the only focus is business while the original mandate of protecting the environment is nowhere to be found. The proposed notification is conveniently expanding the list of projects that can be exempted from close scrutiny," Tongad said.
– For instance, the government's push for inland waterways has been a controversial subject. "There is a case going on regarding inland waterways. Waterways require two kinds of dredging – capital and maintenance. Now, as per the existing rules, capital dredging [for inland waterways] requires environmental impact assessment. However, in the [2020 draft], the ministry has changed the definition of capital dredging to keep rivers out of the purview of the new environment clearance process," said Dutta.
– Tongad observed that one issue that the draft has ignored is monitoring and compliance of projects cleared. Under the draft notification 2020, project owners are to submit environmental compliance reports after getting clearance every year which, under the 2006 notification, had to be done every six months.  https://scroll.in/article/956647/indias-push-for-ease-of-doing-business-will-weaken-environmental-checks-on-development-projects  (21 March 2020)
The current notification, if it comes into force, is a move towards seeking investment irrespective of any adverse consequences that could follow. The government should not allow investment by diluting its EIA process just to fulfil its ambitious project of making India a $5 trillion economy by 2024.  https://science.thewire.in/environment/environment-ministry-draft-environment-impact-assessment-notification-investment-any-cost/  (25 March 2020)
Karnataka A legal fiasco CM Karnataka violates all the laws and tenets to push clearance of disastrous Huble-Ankola Railway line through the SBWL meeting, this is bound to be challenged.  https://www.deccanherald.com/opinion/main-article/a-legal-fiasco-818065.html  (27 March 2020)
CLIMATE CHANGE
Report Need network to monitor soil moisture A parliamentary standing committee on Science and Technology, MoEF&CC, chaired by Rajya Sabha member Jairam Ramesh recently issued a report on the Demand for Grants (2020-2021) by the Ministry of Earth Sciences.
– While the committee notes many specific needs ranging from supercomputing to deep-ocean observations, soil moisture is a critical parameter missing from the existing observational networks. It is also important for monsoon modelling and predictions, as well as for weather forecasts to better support the agriculture sector.
– The committee members noted the numerous activities under the purview of MoES through its autonomous bodies and centres, including the India Meteorological Department. India's investments in improving weather and climate predictions, including providing ocean, wave, flood, and cyclone predictions, etc., have improved in the last decade. The focus now is on gaps in observations, forecast systems, research, education, outreach and services. https://science.thewire.in/environment/soil-moisture-monsoon-forecast-active-break-cycles-agriculture-irrigation/  (22 March 2020)
What has been missing in the Paris Agreement is the explicit mention of soil carbon as part of carbon management and carbon markets. Soil carbon has in general been perceived as difficult to govern and manage considering the largely individual ownership and the challenges of measuring soil carbon at scale. The drumbeat in support of soil carbon as an integral part of climate mitigation has however been growing recently.
– Restoring this carbon lost since the beginning of agriculture would have multiple co-benefits. The Intergovernmental Panel on Climate Change (IPCC) has argued that soil carbon sequestration is worth the cost independent of its impact on climate mitigation.
– The co-benefits include improved soil fertility, climate resilience, reduced erosion, reduced loss of forests, benefits for wetlands, peatland and biodiversity. Up to threefold increase in crop yields are reported with increased soil carbon. Additional co-benefits include increased populations of insects, worms, birds and other pollinators.
– Improved estimates of the total potential of carbon sequestration by natural solutions are 24 billion tonnes of CO2-equivalent per year. About 25% of that is reported to be from organic carbon sequestration in soils. They further divide the soil organic carbon (SOC) pool into 40% requiring protection from being released and 60% needing to be restored. Forest soils and agricultural and grasslands have a share of 9% and 47% of total SOC, respectively. But a stunning 72% is argued to be the mitigation potential of wetlands!  https://science.thewire.in/environment/soil-organic-carbon-stock-paris-agreement-climate-change-food-sequestration/  (27 March 2020)
India's women seaweed divers swim against the tide Mookupori, 56, is one of nearly 2,000 women in Tamil Nadu state who dive to collect seaweed used in making agar, a gelatinous substance that becomes a thickener in food and medicines. "I started accompanying my mother and grandmother to sea when I was eight or 10," she said, as she helped load cans of drinking water onto the boat. "Those days, the seaweed collection was huge. We would bring back bags full. Now the quantity has reduced. The number of days we harvest the seaweed has also reduced. The sea has changed and we also had to."
– In 1986, the region was declared a national biodiversity park under India's Wildlife Protection Act and collecting natural resource there was prohibited. But creation of the marine park meant restrictions on accessing the bay's 21 uninhabited islands to fish – or to collect seaweed – for 125 local villages. "It was like they were declared thieves in their own backyard," said Venugopal, the program head for the non-profit International Collective in Support of Fishworkers (ICSF) Trust.
– To counter charges of over-harvesting, they ply their trade only about 12 days a month and ensure they rotate between islands. None of them harvest between April and June, the main breeding season for fish. But their biggest push to protect the ecosystem and their livelihoods has been to begin cultivating – as well as harvesting – seaweed.  https://www.reuters.com/article/us-india-climate-change-women/indias-women-seaweed-divers-swim-against-the-tide-of-climate-change-idUSKBN21H0IY  (30 March 2020)
SOUTH ASIA
India Bangladesh Water challenge Dhaka has been demanding an equitable share of the Teesta River, a tributary of the Brahmaputra River, which flows from India into Bangladesh. A combination of climate change and India's unilateral dam construction in the upper reaches of the Teesta has significantly reduced the flow of water into Bangladesh, especially during the dry seasons, impairing its agricultural and fishery sectors.
– This issue has been on the agenda of every India-Bangladesh Summit for the past decade but there has been no progress. Hasina has faced significant domestic backlash because of her failure to resolve this issue. Her pro-India stance has been brought up repeatedly as the reason for her inability to push New Delhi on this issue. It has also strengthened perceptions of India as an overbearing, larger neighbour. The backlash increased following an agreement in October 2019, during Hasina's visit to New Delhi, that allows India to draw water from Bangladesh's Feni River.
– Given the present context, Hasina's expressed willingness to remain patient on the issue is likely to be severely tested. She may push India harder on resolving this issue faster and negotiate more aggressively for more favourable terms for Bangladesh. However, any progress in the short-term is unlikely.  https://www.ips-journal.eu/regions/asia/article/show/indias-bangladesh-challenge-4181/  (23 March 2020)
Nepal Portrait of a dying river A photo essay shows how the Marsyangdi (means a raging river), a major river in Nepal, is slowly dying, caught in a series of dams and tunnels along its course. About 20 kilometres of Marsyangdi river is dry or has very little water due to operations of hydro projects during the dry season. Although Nepal's regulations state that 10% of water should be left to flow below the dam to maintain the ecosystem, no hydro project seems to be following it.
– There are already three hydro projects in operation on the river. The 69 MW Marsyangdi project in Tanahu district, the 70 MW Middle Marsyangdi project and the Upper Marsyangdi A project, a 50 MW project in Lamjung district. About six kilometres of the river is dry downstream of the Upper Marsyangdi A dam site, for about seven kilometres the river flows inside a tunnel below the middle Marsyangdi dam site in Lamjung district and then a stretch of about seven kilometres is dry downstream of the dam site in Tanahu district. Eleven hydro projects have been planned on the main stream of Marsyangdi within about 140 kilometres from its source in the Manang district to its confluence with Trisuli River in Tanahu district. Apart from the projects in operation, the government has already issued generation licences to four more.  https://www.thethirdpole.net/en/2020/03/27/portrait-of-a-dying-river/  (27 March 2020)
ASIA  
MEKONG Thailand Activists Protest New Xayaburi Dam It's been more than 40 years since Bula Tawan first cast his fishing net out across the Mekong River when the waterway was rich in marine life. But the days of big catches have disappeared for most fishermen like Tawan, who once relied on the big hauls to earn a living and feed his family.
– "The water and the color have changed because when the water was natural it was not clear like this and it would have sediments and nutrients in there," explained the lean 66-year-old father, as he scooped up a handful of transparent river water. "The water is clear, but the sediments and nutrients have gone."
– The Thai government's view of the matter is somewhat different. "The water's change to a blue color has made the tourists more excited for the color and it has gone on social media making it more popular so that more tourists want to visit," said Tanaporn Sriyamoon from the Thai government's Planning Policy office.
– The timing of the water's transformation, along with extreme fluctuations in river levels, coincide with the upstream Lao government-owned Xayaburi dam, which began generating hydropower last October. According to the Xayaburi website, the $3.8 billion dam is "a run of river barrage which will trap substantially less sediment than conventional storage schemes," but new evidence indicates that major blockages still occur.
– Now, the Network of Thai People in Eight Mekong Provinces has gone to court to try and slow down the generators and sale of electric power to Thai companies, 95% of which will be purchased by the Electricity Generating Authority of Thailand, or EGAT. "The people who set the limit to sell the power to Thailand is EGAT so it has an impact on the ecosystem of the Mekong River," said Network spokesperson Ormbun Thipsuna.
– Ormbun Thipsuna says that recent reports from the Ministry of Energy indicate that Thailand has enough electricity to supply the country's needs. In February, the network submitted evidence to the Thai Supreme Administrative Court in an ongoing lawsuit that pinpoints five Thai state agencies including EGAT. EGAT did not respond to questions submitted by VOA.
– In addition to the evidence of environmental damage caused by the dam, the plaintiffs also request that the court issue an injunction to suspend the power purchase agreement until new information can be checked regarding the dam's impact on the river's ecosystem.
– One analyst sees the network's new approach as shining much needed light on the fact that "power from Mekong mainstream dams in Laos is not needed in Thailand because the country's energy reserve is set artificially high at around 40-50% above peak needs." "Many countries do not have reserve requirements but those that do are in the middle- or upper-income categories and set reserve margins around 20%," says Brian Eyler, an expert on transboundary issues in the Mekong region.
– But Eyler is less optimistic that changes can be made, based on that argument. "Thailand's EGAT would have to cancel or renegotiate its power purchase agreement with the Xayaburi Dam in order to change operations of the Xayaburi Dam. Such cancellations or renegotiations rarely happen because investors will mobilize all their resources to prevent this outcome."
– One of the most contentious issues concerning the dam's construction is the lack of transparency regarding the project's impact assessment report. "We can't get access to the information and get access to the public hearing events that have been organized by the Natural Resources department," Ormbun Thipsuna explained.  https://www.voanews.com/east-asia-pacific/thai-activists-protest-new-xayaburi-dam-mekong  (22 March 2020)
THE REST OF THE WORLD
Study Maximizing energy production from hydropower dams using short-term weather forecasts This study explores the maximization of hydropower generation by optimizing reservoir operations based on short-term inflow forecasts derived from publicly available numerical weather prediction (NWP) models. Forecast fields from the NWP model of Global Forecast System (GFS) were used to force the Variable Infiltration Capacity (VIC) hydrologic model to forecast reservoir inflow for 1e16 days lead time. The optimization of reservoir operations was performed based on the forecast of inflow. The concept was demonstrated for two dams in the United States.
Results showed that a significantly greater amount additional hydroelectric energy benefit can be derived consistently than the traditional operations without optimization and weather forecasts. Goals of flood control and dam safety were also not compromised when exploring opportunities for hydropower maximization. An alternate data-based technique was also demonstrated to improve the forecasting skill and efficiency. The study clearly underscores the additional value of weather forecasts that are available publicly and globally from NWP models for any dam location for hydropower maximization. Given the on-going effort to coordinate strategies for sustainable energy production from renewable energy sources, it is timely that this concept be expanded further to current hydropower dam sites around the world.  http://students.washington.edu/skahmad/publications/uploads/JRE.pdf  
Is it game changer hydro technology? This claims new game changer hydropower technology, "The system, which is designed for smaller 'low-head' hydro schemes operating on rivers, offers 20% lower operating costs than conventional turbines already running. It's also touted as safer for fish". But no convincing details are provided. The claims are based on a 35 kw plant running in Maine, USA. Long way to go. https://www.rechargenews.com/transition/bill-gates-backs-game-changer-hydropower-technology/2-1-782939  (27 March 2020)
Africa Biggest Hydropower project back on track? The headline about proposed Grand Inga dam on Congo river is misleading, dam is still under design, after which the next step may happen.  http://venturesafrica.com/drc-president-gets-africas-biggest-hydropower-project-back-on-track/   (17 March 2020)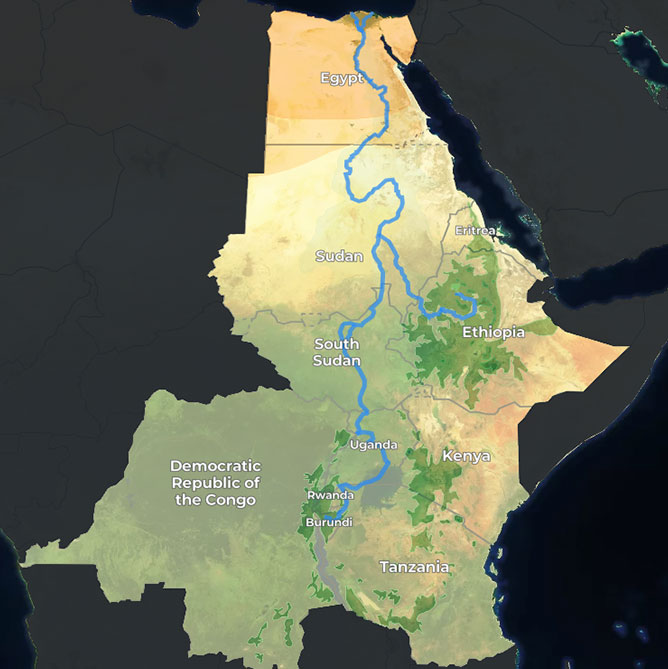 NILE Infographic on Nile seems a bit biased in favour of Egypt and status quo. For Nile to be saved (as the title says), a lot needs to be changed besides planned dams on Blue Nile.  https://interactive.aljazeera.com/aje/2020/saving-the-nile/index.html 
Report Fatal landslides 2019 Dave Petley on Fatal Landslides and Number of Fatalities in landslides in 2019. He has been collecting this information since 2002 and says 2019 number of fatal landslide number at 463 is the third worst, after those of 2010 and 2009.
One of the reasons for this, he says is the higher number of fatal landslides in Asian monsoon, the increased number of mining landslides and high number of landslides in Africa. One wishes he would provide graphs for regional fatal landslides, seasonal/ month-wise fatal landslides.  https://blogs.agu.org/landslideblog/2020/03/25/2019-fatal-landslides/  (25 March 2019)
Compiled by SANDRP (ht.sandrp@gmail.com)
Also see: DRP News Bulletin 23 March 2020 & DRP News Bulletin 16 March 2020
Follow us on: www.facebook.com/sandrp.in; https://twitter.com/Indian_Rivers