With the beginning of New Year, there have been several media reports highlighting the river revival works and floodplain protection efforts going on in different parts of country. While the community driven efforts with active support from administration and experts to revive Kasal Odha in Solapur and bring back Old Lakhandei river in Sithamarhi have been bearing fruits. The civil societies, judiciary and administration have also taken steps to protect the floodplains of Ramnadi, Indrayani, Hindon rivers.
The artificial pond efforts by NGT panel and Delhi government have also shown positive results in preventing the pollution from idol immersion pollution reaching the Yamuna river. Similarly the CPCB has raised the issue of Mahi river pollution by industries in Central Gujarat. The Karnataka High Court questioning the authority and fund collection mechanism by Isha Foundation for Cauvery Calling initiative is particularly significant. While revival of rivers is imperative task, the accountability and transparency cannot be set aside.
Maharashtra Water stress evaporates once a river flows Residents of drought-wracked Mahud village have revived Kasal Odha or rivulet in Sangola Taluk in Solapur on the Pandharpur–Karad Road by themselves with some help from district officials. The community initiative has raised the water table and made irrigation possible. https://www.villagesquare.in/2020/01/06/water-stress-evaporates-once-a-river-flows/  (6 Jan. 2020)
Ramnadi; Pune Rejuvenation plan to include flood mapping of all existing streams, tributaries Environmentalists working towards the restoration of the Ramnadi river under the aegis of Kirloskar Vasundhara Film Festival have recommended a series of policy-centric initiatives in their report entitled 'Ramnadi Flood Report'. The report prepared by the riverine ecosystem rejuvenation experts and environmentalists that was submitted to Pune Municipal Corporation (PMC) on Monday for action, strongly emphasised the need for flood mapping of all existing streams and tributaries, and for all encroachments to be removed from within the flood lines. https://www.hindustantimes.com/cities/ramnadi-rejuvenation-plan-to-include-flood-mapping-of-all-existing-streams-tributaries/story-NP4PQ9pWrzxbhDdRZwl2AM.html  (6 Jan. 2020)
Indrayani, Pune NGT fines administration 15 lakh for inaction NGT has slapped a fine of Rs 15 lakh on the Lonavala Municipal Council (LMC), the Pollution Control Board, the executive engineer of the state Irrigation Department and the Maval tehsildar for failing to submit a report about a building on the banks of Indrayani river, allegedly constructed in violation of environmental norms. https://indianexpress.com/article/cities/pune/ngt-slaps-fine-on-lonavala-civic-body-mpcb-irrigation-dept-maval-tehsildar-6212187/  (12 Jan. 2020)
YAMUNA, Delhi Use of artificial ponds prevented immersion of around 24,000 idols in 2019  As many as 116 artificial ponds were created for idol immersion on Ganesh Chaturthi and 89 on Durga Puja. "Around 24,000 idols were immersed by 2 lakh people on Ganesh Chaturthi and Durga Puja. After the festivals, all ponds were emptied by Delhi Jal Board and cleaned by municipal corporation concerned," the Divisional Commissioner's Office said in a report submitted to the NGT-appointed Yamuna Monitoring Committee. https://www.hindustantimes.com/india-news/use-of-artificial-ponds-prevented-immersion-of-around-24-000-idols-in-yamuna-last-year/story-S19zXecavGjZHltsUL1mFM.html  (7 Jan. 2020)
Hindon, Ghaziabad Welcome move to remove encroachments from Hindon river flood plain by Gaziabad Authority.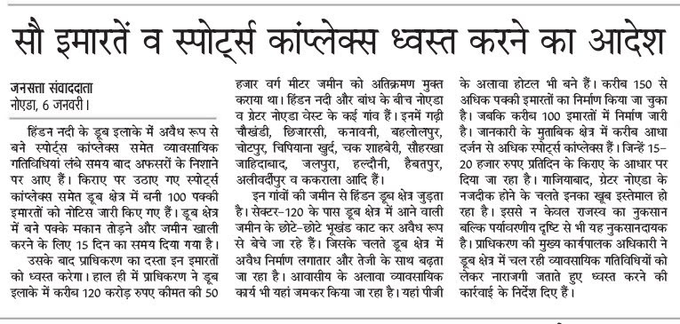 Bihar IAS Officer Breathes New Life Into Dying River Under IAS Abhilasha Kumari Sharma, the District Magistrate, Sithamarhi supervision, the engineers of the Water Resources Department formulated an elaborate blueprint to restore the Old Lakhandei river – an arduous task which they executed with perfect precision in the least possible time.
In total, 23 acres of land was needed for restoring the river, most of which were farmlands owned by small-scale farmers. Getting consent from the farmers to use their lands for the project was another hurdle, which Sharma overcame with her positive assurance and friendly demeanour. 23 Acres were acquired with wholehearted permission of the ryots (farmers). Soon, work started to link the Lakhandei river from Dularpur Ghat to Bharsand, and ultimately with the Nepal segment of the river. "The revival of Lakhandei is now in shape and will finally culminate by the end of March 2020. It was accomplished through our vigorous approach in just two months," reveals Sharma.
Currently, the river has been restored from Pitambarpur to Dularpur Ghat. Only the Link Channel excavation work remains, spanning barely 3 km. Sharma hopes that Sitamarhi will soon bask in her former green glory once the work is completed. https://www.thebetterindia.com/208567/bihar-ias-hero-woman-revives-dying-river-inspiring-india-say143/  (8 Jan. 2020)
Madhya Pradesh  In Tikamgarh a work is being organized to revive a small river Ur by district administration and Panchmukhi Samvay group. 
Some more information on Ur River is given here.  https://www.youtube.com/watch?v=Q8ofCM2hn_8&fbclid=IwAR2EV3hsac0uZOzjWkdODhI3nZLC7PYApxxaah91CkRBuziqOw3BcDeUGjw  (7 Jan. 2020)
CAUVERY Calling  Spiritual organisation not above law: HC to Isha Foundation on Cauvery Calling case The Karnataka High Court on Jan 7, 2020 directed Sadhguru Jaggi Vasudev's Isha Foundation to file an additional affidavit disclosing the amount it has collected and manner in which it has done so. It warned that "Don't be under the impression that spiritual organisation is above law." https://www.livelaw.in/news-updates/karnataka-hc-asks-sadhguru-jaggi-vasudev-isha-foundation-amounts-collected-for-cauvery-calling-project-151363  (7 Jan. 2020)
The bench, led by Chief Justice Abhay Oka was hearing a petition filed against Isha Foundation collecting money from farmers to fund the initiative. "Creating awareness about river rejuvenation is a good cause, but it should not be done at the cost of forcing people to pay money. Under what authority are you collecting money from farmers? Where is the affidavit stating that you have not forced people to pay money?" the court asked. The court observed that Isha Foundation was not a registered society and is not authorised by the state or the Centre to collect funds.
– "Even spiritual matters have to be bound by law. In the name of spirituality, what all are you doing? Don't be under the impression that if you are a spiritual organisation, you are not bound by law," the court said, as per LiveLaw.
– The court also pulled up the Karnataka government, who is also a respondent in the case, why the state was quiet when this money was being collected. The state government has reportedly filed an affidavit in court stating that they have not authorised the organisation to collect funds.
– The High Court also asked the foundation to disclose whether Cauvery Calling is a trust, to which the government's counsel stated that it was a movement. "I have stated that to collect money, there should be a trust, society or company but Isha Foundation is not a registered organisation," AV Amarnathan, the petitioner in the case told TNM. The foundation has been asked to respond by February 12 during the next hearing in the case. https://www.thenewsminute.com/article/spiritual-organisation-not-above-law-hc-isha-foundation-cauvery-calling-case-115532  (7 Jan. 2020)
Gujarat CPCB says industrial units discharge polluted wastewater, harming farms
The CPCB, Government of India's anti-pollution watchdog, has taken strong exception to the Vadodara Enviro Channel Ltd (VECL), responsible for disposal of treated waste water of hundreds of industrial units in and around Vadodara, for virtually discharging effluents into the estuarine zone of Mahi river, Gulf of Khambhat. https://www.counterview.net/2020/01/central-gujarat-industrial-units.html   (3 Jan. 2020)
URBAN RIVERS
Vasishta, Salem Dirty and dry pays for unregulated development Some 25 years ago, River Vasishta had sparkling clean water bathable, potable in Attur town which means place with a river to now when people have stopped visiting the river due to foul smell.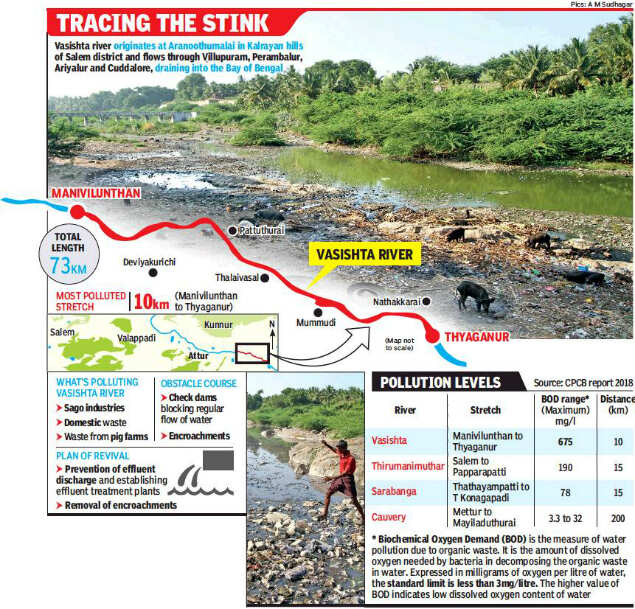 – It all started about 20 years ago when Attur town began expanding. The growing population took the easy way of waste disposal by dumping it into the river. Simultaneously, sago units which mushroomed along it, let untreated industrial waste into the river in the absence of strict norms. Illegal sand mining upstream near Pethanaickenpalayam till a decade ago, also contributed to the dwindling of the river. Farmers depending on Vasishta Nadhi and its canals also moved away from sugarcane and rice to less water-intensive crops like maize.
– Originating as a stream in Aranoothumalai, erratic monsoon also compounded the woes of the river. As water flow reduced, encroachments cropped up along the banks and an overgrowth of vegetation, particularly seemai karuvelam (prosopis juliflora) took over, hindering the flow and turning the river into a dirty channel of waste water.
– Residents point out that a check dam constructed upstream which stored water was also a reason for the poor water flow in the river. In fact, for 12 years there was no water at all. It was only during the copious rainfall in 2018 that Vasishta was in full flow.  https://timesofindia.indiatimes.com/city/chennai/dirty-and-dry-vasishta-river-pays-for-unregulated-development/articleshow/71301354.cms  (27 Sept. 2019)
RIVERS
SANDRP Blog "Padma I've seen you many, many times." Anna Akhmatova, who translated Rabindranath Tagore's poems into Russian in the mid-1960s, described him as "that mighty flow of poetry which takes its strength from Hinduism as from the Ganges." Although he explored the beauty of Upnishads and revered the "sacred current of the Ganges", he was not tied to them. A beacon of Hindu-Muslim unity, his poetry took strength from myriad precious details.  https://sandrp.in/2020/01/10/padma-i-have-seen-you-many-many-times/  (10 Jan. 2020)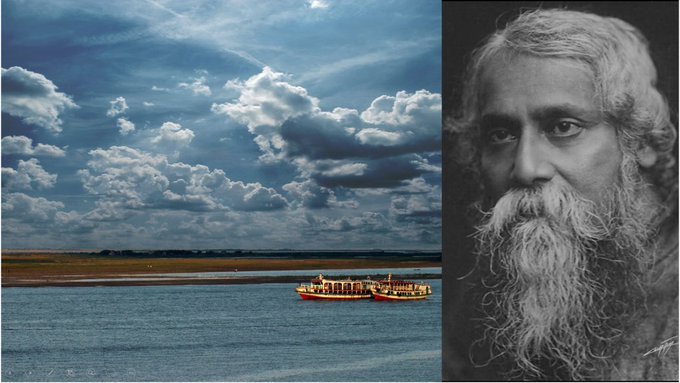 Also see, the first part her He Spoke the Language of the Rivers: Rabindranath Tagore. https://sandrp.in/2020/01/08/he-spoke-the-language-of-the-rivers-rabindranath-tagore/  (8 Jan. 2020)
BRAHMAPUTRA Assam River "Took Everything Away" Report on gradual Majuli island erosion and impact on dependent people:- Environmental expert Himanshu Thakkar says hundreds of millions of dollars have been spent building concrete river embankments in a bid to mitigate flooding along the Indus. But this has instead exacerbated the situation by inadvertently speeding up the flow of the river — making it more dangerous when water levels are high. Thakkar: "The Brahmaputra is a flood-prone river but we are worsening the situation."  https://www.ndtv.com/india-news/the-river-took-everything-away-life-on-the-edge-of-brahmaputra-in-assam-2161853  (10 Jan. 2020)
NARMADA Gujarat Tribals Protest Acquisition of Land, 72 Villages Impacted There are rumblings of discontent in the tribal villages around the much promoted Statue of Unity (SoU) in Gujarat. The tribal population of as many as 72 villages is opposing the Statue of Unity Area Development and Tourism Governance Bill 2019 that was passed by the state assembly last month.
Protests by the tribals are largely going unreported by the media, or or the reports are just being confined to the local pages of the vernacular as well as English dailies. Between the last Poonam (full moon night) and the Poonam falling on Friday, there has been massive mobilization that has been carried out by activists across these villages along the Narmada River. https://www.thecitizen.in/index.php/en/NewsDetail/index/9/18139/Statue-Vs-Livelihood-Tribals-in-Gujarat-Protest-Acquisition-of-Land-72-Villages-Impacted  (10 Jan. 2020)
Authority with punitive powers planned in tribal district This is draconian authority proposed. https://indianexpress.com/article/india/authority-with-punitive-powers-planned-in-gujarats-tribal-district-6159695/?  (10 Dec. 2019)
Narmada Aarti being contemplated at Kevadia/ Sardar Sarovar Dam, where the river has been killed. http://www.uniindia.com/gujarat-govt-contemplating-to-organize-narmada-aarti-daily-like-varanasi-s-ganga-aarti-cm-rupani/west/news/1843250.html  (4 Jan. 2020)   
GANGA
HYDRO POWER PROJECTS
Sikkim Greenko set to buy into $1.5 bn Teesta Project Greenko is making its boldest bet yet in hydel power, buying a chunk of 1200 MW Teesta Stage III, the largest private hydroelectric project in Asia, in a multi-phased transaction. Greenko is backed by Singapore's GIC and Abu Dhabi Investment Authority. To start with, Greenko will buy a 40 per cent stake in Teesta Urja Ltd (TUL) for $200-250 million (Rs 1,400-1,750 crore) from Singapore-based Asian Genco Pte Ltd, a company majority owned by PE investors such as General Atlantic, Goldman Sachs, Morgan Stanley, Norwest Partners and Everstone Capital. The Government of Sikkim owns the remaining 60 per cent in TUL.  https://energy.economictimes.indiatimes.com/news/renewable/greenko-set-to-buy-into-1-5-bn-teesta-project-in-sikkim/73148769  (10 Jan. 2020)
INTERLINKING OF RIVERS
Pamba-Achankvoil-Vaippar river linking Is proposed Pamba-Achankovil-Vaippar project an environmental disaster in making? The proposed Pamba-Achankvoil-Vaippar river linking project – which envisages diversion of water from Pamba and Achankovil rivers in central Kerala to Vaippar basin in Tamil Nadu – is expected to submerge about 2,000 hectares of virgin forest area apart from causing irreparable damages to the backwater agricultural region of Kuttanad in Kerala's Alappuzha district. It is also expected to impact job security of about 500,000 fish workers. https://india.mongabay.com/2020/01/is-the-proposed-pamba-achankovil-vaippar-project-an-environmental-disaster-in-making/  (7 Jan. 2020)
INTERSTATE WATER DISPUTES

 
Krishna Rivers Water Sharing Dispute Krishna river board allocates 140 tmc water to Telangana  -Krishna River Management Board on Jan. 9 allocated 140 tmc ft of water to Telangana and 84 tmc ft to Andhra Pradesh. The water will be provided to both the Telugu states until May 31, 2020. The meeting was chaired by the board chairman RK Gupta. The board member Paramesh said that they have allocated a large quantity of water to the states beyond their need. So far, the Andhra Pradesh state has used 511 tmc ft of water while the Telangana 158 tmc ft of water, Paramesh added. https://www.thehansindia.com/telangana/krishna-river-board-allocates-140-tmc-water-to-telangana-596109  (9 Jan. 2020)
Telangana urged the KRMB to consider 20 per cent from the allocations to be allocated to meet drinking water requirements. It also said the board should take into consideration drawal of additional water by AP during the flood season when it makes these allocations. https://www.deccanchronicle.com/nation/current-affairs/100120/telangana-gets-140tmc-ft-of-krishna-river-till-may.html  (10 Jan. 2020)
Cauvery River Water Sharing Disputes Panel holds session in Puducherry for the first time – Cauvery Water Regulation Committee (CWRC) held its first meeting in Puducherry on Jan. 10. As per the SC order, the CWRC has to conduct regular meetings in the four States to collect details such as storage and water levels at the reservoirs in the basin States and prepare periodic reports.
– The territorial administration briefed about the situation in seven tributaries of Cauvery passing through Karaikal region. The region had received its quota of 7 tmcft of Cauvery water as allotted by the Apex Court, the sources said. The 16- member CWRC team on Jan. 9 had visited Karaikal region and interacted with various stakeholders. https://www.thehindu.com/news/cities/puducherry/cauvery-panel-holds-session-in-puducherry-for-the-first-time/article30538421.ece  (11 Jan. 2020)
IRRIGATION
Telangana Govt to build 600 check dams  Govt has sanctioned 600 check dams across the State under Phase I of the irrigation development project. Of them, 84 will be constructed in Adilabad district at a cost of about ₹200 crore to irrigate crops on nearly 11,000 acres. The largest of the check dams will come up across the Toyaguda stream in the remote Gadiguda mandal. It will irrigate 340 acres in the tribal belt and is estimated to cost ₹ 2.28 crore. https://www.thehindu.com/news/national/telangana/adilabad-to-harvest-water-running-off-hill-streams/article30495329.ece  (6 Jan. 2020)
FISH, FISHERIES, FISHERFOLKS
Assam Community fishing in Deepor bheel begins This annual fishing in the wetland revives an old system of selling and buying fish that is called aska in Assamese. According to this system of buying and selling, fish is sold without being weighed. Bargaining starts from the size of fish, without weighing it. This system goes on the bank of the water body in the fishing season and at the Godhuli Bazar (evening market) at Azara all throughout the year.  https://www.sentinelassam.com/guwahati-city/community-fishing-at-deepor-beel-begins/  (6 Jan. 2020)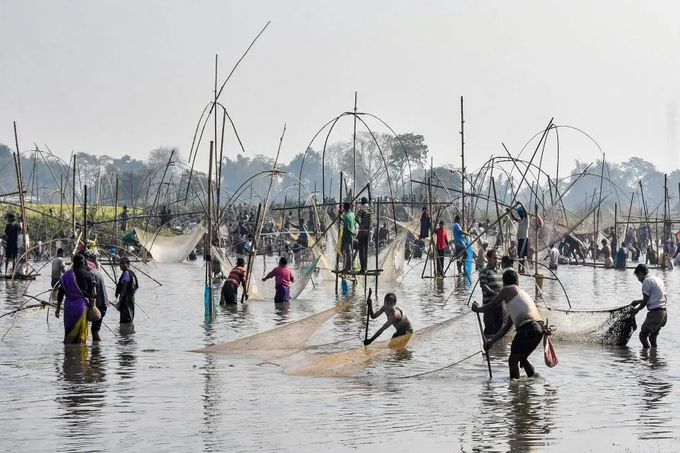 Villagers participating in a community fishing event ahead of Bhogali Bihu celebrations in Tezpur. 
WETLANDS, LAKES, WATER BODIES
MoEF notifies new Wetland Conservation Rules, asks states, UTs to set up authority MoEF has notified Wetland (Conservation and Management) Rules 2017 on January 6 and directed all States and UTs to set up authority to form strategies for conservation and wise use of wetlands within their jurisdiction. The authority will prepare a list of all wetlands of the state or UT within three months. The authority will include one expert each in the fields of wetland ecology, hydrology, fisheries, landscape planning and socio-economics. The experts will be nominated by the state government. https://economictimes.indiatimes.com/news/environment/centre-notifies-new-wetland-conservation-rules-asks-states-uts-to-set-up-authority/articleshow/73161225.cms   (6 Jan. 2020)
The guidelines can be seen here. http://moef.gov.in/wp-content/uploads/2020/01/final-version-and-printed-wetland-guidelines-rules-2017-03.01.20.pdf 
The theme for World Wetlands Day 2020 is Wetlands and Biodiversity.  http://moef.gov.in/wp-content/uploads/2020/01/Background-Material-World-Wetlands-Day-2020.pdf
Karnataka BDA to de-water Bellandur, Varthur lake in a month Bengaluru Development Authority (BDA) is in the process of drying up highly-polluted Bellandur and Varthur lake entirely. While about 80% of the Bellandur lake is de-watered, officials plan to pump out water from the Varthur lake in fifteen days.
– BDA plans to dump the silt, which is around 10 million cubic metres in both the lakes put-together, in about nine locations identified by the committee. Even the farmers are allowed to freely take the silt. Prof. Ramachandra believes the silt could mop up a revenue of Rs 1,500 crore if it is converted into bricks.
– A 150 MLD STP is under construction near the lake. The plant, targeted to be ready by mid-2020, is expected to send treated sewage to the lake after the rejuvenation process is over. https://bangaloremirror.indiatimes.com/bangalore/others/bda-to-de-water-bellandur-varthur-lake-in-a-month/articleshow/73162127.cms  (9 Jan. 2020)
Water quality is good in 18 of 45 Bengaluru lakes In its interim report released recently NEERI has certified that water quality in 18 (40%) of the 45 lakes in Bengaluru it examined is "good", implying it can be used for domestic and irrigation purposes. However, it's not fit for drinking.

BBMP had commissioned NEERI to assess WQI of all its 206 lakes on directions of the High Court, which is hearing a batch of petitions on the condition of various Bengaluru water bodies. https://timesofindia.indiatimes.com/city/bengaluru/water-quality-is-good-in-18-of-45-bengaluru-lakes-study/articleshow/73145715.cms  (8 Jan. 2020)
Hyderabad NGT moves to protect Ameenpur Lake NGT has taken stock of increasing encroachment of the Ameenpur lake and has issued orders to chief secretary, Somesh Kumar, to see if the full tank level (FTL) has been fixed. It has also directed him to ascertain whether the water bodies in the state especially those in and around the Ameenpur village have the FTL fixed and encroachments identified.
– The tribunal asked the Chief Secretary to file a report in four months. The report has to include data on the FTL of the lake, buffer zone fixed from the FTL to be declared as a non-development zone, whether all water bodies have been inventorised and notified under the Wetlands Rules of 2017, if there any encroachments and what steps have been taken by the authorities to remove them.  https://www.deccanchronicle.com/nation/current-affairs/100120/national-green-tribunal-moves-to-protect-ameenpur-lake.html  (10 Jan. 2020)
Kerala Maradu Flats Demolished Massive arrangements have been made for the two-day demolition process that began at 11 am on Jan. 10. The first building was razed to the ground in seconds, followed by the demolition of the second apartment complex. https://www.ndtv.com/kerala-news/maradu-flats-4-posh-kochi-apartment-complexes-to-go-down-as-mega-demolition-begins-today-kerala-2162278  (12 Jan. 2020)  
https://www.ndtv.com/video/embed-player/?site=classic&id=537553&autostart=false&autoplay=0&pWidth=420&pHeight=315&category=embed
Now, SC orders seven-star resort razed A day before start of demolition of around 350 flats in Maradu area of Kochi on its order, the Supreme Court on Friday paved the way for razing of the 7-star Kapico Kerala Resorts in Vembanad Lake in neighbouring Alappuzha for violating coastal zone regulations. The court upheld an order of the Kerala high court which had in 2013 passed the demolition order for the resort. The HC had red-flagged development of resorts in two backwater islands – Vettila Thuruthu and Nediyathuruthu, located in Vembanad Lake. While one resort was built by Kapico Group in Nediyathuruthu, the second, the Green Lagoon Resort, came up on the other island.  https://timesofindia.indiatimes.com/city/kochi/now-sc-orders-seven-star-resort-razed-in-kerala/articleshow/73197595.cms  (11 Jan. 2020)
Jammu and Kashmir Admin to fell 21 lakh trees to 'reclaim' Wular Lake Administration has embarked on a project to cut over 20 lakh trees to "reclaim" the shrinking Wular Lake spread across north Kashmir's Bandipore and Baramulla districts. With the cutting of 2 lakh trees already underway in the first phase, experts advise caution.
– Wular Conservation and Management Authority (WUCMA) has started cutting trees on the Ramsar wetland — an area of international importance and once Asia's largest freshwater lake. The project was started on the basis of a 2007 report by Wetlands International South-Asia, an non-profit organisation that works to sustain and restore wetlands. Experts, however, call for a study on the ecological impact of cutting trees in such large numbers. https://indianexpress.com/article/india/jk-admin-to-fell-21-lakh-trees-to-reclaim-wular-lake-6213250/  (13 Jan. 2020)
Maharashtra 
GROUNDWATER
Gujarat Units drawing groundwater warned Government has asked industrial houses of Kadodara, Plasana, Tatithaiya, Chalthan and Bagumara around Surat who have built and installed systems to draw water illegally from underground sources to destroy them within nine days or face action. Roads and buildings department of Gujarat government has issued a public warning in newspapers asking the units to stop their illegal activities immediately. "Action will be initiated against those who don't stop their illegal activities immediately. We will stop this practice of stealing of underground water in the state," said an officer of the department. About 200 farmers of these villages had jointly written to the concerned district authorities complaining that nearly 50 dyeing mills located in their areas had set up illegal facilities to draw water from underground sources. https://timesofindia.indiatimes.com/city/surat/units-drawing-water-from-underground-sources-warned/articleshow/73129042.cms  (7 Jan. 2020)
National Nilogon for fluoride removal from groundwater This unique low cost fluoride removal technology is not only affordable, but is also easy to operate as a water treatment filter with high efficiency suitable for rural application. https://www.indiawaterportal.org/articles/nilogon-fluoride-removal-groundwater  (1 Jan. 2020)
WATER
Meghalaya Photo report on declining rain stresses need for water conservation. https://www.hindustantimes.com/photos/india-news/photos-declining-rain-stresses-need-for-water-conservation-in-meghalaya/photo-PO4GYrkkHgnn8ihBhTQCzO.html  (12 Jan. 2020)
DELHI WATER
Study Highly toxic leachate for Okhala landfill pollution groundwater A new study has raised the alarm about highly toxic leachate release from south Delhi's Okhla landfill in all seasons, which is contributing to water pollution in neighbouring areas such as Tekhand and Tughlaqabad within a 2-5 km radius.
The study by National Institute of Urban Affairs (NIUA) has found that dumping of unsegregated waste, including domestic hazardous waste such as drain and toilet cleaners, mosquito coils, lead and lithium ion batteries, expired medicines, etc, has led to leachate from the landfill site exceeding the leachate pollution index (LPI) standard for surface water as specified in the solid waste management rules 2016.  https://epaper.hindustantimes.com/Home/ShareArticle?OrgId=3d2c0c59&imageview=1&fbclid=IwAR1D_mKtZI83hx9DQnsKUl0dN2uey_thQaXINKB0QTvWYN6bhce0BqbFg7k  (13 Jan. 2020)
AGRICULTURE
National Govt can save Rs 50K cr by reforming grain management system Reforming the country's grain management system could save the govt Rs 50,000 crore annually, allowing the FM to fund infra investments while maintaining fiscal deficit.  https://www.financialexpress.com/opinion/govt-can-save-rs-50000-crore-by-reforming-countrys-grain-management-system/1813851/  (6 Jan. 2020)
Tableware from paddy straw These cups and plates look like plastic but they are made from paddy straw and are easily recyclable. Paddy straw did we say? Yes the same paddy straw that gets burnt in the fields of Haryana and Punjab each year. So Ecoware has got it all worked out–tableware for the green consumer and a solution to farm wastes.  https://www.civilsocietyonline.com/business/tableware-from-paddy-straw/  (24 Dec. 2019)
MONSOON
Study Irrigation linked to reduced rainfall in northern India India remains one of the most highly irrigated regions in the world. Although the rise in irrigation over the decades has boosted crop productivity, it has also caused the depletion of groundwater. At the same time, irrigation affects regional climate by changing the water and energy balance between the land surface and the atmosphere. This results in a drop in temperatures over heavily irrigated parts of India such as in the Indo-Gangetic Plains. The cooling, in turn, reduces the overall summer monsoonal rainfall over the region, finds a new model-based study by researchers from the IIT Delhi. https://india.mongabay.com/2020/01/irrigation-linked-to-reduced-rainfall-in-northern-india/  (13 Jan. 2020)
FLOOD
Centre Releases Rs 5908 cr for flood relief to 7 states – Kerala has not yet received a response from the Centre after repeated pleas for funds. HLC said it approved additional central assistance of Rs. 5908.56 crore to seven States from National Disaster Response Fund (NDRF) – Rs 616.63 crore to Assam, Rs 284.93 crore to Himachal Pradesh, Rs 1869.85 crore to Karnataka, Rs 1749.73 crore to Madhya Pradesh, Rs 956.93 crore to Maharashtra, Rs 63.32 to Tripura and Rs 367.17 crore to Uttar Pradesh for floods/ landslides/cloudburst during south west monsoon 2019.
– The Centre had earlier released an interim financial aid of Rs 3200 crore to four states, which again did not include Kerala. The interim financial assistance of Rs. 3,200 crore was given to 4 States – Rs 1200 crore to Karnataka, Rs 1000 crore to Madhya Pradesh, Rs 600 crore to Maharashtra and Rs 400 crore to Bihar.
– After the first big flood of 2018, the State had initially estimated a loss of Rs 20000 and all the Centre then offered was Rs 600 crore. Later, Minister EP Jayarajan said that, following the recession of water levels, the total loss is Rs 40000. After the 2019 floods, the Disaster Management Authority of Kerala, estimated a loss of Rs 2101 crore. But after the floods of 2019, the Centre has not sanctioned any major relief. A seven member team from the Centre had come in September to visit the flood hit and landslide affected areas but there has been no update after that.  https://www.thenewsminute.com/article/centre-releases-rs-5908-cr-flood-relief-7-states-kerala-excluded-list-115521  (7 Jan. 2020)
DROUGHT
Report Water-related crime doubles as drought hits many Indian states The disputes resulted in petty crime, clashes and even murders. According to the 2018 NCRB report, the number of water dispute cases registered under the IPC was 838, up from 432 in 2017. This constituted a jump of nearly 94 per cent. The cases were registered under Section 147-151 IPC for rioting. What could be more worrying for the authorities is that as many as 93 cases of murder were reported from across the country, a majority of them in the drought-affected states of Gujarat, Jharkhand, Maharashtra, Karnataka and Rajasthan.
The NCRB brought out water dispute data for the first time in 2017. Experts said the data suggested crime taking place over water distribution between communities, caste and villages. "When water scarcity increases, conflicts go up and it can be inter-sectoral, community level and between urban and rural areas. We saw a very bad situation in some of these states in 2018," said Himanshu Thakkar, coordinator of SANDARP. https://www.newindianexpress.com/thesundaystandard/2020/jan/12/water-related-crime-doubles-as-drought-hits-many-indian-states-2088333.html  (12 Jan. 2020)
DISASTER
Ladakh An earthquake measuring 5.3 on the Richter scale hit the Union Territory of Ladakh on Sunday, January 12 at around 10.54 am. No loss of life was reported due to the medium-intensity earthquake, an official in the meteorological office told IANS in Shimla. The tremors lasted for a few seconds. The epicentre of the quake was Ladakh, bordering Himachal Pradesh's Lahaul-Spiti district. The tremor sparked panic among the people who rushed out of their houses, a police official said.  https://www.ibtimes.co.in/medium-intensity-earthquake-measuring-5-3-hits-ladakh-811606  (12 Jan. 2020)
Himachal Pradesh A medium intensity earthquake measuring 3.4 magnitude on the Richter scale hit Kangra district at 11.55 a.m., the weather department said. "The epicentre of the earthquake was recorded at latitude of 32.3 degrees north and longitude of 76.2 degrees east and depth of 5 kilometres in Kangra district." There was no report of loss of life or damage to property. https://m.tribuneindia.com/news/3-4-magnitude-quake-hits-himachals-kangra-district-25190  (12 Jan. 2020)
ENVIRONMENT
Opinion 2019 State of Forests Report Tells a Distorted Story of India's Trees Kanchi Kohli and Manju Menon explain why the State of Forests report is giving a distorted picture. https://thewire.in/environment/the-2019-state-of-forests-report-tells-a-distorted-story-of-indias-trees  (7 Jan. 2020)
CLIMATE CHANGE
Study Ganges delta may see water level rise of up to 1.4 metres by 2100 In the current study, the researchers analysed monthly readings from 101 gauges measuring water and sea levels across the delta. Aggregating this data over geographical areas, they filtered out local effects and offset quality differences between gauges. Over time, the scientists obtained more refined estimates for water level changes.
– According to the study, between 1968 and 2012, water levels increased by three millimetres per year (mm/year) on average, a little more than the global mean sea level rise, which was two mm/year during the same time period. The researchers then estimated the contribution of land subsidence — obtained by subtracting the measurements of relative water level obtained previously from the absolute sea level. Their calculations revealed that the maximum land subsidence in the delta between 1993 and 2012 was between one and seven mm/year.
– According to the researchers, the study may lead to better forecasts of water level in the Ganges-Brahmaputra-Meghna delta and improved flood mitigation efforts. https://www.timesnownews.com/mirror-now/in-focus/article/ganges-delta-may-see-water-level-rise-of-up-to-1-4-metres-by-2100-study/536674   (7 Jan. 2020)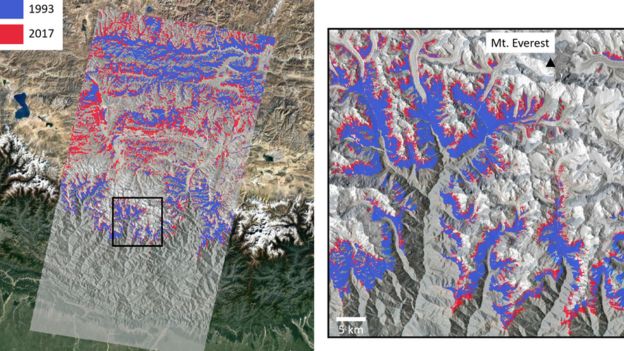 Also see, Vegetation is expanding at high altitudes in the Himalayas, including in the Everest region, new research has shown. https://www.bbc.com/news/science-environment-51050456  (10 Jan. 2020) 
River people: Life along Asia's key waterways From the flood-ravaged banks of the Brahmaputra to the disappearing wetlands of the Mekong, Asia's main waterways — and the people that live along them — are fighting for survival.
– Climate change, international politics, spiralling population growth, and unchecked development are putting unprecedented strain on key waterways in some of the most densely populated nations on earth.  http://www.rfi.fr/en/wires/20200110-river-people-life-along-asias-key-waterways  (10 Jan. 2020)
Asia's Great Rivers: Climate crisis, pollution put billions at risk Running from Afghanistan to Myanmar, the HKH region takes in the Tibetan Plateau, and the Himalaya, Hindu Kush, and Karakoram mountain ranges. Functioning as a vast water tower, some of the world's largest and most important rivers, including the Brahmaputra, Yangtze, Mekong and Indus, begin here. Its health is inextricably linked to that of the continent: Some 1.65 billion people directly rely on these waters — for their lives and livelihoods. https://www.bangkokpost.com/world/1832789/asias-great-rivers-climate-crisis-pollution-put-billions-at-risk  (10 Jan. 2020)
SOUTH ASIA
Bhutan Sun Kosh HEP: Mega Project With Mega Problems – Analysis For "a mega project of this magnitude with a huge storage reservoir having an impact on the environment too, Bhutan is rightly insisting on being involved in the construction of the dam. It also wants to have a say on all aspects in the implementation of the project whereas the Government of India's thinking is to have a turn key project, given to a separate entity" and then handed over finally to Bhutan. These differences has meant no progress on the Sunkosh Project since Indian PM's Bhutan visit in Sept 2019. https://www.eurasiareview.com/06012020-bhutans-sun-kosh-hydro-power-project-mega-project-with-mega-problems-analysis/  (6 Jan. 2020)
Pakistan Sindh Cabinet Approves Handing Over Indus Delta To A Private Firm For 60 Years
In a very strange move, Sindh cabinet okays privatising vast portions of Indus Delta. Pakistan Fisherfolk Forum has strongly opposed this move. https://sindhcourier.com/sindh-cabinet-approves-handing-over-indus-delta-to-a-private-firm-for-60-years/   (7 Jan. 2020)
Nepal Kathmandu Rivers Turning Violent, Gradually Disappearing Buildings and roads have encroached on the floodplains and banks of the Valley's rivers and every monsoon, the rivers rise to take revenge. According to the old Kathmandu building code, major rivers like the Bagmati, Bishnumati and Manohara need at least 20 metres of a free floodplain area on both sides to provide the river with unobstructed space to flow. Small streams like the Manamati, on the other hand, should have a free area of at least six metres on both sides. Likewise, the Balkhu Khola should have at least 10 metres of space on each side of the river before settlements start.
– However, as is evident, this code has been consistently violated and river floodplains have been widely used for settlements.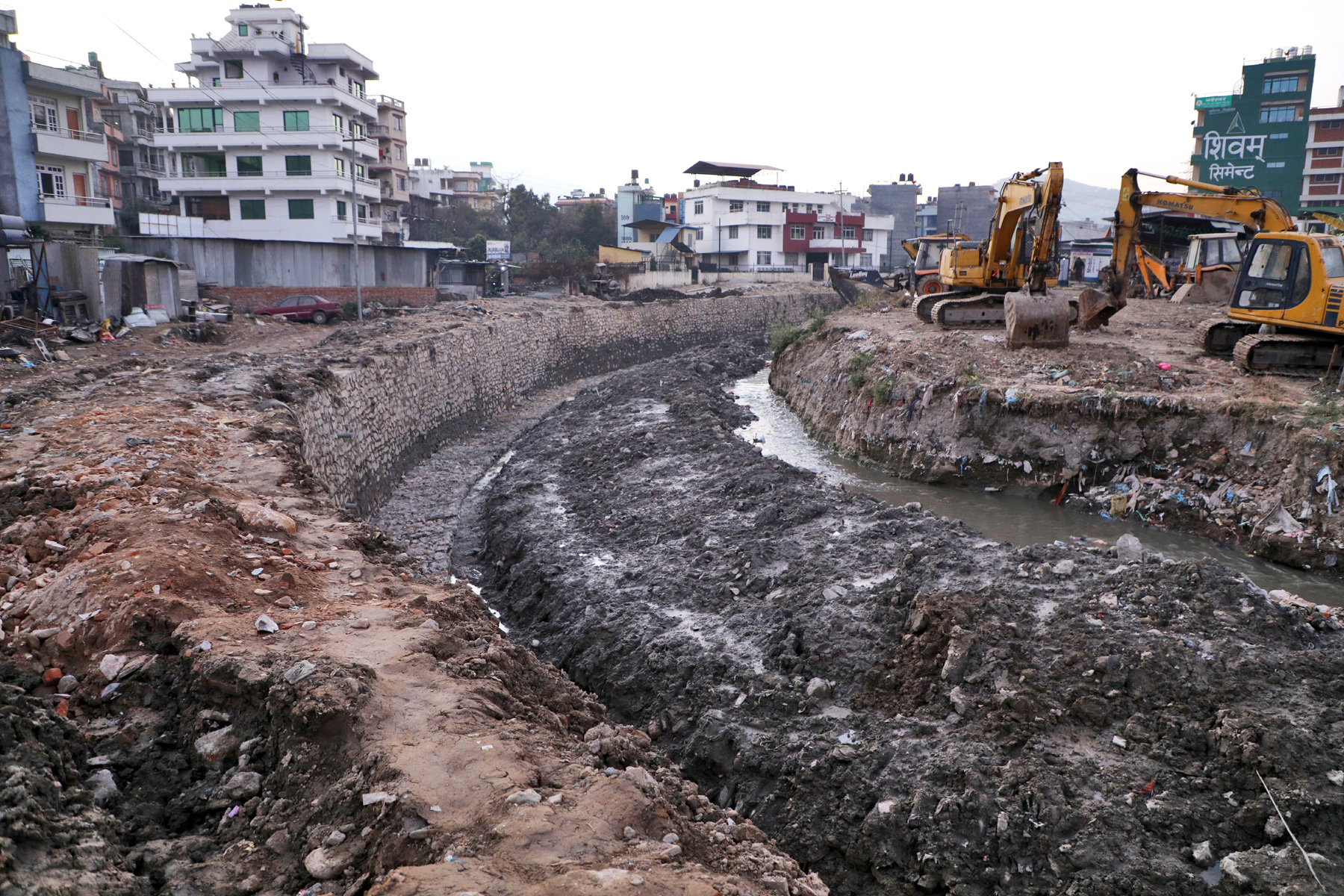 – The new building code further states that rivulets cannot be covered and strictly prohibits encroachment of rivers, streams, lakes, ponds and canals and says structures can only be built 30 metres away from the river area. This too gets violated. "There is no government body that works to protect the river; the ones that exist only manage water for irrigation and other processes," said Upadhyay. "And the laws have been violated by everybody, not just one person. When a whole community is involved, who will speak for the river?"  https://kathmandupost.com/12/2020/01/11/kathmandu-s-rivers-are-becoming-violent-and-gradually-vanishing-1578668186  (11 Jan. 2020)
Locals obstruct construction of Upper Mailung HEP The ongoing construction work of 14.3 MW Upper Mailung Hydroelectricity Project at Uttargaya Rural Municipality-1, Rasuwa has been stopped. Putting forward a three-point demand, locals affected by the project have obstructed the construction. They have demanded appropriate compensation for the lands used by the project, action against the local representatives who allowed inconsiderate operation of excavators and employment of locals by dismissing the current contract.  https://myrepublica.nagariknetwork.com/news/locals-obstruct-construction-of-upper-mailung-hydroelectricity-project/  (12 Jan. 2020)
Bangladesh Make a list of Ichhamati grabbers, polluters: HC The High Court on Jan. 12 issued a rule asking authorities concerned of the government to prepare a list of encroachers and polluters of the Ichhamati river in Pabna and to submit it before the court in 90 days.
The court also issued a rule asking the authorities to explain in four weeks why they should not be directed to declare the 84-kilometre long river an ecologically critical area. https://www.thedailystar.net/backpage/news/make-list-ichhamati-grabbers-polluters-1853320  (13 Jan. 2020)
CHINA
Why India needs to buy better water data from China
Under a bilateral agreement water data on the Brahmaputra is shared by China with India on the Brahmaputra, but a weak understanding of hydrology means that the data is coming from the wrong places. https://www.thethirdpole.net/en/2020/01/10/why-india-needs-to-buy-better-water-data-from-china/   (10 Jan. 2020)
Giant fish is declared extinct Chinese paddlefish (Psephurus gladius), one of the largest freshwater fish has been declared extinct in a study published in the journal Science of the Total Environment. It was iconic species, measuring up to 7 m in length, dating back from 200 million years ago, and therefore swimming the rivers when dinosaurs ruled the Earth. Its ancestral home was the Yangtze River.
– The researchers made the conclusion over long-term surveys. It was once common in the Yangtze, before overfishing and habitat fragmentation — including dam building — caused its population to dwindle from the 1970s onwards. Between 1981 and 2003, there were just around 210 sightings of the fish. The researchers estimate that it became functionally extinct by 1993, and extinct sometime between 2005-2010.  https://indianexpress.com/article/explained/fact-check-a-giant-fish-is-declared-extinct-how-do-scientists-conclude-that-6210520/  (13 Jan. 2020)
ASIA
MEKONG River communities struggle as China tests dam equipment Comprehensive report; China unlike earlier publicly announcing reduction in Mekong flow level due to testing of dam equipment. Does it hints better cooperation among MRC countries? How non-seasonal, sudden fluctuations have impacted river ecosystem, aquatic life, river bank farmers, fisherfolks? Is the warning enough or MRC needs accountability and better management for Mekong river? 
https://www.aljazeera.com/news/2020/01/mekong-communities-struggle-china-tests-dam-equipment-200110053233331.html  (12 Jan. 2020)
THE REST OF THE WORLD
Kenya Water harvesting has added benefits Efforts to trap and store more water to battle worsening climate change-related drought are helping cut flood risk too, experts say.  http://news.trust.org/item/20200103134727-yineo/  (3 Jan. 2020) 
Japan Only 40% of dams can mitigate flood risks: survey Only 40 percent of dams in Japan can pre-emptively release their reservoirs' water prior to heavy rains to mitigate flood risks. The survey, conducted last month, found that 246 out of 559 dams operated by 57 organizations throughout the country are able to pre-release water prior to forecast rainfall. https://english.kyodonews.net/news/2020/01/dc69d5dd63a7-only-40-of-dams-in-japan-can-mitigate-flood-risks-survey.html  (7 Jan. 2020)
Research Congo deepest river in the world A mysterious case of dying fish in the lower Congo River helped scientists discover that this body is the deepest river on the planet. It's also a place where raging rapids, powerful currents and even submerged "waterfalls" divide the water, much as mountain ranges can separate habitats on land.
These impassable river barriers isolate fish populations and have shaped the emergence of hundreds of species, according to research presented on Dec. 12, 2019, here at the annual meeting of the American Geophysical Union (AGU). https://www.livescience.com/congo-river-fish-with-bends.html  (13 Jan. 2020)
Compiled by SANDRP (ht.sandrp@gmail.com)
Also see: DRP News Bulletin 6 January 2020 & DRP News Bulletin 30 December 2019
Follow us on: www.facebook.com/sandrp.in; https://twitter.com/Indian_Rivers