In shocking instance, the Govt of India has provided just 17 days for commenting (Submission of Comments of NPSSFW _Inland_ on the Draft NFDB Bill 2019_ with rejoinder) on Draft National Policy for Inland Fisheries (Draft_NFDB_Bill_2019). As can be seen from the comments by National Platform for Small Scale Fish Workers (Inland) on the draft policy, the draft policy has major lacunae. The most glaring one is the complete lack of any role for the Inland fisher people in the decision making about rivers and other water bodies in India. Every dam and hydropower project has adverse impact on the fishes and fisher people, but the impact assessment reports rarely if ever even mention such impacts, leave aside question of any rehabilitation for them or even compensating them for the losses.
This is in complete contrast to the situation in US and a number of other countries where fish and fisher people have a much bigger role. Even as millions of people depend on Inland fisheries in India, we do not have even reliable census of the people who depend on Inland fisheries. One had hoped that in new year, the situation would improve, but going by the Draft Policy, there is not too much hope on that front. The least the govt can do is to immediately accept the suggestions of the National Platform and circulate the draft in all major languages and provide three months for comment period and institute a confidence inspiring process of including such comments.
HYDRO POWER PROJECTS
SANDRP Blog EAC on River Valley Green Signals All in 2019  Even as the Expert Appraisal Committee (EAC) on River Valley Projects (RVP) appointed by the Union Ministry of Environment and Forests (MoEF) in December 2016 completes three years with the end of 2019, it has kept up its record of green signaling everything that came its way in 2019, with one exception: EAC in its meeting on January 28, 2019 rejected the proposal for EC (Env Clearance) extension for the Brutang Major Irrigation Project in Nayagarh District of Odisha, but it was essentially on procedural issue and the EAC "recommended for taking of the proposal afresh", so it was not a full stop, but only a comma. https://sandrp.in/2019/12/31/expert-appraisal-committee-on-river-valley-projects-green-signals-all-in-2019/  (31 Dec. 2019) 
MoEF Minutes of 29th meeting of EAC on River Valley Projects. EAC has stamped Approval for all the proposals:
Cumulative Impact Assessment and Carrying Capacity Study of Hydroelectric projects in Sutlej River Basin in Himachal Pradesh including less than 10 MW projects: APPROVED (though minutes does not say that explicitly

Jakhol Sankri Hydro Electric Project (44 MW), in district Uttarkashi, Uttarakhand by M/s SJVNL For Env Clearance: APPROVED

Shanti Sagar Standalone Pumped Storage Project, District: Davanagere, Karnataka by Cerulean Energy Solutions Private Limited- For ToR: APPROVED

Sukhpura Standalone Pumped Storage Project, District: Chittorgarh, Rajasthan by M/s Greenko Energies Private Limited- For ToR: APPROVED

Mhaismal Standalone Pumped Storage Project, District: Aurangabad, Maharashtra by M/s Greenko Energies Pvt. Ltd.-For ToR: APPROVED

MP 30 Gandhi Sagar Standalone Pumped Storage Project, District Neemuch, Madhya Pradesh Greenko Energies Pvt. Ltd.-For ToR: APPROVED

Upper Kolab Pumped Storage Project (2×160 MW) in District-Koraput, Odisha by M/s OHPL- For ToR: APPROVED

Balimela Pumped Storage Project in district Malkangiri, Odisha by M/s OHPC-For ToR: APPROVED http://environmentclearance.nic.in/writereaddata/Form-1A/Minutes/261220193FSH2QF929.pdf
NTPC to shell out ₹15,000 crore to buy out NEEPCO, THDCIL from Centre According to company officials in the know, NTPC is planning to complete the buyout by the end of FY20 in a bid to aid the Centre that is struggling to meet its disinvestment targets. So far this fiscal, the Centre has mobilised ₹17,364.26 crore through disinvestments. It has a target to garner ₹1,05,000 crore through disinvestment proceeds before the end of the current fiscal. According to the annual report of these companies for FY19, the net worth of NEEPCO was ₹6,301.29 crore and that of THDCIL was ₹9,280.78 crore as on March 31, 2019. https://www.thehindubusinessline.com/companies/ntpc-to-shell-out-15000-crore-to-buy-out-neepco-thdcil-from-centre/article30432773.ece  (30 Dec. 2019)
NHPC board okays proposal to raise Rs 2,000 crore this fiscal State-run hydro power giant NHPC on December 30 said that its board has approved a proposal to raise Rs 2,000 crore through various instruments. https://www.moneycontrol.com/news/business/nhpc-board-okays-proposal-to-raise-rs-2000-crore-this-fiscal-4772541.html  (30 Dec. 2019)
DAMS
Telangana Major breach on Saralasagar bund, empties reservoir's 0.5 tmc ft water Saralasagar, a minor irrigation project in Wanaparthy district, suffered a major breach on its earthen bund early on Tuesday, emptying about 0.5 tmc ft water, its full storage capacity, completely. According to Irrigation officials, a piping was noticed in the bund in the morning, which within an hour developed into a breach washing away the bund for about 20 feet.
– The minor irrigation project was constructed during 1947-60 with the siphon system, wherein the water in excess of its full reservoir level would automatically flow out of the reservoir into the surplus channel, across Chinnavagu, a rivulet in the Krishna basin, near Shankaraiahpet of Madanapur mandal.
– The project has been serving an ayacut of about 4,500 acres under its left and right canals. The left canal has about 4,200 acres ayacut, while the right canal has only about 300 acres ayacut. Though it had served the ayacut on and off till 2009, it did not receive water to meet the needs of the ayacut because of poor rainfall in its catchment area.
– After being empty for about 10 years, the reservoir has been filled with water pumped from the Kalwakurthy Lift Irrigation Scheme. Engineers attributed the breach to cracks developed in the layers of the bund owing to lack of hydrological pressure for about a decade.  https://www.thehindu.com/news/cities/Hyderabad/major-breach-in-saralasagar-bund-in-wanaparthy/article30441663.ece  (31 Dec. 2019)
The famed Sarala Sagar irrigation project in Kothakota Mandal in the district breached at Shankarampeta village on Tuesday morning. The farmers of the area who noticed the breach brought it to the notice of the authorities. The full storage capacity of about 0.5 tmc ft of water completely drained out due to the breach. According to sources, the pro j e c t h a d breached as no one had bothered to strengthen the bund though the reservoir was full to its brim for the first time after 10 years. Sarala Sagar was constructed with the siphon system and inaugurated in 1959.
The officials have been asked to divert the water that had escaped from the project to Ramanapadu reservoir so that the water could be put to better use. Agriculture Minister S Niranjan Reddy, after inspecting the breach said that the breach would be closed sooner than later and the irrigation experts would arrive to take stock of the situation. https://www.newindianexpress.com/states/telangana/2020/jan/01/breach-empties-out-sarala-sagar-dam-in-telangana-2083523.html  (1 Jan. 2020)
Farmers demand immediate repair Sarala Sagar dam The farmers of Madanapur mandal of Wanaparthy district demanded that the State government to take up the restoration of Sarala Sagar project on priority and ensure that farmers who are cultivating lands over 300 acres get the irrigation water for the current Rabi season.
– In fact, the dam is a rock construction having a length of 158.49 meters in length and on the both sides, it has a mud bund constructed over a length of 1,078 meters and it is regarded as first dam in Asia and second in the world to have been built with automatic Saifan technology.
– However, in the last many years, this dam was neglected and the government did not give due attention to its development and maintenance because of which the mud bund which had developed a leakage was broken down and the water stored had flooded fields down and damaged the crops.
– Even though the State government during the third phase of Mission Kakatiya project renovated the reservoir bund with a cost of Rs 230 crore, the quality of work was poor due to which the dam's mud bund suffered leakage ultimately the flooding the crop lands. https://www.thehansindia.com/telangana/wanaparthy-farmers-demand-immediate-repairs-to-sarala-sagar-dam-594343  (1 Jan. 2020)  
Andhra Pradesh Govt planning new dam downstream Gandikota reservoir As part of the initiative in providing water for agriculture operations and drinking water to drought-hit mandals like Jammalamadugu, Pulivendula, Muddanuru, Vempalle, Vemula Jammalamadugu Mandals. etc the government has decided to construct another dam with capacity of 20tmcft under stream of Gandikota reservoir very soon.
– According to the official sources, the district administration is on the job of acquiring lands for the purpose at Adiveti Palle, Teneti Palle villages in Muddanuru Mandal. Sources disclosed that it was estimated to spend a total Rs 1500 to 1600 crores various purposes like land acquisition, implementation of R&R package, dam construction etc.
– It is learnt that this project was to provide water to around 1.50 lakh acres through Chitravathi Balancing Reservoir (CBR), and Pulivendula Balancing Reservoir(PBR) and some irrigation canals, as many as 200 villages for drinking water purpose. The proposed project would help to draw the Krishna floodwaters through Pothi Reddy padu reservoir from Srisailam Dam and stored around 20tmcft to irrigate lands and stabilization of Ayacut. https://www.thehansindia.com/andhra-pradesh/government-is-contemplating-new-dam-down-stream-of-gandikota-reservoir-594346  (1 Jan. 2020)
Maharashtra Irrigation project cost jumps 21 times & work is yet to start The Lower Painganga dam being built in farm suicide-hit Yavatmal district may soon turn out to be another white elephant surpassing even Gosikhurd dam in terms of burgeoning cost. Approved in 1997 at an initial cost of Rs1,402 crore in Ghatanji tehsil of Yavatmal district, even the basic construction work is yet to begin and it may now take Rs29,000 crore to finish the project. In 2009, the first escalation taking the cost to Rs10,400 crore was approved. Now, another estimate of Rs 29,000 crore has been drawn for the project and approval is awaited. As against this, the yearly fund allocation for the works has been in couple of crores only. The VIDC has ended up spending a mere Rs330 crore in the last 22 years, which comes to Rs15 crore a year. For the 2019-20, the allocation for Lower Painganga is as low as Rs2.75 crore.  https://timesofindia.indiatimes.com/city/nagpur/irrigation-project-cost-jumps-21-times-work-is-yet-to-start/articleshow/73062271.cms  ( 2 Jan. 2019)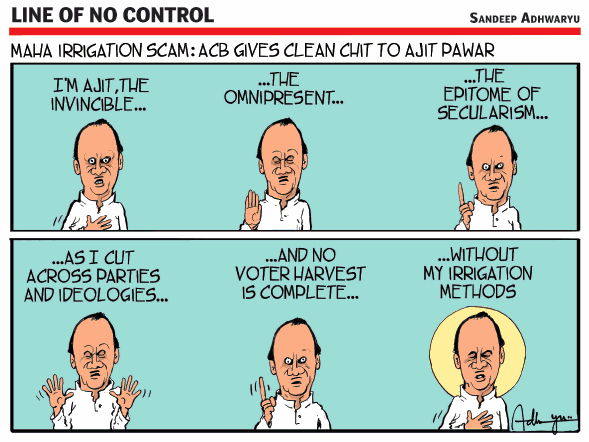 INTERLINKING OF RIVERS
Godavari-Krishna Interlinking Andhra Pradesh & Telangana quietly bury linking plan The much-hyped plan fell apart following the AP government's reluctance to take up the project owing to huge costs involved and its focus shifting to linking of Godavari and Penna rivers on its soil, highly-placed sources said.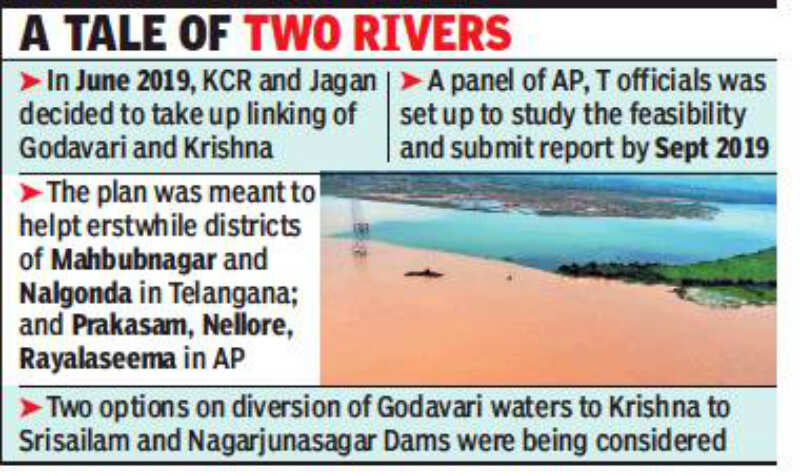 – Sources said irrigation experts' opinion on how diversion of Godavari water was not desirable at this stage and how it could lead to inter-state disputes also had a bearing on the decision to not proceed with the plan. With no meetings and no reports filed, senior officials said it's curtains for the mega plan Telangana CM K Chandrasekhar Rao and his AP counterpart YS Jaganmohan Reddy had worked out in June last year.
– Senior officials also cited high costs. As per an initial estimate, at least Rs 2 lakh crore to divert 4 tmcft daily and Rs 1.5 lakh crore to divert 2 tmcft daily would be required. "Even if both states were to share 50% each, the project cost will swell to Rs 50,000 crore to Rs 1 lakh crore in next 4-5 years, which is huge. The present financial condition of both the states is not conducive to take up such a project," a senior irrigation official said.
– Also, the AP government wants to focus on linking of Godavari and Penna rivers first. "Detailed project reports have already been worked out to take up this plan," an official said. Sources said AP backtracked after farmers' bodies and political parties there raised concerns over the probability of AP farmers losing their land, while Telangana benefiting from the project.
– Sources said the Institution of Engineers (India) compiled a report of irrigation engineers' opinions after the round-table conference in July 2019 and sent it to the Telangana government. "The report clearly mentioned that any diversion of Godavari water to other basins should be done only after meeting the requirements of existing, ongoing and contemplated irrigation schemes and also considering future requirements of industries and drinking water," a source said.
– Experts also observed that the project cannot be designed based on flood-flow water, but on assured water. Though Telangana government claimed that 2,000 tmcft was available and it was wasted as it flowed into the sea, experts dismissed this theory, arguing that availability of water was less than the projected quantity if all the existing projects were completed. "We are keen on completing other irrigation projects such as Kaleshwaram, Tupakulagudem and Dummugudem," Narasimha Rao said.
– Sources said KCR was unhappy as inter-linking of rivers was his brainchild and the latest development could have an impact on future ties between both Telugu states. While the two CMs harp on harmonious relations, irrigation officials of both states have been at loggerheads during the recent meetings of Krishna River Management Board (KRMB) and Godavari River Management Board. In the previous KRMB meetings, Telangana officials charged AP with using more water than allocated water from Krishna. AP also made no bones about its opposition to various projects taken up by Telangana, especially Palamuru-Rangareddy Lift Irrigation Project. https://timesofindia.indiatimes.com/city/hyderabad/ap-t-quietly-bury-plan-to-link-godavari-krishna/articleshow/73091622.cms  (4 Jan. 2020)
INTERSTATE WATER DISPUTES
Vansadhara River Water Sharing Dispute Tribunal gets another extension as new Bill eluded Parliament The Vamsadhara Water Disputes Tribunal, constituted in February 2010 to resolve river water sharing dispute between Andhra Pradesh and Odisha, has got another extension as it could not settle the issue after being nine years in existence. The latest one-year extension is an immediate fallout of the government's inability to push the Inter-State River Water Disputes (Amendment) Bill, 2019 in the Rajya Sabha during the recently concluded winter session.
– The Bill, having provision of single tribunal and deadline to adjudicate the matter, was passed by the Lok Sabha in July. But, it could not even be listed in Rajya Sabha during the winter session amid opposition from the AIADMK during informal consultations ahead of the Parliament session.
– The notification of extension, issued by Jal Shakti (water resources) ministry, noted that "certain actions are still pending for completion by the Tribunal" and said the government extended the "period of submission of further report by the said Tribunal for a further period of one year" with effect from December 11.
– Once this bill gets the Parliament nod, all existing tribunals will be subsumed under single standing tribunal and it will have to settle disputes in a time-bound manner. At present, there are five functional tribunals with the oldest one on Ravi-Beas being pending for over 33 years. The Vamsadhara Water Disputes Tribunal is one of those five. It got the extension on the last day of the winter session of Parliament on December 13.
– Remaining four tribunals have also been regularly getting extensions in absence of provision of any deadline to finish the task under the existing law. These four Tribunals are: Ravi & Beas Water Tribunal (constituted 33 years ago), Krishna Water Disputes Tribunal (constituted 15 years ago), Mahadayi Water Disputes Tribunal (constituted nine year ago) and Mahanadi Water Disputes Tribunal (constituted last year). https://timesofindia.indiatimes.com/india/tribunal-on-vansadhara-river-water-sharing-between-odisha-and-ap-gets-another-extension-as-new-bill-eluded-parliament/articleshow/72975736.cms  (26 Dec. 2019)
IRRIGATION
Report  India installed 181,000 solar power pumps for irrigation in three years under PM-KUSUM scheme More than 181,000 solar power pumps have been installed in the country over the past three years for meeting the electricity demand for irrigation under the Pradhan-Mantri Kisan Urja Suraksha evam Utthaan Mahabhiyaan (PM-KUSUM) scheme being implemented by the Ministry of New and Renewable Energy (MNRE).
"The area of land brought under irrigation through these solar pumps depends upon several factors including capacity of pump, type of crop, and ground water level. In general, a 5 horsepower (HP) capacity solar water pump linked with micro irrigation system covers an area of 2.5 hectares for irrigation," power and renewable energy minister R K Singh said in a written reply in Parliament. He also said under the scheme priority would be given to small and marginal farmers for installation of solar water pumps up to 7.5 HP capacity for which central financial assistance (CFA) of 30 per cent of the benchmark cost of the stand-alone solar pump will be provided.
MNRE had issued approval for implementation of PM-KUSUM scheme throughout the country in March. The scheme has three components providing for; installation of 10,000 megawatt (MW) capacity through renewable energy-based small power plants of 2 Mw capacity each in the rural areas; installation of 1.7 million off-grid solar water pumps; and solarization of 1 million existing grid-connected agriculture pumps.
The scheme is targeted to meet the desired targets by 2022. The ministry recently issued guidelines for existing 1 million grid-connected solar power pumps under the "Component C" of the scheme. https://energy.economictimes.indiatimes.com/news/renewable/india-installed-181000-solar-power-pumps-for-irrigation-in-three-years-under-pm-kusum-scheme/73030827  (30 Dec. 2019)
Solar powered pumps changing farmers' lives How across four water-deficient districts in Rajasthan and Haryana solar-powered pumps are changing lives. https://www.business-standard.com/article/economy-policy/explained-how-solar-powered-pumps-are-changing-lives-of-farmers-119122900839_1.html   (30 Dec. 2019)
URBAN RIVERS
Mula-Mutha, Pune Tendering issues to delay cleaning work Cleaning of the Mula-Mutha with financial assistance from the Japan International Cooperation Agency (JICA) is still stuck in a limbo, with the Pune Municipal Corporation (PMC) deciding to float three key tenders again, and 'finding fault' in the fourth one before issuing it.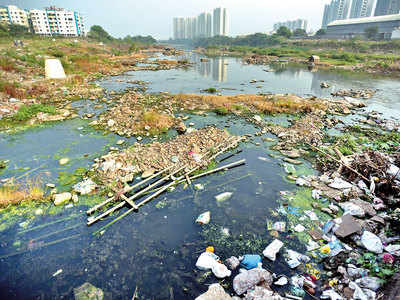 – A loan agreement was signed on January 13, 2016, with JICA for pollution abatement of Mula and Mutha by January 2022. Under the agreement, the Japanese government committed to provide a soft loan of about Rs 1000 crore to India for the project, at an interest rate of 0.30% per annum. As per the plan, PMC was to construct 11 new STPs, which would result in creation of additional treatment capacity of 396 million litres per day.
– Accordingly, the administration floated four of the total six tender packages for various works. The tenders were floated of Rs 410 crore. However, all contractors quoted rates 40 per cent above the quoted cost. This had put authorities in a fix since the budget would collapse because of this. Finally, a meeting was called by the PMC commissioner on Jan. 1 after which authorities decided to float revised tenders. While three tenders will be floated afresh, a decision on the fourth will be taken soon.
– VG Kulkarni, head of the water supply department, said, "Since the three tenders are way above the prescribed cost, we have decided to go for retendering. As far as the fourth tender is concerned, there is a dispute over who is at fault. The decision on this one too will be taken shortly. All these tenders were meant for the construction of 11 STPs at various locations."
– Ruling party members have however claimed that no such decision has been taken. BJP's Dhiraj Ghate, leader of the House, said, "The meeting was only meant for taking an update on the issue. No decision has been taken." Opposition parties have, however, claimed that this has put the entire project in a limbo. Congress leaders Arvind Shinde said, "They are saying that the decision on the fourth tender is to be taken later. The fourth package is meant for STPs and a fish farm, and they cannot single it out. If the primary work isn't done, then how can they do the rest? The entire project, which was just a tall promise of the ruling party, is in a limbo now." https://punemirror.indiatimes.com/pune/civic/tendering-issues-may-delay-river-clean-up/articleshow/73076404.cms  (3 Jan. 2020)
RIVERS
Yettinahole project Cost jumps from Rs 8,000 to Rs 20,000 crore Though tender has been called, two years ago, for the Byragondlu dam, which the epicenter of the project, work has not yet started. This dam is situated at the border of Koratagere taluk of Tumkur district & has got a storing capacity of seven TMC of water. Till this dam is not built, the Yettinahole project will not see the light of day as the water from Yettinahole, which is flowing westward now needs to be diverted to Byragondlu dam, which is at a distance of 260 km, through canals & from there it will be supplied to water bodies of the districts of Kolar and Chikkaballapur. Now it is decided to supply drinking water to Hassan, Tumakuru, Ramanagara & Bengaluru rural in addition to the earlier decision of supplying drinking water to Kolar & Chikkaballapur. https://www.daijiworld.com/news/newsDisplay.aspx?newsID=659135  (3 Jan. 2020)
CAUVERY Tamil Nadu Centre unlikely to fund Nadanthai Vaazhi Cauvery project About 10 days ago, Tamil Nadu Chief Secretary K. Shanmugam discussed the project with Secretary of the Jal Shakti Ministry U.P. Singh, apart from seeking funds for various other projects in the water sector. Though the Centre was appreciative of the idea of rejuvenating the Cauvery, and was willing to support the project in different ways, it did not "commit itself much" to supporting the project financially, an official told The Hindu.
– Another official explained that the Union Ministry's role will, even otherwise, be crucial for the project to take off. Getting an "in-principle clearance" from the Ministry will be the pre-requisite to securing funds in any form from any source. A preliminary report has been submitted to the Ministry, and this has to be followed up with the preparation of a detailed project report. As per the preliminary report, the project's cost is around ₹11,250 crore. In June, when CM Edappadi K. Palaniswami presented a memorandum to PM Narendra Modi, he sought Central assistance for Nadanthai Vaazhi Cauvery.
– Broadly, there were two reasons for the State government to moot such a project. Apart from drawing inspiration from the Namami Gange initiative, the Centre had thought of taking up similar projects in respect of other major rivers, including the Cauvery, Narmada, Mahanadi and Godavari.
– In the light of the Central government's response, the State government is mulling over two options. One, to tap funds from the existing Central schemes and to meet a portion of the cost with the State's own funds. There are Central funds already available for setting up STPs. And two, to let the Water Resources Conservation and Rivers Restoration Corporation borrow funds from different sources. The official added that steps were afoot to have staff sanctioned for the Corporation. In October, the government appointed K. Satyagopal, who retired as Additional Chief Secretary and Commissioner of Revenue Administration, as Chairman and Managing Director of the entity.  https://www.thehindu.com/news/national/tamil-nadu/jal-shakti-ministry-unlikely-to-fund-cauvery-project/article30447290.ece  (1 Jan. 2020)
Tamil Nadu NGT gives March 20 ultimatum on river pollution case NGT has given an ultimatum to State governments and directed 100% treatment of sewage before release into the rivers. The tribunal has ordered that by March 31, 2020 the state governments must at least commence the work for setting up of STPs and the connecting drains.
– The green tribunal warned that if March 31 deadline is not met, "the local bodies and the concerned departments of the States/UTs will be liable to pay compensation…i.e. Rs 5 lakhs per month per drain, for default in in-situ remediation and Rs 5 lakhs per STP for default in commencement of setting up of the STP."
– NGT directed Chief Secretaries to set-up appropriate monitoring mechanism at State level and National Mission for Clean Ganga will be the nodal agency, which would submit quarterly progress report to the tribunal commencing April next year.
– CPCB has identified six polluted river stretches in Tamil Nadu for exceeding the prescribed standard limit of BOD. Of the six polluted stretches, four are categorised as priority-1, meaning highly polluted where Biochemical Oxygen Demand (BOD) value is more than 30 mg/l as against permissible 3 mg/l. These include 200 km of Cauvery river from Mettur to Mayiladuthurai, 15 km Sarabanga river, 15 km Thirumanimutharu river and 10 km Vasista river. Besides, 60 km stretch of Bhavani river and 80 km stretch of Thamirabarani are classified as priority-4 and priority-5.
– "The action plans for the rejuvenation of four polluted river stretches in priority-1 were submitted to CPCB in April this year and were approved for implementation," a senior official, privy to the developments, told Express. In June, Minister of State for Environment, Forest and Climate Change, Babul Supriyo, in a reply to a question in Parliament, said Centre has provided Rs 905.78 crore financial assistance to Tamil Nadu for augmenting sewage treatment capacity and claimed 15 sewage treatment plants have been created so far. https://www.newindianexpress.com/states/tamil-nadu/2019/dec/11/river-pollution-ngt-gives-ultimatum-to-state-governments-2074228.html  (11 Dec. 2019)  
Andhra Pradesh PCB report finds high bacteria level in rivers Pollution Control Board latest report with respect to pollution of rivers has concluded that high-level of Coliform bacteria in the water is why the rivers are getting polluted. "The Coliform values are high only because the domestic sewage is joining the rivers in several pockets throughout the State. All the other parameters are well within the permissible limits," APPCB chairperson BSS Prasad said.
– The board furnished the data by collecting water samples from various locations of all rivers – Godavari, Krishna, Tungabhadra, Nagavalli and Kundu- from January to October. Of these, River Krishna has the maximum Coliform bacteria presence. The board has concluded that establishing STPs, along with undertaking conventional treatments such as disinfecting the water, adding chlorine to the water before supplying it are sufficient measures to improve the water quality in the State. https://www.newindianexpress.com/states/andhra-pradesh/2019/dec/12/andhra-pradesh-pcb-report-high-levels-of-bacteria-polluting-rivers-2075061.html  (12 Dec. 2019)
Punjab NGT fumes as state officers skip meet on river pollution NGT has pulled up the government for failure of its officers to respond to a notice by the tribunal's monitoring panel to attend a meeting on water pollution. During a recent hearing, NGT directed the chief secretary to take action against officials for non-compliance and fixed April 22 as the next date of hearing.
– On November 26, the NGT's monitoring panel on river pollution headed by justice Jasbir Singh (retd) had shot off a letter to the tribunal pointing at the non-serious attitude of Punjab officers, including principal secretaries of the local government and water resources departments, after they didn't attend a meeting on the discharge of untreated water into Holy Bein, following which it had to be cancelled.
– The committee also passed resolution saying: "Serious issues regarding discharge of untreated water into Holy Bein and non-compliance of directions issued by the committee have been raised from time to time. Senior officers, including the principal secretary, local government, and principal secretary, water resources, were requested to attend the meeting on November 26. The resolution further reads that no communication was received from the officers that they will not be able to attend the meeting.
– The NGT directed the state government to take steps for setting up of treatment plants, compliance of standards by the existing STP's as recommended by the monitoring committee and fixing responsibility of officials for non-performance and inadequate inspection by officials of the Punjab Pollution Control Board.
– The NGT directed the monitoring panel to give its report once in two months to the tribunal, chief secretaries and the state pollution control board. The chief secretary or the PCB chief may look into the report and submit response to the NGT within two weeks, reads the order.
– The NGT order said the monitoring committee has to give a status report to the tribunal and its functioning should not be viewed as giving final directions to regulatory bodies. The state regulatory bodies may take into account the observations of the committee in their functioning and act on their own after considering the response of violators. The committee will be at the liberty to point out to the NGT that action taken by the regulatory authority was not adequate.  https://www.hindustantimes.com/chandigarh/ngt-fumes-as-state-officers-skip-meet-on-river-pollution/story-aYJbxR3rJBsHHQFbexhzAI.html  (2 Jan. 2020)
NGT slaps Rs 50-cr fine on govt for polluting Sutlej, Beas NGT on Nov. 13 slapped a fine of Rs 50 crore on the state government for polluting Sutlej and Beas rivers due to uncontrolled industrial discharge.
The bench had clubbed several similar cases, including the one dealing with the death of fish due to molasses discharge from a sugar industry in Gurdaspur district in May this year. The NGT also asked the Punjab government to recover the fine from industries in two weeks. The next date of hearing is on February 27. https://www.hindustantimes.com/india-news/ngt-slaps-rs-50-cr-fine-on-punjab-government-for-polluting-sutlej-beas/story-2HpSeWXTepTpPACuYmstHL.html  (15 Nov. 2019)
NGT panel slaps ₹1-crore fine on four Ludhiana units NGT panel asked the PCB to slap ₹1 crore fine on four industrial units in Ludhiana for violating environmental norms. In its second executive committee report submitted to NGT recently, the panel headed by justice Jasbir Singh (retd) also questioned the functioning of some PPCB officials. The panel recommended that the PPCB chairman impose environmental compensation amounting to Rs 25 lakh each on Punjab Paper Mills Limited and Satkar Paper Mills Limited at Gaunspur village in Ludhiana. It also asked PPCB to issue directions for closure of these industries as per the provisions of Water Act-1974. The panel directed that environment compensation of Rs 30 lakh & 20 lakh be imposed on the Megaline Enterprises and Aggarwal Scientific Dyers at Focal Point in Ludhiana, respectively. https://www.hindustantimes.com/cities/ngt-panel-slaps-1-crore-fine-on-four-ludhiana-units/story-5pDqE6TBPJza3Hlw9BjO7N.html  (5 Dec. 2019)
Jharkhand Meeting on pollution in Jamshedpur rivers A meeting of the Special Environment Surveillance Task Force chaired by Deputy Commissioner Ravishankar Shukla was held under directives of NGT to discuss and draw up steps to make rivers in the district pollution free and prevent illegal excavation. https://www.avenuemail.in/jamshedpur/plans-for-making-jamshedpur-rivers-pollution-free/142454/  (26 Dec. 2019)
Odisha Coal mining project undo years of tree-conservation efforts This is happening in Mahanadi and Ib rivers basin. Talabira II and Talabira III are coal blocks near the Talabira village, allocated to the Chennai-based NLC, in 2016, for coal mining. In 2018, Talabira Mining Pvt Ltd, a subsidiary of Adani Enterprises Limited, signed an agreement with NLC for being the developer and operator for the coal blocks.
The coal blocks lie close to the Sambalpur-Jharsuguda district boundary which is near the state highway 10, connecting the two district headquarters in Western Odisha. A total of 1,038.187 hectares of forest land in the Sambalpur and Jharsuguda forest divisions is planned to be diverted to pave way for the coal mining project.
According to the Odisha government, of the 1,038.187 hectares of forest land that is to be diverted for the project, 192.62 hectares lies in Sambalpur forest division while the larger chunk lies within the Jharsuguda division. Tree felling has started in Sambalpur while trees in Jharsuguda will be cut down in the next phase.
Though the local environmentalists claimed that more than 40,000 trees had been cut down, as of December 20, the officials refuted the charge. According to an Odisha Forest Development Corporation official, only 17,000 trees had been cut down till the date. The target number of trees to be cut, as per the inspection report, is 1,30,721. The OFDC official, while requesting anonymity, claimed that the cutting process in Sambalpur district is now almost over. https://scroll.in/article/948572/in-odisha-a-plan-for-coal-mining-has-undone-years-of-tree-conservation-efforts-in-one-fell-swoop  (3 Jan. 2020)
Uttar Pradesh Villagers affecting severely due to pollution in Hindon rivers Around 150 villages in six districts situated by three rivers Hindon, Krishna and Kali have been suffering from life threatening diseases for past many years.  https://en.gaonconnection.com/its-acid-and-not-water-that-is-flowing-in-these-rivers-its-making-us-very-very-sick/  (5 Jan. 2020)
Sophia Kehau Keller commenting on FB comment "The abuse of rivers in India is appalling, with all levels of government obstinately reverting to laziness, even when clean-up efforts would be quite easy to implement. It is the population that suffers, since Modi Sarkar has no interest in their health or welfare. and of course, UP is worst of all, In every way that is unjust to villagers, UP tops the list."
NGT summons officials over 3 malfunctioning STPs NGT has summoned senior officials of the UP Jal Nigam, Ghaziabad Development Authority and Ghaziabad Nagar Nigam after a report furnished by the CPCB and UP pollution control board indicated that three sewage treatment plants in Indirapuram were malfunctioning and leading to pollution in Hindon and Yamuna rivers.
– NGT observed: "The very purpose of the STPs is defeated. Encroachments have not been removed and dumping of solid waste is taking place." While noting that the "overflowing sewage" was discharged directly into the Hindon, which leads to pollution in the Yamuna, the Bench said that "apathy of authorities" was reflected by the lack of remedial action. "Coercive measures must be taken by authorities, and remedial action is needed for preventing untreated sewage from being discharged directly into the river system," the Bench said.
– The green panel also directed the U.P. Chief Secretary to monitor the situation and ensure that appropriate action plans are prepared within a month. The directions came on a plea moved by Hindon Resorts Pvt. Ltd. and others, which alleged that three STPs in Indirapuram were malfunctioning. "The sewage is overflowing due to obstruction and dumping of garbage by scrap dealers on the side lines of the open drains and due to encroachment by high-rise complexes and shops," the Bench observed while noting the allegations made in the plea.  https://www.thehindu.com/news/cities/Delhi/officials-summoned-over-3-malfunctioning-stps/article30481672.ece  (5 Jan. 2020)
SAND MINING
SANDRP Blog Gujarat Riverbed Mining Overview 2019: Six People Died Due To Illegal Sand Mining Most of the Indian states have been facing multiple environmental issues on account of unsustainable riverbed mining activities. Mechanized excavation, nexus between politicians-administration-mafia, violent attacks on people have become common features of the illegal sand trade across the country. The rampant mining of natural resource is also severely impacting rivers, wildlife and groundwater table. And the state of Gujarat is no exception to all this as shows the year end overview. https://sandrp.in/2020/01/03/gujarat-riverbed-mining-overview-2019-six-people-died-due-to-illegal-sand-mining/  (3 Jan. 2020)
SANDRP Blog Maharashtra Riverbed Mining Overview 2019: Mining Posing Bigger Threats As Government Fails To Act
The beaches, creeks, rivers, mangroves in the state of Maharashtra all are bearing the brunt of unsustainable mining, amid several attempts by government, judiciary and civil societies to keep a tab on illegal sand mining activities. As the detailed compilation by SANDRP highlights that mining menace warrants immediate actions from government before the threats turns into a disaster.  https://sandrp.in/2020/01/05/maharashtra-riverbed-mining-overview-2019-mining-posing-bigger-threats-as-government-fails-to-act/  (5 Jan. 2020)
SANDRP Blog Goa Riverbed Mining Overview 2019: Civil Societies Form Network To Curb Mining Menace All through the year 2019 illegal sand mining was rampant in Goa rivers despite judicial interventions. The Mandovi, Tiracal and Chapora rivers were particularly seen bearing adverse impact of unsustainable excavation. Amid worsening scenario the riverbank communities and civil societies have been making remarkable efforts to protect the rivers in the state. The work of Rainbow Warriors NGO and civil society groups who have formed the Goa River Sand Protectors network to monitor the illegal sand mining activities have truly raised hopes and shown way forward to all concerned fighting old battle against growing riverbed mining menace. https://sandrp.in/2020/01/05/goa-riverbed-mining-overview-2019-civil-societies-form-network-to-curb-mining-menace/  (5 Jan. 2020)
WETLANDS, LAKES, WATER BODIES
Karnataka BDA floats tender to revive Bellandurr lake After being reprimanded by NGT for failing to rejuvenate Bellandur and Varthur lakes, the BDA has finally floated a tender for desilting, rejuvenation and development of Bellandur lake with an estimated project cost of ₹250 crore. For Varthur lake, the authority is likely to float a tender in three days with an estimated project cost of ₹150 crore.
– As per BDA Commissioner G.C. Prakash desiling and rejuvenation of lakes would take one year. There is close to 50 lakh cubic meter of silt in the Bellandur lake that has to be removed. Mr. Prakash said that the BDA has come out with a notification to provide silt free of cost to farmers and brick manufacturing units. The BBMP has identified five quarries for dumping the silt removed from Bellandur lake. Varthur lake has 35 lakh cubic metres of silt.
– After taking up suo motu cognisance of environmental degradation of lakes, NGT pulled up the State government for failing to take up corrective measures. The NGT had directed the government to deposit ₹500 crore in an escrow account and imposed a penalty of ₹75 crore for failing to follow its directives. https://www.thehindu.com/news/cities/bangalore/bda-finally-floats-tender-for-rejuvenation-of-bellandur-lake/article30467183.ece  (3 Jan. 2020)
'Mischievous act' led to Hulimavu incident: Panel The technical committee formed by the government to study the three lake breach incidents reported in Bengaluru in as many months has found that two waterbodies overflowed following heavy rain, while Hulimavu Lake breached because of a 'mischievous act'. The three-member panel headed by former IIT Sc. professor BR Srinivasa Murthy submitted its interim report on December 16. The members — who visited Hulimavu, Hosakerehalli and Doddabidarakallu lakes — had sought more time to study other vulnerable lakes and suggest measures. https://timesofindia.indiatimes.com/city/bengaluru/mischievous-act-led-to-hulimavu-incident-panel/articleshow/73055978.cms  (1 Jan. 2020)
BBMP objects to Namma Metro's plans for Benniganahalli Lake Bruhat Bengaluru Mahanagara Palike (BBMP) has objected to the Bangalore Metro Rail Corporation Limited's (BMRCL) proposal to lay electric cables at the Benniganahalli Lake bund and shrink the area by constructing diaphragm walls for the construction of a road.
– The BMRCL had already started the excavation work without approval from the BBMP. But the civic authority confirmed that the work has stopped now. Residents said that the BMRCL also plans to chop off about 60 trees around the lake towards the Old Madras Road to make more space for road-widening.  https://bangaloremirror.indiatimes.com/bangalore/others/bbmp-objects-to-namma-metros-plans-for-benniganahalli-lake/articleshow/73050671.cms  (1 Jan. 2020)
Also see ESG's legal, educational and research efforts to reclaim, protect and rehabilitate lakes and raja kaluves (canals).  https://esgindia.org/new/education/karnataka-high-court-directs-state-to-ensure-karnataka-lakes-are-protected-per-2012-order-in-esg-pil/  (24 Dec. 2019)
Uttar Pradesh Forest department writes to Center to get Ramsar tag for Dhanauri  Five years after Noida-based birder Anand Arya initiated legal battle seeking protection for Dhanauri and a year after district forest department first sent its proposal to declare the water body as a wetland under Wetland Rules-2017, the government has initiated the process of declaring it a Ramsar site.
– "To declare the said wetland as a Ramsar site, divisional forest officer Gautam Budh Nagar PK Srivastava is being nominated as the nodal officer. He will initiate the process of filing up the Ramsar Information Sheet (RIS), GIS maps, integrated management plan and upload the latest photos," said a letter from principal chief forest conservator's office, Lucknow, to the joint secretary, MoEFCC. However, according to the forest officials, they were yet to start a survey of the area.  https://www.hindustantimes.com/noida/dhanauri-a-step-closer-to-getting-ramsar-wetland-tag-as-forest-dept-writes-to-centre/story-pl02kGiP3VC3DsItHU2cWL.html  (25 Dec. 2019)
Kerala Plan ready to raze illegal Maradu flats in Kochi The authorities are implementing the Supreme Court order directing to demolish the water front high-rises constructed in violation of coastal regulation zone norms. https://www.hindustantimes.com/india-news/plan-ready-to-raze-illegal-maradu-flats-in-kochi/story-6Bwt3JvmUFS8w3A8dFnqHJ.html  (6 Jan. 2020)
Jammu & Kashmir 
GROUNDWATER
Report Why West Zone facing Groundwater Shortage After Years of More Rain? Between 1996 and 2016, western India received more rainfall with each passing year. In this time, groundwater storage in Gujarat improved – but not so in Rajasthan, its neighbour, where levels were falling. A team of researchers from IIT Gandhinagar have found that the answer to Rajasthan's situation lay in unrestricted access to groundwater subsidies. In 2006, the government of Gujarat installed a separate electricity grid for farmers. Under the scheme, called the Jyotigram Yojana, farmers would receive free electricity supply for eight hours a day, according to a predeclared schedule. The aim: to ensure judicious use of water. But no such restrictions are in place in Rajasthan, where farmers enjoy unlimited access to electricity and huge subsidies. Today, Rajasthan is facing a severe water crisis.
– Rainwater can recharge shallow wells but not deeper aquifers, and about 55% of wells used for irrigation in Rajasthan are shallower than 40 m. In Gujarat, 85% of all wells are shallower than 40 m.
– Using GRACE satellites, The IIT Gandhinagar team estimated groundwater storage using GRACE data, charting how it changed between 2002 and 2016. Then they compared the numbers with data from 406 wells in Gujarat and 234 wells in Rajasthan. The GRACE records represent all sorts of water, including groundwater, soil moisture and surface water. Because India's Central Groundwater Board (CGWB) assesses groundwater levels each quarter, scientists also collected GRACE data for the same periods, as well as rainfall and air temperature data for western India.
– So when scientists accounted for this and all other factors in their model, they found that even though it had rained more, the state's total groundwater storage fell in Rajasthan at 3.67 cubic km per year. But starting in 2002, Gujarat's water storage has improved at the rate of 1.93 cubic km per year. But these trends aren't in sync with observations from groundwater wells in Rajasthan. GRACE data shows declining water storage but groundwater levels in shallower wells have been improving with more rainfall.  https://thewire.in/environment/gujarat-rajasthan-rainfall-groundwater-shortage-electricity-subsidies   (1 Jan. 2020)
ATAL BHUJAL Tamil Nadu CM writes to centre to include state in the scheme Tamil Nadu, several districts, including Chennai, reeled under severe water crisis this summer. Pointing out that Tamil Nadu is a water-stressed state, the CM wrote that the unpredictable nature of the monsoons has made the state dependent on groundwater, thereby leading to its depletion in the state. "A total number of 541 firkas (revenue areas) out of 1,166 firkas in the state fall under 'critical' and 'over-exploited' categories," he said in the letter. https://www.thenewsminute.com/article/include-tn-groundwater-scheme-cm-palaniswami-wites-pm-modi-114849  (27 Dec. 2019)
– अटल भूजल योजना की परिकल्पना, परिदृश्य, परिप्रेक्ष्य, प्रभाव, विसंगति और कमियों के पहलुओं पर मिहिर शाह, मनोहर कोशलानी एवं अरुण तिवारी के द्वारा जानकारीपूर्ण परिचर्चा https://www.youtube.com/watch?v=0ldDQAkKoIo 
Karnataka Groundwater table rises in parts of south Bengaluru Groundwater levels are up in Bengaluru, North Karnataka districts and some others, except Kodagu, where the levels are down.  https://timesofindia.indiatimes.com/city/bengaluru/groundwater-table-rises-in-parts-of-south-bluru-recharge-wells-may-be-reason/articleshow/73036886.cms  (31 Dec. 2019)
URBAN WATER
Chennai Sea water intrusion seen in north of city
The coastline north of Chennai is the worst affected along the country's east coast, with a stretch of nearly 14 km experiencing seawater intrusion finds Anna University study. https://www.thehindu.com/news/cities/chennai/seawater-intrusion-seen-north-of-city/article30437575.ece  (31 Dec. 2019)
Faridabad Overflowing sewage on NH-19 sparks safety concerns For more than six months, sewage from Seekri village has been overflowing onto the service road and a stretch of the Delhi-Agra highway, causing a major nuisance to locals and motorists. The authorities and the Panchayat, however, shift the blame on the matter. The sewage from the village earlier flowed down a drain. However, the trouble began six months back when the highway was widened to six-lanes and a service road was constructed over the drain. Though pipelines have been laid under the service road to allow the sewage to reach the storm water drain along the highway, but the pipelines and the drain get frequently choked due to indiscriminate dumping of the garbage, including plastic waste, in an open nallah along the highway. https://www.thehindu.com/news/cities/Delhi/overflowing-sewage-on-national-highway-19-sparks-safety-concerns/article30489084.ece  (6 Jan. 2020)
WATER
Karnataka State Water Policy 2019 The report of the Task Group on Water Policy constituted by the Karnataka Jnana Aayoga (Karnataka Knowledge Commission) is now available in the public domain: This report includes a proposal for a radically new Water Policy for Karnataka, and a set of 10 chapters outlining the rationale for such a policy.   https://www.karnataka.gov.in/jnanaayoga/Other%20Reports/KJA%20Recommendation%20on%20KSWP.pdf   (June 2019)
AGRICULTURE
Report Not enough fund to promote ZBNF
From PM Modi to FM Nirmala Sitharaman, the govt has always spoken in support of ZBNF. But the budget allocation for its promotion is quite meagre. https://theprint.in/india/governance/modi-govt-supports-zero-budget-natural-farming-but-doesnt-have-enough-budget-to-promote-it/342570/  (31 Dec. 2019)
ENERGY
MNRE Draft policy for round the clock energy supply of bundled renewable power issued According to the draft, a generator has to supply power such that at least 51 per cent of the annual energy supplied corresponds to RE and the balance is drawn from thermal sources.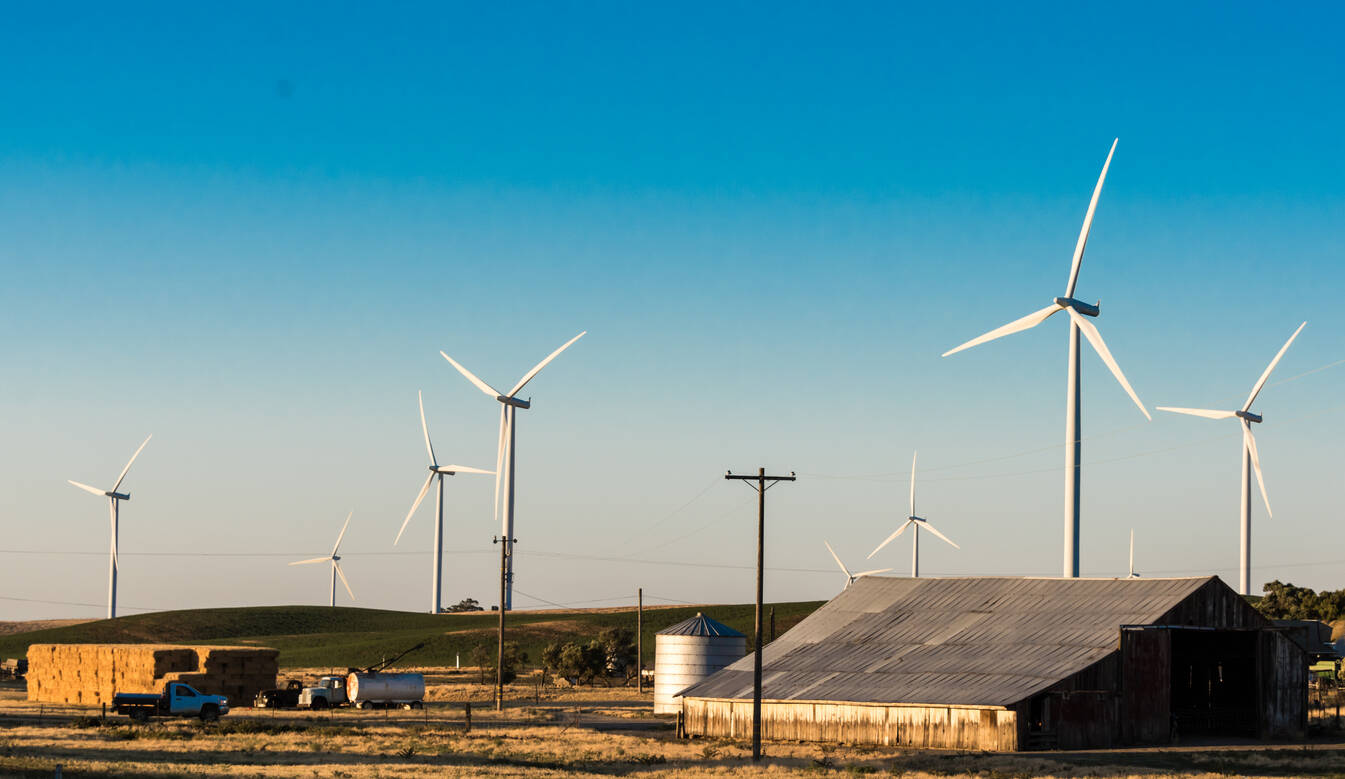 The generator will supply RE power complemented with thermal power, in RTC (Round the Clock) manner, keeping at least 80% availability on an annual basis. "RE power may include solar, wind, small hydro, or a combination thereof, with or without any Energy Storage System (ESS). The option of selecting the type and mix of RE sources and the usage of ESS shall be with the generator," the ministry said. A composite single tariff for RE, complemented with thermal energy will be quoted by the bidders at the delivery point which shall be at the central transmission utility (CTU) interconnection point. MNRE has sought comments from the stakeholders by 16 January.  https://energy.economictimes.indiatimes.com/news/renewable/mnre-issues-draft-policy-for-round-the-clock-supply-of-bundled-renewable-power/73076019  (2 Jan. 2020)
National India electricity supply down 1.1% in Dec., declines for 5fth straight month Power supply fell to 101.92 billion units in December, down 1.1 per cent from 103.04 billion units last year, an analysis of daily load despatch data by state-run Power System Operation Corp Ltd showed. https://energy.economictimes.indiatimes.com/news/power/india-electricity-supply-down-1-1-per-cent-in-december-declines-for-fifth-straight-month/73069583  (2 Jan. 2019)
ENVIRONMENT
West Bengal Sunderbans lost 2% mangrove cover in two years Forest Survey of India (FSI) report, said the mangrove cover in the Sunderbans has shrunk by more than two square kilometres – from 2214 sq km to 2112.11 sq km – between 2017 and 2019. Experts pointed out that the Sunderbans have been shrinking over the past few years and warned of its disastrous effect for both Kolkata and the livelihood of local villagers if the trend continued.  https://www.hindustantimes.com/india-news/sunderbans-lost-2-mangrove-cover-in-two-years-reports-central-survey/story-UOGIHdFR5gUkBtumjC7S4O.html  (30 Dec. 2019)
CLIMATE CHANGE
Report Himalayan Danger Environmental alarm bells have rung with studies indicating an increase in the number of glacial lakes within a short span of one year in the higher Himalayan region due to the adverse effects of climate change.
These glacial lakes have formed in the river basins with the highest increase of 127 reported in the Sutlej basin, with all its future impact open to assessment in the downstream areas in the shape of floods and the pressure on the storage capacity of the dams. Glacial lakes have also formed in the Chenab, Ravi and Beas river basins, but it is the increase in the Sutlej basin— of 16 per cent in a year — that has caused concern. https://m.tribuneindia.com/news/himalayan-danger-19905   (1 Jan. 2020)
One more report on this:- The centre has been conducting different studies in the Himalayan ranges of the state since 1993. The centre for climate change used satellite data in 2018 to analyse the distribution of lakes in different river basins across the state.
An analysis of images captured between 2015 to 2018, revealed that the Sutlej basin has a total of 769 lakes, of which 663 are of smaller dimensions (below five hectare), 57 lakes have an aerial range between five to 10 hectare and 49 lakes extend over 10 hectare. Studies reveal that an additional 127 lakes have sprung up in the basin since 2017. Indicating, an overall increase of around 16% in the Sutlej basin.
In the Chenab basin (Chandra, Bhaga, Miyar), a total of 254 lakes could be delineated. There are 64 lakes in the Chandra sub-basin, 84 lakes in the Bhaga sub-basin and 106 in the Miyar sub-basin, respectively.
The Chenab basin had 192 lakes in 2015, however the number had increased to 254 in 2018. Startlingly, the science technology department had only recorded 55 lakes in the Chenab basin in 2001. "Aerial measurements of the lakes indicate that 240 lakes have an area less than five hectare, 10 lakes cover five to 10 hectare and four extend over an area of 10 hectares. This reveals a reduction of around 20% in bigger lakes," says science and technology principal scientific officer SS Randhawa.
Bucking the trend, less lakes were found in the Parvati sub-basin in 2018, indicating a 35% decrease in lakes in comparison to 2017. Scientists believe that the reason for this anomaly is the high cloud cover in the Jiwa basin.
Of the 65 lakes in the sub-basin, 58 lakes were small, with an area below five hectare, four lakes had an aerial range between five and 10 hectare and three lakes had an area more than 10 hectare in 2018, indicating an overall reduction of about 36% for small lakes and a drop of 25% in case of bigger lakes with an area above 10 hectare since 2017. No change was apparent in lakes with an area between five to 10 hectares.
In the Ravi basin, 66 lakes were documented in 2018, while only 54 had been mapped in 2017. Studies indicate that three lakes had an area above 10 hectares, two lakes had an area between five to 10 hectare and 61 lakes were spread over less than five hectares.
Data collected between 2015 and 2018 reveal that the lakes in the Beas basin recorded a drop of 36% , there has been a 32% increase in the Chenab basin, 94% increase in the Ravi basin and 97% increase in the Sutlej basin. https://www.hindustantimes.com/chandigarh/new-lakes-emerge-in-river-basins-due-to-rapidly-melting-glaciers/story-q9kcSvEq0VlQx6fUcQ1aIP.html  (2 Jan. 2020)
Study Climate change may have wiped out Saraswati river, Harappan city of Dholavira The team carried out carbon dating of archaeological carbonates like molluscs, gathered from the unearthed remains of Dholavira. The fossils of these shell creatures traced at the site indicate that the city could have thrived due to the abundant mangroves that grew in the Rann of Kutch, which has turned into a white desert today. Brackish water, a saline mixture of fresh water and seawater, helps in the growth of mangroves.
– The team believes the river that supplied fresh water to Dholavira has to be Saraswati. Analysis of the fossil samples has led researchers to believe that during the 1,700 years of its existence, the city may have witnessed regular monsoon, with the inhabitants consuming shells as one of their foods from the river. Archaeologists managed to trace the remains of abundant mangroves growing around the Great Rann of Kutch, from which the researchers concluded that molluscs survived in the region.
– But the decline of this city and its ecosystem occurred when a mega drought hit the coastal city at the onset of Meghalayan stage, approximately 4,300 to 4,000 years ago. "The decline and collapse of Dholavira is a classic case of how climate change can increase drought risk in the future, which has been predicted by the Intergovernmental Panel Climate Change," states the study, published in the Journal of Quarternery Sciences. https://indianexpress.com/article/cities/pune/climate-change-may-have-wiped-out-saraswati-river-harappan-city-of-dholavira-study-6199204/  (4 Jan. 2020)
Study Global extent of river ice loss A new study from researchers in the University of North Carolina at Chapel Hill Department of Geological Sciences found that annual river ice cover will decline by about six days for every one degree Celsius increase in global temperatures.
This decline will have economic and environmental consequences. The study, "The past and future of global river ice," was published Jan. 1 in the journal Nature. It is the first study to look at the future of river ice on a global scale. https://phys.org/news/2020-01-global-extent-river-ice-loss.html  (1 Jan. 2020)
The annual river ice cover will decline by about six days for every one degree Celsius increase in global temperatures, posing economic and environmental consequences, according to a study. The research, published in the journal Nature, is the first to look at the future of river ice on a global scale. "We used more than 400,000 satellite images taken over 34 years to measure which rivers seasonally freeze over worldwide, which is about 56 per cent of all large rivers," said Xiao Yang, a postdoctoral scholar at the University of North Carolina at Chapel Hill (UNC-Chapel) in the US.
– Comparing river ice cover from 2008-2018 and 1984-1994, the team found a monthly global decline ranging from 0.3 to 4.3 percentage points. The greatest declines were found in the Tibetan Plateau, eastern Europe, and Alaska. "The observed decline in river ice is likely to continue with predicted global warming," the researchers found.
– For the future, the team compared expected river ice cover through 2009-2029 and 2080-2100. Findings showed monthly declines in the Northern Hemisphere ranging from 9-15 per cent in the winter months, and 12-68 per cent during the spring and fall. The Rocky Mountains, northeastern US, eastern Europe, and Tibetan Plateau are expected to take the heaviest impact, the researchers said. https://energy.economictimes.indiatimes.com/news/oil-and-gas/global-warming-will-lead-to-river-ice-cover-decline-study/73068132  (2 Jan. 2020)  
Soil could solve climate change if we save it Take a handful of soil and hold it up to your nose. That fresh, earthy aroma is organic matter, part of which is carbon. What you can smell is the whiff of a solution for dealing with climate change.  https://qz.com/1776825/how-soil-could-hold-a-key-to-solving-climate-change/  (29 Dec. 2019)
SOUTH ASIA
Nepal 20 projects that will be watched in 2020 Among the 20 projects to be watched in 2020, following are the hydropower/ irrigation projects.
– Upper Tamakoshi Hydropower Project: If everything goes as planned, the biggest hydropower project with a capacity of 456 megawatt will come into operation in 2020. The construction cost of the run-of-the-river project developed by the government by mobilizing local funds is expected to swell to Rs 73 billion.
– Melamchi Water Supply Project: The much-awaited mega drinking water project is considered to be the most viable long-term alternative to ease the chronic water shortage that exists within Kathmandu Valley. After a halt of over a year after the Italian contractor abandoned the project, Sinhydro, a Chinese construction firm, was awarded the contract to complete the remaining works by mid-July 2020.
– Upper Trishuli 1: The hydropower project located in Rasuwa district will have a total installed capacity of 216 MW, is expected to start work in 2020. International Finance Corporation (IFC), an investment arm of the World Bank Group, and a consortium of other international lenders, have agreed on $453 million debt financing package to construct the project.
– Sikta Irrigation Project: With estimated cost of Rs 25 billion, this will be the largest irrigation project in the country. Project officials say that over 60% works of the project has been completed and will be completed by 2020.
– Rani Jamara Kulariya Irrigation Project: The project going to be built with an estimated cost of Rs 27.7 billion aims to irrigate 38,300 hectares of arable land round the year. The government has set a target to complete this project by fiscal year 2023/24.
– Bheri-Babai Diversion Multipurpose Project : Nearly 51,000 hectares of land in Bardiya and Banke districts is estimated to get irrigation facility from this multipurpose project that will also generate 48 megawatt of electricity. Tunnel boring machine was used for the first time in Nepal to construct the tunnel of this mega project. The construction of 12.2-kilometer long tunnel, a major component of the national pride project, was completed in April.
– Tanahu Hydropower Project: Located in Damauli in Tanahu district, this will be medium-sized hydropower plant (140 MW) with water storage to make power supply available throughout the year and meet the country's peak demand in particular for the dry season. The project is estimated to cost Rs 50.50 billion and expected to be completed in the next five years.
– Upper Karnali Hydropower Project: In 2019, GMR Energy, the developer of 900 MW Upper Karnali Hydropower Project (UKHP), concluded negotiations with Bangladesh over tariffs, terms and conditions of the power purchase agreement for selling 500 MW of electricity.
– Arun-3 Hydro Electric Project: India's SJVN Arun III Power Development Company is developing the 900 MW run-of-the-river type project on Arun River in Sankhuwasabha district.
– Budhigandaki Hydropower Project: The government has initiated construction of the 1,200 MW storage project in the Budhi Gandaki River that flows between Gorkha and Dhading districts. As of now, the government has finalized its detailed project report (DPR) and has been providing compensation to the people affected by the project construction. https://myrepublica.nagariknetwork.com/news/20-development-projects-that-will-be-watched-in-2020/  (1 Jan. 2020)
IBN approves Rs. 85 bln for 3 hydro projects Investment Board Nepal (IBN) has approved an investment of Rs. 85 billion for construction of three Hydroelectricity projects, which are, Upper Trishuli-1 hydropower project, Marsyandgdibesi hydroelectric project, and Upper Trishuli-3 'B' hydropower project. The meeting of IBN, held on the Chairmanship of Prime Minister KP Sharma Oli approved the investment on Dec 30, 2019.
IBN informed that it had approved Rs. 65 billion for Upper Trishuli-1, Rs. 11 billion for Marsyangdibesi and Rs. 8 billion for Upper Trishuli-3 'B'. Nepal and Korea will be jointly investing in the construction, which is to be started by Nepal Water and Energy Development Company. Likewise, Nepal Electricity Authority (NEA) will construct the Upper Trishuli-2 'B' hydel project. https://english.khabarhub.com/2019/30/65240/  (30 Dec. 2019)
Arun III to ink financial closure in Feb The report says 30% work on the SJVN's 900 MW Arun III project has been completed, but the financial closure is likely to be signed in Feb 2020 and project expected to be completed in 2023.  https://thehimalayantimes.com/business/arun-iii-to-ink-financial-closure-in-february/  (31 Dec. 2019)
ASIA
MEKONG Thai official warns of water shortages due to weather, dams Thailand should brace for serious water shortages when the hot season begins in March after a year with unusually little rainfall, one of the country's top water management officials said Dec. 30. Retention of water by dams in upstream areas of the Mekong River also is seen as contributing to record-low water levels in the river, affecting the region's ecology.
– Somkiat Prajumwong, director-general of Thailand's Office of National Water Resources, said the river will experience record-low levels, after already recording new records this past year. His agency is warning people along the Mekong to beware of river bank slides and prepare for serious water shortages in March and April, when temperatures in Thailand usually peak.
– Tests of China's new upstream Jinghong dam on Jan. 1-3 are expected to lead to a drop in the the Mekong's water level by as much as 1 meter (3.3 feet) along eight northern and northeastern Thai provinces, said the water resources agency. https://www.sandiegouniontribune.com/news/nation-world/story/2019-12-30/thai-official-warns-of-water-shortages-due-to-weather-dams  (30 Dec. 2019)
Indonesia Several dead in Jakarta floods Jakarta governor Anies Baswedan told reporters after conducting an aerial survey over the flooded city that as much as 370 millimetres (14.5 inches) of rainfall – more than three times the average amount – was recorded in Jakarta and West Java's hilly areas during the New Year's eve, resulting in the Ciliwung and Cisadane rivers overflowing.
– Authorities warned flooding was possible until April when the rainy season ends. He said his city administration would complete projects on the two rivers, including a dam and a sluice, to prevent flooding.
– The floods inundated thousands of homes and buildings in poor and wealthy districts alike, forcing authorities to cut off electricity and water supplies and paralysing transport networks, Wibowo said. Director General of Civil Aviation Polana Pramesti said the floods also submerged the runway at Jakarta's Halim Perdana Kusumah domestic airport, prompting authorities to close it. About 19,000 passengers are stranded there.
– Flooding also highlighted Indonesia's infrastructure problems as it tries to attract foreign investment. Jakarta is home to 10 million people or 30 million including those in its greater metropolitan area. It is prone to earthquakes and flooding and is rapidly sinking due to uncontrolled extraction of ground water. Congestion is also estimated to cost the economy $6.5bn a year. President Joko Widodo announced in August that the capital would move to a site in sparsely populated East Kalimantan province on Borneo island, known for rainforests and orangutans. https://www.aljazeera.com/news/2020/01/dead-thousands-caught-flooding-indonesia-jakarta-200102010300411.html   (2 Jan. 2020)
Environmental damage exacerbates Jakarta flooding amid record rainfall On Jan. 2, President Joko Widodo blamed a combination of environmental damage and waste dumping in rivers for the disaster. On his Twitter account, the president also cited delays in flood control infrastructure projects, noting that some of the projects had been held up since 2017 due to land acquisition issues.
– The BNPB said environmental damage in upstream areas of the Ciberang River, one of more than a dozen waterways that weave through Jakarta from the mountains south of the capital, contributed to the overflow and flash floods.
– "The rain on New Year's Day was so extreme … causing massive floods," the BNPB said in a statement published on Jan. 1. "This is not ordinary rain," the agency added. The national meteorological agency recorded 377 millimeters (14.8 inches) of rainfall during the period, and said it was the highest daily volume seen in Jakarta since records began in 1866. https://news.mongabay.com/2020/01/environmental-damage-exacerbates-jakarta-flooding-amid-record-rainfall/  (2 Jan. 2020)
Indonesia Plans Cloud Seeding to Halt Rain – Indonesia will carry out cloud seeding on Jan. 3 in a bid to prevent further rainfall over the capital Jakarta, after deadly flash floods and landslides following some of the heaviest rains ever recorded. The death toll in Jakarta and surrounding areas rose to 43 as of Jan. 3, the country's disaster mitigation agency said, while tens of thousands of people have been displaced.
– The deluge at the start of 2020 was "one of the most extreme rainfall" events since records began in 1866, the country's Meteorological, Climatological and Geophysics Agency (BMKG) said in a statement on Jan. 3. The agency said climate change has increased risk of extreme weather.
– With more rain forecast, two small planes have been readied to break up potential rain clouds in the skies above the Sunda Strait, while a bigger plane will be on standby, Indonesia's technology agency BPPT said in a statement.
– Cloud seeding, or shooting salt flares into clouds in an attempt to trigger rainfall, is often used in Indonesia to put out forest fires during the dry season. The BMKG has warned that "extreme weather" may continue until Jan. 7, while heavy rainfall could last through to mid February.
– President Joko Widodo blamed delays in flood control infrastructure projects for the disaster, including the construction of a canal that has been delayed since 2017 due to land acquisition problems. Widodo last year announced he will move Indonesia's capital to East Kalimantan province on Borneo island, to reduce the burden on Jakarta, which is overpopulated and sinking. More than 50 people died in one of the capital's deadliest floods in 2007 and five years ago much of the centre of the city was inundated after canals overflowed. https://www.news18.com/news/world/indonesia-plans-cloud-seeding-to-halt-rain-floods-death-toll-rises-to-43-2444097.html  (3 Jan. 2019)
THE REST OF THE WORLD
Opinion Our cherished rivers are under threat "Permanent protections for free-flowing rivers need to be a center piece of every country's national climate action plan. Chile can lead the way. Countries that were the first to participate in a dam-building boom have started to dismantle or partly decommission their dams. In the United States, over 1,600 obsolete dams have been removed. The current five-year plan for economic & social development in China includes an effort to reconnect rivers, reversing years of unchecked dam construction that has contributed to the disappearance of over half of China's 50,000 rivers." https://www.nytimes.com/2019/12/29/opinion/climate-change-hydroelectric-dam.html  (29 Dec 2019)
USA Flooded farmers facing growing dilemma in warming world The number of heavy rain events has increased throughout much of the U.S., including the Midwest, where the days with at least one inch of rain averaged 13% higher from 2009 to 2018 than the long-term average dating to 1950, according to NOAA.
In Missouri, the number of annual 4-inch (10.2-centimeter) or greater rainfalls was 58% higher than the long-term average. In Iowa, the increase was 31% and in Nebraska it was 23%.
There also will be more severe droughts, experts say, while rains will be more intense, with more water falling in a shorter period. What's more, the greatest increase in rainfall is occurring in the fall, when farmers are trying to harvest. https://www.3newsnow.com/news/local-news/flooded-farmers-face-growing-dilemma-in-warming-world  (12 Dec. 2019)
California Water Resilience Portfolio 2020 Very interesting initiative:- Water is central to nearly everything we value in California. Healthy communities, economies, farms, ecosystems and cultural traditions depend on steady supplies of safe and affordable water. Recognizing the need for action, Governor Gavin Newsom issued an Executive Order in April 2019 directing state agencies to develop recommendations to meet these challenges and enable water security for all Californians.
The Governor emphasized the need to harness the best of science, engineering, and innovation to prepare for what's ahead and support long-term water resilience and ecosystem health. To that end, state agencies have developed this draft water resilience portfolio to improve California's capacity to prepare for disruptions, withstand and recover from climate-related shocks, and adapt into the future.  http://waterresilience.ca.gov/wp-content/uploads/2020/01/California-Water-Resilience-Portfolio-2019-Final2.pdf  
Compiled by SANDRP (ht.sandrp@gmail.com)
Also see: DRP News Bulletin 30 Dec. 2019 & DRP News Bulletin 23 Dec. 2019
Follow us on: www.facebook.com/sandrp.in; https://twitter.com/Indian_Rivers