Groundwater is India's water lifeline for some decades and will remain so. So attention to Atal Bhujal Yojana (ABY) is welcome, but key question is, will it help sustain our Water Lifeline? The World Bank funded project ABY has been in limbo for several years, but for some unknown reasons, took years to enter implementation phase. Secondly, why did it need the World Bank funding and how that will help for a scheme that essentially needs bottom up regulatory system, where the global banker has far from confidence inspiring track record?
Groundwater sustainability requires: 1. Identifying, understanding existing groundwater recharge systems 2. Protecting such recharge systems. 3. Enhance recharge from such systems. 4. Create additional recharge systems 5. Acknowledging in National Water Policy, programs and practices that Groundwater is India's water lifeline and most importantly 6. Creating a bottom up legally empowered groundwater regulatory system.
So when we read through the Jal Shakti Ministry's Media Brief, PIB press release, read and listen to the PM speech and other speeches available from the function organised for the launch, and when we go through the available details of the scheme, do we get a sense that there is sufficient appreciation of what will require to achieve sustainability of groundwater lifeline? Why limit it to a few states that possibly the World Bank is happy to work with? And why did have to piggyback on the Jal Jeevan Mission (JJM) whose operational guidelines were introduced by the Prime Minister on the same occasion? Was it to show that government is conscious of the fact that 85-90% of rural domestic water needs are fulfilled by groundwater and floated ABY to show that government is working to ensure JJM's source sustainability? If that is the case than why limit ABY to seven states when JJM promise is for across the country and the dependence of Rural domestic water on groundwater is also nationwide?
Too many questions whose answers are not easily available as yet.  
GROUNDWATER
ATAL BHUJAL Yojana On Dec 25, 2019 PM launched the Atal Bhujal Yojana:  https://pib.gov.in/newsite/PrintRelease.aspx?relid=196116 
See, the text of PM speech in Hindi: https://pib.gov.in/PressReleseDetail.aspx?PRID=1597573 
Here is a You Tube Video of the function, including PM speech: https://www.youtube.com/watch?v=5FlWycynuns
The Atal Bhujal Yojana has been launched amid growing concerns over the country's groundwater resources. A look at the extent of depletion of these resources, and how the scheme will seek to address such issues. https://indianexpress.com/article/explained/why-a-scheme-for-groundwater-recharge-atal-bhujal-yojana-6186562/  (27 Dec. 2019)
-The identified overexploited and water stressed areas for the implementation of the scheme fall in Gujarat, Haryana, Karnataka, Madhya Pradesh, Maharashtra, Rajasthan and Uttar Pradesh. The states have been selected according to a number of criteria, including degree of groundwater exploitation and degradation, established legal and regulatory instruments, institutional readiness, and experience in implementing initiatives related to groundwater management. https://www.outlookindia.com/newsscroll/cabinet-may-consider-proposal-to-launch-atal-bhujal-yojana/1692776  (23 Dec. 2019)
PM on Dec 25, 2019 released the Operational Guidelines for the implementation of Jal Jeevan Mission (JJM). https://pib.gov.in/newsite/PrintRelease.aspx?relid=196121
As per one more report, water would be in spotlight in next budget and govt has included the issue even in pre-budget talks.  https://www.financialexpress.com/budget/budget-2020-water-in-spotlight-as-modi-govt-takes-up-issues-in-mission-mode-includes-in-pre-budget-talks/1802122/  (23 Dec. 2019) 
Punjab State not included in Bhujal Yojana CM Captain Amarinder Singh on Dec. 26 wrote to Prime Minister Narendra Modi seeking Punjab's inclusion in the Rs 6000 crore the 'Atal Bhujal Yojana' for conservation of ground water resources. Expressing surprise and concern over Punjab's non-inclusion in the scheme given the fact that the rate of depletion of ground water is the highest in Punjab, Captain Amarinder Singh pointed out that 20 of the 22 districts of the State (other than Pathankot and Muktsar) are under serious stress of depletion of ground water. The Union Ministry of Jal Shakti had deputed officers to visit these districts earlier this year. He further mentioned that over 3/4th of the blocks in the State had been declared water-stressed, including some as critical, as per a recent report of the Central Groundwater Board. https://economictimes.indiatimes.com/news/politics-and-nation/cm-amarinder-writes-to-pm-for-inclusion-of-punjab-in-atal-bhujal-yojana/articleshow/72984381.cms  (26 Dec. 2019)
Uttar Pradesh 70% of groundwater over extracted Agra, Budaun, Ayodhya, Amethi and Firozabad districts are the worst affected followed by Meerut and Bulandshahr in blockwise annual declining trend of groundwater. Some of the high profile blocks like Saifai, Deoband and Kairana are also experiencing over-extraction. The data pertains to 820 blocks in 75 districts of Uttar Pradesh and is an average measure of pre-Monsoon groundwater level data of a decade (2009-2018) – released by the UP's Groundwater Department.
– This is the latest data that shows a disturbing trend. There are eight categories that segregate data on the basis of extent of extraction. For instance, the worst scenario is when the groundwater table declines by more than 60 cm per year. Out of 15 blocks in Agra, 10 suffer from this category. Similarly, all nine blocks of Firozabad are falling in this category followed by Budaun which has six problematic blocks. "Ayodhya in East UP faces this situation with seven out of nine blocks witnessing more than 60 cm decline in a year-on-year basis," said Shyamvir Singh, junior engineer in Groundwater Department and currently posted in Meerut. Singh has also been part of this mega exercise for the compilation of data.
– Out of 820 blocks, only 248 are the ones where decline of groundwater table is nil. Percentagewise, 70% of UP's groundwater is over-extracted. If one goes by data, in the entire UP, 77 blocks fall in above-60 cm per year decline in groundwater category – out of which, 31 are from West UP. But, there are 147 blocks where the year-on-year decline of groundwater table is between 1 cm and 10 cm.
– "Even this is not a healthy sign where the water table is declining at a rate of 10 cm per year. This clearly shows there is no recharge to replenish the lost reservoir below the Earth. In fact, there are another 138 blocks in UP where decline is anywhere between 10 cm and 20 cm per year. Amroha, Bareilly, Gonda, Pilibhit and Hardoi fall in the last category," revealed Amod Kumar, senior hydro geologist in UP Groundwater Department and in-charge of Meerut, Baghpat with additional charge of Azamgarh and Lucknow.
– "Situation is grim. Some districts may show an overall normal status. But, there are blocks within which have turned into dark zones. Take for example, Baghpat. The district comes under critical category with 96% extraction of what is available annually leaving little for future but within the district there is a block Pilana where the extraction has reached 121% – which means watertable is going down every year. And let me tell you, these are 2013 figures. The new report for 2017 is awaited. Things may be more worrisome, once it's out," he added. https://timesofindia.indiatimes.com/city/meerut/declining-trend-of-groundwater-in-last-decade-70-of-up-is-over-extracted/articleshow/72420052.cms  (8 Dec. 2019)
The state government has rolled out a five-year plan to recharge groundwater in 271 critical and semi-critical development blocks of the state. Jalshakti minister Mahendra Singh shared this information in the UP Assembly on Dec. 19. https://timesofindia.indiatimes.com/city/lucknow/5-year-plan-to-recharge-groundwater-in-271-parched-devpt-blocks-of-state/articleshow/72893934.cms  (20 Dec. 2019)
Tamil Nadu Coimbatore groundwater among top over-exploited districts Coimbatore, blessed with the Noyyal river and a number of brimming water bodies during monsoons, is among the top five districts in the state that are indiscriminately exploiting groundwater.
According to Dynamic Ground Water Resources of India 2017, the latest available report released by the Union jal shakthi ministry says that groundwater in 26 firkas in the district were overexploited. In addition to the overexploited blocks, 11 more blocks were semi-critical or critical indicating the extent of groundwater exploitation. What is more worrying is that groundwater extraction has apparently increased in ten blocks, where the situation has worsened after 2013. https://timesofindia.indiatimes.com/city/coimbatore/groundwater-coimbatore-among-top-over-exploited-districts/articleshow/72249134.cms  (27 Nov. 2019)
Chhattisgarh EAC returns Mahagenco mining proposal Amid enduring protests by villagers against another coal mine project in their vicinity, EAC in its Dec. meeting has sent back Maharashtra State Power Generation Company's proposal seeking clearance to operate a coal mine in Raigarh citing hasty submission of information that too incomplete and incorrect.
– In Sept. during a public hearing for 2245 project affected families in 14 villages, residents highlighted the impact of projects on groundwater and air quality, beside damage to fields due to spillage of fly ash, cracks in houses caused by blasting and fires in coal mines and stockpiles. Hundreds of them claimed that their consent was falsified and protested on the spot, resulting in the police booking 54 of them.
– Seeking clarifications and inputs on 20 points, the EAC has asked for compliance report on the issues raised during the hearing with a certain timeline and allocation and a social impact assessment study for the proposed displacement of tribals and the Scheduled Castes.
– As for impact on water, a "hydrological study and impact of mining activity on hydrology shall be submitted from the expert agency" and permission for the extraction of groundwater shall be obtained from the Central Ground Water Board. For using surface water from Kelo river for three initial years as proposed, the company will need to seek permission from the authority concerned. https://www.thehindu.com/news/national/other-states/mahagencos-mining-project-in-raigarh-put-on-ice/article30421516.ece  (28 Dec. 2019)  
Report Over 1,000 experts call for global action on 'depleting' groundwater The experts emphasise on putting the spotlight on global groundwater sustainability by completing a UN World Water Development Report, planning a global groundwater summit, and recognising the global importance of groundwater in the UN's SDGs by 2022. They also highlighted the need for managing and governing groundwater sustainability from local to global scales by applying a guiding principle of groundwater sustainability by 2030. The statement also calls for investment in groundwater governance and management by implementing groundwater sustainability plans for stressed aquifers by 2030.
– Abhijit Mukherjee, who is a part of the global scientist group and an Associate professor at IIT Kharagpur told "we, in India, are abstracting the largest volume of groundwater in human history and are rapidly depleting a relatively non-renewable natural resource that is essential for our survival." Mukherjee and other signatories noted that groundwater challenges and opportunities are often overlooked in national and international strategies for sustainable development, climate adaptation and biodiversity. https://www.financialexpress.com/lifestyle/science/shocking-fall-in-groundwater-levels-over-1000-experts-call-for-global-action-on-depleting-groundwater/1803803/  (25 Dec. 2019)
HYDRO POWER PROJECTS
Arunachal Pradesh Black-necked crane arrives in Nyamjang Chhu  This year's first black-necked crane arrived in its wintering site in Pangcheng valley, along the Nyamjang Chhu river, in Tawang district, on 25 Dec. Last year, the cranes had landed on 3 December.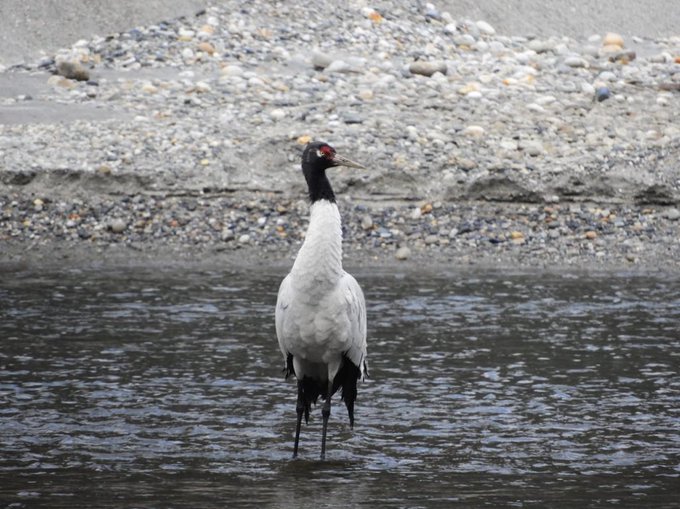 – Digen Dorjee, a teacher who spotted the revered crane, said it is likely that "the lone crane has come on a recce, before finalizing whether to make the valley its winter home." "In the last 10 years that I have watched them, a lone crane comes first, returns, and then brings the young ones, depending on whether the site is undisturbed," he told this daily.
– The crane was spotted at the proposed barrage site of the NHPC's 780 mw Nyamjang Chhu project. A short 3-km stretch of the Nyamjang Chhu river, between Brokenthang and Zemithang, is one of the only two regular, long-term wintering sites of the bird in India. In 2017, due to habitat destruction in the 3-km stretch because of sand and gravel mining and construction, the cranes did not land, though they had come as far as their wintering habitat.  https://arunachaltimes.in/index.php/2019/12/27/black-necked-crane-arrives-in-nyamjang-chhu/  (27 Dec. 2019)
Himachal Pradesh BHEL commissions first renovated unit of 180 MW Baira Siul Hydro Project  BHEL the country's largest power equipment manufacturer, on Dec. 27 announced it has renovated and modernised first of the three 60 MW units of Baira Siul Hydro Power. https://energy.economictimes.indiatimes.com/news/renewable/bhel-commissions-first-renovated-unit-of-180-mw-baira-siul-hydro-project/72993389  (27 Dec. 2019)
DAMS
Madhya Pradesh Govt needs Rs. 70K cr to use its share of Narmada water Govt needs Rs 70,000 crore in next five years to keep its share of 18.25 MAF of Narmada water intact, as per the Naramada Water Dispute Tribunal Award of 1979, to be reviewed in 2024 at the end of 45 years. If the state fails to utilize its share of Narmada water, it may forfeit part of its share. Kamal Nath government is dealing with one of the biggest issues left unaddressed in the 15 years of BJP rule from 2003 to 2018. MP currently uses 13.14 MAF Narmada water.
– This could be yet another ploy to push more big dams. Why can MP not be able to use the Narmada water through decentralised options across the basin?  https://timesofindia.indiatimes.com/city/bhopal/mp-needs-rs-70000-cr-to-use-its-share-of-18-25-maf-narmada-water/articleshow/72961012.cms  (25 Dec. 2019)
More than 300 Kharak dam affected families have got no compensation and rehabilitation despite SC order बुरहानपुर जिले के आदिवासी किसान मजदूर खरगोन में 16 दिसंबर से धरने पर बैठे हुए हैं। ये लोग खरगोन बड़वानी के खारक डूब प्रभावित परिवारों के समर्थन में बुरहानपुर के जिला मुख्यालय में एकत्रित हुए हैं। खारक बांध के डूब प्रभावित परिवार विरोध प्रदर्शन के लिए 40 किलोमीटर धूलकोट से खरगोन तक पैदल चलकर जिला मुख्यालय में अपने पुनर्वास के अधिकार के लिए धरने पर बैठे हैं।
2014 में बांध निर्माण के चलते इन 300 से ज्यादा आदिवासी परिवारों लगभग साढे 4 साल पहले अपनी जमीनों को को दिया था। कड़े संघर्ष के बाद भी किसी भी पर परिवार को आज तक नियम एवं कानून अनुसार पुनर्वास एवं मुआवजा नहीं मिला है। https://janjwar.com/post/despite-the-order-of-sc-dam-affected-more-than-300-tribal-families-of-mp-not-get-land-compensation-197-tribals-arrested  (22 Dec. 2019)
नर्मदा घाटी के मछुआरों का रोजगार संकट में मछुआरा मंसाराम का कहना है कि हमने 10 साल तक लड़कर सुप्रीम कोर्ट- हाईकोर्ट और मैदानी लड़ाई के द्वारा अपनी समिति का हक लिया है। हम परम्परागत और विस्थापित मछुआरे हैं। 2007 में मध्य प्रदेश सरकार ने विस्थापित मछुआरों और जलाशय के स्तर की यूनियन को प्राथमिकता देने का निर्णय लिया जिसका वृतांत उपलब्ध है और 2008 में लायी गयी मध्य प्रदेश सरकार की मत्स्य व्यवसाय नीति यही कहती है कि मछुआरों को ही प्राथमिकता देनी चाहिए, ना की बाहरी ठेकेदार या बाहरी मछुआरों को।
वे आगे कहते हैं, 'हम मछुआरों की 31 समितियां सरकारी सिद्धांत पर पंजीकृत हो चुकी हैं। उन समितियों का एक संघ मध्य प्रदेश राज्य की मत्स्य व्यवसाय नीति के अनुसार प्रस्तावित है।' बता दें कि निविदा सूचना जारी हो चुकी है जिसमें सभी बाहरी व्यक्तियों और संस्थाओं को आमंत्रित किया गया है कि वह 13 जनवरी तक टेंडर भरकर और 10 लाख की टेंडर फीस का भुगतान करते हुए इस प्रक्रिया में शामिल हो जाएं। https://janjwar.com/post/narmada-valley-fishermen-protest-regarding-right-of-reservoir  (28 Dec. 2019)
Kaleshwaram Project Governor directs ACB probe Governor Dr. Tamilisai Soundarajan said that she had referred the Congress' representation seeking a CBI probe into allegations of corruption in execution of the Kaleshwaram Lift Irrigation Project to the ACB. https://www.deccanchronicle.com/nation/current-affairs/271219/tamilisai-soundararajan-directs-acb-to-probe-kaleshwaram.html (27 Dec. 2019)    
Maharashtra Irrigation Scam ACB clean chit to Ajit Pawar In affidavits filed on Dec 19, 2019 with the Nagpur bench of the Bombay High Court, the ACB reiterated its 'clean chit' granted to former Maharashtra deputy CM and Water Resources Minister Ajit Pawar in the alleged Rs 70,000 crore irrigation scam. The affidavits – filed while the state Assembly is in session and a cabinet expansion is on the cards – assert that no criminal liability could be found against the NCP leader.  https://www.hindustantimes.com/india-news/acb-clean-chit-to-ajit-pawar-once-again-in-rs-70-000-crore-irrigation-scam/story-lRM0I52DtSUWD8wtzF95CN.html  (20 Dec. 2019)
INTERLINKING OF RIVERS
Godavari, Cauvery Interlinking Karnataka, TN demand higher share of water The project is still mostly at conceptual stage, the Godavari basin states have not agreed to it, but the recipient states are demanding more water: The governments of Karnataka and Tamil Nadu have demanded a higher water share from the proposed river interlinking project of Godavari and Cauvery.
While Tamil Nadu has demanded that its share be increased from the current 83 tmcft to 200 tmcft, Karnataka has emphasised that it also has a rightful share in the water diverted from Godavari. TN wrote to NWDA in response to Draft DPR in Sept 2019. As per the DPR, 247 tmcft of water is proposed to be diverted from the Godavari basin to the Krishna basin under the project, of which 163 tmcft will be set aside for Andhra Pradesh and Telangana. The remaining water will be provided to Tamil Nadu. https://www.thenewsminute.com/article/karnataka-tn-demand-higher-share-water-godavari-cauvery-link-project-114709  (24 Dec. 2019) 
INTERSTATE WATER DISPUTES
Mahadayi River Water Sharing Dispute If need be, will go against MoEFCC: Goa CM The statement comes after the MoEF on Dec 24 wrote to Karnataka stating environment clearance (EC) was not required for its Kalsa-Bhanduri drinking water project on Mahadayi river.
– Speaking to reporters after a cabinet meeting in Porovorim on Dec. 27, Sawant said, "The case regarding Mahadayi river water diversion is pending before Supreme Court. I would like to categorically state that Goans need not be worried. If required, we will also go against the MoEF." https://www.business-standard.com/article/pti-stories/mahadayi-dispute-if-need-be-will-go-against-moefcc-goa-cm-119122700547_1.html  (27 Dec. 2019)
Karnataka BJP try to stir up farmers While BJP in Karnataka is trying to stir up this issue among farmers of Malaprabha basin (that incidentally faced unprecedented floods in 2019 monsoon), Goa BJP is opposing this and GOI ruled by BJP keeps playing games of yes and no. https://timesofindia.indiatimes.com/city/hubballi/mahadayi-dispute-farmers-likely-to-intensify-stir-ahead-of-assemnbly-session-in-january/articleshow/72944839.cms (24 Dec. 2019)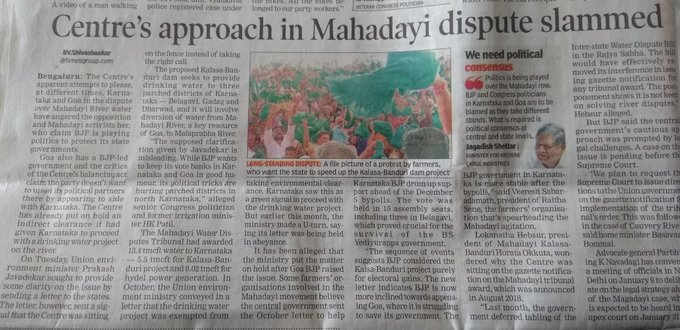 Centre's approached slammed Centre is getting exposed with its lack of concern for environment, rivers, environmental governance or even people and future of Goa. https://timesofindia.indiatimes.com/city/bengaluru/centres-approach-in-mahadayi-dispute-slammed/articleshow/72976798.cms  (26 Dec. 2019)
The Centre can explore the possibility of installing hydro-power generating plants in Mahadayi basin of Goa region if feasible sites are identified, Union Power Minister R K Singh has said. Goa is also looking into the possibility of installing hydro-power plants at two of its prominent dams, according to state Power Minister Nilesh Cabral. Cabral said the possibility of setting up hydro-power plants at the existing Selaulim (in South Goa district) and Anjunem (North Goa district) dams was being explored.  https://energy.economictimes.indiatimes.com/news/power/will-see-if-hydro-power-plant-possible-in-mahadayi-basin-power-minister-rk-singh/73023651  (30 Dec. 2019)
Tillari irrigation project May 2020 new completion date for 30 years old project  It was in April 1990 that the bilateral agreement between Goa and Maharashtra was first signed over the Tillari irrigation cum drinking water project for water sharing by both states. More than 30 years later, the project is finally expected to be complete by May 2020, chief engineer of the water resources department (WRD) Shrikant Patil told. Presently, 81% of the project is complete and laying of the rest of the canal network will be completed within the next five months, he said.
– Tillari irrigation project is a joint venture of Goa and Maharashtra governments and was conceived to irrigate 23,654 ha — 16,978 ha in Goa and 6,676 ha in Maharashtra. It was formed as special purpose vehicle in Goa to mobilise resources and complete the project. Up to March 31, 2008, Goa government incurred Rs 608.48 crore, including Rs 347 crore advanced to Maharashtra government towards share cost for common works.   https://timesofindia.indiatimes.com/city/goa/30-year-venture-tillari-irrigation-project-to-be-completed-by-may-2020/articleshow/72960946.cms  (25 Dec. 2019)
RIVERS AS NATIONAL WATER WAYS
IWAI Revision in cargo handling target IWAI has revised the cargo handling target to 100 million tonne (MT) on national waterways by 2021-22, as against its earlier estimation of 150 MT. "According to the latest projection, traffic on national waterways is expected to increase from 72 MT in 2018 -19 to 100 MT by FY22," said a senior IWAI official. Earlier this year, the IWAI had stated that about 55 MT of cargo was handled on national waterways in 2017-18 and the 150 MT target for 2021-22 was likely to be achieved before the deadline.
– The traffic on national waterway one (NW-1), which is the Haldia-Varanasi stretch on the Ganga, grew from 5.48 MT in 2017-18 to 6.79 MT in 2018-19, the official said. Industry players were optimistic but cautious on success of cargo movement of the national waterways. "So much had been done by the government for development of national waterways. But, banks are still not forthcoming about financing assets like vessels for deployment on these waterways, saying that it is non-viable," a logistics operator PDP Group chairman Pramod Srivastava said.  https://economictimes.indiatimes.com/industry/transportation/shipping-/-transport/iwai-revises-cargo-handling-target-to-100-mt-on-national-waterways-by-fy22/articleshow/72923381.cms  (22 Dec. 2019)
URBAN RIVERS
Musi, Hyderabad Riverfront project work stopped till GHMC election  After the formation of Telangana state, the government had decided to give the Musi a "facelift" at an estimated cost of Rs 740 crore. The National River Conservation Directorate (NRCD) was to fund 70 per cent of the project. However, due to an alleged fund crunch, that project has been gathering dust and its cost has escalated to Rs 1,665 crore.
The government then constituted the MRDC with the state government expected to contribute Rs 500 crore for the project, while the remaining amount will be raised from banks and other financial institutions. The beautification project conceived in December 2017 has been in a coma for the past two years. Sources said the government claims it is running out of funds and does not want to remove about 12,000 encroachments prior to the forthcoming civic elections. A survey of the encroachment to be removed was carried out, but requires the government's permission. The shortlisted designs have been gathering dust and MRDC officials refuse to comment on the issue. https://www.deccanchronicle.com/nation/current-affairs/261219/musi-project-shelved-till-ghmc-polls.html  (26 Dec. 2019)
Dewatering of lakes polluting Musi Experts say that so far, 19 out of the identified 20 lakes have been dewatered. Once the GHMC dewaters (empties) the lake, pollutants from the lake can flow downstream into the next inter-connected lake, and eventually find their way into the Musi river, which not only ruin the river but also the agrarian and fishery development alongside its banks.
– "Dewatering of any lake or water body is against the law. Since 2014, we have noticed the strategic dissolution of lakes in the city. While attempting to clean the lakes, all inflows to the lake are blocked or shut-off. The only way water can escape is through outflow ducts, which ultimately leads to the Musi river," said Dr Lubna Sarwath, member, Save Our Urban Lakes.
– According to activists, the dewatering of lakes is a ploy to reclaim land and pave the way for it to turn into real estate. "It is part of the government's plan to encroach upon dried up lakebeds. It is a scam. The full-tank level (FTL) declaration is manipulated, leading to land encroachment.
– In fact, ever since the GHMC embarked on this disastrous enterprise, the waters of the Musi river have become so polluted that cows and buffaloes that graze along its banks and drink its water have reported reduced milk output. "If the state fails to prevent entry of such pollutants from city lakes to the river, it will ring the death knell of the river," said Shankar, a resident of Edulabad.  https://www.deccanchronicle.com/nation/current-affairs/271219/dewatering-hyderabad-lakes-pollutes-water-bodies.html  (27 Dec. 2019)
Cooum, Chennai Largest slum demolished A senior CRRT official said the squatters lived there for more than five decades. They were originally hired to clean the Cooum River, but later they had settled on the riverbank over the years. The CRRT, the Chennai corporation and the PWD are in the process of restoring the water body. Earlier, the Cooum River was used for transportation and its water was even used for drinking and domestic purposes.
But with sewage being dumped into the river, and its banks getting encroached, it became highly polluted over time, the official said. Over 2,000 squatters from this locality have been given slum board tenements in Perumbakkam, built by the Slum Clearance Board. These tenements have been built specifically to rehabilitate the people squatting on the banks of various rivers in Chennai, said a PWD official. https://timesofindia.indiatimes.com/city/chennai/chennais-largest-slum-on-cooum-banks-demolished/articleshow/73023481.cms  (30 Dec. 2019)
Nag, Pili, Nagpur No progress in pollution abatement Project yet to kick off, however, inordinate delays have meant that the cost of the project has by now gone up by 65%.
The project will now cost Rs. 2,434 crore as against the earlier estimation of Rs. 1,476.96 crore. NMC submits escalated costs to National River Conservation Directorate for approval.  https://numerical.co.in/numerons/collection/5affcabc291c55fc1f45e700  (26 Dec. 2019)
Vaigai, Madurai Beautiful 1945 video clip by Michael Rogge showing Vaigai River in Madurai. He had uploaded a collection of around 1150 videos of the city on you tube channel.   https://www.youtube.com/watch?v=TV21eP0uu_0  (12 Dec. 2010)
RIVERS
Gujarat STPs  sources of river pollution by govt 'not serious' The Vadodara-based environmental NGO Paryavaran Suraksha Samiti in a letter to the secretary, MoEF, with copy to the official's counterparts in Gujarat, has said that the STPs across state are a "prime source of pollution" of the rivers, and the authorities are not serious about remedying the situation.  https://www.counterview.net/2019/12/gujarat-sewage-treatment-plants-sources.html  (25 Dec. 2019)
Karnataka 'Seer was known for his concern for the environment' Vishwesha Tirtha Swami of Pejawar Mutt was known for his concern for conservation and protection of environment. He had opposed the Nethravati River Diversion Project, which has since been re-christened as Yettinahole project, that aimed at providing water to the parched districts of South Karnataka. The seer said that the project was unscientific. "You might as well divert the Arabian sea," he had said. He participated in an agitation against the establishment of coal-based thermal power project at Yellur-Santhur in Udupi district. He was also against the establishment of Mangalore Special Economic Zone. He had participated in an agitation against setting up of the Kaiga nuclear plant in Uttara Kannada district. He tried to create environmental awareness among people by giving them saplings during the cultural programmes at Rajangana during his fifth Paryaya.  https://www.thehindu.com/news/cities/Mangalore/seer-was-known-for-his-concern-for-the-environment/article30428431.ece  (30 Dec. 2019)
Kerala 
CAUVERY Detailed report of "Interrogating 'Cauvery Calling': Issues of Ecologies, Cultures & Livelihoods" seminar. https://esgindia.org/new/events/interrogating-cauvery-calling-videos-pictures-podcasts-and-more/  (29 Nov. 2019)
GANGA Study Ganges Brims With Dangerous Bacteria Ganga eventually becomes one of the planet's most polluted rivers, a mélange of urban sewage, animal waste, pesticides, fertilizers, industrial metals and rivulets of ashes from cremated bodies.
– "As it (Ganga) drains out of a glacier here, rock silt dyes the ice-cold torrent an opaque gray, but biologically, the river is pristine — free of bacteria. Then, long before it flows past any big cities, hospitals, factories or farms, its purity degrades. It becomes filled with a virulent type of bacteria, resistant to common antibiotics. The Ganges is living proof that antibiotic-resistant bacteria are almost everywhere. The river offers powerful insight into the prevalence and spread of drug-resistant infections, one of the world's most pressing public health problems. Its waters provide clues to how these pathogens find their way into our ecosystem."
– Twice a year, two of Dr. Ahammad's doctoral students, Deepak K. Prasad and Rishabh Shukla, take samples along the whole river, from Gangotri to the sea, and test them for organisms with drug-resistance genes. The high levels discovered in the river's lower stretches were no surprise. But the researchers found bacteria with resistance genes even in the river's first 100 miles, after it leaves Gangotri and flows past the next cities downstream: Uttarkashi, Rishikesh and Haridwar. More important, the researchers found that the levels were consistently low in winter and then surged during the pilgrimage season, May and June.
– In 2014, Dr. Graham and Dr. Ahammad found the clean-versus-dirty line in the Ganges to be at its starkest at Rishikesh. Upstream, the water was fairly clean both summer and winter, but downstream in summer, the levels of bacteria with drug-resistance genes were astounding. The levels of NDM-1 — a drug-resistance gene that was first discovered in India and whose first two initials stand for New Delhi — were 20 times higher.
– The bacterial levels are "astronomically high," said Dr. Shaikh Ziauddin Ahammad, a professor of biochemical engineering at the Indian Institute of Technology. The only possible source is humans, specifically the throngs of ritual bathers who come to wash away their sins and immerse themselves in the waters.
– What will be required, Dr. Ahammad said, is an Indian equivalent of the Clean Water Act, which provided billions of federal dollars to build hundreds of sewage treatment plants across the United States. https://www.nytimes.com/2019/12/23/health/ganges-drug-resistant-bacteria.html  (23 Dec. 2019)
Research Polluted water making Ganga's river bed unfit for sustaining aquatic life Banaras Hindu University and Mahatma Gandhi Kashividyapith University in Varanasi has found that the river's underwater has got fragmented, meaning no existence of aquatic life, due to untreated sewage flowing into the river from cities.
– The researchers have found that benthic communities – living organisms that inhabit the river bed and river – are particularly under threat. As benthic communities along with planktons (floating microscopic organisms) not just help to keep the river water clean but also support the river's food chain. Researchers say their absence is threatening the existence of bigger animals such as fishes and dolphins.
– The BHU team found such hypoxic conditions at two stretches on the path of Ganga – down stream of Assi drain in Varanasi and downstream of Wazidpur drain in Kanpur. While the Assi drain carries around 66 MLD of domestic waste water into the river, the Wazidpur drain carries around 54 MLD comprising mostly industrial waste. More than 500 water samples collected between April and June for two consecutive years 2017 and 2018 were analysed.
– Experts warned that such conditions are affecting only the Ganga, in which the study was conducted, but all other rivers including Yamuna. In April 2018, researchers from Delhi University had found that for every three kilometres Yamuna travels downstream in Delhi, at least one species of micro-organism, which thrives in unpolluted water, vanishes. Of the 21 major waste water drains in Delhi, 18 fall directly into the Yamuna.
– "Sewage water contains several microbes and organic matter. These microbes decompose the organic matter and use the dissolved oxygen in the water. The dissolved oxygen level sometimes becomes nil. The slow moving animals die and the fast moving animals shift to stretches with suitable habitat. Thus, these hypoxic regions become lifeless fragmenting the rivers' habitat," said Ravindra Sinha, a professor with the Zoology Department at Patna University and popularly known as the 'Dolphin Man of India'.
– According to BHU scientists and experts, the way to prevent fragmentation of river beds is to ensure ecological flow of the rivers. "We need the ecological flow of the river to bring down such hypoxic conditions. The waste water needs to be treated in treatment plants before they are discharged into the river. Also we need to construct wetlands which purifies the waste water naturally before it is discharged," said CR Babu, professor emeritus at Centre for Environmental Management of Degraded Ecosystem in Delhi University.
– In January this year, the CPCB published a study titled "Biological Health of River Ganga" which said that there was no improvement in the overall water quality of the Ganga, including in the stretches where Gangetic dolphins are found. https://www.hindustantimes.com/india-news/polluted-water-making-ganga-s-river-bed-unfit-for-sustaining-aquatic-life-says-new-research/story-Mfi8BvmXt2Xuw4iZwuDURN.html  (25 Dec. 2019)
ICD Free flowing Ganga to remain a dream The Ganga won't be revived until there are controls on the massive amount of water extracted from the river basin and till the time dams are decommissioned. https://indiaclimatedialogue.net/2019/12/29/free-flowing-ganga-to-remain-a-dream-2/  (29 Dec. 2019)
YAMUNA Uttar Pradesh NGT Panel to look into riverbed construction Following allegations of a road being constructed on the Yamuna riverbed near Mathura, the NGT has directed a joint committee comprising govt officials to look into the matter. The directions came when the green panel was hearing a plea moved by petitioner Akash Vashishtha.
"Illegal constructions, including multi-storied buildings have come up on the active floodplains & riverbed of the Yamuna in Vrindavan. Irreparable damage is being done to the ancient ghats," the plea alleged. https://www.thehindu.com/news/cities/Delhi/ngt-forms-panel-to-look-into-allegations-of-constructions-on-yamuna-riverbed/article30383809.ece (24 Dec 2019)  
Madhya Pradesh  Villagers damages vehicles of anti encroachment drive team
Villagers damaed an earthmover and a jeep in the Ratapani Wildlife Sanctuary in Raisen district after authorities removed a shrine of a local godman encroaching upon the point of origin of the Betwa river on Dec. 27 morning, said the district collector. https://www.thehindu.com/news/national/other-states/villagers-damage-vehicles-during-anti-encroachment-drive-at-ratapani-wildlife-sanctuary/article30409631.ece  (27 Dec. 2019) 
FISH, FISHERIES, FISHERFOLKS
Telangana State pips coastal states fish production growth rate The national figures for 2018-19 show that Telangana has the highest growth rate along with Kerala. From 1.9 lakh tonnes of fish in 2017, the production has almost doubled to 3.2 lakh tonnes in 2018-19. While the production rate in coastal states like Gujarat, Tamil Nadu and Karnataka has seen a dip, Telangana surged ahead by having more fish ponds and by stocking fish seed in water bodies. The state government spent Rs 367 crore on boost fish production. Though Telangana is no match to neighbouring Andhra Pradesh's overall production of 3.94 million tonnes in 2018-19, it clinches the race in terms of the growth rate, market analysts explained. The overall national figures show that fish production has gone up from 10.26 million tonnes in 2014-15 to 13.34 million tonnes in 2018-19. https://timesofindia.indiatimes.com/city/hyderabad/telangana-pips-coastal-states-in-fish-production-growth-rate/articleshow/72898121.cms  (20 Dec. 2019)
SAND MINING
SANDRP Blog Rajasthan sand mining overview 2019: SC ban remains, Police-Mafia rules Seeing large scale impacts of unsustainable riverbed sand mining, the SC of India had banned sand mining activities in the state on Nov. 16, 2017. The apex court had also asked the 82 lease holders to get fresh permission of MoEF&CC after submission of replenishment study.
Following this, the state government had formed a committee to look into the issue. All through 2018 the ban remained. The status has not changed even as the year 2019 is ending. Meanwhile cases of illegal sand mining are continuously taking place in across the state. So are the police actions as routine process, some political statements, and few court orders. Like last year, this annual round up by SANDRP compiles, all these and other relevant developments on the issue from the state of Rajasthan. https://sandrp.in/2019/12/30/rajasthan-river-sand-mining-overview-2019-sc-ban-remains-police-mafia-gang-rules/  (30 Dec. 2019)
Maharashtra Centre studies sand mining  Centre recently conducted the study involving 14 states, including Karnataka, Andhra Pradesh, Gujarat, Uttar Pradesh, Madhya Pradesh and Tamil Nadu, besides Maharashtra, to find out the sand mining practices and their compliance of its guidelines. It has revealed that Maharashtra lags in terms of implementing the sand mining policy despite being a frontrunner in construction activities.
– With over 22,000 ongoing projects registered with the Maharashtra Real Estate Regulatory Authority and several infrastructure work going on in the corporation and metropolitan regions, the state is witnessing a major surge in terms of construction activities. All this have prompted the developers to use artificial sand. "But how much of the policy and the guidelines are followed are doubtful," said a developer.
– The study revealed that Maharashtra "is the only state that does not have any figure for the total production of river sand". It noted that the electronic monitoring of the sand extraction process using CCTVs "is followed in some districts". It added that there was no electronic measurement of the sand extracted or GPS-based tracking of the vehicles transporting it. A Maharashtra government official said the study and found that the state has not conducted any assessment of demand and supply of sand.
– In July, the Supreme Court issued a notice to Maharashtra, Tamil Nadu, Andhra Pradesh, Punjab and Madhya Pradesh on the alarming extent of illegal sand mining activities with scant respect paid to the Sustainable Sand Mining Management Guidelines of 2016. The court has sought a response from the Centre and the five states on a plea for a Central Bureau of Investigation probe into the rampant illegal beach and river sand mining.  https://timesofindia.indiatimes.com/city/pune/centre-finds-faults-in-state-sand-mining/articleshow/72945951.cms  (24 Dec. 2019)   
Illegal sand mining racket busted in Bhiwandi; no arrest In a crackdown on sand mafia, the revenue department of Bhiwandi along with Kongaon police, seized equipment worth ₹66.15 lakh from Kongaon creek on Dec. 26. Following a tip-off, the team raided the place, seized four suction pumps and two brass of sand. However, the offenders fled from the spot. https://www.hindustantimes.com/cities/illegal-sand-mining-racket-busted-in-bhiwandi-no-arrest/story-UNr08jhlhaKvKqu4rANHWO.html  (27 Dec. 2019)
Madhya Pradesh Mafia Shootout Leaves 1 Member Dead A man was killed on Dec. 25 evening after two rival groups of sand mafia opened fire at each other over mining rights of a quarry in Bhind district. Locals claim that the two gangs had enmity over mining rights and storage of sand because of which a shootout broke out between the two groups. After banning sand mining near river Chambal, the administration had allotted several sand quarries to private contractors in Bhind. However, several illegal sand mining activities are underway in the district. These illegal quarries often result in rival miners coming face-to-face over its rights. https://www.news18.com/news/india/sand-mafia-shootout-leaves-one-dead-in-mps-bhind-2436933.html  (26 Dec. 2019)
Andhra Pradesh NGT reprimands PCB NGT again criticised Andhra Pradesh Pollution Control Board (APPCB) for negligence in curbing illegal sand mining in the state on Dec. 19 & warned that the APPCB would have to pay a fine of Rs 100 crore to the Central Pollution Control Board (CPCB) if they failed to act.
– NGT bench ordered APPCB to conduct a detailed study on illegal sand mining in the riverbed and the environmental consequences and also take action against those who are indulging in the practice. NGT asked APPCB to submit the report within a month. The next hearing has been scheduled to February 14, 2020.
– Previously, APPCB and CPCB submitted a report that 2,500 trucks of sand were mined and transported from the area by digging 25 m deep in the riverbed. Illegally mined sand is smuggled in huge quantities beyond 40 tonne at times to places like Gudivada, Eluru, Jangareddy Gudem, Chintalapudi and other places in both Krishna and West Godavari district.
On April 5, 2019, NGT imposed Rs 100 crore fine for illegal sand mining near chief minister N Chandrababu Naidu's residence on the banks of Krishna river. https://timesofindia.indiatimes.com/city/vijayawada/ngt-raps-andhra-pradesh-pollution-control-board-over-illegal-sand-mining/articleshow/72892197.cms  (19 Dec. 2019)
Goa Prosecute those involved in sand mining under IPC: Goa HC The Goa bench of the Bombay High Court has ordered the state government to crack down on people involved in illegal sand mining by prosecuting them under the Indian Penal Code. The division bench of Justice M S Sonak and Justice M S Jawalkar on Dec. 18 observed that canoes and trucks that are seized for illegal sand mining, are released after being fined paltry sums. The court was hearing a petition filed by Rainbow Warriors, a local NGO.
"It is quite disturbing to note that in most cases of illegal sand mining, the trucks and canoes that are confiscated by the government agencies, are released after imposing paltry fines," the court order stated. The bench said the state government should prosecute people who are involved in illegally extracting sand and other natural resources.
An FIR should be filed under appropriate provisions of the Indian Penal Code and such cases should be pursued with all seriousness and taken to their logical conclusion, the order stated. The state should not just prosecute the guilty parties under the Mines and Minerals (Development and Regulation) Act 1957 or the Goa Minor Mineral Concession Rules 1985, since most of these cases end with imposition of paltry fines, it added. https://www.thehindubusinessline.com/news/prosecute-those-involved-in-sand-mining-in-goa-under-ipc-hc/article30355888.ece  (20 Dec. 2019)  
Anti-sand mining network to monitor illegal extraction The anti-river sand extraction lobby, that got a big boost following the high court directive to file FIRs and prosecute those indulging in illegally extracting sand and other natural resources, demanded on Dec. 23 that the authorities take immediate action against illegal sand mining.
Activists from all over the state united under the banner of Goa River Sand Protectors and decided to form a network to ensure that written, photographic and video record is created and submitted to department of mines and captain of ports. Goa Foundation director Claude Alvares said, "We are interested in monitoring, immediate action, FIR, seizing of boats and confiscation of stocks. Next month when we approach the high court again we will have proof of the number of times we have informed mines department and captain of ports. It will also show whether action has been taken or not and they will have to respond to the court," he said.  https://timesofindia.indiatimes.com/city/goa/anti-sand-mining-network-to-monitor-illegal-extraction-in-goa/articleshow/72944460.cms  (23 Dec. 2019)
Odisha 9 arrested for mining in Rushikulya river Continuing its crackdown on illegal extraction and transportation of sand from the Rushikulya river bed at Jeypur under Aska police station limits, police on Wednesday arrested nine persons and seized nine tractors loaded with sand from them. Four others, all sand mafia, escaped from the spot. The the arrested persons are drivers of vehicles engaged in illegal transportation of sands from the river bed, police sources said. "We have identified those who escaped from the spot," said inspector in-charge, Aska police station P K Sahoo.  https://timesofindia.indiatimes.com/city/bhubaneswar/nine-nabbed-from-rushikulya-riverbed-for-illegal-sand-mining/articleshow/72876032.cms  (19 Dec. 2019)
Bihar  Bridge on Karmnasha river collapsed Overloaded with 250+ sand laden trucks, 4 pillars of a bridge on Karmnasha river at UP-Bihar border collapsed. The 254 m long bridge claimed to last for 30 years was completed in 2009 costing 450 cr:- उप्र-बिहार सीमा पर स्थित कर्मनाशा नदी पर 450 करोड़ रुपये की लागत से एनएच-2 पर बना पुल Dec. 27 देर रात ओवरलोड वाहनों के दबाव से क्षतिग्रस्त हो गया। पुल के पूर्वी छोर के शुरुआती चार पिलर क्षतिग्रस्त हो गए। इससे सड़क का ऊपरी हिस्सा धंस गया। पुल क्षतिग्रस्त होने से उप्र का बिहार, बंगाल, ओडिशा व झारखंड से संपर्क टूट गया है। पुलिस बेरीके¨डग कर छोटे वाहनों को नौबतपुर बाजार में नदी पर बने 100 साल पुराने पुल से गुजार रही है।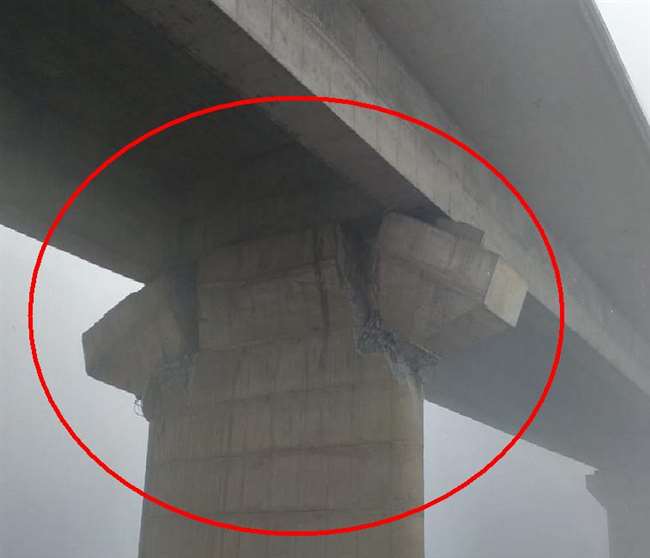 – कर्मनाशा नदी पर करीब 254 मीटर लंबा पुल बनाया गया था। 2003 में शुरू हुए पुल का निर्माण 2009 में पूरा हुआ और वाहनों के आवागमन के लिए खोल दिया गया। इसके निर्माण में तकरीबन 450 करोड़ रुपये लागत आई थी और 30 वर्ष इसकी मियाद निर्धारित की गई थी। इस पुल से प्रतिदिन ढाई से तीन हजार ट्रकों के अलावा हजारों छोटे वाहनों का आवागमन होता था। Dec. 27 को पुल के दोनों छोर पर बालू लदे करीब ढाई सौ ओवरलोड ट्रक लाइन में खड़े थे, पुल भार नहीं ङोल सका और उसके पूर्वी छोर के चार पाए टूट गए। https://www.jagran.com/uttar-pradesh/varanasi-city-karmnasha-river-bridge-broken-in-chandauli-cuts-off-contact-with-bihar-west-bengal-orissa-and-jharkhand-19884236.html  (28 Jan. 2019)
Also see, Massive corruption resulted in early deterioration of MG Setu. http://www.uniindia.com/massive-corruption-resulted-in-early-deterioration-of-mahatma-gandhi-setu-congress/east/news/1826136.html  (18 Dec. 2019)
WETLANDS, LAKES, WATER BODIES
Kerala Kozhikode STP: ball now in Wetland Authority's court Kozhikode Municipal Corporation has revived plans for STP project at Karimpanapalam near Sarovaram Biopark, following NGT order entrusting the State Wetland Authority (SWA) to make a call on whether the land in question was indeed a wetland and was to be notified as such.
The project, which began in 2015, met a dead-end after the Eranhipalam-Palat Residents' Association and the Kottooly Wetland Protection Committee opposed it on grounds that the project would pollute the nearby Conolly Canal. They also alleged that the Kerala Water Authority's land, on which the project had been proposed to come up, was an illegal landfill which was actually part of the Kottooli wetland, one of the five notified wetlands in the State.
Kerala Sustainable Urban Development Project, had spent around ₹17 crore for the STP. It is now defunct. The initial estimate for the project was ₹99 crore. Meanwhile, the Kottooli Wetland Protection Committee plans to make an appeal to SWA, highlighting the need to notify the land in question as a wetland. https://www.thehindu.com/news/cities/kozhikode/karimpanapalam-stp-ball-now-in-wetland-authoritys-court/article30391716.ece  (25 Dec. 2019)
Karnataka Cash-strapped BBMP faces flood of worries as it gets 38 more lakes BDA (Bangalore Development Authority) currently has 33 lakes, out of which it wants to hand over 28 to BBMP (Bruhat Bengaluru Mahanagara Palike). Of the remaining five, three are outside the BBMP jurisdiction and two (Bellandur and Varthur) is the responsibility of BDA to maintain and revive.
– Bangalore Metro Rail Corp Ltd has one lake (Veerasagara), which it wants to hand over to BBMP.
– Forest dept has nine lakes which it wants to hand over to BBMP.
– BBMP commissioner BH Anil Kumar wants a stability analysis report of these water bodies before the officially handover. "The lakes have to be jointly inspected by all departments concerned, including land survey and revenue, which have to identify their boundaries and encroachments. This has to be done so that BBMP can take up development work after encroachments are cleared under the supervision of the revenue department tahsildar," Kumar said in a communication to the government. BBMP's lake department will prepare project reports for their overall development and seek approval for implementation from Karnataka Lake Development Authority.  https://timesofindia.indiatimes.com/city/bengaluru/cash-strapped-bbmp-faces-flood-of-worries-as-it-gets-38-more-lakes/articleshow/72948584.cms  (24 Dec. 2019)
Rajasthan 
URBAN WATER
Chennai Lessons from water scarcity 2019 water crisis had positive spin-offs, too. Under pressure from civil society, media and the judiciary, the government worked on 'eco-restoration' of more than 210 lakes, of which preliminary desilting work on at least 130 lakes is over. Volunteers played a big role. The government allocated 160 crore for 172 water bodies. The remaining work will be done from corporates' CSR funds. Smart City funds too have been tapped. Finally, when monsoon arrived, these lakes were able to dam more water.
– Awareness on harvesting runoff rainwater was felt by households which started setting up rainwater harvesting (RWH) structures. Greater Chennai Corporation and Metrowater announced door-to-door inspection of RWH structures and pasted green stickers on buildings that had the system in place. Residents and NGOs built recharge wells in their neighbourhoods. Such water harvesting measures showed instant results, as post-October ground water table in these areas surged by 6ft to 9ft. https://timesofindia.indiatimes.com/city/chennai/how-chennai-overcame-a-long-dry-patch/articleshow/72972664.cms  (25 Dec. 2019)
Tirupati Drinking water gets costly at Tirumala after plastic ban Consequent to the blanket ban imposed by the Tirumala Tirupati Devasthanam on the usage of plastic atop the holy Hindu hill town of Tirumala, traders, involved in the supply of drinking water packed in 20-litre bubble-topped cans, are having a field day, jacking up the prices and allegedly fleecing pilgrims looking for drinking water. https://www.deccanchronicle.com/nation/current-affairs/261219/drinking-water-gets-costly-at-tirumala-after-plastic-ban.html  (26 Dec. 2019)  
WATER
Gujarat PAC slams govt for lack of drinking water facilities The public accounts committee (PAC) has slammed the government over the lack of good drinking water facilities at government-run schools. The PAC pulled up the state government and its nodal agency WASMO after a detailed evaluation of the observations of the CAG on Centre-sponsored safe drinking water scheme 'Jalmani' in government schools. "Even after five years, of 31,324 government-run schools, only 11,674 (37%) schools were getting water," the report stated.  https://timesofindia.indiatimes.com/city/ahmedabad/pac-slams-govt-for-lack-of-drinking-water-facilities/articleshow/72972070.cms  (26 Dec. 2019)
Odisha WB-funded water resources projects slow Spending in the construction of additional spillway of Hirakud Dam is poor as out of the cost of the project worth Rs 638 crore, only Rs 49 crore has been spent over a period of more than one year, which is adversely impacting overall financial progress of the World Bank funded project. Similarly, the Odisha Water Resources Development's (OWRD) project budget outlay is Rs 751 crore and cumulative spending stands at Rs 231 crore.  https://www.dailypioneer.com/2019/state-editions/wb-funded-water-resources-projects-slow-in-odisha.html  (27 Dec. 2019)
Bundelkhand Rs. 3K cr project for piped drinking water UP government on Dec. 24 invited bids from private consultants to help draw up a plan and select companies to execute a Rs 3,000-crore project to take piped water to nine most water-deficient districts in Bundelkhand and Vindhya regions.
– The Kamal Nath government in Madhya Pradesh plans to propose to the Centre that a scheme be formed to link rivers to village ponds to solve the problem of drought and ensure water is available all year-round. "The priority is to prevent drought and deaths due to shortage of water," a state official said. https://economictimes.indiatimes.com/news/politics-and-nation/up-plans-rs-3000-crore-piped-water-project-in-bundelkhand/articleshow/73003287.cms  (28 Dec. 2019)
MONSOON
Bihar Farmers hit hard by changing rainfall pattern The State has recorded less-than-normal rainfall in the past seven years. https://www.downtoearth.org.in/news/agriculture/farmers-hit-hard-by-changing-rainfall-pattern-in-bihar-68517  (23 Dec. 2019) 
FLOOD
Top 5 natural disaster of 2019  This includes Karnataka, Kerala, Bihar floods apart from Bihar heatwave and Odisha Cyclone Fani. The floods in Karnataka and Kerala were aggravated by mismanagement of dams and anthropocentric activities.  https://weather.com/en-IN/india/news/news/2019-12-26-top-5-most-devastating-natural-disasters-affect-india-2019  (26 Dec. 2019)
Karnataka Pittance as flood reliefs Govt says the monsoon 2019 floods led to damages of Rs 38000 Cr, but the Centre is ready to provide only Rs 3000 Cr by way of flood relief.   https://timesofindia.indiatimes.com/city/bengaluru/with-pittance-as-flood-relief-karnataka-needs-other-sources/articleshow/72951312.cms  (24 Dec. 2019)
Bihar Breach in Ghurna Maheshpur dam The report says that there was a breach in Ghurna Maheshpur dam built on Madkos river in Kursela area of Katihar district on Oct. 1, 2019, causing significant flood damages. https://www.prabhatkhabar.com/news/bhagalpur/kursela-ghurna-maheshpur-dam-broken-kosi-east-bihar-drowning-12-people-killed/1335444.html  (2 Oct. 2019)
DISASTER
SANDRP Blog Cloud Bursts 2019: J&K, Arunachal and Sikkim Cloud burst incidents are on the increase across Himalayan states. The states of Uttarakhand and Himachal Pradesh have faced 23 and 16 cloud burst incidents in the south west monsoon 2019. This account compiles such reports from Jammu Kashmir (J&K) and north eastern Himalayan states. https://sandrp.in/2019/12/24/cloud-bursts-2019-jammu-kashmir-arunachal-pradesh-sikkim/  (24 Dec. 2019)
Jammu Kashmir NH closed due to landslide at Ramban There have been landslides along the highway in Ramban district that resulted in the highway getting blocked, the officials said. Due to closure of the highway, over 2,000 vehicles have got stranded at different places enroute the highway, they said.  https://www.business-standard.com/article/pti-stories/jammu-srinagar-nh-closed-due-to-landslide-in-ramban-119122400788_1.html  (24 Dec. 2019)
AGRICULTURE
Report Midas of farmlands It was a desire to do socially useful, environmentally sustainable work that made Akash Badave quit his job as a banker in Pune and come to Dantewada. Today, he works with more than 10,000 farmers-mostly tribals-helping them access markets for their produce while nurturing traditional agriculture. https://www.indiatoday.in/magazine/anniversary-issue/story/20191230-midas-of-the-farmland-1629749-2019-12-23  (30 Dec. 2019)
Opinion Invisible emergency At time when farmers strive to get the right price for crops, more money in their hands can help reignite the country's economy says Devindra Sharma. https://www.downtoearth.org.in/blog/agriculture/indian-agriculture-is-under-an-invisible-emergency-68524  (23 Dec. 2019)
Punjab Govt may withdraw power subsidy to large farmers This will be a BIG step if it happens. https://timesofindia.indiatimes.com/india/punjab-may-withdraw-power-subsidy-to-large-farmers/articleshow/73013097.cms  (29 Dec. 2019)
As per govt, the area under paddy cultivation has been reduced considerably, with nearly 7.5 lakh acres shifted from paddy to alternate crops during this kharif (summer) season. The area under non-basmati paddy during this season was 57.27 lakh acres compared to 64.80 lakh acres in the previous kharif season. https://www.news18.com/news/india/reducing-dependence-on-paddy-cultivation-punjab-shifts-to-alternate-crops-2439361.html  (29 Dec. 2019)
Gujarat Govt to discontinue fertilizers subsidy, to take organic farming It will be a major step if govt implements this. https://thelogicalindian.com/news/chemical-fertilizer-organic-farmer-subsidy/  (28 Dec. 2019)
Odisha Farmers push back desertification Community interventions to dig wells and ponds has enabled farmers to fight drought and halt the trend of desertification in Odisha's Balangir district.  https://indiaclimatedialogue.net/2019/12/28/farmers-push-back-desertification-in-odisha-2/  (28 Dec. 2019)
ENVIRONMENT
Award Sanctuary Wildlife Service Award 2019 – Debadityo Sinha  Debadityo Sinha recently got The Sanctuary Wildlife Service Award 2019. Here is the link to the video of him receiving the award from Padmadhri Dr Vijayaa Mehta and introduced by Naseeruddin Shah.  https://www.youtube.com/watch  (22 Dec. 2019) 
Documentary India 2050 "India 2050" (Documentary film); Direction: Sujata Kulshreshtha and Abhimanyu Tewari; Rating: three and half stars. It airs on Discovery channel, 9 p.m. on Dec 29, 2019
– A spectacularly disturbing scene somewhere towards the end of this film shows Gateway of India neck-deep in water, as Mumbai"s Apollo Bandar stands flooded. A CGI-generated gigantic cargo ship nudges at the historical monument, dwarfing it. The scene would seem straight out of a Roland Emmerich disaster drama, among many others that imagine what is going to happen to Indian cities by the year 2050 owing to our apathy towards climate change.
– Vibrant Jaipur is consumed by desert. Delhi blisters in heat, Kolkata is submerged in foul waters, Mumbai fights tornados of doom. Food and water are in short supply, and India"s urban centres have turned into cesspools of death and disease, a voiceover narrates the grim fate of India, as a collage of doom unfolds on screen. https://www.outlookindia.com/newsscroll/india-2050-taut-terrifying-truths-ians-review-rating-amp12-/1695941  (29 Dec. 2019)
Delhi Extreme cold spell after 1997 The Capital has recorded its longest "extreme cold spell" in December since 1997 with cold-day conditions prevailing almost every day since December 15, according to a bulletin issued by the meteorological department.
The forecast indicates that the cold is set to intensify with cold day to severe cold day conditions very likely to continue to prevail over the northern parts of the country till December 26. "Its intensity and spread is very likely to decrease on December 27 and 28 and abate thereafter," the weather department said. Further, it said that the conditions were favourable for dense to very dense fog till December 26 across north India. https://www.thehindu.com/news/cities/Delhi/delhi-faces-longest-spell-of-extreme-cold-since-1997/article30392453.ece  (25 Dec. 2019)
This unusual cold spell happens once in four to five decades says this report. The thick cover of smog on the Indo-Gangetic plains and the uneven warming of the Indian Ocean has a role to play in this robust spell of Western Disturbances, the extratropical storms originating in the Mediterranean region causing sudden winter rain to the northwestern parts of the Indian subcontinent, which have brought the day temperatures in some Indian cities below 12 degrees celsius.  https://timesofindia.indiatimes.com/india/unusual-spell-of-cold-wave-grips-north-india-scientists-explain-why/articleshow/72985201.cms  (26 Dec. 2019)  
As per IMD Delhi is likely to experience its coldest day in December in 119 years on Dec. 30 with the day temperature recording 9.4 degrees Celsius. https://www.moneycontrol.com/news/india/delhi-set-to-record-coldest-day-in-119-years-today-imd-4771561.html  (30 Dec. 2019) 
CLIMATE CHANGE
National Environmentalists trying to map peatlands  "Peatlands cover less than 3% of the earth's land surface, but they contain twice as much carbon as in the world's forests. To give you a better perspective, the average peatland per hectare has a carbon content equivalent to that of two million litres of diesel.. Also, there's a lot of negative connotation to the words related to peatlands…swamped, bogged down, mired…so people tend to undervalue them.. There is no remote sensing technology that can look inside the soil. You really have to dig deep in the mud and get dirty."
– "Around 0.4% of the world's land is drained peatlands, and just this land is contributing to 5% of global anthropogenic emissions".
– The Greifswald Mire Centre maintains a Global Peatland Database that maps the location, extent, and status of these ecosystems across the world with inputs from existing information, field research, and other maps and studies. But it needs more work.
– Ritesh Kumar, director at Wetlands International South Asia, said, "In India, peatlands have been recorded in Kerala, Arunachal Pradesh, Himachal Pradesh, and north Sikkim. Some parts of the Western Ghats have peat too. A lot of our deltas and mangroves have the propensity to develop into peat. But there have been no systematic efforts to map them." https://scroll.in/article/947089/environmentalists-in-india-are-trying-to-map-peatlands-how-will-this-help-combat-climate-change  (22 Dec. 2019)
Report Climate crisis takes a toll on the planet "Until now we have been looking at individual extreme events- say for example heavy rainfall events or sea level rise or cyclones. The recent IPCC reports show that these events are going to co-occur, at higher intensities, if the current rate of carbon emissions and human activities are to continue. Signs of that are already at our doorsteps, where both global and local changes are brewing the perfect recipe for disasters. We might be able to mitigate these impacts at least partially, by acting locally," said Roxy Mathew Koll, scientist at Indian Institute of Tropical Meteorology, Pune.
– The environment ministry gave environmental clearance for open cast coal mining in Parsa in Chhattisgarh's Hasdeo Arand forests in March. Parsa is one of the 30 coal blocks in Hasdeo Arand and opening up these blocks could mean destroying one of the largest contiguous stretches of very dense forest in central India, spanning about 170,000 hectares. Villagers here have been protesting for over two months now.
– In Odisha's Sambalpur and Jharsuguda districts, 130,000 trees are to be felled over the next three years for yet another opencast coal mine. In these forests, at least 10,000 Sal trees have already been cleared. Locals have alleged that their consent was forged for the project. Shockingly, a site inspection report of the Odisha forest department, said the felling of the 130,000 trees will have a "negligible impact on the region's ecology."  https://www.hindustantimes.com/india-news/climate-crisis-takes-a-toll-on-the-planet/story-5NJEEalNuNWIJLKkAo870O.html  (29 Dec. 2019)
SOUTH ASIA
Water sharing between Afghanistan and Pakistan As Afghanistan plans to build 13 dams, and reservoirs upstream on Kabul River, there is concern that this may reduce water flow to Pakistan. https://tribune.com.pk/story/2126658/6-water-sharing-afghanistan-pakistan/  (29 Dec. 2019)
THE REST OF THE WORLD
US How did Houston, counties escape blame for flooded homes in Addicks and Barker reservoirs? A detailed and eye-opening report on how Federal as well as Local agencies are responsible for reservoir induced flooding during Hurricane Harvey.
[This is in the context of what DRP reported in Dec 23, 2019 issue: In victory for Harvey victims, Army Corps found liable for flooding damage upstream of Addicks, Barker reservoirs, see: https://www.houstonchronicle.com/news/houston-texas/houston/article/In-victory-for-Harvey-victims-U-S-Army-Corps-14913223.php  (17 Dec. 2019)]
A court ruling this month that the Army Corps of Engineers must compensate flooded residents and property owners upstream of two massive dams for losses during Hurricane Harvey could leave the federal government with a $1 billion bill to settle claims.
So how much will Harris and Fort Bend counties have to pay out, given that local officials approved construction of thousands of suburban homes and businesses on the edge of reservoirs that officials knew lacked the water storage capacity to withstand a major storm?
Not a penny.
The Corps — along with local officials and private engineers — had predicted the neighborhoods inside invisible "lakebeds" would take on water during heavy rainfall. Those worst-case scenarios played out. Now a judge has found the federal government liable in what was essentially a human-engineered disaster. Evidence showed that agency officials repeatedly declined to buy additional properties above the reservoirs that they knew could be inundated in extreme weather.
Many homes around Addicks and Barker remained dry after Harvey's rainfall stopped, only to be swamped as the reservoirs filled beyond capacity. The federal judge found the Corps intentionally used upstream neighborhoods to store rising floodwater.
In short, while county leaders may have had a duty to protect and warn residents, the courts have held the federal government had the sole legal responsibility for intentional flooding following the epic 2017 downpour.
Melissa Spinks, an attorney who represented Harris County in three dismissed lawsuits related to Addicks and Barker reservoir flooding, said the county could not be held liable because it neither owns nor maintains the reservoirs. Federal officials also didn't push for stricter building rules or purchase at-risk upstream properties, which could have prevented losses, she said.
"We don't have keys to the car," said Spinks, an executive managing attorney in County Attorney Vince Ryan's office. "We don't have control to make the decisions."
Larry Dunbar, one of the lawyers who represented upstream residents and property owners, noted that the absence of legal liability does not absolve local governments of blame for failing to act in the years prior to Harvey.
"It was the big, dirty secret around town that the developers and engineers and Harris County and the city of Houston politicians knew," said Dunbar, a flood engineer for 40 years. "It's their job to know that stuff. They were approving plats for development. They knew the dams were there. They just didn't want to lose their tax base. They didn't want to upset developers."
County and city officials over the course of years permitted construction of 30,000 suburban homes and businesses in Katy and west Houston at the edges of the two reservoirs. A Houston Chronicle review of how more than 100 subdivisions were approved showed that flooding spawned by Harvey was predicted for 26 years in obscure local and federal reports that were either ignored or not widely distributed.  https://www.houstonchronicle.com/news/houston-texas/houston/article/How-did-Houston-counties-escape-blame-for-Harvey-14928293.php  (23 Dec. 2019)  
Court says EPA must regulate river temperatures for fish Federal judges on Dec. 20 sided with environmental groups pressing EPA to set temperature limits in the Pacific Northwest's Columbia and Snake rivers to help endangered salmon and steelhead. A 9th U.S. Circuit Court of Appeals panel said EPA has failed to develop temperature limits as required under the Clean Water Act.
– Rising temperatures caused by dams that stagnate water flows, as well as discharges and climate change, are deadly to migrating fish like salmon. Anything above 68°F makes it nearly impossible for fish to migrate upstream to spawn.  https://www.eenews.net/stories/1061863045  (20 Dec. 2019)
Opinion Can Arizona move past its crippling inaction on groundwater? Rural interests have long balked at regulation to stop draining Arizona's aquifers. But there are other ways to move forward. https://www.azcentral.com/story/opinion/editorial/2019/12/18/arizona-can-move-past-crippling-inaction-groundwater-heres-how/4358282002/  (18 Dec. 2019)
Compiled by SANDRP (ht.sandrp@gmail.com)
Also see: DRP News Bulletin 23 Dec. 2019 & DRP News Bulletin 16 Dec. 2019
Follow us on: www.facebook.com/sandrp.in; https://twitter.com/Indian_Rivers