Cloud burst incidents are on the increase across Himalayan states. The states of Uttarakhand and Himachal Pradesh have faced 23 and 16 cloud burst incidents in the south west monsoon 2019. This account compiles such reports from Jammu Kashmir (J&K) and north eastern Himalayan states.
JAMMU & KASHMIR Even before official beginning of the monsoon J&K saw its first cloud burst incident at Pooru Kokernag in Anantnag district on May 13 killing two people. The cloudburst washed away four persons, along with their cattle. However, two brothers died while as the other two others were rescued by locals.
On June 12, torrential rainfall, wind storm, snowfall caused large scale damages in several part of the state. Around 5 people were killed, several injured due to the abnormal weather event. Many houses, cowsheds, bridges were also damaged and washed way in the resultant flash floods. The agricultural land, horticulture crops were also severely damaged due to hail storm.
A cloud burst was reported in Naidkhai village in Poshwari, injuring four persons. The flash floods in Arin Nallah washed away a foot bridge in Arin viilage and several areas were flooded. Kaloosa village on Bandipora-Sopore road, was flooded after the bund constructed alongside Madhumati Nallah got damaged. A bridge on Sindh Nallah connecting Tangchahter with Kangan was washed away by flash floods. About five residential houses and two shops were damaged due to torrential rains that caused breach in Ferozpora stream at various places. Panic gripped Tangmarg area after flash floods damaged Shraai bridge. The embankments of the bridge were washed away.
Early on July 15 evening, dozens of residential houses suffered damages as rain and strong winds besides a cloudburst hit several villages including Duroo, Hardushiva, Mundji, Warpora and other villages of Zaingair area in Sopore of Baramulla district. Several houses, roads and electricity transformers were damaged due to the incident. The cloudburst caused flood-like situation as Zainagir canal passing through many villages swelled up with flood water.
The torrential rain in the afternoon hours on July 15 coupled with cloudburst wreaked havoc in Hanga area of Bhaderwah, as it triggered flash floods, damaged standing maize crop and a portion of Gatha-Hanga road, thus disconnecting 2500 population from rest of the district.
A woman died after multiple cloudbursts triggered flash floods in Bera Rudi, Khordi, Bat Gagal, Surgam in Lolab area of Kupwara district on July 18. Locals said that there were multiple cloudbursts in Kantpora, Putshahi, and Dooniwari villages. Reports said that the flash floods caused a large-scale damage to the standing crops as well as to the residential houses in the villages. One foot bridge connecting Shimriyal village was also washed away due to the flash floods.  
Several cloudbursts on July 27 damaged agriculture and horticulture crops in 3 villages of Bandipora district. Locals said that a cloudburst hit Hudbal locality of Ahamsharief resulting in flash floods in a nearby stream which damaged crops in the locality.
A footbridge was also washed away by the flash floods, the locals said. Reports also said that a cloudburst caused flash floods in Arin village which inundated houses and link roads. The Srinagar-Sonamarg-Gumri road stretch was closed due to landslides following cloud burst.
On July 27 night, over 100 sheep and goats perished after a cloudburst hit the upper reaches of Bayri Angan area, Tral in Pulwama district.
A cloudburst in the wee hours of August 3 damaged a residential house, a school and a road in Hajin area of Tral of Pulwama district. As per locals, the cloud burst also damaged water supply and electricity lines. However there was no report of any casualty.
Heavy rainfall on August 17 brought normal life to a complete halt in Kathua, Reasi and Udhampur districts. In Kathua, landslides shut many roads while several nomadic families got trapped in flash floods. According to reports, the link road connecting the upcoming Kathua Medical College with the national highway got washed away due to flash floods in a rivulet. The rainfall also caused floods in Ujh river, causing losses to crops in the lower Rajbagh area.
Doppler Radar Operation Delayed
The Indian Meteorological Department (IMD) had delayed testing and commissioning of four Doppler Radars in the state almost by one year. In Jan. 2019, the IMD had installed four Doppler Radars for forecasting and monitoring the flash floods, cloud bursts in the state. These were supposed to be made operational by end of this year. But now, they would not be made operational before 2021.
The Doppler radars can predict extreme weather events about 4 to 6 hours in advance. As per IMD officials, out of the 10 sanctioned Doppler radars for the Himalayan region, four will come up in Jammu and Kashmir while Himachal Pradesh and Uttarakhand will get three each.
Cloud Burst in PoK
On July 16, in a severe cloud burst incident in Lesswa a remote village of Neelum Valley 23 people were killed and several went missing. About 52 people were rescued and 150 houses and two mosques were washed away by the flash flood. Landslides were also reported in the area and many structures in the main market were completely destroyed. On August 9, five people were washed away in a flash flood triggered by a cloud burst in Muzaffarabad's Jhelum valley.
ARUNACHAL PRADESH
On April 26, much before the monsoon season, an incident of cloudburst was reported from Bomdila, the headquarters of West Kameng district, causing widespread damages to the places in proximity of the township. As per officials, the cloudburst was followed by torrential rain and hailstorm which created havoc in the township.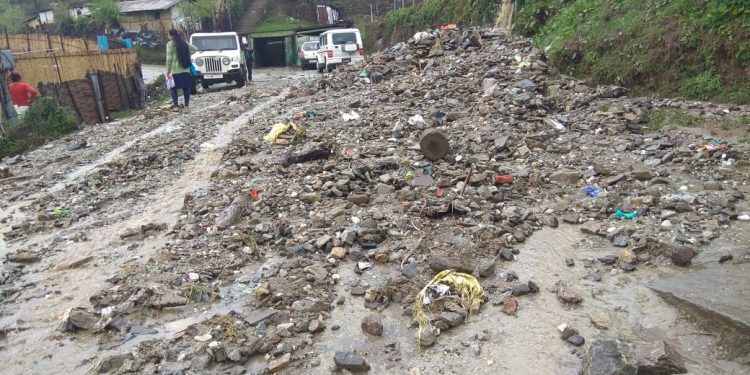 Then again in the same district, a devastating cloudburst leading to massive rainfall and flash flood on July 8 evening made life miserable. At least 800 people were reported to be stranded while many others were missing in the flash flood which left a trail of devastation at Kaspi Nala near Nag-Mandir Tenga in West Kameng District.
The cloudburst triggered the flash flood, damaging over four houses, one boys' hostel and one hilly restaurant along with several vehicles and motorcycles. An RCC bridge between Kaspi and Nagmandir was also washed away by floodwaters. Several landslides were also reported triggered by torrential rains. By the time of incident, the West Kameng and seven other districts were suffering from rainfall deficits of more than 40 per cent. 
Incessant rain along with cloudbursts and tremors which occurred in different parts of Darak circle and Aalo in West Siang district on the intervening night of 20 and 21 July left trails of devastation. As per District Information and Public Relation Official, hundreds of landslides took place on the Darak-Yomcha road (via Boje-Potom, Darak-Poyom-Boruraksap) and the Darak-Larmuk road (via Bogo), and many villages were cut off for a week.
The DIPRO further added that in Morak, near Sala Potom, a 100 m wide landslide had completely washed away wet cultivation fields with rich varieties of plants and trees, and all infrastructures there. As per him, in Aalo, too, several wet rice cultivation fields, local houses in Kabu Maasi village, the boundary wall of the girls' hostel in Pobdi, and many minor structures along the river course are reported to have been washed away.
SIKKIM
On June 16, a massive cloudburst incident was reported in the upper reaches of Teesta river, forcing the Teesta-III hydropower project management to release 600 cumecs of water from the Chungthang dam on June 17. NHPC Guest House located near Dickchu bridge was washed away.
Similarly, the Mantam foot suspension bridge had collapsed in Upper Dzongu. As an aftermath, Sakyong-Pentong, Bay and some other villages of Upper Dzongu were totally cut off.
On Sept. 16, a cloud burst incident was reported in Tsong village near Hungri Gumpa. The entire village was devastated and disconnected from rest of the world. Tsong village is located 8 kms from Yuksom in West Sikkim.
Torrential rain which continued for 30-45 minutes killed one and washed out all houses in the village, leaving over 300 villagers homeless. Besides, five bridges around the village over Rangeet river, a tributary of Teesta, were also damaged. Heavy rainfall also caused landslides blocking the ways in and out of the village.
MIZORAM
Two people died and an eight-year-old boy went missing after three building blocks in Durtlang Leitan near Aizawl were destroyed in landslide on July 2 evening. The massive landslide was triggered by heavy rainfall in Durtlang Leitan.
The complex consists of 20 buildings and a community hall. Residents claimed that the cement work done at the time of construction of the buildings was not good enough and that it could have been easily crumbled with bare hands. They were constructed by Govt of India's MoWR's NPCC for the poor people and occupied only last year. The construction was on a hazardous slope and slope modification also seems to be involved.
Summary Around 14 cloud burst incidents were reported from Jammu Kashmir (about 9), Arunachal Pradesh (3), Sikkim (2) states during South West monsoon season 2019. There were couple of incidents of multiple could bursts in J&K, hence the number of such events could be higher. Besides the Neelam Valley in PoK, also saw a severe cloud burst incident on July 15.
Though there has been lack of detailed reports highlighting destruction caused by the extreme weather event in J&K, available reports show significant losses of human lives, cattle and damages to houses, crops, roads, foot and road bridges.
Notably J&K saw could burst event as early as on May 13 killing two people. Meanwhile, the commissioning of 4 Doppler Radars in the state has been delayed by one year.
Probably the first cloud burst incident of the season occurred in Arunachal Pradesh on April 27 leaving a trail of destruction. The state also saw two more cloud bursts in July month resulting in huge damages to infrastructure.
The June 16, cloud burst of Sikkim was particularly devastating. Following flash floods the Teesta III project had to release water aggravating flood damages in downstream areas. The state again on Sept. 16 saw severe cloud burst event destroying a village totally.
The fatal landslide of July in Aizawl, Mizoram was caused by heavy rainfall event. There are reports on cloud burst incidents taking place in other north eastern states in past. However no report of such incidents were available for Meghalaya, Nagaland, Manipur and hilly areas of Assam this year.
Compiled by Bhim Singh Rawat (bhim.sandrp@gmail.com)