It's not secret that water pollution is getting worse in India, including pollution of groundwater sources, thought we still donot know the full extent of the pollution of that source. But there is so little citizen action on such an important issue that affects so many so severely on daily basis. So it's great to see four separate instances of such action this week, one each from Maharashtra, Gujarat, Karnataka and Kerala. In absence of any seriousness shown by governments at centre and states and any effective success from judicial intervention, this is welcome news. One only hopes this is no flash in the pan and rather beginning of citizens' action to agitate against such rampant water pollution that goes on in India. 
Mumbai Police deny FIR on water pollution complaints The Ambernath Citizen Forum (ACF) has filed a police complaint against the CETP in Badlapur for allegedly disposing untreated chemical waste near the railway tracks via an underground pipeline thus polluting the entire area, sources said. "In Feb. too, we found that 8 lakh litres of untreated water was being discharged near the railway tracks every day. We request you to file an FIR against concerned persons for polluting potable water and ground and risking lives," the complaint letter states.
The Ambernath police, who have not filed an FIR, said this case doesn't fall in their jurisdiction. "The pollution control board is the authority on chemical waste. If they claim that the pipeline is polluting potable water, we will take necessary action," said an officer from Ambernath police. https://indianexpress.com/article/cities/mumbai/mumbai-ambernath-residents-accuse-badlapur-plant-of-discharging-untreated-waste-5619944/ (11 March 2019)
In Nov. 2018 too, ACF had organised a protest march against the pollution spread by industries in the area. They also started a campaign called "Say No to Properties from Ambernath to Badlapur" claiming that the industries have made the entire area poisonous by polluting the air and water. https://indianexpress.com/article/cities/mumbai/thane-ambernath-residents-protest-against-pollution-spread-by-industries-5437152/  (7 Nov. 2018)
Ambernath has for long been an industrial zone, and is still promoted as one. Chemical, pharmaceutical and engineering plants are densely packed in the three manufacturing units run by the Maharashtra Industrial Development Corporation (MIDC). Today, residential buildings surround the 40-ft-high mounds of garbage, both dry and wet. Dotted with small fires, it emanates smoke and a foul smell, 24×7. https://mumbaimirror.indiatimes.com/mumbai/civic/breathless-in-ambernath/articleshow/66720144.cms  (21 Nov. 2018)
In Sept. 2017, on citizens complain the MoEF had directed the Maharashtra PCB to look into the several complaints regarding the release of hazardous chemicals in an open nullah that ends up in Waldhuni River. "Citizens are forced to drink the contaminated water as a result innocent citizens are suffering from pollution related diseases, infinite number of cancer patients detected due to chemical pollution," read the letter by ACF. http://www.afternoondc.in/city-news/central-government-raps-mpcb-for-ambernath-chemical-pollution/article_204417  (20 Sept. 2017)
Kerala People vandalise STP for dumping sewage into stream Public anger had been mounting against the IT park's STP for allegedly releasing sewage water into the Thettiyar stream, which begins from Ananthazhchira and joins at Moonnattumukku near Kazhakootam, where the IT park is located. https://www.thenewsminute.com/article/people-vandalise-tpuram-technopark-s-stp-after-sewage-allegedly-dumped-stream-98149  (11 March 2019) 
Gujarat Farmers, NGO protest dumping of chemical waste, demand probe Khedut Samaj writes to Chief Minister to take action against Hindustan Chemicals Company plant in Olpad, Surat for illegally dumping toxic waste in Bharuch district lands. The trucks from the company were caught doing that. https://indianexpress.com/article/india/gujarat-farmers-ngo-protest-dumping-of-chemical-waste-demand-probe-5627270/  (15 March 2019)
Karnataka Farmers left in lurch as water turns black Over 50 farmers from Burlahatti in Athani taluk, Belagavi, who have been running from pillar to post seeking resolution of the polluted ground water resources in their village, met Karnataka State PCB officials on March 11.  The farmers were carrying with them bottles of blackish water samples, which they said were from their polluted wells and borewells and handed them to KSPCB officials to get them tested.
According to the farmers, a sugar factory in their neighbourhood is releasing its waste water into the defunct borewells on its premises, polluting the ground water table of the region. With water from their borewells turning dark and being rendered unfit for consumption, the farmers are now forced to ferry water from Krishna river, 12km away, for household use.  They said the problem has been festering since 2007 and their repeated representations to the govt have gone in vain. https://timesofindia.indiatimes.com/city/bengaluru/farmers-left-in-lurch-as-water-turns-black/articleshow/68365282.cms (12 March 2019)
Also see video report shoing of how foam is flying when water is released from Bhadar Dam in Dhoraji near Rajkot due to pollution from dyeing factories. https://www.timesnownews.com/videos/news/india/gujarats-dhoraji-dam-overflows-with-toxic-foam/4058  (19 July 2018)
Taking a serious view of the news that the dyeing and printing units of Jetpur, Rajkot district, have been releasing chemical-infested poisonous waste water into Bhadran river without treating it, Ahmedabad NGO Paryavaran Mitra, in a letter to the chairman, Gujarat Pollution Control Board (GPCB), has demanded that this should be immediately investigated into and necessary action should be taken against the units found be doing the illegal activity. https://www.counterview.in/2018/07/gpcb-investigation-sought-for-releasing.html  (27 July 2018)
UN Report Freshwater pollution will be prime cause of death by 2050 Pollutants in our freshwater systems will see anti-microbial resistance become the number one cause of death by 2050, warns a landmark UN report – sixth ed
ition of 'Global Environment Outlook' – produced by 250 scientists from 70 countries. The report was released March 13, 2019 during UN Environment Assembly. https://economictimes.indiatimes.com/news/environment/pollution/freshwater-pollution-will-be-prime-cause-of-death-by-2050-warns-un-environment-report/articleshow/68409741.cms  (14 March 2019)  
More reports on Water Rivers' Pollution 
Karnataka SC upholds stay on use of secondary treated wastewater The Supreme Court on March 11, 2018 refused to lift the stay on use of secondary treated wastewater for recharge of groundwater in two districts. The apex court had earlier barred the use of secondary treated water from municipal waste and factory discharge after reports of foaming and pollution appeared in Bangalore's Bellandur lake and other lakes.
The apex court had in January stayed the order passed by Karnataka High Court permitting authorities to pump treated water into tanks in Kolar district under the Koramangala Challaghatta (KC) valley project. R Anjaneya Reddy, an activist from Kolar and Chikkaballapura region, had filed the appeal in the apex court against the Karnataka High Court order. https://www.dnaindia.com/india/report-karnataka-sc-upholds-stay-on-use-of-secondary-treated-wastewater-2728633  (11 March 2019)
Uttar Pradesh No solutions to Kanpur industrial groundwater pollution The groundwater in Khan Chandpur and surrounding villages is contaminated with a carcinogenic heavy metal, due to 45,000 tonnes of toxic waste dumped at Rania. Hand pumps here have been spewing neon green water for years — water contaminated with a cancer-causing heavy metal, Hexavalent Chromium, or Cr VI.
A DPR commissioned by the CPCB found that soil and groundwater are contaminated with Cr VI in Khan Chandpur and two other villages in the vicinity of Rania town. "There is high risk of further contamination of soil and groundwater as long as the source of contamination is not contained," a CPCB report warned. Almost 66 per cent of the groundwater samples exceeded the site-specific target levels determined by the consultants working on the DPR.
Fixing responsibility for the clean-up is the biggest stumbling block, officials from the CPCB say. Implementing the 'polluter pays' principle is equally difficult. Five companies that were deemed responsible for the Rania dump were shuttered over a decade ago. The cost of remediation is pegged at about Rs 150 crore over 8-11 months.
The Rania dump site, as it is known, is one of hundreds of orphan sites in the country where hazardous waste has been left out in the open. The waste continues to poison the water, air and soil long after the flight of industry. In 299 of the 320 identified hazardous waste-contaminated sites in India, people are using the groundwater for drinking.
Rania is not the only site where chromium is a problem — there is also Orichem in Odisha, Nibra in West Bengal and Ranipet in Tamil Nadu. For Ganjam in Odisha, another heavy metal, mercury, is the contaminant, while in sites like Eloor-Edyaar in Kerala, it is both heavy metals and pesticides. Near Lucknow in UP, pesticide contamination has been reported, while in Ratlam, Madhya Pradesh, industries that produce H-Acid, used in the manufacture of dye, are the culprits. https://theprint.in/india/this-kanpur-village-drinks-neon-green-water-lives-near-a-toxic-waste-dump-as-big-as-cp/205769/  (15 March 2019)
Godavari HC orders several steps to clean up Godavari river In its 53-page order, the court said that the committee it had set up through its 2014 order shall continue to function and hold regular meetings at least once every three months. According to the judgment, a grievance redressal mechanism will be set up and maintained by the committee. The 2014 order had also created a Godavari Protection Police Squad which will now continue to function.
The court had noted that, after Kumbh Mela in 2015, a major religious event which takes place every 12 years, a substantial quantity of water was required to be released from upstream dams to clean up dirt in the river. The order also spoke about the committee monitoring the setting up of STPs. Awareness campaigns will also have to be undertaken by the municipal corporation. Although the petitions that had been filed have been disposed off, the court has asked the Committee to report on the work done by June 2019. https://www.indiatoday.in/india/story/bombay-high-court-orders-several-steps-to-clean-up-godavari-river-1412333-2018-12-18 (18 Dec. 2018) 
URBAN RIVERS
Mumbai Dams behind bad water quality spikes in rivers As many as five of the 42 water quality monitoring units on west-flowing rivers in the state have recorded 'bad' and 'bad to very bad' levels in 2017-18 compared to only one in 2016-17, found an annual survey by MPCB. The 122-km Ulhas river, which has 10 tributaries, is monitored by only three stations. Around 8 rivers and about 17 tributaries are not at all monitored.
A majority of these monitored rivers such as Tansa, Vaitarna, Bhatsa, Ulhas, Kalu, Patalganga, Surya, Kundalika, Amba, Vashishthi and Savitri contribute to the reservoirs that constitute Mumbai's water supply network and are critical in replenishing groundwater in their basins that make up 10.7% of the state's land. This means civic bodies drawing this water will need to increasingly treat it to reach the level of safe potable water before supply. At present, Mumbai, Thane and Navi Mumbai have only one water treatment plant each.
MPCB officials explained that one of the reasons is restricted flow in these rivers due to controlled release from the dams on the way by the water resources department. Also, a dearth of steps by the local gram panchayats, municipal councils and corporations on the banks of river to prevent pollution or treat the water increases the pollution level. One persistent problem for rivers across the state is the discharge of untreated effluents.
Maharashtra Water Resources Regulatory Authority (MWRRA) chief K P Bakshi said the state environment ministry has written to the Centre to approve a river rejuvenation programme for the state on the lines of Namami Gange. "Maharashtra is the first state to take up such a plan with the Centre," said Bakshi. If approved, the state expects to get at least Rs 50 crore to start work with. https://timesofindia.indiatimes.com/city/mumbai/bad-water-quality-spikes-in-rivers-feeding-citys-dams/articleshow/68339465.cms (10 March 2019)
RIVERS
SANDRP Blog Positive Rivers Actions From India On 14 March – celebrated globally as International Day of Action for Rivers, SANDRP puts together some remarkable positive actions for rivers during the last one year.
Please share and celebrate the rivers and work for them on this day. https://sandrp.in/2019/03/13/international-day-of-actions-for-rivers-2019-positive-river-actions-from-india/  (13 March 2019)
India Rivers Forum Videos of India Rivers Week 2018: are uploaded and can be seen on its You Tube channel.  https://www.youtube.com/channel/UCXMD1twJ9MzwD05yOkfPX9w/playlists? 
Opinion Rivers are critical for groundwater recharge by Manoj Misra – India cannot avoid a water disaster unless people understand the critical relationship that exists between adequate river flows and aquifer recharge, and the reasons behind its current broken state. When a river flows, almost 20-30% of its monsoon water feeds aquifers, saturating the water table; 30-40% evaporates; and 40-50% flows on the surface.
– But when we hold the monsoon flow in a reservoir behind a dam, both the surface flow and the associated aquifers suffer. People also don't realise that an aquifer is an ecosystem in its own right and hence when rivers don't run free, both rivers as an ecosystem and aquifer as an associated ecosystem suffer. https://www.hindustantimes.com/analysis/rivers-are-critical-for-groundwater-recharge/story-HWP3WocyCwRhz8ho98jOcL.html   (11 March 2019) 
Himalaya Springs, Streams Not only depletion, sparse data on Himalayan springs is also a big concern – Official data also shows how forests have been subjected to degradation in recent decades in the name of development. For example, in Uttarakhand, over 45,000 hectares of forest land have been diverted for developmental projects since 1980; while in Himachal Pradesh, 12,005 hectares of forest land has been diverted for such projects between 1980 and 2015. All across India, 1.51 million hectares of forest land has been diverted for developmental projects between 1980 and 2015 — which means forest land equalling 10 times the size of Delhi has been diverted for non-forest use in these four decades.
According to Himanshu Kulkarni of ACWRD, a silent crisis is emerging in the Indian Himalayan Region (IHR) because of drying up of springs on which millions of people depend for their water needs. He finds at least 60 per cent of the locals depend on spring water; and in lesser Himalayas, this dependency is as high as 100 per cent.  Sandip Thambe of  Dhara Vikas program added that less than 15 per cent of the rainwater, as has been estimated in various studies, is able to percolate down to recharge the springs, while the remaining flows down as runoff often causing floods. https://www.downtoearth.org.in/blog/water/not-only-depletion-sparse-data-on-himalayan-springs-is-also-a-big-concern-63554 (13 March 2019)
Himachal Pradesh 7 river stretches 'critically polluted' According to 'River Stretches for Restoration of Water Quality', a report prepared by the CPCB, seven river stretches in the hill state are "critically polluted".  The report, which was released in September 2018, these rivers include Sukhana, Markanda, Sirsa, Ashwani, stretches of the Beas, Giri and Pabbar. Sukhana, Markanda and Sirsa are the worst placed in this list of seven. The report has identified 351 polluted stretches on 323 rivers.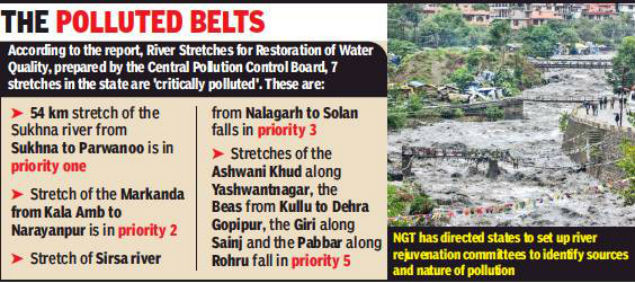 Following the CPCB report release, the NGT issued an order to the states on Sept 20, 2018, directing them to form river rejuvenation committees to identify sources and nature of pollution of rivers and prepare a time-bound action plan for reviving them.  The tribunal observed that despite directions to install effluent treatment plants, common effluent treatment plants, sewage treatment plants and adopting other anti-pollution measures, the situation is still far from satisfactory.
The River Rejuvenation Committee for Himachal comprises the director, urban development department, Himachal Pradesh, and team from IIT Kanpur and National Institute of Hydrology, Roorkee. The committee has to identify nature and sources of pollutants, device a time bound action plan to mitigate the pollution and revive the health of the river in collaboration with the State Pollution Control Board for implementation of the plan.
In a follow up order on December 19, the NGT has given all the states 2 months time to complete their action plans. States that fail to comply with the orders will be fined — Rs 5 crores, Rs 10 crores and Rs 15 crores respectively, depending on the categories of priority they fall in. https://timesofindia.indiatimes.com/city/shimla/7-river-stretches-in-hp-critically-polluted/articleshow/67316207.cms  (31 Dec. 2018)
NGT seeks action-taken report on Ashwani Khud The NGT has sought an action-taken report (ATR) by April 30 from the state govt on steps taken to clean the Ashwani Khud river, which had heaps of plastic waste flowing into it as per a video that went viral last year.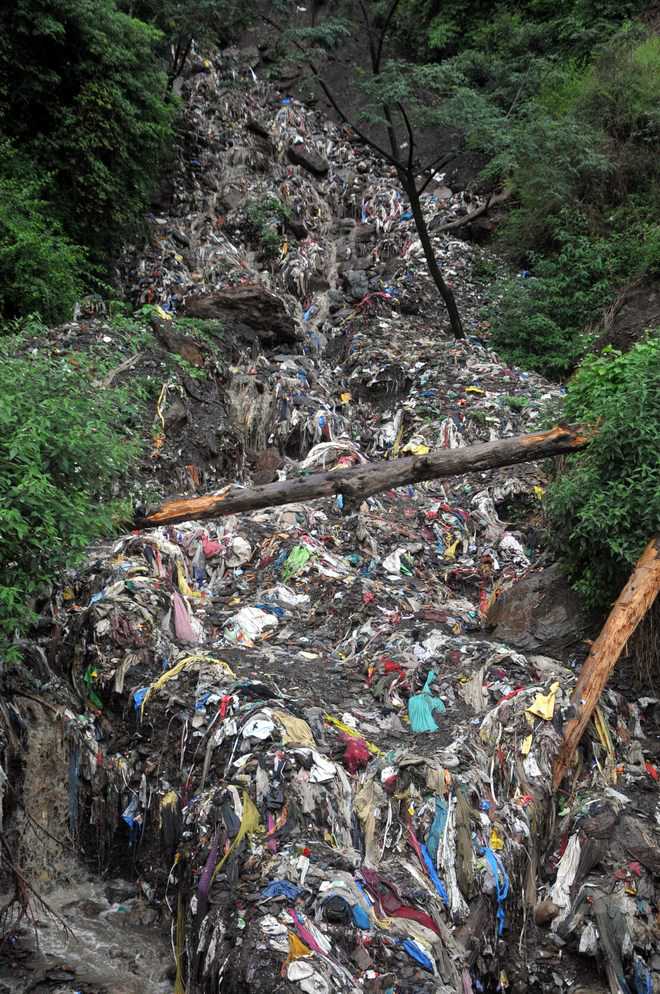 During the hearing, the tribunal was informed that the Solan Municipal Council is in the process of preparing drain-wise estimate for installing plastic trap, nets and check dams. https://www.tribuneindia.com/news/himachal/ngt-seeks-action-taken-report-on-ashwani-khud/742693.html  (14 March 2019)
Gujarat Rivers are degenerating Gujarat rivers are decaying and if the trend is not reversed, we will lose these lifelines forever. On Sept. 20, the NGT had directed Gujarat to take immediate note of the deteriorating condition of 20 rivers, of which five were classified under priority 1. The NGT has directed the state to devise plans to target the enhancement of river flow through interventions on the water catchment areas for the conservation and recharge of rain water for subsequent releases during lean-flow periods.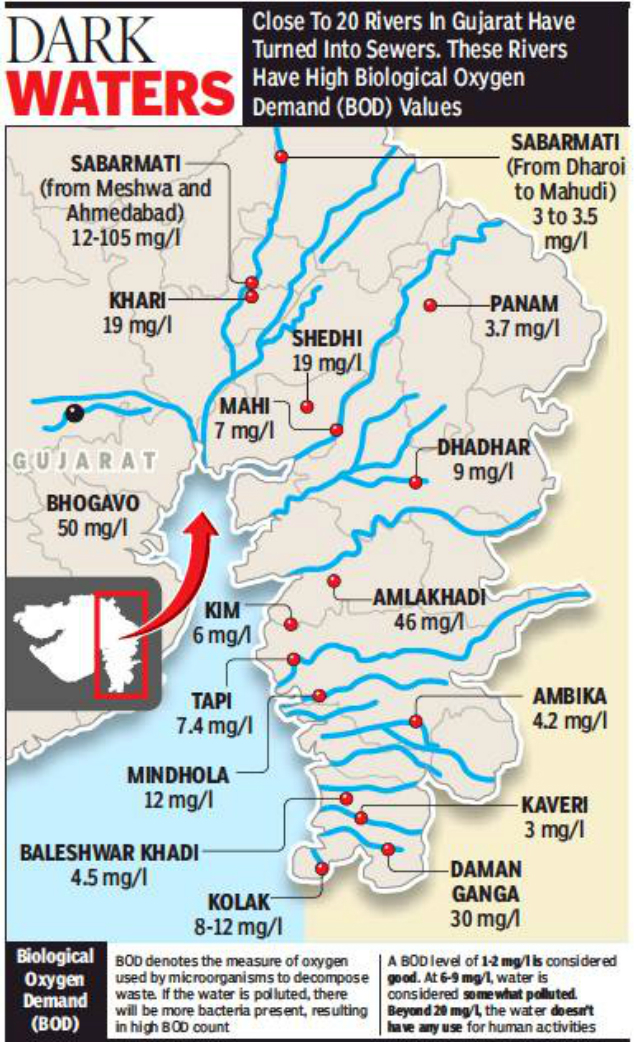 The NGT order served to Gujarat and other states says, "Tough governance is the need of the hour. If pollution does not stop, the industry has to be stopped. If sewage dumping does not stop, locals have to be made accountable and their heads are to be prosecuted. Steps have to be taken for awareness and public involvement."
Other concepts listed by the NGT include regulation and enforcement of standards in conjunction with the available flow in rivers or streams and the allocation of discharges with stipulated norms. The NGT order said, "In spite of directions to install effluent treatment plants, common effluent treatment plants, sewage treatment plants, and adopting other anti-pollution measures, satisfactory situation has not been achieved." https://timesofindia.indiatimes.com/city/ahmedabad/states-rivers-are-degenerating/articleshow/66960455.cms  (6 Dec. 2018)
3 river stretches of Gujarat among most polluted Expressing the need for urgent action, NGT said that three (Amla Khadi, Damangnaga, Sabarmati of 15 critically polluted river stretches in the country were flowing through Gujarat, and the water in one of three was "pure poison".
In Gujarat, there is Amla Khadi river which has a BOD limit of minimum 43 mg/litre (in the 20-km stretch between Pungum to Bharuch). This is pure poison," Justice Goel said while delivering a lecture on sustainable development at the Gujarat National Law University. Amla Khadi is a tributary of Narmada in south Gujarat.
"How bad do you think is the situation of Sabarmati river, where Mahatma Gandhi once lived? From the 80 km-stretch between Kheroj to Vautha, the BOD levels range between 4 and 147 mg/litre. Similarly, in Damanganga river, the BOD level between Kachigaon and Vapi (a stretch of 30 km) is 8 mg/litre. These are the three most polluted rivers where immediate action is required," he added.
According to the NGT chief, dumping of untreated effluents and sewage into the rivers was the major source of pollution in the rivers. The CPCB has also identified these 3 river stretches among the 15 most-polluted river stretches in the country. As per the CPCB, there are around 20 rivers in Gujarat where BOD levels are above the prescribed standards. https://indianexpress.com/article/cities/ahmedabad/3-river-stretches-of-gujarat-among-most-polluted-ngt-chief-5358558/ (16 Sept. 2018)
Manipur International Rivers Day held A press release by president of the Centre for Research and Advocacy Manipur (CRAM), Sanaton Laishram said that the function was organised by the Mapithel Dam Downstream Affected Village Level Committee, the Mapithel Dam Downstream Affected Peoples, CRAM and the Irabot Foundation, Manipur. 
Secretary of CRAM, Jiten Yumnam during the function has shared that rivers of Manipur are targeted to unsustainable development processes such as the construction of hydropower projects that curtailed the free flow of rivers and undermining the survival relationship of indigenous communities.
He stated that mega hydropower projects like 1500 MW Tipaimukh Dam are planned across the rivers of Manipur even as commissioned dams like Khuga Dam, the Khoupum Dam which have failed to fulfil their objectives. https://www.ifp.co.in/page/items/56889/international-rivers-day-held/  (14 March 2019)
Govt launches rejuvenation of Nambul river Under the National River Conservation Plan, the govt has launched the state's first-ever rejuvenation and conservation of Nambul river in Imphal. The river has been identified as one of the most polluted rivers in the state by the CBCB and is also a major source of pollution of Loktak lake, the largest freshwater lake in Northeast. The three- year project is aimed at improving Nambul river's water quality by intercepting and treating all the urban wastewater outfalls from the polluted stretch of the river by using the moving bed bioreactor technology. http://www.easternmirrornagaland.com/manipur-launches-rejuvenation-and-conservation-of-nambul-river/ (9 March 2019)
Tamil Nadu Industrial pollution leads to frothing in Thirumanimuthar river The residents of Rasipuram on Namakkal district were left in shock after Thirumanimuthar river started frothing and raising upto 15 feet.
https://www.indiatoday.in/video/India/embed/MTM2MDA2NQ==
The cause is being attributed to the untreated effulents being released into the river by the dying industries around Salem. The heavy rain in the district has alosadded to it by causing a large water body.   https://www.indiatoday.in/india/video/industrial-pollution-leads-to-frothing-in-tamil-nadu-river-1360065-2018-10-10 (10 Oct. 2018)
Study Krishna river water, fish contaminated by heavy metals Study finds Krishna river water in Vijayawada as well as the fish caught from the Prakasam barrage reservoir contaminated by heavy metals. Among the four metals present in water samples, zinc was found in higher concentration, followed by lead, cadmium and mercury.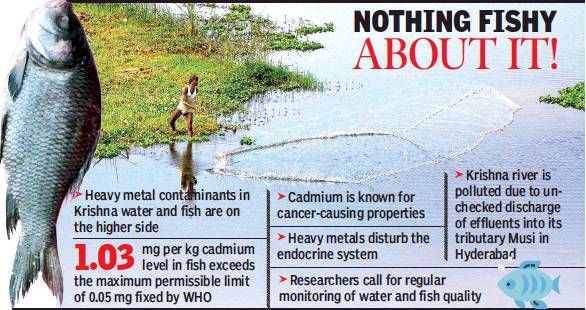 In case of fish samples, cadmium was in higher quantity than the three other heavy metals. Stating that there was high incidence of bioaccumulation of the heavy metal contaminants in both water and the fish samples, the study warned that it is an "indication of severe toxicity which will cause ill health in human beings". https://timesofindia.indiatimes.com/city/vijayawada/krishna-river-water-fish-contaminated-by-heavy-metals/articleshow/68180411.cms (27 Feb. 2019)
Kerala Meet to lay stress on conservation of water The Water Convention on 22 March aims to showcase the condition of water in rivers in the Kozhikode district for the public to realise the need to protect them. The convention is organised by the Kozhikode District River Protection Committee that had come up with a week-long drive along river banks in the district in March 2018 to create awareness on the need to protect rivers. This year, the committee is planning to stress ways to conserve water on a day-to day basis. https://www.thehindu.com/news/cities/kozhikode/meet-to-lay-stress-on-conservation-of-water/article26549717.ece  (16 March 2019)
Madhya Pradesh श्योपुर में नाले में तब्दील हुई सीप नदी, बीमारी फैलने का डर  श्योपुर में सीप नदी का अस्तित्व खतरे में है. गंदगी की वजह से यह नदी नाले में तब्दील होती जा रही है. नदी में गंदगी का आलम यह है कि आसपास के इलाके में बदबू और मच्छर की वजह से लोगों का रहना दुश्वार है. नजदीकी बस्तियों में हमेशा बीमारी फैलने का खतरा बना रहता है. कांग्रेस और बीजेपी के नेताओं ने भी इस नदी को जीवनदायिनी नदी बताते हुए इसकी हालत पर चिंता जाहिर की है. समय रहते अगर प्रशासन नदी की सफाई के लिए कोई पहल नहीं करता तो लोगों को इसकी भारी कीमत चुकानी पड़ सकती है. https://hindi.news18.com/videos/madhya-pradesh/sheopur-in-sheopur-the-sip-river-is-transformed-into-a-drain-fear-of-spreading-disease-hydap-1613203.html (10 Dec. 2018)
एक नदी, जो उल्टी बहती है! नर्मदा नदी भारत के मध्य भाग में पूर्व से पश्चिम की ओर बहने वाली मध्य प्रदेश और गुजरात की एक मुख्य नदी है, जो मैखल पर्वत के अमरकंटक शिखर से निकलती है। इस नदी के उल्टा बहने का भौगोलिक कारण इसका रिफ्ट वैली में होना है, जिसकी ढाल विपरीत दिशा में होती है। इसलिए इस नदी का बहाव पूर्व से पश्चिम की ओर है। सारी नदियों के विपरीत नर्मदा नदी के उल्टा बहने के पीछे पुराणों में कई कहानियां भी बताई गई हैं।
नर्मदा नदी से जुड़ी एक कहानी के मतानुसार, नर्मदा नदी का विवाह सोनभद्र नद से तय हुआ था, लेकिन नर्मदा की सहेली जोहिला के कारण दोनों के बीच दूरियां आ गईं। इससे क्रोधित होकर नर्मदा ने आजीवन कुंवारी रहने और विपरीत दिशा में बहने का निर्णय लिया। अगर भौगोलिक स्थिति को भी देखें तो पता चलता है कि नर्मदा नदी एक विशेष स्थल पर सोनभद्र नदी से अलग होती है। https://www.livehindustan.com/nandan/story-a-river-that-flow-in-opposite-direction-from-east-to-west-2354955.html (10 Jan. 2019)
Bridge on Kuno river caves in just 3 months after construction Rs 7.78 crore bridge on Kuno river collapsed in first heavy rain triggering flooding in the river on Sept. 8 evening. About 500 metre long portion of the bridge washed away in Phori tehsil of Shivpuri district in less than three months after the bridge's inauguration. Almost all rivers, including Kuno, Chambal and Seep in Shivpuri and neighbouring Sheopur district were in spate in the wake of torrential rains in the region. In neighbouring Sheopur, a decade-old-record of heavy rainfall was broken after more that 120 mm rainfall pounded the area on Sept. 8-9.
The bridge was dedicated to the people on June 29 this year by the Union minister Narendra Singh Tomar. District collector Shilpi Gupta told, "Perhaps, it was constructed by the PWD. I will get a detailed report on Monday and I would recommend an inquiry. Local BJP MLA Prahalad Bharti, who had raised the issue of "inferior quality construction" in Vidhan Sabha was guarded in his reaction about the incident. https://timesofindia.indiatimes.com/city/bhopal/mp-rs-7-crore-bridge-on-kuno-river-caves-in-just-3-months-after-construction/articleshow/65744901.cms (11 Sept. 2018)   
GANGA NGT Publicise water quality of all strategic locations on monthly basis The NGT has directed the Uttarakhand and the UP pollution control boards to publicise the water quality of the Ganga river at all strategic locations on a monthly basis and indicate if it is fit for bathing and drinking. A bench headed by NGT Chairperson Justice Adarsh Kumar Goel warned that the failure to do so may result in coercive action against the pollution control board of both states.
The tribunal also rapped the NMCG over its affidavit which alleged that Bihar, Jharkhand, Uttar Pradesh and West Bengal have not provided relevant information for the stretch from Kanpur to Buxar (Phase-II) and Buxar to Ganga Sagar (Phase-III). It said that the affidavit filed by the NMCG presents a dismal picture. https://indianexpress.com/article/india/publicise-water-quality-ganga-strategic-locations-monthly-basis-ngt-5625101/ (13 March 2019)
This is yet another evidence of abject failure of NMCG and Modi govt on Ganga, they have not even formulated action plan for clean Ganga. "It (NMCG) has indicated that the States have not provided the information and therefore, action plans could not be formulated within the stipulated time frame. The lackadaisical approach of the NMCG can hardly be appreciated as it has been set up by the govt with the sole object of rejuvenation of Ganga…," the Bench said.
It added, "We may have to take coercive action, including environment compensation being required to be paid by the NMCG, and U.P., Bihar, Jharkhand and West Bengal for not responding and failing to formulate the action plans for Phase II and Phase III."  https://www.thehindu.com/news/national/other-states/ngt-directs-uttarakhand-up-to-display-ganga-water-quality/article26526437.ece  (14 March 2019)
The matter is fixed for next hearing on May 2. The green panel also directed the Uttar Pradesh govt to ensure that the committee headed by Justice Arun Tandon is consulted with regards to post-Kumbh Mela management of waste in Allahabad.
The panel also noted that its directions relating to the interception of drains, construction of sewage treatment plants, setting up of common effluent treatment plants at Jajmau, Unnao and Banthar have not been complied with till date and the common effluent treatment plants are not meeting the stipulated standards. https://www.outlookindia.com/newsscroll/publicise-water-quality-of-ganga-at-all-strategic-locations-on-monthly-basis-ngt/1495544 (13 March 2019)
NGC never met once in last 3 years SANDRP has been saying this for long that PM led NGC has not met even once. https://thewire.in/government/national-ganga-council-headed-by-narendra-modi-has-not-met-even-once  (11 March 2019)
Same report is published in Hindi here. http://thewirehindi.com/71842/clean-ganga-narendra-modi-national-ganga-council/  (11 March 2019)
Silence on Saints dying for Ganga Sandeep Pandey asks very pertinently: People take a public stand on the issue of construction of Ram temple in Ayodhya and for preventing the entry of women in Sabrimala temple of Kerala, which includes the two national parties BJP and Congress, but do not sympathise with saints who stake their lives for Ganga. https://countercurrents.org/2019/03/13/why-is-the-country-which-was-agitated-on-martyrdom-of-soldiers-silent-on-saints-dying-for-ganga/   (13 March 2019)
Water quality of Ganga has worsened in 3 years, says study  According to Sankat Mochan Foundation (SMF)  data, faecal coliform count rose from 4.5 lakh (upstream at Nagwa) and 5.2 crore (downstream in Varuna) in January 2016 to 3.8 crore (upstream) and 14.4 crore (downstream) in February 2019. "Similarly, BOD level has risen from 46.8-54mg/l to 66-78mg/l during January 2016-February 2019.
Besides, the level of dissolved oxygen (DO), which should be 6mg/l or more, has gone down from 2.4mg/l to 1.4mg/l during this period. SMF has been monitoring the quality of Ganga water since the launch of the GAP by then PM Rajiv Gandhi in 1986. Working as a watchdog for the cause of the Ganga, SMF has established its own laboratory to analyse the samples of Ganga water on a regular basis. https://timesofindia.indiatimes.com/city/varanasi/flagship-clean-ganga-project-falters-holy-water-fails-purity-tests-on-critical-indicators/articleshow/68416119.cms  (15 March 2019)
NMCG has expectedly, denied that state of Ganga has worsened in Varanasi, as brought out by Sankat Mochan Foundation and said that ONLY CBCB has the capacity to monitor pollution. This denial of capacity by any independent non govt agency to monitor even basic water quality parameters shows that NMCG has no case and its claims are unscientific. https://timesofindia.indiatimes.com/home/environment/pollution/ganga-pollution-rise-claim-unscientific/articleshow/68434300.cms  (16 March 2019)  
Opinion The grim case against hydropower on the Ganga by Bharat Jhunjhunwala  The Union Government is spending about Rs 20,000 crores in building Sewage Treatment Plants (STPs) on the Ganga. However, scrapping the four hydropower projects can reduce the expenditures on the STPs.
A NEERI study has brought out that the coliphages in the Ganga have unique "wide-spectrum" capabilities. One coliform can destroy many types of coliphages. These beneficent coliphages stick to the sediments of the Ganga and lay dormant until they sense the nearby presence of a coliform which they then destroy. These coliphages give Ganga her self-purifying capabilities. The sediments have to be continuously created for these coliphages to survive.
Further, the sediments have copper and microscopic quantities of radioactive thorium which give the water of the Ganga bactericidal qualities. The hydropower projects divert the water of the Ganga into tunnels or still them in reservoirs. That removes the friction between water and stones and prevents the creation of these sediments. That harms the self-purifying capacity of Ganga, and leads to additional expenditures on STPs. https://www.freepressjournal.in/analysis/the-grim-case-against-hydropower-on-the-ganga/1461303  (16 Feb. 2019)
Report Ganga rivers dying of reduced flow The reduced flow and declining health of the Ganga has caused much anguish. The main reason for anaemic flow is massive extraction of water for irrigation, said Vinod Tare, river expert and professor at Indian institute of Technology (IIT) Kanpur. Tare says that before the Tehri dam was built in 2006, the lean season flow at Haridwar was some 6,500 cusec (cubic foot per second), out of which only about 1,000 cusec was left flowing in the river.
The other major problem is the proliferation of a large number of hydropower and irrigation dams built in the headwater tributaries.  The Dehradun-based Wildlife Institute of India said in a 2018 study that 71 percent of the Bhagirathi River and 48 percent of the Alaknanda River have been inundated and diverted. As a result, about a third of the river channels have turned into "ecological deserts", it said.
The base flow of the Ganga River has declined by as much as 56% from the 1970s to 2016, according to a report published in Nature in August 2018 by geologists Abhijit Mukherjee and Soumendra Nath Bhanja of IIT Kharagpur. "The summers of 2015–17 have witnessed an unprecedented low water level and flow in the middle and lower reaches of the Ganges River in India," the researchers said. Environmentalists say that no more than 30 percent of the river's flow should be diverted for agricultural, domestic or industrial purposes.
The scientific report has also clearly linked the reduced flow to excessive groundwater extraction. The introduction of bore wells – with pumps run by electricity – in the Gangetic plains in the 1970s has led to overexploitation of both shallow and deep aquifers, which has in turn affected the flow in the rivers of the Ganga basin.
Latest research by Hyderabad-based National Geophysical Research Institute shows that the largest depletion of groundwater in the world is taking place in northern India. The government research facility studied fluctuation levels between 2002 and 2017.  https://www.firstpost.com/long-reads/no-water-for-a-clean-ganga-rivers-reduced-flow-and-declining-health-have-caused-much-anguish-6250601.html  (March 2019)
YAMUNA Uttar Pradesh NGT orders inspection of Yamuna floodplain in Agra The NGT on March 11 asked the Director of Namami Gange and the Director General of National Institute of Hydrology to inspect the Yamuna floodplain in Agra and submit a report within four weeks on its demarcation. The matter is posted for next hearing on April 12.
The tribunal had earlier refused to vacate its 2015 order restraining construction and transfer of possession of flats on Yamuna floodplain in Agra after two builders sought lifting of the ban. It had said that even if the builders have transferred the flat to the purchasers, it does not entitle them to file an application for vacating the interim order passed in 2015 as the matter is still pending. https://www.business-standard.com/article/pti-stories/ngt-orders-inspection-of-yamuna-floodplain-in-agra-seeks-report-on-demarcation-119031100665_1.html (11 March 2019)
Delhi Bridges, barrage and roads affecting floodplains The subject of several NGT orders and national plans, the river continues to flow quietly through the heart of the capital, still dark and murky and emanating a pungent smell.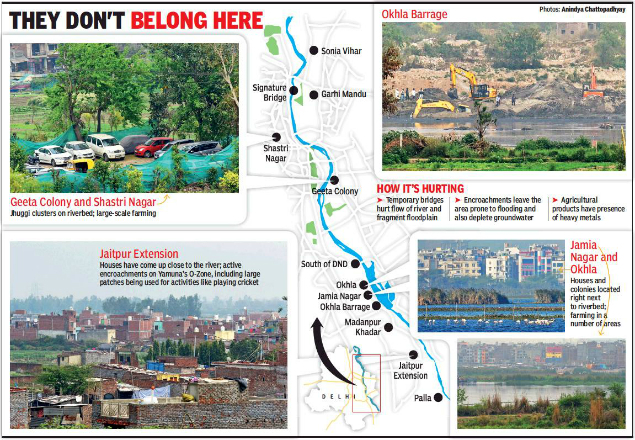 Key announcements made last year saw work begin on a number of STPs as part of the YAP-III, but the river faces an even bigger threat as encroachments continue to grow on the floodplain, now actively occupying the O-Zone (the river zone) where any kind of construction is strictly prohibited.
A monitoring committee appointed by NGT to rejuvenate the river stated in a recent report that encroachments in the form of pseudo-bridges, barrages and roads were a threat to Yamuna's flow. The report also raised concerns over dumping of debris, groundwater extraction, illegal construction and dairy farming on the floodplain. https://timesofindia.indiatimes.com/city/delhi/everyone-wants-a-piece-of-yamuna/articleshow/68455592.cms  (18 March 2019)
Make every Delhiite pay Yamuna cess Chief secretary Vijay Dev has asked Delhi Jal Board to start the process of levying environmental compensation of Rs 100-300-500 per household. In a meeting of the NGT -appointed monitoring committee on Yamuna, the top bureaucrat of the city govt "expressed displeasure at the delay and directed the CEO DJB to pursue levy of sewage charges by following the most feasible alternative without further loss of time".
In 2015, holding every Delhi resident responsible for polluting the Yamuna, the NGT had ordered every household to pay a certain amount each month as environment compensation ranging between Rs 100 and Rs 500. However, not a single penny has been collected as authorities are yet to initiate the collection process. The committee informed Dev that NGT had already been apprised of the reluctance of DJB to implement this direction, and this would become an important issue for recording non-compliance of the tribunal's orders when the next report is sent in early May. https://timesofindia.indiatimes.com/city/delhi/make-every-delhiite-pay-yamuna-cess-cs/articleshow/68365585.cms (12 March 2019)
Haryana –Delhi Water Dispute Capital wasting 300 cusecs of Yamuna water This shows how little the state of Haryana and Delhi care for Yamuna river which is basically the lifeline for both. Haryana itself is not maintaining environmental flow downstream Hathini Kund Barrage and now states that water release downstream Wazirabad barrage Delhi is waste of water. 
On March 13 in an affidavit filed before the Delhi High Court, the state of Haryana said that the national capital is "discharging substantial quantity of water to the downstream of Wazirabad causing huge loss of precious water".  "…As per the economic survey of Delhi for the year 2017-18, it is categorically mentioned that the loss of treated water due to leakage and pilferage is 30%. That means around 300 cusecs of water supplied by Haryana to Delhi is being wasted by Delhi due to leakage and pilferage," the affidavit maintained. https://www.hindustantimes.com/delhi-news/capital-wasting-300-cusecs-of-yamuna-water-haryana-tells-delhi-high-court/story-j0TaLM0Ns7Ktr3Xd4Zq0OO.html (14 March 2019)  
RIVERS BIODIVERSITY
Kerala – Wood snake, last seen in 1878, rediscovered A species of wood snake that wasn't seen for 140 years has resurfaced in a survey conducted by scientists in the Meghamalai Wildlife Sanctuary. The species, endemic to the Meghamalai forests and the Periyar Tiger Reserve landscape, was recently rediscovered by R. Chaitanya, a herpetologist, and Varad Giri, director, Foundation for Biodiversity Conservation.
– Honorary Wildlife Warden, Meghamalai Wildlife Sanctuary, C. R. Rajkumar said this discovery is a sign that the biodiversity in this area should be protected. "Meghamalai has a range of snakes, butterflies and ants, apart from the large mammals that we know of. Establishing a tiger reserve here will ensure that there is proper protection of this landscape," he said, adding, "It will also help in the restoration of the Vaigai river." https://www.thehindu.com/sci-tech/energy-and-environment/wood-snake-last-seen-in-1878-rediscovered-by-scientists/article26505577.ece  (12 March 2019)
FISH, FISHERIES, FISHERFOLKS
Andhra Pradesh Fishers on the verge of becoming refugees Nidhi Jamwal, in her indepth report, also narrates how dams affect the coastal area in Krishna and Godavari basins and how that affects livelihood of lakhs of people. "The evolution of east coast delta, between Krishna and Godavari rivers, shows that over 6,770 sq. km of delta was created in the last 6,000 years," Rao recently said at a media workshop in the city. "And this delta progradation continued the till early 20th century."
There are many causes of coastal erosion. One of them is the construction of a series of dams on rivers. The dams decrease the flow of water and trap sediments, and slowly sink the delta. Climate change has also caused, and will continue to cause, shoreline erosion, tides and currents and saltwater intrusion. "The Indian coast already experiences severe weather events, such as an average of nine cyclones a year," he added. https://thewire.in/environment/why-andhra-pradeshs-fishers-are-on-the-verge-of-becoming-refugees (12 March 2019) 
Maharashtra Coastal Road: where are the alternative jobs for fishermen, asks HC So glad to see this fundamental question being asked by the Mumbai HC. The Bombay High Court on March 13 asked the state govt if it has thought of a substitute occupation for 600 fishermen families whose livelihood is under threat from the construction of the 35.6-km coastal road. https://www.thehindu.com/news/cities/mumbai/coastal-road-where-are-the-alternative-jobs-for-fishermen-asks-high-court/article26525703.ece   (14 March 2019)
HYDRO POWER PROJECTS
Center Govt clears ₹31K crore for power projects, approves policy on hydro power The government has cleared investment of around ₹31,560 crore in four power projects of total 3,760 MW generation capacity and approved two policies to boost hydro power as well as revive stressed assets in the sector, Union Power Minister R K Singh said on March 7.
He said that a lot of ground is to be covered for implementing payment security mechanism for private power producers and reviving gas-based stranded projects as talks are going on with RBI as well as oil ministry on both the issues.
Talking about the hydro policy, he informed that the government approved a slew of measures under the hydro policy including providing renewable energy status for large hydel projects and new funding provisions.
Earlier, hydro projects up to 25 MW capacity were considered as renewables and were eligible for various incentives like financial assistance and cheaper credit. With the government's decision, hydro projects above 25 MW can also avail the benefits.
With the new measures, large hydro projects (LHPs) would be allowed back loading (reducing) of tariff after increasing project life to 40 years, increasing debt repayment period to 18 years and introducing escalating tariff of 2 per cent. At present, hydro power tariff is expensive than other sources.
Discoms are reluctant to sign Power Purchase Agreements (PPAs) for hydro power due to higher tariff, particularly, in the initial years. These measure would help rationalise the tariff by hydro power projects. The policy also provides for funding for enabling infrastructure like roads and bridges of ₹1.5 crore per MW for projects up to 200 MW and ₹1 crore per MW for projects above 200 MW. The Cabinet Committee has also approved recommendations of the Group of Ministers based on suggestion made by the HLC. https://www.livemint.com/news/india/govt-clears-rs-31k-crore-for-power-projects-approves-policy-on-hydro-power-1551967981319.html  (7 March 2019)
The magic wand of classifying large hydro as renewable source of power has lo and behold, increased renewable sources to 120 000 MW. This will have a number of implications also for solar and wind. https://www.thehindu.com/business/Economy/hydro-policy-target/article26561711.ece  (17 March 2019)
NHPC to shift its focus to J&K, HP NHPC has gone in an overdrive to construct Kiru Hydro Electric project in J&K immediately after Cabinet Committee on Economic Affairs, chaired by PM Modi, approved the investment sanction for it on March 7. After laying foundation of the project on Feb. 2019, the PM is understood to have conveyed the projects' urgency to the departments concerned.
The Kiru project (624 MW) will be constructed by M/S Chenab Valley Power Projects Private Limited—a joint venture company that NHPC, JKSPDC and PTC have established. Shareholding for the company stands at 49 per cent each for both NHPC and JKSPDC, and 2 per cent for PTC. Its estimated cost is more than Rs 4,287 crore (at the price levels of July 2018), which includes Interest During Construction (IDC) and Foreign Component (FC) of about Rs 426 crore. NHPC will infuse equity more than Rs 630 core in the joint venture firm.
Besides, the NHPC has ushered in process  for execution of 850-MW Ratle Hydroelectric project in the state, to be executed through a joint venture for which NHPC, JKPDD and JKSPDC have signed an MoU. NHPC is exploring the feasibility of setting a power project of capacity 449 MW at Duggal on river Chenab in Himachal and will soon make appointment against a Chair Professorship at IIT Roorkiee (Uttarakhand) for the project. It has an MoU with the IIT for the project and a separate on for research and development. https://www.tribuneindia.com/news/jammu-kashmir/nhpc-to-shift-its-focus-to-j-k-hp/741524.html  (11 March 2019)
Major boost for 4 hydro projects worth Rs 45,000 crore The government expects a big push to hydropower sector having received clearances for four projects worth about Rs 45,000 crore. The project investment board (PIB) of finance ministry recommended NHPC's Rs 28,000 crore Dibang project and a proposal to acquire and complete Lanco Infratech's Teesta VI project worth nearly Rs 5,400 crore, a government official said.
NHPC bagged the 500-mw Teesta hydro power plant under insolvency proceedings for Rs 907 crore. The project will require further investments of about Rs 4,500 crore for completion and will now be put before the Union cabinet for approval. NHPC has installed generation capacity of 7071 mw and another 3800 mw under construction. https://energy.economictimes.indiatimes.com/news/power/major-boost-for-4-hydro-projects-worth-rs-45000-crore/67968815  (13 Feb. 2019)
Sikkim NHPC eyes stressed 120 Mw Jal Power plant NHPC will bid for 120 Mw Jal Power stressed plant in Sikkim when the project is bid out in the bankruptcy court this month. Lenders had referred the project to NCLT and the bankruptcy court is likely to call bids for the project soon.
– SUBANSIRI HEP: In a related development, the SC on March 11, 2019 allowed a 3 member expert committee to study and submit impact report on the proposed 2,000 Mw Lower Subansiri hydroelectric project on the border of Assam and Arunachal Pradesh. Organisations opposing the projects had approached the apex court against NGT order rejecting an appeal filed by social activists against the constitution of the committee. https://energy.economictimes.indiatimes.com/news/power/nhpc-eyes-stressed-120-megawatt-jal-power-plant-in-sikkim/68361233   (11 March 2019)
Himachal Pradesh SJVN hopes to develop power projects on Chenab: CMD During a meeting with CM, CMD of SJVN said that SJVN would like to develop all the power projects in Chenab basin if the state govt develops transmission and other required infrastructure. As per the report, CM has assured all the support in early execution of various hydro projects — Luhri Stage I & II, Sunni Dam, Dhaulasidh and Jangi Thopan.
The CMD also said SJVN would achieve the target of becoming 5,000 MW company by 2023; 12,000 MW by 2030; and 25,000 MW by 2040. The company has paid interim dividend of Rs 158.25 crore to Himachal govt which holds 26.85% equity in the PSU. Himachal govt has already been paid a total dividend of Rs 1,643.31 crore till date on an investment of Rs 1,055 crore. The Government of India holds 62.44% shares of the company and 10.71% shares are with public. https://timesofindia.indiatimes.com/city/shimla/sjvn-hopes-to-develop-power-projects-on-chenab-cmd/articleshow/68400507.cms  (14 March 2019)
Jammu & Kashmir Voith receives contract for 1000-MW Pakal Dul HEP Voith Hydro announces it recently received an award from Chenab Valley Power Projects Private Limited (CVPPPL) that includes the supply of four 250-MW Francis turbines and generators, together with auxiliary equipment, for the 1,000-MW Pakal Dul hydropower plant.
Previously, in J&K, Voith led the consortium that delivered six 150-MW units for the Baglihar hydropower plant for state utility JKSPDC. Voith is also executing the Salal Runner replacement project for six 115-MW units for NHPC. https://www.hydroworld.com/articles/2019/03/voith-receives-contract-for-1-000-mw-pakal-dul-hydropower-plant-in-india.html  (14 March 2019)
MATU PR MATU to MoEF and others on public hearing for the Jakhol Sankhri HEP in on March 1, violating legal norms  इस बांध की पूर्व में जनसुनवाई 12 जून 2018 को आयोजित की गई थी। लोगों के कड़े विरोध के कारण जनसुनवाई संपन्न नहीं हो पाई और अंततः उसे रद्द माना गया। प्रभावितों में इस बात का कड़ा विरोध था कि उनको कागजातों की समझ नहीं है।
उन्हें पर्यावरण प्रभाव आकलन रिपोर्ट, पर्यावरण प्रबंध योजना और सामाजिक समाघात योजना सरल भाषा में समझाया जाए जिसके बाद ही जनसुनवाई का आयोजन किया जाए। हमारी मांग है कि:- 1– 1 मार्च 2019 को तथाकथित रूप से संपन्न जखोल साकरी बांध की जनसुनवाई को तत्काल प्रभाव से रद्द माना जाए।
2–दूसरी जनसुनवाई स्थानीय प्रभावित गांवों को पर्यावरण प्रभाव आकलन रिपोर्ट, पर्यावरण प्रबंध योजना व सामाजिक समाधान रिपोर्ट हिंदी में देकर और सरल भाषा में समझाने के बाद ही प्रभावित गांवों में जनसुनवाई का आयोजन किया जाए। https://www.facebook.com/sandrp.in/posts/2515680991792892?__tn__=K-R  (14 March 2019)  
Arunachal Pradesh Buddhist monk in the thick of anti dam protests takes on CM Former SMRF activist and Buddhist Monk Lobsang Gyatso to fight Arunachal Assembly elections against Chief Minister Pema Khandu. https://www.thecitizen.in/index.php/en/NewsDetail/index/3/16472/Monk-Against-Monarch  (14 March 2019) 
Report What Renewable Status For Large Hydropower Projects Means – For the 2018-19 financial year, power distribution companies have to purchase 17 percent of their total procurement from wind and solar farms under the the Renewable Purchase obligations. This will increase to 17.5 percent for 2019-20. The minimum quota for hydel power is yet to be notified.
– There are 42 under-construction hydel projects with a capacity of 12,000 MW, including private projects comprise 7.5 percent, central govt plants 33.1 percent and states 59.4 percent, according to the Standing Committee on Energy report tabled in Lok Sabha. A former Power Secretary Anil Razdan said: "You have to build a policy in which local stakeholders are made partners. Unless they see benefits in these projects, you might not see early execution." https://www.bloombergquint.com/business/what-does-renewable-status-for-large-hydropower-projects-mean  (12 March 2019)
Karnataka Power crisis can worsen if water is drawn from Linganamakki dam In 2018, the govt had asked officials to prepare a project report on the possibility of supplying nearly 34 TMC of water from the Linganamakki reservoir to Bengaluru in the first stage, and later increase it to 60 TMC, over a distance of 400 km of undulating terrain. Experts say this can lead to power crisis. https://energy.economictimes.indiatimes.com/news/renewable/power-crisis-can-worsen-if-water-is-drawn-from-linganamakki-dam-to-bengaluru-expert/68354721  (11 March 2019)
Minutes of the EAC meeting on River Valley Projects held on Feb 27, 2019 has been uploaded on Mar 12, 2019. The decisions of the meeting.
Cumulative Impact Assessment and Carrying Capacity Study (CIA & CCS) of Teesta River Basin in W Bengal. Presentation of draft report before the EAC for recommendation of the Study: DEFERRED MORE INFO SOUGHT.

Cumulative Impact Assessment and Carrying Capacity Study (CIA & CCS) of Yamuna River Basin in Uttarakhand. Presentation of draft report before the EAC for recommendation of the Study. DEFERRED MORE INFO SOUGHT

Eastern Rajasthan Canal Project (ERCP) at Sawai Madhopur, Rajasthan by M/s ACE WR Zone Jaipur, Rajasthan- Fresh ToR. DEFERRED. PP ABSENT.

Transfer of Rajasthan share of Yamuna Water at Tajewala Head works to Churu and Jhunjhunu districts of Rajasthan by Underground Conveyance System – consideration of Fresh ToR. DEFERRED. PP CALLOUS.

Construction of Barrage for Securing the Foundation of Taj Mahal Improvement in Water Level, Beautification & Navigation at 1.50 km downstream of Taj Mahal, Agra, U.P. – Fresh ToR. TRANSFERRED TO EAC FOR INFRASTRUCTURE PROJECTS: BARRAGE ON YAMUNA. STRANGE DECISION.

100 MW Malana II HEP, Kullu, Himachal Pradesh by M/s Everest Power Private Limited at Himachal Pradesh – Amendment in Environmental Clearance. DEFERRED. PP ABSENT.

Saundatti HEP (1200 MW) Integrated Renewable Energy with Pumped Storage Project by M/s Greenko Solar Energy Pvt. Ltd. at village Karlakatti, Tehsil – Saundatti, District – Belgaum, Karnataka. – Fresh Environmental Clearance. OK. CLEARED.

Kaleswaram Lift Irrigation Scheme near Kannepally village, Mahadevpur Mandal, Jayashankar Bhoopalpally district, Telangana – Fresh Environmental Clearance. DEFERRED MORE INFO SOUGHT.

Improvement of drainage path of Kalisindh river near Balinda Ghat for prevention of floods in Jhalawar town by Water Resources Kalisindh Project Division, Jhalawar, Rajasthan – Fresh ToR. DEFERRED PP ABSENT.

Jamrani Dam Multipurpose Project by Irrigation Department, Uttarakhand – Reconsideration of Environmental Clearance. DEFERRED MORE INFO SOUGHT.

Karchham-Wangtoo Hydro Electric Project (HEP) (1000 MW) by M/s Jaiprakash Power Ventures Limited – Transfer of EC. CLEARED.
– The Minutes also includes the report of the site visit by the EAC sub committee regarding Eastern Rajasthan Canal Project at Sawai Madhopur, Rajasthan by M/s ACE WR Zone Jaipur, Rajasthan. http://environmentclearance.nic.in/writereaddata/Form-1A/Minutes/1203201941DF9D4U22MoMRVP27022019Final.pdf   
DAMS
EPW Transitioning to Sustainable Development Goals for Water  Large infrastructure projects threatening ecosystems and livelihoods by diverting water and depriving rural populations of access to water are being promoted in the name of drinking water provisioning. Implementation and monitoring efforts have barely made any progress on Sustainable Development Goals that involve recognising trade-offs and synergies. https://www.epw.in/journal/2019/11/commentary/transitioning-sustainable-development-goals-water.html  (16 March 2019)
Karnataka EAC approves Upper Krishna Project Stage-III On January 28, the Expert Appraisal Committee (EAC) for River Valley and Hydroelectric Projects approved the proposal with a condition that a minimum of 7 tmc of water should be released as environment flow during lean seasons. The planning of the ₹51,000-crore Stage III started in 2011, a year after the Krishna Water Disputes Tribunal-II allotted 177 TMC to Karnataka. UKP-III would utilise 130 TMC of this allotted water, and is an extension of the first two phases of the project.
While Stage I construction is complete (which included the construction of Almatti dam by 2005), Stage II is under construction. Both these stages, which were first envisioned in the 1990s, have been planned to bring 6.13 lakh hectares under irrigation through an extensive canal network. UKP-III will extend this to a further 5.3 lakh hectares in four districts of north Karnataka. Among the components is to increase the full reservoir level of the Almatti dam by nearly 5 metres to 524 m. This would increase storage from 123.5 TMC to nearly 200 TMC.
However, in the process, more than 30.8 sq km of land and 22 villages are expected to be submerged. The Environment Impact Assessment report in 2017 shows that parts of Bagalkot town may also be submerged. It is expected to cost the State govt ₹30,000 crore to rehabilitate over 23,000 families; while dam works is to cost just ₹12 crore. The project will require 214 hectares of forest land and the process of approval will commence along with the start of construction, said officials. https://www.thehindu.com/news/national/karnataka/upper-krishna-project-stage-iii-gets-green-signal/article26432965.ece   (4 March 2019)
Telangana CM pushing more dam projects CM K Chandrashekhar Rao on March 12 stressed the need to have plans ready to supplement water supplies from Godavari river to projects built on the Krishna in the eventuality of inadequate flows in the Krishna. He also called for fast-tracking construction and completion of ongoing irrigation projects in erstwhile Khammam and Mahabubnagar districts.
The CM while addressing a review meeting under-construction irrigation projects said that officials should also complete preparation of operation manuals for all irrigation projects in the State. With regard to Mahabubnagar district, he said: "Godavari flows in the adjoining Khammam district. The district has large tracts of forests and receives abundant rains. A lot of water is available at Dummugudem and if it could be lifted to a height of 195 metres, then it will be possible to irrigate the entire district."
"Despite this being the situation, it is unpardonable that Khammam is a drought-prone district. From Dummugudem, Godavari water should be lifted and carried to Bayyaram tank from where irrigation can be provided to the entire district," he said. Wherever required, reservoirs and lifts should be constructed and for areas where irrigation cannot be provided in the normal course, water should be supplied through local resources, he added.
The CM said a plan of action should be prepared to construct reservoirs and fill tanks wherever necessary to make use of water from Kalwakurthy, Nettempadu, Koilsagar, and Bhima projects. He also said officials should study the most effective way of making use of the Chinnonipally reservoir. https://telanganatoday.com/kcr-for-fast-tracking-projects-in-2-districts (13 March 2019)
Maharashtra BMC appoints consultant to study tremors at Gargai dam The Brihanmumbai Municipal Corporation (BMC) on March 12 passed a proposal to appoint Pune-based institute Central Water and Power Research Station (CWPRS), to study the tremors at the proposed Gargai dam site in Palghar district, while Nashik's Central Dam Organisation will vet the dam designs. The development comes after several tremors have rocked Palghar district since November 2018.
The Gargai dam project, which is proposed to be built on River Vaitarna, has been stuck in the pipeline for a long time now. The proposed site of the project falls under seismic zone 3, which puts the dam under the risk of a moderate earthquake. In the current budget of 2019-20 too the civic body has allocated Rs 122 crores. The civic body will now pay Rs 13.77 lakh to CWPRS and Rs 19.5 lakh to CDO for the concerned study. https://www.hindustantimes.com/mumbai-news/bmc-appoints-consultant-to-study-tremors-at-gargai-dam-site-in-palghar/story-f1SFLIWbxul9zyZ5lMOtPK.html   (13 March 2019)
The civic body will now pay Rs 13.77 lakh to CWPRS and Rs 19.5 lakh to CDO for the concerned study. It has also appointed WAPCOS LTD to conduct flood related studies under the guidance of Central Design Organisation, Nashik. The dam is on Vaitarna river in Palghar. It has also appointed WAPCOS LTD to conduct flood related studies under the guidance of Central Design Organisation, Nashik. The dam is on Vaitarna river in Palghar. https://www.dnaindia.com/mumbai/report-gargai-dam-project-one-step-closer-to-reality-2729116   (13 March 2019)
Govt to increase Sasoli dam height Maharashtra has started increasing the height of the anicut at Sasoli in its Dodamarg taluka to six meters to allow for more impounding of water. The dam will cater to the drinking as well as industrial needs 17 of its villages, Vengurla town, a few tourist centres and industrial establishments, including steel and power units at Dodamarg, Sawantwadi and Vengurla.
The Sasoli project commenced in 2014 by Maharashtra. The project is designed to supply 23.9 mld of treated water per day for drinking purposes and 88.42 million litres of raw water per day for industrial use. The total capacity of the scheme is 112.4 million litres per day. Besides the anicut across the river, Maharashtra is also in the process of constructing a jackwell with intake arrangements and a pump house. Water that will be stored at Sasoli will be lifted through four pumps of 600HP to Degve, where the govt has planned a water treatment plant.  https://timesofindia.indiatimes.com/city/goa/maha-increases-sasoli-dam-height/articleshow/68225936.cms  (2 March 2019)   
In Dec. 2014 Goa has objected to Maharashtra govt move to build an anicut at Sasoli. Goa's project of augmenting storage of Amthane dam for ensuring consistent raw water supply to the Assonora plant which supplies water to most parts of North Goa particularly Bicholim, Porvorim and Sankhali might come to a naught. The Maharastra govt is undertaking work to build an anicut in Sasoli, which will create paucity of water for Goa.
Amthane dam was constructed in 1986 with live storage capacity of about 567 ha.m. Since there is increase of drinking water demand in North Goa, PWD increased the capacity of Assonora plant from a 25 MLD plant to a 100 MLD plant. The shortfall of 75 MLD water was being met by pumping water from the Tillari canal from 2010.
The Maharastra project envisaged supply of 23.78 mld of treated water per day for drinking purposes to the villages, tourist places and for institutional and industrial requirements in the vicinity. Raw water of 88.42 mld was earmarked for industrial use. The capacity of the scheme is to pump 112.40 million ltr per day. https://timesofindia.indiatimes.com/city/goa/Maharastra-building-anicut-at-Sasoli-will-create-shortage-of-water-for-Amthane-dam/articleshow/45589639.cms  (21 Dec. 2014)
Dams on Eastern Indus Rivers Ravi dam decision taken in Dec. 2018 The Cabinet on Dec. 6, 2018 had cleared a central assistance of Rs 485 crore for irrigation component of Shahpur Kandi dam project that would be provided over five years from 2018-19 to 2022-23. As per a press release in this regard the water of the River Ravi was going waste through the Madhopur Headworks downstream to Pakistan whereas there was requirement for the same for use in Punjab and Jammu and Kashmir.
According to a tweet by Union Water Minister, Nitin Gadkari tweet, the Ujh project will store our share of water for use in J&K and the balance water will flow from 2nd Ravi-BEAS Link to provide water to other basin states.  https://www.business-standard.com/article/news-ians/ravi-river-dam-project-decision-taken-in-december-last-119022101291_1.html (21 Feb. 2019)
DRIP Loan Agreement for Additional Financing of $137 Million The World Bank, the Govt of India and representatives of 5 States and Implementing Agencies signed in New Delhi on March 8, 2019 the Loan Agreement for Additional Financing of $137 Million for the Dam Rehabilitation and Improvement Project (DRIP) in Karnataka, Kerala, Madhya Pradesh, Odisha, Tamil Nadu and Uttarakhand. In 2010, the Bank's Board approved $350 million to finance the DRIP related to 220 dams. The World Bank has so far invested $280 million in the Project.
– The additional funding of $137 million is to be used for construction of an additional spillway for Hirakud Dam in Odisha as well as continue to help in rehabilitation and improvement of other dams including strengthening the institutional, legal and technical framework for dam safety assurance within the Govt of India and in the participating States. http://pib.nic.in/newsite/PrintRelease.aspx?relid=189351   (8 March 2019)
INTERLINKING OF RIVERS
Linking Godavari, Cauvery based on "ecologically unscientific" premise SANDRP reaction to Gadkari advocacy of Godavari Cauvery link:  Sharply reacting to Union water resources minister Nitin Gadkari, who has said "linking Godavari and Cauvery rivers will be the top priority for the next NDA government", SANDRP has said, "There is no surplus in Godavari as accepted by all the concerned states", and even if one were to accept the notion of surplus in a river, it is "ecologically unscientific."
Gadkari recently said, the interlinking of Godavari and Cauvery would be done by taking the backwater of Godavari from Polavaram, taking that water to Krishna, Krishna's water to Pennar and Pennar to Cauvery — the tail end of Tamil Nadu.
Calling it a dream project, on which his ministry is working, he added, "Actually, the water problem in the country is not the problem of whole of India. There are some pockets; but basically, water scarcity is a problem related to Karnataka, Tamil Nadu, Andhra Pradesh, Telangana, Maharashtra, Gujarat, Madhya Pradesh, Rajasthan, Chhattisgarh, Jharkhand and Odisha."
Taking issue with Gadkari, SANDRP has said in reply to a query by CounterView, "In fact, both Telangana and Andhra Pradesh have said there is no surplus. The claim of Gadkari that there will be water available in Polavaram for this scheme is clearly not founded on facts."
The top advocacy group continues, "Gadkari and his government has not been able to make even two states of Madhya Pradesh and Uttar Pradesh agree to sign implementation agreement for less complicated Ken Betwa river, 14 years after signing the MoU for Detailed Project Report in August 2005", adding, this happened "even when both states and the Union were led by same party."
According to SANDRP, Gadkari knows, "what he is proposing is clearly non-starter", adding, "His diagnosis of water problem is also seriously flawed. If he says, UP and Bihar or Assam or Punjab or Haryana or Jammu & Kashmir or Uttarakhand or Himachal Pradesh, or even Meghalaya, does not have water shortage, than God save the country who has such a water minister!" https://www.counterview.in/2019/03/linking-godavari-cauvery-based-on.html  (16 March 2019)
Gadkari wrongly says that river-linking will end dispute between Karnataka and Tamil Nadu Lot of usual Gadkari speak here, but it provides a lot of food for thought. Linking the Godavari and Cauvery rivers will be the top priority for the next NDA government, Union Water Resources and Road Transport Minister Nitin Gadkari said. We are taking the backwater of Godavari from Polavaram, taking that water to Krishna, Krishna's water to Pennar and Pennar to Cauvery — tail end of Tamil Nadu.
So this is really a dream project for me, we are working on that project," he said. "Actually, the water problem in the country is not the problem of whole of India. There are some pockets, but basically, water scarcity is a problem related to Karnataka, Tamil Nadu, Andhra Pradesh, Telangana, Maharashtra, Gujarat, Madhya Pradesh, Rajasthan, Chhattisgarh, Jharkhand and Odisha. These are the states where we are facing the problem," he said. https://www.deccanherald.com/national/river-linking-will-end-dispute-between-karnataka-tn-gadkari-722960.html   (13 March 2019)
INTERSTATE WATER DISPUTES
Krishna River Waters Distribution  Krishna river board allocates between Andhra and Telangana The three-member committee meeting of the Krishna River Management Board (KRMB), which met here on March 14 allocated 29 tmc ft of water to Telangana and 17.5 tmcft for Andhra Pradesh to meet their immediate irrigation and drinking water needs till August. This allocation of 46.5 tmc ft water to the two States is from the storage in Srisailam and Nagarjunasagar reservoirs
According to the officials, apart from discussing the water indents submitted by the two States, the meeting also discussed the complaints of the two States against each other on use of water in excess of allocation made by the board. When asked after the meeting, Mr. Jain said excess use of water, if any, by the two States would be adjusted against their future allocations.
The board suggested the two States to utilise water judiciously and to avail water from Nagarjunasagar preferably with power generation. The evaporation losses and transmission losses between Srisailam and Nagarjunasagar would be deducted from the water storage in the two reservoirs.  The board has also asked the two States to maintain 510 ft level for maximum period possible. https://www.thehindu.com/news/cities/Hyderabad/krishna-river-board-allocates-29-tmc-ft-water-to-telangana/article26537766.ece (15 March 2019)
Andhra requested KRMB to release 12 tmcft water The AP govt requested the KRMB to release 12 tmcft water to cater to drinking water needs of the State during the current summer season. Already the officials of Water Resources Department wrote letters to the KRMB in this regard. As per the officials, the water is required from March first week to May end for drinking water purpose in the three regions of the State.
Indeed, the Krishna delta alone requires 10 tmcft water. But the Chief Engineer of Krishna delta submitted his report that it needs 2.5 tmcft water in the limits of three districts. Similarly, the region-wise requirements have been submitted to Engineer-in-Chief of Water Resources Department. Already the State govt identified that the people of tail-end areas in Krishna delta and Rayalaseema region were facing drinking water problem. In this backdrop, the officials submitted the drinking water needs. https://www.thehansindia.com/posts/index/Andhra-Pradesh/2019-03-07/AP-State-requests-Krishna-River-Management-Board-to-release-12-tmcft-water/508457  (6 March 2019) 
Furnish water requirements till May Before this the KRMB wrote a letter to both Andhra Pradesh and Telangana States requesting them to furnish month-wise indents up to end of May 2019. As both the States are drawing water from Krishna for Rabi crops, the water level at Srisailam was below Minimum Drawdown Level (MDDL).
The Board informed both states that the available water in Nagarjuna Sagar is 31.641 tmcft  and the water available at the dead storage at MDDL is 131.669 tmcft. The water available in Srisailam is minus 4.861 tmcft  (negative indicates below MDDL). The water available at dead storage at MDDL is 53.851 tmcft at Srisailam. However, TS officials pointed out that AP was drawing more than its quota unofficially and Telangana was drawing water allocated by the KRMB. http://www.newindianexpress.com/states/telangana/2019/mar/02/furnish-water-requirements-till-may-krishna-river-management-board-tells-telangana-and-ap-1945623.html  (2 March 2019)
Telangana cries foul over Krishna barrage Raising serious objection over construction of Vaikuntapuram barrage across Krishna river by Andhra Pradesh without taking permission from the KRMB, Telangana has urged KRMB member-secretary to direct AP not to proceed with construction of any new project on the Krishna until the barrage issue is resolved.
Engineer-in-chief of irrigation department C Muralidhar, who wrote a letter to the member-secretary of KRMB a couple of days ago, said the Andhra Pradesh CM N Chandrababu Naidu had recently laid the foundation stone for Vaikuntapuram barrage, 23 km upstream of Prakasam Barrage, in Amaravati mandal in Guntur district.
He said the barrage was proposed with a storage capacity of 10 tmc and the AP govt had already given administrative sanction of 2,169 crore for taking up the project. As per the AP Reorganisation Act-2014, planning or execution of any new project had to be appraised and recommended by KRMB and CWC and thereafter it needs sanction of the apex council, Muralidhar contended.
He wanted the AP govt to submit a DPR of the project to KRMB, CWC and the apex council and urged the member-secretary to direct the state of Andhra Pradesh to submit the same and also advise it not to go ahead with construction of the barrage. https://timesofindia.indiatimes.com/city/hyderabad/telangana-cries-foul-over-krishna-barrage/articleshow/68179018.cms  (27 Feb. 2019)
KRMB gets new chairperson The Union Ministry of Water Resources appointed Dr Rakesh Kumar Gupta, a senior official of the Central Water Engineering Service as a new chairperson to the KRMB. Gupta's appointment follows his promotion. He will take over from the current chief RK Jain.
The KRMB was constituted as part of the AP Reorganization Act to oversee the use of water stored in two major dams – Srisailam that falls in Andhra Pradesh and Nagarjuna Sagar in Telangana. Both reservoirs are meant for common use by the two States and KRMB has been playing a crucial role in deciding on the use of Krishna river water by AP and Telangana.
However, serious differences persist between the two States with Telangana holding AP responsible for over drawal of water from the river, an issue the State has complained to the Board several times. Another issue that has been pending with KRMB relates to the installation of an adequate number of telemetry systems to accurately measure water drawals by Andhra Pradesh. https://telanganatoday.com/krishna-river-management-board-gets-new-chairperson   (20 Feb. 2019)
Muktyala LIP to be completed in a year: Andhra CM N Chandrababu Naidu laid the foundation for the Muktyala Lift Irrigation scheme on Krishan river on Feb. 16. Though the ayacut in the area is under Devineni Venkata Ramana Branch Canal, which has the legitimate right for water allocation, the non-realisation of an allotted share of 32.5 tmc from Nagarjuna Sagar Left Canal on AP-Telangana border area has been resulting in poor or no supply of water to the upland fields in Krishna district for decades. To supplement the distressed ayacut in Krishna district, the Water Resources department designed a lift irrigation scheme at Muktyala for which the administrative sanction was given last month.
The 489 crore project is designed to lift a total of 2.7 tmc of water — more than 386 cusecs of water per day for 120 days — through six small pumps from the left bank of Krishna river. The officials said that two pump houses will be built about four km downstream Pulichintala project. The officials added relaxation of per acre cost was given to execute the project. While the permissible per acre cost for project execution is Rs 52,200, the Muktyala scheme would cost Rs 1.26 lakh per acre. The relaxation was given as the project would benefit a total of 38,627 acres. http://www.newindianexpress.com/cities/vijayawada/2019/feb/17/muktyala-lift-irrigation-scheme-to-be-completed-in-a-year-says-naidu-1939892.html  (16 Feb. 2019)
Andhra laid foundation stone for Vykunthapuram Barrage in Guntur CM N Chandrababu Naidu laid the foundation stone for Vykunthapuram Barrage to be constructed at an estimated cost of Rs 2,129 crore on Krishna river, at Vykunthapuram of Guntur district on March 13. The barrage will have capacity to store 10 tmc feet.  The Pulichintala project has been constructed 62 km away from the upcoming barrage and 12 km away from Prakasam Barrage.
Addressing the gathering, the CM said, "Laying of foundation for Vykunthapuram Barrage marks another historic day as on this very day in 1954 the then CM of undivided Andhra Pradesh Tanguturi Prakasam Pantulu had laid the foundation for Prakasam Barrage.  Inspired by the linking of Krishna and Godavari rivers, the govt has started a 'Maha Sangamam' to link all rivers in the State."
"The govt is giving top priority to the interlinking of Vamsadhara, Nagavali, Godavari, Krishna and Penna rivers with 140 small rivers to prevent scarcity of drinking and irrigation water in State." On the occasion, the CM said 65 per cent of the Polavaram work was completed and the project would be ready by 2019 Dec.  http://www.newindianexpress.com/states/andhra-pradesh/2019/feb/14/naidu-lays-foundation-stone-for-vykunthapuram-barrage-in-guntur-1938677.html (14 Feb. 2019)
Andhra to lay stone for Krishna river barrage The new barrage with a length of 3.068 km across Krishna river will connect Amaravati from Hyderabad-Vijayawada national highway in Krishna district.
At present, the Pulichintala project stores 30 tmcft of water and releasing excess water into Krishna river. But due to lack of storage facility, the excess water from Prakasam barrage is going waste into the sea. According to sources, during the recent rains, over 11 tmcft of floodwater from Prakasam barrage flowed into Bay of Bengal.
The master plan drafted by Singapore planners also suggested construction of a barrage across Krishna river, between Vijayawada and old Amaravati. In order to store excess water, the State had also decided to construct a barrage across Krishna river. http://www.newindianexpress.com/states/andhra-pradesh/2019/feb/13/cm-chandrababu-naidu-to-lay-stone-for-barrage-1938160.html  (12 Feb. 2019)
Editorial Needless River Linking, Indiscriminate Loot Chandrababu Naidu is in a hurry to sanction as many contracts as possible to his benamis and cronies. In this process, he is focusing on smaller projects despite the fact they would lose their relevance once the original, bigger projects are constructed. For instance, Patti Seema project would loss its relevance once the Polavaram project completed.
Now, Chandrababu Naidu has taken up one more of such projects- Godavari-Penna linkage project; only to have one more contract for his cronies. Here is the full story. The water availability has gradually come down in Andhra Pradesh and Telangana because of two reasons. The first reason is the construction of new dams in upper riparian states such as Maharashtra and Karnataka and the increased water usage is the second reason.
River linkage is one of the ideas that Andhra Pradesh govt is presently considering to face the water shortages. Despite a very clear recommendation from WAPCOS, the state govt has taken its own decision as to the Godavari-Penna linkage project. It has distorted the recommendations and gave nod for the first phase of the linkage. According to the state govt understanding, already 8,500 cusecs water is being lifted from Patti Seema Lift Irrigation Scheme into Polavaram Right Canal. Another 7,000 cusecs water will have to be lifted into Polavaram Right Canal, that water could be sent to Prakasam barrage through Patti Seema canal.
After the transportation losses and en route usage, 14,000 cusecs would reach Prakasam Barrage. From this water, 7000 cusecs could be released to Krishna Delta and the remaining 7,000 cusecs could be lifted from Harichandrapuram in two phases and released into Sagar Right Canal at 80 km point. This water would reach the ayacut. In order to make this happen, a canal of 56.5 km length and pressure mines through km are required.
The govt gave its nod for these works at an estimated cost of Rs. 6,020.15 crore on June 13, 2018. Tender notification was issued and the contract was given a favoured contractor. However, if once the Godavari-Penna linkage is done according to the WAPCOS original recommendations, the present project taken up by the state govt at the cost of Rs. 6,020.15 crore will go waste! https://english.sakshi.com/andhrapradesh-politics/2019/03/10/needless-river-linking-indiscriminate-loot   (10 March 2019)
SAND MINING
SANDRP Report Illegal sand mining wreaking havoc on rivers Detailed article on Sand Mining and impact on rivers by Bhim Singh Rawat of SANDRP in TRIBUNE.
https://www.tribuneindia.com/news/in-focus/wreaking-havoc-on-rivers/744874.html   (18 March 2019)
Haryana NGT directs 3-member committee to probe sand mining in The NGT directed a 3-member committee to inspect and verify allegations of unregulated sand mining and stone crushing in Charkhi Dadri district of Haryana. The court asked the panel comprising representatives from the MoEF, CPCB and the state pollution control board to visit the site.
The NGT on August 31. 2018 had formed a committee of representatives of state pollution control board, Mining Department, Forest Department and Deputy Commissioner Charkhi Dadri to furnish a factual and action taken report. Later, a report was submitted on Feb. 11 by the Deputy Commissioner, Charkhi Dadri, stating that appropriate devices such as stationary sprinklers etc. have been installed and the ambient air quality is being maintained.
However, the lawyer for the petitioner in the case produced photographs indicating that machines are being illegally operated for mining activities and the report does not depict correct picture of the ground situation. The tribunal was hearing a plea filed by local resident Vinod Kumar Jangra seeking directions to check alleged unregulated mining and stone crushing units which were causing air pollution and damaging the environment.  https://economictimes.indiatimes.com/news/environment/pollution/ngt-directs-3-member-committee-to-probe-sand-mining-in-haryanas-charkhi-dadri/articleshow/68014517.cms (15 Feb. 2019)
Tamil Nadu Protest against illegal sand mining Members of the DMDK and PMK staged a protest against illegal mining of sand near Vaippar on March 13. They alleged that sand was being lifted to the depth of up to 30 ft after getting permission for lifting savadu soil of up to 3 ft depth at Keezhnattukurichi near Ettayapuram. The sand was being taken using 400 tipper lorries, they added. They also raised slogans demanding compensation be paid to the government. Despite repeated complaints to authorities, the politicians said that no action was being taken.  https://www.thehindu.com/news/cities/Madurai/protest-against-illegal-sand-mining/article26522183.ece (13 March 2019)
WETLANDS, LAKES, WATER BODIES
Maharashtra 'Bhandup wetland 4 metres under debris' In Mumbai builders and govt agencies continue to destroy its wetlands, one of the more productive habitats known to prevent such natural disasters. The latest marshy area to suffer at the hands of uncaring citizens and agencies is Bhandup, which is being submerged under debris allegedly dumped by builders and the Mumbai Metro Railway Corporation (MMRC) from its works of Metro Line 3.
In an email to Mumbai district collector, the municipal commissioner, the additional police commissioner and several other officials, NGO Vanashkati has drawn attention to this "rampant dumping of debris and mud". Originally salt pans, plots bearing survey number 275 in Bhandup East, according to Stalin, are already four metres under construction waste. "It is hard to believe that hundreds of dumpers come here without the knowledge of the police and govt officials," said Stalin in the email. https://mumbaimirror.indiatimes.com/mumbai/civic/bhandup-wetland-4-metres-under-debris/articleshow/68367027.cms (12 March 2019)
Wetland illegally reclaimed In less than a year, a 400-acre wetland in Navi Mumbai which was home to about 250 species of exotic birds, has now been turned into a massive concrete patch full of debris. Environmentalists say that the wetland has been reclaimed illegally by the Jawaharlal Nehru Port Trust. https://www.timesnownews.com/videos/mirror-now/crime/wetland-illegally-reclaimed-home-of-250-species-of-exotic-birds-turned-into-a-concrete-mess/26007  (14 March 2019)
Besides destroying the natural habitat for the birds, fishermen also claim that their livelihood has also been destroyed. https://www.timesnownews.com/videos/mirror-now/society/green-cover-in-wetlands-destroyed-haven-for-birds-wiped-out-in-navi-mumbai/26147  (15 March 2019)
Local environmentalists have again reminded the state about the grave threat to the bird-rich Karal wetland in Uran, due to illegal debris dumping happening here. https://timesofindia.indiatimes.com/city/navi-mumbai/save-karal-wetland-before-its-too-late/articleshow/68382475.cms   (13 March 2019)
Chandigarh Wetland conservation training for teachers The teachers from 75 schools and colleges participated in the training programme held recently on the theme of water and wetland conservation. The topic of urbanization figured prominently in the programme, for it's the main cause of threat to the wetlands in the urban areas. And with its increase from 30% to 50% in the next decade, it was highlighted that a legal framework to protect these wetlands and their catchments are urgently needed. https://timesofindia.indiatimes.com/city/chandigarh/wetland-conservation-training-for-teachers/articleshow/68141655.cms (24 Feb. 2019)
Assess damage to waterbodies due to inaction by authorities, says NGT The NGT has directed a joint committee comprising members from the CPCB and others to determine the extent of damage caused due to inaction on the part of Gurugram authorities pertaining to contamination of water due to leachate discharge.
A Bench further directed the Commissioner of the Gurugram Municipal Corporation to file an action plan of the proposed action and preventive and remedial steps to be taken within one week. The Bench also observed that the setting up of solid waste processing facility, which was to be set up within two years from 2016, had not been implemented. https://www.thehindu.com/news/cities/Delhi/assess-damage-to-waterbodies-due-to-inaction-by-authorities-says-ngt/article26489932.ece (11 March 2019)
Karnataka SC sets aside NGT's order on lakes and water bodies The SC on March 5, 2019 set aside the NGT's order enlarging the buffer zone limits around lakes and water bodies in Bengaluru. An apex court bench allowed the appeals filed by the govt and others seeking direction for maintaining a buffer zone and green belt of 75 metre in case of lakes, 50 metre for primary, 35 metre for secondary and 25 metre for tertiary 'Rajkulewas'.
– However, the apex court said that "a central legislation enacted under Entry 13 of List I Schedule VII of the Constitution will have the overriding effect over state legislations. "The corollary is that the tribunal while providing for restoration of environment in an area, can specify buffer zones around specific lakes and water bodies in contradiction with zoning regulations under these statutes or the RMP (revised master plan)."
– "It is also clear from the materials on record that there is a definite possibility of environment, ecology, lakes, and wetland being adversely affected by these projects," it said. It said that NGT's findings that the projects for – setting up of Software Technology park, commercial and residential complex, hotel and multi level car parks in the protected zone in between the Bellandur Lake and the Agara lake — would cause serious damage to environment, were right. https://www.outlookindia.com/newsscroll/sc-sets-aside-ngts-order-on-lakes-and-water-bodies-in-bengaluru/1490586   (5 March 2019)
WATER OPTIONS
Andhra Pradesh Residents' association leads the way in groundwater conservation The JR Nagar RWA has set up eight water harvesting structures in the colony, with the latest one being rectangular with three inlets. The other seven, all round in shape with a diameter of three feet, were built in 2014. Situated in the foothills in nearly 10 acres, the colony has an advantage as water flows down copiously. The apartments and houses in the colony have rainwater harvesting pits. Some residents also have second recharge pit to collect the roof-top water.
The residents have complied with the instructions issued by the Greater Visakhapatnam Municipal Corporation that has made recharge pits compulsory in early 2,000.  JR Nagar RWA has set an example by adopting various conservation measures. In the recognition of its efforts to recharge the water table, the association has won the National Water Award instituted by the MoWR for the 2018-19 fiscal year. https://www.thehindu.com/news/cities/Visakhapatnam/residents-association-leads-the-way-in-groundwater-conservation/article26515700.ece (13 March 2019)
GROUNDWATER
Andhra Pradesh State stares at groundwater crisis The situation in Guntur, Prakasam and Nellore in the coastal region and all the four districts of Rayalaseema region is turning critical with ground water table dipping fast. The lack of rainfall in the last four months has worsened the situation. The officials are worried that they are unable to trace a drop of water even after digging borewells at a depth of 1200-1500ft. "We could not find water source even at a depth of 1500-2000 ft. We are trying to supply water to many villages in Bollapalli mandal by fetching water from neighbouring areas," said a senior official of RWS department.
The RWS department is gearing up to provide water through tankers in about 5,000 villages in the next few weeks. The department has a budget of Rs 185 crore for managing drinking water supply during the summer. About 1,500 habitations in seven districts have been identified as critical areas that need supplies through tankers.https://timesofindia.indiatimes.com/city/vijayawada/with-water-table-dipping-ap-stares-at-groundwater-crisis/articleshow/68310278.cms (8 March 2019)
Chhattisgarh Ground water depleting, threat of contamination Groundwater level is depleting fast in Chhattisgarh and there has been a significant increase in chemical contamination of fluoride, arsenic, iron, mostly in southern parts, and other heavy metals at many places in the state.
Besides, the groundwater level has failed to reach its optimum level as before in the past few years. In every rainy season, the level of groundwater in the state is about 5 to 6 meters below ground level and about 50-60 meters below ground level in the central parts of the state during summers.
The problems pertaining to ground water depletion and its contamination was at the focus at a workshop on "Groundwater management in Chhattisgarh: A step towards people's participation", organised by Central Ground Water Board, North-Central Chhattisgarh region https://timesofindia.indiatimes.com/city/raipur/chhattisgarh-ground-water-depleting-threat-of-contamination/articleshow/68321872.cms (8 March 2019)
Tamil Nadu Groundwater dips by 1 metre in 3 districts  Groundwater levels in Tiruvallur, Kancheepuram and Vellore have dropped by an average of 1 metre from Jan. 2019. Other districts in the State are no better.  According to data released for the last two months, by the State Ground and Surface Water Resources Data Centre, 19 out of 32 districts are in the red category, with water levels depleting steadily.
Vellore, Dharmapuri, and Tiruvannamalai have a high depletion rate of close to four metres. In Perambalur, the water level was falling at a rate of 4.32 metres in December 2018. Now, it has recorded 6.01 metres. Experts fear the drought this year could be worse than what was witnessed in 2017. Borewells in core areas such as Santhome, Choolaimedu, Annanagar, Triplicane and peripheral areas of Tambaram, Egatoor and Sholinganallur have gone bone-dry.
Private water tankers — which provide an approximate 600 million litres to those parts of Chennai that get an inadequate supply from the Metrowater — draw water from wells in neighbouring districts.  http://www.newindianexpress.com/states/tamil-nadu/2019/mar/11/drought-worse-than-2017-likely-this-year-groundwater-dips-by-1-metre-in-3-districts-1949460.html (11 March 2019)
Bihar Villagers in Bihar Battle Groundwater Crisis. Is Anyone Listening? Villages in Bihar are facing an acute groundwater crisis, which is expected to get worse in summers. One of the obvious reasons behind this acute shortage is the lack of rain, but there are other reason too.
According to Dharamveer a villager water wasted in homes earlier used to flow into the fields, thereby recharging the water basin. In nearby villages, ponds and lakes are drying up and water bodies are deteriorating, either through appropriation or development projects like highways. https://www.thequint.com/my-report/bihar-underground-water-crisis (4 March 2019)
Haryana Mahendragarh stone crushers violate guidelines, use groundwater The extraction of groundwater for the commercial purpose is illegal in the Narnaul and Nangal Choudhary blocks blocks, which have declared a "dark zone", because doing so depletes water table. "As per rules, every stone crushing unit is bound to install water sprinklers for checking the dust extraction to keep the environment clean, but the units cannot use groundwater for this purpose. A STP must be established so that sewage can be used to suppress the dust after treatment. The unit can buy water from government's STP set up in Narnaul to meet the need for extra water," the sources said.
A team of the groundwater cell with the Agriculture Department sealed 18 tubewells installed in stone crushing units at Jainpur, Gangutana, Bakhrija, Karota and Faizabad villages. One of the tubewells belongs to an influential leader of the BJP. Several farmers were also found selling groundwater to the units by extracting it through their tubewells meant for the agricultural purpose. The cell has put such farmers on notice. https://www.tribuneindia.com/news/haryana/m-garh-stone-crushers-violate-guidelines-use-groundwater/741841.html (12 March 2019)
Taking suo motu cognisance of a report published in The Tribune about the commercial use of groundwater by stone crushing units here in violation of guidelines, the Haryana Human Right Commission (HHRC) has sought a report from the Mahendragarh DC and the Central Ground Water Board, Union Ministry of Water Resources. The HHRC chairperson, Justice SK Mittal (retd), and its members — Justice KC Puri and Deep Bhatia — have renotified the case for July 17. https://www.tribuneindia.com/news/haryana/rights-panel-wants-reply-on-groundwater-misuse/743413.html  (14 March 2019) 
URBAN WATER
Mumbai Agency to study proposed Gargai dam's construction area The BMC wants to appoint Pune's CWPRS to conduct a study of the proposed Gargai dam's construction area that falls in an earthquake-prone region in Palghar district. It will pay CWPRS ₹13.77 lakh for the study. Besides, it wants to appoint Central Design Organisation (CDO) of Nashik for vetting Gargai dam project designs and the dam's hydrology report. The CDO will be paid ₹19.5 lakh for the job. A proposal to appoint these agencies will be put forth before the standing committee on March 12.
One of the BMC's most ambitious projects to increase water supply to Mumbai, Gargai dam has been in the pipeline for years. Even in this year's annual budget, the BMC has set aside ₹122 cr towards preliminary work. A consultant is expected to submit a detailed project report, including designs, soon. The dam is expected to add 440 MLD to the city's water supply. The BMC has planned two dams, Gargai and Pinjal, in view of the city's increasing water demand. Besides, it has planned a Damanganga-Pinjal river link project that will be executed by the govt along with Gujarat. https://www.thehindu.com/news/cities/mumbai/agency-to-study-proposed-gargai-dams-construction-area/article26502980.ece (12 March 2019)
Chennai Work to begin on water treatment plants along lakes The Chennai Metrowater will begin work to design the modular water treatment plants along Retteri, Ayanambakkam and Perumbakkam lakes and use the reclaimed water for city water supply next week. The ₹152.40-crore project, including the drawal from abandoned quarries in Erumaiyur, were inaugurated a week ago. A total of 30 mld (10 mld from each lake) is expected to be drawn to deal with Chennai's growing water demand through on-site plant.
The water agency also plans to add 10 mld capacity tertiary STPs in Nesapakkam and Perungudi to further improve the quality of sewage. The reclaimed waste water will be blended in Porur and Perungudi lakes. Water drawn from the lakes will again be treated and linked to the existing water supply network.
Two 10-mld water treatment facilities are also being designed to be set up along Porur and Perungudi lakes with the approval of IIT-Madras. Their capacity will be enhanced later up to 100 mld as per requirements. The projects will be completed within a year. The scheme to draw 10 mld water from abandoned quarries in Erumaiyur will take shape in three months and work on designing the alignment of the pipeline to the Chembarambakkam treatment plant is in progress. https://www.thehindu.com/news/cities/chennai/work-to-begin-on-water-treatment-plants-along-lakes/article26549043.ece  (16 March 2019) 
Can it really afford desalination plants? City is going to have third desalination plant, of 550 MLD capacity. The govt spends a mammoth Rs 1.36 crore every day in Operational and Maintenance (O&M) costs to source 200 MLD water from the existing desalination plants at Minjur and Nemmeli.  This hefty drain on the exchequer could be reduced by more than four times if we can rely on surface water resources — lakes, ponds and quarries.
In simpler terms, the govt would be spending only Rs 29 lakh to acquire the same amount of water from the water bodies of Chennai. That should not be a great challenge given that the proposed Chennai Metropolitan Area is blessed with 4100 water bodies, as pointed out by S Janakarajan, retired professor of MIDS.
State govt spends close to Rs 500 crore per annum to get just about a fourth of Chennai's water requirement (of more than 830 MLD).  The current cost of procurement of 200 MLD from desalination plants is higher than the 450 MLD sourced from the four reservoirs, agricultural wells and quarries. http://chennai.citizenmatters.in/chennai-cost-of-desalination-vs-surface-water-treatment-plants-8405 (7 March 2019)
Borewells in core areas such as Santhome, Choolaimedu, Annanagar, Triplicane and peripheral areas of Tambaram, Egatoor and Sholinganallur have gone bone-dry. Though levels in Chennai were not recorded by the data centre, decreasing water levels in neighbouring districts directly takes a toll on Chennai's drinking water sources. Private water tankers – which provide an approximate 600 million litres to those parts of Chennai that get an inadequate supply from the Metrowater – draw water from wells in neighbouring districts. 
Foundation stone for drinking water and underground drainage projects for Chennai worth Rs 666.75 crore was laid by CM Edappadi K Palaniswami at the secretariat March 10. To carry out underground drainage connections for Chinnasekkadu, Manapakkam, Karapakkam, Nerkundram, Mugalivakkam and Manali, Rs 419.19 crore has been set aside, said a release from the Department of Information and Public Relations. To ensure uniform distribution of water in the Valasaravakkam, Rs 69.6 crore has been earmarked and to upgrade the pumping station at Alandur, Rs 25.5 crore allotted. Additionally, similar projects for the state worth Rs 197 cr were also unveiled. http://www.newindianexpress.com/states/tamil-nadu/2019/mar/11/drought-worse-than-2017-likely-this-year-groundwater-dips-by-1-metre-in-3-districts-1949460.html (11 March 2019)
Krishna water for 2 more weeks The Andhra Pradesh govt, which had initially agreed a release of 800 cusec water as part of the Telugu Ganga project has brought it down to 400 cusec — that too happened only in the last few days, PWD officials added. The AP officials had then agreed to release 2000 million cubic feet (TMC) of water. However, the monsoon failure in AP has forced them to gradually reduce the flow of water.
The officer said that the water is being illegally tapped along the canal. People have even sunk motors in the canal to tap water for irrigation. Though the PWD officials have noticed this in several places along the canal no action could be taken, he said. "When the Krishna water pact was signed, the TN govt should have laid pipes to bring the water from AP. Now, that will be difficult as it will strain the relationship between the two states. Acquiring land for laying the pipe is itself a major task these days," the officer added. https://timesofindia.indiatimes.com/city/chennai/tn-may-receive-krishna-water-for-2-more-weeks/articleshow/68103228.cms  (22 Feb. 2019)
Bengaluru Water Institute's first task is to clean its own backyard Bangalore University's only engineering College, University of Visvesvaraya College of Engineeringand UVCE Foundation (alumni group) entered into a MoU to set up a Water Institute in the Civil Engineering department which is located in the Jnanabharathi Campus. The laboratory will be funded by the Foundation and other donors. It will pass on the research data to the govt of Karnataka so that future projects can be scientifically executed.
The Water Institute has its task cut out already. Professor, A S Ravikumar, Department of Civil Engineering, UVCE says, "Our first task is to stop the flow of contaminants into the Vrishabhavathi river which cuts across the university campus in Jnanabharathi. We should stop the ground water in the campus from getting contaminated."
Secondly, the Institute will also study river basins and lakes in the State. "We will also be studying river basins and how to protect them. Lakes will also be studied to identify the amount of pollutants in the water. This will also involve checking the inflow and outflow capacities and making recommendations." https://bangaloremirror.indiatimes.com/bangalore/others/water-institutes-first-task-is-to-clean-its-own-back-yard/articleshow/68399805.cms (14 March 2019)
Water mafia taking advantage of shortage by charging exorbitant prices Residents of multiple areas in Bengaluru, including Bellandur and Sarjapura claim that they have been receiving little or no water which has forced them to buy private water tankers at exorbitant prices. Local residents claimed that this situation has given rise to the water mafia in Bengaluru. In fact, some even claim that private water tankers are sourcing water from a local lake and selling it to housing societies and RWAs at a price of their choosing.
An engineer with the BWSSB said that the water crisis is caused, in part, by power interferences. "The city of Bengaluru is located 3,000 feet above sea level and 1,500 feet above the Cauvery belt", he says. The engineer adds, "Water is pumped up to the city of Bengaluru via a 500 feet long pipeline and the same is being interrupted by power failures which have caused the water shortage." https://www.timesnownews.com/mirror-now/civic-issues/article/karnataka-bengaluru-bangalore-bwssb-water-shortage-crisis-mafia-private-tankers-residents/382511  (14 March 2019)   
Kurnool DC warns RO units on water quality  District Collector S Satyanarayana on March 9 warned those RO units that do not comply with BIS standards that they will not be allowed to vend water to public. "We give 45 days time to comply with the guidelines. If you fail, you loose the license", he said. In a warning to the RO units, the District Collector said that every unit has to be certified by pollution, SSI, ISI and 14 other registration authorities.
While Kurnool city apprehends a situation of severe drinking water crisis, private firms continue to thrive on selling water that is processed by reverse osmosis (RO) method. With the number of apartment buildings coming up on the rise in every colony, drinking water business has picked up. The illegal trade has been thriving with the tacit support of political leaders and their henchmen. Some of the residents, however, detected that though the bottlers claimed it was RO processed, what was being supplied to them were cans or bottles that were filled with municipal water. https://www.deccanchronicle.com/nation/current-affairs/170219/kurnool-collector-warns-ro-units-on-water-quality.html (17 Feb. 2019)
Thirvuvananthapuram Residents facing water crisis Residents in some areas of Kerala's capital city have found themselves in a difficult position. Parts of Thiruvananthapuram are facing shortage of drinking water. However, the crisis is not a result of the onset of summer, but an issue regarding the terrain of the district. With the population and buildings in the city increasing steadily, the water supply has taken a hit. And it is the people who live in elevated areas who are most affected. The lesser the water, the tougher it is to pump to elevated areas. https://www.thenewsminute.com/article/thirvuvananthapuram-water-crisis-residents-living-elevated-areas-worst-affected-98315 (14 March 2019)
Hyderabad Growing water crisis The city is facing short supply of drinking water to the extent of 5 MGD, the effect of which is being borne by residents of Serilingampally and Rajendranagar. As a result, about 10,000 connections in these areas are being affected, with water supply limited to only once in three days.
From Ring Main on river, city is now drawing 32 MGD of drinking water, M. Dana Kishore, MD of HMWSWB said. He attributed the shortage to lack of supplies from Singur and Manjeera reservoirs, from where 57 MGD of water was being drawn earlier. In place of 423 MGD supplied earlier, the city is drawing 418 MGD. Osmansagar and Himayatsagar reservoirs are also contributing 17 MGD to fill the gap, and efforts will be made to purify and pump more water from there, he said.
To meet the city's needs, orders have been issued for establishment of 20 more filling stations for water tankers, in addition to the existing 70. Orders have also been issued to commission 100 more private tankers in addition to the existing 525 within one week, which will supply water at the rates fixed by the water board — ₹500 for five kilolitres, and ₹1,000 for 10 kilolitres for domestic consumption and ₹850 for five KL and ₹1,700 for 10 KL for commercial.  https://www.thehindu.com/news/cities/Hyderabad/gandipet-godavari-to-the-rescue-this-summer/article26515532.ece (13 March 2019)
Polluted water poses diarrhoea threat The residents of Madina Nagar (Block B) in Yakutpura, has been receiving contaminated water for some time, but the problem remains persistent since last 20 days. They have been complaining about the issue, even though the authorities responded they are yet to resolve the matter. According to residents, HMWSSB supplies the water every alternative day for 3-4 hours. https://www.thehansindia.com/telangana/polluted-water-poses-diarrhoea-threat-511807 (13 March 2019)
Panchkula 35 taken ill after drinking impure water Over 35 people fell sick after drinking contaminated water in Sector 19 on March 17. Local residents alleged that the pipelines of sewer and water supply were damaged during the digging work carried out by a mobile company to install a tower near a shrine in the sector. It resulted in the outbreak of diseases. https://www.tribuneindia.com/news/chandigarh/35-taken-ill-after-drinking-impure-water/744269.html  (17 March 2019)
WATER
Telangana Shortage of drinking water looms large Even before the summer has completely set in, the tribal hamlets in the Kothagudem district are facing severe drinking water shortage issues. The mandals of Cherla and Dummagudem, where tribal population is concentrated, are close to the borders of Chhattisgarh and Odisha States. Despite majority of the agency villages situated close to the banks of river Godavari, many of the villages are facing drinking water issues.
Due to lack of proper drinking water supply, the tribals mainly depend on borewells fitted with hand pumps. Even with the borewells going dry, the inhabitants are now depending on water holes dug on the bed of streams and river Godavari. At present, some villages are able to get water from streams and the river. However, they worry over possible shortage of water in April and May, when the summer is intense. While the residents of Bakkachintalapadu, Kranthi Nagar, BSR Nagar and Kondavaigudem are facing the drinking water problems from the very beginning of March, in Adavi Ramavaram village of Cherla mandal, the people have to travel several km to fetch water. https://www.thehansindia.com/telangana/shortage-of-drinking-water-looms-large-in-agency-512518  (16 March 2019)
Haryana Drinking Water in Gurugram's Mewat The Wire video report on Mewat region, where people have to travel for as much as 8 hours every day to manually carry drinking water for their household needs. https://thewire.in/video/ek-kahani-ye-bhi-drinking-water-in-gurugrams-mewat (10 March 2019)
Opinion 'New India' Alarmingly Water-Stressed by Siddharth Goel "As we head into another general election with the promise of a 'New India', it's essential that environmental considerations are pushed to the forefront of parties' manifestos. After all, the climate is changing and the wells are running dry."  https://thewire.in/environment/we-are-already-living-in-a-new-india-and-its-alarmingly-water-stressed  (17 March 2019)
AGRICULTURE
Report Rural distress deepens: Wage growth dips, non-farm jobs hit The last five years, in other words, have seen a slowdown in rural wages even after adjusting for inflation, which has been far lower than during the UPA regime. https://indianexpress.com/article/india/rural-distress-deepens-wage-growth-dips-non-farm-jobs-hit-5619766/  (11 March 2019)
India's Missing Agriculture data Very interesting article by a former secretary, Ministry of Agriculture, on quality of agricultural data  in India even from a source about which he rightly says: "The directorate of economics and statistics (DES) in the department of agriculture (DAC) does a great job to generate and publish data collected from states. 'Agriculture Statistics at a Glance' is the most trusted source of data on agriculture. From 2016, the department has also started publishing 'Horticulture Statistics at a Glance'."
– KEY REQUIREMENT FOR GOOD DATA: For good data, there are three conditions: it should be available without much delay, should be consistent over time and must be comparable with other data sources. https://thewire.in/agriculture/indias-missing-agricultural-data   (13 March 2019)
How can India increase productivity STUNNING from CHINA: In March 2018, Nature magazine published a groundbreaking 10-year study by China Agriculture University involving millions of smallholder farmers adopting enhanced practices. Through a scaled, countrywide effort, farm productivity rose by 11% while the use of nitrogen fertilizers — critical to increasing crop productivity, but also harmful to the environment when overused — declined by 14-18%. The profitability of the intervention, even before monetising the positive environmental impacts, was $12.2 billion. The programme was an impressive marriage of knowledge workers, researchers, farmers, new technology, and businesses — all supported by a committed government that stayed the course. The result stunned the scientific community for its scale, success and impact. https://www.hindustantimes.com/columns/how-india-can-increase-its-farm-productivity/story-fWZSoF51pzR5ahEea9DPxN.html  (12 March 2019)
West Bengal Smart farming changes farms, fortunes Farmers of West Bengal are resorting to rice transplanters and zero tiller machines to save water and labour cost and to increase productivity. https://www.indiawaterportal.org/articles/smart-farming-changes-farms-fortunes-bengal  (14 March 2019)
Opinion Water management key to sustainable agriculture growth in India Not agreeing with other things in the article by By RG Agarwal, this information is relevant:-  About 78% of the fresh water is consumed by agriculture. The inequity in irrigation water allocation among crops, with more than 60% being diverted for the cultivation of two water-guzzling crops (sugar cane and paddy), adds to the distress. These two crops are being cultivated widely in some of the most water-stressed regions of the country. These must be shifted to regions that have a higher water table. Instead, cultivation of less water-consuming crops like maize, pulses and oilseeds should be encouraged in water-stressed regions.
Most states provide subsidised or free electricity to help farmers pump out water for irrigation. This has led to declining groundwater tables. It is estimated that Indian farmers use 2-4 times more water to produce a unit of a major food crop than in China or Brazil. With the fall in water table, there is an increase in the cost of pumping, salination, heavy metals, etc, raising questions about the cost of crop production and the quality of the produce. Such systems must be reviewed. https://www.financialexpress.com/opinion/water-management-key-to-sustainable-agriculture-growth-in-india/1515331/ (14 March 2019) 
DROUGHT
Nation Intense water deficits forecast for Gujarat, MP, Maharashtra, & Karnataka ISciences latest forecast for South Asia: The near-term forecast through May indicates that exceptional deficits will shrink and downgrade in southern India but are expected along the Tungabhadra River through Karnataka and in northern Kerala. Primarily moderate deficits are forecast in Gujarat, Maharashtra, and Andhra Pradesh; some severe to extreme pockets are forecast in Madhya Pradesh around Chhindwara in the south and northwest of Bhopal. Moderate to severe deficits are expected in India's Far Northeast. Surpluses are forecast from Punjab through Jammu and Kashmir (J&K) in the north, and in the western Gangetic Plain in Uttar Pradesh. Surpluses will be exceptional in J&K and on the Ganges and the Ghaghara Rivers until they meet, and extreme on the Ganges through Bihar. Surpluses of varying intensity are expected along the Yamuna and Chambal Rivers. https://www.isciences.com/blog/2019/02/15/south-asia-intense-water-deficits-forecast-for-gujarat-madhya-pradesh-maharashtra-karnataka     (15 March 2019)
Maharashtra Jayakwadi dam to hit dead storage soon Jayakwadi Dam, which opened in 1976, was meant to serve irrigation purposes in drought-prone Marathwada. With its levels sinking so low this year, it will be able to release water only for drinking water purposes till the arrival of the next monsoon.
Collective storage in different dams of Marathwada along with barrages built on Godavari River and other major rivers from the region has dipped to 5%, and the rains are still over two months away. Notably, as many as six major irrigation projects from the region have already hit dead storage in the region, as rains were well below normal in the previous rainy season.
The major dams of Marathwada which have hit the dead storage include Sina Kolegaon from Osmanabad district (-68%), Majalgaon (-14%) and Manjra (-13) from Beed district, Sidhheshwar project (-1%) and Lower Dudhna (-1.4%) from Parbhani district and Yeldari dam (-2%) from Hingoli district.
In the wake of lesser storage due to deficient monsoon, MWRRA had ordered release of 8.99 TMC water into Jayakwadi Dam from upstream dams in Ahmednagar and Nashik districts. However, only around 60% of total water released could reach Jayakwadi Dam due to conveyance and other losses. https://timesofindia.indiatimes.com/city/aurangabad/just-1-5-live-storage-jayakwadi-dam-to-hit-dead-storage-soon/articleshow/68399052.cms (14 March 2019)
Squads to keep tabs on water theft along canal In order to ensure water reaches beneficiaries through canals during rotation of drinking water only even in the face of acute-water crisis, the Nasik district administration has ordered the sub-division officers to form squads which will patrol the entire length of the canal to keep a check on water thefts. The directive has been issued keeping in line with a government resolution that was out in February, stipulating the formation of such squads to ensure drinking water reaches the beneficiaries.
MWRRA allows the water resources department (WRD) to prevent water from being stolen for other purposes when it is reserved only for drinking and in such cases, FIRs can also be registered at police stations. In 2016, the district administration had registered cases against farmers for stealing when water was being released from Palkhed dam and canal for Yeola for drinking purpose. https://timesofindia.indiatimes.com/city/nashik/squads-to-keep-tabs-on-water-theft-along-canal/articleshow/68443494.cms  (17 March 2019)
How disastrous Maharashtra's moves on water have been are evident from the fact that while the state suffered a 27% deficiency in rainfall in 2015 as compared to 9% in 2018, the number of drought-hit villages has risen. https://www.financialexpress.com/opinion/maharashtras-water-wars-state-must-discourage-sugarcane-farming-fix-water-usage/1516661/  (15 March 2019)
Between Oct 2018 and Feb 2019, the Maharashtra govt has declared 151 talukas & 268 revenue circle as drought-hit. https://www.downtoearth.org.in/news/agriculture/drought-but-why-what-happened-to-the-promise-of-a-drought-free-maharashtra–63417  (11 March 2019)
Gujarat Farmers protest, demand release of Narmada water to save Rabi crops While farmers in and around Sanand agitated for release of Narmada water for one more cycle of irrigation for their wheat and bajra crops, their counterparts in Bhavnagar also held a similar agitation. They have decided to block the Bhavnagar-Pipavav highway if water is not released by March 22," said Sagar Rabari, head of Gujarat Khedut Ekta Samiti, who accompanied the protesting farmers in Bhavnagar. "Last year, they had given water till March 15. This year they stopped at the end of February. The state government should remember that the farmers had sown their Rabi crops late," Rabari added.
According to SSNNL officials, irrigation water was stopped in most canals February 28. "But, when we received requests from many farmers for one last cycle of irrigation, we had released irrigation water till March 10," said an SSNNL official. https://indianexpress.com/article/cities/ahmedabad/gujarat-farmers-protest-demand-release-of-narmada-water-to-save-rabi-crops-5627259/   (15 March 2019)
Kerala Kalpetta: Water scarce in summer scourge With soaring heat  and wildfires ravaging jungle zones of Wayanad wildlife sanctuary,  the animals are out in human habitats in search of water and fodder, intensifying the man-animal conflict. Many forest ranges of Wayanad wildlife sanctuary had witnessed massive wildfires as a result of friction between forest staff and farmers due to the failure of the forest department in ending the recurring wildlife raids into farm fields. 
As the water resources dry up fast in WWS and the number of animals increases due to migration from adjacent sanctuaries,   the forest department is in a tight spot. What is worrying the forest officials is the fact that this year the drought as well as massive wildfires in adjacent wildlife zones had dried up early.   https://www.deccanchronicle.com/nation/current-affairs/180319/kalpetta-water-scarce-in-summer-scourge.html  (18 March 2019)  
Report Drought aggravates poverty By Purnamita Dasgupta, Smita Sirohi Narratives of agrarian distress in economies that depend on agriculture to a great extent have unfortunately become familiar. India has 86 per cent small and marginal farmers, who own less than 2 hectares of farmland.
More than 60 per cent of the country's population depends on agriculture and allied activities for livelihood. Though there are multiple drivers of risk in such a situation, it has become apparent that the fate of Indian farmers is linked to the vagaries of nature. In particular, the occurrence of drought creates social and cultural disruptions across farming households, and brings about huge economic losses. https://www.downtoearth.org.in/news/agriculture/drought-but-why-how-poverty-is-aggravated-63493  (15 March 2019) 
SOUTH ASIA
Indus Water Treaty Indian Team's Visit To Pak For Indus River Basin Inspection Postponed Amid heightened tensions between New Delhi and Islamabad, a reciprocal visit by the Indian team to Pakistan for inspection of projects in Indus river basin this month has been postponed, senior officials said on March 10. The official remained non-committal about the date, but said the visit has to take place by March 2020. https://www.ndtv.com/india-news/indian-teams-visit-to-pak-for-indus-river-basin-inspection-postponed-2005613 (11 March 2019)
Bangladesh Dead rivers tell many tales By Toriqul Islam  Today, the skeletons of the rivers leave so many inglorious stories behind. The sheer volume of the atrocities which the rivers in this country have had to face, is staggering.
A few recent offences against the rivers, especially against the two major rivers — Buriganga and Karnaphuli, lifelines of the capital city, Dhaka, and business capital, Chattogram respectively — are recapitulated here to portray the gravity of the situation. The pollution and encroachment of the rivers have already hit rock-bottom. https://en.prothomalo.com/opinion/news/192509/Dead-rivers-tell-many-tales  (14 March 2019) 
14 rivers in Dinajpur dry up due to lack of dredging Fourteen small and large rivers – including Atrai, Karatoya, Kakra, Punarbhaba and Dhepa – flow through Dinajpur. However, almost all of them are vanishing due to lack of dredging, unrestrained river grabbers and illegal establishments. The riverbeds are now filled with silt, sediment and dust particles, causing the narrow streams to become narrower over time. Meanwhile, various crops such as Boro, wheat and corn are being cultivated on the desiccated riverbed. The length of these rivers in Dinajpur is approximately 724km.
Some of these rivers look like deserts, where cattle are wandering, and tractors and trucks are plying. Additionally, the encroachment of land by the rivers is also underway with full force. People are constructing buildings and establishments along the banks, posing a threat to the dim existence of the rivers. However, Bangladesh Inland Water Transport Authority has started dredging works in the Tulai, Atrai and Kakra rivers. https://www.dhakatribune.com/bangladesh/nation/2019/03/10/14-rivers-in-dinajpur-dry-up-due-to-lack-of-dredging (10 March 2019)
India Bhutan China Eyes Cracks in a Strategic Indian Partnership India-Bhutan hydropower cooperation has economically strengthened Bhutan, but its inability to relieve Bhutanese unemployment has led Thimphu to seek economic diversification. https://intpolicydigest.org/2019/03/16/china-eyes-cracks-in-a-strategic-indian-partnership/  (16 March 2019)
CHINA
China's acute water shortage imperils economic future The water resources of the 112m population of the Beijing/Tianjin/Hebei region, equate to half of acute scarcity. In the past 25 years, 28,000 rivers have disappeared. Groundwater has fallen by up to 1-3 metres a year. One consequence: parts of Beijing are subsiding by 11cm a year. The flow of the Yellow River, water supply to millions, is a tenth of what it was in the 1940s; it often fails to reach the sea. Pollution further curtails supply: in 2017 8.8 per cent of water was unfit even for agricultural or industrial use. https://www.ft.com/content/3ee05452-1801-11e8-9376-4a6390addb44   (28 Feb. 2018)
ASIA
Report Rivers under threat Two books explore our obsession with harnessing the waterways' power The main villains in Brian Eyler's lament for south-east Asia's most important river, Last Days of the Mighty Mekong, are not industrial polluters or the fossil-fuel producers that have contributed to climate change and glacier-melt on the Tibetan plateau but the hydroelectric dam-builders of China and Laos. Eyler, director of the south-east Asia programme at the Stimson Center in Washington, concludes that ecologically and commercially hydropower is fast becoming an "obsolete technology".
Humanity's obsession with dams, first for irrigation and later for electricity, is not new. In Unruly Waters, Sunil Amrith, a professor of South Asian studies at Harvard University, examines the dilemma from a historical perspective, meticulously researching the colonial and post-colonial attempts to control the region's rivers for human ends. It was Jawaharlal Nehru, first PM of independent India, who called dams "the new temples of India". https://www.ft.com/content/27455c8a-181d-11e9-b93e-f4351a53f1c3 (12 Feb. 2019)
Myanmar Will China decide the future of Myanmar's rivers? Despite efforts by proponents to portray the socio-economic benefits of large dams as outweighing costs, local people in Myanmar are only too aware of the detrimental consequences of these projects on communities and the environment.
 "We're fine with our livelihoods. We can feed our families. There are rivers, forests and natural resources to secure our future. But we've been in active armed conflicts for over seven decades. Dam projects, big or small, will create a burden for us. What we need is peace, not dams," said Saw Tha Poe, a Karen environmentalist from the Salween River when we met recently in Yangon.
But most large dams are designed to transmit power for export or to urban and industrial centres rather than local communities. Large dams on the Salween were designed to export power to Thailand and southern China, where there is currently significant overcapacity and little need for new electricity imports.
There are also thousands of decentralised off-grid and very small power plants that are already helping to serve local needs, yet the role of these, and the potential for expansion of new, affordable, appropriate technologies is largely ignored in leading energy plans.
A variety of energy and development pathways exist for Myanmar, but these have not yet been systematically studied. A pathway to peace and environmentally-sound development requires the country's energy planners to listen first and foremost to her people. https://www.eco-business.com/news/will-china-decide-the-future-of-myanmars-rivers/ (11 March 2019)
Indonesia Flash floods, mudslides kill at least 58 in Papua Torrential rains submerge hundreds of houses in neck-high water and mud in Indonesia's easternmost province. Flash floods and mudslides triggered by days of torrential rains tore through mountainside villages in Indonesia's easternmost Papua province, killing at least 58 people, wounding scores and forcing more than 4,000 from their homes. https://www.aljazeera.com/news/2019/03/flash-floods-mudslides-kill-50-indonesia-papua-190317062526426.html  (17 March 2019) 
Cambodia Toward a Sustainable Water-Energy-Food Future Stimson's Southeast Asia Program is to share the fifth issue brief in Stimson's Letters from the Mekong series, which explores the vital role that Cambodia's Tonle Sap Lake plays in the Mekong and identifies alternative pathways for development which can optimize trade-offs to the water-energy-food nexus. These alternative approaches include basinwide water-energy planning and a deeper incorporation of non-hydropower renewable energy sources into Cambodia's future power mix. If utilized, these alternative pathways can avoid upstream fragmentation of Tonle Sap and Mekong Basin connectivity and preserve the annual monsoon pulse, which underpins the unique conditions that make the Tonle Sap the world's largest freshwater fishery.
Each year, the entire Mekong Basin produces a 2.6 million tons freshwater fish catch that supports the diets and livelihoods of more than 60 million people living in the basin. To put this into perspective, the total catch from wild fisheries in all of North America's lakes and rivers is only 450,000 tons.
The Tonle Sap Lake alone provides an annual freshwater fish catch of around 500,000 tons, which provides Cambodians with 75% of their protein intake. Hundreds of species of fish spend a portion of their lives in the Tonle Sap and then migrate to other parts of the Mekong River system in Laos, Thailand, and Vietnam where some are caught and contribute to the Mekong's overall fish catch. The report can be seen here.   https://www.stimson.org/content/letters-mekong-toward-sustainable-water-energy-food-future-cambodia-0  (27 Feb. 2019)
Sand grab wrecking ecosystems and communities Sand mining in the Koh Kong estuary has led to erosion of riverbanks and the loss of habitat for fish. Deep in rural Cambodia, Chan Vanna pushes his longtail boat through the calm waters of the Koh Kong estuary. Until about 10 years ago, Vanna made a living fishing here, providing for his wife, Wid, and their seven children. Then one day, he says, giant machines showed up at their small inlet and started dredging sand from the bottom of the river.
"They never discussed with our community," Vanna says. "They came to dredge and the land fell down. And the water became deep." The land "fell down" because the dredging caused the riverbanks to wash away. Now, Vanna says, there are no fish, because without any shallow water, they have nowhere to spawn. What was once a creek is now a wide river. Sa says many of the trees that protected the land have died. Even the crocodiles left.
It's a scene that's been repeated throughout coastal Cambodia for a decade. And not just here, but also in Vietnam, Indonesia, Myanmar and Malaysia and beyond. Rampant and often illegal dredging is part of a global sand grab that has made sand the second-most widely consumed natural resource after water.
Singapore has expanded its land area by 20 percent over the last 50 years, often using sand dug up elsewhere in Southeast Asia. Even after all its recent growth, Singapore's govt estimates it will need to add another 22 square miles to its current borders to accommodate population growth. https://www.pri.org/stories/2018-07-19/global-sand-grab-wrecking-ecosystems-and-communities-around-world (19 July 2018)
THE REST OF THE WORLD
DAM BREACH IN US Spencer Dam Break Causes Corps To Raise Gavins Point Dam Releases Spencer dam, located south of Spencer, Nebraska, which plays a major role in controlling the Niobrara River's flow into the Missouri River near Niobrara, breached on March 14, 2019. This led the Army Corps to increase the water releases from Gavins Point Dam to 90 000 Cusecs, not seen since 2011.
The dam reach and floods have left two towns (Niobrara and Verdigre) without any water supply and poor road access. Another eight thousand people in Norfolk have been evacuated due to fear of levee breach along Missouri River.  The problems started with heavy rains on March 12 onwards. https://www.yankton.net/community/article_f8637fcc-46cb-11e9-8d13-d388f1b32cac.html  (14 March 2019)
US MIDWEST FLOODS: Preparations Made to Shut Down Missouri River Nuclear Plant Meanwhile, Ericson Dam in north-central Nebraska is at high risk of failing as the Cedar River continues to rise, according to a report. Officials in Boone County, downstream from the dam, also warned of the "imminent failure" of the dam, Boone County News reported. This is following failure of Spencer day earlier. More evacuations happen along the Missouri river in USA following levee weakening or failures, at short notice. In Sarpy County, Nebraska, where floodwaters compromised a levee, some 1,200 hundred people along the Missouri River were told to evacuate, while another 1,400 along the Platte and Elkhorn rivers were asked to leave. In Nebraska, the rising Missouri River meant officials were preparing to shut down the Cooper Nuclear Plant in the town of Brownville.
– Wisconsin: In southwestern Wisconsin, many roads in the town of Darlington were cut off by floodwaters on Friday. Homes and businesses took on water as the Pecatonica River rose to its highest level since 1993. Some Brown County residents, including some of the 14,000 living in the village of Bellevue, were ordered to evacuate overnight as floodwaters along the East River continued to rise, according to NBC26. https://fromthetrenchesworldreport.com/deadly-historic-flooding-swamps-plains-midwest-preparations-made-to-shut-down-missouri-river-nuclear-power-plant/243333  (15 March 2019)
Record-High Floods in Nebraska Breach Levees and Isolate Towns More levee breaches on the Missouri River on March 16, 2019, prompting widespread evacuations and isolating neighborhoods and towns. Record-high river levels were reported in at least 38 locations in the Midwest, particularly in Nebraska and Iowa. Heavy flooding was also reported in Wisconsin, Minnesota and South Dakota, and the National Weather Service said it would continue past the weekend.
– Floodwaters had surrounded the town of Fremont, Neb., about 40 miles northwest of Omaha, said Councilwoman Linda McClain. The town sits between the Platte River to the south and the Elkhorn River to the north. Both rivers had overflowed their banks. https://www.nytimes.com/2019/03/16/us/nebraska-flooding.html  (16 March 2019)
Nebraska City Cut Off, Bridges Washed Out, Levees Breached Nebraska City Cut Off, Bridges Washed Out, Levees Breached Thurman, Iowa, began evacuations about 7:30 a.m. Sunday (March 17, 2019) EDT as fast moving water approached the town in the southwest corner of the state. The National Weather Service said the flooding was likely the result of levee breaches on the Missouri River. Areas of other Iowa towns had already evacuated, including Hamburg, Percival, McPaul and Bartlett. The flooding earlier turned Fremont, Nebraska's sixth largest city into "an island."
– Mark Becker, spokesman for the Nebraska Public Power District, previously told the Omaha World-Herald that if the river rises to 45.5 feet this weekend, as projected by the NWS, the nuclear power plant, which accounts for 35 percent of NPPD's power, will have to be shut down. The water surpassed that level early Saturday and reached an all-time record 45.64 ft.
– After surveying the extensive flooding from the air, Nebraska Gov. Pete Ricketts said in a Friday press conference that it was the "most widespread flooding damage we've had in the last half-century." https://weather.com/news/news/2019-03-16-deadly-flooding-midwest-impacts  (17 March 2019)
North America In Mississippi backwater, flood rises after weeks of waiting Worst flood since 1973:- Weeks of rainfall have fed high waters in the Mississippi River, which is lined with a levee that keeps those waters contained. The rain that swelled the Mississippi has also sent water rising between the backwater levee and the even taller levee along the Mississippi. But the big economic blow will fall on farmers. By the time things dry out, it will be too late to plant corn. It may still be possible to plant cotton, but farmers might be limited to a late planting of soybeans. https://apnews.com/fb6a5e2860cb4b048a029b54ef56a5d1 (12 March 2019)
Columbia SC senators move to weaken dam safety laws in a state where dams break every year  Some states of USA like South Carolina are in the process of weakening dam safety Act. Since a historic flood swamped Columbia and eastern South Carolina in 2015, 87 dams have failed during storms. At least a dozen failed during Hurricane Florence last fall.  https://www.greenvilleonline.com/story/news/2019/03/14/sc-senators-weaken-dam-safety-laws-even-dams-break-every-year/3162717002/  (14 March 2019)
California Challenges of Changing Land Use in the San Joaquin Valley Groundwater Management in San Joaquin Valley: Implementing the state's Sustainable Groundwater Management Act—which requires overdrafted groundwater basins to achieve balance between supply and demand by the 2040s—could require taking at least 500,000 acres of irrigated cropland out of production in the San Joaquin Valley. While some lands will be converted to uses such as solar energy, groundwater recharge, and restored habitat, there are no current plans for most of this acreage. Lori Pottinger talked to Soapy Mulholland, president and CEO of Sequoia Riverlands Trust, about this impending challenge. https://www.ppic.org/blog/the-challenges-of-changing-land-use-in-the-san-joaquin-valley/   (12 March 2019)
South America Desperate Venezuelans swarm sewage drains in search of water Venezuela's five-day power blackout has left its capital Caracas without water, helpless residents are seen thronging to sewage drains, polluted Guaire river even mountain streams to get some water. https://in.reuters.com/article/venezuela-politics-water/desperate-venezuelans-swarm-sewage-drains-in-search-of-water-idINKBN1QS2UR (12 March 2019)
Scotland Mini hydropower projects test 'wild land' status of scenic glen 3 hydroelectricity schemes proposed for one of the Scotland's wildest and most photogenic glens are at the centre of a planning row over the status of areas of so-called 'wild land'. https://www.theplanner.co.uk/news/mini-hydropower-projects-test-'wild-land'-status-of-scenic-glen  (1 March 2019)
Time to let go Dam Technology Plea to let go of Dam Technology on March 14. As environmentalist David Brower once said, "If you are against a dam, you are for a river." To ignore the impacts of dams is to turn a blind eye on the importance of rivers for the environment. https://theaggie.org/2019/03/13/its-time-to-let-go-of-this-dam-technology/  (13 March 2019)
Global Dam Watch Clean power, sullied legacy The global image of dams is going downwards. https://www.dw.com/en/dams-clean-power-sullied-legacy/a-47873934 
International Rivers Statement on Women & River Congress 2019 On 7-9 March 2019, 98 women activists, community members, researchers, practitioners, and journalists, representing 32 countries and every inhabited continent around the world, are gathered in Nepal for the first international Women and Rivers Congress. We have come together in solidarity to recognize and celebrate women as leaders and custodians of rivers and freshwater ecosystems. We are here to elevate women's voices, build alliances, and to learn from and strengthen each other's struggles and initiatives.
Water is life. Rivers sustain human life and all of earth's ecosystems and biodiversity. Rivers are our global commons; they belong to us all as well as to future generations. For women, rivers are our soul. As water collectors, peasants, caretakers, and stewards of natural resources, women's relationships with water throughout the life cycle are fundamental, yet too often invisible.
Everywhere, rivers, springs and freshwater ecosystems are being destroyed, diverted and degraded by dams, pollution, plantations, and over-extraction. Rivers are threatened by large-scale infrastructure and profit-driven development that ignores and obscures local and indigenous knowledge, culture, and ways of life. These threats undermine women's relationships to our shared resources by privileging economic values over ecological, spiritual and customary values.  https://www.womenandrivers.com/statement  
Africa Sand winning activities threatening White Volta How sand winning is affecting water supply and threatening livelihoods of fisher communities along White Volta river of Ghana in West Africa:- According to the Regional Manager of the GWCL, Stephen Ndebugri, the turbidity of the river has increased many times fold in the last two decades. The situation is so bad that the GWCL loses nearly 22 percent of water daily in an effort to treat it for the ever-increasing population of Tamale and its environs. This translates into a deficit of about thirteen thousand cubic meters of treated water daily, forcing the company to ration water to some parts of the metropolis.
The White Volta is a victim of human activities including farming and deforestation, which have combined to loosen the soils along the river basin. During rains, the alluvial soil is washed into the river. However, the greatest threat to the White Volta is sand winning. Sand winners have pitched camp around Nawuni, and with the help of excavators dig directly from the river. Tonnes of sand are harvested from the river daily, while others engage in the practice along the shoulders of the river. A recent visit to the area, revealed the devastation being caused by sand winners, who work night and day to feed the growing demand for sand in the Tamale metropolis.
The National Security burnt a number of tipper trucks and excavators in an attempt to stop the practice, but sand winning continues unabated in the most affected areas, where mud is pumped back into the river after it is separated from the sand. The White Volta is a source of livelihood for hundreds of thousands of fishermen and farmers who live along the river. This group of persons have also complained of a drop in the catch and farm produce as a result of the pollution of the river.
The devastation of the White Volta is huge and therefore requires urgent attention to prevent a future without water for residents of Tamale. Stakeholders need to sit together and dialogue over the best possible solution to the problem and to prevent people from the river. https://asembi.com/diana-ngon-writes-sand-winning-activities-threatening-white-volta/   (14 March 2019)
Oregon Yaphank fish farm to pay $1.3M fine for illegal sand dig The owners of a long-proposed Yaphank fish farm have agreed to pay a $1.3 million penalty for taking more than 200,000 yards of sand and gravel without a permit, one of the largest actions for illegally digging sand in state history, the Department of Environmental Conservation said March 14.
BlueGreen Farms Inc. has legally mined millions of cubic yards of sand out of the ground at the Yaphank site of the proposed fish farm. But the company, which has proposed raising sturgeon, striped bass and leafy greens like lettuce at the site since 2010, dug outside of its 67-acre property without a DEC mining permit, within feet of the water table, and on privately owned property, according to the DEC. Regulators said they are trying to keep watch on the lucrative sand mining industry. https://www.newsday.com/long-island/environment/illegal-mining-fish-farm-1.28530422  (14 March 2019)
Study Waterfalls can form in a surprising new way For the first time, scientists have demonstrated that it's possible for a river to spontaneously form a waterfall. Until now, scientists largely reckoned that waterfall formation needed some type of external trigger acting on a river. Some waterfall-forming processes could be fast, like an earthquake shifting blocks of land to create a step over which water can fall. Others could be glacially slow, like sea-level changes or even different types of rock eroding away at different speeds.
However, the new work concludes that a dramatic change in the rock or external force isn't always necessary to create these dizzying cascades. Instead, the researchers suggest that a river's turbulence alone is enough to carve steep pitches in a uniform bed of rock, spontaneously forming a waterfall.
Study author Joel Scheingross, who completed this research as a doctoral student at the California Institute of Technology cautions that the work is still preliminary and is limited to lab-based simulations. But he says it does call for a rethink of how scientists interpret the factors that sculpt landscapes. The process is exceedingly slow in nature, with water shaving down the underlying rocks at just a fraction of the speed at which your fingernails can grow.
For now, there's no guarantee that this is happening the same way in nature. The researchers hope to do more experiments and identify characteristics that could help them find places in nature where this process might be at work. And many scientists are already excited to go out and take a look.
Overall, the study hints that these magnificent structures may still have some secrets. A slew of mechanisms could contribute to each waterfall's birth, notes Crosby, and scientists must consider this variety when using the features to interpret past landscape-sculpting events. https://www.nationalgeographic.com/science/2019/03/waterfalls-can-form-surprising-way-heres-how/  (13 March 2019)
Research Lost role of animal remains in nutrient cycling in North American Rivers  MORE LITTLE KNOWN ASPECT ABOUT RIVERS: While leaf litter, wood, and other plant remnants are known to play a central role in lotic ecosystems, animal remains (carcasses, bones, shells) have received less attention. We propose a simple classification scheme for animal remains in rivers based on origin (authochthonous vs. allochthonous) and frequency (pulsed vs continuous).
We then present case studies in which we estimate the former biomass of several taxonomic groups that are now diminished in abundance to determine whether their remains could have historically constituted a significant flux of nutrients in rivers of North America. We focus on bones and shells, which decompose slowly and could provide long-term reservoirs of nutrients.
We find that carcasses of alligator snapping turtles, once abundant in southeastern rivers, could have provided an amount of phosphorus equivalent to about 1% of total phosphorus (TP) load at median flow, and more at low flows. Mussel shells could have contributed a similar amount (0.8% of TP) but the contribution of beaver carcasses, even at former abundances, was likely small.
 In contrast, a single documented mass drowning of bison in the Assiniboine River could have contributed half the annual TP load for that river. Such drownings could have been a common occurrence prior to the loss of most wild terrestrial megafauna in North America. We conclude that animal remnants, particularly allochthonous remains from terrestrial animals, formerly played a substantial role in nutrient cycling. Existing models of ecosystem function under reference conditions are incomplete without consideration of these lost animal legacies. https://www.sciencedirect.com/science/article/pii/S2352249618300429?via%3Dihub  (March 2019)
Opinion The Freshwater Fish Crisis By Dr Rachel Benstead The IUCN estimates that 126,000 described species rely on freshwater habitats, including fishes, invertebrates, mammals and plants. Most alarmingly, with 45 % of all fish species found in freshwater habitats, 200 of the 522 (38 %) European freshwater fish species are threatened with extinction and 12 are already extinct.  Humans are hugely dependant on fish populations for food and income. In Africa alone, more than 7.5 million people rely on freshwater fish for both nutritional and monetary sustenance. Yet, it is human activity that is the biggest threat to freshwater fish populations.
Dams main threat to freshwater ecosystem:- Dams damage to freshwater fish is often ignored.  Construction projects, such as canals, roads and dams, cause blockages that were not in place previously. In particular, weirs and other dam constructions fragment rivers, creating strings of artificial water bodies punctuated by barriers that fish are often unable to pass. This can block or delay upstream fish migration, causing populations to become isolated and more vulnerable to predation, disease and competition compared to the conditions the species has adapted to.
Dams are also a primary driver of hydrologic change. Ecosystems are dependent on seasonal changes in river flows, which are often altered by dams. These changes alter the historical disturbance regime, rendering some biotic adaptations obsolete while favouring others. For example, reduced flow variability disturbs the way in which fish have previously adapted to seasonality, and leaves them unable to cope with such unexpected changes.
Invasive species:- Invasive alien species (IAS) that have found their way into freshwater habitats also pose a threat to existing species. There are currently over 14,000 IAS recorded in Europe, with more than half originating from outside EU countries. Freshwater communities are generally isolated environments, making them particularly vulnerable to the introduction of exotic species. Invasive species may displace native species due to competition for limited resources, they may prey upon species to the point of extinction or alter the natural habitat and make it impossible for native species to thrive.
Pollution:- Another threat to freshwater populations is pollution. This comes in many forms, including detergents, food processing waste and chemicals. However, it's not necessarily the direct exposure of pollutants to fish that can cause population depletion, but the exposure to their main food source — invertebrates.
If invertebrate populations have been reduced or even eradicated from a habitat due to pollution, this can have detrimental effects on the entire ecosystem. Therefore, freshwater invertebrates play a direct role in fish wellbeing, and one that needs to be carefully considered. 
Global water demand is projected to increase by 55 % between 2000 and 2050, of which much of this demand is driven by agriculture, accounting for 70 % of global freshwater use. As the agricultural sector aims to meet growing demand, there is a heavier reliance on plant protection products to defend plants from pests, often near to ponds, streams and other aquatic habitats. This could reduce invertebrate populations, and in turn freshwater fish populations, if the product isn't applied as per label instructions.
While freshwater fish are the most endangered group of animals on the planet, it's important to take into account the entire ecosystem, including invertebrates, when predicting the effects of construction and pollution. As the global hydropower boom persists, climate change continues to lead to species migration and the growing population drives increased demand in agriculture, effective research will remain vital to predict effects to aquatic populations. https://www.technologynetworks.com/tn/articles/the-freshwater-fish-crisis-316375 (6 March 2019)
Commentary Freshwater fishes and other threatened but overlooked biodiversity must be new flagships for conservation by Mike Baltzer – Today there are believed to be at least 15,000 species of freshwater fishes. Only 54 percent of them have been assessed under the IUCN Red List, and one-third of these species are considered to be under threat of extinction. For the many species that remain unassessed, or for which there is too little information to make an assessment, the situation is likely to be as bad or worse. https://news.mongabay.com/2019/03/freshwater-fishes-and-other-threatened-but-overlooked-biodiversity-must-be-new-flagships-for-conservation-commentary/  (12 March 2019)
Also see, Information about International Fly Fishing Film Festival 2019.  https://www.flyfilmfest.com/films/ 
UN Report Millions to die prematurely by '50 due to pollution New report has called for urgent action to save humanity from the disastrous consequences of environmental degradation. It warned that cities and regions in Asia, middle-east and Africa could see millions of premature deaths by mid-century if the nations fail to drastically scale up environmental protection measures and noted that water pollution alone will become the number one cause of death in the world by 2050.
It highlighted that the fresh water system will see anti-microbial resistance due to pollutants, saying it will not only cause human deaths but also disrupt endocrine, impacting male and female fertility, as well as child neuro-development.  https://timesofindia.indiatimes.com/home/environment/rich-nations-biggest-culprits-as-one-third-of-global-edible-food-wasted-un-report/articleshow/68398382.cms  (14 March 2019)
CLIMATE CHANGE
India IIT & IISc collaborate on Climate Change initiative IITs-Guwahati and Mandi and IISc Bengaluru have collaborated to develop a 'Climate Change Vulnerability Assessment for the Indian Himalayan Region Using a Common Framework.' The assessment exercise is being undertaken to cover all the 12 Indian Himalayan region (IHR) states using a common framework. https://economictimes.indiatimes.com/news/science/iit-iisc-collaborate-on-climate-change-initiative/articleshow/68407620.cms  (14 March 2019)
A climate vulnerability index The Department of Science and Technology (DST) will be commissioning a study to assess the climate risks faced by States in India. This follows an assessment of the global warming risks faced by 12 Himalayan States — and discussed at last year's U.N. climate change conference in Poland — that found States such as Assam, Arunachal Pradesh and Uttarakhand vulnerable to climate change.
– Last year the IIT at Mandi and Guwahati, and the IISc), Bengaluru, coordinated with State authorities in Assam, Manipur, Meghalaya, Mizoram, Nagaland, Tripura, Arunachal Pradesh, Sikkim, the hill districts of West Bengal, Himachal Pradesh, Uttarakhand and Jammu and Kashmir, to evolve a common methodology, and determine how districts there are equipped to deal with the vagaries of climate change. The researchers prepared a 'vulnerability index' of each of these States based on district-level data. Vulnerability would be a measure of the inherent risks a district faces, primarily by virtue of its geography and socio-economic situation. https://www.thehindu.com/sci-tech/energy-and-environment/a-climate-vulnerability-index-for-india/article26537153.ece   (14 March 2019)
Himalayan hydro developers wilfully ignore climate risks Despite growing climate threats, politicians and developers are ignoring geological and environmental risks in a rush to make short-term profits by building hydroelectric dams in the Himalayas. https://indiaclimatedialogue.net/2019/03/15/himalayan-hydro-developers-wilfully-ignore-climate-risks/   (15 March 2019)
Study Coal power stations disrupt rainfall Modern coal-fired power stations produce more ultrafine dust particles than road traffic and can even modify and redistribute rainfall patterns, a new 15-year international study shows. The study indicates filtration systems on modern coal-fired power stations are the biggest source of ultrafine particles and can have considerable impacts on climate in several ways. https://phys.org/news/2019-03-coal-power-stations-disrupt-rainfall.html (12 March 2019)
Research Rising ocean temperatures decrease sustainable fishing The research study found that the effect of climate change on ocean temperatures has resulted in a 4-percent decline of fish available for consumers to eat and fishermen to catch. More than 1 in every 2 people rely on fish for nutrients. http://www.dailytargum.com/article/2019/03/rising-ocean-temperatures-decrease-sustainable-fishing-rutgers-study-finds  (14 March 2019)
Climate strikes held around the world Guardian coverage of children all over the world protesting against inaction on Climate Change. https://www.theguardian.com/environment/live/2019/mar/15/climate-strikes-2019-live-latest-climate-change-global-warming   (15 March 2019)
ENVIRONMENT
Report The urbanisation conundrum: Is India ready? by Mayank Aggarwal  Till now, the central govt has released Rs 155.36 billion (Rs. 15,536 crores) to the state governments and union territories (UTs) for implementing projects under the smart cities programme. According to the central govt data, as on January 25, 2019, 2,748 projects worth Rs 1.04 trillion (Rs. 1,04,964 crore) have been tendered and of that "2,032 projects worth Rs. 622.95 billion (Rs. 62,295 crore) are under implementation/have been completed".
To plug holes in India's urban planning, the Ministry of Housing and Urban Affairs has been working on a national urban policy to decide how cities should be planned and managed to achieve sustainable urbanisation. The ministry had recently prepared a draft national urban policy framework (NUPF) "which outlines an integrated and coherent approach towards the future of urban planning in India."
The ministry had sought views and suggestions from all stakeholders on it by March 31, 2019. Once the ministry assesses the comments and feedback, the final framework document is expected to be finalised in the next few months. https://india.mongabay.com/2019/03/the-urbanisation-conundrum-is-india-ready/   (14 March 2019)
Parliament House panel raises concern about Forest Policy drafting A Parliamentary panel has raised objection at the Union Environment Ministry's move of drafting the National Forest policy 2018 without consulting the Union Tribal Affairs Ministry which is mandatory as per the Govt of India (Allocation of Business Rules, 1961). https://www.dailypioneer.com/2019/india/house-panel-raises-concern-about-forest-policy-drafting—.html        (4 March 2019)
Gujarat Unpaid Workers, Resort to Strike After criticism over exuberant spending on the statue and protests by the tribals in the region, now the workers are up in arms against the government.  Workers at the Statue of Unity are not paid regularly and now they are on strike.  https://www.newsclick.in/statue-unity-workers-not-paid-resort-strike  (13 March 2019)
Himachal Pradesh HC seeks Baddi plan for garbage disposal The Himachal Pradesh high court has directed the Baddi Barotiwala Nalagarh Development Authority (BBNDA) to submit a time bound plan for lifting the entire municipal solid waste lying in open area. It also directed the authority to send the proposal to the government for its intervention to provide additional machinery and manpower under the Corporate Social Responsibility. The status report needs to be filed on or before April 12, which is the next date of hearing. https://timesofindia.indiatimes.com/city/shimla/himachal-hc-seeks-baddi-plan-for-garbage-disposal/articleshow/68192749.cms  (28 Feb. 2019)
Delhi NGT asks EDMC to resolve landfill site dispute with DDA The NGT has refused to entertain a plea by the East Delhi Municipal Corporation (EDMC) seeking land to manage garbage at the Ghazipur landfill site, saying that dispute of departments is to be resolved at the administrative level. The green panel said the issue of availability or suitability of the site for the landfill and its allotment is to be sorted out between the EDMC and the DDA in accordance with the law. https://www.devdiscourse.com/article/law-order/441127-ngt-asks-edmc-to-resolve-landfill-site-dispute-with-dda  (12 March 2019)
Compiled by SANDRP (ht.sandrp@gmail.com)
Also see: DRP News Bulletin 11 Feb. 2019 & DRP News Bulletin 4 Feb. 2019  
Follow us on: www.facebook.com/sandrp.in; https://twitter.com/Indian_Rivers