A large number of stories this week remind us that India urgently needs national urban water policy.
The water footprint of urban areas is gradually on the rise. The cities have several problems with management including destruction of water sources, groundwater exploitation, poor performance in treating and recycling the polluted water, pollution and encroachment on water bodies etc. To fulfil their growing demands new dams, barrages and check dams are being planned, proposed and built on the rivers in faraway places, which is in turn displacing and depriving the local people of equitable water share.
Even before onset of summer, the Army in Sagar district have started patrolling Chitora dam to prevent water thefts (denying farmers to take dam water for irrigation).
The BMC in Bombay is finalizing total cost of Gargai dam which has roughly increased to three thousands crore from eighteen hundred crore according to first estimates in 2012.  The city is already getting its water from half a dozen dams. In Thane, apex court has removed stay on Kalu dam construction citing that it is meant to meet growing drinking water demand of Thane.
Meanwhile the respective agencies of Pune and Pimpri- Chinchwad have failed to stop pollution in Mula Mutha, Nag, Pavana, Indrayani rivers.
Similarly, in the name of restoration, the Gujarat government is planning barrages on Tapi, Vishwamitri rivers to meet drinking water demands of Surat and Vadodara.
Meanwhile the cost of Yettinahole diversion project has gone up from eight to twenty thousands crore. This project is also being pushing for drinking water supply.
In Chennai one more check dam on Cooum river has been finalized. The city is also facing sea water intrusion.
The story of Vashitha river in Salem shows how dumping the solid and liquid waste, mining and check dam has turned the river into a drain from pristine water stream in last twenty years.
Sagar Army patrols Chitora dam in Sagar to prevent water theft  The Indian Army has started patrolling the Chitora dam on the Bebas river in Sagar district. Over one dozen military peronnel have been guarding the dam for the past fortnight to prevent water theft. Four motors used for drawing water from the dam have been seized in the past fortnight. According to an Army spokesman, the move has been necessitated keeping in mind the water scarcity that occurs every year during peak summer season.
– The Sagar Municipal Corporation and the Indian Army have signed a contract under which the corporation has to supply 16 lakh gallons of water to the Indian Army that is then supplied to residents of the Sagar Cantt. Military perosnnel and their families live in the Sagar Cantt area.
– According to a local farmer Shankar Lal Yadav, locals draw water from the dam for irrigation purposes and close to 1500 acres of land in eight villages get affected. "The farmers take water to save their crops as they have no other option. Even water from the canals emanating from the dam is not being allowed to be used," Yadav said.
– A military spokesman said the four motors that have been seized would be returned to the farmers and the move is aimed at preventing water scarcity during peek summer season. Sagar Municipal Commissioner RP Ahirwar said the matter would be resolved after talks with the Army. https://www.indiatoday.in/india/story/mp-army-patrols-chitora-dam-in-sagar-to-prevent-water-theft-1628031-2019-12-13  (13 March 2019)
Mumbai BMC plans Rs 3,000 crore dam to boost water When the project was conceptualised in 2012, its estimated cost was pegged at Rs 1,820 crore. A proposal listing the total amount for the project will be tabled before the civic standing committee meeting on Jan. 15.
– The project has been proposed to increase water supply to Mumbai by 440MLD. BMC has been planning the Gargai, Pinjal and Damganga projects, which are expected to augment the city's water supply tremendously, for many years.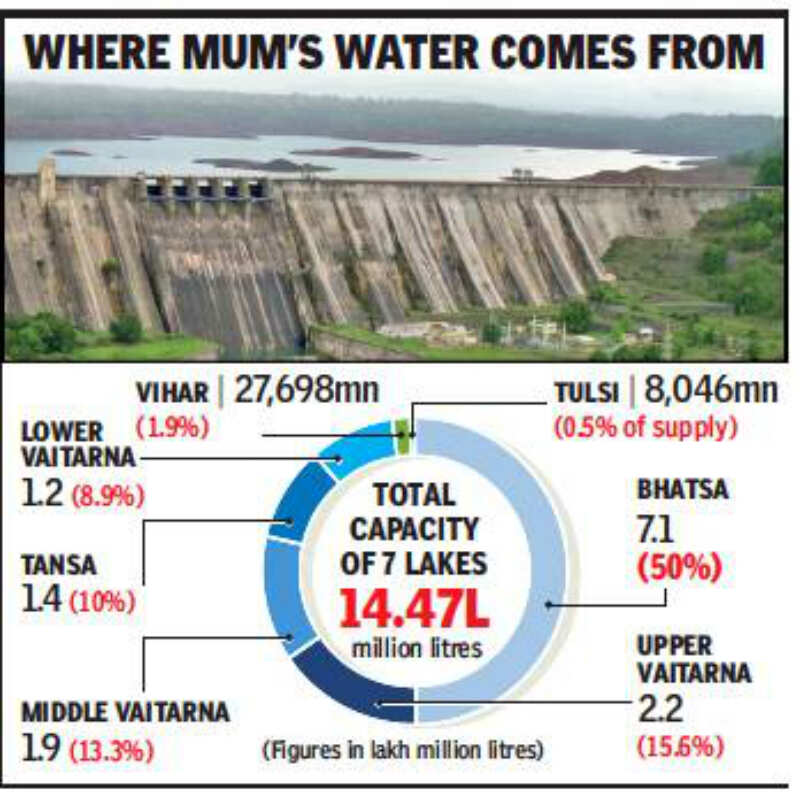 – The Gargai dam, spread across 849 hectares, will be constructed in Oghade village, Palghar, on the Gargai river, a tributary of Vaitarna. It involves construction of the dam, and connecting it to Modak Sagar dam, which supplies water to Mumbai.
– According to the proposal, the dam will be 972 metres wide and 61 metres high. A civic official said that out of 840-odd hectares required for the project, 170 is private land, while the rest is a forest area.
– The last dam constructed by BMC was Middle Vaitarna, which supplies 455MLD water to Mumbai. Work on the dam was completed in 2012. The estimated cost of the dam was Rs 2,700 crore. https://timesofindia.indiatimes.com/city/mumbai/bmc-plans-rs-3000-crore-dam-to-boost-water-to-mumbai/articleshow/73130984.cms  (7 Jan. 2020)
Thane HC lifts stay, paves way for work on Kalu dam Shocking decision by the Mumbai HC to lift stay without going seriously into any of the issues raised in the petition.  https://www.hindustantimes.com/mumbai-news/hc-lifts-stay-paves-way-for-work-on-kalu-dam-in-thane/story-CqvcXItXMCYGPTBfoBFapO.html  (14 Jan. 2020)
Bombay HC on Jan. 13 said work on the construction of a dam on Kalu river in Thane district can resume and vacated a 2012 stay. In March 2012, the high court had stayed work on the dam observing that necessary permissions were not obtained from the MoEF by the Maharashtra govt.
The court said work on the dam can commence after requisite environment clearances are taken. The bench noted that the dam was important as it aims to provide drinking water to Mumbai, Thane and other districts. The court was hearing a petition filed by an NGO alleging non-compliance with rules and procedure before construction of the dam. https://timesofindia.indiatimes.com/city/thane/thane-stay-on-dam-work-on-kalu-river-vacated/articleshow/73240040.cms  (14 Jan. 2020)
Mula-Mutha, Pune Tendering issues to delay cleaning work Cleaning of the Mula-Mutha with financial assistance from the Japan International Cooperation Agency (JICA) is still stuck in a limbo, with the Pune Municipal Corporation (PMC) deciding to float three key tenders again, and 'finding fault' in the fourth one before issuing it.
– A loan agreement was signed on January 13, 2016, with JICA for pollution abatement of Mula and Mutha by January 2022. Under the agreement, the Japanese government committed to provide a soft loan of about Rs 1000 crore to India for the project, at an interest rate of 0.30% per annum. As per the plan, PMC was to construct 11 new STPs, which would result in creation of additional treatment capacity of 396 million litres per day.
– Accordingly, the administration floated four of the total six tender packages for various works. The tenders were floated of Rs 410 crore. However, all contractors quoted rates 40 per cent above the quoted cost. This had put authorities in a fix since the budget would collapse because of this. Finally, a meeting was called by the PMC commissioner on Jan. 1 after which authorities decided to float revised tenders. While three tenders will be floated afresh, a decision on the fourth will be taken soon.
– VG Kulkarni, head of the water supply department, said, "Since the three tenders are way above the prescribed cost, we have decided to go for retendering. As far as the fourth tender is concerned, there is a dispute over who is at fault. The decision on this one too will be taken shortly. All these tenders were meant for the construction of 11 STPs at various locations."
– Ruling party members have however claimed that no such decision has been taken. BJP's Dhiraj Ghate, leader of the House, said, "The meeting was only meant for taking an update on the issue. No decision has been taken." Opposition parties have, however, claimed that this has put the entire project in a limbo. Congress leaders Arvind Shinde said, "They are saying that the decision on the fourth tender is to be taken later. The fourth package is meant for STPs and a fish farm, and they cannot single it out. If the primary work isn't done, then how can they do the rest? The entire project, which was just a tall promise of the ruling party, is in a limbo now." https://punemirror.indiatimes.com/pune/civic/tendering-issues-may-delay-river-clean-up/articleshow/73076404.cms  (3 Jan. 2020)
Pavana, Indrayani PCMC readies action plan to contain pollution of rivers According to PCMC official, the action plan submitted to MPCB consists of plans to install treatment facility for collecting untreated sewage discharged from old sewer mains and network within the developed areas in Chinchwad and Pimpri. The total volume of such untreated sewage is 48 MLD in all three river basins (Mula, Pavana and Indrayani) within PCMC limit. It also includes augmentation of the old trunk sewer mains and sewerage network in old areas of PCMC and newly merged villages and sewage treatment plant having capacity of 32 MLD. The work on trunk sewer mains, covering length of 209 km, and sewage collection conveyance is expected to be commissioned by 2022.
PCMC is also building new STPs at Chikali, Bopkhel, Pimple Nilakh, and Tathawade. These facilities will be able to handle the load in case it increases in future, but each of these projects has been set a deadline of completion in 2021 and 2022. For Tathawade, land acquisition process is in progress and the plant is expected to be commissioned by 2021, according to a civic official.
"We are in the process of preparation of the master plan for recycle and reuse of recycled water. It will reduce the fresh water demand from industries, residential premises under construction for non-domestic purposes, gardens owned by PCMC and the agricultural fields outside the civic body limit. It is anticipated that 100 MLD of recycled water will be used for non- domestic purposes," said Kulkarni. https://www.hindustantimes.com/cities/pcmc-readies-action-plan-to-contain-pollution-of-rivers/story-urALV7e7xLU5bE4LiRzd7H.html  (14 Jan. 2020)
Tapi, Surat Barrage on Tapi river to ensure uninterrupted water supply In a bid to maintain water flow in Tapi river throughout the year and ensure uninterrupted water supply in Surat, the Surat Municipal Corporation (SMC) has initiated work to build a conventional barrage on the river joining Rundh and Bhata villages at a cost of Rs 500 crore.  https://in.news.yahoo.com/barrage-tapi-river-ensure-uninterrupted-201725965.html  (16 Jan. 2020)
Vishwamitri, Vadodara Govt plans revival of project City has faced severe flooding this year. So now govt planning 'eco-project' aiming round the year flow, which is fine. But regarding flooding menace as this report mentions, river's floodplains needs to be restored back and encroachment has to be removed. But this report says nothing about that:- At a high-level meeting chaired by CM Vijay Rupani on Dec. 20, the state govt has decided to "chalk out a comprehensive plan for holistic development of the entire river area of Vishwamitri River, from its origin at Pavagadh to its amalgamation with Gulf of Khambhat", in order to mitigate the flood risk to Vadodara city and neighbouring areas, every monsoon.
The Vadodara Municipal Corporation (VMC), which will now invite an agency to prepare a DPR, says that the plan is to develop an eco-friendly plan which is entirely different from the Vishwamitri Riverfront project of the civic body that has been in cold storage for over a decade.
A govt release said, "The CM emphasised that it is very essential to chalk out a comprehensive plan for Vishwamitri river to prevent the adverse effect on life of people of Vadodara city, caused by the occurrence of floods every year. In this reference, Mr. Rupani suggested to the administrators and officials of VMC that the plan should ensure that water flow continues in the Vishwamitri river during all 12 months of the year to enhance the beauty and green cover in Vadodara city." https://indianexpress.com/article/cities/ahmedabad/gujarat-govt-plans-project-for-rejuvenation-of-vishwamitri-6177533/   (21 Dec. 2019)
Yettinahole project Cost jumps from Rs 8,000 to Rs 20,000 crore due to poor decision making Though tender has been called, two years ago, for the Byragondlu dam, which the epicenter of the project, work has not yet started. This dam is situated at the border of Koratagere taluk of Tumkur district and has got a storing capacity of seven TMC of water. Till this dam is not built, the Yettinahole project will not see the light of day as the water from Yettinahole, which is flowing westward now needs to be diverted to Byragondlu dam, which is at a distance of 260 km, through canals and from there it will be supplied to water bodies of the districts of Kolar and Chikkaballapur. Now it is decided to supply drinking water to districts of Hassan, Tumakuru, Ramanagara and Bengaluru rural in addition to the earlier decision of supplying drinking water only to Kolar and Chikkaballapur. https://www.daijiworld.com/news/newsDisplay.aspx?newsID=659135  (3 Jan. 2020)
Vasishta, Salem Dirty and dry pays for unregulated development Some 25 years ago, River Vasishta had sparkling clean water bathable, potable in Attur town which means place with a river to now when people have stopped visiting the river due to foul smell.
– It all started about 20 years ago when Attur town began expanding. The growing population took the easy way of waste disposal by dumping it into the river. Simultaneously, sago units which mushroomed along it, let untreated industrial waste into the river in the absence of strict norms. Illegal sand mining upstream near Pethanaickenpalayam till a decade ago, also contributed to the dwindling of the river. Farmers depending on Vasishta Nadhi and its canals also moved away from sugarcane and rice to less water-intensive crops like maize.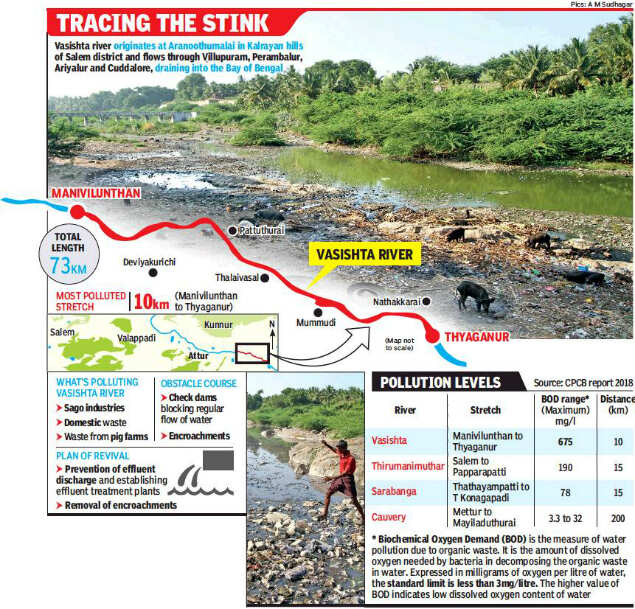 – Originating as a stream in Aranoothumalai, erratic monsoon also compounded the woes of the river. As water flow reduced, encroachments cropped up along the banks and an overgrowth of vegetation, particularly seemai karuvelam (prosopis juliflora) took over, hindering the flow and turning the river into a dirty channel of waste water.
– Residents point out that a check dam constructed upstream which stored water was also a reason for the poor water flow in the river. In fact, for 12 years there was no water at all. It was only during the copious rainfall in 2018 that Vasishta was in full flow.  https://timesofindia.indiatimes.com/city/chennai/dirty-and-dry-vasishta-river-pays-for-unregulated-development/articleshow/71301354.cms  (27 Sept. 2019)
Cooum, Chennai Unpolluted stretch of Cooum to get another check dam The 72-km-long river, which branches out near Kesavaram anicut, Vellore district, is pristine until it reaches the urban stretches near Chennai. In an effort to save water that drains into the sea, WRD has planned to construct a check dam to help store floodwater.
– The new check dam will come up about 12 km downstream the Kesavaram anicut. WRD officials said a check dam costing ₹7.80-crore would be constructed at a height of 2.25 m, across the 100-m-wide river. The department plans to complete the construction of the check dam in a year.
– The check dam be constructed upstream the Korattur anicut, which was damaged during the 2015 floods. Built in 1876, the anicut, located in Jamin Korattur, is vital in regulating excess floodwater in the Cooum, to the Chembarambakkam lake. "We have submitted a proposal to the State government, seeking approval to reconstruct the damaged anicut," the official added.
– The river has one check dam in Putlur village, between Kesavaram anicut and Korattur anicut, in Tiruvallur district. The Cooum has two more check dams in Kannapalayam and Paruthipattu, near Avadi, before it reaches the urban areas in Chennai. https://www.thehindu.com/news/cities/chennai/unpolluted-stretch-of-cooum-to-get-another-check-dam/article30579667.ece  (17 Jan. 2020)
Chennai Sea water intrusion seen in north of city The coastline north of Chennai is the worst affected along the country's east coast, with a stretch of nearly 14 km experiencing seawater intrusion finds Anna University study. https://www.thehindu.com/news/cities/chennai/seawater-intrusion-seen-north-of-city/article30437575.ece  (31 Dec. 2019)
Kochi Many companies in Kochi's InfoPark forced to shut down following water crisis For the past few days, parts of Kochi, which depend on tanker lorries for drinking water, have been facing a severe water crisis. The worst-hit among them is the InfoPark in Kakkanad, one of the largest technology parks of the state. Several companies have been forced to shut down following the acute water crisis.
Operation Pure Water, a project launched in Ernakulam district on the directive of Kerala State Assembly Committee on Petitions, is cited as the reason for the water crisis. Through Operation Pure Water, it was directed that tanker lorries could only take water from the hydrants of the Kerala Water Authority (KWA) to ensure good quality of water transported. The tanker lorry association had warned, well in advance, that the implementation of such a directive, without increasing the number of hydrant points, would lead to a severe water crisis in the city. https://www.thenewsminute.com/article/many-companies-kochi-s-infopark-forced-shut-down-following-water-crisis-116307  (17 Jan. 2020)
HYDRO POWER PROJECTS
Manipur Local communities oppose planned dam construction supported by World Bank Manipur announced plans in 2012 to generate more than 2,000 MW of power under its hydropower policy, prompting concerns among indigenous communities. Previous large hydropower projects in the region, including the 105 MW Loktak hydroelectric project, the Mapithel dam and the Khuga dam, came with adverse impacts for local populations.
– However, hydropower is no longer the least-cost energy option in India, as the unit price from hydroelectric projects stood at around 4 India Rupees (Rs.) in June 2019, while the solar tariffs decreased in India from Rs. 18 per unit in 2010 to Rs. 2.44 in May 2019. Despite this, national authorities and international finance institutions (IFIs) are pushing ahead with Manipur's hydropower boom and risking local communities' livelihoods. https://www.brettonwoodsproject.org/2019/12/local-communities-oppose-planned-dam-construction-boom-in-manipur-backed-by-world-bank/  (12 December 2019)
Himachal Pradesh Tattapani, the famous tourist resort in Bilaspur District has suffered due to drying up of hot sulphur water springs after construction of Kol Dam on Satluj river.  https://m.tribuneindia.com/news/tattapani-set-to-regain-old-glory-25878   (14 Jan. 2020)
Chamba naturalist Navneet Chowfla has raised the issue of conservation and preservation of traditional water springs, including 'panihars', which are the lifelines of locals residing in the hills of Chamba district. Many of them have been affected due to hydropower and other projects. https://m.tribuneindia.com/news/%E2%80%98save-traditional-water-springs%E2%80%99-26356  (14 Jan. 2020)
DAMS
Polavaram Project SC asks govt for report, pictures of  work The Supreme Court on Jan 14, directed the Polavaram Project Authority (PPA) and the Andhra Pradesh government to furnish a detailed report, along with pictures, on the status of the Polavaram irrigation project within two weeks. A three-judge bench of the court passed this direction while hearing petitions filed by Odisha — seeking a ban on the construction and operation of the project — as well as Telangana and Chhattisgarh, which raised concerns over submergence of land. The counsel for Odisha argued that the project violated the Bachawat Tribunal Award and that its design was being changed.
The advocate alleged that no comprehensive study was conducted on the potential submergence of land. The MoEF misleadingly submitted that the design of the project was unchanged. The counsel appearing for Telangana reportedly told the bench that his State had no objections, provided steps are taken to prevent submergence and other losses to the Manguru power plant and tribal areas in the vicinity. The Supreme Court noted that the onus of addressing the concerns of neighbouring states lies on the PPA and the Andhra Pradesh government. It then directed them to furnish a detailed report on the status of the project, appending the latest pictures to it.  https://www.newindianexpress.com/states/andhra-pradesh/2020/jan/15/supreme-court-asks-andhra-government-for-report-pictures-of-polavaram-work-2089816.html  (15 Jan. 2020)
Maharashtra Irrigation Scam 'No need for CBI or ED probe': Ajit Pawar files affidavit in court Mr Ajit Pawar sits in judgement about investigations into charges that are against himself.  https://www.newindianexpress.com/nation/2020/jan/15/no-need-for-cbi-or-ed-probe-in-irrigation-scam-ajit-pawar-files-affidavit-in-court-2089840.html  (15 Jan. 2020) 
INTERLINKING OF RIVERS
Research NRLP to compromise already vulnerable deltas  Conclusion of study titled River linking in India: Downstream impacts on water discharge and suspended sediment transport to deltas :- This study has resulted in the creation of a database and graph database model that allows calculations of changes to river water discharge for 29 rivers in India given realization of the proposed National River Linking Project (NRLP). We have further created a prototype method for evaluating the impacts on suspended sediment transport given the changes in water discharge estimated from the most up-to-date empirical data.
– Considering the complexity and disputed nature of the project, is likely that the project will follow an evolving path to either partial or full completion. To illustrate the potential large-scale magnitude and impact of the project, this study operates the graph database model in the worst-case scenario ("all infrastructure will be realized,") but many other scenarios can be simulated and explored with this flexible model.
– If the NRLP is to be fully implemented as is proposed, it will decrease mean annual basin outlet discharge for 24 of the 29 affected rivers (as much as 73%), reducing freshwater deliveries to wetlands and estuaries. Additionally, more than 700,000 people will be displaced in the construction of the dams, and waterways will be exposed to new contaminants, invasive species, and disease-causing agents.
– Finally, the NRLP will compromise the already vulnerable deltas of the Indian subcontinent by decreasing aggradation rates as much as 87%. Additional water and sediment discharge data, particularly for Himalayan rivers, would be invaluable for refining estimates of the impacts of this colossal system. https://www.elementascience.org/articles/10.1525/elementa.269/  (28 Feb. 2018)
INTERSTATE WATER DISPUTES
Mahadayi river water sharing dispute 40 years on, Mahadayi issues continue to fester Noted advocate M B Zirli, who was a member of Karnataka's legal team handling the Mahadayi case in the Supreme Court until recently said the state government is not at all serious about the issue. "Inspite of attempts made by Goa to deprive Karnataka of its share of water, the state (Karnataka) government did not even hold a meeting of its legal team or experts. Nor is it keen on getting the Mahadayi case expedited in the Supreme Court. The state government has failed to insist on the court for an early hearing of the case,'' Zirli said. Sources said the state government has not named its new legal team to take up the case after Yediyurappa formed his government.  https://www.newindianexpress.com/states/karnataka/2020/jan/13/40-years-on-mahadayi-river-issues-continue-to-fester-2088781.html  (13 Jan. 20
Krishan River Water Sharing Dispute Telangana CM K Chandrashekhar Rao and his Andhra Pradesh Counterpart YS Jaganmohan Reddy on Jan. 13 have unanimously decided to supply Godavari waters to the Krishna River basin (ayucut) as availability of water in Krishna River every year was facing uncertainty.  http://www.uniindia.com/cms-from-ap-telagana-unanimously-decided-to-divert-godavari-water-to-krishna-river-basin/south/news/1852731.html  (13 Jan. 2020)
Centre 'Plan to stop water from going to Pak in final leg' – The plan to stop water from going to Pakistan has reached its final stage, Union Jal Shakti minister Gajendra Singh Shekhawat said on Jan. 13 during his visit to Pokhran's locust-hit areas. Many physical technical study reports have come and many reports are yet to come. Consent has been received from the Jammu and Kashmir government. In the coming days, we will certainly create history and succeed in stopping water from going to Pakistan, said Shekhawat. https://timesofindia.indiatimes.com/city/jaipur/plan-to-stop-water-from-going-to-pak-in-final-leg/articleshow/73236252.cms   (14 Jan. 2020)
RIVERS AS NATIONAL WATER WAYS
PM statements on waterways and other water related projects during visit to Kolkata Port:- Haldia is now straightaway linked to Varanasi through National Waterways -1 and we envisage to operationalise a multi-modal terminal in Varanasi and a navigational lock gate in Farakka this fiscal. Large vessels will soon ply on National Waterways -1, Modi said.
– The government, he said, has framed its maritime policy in line with the maritime policy of the country's first industry minister Syama Prasad Mookerjee, wherein a port-led development was envisioned. "Our Sagarmala, coastal connectivity and coastal transport projects are together implementing 575 projects worth Rs 6 lakh crore, of which 200 are in progress and 115 completed worth Rs 3 lakh crore.
– The Maritime policy also looks at boosting maritime tourism by increasing the number of cruise ships from 150 at present to 1,000. There would be more aquariums, water parks, river cruises and sea cruises across the country to enhance maritime tourism, Modi said. https://www.financialexpress.com/india-news/pm-modi-renames-kolkata-port-after-bjp-ideologue-syama-prasad-mookerjee/1820718/  (13 Jan. 2020)
PIB Release "इस वर्ष हल्दिया में multimodal terminal और फरक्का में navigational lock को तैयार करने का प्रयास है। साल 2021 तक गंगा में बड़े जहाज़ भी चल सकें, इसके लिए भी ज़रूरी गहराई बनाने का काम प्रगति पर है। इसके साथ-साथ गंगाजी को असम के पांडु में ब्रह्मापुत्र से जोड़ने वाले inland waterway-2 पर भी cargo transportation शुरू हो चुका है।"  https://pib.gov.in/newsite/PrintRelease.aspx?relid=197390 
China, Bangladesh nod to Brahmaputra river project  China and Bangladesh have given a no-objection to the Assam Inland Water Transport Project (AIWTP) on the Brahmaputra, funded by the World Bank.  https://www.telegraphindia.com/states/north-east/china-bangladesh-nod-to-brahmaputra-river-project/cid/1730754  (28 Dec. 2019)
RIVERS
GANGA Study A better estimate of water-level rise in the Ganges delta For the first time, scientists have provided reliable regional estimates of land subsidence and waterlevel rise in the Ganges-Brahmaputra-Meghna delta. Depending on the region of the delta, waterlevel rise could reach 85 to 140 cm by 2100. The work, published in PNAS on 6 January 2020 by researchers from the CNRS, IRD, BRGM, La Rochelle Université, Université des Antilles and Bangladesh University of Engineering and Technology1, should provide input for future impact studies and adaptation plans.
Although the Ganges-Brahmaputra-Meghna delta is the largest and most densely populated delta in the world2, and one of the places most vulnerable to climate change, the extent and impact of waterlevel rise there remain poorly known. The area, which covers two thirds of Bangladesh and part of eastern India, is already regularly prone to flooding, favored by intense monsoon rainfall, rising sea levels, river flows and land subsidence. However, it is difficult to disentangle these various factors. In addition, forecasts carried out so far have been based on highly localized measurements of water level.  file:///F:/IMD%202019/2020-01-water-level-ganges-delta.pdf  (6 Jan. 2020) 
Namami Gange Adani, Shapoorji Pallonji group among private players lining up to clean Ganga 29 projects worth over Rs 10,000 crore have been awarded to the private players under the hybrid annuity-based public private partnership model.   https://theprint.in/india/adani-shapoorji-pallonji-group-among-private-players-lining-up-to-clean-ganga/350770/  (20 Jan. 2020)
YAMUNA Delhi
Manoj Misra of Yamuna Abhiyaan writes on Jan 15, 2020 to the Committee about its decisions:
To,
The Secretary,
Ministry of Jal Shakti &
Chairperson, NGT Appointed Principal Committee in OA No 6 of 2012 and OA No 300 of 2013
New Delhi
Respected Sir,
Greetings from Yamuna Jiye Abhiyaan.
Sir, we are sorry to say that a perusal of the minutes of the meeting (as carried at the NMCG website) dated 30 9 2019 of the NGT appointed Principal Committee under your Chairmanship makes for disturbing reading since many of the observations / decisions therein appear contrary to the directions, intent and spirit of the judgment dated 13 January 2015 in OA No 6 of 2012 and OA No 300 of 2013. Please allow us to elaborate.
Sir, the said judgment created the Principal Committee (PC) to ensure coordination amongst various relevant agencies of the State for a timely and speedy implementation of the directions made therein. It never intended the PC to become a clearing house for developmental projects planned within the Zone O, flood plain of river Yamuna in Delhi.
In this connection please allow us to draw your kind attention to the following para of the judgment:
Thus, it is necessary to call upon the authorities to demarcate the floodplain for the flood of once in 25 years and to prohibit any kind of development activity in the area in question. Furthermore, the Committee should consider restoration of the area and wherever necessary, even demolish the properties, which are likely to be dangerously exposed to the flood and are even affecting the ecology and bio-diversity and flow of the river.

Subject to any law coming into force, we have already stated that flood of once in 25 years would be considered for defining and demarcating the flood plain. No development/construction activity, except that is stated herein, would be permitted in the Flood Plain of River Yamuna. No authority or person before us has even taken up the plea that why development/construction activity cannot b carried on in other parts of NCR, Delhi. As of now, sufficient land is available, may it is expensive, but that cannot be a ground for destroying the ecology, environment and biodiversity of River Yamuna of Delhi. The result of indiscriminate, unregulated and uncontrolled development activity are widely visible and felt by each and every one in Delhi. It would not only be unwise, but may prove fatal, if such approach is continued any further.
Clearly the judgment intended to turn the floodplain of river Yamuna into a NO GO area for any developmental activity in the interest of ecology, biodiversity and flow of the river and created the PC with the direction and hope that the said committee shall ensure the same!!! It also desired that the flood plain be developed only in terms of the recommendations as made by the Expert Committee (Babu Committee). Clearly no activity that is not commensurate with the recommendations of the said committee could be allowed in the floodplains.
Not only the above vide following paras, it went even beyond protecting what remains but to reclaim under the directions of PC all that what has been lost unlawfully or unauthorisedly:
94 v (b) We direct and prohibit carrying on of any construction activity in the demarcated flood plain henceforth. We further direct the Principal Committee to identify or cause to be identified, all existing structures as of today which fall on the so identified and demarcated flood plain. Upon identification, the Principal Committee shall make its recommendations as to which of the structures ought or ought not to be demolished, in the interest of environment and ecology, particularly, if such structures have been raised in an unauthorised and illegal manner.
(d) We direct all the concerned authorities including the DDA, Municipal Corporations and the NCT of Delhi, to take immediate and effective steps for repossessing the Flood Plain area under the unauthorised and illegal occupation of any person and/or any other body.
Sir, we are not aware if under your (PC) orders any such list has yet been made or any offending structures in the floodplain been identified or demolished in the interest of the interest of the environment and ecology of the river Yamuna. Sir, these directions also indicate that the remit of the PC is not just what happens in the future, but also what wrongs might have happened in the past for their corrections in the interest of the ecology and biodiversity of the river Yamuna.
Thus we humbly request you to kindly revisit and review your observations and decisions (Agenda 1 and Agenda 2) arrived at your meet dated 30.9.2019 to determine if they actually fulfill the directions, intent, mandate and spirit of the judgment or not. Sir, is it not high time when once for all Zone O (river Zone) in Delhi was declared as NO GO zone for any developmental planning whatsoever?
In particular we find PC's observations in case of the 5 land parcels in floodplain in temporary possession of DMRC at Sarai Kale Khan, Kashmiri gate and Kalindi Kunj, as being beyond PC's remit since they were allotted by the DDA before the NGT judgment, as being contrary to the directions of the judgment where all past offending structures have been mandated to be identified and removed.
Sir, whenever DDA has made such temporary allotments (to any agency) these have been time bound and with a specific condition that the site shall be restored and vacated after the work is over. These working permissions do not permit the concerned agency to create additional interests (structures etc) in the land and which could then be cited as an excuse for a permanent allotment. Clearly such request by the DMRC is illegal and falls very much within the PC remit to seek their removal and return of the floodplain to the river.
Sir, we are happy to note that the PC has decided to request the Ministry of Jal Shakti for an Integrated morphological study of the river Yamuna in Delhi to understand the impacts of existing bridges and roads, individually and cumulatively in light of their possible impacts on the flood situations. We request that let this study be carried out in a transparent, consultative manner by an independent agency and not by the usual consultants.
Sir, we request that let this communication be taken on record as a formal request and placed as an Agenda at the next meet of the Principal Committee.
With warm regards and best wishes for NEW YEAR 2020.
manoj misra
Convener, YJA &
Applicant at the NGT in OA No 6 of 2012 and OA no 300 of 2013
https://www.facebook.com/sandrp.in/posts/3119487498078902?__tn__=K-R 
Ammonia levels up in Yamuna due to industrial waste from Haryana High ammonia levels due to "industrial waste" being discharged in Yamuna has again started affecting water supply in the city, with several water treatment plants working at lower capacities straining the supply network.
As per the last tests available, the raw water ammonia readings were hovering between 1.8 and 2 ppm while DJB has the capacity to treat ammonia levels up to 0.9 ppm, the official added. The limit set by Bureau of India Standards is 0.5ppm,"official said. https://timesofindia.indiatimes.com/city/delhi/ammonia-levels-up-in-yamuna-due-to-industrial-waste-from-haryana/articleshow/73209225.cms  (12 Jan. 2020)
Will make Yamuna clean: Kejriwal CM Arvind Kejriwal on Jan. 2 said if re-elected, his government will make the Yamuna river so clean that residents of the national capital will be able to take a dip in it. Addressing his fourth town hall meeting in East Delhi, Kejriwal said cleaning the Yamuna will be the AAP government's priority in the next five years.
"I can say this with complete confidence that within the next five years, Yamuna would be clean. Before next elections, you all would be able to take bath in Yamuna, and I will take a dip along with you then. We will clean Yamuna to that level. I hope we will hold a town hall session on the banks of river Yamuna," he added. https://economictimes.indiatimes.com/news/elections/assembly-elections/delhi/will-make-yamuna-so-clean-people-will-be-able-to-take-dip-in-it-kejriwal/articleshow/73090677.cms  (3 Jan. 2020)
Haryana 46 villages in Karnal found polluting river 46 villages in Karnal have been found to be polluting the Yamuna directly or indirectly. The Development and Panchayat Department Karnal has chalked out a plan and started work on it. The state government has approved Rs16.08 crore for the project.
NGT has given the state government time till December 31 this year to work on the YAP to end discharged of waste water into the river. It is learnt that the state government has deposited Rs15 crore as security with the NGT for implementing the Yamuna Action and Ghaggar Action Plan in the state to stop pollution in both rivers. https://m.tribuneindia.com/news/karnal-shocker-46-villages-polluting-yamuna-25488  (13 Jan. 2020)
Uttar Pradesh Thick toxic froth engulfs Yamuna in Mathura Yamuna river, near Gokul barrage in Mathura, has been flowing with bubbling thick foam and filth, caused by waste discharge. Though the froth appears like snow, this toxic waste is full of residential and industrial discharges, confirmed district authorities in Mathura.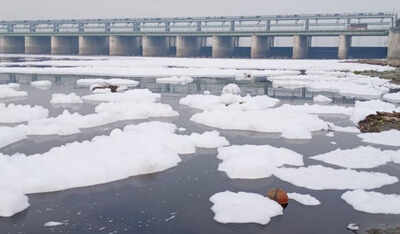 An activist, Gopeshwar Nath Chaturvedi, who filed a petition in NGT and Allahabad high court for cleaning and maintaining ecological flow of Yamuna, said that there has been no change in river's condition till date. https://timesofindia.indiatimes.com/city/agra/up-thick-toxic-froth-engulfs-yamuna-in-mathura/articleshow/73177187.cms  (9 Jan. 2020)
RIVERS BIODIVERSITY
"Smooth-coated Otters caught by a camera trap emerging from their den along the Cauvery for the Nityata River Otter Conservancy. Nityata studies otters and threats along the non-protected stretches of the Cauvery to plan & execute a long-term conservation programme with locals."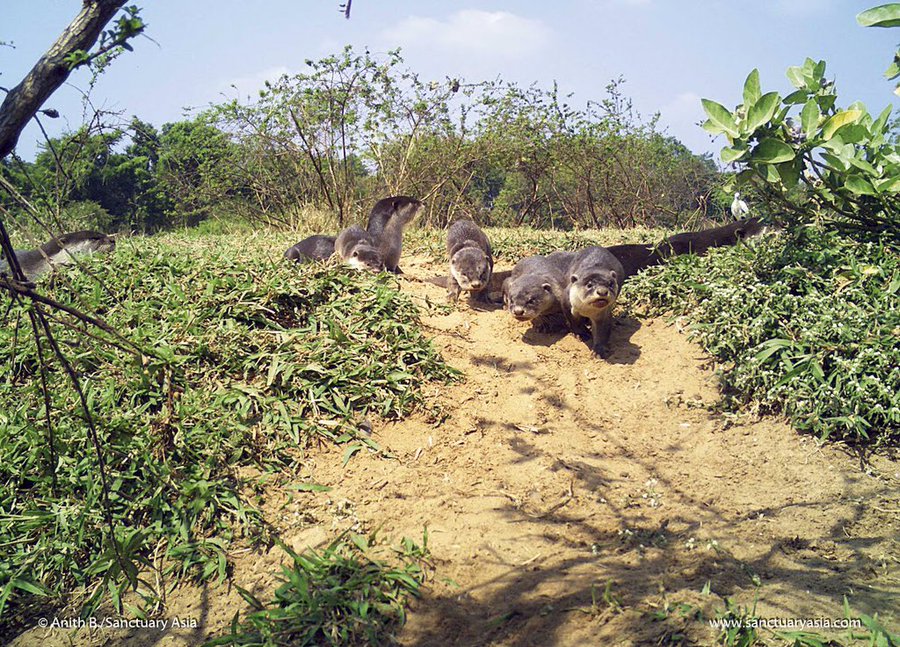 https://twitter.com/SanctuaryAsia/status/1218146677715951616  
Uttarakhand Govt to use drones to survey crocodiles, gharials Forest department may become the first state in the country to use drones for conducting a census on crocodiles and gharials, said forest officials on Jan. 13. The last census of the two reptile species in the state was conducted around 11 years ago. Then, a manual count was undertaken in which 232 gharials and 123 crocodiles were said to be found. Now, the latest survey will have drones deployed for videography and photography, based on the flow of water in the river. At the same time, photographs will be clicked randomly and analysed by experts.
– The survey will commence from Sharda River on the Nepal border to Ganga River in Haridwar. All the four forest circles – Western, Shivalik, Rajaji and Corbett Tiger Reserve — have a significant population of these two species of reptiles. According to Parag Madhukar Dhakate, the head of Uttarakhand Forest Drone Force (UFDF), the estimation will begin in January end and the entire survey will be completed within 10 days.
– In 2008, around 123 crocodiles and 231 gharials were found spanning an area of 6,370 sq km, though that count did not cover the entire state. The first pilot drone survey was conducted back in 2016, in only Western Circle, where 65 crocodiles were reported. Experts feel a significant population of crocodiles and gharial will be found around Gaula, Nandhaur, Ramganga and Ganga rivers. A decent population of these two species could be found at Kalagarh and Tumariya dams, the likes of other major water bodies in the state. https://timesofindia.indiatimes.com/city/dehradun/ukhand-to-use-drones-to-survey-crocodiles-gharials/articleshow/73234856.cms  (14 Jan. 2020)
FISH, FISHERIES, FISHERFOLKS
Madhya Pradesh मछली पट्टे की समयसीमा बढ़ाने के लिए महिलाओं ने किया जलसत्याग्रह, प्रशासन ने लगाई धारा 144 सिमरा गांव स्थित हम्मीरसागर तालाब में महिला मछुआ स्व-सहायता समूह की महिलाएं अपनी मांग को पूरा कराने के लिए पिछले 48 घंटे से बीच तालाब में ठंडी के मौसम में जल सत्याग्रह कर रही हैं। रविवार को प्रशासन की समझाइश के बाद नहीं मानने पर एसडीएम ने गांव में 144 धारा लगा दी। कार्रवाई के डर से महिलाएं बाहर आ गईं, जब प्रशासन वहां हटा तो महिलाएं फिर से तालाब के पास पहुंच गईं।
दरसअल सिमरा गांव के हम्मीरसागर तालाब का पट्टा जो अभी ग्राम पंचायत की महिला मछुवा स्व-सहायता समूह के नाम है। महिलाओं की मांग है कि 3 वर्षीय पट्टे की अवधि बढ़ाकर 10 वर्ष की जाए। वहीं जिला मतस्याधिकारी एवं ग्राम के बदमाशों द्वारा परेशान करने पर समूह की लगभग 100 महिलाओं द्वारा परिवार सहित 11 जनवरी को ग्राम के हम्मीरसागर तालाब में आमरण अनशन एवं जल सत्याग्रह की शुरुआत की थी। https://www.bhaskar.com/mp/damoh/news/mp-news-sdm-reached-to-explain-the-women-doing-water-satyagraha-in-the-pond-if-not-believed-then-put-144-stream-in-the-village-074038-6380252.html   (13 Jan. 2020) 
Report Something fishy The fish farms of the aquaculture industry are havocking natural fish stock and traditional livelihoods https://www.thehindubusinessline.com/blink/shoot/something-fishy/article30584543.ece/photo/1/  (17 Jan. 2020)
SAND MINING
SANDRP Blog Madhya Pradesh River Sand Mining 2019: Rivers mined Dry; Govt not bothered Madhya Pradesh is at the forefront of illegal sand mining activities. There have been violent attacks on government officials, reporters and villagers in recent years. The year 2019 saw change in state government and concerned people were hopeful that things will turn better now. However this overview shows not much have changed for rivers and people while attacks and fatalities continued in 2019. https://sandrp.in/2020/01/17/madhya-pradesh-river-sand-mining-2019-rivers-mined-dry-govt-not-bothered/  (17 Jan. 2020)
SANDRP Blog Punjab Sand Mining Overview 2019: Story of Political Patronage & Goonda Tax  The state of Punjab is among leading states where state government has failed to ensure sustainable sand mining practices. The 2019 overview the state shows strong clout of political parties over the illegal sand mining operations without sharing a thought for the rivers and public.  https://sandrp.in/2020/01/18/punjab-sand-mining-overview-2019-story-of-political-patronage-goonda-tax/  (18 Jan. 2020)
Odisha Young anti-sand mining activist found dead in Rashgovindpur Tension flared up in Rashgovindpur after the body of a local youth, who had been opposing illegal sand mining in the area, was found on the bed of Jambhira river on Jan. 9 morning. The deceased 32-year-old Mantu Tarei of Susumari village was a social activist and spearheading protests against illegal sand mining on Jambhira river bed.
Brother Pintu Tarei alleged that Mantu was murdered by sand mafia. "My brother had gone to the river bed on Jan. 8 night to stop the smugglers who were illegally lifting sand. The mafia crushed him to death under a JCB machine as his body bore several grievous injuries," he alleged. Locals said that due to movement of heavy sand loading vehicles, the village road had been damaged to such an extent that it was no more usable. Schoolchildren and emergency vehicles faced a lot of difficulties to commute due to the bad road condition. https://www.newindianexpress.com/states/odisha/2020/jan/10/young-anti-sand-mining-activist-found-dead-in-odishas-rashgovindpur-2087545.html  (10 Jan. 2020)
Goa Chief secy orders clampdown on illegal sand mining Chief Secretary Parimal Rai on Jan. 15 directed officials to ensure that strict vigil is maintained on areas where illegal extraction of sand takes place, and to keep a lookout for the transportation of the sand. He issued instructions to various departments including transport, police, revenue, mines and PWD, at a meeting held at the secretariat to review the situation. Rai also asked the authorities to strictly comply with orders of the high court on the illegal extraction of sand.
Rai also asked the flying squads to be functional around the clock and the police were asked to conduct random checks in areas known for illegal extraction and transportation of sand. He further instructed that the illegally extracted sand stacked on river banks should be put back in the river as per the directives of the high court, and the public works department to render assistance with regards to earthmovers and excavators to the police and flying squad as and when required. https://timesofindia.indiatimes.com/city/goa/chief-secy-orders-clampdown-on-illegal-sand-mining/articleshow/73282000.cms  (16 Jan. 2020)
What have you done to curb sand mining? HC asks Govt  The high court of Bombay at Goa on Jan. 8 asked the state government to indicate the steps being taken to implement its judgment to stop illegal sand mining in Goa. The Goa River Sand Protection Network (GRSPN) filed a contempt petition in the high court and placed on record several photographs "which suggest that sand mining is continuing and there is at least prima facie some deficit in the manner of action on the part of the authorities". The GRSPN said that despite a detailed judgment with directions on December 18 dealing with illegal extraction of sand from Goa's rivers, the activity has continued unabated and has even increased in some places. https://timesofindia.indiatimes.com/city/goa/what-have-you-done-to-curb-sand-mining-hc-asks-state/articleshow/73162567.cms  (9 Jan. 2020)
Maharashtra Boat operators involved in illegal mining will have properties attached While taking action against the sand mafia for illegal excavation along rivers across Pune district, the district administration often sets ablaze the fibre boats used by the sand mafia. The aim is to stop such activities from reoccurring. However, it was revealed that despite taking the stringent step, the sand mafia can be seen to be active again with brand new boats being imported from Gujarat.
It was also revealed that there are separate gangs who provide such boats to the mafia to extract the minerals from the riverbeds. To counter this, the district administration has now decided to not only destroy these boats used for such illegal activities but also attach the properties of boat operators and owners of the vessels. https://punemirror.indiatimes.com/pune/civic/boat-operators-involved-in-illegal-sand-mining-will-have-properties-attached/articleshow/73257423.cms  (15 Jan. 2020)
15L-kg sand, machines seized in Thane Authorities seized 14.94 lakh kg of sand and seized machines, collectively worth ₹6.48 crore, on Jan. 13. No arrests were made as the officials claimed the sand dredgers fled before the raid. The drive was carried out in Thane, Bhiwandi, Kalyan, Shahpur and Ambernath talukas along the creek and Ulhas riverfront. https://www.hindustantimes.com/cities/crackdown-on-dredging-15l-kg-sand-machines-seized-in-thane/story-YpRQbwfANhKRbedAHzj3VO.html  (14 Jan. 2020)
Tamil Nadu 1 arrested for illegal sand mining near Kollidam river A raid conducted by a village administrative officer (VAO) and a village assistant led to the arrest of a man indulging in illegal sand mining in Kollidam River near Srirangam in Trichy on Dec. 30, 2019. The police also seized a sand-laden truck. https://timesofindia.indiatimes.com/city/trichy/1-arrested-for-illegal-sand-mining-near-kollidam-river/articleshow/73052051.cms  (1 Jan. 2020)
Uttar Pradesh MLA lodges complaint of illegal mining SP MLA from Mohanlalganj, Ambrish Singh Pushkar, on Jan. 6 lodged a complaint at PGI police station, alleging illegal sand mining from his agricultural land in Kalli Pashchim area under Sarojni Nagar tehsil. According to the complaint, local villagers informed Pushkar about illegal mining on his land by sand mafia, after which he went to the spot and found the information to be correct. https://www.hindustantimes.com/cities/sp-mla-lodges-complaint-of-illegal-sand-mining/story-65nC4QLZYdaduzRcsM1d6H.html  (6 Jan. 2020)
WETLANDS, LAKES, WATER BODIES
National Centre eases CRZ rules of beaches aspiring for blue flag tag In July 2019, MoEF had identified 13 beaches across the country for the Blue Flag certification, and announced a list of activities that would be permissible in their respective CRZ zones for that purpose. The new notification issued on January 9 contains a bigger list, and supersedes the previous notification. The notification also said that these activities and facilities would be exempt from prior clearance under the provisions of CRZ Notification, Island Protection Zone Notification and Island Coastal Regulation Zone Notifications respectively.  https://indianexpress.com/article/explained/centre-eases-crz-rules-of-beaches-aspiring-for-blue-flag-tag-what-is-this-certification-6218317/  (16 Jan. 2020)
Jammu & Kashmir Wilting Crops, Closed Markets Push 'Vegetable Boatmen' Towards Bleak Future After the August 5 shutdown, incomes have fallen drastically and a sense of disenchantment is creeping in among the community.
Even as the Dal Lake in Srinagar shrinks and chokes with pollution, it continues to sustain a livelihood for the haq haenz of Kashmir. Literally translating to 'vegetable boatmen' owing to the aquatic landscape that forms the backdrop of their agricultural practice, this community, living and farming on the interior fringes of the Dal, provides the Valley with some of its best haq and nadru. Amidst allegations of encroachment, the farmers invoke milkiyat, insisting that these marshes have been used by their families long before the very departments making these accusations were formed, and that cultivating them has been their traditional occupation down centuries. https://thewire.in/rights/vegetable-boatmen-kashmir-shutdown-market-impact  (18 Jan. 2020)
Maharashtra Prepare final list of wetlands within 2 weeks: HC to state The Bombay high court (HC) on Jan. 15 pulled up the state, especially district commissioners and collectors, for failing to submit brief documents for the state's wetlands for the last eight years. It gave the state an ultimatum to publish the list on the ministry website by January 29, the next date for the hearing. The document will have characteristic features for each site, the location, expanse, threats, action plan to preserve the area under the Wetland (Conservation and Management) Rules 2017.
So far, the state has prepared brief documents for all seven districts along the Konkan coast – Mumbai, Raigad, Palghar, Thane, Raigad, Ratnagiri, and Sindhudurg. Brief documents for all other remaining districts are currently pending, said Sandanshiv.
The state environment department on Jan. 15 submitted an affidavit highlighting three districts – Nagpur, Parbhani and Nandurbar – do not have a single wetland and so no brief document was needed to be prepared. The submission was challenged by petitioners Vanashakti who countered the submission citing details from the National Wetland Atlas, Maharashtra that Nandurbar had 735 wetlands, Nagpur 1,054, and Parbhani 276. Overall, the atlas shows Maharashtra has 46,460 wetlands. https://www.hindustantimes.com/mumbai-news/prepare-final-list-of-wetlands-within-2-weeks-hc-to-state/story-ZIBfytmjMyUMYcl8Te4dQO.html  (16 Jan. 2020)
Uran dumping ground will be shut to protect wetlands A garbage dump created on mangrove forests in Uran, Navi Mumbai, will be shut down after persistent complaints from local residents and environmentalists. The Uran municipal council said the dumping ground, which has been functional for 13 years, will be closed down to protect wetlands. The municipal council said it has identified alternative sites for a dumping ground. https://www.hindustantimes.com/mumbai-news/uran-dumping-ground-will-be-shut-to-protect-wetlands/story-BY4j83aiIPOYGdWH2Bq9CJ.html  (3 Jan. 2020)
FIRs in 3 cases of wetland reclamation in Uran The first FIR was regarding a 233-hectare wetlands area in Panje where debris was dumped on Dec. 24. The FIR was registered against the contractor appointed by a private company for dumping debris at a proposed industrial site. Village accountant Shama Ashok Pawar complained against a dumper driver, Dasharath Gurunath Rathod, whom the officials caught red-handed carrying about 1.8 tonnes of soil. "Rathod did not have valid transport and royalty permits for bringing in the soil," the complaint said. He was booked under section 379 (theft) of the Indian Penal Code.
The other two cases were regarding the destruction of mangroves on 160 acres of land in Pagote and Bhendkhal where FIRs were registered against unidentified persons. Both the areas are recognised as wetlands under the state's wetland atlas. Revenue officer Machindra Kashinath Mohite, the complainant in Pagote mangrove destruction case, alleged that mangroves on at least three acres of the eight-acre plot were destroyed. In the third case, village accountant Hashuram Aambo Wagh stated in his FIR that mangroves over 150 acres were destroyed at Bhendkhal.  https://www.hindustantimes.com/mumbai-news/firs-in-3-cases-of-wetland-reclamation-in-uran/story-NnsieCoi8GMPRAOUnNM01O.html  (28 Dec. 2019)
Committee stops all work on wetland in Uran and Panje The Konkan Wetland Grievance Redressal Committee has directed Reliance Industries Ltd (RIL), a promoter of Navi Mumbai Special Economic Zone along with City and Industrial Development Corporation (CIDCO) of the state government, to not undertake any construction on Bhendkhal wetland, in the coastal region of Uran. The committee also ordered CIDCO to protect the wetland and mangroves at Panje.
In May, environmentalists – including D Stalin, who heads the NGO Vanashakti and Sunil Agarwal – had filed a complaint with the committee, saying work on the Navi Mumbai SEZ was destroying wetlands and mangroves. Noting that Bhendkhal is a designated wetland, the committee instructed the Raigad District collector and CIDCO to keep the area free of developmental activity and restore it to its original condition.
This is the first time an official body has named RIL in a case relating to destruction of wetlands and mangroves. The Navi Mumbai SEZ is envisioned to be spread over 2,240 hectares. RIL Chairman Mukesh Ambani is a copromoter of the project along with Jai Corp, SKIL Infrastructure and CIDCO. The project was first proposed more than a decade ago. Recently CIDCO allowed it to be converted from an SEZ to an integrated industrial township.  https://mumbaimirror.indiatimes.com/mumbai/other/navi-mumbai-sez-committee-stops-all-work-on-wetland/articleshow/72910283.cms  (21 Dec. 2019)
Bhendkal wetland in Uran gets protection State mangrove protection committee has ordered that no construction activity can take place on the 165-acre Bhendkal wetland in eco-sensitive Uran area. The state regulator has also ordered removal of debris from the creek area, which was earlier a part of NMSEZ plan. The Konkan Wetland Grievance Redressal Committee has also ordered Cidco to protect the wetland and mangroves at Panje where there has been landfill.
"We welcome these positive steps to protect the wetlands. Reliance company has signed an MoU with NMSEZ to develop 4,000 acres in Uran. Since then, there had been a flurry of activity of destruction of mangroves and wetlands by dumping debris at Pagote, Bhendkhal and Panje. Cidco had leased out part of Panje wetland to the special economic zone. Cidco is a 26% shareholder in NMSEZ," said activist B N Kumar, director of NGO NatConnect Foundation. https://timesofindia.indiatimes.com/city/navi-mumbai/greens-celebrate-as-bhendkal-wetland-in-uran-gets-protection/articleshow/72929381.cms  (22 Dec. 2019)
Odisha 146 Irrawaddy dolphins sighted in Chilika Forest Department officials, wildlife experts and researchers on Jan. 19 sighted 146 endangered Irrawaddy dolphins in Chilika Lake. The last census has recorded 151 numbers  of Irrawaddy dolphins.  https://www.thehindu.com/news/national/146-irrawaddy-dolphins-sighted-in-chilika/article30600863.ece  (20 Jan. 2020)
Experts press for wetlands conservation On the lines of sustainable livelihood methods suggested for dwindling forests, a researcher has suggested a number of methods to develop sustainable options for conservation and wise use of wetlands. Researcher Priyanka Sarkar, wetland ambassador for Society of Wetland Scientists, USA, has studied the ecosystem in depth over time and formulated the requisite processes. https://punemirror.indiatimes.com/pune/civic/experts-press-for-wetlands-conservation/articleshow/73021439.cms  (30 Dec. 2019) 
Rajasthan पिछले 14 साल से उदयपुर की झीलों को साफ कर रहे हैं 73 वर्षीय हाजी सरदार मोहम्मद! लोग जब तक झीलों में कचरा डालते रहेंगे, हम साफ़ करते रहेंगे। मैं लोगों से कहता हूँ कि यह श्रमदान आप करवा रहे हैं, अगर आप झीलों को गन्दा नहीं करेंगे तो हमें इसकी ज़रुरत नहीं पड़ेगी। – हाजी सरदार मोहम्मद। https://hindi.thebetterindia.com/21301/jheel-hiteshi-nagarik-manch-udaipur-hazi-sardar-mohammad/  (Nov. 2019)
GROUNDWATER
Uttarakhand, Uttar Pradesh NGT slams govts for "inaction" on illegal extraction of groundwater NGT on Jan. 17 slammed the Uttarakhand and the Uttar Pradesh governments for their "inaction" over large-scale illegal extraction of groundwater in "critical" and "semi-critical" zones in the states.
The NGT directed both the state governments to take remedial action in respect to individual industries as well as general measures to ensure that there is no extraction of groundwater without prior permission of the Central Ground Water Authority (CGWA). https://www.outlookindia.com/newsscroll/ngt-slams-up-ukhand-for-inaction-on-illegal-extraction-of-groundwater/1710871  (17 Jan. 2020)
Tamil Nadu Madras HC directs closure of private drinking water suppliers illegally extracting groundwater Observing that no lessons seem to have been learnt from the severe water crisis that crippled the city in 2019 and illegal tapping of groundwater by private drinking water suppliers was still being permitted, the Madras high court has ordered immediate closure of such units. https://timesofindia.indiatimes.com/city/chennai/madras-hc-directs-closure-of-private-drinking-water-suppliers-illegally-extracting-groundwater/articleshow/73208012.cms  (11 Jan. 2020)
Hyderabad Pharma cos pollute ground water in Aregudem, agri takes beating  Aregudem villagers in Choutuppal mandal's are forced to spend Rs 200 every day to buy packaged water for household purposes. The borewell groundwater is heavily polluted due to large-scale presence of pharma firms. The villagers' concerns were corroborated by experts who said the water in the village was not fit for agricultural purposes. While the recommended maximum level of TDS in water is 500mg/l which is fit for use, experts found TDS to be as high as 2,000 mg/l to 20,000 mg/l.
The situation is much the same at Polepally village in Mahbubnagar. Nine companies were penalised, but they were small units, Venkataiah said. "Big players like Aurobindo Pharma Ltd, Hetero Labs, Shilpa Medicare, etc., have not been penalised. It is time criminal cases were filed against these companies," the farmer said. Infuriated residents of this village in Yadadri-Bhuvanagiri district staged a dharna recently, demanding that expansion plans of Divis Pharma company be stalled.  https://timesofindia.indiatimes.com/city/hyderabad/pharma-cos-pollute-ground-water-in-aregudem-agri-takes-beating/articleshow/73180418.cms  (10 Jan. 2020)
WATER
National Issue notification in 2 months to ban RO purifiers: NGT tells MoEF NGT directed the MoEF on Jan. 15 to issue within two months a notification banning RO purifiers where TDS in water are below 500 milligrams per litre. The tribunal said the delay in compliance with its order is causing harm to public health and environment and it be complied with expeditiously. https://www.financialexpress.com/lifestyle/health/issue-notification-in-2-months-to-ban-ro-purifiers-delay-harms-public-health-ngt-tells-environment-ministry/1824158/  (15 Jan. 2020)
Haryana Govt's Proposed Bill Threatens Aravalli Forest Range Aravallis are NCR's critical water recharge zone having potential of putting in 2 million litres of water per hectare every year. https://www.news18.com/news/ivideos/why-haryana-govts-proposed-bill-threatens-aravalli-forest-range-2066531.html  (14 March 2019)
MONSOON
IMD New monsoon dates – IMD has decided to revise the normal onset and withdrawal dates for the monsoon in some parts of the country from this year. Although the June 1 date for the onset of the monsoon on the Kerala coast is unlikely to be changed, the dates for onset in many other parts of the country are expected to be revised. Mumbai, for example, expects to start getting rain from June 10 — the revision is likely to push this date back by a few days. Adjustments are likely to be made for many other parts of the country as well. Similar changes are expected in the withdrawal dates.
– The main reason for the revision in the normal dates is the changes in precipitation patterns that have been taking place over the last many years. In the last 13 years, for example, only once has the onset over the Kerala coast happened on June 1. While two or three days of earlier or later onset falls within the yearly variability, in several years the onset happened five to seven days late.
– Similarly, the commencement of withdrawal has happened in the first week of September only twice during this period, and last year, the withdrawal started as late as October 9 — and was completed in around just a week. Effectively, the monsoon is now expected to have later arrival and withdrawal dates in most parts of the country.
– Within the four-month season too, rainfall has been observed to deviate from normal expected patterns very frequently. One of the significant changes being noticed is that rainfall is getting increasingly concentrated within a narrow band of days within the monsoon season. So, there are extremely wet days followed by prolonged periods of dry days. Patterns of regional variations in rainfall are also changing.
– Areas that have traditionally received plenty of rainfall are often remaining dry, while places that are not expected to get a lot of monsoon rain have sometimes been getting flooded. Climate change could be one of the factors driving these changes, but there could be other reasons as well. https://indianexpress.com/article/explained/what-new-india-imd-monsoon-dates-mean-6222260/  (18 Jan. 2020)
FLOOD
Andhra Pradesh IIT-Madras denies study on Amaravati flooding The study purported to have been conducted by IIT-Madras that Amaravati is unfit for being the capital city of Andhra Pradesh as 70 per cent of the area is flood prone and the cost of construction in Amaravati is too high, has kicked up a controversy.
And on Jan. 16, it took a new turn with the reports that the IIT-Madras had categorically denied of conducting any such study on Amaravati. The controversy started four days ago, when there was a leak from YSR Congress party sources to the national media that a study conducted by IIT-Madras on Amaravati, the capital city proposed to be developed by previous TDP government led by N Chandrababu Naidu as a world-class capital city. https://www.greatandhra.com/politics/andhra-news/iit-madras-denies-study-on-amaravati-flooding-102002  (16 Jan. 2020)
Bihar नदियों में बाढ़ की सूचना अब 3 दिन पहले मिलेगी राज्य में बाढ़ की पूर्व सूचना तीन दिन पहले मिल सकेगी। बाढ़ लाने वाली सभी नदियों पर तकनीकी निगरानी की योजना पर काम शुरू हो गया है। प्रायोगिक रूप से कोसी, बागमती और कमला नदी पर किया गया कार्य सफल रहा है, जबकि गंडक नदी पर बाढ़ पूर्वानुमान तकनीक का प्रयोग चल रहा है। इसके प्रारंभिक नतीजे उत्साहजनक रहे हैं।
– इस साल बाढ़ में गंडक नदी का प्रयोग भी पूरा हो जाएगा। इस क्रम में बूढ़ी गंडक, अधवारा समूह, महानंदा, घाघरा, ललबकिया आदि नदियों पर भी चरणबद्ध रूप में बाढ़ पूर्वानुमान तकनीक का प्रयोग किया जाएगा। इस समय राज्य की सभी प्रमुख नदियों में बाढ़ पूर्वानुमान की जानकारी 24 घंटे पहले मिल पाती है। इससे बाढ़ की सूचना मिलने के बावजूद राहत कर्य के लिए पर्याप्त समय नहीं मिल पाता है। https://www.bhaskar.com/bihar/patna/news/notice-of-floods-in-rivers-will-now-be-received-3-days-ago-061027-6346663.html  (9 Jan. 2020)
DISASTER
National Workshop on "Assessment and Mitigation of landslides in the Himalaya" An international workshop on "Assessment and Mitigation of landslides in the Himalaya". The Wadia Institute of Himalayan Geology in Dehradun, India is planning to host an international workshop on "Assessment and Mitigation of landslides in the Himalaya" on 13 and 14 March 2020. Last date for submission of abstract & for registration: January 31, 2020. 
https://blogs.agu.org/landslideblog/2020/01/09/assessment-and-mitigation-of-landslides-in-the-himalaya/  (9 Jan. 2020)
Jammu Kashmir Highway Reopens After Four Days The Jammu-Srinagar National Highway, the only all-weather road linking Kashmir with the rest of the country, was reopened for vehicular traffic on Jan. 16 evening after remaining closed for four days following multiple landslides, officials said. The highway was closed on Jan. 13 after snowfall across Jawahar Tunnel and multiple landslides in Banihal-Ramban sector. https://www.ndtv.com/india-news/jammu-srinagar-national-highway-reopens-after-four-days-as-weather-improves-2165272  (17 Jan. 2020)
ENERGY
IEA Renewable energy share in power generation remains stable over the decade The share of renewables in electricity generation has remained stable at about 16 per cent over the past decade amid increasing electricity consumption, according to a recent report by the International Energy Agency.  https://energy.economictimes.indiatimes.com/news/renewable/renewable-energy-share-in-power-generation-remains-stable-over-the-decade-iea/73244958  (14 Jan. 2020)
RE capacity reaches 86 GW in 2019; wind takes biggest share India's renewable capacity installations reached 86 gigawatt (GW) as of 31 December, 2019.  https://energy.economictimes.indiatimes.com/news/renewable/indias-renewable-energy-capacity-reaches-86-gw-in-2019-wind-takes-biggest-share/73266746  (15 Jan. 2020)
Power generation, demand continue to slide for fourth straight quarter The trend was seen across both conventional and RE. According to a Motilal Oswal report, conventional electricity generation in December declined 2 per cent from the same period last year. This was similar to the November data when total conventional power generation, which is mainly powered by coal, was down 6 per cent on a year-on-year basis.
Further, on a year-to-date basis, generation was down slightly by 0.1 per cent. Overall power generation was also down by 2 per cent year-on-year for the month of December, according to the report. RE generation increased a mere 3 per cent on a yearly basis, even as capacity addition continues to increase. https://www.thehindubusinessline.com/economy/power-demand-continues-to-slide-for-4th-quarter/article30599603.ece  (19 Jan. 2020) 
ENVIRONMENT
Report No environmental clearance needed for exploration, environmentalists fear oversight  Oil and gas firms no longer need to seek an environmental clearance to conduct onshore and offshore exploratory drilling, The Hindu reported on Sunday (Jan. 19). The process is an ecologically-intensive exercise that involves digging multiple wells and conducting seismic surveys offshore.
Earlier, firms seeking to conduct exploratory surveys had to prepare an EIA plan, which had to be scrutinised by a centrally-constituted committee of experts. Then the proposal had to be subjected to a public hearing involving the local residents of the proposed project site. However, public hearings were often exempted.
The new amendments demote exploratory projects from the highest level of environmental scrutiny, called category 'A', to the 'B2' category. This means it will be conducted by the states concerned and will not require an EIA plan. The move is part of a larger process of "decentralisation" by the Centre.
Environmentalists, however, fear that the amendments could invite oversight. "This is part of a continuing trend by the larger lack of oversight by the Environment Ministry," Conservation Action Trust member Debi Goenka told The Hindu. This can also affect farms and sea life, fear environmentalists. Activist Nityanand Jayaraman said that offshore drilling operations can hamper fish, build up heavy water contaminants, disorient whales and sea life and increase the risk of oil spills.
Developing an offshore or onshore drilling site as a hydrocarbon block will, however, continue to merit a "category A" scrutiny. In 2019, the Centre had relaxed rules that incentivise companies conducting oil exploration surveys in less-explored oil fields. The Oil and Natural Gas Corporation and the Vedanta group were granted permission to conduct exploratory oil surveys in Tamil Nadu and Puducherry. This had led to protests led by the Opposition Dravida Munnetra Kazhagam and the Congress. Both parties had argued that exploratory drilling will lead to destruction of agricultural fields in the Cauvery delta. https://scroll.in/latest/950369/no-environmental-clearance-needed-for-exploration-environmentalists-fear-oversight-report  (20 Jan. 2020)
The order, dated 16 January, 2020, amends the EIA Notification, 2006. It was issued in response to a request for exemption from public hearing by companies, including Vedanta Ltd, whose proposal to explore for hydrocarbons in the Cauvery delta has been met with severe public opposition. The intensity of the protests prompted even large regional political parties like the Dravida Munnetra Kazhagam (DMK) to include a promise in their election manifestoes to end further expansion of hydrocarbon activities in the delta.
In March and April 2019, Vedanta had submitted an application for environmental clearance to carry out exploratory activities covering 4,187 sq. km across the UTs of Pondicherry and Karaikal, and Nagapattinam, Villupuram and Cuddalore districts in the Cauvery delta. Additionally, ONGC has also applied for permission for hydrocarbon exploration in Nagapattinam and Cuddalore.
The proposed exploration involves drilling 274 exploratory wells by Vedanta and 40 by ONGC, and the use of environmentally dangerous techniques like seismic testing and fracking. https://thewire.in/environment/eia-public-hearing-exemption-hydrocarbon-exploration-drilling-environment-ministry  (19 Jan. 2020)
CLIMATE CHANGE
Assam Workshop flags river island community's resilience to disasters, climate change – A workshop on "Community resilience to water induced disaster and climate change: Vulnerability and adaptation in Brahmaputra River Basin" dealt in detail with various problems faced by the community in three of Brahmaputra river islands – Majuli (Majuli district), Chalakura Char (Dhubri district) and Kobu Chapori (Dhemaji district)- in Assam. The workshop for key stakeholders was organised by Water, Climate and Hazard (WATCH) Division of Aaranyak, a top-bracket biodiversity conservation and environmental research organisation in Northeast India, at the Indian Institute of Bank Management here on January 9, 2020.
– The workshop concluded that the river islands are the most disaster prone areas of Assam and the inhabitants of the chars are the most vulnerable population of the state because of lack of socioeconomic empowerment, development infrastructure and effective disaster management and climate change adaptation programs. The workshop urged that Both Government and Non-Government Development Agencies should treat the river islands and their people as a special case and prepare specific policies and action plan to reduce their risk of disaster and climate change at a war footing. https://www.northeasttoday.in/workshop-flags-river-island-communitys-resilience-to-disasters-climate-change/  (14 Jan. 2020)
Eastern Ghats Land use policies, climate change hit endemic plant habitats The broken hill-ranges of the Eastern Ghats, spread across Odisha, Telangana, Andhra Pradesh, Karnataka and Tamil Nadu, are home to unique ecosystems. Though it has over 450 endemic plant species, the region remains one of the most exploited and degraded ecosystems of India. With intensifying agricultural practices, urbanisation and pressures from mining and deforestation, the precious habitat of endemic and rare, endangered and threatened (RET) species could be reduced, even leading to species loss, notes a new study.
– The study team looked at available plant species data and identified 22 endemic species recorded from over 250 locations and 28 RET species recorded from nearly 800 locations in the Eastern Ghats. They then studied the soil, land use, anthropogenic activities and climate changes in these areas. They used simulations to predict how the area will change by 2050 and 2070.
– The results published in Environmental Monitoring and Assessment show that by 2050 the total human population in the Eastern Ghats region is expected to reach 2.6 million, raising pressure from anthropogenic activities. There will be a demand for land for food, road and other activities leading to encroachments and threat to the habitats of endemic and RET species. Parth Sarathi Roy from Centre for Earth, Ocean and Atmospheric Sciences, University of Hyderabad explains that unsupervised tourism also affects the distribution of these species. "Ecotourism with regulatory guidelines is a positive way to educate and promote conservation. The highly threatening human activities in the Eastern Ghats area are mining, urbanisation/settlements, dam construction, firewood collection and agricultural expansion," he adds in an email to The Hindu. Prof. Roy is one of the lead authors of the paper.   https://www.thehindu.com/sci-tech/science/eastern-ghats-land-use-policies-climate-change-hit-endemic-plant-habitats/article30595056.ece  (18 Jan. 2020)
Himachal Pradesh Glacier wall breaks and slides on to highway A video of a glacier wall breaking off and sliding on to the highway in Kinnaur, is revolving around the Internet and it is the scariest thing you will come across today. https://www.livemint.com/news/india/himachal-pradesh-glacier-wall-breaks-and-slides-on-to-highway-11579020409783.html  (14 Jan. 2020)
SOUTH ASIA
Nepal Investment Board, Power China Sign MoU On Tamor Hydel Power Investment Board Nepal and the Chinese company Power China have signed a memorandum of understanding in regard with the implementation of reservoir based 756 MW Tamor Hydroelectric Project known as the 'gem' of the east. DPR yet to be prepared. https://risingnepaldaily.com/nation/investment-board-power-china-sign-mou-on-tamor-hydel-power  (19 Jan. 2020)
Merchants of thirst The thriving tanker water business in Nepal. https://www.nytimes.com/2020/01/11/business/drought-increasing-worldwide.html  (13 Jan. 2020)
CHINA
Chinese Paddlefish Dammed to Extinction  China's Yangtze River, the world's third longest river, is home to 378 known species of fish. But the Chinese paddlefish, once a common freshwater fish in the region, is no longer a member of this vast ecosystem. After over a decade of searching, researchers say the species completely disappeared between 2005 and 2010, with the last confirmed sighting in 2003.
According to a recent study in the journal Science of the Total Environment led by Hui Zhang of the Chinese Academy of Fishery Sciences in Wuhan, China, overfishing and dam construction drove the roughly 200-million-year-old animals to extinction.
The Chinese paddlefish (Psephurus gladius), also known as the Chinese swordfish and sometimes called the "panda of the Yangtze," was one of the world's largest freshwater fish species. It could grow as long as 23 feet (7 meters) and weigh up to 992 pounds (450 kilograms), Eric Cheung reports for CNN. Only a few freshwater fish can grow bigger, such as the Mekong giant catfish, sturgeon and alligator gar. http://www.transrivers.org/2020/3000/  (15 Jan. 2020)
AIIB's water strategy contradicts itself, 'allows' privatisation of essential commodity China-initiated Asian Infrastructure Investment Bank (AIIB) recently came up with a draft Water Sector Strategy in order to play what it calls "unique and catalytic role" in improving the efficiency of the water sector through the application of innovative technologies. However, an analysis by Gaurav Dwivedi for the civil rights organization, Centre for Financial Analysis (CFA), says that AIIB contradicts itself when it says that water is a basic necessity and can also be treated as an economic good. https://www.counterview.net/2020/01/aiibs-water-strategy-contradicts-itself.html  (19 Jan. 2020)
ASIA
MEKONG Communities struggle as China tests dam equipment Water levels on the Mekong River, which flows through China and five other countries, have dipped sharply after China began testing equipment in one of the river's upper dams. The water levels there are expected to drop by as much as 25 centimetres. https://www.youtube.com/watch?v=gVKMCzbndx0  (18 Jan. 2020)
NILE Egypt, Ethiopia and Sudan make draft deal  The three nations agreed, following a meeting in Washington DC, that the mega dam on the River Nile should be filled in stages during the rainy season. Ethiopia, which is building the dam, wants to start generating electricity as soon as possible. But Egypt is concerned about its water supplies if it is filled too fast.
– The preliminary agreement, brokered by US treasury secretary and the World Bank president, is short on details, says the BBC's Emmanuel Igunza. Some delicate negotiations will be needed before the Grand Renaissance Dam agreement is finalised later this month, he says. https://www.bbc.com/news/world-africa-51133364  (16 Jan. 2020)
THE REST OF THE WORLD
US Oktibbeha: another landslide induced threat to an earthen dam In Mississippi, USA attempts are underway to lower the lake level behind the Oktibbeha County Lake dam (location 33.509, -88.944), which is described as being in imminent danger of collapse. Reports suggest that an inspection of the dam at 7 am on Tuesday (Jan 14, 2020) indicated that a significant landslide had occurred on the downstream face. A further inspection four hours later found that substantial further deterioration had occurred.  https://blogs.agu.org/landslideblog/2020/01/16/oktibbeha-dam/  (16 Jan. 2020)
Engineers believe it's no longer a matter of if the Oktibbeha County Lake dam will break, but when. A voluntary evacuation has been issued for more than 200 residents near Riviera Road and Walter Bell Road. https://www.wlbt.com/2020/01/16/engineers-make-preps-expected-oktibbeha-county-lake-damn-breach/  (16 Jan. 2020)
Engineers are closely watching a dam in eastern Mississippi Wednesday over concerns that it could fail, as recent rains are posing flooding threats around the South and Midwest. https://edition.cnn.com/2020/01/15/us/mississippi-dam-imminent-danger-failing-wednesday/index.html  (15 Jan. 2020)
On Jan. 16, an engineer recommended that Mississippi's Oktibbeha County Lake be drained to relieve pressure on a dam that still is in danger of collapsing.  https://weather.com/news/news/2020-01-14-mississippi-oktibbeha-county-lake-dam-failure  (16 Jan. 2020)
Quake Threat to Dams Posed by Fracking Was Long Warned For years now the two crown agencies have been reluctant to publicly talk about the risks earthquakes triggered by the oil and gas industry pose to critical dam infrastructure throughout northeastern B.C. But a freedom of information request by Parfitt at the Canadian Centre for Policy Alternatives has shed new light on what has been a long and often acrimonious internal debate. Hundreds of emails, letters, memos and meeting notes released by the utility in response to Parfitt's request and his just published investigation make the following important revelations:
Officials at BC Hydro have been concerned about the shale gas industry since 2007 when coal bed methane extraction resulted in seismic activity at the Peace Canyon Dam near Hudson Hope. The Peace Canyon Dam, which provides six per cent of the province's electricity, is built on fragile shale rock and wasn't built to withstand even modest earthquakes.
BC Hydro officials warned numerous people in the provincial government, including senior bureaucrats and unidentified ministers, "that fracking near its dams could have grave consequences, including the worst possible outcome—an outright dam failure. Yet its repeated calls for firm no-frack zones near its dams continue to go unanswered," reveals Parfitt. https://thetyee.ca/News/2020/01/10/Quake-Threat-Dams-Fracking/  (10 Jan. 2020)
Earthquake fears prompt B.C. Hydro to eye three Island dam upgrades The John Hart dam near Campbell River is one of three older dams to undergo upgrades to make them strong enough to withstand a major earthquake. B.C. Hydro is drawing up plans to upgrade three dams near Campbell River in case a major earthquake hits the area.
Construction plans aim to improve and strengthen the structures so that the structures, which are each more than 70 years old, will survive a severe quake. B.C. Hydro would then lower the level of the reservoirs to relieve pressure on the dams following a quake. If required approvals and funds come through, construction would begin in 2023 and 2024, said Stephen Watson, Hydro's stakeholder engagement adviser. The projects are expected to cost $750 million in total. https://www.timescolonist.com/islander/earthquake-fears-prompt-b-c-hydro-to-eye-three-island-dam-upgrades-1.24050550  (12 Jan. 2020)
UK Community slams 'insulting' hydropower cash pledge A community claiming they were offered £1,000 a year by a firm building a hydropower project on their doorstep have said the amount is "insulting".
The river Tywi will be used to generate power at the site near Llyn Brianne dam at Ystradffin, Carmarthenshire. But campaigners say the firm should pay 20 times that much to the community and affected landowners, based on the £1m the project would make annually.
H20 Power Towy Ltd denied offering £1,000 but would not reveal a figure. It also refused to say how many jobs would be created.
Community councillor Dr Roger Slade said: "No-one in the village is complaining about hydro – the problem here is that they're using a public resource and they expect to get it for nothing. "There are pockets of real deprivation here and just up the valley there's a company making a million pounds a year. "Some of that money should come back to the community." Dr Slade described the £1,000 a year from the firm as an "insulting" offer.  https://www.bbc.com/news/uk-wales-51123848  (16 Jan. 2020)
Ilkley pushes for bathing area status to protect river 'used as open sewer' Local people in a Yorkshire town are pressing for their river to become the first to be designated as a bathing area to force the authorities to clean up the water they say is being used as an open sewer. In the spa town of Ilkley a grassroots campaign has uncovered the regular and routine dumping of untreated sewage by Yorkshire Water – with the approval of the Environment Agency – into the River Wharfe.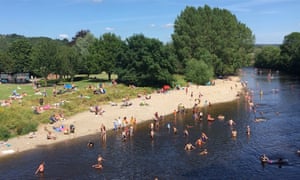 In the summer, the river is used by hundreds of children and families, wild swimmers and fishermen, but the work of the Ilkley Clean River campaign has shown that people are putting their health at risk. Instead of deterring them from taking to the water, locals are demanding that the much-used stretch of river is designated a bathing water area – an endorsement that would force the water company and the Environment Agency to invest in the infrastructure and treatment required to clean up the river. https://www.theguardian.com/uk-news/2020/jan/20/ilkley-pushes-for-bathing-area-status-to-protect-river-used-as-open-sewer  (20 Jan. 2020)
Australia Hundreds of thousands of fish dead in NSW as bushfire ash washed into river Hundreds of thousands of native fish are estimated to have died in northern New South Wales after rains washed ash and sludge from bushfires into the Macleay River. Parts of the Macleay River – favoured by recreational fishers – have been turned into what locals described as "runny cake mix" that stank of rotting vegetation and dead fish. One freshwater ecologist told Guardian Australia the impact of the fish kill might be felt for decades to come, with long-lived species like Australian bass hit hard.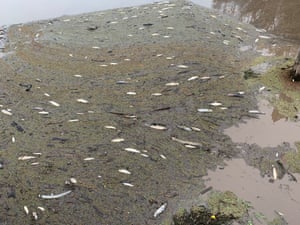 The NSW Department of Primary Industries has been receiving reports of "hundreds of thousands" of fish dead in the river since December 2019. Locals say rain in the past 10 days has seen more ash and mud from the parched and burned landscape running into the river. The disaster on the Macleay River is one of eight fish kills reported to the department this year, with the cause of most linked to lack of rainfall.  https://www.theguardian.com/world/2020/jan/17/hundreds-of-thousands-of-fish-dead-in-nsw-as-bushfire-ash-washed-into-river  (17 Jan. 2020)
Africa Extreme weather leaves Congo capital residents underwater Democratic Republic of Congo is one of several central African countries to be hit by severe flooding in recent months, which researchers have attributed to increasingly intense and unpredictable weather linked to global warming. Flooding in November in the capital Kinshasa led to landslides that killed 39 people. https://www.reuters.com/article/us-climate-change-congo-floods/extreme-weather-leaves-congo-capital-residents-underwater-idUSKBN1Z81BN  (9 Jan. 2020)
Research Pharmaceuticals in streams may come from multiple sources The researchers tested water from 59 streams across four states in the Southeastern U.S., both close to and far away from wastewater treatment plants. The samples contained a wide range of pharmaceuticals and other active compounds, including metformin, nicotine and the anti-seizure medication carbamazepine, at varying concentrations.
Their results confirmed that wastewater plants are important sources of pharmaceuticals, but they also demonstrated that these compounds are common in streams that aren't fed by wastewater plants. This suggests that urban run-off and the below-surface movement of water could be important contributors to the flow of drugs into streams.  https://phys.org/news/2016-06-pharmaceuticals-streams-multiple-sources.html  (8 June 2020)
Compiled by SANDRP (ht.sandrp@gmail.com)
Also see: DRP News Bulletin 13 Jan. 2020 & DRP News Bulletin 06 Jan. 2020
Follow us on: www.facebook.com/sandrp.in; https://twitter.com/Indian_Rivers