For several decades now, groundwater has been India's water lifeline. It is going to remain India's water lifeline for long time to come. So when Prime Minister Modi called for people's movement on water conservation during his MANN KI BAAT Radio program on June 30, 2019 (http://pib.nic.in/PressReleseDetail.aspx?PRID=1576353), the first thing the people would expect the government to do is to acknowledge the reality that groundwater is India's water lifeline and make the sustenance of that water lifeline as the focus of all National Water Policies, programs and plans.
India also urgently needs a National Urban Water Policy that would also define what is a water smart city. The government will need to show it is serious by putting in place rainwater harvesting and groundwater recharging systems at ALL government buildings and lands across the country and show that these are functioning.
The government will also need to bring back the watershed development as the focus of its work on water conservation and reverse the wrong steps this government took five years back (see the detailed report below).
The government also needs to urgently start work on restructuring of water institutions of India, starting with CWC. Unless people see the government's seriousness through actions, the one listed here are the initial steps, there is little likelihood of credibility of what the government says.
With rainfall in June 2019 during the South West Monsoon already showing a deficit of massive 33%, the fifth highest deficit in last 100 years, its possibly the most opportune time to take these steps on URGENT BASIS.
How Govt dismantled country's main defence against drought  The Integrated Watershed Management Programme (IWMP), started in 2009, aims to fight drought in India by holistically conserving water along with soil and forests, through hundreds of projects, each operating at the level of a watershed spread over 5,000 acres of land. For decades, this integrated approach has been widely recognised around the world as a successful method of ecological conservation in water-scarce regions. But the IWMP is dying a slow death.
One year after the Modi govt was elected, in July 2015, it launched a new scheme for farmland irrigation called the Pradhan Mantri Krishi Sinchayee Yojana (PMKSY). The aim of the scheme was pithily summed up in slogans: "Har Khet Ko Pani" – water for every farm – and "Per Drop More Crop".
This narrow focus on farm irrigation is a sharp departure from the broader framework of watershed management, which not only seeks to conserve water, but also tries to rejuvenate the local ecology. It also promotes sustainable uses of water by weaning away farmers from water-intensive crops.
The Modi govt has not ended the IWMP – it was made a part of the PMKSY as its Watershed Development Component. But for all practical purposes, it is being phased out.
In the last four years, central funding to the programme has drastically dropped, Scroll.in's analysis of government expenditure shows. From Rs 2,284 crore allocated in 2014-'15, central funds for watershed work shrunk by 35% to Rs 1,487 crore in the first year of the policy shift.
Agricultural experts believe the programme's best features have been compromised. In Bhikangaon, MP for instance, after the IWMP was merged with PMKSY, "district officials have only been giving sanctions and funding for structures that result in direct irrigation outcomes, like dams without gates," said Radheshyam Patel, the agricultural engineer. "They are denying permissions for structures meant for soil conservation."
Worse, since 2016, the government has stopped sanctioning new watershed projects. From watershed development work over 39 million hectares of land, the programme's aim has narrowed down to bringing just 11.5 lakh hectares of land under irrigation coverage. "By shifting the focus [to farm irrigation], the government is taking water conservation efforts back by 20 years," said Vijay Shankar, a founding member of Samaj Pragati Sahayog, the non-profit organisation that is implementing the 5,046-hectare watershed management project in Bhikangaon.
The IWMP was the culmination of two decades of careful deliberations by several committees of experts and countless experiments by grassroots organisations on the ground. The decision to sideline it, however, appears to have been made without any consultations. The rural development ministry, which oversees the programme, had no representation on the Cabinet Committee on Economic Affairs that approved the proposal. It is not clear if the ministry was consulted at all.
An official of a drought-affected state described the merger of IWMP with PMKSY "a foolish move". Watershed projects need at least 10 years to start having a significant impact, said the official, who did not want to be identified. Recasting IWMP into an irrigation scheme has been an interruption to its momentum. "In this transition [from IWMP to PMKSY], the government has lost the plot," said the official.
Conventional irrigation schemes that involve the building of dams, bunds or farm ponds in lower regions, known as "valleys", do nothing to conserve rainwater in the elevated regions, known as "ridges". As a result, ridge areas suffer from depleted groundwater and greater soil erosion. IWMP takes a holistic "ridge-to-valley" approach.
One of the first changes in IWMP after its shift to PMKSY was the funding pattern. Earlier, the ratio of central government and state government contributions to the programme's budget was 90:10. Since 2015, the ratio was changed to 60:40.
This meant the central funds for the programme drastically dropped from Rs 2,284 crore in 2014-'15 to Rs 1,487 crore in 2015-'16. While state governments made up the shortfall that year, since then the combined central and state funds have been below the levels achieved in 2012, when most of the projects came on-stream.
In 2017, the government told a Parliamentary Standing Committee that it was focusing on developing existing projects and bringing 11.5 lakh hectares of land within them under irrigation coverage. This was a dilution of the original target of carrying out watershed development work over 39 million hectares of land.
The committee report also pointed out that the progress on existing projects was "lackadaisical": of the 8,214 projects sanctioned from 2009 to 2015, as of July 2017, not a single project had been declared officially closed. Six months later, there was marginal progress: 1,140 projects in 13 states were declared complete by December 2017.
The shortage of funds has led to work grinding to a halt in many places. Since 2010, WASSAN had been implementing two IWMP projects in Telangana's Vikarabad district, but a severe funding crunch from 2014 to 2016 forced them to stop work for two years. Although the projects were eventually completed and handed over to villagers in 2018, Chandrudu claims that IWMP has been "killed" by lack of political will.
This seems to be the crucial problem with the government's watershed management efforts under the PMKSY. In official documents about the irrigation scheme, the stated aims of its watershed development component continue to be the same as that of the original IWMP: an integrated approach towards water, soil and forest conservation that will improve agricultural yields and enhance rural livelihood generation.
But on the ground, the government has been steadily undermining its own programme by focusing heavily on short-term, tangible irrigation outcomes rather than integrated ecological conservation.
According to a central government official who did not wish to be identified, funding for ridge-area structures like farm ponds have been "partially stopped", not because of the shift from integrated watershed development to irrigation, but because of the government's decision to pool resources from other schemes – officially called "convergence"– in the PMKSY's implementation. https://scroll.in/article/928209/special-report-how-the-modi-government-dismantled-indias-main-defence-against-drought  (27 June 2019) 
The analysis of Composite Water Management Index (CWMI) reflects a grim picture of the data repository mechanism of the government authorities. The CWIM report did not classify West Bengal, Arunachal Pradesh, Jammu and Kashmir, Manipur and Mizoram for the lack of data. The MGNREGS data was constantly changing even for the previous years. The MGNREGS data that is claimed to be updated on a daily-basis did not have data for the previous year for the different water related works carried out in each state.
The CWIM report suggested to accelerate the process of providing Direct Benefit Transfers (DBT) for micro-irrigation subsidies (which it has already announced) to enable innovation and consumer choice in the micro-irrigation market. However, in the case studies, it quotes DBT for LPG cylinders in the best practices – something unrelated to water.
Ranjan Panda, a researcher, environmentalist and activist, criticises the report calling out the government think tank for classifying the states based on 'intent'. He adds that the report also does not factor in climate change, pollution of water bodies and pollution controlling measures. He says, "That's perhaps the reason why some of the most polluted states like Gujarat rank high in effective water management." https://www.news18.com/news/india/only-3-states-barely-listened-to-niti-aayogs-alarm-bells-on-water-crisis-rest-hit-the-snooze-button-2210099.html  (30 June 2019)
Joanna Slater, the India bureau chief of The Washington Post, reported through a series of tweets on June 28 that NITI Aayog's claim could be the result of a questionable extrapolation of district-level data provided by the Central Ground Water Board (CGWB), a body under the Union ministry of water resources. The claim in the report itself is attributed to the World Bank, the World Resources Institute (WRI), Hindustan Times and The Hindu.
However, according to Slater's follow-ups, the WRI wasn't the source of the claim, whereas other news reports had attributed it to the World Bank. When Slater reached out to the organisation, it denied knowledge of the claim's provenance. After she reached out to NITI Aayog, it pointed its finger at the CGWB, and which in turn denied having claimed that the 21 cities would not have access to groundwater after 2020.
The eventual source turned out to be a CGWB report published in June 2017, a year before NITI Aayog's report was out, and with data updated until March 2013. It provided data showing that Indian cities (gauged at the district-level) are using their respective supply of groundwater faster than the resource is being replenished; the ongoing crisis in the city of Chennai is proof that this is true. But the report doesn't account for groundwater replenishment efforts after 2013 as well as contributions from "sources like lakes and reservoirs" (to use Slater's words).
Slater and others have said that faulty claims are not the way to illustrate this crisis, even if the crisis itself may be real. One unintended side-effect is that such reports might give the impression that we are in more trouble than we really are, which in turn could leave people feeling helpless, despondent and unwilling to act further. https://thewire.in/environment/doubts-over-niti-aayog-claim-that-21-cities-face-groundwater-extinction-by-2020  (29 June 2019)
NITI Aayog has not applied proper methodology and used credible sources in preparing CWMI 2018 report.
– रिपोर्ट बड़े बाँधों के नकारात्मक प्रभावों का संज्ञान नहीं लेती है. इसमें पानी की गुणवत्ता और प्रदूषण, नदियों के बहने और जीवित होने, राज्यों में समुचित बँटवारा, सिंचाई-संपन्न खेती के अलावा पानी आधारित जीविका के अन्य साधन आदि जैसे महत्वपूर्ण संकेतक इस रिपोर्ट में नहीं हैं. अनेक संकेतकों के मापन में भी समस्या है. एक बड़ी कमी है कि आयोग इस रिपोर्ट को तैयार करने के लिए बाहरी स्रोतों पर बहुत अधिक निर्भर है, और, जैसा कि ऊपर के विवरण से साफ़ है, इस चक्कर में अपुष्ट, भ्रामक और सतही सूचनाएँ डाल दी गयी हैं. आयोग अगर सचमुच में कोई सरकारी थिंक टैंक है, तो उसे कुछ शोध और अनुसंधान पर भी मेहनत करनी चाहिए, न कि सेमिनार कराने का मंच बनकर रह छाना चाहिए. उसे सरकार पर भी दबाव बनाना चाहिए कि वह अपने बोर्डों और एजेंसियों को ज्ञान-विज्ञान से जुड़े विषयों पर जानकारी जुटाने के लिए सक्रिय करे. https://pkray.blog/2019/06/30/groundwater-india/      (30 June 2019)
Opinion Govt should not use NITI Aayog report to justify river linking The increasing scarcity of water has already resulted in seven major inter-state disputes within India. Besides the usual upstream-downstream conflicts, the inter-basin river water transfers could lead to many more disputes. Thus, instead of using the NITI Aayog Report to justify more large-scale water storage and diversion projects, India should look for other ways to ensure sustainable management of its available water.
In the face of limited water supplies and growing demands, the institutions dealing with water in India are weak. As a result, there are a growing number of conflicts not only between states but also between industry and agriculture, and between urban and rural areas. In the face of competing demands, government policy has failed to address water issues in an integrated and sustainable manner.
The focus of the government should move away from large irrigation projects and groundwater withdrawal to water harvesting, smart water pricing, enhanced public-private partnership, basin based integrated river water management and water use efficiency. Growing urbanization and industrialization demands intensive wastewater treatment and reuse. Greater public awareness needs to be undertaken sincerely with the help of civil society to successfully undertake necessary reforms in the water management sectors. https://www.thethirdpole.net/en/2018/07/06/indian-government-should-not-use-water-crisis-to-justify-river-linking/ (6 July 2018)
WATER OPTIONS
Bengaluru 'Well-diggers have shown how to revive traditional water bodies' S. Vishwanath replies in an interview: "The well-diggers have cleaned, deepened, dug new ones, and revived at least 10,000 open wells in the city. These wells provide water for homes, institutions, industries and parks. We estimate that close to 1,00,000 recharge wells (they replenish groundwater with rainwater) would have been dug to recharge rainwater from rooftops and stormwater drains. The impact has been positive on the well-diggers and their livelihood opportunities have increased, but a lot more needs to be done. Success stories such as that of the Wheel and Axle Plant, Yelahanka; Cubbon Park; Rainbow Drive with its 300 recharge wells; and IIM with 65 recharge wells have helped in spreading the word." https://timesofindia.indiatimes.com/home/sunday-times/all-that-matters/bengalurus-well-diggers-have-shown-how-traditional-water-bodies-can-be-revived/articleshow/70005591.cms  (30 June 2019)
Also see, Building resilience for water in a city In the modern urban context, the tanks can be modified to become treated waste-water retaining structures, wetlands, percolation and flood mitigation structures and provide livelihoods through fishing, fodder harvesting and  more. These tanks can also become recreational open spaces and be integrated as part of the management of the commons. https://www.youtube.com/watch?v=PCwtMUtQrXg&feature=youtu.be  (15 August 2016)
Maharashtra Marathwada farmers change crop pattern to conserve water In drought-prone Marathwada region farmers are now turning to water conservation by changing cropping patterns. "Our village is known to cultivate water demanding crops like cotton and maize. However, for the past two years, many farmers collectively decided to cultivate tur and soybean. The effort has paid off," said Bhagvat Gavade, a farmer from Kolegaon, about 20 km from Bhokardan in Marathwada region of the state.
Gavade said that water consumption was reduced to ensure that groundwater was not exploited. "Majority of farming activities are done using groundwater pumped out of the bore wells. The village has about 350 families, of which over 150 had agreed to practice the new method," he added.
The farmer also said that others not wanting to compromise on a cash crop like cotton have instead reduced the area under cultivation. "The area for producing cotton has cut down by at least 10-15 per cent, helping reduce the water requirements," Gavade said.
These efforts by the villagers have now saved nearly 40 to 50 per cent of groundwater compared to earlier. "The tankers that were procured in November or December every year for water needs are now only called during peak summer months like March and April," Gavade told Mirror. https://punemirror.indiatimes.com/pune/civic/marathwada-farmers-change-crop-pattern-to-conserve-water/articleshow/69995424.cms  (29 June 2019)
Bundelkhand Revival of ponds reduce water problem About 10 years ago, the severe water scarcity made the residents of Jakhni village in Banda district make efforts to revive the ponds in the area. Their grit and efforts yielded results. This year, while several other villages are lying parched, five ponds in Jakhni village are full and residents are getting easy supply of water through tubewells. https://timesofindia.indiatimes.com/city/lucknow/man-made-oasis-quenches-thirst-in-bkhand/articleshow/69882394.cms  (21 June 2019)
Delhi Groundwater rises 2.75ft In South Delhi's New Moti Bagh locality of the groundwater level has actually risen by 2.75 feet in the past year, according to the National Building Construction Corporation due to zero extraction of groundwater and total harvesting of rainwater.
"We had licence for three tubewells in New Moti Bagh. But we consciously decided not to extract groundwater since 2013. We also set up a sewage treatment plant to meet the irrigation needs of the area. We take about 8-9 lakh litres of water daily from NDMC and on an average 5.5 lakh litres of treated waste water is used per day for irrigation and other purposes," an NBCC official said. He said six pits to harvest rainwater have been created to ensure that there's no run-off of rainwater from the compound. https://timesofindia.indiatimes.com/city/delhi/south-delhi-locality-turns-the-table-groundwater-rises-2-75ft/articleshow/69950705.cms  (26 June 2019)
Tamil Nadu Recharge wells to be set up across water courses The Vellore district has taken an initiative to improve the quality of groundwater, which was polluted in many parts. Keeping the rural women engaged under NREGA Scheme, the District Rural Development Agency (DRDA) was involved in restoring water sources in nine blocks. The nine blocks covered are Alangayam, Anaicut, Gudiyatham, Jolarpet, Kandhili, Madhanur, Natrampalli, Pernambut and Thirupathur. The total works cost ₹33 crores and the remaining 1,491 recharge well works are being phased to be completed soon, an official of DRDA said. https://www.thehindu.com/news/national/tamil-nadu/recharge-wells-to-be-set-up-across-water-courses/article28112107.ece  (22 June 2019)
Hyderabad NGO's bid to help recharge groundwater table Team NGOs India has kick-started 'Recharge Hyderabad' campaign with primary focus to come up with harvesting pits in mosques for recycling and reuse of ablution water. It emphasises not only on rainwater harvesting in households, but also harvesting of kitchen, washing machine and bath water and recycling & filtration system for daily use. https://www.thehansindia.com/news/cities/hyderabad/ngos-bid-to-help-recharge-groundwater-table-in-hyderabad-540834  (24 June 2019)
HYDRO POWER PROJECTS
Minutes of the EAC for RVP meeting held on May 27, 2018, just uploaded minutes. Key decisions:
Third Unit of 50 MW (Phase-II) For Tidong-I Hydroelectric Project (100+50MW) Himachal Pradesh for TOR. RECOMMENDED

Nardave Medium Irrigation Project at Nardave, Tal: Kankavali, Dist: Sindhudurg by Konkan Irrigation Development Corp, Maharashtra – EC. INFO Sought.

P.V. Narasimha Rao Kanthanapally Sujala Sravanthi Project Jayashankar Bhupalapally District, Telangana – For EC. RECOMMENDED

Satdharu Medium Irrigation Project in District Damoh of Madhya Pradesh. For EC. INFOR Sought.

Channaka-Korata (Rudha) barrage on Penganga River-Interstate Irrigation Project, Adilabad dist, Telangana. For EC. RECOMMENDED.

Adi Badri Dam on Somb Nadi and its piped link to Saraswati Nadi and Saraswati Reservoir by Irrigation & Water Resources Dept, Haryana. For TOR. Does NOT require EC from this EAC. http://environmentclearance.nic.in/writereaddata/Form-1A/Minutes/250620194O8H1X9UFinalMOM24EACHydro.pdf
Uttrakhand 
Jammu & Kashmir Protest held against NHPC in Uri The residents of Salamabad in north Kashmir's Uri subdivision June 25 staged a protest demonstration against the National Hydro Power Corporation (NHPC) authorities for not providing a fire tender to extinguish a burning shop in the area.
Dozens of protesting residents blocked the Srinagar-Muzaffarabad road near Salambad for hours. They were protesting against NHPC authorities for not providing a fire tender to douse the flames when a shop was gutted on Monday night damaging property worth lacs. http://www.risingkashmir.com/news/protests-held-against-nhpc-authorities-in-uri   (26 June 2019)
DAMS
Polavaram project Centre agrees to pay revised cost of Rs 55,548 cr Responding to a question by YSRCP MP V Vijayasai Reddy in the Rajya Sabha, Minister of State for Jal Shakti, Rattan Lal Kataria, said that the Centre had examined the proposal of the state government and had decided to approve the same. Stating that more than Rs 6,000 crore had already been released for the National Project since 2014, Kataria in his response, said that a large chunk of the money, Rs 33,168.23 crore, would be used for land acquisition and rehabilitation works.
According to the state's plans, a total of 17,800 acres of land – 6,600 acres of forestland and 11,200 acres of revenue land – spread across 127 villages in four constituencies of West Godavari district – Polavaram, Chintalapudi, Gopalavaram and Denduluru – is being acquired for the project.  https://www.thenewsminute.com/article/andhras-polavaram-project-centre-agrees-pay-revised-cost-rs-55548-cr-104211  (25 June 2019)
Kaleshwaram Project 'KLIP will irrigate 2 lakh acres in Rajanna-Sircilla district' The Kaleshwaram Lift Irrigation Project (KLIP), through package-9 at Malkapet reservoir in Kanaraopeta mandal, would provide irrigation to around two lakh acres in the upland Rajanna-Sircilla district. https://www.thehindu.com/news/national/telangana/klip-will-irrigate-2-lakh-acres-in-rajanna-sircilla-district/article28129328.ece  (25 June 2019)
Telangana EAC nod to Rs. 2,121 Cr Dam Project On Godavari See P V Narasimha Rao Kanthanapally Sujala Sravanthi Project (PVNRKSSP) that involves construction of 23 metre high and 1,132 metre long barrage (dam) across Godavari river is being built only to  raise the water level in the river to feed the existing irrigation scheme and canals for irrigating the ayacut, which are not getting sufficient water, and also to meet the drinking water needs of the region. And EAC approved it in six month time.
The project requires 674.18 hectare land, out of which 94 hectare is private land and 580.18 hectare is river bed area. As per the Godavari Water Disputes Tribunal order (GWDT), the total allocation of water in the Godavari river to the Telangana and Andhra Pradesh is 1,480 TMC. The net water availability at the proposed barrage site has been worked out to be 407.4 TMC, of which 180 TMC is allocated for Kaleshwaram Irrigation project (peddha), 4.5 TMC for Kaleshwaram LIS (tank filling) and 100 TMC for the proposed PVNRKSSP. https://www.ndtv.com/telangana-news/green-panel-gives-nod-to-telanganas-rs-2-121-cr-dam-project-on-godavari-2061601  (30 June 2019)
Sardar Sarovar Dam Gujarat's tall dream hits Madhya Pradesh On June 24, 2019, Surendra Singh Baghel, minister, Narmada Valley Development Authority, MP, told TOI that major irregularities in rehabilitation and resettlement have surfaced and that the Gujarat government had provided MP far less funds for rehabilitation than mandated. "In the name of Sardar Sarovar Project, the Centre is pressuring us to force people out without compensation and create unrest. After Congress took over, we detected irregularities in the R&R process and gaps in funds given by the Gujarat government and the actual requirement," said Baghel. "We have ordered a resurvey of the project affected families (PAF)," said Surendra Singh Baghel.
– Narmada Bachao Andolan (NBA) activist Medha Patkar, however, said it would be criminal to permit Gujarat to store water up to 138.68 meters. "It would be criminal as 30,000 families would be directly impacted and lives of lakhs of poor people will be at risk," she said. "Neither the NCA nor any agency can uproot poor citizens. Serious instances of corruption and siphoning off R&R money have come to light in MP owing to corrupt practices all these years,'' Patkar said. https://timesofindia.indiatimes.com/city/ahmedabad/gujarats-tall-narmada-dream-hits-madhya-pradesh-bottleneck/articleshow/69951351.cms  (26 June 2019)
Here is NBA note on the issue: https://www.counterview.in/2019/06/gujarat-govt-wants-to-fill-up-sardar.html  (26 June 2019)
Madhya Pradesh Tribal oppose Ganjal Moran dam Located in the Narmada valley, it will submerge at least 10 villages inhabited by the tribal Korku community. The mammoth dam project is estimated to cost the state government approximately Rs. 2,813 crores, with a command area of approximately 52,000 hectares to be irrigated by the twin dams at Morand and Ganjal.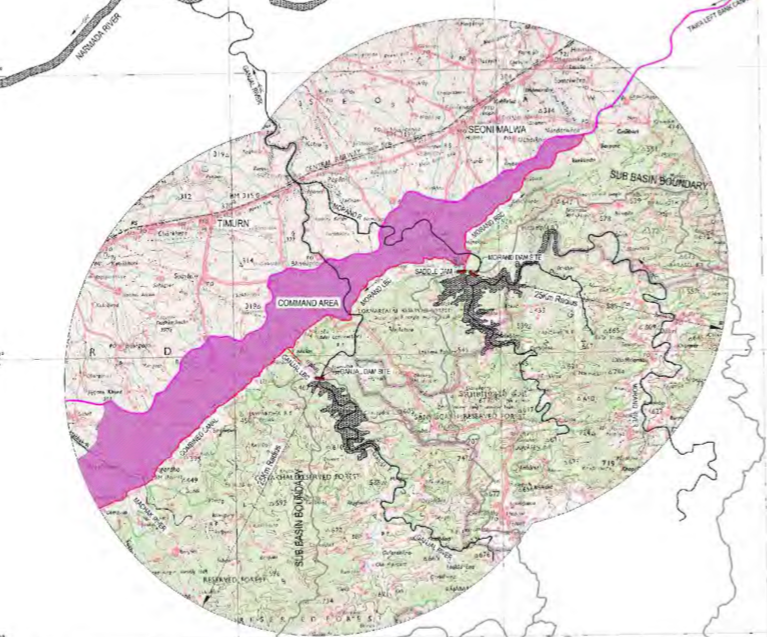 The proposed project is aimed at benefiting total 4,617 ha of land in 28 villages of Hoshangabad, 17,678 ha of land in 62 villages of Harsud tehsil in district Khandwa, and 29,910 ha of agriculture land in 121 villages of Harda, Khirkiya, Sirali and Rahatgaon tehsils of Harda district. https://www.newsclick.in/Tribal-Resistance-Gains-Momentum-Ganjal-Moran-Dam-MP   (24 June 2019)
Maharashtra Mumbai does NOT need Kalu dam Can the Mumbai Environment Groups PLEASE stand up and say Mumbai or MMR does not need KALU dam, Damanganga Pinjal link or ANY NEW DAM, EVER and that existing water supplies along with local options can take care of the needs of the MMR region? This erroneous, misleading statement from Maharashtra CM is as good as any to start this campaign. https://www.thehindu.com/news/cities/mumbai/damanganga-pinjal-project-to-meet-mumbais-water-needs-till-2060-cm/article28221988.ece   (29 June 2019)
Kerala Dams drying up, brace for power cut in 10 days With the Southwest monsoon failing to deliver, the Kerala State Electricity Board (KSEB) is encountering an unprecedented power crisis as water level in major reservoirs is inching closer to dead storage. The water level in Idukki reservoir, the source for Kerala's biggest power generator, plummeted to 2,305 ft on June 29, recording a 44 ft decline from the level recorded on the same day last year.
According to KSEB, Kerala's average power consumption is 75 million units per day. With more consumers installing air conditioners, the state has been witnessing a spike in consumption, which peaks to 82 million units during harsh summer days. If the hot weather continues, electricity consumption will also increase, which will force the KSEB to extend the duration of the load shedding, said an officer.
"Power is available in National Power Exchange Ltd (NPEX) but we lack the infrastructure to bring it. There are 96 blocks in NPEX and we have to purchase from these blocks. The rate fluctuates from Rs 1 to Rs 10 per unit. During peak hours when consumption is high, the rate also increases. We purchase power at Rs 6-Rs 7 per unit. The problem is not the availability of power but lack of power corridors," said Pillai. http://www.newindianexpress.com/states/kerala/2019/jun/30/dams-in-kerala-drying-up-brace-for-power-cut-in-10-days-1997291.html  (30 June 2019)
Date set for Muvattpuzha project? Work on Muvattupuzha valley irrigation project (MVIP) had begun in 1974 with a cost estimate of Rs. 20.86 crore. Govt has so far spent whopping Rs. 988.97 crore on MVIP which nonetheless remains partially commissioned, according to data presented by Water Resource Minister K. Krishnankutty in the Assembly. The planning board has approved and allocation of Rs. 50 crore for completing all pending works and commissioning the project by March 2020, Irrigation Department officials said. It is also one of the four big, seriously delayed projects that the government took up for completion in 2017. https://www.thehindu.com/todays-paper/tp-national/tp-tamilnadu/march-2020-date-set-for-muvattupuzha-project/article28232306.ece  (30 June 2019)
INTERLINKING OF RIVERS
Lok Sabha Lack of quorum forces early adjournment Business of the Lok Sabha collapsed on June 28 due to lack of quorum minutes before it was scheduled to end. The issue of quorum was raised during a discussion on a private member resolution regarding water scarcity and Ken-Betwa river-linking project. The presence of at least 10% of the total strength of House or about 55 members constitutes the quorum in the Lok Sabha. https://www.thehindu.com/news/national/lack-of-quorum-forces-early-adjournment-of-lok-sabha/article28207887.ece  (28 June 2019)
As per another report, a resolution to construct canals through the Ken-Betwa river-linking project, moved by Kunwar Pushpendra Singh Chandel, was discussed by Congress' Adhir Ranjan Chowdhury and BJP's Jagdambika Pal. https://www.firstpost.com/politics/parliament-updates-lok-sabha-discusses-importance-of-river-linking-project-in-bundelkhand-amid-water-crisis-rajya-sabha-adjourned-6896661.html  (28 June 2019)
Godavari-Cauvery Interlinking Not just the original plan, Mahanadi-Godavari-Krishna-Pennar-Cauvery-Vaigai-Gundar under Peninsular Component of National Perspective Plan is still riddled with ecological and social problems:-
– Though the concept of transferring water from surplus river basins to deficit river basin looks rosy on paper, these mega projects involving thousands of crores of rupees in investment and major ecological implications, can go wrong and become unsustainable on the long run, warn researchers.
– A study titled "Indian Summer Monsoon Rainfall: Implications of Contrasting Trends in the Spatial Variability of Means and Extremes" conducted by researches of IIT-Bombay and IIT- Madras, which was published in scientific journal PLOS One, found major surplus basins such as Mahanadi, Godavari, Brahmani and West Flow River-I are witnessing significant decrease in rainfall. The decrease in water yield in recent period in major surplus basins has been more than 10 per cent in the case of Mahanadi, while Ganga, which is a major water deficit basin, has seen significant increase in rainfall, while Yamuna, Krishna and Cauvery river basins exhibit a decrease.
– The paper says the hypothesis of 'wet gets wetter and dry gets drier' is not valid in Indian scenario. "Our analysis also raises concerns about the suitability of major nation-wide projects related to river water-basin interlinking, in which the sustainability of water surplus conditions in river basins in response to a changing climate is not ascertained. Therefore, the water demand in a surplus basin first needs to be assessed and met under decreasing water availability scenarios," said Sachin S Gunthe, co-author of the paper from Department of Civil Engineering, IIT-Madras.
– Maj Gen Sudhir G Vombatkere, who holds a Ph.D in structural dynamics and served as Additional Director-General (Discipline and Vigilance) in Army HQ in Delhi, said a project such as this cannot afford to fail. This is the reason for people wanting to know the basic assumptions on which inter-linking of river projects is based, and also questioning the assumptions that have been put out, such as declaring a river basin as surplus, simultaneously relieving flood and drought, generation of power, etc. "The risk that there may be flaws in basic assumptions is too great to leave unquestioned. Hence, the basic assumptions and the performance criteria of the project need to be discussed transparently at district, State and national level."
– S Janakarajan, president of South Asia Consortium of Inter-Disciplinary Water Studies (SaciWATERs), said the concept is a total nonsense and non-implementable. "This is nothing but a political move. A State can preserve and maintain its local water bodies for self-sufficiency, instead of meddling with perennial river ecosystem based on horrendous assumptions. These projects will cause a huge amount of distortion in the existing environment and affect the whole cycle of life. It will be a serious threat to biodiversity of estuarine ecosystems." http://www.newindianexpress.com/states/tamil-nadu/2019/jun/23/concerns-aplenty-as-centre-mulls-linking-indravati-river-to-godavari–cauvery-1994032.html  (23 June 2019)
INTERSTATE WATER DISPUTES
Karnataka-Tamil Nadu Karnataka not in a position to release water to Tamil Nadu:CWMA The Cauvery Water Management Authority (CWMA) on June 25, during its fourth meeting, directed Karnataka to release 9.19 TMC feet of water for June and 31.24 TMC feet of water for July to Tamil Nadu, as per the monthly schedule finalised by the Water Tribunal.
Chairman Masood Hussain who presided over the meeting, however, observed that rainfall has been deficient in Karnataka due to delayed monsoon and added that the state is not in a position to release the designated amount of water to TN.
The authority also deferred discussions on Karnataka's Mekedatu dam plan during this meeting. Mekedatu project involves building a multipurpose balancing reservoir at Mekedatu across Cauvery in Ramanagara district in Karnataka. https://www.thenewsminute.com/article/karnataka-not-position-release-water-tamil-nadu-says-cauvery-panel-104299  (26 June 2019)
AIADMK MP A. Navaneethakrishnan raised the issue during Zero Hour in the Rajya Sabha on June 28. "In the Cauvery issue, the Supreme Court has modified the Tribunal Order and water allocations have been made, but the Supreme Court has held that this arrangement may be enforced for 15 years. But now, Karnataka is making attempts to construct a dam at Mekedatu," he said. https://www.thehindu.com/news/national/stop-mekedatu-dam-on-river-cauvery-says-aiadmk-mp/article28224410.ece  (29 June 2019)
Before this, in a letter to the PM on June 24, Tamil Nadu CM, Mr. Palaniswami drew Mr. Modi's attention to the proposal put forward by the Cauvery Neeravari Nigama Niyamita of Karnataka for the grant of ToR for environmental clearance (EC) for the Mekedatu balancing reservoir and drinking water project. Karnataka's action of seeking EC for the Mekedatu project was in utter violation of the final order of the Cauvery Water Disputes Tribunal and the judgment of the Supreme Court (SC), dated Feb 16, 2018, he said. https://www.thehindu.com/news/national/tamil-nadu/dont-grant-green-nod-for-mekedatu-dam-cm-urges-pm/article28129853.ece  (25 June 2019)
Tamil Nadu govt also said that it could not open Mettur Dam on the scheduled date of June 12 this year too for Cauvery Delta Irrigation due to non-release of water by Karnataka and poor storage in Mettur Dam.
Tamil Nadu also sought immediate appointment of Engineers of suitable rank from Central Water Commission to monitor the release of water as per the decision of the Authority in the designated reservoirs forming part of the Tribunal's First order. The state also insisted that since the headquarters of the Cauvery Water Regulation Committee has been fixed as Bengaluru, the meetings should only be held in Bengaluru hereafter. https://www.business-standard.com/article/news-ani/tn-seeks-immediate-release-of-cauvery-water-from-karmatala-119062500468_1.html  (25 June 2019)
Karnataka on June 20 refused to release Cauvery water to Tamil Nadu due to low storage in its reservoir and poor inflow. Karnataka Water Resources Minister D K Shivakumar on June 19 said that storage in Cauvery basin reservoirs in Karnataka was low and inflow is just 1.5 tmc feet due to weak monsoon.
In the May 28th meeting of the CWMA, it was decided that Karnataka should release 9.19 tmc of June quota of water to Tamil Nadu. Karnataka also agreed to honour the CWMA decision of monsoon was normal. https://www.deccanherald.com/state/karnataka-politics/karnataka-refuses-to-release-cauvery-water-to-tn-741737.html  (20 June 2019)    
Karnataka CM H.D. Kumaraswamy on June 15 met Union Water Resources Minister Gajendra Singh Shekhawat and sought early nod for the proposed ₹5,912 crore reservoir in Mekedatu on the Cauvery river. Mr. Kumaraswamy also asked the Centre to notify orders issued by both the tribunals on usage of its share of water from Mahadayi and Krishna rivers.
The Krishna River Water Disputes Tribunal-II has allocated 166 TMC (thousand million cubic feet) of water to the State for irrigation and other purpose, while the Mahadayi River Water Disputes Tribunal has allocated 13.2 TMC of water to Karnataka. Mr. Kumaraswamy said the State has not been able to use the allocated Krishna water in the absence of a gazette notification.
He said the State has not been able to take up a project to build a canal across Kalasa and Banduri, two tributaries of the Mahadayi river, to divert 7.56 TMC of water to the Malaprabha river in order to improve drinking water supply to Belagavi, Dharwad and Gadag districts. Talking about the Mekedatu project, the Karnataka CM  said that there was no need to seek consent from Tamil Nadu for the proposed project. https://www.thehindu.com/news/national/karnataka/hd-kumaraswamy-seeks-centres-early-nod-for-mekedatu-project-on-cauvery-river/article27949759.ece  (15 June 2019)  
IRRIGATION
Odisha Irrigation hit as projects damaged  Irrigation in 35,260 hectares of crop land has been affected as 534 minor irrigation projects have either become defunct or suffered partial damage, admitted the government. To a query on minor irrigation projects, Water Resource Secretary Raghunandan Das said that the State has total 3,822 minor irrigation projects in 29 districts and 5,54,090 hectares of irrigation potential was created through these projects.
"At present, minor irrigation projects cover 4.77 lakh ha of area in the State. As many as 141 projects are completely defunct and 393 minor irrigation projects are partially damaged. Irrigation has been affected in 35,260 ha of crop land," said Mr. Das. The State government required ₹176.30 crore to make these projects functional again, he said. https://www.thehindu.com/news/cities/kolkata/irrigation-hit-as-projects-damaged-in-odisha/article28231629.ece  (30 June 2019)
URBAN RIVERS
Mithi River, Mumbai Mithi most polluted river in 2018 The Mithi river was Maharashtra's most polluted river in 2018, containing human and animal excreta almost 15 times the safe limit. The Maharashtra State Pollution Control Board's (SPCB) water quality assessment of eight major state rivers in 2018 was published in the recent Maharashtra Economic Survey Report 2018-19. The study found levels of faecal coliform content (indication of human and animal excreta) and biochemical oxygen demand (oxygen levels for aquatic life to survive) of the Mithi river were above the safe limit. https://www.hindustantimes.com/mumbai-news/mithi-was-maharashtra-s-most-polluted-river-in-2018/story-ZwsfLjOLcsCVbKokqzhhxK.html  (24 June 2019)
-According to the Maharashtra environment department, the total cost to rejuvenate Mithi river stands at ₹2,136.89 crore. Of this, money spent on work completed such as building of five of 12 bridges, widening of the river bed and erecting retaining walls, removal on encroachments (4,388 of 6,138 slum encroachments removed), construction of service roads, and desilting activities has cost the state ₹1,156.75 crore so far. The remaining ₹980.14 crore will be utilised over the next two years to build sewage treatment plants (STP), sewage channels, bunds to prevent sea water ingress, and 10-foot high fences along the river banks.
-Apart from Mithi, Mula Mutha river in Pune was also one of polluted rivers, the survey report stated. The three cleanest rivers in the state were Savitri, Godavari and Darna. The Supreme Court (SC) is likely to discuss the progress on Mithi river rejuvenation on July 7, the next date of hearing.
-In December last year, a report prepared by IIT-Bombay and NEERI, along with two independent experts, submitted before the SC said encroachments, reclamation, indiscriminate dumping of industrial effluents and solid waste had made Mithi 'an open drain', and consequently left the city vulnerable to a deluge similar to the one on July 26, 2005.  https://www.hindustantimes.com/mumbai-news/will-mumbai-s-mithi-river-live-up-to-its-name-maharashtra-government-promises-change-in-2-years/story-aQmVF7tuDYB4KH1eoGV00H.html  (24 June 2019)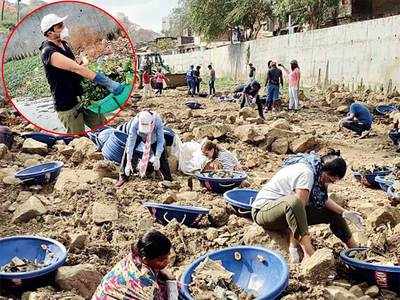 Seven months after Afroz Shah turned his attention to Mithi River following the Versova Beach clean-up that went beyond 100 weeks, a cleanliness revolution has begun in a slum colony near the river. Through the week, occupants of 6,000 homes in the Filterpada slum colony near Vihar Lake – the source of Mithi – meticulously collect plastic waste and hand them over to Shah and his volunteers on Sunday, who in turn send these to the recycling units. The result of not dumping plastic waste into the river at its source is amazing: already, 1.25 km of the 18-km-long Mithi has been cleared of plastic.  https://mumbaimirror.indiatimes.com/mumbai/cover-story/beach-hero-gives-mithi-a-new-life/articleshow/69919903.cms  (24 June 2019)
Sabarmati, Ahmadabad Untreated effluents discharged in river In a fresh letter to the secretary, MoEFCC, environmentalists Rohit Prajapati and Krishnakant of the Paryavaran Suraksha Samiti (PSS) have taken strong objection to the recent clean-up drive of the about 11.3 km stretch of Sabarmati riverbed undertaken by the Ahmedabad Municipal Corporation (AMC), terming it as "swimming pool type clean-up."
According to them, the clean-up drive took place ignoring the "notice" to take action against Central Effluent Treatment Plants (CETPs), STPs, polluting industries, and AMC in view of "dangerously very high" COD, BOD and zero DO levels observed in the water of the river.
Pointing out that the concerned "main officers of the authorities" failed in their duties to "prevent the river pollution even after repeated letters and complaints sent to them", as directed by the SC in its Order, dated Feb 22, 2017, the letter states, the "consistent violation" of apex court order, which amounts to contempt of court.  https://www.counterview.net/2019/06/sabarmati-cleaned-up-swimming-pool.html  (24 June 2019)
Gomati, Lucknow Gomti loses flora & fauna The study conducted by professor Venkatesh Dutta and his team shows to explain why only eight species of fish out of 51 are left in the river. Also, barring water hyacinth, no other plant species have survived the onslaught of pollution.
According to the study, out of 675 million litres per day (MLD) of sewage produced in Lucknow, only 396 MLD is treated in treatment plants while the rest flows into the river through 33 big sewers. As many as 180 small drains also discharge factory effluents and solid waste into the river.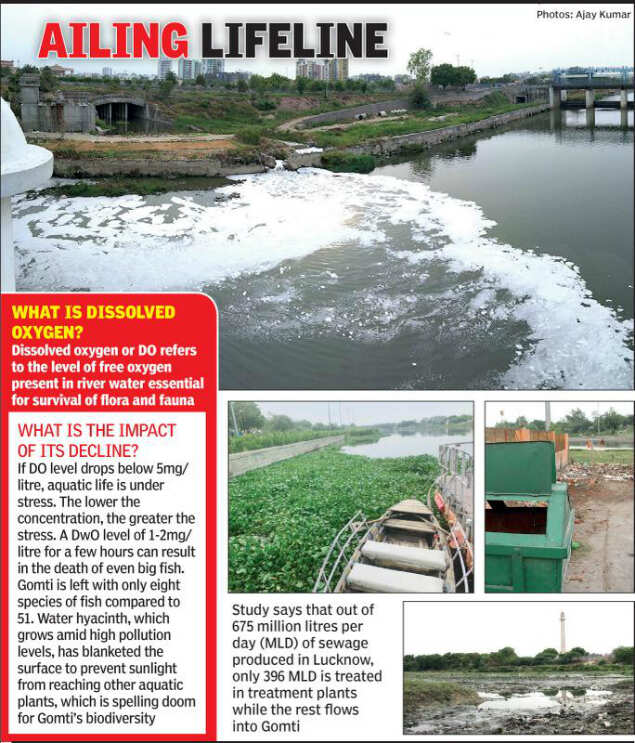 This time, the problem has been compounded by 23 out of 26 tributaries of Gomti running dry. At present, the water level in the river is around 351.6ft against a normal of 356ft. "Also, the concrete riverfront has deteriorated the water quality further as it has done away with the natural clay and mud banks that acted like filters," Dutta explained. https://timesofindia.indiatimes.com/city/lucknow/gomti-breathes-uneasy-loses-flora-fauna/articleshow/69950384.cms  ( 26 June 2019)
RIVERS
Study Water supply in 3 key river basins dips  A new scientific study by the central water commission (CWC) concludes that in the last 26 years, there has been a marginal increase in India's average annual water resource from 1,869 billion cubic metres (BCM) in 1993 to 1,999 BCM in 2019, but there is a worrying decline in water availability in three key river basins of Indus, Ganga and Brahmaputra. The small increase in annual water resources is more due to use of advanced methodology in slightly bigger catchment areas.
Figures in the study, 'Reassessment of Water Availability in India Using Space Inputs', show that the Indus river basin (the part lying in India) reported the highest fall. The average water potential of this northernmost basin fell almost 40% from 73 BCM in 1993 to 45 BCM.
The river basins that reported increase in water availability include Narmada, Godavari, Krishna, Cauvery, Mahanadi, Pennar, Sabarmati, Mahi and Subarnarekha among others. This is reassuring news for southern states that often face severe water scarcities but highlight the need for better conservation and use.
The study also shows how a rising population and mismanagement of water resources has reduced the annual per capita availability of water substantially from 5,178 cubic metre in 1951 to 1,651 cubic metre in 2011, pushing the country into a water-stressed situation despite increase in annual average water potential. https://timesofindia.indiatimes.com/india/water-supply-in-3-key-river-basins-dips/articleshow/69982027.cms  (28 June 2019)  
National सूख गईं 4500 नदियां और गायब हो गए 20 लाख तालाब, कुएं, झील देशभर में पिछले 10 सालों में करीब 30 फीसदी नदियां सूख चुकी हैं। वहीं पिछले 70 सालों में 30 लाख में से 20 लाख तालाब, कुएं, पोखर, झील आदि पूरी तरह खत्म हो चुके हैं। ग्राउंड वाटर (भूजल) की स्थिति भी बेहद खराब है। देश के कई राज्यों में कुछ जगह 40 मीटर तक ग्राउंड वाटर लेवल नीचे जा चुका है। ये बातें चेन्नई में पानी की भीषण किल्लत को देखते हुए देशभर में पानी की स्थिति पर की गई भास्कर की पड़ताल में सामने आई है। https://www.bhaskar.com/rajasthan/jaipur/news/rajasthan-news-dried-4500-rivers-and-disappeared-20-million-ponds-wells-lake-083004-4888061.html  (30 June 2019)
Meghalaya Coal Mines Turning Rivers Acidic: NGT Panel As per NGT Panel report there are a total of 24,392 coal mines in the Jaintia Hills. The finding was part of a presentation made by the North Eastern Space Applications Centre (NESAC) before a three-member NGT committee, which was constituted in August last year to map mining activities in the area and come up with an environmental restoration plan.
Highlighting the broad findings, Justice (Retd) BP Kakoti, who heads the committee, said NESAC has also expressed concerns over how discharge from mines is turning the water in streams and rivers acidic. Speaking to reporters, Kakoti said NESAC would submit the final report soon.
Elaborating on the water pollution because of mining, Kakoti said, "Rivers and streams are mainly being polluted by water flowing from the existing mines. Some of these may be abandoned mines, but they are still releasing acidic water because of open pits." The three-member NGT panel is scheduled to meet next in Shillong on July 22 and 23. https://www.news18.com/news/india/24000-coal-mines-turning-meghalaya-rivers-acidic-water-unfit-for-human-consumption-says-ngt-panel-2209045.html  (29 June 2019)
Tamil Nadu 1st check dam on Palar river after 161 years nearing completion Two of the seven check dams across Palar River in Kancheepuram district would be ready to receive and store water by July-end. The two check dams are the first to be constructed across the Palar in the last 161 years since the Anaicut was built across the river in Thirumalaichery village in Vellore. The Anaicut was built to divert water to Kaveripakkam tank and surrounding areas.
Nearly 80% of the construction work of the check dams across the river at Valayur and Esur Vallipuram in Kancheepuram district has been completed. While the Indira Gandhi Centre for Atomic Research (IGCAR) funded the Rs 32.50 crore check dam project at Valayur, which is 1.5 km from seashore, the check dam at Esur Vallipuram was brought under NABARD (National Bank for Agriculture and Rural Development) and built at a cost of Rs 30.95 crore. https://timesofindia.indiatimes.com/city/chennai/first-check-dam-after-161-years-across-palar-nearing-completion/articleshow/69919467.cms  (24 June 2019)
Punjab Satluj river pollution सतलज की धारा जो दूर है वह मटमैली है और किनारे का पानी गंदा सा है जो नाले का है. बूढ़ा नाला कहते हैं. पहले इसका नाम बूढ़ा दरिया था. मगर फैक्ट्री से निकलने वाले गंदे पानी ने नदी को नाले में बदल दिया. सतलज में कई नदियों की धारा मिलती थी तभी तो इसका नाम सतलज पड़ा था. बूढ़ा दरिया नाला बन चुका है और इसके ज़रिए मेडिकल का कचरा भी बह रहा है. पंजाब की सतलज नदी में लुधियाना शहर का नाला मिल रहा है. नाले का गंदा पानी बगैर साफ हुए नदी में मिल रहा है और वहां से नदी का पानी राजस्थान पहुंच रहा है. https://khabar.ndtv.com/video/show/prime-time/we-have-ruined-our-rivers-519488   (24 June 2019) 
Madhya Pradesh This report on Indore raises doubts as it says that groundwater water level was improved in just 20 days by creating stop dams and widening, dredging local river bed. Unscientific dredging creates counter impacts. It also does not mention name of the river. https://www.jagran.com/news/national-villagers-of-kanadia-has-increased-the-ground-water-level-in-20-days-after-drought-jagran-special-19355621.html  (29 June 2019)
KRISHNA Andhra Pradesh Demolition of building built by Naidu underway Demolition of a building adjacent to former CM N Chandrababu Naidu's residence on the banks of Krishna river in Amaravati continued in full swing amid tension and tight security on June 26, as the Andhra Pradesh High Court rejected the plea to put a stay on the demolition. The demolition began barely a few hours after CM YS Jagan Mohan Reddy's first-ever meeting with District Collectors and Superintendents of Police concluded at 'Praja Vedika'. He announced that his government's drive against unauthorized constructions will begin with the demolition of this building built in river bed in violation of all norms. https://www.hindustantimes.com/india-news/demolition-of-building-built-by-chandrababu-naidu-in-amaravati-underway/story-vEewyAa54W9s6OzkXY7ZqK.html  (26 June 2019)
GANGA Ascetics, environmentalists, and a forgotten Ganga Himanshu Thakkar speaks on environmentalists and ascetics, hunger strikes, hydropower projects, and a Ganga that might be holy, but is nowhere near clean.  https://indiaclimatedialogue.net/2019/06/28/ascetics-environmentalists-and-a-forgotten-ganga/  (28 June 2019)
This was earlier published on Thirdpole: https://www.thethirdpole.net/en/2019/05/17/ascetics-environmentalists-and-a-forgotten-ganga/  (17 May 2019)
Centre 298 Projects Sanctioned Under Clean Ganga Drive Government has sanctioned 298 projects of over Rs. 28,451.22 crore under the Namami Gange plan, the Rajya Sabha was informed on June 24 by Minister for Jal Shakti Gajendra Singh Shekhawat said during the question hour.  He said 98 projects have been made operational while remaining are at different stages of implementation.
The Minister said the initiatives include 100 per cent funding under central sector scheme and dedicated allocation to ensure adequate finances to take up comprehensive interventions. He said 150 Sewerage infrastructure projects have been taken up with a sanctioned cost of Rs. 23,130.95 crore for creation of new sewage treatment capacity of 3729.92 MLD, rehabilitation of 1114.39 MLD sewage treatment capacity and laying of around 4972.35 KM sewerage network. https://www.ndtv.com/india-news/union-minister-for-jal-shakti-gajendra-singh-shekhawat-298-projects-sanctioned-under-clean-ganga-dri-2058636  (24 June 2019)
Addressing a national conference, Shekhawat said his ministry was working to stop sewage flow in Ganga by 2022. Outlining that Uttarakhand and Jharkhand had already achieved this feat, he vowed to make the whole river fit for holy rituals by Dec 2019. https://indianexpress.com/article/india/flow-of-raw-sewage-into-ganga-to-be-fully-stopped-by-2022-govt-5805795/  (29 June 2019)
YAMUNA Delhi IWAI inspects site of proposed  Water Taxi Project To fast track Yamuna Water Taxi Project, Union Minister Mansukh Lal Mandaviya on June 26 inspected its proposed site. After visit, he said that the Yamuna Water Taxi Project will be a new means of urban transportation. It will not only give a boost to tourism but will also help reduce traffic congestion in the city, he said.
The Inland Waterways Authority of India (IWAI) has been mandated to implement the water transportation project that aims to shorten the travel time between Wazirabad to Fatehpur Jat from 3.5 hours to 45 minutes. The project covers a total length of 16 km and comprises five locations on the banks of river Yamuna in Delhi, including Fatepur Jat, Tronica City, Jagatpur, Sonia Vihar and Wazirabad. It is proposed to be developed in two phases Phase I: Sonia Vihar to Tronica City and Phase II: Wazirabad to Sonia Vihar and Tronica City to Fatehpur Jat. The project also proposes to operate vessels on multi-fuel sources on the river, making it more environment friendly. https://www.business-standard.com/article/pti-stories/mandaviya-inspects-sonia-vihar-site-of-proposed-yamuna-water-taxi-project-119062601230_1.html  (26 June 2019) 
Rajya Sabha MP Sanjay Singh on June 26 sought approval from the Central government for a project to store Yamuna water to overcome water crisis in the Capital. On June 14, during a meeting, Mr. Kejriwal had met Union Jal Shakti Minister Gajendra Singh Shekhawat and requested him to expedite the necessary approvals for the Delhi government's project to store Yamuna water in floodplains during monsoon to meet the city's water needs. Also, last week, Mr. Kejriwal during a meeting with PM Modi had sought the Central government's cooperation for the project.
"In 1996-97, we used to get 900 MDG water, but in 2019, after almost 22-23 years, Delhi still gets only 900 MGD water," Mr. Singh said. The MP said that about 12% of the population is still not supplied piped drinking water. "By 2020, there will be a big water crisis in Delhi, to be safe from that, the Centre and the State should work together and start the project to store rainwater in the city," he said. The MP also said that if the Central government does not give approval to the project, then the water crisis will intensify. https://www.thehindu.com/news/cities/Delhi/aap-seeks-centres-approval-for-project-to-store-yamuna-water/article28160696.ece  (27 June 2019)
Delhi CM on June 24 urged the Union government to increase Delhi's share of Yamuna water, which he said has remained unchanged since 1994. "Delhi's water requirement was last fixed in 1996 when its population was 1.25 crore. In the last 23 years, the population has shot up to over 2 crore. The present day water requirement cannot be met with what was fixed in 1996. DDA's land pooling policy will add at least 16 lakh new flats to Delhi, how will the water demand be met," Kejriwal asked Gajendra Singh Shekhawat, in a meeting June 24.
Earlier, the CM had sought the centre's cooperation in starting a monsoon water storage project on the Yamuna floodplains. "During the monsoon, at least six lakh cusecs (around 3.5 lakh MGD) of rainwater flows down the Yamuna every day. If we can conserve this water, it would help solve Delhi's water problem for almost a year," he said.  https://www.hindustantimes.com/delhi-news/hike-delhi-share-of-yamuna-water-cm-arvind-kejriwal/story-JaaJsbljzNMcG8RXbjgmyI.html  (25 June 2019)
A glimpse into the lives and ordeal of riverbed farmers during monsoon. Last year, the highest the Yamuna swelled was 205.98 metres on August 31. In 2013, the river reached 207.32 metres, the second highest in Delhi's recorded history. The highest was in 1978, when the water level touched 207.49 metres.
Many of the people living on the floodplains of Sonia Vihar come from villages in Uttar Pradesh, but they don't go home during the floods for fear of abandoning their farms. Mahesh said many residents even want to stay in tents that overlook their farms so they can keep an eye on them. Birendar Kumar, who has been living on the floodplains of Geeta Colony for 12 years, said he can't leave because he has nowhere else to make a stable income. https://indianexpress.com/article/cities/delhi/at-thousands-of-homes-along-the-river-yamuna-no-option-but-to-wait-for-the-water-to-rise-5801687/  (27 June 2019)
Photos report on Delhi's ghats on the Yamuna.  https://www.hindustantimes.com/photos/india-news/photos-delhi-s-ghats-on-the-yamuna-where-old-flows-with-the-new/photo-KQYEzErjTlMqPmdb2xRwfK.html  (24 June 2019)
Why ministers not restoring environmental flow in Yamuna river the first and foremost step in its revival:- On occasion of WAPCOS 50 years completion a symbolic cleaning drive was organized on four ghats of river Yamuna in Delhi. Gajendra Singh Shekhwat the Union Water Minister and UP Singh Water Secretary participated in the activity. Both while appealing for public involvement in keeping the river clean, have not spoken even a word on restoring environmental flow back in the river.  https://www.youtube.com/watch?v=1QjRfdou9ng&feature=youtu.be  (24 June 2019)
Opinion Reimagining the Yamuna can help transform it The Yamuna is the barometer of the city's cleanliness; it is simply recording what the city is doing to it. That's why the Yamuna question needs to be reframed. As one of the most rapidly urbanising megacities, Delhi confronts serious challenges, reveals inadequacies in planning, urban design and social equity. The Yamuna has been reduced to a sewage drain, absent both from the urban landscape and from the public imagination.
Over the past decade, it has become increasingly evident that no single entity — the elected or appointed — has the experience to resolve rapid urban degradation. A plethora of municipal agencies, often working at cross purposes, and with little accountability, fail to address the synthetic nature of the city. Thus the agencies tasked with water supply and sewage treatment have little to do with entities that manage solid waste. The development authorities entrusted with planning the housing and work spaces consistently fail to estimate the city's growth.
The world's fastest growing 10 cities (in the period between 2019 and 2035) have one thing in common: all of them are in India, and average an annual growth between 7% to 10%. Collectively, we hope to facilitate a development strategy in which urbanisation becomes a restorative platform for citizens to once again walk along the river Yamuna. https://www.hindustantimes.com/analysis/reimagining-the-yamuna-can-help-transform-it/story-7hth5Dox5wXJjkUxf87X6N.html  (26 June 2019)
Haryana Distillery under scanner for flow of effluent CPCB has issued directions to the Haryana SPCB to keep RSL Distilleries Pvt Ltd, Chandrao under surveillance as its drain carried untreated effluent or sewage to the Yamuna river.
Besides, it has also asked the state board to review the storage lagoon, where the untreated or partially treated effluent is stored. The central board also issued directions to check the pipeline passing beneath the unit, which has been claimed to be used for removing rain water, and explore the alternate system. The state board has also been directed to review the design of the effluent treatment plant in the unit. It has also been asked to submit an action taken report with the CPCB in 30 days of the receipt of directions. https://www.tribuneindia.com/news/haryana/distillery-under-scanner-for-flow-of-effluent-into-yamuna/793166.html  (26 June 2019)
Also see, Hindi report on severe groundwater pollution and exploitation taking place in Panipat.
This slideshow requires JavaScript.
RIVERS BIODIVERSITY
CAUVERY An SOS call for the 'Tiger of Kaveri' The IUCN has red-listed the hump-backed mahseer, believed to be endemic to river Kaveri, as critically endangered following a taxonomic evaluation and a scientific name, Tor Remadevii. At Galibore fishing camp, near Bengaluru, the ratio of hump-backed to blue-finned mahseer was 1:4 in 1998, by 2012 this was 1:218, researchers say. Destructive fishing methods, building of dams that reduced the flow rates in the river, over-abstraction of water and pollution are cited as reasons for the dwindling numbers. https://india.mongabay.com/2019/06/sos-call-for-the-tiger-of-kaveri-hump-backed-mahseer/  (26 June 2019)
More interesting information on Mahseer and importance of understanding and conserving fresh water ecosystem here.
So, who really is concerned about the overall health of the freshwater ecosystem? How much do we understand about its delicate balance? Do we even notice when an important species goes extinct or becomes endangered? The answer is no. While a handful of scientists have worked on freshwater species, the reality is that many of our species remain poorly studied even from a basic taxonomical perspective.
This brings us to the story of an iconic sh. The Mahseer or 'Mahi Sher' derives its name from its strength and endurance. Hence it is considered the 'tiger' among freshwater fish in India. This beautiful species belongs to the carp family and represents the apex fish species in many of our rivers. In terms of cultural importance and popularity in folklore, it is probably matched only by the Hilsa of Eastern India.
The Mahseer gained fame in India and abroad from pre-colonial times because of its strength and ability as one of the world's top "fighting fish", sought after by anglers. Its size and power are legendary, with documented records of fish that can grow to the length of a fully-grown man and weigh as much. The power of such a fish in fast owing waters is the stuff of legends, with everyone from Jim Corbett to a Viceroy of India and a Maharaja of Mysore documenting thrilling encounters with the Mahseer.
It is estimated that there are over 15 species of Mahseer in India. The largest and most impressive of them is the 'hump backed' Mahseer, found only in River Cauvery in South India. Here, it grows to sizes not seen anywhere else in the world. Recent studies have taxonomically identified it as Tor Remadevii, but work continues on this front.
The heaviest fish on record is one landed by British angler Ken Loughran at over 130 pounds in 2011. Most modern anglers practice strict "catch and release" angling, where the fish is released back alive into the water. Research shows that there is minimal impact of catch and-release angling to the health of the fish. However, the same cannot be said of other anthropological pressures that have been decimating this sh. Since Independence, we have ravaged our rivers on multiple fronts.
Dams are built and courses are changed, blocking historical migratory routes and submerging key spawning sites. Water is diverted to our cities and for irrigation, leading to low water levels and reduced rate of flow. This affects oxygenation and several large species simply perish.
There is indiscriminate netting, dynamiting and poisoning of water outside protected areas. Lastly, several invasive species such as the African Catfish, Tilapia, and even Alligator Garr and Piranha have been introduced into our waters. Some misguidedly as food sources. These species are often predatory and decimate native species completely. Herein also lies the danger of poorly studied plans such as river linking.  https://www.deccanherald.com/opinion/main-article/why-do-fish-matter-743955.html  (1 July 2019)
'Save Kodagu, Save Cauvery': Activists vow to halt rail line project in district A renewed push from Mysuru-Kodagu MP Pratap Simha to build Mysuru-Kushalnagar-New Broad Gauge Railway line ahead of the budget has irked environmentalists and a section of residents in the hilly district. The rail project and a widening of national highway 275 through the forests are expected to cull more than four lakh trees.
Environmentalists pointed out that the destruction of the fragile Western Ghat ecosystem due to rampant commercialisation and unsustainable development, along with global factors, have made Kodagu vulnerable to environmental catastrophes like last year's floods.
The opposition has also come from many quarters in social media against the infrastructural development at the cost of the environment. The project has also been contested by the Coorg Wildlife Society in the Karnataka High Court and the matter is currently subjudice.
A change.org petition against the construction of the railway track has registered more than 46,000 signatures at the time of writing. A third protest was held last month on the eve of PM Modi's visit to Mysuru, when thousands of citizens gathered at Mysuru's Dasara Exhibition Grounds to protest against the proposed railway line. https://www.thenewsminute.com/article/save-kodagu-save-cauvery-activists-vow-halt-rail-line-project-district-104535   (29 June 2019)
Arunachal Pradesh 'Impressive' tortoise discovered A team of herpetologists from the Forest Department and two NGOs — Help Earth and Turtle Survival Alliance found the Impressed Tortoise (Manouria impressa) in Yazali area of the Lower Subansiri district a few days ago.
This is the first record of the tortoise in India, taking the count to five and the non-marine chelonian count to 29. Chelonian is an order of reptile that includes turtles, terrapins and tortoises. https://www.thehindu.com/news/national/other-states/impressive-tortoise-discovered-in-arunachal-pradesh/article28138993.ece  (26 June 2019)
Assam A scientist, a rare turtle and a temple One determined scientist joined hands with a 16th century temple to save a rare turtle — and started a movement across many such temples to save turtles across the region.  https://grin.news/a-scientist-a-rare-turtle-and-a-temple-8fc731b2323c  (24 June 2019)
FISH, FISHERIES, FISHERFOLKS
Uttar Pradesh Local demand inquiry in Keetham lake fish death Over the past few weeks, the Agra canal, which fills the Keetham reservoir, had been bringing severely polluted water to the lake which had dropped the dissolved oxygen levels to almost nil. This caused the fish to die out en masse. https://www.indiatoday.in/india/story/agra-fish-die-keetham-lake-locals-inquiry-1555488-2019-06-25  (25 June 2019)
SAND MINING
Report Inside the deadly world of India's sand mining mafia India's construction boom is stripping large volumes of sand, a vital ingredient in concrete, from its rivers. Environmentalists say the extraction is unsustainable, harming local hydrology and wildlife. Stripping rivers of their sand causes water tables to drop—an ominous concern in India, where millions already face historic water shortages.
Massive sand mining also has eroded river deltas across Asia, exposing coastal communities to severe land loss, and worsening the effects of climate change-induced sea level rise. https://www.nationalgeographic.com/environment/2019/06/inside-india-sand-mining-mafia/  (26 June 2019)
Rajasthan Govt to launch drive against illegal mining Mines Minister Pramod Bhaya on June 28 told the state assembly that the government was concerned about illegal mining and a campaign would be launched against those involved in it. Responding to supplementary questions raised during the Question Hour, he said a special team would be formed to check illegal mining and strict action would be taken against those guilty.
Earlier in the day, Speaker C P Joshi adjourned the House for half an hour following an argument with state Parliamentary Affairs Minister Shanti Dhariwal, who was not allowed by the Speaker to reply to allegations regarding illegal sand mining. https://www.business-standard.com/article/pti-stories/will-launch-drive-against-illegal-mining-r-than-minister-tells-assembly-119062801240_1.html  (28 June 019)
The Opposition BJP members staged a walkout in the Rajasthan Assembly after raising the issues of illegal mining and transport of 'bajri' (riverbed sand), despite the ban imposed by the Supreme Court.
Attacking the Congress government through an adjournment motion, Deputy Leader of the Opposition Rajendra Rathore said though the Governor's address to the House on January 17 had admitted of the 'bajri' mafia operating in the State, no concrete step had been taken to stop the illegal activity. People in the State were still waiting for the sandstone policy that the State government had promised, he said. https://www.thehindu.com/news/national/other-states/bjp-stages-walkout-in-rajasthan-house/article28216204.ece  (28 June 2019)
Odisha Govt plans separate agency to regulate illegal sand mining Officials in the state revenue and disaster management department said the directorate would put in place a robust monitoring mechanism using technology to prevent illegal lifting and theft of minor minerals. "Apart from monitoring the implementation of environment protection laws during the mining of such minerals, the directorate would identify potential minor mineral sources so that it can augment collection of mining revenue. The directorate would also ensure adequate and uninterrupted supply of minor minerals for all development projects and construction of buildings," a senior official of the department said.
Meanwhile, the state government has notified rules for Odisha Specified Minor Minerals for auction of specified minor minerals like laterite stones, marble, granite, quartz, sandstone and Gypsum come under the purview of steel and mines department. The steel and mines department would hold electronic auction of these minor minerals after estimating the quantities of all minerals discovered in that area. https://www.hindustantimes.com/india-news/odisha-plans-separate-agency-to-regulate-illegal-sand-mining/story-fjQzDCiRhX6fK7HYeBIDNJ.html  (29 June 2019)   
Tamil Nadu Rampant sand mining on riverbed depleting groundwater  Seven years of sand mining in T Pudhupalayam village has led to severe depletion of groundwater levels, allege villagers. During a recent protest against the construction of a government quarry on Thenpennai riverbed in T Pudhupalayam, villagers said the falling levels of groundwater is a consequence of soil erosion caused by mining. 
"Groundwater has never fallen below 10-12 feet since I was a child, but this year, we had to drill up to 50 feet for water. The only reason is rampant sand mining by the government on the riverbed, for the past seven years. We did not realise its impact earlier but are feeling the consequences now. Agriculture, which is our livelihood, has been affected badly and that is why we are protesting against the sand mining quarry," said S Arivazhagan, a resident at T Pudhupalayam. http://www.newindianexpress.com/states/tamil-nadu/2019/jun/29/rampant-sand-mining-on-riverbed-depleting-groundwater-say-villupuram-villagers–1996915.html  (29 June 2019)
Uttrakhand 
WETLANDS, LAKES, WATER BODIES
SANDRP Blog Wetlands overview from East and North East region. https://sandrp.in/2019/06/25/wetlands-overview-east-north-east-india/   (25 June 2019)
Kerala Opposition stages walkout The Opposition on June 12 walked out of the Assembly, angered over the government's refusal to adjourn the House to discuss the Revenue Department's controversial decision to allow a private company with "shady links" to CM Pinarayi Vijayan's office to convert 15 acres of paddy land to saleable real estate at Kunnathunadu in Ernakulam district. https://www.thehindu.com/news/national/kerala/kerala-opposition-stages-walkout-over-govts-permission-to-reclaim-ernakulam-wetland/article27852324.ece  (12 June 2019)
GROUNDWATER
Telangana State sees sharp drop in groundwater table Residents of Hyderabad are drawing between 600% and 140% of the annual recharge of groundwater table, according to scientists at the Telangana Groundwater Department. The State average water level during May 2019 dropped to 14.56 mbgl from 12.73 mbgl in 2018 showing a decline of 1.83 mbgl.
Large parts of Telangana and Hyderabad are sited on Deccan Trap Basalts and Granite Basement Complex with limited permeability of water affecting the recharge rate. "The primary porosity of the ground in this region is quite less as 70-80% is hard rock. The inevitable urbanisation with asphalting and layers of concrete are altering the natural percolation process. Groundwater recharge is better when the contact time between raindrops and ground is more, else they runs off without any benefit," says Mr. Madhnure, who cites plastic litter as one of the factors affecting the groundwater recharge.https://www.thehindu.com/news/cities/Hyderabad/telangana-sees-sharp-drop-in-groundwater-table/article28160098.ece  (27 June 2019)
URBAN WATER
Chennai City need to move beyond urban planning: Experts  In an email interview, Professor Woiwode Senior Lecturer in Human Geography at the Bath Spa University says, "We need to broaden the perspective beyond just urban planning. The key to a solution is governance for the entire metro region, which would involve interaction, coordination, and engagement of multiple and diverse stakeholders at different levels of implementation such as CMDA, TN state agencies (water board, DTCP, and others), local urban and rural authorities (Panchayats, MC Chennai), district administration, and so on. This is a complex task for which no mechanism has been developed so far. We have got technologies and engineering solutions to manage water and land use, but in order to generate a strategic and long-term approach to water and land use planning, corresponding governance and decision-making mechanisms are inevitable."
Agreeing with him is Professor KP Subramanian, formerly of the Department of Urban Engineering, Anna University who points out that the master plans formulated for the city were "undertaken in isolation and there was no integration, whatsoever, between the urban planning on the one hand and infrastructure planning (ie water supply, sewer, and storm water drain), transport planning and physiographic planning (elevation of terrain, contour, slope, soil, land capability, rainfall, cyclonic storms, drainage and groundwater). And this lack of planning and trampling of the city's physiography— its natural physical patterns and processes— has proved to be a disaster for Chennai.
Echoing the sentiment, Professor Woiwode says, "It appears that there has been quite some ignorance towards considering topographic aspects in the master plans. This dimension is especially important for new urban layouts and projected development areas on the outskirts of the city. We have studied some examples where we found that areas, in spite of having been identified as low-lying and flood risk prone, have been designated for residential development in the second master plan. In addition to this, the master plans are almost silent on addressing/discussing disaster risks (such as flooding, cyclones, droughts) and the response required from urban planning." https://www.thenewsminute.com/article/avert-another-water-crisis-chennai-need-move-beyond-urban-planning-experts-104416  (27 June 2019)
Govt plan to transport water to Chennai by train is facing resistance "….. a couplet from a treatise called Thirukkural written more than 2,000 years ago by Tamil saint Thiruvalluvar: "Neerindru Amaiyaadhu Ulakenin Yaaryaarkkum Vaanindru Amaiyaadhu Ozhukku." Scholar GU Pope translates this couplet thus: "If it be said that the duties of life cannot be discharged by any person without water, so without rain there cannot be the flowing of water."
– The government announced that, after a gap of 18 years, trains will be pressed into service to transport water to the Chennai city from Jolarpettai in Vellore town, located about 220 km west of Chennai. It depends on a Cauvery-based drinking water scheme for its own needs. The last time such a move was implemented was in 2001, when the government brought water to Chennai all the way from Erode district, 400 km away.
– Vellore along with the southern district of Ramanathapuram, is considered among the driest of areas in the state. However, this raises a serious question: if 10 to 15 million litres of water is diverted from other areas to Chennai, what would those areas do for water? The news that the government is planning to divert water meant for Vellore has prompted protests from local politicians.
S Janakarajan of the MIDS, said almost 70% of Tamil Nadu now depends on the Cauvery for its drinking water needs. If more of the river water is diverted to Chennai, it would be at the cost of other areas. Instead of exploring long-term remedial measures, the government spends substantial resources every year on temporary fixes such as the Jolarpettai project, he said. Even the de-silting of water bodies, on which the government claims to have spent thousands of crores of rupees, must be done in a scientific way, not merely as a face-saving ritual. https://scroll.in/article/928573/tamil-nadus-plan-to-transport-water-to-chennai-by-train-is-facing-resistance-heres-why  (30 June 2019)
Here is another excellent article on Chennai and Tamil Nadu Water Crisis.  https://indianexpress.com/article/opinion/columns/a-world-without-water-chennai-water-crisis-rainfall-monsoon-5806865/   (30 June 2019)
Bengaluru Govt mulls 5-yr ban on housing construction due to water crisis The deputy CM's statement came amid severe resentment over the state government's proposal to draw water from the Linganamakki dam built on the Sharavathi to tide over the imminent water crisis in Bengaluru. The government had commissioned DPR to examine the feasibility of drawing the river flowing into the sea after power generation from the Linganamakki dam. Following severe opposition, Parameshwara said the next steps would be taken only after receiving the DPR.
Once apartments are banned, Parameshwara said, the government would look to improve the water supply situation by taking up new projects. "The fifth phase of Cauvery drinking water supply project presently under implementation is not sufficient to meet the growing demands for drinking water in Bengaluru. We are looking at other options as well. If things improve after five years, we can lift the ban," he said. https://timesofindia.indiatimes.com/city/bengaluru/karnataka-mulls-5-year-ban-on-flats-over-water-crisis/articleshow/69982807.cms  (28 June 2019)
Authorities in Bengaluru have relied on bringing in water to the city by depriving surrounding districts instead of reviving its own resources like lakes that have been lost to pollution and illegal encroachments, mostly used for construction of apartments and other commercial buildings. 
Apartments in Bengaluru also add to the already messy traffic situation as there is no additional infrastructure to support the same. Already crumbling under intense pressure, Bengaluru sees over 1,500 new vehicles entering the roads each day in a city that has over 7.5 million vehicles and a population exceeding 10 million. https://www.livemint.com/news/india/no-construction-of-apartments-in-bengaluru-for-next-5-yrs-due-to-water-shortage-1561649591527.html  (27 June 2019)
Amid opposition, The Karnataka government is set to prepare a DPR on drawing water from the Linganamakki reservoir in Shivamogga, which is built on the Sharavathi river. https://www.thenewsminute.com/article/environmentalists-oppose-plan-take-sharavathi-river-water-bengaluru-104200  (24 June 2019)
Bangalore Water Supply and Sewerage Board (BWSSB) says that it treats close to 1,067.5 MLD of wastewater daily and yet this water is hardly bought for construction activities.
"Among the total treated water, 250-265 MLD of water is going to Kolar fields. And the rest goes to the lakes of the city and around and Raja Kaluves (storm water drains). Close to 90 per cent of the STPs also lie either in the lake or its periphery. Even though I can't categorically predict how the future will be, I suppose within three to four years people will get used to treated water as their conventional sources might disappear during time," said, Nithyananda Kumar, Chief Engineer.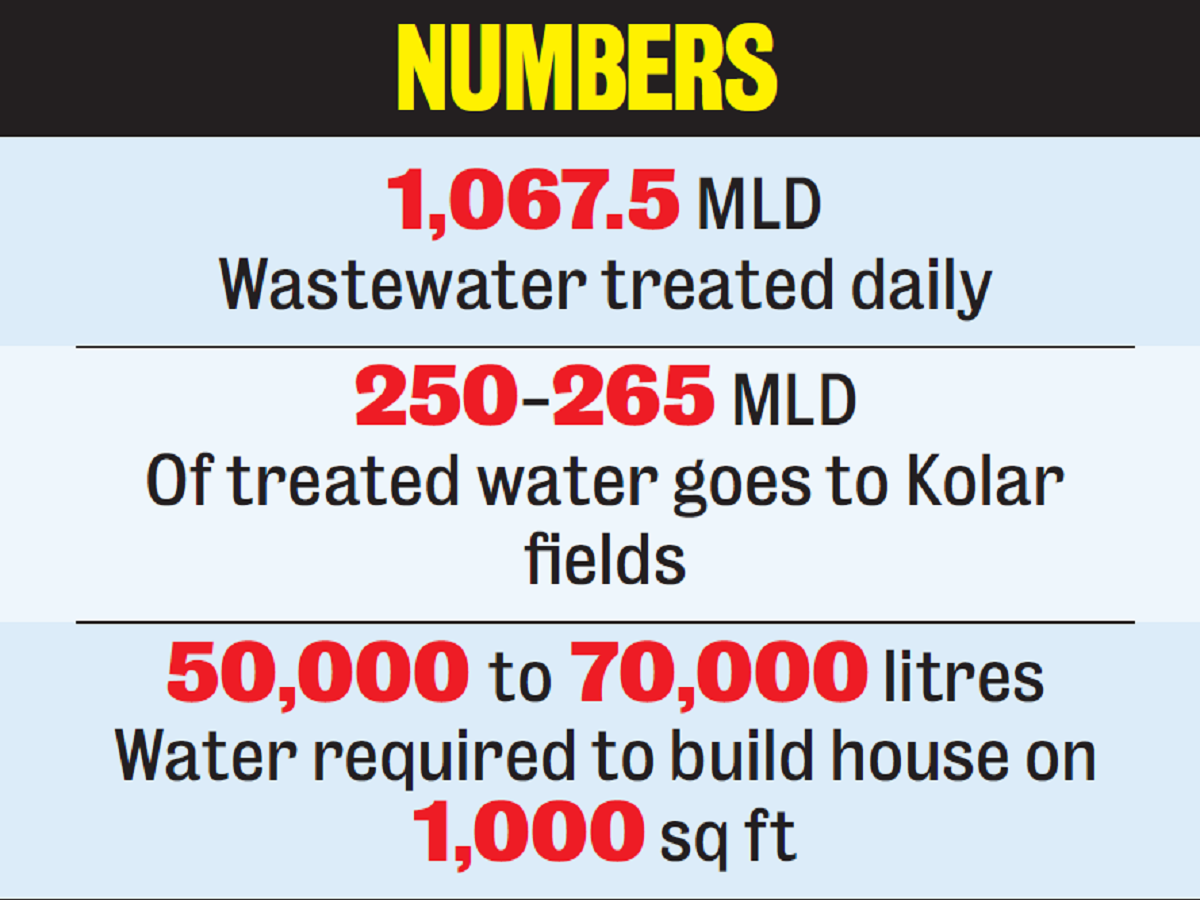 According to experts there are two types of 'treated' wastewater – secondary treated water and specially treated water. The secondary treated water is sold at around Rs. 10 per kilo litre, if it is transported in lorry and tanker and Rs 15 per kilo litre if it is transported through pipelines. BWSSB also goes for specially treated water, which comes up to Rs 15 per kilo litre (if through lorries and tankers). Rs 25 per kilo litre, if transported through pipelines.
"A house constructed on 1,000 square feet (single floor) would require anywhere between 50,000 to 70,000 litres of water in case the construction spans from six to 10 months. So, now one can imagine how much water can be saved if one shifts to treated water," said an official.
Prof. T.J. Renukaprasad, Chairperson, Department of Geology, Bangalore University added, "At present, in my observation, not even 10% of treated water is utilised by Bengalureans in its possible ways. Considering the present state of water and the crisis the city is staring at, instead of extracting groundwater through borewells, it is advised to use treated water in construction sites and other possible uses like gardening and agricultural uses. On an average, it requires about 130-150 litres of water per person for daily use." https://bangaloremirror.indiatimes.com/bangalore/others/bengaluru-builders-must-use-treated-water-say-experts/articleshow/70006331.cms  (30 June 2019)
Mumbai Limited storage in dams The BMC had cut 10 per cent the water supply from November 2018. Usually, the city witnesses rains from the second week of June, however, this year the rains are showing no signs of making their presence felt even with July around the corner, making authorities anxious.
The city's water supply comes from different lakes, among them — Modak Sagar, Tansa, Madhya Vaitarna, Tulsi, and Vihar have only 73,000 million litres of water left. Therefore, every day, 2,500 million litres of water is being used from the reserved water storage of Bhatsa and Vaitarna dams which falls under the state government. https://mumbaimirror.indiatimes.com/mumbai/other/use-water-with-caution-only-20-days-storage-left-in-dams-supplying-water-to-mumbai/articleshow/69968053.cms  (27 June 2019)
The state's irrigation department has stopped supply of water to BMC from Upper Vaitarna dam located in Nashik district. The dam has now 5.5 per cent of water left.
Yogesh Patil, executive engineer of Bhatsa and Upper Vaitarna lakes, said, "We used to give 198.99 mm cube (equivalent to 198000 million litres approximately to BMC every year from Vaitarna lake. They exhausted their quota quite fast this year. But then they approached the government and asked for 70 mm cube more. This quota was also exhausted and we stopped supplying them water from June 25. But we supply 2120 million litres of water per day to Mumbai from Bhatsa."  https://mumbaimirror.indiatimes.com/mumbai/civic/mumbai-wont-get-water-from-upper-vaitarna-dam/articleshow/69982495.cms  (28 June 2019)
HOWEVER, AS WE PUBLISH THIS BULLETIN ON JULY 1, 2019, NEWS COMES OF MUMBAI FLOODED WITH HEAVY RAINS OVER THE LAST COUPLE OF DAYS: https://www.ndtv.com/india-news/mumbai-rain-heavy-overnight-rain-in-mumbai-some-trains-delayed-after-waterlogging-on-tracks-2061892
Gurugram Authority threatens to cut off water supply over pending bills  "Treating raw water at both our treatment plants at Basai and Chandu Budhera and then the supply through distribution network costs GMDA Rs.9 per kilo litre. The defaulters must understand that canal water is not free distribution. If they fail to deposit their respective dues by end of the month, we will disconnect water supply in July," Lalit Arora, chief engineer, said.
The GMDA had sent notices to 150 bulk user defaulters in January this year to clear their pending water bills dues by March-end to avoid disconnections. "Most of the 150 have paid pending water bills following GMDA notices. The 43 remaining to pay are on the GMDA radar, and these include Mayfield Garden, Ansal's Sushant Lok 1 and Palam Vihar and others," said Sandeep Dahiya, executive engineer, who has formed enforcement team of officials to crack on defaulters. https://www.hindustantimes.com/gurugram/gurugram-authority-threatens-to-cut-off-water-supply-to-43-bulk-users/story-jGoDMv5u24wVpN3AImJs4O.html  (27 June 2019)
Shimla, Udupi: soon-to-be Cape Towns According to media reports, at the time of the peak tourist season, the demand for water rises to 45 MLD. However, due to low precipitation, Shimla has reserves of only 18 to 27 MLD. As per The Egyptian Journal of Remote Sensing and Space Sciences published in 2015, the demand-supply gap on Shimla which was 8 MLD in 2013, will increase by five times in 2031 and 12 times in 2051.
Udupi in coastal Karnataka, had been facing unprecedented water scarcity this year. In early May, schools were forced to function only for the first half as there was no drinking water. Some schools had to postpone their reopening for the new academic year and summer vacations were extended for a week. Additionally, mid-day meals have been stopped in over 100 schools in the Karkala taluk of Udupi district. The Swarna river and the Baje dam built across it are the main source of water for the district. The dam reached the 'dead storage' limit this year. https://www.downtoearth.org.in/news/water/shimla-udupi-and-mangaluru-india-s-soon-to-be-cape-towns-65324  (28 June 2019)      
DELHI WATER
Unplanned development killed water bodies At least 200 lakes and ponds in the national capital have been encroached and lost. They have been turned into cremation grounds, temples, government schools and even a bus terminal of the Delhi Transport Authority. https://www.news18.com/news/india/death-of-a-delhi-lake-how-metro-construction-urban-planning-encroachment-killed-centuries-old-water-body-2202551.html  (25 June 2019)
HC upholds jail term of industry owner for causing water pollution The Delhi High Court has upheld a one-and-a-half-year jail term awarded to the owner of a textile printing industry for causing water pollution. The court rejected the contention of the convict that water samples were not lifted from his unit and it was not a water discharging unit. Justice Sunil Gaur said there was no illegality or infirmity in the trial court"s verdict holding the man guilty for the offence and awarding him the jail term and dismissed his appeal.
"…. On scrutiny of the impugned judgment and the evidence on record, I find that non-lifting of samples of water for analysis is not fatal to the case of the respondent (DPCC) as it is evident from the inspection report of February 21, 2000 that no effluent treatment plant was installed by petitioner to treat the effluent," the judge said. https://www.outlookindia.com/newsscroll/hc-upholds-jail-term-of-industry-owner-for-causing-water-pollution/1560998  (24 June 2019)
WATER POLLUTION
Uttar Pradesh Sewage norms violated, 7 high rises served notices The Pollution Control Board issued a report on seven highrises flouting STP norms, claiming that COD, BOD and TSS were all found in excess of prescribed parameters.
The societies found flouting these STP norms include Supertech Cape Town in Sector 74, Prateek Wisteria in Sector 77, Golf City in Sector 75, JM Orchid in Sector 76, Aditya Celebrity Homes in Sector 76, Assotech Windsor Court in Sector 78 and Great Value Sharnam in Sector 107. However, despite the report being submitted last month, a fine on these societies is yet to be levied. https://timesofindia.indiatimes.com/city/noida/sewage-norms-violated-7-highrises-served-notices/articleshow/69934679.cms  (25 June 2019)
WATER
Is India's economic growth story dehydrating country? The conflict between economic growth and environmental destruction, of which water scarcity is now an important aspect, is often seen as a given. However, India has done much worse on this front than others.
A comparison with China using World Bank statistics proves this point. In 1962, India's per capita GDP (in 2010 constant dollars) was almost twice that of China. India's renewable internal freshwater resources per capita (henceforth per capita water), measured in cubic metres, was 75% of what it was for China in 1962. By 2014, the latest period for which water statistics are available, India's per capita water had become 54% of what it was for China, even as China's 2014 per capita GDP became 3.7 times that of India. https://www.hindustantimes.com/editorials/is-india-s-economic-growth-story-dehydrating-country/story-VriPpFJtYa7qWWLydYzEvM.html  (30 June 2019)
AGRICULTURE
Agricultural reforms and urban accountability key to water management This is NOT the most accurate characterisation of the problem: The unrestrained use of privately owned water pumps to do flood irrigation is a driving problem for India's water crisis. https://www.thethirdpole.net/en/2019/06/28/agricultural-reforms-and-urban-accountability-key-to-water-management/  (28 June 2019)
MONSOON
This slideshow requires JavaScript.
Maharashtra Just two days rain in Mumbai covered about 97% of the average required June rainfall – In 24 hours ending June 29 8.30am, IMD's Santacruz observatory recorded 234.8mm — the highest 24-hour June rain since 2015. Also, June 29 rain is the second highest June rainfall in Mumbai in a 24-hour period in the last decade.
– The IMD classifies rainfall of 234.8mm and more as "extremely heavy". Most areas of eastern and western suburbs received over 200mm rains in the 24 hours.
– Heavy rains lashed Thane (237.5mm) and Navi Mumbai (245.2mm) too in the 24-hour period. On a positive note, in the 24 hours, it was a windfall in some catchment areas as Vihar received 376mm, Morbhe 300.2mm and Tulsi 293mm. Vihar and Tulsi send water to Mumbai whereas, Morbhe supplies Navi Mumbai. https://timesofindia.indiatimes.com/city/mumbai/mumbai-records-second-highest-june-rain-in-10-years/articleshow/70006750.cms   (30 June 2019) 
Monsoon's performance in has so far been way below expectations. June has ended with a huge countrywide rainfall deficit of 33% of normal, making it the fifth driest month of June in the past 100 years.
Rainfall across India in June was recorded to be 112.1mm, as against the long period average (normal) of 166.9mm, according to the IMD. In the past 100 years, June rainfall has been less than this in just four years — 2009 (85.7mm), 2014 (95.4), 1926 (98.7mm) and 1923 (102mm) — as per IMD records.
As many as 30 out of India's 36 meteorological sub-divisions registered deficient (lower than 20% below normal) or large deficient (60% or less below normal) rainfall during the month. With a huge deficit opening up in June, monsoon will now have to perform at over 102% of average over the next three months in order to finish at 96%, the lower end of the normal range, which was IMD's forecast for this year's monsoon. https://timesofindia.indiatimes.com/india/june-sees-33-rain-shortfall-most-of-india-under-dry-spell/articleshowprint/70016633.cms  (1 July 2019)  
DROUGHT
Declare drought-hit districts immediately: Farmer Associations "There must not be any delay in the declaration of drought. Instead of waiting for the end of the monsoon, drought must be declared in all those districts where sowing has been severely affected due to 50 per cent or greater deficit in the month of June," said All India Kisan Sangharsh Coordination Committee (AIKSCC), a consortium of over 210 farmer associations in the country.
The working committee of AIKSCC also asked the government to take a series of proactive steps as farmers face the prospects of a serious nation-wide drought this year, which could be a second consecutive drought in large parts of the country.
In all, 85 per cent of the Indian landmass has experienced "deficiency" or "large deficiency" in rainfall so far, and this is expected to be the driest June ever recorded in the history, despite the forecast of some recovery over the next one week, the farmer leaders said. https://www.thehindubusinessline.com/economy/agri-business/declare-drought-hit-districts-immediately-say-farmer-associations/article28116326.ece  (23 June 2019)
किसान संगठन ने सरकार को सूखे को लेकर दी चेतावनी, समयपूर्व कदम उठाने की मांग की देशभर के 200 से अधिक किसान संगठनों के गठबंधन अखिल भारतीय किसान संघर्ष समन्वय समिति (एआईकेएससीसी) ने देश के बड़े हिस्से में लगातार दूसरे साल सूखा पड़ने की संभावना को लेकर चिंता जारी की है. भारतीय मौसम विभाग (आईएमडी) द्वारा 20 जून को जारी चेतावनी के अनुसार, शुरुआती दिनों में मानसून ने धीमी शुरुआत की है और लंबे समय बाद बारिश में 43 फीसदी की कमी देखी गई. एक प्रेस विज्ञप्ति जारी करते हुए अखिल भारतीय किसान संघर्ष समन्वय समिति ने कहा, 'साफ तौर पर हम एक ऐसी स्थिति देख रहे हैं जो राष्ट्रीय आपदा में बदल सकती है.'
एआईकेएससीसी ने कहा, 'देशभर में पानी के संकट को लेकर बड़ी संख्या में ऐसी खबरे आ रहीं हैं जिसके कारण लोग गांवों से पलायन कर रहे हैं, खड़ी बागवानी करने से बच रहे हैं, पशुओं की मौते हो रही हैं और पानी के बंटवारे को लेकर स्थानीय स्तर पर झगड़े हो रहे हैं. इससे प्राकृति रूप से बुआई प्रभावित हुई है.' 2018 की तुलना में इस साल 14 जून तक खरीफ की बुआई में 9 फीसदी की कमी आई है. दलहन फसलों की बुआई सबसे बुरी तरह प्रभावित हुई है क्योंकि पिछले साल इसी अवधि की तुलना में दालों की बुआई में 50 फीसदी की कमी आ गई है. वहीं, तिलहन फसलों की बुआई में 41 फीसदी तो धान और मोटे अनाज की बुआई में क्रमश: 22 फीसदी और 27 फीसदी की कमी आ गई है. http://thewirehindi.com/85957/farmer-body-akscc-drought-risk-government/  (23 June 2019)  
National No State has sought NDRF aid: Govt Despite several States reeling under the severity of drought and consequent crop failure, Minister of State for Environment, Babul Supriyo said none of them has sought financial aid from the National Disaster Relief Fund in 2019-20.
Answering a question by K. Somaprasad in the Rajya Sabha on the impact of drought on the environment, he said according to the Indian Meteorological Department no drought prediction system was currently in place. He also said that no studies had been conducted by the Ministry of Agriculture and Farmers Welfare on the impact of drought on the environment so far. https://www.thehindu.com/news/national/no-state-has-sought-ndrf-aid-govt-tells-rs/article28141999.ece  (26 June 2019) 
Tamil Nadu Protest over water crisis: Puttaraju seeks Made Gowda's suggestions With farmers' indefinite stir entering into day seven demanding water for irrigation canals to save the standing crops, District Minister CS Puttaraju called on former MP and Ritha Hitharakshana Samithi chairman G Made Gowda to seek his advise to handle the crisis. The government is in a fix and has come under scanner of the farming community as they are demanding water for crops when the reservoirs in the Cauvery basin are dried up. Putaraju appealed Made Gowda to guide them on handling the situation and sought his suggestions.
However, Made Gowda said the government should write to Cauvery Water Management Authority (CWMA) apprising them on drying up of the standing crops and reservoirs levels and appeal them to discharge water into irrigation canals. http://www.newindianexpress.com/states/karnataka/2019/jun/28/protest-over-water-crisis-puttaraju-seeks-made-gowdas-suggestions-1996395.html  (28 June 2019)
Karnataka Water levels in dams down The four reservoirs — Krishnaraja Sagara (KRS), Harangi, Kabini and Hemavathi — cumulatively received only 1.59tmcft of water between June 1 and 23, compared to 60tmcft of inflow in the same period last year. The live storage of these reservoirs, put together, is just 13.24tmcft at present; last year, it was 59tmcft. Rakesh Singh, irrigation principal secretary, who will represent Karnataka in the CWMA meeting pointed out that the inflow to the reservoirs has been the lowest in the past 40 years. https://timesofindia.indiatimes.com/city/bengaluru/karnataka-water-levels-in-dams-down-crucial-cauvery-meet-today/articleshow/69935619.cms  (25 June 2019)
Also see, 18 Images Show How Severe Water Crisis Has Become In Many Parts. https://www.indiatimes.com/news/india/18-images-show-how-severe-water-crisis-has-become-in-many-parts-of-india-369898.html  (30 June 2019)
DISASTER
SANDRP Blog Cloud Burst in Chauthan, 'No Rainfall' says Disaster Control Room, Pouri Heavy and unusual rainfall struck, Chauthan Patti, on June 23, 2019. The region is comprised of 72 villages in Thailisain Tehsil of Pouri Garhwal, Uttrakhand. The remote mountain region is settled in and around buffer zone of Dudhatoli reserve forest. It also borders the Almora and Chamoli districts of Uttarakhand.
("इति जोरग बरख लागि छ, हम भैर-भीतर नि अय स्की, हमूल अपण जमन मै यैस अंधकोप नी देख, हमूल  जाण याल छ, गाढ़-गेदरयुग गुगाट, जरूर कखि ढोल-फ़ोल करल") "It rained so heavily that we could not move from inside-out vice a versa, we had never seen such a heavy downpour in our lifetime, the streams were full and roaring, we had guessed, it would certainly cause damages" said an elderly woman of Syunsal village, in Garhwali language. https://sandrp.in/2019/06/26/cloud-burst-in-chouthan-no-rain-says-disaster-control-room-pouri-garhwal/  (26 June 2019)
It has been republished on Counter View. https://counterview.org/2019/07/01/why-is-uttarakhand-govt-and-centre-not-studying-increasing-number-of-cloud-burst-incidents/ (1 July 2019)
The Hindi version of the same report can be seen here. https://bit.ly/31YeW6X  (28 June 2019)
Meanwhile, there was heavy rainfall causes flash flood in Uttarkashi on June 28. https://aajtak.intoday.in/video/uttarkashi-flood-situation-created-after-few-hours-of-rain-1-1096852.html  (28 June 2019)
Uttarakhand Satellite images show growing glacial lake; experts deny threat In the satellite images of June 26, 2019, which were taken by the Landsat 8 and Sentinel-2B satellites, the presence of an increasing number of water bodies can be seen over time. Earlier these bodies were not present due to the sub-zero temperatures. The experts believe that the increase in water bodies at this height and sub-zero temperature zones is a result of global warming and might be dangerous in terms of flash floods.
However, according to a PTI report a scientist of the Wadia Institute of Himalayan Geology has said that it is a seasonal lake around 4.5 kilometers above the Kedarnath temple and possesses no threat to the temple-town. The institute had sent a four-member team to the spot for a first-hand assessment of the situation after they got the information said the director Kalachand Sain. The Wadia Institute of Himalayan Geology is an autonomous body under the Ministry of Science & Technology. https://www.financialexpress.com/lifestyle/science/kedarnath-at-risk-again-satellite-images-show-growing-glacial-lake-experts-deny-threat/1622419/  (28 June 2019)
State may be staring at another disaster A temporary road has been constructed on the river Mandakini by pouring the mud and restricting the river flow towards one side. This alternate route is currently available for commuting towards Kedarnath, rainfall or sudden cloud burst in the region can turn out to be destructive if the river breaks the mud boundary.
MP Thapliyal, chairman of Kedarnath-Badrinath Temple Committee, asserts: "The temple area has the capacity to accommodate less than 5,000 people, but the Kedarnath shrine is receiving footfalls of 20,000-25,000 pilgrims almost every day."
Despite knowing the fact that all the hill districts of the Uttarakhand fall in a zone that is highly seismic and landslide-prone, the cutting of mountains for the construction of roads is happening at a faster rate. According to the experts, the Char Dham project is being carried out without assessing the impact and the carrying capacity of the region.
Hemant Dhyani, an environmentalist who is a part of a campaign — Ganga Avahan — said according to estimates about 19 million tonnes of waste will be generated between Rishikesh and Srinagar (in Uttarakhand) and cutting down of thousands of trees. Keeping in mind the soil erosion and the fact that monsoon will begin soon; this muck is bound to reach the rivers. https://www.downtoearth.org.in/blog/natural-disasters/uttarakhand-may-be-staring-at-another-disaster-65243  (24 June 2019)
Hindu Reports on People objecting to Char Dham tunnel project.
This slideshow requires JavaScript.
ENVIRONMENT
Agenda of FAC meeting to be held on June 27, just uploaded. Some relevant projects:
45.278 ha FL for TENDUA NALLA TANK irrigation scheme in MP

PETROLEUM MINING LEASE OVER 7,500 HA OF FOREST LAND FOR OIL INDIA LIMITED, DULIAJAN IN NINGRU EXTENSION BLOCK, CHANGLANG DISTRICT IN THE STATE OF ARUNACHAL PRADESH.

PETROLEUM MINING LEASE FOR CONTRACT AREA "AA/ONDSF/KHEREM/2016" MEASURING 200 HA. OF FOREST LAND (OUT OF 1645 HA) IN KHEREM AREA IN CHANGLANG DISTRICT OF ARUNACHAL PRADESH IN FAVOUR OF M/S HINDUSTAN OIL EXPLORATION COMPANY LIMITED http://forestsclearance.nic.in/AgendaDetail.aspx?id=220!dis1
Pathetic state of affairs at EAC and FAC meetings Only four out of the 13 members of a committee that grants environmental clearances to coal mining projects were present at the panel's 45th meeting in Delhi on May 27, according to people aware of the development.
The 13 members of the Expert Appraisal Committee (EAC) have expertise in areas like mining, forestry and pollution. At least seven to 10 EAC members usually meet for appraisals of mining projects. "I think other [EAC] members were preoccupied and could not make it to the meeting," said EAC chairman Navin Chandra. https://www.hindustantimes.com/india-news/9-members-of-panel-for-green-nod-to-coal-projects-skipped-key-meeting/story-tg2y8ZvGpjj8sLCpmB4KTO.html  (26 June 2019) 
Environment minister misled Loksabha Prakash Javadekar said in Parliament that the amendments to the Forest Act will recognise rights and role of villagers. Forest rights activists say Modi govt is being dishonest. https://www.nationalheraldindia.com/governance/prakash-javedekar-misleads-parliament-on-amendments-to-forest-act  (28 June 2019)
Its absolutely true that Environment Minister is not doing his job of protecting environment. He rather seems happier in clearing anti forest projects. https://www.thehindu.com/news/national/environment-minister-prakash-javadekar-not-doing-his-job-says-jairam-ramesh/article28191209.ece  (27 June 2019) 
Report Afforestation fund threat to Adivasi people Narrative piece from Chhattisgarh and Orissa investigates how the new Compensatory Afforestation Fund Act (a Rs 56,000 crore) $ 8bn plan to plant trees against forest clearances for industry) is experienced by Adivasi communities as a land and resource grab. And risks being a greenwash: https://pulitzercenter.shorthandstories.com/india_compensatory_fund_indigenous_communities/index.html  (25 June 2019)
Uttar Pradesh Amendment to EC for Mirzapur Power Plant is contempt of NGT VENHF's letter to Secretary MoEFCC explaining how MoEF and EAC and indulging in violations of law. https://vindhyabachao.org/activities/environment/576-welspun-thermal-letter-24-06-2019  (24 June 2019)
Maharashtra Bullet Train To Affect 54,000 Mangroves As many as 54,000 mangroves spread over 13.36 hectares will be affected because of the Mumbai-Ahmedabad high speed rail corridor, state transport minister Diwakar Raote said June 24.
He was replying to a question raised by Shiv Sena legislator Maneesha Kayande in the state Legislative Council. "There will be no chopping of trees and there will be no threat of flooding to some parts of Navi Mumbai. The pillars (of the project) will be high and hence will not damage the environment much," he added. Mr Raote said the state government has proposed to plant five plants for each one that will be cut for the multi-billion dollar project.
The project, expected to cost over Rs. 1 lakh crore, is funded by the Japan International Cooperation Agency (JICA). Replying to another question raised by Congress MLC Sharad Ranpise, Mr Raote said, "The proposed land acquisition for the bullet train project is 1,379 hectares of which 724.13 hectares is private land in Gujarat while 270.65 hectares is in Maharashtra."
"As many as 188 hectares of private land in Palghar district is going to be acquired of which 2.95 hectares has been purchased as per the "private negotiation" policy of the state government. As many as 3,498 people from Palghar will be affected due to the bullet train project," Mr Raote added. "As per my information, farmers are keen on handing over their land for appropriate remuneration," Mr Raote informed in his written reply. "In Thane district, 84.81 hectares belonging to 6,589 farmers has been acquired of which 2.95 hectares has been purchased as per the private negotiation policy," he said. https://www.ndtv.com/india-news/mumbai-ahmedabad-bullet-train-project-to-affect-54-000-mangroves-maharashtra-denies-flood-risk-2058531  (24 June 2019)
Meanwhile, NHSRCL, the implementing agency of the Railways' bullet train project, said June 29 that they have reworked the design of the station in Thane, Maharashtra, to reduce the number of affected mangroves from the estimated 53,000 to 32,044.
National High Speed Rail Corporation Limited (NHRSCL) MD Achal Khare said in a statement that all the required wildlife, forest and CRZ clearance has been taken. He said the forest clearance came with a few conditions. The Environment Ministry had put a condition that the Thane station design be reviewed so that the affected mangrove region can be reduced. https://www.hindustantimes.com/india-news/thane-bullet-train-station-reworked-to-save-mangroves-authority/story-7JP09agwVo0sKq2IsevTxM.html  (29 June 2019)
Uttrakhand Tiger spotted in Kedarnath at 3400m hight Tiger are generally found in low altitude areas, and such a sighting clearly shows that tigers are changing their habitat," said Amit Kanwar, divisional forest officer, Kedarnath.
– In 2016,a tiger was spotted at 3274m (approximately 10,741 ft) in Askot in Uttarakhand. Arunachal Pradesh and Sikkim have also reported the presence of big cats at similar elevations. India is home to 2,226 tigers, according to the All India Tiger Estimation, 2015. The present spotting of tiger at 3400m is likely to be the highest in the country. Before this, a tiger was spotted at 3274 m in Askot landscape in March 2016, which was then said to be the highest in the country by a Wildlife Institute of India report.
– VB Mathur, director of Dehradun based Wildlife Institute of India, had earlier said, "Tigers are generally found at an altitude of 4000 ft-6000 ft in India. But, since the last estimation was done (2014) both states (Uttarakhand and Arunachal Pradesh) have reported the presence of tigers in high-altitude areas." https://m.hindustantimes.com/india-news/tiger-spotted-in-kedarnath-at-3-400m-altitude/story-Pdn0IT6zjDj4ihmTa1cGYJ_amp.html   (27 June 2019)
Gupta Family Fined 2.5 Lakh For Leaving Waste After Weddings A penalty of Rs. 2.5 lakh has been slapped on the South Africa-based businessmen brothers Ajay and Atul Gupta for leaving waste in Auli, Uttarakhand where the weddings of their sons were held last week, an official said on June 29. While a Rs. 1 lakh fine is for defecating in the open, a Rs. 1.5 lakh penalty is levied on scattering garbage.
In addition, the municipality is also preparing a bill of Rs. 8.14 lakh for collecting the garbage left behind after the weddings that were held amid environmental concerns. After the high-profile weddings, the Joshimath municipality has so far collected 306 quintals of garbage from the marriage site with the municipality pressing 3-4 trucks daily to collect the waste.
The Gupta brothers have already deposited Rs. 5.54 lakh with the municipality which also includes Rs. 54,000 as user charges. Meanwhile, the issue of refund of the Rs. 3 crore security deposited by the Gupta brothers with the Chamoli district administration will be decided on July 8 by the Uttarakhand High Court. The court had barred the use of helicopters at Auli and  had also fixed the number of guests at 150. https://www.ndtv.com/india-news/gupta-family-weddings-in-uttarakhand-ajay-gupta-atul-gupta-fined-2-5-lakh-for-waste-in-auli-uttarakh-2061348  (29 June 2019)
The more concerning aspect of this wedding, however, is that it exposed the elites' sense of entitlement and privilege as they went about damaging the fragile environment of the hills. Not only did they use vast amounts of plastic to transport food and other items to an area where plastic is indeed banned, but they also left behind 220 quintals of waste.
The Uttrakhand High court has slapped a fine of Rs 3 crores on the Guptas, but is this enough? The more important question is why the state government allowed a wedding of this scale to take place in the pristine hills, and why it did not ensure that the rules were strictly enforced. Perhaps the intent was to put the serene and lesser-known hills of India on the map, as it were. But this came at a great cost. https://scroll.in/article/928743/what-their-big-fat-auli-wedding-revealed-about-the-gupta-family-and-indias-elites  (30 June 2019)
The Uttarakhand government has asked the NRI Gupta family to pay an amount of Rs 8 lakh to clean up 275 quintals of garbage that the family's grand weddings in Auli had generated.  Joshimath municipality president Shailendra Panwar told, "Initially, we thought that two to three people would be enough to clear the entire garbage in around two days but after seeing the mounds, we have now deployed 20 people and four trucks to clear the area."
Panwar said the Gupta brothers have also offered to donate a dumper which would cost around Rs 12 lakh. Meanwhile, Chamoli district administration is preparing an exhaustive report on the weddings for which it had used a hi-tech drone for the first time.
The garbage mostly consists of flowers, plastic bottles, polythene wrappers, and other decorative items which are being hand-lifted by the corporation workers. "It is a huge task to clean up the mess at an altitude of over 3,000m. We are first segregating the waste and then putting them in bags before loading in the trucks." a sanitation employee working at the site said over phone. https://timesofindia.indiatimes.com/india/guptas-asked-to-pay-rs-8-lakh-to-clean-up-auli-mess/articleshow/69950829.cms  (26 June 2019)
Gupta family has deposited a user charge of Rs. 54,000 with the municipal corporation of Auli town to clean up the waste left after their Rs. 200 crore weddings. They had also agreed to pay the entire cost of cleaning up after their mega wedding functions left Auli with major waste management problems.
The High Court has instructed the district administration and Pollution Control Board to submit a report by July 7 on the harm caused to the environment due to the waste. The next hearing in the matter is on July 8.  Earlier, a PIL was also filed stating the extensive wedding preparations were damaging the environment. https://www.ndtv.com/india-news/gupta-family-pays-rs-54-000-to-clean-up-wedding-venue-in-uttarakhand-2058697  (25 June 2019)
"The wedding has created a waste problem in the hill station. "Plastic packets and bottles are lying everywhere. Our cows go for grazing in the area daily. What if they consume plastic? Who would take the responsibility? The situation here is really pathetic," a local told ANI.  https://www.hindustantimes.com/india-news/rs-200-crore-gupta-weddings-leave-uttarakhand-s-auli-with-mounds-of-garbage/story-bLU88H66Owj78cM7QTlwnO.html    (24 June 2019)
Here are Hindi reports on the issue.
Gujarat स्टेच्यू ऑफ यूनिटी से पहली बारिश में ही पानी का रिसाव  केवड़िया में बनी दुनिया की सबसे ऊंची प्रतिमा स्टेच्यू ऑफ यूनिटी से पहली ही बारिश में पानी रिसने लगा है। सरदार वल्लभभाई पटेल की यह प्रतिमा 182 मीटर ऊंची है। इसे तैयार करने में 3000 करोड़ की लागत आई थी। अधिकारियों ने बताया कि प्रतिमा के हृदय के पास से रिसाव हो रहा है। https://www.bhaskar.com/national/news/statue-of-unity-rains-sardar-sarovar-dam-01582305.html  (29 June 2019)
CLIMATE CHANGE
Report Prepare river ecosystems for uncertain future In changing climate, What should river managers do? They cannot look to tools of old: conventional management techniques that aim to restore ecosystems to their original state. Ongoing human development and climate change mean that this is no longer possible. And models based on past correlations do a poor job of predicting how species might respond to unprecedented changes in future. A different approach is called for.
– To maintain water supplies and avoid devastating population crashes, rivers must be managed adaptively, enhancing their resilience and limiting risk. Researchers must also develop better forecasting tools that can project how key species, life stages and ecosystems might respond to environmental changes. This will mean moving beyond simply monitoring the state of ecosystems to modelling the biological mechanisms that underpin their survival.
– Funnily the article mentions RIVER MANAGERS and RIVER SCIENTISTS. Both are non existent species in India. Yet to be evolved? https://www.nature.com/articles/d41586-019-01877-1  (18 June 2019)
SOUTH ASIA
Nepal Upper Karnali Hydropower Project bogged down in price negotiations Price of electricity to be generated from from the 900 MW GMR's Upper Karnali HEP in Nepal and sold to Bangladesh, is yet to be finalised. Investment Board Nepal, which has already extended the financial closure deadline for the Indian developer twice, has balked at extending it further despite company's request.
– A principal agreement on the commercial terms of the power purchase agreement excluding tariff rates was reached between the Bangladesh Power Development Board and GMR last year, paving the way for GMR to export 500 MW to power-hungry Bangladesh. "But the two parties are yet to finalise and sign a power purchase agreement, probably because of the 'high rate' proposed by the developer," said the official. https://kathmandupost.ekantipur.com/news/2019-06-25/upper-karnali-hydropower-project-bogged-down-in-price-negotiations.html  (25 June 2019)
Bangladesh Swelling Jamuna devours croplands, houses During the last three years, over 1000 families of the villages shifted their houses from the riverside while vast tracks of croplands, two high schools, four primary schools, a mosque, madrasa, and other structures were devoured by the river, Mazedur Rahman Talukder, chairman of Mahmudnagar union parishad (UP) said.
Md Sirajul Islam, executive engineer of Water Development Board in Tangail, told that they have already dumped 36,000 geo-bags in 12 spurs since June 17 as an emergency step to check the erosion in the area. The flow has already moved to the west after dumping of the geo-bags, he said. "A project is underway for conducting protection works in a 22-kilometre area along the east bank of the river in Tangail as part of a mega project to check the erosion," he added. https://www.thedailystar.net/country/news/swelling-jamuna-devours-croplands-houses-1762480  (26 June 2019)  
Similarly, erosion by the Padma River has taken a serious turn in the last couple of weeks, devouring more than 50 acres of arable land in the upazila. http://www.newagebd.net/article/77013/padma-devouring-arable-lands-in-goalanda  (30 June 2019)
Meanwhile, netting of fish has been banned in all the canals of Sundarbans from July 1 to August 31 in order to promote safe breeding and to preserve aquatic animals. The move is also being imposed to stop netting of fishes by spraying poison in the creeks of Sundarbans, reports our Bagerhat correspondent quoting Divisional Forest Officer (DFO) of Sundarbans East Mahamudul Hasan.
The area of the Sundarbans in Bangladesh part is 6,737 square kilometers of which the aquatic area is 1,874.1 sq km. This is 31.15 percent of the total Sundarbans, he said. In the water body of the Sundarbans there are 13 big rivers including Bhola, Baleshwar, Salah, Passur and around 450 small creeks, the correspondent reports. The mangrove forest which is constantly flooded with tidal waters is home to 210 varieties of local fish like Bhetki, Roopchanda, Datina, Chitra, Pangas, Leyte, Churi, Med, Parese, Poya, Tapsay, Lakhna, Koi, Magur, Shol, Kain and Hilsa.
A total of 24 species of shrimp including Bagda, Chali, Chaka and Chamti are found here. There is a total of 14 species of crab in the Sundarbans. https://www.thedailystar.net/environment/fishing-in-sundarbans-remain-banned-in-july-august-1764592  (30 June 2019)
THE REST OF THE WORLD
Study Environmental 'timebomb' warning for world's groundwater reserves An international research team has, for the first time, provided a global insight into what will happen if our groundwater systems start to see changes in their replenishment.
In a new paper published in the journal Nature Climate Change, the research team has shown that in more than half of the world's groundwater systems, it could take over 100 years for the systems to completely respond to current environmental change. Dr Mark Cuthbert from Cardiff University UK, who is also a visiting fellow at UNSW, led the research.
"Our research shows that groundwater systems take a lot longer to respond to climate change than surface water, with only half of the world's groundwater flows responding fully within 'human' timescales of 100 years," Dr Cuthbert says.
"This means that in many parts of the world, changes in groundwater flows due to climate change could have a very long legacy. This could be described as an environmental timebomb because any climate change impacts on recharge occurring now, will only fully impact the base flow to rivers and wetlands a long time later.
"It is essential that the potential for these initially hidden impacts is recognised when developing water management policies, or climate change adaptation strategies for future generations." https://smartwatermagazine.com/news/unsw-sydney/environmental-timebomb-warning-worlds-groundwater-reserves  (22 Jan. 2019)
France Heat tops 45.1°C for first time: Weather service The temperature in France on June 28 surpassed 45 degrees Celsius (113 degrees Fahrenheit) for the first time as Europe wilted in a major heatwave, state weather forecaster Meteo-France said. The record was set in the village of Villevieille in the southern department of Gard, which registered a high of 45.1 degrees Celsius. The previous record stood at 44.1 degrees Celsius in the same area during the notorious August 2003 heatwave, Meteo-France told AFP.
France remains haunted by the memory of the devastating heatwave of August 2003 which exposed the shortcomings of emergency services at the height of the summer holidays. That year, nearly 15,000 people are estimated to have died because of the heat, many of them elderly people at home. https://timesofindia.indiatimes.com/world/europe/heat-tops-45-degrees-in-france-for-first-time-weather-service/articleshow/69992894.cms  (28 June 2019)
US How Wolves Change Rivers When wolves were reintroduced to Yellowstone National Park in after being absent nearly 70 years, the most remarkable "trophic cascade" occurred. What is a trophic cascade and how exactly do wolves change rivers? George Monbiot explains in this movie remix.  https://www.youtube.com/watch?v=ysa5OBhXz-Q&feature=youtu.be  (13 Feb. 2014)
Iraq Ancient palace emerges from drought-hit Mosul reservoir A 3,400-year-old palace has emerged from a reservoir in the Kurdistan region of Iraq after water levels dropped because of drought. The discovery of the ruins in the Mosul Dam reservoir on the banks of the Tigris River inspired a spontaneous archeological dig that will improve understanding of the Mittani Empire, one of the least-researched empires of the Ancient Near East, the Kurdish-German team of researchers said in a press release. "The find is one of the most important archaeological discoveries in the region in recent decades," Kurdish archeologist Hasan Ahmed Qasim said in a press release. https://edition.cnn.com/travel/article/iraq-palace-drought-scli-intl/index.html  (28 June 2019)
Compiled by SANDRP (ht.sandrp@gmail.com)
Also see: DRP News Bulletin 24 June 2019 & DRP News Bulletin 17 June 2019
Follow us on: www.facebook.com/sandrp.in; https://twitter.com/Indian_Rivers