ODISHA
HC asked govt to start demolishing illegal prawn gheries in wetlands In a remarkable order the Odisha High Court on Jan. 21, 2019 directed the govt to start the demolition process of illegal prawn farms in Bhitarkanika National Park and the Chilika Lake under the supervision of the committee formed for the purpose. The high court has set March 18 as the date for taking stock of the work. It has also directed the govt to lodge criminal proceedings against the offenders.
The Supreme Court had on April 3, 2017, asked the chief justice of high courts in 15 states to take up the issue of conservation of important wetlands. Of the 26 major wetlands in 15 states, two are in Odisha. The high court had taken up the issue by suo motu registering a PIL in Sept 2017 for restoration of two wetlands – Bhitarkanika in Kendrapada district and the Chilika Lake, encompassing areas in Puri, Ganjam and Khurda districts.
Subsequently, it had appointed Mohit Agarwal as amicus curiae. The amicus curiae filed a report raising six issues — illegal prawn culture, pollution, uncontrolled boat operation and oil spills, siltation, depletion of mangrove forest in Bhitarkanika and prawn culture by illegal migrants and poaching. According to the report, '23,000 acres are under illegal prawn culture' in Bhitarkanika & Chilika Lake. https://timesofindia.indiatimes.com/city/bhubaneswar/hc-asks-govt-to-start-demolishing-illegal-prawn-gheries-in-wetlands/articleshow/67647062.cms (23 Jan. 2019)
ASSAM
1,367 wetlands in State facing serious threat A study by Prof Kaliprasad Sarma of the Dept of Environmental Science, Tezpur University found that, out of its total 3,513 wetlands, 1,367 are facing serious threats to their existence & warns that these water bodies will become myths in the near future. Wetlands occupy 7,64,372 ha, covering 9.74 % of state area. http://www.assamtribune.com/scripts/detailsnew.asp?id=dec2617/state050 (25 Dec 2017)
France loan for fish yield: questioned impact of dredging The state fishery department approached Agence Française de Développement (AFD), a public development bank of France, for Rs 1,767-crore loan to develop indigenous breeds of fish in 700 beels (wetlands) across Assam. The bank has in principle, approved the fishery department's Wetland Conservation & Protection Project; a team was to visit in July for "identification-cum-appraisal".
The AFD has said that it came to know about the proposed plan of dredging the Brahmaputra and constructing an expressway along it. "It is understood that the proposed wetlands/fisheries are located in the floodplains of the river. What will be the impact of these activities on the wetlands and fisheries?" it asked. https://www.telegraphindia.com/states/north-east/france-loan-to-up-fish-yield-226916  (3 April 2018)
A wetland too popular for its own good Near the confluence of the three rivers that form the Brahmaputra, Maguri Motapung Beel, 15 km from Tinsukhia is under threat from overfishing, silt and floods from the mountains, and oil exploration. What might appear serendipitous to visitors has taken a toll on the health of the wetlands. The rich diversity of animals and fish has led to overfishing and the Himalayas have been sending silt and floods leading to land erosion. And then there is the Oil India Limited refinery operating in the vicinity – further threatening the wetlands and communities who live around it.
Maguri Motapung Beel is less than 10 km south of the more famous Dibru-Saikhowa National Park and part of the Dibru-Saikhowa Biosphere Reserve. The wetland derived its name from 'Magur', local word for the catfish Clarius batrachus, once found here in abundance. Almost 90% of the 9.6 sqkm wetland, is water and aquatic vegetation. During non-monsoon months, people from the surrounding areas till the land that becomes available after the water drains out. Up to 95% of the approximately 10,500 people from the 10 surrounding villages are directly dependent on the wetland.
– Declared an Important Bird and Biodiversity Area in 1996, the wetland has over 110 bird species of which eight are regarded as threatened by the IUCN. It also hosted 84 species of fish – including the Golden Mahaseer – and 36 other species of animals. The Dibru river flows from east to west through the wetland. To the north-west of the wetland is a river, which was once called Dangori. It has been captured by the bigger river Lohit. https://www.thethirdpole.net/en/2018/05/25/in-assam-a-wetland-too-popular-for-its-own-good/ (25 May 2018)
Brahmaputra wetlands drying up A new survey found waterfowl numbers are dropping in Kaziranga national park due to climate change and human activity. The survey during Dec 19-20 2018 came up with a count of 10,412 birds of 80 species, a significant decline, compared to the 479 species found between 1993 and 1999.
The drying up of wetlands has led to an increase in areas of tall grass and a reduction in areas of short grass. This gradual change will have important ecological implications in the future, experts warn. Scientists say that vanishing wetlands means not only loss of water bodies – the loss could add to climate change by releasing a large amount of the trapped greenhouse gas methane. https:/www.thethirdpole.net/en/2019/02/13/brahmaputra-wetlands-in-assam-drying-up/ (13 Feb. 2019)
MANIPUR
Decommission the Ithai Barrage Statement of Citizens Concern for Dams and Development on the celebration of the World Wetlands Day at Ithai called for the protection of wetlands with due recognition of indigenous peoples rights, to decommission the Ithai Barrage of the NHPC's 105 MW Loktak Hydro Project & to stop the 66 MW Loktak Downstream project. http://e-pao.net/epSubPageExtractor.asp?src=news_section.Press_Release.Press_Release_2018.World_Wetlands_Day_Decommission_Ithai_Barrage_20180203 (2 Feb. 2018)
Save Loktak lake The editorial based on Global Wetlands Outlook 2018. If there is one beautiful wetland that can be called the jewel of India's natural heritage, it is the Loktak Lake in Manipur.
It is well known for phumdis (heterogeneous mass of vegetation) floating over it and the Keibul Lamjao National Park located on these phumdis is the only floating national park in the world, and home to the endangered Sangai and Manipur brown-antlered deer. Loktak's rich biological diversity comprises 233 species of aquatic plants and 57 species of water birds. But today, development activities such as hydropower, irrigation and water supply are destroying this lake. https://www.hindustantimes.com/editorials/why-the-new-report-on-wetlands-must-be-treated-as-a-red-flag/story-61UOcU0ZETuXzhRwipq4BI.html  (2 Oct. 2018)
Protest against proposed bird sanctuary State govt's plan to set up a bird sanctuary at the Loktak lake in Bishnupur district met with stiff opposition from the villagers in nearby areas. A large number of residents of Thingnunggei village took out a massive procession against the govt's proposal on Jan. 20. Earlier, the villagers of the lake islets had agitated against setting up of the Keibul Lamjao National Park, the natural habitat of the endangered brow-antlered deer. They wanted the land demarcated for the park to be made available to them for cultivating paddy.
Birdwatchers blame human intrusion, bird poaching and hydroelectric power project near the lake for the decline in the number of migratory birds and brow-antlered deer in the Keibul Lamjao national park. https://www.thehindu.com/news/national/other-states/protest-against-proposed-bird-sanctuary-in-manipur/article26055282.ece (22 Jan. 2019)
WEST BENGAL
Flyover on EKW Centre nod not enough, HC to take call The state govt cannot go ahead with the controversial flyover proposed through the east Kolkata wetlands (EKW) even if the Centre clears it, the Calcutta HC has ruled. Ruling on a PIL filed by Public, civil society group, a division bench of Chief Justice Jyotirmay Bhattacharya and Arijit Banerjee passed an order restraining the state from going ahead with the construction even if the Central Wetland Authority sanctioned the proposal. It has ordered that the permission be first placed before the bench for it to decide on the project's fate.
The proposed 5 km flyover from EM Bypass to New Town cuts right through the Ramsar site. According to the blueprint, around 140 piers will have to be built right on the bheris of fish farms, leading to 10 water bodies getting partly or fully filled. https://timesofindia.indiatimes.com/city/kolkata/wetlands-flyover-centre-nod-not-enough-hc-to-take-call/articleshow/64891127.cms (7 July 2018)
DMF welcomes landmark judgement to save east Kolkata wetlands In a landmark order, the east zone bench of National Green Tribunal gave Nabadiganta Industrial Township Authority (NDITA) and Vaidic Dharma Sansthan 30 days to remove encroachments in the East Kolkata Wetlands or face a penalty of Rs 50 lakh each with further fine of Rs 50,000 per day for any delay in implementing the order. The court also warned that it was reserving the right to pass appropriate orders on officials responsible for noncompliance as per provisions of the law. NGT had a year ago passed an order for removal of a road that was built around MunshirBheri in Salt Lake Sector V by NDITA as well as the three-storied, 60-ft tall building named Temple of Knowledge by Vaidic Dharma Sansthan, an organisation affiliated to spiritual guru Sri Sri Ravi Shankar.
Environmental action group PUBLIC had filed a petition in 2016 on the blatant violations in East Kolkata Wetlands, a Ramsar site that enjoys protection under a 1992 Calcutta high court order as well as multiple legislations. PUBLIC had pointed out that neither the private organisation, nor the govt body, had sought permission from East Kolkata Wetlands Management Authority for construction. Both of them had violated the East Kolkata Wetlands Act, which prevents change in existing land use. https://dc.icsf.net/en/component/dcnews/articledetail/12399-West-Bengal–DM.html   (12 Oct. 2018)
Objections over EIA process for construction of flyover on EKW A crucial environment impact assessment (EIA) was commissioned for a road and a flyover that were to be built through the East Calcutta Wetlands (EKW), a 12,500-ha span of water bodies regarded as the city's kidneys. The Thane-headquartered Ultra-Tech Environmental Consultancy & Laboratory has been given four months to study air, water and soil conditions in the project area and stack those values against corresponding projections after work starts and when the infrastructure is in use.
According to experts in impact assessment, starting the exercise at this time of the year makes four months inadequate for a proper study. "The guidelines of MoEF states that baseline monitoring cannot be done during the monsoon because particulate matter in the air settles down during this period," an engineer said. A senior official of Ultra-Tech said the strongest impact of construction would be on air quality. Dust particles settling in the water bodies can affect the marine ecosystem as well. https://www.telegraphindia.com/states/west-bengal/impact-report-on-wetlands-projects/cid/1419132  (19 June 2018)
Objecting to the project, concerned said that EKW was already under threat and building a flyover or a road through them will only worsen matters. The government hasn't done any study till now to check if the wetlands' area has shrunk from the original, Bonani Kakkar, a co-founder of PUBLIC said. The wetlands is of "immense importance" to the city's existence, a civic engineer said. More than half of Kolkata's waste water is drained into the EKW without any requirement to treat the sewage. The wetlands has saved the government crores as the waste water doesn't need any treatment, a civic official said.
"We had to build STPs at Taratala, Behala, Lake Town and Garia to drain waste water out of these places," a civic engineer said. "Since the waste water from these places don't drain into the wetlands, it has to be treated to reduce the pollution level before being discharged into canals." Each of the plants were built at Rs 40 crore at least, the engineer said. https://www.telegraphindia.com/states/west-bengal/activists-sound-east-calcutta-wetlands-alarm-bell/cid/1654693  (28 Aug. 2018)
Ramsar tag makes Indian Sunderbans largest protected wetland in country The Indian side of the Sunderbans has received the prestigious 'Wetlands of International Importance' tag under the Ramsar Convention on Wetlands, making it the largest protected wetland in the country. Home to the royal Bengal tiger, this is the second Ramsar site in Bengal after the East Kolkata Wetlands, which got the tag in 2002. The decision was taken at a Ramsar convention in Geneva on Feb. 1, 2019.
The Bangladesh part of the Sunderbans had received the Ramsar tag way back in 1992. Together, both sides of the wetlands spread over an area of over 10,000 sq km rivals the Congo River basin and the Amazon estuary as one of the largest transboundary wetlands in the world. https://timesofindia.indiatimes.com/city/kolkata/ramsar-tag-makes-indian-sunderbans-largest-protected-wetland-in-country/articleshow/67813084.cms (3 Feb. 2019)
Threats on Sundarban wetlands While the Indian Sundarban is a biodiverse preserve, over four million people live on its northern and north-western periphery, putting pressure on the ecosystem. Concerns have been raised about natural ecosystems being changed for cultivation of shrimp, crab, molluscs and fish.
The Ramsar Information Sheet lists fishing and harvesting of aquatic resources as a "high impact" threat to the wetland. The other threats are from dredging, oil and gas drilling, logging and wood harvesting, hunting and collecting terrestrial animals. Salinity has been categorised as a medium and tourism as a low impact threat. The wetland is also vulnerable to climate change and requires better management and conservation practices. https://www.thehindu.com/sci-tech/energy-and-environment/protecting-the-sundarban-wetlands/article26482707.ece (9 March 2019)
Obituary to Dhrubajyoti Ghosh EKW crusader Ghosh passes away It was a very sad news that ecologist and Kolkata wetlands crusader Dhrubajyoti Ghosh died on Feb 16, 2018. Till the end he was fighting for East Kolkata Wetlands objecting to West Bengal govt's plan to change land use policy of EKW. A UN Global 500 laureate and the first Indian recipient of the prestigious Luc Hoffmann award, he had been suffering from various chest related ailments over the past three months.  https://www.hindustantimes.com/kolkata/dhrubajyoti-ghosh-ecologist-who-introduced-east-kolkata-wetlands-to-the-world-passes-away/story-3hGeLXYD6lZP2M5bQHjnzH.html (16 Feb. 2018)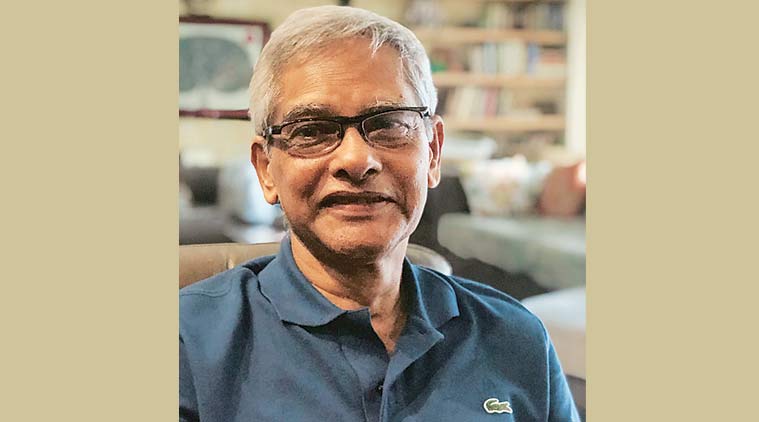 Saltues to engineer, ecologist, scholar, official, activist Sopan Joshi: Our governments spend crores of rupees in contractor-heavy programmes to clean rivers. Ghosh's life and work showed that the solutions are cheaper than we imagine. They lie in ordinary people. All that is needed is leaders and officials who are ready to go out for a walk. With an open mind, with a warm heart, with the commitment of sound scholarship. http://indianexpress.com/article/opinion/columns/dhrubajyoti-ghosh-death-1947-2018-he-found-wealth-in-waste-5070411/ (20 Feb. 2018)
In another tribute to the legendary conservationist Amitangshu Acharya says: it was only in recent years that he started receiving the attention he deserved. It is a pity that his first book, Ecology and Traditional Wetland Practice, which should be an essential read for wetland conservationists the world over, is almost impossible to find in a bookshop.
It is true that the death of Dhrubajyoti Ghosh follows that of Anupam Mishra, whose quiet work on traditional water harvesting systems is considered a watershed in India's environmental history, and who wrote the introduction to Ecosystem Management. Both had immense respect for each other – an interesting relationship between a Marxist ecologist and a Gandhian environmentalist. With their passing, India has lost two great environmentalists within a very short period of time.
Dhrubajyoti Ghosh, like Anupam Mishra, was not only the last of his kind, but his kind was the last. His death is a lighthouse switching off on a stormy night. We lost him at a time when he was needed the most. https://scroll.in/article/869250/dhrubajyoti-ghosh-saviour-of-the-east-kolkata-wetlands-believed-in-people-and-not-policies(19 Feb. 2018)
Dhrubajyoti Ghosh is larger than life even in death writes Aditi Roy Ghatak. He is larger than the sum total of all the many awards that he has received; the Ashoka fellowship and the United Nations' Global 500 laureate that he received fairly early in life and the CEM Luc Hoffmann Award that he received in 2016 amongst others.
Ahead of his times, Ghosh (71) was a "new generation" thinker, who realized the joys of learning from nature; understanding the myriad ways it supports humanity that is hell bent on destroying it; perchance teaching those who were privileged to listen to him about the amenity of nature with humankind, as he shared his understanding in his soft, unobtrusive way. Even political/ecological opponents he sought to handle with gentle fists. https://www.thestatesman.com/opinion/wetlands-will-weep-today-1502586927.html (17 Feb. 2018)
Ghosh is credited with discovery of the uniqueness of East Kolkata Wetlands – the world's largest organic sewage management system – that was designated as a Ramsar site or 'wetland of global importance in 2002'. Till the end, Ghosh was on the Bengal govt's expert committee on East Kolkata Wetlands. Objecting to some of the govt's plan to change land use policy in the wetlands, Ghosh submitted his resignation last August that was not accepted. https://www.hindustantimes.com/kolkata/dhrubajyoti-ghosh-ecologist-who-introduced-east-kolkata-wetlands-to-the-world-passes-away/story-3hGeLXYD6lZP2M5bQHjnzH.html (17 Feb. 2018)
BIHAR
Wetlands on a ventilator, but there is still hope Situated in Begusarai district of north Bihar, around 125 km from the state capital Patna, the Kanwar Lake (which has the distinction of being Asia's largest oxbow lake) Bird Sanctuary best summarises the fate of the wetlands in the state, which are in bad state thanks to excessive encroachments, coupled with the apathy of the administration that is yet to take the issue of dying wetlands seriously." It has shrunk rapidly post 2000.
A study by Ashok Ghosh, a scientist and incumbent chairman of the Bihar State Pollution Control Board has found that the lake covered 6,786 ha in 1984, which reduced to 6,043.825 ha in 2004, 2,032 ha in 2012. https://india.mongabay.com/2018/10/18/bihars-wetlands-are-on-a-ventilator-but-there-is-still-hope-from-the-ground/  (18 Oct. 2018)
Wasted wetlands ring alarm bells for birds Once a haven for migratory birds, Bihar's vast tracts of wetlands, like Kanwar lake in Begusarai, Kusheshwar Asthan in Darbhanga, Baraila in Hajipur and Gogabil in Katihar, are rapidly shrinking due to the impact of climate change and unbridled human activities. These were the spots where a large variety of local birds, as also some species from abroad, flocked. But with water not reaching those places, birds have turned away.
The Bihar government has plans to revive and rejuvenate Kanwar lake, Baraila and Kushshwar Asthan bird sanctuaries and various other water bodies, but time is running out. Sharma said Bihar had 412 listed species of birds, out of which four had become critically endangered. https://www.hindustantimes.com/patna/bihar-wasted-wetlands-ring-alarm-bells-for-birds/story-8KvQmWvED9Z2JkfzTvevjM.html  (5 June 2019)
Compiled by Bhim Singh Rawat (bhim.sandrp@gmail.com)