On April 16, 2019, Delhi High Court bench decided to initiate a Public Interest Litigation based on a newspaper report that not much rainwater harvesting or groundwater recharge is happening in spite of years of talk that seems to have remained empty. This is a welcome move and one hopes HC takes the issue to its logical conclusion.
Inattention to water crisis: Alarmed Delhi HC initiates PIL The Delhi High Court bench of Justices Vipin Sanghi and Rekha Palli cited a TOI report of March 23, 2019 which highlighted that Delhi is ignoring the mandatory requirements on rainwater harvesting to flag the issue as a PIL. It directed the registry of the court to place the PIL before a bench led by the Chief Justice, even as it made the three corporations, DDA, New Delhi Municipal Council, DJB, Central Ground Water Authority and Union housing ministry as respondents.
"This court considers it necessary to examine, firstly, the aspect of implementation of rainwater harvesting in terms of the regulations and guidelines. Secondly, it also considers it appropriate to examine the feasibility of channelising treated sewerage water, particularly in those parts of the city where the water table is very low, which would reduce dependence on groundwater and help in recharging it in such areas," the HC observed.
As per an RTI reply, DJB had admitted that only around 1,200 such units across the city have actually installed systems to route rainwater to underground resources, even though under the Delhi Water and Sewer (Tariff and Metering) Regulations, 2012 it is mandatory for all establishments over 500 sq m to install rainwater harvesting systems. Pre-policy constructions on 100-500 sq metre are exempted, but all the new ones in this size are required to install such systems, high court also underlined in its order.
The bench further noted that regulations were notified in July 2012 which stated, that in case a DJB consumer fails to comply with the rainwater harvesting rules within prescribed time limit, the tariff will be increased by 1.5 times till the system is installed. "These regulations, it appears have not been put into practice," the HC added.
It also observed that in Delhi "Despite the enforcement of these regulations, rainwater harvesting has not been taken up with the seriousness it deserves." https://timesofindia.indiatimes.com/city/delhi/groundwater-crisis-alarmed-hc-orders-pil/articleshow/68896660.cms  (16 April 2019)
According to available records, DJB itself has 15,706 units measuring 100-500 sq m. All properties adopting rainwater harvesting are provided a rebate of 10% in the water bill, but those mandatorily required to install harvesting systems and don't are penalised with a bill that is 1.5 times higher than the actual amount. "As per the revenue management system, 1,254 consumers avail the rebate, while 11,388 have been charged the penal amount," DJB said in its reply. https://timesofindia.indiatimes.com/city/delhi/losing-ground-just-1200-rainwater-harvesting-units-in-a-city-of-2-crore/articleshow/68529629.cms  (29 March 2019)
DELHI WATER
Bringing Delhi's lake back Delhi Jal Board has finalised three different revival models for the restoration of 155 water bodies in consultation with the National Environmental Engineering Research Institute. With an aim to achieve biochemical oxygen demand of 10 ppm and total suspended solids score of 10 mg/litre, treated wastewater would be used for water bodies located in the proximity of STPs in the first model. For the second model, a natural constructed wetland with bio-digesters would be created that will be recharged by sewage from nearby inhabited areas. In case the land is not available, moving bed biofilm reactor (MBBR) and electromechanical systems would be taken up. https://timesofindia.indiatimes.com/city/delhi/what-the-new-city-of-lakes-will-look-like-three-ways-to-bring-them-back-to-life/articleshow/69087849.cms   (29 April 2019)
Climate change will compound India's water crisis Key point: It's not a perfect solution, Srikantaiah says, pointing to a channel of untreated sewage that bypasses the plant and runs straight into the constructed wetlands. But the lake is far healthier than it was a decade ago, and the rehabilitation effort is seen as a model for restoring other water bodies in the city. Srikantaiah says these local projects make real differences in real lives, faster and more reliably than some long-studied, large-scale scheme. https://www.technologyreview.com/s/613344/indias-water-crisis-is-already-here-climate-change-will-compound-it/   (24 April 2019)
HYDRO POWER PROJECTS
SANDRP Blog Hydro generation again below 10% in 2018-19 In 2018-19, for the third year in succession, power generation from India's large hydropower projects was below 10% of total electricity generation in India. The article gives overview of hydropower situation in India, and its generation performance and installed capacity details. https://sandrp.in/2019/05/01/indias-hydro-generation-again-below-10-in-2018-19/  (1 May 2019)   
DAMS
New method can help predict reservoir levels three months in advance "Reservoir storage forecast is a good idea, but one of the key parameters needed is upstream and reservoir water use data. There is no public policy as to how reservoir water will be used. This gap needs to be recognised before forecasting can give useful outputs. Another major factor is massive groundwater use and its impact on stream flow, which, in turn, affects reservoir storage," Himanshu Thakkar of SANDRP, said while commenting on the study.
Information is also lacking about state of catchments of various reservoirs. In July last year, major reservoirs in Cauvery basin were full even though rainfall in the basin was 4 per cent below normal. "This was because the catchment is degrading very fast and almost all the rain quickly converts into stream flow ending up in the reservoir. That's why the state of a catchment is key parameter that decides how much water ends up in a reservoir, but this is a big unknown," Thakkar added. https://www.downtoearth.org.in/news/water/new-method-can-help-predict-reservoir-levels-three-months-in-advance-64289  (1 May 2019)
Polavaram Dam Only 34% work of coffer dams complete; can officials complete it in two months With less than two months left for the State govt to keep its promise of releasing water from Polavaram dam by gravity, the officials and the contracting agency are racing against time to complete the works which would enable water diversion: the cofferdams. As per the latest status report, just about 34 per cent of works related to the cofferdams have been completed so far. The works related to the two structures began in the second week of Dec. 2018. The target date is just about 50 days away. Polavaram Project Authority (PPA), also recently asked the State officials as to how the latter would be able to complete the remaining part of the works in the short time.
However, the officials expressed confidence that they would be able to finish the works. "The upper cofferdam and the lower cofferdam are at 40 per cent and 26 per cent of progress. For cofferdams, laying the foundation is a tedious process. So, it took time. The superstructure can be quickly completed. We are making all possible efforts to complete the works by June 10," V Sridhar, Chief Engineer of Polavaram Irrigation Project. http://www.newindianexpress.com/states/andhra-pradesh/2019/apr/14/polavaram-dam-officials-race-against-time-to-release-water-by-mid-june-1964036.html  (14 April 2019)
Telangana Threat to structural safety of Srisailam DamThis report says there are questions about structural safety of Srisailam Dam. The plunge pool erosion that happened during Oct 2009 floods, has still not been repaired, it is still being studied. https://www.deccanchronicle.com/nation/current-affairs/020519/kurnool-scientists-monitor-stability-of-srisailam-dam.html   (2 May 2019)
Kaleshwaram nearing completion? The Telangana government had redesigned the Pranahita-Chevella lift irrigation project and took up the ambitious Kaleshwaram lift irrigation project by constructing barrage at Medigadda (where there was availability of 282.3 tmcs of water in a year) from May 2, 2016 — where there was abundant availability of rivers Godavari and Pranahita — near Kaleshwaram temple in Mahadevpur mandal abutting Maharashtra. The Telangana government signed MoU with the Maharashtra government for the execution of the Medigadda barrage and sharing of river waters through lift to provide irrigation to around one lakh acres in Maharashtra.
– It was decided to utilize about 180 TMCs of water during the rainy season from the Medigadda to provide irrigation to 18.19 lakh acres and additional 12.5 lakh acres of SRSP, Nizamsagar, Singoor and Flood flow canal through reverse pumping technology.
– The water from the Medigadda would be lifted to Annaram and to Sundilla barrages. Later, it would be pumped into Sripada Yellampalli project and to Mid Manair Dam (MMD). From MMD it would be lifted to Mallannasagar, Gouravelli, Gandipelli reservoirs.
– The completion of the KLIP would transform the erstwhile Karimnagar district on the lines of coastal Andhra districts with the availability of water throughout the year in Sripada Yellampalli project, Mid Manair Dam, Lower Manair Dam, SRSP flood flow canal. https://www.thehindu.com/news/national/telangana/kaleshwaram-project-on-verge-of-completion/article27016410.ece  (2 May 2019)
Tamil Nadu ₹1,120-crore Mullaperiyar project is gaining momentum CM Edappadi K. Palaniswami has announced a new project to bring drinking water directly from Mullaperiyar dam to serve Madurai city's growing population. The new Mullaperiyar drinking water project is worth Rs 1,120 crore and envisages laying a 143km long pipeline from Lower Camp near Gudalur to Madurai city. Madurai currently receives 170 mld of water but in summers, the city is left with only 150 mld of water leading to water supply cuts. With the new project, Madurai could be receiving an additional 125 mld of water and there could be a round-the-clock supply of water. https://www.thehindu.com/news/cities/Madurai/1120-crore-mullaperiyar-project-is-gaining-momentum/article26974202.ece   (28 April 2019)
Tusker electrocuted in Bhavani Sagar Dam In June 2018, the Madras High Court had directed the State Govt to remove electric fences erected by farmers in water spread area of the dam as it was posing a threat to wild animals. Following the court order, the Forest Department and the Water Resources Organisation of PWD removed illegal fences erected by farmers over a distance of 20 km along both sides of the water spread area of the dam. However, farmers started encroaching the water spread area again when the water level in the storage area receded. This is reportedly the eighth elephant electrocuted in Coimbatore Forest Division since May 2016. Of these, six were male elephants. https://www.thehindu.com/news/cities/Coimbatore/tusker-electrocuted-in-bhavani-sagar-dam/article26726799.ece  (3 April 2019)
Uttrakhand Lakhwar to go through fresh EIA This seems like a planted story by Uttrakhand Jal Vidhyut Nigam Ltd?  http://epaper.livehindustan.com/imageview_62846_136930458_4_146_30-04-2019_t_1.pagezoomsinwindows.php   (30 April 22019)
INTERLINKING OF RIVERS
The basic concept of river interlinking is faulty  The Mihir Shah Committee report titled 'A 21st Century Institutional Architecture for India's Water Reforms' observes that many of India's peninsular rivers are facing a serious crisis of post-monsoon flows. "The single most important factor explaining the drying up of India's peninsular rivers is the over-extraction of groundwater. The drying up of base-flows of groundwater has converted so many of our 'gaining' rivers into 'losing' rivers," the report adds. https://www.thehindubusinessline.com/news/national/against-the-odds-centre-forging-ahead-with-ambitious-river-interlinking-project/article27005030.ece  (1 May 2019)
IRRIGATION
How Many Irrigation Projects Has the Modi Government Completed? On February 7, 2019, while speaking in parliament, Narendra Modi appeared to indicate that his government had inaugurated 99 irrigation projects during its term. Publicly available data, however, shows that this is not true.  According to the data on status of progress available on the Pradhan Mantri Krishi Sinchayee Yojana (PMKSY) website, thirty-one projects had been completed by June 2018. Another 32 projects are listed as 'to be completed by June 2019' and 43 are 'to be completed by December 2019'. https://thewire.in/agriculture/fact-check-how-many-irrigation-projects-has-the-modi-government-completed  (2 May 2019)
There is indeed issue of missing Water Audit report and missing data. The claim of Mah govt that irrigated area has increased, in absence of these will have no credibility. https://mumbaimirror.indiatimes.com/mumbai/other/experts-slam-government-for-hiding-irrigation-data-in-audit-report/articleshow/69159176.cms   (3 May 2019)
RIVERS
SANDRP Blog चारधाम राजमार्ग परियोजना: ग्रामीणों के लिए त्रासदी बना गंगा –यमुना घाटी सुरंग निर्माण यह रिपोर्ट बड़कोट के निकट धरासू बैंड पर सुरंग निर्माण कार्यों में नियमों की अवेहलना किये जाने से स्थानीय पर्यावरण और ग्रामीणों पर हो रहे विपरीत प्रभावों को दर्शाती है। इस सुरंग का निर्माण चार धाम राजमार्ग परियोजना के तहत किया जा रहा है।  साढ़े चार किलोमीटर लम्बी सुरंग के माध्यम से यमुना-गंगा घाटी को आपस में जोड़ा जाना है।
वास्तव में यह निर्माण कार्य हाल ही में शुरू किया गया है जबकि चार धाम राजमार्ग परियोजना में पर्यावरण को हो रहे नुकसान का मामला माननीय उच्चतम न्यायालय में विचाराधीन है। अपने फ़रवरी 2019 में जारी आदेश में सर्वोच्च न्यायालय ने स्पष्ट तौर पर कहा था कि जब तक जब तक मामले पर अंतिम निर्णय नहीं आ जाता तब तक परियोजना के तहत नए कार्य शुरू नहीं किया जाना है। इस तरह यह सुरंग निर्माण कार्य सर्वोच्च न्यायालय के आदेश में अवमानना है। साथ में निर्माण कार्य के दौरान तय मानकों का खुलेआम अवेहलना की जा रही है सो अलग।  https://bit.ly/2WfIr0R   (3 May 2019)
– Villagers petition and media report cites several violations in construction of 4.5km long Silkyara-Badkot tunnel at Dharasu Band to connect Ganga and Yamuna basins, Barkot Uttrakashi under Char Dham highway project.  As per villagers blasting is being done during construction. It has caused cracks in several homes of Chhatanga village. Potable water supply pipes and irrigation channel have been damaged. Muck is being dumped in local streams. https://twitter.com/Rohitskaziranga/status/1124724763237052416
Walking along Betwa Interesting report about Betwa river walk, facilitated and organized by Veditum India. https://www.veditum.org/upstream/walking-along-betwa-moving-upstream/amp/
CAUVERY Development in catchment running river drier Coorg, the primary catchment area of the Cauvery, has been running dry. In turn, the river water has not been sufficient to quench the needs of a thirsty state. With no flow from the stream, the lands downstream and the further course of the river are affected, leaving the states to fight the deficit of water. What goes unnoticed is the imbalance in the ecosystem that the authorities have created in the name of development, with the damming and control of the river leading to the battle for water. https://www.firstpost.com/long-reads/cauvery-a-river-under-stress-in-coorg-unwanted-development-comes-at-a-high-environmental-cost-6552751.html
As Cauvery leaves the lush hill ranges of Coorg, it falls to the plain lands of Mandya, a district predominantly based on agriculture. Here Cauvery water is utilised for both farming and drinking needs of the population. With paddy and sugarcane being the primary harvest, the Krishna Raja Sagara Dam built on Cauvery is the only source of water for agriculture needs.
Often, these farmers are blamed for not sharing Cauvery water with their counterpart in Tamil Nadu, but what is often left untold is that there is lack of sufficient water within the state to meet the crop demands. The water also satisfies the drinking needs of districts of Coorg, Mysore, Mandya and Bengaluru, the state's capital. Furthermore, the main crop paddy requires 1,250 mm of stagnant water throughout its growth before the harvest. https://www.firstpost.com/long-reads/cauvery-a-river-under-stress-the-plight-of-mandyas-farmers-and-of-tns-fluorosis-belt-residents-6558681.html
Running on the borders of both the states for 64 km, Cauvery tumbles into Hogenakkal, of Dharmapuri district in Tamil Nadu, in form of waterfalls. Provided the water is released from the Krishna Raja Sagara dam, it reaches the Central Water Commission that is stationed at Biligundlu in Krishnagiri within 24 hours.
Hogenakkal, a popular tourist destination known for its coracle rides barely serves the needs of the drought-prone districts of Krishnagiri and Dharmapuri. Known as the fluorosis belt of Tamil Nadu, the excess presence of fluoride, an acute salt in the groundwater, leads to drastic dental and skeletal problems to the residents of the district. https://www.firstpost.com/long-reads/cauvery-a-river-under-stress-the-plight-of-mandyas-farmers-and-of-tns-fluorosis-belt-residents-6558681.html
Adding to the impact of the deforestation in Karnataka, the illegal sand mining on the banks of the Cauvery in Tamil Nadu results in the river being stripped of its essential components. Earthmovers work the riverbed, digging beyond the permissible depth and quantity, leading to severe damages to the water table. As against the permissible limit of mining up to 1 metre (3.3 feet), the illegal sand mafia excavates the riverbeds of various tributaries of Cauvery up to 6 metres (20 feet); these tributaries fulfil the drinking water needs of 20 out of 30 districts in Tamil Nadu.  https://www.firstpost.com/long-reads/cauvery-a-river-under-stress-effluents-to-sand-mining-examining-the-impact-of-human-activities-6559641.html   
GANGA Uttrakhand Increased sediments in Ganga, Yamuna river High silt load in Ganga, Yamuna during lean season is due to lots of construction activities in catchment specially Char Dham project. It is surprising that Uttrakashi DM sent proposal to channelize Yamuna at Yamnotri.
Weeks before the Char Dham Yatra begins, the issue of continued increase in sediments in Ganga and Yamuna river bed has once again become a matter of concern for priests and seers of the sacred shrines. Commenting on the matter, district magistrate Uttarkashi, Ashish Chauhan said, "Taking note of past incidents and demands of the priest community, we have sent a proposal to the government for channelizing rivers at the shrines. Besides this, we have also asked for technical support from the experts of Wadia Institute of Himalayan Geology."  https://timesofindia.indiatimes.com/city/dehradun/increased-sediments-in-ganga-yamuna-river-beds-worry-priests/articleshow/68961162.cms  (19 April 2019)
Only 10 of 100 new sewage projects on Ganga have been completed The bulk of the projects completed were those commissioned before the Ganga mission began work in earnest under programmes such as the Ganga Action Plan-1 and Ganga Action Plan-2, which began in 1987 and 1996 respectively. For instance, as of March 31, 27 of the 37 completed STP projects and sewer infrastructure were those commissioned before 2015, says a report on the NMCG website.
Rajiv Ranjan Mishra, Director-General, NMCG, said it was only after August 2016 that the NMCG got the necessary independence and authority to commission projects quickly, he explained. "Most of the major projects we have sanctioned have been in 2017 and 2018 and several of them will come online (and translate into improved water quality) by 2019 and early 2020. We have also followed a new model of having a single private operator take care of all the infrastructure works of a city (to improve efficiency) and implemented the Hybrid Annuity Model (HAM) in awarding tenders to STP and infrastructure developers," he said. About 65 projects were "under process" and Mr. Mishra said they would have shorter gestation times than in the GAP-1 and GAP-2 era. https://www.thehindu.com/news/national/only-10-of-100-new-sewage-projects-on-ganga-have-been-completed/article27029780.ece  (4 May 2019)
MATU Press Release 194 दिन के बाद आत्मबोधानंद जी के अनशन को विराम
युवा संत आत्मबोधानंद जी ने आज अपने 194 दिन के लंबे अनशन को विराम दिया। गंगा की अविरलता निर्मलता के लिए मातृ सदन के युवा सन्यासी का संकल्प एक मुकाम पर पहुँचा। आज 4 मई 2019 को राष्ट्रीय स्वच्छ गंगा मिशन की डायरेक्टर जनरल श्री राजीव रंजन मिश्रा जी का पत्र मातृ सदन में प्राप्त हुआ । स्वामी शिवानंद जी को लिखे पत्र की पहली पंक्ति है — Kindly recall the discussion during my visit to Matri Sadan on 26/4/2019.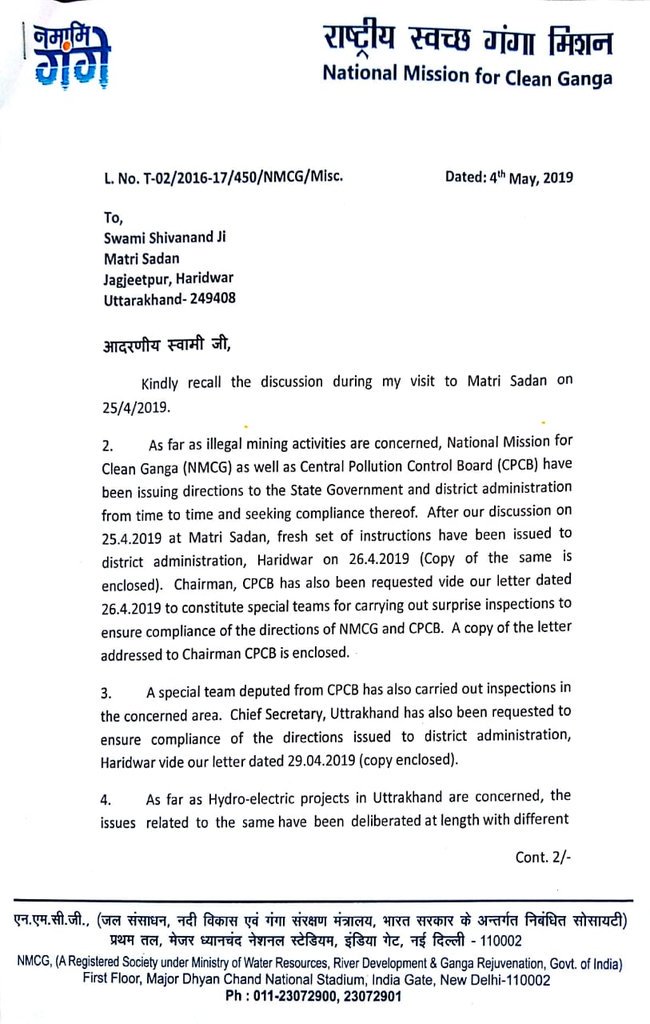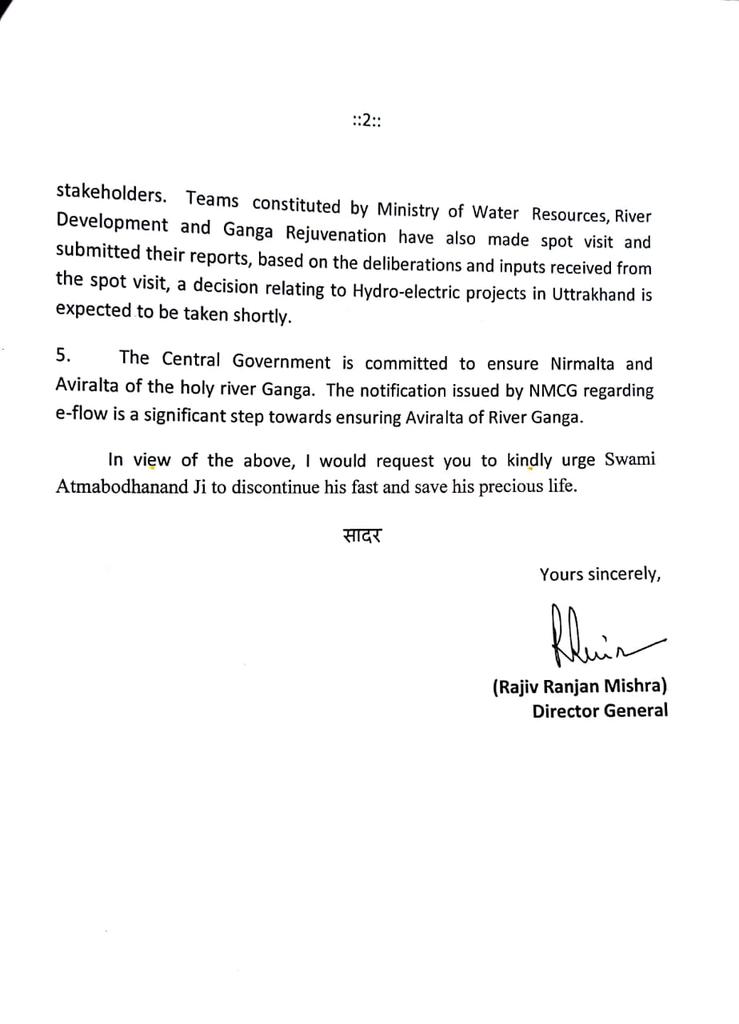 इस पंक्ति को मुख्य मानते हुए यानी कि 25 अप्रैल को जब पहली बार राजीव रंजन जी मातृसदन आए थे और उनकी स्वामी शिवानंद जी से और आत्मबोधानंद जी से बात हुई थी उस पूरी बात का आधार इस एक पंक्ति में आ जाता है। इसी पंक्ति को मद्देनजर रखते हुए और पूरे पत्र की शाब्दिक से अधिक आत्मिक भावना के साथ आज युवा संत आत्मबोधानंद जी के 194 दिनों के उपवास को विराम देने का निर्णय लिया। http://cgbasket.in/?p=23197 
गडकरी बोले– 30 प्रतिशत साफ हो गई है गंगा नदी Leaving aside the political title, this is interesting: "मध्यप्रदेश के बैतूल में एक रैली को संबोधित करते हुए गडकरी ने कहा कि हमने अभी तक गंगा को 30 प्रतिशत साफ कर दिया है." If we tabulate all the different claims of Mr Gadkari, this is his lowest claims about % clean up of Ganga. The trajectory is going down from sometimes 100%, 90%, 80%, 70% and now 30%…. Will it stop at 0% of go negative? https://hindi.news18.com/news/madhya-pradesh/bhopal-gadkari-said-30-per-cent-of-the-ganga-river-has-been-cleaned-1950700.html  (3 May 2019)
आचमन लायक भी नहीं है गंगा जल गंगा बैराज के पास गंगा जल इतना प्रदूषित हो चुका है कि आचमन लायक भी नहीं है। छत्रपति शाहूजी महाराज विश्वविद्यालय (सीएसजेएमयू) के इंस्टीट्यूट ऑफ बायोसाइंस एंड बायोटेक्नोलॉजी (बीएसबीटी) के विशेषज्ञों की ताजा रिपोर्ट से यह जानकारी सामने आई है। https://www.amarujala.com/photo-gallery/uttar-pradesh/kanpur/ganga-most-polluted-in-kanpur   (3 May 2019)
YAMUNA Delhi Signature Bridge: new allegations emerge A former contractual engineer, who was associated with the construction of the Signature bridge, has sent an email to the DPCC alleging that the debris had been indeed dumped into the river when the bridge was being constructed and that it did block the river's flow.
Sahajpal also alleged that some of the temporary structures have not been removed entirely and some portions of the structure are still submerged in the river. He said that this could prove to be dangerous if water sports and ferry services are introduced in the river. https://www.hindustantimes.com/delhi-news/signature-bridge-debris-partly-cleared-new-allegations-emerge/story-d1YNGKLqZwM9AEdkPGg4jN.html  (1 May 2019)
Hardlook: Constituencies along River Yamuna bank in Delhi upon poll promises A fisherman's livelihood, a daily wager's picnic spot, a slum cluster's nightmare — the Yamuna is many things to many people. In poll season, it's also a hot topic among those living on its banks. The Indian Express travels across five constituencies to listen in. https://indianexpress.com/elections/yamuna-river-delhi-okhla-pollution-2019-lok-sabha-elections-5711774/ (May 6, 2019)
Mapping pollution hotspots in Yamuna A sensor network system is being used for mapping and monitoring the water quality of river Yamuna.  https://www.indiawaterportal.org/articles/mapping-pollution-hotspots-yamuna  (1 May 2019)
Uttar Pradesh Sewage drains falling directly in river in Vrindavan, the place where Yamuna is considered holier than Ganga. https://epaper.amarujala.com/mathura/20190502/08.html?format=img&p=today 
The river is in highly polluted stated in Agra also.
Oil Pollution in Hindon River After villagers complaint, PCB collects sample Pollution levels touched a new high in the Hindon river as the water surface turned oily, causing health risks to animals and aquatic life, villagers said on April 30. They said that for the past one week, oil waste was being dumped into the river by nearby industrial units. Momnathal villagers filed a complaint seeking swift action into the issue. After farmers complained to the Uttar Pradesh pollution control board (UPPCB) about oil being discharged by unidentified factories into the Hindon, a UPPCB team on April 30 collected water samples from the river near Momnathal village for a probe.
The information is revealing and must be looked into by concerned agencies.  A 17 km-long stretch of the river passes through Noida and Greater Noida with the riverbed being sold as residential plots by the land mafia. Many people have started living in the newly developed housing societies, dumping their sewage into the river. https://www.hindustantimes.com/noida/oil-found-in-hindon-river-samples-taken-for-study/story-NWg3ScQPNbb0EwIdd7DgCN.html  (1 May 2019)
-55 villages severely affected by Krishna, Hindon pollution in Baghpat. 51 cancer cases found. 174+ Sugar, Paper mills polluting rivers, groundwater. NGT Aug. 2018 closure order of 124 polluting industries & supply of clean potable #water to affected, remains unimplemented.
– Its tragic that oily pollution continues to flow in Hindon, Yamuna rivers. CPCB fails to nab & punish polluters. Affected people left with no choice but to leave villages.
Video report on impact of pollution in Hindon river on villagers.  https://www.youtube.com/watch?v=WU0AYonCpU4&feature=youtu.be
RIVERS BIODIVERSITY
Assam Threats to Ganges river dolphin Making a plea for conservation, researchers have detailed in a study how the endangered Ganges river dolphin is heading towards 'local extinction' in the Barak river system. https://thewire.in/environment/ganges-river-dolphin-barak-river-assam-endgame  (3 May 2019)  
FISH, FISHERIES, FISHERFOLKS
SANDRP Blog Surest way to defeat Solastalgia: Zuari River Fishing Community This amazing Guest blog by Sebastiao Rodrigues, about what is going on around rivers in Goa and how the fisher people are fighting, but how all of us need to join the fight. https://sandrp.in/2019/05/02/surest-way-to-defeat-solastalgia-zuari-river-fishing-community/  (2 May 2019)
Educating young on ecological importance of fish Link for booklet focusing on the relationship between fish and its environment along with observation and survey of locally available fish. Through step-wise lesson plan activities, children will be able to understand that fishes have important roles in each habitats, ponds, rivers, and rice fields etc.
– It is said that India has about 2,500 species of fish which are 11.7% of fish species in the world. Among India, Bengal is called 'the land of Maach (fish) & Bhaat (rice)'. Diversities of water bodies existing in the landscape of West Bengal offers wider variety of fishes too. http://www.teachersofindia.org/en/lesson-plan/creative-lesson-plan-fish 
Maharashtra Poisoning kills fish in Pavana On Feb. 6 2019 there was mass fish kill in Pavana river, Pune due to release of chemicals without treatment by laundry companies. https://punemirror.indiatimes.com/pune/crime/poisoning-kills-fish-in-pavana/articleshow/68132144.cms  (Feb. 2019)
Telangana Record fish catch The state recorded fish production of about 2.94 lakh tonnes during 2018-19, registering an increase of about 31,950 tonnes compared to 2017-18. The production touched about 40,000 tonnes per month in February and March this year, which is expected to continue in April and May resulting in a bountiful catch this year as well.
As per official estimates, Nalgonda district recorded the highest fish production in the State with 19,921 tonnes, followed by Suryapet with 18,485 tonnes and Mahabubabad with 17,063 tonnes. Prawn cultivation too received good returns, registering production of 9,990 tonnes during 2018-19 as against 7,778 tonnes in 2017-18.
Telangana has nearly 25,000 reservoirs and tanks with a water spread of 5.73 lakh sq km. Fish production increased from an estimated 1.93 lakh tonnes in 2016-17 to 2.94 lakh tonnes in 2018-19, catapulting the State to secure a slot among the top five inland fish producing States in the country. https://telanganatoday.com/telangana-bags-a-big-catch    (30 April 2019)
SAND MINING
Chambal Sanctuary In Chambal, no political will to stop destructive sand mining  Both the BJP and Congress are united as far as protecting the interests of those involved in illegal sand mining here is concerned. They have promised to denotify parts of the Chambal sanctuary, which spans 425 kms (covering MP, Rajasthan and Uttar Pradesh) so that sand mining can flourish in those parts. https://www.hindustantimes.com/lok-sabha-elections/lok-sabha-elections-2019-in-chambal-no-political-will-to-stop-destructive-sand-mining/story-eHCxWdFp3wzjd5qg14f6BK.html  (26 April 2019)
Madhya Pradesh Facing illegal sand mining, depleting forests, Hoshangabad ready to chose a leader Hoshangabad Lok Sabha constituency is facing one-sided battle between the traditional Congress and BJP candidates with core issues of illegal sand mining and depleting forest cover remaining unattended. So intense is the impact of illegal mining in the catchment areas of Tawa and Narmada rivers that the water table in several areas has depleted to two to five feet in the past six months, ahead of the summer season.
"The major problem the region is facing is drought during last four years. Tawa and some tributaries of Narmada river including, Dudhi, Revabaru and Shakkar river have almost dried up, depleting the water level in Narmada and underground water level in several villages in the region," said Ashok Thakur, a local villager. https://timesofindia.indiatimes.com/city/bhopal/facing-illegal-sand-mining-depleting-forests-hoshangabad-ready-to-chose-a-leader/articleshow/69121016.cms  (1 May 2019)
Tamil Nadu Speed up deployment of drones to check sand mining: HC Wondering how rampant illegal mining of river sand continued across the State despite so called "effective" surveillance mechanisms put in place by the State govt, the Madras HC April 25 directed the govt to speed up the process of deploying Unmanned Aerial Vehicles (UAVs)/drones in areas prone to mining.
Justices M. Venugopal and S. Vaidyanathan also issued a slew of other directions, which included the constitution of special anti-sand smuggling teams comprising higher officials with adequate powers to handle the powerful sand mafia, which had nexus with politicians as well as the "black sheep" among government officials.
Stating that common people do not come forward to lodge complaints against illegal mining due to fear of harassment at the hands of the police, the judges said the government should think of posting "higher officials known for their impeccable integrity" in the State-level monitoring committee. https://www.thehindu.com/news/cities/chennai/speed-up-deployment-of-drones-to-check-sand-mining-orders-high-court/article26947183.ece  (26 April 2019)
Uttar Pradesh Banda facing severe water crisis. Ken starts shrinking. Illegal sand mining going on for past 6 months making situation worse. At places sand mafia obstruct river flow. People starts protesting with NO WATER, NO VOTE banners in streets & towns.
Andhra Pradesh NGT censures govt over water pollution, sand mining NGT on May 3 has slammed govt over a number of environmental issues at an open court session in New Delhi. It criticised AP chief secretary LV Subramaniam for the govt's failure to tackle water pollution and poor management of construction waste in the capital region. NGT reviewed the measures taken by the government to comply with environmental norms and raised the issue of illegal sand mining. It asked the government to penalise violators and 'impose exemplary costs on environment damage'.
NGT also said water in the state was highly polluted. "AP municipalities are releasing sewage into rivers and other water bodies. Pharma chemical waste is discharged into sea in Visakhapatnam," said the tribunal. https://timesofindia.indiatimes.com/city/vijayawada/ngt-censures-ap-govt-over-water-pollution-sand-mining/articleshow/69064224.cms  (27 April 2019)
WETLANDS, LAKES, WATER BODIES
Haryana Govt. deliberately delaying wetland status to Njafgarh lake Around 2,200 farmers in the villages surrounding the 41-kilometre-long Najafgarh drain have submitted a letter to the state human rights commission, asking to be compensated for losses suffered because of the frequent flooding and submerging of their lands due to the overflow of the drain. According to the farmers, around 5,600 acres of their land in 8 villages, namely Dharampur, Mohammad Heri, Daulatabad, Kherki Majra, Dhankot, Chandu, Budhera and Makdola, remain submerged almost throughout the year, as a result of which they are unable to cultivate.
In Feb. 2017, the Haryana govt had informed the NGT that Najafgarh was a wetland. However, more than two years later, no such notification has been made. The state government had, in Dec. 2018, rolled out a proposal to build a check dam to reclaim the land belonging to the farmers to avoid spillage. The NGT, in April 2019, sought a report on the action taken by the Haryana govt after the INTACH filed an application in the tribunal, alleging it was deviating from its stand to declare Najafgarh a wetland by proposing construction of the dam. https://www.hindustantimes.com/gurugram/plagued-by-pollution-2-200-najafgarh-farmers-seek-compensation-from-government/story-5YoBiRWXTpEMpvBTfjABmM.html (17 April 2019)
Wetland in Gurugram example of what is wrong with urban planning Urban planning in the 21st century India has been reduced to optimising land for tangible purposes, ideally for-profit enterprises. If some land is allowed to be, it is considered wasted – khaali zameen. The case of the Basai wetland illustrates this absurdity. https://scroll.in/article/913129/gurgaons-residents-are-opposing-efforts-to-conserve-the-basai-wetland-and-thereby-hangs-a-sad-tale  (14 April 2019) 
WATER OPTIONS
Bundelkhand Jal Sahelis quench the thirst of parched villages  Started in 2005 from Madhogarh in Jalaun in Uttar Pradesh, the network of Over 670 rural women – Jal Sahelis across 200 villages in Uttar Pradesh and Madhya Pradesh is reviving water harvesting structures and traditional water bodies through community participation. While the reach of the Jal Sahelis is limited, they hope that the government scales up its efforts for rainwater harvesting across India.
– in Chandrapur village, a part of the same tehsil, 170 families are comparatively more relaxed. A check dam, built by a women's group, Jal Sahelis (women friends of water), five years ago, is full of water collected during monsoon. The water is being used extensively for irrigation and domestic purpose in the village. https://india.mongabay.com/2019/04/jal-sahelis-quench-the-thirst-of-parched-villages-in-bundelkhand/  (30 April 2019)
Andhra Pradesh Groundwater levels look up in Srikakulam Strengthening local water options, farmers support and nature help improve groundwater table in several parts of Srikakulam district due to water management works taken up under Mahatma Gandhi National Rural Employment Guarantee Scheme (MGNREGS). Under the impact of the cyclone Titli, many tanks are brimming with water — this has also contributed to increase in the groundwater levels.
– Besides the water development works such as tank works, soak pits, farm ponds, Neeru-Chettu and last year's cyclone Titli filled up the tanks, Srikakulam Groundwater Department Additional Director P Kodanda Rao said. He also said that the farmers did not go in for the second crop this year. These are the main reasons for increase of groundwater levels in the district, he added.
– Compared to previous summer, the groundwater levels have increased by as much as 2 m in several areas. Groundwater level, which was at a depth of 15.85 m at Chilakapalem village of Etcherla mandal in April last, has now decreased to 13.86 m depth.
– Similarly, the groundwater level that was at a depth of 6 m has gone down to 4.52 m depth in Laveru mandal. While the water level was at 9.07 m at Kotabommali in April last year is now at 8.43 m depth.  http://www.newindianexpress.com/states/andhra-pradesh/2019/may/01/groundwater-levels-look-up-in-srikakulam-district-of-andhra-pradesh-1971299.html  (1 May 2019)
A Policy Drought Great to see this EDIT talking about rainwater harvesting, groundwater recharge, wastewater treatment and recycle and critiquing large dams. https://www.thehindubusinessline.com/opinion/editorial/distracted-by-elections-the-countrys-alarming-water-crisis-has-been-overlooked/article26995188.ece   (30 April 2019)
GROUNDWATER
Study Economic growth reducing groundwater faecal pollution in North India As per the study IIT Kharagpur, economic growth is reducing faecal pollution in the groundwater in North India, Faecal pollution plays a key role in spreading waterborne diseases. The study made first-time observations on the significant reduction of faecal coliform pathogen concentration in the spatially variable groundwater from 2002 to 2017. The study determined the economic development trends and correlations using night-time light data instead of gross domestic product (GDP) or other economic growth data. https://www.business-standard.com/article/pti-stories/economic-growth-reducing-groundwater-faecal-pollution-in-north-india-iit-study-119043000584_1.html   (30 April 2019)
Karnataka Groundwater at Nandi hills depleting fast  After parts of Bengaluru, Nandi Hills is the next which has been affected by ground water level depletion in Karnataka. Nandi Hills is a unique eco-system and is the birthplace of Arkavathy River, it is also believed to be the origin point of Ponnaiyar River, Penna River and Palar River. However, lately a number if streams were found to be dry and a team of city experts found out why.
Twenty students from Bangalore University, under the supervision of Dr TJ Renuka Prasad, Professor, Department of Geology, conducted an extensive study in 10 villages around Nandi Hills to assess the state of the ground water levels. After the survey that spanned for eight days and was funded by the Bangalore Environment Trust, the team found that the ground water level, at some places 350-400 feet below the ground levels, at others it was 600-700 feet below the ground levels and 1,000 feet below, at some places.
Suggestions:
Maintain the Water Table. Don't enter into competition of construction of bore wells

Adoption of community irrigation irrespective of status

Rain water Harvesting & bringing down stress on ground water.

Construction of cisterns to store rain water.

No need to bring water from elsewhere.

Adoption of SAFE YIELD method & restricted use of ground water

Maintain Natural Hydrogeological set up by retaining the hill ranges & drainage network intact along with development activities.

Shallower the water table, more water flows in the streams as base flow will be back. https://bangaloremirror.indiatimes.com/bangalore/others/groundwater-at-nandi-hills-is-depleting-fast/articleshow/69103800.cms (30 April 2019)
Bengaluru 'Groundwater near Kumudvathi depleting fast' Even as several parts of Bengaluru are hit by water crisis, the Kumudvathi river basin and its adjoining villages are affected by ground water depletion, posing a scary scenario of the river drying up.
The Kumudvathi river originates 50 km away from Bengaluru. It is a tributary of the Arkavathi River and originates from the Shivagange hills in Nelamangala taluk. In 2012, the river was completely drying up, and the adjoining villages faced a severe water crisis. Some work was done through the CSR funds managed to rejuvenate the river in 2015 by constructing boulders, recharge wells, and recharge borewells to harvest the rain water. But now, the river and the adjoining areas are back to facing the same issues of water depletion. http://www.newindianexpress.com/cities/bengaluru/2019/may/02/groundwater-near-kumudvathi-depleting-fast-1971636.html  (2 May 2019)  
Telangana Groundwater levels show in 'deep' trouble Within just a month, a massive 3,000 sq km of the state's land witnessed groundwater levels drop to deeper than 20 metres below ground level (mbgl).  This was revealed in the March, 2019 report of the state groundwater department that compared water levels to those recorded in February. According to the report, regions with moderately-deep (15-20 mbgl) and deep (more than 20 mbgl) groundwater levels occupy 19.2 & 15.6 per cent of the state's geographical area respectively.
Groundwater extraction, aided by free 24-hour power supply, combined with poor rainfall, have taken a toll on the state's groundwater resources. This water year (June 2018-May 2019), Telangana has received only 724 mm of rainfall so far, against a normal of 865 mm – around 16 per cent below normal.
Of the state's 33 districts, 16 received deficient rainfall, ranging from 24 per cent below normal at Suryapet, to 46 per cent below normal at Sangareddy, according to the groundwater department report. In comparison to March 2018, average groundwater levels in Telangana dropped in March 2019, from 11.88 mbgl to 13.40 mbgl, a fall of 1.52m.
Groundwater levels went down in 21 of the 33 districts in the state, and the remaining 12 saw their levels go up from those recorded in March last year. The steepest fall of 7.55 m was recorded in Sangareddy district. However, compared to Feb 2019, 32 of the 33 districts have registered a fall in groundwater levels. http://www.newindianexpress.com/states/telangana/2019/apr/05/groundwater-levels-show-telangana-in-deep-trouble-1960461.html  (5 April 2019); http://www.newindianexpress.com/states/telangana/2019/apr/27/plummeting-groundwater-levels-call-for-attention-1969635.html  (27 April 2019)
URBAN WATER
Gujarat Ahmedabad to revive its borewells Expecting a reduction of at least 33 per cent in Narmada water supply to Ahmedabad city (a cut of 300 MLD), the local civic body has started working on tapping the groundwater resource. The Ahmedabad Municipal Corporation (AMC) has carried out a survey and mapping of tubewells that have been lying defunct since water from Narmada started getting supplied to the city a decade ago. The survey identified over 250 defunct tubewells — 50 per cent of the existing tubewells.
While the city's estimated water supply is nearly 1,200 MLD, the AMC meets more than 75 per cent of its water requirement (900 MLD) from Narmada. Nearly 200 MLD is met through Raska weir that gets water from Mahi river in Vasad near Vadodara. The remaining 100 MLD, the city gets from borewells and local trenchwells at Dudheshwar and Kotarpur. https://indianexpress.com/article/cities/ahmedabad/to-meet-water-shortfall-ahmedabad-to-dig-deep-to-revive-its-borewells-5053019/  (6 Feb. 2019)
Gurugram File reports on groundwater extraction, govts told Responding to a PIL alleging rampant misuse of ground water in the district, the Punjab and Haryana HC has directed the district administration, the regional office of MoEFCC, CGWB, Municipal Corporation of Gurugram, Haryana Shahari Vikas Pradhikaran and the town and country planning department to file their reports within four weeks. The next hearing is on May 9, 2019.
In 2010, the court had directed the district administration to ban the use of groundwater, except for domestic purposes, during a hearing on the same PIL. The ground water level in the district has declined over the past 20 years at the rate of 0.77 to 1.2 m/year.
Gurugram has already been marked as a 'dark zone' by CGWB. According to a report by CGWA, the stage of groundwater development in Gurugram is 209%.  https://timesofindia.indiatimes.com/city/gurgaon/file-reports-on-groundwater-extraction-in-city-govts-told/articleshow/68961325.cms  (20 April 2019)
WATER POLLUTION
Karnataka KC Valley project: A costly experiment on people Supreme Court lifting the stay on the release of secondary treated sewage water to Koramangala and Challaghatta Valley (KC Valley) has brought a sense of victory to officials in Bangalore Water Supply and Sewerage Board (BWSSB) and Minor Irrigation Department. PCB officials say that the present setup of the STPs is not equipped to filter nitrogen and phosphate.
"The nutrients in water can turn into nitrates and nitrites, whose variants have been classified as carcinogenic. The proliferation of phosphate in the recipient lake will lead to eutrophication, where plants like hyacinths and other weeds occupy the lake," sources in KSPCB said. BWSSB officials, however, said the water from the STP conforms to the standards set by KSPCB. https://www.deccanherald.com/specials/insight/kc-valley-project-a-costly-experiment-on-people-731059.html  (27 April 2019)
Gujarat HC slams tile firm for not agreeing to shift unit, rejects its undertaking Yet another example of pathetic performance of PCB The petitioners' advocate said, "The Gujarat Pollution Control Board (GPCB) had found that the manufacturing unit was merely 267 metre from Najera lake as against GPCB norms that require a 500-metre distance between a water body and a hazardous industry."
– According to the PIL, the petitioners had approached the GPCB when Kathos Tiles began industrial activity at a distance of only 235 metres from their residence. The GPCB team, upon inspection, found the tile manufacturer to be in violation of site criteria and thereafter, in January 2016, issued an order that the industrial activity be stopped. However, the GPCB's instructions were ignored and it did not pursue the matter subsequently. The petitioners therefore approached the court asking for directions to the GPCB "to take steps in accordance with law to implement its order, and (also for a) direction for stopping of construction of the disputed ceramic industry (factory) on the disputed site." https://indianexpress.com/article/cities/ahmedabad/gujarat-hc-slams-tile-firm-for-not-agreeing-to-shift-unit-rejects-its-undertaking-5705689/   (2 May 2019)
AGRICULTURE
National Drought-hit India abandoned 18 lakh water works in just 1 year An analysis of the performance of MGNREGA for 2018-19 shows that the scheme has failed to be of any help to drought-stricken districts as the significant work related to water conservation and irrigation under the scheme has been left incomplete or suspended, making them useless for farmers.
In 2018-19, more than 1.8 million water-related projects were abandoned or left incomplete and the governments spent close to Rs 16,615 crore on structures that are of no use. Moreover, of the 8.26 million MGNREGA projects started in 2018-19, only 26.07 percent could be completed, which is the least in the five years. https://www.downtoearth.org.in/news/agriculture/mgnrega-drought-hit-india-abandoned-18-lakh-water-works-in-just-one-year-64150     (25 April 2019)
DROUGHT
Gujarat HC seeks answers from Gujarat Govt The Gujarat high court on May 3 sought an affidavit from the government explaining the situation of water supply from the Narmada canal for agriculture in 16 villages that fall in Botad and Bhavnagar districts. The HC sought an explanation from the authorities after it was surprised by photographs supplied by the petitioner — a farmer's organization, Khedut Hit Rakshak Samiti.
The pictures were of pumps deployed along the Narmada canal to draw water illegally to irrigate fields in these 16 villages. The petitioner NGO has complained to the court that though 16 villages fall in the command area of the Narmada project, the authorities have not supplied water to farmers of these villages in last eight years. The canals and sub-canals have been prepared and there is no technical hitch in fetching water to the fields, but the authorities are not inclined to supply water to the fields because they prefer supplying water to 300 industrial units in this area. http://timesofindia.indiatimes.com/articleshow/69168885.cms  (4 May 2019); https://timesofindia.indiatimes.com/city/vadodara/narmada-alone-will-not-resolve-water-crisis-experts/articleshow/69136300.cms  (2 May 2019)
Gujarat govt says enough for drinking till July The govt said a majority of the dams in the state had either dried up or contained only a small amount of water, but added that the volume of water in the Sardar Sarovar Dam was higher this year and would be sufficient to supply drinking water till the end of July to almost all parts of the state where other sources of water are unavailable.
 "Every day, 375 crore litre Narmada water is being provided for the purpose of drinking, in 8,911 villages, 165 cities and six municipal corporations," Patel said. However, 51 talukas have been declared as affected by water scarcity and relief works are on there, the deputy CM said. https://indianexpress.com/article/cities/city-others/dams-dry-but-wont-face-drinking-water-problem-till-july-gujarat-government-5701804/  (30 April 2019)
Water is released from Ukai Dam in South Gujarat under police protection. https://timesofindia.indiatimes.com/city/surat/fear-of-water-thefts-looms-in-valsad-navsari-district/articleshow/69136012.cms   (2 May 2019)
Most of Ukai dam's current storage of 1,055 million cubic metres (MCM) of water would go once it is released for irrigation by the authorities concerned. There is possibility of the reservoir going empty this year, a rare phenomenon to happen in three decades. SMC supplies 1,200 MLD of water to the citizens in Surat. The demand for water goes up to 1,300 MLD in summer.  https://timesofindia.indiatimes.com/city/surat/ukai-dam-has-sufficient-water-to-meet-demand-until-july/articleshow/68650564.cms  (31 March 2019) 
This is amazing wisdom of an IIM professor. One wonders if he applies his wisdom to cities too or only to villages of Kutch? https://timesofindia.indiatimes.com/blogs/science-nomad/ecology-and-water-politics/  (30 April 2019)
Maharashtra Pune fails to make the 'cut', no water days ahead Water department of the Pune Municipal Corporation (PMC) will propose immediate water cuts for the city to municipal commissioner Saurabh Rao, as water levels at the Khadakwasla reservoir, which provides water to the city, have reduced drastically.
The water department has put forth two options – release only 1,100 MLD of water for the city or provide water supply on alternate days. PMC officials said that the Khadakwasla reservoir has 6.29 thousand million cubic feet as of April 30. https://www.hindustantimes.com/pune-news/pune-fails-to-make-the-cut-no-water-days-ahead/story-NZi9pS5Rs1WrjFgHF6GdtJ.html  (1 May 2019)
The water supply in Pune comes from 4 dams — Khadakwasla, Panshet, Varasgaon and Temghar — and the water quota is decided by the state govt on the basis of recommendations by the state Water Resource and Irrigation Department, which takes into consideration factors such as the population of the city. The department, while allotting quotas, gives priority to drinking water needs, irrigation and industry.
PMC, which draws nearly 1,600 MLD water every day for the city, has been at loggerheads with the Water Resource Department over the amount of water drawn by it. The rapidly depleting live water stock in the dams in the state is worrying. In the Pimpalgaon, Ghod, Vadaj, Visapur, Chaskaman, Dadiwale, Kasarsai, Temghar, Khadakwasla and Nazre dams, all of which are linked to the Bhima river basin, the live water stock has fallen below 1 TMC (thousand million cubic feet).
The water stock in one of the largest dams, the Ujjani, is already 32 per cent deficit this year.  The situation in the Krishna river basin is reported to be far better, as the live water stock in reservoirs continues to range between 22 and 44 per cent, as of April 27. https://indianexpress.com/article/cities/pune/pune-maharashtra-temperatures-summer-mercury-dams-borewells-water-levels-5698820/  (28 April 2019)
After voting, citizens travel for water With merely 77 per cent, rainfall Maharashtra has been under the pale of severe drought since 2018. Additionally, mismanagement of water distribution, leakages and theft have added to the worries. The state government, in a rare scenario, declared drought in 26 districts, two-thirds of the state, in November 2018. A ground survey and various indicators such as rainfall deficit, reservoir storage, groundwater index and soil moisture concluded that the water situation was alarmingly poor. https://www.indiatoday.in/mail-today/story/mumbai-matters-after-voting-citizens-travel-for-water-1514930-2019-05-02  (2 May 2019) 
Telangana Mallepally faces severe water stress Mallepally village in Sangareddy district is badly hit as a sump that used to cater to the needs of 60% of the village has gone dry. Water from Manjeera river was being supplied to the village. Also, the Hyderabad Metropolitan Water Supply and Sewerage Board (HMWSSB) used to supply water from the river to four breweries – Carlseberg, United Breweries (UB), Crown and Leela and Sons – located in the village.
But that has stopped now, given the low level of water in Manjeera. As an immediate relief, the village panchayat dug eight bore-wells in the village, each 650 feet deep. A freshly-dug bore-well yielded more water, but just after two weeks, it dried up, while the yield from other bore-wells reduced drastically. https://www.thehindu.com/news/cities/Hyderabad/mallepally-faces-severe-water-stress/article26974425.ece  (28 April 2019)
Karnataka Dust not water from Borewells Most of the borewells in Naringana, a village of about 6,500 people on the Karnataka-Kerala border, are producing dust. https://timesofindia.indiatimes.com/city/bengaluru/drought-upends-lives-in-2150-karnataka-villages/articleshow/69090789.cms  (29 April 2019)
ENERGY
Average spot power price falls 19 per cent to Rs 3.22 a unit in April  Average spot power price at the Indian Energy Exchange (IEX) declined 19 per cent to Rs 3.22 per unit in April compared with Rs 3.98 a unit in the year-ago month, mainly due to improvement on the supply side. The day-ahead market witnessed trade of 4,005 million unit (MU) in April 2019 as against 3,356 MU traded in March 2019, registering a 19 per cent increase on a month-on-month basis and almost at par with 4,055 MU traded in April 2018.
The day-ahead market (DAM) experienced transmission congestion mainly towards the supply of power to southern states, leading to a volume loss of 68 MU representing 1.7 per cent of the total volume traded in DAM. The percentage time congestion occurred was 16.3 per cent. One nation-one price was realised only for 16 days during the month. https://energy.economictimes.indiatimes.com/news/power/average-spot-power-price-falls-19-per-cent-to-rs-3-22-a-unit-in-april/69154153  (3 May 2019)
DISASTER
Are we prepared to face extreme events in Himalayan Region?  By C.P. Rajendran There is now consensus among scientists that there are deficits in slips in certain segments of the Himalayan arc (for example, the central Himalaya) that are not commensurate with the accumulation of elastic strain. In other words, areas that haven't experienced great quakes for several years now have only been accumulating stress and are likelier to de-stress in the future with a greater quake, of magnitude 8.5 or higher. Are we prepared for such extreme events in the Himalayan region?
The Ganga alluvial plain is expected amplify the earthquake energy in such areas. It will be prudent to estimate the quake risk if a great earthquake occurs in the central Himalaya. And Delhi requires special mention as this area is the capital and many heritage, monuments and government buildings are located here. Many of our constructions do not comply with seismic codes. The major historical government buildings need to be made to resist earthquakes better through retrofitting.
My recent travels across Himachal Pradesh were depressing; I had an uncanny feeling that the mountains would be drowned in throw-away plastic items and other trash, piled up on the roadside and dumped in water bodies. With the looming threat of earthquakes, climate change and the retreating glaciers, our internal security seems to be in dire straits. https://thewire.in/environment/extreme-events-in-the-himalayan-region-are-we-prepared-for-the-big-one  (5 May 2019)
Himalayan region unprepared for mega quake Scientists agreed that: 1. Indian Himalayas can get an earthquake of 8.5 or above. 2. India is ill prepared to face it. 3. Even govt buildings won't stand a medium scale earthquake 4. Safety from Earthquake cannot be an optional requirement.
And yet govt is going ahead with a massive dam like Lakhwar without even disaster impact assessment. The scientists should know this too.  https://www.business-standard.com/article/pti-stories/himalayan-region-unprepared-for-mega-quake-india-yet-to-learn-from-past-mistakes-scientists-119042300691_1.html    (23 April 2019)  
Cyclone Fani  IMD scaled up its warning The Indian Ocean has been warming rapidly over the decades, triggering concerns of severe cyclonic storms. Last year, too, the eastern coast was ravaged by cyclone Daye, very severe cyclone Titli, cyclone Gaja and severe cyclone Phethai. After Cyclone Ockhi, the most intense cyclone in the Arabian Sea in recent years pummelled the southern coast in December 2017, the IMD has modified its standard operating procedure during cyclone forecasts. It began to issue intensity forecasts from depression stage against the former practice of deep depression stage. https://www.livemint.com/news/india/cyclone-fani-gains-strength-coast-guard-disaster-response-force-on-high-alert-1556526372669.html  (30 April 2019) 
ENVIRONMENT
Goa 2nd Airport Amitabh Kant Missed Some Facts While Criticising SC Judgment On March 29, the SC suspended the environmental clearance to build Goa's second airport. In a rarity, one of the government's top bureaucrat, NITI Aayog's chief executive officer, Amitabh Kant wrote an opinion piece in a newspaper on April 15 criticising the SC for its judgment.
Kant got some facts of the case and the judgment wrong. He missed acknowledging several other vital ones. Kant did not mention these facts in his opinion pitching it as a debate over a balance between development and environment. https://thewire.in/government/amitabh-kant-supreme-court-goa-second-airport  (2 May 2019)
IFA amendment is a zero draft: DG Director General of Forests, Siddhanta Das says that the proposed amendment in the Indian Forest Act is a mostly techno-legal exercise and has a long way to go before it is finalised. Now, we have given this zero draft to the states and they shall give their comments. Then, we'll have another round of discussions after which, we'll put it in the public domain. Only then will it go on to become an amendment. https://www.downtoearth.org.in/interviews/forests/-the-ifa-amendment-is-a-zero-draft-all-stakeholders-will-be-involved-later–63925   (10 April 2019)
SOUTH ASIA
Bangladesh Frail dams add to people's plights At least five villages of Kalapara upazila in the Bangladesh Patuakhali district were flooded on May 3 as two dams on the Andarmanik River were damaged due to impacts of super cyclone 'Fani' that was battering India May 3, 2019. Thousands of coastal people incur a huge loss due to the collapse of embankments and dams during major floods and cyclones. Prof Ainun Nishat said each climate incident should be analysed to facilitate proper measures in future. "It is regretful that we failed to do it after Sidr and Aila."  http://www.theindependentbd.com/post/198077  (4 May 2019)
Race against time to save Halda river The local administration is struggling to scoop 105,000 litres of furnace oil from a canal linked to the Halda River as severe cyclonic storm 'Fani' intensified. For now, makeshift embankments are preventing the oil from getting into Halda, Bangladesh's largest fish spawning ground. But stopping the oil from polluting the river will be a huge challenge if the weather changes. https://unb.com.bd/category/Bangladesh/race-against-time-to-save-halda-river/17471  (30 April 2019)
Louhajang River: Palette of pollution The file photo taken in April 2010, of the same river shows the colour of the water to be dark blue as the pollution has been going on for years. Photo: Mirza Shakil. At a certain location, the Louhajang River occasionally changes its colour. Sometimes it turns red, sometimes yellow, and sometimes purple. But it is not out of some natural event. It is man-made.
Before 1995, when Alauddin Textile Mills was built on the bank of the river, the water was fresh and used for bathing, washing, and irrigating farms. Ever since then, the factory has been continuously releasing untreated waste into it. Now the water is unfit for any use, say local villagers. https://www.thedailystar.net/backpage/news/louhajang-river-palette-pollution-1738819  (5 May 2019)
Nepal 31 metric tons waste managed from Valley Rivers A total of 31 metric tons of waste was recovered from Kathmandu Valley-based Rivers and Ring Road areas. As part of the Bagmati River Clean-Up Mega Campaign that reaches 312th week, a total of 10 metric tons of waste was taken out from Sinamangal area.
Over 300 enthusiasts representing High Powered Committee for Integrated Development of the Bagmati Civilization, Nepal Army, Nepal Police, Armed Police Force and social organizations, among others took part in the campaign, according to Mala Kharel, one of the campaigners. https://thehimalayantimes.com/kathmandu/31-metric-tons-waste-managed-from-valley-rivers/  (4 May 2019)
ASIA
Singapore Implications of dry dams and polluted rivers in Johor Over the last two months, the state of Johor has been hit by a series of environmental problems, impacting its rivers and water treatment facilities. This has shone the spotlight on the issue of water sustainability. The problems have affected thousands of local residents, causing some to fall ill while disrupting water supply to homes. The water levels at major dams have fallen below the critical mark due to dry weather while some rivers, including the Johor River, have been polluted by chemicals. https://www.channelnewsasia.com/news/asia/explainer-johor-implications-dry-dams-polluted-rivers-11482090   (27 April 2019)
THE REST OF THE WORLD
CONSIDER SIGNING JOINT STATEMENT ON FALSE PROMISES OF HYDROPOWER We are pleased to Eugene Simonov, Rivers without Boundaries International Coalition invites organizations to sign a joint statement of civil society organizations, entitled "The False Promises of Hydropower:  How dams fail to deliver the Paris Climate Agreement and the UN Sustainable Development Goals". Sign on here
This statement will be launched during a world congress of large corporate actors in the dam industry, convened in Paris during May 14-16th by the International Hydropower Association, under the slogan "Delivering the Paris Climate Agreement and the Sustainable Development Goals. https://congress.hydropower.org
The launching of the joint statement will be a part of actions organized by civil society organizations in Paris to question renewed attempts by the global dam industry to greenwash destructive dams, with an eye towards capturing financial incentives that should promote real solutions for addressing the climate crisis and promoting sustainable development.
These parallel activities will include the organization of a conference on May 13th in Paris to stimulate  an open public debate on hydroelectric dams, the climate crisis and sustainable development, to be followed by a street protest on the opening day of the dam industry's global congress, when the petition will be publically delivered.
During our activities in Paris, special attention will be given to ensuring that voices of indigenous peoples and other movements of dam-affected peoples – normally excluded from decision-making circles and large events such as the World Hydropower Congress – will be effectively heard.
If your organization is interested in co-signing the attached joint declaration, please confirm by filling out the short form linked here: https://forms.gle/dRAM61vVXfh3xYFLA,  no later than Thursday, May 9th, 2019.
OSU dam impact database From Prof Byan Tilt and his colleagues at Oregon State University, USA: the "Dam Impacts Database" is now online. Many have provided valuable input and support as this project has taken shape. DID is a global database of the social and ecological impacts of 500 dams. Created by researchers and students, this database is intended to help policymakers, researchers, community members and others find information on a selection of dams from around the world. Aim is to better understand how hydropower dams affect the individuals and communities who live near them, with a particular focus on population displacement and resettlement.
Currently, more than 500 dams from most of the world's major river systems are included in the database, with information drawn from more than 700 published references. You can view the database here: https://did.oregonstate.edu/
For now, each dam is georeferenced, and one can click on a given dam on the mapping feature in order to see the data associated with it. There is full list of citations, which would be helpful for anyone working on population displacement related to development projects.
Water Ethics: A Values Approach to Solving the Water Crisis Drawing on case studies from countries including Australia, India, the Philippines, South Africa, and the United States, this is a textbook for students of environmental ethics and water governance and management.  https://www.routledge.com/Water-Ethics-A-Values-Approach-to-Solving-the-Water-Crisis-2nd-Edition/Groenfeldt/p/book/9780815392026 
CLIMATE CHANGE
Biodiversity crisis is about to put humanity at risk, UN scientists to warn 'We are in trouble if we don't act,' say experts. Up to 1m species are at risk of annihilation, many within decades, according to a leaked draft of the global assessment report, which has been compiled over three years by the UN's leading research body on nature. The 1,800-page study will show people living today, as well as wildlife and future generations, are at risk unless urgent action is taken to reverse the loss of plants, insects and other creatures on which humanity depends for food, pollination, clean water and a stable climate.
– Watson, a British professor who has headed both of the UN's leading scientific panels, said the forthcoming report will delve more deeply than anything before into the causes of nature collapse, chief among which is the conversion of forests, wetlands & other wild landscapes into ploughed fields, dam reservoirs & concrete cities. 75% of the world's land surface has been severely altered. https://www.theguardian.com/environment/2019/may/03/climate-crisis-is-about-to-put-humanity-at-risk-un-scientists-warn#img-1   (3 May 2019)
Also see in five graphics, Nature's emergency: Where we are https://www.bbc.com/news/science-environment-48104037  (5 May 2019)
In a world first, UK declares Climate Change emergency The House of Commons voted to declare a climate change emergency in the UK on May 1, 2019, making world history as the first country to ever do so. The move is largely symbolic, and time will tell if actions back it up. Still, it shows how radically climate politics are being rewritten. https://earther.gizmodo.com/in-world-first-uk-declares-climate-change-emergency-1834456788  (1 May 2019)
Compiled by SANDRP (ht.sandrp@gmail.com)
Also see: DRP News Bulletin 29 April 2019 & DRP News Bulletin 22 April 2019
Follow us on: www.facebook.com/sandrp.in; https://twitter.com/Indian_Rivers