Following death of Swami Gyan Swaroop Sanand (Prof G D Agarwal) while on fast unto death on Oct 11, 2018 and disappearance of Swami Gopal Das ji from AIIMS-Delhi, Swami Aatmabodhanand ji has been on fast unto death at Matri Sadan, Haridwar since Oct 24, 2019. In a letter to the Prime Minister on April 19, 2019 he has said that if the government does respond by April 25, 2019 to the four demands for which the fast undo death is undertaken, he will leave water from April 27, 2019. The four demands are well known:
Cancel all under construction and proposed dams on Bhagirathi, Alaknanda and their tributaries.

Prohibit all mining and tree cutting in the Ganga flood plains, particularly in Haridwar

Enact Ganga Act for the preservation of River Ganga, the draft of which has been sent to the govt.

Constitute an autonomous Ganga Council
Shockingly, the government, except some statements that only seemed to lack any sincerity, has not bothered to respond to the Fasts that started in June 2018. It is particularly disturbing that BJP, the party in power, has been making claims about Hindu religion, and the prime minister has been making public commitment about the Ganga, but that government has shown no concern for these fasts by the saints for Ganga, which has such a big place in the minds of Hindus as also those of all other religions. Prof GD Agarwal had gone on fast at least four times during UPA rule and each time the government talked with him, but the Modi government has not bothered to respond to any of the fasting swamis, nor done anything worthwhile for the cause of Ganga.
GANGA Report ANOTHER ANALYSIS SHOWING SPECTACULAR FAILURE OF NMCG By February 2019, two months before the start of India's 17th general elections, nearly Rs 6,000 crore ($860 million), or 30% of the Rs 20,000 crore budget, has been spent on the mission to clean the Ganga. But the river remains as polluted as ever, we found in our investigations across Varanasi district.
– The Ganga has become more polluted since 2014 across stretches in Uttarakhand and remains as polluted as it was in 2014 in Uttar Pradesh, Bihar and West Bengal, said the 2018 CPCB study.
– About 67% of the total expenses incurred so far has gone into improving sewage networks and treatment capacities in riverine cities but only a little above 10% of the required capacity has been created. A new model wherein a single private operator collects and treats the entire waste-load of these cities has significant loopholes, we found.
– In an upstream location in Varanasi, the faecal coliform bacteria count rose 84 times, from January 2016 levels of 450,000 to 38 million in February 2019. In a downstream location, it increased two times, from 52 million in 2016 to 144 million in 2019, as per the SMF data. Similarly, BOD level in the stretch of river running through Varanasi rose 44%, from highest 54 milligrams per liter (mg/l) to 78 mg/l over three years to February 2019, as per the SMF data. This is 25 times the drinking water standard of BOD.
– Of the 96 sewage-infrastructure projects sanctioned since 2015, 23, or about 24%, were completed by February 2019, 44 (46%) were under construction and no work had started on 29 (30%). 
– ONE CITY ONE OPERATOR HYBRID ANNUITY MODEL: "The main problem with this model is that the involvement of experienced government engineers like me is almost non-existent," said Gyanendra Pratap Singh, an engineer of the Varanasi Jal Nigam, a government corporation. "The monitoring is mostly dependent on sensor monitoring, which can be calibrated to produce a certain result."
– Varanasi's biggest sewage-treatment plant at Dinapur can treat 140 MLD sewage, but, on average, treats 80 MLD, 43% less than capacity.
– There are about 149 dams, 107 barrages and weirs and over 75,000 km of canals on the entire stretch of the Ganga, according to the National Mission for Clean Ganga. The river's baseflow–sustained low flow in a river during dry or fair weather conditions–has decreased by 56% over 46 years to 2016, said an August 2018 paper published by the Indian Institute of Technology, Kharagpur. So, more groundwater is pumped out, it said.
– Human faeces dotted the narrow road that led to the panchayat (village council) office of Domari village, located about 10 km east of Varanasi city. This village is classified as a "Ganga Gram", a village located along the river. It has been declared open defecation free (ODF), along with other 50 villages located along the river in Varanasi district.     https://factchecker.in/why-the-grand-government-effort-to-clean-up-the-ganga-is-failing/     (15 April 2019)
Namami Gange program in Haridwar a failure?   In Uttrakhand, the river Ganga travels for at least 250km, and in that 250km, 15 towns were selected for cleaning of the Ganga, among which Haridar and Risikhesh were the two prominent cities were the Namami Gange Programme was implemented. In Haridwar, it was reported that sewage water continued to drain into the flow of the Ganga, even though the residents had allegedly been complaining about this time and again but to no avail.
Meanwhile, in the project, 31 STPs were proposed but only 16 of these had been set up to date. Apart from that, 65 drains were to be tapped, but only 26 drains have been tapped till now. However, the construction of the 40 ghats has already been done. Moreover, several activists who had taken part in the Clean Ganga Movement alleged that they had objected to the construction of dams near the Ganga as they fear that the activity will compromise the natural flow of the river.   https://www.timesnownews.com/mirror-now/in-focus/article/ground-report-namami-gange-programme-in-haridwar-a-failure/400999  (16 April 2019)
Also see, Photo feature showing Ganga back to dirty ways after Kumbh. https://www.thethirdpole.net/en/2019/04/22/photo-feature-ganga-back-to-dirty-ways/  (22 April 2019)
Here is one more pictorial report on the issue. https://www.theguardian.com/artanddesign/gallery/2019/mar/27/crisis-of-faith-pilgrims-and-pollution-along-the-ganges-in-pictures  (27 March 2019)
Amazing Fake news from Gadkari. He is quoted in the same breath as saying Ganga is clean and pure and that it will be by March 2020! Typical of slippery, shifting goal posts of Gadkari.  https://www.thehindu.com/elections/lok-sabha-2019/ganga-will-be-100-clean-by-march-next-year-says-nitin-gadkari/article26867268.ece   (17 April 2019)
YAMUNA Delhi Signature Bridge construction debris choking Yamuna's flow This shows how least the concerned agencies are bothered about the river Yamuna, the lifeline of Delhi:- Five months after the bridge was inaugurated — on Nov. 8, 2018 — the debris dumped into the river to carry out the construction of the bridge has not been removed. The 675-metre Signature Bridge, built at a cost of ₹1,518.37 crore, is an eight-lane carriageway.
Over time, this debris has combined with the soil and hardened, hampering the flow of water to such an extent that the entire aquatic ecosystem is now under threat, according to a spot check at the choke point by Hindustan Times, and multiple hydrogeology experts.
AK Gosain, of IIT-Delhi warned that the river cannot wash off the construction debris and demolition waste on its own. "If it was just the soil then the river could have washed it off naturally. But the construction and demolition waste have reduced the cross-section of the river," he said. "This is a serious problem." https://www.hindustantimes.com/delhi-news/signature-bridge-constructiondebris-choking-yamuna-s-flow/story-3dHZ8q36kDx5zVP9ZoCJCL.html  (17 April 2019)
It's a plain lie by contractor that it was part of clean up. On April 2019, Bhim Singh Rawat, assistant coordinator of SANDRP, tweeted a video showing heavy machinery was being used to dump debris into the few metres wide water channel through which the river is presently passing.
Activists also alerted government authorities, including CM Arvind Kejriwal, and L-G Anil Baijal, on social media. Officials, however, said on Friday it was a part of the clean-up and a separate channel would be opened up for the river to pass. https://www.hindustantimes.com/delhi-news/agencies-start-clearing-debris-choking-yamuna/story-AJoU393iVq6RIkZM9fvFjO.html  (20 April 2019)
Modi govt's promise of running a ferry on Yamuna remains unfulfilled In December 2014, Gadkari said the Netherlands government agreed to prepare a technical report for the project, which would include specifications regarding constructing barrages and two water-terminals at both ends of the Yamuna.
The Inland Waterways Authority of India (IWAI) engaged WAPCOS, a state-owned consultancy firm under the Ministry of Water Resources, to ascertain the feasibility of a Delhi-Agra ferry service and prepare a report on the project. The agency is yet to submit its report. Until then, engineers working with the central and state governments have doubts about the proposal.
A state government official says the Yamuna at Agra lacks the depth to ply a ferry. "Water must be 10 metres deep to make any kind of navigation on the river possible. A ferry cannot run in less than 10 metres," the official said.
Built in 2003, the Gokul Barrage, or Mathura Barrage, was constructed to stabilise the flow of water from the Yamuna. The 16-year-old structure needs maintenance: The water entering Agra through the barrage is the same foamy liquid as in Delhi. https://www.business-standard.com/article/current-affairs/yet-to-achieve-promise-of-running-a-ferry-on-yamuna-still-a-promise-119041100471_1.html   (11 April 2019)
Spring walk a three-hour walk along Yamuna to remember As part of Delhi Spring Walk, a three-hour walk from Rajghat through Veer Bhumi, Shakti Sthal and finally Shanti Van, participants got a whiff of the beautiful flora and fauna in this natural stretch along the Yamuna.
The area that is spread across 40 acres has a total of 2,776 trees, which include 65 species. The landscaping and planting was planned and curated by the last British gardener in India, Percy Lancaster, the organisers said. Some of the majestic trees here include sheesham, eucalyptus, weeping fig, bougainvillea, amaltas, khirni, pilkhan, moulmein rosewood, palash and mahua, among others. https://timesofindia.indiatimes.com/city/delhi/see-breathe-hear-a-3-hour-walk-along-yamuna-to-remember/articleshow/68880316.cms  (15 April 2019)
Haryana Shut industrial units polluting Yamuna: CPCB However, some other officials of the HSPCB, requesting anonymity, said more than 120 dyeing units and woollen mills in Panipat, about 80 units of plywood, agro, chemicals and other small scale units in Yamunangar and nearly 50 units, most of them are dyeing and rubber industries, in Kundli of Sonepat are likely to face closure for non-compliance of the orders for the management of liquid waste.
Sewage generated from factories and residential areas of industrial city of Yamunanagar travel to more than 85 kilometers in a drain to get mixed in the river in Karnal's Nabipur village, causing air and water pollution in about 50 villages of Khadar belt of Yamunanagar and Karnal districts.
People living in these villages, meanwhile, claimed that they had taken up the matter with the government agencies several times but no action was taken so far. https://www.hindustantimes.com/gurugram/shut-industrial-units-polluting-yamuna-cpcb/story-CdGf9hpd5Af8e3aD2x3zPP.html  (12 April 2019)
More than 378 industrial units in state have been issued closure notice by the Haryana state PCB for polluting Yamuna river by pumping untreated water into it.
The crackdown was necessitated after the CPCB had, earlier this month, directed the HSPCB to take action against the errant units immediately, two months after the former along with officials of NEERI, had conducted an inspection to monitor the water quality of Yamuna river.
As per official data, as many as 175 such units were identified in Yamunanagar zone which also includes the Karnal district, 63 in Ballabhgarh, 46 in Gurgaon, 32 in Sonepat, 31 each in Panipat and Faridabad. https://www.hindustantimes.com/gurugram/378-industrial-units-in-haryana-to-face-closure-for-polluting-yamuna/story-JkORNbzGEsdFgjLQrewkWM.html  (18 April 2019) 
Fine on illegal disposal of sewage in Najafgarh drain The Gurugram Metropolitan Development Authority (GMDA), on April 18, directed its enforcement team to penalise offenders illegally discharging untreated sewage into city's stormwater drains that flow directly into the Yamuna river and pollute its water. The directive comes three days after the NGT -appointed principal monitoring committee reviewed GMDA's performance and expressed concern over the agency's failure to check sewage discharge into Yamuna river through Najafgarh drain.
As per the GMDA report, put on its website on Dec. 31, at least 80 MLD untreated sewage flows directly into Gurugram's stormwater drains every day, polluting rivers, damaging underground water table, posing a huge health hazard to the nearby population and triggering urban floods every monsoon.
"The GMDA's STPs have an installed capacity of 390MLD for legal connections. But, according to the agency's own website, the city's illegal colonies generate 80MLD sewage which is directly dumped in stormwater drains. Even if connections are given in illegal colonies, the GMDA would not be able to process this waste as the STPs don't have the processing capacity," city-based environmentalist SS Oberoi said. https://www.hindustantimes.com/gurugram/fine-on-illegal-disposal-of-sewage-in-najafgarh-drain/story-gFeQH4m3hCrMJhxM8MqdVL.html  (19 April 2019)
Other Rivers related development over past week
RIVERS
Arunachal Pradesh Pristine river Kameng turns into dumpyard Shocking that Urban Development department is dumping garbage in Kameng river. Deputy commissioner issued notice to Urban Development Dept under CrPC 144. He took cognisance of a letter by the Youth Mission for Clean River.
"Sir, it is ridiculous that the UD being stakeholders and implementing agency of the Swachh Bharat Mission (SBM) is dumping all the garbage and waste into the Kameng river which is the biggest threat to the cleanliness of rivers and aquatic life," the letter, noted.  https://www.downtoearth.org.in/news/waste/arunachal-s-pristine-river-kameng-turns-into-dumpyard-64085    (20 April 2019)
NARMADA Gujarat Narmada downstream "seriously" polluted Investigation by Paryavaran Suraksha Samiti reveals serious pollution of Narmada river downstream of Sardar Sarovar Dam. https://www.counterview.net/2019/04/investigation-shows-narmada-downstream.html  (15 April 2019)
Narmada, the forgotten river, is not on anyone's agenda This shows how Narmada River if Gujarat or those dependent on it are of no concern to the Gujarat govt, Modi Govt or SSNNL.  https://india.mongabay.com/2019/04/narmada-the-forgotten-river-is-not-on-anyones-agenda   (19 April 2019)
Madhya Pradesh Ken river dries in April People of Panna are angry that they are deprived of Ken water that is now going to UP through Gangau Weir, Bariyarpur Weir and Ranganwa dam and they fear that this is likely to continue forever if Ken Betwa link comes up. http://pannastories.blogspot.com/2019/04/blog-post_21.html  (21 April 2019)
Rajasthan- Punjab Gehlot to take up canal water pollution issue with Amarinder  On March 25, the Indira Gandhi Canal, Ferozepur feeder, Bhakra Canal system and Gang (Bikaner) canal were closed and only partial supply remained to fill some drinking water reservoirs and for reconstruction repair work due to highly contaminated water flowing through Punjab.
NGT had in November 2018 clubbed cases of river pollution in Punjab, one based on a 2014 petition from Shobha Doodi and Shabnam Godara, former chairperson and vice-chairperson, respectively, of the Zila Parishad in Hanumangarh, which claimed that polluted water from the Sutlej and Beas, entering the state through the Indira Gandhi Canal, was affecting eight districts in West Rajasthan.
Earlier, a committee headed by the CPCB, of which the Punjab PPCB was a part, submitted a report saying it found that the industrial discharge was not being treated as treatment plants were not functioning.
As per Ashok Gahlot statement, number of cancer patients in Punjab and West Rajasthan had increased manifolds in recent years for which medical specialists primarily blamed water pollution, besides unhygienic environment. https://www.tribuneindia.com/news/punjab/gehlot-to-take-up-canal-water-pollution-issue-with-amarinder/757513.html  (13 April 2019)
URBAN RIVERS
Ulhas, Mumbai SC pulls up govt for poor efforts to clean Ulhas river The Supreme Court has reprimanded the Maharashtra government for the poor efforts taken to reduce pollution in the Ulhas and Waldhuni rivers that supply drinking water to the Badlapur-Thane belt.
Despite the court's order in Nov. 2017 directing the govt to release Rs 100 crore to restore the Ulhas and Waldhuni rivers, a recent report on water quality has shown that the water in the two rivers is highly acidic. The court has asked the principal secretary (environment) to come back with steps taken by the state on compliance with previous SC orders on restoring the rivers by the next hearing on July 17.  https://www.hindustantimes.com/mumbai-news/supreme-court-pulls-up-maharashtra-for-poor-efforts-to-clean-ulhas-river/story-YYwKmB8YQozqsYDc9ki8DL.html   (13 April 2019)
A quality analysis conducted by the Thane district public health laboratory has revealed that water from Waldhuni and Ulhas rivers is highly polluted and unfit for drinking. The findings of the study come less than a week after the SC slammed the state for failing to reduce pollution levels in both rivers.
The report further stated that the water has a "reddish brown appearance and objectionable odour". The rivers supply drinking water to more than 30 lakh residents in Ulhasnagar, Thane, Kalyan, Badlapur and Dombivli.  https://www.hindustantimes.com/india-news/water-from-ulhas-river-not-fit-for-drinking-lab-report/story-IRM5hLUdvsaAx6dXoOorfP.html  (21 April 2019)
Also see, Why Ulhas is dying. https://numerical.co.in/numerons/collection/59b41b66250a41f81b6ef477
HYDRO POWER PROJECTS
MoEF Agenda for the EAC meeting for River Valley Projects to be held on April 23, 2019:
Appraisal before the EAC of the report of Expert Committee constituted in pursuance to the order dated 16.10.2017 of Hon'ble NGT, Eastern Zone Bench, Kolkata in OA No. 346/2013/PB/9/EZ of Lower Subansiri HEP

Attunli HEP (680 MW) in Dibang Valley District of Arunachal Pradesh by M/s Attunli Hydro Electric Power Company Limited -Regarding Fresh Terms of Reference

Munjri Irrigation project in Sheopur District of Madhya Pradesh by M/s Madhya Pradesh Water Resources Department- Regarding Fresh Terms of Reference

Badaun Lift Canal Project District Badaun, Uttar Pradesh by Eastern Ganga Canal, Irrigation Department Uttar Pradesh- Regarding Environmental Clearance

Lakhwar HEP (300 MW) at village Lohari, district Dehradun, Uttarakhand by M/s UJVNL – Consideration in the EAC based on the NGT order

Pumped Storage Project (9X150 MW) at Upper Sileru village, Gudem Kothaveedhi (M), Visakhapatnam District, Andhra Pradesh by M/s V. Surya Lakshmi- Regarding Fresh Terms of Reference

100 MW Malana II HEP, Kullu, Himachal Pradesh by M/s Everest Power Private Limited at Himachal Pradesh – Regarding Amendment in Environmental Clearance

Cumulative Impact Assessment and Carrying Capacity Study (CIA & CCS) of Teesta River Basin. Presentation of draft report before the EAC for recommendation of the Study

Gond Major Irrigation Project (CCA 28,000 Ha) In District Singrauli Madhya Pradesh by M/S Madhya Pradesh Water Resources Department – Regarding Environmental Clearance

Teesta-IV HEP (520 MW) project in North Sikkim District of Sikkim by M/s. NHPC Ltd- Regarding Amendment in Environmental Clearance http://environmentclearance.nic.in/writereaddata/Form-1A/Agenda/12042019DGX6MCFW23rd_EACAgenda.pdf
The Agenda for FAC meeting to be held on Apr 23, 2019 includes this irrigation project of Madhya Pradesh: DIVERSION OF 69.555 HA. OF FOREST LAND FOR CONSTRUCTION OF CHHITAKHUDRI MEDIUM IRRIGATION PROJECT, IN FAVOUR OF WATER RESOURCES DEPARTMENT, JABALPUR DISTRICT MADHYA PRADESH STATE. http://forestsclearance.nic.in/AgendaDetail.aspx?id=218!dis1    (23 April 2019)
Study The curse of hydro power Key message: The purely positive ways that they have been portrayed by actors such as the World Bank and the International Energy Agency, which projected in 2012 that hydropower would double by 2050, have to be reassessed. Otherwise while the world may get some decarbonisation, it will be at the cost of further poverty, slower growth in poor countries, higher corruption, and much greater debt for nations that can least afford it. https://www.thethirdpole.net/en/2019/04/19/the-curse-of-hydropower/   (19 April 2019)
DAMS
Polavaram Dam Naidu sets 60 days for flow into canals by gravity   Height of cofferdam must come up to 35 metres by June. Irrigation officials and contractors of the Polavaram project have been given 60 days to send the Godavari water by gravity into the right and the left canals by CM Naidu on April 17, 2019. https://www.thehindu.com/news/national/andhra-pradesh/polavaram-naidu-sets-60-days-for-flow-into-canals-by-gravity/article26868573.ece   (17 April 2019)
INTERLINKING OF RIVERS
Ken-Betwa Link Panna Tigers Return On April 16, 2019, Panna Tiger Reserve celebrated it's 10th Tiger Birthday!! This short film using shadow puppets narrate the remarkable story of the return of Tigers to Panna! Join us in celebrating this unique journey, watch, like, comment and share this little film!
Panna Tiger Reserve though is now facing new danger of being destroyed due to the proposed Ken Betwa link, which has no justification. Let us work to save PTR and Panna Tigers from this new risk. https://www.youtube.com/watch?v=AI8tXAOqUp0&t=4s   (15 April 2019)
MoWR Gadkari says iterlinking of rivers foremost task of BJP if elected again BJP to push ILR if it comes to power. Gadkari is of course happy, being a contracts manager. https://www.thehindu.com/elections/lok-sabha-2019/interlinking-of-rivers-foremost-task-of-bjp-if-elected-again-gadkari/article26837334.ece  (14 April 2019) 
INTERSTATE WATER DISPUTES
Krishna Water Disputes Karnataka can not use Krishna water until gazette notification: M.B. Patil The Karnataka govt cannot use the surplus 173 tmc of water under phase III of Upper Krishna Project for irrigation until the Centre notified a gazette notification in this regard. The Centre could not issue an order to use water as the matter is sub judice.
"The states including Andhra Pradesh, Telangana and Karnataka have filed special leave petition in the Supreme Court on release of the quantum of water to their respective states. Though Maharashtra has not filed SLP, it has asked the SC to get the gazette notified as early as possible. Since the cases are pending, the Centre has to wait for the final order. The hearing is in July," MP Patil, Karnataka Home Minister said. https://www.thehindu.com/news/national/karnataka/bjp-mla-misleading-people-on-use-of-krishna-waters-for-irrigation-mb-patil/article26859548.ece    (17 April 2019)
IRRIGATION
Kaleshwarm LIP Water released from Yellampalli for wet run of Kaleshawaram Project  The KLIS Engineer in Chief, N Venkateswarlu and other officials performed formal Puja there before releasing water into the gravity canal. The Kaleshawaram Lift Irrigation Scheme reached a key mile stone on April 17, 2019 with the project authorities releasing water from Sripada Yellampali project to facilitate wet run of the pumping stations in Package 6 of the project. Water routed through the gravity canal and the 9.5 km long underground tunnel, will be used for filling the surge pool at Nandimedaram. The surge pool impounding is expected to be a week- long exercise which will culminate in the wet run of the pumping stations.
The underground pump house complex has come up with seven pumps of 124.5 MW each meant for lifting water vertically some 110 meters up on a 45 – degree gradient to the delivery cistern. Out of seven pumps installed in the package, four are ready for the wet run and two more will be ready soon. Civil works on pump No 7 are expected to be completed soon. It will be in commissioning stage by June 15. KLIS Package six which involved an overall cost of Rs 4,961 crore will provide vital connectivity from the lift irrigation scheme to Nandimedaram project, the halfway point to the mid-Manair project, from where the water flow branches off in the designed directions to irrigate over 37 lakh acres.  https://telanganatoday.com/telangana-water-released-from-yellampalli-for-wet-run-of-klis-package-vi   (17 April 2019)
FISH, FISHERIES, FISHERFOLKS
Report Freshwater Biodiversity ignored Big-budget nature documentaries are chronically ignoring freshwater biodiversity relative to terrestrial and marine systems, and it's getting ridiculous. I believe this treatment of freshwater diversity is ostensibly representative of broader conservation priorities, and can in turn affect public perception of those priorities. Spoiler alert: I'm going to focus mainly on fishes.
Why should we care? Fresh water is arguably our most valuable natural resource, and the organisms that live in it can be valuable indicators of the health of that natural resource. Further, freshwater systems are believed to be experiencing declines in biodiversity at a rate even greater than we observe in most terrestrial systems (Dudgeon et al. 2006), yet freshwater conservation priorities lag further behind those of terrestrial systems (Brooks et al. 2006).    https://thefisheriesblog.com/2019/04/16/hot-take-on-our-planet-freshwater-biodiversity/     (16 April 2019)
SAND MINING
Haryana HSPCB to close all 14 stone crushers near Yamuna river HOW MINING WAS ALLOWED FOR LAST TWO YEARS CLOSE TO THE EMBANKMENT WHILE IT WAS PROHIBITED BY GAZETTE NOTIFICATION JUNE 2012:- The regional officer of the HSPCB, Yamunanagar had recommended the closure of eight illegal screening plants to the higher authorities of the board on January 25, 2019. The regional officer recommended the closure of the rest of the six screening plants, which had attained permission from the HSPCB in March 2018 and had been running since then.
The decision was taken because as per the Gazette notification of Mines and Geology Department, Haryana, on June 20, 2012, no mining is permissible in an area up to a width of 500 m from the active edge of the Yamuna embankment. 
According to information, the HSPCB will be closing down all 14 crushing and screening plants operating close to the RLDSE. The regional officer of the HSPCB, Yamunanagar, had recommended the closure of eight illegal screening plants to the higher authorities of the board on January 25, 2019. The regional officer recommended the closure of the rest of the six screening plants, which had attained permission from the HSPCB in March 2018 and had been running since then. https://www.tribuneindia.com/news/haryana/hspcb-to-close-all-14-stone-crushers-near-yamuna-river/757240.html  (12 April 2019)
Rapped by HC, Haryana must pull up prosecutors, officials The Tribune Editorial on Yamuna sand mining issue:- Perturbed by the uncontrolled and illegal extraction of sand and stones from the bed of the Yamuna river in Yamunanagar, the Punjab and Haryana High Court has pulled up the Haryana Government and directed it to take action against the officials concerned for failing to prevent this loot or bring the guilty to book.
The mining cases in the past nine years throw up discouraging figures: while a whopping 487 criminal cases were registered for a breach of the Mines and Minerals Act, 1957, in Yamunangar district, conviction was recorded in a mere six. This pales in comparison to the distressingly high number of 271 acquittals of the accused. Giving a further impetus to the mafia to violate the law without liability is the fact that the big fish are hardly ever caught in the net.
The loopholes in the system that lead to exemption from paying for the consequences of illegal quarrying in 99 per cent of the times need to be plugged. Vital to combating the battle against the plunderers of the precious natural resource is stern action against the erring officials under whose watch the sand theft has been going unpunished. At the same time, equally essential is to provide security to the officials and prosecutors who are trying to curb the rot. https://www.tribuneindia.com/news/editorials/yamuna-sand-loot/759286.html  (17 April 2019)
Goa Evaluate damage caused by sand mining: NGT The NGT has directed the Goa govt to estimate the damage done due to sand mining activities and recover compensation from the polluters. NGT said rampant mining in areas rich in iron ore and other minerals is threatening the forest cover as well as posing a health hazard to the local population in various parts of Goa.
"More than one-fourth of the state has been affected by mining activity and along with legitimate mining, illegal mining too has come to stay in Goa. And the situation is only going to get worse as the mining companies are gearing up to further increase the amount of ore they extract from the ecologically sensitive regions of the small state," the tribunal said.
It noted that a recent economic survey had cited that more than 2.5 lakh hectares of government land have been taken over by illegal mining activities. The tribunal also noted that there were other issues like deterioration in groundwater levels, damage to forests and wildlife and unscientific, besides uncontrolled, sand mining etc. The tribunal directed the Goa chief secretary to appear before it in person on October 21 with the status of compliance. https://www.business-standard.com/article/pti-stories/evaluate-damage-caused-by-sand-mining-ngt-directs-goa-119041200773_1.html  (12 April 2019) 
Tamil Nadu 2 held, trucks seized for mining sand With river sand mining having been banned, miscreants have turned their focus on plundering the small irrigation canals. In the latest incident, Trichy city police have arrested two people and seized their two sand-laden mini trucks on April 14.
Though the Madurai bench of Madras high court ban brought the curtains down on indiscriminate sand mining in the government-run quarries in Cauvery and Kollidam rivers in 2018, miscreants went on with their handiwork by taking sand illegally from the rivers. With police and revenue officials tightening the grip, the wrongdoers started plundering the lifeline of the farmers. https://timesofindia.indiatimes.com/city/trichy/2-held-trucks-seized-for-mining-sand/articleshow/68896757.cms  (16 April 2019)
Telangana TSMDC earns high revenue through sand mining As per a press release Telangana State Mineral Development Corporation (TSMDC) has earned outstanding revenue in sand mining, during the financial year 2018-19, outdoing itself the previous year.
The revenue from sand mining stood at ₹886.42 crore in the year, compared to ₹678.35 crore in 2017-18, an increase of more than 30 %, it said. The total sand sales after formation of the state was ₹2,415.35 crore.
The corporation is able to provide uninterrupted sand supplies to all irrigation projects, Mission Bhagiratha, Mission Kakatiya, and the 2BHK housing programme, the note said. Besides, sand was supplied to the Hyderabad city at very reasonable rates. TSMDC is venturing into granite mining, quartz and feldspar mining too in future, and is in the process of obtaining necessary clearances, the note said. It is currently undertaking exploration of 17 limestone blocks in and outside the State. https://www.thehindu.com/news/cities/Hyderabad/tsmdc-earns-high-revenue-through-sand-mining/article26714995.ece  (2 April 2019)
Andhra Pradesh Illegal sand mining rampant in Srikakulam In the name of government construction works and to meet the needs of Visakhapatnam city, the sand mafia is violating all established mining rules and regulations. Particularly during elections all concerned departments like police, revenue officials were busy which was a golden period for sand mafia. Again, the officials are busy with local body elections and sand mafia is continuing its illegal activities.
Nine sand reaches were allowed officially to excavate sand from Vamsadhara and Nagavali rivers by the district level sand committee (DLSC). The nine reaches are Muddada, Singuru, Ponnam, Dusi, Purusottapuram, Muddadapeta, Butchipeta, Chenulavalasa and Pothayyavalasa located in Amudalavalasa and Narasannpeta Assembly segments.
In all nine sand reaches, the allowed limit of sand quantity is 33, 05, 500 cubic meters. Due to lack of supervision of police and revenue officials, mining officials are cashing the situation by allowing excavation of more quantity of sand. Previously DLSC planned to install CC cameras at sand ramps to record mining and transportation of sand.
For this purpose, it entered into an agreement with a company, Blue Frag. But the sand mafia influenced the officials with the support of MLAs as a result, CC cameras are yet to be installed. As a result, sand quantity was not measured at ramps which is a boon to mafia to mine and transport more quantity. https://www.thehansindia.com/andhra-pradesh/illegal-sand-mining-rampant-in-srikakulam-522194  (19 April 2019)
Punjab 3 booked for illegal sand mining Three unidentified persons have been booked for illegal sand mining at Salemshah village in Fazilka district. Official sources said when a team of the Mining Department conducted surprise checking, three persons were carrying sand on buffalo cart near the gaushala of the village. After seeing the team, they fled away leaving behind their carts.  https://www.tribuneindia.com/news/punjab/3-booked-for-illegal-sand-mining/757515.html  (13 April 2019)
Nakodar village panchayat members allege illegal mining Panchayat members in Udhowal village under Nakodar sub-division have given a written complaint to authorities alleging illegal mining in the area, adding the matter has also been brought to the attention of the Sarpanch. The members have alleged that illegal mining on panchayat land in underway in connivance with the sand mafia. https://indianexpress.com/article/cities/chandigarh/in-nakodar-village-panchayat-members-allege-illegal-mining-5612828/  (6 March 2019)
Chandigarh Illegal miners devour fields on the periphery despite HC order Even though there is a ban on sand mining in Punjab, at least two dozen crushers are active on the periphery of Chandigarh in the Majri block of Kharar and Mubarikpur area of Derabassi, giving a lie to the administration's claims about cracking down on illegal mining.
A Newsline visit showed that Khijrabaad, Kubaheri, Mianpur, Lubhangarh, and Tapprian villages are the worst-hit areas in the Majri block. Residents of Khijrabaad alleged that they had brought the matter to the notice of senior officials of the mining department, and the police but to no avail. A mining officer, who requested anonymity, claimed that 27 crushers are feeding on illegal mining in the Majri block alone. "These crushers are making a mockery of the entire system. They are getting the gravel illegally from unscrupulous elements, who dig up gravel from the seasonal rivulets and process it at these crushers," the officer said.
It was on December 20, 2018, that the Punjab and Haryana High Court stayed proceedings under the Punjab State Sand and Gravel Mining Policy-2018. While staying the e-notice for auction of sand mines in the state, the division bench of Chief Justice Krishna Murari and Justice Arun Palli made it clear that any proceedings in furtherance of the auction notice, dated October 31, and the policy, dated October 26, would remain stayed. The court is yet to lift the stay. https://indianexpress.com/article/cities/chandigarh/illegal-miners-devour-fields-on-the-periphery-despite-high-court-order-5687757/  (22 April 2019)
Madhya Pradesh Sand mining running Narmada to trickle
WETLANDS, LAKES, WATER BODIES
Karnataka  Bengaluru's Bellandur Lake Begins To Froth Once Again Bengaluru's Bellandur lake, infamous for its pollution, has started to froth once again. Giant chunks of smelly, white froth – that looked like cotton – could be seen spilling around residential neighbourhood.
The toxic froth in Bellandur and the other lakes of Bengaluru has persisted for at least two decades and has become a regular phenomenon of sorts. Bellandur lake has become the largest septic tank in the city due to "sheer callousness and indifference", the green court had said in June last year and ordered the Karnataka government to take action. Chemicals and pollutants had the lakes frothing for decades but made international headlines when the lakes started breathing fire and smoke too in the recent years.
In February 2017, huge flames were seen leaping off Bellandur lake, covering the region in thick smoke. The fire recurred in January last year. The flames were put out only after a seven-hour battle. In July 2018, the sewage-filled froth of Bellandur lake travelled all the way to neighbouring Kolar district and reached a 1,400-crore water project.  https://www.ndtv.com/bangalore-news/bengalurus-bellandur-lake-begins-to-froth-once-again-2026303  (21 April 2019)
WATER OPTIONS
Gujarat With 1 cr Trees, 2500 check dams, 86- year old transformed 3  districts About Premji bhai Patel's effort at constructing water harvesting structures in Gujarat. https://www.thebetterindia.com/179766/gujarat-hero-grows-forest-premji-patel-inspiring-india/   (19 April 2019)
GROUNDWATER
Andhra Pradesh Groundwater level across falls by 2.85 m The situation in Chittoor is even worse as the district has recorded the lowest water level at 27.82 MBGL, as compared to 16.44 MBGL during the same period last year. Chittoor district recorded 46.20 per cent deficit rainfall, which came as a shock to several farmers, as they were expecting good rains. Following Chittoor are Kadapa, Anantapur and Kurnool districts. In Kadapa, the average groundwater level stood at 26.55 metres, followed by 25.47 MBGL in Anantapur and 11.91 MBGL in Kurnool.
– Among the coastal districts, Prakasam (24.23 MBGL) and West Godavari (20.67 MBGL) are worst off in groundwater depletion. Nellore district, which had water at 8.94 MBGL last year, saw a drop by 2.48 MBGL this year. Prakasam district also saw the highest deficit rainfall of 58.30 per cent followed by Kadapa (57.40%) and Nellore (54.10%). Interestingly, four districts—Srikakulam, Krishna, East Godavari, and Vizianagaram—saw an improvement of groundwater levels from last year. Krishna district also saw an increase by 1.32 MBGL in water table. http://www.newindianexpress.com/states/andhra-pradesh/2019/apr/14/groundwater-level-across-andhra-falls-by-285-metres-compared-to-last-year-1964048.html  (14 April 2019)
Vishakhapatnam Groundwater levels dip  From 2017 onwards, the groundwater levels have dipped from 8.79 meters below ground level in May 2017 May to 9.89 meters by April 2019, with groundwater going down on an average by 1.10 meters across the district.
Deputy director, groundwater department, KVS Sastry said, "The groundwater levels have been checked at 72 points, where there are piezometers, attached to the digital water record, across 43 mandals of the district. The reason for this drop in groundwater levels is a consistent deficit in rainfall over the last few years. The average annual rainfall in the district from June to May onwards has been 1200 mm, in 2018-2019, we have so far received only 866 mm, with a deficit of more than 25%. In 2017-2018 the deficit was barely 12% with the district reciving 1080 mm from June 2017 to May 2018 against the average of 1200 mm."
Sastry said that six mandals— Atchyutapuram, Padmanbham, Parawada, Munchingput, Visakhapatnam Urban and Anandapuram have been the worst affected.  According to the department, over the last one year, Atchyutapuram has witnessed a steep fall in groundwater from 21 metres below ground level to 28 metres below ground level. Parawada too has witnessed a steep fall from 23 metres to 27 metres. However, the fall in groundwater level has been marginal in the other four mandals.  https://timesofindia.indiatimes.com/city/visakhapatnam/groundwater-levels-dip-in-visakhapatnam/articleshow/68960790.cms  (20 April 2019)
With the water levels at Gosthani river, Gambhiram and Mudasarlova reservoirs depleting fast, areas such as Madhurawada, P.M. Palem, Visalakshinagar and Arilova are getting water supply from Yeleru reservoir. The water reaching from Yeleru reservoir to Kanithi Balancing Reservoir is brought to the new 42 MGD filtration plant at Narava. From there, around 7 MGD of water is being pumped to Endada via Town Service Reservoir to maintain supply in the areas, the officials say.
The district has received 865.7 mm of rain since June 1 last year when compared the normal of 1,072.8 mm. The city has received virtually no rain from September last year. As a consequence, the average groundwater level has fallen to 10.4 metres from the 9.61 metres a year ago.Several urban areas including YSR Park (18.366 m), Sivajipalem (17.351 m), Kanithi Colony (12.418 m) and Gopalapatnam (11.696 m) have recorded a worse fall in the water table. Some areas like Narava, Peda Gantyada and Gollalapalem, however, have showed improved levels. https://www.thehindu.com/news/national/andhra-pradesh/plummeting-groundwater-levels-raise-water-worries-in-vizag/article26892351.ece  (20 April 2019)
Haryana High Court seeks report on groundwater extraction in Gurugram Noting that the conservation of groundwater in Gurugram district was an important issue, the Punjab and Haryana High Court, in an order dated April 9, directed the district authorities to file a fresh status report on the matter within four weeks. The court gave the directive with reference to a 2008 PIL filed by Sunil Singh against the MoEF and others on illegal extraction of groundwater through bore-wells. The directive came after court's orders to the district administration fell on deaf ears over the years.
In 2010, the Punjab and Haryana High Court had asked the Gurugram district administration to ensure that water from registered bore-wells is only used for agricultural purposes, and not for construction. In another order in 2011, the court had asked authorities to submit a report on the number of domestic connections released by the Haryana Shahari Vikas Pradhikaran, then HUDA; the volume of water needed for construction in the district and the source from where the water was being taken. In July 2012, the court even observed no such data was provided by authorities and "nothing was being done to check illegal groundwater extraction".
According to data obtained from the agricultural department's groundwater cell, from 2014 to 2018, the groundwater table fell by 2.5 metres in Gurugram district and by 3 metres in Gurugram city. The department of agriculture also found that in 2018, the district overdrew on its groundwater reserves by 226%. Gurugram city alone overdrew its supply by 308%. In 2013, the Central Ground Water Board (CGWB) had categorised the district as 'over-exploited'. The next hearing in the matter is scheduled for May 9.  https://www.hindustantimes.com/gurugram/high-court-seeks-report-on-groundwater-extraction-in-gurugram/story-EdR684eYjb1gWnDK38gPYI.html  (19 April 2019)    
URBAN WATER
Chennai City's thirst robs farmers of water Every farmer in and around Minjur has either given up farming and taken up another job or is struggling to get back the money invested in farming to pay back loans. The sole reason behind the steady decline in farming, in this region, since the 1980s is the highly saline nature of groundwater, said farmers.
This phenomenon started ever since Chennai Metro Water and private players started extracting water from coastal aquifers along Tiruvallur district to meet Chennai's drinking water needs right from the 1980s, said experts. "Agriculture in North Chennai is destroyed because of groundwater extraction for supply to Chennai.
Deep borewells have been sunk along the Kosasthalaiyar river bed to extract water for the past six to seven years. Locals said that for a stretch of 15 km from Seemapuram in Ponneri Taluk till Janappanchatram in Sholavaram Taluk, Metro Water has been pumping water from the river bed at some places and from the river banks in the other. "As groundwater has been salty for 15 years now, we used to take water from the Kosasthalaiyar river. We cannot do that anymore.
The river has gone bone-dry because of over-extraction of water from its bed and also due to non-stop sand mining. Even if it rains, water doesn't stand in the river anymore. Salty water has ruined crop yield, quality of the soil and our lives too," said Hemanathan, who grows rice and watermelon in 10 acres of land. http://www.newindianexpress.com/cities/chennai/2019/apr/15/chennais-thirst-robs-farmers-of-water-1964726.html  (15 April 2019)
Chennai lost 68% water spread in a year Chennai and its surroundings have lost almost 70% of their water spread area, a study of comparative maps and satellite images has found. The study, which took into account the spread of about 4,000 waterbodies, showed that from 342.4sqkm in last March, the water spread has shrunk to 109.5sqkm this year. The combined water area of these water bodies is about 956.6sqkm. https://timesofindia.indiatimes.com/city/chennai/chennais-two-third-water-area-vanishes-in-a-year/articleshow/68857592.cms  (13 April 2019)
A recent study by the CGWB has found there has been a whopping 85 per cent decline in groundwater levels across Chennai, Tiruvallur and Kancheepuram districts in the last 10 years. Officials said urbanisation, erratic rain and over-pumping of groundwater are the primary reasons behind this trend.
By comparing groundwater level data in two pre-monsoon periods of May 2008 and May 2018, officials confirmed there has been a steep fall in groundwater percolation over the last 10 years. http://www.newindianexpress.com/cities/chennai/2019/apr/21/chennai-tiruvallur-kanchi-see-85-drop-in-groundwater-since-08-1966916.html  (21 April 2019)
Every day, at least one resident in Triplicane goes for a deeper borewell in search of water that has become elusive in most parts of the city. As the city has faced drought for three years in a row, there is more pressure on the already plummeting groundwater level. In the absence of piped water supply and owing to difficulty in getting a tanker load of water, residents are sinking borewells even up to 600 feet in suburban areas such as Ambattur, Pallavaram, Chromepet and Avadi. https://www.thehindu.com/news/cities/chennai/chennai-digging-deeper-for-water/article26908628.ece  (22 April 2019)
Mumbai Well owners, tankers mafia depleting groundwater At a time when Mumbai is reeling under a 10% water cut and bracing for the worse as the seven lakes that supply to the city are at just 26% of their total capacity, the BMC has unearthed a nexus between private well owners and tanker operators that causes ground water depletion. The BMC has identified around 30 spots in south Mumbai from where water is drawn illegally to fill up the tankers. The tanker operators then sell the water in the suburbs, charging Rs 3,000 for 10,000 litres right down to Rs 500 for 1,500 litres. https://mumbaimirror.indiatimes.com/mumbai/civic/well-owners-tanker-mafia-depleting-ground-water/articleshow/68787208.cms  (9 April 2019)
Parts of Navi Mumbai go dry as BMC begins 20% water cut WITH THE BMC implementing a 20 per cent cut in water supply in order to ensure that water in the city's lakes lasts until the monsoon, parts of Navi Mumbai, where water is supplied by CIDCO, are also facing a shortage. Amid complaints of erratic supply and low water pressure, residents in areas such as Khandeshwar and Kamothe have begun to approach local politicians seeking help. https://indianexpress.com/article/cities/mumbai/parts-of-navi-mumbai-go-dry-as-bmc-begins-20-water-cut-5685188/  (20 April 2019)
Cast system based on water in the city Need to understand and articulate water issue in Rights perspective. https://www.mid-day.com/articles/there-is-a-caste-system-based-on-water-in-mumbai-say-urbanists/20782175  (21 April 2019)
Pune District to get water from Mulshi dam: CM Devendra Fadnavis announced at a public rally at Akluj on April 17 that the state government is working on a model to get water from Mulshi dam for agricultural and drinking purposes, for the Pune district. Pune district has not been receiving water from Mulshi dam, although the dam is located on it. The Mulshi dam water is controlled by Tata Power, which utilises the water for hydroelectricity generation. The hydropower project is located in Bhira, where the water is released directly into the sea after power generation.
Drinking water for the Pune district comes from Khadakwasla reservoir, however, due to water shortage in Pune and Pimpri-Chinchwad, farmers have not been receiving enough water for irrigation, therefore the demand for water from Mulshi dam. Fadnavis, during his poll campaign in Madha and Baramati said that if the water from Mulshi dam is provided to the Pune district, it would sort out the water problem for Daund and Baramati talukas and also provide enough water to the municipal areas. The CM said he had instructed the administration to work out a plan and start negotiations with Tata power. https://www.hindustantimes.com/pune-news/pune-district-to-get-water-from-mulshi-dam-says-devendra-fadnavis/story-xRoDVockK1pHCGTBdRU6iN.html  (20 April 2019)
Bangalore Water has become gold for desperate residents Residents of Bhuvanagiri Layout near Banaswadi have been without water for the past 20 days and the Bengaluru Water Supply and Sewerage Board (BWSSB) authorities are yet to restore the supply. However, the BWSSB authorities seem to have no clue on what is the source of the contamination, and are on a digging spree, like a trial and error basis, to find what is wrong.
It all began with the residents complaining to the BWSSB authorities against contaminated water in Bhuvanagiri Layout. The BWSSB promptly stopped the supply of contaminated water to avoid residents having any health problems, but no measures were made to ensure there is water provided till the supply is restored. While some of the residents find it difficult to pay exorbitant price to private water suppliers, a few others could not afford to have guests due to an acute shortage of water. https://bangaloremirror.indiatimes.com/bangalore/civic/its-a-cruelcruel-summer-water-has-become-gold-for-desperate-residents/articleshow/68912357.cms  (17 April 2019)
Tirupati Pilgrim city staring at severe water shortage With the water level at the two major water supply sources–Telugu Ganga (Kailasagiri reservoir) and Kalyani dam fast depleting, severe water shortage staring at the famous pilgrim city.
According to civic body sources, the quantity of water available in Kailasagiri reservoir near Srikalahasti will be sufficient for about 40 days with the corporation drawing water about 40 MLD from the reservoir built under Telugu Ganga (TG) water supply scheme, the major water supply source for Tirupati. The city daily requires about 68 MLD water including for its about 3.8 lakh residents, 70,000 pilgrims arriving every day from various corners of the country and also for various government institutions like hospitals, universities and TTD for which the corporation is providing 10 MLD. https://www.thehansindia.com/andhra-pradesh/pilgrim-city-staring-at-severe-water-shortage-521644  (17 April 2019)
Anantapur Threat of drinking water scarcity looms large The district is in danger of slipping into a water crisis if effective steps are not taken in saving every drop of drinking water and preventing wastage. The water sources for the district are Penna Ahobhilam Balancing Reservoir (PABR), Chitravati Balancing Reservoir (CBR) and Mid-Pennar Reservoir (MPR). The three reservoirs storage capacity is 11 tmcft, 10 tmcft and 5.40 tmcft of water. However the quantum of water currently available in the reservoirs is 1.701 tmcft, 1.411 tmcft and 0.164 tmcft respectively.
Against the reservoirs capacity, water released and supplied from the Karnataka side is hardly 10 tmcft. Water available has reached rock bottom levels in the three reservoirs, causing concern among Rural Water Supply officials. About 4 lakh population of Anantapur, Hindupur and Kalyandurgam towns depend upon the PABR. Everyday about 65 cusecs of water is supplied to these towns. Currently, the water available is 1.701 tmcft. Similarly the towns of Dharmavaram, Kadiri and Puttaparthi depend upon the CBR dam water apart from 200 villages which too are looking unto CBR for drinking water needs. Currently, the CBR dam has a mere 1.411 tmcft of water.
Over the years, water consumption in villages has doubled but water allocation remained the same. Added to it, the groundwater levels had declined to its lowest which is 25.4 metres low. There are more than 2 lakh hand bores in the district. Almost half of them have become defunct due to decline in water table. Every year 10 tmcft of water is required to take care of the drinking water needs of the district. https://www.thehansindia.com/andhra-pradesh/threat-of-drinking-water-scarcity-looms-large-over-anantapur-dist-523048  (22 April 2019)
Darjeeling Flourishing water markets Better governance and equitable as well as sustainable use of water resources are essential to solving the deepening water crisis in Darjeeling.   https://www.indiawaterportal.org/articles/flourishing-water-markets-darjeeling     (15 April 2019)
Report Quenching cities' thirst with rural water Water shortage in urban areas is a perennial problem, and about 400 million people in urban areas deal with the lack of water. This problem is soon going to multiply as urban water demand is expected to increase up to 80% by 2050.  https://researchmatters.in/news/quenching-cities-thirst-rural-water   (18 April 2019)
WATER
SANDRP Blog Can outdated water institutes steer India out of water crisis?  Article on India's Water Institutions. By H Thakkar of SANDRP and J Harsha of CWChttps://sandrp.in/2019/04/21/can-outdated-water-institutes-steer-india-out-of-dire-crisis/  (21 April 2019)
An edited version was published earlier in EPW. Feedback is welcome.  https://www.epw.in/engage/article/can-outdated-water-institutes-steer-india-water-crisis  (2 March 2019)
Article Sustainability of Urban Water Supply and Sanitation in Dryland Areas by Rahul Banerjee: The attainment of financial, environmental and social sustainability of urban service provision has become problematic nowadays. Within urban services, the supply of water and its disposal after use have become very important because water has to be brought from distant sources and the waste water needs to be treated before being discharged into natural waterbodies, both of which are very costly propositions.  https://www.epw.in/journal/2019/14/special-articles/sustainability-urban-water-supply-and-sanitation.html    (06 April 2019)
AGRICULTURE
Report Sugar lobby's bitter tactics hurt India Sugar beet needs only 30 per cent of the irrigation water used for cane, the crop ripens in four months compared to a year for cane, has higher sugar content than cane, the leaves and the residual pulp after extraction of sugar are excellent cattle fodder so a viable dairy and animal husbandry industry can be a part of the sugar beet ecosystem.
The spacing of the plant in the field is amenable to drip irrigation so more water can be saved and the land is free for eight months to grow other crops. It is worth recalling the 30 per cent rule. Using 30 per cent of the water and 30 per cent of the time, sugar beet can give the same output of sugar from the same acreage, compared to sugarcane.   http://www.newindianexpress.com/opinions/2019/apr/16/sugar-lobbys-bitter-tactics-hurt-india-1964808.html  (16 April 2019) 
MONSOON 2019
As expected IMD predicts normal monsoon As expected, IMD forecasts normal monsoon for India. However, with clearly pronounced higher probabilities for deficit monsoon, the rainfall is likely to be below normal. IMD also says the probability of a "deficient" monsoon is 17%, of "below normal" 32%, of "near normal" 39%, and of "above normal" 10%.  http://www.imd.gov.in/pages/press_release_view.php?ff=20190415_pr_451
It could, however, begin on a weak note as the threat of rain-busting El Nino looms over June and July, which are agriculturally the most crucial months. Weak El Nino conditions are expected to prevail through the June-to-September southwest monsoon season this year, but will reduce in intensity in the second half of the season, meteorologists said. https://economictimes.indiatimes.com/news/politics-and-nation/meteorological-department-promises-a-splash-this-monsoon/articleshow/68899293.cms  (16 April 2019)
"Weak El Niño conditions would persist in the monsoon season, but with reduced intensity. It peaked in February. Its intensity would decrease further from July onwards, which is an agriculturally crucial month. However, we could see some impact in June," said the IMD head, assuaging concerns about the potential impact of El Niño.
IMD will monitor the El Niño conditions and update its forecast in the first week of June, with predictions for region-wise and month-wise rainfall. The onset of monsoon over the southern coast will be announced around 15 May. https://www.livemint.com/industry/agriculture/imd-monsoon-forecast-offers-respite-for-indian-agriculture-economy-1555324396563.html  (16 April 2019)
Before this private weather forecasting service, SKYMET has predicted on April 3, 2019 that monsoon rainfall will be 93% or 7% below Normal. It predicts 77% (of Long Period Average) rainfall in June, 91% in July, 102% in Aug and 99% in September. Coastal Andhra, Odisha and Chhattisgarh are likely to get normal rains throughout the monsoon. https://www.skymetweather.com/content/weather-news-and-analysis/southwest-monsoon-forecast-2019-skymet-forecasts-below-normal-monsoon-at-93-percent-of-lpa/  (3 April 2019)
More Bad news for India SW Monsoon 2019. El Nino could extend beyond spring (March-May 2019, 80% chance) to Summer (June-Sept 2019, 60% chance), as per Climate Prediction Centre of NOAA of USA. This could mean the monsoon could be worse than what Skymet has predicted.
– Raghu Murtugudde of University of Maryland, College Park, US, said though an El Nino event did appear very possible, a clearer picture would emerge only in subsequent weeks. He said if the sub-surface warming in the equatorial Pacific Ocean was not neutralised by an easterly wind event, it was likely that current forecasts would hold. "If instead a westerly wind event occurs, it will greatly strengthen chances of an El Niño. That would not be good news for Indian monsoon then," he said. https://indianexpress.com/article/india/mild-el-nino-may-hamper-monsoon/  (4 April 2019)
-"The Pacific Ocean has become strongly warmer than average. The model projections call for 80% chance of El Nino during March-May, dropping to 60% for June to August," said Jatin Singh, managing director of Skymet.
– "This means, it is going to be a devolving El Nino year, though retaining threshold values all through the season. Thus, monsoon 2019 is likely to be below normal." The emergence of a strong El Nino triggered back-to-back droughts in 2014 and 2015. https://www.livemint.com/news/india/skymet-says-monsoon-likely-to-be-below-normal-1554279122701.html  (3 April 2019)
Who will get it correct this time? This is IMD's first forecast; the second one will come in June once the monsoon begins its course. Over half of India's cultivation relies on monsoon for irrigation water. The farmers rely on weather forecasts to plan their year. Past evidence shows that IMD has gone wrong on occasions surprising the policymakers and economists.
IMD forecasts going wrong has given shockers to farmers in certain years. In 2009, while the forecast said a normal monsoon, the year turned out to be one of the worst drought years for the country. https://www.firstpost.com/business/imds-good-news-for-farmers-vs-skymets-warning-of-deficient-rains-who-will-get-the-weather-forecast-right-this-year-6455711.html  (16 April 2019)
The IMD's prediction of near-normal monsoon rainfall glosses over the likelihood of scarce rain in June, when it is most important for rainfed farming.
A weak start to the June-September monsoon will mean they will either not be able to sow their main summer (called Kharif) crop on time, or risk the plants withering if the rain fails. It does not really help them much if the rainfall picks up in August and September, because if they wait for that it will mean very late sowing, and they may not be able to get their crops to the market at the usual time in October or November. https://indiaclimatedialogue.net/2019/04/17/drought-of-detail-in-monsoon-forecast/  (17 April 2019)
The error margin for monsoon forecasts has declined, from 7.94% between 1995 and 2006 to 5.95% between 2007 and 2018. Even so, over the last 11 years, the actual rainfall matched the forecast only half the time. The IITM model projections have indicated that there has been a weakening of the Indian monsoon in recent decades, leading to an overall decrease in rainfall. https://www.hindustantimes.com/india-news/why-meteorological-department-s-monsoon-forecast-is-often-inaccurate/story-zDB4ukfNohyL4bpnAbOMsJ.html  (21 April 2019)
अल नीनो उम्मीद से ज़्यादा बुरा असर डाल सकता है मॉनसून 2019 पर वर्ष 2019 के इस अल-नीनो को साधारण अल-नीनो माना जा रहा है। लेकिन अल-नीनो के प्रकार यानी मोडोकी अल-नीनो को ध्यान में रखते हुए हमें डर है कि कहीं इस बार अल-नीनो का मॉनसून पर असर हमारी उम्मीद से ज्यादा खराब ना हो। https://www.youtube.com/watch?v=Y3AIujmZyNc  (16 April 2019)
FLOOD
Study Local knowledge can fill the gap in inadequacy official flood prediction system  This study from Bihar shows that official flood prediction systems are often inadequate to understand the true impact of the floods on the population. Local gendered knowledge can help fill this gap. https://www.indiawaterportal.org/articles/conversation-nature        (15 April 2019)
DROUGHT
SANDRP Blog Gujarat has so much Narmada water this year: Why not share with drought hit & thirsty? This article shows that Gujarat received a lot of Narmada water to its Sardar Sarovar Dam this year, possibly more than what was due as per NWDT award, and yet, Gujarat failed to use this water for the thirsty people and drought hit farmers. Please, read and share widely. https://sandrp.in/2019/04/17/gujarat-has-so-much-narmada-water-this-year-why-not-share-with-drought-hit-thirsty/          (17 April 2019)
સરદાર સરોવર ડૅમમાં પાણી હોવા છતાં ગુજરાત તરસ્યું કેમ? BBC Gujarati story based on SANDRP article as to in spite of so much Narmada water that Gujarat got this year and currently, why the thirsty people and drought hit farmers are not getting water for their basic needs?  https://www.bbc.com/gujarati/india-47976392   (19 April 2019)
Despite "higher" water storage, Kutch, Saurashtra, North Gujarat go dry This is also based on SANDRP analysis:  https://www.counterview.net/2019/04/despite-higher-water-storage-in-narmada.html   (21 April 2019)
Water For Factories, But Not For Farmers  This story examines the situation in Gujarat's worst-hit Kutch region, where scanty rainfall and rising temperatures have exacerbated competition for scarce water between farms on the one hand and cities and industries on the other, while raising questions over why the Narmada Valley Project's raison d'etre–to irrigate farms in Kutch, Saurashtra and North Gujarat–remains unfulfilled 71 years on. https://www.indiaspend.com/drought-hit-gujarat-has-water-for-factories-but-not-for-farmers/      (16 April 2019)
Saurashtra woes: Policy change on check dams leads to water deficit This shows how the change in Gujarat govt policy around 2004-5 led to no new check dams and such water harvesting structures being built.   https://www.downtoearth.org.in/news/water/saurashtra-woes-policy-change-on-check-dams-leads-to-water-deficit-64073  (19 April 2019)
This story shows how angry are most of the farmers of Saurashtra for lack of water, lack of remunerative prices for their crops and crop insurance money. https://india.mongabay.com/2019/04/will-agriculture-distress-in-saurashtra-benefit-the-opposition/   (22 April 2019)
Samerth mitigates adverse drought effect in Kutch This is about the drought situation in Kutch and intervention that Samerth Trust has done to minimise its impact. http://counterview.org/2019/04/19/samerth-mitigates-adverse-drought-effect-in-kutch-ensures-participatory-water-resource-management/ (19 April 2019)
Here is a tragic story of villages (called Vandhs in Kutch) without Bijli, Pani and Sadak, just 15 km from Dhordo, where annual Rann Utsav (festival of desert) is held by Gujarat govt each year, where there are all the attractions for tourists including RAIN DANCE. But Bhitara Vandh and Nana Bhitara gets tanker water once in 5-6 days if they are lucky.  https://thewire.in/rights/gujarat-kutch-bijli-sadak-pani-hamlets  (21 April 2019)
Maharashtra Farm ponds dotting parched Marathwada will deplete groundwater There is no question of MAY, but WILL. One wonders how can someone be Groundwater Survey and Development Agency person while also saying they MAY deplete groundwater: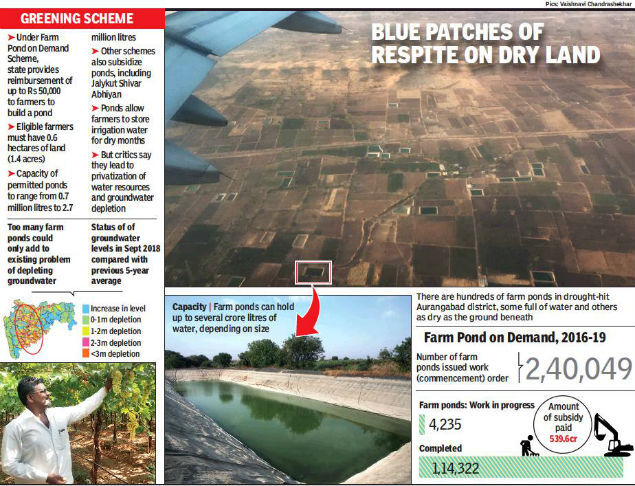 On a large scale, this may result in over-exploitation of groundwater resources, says C P Bhoyar, chief scientist at the Groundwater Survey & Development Agency.  https://timesofindia.indiatimes.com/city/aurangabad/farm-ponds-that-dot-parched-marathwada-may-deplete-groundwater-in-the-long-run/articleshow/68895391.cms     (16 April 2019)
Marathwada parched as watershed conservation remains neglected The Marathwada region is in the midst of another drought. While most of the area is dry, some villages practising watershed development are surprisingly green. In the absence of political interventions some villages are going into self-help mode. Villagers allege vested interests in 'man-made' drought. Lack of policy changes and political will have also been blamed for current situation. https://india.mongabay.com/2019/04/marathwada-parched-as-watershed-conservation-remains-neglected/ (15 April 2019)
Drought affected neglected amid poll campaign "This is the worst drought since I started farming in 1974. Not a single seed was planted during the rabi season and Modi is fooling us with more lies," said Sattar Patel, a farmer from Latur.
– On 9 April, as campaigning for the first phase of the election came to a close, Modi spoke to residents of Latur. Future wars will be fought over water, Modi told the crowd, pledging a new water ministry which will initiate interlinking of rivers and ensure water to every field.
– Even when political parties act, they tend to focus largely on big dams and irrigation projects which are avenues to siphon money, said Himanshu Thakkar, of SANDRP. https://www.livemint.com/industry/agriculture/caught-up-in-polls-a-drought-forgotten-1555260988957.html  (15 April 2019)
https://www.facebook.com/hindkisan/videos/285947795631728/?t=860
Swaraj Express Channel's Hindi KISAN bulletin today (Apr 15, 2019) includes discussion with SANDRP coordinator. https://www.facebook.com/hindkisan/videos/285947795631728/ 
The waterhole Paribai frequents is called Karakalicha Nala – a remnant of what was once a stream. From late evening to well past midnight, dozens of women from villages as far as 5km away turn up at this tiny pool for a long and despairing wait to fill a single bucket of water. Once empty, the pool takes hours to recharge. Through April, the waiting time at the queue is two hours. By May, a few litres could take all night. https://timesofindia.indiatimes.com/india/burning-the-midnight-oil-for-a-bucket-of-water/articleshow/68862028.cms  (16 April 2019)
Is Maharashtra the angriest state of India? The main opposition Congress party is appealing to those who feel left behind under Modi. https://www.financialexpress.com/india-news/suicides-and-drought-plague-the-angriest-state-in-india/1550440/  (17 April 2019)
'No one wants to make drought a campaign issue The central message here is noteworthy: No political party is making drought and water management an issue in elections in Marathwada or Maharashtra or elsewhere.   https://www.thehindu.com/elections/lok-sabha-2019/no-one-wants-to-make-drought-a-campaign-issue/article26859164.ece    (17 April 2019)
Andhra Pradesh In drought-prone-prakasam-water-black-market-thrives The district's water scarcity has created a black market and the AP state government can't control the pilferage. In drought affected Prakasam district farmer are selling groundwater to earn money finds this report. "I used to farm on my 5-acre land but there is not enough water from the bore so I now sell whatever water is available," said Prasada Rao.
In the district, the little water that is left has created a black market for water. Though the state government has taken preventive measures — such as fitting GPS trackers on the trucks and taking photographs of the water-filled trucks before delivery — there is no real mechanism in place to check the illicit system.But the system is far from foolproof.
Prakasam is one among the nine out of 13 drought-affected districts in Andhra Pradesh, as all surface water sources at Yerragondapalem and surrounding mandals have dried up. The only source of water is borewells, a vast majority of which are already defunct. The watershed division at Yerragondapalem mandal is relying on a few private and agricultural borewells to feed 132 of the 265 habitats under their jurisdiction. https://www.thenewsminute.com/article/andhras-drought-prone-prakasam-water-black-market-thrives-100203   (17 April 2019)
Karnataka Farming shaken to its roots as farmers battle life without rain Farmers in Central Karnataka are in dire straits; crop insurance and loans are weighing them down as well.   http://www.newindianexpress.com/states/karnataka/2019/apr/17/farming-shaken-to-its-roots-as-farmers-battle-life-without-rain-1965242.html    (17 April 2019)
ENERGY
Solar, wind power capacity addition slows down in 2018-19 The pace of adding renewable generation capacities slowed down in FY19 with just 8.6 gigawatt (GW) of solar and wind power plants getting commissioned in the fiscal. The country had added 11.3 GW and 11.8 GW of renewable capacities in FY17 and FY18, respectively. The installed renewable capacity now stands at 77.6 GW.  https://www.financialexpress.com/economy/renewable-energy-capacity-addition-slows-down-in-2018-19/1553818/  (20 April 2019)
Peak power deficit at 0.8% in 2018-19 India's peak power deficit stood at 0.8 per cent and the overall energy deficit remained 0.6 per cent in 2018-19, both down from previous year. In its load generation balancing report (LGBR) for 2018-19, the Central Electricity Authority (CEA) had pegged overall energy and peak power surpluses at 4.6 per cent and 2.5 per cent, respectively. In 2017, the CEA, in its LGBR, had projected that India would become a power-surplus nation in 2017-18. But, the peak power deficit was 2.1 per cent, while overall electricity deficit was 0.7 per cent across the country in that financial year. https://www.thehindubusinessline.com/economy/peak-power-deficit-at-08-in-2018-19/article26890075.ece   (19 April 2019)
SOUTH ASIA
IScience forecast for South Asia The forecast through Dec 2019 indicates intense water deficits in southern India, in the middle Godavari River Basin and the Indravati watershed, and a pocket in central Madhya Pradesh. Moderate deficits are expected in the center of the country, Gujarat, the northern Gangetic Plain, and the Far Northeast. Exceptional surpluses are forecast for Jammu and Kashmir in the north.
PAKISTAN: Intense surpluses are also forecast across the border in northern Pakistan and along the Indus, Jhelum, and Chenab Rivers, and will be exceptional along the northern Indus. Deficits are expected in southern Pakistan and will be extreme in the southeast from Karachi past Hyderabad. Primarily moderate deficits are forecast in the southwest.
AFGHANISTAN: In Afghanistan, intense surpluses are forecast east of the Helmand River from Kandahar to Kabul, and in the west from Herat to Mazar-e Sharif.
In central Nepal, surpluses are forecast along the Gandaki River leading into India, and some moderate surpluses are expected in eastern Bangladesh and north into India. Some pockets of moderate to severe deficit are forecast for Bhutan, and moderate deficits in Sri Lanka. https://www.isciences.com/blog/2019/03/15/south-asia-water-surpluses-forecast-to-emerge-in-afghanistan    (21 March 2019)
Nepal 828 MW Uttar Ganga hydro project revived after 7 years The Uttar Ganga Power Company, a subsidiary of Nepal Electricity Authority, has invited expression of interest for consulting services to prepare detailed engineering design and bidding documents for the 828 megawatt Uttar Ganga Storage Hydroelectric Project in Baglung. The Rs130 billion project has been revived after seven years. The plant was to be constructed by collecting water from the Uttar Ganga stream of Dhorpatan and other surrounding streams. The Rs 130 billion project involves building a 200 m high dam and 1.1 km long diversion tunnel.
– A reliable source said that conflict between former Energy Minister Janardan Sharma, then leader of Maoist (Centre) and former Finance Minister and CPN-UML leader Bishnu Poudel had halted the project. While Sharma wanted diversion of water to the Bheri River, Poudel wanted diversion to the Gandaki basin. "A consensus has been reached to divert water to Gandaki basin that was proposed by Nepal Electricity Authority".   https://kathmandupost.ekantipur.com/news/2019-04-18/828-mw-uttar-ganga-hydro-project-revived-after-7-years.html   (18 April 2019)
Bhutan GDP growth slips for the second time: ADB BHUTAN HOW GDP GROWTH DEPENDS ON HYDROPOWER PROJECTS The GDP growth in 2017-2018, slowed further from 6.3 percent in 2016-2017 to 5.5 percent on the back of weaker performance in industry, slowdown in construction of hydropower projects and weak water flows affecting power generation. Growth is likely to slightly increase to 5.7 percent in 2018-19 fiscal year with the commissioning of Mangdechhu. "Barring further delays to the commissioning of the Mangdechhu Hydropower Plant, a full year of operation in FY2020 will help lift growth to 6 percent in 2019-20," the ADB report stated.
– Hydropower development entails large fiscal swings, from heavy expenses during construction to robust revenue flows upon commissioning. To accommodate such swings, a stabilisation fund was established in November 2017 to set aside at least 5 percent of hydropower revenue annually to smoothen budgetary volatility.
– India's GST has affected competitiveness of Bhutan exports.  http://www.kuenselonline.com/gdp-growth-slips-for-the-second-time-adb/   (18 April 2019)
Pakistan Kashmiris demand to stop exploiting water resources in PoK People belonging to Pakistan occupied Kashmir (PoK), who are residing in London and other parts of the United Kingdom, organised a protest outside the Pakistan High Commission here on April 16, 2019 demanding Islamabad to stop exploiting water resources in the region. The protestors opposed the construction of the Neelum-Jhelum Hydro Power project in PoK that has diverted the water flow and affected the normal life in Muzaffarabad.  https://www.business-standard.com/article/news-ani/london-kashmiris-hold-protest-against-pakistan-demand-to-stop-exploiting-water-resources-in-pok-119041700425_1.html  (17 April 2019)
ASIA
Indonesia Flood Death toll from floods, landslides rising At least 68 people are dead and nearly 7000 forced to take refuge in emergency shelters after floods, landslides and a tornado battered the Indonesian island of Sulawesi in the past week.
Rescue teams were still looking for seven missing people, while 47 had been injured during the devastation that saw heavy rains cause a dam to overflow, said Sutopo Purwo Nugroho, a spokesman for Indonesia's disaster mitigation agency. https://milbankmonitor.com/indonesia-death-toll-from-floods-landslides-climbs-to-68/15/04/2019/    (15 April 2019)
THE REST OF THE WORLD
Study Hydropowered countries suffer higher levels of poverty, corruption and debt Countries relying on the world's biggest and most established source of renewable electricity have seen their poverty, corruption and debt levels rise and their economy slow at significantly greater rates than nations which use other energy resources over the last three decades, a major new study has found. The financial benefits of major hydropower projects could also take decades to emerge, the study published last week in The Review of International Political Economy found.
The new study by the University of Sussex and the International School of Management in Germany compared the security, political governance, economic development and climate change performance of major hydropower states against oil-producing and all other countries using 30 years of World Bank data. Lead author Professor Benjamin Sovacool, Professor of Energy Policy at the Science Policy Research Unit at the University of Sussex, said the era of the awe-inspiring mega hydropower projects such as the Hoover Dam in the US and The Three Gorges in China should be coming to an end in favour of smaller projects.
Prof Sovacool said: "Our results bring into focus some of the pernicious trade-offs that can occur as one seeks to transition to large-scale sources of energy supply: bringing in jobs and generating economic activity, but also inviting corruption; seeking to supplant fossil-fuels (and lower carbon emissions), but only by increasing levels of debt, or creating new energy security threats."
The study found that the level of corruption in hydropower countries scored even higher than petro-states such as Saudi Arabia, Qatar and Libya although not to a statistically significant level.
Prof Walter, of the International School of Management ISM in Germany, said: "Practitioners maybe should rethink their underlying assumptions about how they evaluate hydropower's risk." https://theecologist.org/2019/apr/15/no-more-hoover-dams   (15 April 2019)
The full study can be seen here. https://www.tandfonline.com/doi/full/10.1080/09692290.2018.1511449
MID WEST FLOOD Hearing to focus on preventing more Missouri River flooding This spring's massive flooding along the Missouri River unearthed bitter criticism of the federal agency that manages the river while devastating communities and causing more than $3 billion in damage.
The flooding and the U.S. Army Corps of Engineers' actions will be the focus of a U.S. Senate hearing in western Iowa on Wednesday and critics will demand the agency make flood control its top priority. But Congress would have to act to change the Corps' priorities.
Robert Criss, a professor at Washington University in St. Louis who has been studying flooding for more than two decades, said there may be a more important factor than how the Corps' priorities are ranked.
The Missouri River has been made narrower over the years, Criss said, and the Corps has worked to maintain a defined channel for barge traffic even though few barges ever cross the river near Iowa and Nebraska.
"We're having this problem because we messed with the rivers too much," Criss said.
The Missouri River used to be a wide waterway with wetlands and numerous channels running alongside each other. That allowed floodwaters to spread out and cause fewer problems. Criss said the modern river forces the floodwater into a narrow channel restricted by levees that speeds up the flow and increases damage.
"The only way to make this river stop behaving so badly is to widen it out," Criss said. https://nebraska.tv/news/local/hearing-to-focus-on-preventing-more-missouri-river-flooding   (17 April 2019)
US States gearing up to draw more water from the Colorado We have seen conflicts when a river is shared between two states. Now imagine a once-mighty, drought-stricken river shared between Seven States. We can easily replace Colorado with Krishna or Godavari and Wyoming and California with Karnataka and Tamil Nadu.
"When Mead's plan was first announced in 2015, Wyoming's top water engineer, Pat Tyrrell told Wyoming Public Media that he agreed building dams during a drought was counterintuitive. "It's interesting these days," he said. "It's easy to be schizophrenic in the Colorado River Basin." https://grist.org/article/what-drought-these-states-are-gearing-up-to-draw-more-water-from-the-colorado/   (18 April 2019)
President Donald Trump on April 16 signed a plan to cut back on the use of water from the Colorado River, which serves 40 million people in the U.S. West.
The Colorado River drought contingency plan aims to keep two key reservoirs, Lakes Powell and Mead, from falling so low they cannot deliver water or produce hydropower. It was negotiated among the seven states that draw water from the river.
Mexico also agreed to store water in Lake Mead on the Arizona-Nevada border if the U.S. legislation was approved by April 22. The legislation was supported by all 14 senators from the Colorado River basin states, though Trump announced his action in a tweet that singled out Arizona Republican Sen. Martha McSally, who is in a tough fight for re-election next year.   https://www.apnews.com/34c4ce93ba114120b1dad8ac4d28ec0d   (17 April 2019)
Australia Pumped hydro eyes path through climate wars In Australia's general elections on May 18, climate change and renewable energy are important issues. A company wants to develop 250 MW pump storage projects using the pits left by mines as upper and lower reservoirs, but awaits PPA. Another company to develop 2000 MW pump storage project. https://energy.economictimes.indiatimes.com/news/power/power-play-pumped-hydro-eyes-path-through-australias-climate-wars/68919908   (17 April 2019)
Global Call for wetland decade under the U.N. decade on ecosystem restoration (2021-2030) – International Organization Partners to the Ramsar Convention, call for a specific programme on Wetland Restoration under the newly adopted UN Decade on Ecosystem Restoration (2021-2030).
-The Ramsar Strategic Plan 2016–2024, adopted by the 168 Contracting Parties to the Ramsar Convention at their twelfth meeting in Uruguay includes targets for the restoration of wetlands, with biodiversity conservation.
– Since 1970, 81 percent of inland wetland species populations and 36 percent of coastal and marine species have declined. Over the last century we have lost 70 percent of our natural wetland area. https://phys.org/news/2019-03-wetland-decade-ecosystem-.html  (25 March 2019)
CLIMATE CHANGE
IIT-M gets Centre of Excellence to study climate change impact on coastal infrastructure A Centre of Excellence (CoE) to study climate change impact on coastal infrastructure and the adaptation strategies was inaugurated at the Indian Institute of Technology, Madras(IIT-M) campus on April 15, 2019. The facility has been established by the Union Department of Science and Technology (DST), under the Indo-German Centre for Sustainability (IGCS). Further, climate change and sea level rise impact on availability of water resources and its quality due to enhanced saltwater intrusion and ineffective waste management will be investigated. http://www.newindianexpress.com/cities/chennai/2019/apr/16/iit-m-gets-coe-to-study-climate-change-impact-on-coastal-infrastructure-1964854.html   (16 April 2019)
DISASTER
Jharkhand Hindalco, Muri: another tailings failure David Petley writes about breach of protection wall leading to spreading of toxic dump from Hindalco's Alumina mine/ factory near Muri. At least four persons were injured, one person is missing, though some reports give much higher numbers. There seems to be a case of negligence. Investigations have been ordered.  https://blogs.agu.org/landslideblog/2019/04/13/hindalco-tailings-1/  (13 April 2019)
Dave Petley further writes about the tailings dam failure in Muri, Jharkhand at Hindalco factory: A key task will now be to contain the waste prior to the monsoon to prevent larger-scale contamination of the area.  At the moment the affected area is quite limited. Meanwhile, the Jharkhand State Pollution Control Board has cancelled the consent to operate of the works at Hindalco. Interestingly, there also reports that the retaining wall was designed by IIT Mumbai and IIT Roorkee, who are now under investigation. A panel has been convened to understand the causes of the failure. https://blogs.agu.org/landslideblog/2019/04/16/hindalco-tailings-failure-2/       (16 April 2019)
Thunderstorm 34 dead as rain, strong winds, thunderstorm wreak havoc in four states  Thunderstorm spell (hail, wind, rain) has killed 11 people in Madhya Pradesh, 9 in Gujarat, 7 in Maharashtra, 7 in Rajasthan apart from damaging crops and affecting normal life.
– In Rajasthan normal life was thrown off track due to the sudden rain. While in Baran, hailstorm lashed the place affecting livestock, affected crops, and destroyed mud houses, in Sriganganagar crops were destroyed by a hailstorm. At least 300 villages were affected by the hailstorm.
– Rains also lashed Alwar, Chaksu, Ajmer and Udaipur rains destroyed produce kept in the open outside the shops in the market and a man was killed after a shade fell off burying him. https://zeenews.india.com/india/34-dead-as-rain-strong-winds-thunderstorm-wreak-havoc-in-four-states-2196298.html  (17 April 2019)
ENVIRONMENT
Lok Sabha Election 2019 BJP and Congress Manifesto? Ashish Kothari, after analysis of Congress and BJP manifestos, including on environmental and livelihood issues, comes to the conclusion that Congress, with all its limitations is much better than BJP. https://thewire.in/environment/sustaining-india-bjp-congress-manifesto     (16 April 2019)
Amazing, that BJP President says this, when his party is pushing the same scam tainted projects in Maharashtra, with money from Gadkari held ministry at Centre led by Modi without taking any effective action on scam tainted  projects. Another example of fake statements?
– "The NCP spent ₹72,000 crore and failed to provide a drop of water to the parched regions of Maharashtra. Mr. Pawar and the Congress will now have to answer for the irrigation scam in this election," Amit Shah said.  https://www.thehindu.com/elections/lok-sabha-2019/no-one-can-take-away-kashmir-from-india-says-amit-shah/article26862908.ece   (17 April 2019)
Farmers were sold a dream in 2014 that everything was going to change. But now they have compelling reasons to feel they were deceived.
– Transferring agriculture input subsidies (fertiliser and power) to farmers in cash is the need of the hour. https://indianexpress.com/article/opinion/columns/lok-sabha-elections-farmers-bjp-congress-manifesto-5687360/  (22 April 2019)
Workshop Nayi Dishayein Summer Schools Applications are open for: Nayi Dishayein Summer Schools: Rethinking 'Development': a space to think critically, explore the art of communication, listening, and dialogue, and evolve pathways for a gentler and more sensitive society:
– Program 1: 6-week program (Campus + Field Internship), 21st May to 4th July, 2019.
– Program 2: 12-day program (Campus only), 17th to 28th June, 2019.
Applications are open. Plz apply if interested and help spread the word. https://www.sambhaavnaa.org/programs/nayi-dishayein-summer-schools-2019/  (21May)
Compiled by SANDRP (ht.sandrp@gmail.com)
Also see: DRP News Bulletin 15 April 2019 & DRP News Bulletin 8 April 2019  
Follow us on: www.facebook.com/sandrp.in; https://twitter.com/Indian_Rivers