On Dec 12, 2018, The government introduced the Dam Safety Bill amid din in the Lok Sabha on Wednesday even as Biju Janata Dal group leader Bhartruhari Mahtab questioned the legislative competence of the House on the matter.
The Bill provides for "surveillance, inspection, operation and maintenance of specified dams for prevention of dam failure related disasters and to provide for institutional mechanism to ensure their safe functioning". There are over 5,200 large dams in the country and about 450 are under construction. There are also thousands of medium and small dams whose safety remains a matter of concern due to lack of legal and institutional safeguards. https://indianexpress.com/article/cities/delhi/parliament-winter-session-govt-introduces-dam-safety-bill-5490911/   (13Dec.2018)
The Biju Janata Dal (BJD) opposed the Bill, with party MP Bhratruhari Mahtab stating that the "subject comes under the purview of State govts" and not in the purview of the Lok Sabha or Parliament.
Introducing the Bill, Water Resources and Parliamentary Affairs Minister Arjun Ram Meghwal countered Mr. Mahtab's position saying that the Central govt had the legislative competency to introduce the Bill.  https://www.thehindu.com/news/national/bjd-opposes-dam-safety-bill-in-lok-sabha/article25727623.ece  (12 Dec. 2018)
AIADMK, also objected to the bill in its present form and expressed apprehensions regarding four dams Mullaperiyar, Parambikulam, Thunakadavu and Peruvaripallam which are located in Kerala but owned, operated and maintained by the Tamil Nadu govt. AIADMK parliamentary party leader P Venugopal raised objections at an all party meeting convened by LS Speaker Sumitra Mahajan alleging that the bill was not circulated to the states before being introduced.
Tamil Nadu has raised concerns over the clauses, such as the composition of the national committee as well as authority, especially the representation of owner of the dam, that falls in another state.
In 2016, when the Centre attempted to introduce a similar bill, the former CM J Jayalalithaa had objected to the State Dam Safety Organization having jurisdiction over all dams located in a state. https://timesofindia.indiatimes.com/city/madurai/national-authority-to-ensure-safety-of-4-tn-dams-in-kerala/articleshow/67067583.cms  (13 Dec. 2018)
Tamil Nadu CM K Palaniswami has written a letter to PM Modi, recalling his previous communication in June, calling for consultation and consensus on the proposed legislation. Earlier, the Tamil Nadu Assembly had adopted a resolution demanding that the Dam Safety Bill, 2018, be kept in abeyance till a consensus was arrived at with all states, he said.
The state's 'main concern' was a proviso under the Bill, which specifies that where a particular dam in one state is owned by another, then the National Dam Safety Authority would act as the State Dam Safety Organisation for that particular dam, the CM said. This implied that the dam owning state would have no rights over the safety and maintenance of the dam located in another state, he told Modi.
He also recalled the state's earlier suggestion to include a sub-clause in the bill to ensure access to the dams by technical personnel for those dams which are located in forest areas and wildlife sanctuaries. But this was not included in the bill tabled in the Lok Sabha on Dec 12, the CM said. Palaniswami also requested the PM to not proceed further with the process of legislation on Dam safety "till such time Tamil Nadu's genuine concerns are addressed and a consensus evolved among all the states." https://indianexpress.com/article/india/tamil-nadu-demands-withdrawal-of-dam-safety-bill-by-the-centre-5494315/ (14 Dec. 2018)
DAMS
Polavaram Dam Chandrababu Naidu to erect 1st gate on Dec 17   Even as Supreme Court is talking about public hearings, Andhra Pradesh is installing gates over Polavaram Dam! https://www.thehansindia.com/posts/index/Andhra-Pradesh/2018-12-12/Chandrababu-Naidu-to-erect-first-gate-on-Dec-17/457081           (12Dec.2018)
HYDRO POWER PROJECTS
Uttrakhand SRINAGAR HYDRO POWER PROJECT TUNNEL LEAKS AGAIN RAISING SERIOUS CONCERNS OVER QUALITY OF CONSTRUCTION. A VILLAGE MANGSU IS FACING WATER LOGGING CAUSING PANIC AMONG VILLAGERS:
http://epaper.amarujala.com/garhwal/20181216/06.html?format=img&ed_code=garhwal  (16 Dec. 2018)
Jammu & Kashmir Kishanganga hydro power project tunnel dewatered to lay cables   To provide mobile connectivity to around a dozen habitation of remote Gurez valley for the first time, the Bandipora district administration took a task to lay the cable through the Adit-1 tunnel of Kishenganga Hydro Electric Project (KHEP) which was the only option to provide connectivity to villages with difficult topography," an official spokesperson said. The task of dewatering the 650-metre-long Adit-1 tunnel of the KHEP started on November 19 and was completed on December 9, Bandipora Deputy Commissioner Shahid Iqbal Choudhary said. https://energy.economictimes.indiatimes.com/news/power/kishanganga-hydro-power-project-tunnel-dewatered-to-lay-cables/67056312   (12Dec.2018)
Himachal Pradesh Malasiya company TNB to invests RM133 ml in Himachal power plant Tenaga National Bhd (TNB) is subscribing to a compulsorily convertible debenture (CCD) for 2.256 billion rupees to invest in the 180 MW Bajoli Holi HEP on Ravi River. The CCD is issued by GMR Bajoli Holi Hydropower Pvt Ltd (GBHH), which is constructing the 180MW run-of-river plant within the Himalaya Range in the State of Himachal Pradesh, said TNB. GBHH is a subsidiary of GMR Energy Ltd, in which GMR group has 52% stakes and TNB 30% stakes, rest held by private equity. "Project progress stands at 78% and is expected to commission by Oct 2019," TNB said in a filing with Bursa Malaysia. http://www.theedgemarkets.com/article/tnb-invests-rm133-mil-indian-power-plant (10 Dec. 2018)
Court rules TNB's negligence caused 2013 Cameron Highlands floods It worth to mention that TNB has created dam floods in 2013 as revealed by a Court Order, Malaysia: Nov 2, 2015: The plaintiffs filed the suit saying that TNB released water from the Ringlet reservoir at the Sultan Abu Bakar Dam at 12.20am on Oct 23, 2013, following heavy rains the previous day without any warning. The plaintiffs alleged that at 1am the same day, TNB again released water into Sungai Bertam, resulting in flooding in downstream areas of the river. At 2.45am the same day, they said, more water was released by TNB into the river, resulting in floods which destroyed properties and claimed four lives. They said TNB had acted negligently when it opened the spillway at the dam three consecutive times without giving any warning to residents and that they did not have time to evacuate and move their belongings to higher ground.
– In May 2018, justice Nordin Hassan allowed the suit after hearing witnesses from the plaintiffs and the defendant. "The court finds that the defendant is liable for the flood that caused destruction to the plaintiffs' properties and loss of lives," he said. He also ordered TNB to pay costs of RM50,000 to the plaintiffs who were residents comprising farmers and traders. Nordin held that the release of water by TNB was not a correct decision in the absence of the inflow measurement instrument. He said the court did not see any reason for TNB not to be equipped with such an important instrument since the dam began its operations in 1963.
"To me, this instrument should have been installed at the very beginning of its operations to assist in maintaining the appropriate water level at the dam and to ensure the volume of the water to be released if necessary," he said. The judge also said the defendant had pinned the blame on deforestation, intensive agricultural practices and disposal of garbage as the cause of the problem. "It is undeniable that those activities contribute to the problem of sedimentation and the release of rubbish in the reservoir, but it is the defendant's responsibility to take all necessary measures to maintain the water level at the dam at a safe level, particularly during monsoon season."
– Dec 2018: The Court of Appeal has upheld a High Court finding that TNB is liable for causing flash floods in the Bertam Valley in Cameron Highlands five years ago. A three-member bench chaired by Tengku Maimun Tuan Mat said the utility giant was responsible for maintaining the Sultan Abu Bakar Dam. "TNB cannot hold others responsible as they are the owners and operators of the dam," said Tengku Maimun, who sat with justices Mary Lim and Hasnah Mohammed Hashim. The bench also ordered a Kuala Lumpur High Court judge to assess the quantum of damages to be awarded to the 100 plaintiffs who brought the negligence action against TNB. https://www.freemalaysiatoday.com/category/nation/2018/12/11/court-rules-tnbs-negligence-caused-2013-cameron-highlands-floods/  (11 Dec. 2018)
Amid this the TNB shares has slipped despite renewable energy deal in India, which is another indication of non-viability of large hydro. Ever since TNB signed deal to invest in 120 MW Bajoli Holi HEP in HP in India, its shares are going down. https://www.thestar.com.my/business/business-news/2018/12/12/tnb-shares-slip-despite-renewable-energy-deal-in-india/         (12Dec.2018)
Centre looks to sell SJVN stake without Himachal approval Centre says it can sell its 63.79% stakes in SJVN to NTPC without consent of Himachal Govt, the other stakeholder, to earn Rs 7000 Cr. SJVNL has 2,003 MW capacity operational, 1,572 MW is under construction, 1,848 MW is under pre-construction and 598 MW is under survey stage. https://energy.economictimes.indiatimes.com/news/power/centre-looks-to-sell-sjvn-stake-without-himachal-approval/67018793  (10 Dec. 2018)
IRRIGATION
Odisha Global and Indian financiers support solar water pumps in tribal areas  India's National Bank for Agriculture and Development and the Green Climate Fund have sanctioned US$34.4 million for a groundwater recharge and solar micro-irrigation project in tribal areas of Odisha. https://www.pv-tech.org/news/global-and-indian-financiers-support-solar-water-pumps-in-climate-threatene  (10 Dec. 2018)
URBAN RIVERS
SANDRP Video Plastic stream of Pouri Garhwal.
https://www.facebook.com/sandrp.in/videos/2531634460210042/
Once perrinial stream of Pouri town has been converted into waste water and solid waste carrying channel. (15 Dec 2018)
Sabarmati River, Ahmadabad Civic Bodies polluting Sabarmati Ahmadabad Gujarat Pollution Control Board says Sabarmati river is being polluted by the Ahmedabad Municipal Corporation and Ahmedabad Urban Development Authority. Will there be consequences? None. But GPCB itself is also responsible? https://timesofindia.indiatimes.com/city/ahmedabad/civic-bodies-polluting-sabarmati-gujarat-pollution-control-board/articleshow/67109539.cms  (15 Dec. 2018)
RIVERS
Heart of a River  Inspired by the rivers of India, the poetry of Nobel laureate Rabindranath Tagore, and data about the effects of climate change and pollution on India's rivers, DJ Spooky partners with musicians from Brooklyn Raga Massive, composer and author Rave' Mehta, and designer Geeta Mehta to present a multimedia portrait of water. https://www.evensi.us/heart-river-multimedia-portrait-water-150-17th-st-york-10011/277026950   (14 Dec. 2018)
Damodar valley is rich in prime coking coal. Industrialization and other anthropogenic activities have affected the health of the river severely.
https://twitter.com/geographyandyou/status/1072406958278352896
NARMADA Heavy metals, slow flow killing the Narmada Narmada river, dried up downstream of the Sardar Sarovar Dam, gets loads of pollution from Ankaleshwar via Amlakhadi stream from left bank and from Bharuch city via Bhuki drain from right bank. Recently CWC and Gujarat Environment Management Institute pointed this out in two separate reports. https://timesofindia.indiatimes.com/city/ahmedabad/heavy-metals-slow-flow-killing-the-narmada/articleshow/67017571.cms (10 Dec. 2018)
GANGA IRW 2018  Saving Ganga: Just clean-up won't do River Ganga's uninterrupted flow is as important as making the river pollution free if the Ganga rejuvenation drive has to show desired results says river experts and activists during India Rivers Week 2018 held at the World Wildlife Fund, New Delhi on November 24-26, 2018.
During the seminar, the India Rivers Forum also discussed the impacts of hydropower projects, interlinking of rivers, waterways, dredging, river-front development, unsustainable sand mining, encroachments into the river and extraction of groundwater. It was of the view that the govt had made little effort to assess the impact of these interventions on the river.
Questioning the central government's recent notification on environmental flow, Himanshu Thakkar of SANDRP points to a joint report of the Ministries of Environment & Forests and Water Resources of 2015 that presents the scientific methodology on assessment of e-flows in a river. "The present notification does not have a scientific basis and is ad hoc. Further, it is alarming that the notification mandates minimal flows three years from now," says Thakkar. He raises doubts on the e-flow implementation process as the notification says that the minimal flows have to be ensured by the project developers and the Central Water Commission, totally oblivious of the conflict of interest involved. The notification also leaves the technical modifications needed to comply to the e-flow levels with the developers. http://www.indiawaterportal.org/articles/saving-ganga-just-clean-wont-do  (13 Dec. 2018)
Center PM laid foundation stone STP at Allahabad   On Dec. 14, PM Modi laid foundation stone stone/ inaugurate sewage treatment in Ganga at Allahabad… PMs have been doing this for 34 years now, but why is the state of Ganga sees no improvement? http://pib.nic.in/newsite/PrintRelease.aspx?relid=186427  (14 Dec. 2018)
Groundwater exploitation, running Ganga dry– Interesting statement from Secretary, MoWR Shri U P Singh: Linking the problem of Ganga Cleaning with over-extraction of groundwater, Secretary, Ministry of Water Resources, River Development and Ganga Rejuvenation Shri U.P. Singh said that there is an urgent need for paradigm shift in water resources management as it would help in maintaining the Aviralta of River Ganga. He expressed deep concern on the depleting levels of aquifers stopping the water flow back to the river. He stressed on the need to talk about issues of groundwater recharge, maintaining floodplains, rain water harvesting and restoration of water bodies. http://pib.nic.in/newsite/PrintRelease.aspx?relid=186128  (5 Dec.2018)
Innovation to drive the Ganga Cleaning Mission   Interesting outcome: "A working group would also take up development of a model Urban River Management Plan which would be looking comprehensively at the interrelation of river and city and connecting people with the city. Denmark offered their support in this matter." It also said: Ganga: The Centre for Ganga River Basin Management and Studies is a think-tank and Centre of Excellence to the National Mission for Clean Ganga. http://pib.nic.in/PressReleaseIframePage.aspx?PRID=1555277  (8 Dec. 2018)
Bihar Govt on board on Inland Waterways   In spite of all the protests of Bihar CM Nitish Kumar against Ganga as National Waterways notwithstanding, Bihar has joined the bandwagon, this will further destroy Ganga: The cargo if of Pepsi if also symbolic! http://pib.nic.in/PressReleaseIframePage.aspx?PRID=1556043 (15 Dec. 2018)
Uttrakhand Char Dham All Weather Road: Despite SC orders muck dumping in Alaknanda River continues on Badrinath NH. Similarly many villages along the slope on Chamba Rishikesh highway are affected due to muck dumping says the Amar Ujala 16 Dec. 2018 report. http://epaper.amarujala.com/garhwal/20181216/05.html?format=img&ed_code=garhwal  (16 Dec. 2018)
Yamuna Delhi

Industrial units in Yamuna Nagar, Panipat in Haryana continue to pollute Yamuna river. This will surely disrupt Delhi water supply in coming days:
FISH, FISHERIES, FISHERFOLKS
SANDRP Report  Community-led projects in Meghalaya are helping the rare mahseer thrive   SCROLL has republished SANDRP blog by Parineeta Dandekar:   https://scroll.in/article/904599/many-fish-in-the-river-community-led-projects-in-meghalaya-are-helping-the-rare-mahseer-thrive   (11Dec.2018)
Odisha Reservoir Fishery Policy to augment production The State Govt will soon introduce a new reservoir fishery policy for scientific management of vast and valuable reservoir resources and augmentation of fish production.The Odisha State Reservoir Fishery Policy 2019 is being formulated. As per the draft policy, fishing rights of all reservoirs above 10 hectare Mean Water Spread Area (MWSA) will be vested with Fisheries and Animal Resources Development (ARD) Department.Fishing rights of reservoirs up to 10 ha will be transferred to respective gram panchayats for leasing them out to primary fishermen cooperative societies (PFCS). The reservoirs have been classified according to size. While water bodies having MWSA of 10 hectare to 1000 hectare will be known as minor reservoir, those of 1001 hectare to 5000 hectare will be termed medium and the big ones with an area of over 5,000 hectare will be categorised as large reservoir.
– Preferences will be given to displaced persons/project affected persons to be members of PFCS. A lease value of Rs 60 per hectare per year will be charged to PFCSs/SHGs for fishing in minor reservoirs and Rs 240 per hectare as seed cost. The lease value will be Rs 20 per hectare for medium and Rs 10 for large reservoir. There will be ban on fishing in selected areas from June 15 to August 31 every year for fish breeding."The new policy will replace the State Reservoir Policy of 2012 once it gets the approval of the Government," the official added. http://www.newindianexpress.com/states/odisha/2018/dec/13/reservoir-fishery-policy-to-augment-production-1910920.html (12Dec.2018)
Study Fish population declining in the Sundarbans  A change in human behaviour is critical to save the adversely affected fish population of the Sundarbans, the world's largest mangrove forest, according to a team of scientists. The range of advisable human activities need to be incorporated into govt policy, and the best place to do so is the state action plan for climate change, the researchers said. https://indiaclimatedialogue.net/2018/12/17/fish-population-declining-in-the-sundarbans/ (17 Dec. 2018)
WETLANDS, LAKES, WATER BODIES
Tamil Nadu Court says artificial shrimp farms harmful to wetlands   IMP ORDER: 'Waste water discharge will affect ecology'. In a judgment that has come as a shot in the arm for those fighting for protection of wetlands, the Madras High Court has ruled that setting up of artificial shrimp aquaculture farms on the boundaries of wetlands and consequent construction of ponds and other infrastructural facilities are "hazardous and are bound to degrade the marine ecology, coastal environment and the aesthetic uses of the wetlands."
– Justices M.M. Sundresh and Krishnan Ramasamy passed the ruling in a peculiar case where the Forest and Fisheries departments were at loggerheads over permitting a 1.39 acre shrimp farm on the boundary of the Kazhuveli wetlands spread over 74 sq. km in Tindivanam Taluk of Villupram district. The wetland was a place for the congregation of 40,000 migratory birds every year, the court was told. Authoring the judgment, Justice Ramasamy said: "It appears, fifth and sixth respondents (Assistant Director of Fisheries and District Level Committee) have filed their counter affidavits not to protect the interest of the public but only to protect the interest of the petitioner. https://www.thehindu.com/news/national/tamil-nadu/court-says-artificial-shrimp-farms-harmful-to-wetlands/article25721353.ece/amp/ (12Dec.2018)
WATER OPTIONS
Op-Ed Plantation no solution to impending water crisis Peter Smetacek  
– The environment ministry, in its various avatars, has planted forests since independence, with no results to show for the vast sums of money spent. Planting trees creates a plantation, not a forest. Instead, for a start, we should allow forests to regrow naturally.
– Dreadlocks are the perfect analogy for the dense forests that once covered not only the Himalaya but also the headwaters of peninsular India's rivers. Our rapacity and mismanagement of these rivers and streams after independence have reduced them from perennial to seasonal, leaving us on the brink of water wars. The dreadlocks have been shaved and, according to prevailing wisdom in the environment ministry as well as the governmental research community, combed, trimmed hair – plantations – is equivalent to Shiva's dreadlocks in controlling surface and groundwater systems.
– For proponents of building check dams to tackle the water crisis, it needs to be pointed out that most Indian rivers, especially those in the peninsula, were historically perennial. There were no check dams on them. Suffice it to say that allowing forests to regrow naturally is what we as a nation should work towards, for two reasons. First, it is a long-term solution that will never again need any investment and does not carry any downsides such as siltation or displacement. Second, it is practically free.
– All that is needed is that money being thrown away on "planting forests" is used to improve the condition of state forest departments' field staff and augment their number. We need to revert to status quo ante which had worked well for thousands of years, not a new narrative of linking rivers, building dams and depending on reservoirs. If the same mindset that has effectively destroyed our natural water systems continues to chart the plan for their rejuvenation, then disaster is the foregone conclusion. https://scroll.in/article/899809/india-is-planting-forests-to-forestall-impending-water-crisis-it-is-a-fool-s-errand  (17 Dec. 2018)
Kerala Open wells check groundwater depletion Anand Zacharias, development associate (water) with MS Swaminathan Research Foundation, talks about how open well recharge system is helping Kerala overcome its water crisis. https://www.downtoearth.org.in/interviews/water/-climate-change-one-of-many-reasons-for-kerala-s-receding-groundwater-table–62433  (10 Dec. 2018)
About Think Phi India's leading sustainable company ThinkPhi started with a simple product – an inverted canopy that provides shade, rainwater harvesting and generates solar power. Three years later, it has additional features like a hotspot and device charging.
According to the company, the canopies, primarily used at car parking areas, walkways, parks and more, have harvested over 1.7 million units of renewable energy and 38 million litres of rain water, and avoid 1.25 million kgs of CO2 annually across India and Asia Pacific. Several of our products have already been installed at locations like Nagpur Metro, Hyderabad Airport, and BMC Garden. Check out:  https://www.instagram.com/thinkphi (13Dec.2018)
GROUNDWATER
CGWA Revised Guidelines for Ground Water Extraction Notified, to be Effective From 1st June 2019  The Central Ground Water Authority on 12th December 2018 notified revised guidelines for ground water extraction vide notification S.O. No. 6140 (E), which will be effective from 1st June 2019.
"India is the largest user of ground water in the world, extracting ground water to the tune of 253 bcm per year, which is about 25% of the global ground water extraction.
Out of the total of 6584 assessment units, 1034 have been categorized as 'Over-exploited'  253 as 'Critical', 681 as 'Semi-Critical'  and 4520 as 'Safe'  The remaining 96 assessment units have been classified as 'Saline' due to non-availability of fresh ground water due to salinity problem."  http://pib.nic.in/PressReleaseIframePage.aspx?PRID=1555824      (13 Dec. 2018)
The guidelines, in line with the earlier directions of the NGT, also insist on mandatory audit for industries extracting 500 m3/day or more groundwater in safe and semi-critical regions, and 200 m3/day or more in critical and over-exploited regions.
All users of groundwater in the country, barring the armed forces, farmers and individual households, may have to cough up more from June 1 next year as the Centre has decided to slap — for the first time — a water conservation fee (WCF) on groundwater extracted.
The WCF, which varies with the category of the area, type of industry and quantum of water extraction, was one of the major features of the revised groundwater extraction guidelines notified by the Ministry of Water Resources, an official statement said on Dec. 12. Apart from industrial units, all business establishments and infrastructure projects, such as residential complexes, office buildings, hotels and hospitals, have to pay WCF. It could vary from ₹1 to ₹100 per m3 of water extracted.
The WCF will progressively increase from safe to over-exploited areas and from low to high water consuming industries as well as with increasing quantum of groundwater extraction. The WCF is meant to discourage the setting up of new industries in over-exploited and critical areas, and deter large-scale groundwater extraction by industries, the statement said. It is also expected to force industries to take steps to use water efficiently, and discourage the growth of packaged drinking water units.
While farmers and households using less than 1-inch diameter delivery pipes do not need to get a no-objection certificate (NOC) from the authorities, all others have to obtain an NOC and renew it regularly. Other salient features of the revised guidelines include encouraging the use of recycled and treated sewage water by industries, provision of action against polluting industries, and mandatory requirement of installing digital flow meters. https://www.thehindubusinessline.com/news/groundwater-to-be-billed-from-june-1/article25734679.ece  (13 Dec. 2018)
–  India accounts for about 25 percent of the overall groundwater extracted across the world every year and about 90 percent of that alone goes to the agriculture sector.  https://india.mongabay.com/2018/12/11/green-court-pushes-government-for-action-on-groundwater-regulation/  (11 Dec. 2018)
Punjab Use groundwater judiciously, warns CGWB Central Ground Water Board (CGWB) has finished aquifer mapping of 50, 369 km across Punjab and is compiling the data along with an analysis.
Farmers of Makhu block in Ferozepur have overexploited groundwater to an astonishing 146%. To make them understand the ground reality and judicious way of water use, officials CGWB held an interaction with farmers recently.
Many farmers complained of silt in the water drawn through his tubewell and they have no idea how to deal with the issue. The water is being drawn from even below 200 meter level by many farmers.
Strangely Satluj and Beas rivers merge at Herike site near Makhu in Firozpur as a result, the place get abundance of fresh water which is overexploited by people. https://timesofindia.indiatimes.com/city/chandigarh/use-groundwater-judiciously-warns-cgwb/articleshow/66997257.cms (8 Dec. 2018)
Tamil Nadu Well, groundwater level dipping in several areas  Rain Centre survey showed that monitoring wells located in areas like Anna Nagar, Parthasarathy temple, Presidency college, Virugambakkam, Saligramam, Music Academy, Ashok Nagar (18th avenue), Adyar cancer institute and Sastri Nagar and Adyar have completely become bone dry. The study was conducted in 24 monitoring wells in the city with most wells showing a sharp decline of groundwater.
Such depletion of ground water will directly impact residents of the city, who opt for constructing traditional open wells in open places, the water expert pointed out, and added that there should be strong awareness on RWHS.
The groundwater depletion is adding yet another problem to the Chennai Metropolitan Water Supply and Sewerage Board (CMWSSB), which might go for ground water sources, if the northeast monsoon fails. https://www.deccanchronicle.com/nation/current-affairs/081218/chennai-well-groundwater-level-dipping-in-several-areas.html (8 Dec. 2018)
Telangana Groundwater scenario to be perilous in 2019? According to the latest report by Telangana groundwater department, groundwater levels have already plummeted in November by six meters or more in many districts as compared to November last year. Fall in groundwater levels has been recorded in Hyderabad and all the surrounding districts.
In Rangareddy, home to many upcoming commercial and residential real estate projects, a massive fall of 7.77 meters has been recorded in November this year as compared to groundwater levels last year November.
Steepest fall in the state of 7.85 meters has been recorded in Sangareddy district. Fall of 6 meters and above has been recorded in Medak, Medchal, Gadwal, Mahbubnagar, Siddipet, Vikarabad and Suryapet. Even in Hyderabad, a fall of 2.1 meters has been recorded already.
As per the groundwater department report the rainfall has been below normal in 25 out of the 31 districts in the state. In as many as 18 districts the rainfall was deficient, getting recorded below normal by 20 percent to as much as 45 percent.
Apart from the deficient rainfall, the excessive dependence on groundwater for irrigation in Telangana and free 24X7 availability of power supply for agriculture is expected to have contributed to the fall in groundwater levels. http://www.newindianexpress.com/states/telangana/2018/dec/06/groundwater-scenario-to-be-perilous-in-2019-1907947.html (6 Dec. 2018)
URBAN WATER
Pune 8 of 21 PMC water tankers ineligible to run on road The Pune Municipal Corporation (PMC) found that 8 of the 21 water tankers plying on the city roads are 20 years old, much more than their expected life and sought to purchase 3 tankers to replace them.
PMC has a total of 21 tankers for 40 lakh residents, putting a pressure on the existing fleet and providing an opportunity for the private tanker operators to make money, as they demand high charges from people.
As per the state govt resolution, the life heavy vehicles used in public would come to an end after running for 2 lakh kilometre or for 10 years. So, the tankers brought into service by the PMC between 1992 and 1999 have completed their life.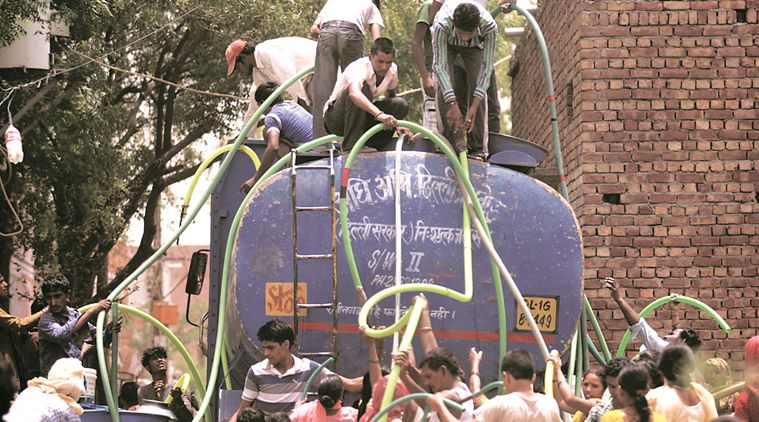 The oldest tanker is being used for 26 years, since it was pressed into service in 1992. There are 3 tankers that are being used for the last 23 years, 1 for 22 years, 2 for 20 years and 1 for 19 years. Thereafter, the PMC put a break on including new tankers in the fleet and restarted after 13 years, in 2012, and purchased 13 tankers.
The irrigation department have locked horns with the PMC over water supply to the city and has few times switched off the civic-run facility to lift the water from the Khadakwasla dam leading to spat between the two govt agencies.
The irrigation department has been alleging the PMC of drawing more water than that has been allowed for them while the civic body has been saying that the irrigation department has not made proper calculations to fix the exact need of water supply to city. The water problem has become the political issue in the city with all opposition parties alleging BJP of mismanagement of water supply. https://indianexpress.com/article/cities/pune/8-of-21-pmc-water-tankers-ineligible-to-run-on-road-5487447/ (11 Dec. 2018)
Water has always been a tricky issue for Pune, with the Irrigation Department claiming that the PMC draws more water than it is allotted. However, civic officials say the city requires more than its allocated supply, given its floating population.
5 dams near Pune supply water to areas under the PMC, and also to Daund, Indapur and rural parts of the district. The amount of water is 'reserved' for drinking as well as irrigation purposes. While the water levels of Khadakwasla, Temghar, Panshet and Warasgaon dams are relatively better, the Temghar dam reportedly only has 3.67 per cent water. With a long and gruelling summer ahead, water cuts can not only become a reality in Pune, they could also be a major issue in an election year. https://indianexpress.com/article/cities/pune/water-crisis-looms-large-over-pune-political-parties-start-blaming-each-other-for-it-5495703/ (16 Dec. 2018)
Water Resources Minister Girish Bapat Dec. 14 said that the PMC will appeal to the state govt against the Maharashtra Water Resources Regulatory Authority (MWRRA)'s directive that the Irrigation Department should reserve 8.19 TMC water for the city instead of 11.5 TMC.
The PMC needs to revamp its distribution system as a lot of water is lost due to weaknesses in the system, he said, adding that the PMC was drawing 1,650 MLD water from Khadakwasla dam while it was allowed to draw only 1,150 MLD, according to the Irrigation Department.
According to the MWRRA directive, the PMC was eligible for water of 7.84 TMC in 2017. The PMC also supplies water to the Cantonment Board, which has a population of 1.58 lakh, so it is allowed to have a water supply of 8.19 TMC. https://indianexpress.com/article/cities/pune/pmc-will-appeal-against-mwrra-order-on-water-says-girish-bapat-5494754/  (15 Dec. 2018)
Mumbai Firm in financial stress given contract, BMC water tunnel project stares at delay The Brihanmumbai Municipal Corporation BMC is facing a long delay in its ambitious water supply tunnel project from Chembur to Parel through Wadala after awarding the multi-crore contract to Soma Enterprises a company undergoing a serious financial crisis.
Even over five months since the contract was awarded, there is uncertainty over whether the work will begin with the company having failed to pay the legal charges, bank guarantee and Earnest Money Deposit (EMD) to get the formal work order.
This tunnel, a key preparatory work to plan for Mumbai's water supply needs for the next 20 years, was first proposed in 2011-12. In 2018, the contractor was finalised. The tunnel will be constructed 100-110 m below the ground and will be a 9.7-km stretch from Chembur to Parel. The municipality's planned water supply tunnel project from Chembur to Parel through Wadala will solve the water supply grievances of people from Kurla to Parel, or a large chunk of central Mumbai.
Delayed by almost six years, the project now has a fresh deadline of 74 months (six years, two months) for completion. But five months since that fresh deadline was set, not even initial works have begun. A couple of notices have been issued to the company, and it was given extensions to pay the charges. The last extended deadline was the last week of November.
Sources said the BMC was aware that the company was facing financial difficulties, but there was pressure from senior officials to award the company the contract. Normally, in such cases, after the lapse of an extended deadline, tenders are re-invited or the contract awarded to the second lowest bidder. The BMC has not initiated any such step yet. Earlier this year, Soma was under a debt of over Rs 3,600 crore. It restructured its debt to avoid insolvency. https://indianexpress.com/article/cities/mumbai/water-supply-tunnel-in-mumbai-firm-in-financial-stress-given-contract-bmc-project-stares-at-delay-5492723/  (14 Dec. 2018)
WATER POLLUTION
Report Toxic Water, Toxic Crops: India's Public Health Time Bomb   Circle of Blue paints a rather scary picture of deteriorating quality of water in India. https://www.circleofblue.org/2018/india/toxic-water-toxic-crops-indias-public-health-time-bomb/
WATER
Gujarat  Study Hints at Scam Rs 345-cr Jal Sanchay Yojana Inconsistencies in Gujarat water conservation claims as per IWMI study: The International Water Management Institute (IWMI), an international not-for-profit research organisation reported widespread inconsistencies in the Gujarat government-instituted Rs 345-crore Sujalam Suflam Jal Sanchay Abhiyan Yojana, a water-conservation project. In its findings, the IWMI reported lack of tenders, differences in payment of workers' wages under Mahatma Gandhi National Rural Employment Guarantee Act (MGNREGA) and political interference in the manner of implementation of the scheme.
In its study, however, IWMI found out that not only were no tenders floated to conduct the desilting operations, the areas to be potentially desilted were also politically influenced. Most importantly, there was no technical support provided by the govt to carry out the desilting operations.
The IWMI study was carried out in around 40 villages, with around three villages being selected across the 13 districts the study was carried out in. https://newscentral24x7.com/political-interference-no-tenders-study-hints-at-scam-in-gujarat-cms-rs-345-crore-jal-sanchay-yojana/  (10 Dec. 2018)
The IWMI study, involving 14 economic professors from universities across Gujarat for the field work, mapped 13 of the total 33 districts with the objective to see if the work claimed to be have been done by the state govt actually happened on ground.
In its preliminary findings, the study found that the govt departments did not issue tenders for desilting work, while local politicians influenced the site for the desilting operation. There was also little technical support or guidelines from the govt regarding the depth at which desilting was required to take place, the study found.
The study relied on data collected from 40-odd villages — on an average three villages were chosen per district — that were selected on the criteria like maximum silt excavated, locations with best implementation, places with high contribution from villages, places that had over-exploited underground water levels and salinity ingress. Misappropriation of silt was also very commonly observed by the researchers. https://indianexpress.com/article/cities/ahmedabad/holes-in-gujarats-water-drive-absence-of-tenders-misuse-of-silt-5486154/  (10 Dec. 2018)
Rajasthan A future without water?  "Sikri is a small village that lies 65 km north-west of Bharatpur on the Alwar road. The village used to depend on a traditional irrigation system that assured water throughout the year. A local saying related to the water availability at Sikri goes thus: Lakh daal le chittri, jay rahoongi Sikri (You may put lakhs of fetters to stop it, but the waters will still reach Sikri). This saying has lost its sheen today as the village is now finding itself in the centre of a struggle for water among farmers."
– Traditionally, as per the district gazetteer of Bharatpur, "Surface water conservation is done through 197 earthen dams with a total storage capacity of about 226.7 million cubic metres. There are a total of 90 canals with a total length of 650 km. This unique system helped in replenishing the phreatic aquifer with freshwater and suppressed groundwater salinity".
– "The system is not operational today because of the reduced capacity of diversion channels, silting of canals, riverbeds and detention reservoirs. There is a need to restore the existing irrigation system through desilting measures. More than anything, the water flow into these structures has reduced. The system, with its elaborate canal, distributaries and sluices, is completely dry since 2012," says Gujjar. He adds that "the construction of johads and anicuts for water harvesting from 1985 onwards by the NGO Tarun Bharat Sangh has helped improve the water availability in the upper reaches of the Ruparel in Alwar district but has inopportunely reduced the inflow into our system".
– The act of supplying canal-based irrigation waters to the Sikri area is fraught with its own risks—the risk of the water being gobbled up for water-intensive crops like paddy and sugarcane. There is a need to move away from a mere restoration and increase of storage capacity of village ponds, anicuts, earthen dams, tanks and canals to improving the water use efficiency to meet the future water demand.  http://www.indiawaterportal.org/articles/future-without-water   (11Dec.2018)
BBMB Conference on sustainable water mgmt To discuss various aspects of sustainable water management, the Bhakra Beas Management Board (BBMB) organized a two-day 'First International Conference on Sustainable Water Management', on 10, 2018. The Conference, was held at Mohali, under the aegis of ongoing National Hydrology Project (NHP) of the Union Ministry of Water Resources. Himachal Pradesh Governor Acharya Devvrat was the Chief Guest and Union Ministry of Water Resources's secretary UP Singh was the Guest of Honour. https://www.dailypioneer.com/2018/state-editions/1st-int—l-conference-on-sustainable-water-mgmt-today.html  (10 Dec. 2018)
FLOOD 2018
Kerala Floods Human hand in nature's fury GREAT piece by one of the directors of CWC about the completely unaccountable governance of our disaster management. https://www.thestatesman.com/opinion/the-human-hand-in-natures-fury-1502714328.html  (7 Dec. 2018)
Assam MoU between India Govt & ADB on a $60 Ml Loan Agreement to reduce floods and the riverbank erosion  The Asian Development Bank (ADB) and the Govt of India signed a $60 Million Loan Agreement here today in New Delhi to continue financing riverbank protection works, renovation of flood embankments, and community-based flood risk management activities in critically flood-prone areas along the Brahmaputra River in Assam. The Tranche 2 loan is part of the $120 million multi-tranche financing facility (MFF) for the Assam Integrated Flood and Riverbank Erosion Risk Management Investment Program approved by the ADB Board in October 2010."
The Program will fund a combination of structural and nonstructural measures in the three subproject areas of Palasbari-Gumi, Kaziranga, and Dibrugarh along the Brahmaputra river which include 20 km of riverbank protection works and upgrading of 13 km of flood embankments. The Project will continue to support the institutional capacity development of the autonomous body anchored to the Assam Water Resources Department, named Flood and River Erosion Management Agency of Assam (FREMAA), and Assam State Disaster Management Authority (ASDMA), as the executing and implementing agencies for this Project. http://www.pib.gov.in/PressReleseDetail.aspx?PRID=1555846  (13 Dec 2018)
Report India: a turbulent tale of rivers, floods and monsoons   Sunil Amrith Allen Lane (2018) [Unruly Waters: How Mountain Rivers and Monsoons Have Shaped South Asia's History] writes that it has never been solely a question of technology or science that can be solved within political borders. The unruliness of water means that the business of working with it is "deeply inflected with cultural values, with notions of justice, with ideas and fears about nature and climate". https://www.nature.com/articles/d41586-018-07678-2   (12Dec.2018)
DROUGHT 2018
India Water Portal Dealing with droughts   This year too, 255 districts of the country have received deficient or scanty rainfall. More than 50 percent of the districts in Bihar, Jharkhand, West Bengal, Gujarat, Tamil Nadu, Meghalaya, Karnataka, Arunachal Pradesh and Goa have been affected. Some states have declared drought while others are still in the process of doing so.  http://www.indiawaterportal.org/articles/dealing-droughts  (13Dec.2018)
Gujarat Waste water a saviour for withering crops  This is ironic on several counts: Farmers in drought hit regions of Gujarat are at the mercy of buying waste water from mineral water plant. Why should the mineral water plant be allowed to operate when farmers do not have water? The farmers are not getting Narmada water in spite of repeated requests. https://timesofindia.indiatimes.com/city/rajkot/waste-water-a-saviour-for-withering-crops/articleshow/67067093.cms   (13Dec.2018)
As per another report, against Gujarat's share of 9 MAF from Narmada river in a normal year, it is likely to get 6.83 MAF in 2018-19, due to lower rainfall and lower flows in the river. Gujarat got 4.71 MAF in 2017-18. "The 600 cusec water is now being released through Garudeshwar Weir since a gate has been installed there," Gujarat Deputy CM Nitin Patel said. https://indianexpress.com/article/cities/ahmedabad/gujarat-to-get-nearly-2-million-acre-feet-less-water-from-narmada-5496477/  (17 Dec. 2018)
Maharashtra This report makes a number of important points as to why the drought in Maharashtra this year is worse than 1972 drought, why Jalyukta Shivar Yojana is a major flop, and rather a problem, and why the 2016 drought manual is also hindrance to recognising the drought issue, and why long term steps are necessary along with relief immediately. https://www.epw.in/journal/2018/48/editorials/drought-maharashtra.html (8 Dec. 2018)
Another a bit strange report that is possibly trying to justify the poor quality of Jalyukta Shivar work in Maharashtra villages in Nagpur district.  https://timesofindia.indiatimes.com/city/nagpur/poor-rains-hit-jalyukta-shivar-project/articleshow/67119543.cms  (17 Dec. 2018)
AGRICULTURE
Centre Union cabinet approves agricultural export policy  The Union cabinet Dec. 13 has approved an export policy for agriculture, lifting all restrictions on organic and processed food, to help the government's efforts to double farmers' income by 2022.
The 'Agriculture Export Policy, 2018' seeks to double farm exports to $60 billion by 2022 from $30 billion last year, and will invest .`1,400 crore to set up specialised clusters in different states for different produce to push exports. https://economictimes.indiatimes.com/news/economy/policy/union-cabinet-approves-agriculture-export-policy/articleshow/66974576.cms  (7 Dec. 2018)
SOUTH ASIA
India-Pakistan India okays dam on Ravi, will cut water flow to Pakistan   Centre AGAIN on Dec 7, 2018 approved the Shahpurkandi Dam Project on Ravi River in Punjab to benefit Punjab (5000 Ha irrigation and 206 MW Hydropower) and J&K (32173 ha irrigation). Its supposed to be National project, earlier approved in Nov 2001 and again in 2009.  https://timesofindia.indiatimes.com/india/centre-oks-dam-on-ravi-will-cut-water-flow-to-pakistan/articleshow/66978616.cms  (7Dec.2018)
The project will be implemented by the Punjab govt and the Centre will provide financial assistance of over Rs 485 crore (for the irrigation component) to the state over five years from 2018-19. The overall cost of the project is pegged at Rs 2715.70 crore and it is slated to be completed by June 2022. https://www.businesstoday.in/top-story/govt-nod-to-ravi-dam-project-in-punjab-to-help-india-arrest-access-water-flowing-into-pakistan/story/298334.html  (7 Dec. 2018)
India-Nepal India opens door wider to electricity exporters The headline is misleading: As the report says, the proposed changes are still to be  notified by Govt of India. http://kathmandupost.ekantipur.com/news/2018-12-08/india-opens-door-wider-to-electricity-exporters.html (8 Dec. 2018)
Pakistan Women activists stage protest against Neelum-Jhelum Hydropower project in PoK    Protest against Neelum Jhelum Hydropower Project in Pakistan. https://www.business-standard.com/multimedia/video-gallery/world/women-activists-stage-protest-against-neelum-jhelum-hydropower-project-in-pok-75827.htm (16 Dec. 2018)
AGU Blog Nyixoi Chongco rock avalanche in Tibet   Dave Petley on a 2200 year ROCK AVALANCHE in Yarlung Tsangpo (Brahmaputra) Basin in Tibet involving  a mass of 28 million cubic metres descending a vertical distance of 885 metres, and traveling a total of 4.6 km horizontally, representing exceptional mobility. 
The landslide deposit is about 50 metres thick.  The authors do not give an estimated age for the rock avalanche, nor a definite trigger mechanism, but the proximity to active faults makes them suspect that an earthquake might have been involved. https://blogs.agu.org/landslideblog/2018/12/14/nyixoi-chongco-rock-avalanche/     (14 Dec. 2018)
CHINA
Dragon's water weapon against India  This needs to be checked: "… out of the 718 billion cubic metres of surface water that flows out of Chinese-held territory yearly, 347 billion cubic meters (or 48.3% of the total) runs directly into India. Several major Indian rivers originate in Tibet, including the Brahmaputra, the Kosi, the Sutlej and the Indus."
– Similarly this also seems confirmation, considering the limited storage capacity of the ROR hydropower projects being built in Tibet.: "The silt-movement impediment by China's upstream dam projects constitutes a bigger threat to the biophysical vitality of the river and to the soil fertility of downstream plains than even the likely diminution of cross-border flows."
– NOT correct: "China's centralized, mega-projects-driven approach to water resources is the antithesis of the policy in India…" The author also exaggerates the power of anti dam NGOs in India. https://www.dnaindia.com/analysis/column-dragon-s-water-weapon-against-india-2694354  (11 Dec. 2018)
China appointed over 1m "river chiefs"  Very interesting system for rivers in China: The "river chief" system began more than a decade ago in the eastern province of Jiangsu. In 2016 the central govt decreed that every lake and river, or segment thereof in the case of larger ones, must have someone tasked with keeping them free of visible pollutants. By the end of June every river had at least one local official designated as its supervisor.
There are now nearly 1.1m river chiefs. The govt says they will be accountable "for life" for any serious pollution that relates to a lapse on their watch, but penalties have yet to be specified. Promotions in their regular jobs will take into account their riverine duties. Liu Dengwei, a researcher at the Ministry of Water Resources, says chiefs will not be unfairly punished for filth from upstream. Those with complaints about foul water can easily find out whom to call: noticeboards have been erected by almost every river and lake with the name and mobile-phone number of a chief.
Earlier this year a govt report said that surface water in nearly a third of "river sections" surveyed was too risky to touch, let alone drink. Water in nearly 15% of them was rated too dirty even for industrial use. Lakes are worse. The report says that out of 54 large ones surveyed, 29 contained water deemed unsafe for human contact.
Anecdotal evidence is promising. A man fishing in the Bahe river recounts how the water was "opaque green" and fetid just two years ago. Today it is clear and odourless. He credits the river-chief system.  https://www.economist.com/china/2018/12/15/to-curb-pollution-china-has-appointed-over-1m-river-chiefs  (13Dec. 2018)
ASIA
Laos No lesson learnt from dam disaster Amid review and investigation into Laos dam disaster, work on approximately 50 dams steadily continues.  With hundreds more dams planned for the country, environmentalists are sounding the alarm that the Mekong River system in Laos could be devastated, along with the lives of those relying on it. https://edition.cnn.com/2018/12/14/asia/laos-hydropower-dams/index.html (14 Dec. 2018)
THE REST OF THE WORLD
US Largest-Ever USDA Grant To Grow Vegetables With Wastewater  The U.S Department of Agriculture has awarded a $5 million grant to Georgia Tech for a pilot growing project using campus wastewater, the largest USDA grant the school has ever received. The school generated an estimated 424 million gallons of wastewater in 2o12, Chen notes, at an average rate of more than 1 million gallons per day. The 5 yr project began in Aug 2018.
– the wastewater will be cleaned up first via an anaerobic membrane biological treatment process to transfer organic contaminants into biogas remove pathogens like E. coli. The project will treat about 2,600 gallons of wastewater per day.  Before the nutrients are pumped to the hydroponic system, a smart membrane or nanomaterials will be used to extract trace contaminants like endocrine disruptors, heavy metals and pharmaceuticals. Water and produce quality and contamination from chemicals and microbes will be monitored. "We will also be testing (the fruits and vegetables produced) for food health and safety to ensure that our output meets national standards. https://www.forbes.com/sites/jeffkart/2018/12/11/largest-ever-usda-grant-to-grow-vegetables-with-wastewater/#2462be192c52 (11Dec.2018)
2019 Photo competition open- Gender & Water Integrity The US Department of Agriculture has awarded a $5 million grant to Georgia Tech for a pilot growing project using campus wastewater, the largest USDA grant the school has ever received. The school generated an estimated 424 million gallons of wastewater in 2o12, Chen notes, at an average rate of more than 1 million gallons per day. The 5 yr project began in Aug 2018.
– the wastewater will be cleaned up first via an anaerobic membrane biological treatment process to transfer organic contaminants into biogas remove pathogens like E. coli. The project will treat about 2,600 gallons of wastewater per day.  Before the nutrients are pumped to the hydroponic system, a smart membrane or nanomaterials will be used to extract trace contaminants like endocrine disruptors, heavy metals and pharmaceuticals. Water and produce quality and contamination from chemicals and microbes will be monitored. "We will also be testing (the fruits and vegetables produced) for food health and safety to ensure that our output meets national standards. https://www.forbes.com/sites/jeffkart/2018/12/11/largest-ever-usda-grant-to-grow-vegetables-with-wastewater/#2462be192c52   (12Nov.2018)
Trump Wants to Weaken Clean-Water Rules On Dec. 11, in the Trump administration's latest assault on the environment, the Environmental Protection Agency proposed rolling back Clean Water Act protections that have helped make America's rivers and streams fishable and swimmable, in the process threatening drinking-water supplies across the country.
Once again, the E.P.A. is disregarding basic science. This latest proposal obscures its harmful effects with legalese that draws dubious distinctions between certain streams even though pollution flows downstream regardless of the legal terminology the agency deploys. This is a thinly veiled effort to slash water pollution protections that have long been embraced by both Republican and Democratic administrations. https://www.nytimes.com/2018/12/12/opinion/trump-clean-water-weaken-rules.html  (12 Dec. 2018)
East Africa Tanzania agrees to construct $3 billion dam in wildlife park  Tanzania on Dec 12, 2018 signed a $3 billion agreement with two Egyptian companies to construct a huge hydroelectric plant in a game reserve that is a UNESCO World Heritage site. Conservationists have opposed the construction of the 2,115-megawatt hydroelectric plant along the Rufiji River in the Selous Game Reserve.  https://energy.economictimes.indiatimes.com/news/renewable/tanzania-agrees-to-construct-3-billion-dam-in-wildlife-park/67069431 (13Dec.2018)
WWF says Tanzania's agreement with Egyptian companies to build a huge hydroelectric dam in the Selous Game Reserve risks damage to an important wetland and could hurt the livelihoods of over 200,000 people who live downstream. The WWF criticized the project after Tanzania on Wednesday signed a $3 billion deal to construct the Stiegler's Gorge dam in the Selous wildlife area, a UNESCO world heritage site. https://energy.economictimes.indiatimes.com/news/power/wwf-says-tanzania-hydropower-dam-project-could-hurt-key-wetland/67076023  (13 Dec. 2018)
Brazil Energy minister favors more nuclear power but not hydro Brazil's incoming mines and energy minister, Bento Albuquerque, said that expanding hydro power is not viable. "The model of large hydropower stations is no longer viable, whether for environmental concerns or for the depletion of water resources," he said in the interview. https://energy.economictimes.indiatimes.com/news/power/brazil-energy-minister-favors-more-nuclear-power-but-not-hydro-report/66996129  (8 Dec. 2018)
Report Groundwater scans promise clearer picture for officials and scientists  Whats new here: Thanks to a 21st century upgrade of World War II technology, with a boost from—of all places—Denmark, both Butte and Glenn counties will have a better understanding of the underground layers where water flows and caches. This knowledge, apart from the scientific benefit, will inform groundwater sustainability plans required by 2022 under the state's Sustainable Groundwater Management Act (SGMA). https://www.newsreview.com/chico/aquifer-gets-mri/content  (13 Dec. 2018)
Global Rivers Catchments  In 2016 Hungarian cartographer Robert Szucs posted about a beautiful series of color coded maps of the river basins around the world. Since that time Szucs has completed a river basin map of the entire world with the same gorgeously lush effect.
Szucs also finished river basin maps of Canada, North America, Russia and Asia. These and other maps are available through Szucs' Etsy Store. https://laughingsquid.com/colorful-world-river-basin-maps/  (12 Dec. 2018)
CLIMATE CHANGE
Climate vulnerability assessment for India Himilayan region USING A COMMON FRAMEWORK  This vulnerability assessment of Indian Himalayan states says Assam is the most vulnerable, followed in decreasing order of vulnerability: Mizoram, J&K, Manipur, Meghalaya, W Bengal, Nagaland, Himachal Pradesh, Tripura, Arunachal Pradesh, Uttarakhand and Sikkim. The results sound a bit counter intuitive.  http://www.dst.gov.in/sites/default/files/IHCAP_Climate%20Vulnerability%20Assessment_30Nov2018_Final_aw.pdf
Climate change making forests grow upwards towards mountaintops This claim will need to be checked: "The upward advancement of timberlines, associated with climate warming, is unlikely to occur in the near future in the Sikkim Himalayas given the present stress on conservation and on the green and organic farming policies under the state's Chief Minister Pawan Chamling," said Hemant K Badola, Advisor-Biodiversity, Chief Minister's Office, Govt of Sikkim and one of the lead authors of the study. https://scroll.in/article/905290/climate-change-is-making-forests-grow-upwards-towards-mountaintops-but-sikkim-has-bucked-the-trend(13 Dec. 2018)
Warming Himalaya Will Affect the Monsoons Large mountains heat up so much that – like a pump – they suck moisture from the ocean. That is what we know as the monsoons." Arun Bhakta Shrestha, a senior scientist at the International Centre for Integrated Mountain Development, Nepal. https://thewire.in/environment/how-a-warming-himalaya-will-affect-the-monsoons  (10 Dec. 2018)
ENVIRONMENT
India alarmingly filthy even by the standards of poor countries   'Bharat' is not going to be 'swachh' anytime soon despite the ambitious programme launched by the Narendra Modi govt to clean the country. Next year India will send its second rocket to the Moon but when it comes to pollution, India is alarmingly filthy even by the standards of poor countries, writes The Economist magazine.  
India's air and water are heavily polluted causing not only a large number of deaths in the country but also contributing to the problem globally, it says.   https://economictimes.indiatimes.com/news/politics-and-nation/india-alarmingly-filthy-even-by-the-standards-of-poor-countries-the-economist/articleshow/66984995  (7 Dec. 2018)
Compiled by SANDRP (ht.sandrp@gmail.com)
Also see DRP News Bulletin 10 Dec. 2018 & DRP News Bulletin 03 Dec. 2018
Follow us on: www.facebook.com/sandrp.in; https://twitter.com/Indian_Rivers