In a shocking revelation, Jay Mazoomaar in this Indian Express report exposes how Wildlife Institute of India not only accepted consultancies from hydropower companies, but also diluted the mandate for the studies for given by statutory bodies like NGT, NBWL and FAC, but also provided compromised reports catering to the interests of the hydropower developers, thus trying to clear the way for the two controversial mega hydropower projects, one each in Dibang and Lohit river basins in Arunachal Pradesh. https://indianexpress.com/article/north-east-india/arunachal-pradesh/wildlife-institute-all-for-hydel-projects-in-arunachal-pradeshs-tiger-zone-5499656/
In case of the 3097 MW Etalin project being developed by Jindal and Arunachal Pradesh govt, the IE report says: "the WII was asked by the Ministry (MoEF) to assess the feasibility of the plan that requires 1,166 hectares of forestland in the valley. The Ministry's move followed a recommendation from its Forest Advisory Committee (FAC) to conduct an environment impact assessment study. Instead, the WII initiated a study to find how the project's impact on wildlife can be minimised". Thus instead of doing the mandated scientific impact assessment, the WII initiated a study to minimise the project's impact.
"The minutes record that the FAC (in Feb 2017 meeting) found the existing impact assessment study inadequate and sought multiple seasonal replicate studies before deciding on the Etalin project… not a conservation or impact mitigation plan," said Deepak Apte, director, Bombay Natural History Society, who resigned from the FAC weeks after that meeting.
However, in complete violation, IE reports, "in an advertisement to hire researchers for the study in December 2017, the WII described the nine-month project as "Preparation for Wildlife Conservation Plan for Impact Zone of Etalin HEP". This was because, the MoEF, in complete contradiction with the FAC minutes, asked WII to conduct the survey "on mutually agreed terms and conditions with the user agency".
In the second case involving 1750 MW Lower Demwe project of the Athena group in Lohit basin, ID report says: "the WII was asked to conduct a hydrology/ecology study by the National Board for Wildlife (NBWL) for the 1,750 MW Lower Demwe hydel project in Lohit district by Athena Demwe Power Limited (ADPL), a Special Purpose Vehicle of Athena Energy Ventures Pvt Ltd. However, records show, the WII held three meetings with ADPL "to find a way forward" and concluded three months ago that construction can be allowed while the institute conducted a two-year, Rs 1.85-crore study funded by the developer to decide the limits of the dam's peaking operations."
In this case, the NGT had set aside the project's green clearances in October 2017, with a three-member expert committee recommending "a comprehensive peer-reviewed study on the hydrology and ecology of three seasons". However, the Environment Ministry, again compromising the mandate of NGT, asked the WII to submit its report in three months and the institute conducted a "rapid foot survey" over 20 days.
One may not be terribly surprised by the compromises indulged in by MoEF, though its shocking and remains legally untenable. However, this is such a shocking and sad state of situation for WII, which has achieved some credibility, but is likely to lose it all with such compromised behaviour.
HYDRO POWER PROJECTS
Arunachal Pradesh Hydel project threatening a 'Dalai Lama'  After the shockingly compromising reports by WII on Etalin and Lower Demwe project, one has to be VERY apprehensive what they will say about Nyamjung Chhu HEP in Tawang basin. https://energy.economictimes.indiatimes.com/news/renewable/hydel-project-in-arunachal-threatening-a-dalai-lama/67175162   (20 DEC.2018)
Manipur Czech company to set-up mini hydro power projects  A prominent hydel turbine company from Czech Republic has signed a deal with Salai Holdings Pvt Ltd for setting up mini-power projects, first pilot project at existing Sekmai barragein in Imphal west. The Manipur govt has given the go-ahead to Salai to take up the smart hydel project. The exact capacity is yet to be decided. https://energy.economictimes.indiatimes.com/news/power/czech-company-to-set-up-mini-hydro-power-projects-in-manipur/67123996  (17 Dec. 2018)
Tamil Nadu Minister lays foundation stone for hydroelectric project  State electricity minister P Thangamani laid the foundation stone for the Kolli Hills Hydro Power Project at Kollimalai on Dec 21. 2018. He said that work on the Rs 339-crore 1x20MW project would be completed in three years. https://energy.economictimes.indiatimes.com/news/renewable/tamil-nadu-minister-lays-foundation-stone-for-hydroelectric-project/67202389  (22 Dec. 2018)
Himachal Pradesh Parbati-III power station shut down for maintenance NHPC 520 Mw Parbati III HEP has been shut down for three months for maintenance. It  was commissioned in 2014. https://energy.economictimes.indiatimes.com/news/power/hp-parbati-iii-power-station-shut-down-for-maintenance/67202272 (22 Dec. 2018)
Forest Advisory Committee meeting on Dec 19, 2018. Agenda out only in the evening of Dec 17. Some Water Resources Projects on Agenda:
DIVERSION OF 30.760 HA FOREST LAND FOR CONSTRUCTION OF NIRANDPUR TANK IN SAGAR DIST, MADHYA PRADESH.

DIVERSION OF 1016 HA OF FOREST LAND FOR SOMASILA PROJECT DIVISION –IV ATMAKU FOR FORESHORE SUBMERSION & EXCAVATION OF CANALS IN PRODDATUR, KADAPA, RAJAMPET & NELLORE DIVISIONS IN NELLORE DIST IN ANDHRA PRADESH.

SAND MINING BY THE MECHANICAL HANDLING/MECHANICAL MINING (JCB, SHUVEL EXCAVATOR ETC.) CONSTRUCTION OF LINK CANAL FROM TANAKPUR DAM BETWEEN INDIA – NEPAL BORDER. (NHPC)

DIVERSION OF 523.046 HA OF FOREST LAND FOR LOWER KOPILI HYDRO ELECTRIC PROJECT BY ASSAM POWER GENERATION CORPORATION LTD. UNDER DIMA HASAO WEST DIVISION, HAFLONG AND HANTREN DIVISION, ASSAM. http://forestsclearance.nic.in/AgendaDetail.aspx?id=212!dis1
DAMS
Andhra Pradesh Proposal for new barrage on Krishna river  Proposal to build new barrage on Krishna, lift Pattiseema water from there to Pulichintala to use it in early Kharif for paddy cultivation in Krishna delta.
Farmers feel that the proposed Vaikunthapuram-Damuluru Barrage should be designed as multipurpose project for supply of drinking water for Amaravati capital city and also release water for irrigation purpose at the season beginning to nurture paddy seed beds. The water can be shifted to Pulichintala with reverse turbines as another alternative plan to store water for early Khariff needs.   
Paddy is cultivated in nearly 14 lakh acres in Krishna delta under the purview of Krishna, Guntur, West Godavari and Prakasam districts. But the cyclones are creating hardships to farmers every year. The cyclones are hitting the Krishna delta during November-end and the first fortnight of December. At that time, the paddy crop will be in the harvesting stage in the delta. The farmers experienced crop loss for eight years during the last 10 years.
But the Water Resources department could not release water early for khariff season during the last three years due to various reasons like no sufficient water in Godavari at the particular beginning of season. If water is shifted to Pulichintala with the support of reverse turbines, it could be stored and released from June for seed beds in early khariff, said former drainage board member Erneni Nagendranath. Once paddy cultivation starts in June, harvesting can also be completed by October avoiding the recurring cyclones, he explained.          https://www.thehansindia.com/posts/index/Andhra-Pradesh/2018-12-19/Need-to-advance-kharif-stressed-/461052   (19 Dec. 2018)
Punjab Department builds dam to CM's farmhouse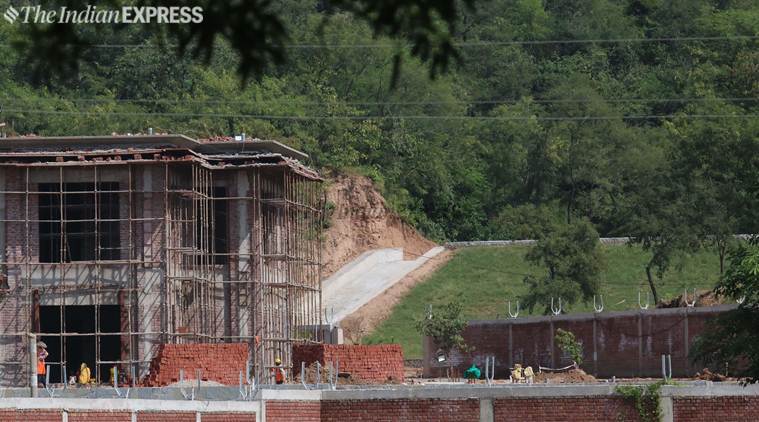 This alleges that to save the under construction farm house of Punjab CM from flooding by a seasonal rivulet, the Soil and Water Conservation dept under the CM is building a check dam just upstream of the farm house in Shivalik foothills. https://indianexpress.com/article/india/dept-under-punjab-cm-amarinder-builds-dam-helps-cm-farmhouse-5504783/  (22 Dec. 2018)
Punjab MLAs demand probe by HC Judge, and there are additional allegations here.  
BBMB Silt inflow into Bhakra reservoir to be checked    BBMB to launch a study of sedimentation in Bhakra reservoir as also some key sources of silt from around periphery of the reservoir. In last study in 2012, it was found that the storage capacity has reduced by 2100 MCM in 1958. ""Once the hot spots such are barren tracts of land, rivulets and nullahs, landslide-prone areas and human habitations are identified and indexed, we will work out an appropriate solution to check silt and soil inflow at these points."  https://www.tribuneindia.com/news/nation/silt-inflow-into-bhakra-reservoir-to-be-checked/700644.html               (19 Dec. 2018)
Gujarat Tribals lock officer in Kevadiya for jobs Tribals displaced by Sardar Sarovar Dam and also other related works are angry that govt has money for unnecessary extravaganza like Statue of Unity, but not for them. https://indianexpress.com/article/cities/ahmedabad/gujarat-tribals-lock-officer-in-kevadiya-for-jobs-5498256/  (18 Dec. 2018)
Protests continue against land acquisition around statue of Unity. PM is shown black flags.  https://indianexpress.com/article/india/farmers-protest-against-land-acquisition-hoist-black-flags-seek-compensation-5504941/ (22 Dec. 2018)
Dam Safety Bill objective, the objections  The Dam Safety Bill was first introduced in Lok Sabha in 2010. It sought to mandate the Centre, state governments and individual owners of dams to establish a mechanism for safety. It was to be initially applicable only to Andhra Pradesh, West Bengal and the Union Territories; the two states had passed resolutions under Article 252(1) of the Constitution requesting Parliament to make a law.
The Speaker referred the Bill to a Parliamentary Standing Committee, which submitted its report in 2011. It suggested that provisions be added for punishing the owner in case of dam failure and fixing liability for compensating affected people, and that an independent regulatory authority on safety measures and a national-level early warning system be set up. https://indianexpress.com/article/explained/dam-safety-bill-its-objective-the-objections-5503055/  (21 Dec. 2018)
RIVERS
NITI Aayog  Waste Water Discharge into Rivers Should be Reduced to Zero  No effective visionary recommendations here.    Waste water discharge from industrial units into rivers and other water bodies should be reduced to zero and stringent civil penalties to strengthen enforcement of environment-related acts were among recommendations of the NITI Aayog's comprehensive national strategy for 2022-23. https://www.news18.com/news/india/waste-water-discharge-into-rivers-should-be-reduced-to-zero-niti-aayog-1978429.html (19 Dec. 2018)
Himachal Pradesh NGT seeks report on froth in Baddi river  In Aug 2018, large scale froth was found in Balad river (a tributary of Sirsa river) in Baddi area in Solan in Himachal Pradesh. The NGT has through an order on Dec 14, sought a report as to why this occurred, possibly following leakage from some common effluent treatment plant of the industries. https://www.tribuneindia.com/news/himachal/ngt-seeks-report-on-froth-in-baddi-river/700723.html   (19 Dec .2018)
Maharashtra HC asks govt to take urgent steps to check Godavari pollution    The Bombay high court has ordered the Maharashtra govt to take appropriate measures to curb pollution in the rivers and other water bodies across the state. The court has also formed a monitoring committee that will continue as a permanent body and is also supposed to implement the recommendations of the National Environmental Engineering Institute (NEERI) in controlling river pollution.  https://economictimes.indiatimes.com/news/politics-and-nation/hc-asks-maharashtra-to-take-urgent-steps-to-check-godavari-pollution/articleshow/67145799.cms  (18 Dec.2018)
MPCB claims Mumbai's coastal, river water quality got better Maharashtra Pollution Control Board (MPCB) has claimed in its year-end report that the quality of water along the city coast and in Mithi River has improved. However, water quality expert and member of the committee constituted as per SC orders, professor AD Sawant said MPCB findings were incorrect and it was impossible for such a drastic improvement. Advocate Shehzad Naqvi, petitioner in a Bombay HC case regarding coastal water pollution, said the state environment department had submitted an affidavit earlier this month indicating that sewage weighing 655 mld enters the sea directly. https://www.hindustantimes.com/mumbai-news/mpcb-claims-mumbai-s-coastal-river-water-quality-got-better/story-m507ECMeFzmqHxlfB1NlbN.html (23 Dec. 2018)
GANGA Char Dham Road Project 7 labourers killed in landslide BIG Accident on Char Dham Yatra Project, 7 of 23 labours buried under debris following landslidedied:-
At least seven labourers died and four others were injured in a landslide as they were working on the Char Dham all-weather road project in Uttarakhand's Rudraprayag district on Dec. 21 afternoon.  https://www.hindustantimes.com/india-news/7-labourers-on-char-dham-road-project-in-uttarakhand-killed-in-landslide/story-NhcWWgzp9fvpfVxU1BuVsM.html (21 Dec. 2018)
Char Dham All Weather Road Project creates another landslide this time on Badrinath Rishikesh Highway near Farasu Mandoli village in Srinagar.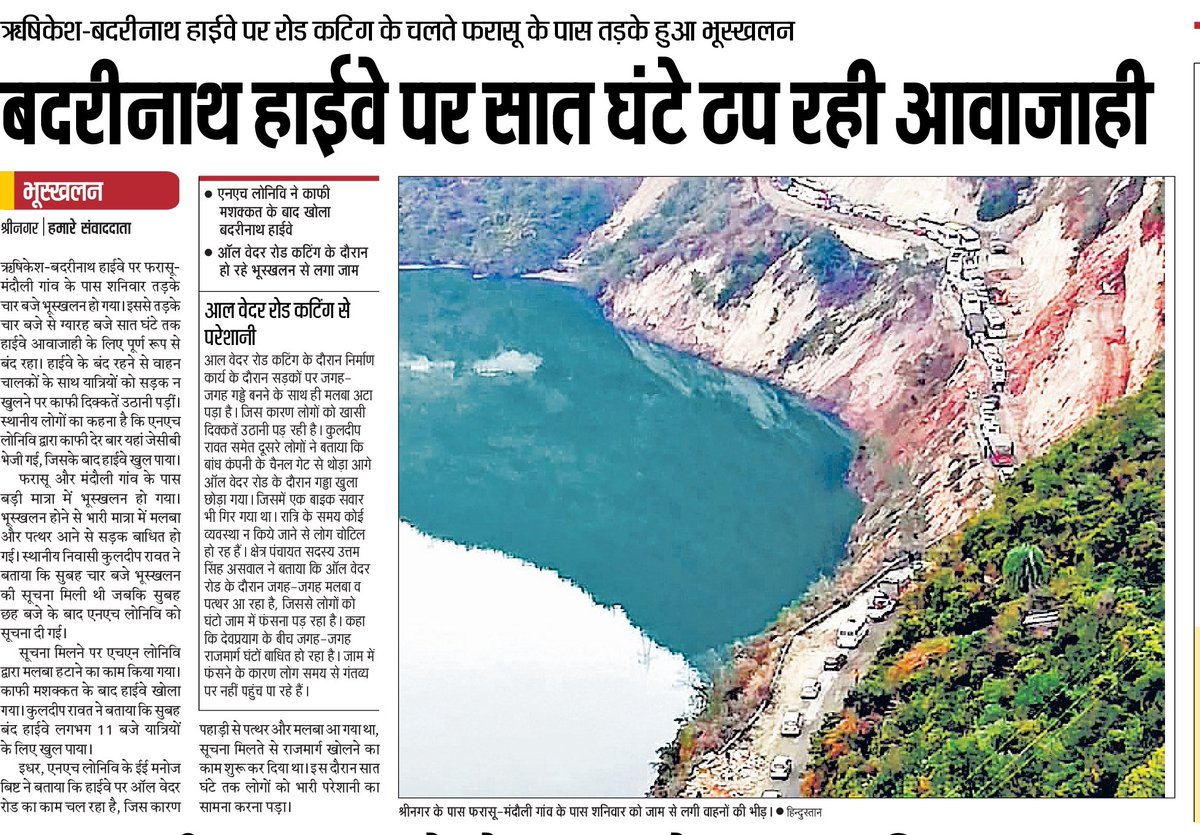 The work is damaging the roads causing difficulties for local commuters who are also getting injured during night time. People say debris and stones are falling continuously disrupting the traffic for hours. http://epaper.livehindustan.com/imageview_8333_112982592_4_137_23-12-2018_t_1.pagezoomsinwindows.php (23 Dec. 2018)
Uttrakhand Mother of missing Ganga activist Gopal Das begins fast in Rishikesh  More than a week after the disappearance of Gopal Das, who was on fast protesting against hydropower projects impeding the flow of the Ganga, his mother has embarked on a fast in Rishikesh, demanding that the Uttarakhand government disclose his whereabouts.
Das, 40, who was on a fast since June 24, was admitted to the Government Doon Medical College (GDMC) in Dehradun on December 4. He was last seen on CCTV cameras leaving the premises of the medical college on December 6. He has been missing since then. https://www.thehindu.com/news/national/other-states/mother-of-missing-ganga-activist-gopal-das-begins-fast-in-rishikesh/article25744840.ece (14 Dec. 2018)
Uttrakhand Forest Development Corporation says that NGT has disposed of Ganga riverbed mining case allowing it to start riverbed mining after observing Environmental Clearances from MoEF on the basis of FRI study.
Earlier the corporation was allowed to mine 18 lakh sq meter river material which was reduced to 10.26 lakh sq meter by Central Soil and Water Conservation Institute. MoEF has further reduced the amount to 3.34 sq meter but the corporation hopes that it would be increased in new EC. The corporation has sought EC from MoEF and would begin mining after it is granted. https://naidunia.jagran.com/national-mining-issue-cleared-in-ganga-and-its-tributaries-in-haridwar-2725945 (23 Dec. 2018)
CPCB Report 2 tributaries increasing Ganga pollution load Biological monitoring of the Ganga has shown that two major tributaries, Pandu and Varuna, are increasing pollution load of the river as they are "severely polluted" before their confluence point, a Central Pollution Control Board (CPCB) report has said. In Uttarakhand, the outlet from a sewage treatment plant in Jagjeetpur is also "adding a lot of pollutants". https://indianexpress.com/article/india/two-tributaries-increasing-ganga-pollution-load-report-5503080/  (21 Dec. 2018)
Only one out of 39 locations through which the Ganga river flows had clean water in the post-monsoon period this year, the PCB has said in its latest study. As many as 37 of the 41 locations through which the Ganga river flows reported moderate to severe water pollution in the pre-monsoon period this year, according to the 'Biological Water Quality Assessment of the River Ganga (2017-18)' report that was recently made public by the CPCB in compliance with a Supreme Court direction. https://www.ndtv.com/india-news/ganga-clean-at-one-out-of-39-locations-it-flows-through-central-pollution-control-board-1966647 (22 Dec. 2018)
Meanwhile, a team of experts from various institutes and scientific bodies, including Indian Space Research Organisation (ISRO), says that quality of Ganga water has improved for aquatic life. The survey of the river water was conducted under the two-year project given by the Ministry of Human Resource and Development (MHRD) in the year 2016. The project, though it ended in May 2018, got an extension up to February 2019. https://www.hindustantimes.com/lucknow/marine-life-in-ganga-set-for-a-splash-as-water-quality-improves/story-vgq94n6LVulYe4p1avx32I.html  (21 Dec. 2018)
Namami Gange NMCG sanctions projects worth Rs 2,192 crore for Kanpur zone  The National Mission for Clean Ganga (NMCG) under the Namami Gange programme has sanctioned projects worth Rs 2,192 crore for Kanpur zone to prevent the flow of sewage water into the river. The city, with an estimated population of 32 lakh, generates 450 million-litre of sewage and other solid waste every day. It has some 400 tanneries, which produce toxic effluents.
The untreated sewage from the city's 16 major drains has been directly flowing into the river Ganga for a long time. To prevent this, the NMCG has been tasked with restricting 250 mld untreated sewage water by tapping major drains. Sisamau Nullah, which produces 140 MLD of domestic sewage every day, has completely been tapped. https://www.timesnownews.com/mirror-now/in-focus/article/namami-gange-national-mission-for-clean-ganga-sanctions-projects-worth-rs-2192-crore-for-kanpur-zone/335635 (23 Dec. 2018)
Activists form own draft law for Ganga protection Unhappy with the Centre's draft law on Ganga protection and its notification brought out in October to regulate minimum environmental flow in the river, a group of scientists and activists have prepared a draft law of their own. Called as the People's Ganga Act, 2018, a draft of the law was discussed in New Delhi on Dec 17, 2018, which also saw former union environment minister Jairam Ramesh, Samajwadi Party MP Rewati Raman Singh and Rajya Sabha MP Pradeep Tamta of the Congress in attendance. https://www.dnaindia.com/india/report-activists-form-own-draft-law-for-ganga-protection-2697362  (18 Dec. 2018)
YAMUNA Delhi Is the Yamuna River Really Delhi's Dying Lifeline?  Very informative piece on ancient urban water wisdom by Sohail Hashmi renowned historian: – None of the seven capitals built in Delhi over the last 1000 years had used the water of the river. All the capitals used sub-soil water that was tapped through deep wells or step wells.
Most had their own rainwater reservoirs, which is why Delhi has many localities with Hauz as a prefix –Hauz Khas, Hauz Rani, Hauz-e-Shamsi, Neela Hauz. There are others that have Jheel as a suffix, like Najafgarh Jheel, Naini Jheel, Bhalswa Jheel.
There were more than 600 big or small lakes, reservoirs, ponds and barrages. A majority of them have disappeared, been encroached upon and deliberately filled with construction waste. The drying up of all these sources of water that used to trap the monsoonal water run-off has led to increasing pressure on the flow of the Yamuna.
Over the last 130 years or so, all the tributaries of the Yamuna that carried fresh water to it have become its largest pollutants. The river that was never the lifeline of the city was made into one. All other sources that had served the residents for over 1000 years were abandoned, thus a river that had lived for millions of years was killed in less than 70 years of it becoming the lifeline. https://www.thewire.in/urban/is-the-yamuna-river-really-delhis-dying-lifeline  (22 Dec. 2018)
Govt asked to set up early warning system for ammonia level A two-member committee appointed by the NGT has directed the Delhi govt to set up an early warning system for the Yamuna, which can alert authorities when the level of ammonia in the river water crosses the safe limits during the winter months.
The Delhi Pollution Control Committee (DPCC) has been directed to submit a timeline by which the system could be set up. A team comprising representatives from CPCB and NEERI has been directed to find out the sources of ammonia and file a report. The committee has also directed the CPCB to confirm whether all polluting industries and STPs in Haryana are connected to the CPCB's server for online monitoring.
In February 2018, the NGT had directed the chief secretaries of two states – Delhi and Haryana — to come up with a road map so that the recurrent issue of spike in ammonia levels in the river every winter could be resolved. https://www.hindustantimes.com/delhi-news/delhi-government-asked-to-set-up-early-warning-system-for-ammonia-level-in-yamuna/story-HRLGbpYGQzhvX7efyUdz6K.html (4 Dec. 2018)
Floodplains are "sacrosanct and need conservation" observed NGT Committee on Yamuna river: https://indianexpress.com/article/cities/delhi/for-preserving-yamuna-build-a-sense-of-ownership-among-public-monitoring-committee-5505968/ (23 Dec. 2018)
Uttar Pradesh Ganga water supply in Agra to start within 10 days  Under Ganga Jal Project, Agra on the bank of Yamuna will be supplied 140 cusec water of which supply of 60 cusec will be made soon and the remaining 80 cusec will be supplied in coming months, as per the report: https://timesofindia.indiatimes.com/city/agra/ganga-water-supply-in-city-to-start-within-10-days/articleshow/67048521.cms  (12 Dec.2018)
FISH, FISHERIES, FISHERFOLKS
West Bengal Kolkata boat museum: the only one of its kind   WOW (for the article and this piece of history) but SAD (for the neglect of the rivers and riverine culture): "We know very little of Bengal's riverine ecosystem and its culture. Historical texts use the term 'nousadhon', indicating how boats were used for various different purposes — commerce, travel, commute — making our culture chiefly riverine rather than landlocked. Unfortunately, we hardly know the details," says Upendranath Biswas, the former State Minister for Backward Classes Welfare Department, who conceptualised the Boat Museum project in 2012, who also specialises in cultural anthropology.
– Swarup Bhattacharyya, the curator of Maulana Azad Museum in Kolkata's Ballygunge area and a boat-enthusiast brought in by Biswas to help set up the Kankurgachhi museum, evidently has the dedication Biswas talks of. He addresses my queries about boats, explaining how the variety of waterbodies across Bengal, like khal (canal), pukur (pond), and doba (marsh land), necessitates the use of different kinds of boats. "Boat-building techniques are handed down orally from guru to shishya. They are tailor-made to the specific requirements of the area in which the boat functions," he says. https://www.thehindu.com/society/this-kolkata-boat-museum-is-the-only-one-of-its-kind-in-the-country/article25752259.ece    (15 Dec.2018)
DMF PR 23-12-2018: Fishing Communities in Jharkhand Resolve to Get Organised in Union and Build Up Formidable Resistance to Save Water, Save Fish, Save Fisher People
Mighty Sone River is dying. Thousands of fishers dependent on it are now turned into destitutes moving around in search of livelihood. Sone's waters are indiscriminately taken away for irrigation, industries and municipal use. Pollution from industries, urban agglomerations and agricultural runoff kills its water life including fish. Dams and barrages have further reduced the stock of fish by blocking their natural movement.
Fishing communities, the largest primary non-consumptive stakeholders of the river, gets less and less amount of fish with a day's labour. Then arrives the sand mafia. Large scale sand mining further degrades the quality of water. It destroys fish habitats and blocks navigation of fishing boats. Impoverished fishers witness the rape of their river, which once provided them with bounty of catch. Helpless before the state sponsored destruction of the river, the fishing communities leave the fishing villages in search of livelihood. Same situation grips Koel, Karo, Karena, Subarnarekha and other rivers of Jharkhand. And the story is not of Jharkhand alone.
Kerala Dead fish, oil films float in city rivers  Dead fish and films of oil now float in the city's rivers. While the fish kill occurred in the Muttarpuzha (a tributary of the Periyar) near the Manjummel regulator-cum-bridge over the last two days, reddish layers of oil have been found in the Periyar over the last three days near the Pathalam regulator-cum-bridge in Eloor in the city. https://www.thehindu.com/news/cities/Kochi/dead-fish-oil-films-float-in-city-rivers/article25785114.ece    (20 Dec.2018)
SAND MINING
Punjab Sand mine auctions: Failure to reply to HC notice led to stay, govt to fix responsibility The failure of mines department officials to file a reply to the notice of motion led the HC to stay the auction scheduled for Dec. 27. The case will now come up for hearing on Jan. 16, delaying the auction by at least a month. Even if the court vacates the stay on Jan. 16, the government will require time to conduct the online auction. https://indianexpress.com/article/cities/chandigarh/sand-mine-auctions-failure-to-reply-to-hc-notice-led-to-stay-govt-to-fix-responsibility-5503471/ (21 Dec. 2018)
Odisha Crackdown on illegal sand mining As part of its drive against illegal sand mining, a team of Rasulpur tehsil administration, led by its tehsildar, raided two ghats on the banks of Brahmani and Kharasrota rivers and seized six tractors and four trucks. Fearing an attack from illegal sand mining mafia, Rasulpur tehsildar Saroj Kumar Panda had taken a posse of policemen during the surprise raids. Panda said several complaints had been received by his office about illegal sand mining at several places on the banks of Brahmani and Kharasrota rivers under his tehsil. http://www.newindianexpress.com/states/odisha/2018/dec/17/crackdown-on-illegal-sand-mining-1912641.html (17 Dec. 2018)
Gujarat Illegal sand mining racket busted in Chhota Udepur District collector of Chhota Udepur raided sand mines in Bodeli in the early hours of Dec. 18 and seized six excavating machines for illegal mining activity and held one person. This was the third raid within a week by the team led by district collector on illegal sand mining activity that is rampant in the Orsang riverbed. On December 14 and 15 too raids were conducted at Puniyavant and Jabugam villages in the wee hours. Thirteen trucks and one sand excavating machine. https://timesofindia.indiatimes.com/city/vadodara/illegal-sand-mining-racket-busted-one-arrested/articleshow/67152413.cms (19 Dec. 2018)
WETLANDS, LAKES, WATER BODIES
Tamil Nadu To protect wetlands, court impleads 32 Collectors  The Madras High Court on Dec. 13 suo motu impleaded the State Wetland Authority chaired by the Chief Secretary as well as all 32 district-level wetland authorities chaired by the respective Collectors as respondents for preservation of wetlands across the State.
As per the National Wetland Inventory and Assessment (NWIA) conducted by the Space Applications Centre at Ahmedabad, wetlands were spread over 9,02,534 hectares in Tamil Nadu amounting to 6.92% of the geographical area. However, out of the hundreds of wetlands in Tamil Nadu, only a few had been given legal protection, he added.
Stressing upon the need for enacting a special legislation to protect the wetlands, The amicus recommended that the Tamil Nadu Town and Country Planning Act of 1971 could be amended prohibiting construction on wetlands. He suggested the formation of a wetland conservation policy similar to West Bengal. https://www.thehindu.com/news/national/tamil-nadu/to-protect-wetlands-court-impleads-32-collectors/article25737565.ece (14 Dec. 2018)
The State government on Dec. 20 notified Wetlands Authority of Tamil Nadu under the Wetlands (Conservation & Management) Rules, 2017. The Chief Conservator of Forests would be the authority's Member-Secretary. The State had in May 2016 constituted the State Wetlands Authority of Tamil Nadu. https://www.thehindu.com/news/national/tamil-nadu/wetlands-authority-notified/article25792555.ece(21 Dec. 2018)
Karnataka After Kolar, Bengaluru's sewage will now flow into Hoskote, activists protest As Kolar's residents continue to protest against the release of polluted water into their lakes, the Minor Irrigation department is planning to supply "treated water" from the Vengaiahnakere Lake in KR Puram to 30 lakes in Hoskote, in Bengaluru Rural district. https://www.thenewsminute.com/article/after-kolar-bengaluru-s-sewage-will-now-flow-hoskote-activists-protest-93868  (23 Dec. 2018)
Jammu & Kashmir Protect the Narkara wetland High Court while hearing a PIL filed by Environment Policy Group has directed the govt to maintain status quo at Narkara area and demarcate the wetland area. The PIL was filed against the coming up of IIT campus on the Narkara wetland. The Rakhs and Farms department, custodian of the Narkara wetland  has not done much  in this direction till date. Narkara  wetland has shrunk to 261 hectare in 2010 from  342 hectare  in 1971.  The government agencies have no revenue records of the waterbody.    https://greaterkashmir.com/news/opinion/protect-the-narkara-wetland/306958.html  (21 Dec. 2018)
To save Dal, Army begins clean-up ops  About 6 sq km out of total lake area of 25.76 sq km (Catchment: 350 sq km) of Dal lake is covered with lilies. Following efforts over last six months, about 1.5 sq km is freed for lilies and now 100 jawans of army have launched operation clean up.  https://www.tribuneindia.com/news/jammu-kashmir/to-save-dal-army-begins-clean-up-ops/700486.html   (19 DEC.2018)
Punjab Wildlife Dept to relist wetlands in region Wildlife Department in the state is carrying out a project to relist all small and major wetlands (ponds, water bodies, marshes and lakes with noticeable biodiversity) in the region. While the state also got a State Wetland Authority in March 2018, until March, the region will see a fresh report on its small and big wetlands. https://www.tribuneindia.com/news/jalandhar/wildlife-dept-to-relist-wetlands-in-region/699667.html (17 Dec. 2018)
WATER OPTIONS
Karnataka Mandya's lake man to build 15th pond with award money  The lake man of Malavalli — octogenarian Kaamegowda — was given the Kannada Rajyotsava award, the second highest civilian award in the state, for constructing 14 ponds at his Daasanadoddi village in Malavalli taluk.
Now, he is planning to build the 15th pond with the money received from his Rajyotsava award.  http://www.newindianexpress.com/states/karnataka/2018/dec/19/lake-man-to-build-15th-pond-with-award-money-1913579.html   (19 Dec. 2018)
Panel to explore alternatives for RO waste water Following a plea pertaining to the utilisation of waste water generated during the reverse osmosis (RO) process, the NGT has constituted an expert committee to explore various issues including the possibility of making secondary usage of the water rejected by the RO system. The committee has also been asked to state whether "customised solutions" for different States are required.
The directions came while the green panel was hearing a plea that stated, "…Only 20% of the water fed to RO system is purified and 80% is left unpurified and is wasted." The petitioner had contended that the water rejected by the RO system adversely affects the groundwater. Directing the committee to convene a meeting within two weeks, the tribunal Bench said, "A report may also be given about the best possible secondary use of the rejected water by the commercial and individual users employing the RO technology." https://www.thehindu.com/news/cities/Delhi/panel-to-explore-alternatives-for-ro-waste-water/article25803447.ece  (22 Dec. 2018)
GROUNDWATER
NGT raps Ministry over groundwater notification   NGT has said the MoWR Groundwater notification of Dec 12, 2018 is against "national interest". It has rightly said that just by collecting fees one cannot curb over  exploitation of groundwater.  https://www.thehindu.com/news/national/other-states/ngt-raps-ministry-over-groundwater-notification/article25777703.ece    (19 Dec.2019)
Goa State has ignored most suggestions made by 2012 groundwater report  As the state water resources department (WRD) is preparing to carry out a groundwater assessment after nearly a decade, the last report by the department, while stating that Goa falls in the safe category in the groundwater situation, had raised some areas of concern.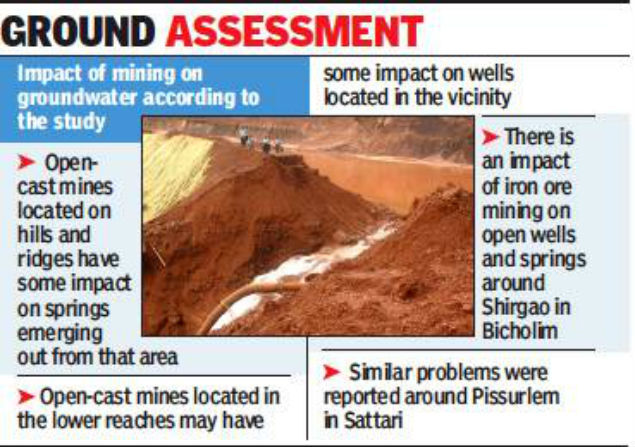 The 2012 report had said cautious approach was required for groundwater management in the coastal areas. And though the study had said more stress needs to be laid on promoting rainwater harvesting in Goa, little headway has been made on this front.
The report had also said that regular monitoring of trend of groundwater in select locations is needed through a lab under a hydrology project. However, the WRD lab, under the hydrology project, has not been functional for some time now. https://timesofindia.indiatimes.com/city/goa/state-has-ignored-most-suggestions-made-by-2012-groundwater-report/articleshow/67135866.cms  (18 Dec. 2018)
URBAN WATER
Tamil Nadu Chennai to face another water-scarce summer With less than two weeks for the end of the Northeast monsoon, rain-starved Chennai is staring at a possible water-deficit summer in 2019. According to IMD, as of Dec. 17, Chennai has a rainfall deficit of 54% this year.  The shortage of rainfall this season has threatened to dry up the four lakes in the outskirts of Chennai — Poondi, Cholavaram, Redhills and Chembarambakkam — which supply drinking water to the city.
The situation this year is similar to 2016, when the monsoon failed the city. In 2016, Chennai received 342.1mm of rainfall against the normal rainfall of 789.9mm of rainfall from October to December. This was a shortfall of 57%. In January 2017, CM Edappadi Palaniswami declared the state as 'drought-hit', calling it the worst in 140 years.  The following summer between April and June 2017 was one of the worst Chennai had witnessed. It was in 2017 that the CMWSSB also sourced water from abandoned quarries for the first time.
On any given day, Chennai requires 850 MLD of water. The Chennai Metro Water Supply and Sewerage Board (CMWSSB) presently supplies around 650 MLD. The CMWSSB meets this demand by drawing water from the four lakes, desalination plants, agricultural wells etc and supplying it to residents. During the summer season this supply drops to 450 MLD, said a senior official from the CMWSSB to TNM. https://www.thenewsminute.com/article/rains-fail-chennai-city-prepared-face-another-water-scarce-summer-93590 (18 Dec. 2018)
9 radar satellite images prepared by Raj Bhagat P of the World Resources Institute (India) comparing Chennai waterbodies in December 2017 and 2018, show that there is a stark reduction in the availability of water in these lakes. https://www.thenewsminute.com/article/satellite-images-dry-lakes-show-how-bad-chennais-water-crisis-could-get-93861 (23 Dec. 2018)
Kerala Thripunithura facing water scarcity again  Thripunithura and nearby areas have been acutely affected by water scarcity with water level going down drastically in the Muvattupuzha river at Ramamangalam, from where water is taken for the Choondi water treatment plant. It is learnt that low power generation at Malankara dam has affected the release of water into the Muvattupuzha river. Low production at Malankara is a result of low power production at Moolamattom.
Sources in the Kerala Water Authority (KWA) said that even though the Choondi water treatment plant was producing 46 mld after enhancing the capacity recently, the low water level in the river has brought the production and distribution down to 23 mld, less by 1 mld than what it was before the expansion. https://www.thehindu.com/news/cities/Kochi/thripunithura-facing-water-scarcity-again/article25800546.ece (22 Dec. 2018)
Goa   Even with shortage, hardly any takers for treated water   Goa is able to generate nearly 20-30 MLD of treated water after processing waste from three to four sewage treatment plants (STP) in the state. However, barely five percent of this water is being utilised mainly due to perception problem while the rest is being drained into the nullahs, which eventually drains into the sea. Moreover, the transportation cost makes the treated water expensive than the potable water which is available to industries at a lower cost. https://timesofindia.indiatimes.com/city/goa/hardly-any-takers-for-treated-water-in-state/articleshow/67110380.cms   (16 Dec.2018)
Porvorim STP water could now be used to wash KTC buses An estimated 20 to 30 MLD reusable, clean water treated at three STP in the state is being wasted each day. In these circumstances, as a fourth STP is coming up at Porvorim of 20 MLD capacity, the Sewerage and Infrastructural Development Corporation Ltd is considering the possibility of using the water treated by this plant to wash Kadamba Transport Corporation (KTC) buses. Treated water from existing STPs in Panaji, Margao and Vasco is being let out in nullahs from where it flows into the sea at present. https://timesofindia.indiatimes.com/city/goa/porvorim-stp-water-could-now-be-used-to-wash-ktc-buses/articleshow/67153340.cms (19 Dec. 2018)
WATER POLLUTION
Tamil Nadu NGT lifeline for Vedanta copper business awaits political test The Tamil Nadu government plans to appeal against the NGT decision in the Supreme Court. Even if the apex court upholds the NGT decision, it has to be seen how the state government takes it forward. https://www.livemint.com/Money/tag76BwHopQ6SfQpBneQxJ/NGT-lifeline-for-Vedantas-Sterlite-copper-plant-in-Thoothuk.html  (19 Dec. 2018)
AGRICULTURE
Odisha Naveen Patnaik announced KALIA scheme for farmers KRUSHAK ASSISTANCE FOR LIVELIHOOD AND INCOME AUGMENTATION (KALIA, Load Jagannath is  also called by that name in Odisha) NOTIFICATION PUT OUT BY ODISHA GOVERNMENT…. chief minister Naveen Patnaik on Dec 21, 2018 announced a Rs 10,180 crore scheme KALIA which he termed as 'progressive and a direct attack on poverty'. It claims to cover 92% of cultivators and  almost all landless farmers.  
Rs. 5000 per family per season, starting from this season itself – 5 cropping seasons are being committed to for comprehensive coverage of 30.2 lakh small and marginal farmer households. This is being called support to cultivators for cultivation. Rs. 3016 crores as outlay for this.
Then there is livelihood support to 10 lakh landless households under agriculture and allied activities – Rs.12,500/- per household. Rs.1250 crores as outlay for this.

Financial assistance to vulnerable cultivators/ landless agricultural labourers – lumpsum Rs. 10,000 per family. 10 lakh such beneficiaries. Rs.500 crores outlay.

Life Insurance cover of 2 lakhs for 57 lakh beneficiaries with outlay of 85 crores. This also has a personal accident insurance cover.

interest free crop loan – down to 0% from 1% – interest subvention cost is expected to 110 crores to the state government. https://timesofindia.indiatimes.com/city/bhubaneswar/naveen-patnaik-announced-kalia-scheme-for-farmers/articleshow/67197200.cms (21 Dec. 2018)
When milk turns sour Report on Global milk price crises: how dairy farmers across globe German, New Zeland, Africa and India are impacted whereas EU Dairy giants are making windfall. https://www.downtoearth.org.in/news/agriculture/when-milk-turns-sour-61983  (26 Nov. 2018)
DROUGHT 2018
Karnataka 20 more talukas to be declared drought-affected  – Almost 50% deficient rainfall during the northeast monsoon has affected 120 out of the 176 talukas, or administrative units in Karnataka. Government officials said that though the southwest monsoon was classified as normal, the spread was poor, leaving several districts under water, while most others recorded poor rainfall. Almost 70% of the state's agriculture depends on monsoon rain, with little irrigation infrastructure.
– Gangaram Baderiya, principal secretary of the state's revenue department, which assesses drought impact, said that the total drought-affected talukas will be finalized by the end of December.
– According to data by Karnataka State Natural Disaster Monitoring Centre, till 9 December, 86 of the 176 talukas received deficient rainfall during the southwest monsoon, or kharif season, while 162 talukas received deficient rain in the northeast cycle, or rabi season. https://www.livemint.com/Politics/8dcA2ORgoZh2s1sBNUA0BJ/20-more-talukas-to-be-declared-droughtaffected-in-Karnataka.html (17 Dec. 2018)
Gujarat Govt seeks Rs. 1,725 Crore From Centre For Drought Relief Work  – The demand was put forward before a central team that visited Gujarat to assess the water scarcity situation that has arisen due to scanty rainfall this monsoon, said senior administrative officer Pankaj Kumar. He said the nine-member central team, comprising officials from various ministries, had visited Kutch, Morbi, Banaskantha, Patan and Surendranagar districts of Gujarat during the three-day tour.
– 3367 villages of 51 taluka have been declared as drought affected so far. Gujarat has received just 73.87 per cent of the average rainfall this monsoon. Kutch received just 26.51 per cent of average rainfall, while north Gujarat got 42.93 per cent, central Gujarat 66.83 per cent, Saurashtra 72.20 per cent and south Gujarat got the highest of 94.79 per cent, according to Met department figures. https://www.ndtv.com/india-news/gujarat-seeks-rs-1-725-crore-from-centre-for-drought-relief-work-1964066 (17 Dec. 2018)
Maharashtra Who stole the water meant for parched region of state?  The Maharashtra Water Resources Regulatory Authority (MWRRA) has asked the secretary of the water resources department to be present in person during the hearing on a petition filed by Jalna based social activist Sanjay Lakhe-Patil against the state govt's failure to release water to the parched Marathwada region as per MWRRA's directives.
According to the petition filed by Lakhe-Patil, the state govt was asked to release 8.99 thousand million cubic metre (TMC) water from dams in northern Maharashtra districts such as Nashik and Ahmednagar. However, according to the state govt's own admission it released only 8.36 TMC water and out of this only 4.60 TMC water reached Jayakwadi dam.
Nearly half of Maharashtra is reeling under drought as the state received only 77 % of the average rain. On Oct. 31, the state govt declared 151 talukas of the state drought affected, out of which 47 talukas are from Marathwada region. The Marathwada region has 74 talukas.
The Marathwada region has 45 dams, and as on Dec. 16, these dams have only 18% water stored, compared to 69% on the same day last year. The water stored in Jayakwadi dam as on Dec. 16 was 1266 milion cubic metre, which is just 24% of the dam's capacity. Last year on the same day, the dam was filled 89 % of its capacity. https://mumbaimirror.indiatimes.com/mumbai/other/who-stole-the-water-meant-for-parched-region-of-state/articleshow/67120377.cms (17 Dec. 2018)
MWRRA has asked the state govt to explain within 15 days how it is going to make "good" a shortfall of 1.5 thousand million cubic metre (TMC) of water, which did not reach Jayakwadi dam in the parched Marathwada region.
The MWRRA had ordered o release 8.99 TMC of water from dams in Northern Maharashtra to Jayakwadi dam in Aurangabad district and it was expected that 6.1 TMC water will reach Jaykwadi, but only 4.60 TMC water reached there. https://mumbaimirror.indiatimes.com/mumbai/other/water-regulator-asked-by-maharashtra-government-to-explain-how-it-will-make-good-loss-of-1-5-tmc-water/articleshow/67204588.cms  (22 Dec. 2018)
झारखंड  सूखे पर हाईकोर्ट ने सरकार से 15 फरवरी तक मांगी रिपोर्ट   Dec. 21 को एक जनहित याचिका पर सुनवाई करते हुए चीफ जस्टिस अनिरूद्ध बोस और जस्टिस एचसी मिश्र की अदालत ने राज्य सरकार को 15 फरवरी तक रिपोर्ट पेश करने का निर्देश दिया है।
सरकार को यह बताने को कहा गया है कि राज्य में अब तक कितने क्विंटल धान की खरीद की गई है और कितने किसानों को धान के पैसे का भुगतान कर दिया गया है। कितने किसानों को पूरी राशि  भुगतान नहीं की गयी  है। साथ ही धान की पिछली खरीद का पूरा पैसा किसानों को भुगतान किया गया है या नहीं। सभी जिलों का ब्योरा सरकार  को पेश करने का निर्देश कोर्ट ने दिया है। https://www.livehindustan.com/jharkhand/ranchi/story-high-court-issues-report-on-drought-in-jharkhand-till-feb-15-2325572.html (22 Dec. 2018)
MONSOON 2018
Interview Epic tale of scientists who unraveled the mystery of monsoon  Sunil Amrith, a historian at Harvard University has just released a new book "Unruly Waters: How Rains, Rivers, Coasts, And Seas Have Shaped Asia's History" documenting the long quest to understand Indian Monsoon.
From his interview: – I was especially drawn to one character, Henry Blanford, who became the first head of the India Meteorological Department [in 1875]. He was trained as a geologist and learned on the job about meteorology. But he really was the person who set up this massive infrastructure for monitoring rain and weather in India. Scientists still rely on it. We have a rare view of Blanford because one of his Indian deputies [Lala Ruchi Ram Sahni] wrote a memoir.
– I think the historical record shows that relying on large-scale projects and purely technical and engineering solutions is a mistake and raises new risks. Dams epitomize that, and the dams in the Himalayas are particularly worrying. We need to pay more attention to smaller local projects and to broader social, political, and ecological concerns. https://www.sciencemag.org/news/2018/12/qa-epic-tale-scientists-who-unraveled-mystery-monsoon    (18 DEC.2018)
FLOOD 2018
Linking Kerala floods to anthropogenic climate change 'difficult', finds a study The title may be misleading, in that this may not be the key issue. The IIT Gandhinagar study that this report depends on clearly says that reservoir operation contributed to the flood disaster in Kerala. https://india.mongabay.com/2018/12/21/linking-kerala-floods-to-anthropogenic-climate-change-difficult-finds-a-study/   (21 Dec.2018)
SOUTH ASIA
India Pakistan Study reveals extensive arsenic problem in Punjab groundwater    The study found that 23 per cent of the 30,567 wells (13,000 wells from 199 villages on the Indian side and 17,567 wells from 184 villages on the Pakistan side) in 383 villages they covered in the flood plains of Ravi river on both sides of the India-Pakistan border had arsenic content higher than the prescribed limit. The problem appeared to be more severe (25%) on the Indian side. The study was conducted jointly by New Delhi-based TERI School of Advanced Studies, Islamabad-based Quaid-i-Azam University and Columbia University of New York, with Dr Chander Kumar Singh as the lead researcher.
– In India, water samples were tested onsite in Amritsar, Gurdaspur and Tarn Taran along with Pathankot, Faridkot, Bhatinda, Jalandhar, Firozpur and Fazilka districts in Punjab. In some wells, arsenic levels were found to be 20 to 50 times higher than WHO prescribed limits of 10 microgram per liter.
– "We conducted a follow-up study one year later in five villages in Pakistan and found that the arsenic level was elevated in 59 per cent of the wells." Dr Singh said. The research results have been published in journal Science of the Total Environment.  https://www.downtoearth.org.in/news/water/indo-pak-study-reveals-extensive-arsenic-problem-in-punjab-groundwater-62534   (18 Dec.2018)
India-Bhutan Questions and doubts about Bhutan's hydropower strategy Tshering has also expressed concerns about Bhutan's total dependence on hydropower, a sector that is becoming increasingly vulnerable to climate shocks.
– The World Bank has identified four key risks facing the Bhutanese economy, two are directly related to hydropower: delays in hydropower construction that could lower exports and revenue, climate shocks to the hydropower and agriculture sector. Other two also have links to hydropower sector: possible constraints on government spending because of limited financing sources, policy uncertainty in the aftermath of the 2018 elections. https://scroll.in/article/906183/india-and-bhutan-see-fresh-opportunities-as-new-government-in-thimphu-gets-down-to-business  (24 Dec. 2018)
India Nepal Sutlej offers to sell Arun III power   SJVN offers to sell 10% of power to Nepal govt at market rates from the under construction 900 MW Arun III HEP. This is besides the 21.9% of free power Nepal is to get from the project, in addition to royalties.   http://kathmandupost.ekantipur.com/news/2018-12-18/indias-sutlej-offers-to-sell-arun-iii-power.html    (18 Dec.2018)
International Mahseer Conference Experts suggest species atlas no-stocking for Mahseer conservation At the recent International Mahseer Conference in Bhutan, the main threat identified for mahseer was the pseudo-conservation practice of stocking the fish. According to WWF-India, of the 47 species of Mahseer that exist in the world, India is home to 15. Of these, the golden mahseer (Tor putitora) is endangered and the giant hump-backed mahseer (Tor remadevii) is critically endangered. WWF-India is identifying crucial river stretches requiring immediate protection for survival of the Mahseer.
It is currently working with the Uttarakhand forest department on river Kosi (a tributary of the Ramganga river) near the Corbett Tiger Reserve. Additionally, studies to determine species specific flow requirements are being initiated through a radio tagging exercise along rivers Ganga-Nayar complex, says Asghar Nawab, senior manager (biodiversity) at WWF-India. He says a species atlas as a single comprehensive reference point for information on Golden Mahseer conservation is being devised for Uttarakhand in collaboration with Wildlife Institute of India and HNB Garhwal University. https://www.theweek.in/…/n…/2018/12/16/des8-env-mahseer.html  (16 Dec. 2018)
Bangladesh Save Halda river from ecological disaster Halda river in Chattogram, the lone source of natural carp breeding in South Asia, is now surrounded by a number of unplanned projects like rubber dams and sluice gates constructed on the upstream. These projects have been hampering the breeding of fish species, said speakers at a seminar, titled "Course of Action to save Halda River", organised by Bangladesh Environmental Lawyers Association (BELA) and Association for Land Reform and Development (ALRD). http://m.thedailynewnation.com/news/199897/save-halda-river-from-ecological-disaster   (21 Dec.2018)
Sri Lanka  Heavy floods displace thousands, reservoirs overflow  Thousands of people have been displaced as a result of torrential rains in Northern districts of Kilinochchi, Mannar and Mullaitivu. The travel on A-9 main highway linking south to north has been disrupted as the levee of Mankulam reservoir in Kilinochchi breached due to the heavy rain. The Iranamadu reservoir is over spilling and all sluice gates are opened flooding low-lying areas. A number of places in the A-9 road have been inundated due to the spill of the reservoir. http://www.colombopage.com/archive_18B/Dec22_1545495185CH.php  (22 Dec. 2018)
Nepal Magnitude 4.7 Earthquake Hits  An earthquake measuring 4.7 on the Richter Scale jolted Sindhupalchowk district at 5.06 am (local time) on Dec. 23 morning, creating panic among the residents. The quake was felt in Sindhupalchowk district, 80-km east of Kathmandu, according to the National Seismological Department. The tremor was also felt in Kathmandu, the capital city of the country. However, there were no reports of any loss of lives or properties due to the quake. https://www.ndtv.com/world-news/magnitude-4-7-earthquake-hits-nepal-1966900 (23 Dec. 2018)
CHINA
China pushing dams in Cameroon in the name of clean energy Excerpt from: "Are China's energy investments in Africa green enough?" Cameroon — Lom Pangar Dam and Memve'ele Dam: China International Water & Electric Corporation (CWE) is in the construction of a 30 MW Lom Pangar Dam. This dam's reservoir will see part of the Deng Deng forest reserve in Cameroon flooded. China's Export Import bank is also funding the construction of a 201 MW Memve'ele Dam, in Cameroon. This Dam's transmission line could cut through Campo Ma'an National Park in Cameron while its reservoir may also flood a portion of the park affecting downstream ecology of the river which runs through the park. https://medium.com/@18pgp180/are-chinas-energy-investments-in-africa-green-enough-91b402b41dc9 
The XAF420-billion Memve'ele dam is being built by the Chinese Sinohydro on the Ntem River, while work for the Mekin project is entrusted to China National Electric Engineering Co (CNEEC) for an amount of about XAF25 billion. Let's note that all studies including feasibility, detailed pre-project, and environmental and social impact studies, under this project, are completed. https://www.businessincameroon.com/electricity/2112-8718-cameroon-seeks-151mln-from-industrial-and-commercial-bank-of-china-for-energy-projects  (7 Dec. 2018)
ASIA
Mekong River The river 'is not for sale' warn Mekong villages  Local environmental activists turned out to greet us, wearing T-shirts bearing their slogan: "The Mekong is not for sale!" The locals of Chiang Rai in northern Thailand describe their lives as "three days of fishing, two days of drying the nets". They fish the river in the rainy season, then as the dry season approaches hang up their nets and plant crops.
This is how their families have lived for generations, and they hope their children will enjoy the same life. But villagers are concerned projects along the Mekong, such as dams, improvement of navigational channels and new economic zones, will change the local environment and gradually upset their tranquil lives and traditions. https://www.thethirdpole.net/en/2018/12/21/the-river-is-not-for-sale-warn-mekong-villages/   (21 Dec.2018)
THE REST OF THE WORLD
Global Where will pumped storage hydropower growth come from?  Trends in global Pump Storage Hydro (PSH) Capacities. Global PSH additions declined to 2.7 GW in 2017, returning to the 20-year annual average after a record 7.2 GW1 in 2016 resulted from exceptionally high deployment in China and Europe. China continued to lead global growth in 2017, accounting for over 78% (2 GW) of new commissioned units. As a result, China attained 29 GW of cumulative capacity, surpassing Japan to become the country with the most PSH capacity installed. By the end of 2017, global cumulative installed capacity had reached 153 GW, i.e. 12% of total hydropower capacity, with over 80% of it located in Europe, China, Japan and the United States.
In the next five years, PSH capacity is forecast to increase almost one-fifth (26 GW), mostly in response to greater needs for system flexibility to integrate variable renewables in China, Asia-Pacific countries, Europe and the MENA [Middle East and North Africa] region (Figure 5.16). The forecast is revised up from Renewables 2017 due to recent project developments in China, Australia and India. However, financing new PSH projects and operating existing ones profitably remain key challenges, particularly in markets in which revenues from energy arbitrage are uncertain, grid fees exist, and/or remuneration mechanisms that value the system services provided by PSH are lacking. https://www.hydroworld.com/articles/2018/12/where-will-pumped-storage-hydropower-growth-come-from.html  (12 Dec.2018)
IHA working paper on PSH. IHA being a lobby for hydro, read it from that perspective. https://www.hydropower.org/sites/default/files/publications-docs/the_worlds_water_battery_-_pumped_storage_and_the_clean_energy_transition.pdf
US What caused nearly 20k quakes at Oroville Dam? Scientists weigh in on mystery  RESERVOIR INDUCED SEISMICITY: USGS report on how some 20000 earthquakes (Since 1993, as far back as the records went, a total of 19,291 tiny seismic events had taken place, the team found. While plentiful, none of the quakes exceeded a 1.0 magnitude) hit the spillway area just around the time the spillway disaster happened in Feb 2017: "We've never seen anything like this," said the report's lead author, USGS seismologist Robert Skoumal. "It's the first case of a spillway causing an earthquake that we're aware of."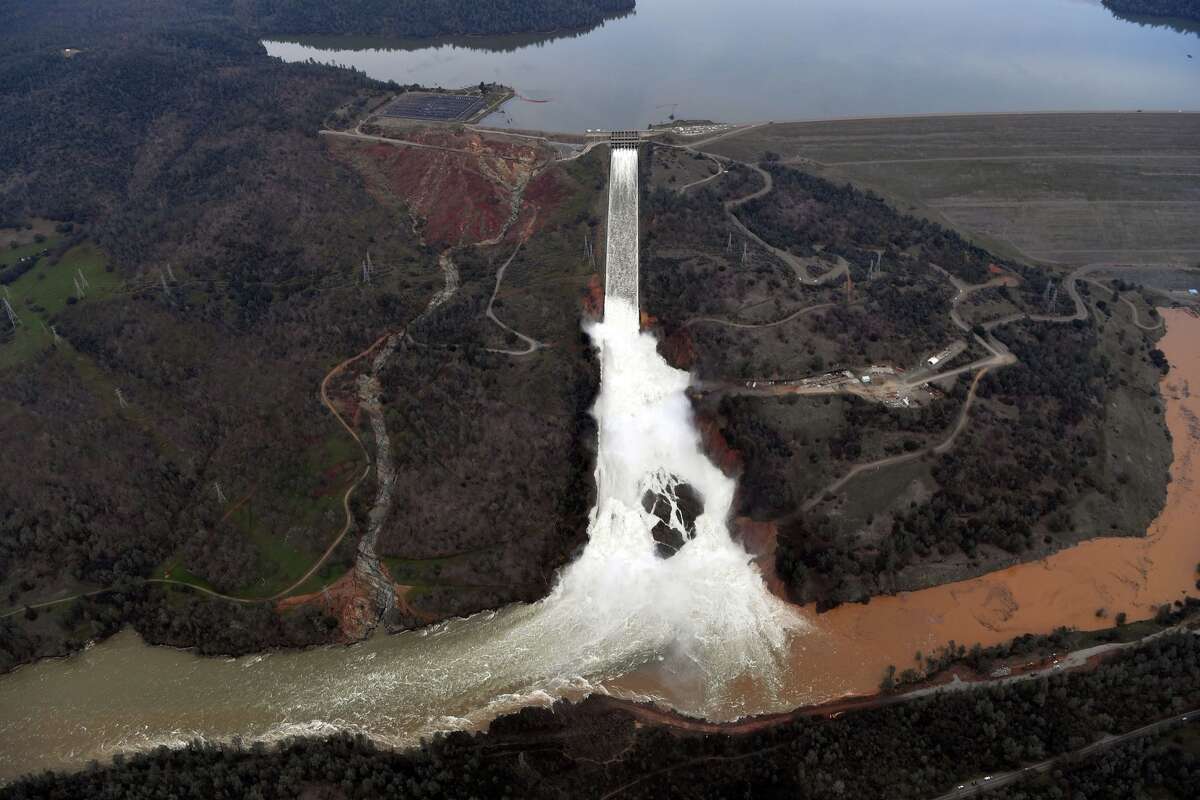 – The likely cause of the activity, they concluded, was water pushing through crevices in the dam's spillway and putting pressure on the underlying rock. The leaking water filled pores in the ground and made them expand before receding back into position, causing the earth to move.
– However, the discharge of water from a dam, out of a spillway, hadn't been known to trigger earthquakes until now. Skoumal and his colleagues discovered the oddity by investigating the two quakes (0.8 and 1.0 magnitude events) that occurred at Oroville Dam on Feb. 14, 2017, a week after the half-mile-long spillway cracked.
– A few years after the 770-foot-high Oroville Dam was built in the late 1960s, creating California's second-largest reservoir, the area was rocked by a magnitude 5.7 quake. Scientists now know the creation of a large lake can induce fault movement.    https://www.sfchronicle.com/news/article/What-caused-nearly-20-000-quakes-at-Oroville-Dam-13473254.php    (17 Dec.2018)
Nile River Dam Ethiopia sets 2022 for Nile dam's completion amid delays  As per officials Ethiopia's controversial Nile River dam will not be completed until 2022, more than four years behind schedule, because of possible defects with the hydro-electrical plant's equipment.  The dam's construction managers have concerns about the quality of the electro-mechanical works that were handled by the country's military-run Metal and Engineering Corporation.
The dam's former manager, Semegnew Bekele, was found dead inside his car on July in the center of the capital, Addis Ababa. Police officials later said he committed suicide but some Ethiopians suspect foul play. Latest official figures indicate the dam is now more than 65 percent complete. https://apnews.com/0337973586684f6e83efe3e34e5c4d65 (13 Dec. 2018)
Australia Sea water sucked 1 km inland  Groundwater bores are designed to draw fresh water out of the ground, but the pressure on bores has been so intense in some locations along Perth's south coast that the bores have begun pulling up salt water instead.
A Department of Water and Environmental Regulation report has found the amount of groundwater being extracted in the Kwinana industrial area was causing sea water from deeper underground to rise up and take its place. Effectively it meant the sea water was being sucked back under the land, and once salt water moved into stores of fresh water the damage was difficult to reverse.
The department claimed the issue of sea water turning bores salty was the biggest problem facing groundwater users — residents, market gardeners and industry — along the coast. https://www.abc.net.au/news/2018-12-10/groundwater-bores-pulling-up-salt-water-off-kwinana-coast/10594444  (10 Dec. 2018)
Study Is foreign investment making water problem worse?  Key findings: Our statistical analyses show that more foreign investment into Indian states in a given year is associated with lower levels of potable water access in subsequent years, with the poorest areas hit the hardest. We find that investment in water-intensive manufacturing and highly polluting industries increases competition for a limited quantity of fresh water, while also affecting water quality. States with larger proportions of marginalized and poor populations see the greatest negative effects of foreign investment on water supplies.
– These findings highlight the importance of regulation to restrict water use and wastewater release. Such regulation is harder to enact in states with higher levels of poverty. State governments enact much of India's water-related regulations, and ordinary citizens compete against multinational firms in lobbying state politicians. Thus, in Indian states with higher proportions of poor and marginalized groups, the public is less able to pressure politicians and bureaucracies to enact regulations necessary to protect water resources. https://www.washingtonpost.com/news/monkey-cage/wp/2018/12/21/water-is-getting-scarcer-is-foreign-investment-making-the-problem-worse/  (21 Dec. 2018)
CLIMATE CHANGE
Study Climate Change Could Shrink Himalayan Rivers    A new research by the Ohio State University in the United States has warned that climate change could have devastating effects on vulnerable residents in the Himalayas and the Andes, the world's highest and longest mountain ranges respectively.
The researchers have found that glaciers in both ranges are melting more rapidly than at any point in the last 10,000 years. This means that the water supply in parts of Peru, Pakistan, China, India and Nepal will decline soon. Lonnie Thompson, a climate scientist at the university's Byrd Polar and Climate Research Center, said, "By 2100, the best case scenario is that half of the ice will disappear. Worst-case scenario: two-thirds of it will."     https://weather.com/en-IN/india/news/news/2018-12-20-climate-change-could-shrink-himalayan-rivers-says-study     (20 Dec.2018)
Study World's water supply is decreasing due to climate change Study finds that drying of soil due to rise in temperatures is not letting much water reach rivers and reservoirs.  
A global analysis of rainfall and rivers has found that despite intense rain due to climate change, water supplies across the world are decreasing. The study, conducted by a team from University of New South Wales (UNSW), led by Professor Ashish Sharma, used data from 43,000 rainfall stations and 5,300 river monitoring sites across 160 countries.
The researchers found that despite rising precipitation extremes, there's no evidence of an increase in flooding. This, they say, can be explained by the decline in the amount of moisture in the soil, coupled with the contraction in the geographical spread of each storm event.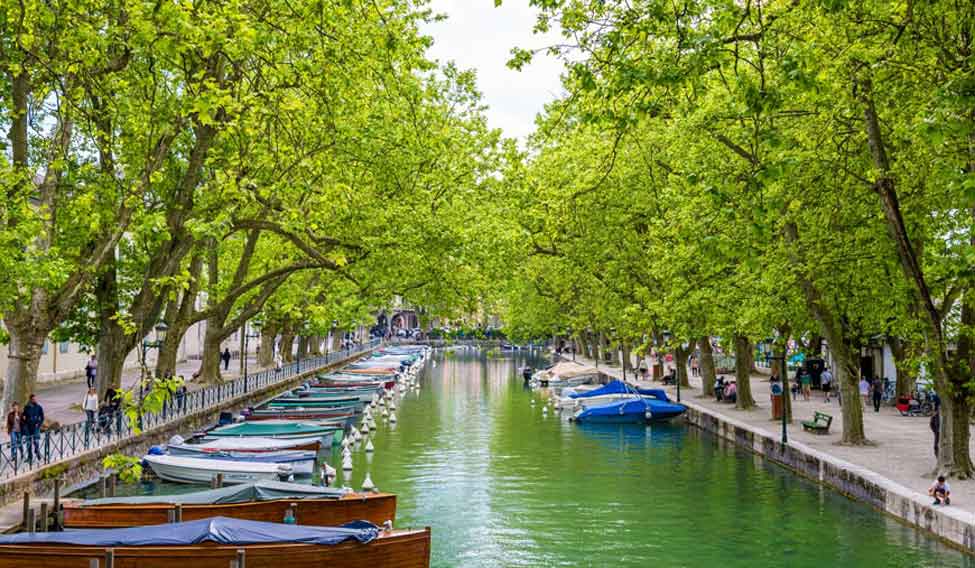 For every 100 raindrops that fall on land, only 36 drops are 'blue water' — the rainfall that enters lakes, rivers and aquifers — and therefore, all the water extracted for human needs. The remaining two thirds of rainfall is mostly retained as soil moisture — known as 'green water' — and used by the landscape and the ecosystem.
As warming temperatures cause more water to evaporate from soils, those dry soils are absorbing more of the rainfall when it does occur — leaving less 'blue water' for human use. https://www.theweek.in/news/sci-tech/2018/12/18/Worlds-water-supply-decreasing-due-to-climate-change-Study.html (18 Dec. 2018)
ENVIRONMENT
Jammu & Kashmir Vehicles Being Cleared After Landslide Jammu Kashmir all weather highway closed due to continues landslides and the intermittent falling of stones for past five days: https://www.ndtv.com/india-news/traffic-not-allowed-on-jammu-srinagar-highway-stranded-vehicles-being-cleared-1965000  (19 Dec. 2018)
Meghalaya Day after coal mine collapse, 13 workers yet to be traced  The mine is located at Ksan in Saipung area of the district and stands next to Lytein river, whose water is said to have gushed into the mine. The 13 labourers hail from the East Jaintia Hills and West Garo Hills districts of Meghalaya and Assam.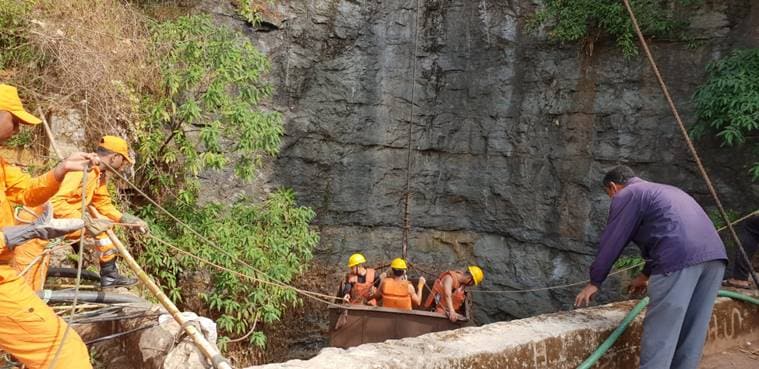 The mine has been termed "illegal" by activists, since coal mining in Meghalaya using the 'rat-hole mining' technique — which accounts for most mines in the state including the one in which the accident occurred — has been banned by the NGT in 2014.
The accident comes on the heels of an attack in Nov. on activist Agnes Kharshiing, who has been vocal against the continuation of mining in Meghalaya despite the NGT order, and her colleague Amita Sangma by goons hired by the coal mafia in the same district while they were trying to locate an illegal mine. According to available data, when the NGT ban was ordered, the annual coal production was nearly 6 million metric tonnes. https://indianexpress.com/article/north-east-india/meghalaya/meghalaya-day-after-coal-mine-collapse-13-workers-yet-to-be-traced-5494675/  (15 Dec. 2018)
Compiled by SANDRP (ht.sandrp@gmail.com)
Also see: DRP News Bulletin 17 Dec. 2018 & DRP News Bulletin 10 Dec. 2018
Follow us on: www.facebook.com/sandrp.in; https://twitter.com/Indian_Rivers