Ken Betwa river interlinking project is back to drawing board with Union water resources ministry approaching the ministry of environment and forest to relax conditions imposed as part of forest clearance accorded in May 2017 for diversion of forest in the Panna Tiger reserve (PTR).
Forest Advisory Committee (FAC) while according Stage-I clearance to the project had recommended that the project proponent and state govt should consider equivalent non-forest area (6,017 ha) adjoining to PTR from the revenue and private land and add to the PTR as a part of core/corridor (for tiger movement) with other areas or satellite core area. According to water resources ministry, they are unable to find land adjoining to PTR.
Will the forest department buckle under pressure to dilute the forest clearance conditions?  http://www.newindianexpress.com/thesundaystandard/2018/nov/25/first-river-linking-project-coming-undone-1902890.html  (25 Nov. 2018)
Meanwhile, the petition before the CEC alleged that the clearance of the Standing Committee of the National Board for Wildlife for the project is illegal and contrary to the provisions of the Wildlife Protection Act, 1972. The plea pointed out that there would be direct destruction of 58.03 sq.kms of critical tiger habitat of the Panna Tiger Reserve due to submergence and a loss of another 105.23 sq.km due to fragmentation.
The plea added that as per the Wildlife Protection Act, NBWL cannot grant clearances to projects that were not for improvement, better management or benefit of wildlife. https://www.dnaindia.com/india/report-cec-to-hear-apex-tiger-authority-s-response-on-plea-against-ken-betwa-link-2691447  (2 Dec. 2018)
INDIA RIVERS WEEK 2018
SANDRP Blog अनुपम मिश्र मेमोरियल मैडल 2018 से सम्मानित अरुण तिवारी जी से बातचीत श्री अरुण तिवारी जी वरिष्ठ पत्रकार-लेखक हैं। आप  लगभग पिछले तीन दशकों से नदियों को बचाने और जल संरक्षण के लिए उल्लेखनीय लेखन कार्य करते आ रहे हैं। आपका पानी पोस्ट हिंदी ब्लॉग काफी चर्चित है जिसपर आप नियमित तौर पर नदियों और पानी से जुड़े विभिन्न पहलुओं और समकालीन विषयों पर जानकारियां साँझा करते रहते हैं।  आपके अनवरत प्रयासों को देखते हुए आपको 25 नवंबर 2018 को अनुपम मिश्र मेमोरियल मैडल से सम्मानित किया है। आपके विचारों को अधिक से अधिक लोगों तक पहुँचाने के लिए, प्रस्तुत है,  भीम सिंह रावत,  SANDRP द्वारा आपके साथ ईमेल के जरिये हुए बातचीत के प्रमुख अंश।  https://goo.gl/YWX295  (29 Nov. 2018)  
In the energizing speech S Vishwanath also known as Rain Man shares his experiences and efforts in reviving wells, tanks, wetlands and rivers in Karnataka. For his exemplary work and dedication towards the cause, he has been awarded Bhagirath Prayas Samman 2018 by India Rivers Forum.
Experts demand dissolving of CWC to save Ganga The Central Water Commission should be disbanded, experts and activists said at India River Week (IRW)-2018. This will be one of the many demands in the Citizens Report from IRW-2018 for rejuvenation of the Ganga.
According to the experts, the panel has too much on its plate and it needs to go for better regulatory framework. "It is a body which is doing multiple jobs—collecting data, making policies, giving technical and financial approvals to various projects, monitoring and what not. It is not capable of doing all this," Ravi Chopra, head of Dehradun-based People Science Institute, said.
Saying such a system did not exist in any other country, he cited the example of the United States Geological Srvey, which is entursted with only collecting the country's hydrological data putting it out in the public domain. https://www.downtoearth.org.in/news/water/dissolve-central-water-commission-to-save-ganga-experts-62267  (27 Nov. 2018)
Inaugurating the India Rivers Week 2018, former bureaucrats and scientists also said that the government's efforts at maintaining a minimum ecological flow (e-flow) in river Ganga were dismal and inadequate; increasing the flow of the river should be the Centre's top priority, leading river ecologists. https://www.dnaindia.com/delhi/report-govt-s-ganga-e-flow-notice-woefully-inadequate-experts-2689042  (25 Nov. 2018)
Ganga clean-up plan fundamentally flawed: Asit Biswas – At present, some 50 cities along Ganga discharge six billion litres of untreated sewage into the river. This is the largest source of pollution. Furthermore, untreated industrial wastewater, containing many known but mostly unknown hazardous chemicals and heavy metals, some of them carcinogenic, further compound the problem.
Add to this is the agricultural run-off containing pesticides and fertilisers, as well as disposal of human and animal corpses. No serious long-term monitoring of water quality and sediments has ever been done. Thus, the river now carries a deadly cocktail of known and unknown pollutants.
Biswas co-founder of the Third World Centre for Water Management in Mexico, pointed that some $14 billion has been spent thus far to construct sewage treatment plants and another $27 billion has been allocated till 2019. The overwhelming majority of these plants, which have been operational for more than three years, are either not functioning properly or at a low efficiency, various stakeholders say.
"Existing barrages and dams now divert at least 60 per cent of the natural flow of the Ganga and its tributaries. In addition, 6.5-7 million tubewells in the Ganga basin are steadily withdrawing groundwater. This means the Ganga's flow is progressively declining. Less flow with increasing discharge of wastewater means the water quality will decline even further," Biswas said.
According to Biswas, the Kathmandu-based ICIMOD's climate change models clearly indicate that the Himalayan glaciers are melting and most will be gone by 2050. This means the Ganga is now getting more water from these glacial-melts than ever before in history. Thus, both the flow and quality of water is likely to worsen by 2050, when most of the glaciers will be gone. https://economictimes.indiatimes.com/news/politics-and-nation/ganga-clean-up-plan-is-fundamentally-flawed-international-expert-asit-biswas/articleshow/66840570.cms  (28 Nov. 2018)
Also see, interview of former Union environment minister Jairam Ramesh about G.D. Agarwal, hydropower projects, sand-mining and the 'Clean Ganga' mission. https://thewire.in/environment/without-aviral-ganga-you-cannot-have-nirmal-ganga-jairam-ramesh  (24 Nov. 2018)
Interesting tribute to Prof GD Agarwal in the latest newsletter from Prof AG Rao of the design school of IIT Bombay:
URBAN RIVERS
SANDRP Blog Amazing India River Day 2018 celebrations in Pune  PUNE saw some amazing India Rivers Day celebrations this last week. Several organisations of Pune came together this year to celebrate the India Rivers Day in an unprecedented way.
The events started from Nov 24 onwards and continued to Nov 28, and even on Dec. 1 morning, Jeevitnadi key persons had a 90 minutes Muthai River walk with some of the top officials (PMC Commissioner Saurabh Rao, Asstt Commissioner & all department heads) of Pune Municipal Corporation. Please SHARE. https://sandrp.in/2018/12/01/amazing-india-river-day-2018-celebrations-in-pune/   (1 Dec. 2018)
Resuscitating the dying Mula-Mutha river in Pune On Nov 25, 2018, NGOs, civic officers, citizens join hands to clear 30 mega tonnes of solid waste from Mula-Mutha river in Pune. Niranjan Upsane, a founding member of Jeevit Nadi Foundation, said, "Our drive will end on November 28 to mark India River Day. We are striving to make Mula-Mutha, Pavana and other rivers in the city water hyacinth-free and pollution-free so that they begin to flow naturally by 2020. We hope to make Pune the first 'garbage-free river city' of India."
– In July 2018 the Pune Municipal Corporation (PMC) started the process of appointing a private agency for the construction of sewage treatment plants (STPs) as part of a ₹990-crore project to clean up Mula-Mutha river. The Japan International Co-operation Agency (JICA) is funding the project, which will be implemented by the PMC under the aegis of the National River Conservation Plan. The Central govt and JICA inked a loan agreement for the project in January 2016. Under the project, the PMC plans to construct 11 new STPs of 396 MLD (million litres per day) treatment capacity to cater to sewage generated up to 2027. The PMC will also lay 113.6-km of sewers and construct 24 community toilets. The sewage treatment capacity of the existing STPs is 477 MLD, while the volume of sewage generated is 728 MLD. The untreated sewage is discharged into Mula-Mutha river. According to PMC figures, around 873 MLD of sewage will be generated in 2027.
– Opposing PMC's River Front Development plan, Ms. Deshpande said, "We should be preserving water sources rather than concretising riverfronts. This will severely impact the ecosystem, destroying flora and fauna. The focus should be on rejuvenating groundwater levels. Only then, can the river be toxin-free by 2025." https://www.thehindu.com/news/national/other-states/resuscitating-a-dying-river/article25609079.ece  (28 Nov. 2018)
– Pune municipal corporation officials along with Mukta Tilak, mayor have decided to dedicate one day a week for an entire year for the benefit of keeping the riverbeds of Mula and Mutha clean. https://www.hindustantimes.com/pune-news/civic-body-dedicates-one-day-a-week-to-cleaning-rivers-in-pune/story-wAKThiypl3k6oIL85MN0BI.html  (26 Nov. 2018)
Mula River, Pune Cops attach property over failure to remove debris EXCELLENT work Sarang Yadvadkar: Hall encroaching on Mula river sealed in Pune following NGT orders. The defence of the owner is without merit.
The Pune police on Nov. 28 sealed and attached Shree Haripriya Sabhagriha, a sought-after multipurpose recreational hall located on the banks of Mutha river off Sinhagad road, after its owner, Datar Farms, failed to comply with an Aug. 27 order by NGT seeking to remove encroachments and debris from the river bed.
Architect-activist Sarang Yadvadkar, who had approached the NGT for removal of the debris, said, "The police's action today is the outcome of not following NGT's directions of 2016. We feel people ought to respect the judgments given by the NGT. The massive encroachment had endangered the natural flow of water in the river bed and the same would have caused difficulty to people in a flood situation." https://timesofindia.indiatimes.com/city/pune/cops-attach-property-over-failure-to-remove-debris/articleshow/66855829.cms  (29 Nov. 2018)
Kasadi River Pollution, Mumbai Kharghar residents protest against pollution  Thousands of Kharghar residents took to the streets on Sunday to protest against water and air pollution in the area.
The residents claimed that though various NGOs, individuals and political personalities from Kharghar had been taking up the issue with the authorities, there has been no action taken till date. https://www.thehindu.com/news/cities/mumbai/kharghar-residents-take-to-the-streets-to-protest-against-air-water-pollution/article25601126.ece  (27 Nov. 2018)
Sabarmati, Ahamadabad How the Sabarmati became a sewer Research has found the highest concentration of highly antibiotic resistant E.coli bateria just besides Sabarmati Gandhi Ashram on the riverfront. It is exactly here that the Chandrabhaga drainage spews out the highest amount of untreated sewage — 60 million litres every day— into the Sabarmati. A detailed investigation carried out by Ahmedabad Municipal Corporation (AMC) has noticed six major and 10 minor outlets in the city that circumvents our city's sewage treatment facilities.
After Chandrabhaga, the next highest untreated sewage is injected into the Sabarmati from AMC's Vasna treatment plant, 48 MLD. The city with a population close to 7 million had a capacity to treat 817 MLD of sewage against a generation of 960 MLD. The AMC recently finalized plans for enhancing treatment facility to 428 MLD. In the five years from 2011 there was no increase in the sewerage treatment capacity, despite the increase in the population of the city. The official also admitted that there were not less than 40 outlets of stormwater drainage which carry nearly 225 MLD untreated sewage every day into the river. https://timesofindia.indiatimes.com/city/ahmedabad/how-the-sabarmati-became-a-sewer/articleshow/66856300.cms  (29 Nov. 2018)
Farmers at high risk from E. coli-laden water  Hundreds of farmers in the 43 villages downstream of Ahmedabad, who use the city's deadly faecal concoction and push the vegetables grown with such water back into Ahmedabad. A greater danger of infection exists for these farmers and their families, as they carry the E. Coli bacteria home. The vegetables they grow using untreated sewage is consumed by us. https://timesofindia.indiatimes.com/city/ahmedabad/farmers-at-high-risk-from-e-coli-laden-water/articleshow/66873006.cms  (30 Nov. 2018)
State constitutes panel for rivers after NGT rap  After being reprimanded by the NGT over the highly polluted rivers of the state, the Gujarat govt has finally constituted a state-level river rejuvenation committee (RRC), which will now be directly responsible for controlling pollution and rejuvenating all major rivers in the state. The NGT's directions state that the RRC will have to prepare an action plan to make all polluted river stretches at least for bathing within six months of finalizing the plan.
According to the govt resolution (GR) issued by the state forests and environment department, the action plan will be prepared by the 4 member committee comprising the director, environment and forests; commissioner of municipalities, urban development department; industries commissioner and the member secretary of the Gujarat Pollution Control Board (GPCB). The committee will work under direct supervision of the additional chief secretary (ACS), forests and environment.
The state rural development department came out with a new river rejuvenation policy some time ago, with similar objectives. However, that policy is mainly for rivers passing through villages. The RRC needs to work in coordination with the rural development department for faster and better results. https://timesofindia.indiatimes.com/city/ahmedabad/state-constitutes-panel-for-rivers-after-ngt-rap/articleshow/66873007.cms  (30 Nov. 2018)
Maharashtra The tragic tale of Erai River  The Erai river, the main tributary of the Wardha river, is the lifeline for the people of Chandrapur. It primarily supplies water to the Chandrapur city and Chandrapur super thermal power station (CSTPS). Since 1984, after the initiation of operations of M/s CSTPS and Western Coalfields Limited (WCL), the river has begun to get polluted and is now gasping for breath.
The total length of the river is approximately 24 km. It originates near the Tadoba tiger reserve and ends at Hadasti near Ballarpur. In the last three decades, the river has been highly polluted by industrial effluents and sewage. Coal mining in the area has resulted in flooding in the Erai watershed area.
In 1964, when the drinking water supply scheme from the Erai was initiated, the population of Chandrapur was approx 50,000. Now, it is more than 4.5 lakh and the water is supplied to the city from the Erai dam.
The video, The tragic tale of Erai talks about how industrialisation has polluted the Erai river and left a population looking for drinking water.  http://www.indiawaterportal.org/articles/tragic-tale-erai  (30 Nov. 2018)
Karnataka 17 polluted rivers: Govt to form RRC  State govt is forming a "river rejuvenation committee" in accordance with directions the NGT issued in Sept. The NGT noted on Sept. 20 that in the assessment of the CPCB, there were 351 polluted river stretches in the country. The tribunal directed that action plans be prepared to rejuvenate these rivers and ensure that they are at least fit to bathe in. 17 of the 351 polluted stretches are in Karnataka, in the Arkavathi, Lakshmantirtha, Malaprabha, Tungabhadra, Bhadra, Cauvery, Kabini, Kagina, Kali, Krishna, Shimsha, Asangi Nalla, Bhima, Kumaradhara, Netravathi, Tunga and Yagachi rivers.
According to a govt order issued on Nov.  24, the principal secretary (ecology and environment) forest, ecology and environment department will be the chairman of the RRC.  
The head of the Directorate of Municipal Administration and the commissioner for industrial development and department of industries and commerce will be the members of the committee and the Karnataka State Pollution Control Board (KSPCB) member secretary will be its member convener. https://timesofindia.indiatimes.com/city/bengaluru/17-polluted-rivers-karnataka-to-make-them-fit-for-bathing/articleshow/66875369.cms  (30 Nov. 2018)
Also see, India's once great rivers are victims of ecological violence https://www.dnaindia.com/analysis/column-india-s-once-great-rivers-are-victims-of-ecological-violence-2689285  (26 Nov. 2018)
RIVERS
Mizoram Sentimental value alone can't save dying river Chite Lui is a small river in the northeastern state, important, not as much for irrigation or drinking water, as for the sentimental value attached to it. But the present condition of the river is nowhere near the romanticism involved with it.
It is a stark example of how unplanned urbanisation coupled with illegal encroachment and ignorance are dealing a deathly blow to the river. https://india.mongabay.com/2018/11/26/sentimental-value-alone-cant-save-mizorams-dying-river/  (26 Nov. 2018)
YAMUNA Delhi DJB battling Ammonia pollution Ammonia level in Yamuna has again gone up affecting three water treatment plants in Delhi. https://timesofindia.indiatimes.com/city/delhi/djb-battles-extra-ammonia-in-yamuna/articleshow/66742198.cms  (22 Nov. 2018)
Sewage from 1,700 colonies is dumped directly into Yamuna: NGT Panel The absence of sewer lines in 1,700 unauthorised colonies — housing around 40 lakh people — in the national capital is one of the major reasons of pollution in the Yamuna, the monitoring committee set up by NGT for overseeing cleaning of the polluted river has said.
The two-member monitoring committee, in an official note to the Delhi govt last month, stated that in the absence of a sewerage system in 80% of the unauthourised colonies and slum custers, faecal sludge is being directly emptied into the river. Around one-third of Delhi's population is dependent on septic tanks for its daily sewerage needs, the committee said.
Of the 1,797, unauthorised colonies in the city, only 14% have been provided sewage pipelines. However, the functioning is poor, as residents are not willing to pay the charges for the same, it said. The NGT had in July this year formed the monitoring committee and directed it to submit by December 31 an action plan on cleaning of the river. https://www.hindustantimes.com/india-news/sewage-from-1-700-colonies-is-dumped-directly-into-yamuna-says-green-body/story-wSNFZ3la0ooe95iPPScETO.html  (26 Nov. 2018)
Also see, While Chhath Puja Devotees Choke the Yamuna, Residents Suffer (15 Nov. 2018)
RIVERS BIODIVERSITY
Sikkim "Lachung Chu" one of the few free flowing river left in the state also one of the major tributaries of Teesta maneuvering the criss cross valley through deep gorge isn't it beautiful photo courtesy Nosang Muringla Limboo.
HYDRO POWER PROJECTS
Arunachal Pradesh NHPC's projects to resume work after NGT move The NGT on Nov 26, 2018 rejected an appeal filed by social activists against the constitution of a three member expert committee to study the 2,000-MW Lower Subansiri hydroelectric project on the border of Assam and Arunachal Pradesh.
The case was filed in NGT by Assam Public Works and Tularam Gogoi demanding fresh formation of an expert committee with better local representation and limited govt intervention. NGT on Monday retained the three-member committee, including Prabhas Pandey, PM Scott and ID Gupta.
– The journalist is ill informed to say that the work on the project was stopped because of NGT litigation. On the contrary. https://energy.economictimes.indiatimes.com/news/power/nhpcs-arunachal-pradesh-projects-to-resume-work-after-ngt-move/66802625  (26 Nov. 2018)
Uttrakhand संगीनों के साए में पुनर्वास की जनसुनवाई Shocking state of affairs in Uttarakhand for public hearing of Social Impact Assessment report of Naitwar Mori HEP with police cordoning the area and not allowing people to participate. http://cgbasket.in/?p=18774  (28 Nov. 2018)
DAMS
Forest Advisory Committee Meeting was held on Nov 15, 2018. The minutes of the meeting, just out, has following decisions on water related projects:
Diversion of 56.86 ha forest land for Kotgal barrage, Minor Irrigation Division, Chandrapur, Maharastra.
DECISION: Shocking that the FAC cleared this even while noting that three different figures of the quantum of forest land mentioned are mentioned in three different places!! What greater proof is required of rubber stamping nature of these decisions?
Diversion of 1007.29 ha of forest land for North Koel Dam Project in Jharkhand- Review of Stage-I approval granted by MoEF&CC
DECISION: FAC, shocking agreed to modify and drop the conditions as requested by state govt and as per dictates of higher authority that required that the stage II clearance be given by Nov 25! Yet another indication of compromised decision making.  http://forestsclearance.nic.in/writereaddata/FAC_Minutes/111126124712151FACMinutes.PDF  (15 Nov. 2018)
Maharashtra Irrigation Scam ACB puts onus on Ajit Pawar The Maharashtra Anti-Corruption Bureau (ACB) has informed the Bombay High Court that its probe into the alleged multi-crore irrigation scam has revealed major lapses on part of the state's former deputy chief minister Ajit Pawar and other govt officials.
"The ACB has observed that various irregularities have been committed in several of these tenders/works with uncanny similarity," Barve said in his affidavit. "It is observed that the minister in-charge of the water resources department shoves the responsibility on to the officers," it said. "The officials allowed and accepted sub-standard work and thereby caused a drain upon the public exchequer. These officials acted in an orchestrated manner," it charged. "It is like an orchestra where players have done their bit to create symphony and no one is ready to own up to the jarring notes," it added.
– 8 years after Janmanch filed a PIL, this is the first time that the ACB has named Pawar. https://economictimes.indiatimes.com/news/politics-and-nation/maharashtra-irrigation-scam-acb-puts-onus-on-ajit-pawar/articleshow/66840288.cms  (28 Nov. 2018)
The ACB also said that Pawar who had the "overall responsibility of his department as per Rule 10 of the Maharashtra Govt Rules of Business and Instructions has stated that it was the duty of the secretary/ executive director to vet the files and ensure the proper procedure was followed." "All note sheets pertaining to sanction prior to grant of work commencement order and mobilisation advance were signed by respondent No 7 (Pawar)," says the affidavit.
– Moreover on November 11, 2005, Pawar as WRD minister had issued a note which said: "To speed up the projects in Vidarbha, the Executive Director Irrigation is directed to send the projects directly to the minister" bypassing the secretary. https://www.indiatoday.in/india/maharashtra/story/maharashtra-acb-names-ajit-pawar-in-the-multi-crore-irrigation-scam-1397660-2018-11-28  (28 Nov. 2018)
WHY AJIT PAWAR COULD BE IN TROUBLE: – As per ACB affidavit, all note sheets pertaining to prior sanction of work commencement order, mobilisation advance were signed by the minister," states the affidavit.
– Pawar could face trouble specifically on two counts that contravened existing rules of business. The first pertains to handling of mobilisation advance to contractors in Vidarbha's irrigation projects. In 2008, Pawar's personal secretary, Suresh Jadhav, wrote to the water resources secretary on April 25, to cancel a circular issued by the department, a month earlier, to not hand out mobilisation advance in irrigation tenders. The department circular was accordingly annulled. The affidavit states that subsequently, mobilisation advances given to Vidarbha's irrigation contractors were "in gross contravention of rules" and above the cap of 5 per cent of the tender cost. In the Gosikhurd project, a mobilisation advance of Rs182 crore was given out, while in Jigaon, it was Rs12 crore.
– The second is that Pawar in a noting issued by him in 2005 said that in order to speed up projects in Vidarbha, all files should move directly to the executive director of VIDC. As a result, the scrutiny by secretary of the department for projects was skipped. The ACB has indicated that officers, contractors and the minister are "dramatis personae who put up a performance that cost the state dearly and are now trying to hide behind framework of rules and shift the onus on one another". https://www.hindustantimes.com/mumbai-news/acb-affidavit-in-multi-crore-irrigation-scam-spells-trouble-for-maharashtra-s-ex-dy-cm-ajit-pawar/story-RZO1XpkUxkqyamwHKKZOvL.html  (28 Nov. 2018)
Maharashtra HC asks Govt. to submit detailed list of complete and incomplete irrigation projects  The Bombay high court has ordered the Maharashtra govt to submit a detailed list of completed and under-construction irrigation projects within two weeks. The direction has come following a petition filed in the court with respect to incomplete irrigation projects in the region which led to a spate of farmer suicides in Vidarbha over the years. The Vidarbha Irrigation Development Corporation (VIDC) has failed to complete works of nearly 45 irrigation projects that resulted in huge economic losses for 30 lakh farmers owing to insufficient facilities. https://timesofindia.indiatimes.com/city/nagpur/submit-detailed-list-of-complete-incomplete-irri-projects-hc-to-govt/articleshow/66741568.cms  (22 Nov. 2018)
Shirdi trust gives Rs. 500 cre interest free loan for Nilwande irrigation project Strange situation: The richest state of India borrows Rs 500 crore interest free loan from Shirdi Temple Trust to complete the Rs 1200 crore Nilwande Irrigation Project to benefit Ahmednagar district where the temple is situated. https://timesofindia.indiatimes.com/india/shirdi-trust-gives-rs-500-crore-loan-blessings-to-maharashtra-project/articleshow/66902232.cms  (2 Dec. 2018)
Polavaram Dam SC orders public hearing on Polavaram project Supreme Court asks for public hearing in Odisha and Chhattisgarh, and says dam project cannot take forward without it. Centre to file affidavit by Saturday, order to be passed on Monday. HOWEVER, PUBLIC HEARING TO HAPPEN, FIRST THERE HAS TO BE CREDIBLE IMPACT ASSESSMENT IN ALL THE STATES, THAT IS YET TO HAPPEN.  https://www.thehindu.com/news/national/sc-orders-public-hearing-on-polavaram-project/article25627425.ece  (30 Nov. 2018)
Pancheshwar Dam पंचेश्वर बांध परियोजना की कवायद दोबारा तेज CWC team to visit Dam area on Nov 29. How will it help break the deadlock on DPR?        
 https://www.livehindustan.com/uttarakhand/haldwani/story-pancheshwer-dam-project-drill-again-fast-2285606.html  (27 Nov. 2018) 
https://www.livehindustan.com/uttarakhand/champawat/story-dain-specialists-will-be-present-in-pancheshwar-today-2288126.html  (28 Nov. 2018)
It says fundamental issues raised by Nepal remains unresolved and hopes it will be resolved in third meeting. Optimistic spin, understandably. http://epaper.livehindustan.com/textview_35278_142843292_4__1_30-11-2018_303_0.html#  (30 Nov. 2018)
The claims of FRA clearance are clearly in complete violation of FR Act. Shocking is that the govt  benefits have stopped reaching these people, when its not even certain if the project will go forward.
Demand for fresh public hearing is valid for a number of reasons.
Also see, टिहरी का दर्द – Hindi Documentary टिहरी का दर्द ' एक लघु डॉक्युमेंट्री है, जो कि भारत के सबसे बड़े डैम – टिहरी के बनने के बाद पुरानी टिहरी – उत्तराखंड  से विस्थापित हुए लोगों  की समस्याओं पर आधारित है I https://www.youtube.com/watch?v=xUy8uZBA6SI  (19 May 2018)
Sardar Sarovar Dam In Media PM praises Adivasi but on ground snatching their lands Ashish Kothari: This article on the record of the BJP govt in India in relation to the environment, livelihoods, and democratic rights, especially in view of Indian PM getting the 'Champion of the Earth' award (along with French President Macron). https://thewire.in/environment/an-modis-rule-india-has-witness-an-unprecendented-chomping-of-the-earth  (25 Nov. 2018)
Kutch farmers are also agitated for the use of Narmada water around statue of Unity, etc. https://newscentral24x7.com/after-splurging-almost-3000-cr-on-statue-modi-govt-asks-for-100-cr-aid-for-polio-vaccines/  (20 Nov. 2018)
INTERLINKING OF RIVERS
Godavari-Penna rivers linking CM to lay foundation for linking of Godavari-Penna rivers CM N Chandrababu Naidu was to lay the foundation for the first phase works of Godavari-Penna rivers linking programme at Nakarikallu in Guntur district on Nov 26, 2018. https://telanganatoday.com/cm-to-lay-foundation-for-linking-of-godavari-penna-rivers-on-monday  (25 Nov. 2018)
INTERSTATE WATER DISPUTES
Mahanadi River Water Sharing Dispute Two states and a river: More power or more water? The latest addition to India's interstate river water conflicts, the Mahanadi will soon go water deficit if Odisha and Chhattisgarh don't control their hunger for coal-fired power. http://www.indiawaterportal.org/articles/two-states-and-river-more-power-or-more-water  (25 Nov. 2018)
Mekedatu Dam Centre Nod To Mekedatu Project Despite A Hostile Tamil Nadu Shocking that CWC gives clearance to Karnataka to prepare DPR for the controversial Mekedatu project in already overstressed Cauvery basin when better options exist. https://www.ndtv.com/south/karnataka-mekedatu-project-gets-centres-nod-despite-tamil-nadus-resistance-1954405  (28 Nov. 2018)
Meanwhile, Tamil Nadu, on Nov 30, has challenged in Supreme Court the CWC permission to Karnataka to go ahead with the preparation of Detailed Project Report for the Mekedatu project on Cauvery. TN has asked that the letter dated Nov 22 from CWC  to Cavuery Neeravari Nigam Ltd. https://timesofindia.indiatimes.com/india/tamil-nadu-moves-supreme-court-against-karnatakas-mekedatu-dam-plan/articleshow/66878447.cms  (30 Nov. 2018)
IRRIGATION
Irrigation & Farmers Issues in Rajasthan Poll Narmada canal water distribution issues While Sanchore gets irrigation water from Narmada canal, Jalore area does not even get drinking water. https://timesofindia.indiatimes.com/city/jaipur/sanchores-agri-fields-bask-in-green-glory-as-narmada-canal-rescues-region/articleshow/66778727.cms  (24 Nov. 2018)
Jalore famers also hopes to get water from Mahi Bajaj Sagar Project. Demanding implementation of the Mahi Bajaj Sagar Project, which was originally planned in 1966, they have been holding protests and organising agitations for the past decade. https://timesofindia.indiatimes.com/city/jaipur/jalore-farmers-to-vent-ire-on-poll-day-over-delayed-water-project/articleshow/66778698.cms   (24 Nov. 2018)
In Barmer district farming is only livelihood source but the district has attracted no processing units to make good on its bumper crops. Gov has spent energy on building a Parwan dam that would require investments of more than Rs. 6000 crore. Like the barmer oil refinery, foundation stone was laid for the project last year by the CM even though Rahul Gandhi had done the ground breaking formality in 2013. Like the Barmer refinery, much of the clearances for the project was expedited in the poll year. However according to farmers the water is not a big election issue in the district.  https://timesofindia.indiatimes.com/city/jaipur/farm-crisis-in-mins-backyard-may-singe-bjp/articleshow/66818348.cms  (27 Nov. 2018)
FISH, FISHERIES, FISHERFOLKS
SANDRP Blog Magic Mahseer of Meghalaya  "Without spending millions of rupees, without passing through several tiers of experts and organizations, without being tied in the unresponsive walls of bureaucracy and expert speak and without having a single farcical "hatchery" or "Fish Breeding Center", fish sanctuaries of Meghalaya teach us a rare and precious lesson: that conservation works best when it comes from the people, when communities are respected and trusted and when the government and experts are facilitators at best." https://sandrp.in/2018/12/03/magic-mahseer-of-meghalaya/  (3 Dec. 2018)
Maharashtra Uran fishermen move HC to save mangroves from construction Mumbai, Navi Mumbai, and adjoining towns continue to destroy mangroves, wetlands, forests and rivers. Blaming govt agencies for destroying protected mangrove forests by carrying out construction activities, fishermen from Uran in Navi Mumbai have moved the Bombay HC over the "violation of Coastal Zone Regulation (CRZ) Notification, 2011".
The petitioners – environmentalist Nandkumar Pawar and fishing group Hanuman Koliwada Macchimar Samiti – alleged that City Industrial Development Corporation (Cidco), the planning agency for Navi Mumbai, has cut off intertidal water channels to mangrove forests.  https://www.hindustantimes.com/mumbai-news/uran-fishermen-move-hc-to-save-mangroves-from-construction/story-Lz9hNr31XPZoVTKUUjLZNP.html  (22 Nov. 2018)
West Bengal  Laws flouted, Hilsa dies BAD NEWS FROM BENGAL FISHERIES: There are laws but no implementation. The West Bengal govt has notified a definite time period banning the fishing of juvenile Hilsa (jatka) to save the state's favourite fish from extinction. But fishers do not obey the prohibition either in rivers or the sea. As a result, the production of Hilsa (Tenualosa ilisha) in West Bengal is rapidly declining. A mature Hilsa weighs between 700 grams and a kilogramme.
– From the estuary of the Ganga to deep in the Bay of Bengal, an estimated 14,000 trawlers are hovering in the migratory path of the Hilsa as the fish approaches the river to spawn, and on its way out. In spite of the ban on nets with mesh holes less than 90 mm in diameter, such nets are used most of the time. Some nets are over a kilometre long. A very large number of juvenile Hilsa are caught.
– In order to increase the yield and production of Hilsa and other fish, the State Fisheries Department issues notifications every year to control fishing. According to these, from April 15 to May 31, fishing is prohibited in the sea and adjoining areas. Moreover, a special ban is imposed specifically for the preservation of the Hilsa. From September 15 to October 24, before and after five days of the full moon, catching any type of Hilsa is prohibited. This system was initiated for the undisturbed breeding of Hilsa. Besides fishing, selling, transporting and hoarding of Hilsa less than 23 cm long Hilsa is prohibited. Bottom trawling is prohibited up to 12 nautical miles from the coastline.
– Apart from overfishing, a big problem for the migrating Hilsa is siltation at the mouth of the Ganga. This sea fish needs a clean and deep channel so that it can move upriver and spawn. But now there is no deep channel in the mouth of the Ganga except the one kept open by constant dredging, for the shipping to and from Kolkata port.
– Asimkumar Nath, a fisheries expert in Sidho Kanhu Birsa University of West Bengal, has found another effect of this forced change in the life cycle of the Hilsa. Due to siltation, many fish find their way back to the sea blocked. Studies that include tagging some Hilsa have shown that some have remained in the Ganga and its tributaries for the last several years. He said some such "resident Hilsa" have been found as far upstream as Farakka, over 350 km from the mouth of the Ganga. Nath is confident that even if 20% of the Hilsa living and breeding in the rivers can be saved from overfishing, there will be no shortage of the fish in West Bengal.
– The West Bengal govt has new plans to protect the fish. Fisheries Minister Sinha said his department has identified three spawning areas that will be declared sanctuaries. "Special monitoring will be arranged in Raichak-Godakhali, Tribeni-Balagarh and Lalbag-Farakka," he told thethirdpole.net. "Hilsa lays eggs in those places. Hilsa Research centres will also be built there."
– The minister said scientists are trying to breed Hilsa in ponds. "The Hilsa Conservation and Research Centre (HCRC) in Diamond Harbour will move that work forward. Nofima, a Norwegian institute for food, fisheries and aquaculture research, will work with HCRC. Nofima has been working on salmon production for 45 years and they have expertise in aquaculture. Central Inland Fisheries Research Institute (CIFRI) is also a partner in this project. Six water bodies have been identified in Falta near Raichak and East Kolkata Wetland to conduct the research. Nath says, "There is no necessity to spend a huge amount of money to artificially breed Hilsa in ponds, if the juvenile [fish] are saved by increasing surveillance." https://www.thethirdpole.net/en/2018/11/27/laws-flouted-hilsa-dies-in-west-bengal/  (27 Nov. 2018)
Karnataka Poor catch in Bhadra backwaters worries fishermen The fishermen who eke out a living by catching fish in the backwaters of Bhadra dam are worried over dwindling fish catch.  Several families from Ravooru, Lingapura, Maridibba, Morimutt, Halemakodu, Lakkunda, Koosagal, Aldara, Bhairapura and surrounding areas in N R Pura taluk depend on fishing for livelihood. Katla, Rohu, Common carp, Mrigal carp, Gojale, Suragi, Pattegara and other species of fish are available in the backwaters of Bhadra dam.
The fishing was thriving in the region for decades. However, the fishermen feel that there has been a decline of 80% in the catch. Fishermen alleged that more people than the licensed fishermen were engaged in fishing. The govt is negligent towards releasing fingerlings the backwaters, leading to a decline in the catch. https://www.deccanherald.com/poor-catch-bhadra-backwaters-704639.html  (24 Nov. 2018)
SAND MINING
Tamil Nadu Man killed for informing police about sand mining 50 year old Murugan Marudhavanan of Sathangudi was murdered by three men near Manalmedu in Nagapattinam district on Nov 29 night after they came to know that he had been informing police about their illegal sand mining activities on the Kollidam riverbanks. The suspects — R Kanagaraj of Sathangudi, S Jayakumar of S Jayakumar of Sithamalli and Ranjith of Kurichi – were involved in illegal sand mining, police said. As per Mayiladuthurai deputy superintendent of police S Venkatesan, illegal sand mining was common in the area. https://timesofindia.indiatimes.com/city/trichy/man-killed-for-informing-police-about-sand-mining/articleshow/66889081.cms  (1 Dec. 2018) 
Before this, 33 year old Jagadeesan an officer from a special branch of TN police was found dead at Vijayanagaram in Tirunelveli district on May, 6 night. He, along with 5 other officers, were attempting to catch illegal sand miners in the act, when he was killed. District police suspect that a 3 member gang of the sand mafia in the region are responsible for the murder.
Tamil Nadu has been subject to rampant illegal sand mining. Several activists have alleged in the past that state govt has remained a mute spectator to illegal mining and smuggling of sand. The Tamil Nadu Sand Lorry Owners Association has even accused the public works department (PWD) and police officials of conniving with politicians in the seven government-run sand quarries and rivers in Tamil Nadu. According to the public works department, 5500-6000 truck-loads of sand, with 200 cubic feet of sand in each, are mined on a daily basis. But reports suggest that actual damage could be much higher. https://www.thenewsminute.com/article/tn-policeman-investigating-illegal-sand-mining-killed-hand-sand-mafia-suspected-80817  (7 May 2018)
Despite restrictions and court order, mining of river sand in Tamil Nadu thrives illegally, due to the nexus between the establishment and the sand mafia. https://www.thehindu.com/news/national/tamil-nadu/the-dark-depths-of-sand-mining/article23867892.ece  (12 May 2018)
On Nov. 1, the Madurai Bench of Madras High Court took suo motu cognisance of a letter written by residents of Nerinjikudi to the Registry, who complained of illegal sand mining in Pudukottai district. A Division Bench of Justices M. M. Sundresh and N. Sathish Kumar ordered notice to the Pudukottai district authorities. The Bench also directed them to look into the issue immediately. https://www.thehindu.com/todays-paper/tp-national/tp-tamilnadu/hc-orders-notice-on-illegal-sand-mining/article25396960.ece  (2 Nov. 2018)
Madhya Pradesh Development sinking in illegal sand mining quagmire Rampant illegal sand mining affecting development works in hundreds of villages along Chambal River in Morena.  All six Assembly constituencies of Morena are affected by illegal sand mining for the past one decade.
Illegal sand mining was not an issue till 2003 election but it was in 2006 that the Supreme Court imposed a ban on sand mining in Chambal River to protect flora and fauna in the region. After a complete ban, the mafia became active in the area. https://www.hindustantimes.com/bhopal/development-sinking-in-illegal-sand-mining-quagmire/story-sWewFC6bE5fEBjIEPXxtdO.html  (27 Nov. 2018)
Andhra Pradesh BJP MLA, TDP activists spar over illegal sand mining in Tadepalligudem Mild tension prevailed at Jagannadhapuram village in Tadepalligudem mandal with BJP and TDP leaders and activists staging protests and counter protests over alleged illegal sand transportation.
Trouble started when Tadepalligudem BJP MLA P Manikyala Rao, following information that some local TDP leaders were illegally transporting sand extracted from a tank, went to Jagannadhapuram village and stopped 30 lorries. After stopping the lorries, the MLA informed the local revenue officials, who, according to reports, did not turn up to look into the allegations illegal sand extraction. http://www.newindianexpress.com/states/andhra-pradesh/2018/nov/28/bjp-mla-tdp-activists-spar-over-illegal-sand-mining-1904338.html  (28 Nov. 2018)
WETLANDS, LAKES, WATER BODIES
Jammu & Kashmir Rs 759 cr over 16 yrs failed to revive Srinagar's iconic Dal Lake Dal Lake the 'jewel in the crown of Kashmir' today, has become a victim of political, social and economic neglect. Over the last thirty years, the lake has been deteriorating at a rapid rate.
– According to a reply submitted by the state govt to the J&K High Court on September 18,  Rs 759 crores of rupees have been spent on the lake since the year 2002, but the plight of the lake continues to become poorer by the day.
– A number of restoration plans by national and international agencies documented over decades — the Srinagar Master Plan of 1971, Lake Area Master Plan by Stein (1972), Enex consortium Report (1978), Dal Lake Development report by Riddle (1985), ODA (1989), Project report under NCLP (1997) and Project Report of AHEC Roorkee (2000) — have been toyed with, but there has been little improvement in the lake environment.
– Unchecked encroachments through human interventions, and inefficient sewage treatment plants (STPs) played a huge role in the deterioration of the lake. But experts also refer to several infrastructure projects that have been detrimental to the health of the lake.
– While Dal has always caught the public eye, the reality is that Kashmir's other major lakes such as Anchar, Wular, Gilsar, Khushalsar and Nageen are also in pitiable condition, owing to unchecked pollution and encroachment. The restoration of Dal Lake is particularly important for it holds the key to their future as well. http://citizenmatters.in/why-rs-759-crore-over-16-years-has-failed-to-revive-srinagars-iconic-dal-lake-9019  (28 Nov. 2018)
MoEF Wetlands visited by migratory birds identified in conservation push The Union environment ministry has identified 20 wetlands and 9 wetland clusters for conservation as they are congregation sites for several migratory water bird species. These wetlands include Keoladeo in Rajasthan, Coringa in Andhra Pradesh, Bhitarkanika in Odisha, Point Calimere in Tamil Nadu, Sunderbans in West Bengal, Harike in Punjab, Gulf of Mannar, and Nal Soravar in Gujarat.
These wetlands will be protected as part of the Centre's Central Asian Flyway Action Plan launched on Nov. 19. The plan states that the boundaries of these wetland clusters will be demarcated and notified under the Wetlands Rules 2017. Additional water will also be allocated whenever needed to maintain the ecological health of these wetlands. https://www.hindustantimes.com/india-news/wetlands-visited-by-migratory-birds-identified-in-conservation-push/story-E0RVNZCw25T3Nbr6pjE4UO.html  (21 Nov. 2018)
WATER OPTIONS
Maharashtra Marathwada farmers harvest water in streams, reap rich yields Farmers in the Marathwada region of Maharashtra that is prone to droughts have made agriculture remunerative by harvesting rainwater in pond-like pockets in streams, leading to groundwater recharge. People of Papal village (250 households, 1500 population) in Jaffrabad blog in Jalna district (annual rainfall 600-700 mm) harvested whatever rains they received, in streams, through Doha model (by Dilasa Sanstha), thus recharging groundwater and making farming financially sustainable. https://www.villagesquare.in/2018/11/28/marathwada-farmers-harvest-water-in-streams-reap-rich-yields/  (28 Nov. 2018)
Village digs deep into resolve to see water table rise Remarkable rainwater conservation and ground water recharge initiative in Ganeshwadi village in Kalamb tehsil in Yavatmal district in Maharashtra, dominated by Kolam tribals. Maharashtra Village Social Transformation Mission is credited for the success. https://indianexpress.com/article/india/ganeshwadi-maharashtra-water-suppy-mvstm-5475531/  (3 Dec. 2018)
Kumbharwadi village in India accounts for every drop of water When most of state was facing drought in 2016, this tiny village called Kumbharwadi in Ahmednagar district Maharastra was water sufficient. This was because in 2015 they had started a programme to budget their water resources. They were guided by a Pune based civil society think tank called Watershed Organisation Trust. https://www.youtube.com/watch?v=JEeHCNeDaqM&t=144s  (22 March 2018)
Gujarat Rajkot Municipal Corporation plans to sell treated waste water to builders, farmers Recently, Rajkot Mayor Bina Acharya held meetings with builders, prospective clients and farmers for the same. The Gavaridad STP was set up at a cost of Rs 43 crore. With a capacity to treat 70 MLD of city sewage, water from this STP is discharged into the Aji-II dam at present.
– The RMC has set Rs 18,634 per hectare per year as the price of water for farmers in case of irrigation through gravitational flow and Rs 6,211 per hectare per year for lift irrigation. As the Anandapar farmers can get water through gravity flow, they are willing to pay the amount. As per officials, water for non-irrigation purposes will be provided at Rs 14.30 per 1000 litres.
– The civic body has to pay Rs 6,000 per million liter of Narmada water. It gets 200 MLD Narmada water. https://indianexpress.com/article/cities/ahmedabad/gujarat-rajkot-municipal-corporation-plans-to-sell-treated-waste-water-to-builders-farmers-5462243/  (24 Nov. 2018)
Tamil Nadu Coastal farmers tackle salinity with innovative measures Farmers in coastal are countering salinity caused by droughts and groundwater depletion through rainwater harvesting and by reviving traditional organic farming practices. https://www.villagesquare.in/2018/11/30/coastal-farmers-tackle-salinity-with-innovative-measures/  (30 Nov. 2018)
West Bengal CM releases booklet on Purulia  Mamata Banerjee (came to power in 2011) has released a booklet titled In pursuit of a dream – towards water secure Purulia, on Nov 27, 2018.
The 43 page booklet contains the study that has been commissioned by Alokesh Prasad Roy, District Magistrate, Purulia and district programme coordinator, Mahatma Gandhi National Rural Employment Guarantee Act (MGNREGA) and edited by Dibyendu Sarkar, commissioner, MGNREGA. http://www.millenniumpost.in/kolkata/purulia-no-longer-drought-prone-cm-releases-booklet-chronicling-its-journey-329502   (28 Nov. 2018)
GROUNDWATER
Tamil Nadu Expert committee on Thoothukudi Sterlite submits report to NGT Months after Vedanta's Sterlite Copper Smelter plant appealed to the NGT against the Tamil Nadu Pollution Control Board (TNPCB)'s decision to seal the plant, an Expert Committee appointed to probe into the matter has submitted its final report. While the next hearing was slotted for December 10, sources tell TNM that affected parties have requested for an earlier date and are likely to receive one this week. https://www.thenewsminute.com/article/expert-committee-thoothukudi-sterlite-submits-report-ngt-case-till-date-92276  (27 Nov. 2018)
The 3 member panel said that the state's decision to shut down the plant is "not sustainable". Justice Tarun Agarwal, the chairperson of the panel, said the All India Anna Dravida Munnetra Kazhagam government's decision was against the principles of natural justice. However, the committee asked Vedanta, the firm which owns the plant, to set rules for how waste management is to be carried out. It also asked the CPCB to ensure that Vedanta complies with pollution norms. https://scroll.in/latest/903769/sterlite-decision-to-shut-down-plant-in-thoothukudi-is-not-sustainable-says-ngt-appointed-panel  (28 Nov. 2018)
Punjab Groundwater levels drop further As per latest report of the Central Ground Water Board (CGWB) the groundwater withdrawal has exceeded on an average from 149% assessed last in 2013 to 152% in 2016-17, wherein some central pockets also registered and exponential incease of 300% in cities like Patiala, Jalandhar, Amritsar and Sangrur.
The new findings have been made in the latest report on the CGWB based on data accumulated in these two years. The last assessment was done in 2013 and could not be conducted in 2014-15 to update the methodology of assessment.
In this assessment 148 blocks were covered 10 more than those covered in 2013. As per officials Ferozepur, Bathinda, Muktsar and Fazilka fall in the safe category as the water in these districts in not extratcted much for drinking or irrigation due to its saline properties and people in these districts use Satluj canal water instead.
As per Dinesh Tiwar, senior scientist CGWB, besides salinity, rainwater run off is also restricted by the ridge in the area. Owing to this, the water gets collected up to approximately 1.5 m under the ground however, this waterlogging only prove to be detrimental for the growth of vegetation in the region.
According to the state govt figures, there are 1.4 million tubewells in Punjab which are further depleting the water table. The CGWA assessed 138 blocks of which 109 were found in dark zones. Most of these blocks fell in districts like Ludhiana, Jalandhar, Kapurthala, Patiala, Sangrur, Moga, Mansa and Amritsar.  https://timesofindia.indiatimes.com/city/chandigarh/groundwater-in-punjab-has-dipped-further-says-cgwb-report/articleshow/66873236.cms  (30 Nov. 2018)
Gujarat Power norms relaxed for 'dark zones' farmers  This was bound to happen in an election year, but this short sighted move will worsen the already bad groundwater situation in Gujarat. "With large parts of the state facing water shortage for irrigation, the Gujarat government on Nov. 1, decided to allow power connections to the farmers for agricultural needs in the 57 "dark zone" talukas where the groundwater level is critically low. https://indianexpress.com/article/cities/ahmedabad/gujarat-power-norms-relaxed-for-dark-zones-farmers-5474448/  (2 Nov. 2018)
Study Groundwater exploitation linked to rise in India's carbon emissions Over-extraction of groundwater is a major environmental challenge in many parts of India. It is not only leading to rapid decline in groundwater reserves but also contributing to India's carbon emissions, a new study has warned.
Researchers at the Indian Institute of Technology, Gandhinagar, have assessed carbon emissions due to pumping as well as bicarbonate extraction using data related to energy requirement of pumping and chemistry of the groundwater.
The total carbon emissions from the groundwater sector have been estimated to be between 32 to 131 million tonnes a year. The carbon dioxide emissions due to bicarbonate (about  0.72 million tons per year) are far less than by those due to groundwater pumping (31 to 131 million tons per year) in India, according to the study.  https://www.downtoearth.org.in/news/water/groundwater-exploitation-linked-to-rise-in-india-s-carbon-emissions-study-62140  (15 Nov. 2018)
WATER POLLUTION
BBC Report जल ही जीवन नहीं, जल ही ज़हर है जहां उत्तर प्रदेश के सहारनपुर से निकलने वाली नदी हिंडन, पश्चिमी उत्तर प्रदेश के छह ज़िलों बागपत, शामली, मुज़फ़्फ़रनगर, मेरठ और ग़ाज़ियाबाद से होती हुई यमुना में मिलती है. इन ज़िलों के 154 गांव हिंडन और इसकी सहायक नदियों कृष्णा और काली के किनारे बसे हैं और यहां के लोग इन ज़िलों में लगे कल-कारख़ानों की क़ीमत चुका रहे हैं.
सरकारी फ़ाइलों के मुताबिक़, छह ज़िलों में लगभग 316 फ़ैक्ट्रियां हैं जिनमें से 221 फ़ैक्ट्रियां चल रही हैं, इनका कचरा नदियों में जाता है इसलिए नदियों का पानी ज़हरीला हो चुका है, लेकिन मामला इतना सीधा-सादा नहीं है. अगर ऐसा होता तो गांव के लोग नदी का पानी पीने के बदले कुएं, ट्यूबवेल या हैंडपंप का पानी पी सकते थे.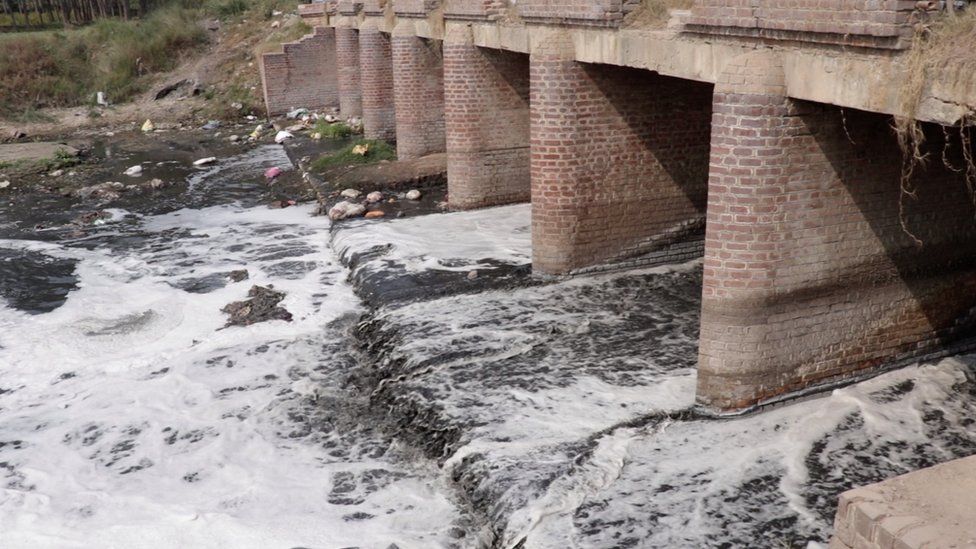 लेकिन ज़हरीला पानी ज़मीन के नीचे तक पहुंच चुका है यानी अब उनके पास कोई विकल्प नहीं बचा. वे जानते हैं कि हर घूंट के साथ ज़हर उनके शरीर में जा रहा है. गहरा भूरा, लाल पानी पीकर बीमारियां झेलना और मरना मानो इनकी नियति बन गई है. यहां पानी में निकल, पारा, कैडमियम, सल्फ़ाइड, क्लोराइड जैसे जानलेवा हैवी मेटल काफ़ी ज़्यादा मात्रा में है, जिसके कारण गावों के हैंडपंप का पानी ज़हरीला हो चुका है ऐसे ही 154 गांवों में से एक है गांगनौली. https://www.bbc.com/hindi/india-46340873  (28 Nov. 2018)
Punjab Jalandhar residents get polluted water Polluted water supply in the Mori Mohalla and Ber Sahib Road at Sultanpur Lodhi has made the lives of residents miserable. Receiving the water having a foul smell for the past many days, residents said the inaction by the Nagar Council in the matter was the reason behind the supply of dirty water to residents.
The affected areas are the market opposite the Sultanpur Lodhi Civil Hospital as well as the Ber Sahib Road, Mori Mohalla and a migrants' colony near the area. Residents said with many of the area water pumps being without chlorine dosers, the absence of these was also causing a problem. With the foul water, cases of vomiting and diarhoea had also been reported from 10 to 12 houses of the area. https://www.tribuneindia.com/news/jalandhar/residents-get-polluted-water/690742.html  (29 Nov. 2018)
Chandigarh Only one water tank for 3000 Isapur residents A water tank, managed by Derabassi Municipal Council (MC), is the only source of drinking water for around 3,000 people, claim the residents of Issapur village and colony. The MC had installed two tube wells and a water tank in the village four years ago, but the villagers say that the groundwater is unfit for drinking.
Issapur is the most-affected village from polluted groundwater and the villagers are fighting a case against the industrial units in the village in NGT. A study conducted by Punjab Agricultural University (PAU) in 2012 had said that the water was "unfit" for drinking. https://indianexpress.com/article/cities/chandigarh/chandigarh-only-one-water-tank-for-3000-isapur-residents-5456446/  (21 Nov. 2018)
Op-Ed Why no noise on water pollution? Reshmi R Dasgupta  The news this week that Sisamau, Kanpur's dirtiest drain, has finally been totally diverted to sewage treatment plants—sparing the holy Ganga 14 crore litres of effluent and chemical laden waste water every day— came as a shock to me. First, because it is unimaginable that such a drain was allowed to exist for 128 years and second, that we as a nation are so blasé about certain kinds of pollution. https://economictimes.indiatimes.com/blogs/SilkStalkings/why-no-noise-on-water-pollution/  (30 Nov. 2018)
WATER
CAG Report NRDWP failed to achieve targets In August 2018, the CAG found that the National Rural Drinking Water Programme had failed to meet its targets. https://www.indiaspend.com/national-rural-drinking-water-programme-failed-to-achieve-targets-government-auditor-heres-why/  (26 Nov. 2018)
– सीएजी के मुतािबक साफ पेयजल के लए भारत सरकार ने पांच सालों में 89,956 करोड़ रुपये का 90 फीसदी पैसा 2017 तक खर्च कर डाले हैं।  लेकिन, देश की 16 करोड़ से अधिक आबादी अभी भी साफ पीने वाले पानी से महरूम है। NRDWP के तहत 35 फीसदी ग्रामीण इलाकों को साफ पानी पहुँचाने के लिए चिन्हित किया गया। जिसके तहत पानी के कनेक्शन के साथ रोजाना प्रति व्यक्ति 40 लीटर पानी देने की बात थी। इसमें सिर्फ आधा ही काम पूरा हो पाया।
– रिपोर्ट में योजना को गलत तरीके से लागू करने और खराब मैनेजमेंट को जिम्मेदार ठहराया गया है।  इसमें मुख्य रूप से बेकार मदों में पैसे की बर्बादी, खराब बुिनयादी ढांचा और कॉन्ट्रैक्ट मैनेजमेंट में गैप को चिन्हित किया गया है।  बेकार मदों में पैसे की बर्बादी का आंकड़ा तकरीबन 2,212.44 करोड़ बताया गया है। https://www.jansatta.com/national/despite-spending-lots-of-money-government-drinking-water-scheme-failed/829477/  (26 Nov. 2018)
Telangana In spite of mega projects water is scarce in rural  As the Telangana Assembly goes to polls in December, the biggest complaint in the villages is the lack of access to reliable water supply. This is despite the state govt implementing mega-budget schemes. The mega water projects delivered erratically in the state that has major rivers such as the Godavari and the Krishna passing through. Even the renovation of tanks did not deliver the desired results, throwing farmers to vagaries of nature. https://india.mongabay.com/2018/11/22/in-spite-of-mega-projects-water-is-scarce-in-rural-telangana/  (22 Nov. 2018)
Bundelkhand Searching for Water in UP's Manikpur An acute water crisis is unfolding in Manikpur as village authorities fail to accept responsibility, much less initiate action to improve the situation. Almost a decade has passed since the first special drought package, however its benefits are yet to trickle down to the people of Bundelkhand. https://thewire.in/rights/searching-for-water-in-ups-manikpur  (23 Nov. 2018)
Gujarat For successful water conservation, let people collect, act on own data This is indeed so true: The need to manage water at the local level, including letting communities collect their own data about water consumption and wastage, is imperative for water conservation efforts to be successful. https://www.dnaindia.com/ahmedabad/report-gujarat-for-successful-water-conservation-let-people-collect-act-on-own-data-2690054  (28 Nov. 2018)
National 'India may face an intense and increased water deficit next year'  The 12-month (Aug 2018 to July 2019) Global Water forecast indicates exceptional water deficits in Maharashtra, Telangana, Andhra Pradesh, Karnataka, and Madhya Pradesh. The results showcase that exceptional water deficits occur throughout Gujarat in the west and severe to exceptional deficits from Madhya Pradesh through Karnataka, as well as in Punjab, Rajasthan, Haryana, and India's far northeast. https://www.downtoearth.org.in/news/climate-change/-india-may-face-an-intense-and-increased-water-deficit-next-year–62284  (27 Nov. 2018)
India is deep in Asia's $4 trillion water risk. That's how much GDP is at stake if the region cannot better manage rivers that its economies depend on, according to China Water Risk. India looks most exposed. It's one of 16 countries that rely on a network of waterways flowing from the Himalayas. That's a problem: its glaciers are melting fast due to climate change, altering the volume and reliability of river water. https://www.financialexpress.com/india-news/india-is-hit-hardest-by-asias-4-trillion-water-risk/1398733/  (30 Nov. 2018)
Power generation stresses an already water-starved India The International Renewable Energy Agency (IRENA) has said that 85 per cent of the country's power generation relies on freshwater. IRENA's estimate is based on a study which says that power generation is expected to account for nearly 9 per cent of the water consumed in the nation by 2050 from 1.4 per cent in 2025 if energy generation keeps growing at the current pace.
The report, titled 'Water Use in India's Power Generation: Impact of Renewables and Improved Cooling Technologies to 2030', says, "Rapid growth in freshwater-intensive thermal power generation can contribute to water stress in the areas where plants are located."
The report, which has been prepared by World Resource Institute and IRENA, suggests that the combination of improved power plant cooling technologies and renewable energy technologies could help the country lessen the intensity of fresh water use for electricity generation.
Another report, which has not been released yet, underlines the fact that water scarcity has already begun putting pressure on power generation. This study has been conducted by Vasudha Foundation, which will release it on November 29. It says that due to lack of water, India experienced loss of electricity generation of up to 26,287.49 million kWh from 2012-13 to June 2017. https://www.downtoearth.org.in/news/energy/power-generation-stresses-an-already-water-starved-india-62154  (16 Nov. 2018)
DROUGHT 2018
Maharashtra 'Govt should ban sugarcane cultivation in Marathwada' Someone needs to discuss with Rajendra Singh ji about this? He says: "The Jalyukt Shivar is an ideal water conservation project, which is essential to make Maharashtra drought-free. The concept has caught the imagination of the rural masses. The huge participation of villagers is a testimony to its success. In the first year of its introduction, Jalyukt Shivar saw public contribution of Rs 300 crore. Villagers voluntarily came forward for "shramdan" (labour). The involvement of the people helped in creating very good quality water structures. There were different models adopted as per the geographical requirements like check dams, canals, desilting and deepening and widening of rivers and farm ponds."
– He has one qualification: "But since 2017, wherever such projects were driven by contractors, it was a failure. Contractor-driven work was unscientific and profit-oriented. There is a difference when villagers own up a project. It works. But if it is driven by contractors, it fails. https://indianexpress.com/article/cities/mumbai/govt-should-ban-sugarcane-cultivation-in-marathwada-5464274/  (26 Nov. 2018)
Meanwhile the water level in dams across Nashik is falling. The water storage level in Darna Dam dropped below 50 per cent of its capacity and is way below the level at this time last year, when it was 99 per cent full. WRD sources said it will be tough to keep up wate supply throughout the year with this level in the dams. Farmers fear for their crops. Residents of Yeola town, which gets supply of drinking water from Palkhed dam, also expressed fear of insufficient water during peak summer.   https://timesofindia.indiatimes.com/city/nashik/water-in-district-dams-goes-down-to-worrying-levels/articleshow/66776641.cms  (24 Nov. 2018)
Gujarat After poor monsoon, lack of Narmada water fuels farmers' protests Farmers' protests have erupted in Saurashtra over lack of water for irrigation as authorities clamped on "illegal siphoning" of water from Narmada canal and deployed security forces along the canal network. Farmers in Morbi district have been sitting on a dharna for the last one week, demanding water to irrigate their crops following deficient rainfall in the area this monsoon.
In the neighbouring Surendranagar district, farmers enforced a bandh in Lakhtar taluka on Wednesday after officials from Sardar Sarovar Narmada Nigam Limited (SSNNL) removed at least 45 pipes which were installed by farmers to drain water from the Saurashtra branch canal (SBC) for irrigation purposes.
Farmers have been drawing water from the canal to Motisar talav in the village, from where it is pumped to ponds in downstream villages like Talvani, Kadu, Kadam, Aniyari among others for irrigating farms. https://indianexpress.com/article/india/saurashtra-after-poor-monsoon-lack-of-narmada-water-fuels-farmers-protests-5469913/  (29 Nov. 2018)
Govt. to fill up dams in wake of looming water crisis Not clear what these figures exactly mean: The NCA has sanctioned 6.80 MAF stock of water to Gujarat. Out of which, 2.54 MAF water has already been used and 4 MAF water will be given to farmers for irrigation in Ravi crop season. Gujarat has borrowed 0.20 MAF water from Rajasthan and 0.13 MAF from Maharashtra last year. In total, there will be a shortfall of around 1.17 MAF water stock in Gujarat this year. https://www.dnaindia.com/ahmedabad/report-gujarat-government-to-fill-up-dams-in-wake-of-looming-water-crisis-2689968  (28 Nov. 2018)
Govt resorts to rotational supply of Narmada water Claim govt officials, the move, largely focussed only on four districts (Saurashtra's Surendranagar and Morbi districts, and North Gujarat's Banaskantha and Patan districts), excluding the prosperous central Gujarat districts, will save 30 per cent water, & will help Narmada water reach the "last farm located at the tail-end of the 60,000 kilometer-long canal network".
– At present, 22,000 cusecs of Narmada water is being released into the main canal. Of this, 1,500 cusecs is for Rajasthan, an additional 1,500 cusecs is for drinking water purposes in Gujarat, and the remaining 19,000 cusecs is for irrigation. Out of the total planned Narmada canal network of 71,748 kilometers, more than 59,878 km have been completed (as on July 2018). As on November 26, farmers in Gujarat have sown rabi crop in over 12.36 lakh hectares which is about 32 per cent less as compared to last year. https://indianexpress.com/article/cities/ahmedabad/gujarat-government-resorts-to-rotational-supply-of-narmada-water-5471629/  (30 Nov. 2018)
Study How resilient is India to water-related disturbances? A recent study finds that out of 634 districts considered, only 38 percent were found resilient to dry conditions, while there was a significant reduction in water use efficiency for some of the districts.
This finding adds to another study that determined resilience of 55 water catchments around the country and found that catchments dominated by human activities were less resilient.
Experts feel that incorporating ground realities (as against remotely sensed data) and the socio-economic context into resilience is crucial when making projections for the future. https://india.mongabay.com/2018/11/29/how-resilient-is-india-to-water-related-disturbances/  (29 Oct. 2018)
FLOOD 2018
Kerala Floods 2018 Climate change caused deadly rains: IMD The extreme rainfall and flooding that devastated Kerala in August, the worst disaster the state confronted in almost a century, were a result of climate change, the ministry of earth sciences (MoES) has concluded after a meteorological analysis of the event.
The findings say that the elevation in Kerala ranges from -48 m below sea level (in the backwaters and other low-lying areas) to +2,692 m (in the hills) above the mean sea level, with 35 % of area between 0-50 m, 39.82 % between 50-500 m and 24 % of the area above 500m. "More than 75% of the geographical area in Kerala is vulnerable to flooding. They are sitting on the most vulnerable zone. This, coupled with unprecedented rainfall, led to extreme flooding," said Ramesh, who displayed other rainfall maps showing the west coast would be highly vulnerable to extreme rainfall events in future.
Rainfall data for 1951 to 2016 shows that rainfall events of more than 10 to 15 cm per day are increasing while those of less than 5 cm per day are gradually decreasing.
However, this statement by DG of IMD is misleading: "Kerala flooding has happened because of extreme rainfall during monsoon 2018 and large amounts of water stored in catchments of reservoirs, which had to be released… Under this rainfall scenario, by the end of July 2018, in all the major 35-odd reservoirs in Kerala, the storage was close to the full reservoir level (FRL) and had no buffer storage to accommodate the heavy inflows from August 8. Continued exceptionally heavy rainfall in August in the catchment areas had compelled the authorities to resort to heavy releases downstream into the rivers leading to widespread flooding,"" As SANDRP has shown in the past, in spite of excess rainfall, proper operation of the reservoirs could have hugely reduced the proportion of the disaster. https://www.hindustantimes.com/india-news/climate-change-caused-deadly-kerala-rains-imd/story-YEg7ZHY2Mkaf3LhROY724O.html  (24 Nov. 2018)
India Met Department chief KJ Ramesh also spoke of a new technology that has been developed to assess the rise of water levels in rivers and reservoirs due to rain which can help state govt minutely monitor the impact of rainfall. Termed 'Impact Based Forecasting Approach', it shows "pre-event scenario" that can help authorities in taking real-time decisions, he said.
Ramesh said: "We should be able to generate a scenario where we can take decisions to release water or not release it. It will be helpful for every state authority to take decision. We can run this system in pre-event scenario. We are now in a position to put this technology into service." https://indianexpress.com/article/india/excess-rainfall-causing-kerala-floods-a-result-of-climate-change-imd-chief-5462231/  (24 August 2018)
New study questions Kerala flood link with climate change The study (published in the Journal of Geological Society of India) is done by researchers at the Water and Climate Lab at Indian Institute of Technology Gandhinagar, based on analysis of data relating to rainfall, temperature and extreme events in Kerala between 1951 and 2017 as well as model simulations.
– During this period, Kerala saw significant decline in mean and extreme monsoon rainfall, total runoff and increase in temperature during monsoon months. There was also a decline in occurrence of heavy rainfall over one or two days. It means Kerala witnessed drying and warming during the monsoon season since 1951.
– The study says, the 2018 extreme precipitation and flood events might have been caused due to anomalous large-scale circulation features. Changes in land use and land cover also affect hydrological conditions, which in turn, can affect flood peaks and inundation. Still "how much impact historic land cover change in Kerala had on the severity of flood in August 2018 is yet to be understood," the study says.
– "The situation of reservoirs might have played a key role in at least worsening the flood situation," researchers said. The group had earlier reported that excess rainfall caused 'above normal' reservoir storage prior to the extreme rainfall on August 15 and 16.
– "The entire process of loading the atmosphere with moisture because of warming is precisely that a one-in-a-hundred or fifty year event can begin to occur more frequently. So we need to get to the processes that pumped moisture in and that goes back to the work of Roxy Mathew Koll at IITM on the Arabian Sea warming supplying moisture for increase in widespread monsoons," pointed out Raghu Murtugudde, professor of Atmospheric and Oceanic Science and Earth System Science at the University of Maryland and visiting professor at IIT Bombay. https://www.thehindubusinessline.com/news/science/new-study-questions-kerala-flood-link-with-climate-change/article25605623.ece  (27 Nov. 2018)
EPW Kuttanand After the Flood Key Message from this piece about the damage that Kuttanad faced in Kerala floods in Aug 2018: Poor drainage facilities is one of the prime reasons for the floods, and has not yet been dealt with. The role of unscientific road construction, which has curtailed the natural flow of streams and rivers, is undeniable in this catastrophe. In the land of backwaters and the abode of the largest freshwater lake in the state, people were struggling to access fresh drinking water, with those in isolated regions having to travel around seven kilometres on rowboats to get to drinking water. https://www.epw.in/journal/2018/47/postscript/kuttanad-after-flood.html
Study High-rises should not be allowed on steep slopes of W Ghats A report titled Kerala Floods 2018-The Disaster of the Century has emphasised that high-rise buildings should not be permitted on the steep slopes of the Western Ghats as the region is prone to landslides. The study has been conducted by a six-member expert panel appointed by the Rajiv Gandhi Institute of Development Studies (RGIDS).
The report has emphasised on the need to restructure the present development plan and exposed the various deficiencies in the system which aggravated the deluge. It has also recommended a strategy to rethink operations of hydel power stations and to institutionalise a proper strategy for the opening of major dams. https://www.dailypioneer.com/2018/india/high-rises-should-not-be-allowed-on-steep-slopes-of-w-ghats–study.html  (26 Nov. 2018)
According to World Meteorological Organization (WMO) report released on Nov. 29, the devastating Kerala floods caused the maximum number of casualties globally among the extreme weather events this year,. The State of Global Climate of 2018 report also noted that this year was the fourth consecutive warmest year globally. https://indianexpress.com/article/india/kerala-floods-led-to-most-casualties-among-extreme-global-events-in-2018-climate-report-5473610/  (1 Dec. 2018)
Assam CAG Audit includes Audit of Flood Management, among other relevant department audits. https://cag.gov.in/sites/default/files/audit_report_files/Report_No_5_of_2018_-_Social_General_and_Economic_Non-PSUs_Sectors_Government_of_Assam.pdf  (24 Sept. 2018)
Himachal Pradesh CM says 343 people died and damage worth Rs 1600 Cr happened during monsoon incidents. http://www.uniindia.com/343-dead-rs-1-600-cr-loss-in-hp-during-monsoon-cm/north/news/1418681.html  (28 Nov. 2018)
MONSOON 2018
Karnataka 69% deficit in northeast monsoon, city's groundwater likely to plummet The northeast monsoon has been unfavourable to Bengaluru this year. The city received only 72 mm of rain in the October-November period, as against the excessive 202 mm during the same period last year. https://economictimes.indiatimes.com/news/politics-and-nation/69-deficit-in-northeast-monsoon-citys-groundwater-likely-to-plummet/articleshow/66729552.cms  (21 Nov. 2018)
Study 1 ml yrs of precipitation history of the monsoon reconstructed Scientists from the GEOMAR Helmholtz Centre for Ocean Research Kiel have now published a reconstruction of precipitation over the eastern Indian Ocean over the past one million years in the international journal Nature Communications. It points to connections with controlling processes in the southern hemisphere that have received little attention so far. https://phys.org/news/2018-11-million-years-precipitation-history-monsoon.html   (8 Nov. 2018)
AGRICULTURE
ISMA Indian Sugar Sector in Need of Urgent Reform  As per association's director general, Abinash Verma he govt needs to stop fixing the cane price and allow the country to move to a system such as revenue sharing between mills and farmers. He also said that said India's sugar stocks were expected to rise during the 2018/19 season despite an expected dip in production to 31.5 million tonnes from the previous season's 32.5 million tonnes.
Indian sugar consumption should be 26 million tonnes and there is an export target of 5 million, indicating a build in stocks to 11.2 million tonnes from 10.7 million, Verma said at a conference organised by the International Sugar Organisation. https://thewire.in/agriculture/indian-sugar-sector-in-need-of-urgent-reform-says-isma-director  (29 Nov. 2018) 
ENERGY OPTIONS  
National Shapoorji Pallonji bags country's first large-scale floating solar project India's first large-scale floating solar project is on its way with Shapoorji Pallonji winning the first block in Solar Energy Corporation of India's auction of 150 MW of such projects on the Rihand Dam, along the Uttar Pradesh-Madhya Pradesh border.
Shapoorji Pallonji won the reverse auction for 50 MW quoting a tariff of Rs 3.29 per unit, officials said. "This is the country's first floating solar project at such a scale," said a Solar Energy Corporation of India (SECI) official. The project is to be completed in 13 months. https://energy.economictimes.indiatimes.com/news/renewable/shapoorji-pallonji-bags-countrys-first-large-scale-floating-solar-project/66837326  (28 Nov. 2018)
Rooftop solar runs into roadblocks The state-owned electricity distribution companies' apathetic approach coupled with the lack of appropriate financing options available in the market are seen to be impeding the uptake of rooftop solar in the country. https://www.financialexpress.com/industry/rooftop-solar-runs-into-roadblocks/1396224/  (28 Nov. 2018)
Growing demand seen leading to power shortage in 4 years: Analysts SPECULATIVE? What about increasing solar, wind capacities and increasing energy efficiencies? And abysmally low PLFs of thermal power projects. "Our existing capacity and pipeline can at best meet projected peak demand till FY23, post which we will start running peak deficit.. India's peak demand will catch up with the available peak supply by FY21," ICICI Securities said in a recent note. https://www.financialexpress.com/economy/growing-demand-seen-leading-to-power-shortage-in-4-years-analysts/1400030/  (1 Dec. 2018)
 Percentage segregation of all India installed power generation capacity Coal is the single largest source of energy for electricity production, further, 45,457 MW is from hydro, 6,780 MW is from nuclear and 70, 648 MW is from renewable energy. Here's a snapshot: https://energy.economictimes.indiatimes.com/news/power/infographic-percentage-segregation-of-all-india-installed-power-generation-capacity/66774024  (23 Nov. 2018)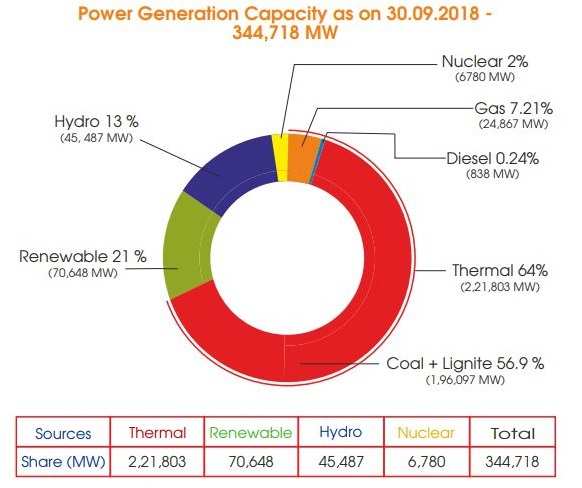 Another infographic shows that Plant Load Factor of thermal power projects at All India level has been falling since 2012-13. There is slight improvement in 2018, but the PLF of private projects still shows falling trend. https://energy.economictimes.indiatimes.com/news/power/infographic-trend-of-plf-of-thermal-plants-in-india-from-2007-to-2018/66774104  (23 Nov. 2018)
SOUTH ASIA
IWT India to expedite 3 projects to stop its share of Indus water India has decided to fast-track three projects, including construction of two dams, to arrest the unutilised water of its share under the bilateral Indus Waters Treaty with Pakistan, govt officials said. The three projects include the Shahpur Kandi dam project, a second Sutlej-Beas link in Punjab and the Ujh Dam project in Jammu and Kashmir, they said. https://www.hindustantimes.com/india-news/india-to-expedite-3-projects-to-stop-its-share-of-indus-waters-from-flowing-into-pakistan/story-qj7xCE1VI1Z4tOoGHwFhJP.html  (25 Nov. 2018)
Bhutan Hydropower loan forms 94 percent of INR debt  Bhutan's Hydropower plans are unlikely to be realised: Hydropower loans, which account for 94 percent of rupee debt and almost 70 percent of the total outstanding external debt of Nu 172B as of March this year, is bloating the country's debt.
The 12th Plan targets to lower the debt to GDP ratio to 61 percent from 115. One of the key result areas is maintaining the non-hydro debt at 15 percent of the GDP, well below the threshold of 35 percent prescribed in the public debt policy. http://www.kuenselonline.com/hydropower-loan-forms-94-percent-of-inr-debt/  (29 Nov. 2018)
Nepal Parliament commissions team to study hydropower development Nepal's Finance Committee in the House of Representatives has formed a team to carry out a study on various dimensions of hydropower development in Nepal. A meeting of the Committee on Nov 28, 2018 decided to form the five-member panel.
Ruling Nepal Communist Party's Ghanashyam Bhusal leads the team. Other four members are Ram Kumari Jhankri, Ram Babu Kumar Yadav, Sarbat Aara Khanam Halwaini and Hari Raj Adhikari. The Committee has asked the team to submit its report within next 15 days.
The panel has been directed to collect information on details of people and firms who have been licensed to develop hydro projects and progresses they have made. It will also study if financial transactions of the projects are happening in line with constitutional and legal provisions and if the state is getting due revenues from them. http://english.onlinekhabar.com/parliament-commissions-team-to-study-nepals-hydropower-development.html   (28 Nov. 2018)
Nepal- Bangladesh Govts to talk power trade investment Officials of the energy ministries of Nepal and Bangladesh will explore the possibility of energy trade and Bangladeshi investment in Nepal's hydropower sector during their first meeting scheduled for first week of Dec 2018. The Nepal-Bangladesh meeting will also discuss the possibility of developing two hydropower projects with a total installed capacity of 1,600 MW with Bangladeshi investment.
"Bangladesh was interested in financing the 1,110 MW Sunkoshi II and 536 MW Sunkoshi III located on the Sunkoshi River in central Nepal," said Gokarna Panta, under-secretary at the ministry. Nepali officials participating in the meeting will also take stock of the progress made by Bangladesh in its plan to import electricity generated by the 900 MW Upper Karnali Hydropower Project being developed with Indian funding. http://kathmandupost.ekantipur.com/news/2018-11-30/nepal-bangladesh-to-talk-power-trade-investment.html  (30 Nov. 2018)
Pakistan Destruction Of Fish Habitat To Affect Livelihood Of Over 59 Mln People: Experts A three-day consultation meeting on Small Scale fisheries in South Asia was jointly organized by Pak's Ministry of National Food Security and Research in collaboration with SAARC Agriculture Center and Pakistan Agriculture Research Council.
– They said lack of community-based traditional, cooperation, assistance, trade unions and co-management regime for the greater legitimacy and ownership were the other challenges faced by the fisheries sector and halting their growth. They said fisheries sector world wide trade was recorded at US$ 171 billion annually, whereas South Asia was exporting fish and fish products worth US$ 6.5 billion within 4 percent year on year growth.
– They said if the appropriate measures were not taken to mitigate the challenges faced by the fisheries and aqua sector, it could affect the source of livelihood of about 59.6 million people across the world; alone in South Asia, over 50 million people would directly be affected. They said per capita fish consumption was recorded at 1.9 kg in Pakistan, Nepal 1.6 kg, Bangladesh 21 kg, India 9.2 kg and Sri Lanka 15.8 kg.
– Director SAARC Agriculture Center informed that it has initiated fish biodiversity management in trans boundary rivers and climate change impact. https://www.urdupoint.com/en/business/destruction-of-fish-habitat-to-affect-livelih-490270.html  (27 Nov. 2018)
Bangladesh Hilsa ban affects fisherfolks Strict implementation of the seasonal bans on Hilsa fishing has brought the species back from near extinction, but the govt is struggling to adequately help the poor fishermen these bans have effected. https://www.thethirdpole.net/en/2018/11/26/bangladesh-saves-its-favourite-fish/  (26 Nov. 2018)
Also see, old but interesting report: Fishing with otters  Fishermen in Narail, 130 miles from capital Dhaka, use the otters to lure fish into their nets. In 25 years the number of families otter fishing has dropped from 500 to 150. Expert Mohammed Feeroz fears that if the trend continues otter fishing will be 'wiped out' within 20 years. The fishermen spend around half of their £150 earnings each month buying feed for the otters. Rivers in the area are now short of fish because of water pollution and overcatching. https://www.dailymail.co.uk/news/article-2585932/Fishing-otters-Age-old-Bangladeshi-tradition-involves-harnessing-mammals-like-reindeer-chase-fish-nets.html  (21 Mach 2018)
About Bangladesh River Forum More than 120 river activist, researchers, experts, academicians, practitioners, from 81 'riverine' organizations from 63 river-region joined together in Bangladesh River Forum held in PKSF Auditorium, Dhaka, Bangladesh on Nov. 18, 2018.
– The Bangladesh River Forum 2018 was the first national initiative of its kind. Its omni objective was listening to the grassroots movements, initiatives, and civil society organizations. http://en.samakal.com/opinion/article/1811208/bangladesh-river-forum–why-and-how  (26 Nov. 2018)
Communities along Brahmaputra need much more research-backed information  Any extreme event – floods, high tide, the river turning black from high turbidity – becomes fodder for speculation, misinformation. https://scroll.in/article/894189/a-speculative-river-why-communities-along-brahmaputra-need-much-more-research-backed-information  (18 Oct. 2018)
CHINA
Chinese officials dump chemicals in river ahead of govt inspection on pollution Officials in Weifang city in China's eastern Shandong Province have been caught throwing USD 6.8 million worth of chemicals into a river ahead of a government inspection to mask pollution problem, according to a state-run media report. https://indianexpress.com/article/world/chinese-officials-pollution-river-5457747/  (21 Nov. 2018)
ASIA
Opinion The Race to Dam the Himalayas This sounds caution about large dam building plans in the Himalayas.
Fortunately, at least as it seems now, most of these planned projects wont come up. https://www.nytimes.com/2018/12/01/opinion/himalayas-mountains-dams.html  (1 Dec. 2018) 
THE REST OF THE WORLD
Global After a Long Boom, an Uncertain Future for Big Dam Projects GREAT, but STRANGELY, word India or any of the Indian projects does not figure here!
– Global investment in wind and solar energy now far outpaces investment in hydropower. Compared to hydropower capacity investment last year, solar was three to four times greater and wind was more than double, according to a United Nations Environment Program report⁠. Even the China Three Gorges Dam Corporation, which built the world's largest dam on China's Yangtze River, now invests heavily in wind and solar energy project. Richard M. Taylor, chief executive of the International Hydropower Association (IHA) — which represents dam planners, builders, and owners in more than 100 countries — said in an interview that "the energy market has been quite challenging,"⁠ in part because wind and solar plants offer electricity at extremely low prices. As a result, Taylor said, "The market share of hydro versus wind, bioenergy, and solar photovoltaics is diminishing."
– Thayer Scudder, an 88-year-old American anthropologist published a book in September tracing his career-long evolution from dam enthusiast to opponent. A frequent consultant on World Bank dam projects, Scudder concluded, "What I learned was that important short- and medium-term benefits of large dams tend to be followed by major and unacceptable longer-term economic, environmental, and social costs, including costs for more than a half-billion project-affected people living in dammed river basins."
– Probably the best-known research, a 2014 Oxford University study of 245 large dams built between 1934 and 2007, concluded that without even taking into account dams' vast social and environmental costs, they are too expensive "to yield a positive return"— that is, the dams aren't cost-effective.
– A 2016 study in BioScience found that methane emissions from reservoirs constitute 1.3 percent all of global human-caused greenhouse gas emissions, and the highest-emitting reservoirs rival coal-fired power plants⁠. It is commonly assumed that methane emissions occur chiefly in shallow, tropical reservoirs, as if it's a problem for only a small number of dam projects. But according to John Harrison, a professor at Washington State University's School of the Environment and one of the study's authors, "There is strong and growing evidence⁠ that temperate reservoirs can produce methane at rates comparable to those reported from tropical reservoirs." https://e360.yale.edu/features/after-a-long-boom-an-uncertain-future-for-big-dam-projects  (27 Nov. 2018)
ALERT Trouble with EIAs  EXCELLENT About EIAs globally:
– But the sad fact is, those Environment Impact assessments are increasingly not worth the paper they're printed on.
– To begin with, a rigorous assessment takes time, effort, and resources. For example, detecting threatened species where the proposed development will occur — one of the main things EIAs are supposed to do — is technically challenging and expensive.
– Then there's the scope of the assessment.  The impacts of any development are rarely confined to its planned 'footprint'. And the environmental changes from roads extend well beyond the road itself. In the Amazon, roads create broad 'deforestation halos' — with 95 percent of all deforestation occurring within 5.5 kilometers of a legal or illegal road.
– Furthermore, EIAs often fail to consider longer-term impacts of developments.
– Developers often underestimate the spatial impacts of planned projects.  EIAs for large hydro-dams in Brazilian Amazonia, for example, have consistently underestimated the size of the area that will drowned under reservoirs — by 65 percent, on average.
– EIAs are often carried out by consultants that are supposed to be independent but are actually paid for by the developer.  And assessors who conduct stringent EIAs may be blacklisted by other developers in the future.
– On occasion, one even sees EIA consultants defending and promoting the project in public — which is like the judge in a murder trial testifying for the defense.
– Governments responsible for ensuring the integrity of the EIA process are failing to ensure it actually happens at the level required.  Governments have vested interests, too. Development is usually equated with economic growth and jobs, and politicians can turn these benefits into votes. Add to that bribery and corruption, which is rife in many developing countries, and it's easy to see how developers often gain an unhealthy hold over political and governance processes, including the EIA.
– A greater challenge, however, is demanding appropriate transparency, accountability, and compliance around our assessment efforts. http://alert-conservation.org/issues-research-highlights/2018/11/23/the-trouble-with-environmental-impacts-assessments  (23 Nov. 2018)
US EPA plans to roll back water protections despite climate change warnings Trump administration is poised to issue a regulatory rollback that will make this already alarming situation much worse. The Environmental Protection Agency (EPA) is expected to release a rule replacing water protections for many waterways across the U.S. The new rule, based on an executive order Donald Trump issued in Feb. 2017, will likely take federal protections away from these tributary rivers, streams, and wetlands that are seasonal and rain-dependent… such streams and rivers impact 58 percent of the drinking water in the continental United States, supplying more than 117 million people, according to EPA calculations…
– The deregulation of seasonal waterways could also worsen flooding. The water rule put in place in 2015 by the Obama administration, now in effect in 22 states, deters the development of streams and rivers, which absorb rainwater, runoff, and pollution during storms. But without the federal protections, these waters may be more easily filled in and paved over. https://theintercept.com/2018/11/27/epa-water-protection-climate-change/  (27 Nov. 2018)
Rural America's Own Private Flint  The groundwater that once ran cool and clean from taps in this Midwestern farming town is now laced with contaminants and fear. People refuse to drink it. They won't brush their teeth with it. They dread taking showers. Rural communities call it their own, private Flint — a diffuse, creeping water crisis tied to industrial farms and slack regulations that for years has tainted thousands of residential wells across the Midwest and beyond.
Now, fears and frustration over water quality and contamination have become a potent election-year issue, burbling up in races from the fissured bedrock here in Wisconsin to chemical-tainted wells in New Hampshire to dwindling water reserves in Arizona. President Trump's actions to loosen clean water rules have intensified a battle over regulations and environmental protections unfolding on the most intensely local level: in people's own kitchen faucets. https://www.nytimes.com/2018/11/03/us/water-contaminated-rural-america.html  (3 Nov. 2018)
New Zealand Waters, rivers polluted  New Zealand freshwater is in severe crisis. Two-thirds of New Zealand's rivers are too polluted to swim in and half its lakes are irreversibly damaged. This pollution, say many independent environmentalists, scientists and economists, is primarily a by-product of the laissez faire growth of the country's dairy industry. The government, dairy industry, and irrigation lobby disagree. They say it's a legacy of over 100 years of farming. https://www.aljazeera.com/blogs/asia/2017/08/zealand-waters-polluted-170831090454283.html  (31 Aug. 2017)
Europe 3300km of free-flowing river It took 3 years but finally a 151m wide and 4,5m high dam will be removed in Estonia! This is part of a larger 15€ million project that will help restore a historical salmon migration route and riverine habitat.  https://www.damremoval.eu/3300km-of-free-flowing-river/  (5 Nov. 2018)
Report Enough water—we just waste too much The entire flow of some of our rivers, such as the Colorado River, Yellow River, and the Nile, is now consumed by humans for part or all of a year to grow food, supply our industries, and provide water for our homes and businesses. As much as a third of all food production is grown with water from non-renewable and rapidly depleting groundwater. https://qz.com/1396285/we-have-enough-water-we-just-waste-too-much-of-it/  (14 Nov. 2018)
CLIMATE CHANGE
UN Report Nations falling short of emission cut targets Global emissions continue to increase at an alarmimg pace as most of the countries are not on track to cut their carbon footprints as per their pledges of climate actions, observed the United Nations Environment Programme (UNEP) in its flagship 'emission gap' report released on Nov 27, 2018. Global emission in 2017 increased to 53.5 GigaTonnes of CO2 equivalent, up 0.7 GT compared to 2016, after being stable for three years. "We're feeding this fire while the means to extinguish it are within reach," said UNDEP deputy ED Joyce Msuya. G20 countries, the highest emitters, were not on track to achieve peak emissions. India contributed 7% to global emissions in 2016 and emissions from India continues to rise.  https://economictimes.indiatimes.com/news/environment/global-warming/nations-falling-short-of-emission-cut-targets-un-report/articleshow/66832022.cms  (28 Nov. 2018)
El Niño condition that affects weather patterns could form within three months The World Meteorological Organization said there is 75%-80% chance that the phenomenon, which has led to droughts and floods in the past, may form by February 2019. "The forecast El Niño is not expected to be as powerful as the event in 2015-2016, which was linked with droughts, flooding and coral bleaching in different parts of the world," said Maxx Dilley, director of the UN body's Climate Prediction and Adaptation branch. https://scroll.in/latest/903692/el-nino-condition-that-affects-weather-patterns-could-form-within-three-months-says-un-agency  (27 Nov. 2018)
DISASTER FORETOLD, THIS IS INDEED REALISTIC: Global temperatures are on course to rise by 3-5 degrees Celsius by the end of this century, far overshooting the target to limit the increase to 1.5/ 2 degrees or less, the UN World Meteorological Organization said in its annual statement on the state of the climate on Nov 29, 2018. https://energy.economictimes.indiatimes.com/news/coal/global-temperatures-on-track-to-rise-3-5-degrees-by-2100-un/66865632  (29 Nov. 2018)
Also see, At the Climate COP24 the UN Agency Is Green-washing Large Dams in Latin America, While Companies Building Dams Are Struggling to Survive Man-made and Climate-related Disasters. http://www.transrivers.org/2018/2459/  (29 Nov. 2018)
Study Climate change making soils saltier, forcing many farmers to find new livelihoods  This study highlights the impacts on Bangladesh and similar impacts would be felt by coastal India: Many observers have spotlighted the potential for climate change to devastate Bangladesh by increasing river flooding. But as we have shown, river flooding triggers little to no out-migration in Bangladesh and elsewhere, particularly in delta regions where rivers meet the ocean. In fact, riverine flooding supplements soil nutrients, and longtime residents are experienced in weathering "usual" flood events.
– Our findings confirm that it is not flooding that threatens livelihoods, but specific types of flooding. Sea level rise will pose unique challenges because of the resultant saline contamination and, eventually, permanent loss of habitable lands.
– In total, some 200,000 Bangladeshi coastal farmers per year could migrate inland to seek new livelihoods, including to India and other south Asian countries. https://theconversation.com/climate-change-is-making-soils-saltier-forcing-many-farmers-to-find-new-livelihoods-106048   (29 Nov. 2018)
Swathes of Amazonian rainforest dying as trees fail to keep up with climate change  Increased temperatures and droughts are taking their toll on the Amazon as trees are unable to adapt to the changing climate, a study has found. Researchers examining decades of growth in parts of the rainforest found that global warming was linked to a changing tree composition – but as some tree species died, not enough were springing up to replace them. https://www.independent.co.uk/environment/amazon-rainforest-climate-change-death-global-warming-drought-a8622626.html  (8 Nov. 2018)
Famers March As Farmers March to Delhi, Climate Change Fuels Their Larger Crisis  "Winters have been getting less cold for about 7-8 years," a group of farmers told us in Jer Umaria, Panchmahal district. "Our wheat production has halved. The dew does not fall anymore." Across the Hindu Kush Himalaya, the average temperature has risen by 1.24º C in 1951‒2014, about twice as much as India's average rise over the same period. Together with a steep rainfall decline in the Northeast – 15% below normal over the last 20 years – and prolonged dry spells, this has left many mountain springs with lower discharge, if they haven't dried up entirely. https://thewire.in/environment/as-farmers-march-to-delhi-climate-change-fuels-their-larger-crisis  (28 Nov. 2018)
LANDSLIDE 
Kerala Frightening Landslide video A spectacular video of flow-type landslide, from Kerala was posted to Youtube on 21st Nov. 2018, has no detailed explanation associated with it. 
Planet Labs SkySat image of the Yarlung Tsangpo valley-blocking landslide Dave Petley blog on Yarlung Tsngpo landslides in Oct 2018, with Planet Lab Skysat image. https://blogs.agu.org/landslideblog/2018/11/25/skysat-yarlung-tsangpo-1/  (25 Nov. 2018)
Study Scientists Warn Of Impending 8.5-Magnitude Earthquake In Himalayas The new study, led by seismologist CP Rajendran of the Jawaharlal Nehru Centre for Advanced Scientific Research in Bengaluru, says the "enormous stacking up of strain in the region portends at least one earthquake of magnitude 8.5 or more in one of the overlapping segments of the central Himalayas anytime in the future".
– The analysis, the researchers say, "compels us to conclude that a great earthquake of magnitude 8.5 or more that occurred between 1315 and 1440 had unzipped a stretch of about 600 km (the length of central seismic gap from Bhatpur to beyond Mohana Khola) in the central Himalayas with an average slip (or displacement) of 15 metres". after this massive earthquake, the frontal thrust in the central Himalayas (covering parts of India and eastern Nepal) has remained seismically quiet for 600 to 700 years, implying enormous build-up of strain in the region.
– Roger Bilham, a US geophysicist at the University of Colorado fully supports the Indian researchers' findings. https://www.ndtv.com/science/scientists-warn-of-impending-8-5-magnitude-earthquake-in-himalayas-1955931  (30 Nov. 2018)
Compiled by SANDRP (ht.sandrp@gmail.com)
Also see: DRP News Bulletin 26 Nov. 2018 & DRP News Bulletin 19 Nov. 2018
Follow us on: www.facebook.com/sandrp.in; https://twitter.com/Indian_Rivers