Consider the facts: The 600 feet tall statue of Sardar Patel that the Prime Minister of India will inaugurate on Patel's Birthday on October 31, 2018 is situated bang in the middle of the Narmada river. To take up such unprecedented construction in the middle of the river would require, at the least, environment clearance, since the construction would have huge impacts on the river. No such clearance was sought or given. It would have required environmental impact assessment, environmental management plan, appraisal, public consultations, monitoring and compliance. NONE OF THIS HAPPENED. 
The project involves, not only the construction of the statue, but also laying new roads, widening existing roads, setting up five star and other multi star hotels, guest houses by various states, Tent city (Tender issued), ropeway (tender issued), Tiger and crocodile safari, and so on, which would also have adverse impacts, requiring the above procedure, but none happened.
This slideshow requires JavaScript.
The Statue is to be surrounded by water to be dammed by Garudeshwar Dam, on Narmada river, again requiring social and environment impacts assessment and clearances[i], but none were sought or given.
The Statue is built from the southern side of Narmada river, 3.2 km downstream from the Narmada Dam. On Northern side is the Shoolpaneshwar sanctuary and reserved forests, which means that such a construction would require wildlife clearance, but again none was sought or given.
This slideshow requires JavaScript.
How uncomfortable would Sardar be seeing so many violations of law? Seeing the expenditure of Rs 3000 crores[ii]?  Seeing the land acquisition and displacement of so many tribal people, who do not have basic developmental facilities or justice till date?
This slideshow requires JavaScript.
Sardar Vallabhabhai Patel, Independent India's first Home and deputy Prime Minister, was a successful lawyer before he left that profession to join Gandhi in freedom struggle. He would have been happy to fight a case against all these illegalities and injustices involved in building the statue.
This slideshow requires JavaScript.
As he once said[iii]: "If we have to fight, we must fight clean. Such a fight must await an appropriate time and conditions and you must be watchful in choosing your ground. To fight against refugees is no fight at all. No laws of humanity or war among honourable men permit the murder of people who have sought shelter and protection."
This slideshow requires JavaScript.
Unfortunately, he may have lost that legal battle. Gujarat High Court, in order dated January 13, 2014, in Writ Petition (PIL) 142 of 2013, challenging the plans of the Statue, rejected the petition, without going into issue of impacts or violation of Environment Protection Act 1986 or Wildlife Protection Act 1972.
The Western Zone branch of the National Green Tribunal, in response to application no 32 of 2015 by late Trupti Shah and 9 others, challenging the plans of the Statue of Unity, rejected the appeal through an order dated January 28, 2016, without going into merits of the case: "Considering the fact situation in the instant case, in our considered opinion, instant Application No.32/2015 is barred by limitation and will have to be dismissed. Still however, we make it clear that this dismissal is not to be treated as precedent for other purpose. All the questions related to the matter are kept open for both the sides and may not be treated as foreclosed for any purpose."
But Sardar Patel was also a staunch Satyagrahi and would not hesitate to fight for justice, as tribals[iv] and others[v] of Gujarat are now doing.
Sardar Patel said in his presidential address to the Congress in 1931[vi]: "Independent India's leaders would neither use a foreign language nor rule from a remote place 7,000 feet above sea level."
He would certainly feel VERY uncomfortable even from that height of 600 feet.
SANDRP (ht.sandrp@gmail.com)
NOTE: SANDRP is grateful to Janantik Shukla and Kshitij Patel for providing the Photos for this blog.
2. Caption for the top photo: Statue of Unity: Next tourist attraction Photo by – Kshitij Patel (Sept 2018)
POST SCRIPT: 1. Indian Express reported on Oct 29: "On Thursday, The Indian Express had found that huge posters with photographs of the Prime Minister, Chief Minister and the Statue of Unity were blackened or torn at several places along the Ekta Yatra route. However, the government's measure seems to have failed to pacify the tribals as new posters were also found damaged with Birsa Munda's image remaining intact. The government has not made any arrest or detention in this regard."
"Meanwhile, ahead of the unveiling of the 182-metre-tall statue of Sardar Patel, 22 village sarpanchs from areas around the statue in Narmada district have written an open letter to Prime Minister Modi urging him to skip the unveiling ceremony on October 31, saying that he won't be welcomed by the residents of Kevadiya Colony on 'their land.'"When we are still struggling to avail basic infrastructural facilities for schools, hospitals and drinking water, you decide to spend crores of rupees for the construction of a statue and now again for the inaugural event. With a heavy heart, all of us villagers are telling you that we won't welcome you on our land in our district," the letter to PM Modi read.
""It pains us to look at what you have done with our land and river with first the construction of the Sardar Sarovar Dam and now with the Statue of Unity," the letter read. "With first the Dam, a number of people were rendered homeless and jobless. And now with this ambitious project of yours we can't even fathom the number of people who have and who will lose their livelihoods and homes.""
""Being so close to the river and the Sardar Sarovar Canal, we should be the first to avail benefits of drinking water and water for irrigation, but we are yet to avail it. Our needs like such are not prioritised and when we raise our voices you send police to detain us," it added."
See: https://indianexpress.com/article/india/gujarat-defaced-posters-of-statue-of-unity-replaced-with-one-carrying-birsa-munda-image-5422734/
2. Image from BBC report: https://www.bbc.com/news/world-asia-india-45978120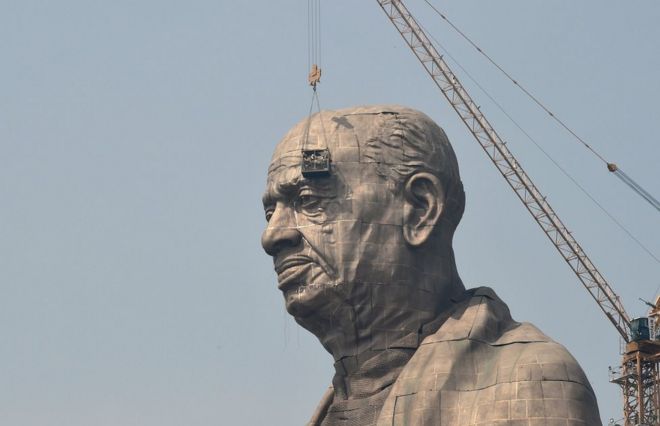 The reality of tribals here: "Here in the shadow of Patel's statue, farmers have resorted to stealing water. They say they can see the water passing by their farms through a canal that transports it from the dam, but it's illegal to divert the water so they are forced to steal it. One of the farmers said he had laid a pipe underground from the canal to his farm, adding that nearly all farmers in the area did this to survive. "We don't have any option but to take the water illegally as there are no sources of water left for us.""
3. An Open Letter from Medha Patkar to Sardar Patel: https://thewire.in/politics/statue-of-unity-an-open-letter-to-sardar-patel-by-medha-patkar
4. Protests and protest letters on day of the inauguration:
https://www.timesnownews.com/india/article/statue-of-unity-sardar-patel-statue-villagers-protest-inauguration-of-structure-narendra-modi-say-destroyed-natural-resources-narmada-gujarat/306738
https://www.ndtv.com/india-news/on-statue-of-unity-inauguration-villagers-write-open-letter-to-protest-pms-visit-1939614
https://www.dnaindia.com/ahmedabad/report-in-open-letter-to-pm-narendra-modi-gujarat-congress-leader-paresh-dhanani-seeks-relief-for-farmers-2681158
https://www.theweek.in/news/india/2018/10/30/villagers-activists-detained-as-modi-set-to-unveil-world-tallest-statue.html
https://www.counterview.net/2018/10/statue-of-unity-expressionless.html
https://www.counterview.in/2018/11/total-bandh-in-most-of-gujarats-tribal.html
END NOTES:
[i] https://sandrp.in/2014/04/18/why-is-this-dam-being-constructed/
[ii] https://timesofindia.indiatimes.com/city/ahmedabad/cost-of-statue-of-unity-may-touch-rs-3000-cr/articleshow/66338870.cms
[iii] Shankar, Vidya (1974–75), My Reminiscences of Sardar Patel,
https://en.wikipedia.org/wiki/Vallabhbhai_Patel and http://sardarpatel.nvli.in/quotes
[iv] https://indianexpress.com/article/india/unveiling-of-statue-of-unity-tribals-gear-up-to-boycott-october-31-event-5419104/
[v] https://www.counterview.in/2018/10/statue-of-unity-undermines-adivasis.html