The various aspects of tragic Dam Disaster in Mekong Basin in Laos are still unfolding. But it is clear from many accounts that it was an avoidable, man-made disaster due to neglect of contractors, decision makers, consultants and supervising agencies. There is a lot we can learn from this if we want to avoid such disasters in India. We still do not have credible Dam Safety Law or institution, CWC is clearly not the right agency considering the conflict of interest with the various other roles of CWC. But for now let us look at the reports of Laos Dam Disaster.
Reminding the world of one of the worst dam disasters, the under construction dam Xepian Xe Nam Noy Hydro power project breached releasing 5 billion cubic metres of water in Southern Laos on July 23.
The gushing water current swept the surrounding leading to death of about 26 people and displacing about 6600 residents. As per report hundreds of people are still missing from neighbouring villages of Yai Thae, Hinlad, Mai, Thasengchan, Tha Hin, and Samong, which bore the brunt of flooding. The deluge has reportedly destroyed thousands of homes.
As per reports, the energy minister of Laos has blamed substandard quality construction reason behind the collapse. The Laos PM has also termed the incident as worst disaster in decades.
The hydropower dam project, which is estimated to be worth about $1bn (£760m), is being built by Xe Pien-Xe Namnoy Power Company and is a joint venture between several South Korean and Laos companies. Construction began in 2013 and was due for completion by the end of this year, with plans to start operations in 2019. Environmental campaigners have repeatedly raised concerns about plans by the govt in Laos to build vast dams across the Mekong river and turn the country into a hydroelectricity hub; 11 large hydropower dams on the Mekong's mainstream, and 120 tributary dams, are planned over the next 20 years. https://www.theguardian.com/world/2018/jul/24/laos-dam-collapse-hundreds-missing  (24 July 2018)
Also see, video showing water rushing through the dam site.
The dam was made by a joint venture led by South Korean companies with Thai and Lao partners, and was still under construction. KPL described the portion that collapsed as a "saddle dam," which is an auxiliary dam used to hold water beyond what is held by the main dam. South Korea's Yonhap News Agency quoted an unidentified official at SK Engineering & Construction, one of the two South Korean partners in the project, as saying rain in the area was triple the usual amount, and one of five auxiliary dams had overflowed.                                                                          
PM Thongloun Sisoulith "suspended the planned monthly meeting of the govt for August and led his Cabinet members and other senior officials to Sanamxay (district) to monitor rescue and relief efforts being made for flood victims," KPL said. According to project assessment documents, about 30 villages were affected by the project with more than 2,000 people in eight villages resettled. Roughly 10,000 people live in the affected area, with most belonging to ethnic minorities.  https://www.bloomberg.com/news/articles/2018-07-24/urgent-hundreds-missing-after-hydroelectric-dam-collapses-in-laos?cmpid=socialflow-twitter-business&utm_source=twitter&utm_campaign=socialflow-organic&utm_content=asia&utm_medium=social&cmpid%3D=socialflow-twitter-asia   (24 July 2018)
The collapse of Laos dam that triggered massive flooding and devastation was due to "substandard construction," the country's Minister of Energy and Mines said July 26. With the rescue effort ongoing, Lao PM Thongloun Sisoulith said it was the worst disaster faced by the small Southeast Asian country in decades.
The damage wasn't just limited to Laos. On July 26, the Cambodian govt announced it was attempting to evacuate 25,000 people from their northern border with Laos as floodwaters washed into the country.
The dam was built on a tributary of the Mekong River, the longest river in Southeast Asia. The Mekong, which runs from the Tibetan Plateau through China, Myanmar, Thailand, Laos, Cambodia and Vietnam, is an important regional resource, providing fish stocks and electricity — in the form of hydropower — to the people who live along it.
Construction on the dam began in February 2013 and was due to cost an estimated $1.02 billion. Four companies were in charge of the venture: Ratchaburi, Korea Western Power Co. Ltd., SK Engineering & Construction Co. Ltd and Lao Holding State Enterprise, a state-owned firm, according to a website that appears to belong to the consortium building the dam.
The flooding in southern Laos was expected to cause water levels to rise downstream, according to the Mekong River Commission, the joint Lao-Cambodian-Vietnamese organization that manages the shared resources of the Mekong. The collapsed dam isn't the only one being built in the Mekong Delta.  Critics of the project said dams have an outsized impact on the environment and local ecosystems. https://edition.cnn.com/2018/07/27/asia/laos-dam-collapse-construction-intl/index.html  (27 July 2018)
As per UN report the dam disaster has affected more than 11,034 people. https://www.channelnewsasia.com/news/asia/laos-dam-collapse-affects-more-than-10-000-people-un-report-10571010  (28 July 2018)
Meanwhile, the 225 m high Hindroituango Dam on Cauca River in Colombia continues to face emergency situation since April, and collapse of the dam is one of the likely possibilities.  On May 16, the collapse of Engine room at Colombia's largest hydroelectric dam project created emergency situation and thousands of river bank people ordered to evacuate their homes.  https://sandrp.in/2018/06/12/risks-of-collapse-of-hidroituango-dam-hangs-over-columbia/
Mismanagement of dams operation has also caused three flood events in India this week.
In the first and most fatal incident the sudden release of water from the 243-megawatt Kashang hydel power project in Kinnuar caused immense damage to apple orchards and pine forests in the tribal district on July 28. It is alleged that the water was released without warning from the reservoir of the hydel power project. Residents of the affected Pangi village in Kinnaur submitted a memorandum to the district authorities demanding immediate action against the erring officials. Water was first released by the Karcham Wangtoo hydro plant in Kinnaur later the Nathpa Jhakri hydroelectric station also released water from its dam in Nathpa.
The state disaster management authority has issued a notice to the management of Kashang hydel project seeking clarification over the release of water without warning. Four years back, state govt had issued guidelines to all the power projects directing them to install alarm and warning system for safety of people during the sudden release of water. The directions were issued after 24 students were washed away in Beas river, after water was released without warning from the Larji dam in Kullu.
Meanwhile, water from the dams has led to an increase in the water-level in Sutlej river which has disrupted power generation operations. The 1500 megawatt Nathpa Jhakri hydroelectric station, 412-megawatt Rampur project, the 120-megawatt Sanjay Vidyut Jal Pariyojana hydel project and 300-megawatt Baspa project were shut down on Friday due to increased silt levels in Satluj and its tributaries. https://www.hindustantimes.com/punjab/dams-brimming-in-himachal-pradesh-water-being-released-without-warning/story-Rz0XzopYoBapjrYlhm2A6N.html  (28 July 2018)
Here are photos and video of 25th July incident at Kashang Hydro project by Shyamu Yanzuk via Endangered Himalaya's Facebook post: (Information source: Manshi Asher, Himdhra twitter account) 
Also see, video of rescue operations going on in Shrikhand Mahadev Yatra following a sudden rain and landslides on July 28.
There is another report mentioning that sudden release of water from NEEPCO's Doyang Hydropower project in Nagaland led to flood disaster in Golaghat district in Assam in the downstream. https://northeastlivetv.org/2018/07/28/excess-water-released-from-doyang-dam-causes-flood-in-assams-golaghat-district/  (28 July 2018)
Similarly, the release of 92000 cusecs water from Banbasa barrage into Sharda river on July 28 led to flood situation in Lakhimpur Kheri district in Uttar Pradesh. https://timesofindia.indiatimes.com/city/bareilly/flood-situation-looms-large-after-banbasa-releases-92000-cusecs-in-sharda/articleshow/65181027.cms  (28 July 2018)
HYDRO POWER
Himachal Pradesh Local opposed hydro power projects in Lahaul Spiti Residents of Lahaul-Spiti have opposed the proposed mega hydropower projects on the Chandrabhaga basin. 24 power projects were proposed in the district but people were opposing these. They are demanding a new power policy for the tribal district in which the thrust should be on mini hydropower, wind and solar projects to meet the demand of energy. A delegation of people met Union Health Minister Jai Prakash Nadda and sought rejection of the proposal. NGOs said the people were not in favour of mega hydropower projects. Chander Mohan Parsheera, president of the Chandra-Bhaga Sangam Parav Samiti, said the samiti would oppose power projects in the vicinity of Tandi Sangam. Residents of Udaipur and Tandi panchayats had refused to give NOC to the 400-MW Selli hydropower project, as it would spell disaster for the area. https://www.tribuneindia.com/news/himachal/big-power-projects-opposed-in-lahaul/625365.html  (24 July 2018)
Meanwhile, the state govt is also thinking about re-allocation of Jangi Thopan HEP in Kinnaur district, hanging in uncertainty and opposition for 12 years, now with reduced capacity. Environment activist Manshi Asher from Himdhara said, "Given that these are high-altitude regions and are ecologically fragile and more at risk due to climatic variations, these should be declared as 'eco sensitive zones' where no major construction activity should be allowed," she added.  https://energy.economictimes.indiatimes.com/news/power/jangi-hydro-power-project-in-himachal-pradesh-likely-to-get-cabinet-nod/65126926  (25 July 2018)
Indeed, the unmindful tapping of rivers for hydro-power projects is swallowing the streams in the state thereby impacting the biodiversity along the banks and livelihoods of the locals. Even as the demand for declaring many of the rivers, especially in the Trans Himalayan region, as "no go rivers for projects" grows louder, the govt seems keen to harness maximum possible "power" as this is a major revenue generator sector for the cash-strapped state. Vast stretches of the Sutletj river in Kinnaur and almost 6 km of the Beas in Kullu district have been diverted through tunnels, leaving a mere trickle of 15 per cent discharge in the river course. https://www.tribuneindia.com/news/sunday-special/perspective/a-trickle-is-all-that-remains/624464.html  (22 July 2018)
Arunachal Pradesh Local people in Mon region seeks roll back of hydroelectric project The Save Mon Region Forum (SMRF) has sought rollback of the NHPC's 800 mw Tawang-II hydroelectric project (HEP), citing that the project would destroy the region's cultural and natural heritage. Notably, on February 14 early this year, a meeting had resolved that the proposed HEP would be rolled back.
The meeting was attended by MLAs Jambey Tashi and Tsering Tashi, Tawang Deputy Commissioner, the land-affected people, and representatives of the SMRF. Later, the decision of the meeting was submitted to the CM's office. The SMRF said though the decision of the meeting was made known to the govt on many occasions, the State Govt is yet to take a concrete decision. The organization also said the people of the affected villages – Khet, Kudung, Kungba, Sazo, Poyto, Dugumba and Sakiyur – have again raised objection against the hydropower project through a resolution adopted on July 12 last. https://nenow.in/north-east-news/arunachal-mon-region-seeks-roll-back-hydroelectric-project.html  (24 July 2018)
Jammu & Kashmir Like NHPC another hydropower company trying to harness J&K's potential Satluj Jal Vidyut Nigam Ltd likely to start joint venture with J&K state's Power Development Corp. An official revealed preparation was going on for setting up a joint venture company between PDC and Satluj Jal Vidyut Nigam Ltd (SJVNL) for setting up of 1856-MW Sawlakote hydropower project.
– PROPOSAL DEATH BLOW TO PDC? Another senior official said the joint venture would be a "deathblow" to the PDC which has proven its "capacity and mettle" to build and operate such hydropower projects. He said it took PDC more than 30 years to take Sawlakote to the stage it is at today and suddenly an "outsider is being offered it on a platter". "It (the JV) is coming up at the cost of the PDC and by allowing it we are not sending good signals about the capability of the PDC," the senior said.
– "If the proposal matures then more projects like 930-MW Kirthai-II and 390-MW and 850-MW Rattle may also fall in the kitty of this company," said the official who revealed the ongoing deliberations were not in the best interest of the state. He said the state government's non-seriousness to encourage the PDC to arrange resources from financial institutions was the "biggest impediment" in harnessing J&K's existing hydropower potential. https://www.greaterkashmir.com/news/front-page/like-nhpc-another-hydropower-company-trying-to-harness-j-k-s-potential/291673.html  (27 July 2018)
Uttrakhand GVK to pay Rs 20 cr relief to 476 families for hydel project The GVK group was on July 25, 2018 ordered to pay around Rs 20 crores to the 476 families in 16 villages in Pauri and Tehri Garhwal districts, who had lost land in Alaknanda Hydro power project. The decision came after state power secretary chaired a meeting, also involving local MLAs. Power Secretary also asked GVK to pay Rs 10 crores for the damaged pipelines in the area. https://timesofindia.indiatimes.com/city/dehradun/gvk-to-pay-rs-20-cr-relief-to-476-families-for-hydel-project/articleshow/65138667.cms  (25 July 2018)
Andhra Pradesh Govt approves 2.75GW solar-wind-pumped hydro project by Greenko Hyderabad-based Greenko Energies has received state government approval for a renewable energy project involving 1GW of solar, 550MW of wind and 1.2GW of pumped energy storage in Pinnapuram village in Panyam mandal of Kurnool district, it is claimed. https://www.energy-storage.news/news/andhra-pradesh-govt-approves-2.75gw-solar-wind-pumped-hydro-project-by-gree  (24 July 2018)
Kerala CM Must Be Tried For Corruption, CBI Tells Top Court  The central probe agency has challenged last year's high court verdict that cleared the CM's name, ruling that there was no evidence to accuse Mr Vijayan. The CM, then Kerala's power minister and some officials were accused of exorbitant pricing of a 1997 contract with a Canadian firm SNC Lavalin, to repair three major hydroelectric projects without an expert study. The state government had hired a Canadian firm, SNC-Lavalin, to repair and upgrade three hydroelectric projects in 1997. https://www.ndtv.com/india-news/kerala-chief-minister-pinarayi-vijayan-must-be-tried-for-corruption-cbi-tells-supreme-court-1891425?pfrom=home-topscroll  (28 July 2018)
DAMS
Telangana Narinja barrage remains unfulfilled promise About Nrinja barrage in Zahirabaad in Sangareddy district in Telangana on Narinja Vagu stream which starts at Kohir mandal and passes through Jarasangam and Zaheerabad mandals enters Karinja project in Karnataka and from there comes to Singur reservoir again. Project incomplete, canals not constructed, reservoir silted and barrage gates not maintained. https://www.thehindu.com/todays-paper/tp-national/tp-telangana/narinja-barrage-remains-unfulfilled-promise/article24490780.ece  (23 July 2018) 
Maharashtra Irrigation Scam Shocking U-turn by state govt  The Fadanivis Gov stuck to its line and even opposed formation of a committee to probe reasons for delay into investigation for 10 long years claiming that it would demoralise honest officers and present set of ACB officers. http://thehitavada.com/Encyc/2018/7/27/Shocking-U-turn-by-State-Govt-in-irrigation-scam.aspx  (27 July 2018)
The state govt, on July 26, 2018 told the Nagpur bench of the Bombay HC that it had not yet quantified the loss caused by the 2012 irrigation scam. Special counsel Anand Jaiswal told the division bench of Justice Bhushan Dharmadhikari and Justice Z A Haq, that it will be difficult to quantify the loss at this juncture as special investigation teams are currently probing 94 tenders issued in 42 projects. https://www.hindustantimes.com/mumbai-news/maharashtra-irrigation-scam-loss-not-yet-quantified-state-tells-bombay-hc/story-rOTNMiaZkDtO983NQ5OTIM.html  (27 July 2018)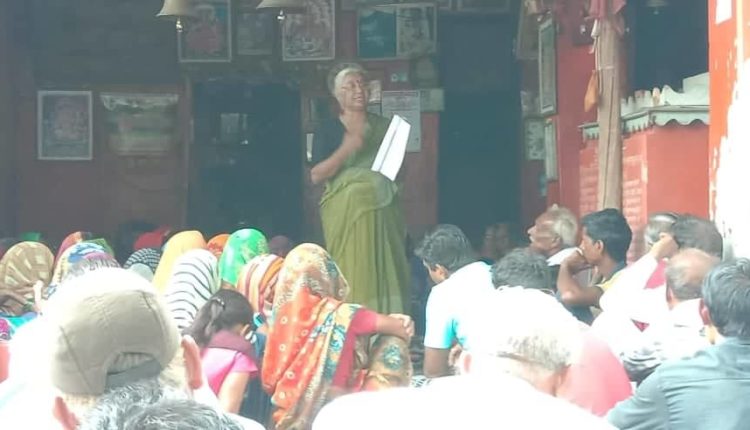 Sardar Sarovar Dam डूब प्रभावितों ने शुरू की गांवों में तैयारी बैठके; 31 जुलाई को आमसभा 24 जुलाई 2018, बड़वानी । नर्मदा बचाओ आंदोलन के द्वारा सरदार सरोवर बांध प्रभावित गाँवो चिखलदा, कडमल, निसरपुर इत्यादि गाँवो में आगे की रणनीति और प्रस्तावित 31 जुलाई 2018 के कार्यक्रम की चर्चा की गई है  की गई है। आज भी मध्यप्रदेश को 35 हजार से अधिक विस्थापितों का पुनर्वास करना बाकी है। आज भी हजारो परिवारो को घर प्लाट मिलना बाकी है, कई विस्थापितों के द्वारा घर प्लाट के बदले नगद राशी ली गई है उन विस्थापितो को अभी 05 जून 2017 के आदेश अनुसार घर प्लाट नहीं मिला है, आज भी हजारो परिवारों को 5.80 लाख रु मिलना बाकी है। https://sangharshsamvad.org/2018/07/24/ardar-sarovar-dam-protest-madhya-pradesh/  (24 July 2018)
MONSOON 2018
SANDRP Blog Maharashtra monsoon musings: July 2018 Some thoughts (musings) about Maharashtra's current monsoon. Since it was getting published on Ashadhi Ekadashi, could not help refer to it, thanks to Parineeta Dandekar. Do Read, Share it with your comments. https://sandrp.in/2018/07/23/maharashtra-monsoon-musings-july-2018/  (23 July 2018)
Study Climate change may increase rainfall intensity in India According to the recent data from the European Centre for Medium Range Weather Forecast, the relative humidity in the mid-troposphere has increased about 2% over the sub-continent in last 39 years, which has led to boost in monsoon depressions, and increase in extreme rainfall events over central India. The study published in Nature Scientific Reports was carried out by researchers from School of Earth, Ocean, and Climate Sciences, IIT, Bhubaneswar, Odisha. https://www.livemint.com/Politics/0RV1HcDbFMW7kP75O1ha6L/Climate-change-may-increase-rainfallintensity-in-India-R.html  (23 July 2018)
In another important research, scientists at Pune's Indian Institute of Tropical Meteorology (IITM) have coined a new term — mini-cloud bursts. A mini-cloud burst is defined as rainfall in excess of 50 mm in two consecutive hours. Based on hourly rainfall data from 126 stations between 1969 and 2015, the researchers found an average of 200 mini-cloud bursts occurring every year in India. Between 1988 and 2007, there were around 265 mini-cloud bursts.
– The India Meteorological Department already recognises cloud bursts — heavy rainfall, irrespective of the amount — in the mountainous regions of Himalayas with its steep slopes, which lead to flash floods, and rainfall over 100 mm per hour in other places. In contrast, mini-cloud bursts are indicative of torrential downpour but of lower intensity than cloud bursts.
In a paper published in the International Journal of Climatology, Nayana Deshpande and others from IITM explain that compared with extreme rainfall, the rate of water accumulation exceeding absorption and the probability of flash floods are three times more in the case of mini-cloud bursts. Over most parts of India, the highest recorded rainfall in two hours is 100-150 mm, and the locations (other than the mountainous regions of Himalayas) that have recorded rainfall of over 150 mm in two hours are those that also experience cloud bursts. So in these locations, the mechanism responsible for heavy rainfall "persists for more than an hour".
The study found that mini-cloud bursts are "very common" in the foothills of the Himalayas. While the west coast records more than three mini-cloud bursts per season, the Indo-Gangetic plains and the Saurashtra region receive two per season. At just one per season, Rajasthan and States to the east of the Western Ghats experience the least number of mini-cloud bursts. For the rest of India, the amount of rainfall per mini-cloud burst is 50-70 mm. https://www.thehindu.com/opinion/op-ed/short-spells-of-heavy-showers/article24497106.ece   (24 July 2018)
At the same time, a growing body of evidence indicates that the continuing destruction of tropical forests is disrupting the movement of water in the atmosphere, causing major shifts in precipitation that could lead to drought in key agricultural areas in China, India, and the U.S. Midwest.
– Every tree in the forest is a fountain, sucking water out of the ground through its roots and releasing water vapor into the atmosphere through pores in its foliage. In their billions, they create giant rivers of water in the air – rivers that form clouds and create rainfall hundreds or even thousands of miles away. But as we shave the planet of trees, we risk drying up these aerial rivers and the lands that depend on them for rain. A growing body of research suggests that this hitherto neglected impact of deforestation could in many continental interiors dwarf the impacts of global climate change. It could dry up the Nile, hobble the Asian monsoon, and desiccate fields from Argentina to the Midwestern United States.
– In Norway, Michael Wolosin of the U.S. think tank Forest Climate Analytics and Nancy Harris of the World Resources Institute published a study that concluded that "tropical forest loss is having a larger impact on the climate than has been commonly understood." They warned that large-scale deforestation in any of the three major tropical forest zones of the world – Africa's Congo basin, southeast Asia, and especially the Amazon – could disrupt the water cycle sufficiently to "pose a substantial risk to agriculture in key breadbaskets halfway round the world in parts of the U.S., India, and China."
Full paper is available here: https://wriorg.s3.amazonaws.com/s3fs-public/ending-tropical-deforestation-tropical-forests-climate-change.pdf
– And in a background paper for the UN event, David Ellison of the Swedish University of Agricultural Sciences in Uppsala, reported on "increasingly sophisticated literature" assessing "the potential impact of forest cover on water availability across the broad expanse of continental, terrestrial surface." http://www.un.org/esa/forests/wp-content/uploads/2018/04/UNFF13_BkgdStudy_ForestsWater.pdf:
– In India, Supantha Paul of the Indian Institute of Technology in Mumbai found (https://www.nature.com/articles/srep32177) that patterns of declining rainfall during the Indian monsoon matched changing forest cover.
– This matters also for city dwellers. In a study of 29 megacities around the world, Patrick Keys of the Stockholm Resilience Center in Sweden found that 19 relied on evaporation and transpiration from land He singled out as the most vulnerable Karachi in Pakistan and China's Shanghai, Wuhan, and Chongqing. Other cities such as Delhi and Kolkata in India, Istanbul, and Moscow were not far behind.
– We have treaties governing river flows in most rivers that cross international borders, they point out. But the rivers of moisture in the atmosphere are rarely measured and never governed. Egypt and Ethiopia have spent years working toward an agreement on water flows in the Nile. But what use the agreement be if rains falter in the Ethiopian highlands because of deforestation in the distant Congo basin. https://e360.yale.edu/features/how-deforestation-affecting-global-water-cycles-climate-change  (24 July 2018)
Odisha Bhubaneswar Flood: 2 months of rain within 1 week On July 21, Bhubaneswar received a rainfall of 195 mm within 24 hours according to Skymet Weather. There was only scanty rain since the onset of the monsoon till middle of July in Bhubaneshwar. Then, suddenly, it got two months' rain within a week. Such heavy rain for a short span would hardly help agriculture or serve any purpose but to make life miserable.
As the onset of monsoon was delayed this season, rain deficiency during June was 27% over Odisha. "As the rains continue to evade the state even during the first few days of July, thus until July 7, the deficiency mounted to a whopping minus 30%," Skymet said. According to IMD data, rainfall in Bhubaneswar's home district Khordha was deficient by 19% as on July 7. But, by July 21, the district received 29% surplus rainfall because of a few days of heavy rainfall. http://indiaclimatedialogue.net/2018/07/23/act-now-to-spur-urban-climate-resilience/   (23 July 2018)
Similarly, the western Odisha town of Burla received 622 mm of rainfall over 24 hours ending July 22 morning, shattering a 36-year-old rainfall record of the State. The master control room at Hirakud Dam Project, Burla, recorded the highest ever rainfall received at a particular place in a single day in the State. https://www.thehindu.com/news/national/other-states/36-year-rainfall-record-shattered-in-odisha/article24490340.ece  (23 July 2018)
Meanwhile, civic officials in Cuttack conceded defeat in their bid to keep the city free from waterlogging after overnight rain caused drainage systems to overflow and inundated 50 per cent of the city. Municipal commissioner Bikash Ranjan Mohapatra said: "What can you do when there is 211mm rain in less than six hours. Even pumps in several areas went under water and got defunct." The flow of rainwater was above the carrying capacity of the main surface water channels, causing those to overflow and stranding more than two lakh people at home.
– It is possible to prevent inundation from the main drain by diverting its flow into the Taladanda canal during heavy rain. Mayor Meenakshi Behera said: "In order to prevent inundation from the main drain, the sluice gate at Matrubhavan was opened. But we had to close it immediately as there was backflow from the canal." The Taladanda canal was already in spate following release of water at the Jobra barrage after the first flood waters of the Mahanadi released from Hirakud dam reached it a few days ago. "All four sluice gates at Khannagar have been kept open since 4pm on July 20 to release storm water from the second main drain into the Kathajodi." But if the rain continues vis-à-vis the rising water level in the Kathajodi, the situation could worsen as the sluice gates at the outlet to the river would have to be closed. Both the Mahanadi in the north and the Kathajodi in the south flow several metres above the city when in spate. https://www.telegraphindia.com/states/odisha/cuttack-concedes-defeat-246677?ref=odisha-new-stry  (22 July 2018)
Season first release from Hirakud dam: The season's first flood water was released from sluice gates of Hirakud Dam on July 24, 2018. Water level of the dam reservoir stood at 618 feet as against the full reservoir level of 630 feet when water from the dam was first released through Sluice Gate 7 at 12 noon. Subsequently, 15 sluice gates were opened phase wise until 7 pm to release water from the dam. By 9 pm, 20 sluice gates were opened. Chief Engineer, Upper Mahanadi Basin, Jyotirmaya Rath said the inflow of water into the dam reservoir was 1,35,000 cusec while the outflow was 11,000 cusec through power channel before the first sluice gate was opened. As on 7 pm, the water level of dam reservoir stood at 617.93 feet. Inflow into the reservoir was 1,04,400 cusec and outflow was 2,44,893 cusec through 15 sluice gates and power channel. http://www.newindianexpress.com/states/odisha/2018/jul/25/20-gates-of-hirakud-dam-opened-to-release-flood-water-1848250.html  (25 July 2018)
Kerala First time in 26 years, Idukki dam set to achieve full capacity For the first time in 26 years, the Idukki Arch Dam, Kerala's powerhouse, is set to achieve full capacity storage. The water level in the dam has touched 728 m and the authorities have started preparations to open the shutters once the water level reaches the maximum level of 732 m. The shutters of the dam were last opened in 1992.
Within 45 days of south west monsoon, almost all the major dams in Kerala are brimming with water crossing the 80 per cent mark.  With three more months left before the withdrawal of the southwest monsoon, the authorities are hopeful all the reservoirs will achieve 100 per cent storage capacity this time.
The previous record storage was in 2007-08 when KSEB had enough water to generate 3,500 million units of electricity in its reservoirs. As on Wednesday, it had enough water to generate 3,800 million units of power. On July 24, the total consumption of power in the state was 62 million units of which the contribution of hydel projects was 35 million units. http://www.newindianexpress.com/cities/kochi/2018/jul/26/idukki-arch-dam-set-to-achieve-full-capacity-storage-1848650.html  (26 July 2018)
As per latest report, district administration in Ernakulam is preparing to face flood situation in the event of releasing water from Idukki and Edamalayar dams flooding the banks of River Periyar in the district. According to a senior district administration official four taluks – Aluva, Paravoor, Kunnathunadu and Kotha-mangalam – have been identified as the areas likely to be hit by the gushing of water in the river if the shutters of the dams were opened. https://www.deccanchronicle.com/nation/current-affairs/290718/kochi-high-alert-as-dams-may-open-shutters.html  (29 July 2018)
On July 26, Idukki Dam got closer to FRL, the managers prepare to release water to the downstream river. http://www.newindianexpress.com/cities/kochi/2018/jul/26/as-idukki-dam-nears-full-storage-capacity-kerala-state-electricity-board-prepares-to-release-water-1848653.html  (26 July 2018)
The water level in several dams in Kerala being high even before end of July: https://timesofindia.indiatimes.com/city/kochi/water-level-in-peechi-dam-nears-maximum/articleshow/65138434.cms  (25 July 2018)
Rajasthan Water level rises in may dams of eastern parts The water level in many districts in eastern parts of state has risen, however Bisalpur dam is yet to get enough water this monsoon season. In terms of monsoon rainfall, except Jalore, Sirohi and Barmer, all the districts in the state have received good rainfall so far. Torrential rain continued in the state on July 26. Jaipur met office said that the state so far has got a higher rainfall compared to 2017, in the two spells of monsoon rain so far. In Kota, the water level at the dam Kota Barrage has reached upto 105.110 cusec meter, against the full capacity of 112.060 cusec meter, which means it is 92.80 per cent full. https://timesofindia.indiatimes.com/city/jaipur/water-level-rises-in-many-dams-of-east-raj/articleshow/65155857.cms   (27 July 2018)
Madhya Pradesh Water level in 17 dams low despite rain The major dams that are still not full are Bargi, Tawa, Barna, Indira Sagar, Omkareswar, Bansagar, Sanjay Sarovar, Rajeev sagar, Gandhi Sagar, Madikheda, Gopi krishna, Mahi, Halali Samrat Ashok Sagar, Kolar, Kerwa, Rajghat and Pench. As per report, of the 51 districts in the state, 47 have received monsoon showers from June 1 to July 23, officials said. https://www.thequint.com/hotwire-text/17-dams-water-level-low-despite-rains-in-mp  (24 July 2018)
Telangana CWC expects the second and third spells of rain to fill all reservoirs in Krishna river basin by October.  https://www.deccanchronicle.com/nation/current-affairs/290718/all-dams-will-be-full-by-october-says-cwc.html  (29 July 2018)
FLOOD 2018
SANDRP Blog Cauvery is facing very serious flood risk, but CWC is in slumber SCARY STUFF? All the Big Dams in Cauvery Basin are full. Possibly at the earlist EVER date during SW Monsoon. We still have two months of SW Monsoon and then NE Monsoon. And we have two states (Karnataka and TN) with poor track recording in reservoir management. And India's premier Flood forecasting agency, CWC, seems to be in slumber by all indications. Alarming or Alarmist? Please Read, Share. https://sandrp.in/2018/07/24/cauvery-is-facing-very-serious-flood-risk-but-cwc-is-in-slumber/  (24 July 2018)
Also see, media report based on the SANDRP Blog Flood memories return as Cauvery sees excess water (26 July 2018)
SANDRP Blog Floods and flood monitoring Yamuna river in 2018 Looking at the lack of significant rainfall in the catchment area over past weeks, the flood is unexpected and has taken many by surprise. The floods will further test the Delhi govt, CWC and the disaster management systems and of course the people all along Yamuna as the flood travels further downstream of Delhi. https://sandrp.in/2018/07/28/floods-flood-monitoring-in-yamuna-july-2018/ (28 July 2018)
https://www.facebook.com/sandrp.in/videos/2164571820237146/?t=9
Tamil Nadu Flood alerts issued in 12 districts A flood warning was issued in 12 districts in state after the Stanley Reservoir at Mettur achieved its full reservoir level (FRL) of 120 feet on July 23, for the first time in five years. The water level in the dam was almost at its full capacity, 93.47 thousand million cubic feet. This was the 39th time that the Mettur Dam achieved FRL in its 85-year-old history. The last time the dam reached near-full capacity was in August 2013. A flood warning was issued to people in low-lying areas. The warning was issued following a heavy downpour in catchment areas of the Cauvery river and an increase in the discharge of water from the reservoirs Krishna Raja Sagar and Kabini in neighbouring Karnataka.Flood alerts have been issued in 12 districts in Tamil Nadu — Salem, Dharmapuri, Erode, Namakkal, Trichy, Karur, Ariyalur, Thanjavur, Tiruvarur, Nagapattinam, Cuddalore and Pudukottai. https://www.firstpost.com/india/flood-alerts-issued-in-12-tamil-nadu-districts-after-stanley-reservoir-in-mettur-reaches-full-capacity-for-first-time-in-five-years-4803641.html (24 July 2018)
With Mettur dam brimming, Chennai Metropolitan Water Supply and Sewerage Board (CMWSSB) is awaiting water from Veeranam lake. Level in the four main lakes — Poondi, Chembarambakkam, Cholavaram and Red Hills in Chennai region, has been declining. At present they have total storage of 1,793 million cubic feet (mcft) and this can be enough to meet drinking water supply for next two months as per officials. https://deccanchronicle.com/nation/current-affairs/240718/chennai-to-get-water-from-veeranam-lake.html  (24 July 2018)
Mettur dam continued to overflow for the third day on July 25. The water released from the dam passes through the barrages of Sekkanur in Salem district; Nerinjipettai, Koneripatti, Kuthiraikkalmedu, Bhavani Kattalai 1, 2 and 3 in the neighbouring Erode district. https://www.thehindu.com/todays-paper/tp-national/tp-tamilnadu/mettur-dam-overflows-for-the-third-consecutive-day/article24516125.ece   (26 July 2018)
KRS had started releasing over 80 000 cusecs of water from July 18, 2018. The last time such heavy inflow was noticed was in the year 1992-93. https://www.financialexpress.com/india-news/watch-krs-dam-lights-up-in-tricolour-as-karnataka-releases-80000-cusecs-of-water-to-tamil-nadu/1250566/  (19 July 2018)
Maharashtra 8 dams in Bhima basin, overflowing As many as 8 dams in Bhima basin discharged water into various rivers following significant surge in the water levels in past week. https://timesofindia.indiatimes.com/city/pune/pune-bhima-basin-dams-discharge-excess-water/articleshow/65121497.cms  (24 July 2018)
Similarly, the Morbe Dam is already full on July 24. Located near Khalapur in Raigad district, at Dhavri River which originates from Patalganga River, Morbe dam is Navi Mumbai's primary source of water and is owned by the Navi Mumbai Municipal Corp. The dam water level reached 87.85 metres. The maximum height at which water overflows in the dam is 88 metres. The dam's catchment area has received 2,273.40mm of rainfall this monsoon. There is over 185 million cubic metres water in the dam that has a total storage capacity of 190.89 MCM. https://www.hindustantimes.com/mumbai-news/morbe-dam-fills-up-no-water-cut-in-navi-mumbai-this-year-too/story-b6JxvmOtgnR0zC8paGfW8H.html  (25 July 2018)
Here is an EYE OPENING report by VAISHNAVI CHANDRASHEKHAR: REMEMBER 26 July, 13year ago? About how developments are allowed in flood risk areas in Mumbai Metropolitan areas including Thane, Bhiwandi, Kalwa, Mumbra, along Ulhas River and Thane Creek and how vested interests do not want any flood lines. https://timesofindia.indiatimes.com/city/mumbai/unchecked-growth-in-bhiwandi-and-thane-raises-questions-of-flood-risk/articleshow/65125586.cms  (25 July 2018)
Increasing flood risks in Mumbai Metro Areas: Bandra-Kurla Complex (BKC), Thane, Bhiwandi and Antop Hill are vulnerable to extreme floods, says a study. Mumbai is 8th among the cities globally exposed to storms. There has been three fold increase in extreme rainfall events (rainfall over 150 mm in a day) in Central India including Mumbai between 1950 and 2015. https://timesofindia.indiatimes.com/city/mumbai/bkc-thane-antop-hill-at-risk-of-extreme-flooding-says-study/articleshow/65111365.cms  (24 July 2018)
Gujarat Cut off by floods, Pal villagers build Rs. 1 cr bridge over Macchu river Interesting story about how residents of Paj village with 165 households in Wankaner taluka of Morbi district gave themselves a bridge over river Macchu River exactly a year after being cut off by the flooded river on July 24, 2017, mostly their own contribution and some help from Collector and DDO. This after waiting for 22 years for govt to respond, but govt did not.. https://indianexpress.com/article/india/year-after-river-cut-off-gujarat-village-residents-give-themselves-rs-1-crore-bridge-5274420/  (25 July 2018)
Uttar Pradesh Water level of the Ganga is on the rise in Kanpur following heavy rains in Uttrakhand. The rising level of water will submerge the low lying areas. On 29 July, 93,500 cusec of water was released into Ganga from Narora barrage and 62950 cusec was released from barrage in Haridwar.  https://timesofindia.indiatimes.com/city/kanpur/ganga-level-on-the-rise-in-kanpur/articleshow/65183875.cms  (28 July 2018)
Himachal Pradesh Landslides and floods during Shrikhand Mahadev Yatra
Two Kinner Kailash pilgrims, including a woman from Pune, were washed away in flash floods at the Kangrang Nullah near Tangling village in Kinnaur district on July 28. Heavy rain triggered landslides, blocking roads and disrupting power supply.
The Sutlej, its tributaries and rivulets are in spate and the water level was rising. Shimla Deputy Commissioner Amit Kashyap has sounded an alert and advised locals and tourists not to go near the riverbanks or swollen rivulets as rain and release of water from reservoirs of hydropower projects can cause flash floods. Following floods in the Shalvi river, residents of 24 villages, including Nerwa, Tikri, Gumma, Shwala, Bawi, Dakauli, Kyarla, Banipul, Shamtha, Gumma and Kuthat, have been asked not to go near the riverbanks and also not let animals and children go there.
The rain has crippled normal life in several parts of the state. As many as 310 roads were closed due to landslides, with 221 blocked in Shimla zone, 71 in Mandi and 13 in Hamirpur. The rain has caused a loss of Rs 237 crore to the PWD. Gohar, which received 162 mm of rain in the past 24 hours, was the wettest, followed by Nahan 110 mm. The Met office has predicted wet spell in the state till August 3. https://www.tribuneindia.com/news/himachal/4-pilgrims-washed-away-in-flash-floods/628325.html  (29 July 2018)
As per another report nearly 200 pilgrims were on the yatra to Kinner Kailash in Kinnaur district when water level in the Kangrang nullah grew because of heavy rain on July 27 night. https://timesofindia.indiatimes.com/city/shimla/weather-fury-2-die-on-shrikhand-trek-one-near-kinner-kailash-peak/articleshow/65181768.cms  (30 July 2018)
So far 4 pilgrims have died in this season on Shrikhand Mahadev pilgrim. As per report, 28 people have lost their lives in last 8 years on 35 km long yatra trek considered to be one of most difficult pilgrimages. This 16 days long Yatra was started on July 16 from Kullu district. https://www.bhaskar.com/himachal/shimla/news/latest-shimla-news-020549-2318989.html  (29 July 2018) Here is some detail of Shrikhand Mahadev Yatra. http://hillpost.in/2018/07/two-die-on-pilgrimage-to-shrikhand-mahadev-peak/110620/  (17 July 2018)
Meanwhile, the Mandi-Pathankot national highway has been damaged at Kotrupi on July 28 by landslide followed by heavy rainfall. Last year, a massive landslide had killed 46 people on the spot. Due to heavy rain, the area has witnessed landslides and major parts of the road have been damaged. The district administration had set up a sensor for pre-warning of landslides at Kotrupi, which indicated that more landslides might take place in the area.  https://www.tribuneindia.com/news/himachal/landslide-threat-looms-over-kotrupi-area/628736.html  (29 July 2018)
DROUGHT 2018
Bihar 48 per cent rain deficit, 35 districts stare at drought With a 48 percent rain deficit, as many as 35 out of 38 districts in Bihar are experiencing drought. The only districts to have received average rainfall are Banka, Madhubani and West Champaran. https://indianexpress.com/article/india/bihar-48-per-cent-rain-deficit-35-districts-stare-at-drought-5270331/  (23 July 2018)
Meanwhile, NAPM has demanded that Bihar govt should immediately declare drought in 20 districts.
Karnataka Agricultural drought looms despite good rains and floods The dry spell in 16 of the 30 districts of Karnataka in July, likely to continue at least for another week is now threatening an agricultural drought.  http://www.newindianexpress.com/thesundaystandard/2018/jul/26/agricultural-drought-in-karnataka-looms-despite-good-rains-and-floods-1848726.html  (26 July 2018)
Study Integrated assessment of drought vulnerability using indicators for Dhasan basin in Bundelkhand region The present study has integrated both spatially and temporally varying drought vulnerability factors to develop an integrated drought vulnerability map for Dhasan basin. A drought vulnerability index is used to classify the study area into different vulnerability zones. From the drought vulnerability assessment for the study area during July 2002, it was observed that the northeast, northwest and extreme southern part of the basin (20% area) was under critical vulnerability condition whereas the southwest and central part of the basin (79.9% area) was under high vulnerability condition.
The critical drought vulnerability condition existed in Dhamoni, Pidaruwa, Sagar, Patharia Hat, Chhapri, Baroda Sagar and Singtoni region, whereas high vulnerability condition existed in the remaining parts of the study area. The integrated drought vulnerability approach gives superior result for drought assessment as compared to vulnerability assessment by considering the individual factors for the study area. http://www.currentscience.ac.in/Volumes/115/02/0338.pdf  (25 July 2018)
IRRIGATION
Op-Ed The Great Indian Irrigation Deceit by J Harsha, Director, CWC  The author explains why we have such poor performance of big irrigation projects when monitoring just does not happen: "Then, due to the expanse and inaccessible terrain, it is impossible to verify and validate main canals, distributaries and FICs within a span of a week or even a month. So, a visit to a project for a day or two reveals nothing about the potential utilisation. The fact that the canal network in a vast command area is difficult to monitor due to spatial and temporal constraints gives enough room for vested interests to manipulate, evade accountability and hide the ever-widening irrigation gap and the resulting consequences on farmers' lives… The current level of funding under various schemes is sufficient to line the FICs with concrete only up to one-third of their length, say some project authorities on condition of anonymity, and the balance two-thirds are left unlined or in excavated condition across a vast command area. These unlined/excavated FICs disappear in just one monsoon season due to filling of soil by rains or tilling by farmers or due to their incapability to maintain them."
– "Therefore, one of the oldest government schemes, namely CAD&WM makes such a flawed assumption that water users are capable enough to maintain thousands of kilometers of FICs… In fact, India's failure to deliver water in time in adequate quantities to every small landholding (< 1 hectare) belonging to marginal farmers (constituting 85 per cent of total farmers) cultivating in 43.64 million hectares (mha) of canal irrigated commands never finds mention in any of the suicide records and agriculture performance discourse. The point is that the area under dilapidated and non-existent irrigation infrastructure within the 43.74 mha of the canal command area is never disclosed and therefore remains largely invisible to the nation… Therefore, unless irrigation schemes in India are conceived with honesty and transparency reflecting the ground realities, they will continue to be disastrous to the agriculture sector. Farmers and their families face distress for reasons that remain hidden from public gaze." https://www.thestatesman.com/opinion/the-great-indian-irrigation-deceit-1502665368.html  (26 July 2018)
Similarly, according to a Parliamentary Committee report that this article quotes, the performance of NDA govt even in terms of watershed projects under PMSKY is poor: In July 2015, the government had committed to complete—5,750—close to 70 per cent of the approved watershed projects by 2020. But in three years, just 849 projects have been completed.  https://www.downtoearth.org.in/news/water/close-to-90-projects-under-pm-s-flagship-irrigation-scheme-remain-incomplete-61228  (25 July 2018)
Tamil Nadu Massive water hyacinth in Cauvery canals affecting irrigation water supply Farmer at Grand Anicut in Thanjavur district on July 22 has witnessed massive sheet of 'water hyacinth' clouding the presence of water released for irrigation. Floating from Bhavani-Cauvery head in Erode district, these hydrophytes sailed in the current of water and crowded near the regulators of Cauvery, Vennar, Grand Anicut and Kollidam choking the flow of water before it was let out. After the release also, they sailed with the current of water into Cauvery, Vennar, Grand Anicut canal and Kollidam. https://deccanchronicle.com/nation/current-affairs/250718/water-weeds-threaten-to-spoil-cauvery-party.html  (25 July 2018)
INTER STATE WATER DISPUTES
Ken-Betwa Link Walk Along the Ken to Find a World You Didn't Know Was There This is based on 600 km long KEN YATRA in three different phases by the two authors from SANDRP and Veditum respectively.  https://thewire.in/environment/walk-along-the-ken-and-you-will-find-a-world-you-didnt-know-was-there   (29 July 2018)
RIVERS AS NATIONAL WATER WAYS
National Waterways in Bihar The Modi govt's plan of transforming rivers into waterways is impractical and dangerous for the environment, an expert said here on July 25, 2018. Shripad Dharmadhikary, of Manthan Adhyayan Kendra, tore into the Centre's narrative of cheaper and environmentally sustainable commercial transport. "Converting the state's rivers into national waterways would change their natural course while dredging can threaten aquatic animals and inland vessels will add to water pollution," he said during the release of a report on "National waterways in Bihar: A description". "It may also cause a decline in the number of fish, severely affecting the livelihood of fishermen."
He added: "Large-scale dredging activity is required to overcome the silt problem at a huge cost. So it will not be able to provide cheaper transport of goods." Shripad said in case of the National Waterway 1 – stretching from Allahabad in Uttar Pradesh to Haldia in Bengal, passing through Bihar and Jharkhand – increase in the route distance will increase the cost of shipping companies. On river, the distance is 1,620km while on land it is roughly 1,000km, he said.  https://www.telegraphindia.com/states/bihar/waterway-threat-247631#.W1k5OZvzj3  (26 July 2018)
RIVERS
Maharashtra नदी आपली की सरकारची? देशातील सगळ्यात जास्त प्रदूषित नदी-पट्टे महाराष्ट्रात आहेत असे अलिकडेच पुन्हा एकदा स्पष्ट झाले. आपल्याकडे पैशाची चणचण नाही, तंत्राची उणीव नाही, मग असे का व्हावे? Parineeta Dandekar's Marathi article on July 26 in Maharashtra Times on state of Maharashtra Rivers. https://maharashtratimes.indiatimes.com/editorial/article/the-river-is-your-government/articleshow/65134137.cms  (26 July 2018)
National Time to have a new perspective on rivers Rivers are the world's most important ecosystems, not simply a source of water and energy, argues Jayanta Bandyopadhyay. https://www.thethirdpole.net/en/2018/07/25/why-we-need-a-new-perspective-on-rivers/  (25 July 2018)
Satluj Beas Rivers Pollution NGT forms monitoring committee In a four-year-old case filed against Punjab and other states by a Rajasthan resident pertaining to pollution in the water sources flowing to Rajasthan, the NGT has directed CPCB to constitute a monitoring committee, involving Padma Shri Baba Balbir Singh Seechewal, a former member of Punjab PCB, to take time-bound action. The NGT also directed that the monitoring committee should file its report by October 31, 2018, and the action taken must be put on CPCB website. Meanwhile, during the hearing of this case, the PPCB filed a status report on July 23, according to which, there is also a need to enhance the overall capacity of STPs to 650 MLD against the existing capacity of 466 MLD. https://indianexpress.com/article/india/punjab-rivers-flowing-to-rajasthan-ngt-directs-cpcb-to-form-panel-to-check-water-pollution/  (29 July 2018)
Himachal Pradesh Ashwin Khud pollution: SMC asks people to boil water before drinking The Shimla Municipal Corporation on July 24 appealed to residents to drink boiled water as some organisms have been found in water samples lifted from various parts of the city from July 19 to 21. The Irrigation and Public Health Department has also stopped lifting water from the Ashwani Khud through its Salogra pump house. The water is supplied to Solan town. This comes in the wake of the NGT taking cognizance of the "river of plastic" video. https://www.tribuneindia.com/news/himachal/residents-advised-to-drink-boiled-water-as-samples-fail/625893.html  (24 July 2018)
Here is video by Manshi Asher of Himdhara of another stream named Balad flowing with plastic waste. It feeds the Sarsa river which is tributary to Satluj river.  
Gujarat CM "misled" Niti Aayog: Ex-BJP CM Suresh Mehta Lokshahi Bachao Andolan (Save Democracy Campaign), which is led by former BJP chief minister Suresh Mehta, has accused the CM for misleading, Niti Aayog, by saying that the govnt has "revived" 32 rivers. In a statement signed by Mehta and two civil rights leaders, Mahesh Pandya and Prof Hemant Shah on behalf of the campaign body, they have said that nothing of the sort has happened.
"The Sujalam Sufalam recharge canal of North Gujarat has not revived any river. The state govt website has not even given the names of the rivers that it claims to have revived. There is no water in any of the rivers that connect the canal. Where is the question of reviving the dead rivers?", the statement says, seeking complete accounts of money spent on the canal network and revive rivers. https://www.counterview.in/2018/07/gujarat-chief-minister-misled-niti.html  (28 July 2018)
GANGA NGT directs NMCG CPCB to install display boards at polluted sites The green panel also directed the National Mission for Clean Ganga (NMCG) to install display boards at a gap of 100 km, indicating whether the water is fit for bathing or drinking. It directed the NMCG and the CPCB to place on their website, within two weeks, a prominent map showing where the water was good for bathing and drinking. https://www.thehindu.com/sci-tech/energy-and-environment/ngt-anguished-over-river-gangas-condition-says-water-unfit-to-use/article24532208.ece
Meanwhile, thousands of devotees took a holy dip in river Ganga in Varanasi's Dashashwamedh Ghat on the occasion of lunar eclipse. Dashashwamedh ghat is one of the oldest and important ghat, located at the bank of the river Gange near to the old Vishwanath Temple in the Kashi. https://www.deccanchronicle.com/videos/news/watch-devotees-throng-varanasirsquos-ganga-ghat-to-take-holy-dip-during-lunar-eclipse.html  (28 July 2018)
MoWR PSUs biggest donors to Clean Ganga Fund Nearly 90% of the dedicated fund that the Water Ministry has collected as part of donations for various projects to clean the Ganga is sourced from State and Central govt public sector units (PSU), according to information from the Lok Sabha. On July 23, in response to a question from Congress MP Rajeev Gowda, Minister of State Satyapal Singh reported that ₹220 crore was donated to the CGF as of January 2018. Private companies contributed around ₹20 crore and the public sector, Central public sector and Government Departments contributed about ₹177 crore. The rest were from individual donations. https://www.thehindu.com/sci-tech/energy-and-environment/psus-biggest-donors-to-clean-ganga-fund/article24523432.ece  (26 July 2018)
Saint fast enters in second month, no response from Govt Chronology of GD Agarwal Ganga fast: On June 22, Swami Gyan Swaroop Sanad announced a fast at the holy city of Haridwar in the Himalayan state of Uttarakhand. His demands were that the environmental flow of the rivers be maintained to curb pollution, that encroachments along the riverbanks be removed, and a special law be enacted to deal with pollution and encroachment of the river.
On July 10, police forcefully removed Agrawal from the venue of the indefinite hunger strike and took him to an undisclosed location. The High Court stepped in on July 12 and directed the Uttarakhand chief secretary to hold meetings with the fasting Agrawal within the next 12 hours to resolve the issue. But nothing has come of this. The govt has taken the ageing environmentalist into police custody and to the All India Institute of Medical Science in Rishikesh, where he has refused to be force-fed by the doctors. Despite the High Court's directive, the chief secretary has refused to intervene, saying the issue is beyond his purview.
In a letter addressed to the PM, Rajendra Singh urged the government to immediately ensure the passage of the Ganga Protection and Management Bill and stall all construction of dams along the river – a key demand of Agrawal. Unfortunately, there does not seem to be any response. As his hunger strike enters the second month, Agrawal has lost 9 kg of weight yet nobody from the govt has come to either resolve the problem or prevail upon Agrawal to end his fast. https://scroll.in/article/887656/environmentalist-gd-agrawal-has-been-fasting-for-over-a-month-to-save-the-ganga  (25 July 2018)  
Also see Tracing GD Agarwal struggle to save Ganga http://www.newindianexpress.com/thesundaystandard/2018/jul/29/tracing-gd-agrawals-struggle-to-save-ganga-1849952.html  (29 July 2018) 
YAMUNA Delhi Maily Se Nirmal Yamuna Case: NGT forms new commettee NGT on July 26 formed a monitoring committee on the cleaning of the Yamuna and directed it to submit an action plan on the issue by September and a detailed report in the matter by December 31. The green panel asked the Haryana and UP govts to assist the committee on Yamuna rejuvenation. The Tribunal directed the authorities to take strict action against encroachments on the Yamuna floodplains. It also directed the DDA & DJB to hold a meeting on July 30 for identifying land for setting up of a STP on a drain which falls under phase-II of the Yamuna cleaning program.  https://indianexpress.com/article/india/ngt-monitoring-committee-yamuna-cleaning-5277535/  (26 July 2018)
On July 25, the green tribunal had criticised the DJB for making no "meaningful progress" in three years to clean the Yamuna. The green regulator observed that despite its order of January 13, 2015, work was yet to start on 14 sewage treatment plants to rejuvenate the river. https://scroll.in/latest/887965/ngt-criticises-delhi-government-says-no-meaningful-progress-made-in-cleaning-yamuna  (25 July 2018)
Center NITI Ayog to set up authority for cleaning Yamuna Speaking at the 3rd Kalam International Youth Conclave, the NITI Ayog on July 27 said that it was in discussion with Union Water Ministry to formulate and establish Yamuna Water Management Authority to clean and rejuvenate river Yamuna in Delhi. https://timesofindia.indiatimes.com/business/india-business/niti-aayog-in-talks-with-water-ministry-to-set-up-authority-for-cleaning-yamuna/articleshow/65163324.cms  (27 July 2018)
Uttar Pradesh Concretization of the Yamuna river banks continue As per report, Govt is building a new ghat at Maujagiri with a concrete base. Its stairs are made with the famous red coloured sandstone from Mirzapur. The construction work at the ghat is almost over and the state govt has set aside a corpus of Rs 65 lakhs for the ghat's construction. Spread across 30 meters in width and 60 meters in length, the Maujagiri ghat would be the fifth permanent ghat in Allahabad and the third one across Yamuna. https://timesofindia.indiatimes.com/city/allahabad/shah-to-inaugurate-new-yamuna-ghat/articleshow/65114328.cms  (24 July 2018)
Taj Mahal Case  SC reprimanded UP govt for not taking enough steps to protect Taj Mahal The effort to preserve the pristine white of the Taj Mahal has been turned into a joke, the Supreme Court said on July 26, and wondered what would happen if the iconic monument lost its world heritage body tag. There is a Taj Trapezium Zone authority set up in 1996 under the state govt to curb pollution in the 10 thousand square km area spread across six districts. The judges also worried that the govt's approach could cost Taj Mahal its world heritage status.
The court had given the state govt a tongue lashing for submitting a draft vision document that the court had ordered earlier. Over the last few hearings, the top court has been expressing its anguish at the govt's approach to protecting and preserving the monument. In May this year, the court had reprimanded the ASI for failing to protect the monument. At a hearing about 10 days ago, the judges again expressed their anguish over the govt's apathy and described the effort to preserve Taj Mahal as a "hopeless cause". https://www.ndtv.com/india-news/what-if-taj-mahals-world-heritage-tag-is-withdrawn-top-court-to-centre-1890415  (27 July 2018)
RIVERS BIODIVERSITY
SANDRP Guest Blog Beas Dolphins: A Flash Of Fin, A Glimmer Of Hope Arati Kumar Rao's detailed article on Beas Dolphins. Less than a dozen survive, but are facing constant threats of multiple kind. Can we ensure they survive? It's fascinating: Plz read and share. Feedback is welcome. https://sandrp.in/2018/07/30/beas-dolphins-a-flash-of-fin-a-glimmer-of-hope/  (30 July 2018)   
FISH, FISHERIES & FISHERFOLK
National NFF asks for enacting coastal rights law The draft Coastal Regulation Zone notification of 2018 needs to be scrapped and replaced with a comprehensive Coastal Rights Act, in consultation with traditional coastal communities, says the National Fishworkers Forum. In its current form, the draft notification would displace more than 3,800 fishing villages and over forty million fishworkers, it said. In a meeting with parliamentarians from coastal States on July 25, NFF general secretary pointed out that the earlier CRZ notifications issued in 1991 and 2011 have been amended a total of 38 times. https://www.thehindu.com/todays-paper/tp-national/enact-coastal-rights-law-fishworkers/article24516074.ece  (26 July 2018)
SAND MINING
Gujarat Massive sand mining racket busted in Amreli  Amrelli police has busted a massive illegal sand mining in the middle of the corridor for Asiatic lions along the Dhatardi river in Rajula Taluka on July 27. Seven persons were arrested for lifting sand from this eco-sensitive zone. It is estimated that the racketeers have mined sand worth at least Rs 52 crore over the last seven or eight months. Amreli's top police officer said that this is the biggest sand mining scam unearthed in Gujarat in the recent past. This is only the tip of the iceberg, as many more people are likely to be arrested during the course of investigation, he said. Police suspect the mining mafia flourishes in many other places in the district and they will crack down on this racket soon.
The collector had assigned survey work to a team of geologists, based on whose report it emerged that the accused stole sand worth Rs 52 cr over the last few months. Based on the report, we started searching for people who had been booked for illegal sand mining earlier and arrested seven persons," he said. During the survey by the geologists on July 4 and 5 on the stretch from Vad to Khakhbai villages, the found that sand had been illegally excavated from a massive 7.68 lakh sq metres. Nearly 22 lakh metric tonnes of sand, valued at Rs 240 per tonne, had been mined. https://timesofindia.indiatimes.com/city/rajkot/massive-sand-mining-racket-busted-in-amreli/articleshow/65170364.cms  (28 July 2018)
Similarly in June 2018, a team of ACB carried out surprise checking of sand mining from Tapi River near Ghasiyameda village on June 23 and seized vehicles suspected to be involved in unauthorized mining. https://timesofindia.indiatimes.com/city/surat/acb-carries-out-surprise-inspection-at-sand-mining-site/articleshow/64578515.cms  (23 June 2018)  
Odisha- Andhra Pradesh Residents allege administration carelessness against illegal sand mining in Vamsadhara river As per report the floods Vamasadhara has exposed the illegal sand mining in the district, but local officials are trying to hush-up the issue. On July 15 night, flood water level increased in Vamsadhara river by that time sand was being loaded into 25 lorries by four earth movers and all the vehicles, including 53 workers, were stranded in the water.
Issue came to light in the early hours of July 16 and workers were rescued from the river, but vehicles stranded in the water. As per mining rules using earth movers for sand excavation is illegal and transportation with lorries also against rules.  Indiscriminate sand mining with heavy machinery was continuing at Purusottapuram reach in Vamsadhara river. Sand was being transported to Visakhapatnam for commercial purpose which was defeated the aim of the govt in implementing free sand policy. http://www.thehansindia.com/posts/index/Andhra-Pradesh/2018-07-29/Officials-keeping-mum-on-sand-mafia/401886  (29 July 2018)
Before this, the Aditya Institute of Technology and Management (AITAM) professor and Partivartan Trust president Chintada Ravikumar on July 23 held an agitation at Amudalavalasa and asked the govt to take immediate action on the influential people involved in illegal sand mining in Rusikulya river in Purushottampuram town in Ganjam district of Odisha. https://www.thehindu.com/news/cities/Vijayawada/tough-action-sought-on-illegal-sand-mining/article24498744.ece  (24 July 2018)
River Vamsadhara is an important east flowing river between Rushikulya and Godavari, in Odisha and Andhra Pradesh states. The river originates in the border of Thuamul Rampur in the Kalahandi district and Kalyansinghpur in Rayagada district of Odisha and runs for a distance of about 254 kilometers, where it joins the Bay of Bengal at Kalingapatnam, Andhra Pradesh. https://en.wikipedia.org/wiki/Vamsadhara_River 
Tamil Nadu Opposition demands CBI inquiry into the alleged irregularities in beach sand mining  A detailed 1,170-page report was submitted to the govt on September 17, 2013, based on inspections carried out by the special team in Tirunelveli, Thoothukudi and Kanyakumari districts. It also found that over 1 crore tonne of beach sand was illicitly mined from 52 lease sites and exported. The exports were valued at around Rs. 1,80,000 crore. https://www.deccanchronicle.com/nation/current-affairs/250718/mk-stalin-demands-cbi-inquiry-into-sand-mining-irregularities.html  (25 July 2018)
Bihar Illegal sand mining causing air pollution in Gaya, say experts Participating in a workshop on air pollution in Gaya by Centre for Environment and Energy Development, Rai Madan Kishore, a retd. Special secretary in state govt said that the greater contributor to air pollution is suspended particles released by unregulated building construction activities and sand mining. Gaya was listed as fourth most polluted city in the world by WHO. In the meeting, Central Bihar Chamber of Commerce president Kaushalendra Pratap said water retention in Falgu river bed was a must to prevent upward movement of Falgu sand dust that significantly added to Gaya's air pollution. https://timesofindia.indiatimes.com/city/patna/illegal-sand-mining-causing-air-pollution-in-gaya-say-experts/articleshow/64966442.cms  (13 July 2018)
Maharashtra Govt plans use of drones to tackle illegal sand mining Despite restrictions imposed by the NGT, cases of illegal sand excavation and transport have become rampant across the state. The paucity of revenue staff is another reason behind uncontrolled activities of sand mafia. In order to tackle this issue, the state revenue department has decided to use drones to trace the illegal activities of sand mining and stocks in various areas.
The decision is an outcome of over 1,830 cases of illegal sand mining across the state registered in the past one year. The revenue authority managed to recover fine of Rs 22 crore from them, but the actual violation is much more than this official figure. Since the ratio of demand and supply is adverse, the cases of illegal mining have rapidly increased since the past few months. In a number of incidents, mafia goons have even attacked revenue officers, including talati, circule officer and tehsildars. https://punemirror.indiatimes.com/pune/civic/state-plans-use-of-drones-to-tackle-illegal-sand-mining/articleshow/65109963.cms  (24 July 2018)
Punjab Sand Mafia attacks media team A News18 team, investigating illegal sand mining in Punjab's Jalalabad, was attacked by the mafia. The video journalist and reporter have received head injuries.  (29 July 2018)
WATER OPTIONS
Jharkhand Replenishing parched hydrological system, one pond at a time Over 2,000 ponds are being rejuvenated and revived through the efforts of the agriculture and water resources ministries of Jharkhand, in a bid to improve the situation of water resources in the state. The state has an ambitious project of digging 1.4 lakh farm ponds to replenish the underground water level and to meet the irrigation demands in the rural pockets: https://www.firstpost.com/india/indias-water-crisis-replenishing-jharkhands-parched-hydrological-system-one-pond-at-a-time-4805501.html  (24 July 2018)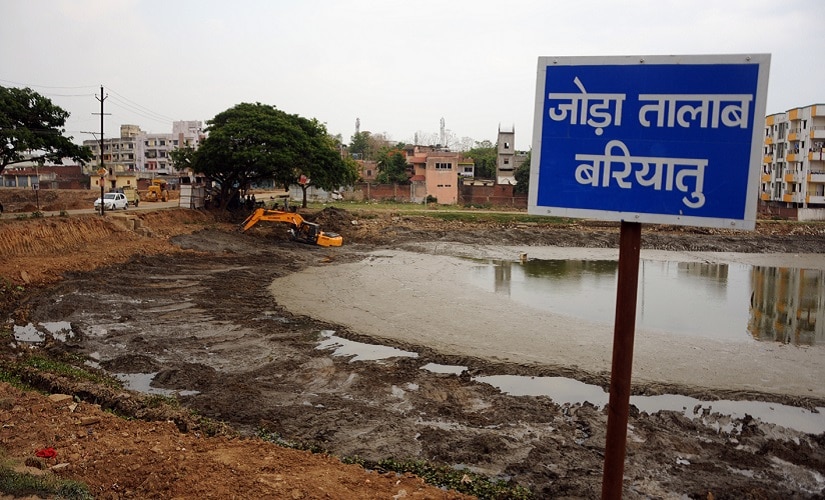 As per another report, Ranchi was once a city of lakes, waterfalls and rivers, and used to be summer capital of undivided Bihar. Today, it's a poster boy of what unchecked urban expansion, lack of vision and bureaucratic apathy can do to the ecology of a region. According to a report released by Ranchi Municipal Corporation late last year, the city boasted around 100 lakes and small waterbodies forty years ago but only 42 remain. As a report by the state agriculture department notes, in eastern Singhbhum district (Jamshedpur), there used to be 850 government-owned water bodies but 310 of them have vanished.
Of 1,100 odd lakes and water bodies in western Singhbhum, only 360 are traceable. In fact, the state's water policy, pending since 2011, got the cabinet's nod only in 2016 when large parts of Ranchi were under water rationing. The severity of situation can be gauged from numbers in Dumka, where 5,219 lakes of the 12,847 private and 659 government-owned water bodies have disappeared within the past four-five years, according to a survey done by state fisheries department.
Ranchi is supplied by three major dams, Dhurwa, Kanke and Getalsud, all of which were built between 1962-1971 and were designed to support a population of around four to five lakh. While the catchment area of the dams is shrinking (Dhurwa by 23 percent, Getalsud by 12 percent and Kanke by 3.39 percent) according to the 2016 revised master plan, new apartments blocks have kept mushrooming across the city. The groundwater table has dropped by almost nine metres between 2009 and 2014, according to the Ground Water Directorate. https://www.firstpost.com/india/indias-water-crisis-jharkhands-drying-lakes-small-water-bodies-portend-disaster-for-states-hydrological-system-4797871.html  (23 July 2018)
Study Converting dried-up bore wells as groundwater recharge wells Construction of farm ponds, percolation tanks, earthen dams and minor water harvesting structures are some measures to enable storage and direct use of water and contribute to recharging and augmenting groundwater. http://www.currentscience.ac.in/Volumes/115/02/0206.pdf  (25 July 2018)
GROUND WATER
Tamil Nadu Ground water in Sterlite copper plant contaminated, Centre tells Parliament The Centre has confirmed on July 23 that groundwater in the SIPCOT area of Thoothukudi where Sterlite is also located, is polluted. This revelation is based on a study conducted by the Central Ground Water Board (CGWB), carried out to determine the ground water quality in and around the SIPCOT area in the district.
This information was provided by the Water Resources Ministry is based on a question asked by Tamil Nadu MP Sasikala Pushpa in Rajya Sabha. The MP asked whether the govt had initiated any steps to check the nature of ground water in Thoothukudi in the backdrop of the people's agitation against the Sterlite plant, alleging it had contaminated ground water. https://www.thenewsminute.com/article/ground-water-sterlite-copper-plant-contaminated-centre-tells-parliament-85293   (24 July 2018)
Himachal Pradesh PACL Industries in Nangal polluting groundwater in Una The State Pollution Control Board has found the presence of high concentrations of sodium and raised levels of chloride in the groundwater of six southern panchayats of Una district located on the Punjab border. Punjab Alkalies and Chemicals Ltd (PACL), a unit owned by the Punjab Govt in Nangal, a few km from here, is reported to be the main source of pollution. The matter came to light when villagers from the Binewal, Poona, Ajauli, Malukpur, Sanoli and Majara panchayats reported stunted crop growth and wilting of vegetation irrigated by private sources. https://www.tribuneindia.com/news/himachal/nangal-industry-polluting-una-groundwater/625364.html  (24 July 2018)
Madhya Pradesh Industries ruined Ratlam groundwater Toxic industrial waste has polluted groundwater in Ratlam. Residents wait for action from authorities. http://www.indiawaterportal.org/articles/how-industries-ruined-ratlams-groundwater   (25 July 2018)
Chhattisgarh Adani Coal Mining exploiting ground water Parsa villagers in Udaipur block, say Adani coal mining operations have depleted the ground water around them and that the company has failed to fulfil its promise of ensuring permanent supply, leaving them with water that is insufficient and dirty.  https://thewire.in/environment/in-chhattishgarh-adanis-coal-mine-leaves-a-village-parched-this-monsoon   (29 July 2018)
Also see Alok Shukla tweet highlighting how Adani coal mining is polluting Atem river in Parsa east:
URBAN WATER
Karnataka Industries opposed 100 per cent hike in water tariff The state govt's decision to increase the water tariff for industrial use, by approximately 100 per cent, is being opposed by various groups. The hike is being implemented from June. The Karnataka Iron and Steel Manufacturers Association (KISMA) has decided to approach the govt to revisit this decision. The association said that this decision is not only arbitrary but will also portray the state govt's image as "industry-unfriendly". http://www.newindianexpress.com/cities/bengaluru/2018/jul/28/100-per-cent-hike-in-water-tariff-for-industrial-use-draws-flak-1849662.html  (28 July 2018)
WATER POLLUTION
National CPCB needs standards to control water pollution by antibiotics The National Centre for Diseases Control (NCDC) has written to the ministry of environment for keeping a strict vigil on antibiotic manufacturing companies that are disposing industrial waste without proper treatment and contributing to antimicrobial resistance.
The govt, on its part, also accepted that some companies were disposing waste into rivers or dumping effluents in the ground without proper treatment, and is set to develop anti-dumping standards under the National Programme on Containment of Anti-Microbial Resistance (AMR).
According to the scoping report on antimicrobial resistance in India by the Department of Biotechnology in November 2017, it is estimated that 80% of antibiotics sold by multinational pharmaceutical companies in the global market are manufactured in India and China. The effluents from antibiotic manufacturing units contain a substantial amount of antibiotics, leading to contamination of rivers and lakes in India. In India, there are at least 40 antibiotic API manufacturers and at least 250 antibiotic formulation companies manufacturing at least one antibiotic for human use.
The report also highlighted that the existing good manufacturing practices (GMP) framework is restricted to drug safety, and does not include environmental safeguards and regulation of environmental discharges. In India, the CPCB established effluent standards for pharmaceutical industry waste, and all state pollution control boards follow the same standards. "Unfortunately, the current standards do not include antibiotic residues, and thus they are not monitored in the pharmaceutical industry effluents under the CPCB Effluent Standards 2013," the report said. https://www.livemint.com/Politics/oeZw1gz1IP19qxJ78DdAuK/Lens-on-antibiotic-makers-disposing-untreated-effluents.html   (23 July 2018)
Also see, Himdhara video dated July 12, showing Common effluent treatment plant at Baddi Asia's largest pharma hub,releasing 'treated' effluents from the industrial area into Sarsa river.
https://twitter.com/i/status/1017252129734524930
Tamil Nadu NTECL Vallur Thermal Power Station functioning in gross violation of several environmental norm finds MoEF&CC NTECL Vallur is operating without a valid license from the Tamil Nadu Pollution Control Board, and the new ash pond that it is constructing inside the Ennore Creek is also illegal, according to a monitoring report by the Union Environment Ministry. The report is in response to complaints by Ennore fisherfolk that NTECL was building a new flyash pond inside a biologically productive, and mangrove-rich wetlands of the Ennore Creek and was violating conditions of environmental clearances given to them. https://storyofennore.wordpress.com/2018/07/24/moefcc-notes-gross-non-compliances-to-existing-environmental-clearances-by-ntecl-vallur-thermal-power-station-confirms-fisher-suspicions/  (24 July 2018)
Gujarat Video of how foam is flying when water is released from Bhadar Dam in Dhoraji near Rajkot due to pollution from dyeing factories. https://www.timesnownews.com/videos/news/india/gujarats-dhoraji-dam-overflows-with-toxic-foam/4058  (19 July 2018)
Taking a serious view of the news that the dyeing and printing units of Jetpur, Rajkot district, have been releasing chemical-infested poisonous waste water into Bhadran river without treating it, Ahmedabad NGO Paryavaran Mitra, in a letter to the chairman, Gujarat Pollution Control Board (GPCB), has demanded that this should be immediately investigated into and necessary action should be taken against the units found be doing the illegal activity. https://www.counterview.in/2018/07/gpcb-investigation-sought-for-releasing.html  (27 July 2018)
Karnataka HC suspends supply of frothy Bellandur water to region In a major relief for residents in Kolar, where frothy water was supplied as part of the controversial Koramangala-Challaghatta (KC) Valley Project in Bengaluru, the Karnataka HC on July 24 asked to stall the further supply of the partially treated water. In addition to the interim order, the court issued a notice to the state govt on the matter while hearing a PIL filed by Shashwatha Neeravari Horata Samiti. The case will be heard again on August 1. https://www.thenewsminute.com/article/win-kolar-residents-k-taka-hc-suspends-supply-frothy-bellandur-water-region-85327   (24 July 2018)
WATER
National CNBC video program on water scarcity CNBC Awwaz program on Water crisis, featuring NITI Ayog, Shubham Mishra, CSE, Krishnapal Singh, Abid Surti besides Himanshu Thakkar. (25 July 2018) 
West Bengal State facing water crisis in absence of preservation measures This shows that drinking water situation in Rural W Bengal, not just in Purulia or Bankura or Burdwan, but all across is bad due to issues of quantity and quality, lack of physical access and lack of investment/ mechanisms. In a state that is not known for low rainfall. https://www.firstpost.com/india/indias-water-crisis-west-bengal-on-the-brink-of-becoming-a-parched-state-in-absence-of-preservation-measures-4814351.html  (25 July 2018)
Gujarat Caste divide widens across 2 ponds after 1 is filled up Shocking: For deepening big pond used by high castes, smaller pond, used by lower castes and their well filled up with earth and their dhobighat destroyed in the name of water conservation in a Gujarat village in Mehsana district. https://indianexpress.com/article/india/in-gujarat-village-caste-divide-widens-across-2-ponds-after-1-is-filled-up-dalits-patidars-5276422/  (26 July 2018)
DELHI WATER
NGT voices concern over illegal extraction of water by hotels As per the May 18, 2010 notification issued by the Lt Governor "no person, group, authority, association, institution" should withdraw groundwater through borewell or tube-well without permission of Central Ground Water Authority. The tribunal was hearing plea of Shailash Singh alleging that various five-star hotels including Hotel Taj Palace, The Leela Palace, Hotel Jaypee Vasant Continental were using several lakh litres of groundwater and the sources of water are not visible in their premises. The plea had alleged that according to the Delhi Pollution Control Committee, one of the hotels was extracting 2,22,600 litres of water from supply and is having two bore-wells to extract groundwater. Earlier, the tribunal had imposed a fine of Rs 7.5 lakh on one of the hotels after it found unsatisfactory rainwater harvesting systems in their premises.  https://indianexpress.com/article/india/ngt-voices-concern-over-illegal-groundwater-extractions-by-hotels-5269930/  (22 July 2018)
On July 25, the tribunal directed the Delhi Metro Rail Corporation (DMRC) to stop extraction of groundwater from borewells that are running illegally in the national capital. The tribunal made it clear that the DMRC can only use water from those borewells for which it has permission. The tribunal passed the order after it was informed that the Delhi Metro had permission for only 164 borewells, but it has installed 276 borewells and no action has been taken till now. https://www.outlookindia.com/newsscroll/stop-groundwater-extraction-from-borewells-running-without-permission-ngt-to-dmrc/1356680  (25 July 2018)
Further to this, on July 26, the NGT has ordered sealing of illegal borewells operated by the DMRC in the national capital. https://indianexpress.com/article/cities/delhi/ngt-orders-sealing-of-illegal-borewells-operated-by-dmrc-5277850/  (26 July 2018)
Indo-Dutch project launched to change sewage treatment process 'LOTUS HR — Local Treatment of Urban Sewage Streams for Healthy Reuse' project funded by the Dutch science agency Department of Biotechnology and NWO; aims to bring dynamic changes in the way sewage is treated in India. The project site is located at the national capital's Barapullah drain that flows under the flyover:  https://www.financialexpress.com/india-news/this-indo-dutch-collaboration-in-delhi-could-change-sewage-treatment-process-in-india/1256086/  (24 July 2018)
AGRICULTURE
Study Water productivity mapping of Indian crops This study on Water Productivity Mapping of Major Indian Crops explores two primary questions: Are the existing cropping patterns in India in line with the natural water resource endowments of various regions? Are these cropping patterns sustainable from a water-use perspective? The broad findings of the study indicate that there are regions in India which are heading towards unsustainable agriculture with highly skewed distribution of water for certain crops. Rice in Punjab and sugarcane in Maharashtra are classic examples of highly inefficient, iniquitous, and unsustainable use of water resources. https://www.nabard.org/auth/writereaddata/tender/1806181128Water%20Productivity%20Mapping%20of%20Major%20Indian%20Crops,%20Web%20Version%20(Low%20Resolution%20PDF).pdf  (2018)
Depleting groundwater shrinks India's agricultural lands: Government data According to the government data, in 2017, nearly 40 lakh hectares of agricultural land was impacted because of water woes, resulting in a drop in the area under cultivation for crops such as rice, pulses and oilseeds. The total area sowed with rice, pulses, oilseeds and cereals alone shrunk by 29 lakh hectares the same year. According to the Economic Survey Report 2017-18, area for cultivation of sugarcane in 2016-17 was down by 10.9 per cent, compared to that in 2015-16. The total area for cultivation of cotton also saw a decline by 11.1 per cent and Jowar saw its total cultivation area dropping by 15.4 per cent.  http://www.newindianexpress.com/business/2018/jul/28/depleting-groundwater-shrinks-indias-agricultural-lands-government-data-1849994.html  (29 July 2018)
SOUTH ASIA
Pakistan Rivers dying, cities running out of time A quick glance at the map of Pakistan's Punjab shows that all the province's major cities exist in the shadow of one of the five mighty rivers that flow through the plain. These rivers are the reason this civilisation exists and has existed for thousands of years. What then would happen if one day these rivers cease to exist, as is being predicted? Pakistan is a water scarce country. Its rivers are drying up. How long would these cities survive if their very source of origin dries out?  https://scroll.in/article/883590/with-pakistans-rivers-dying-are-its-ancient-cities-running-out-of-time  (22 July 2018)
Meanwhile Rao Farman Ali Malik in his latest book, "Water Polity and Kashmir" published by Gulshan Books and released by Centre of Central Asian Studies (CCAS) University of Kashmir on 19th June 2018 has given complete description of the hydropolitics between the two countries with reference to the Indus Water Treaty.  https://www.greaterkashmir.com/news/opinion/indo-pak-and-hydro-politics/291555.html  (26 July 2018)
THE REST OF THE WORLD
Ethiopia GRD project manager murdered Hundreds of Ethiopians demanded justice for Ethiopia's Grand Renaissance Dam (GRD) Project Manager Simegnew Bekele who was found shot dead in an apparent killing that could prove a political problem for the govt of PM Abiy Ahmed. The GRD a $4 billion dam project is being built on the River Nile. The govt has touted the project as a symbol of its ability to move the country forward.
Simegnew Bekele, the public face of the project, was found dead in his vehicle on July 26 in the central square of the capital with a gunshot wound to the head, sparking immediate protests. The 6,000-Mw dam project is half finished and the govt has previously said it would be completed within 2 years, but recently said it may face a lengthy delay." https://in.reuters.com/article/ethiopia-dam/hundreds-in-ethiopia-protest-apparent-killing-of-dam-project-manager-idINKBN1KH1V6  ( 27 July 2018)
Australia Brazil dam disaster: BHP Billiton faces lawsuit Mining giant BHP Billiton is facing a class action lawsuit in Australia over Brazil's 2015 dam disaster. https://www.bbc.com/news/world-australia-44919859  (23 July 2018)
US House passes wild and scenic river bill A bill to protect a stream in south central Montana has passed the U.S. House, bringing it closer to becoming the first body of water in the state designated as "wild and scenic" in four decades. The East Rosebud Wild and Scenic Rivers Act, H.R. 4645, passed the U.S. House of Representatives on July 17. The measure would protect 20 miles of East Rosebud Creek as a "wild and scenic river," which would prevent future development of a dam or other structures. https://www.bozemandailychronicle.com/news/environment/wild-and-scenic-river-bill-passes-house/article_413efa0c-d76a-524d-a7bd-c9248e1757e3.html?utm_campaign=coschedule&utm_source=twitter&utm_medium=americanrivers  (19 July 2018)
The water wars of Arizona Attracted by lax regulations, industrial agriculture has descended on a remote valley in Arizona, USA, depleting its aquifer — leaving many residents with no water at all. https://www.nytimes.com/2018/07/19/magazine/the-water-wars-of-arizona.html  (19 July 2018)
American Rivers How the Largest Dam Removal Project Would Work Four dams on the Klamath River may be simultaneously removed as early as 2021, after years of planning. It's being hailed as a crucial effort to save salmon, but it won't solve all the basin's water problems. https://www.newsdeeply.com/water/articles/2018/07/19/heres-how-the-largest-dam-removal-project-in-the-u-s-would-work?utm_campaign=coschedule&utm_source=twitter&utm_medium=americanrivers  (19 July 2018)
Research Nuclear techniques enable scientists to understand more accurately the age and flow of particularly old groundwater The IAEA, together with 13 countries, collected over 100 groundwater samples from aquifers worldwide and hosted a meeting in Vienna in June where 19 scientists presented their sampling results." https://www.iaea.org/newscenter/news/iaea-helps-researchers-worldwide-implement-sophisticated-isotope-techniques-to-date-the-age-of-very-old-groundwaters  (27 July 2018)
New book The World in a Grain Investigative journalist Vince Beiser has written a book The World In a Grain about the planet's falling reserves of sand and humanity's need to find better ways of using it. He says sand is just about the most abundant material on the planet, so most of it gets used locally. However, because of the scale of construction in the world today, problems are starting to arise. The book is due out in August. http://www.radionz.co.nz/national/programmes/sunday/audio/2018654652/global-sand-shortage-vince-beiser-s-warning-over-concrete-use  (22 July 2018)
Dave Petley Blog Fagraskogarfjall landslide – a high resolution satellite image via Planet Labs Planet Labs have succeeded in collecting a high resolution satellite image of the Fagraskogarfjall landslide, the very large mass movement that occurred in Iceland on 7th July 2018.  As a reminder, this is one of the largest known landslides in Iceland in recent history, triggered by the prolonged period of heavy rainfall from which the country has been suffering.  The image was collected on 19th July 2018 using the SkySat satellite system, providing a very high resolution (and actually rather spectacular) image. https://blogs.agu.org/landslideblog/2018/07/24/fagraskogarfjall-landslide-2/  (24 July 2018)
Compiled by SANDRP (ht.sandrp@gmail.com)
 Also see, DRP News Bulletin 23 July 2018 & DRP News Bulletin 16 July 2018
Follow us on www.facebook.com/sandrp.in; https://twitter.com/Indian_Rivers