When Central Government is trying to push Ken Betwa link project terming it as beneficial for both Madhya Pradesh and Uttar Pradesh, local people of Banda are now also protesting against it, in addition to the people of Panna that are already opposing it. On Feb. 13, 2018, the Ken Bachao Samiti comprising of farmers, citizens and social workers in Banda sat on a Dharna before district magistrate office. The group have also sent a memorandum to the President of India, demanding immediate cancelling of the project. Raising serious concerns over environmental and social of the linking project, they asked demanded proper impact assessment and public consultation and said the project wont be allowed to go forward. Indeed, as they have said, there has been no downstream impact assessment and people of Banda are likely to loose their river.  https://www.livehindustan.com/uttar-pradesh/banda/story-demonstrate-against-ken-betwa-alliance-1800951.html (Hindustan Hindi,13 Feb. 2018) 
In past too, local people have openly criticized the disastrous projects for being anti-environment and anti-people.
HYDRO POWER
Arunachal Pradesh Athena power company faces insolvency, ask Govt to bail it out Athena Demwe Power Limited (26% share by Arunachal Pradesh State Govt), developer of the 1750 MW Lower Demwe HEP on Lohit River in Arunachal Pradesh, is in serious trouble.
– The Indian Bank, a public sector bank took them to the National Company Law Tribunal (NCLT) after the company failed to clear the debts amounting to Rs 333.80 crore.
– The National Company Law Tribunal had ordered the commencement of Corporate Insolvency Resolution Process against Athena Demwe Power Limited, the project proponent of 1750 MW Demwe Lower Project on 28 September, 2017 as it called on the creditors to submit their claims. The company had challenged the order of the NCLT of 28 September before the National Company Law Appellate Tribunal which came up for hearing on 6 February. The Tribunal said that resolution process will continue in the meantime as it posted the next hearing for 5 March.
– Arunachal's Power department said that Athena wants the government to take over the project by increasing equity but since the state has no resources to spare, a decision was yet to be taken. An official of the department further said that the state was very unlikely to take over the project because of roadblocks, including valuation and authentication.
– A short term loan of Rs 200 crores in 2011 and another Rs 100 crores was granted to be repaid in six months. Since the corporate debtor failed to regularise the account, it was declared a non-performing asset on 31 May, 2013.
– The standing committee of the National Board for Wildlife (NBWL) is currently visiting the 1750 MW Demwe Lower Hydroelectric Project in Lohit district to re-examine the ecological impacts of the hydro power project following a decision by the Environment Ministry after a decision by the National Green Tribunal (NGT ).
– The NGT had suspended the Stage-I and Stage-II forest clearances to the project in October last year, stating that former Environment Minister Jayanthi Natarajan's decision to overrule the non-official expert members of NBWL to clear the Demwe Lower Project was taken in violation of laid down rules.
– The Tribunal had also directed the Standing Committee of NBWL to reconsider the issue and pass appropriate orders within six months. It also said that until then, stages I and II forest clearances issued in March 2012 and May 2013 respectively, and the consequential order of the state government allowing diversion of 1415.92 ha forest land for the hydel project, will stand suspended. https://arunachaltimes.in/index.php/2018/02/25/facing-insolvency-athena-power-group-wants-arunachal-to-bail-it-out/ (Arunachal Times, 25 Feb. 2018)
Manipur Tumukhong people threatens to dismantle Mapithel dam People of Tumukhong have warned, to dismantle Mapithel dam to get back the past livelihood of the Mapithel dam downstream villagers, if the state commissions Mapithel dam forcibly without fulfilling the welfare demands by the villagers. It is worth to mention that the state is planning to inaugurate the dam during the proposed visit of PM Narendra Modi to the state on March 15. https://www.ifp.co.in/page/items/47102/tumukhong-people-threatens-to-dismantle-mapithel-dam/ (Imphal Free Press, 22 Feb. 2018)
HC amici curiae tour Loktak lake Following Supreme Court directions issued for the protection of Ramsar Sites in the country, High Court (HC) of Manipur appointed amici curiae to save Loktak lake has toured the lake to take stock of the situation there and meet the fishing community dwelling in it. A two judge bench of the court comprising acting Chief Justice N. Kotiswar and Justice Kh. Nobin initiated a suo motu PIL and appointed two amici curiae Kh. Samarjit and D. Julius Raimei, asking them to submit a report on the Loktak by Feb 28. The HC also invited opinions of the public, experts and NGOs working in this field so that it may have a clear picture. The forest department and water resources department were directed to submit their afffidavits within 3 weeks from the date of the passing of the order. https://www.ifp.co.in/page/items/47017/high-court-steps-in-to-conserve-states-ramsar-convention-site-two-amici-curiae-tour-loktak-lake/ (Imphal Free Press, 18 Feb. 2018) 
Graphic novel shows local people struggle against dam projects The graphic novelist George Mathen, in this piece, has adapted an interview with Dominic Huimi Kashung from the Citizen's Concern for Dams and Development (CCDD), based out of Manipur. It is worth to mention that CCDD was awarded at the "Bhagirath Prayaas Samman" at  India Rivers Week in Nov 2016. https://www.thethirdpole.net/2018/02/22/graphic-novel-there-is-no-harvest/ (The Third Pole, 22 Feb. 2018)
DAMS
Center Govt data shows 36 big dam disasters There are 213 large dams in the country which are over 100 years of age. India had in the past reported 36 dam disasters including the worst one in Gujarat (Machu dam in Morbi) where 2,000 people died and 12,700 houses were destroyed in 1979. Construction of the dam was completed in 1972 but its flanks were washed away in floods seven years later – sending a warning signal of dam failures in other parts of the country if their rehabilitation was not taken up.
About DRIP:- Recently screening committee of the department of economic affairs has cleared second phase of World Bank-funded Dam Rehabilitation and Improvement Project (DRIP). It covers 700 large dams across 18 states for over six years (2020-26) at an estimated cost of nearly Rs 7,000 crore. Under current ongoing first phase (2012-2020), 223 dams in 7 states are covered at an estimated cost of Rs 2,100 crore.
Some of the priority dams include Bhakra (Himachal Pradesh), Srisailam (Telangana), Koyna and Jayakwadi (Maharashtra), Matatila, Ramganga and Raj Ghat (UP), Pong (HP), Ukai (Gujarat), Rana Pratap Sagar and Mahi (Rajasthan), Hirakud and Rengali (Odisha) and Umiam (Meghalaya). Some of these dams will also be developed as tourist destinations so that it can generate revenue for maintenance and create jobs for local people. https://timesofindia.indiatimes.com/india/rs-7000cr-facelift-for-700-large-dams/articleshow/63072771.cms (The Times of India, 26 Feb. 2018)
Sardar Sarovar Dam Study on adverse impact on dam on hilsa, fisheries DESTRUCTION OF HILSA IN NARMADA: DAM DID NOT EVEN CONSIDER IT ENVIRONMENT IMPACT, NOT WAS THERE ANY COMPENSATION OR REHABILITATION OF THE AFFECTED.
The CIFRI study found that in nearly a decade, hilsa catch in Narmada, which recorded 5,180 metric tonnes in 2006-07, has drastically dwindled by over 90% to mere 419 metric tonnes by 2015.
– The highest catch of hilsa in Gujarat was recorded 15,319 metric tonnes in 1993. Thereafter the impact of under construction and than operational SSP started happening.
– The other reasons cited are development of sand bars at the mouth of the estuary which reduced the tidal ingress into the system. "The trickle flow from the dam also led to low depth of water in the river, which in turn led to loss of breeding, nursery and feeding grounds for the pricey fish," says the CIFRI study carried out by a research team scientists Dibakar Bhakta, Wakamban Anand Meetei¸ Gopinathan Vaisakh, Sanjoy Kumar Das and Ranjan Kumar Manna.
– "We have not measured the actual Hilsa catch this year. There are two commercial fishing season of Hilsa in the Narmada estuary, the first from June to October and another from January to March. Though we are yet to collate any data this year, but a scientific study by CIFRI is on," says fisheries commissioner Mohammad Shahid.
– "More than 90% of Hilsa catch is observed between June to September. In 2017, which was an election year, we had a rough 1,600 tonnes of Hilsa on the 72 Km long estuary as Sardar Sarovar dam had released some water extra water," admits another senior Gujarat fisheries department official. https://timesofindia.indiatimes.com/city/ahmedabad/king-of-fish-hilsa-in-troubled-narmada-waters/articleshow/63022456.cms (The Times of India, 22 Feb. 2018)
This tragedy arose because the Narmada dam, which should be maintaining a minimum "environmental flow" of 2,200 cusecs, but instead reduced this flow to just 600 cusecs since 2005-06, according to senior officials in the Gujarat fisheries department.
The damage was done over a decade as the hilsa would not breed in waters with high salinity values. This is clearly visible in 2000-01 fisheries department data where Hilsa constituted 46% of the total 7,865 metric tonnes inland fish water catch , while six years later, soon after the environmental flow was reduced to 600 cusecs, the Hilsa catch plummeted to 21% of the total 21,902 metric tonne catch. "Sadly, it is only now that the Gujarat government has requested the Narmada Control Authority (NCA) to be allowed to increase its environmental flow to 1,600 cusecs," added the senior fisheries official. https://timesofindia.indiatimes.com/city/ahmedabad/narmada-hilsa-dying-out-as-dam-flow-diminishes/articleshow/63020600.cms (The Times of India, 22 Feb. 2018)
Meanwhile, Gujarat has started using the dead water of the Sardar Sarovar Dam, since Feb. 20 to meet the state's drinking water requirements, chief secretary JN Singh said. He informed that the storage in the Dam had fallen by 45 per cent, the lowest in the last 15 years. He said that a 1450 MW hydro-electric power station on the dam had been shut in order to use the water solely for drinking purposes. http://www.business-standard.com/article/pti-stories/guj-begins-using-sardar-sarovar-dam-dead-water-for-drinking-118022100875_1.html (Business Standard, 21 Feb. 2018)
The Sardar Sarovar Narmada Nigam Limited (SSNNL) began releasing water into the Irrigation By-Pass Tunnel (IBPT) on Feb. 20 after the dam level fell below the drawdown level of 110.64 metres (363 feet). Currently, at 110.37 metres, about 3,000-9,000 cusec water is being released into the IBPT that will provide drinking water to several cities, towns and villages in the state until June 30, officials said. For the first time, the SSNNL has also shut both its power houses – the River Bed Power House (RBPH) as well as the Canal Head Power house (CHPH). http://indianexpress.com/article/india/sardar-sarovar-dam-level-falls-to-110-m-ssnnl-begins-draining-dead-water-5073604/ (Indian Express, 22 Feb. 2018)
On the other hand contradictory figures about area irrigated by the SSP  
– According to table 3.3 on page 15 of the Gujarati edition of the report, total irrigation potential of the scheme is 17.92 lakh hectare, of which the government has created the capacity for providing irrigation for 14.18 lakh hectare, and the maximum utilisation till June 2017 stood at 6.27 lakh hectare.
However, page 21 of the same report states that 12 lakh hectare has been given water for irrigation. It further says that as per the satellite study conducted by BISAG, 13.28 lakh hectare of land was covered under irrigation till January 2018, which includes 4.96 lakh hectare for kharif season and 8.32 lakh hectare for rabi season. http://www.dnaindia.com/ahmedabad/report-discrepancy-in-irrigation-figures-under-sardar-sarovar-dam-project-say-farmers-2587601 (DNA, 23 Feb. 2018)
Gujarat Kalpasar project seems unviable Responding to a question posed to him at the Assembly Feb. 21,  Deputy CM Nitin Patel said that despite 21 feasibility reports, 10 studies and 19 more in the pipeline, there is no clarity on the viability of the project. Despite that, the government has already spent Rs 30.71 crore on the project that is said to benefit Saurashtra region. When Narendra Modi inaugurated the project in 2004, it was claimed that the project will be completed in record time at a cost of Rs 54,000 crore.  https://www.indiatoday.in/india/story/despite-spending-rs-30-71-cr-gujarat-govt-unclear-on-viability-of-kalpasar-dam-project-1174787-2018-02-21 (India Today, 21 Feb. 2018) 
Odisha EAC suggests EC for Hirakud dam's additional spillway The EAC panel on its Jan. 30 meeting has recommended environment clearance to the 'additional spillway' of the Hirakud dam near Sambalpur to safeguard thickly populated areas near the dam as there "are a significant number of structures located along the Mahanadi River that could be affected due to a design flood arising out the failure of the dam." The construction of the "spill channel" will involve diversion of 9.44 hectare of forest area of Lamedungri forest range and at least "3,595 numbers of local species of trees are likely to be felled during construction". Hirakud dam built across the River Mahanadi near Sambalpur in Odisha is one of the earliest major multi-purpose river valley projects of India, which was commissioned in 1957. http://www.livemint.com/Politics/14FrLBZ5Dq9dfghZxL7h4N/Govt-panel-suggests-environmental-nod-to-Hirakud-dams-addit.html (Live Mint, 22 Feb. 2018)
Polavaram Dam SC directs filing of affidavits by states' chief secretaries The apex court on Feb. 14 has asked Andhra Pradesh, Telangana, Odisha, Karnataka, Maharashtra and Chhattisgarh to file an affidavit stating the 1980 Godavari River Water Tribunal Award, which governs the Polavaram project, binds them.
– A bench of Justices Madan B Lokur and Deepak Gupta gave this direction following submissions on behalf of these states that the award binds them. The Indira Sagar (Polavaram) Dam also known as Polavaram project is being undertaken as per the award.
– The court observation came as it pursued a letter written by Odisha Chief Minister Naveen Patnaik to the Prime Minister Narendra Modi on November 28, 2017, urging him not to allow the construction of the Polavaram dam until all the issues being adjudicated by the top court are settled.
– In the last hearing of the matter on December 12, 2017, the states informed the court that discussions were going on between the chief ministers concerned to try and resolve the issues.
– It directed the matter to be listed for further hearing on April 17. (Deccan Chronicle, 15 Feb. 2018) https://www.deccanchronicle.com/nation/current-affairs/150218/godavari-dispute-polavaram-project-supreme-court-odisha-government-and.html
Meanwhile PAC has grilled irrigation officials The Andhra Pradesh Legislative Assembly Public Accounts Committee (PAC) hauled up officials of the Water Resources Department about the accounts of the Pattiseema Lift Irrigation Scheme and the Polavaram project at a meeting here on Tuesday. The PAC asked the officials to explain how the State government got a benefit to the tune of ₹2,500 crore from the Pattiseema scheme. It asked the officials about the payment of additional amounts under labour cess and excise duty to the LI scheme contractor. The PAC headed by Buggana Ravindranath expressed dissatisfaction over the accounts of the Polavaram project presented to the committee. http://www.thehindu.com/news/cities/Vijayawada/pac-grills-irrigation-officials/article22810428.ece (The Hindu, 21 Feb. 2018)
Andhra Pradesh Completion of Pogonda dam About Pogonda Dam:- The Pogonda Reservoir is constructed across the Byneru river at a cost of Rs 129 crore. The reservoir is aimed at providing irrigation water to about 10,000 acres of land, benefiting more than 2,600 tribal families. The Pogonda Reservoir is the third irrigation project to be inaugurated by the CM in his four years in office in this term, after Pattiseema Lift Irrigation Scheme (PLIS) and Kovvada outfall sluice.
About Polavaram Project:- CM N Chandrababu Naidu, during his visit to the Polavaram project said it will be completed by December 2019. The CM said the state government has spent Rs 13,000 crore on the project till now, including Rs 7,810 crore, which were spent after the Centre declared Polavaram a national project, and the Centre is yet to reimburse Rs 3,000 crore for it. He said that 71% spill way and spill channel works, 14% concrete works, 89% diaphragm wall works, and 50% radial gates works have been completed."
Groundwater Level in West Godavari district:- T"here are only three mandals in the district where the groundwater level is at 3 metres, 11 mandals with water level at 5 metres, 14 mandals with 12 metres, and 4 with water at 16 metres. The district has over 20 mandals where the level is at 20 metres or below, which is a big concern, the CM said.
There are 152 mandals in the state where the groundwater level is at 3 metres, while there are 51 mandals with levels below 20 metres. The groundwater tables in the remaining mandals varies between 5 and 20 metres, he said. https://timesofindia.indiatimes.com/city/vijayawada/depleting-groundwater-levels-in-w-godavari-a-serious-concern-cm/articleshow/62989292.cms (The Times of India, 20 Feb. 2018)
Telangana SC clears hurdles to Kaleshwaram project This is very strange decision by SC to dismiss the petition as how can work on Kaleshwaram start 8 years ago when it got EC only a few months ago? And why impute motives on petitioner rather than seeing the merit of the case? http://www.newindianexpress.com/states/telangana/2018/feb/24/victory-for-telangana-government-as-supreme-court-clears-hurdles-to-kaleshwaram-project-1778074.html (The New Indian Express, 24 Feb. 2018)
West Bengal Poorly designed check dams leave Birbhum farmers high and dry This GOOD report describes serious problems with this scheme. https://www.villagesquare.in/2018/02/19/poorly-designed-check-dams-leave-birbhum-farmers-high-dry/ (Village Square, 19 Feb. 2018)
Uttarakhand Cost of Jamrani dam continue to escalate When conceptualized in 1974, the cost of proposed Jamrani dam on the Gola River a tributary of Ramganga was estimated ₹400 crore. Revised to₹ 2300 crore in 2015, which has now increased to ₹2,800 crore. The state govt wants center to declare it a national project. https://www.hindustantimes.com/dehradun/cost-of-jamrani-dam-escalates-uttarakhand-to-urge-centre-to-declare-it-a-national-project/story-UnFDO3OIM1bhsD8mMoIfhN.html (Hindustan Times, 22 Feb. 2018)
INTERSTATE WATER DISPUTES
Cauvery River Waters Dispute Report based on SANDRP blog on SC Verdict SANDRP blog on SC decision on Cauvery dispute has been published by India Today magazine. https://www.indiatoday.in/magazine/up-front/story/20180305-cauvery-water-dispute-tamil-nadu-karnataka-supreme-court-verdict-1175981-2018-02-23 (India Today, 23 Feb. 2018) The same blog has also appeared in DNA news paper. http://www.dnaindia.com/analysis/column-will-the-apex-court-verdict-resolve-the-cauvery-dispute-2587579 (DNA, 23 Feb. 2018)
Also see, debate on Cauvery issue that includes SANDRP Coordinator in addition to S Janakarajan and A Raja Rao. http://www.thehindu.com/opinion/op-ed/is-the-supreme-court-verdict-on-cauvery-fair/article22828585.ece (The Hindu, 23 Feb. 2018)
Meanwhile S. Janakarajan rightly emphasizes the importance of Cauvery Management Board.
– The Cauvery and its tributaries Noyyal, Amaravathi, Bhavani and Kodaganar (all in Tamil Nadu) and Arkavathi (in Karnataka) are all very heavily polluted. Therefore, it is extremely vital to look at the Cauvery river beyond inter-state water disputes. http://www.rediff.com/news/interview/vital-to-look-at-cauvery-beyond-water-disputes/20180221.htm (Rediff.Com, 21 Feb. 2018)
On the other hand, CM Siddaramaiah has strongly opposed setting up of a Cauvery Management Board to ensure implementation of the SC's verdict on Cauvery water sharing. He said setting up the board would adversely affect the State's interests.. http://www.thehindu.com/todays-paper/tp-national/tp-karnataka/cm-says-no-to-cauvery-management-board/article22787703.ece (The Hindu, 18 Feb. 2018)
Parambikulam-Aliyar Project Row Tamil Nadu refuses to release water from PAP dam to Kerala With Tamil Nadu ignoring Kerala's demand to immediately release 400 cusecs of water, that is due to the State, through the Manakkadavu weir in accordance with the Parambikulam-Aliyar Project (PAP) agreement, paddy in over 30,000 acres in Chittur is likely to wither in the coming weeks.
According to a report submitted by the Irrigation Department to Chief Minister Pinarayi Vijayan, the expected crop loss will be to the tune of ₹50 crore. Despite high-level interventions, Tamil Nadu has released only 253 cusecs of water from PAP to the Chittur region since January. The report suggests quick Chief Minister-level intervention to solve the issue. Meanwhile, the farming community has come out against, what they say, the lack of official efforts to get the PAP water. http://www.thehindu.com/news/national/kerala/tn-refuses-to-release-water-from-pap-reservoirs/article22818980.ece (The Hindu, 21 Feb. 2018) 
It seems Tamil Nadu Kerala water sharing row under (PAP) only getting worse as Tamil Nadu now has accused Kerala of diverting Siruvani water.
The decision of the Kerala government to withdraw excess water from the Siruvani dam in violation of the 1973 agreement is seen by officials here as an arm-twisting tactic by that State to make Tamil Nadu give more water from the Aliyar reservoir. The dam is in Kerala. Kerala was constructing make shift check dams using sand bags at three places to prevent water from reaching the Pilloor dam in Tamil Nadu, the officials said.
Seems like another interstate water dispute, this one between Kerala and TN about Parambikular Aliyar Agreement. Its complicated, but this sentence is interesting: "As per the August 19, 1973 agreement on PAP the sharing of Siruvani waters, Tamil Nadu had to give five cusecs of water daily throughout the year (July 1 to June 30) to save the flora and fauna downstream."http://www.thehindu.com/news/national/tamil-nadu/kerala-accused-of-diverting-siruvani-water/article22847758.ece (The Hindu, 24 Feb. 2018) 
As per latest report, the Kerala Irrigation Department maintains that the release of surplus water from Siruvani reservoir to Attappady forms part of the efforts to ensure drinking water availability in the drought-hit region. Officials clarified that the release of 50 cusecs of water from the reservoir to the Siruvani river leading to Attappady would not affect drinking water supply in Coimbatore city.
As per the orders of Cauvery tribunal, Kerala can use 6 tmc water from the Bhavani Basin. The diversion of excess water from the dam to arid regions of eastern Attappady would not reduce daily supply of 90 million litres of water to Coimbatore, officials said.
Kerala has started recharging the Siruvani river by releasing 50 cusecs water per day since February 20. Temporary check dams have been made using sand bags at Kottathara, Sambarkod and Nellipathy in Eastern Attappady to store the released water and to ensure equitable supply in the drought-hit region, especially the tribal areas. Hydrologist G.I. Shaju said most wells in eastern Attappady had dried up. In others, the water level had depleted alarmingly. http://www.thehindu.com/todays-paper/tp-national/tp-tamilnadu/diversion-justified-say-officials/article22848359.ece (The Hindu, 25 Feb. 2018)
Mahanadi Water Dispute Cabinet approves setting up tribunal In line with a SC's order, the union cabinet on Feb. 19 has approved setting up of a tribunal to resolve the dispute between Odisha and Chhattisgarh over Mahanadi river waters.
The tribunal has been constituted under the Inter-State River Disputes Act, 1956 on the request of Odisha which has repeatedly sought its formation stating that negotiations have failed to resolve the matter. According to an official statement, the tribunal will consist of a chairman and two other members nominated by the Chief Justice of India from among judges of the Supreme Court or high courts.
The formation of the tribunal comes after the apex court in Dec 2017 pulled up the central government for not forming the tribunal. Thereafter in January, SC directed the central government to constitute the tribunal within one month to resolve the issue. http://www.livemint.com/Politics/FAcvtrioiyMLlXplebtH8O/Cabinet-approves-setting-up-tribunal-to-settle-Mahanadi-wate.html (Live Mint, 20 Feb. 2018)
The proposed Bill has provisions for members, even a Chairperson, outside the judiciary. "It is possible that a newly-constituted tribunal, such as for Mahanadi, will have to be re-formulated were the new law to come into effect," said another Water Ministry official.
The tribunal is expected to determine water sharing among basin States on the basis of the overall availability of water in the complete Mahanadi basin, the contribution of each State, the present utilisation of water resource in each State and the potential for future development, official sources said. http://www.thehindu.com/news/national/cabinet-approves-setting-up-tribunal-to-settle-mahanadi-water-dispute/article22805069.ece (The Hindu, 20 Feb. 2018)
Odisha and Chhattisgarh are locked in a dispute over the Mahanadi waters since the mid-80s. Odisha claimed that Chhattisgarh government has been constructing dams in the upper reaches of the Mahanadi, depriving its farmers who are heavily dependent on the rivers waters. Chhattisgarh has been against the setting up of a tribunal, and argued that the water sharing agreement was with the erstwhile Madhya Pradesh government, before the state was carved out in 2000. As per provisions of the Inter State River Water Disputes Act, the tribunal will have to submit its report and decision within three years but can be extended for another two years. https://www.ndtv.com/india-news/mahanadi-water-sharing-dispute-cabinet-approves-setting-up-of-tribunal-1814935 (NDTV, 20 Feb. 2018)
Krishna River Waters Dispute Telangana ups ante on 575tmc feet water Telangana has stepped up its demand for more water in arguments before the Brijesh Kumar Tribunal. The Tribunal is hearing arguments of Andhra Pradesh and Telangana on the revision of water share in Krishna river. The Telangana government has already submitted a detailed report demanding allocation of 575 TMC feet water in Krishna river as against its allocated 299 TMC feet. Arguments resume before the Krishna Water Disputes Tribunal headed by Justice Brajesh Kumar with Telangana questioning the new Andhra Pradesh expert. Telangana is demanding more Krishna water than 299 TMC allocated to it earlier. https://timesofindia.indiatimes.com/city/hyderabad/krishna-hearing-telangana-ups-ante-on-575tmc-feet-water/articleshow/63040176.cms (The Times of India, 23 Feb. 2018)
Report A look at other inter-state water tussles The Cauvery dispute is just one among several inter-state river disputes in India. States have been fighting against each other for their 'rightful' share of water since the first reorganisation of States after Independence. An Inter-State River Water Disputes Act was enacted in 1956 to give powers to the Union government to intervene in disputes surrounding inter-state rivers. It was amended in 2002 and a Bill to further amend the Act to create a Disputes Resolution Committee to look at all inter-state water disputes is pending. Harnessing river water being a State subject, the riparian States are expected to solve issues among themselves. The Centre intervenes, setting up a tribunal, only when the talks fail. http://www.thehindu.com/news/national/after-cauvery-a-look-at-other-inter-state-water-tussles/article22813510.ece (The Hindu, 21 Feb. 2018)
INTER LINKING OF RIVERS
Center Water minister continue to push river interlinking Nitin Gadkari, Union Minister for Resources has again said that the Union government would resolve all the issues to make interlinking of rivers a reality He also said that the mega Polavaram dam project on the Godavari would be completed by March 2019. On the proposed Godavari-Krishna-Cauvery linking, Mr. Gadkari said that around 3,000 tmc of water from the Godavari that would flow into the sea during the monsoon could be utilised if the rivers were linked. Initially, about 300 tmc of water would be diverted from the Godavari to the Polavaram project in Andhra Pradesh through the Nagarjuna Sagar dam and then to the Krishna. Further, the water would be diverted to the Somasila dam on the Pennar, and thereon to the Grand Anicut dam on the Cauvery. http://www.thehindu.com/news/national/karnataka/river-interlinking-will-soon-be-a-reality-says-gadkari/article22810506.ece (The Hindu, 21 Feb. 2018) 
Telangana, however, decided not to agree to river-linking until the state's requirements are met. The state wants 1,500 TMC feet water from Godavari to fill existing, under-construction and proposed reservoirs. Currently, the state is utilising less than 200 TMC feet water through Sriramsagar, Singur, Yellampally, Nizam Sagar and Lower Manair dams. To utilise more water from Godavari, TRS government proposed Kaleswaram lift irrigation project with five barrages for utilising another 180 TMC feet water and Sitaram lift irrigation project to divert another 70 TMC feet. https://timesofindia.indiatimes.com/city/hyderabad/telangana-pours-cold-water-on-godavari-cauvery-linking/articleshow/63022110.cms (The Times of India, 22 Feb. 2018)
IRRIGATION
Maharashtra Irrigation Scam Gosikhurd irrigation scam: Nagpur cops file six new cases Nagpur Police registered six new offences in alleged Gosikhurd irrigation scam which pertains to irregularities in the tender process of the project, official said. Around 14 offences have been registered in connection with the scam in Nagpur till date, an official said. Investigating agency ACB has approached the police and lodged a complaint against officials and contractors, a senior police official said. http://www.newindianexpress.com/nation/2018/feb/20/gosikhurd-irrigation-scam-nagpur-cops-file-six-new-cases-1776279.html
RIVERS
WII Workshop on aquatic fauna in Eastern Ghats Wildlife Institute of India in collaboration with the Andhra Pradesh Forest Department will be conducting a 3-day's workshop on 'Stream Ecology and Biodiversity Conservation in Eastern Ghats' from 12th to 14th March in Papikonda National Park. Kindly circulate these details to interested candidates or in related forums. It will be a good opportunity for students/researchers already working or interested to work on the aquatic fauna of Eastern Ghats. The last date for application is 2nd March 2018.
Telangana First SER- 2015 has nothing for rivers This is shocking & disappointing that the first Telangana State of Environment Report – 2015 a 667 pages mammoth document with 40 pages on water resources does not even have 4 paras on Krishna, Godavari Rivers.  http://www.eptri.com/state-of-environment-report-telangana-2015/  
Kerala Govt to start new project to revive its dying rivers and canals Kerala's dying water bodies will now get a new lease of life thanks to an ambitious project by the Kerala government in association with the Haritha Kerala Mission, which integrates waste management, organic farming and water resources rejuvenation in the state. The project will primarily aim to clear up (de-weed and de-silt) blocked rivers, canals, rivulets and local ponds in several districts to allow the free flow of water. https://www.thenewsminute.com/article/kerala-takes-new-project-revive-its-dying-rivers-and-canals-76723 (The News Minute, 20 Feb. 2018)
Karnataka 'Overexploitation of water alters perennial streams' According to Report by IISc Scientists about Nethravati Basin overexploitation of water for monoculture has altered some of the perennial streams in the ghats of the Netravathi river basin to intermittent streams coming in the way of perennial nature of the Netravathi.  Referring to the forest cover of 2016 in the basin, it said that the area under forests stood at 51.67 % after losing significant green patch for mini-hydroelectric, infrastructure projects and monoculture plantations. The plantations constituted 26.42 % of the basin. Large tracts of forests have been replaced with monoculture plantations such as acacia, eucalyptus, rubber, teak, coffee, cocoa, and arecnaut plantations. http://www.thehindu.com/news/cities/Mangalore/overexploitation-of-water-alters-perennial-streams/article22853035.ece (The Hindu, 26 Feb. 2018)
The report also finds that an unplanned development path adopted by "unscrupulous decision-makers" is threatening the ecologically sensitive regions in the Netravathi river basin in the State. The report titled "Carrying capacity of Netravathi river basin based on the ecological sensitiveness" was released by Energy and Wetlands Research Group (EWRG), Centre for Ecological Sciences (CES), IISc, at Alva's College during the pre-lake 2018 conference jointly organised by the IISc and Alva's Education Foundation. http://www.thehindu.com/news/cities/Mangalore/unplanned-development-path-threatening-netravathi-river-basin/article22840226.ece (The Hindu, 24 Feb. 2018) 
Tamil Nadu Otters in Tungabhadra river facing problems Nisarg Prakash State of Tungabhadra river in the Otter Conservation Reserve and the state of Otters, Turtles, Muggers and other biodiversity and the threats they face, including the dam in the upstream and water hyacinth all around. http://www.thehindu.com/sci-tech/energy-and-environment/the-otters-of-hampi-have-a-new-conservation-reserve-but-they-also-face-a-new-threat/article22836207.ece (The Hindu, 26 Feb. 2018)
Artist convert riverbank waste into artwork Interesting Chennai-based artist Parvathi Nayar's under DAMned Art Project attempts to study and eventually change Chennai's relationship with its rivers. https://scroll.in/magazine/868719/chennais-complicated-relationship-with-its-dying-rivers-as-chronicled-by-artists (Scroll.In, 20 Feb. 2018)
Odisha 5 hotels get closure notice of water pollution The State Pollution Control Board has served closure notices to 5 leading hotels in Bhubaneswar and Puri for violating water pollution norms. As per a directive by the Supreme Court to take action against the firms creating water pollution, Board officials had visited the hotels and inspected their STPs, which were found to be nonfunctional. On the basis of a review report, the pollution watchdog authorities served the closure notices to the hotels, directing them to shut down their units till proper functioning of the effluent treatment plants (ETPs). http://www.dailypioneer.com/state-editions/bhubaneswar/water-pollution-five–hotels-get-closure-notice.html (The Daily Pioneer, 24 Feb. 2018)
Uttarakhand Rivers depleting at alarming rate: Experts Almost 40% of the state's rivers are changing their nature as a result of which those rivers which were getting their water from glaciers have now turned into seasonal rivers, according to experts participating in a 2-day science conclave. Discussions were held on the first day on the river system, lakes, ponds and natural water sources in the Himalayan state with a focus on the rejuvenation of Rispana river of Dehradun and Kosi river of Almora. https://timesofindia.indiatimes.com/city/dehradun/uttarakhands-glacial-rivers-converting-into-seasonal-rivers/articleshow/63048992.cms (The Times of India, 23 Feb. 2018)
Another report on the workshop says that drying up rate of non-glacial rivers in Uttarakhand has escalated in the last two decades. Rivers like Kosi, Rispana, Gagas, Saryu and Gaula have lost most of their catchment areas says Dr J S Rawat, Kumaon University. https://www.hindustantimes.com/dehradun/water-sources-in-uttarakhand-depleting-at-alarming-rate-experts/story-BJ33KAKqNnygnAjsdObf5O.html (Hindustan Times, 23 Feb. 2018)
GANGA Center Water minister says 80% Ganga to be clean by March 2019 Nitin Gadkari at Economic Times Global Business Summit makes a lot of BIG statements achieving 80-90% clean Ganga by March 2019, among others. The Gadkari speech starts at 1:45:00 and is followed by Q and A, including on Highways, Air pollution etc. He has been saying since Sept that he will start work on ILR projects in three months, five months later, its still the same three months. About Ganga he seems to have no real solution except business as usual and more money, technology. https://economictimes.indiatimes.com/et-global-business-summit-2018-track-this-space-for-gbs-live-updates/liveblog/63052302.cms (Economic Times, 24 Feb. 2018)
Uttarakhand Despite NGT ban, Ganga Jal sold in plastic cans An annual contract awarded to vendors for selling Ganga Jal in plastic cans have ignited controversy as plastic is banned between Gaumukh and Haridwar as per orders of the NGT. https://www.hindustantimes.com/dehradun/despite-ngt-ban-ganga-jal-sold-in-plastic-cans/story-zHrpHUOHj5nA0No7YzB0oK.html (Hindustan Times, 19 Feb. 2018)
Meanwhile, the Ganga Sabha, a body of priests in Haridwar which oversees the main Har-ki-Pauri ghat, has opposed the district administration's proposal to install a monitoring system that will display the purity of the water in the Ganga river at the ghat. https://timesofindia.indiatimes.com/city/dehradun/haridwar-priests-oppose-plan-to-monitor-display-ganga-pollution/articleshow/62964009.cms (The Times of India, 17 Feb. 2018)
YAMUNA Himdhara Report Govt pushing dams in Yamuna basin As per Himdhara study cumulative geological impacts of 3 huge impoundments – Tehri, Kishau and Renuka Dam in almost parallel valleys of a Himalayan region – adjacent to one another are not even being considered. Recently in a meeting of Yamuna Upper River Board, Basin states including Uttrakhand and Himachal Pradesh have agreed to the draft inter-state agreement for the construction of Lakhwar, Renuka and Kishau dams on the river and its tributaries.
This report titled "Submerging Jaunsar Bawar" says that if Kishau and the proposed 315 metre Pancheshwar dams are built then one of India's most disaster prone states, Uttarakhand, will also be the site of the three highest dams of the country (Pancheshwar (315m), Tehri (281m) and Kishau (236m)). https://timesofindia.indiatimes.com/city/shimla/green-activists-oppose-dams-on-yamuna-basin/articleshow/63066661.cms
The report further states that 9 villages in Uttarakhand and 8villages in Himachal (6 in Sirmour and 2 in Shimla districts) are going to be affected by Kishau dam project and its submergence area would be spread over 2,950 hectares. Of the submergence area, 512 hectares is cultivated private land and 2,438 hectare is forest land. In all, 5,498 people belonging to 701 families would be directly affected by the project, the report said. https://timesofindia.indiatimes.com/city/shimla/dam-on-yamuna-tributary-to-displace-8-villages-in-hp-ngo/articleshow/63061777.cms? (The Times of India, 25 Feb. 2018)
Tons, is a major tributary of the Yamuna, originating in the Jamnotri mountains and passing through Shimla and Sirmour districts and Jaunsar Bawar region in district Dehradun. Except in some parts, where it flows through the small town of Tiuni and a little beyond, the river forms boundary of the states of Uttarakhand and HP.
The submergence area on the left bank is part of the Jaunsar Bawar region of Chakrauta tehsil, Dehradun district which is a Schedule-V area. All along 44.5 kms of the submergence area, villages are located on both sides of the river at some interval, which have strong religious, cultural and economic ties.
Agriculture with livestock rearing is the main livelihood activity in the region. The Himdhara Collective held that the priority of the HP government remains distorted – with the focus on earning higher revenues instead of looking at the concerns of its own people and environment. https://www.thestatesman.com/cities/dam-destroy-forests-himachal-uttarakhand-1502590891.html (The Statesman, 23 Feb. 2018)
Uttarakhand Cabinet approves Silkyara Bend-Barkot Tunnel The Cabinet Committee on Economic Affairs chaired by the PM Modi, has given its approval to the construction of 4.531 km long 2-Lane Bi-Directional Silkyara Bend – Barkot Tunnel with escape passage including approaches on Dharasu -Yamunotri section between Chainage 25.400 Km. and Chainage 51.000 Km in Uttarakhand.
– The project will be falling along NH-134 (old NH-94) in the State of Uttarakhand.  The project will be built under Engineering, Procurement and Construction (EPC) Mode. This is funded under NH (O) Scheme of Ministry of RT&H and forms part of ambitious Chardham Plan.
– The construction period of the project is 4 years. The civil construction cost of the project is estimated at Rs. 1119.69 crore, while the total project cost is Rs. 1383.78 crore, which is inclusive of the cost towards Land Acquisition & Rehabilitation and other pre-construction activities as well as Maintenance and Operation cost of tunnel for 4 years.      http://pib.nic.in/newsite/PrintRelease.aspx?relid=176663 (PIB, 20 Feb. 2018)
CPCB Report Delhi contributing more ammonia to Yamuna than Haryana The level of ammonia in Yamuna has breached the safe limit in 13 of 17 places between Haryana and Delhi from where the Central Pollution Control Board had collected water samples for analysis.
In some drains, such as the ones at Delhi Gate, Najafgarh and Sonia Vihar, the ammonia level was at least 35–45 times higher than what the Delhi Jal Board is equipped to treat. The highest pollution on Haryana's side was found to be in downstream Khojkipur at Panipat. It was around 10 times above the limit. The DJB can treat river water in which ammonia level is less than 0.9 ppm.
Officials from Delhi Jal Board had earlier claimed that three water treatment plants at Wazirabad, Chandrawal and Haidarpur have not been running at full capacity since January 30 due to high levels of ammonia. As a result water supply across the city, barring east Delhi, has been hit. East Delhi gets its water from the Upper Ganga Canal. The DJB distributes around 900 MGD of water in Delhi, out of which nearly 60% comes from Haryana.
Yamuna Ammonia pollution

5 most polluted places (values in ppm)

•Delhi Gate drain: 38 .0

•Sonia Vihar drain: 35.0

•Najafgarh drain: 31

•ITO Barrage: 24.9

•Barapulla drain: 21.0

5 least polluted

•Wazirabad concrete lined channel: 0.05

•Upstream Khojkipur, Panipat: 0.1

•Hathnikund Barrage: 0.6

•Okhla Water Treatment Plant: 0.8

•Wazirabad Reservoir: 1.4
https://www.hindustantimes.com/delhi-news/delhi-contributing-more-ammonia-to-yamuna-than-haryana-says-cpcb-report/story-pVwF6vHGnKYYG8mG1VVAVN.html (Hindustan Times, 16 Feb. 2018)
NGT Identify sources of pollution, Haryana, Delhi told During latest hearing on Ammonia pollution in Yamuna, the Green Tribunal has directed Haryana and Delhi to identify the sources of pollution in the water reaching the Delhi Jal Board reservoirs. "Though the issue is with regard to high levels of ammonia in the water reaching the Delhi Jal Board reservoir but if you take the entire river ecosystem, the pollution level in the portion of the river passing Delhi also needs to be properly checked," said the Bench. The green panel further directed the Central Pollution Control Board (CPCB) to monitor the entire process. http://www.thehindu.com/todays-paper/tp-national/tp-newdelhi/identify-sources-of-pollution-haryana-delhi-told/article22840810.ece (The Hindu, 24 Feb. 2018)
Meanwhile, the supply of treated water will remain affected for a few days due to continuation of high levels of pollution in raw water from Haryana. North, central, parts of south, west Delhi, including the cantonment, and Lutyens' Delhi have been affected, the DJB said. Production at the DJB's water treatment plants had been reduced due to "continuous pollution in River Yamuna and reduction in release of raw water by Haryana" in the Delhi Sub Branch of the river and the Munak Canal.  http://www.thehindu.com/news/cities/Delhi/water-supply-to-be-hit-due-to-high-pollution/article22840280.ece (The Hindu, 24 Feb. 2018)
Haryana Help us revive Yamuna: CM Manohar Lal Khattar has sought cooperation from the Centre and the governments of Delhi and Uttar Pradesh to make joint efforts to combat the Yamuna river pollution. https://www.ndtv.com/india-news/manohar-lal-khattar-seeks-help-from-centre-other-states-to-clean-yamuna-1817095 (NDTV, 26 Feb. 2018)
Here are murky details of the Rs 304 CRORE wastage in Dadupur Nalvi Irrigation Project that has now been abandoned by Haryana govt after spending Rs 304 Crores, but is still in search of a legal way of returning the land to the original owners. http://www.tribuneindia.com/news/sunday-special/perspective/rs-304-crore-down-a-canal/549237.html (The Tribune, 25 Feb. 2018)
Rajasthan Will bring Yamuna water to state: Water Minister The state water resources minister Dr Rampratap on Feb. 23 has told the assembly that Yamuna water would be brought to Churu district via pipeline from Ghaziabad in Uttar Pradesh and would be utilized for drinking and irrigation needs of districts, including Churu, Jhunjhunu and Sikar. As per the minister a pre-feasibility report and detailed project report has also been made and under this project, a pipeline is proposed to be laid between Rajgarh (Churu) and Ghaziabad
He also laid emphasis on the Eastern Rajasthan Canal Project (ERCP) a project of nearly Rs 40,000 crore which will be linked to Gambhiri, Kalisindh and Parvati rivers. He claimed that it will benefit 13 districts in the state. The minister also said that government has sanctioned the budget of Rs 11 thousand 930 crores in 4 years whereas Congress in 5 years had made allocation of nearly Rs 4,257 crore. https://timesofindia.indiatimes.com/city/jaipur/min-yamuna-water-will-be-brought-to-rajasthan/articleshow/63061486.cms (The Times of India, 25 Feb. 2018)
Uttar Pradesh 9 held for running illegal firms on Yamuna floodplains The Gautam Budh Nagar administration conducted a raid on Raipur Khadar and Asgharpur villages along the Yamuna floodplains and arrested nine persons allegedly running concrete-mixing units in the area in violation of the NGT guidelines and causing damage to the Yamuna floodplains. https://timesofindia.indiatimes.com/city/noida/nine-held-for-running-illegal-firms-on-yamuna-floodplains/articleshow/62989959.cms (The Times of India, 20 Feb. 2018)
Hindon Farmers told not to use polluted Hindon water to grow vegetables Under Nirmal Hindon Abhiyan Meerut administration, NEER foundation Farmers in western Uttar Pradesh have been asked not to use the water of the Hindon river for growing vegetables, which are also sold in the National Capital Region markets, as it has been found to be polluted and contaminated by various official laboratories. http://www.thehindu.com/todays-paper/tp-national/tp-otherstates/farmers-told-not-to-use-polluted-hindon-water-to-grow-vegetables/article22793111.ece (The Hindu, 19 Feb. 2018)
Haj house sealed for polluting Hindon The Haj House in Ghaziabad was sealed by the district administration on the orders of Green Tribunal as it did not have a STP and the effluents were being dumped into Hindon, polluting the river and underground water. The green court has ordered the UP Haj House Committee to ensure that a STP of 136 KLD  installed to treat all domestic waste. The NGT gave liberty to the committee to approach the tribunal for de-sealing after full compliance with the order. http://www.news18.com/news/india/ghaziabad-haj-house-sealed-for-polluting-hindon-river-not-having-sewage-treatment-plant-1666779.html (News18, 20 Feb. 2018)
SAND MINING
Supreme Court 'Do you have a policy to stop illegal sand mining' SC asks Centre The Supreme Court on Feb. 23 has asked the Centre if it had a policy to keep a tab on illegal sand mining, PTI reported. The apex court expressed its concerns over the possible drying up of rivers as a consequence of rampant illegal sand mining. https://scroll.in/latest/869844/do-you-have-a-policy-to-stop-illegal-sand-mining-supreme-court-asks-centre (Scroll.In, 23 Feb, 2018)
Rajasthan SC extends sand mining ban The apex court has also extended ban on sand mining in till March 13 & issued notices to State Govt & MoEF for its move to mine sand from agricultural land. https://timesofindia.indiatimes.com/city/jaipur/sc-extends-sand-mining-ban-in-rajasthan-till-march-13/articleshow/63054814.cms (The Times of India, 24 Feb. 2018)
Gujarat Sand mining leases around Orsang River suspended The district administration of Chhota Udepur suspended 11 sand mining leases in Orsang River at Ahladpura village in Bodeli taluka as the mining activities in the river have posed danger to aqueduct of main Narmada canal passing from there. The Narmada Nigam authorities had written to the district collector to cancel the mining leases in the Orsang River as the activities had increased the depth of the river bed, exposing the foundation piles of the aqueduct, which passes over the Orsang River at Ahladpura village in Bodeli taluka. https://timesofindia.indiatimes.com/city/vadodara/sand-mining-leases-around-orsang-river-suspended/articleshow/63071768.cms (The Times of India, 26 Feb. 2018)
Punjab 25 out of 110 mines auctioned in 2017 lying idle At least 25 out of the 110 sand mines auctioned in May and July last year by the Punjab government under the new progressive bidding scheme are lying non-functional. There is either not enough material available in these mines, or, in some cases, the bidders who bagged the mines at exorbitant prices now feel they shall not be able to earn adequate profits.
With a large number of bidders now backing out or not coming to bid at all, the state government that had expected to earn a revenue of over Rs 1,000 crore from the sand mine auctions is not expecting the final amount to be that much.  The government is again going to auction another lot of 145 mines of sand (2.7 crore tonnes) and 18 mines of gravel (0.2 crore tonnes) on March 15. http://indianexpress.com/article/cities/chandigarh/no-more-gold-to-strike-in-sand-25-out-of-110-mines-auctioned-last-year-lying-idle-5071892/ (The Indian Express, 21 Feb. 20018)
The third round of Punjab government auction for sand mines, which took place Feb. 19 evinced little interest, with bids only for 16 of a total of 51 mines. As many as 30 mines attracted no bids. Four mines got single bidders, who were disqualified for that reason. In the first round, 89 mines were auctioned, but at least 39 high bidders who won their bid did not show up to make the security deposit.  In the second round in July, it auctioned 43 mines including several cancelled during the earlier May bids. In the fourth round, the government will be auctioning 145 mines of sand (2.7 crore tonnes) and 18 mines of gravel (0.2 crore tonnes) on March 15. http://indianexpress.com/article/cities/chandigarh/only-16-of-51-sand-mines-auctioned-in-third-round-in-punjab-5070504/ (The Indian Express, 20 Feb. 2018)
Tamil Nadu Villagers protest against 'illegal sand mining' Hundreds of residents of coastal Vedalai panchayat thronged the Collectorate and staged a 'sit-in dharna', protesting against 'illegal sand mining' on the pretext of desilting an oorani (waterbody) in the village. The villagers opposing deepening of the 'oorani ' waterbody as it would lead to ingression of seawater. http://www.thehindu.com/news/national/tamil-nadu/villagers-protest-against-illegal-sand-mining-ramanathapuram/article22799368.ece (The Hindu, 19 Feb. 2018)
WETLANDS
Obituary to Dhrubajyoti Ghosh Saltues to Engineer, ecologist, scholar, official, activist by Sopan Joshi Our governments spend crores of rupees in contractor-heavy programmes to clean rivers. Ghosh's life and work showed that the solutions are cheaper than we imagine. They lie in ordinary people. All that is needed is leaders and officials who are ready to go out for a walk. With an open mind, with a warm heart, with the commitment of sound scholarship. http://indianexpress.com/article/opinion/columns/dhrubajyoti-ghosh-death-1947-2018-he-found-wealth-in-waste-5070411/ (The Indian Express, 20 Feb. 2018)
In another tribute to the legendary conservationist  Amitangshu Acharya rightly says that, it was only in recent years that he started receiving the attention he deserved. It is a pity that his first book, Ecology and Traditional Wetland Practice, which should be an essential read for wetland conservationists the world over, is almost impossible to find in a bookshop.
It is true that the death of Dhrubajyoti Ghosh follows that of Anupam Mishra, whose quiet work on traditional water harvesting systems is considered a watershed in India's environmental history, and who wrote the introduction to Ecosystem Management. Both had immense respect for each other – an interesting relationship between a Marxist ecologist and a Gandhian environmentalist. With their passing, India has lost two great environmentalists within a very short period of time.
Dhrubajyoti Ghosh, like Anupam Mishra, was not only the last of his kind, but his kind was the last. His death is a lighthouse switching off on a stormy night. We lost him at a time when he was needed the most. https://scroll.in/article/869250/dhrubajyoti-ghosh-saviour-of-the-east-kolkata-wetlands-believed-in-people-and-not-policies (Scroll.in, 19 Feb. 2018)
Dhrubajyoti Ghosh is larger than life even in death writes Aditi Roy Ghatak. He is larger than the sum total of all the many awards that he has received; the Ashoka fellowship and the United Nations' Global 500 laureate that he received fairly early in life and the CEM Luc Hoffmann Award that he received in 2016 amongst others.
Ahead of his times, Ghosh (71) was a "new generation" thinker, who realized the joys of learning from nature; understanding the myriad ways it supports humanity that is hell bent on destroying it; perchance teaching those who were privileged to listen to him about the omneity of nature with humankind, as he shared his understanding in his soft, unobtrusive way. Even political/ecological opponents he sought to handle with gentle fists. https://www.thestatesman.com/opinion/wetlands-will-weep-today-1502586927.html (The Statesman, 17 Feb. 2018) 
Ghosh is credited with discovery of the uniqueness of East Kolkata Wetlands – the world's largest organic sewage management system – that was designated as a Ramsar site or 'wetland of global importance in 2002'. Till the end, Ghosh was on the Bengal government's expert committee on East Kolkata Wetlands. Objecting to some of the government's plan to change land use policy in the wetlands, Ghosh submitted his resignation last August that was not accepted. https://www.hindustantimes.com/kolkata/dhrubajyoti-ghosh-ecologist-who-introduced-east-kolkata-wetlands-to-the-world-passes-away/story-3hGeLXYD6lZP2M5bQHjnzH.html (The Hindustan Times, 17 Feb. 2018) 
Haryana Commercial fish farming in natural wetlands an emerging threats to water birds Environmentalists claim nearly 100 birds have died in the wetlands of Rohtak and Jhajjar in the last two months after getting entangled in nylon nets installed by fisheries contractors to prevent the birds from preying on fish being cultivated in these aqua farms. There are over 130 freshwater bodies, which include ponds, in Rohtak and Jhajjar. Around 50% of them have been covered with nylon nets. In Dighal, three out of 10 ponds have been covered with nets. Dighal has been identified as an "important bird area" by Bombay Natural History Society (BNHS), and around 263 bird species, which include both migrant and resident birds, can be found here. https://timesofindia.indiatimes.com/city/gurgaon/as-fisheries-business-booms-wetlands-are-turning-into-death-traps-for-birds/articleshow/63035903.cms (The Times of India, 23 Feb. 2018)
Sukhana Lake, Chandigarh HC seeks status report on illegal construction in Sukhna vicinity The Punjab & Haryana High Court has directed the state of Punjab to file a status report on illegal construction in Kansal village. A status report has also been called on the flow of dirty water into the Sukhna from Kaimbwala. http://www.tribuneindia.com/news/chandigarh/hc-seeks-status-report-on-illegal-construction-in-sukhna-vicinity/547267.html (The Tribune, 21 Feb. 2018)
Report Climate change could deal body blow to migratory birds Warmer winters and fluctuating rainfall in Chilika Lake are proving to be major disruptors for the large population of migratory birds in this famous lagoon on India's eastern coast. https://indiaclimatedialogue.net/2018/02/21/climate-change-deal-body-blow-migratory-birds/ (India Climate Dialogue, 21 Feb. 2018)
WATER OPTIONS
Karnataka Oz educator inspires farmers to recharge groundwater SALUTES worthy work: Shazar Robinson, 70, spends six months a year in Hubballi (North Karnataka) to create awareness about borewell recharging among farmers. She's an adviser-consultant with Hubballi-based Sankalpa Rural Development Society (SRDS), which is involved in borewell recharging through rain water harvesting for a decade. She doesn't get paid by SRDS and stays here on her own cost. https://timesofindia.indiatimes.com/city/hubballi/oz-educator-inspires-farmers-to-recharge-groundwater/articleshow/62974469.cms (The Times of India, 19 Feb. 2018) 
Tamil Nadu RWH structures raise groundwater table Interesting construction of 600 rainwater harvesting (RWH) structures since 2005 by Siruthuli NGO has helped in improving the groundwater table in Coimbatore city. With successful initiative which has reportedly seen significant increase in water table and high reduction in average drilling cost of borewells, the group is recommending of construction of about 2000 such RWH structures across the city. http://www.thehindu.com/news/cities/Coimbatore/rainwater-harvesting-structures-raise-groundwater-table/article22832404.ece (The Hindu, 23 Feb. 2018)
Talengana India's 2nd RWH park to be developed in Hyderabad India's 2nd rainwater harvesting (RWH) park will be established in Hyderabad. Large areas at Kamalapuri Colony and Butterfly Park at Jubilee Hills road no. 26 have been identified to develop the theme park. These two parks are maintained by the Greater Hyderabad Municipal Corporation (GHMC). The first rainwater harvesting park was established in Bengaluru by 'Bangalore Water Supply and Sewerage' (BWSSB) in March 2011 on 1.5 acre open plot. https://timesofindia.indiatimes.com/city/hyderabad/hyderabad-to-develop-indias-second-rainwater-harvesting-park/articleshow/63023617.cms (The Times of India, 22 Feb. 2018)
GROUND WATER
Rajasthan Groundwater level goes up in 21 districts As per a report, the groundwater level recorded an average rise of 4.66 feet in 21 non-desert districts of Rajasthan after the execution of the Mukhya Mantri Jal Swavlambhan Abhiyan (MJSA) phase-I. As per Sriram Vedire, chairman of the Rajasthan River Basin and Water Resources Planning Authority, an analysis conducted by an expert committee on groundwater recharge suggests that of 21 non-desert districts, 16 recorded rise in groundwater level. https://www.hindustantimes.com/jaipur/groundwater-level-goes-up-in-21-districts-of-rajasthan-under-cm-scheme/story-dAzwT3UVHOrrfInup70reJ.html (Hindustan Times, 25 Feb. 2018)
Telangana SoER 2015 draws govt attention on ground water Deep water levels of over 20 metres have been observed in most parts of Medak, Mahabubnagar, Ranga Reddy, Nizamabad, Nalgonda and parts of Karimnagar, Warangal, Khammam and Adilabad districts. It also stated that the government has been sanctioning Reserve Osmosis plants in quality/fluoride affected habitations, but the impact of such plants is that the water-rejection rate is around 25% to 45%. http://www.thehindu.com/news/cities/Hyderabad/groundwater-regulation-act-is-need-of-the-hour-eco-report/article22801267.ece (The Hindu, 20 Feb. 2018)
SoER –TS, 2015, is the 1st report for the State of Telangana, with the objective of ensuring sustainable development. It provides credible environmental information to policy makers, organisations and the general public for proper planning and implementation of developmental projects, a press statement has informed. The report was prepared by the Environment, Protection, Training and Research Institute (EPTRI) and was released in the first week of Jan. 2018.  http://www.thehindu.com/news/cities/Hyderabad/state-of-environment-report-for-telangana-released/article22388117.ece (The Hindu, 6 Jan. 2018)
WATER
Karnataka Water Contamination Outbreak: 6 VILLAGERS HAVE DIED & around 50 affected due to water-borne diseases in Maidolalu village in Bhadravati taluk of Shivmonga district.  http://www.thehindu.com/news/national/karnataka/one-more-death-caused-by-contaminated-water/article22801351.ece
The National Human Rights Commission (NHRC) has issued the notice to the chief secretary of the state, seeking a detailed report in four weeks. http://www.financialexpress.com/india-news/nhrc-notice-to-karnataka-govt-over-deaths-due-to-water-contamination/1065186/
The outbreak reportedly occurred after drinking contaminated piped drinking water supplied from overhead tank by the gram panchayat.  Villagers allege overhead tank not cleaned for over a year. http://www.thehindu.com/news/national/karnataka/one-more-death-caused-by-contaminated-water/article22801351.ece
Water sourced from borewells are supplied to tank and from there it is supplied to houses.Test report shows significant presence of faecal matter in the contaminated water. http://www.newindianexpress.com/states/karnataka/2018/feb/15/karnataka-water-contamination-one-more-dies-toll-now-four-1773557.html, http://www.deccanherald.com/content/659044/two-die-45-ill-consuming.html
Chhattisgarh NHRC notice to Centre, state over rise in arsenic cases Taking suo motu cognisance of increasing arsenic and fluoride contamination in drinking water, the NHRC has sent notices to the Centre and the Chhattisgarh govt regarding the situation of drinking water in the state. The number of patients suffering from kidney diseases and fluorosis has gone up from 1148 in August 2016 to 1170 till date. Media reports indicate villages adjacent to industrial areas to be worst affected. http://www.business-standard.com/article/pti-stories/nhrc-notice-to-centre-c-garh-over-rise-in-arsenic-cases-118021501458_1.html (15 Feb. 2018)
Andhra Pradesh Water scarcity stares at coastal Andhra Visakhapatnam city, its suburbs, Prakasam and Guntur districts and the upland areas of West Godavari district and Adilabad district in Telangana are likely to face water problem.  http://www.thehindu.com/news/cities/Visakhapatnam/water-scarcity-stares-at-coastal-andhra/article22819788.ece (The Hindu, 22 Feb. 2018)
DROUGHT
Maharashtra Govt's drought manual could end up harming farmers Nidhi Jamwal writes about possible impacts of the new Drought Manual.
– "If the new manual is followed, then several droughts in the country will go unreported."
– In the paisewari system, if there is a rainfall deficit and the crop yield is less than 50% of the average of 10 years, then that is considered a drought year. If the paisewari system is applied, then at present 9,000 villages in Maharashtra, including 3,500 villages in Marathwada, have reported paisewari less than 50 paise.
– But, officially these 9,000 villages are not drought-affected because last October the state government issued a Government Resolution (GR) in line with the Centre's new drought manual, and adopted new indices to declare drought in the state.
– As per a recent news report, over 136 talukas or administrative blocks had approached the state government to be declared drought hit, but only three talukas from Gondia district have made it to the category of moderate drought under the new criteria prescribed in the manual.
– Moderate drought is no longer eligible for relief funds from the Centre. The 2016 manual makes it clear that only if the calamity is of "severe nature" can the state governments submit a memorandum for financial assistance under the National Disaster Response Fund (NDRF).
– Crop productivity is an important factor, but is missing from the manual. "Soil moisture categories are too rigid. A 25 percent soil moisture in semi-arid area of Marathwada will not have the same impacts as 25 percent soil moisture in heavy rainfall area like Konkan," said Joy. "There is no mention of water equity in the drought manual. It fails to note that almost 80% of the irrigation water in Maharashtra is used by water-intensive sugarcane crops. Such crops and water inequity is one of the reasons for droughts in Maharashtra." http://www.huffingtonpost.in/village-square/why-the-governments-drought-manual-could-end-up-harming-farmers-instead-of-helping-them_a_23345461/ (Huffington Post, 22 Feb. 2018)
ENERGY OPTIONS
The renewable purchase obligation is hurting Plea to review Renewable Purchase Obligations as its unnecessary burden in view of grid price parity of solar and wind. http://www.livemint.com/Opinion/3n7VOJdiMCL6jOYFGLd5AN/The-renewable-purchase-obligation-is-hurting.html (Live Mint, 21 Feb. 2018)
SOUTH ASIA
Study Boosting river transport on Ganga and Brahmaputra has costs A new study from CUTS International – "Expanding Tradable Benefits of Trans-boundary Water: Promoting Navigational Usage of Inland Waterways in Ganga and Brahmaputra Basins", identifies some of the challenges for policymakers trying to realise these opportunities, and for communities living along the riverbanks. – "Cumulative impact of these is also a recipe for disaster to the local communities living around the rivers, specifically the fishermen and agrarian communities that depend on the riverbeds for their overall sustenance," warns the report. https://www.thethirdpole.net/2018/02/19/boosting-river-transport-on-ganga-and-brahmaputra-has-costs/ (The Third Pole, 19 Feb. 2018)
India to catalyze Bangladesh-Nepal bilateral power tie up Following expression of interest from Bangladesh to invest in Nepal's hydropower sector couple of months back, Nepal submitted a list of seven possible projects. "Our Government is considering them," said Chowdhury. – But the new sub-regional framework Bangladesh, Bhutan, India, Nepal (BBIN) which has already been implemented, is bringing in a major and rapid change in the regional landscape in the fields like connectivity, transit, energy or grid. https://economictimes.indiatimes.com/industry/energy/power/india-to-catalyze-bangladesdh-nepal-bilateral-power-tie-up/articleshow/62998747.cms (The Economic Times, 20 Feb. 2018)
Bhutan Mini-hydropower plant re-commissioned The 360 Kilo Watt hydropower plant in Thimphu was the first and then the only project in Bhutan, first commissioned on February 8, 1967. It was built by Central Water Commission, India. The operation of this plant was stopped last eight months to repair and modernise it. Annually, on an average, the hydel generates about 1.22 Million (M) units of energy. Until 2016, the hydel generated about 53.34 M units of energy worth Nu132.50 million, with each unit costing Nu 2.5.
– Strangely, Electricity Generating Authority of Thailand (EGAT) – and not a Indian company – in collaboration with Bhutan Power Corporation (BPC) worked on the rehabilitation works worth Nu 28.70 Million.
– Worryingly, the report says, Bhutan and India are also working on an agreement for another hydro power plant of 2,555MW in Sunkosh, the biggest collaboration between India and Bhutan. http://www.kuenselonline.com/mini-hydropower-plant-re-commissioned/ (Kuensel Online, 22 Feb. 2018)
Nepal NPC wants govt to investigate China firm The meeting of the National Planning Commission, which commenced, made the decision of seeking clarification from the company with a time period of 90 days regarding the construction of 750 MW hydropower plants. https://energy.economictimes.indiatimes.com/news/power/nepals-npc-urges-government-to-interrogate-chinese-firm-over-hydro-project/62985899 (Energy World, 19 Feb. 2018) 
As per another report, Nepal govt would hand over Budhi Gandaki project to China. http://www.ibtimes.co.in/olis-india-snub-revives-dam-project-china-review-nepali-recruitment-indian-army-761236 (International Business Times, 20 Jan. 2018)
Report Solutions to South Asia's Looming Water Crisis The breadbasket regions of India and Pakistan are rapidly depleting their underground aquifers. In a Yale e360 interview, climatologist Sonali McDermid explains why this overexploitation, combined with global warming, is creating an urgent need to change local farming practices. http://e360.yale.edu/features/running-dry-seeking-solutions-to-south-asias-looming-water-crisis (E360, Yale, 17 June 2017)
Also see, Parched for a price: Karachi's water crisis Residents of Karachi, one of the largest cities in the world, are being held hostage by a 'mafia' that makes millions of dollars out of their need for water. https://interactive.aljazeera.com/aje/2017/parched-for-price/index.html
THE REST OF THE WORLD
Mekong River Concerns over Laos dam's environmental impact The controversial Don Sahong dam in Laos has people arguing that its environmental impacts have not been studied well enough. The first dam on the lower Mekong River may start generating electricity earlier than expected. The controversial Don Sahong dam is in Laos, and the communist government says it needs the project to improve its economy. But many who rely on the river argue that not enough research has been done on the environmental effect. http://www.aljazeera.com/news/2018/02/concerns-laos-dams-environmental-impact-180220150913411.html (Al Jazeera, 20 Feb. 2018)
Africa Nations urged to avoid hydropower reliance African nations need to diversify energy supply, particularly countries reliant on hydropower, industry experts said at an energy conference in Johannesburg. The region has been affected by severe droughts in recent years, affecting not only food security but also energy supply in countries that make heavy use of hydropower. https://energy.economictimes.indiatimes.com/news/power/african-nations-urged-to-avoid-hydropower-reliance-diversify-energy-supply/63023867 (Energy World, 22 Feb. 2018)
South Africa Watershed ruling for Cape Town's rivers, floodplains and wetlands The Western Cape High Court has ordered the developer of the Hout Bay Beach Club to remove the soil, general rubble, and fill that was placed within the floodplain of the Disa River within 45 days.  Same story of floodplain encroachment everywhere, even Cape Town! https://www.iol.co.za/capetimes/news/watershed-ruling-for-cape-towns-rivers-floodplains-and-wetlands-13371065 (IOL, Cape Town News, 19 Feb. 2018)
Here is all about Cape Town's Day Zero, now pushed to July. It reminds one of Manmad, where its almost always Day Zero or Latur, which had Day Zero for 2 months. The difference is the way the crisis is being managed, the clear instructions, strategy, monitoring and a positive governance, including caps & monitoring of groundwater use. https://memeburn.com/2018/02/cape-town-day-zero-plans/ (Meme Burn, 20 Feb. 2018) 
Another report says that Cape Town really seems to have done most everything right, water-wise, and yet is poised to see it all undone in coming weeks by unexpectedly severe drought. https://www.minnpost.com/earth-journal/2018/02/cape-towns-misery-gives-urban-face-global-problem-water-scarcity (The Minn Post, 22 Feb. 2018) 
America Competing visions of the Los Angeles River's future This is a fantastic piece delving into the messy realm of river restoration..or beautification..or riverfront development. This is the Los Angeles River, but issues are same as South Asia, Channelised River, Little land for reclamation, poorer settlements along the river, tussle for the correct "vision" for the river. https://www.kcet.org/shows/earth-focus/the-bigger-picture-competing-visions-of-the-los-angeles-rivers-future (KCET.ORG, 20 Feb. 2018)
New Book Freshwater Ecosystems in Protected Areas The book shows that, rather than being a marginal part of terrestrial protected area management, freshwater conservation is central to sustaining global biodiversity. It focuses on better practices for conserving inland aquatic ecosystems in protected areas, including rivers, wetlands, peatlands, other freshwater and brackish ecosystems and estuaries. https://www.linkedin.com/pulse/freshwater-ecosystems-protected-areas-jamie-pittock-phd/?trackingId=VnzbUTkRrBcg7v67WKrG9A%3D%3D (Linked In, 18 Feb. 2018)
America Ohio River Floods Basements Recently flood event along the Ohio River and on nearby rivers and streams has left many homeowners struggling with flooded basements. That water can do thousands of dollars in damage & some of it might not be covered by insurance.
https://www.cincinnati.com/videos/news/2018/02/21/watch-birds-eye-view-local-flooding/110653212/
Here is aerial footage of Tristate flooding on Feb. 20, 2018. The floods affected businesses and communities alongside the river. Video by Enquirer/Phil Didion
https://www.cincinnati.com/story/news/2018/02/25/flooded-basement-some-dos-and-dont/371203002/ (Cincinnati, 25 Feb. 2018)
New Zealand Watch Amazing video of RIVER OF ROCK, following damages due to Cyclone Gita in New Zealand on Feb 22, 2018.
CLIMATE CHANGE
Study Climate-change–driven accelerated sea-level rise detected in the altimeter era A new study published in the journal Proceedings of the National Academy of Sciences has found that the rate of rising sea levels is accelerating. It was earlier estimated that sea levels will rise at a constant rate of 3mm/year. The research conducted by a group of scientists from multiple universities and institutions in the US has found that the sea level is rising at 0.08 mm every year. This means that by the end of the century, sea levels would rise at a rate of 10 mm or more every year. "This acceleration, driven mainly by accelerated melting in Greenland and Antarctica, has the potential to double the total sea level rise by 2100 as compared to projections that assume a constant rate to more than 60 cm instead of about 30 (cm)," Steve Nerem, the lead author of the study, told Science Daily. http://www.pnas.org/content/pnas/early/2018/02/06/1717312115.full.pdf (PNAS.org, Oct. 2017)
Report Weather forecasts helping over a million Indian farmers: Former Ministry head
A number of interesting things here:-
 – As for early warning systems, we are giving very good forecasts for cyclones or heavy rainfall. But what we are not able to predict is sudden onset of thunderstorms or cloud bursts as that technology is still in the making. Like in Bengal you have kaal baisaakhi (spring storms). It comes suddenly and covers a very small region. The whole process of generation and dissipation takes a very short time. You need some observations to understand that process, and that is where we don't have sufficient technology. Nowhere in the world are these kinds of storms being predicted. We are doing far better prediction of cyclones than the US.
– We're trying to build an earth system model which will help model processes like how atmosphere and ocean interact in hydrological cycle, how vegetation and atmosphere interact, what happens at each step of hydrological cycle. This model is almost ready for climate forecasting. IPCC (Intergovernmental Panel on Climate Change) uses different models, but so far India was not participating with its own models. We have started this and now in the next IPCC (assessment report), we will participate with our own model. This will be a very major achievement. We started only in 2008 and, in just 10 years, we have built it. http://indiaclimatedialogue.net/2018/02/16/weather_forecasts_helping_million_farmers/ (India Climate Dialogue, 16 Feb. 2018) 
Net Geo Drying up of some of the world's biggest lakes Warming climates, drought, and overuse are draining crucial water sources, threatening habitats and cultures. https://www.nationalgeographic.com/magazine/2018/03/drying-lakes-climate-change-global-warming-drought/?sf182573892=1&utm_content=buffer3018b&utm_medium=social&utm_source=twitter.com&utm_campaign=buffer (National Geographic, March 2018)
World Environment Day 2018

  
India to host World Environment Day 2018 India is the global host of 2018 World Environment Day which will take place on June 5, 2018, with "Beat Plastic Pollution" as the theme for this year.
Plastic Pollution facts: Every year the world uses 500 billion plastic bags.

Each year, at least 8 million tonnes of plastic end up in the oceans, the equivalent of a full garbage truck every minute.

In the last decade, we produced more plastic than in the whole last century

50 percent of the plastic we use is single-use or disposable

We buy 1 million plastic bottles every minute.

Plastic makes up 10% of all of the waste we generate.

For more information about World Environment Day and Plastic Pollution, visit: worldenvironmentday.global, https://www.unenvironment.org/news-and-stories/press-release/india-host-world-environment-day-2018
ENVIRONMENT
Gujarat Villagers rebel against urbanisation Since 2012, when current PM Modi was CM of Gujarat – of which Ahmedabad is the biggest city – the state government has tried to expand the areas of land under the control of 12 cities to swallow up some 800 villages.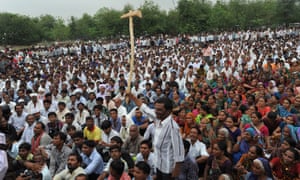 – Villages near Morbi-Wankaner, Surat and Himmatnagar have protested against their inclusion into urban development authorities. In September 2015, after demonstrations, 42 villages managed to get themselves removed from the Junagadh Urban Development Authority; but in other parts of Gujarat, including Ahmedabad, villagers continue to protest to little avail. https://www.theguardian.com/cities/2018/feb/12/india-villagers-rebel-urbanisation-gujarat (The Guardian, 12 Feb. 2018)
State facing power crisis Apart from water the state is also facing power crisis since Adani and Essar have stopped generating power at their Gujarat plants due to higher cost of imported coal from Indonesia. SSP is also not generating any power. GUVNL has been forced to buy more costly power from power exchanges last week. https://timesofindia.indiatimes.com/city/ahmedabad/gujarat-model-runs-partly-on-outside-power/articleshow/63061240.cms (The Times of India, 25 Feb. 2018)
Report Preventing land degradation must be made a priority Important recommendation:-According to an as yet unpublished report sponsored by the ministry of environment, forests, and climate change , India may be incurring a loss of more than 2% of the GDP (by 2014-15 estimates) due to land degradation. The estimated loss has been calculated to be about Rs 3 lakh crores. One of the ways in which the pressure on natural resources can be minimised is by conducting mandatory environment impact assessments (EIA) before resource-intensive projects are sanctioned. https://www.hindustantimes.com/editorials/preventing-land-degradation-must-be-made-a-priority/story-ycecleoxmwfhxc2cxsra5o.html (Hindustan Times, 21 Feb. 2018)
Chhattisgarh Congress walks out from Assembly over power plant's water use Congress MLA Mohan Markam asked about the quantity of water being used annually by the KSK Power Plant in Janjgir-Champa district as per its agreement with the government.
He also wanted to know the details of water tax fixed for the plant, its ground water usage and the water cess it had paid till January 15.
– In his reply, Industry Minister Amar Agrawal said the power plant was to use 17.52 million cubic metre of surface water per year as per the agreement and, in 2016, the plant had used 18,378,411.10 cubic metre (18.37 million) of water. He added that it had deposited water tax to the tune of Rs 18,96,45,103 while Rs 83,78,990 was due. The minister further informed that for the year 2017, the water usage by the plant stood at 17,313,039.24 cubic meter of water. It had paid tax of Rs 15,80,91,899 while Rs 2,82,59,711 was due, he said.
– The power plant was using 76.40 cubic meter of water from three borewells every day for drinking purposes, he said. https://timesofindia.indiatimes.com/india/congress-walks-out-from-chhattisgarh-assembly-over-power-plants-water-use/articleshow/63047330.cms (The Times of India, 23 Feb. 2018)
Delhi University Are biodiversity parks useful Experts to assess how biodiversity parks in Delhi are achieving groundwater recharge, carbon storage, micro climate change. Hope this comes out in Public Domain. https://www.hindustantimes.com/delhi-news/are-biodiversity-parks-helping-the-city-s-environment-delhi-university-experts-to-find-out/story-8k1VpJcKNWoGVPNdzt5mLK.html (Hindustan Times, 26 Feb. 2018)
You may also like to see DRP News Bulletin 19 February 2018 & DRP News Bulletin 12 February 2018
Follow us on www.facebook.com/sandrp.in; https://twitter.com/Indian_Rivers