This scholarly article shows why India's flood forecasting system is ineffective. It is not location specific, provides too short a time, it does not provide the intensity of flooding, it is not comprehensive, there is no independent assessment. As far as dams are concerned, its performance is worst, and is unable to either expose wrong dam operations or take action against such operations. Its inflow forecasts are most of the time non existent. It makes numerous errors, but fails to correct them for long time. Its website is slow, sometimes totally non functional. It keeps changing the monitoring sites, their HFLs and provides neither consistency nor reasoning for many of its actions. In the middle of the monsoon it decided to curtail the hydrographs and information display system. Read on.
Playing catch up in flood forecasting technology CWC Director J Harsha on India's flood forecasting system. – Have you ever wondered how a local agency makes a decision if a flood forecast merely uses the words "Rising" or "Falling" above a water level at a river point? Especially when the time available to act is just 24 hours, there is no idea of the area of inundation, its depth, and when the accuracy of the forecast decreases at 24 hours and beyond? There are many times this happens in India during flood events, when the end users (district administration, municipalities and disaster management authorities) receive such forecasts and have to act quickly. These compelling scenarios are often experienced across most flood forecast river points, examples readers will be familiar with — in Assam, Bihar, Karnataka, Kerala or Tamil Nadu.
– The "Ensemble flood forecast" certainly helps local administrations with better decision-making and in being better prepared than in a deterministic flood forecast. The United States, the European Union and Japan have already shifted towards "Ensemble flood forecasting" alongwith "Inundation modelling". India has only recently shifted towards "Deterministic forecast" (i.e. "Rising" or "Falling" type forecast per model run). The shortcomings with Indian flood forecasting are glaring.
– Thus, the length of time from issuance of the forecast and occurrence of a flood event termed as "lead time" is the most crucial aspect of any flood forecast to enable risk-based decision-making and undertake cost-effective rescue missions by end user agencies. Compared to point scale rainfall data from rain gauges, Doppler weather radars (IMD has 35 of them) can measure the likely rainfall directly (known as Quantitative Precipitation Estimation or QPE) from the cloud reflectivity over a large area; thus the lead time can be extended by up to three days. But the advantage of advanced technology becomes infructuous because most flood forecasts at several river points across India are based on outdated statistical methods (of the type gauge-to-gauge correlation and multiple coaxial correlations) that enable a lead time of less than 24 hours.
– A study by the National Institute of Technology, Warangal, Telangana shows that it is only recently that India has moved to using hydrological (or simply rainfall-runoff models) capable of being coupled with QPF. So, a lead time of three days is sporadic in India, and at select river points.
– The United States which is estimated to have a land area thrice that of India, has about 160 next generation S-band Doppler weather radars (NEXRAD) with a range of 250-300 km. India will need at least an 80-100 S-band dense radar network to cover its entire territory for accurate QPF. https://www.thehindu.com/opinion/lead/playing-catch-up-in-flood-forecasting-technology/article32797281.ece (8 Oct. 2020)
HYDRO POWER PROJECTS
Jammu & Kashmir NHPC to suffer Rs 84.41 cr loss due to SEWA-II plant shutdown BAD NEWS FOR NHPC Last week, the company had informed that the Sewa-II power station (120 MW) in Kathua district has been under complete shutdown from September 25, 2020, to March 31, 2021, for damage of head race tunnel (HRT). "Anticipated financial loss due to shutdown will be Rs 84.41 crore," a BSE filing said. The shutdown will cause tentative loss of 157.4 million units (MUs) in generation (design energy) and 35.61 per cent in NAPAF (Normative Annual Plant Availability Factor), it had stated. All the three generating units of the power station were commissioned in June and July 2010. https://energy.economictimes.indiatimes.com/news/power/nhpc-to-suffer-rs-84-41-cr-loss-due-to-sewa-ii-plant-shutdown/78514767 (06 Oct. 2020)
This is due to some damage in its head race tunnel (HRT). https://energy.economictimes.indiatimes.com/news/power/nhpc-shuts-120-mw-plant-in-j-k-till-march-21/78418025 (01 Oct. 2020)
Chhattisgarh Bodh fish, the 'shark of Bastar,' threatened by a proposed hydropower project The Bodh fish, found in the Indravati river in Chhattisgarh, is 2 to 2.3 metres or more in length and can weigh up to 250 kg at maximum size. The fish is one of the largest freshwater catfishes in South Asia, belonging to the family Sisoridae. It is found across the rivers of north and central India.
Last year, the 535-km long Indravati river, which starts from Odisha's Kalahandi district and enters Chhattisgarh, had dried up for the first time in the summer months. The proposed Bodhghat Pariyojana may affect the fish habitat. https://india.mongabay.com/2020/10/bodh-fish-the-shark-of-bastar-endangered-by-a-proposed-hydropower-project/ (09 Oct. 2020)
Andhra Pradesh Andritz bags equipment contract for pumped energy storage project Austrian company Andritz announced it has bagged the contract from Greenko Energy for the supply of electro-mechanical equipment for India's largest pumped storage plant coming up at Pinnapuram in Kurnool dist in Andhra Pradesh. The 1,200 MW project is being developed by IPP Grreenko. "The contract includes design, manufacture, supply, transportation, erection, testing and commissioning of four 240-MW units, two 120-MW reversible pump units, main inlet valves, and associated auxiliaries," Andritz said. https://energy.economictimes.indiatimes.com/news/renewable/andritz-bags-equipment-contract-for-indias-largest-pumped-energy-storage-project/78500608 (05 Oct. 2020)
DAMS
SANDRP Blog Reservoir Operations Fail People in Chalakudy River Basin in Kerala in 2020 In this Guest Article, S P Ravi from Chalakudy Puzha Samarakshan Samiti, Kerala narrates how even in just concluded 2020 monsoon, dams operation in the Chalakudy river basin were a problem and violated rule curve and created avoidable downstream impacts. He provides detailed narrative to show why this is the case. https://sandrp.in/2020/10/05/reservoir-operations-fail-people-in-chalakudy-river-basin-in-kerala-in-2020/ (05 Oct. 2020)
Himachal Pradesh Pong oustees allotted land in Thar desert, feel cheated -As many as 221 Pong Dam oustees were allotted lands at Mohangarh and Ramgarh in Jaisalmer district, Rajasthan, last week following the intervention of the state government. The areas fall in the Thar where neither irrigation facility is available, nor these are accessible by road. The oustees, who got land in the desert after waiting for five decades, are feeling ditched by the Rajasthan Government.
-Resentment is brewing among the oustees who got these in the name of rehabilitation after their ancestral landholdings in lower Kangra district had submerged into the Pong Dam reservoir. Enquiries reveal that the process of land allotments to 8,000 leftout oustees had started in 2000 following efforts of the then PK Dhumal government. https://www.tribuneindia.com/news/himachal/pong-oustees-allotted-land-in-thar-desert-feel-cheated-152245 (07 Oct. 2020)
Mullaperiyar Dam Questions over sub-committee in SC This seems to indicate that the rule curve for Mullaperiyar may not have been updated since early 1970s? That can be dangerous, if true. "The answering respondent states that the operation of the spillway gates during flood time was framed long back during the year 1974, vide… As per the procedure then laid down, based on long experience, before operating the spillway gates during flood time, warning would be issued well in advance to the downstream authorities concerned of the State of Kerala before releasing water through the spillway," TN affidavit in Supreme Court said.
– In an affidavit, filed through advocate M Yokesh Kanna, the Tamil Nadu government said the plea alleging that it has abdicated its duties was "wholly misconceived". "The prayer proceeds on an erroneous assumption that the Sub-Committee constituted by the Supervisory Committee amounts to abdication of duties by the Supervisory Committee, constituted pursuant to the directions of this court judgment dated May 07, 2014 … is wholly untenable," the affidavit said. The affidavit said the sub-committee is chaired by the executive engineer of the Central Water Commission (CWC) and has members from Kerala and Tamil Nadu. The sub-committee inspects the dam, collects data and gives details to the supervisory committee. https://www.outlookindia.com/newsscroll/subcommittee-for-mullaperiyar-dam-doing-its-job-properly-tamil-nadu-govt-tells-sc/1952968 (10 Oct. 2020)
Sardar Sarovar Dam Oustees facing first submergence now quakes
Serious submergence situation in Narmada Valley where, villages and houses that were not supposed to be submerged, are getting submerged. In addition, the number of earthquakes during monsoon is leading to cracks in houses. https://www.bbc.com/hindi/india-49893069 (02 Oct. 2020)
Webinar Oral history of Narmada struggle held on10th of October. https://www.facebook.com/sandrp.in/posts/3870857662941878
INTERSTATE WATER DISPUTES
Mahadayi Goa to file contempt petition The government of Goa will file a contempt petition in the Supreme Court against Karnataka for diverting the Mahadayi waters, Chief Minister Pramod Sawant said in Panaji on Oct 5, 2020. The contempt petition is in addition to an earlier contempt petition filed in the Supreme court in August 2018, when Karnataka had engaged in a similar attempt. https://www.thehindu.com/news/national/karnataka/mahadayi-goa-to-file-contempt-petition/article32776688.ece (05 Oct. 2020)
– CM Pramod Sawant said that the issue of Mahadayi was "close to his heart", and accused previous regimes – both BJP and Congress – of having neglected the issue but assured that there was ample photographic and video evidence, which he said would be placed before the top court. https://www.hindustantimes.com/india-news/goa-to-file-contempt-plea-against-karnataka-in-mahadayi-water-dispute/story-j46tjinWCeCTJxmlSrMgtJ.html (05 Oct. 2020)
Krishna, Godavari Centre's role in Telangana, Andhra Pradesh water row The Centre will decide on constituting a new tribunal on water sharing between the two Telugu states after Telangana withdraws the cases filed in the Supreme Court against Andhra Pradesh over irrigation projects. Jal Shakti minister Gajendra Singh Shekhawat said that the Centre will take legal advice on the issue. The decision was taken on Oct 6, 2020 after a virtual meeting of the Apex Council for Godavari & Krishna river water sharing, which was attended by Telangana chief minister K Chandrasekhar Rao, his AP counterpart Jagan Mohan Reddy, Shekhawat and others.
– Telangana CM threatened to construct a barrage at Alampur-Peddamarur on Krishna river to draw 3 TMC water every day if AP went ahead with RLIP & Pothireddypadu expansion.
– Shekhawat said the Centre will shortly notify the jurisdiction of the management boards for Krishna and Godavari rivers. He said that the Apex Council has the right to grant permission for new projects launched in both states after studying the DPRs and technical feasibility reports. He said that not deciding the jurisdiction of Godavari River Management Board for six-long years after its constitution is creating new troubles. https://timesofindia.indiatimes.com/city/hyderabad/centre-plays-peacemaker-in-telangana-andhra-pradesh-water-row/articleshow/78525462.cms (07 Oct. 2020)
PIB PR on the meeting: With regards to sharing of River waters between both the states in both Godavari and Krishna Rivers, CM of Telangana agreed to withdraw the case they filed in Supreme Court to enable Centre to move forward on referring the water sharing issues to the tribunal under Section-3 of ISRWD Act of 1956, after taking due legal opinion. With regards to sharing of River Godavari waters between both the states, both the states were asked to send in the request to Centre so that Centre can move forward to refer to the tribunal under section-3 of ISWRD Act of 1956. Telangana CM said that he would send the request to Centre in a day. https://pib.gov.in/PressReleaseIframePage.aspx (06 Oct. 2020)
The second meeting of the Apex Council on river water disputes between Telangana and Andhra Pradesh was scheduled for Oct 6, 2020 and it was speculated to be stormy with the former demanding operational control of the Srisailam reservoir. After making it clear that his government will take both Andhra Pradesh and the Union government to task during the meeting, Telangana CM K Chandrasekhar Rao shot off a letter to Union Water Resources Minister Gajendra Singh Shekhawat. https://www.thenewsminute.com/article/water-sharing-row-between-telangana-and-andhra-apex-council-all-set-stormy-meet-134489 (04 Oct. 2020)
RIVERS AS NATIONAL WATER WAYS
Environment and coastal livelihoods sidelined for Inland Waterways project The government claims that the project is "fuel efficient, cost effective and environment friendly mode of transport …" (National Waterways Bill, 2015). However, such claims are neither qualified nor universal, as these 111 waterways will pass through 24 states and two Union Territories (20,274 km) and involve 138 river systems, creeks, estuaries and canal systems and also cut through at least 20 wildlife protected areas. https://www.newsclick.in/Inland-waterways-coastel-livlihood-sidelined-by-Modi (07 Oct. 2020)
URBAN RIVERS
Future Riverkeepers: Mutha River, Pune Photo: Abhay Kanvinde https://www.facebook.com/sandrp.in/posts/3887936141234030
RIVERS BIODIVERSITY
Amazon fish discovery in India sparks concern A research paper, "Occurrence of Ornamental Fishes: A Looming Danger for Inland Fish diversity of India," by S. Sandilyan states that 27 ornamental species were reported in the inland wetlands of India by 2016. Of those, 15 had established a breeding population and had emerged as a threat to native species.
-In the canals of Thiruvananthapuram in Kerala, the native fish population has declined because of the invasion of pterygoplichthys or sailfin armored catfish, a cousin of the suckermouth catfish. The number of fish collected by the cast net ranged from 3 to 27 throughout the study period by Biju Kumar, a faculty member in Aquatic Biology and Fisheries at the University of Kerala, which indicates the dominant biomass of the species. The invasive fish consume the eggs of native species, which leads to the extinction of indigenous varieties.
-As of 2018, of 3,535 species in India's freshwater, brackish and marine waters, 14 percent, or 495, were found to be alien. "Alien established species are mostly found in degraded waters as these are hardy in nature and can survive and flourish in diverse, polluted, altered, regulated, derelict water bodies," said Joshi, scientist at ICAR-NBFGR. https://tntribune.com/discovery-in-india-of-fish-native-to-amazon-sparks-concern-for-indigenous-species/ (02 Oct. 2020)
River Stories: Dolphins and a Doctor Straight out of a Bollywood Script River banks abound. In the living and the nonliving; in the slow and the fast moving; in ever changing views and sounds and in stories plausible, profound and even fantastic. One such story from a riverside village goes thus. In the long ago past, when the river proper flowed distant, with a smaller channel skirting the village, a Banyan tree grew a branch long and sturdy enough to reach the other bank and the villagers started to use it as a bridge. This fact resulted in the village being called 'Ikdala' (ik is one and dala is branch) instead of its previous name, Kanchanpur. At present it is one amongst many villages that dot the meandering and ravine scarred lower reaches of the Yamuna River. It also has a very active Nadi Mitra Mandali (NMM). https://turnslow.com/river-stories-dolphins-and-a-doctor-straight-out-of-a-bollywood-script/ (12 Oct. 2020)
FISH, FISHERIES, FISHERFOLKS
Protest against encroachment in Ganga rivers The Ganga Mukti Andolan (GMA) and Jal Shramik Sangha have been fighting to establish small scale fishing communities' right to sustainably use the fish resources of river Ganga and also to protect those resources and river Ganga. They protested against the illegal encroachments of mafia and landlords on the river Ganga and its tributaries. They raised their voice against Dolphin Sanctuary established without their consent or consultation, which has turned into a ploy to fleece the poor fishers by the forest guards. They objected to the Farakka Dam that severely affected the ecology and flow of the river Ganga. They also opposed use of mosquito and cloth nets to save juvenile fish. They demand that the Ganga and its tributaries should be free of encroachment and the fisher folk should get their free fishing rights. https://dc.icsf.net/en/component/dcnews/articledetail/17369.html
Small Scale Fishers Ask Centre Not to Back Curbs on Subsidies in WTO Negotiations A national group of small fish workers said that fisheries subsidies cannot and should not be determined or disciplined on consideration of international trade. https://www.newsclick.in/small-scale-fishers-centre-back-curbs-subsidies-WTO-negotiations (06 Oct. 2020)
Tamil Nadu NGT to see if Thamirabarani check dam have nod A check dam is being constructed at the mouth of river Thamirabarani, affecting ecosystems, fisheries and water supply. Fisherfolk go to NGT. http://timesofindia.indiatimes.com/articleshow/78609454.cms (12 Oct. 2020)
Kerala Newly-discovered Gollum snakehead fish may have lived alongside dinosaurs With its long, scaly body and delicate, veil-like fins, the Gollum snakehead captured quite some attention when discovered last year in south India. Now, scientists have found that it is genetically distinct from other snakehead fish worldwide and sports so many unique features that it warrants its very own family, Aenigmachannidae.
This new family is also ancient. It possibly evolved at least 109 million years ago (when the last dinosaurs still roamed the world), after the Indian plate drifted away from the supercontinent of Gondwana. The Gollum snakehead could well be a living fossil.
The recognition of Aenigmachannidae as a new family of bony fishes comes six years after the description of Kryptoglanidae, another unique family of freshwater fish endemic to Kerala, said Raghavan. "The presence of two unique endemic families of freshwater fishes in Kerala is unparalleled, and indicates the exceptional diversity and endemicity of fishes in this part of the world." https://scroll.in/article/975290/the-newly-discovered-gollum-snakehead-fish-from-kerala-may-have-lived-alongside-dinosaurs (11 Oct. 2020)
SAND MINING
Haryana Haryana govt is investing money in reviving lost Saraswati river but destroying LIVING Yamuna by allowing unsustainable riverbed mining at unprecedented scale. https://www.facebook.com/watch/live/?v=663954934551040&ref=watch_permalink (2 Oct 2020)
The second part of the report https://www.facebook.com/watch/?v=825340658229725 (07 Oct. 2020)
Villagers flag fresh mining violations across Yamuna Residents of Yamunanagar's Kanalsi village said that mining contractors are constructing illegal bunds across the Yamuna, in blatant violation of environmental norms, so as to reach the riverbed to carry out sand excavation. This even as the NGT has formed a joint committee under the Central Pollution Control Board (CPCB) after receiving similar complaints of illegal mining activities in July this year. Pictures and videos released by river activists and residents of the village show contractors using heavy machines and trucks to carry out mining in the flowing river.
When contacted, Bhim Singh Rawat, of SANDRP, said, "The pictures from the site are extremely shocking. Contractors are violating several norms by carrying out midstream mining, constructing a bund (partial), plying heavy vehicles inside active current and deploying heavy machines in the river channel. They also did not install closed-circuit television cameras at the mining site, which is mandatory." "These activities will have an adverse impact on the aquatic biodiversity and also destabilise the river banks, leading to erosion," he said. https://www.hindustantimes.com/cities/locals-in-haryana-s-kanalsi-village-flag-fresh-mining-violations-across-yamuna/story-IR4R5DsHXxruLrvMw7tx4K.html (11 Oct. 2020)
To conduct verification of sites of all operational mines in Yamunanagar district, DC Mukul Kumar, on Oct 9, 2020, formed a team in view of the orders dated September 30, 2020, issued by the Appellate Authority Haryana under the Water (Prevention and Control of Pollution), Act, 1974 and Air (Prevention and Control of Pollution) Act, 1981. It is chaired by ACS Dheera Khandelwal of Department of Environment and Climate Change. The team will have to submit its report positively before Oct 16, the DC's order stated. https://timesofindia.indiatimes.com/city/chandigarh/green-activists-flag-over-exploitation-of-yamuna-riverbed/articleshow/78582877.cms (10 Oct. 2020)
The upper Yamuna basin has been monsoon deficit by -33% in 2019 and by -29% in 2020. The river has been already extensively mined and the exploited reserve has not been replenished. https://timesofindia.indiatimes.com/city/chandigarh/Yamuna-activists-irked-due-to-alleged-exploitation-of-natural-resources-from-monsoon-deficit-river/articleshow/78572731.cms (9 Oct 2020)
A video report. https://timesofindia.indiatimes.com/videos/city/chandigarh/exploitation-of-natural-resources-from-yamuna-river-continues-in-haryanas-yamunanagar-complaint-filed/videoshow/78576405.cms (9 Oct. 2020)
यमुना की धारा को फिर बदलने की कोशिश की जा रही है। माइनिंग कंपनी ने नदी के बीचों-बीच अस्थायी बांध बना दिया है। विभाग ने इस संबंध में माइनिंग कंपनी के खिलाफ मुकदमा दर्ज कराया है। पिछले साल इस तरह के 12 मुकदमे दर्ज करवाए गए थे जिनमें में से ज्यादातर में कार्रवाई लंबित है।
एक बार फिर यमुना की प्राकृतिक जलधारा को प्रभावित किया जा रहा है। माइनिंग कंपनियों के कर्मचारी यमुना के बीचों-बीच अपनी सहूलियत के लिए अवैध बांध बना देते हैं। इससे यमुना की जलधारा प्रभावित होती है और उसका खामियाजा आसपास के इलाकों के किसानों को भुगतना पड़ता है। यमुना की जलधारा प्रभावित होने से भूमि कटाव बढ़ता है और किसानों की करोड़ों की फसलें भी यमुना में समा जाती है। पिछले साल यमुनानगर जिला के अलग-अलग इलाकों में माइनिंग कंपनियों ने ऐसे 12 अवैध बांध बनाए थे। जिस पर सिंचाई विभाग ने उनके खिलाफ मुकदमे दर्ज करवाए थे। जिनमें से ज्यादातर में कार्रवाई लंबित है और कुछ मामले बंद कर दिए गए।
अब यमुना की जलधारा को फिर से प्रभावित किए जाने की सूचनाओं के बाद सिंचाई विभाग के अधिकारियों ने यमुना के इलाकों का दौरा किया। उन्होंने पाया कि माइनिंग कंपनियों के कर्मचारियों ने फिर से यह प्रयास किया है। इस संबंध में सिंचाई विभाग ने एक मुकदमा दर्ज करवाया है। https://www.dainiktribuneonline.com/news/haryana/try-to-change-yamuna39s-stream-again-10372; https://haryana.punjabkesari.in/yamunanagar/news/tweeted-to-cm-and-deputy-commissioner-about-illegal-mining-in-yamuna-1257868 (09 Oct. 2020)
Goa Lokayukta leaves a dejected man: Might as well abolish post -One of Misra's strongest reports was one in which he found former Chief Minister Laxmikant Parsekar, former Secretary of Mines Pawan Kumar Sain, and Prasanna Acharya, Director of Mines and Geology "guilty of abuse of power". They had "hastily cleared", without the mandatory checks, 31 files on January 12, 2015, the same day that an Ordinance which made lease available only by auction, was taking effect. https://indianexpress.com/article/india/goa-lokayukta-justice-prafulla-kumar-misra-6704552/ (07 Oct. 2020)
Tamil Nadu Man fined Rs 9.6cr for illegal sand mining The state government on Sept. 24 informed Madras high court that a fine of Rs 9.57 crore was imposed on a person who was involved in illegal sand mining in Tirunelveli district. The court was hearing PIL filed by B Sivasankar who sought a direction to restrain a person from undertaking illegal sand mining activities at Therku Kallidaikuruchi village in the district.
A division bench of Justices M Sathyanarayanan and P Rajamanickam observed that the collector's status report reveals that rampant illegal sand mining was done by the man. Had the officials carried out regular inspections, such kinds of incidents could have been prevented. The judges observed that the collector undertakes to put in place an effective monitoring mechanism to prevent such illegal activities in future. Since these kinds of cases are repeatedly filed, the assistance of additional advocate general M Sricharan Rangarajan is required in cases of similar nature.
Dispensing with the appearance of the collector and SP, the judges directed the collector to file a further status report on the progress in penalty and confiscation proceedings initiated in the case, which was adjourned to November 4 for further hearing. https://timesofindia.indiatimes.com/city/madurai/man-fined-rs-9-6cr-for-illegal-sand-mining/articleshow/78304117.cms (25 Sept. 2020)
Maharashtra Anti-sand mining raids net items worth Rs 8 cr The raids were carried out in Khardi & Khanivade villages, and 230 boats, 152 suction pumps, an earth mover and 1,650 brass of sand (a brass is 100 cubic foot of sand), all cumulatively worth Rs 7.90 crore, were seized, though those involved at the site managed to flee, Palghar police PRO Sachin Navadkar said on Sept 27. Each brass of sand has a market value of Rs 9,789. Virar police station has registered a case of theft under IPC. https://www.outlookindia.com/newsscroll/maha-antisand-mining-raids-net-items-worth-rs-8cr-in-palghar/1944068 (27 Sept. 2020)
Gujarat Sand mining racket busted, 31 booked An illegal sand mining racket was busted in Morsal village of Sayla taluka in Surendranagar on Thursday (Oct. 8). Surendranagar local crime branch (LCB) along with the state mines and mineral department seized two earth movers and 16 dumpers worth Rs 3.40 crore and booked 31 persons for the crime. A team of officials from Surendranagar LCB, the state mines and mineral department and Surendranagar regional transport office (RTO) raided the bed of Bhogavo River where the illegal excavation of sand was allegedly under way.
"When we raided the spot, four dumpers drove away from the spot. However, we managed to seize 16 dumpers and two earth movers. The RTO officials had accompanied us as the dumpers involved in the crime had no registration number plates," said Deepak Dhol, inspector with Surendranagar LCB. Those booked included dumper owners and their associates.Also booked were the owners and drivers of the earth movers — Jaga Jograna, Sangram Ratakalia, Bijal Morsal and Ajay Dhoralia. "We are yet to assess the worth of illegally excavated sand. However, it is believed that it may run into crores of Rupees," said an official from the state mines and mineral department. https://timesofindia.indiatimes.com/city/rajkot/sand-mining-racket-busted-31-booked/articleshow/78581294.cms (10 Oct. 2020)
Andhra Pradesh HC issues notices over illegal sand mining to Vemuru MLA The High Court has served notices on Vemuru MLA Meruga Nagarjuna and former MLA of Repalle Devineni Mallikarjuna Rao on a writ petition on illegal sand mining filed by Dalit farmers belonging to Oleru village in Bhattirprolu mandal.
Farmers belonging to Aadi Andhra Tenants Cooperative Society, at Oleru, filed a petition stating that the supporters of the two leaders had been illegally mining huge quantities of sand on the "lanka lands" in the fertile river beds for the last three months. The farmers, represented by Meruga Devadanam and Bussa Suguna Raju, said that they had submitted representation of River Conservator, Vijayawada, State Pollution Control Board, Deputy Director, Mining and Collector, Guntur, but no action had been taken so far.
Oleru village, situated near Repalle, is located downstream of Prakasam Barrage. In 2009, a breach at the sluice gates in the village caused enormous flooding and submerged many villages and Repalle town. Later, the sluice gates were repaired. G Arun Shourie, advocate, who represented the farmers, said that any further sand mining could cause flooding of the villages located on either side of the river, which could severely affect their livelihoods, deplete natural resources & cause displacement. https://www.thehindu.com/news/national/andhra-pradesh/hc-issues-notices-over-illegal-sand-mining-to-vemuru-mla/article32817366.ece (10 Oct 2020)
Opinion Illegal mining killing rivers and people -Efforts till date made by the union ministries of mines as well as environment do not instill confidence that mafia led illegal, indiscriminate and unscientific manner of river bed mining can be controlled simply through announcement of guidelines and frameworks. A quote from the 2020 guidelines is illustrative of the ground realities:
"…..in the recent past, it has been observed that there were a large number of illegal mining cases in the country and in some cases, many of the officers lost their lives while executing their duties for curbing illegal mining incidence. The illegal and uncontrolled mining leads to loss of revenue to the State and degradation of the environment…." https://en.gaonconnection.com/shifting-sands-illegal-riverbed-mining-threatens-environment-and-human-life-while-the-sand-mafia-makes-a-killing/ (06 Oct. 2020)
WETLANDS, LAKES, WATER BODIES
Odisha Fishing cat to be the ambassador of Chilika Lake The fishing cat will be the ambassador of Chilika Lake, the largest brackish water lagoon in Asia and India's oldest Ramsar Site, which is being dubbed as an important step towards conservation of the vulnerable species. The Chilika Development Authority (CDA) designated the fishing cat as ambassador at a meeting held to conclude the ongoing wildlife week.
The fishing cat is the only wild cat species in India that is a wetland specialist, and it's found all around Chilika. Fishing cats are mostly found in marshlands fringing the north and north-eastern sections of the lake, according to a recently concluded study conducted by the Fishing Cat Project (TFCP) and the Indian wing of Fishing Cat Conservation Alliance (FCCA) in collaboration with the CDA. The CDA plans to manage the marshes with a socio-ecological approach involving local stakeholders and ecologists. Estimation of fishing cat population will be done through camera traps in the near future.
"Projecting the fishing cat as the face of the marshlands will raise the profile of the fishing cat and marshland ecosystems globally and nationally, which are otherwise neglected ecosystems. Locally, it will nurture their value among multiple stakeholders in Chilika," said Tiasa Adhya, co-founder of the Fishing Cat Project.
Chilika's marshes receive the maximum freshwater flow from the tributaries of Mahanadi and seasonal rivulets. Analysis of long-term data collected by the CDA shows that this area also has high fish abundance. This is significant given that fish are the lifeline of Chilika, sustaining 2 lakh fishermen families and globally threatened piscivorous mammals like fishing cats, smooth-coated otters and Eurasian otters. https://www.thehindu.com/news/national/other-states/fishing-cat-to-be-the-ambassador-of-chilika-lake/article32809444.ece (09 Oct. 2020)
Jammu & Kashmir A Citizens' Movement to Protect Wetlands The floods brought increased awareness among the people on the need to protect wetlands and other water bodies in Kashmir. Environmental lawyer Nadeem Qadri wanted to capitalise this momentum to protect nature through a grassroots movement. In January this year, the Jammu & Kashmir Eco Watch, a voluntary environment group was created to bring together volunteers like Patloo and Yousuf on to a single platform to take up eco-initiatives to protect the wetlands, forests or lakes in their own neighbourhood.
"We did not want to function like a corporate organisation. Jammu & Kashmir Eco Watch was conceived as a decentralised movement wherein every member is treated equally as a green ambassador." Currently, the group has 25 functioning Eco Watch teams (across 23 districts of J&K and one each in Kargil and Leh). In the last few months, these teams have spurred into action, cleaning various water bodies – from freshwater springs at Verinag, Chatlam wetlands to a cleanliness drive at Kausar Nag at an altitude of 13,000 feet above sea level. Every awareness/cleanliness drive is recorded meticulously in their respective district Facebook pages.
Hydraulic engineering expert Ajaz Rasool who acts as the Chief Technical Advisor of Jammu & Kashmir Eco Watch told Mongabay-India that in the past, they have had individual groups to protect lakes like Dal and Wular. But now, with increased public awareness, more volunteers have joined the Eco Watch in each district.
Apart from conducting regular cleanup drives for the last six months, Eco Watch volunteers have become "green intelligence" — "they are our eyes and ears when it comes to protecting the environment," shares Qadri. Rasool agrees. "There is a sense of empowerment, the volunteers do not allow any mafia to cut trees illegally or throw garbage into our water bodies."
With both technical expertise and legal guidance, the Jammu & Kashmir Eco Watch is marching ahead. However, the crux of this initiative is the participation of local communities in conserving their regional water bodies and wetlands. Yousuf tells us that in the past, farmers traditionally would make a passage (known as Vyen Kadun in Kashmiri) in the peatland to enable the water to flow out to the Jhelum with ease. This kept the water from flooding the neighbouring farms. With urbanisation, this process died out. "I feel that this could have been a good flood mitigation strategy for the peat or wetlands," he said.
Patloo too rues about how the local Hanjis were squarely blamed for the deterioration of Dal lake. "People who were illegally encroaching need to be punished but it is unfair to blame the entire community of lake dwellers. In fact, people depending on the lake for livelihood would harvest the lily pads to feed their livestock and kept weeds in check." Programmes like Eco Watch aim to put the onus back on the local communities to protect their neighbourhood. "We have plans to establish 250 Eco-development committees in different districts to protect the wetlands. We want the local people to be in charge of conservation & management of these unique biodiversity hotspots," says Qadri. https://science.thewire.in/environment/jammu-and-kashmir-wetlands-protection/ (10 Oct 2020)
Tamil Nadu Illegal landfills take life out of Muttukadu backwaters Located about 30km south of Chennai, Muttukadu usually lures boating enthusiasts. Of late, the waterbody has been attracting another kind of visitors — trucks filled with garbage. A total of five unauthorised landfills have cropped-up on the banks of the waterbody between the boathouse and Navalur, where tonnes of solid waste is piling up.
With the northeast monsoon around the corner, all this waste is waiting to enter the waterbody and eventually the Bay of Bengal through Kovalam estuary. As part of a project by the Union Environment Ministry, the Wildlife Institute of India has recognised Muttukadu backwaters as Important Coastal and Marine Biodiversity Areas (ICMBAs) along with 15 other sites in Tamil Nadu including Pulicat, Pichavaram, Vedaranyam swamp, Palk Bay, Muthupet, etc.
When Express visited these areas, the waterbody was found devoid of any considerable aquatic life. The colour of the water near the landfills was black with leachate oozing out into the backwaters. There was a stormwater drain coming from underneath a nearby township, flushing sewage into the waterbody. Ravi Kumar, a fisherman from Kovalam village, who took this reporter to the spot, said they have stopped fishing in Muttukadu due to poor quality of the catch. "The fish, prawns and crabs that are caught here stink like sewer.
The catch has become so unhygienic that we can't sell it. About 10 years back, this backwater was brimming with life. Migratory birds were frequent visitors, but now, their numbers have drastically reduced," he said. The depth of the backwater has also significantly reduced due to heavy siltation and plastic pollution.
The depth of the backwater has also significantly reduced due to heavy siltation and plastic pollution. From the earlier 30 feet, it has dropped to 2-4 feet. Ravi had to carefully navigate the boat because plastic waste in the waterbody would easily entangle motor blades. A discarded plastic cement bag had in fact got caught in the blade while we were returning to shore.
Retired major general Jose Manavalan, a resident of a nearby township, said they have been raising the issue of illegal dumping of solid waste on the banks of Muttukadu backwaters with the district authorities and local panchayat officials for the past two years. "Whenever the complaint is lodged, the authorities will come with JCBs, dig a deep pit and bury the waste underground. After a few weeks, the dumping will start again.
The worrying factor is there is a lot of toxic and contagious bio-medical waste." There are two dumpsites on either side of the township. One on the north, sitting next to a school, and the Navalur crematorium. This was earlier serving as a municipal waste segregation point, but after several complaints the area was vacated. Now again, indiscriminate dumping has started. There is another dumpyard on the southern side which is bigger, with a 14-feet tall garbage pile, a part of which is sitting on the backwater itself. Large green polythene bags were noticed with discarded PPEs.
Stray cattle was seen chewing on gloves probably from a nearby healthcare centre on OMR. Local residents allege that panchayat vehicles from Muttukadu, Navalur and Padur come and dump garbage here regularly. On Saturday (Oct. 10), a garbage truck from Thiruporur town panchayat came and dumped waste. Also, a tanker discharged untreated sewage into the backwater. All of this is captured on camera by the residents and sent to Chengalpattu district authorities.
There are allegations from locals that a township in the area, spread over 100 acres, is releasing sewage into Muttukadu backwaters. A stormwater drain coming from township could be seen discharging the sewage into the backwater. Residents alleged that the sewage treatment plant of the township was not being maintained properly. "We are using the drinking water for flushing our toilets, for which we are paying. There is currently a 1,200 KLD STP plant and it's not operating properly," a resident of the township said seeking anonymity. https://www.newindianexpress.com/states/tamil-nadu/2020/oct/12/another-cooum-in-the-making-illegal-landfills-take-life-out-of-muttukadu-backwaters-2209018.html (12 Oct. 2020)
From Shiv Nadar University: The WSP Certificate Course on Lakes & Wetlands and Water & Ecosystem Services is open for Certificate Students to register. The course will run from 26th October to 20th November 2020. Dr. Rajeswari Raina and Dr. Moumita Karmakar are the Course instructors of this Certificate Module. Includes a robust module on two major freshwater ecosystems (lakes and wetlands) and on how we conceptualize and measure the ecosystem services provided by water and water bodies. There are scholarships available for select candidates. The module will be taught Online.Please apply online: https://applications.snu.edu.in/OnlineAppCert/public/application/register/index
WATER OPTIONS
Karnataka A tank fills up. Prayers are offered. In a semi arid land the years of plenty have a special place in the heart of the village. Some rice , some money, a beating of drums, a tour of the lake and a worship of the sluice gate. Photo credit : Villagers of Hosakere https://www.facebook.com/sandrp.in/posts/3877911102236534
GROUNDWATER
Opinion New guidelines shuns opportunity to address overall crisis The Central Ground Water Authority's (GGWA) latest guideline — banning the grant of no-objection certificates (NoC) for extracting groundwater to all new industries coming up in 'over-exploited' areas — is yet another duplication of previous failed policy regulations. By implication, the new regulatory policy is not pretentious about looking at the problem in totality while targeting a small, insignificant section of the overall groundwater users (existing industries, proposed industries, urban housing societies and mining projects). https://www.downtoearth.org.in/blog/mining/jal-shakti-ministry-s-groundwater-guideline-shuns-opportunity-to-address-overall-crisis-73604 (30 Sept. 2020)
Opinion Managing India's groundwater woes – A prescription for policymakers and the industry KPMG's diagnosis of India's Groundwater problems: In order to achieve groundwater sustainability, it is imperative to address existing challenges. First, perpetual and unlimited groundwater extraction permissions are granted across the board to certain categories without adequate impact assessment and effective checks. Second, growing water-guzzling crops in water stressed/scarce regions in the country by indiscriminately lifting groundwater. Third, power is highly subsidized to the agriculture sector, thus, encouraging indiscriminate lifting of groundwater for agriculture. Fourth, industries are granted exemptions irrespective of the potential long-term negative impact, even in water-stressed areas. Fifth, water tariff often does not reflect the economic value of water. And finally, absence of real-time monitoring mechanism which can ensure the rate of withdrawal is less than the rate of replenishment.
– Prescription: Compliance with these (GOI Gaz Notification in Sept 2020 following NGT directions) would require certain degree of investments and under the current economic scenario, this may look challenging. However, taking a long-term perspective, the industry should take following steps so that it can avoid a sudden surge in regulatory compliance cost in view of a possible water scarce situation in the future. First, industries need to adopt more water efficient technologies. Secondly, industries should focus more on water recycling and reuse projects – both at individual industry as well as industry cluster level. Thirdly, industries should start exploring alternative surface-water based systems.
– For Regulators: (i) develop guidelines and specifications for robust real-time groundwater withdrawal monitoring instruments
(ii) develop a central database and dashboard integrating both industrial unit level ground water withdrawal data and status of ground water level at least in critical and over-exploited areas to begin with
(iii) establish national level guidelines to promote reuse of treated wastewater, and develop/revise state level regulations in alignment with the same
(iv) Operationalize state-level regulations on reuse of treated wastewater by conceptualising and implementing specific reuse and recycle projects. https://energy.economictimes.indiatimes.com/news/renewable/opinion-managing-indias-groundwater-woes-a-prescription-for-policymakers-and-the-industry/78499050 (5 Oct. 2020)
'Groundwater depleting fast in Indus, Ganga and Brahmaputra basins' In this interview Shanti Swarup Prize 2020 winner Abhijit Mukherjee says Indian states with highest groundwater depletion rates were subjected to water-intensive cropping practices. https://www.downtoearth.org.in/interviews/water/-groundwater-depleting-fast-in-indus-ganga-and-brahmaputra-basins–73607 (30 Sept. 2020)
Sundaram Singh on FB post comment Groundwater flooding is also a phenomena happening in Ganga basin. The place jazira mokama situated beside Ganga in Bihar is facing such situation.
URBAN WATER
Delhi Leaning towers of Najafgarh Why construction activity around the southwest Delhi water body is a recipe for disaster. https://www.downtoearth.org.in/blog/water/future-shock-the-leaning-towers-of-najafgarh-jheel-73688 (07 Oct. 2020)
Chandigarh Panel to assess groundwater UT Administrator VP Singh Badnore has constituted an 11-member committee to assess ground water resources of the city. The state-level committee will assess ground water recharge in accordance with the Ground Water Resources Estimation Methodology-2015 and estimate the status of utilisation of the annual extractable ground water resource. The committee will submit its report by February 28 next year. The committee is headed by the Principal Secretary, Local Government, UT. https://www.tribuneindia.com/news/chandigarh/panel-to-assess-ground-water-of-chandigarh-152162 (07 Oct. 2020)
MONSOON 2020
Editorial Reading the rain On Oct 6, 2020, one of India's national newspapers, INDIAN EXPRESS wrote an editorial on monsoon and noted: "The recent southwest monsoon season (June-September) has ended with an 8.7 per cent cumulative rainfall surplus for the country as a whole. This comes after a 10.4 per cent surplus in 2019, making it the first time since 1958 and 1959 that India has recorded two consecutive significantly above-normal monsoons. Moreover, rainfall has been above the long period average in as many as 13 out of the 15 months from July 2019. And it may even prolong, especially with global weather models forecasting the current La Niña conditions, favourable for rains in India, to continue through the winter months." The rest of the editorial goes a bit off tangent discussing the merits of recent farm reforms. https://indianexpress.com/article/opinion/editorials/rainfall-surplus-agricultural-growth-farm-reforms-6702903/ (06 Oct. 2020)
IMD Monsoon withdrawal delayed till Oct 20 The withdrawal of the monsoon this year is likely to be considerably delayed because of the development of consecutive weather systems that will bring widespread and heavy rain to parts of peninsular and western India. This could also have an adverse impact on the harvest of crops in parts of the country, experts said. https://www.hindustantimes.com/india-news/monsoon-withdrawal-delayed-till-october-20-imd/story-ZMMAMZQYdcl2x1rHC9TQvM.html (12 Oct. 2020)
FLOOD 2020
Webinars Living with Rivers and Floods – A Way Forward
Forum for Policy Dialogue on Water Conflicts in India (Water Conflict Forum) is organizing a series of webinar from 10 September- 8 October, 2020 on regular intervals facilitating an interaction between individuals who are intrinsically linked with floods (have experienced floods, undertaken flood related research and advocacy, have raised voices, concerns and mobilized public opinion for better flood management) and an audience that are inquisitive to know about floods in India. https://www.youtube.com/watch?v=QhbmlnievWI&fbclid=IwAR3V1RIg7JS8yuFH9XEjiouxAwlpLrlBX2mH-eBzHg7RrmoNzBxHwda2mY0
Links to the five Webinars by the Water Conflict Forum in webinar series on Critical Engagement with Floods in India.
Webinar 1 – Understanding Rivers, Demystifying Floods – https://youtu.be/ZJHhxR2o3EY
Webinar 2 – Living with Floods – Grassroots Voices – https://youtu.be/FIJAeGoDalI
Webinar 3 – Are All Floods the Same? – https://youtu.be/4n6beiZ2ssw
Webinar 4 – Is Climate Change the Only Villain? – https://youtu.be/LYgz0ldk-Zc
Webinar 5 – Living with Rivers and Floods – A Way Forward – https://www.youtube.com/watch?v=QhbmlnievWI
-Final webinar 'Living with Rivers and Floods – Way Forward' was held on Thursday 8th Oct, 1600-1800 hrs (IST). Please join in the final session to understand the short and long term solutions/ interventions needed to mitigate effects of floods. https://twitter.com/water_conflicts/status/1313366056262610944?s=20
CWC Advice for pre-depletion of Krishna Basin dams in TS, AP The Central Water Commission (CWC) has issued an advisory to several reservoirs in the Krishna Basin in Telangana and Andhra Pradesh for pre-depletion of water with the forecast of heavy inflow following intense rainfall in the catchment areas.
Accordingly, the authorities of Srisailam dam resumed release of water through the spillway by lifting two crest gates for 10-foot height each to allow about 56,000 cusecs of water. In addition, another 27,000 cusecs of water was also being let into the river after power generation in the right bank power house of AP. The spillway discharge at Srisailam was stopped in the early hours of October 6 after the inflows depleted. The reservoir was getting nearly 73,000 cusecs of inflows from Krishna, Tungabhadra and Handri rivers as of Sunday night (8 p.m.).
"The CWC issued an advisory for Narayanpur, Jurala, Srisailam, Musi and Pulichintala projects and also for Prakasam Barrage to take up necessary pre-depletion "in order to flooding in the downstream", irrigation authorities said. Heavy to very heavy rainfall is forecast for north interior Karnataka, Telangana and AP for the next four days and the intensity of rainfall in the catchment areas is expected to get good inflows into the dams starting from Monday, the CWC indicated.
Water storage in all the dams is being maintained at full reservoir level or little below the FRL for the last few days although spillway discharge of flood has been stopped in the early hours of October 4 at Nagarjunasagar and on the night of October 4 at Jurala. https://www.thehindu.com/news/cities/Hyderabad/cwc-advises-for-pre-depletion-of-krishna-basin-dams-in-ts-ap/article32828590.ece (11 Oct. 2020)
West Bengal Rivers swell, flood several Malda blocks Hundreds of families in at least four blocks of Malda district faced inundation as water levels in Mahananda and Tangon rivers, which flow through Malda, are steadily rising. Among these include parts of Englishbazar, Old Malda, Gazole and Chanchal-I blocks. On Oct 3, 2020, Trinamul MP Mausam Noor and district magistrate Rajarshi Mitra took stock of the flood in Gazole. In the Gazole block, the Mahananda river has flooded Alal, Bairgachhi-I & II gram panchayats.
– According to local sources, Bhabanipur, Hossainpur and Chandipur villages under Chanchal-II block are largely inundated. Areas under Mahanandapur gram panchayat in Chanchal-I block have been flooded by the Mahananda. Nearly 200 families are affected, said administrative sources. Also, nearly 500 families in two neighbouring blocks are marooned by the sudden rise of the Mahananda's water level.
– Chaknagar and some other localities have been flooded by the Tangon river. "Nearly 600 families in the block are now battling with flood. The situation has worsened as an embankment collapsed in the block, with the swollen river gushing through the gap.
– The situation is no better in Old Malda. "The Mahananda has spilled over the banks, and flooded urban and rural areas of the block," said Siddhartha Sarkar of Old Malda. Pranab Samanta, executive engineer of the irrigation department, however, sounded hopeful that the situation would improve in the next 72 hours as the Mahananda subsides gradually. https://www.telegraphindia.com/west-bengal/rivers-swell-flood-several-malda-blocks/cid/1793866 (05 Oct. 2020)
Assam Two men cover 400km of flooded Brahmaputra on bamboo raft Rishan Doley, 30, and Shekhar Bordoloi, 26, started from Majuli, the world's largest river island, on September 30 and ended their 8-day-long trip at Umananda, the world's smallest inhabited river island near Guwahati, on October 7, 2020. On a non-motorised bamboo raft. They built a 25 ft long and 17 ft wide raft with 170 bamboo shoots in a week.
– They named the raft Shibuk, a word used by the Mising tribe to describe the loud sound made by the Brahmaputra waters when it enters holes in the earth. To document the trip, Nayan Bordoloi joined the duo as a videographer.
– "Our most memorable experience happened on the fourth day when the raft got stuck in a sandbar in the evening as we were crossing Kaziranga National Park. As elephants and water buffaloes paced on the banks, we used all our strength to move it and continue rafting," recalled Doley. At night, they halted on the banks of the river and set sail in the morning. https://m.hindustantimes.com/cities/two-assam-men-cover-400km-of-flooded-brahmaputra-on-bamboo-raft/story-uscPkhmS7myOmHAqIgOuZM_amp.html (09 Oct. 2020)
Jharkhand Man trapped in moving water for 20 hours -A man who was trapped in the overflowing waters of the Koyel river under Bano Police Station area of this district for more than 20 hours was rescued on Monday (Oct. 5) by a team of NDRF. The man identified as Wilson Maski had gone to catch fish in the river on Sunday evening when the water level was low. Suddenly it started raining heavily in the area due to which the river got flooded and he got trapped. http://www.uniindia.com/man-trapped-in-overflowing-river-for-20-hours-rescued-by-ndrf/east/news/2188270.html (05 Oct. 2020)
Flood most economic loss causing disaster Torrential monsoon rains this year in the world's second most-populous nation have caused rivers to overflow their banks, submerging thousands of villages, killing more than 1,500 people across 13 states and displacing millions. At least 275,000 houses have been fully or partially damaged. There have been floods even in Jaisalmer, a desert district in Rajasthan state that does not normally have much rainfall. Ten per cent of losses due to floods globally happen in India … It's the most economic loss-causing disaster, to the tune of more than 50 per cent. https://www.channelnewsasia.com/news/cnainsider/struggle-suffering-india-climate-change-bites-brutal-floods-13226312 (08 Oct. 2020)
DISASTERS
30 glaciers in Karakoram range have potential to burst Scientists from Dehradun's Wadia Institute of Himalayan Geology (WIHG) have identified 30 glaciers in the Karakoram range in Ladakh and Jammu & Kashmir, where the intensity of glacial lake outbursts is likely to increase. In the last few decades, 146 outburst floods have taken place in the range due to obstruction of rivers passing through the valleys by these advancing glaciers, they said.
WIHG is in the process of identifying the glacial lakes that can burst and creating a mechanism for their regular monitoring. Kalachand Sain, the institute's director, said the scientists have identified many advancing glaciers, which form ice dams due to obstruction of passing rivers in these valleys.
Ice dams are created when ice from upper parts of glaciers fall and block passing rivers, giving rise to glacial lakes, which lead to glacial lake outburst floods. Ice dammed lakes are different from moraine dam glacial lakes (one of them led to burst during the Kedarnath flash flood in 2013). Moraine dam glacial lakes are formed due to the retreating of glaciers, which leave behind soil and rocks and lead to an increase in capacity of a lake, making it prone to bursting.
"These ice dam lakes pose a threat of bursting anytime because as melted water and debris from glaciers get accumulated in mountain depressions or valleys, then the lakes will have more water than their capacity. This, in turn, can break walls of lakes and when they suddenly get released downstream, they can create flash-floods," said Sain. https://www.hindustantimes.com/dehradun/30-glacier-lakes-in-karakoram-range-in-ladakh-j-k-have-potential-to-burst-scientists/story-SjvW30KlsnTyBzN4eYUjCP.html (07 Oct. 2020)
LANDSLIDES
India's Landslides Among World's Deadliest, Humans Are Responsible More Often Not just the recent landslides in Kerala's Idukki that killed nearly 70 people and destroyed hundreds of households belonging to tea and coffee plantation workers, India has always grappled with the long lasting effects of landslides, a detailed report by IndiaSpend has found. The report cites figures from the National Crime Records Bureau's 2019 'Accidental Deaths and Suicides in India' report, which notes that the Himalayas and Western Ghats are particularly vulnerable, making up about 65% of the landslides that led to the deaths of 264 people. https://science.thewire.in/environment/landslides-death-idukki-seismic-zones/ (04 Oct. 2020)
ENERGY
Kerala Floating Solar panels will be set up at the Idukki reservoir to produce 125 mw A large surface area of water in Anchuruli (100 MW) and Cheruthoni (25 MW) areas of the dam where direct sunlight is available at the Idukki reservoir where direct sunlight is available is conducive for floating solar panels, according to a feasibility study by the National Thermal Power Corporation (NTPC) at Idukki reservoir. After two years, another 200MW project would be installed. A forest clearance will be required for this. https://energy.economictimes.indiatimes.com/news/renewable/floatingsolar-panels-will-be-set-up-at-the-idukki-reservoir-to-produce-125-mw/78545178 (08 Oct. 2020)
Industry Spot power trading volumes jump 45% in September The spot electricity market at the Indian Energy Exchange (IEX) traded a volume of 5,675 Million Units (MUs) in September 2020, an increase of 45 per cent over the same month last year. This comes at a time the national peak demand in the same period saw a 2 per cent increase. "The day-ahead market cleared volume of 4781 MU during the month. The market continued to witness high sell side liquidity with the total sell bids at 9669 MU being more than twice of the cleared volume," IEX said. With robust sell side liquidity, the average market clearing price at Rs 2.69 per unit saw a decline of 3 per cent on a Year-on-Year basis over Rs 2.77 per unit in September 2019, helping both the distribution utilities and industries to accrue significant financial savings. https://energy.economictimes.indiatimes.com/news/power/spot-power-trading-volumes-jump-45-per-cent-in-september/78494787 (05 Oct. 2020)
ENVIRONMENT
Kerala Concerns over proposed road tunnel beneath Western Ghats -The Forest Department has identified the proposed route as a highly sensitive patch comprising evergreen and semi-evergreen forests, marsh lands and shola tracts. This region is part of an elephant corridor spread between Wayanad and Nilgiri Hills in Tamil Nadu. Two major rivers, Chaliyar and Kabani that flows to Karnataka, originate from these hills in Wayanad.
Eruvazhanjipuzha, a tributary of Chaliyar and the lifeline of settlements in Malappuram and Kozhikode, begins in the other side of the hills. The region, known for torrential rain during monsoon, has witnessed several landslides, including in 2019 at Kavalappura near Nilambur and at Puthumala, Meppadi in Wayanad. https://indianexpress.com/article/explained/explained-a-proposed-road-tunnel-beneath-western-ghats-purpose-concerns-6705812/ (07 Oct. 2020)
Environmental groups have questioned why the tunnel project was launched by the government, without a Financial Feasibility study, an Environmental Impact Assessment (EIA) and a Sociological Impact Assessment. All these studies should have been conducted in the first place, they point out.
"The project construction is announced with no economic and environmental feasibility studies done. The government said that a technical feasibility study for the tunnel was done. However, such a report is not available in the public domain,' says Kochi-based lawyer and environmental activist Harish Vasudevan.
The Wayanad Prakruthi Samrakshana Samiti noted that the tunnel will pass through the Chembramala-Vellarimala camel hub complex, which is highly ecologically sensitive. It is also where the river Chaliyar river originates and is rich in biodiversity. The area also records five fold of the average rainfall received in Wayanad and sees frequent landslides. Notable, the camel hump complex is also the main habitat of the Banasura Laughingthrush or Banasura Chilappan, among the most endangered bird species in the country. https://www.thenewsminute.com/article/kerala-tunnel-project-environmentalists-ask-where-feasibility-study-and-eia-134951 (09 Oct. 2020)
Maharashtra 800 Acres Of Mumbai's Aarey Declared Forest, Metro Car Shed To Be Shifted The proposed car shed in Aarey had led to a bitter row in September and October last year between environmental activists and the then BJP-ruled Maharashtra government, which wanted to cut down 2,700 trees to build the shed.
The CM also directed the withdrawal of all police cases filed against Aarey protesters – a move that was announced in December last year as well. The cases relate to those filed against people who tried to stop the authorities from cutting down the trees. https://www.ndtv.com/mumbai-news/controversial-metro-carshed-to-be-shifted-from-mumbai-aarey-2308421 (11 Oct. 2020)
Mumbai records most environmental offences among major cities for second consecutive year Its a case of not where more offences are happening, but where most offences are registered. https://www.hindustantimes.com/environment/mumbai-records-most-environmental-offences-among-major-cities-for-second-consecutive-year/story-zebQ9RypEZZ5AFdoGiFmFJ.html (01 Oct. 2020)
CLIMATE CHANGE
Study Climate change driving butterflies, moths higher up Himalayas The Himalayas are home to more than 35 per cent of Lepidoptera — the order of insects that includes butterflies and moths – species found in India.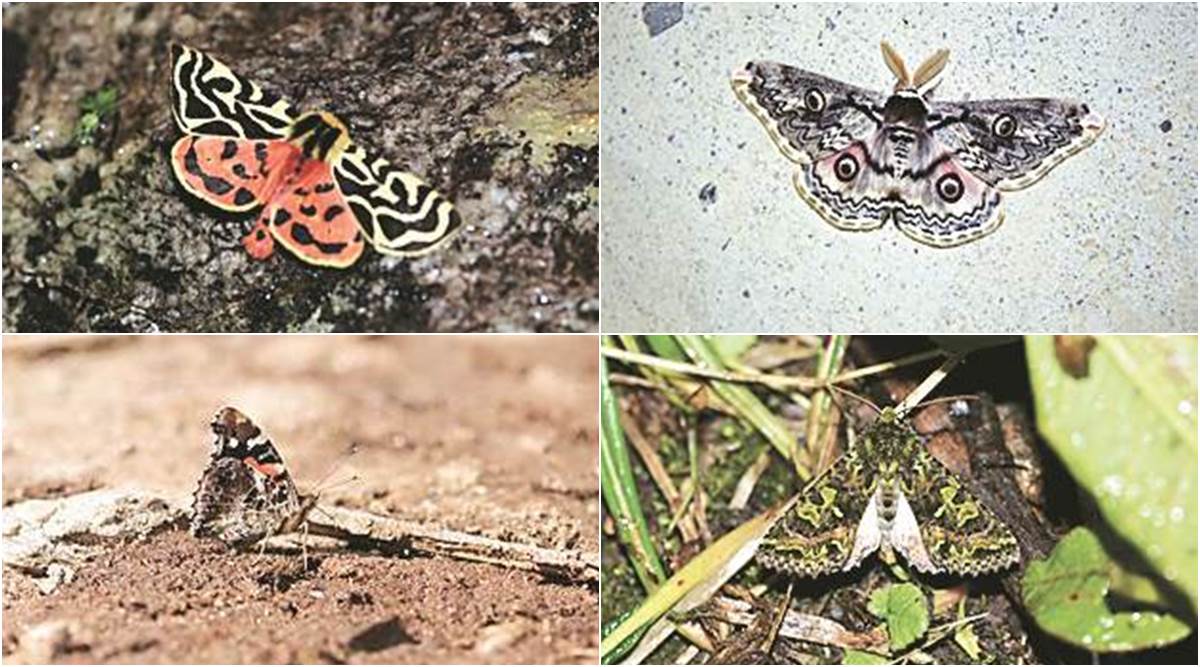 The survey, funded by the Ministry of Environment, Forest and Climate Change and carried out by the Zoological Survey of India (ZSI), identified at least 49 species of moth and 17 species of butterfly that have shown "considerable new upward altitude records", with a difference of more than 1,000 metres between their current and previously recorded mean habitat altitudes. Receding ice caps and glaciers leading to a scarcity of water in the Himalayas has been a major reason for the altitudinal shift of the Lepidoptera. https://indianexpress.com/article/india/climate-change-himalayas-butterflies-moths-study-6721348/ (12 Oct. 2020)
SOUTH ASIA
India-Nepal Govt undecided as Indian company fails to manage funds for Upper Karnali Hydro Project It has been around 13 years since the government assigned India's GMR Group to construct the Upper Karnali Hydropower Project. However, the company is yet to manage funds for the project. Further, the government is not decided about the future of the project. Dharmendra Mishra, the spokesperson for the Investment Board of Nepal, the extended deadline given to the company for the financial closure expired in 2018.
– Until last year, the company was claiming the funds would be collected after signing a power purchase agreement with the Bangladeshi gov for the export of 500 MW power. In Oct 2019, the company had said preparations to sign the PPA were at the last stage. But now, the company says the Covid-19 pandemic has affected the project as well as preparations to sign the agreement with Bangladesh. https://english.onlinekhabar.com/govt-undecided-as-indian-company-fails-to-manage-funds-for-upper-karnali-hydro-project.html (06 Oct. 2020)
Nepal Protest against hydel Locals have launched a stir against Tanahun Hydro Power Project saying that the project at Jhaputar of Rishing Rural Municipality had failed to meet their demands. The agitators submitted a 35-point demand on Wednesday. Their demands include management of water from Turture khola, construction of playground according to the agreement signed with Sino Hydro Company, upgradation of local roads and compensation for felling trees, among others. https://thehimalayantimes.com/nepal/stir-against-tanahun-hydro-power-project/ (08 Oct. 2020)
Why more women die in natural disaster The conclusion is that "Women bear the brunt of most disasters like floods, earthquakes and landslides in Nepal because the countryside has been 'feminised' by the outmigration of men. And it is the women who tend to be inside the house more often than men". In addition, "women have less access to information and seldom participate in disaster learning skills. Socio-cultural perceptions of sexuality and traditional beliefs about gender responsibility also put women at greater risk in disasters." https://www.nepalitimes.com/here-now/why-more-women-die-in-nepals-natural-disasters/ (05 Oct. 2020)
Pakistan Remember horror of Oct. 8 earthquake Fifteen years back, at 8:50 am local time on Oct 8, 2005, an earthquake of magnitude 7.6 struck the Himalayan region of northern Pakistan and Kashmir. Its epicentre was located approximately nine kilometres northeast of the city of Muzaffarabad in PoK, leaving 100,000 dead and 38,000 injured besides rendering over 3.5 million homeless. In addition, approximately 250,000 farm animals died due to collapse of stone barns. Over 780,000 buildings were either destroyed or damaged beyond repair, and many more were rendered unusable for extended periods of time. Out of these, approximately 17,000 school buildings and most major hospitals close to the epicentre were destroyed or severely damaged. https://www.thenews.com.pk/print/726792-15-years-on-pakistan-remembers-horror-of-oct-8-earthquake
Bangladesh This hilsa season good, but only for trawlers heading to sea ""Almost eighty per cent of the hilsa that has come in is from the deep sea. Those fishing in the river have caught very little," Ershad Faraji, president, Bhola District Small Fishermen's Association, told Gaon Connection. Also, the number of fishers heading to the sea has increased every year, but the catch has not kept pace. So, the share of hilsa per fisher has come down drastically, he added.
The rivers Meghna, Tentulia and Baleshwar have not seen much hilsa. Even the much-feted Poddar ilish (the river Padma is called Poddar), which commands a premium, is in short supply. https://en.gaonconnection.com/troubled-waters-this-hilsa-season-in-bangladesh-has-been-good-but-only-for-trawlers-heading-to-the-sea/ (10 Oct. 2020)
Myanmar Ailing Ayeyarwady Myanmar is the home to the few long free flowing rivers in Asia, which support livelihoods, ecology and culture. These are under threat of hydropower development. An interesting report about the Ailing Ayerawaddy River. https://www.mmtimes.com/news/ailing-ayeyarwady.html (11 Oct. 2020)
Opinion Room for the river: Mitigating flood risk in South and Southeast Asia Sayanangshu Modak Land use on floodplains needs better regulation so that rivers have space to flood and contribute ecosystem services.
Embankments continue to be built to supposedly protect villages and farms. They are also policymakers' preferred means of protecting the many structures coming up in floodplains in and around cities, in contravention of various rules.
Floodplains have become sites of large-scale human intervention due to the economic advantages they provide, such as a level surface with a rich layer of earth, access to a freshwater source, easy navigation and so on. Once the interventions occur, the high density of population and economic interests lead to the protection of these interventions rather than of the floodplains. But vulnerability to flood damage has increased manifold as a result.
A flood-resilient future can be reached only by providing rivers with adequate room to carry out their ecological processes, while ensuring that the practices in the floodplains are flood-tolerant. A strong will and the spirit of collaboration is essential between countries sharing a river basin because floodwaters are not restricted by political boundaries, just as they do not care about human imprudence. https://www.thethirdpole.net/2020/10/08/room-for-the-river-mitigating-flood-risk-in-south-and-southeast-asia/ (08 Oct. 2020)
THE REST OF THE WORLD
Research What sets river width ABSTRACT "What determines the width of rivers?" While myriad environmental and geological factors have been proposed to control alluvial river size, no accepted theory exists to explain this fundamental characteristic of river systems. We combine analysis of a global dataset with a field study to support a simple hypothesis: River geometry adjusts to the threshold fluid entrainment stress of the most resistant material lining the channel. In addition, we demonstrate how changes in bank strength dictate planform morphology by exerting strong control on channel width. Our findings greatly extend the applicability of threshold channel theory, which was originally developed to explain straight gravel-bedded rivers with uniform grain size and stable banks. The parsimonious threshold-limiting channel model describes the average hydraulic state of natural rivers across a wide range of conditions and may find use in river management, stratigraphy, and planetary science. https://advances.sciencemag.org/content/6/41/eabc1505/tab-pdf (07 Oct. 2020)
Research Accelerated river avulsion frequency on lowland deltas due to sea-level rise SIGNIFICANCE: The paper (Paid access) shows that modern rates of relative sea-level rise should cause avulsions to occur more frequently on deltas, and in extreme cases avulsion locations will shift farther inland. Our results provide a quantitative framework to predict delta response to future sea-level rise, which is valuable for planning engineered diversions to nourish deltas and prevent catastrophic hazards.
ABSTRACT: Sea-level rise, subsidence, and reduced fluvial sediment supply are causing river deltas to drown worldwide, affecting ecosystems and billions of people. Abrupt changes in river course, called avulsions, naturally nourish sinking land with sediment; however, they also create catastrophic flood hazards. Existing observations and models conflict on whether the occurrence of avulsions will change due to relative sea-level rise, hampering the ability to forecast delta response to global climate change. Here, we combined theory, numerical modeling, and field observations to develop a mechanistic framework to predict avulsion frequency on deltas with multiple self-formed lobes that scale with backwater hydrodynamics. Results show that avulsion frequency is controlled by the competition between relative sea-level rise and sediment supply that drives lobe progradation. We find that most large deltas are experiencing sufficiently low progradation rates such that relative sea-level rise enhances aggradation rates—accelerating avulsion frequency and associated hazards compared to preindustrial conditions. Some deltas may face even greater risk; if relative sea-level rise significantly outpaces sediment supply, then avulsion frequency is maximized, delta plains drown, and avulsion locations shift inland, posing new hazards to upstream communities. Results indicate that managed deltas can support more frequent engineered avulsions to recover sinking land; however, there is a threshold beyond which coastal land will be lost, and mitigation efforts should shift upstream. https://www.pnas.org/content/117/30/17584 (July 2020)
A report about this paper: Recently, UC Santa Barbara geomorphologist Vamsi Ganti and his collaborators published a study finding that sea level rise will cause rivers to jump course, or avulse, more often on deltas than in the past. Now his team has discovered that a perfect storm of factors — including larger floods and finer sediment size — will enable these destructive events to occur farther and farther inland. Their results, which appear in Geophysical Research Letters, warn of major disasters poised to hit many urban centers that historically never had to worry about these issues.
– On large, relatively flat rivers, avulsions tend to occur in the backwater region, Ganti explained. "This is the zone over which the river flow feels the effect of the sea level." This region begins at the river mouth and can extend relatively far inland. For instance, the Mississippi River's backwater reach stretches 500 kilometers from the coast.
– Combining the data with the satellite imagery led to a surprising conclusion. The avulsions weren't occurring anywhere near the rivers' backwater zones. "[Instead, they were] about 20 times [farther] upstream," Brooke recalled, "way outside of where we'd expect them to be based on […models] using simple backwater scale." The researchers realized they had to update their models of where avulsions occur on deltas.
– If floods are shorter than the time the river takes to adjust, then erosion and deposition are limited to the backwater zone. However, if floods last longer than it takes the river to adjust, erosion during floods can travel far upstream of the river mouth, which makes it possible for the river to avulse much farther inland.
– This could lead to an increasing trend of homes, lives and livelihoods lost due to extreme flooding, likely in locations that never had to deal with these hazards historically. https://yubanet.com/scitech/heading-upriver-rivers-may-begin-jumping-course-much-farther-in-the-coming-years/ (30 Sept. 2020)
Study Colorado river's water supply is predictable owing to long-term ocean memory A team of scientists at Utah State University has developed a new tool to forecast drought and water flow in the Colorado River several years in advance. Although the river's headwaters are in landlocked Wyoming and Colorado, water levels are linked to sea surface temperatures in parts of the Pacific and Atlantic oceans and the water's long-term ocean memory. The group's paper, "Colorado River water supply is predictable on multi-year timescales owning to long-term ocean memory" was published October 9 by Communications Earth and Environment, an open-access journal from Nature Research.
The Colorado River is the most important water resource in the semi-arid western United States and faces growing demand from users in California, Arizona, New Mexico, Colorado and Utah. Because water shortages in the Colorado River impact energy production, food and drinking water security, forestry and tourism, tools to predict drought and low water levels could inform management decisions that affect millions of people.
Current drought forecasts focus on short-term indicators which limits their usefulness because short-term weather phenomena have too great an influence on the models.
"This new approach is robust and means that water managers, for the first time, have a tool to better estimate water supply in the Colorado River for the future," Robert Gillies, professor in USU's Department of Plants, Soils and Climate (PSC) and director of the Utah Climate Center, said. "The model can be run iteratively so every year a new forecast for the next three years can be created."
In addition to ocean memory, water flows are impacted by land systems–including soils, groundwater, vegetation, and perennial snowpack–which play important roles in tempering the effects of short-term precipitation events. The researchers hypothesized that multi-year predictions could be achieved by using long-term ocean memory and associated atmospheric effects and the filtering effects of land systems. https://www.tunisiesoir.com/science/climate-change-the-colorado-rivers-water-supply-is-predictable-owing-to-long-term-ocean-memory-24737-2020/ (24 July 2020)
Europe Strom Alex: Deadly flash floods hit France, Italy Nice in SE France and its surrounding area saw almost a year's rainfall in less than 12 hours over the weekend. Storm Alex, which brought fierce winds and torrential rain, then moved into northern Italy where record rainfall has also been seen.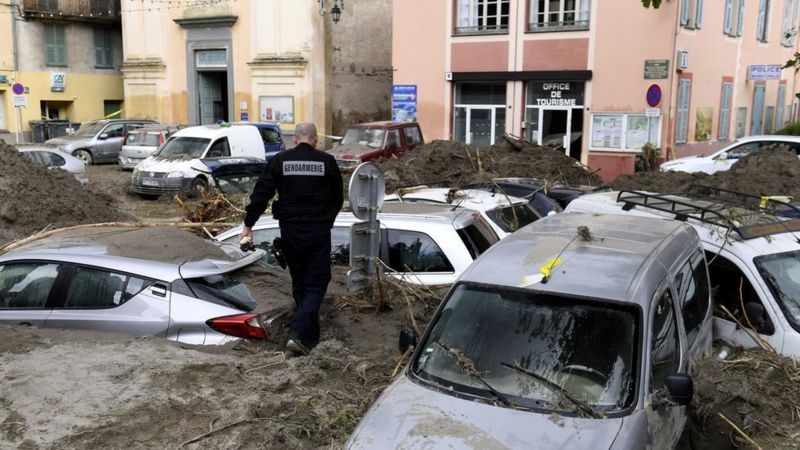 Seven people (4 in France, 3 in Italy) are confirmed dead and 20 missing in what is being described as worst ever mountain floods. Flooding in north-western Italy was described by officials as "historic". The Piedmont region saw levels of rain not recorded since 1958, with one village hit by a record 630mm (24.8ins) of rain in just 24 hours. https://www.bbc.com/news/world-europe-54417223 (06 Oct. 2020)
USA Nevada dam changes give rare trout new life 115 years later U.S. and tribal officials are celebrating completion of a $34 million fish bypass system at a Nevada dam that will allow a threatened trout species to return to some of its native spawning grounds for the first time in more than a century.
Construction of the side channel with fish-friendly screens is a major step toward someday enabling Lahontan cutthroat trout to make the same 100-mile journey — upstream from a desert lake on tribal land northeast of Reno to Lake Tahoe atop the Sierra — that they did before the dam was built in 1905.
The U.S. Bureau of Reclamation began reconfiguring the dam just a year ago in partnership with the USFWS, Pyramid Lake Paiute Tribe and Farmers Conservation Alliance, a nonprofit group that developed the screens. Brenda Burman, head of the bureau, said the quick work combined the alliance's innovative technology with the service's biological experience and the bureau's engineering and construction expertise. https://www.sltrib.com/news/environment/2020/10/05/nevada-dam-changes-give/ (05 Oct. 2020)
EPM's Hidroituango: New Report By Independent Geological Engineering Expert Challenges Existing Narrative With the recent disclosure of the second root cause report by the Hidroituango Hydroelectric project's insurers a critical review of the insurer's and reinsurer's report as well as the first report prepared for the project client has been carried out by an independent hydroelectric tunnel consultant who has not been involved with the project.
– In April 2018 the largest insurable loss in construction history occurred with the collapse of the Auxiliary Diversion Tunnel (ADT) of the $4 Billion USD 2400 MW Ituango Hydroelectric Project in Colombia. After 2 years of ongoing various technical and legal investigations many questions continue to await answers from EPM, it's shareholder the city of Medellín, design & construction contractors, and all parties involved with the project.
– The occurrence of the collapse of the ADT is a very unfortunate situation and highlights the importance of both risk management throughout the life of a project as per the recommendations of the International Tunnel Insurers Group. A preliminary key lesson learned is that the design of diversion tunnels that represent a critical component, especially for major hydroelectric projects, must be compatible with and respect the anticipated hydraulic conditions including annual intense precipitation to function safely during the entire diversion period. If adverse geotechnical conditions are realized during construction, then it is necessary to include special procedures for excavation and methods to achieve acceptable stability for the installation of the final lining. The typical industry practice comprises the design of fully concrete lined tunnels with control gates. https://www.financecolombia.com/epms-hidroituango-new-report-by-independent-geological-engineering-expert-challenges-existing-narrative/ (05 Oct. 2020)
Father and son who were swept into the river when Cleveland Dam opened are identified Sudden, without any warning release of water into the Capilano River when water was released from the Cleveland Dam in Canada on Oct 1, 2020 leads to death of two persons (one body found, another missing) and sweeping away of four people, two were self rescued and two by fire dept. An investigation has been started by the Metro Vancouver officials to find out how this happened. "My understanding is that there is no alarm on the dam that is a public address-type system for people near the dam," Jerry Dobrovolny, commissioner of the Metro Vancouver regional district, said in a news conference. https://globalnews.ca/news/7383984/cleveland-dam-capilano-river-victims-identified/ (7 Oct. 2020)
Lafayette river gets Oyster castles fit for Bivalve royalty The Lafayette River is now home to 500 beautiful underwater castles. No, not that kind of castle: These concrete "castles" are made for oysters, not mermaids, to live in as part of the large-scale oyster restoration efforts on the Lafayette River. The Elizabeth River Project and Naval Support Activity (NSA) Hampton Roads worked together to install the castles along the shoreline at the Navy's Lafayette River Annex in Norfolk last week.
Oyster castles are interlocking concrete blocks that mimic oyster reefs by offering a hard surface for spat (baby oysters) to attach to. Once placed in the water, castles also reduce erosion and preserve the shoreline while the oysters clean and filter the water. https://chesapeakebaymagazine.com/lafayette-river-gets-oyster-castles-fit-for-clean-water-royalty/ (21 July 2020)
National water information system A fantastic resource mapping all the springs, which bring forth the groundwater from USGS. Something we can and should definitely work on. https://maps.waterdata.usgs.gov/mapper/index.html
To protect future water supplies; take care of nature Survey about Expert Opinions on our shared water future. "In terms of the strategies that related specifically to drought resilience, flood resilience, or resilience in freshwater systems, we found the following trends. In the context of drought resilience, diversifying water supply sources was rated the highest in terms of importance, while expanding water supply schemes was the lowest rated strategy overall . This shows that a larger proportion of people rated water supply expansion (such as building new dams, etc.) as "not at all important" for building resilience to drought. With water recycling and switching to less water-intensive livelihoods rated second and third, respectively, we suspect that "drought resilience" for many of the survey participants was more aligned with the notion of living within the limits of available water resources. Demand management, as opposed to supply-side expansion, thus appears to be more heavily favored for increasing resilience to drought. https://www.ecologyandsociety.org/vol24/iss4/art28/ ; https://ensia.com/notable/water-security-resilience-infrastructure/ (31 Dec. 2019)
Delaware river index Delaware River is USA's River of the Year for 2020. From a stinking, polluted river, Delaware today has the longest mainstem protected for any river in the US. It also provides water to millions, supports commerce and transport, but is protected by many hands and hearts. This fantastic video shows the water quality stats for the entire river, from its origin to the Bay. https://vimeo.com/249006587
Nigeria Farmers are putting the responsibility for the floods a month back in this part of Nigeria on the doorstep of managers of two dams in the region owned by the federal govt: Goranyo and Bakolori, who released the waters in their dams unexpectedly, without warning. The released water overflowed the nearby River Rima and flooded the whole of the rice planes in the area. Lawyers plan to sue the federal govt for their negligence.
– According to a source, the flood swept across six local governments, notably Bagudo, Birnin Kebbi and Argungu; submerging even the globally-renowned Argungu fishing river and ravaging over 50,000 farms, covering over 450,000 kilometres. Not to forget, the flood also submerged houses; rendering thousands homeless and condemning them to IDPs (Internally Displaced Persons) camps.
– Asked why the dam authorities didn't inform the farmers ahead, knowing the kind of damage their action was going to cause, Ahmed said, "That is how they have always done. They always release the water whenever they feel like, without informing or considering the damaging effect on the farms. Every three or four years, they do the same thing, causing the same devastation. And they are not taking any measures… There was an option, which is releasing the water gradually from the beginning of the year. If they had been awake to their duties and releasing the water little by little; the dam would not have become full to the brim and our farms would not have been ravaged." https://thenationonlineng.net/weve-been-impoverished-beyond-our-imagination/ (11 Oct. 2020)
Australia Activists protest at Adani mining site against water plan Early Thursday (Oct. 8), a group of activists staged a protest at Adani's Carmichael coal project's rail corridor challenging the water use plan of the project that entails pumping water from the Suttor River in Queensland. https://energy.economictimes.indiatimes.com/news/coal/activists-protest-at-adani-minings-australia-site-against-water-plan/78555081 (08 Oct. 2020)
Also see, Dangerous monopoly of global private water company https://www.foodandwaterwatch.org/news/merger-worlds-biggest-water-corporations-creates-dangerous-monopoly (05 Oct. 2020)
Compiled by SANDRP (ht.sandrp@gmail.com)
Also see: DRP News Bulletin 05 Oct. 2020 & DRP News Bulletin 28 Sept. 2020
Follow us on: www.facebook.com/sandrp.in; https://twitter.com/Indian_Rivers