The Indian Himalayan region has been facing increased cloud burst incidents for past many years. These events are followed by flash floods, landslides causing widespread damages to human lives and properties. However the forecasting, monitoring and management efforts are lagging far behind. This state wise overview attempts to understand the trend and resultant losses from such incidents during the pre-monsoon (Apr-May) southwest monsoon season (June-Sept) 2020.
SANDRP has been highlighting the issue since 2018. The details of these can be seen by exploring the hyperlink of Uttarakhand in 2018 and 2019, Himachal Pradesh 2019, Jammu and Kashmir and North East 2019.
UTTARAKHAND
April 2020
Uttarkashi, Pauri Heavy rainfall in Naugaon, Kotdwar The state has seen unusual hailstorm and rainfall events in pre-monsoon season impacting the crops on large scale. The Naugaon, Mori area in Uttarkashi received heavy rainfall on April 23 evening and Kotdwar area of Pouri on April 27 reported intensive rainfall in short span impacting crops and vehicular movements. Locals called them as cloud burst events, though denied by administration. Several other parts of state witnessed rainfall and snowfall in higher reaches. https://dainikjayantnews.com/bhari-barish-langooridhar-motor-marg-malava-aane-se/ (28 April 2020)
July 2020
Pithoragarh Cloud burst causes landslideA cloud burst incident was reported on July 14 in Dharchula area of Pithoragarh. The incident caused a huge landslide and damages to road connected to India-China border.
Report also says the landslide blocked a river forming landslide dam there. https://www.youtube.com/watch?v=r8tiyM7uObc (14 July 2020)
3 killed, 6 injured in cloudburst at Pithoragarh The Dharchula and Munsyari tehsils in Pithoragarh district witnessed two separate cloud burst incidents on the intervening night of July 18-19. 3 people of a family of 3 were killed and 6 others injured, after a cloudburst hit Madkot, Tanga villages in Bangapani sub-division of Dharchula tehsil around 2 am on July 19. As per report, 11 people were washed away in swollen Gori river.
Bata and Sirtaul 2 other villages, were also hit by the incident resulting in damage to five houses and killing of cattle. https://timesofindia.indiatimes.com/city/dehradun/uttarakhand-family-of-three-killed-six-injured-in-cloudburst-in-pithoragarh/articleshow/77065282.cms (20 July 2020)
There was large scale devastation in the form of flash flood, landslides after a cloud burst incident in Munsyari tehsil also. Rains battered the region since July 18. https://parvatjan.com/started-driving-license-know-this-is-new-rules/ (20 July 2020)
The death of 3 people was due to landslide in Gaila village. 3 houses were buried under debris in Muniyal village. The landslides also damaged the approach roads to the villages. The Thal-Munsyari, Tanakpur-Tawaghat highway and border roads were left blocked.
Drinking water supply pipelines to Munsyari and Madkot were washed away. Two houses were grounded in Bata while debris entered in three houses in Sirtola village. https://www.jagran.com/uttarakhand/nainital-three-people-dead-and-11-missing-due-to-cloudburst-in-bangapani-pithoragarh-20532230.html (20 July 2020)
Cloud burst leaves trail of destruction in Bangapani The Bangapani area reported heavy rainfall and cloud burst incident around 4 am on July 28 also. Following rainfall there were flash floods and landslides at several places damaging homes, farmlands, local roads and bridges. The Baram, Metli, Devlek, Jarajibli, Lumti, Mori villages were totally cut off from the district headquarters & villagers had taken shelter in forests. https://www.youtube.com/watch?v=tvW8zbz2h40 (28 July 2020)
As per another report the cloud burst had taken place in area of Jarajibli and Metli villages where two women were killed in a house collapse. The heavy rainfall also triggered landslides causing severe damages in Mori, Upargada, Siling villages. https://parvatjan.com/two-women-died-in-cloudburst-in-pithoragarh-villages-army-took-over-at-some-places/ (28 July 2020)
47 cattle were also reported dead in the incident. As per this report, the death toll following July 19 cloud burst in the district had reached 14. https://hindi.gonewsindia.com/latest-news/news-and-politics/cloud-burst-in-chamoli-bridge-shed-in-pithoragarh-situation-worsens-in-uttarakhand-16902 (28 July 2020)
Later the trapped villagers were rescued with the help of helicopters. https://www.amarujala.com/dehradun/pithoragarh-disaster-if-weather-is-clear-today-people-who-stuck-in-forest-will-rescue (01 Aug. 2020)
Chamoli Cloud burst kills one, damages homes in Ghat block In the morning hours of July 28, the Pader, Boora villages in Ghat block of Chamoli district saw excessive rainfall. In couple of hours the gushing deluge rolling downhill with massive debris engulfed the local stream damaging adjoining farm lands. The water current and debris also entered into Boora village damages three cowsheds and few houses. A woman was buried alive in Pader village. Few villagers lost valuable items. The area is in Nandakani river basin. https://bit.ly/2XjX7P2 (3 Aug 2020)
In above video and article on SANDRP blog, Kamal Panwar a village youth shares details of large scale impact of the cloud burst on Boora, Padergaon villages. This kind of information is generally missing in mainstream media. https://www.youtube.com/watch?v=bP35Rq7xB84&feature=youtu.be (28 July 2020)
August 2020
Uttarkashi Cloud burst affected villagers observe 'black day' Villagers of Mori in Uttarkashi observed a 'Black Day' on Aug 18, to mark the first anniversary of the Arakot cloudburst, which claimed over a dozen lives and caused widespread devastation in the region. The villagers expressed anger that even after a year, rehabilitation work was slow and basic facilities in the area were still lacking.
The villagers assembled under the banner of Bangaan Sangharsh Samiti at Tikochi village, which was one of the three most affected villages, the others being Makuri and Arakot. At the meeting, the villagers paid tributes to the victims of the disaster and expressed their resentment against the government by wearing black armbands.
They demanded that govt depts involved in the disaster restoration works reveal details of money spent in their name, and demanded waiver of agriculture loans and allotment of land to affected people. They threatened to begin an intensive protest if the govt failed to fulfill their demands within 10 days. https://timesofindia.indiatimes.com/city/dehradun/uttarkashi-villagers-observe-black-day-to-protest-lack-of-relief-a-year-after-arakot-cloudburst/articleshow/77619104.cms (19 Aug. 2020)
Rudraprayag Cloud burst devastates Sirwadi village A cloud burst incident was reported from Sirwadi village in Jakholi block of Rudraprayag district on August 10. Following the calamity 7 houses were fully damaged, large area of agriculture was affected. The village roads, main roads, irrigation channel, drinking water supply pipes, electric poles were also washed away. No loss of life was reported.
As per villagers on the night of August 9, around 10 pm they witnessed thundering and excessive rainfall and fearing for their lives left the houses for safer places. Reports also reveal that the same village had been devastated by cloud burst in 1986 killing 13 villagers. https://www.youtube.com/watch?v=YNrzso4fLso (10 Aug. 2020)
The above video report highlights the impact of cloud burst on Sirwadi and Pujargaon in Rudraprayag district. https://www.youtube.com/watch?v=E9Jdpe8FMS0&feature=youtu.be (13 Aug. 2020)
On August 10 there were several incidents of heavy rainfall and landslides across the state. In Chamoli district, a panchayat official was killed while 4 others were injured when rocks tumbled down the hills on their cars following heavy rain fell in two separate incidents. Heavy rainfall was also reported from capital Dehradun. Dehradun's Tapkeshwar Temple was flooded following rise in water level of Tamsa river, which flows along the temple.
In Rudraprayag frequent landslide have been witnessed at Chidbasa near Junglechatti on the Kedarnath-Gaurikund route. Kedarnath Yatra was halted due to continuous landslides on the Kedarnath-Gaurikund walkway. The Kailash-Mansarovar Yatra route in Dharchula of the Pithoragarh district has also been blocked at two locations. https://www.ndtv.com/india-news/uttarakhand-cloudburst-damages-houses-roads-in-rudraprayag-see-pics-2277209 (10 Aug 2020)
Tehri 20 cattle killed in cloudburst In the night of August 9, another cloud burst incident was reported from Gangi village a remote village in Bhilagna block of Tehri district. There was heavy rainfall in the middle of night resulting in flash floods razing two cow shelters in which 20 cattle were buried to death in the debris and rubble.
The village is reportedly facing inadequate basic services of health and communication. The villagers had to climb uphill to inform administration of the calamity. https://www.rajyasameeksha.com/uttarakhand/13290-cloud-burst-in-gangi-village-of-tehri-garhwal (10 Aug. 2020)
According to the state disaster control room, three cloudburst incidents were reported by August 10 since June 15 in Pithoragarh district. Officials from the control room said that 33 people had died due to cloudbursts and flash floods following heavy rainfall. The landslides had caused 11 death in this period across Uttarakhand. Around 18 people were injured on account of landslides, flash floods and cloudbursts, while four went missing in these disaster.
Bikram Singh, director of Regional Meteorological Centre said, "This year, as per rainfall records, 100 mm rainfall has not been witnessed at any particular location. In 2017, around 94 mm rainfall was recorded in Dehradun, which was considered as a cloudburst." https://www.hindustantimes.com/india-news/rain-and-topography-triggering-flash-floods-landslides-in-uttarakhand-hills-say-experts/story-iuWn6XrQOkTWusynjkLYDP.html (10 Aug. 2020)
Bageshwar Cloud bursts are damages crops A cloud burst was reported in Are area of Kapkot tehsil at around 3 am on August 10. Following extreme rainfall, a local stream saw flash flood, dumping huge amount of sludge and debris on farming lands.
A home was partially damaged and a cowshed was buried under the muck. Villagers also reported damages to local road and bridges. https://www.youtube.com/watch?v=0DFoTztlMEM (11 Aug. 2020)
Dehradun Cloud burst at Lakhwar dam site On August 19, extreme rainfall event was witnessed near Lakhwar dam site on Yamuna river in Vikas Nagar tehsil. Following the rainfall a local stream was flooded with sludge and rubble. Portion of a bridge was also damaged in the incident. https://www.youtube.com/watch?v=Eg5ey8F1W-g (19 Aug. 2020)
Chamoli 1 killed in cloud burst A person died and five others got injured after cloudburst hit Tali-Ansari Village in Chamoli district following heavy rainfall in the region on August 24. https://timesofindia.indiatimes.com/videos/news/cloudburst-in-uttarakhands-chamoli-1-killed/videoshow/77744627.cms (25 Aug. 2020)
There was landslide following the cloud burst damaging a house where the deceased and injured people working on a road construction project were staying. https://www.jagran.com/uttarakhand/dehradun-city-uttarakhand-weather-update-one-worker-dies-due-to-cloudburst-in-chamoli-20666308.html (25 Aug. 2020)
Other Incidents Apart from these above, there have been extreme rainfall incidents in Thailisain block of Pauri district on May 28, 2020. https://www.downtoearth.org.in/hindistory/natural-disasters/flood/heavy-rains-in-uttarakhand-71462 In Tharali area of Chamoli on August 03, 2020 https://www.amarujala.com/dehradun/weather-forecast-today-update-in-uttarakhand-heavy-rain-in and in Janaki Chatti area of Naugaon tehsil in Uttarkashi district around August 19, 2020 which locals claim as cloud burst incidents but lack adequate media coverage.
In fact there could have been more such extreme rainfall incidents going unreported in absence of proper monitoring including inaccessibility in reaching the remote area still largely remaining out of media radar.
HIMACHAL PRADESH
July 2020
Kullu Vehicles trapped in cloud burst sludge On the intervening night of July 11-12, a cloud burst incident was reported in the higher reaches of Kanyal area in Manali in Kullu district. The incident led to a flash flood spat in Kanyal stream and the several vehicles parked by the road were trapped in debris sludge. The other streams in the area also saw rise in water level following heavy rainfall. https://hindi.news18.com/news/himachal-pradesh/kullu-cloud-burst-in-manali-alert-issued-for-flood-and-heavy-rains-nodbk-3174989.html (12 July 2020)
August 2020
Kinnaur Cloud burst damages horticulture crops Apple orchards and fields suffered extensive damage in a cloudburst that struck Meeru village in Cholling of Kinnaur district late on Aug 4 night. The debris entered the barracks of the Army and also blocked the Hindustan-Tibet National Highway. The house of Ram Pal Negi, was damaged. (6 Aug 2020) https://www.tribuneindia.com/news/himachal/cloudburst-in-kinnaur-village-122651
Kullu Land washed away in cloud burst The Naggar area of Kullu district witnessed severe flash floods after a cloud burst incident in Chandrakhani hills. The water deluge in Chhaki stream led to washing away of government and private land.
Several trees were uprooted. There was intense rainfall and landslides incident across the state blocking four national highways and hundreds of local roads. https://www.amarujala.com/shimla/cloud-burst-in-kullu-aut-anni-sainj-highway-remains-closed-for-11-hours-due-to-landslide (26 Aug 2020)
JAMMU & KASHMIR
April 2020
Budgam 2 die in cloud burst & flash floods Two girls died in the flash floods in central Kashmir's Budgam district while hailstorms damaged apple orchards, vegetables gardens in north Kashmir on April 27, 2020. Two sisters were washed away in flash floods at Kutbal Thera area in Rangwari forest range of Chadoora Budgam. http://risingkashmir.com/news/2-sisters-die-in-budgam-flashfloods (28 April 2020)
Shopian 2 girls go missing after cloud burst Two girls went missing from Chotipora village in Sedow area of Shopian on April 27 after a cloud burst The duo were washing clothes near Wadji Nalah. The incident took place around 4pm. However, rains that later resulted in flash floods hindered the search for the girls. https://kashmirreader.com/2020/04/28/2-girls-go-missing-after-cloud-burst-in-shopian-village/ (28 April 2020)
May 2020
Kishtwar 2 women killed in cloud burst Two women died on May 2 after they were struck by a cloudburst in a remote village in Kishtwar district police said. Hajra Begum (32) and Gulshana Bano (18) were collecting firewood when they were hit by the cloudburst at Badwari in Chatroo area in the evening. https://thekashmirimages.com/2020/05/02/two-women-killed-in-cloudburst-in-kishtwar/ (02 May 2020)
June 2020
Poonch Vehicles, crops damaged in cloud burst There was extensive damage due to cloudburst in Deengal village of Poonch district late on June 5 evening. A car, tractor and five motorcycles were swept away. About 70 kanals of paddy crop got washed away. The Flash flood in local stream also damaged part of village road. The debris and sludge also entered some houses destroying the household goods.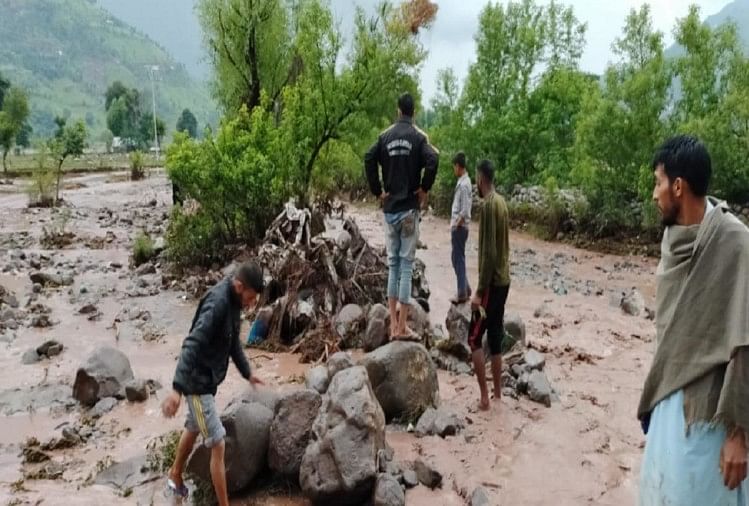 As per villagers the area saw heavy rainfall around 5pm followed by loud thundering. Soon the village stream was in spate with seven to eight feet rise in water level. The deluge breached the banks and entered into village areas. Villagers also said that they had demanded construction of an embankment after 2014 floods but the no one had visited them since then. https://www.amarujala.com/jammu/jammu-and-kashmir-cloud-burst-in-poonch-many-vehicles-drain (5 June 2020)
August 2020
Ganderbal, Pulwama 2 cloudbursts leave one dead, four injured Two cloud bursts have been reported in Kashmir on August 9. A cloud burst hit the Kullan area in Kashmir's Ganderbal district. Another cloud burst took place in Pulwama's Branpatri Tral leaving one dead and four injured. Several residential houses suffered minor damage. The Srinagar-Leh highway was closed temporarily after the incident. https://www.indiatoday.in/india/story/cloud-burst-hits-kashmir-s-ganderbal-district-several-houses-damaged-1709453-2020-08-09 (09 Aug. 2020)
Official sources said that the cloudburst hit Brenpatri village, about 15 km from Tral town in Pulwama, resulting in on the spot death of a youth and injuries to three others. They identified the dead as Irshad Ahmad Doei (35) s/o Bashir Ahmad Doei of Udhampur. https://thekashmirpress.com/2020/08/09/youth-killed-three-injured-after-cloudburst-hits-tral-village/ (9 Aug 2020)
Rajouri, Poonch Flood-like situation in Jammu, cloudburst in many areas Heavy rainfall and couple of cloud bursting incidents were reported in Jammu division on Aug. 26. The rivers and streams were in spate. There were reports of damage to many structures. A cloud burst occurred in Srigufwara, Anantnag of Nowshera. No one was hurt in the incident but Rajouri city faced flooding.
Another cloud burst was reported in the Mastandara of Poonch damaging three vehicles. Many areas were flooded including Sudan Heart Care Hospital, due to excess water in the Willol Darya in RS Pura of Jammu division. https://english.newstracklive.com/news/jammu-and-kashmir-heavy-rains-caused-havoc-flood-like-situation-in-rajouri-clouds-in-nowshera-and-poonch-mc23-nu915-ta915-ta277-1115629-1.html (26 Aug. 2020)
A part of the bridge located in Gadigad area of Jammu collapsed due to heavy rains. A cloudburst broke out in Naushera and Poonch flooding surrounding areas. https://www.nyoooz.com/news/jammu/1511186/jk-heavy-rains-caused-havoc-flood-like-situation-in-rajouri-cloudburst-in-two-places/ (27 Aug. 2020)
Following incessant rainfall and cloud bursts, major rivers in Rajouri, Nowshera and Poonch in Jammu were in spate and normal life was thrown out of gear. Bridges and roads were damaged due to high currents. Suktoh and Darali rivers were in floods. A temporary bridge on the main highway near Rajouri got partially damaged whereas a foot over bridge over the Suktoh river was badly damaged. https://www.gonewsindia.com/latest-headlines/after-gujarat-jammu-reels-under-flash-floods-and-landslides-340 (26 Aug. 2020)
15 people were rescued on Aug 26 after they were caught in flash floods in Ujh river in Kathua district, the police said. Most parts of Jammu region have been battered by heavy rain since August 25 leading to inundation of low-lying areas. Flood water also entered many homes. https://www.ndtv.com/india-news/jammu-and-kashmir-weather-heavy-rain-flash-floods-and-landslides-hit-normal-life-2286005 (27 Aug. 2020)
MEGHALAYA
May 2020
West Garo Hills Cloudburst wreaks havoc A cloudburst on May 23 night wreaked havoc in several villages of in Raksamgre and Tikrikilla area in West Garo Hills district. No loss of life was reported. People were evacuated to the upland areas following the flash flood as several markets, educational institutions and private properties were submerged under water.
District Magistrate Ram Singh informed that three bridges – two wooden and a concrete bridge were washed away by the raging floodwaters and Holaidonga road between Phulbari and Tikrikilla submerged under water. https://www.indiablooms.com/news-details/N/61863/cloudburst-wreaks-havoc-in-meghalaya.html (24 May 2020)
As per another report, 1,630 people were displaced due to flash floods in West Garo Dist. Didak river in Rakshamgre-Photamati & Ghagua river in Tikrikilla were flowing above the danger mark. https://thenewsmill.com/1630-people-homeless-due-to-flashflood-in-meghalaya/ (25 May 2020)
People at a coronavirus quarantine centre in Garo Hills had to be shifted to another building on higher ground after a flash flood hit the area following the cloud burst.
The cloud burst caused the floodwaters to rise over six feet in many areas, inundating the entire Raksamgre market in West Garo Hills dist, and a quarantine centre at a school in Raksamgre town. https://www.ndtv.com/india-news/coronavirus-flash-flood-in-meghalayas-garo-hills-inundate-quarantine-centre-2234992 (25 May 2020)
SIKKIM
June 2020
North Sikkim Flash floods leave a trail of destruction in Upper Dzongu Incessant rainfall led to a huge flash flood in Passingdang, Upper Dzongu on June 27 night damaging about 19 houses and public properties including the hostel of Passindang Secondary School. No casualties was reported as 35 families were evacuated on time. Dzongu was cut off from rest of the state as multiple landslides occurred in the past few days due to very heavy rainfall across the state.
The worst-affected area was Passindong. A massive landslide came down from uphill Panang which damaged houses, government secondary school, roads and other infrastructure. District authorities feared more landslides if the rains continued. As per govt official the flash flood began from a Jhora (Stream) and spread across 300-400 feet. Jhora got filled with rain of the last few days, the culvert was unable to hold on the increased water flow. https://www.eastmojo.com/sikkim/2020/06/28/sikkim-flash-floods-leave-a-trail-of-destruction-in-upper-dzongu (28 June 2020)
A pictorial report about the flash flood. https://www.eastmojo.com/sikkim/2020/06/28/in-photos-rains-trigger-flash-floods-in-passingdang-north-sikkim (28 June 2020)
Sikkim's average number of rainy days ranges from 100-184 days a year. This year's monsoon, like most years, has caused numerous landslides and floods. 2019's cloud burst at Tsong village, Yuksam led to the entire village being washed away with one casualty. Every year, in parts of Sikkim, due to the incessant rain there is at least one incident of horror.
Before the flash flood, three landslides had occurred in Passindong, causing Passingdong to be cut off from the rest of the state. On June 27 a major landslide took place at a dam of the NHPC Teesta Srage-V project site at Apdara, East Sikkim causing heavy damage, while also causing Lum and Lingtyang villages of Lower Dzongu, North Sikkim to be cut off from the rest of the state. https://www.thesikkimchronicle.com/unrelenting-monsoons-cause-several-landslides-across-the-state (29 June 2020)
ARUNACHAL PRADESH
September 2020
Leparada Cloudburst triggers flash flood Around 15 private residences and large areas of crop lands were damaged after cloudburst triggered flash floods and landslides around 9.30 am at Leparada dist on Sept 17. Overflowing waters of the Hie and the Kidi rivers entered houses, damaged properties and submerged many paddy filed in the low-lying areas. No casualty was reported. People staying in the low-lying areas were evacuated to safer places. Incessant rain in last few days had caused massive flood in low laying areas. https://newsmove.in/cloudburst-triggers-flash-flood-in-arunachal-pradesh/ (19 Sept. 2020)
Lower Siang As per a video report, 2 people were killed in landslide in Lower Siang district. Flood, landslides and cloud bursts disrupted the normal life. The bridge across the Ego River between Basar and Likabali town was also destroyed due to flash floods. https://www.zee5.com/news/details/arunachal-pradesh-landslide-lower-siang-cloud-bursting-video/0-0-newsauto_4rqug39kut70 (19 Sept. 2020)
Doppler Radars; Slow progress in Uttarakhand
For past many years, the central govt has been talking of installation of 10 Doppler Radars in three north Himalayan states of Jammu & Kashmir (4), Himachal (3) and Uttarakhand (3). However there seems no significant progress made on the issue since last year where the status was updated in SANDRP's overview.
As per K J Ramesh, former director India Meteorological Department (IMD) there are 27 Doppler radars in the country and 60 are required in plain areas alone. He also said that infrastructure would be required to be taken care of before creating Doppler radar network. https://timesofindia.indiatimes.com/city/chandigarh/jk-ukhand-hp-to-get-9-new-doppler-radars/articleshow/63307171.cms (15 March 2018)
It is worth recalling that in May 2014 the then chief secretary Subhash Kumar had held talks with the IMD officials where it was decided that the latter would install three radars in Uttarakhand on land provided by the Uttarakhand govt. However, there is no progress on the ground. The disaster management dept sent repeated reminders to the IMD, but to no avail.
Asked about the delay, Dehradun MeT Centre director said that "at least one of the three proposed Doppler radars would get installed in Uttarakhand within this year" after completion of all the technical details and formalities.
He added that the installation of Doppler radars was a part of the ministry's Integrated Himalayan Meteorology programme to improve weather forecast services in the Himalayan states. The project cost is roughly pegged at ₹1100 cr.
Last year, a top IMD official during his visit to Dehradun had said that installation of Doppler radars in Uttarakhand & other states had been held up owing to lack of funds. https://www.hindustantimes.com/dehradun/finally-uttarakhand-may-get-doppler-radars-to-predict-extreme-weather-phenomenon/story-p68sT1uxvT7hcdE3H06oWP.html (9 May 2017)
In Jan 2019, the Uttarakhand CM had stated that the Doppler radars at Surkanda devi area in Tehri & Mukteshwar would be installed by June 2019. https://timesofindia.indiatimes.com/city/dehradun/doppler-radars-at-mukteshwar-surkanda-devi-by-june-cm-rawat/articleshow/67460181.cms (9 Jan 2019) The deadline was later extended to March 2020. https://www.jagran.com/uttarakhand/dehradun-city-doplar-radar-19631198.html (9 Oct. 2020) However it appears that the survey work at Surkanda devi and Lansdowne has not been completed.
According a report, the first Doppler radar has been installed in Mukteshwar area of Nainital district on July 9, 2020. The installation is done by Astra Microwave Company of Hyderabad. The weather department said that the final test was to be conducted. The instrument would cover 100 km radius area to predict weather conditions including cloud bursts in advance. It was supposed to be functional by the end of July 2020.
The installation of the radar has cost Rs 10 crore which includes equipment and monitoring building. Two more radars are to be installed, one each in Pauri & Tehri district. https://www.jagran.com/uttarakhand/nainital-first-doppler-radar-of-uttarakhand-installed-in-mukteshwar-jagran-special-20487513.html (09 July 2020)
In March 2020, the ministry of earth sciences (MoES) informed a parliamentary committee that India would be able to forecast extreme weather events like 'cloud bursts' at least two days in advance from 2022.
At present India's weather forecasting system depends on high-performance computing (HPC) system with a capacity of 10 PetaFlops. Plans are afoot to augment the current HPC from 10 PFlops to 40 PFlops by 2022 and to 100 PFlops by 2024. "With the facility being upgraded, we will be able to forecast extreme weather events such as cloud bursts at least two days in advance by 2022. Also at present, our forecasts have a resolution with a precision up to 12 km. With such advanced computing system we will be able to give forecast up to 5 km, or maybe even up to 3 km, with far more detailed predictions," said Madhavan Nair Rajeevan, secretary of MoES.
At present cloudbursts are predicted 2-3 hrs in advance in terms of heavy rainfall using Doppler Weather Radars & Satellite Data. "At present science is not the limiting factor. Computing facility is the limiting factor. To forecast extreme events like cloud bursts & very heavy rainfall, highly localized phenomenon, we not only need to increase our horizontal resolution to less than one kilometre but also increase vertical resolution," said KJ Ramesh, former director, IMD. https://www.hindustantimes.com/india-news/48-hrs-early-prediction-of-uttarakhand-like-cloud-burst-by-2022-says-report/story-G4CPVLVmTh5ijV0tEu1EWO.html (15 March 2020)
Summary
Cloud burst incidents in India Himalayan region in southwest monsoon 2020
| | | | | | | | | |
| --- | --- | --- | --- | --- | --- | --- | --- | --- |
| SN | State/UT | April | May | June | July | Aug. | Sept. | Total |
| 1 | Uttarakhand | 2 | 1 | 0 | 5 | 6 | 0 | 14 |
| 2 | Himachal | 0 | 0 | 0 | 1 | 2 | 0 | 3 |
| 3 | J&K | 2 | 1 | 1 | 0 | 5 | 0 | 9 |
| 4 | Meghalaya | 0 | 1 | 0 | 0 | 0 | 0 | 1 |
| 5 | Sikkim | 0 | 0 | 1 | 0 | 0 | 0 | 1 |
| 6 | Arunachal | 0 | 0 | 0 | 0 | 0 | 1 | 1 |
| | Total | 4 | 3 | 2 | 6 | 13 | 1 | 29 |
The compilation of available media reports shows that there have been about 29 cloud burst incidents in Indian Himalayan region during pre-monsoon and monsoon 2020. The Uttarakhand has again emerged as most affected state where 14 cloud bursts have taken place followed by 7 in Jammu and Kashmir and 3 in Himachal. Notably 7 of the cloud burst events occurred in April and May, well before the onset of monsoon season.
In 2019, we could compile 23 such incidents from Uttarakhand, 16 from Himachal and 9 in Jammu & Kashmir, 3 in Arunchal Pradesh and 2 in Sikkim.
In 2020, around 29 people have lost their lives in cloud burst calamities of which 19 were killed in Uttarakhand, 7 in Jammu & Kashmir and 3 in Himachal Pradesh.
The cloud burst incidents are triggering landslides, flash floods leading to human injuries and destruction of homes, livestock, farmlands, crops, village and local roads, bridges, drinking water and electricity supply infrastructure.
This year the Uttrakhand, Himachal, Jammu & Kashmir witnessed good rain and snowfall events in pre-monsoon and winter. However in monsoon these regions had significant rainfall deficit.
There may have been more extreme rainfall events in the Himalayan states going unreported and unmonitored as there is dearth of rainfall gauges at local levels.
The example of Uttarakhand shows that the installation of Doppler radars is moving at snail's pace. Information showing progress on the issue in J&K and Himachal is unavailable.
Bhim Singh Rawat (bhim.sandrp@gmail.com)