Two important developments this week underline once again the need for Indian govt to demand clear responses from China. One is about the threat of landslide outburst flood that may enter India via Siang. A landslide dam has been formed on the Jianpu glaciers that feeds the Yigong Tsangpo, a tributary of Yarlung Tsangpo, as Siang is known by that name in Tibet. This landslide dam can breach anytime, and bring a high wave of sudden & destructive flood in Arunachal Pradesh. Chintan Sheth, who monitors this area through use of satellite imagery, has once again (his warnings on such landslide outburst dams in the past has been very accurate and useful) warned us about this through an excellent and detailed article quoted below, in Arunachal Times. Such information should actually be coming from Govt of India's elaborate satellite imagery capabilities. At least now the Govt of India needs to ask China to share all information about this landslide dam and share that information with the people of Arunachal Pradesh at greatest risk due to such floods.
The second issue is the news about China being on the verge of completing second hydro power project in Yarlung Tsangpo basin. In this case too, once again the news has come from a report in ASIA TIMES published from Singapore, and not from govt of India. Govt of India needs to demand from China all information about this project and also demand a joint inspection and also a joint environment impact assessment. This development should not lead to standard, hyperbolic media response that China is drying up Brahmaputra, will create flood disaster or that it is establishing some sort of imaginary first user right. All that wont be helpful. What would help is to officially demand key information and joint assessment and share it with people here.
Arunachal Pradesh Threat of an outburst flood in the Siang; need for weather stations and info Excellent, detailed account by Chintan Sheth about the possible landslide dam outburst flood in Siang, originating from Yigong Tsangpo catchment, a tributary of Yarlung Tsangpo, the name of Siang in Tibet, gives account of five such incidents in the past. Several excellent suggestions about way ahead too.
– Of concern is the large landslide dam that was observed on a 27 and 29 July satellite images taken by Sentine-1 and -2 satellites of the European Space Agency. A landslide has occurred from a small glacier in front of the terminus of the Jiangpu glacier (94.547587°E, 30.428263°N, 282 kms upstream of Gelling and 510 kms from Pasighat; pre-landslide image of area from 2011 can be viewed here).
– Between 10 and 31 July, 19 earthquakes occurred in Bome county of Nyingchi prefecture in Tibet. Fifteen of these earthquakes occurred within a 300 square kilometre area upstream of the Yigong Tsangpo river (94.743779°E, 30.398025°N). https://arunachaltimes.in/index.php/2020/08/01/threat-of-an-outburst-flood-in-the-siang-need-for-weather-stations-and-info/   (01 Aug. 2020)
India-China Brahmaputra dams: A China-India political quagmire  Interesting part of this news is that the information, ONCE AGAIN comes from a foreign source, not from govt of India or Govt of China. It is not clear if China govt has informed Indian govt about this and if so what and when. It is also not clear if Indian govt knows about it and if they know what have they demanded from China. The least Indian govt could have demanded is inspection of the project and a joint environment impact assessment since it is coming up on a shared river. But we will never know any of this.
– Key info from this report: The 100 m high Jiacha Dam to begin operation in Aug 2020. This is the second large hydropower dam after the 510 MW Zangmu (work started in 2009, commissioned in Nov 2014) to be built on the mainstream of the Yarlung Tsangpo. According to the China Society for Hydropower Engineering, Tibet's Jiacha Hydropower Station was successfully gated to store water this month. The first 120 MW of its scheduled three units will start operations in August. The Jiacha (Gacha) Hydropower Station is located in Gyatsa county of the Tibet Autonomous Region on the middle reaches on the Yarlung Tsangpo. Construction of Jiacha Dam was begun in December 2015 by Huaneng Tibet Power Generation Company Ltd (HTPG), a subsidiary of the state-owned China Huaneng Group.  https://asiatimes.com/2020/07/brahmaputra-dams-a-china-india-political-quagmire/   (29 July 2020)
HYDRO POWER PROJECTS
Himachal Pradesh Machinery damaged in fire at NHPC Parbati stage-2 project  Serious fire accident and damage at NHPC's Parbati-2 HEP in Kullu district at around 5 am after a blast in a machine due to short circuit. The area was engulfed in smoke. At least two engineers fell suffocation. Amount of damage still being ascertained. https://www.hindustantimes.com/cities/machinery-damaged-in-fire-at-nhpc-parbati-stage-2-project-in-himachal-s-kullu-district/story-AAX9AkoTNiOgEeeiJpatAL.html   (30 July 2020)
Arunachal Pradesh Tiger presence in Dibang Valley could pave way for people-led conservation plan The confirmation of the presence of tigers in Dibang Valley holds immense importance to the Idu Mishmis because large forest areas around the Dibang Valley Wildlife Sanctuary are being considered for diversion.
-The proposed 3,097 mega-watt Etalin Hydropower Project is likely to impact 1150.08 hectares (ha) of forestland and the Dibang Multipurpose Dam will impact 4,577.84 ha of un-classified state forest and other community lands. Both the projects are under different stages of consideration by the MoEFCC. https://www.hindustantimes.com/india-news/tiger-presence-in-dibang-valley-could-pave-way-for-people-led-conservation-plan/story-eAwkqillchLgeOTwabiXJN.html  (31 July 2020)
INTERSTATE WATER DISPUTES
Krishna River Water Sharing Dispute KRMB stalls Rayalaseems LIP The KRMB has also found fault with the AP state government for granting administrative sanctions to the construction of new projects on the Krishna river. KRMB member Harikesh Meena wrote a letter to the special chief secretary (Irrigation) of the AP government. The board also said the AP government can't go ahead with the construction of the projects without taking permission from the Central Water Commission (CWC).
-The Telangana state government has lodged a complaint with the KRMB stating that proposed Rayalaseema Lift Irrigation Scheme to divert Krishna water from the Srisailam Project was in violation of the AP State Reorganisation Act, 2014.  The AP has recently called tenders to draw 3 tmcft of water from Pothireddypadu as part of Rayalaseema lift irrigation project. https://timesofindia.indiatimes.com/city/hyderabad/krishna-river-board-stalls-andhra-pradeshs-rayalaseema-lift-irrigation-project/articleshow/77263761.cms   (30 July 2020)
Krishna-Godavari rivers water sharing dispute Telangana adopts tough stance on sharing of river waters A high-level meeting chaired by Telangana CM K. Chandrashekhar Rao unanimously decided to play hard ball when an apex meeting is convened to try to resolve the long-standing dispute between Andhra Pradesh and Telangana over sharing the waters of the Krishna and Godavari rivers.
-Telangana has also decided to drag its heels over an August 5 meeting. The chief secretary has been asked to write a letter to the central government asking to have CWRM apex council meeting after August 20, or sometime after the completion of the Independence Day celebrations on August 15. As for August 5, well, the state government has another pre-fixed programme on that date. https://www.deccanchronicle.com/nation/in-other-news/310720/telangana-adopts-tough-stance-on-sharing-of-river-waters.html  (31 July 2020)
SYL Dispute Negotiate SYL issue at political level, SC tells CMs of Punjab, Haryana The top court has said repeatedly it didn't intend to revisit the facts and issues already adjudicated upon. The decree already passed has to be executed and it should not be treated as a paper decree, it had said.
-Haryana maintains that it cannot be made to wait long for construction of the canal. Any further delay in execution of the top court's decree passed in 2002 would lead to people losing faith in the judicial system, it has said.
– On the other hand, Punjab says the decree was not executable and the state required time to argue its case. It has told the Supreme Court that the canal land returned to the landowners could not be recovered. The decree was premised on the fact that there was enough water in the river. But now there is not much water flow, making it impossible to give effect to it. https://www.tribuneindia.com/news/punjab/negotiate-syl-issue-at-political-level-sc-tells-cms-of-punjab-and-haryana-119057   (28 July 2020)
URBAN RIVERS
SANDRP Photo Blog Of Peace and Pollution: Urban Rivers as Public Spaces "In the ongoing Covid crisis, accessible green, open spaces are a dream for many city dwellers. And yet, there is burgeoning work on the profound positive impacts of urban green spaces on the physiological and psychological health of city dwellers.
In this photo blog, Abhay Kanvinde looks at the most polluted and populated stretch of Mutha River in Pune and astounds us with the life that abounds here. He has been a silent observer of the people who come by the river and shares their stories with us.  These photos urge us to imagine a clean, flowing urban river and green riverbanks where people come together.  A wellspring of a new reality. All photos taken between March 2020 and July 2020. https://sandrp.in/2020/08/03/of-peace-and-pollution-urban-rivers-as-public-spaces/  (03 Aug. 2020)
Nag river, Nagpur Industrialisation turns Nag into 'crushed lady' HC The iconic Nag river, which was once upon a time a vibrant and clear rivulet reverberating with life and giving life force like a mother to her children, is now reduced to a cursed lady, thanks to industrialization, urbanization and its alienation by her own children, the Nagpur bench of Bombay high court tersely observed.
-While hearing a suo motu plea based on various media reports highlighting the plight of historic river that is now turned into nullah for dumping sewage, a division bench comprising justices Sunil Shukre and Nitin Suryawanshi asked the respondents to submit responses regarding preparation and sanction of a comprehensive plan for its rejuvenation within eight weeks.
-"We're of the considered view that unless a comprehensive plan dealing with all aspects of its clean-up, beautification and maintenance is made, no major success in its restoration to original state is going to be achieved. It would have to take care of the polluting sources apart from other relevant factors, in an effective manner," the bench said. https://timesofindia.indiatimes.com/city/nagpur/hc-nag-river-a-cursed-lady-thanks-to-industrialization/articleshow/77095392.cms   (22 July 2020)
Chennai River Restoration Lands Hardest on the Poor Efforts to restore the city's rivers weigh heavily on poor riverside residents, who are being forcibly moved. river restoration has become an initiative prioritized at the highest levels in India. Restoration activities are seen as a pathway to a modern, cleaned up, 21st-century nation, and ecological interventions will almost certainly be necessary to adapt to a rapidly changing climate, with stronger floods, droughts, and heat waves. But Coelho suggested that so far these efforts have ignored, or given short shrift to, the most important questions. "The first order of business when we are talking about ecology," she said, "should be 'what are we going to do about 50 to 60 thousand people?'" https://undark.org/2020/07/29/chennai-river-restoration-impacts-poor/   (29 July 2020)
Patiala Ki Rao; Chandigarh MC to dump 25K tonnes of waste at Dadu Majra ground This waste dumping site is v close to Patiala ki Rao river a tributary of Ghaggar.  The MC General House on July 30 resolved to throw 25,000 metric tonnes of waste lying at the processing plant at the dumping site in Dadu Majra.  https://www.tribuneindia.com/news/chandigarh/chandigarh-municipal-corporation-to-dump-25k-tonnes-of-waste-at-dadu-majra-ground-120127   (31 July 2020)
RIVERS
Rivers after lockdown Punjab Kesari interviewed SANDRP coordinator on the issue of state of rivers during and post lockdown and lessons there from. https://www.facebook.com/NavodayaTimes/videos/218401376125988/
ICD Coal ash is a serious hazard to rivers, water sources -Despite several policy and regulatory interventions, coal ash management in India remains a challenge. Power utilities usually store the coal ash in landfills or unlined ponds close to water bodies and rivers. Breaches in the landfills and ash ponds frequently lead to environmental contamination, damaging local ecosystems and harming the health of local communities.
– Since coal ash is not classified as hazardous waste, there are no guidelines to regulate its disposal or measure the leaching of chemicals from it into water bodies and groundwater. "In 2000, the classification of fly ash was shifted from the category of hazardous industrial waste to the category of waste material, without any supporting health-based scientific rationale for the re-categorisation," said Dharmesh Shah, public policy analyst and co-author of the report.
-India generated 217.04 million tonnes of ash in 2018-19, of which only 168 million tonnes (77.5%) was utilised, according to the Central Electricity Authority. "The term utilisation is a misnomer for some of the uses like filling of low-lying area reclamation and mine void filling are means of disposal that are prohibited under the environment clearance conditions for power plants," claimed Shah. https://indiaclimatedialogue.net/2020/07/27/coal-ash-poses-serious-environmental-and-health-hazards/  (27 July 2020)
Kerala State to ensure environmental flow of rivers State Department of Water Resources is planning to carry out a scientific study to facilitate environmental flow of water in the 41 rivers in the State. The Chief Engineer of Irrigation and Administration and the Irrigation Design and Research Board (IDRB) have been tasked with submitting an action plan at the earliest in this regard.
– The government order dated July 7, 2020, cites that there are hydrological and holistic methods of ensuring E-flow and that a hydrological data base is required to do so. This necessitates a study. The decision comes in the wake of a memorandum submitted to the Minister for Water Resources by T.V. Rajan from Kozhikode in his capacity as Kerala Nadi Samrakshana Samithi general secretary in November 2019. In the memorandum, he had pointed out that despite an order of the NGT in 2017 to ensure environmental flow (E-flow) of rivers across the country, no action was taken by the State government in this regard.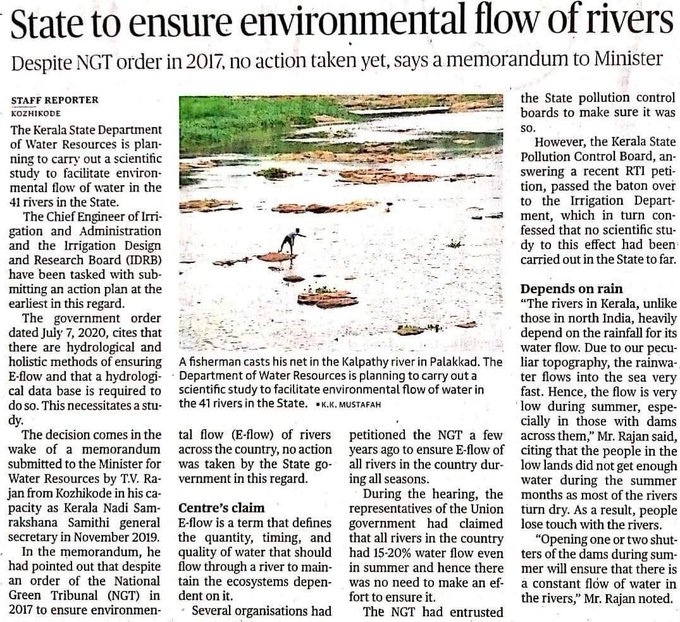 -"The rivers in Kerala, unlike those in north India, heavily depend on the rainfall for its water flow. Due to our peculiar topography, the rainwater flows into the sea very fast. Hence, the flow is very low during summer, especially in those with dams across them," Mr. Rajan said, citing that the people in the low lands did not get enough water during the summer months as most of the rivers turn dry. As a result, people lose touch with the rivers. "Opening one or two shutters of the dams during summer will ensure that there is a constant flow of water in the rivers," Mr. Rajan noted. https://www.thehindu.com/news/national/kerala/state-to-ensure-environmental-flow-of-rivers/article32243193.ece   (31 July 2020)
Himachal Pradesh Palampur water sources turn into dumping sites Despite the looming risk of jaundice and other water-borne diseases spreading during the monsoon season, the state health authorities are yet to take precautionary steps. No appropriate steps have been initiated to clean water sources, check the overflow of sewage, contamination of water channels, dumping of garbage in rivers and streams in and around Palampur so far.
– Bhiral and Mol khuds, two major tributaries of the Beas passing through Palampur town, are the major sources of drinking water in the lower areas of Palampur. These have turned into garbage dumps. The Irrigation and Public Health Department lifts water from the Bhiral and Mol khuds, near Rajpur and Thural, for its supply schemes. The waste from hotels, restaurants, shops and residential complexes situated on the banks of these water channels between Lohana and Kalu Di Hatti is being dumped here. https://www.tribuneindia.com/news/himachal/palampur-water-sources-turn-into-dumping-sites-119275   (29 July 2020)
Madhya Pradesh Plan to make Chambal ravines arable land The Centre, in collaboration with the World Bank, has decided to convert large area of ravines in Gwalior-Chambal belt of Madhya Pradesh into arable land, and a preliminary report for the same will be prepared in a month, Agriculture Minister Narendra Singh Tomar said on Sunday (July 26).
-After preparation of the initial report, subsequent meetings will be held with the chief minister of Madhya Pradesh for further course of action, he said. A decision in this regard was taken in a virtual meeting with World Bank representative Adarsh Kumar, who said the bank is keen to work in Madhya Pradesh, an official statement said. https://www.deccanchronicle.com/nation/in-other-news/260720/once-the-lair-of-dacoits-ravines-of-chambal-to-become-arable-land.html   (26 July 2020)
Tamil Nadu ONGC rapped for inadequate steps to control pipeline leaks in Cauvery delta  Measures taken by the Oil and Natural Gas Corporation Limited (ONGC) to control incidents of oil leakages from a network of underground pipelines in the delta region of Thiruvarur district are inadequate, said a joint committee appointed by the southern bench of NGT in its interim report.
-The committee was looking into repeated ONGC pipeline leakages in Thiruvarur district, where it has been carrying out operations for the last three decades. There was one leak on April 28 this year in Keezhapadugai village and another on April 6 last year in KeezhaErukkattur village. There were also a few other minor leaks in between and local villagers are in constant tussle with ONGC officials over alleged soil contamination due to their operations. The NGT took up the issue on its own motion suo motu based on the reports received from the Tamil Nadu Pollution Control Board (TNPCB). https://www.newindianexpress.com/states/tamil-nadu/2020/jul/30/ongc-rapped-by-ngt-panel-for-inadequate-steps-to-control-pipeline-leaks-in-cauvery-delta-2176919.html  (30 July 2020)
GANGA Uttarakhand MATU PR on July 29, 2020:Let the Ganga Flow Free! Amidst the Nation wide Lockdown that's yet to open up in many places, there's a worrisome development taking place in Central Himalayan region. Dams are being built that are a serious threat to all the Ecology and diversity of the region. And all of this is happening unchecked or unmonitored.
Meanwhile, the MoEFCC has been proactive in giving green light to many dams/projects.  Five hydel projects of Sikkim, West Bengal and Uttarakhand are being considered by the Environmental Appraisal Committee of the River Valley and Hydroelectric Project today on 29-7-2020.  This includes the Vishnugad-Peepalkoti hydro power project (444MW) on the Alaknanda Ganga by taking loan from the World Bank. This is an attempt to lock the Ganges.
On one hand, the government has never lagged behind in boasting about how they support nature and letting the rivers flow as they like. But their actions are different from their words as the new dam conditions are being discussed today. The project has been surrounded by controversies from the very beginning.
The first environmental public hearing on 18 October 2006 was canceled due to public opposition.  After this, in the second public hearing held on 9 January 2007, mass protests were sidelined.
 Now in this project that's being built with the help of the World Bank, the issues of environment and public interest have been largely denied.
 Matu Jan Sangathan has written to the Environment Appraisal Committee informing them about the current situation/circumstances.
 1- It has been more than 10 years since the project was planned and the geographical scenario of the area has changed a lot since.
2- Dams played a big role in June 2013's tragic Natural Disaster. This has been pointed out by the Ravi Chopra committee formed by the Ministry on the order of the Supreme Court.  In which all these facts came out clearly.
3 – The course of Alaknanda River has been altered above this under construction project, which has led to the doors of the Vishnuprayag Dam being broken due to millions of ton of debris coming from the Khiro Valley. The upper part of the river is not in favor of hydropower projects due to presence of considerable silt and debris.
4- The Tehri Hydro Development Corporation India Ltd.'s(THDC) record has also not been good in the context of Tehri Dam.  Even the parameters and guidelines of not getting muck into the river were not followed.  In this context, the Hon'ble National Green Tribunal in Vimal Bhai Vs THDC case fined THDC with ₹ 50,00,000.  Further, this case is pending in the Hon'ble Supreme Court. This is for your information.
5– The Environmental Impact Assessment Report made in November 2009 is 11 years old.  The changes made by the World Bank in EIA and EMP have not come down to the ground level.  Before any new approval or before the new TOR, it will be necessary to see how much of the old EIA and EMP was followed.
6 – The situation of rehabilitation and resettlement has been extremely miserable so far.  People have been protesting continuously for their minimum rights as stated in the rehabilitation policy of the project.  Haat Village's rehabilitation does not really meet any of the rehabilitation criteria. Somehow  people have been removed from their original village and resettled. Many families are still there.
7 – In view of the larger perspective and to keep the Ganga stream uninterrupted, it's a necessity to cancel this project.
This is necessary not only in view of the ecology of the Ganga but also ecology of the Himalayas and the long-term benefits of the local population.
 Vimal Bhai
Char Dham Road Project 
Bhagirathi expert panel didn't agree on zonal plan, reveal documents Activists and experts have said the approval of Zonal Master Plan could make the entire Bhagirathi region vulnerable to natural disasters. Professor Vinod Tare, an Indian Institute of Technology Kanpur professor who has been member of both committees, said no meeting was ever called of the NGT panel members. "We were asked to give our comments over email. When meetings were called, they were with Uttarakhand government officials, who were focused on presenting government schemes and projects. So, it is obvious that our comments have not been incorporated." https://www.hindustantimes.com/india-news/bhagirathi-expert-panel-didn-t-agree-on-zonal-plan-reveal-documents/story-VHirqpdrlshdJqJfMoHw0N.html   (19 July 2020)
River-landscape based approach used to rejuvenate Heval river "This is for the first time in the country that any river is being studied from its origin until its mouth for rejuvenation. So far, we have identified 38 springs that flow into the river. We found that water from maximum springs is being tapped and used as drinking water. This is the primary reason behind groundwater depletion. We are trying to work on the treatment of the entire river landscape in a bid to encourage locals to enjoy the benefits of sustainable living," said Dharam Singh Meena, Meena, DFO Narendra Nagar, Tehri. https://www.hindustantimes.com/india-news/in-a-first-river-landscape-based-approach-used-to-rejuvenate-50-km-long-heval-river-in-uttarakhand/story-YbX2JYyvc00kJEOdEoxJYL.html  (01 Aug. 2020)
Uttar Pradesh 
SANDRP Blog Yamuna river, floodplain Abused in Delhi The Yamuna River Floodplain and even Riverbed in Delhi continues to be abused by encroachment, dumping of debris and other construction activities including by DMRC, PWD, DDA and others and shows how poor has been the performance of DPCC, MCD and even Delhi Irrigation and Flood Control Dept. When SANDRP published photos and videos of this abuse on July 25, 2020, thankfully, the NGT appointed Delhi Yamuna Monitoring Com (DYMC) promptly responded and asked concerned agencies to take stock, action and file Action Taken report.
On July 27, a team of senior officials of DPCC and MCD were shown this by Bhim Singh Rawat of SANDRP. This is the report of these visits and issues. We hope the results will be significantly better than what happened in Feb 2020 when too DYMC had asked the agencies to respond following SANDRP exposure then. Please, Read, Share and help spread the message widely.  https://sandrp.in/2020/07/29/yamuna-river-floodplain-abused-in-delhi/   (29 July 2020)
YAMUNA Delhi Debris dumped on plains altering Yamuna's flow  -An inspection of the Yamuna floodplains earlier this week by teams of the Delhi Pollution Control Committee (DPCC), accompanied by SANDRP, to check for construction debris dumping has found that the violation has been going on for years and the dumped debris has been "flattened", thereby raising the level of the plains. https://www.hindustantimes.com/delhi-news/construction-debris-dumped-levelled-on-floodplain-raising-its-height-says-ngo-after-inspection/story-mShpu2ooVfA4DXmukCSzeJ.html   (01 Aug. 2020)
NGT asks pollution body to file report -The waste has been dumped underneath the Signature Bridge and the Sarai Kale Khan flyover. NGT asked for the report after SANDRP, posted pictures and videos of the dump on the floodplains.
-"Besides, there is a 3-4 foot tall mound of debris on the floodplains, some of which has toppled into the river bed underneath the Sarai Kale Khan bridge. There is so much debris that an active river channel is now disconnected from the main river. The debris was dumped recently by government agencies, which have been engaged in construction activity around the river," said Bhim Singh Rawat of SANDRP.
-He added that the situation regarding bridges on Yamuna river in Delhi is alarming as so far 25 road bridges, including three barrages-cum-bridges, four Metro bridges and two railway bridges have come up on the river while the debris has continuously been dumped on the floodplains. It is cleared after much effort and resurfaces with every new construction. https://www.hindustantimes.com/delhi-news/debris-dumped-on-yamuna-floodplains-and-river-bed-ngt-asks-pollution-body-to-file-report/story-wJLT8KRyHIghwj856gYI4N.html   (26 July 2020)
DDA told to act against illegal houses in Okhala The National Mission for Clean Ganga (NMCG) has asked the Delhi Development Authority (DDA) to take necessary action against encroachment and illegal construction of houses on Yamuna river bank in Okhla area.
The NMCG sent the communication to DDA last month. The letter mentioned that North East Delhi MP, Manoj Tiwari had raised the issue of "construction of 3,000 homes illegally on the bank of river Yamuna in Okhla region in Delhi and more are being constructed which should be stopped" during Zero Hour in the Lok Sabha.
The NMCG communication to DDA said, "As the matter is concerned with land encroachment and illegal construction of houses on bank of River Yamuna in Okhla region in Delhi, which are dealt by DDA, you are requested to take necessary action as deemed fit." https://timesofindia.indiatimes.com/city/delhi/dda-told-to-act-against-illegal-houses-on-bank-of-yamuna/articleshow/77309138.cms  (02 Aug. 2020)
YMC Recommends Reworking 1994 Water Pact  The two-member panel, comprising retired NGT expert member B S Sajawan and former Delhi Chief Secretary Shailaja Chandra, made the recommendation on the basis of a draft report on "E-flow for the Delhi stretch of the river". The environmental flow requirement is the "acceptable flow regime required to maintain the river in reasonable condition or predetermined state". "The Ministry of Jal Shakti, Upper Yamuna River Board and the riparian states of Uttarakhand, Himachal Pradesh, Uttar Pradesh, Haryana and Delhi rework the 1994 water sharing agreement to permit release of the recommended E-flow at Hathnikund Barrage," the panel said.
The report prepared by the National Institute of Hydrology, Roorkee, recommended that 23 cumec water be released in Yamuna from the Hathnikund Barrage in Haryana's Yamuna Nagar district instead of 10 cumec in January and February for sustaining downstream ecosystems. The barrage regulates the flow of the river for irrigation in Haryana and Uttar Pradesh through Western and Eastern Yamuna Canals, and municipal water supply to Delhi. The report said 26 cumec, 29 cumec, 34 cumec and 44 cumec water should be released in the river in March, April, May and June, respectively. At present, 10 cumec is being released in the river in March, April and May and 18 cumec in June.
A minimum release of 158 cumec, 220 cumec and 149 cumec is recommended in July, August and September instead of 275 cumec, 298 cumec and 160 cumec, it said. Based on the report, the panel said the Ministry of Jal Shakti, Upper Yamuna River Board and the riparian states should ensure release of 44 cumec, 27 cumec and 24 cumec water in the river from the barrage in October, November and December, respectively.
The NIH report also recommended reduction in diversions to Western Yamuna Canal and Eastern Yamuna Canal by increasing irrigation efficiency in their command areas. At present, 78.5 percent and 13 percent of inflows at Hathnikund Barrage are diverted to WYC command and EYC command during non-monsoon season. Thus, only a meagre 8.5 percent of inflows are released into the river. "Regulate groundwater withdrawal in the basin, especially in the Mawi-Baghpat stretch and augment groundwater recharge to sustain baseflows," it said. https://www.ndtv.com/india-news/national-green-tribunal-ngt-recommends-reworking-1994-water-pact-for-yamuna-rejuvenation-2273071  (03 Aug. 2020)
Earlier the YMC report submitted to NGT had stated that over 3,000 MLD of sewage was entering the river downstream of Wazirabad. Accountability could not only lie with Delhi as Haryana and UP were contributing to high amounts of sewage and industrial effluents too. The committee stated that in the short and medium term, there appeared to be no possibility of achieving a BOD level of 3 mg/l and below, which is classified as a category C river by Central Pollution Control Board (CPCB).
A CPCB report from 2017 stated that the river received about 3,911 MLD of sewage, which included industrial effluents. Of this, Delhi alone contributed about 3,270 MLD (80% being sewage) and had BOD at Okhla ranging from 31mg/L to 64mg/L with virtually no DO. The committee also suggested that NGT should look at the water-sharing agreement again and incentivise farmers to use less water-intensive crops. https://timesofindia.indiatimes.com/city/delhi/saving-the-yamuna-why-river-needs-a-fresh-start/articleshow/76804000.cms   (06 July 2020)
Haryana Flood-prevention repairs along Yamuna incomplete Though the monsoon is in full swing, the repair of the Yamuna canal abanks to prevent floods in nearby villages is yet to be completed. The Irrigation Department was supposed to complete the repair and construction of studs at seven places in the district by June. But even one month after the elapsing of the deadline, only 60 per cent of the work has been completed, sources in the department say.
The delay in completing the works has generated a fear of floods among people living in more than 20 villages along the river. Nasib Singh, a village resident, accused the department of not taking the repair of the Yamuna canal banks seriously, putting people's lives at risk. https://www.tribuneindia.com/news/haryana/flood-prevention-repairs-along-yamuna-incomplete-119695  (30 July 2020)
RIVERS BIODIVERSITY
Nature in Focus Understanding Rivers And Their Less Privileged Denizens  
-Save Every Drop Series: Ecologist Nachiket Kelkar shows us the world of river fishers and riverine animals across the Gangetic plains and the delicate space between conservation and livelihoods. https://www.natureinfocus.in/save-every-drop/understanding-rivers-and-their-less-privileged-denizens   (31 July 2020)
Monga Bay Protecting rivers and involving communities to conserve Himalayas' shy otters India has three otter species and they are becoming increasingly rare outside protected areas (PA), especially in the Himalayan region.
Human-caused disturbance such as the construction of hydropower projects, sand mining and boulder collection harm the riverine habitats of otters that extend beyond PAs. According to wildlife biologists, connectivity between aquatic habitats outside PAs and involving communities in conservation are urgently needed. https://india.mongabay.com/2020/07/otters-beyond-protected-areas-in-the-himalayas/   (31 July 2020)
Uttar Pradesh Locals rescue monitor lizard near river Ganga in Kanpur A massive lizard was found near river Ganga in Kanpur. The local alleged that Forest Department didn't take action on their call, so they rescued the animal themselves.
https://tvid.in/1xps1htkuz/toi
"I found this crocodile like huge animal at my terrace, we called forest official but they didn't came to rescue the animal so we rescued the animal themselves at left it in forest area near Ganga River," said Local.  https://timesofindia.indiatimes.com/videos/city/lucknow/locals-rescue-monitor-lizard-near-river-ganga-in-kanpur/videoshow/77291306.cms   (31 July 2020)
FISH, FISHERIES, FISHERFOLKS
New Policy India's new fisheries policy will increase private control over open access water bodies Researchers and members of fisher rights unions have criticised the draft National Fisheries Policy 2020 for being export-oriented, production-driven, and based on capital investments, which they fear would strip small scale fishers off their rights of access to commons, and also damage the environment in the long run. In addition, they say that the policy does not talk about women. It is silent on caste and class. Fishing communities in India are not homogenous. They have distinct social governance structures and traditional practices, depending on where they live on the coast. They are also organised into sectors, such as the mechanised and non-mechanised sectors.
-In a press release, National Fishworkers Forum, a federation of trade unions of independent and small-scale fish workers stated that the policy is neither in favour of the fishing communities nor for protecting the oceans and the coast. https://scroll.in/article/968349/indias-new-fisheries-policy-will-increase-private-control-over-open-access-water-bodies  (25 July 2020)
Tamil Nadu Protest against check dam at Thengaipattinam fishing harbour Fishermen across the State have planned a black flag agitation on Friday (July 31) demanding removal of a check dam in the Thengaipattinam fishing harbour in Kanniyakumari district. They said that the dam being constructed to prevent salt water intrusion had led to sand accretion at the mouth, which resulted in deaths of several fishermen. "In the past few weeks alone two men died in separate incidents. From the time construction began in 2019, several deaths have happened. It is being constructed without the permission of the fishers. If the work is continued, the harbour would be destroyed. We don't have enough space to anchor 700 mechanised boats and 4,000 traditional craft. They are not taking up work for our development," said A. Sesadimai, president, Thoothur Deep Sea Boats Association.
-M.D. Dayalan, Indian Fishermen Association, said that the natural fishing harbour at Thengaipattinam was being used by fishers of 15 villages but did not have facilities like ice units or auction halls. "Immediate steps need to be taken to prevent the deaths. All boat owners associations will join in the agitation," he said. Fisheries Minister D. Jayakumar said that an expert committee would be formed to look into the issue. https://www.thehindu.com/news/national/tamil-nadu/protest-against-check-dam-at-thengaipattinam-fishing-harbour/article32207832.ece   (28 July 2020)
SAND MINING
SANDRP Blog Uttarakhand: Finally, Yamuna illegal bridge gone. But will govt learn? Finally, Uttrakhand government on July 25, 2020 has removed illegal mining bridge on Yamuna river in Haripur, tehsil, Dehradun.
The bridge across the Yamuna River was built by the illegal sand miners on culvert pipes in the last week of May 2020 hindering the river flows. It is not clear if the state government took any punitive or deterrent steps against those responsible, or did the government just quietly removed the bridge at its own expenses. https://sandrp.in/2020/08/02/uttarakhand-finally-yamuna-illegal-bridge-gone-but-will-govt-learn/  (02 Aug. 2020)
Haryana 2 kids die in Yamuna sand mine pit in Sonipat Village youths, kids continue to die in deep sand mining pits. Latest incident occurred in Malikpur village in Sonpat on July 26, 2020.
While local media has not covered it properly, google earth images revealed area was indeed mined deeply. https://www.tribuneindia.com/news/haryana/2-drown-in-yamuna-in-sonepat-district-118336  (28 July 2020)
Punjab Two kids drown in Ferozepur village  In a freak mishap, two boys drowned in a sand pit on the outskirts of Megha Mahatam village in Guruharsahai subdivision on Wednesday (July 29) night. As per information, Gurlal Singh (7), and Guljar Singh (5), were playing near a sand pit where rainwater had got accumulated. The duo slipped and drowned in the sand pit, which was being illegally operated. https://www.tribuneindia.com/news/punjab/two-kids-drown-in-ferozepur-village-120167     (31 July 2020)
Mukerian farmers fret over illegal mining With no authorised quarry in the area, mining in the garb of levelling farmlands around Hajipur and Talwara poses threat to the adjoining fields. Farmers are losing their fertile land to soil erosion. Still, neither the Panchayat members accept it nor do the Mining Department officials. Some whistleblowers and a village Sarpanch are vocal against it, yet unheard. Jiwanwal, Dhamia Kalan, Kullian, Badhan and Deval villages are the worst affected.
-In these villages, several people have given their farmland to crusher owners in the garb of levelling it. At many places, the gorges caused by mining are posing threat to the adjoining fields. Surinder Kaur, Sarpanch of Kullian village, said: "Seven acres of my land are adjoining one such illegal quarry, dug more than 60-feet deep. We have lost four kanals due to soil erosion. Four months ago, we filed a complaint. The BDO came and checked the ongoing mining and it stopped for a few days. But it has resumed now and no one listens to us." https://www.tribuneindia.com/news/punjab/mukerian-farmers-fret-over-illegal-mining-department-in-denial-118691  (28 July 2020)
Uttar Pradesh MLA fears threat to life by mafia BJP MLA Yogesh Dhama has written to CM Yogi Adityanath and the Director-General of state Police claiming he has been facing a threat to his life from notorious gangster Sunil Rathi, who is lodged in Delhi's Tihar jail in connection with the murder of another gangster Munna Bajrangi. Dhama said the gangster openly threatened him when he came for a hearing of the Munna Bajrangi case at a Baghpat court.
-"He holds me responsible for stopping his illegal mining activities in the region. Two of my acquaintances have been killed by his men in the last month which proves that there is a real threat to my life," he said. The MLA claimed that Rathi was much more notorious that slain gangster Vikas Dubey who was the main accused in the killing of eight policemen earlier this month in Kanpur. https://www.daijiworld.com/news/newsDisplay.aspx?newsID=735000   (28 July 2020)
The same mafia was accused of killing of RLD workder. https://timesofindia.indiatimes.com/city/lucknow/sunil-rathi-ordered-rld-workers-killing-cops/articleshow/77188152.cms  (27 July 2020)
Rajasthan Forest guard mowed down by mafia in Sariska– A forest homeguard was mowed down by a tractor belonging to suspected mining mafia inside Sariska Tiger Reserve (STR) on Sunday (July 26) after he attempted to stop them along with his colleague. The guard was rushed to a hospital where he succumbed to injuries. Cops are yet to arrest the accused, but have seized the tractor. This is not the first time that forest officials have been attacked inside STR.
-This is not the first time that villagers have attacked forest officials. On January 25, a forest ranger of STR Jitendra Chaudhary had to run for his life after being attacked by villagers. The villagers attacked him after he and his 10-member team confiscated 18 sheeps and 30 goats for illegal grazing in the tiger reserve.
-On December 15, 2019, senior forest officials were allegedly manhandled by villagers in the tiger reserve. Following this, a case against 20 identified accused was registered at the Bansur police station. The reserve is spread across 1,281 sq-km area and is divided into six ranges. There are just 108 forest guards, which is far less than its sanctioned strength of 132. Moreover, with the menace of frequent attacks in Sariska, unarmed forest guards often struggle to protect the area. https://timesofindia.indiatimes.com/city/jaipur/forest-guard-mowed-down-by-mining-mafia-in-sariska/articleshow/77188260.cms  (27 July 2020)
Telangana Farmer Crushed To Death In Mahbubnagar  In a tragic incident, a farmer was crushed to death on Wednesday (July 29) by a sand mafia truck after he opposed the illegal transportation of sand from his agricultural fields. The heinous incident took place in Tirumalapur in Mahabubnagar district. The deceased has been identified as Narsimhulu.
-Last year, a similar incident occurred in the village when a farmer was killed by a sand mafia under the pretext of obstructing the sand mafia from illegal transportation of sand. Villagers have expressed outrage over the lackadaisical attitude of authorities who they say are not acting against such crimes.
Meanwhile, the villagers smashed the glasses of the truck. Villagers staged a protest with the dead body of Narsimhula demanding to support the family of the deceased and also a response from the authorities to curb the sand mafia's illegal activities. It is suspected that a public representative is allegedly backing the illegal sand mafia. https://english.sakshi.com/news/telangana/illegal-sand-mining-farmer-crushed-death-mahbubnagar-122088  (30 July 2020)
Mahbubnagar collector S Venkat Rao has initiated action against 12 officials in connection with the illegal mining and transportation of filter sand in Thirumalapur of Rajapur mandal.
The illegal mining of sand was reportedly taking place for some time and villagers raised a hue and cry about it. Another villager was also run over by a sand transportation vehicle and villagers alleged that it a murder committed by the sand mafia. https://timesofindia.indiatimes.com/city/hyderabad/telangana-action-against-12-in-illegal-sand-mining-in-mahbubnagar-after-farmers-death-under-tipper/articleshow/77289408.cms  (31 July 2020)
Odisha NGT bans mining in Subarnarekha river NGT has ordered for a halt to sand mining in Subarnarekha river under Jaleswar tehsil in Balasore district after a joint inspection committee formed by it confirmed illegalities and violation of pollution norms by the leaseholders. The Tribunal issued the ban order on Thursday (July 28) after the report submitted by the committee indicated that there was excess mining beyond the permissible limit and sand was extracted beyond the mining lease area.
-In its report, the committee has suggested prohibition of use of machineries by leaseholders and enforcement of movement period from 8 am to 4 pm with speed limit of 20 km per hour of transport vehicles on village roads along with water spraying on the roads. he NGT has given the leaseholders the liberty to file comments/ objections within two weeks and ordered for listing of the matter on September 15. https://www.newindianexpress.com/states/odisha/2020/aug/01/ngt-bans-sand-mining-in-subarnareka-river-2177679.html  (01 Aug. 2020)
Tamil Nadu Madras HC ticks off task force for failure to stop sand mining in Sivaganga  Taking a serious view of the illegal sand mining activities in Sivaganga district, Madras high court on Wednesday (July 15) directed the state government to submit a status report on the actions that could be taken against the taluk or district-level task force for failing to perform their duties. The court was hearing a petition filed by a resident of Thiruppuvanam in Sivaganga district seeking to prevent illegal sand mining on patta land parcels adjacent to the Vaigai river and from the river bed near Kannoor village.
-In its counter-affidavit, the government stated though permission was granted to a person for quarrying only 8,415 cubic metres of sand, he had quarried up to 24,000 cubic metres illegally. The district collector subsequently imposed a penalty of Rs 36.92lakh on him. It was further stated that there was no illegal mining in the Vaigai river bed.
-A division bench of Justices M Sathyanarayanan and P Rajamanickam observed that the government had stated that taluk and district-level task force was keeping a 'vulture's eye'. Had the task force done its work diligently, the excessive sand mining could have been prevented. The judges suo motu impleaded principal secretaries of industries and revenue as respondents in the petition.
-The judges directed that the status report should also answer as to how the illegally quarried sand from the patta lands was transported without any permits given. The case was adjourned to August 5 for further hearing. https://realty.economictimes.indiatimes.com/news/allied-industries/madras-hc-ticks-off-task-force-for-failure-to-stop-sand-mining-in-sivaganga/76995774     (16 July 2020)
Jammu & Kashmir Kashmir now hotspot of illegal riverbed mining A few months after the Jammu and Kashmir government auctioned hundreds of riverbed stretches for mineral extraction, firms that won the bids are mining the riverbeds despite lack of environmental clearance. This makes the mining illegal. But instead of stopping that, on July 30 the government ordered "fast-tracking of environmental clearance."
What is happening in Jammu and Kashmir is part of widespread illegal riverbed mining all over South Asia, which flourishes despite numerous reports by officials, independent experts and the media. Three journalists reporting illegal riverbed mining have been killed over the last five years in India; many others have been injured and threatened. https://www.thethirdpole.net/hi/2020/08/03/kashmir-now-hotspot-of-illegal-riverbed-mining/  (03 Aug. 2020)
Supreme Court EC not needed for mining of ordinary earth The PIL had challenged the MoEF notification of March 28 to an extent that a new Clause 6 had been inserted to the Appendix IX of the EIA, 2006 and thus 'extraction or sourcing or borrowing of ordinary earth for the linear projects such as roads, pipelines etc' has been exempted from requiring a prior environment clearance that was otherwise a mandatory pre-requisite and conditional precedent under the EIA, 2006.
-It said that extraction of ordinary earth is a mining activity as "Ordinary Earth" was notified as a 'minor mineral' under Section 3(e) of the MMDR Act, 1957 in 2003 and the SC in Som Datt Builders Ltd vs UOI, in 2010 upheld the vires of the relevant notification notifying 'ordinary earth' as a minor mineral.
-Citing SC judgment that stated "all mining of minerals requires environment clearance, the Society sought to classify mining of "ordinary earth" as other mining. It claimed that the 2003 government notification classified "ordinary earth" too as a mineral. https://www.financialexpress.com/industry/development-will-come-to-standstill-environment-clearance-not-needed-for-mining-of-ordinary-earth-says-supreme-court/2037973/   (29 July 2020)
WETLANDS, LAKES, WATER BODIES
ESG Saving Lakes Using Judicial Orders Issued In ESG PIL's On 11th April 2012, a Division Bench of the Karnataka High Court issued a final order in a Public Interest Litigation filed by ESG (WP 817/2008) seeking an end to the policy of privatisation of lakes, and for advancing a participatory schema that would assist protection and rehabilitation of lakes (and their canal networks) in Bangalore and across Karnataka.
A direct result of this PIL is that the State Government enacted a special law to protect lakes and its canals (raja kaluves) across the state The Karnataka Tank Conservation And Development Authority And Certain Other Law (Amendment) Act, 2018.
Compliance with judicial directives and laws has been weak largely due to lack of coordination between different agencies, systemic inadequacies, weak (or no) participatory planning and lethargic responses to encroachment and pollution of lakes and other wetlands.
But how does one use all these directives and laws and ensure any lake, pond, raja kaluve, is protected? To know how, read about an example of ESG's effort in protecting Krishnarajapura Kere, Mavallipura, North Bengaluru here: https://esgindia.org/new/campaigns/lakes/saving-lakes-using-judicial-orders-issued-in-esg-pils/  (28 July 2020) 
GROUNDWATER
Uttar Pradesh Metals, coliform in groundwater in areas of Hindon river basin -According to the report, released the by Council of Scientific and Industrial Research (CSIR)-Indian Institute of Toxicology Research that collected water samples from hundreds of villages across the nine districts falling along the Hindon basin, the water has conductivity, high amount of calcium, iron, manganese and nitrates, as well as faecal coliform, which is basically human or animal waste. The samples were collected from June to July last year through hand pumps and bore wells in the villages, while the detailed report was compiled only recently.
-The report includes Razapur, Dankaur, Dadri and Bisrakh blocks of Gautam Budh Nagar district that falls under the river basin. High quantities of calcium, iron, conductivity, and coliform were found there, which experts say is not fit for consumption.
-The report shows that conductivity or presence of ions in the groundwater varies from 1,135 to 295 microsiemens per centimeter (uS/cm), while the standards require the same to be zero. The coliform or bacteria generated from human and animal waste was present at most of points in the district and elsewhere, ranging from 10 to 50 CFU/ml or colony forming units per ml. As per standards, there must not be any coliform in groundwater and its presence indicates that untreated and unregulated sewers are seeping into the Hindon river basin and contaminating the groundwater. https://www.hindustantimes.com/cities/noida-metals-coliform-high-salinity-in-groundwater-in-areas-of-hindon-river-basin/story-Df4kMWBmR9uwcuFaS9EvtM.html   (26 July 2020)
URBAN WATER
Delhi High levels of ammonia in Yamuna water Media, govts, NGT still missing key point why drain no. 6 effluents are allowed to mix up with potable water supply in Drain No. 8. https://indianexpress.com/article/explained/high-levels-of-ammonia-in-yamuna-water-6527247/  (31 July 2020)
The Haryana State Pollution Control Board (HSPCB) sent teams for inspection to Panipat and Sonepat districts Monday, following complaints of high ammonia levels in raw Yamuna water in Delhi.  https://indianexpress.com/article/cities/delhi/high-ammonia-levels-in-yamuna-water-teams-sent-for-inspection-6526653/  (28 July 2020)
-The NGT-appointed Yamuna Monitoring Committee (YMC) has sought a report from the Central Pollution Control Board, Delhi Pollution Control Committee and Industries Commissioner about the reasons behind "sudden froth" in the river. https://zeenews.india.com/india/ngt-panel-seeks-report-from-cpcb-dpcc-on-frothing-in-yamuna-river-2298537.html  (27 July 2020)
-Water supply in several parts of Delhi will be affected due to an increase in pollutants in raw water discharged from Haryana, Delhi Jal Board (DJB) said on Monday (July 27). Parts of west, north, central and south Delhi are among the areas where the supply will be hit due to increased levels of ammonia in raw water, according to DJB. The board has requested citizens to use water judiciously and assured it will restore normal supply as soon as possible. https://www.hindustantimes.com/delhi-news/water-supply-to-be-hit-in-parts-of-delhi-govt-advises-people-to-use-water-judiciously/story-9Rr87fXfc7iZO8g9lXMuxM.html  (27 July 2020)
-Vice chairman of Delhi Jal Board, Raghav Chadha on Monday (July 27) informed that water supply will be affected in parts of west Delhi, north Delhi, central Delhi and south Delhi. Chadha said that water supply will be affected because of an increase in pollutants in raw water discharged from Haryana. https://timesofindia.indiatimes.com/city/delhi/water-supply-to-be-affected-in-several-parts-of-delhi-raghav-chadha/articleshow/77191489.cms  (27 July 2020)
A DJB official said Haryana had opened the gates of drains that had stagnant water with a high pollutant concentration, following heavy rainfall. Effluents from industrial units upstream of the Wazirabad barrage might also have increased the pollutant levels in the river, the official said.  https://www.tribuneindia.com/news/delhi/high-ammonia-levels-in-raw-water-from-haryana-hit-supply-in-delhi-djb-118538  (27 July 2020)
-"The problem occurred after heavy rainfall caused officials in Haryana to open the gates of drains that had stagnant water with high concentration of pollutants…," the DJB official said.  The DJB official added that effluents from industrial units upstream of the Wazirabad barrage would have also caused the spike in pollutant levels. The situation was brought under control by diluting the water through fresh supply from Munak canal. https://indianexpress.com/article/cities/delhi/delhi-ammonia-level-up-in-yamuna-treatment-hit-6522309/  (25 July 2020)
Chennai Water level in reservoirs break 17-year record Rains and inflow from the Krishani and Cauveri rivers ensured a 48 per cent storage level in four reservoirs and Veeranam lake on July 25, breaking a 17-year record. The 48 per cent combined storage level in the four reservoirs and Veeranam on July 25, this year was the second-best since 2003, weather blogger Pradeep John said. It was 49 per cent on the same day in 2011 and 44 per cent in 2008. The figure was just one per cent the same day last year. The closure of companies due to the lockdown and use of treated grey-water by industries has also helped. https://www.timesnownews.com/chennai/article/chennai-cm-palaniswami-says-efforts-paid-off-as-water-level-in-reservoirs-break-17-year-record/629009   (29 July 2020)
Mumbai 20% water cut from August 1 BMC Commissioner Iqbal Singh Chahal said the city will face a 20 per cent water cut from August 1 as the catchment areas of Thane and Nashik received poor rainfall.
Chahal said, "We have about 35 per cent water stock now. I pray that it rains well in August. I was the irrigation secretary of the state and have a plan to get water from the Bhandardara dam in Ahmednagar to Mumbai." He said the BMC will ease the restrictions on supply if rainfall increases in August. https://mumbaimirror.indiatimes.com/mumbai/civic/mumbai-to-face-20-water-cut/articleshow/77274246.cms   (31 July 2020)
Pune Massive deficit in 4 dams as showers elude catchments Scanty rainfall in July has added a mere 4.6 thousand million cubic feet (TMC) of water to the four reservoirs that supply water to Pune city, causing a deficit of 13 TMC. On Friday (July 31), the collective stock in Khadakwasla, Panshet, Varasgaon and Temghar stood at 9.8 TMC. This time last year, all four reservoirs together had 23 TMC. The water level in none of the four dams has crossed the halfway mark — Panshet was 40% full, Varasgaon and Khadakwasla had 32% stock each, while Temghar's storage stood at 20%. https://timesofindia.indiatimes.com/city/pune/massive-deficit-in-4-dams-as-showers-elude-catchments/articleshow/77293568.cms  (01 Aug. 2020)
MONSOON 2020
This slideshow requires JavaScript.
State, Sub-Deivision, River Basin cumulative rainfall maps from 01 June -03 Aug. 2020. 
SANDRP Blog District wise Rainfall in India in June July 2020 India received 10% BELOW NORMAL rainfall in just concluded July 2020 as per IMD figures. Cumulatively, June July rainfall was Normal with actual rainfall being at 453.3 mm, just 1.1 mm above normal rain of 452.2 mm. However, these national figures hide the reality of state wise, sub division wise, river basin wise and district wise rainfall. This blogs provides all that information, including for all the districts.  Please Read, Share. There is nothing more important than RAINS!! https://sandrp.in/2020/07/31/district-wise-rainfall-in-india-in-june-july-2020/   (31 July 2020)
Report Deficient rainfall in parts of country Several north-eastern states are dealing with floods but many areas in the core monsoon zone that includes parts of central and eastern India and some regions in the north-west have recorded a high rate of rain deficiency in July, a period when the rains are normally dominant.
-Rajasthan has a deficiency of 33%; Madhya Pradesh 40%; Chhattisgarh 23%; Jharkhand 20% and Odisha 27% for the month July. Uttar Pradesh has a shortage of 14% but is not in the India Meteorological Department's deficient category. This is mainly because of scanty rainfall in western Uttar Pradesh. https://www.hindustantimes.com/india-news/deficient-rainfall-in-parts-of-country/story-FiJST6fcL5zccvzQuGMYWM.html   (27 July 2020)
IMD says monsoon likely to be normal in second half However, rainfall in August is likely to be only 97% of its LPA, the IMD said, sticking to a forecast estimate from June. August, like July, is a key month for the monsoon as it contributes about 30% of the overall monsoon rainfall. (July tops with 33%). September is the month when the monsoon is on the wane, and contributes only about 16%. https://www.thehindu.com/news/national/monsoon-likely-to-be-normal-in-second-half-of-rainfall-season-says-imd/article32240025.ece  (31 July 2020)
-IMD's forecast update does not preclude the possibility of above-normal rainfall in the second half of the season. "The probabilistic forecast suggests rainfall over the country during the second half will most likely be normal (94-106% of LPA). However, the probability of above normal rainfall (106% of LPA) is also higher than the corresponding climatological probability," the forecast states. https://timesofindia.indiatimes.com/india/monsoon-10-deficient-in-july-driest-in-5-years/articleshow/77294003.cms  (01 Aug. 2020)
Gujarat Jalalpore, Navsari pounded in 10 hours Jalalpore taluka of Navsari district on Wednesday (july 29, 2020) received 135 mm rainfall in 10 hours between 6 am and 4 pm. Navsari too got drenched with 86 mm rainfall in the same period. More rain is forecast for the region for 48 hrs from Wed evening (July 29). https://timesofindia.indiatimes.com/city/surat/jalalpore-navsari-pounded-in-10-hrs/articleshow/77248192.cms   (30 July 2020)
Haryana & Punjab Getting well-distributed normal rainfall during the monsoon period in Punjab and Haryana states is important because both states are key rice producers in the country. https://indianexpress.com/article/explained/punjab-haryana-rainfall-paddy-cultivation-6530476/   (30 July 20200
Rajasthan Water level plummets in dams Rana Pratap Sagar in Chittorgarh had received good rains initially. "Now it has depleted and currently is at 71.86% of full capacity. Even after two spells of rains, it still needs some more bouts of shower," said a dam engineer on.
Bisalpur Dam that caters to the drinking water and irrigation needs of Tonk, Ajmer and Jaipur was merely 5.93% filled last year prior to the onset of monsoon before reaching almost full capacity. Currently, it has 53.79% filled. "It had 56% prior to monsoon. Water level is continuously depleting and only a good spell of rains lasting three to four days is needed to push up its water level," an officer said.
Other dams including Mahi (Banswara), Kota Barrage and Jawahar Sagar are yet to see elevation in its water levels because of two poor spells of monsoon. "Hadauti region usually gets good monsoon. This is the reason why dams in Kota are in better position compared to rest of the districts. However, this year even Kota division known for torrential rainfall is yet to see a good spell. The district having two dams — Jawahar Sagar and Kota Barrage — have water level above 80 per cent currently," said an officer. Officials from the state water resources department, while adding that there were two more months of monsoon left, said they would review the stock and prepare a water management plan around August 15. https://timesofindia.indiatimes.com/city/jaipur/water-level-plummets-in-dams/articleshow/77208623.cms  (28 July 2020)
FLOOD 2020
SANDRP Blog Making sense of Gandak floods While Bihar is again facing one of the worse floods this monsoon, one basin in Bihar that has possibly faced the maximum floods is GANDAK.
One indicator of the severity of the Gandak Basin floods in JULY 2020 can be gauged from the fact that it broke 34 year old Highest Flood Level record at Rewaghat, 19 year old HFL at Lalganj and three year old Flood record at Dumariaghat. This article tries to make a sense of these floods using available information and points out some serious anomalies and lessons we can learn. Please, Read and Share. https://sandrp.in/2020/07/28/making-sense-of-2020-gandak-floods/   (28 July 2020)
Bihar Gandak river embankment breached At least three breaches reported in the embankments of river Gandak in north Bihar leading to inundation of hundreds of villages in Gopalganj and East Champaran districts.
-In the name of flood control, the state government has embanked all the major rivers of the state by constructing tall earthen dams all along their flow. But, rather than controlling floods, these embankments seem to have increased the flood affected area.
-For instance, in 1954, Bihar's flood prone area was 2.5 million hectares (mha) and the state had only 160 kms of embankments. During the 1974 floods, Bihar had 2,192 kms of embankments and its flood prone area had increased to 4.26 mha.
-Thirteen years later, in 1987 floods, the state prided itself in 3,321 kms of embankments, but the flood prone area had shot up to 6.461 mha. The year 2004 brought one of the worst floods, killing 885 people. By then, Bihar had 3,465 kms long embankments and a flood prone area of 6.88 mha. https://en.gaonconnection.com/bihar-flood-situation-worsens-as-embankments-of-the-gandak-river-breach-about-a-million-people-affected-in-the-state/   (27 July 2020)
Why alluvial flood plains of north Bihar need alternative sanitation system At least 7.85 million toilets were constructed in the 15 extreme flood-prone districts at an estimated cost of Rs 94, 205 million. Irrespective of the ecological and hydrogeological variations, flood typologies, location of habitations and floodscapes, the most preferred technology for toilet construction was the twin-leach pit and septic tank.
-Flood is a recurring threat to the sustainability of open defecation free (ODF) status in Bihar. It is important to factor in the disaster as an impediment and set sanitation in a context. Recurring floods pose a threat to toilet structures and prevent access in difficult times. Along with floods, the importance to ecological sustainability of sanitation facilities must also be attached for total reduction in contamination of soil, surface water or ground water. The most recent floods have iterated the need for re-strategising sanitation works to ensure sustenance of facilities and its ecological symmetry across the flood typologies of north Bihar.
-Overlaying the recurring floods with the sanitation technology is critical to meet the objectives and ultimate goal of ODF. As stated earlier, this will mean planning for sanitation sustainability, given the vulnerability to floods. In addition, there should also be focus on ecological sustainability of sanitation tailored to meet the challenges posed by floods. Any future activity that needs to be planned and implemented in north Bihar for sustainability of sanitation would have to address the challenge posed by floods and the threat of contamination. https://www.downtoearth.org.in/blog/rural-water-and-sanitation/why-alluvial-flood-plains-of-north-bihar-need-alternative-sanitation-system-72494   (27 July 2020)
This slideshow requires JavaScript.
Adhwara river at Bishunpur site in Darbhaga flowing above HFL since July 25 (9 days) with steady upward trend. Currently on Aug 03 at 13:00 hours, its 0.86 metre above the previous HFL. Its unusual. http://ffs.tamcnhp.com/main/hydrograph-detail/034-mgd4PTN
Burhi Gandak river has breached previous HFL 46.35 metre attained on 16.08.1987 at Rosera site in Samastipur on 31.07.2020 around ~07:00 hours and continue to flow at 46.56 metre which is 0.21 metre above the HFL. http://ffs.tamcnhp.com/main/hydrograph-detail/006-mgd4ptn
For past ~64 hrs, River Adhwara at Bishunpur site in Darbhanga dist continues to flow over previous HFL 48.04 m attained on 24.08.2017. Present HFL is 48.6 m as on 27.07.2020 at 19:00 hrs. It first crossed HFL on July 25 at 01:00 hours.  https://www.facebook.com/sandrp.in/posts/3627515523942761
On 31.07.2020 ~07:00 hours, River Burhi Gandak at Rosera site in Samastipur dist has breached previous HFL 46.35 metre attained on 16.07.1987. Currently flowing at 46.51 metre. https://twitter.com/CWCOfficial_FF/status/1289080571914678272
On 28.07.2020 ~19:00 hrs, River Burhi Gandak at Sakra site in Muzaffarpur dist has crossed previous HFL 50.87 m attained on 28.08.2017 & currently flowing at 51.40 metre which 0.53 metre above the HFL. https://twitter.com/CWCOfficial_FF/status/1289079840973312000
Assam Trail of broken barriers Lakhipur isn't the one a part of Assam to have suffered from brittle embankments. Data supplied by the Assam State Disaster Management Authority (ASDMA) say 220 embankments had been broken or breached this time. Officials admit this has been a significant component in 56.71 lakh folks being affected and within the loss of life of 108 folks throughout 30 of Assam's 33 districts between May 22 and July 30.
-"The depth, injury and loss of life within the final 20 years have been proportional to the breaching of embankments, and it's getting worse yearly," says Partha Jyoti Das, who heads the water, local weather and hazard programme of Guwahati-based NGO Aaranyak. "This additionally signifies how the complete flood administration is closely depending on advert hoc embankments."
– 64 folks died and 39.81 lakh had been affected in 2016 when 26 embankments had been broken. In 2018, 25 embankments had been broken, 45 had been killed and 13.22 lakh affected. Das says planners and engineers laid the "basis of catastrophe" with the dyke-oriented National Policy for Flood 4 years after the good earthquake of 1950 that affected the programs of some main rivers. No time, vitality or sources had been spent on finding out the hydrological, geo-morphological and weather conditions of the rivers because the embankments got here up throughout. The embankments outlived their utility and commenced collapsing from the 1990s, quickly by the flip of the millennium. There was patchwork upkeep of the previous dykes, and companies aside from the WRD started constructing embankments haphazardly with none scientific enter. https://www.thehindu.com/news/national/other-states/in-assam-a-trail-of-broken-barriers/article32244695.ece  (01 Aug. 2020)
Floods: Recurrent Reality of Assam -There's much to learn from indigenous communities like the Mishing community residing in Assam and Arunachal Pradesh, which have learnt to live with floods. The Chang-ghars or houses on stilts represent the unique way of coping with floods through the style of housing.  Similarly, in Thekeraguri, the communities respond to recurrent floods by raising the plinth or bheti of their houses. For communities residing in recurrent flood prone areas, like Thekeraguri, traditional knowledge and response strategies in the face of adversity, goes a long way. These unique strategies are more than often the best way possible to deal with a disaster that is unfolding. Livelihood patterns, agriculture, housing, food habits, communication are all influenced by the repeated exposure to a natural hazard like floods. People's experiences of living with floods over decades, have moulded and reshaped these response strategies, that seem invisible and intricately intertwined with everyday lives. https://paaniwalibaat.wordpress.com/2020/07/25/floods-the-recurrent-reality-of-assam/  (25 July 2020)
US Dredger to Remove Silt from Brahmaputra River for Flood Control -The Assam government had previously floated a tender for the purpose, which the company won. "Removal of silt in the Brahmaputra is expected to make a change in the situation. The dredger from the US is expected to arrive next year," said Keshav Mahanta, the state's Minister for Water Resources. However, the state government's decision on dredging comes at the heels of a report by the Central Water Commission, which is not in favour of the exercise.
-Earlier, an eight-member committee headed by a former professor of Gauhati University, Dulal Goswani, had also disagreed with the exercise. The Committee, called – 'Fluvial Morphology of River Brahmaputra, Sediment Management with Possibility of Dredging by Adopting Modern Technology' – was of the opinion that dredging operations were an unfeasible option to mitigate the twin hazards of flood and erosion in Assam.
-The report had underscored the failure of the previous exercises in the state by the Inland Waterways Authority of India (IWAI) and the Water Resources Department. Dredging of the Brahmaputra river was taken up in 1977 and 1978 at Dharapur near Guwahati. However, the dredged channels were again filled with silt in the subsequent flood waves which compelled the government to discard the operation.
-The government had also firmed up plans to construct an 890 kilometres-long Express Highway along the entire length of the Brahmaputra – from Sadiya in the east to Dhubri in the west – with the silt dug out from the river. The goal was to check erosion but it is not known whether the government plans to go ahead with the project.
-An official said a decision had not yet been reached on the particular stretch of the river which is to undergo 'corrective dredging'. "An evaluation would be done after the floodwaters recede and then a decision would be made by the department. Given that the Brahmaputra is a very unpredictable river, it is likely that the spots would keep changing frequently," he said.
– The exercise assumes importance in the backdrop of the plans to link Brahmaputra with Chittagong port in Bangladesh and Haldia in West Bengal. Tripura has already received the first batch of transit cargo of 100 tones at the Akhaura Integrated Check Post (ICP) from Bangladesh sent from the Haldia port of West Bengal.
-Three years ago, union transport minister Nitin Gadkari had also announced Rs 250 crores to for dredging the river, to expedite the project to connect to Bangladesh. As part of the plan to come up with effective management strategies for the Brahmaputra river, the government had resolved to form an expert committee, to be sent to China. A study was to be conducted in association with the World Bank to frame policies for checking flood and erosion. But the plan has been shelved for the time being with the worsening of ties between India and China and the ongoing Covid-19 pandemic. https://www.news18.com/news/india/us-dredger-to-remove-silt-from-brahmaputra-river-for-flood-control-in-assam-experts-say-its-futile-2735271.html  (26 July 2020)
Opinion It is time we stop demonising riverine floods during monsoon as a calamity -If we look closely at the recent 'disastrous' flood events reported from different parts of the country, we find that in almost all of these cases, the root causes were humanmade – poor or choked urban drainage systems, senseless paving of all roadside greens and other open spaces, draining and conversion of water bodies into alternate land use, encroachment, concretisation and covering of natural drains and their floodplains (Mumbai, 2005 and Chennai, 2015 ) or embanking, encroachment on floodplains and damming of rivers (Uttarakhand, 2013, Bihar 2016 and Kerala, 2018). All of the above, when accompanied by high to very high rainfall, led to floods. But, the safe draining out or sub-surface absorption of water was impeded by human follies. https://en.gaonconnection.com/it-is-time-we-stop-demonising-riverine-floods-during-monsoon-as-a-calamity-here-is-why/   (22 July 2020)
URBAN FLOODS
SANDRP Blog But why did Sen Nursing drain breach? On the intervening night of July 18 and 19, Delhi received heavy rainfall spell leaving several areas water logged. In the afternoon of July 19, a video went viral on social media showing collapse of houses along Sen Nursing Nala at ITO, Delhi.
The incident happened due to a breach in right bank of storm water drain at the back of WHO building reportedly damaging about 12 houses of Anna Nagar, a fifty years old slum area located along the left bank of the drain. https://sandrp.in/2020/08/01/but-why-did-sen-nursing-drain-breach/  (01 Aug. 2020)
Delhi fights monsoon flooding with 44-year-old drainage plan -The last Drainage Master Plan was drafted by the Delhi Government way back in 1976. Since then, the city has grown exponentially in terms of size and population, but the drainage system remains the same archaic structure that it was 44 years ago.
-In 2012, the Department of Irrigation and Flood Control of the Sheila Dixit-led government had tasked IIT Delhi with creating a new master plan, which was ready by June 2018, but the government is yet to give its go-ahead. As a result, the 1976 system is having to cope with conditions which it was never designed to handle. https://citizenmatters.in/delhi-monsoon-flooding-drainage-and-aap-bjp-blame-game-19940   (30 July 2020)
-Different parts of Delhi get flooded every year due to multiple reasons such as over-concretisation, disappearing waterbodies and encroachment at many points on over 3,700 km of storm water drains, which are supposed to take away rainwater. Also, untreated sewage flowing into these drains and the multiplicity of agencies managing them add to the woes. Despite the gravity of the problem, a 'Drainage Master Plan for NCT of Delhi', seen as a possible solution, is yet to be implemented by the city government. https://www.thehindu.com/news/cities/Delhi/is-delhi-losing-battle-against-urban-flooding/article32198568.ece  (26 July 2020)
Kochi HC seeks report Something is wrong somewhere, the Kerala high court said on July 30 regarding the flooding of many parts of Kochi in Kerala during July 29 rains. Asking Ernakulam district collector and Kochi Corporation secretary to file reports, the court pointed out that they have been telling the court that action was taken to prevent flooding.
-In an interim order, justice Devan Ramachandran said, "On every date these matters had been listed, this Court had been told by the District Administration and the Corporation of Kochi that all effective and necessary steps had been taken from their end to avoid such inundation. However, yesterday's experience shows otherwise and this Court, therefore, has reason to suspect that something is wrong somewhere."
– Government pleader S Kannan submitted on behalf of district administration that faulty gradient of Mullassery Canal, which was built by the corporation years ago, is causing problem as it slopes to the west instead of east, resulting in storm water flow towards east, towards Perandoor Canal. Flow to the Perandoor Canal is now totally obstructed due to the railway line. If this water is also let into the Perandoor Canal, it would become overburdened and cause to overflow, the government pleader submitted. https://timesofindia.indiatimes.com/city/kochi/kochi-floods-hc-seeks-reports-from-district-collector-corporation/articleshow/77266964.cms  (30 July 2020)
Panchkula Admin buckles up for rising water level in river, dam As Panchkula district and the neighbouring regions witness increasing rainfall, with the monsoon hitting its peak, the water level of Ghaggar river and Kaushalya Dam is also consistently rising. While the water level at Kaushalya Dam, which tops out at 478m, has touched 468.5m– still far from the danger mark (at 1.9m), Ghaggar river is currently flowing at 0.15m. The usually low levels of Ghaggar river rises when water is released from the dam.  https://indianexpress.com/article/cities/chandigarh/panchkula-admin-buckles-up-for-rising-water-level-in-river-dam-6535302/   (02 Aug. 2020)
Chennai WRD starts work to reduce the bund height of Cooum The Water Resources Department has initiated work to reduce the height of the Cooum's bund to allow floodwater to flow into the river.
It may be recalled that the department had raised the bund height to 3 m during the desilting and widening work carried out last year. One of the reasons cited for the exercise was the prevention of encroachments. Now, WRD officials said the height of the bund would be reduced to 1 m to match the road height. The road height being lower in places abutting the river, such as South Cooum Road in Pudupet and Swami Sivananda Salai, it hindered the flow of rainwater into the waterway.
WRD plans to complete the work in two months. The 9-km stretch between Choolaimedu and Napier bridge was being covered as part of the integrated Cooum River Eco-restoration Project. The work is being carried out based on the recommendations of project consultant, LKS India Private Limited. https://www.thehindu.com/news/cities/chennai/water-resources-department-starts-work-to-reduce-the-bund-height-of-cooum/article32250459.ece  (02 Aug. 2020)
LANDSLIDES
Uttarakhand  
A landslide occurred near ITBP camp in Gauchar of Chamoli district on July 27, 2020 morning, blocking Badrinath Highway. The operations to clear the highway is underway. https://twitter.com/ANI/status/1287589760911867906
This highway stretch has become landslide prone after road widen work under Char Dham road project. https://www.youtube.com/watch?v=9zf6v_Wm1PM&feature=youtu.be  (30 July 2020)
More news of landslip incidents from state rendering residents lives miserable.
Early on July 31, NH 94 protection wall fell on a two storey building in Kheda village of Kunjapuri area, Narendra Nagar tehsil, Tehri.
2 On July 30, a JCB operator was buried under landslip debris at Chinyalisoud, Uttarkashi. https://www.facebook.com/sandrp.in/posts/3640184422675871
In morning hours of August 01, 2020, a huge landslide blocked the road to Chakrata near Bausan village in Vikas Nagar tehsil, Dehradun. The landslide site is on Yamuna river.  https://www.facebook.com/sandrp.in/posts/3644450332249280
On July 31, few vehicles severely damaged after getting hit by falling debris at Jajred landslide on Kalsi Chakrata road in Haripur tehsil. https://www.facebook.com/sandrp.in/posts/3644430455584601
Before this, on July 27-28, Kalsi-Chakrata road was blocked following fresh landslide at Jajred location causing hundreds of vehicles stuck on either side. https://www.facebook.com/sandrp.in/posts/3640205029340477   
For more information on Jajred landslide, kindly see: https://sandrp.in/2020/07/08/jajred-perennial-landslide-in-yamuna-basin-uttarakhand/
Landslides, floods and struggle against it, good to see ABP is highlighting it all here. Stories from Uttarakhand (Char Dham Highway and others), Bihar (Gandak floods and others), Rajasthan (Bundi, others), Madhya Pradesh (Chhattarpur). https://www.youtube.com/watch?v=q2Gn8gCiRlg  (29 July 2020)
CLOUD BURSTS
Uttarakhand  A simple village youth has made detailed you tube video on large scale impact of recent cloud burst Boora, Pader villages of Ghat block in Chamoli. This much information is generally missing in main stream media. https://www.youtube.com/watch?v=bP35Rq7xB84&feature=youtu.be  (28 July 2020)
ENVIRONMENT
NGT raps MoEF over monitoring of environmental norms The green panel said compliance of conditions of environmental clearance must be monitored on periodical basis, at least once in a quarter. It asked the Environment Ministry to review and strengthen the mechanism for the purpose.
-The matter is listed for hearing on December 17. The directions came when the green panel was hearing a plea moved by petitioner Sandeep Mittal seeking stricter mechanisms to ensure compliance of conditions mentioned in environmental clearances granted for projects. Laying down conditions for EC based on appraisal is not enough unless compliance thereof is duly monitored and ensured with a view to achieve the said object, the plea said. https://timesofindia.indiatimes.com/india/ngt-raps-moef-over-monitoring-of-environmental-norms/articleshow/77299429.cms   (01 Aug. 2020)
EIA Draft 2020  EIA draft translated into 3 languages instead of 22 Amid the public outrage over the controversial Draft Environmental Impact Assessment (EIA) notification, 2020 set to close in less than 10 days, an official correspondence accessed by a Right To Information (RTI) request has revealed that the text of the notification has only been translated into three languages, instead of at least 22. The Delhi High Court, on June 30, had ordered that the draft EIA be translated into "at least the languages mentioned in the Eighth Schedule of the Constitution" within 10 days. The list constitutes 22 languages. However, according to documents obtained by environment activist, Vikrant Tongad, despite five reminders by the Centre to various States, the Centre got translations of the draft EIA only in three languages – Marathi, Nepali and Odia, reported The Hindu. https://thelogicalindian.com/environment/eia-draft-translated-into-3-languages-22720   (01 Aug. 2020)
Withdraw EIA Notification: 52 groups, activists from Himalayan region write to environment ministry  More than 50 environmental organisations, eminent ideologues and activists from across the Himalayan region issued a joint statement on Monday (July 27) opposing Environment Impact Assessment Notification 2020 (EIA) by MoEF&CC.  The signatories from Assam, Nagaland, Manipur, Meghalaya, Arunachal Pradesh, Uttarakhand, Kashmir, Himachal and Ladakh demanded immediate scrapping of the 2020 draft amendments.
-According to the group, three most threatening developmental activities that have met with strong resistance from local communities and environmentalists include hydropower development, mindless construction of highways and infrastructure for commercial tourism and growing industrialisation. Adding that hydropower development is being undertaken in the entire Himalayan region of India, to develop a potential of 150000 MW power, they stated nearly 90 per cent of Indian Himalayan valleys would be affected by dam building and 27 per cent of these dams would affect dense forests.  https://www.newindianexpress.com/nation/2020/jul/29/withdraw-eia-notification-50-groups-activists-from-himalayan-region-write-to-environment-ministry-2176289.html  (29 July 2020)
Why activists and experts against the draft EIA 2020 Earlier in 2020, the Supreme Court had expressed its disapproval for the practice of providing environmental clearance to industrial projects on a post-facto basis. It had stated that allowing it would be detrimental to the environment and would lead to irreparable degradation of the environment.
-"Allowing for an ex post facto clearance would essentially condone the operation of industrial activities without the grant of an Environmental Clearance (EC). In the absence of an EC, there would be no conditions that would safeguard the environment…In either view of the matter, environment law cannot countenance the notion of an ex post facto clearance. This would be contrary to both the precautionary principle as well as the need for sustainable development," the order stated. Hence the opportunity for big industrial projects to seek EC after initiating the project is in direct contradiction to the stance of the apex court. https://www.thenewsminute.com/article/tnm-explainer-why-are-activists-and-experts-against-draft-eia-2020-129566   (28 July 2020)
-As the campaign against the EIA 2020 draft gets stronger, here are a few other environmental causes that have won due to active and consistent participation and representation by the people of the country. https://www.thenewsminute.com/article/eia-2020-draft-here-are-five-instances-where-people-s-voices-helped-environment-129656  (29 July 2020)
Draft EIA 2020 Is Out of Sync With State Practices, International Law  Considering the two decades of stupendous judicial interventions in the field of environmental impact assessment to pronounce on the critical process of EIA in consonance with the international developments, the EIA notification of 2020 is a regressive step back. https://thewire.in/environment/draft-environment-impact-assessment-notification-international-law  (31 July 2020)
Diluting the EIA process spells a path of no return  There is no doubt that a mere strengthening of the existing EIA norms will not by itself be sufficient. We need a renewed vision for the country; one that sees the protection of the environment as not merely a value unto itself but as something even more foundational to our democracy.
-To that end, we must begin to imagine a future where, as the American law professor, Jedediah S. Purdy, argues, our ecological and egalitarian projects can fuse together. For this to happen, though, we have to see ourselves as not distinct from the environment that we live in, but as an intrinsic part of it. Under such a model, our economic solutions will have to necessarily subsume a commitment to our natural surroundings. To achieve this broader vision we will need deeper thinking, greater political initiative, and a leap of faith.
-But, in the meantime, to allow the government to weaken the EIA process has the potential to make things irredeemable. And here, Wendell Berry's words are worth recalling: "Whether we and our politicians know it or not, nature is party to all our deals and decisions," and it "has more votes, a longer memory, and a sterner sense of justice than we do." https://www.thehindu.com/opinion/lead/diluting-the-eia-process-spells-a-path-of-no-return/article32243585.ece   (01 August 2020)
House panel meeting called on Draft EIA 2020 Even as recommendations of House panels are not binding upon the government, any critical report of the EIA 2020 can be construed as institutional disapproval and remain as a reference for the future debate or policymaking. A panel can also seek action-taken reports from the ministry on its recommendations. https://www.hindustantimes.com/india-news/house-panel-meeting-called-on-draft-eia/story-4FgK2dCs3vOWDoklsDwqNP.html  (31 July 2020)
Here are the key changes in the Environment Impact Assessment Notification 2020?  https://www.thehindu.com/sci-tech/energy-and-environment/the-hindu-explains-what-are-the-key-changes-in-the-environment-impact-assessment-notification-2020/article32249807.ece  (02 Aug. 2020)
Uttarakhand HC directs study of carrying capacity of tourist destinations in biodiversity sensitive zones  The court also ordered to constitute an 'Expert Committee' within four weeks which will undertake the exercise and examine whether there is a need to identify biodiversity heritage sites in Uttarakhand. The directions came while hearing public interest litigation opposing the grand wedding of the Gupta brothers' family in Auli bugyals in Chamoli district. The judgement which was reserved on March 6, 2020 was pronounced on July 27, 2020. https://www.newindianexpress.com/nation/2020/jul/28/uttarakhand-hc-directs-study-of-carrying-capacity-of-tourist-destinations-in-biodiversity-sensitive-2175740.amp  (28 July 2020)
Cartoon
Modi govt invoke UAPA to shut environment group. Satwik Gade. https://www.thehindu.com/opinion/cartoon/cartoonscape-july-27-2020/article32197432.ece   (27 July 2020)
CLIMATE CHANGE
Tensions between India, China and Nepal could hinder climate research in Himalayas  The paucity of scientific cooperation was revealed in the Intergovernmental Panel on Climate Change's fourth assessment report, released in 2007. The report identified the whole Himalayan region as a black hole for data, with no consistent long-term monitoring in a region warming much faster than the global average. After the report was published, the countries of the region committed to cooperate on research to quantify the impacts of climate change. But there has been little action over the past decade. In 2014, when the the Intergovernmental Panel on Climate Change released its fifth assessment report, the same problems remained. https://scroll.in/article/966415/tensions-between-india-china-and-nepal-could-hinder-climate-research-in-the-himalayas   (05 July 2020)
SOUTH ASIA
Nepal IFC study assesses human & environmental impact of HEP The World Bank's International Finance Corporation (IFC) has released recommendations of its Cumulative Impact Assessment (CIA) of the Trishuli River Basin (TRB). The study was an integral part of the World Bank Group Board of Directors' approval of the $650 million 216MW Upper Trishuli-1 Hydropower Project (UT-1), located in the upstream of the Trishuli Basin.
– IFC assessed the potential impacts of the hydropower project over a one year period with the assistance of the governments of Nepal, Australia, Norway and Japan. There are over 36 hydropower projects in various stages of development or planning in the TRB, which covers an area of 32,000 square kilometers. https://www.powerengineeringint.com/renewables/hydroelectric/ifc-study-assesses-human-and-environmental-impact-of-nepal-hydropower-project/   (31 July 2020)
Mapping landslides in Nepal Nepal's landslide information system comes in for well-deserved praise from Dave Petley: "Very few countries have a publicly accessible database of disaster information of this quality.  Nepal deserves great credit for setting up such a system." https://blogs.agu.org/landslideblog/2020/07/28/mapping-landslides-in-nepal/
Landslide blocks key road in Nepal for the last five days with more rains forecast.  https://myrepublica.nagariknetwork.com/news/road-to-rasuwagadhi-border-point-obstructed-for-past-five-days/  (27 July 2020)
Three people have died and seven others gone missing in separate landslides triggered by incessant rains at Kalikot and Rukum (West) districts on Monday (July 27, 2020). https://kathmandupost.com/province-no-5/2020/07/28/three-die-seven-missing-in-separate-landslides-in-kalikot-and-rukum-west
Bangladesh 
CHINA
Three Gorges Dam is one of the largest ever created. Was it worth it? During a "once-a-century flood" more than 244 billion cubic meters of water — or about twice the volume of the Dead Sea — can pass through the Three Gorges in two months, according to Fan's calculations. The storage capacity of the dam's reservoir can handle only about 9% of that amount, he added. "It's like using a small cup to deal with a big tub of water. In terms of flood control, the cost of the dam has surely outweighed the gain." Besides, the dam can only hold back the water for so long, as it has to make room for new rains — and in flood season torrential downpours can come in quick succession.  https://edition.cnn.com/style/article/china-three-gorges-dam-intl-hnk-dst/index.html  (01 Aug. 2020)
Three Gorges Dam discharges Yangtez's third floodwaters of 2020 CGTN, official Chinese broadcaster said in a report dated July 29, 2020: "The upper reaches of China's iconic Yangtze River are experiencing its third flood of the year caused by rising water levels, leading to record levels of water gushing from the Three Gorges Dam. The world-famous dam is reducing the floodwater by up to 37 percent… The flood began receding on Tuesday, and the outflow rate at the dam was increased by 2,000 cubic meters per second after water levels downstream dropped… more heavy rainfall and rainstorms are expected in the coming days… The dam will keep releasing water to make sure there's enough capacity, Gao said, so it can prepare for further floodwaters. "We estimate the third flood will be over by the end of July."… many of the cities downstream are being waterlogged due to intense rainfall overwhelming drainage systems and not as a result of flooding in the river… The water regulating, however, is more difficult this time round." https://news.cgtn.com/news/2020-07-29/Three-Gorges-Dam-discharges-Yangtze-s-third-floodwaters-of-2020-Swazls8R7q/index.html  (29 July 2020)
'No. 3 Flood' strikes Three Gorges Dam China announced that the third flood of the year hit the vaunted Three Gorges Dam on Sunday (July 26) and that it will peak on Tuesday (July 28). On Sunday, China's state-run mouthpiece Xinhua announced that the "No. 3 Flood" of the year had been declared for the embattled Three Gorges Dam that day. By 2 p.m., the dam's reservoir recorded an inflow of 50,000 cubic meters per second, and it is expected to peak at 60,000 cubic meters per second by Tuesday (July 28), according to China's Ministry of Water Resources. More heavy rains are predicted. https://www.taiwannews.com.tw/en/news/3974752  (27 July 2020)
Liujing Village: a large, ongoing valley-blocking landslide in Chongqing The landslide has partially blocked the the Yancang River, a tributary of Wujiang River, and a lake has developed, although at this stage the size of barrier is not large. https://blogs.agu.org/landslideblog/2020/07/27/liujing-village-landslide/    (27 July 2020)
THE REST OF THE WORLD
SANDRP Blog Michigan Dam failures-2: FERC is also in the dock A Sanford couple is taking on the federal government in general and FERC (Federal Electricity Regulatory Commission) in particular after they lost their lakefront home in May when the Sanford Dam was overwhelmed, causing major flooding.
This is interesting since at the root of the dam disaster is the failure of FERC. For years, FERC kept humouring the dam owner, and tolerated its violations. https://sandrp.in/2020/08/02/michigan-dam-failures-ferc-is-also-in-the-dock/   (02 Aug. 2020)
NILE GERD is creating conflicts, debate leaving out eight basin nations Whether the Grand Ethiopian Renaissance Dam (GERD) will lead to cooperation among Nile basin countries as claimed here is still long shot away, what we can see now is that it has created more tensions and conflicts.
Even if there is agreement among Sudan, Ethiopia and Egypt about filling and operation of GERD, there are eight more basin countries which are not even in picture now. https://science.thewire.in/environment/grand-ethiopian-renaissance-dam-blue-nile-water/   (01 Aug. 2020)
Report Hydro NOT most powerful renewable energy Why is BBC trying to push or renew push for hydro projects, since they are possibly fast getting obsolete and uneconomical with better, cheaper options available. The changes suggested here are at best vague and in any case not addressing most of the key issues. https://www.bbc.com/future/article/20200713-the-most-powerful-renewable-energy   (13 July 2020)
US Les Leyne: 'Red alert' for Site C dam project over costs, delays RED ALERT for 900 MW C Dam Project on Peace River (third hydro project on the same river) in British Columbia in Canada. "Now there are four major indicators on the dashboard flashing red. The overall health of the project is in jeopardy. The overall scope is at risk because of the large amount of new foundational work that has to be done. The schedule is seriously at risk because of the work slowdown due to the virus. And the overall cost is at risk because of all of the above, on top of the cost pressures that were already in play."
– B.C. Hydro filed a progress report with the B.C. Utilities Commission on Friday (July 31, 2020) that rang several alarm bells about the power project, in contrast to previous filings that were generally more positive. The government responded by appointing a former top Finance Ministry official — Peter Milburn — as a special adviser to review the project. While some say the project is past the point of no return, all options are open for the special adviser to recommend. The project is certainly no past the point of no return considering that the river is yet to be diverted by coffer dam. There are now 24 million work-hours and more than $5 billion invested in the various huge excavation and construction projects on the Peace River.
– The original budget of $ 10.7 Billion will substantially go up. There's also a big lurking expense to do with a problem on the river bank. Last December, long after construction had started, a need for additional foundation enhancements was identified to improve stability below the dam, powerhouse and spillways. By March 31, it was determined the enhancements would have to be much more substantial than first thought.
– Premier John Horgan announced in December 2017 that the New Democrats would never have started Site C and the decision to carry on caused intense debate within his cabinet and caucus. It's still startling to see how rapidly Site C has run into serious problems. "This project should not be given a blank cheque to proceed at any cost imaginable," said interim Green Leader Adam Olsen in a statement. "The NDP should seriously consider cancelling Site C. The NDP needs to be clear about the price and make a decision before river diversion takes place and we change the flow of the Peace River forever."  (https://www.timescolonist.com/bc-hydro-says-pandemic-hits-site-c-project-expect-delays-cost-increases-1.24179563 ) https://www.timescolonist.com/opinion/les-leyne-red-alert-for-site-c-dam-project-over-costs-delays-1.24179909   (01 Aug. 2020)
Inside the Uphill Fight for Clean Water in California's Central Valley Video about California's Central Valley, covering close to 20,000 square miles, produces roughly 40 percent of the United States' fruits, vegetables, and nuts. That abundance is the result not only of large-scale irrigation, but also of the widespread use of fertilizers, pesticides, and herbicides, which then seep back into the valley's aquifers.
– The resulting pollution is a major reason why more than 1 million Californians do not have access to safe drinking water. Many of them are Latino farmworkers who live in small communities reliant not on municipal water systems but on underground aquifers tainted by nitrates, arsenic, hexavalent chromium, and other pollutants that have numerous ill health effects. https://e360.yale.edu/features/inside-the-uphill-fight-for-clean-water-in-californias-central-valley   (28 July 2020)
England Whaley Bridge dam crisis: What's changed one year on? -On the afternoon of Thursday 1 August 2019, about 1,500 people were instructed to leave their homes in Whaley Bridge immediately and find alternative accommodation. Heavy rain had caused a large section of the dam's spillway at Toddbrook Reservoir to fall away and there were fears the whole structure could collapse, leading to a huge flood with the potential to wipe out much of the town.
-Temporary repairs to the dam have almost been completed. The Canal and River Trust, which owns the dam, said it was now "secure against any extreme weather event". Footpaths around the reservoir are due to reopen this month and a permanent repair project has been slated to start next spring, with a scheduled 2023 completion date.
-In March 2020, an independent review carried out on behalf the government found the emergency was caused by poor design and a lack of maintenance. Any excess rainwater falling in the reservoir has continued to be removed by pumps and it will remain drained until all repair work has concluded. https://www.bbc.com/news/uk-england-derbyshire-53580768   (01 Aug. 2020)
Compiled by SANDRP (ht.sandrp@gmail.com)
Also see: DRP News Bulletin 27 July 2020 & DRP News Bulletin 20 July 2020
Follow us on: www.facebook.com/sandrp.in; https://twitter.com/Indian_Rivers