Banner image Jajred landslide zone which just reactivated with commencement of monsoon rains. (Nishant Panwar, July 07, 2020) 
Come monsoon and the Jajred mountain in Kalsi tehsil, Dehradun district in Uttarakhand starts falling apart. Located about 11 km away from Kalsi town, the landslide site near Amraha village blocks the vehicular movement on Kalsi-Chakrata state highway running through the zone for weeks sometimes for months.
This is a routine affair during monsoon for past many years damaging about 250 metre road stretch frequently thus cutting off the hundreds of villages in Jonsar-Bawar area from tehsil and state capital.
The Google Earth images show that the Jajred landslide had just started in 2002 and had not turned into full scale landslide upto 2011. Gradually the entire mountain began sinking and by 2017 had become massive landslide prone zone.
This is how the area looks in 3d google maps. 
The April 2018 News 18 report[i] mentions that with even slight rains, the stones and debris start falling down mountain blocking the road thus affecting connectivity of about 300 villages to main market and agriculture mandi in Vikas Nagar.
Similarly March 2019, Dainik Jagran report[ii] reveals that despite Rs 60 crore project to improve the 42 km Kalsi-Chakrata road stretch which included measures to check the landslide, the Jajred mountain continued suffering landslides.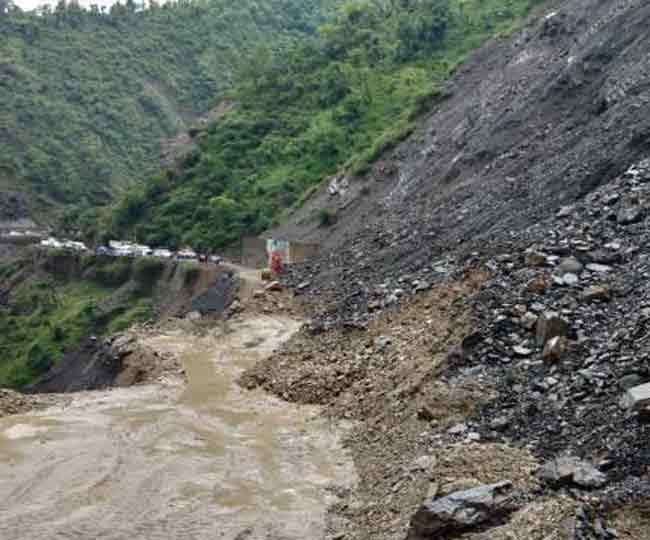 The state government in past has taken some steps to check the constant landslip including construction of a retaining wall but recent pictures show that the wall itself is crumbling down.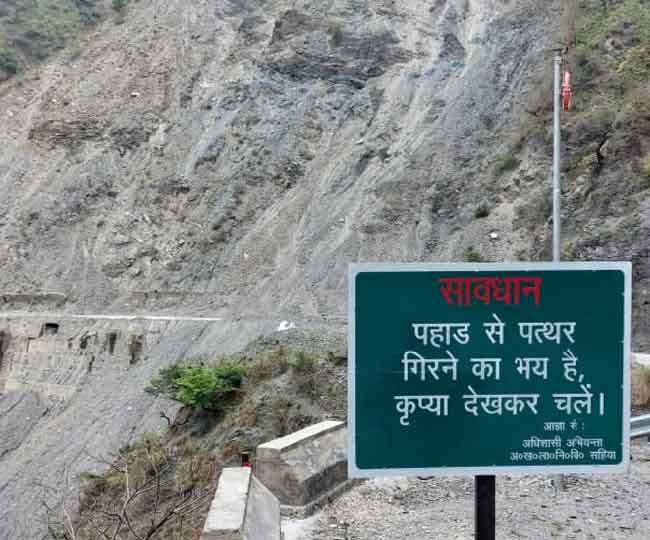 As per, May 2020, Dainik Jagran report[iii] a project sent to World Bank to create a bridge at Jajred landslide location has not materialized and the administration has placed two JCBs on either end of landslide permanently for monsoon season.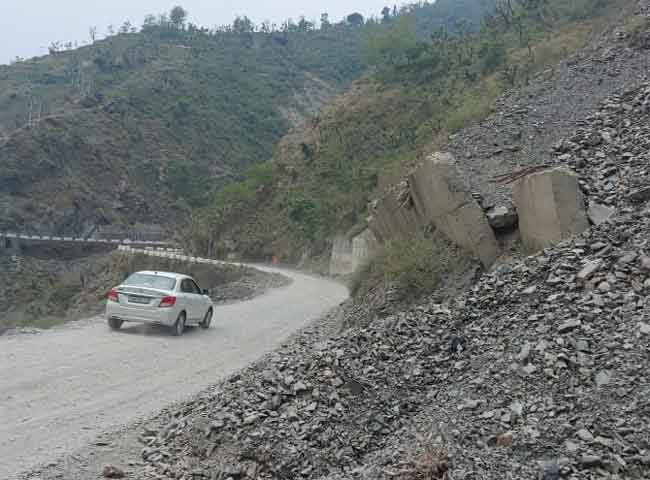 Locals say that travelling though Jajred mountain is risky affair as there have been several fatal accidents at the landslide zone.  
Nishant Panwar explaining the landslide area. The river down hill is Amlawa and not Tons as mentioned initially by mistake.  
Latest image shows with monsoon rains, the landslide has resumed. Soon there would be long traffic jam on both side and then the Shahiya, Chakrata region would be disconnected from mainland possibly as long as the monsoon season lasts.
July 07, 2020 images shared by Nishant Panwar show the current status of Jajred landslide zone. 
In the past decade, several permanent landslide locations have appeared in Yamuna basin. In fact the Lakhwar dam project site[iv] and adjoining area along Yamuna[v] have been affected by several small & big landslides.
Similarly, the Dabar Kot site[vi] is another location some 20 km short Yamntori shrine which has turned into a perennial landslide zone. As per reports, the National Highway Authority of India is proposing to build a 400 metre long tunnel as a remedy after the previous treatment plan failed.
Sadly, turning a blind eye towards the geological and seismic sensitivity of the region, the central and state governments are marching ahead with destructive dams and road projects in Yamuna valley. The projects see regular violations of prudent work, and manage to get away with impunity.
Bhim Singh Rawat (bhim.sandrp@gmail.com)
Post Script:- Nishant Panwar shares 3 images of landslide at Jajred on 12.08.22 damaging large part of Kalsi-Chakrata road. Before this a landslip blocked the road there on 30.07.22. https://twitter.com/Indian_Rivers/status/1560533147275522048?s=20&t=Rh9lqXzhrtnz7nVifYH5gQ
End Notes:
[i] https://hindi.news18.com/news/uttarakhand/dehradun-jajred-hill-built-trouble-for-kalsi-chakrata-motorway-1350486.html
[ii] https://www.jagran.com/uttarakhand/dehradun-city-kalsi-chakrata-route-often-gets-closed-in-rainy-season-19050472.html
[iii] https://www.jagran.com/uttarakhand/dehradun-city-landslide-occurs-on-jajred-hill-on-kalsi-chakrata-road-at-dehradun-20276736.html
[iv] https://sandrp.in/2015/07/09/yamuna-fighting-existential-battle-in-the-homeland-as-govt-speeds-up-construction-of-dams/
[v] https://sandrp.in/2019/04/23/lakhwar-vyasi-dam-different-reality-before-the-window-dressing-for-eac/
[vi] https://www.jagran.com/uttarakhand/uttarkashi-400-meters-long-tunnel-to-be-built-in-landslide-zone-on-yamunotri-highway-20400358.html