This remarkable TOI report on March 14, 2020 (there was a Hindustan Times Report on March 9, 2020, we found out later: https://www.hindustantimes.com/india-news/scientist-flags-kedarnath-project-worries/story-1DoLBHLeMOmYLI3OPFOq1M.html) says that rampant redevelopments termed as "unabated unscientific work in the valley" around Kedarnath is likely to create dangerous situation leading to 2013 like catastrophe. We could not find report about such an important development in any other media.
But this detailed report, not contradicted by any of the quoted sources, seems sufficient reason to be alarmed by all concerned.
Experts of the Wildlife Institute of India, Wadia Institute of Himalayan Geology, Uttarakhand Space Application Centre (USAC) and even the Principle Science advisor to the Prime Minister K VIjay Raghavan and also the contractors, Woodstone Constructions along with other state and central govt officials were present where officials made some candid presentations. It seems there has been neither any impact assessment studies or clearances for the controversial interventions happening, including 9 km long approach road for Kedarnath on the left bank of Mandakini river, (left band has basically loose glacial sediments and hence is unstable and could get affected by avalanches and landslides) and a massive 50 ft deep and 100 m wide pit just 50 m behind Kedarnath for the Samadhi sthal. MPS Bisht, the Director of USAC in his presentation called the pit an extremely dangerous for future. He asked: "Why are we creating a situation for another disaster like the 2013 tragedy to take place again?" Scientists from the Wadia Institute are quoted saying: "The Road being built to Kedarnath is being made on the most vulnerable of Kedarnath Valley and may any day collapse under the pressure of so many glacier shoots which are directly opening on the road." Raghavan called these revelations tipping points.
The presentation was made by the USAC director at WII meeting on GEP on March 5, 2020: https://timesofindia.indiatimes.com/city/dehradun/experts-to-decide-on-gep-indicators-at-wii-on-march-5/articleshow/74344140.cms. We learn that the USAC director has been called by Mr Raghvan to make a presentation at PMO soon.
Will the Union govt, Uttarakhand govt, PMO, WII, Wadia Institute and the USAC come out with the details of what is happening at Kedarnath, stop it, ensure there is credible and scientific Impact Assessment, possibly by USAC, and public consultations before deciding if this should at all go ahead?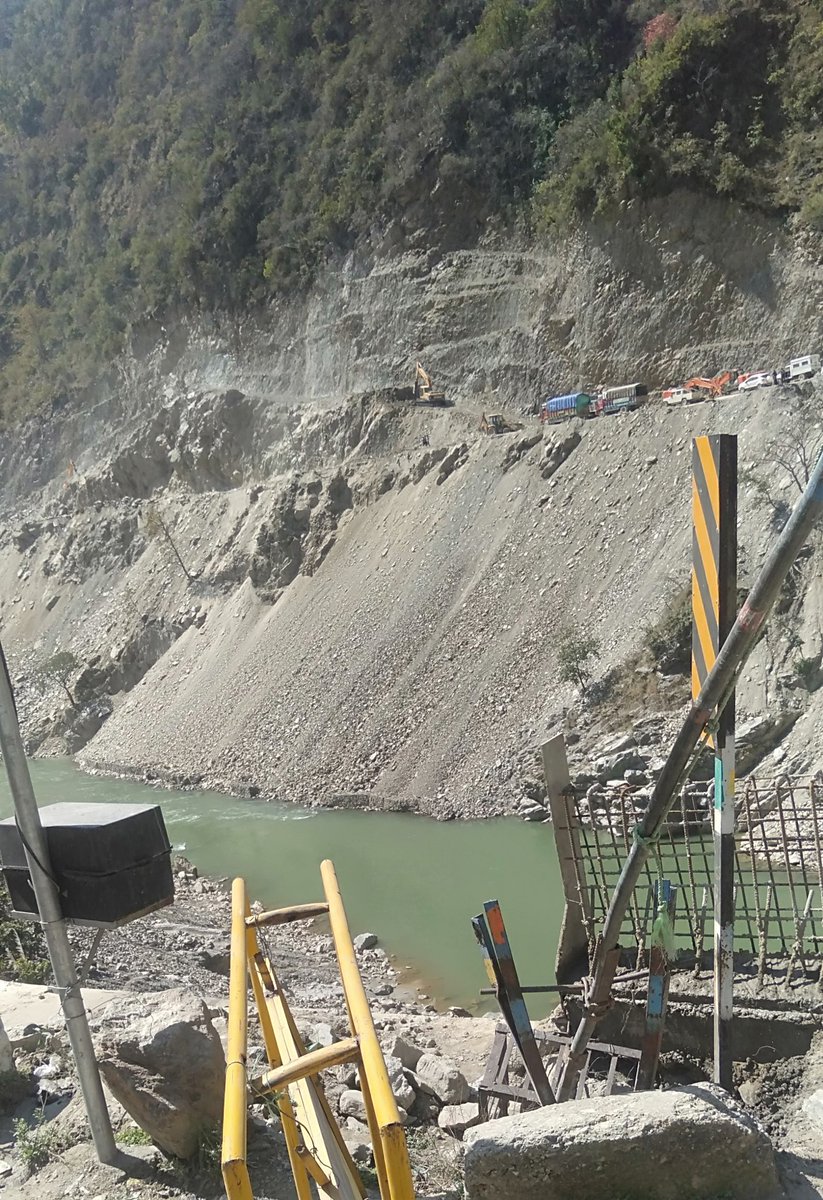 Fatal accident on Tanakpur-Pithoragarh NH widening under Char Dham project. See how carelessly muck is being dumped into Ramganga river. (Image by @devendrauk123)https://twitter.com/Devendrauk123/status/1239192811611676672
The Hindustan Times report of March 9, 2020 by Suparana Roy said:
"Around 4.5 metre tall by 1.5 metres wide wall is being built behind the Kedarnath shrine for its protection. But, if debris falls from the glaciers, can the wall contain it? Just behind the wall on the upstream, there is a huge moraine [a mass of rocks and sediment carried down and deposited by a glacier] which is approximately 160 metres high. Is the wall strong enough to withstand the impact of the debris falling from such a height?" Bisht asked. "Consider this: if there is 160 metres of morainic hump behind the 4.5 metres wall, what purpose will it serve?" he questioned.
Bisht rang alarm bells about "the geological precautions that have been taken before building the wall. If such huge concrete structures are being made, then the terrain characteristics definitely need to be considered. It is not known whether such aspects have been kept in mind before starting the construction work." Questions have been raised about the samadhi of Adi Shankaracharya being made in Kedarnath, for which a 100 metres wide and 15 metres deep pit is being dug along with construction of an over 20- kilometre-long road.
Prof Raghavan (Principle Scientific Advisor to the Government) has invited Bisht to Delhi to share the details of his concerns with other experts and officials at the Prime Minister's Office by the end of this month. "The facts put forth by MPS Bisht about Kedarnath are an eye-opener. I have asked him to come to Delhi for a discussion on this in a bid to avoid any possible danger," said Prof Raghavan.
HYDRO POWER PROJECTS
DTE SHEPs suffer from solar power rise?? DOWN TO EARTH (it has done this in past too about hydro) writes a lot of nonsense here. It says SHPs "run on small turbines and do not require damming a river. Their environmental impact, therefore, is negligible." Total nonsense. Each project needs a dam and reservoir to divert water, many of them have been documented to have severe social and environmental impacts. Similarly the statements like: "The projects are important in producing and supplying electricity in a decentralised form, which can help in the last mile availability of power" and "can produce power round the clock and ensure power supply in areas difficult to access" are clearly misleading since there is no support for off grid projects, as the article itself says. Its characterisation of small hydro as "a clean energy sector" is not based on any assessment, since such an assessment has never happened. Its advocacy for support for such projects is thus clearly misleading and misplaced.
Such wrong & misleading statements mar an otherwise good article that throws light how high cost of small hydro has made them economically unviable and their pace has come down with availability of cheaper alternatives.  https://www.downtoearth.org.in/news/energy/royally-ignored-small-hydroelectric-projects-suffer-from-solar-power-rise-69587  (11 March 2020)
Tamil Nadu Nilgiris HEPs may get green nod without public hearings Now EAC exempts even major hydropower projects from public hearings, which is not even in its power or mandate.  https://energy.economictimes.indiatimes.com/news/power/nilgiris-hydel-power-projects-may-get-green-nod-without-public-hearings/74568564  (11 March 2020)
Himachal Pradesh Uhal power project functional this month A 100 (33.3 MW X 3) MW UHL Hydropower project on Beas river, being developed by state govt's HPSEBL run Beas Valley Power Corp was expected to cost Rs 1000 Cr and commissioned in 2009. It is now expected to be commissioned this year with final cost of Rs 1800 Cr, after four extensions of deadline in last 11 years. The contractor for the 9.4 km long tunnel was changed several times.  https://www.tribuneindia.com/news/uhal-power-project-functional-this-month-53586  (10 March 2020)
Sikkim CCI approves acquisition of equity stake in Teesta Urja by Greenko Mauritius Fair trade regulator CCI has approved the acquisition of about 35 per cent equity stake in Teesta Urja Ltd by Greenko Mauritius, according to the Ministry of Corporate Affairs: "It relates to the acquisition by Greenko of approximately 35 per cent equity stake in the paid-up equity share capital of Teesta Urja Ltd". Greenko Mauritius is a wholly-owned subsidiary of Mauritius-based Greenko Energy Holdings. Teesta Urja is a special purpose vehicle incorporated for implementation of a 1,200 MW hydro power project in North Sikkim.  https://energy.economictimes.indiatimes.com/news/renewable/cci-approves-acquisition-of-equity-stake-in-teesta-urja-by-greenko-mauritius/74586906  (12 March 2020)
Arunachal Pradesh NHPC signs pact with CCI to meet Dibang project's cement requirements NHPC on March 11, 2020 said it has signed a pact with Cement Corporation of India for meeting cement requirements of its 2,880 MW Dibang Multipurpose Project.  https://energy.economictimes.indiatimes.com/news/renewable/nhpc-signs-pact-with-cci-to-meet-dibang-projects-cement-requirements/74587066   (12 March 2020)
DAMS
Maharashtra Irrigation Scam Fresh Case Filed, 5 Officials Named Five officials of Vidarbha Irrigation Development Corporation (VIDC), some of them now retired, were booked under the Prevention of Corruption Act at the Sadar police station in Nagpur, an ACB statement said on late Wednesday night. The accused were identified by the ACB as the then Executive Engineer of VIDC Keshav Chandrakant Tayde; the then Superintendent Engineer Sanjay Laxman Kholapurkar; the then Chief Engineer (retd) Sopan Ramrao Suryawanshi; the then Executive Director (retd) Rohidas Maroti Landge; senior Divisional Accountant (Gosikhurd) Dhanraj Atmaram Anandagawali.
– The ACB said these officials had illegally increased the cost of tender of the Gosikhurd right canal in Bhandara district by Rs 8.5 crore. Similarly, the officials had not taken the consent of then VIDC Executive Director, based at Mantralaya (state secretariat) in Mumbai and themselves approved the escalated cost, the statement said.  https://www.ndtv.com/india-news/fresh-case-filed-in-maharashtra-irrigation-scam-5-officials-named-2193432  (12 Mach 2020)
Sardar Sarovar Dam Activist charged with 'not employed in gainful vocation' The Gujarat government has served externment notice to well-known grassroots human rights activist Lakhan Musafir, known for taking up the cause of the tribal people next to the Narmada dam in Gujarat. Considered a relentless fighter against the plan to develop tribal areas around Statue of Unity, three kilomtres downstream of the dam, as a hot tourist destination, Musafir has been served the notice by Narmada district authorities.
According to civil society sources, the notice says that Musafir should not enter South Gujarat districts – Vadodara, Bharuch, Narmada, Chhota Udepur and Tapi – as also Vadadara district for the next two years. A close associate of top Vadodara-based environmentalist Rohit Prajapati and Krishnakant of the Paryavaran Suraksha Samiti, the allegations against him include such charges like he is "not gainfully employed in any honest vocation."  https://www.counterview.net/2020/03/activist-barred-from-south-gujarat.html  (12 March 2020)
The current Central and Gujarat governments, and their bureaucracy, have been and are still unable to answer and address the concerns raised, with facts, figures, and constitutional provisions, regarding the terror of tourism in the name of the Statue of Unity and tourism projects surrounding it. Their inability to address such long-pending, on-going piling up of the issues regarding right to life, livelihood and survival of the tribal population of the area, are reflected in the form of Section 144, house arrests, detentions, intimidations, undeclared curfews, and beyond.
To top all this, the unconstitutional Statue of Unity Area Development and Tourism Governance Act, 2019, is being implemented with full force. In spite of all the stated actions by the local people and concerned members of civil society, the Central and state governments of the day, and their bureaucracy, are unable to address the long-pending livelihood, constitutional issues and have now decided to banish activist Lakhan Musafir for two years from Narmada, Bharuch, Vadodara, Chhota Udepur and Tapi districts.  https://www.counterview.net/2020/03/banished-for-two-years-gandhian.html  (13 March 2020)
Odisha New cracks found in Hirakud spillway More cracks in Hirakud dam spillway found as the repair work of the cracks identified in 2015-16 by CSMRS is now being taken up by Mumbai-based Dynasure Concrete Treatment Private Limited is taken up. The repair work will take longer now. Earlier cracks were found in 1990 and repaired in 1999.  https://www.newindianexpress.com/states/odisha/2020/mar/14/new-cracks-found-in-hirakud-spillway-2116640.html  (14 March 2020)
Karnataka Govt told to make clear stand on irrigation project Belur Gopalakrishna, former MLA, has asked the State government to make its stand clear on Kalvaddu Halla-Hosakere irrigation project.
– State government in August 2019 had sanctioned administrative approval for the project estimated to cost Rs. 127 crore. The project intends to irrigate drought-affected villages of Shikaripur taluk by constructing a dam across Kalvaddu rivulet near Kundur village in Barur Grama Panchayat limits of Sagar taluk. The farmers who own agricultural land in Kundur, Barur, Madiwalanakatte, Midinagara, Kalkoppa, Parsekoppa, and Theppagodu villages that will be submerged in the project had staged a protest demanding the State government to backtrack from the move to implement it. Mr. Gopalakrishna told presspersons that while H. Halappa, Sagar MLA, has said that the State government has decided to drop the plan to implement the project, B.Y. Raghavendra, Shivamogga MP, said in Shikaripur recently that works related to the project would commence soon.
He said that many farmers who will lose land for Kalvaddu Halla-Hosakere project were from the families that were displaced from construction of Linganamakki and Hirebhaskara dams. With the construction of dam across Kalvaddu, they would be subjected to another round of displacement. The residents of Sagar taluk would oppose the project in unison. As the statements issued by Mr. Halappa and Mr. Raghavendra are contradictory and have created confusion, the State government should make its stand clear over the project, he said. https://www.thehindu.com/todays-paper/tp-national/tp-karnataka/govt-told-to-make-clear-stand-on-irrigation-project/article31078418.ece  (16 March 2020)
Krishnaraja Sagar As summer sets in, water level comes down in KRS reservoir The storage level of Krishnaraja Sagar (KRS), built across the Cauvery near Srirangapatna, was 110.28 ft., as against the full reservoir level of 124.80 ft., at 6 a.m. on March 5. According to Cauvery Neeravari Nigama Ltd. (CNNL) officials, the KRS was receiving just 154 cusecs of water as against the outflow of 708 cusecs. There was just 20.09 tmcft. of water as against the maximum storage capacity of 45.05 tmcft., said the officials.
– The temperature at the reservoir area was 36 degrees Celsius at 12.30 p.m. The temperature has been hovering between 34 and 36 degrees Celsius in the reservoir area over the last two weeks. Thus, the rate of evaporation has been between 150 and 250 cusecs a day, a senior official in the Department of Irrigation said.
– The KRS had 120.97 ft. of water, slightly nearer the FRL, on January 1 this year. However, a huge quantum of water was released from the KRS for several days to revive the dried Gaganachukki waterfalls, near Malavalli, for organising 'Jalapathotsava' (festival of waterfalls) on January 18 and 19. Moreover, the obligation to discharge water to Tamil Nadu has also caused depletion in the water level of KRS, he said. Nevertheless, the situation is slightly better when compared to last year when the water level at KRS was 102.90 ft.
– The mercury level will definitely increase from mid-April. The KRS level might reach the dead storage [of 74 ft] by mid-May if the monsoon delays this year as the reservoir storage will be split into water for Tamil Nadu, standing crops in the delta region in Mandya district, and for drinking purposes of Bengaluru, Mysuru and Mandya districts, said the official. https://www.thehindu.com/todays-paper/tp-national/tp-andhrapradesh/as-summer-picks-up-water-level-at-krs-comes-down/article31078451.ece  (16 March 2020)
Expressing severe worries over withering crops owing to the rise in temperature, a section of farmers from many villages blocked the traffic on Kowdle-Maddur main road, near Maddur, of Mandya district on March 12. They demanded immediate release of Cauvery water from KRS reservoir to save the crops cultivated on the farmlands of Shimsha Left Bank and Right Bank canals.
According to them, crops on several hundreds of acres of land have been withering due to the non-release of water, especially to the tail-end regions of Kowdle. To save paddy, ragi, vegetables, and other crops, the district administration should release water to Kowdle and surrounding villages, the agitators demanded. https://www.thehindu.com/todays-paper/tp-national/tp-karnataka/farmers-demand-cauvery-water-to-save-crops/article31055444.ece  (13 March 2020)
With water being released from the KRS dam from Feb. 29, the inflow to the Stanley reservoir at Mettur in Salem district reached 1,607 cusecs on March 2 from 120 cusecs the previous day.
As per the direction of the Cauvery Water Management Authority (CWMA) and the Cauvery Regulation Board (CRB), Karnataka has to release 2.06 tmc of water between January 1 and February 24 from its dams to Tamil Nadu. "As the reservoir was brimming with water in the past few months, Karnataka has released only 1.24 tmc of water till February 24," a senior officer from public works department (PWD) told TOI.
On Feb 29, Karnataka officials released 3,000 cusecs of water from the KRS dam. The water reached Biligundulu, the entry point of Tamil Nadu in Krishnagiri district, on March 1 afternoon and later Hogenakkal on the same evening. "The water inflow to the dam stood at 120 cusecs until March 1 evening. It increased to 180 cusecs on the same night and crossed 1,000 cusecs on March 2 morning. The inflow was maintained at 1,607 cusecs till 6pm," the official said.
Meanwhile, the water inflow reached 3,000 cusecs at Hogenakkal on March 2. The official said the entire 3,000 cusecs of water is likely to reach the Mettur dam on the same night. The water level in the dam was 105.14ft on March 2 evening. The officials were discharging 750 cusecs of water for drinking purpose in the Salem region, including to the Salem municipal corporation. https://timesofindia.indiatimes.com/city/salem/mettur-dam-to-receive-3k-cusecs-from-ktaka-dam/articleshow/74448663.cms  (03 March 2020)
Karnataka has started releasing Cauvery waters to Tamil Nadu to ensure the neighbouring State gets its quota for the month of February as per the Cauvery Water Disputes Tribunal (CWDT) order, which was finalised by the Supreme Court in 2018.
According to sources at the Cauvery Neeravari Nigam Ltd., the sluice gates of the KRS reservoir near Srirangapatna, built across the Cauvery, were lifted late on Feb. 25 to clear the quota of water to be shared with Tamil Nadu. The quantum of flow from the KRS was increased to around 5,000 cusecs on Feb. 26 only with the consent of the Cauvery Water Management Authority, sources added. Meanwhile, the KRS reservoir had 112.57 ft. of water as against the maximum capacity of 124.80 ft. on Feb. 26 morning. https://www.thehindu.com/news/national/karnataka/krs-gates-lifted-to-release-water-to-tn/article30925104.ece  (26 Feb. 2020)
KRS Dam was all set to create a new record of sorts as the dam's water level had remained at 124.80 ft, its maximum level, for 96 days straight. The dam was just four days away from reaching the 100-day mark as on Nov. 19, 2019.
Following copious rainfall in Kodagu district and in catchment areas of River Cauvery over the past few months, the water level in the dam reached the maximum level first on Aug.15, 2019. From then on, the water level has stayed at the maximum level for 96 successive days for the first time ever in the dam's 86-year history. The dam, built in 1933, today recorded an inflow of 5,926 cusecs and outflow of 5,718 cusecs.
With just four days to go for this record to become a more satisfying round figure of 100 days, many Mysureans are hoping that the maximum level will stay with a little more rain and less sunlight. CNNL officials are confident that constant monitoring of water level and appropriate regulation of water flow from all the 174 crest gates of the dam will help them in reaching 100 days. The previous record for the longest duration of maximum water level at KRS dam was in 2007 when it was full for 90 successive days.
Apart from this, the KRS dam this year has created another record. It had the highest inflow and outflow. On the night of Aug.11, there was an inflow of 2,04,200 cusecs. And on the following day (Aug.12), 1,51,315 cusecs of water was released, according to CNNL officials. https://starofmysore.com/krs-makes-history/  (19 Nov. 2019)  
KRS dam continued to receive heavy inflow and was just three feet away (121) from the maximum level of 124.80, on Aug. 10, 2019 evening. The maximum capacity of the dam is 49 tmc  and it had water of 44 tmc  as on Aug. 11. The inflow is around 2.07 lakh cusecs and 1.53 lakh cusec is being released into the river. https://www.deccanherald.com/state/krs-dam-touches-121-ft-mark-753730.html  (11 Aug. 2019)  
INTERLINKING OF RIVERS
Jal Shakti Some candid statements here from MoWR officials about Ken Betwa and other ILR proposals.
– Ken Betwa: there are differences between the two states involved — Uttar Pradesh and Madhya Pradesh — over water sharing during the non-monsoon season, apart from funding issues and regulatory clearances. Both states have failed to reach a consensus on their share of water from the river during the lean season when water flow is less. The project has also got stuck because of the stringent conditions imposed by the Forest Advisory Committee (FAC) of Union environment ministry. The FAC, which approves any diversion of forest land, wants the Centre and respective state governments to acquire an equal stretch (6017 hectares) of land contiguous to the Panna Tiger Reserve as part of compensatory afforestation against the forest land that will be used for the project. "But such a vast stretch of contiguous land is not available. We have asked FAC for relaxation of this condition," said a MoWR official.
– ILR: five state governments, including Madhya Pradesh and the BJP-ruled Karnataka, (besides Telangana, Odisha, Kerala) have written to the Union Jal Shakti ministry stating that they oppose river interlinking in their respective states. They could have added Andhra Pradesh and Chhattisgarh in this list.
– Odisha has expressed its inability to go ahead with the Mahanadi (Manibhadra)–Godavari link as the project will result in large-scale submergence in the state. Telangana has cited the water balance at the Inchampalli dam site in the Godavari basin as the reason for its opposition to the Godavari (Inchampalli) -Krishna link project. The BJP-ruled Karnataka has written that it will not implement the Netravati-Hemavati link as it wants to utilise the Netravati water according to its own plan. Madhya Pradesh has also opposed the Parbati-Kalisindh-Chambal (PKC) link proposed by the National Water Development Authority as it has taken up two important components of the PKC link — Mohanpura multipurpose project and Kundaliya dam — as major irrigation projects for its own requirements.  https://theprint.in/india/states-not-on-board-regulatory-roadblocks-ndas-river-linking-project-flows-nowhere/376849/  (09 March 2020)
Also see Union Water Resources Minister Gajendra Singh Shekhawat chairs Conference of CMs / Ministers of Water Resources of NER on the North East Water Management Authority draft Bill https://pib.gov.in/newsite/PrintRelease.aspx?relid=199996   (06 March 2020)
Can Godavari be linked to Cauvery? As the article says in the end, its more like a pipe dream currently.  https://timesofindia.indiatimes.com/city/chennai/can-godavari-be-linked-to-cauvery/articleshow/74602386.cms  (13 March 2020)
INTERSTATE WATER DISPUTES
Krishna Water Sharing Dispute Karnataka's allocation for Upper Krishna Project leaves Telangana, Andhra worried With Karnataka Chief Minister BS Yediyurappa announcing allocation of Rs 10,000 crore for the Upper Krishna Project phase-3 (UKP-3) on March 6, the officials of Telangana and Andhra Pradesh are worried over non-release of waters from Almatti Dam in the near future. The Karnataka government set a deadline of completing the UKP-3 in three years. The UKP-3 includes increasing the height of Almatti Dam up to 524.26 metres, canal works and also relief and rehabilitation works. "Once, the Supreme Court upholds the Tribunal order, immediately they will erect the plates and store water up to 524 metres," an official said.
– In this backdrop, the irrigation experts are suggesting two options. The AP and TS should fight for "sharing of deficiency" formula. It means, when Karnataka receives 100 tmcft water, the same should be distributed among all the beneficiary States on pro rata basis. "Sharing of deficiency" is in Scheme-B of the Bachawat Tribunal, which the combined AP opposed and opted Scheme-A. The second option is that the AP and TS have to divert the Godavari waters to Krishna basin and utilise them. https://www.newindianexpress.com/states/telangana/2020/mar/10/karnatakas-allocation-for-upper-krishna-project-leaves-telangana-and-andhra-pradesh-worried-2114792.html  (10 March 2020)
RIVERS AS NATIONAL WATER WAYS
Assam Dredging along Brahmaputra not feasible According to the eight-member committee formed by the Assam government, dredging operations along the entire length of the Brahmaputra will not be a feasible option to mitigate its flood and erosion hazards. Moreover, massive dredging exercises would change the overall water quality status of the river that may have harmful impact on aquatic ecology and affect the riparian population. The report further pointed out that the past experiences of dredging of the Brahmaputra by the Inland Waterways Authority of India (IWAI) and water resources department, Assam, had been futile.
– The eight-member committee on Fluvial Morphology of River Brahmaputra, Sediment Management with Possibility of Dredging by Adopting Modern Technology, was headed by former professor of Gauhati University, Dulal Goswami. The Assam Assembly on Wednesday disclosed the report, which was submitted by the committee in August 31, 2017. Union transport minister Nitin Gadkari in 2017 announced Rs 250 crore to dredge the Brahmaputra to have direct access from Haldia port of Bengal to Chittagong port in Bangladesh.
– According to the IWAI, dredging the Brahmaputra for flood moderation is a difficult proposition as the Brahmaputra is an alluvial river, which continuously carries a huge quantity of silt throughout the year. After a series of discussions and observations, the committee recommends "a massive dredging exercise in the entire Indian reach of the Brahmaputra would change the overall water quality status of the river with significantly increased turbidity level and changes in several other parameters that may have harmful impact on aquatic ecology and affect the riparian population whose livelihood depends on the river and floodplain ecosystems".  https://www.telegraphindia.com/states/north-east/dredging-along-the-brahmaputra-not-feasible-panel/cid/1751100  (05 March 2020)
West Bengal After collision cargo vessel sinks in Hooghly A Bangladeshi cargo vessel which was returning to the country with fly ash from West Bengal sank in the Hooghly River on March 12 afternoon, hours after it collided with a dispatch vessel of the Kolkata Port Trust (KPT).
– The Bangladeshi vessel, 'M V Mamatamoy', developed a mechanical failure and a crack in the hull because of the collision. It was brought near the jetty at Maheshtala in the Budge Budge area of South 24 Parganas, where it slowly sank along with the cargo. The crew members were taken to safety. They managed to recover their personal belongings. One of them was injured during the collision.
– Since the vessel which sank was carrying fly ash and also had fuel the spill would lead to pollution, eyewitnesses said.  https://www.hindustantimes.com/india-news/after-collision-with-kolkata-port-trust-ship-bangladeshi-cargo-vessel-sinks-in-hooghly/story-RdiH3of8vlEGOeZfQ8tP1H.html  (12 March 2020)
The capsized Bangladeshi barge laden with fly ash from a thermal power plant, environment experts said, may play havoc with water quality of the Hooghly and river bio-diversity at Pujali in South 24 Parganas, where it sank.
– West Bengal Pollution Control Board has already collected samples from the spot and it fears that the toxic fly ash can adversely hit a much wider and longer course of the river. The impact on bio-diversity can only be ascertained after test results. WBPCB may impose penalty on the company, which was carrying the fly ash, for causing irreversible damage to river and its bio-diversity.
– However, Kolkata Port Trust has managed to get the oil out of the fuel tank to make sure that oil spill does not worsen environmental crisis. "There is an effort to lift the barge from shipping navigational channel to bank of the river," a port official said.
– A port vessel, DV Rabindra, collided with the Bangladeshi barge, MV Mamatamoyee Maa, carrying fly ash from a thermal plant for a Bangladesh merchant. According to port trust, the Bangladeshi barge entered the navigation channel without any alert. The collision left both vessels damaged. While DV Rabindra managed to sail away towards Diamond Harbour, the master of the barge – MV Mamatamoyee Maa- attempted to sail the vessel towards the shore. But it sank close to Akra due to the bore tide. All 13 crew members were rescued.
– The 600 tonnes of fly ash is highly toxic and it is almost impossible to restore the water quality within a short span of time. There will be many chemical changes in the water. Total suspended solids will increase many times with an immediate adverse impact on the river bio-diversity. We have to keep a close watch on the water and its marine bio-diversity, said green crusader Subhas Datta, who referred to expert opinion on the severe adverse impact of fly ash on river water.  https://timesofindia.indiatimes.com/city/kolkata/west-bengal-fly-ash-of-capsized-barge-may-hit-river-biodiversity/articleshow/74623784.cms  (14 March 2020)
URBAN RIVERS
Bhairoba, Pune Residents object to PCB's concretisation plan As many as 20 citizen groups and NGOs have raised serious concerns over a proposal by the Pune Cantonment Board (PCB) to concretise the Bhairoba nallah (stream) and are seeking an audience with PCB to discuss the effects of the proposal.
– This is after PCB raised a proposal to the Principal Directorate of Defence Estates of Southern Command in November 2019, to concretise the waterbed of the nallah to avoid flooding during the monsoons. The PCB concretisation proposal came after the city witnessed flash floods in September 2019.
– The Bhairoba Nallah (rivulet) drains a catchment of 27.78 sq.km. It is located to the south of Pune city. The nallah originates at an elevation of 1,000 m above mean sea level (AMSL) near the offshoot the Western Ghats and flows towards north-west direction to join the Mutha river. This watershed area consists of Kondhwa area, Pune Cantonment, Bibewadi, Fatimanagar in Pune city and a village Yewalewadi. The physiography in the upper catchment area is hilly and of undulating nature. A dendritic type of drainage pattern is observed as the rivulet flows through the basalt.  https://www.hindustantimes.com/cities/save-bhairoba-nallah-say-residents-object-to-pcb-s-concretisation-plan/story-8K1iELgZnHuyMkXo4YeqbI.html  (20 Feb. 2020)
Kiruthumal, Madurai Sewage in river to be treated to enrich ground water Corporation is planning to treat sewage running through the centuries-old Kiruthumal river and let it into an oorani in order to enrich the ground water. The civic body has allocated Rs 23 lakh for this purpose. While a tender has already been called for, bids will be opened in 10 days and work will be allotted to the successful bidder, said corporation officials.
– Sewage water will be treated using decentralised waste water management system (DWWS). The treated water will be let into Sokkayi Oorani in Chinthamani, which comes under ward 56. Officials said it is a small tank measuring around 75m wide and 75m in length. At present, it is three metres deep and it would be deepened to five metres to execute the project.
– Kiruthumal channel, which originates from the streams from Nagamalai, runs through the city for around 13km before draining into Gundaru, which drains into Malattar. It finally drains into the Bay of Bengal after running through Ramanathapuram district. It is now reduced to just a sewage carrying channel due to the apathy of officials and public.
– Officials said that they constructed a retaining wall and concrete surface to the river in the city limits a few years ago. Although they clean it periodically, it often gets clogged due to garbage being dumped by the residents.
– Corporation commissioner S Visakan told TOI that he himself visited Kiruthumal river and Sokkayi Oorani, before approving the project. The project will help enrich the underground water table in terms of quantity and quality. While they have been fully focusing on Vaigai river for some time now, they have now started giving attention to Kiruthumal river also, he said. Another corporation official said that although there are 89 water bodies in the city, only 34 of them come under the corporation. The Sokkayi oorani has been taken up on a pilot basis. Once successful, it can be emulated in other water bodies, where sewage water mixing is taking place, he said.
– There will be three components in the DWWS like Settler, which is a tank like structure where sludge will get settled; Baffled Reactor, where water is cleaned; and planted filter, where cana indica (Indian shot), a plant variety will be used to clean the water in traditional variety. "The plant will have a capacity to treat 32,000 litres of sewage water in a day, whereas the total capacity of the oorani is 84 lakh litre," the official said.  https://timesofindia.indiatimes.com/city/madurai/sewage-in-kiruthumal-river-to-be-treated-to-enrich-ground-water/articleshow/74143078.cms  (15 Feb. 2020)
Periyar, Kochi New panel to prepare Periyar rejuvenation plan The State Level Monitoring Committee (SLMC) on solid waste management appointed by the NGT has proposed a joint committee comprising representatives of all local bodies located along the Periyar river as part of preparing a major rejuvenation plan to save the waterbody. A meeting of representatives of the local bodies will be convened after the government lifts the restrictions on mass gatherings in view of the COVID-19 threat.
 "The idea is to involve all the stakeholders in the process of working out a detailed action plan for rejuvenating the river. The local bodies will be invited to attend the meeting of the district-level monitoring committee," said SLMC chairman A.V. Ramakrishna Pillai. The move comes close on the heels of the directive issued by the NGT to curb rampant pollution of rivers across the country. The SLMC has been given the powers to initiate measures that will ensure the lifeline of the waterbodies in the State. The proposal to form a joint committee having representation of all local bodies emerged based on the inference that the pollution of the Periyar cannot be confined to the situation on the Eloor-Edayar stretch alone.
The committee has taken into consideration the findings by the State Pollution Control Board that majority of the local bodies had no scientific facility to treat effluents from industries and households located along the river. Studies found that waste from houses and slaughterhouses were released into the water. The lack of sewage treatment plants in local bodies close to the Periyar remains a problem.
The board has suggested a plan to evaluate the 'load sources' flowing into the Periyar. These could be COD (Chemical Oxygen Demand, the total measurement of all chemicals in water that can be oxidized) loads and nutrient loads which come from specific sources. The SLMC is likely to ask the board to identify the sources of pollution in the Periyar after analysing the total load in the river. The local bodies will be asked to come up with specific plans to stop pollution of the river stretches and protect it from pollution and encroachment, it is learnt.
Research carried out by the School of Marine Sciences at the Cochin University of Science and Technology had found that domestic waste from Aluva and Kalamassery regions remains a major pollutant in the upstream stretches of the Periyar. https://www.thehindu.com/news/cities/Kochi/new-panel-to-prepare-periyar-rejuvenation-plan/article31077285.ece  (16 March 2020)
Vrishabhavati, Bengaluru Plastic, chemical effluents continue to choke River The story of the Vrishabhavati has been one of deterioration that is spinning out of control, so much so that it is often referred to as Kengeri mori (drain) — a far cry from being a drinking water source a few decades ago. Today, pollutants from industries, raw sewage, plastic waste, and just about any discard that is too inconvenient to be thrown anywhere else finds its way into the Vrishabhavati, the only river that originates in Bengaluru.
According to water conservationist S. Vishwanath, the river is believed to originate near the Bull Temple in Basavanagudi, and gets its name from 'Vrushabha' (bull). In the 1930s, Sir M. Visvesvaraya built the Byramangala dam. It flows through Guddadahalli, Bapujinagar, Rajarajeshwarinagar, and Kengeri, among other neighbourhoods, gathering pollutants along the way before it joins the Arkavati at Kudlu.
Though many point to the establishment of the Peenya Industrial Area as the factor that led to polluting the river, Mr. Vishwanath said it had begun with the advent of the Cauvery water supply, which increased sewage load on the river. Industrial effluents got added to domestic sewage after Peenya Industrial Area came into being. "Vrishabhavati and Bellandur lake are on the same plane. Both will be revived only when we put a significant amount of investment in our sewerage network and in our industrial effluent collection and treatment. At the current investment level, it is unlikely that these two will be cleaned up. It could take close to 25 years for them to be revived," he said.
But he said that globally this has been the position that growing economies tend to spoil their water and it is only after you reach a certain stage of development that you have the money to invest in cleaning it — known as the 'Kuznets curve'.
Unchecked dumping Plastic and waste segregation units appear to be one of the newer threats to the river. At many points, mounds of plastic waste can be found washed ashore the riverbank, one of them is close to the Kumbalgodu police station. In recent times, there have been multiple instances of trucks surreptitiously dumping waste, including chemical waste, into the river — a fact that even the Bangalore Water Supply and Sewerage Board (BWSSB) acknowledges.
In 2016, researchers of ATREE confirmed this through their findings from a year-long study involving monthly 24-hour sampling, according to which there was illegal discharge from industries at night. The researchers pointed out how it was not only the local population at risk, but also those who ultimately consume the food.
The BWSSB promises that work is on to improve its STP network. An ETP is expected to come up at Peenya from the Karnataka State Pollution Control Board (KSPCB), though the capacity has been downscaled. The BWSSB chairman said Vrishabhavati was expected to get 525 to 540 MLD flow of treated water. "The STP at Mylasandra is of 75 MLD, at Kengeri 60 MLD, at Vrishabhavati the 180-MLD STP is under rehabilitation and we are constructing a new one of 150-MLD capacity — both of which will be completed by July. There are also the two-year-old 20- MLD plant and 40-MLD new plant at Doddabele," explained Mr. Girinath. https://www.thehindu.com/todays-paper/tp-national/tp-karnataka/plastic-chemical-effluents-continue-to-choke-vrishabhavati/article31079022.ece  (16 March 2020)
Sankarabarani, Puducherry Lifeline, faces threat Indiscriminate dumping of waste and negligence by the authorities has reduced the Sankarabarani in Villianur to a major drain.
Originating from Gingee in the neighbouring Villupuram district, the Sankarabarani, which flows for 24 km, is a major river in Puducherry after Thenpennaiar. Rampant pollution due to dumping of waste by industries and unscientific disposal of sewage poses a serious health hazard to people living in the river basin. The water is highly contaminated downstream, especially at Uruvaiyaru and Villianur. The contamination has been aggravated by illegal sand mining in several areas.
Although Puducherry has a designated dump, the local bodies have miserably failed to enforce the rule. Mounds of solid waste can be seen on the banks of the river. The area near the Villianur bridge presents a sorry picture with vast quantities of solid waste, especially plastic carry bags and liquor bottles, floating in the river. Water hyacinth and weeds cover a major portion of the waterbody. Raw sewage is let into the river, residents allege. The authorities should take steps to prevent dumping of waste into the river, stop illegal sand mining, dredge the canals, remove encroachments on either side of the river and prevent discharge of raw effluents from industries, residents said. https://www.thehindu.com/news/cities/puducherry/sankarabarani-puducherrys-lifeline-faces-threat/article31076588.ece  (15 March 2020)
Vadodara activists campaign on Vishvamitri river on March 14, day of action for rivers.
RIVERS
SANDRP Blog International Day of Action for Rivers 2020: Positive River Stories from India On the occasion of International day of action for rivers which is annually celebrated on March 14, SANDRP has put together some positive river stories of last one year. Please Read and Share.  https://sandrp.in/2020/03/13/international-day-of-action-for-rivers-2020-positive-river-stories-from-india/  (13 March 2020)
Appeal to save Narmada from plastic waste In this Guest Blog in Hindi, Narmada Parikramavasi Jubin Mehta appeals to the Parikramavasis to avoid using plastics and also allowing the Narmada river to be used as dumping ground for all kinds of waste. Thanks, Jubin. To ensure that this reaches maximum people and Parikramavasi of Narmada, please SHARE. https://bit.ly/38OKxdo  (13 March 2020)
Kerala Kallar river a dumping ground Kallar river, one of the tourist attractions in the Thiruvananthapuram district, is fast becoming a dumping ground for plastic and food waste. Residents allege that some of the tourists who visit the place dump beer bottles, plastic, poultry and food waste in the area.  https://www.newindianexpress.com/cities/thiruvananthapuram/2020/mar/04/kallar-river-a-dumping-ground-2111777.html  (04 March 2020)
Tamil Nadu Dead ducks dumped in Chitraru river Panic gripped the residents of Agaram on March 10 after a few Villupuram-based breeders threw the carcasses of 51 disease-infected ducks into Chitraru river.
On information, surgeons of Nettur Veterinary Dispensary extracted tissue samples from the 51 duck carcasses and sent for lab test.  https://www.newindianexpress.com/states/tamil-nadu/2020/mar/11/duck-carcasses-in-river-trigger-bird-flu-panic-in-tenkasi-2115088.html  (11 March 2020) 
Punjab NGOs for deferring tender for ₹650-cr project, say DPR has flaws Local NGOs have demanded that the DPR should be made public and kept open for discussion for at least three months so that independent experts could also submit suggestions regarding the same.
– Pointing out one of the alleged flaws in the project, activists rued the new plan again allowed 20% of industrial waste to be treated with the domestic waste in the STPs. Industrial waste mixed with domestic waste is a major problem being faced at present as MC STPs were not able to treat the industrial waste and the machinery is getting damaged. There could be more such flaws in the DPR and the report needed to be discussed.  https://www.hindustantimes.com/cities/buddha-nullah-ngos-for-deferring-tender-for-650-cr-project-say-dpr-has-flaws/story-PEPIdZ4XHwKpwEJs13xYAO.html  (12 March 2020)
'Task force not consulted on Buddha Nullah project' Kultar Singh Sandhwan, AAP MLA from Kotkapaura, said today the Local Government Department had finalised a project report of the Rs650-crore rejuvenation project of the highly polluted 47 km long Buddha Nullah of which 14 km flows through Ludhiana and called tenders without the involvement of the special task force (STF) constituted by Capt Amarinder Singh to free the drain of effluents in a mission mode. The Rs 650 Cr project has been cleared by the Punjab Cabinet recently. Before finalising the tender, the task force should have been consulted.  https://www.tribuneindia.com/news/task-force-not-consulted-on-buddha-nullah-project-mla-53910  (12 March 2020)
Himachal Pradesh Pollution bad to worse in Baddi industrial belt Most of the 2,261 industries in the Baddi-Barotiwala-Nalagarh industrial area are brazenly emitting noxious chemicals in air and dumping toxic effluents in water bodies, making them major health hazards for local residents. As many as 1,983 cases of cancer have surfaced in five years (2013 to 2018) in the area that houses 89 per cent of the state's industries.
– The major polluting industries in the cluster are engaged in the production of textiles, pharmaceuticals, paper, chemicals, bulk drugs, cement, pesticides, and recycling of hazardous waste. They had started their operations here after the Central Government announced a financial package in 2003. Though the financial assistance has transformed the economy of this border area, the deteriorating air and water quality is adversely affecting the health of local residents.
– Besides cancer, air-borne diseases such as asthma, acute respiratory infection and bronchitis and water-borne diseases such as gastroenteritis, diarrhoea and renal ailments are also being reported in large numbers from the area every year. https://www.tribuneindia.com/news/bad-to-worse-in-baddi-industrial-belt-55234   (14 March 2020)
– Only 23 people have got the connections of the sewage treatment plant that was commissioned in the Baddi Municipal Committee area in September last year.
– The dismal response has made it difficult for the operator to run the plant, which was supposed to receive 5,500 kilo litres of sewage per day. It is receiving barely 70 kilo litres per day, which is only a fraction of the total waste and insufficient to run it.
– As many as 25,633 permanent residents of Baddi were expected to benefit from the scheme though the total population, including floating, in this industrial cluster is much higher. https://www.tribuneindia.com/news/poor-response-to-sewage-treatment-scheme-in-baddi-55259  (14 March 2020)
GODAVARI Andhra Pradesh
CAUVERY, Tamil Nadu What does PSAZ mean for livelihoods? Kaveri Urimai Meetpu Kuzhu (Kaveri Rights Retrieval Committee) coordinator P. Maniarasan says that he and hundreds of other farmers are sceptical not about the spirit of the bill but about its efficacy to address the emerging threats.
– "The bill itself agrees that it would not have powers to eclipse ongoing and approved projects. Private sector company Vedanta and the public sector's ONGC have already been given permission by the union government to extract hydrocarbon from the Kaveri delta. Attempts are also on from the part of union government to revive the coal-bed methane project shelved following intervention by the then Chief Minister J. Jayalalithaa. If the bill lacks powers to stop all these, there is no meaning to the declaration of the delta as an agricultural zone," he said.
– According to him, the bill was drafted in haste without seeking expert opinions and it excluded Musiri, Lalgudi and Pullambadi blocks in Trichy district, Thirumanur in Ariyalur district, Chidamabaram in Cuddalore district and Kulithalai in Karur district. However, supporters of the bill say certain tactical omissions were made in it to pass it using provisions in the list and to avoid collision with central government powers. They say modifications can be made at any time based on consensus.
– "The already-initiated extraction works have turned the groundwater more saline. The new law would help revive the groundwater level,'' says Ranganathan terming the counter opinions as ill-motivated and lacking objectivity.  https://india.mongabay.com/2020/03/what-does-the-cauvery-deltas-new-protected-special-agricultural-zone-mean-for-livelihoods/  (10 March 2020)
GANGA Uttarakhand Seers continues agitation against mining, hydro  Matri Sadan has said that the government's response to its seers who are presently fasting has been as indifferent. "The seers have put their lives on the line for the Ganga and a government which claims to treat the river as holy is not treating them with any insensitivity. In fact there is a kind of hostility," said Swami Shivanand Saraswati, Agarwal's spiritual guru and the founder president of Matri Sadan.
– Over the last two decades, several seers of the Matri Sadan have protested and fasted, demanding that the government take proactive steps to revive the river considered holy in Hindu mythology. Their key demands include a ban on illegal sand mining around the Ganga, cancellation of proposed hydroelectric projects on the Ganga and maintenance of a free-flowing river. Successive governments have been reluctant to give in to these demands. Now the Matri Sadan has once again reiterated these demands and also demanded that the Central government meet and speak with the fasting seers.  https://thewire.in/environment/ganga-hindu-saints-fast  (05 March 2020)
As per this report, Swami Shivanand Saraswati is on a fast-unto-death since past 72 hours to protect the river. Activists have called a meeting at Matri Sadan for March 20 to formulate a strategy to save the river from mining mafias, hydropower plants and pollution.
Meanwhile, seer Padmavati who had been fasting for over 90 days for the Ganga cause, continues to be in the ICU of AIIMS-Delhi. Sources at the ashram said she is suffering from neurological problems and is unable to speak or move. https://timesofindia.indiatimes.com/city/dehradun/be-in-haridwar-on-march-20-to-save-ganga-says-indias-waterman/articleshow/74600957.cms  (13 March 2020)
Only a 3rd of sewage generated is getting treated In response to a query raised in Parliament, the Union Government has revealed that the hill state is able to treat only 153 MLD of sewage out of the 495 MLD of sewage generated each day. Along with this, it has been informed that Uttarakhand has a treatment capacity of only 165 MLD of sewage under the National Mission for Clean Ganga (NMCG). https://timesofindia.indiatimes.com/city/dehradun/ukhand-treats-only-a-third-of-total-sewage-generated-in-state/articleshow/74540647.cms  (9 March 2020)
Shameful solid waste in huge amount being dumped in Bhagirathi river by none other than Badahat Nagar Palika in Uttarakashi. https://m.facebook.com/story.php?story_fbid=2564221633789904&id=100006062765959&_rdr
SANDRP shared the issue with the DM Uttarkashi and talked to him on phone to take actions against involved.  SANDRP also tagged Sri Rajiv Ranjan Misra, DG, NMCG also and responding to the issue he said that matter has been brought into the notice of Chief Secretary and investigating committee has been formed to look into the issue. The DG also responded positively on the issue of waste landfills being built by the rivers by govt agencies.  
Uttar  Pradesh बनारस में ताँतेपुर। यहाँ गंगा जी का पानी, ज़हर हो गया। दीनापुर STP, से शोधित? अवज़ल ला के इसी गाँव में, गंगा जी में गिराया जाता है! https://twitter.com/SewageInGanga/status/1237716179512262656
YAMUNA Delhi Toxic froth flying around Kalindi Kunj In an unprecedented scene on the Yamuna on March 6, toxic foam from the river was seen flying around in the air in the area around Kalindi Kunj.
https://tvid.in/1xwd78fu6l/toi
The Yamuna has been suffering from toxic foams caused by severe pollution for quite a while now and this incident now adds on to the increasing toxicity of the river. The toxic foam flying around is also causing issues to people using the Kalindi Kunj bridge. https://timesofindia.indiatimes.com/videos/city/delhi/delhi-pollution-reaches-new-levels-on-yamuna-as-toxic-foam-flies-around/videoshow/74515103.cms  (06 March 2020)
Another spell of lethal froth flying around near Kalindi Kunj bridge Delhi. https://www.instagram.com/p/B9taU7cpNuX/?utm_source=ig_web_button_share_sheet
Meanwhile, having taken over possession of 42.5 acres of land in Ghonda Gujran from Delhi Development Authority in December, East Delhi Municipal Corporation has finally initiated the exercise of setting up an integrated waste-processing facility there. A senior EDMC official said NTPC Limited had started the tendering process for setting up a waste-to-energy plant at the location. Soon, a similar exercise for a bio-methanation plant will start.
The project will consume 2000 tonne of waste every day. The civic agency expects to start work on the site in another six months after securing the environmental go-ahead. The tentative deadline for the project is December 2021. EDMC generates 2,800 tonnes of waste daily. Of this, around 1,300 tonnes go to the oversaturated Ghazipur landfill.
After two people were killed in Ghazipur when a portion of the landfill collapsed in September 2017, the hunt for a new site gained fresh urgency. DDA agreed to hand over land at Ghonda Gujran along with another site at Sonia Vihar.
After objections from environmentalists stalled the move, NGT finally approved the handover of the two sites in May last year. Officials said these won't be traditional dumping sites and, as such, there was no question of harm to the floodplain, as feared by the activists. After the Ghonda Gujran site was inundated in the monsoon season, DDA decided to carry out a survey before approving the allotment of land to EDMC. An EDMC official said all such issues had now been sorted out and work would start soon at the site. https://timesofindia.indiatimes.com/city/delhi/baby-steps-towards-a-new-waste-plant/articleshow/74199386.cms  (19 Feb. 2020)
Clean Ghazipur landfill fast, stresses Parliament panel Taking note of slow progress to tackle the mount of garbage at Ghazipur landfill site in east Delhi, a parliamentary committee headed by Shri Jagdambika Pal has recommended expeditious remediation of the site on lines of Indore Municipal Corporation and convert it into a park. The standing committee on urban development has recommended the agencies concerned to begin biomining at the site to reduce the waste. Bio-mining is a technique of extraction and segregation of minerals and useful material from mounds of waste. This can be used to extract materials like plastic, rubber, metals and gases. The committee was told that in Indore the legacy (old) waste was 13 lakh T, which was 140 lakh T in case of Ghazipur.  https://timesofindia.indiatimes.com/city/delhi/clean-ghazipur-landfill-fast-stresses-parl-panel/articleshow/74584712.cms  (12 March 2020)
Uttar Pradesh NEERI team collects samples from Mathura NEERI officials on March 06 collected water samples from Bengali Ghat pumping station, Kosi drain, Masani drain, Ambakhar drain and Gokul barrage areas of Yamuna river in Mathura on directions from the Supreme Court regarding overflowing drains in the Taj Trapezium Zone, environmentalist and social worker Gopeshwar Nath Chaturvedi saidAfter taking the samples, the team left for Agra to obtain samples from the river there, he added.
– He has been filing petitions in higher courts for cleaning and maintaining ecological flow in Yamuna river for many years. In 1998, Mr. Chaturvedi had filed a PIL in Allahabad High Court for making Yamuna pollution-free. On the basis of the HC order, the government had taken steps including keeping a check on the drains, preventing discharge of industrial waste into the Yamuna, etc.
– In December last year, an apex court bench had asked noted environmentalist M.C. Mehta and NEERI to inspect the city of Agra and file a report within eight weeks suggesting measures to deal with the problem of overflowing drains. Meanwhile, Mr. Mehta said the team had taken water samples based on his plea for protecting the Taj Mahal that also indirectly covers pollution in Yamuna river. He pointed out that there are two drains passing close to the Mughal-era monument and without making it pollution-free, a "clean Taj" would remain only a dream. In the last hearing in SC when Mr. Mehta pleaded about rising pollution levels of the river from Delhi to Firozabad in UP, the court ordered for submission of the report by NEERI.
– Mr. Chaturvedi also criticised the way the Centre's flagship Namami Gange Programme was being implemented. He argued that with unplanned work, the river would not turn pollution-free either in Vrindavan or in Mathura. The activist said the Kosi drain should be included in the government plan as industrial waste and drain coming from Kosi, Shergarh and Chatta towns discharge in the stretch of the river in Vrindavan. Without including Kosi drain in the plan, the stretch of the river in Vrindavan can not be cleaned, he said adding that Mathura and Vrindavan have been taken as separate units for implementation of Namami Gange Programme.
– Under Namami Gange plan, Mathura was divided into four zones. However, the work is in progress in only two zones, (trans Yamuna and Masani zone), Mr. Chaturvedi claimed. Even a detailed project report (DPR) for the other two zones – Masoom Nagar zone and Koyala Alipur zone – has not been prepared so far, he said. In such a situation, I was left with no other option but to request Mehta to do something for cleaning the Yamuna," Mr. Chaturvedi said.  https://www.thehindu.com/news/national/on-sc-directive-neeri-team-collects-water-samples-from-yamuna-river-in-mathura/article31015280.ece  (08 March 2020)
Haryana  Following heavy rain spell, and discharge from Western Yamuna canal Somb river in Yamuna Nagar has swelled to brim.
Farmers say to save mining companies, govt releasing 16-17K Yamuna water in Somb river via Dadupur barrage instead of releasing it in Yamuna downstream Hathini Kund, causing bank erosion, crop losses along Somb.
Uttar Pradesh Non seasonal rain leading to increased discharges in Yamuna river has affected riverbed farmers at Kairana. (Image source Mustqueem Mallah)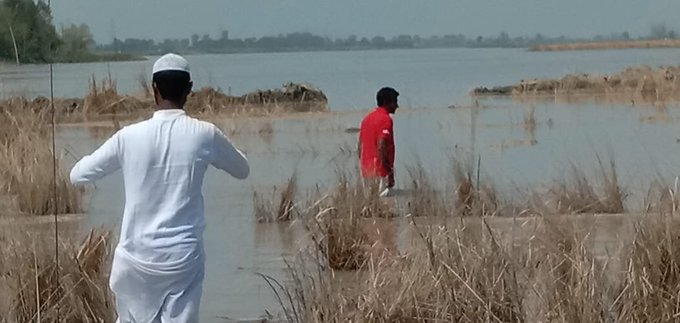 FISH, FISHERIES, FISHERFOLKS
West Bengal Aquaculture Boost Is Damaging Marine Ecosystem According to the government data, West Bengal has 405,000 hectares of brackish water that making it the largest area in the country for potential shrimp production. Marine Products Export Development Authority (MPEDA) statistics says that the production of shrimp in West Bengal reached 76,534 tonnes in 2017-18, up from 28,000 tonnes in 2007-08. As aquaculture production is increasing in the state, the demand for fishmeal is also rising. As a result, trawlers are engaging more into bottom trawling, and even smaller fishers are also forced to catch small aquatic creatures to feed local fishmeal factories.  https://www.youthkiawaaz.com/2020/03/heres-how-bengals-aquaculture-boost-is-damaging-marine-ecosystem/  (10 March 2020)
DMF PR on March 13 2020: At the call of Ganga Mukti Andolan more than 500 small and traditional fishers and fish vendors assembled on the bank of Ganga at Kahelgaon, Bihar on 22nd February 2020 to take stock of the situation and decide upon strategies for moving forward. Members of Jal Shramik Sangh, the fish worker wing of Ganga Mukti Andolan participated in the meeting. National Alliance of Peoples' Movements (NAPM) and National Platform for Small Scale Fish Workers (Inland) also joined in the programme.
Ramsharan Singh, Veteran leader of Ganga Mukti Andolan chaired the meeting. He requested all participants to resolutely move ahead to protect Ganga and the livelihood of fishing communities. Pradip Chatterjee, Convener of National Platform for Small Scale Fish Workers (Inland) stressed the fishing communities' right to water and said that without this primary and basic right the fishing communities cannot survive. Soumen Ray, veteran trade unionist and National Coordinator of NPSSFW(I) said that the fishers, fish farmers and fish vendors are all included in the category of unorganised worker. He spoke of the mission of NPSSFW(I) and called upon the fishing communities to strengthen the National Platform as their organisation. Sanjay Mangala Gopal, National Convener of NAPM conveyed NAPM's support to the struggle of Ganga Mukti Andolan to protect and restore river Ganga. He said that Narmada Bachao Andolan and Ganga Mukti Andolan are struggles to save the rivers and the life and livelihood of peoples dependent on rivers. Many fishing community leaders including Rampujan Singh, Yogendra Sahni, Sagar Sahni spoke about the ecological disaster of Ganga due to pollution, diversion of water, dams and heavy water transport. They also mentioned the threat to the livelihood of fishers from the Dolphin Sanctuary. Veteran activist Udayji read out a 14 Point Charter of Demand for discussion and adoption. Later a Boat Race, a Boat Rally and a ceremonial offering of lamps to the Ganga were held to assert fishing communities' right to protect Ganga and to sustainable use of riverine fish resources.
On 24th February 2020 the Executive Body of Ganga Mukti Andolan including leaders of Jal Shramik Sangh met to decide on future course of action. Pradip Chatterjee and Soumen Ray, the Convener and National Coordinator of NPSSFW(I) were invited to the meeting. A number of decisions (details of the decisions attached) were taken regarding organisational positions and programmes which included –
Position on Dolphin Sanctuary;
Meeting / Workshop regarding Protected Area (Dolphin Sanctuary) in Ganga;
Meeting / Workshop regarding regarding Inland Waterways in Ganga;
Ganga Mukti Andolan Sammelan at Patna;
Replenishment of Fish Stock in Ganga;
Jal Adhikar Yatra (Boat Campaign on Ganga);
Employment of Fisher People in river transport, rescue and relief operations;
Participation of Jal Shramik Sangha in NPSSFW(I). 
SAND MINING
Odisha Mahanadi river bed looted by sand mafia, admin silent  With the Jagatsinghpur district administration turning a blind eye to rampant illegal sand mining, not only has river erosion posed a grave threat to the areas along the banks of Mahanadi but also people's lives are in danger from the mafia.
– The sand mafia continue to operate with such impunity that it did not spare a 70-year-old woman Sakhi Behera of Jaisankhpur village within Kujang police limits on Feb 21. The woman had been protesting illegal lifting of sand and was attacked by the mafia. She sustained critical injuries in the attack and was admitted to SCB Medical College and Hospital, Cuttack.
– Sources said Mahanadi is silently being robbed off its sand right under the nose of the administration, elected representatives including sarpanchs and ward members. Tractors, JCBs, haiwas and even cranes are used to lift several truckloads of sand from the river bed every day. Residents of a few villages of Kujang block are in panic as their homestead and arable land are under threat due to river erosion. Deep digging and drilling leads to formation of ponds which has enhanced risk of the river changing its course during floods.  https://www.newindianexpress.com/states/odisha/2020/feb/23/mahanadi-river-bed-looted-by-sand-mafia-administration-silent-2107264.html  (23 Feb. 2020)
Maharashtra Cops Raid Mining Site In Guise Of Marriage Party In tense, corrupt, dangerous world of illegal sand mining, some hilarious incidents also take place in hinterlands. This quite fruitful one is from Maharashtra as it led to 9 arrest, 12 tipper trucks, 8 excavators seizure + sand worth ₹3.6 cr. A raid in similar manner was also conducted by Nagpur Revenue Dept in Dec. 2019 also.
-A police team raided an illegal sand mining site in Bhandara district in Maharashtra after decorating their vehicles to pass off as a wedding procession, an official said on March 7. The raid, carried out in Khatkheda Ghat in Paoni tehsil, some 65 kilometres from Nagpur, in the early hours of March 6 led to the arrest of nine persons and seizure of 12 tipper trucks, eight excavators and sand, all valued at Rs 3.6 crore, an official said. https://www.ndtv.com/india-news/maharashtra-cops-raid-sand-mining-site-in-guise-of-marriage-party-2191655  (07 March 2020)
This happened in Dec 2019 in Nagpur district.  https://www.devdiscourse.com/article/national/777056-officials-raid-illegal-sand-mining-spot-in-guise-of-marriage 
WETLANDS, WATERBODIES, LAKES
WATER OPTIONS
Uttar Pradesh Bunds helped farmers in Mahoba put drought behind Construction of bunds helped revive groundwater levels and recharged wells in drought-stricken Mahoba district in Bundelkhand. "2019 is different than previous years. We have integrated various water conservation schemes under different departments," said RS Goutam, district development officer. He is also the district nodal officer for Central government's water conservation programmes under Jal Shakti ministry. This integration has placed Mahoba in the top 10 among the 255 most water-stressed districts in the country, claimed Goutam.
– In Mahoba, the district authority prepared a plan for two blocks. The plan pointed out the number of functional and non-functional structures in these blocks. It listed around 175,000 small and medium water conservation structures and 1,301 recharge structures. It also pointed to around 17,850 non-functional water conservation structures and 2,071 recharge structures that needed restoration. "The strategy was to conserve functional structures and plan revival of non-functional ones. Annual work under different departments would be carried out at the same time," said Goutam.  https://www.downtoearth.org.in/news/water/water-stressed-in-india-how-bunds-helped-farmers-in-mahoba-put-drought-behind-69705  (11 March 2020)
तालाबों की सफाई में लगे दो युवा Vikrant and Ramveer https://www.youtube.com/watch?v=geDEb2bugns&feature=youtu.be  (12 March 2020)
Jal Shakti The important measures taken by the Central Government for conservation, management of ground water and effective implementation of rain water harvesting in the country are available at:  http://mowr.gov.in/sites/default/files/Steps_to_control_water_depletion_Jun2019.pdf
Water on my plate Architect Sanjay Prakash makes the case for eating foods that consume less water. https://www.civilsocietyonline.com/column/green-life/water-on-my-plate/
Delhi Efforts of Narela youths have been rewarded with rain run off filling up traditional pond four days ago. Local have been working on it for past eight months apart from taking up greening and cleaning works around the water body on regular basis. There was not much during south west monsoon 2019 and the pond was in dry state as shown in the first image, second was taken today.
GROUNDWATER
Report Shaping contours of groundwater governance in India About Groundwater governance. Himanshu Kulkarni, Mihir Shah and Vijay Shankar. https://www.sciencedirect.com/science/article/pii/S2214581814000469 
The way ahead is to step-up recharge of aquifers and groundwater resources, even as we better allocate resources for surface irrigation systems and their maintenance. We are increasingly dependent on groundwater for irrigation, which is clearly unsustainable. But the maintenance and upkeep of surface irrigation systems is also neglected across states. https://economictimes.indiatimes.com/opinion/et-view/et-view-focused-forward-looking-water-policy-needed/articleshow/74600500.cm  (March 2020)
Jal Shakti Expressing concern over depletion of underground water table, Shri UP Singh said we are drawing 2.5 times more ground water than what percolates down under to maintain the water table level.
– "Punjab and Haryana, what are generally termed as the granary of India, may still be producing more crop of about 5,000 tonnes per hectare compared to around 3,000 tons in Jharkhand or Chhattisgarh, but the per unit productivity of water in these states is much more than in Punjab-Haryana," said Shri UP Singh. "The real worry for us is not the traditionally dry regions like Bundelkhand, but the situation that has arisen in Haryana and Punjab," he added.
– Shri G. Ashok Kumar, Additional Secretary and Mission Director, NWM, said the paper and pulp industry has been able to reduce water consumption by half but much more can be done as it is still five to ten times more than global standards.  https://pib.gov.in/newsite/PrintRelease.aspx?relid=199861  (05 March 2020)
Researchers from Indian Institute of Geomagnetism (IIG), an autonomous institute under the Department of Science & Technology, have found the mighty Himalayas subside and move up depending on the seasonal changes in groundwater. The Himalayan foothills and the Indo-Gangetic plain are sinking because its contiguous areas are rising due to tectonic activity associated with landmass movement or continental drift. The new study published in the Journal of Geophysical Research shows that subsidence and uplift are found to be associated with seasonal changes in groundwater, apart from the normal, common reasons. Water acts as a lubricating agent, and hence when there is water in the dry season, the rate of slip of the fault in this region is reduced.
– Ajish Saji, working towards his Ph.D. under Prof Sunil Sukumaran, has looked at this phenomenon through this innovative prism. The researchers have made the combined use of Global Positioning System (GPS) and Gravity Recovery And Climate Experiment (GRACE) data. The data suggest a 12% reduction in the rate of the subsurface slip. https://dst.gov.in/pressrelease/groundwater-affects-himalayan-slip-and-climate-mountains-dance-its-tune (March 12, 2020 PIB PR)
Telangana Groundwater table hits rock-bottom in Secunderabad Come summer, the residents of Marredpally and Musheerabad may face water scarcity as the groundwater table in the areas has been been plummeting rapidly since February, according to a recent report by the ground water department (GWD), Hyderabad district. According to GWD officials, the range of dip water table in these areas is between 0.24 and 1.32 meters below ground (MBG) level.
Based on GWD's February 2019 report, the groundwater level at Marredpally was 20.87 meters this month last, as compared to 7.45 meters now. This means, the water level has observed a dip of 13.42 meters within a year. In Musheerabad, the water level in February last year was 9.38 meters. It rests at 6.30 meters this year and has observed a fall of 3.08 meters. A small dip has been found in Secunderabad. The groundwater was measured at 3.71 meters and is at 2.95 meters this year. A fall of 0.76 meters has been observed. https://timesofindia.indiatimes.com/city/hyderabad/groundwater-table-hits-rock-bottom-in-secbad/articleshow/74632047.cms  (15 March 2020)
URBAN WATER
Nasik NMC writes to govt against water diversion to Marathwada In a letter to the state water resources department (WRD), the Nashik Municipal Corporation (NMC) has cautioned the former that any diversion of water from Mukane dam to the Marathwada region would lead to significant water scarcity in the city. The civic body has reminded the state government that water reservation from the dam to the city was made till 2041 and that the body had spent crores in creating infrastructure to draw water from it. The water reservation for NMC in Mukane dam is 28.32 million cubic metre (mcm) till 2021, 69.10 mcm till 2031 and 165.25 mcm till 2041.  https://timesofindia.indiatimes.com/city/nashik/nmc-writes-to-govt-against-water-diversion-to-mwada/articleshow/74556811.cms  (10 March 2020)
Shimla SC takes notice of contaminated water supply The Supreme Court, through an order on Feb 25, 2020, has asked that Shimla Municipal Corporation and concerned state govt department should check the quality of water supplied in Shimla every week and file a report along with action plan to ensure that the people of Shimla are getting potable water quality.  https://www.tribuneindia.com/news/reviews/story/sc-takes-note-of-contaminated-water-supply-in-shimla-53367  (09 March 2020)
Mussoorie 12 MLD Yamuna water for Mussoorie The "bhoomi poojan" ceremony for a new pumping project was initiated on Feb. 29 in which water from Yamuna river would be extracted to meet the water demands of Mussoorie town. The ceremony took place at Yamuna Bridge, about 30 km Tehri MP Mala Rajya Lakshmi Shah and Mussoorie legislator Ganesh Joshi.
The pumping project has an outlay of Rs 144 crore and can supply up to 12 MLD from Yamuna river – which flows to the north of Mussoorie. As per executive engineer of Peyjal Nigam, Subhash Chandra, under the scheme, water would be pumped from the Yamuna river to Radha Bhawan in Mussoorie.
– Funded by the Centre, the water pumping scheme is expected to be completed in the next two years and to meet town's water need for next 30 years said Ganesh Joshi MLA.   https://timesofindia.indiatimes.com/city/dehradun/yamuna-water-to-help-resolve-water-crisis-in-mussoorie/articleshow/74420103.cms  (01 March 2020)
Bengaluru Water tanker strike till March 20 has citizens worried The water tankers have announced the strike after the tahsildar of Hoskote taluk banned the drawing of water from borewells that run on electricity. These borewells are the main sources of water for these tanker operators. However, the rampant exploitation of water in the recent past has left the area dry, forcing the tehsildar to take action. The water tanker association has asked that the ban be lifted. Starting from March 16, the water suppliers have said they will stop supplying water till March 20. https://www.thenewsminute.com/article/water-tanker-strike-east-bengaluru-till-march-20-has-citizens-worried-120280  (15 March 2020)
In east Bengaluru, areas like Panathur and Varthur in the Mahadevapura zone are about to face acute water shortage from March 16 if the owners of private water tankers stick to their decision of not supplying water.
With no Cauvery water supply, the residents have been depending on private water tankers. Most borewells have dried up in and around Varthur and the private water tankers fetch water from borewells in Kotur, Harohalli, and Mutsandra villages of Anugondanahalli hobli in Hosakote taluk. https://bangaloremirror.indiatimes.com/bangalore/civic/mahadevapura-to-face-water-crisis-from-today/articleshow/74641552.cms  (16 March 2020)  
Bangalore Water Supply and Sewerage Board (BWSSB) appears confident of tiding over the approaching summer without major hiccups. The BWSSB has put in place measures to avoid a repeat of water shortage seen in 2017 and 2018. They are, adequate water in source reservoirs, 107 bore wells sunk a couple of years ago, additional pumping of 100 MLD from Thoraikadanahalli reservoir and the Unaccounted For Water project that massively brought down water loss.
Engineer-in-Chief (EIC) Kemparamaiah said that while 1,350 MLD was pumped from T K Halli reservoir two years ago, pumping is up by nearly 100 MLD this year. "Right now, we pump 1,450 MLD to 1453 MLD of water each day. This is the maximum possible and the additional water has really helped reach out to all areas of the city," he said. https://www.newindianexpress.com/cities/bengaluru/2020/feb/26/water-board-all-prepped-to-see-the-city-through-summer-2108656.html  (26 Feb. 2020)
Wayanad Dying Pookode lake The Pookode Lake in Wayanad, an ecologically fragile district, the second largest freshwater lake in Kerala is dying. A large part of the 5.172 ha of the lake has turned into green grassland because of soil erosion brought about by uncontrolled construction and farming activities taking place in areas around the lake.
The lake is dying mainly due to anthropogenic activities, eutrophication (a process by which waterbodies receive excess nutrients that stimulate excessive plant growth), and accumulation of sediments owing to soil erosion.  https://www.thehindu.com/news/national/kerala/the-dying-lake-of-wayanad/article31026664.ece  (10 March 2020)
Kannur Chirakkal Chira to get a fresh lease of life soon Constructed over three centuries ago, the Chirakkal Chira, said to be one of the biggest man-made tanks in Asia, is all set to get a fresh lease of life. The dredging work to desilt the Chira began recently with a large number of people gathering around the Chira, which was completely dried after the water was pumped out.
About 318 metres long and 150 metres wide, the Chira is spread over 14.70 acres. The private tank is owned by Chirakkal Kovilakam. It can serve as a huge reservoir and help increase the water table in the region. However, lack of maintenance and continuous inflow of drainage water polluted the Chira, said Ravindra Varma Raja, a member of Chirakkal Kovilakam. "It was not possible for the family to maintain the tank," he added. However, the Kovilakam also did not want to hand it over to the government.
Though the panchayat was in talks with Chirakkal family members since 2016, the project to clean the tank was submitted two years ago and the Irrigation Department took over the work to dredge it, said A. Soman, president, Chirakkal Panchayat. It was a long-pending demand of people to clean the Chira and make it a reservoir or use it for drinking purposes. But since it was a private tank, there was difficulty in sanctioning government fund for dredging work, he said. But the funds were finally approved considering the importance of the facility.
Sindhu, Assistant Engineer, Irrigation Department, said that a fund of over ₹2 crore had been sanctioned for dredging and other works. Permission had been given to remove silt of upto 80 centimetres in depth. Besides, parapet would be constructed around the tank to prevent drain water entering it. The work had been awarded to a private contractor and it would take about a year's time. However, the contractor had been instructed to complete the dredging work before the monsoon, she added. https://www.thehindu.com/news/national/kerala/chirakkal-chira-to-get-a-fresh-lease-of-life-soon/article31076466.ece  (15 March 2020)
WATER
Jal Shakti Soon, divulging water source must for bottling unit licence While MoWR assured the Parliamentary standing committee that the committee's suggestion requiring the bottled company to mention the source of water before its given licence granted by the 2011 Food Safety and Standards Authority of India (FSSAI) under the FSS (Licensing and registration of Food Business Regulation, 2011) has been accepted, MoWR has given no time frame in which this will be implemented. This seems to shocking and shows such laxity on the part of the MoWR.  https://www.tribuneindia.com/news/soon-divulging-water-source-must-for-bottling-unit-licence-53523  (09 March 2020)
Himachal Pradesh WB & Govt sign $80M loan to develop agriculture, water management  The state government and the World Bank signed an $80 million loan agreement on March 11 to improve water management practices and increase agricultural productivity. Project for Source Sustainability and Climate Resilient Rain-Fed Agriculture will be implemented in 428 Gram Panchayats in 10 districts benefiting over 400,000 smallholder farmers.  https://indusdictum.com/2020/03/12/world-bank-indian-govt-sign-80m-loan-to-develop-agriculture-water-mgmt-in-himachal/  (12 March 2020)
Telangana Agriculture minister Singireddy Niranjan Reddy said 2,395 litres of water is used in state to cultivate one kg of paddy.  https://timesofindia.indiatimes.com/city/hyderabad/2395-litres-of-water-for-1kg-of-paddy-min/articleshow/74583930.cms  (3 March 2020)
Opinion Coronavirus underscores importance of clean water In India alone, according to NGO Water-Aid's statistics from 2018, this number is about 163 million. In Nigeria, it's 59 million. This enhances their risk of Covid-19, because they can't be part of the prescribed basic hygiene.
The novel coronavirus pandemic underscores that clean water is a form of the right to life. But we can't address this problem without a shift in how global consumption works today. What we make, eat and wear can play an important role. When water is diverted for commercial needs, the poor get less water, and everyone gets more unclean water. Large water footprints must be shrunk, collaboratively, globally. Other pandemics, droughts, heatwaves and unpredictable big crises will come our way on a changing planet. Ensuing everyone has minimum clean water will help people better survive these catastrophes. https://www.hindustantimes.com/india-news/coronavirus-underscores-importance-of-clean-water/story-wcILGyql5elllJ5LmxAIlN.html  (16 March 2020)
FLOOD
Maharashtra Poor dam management, manipulated flood lines This also covers SANDRP report how flood impacts could have been minimized.
– After the 2005 floods, the SANDRAP report pointed out, the government had appointed a committee but its conclusions were never released in the public domain. "We need to ensure that the water stored in dams is judiciously released to make way for possible high rainfall incidences and release schedules should be strictly followed. The information needs to put in public domain so that accountability can be fixed," it said.
– The report further blamed our obsession with "development", which reduces the rivers' water carrying capacity. "We need to focus on creation of local water harvesting systems, wetlands, forests and other groundwater-recharging," it said. https://www.firstpost.com/india/poor-dam-management-manipulated-flood-lines-in-maharashtra-leave-people-living-along-riverbanks-at-the-mercy-of-raging-waters-during-monsoons-8143721.html  (12 March 2020) 
DISASTERS
Rajya Sabhha 48 hrs early prediction of Uttarakhand-like cloud-burst by 2022 -India will be able to forecast extreme weather events like 'cloud bursts' at least two days in advance from 2022, the ministry of earth sciences (MoES) has informed a parliamentary committee.
– "The ministry (MoES) stated that unlike cyclones, forecasting a cloudburst is very difficult due to the dynamics of the rapidly developing clouds over a very small area. However, they could make a probabilistic forecast on the possibility of cloudburst events over a specific area 48 hours in advance with an enhanced computing facility," the parliamentary committee stated in its report submitted to the Rajya Sabha earlier this month.
– At present India's weather forecasting system depends on high-performance computing (HPC) system with a capacity of 10 PetaFlops. Plans are, however, afoot to augment the current HPC from 10 PFlops to 40 PFlops by 2022 and to 100 PFlops by 2024.
– "With the facility being upgraded, we will be able to forecast extreme weather events such as cloud bursts at least two days in advance by 2022. Also at present, our forecasts have a resolution with a precision up to 12 km. With such advanced computing system we will be able to give forecast up to 5 km, or maybe even up to 3 km, with far more detailed predictions," said Madhavan Nair Rajeevan, secretary of MoES.
– Experts said that this will allow authorities a period of at least two days to initiate pre-emptive actions to save lives and property. At present cloudbursts are predicted two to three hours in advance in terms of heavy rainfall using Doppler Weather Radars and Satellite Data.
– "At present science is not the limiting factor. Computing facility is the limiting factor. To forecast extreme events like cloud bursts and very heavy rainfall, highly localized phenomenon, we not only need to increase our horizontal resolution to less than one kilometre but also increase our vertical resolution," said KJ Ramesh, former director-general of the India Meteorological Department.
– "With an upgraded HPC system of 100 PFlops, meteorologists will be able to analyze the fast-changing microphysical characteristics of clouds and better will be our forecast," he said. https://www.hindustantimes.com/india-news/48-hrs-early-prediction-of-uttarakhand-like-cloud-burst-by-2022-says-report/story-G4CPVLVmTh5ijV0tEu1EWO.html  (15 March 2020)
ENVIRONMENT
MoEF&CC Draft to regulate green norm violations Dealing with violation cases" is a new section in the draft notification compared to the EIA notification 2006. The draft states that violations can be reported by the project proponent themselves, by a government authority, or by a committee appraising the projects. The appraisal committee will assess whether the construction or expansion carried out in violation of the norms can "run sustainably" with "environmental safeguards."
– "The notification on violations was meant to be short-term one-time amnesty scheme and it is now in the skin of the notification. This means that appraising violations will be a routine exercise carried out under the environment clearance process. The does not encourage deterrence," said Kanchi Kohli, legal researcher at the Centre for Policy Research.
– "It is important that the ministry has brought in clarity through definitions and pooling together all the amendments carried out so far. However, while doing that the notifications includes new exemptions, reduced scope of public hearings, yearly monitoring instead of six monthly and institutionalising appraisal for projects that initiated construction without approvals," she added.
– Geeta Menon, joint secretary in the ministry of environment, said: "This is entirely procedural. We are rationalising all the changes made in the past ten years in a piecemeal manner through this draft." The ministry had released a compendium of gazette notification and office memoranda on the EIA notification in 2014 but these changes have not been introduced in the notification itself till now.
– The draft notification 2020 explains that "such violations being recurring in nature may come to the notice in future during the process of appraisal or monitoring or inspection by Regulatory Authorities. Therefore, the Ministry deems it necessary to lay down the procedure to bring such violation projects under the regulations in the interest of environment at the earliest point of time rather than leaving them unregulated." https://www.hindustantimes.com/india-news/draft-to-regulate-green-norm-violations-planned/story-EhfJC2juo4zpnnur4pqKoJ.html  (13 March 2020)
– The draft EIA notification proposes to be an update to the EIA of 2006, which specifies a "minimum of 30 days" for people to respond. The current version of the update, which will likely become law in 60 days, gives a "minimum of 20 days" of notice period. It also requires that the public-hearing process be wrapped up in 40 days, as opposed to the existing norm of 45 days.  https://www.thehindu.com/sci-tech/energy-and-environment/new-environment-impact-norm-cuts-time-for-public-hearing/article31052406.ece  (12 March 2020)
Report India's forests thriving only on paper Dodgy numbers, a 'flexible' approach to the facts and self-serving definitions beginning with how "forest cover" itself is actually defined. This is what accounts for the unanimous skepticism among ecologists and other experts of the "growth" in India's forest cover, claimed by the recently released India State of the Forest Report 2019.  https://www.ecologise.in/2020/03/08/indian-forests-are-doing-very-well-on-paper/  (08 March 2020)
CLIMATE CHANGE
Study Ganges-Brahmaputra-Meghna delta in peril due to sea-level rise The study was published in the journal Proceedings of the National Academy of Sciences in January 2020 noted that it clearly appears that during the 1968 to 2012 period, the relative water level (RWL) in the GBM delta has increased at approximately the same pace, sometimes even slightly faster, than the global mean sea-level. It said RWL changes are triggered by three factors including river and water flows, the sinking of land and the sea-level rise.
– These researchers took monthly readings of water levels and sea level from a set of 101 gauges spread across the delta and reconstructed the regional water levels changes since the 1970s. They found that, between 1968 and 2012, water level across the delta increased slightly faster, about three millimetres per year than the global mean sea-level rise of about two millimetres per year. They estimate that maximum expected rates of delta subsidence since the 1990s range from one to seven millimetre per year.  https://india.mongabay.com/2020/03/ganges-brahmaputra-meghna-delta-in-peril-due-to-sea-level-rise-says-study/  (13 March 2020)
Report Why don't we treat the climate crisis with the same urgency as coronavirus? It is a global emergency that has already killed on a mass scale and threatens to send millions more to early graves. As its effects spread, it could destabilise entire economies and overwhelm poorer countries lacking resources and infrastructure. But this is the climate crisis, not the coronavirus. Governments are not assembling emergency national plans and you're not getting push notifications transmitted to your phone breathlessly alerting you to dramatic twists and developments from South Korea to Italy.  https://www.theguardian.com/commentisfree/2020/mar/05/governments-coronavirus-urgent-climate-crisis  (05 March 2020)
Report New Weather Patterns Are Turning Water Into a Weapon The melting glaciers of the Himalayas have become a political tool in the tussle between China, India, Pakistan and Bangladesh.  https://www.bloomberg.com/features/2020-indus-river/  (11 March 2020)
Extreme Weather Events Expose Vulnerability of Crops Globally -A look into extreme climatic events currently going on across the globe and its impacts on crops, food prices.  https://www.bloomberg.com/news/articles/2020-03-09/extreme-weather-events-expose-vulnerability-of-crops-globally  (10 March 2020)
Zambians brace for water shortage despite recent rainfall Zambia is facing severe water and electricity shortages after a lengthy drought, with reservoir levels remaining worryingly low despite recent rains. Water levels in Lake Kariba, the world's largest artificial lake at more than 5,500 sq km, have dropped by six metres in the past three years.
– About half of Zambia's total electrical power comes from the Kariba dam, Siptela said. However, this key source of low-carbon power is susceptible to climate-driven impacts in the region. Records dating to 1960 show a warming trend of 0.34C per decade. This suggests the country has warmed by at least 1.7C in 60 years.
– In tandem with this strong warming trend, average rainfall in Zambia has fallen by 2.3% per decade in the same period. The nature and timing of rainfall is also changing. After months of severe drought, recent torrential downpours have destroyed crops and infrastructure.
– Zambia was also experiencing rapid deforestation of 276,000 hectares a year, Mwape Zulu said. Many traders sell baskets of charcoal on the roadside, much of it sourced from larger hardwood trees. In urban areas, charcoal is used for cooking because it is cheaper and more reliable than grid electricity. https://www.theguardian.com/world/2020/mar/12/zambians-water-shortage-drought-lake-rainfall  (12 March 2020)
SOUTH ASIA
Pakistan Over 20 Dead After Heavy Rain Destroys Homes in Khyber Pakhtunkhwa 23 people are reported dead in Khyber Pakhtunkhwa and three in Balochistan in Pakistan due to floods and avalanches in March 2020.  http://floodlist.com/asia/pakistan-rain-khyber-pakhtunkhwa-march-2020  (08 March 2020)
CHINA
Augmenting solar power generation through floating solar plants China's 150 MW project in South Anhui province is the largest floating solar project in the world. The 500 kWp solar plant on the Banasura Sagar reservoir in Kerala is the largest FSP in India. Madhya Pradesh is planning a 1 GW floating solar array on the Indira Sagar Dam that would be the world's largest.
– Studies have confirmed that these plants are more efficient – in the range of 6 per cent to 10 per cent compared to land-based PV plants – as the cooling effect of water on the PV modules helps reduce thermal losses. The plant life is also relatively high due to the cooling effect of water which slows down long-term heat induced degradation. The plants also reduce loss of water due to evaporation. About 7,000-12,000 litres of water per MW is required in the cleaning of regular plants. In floating solar PV plants, the water utilised for cleaning can be re-utilised, leading to conservation of the water used for cleaning.
– FSPs are 20 per cent to 25per cent more expensive to install vis-à-vis land-based solar power plants. The higher cost is due to inclusion of special components such as floating structures like floats/pontoons, mooring systems and submerged water cables that are required to install the floating solar plants. According to industry estimates, India has the potential to generate up to 300,000 MW of power from floating solar plants that too by utilising just 10 per cent to 15 per cent of its water resources.  https://energy.economictimes.indiatimes.com/energy-speak/augmenting-solar-power-generation-through-floating-solar-plants/4089  (13 March 2020)
THE REST OF THE WORLD
Hand Book Operation and Maintenance Strategies for Hydropower: Handbook for Practitioners and Decision Makers  World Bank Publication January 2020: "Through eight steps, this handbook proposes a framework and processes to establish an O&M strategy adapted to local contexts. It also presents the basic principles of O&M for hydropower and provides examples of the consequences of inadequate O&M policies, programs, and procedures. The handbook was developed along and benefited from the lessons learned of six case-studies in Brazil, Pakistan, Nigeria, Liberia, Uganda, and Uruguay/Argentina and which are depicted in the companion report Operation and Maintenance Strategies for Hydropower: Six Case Studies. They gather examples and lessons learned from the implementation of O&M strategies, while sharing views on remaining challenges and future directions."  https://openknowledge.worldbank.org/handle/10986/33313 
Report  Unexpectedly Large Impacts Of SHPs Small dams don't flood whole valleys the way large hydropower dams often do, they still fragment streams, prevent fish from moving upstream and, by diverting most of the water out of the channel and towards a powerhouse, leave long stretches of stream with dramatically reduced flow during much of the year. In most cases, they also degrade the aesthetic beauty of a free-flowing stream in a bucolic valley.
– But the Swiss example does effectively illustrate three major issues when it comes to small hydropower. First, small hydropower is generally assumed to be a low—or even no—impact source of low-carbon electricity. But, as discussed below, this assumption is often not true. Second, due in part to the presumption of low impact, small hydropower is often incentivized in policies to promote renewables under climate change objectives. Finally, these incentives can trigger investment that leads to a proliferation of small dams that collectively make an insignificant contribution to the national grid, even as they may cause substantial cumulative environmental impacts.
– These issues underscore that decision makers and energy planners should evaluate small hydropower on its actual impacts and realistic contributions to energy and development gains, not on overly simplistic (and often inaccurate) assumptions. In most cases, subsidies or incentives for small hydropower dams would be better directed at other renewable options, ranging from new solar to modernizing existing hydropower plants and adding turbines to non-powered dams (e.g., irrigation dams).
– Though small hydropower may be appropriate for some situations—and there is considerable potential for innovation for small hydropower added within existing infrastructure—policies that promote the proliferation of small hydropower with limited oversight will likely produce significant cumulative impacts for insignificant increments of additional generation, while potentially diverting resources away from more effective solutions. Failure to improve policies that govern small hydropower risks the loss of tens of thousands of kilometers of healthy streams and rivers with very little electricity to show for it.  https://www.forbes.com/sites/jeffopperman/2018/08/10/the-unexpectedly-large-impacts-of-small-hydropower/  (10 Aug. 2018) 
Research Fresh groundwater discharge insignificant for the world's oceans but important for coastal ecosystems – International research team led by the University of Göttingen has developed the first global computer model of groundwater flow into the world's oceans. Their analysis shows that 20% of the world's sensitive coastal ecosystems – such as estuaries, salt marshes and coral reefs – are at risk of pollutants transported by groundwater flow from the land to the sea. The research was published in Nature Communications.  https://www.nature.com/articles/s41467-020-15064-8  (09 March 2020)
UK 'Stop building homes in floodplain' Figures show more than 2,000 houses were granted planning permission in flood risk areas in Wales between 2016 and 2019. However, damage caused by storms Ciara and Dennis has left residents counting the cost of that policy and raised concerns over plans to build more.
– The Welsh Government is toughening rules but some blame ministers and the assembly for overruling councils. While applications to build 2,159 homes on flood plains were granted by councils in Wales over the past three years, plans for just 246 were rejected. In addition, more than 3,000 acres of land were also approved for non-residential use in these areas – with more to be requested. https://www.bbc.com/news/uk-wales-51712267  (10 March 2020)
US Movement Grows to Help Farmers Reduce Pollution and Turn a Profit More than 100,000 miles of U.S. rivers and streams are polluted by nitrogen and phosphorus, much of it from agricultural runoff. In Pennsylvania, an innovative program is showing farmers how to plant cash crops in buffer zones to help stabilize stream banks and clean up waterways. The EPA calls it "one of America's most widespread, costly, and challenging environmental problems." Riparian buffers not only help filter out fertilizers and other pollution. By shading streams and producing woody debris, they enhance aquatic habitat and provide food, cover, and nesting sites for birds and other animals. They also sequester carbon. The wider the buffer, the greater its benefits.
– As part of a newly updated Watershed Implementation Plan that lays out how the five states in the Chesapeake Basin intend to reduce the nutrients flowing into the bay to levels required by the EPA, Pennsylvania has committed to planting 85,650 new acres of riparian forest buffers by 2025.
– For the past two decades, most buffers have been financed by the Conservation Reserve Enhancement Program (CREP), a federal initiative that covers 50 percent of the cost of planting riparian forest buffers at least 35 feet wide, and 100 percent for buffers 50 feet or wider. The farmers also receive a land rental check for 10 to 15 years. In return, farmers are prohibited from generating income from the buffers. CREP also requires that farmers maintain the buffers for the first three to five years while the plantings become established.  https://e360.yale.edu/features/a-movement-grows-to-help-farmers-reduce-pollution-and-turn-a-profit  (12 March 2020)
NILE GERD Trump's diplomacy fails to resolve River deadlock  A former U.S. ambassador to Ethiopia, David Shinn, says the United States "seems to be putting its thumb on the scale in favour of Egypt." Ethiopia refused to attend the latest round of talks in Washington in late Feb 2020 and later complained that the U.S. statement on the draft agreement was "totally unacceptable" and "highly partisan."
Last week, after a breakdown in the U.S.-mediated talks between the two countries, Mr. Trump telephoned Egyptian President Abdel Fattah al-Sisi and "expressed hope that an agreement on the Grand Ethiopian Renaissance Dam would be finalized soon," according to a White House statement. After the failure of the February meeting, a U.S. statement warned Ethiopia not to begin filling the dam's reservoir until a final agreement is reached.
Ethiopia's Foreign Minister, Gedu Andargachew, criticized the U.S. statement as "undiplomatic." But he said Ethiopia would continue to take part in the negotiations.  https://www.theglobeandmail.com/world/article-trumps-diplomacy-fails-to-resolve-nile-river-deadlock/  (09 March 2020)
Cairo's strong reservations over the GERD are also rooted in history and geopolitics. Under the 1959 Nile Waters Agreement, the two downstream riparian states Egypt and Sudan, respectively, were allocated 55.5 billion cubic metres and 18.5 billion cubic metres of Nile water annually. That settlement reduced Cairo's control of the waters, compared to the virtual veto over utilisation it was granted under a 1929 treaty.
Ethiopia was outside the purview of the 1959 treaty, as also other upstream states including Uganda, Kenya and Rwanda. But Addis Ababa's assertion of its rights for an equitable share of the Blue Nile flows from the Cooperative Framework Agreement (CFA) signed by some of the 10 Nile Basin Initiative nations (under the initiative, Eritrea participates as an observer).
The establishment of the Nile River Basin Commission mandated by the CFA has not materialised so far. Tthe challenges for the fair utilisation of waters among the riparian states have only been compounded by the pressures of population growth and the effects of global warming. While the parties have sought international mediation from the U.S. and South Africa, that is no substitute for regional cooperation among the parties.  https://www.thehindu.com/opinion/a-dam-of-contention-in-africa/article31075794.ece  (16 March 2020)  
Compiled by SANDRP (ht.sandrp@gmail.com)
Also see: DRP News Bulletin 09 March 2020 & DRP News Bulletin 02 March 2020
Follow us on: www.facebook.com/sandrp.in; https://twitter.com/Indian_Rivers