The March 2, 2020 directions of Punjab and Haryana High Court for the sustained conservation of Sukhna wetland are welcome, though the directions are likely to be appealed against in the Supreme Court, considering the far reaching implications of the lake. One hopes the Supreme Court takes a view that helps sustain the Sukhna lake and the wetlands in a confidence inspiring way.
Punjab & Haryana HC Issued Slew Of Directions For Protection Of Sukhna Lake. https://www.livelaw.in/news-updates/punjab-haryana-hc-issues-slew-of-directions-for-protection-of-sukhna-lake-in-chandigarh-read-judgment-153386  (2 March 2020)
This is a far reaching judgement on protection of watersheds, water bodies. Any government authority which ignores the environmental damage caused by unplanned development will have to face the music. The court also declared all commercial, residential and or other structures constructed in the catchment area falling in the areas of Punjab, Haryana and Chandigarh as delineated in the map prepared by the Survey of India on 21.9.2004 were declared illegal and unauthorised and ordered to be demolished within three months. https://www.thehindu.com/news/national/hc-declares-chandigarhs-sukhna-lake-living-entity-fines-punjab-haryana-100-cr-each-for-damaging-catchment-area/article30969711.ece  (03 March 2020)
Media coverage on landmark HC judgement – Sukhna declared living entity by Punjab & Haryana court on March 2. The court has fined Punjab and Haryana Rs 100 crore each for causing damage to the catchment area of Sukhna Lake. The Rs 100 crore fine would be deposited with the ministry of environment, forest within three months. The ministry would utilize the funds for restoration of the lake.
– The high court bench of justices Rajiv Sharma and HS Sidhu also ordered the demolition of all the structures in the catchment area and ordered that the owners whose building plans were approved by the authorities would be relocated and compensated with Rs 25 lakh each.
– The order came in a 2009 suo motu petition initiated over the depleting water level in the lake. The lake was created by Le Corbusier in 1958. By 1988, 66% of the original water holding capacity of the lake was lost due to silting. Following this, check dams were constructed in the catchment area. But the water level has once again started going down. The lake now has a capacity of around 500 hectare-metres against the original capacity of over 1,074 hectare metres.
– The court also declared Sukhna as a living entity. The chief secretaries of both the states and adviser, Chandigarh, have been asked to constitute high-power committees to fix responsibilities of the officers who permitted large scale unauthorized construction, within a period of four weeks.
– The Chandigarh administration has been directed to declare Sukhna Lake as Wetland within a period of three months. Punjab and Haryana too have been directed to declare areas falling under their jurisdiction as wetland within three months. The ministry of environment, forest has been directed to notify at least 1 km area from the boundary of Sukhna Lake Wildlife Sanctuary as eco-sensitive zone. It also declared two master plans of Punjab and Haryana, which allowed construction in the catchment area, as illegal. https://www.hindustantimes.com/india-news/punjab-haryana-fined-rs-100-crore-each-by-hc-over-damages-to-sukhna-lake/story-rMTh6okccRV210tG5SjQsO.html; https://www.tribuneindia.com/news/hc-sukhna-legal-entity-raze-buildings-in-catchment-area-50017  (03 March 2020)
Punjab CM asks Advocate General to examine the judgement and says the govt stands by the people. AAP MLA says the case has not been defended properly and was related to autonomy of the state.  https://www.tribuneindia.com/news/examine-order-on-sukhna-lake-capt-directs-ag-50376 (4 March 2020)  
THE TRIBUNE editorial on HC order on Sukhna: "For, not only is it an immediate vindication of right over might, but also a potent long-term deterrent. Riding roughshod over laws in place to protect the Sukhna catchment area and wildlife sanctuary, the Punjab, Haryana and Chandigarh authorities have over the years been arbitrarily bestowing clearances and permissions for construction activities in their respective areas. The officials guilty of this must be held accountable."
"Now, with the HC designating the Sukhna Lake a juristic entity and making the citizens the 'loco parentis' to protect its right to live on, the residents are duty-bound to ensure that the administrators pull all stops to implement the directions. It essentially entails wetland preservation as well as maintenance of proper water quality and quantity in the lake."  https://www.tribuneindia.com/news/saving-the-sukhna-50444  (04 March 2020)
A day after the order, while the Chandigarh administration said it would seek clarity from HC on details available in the Survey of India (SoI) map demarcating the catchment area, as "it doesn't have adequate resolution", the Punjab government, too, said that it would examine the order and take "whatever decisions, legislative or judicial, needed to resolve the issue". However, the Haryana government has announced that it would approach the Supreme Court against the order.  https://www.hindustantimes.com/chandigarh/chandigarh-punjab-and-haryana-scramble-for-solutions-after-hc-order-on-sukhna-catchment-area/story-ecUUErG0kIQ6bCOAlZrYiI.html  (04 March 2020)
The Sukhna lake is now being declared a wetland in accordance with the Government of India's (GoI) Wetland (Conservation and Management) Rules, 2017. "The wetland status will majorly boost conservation of the Sukhna lake ecosystem as it puts in place specific rules formulated by the GoI," says Debendra Dalai, chief conservator of forests and director, environment. However, people living in villages near the lake are uneasy about its newly acquired status. They point out that the administration is not heeding any of their concerns over sewage inflow, construction activities and the size of the wetland. The decision to declare Sukhna a wetland was taken in July 2019 by the Chandigarh Wetlands Authority. A notification was issued by the law department in October. After inviting suggestions from citizens, relevant regulations will be implemented.  https://www.civilsocietyonline.com/environment/sukhna-lake-is-now-a-wetland/  (03 March 2020)
UT differs with Punjab, Haryana The Punjab and Haryana High Court's judgment in the Sukhna Lake case has not left Chandigarh high and dry. With a little constructed area in the Sukhna Lake's catchment and Rs 200 crore ordered to fill its kitty, it has very little to lose and gain more. Not finding itself in troubled waters, it is not even filing an appeal against the order.
– Manoj Parida, Adviser to UT Administrator, said: "We welcome the High Court order which is basically to protect Sukhna Lake. This order is blessings for our future generations." Following the High Court order, more than 600 houses located in Kaimbwala village face demolition. Besides, two temples, a gurdwara and a dharamshala would also be razed.
– Dalip Kumar Sonu, husband of former Kaimbwala sarpanch Anita Devi, said the Sukhna Lake was constructed on the village land acquired by the government. He said even the catchment area of the lake was the agriculture land belonging to residents of the village. He said the man-made lake came into existence a few decades ago, whereas the village existed here for time immemorial and now, the government wanted to throw them out from their ancestral land. Meanwhile, residents of Kaimbwala today met City BJP president Arun Sood on the issue who assured the villagers to take up the issue with the UT Administrator. The affected residents of Kansal, Khuda Alisher and Kaimbwala village have also decided to convene a meeting tomorrow to discuss the outcome of the HC judgement and further steps to be taken to protect their houses. https://www.tribuneindia.com/news/ut-differs-with-punjab-haryana-on-sukhna-order-52557  (08 March 2020)
Encroachment was on while case was under hearing The Punjab and Haryana High Court has made it clear that there was no deterrence to illegal constructions in the Sukhna Lake's catchment area. The State did not provide adequate police backup for carrying out drives to demolish illegal constructions. To make the matters worse, "State instrumentality" supplied power and water connection to persons raising unauthorised constructions. The judgment also underscores how a Single Bench went against the recognised norms to stay demolition. https://www.tribuneindia.com/news/construction-continued-despite-court-orders-52561  (08 May 2020)
HYDRO POWER PROJECTS
North East Exploring hydro power potential? ORF seems least bothered about governance, environment, social or climate change issues in its pro govt stand on hydropower projects in North East India. https://www.orfonline.org/research/exploring-the-hydropower-potential-in-indias-northeast-61853/  (02 March 2020)
Punjab Hydro power projects generate record power during current year. https://energy.economictimes.indiatimes.com/news/power/punjab-dams-register-record-hydel-power-generation/74503290  (06 March 2020)
Himachal Pradesh State Budget 2020-21 CM on March 6 presented Rs 7,900 crore budget in the state assembly for the financial year 2020-21. Here are allocations for water, power, irrigation, farm sectors:
– CM proposes Rs 3,986 crore for PWD. Rs 44 crore to install crash barriers and improve condition of roads. Two new national highways will be developed.
-Rs 480 crore subsidy for domestic power consumers, Rs 158-crore scheme to deal with low voltage problem.
– One time policy to start projects hanging fire for last many years. Himpragati portal is launched to facilitate investors and to end red tapism.
– Rs 2,213 crore for irrigation and public health department. Glacier harvesting scheme to be launched in Kullu. A committee will be constituted for water conservation in rural areas.
– Rs 15 crore to increase forest cover.
– 101 new trout units to be set up to boost trout production.
– Rs 50 crore for anti-hail net structures. Rs 25 crore for natural farming. 20,000 hectares will be brought under natural farming. Mehak scheme for the plantation of scented plants.  https://timesofindia.indiatimes.com/city/shimla/himachal-pradesh-budget-2020-key-points/articleshow/74505072.cms  (06 March 2020)
13 out of 23 PSUs in red, major drain on exchequer -The biggest loss making unit is HP State Electricity Board (HPSEB) with a loss of Rs 1,531.50 crore followed by Himachal Roadways Transport Corporation with Rs 1,387.27 crore loss, HP Power Corporation Rs 212.82 crore and HP Forest Development Corporation Rs 160.16 crore.
– What is notable is that the total loss of Rs 3,180.74 crore incurred by these 23 PSUs till March 31, 2018 has shot up to Rs 3,443.16 crores till March 31, 2019. Within one year the loss has increased by Rs 262.42 crores.  https://www.tribuneindia.com/news/13-out-of-23-psus-in-red-major-drain-on-exchequer-52070  (07 March 2020) 
DAMS
NAPM PR:  नदी घाटी विचार मंच : गांधी भवन, मार्च 1 – 2, भोपाल
राष्ट्रीय स्तर के, नदी घाटी के विशेषज्ञ, कार्यकर्त्ता और ग्रामवासी जुटे 'नदी घाटी विचार संमेलन में !

गंगा, नर्मदा, कोसी, पोलावरम, कृष्णा नदियों के विविध पहलुओं पर शुरू है सधन चर्चा

नदियों को अविरल, निर्मल बहने देने के लिए जरूरी है वैकल्पिक जल नियोजन और जनअधिकार
संमेलन के उद्घाटन सत्रमे डॉ.भरत झुनझुनवाला ने एक अर्थशास्त्रीके नाते बताया कि बांधोकी लाभ-हानि सही नहीं आंकी जाती है | अमरिकाने एक 'सालमन' मछलीके लिए बांध हटाया और कुल 1000 बांध हटाये | यहा गंगा के या नर्मदाके बांध हटाने के लिए भी लाखो लोगोंको मंजूर है करोडो रु.देना ! तो हम क्यों नहीं सशक्त रुपसे नदियोंको अविरल बहने देनेकी बात कहे?
डॉ. सौम्या दत्ताजी ने विकास, जलनियोजन और जलवायु परिवर्तनको जोडते हुए कहां कि भारत,बांगलादेश,नेपाल,पाकिस्तान,भूतान तक की आंतरराज्य परियोजनाओं की हकीकत बहुत गहरी है | दक्षिण क्षेत्रके सारे देश हिमालय,तीन सागर,मान्सून और संस्कृति से जुडे हुए है | हिमालय पहाड,तीन समुंदर,दक्षिण-पश्चिम मान्सून सब कुछ एकत्रित,एक व्यापक व्यवस्था के रुपमें देखकर,हमें सोचना होगा,आगेकी पीढीयोंतक ! आजकी स्थिति गंभीर समझकरहमे नदीघाटी को समझने के लिए बडे स्तरपर लोगोंके जीवन के साथ जोडना पडेगा,सिर्फ बांधोसे प्रभावित से नहीं | गंगा-ब्रम्हपुत्रा-मेघना का पोली-मिट्टी से पूरे बंगाल का डेल्टा बना है,उनका पूरा जीवन इसी के उपर निर्भर है | बांधो के प्रभावकी वजहसे पूरी दक्षिण बंगालके 5 करोड लोग जल रहे है |
मेधा पाटकरजी ने संमेलन के उद्देश्य के साथ दिशा निर्देश किया और कहा कि इस संमेलन से ही निरंतर और न्यायपूर्ण विकास हासिल करनेके लिए नदी घाटी का याने उस का हिस्सा है जल,जंगल,जमीन का नियोजन केवल तंत्र/तकनीक नहीं जनतंत्र के द्वारा कैसे बढाया,यह तय करेंगे ! उत्तराखंड की गंगा से नर्मदा तक बांधोंका सिलसिला जिस प्रकारके नदी पर आक्रमण करता दिखाई दिया है,वहां विस्थापितों का पुनर्वास ही नहीं प्रकृति के विनाश को रोकना और विकल्पों पर निर्णय लेना है | इसके लिए कानूनी और मैदानी संघर्ष के साथ निर्माण भी तय करेंगे | कल 2 मार्चके रोज 3.30 बजे समापन होगा,उसमें निष्कर्ष और आगेकी दिशा पर प्रस्ताव पारित होगा |
पूर्व वन संरक्षक मनोज मिश्रा जी ने पूरी नदी घाटियों की बात रखी, तो युवा पर्यावरणविद देबोदित्य सिन्हा ने वाटर वेज और एक नदी घाटी में जन्तुओं के रहवास की बात कही | विश्वविख्यात पर्यावरणविद प्रफुल्ल सामंतरा ने नदी घाटियों के संपूर्ण पर जोर दिया | https://www.facebook.com/sandrp.in/posts/3235517836475867?__tn__=K-R
चुटका परियोजना सहित सभी बड़े बांधों पर पुनर्विचार करे सरकार https://www.downtoearth.org.in/hindistory/river/river-projects/national-convention-of-nadi-ghati-vichar-manch-69551  (02 March 2020)
Sardar Sarovar Dam Four state CMs met under the chairmanship of MoWR on March 4, 2020 to discuss Narmada Valley Projects in the context of NWDT and filling of the reservoir in 2019 without rehabilitation, on the birthday of Prime Minister.  https://timesofindia.indiatimes.com/city/bhopal/four-cms-to-discuss-sardar-sarovar-dam-on-march-4/articleshow/74448249.cms  (03 March 2020)
Karnataka State Budget 2020 Shift from big ticket to micro irrigation projects Govt allocated a total Rs 32,260 crore for the agriculture and irrigation sectors, but a fund crunch seemed apparent as the budget showed a clear shift from big-ticket announcements often associated with irrigation projects to a focus on micro irrigation works.
– CM announced Rs 5,000 crore for several lift irrigation projects across the state, besides providing Rs 627 crore for drip-and-sprinkler irrigation systems. But the budget, surprisingly, had no mention of the third stage of Upper Krishna Project (UKP), although Yediyurappa and his deputy Govind Karjol on many occasions said Rs 20,000 will be kept aside in the budget for the project.
– CM announced Rs 500 crore for the Kalasa-Banduri project on the Mahadayi river and Rs 1,500 crore for the Yettinahole project. The Centre had recently notified the final award of the Mahadayi River Water Tribunal, clearing all decks for Karnataka to launch the project. The CM also said the government will commission the first phase of Yettinahole project in the monsoon season on a trial basis. The project seeks to supply drinking water to Tumakuru, Bengaluru Rural, Kolar and Chikkaballapura districts. https://timesofindia.indiatimes.com/city/bengaluru/karnataka-government-shifts-focus-from-big-ticket-projects-to-micro-irrigation-works/articleshow/74506059.cms  (06 March 2020)
Rs 500 crore for Mahadayi project -Govt allocated Rs 500 crore for the construction of the Kalasa and Banduri reservoirs as part of the budget for the fiscal year 2020-21.
The allocation of funds comes after the central government notified the final award laid down by the Mahadayi Water Disputes Tribunal. The tribunal in August 2018 allocated 13.42 tmcft of water from the Mahadayi river to Karnataka. The river flows through Karnataka, Goa and Maharashtra.  https://www.thenewsminute.com/article/karnataka-government-allocates-rs-500-crore-mahadayi-project-2020-budget-119622  (06 March 2020)
Villagers who built Jamkhandi dam, now plan a lift irrigation project In annual budget announcement on March 5, the government has tried to put out impressive figures for the water projects it intends to build. But the people of 30 villages in Athani and Jamkhandi taluks are just not impressed.
– Budgets and governments have come and gone, but no water ever flowed into their barrage. So instead of waiting for the government to do something or the neighboring state of Maharashtra to release water to them during the summer, these farmers have taken up voluntary work to fill the Chikka Padasalagi (Shrama Bindu Sagar) barrage.
– They plan to lift 1.5 tmc ft of water from the backwaters of the Almatti dam to cater to their drinking water needs in the summer. Sounds like a tall order, but they have a history of DIY (do-it-yourself) dam building in these parts.
– Back in 1990, these farmers built a barrage on their own after a desperate wait of more than a decade for the government to build one for them. They contributed their own funds and labour to realize their dream. That voluntary initiative brought prosperity to them, ridding them of chronic poverty. The half-km barrage they built on the river Krishna turned the entire region into a sugarcane belt.
– Back then, it cost them just Rs 89 lakh. The money was raised through contributions from farmers, ranging from Rs 10 to Rs 100. People of each village took turns to do the construction work on a rotation basis. A few years later, the height of the barrage was raised from 8 m to 9.75 m, again through shramdan, with each farmer contributing Rs 15,000. That DIY effort increased the storage capacity of the reservoir from 2.8 tmc ft to 4.3 tmc ft.
– Now the people have come together again, this time to fill the barrage with water. They plan to use 25 pumpsets of 100 hp capacity to pump water from the backwaters of the Almatti project. They have even contributed money to pay for the electricity needed to lift the water from Almatti.  https://www.deccanchronicle.com/nation/in-other-news/050320/diy-dam-builders-of-jamkhandi-now-plan-a-lift-irrigation-project.html   (05 March 2020)
Yettinahole Project Govt's proposal to set apart ₹1,500 crore for the Yettinahole Integrated Drinking Water Project in the State Budget on Thursday has not gone well with the environmentalists in Dakshina Kannada, who have termed the project a perpetual 'ATM' for governments irrespective of political dispensation. https://www.thehindu.com/news/national/karnataka/greens-see-red-over-continuation-of-yettinahole-water-project/article30994412.ece  (06 March 2020)
Andhra Pradesh Polavaram to be completed by Dec 2021: Minister Water Resources Minister Anil Kumar said, "After the new contractor was chosen, we couldn't start work till November, because of the silting that had happened during the floods, cutting off the roads. We are now carrying out a plan that has been clearly chalked out till June 2020. After June, the plan will have to be revised," he said, adding that the project is expected to be completed by December 2021. So far, the spillway is nearly halfway completed, with 1,12,000 cubic metres of work done and the rest expected to be finished soon. "By June, half the gates will be erected, and approach channel and spillway will be partly done.  https://www.thenewsminute.com/article/polavaram-project-will-be-completed-december-2021-ap-irrigation-minister-interview-119544  (05 March 2020)
Ministry of Jal Shakti has informed the PMO that all the decisions regarding the re-tendering of Polavaram project were done in accordance with provisions after obtaining approval of the competent authority.
– The ministry further apprised the PMO that the vigilance and enforcement department were looking into alleged deviations and that further action would be taken as per procedure once the report is submitted. https://www.newindianexpress.com/states/andhra-pradesh/2020/mar/08/re-tendering-of-polavaram-project-done-as-per-norms-ministry-of-jal-shakti-2113962.html   (08 March 2020)
App launched for real time monitoring of Irrigation projects To monitor the progress of execution of various irrigation projects, especially Polavaram project, in the State, Water Resources Minister P Anil Kumar launched a mobile app and website on March 4. He noted that the State government has already prepared an action plan to complete works of major projects in the next 24 months.
– The app will also have the rehabilitation and resettlement status of Polavaram project. Representatives of the developer, Vassar Labs, added that the R and R data would be shortly integrated with the app.
– Anil Kumar said that the app, Uni-APP One Department One App, would also provide data pertaining to reservoirs — inflows, outflows, storage levels — and over 38,000 minor irrigation tanks. The data related to all canals in the State has been integrated with it. He noted that the app could be accessed by anybody to know the real-time status of the works being done.  https://www.newindianexpress.com/states/andhra-pradesh/2020/mar/05/app-launched-in-andhra-pradesh-for-real-time-monitoring-of-irrigation-projects-2112515.html  (05 March 2020)
Kerala 16 Dams to be rehabilitated DRIP II will cover 14 dams on which work had been started under the ongoing DRIP Phase I, besides two other dams — Pothundi and Maniyar. The work is expected to begin by April 2020. The State Government has obtained in-principle approval for rehabilitation of the 16 dams in Phase II at an estimated cost of ₹165.9 crore, department officials said.
-The work remaining from the ₹360-crore DRIP Phase I will be undertaken in Phase II, Irrigation Department officials said, adding this includes strengthening of the galleries, carrying out grouting and other works.
-At the national level, the Union Government has cleared DRIP Phase II and Phase III with a proposed outlay of ₹10,200 crore. Loan assistance from the World Bank is approximately ₹7,000 crore. The rest is shared by the State and Central Governments. The work is meant to be completed in 10 years (2020-2030), with each phase lasting six years, and two years overlapping. https://www.thehindu.com/news/national/kerala/16-dams-to-be-rehabilitated/article30307892.ece  (14 Dec. 2019)
Dams do not cause floods? Statement by T Rajeshwari, additional secretary, Union Water Resources, River Development & Ganga Rejuvenation while speaking at the inaugural session of Kerala Floodcon 2020, a national conference organised by the state water resource department in Thiruvananthapuram on Jan. 23, 2020. https://www.newindianexpress.com/states/kerala/2020/jan/24/dams-do-not-cause-floods-says-union-water-resource-secretary-2093695.html  (24 Jan. 2020) 
INTERLINKING OF RIVERS
Centre Proposal to set up a River Linking authority An official of the National Water Development Agency (NWDA), which is responsible for the formulation of proposals of the linking of rivers, said an updated draft Cabinet note has been circulated to other Ministries in the Central government. On receipt of comments, the note will be finalised by the Ministry of Jal Shakti and sent to the Union Cabinet for approval.
– The proposal for National Interlinking of Rivers Authority (NIRA) an apex body on river linking has been under discussion for the past 18 months. However, the official said that as of now, no specific timeline has been determined for the constitution of the Authority. Also, the earlier idea of framing a Bill, envisaging the creation of the NIRA, is not being pursued now.
– The subject of establishment of the Authority was discussed at the last meeting of the Special Committee on Inter-Linking of Rivers (ILR) last week in New Delhi. Headed by Union Minister of Jal Shakti Gajendra Singh Shekhawat, the panel includes Irrigation or Water Resources Ministers and Secretaries of States. Since its formation, the Committee has held 17 meetings.  https://www.thehindu.com/news/national/apex-body-on-river-linking-in-pipeline/article30976264.ece  (04 March 2020)
Cauvery-Godavari River Linking Discussions on for implementation scheme: TN CM Edappadi. K. Palaniswami on March 4, 2020 said that he has written to his counterpart in Andhra Pradesh to discuss the implementation of the Cauvery-Godavari river interlinking project. Once the project is implemented, water would be drawn from both banks of Cauvery river from Mettur to Tiruchi through lift irrigation for 50 kilometres and it would carried to dry areas. The Centre has informed that the project would be implemented at a cost of ₹64,000 crore, he said.
– Mr.Palaniswami laid the foundation stone for the ₹565 crore Sarbanga lift irrigation project on the banks of Mettupatti lake in Eruppalli panchayat in the presence of Ministers and AIADMK legislators. About 100 dry lakes in the Sarbanga basin would be filled with surplus water from Mettur dam and it would in turn improve groundwater level in the area. Mr.Palaniswami added that the Mettur surplus water scheme would be completed in 11 months and lakes under the project would be seen filled up to the brim in 12th month.  https://www.thehindu.com/news/national/tamil-nadu/discussions-on-for-implementation-of-cauvery-godavari-river-linking-scheme-cm/article30981636.ece  (04 March 2020)
-The NWDA's draft report talks of diverting, through a canal-cum-pipeline, the surplus water of the Godavari, either from the Inchampalli barrage or the Janampet barrage, from where water will be conveyed to the Nagarjuna Sagar on the Krishna and the Somasila dam on the Pennar. The proposed alignment will also pass through Swarnamukhi, Araniar, Palar and Pennaiyar rivers before terminating at the Grand Anicut on the Cauvery. Initially, a total of 247 tmc ft will be drawn from the Godavari. If the drawal point is near Inchampalli, Andhra Pradesh will get 81 tmc ft, Telangana 66 tmc ft and Tamil Nadu 83 tmc ft. If it is Janampet, the three States will get 108 tmc ft, 39 tmc ft and 83 tmc ft, respectively.
– Four other States – Karnataka, Odisha, Madhya Pradesh and Chhattisgarh – are also involved in the river-linking project. Karnataka and Madhya Pradesh have sent their responses to NWDA, as have Tamil Nadu and Andhra Pradesh, whereas three other States, including Telangana, are yet to provide their views to the central agency. An official of NWDA said the three States were being persuaded to give their inputs on the draft DPR so that the report could be finalised as soon as possible. https://www.thehindu.com/news/national/tamil-nadu/states-outreach-to-neighboursraises-river-linking-expectations/article30985441.ece  (05 Feb. 2020)
Tamil Nadu is trying to drive the Godavari Cauvery Link project as CM's dream project. Seems like a move by Gadkari, but there is little chance of any movement on this.  https://www.newindianexpress.com/states/tamil-nadu/2020/mar/05/will-hold-talks-with-telangana-ap-cms-on-my-dream-project-2112320.html  (05 March 2020) 
INTERSTATE WATER DISPUTES
Mahadayi Water Dispute Goa CMO clarifies on diversion The Goa Chief Minister's office clarifies that following Supreme Court order on Goa application, it is hoped that Karnataka would not divert Mahadayi waters in violation of the Mahadayi Tribunal award.  http://www.uniindia.com/cmo-clarifies-on-diversion-of-mhadei-water/west/news/1905093.html  (02 March 2020)
Cauvery Water Dispute Survey works for Thondar dam to commence soon The Kerala state irrigation department has decided to commence ground-level topographic survey and soil investigations for the dam to be set up under the Thondar irrigation project in Wayanad. The already delayed project is reported to be part of tapping state's share of water allotted to it in the Kabini basin as per the Cauvery Water Dispute Tribunal verdict.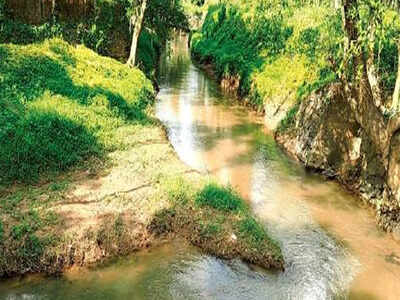 – The preliminary investigation works are part of the efforts for the preparation of the detailed project report (DPR) for construction of an earthen dam across Moolithodu in Edavaka panchayat, which will impound 0.3 TMC of water for irrigation purposes. According to the draft project prepared by the irrigation department, the dam will have a length of 205 metres and a height of 11.5m. Irrigation department executive engineer K V Unnikrishnan said that the DPR for the project will be prepared after conducting topological surveys and the soil investigation by the Geological Survey of India (GSI).
– The Thondar project is the second project in the Kabini sub-basin which is seeing traction in recent months. The irrigation department had invited expression of interest (EoI) for the selecting consultants to prepare the DPR for the construction of the dam under the Kadamanthode project in Wayanad in June. The Kadamanthode irrigation project will enable the state to tap into 0.52 TMC of water. Officials said that they have received EoI from four bidders.
– Kerala currently has only two projects, the Banasura Sagar dam and the Karappuzha irrigation project, to utilize its share of water in the Kabini basin and together they have a capacity to utilize only 3.64 TMC of water. As much as 16 TMC of water granted to the state from Kabini basin as per Cauvery accord remains unutilized.  https://timesofindia.indiatimes.com/city/kozhikode/survey-works-for-thondar-dam-to-commence-soon/articleshow/72116377.cms  (19 Nov. 2019)
URBAN RIVERS
SANDRP's piece in Marathi on Urban Flooding and emerging global approaches to combat the issue.  https://www.loksatta.com/bara-gaoncha-pani-news/article-about-flood-in-pune-causes-of-floods-in-pune-city-zws-70-2101813/  (07 March 2020) 
Musi, Hyderabad Why Do Technocratic Solutions Fail in Safeguarding Urban Waterbodies? Great: "In complete contrast to its past glory, the Musi river which traverses through Hyderabad city, is degraded by indiscriminate disposal of waste and massive encroachments. The Telangana government had announced plans in 2017 to revitalise the river through a large-scale riverfront development project. By revisiting similar initiatives taken up earlier to resuscitate the Musi, the article argues that these techno-managerial solutions completely disregard notions of commons, only to normalise their exploitation." https://www.epw.in/engage/article/hyderabads-musi-river-why-technocratic-solutions-fail-in-safeguarding-urban-waterbodies  (03 March 2020)
Telangana Budget made an allocation of Rs 10,000 crore, to develop the city of Hyderabad and carry out works mainly related to infrastructure. The funds would be used to carry out purification of the Musi River through the Musi Riverfront Development Corporation (MRDC) besides other special projects and works in the Hyderabad Urban Agglomeration area.  https://www.thenewsminute.com/article/hyderabad-gets-rs-10000-cr-telangana-budget-be-spent-clean-musi-119801  (09 March 2020)
Panchganga, Kolhapur Panel told to draft measures for stopping river pollution MPCB's member secretary E Ravindran directed the panel appointed by the Bombay HC and the MPCB's local unit to draft a proposal enlisting the measures to stop pollution of Panchganga river.
He also asked the MPCB regional unit to provide portable machines to treat the waste water released from various establishments located at the textile town of Ichalkaranji.
– Most of the waste water released from the city is treated at the STPs set up by the KMC. However, the waste water released from the villages, towns and effluents discharged from the sugar mills and industries is still causing river pollution.  https://timesofindia.indiatimes.com/city/kolhapur/panel-told-to-draft-measures-for-stopping-river-pollution/articleshow/73195844.cms  (11 Jan. 2020)
Adyar, Chennai Broken bridge to nowhere Built in 1967, when CN Annadurai was the CM of Madras (now Tamil Nadu), the Broken Bridge connected the Foreshore Estate beach in the northern bank to the Besant Nagar beach in the south. The single-lane bridge was built for fisherfolk settled on both the beaches to cross over, on foot or cycle rickshaws, to either side of the estuary.
– However, the structure stood exactly for a decade. In 1977, a stretch of the bridge collapsed into the estuary when the Adyar river unexpectedly flooded, says Chennai-based historian Hemchandra Rao. It was never repaired after.
– For nearly half a century now, the Broken Bridge has stayed true to its name. However, the bridge now faces the possibility of being restored with the Madras High Court recommending the government to rebuild the structure in order to dissolve bottlenecks on Greenways road and Santhome High road.  https://www.thenewsminute.com/article/bridge-nowhere-how-chennai-s-broken-bridge-became-social-landmark-119582  (05 March 2020)
RIVERS
Kerala River adoption program launched A few dozen environmentalists belonging to different generations from different parts of the State assembled on the banks of the Chittur river as part of launching a model river adoption scheme. The Chittur River, one of the key tributaries of the Bharatapuzha, has become the first major river to be adopted as part of the Swachata Abhiyan Program proposed by the Kerala State Council for Science, Technology and Environment (KSCSTE).
– KSCSTE advisor E. Kunhikrishnan led the day-long programme. A seminar to be held at Ashrayam College of Arts and Science, Kollengode, on March 3 to discuss various plans to study the catchment areas of the Chittur river and the conservation of the Gayatri river. https://www.thehindu.com/news/cities/kozhikode/earth-lovers-launch-river-adoption-programme/article30960933.ece  (02 March 2020)
Punjab 18 months on, sugar mill yet to clear penalty for polluting Beas – Almost 18 months after molasses spillage from Chadha Sugar Mills in Gurdaspur village polluted the Beas and a penalty of Rs 5 crore was imposed on the firm by the Punjab Pollution Control Board (PPCB), the board has been able to collect only Rs 2.5 crore from the firm so far.
– Instead of collecting the entire amount of penalty, the board has issued a notice inviting public objections so that the firm can be granted permission to double its molasses storage capacity. People have been asked to file their objections in 30 days.
– The 2018 molasses spillage, which was termed as an "environment catastrophe of a very high level" by the state government then, had polluted the Beas on May 17 and killed hundreds of fish and contaminated water in a vast area.  https://www.tribuneindia.com/news/18-months-on-sugar-mill-yet-to-clear-penalty-for-polluting-beas-50575  (13 March 2020)
Risky Proposition The Punjab Pollution Control Board (PPCB) notice inviting public objections to the grant of permission to Chadha Sugar Mill's proposal to double its molasses storage capacity raises eyebrows. In May 2018, the mill release of molasses from the factory lead to severe pollution and mass fish death in Beas river. The EDITORIAL in TRIBUNE rightly says the proposition "prima facie reeks of a cushioning of the blow even as the guilty sugar mill is yet to pay up 50 per cent of the fine amount. The mill's record of defying pollution control norms does not inspire much confidence: the May 2018 leakage of molasses indicates a criminally unscientific and unsafe manner of its storage. In 2016, the Central Pollution Control Board had cracked the whip on two of its distilleries for failure to install online emission and effluent monitoring system in time. In 2011, the mill was closed for some time as it was found dumping effluents instead of treating the waste."  https://www.tribuneindia.com/news/a-risky-proposition-51025  (05 March 2020)
Punjab Wildlife officials oppose the expansion of guilty sugar mill and criticise Punjab Pollution Control Board for not releasing the required funds for restoration of the Beast Conservation Reserve, a RAMSAR site.  https://www.tribuneindia.com/news/wildlife-officials-oppose-sugar-mills-expansion-52904  (09 March 2020)
More information on how this sugar mill was responsible for May 2018, molasses pollution disaster in Beas river. https://sandrp.in/2018/05/22/gurdaspur-sugar-mill-molasses-release-leads-to-beas-river-fish-kill/  (22 May 2018) 
Himachal Pradesh Toxic waste dumped into Malpur khad
This depicts strange situation where a tanker, following alert from local people, is caught dumping TOXIC WASTE into a river (Malpur Khud, a tributary of Sarsa River) by the HP Pollution Control Board, but the driver still escaped since police did not come in time.  https://www.tribuneindia.com/news/toxic-waste-dumped-into-khud-53069  (09 March 2020)
Odisha Water in 19 rivers found to be polluted Govt has admitted that water at different stretches in 19 rivers in urban areas of the State is contaminated. In a written reply in the Assembly, Minister for Forest and Environment Bikram Keshari Arukh said CPCB has identified polluted stretches in Gangua, Daya, Brahmani, Guradih, Mangala, Nagavalli, Kathajodi, Serua, Ratnachira, Nandira, Kuakhai, Mahanadi, Rushikulya, Banguru, Bheden, Kusumi, Luna, Sabulia and Budhabalanga rivers.
-While STPs has already been set up at Bhubaneswar, Baripada, Berhampur, Puri and Rourkela, two others are in the final stage of completion at Cuttack and Balasore. Such plants in 29 more towns are under tender process. All 114 urban localities in the State will have STPs in phases, he said. https://www.newindianexpress.com/states/odisha/2019/nov/21/water-in-19-rivers-found-to-be-polluted-admits-odisha-government-2064877.html  (21 Nov. 2019)
Steve Lockett comment on FB post Failure to address illegal pollution places an economic burden on the country. The cost of water pollution alone is estimated at $500 million a year in lost productivity & loss of agricultural product.
The World Bank suggests the economic cost to India of all pollutions is $80 billion p/a! (8,000 crores of rs, or 6% of GDP)
More than 1.2 million people die each year in India due to the effects of various pollutions. Many of them are children.
Given that any polluting activity is clear disrespect of the Constitution & places such a huge burden upon the country, how can we not challenge those who deliberately pollute? When will we begin an education campaign (Swacch Bharat phase2?) aimed at those who pollute through ignorance?
Maharashtra BIS to introduce norms to lower detergent phosphate levels The Bureau of Indian Standards (BIS) has assured CPCB that it will introduce new norms for lower detergent phosphate levels in a bid to control river pollution and foaming in rivers.
On January 10 2020, CPCB's divisional head Ajay Aggarwal wrote to Ganesh Bora, IT director, Rotary Club of Walhekarwadi, Chinchwad, that the CPCB had been following-up the matter of use of phosphates in the manufacturing of soaps and detergents with the BIS since November, 2017. Aggarwal forwarded a letter received from the BIS on November 29, 2019, stating that the standards in the use of phospahtes in detergents had been revised.
-This group of enthusiastic environment activists has been working on the cleaning of the Pavna river in Pimpri-Chinchwad, which is among the most polluted rivers in Maharashtra. Bora said their research showed that BIS under the Ministry of Consumer Affairs had formulated scientific parameters for phosphates in cleansing agents way back in 1968. Also, the maximum level of phosphate to be used in detergents had not been specified.
– The Pavana river originates from Pavana lake near Lonavla and meets Mula river at Sangvi near Pune. The river flows a distance of 60 kilometres, passing through the suburbs of Kalewadi, Punawale, Chinchwad and Pimpri and meets Mula river in Pune. In 2018, the MPCB listed it among the five heavily polluted rivers of Maharashtra. Untreated sewage, garbage, accumulation of silt and discharge of untreated waste were listed as the major causes of pollution. https://www.hindustantimes.com/cities/bis-assures-cpcb-on-lowering-detergent-phosphate-levels-to-arrest-river-pollution/story-6noZQSWVRGqgySVxAL8XzJ.html?  (06 Feb. 2020)
BRAHMAPUTRA Documentary As River Flows
CAUVERY Tamil Nadu Hydrocarbon projects by Vedanta and ONGC in delta hit a roadblock A response from MoEF&CC obtained under the RTI Act has revealed that several hydrocarbon exploratory projects planned in the Cauvery delta region by companies like Vedanta and Oil and ONGC are pending clearance from the government of Tamil Nadu. The revelation indicates that these projects will now be considered new projects and hence might not receive the necessary permission from the state government to start work in the region.  https://www.thenewsminute.com/article/hydrocarbon-projects-vedanta-and-ongc-tn-cauvery-delta-hit-roadblock-119639  (06 March 2020)
A basin on the burn Two part series based on a travelogue along the river by TR Vivek in search of a solution to India's oldest and most bitter water dispute. https://www.newslaundry.com/2020/02/08/cauvery-a-basin-on-the-burn  (08 Feb. 2020) 
– He travels downstream of Cauvery in Tamil Nadu and finds a river in decay. https://www.newslaundry.com/2020/02/08/cauvery-chronicles-ii-ponnis-perish  (08 Feb. 2020)
GANGA Uttar Pradesh PCB pulled up for Ganga pollution The CPCB and the UPPCB had been jointly monitoring 24 drains — two in Unnao and 22 in Kanpur — since March 2019. Over a thousand 'Grossly Polluting Industries' including sugarcane, pulp and paper and tanneries, and slaughter houses had been marked out and monitored for effluent load and whether they were discharging waste into the river.
– Four drains — Sheetla Bazaar, Budhiya Ghat, Wazidpur and Ratanpur drain — were identified by the CPCB as continuing to contain high pollutant load. The Sheetla Bazaar, Budhiya Ghat and Wazidpur drains were tapped and weren't supposed to be effusing toxins. "During the inspection, tapping arrangement was found to be ineffective and overflow was observed reaching directly to the Ganga," the CPCB said in its inspection note of February 21.
– The CPCPB has ordered the UPPCB to "expedite surveillance" of tanneries responsible for the discharge. Kanpur contributes the highest pollution load among all of the cities of Uttar Pradesh, which itself accounts for 75% of the pollution load in the Ganga. Consequently, Kanpur has been allotted about ₹1,000 crore — more than any other city — from the ₹20,000 crore-plus Namami Gange Programme, the government's flagship programme to clean the river.  https://www.thehindu.com/news/national/kanpurs-drains-pollute-ganga-despite-pollution-control-board-vigil/article30935080.ece  (28 Feb. 2020)
In a letter to the UPPCB, the CPCB asked it to ensure that no industry discharges effluent into any drain without meeting prescribed standards, and that coloured or untreated effluent is not drained into river Ganga. It has asked the UPPCB to file an action taken report by February 29. https://bangaloremirror.indiatimes.com/news/india/ganga-pollution-cpcb-asks-up-authorities-to-take-strict-action-against-industrial-units-tanneries/articleshow/74334414.cms  (27 Feb. 2020)
Uttarakhand Ramganga river to be first casualty of developing Gairsain as summer capital which was annouounced on March 5 and govt planning a dam namely Chourda lake on the river hardly 20km downstream of its origin. Experts have also in past said that the area is earthquake prone and not ideal choice for the capital apart from already going on water crisis however the irony that many political groups are agitating demanding to make it state capital permanently.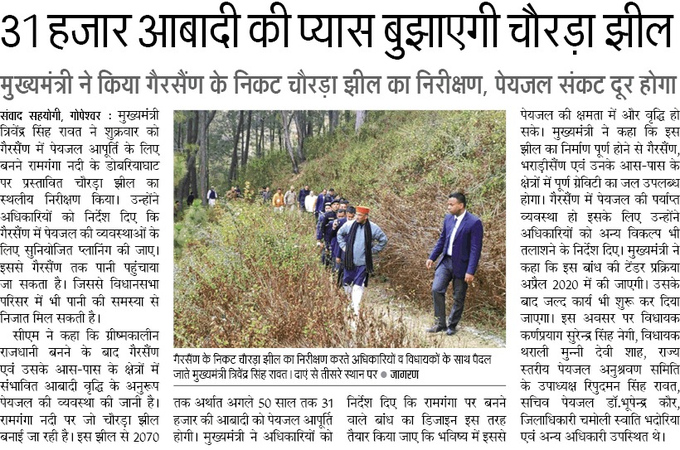 Meanwhile Bhabar areas like Kotdwar have started feeling water problems as natural sources including Khoh river are drying up and groundwater table is falling fast even before arrival of summer. Citing local people this report says its unusual as earlier these sources were able to meet irrigation needs during lean season.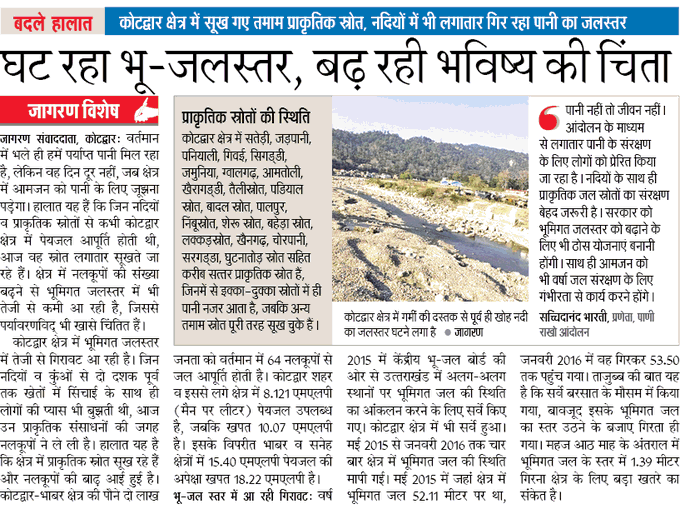 YAMUNA Delhi FINALLY FOLLOWING PERSISTENTLY FOR THREE WEEKS, NGT Monitoring committee through tweet and pics has informed that it has removed the construction derbies dumped in Yamuna riverbed beneath Nizammudin bridge. We request NGT panel to inspect all bridges in Delhi for construction debris leftovers dumped. Also request them to ensure accountability of concerned departments & penalty for avoiding repeat of such activities. https://twitter.com/ngtmcyamuna2/status/1235146075121414145
NGT directs DDA to form SPV -NGT directed the Delhi Development Authority (DDA) on March 5 to constitute a special purpose vehicle within two weeks for rejuvenation of the Yamuna river. It also directed the Delhi, Haryana and Uttar Pradesh governments to take expeditious action on sewage management, industrial pollutants and solid waste being discharged into the river.
– The NGT said the functions of the special purpose vehicle will include ecological restoration of the flood plain zones, setting up of bio-diversity parks, artificial wetlands, phytoremediation of drains at the river mouth locations, maintaining vigil and undertaking flow measurement, creating ecological services, removing encroachments and undertaking other activities, including river front development.  https://timesofindia.indiatimes.com/city/delhi/ngt-directs-dda-to-constitute-special-purpose-vehicle-for-yamuna-rejuvenation/articleshow/74494462.cms  (05 March 2020)
The approach of the Delhi govt in preventing the discharge of untreated sewage and pollutants in the Yamuna was against the concern for environment and the rule of law. The continued huge pollution of the river could certainly be attributed to governance deficit and an absence of sound management practices, it said.
– The tribunal said there was no adequate sewage connectivity in Delhi and sewage charges were not being collected on account of the Mukhyamantri Free Sewer scheme. "Such a policy is certainly contrary to the basic tenets of civic life and the fundamental duties of the authorities in-charge to deter pollution of the environment. There may be no objection to freeship if, in spite of freeship, the administration discharges basic obligations to prevent discharge of untreated sewage into water bodies, which is not happening," the bench said.
– The tribunal said poor people were the worst victims as they were the most vulnerable and neither a citizen was required to pay for treatment of sewage nor the state was able to ensure such treatment from its own resources. "Resources of the state are not meant to help a polluter. Pollution remains unabated, which seriously affects the rights of the citizens to a clean environment. It is better to provide a clean environment and recover the cost of remedying the pollution than declaring free sewage treatment and not treating the sewage," the bench said. https://www.outlookindia.com/newsscroll/ngt-directs-aap-govt-to-review-free-sewer-scheme-in-delhi/1752933 (05 March 2020)  
Raghav Chadha takes charge as new Vice Chair of DJB. His priorities: 24 hour water supply, Clean Yamuna and rejuvenation of water bodies. Immediately, summer plan.  https://www.hindustantimes.com/delhi-news/raghav-chadha-takes-charge-as-djb-vice-chairman-asks-officials-to-ensure-water-supply-in-riot-hit-areas/story-sZdrUd4ureceY7j6aXfS6I.html  (03 March 2020)
Haryana 11 drains polluting Yamuna – 11 drains are releasing 1002.39 million liters of untreated effluents in Yamuna every day. These drains have been identified as Dhanaura Escapes in Yamunanagar, Drain 2 in Panipat, Drain 6 in Sonepat, Mungeshpur and KCB drains in Bahadurgrah and Leg-1, 2 and 3 Drains in Gurugram and Budhiya Nullah and Guanchi Drain in Faridabad. As per the directions by the NGT, the Haryana govt will have to stop the flow of these drains into Yamuna by March 31 next year.
-The number of industries in catchment areas of Yamuna is around 2,597 and the quantum of industrial effluent generation is 129.7 MLD.
– As per Haryana's monthly progress report on Yamuna, out of total 5,568 tonnes per day (TPD), municipal solid waste generated by 84 urban local bodies in the state, only, 2108 TPD is being processed or treated and remaining quantity 3,460.12 TPD is being sent to landfills. https://www.hindustantimes.com/cities/untreated-effluents-from-11-haryana-drains-polluting-yamuna/story-Efzxr9NBWu56OA3hoG3CLM.html  (06 March 2020) 
RIVERS BIODIVERSITY
Madhya Pradesh Centre declares National Chambal Sanctuary as ESZ MoEF on March 3 declared the National Chambal Sanctuary in Madhya Pradesh, home to gangetic dolphins and 75 per cent population of critically endangered species gharial, as eco-sensitive zone (ESZ). The ministry has also directed the Madhya Pradesh government to prepare a Zonal Master Plan, which shall provide for restoration of denuded areas, conservation of existing water bodies, management of catchment areas, watershed management, groundwater management, soil and moisture conservation, needs of local community and such other aspects of the ecology and environment that need attention.
– In its notification, the government prohibited any new construction of hotels and resorts within one kilometre from the boundary of the wildlife sanctuary or up to the extent of the ESZ, whichever is nearer. "Provided that beyond the distance of one kilometre from the boundary of the wildlife sanctuary till the extent of the Eco-Sensitive Zone, the establishment of new hotels and resorts shall be allowed only in pre-defined and designated areas for ecotourism facilities as per Tourism Master Plan," the ministry said. It said that forests, horticulture areas, agricultural areas, parks and open spaces earmarked for recreational purposes in the Eco-sensitive Zone shall not be used or converted into areas for commercial or residential or industrial activities. https://www.outlookindia.com/newsscroll/centre-declares-national-chambal-sanctuary-in-mp-as-ecosensitive-zone/1749467  (02 March 2020)
FISH, FISHERIES, FISHERFOLKS
Study IISc study sheds light on fish schools, bird flocks While studying the cichlid species of fish, IISc scientists discovered that "noise" can actually help make sense of how complex group-level behaviours — such as swimming together in a synchronised manner to avoid predators and forage efficiently — emerge from simple individual behaviours.
– "It is very counter-intuitive," said Vishwesha Guttal, Associate Professor at the Centre for Ecological Sciences, IISc, and senior author of the paper which was published in Nature Physics. "We all usually think noise reduces order."
– Understanding how such emergent behaviour arises in nature can be useful for studying other processes, such as robotic swarms or how information propagates in crowds, explained PhD student Jitesh Jhawar, the first author of the paper.
– "People are actually using these kinds of models to understand the dynamics there." The findings were made after Jhawar and others closely tracked the cichlid fish Etroplus suratensis — a popular estuarine fish known locally as karimeen — in large water tanks. Both the direction in which the fish moved and the degree to which they were aligned towards each other were studied.
– Crucially, the researchers also tracked how these behaviours fluctuated over time. "What we find is that when the fish are moving in a misaligned state, the fluctuations are high," said Danny Raj M, co-author of the paper and an INSPIRE Faculty Fellow at the Department of Chemical Engineering.
– And when fluctuations were high, it had surprising effects on the behaviour of the group: they became more synchronised in their swimming. This was because each member of the group was copying the direction of one of its neighbours, chosen randomly. This contrasts with classical models which suggested that each fish copied what the overall group was doing on average. https://www.deccanherald.com/city/life-in-bengaluru/iisc-study-sheds-light-on-fish-schools-bird-flocks-810310.html  (04 March 2020)
Uttarakhand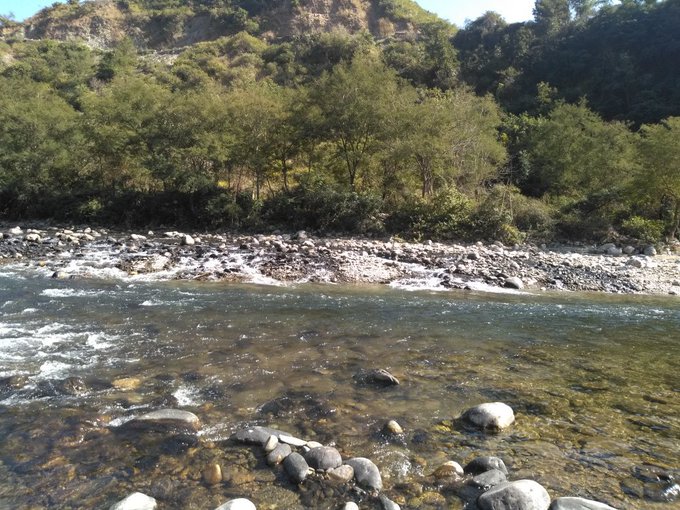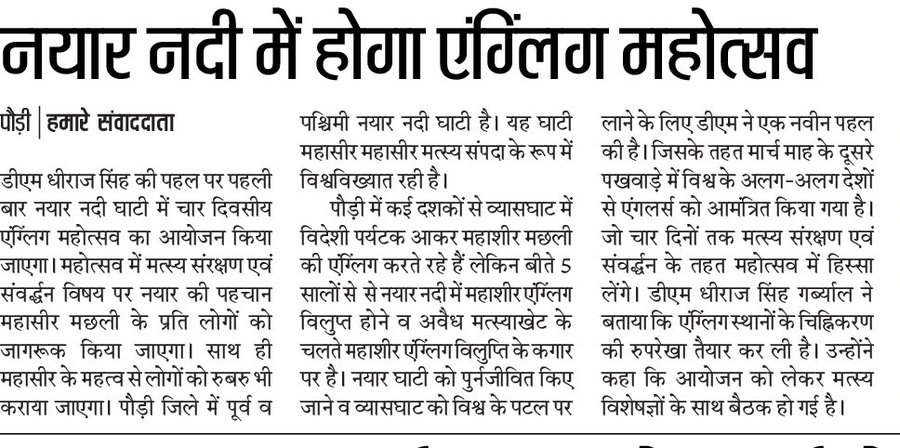 Four days Mahseer angling festival to be organized in Nayar river in later half of March 2020 by Pouri district administration to promote angling based tourism which was common some five years back but was stopped due to illegal, over fishing. Nayar river image by Kailash Ghildiyal.  https://epaper.livehindustan.com/imageview_75107_97066272_4_137_01-03-2020_5_i_1_sf.html  (01 March 2020)
DMF Annual General Meeting : Poster 
SAND MINING
Rajasthan Bans fail to control illegal mining Kailash Meena, a social worker fighting against illegal sand and gravel mining in the state, said despite repeated court orders the government has failed to curb illegal 'bajri' mining. ''People involved in illegal mining are heavy-weights, including politicians, police officers, big corporates, bureaucrats etc. Around 90% of mining in the state is illegal. Hundreds of overloaded trucks with illegally extracted river sand pass through various state highways but the police and mining department officials remain mute spectators," alleged Meena.
– A CAG report tabled in Rajasthan Assembly in February 2018 revealed that the SC orders on mining are regularly violated. CAG observed that there were serious inadequacies in preventing illegal mining. "There was a lack of deterrence due to delay in issue of notices, raising demand and recovery of the penal amount from illegal miners. Also, there was slackness in implementing policy measures to curb illegal mining," the CAG report reads.
– According to the report, a scrutiny of the records of nine superintending mining engineers or mining engineers in five districts — Alwar, Jaipur, Sikar, Rajsamand and Udaipur — revealed that these offices registered 4,072 cases of illegal mining, transportation and storage of minerals during 2011-12 to 2016-17. "Around 98.87 lakh metric tonnes of minerals were found to have been illegally excavated. The department, however, could recover only `25.57 crore against the recoverable amount of `204.50 crore," the CAG report said. https://www.newindianexpress.com/nation/2020/feb/21/rajasthan-bans-fail-to-loosen-mining-mafias-vice-like-grip-2106356.html  (21 Feb. 2020)
Bihar Fresh NGT committee to probe illegal mining NGT has constituted a fresh committee to probe the allegations of illegal sand mining in Son river in Bihar by using heavy machines that are damaging the environment. NGT passed the order after perusing a report filed by SPCB which said that no sand mining was being carried in Aurangabad and Rohtas districts.
– The Patna High Court had noted that sand mining was being carried out which is in contravention to the findings of SPCB, it said. The NGT bench also said: "We are, prime facie, of the view that the report submitted by the PCB is at variance with the observations of the High Court. There are also inherent contradictions in the report."
– "In view of the above, to ascertain the truth on the ground, it is necessary to constitute another Committee which will comprise of CPCB, a Scientist nominated by MoEF and an Expert nominated by the Indian School of Mines, Dhanbad. The SPCB will render necessary assistance to the Committee," the bench said while posting the matter for hearing on May 22. The CPCB will be the nodal agency for coordination and compliance, it said. "The Committee may furnish its report within two months by email".
– The tribunal was hearing a plea filed by Bihar native Mohd Imran Khan Kadri alleging illegal sand mining in Son river in Aurangabad and Rohtas districts by using heavy earth moving machines inside the river, damaging the ecology, besides causing air pollution due to the use of heavy trucks. https://www.moneycontrol.com/news/india/ngt-constitutes-fresh-committee-to-probe-illegal-sand-mining-in-bihar-4984181.html  (27 Feb. 2020)
Tripura River banks facing massive erosion River banks in many places across are crumbling down due to unabated lifting of sand by machines from riverbeds and also increasing the fear of floods during the rainy season. The crores of rupees spent by the government to preserve the riverbanks are also being wasted. Such reports are coming from different places situated along the rivers like Haoura, Gomoti, Deo, Dhalai, Khowai and all their tributaries. The National Highways are also facing serious erosion in many areas of northern Tripura due to unabated mining of sand from the riverbed illegally.
– The BJP-IPFT coalition government immediately after coming into power imposed a ban on this illegal practice but with the passage of time, all appears to have evaporated. The ban is still there but nobody implements it.
– The Forest department earlier invited application for issuing license for sand mining manually but till now no license has been issued providing fertile ground for the illegal sand miners.
– It is learned that a racket is active everywhere to protect this illegal business with the backing of both the ruling and the Opposition political parties and some government officials are also in connivance with them. Issuing transit by the Forest department becomes another source of corruption. It is learned that the contractors deposit fee for one truck whereas two or three trucks are trasported while the Forest officials remain silent.
– This illegal business, day and night, is disturbing civic life as high sounds of the machines causes pollution and the roads are getting damaged due to the sand carrying vehicles using rural roads that are not meant for such heavy vehicles. https://www.sentinelassam.com/north-east-india-news/tripura-news/sand-mining-river-banks-in-tripura-facing-massive-erosion/  (29 Feb. 2020)  
Assam Sand mining threat to dyke The protection dyke in Upper Dibrugarh town is facing serious threat from alleged illegal sand mining at Maijan. Sources said truckloads of sand are extracted daily from the Brahmaputra riverbed in the Maijan area and this has been going on for years. "Everyday, 10 to 15 trucks loaded with sand pass through the Maijan road under the nose of the district administration but they remain mute spectators. In many other places also illegal sand mining has been going on unabated but the authorities fail to take action," a source said.
– Sand mafias allegedly run the illegal business in nexus with some forest officials and the illegal extraction of sand is most rampant at Maijan, Mohanaghat and Jokai in Dibrugrah district, sources said. Residents and environmentalists have raised concern about the illegal sand mining.
– The Enforcement and Monitoring Guidelines for Sand Mining 2020 released last month include direction to states to carry out river audits, put detailed survey reports of all mining areas online and in the public domain, conduct replenishment studies of riverbeds, constantly monitor mining with drones, aerial and ground surveys and set up dedicated task forces at the district level. https://www.telegraphindia.com/states/north-east/sand-mining-threat-to-dyke-from-brahmaputra-riverbed-in-maijan/cid/1742621  (06 Feb. 2020)
Karnataka Govt moots selling sand online CM BS Yediyurappa has embarked on preparing a new sand policy that would include modern features such as online procurement and GPS-monitored transportation. The chief minister on Feb. 11 convened a secretary-level review meeting where the draft sand policy prepared by a cabinet committee was discussed threadbare.
– CC Patil, minister for mines and geology hinted at the possibility of Karnataka adopting a major portion of Telangana sand policy, which envisages to govern sand mining at gram panchayat level under the aegis of the department of mines and geology and online procurement of the mineral. It was likely that the new sand policy will be announced in the state budget for 2020-21 to be presented by Yediyurappa on March 5 in the legislative assembly.
– The review meeting assessed that Karnataka consumes around 45 million metric ton of sand of which 30 million metric ton comes from M-sand (manufactured sand), a by-product of stone quarrying that is used as a substitute of river sand for concrete construction. A state sand policy that was formulated in 2017 is in place, but the government wants to replace it with more comprehensive one.
– According to proposed sand policy, the sand reaches in the gram panchayat purview will be classified in the ranks between first and fifth and license would be issued by the panchayat with conditions based on the ranking. While procurement of the material would online, its transposition would be done in the government-empanelled vehicles fitted with GPS system.  https://timesofindia.indiatimes.com/city/bengaluru/karnataka-government-moots-selling-sand-online/articleshow/74087534.cms  (11 Feb. 2020)
Sand extraction from rivers in CRZ area coming to an end As per this Dec. 2019 report, sand extraction from rivers in Coastal Regulation Zone (CRZ) was set to see a break for at least of couple of months as the environment clearance (EC) for the same is expiring on different dates this month and fresh clearance was yet to be obtained by the District Sand Monitoring Committee.
-The EC has expired for 12 sand bars, eight in Netravati and four in Phalguni (Gurupura) recently, as a consequence of which sand extraction activities in these areas have stopped completely. While boats used for extraction are brought on the shore, migrant workers staying in temporary sheds have vacated the same, pursuant to directions from the Mines and Geology Department.
– The environment clearance for another 10 sand bars would expire by December 26 thus completely bringing to halt sand extraction in CRZ area, according to department officials.
– Though the Sand Monitoring Committee had completed all other formalities to obtain fresh EC for sand bars, the crucial bathymetry survey to scientifically identify sand bars for the next season is yet to start. The Committee had deferred the decision to award the survey contract last month citing higher quotes; however Deputy Commissioner Sindhu B. Rupesh, who is also the chairman of the committee, had said the process would be expedited. https://www.thehindu.com/news/cities/Mangalore/sand-extraction-from-rivers-in-crz-area-coming-to-an-end/article30308403.ece  (15 Dec. 2019)
Punjab Govt seeking legal view on free sand for all A proposal to decontrol sand mining business in the state and make sand a resource free for all is under active consideration of the state government with several MLAs of the ruling Congress pushing for the move. The government has now sought legal opinion to check implications of such a decision if it is implemented. According to sources, CM Amarinder Singh is in favour of the move. The government, however, has to take into account that it had auctioned sand clusters last year and earned a revenue of over Rs 300 crore. Going ahead with the decision to decontrol sand would involve cancelling those contracts.   https://indianexpress.com/article/india/punjab-sand-mining-6298379/  (04 March 2020)
Steve Lockett comment on FB post "I am committed to end mining mafia in the state". Not sure that removing government controls will achieve that? Usually, if governments abdicate responsibility for a valuable resource, black market will inevitably take over control.
It may sound egalitarian to offer universal access to a resource, but without strict control, there will be a huge environmental cost, as well as the social and economic costs of handing control to mafias…
Himachal Pradesh Illegal mining threatens ancient temple Large-scale illegal mining going on in the Binwa at Baijnath has posed threat to the existence of 13th century Shiva temple at Baijnath. Despite tall claims by the Baijnath administration and the mining department, a large number mules can be seen carrying the extracting sand stone and bajri from the river for further transportation.
– A team of mediapersons today visited Baijnath to witness the mining activities in the river. Environmental bodies have complained that if the mining activities in the Binwa is not checked it could damage the 'Baijnath' temple, built in 1204 A.D. Besides, illegal mining has also damaged the railway bridge and another bridge on the Pathankot- Mandi NH. https://www.tribuneindia.com/news/illegal-mining-threatens-ancient-temple-at-baijnath-49529  (02 March 2020)
WETLANDS, LAKES, WATER BODIES
SANDRP Blog India Ramsar Wetlands in Crisis in 2020 Ramsar wetlands in India require urgent intervention for central, state governments and Ramsar Convention as this 2020 report shows. The five regional reports from India in 2020 show that despite Ramsar tag, the fate of these wetlands has seen no marked improvement. This raises the question as to how helpful for wetlands in India is the Ramsar tag. In 2019, India has added 10 more wetlands selected under Ramsar Convention taking total number of Ramsar wetlands in the country to 37 covering about 10,679.39 sq km area across 15 different Indian States and two Union Territories (UTs). https://sandrp.in/2020/03/07/india-ramsar-wetlands-in-crisis-in-2020/  (07 March 2020) 
Ramsar Wetlands in crisis: East India In East India there are four Ramsar wetlands: two each in W Bengal and Odisha states. There are no Ramsar wetland sites in Bihar, Jharkhand or Sikkim, the other East India states. Here we provide a status of these Ramsar sites of East India, along with the kind of risks and threats these Ramsar sites face. The objective is to ensure greater awareness about these issues and hope that this will help achieve better responses from Ramsar convention as also the governments at various levels. https://sandrp.in/2020/03/02/ramsar-wetlands-in-crisis-east-india/  (02 March 2020)
Ramsar Wetlands in crisis: South India Out of six states/ Union Territory in South India, three stares have five Ramsar wetlands sites which include one each in Andhra Pradesh and Tamil Nadu and three in Kerala. There are no Ramsar wetlands in Telangana, Karnataka and Puducherry. In order to understand and highlight the present day situation of Ramsar sites in India, SANDRP has compiled information on all 37 wetlands under North, West, North East and East zone. This account in the series describes the threats affecting the Ramsar sites in South Indian States.  https://sandrp.in/2020/03/03/ramsar-wetlands-in-crisis-south-india/  (03 March 2020)
Manipur NPSSFW (I) protests against Loktak Inland Waterways Project. https://dc.icsf.net/en/component/dcnews/articledetail/15588.html  (03 March 2020)
Maharashtra Wetlands under NWIA 2011 will be protected too: HC panel Wetlands identified under the National Wetland Inventory Atlas (NWIA), 2011 (Maharashtra) will be protected, the Bombay HC appointed state wetland grievance redressal committee has said.
– The minutes of the meeting, dated January 30, 2020, published on Feb. 13, issued directions taken by Konkan commissioner Shivaji Daund and other committee members communicated to all district collectors and civic bodies that read, "It is extremely important to protect wetlands forming a part of NWIA as per orders of the Supreme Court and Bombay HC. Irrespective of who has the possession, responsibility of protection will be with district office planning authority. The authority should prevent any debris or garbage dumping and encroachments with help from police and have mobile patrolling system to save mangroves, highlighted the committee chairman."
– However, the member secretary of the committee and deputy conservator of forest (mangrove cell) Neenu Somraj clarified that this was just temporary protection. "Once freshly notified wetlands under the Wetland (Conservation and Management) Rules, 2017 are notified by the state then this committee will only be accepting complaints related to those wetlands," said Somraj. "While human-made waterbodies will not be protected, previously identified coastal wetlands under NWIA will be protected under coastal regulation zone (CRZ) norms by the state's coastal authority and environment department while wetlands in forest zones will be protected by the forest department."
– Member of the committee and petitioner Stalin D contradicted Somraj's claim. "Irrespective of which rule or classification is imposed, all wetlands in the NWIA will have to be protected." https://www.hindustantimes.com/mumbai-news/wetlands-under-nwia-2011-will-be-protected-too-hc-appointed-panel/story-pnV5IBXqCiwBiujKrOgVBO.html  (16 Feb. 2020)
– Repeated spot inspections by the revenue and forest officials last year have confirmed the destruction of mangroves and wetlands; and the administration has been compelled to lodge police cases against unidentified persons under the Environment Protection Act, 1986. "Now it is time to fix the responsibility and not leave the case hanging against unnamed persons or officials," added B N Kumar, director Nat Connect Foundation.
– "NMSEZ (Navi Mumbai Special Economic Zone) stands appointed as the Special Planning Authority for the notified areas in of Dronagiri, Kalamboli, Ulwe (waterfront) and Ulwe (airport) nodes of Navi Mumbai, under the provisions of Maharashtra Regional and Town Planning Act, 1966, according to the information got from one of the partners of the special economic zone. However, since there is not clarity on the protection and preservation of mangroves and wetlands in Uran, we were left with no option but to write to the chief minister. We hope that the state environment minister soon resolves this matter," said Kumar.
– Environment groups NatConnect Foundation, Shri Ekvira Aai Pratishtan and fishermen's forum Paaramparik Machhimar Bachao Kruti Samiti have pointed out that there has been a reckless destruction of mangroves and wetlands at Pagote, Bhendkhal and Panje under NMSEZ jurisdiction and that the Raigad district administration has already filed police cases against unidentified officials.
– Official records of land acquisition by the revenue department also show that Panje is a marshy land and it belongs to the state government, Tukaram Koli of Paaramparik Machhimar Bachao Kruti Samiti pointed out. "Hence it has been the destination for fishing for ages; but now our constitutional right to practice our trade for our survival has been snatched away from us," Koli regretted.
– Only about a fortnight ago, Cidco made a surprising announcement at the high court appointed Konkan Wetlands Redressal Committee by saying that Panje wetland has been transferred to a private corporate firm in 2004. "We are therefore not sure about how to go about protecting the wetlands. Response to an RTI application showed that parts of Panje have been leased to NMSEZ," said Nandakumar Pawar, head of Shri Ekvira Aai Pratishtan.
– Environmentalists have pointed out that the flow of creek water to Panje has been periodically blocked making it a dry land. In fact, a huge concrete wall was erected, along with sluice gates across the backwater stream adjoining the wetland. The high court appointed Mangrove and Wetlands committees have, however, asked Cidco repeatedly to ensure the flow of water to the wetland. The wetland committee has even asked CIDCO to protect Panje since it has all the characteristics of a wetland though kit is not listed on the wetland atlas, Kumar said. https://timesofindia.indiatimes.com/city/navi-mumbai/maharashtra-cm-responds-to-greens-outcry-on-uran-wetlands-destruction/articleshow/74260404.cms  (22 Feb. 2020)
Environmentalists have called for including Panje wetland as part of the new Coastal Zone Management Plan (CZMP). In their suggestions to the draft CZMP floated by the environment department for Raigad district, as part of the Union environment ministry's new CRZ notification, the groups expressed dismay at the wetland being left out as a grey patch surrounded by mangrove buffer and CRZ-2. The CRZ notification was published in January and suggestions and objections close on March 7.
– The wetlands committee, too, noted that the area has all characteristics of a wetland and asked Cidco to protect it. Yet, there seem to be all out efforts to bury it, Kumar said.  https://timesofindia.indiatimes.com/city/navi-mumbai/include-wetland-in-new-coastal-zone-plan/articleshow/74434184.cms  (02 March 2020)
– Areas already identified under the highest level of protection under coastal protection laws have been opened up for development along the eastern seafront in the Mumbai Metropolitan Region, according to the new coastal zone management plan (CZMP). These are draft maps and the Maharashtra government has called for suggestions and objections till March 1. City environmentalists have objected to the areas, which include wetlands and mangrove forests, being recategorised.  https://www.hindustantimes.com/mumbai-news/uran-wetlands-that-need-highest-protection-may-see-development/story-d0QohgYokYq1XrfRCuPXzN.html  (27 Feb. 2020)
Kerala Kochi: Disappearing wetlands; changing landscape affecting birds population Disappearing wetlands and changing landscape is affecting bird population and habitats, says the report which calls for conservation measures and more data to look at long-term trends. Of the 15, two are vulture species, the white-rumped vulture and the red-headed vulture, seen only in Wayanad. Among the wetland dependent birds whose numbers are declining are the Pacific golden plover and the cinnamon bittern. The forest-dependent species include banasura laughingthrush (chilappan), ashambu laughingthrush (chilappan), white-bellied sholakili, broad-tailed grassbird, Nilgiri thrush, Nilgiri pipit, heartspotted woodpecker, Nilgiri wood pigeon, forest wagtail, Tytler's leaf warbler and great hornbill.  https://timesofindia.indiatimes.com/city/kochi/kochi-disappearing-wetlands-and-changing-landscape-affecting-population/articleshow/74202311.cms  (19 Feb. 2020)
Andhra Pradesh 'Perali Poguru' among 5 wetlands identified for restoration 'Perali Poguru,' a wetland near Bapatla, finds a place among the five wetlands in the State of the 100 identified by the Ministry of Environment and Forests (MoEF) for restoration and preservation. The tiny wetland, just about 4 km from Suryalanka beach, is frequented by migratory birds and has emerged as a new tourist destination.
– The other 4 wetlands — Coringa (near Kakinada), Pulicat (Nellore), Kolleru (West Godavari) and Nelapattu (Nellore) —are among the five identified by the state Forest Department for preservation. The decision to preserve the endangered wetlands, taken at the Conference of Parties to United Nations Convention to Combat Desertification (UNCCD CoP 14), is part of the Union Government's 'har ghar mein jal' (water in every house) program.  https://www.thehindu.com/news/national/andhra-pradesh/perali-poguru-among-5-wetlands-in-state-identified-for-restoration/article30803705.ece  (12 Feb. 2020)    
WATER OPTIONS
North East Traditional means to harvest rainwater In Mizoram, Meghalaya, Nagaland and Tripura, people store and harvest rain water through traditional means.  https://www.downtoearth.org.in/blog/environment/how-the-north-east-uses-traditional-means-to-harvest-rain-water-69490  (27 Feb. 2020)
Mumbai Revival of well to fight shortage Vincy Pereira a resident of IC Colony in Borivali has approached Shiv Sena corporator Tejasvi Ghosalkar to revive an artesian well that he discovered in 2017. He wants to build a storm water drainage system around it so as to raise the groundwater level and fight IC Colony's perpetual problem of water shortage. An artesian well doesn't require a pump to bring water to the surface; it just needs enough pressure.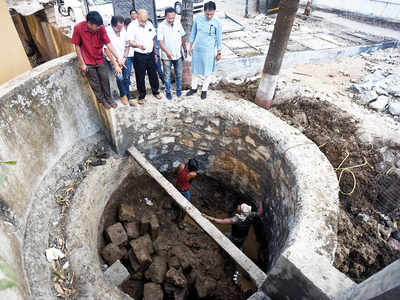 – The well was spotted in old land documents by Vincy Pereira, a developer and a water conservationist. Curiosity turned into astonishment when the documents revealed that it was at least 200 years old. He said according to the land records of Eksar village, it was built in the early 1800s by the North Salsette Society.
-According to Pereira, the most important outcome would be an increase in the water table in 100-metre radius. This he said will also help recharge the bore-wells that residents have made across IC Colony to battle water scarcity. However, he warns that the water collected may not be potable. "There could be contamination, but it could certainly be used for washing and gardening. This will decrease our dependence on municipal water supply," said Periera.  https://mumbaimirror.indiatimes.com/mumbai/other/resident-reviving-200-yr-old-well-to-tackle-ic-colonys-water-shortage/articleshow/74467174.cms  (04 March 2020)
Kerala With dream check dam, farmers show what is possible A check dam built by farmers across the Kodungai river has caught the attention of government officials and farmers living nearby. The dam is five kilometres from Vittal town in Dakshina Kannada district of Karnataka. The government built two check dams on the Kodungai and spent around Rs 1 to 1.25 crore on each. A group of farmers, further down the river, built this check dam for just Rs 18 lakh. The government's check dams are only about 120 feet wide. The farmers' one is 165 feet in width. https://www.civilsocietyonline.com/rural-reporter/with-dream-dam-farmers-show-what-is-possible/  (06 March 2020)
GROUNDWATER
NCR Nine Delhi districts had contaminated groundwater in 2019: Jal Shakti Minister In the National Capital Region, which includes parts of Haryana, Rajasthan and Uttar Pradesh apart from Delhi, at least 30 districts had some form of pollutants in their groundwater, including arsenic, iron, heavy metals such as lead, cadmium and chromium, flouride, nitrate and salinity, according to data presented in the Rajya Sabha on March 3, by Jal Shakti minister.
– However, the Central Ground Water Board's quality monitoring data for 2019 showed that most districts in the Capital were partially affected by groundwater contaminants present at higher levels than declared permissible by the Bureau of Indian Standards, Mr. Shekhawat's response showed. https://www.thehindu.com/news/cities/Delhi/nine-delhi-districts-had-contaminated-groundwater-in-2019-jal-shakti-minister/article30966933.ece  (03 March 2020)
Tamil Nadu Closed TCCL causing groundwater contamination in Ranipet  25 years after a factory downed shutters, chromium sludge left behind has caused heavy groundwater contamination. While a plan to get rid of the hazardous waste & detoxify water gathers dust, officials fret over how to fund the clean-up. A lot of water has flowed down the Palar since the Tamil Nadu Chromates and Chemicals Limited (TCCL) factory was abandoned in 1995 but little has been done about the 2.27 lakh tonnes of chromium sludge heaped in its premises.
– The total cost of safely disposing of the sludge would come up to a whopping Rs 500 crore over the years. While the Tamil Nadu government hopes that the Union government will chip in, the CPCB, which flagged the issue in 2015, has said its role is limited to monitoring the remediation. Meanwhile, the sludge continues to seep into the groundwater, poisoning it and, thereby, the residents who live around the old SIPCOT complex in Ranipet town. https://www.newindianexpress.com/cities/chennai/2020/mar/01/25-years-after-factory-downing-shutters-chromium-sludge-causes-groundwater-contamination-in-chennais-ranipet-2110455.html  (01 March 2020)  
Telangana Falling level The groundwater levels in the State have started falling already though summer is far away. According to the State Groundwater Department report on Jan. 3, the level in December was 8.12 metres below ground level (mbgl), which is slightly deeper than November level of 7.53mbgl.
– This is despite the State receiving bountiful rainfall of 964 mm till December as against normal 845mm. The department monitored water levels during December covering 33 districts.
– Hyderabad recorded steepest fall in groundwater level in December compared to November among all the districts. While the groundwater level in Hyderabad was 5.87mbgl in November, it fell to 8.37mbgl in December. Sangareddy district also recorded steepest fall among all districts (17.72mbgl) while Wanaparthy recorded the most shallow groundwater level of 3.63mbgl. https://www.newindianexpress.com/cities/hyderabad/2020/jan/04/groundwater-level-in-hyderabad-records-steep-fall-2084752.html?  (04 Jan. 2020)
URBAN WATER
Bengaluru No more MoUs with corporate entities for lake maintenance for now: HC The High Court of Karnataka on March 4 restrained the State government from executing any more agreements/memorandums of understanding (MoUs) with corporate entities for development and maintenance of tanks/lakes in the city till the court examines the legality and validity of such agreements/MoUs already executed with a few entities. The court, however, said this would not prevent the government from taking funds from corporate entities for maintenance of lakes.  "Prima facie, by way of the MoU, the State government wants to shift its obligation to corporate entities," the Bench observed while directing the government to submit the copies of the MoUs already entered into with corporate entities for the court's examination.  https://www.thehindu.com/news/cities/bangalore/no-more-mous-with-corporate-entities-for-lake-maintenance-for-now-hc/article30985784.ece  (05 March 2020)
Why STPs in apartments are messed up, how this can change Today, a large number of apartment complexes, malls and tech parks in Bengaluru have their own STPs. There are many defective STPs running in Bengaluru, about which the owners may not be aware. This article explains why we have so many faulty STPs, and what needs to be done to change this.
– The solution is to regulate the design, fabrication, operation and maintenance of STPs. Section 17 of the Water (Prevention & Control of Pollution) Act, 1974 lays down several measures to regulate these aspects. These responsibilities are assigned to KSPCB. These responsibilities include inspection and approval of new STPs, training of operators, spreading awareness among the public, etc. Unfortunately, the Water Act remains mostly unimplemented even today.
– KSPCB is supposed to give CFE (Consent to Establish) AFTER checking the proper design and CFO (Consent to Operate) AFTER ensuring that STP is operating properly. Subsequently, KSPCB conducts annual inspections to check for ageing-related problems and tampering. When the STP passes each inspection, KSPCB extends the CFO by another year. http://bengaluru.citizenmatters.in/bengaluru-apartment-sewage-treatment-plants-stp-kspcb-approval-cfe-cfo-reforms-42761  (06 March 2020)
Chandigarh NO one paying for 38% potable water About 38% of water supplied to the city is lost due to leakage and illegal connections, reveals the latest Chandigarh Smart City Limited (CSCL) study for its upcoming 24-hour water supply project. The report refers to this as non water revenue (NRW) losses, that is the quantity of water 'lost' before it reaches the consumer. The CSCL report said the extent of NRW in Chandigarh should be as per the Centre's standard benchmark, which was between 15% and 20%. In the city it was almost double the national guidelines, despite the fact that Chandigarh was the country's first planned city. The need of the hour, the report suggested, was to improve infrastructure for efficient delivery of water, smart metering and billing and performance based operation and maintenance system to reduce water losses. Benefits of NRW reduction included financial gains from increased water sales or reduced water use.
– Underground water leakages and illegal connections in the city's colonies were causing losses, said municipal corporation (MC) commissioner KK Yadav, adding that MC frequently detected punctured water pipelines in the peripheries. The civic body had been unable to create infrastructure to reduce NRW due to gap between water supply revenue and expenditure, Yadav said, as the aim was to bring down losses to 5% as part of the MC's proposed 24-hour water supply project. A pilot project in Manimajra had the mandatory provision of replacement and upgrade of underground pipelines and smart metering to bring down the NRW to the desired level. A similar model will then be put in place for the rest of the city, he said.
– MC boasted of water availability of 115 MGD, which included 87 MGD from canal water and 28 MGD from tubewells. If CSCL is believed, water availability in the city is not more than 72 MGD since 43 MGD water (38%) is lost in transit or remains unaccounted for due to illegal connections.
– This would mean a substantial loss as the civic body recently spent ₹200 crore to pump 29 MGD of canal water by commissioning 40 km pipelines under phases 5 and 6 of the Kajauli waterworks. High levels of NRW are also detrimental to MC's water supply losses that will almost touch ₹100 crore by the next fiscal.
– Hitesh Puri, chairman, Chandigarh Residents Associations Welfare Federation told HT on March 2 that the MC's threefold hike in water tariff was made on the grounds that it had to bridge its water supply losses. "But somehow MC itself is responsible for such huge losses as it did not check its own internal failures and is now making people pay for it," Puri added. "What the MC lacks is systemic reform. It spent ₹200 crore to increase water availability but did nothing to bring down water losses. Water is precious, it should not be wasted," Puri said. https://www.hindustantimes.com/chandigarh/no-one-paying-up-for-38-potable-water-in-chandigarh/story-Yrbtxhmg74VPdQ8kj8CWdI.html  (03 March 2020)
Shimla WB to fund Shimla water supply scheme: CM  The World Bank had given its nod to fund the Rs 1,400-crore Shimla Water Supply and Sewerage Project, along with similar projects in 134 urban local bodies in the state. https://www.tribuneindia.com/news/world-bank-to-fund-shimla-water-supply-scheme-cm-50989  (05 March 2020)
Madurai Corporation submits ₹70.52-cr. proposal of for water conservation To revive waterbodies and take steps towards water harvesting so as to meet the growing water needs of the city, Madurai Corporation has submitted a proposal worth ₹70.52 crore to the Commissionerate of Municipal Administration. This proposal has been submitted as part of 'National Water Conservation Mission' (Jal Jeevan Mission), a scheme implemented by the Ministry of Jal Shakti. The scheme, which aims at improving water availability to households, will be implemented in five years.  https://www.thehindu.com/news/cities/Madurai/corporation-submits-7052-cr-proposal-of-for-water-conservation-madurai/article30964372.ece  (02 March 2020)
Kochi Sewage at MG road Kochi The unexpected showers had caused septic and food waste to spill all over the MG Road and Broadway stretch. The reckless act of hoteliers and lodge owners who failed to construct septic pits in their buildings, letting the waste out into the city drains made life hell for hundreds who frequented the area.
– Earlier, a survey conducted by the corporation had found that around as 5,000 septic tank outlets directly open into the Thevara-Perandoor canal. A recent survey conducted by SCMS had also found the presence of e-coli bacteria in the water is high due to the dumping of septic waste.
– The unscientific construction of drainages and roads is also cited as a major reason for waterlogging in the area. "The Jews Street was constructed in 1967. During the re-tarring work, bitumen laying was done without removing the old layers, which began to hold water. Recently, concrete blocks were laid on top of the bitumen which made the water logging worse even during small showers", said Manoj Kumar a local shopkeeper.
-Sudha Dileep Kumar, councillor, Ernakulam Central blamed the Kochi Metro Rail Limited (KMRL) for the waterlogging in the area by saying that KMRL has constructed a narrow passage for drain out the water from the road.  https://www.newindianexpress.com/cities/kochi/2020/mar/06/its-raining-sewage-at-mg-road-2112787.html  (06 March 2020)
Despite being just about 13 km away from the bustle of Kochi city, thousands of residents of Kadamakudy panchayat, a cluster of 14 islands, has been hit by severe water crisis since the last two months. The residents in parts of the panchayat get drinking water from the Kerala Water Authority only once a week.  According to the panchayat officials, the water scarcity is due to the ongoing pipeline restoration work that is part of the Muppathadam water project, which gives water supply to the panchayat. https://www.thenewsminute.com/article/severe-water-crisis-hits-residents-island-panchayat-near-kochi-119791  (08 March 2020)  
Tiruvallur 2 suffocate to death in septic tank Manual scavenging was outlawed in the country with the introduction of The Employment of Manual Scavengers and Construction of Dry Latrines (Prohibition) Act, 1993. However, the practice continues illegally and Tamil Nadu has recorded the most number of such deaths between 2015 and 2018. In 2013, a legislation was brought into force prohibiting the employment of persons as manual scavengers and it includes an imprisonment of upto 5 years, for those employing a manual scavenger. In November last year, a 25-year-old man named Arunkumar had died in a similar manner in a septic tank in Chennai's Express Avenue Mall. https://www.thenewsminute.com/article/two-men-suffocate-death-septic-tank-manager-tn-engineering-firm-held-119726  (07 March 2020)
Mumbai Another report that helps understand why Mumbai does not need more dams like Gargai. Its totally unnecessary destruction that the dam lobby is pushing.  https://www.firstpost.com/india/mumbais-burgeoning-water-needs-leave-nearby-villages-parched-citys-wasted-and-free-supply-more-than-nagpurs-daily-need-8127461.html  (08 March 2020)
Suggestion for recycling of Powai lake's water hyacinths into bio-bricks A Powai based environmentalist has suggested to the Brihanmumbai Municipal Corporation (BMC) to at least allow the recycling of the water hyacinth weeds currently visible at Powai lake, in order to save this waterbody from further damage. "At present, nearly 50% of the Powai lake's surface has been covered by water hyacinths, which is not good for the lake's biodiversity, that includes fishes, crocodiles. That is why a small group of locals have started cutting some of the water hyacinths in order to recycle them to make biodegradable bricks. I have also spoken about this eco-idea to the BMC "S" ward, and they are mulling over it as well," said Elsie Gabriel, founder of Young Environmentalists Programme Trust.
– Gabriel further informed that they have already made a few bio-bricks from the water hyacinths of the lake, on an experimental basis, and can seriously start a recycling plant at Powai lake in order to get rid of all these destructive water weed plants. "These bio-bricks can be used for decorations during festivals like Ganeshotsav. If the civic body still does not do anything about these the grim situation, then there can be further destruction of the lake," she said.
– A civic official informed that the earlier lake cleaning contract of Rs 11 crore was scrapped last year, due to overpriced tender bids. Hence, a new contract for the removal of water hyacinths and cleaning of Powai lake is yet to be finalized.
Environmentalist and member of the Bombay high court appointed committee for protection of mangroves and wetlands, D Stalin, told TOI: "Besides the presence of water hyacinths, a lot of garbage and effluents are also going into Powai lake. The ongoing Metro line work is also going at full swing just next to the lake, which causes a lot of dust being blown up and going towards the waterbody. Hence, the civic authorities must quickly decide on what to do about cleaning of Powai lake, before it is too late."
– Local residents have also criticized the previous and unnecessary projects like `musical fountains' and LED lights installed inside Powai lake, which only did artificial beautification, but disregarded the real danger posed by the trash thrown into the lake, as this can seriously hamper the oxygen levels on which the fishes and other marine life depends upon. https://timesofindia.indiatimes.com/city/mumbai/mumbai-recycling-of-powai-lakes-water-hyacinths-into-bio-bricks-suggested-to-civic-body/articleshow/74479496.cms  (04 March 2020)
Pune Water stocks in dams ahead summer The collective water stock in 35 major dams of the division was on Friday recorded at 69% ahead of the three summer months of March, April and May. This was the highest collective water stock in the division comprising Pune, Satara, Kolhapur, Sangli and Solapur districts in the past four years, state irrigation department data revealed.
– In 2018, the 35 dams had 65% collective stock during this period. In 2017 and 2016, the storages were 52% and 28%, respectively. The current water availability in the division appeared much better as compared to what it was in 2019, when the collective storage in the 35 major big dams had slipped below the halfway mark (up to 47%) at the end of February. This year, the division has more water stock in dams belonging to all three categories. The Pune division has 50 medium, 641 minor and 35 major dams. https://timesofindia.indiatimes.com/city/pune/69-water-stock-in-35-major-dams-ahead-of-summer/articleshow/74409042.cms  (29 Feb. 2020)
WATER
Workshop Troubled Waters: Understanding Water-related Issues in India Forum for Policy Dialogue on Water Conflicts in India, India Water Portal and Sambhaavnaa Institute for Public Policy are jointly organizing a workshop on understanding and addressing critical issues in the water sector of the country. 2 to 5 May 2020 at Sambhaavnaa Institute, Kandbari, Tehsil – Palampur, District – Kangra, Himachal Pradesh 176061. For details, see: http://www.sambhaavnaa.org/programs/troubled-waters-understanding-water-issues-in-india-2-5-may20/  and Write to: programs@sambhaavnaa.org  for more details.
Tamil Nadu Water units called off strike Seven days after they began a strike across Tamil Nadu, packaged water units have agreed to continue the supply of water cans. The strike was called off after the Madras HC issued an interim order stating that the units that have been sealed can apply for  NOC and that the state government must decide on the applications within 15 days of filing.
– In 2018, a PIL was filed by a man named Sivamurthy, who alleged that groundwater was being illegally extracted for commercial purposes from Puzhal and Tiruvallur areas. In December 2019, when the matter came up for hearing, the Madras High Court directed the district authorities to take action against those carrying out illegal extractions, identify them and report to the court. However, in the first week of February, when the government authorities failed to present adequate data, the court had expressed its displeasure and demanded immediate action.   https://www.thenewsminute.com/article/water-can-units-call-strike-tamil-nadu-temporary-truce-119496  (04 March 2020)
Packaged drinking water units sealed across Vellore The Ground Water Division of PWD sealed as many as 37 drinking water packaging units and borewells across Vellore district during the two-day enforcement drive. PWD officials said among the 40 units functioning in six taluks in Vellore district, only three had proper orders and sanctions from the PWD and district administration.
– 'Tidel Water Supply' and 'Aruvi', popular names operating in Kandipedu village in Katpadi region, were among the units sealed by PWD and revenue officials on March 3. Incidentally, 'Aruvi' is owned by relatives of DMK treasurer Duraimurugan.     https://www.thehindu.com/news/cities/chennai/packaged-drinking-water-units-sealed-across-vellore/article30965850.ece  (02 March 2020)
– Members of the Packaged Drinking Water Supply Workers Association (PDWSWA) submitted a petition to the District Collector demanding a solution to the stalemate following the shutting down of various packaged drinking water units in the Tiruchi city.
– A total of 23 units, out of the 30 functioning within the city, were sealed by the Public Works Department (Ground Water Circle) on Saturday after it was found that the units were functioning without required clearances and licence. The move came a day after a Madras High Court directive was given to shut down the functioning of illegal packaged water supplying units across the State. https://www.thehindu.com/news/cities/Tiruchirapalli/our-livelihood-is-at-stake-say-workers-of-packaged-drinking-water-units/article30964036.ece  (02 March 2020)
-Early in Feb. 2020, the Madras HC has asked district administration to close down all packaging plants drawing water illegally.
– Relying on data submitted by special government pleader in court, the bench said while 111 water units functioned in Tiruvallur, there were 110 units in Kancheepuram. About 40 units in the districts have not renewed liecences, the bench said, "The district collectors concerned will take action against the respondent-units as well as all other such units which do not possess valid licence…Our order dated January 9, 2020 made it clear that the respondents shall take steps for immediately closing down the water purifying units which do not have valid license to draw underground water. If any non-compliance is brought to our notice on the next date of hearing the said officials will remain present in the court, without fail." https://timesofindia.indiatimes.com/city/chennai/shut-units-illegally-drawing-groundwater-within-20-days-madras-high-court/articleshow/74040070.cms  (02 Feb. 2020)
AGRICULTURE
National Unseasonal rains over past week have damaged crops in several states of country.  https://sahiwal.tv/unseasonal-rains-heavy-rains-caused-heavy-losses-to-wheat-mustard-gram-farmers-crisis-increased-2/  (07 March 2020)
Punjab Govt wants to push pulses cultivation, farmers demands local procurement system The data sourced from the Punjab Agriculture department revealed that there was 56,000 hectares (1,38,320 acres) under pulses in 1980-81 with a total production of 42,003 tonnes (4.20 lakh quintals), which went up to 74,470 hectares (1,83,940) with a production of 56,300 tonnes (5.63 lakh quintals). The area came down to 42,900 hectares in 2000-01 with 29,100 tonnes production, but a major decline was seen in the past two decades.
– In 2010-11, 16,000 hectares, which was a decline of 63 per cent in a decade, was sown under pulses in with a production of 13,000 tonnes (1.30 lakh quintals) pulses, which was also a decrease of 55 per cent in production. In the latest decade from 2010-11 to 2019-20, Punjab saw further decline. In the current year, there was 11,700 hectares area under pulses — a further decrease of 27 per cent from the previous decade.
– Sources in the Agriculture Department said that Punjab is not even growing 3 per cent of pulses against the total requirement of the state. According to the estimates of the Agriculture Department, Punjab needs nearly 6 lakh tonnes (0.6 million tonnes) pulses annually while its current production is around 10,000 tonnes only.
– Chief Agriculture Officer, Jalandhar, Dr Nazar Singh said that farmers can get 5-6 quintals moong per acre (12-14 quintals per hectare) which translates to Rs 35,000 to Rs 42,000 per acre if he gets the MSP of moong decided by the Centre (Rs 7000 per quintal). While the input cost would be around Rs 8000-9000 per acre including seed, labour, and other expenditure. Dr Singh said that this can maximize the profits of farmers even from small landholdings with one hectare (2.5 acres) which can earn Rs 55000 to 66,000 in two months after deducting input cost. But farmers feel that the state government must make a system for local procurement, so that the produce can be consumed in Punjab.
– The government is distributing 4-kg kits to the farmers free-of-cost to multiply the seed and holding awareness and training camps for farmers to demonstrate the use of the latest techniques for sowing pulses. These kits will help farmers cover two-fifth of an acre and will give a yeild that can be used as seeds that can be sown in around 20 acres.  https://indianexpress.com/article/explained/why-punjab-wants-to-push-pulses-cultivation/  (07 March 2020)
MONSOON
Report 7 states saw drop in rainfall in last 30 years Seven states — Uttar Pradesh, Bihar, West Bengal, Himachal Pradesh, Arunachal Pradesh, Meghalaya and Nagaland — have shown "significant decreasing trends" in annual rainfall in the last 30 years and many parts of the country witnessed increase in number of "dry days" (rainfall 2.5 mm or less) during the monsoon season which adversely affected groundwater recharges in these regions. Five of these states (all except HP and ArP) also show significant decreasing trend in rainfall during SW Monsoon. These are some of the key findings of a report, 'Observed Rainfall Variability and Changes', which was shared by the ministry of earth sciences (MoES) with a parliamentary panel in response to the latter's queries on changing rainfall patterns in the context of its impact on agriculture. The ministry compiled the report by analysing rainfall pattern over 28 states and the Union Territory of J&K based on data of the last 30 years (1989-2018).
– Asked about the reason behind change in rainfall pattern in those states, MoES secretary Madhavan Rajeevan said, "It could be attributed to climate change." The parliamentary standing committee on science & technology and environment, headed by Congress's Rajya Sabha member and former Union minister Jairam Ramesh, submitted its report to Parliament on March 6, 2020. The report said the frequency of rainfall of lower intensity (less than 7 cm), favourable for soil and ground water recharge, was decreasing in these regions.  https://timesofindia.indiatimes.com/india/7-states-saw-drop-in-rainfall-in-last-30-years/articleshow/74543402.cms  (09 March 2020)
FLOOD
Kerala Ernakulam collectorate clerk nabbed for diverting flood relief fund Crime Branch has arrested a clerk working at the Ernakulam Collectorate after finding that he allegedly misappropriated funds meant for flood relief activities. The arrest of Vishnu Prasad comes after the police found that he has been involved in the misappropriation of Rs 10.54 lakh from the flood relief fund to the bank account of one MM Anwar, a local CPM leader. The CPM had suspended Thrikkakkara (East) local committee member M M Anwar last week for siphoning off Rs 10.54 lakhs from the flood relief fund.  https://www.newindianexpress.com/states/kerala/2020/mar/03/crime-branch-nabs-ernakulam-collectorate-clerk-for-diverting-kerala-flood-relief-fund-2111565.html  (03 March 2020)
ENERGY OPTIONS
1 kW rooftop solar installation price drops to Rs 22,000 In the recent tenders floated by the the Punjab State Power Corporation Limited (PSPCL), the discovered rate for the installation of these systems (with state government subsidy) has come to about Rs 37,000 ($510)/kWh. With the government providing additional 40 per cent subsidy for systems up to 3 kW, the price of these installations in Punjab has fallen to Rs 22,000, the cheapest in the country. A 1 Kw rooftop installation having battery, inverter and solar panels normally costs around Rs 1 lakh. The installation can last for over 10 years with battery and even more without it.
– According to the MNRE statement in Sept 2019, rooftop solar installations up to 3 kW will qualify for a subsidy of 40 per cent. For rooftop solar installations above 3 kW, and up to 10 kW will get a subsidy of 40 per cent for the first 3 kW and 20 per cent for the remaining capacity, and for installations above 10 kW, it is 40 per cent for the first 3 kW and 20 per cent for the remaining 7 kW. However, there's no subsidy beyond 10 kW capacity.  https://energy.economictimes.indiatimes.com/news/renewable/1-kw-rooftop-solar-installation-price-drops-to-rs-22000/74456173  (03 March 2020)
ENVIRONMENT
Madhya Pradesh Govt likely to pay Rs 580 Cr to private power companies, over 504 Cr of it to Jaypee in 2020-21 without buying any power, only as fixed charges. https://energy.economictimes.indiatimes.com/news/power/mp-to-pay-rs-580-cr-to-pvt-players-without-buying-a-single-unit-of-power-in-2021/74440534  (02 March 2020)
Report In 30 years, India tipped to double the amount of waste it generates The more than 1.3 billion people in India generate the highest amount of waste in the world — that's more than even China, the most populous country. But the per person waste generated by both India and China at present is a small fraction of that by developed countries. However, by 2050 that could change as India is projected to produce substantially more waste whereas growth in China's waste generation will be much slower.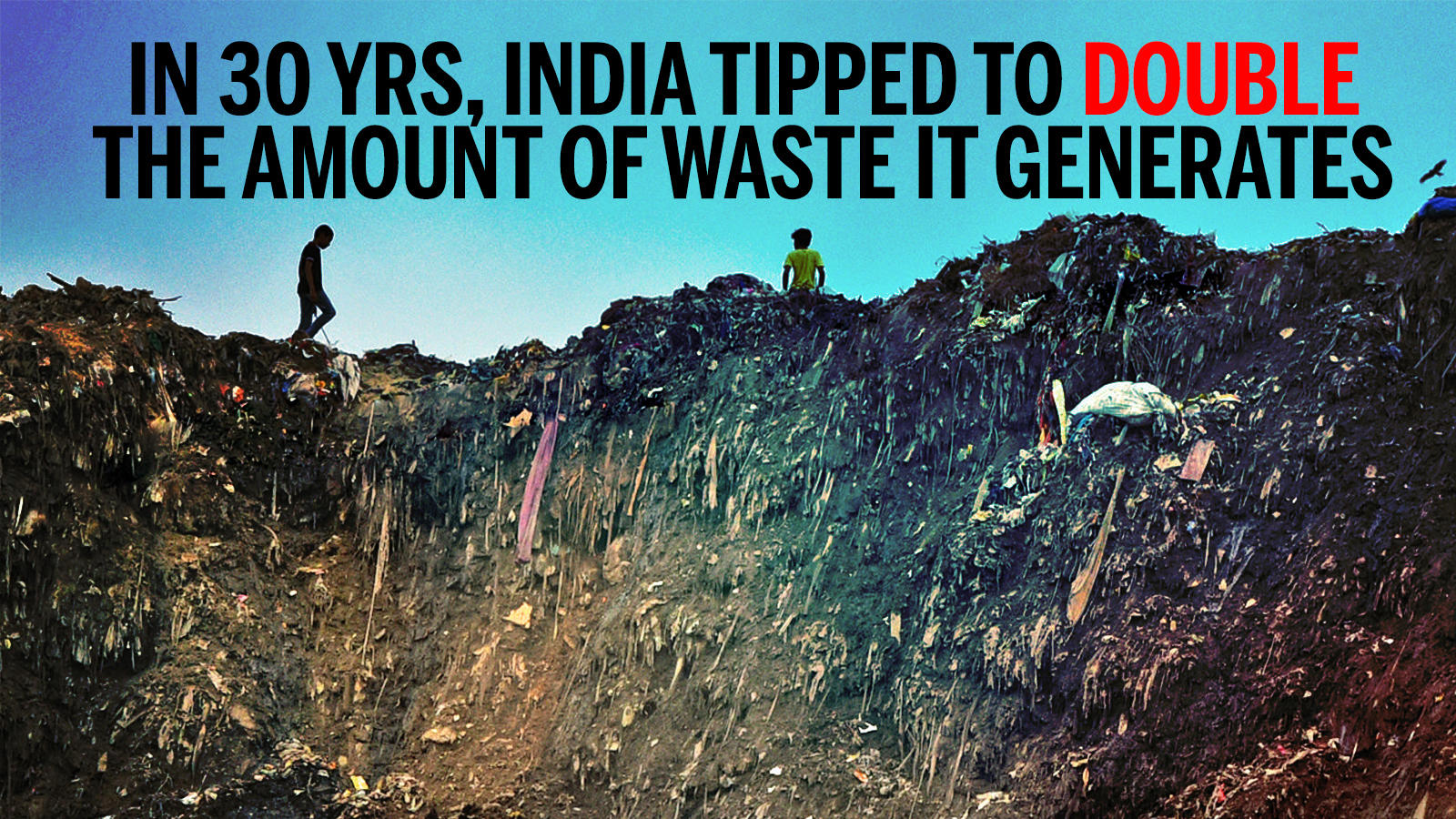 Every year, 2.01 billion tonnes of municipal waste is generated worldwide every year. This is projected to increase by 70% to reach 3.4 billion tonnes by 2050 due to rapid urbanisation, population grown and economic development unless urgent measures are not taken. Currently, based on calculations by the World Bank, India is the largest producer of waste, owing largely to the size of its population. In fact, World Bank says its estimates are conservative. https://timesofindia.indiatimes.com/india/in-30-years-india-tipped-to-double-the-amount-of-waste-it-generates/articleshow/74454382.cms  (04 Feb. 2020)  
SOUTH ASIA
IWT India to divert water of Ravi, Ujh rivers from December: Sources This report mentions of some undisclosed extensive report claiming from December 2020, government is planning to stop 2 TMC of water of the Ujh river, which is a tributary of the Ravi river that flows through the Kathua district in Jammu and Kashmir.  https://zeenews.india.com/india/india-to-divert-water-of-ravi-ujh-rivers-flowing-into-pakistan-from-december-sources-2267546.html  (04 March 2020)
Water crisis in HKH According to the article, the five areas that intersect to cause the crisis are Lack of sustainable sourcing of water; Failing models of water governance; Inequitable distribution of water; The ignored role of women in water governance; and the increasing impact of climate change. https://www.firstpost.com/world/as-water-crisis-hits-hindu-kush-himalayan-region-better-planning-and-management-are-need-of-the-hour-8116621.html  (06 March 2020)
India Govt plans a common electricity market The Union government plans to set up a regional grid said power and new and renewable energy minister Raj Kumar Singh. The proposed market will include Myanmar, Sri Lanka, Nepal, Bhutan and Bangladesh. https://www.livemint.com/industry/energy/in-push-for-neighbourhood-first-policy-india-plans-a-common-electricity-market-11583428604026.html  (05 March 2020)
Bhutan Bauer to provide further foundation engineering work for hydro plant Bauer Spezialtiefbau GmbH has been contracted by Jaiprakash Associates Limited to carry out specialist foundation engineering work for the Punatsangchhu-2 hydropower project in Bhutan following the collapse of an underground cavern at the project. The new contract instructs Bauer to carry out 18,000m of soil injection for subsoil stabilization as well as install 19,000m of tie-back anchors. Bauer's work on Punatsangchhu-2 will take around 15 months.  https://www.waterpowermagazine.com/news/newsbauer-provides-further-foundation-engineering-work-for-bhutan-hydro-plant-7809218  (05 March 2020)
Bangladesh Fishing prohibited in Padma, Meghna The government has banned the catching of fishes of all kinds, including ilish, in the Padma-Meghna rivers from March 1 to April 30. The two-month-long ban has been imposed on catching, selling, hoarding and transporting of any kind of fish, especially "jatka" (ilish fry less than 25cm long), for reasons of increasing ilish production.
Violation of the ban may lead to an offender being fined as well as jailed for two years under the Protection and Conservation of Fish Act. The ban covers 432km of water body in six sanctuaries of various rivers, including the Padma and Meghna. Dr Anisur Rahman, ilish researcher and chief scientific officer of Bangladesh Fisheries Research Institute (river centre) said: "The two-month ban has been imposed for allowing jatka to grow freely."  https://www.dhakatribune.com/bangladesh/2020/02/29/fishing-prohibited-in-padma-meghna  (29 Feb. 2020)
THE REST OF THE WORLD
Study Dams dividing fish habitats, India among most affected In a new study, an international team of researchers have found that large dams have heavily fragmented fish population across the world. Published in the Proceedings of the National Academy of Sciences, the study assessed about ten thousand species of fish worldwide affected by around 40,000 existing dams and 3,700 upcoming dams worldwide. The findings reveal that fish habitats are most disconnected in the United States, Europe, South Africa, India, and China. The proposed dams are poised to further worsen fish habitat connectivity in tropical watersheds like the Amazon, Congo, Mekong and Salween. https://researchmatters.in/news/dams-are-dividing-world%E2%80%99s-fish-habitats-and-india-one-most-affected  (04 Feb. 2020)
– The study shows the highest numbers of fragmented habitats from current hydropower are found in the United States, Europe, South Africa, India, and China. In developing countries, though, the impacts of planned hydropower development are disproportionally high. – The researchers used detailed spatial data for 10,000 fish species to measure impacts of dams on their habitats. They evaluated around 40,000 existing and 3,700 planned hydropower dams to create high resolution global maps.  https://www.futurity.org/hydropower-dams-fish-habitats-2287692-2/  (24 Feb. 2020)
– Most research on the ecological impacts of tropical dams does so one dam project at a time. But a new landmark study attempts to connect the dots globally by analyzing tropical dam impacts on freshwater river fish around the world.
– Dams harm fish ecology via river fragmentation, species migration prevention, reservoir and downstream deoxygenation, seasonal flow disruption, and blockage of nurturing sediments. Drastic sudden fish losses due to dams can also destroy the commercial and subsistence livelihoods of indigenous and traditional peoples. https://news.mongabay.com/2020/02/past-and-future-tropical-dams-devastating-to-fish-the-world-over-study/  (21 Feb. 2020)
Research By 2050, thousands of rivers and streams worldwide could pass a critical ecological threshold There's more fresh water hidden below Earth's surface in underground aquifers than any other source besides the ice sheets. That groundwater plays a critical role for rivers worldwide, from the San Pedro to the Ganges, keeping them running even when droughts bring their waters low.
– But in recent decades humans have pumped trillions of gallons out of those underground reservoirs. The result, says research published Wednesday in Nature, is a "slow desiccation" of thousands of river ecosystems worldwide. Already, somewhere between 15 and 21 percent of watersheds that experience groundwater extraction have slipped past a critical ecological threshold, the authors say—and by 2050, that number could skyrocket to somewhere between 40 and 79 percent.
– That means hundreds of rivers and streams around the world would become so water-stressed that their flora and fauna would hit a danger point, says Inge de Graaf, the lead author of the study and a hydrologist at the University of Freiburg.    https://www.nationalgeographic.com/science/2019/10/groundwater-pumping-killing-rivers-streams/  (02 Oct. 2019)
Compiled by SANDRP (ht.sandrp@gmail.com)
Also see: DRP News Bulletin 02 March 2020 & DRP News Bulletin 24 Feb. 2020
Follow us on: www.facebook.com/sandrp.in; https://twitter.com/Indian_Rivers