Mumbai Metropolitan Region (MMR), with annual rainfall in access of 2000 mm, does not do much to harvest the rain. It does not protect its local water bodies. It does not recharge groundwater to the extent it can easily do. It does not reduce its transmission and distribution losses. It does not treat its sewage to recycle and thus reduce freshwater demand. It does no demand side management. And yet it keeps demanding more water, and for that building of more dams and thus pushing more destruction. Without any credible options assessment. It has no water policy or water vision for smart water management.
The proposed Gargain Dam that will lead to destruction of over four lakh trees in 720 ha forest mostly in Tansa Wildlife Sanctuary, is a good example of how Mumbai is fuelling such dam building and destruction. The Rs 3105 Cr project will have many other impacts, including displacement of tribals and destruction of livelihoods for thousands others. As SANDRP report showed six years ago, (https://sandrp.in/2013/12/20/dams-in-tribal-areas-of-western-ghats-for-water-supply-to-mumbai-why-are-they-unjustified/, https://sandrp.in/2013/12/18/multiple-dams-for-mumbai-region/) and as our letter to the then Maharashtra Chief Minister emphasised in 2015 (https://sandrp.in/2015/01/13/water-smart-mumbai-open-letter-to-cm-devendra-fadnavis/), MMR region does not need any of these dams.
It was good to see MID DAY news paper report and EDIT highlighting some of these issues. Will the people of Mumbai Rise up, to stop this destructive dam, being pushed in their names, the way they stood up to save the far fewer Aarey Milk Colony trees?
Maharashtra 4 lakh Trees: Aarey-Sized Green Cover To Be Lost To Build Gargai Dam  The civic body's plans for the Gargai dam in the Tansa Wildlife Sanctuary not only involve eating up 720 hectares of forest land, but also the destruction of over four lakh trees — a number equal to the tree population of the entire Aarey Milk Colony. The BMC has conveniently chosen to be silent about the colossal tree loss since the project's announcement. A Forest Department official, who did not wish to be named, said, "The BMC-appointed consultant, Naik Environment Research Institute Limited, in its survey of the site at Tansa Wildlife Sanctuary estimated the loss of four to five lakh indigenous trees." Key issue is that Mumbai Metropolitan Region does not really need the dam. https://www.mid-day.com/articles/400000-trees-aarey-sized-green-cover-to-be-lost-to-build-gargai-dam/22645216  (27 Feb. 2020)
Frankly my dear do we even care a dam(n) Great to see this editorial, though one wished it was more categorical, since options have NOT been looked at, at all and they very much exist, at lower costs. It says: "Now, every option must be exercised to see if there is any other method by which water can be enhanced instead of availing of this option. It is also hugely ironical that life-giving trees, part of the larger and very valuable ecological balance, will be destroyed to provide another life-giving substance — water… That means, take the less-harmful-to-environment route, even it is more convoluted, and at times, expensive. After all, you cannot put a price tag on the intangible benefits trees give us. In a green-starved metropolis, every tree is a precious emerald worthy to be held on to."
May be Mumbai friends can write to MIDDAY appreciating this and asking to insist that the Gargai Dam Project NOT BE TAKEN UP without having credible, transparent and participatory options assessment.  https://www.mid-day.com/articles/frankly-my-dear-do-we-even-care-a-damn/22647270  (29 Feb. 2020)
HYDRO POWER PROJECTS
Uttarakhand Can hydro project be shifted to non-eco fragile areas?:SC "It should be considered for all projects across the country and not only for Uttarakhand. Pure commercial consideration cannot be the sole criterion. We agree there is need for power. But protecting environment and lives of people are more important. Power projects can be relocated. They need not be in ecologically fragile areas," a bench of Chief Justice S A Bobde and Justices B R Gavai and Surya Kant said. "Our anxiety, in addition to environment, is to protect the lives of people. For project proponents, it is profit. We are suggesting the government to relocate as we have larger interests to guard. Thermal power plants should be stopped. Have you been to Chandrapur (where a super thermal power plant is located)? You cannot breathe in that city," CJI Bobde said.
– The advocate for GMR opposed this. The advocate for the petitioner said that SC had asked all three ministries (MoEF, MoWR and MoP) to submit a combined affidavit, which has not yet been filed. The SC adjourned hearing for four weeks while asking the ministry of environment and forests to file a consolidated affidavit.  https://energy.economictimes.indiatimes.com/news/renewable/sc-can-uttarakhand-hydel-projects-be-shifted-to-non-eco-fragile-zones/74410261  (29 Feb. 2020) 
MoEF Agenda for the Expert Appraisal Committee meeting for River Valley Projects on March 5, 2020:
Panari Standalone Pumped Storage Project (1800 MW) District Satna, Madhya Pradesh by Sri Siddharth Infratech & Services Pvt Ltd- For Terms of Reference

Nayagaon Standalone Pumped Storage Project (2000 MW), District Aurangabad, Maharashtra by M/s Greenko Energies Pvt Ltd For Terms of Reference

Ukai Standalone Pumped Storage Project (2400 MW), District Tapi, Gujarat by M/s Greenko Energies Pvt Ltd For Terms of Reference

Shahpur Standalone Pumped Storage Project (2520 MW), District Baran, Rajasthan by M/s Greenko Energies Pvt Ltd. For Terms of Reference

Shaheed Lakhan Nayak SHEP, District Koraput, Orissa by Meenakshi Odisha Power Pvt Ltd For Terms of Reference

Demwe Lower HEP (1750MW) in Lohit District of Arunachal Pradesh by Athena Demwe Power Pvt. Ltd.- reg. Amendment in EC

Sela Urthing HEP (202 MW), Near Village Sela Pithorgarh, Dist Uttarakhand by M/s UJVNL Ltd.- reg. Fresh ToR http://environmentclearance.nic.in/writereaddata/Form-1A/Agenda/28022020JRWHR6IG31stEACAgendaFinal.pdf
Agenda for the FAC meeting on Feb 27, 2020, some relevant agenda:
– DIVERSION OF 280.54 HA OF FORESTLAND FOR CONSTRUCTION OF TALONG LONDA HYDRO ELECTRIC PROJECT (225MW) IN EAST KAMENG DISTRICT OF ARUNACHAL PRADESH BY M/S GMR LONDA HYDRO POWER PVT. LTD.
– DIVERSION OF 75.304 HA OF FOREST LAND FOR CONSTRUCTION OF 180 MW BAJOLI- HOLI HYDRO ELECTRIC PROJECT IN FAVOUR OF GMR BAJOLI HOLI HYDRO POWER PVT. LTD IN BHARMOUR FOREST DIVISION IN CHAMBA DISTRICT OF HIMACHAL PRADESH.-REGARDING PERMISSION FOR FELLING OF ADDITIONAL NUMBER OF 12 TREES AND USE OF NON-DIVERTED DEGRADED/BLANK FOREST LAND IN LIEU OF DIVERTED DENSE FOREST LAND OF ALMOST EQUAL AREA
– DIVERSION OF 365.66 HECTARE (I.E. 319.02 HA. FOR LOWER RESERVOIR + 22.50 HA. FOR POWER HOUSE & TRC OUTLET +6.96 HA. FOR PENSTOCK+8.02 HA FOR INTAKE STRUCTURE+ 2.43 HA. FOR TAIL RACE CHANNEL AND 6.73 HA. FOR INTERNAL ROADS) OF FOREST LAND IN COMPARTMENT NOS. 113,114,115,116 & 117 OF GANI RF, KURNOOL RANGE, KURNOOL DIVISION FOR ESTABLISHMENT OF INTEGRATED RENEWABLE ENERGY PROJECT, PINNAPURAM IN FAVOUR OF M/S GREENKO ENERGIES PVT. LTD. http://forestsclearance.nic.in/AgendaDetail.aspx?id=231%21dis1&fbclid=IwAR33vIRzwsCfXngK-HUmuIXuTOklTH-4gJgFIzuAmuQ4tfUZ1apJVvY67t0
DAMS
Polavaram Project NGT orders committee to probe alleged violations NGT on Feb. 25 directed a committee to submit a report on a plea highlighting adverse consequences of the Polavaram Project in Andhra Pradesh. According to the applicant Ponguleti Sudhakara Reddy, the project may result in displacement of hundreds of families without there being any plan for rehabilitation. The plea, filed through advocate Sravan Kumar, alleged environment violations at the site and claimed that a huge quantity of waste material was being dumped in agricultural lands near Polavaram project. A total of 17,800 acres of land spread across 127 villages in four constituencies of West Godavari district is being acquired for the project. https://www.thenewsminute.com/article/ap-polavaram-project-ngt-orders-committee-probe-alleged-violations-118942  (26 Feb. 2020)
Andhra CM on Feb. 28 has asked for preparation of action plan to complete Polavaram project by Jun 2021 however there is issue of feasibility of R&R of such a large number of people, the judicial orders, the interstate disputes, etc. here. https://www.outlookindia.com/newsscroll/prepare-action-plan-to-complete-polavaram-project-by-jun2021/1747257  (28 Feb. 2020)
Andhra Pradesh Nod to DRIP Phase 2, 3 The water resources department has accorded approval for the preparatory activities for phase 2 and 3 of the Dam Rehabilitation and Improvement Project (DRIP), a World Bank-assisted programme aimed at repairing, strengthening and improving safety and operational performance of major irrigation projects. https://www.newindianexpress.com/states/andhra-pradesh/2020/feb/26/nod-to-phase-2-3-of-dam-rehab-project-2108587.html  (26 Feb. 2020)
Mekedatu Dam Prevented Karnataka from discussing Mekedatu in CWMA meeting: TN  The Tamil Nadu government on Feb. 25 claimed that it prevented Karnataka from discussing the contentious Mekedatu reservoir issue at the Cauvery Water Management Authority (CWMA) meeting held in New Delhi. https://www.thenewsminute.com/article/prevented-karnataka-discussing-mekedatu-issue-cwma-meeting-tn-118932  (26 Feb. 2020)
Jharkhand Mandal dam could destroy the environment, livelihoods, and 3.4 lakh trees On 5 January 2019, the prime minister Narendra Modi arrived in Jharkhand to lay the foundation stone for the Kutku Mandal dam project. The same day, thousands of villagers, marched from the site of the dam toward the airstrip where Modi was to land, in protest against the project. The locals were protesting their likely displacement from their villages as a result of the dam, and demanding proper resettlement, compensation and jobs. Their rally was stopped before they could reach the airstrip.
First proposed in the early 1970s, the Kutku Mandal dam project, also known as the North Koel dam project, is located inside the Palamu Tiger Reserve, which spans Jharkhand's Latehar and Palamu districts. The dam in the PTR had been lying defunct since the 1990s when work on the project was stopped after local protests. In 2015, Prakash Javadekar, who is now in his second term as the minister for environment, forest and climate change announced the creation of a task force to "expedite" the forest, environment and wildlife clearances for the project. https://caravanmagazine.in/environment/jharkhand-mandal-dam-adivasi-protest  (18 Feb. 2020)
Punjab Be ready for high water flows: BBMB "The average snowfall across the catchment area of Sutlej and Beas rivers that lies across Himachal Pradesh and adjoining parts of Tibet, has been 540 mm so far this season as compared to 245 mm last year," a senior BBMB official said. "Consequently, we are looking at frozen reserves equivalent to 22 billion cubic metres (BCM). Out of this, we expect a melt-off of 35 to 50 per cent, depending upon vagaries of the weather and temperature variations," he added. This implies that the snow-melt could produce up to 11 BCM of fresh water. Last year, the melt-off was 7 BCM till July. The present storage available in Bhakra and Pong reservoirs is about 3 BCM and 4 BCM, respectively, which is 36 per cent above normal for this time of the year. BBMB has alerted the states about the possible extra flows.   https://www.tribuneindia.com/news/be-ready-for-high-water-inflow-bbmb-to-states-48338  (27 Feb. 2020)  
Himachal Pradesh After spending crores, Govt scraps Giri barrage project The much-awaited 65-MLD Giri barrage project to cater to the water needs of the state capital has been abruptly shelved by the Govt after spending crores of rupees over the past two years. The Irrigation and Public Health Department has shelved the project. We had got Rs15 crore for it. We are assessing the exact amount that has been spent on the project. DS Thakur, Director, Civil, HP Power Corporation Ltd
– Soon after taking over the reins of the government, CM Jai Ram Thakur had given "top priority" to the Giri barrage and Sutlej water lift projects to resolve Shimla's water problem. Moreover, these projects were fast-tracked when a fortnight-long water crisis hit the city in the spring of 2018. The water scarcity had brought bad name to the state government.
– Though officials reasoned that the Giri barrage project was scrapped as it was expected that the Sutlej scheme would suffice the need of the city by adding 67 MLD of water, the move has raised doubts among experts. They questioned "squandering of money" on the Giri project for two years considering the World Bank-funded Sutlej project had been already in the pipeline since the time of the previous Congress government. https://www.tribuneindia.com/news/after-spending-crores-hp-shelves-giri-project-49568 (02 March 2020)   
INTERLINKING OF RIVERS
Karnataka Govt aims to tap west-flowing rivers to fill 36,000 tanks, lakes – The idea of "Inter Basin Transfer" (IBT) will involve diversion of 484 tmc (thousand million cubic feet) of water from various west-flowing rivers with the least impact on the environment to fill up nearly 36,000 tanks and lakes across Karnataka.
– In a concept note submitted by CM B S Yediyurappa to PM Modi on February 10, the state has urged the Centre to consider the scheme under the "National perspective Plan" (NPP) for speedy implementation and early realisation of the project under the slogan "Oorigondu Kere—Aa Kerege Nadiya Neeru" (A tank for each village — fed by a river). The CM has also apprised the Centre that he has chosen Tumakuru district for implementation of the pilot project.
– In his letter to the PM, Yediyurappa stated, "Considering various awards of water dispute tribunals, the gross water allocation to Karnataka is about 1,230 tmc. By 2050, Karnataka, for its potable, industrial and agricultural use may require about 3,000 tmc of water with a net shortfall of about
1,770 tmc. Though the government has taken several steps to conserve water, studies have confirmed IBT as a feasible solution for meeting the growing demand for water."
– The CM has also said that about 2,000 tmc of water from west-flowing rivers is being drained annually into the sea without getting harnessed. This can be utilised by diverting them to the east.
– Confirming the move, sources close to the CM said, "The PM wants to provide drinking water to every village by 2022 and this will be a reality only through IBT by linking rivers across Karnataka, This is in keeping with the Centre's vision of Himalayan and Peninsular River Linking."
– According to the plan, the government has proposed to fill 36,000 tanks by linking them to Kumaradhara, Netravathi, Sharavathi, Bedthi and Aghanashini rivers.
– This apart, the CM has also sought financial assistance to cover the 4,823 gram panchayats and urban local bodies as part of the recently launched Atal Bhujal Yojana which will be implemented in 1,199 GPs across 14 districts. https://www.deccanherald.com/state/top-karnataka-stories/dh-exclusive-karnataka-aims-to-tap-west-flowing-rivers-to-fill-36000-tanks-lakes-808472.html  (27 Feb. 2020)
Centre 17th Meeting of the Special Committee for Inter-Linking of Rivers Spl Com on ILR met for the 17th time, over six months after the 16th meeting, apparently without any progress on ground.  https://www.5dariyanews.com/news/284847-Rattan-Lal-Kataria-chairs-17thMeeting-of-the-Special-Committee-for-Inter-Linking-of-Rivers  (26 Feb. 2020)
Water security in agriculture needs de-centralised solutions: Official "Water security in agriculture is a local problem and requires de-centralised solutions." Says U P Singh, Secretary, Union Water Resources Ministry. So absolutely true. But his ministry and ILR program are actually working opposite to what this statement implies.  https://ruralmarketing.in/industry/policy/water-security-in-agriculture-needs-de-centralised-solutions-official  (26 Feb. 2020)
Mahanadi-Indravathi-Godavari inter linking Chhattisgarh govt changes its stand Chhattisgarh changed its earlier stand on sharing unused waters of Indravathi with Telangana, AP and Tamil Nadu. Chhattisgarh officials informed the ILR meeting on Feb 26, 2020 that they were not willing to share their surplus share of 250 tmcft Indravathi water to AP, TS and Tamil Nadu. TS has already made its stand clear stating that unless Mahanadi and Indravathi are linked with Godavari, only then can Godavari waters be diverted to Cauvery basin as part of river linking.
– According to officials, when BJP was in power in Chhattisgarh, it has agreed to share its surplus water of 250 tmcft in Indravathi to AP, TS and Tamil Nadu. Telangana has agreed in principle for linking of rivers. But now with change of guard in Chhattisgarh, it has opposed to share its unused water, sources said. "We will send a reply shortly to Jal Shakti indicating TS' stand on river linking in the wake of changed stand of Chhattisgarh," TS officials said. https://www.newindianexpress.com/states/telangana/2020/feb/27/river-linking-its-advantage-telangana-as-chhattisgarh-changes-stand-2109102.html  (27 Feb. 2020)
Godavari-Krishna- Pennar-Cauvery rivers linking The Union Government was looking for funding from financial institutions for its Rs 60,000 crore project to link rivers Godavari and Cauvery, Union Water Resources Minister Nitin Gadkari said here on Feb 28. The Minister had earlier said that the government would raise finances for the project either from the World Bank or the Asian Development Bank.
Very strange misleading report by the Economic Times, Gadkari not even Union Water Resources Minister as mentioned in the report sourced from PTI. The project is non starter, all the noise notwithstanding. https://economictimes.indiatimes.com/news/politics-and-nation/govt-looking-for-funding-for-rs-60000-crore-river-linking-project-nitin-gadkari/articleshow/74402852.cms  (28 Feb. 2020)
IRRIGATION
Karnataka Delays in execution of irrigation projects cost state Rs. 1603 crore According to a report by the Comptroller and Auditor General (CAG) of India, delays ranging from two to 18 years in launching and completing key irrigation projects in Karnataka has not only put an additional burden of Rs 1,603.09 crore on the state exchequer, but also led to a water crisis in drought-prone districts in the state. The report further noted that the envisaged field irrigation channels (FIC) were also not completed in any of the six tested-checked projects even two to 18 years after their original scheduled dates of completion. Lack of planning and execution of the works in sync with the irrigation potential already created has been attributed as the reason for the delays. https://www.livemint.com/news/india/delay-in-execution-of-irrigation-projects-costs-karnataka-1-603-crore-11582049158940.html  (18 Feb. 2020)
Gujarat Irrigation projects in govt budget The govet has provisioned Rs 7,220 crore for various schemes under water resources, out of which Rs 1,710 crore is provisioned for the Saurashtra Narmada Avtaran Irrigation (SAUNI) Scheme. Rs 8,755 crore will be spent on works related to the completion of Narmada projects. Rs. 1,084 crore is allocated for the works to complete the Kutch canal for Narmada waters.
– A total of Rs 4,317 crore has been allocated for the water supply department. For the 'Nal Se Jal Tak Abhiyan' the state government has undertaken works amounting to Rs 1,000 crore for the next two years. Rs 1,080 crore is allocated for the capital funding for tasks of setting up desalination plants in four places. http://www.daijiworld.com/news/newsDisplay.aspx  (26 Feb. 2020)
URBAN RIVERS
Mutha, Pune Landowner at Mhatre Bridge levelling riverbed for parking Pune Municipal Corporation's (PMC) lack of vigilance against encroachments on riverbeds is telling. It has clearly empowered people to indulge in it with full impunity as was evident at Mhatre Bridge, where a lawn owner had dumped debris on the riverbed and was busy levelling it over the past week. It was left to the local corporators to blow the whistle before the civic body officials took cognisance and action against the transgressors. The lawn owner, however, insisted that the action by PMC was illegal as he owned the land he was working.
-For years now, PMC has been struggling with land acquisition near Mhatre Bridge for its road project linking Kharadi with Shivane. In contrast to this predicament, multiple trucks could be seen dumping debris on the riverbed and an earthmover had been brought in to do the levelling. The area under construction had also been visibly demarcated. If one mistook this for the road project finally getting underway, the truth lay elsewhere — the owner of wedding venue Srushti Lawns in the area was making parking space for his facility. In fact, he'd also started blatantly marketing the infrastructure he was building, with signboards outside his premises staking claim to offering adequate parking space.
– Notwithstanding this, the construction is happening. Officials need to take immediate action against the violation." Architect and environmental activist Sarang Yadwadkar added, "Not only is it in contempt of the NGT judgment, it also violates the Maharashtra Regional Town Planning (MRTP) Act, which gives no authority for any construction on the riverbed." https://punemirror.indiatimes.com/pune/civic/landowner-at-mhatre-bridge-levelling-riverbed-for-parking/articleshow/74290544.cms  (25 Feb. 2020)
Mithi, Mumbai MMRC builds 270-metre tunnel under Mithi for Metro-3 project City's fully underground Metro-3 corridor from Colaba to Seepz has crossed the Mithi river's main water channel. Of the 1.18km tunnels being built between the Bandra-Kurla Complex (BKC) and Dharavi station, 270 metres (m) come under an active river channel, which has been crossed, said Mumbai Metro Rail Corporation (MMRC) officials on Feb. 27 during a media visit to the BKC and Cuffe Parade Metro stations. The remaining work is expected to be completed by the end of March.
– "Of the two tunnels, one tunnel has achieved 87% progress, while another has achieved 65% progress. However, we have already crossed the active river channel. We are also tunnelling almost 10m every day, so we aim to finish the rest of the work in a month's time," said SK Gupta, director (project), MMRC. By active river channel, he was referring to the portion of the river where water continuously flows, making it the most challenging part to tunnel under. The remaining area above the tunnels includes marshy land and mangroves, which get flooded during high tide.
– The 33.5 km Metro-3 corridor (Colaba-Andheri-Seepz) will be the second Metro in the country to have tunnels under a riverbed. The first one is being constructed in Kolkata under Hooghly river.
– To prevent water seepage between the segments of the tunnels, MMRC is using special gaskets that swell when they come in contact with water. A segment is used to form the rings of the tunnel. Each ring has about six segments in it.
– The cross-over line is being constructed using the new Austrian tunnelling method (NATM), a more conventional method of tunneling. As of January, 40% of the station works in BKC was completed. https://www.hindustantimes.com/cities/mmrc-builds-270-metre-tunnel-under-mithi-for-metro-3-project/story-S86ON7FWZghLOouSRwgAEL.html  (28 Feb. 2020)
Sabarmati, Ahmadabad Huge 46 times rise in pollution level after Modi's 'favourite' Sabarmati riverfront ends In a major exposure, a joint investigation by an environmental organisation, Paryavaran Surksha Samiti (PSS), and a farmers' rights organisation, Khedut Ekta Manch (KEM), has revealed that the pollution level of Sabarmati river in Ahmedabad rises by a whopping 46 times – from the chemical oxygen demand (COD) of 4 mg/litre to COD to 184 mg/litre 25 kilomtres after Prime Minister Narendra Modi's 11-kilmetre-long high-profile Sabarmati Riverfront ends at Vasna barrage. https://www.counterview.net/2020/02/huge-46-times-rise-in-pollution-level.html  (28 Feb. 2020)
Neugal, Palampur Youth united to save river from garbage dumping
Interesting to see the village youth coming together to save Neugal River near Palampur in Himachal Pradesh from garbage dumping and contamination since the administration, IPH Department and Pollution Control Board had failed in this.  https://www.tribuneindia.com/news/reviews/story/youths-unite-to-save-neugal-from-garbage-dumping-34315  (31 Jan. 2020)
RIVERS
SANDRP Blog Road widening in Almora damages traditional water sources This blog is essentially an account of some village people in Almora district in Uttarakhand, who are suffering ill effects of haphazard road widening work in their area, with their water sources damaged and dried up. Even the state government's water supply department had warned and complained about the arbitrary dumping of debris leading to serious impacts that the people are suffering. Please do Read, Share. https://sandrp.in/2020/02/24/uttarakhand-road-widening-work-in-almora-damages-traditional-water-sources/  (24 Feb. 2020)  
Uttarakhand Centre gives in-principle nod to Doon-Delhi elevated expressway Another unnecessary and monstrously expensive white 🐘 infra project. The Delhi-Badrinath NH-58 (number changed now) is being built for at least 15 years, with parts of it in pathetic state. Instead of addressing that, another very expensive road is being pushed. Again without any Environment Impact Assessment, Environment Management Plan. It will have huge impacts on the rivers, water bodies, and livelihoods of lakhs of people. https://economictimes.indiatimes.com/news/economy/infrastructure/centre-gives-in-principle-nod-to-doon-delhi-elevated-expressway/articleshow/74282291.cms  (24 Feb. 2020)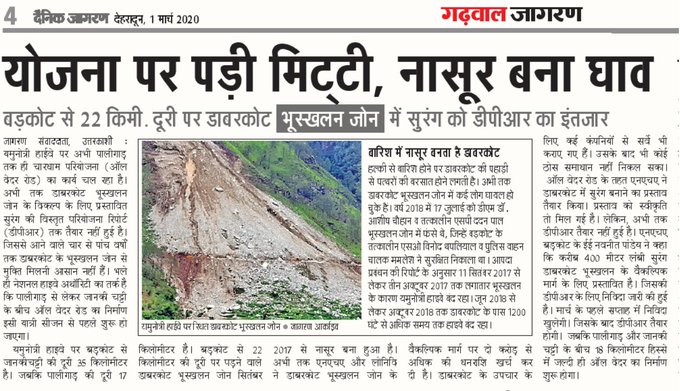 Dabarkot landslide along Yamuna river near Syanachatti on way to Yamnotri shrine, Uttarkashi seems to hv become another Varunavat Parvat in dist. Many hv bn killed, injured. ~₹2cr spent on treatment. NHAI proposed tunneling as solution. DPR not ready yet. See thread for more information on the landslide. https://twitter.com/Indian_Rivers/status/1234034903299305473
Arunachal Pradesh Plan to build road through Tiger reserve under lens The Union environment ministry has sought the National Tiger Conservation Authority (NTCA)'s response to a proposed highway in Arunachal Pradesh that is likely to cut through a part of the Pakke Tiger Reserve in East Kameng district, an official said amid concerns about the risks the project may pose to the wildlife.
– Tara said the project will hurt local people on various counts. "The main purpose of the highway is to transport heavy machinery for hydropower projects. Arunachal Pradesh falls under a very high seismic hazard zone and local people downstream will lose everything if there is a disaster. The project will risk the tiger population in Pakke and bordering Nameri." Pakke Tiger Reserve's divisional forest officer, Tana Tapi, said the corridor's detailed project report (DPR) was drafted based on satellite imagery and not on ground measurements. "How can they make DPR based on satellite imagery? I have raised objections to the project. It is cutting through the core area,'' said Tapi. "They will have to do a ground survey which will then be considered by the State Wildlife Board."
– Tapi said he will give his comments to the board also. "Then the matter goes to the National Board for Wildlife. There are four species of Hornbills here, including the rufous-necked hornbill. We also have tigers and lots of elephants," said Tapi. Aparajita Datta, a scientist with the Nature Conservation Foundation who has worked extensively in Arunachal Pradesh, said Pakke is a haven for hornbills and only one of two protected areas with high hornbill densities. "Many active nest trees are in fact found along the stretch where the road is being proposed," said Datta. https://www.hindustantimes.com/india-news/in-arunachal-pradesh-plan-to-build-road-through-tiger-reserve-under-lens/story-95maagslNWBlTB37sGcCaK.html  (26 Feb. 2020)  
Goa Forests cut in Goa to be afforested in Karnataka, activists question logic Govt's bid to build a green cover in Karnataka to make up for deforestation in Goa due to a railway line project linking two states is being questioned for its logic by environmentalists.
– The Goa government had requested Karnataka for making 800 hectares of degraded forest land available for compensatory afforestation in the wake of deforestation required for the double tracking of the South Western Railway line between Vasco da Gama in Goa and Torangallu in Karnataka, since Goa didn't have the required deforested area. Karnataka government has responded positively to the request.
– The funding for the afforestation to be carried out in Karnataka will be done by Goa from the corpus of Rs 238.16 crore granted by the Central Government for afforestation.
– Goa is set to lose around 50 thousand trees and 185 hectares of forest cover in the Western Ghats for the three shared projects with Karnataka including a highway, railway line double tracking and a new power line. The Railway double tracking will itself take around 98 hectares or around half of the total land.
– The decision to build forests in the neighbouring state to compensate for forest lost in Goa has fueled resentment within the government and NGO circles with questions being raised on the upkeep of forests in Karnataka, where they are regularly denuded for farming. "If the damage is being done in Goa, how can it be offset in Karnataka? It doesn't make sense. There is a lot of degraded forest land in Goa that can be used including barren land and land degraded by mining that needs to be 'rewilded,'" said Avertino Miranda, an environmental activist. https://www.hindustantimes.com/india-news/forests-cut-in-goa-to-be-afforested-in-karnataka-activists-question-logic/story-APsQpBQnRGtT0FxhE9prjL.html  (28 Feb. 2020)
Maharashtra MMRDA to clear 2.43 acres of green cover for road in Navi Mumbai The MMRDA is set to clear 2.43 acres of forest and mangrove land in Thane district to pave the way for the construction of pillars for an elevated road between the Airoli bridge and Thane-Belapur road. The Mumbai Metropolitan Region Development Authority (MMRDA) elevated road project is part of the 33.8 km freeway project between Kalyan and Belapur.
– The MMRDA has already received permission from several agencies, most recently the forest department, for the clearing the green cover. On January 28, the forest department granted the MMRDA permission to execute the work. Sources in the MMRDA said the project received the Central government and high court's clearance for the project in 2019. On Feb 27, the MMRDA's public notice stated that 2.43 acres of mangrove land will be needed for the construction of the elevated road. 30% of the freeway project has been completed with the deadline set for 2021. https://mumbaimirror.indiatimes.com/mumbai/civic/mmrda-to-clear-2-43-acres-of-green-cover-for-road-in-navi-mumbai/articleshow/74410010.cms  (29 Feb. 2020)
Opinion A reckless race to disaster By Harini Nagendra Some 8,561 trees will be cut down across eight densely wooded roads in outer Bengaluru very soon, leaving them bare and exposed, if the Karnataka Road Development Corp Ltd has its way. The reason? Road widening. Namma Metro Phase 2 will take an additional 1,253 trees. 16,685 trees will be chopped down to make way for the Peripheral Ring Road.
A tree is more than a trunk and some leaves. It is a safe harbour, and an open buet for birds and butterflies, slender lorises and monkeys. More than anything, trees are our last buffer against climate change and urban pollution. India records the largest number of deaths from air pollution, having overtaken China in this dubious rat race to the bottom.
The highly controversial steel flyover project, shut down in 2017 after sustained pressure from environmental activists and citizens, seems to be making its way back again in a new avatar, having ditched the steel. The new elevated corridor project will swallow at least 3,716 trees, sacrificed to the insatiable appetite for bigger, grander, infrastructure projects.
Bannerghatta National Park is one of our last remaining green refuges, and an important corridor for elephant movement. In 2018, mining – once rampant and highly destructive to the environment — was banned in these forests, after years of effort by environmental activists. The ecological response was immediate. The jungles of Bannerghatta soon saw the return of leopards, and large elephant herds. Oblivious to the importance of this heritage National Park for Bengaluru, the Karnataka government now plans to devastate a massive 100 square kilometers of protected forest in the eco-sensitive zone around the park. The denotification will open up a number of stone quarries and make it possible for them to resume work, poisoning the surrounding air, water and soil. All because of pressure from real estate and mining lobbies, who seek to open out these areas for "development".
At a time when Karnataka and Tamil Nadu engage in heated debate over their fair share of Cauvery water, it makes no sense whatsoever to destroy the forests of Bannerghatta. These forests are essential catchment areas that help funnel rainfall into a number of tributaries that feed into the Cauvery. When the forests disappear, giving way to mines, roads and real estate, the water in the streams will shrink drastically. We know this – we have seen it in the past. But there seems to be no political appetite for strategic planning for forest protection, so that we can invest in protecting and increasing river flows. https://www.deccanherald.com/opinion/a-reckless-race-to-disaster-807230.html  (23 Feb. 2020)
Karnataka Rivers water quality remains poor According to a Karnataka State Pollution Control Board (KSPCB) report, over 708 km of seven major rivers and its tributaries have levels of contamination ranging from Class B, or waters used for organised outdoor bathing, to D, or water to maintain aquatic life.
– Arkavathi, Tungabhadra and some sections of the Cauvery are classified as Class D. Only three rivers–Kali, Kumaradhara and Netravati–are classified under Class B, the KSPCB report showed.
– The report of poor river water quality add to the troubles of calamity-prone Karnataka that has been hit by droughts and floods in the recent years. Rapid and unplanned urbanisation in Bengaluru has also led to encroachments of lakes and over exploitation of underground water tables that have pushed the city of over 10 million to the brink of crisis. Many of the city's housing complexes are now forced to buy water.
– Of the 98 water quality monitoring stations, at least 42 have reported serious, if not dangerous, levels of pollution, officials said. "Only when it rains, the quality of river water improves," said a senior official at the pollution control board, requesting not to be named. This indicates that human intervention that includes proposed construction of sewage treatment infrastructure and regulation of discharge directly into rivers is missing.
– According to its action plan, the state pollution control board has set a two-year target from April 2019 to March 2021 to improve the quality of river water in these specified stretches. Of the total ₹1,427.20 crores, ₹827.93 crore has been approved and the work is underway, and ₹599.27 crore is proposed to complete projects under the action plan.
– The report also showed that over 700 million litres per day (MLD) of sewage is being generated on these stretches but the capacity to treat this waste is still being built or nonexistent.  https://www.livemint.com/news/india/karnataka-river-water-quality-remains-poor-despite-pollution-control-efforts-11582519848582.html  (24 Feb. 2020)
Yettinahole Project Diverting Yettinahole water is not acceptable: Gowda The former PM H.D. Deve Gowda has said that diverting water lifted from the Yettinahole in the Western Ghats to areas beyond the initial plan of the project is not acceptable.
Mr. Gowda told reporters here on Sunday that the Yettinahole project was taken up to provide drinking water to areas around Kolar district. "Let the issue of the drinking water crisis be addressed first. It is not acceptable to divert the water to some other place. I will not sit quietly if it happens," he said when asked about reports suggesting diversion of the Yettinahole waters to Vani Vilas Sagar in Chitradurga district. https://www.thehindu.com/news/national/karnataka/diverting-yettinahole-water-is-not-acceptable-says-gowda/article30958975.ece  (02 March 2020)  
West Bengal Hooghly river water quality unfit for bath, Dakshineswar worst  Water in the 17 rivers monitored by the SPCB do not meet the bathing standard, putting several lakh who live along the rivers and bathe there at risk. The worst-hit area is Dakshineswar that attracts 50,000 devotees daily. Of the 44 locations where water quality was tested, Dakshineswar has the worst BOD level, implying that the pollution load is so high that it is difficult for even fish to breathe in the water here.
– None of 14 monitoring locations along the Ganga, five in the Himalaya and north, 19 in the west, including 10 locations at Damodar and six in the upper and lower Ganga delta rivers currently meet the bathing standard (5mg/litre dissolved oxygen; 3ml/litre biochemical oxygen demand and 500MPN/100ml coliform bacteria) revealed a report prepared by NGO LIFE after analysing the water quality data compiled by PCB. https://timesofindia.indiatimes.com/city/kolkata/study-hooghly-water-unfit-for-bathing-dakshineswar-worst/articleshow/74421417.cms  (01 March 2020)
Kerala Rivers in Kottayam start to dry up As the summer expands its footprints over Kottayam, the soaring temperatures have left the district high and dry with its major drinking water sources turning to a trickle this season.
– While the rivers in Kottayam typically slow down during the dry seasons, officials said this year had brought an unprecedented decline in water levels. Among the most affected include the Meenachil and Manimala rivers, which serve as the foremost sources of drinking water for the district.
– Besides the rising temperature, a decline in the water storage capacity of river beds caused by the back to back floods since 2018 too have been attributed as a key reason for these rivers to dry up. While the Kodoor and Meenanthara rivers too have been witnessing lean periods, the flow of water in the Muvattupuzha river, which serves the entire Vaikom and Thalayolapparambu region, remains nearly stable.
– The sluggish water flow in the rivers, according to officials, has a bearing on the ground water table of the region as well. As per estimates, water level in at least three of the 45 wells under the District Ground Water Department in the third week of February stood 1.5 meters less than the volume recorded during the same period last year. https://www.thehindu.com/news/national/kerala/rivers-in-kottayam-start-to-dry-up/article30958279.ece  (01 March 2020)
Punjab Cabinet approves Rs. 650 crore to revive Budha nala The Punjab cabinet has given its approval to Rs 650 crore for rejuvenation of the highly-polluted Buddha Nullah in Ludhiana. Under this ambitious project, an additional sewerage treatment plant with 275 million litres a day capacity, including associated infrastructure, will be developed. The project will be taken up in two phases. In the first phase, augmentation and refurbishment of the sewage treatment facility and dairy effluent treatment will be carried out while the second phase will include the reuse of treated effluent besides landscaping and beautification along the drain. https://www.outlookindia.com/newsscroll/punjab-cabinet-approves-rs-650-crore-for-rejuvenation-of-buddha-nullah/1737894  (18 Feb. 2020)
GANGA an endless journey book review:- Originally written in Bengali and translated into English by Sarbani Putatunda, the book is a reflection of the author's fascination with the river and the readers who can vicariously live through the same on each page.  https://www.outlookindia.com/outlooktraveller/travelnews/story/70080/book-review-ganga-an-endless-journey  (20 Feb. 2020)
YAMUNA Delhi Debris not removed despite assurances On Feb. 16, SANDRP based on its field visit had highlighted the illegal practice of debris dumping and construction material leftover under Nizammudin Bridge Delhi. Taking cognizance of the issue NGT Monitoring committee, CPCB, DDA all had promised actions and ATR. Nothing happened for a week and we again on Feb. 24 sharing video, pics evidences showing business as usual requested the concerned authorities to take action. Again issue was acknowledged and actions were promised but nothing has happened for full week as the pics and videos show.
It is also learnt that there is an attempt to level the debris on the site which is open violation of NGT order in national capital.
We have again requested the concerned agencies to take immediate actions, inspect all the bridges in Delhi as the problem is widespread and restore the floodplain and riverbed to its original shape instead of leveling it there and further destroying the dying river and remaining floodplain. https://www.facebook.com/sandrp.in/videos/204154420665516/?t=0
Water getting 'critically worse': CPCB Water quality of the Yamuna in Delhi was said to be "critically worse", after a recent analysis by the Central Pollution Control Board (CPCB) found a declining trend in the last five years.
– Data collected by the CPCB and the Delhi Pollution Control Committee (DPCC) from 14 river monitoring locations showed except for two points — Palla, from where the river enters Delhi, and Surghat, ahead of the Wazirabad Barrage — the water quality failed to meet several quality parameters between 2015 and 2019.
– The analysis was submitted to the National Green Tribunal this month by a monitoring committee it had set up for Yamuna's rejuvenation. The committee said: "Improvement in the Yamuna's water quality at Delhi will require stoppage of sewage and industrial waste water discharged, from both Haryana — about 500 million litres per day (MLD) from several townships — and UP — 65 MLD at Ghaziabad. Besides, the flow of sewage through Najafgarh and Shahdara drains nd all other drains in Delhi has to be trapped." https://indianexpress.com/article/cities/delhi/yamuna-water-getting-critically-worse-cpcb-analysis-finds-6281816/  (23 Feb. 2020)
Setting up another authority not possible: DDA "The suggestion of Yamuna Monitoring Committee (YMC) is for setting up of Water Front Management Authority under the aegis of DDA. It is submitted that DDA already is an Authority constituted through a separate Act. Therefore, constituting another Authority under the aegis of DDA may not be possible legally as the constitution of the Authority may again require legislative provision," the DDA said in its report, filed through advocate Kush Sharma.
– It told NGT that the Monitoring Committee has rightly pointed that INTACH and DDA are not equipped to do enforcement work and they have no regulatory authority and therefore help from municipal corporations and the police is very essential. https://www.thehindu.com/news/national/setting-up-water-front-management-authority-for-yamuna-not-possible-dda-tells-ngt/article30852025.ece  (18 Feb. 2020)
Sewer waste from east Delhi pollutes river Despite being 'completely sewered', only about 30% households in East Delhi have got legal connections, says a report by the Yamuna Monitoring committee. The committee, in its previous reports before the tribunal, has been highlighting that faecal sludge from the 1797 unauthorised colonies, of which 436 have a sewerage network, has been polluting the river and needs to be contained. In these colonies, only 70,900 out of 2.34 lakh households have taken connections, it said. https://www.hindustantimes.com/cities/sewer-waste-from-east-delhi-flows-into-drains-pollutes-yamuna/story-yY0nFoTwQegPA7zyfVm67K.html   (13 Feb. 2020)
NGT asks DJB for detailed plan on cleaning Delhi drains NGT on Feb. 26, said the action taken by the Delhi Jal Board (DJB) to clean drains in east Delhi was not enough and directed it to submit a detailed plan to the Yamuna Monitoring Committee within a month.  https://www.hindustantimes.com/delhi-news/give-detailed-plan-on-cleaning-delhi-drains-ngt-orders-delhi-jal-board/story-BUJzCg3nc5TwSDidWO5HKM.html  (26 Feb. 2020)
Uttar Pradesh New "sangam" of Yamuna and Ganga in Agra The Rs 3,000 crore 135 kilometre long pipeline project from Palra in Bulandshahar district, brings 150 cusecs of water from the Ganges. Of this, 10 cusecs are diverted to Mathura. The rest joins the Yamuna at the Sikandra Water Works. https://www.outlookindia.com/newsscroll/now-a-new-sangam-of-yamuna-and-ganga-in-agra/1727986  (06 Feb. 2020)
– This Feb. 24, 2020 video shared on social media shows Taj Mahal in Agra being washed with fire brigade water ahead of American President Mr. Donald Trump's visit. https://www.youtube.com/watch?v=zkzV3-p2OCA 
-So for Trump's visit additional 500 cusec Ganga river water was diverted to Yamuna via Hindon river. Now as visit is over, drains re-opened into Hindon as shows Feb 26 video by villagers.  https://www.facebook.com/sandrp.in/videos/2517203038496723/?t=0 
RIVERS BIODIVERSITY
GANGA Uttar Pradesh An adult (male) Gharial spotted in Mirzapur (U.P.) stretch of River Ganga somewhere between Shastri Pul & Vindhyachal. Video source- local journalists. This is the 1st direct evidence. Apparently this might be part of the new wildlife sanctuary proposed on River Ganga. https://twitter.com/vindhyabachao/status/1233720592492163073 
FISH, FISHERIES, FISHERFOLKS
Maharashtra Crack down on illegal sell of Cat fish The state fisheries department has launched a crackdown on Thai catfish (Magur) breeding and has confiscated and buried 30 tonnes of Magur — 15 tonnes in Mumbai, 8 tonnes at Indapur near Pune, and 7 tonnes in Bhiwandi — in the last 10 days. A carnivorous-freshwater fish, Magur feeds on water organisms that reportedly has an adverse impact on indigenous biodiversity and reduces food base for water birds. Known to grow up to 3-5 feet long, the species is also suspected to cause diseases like Argulosis, commonly known as fish lice.
The central government had banned breeding, transportation and sale of the invasive species in 2000. However, as the species grows to a good size, when compared to their smaller indigenous counterparts, farmers have found it more lucrative and reared them on the sly. https://indianexpress.com/article/cities/mumbai/maharashtra-govt-cracks-down-on-illegal-sale-of-catfish-seize-30-tonnes-in-10-days-6281787/  (23 Feb. 2020)
West Bengal A fish called Hilsa "If you know about Jhulelal — a 1000 AD saint, the most revered deity of the Sindhi Hindus and revered by Muslims as Zinda Pir, you'll know that he travels on a fish on the Indus river. This was the palla, the local name of hilsa in Sindh. Even in the Ajanta caves, in the pictorial representation of the Monkey God in Bodhisattva, there are fish visible on the river. And they, too, have the same shape," he says. "The palla fish were all believed to come from the Saraswati basin."
"From my understanding the Hilsa will always come back to the place where it was born. In their life span of 4-5 years, they will make three to four attempts to swim upstream in the river to breed. This is essential for many reasons," he says. "When the Hilsa swims against the tide on the river to find a breeding place, it eats very less. It also forms polyunsaturated fatty acid. It also urinates more leaving out the toxins from the body. And due to the swimming, the muscles are softer. So, the taste is basically a culmination of all these," he argues.
"Now, compare this with the much older ritual in Bangladesh's Faridpur — of having Hilsa roe with puffed rice on Dashami, after immersion. That was the last time they would eat hilsa, starting again only from Saraswati Puja. In Bengal, jora-Ilish or a pair of hilsa is offered in the Puja. Now we understand the reason why people stopped having hilsa in this period. This was breeding time. This window allowed newborn hilsa, called jhatka, to swim back to the seas," he says. https://timesofindia.indiatimes.com/city/kolkata/a-fish-called-hilsa/articleshow/74250388.cms  (22 Feb. 2020)
Tamil Nadu 2 tonnes of formalin-laced fish from Karimedu fish market dumped by food safety officials After the seafood that are sold in Karimedu fish market were found to be laced with formalin, nearly two tonnes of fish that had the presence of the chemical were dumped by the officials of the Department of Food Safety in the wee hours on Feb. 29. The seafood that was procured from within Tamil Nadu, as well as the neighbouring states of Kerala and Karnataka, were tested positive for the presence of formalin, a chemical ingredient used to preserve dead bodies. https://www.newindianexpress.com/states/tamil-nadu/2020/mar/01/two-tonnes-of-formalin-laced-fish-from-karimedu-fish-market-dumped-by-food-safety-officials-2110648.html  (01 March 2020)
Andhra Pradesh Dangerous catch
A poisonous puffer fish that got caught in the net in Visakhapatnam on Saturday. A scaleless fish with spiky skin and four teeth, this variety of puffer fish contains enough poison to kill 30 adult humans. (Photo:K.R. DEEPAK/ The Hindu) https://www.thehindu.com/todays-paper/dangerous-catch/article30954651.ece (01 March 2020)  
SAND MINING
Kerala Intel report had alerted govt on sand mining gang threat State Special Branch had apprised the government of the extent of the activities of sand and soil mining gangs in the state, but not much follow-up actions were taken on the report. The report was discussed in detail during a high-level meeting attended by the district collectors in Dec. 2019. The Special Branch report had given an exact number of gangs operating in each district, but not much follow-up actions were taken on the report. "Specific instructions were given on the measures to be taken against mining rackets. But the instructions have not percolated down to the lower ranks," said a senior officer, who was privy to the meeting.
– Sources said the reason for the tepid response of the authorities towards the issue is the proximity that the mining mafia enjoys with politicians. "A lot of illegal mining gangs enjoys political patronage at the grassroot level. This helps them evade police net," said an officer. In certain cases, police officials were found to be hand in glove with the mining mafia. Special Branch sources said they have filed a report in this regard with State Police Chief.
– Assuring actions against involved cops, a senior officer in Thiruvananthapuram police range told that other departments concerned, such as mining and geology, and revenue, should be more proactive. https://www.newindianexpress.com/states/kerala/2020/jan/28/intel-report-had-alerted-govt-on-sand-mining-gang-threat-2095373.html  (28 Jan. 2020)
Activist attacked for complaining against illegal mining In yet another case of whistle-blowers being intimidated by mafia groups, Mahesh Vijayan, an RTI activist, who fights against illegal soil mining in the district, was attacked by a four member-gang on Feb. 11 night at his residence at Nattassery. Mahesh was earlier attacked on the premises of the Kottayam municipal office on Jan 22, by some sand mining contractors, injuring him seriously. Later, Mahesh was threatened by another contractor over phone for moving against illegal sand mining. https://www.newindianexpress.com/states/kerala/2020/feb/13/whistle-blower-comes-under-attack-for-lodging-plaint-against-illegal-sand-mining-2102745.html  (13 Feb. 2020)
Govt to look the other way as shut quarries in ESZs to resume operations The 100-odd quarries within 10 kilometres of wildlife sanctuaries in state that were asked to shut down last October are all set to resume operations by the beginning of March.
– Last October, the Mining and Geology, Director K Biju had issued a stop memo to nearly 130 quarries that were within 10 km of the 28 wildlife sanctuaries in Kerala on the grounds that they did not have the approval of the National Board for Wildlife (NBWL). The MoEF has made a NBWL approval mandatory for quarries to function within 10 kms of a wildlife sanctuary boundary. https://english.manoramaonline.com/news/kerala/2020/02/21/quarries-to-resume-operations-at-ecologically-sensitive-zones.html  (21 Feb. 2020)
Telangana NGT displeased with Godavari river mining Dissatisfied over the reply submitted by the state govt in a case regarding sand mining and desiltation in river Godavari, the NGT has ordered that a report be submitted on the issue within two months by a joint committee, which would include officials from the IIT-Roorkee, the CPCB and the Expert Appraisal Committee of the MoEF&CC.
– NGT also held that it would consider imposing a penalty on the Telangana govt in the next hearing on May 13. The issue pertains to the Telangana govt conducting desiltation in an area of 1,400 hectares, along a 39-km stretch of the Godavari river, which the NGT observed earlier as a destruction of environment.
– The desiltation resulted in the excavation of around four crore cubic metres of sand from the Godavari riverbed, according to a joint report by the CPCB and Telangana State PCB submitted to the NGT earlier. The report had pointed out the unscientific nature of sand excavation taken up by the government and the lack of comprehensive environmental impact assessment before taking up desiltation. The NGT had also pulled up the State government for not obtaining environmental clearances for desiltation. https://www.newindianexpress.com/states/telangana/2020/feb/16/ngt-unhappy-over-telangana-mining-sand-in-godavari-river-2104114.html  (16 Feb. 2020)
Haryana Smugglers try to run over mining staff A case has been filed against seven persons in this incident from Palwal district of Haryana related to sand mining. https://www.tribuneindia.com/news/sand-smugglers-try-to-run-over-mining-dept-staff-47198  (25 Feb. 2020)
WETLANDS, LAKES, WATER BODIES
SANDRP Guest Blog Critique of the Loktak Inland Waterways Improvement Project In this Guest Blog Shripad Dharmadhikary & Ram Wangkheirakpam analyse and critique the proposed Loktak Inland Waterways Improvement Project (LIWIP). They conclude that the project has not done any social or environmental impact assessment, its benefit cost ratio is unscientific and flawed and the project has not taken statutory clearances or held public hearings. Such a project with such direct implications should not go ahead without any of these. It also violates the High Court orders and Ramsar convention norms. Please Read and Share. https://sandrp.in/2020/03/01/critique-of-the-loktak-inland-waterways-improvement-project/  (01 March 2020)
SANDRP Blog Ramsar Wetlands in crisis: North India In the second half of 2019, ten additional wetlands of India have been recognized as Ramsar sites taking the total tally of such wetlands from 27 to 37. Does getting Ramsar tags really help the cause of wetlands protection? Here we try to show the present conditions and threats the Ramsar wetlands sites have been facing in North India. The subsequent compilation would share details of Ramsar sites in other zones of India.  https://sandrp.in/2020/02/29/ramsar-wetlands-in-crisis-north-india/  (29 Feb. 2020) 
Interactive map of Ramsar Wetlands sites in India
SANDRP Blog Ramsar Wetlands in Crisis: West India The four state of West India have only five Ramsar sites of international importance. These includes Sambhar lake and Keoladeo NP in Rajasthan, Nalsarovar in Gujarat, Bhoj Taal in Madhya Pradesh and Nandur Madhmeshwar Wetlands in Maharashtra. There is no Ramsar site in Goa state. https://sandrp.in/2020/03/01/ramsar-wetlands-in-crisis-west-india/  (01 March 2020)
SANDRP Blog Ramsar Wetlands Crisis: North East India There are three Ramsar sites in eight states of north east India which includes Deepor Beel in Assam, Loktak lake in Manipur and Rudrasagar in Tripura. There are no Ramsar wetlands in remaining North East India states of Arunachal Pradesh, Nagaland, Mizoram, Meghalya, Sikkim. Here is an account of issues these Ramsar sites are facing. https://sandrp.in/2020/03/01/ramsar-wetlands-crisis-north-east-india/  (01 March 2020)
Kerala Revival of Ramsar wetland in sight after court orders In a major relief for Vembanad lake and its associated livelihoods, the Supreme Court has ordered razing of illegal construction along the shores of the lake. 625 large buildings including resorts and hotels have been identified to be violating CRZ rules. Vembanad is a recognised Ramsar site; a wetland of global importance. However, illegal resorts and apartments have mushroomed in the area in the last three decades, which have started affecting the very existence of the lake. Moreover, other than construction-related encroachments, the lake is facing threats from illegal agricultural expansion, aquaculture, large engineering structures, harbour development and tourism.  https://india.mongabay.com/2020/02/the-rebirth-of-a-dying-vembanad-lake-in-sight-as-court-orders-demolishing-illegal-construction/  (17 Feb. 2020)
Odisha Eurasian otter found in Chilika Lake Researchers conducting a study in Chilika Lake have found the presence of a viable, breeding population of a fishing cat in the brackish water lagoon. It is a globally endangered species that is elusive and found in very few places in south and south-east Asia.
– Another globally endangered species, smooth-coated otter, has also been recorded from the study's data. Both the species are supposed to enjoy conservation measures of the highest accord in India according to the country's laws, much like the tiger and elephant. https://www.thehindu.com/news/cities/kolkata/eurasian-otter-found-in-chilika-lake/article30959220.ece  (02 March 2020)
Maharashtra CIDCO admits wetlands transferred to firm Navi Mumbai's development body, the City and Industrial Development Corporation of Maharashtra (Cidco), has admitted that it had 'transferred' the eco-sensitive Panje wetland to Reliance Industries.
– A Cidco representative, during the monthly meeting of the Konkan Wetland Grievance Redressal Committee, stated that the transfer occurred in 2004. Environmentalists have expressed dismay over the Cidco's stance as the latter had earlier described Panje wetland as a holding pond as part of the flood control mechanism. "Cidco has shockingly incorporated it under the development plan (DP) for the upcoming Dronagiri node. We vehemently opposed this and even requested the Union environment minister to accord the status of Ramsar Wetland to protect it from destruction," said B.N. Kumar, director of NatConnect Foundation.
– The Wetland Committee in its latest meeting directed Cidco to ensure flow of creek water to mangroves at Panje in view of complaints of the wetland drying up. "We have reported the complaints of mangrove destruction to the env department," said a committee member.
– Activists have called for the scrapping of Navi Mumbai Special Economic Zone (NMSEZ) & highlighted that the Maharashtra Coastal Zone Management Authority had stated in the Bombay high court that Panje falls in the CRZ-1 category. "With Cidco's disclosure that Panje has been transferred to Reliance, we do not see Codcp working to save it. Cidco is trying to dry up the wetland for construction as it illegally built a concrete wall across the backwater stream & erected sluice gates to regulate water flow to the area," alleged Nandakumar Pawar, an environmentalist. https://www.asianage.com/metros/mumbai/170220/cidco-admits-wetlands-transferred-to-firm.html   (17 Feb. 2020)
Mangrove forest set on fire There was yet another mysterious fire incident inside the mangroves at Ulwe on Feb. 26 night. City based environmentalists who could easily see the flames from across the creek, have complained to the state & district level authorities. They have also reiterated that this is a systematic destruction on mangroves by land grabbers.
– Member of the high court appointed mangroves protection committee, D Stalin, said: "It certainly looks like someone is deliberately causing a huge fire inside the green mangroves in order to encroach into the wetland. During the next committee meeting in early March, I will ask the police and revenue officials to properly check into it & ensure that there is no further destruction of mangroves." https://timesofindia.indiatimes.com/articleshow/74338126.cms  (27 Feb. 2020)
WATER OPTIONS
Pune Wagholi looks for old well for water needs Wagholi has been facing a water problem for a decade with the proposed Bhama-Askhed project stuck in limbo. The Maharashtra Jeevan Pradhikaran water supply has also been inadequate for many societies who have been forced to spend on tankers.
-In the midst of this, the group located an 80- year-old well which was lying abandoned for the past 20 years. In the past, it was the only source of water supply to Wagholi village. The well is located in Vadjai, near Wagholi's Gaothan area. The group tested the water in state-run lab and found that its water was fit for consumption.
-Now, these people submitted a proposal to the gram panchayat which was approved on Nove. 15, 2019 following an inspection. The well will supply water to 100 societies and households situated on Baif Road, one of the most crowded areas.
– Another member of the group claimed that the well had enough water to service the entire stretch of Baif Road, about 100 housing societies. The discovery has spurred more efforts to find alternative sources for water. Natraj Satav, another member of the group, said, "Subsequently, we suggested that Khari Vihir, situated near Wagholi Lake, be tapped. This will help deal with the crisis better in that area. https://punemirror.indiatimes.com/pune/others/wagholi-looks-at-old-well-for-water-needs/articleshow/72089475.cms  (17 Nov. 2019)
Report Kattas and Madakas: Decline of traditional water conservation methods Shree Padre describes how the traditional water systems of Karnataka and Kerala are on the decline.
– 'Kattas' — temporary check dams built across streams and rivulets — used to be a common sight in the districts of Kerala and Karnataka till two decades ago. These traditional structures were constructed every year to conserve water for summer irrigation. Thousands of these structures were prominently found in the Udupi and Dakshina Kannada districts of Karnataka and Kasaragod district of Kerala. However, the advent of bore wells and unequal distribution of work among those involved in the construction pushed them into decline.
– 'Madaka' is another traditional water harvesting system. It is a structure constructed on the upper reaches of undulating topography. Laterite is the soil type in this area. It is different from 'kere' (earthen tank), which is dug to catch water from the sub-soil. Madaka is not fully man-made. In an area that has natural slopes, people would identify a bottleneck and construct an earthen wall there. This would impound crores of litres of rainwater. In fact, madakas were constructed to irrigate paddy fields in case of a delayed monsoon. Though there is no inventory of madakas, the aforementioned three coastal districts would have more than 3,000 madakas till a few decades ago. https://www.downtoearth.org.in/blog/water/kattas-and-madakas-decline-of-traditional-water-conservation-methods-69489  (27 Feb. 2020)
Rajasthan When rainwater quenched Jaipur's thirst When there were no pipelines, rainwater harvesting helped quench heritage city's thirst.
At Nahargarh and Jaigarh forts, rainwater harvesting structures dates back to the 18th century. An elaborate network of channels and aquaducts were built by Sawai Jai Singh, the founder of of modern Jaipur.
-The gradient of the hill was used to channel the flow of water through ducts to a portion of the hill that was carved out to form a tank. As the water entered the tank, an elaborate swirling mechanism ensured that the gush of water could be regulated and that the structure did not suffer damage in case the flow was excessive. At Nahargarh, water harvesting structures preceded the construction of the fort in 1734.
– Neeraj Doshi, an organiser of the heritage water walks, while giving details about the old water structures of the city said, "The technology used then was to preserve as much water possible and prevent it from flowing down the hills. There are three tanks at Nahargahr and five at Jaigarh. The Nahargarh tanks could store around 6 crore litres of water. At Jaigarh, the only open tank stores around 2.5 crore litres of water. The structures are still working except a few damages on the route."
– The water collected at the forts was utilised over there, but there are ruins of a tunnel coming down the hill of Nahargarh fort to Talkatora pond. It is presumed that this tunnel was used to transfer water to Talkatora in case of overflow, which gushed into Mansagar Lake. Talkatora was filled by water received through a canal passing through the city from Dravyawati river which also flows to Mansagar lake.
– "The system of Jaipur was advanced enough to provide water to royals and the residents. Choti Chaupar and Badi Chaupar used to have water tanks from where water was taken by the common people. The idea was to make water available at the centre of the city. With change of time, taps were introduced by Samuel Swinton Jacob, an English engineer, after 1880. He installed taps on many intersections of the Walled City to reach out to common people," explained Neeraj.
– The structures built at Nahargarh still store water, but it is not used. At Jaigarh though, water is utilised by the people living within the fort except for bathing and drinking. https://timesofindia.indiatimes.com/city/jaipur/when-rainwater-quenched-thirst/articleshow/74326402.cms  (27 Feb. 2020)
Rainwater storage is 'dam' good in Udaipur The model of rainwater management at Udaipur lakes is over four centuries old. It is a unique inter-connected micro-system of river diversion and linkage. Prominent lakes such as Pichhola, Fatehsagar, Udaisagar and Badi were built in such a way that overflow from one flowed into another, thus providing a year-long water storage system. It was the rulers of Mewar who created a system of lakes, says Pushpendra Ranawat, a retired professor of geology.
– In his book 'Wah Udaipur Wah,' Ranawat elaborated, "Pichola is a lake behind an earthen dam constructed by a Banjara in the 14th century. Height of the dam was raised to increase the capacity of the lake. Additional water resource for the new capital was created through the construction of Udaisagar Lake, east of Udaipur. Its work started in 1559 and was commissioned on April 4, 1565. The needs of the growing city during the next two centuries were met by converting the pre-existing Pichola from a small pond (talai) to a large lake behind a masonry gravity dam-Badi Paal. Its capacity further increased through the addition of Amar-Kund, Rang Sagar, Kumbhariya Talab, and finally the northern most extension-Swaroop Sagar." Lakes at Dewali and Badi constructed by Maharana Jai Singh helped Udaipur.
– Fatehsagar has a very small catchment area of its own and is fed by Lake Badi, Chota and Bada Madaar. The overflow from Lake Bada and Chota Madaar merge with Ayar river. Ayar river feeds Udaisagar several kilometers downstream. The overflow from Lake Badi directly merges with Fatehsagar. The overflow from Pichol flows into Fatehsagar and the overflow from Fatehsagar flows into the Ayar through a canal before it enters Udaisagar. Below Pichola and Fatehsagar are numerous wells and bawdi (stepwells), which were the only source of drinking water back then. With this web of lakes and wells, most of the rain falling within the Udaipur basin was kept within the basin itself, with very little losses making it a remarkable rainwater harvesting system.
– Maharana Fateh Singh enlarged Dewali pond to Fatehsagar Lake (1889) which is now a major source of water and recreation for Udaipur. He also constructed Madar I & II lakes north of Udaipur to provide water to Fatehsagar. In 1931, water supply through gravity pipelines from Swaroop Sagar launched for Udaipur. In 1944, SAV Consulting Engineers was commissioned to prepare pipewater distribution system for Udaipur-a totally new concept for Udaipurites.
– This system is now under threat.  https://timesofindia.indiatimes.com/city/jaipur/rainwater-storage-is-dam-good-in-udaipur/articleshow/74347301.cms  (28 Feb. 2020)  
Fair highlights water conservation, higher crops yield technologies An agriculture fair organised at Chirawa in Rajasthan's Jhunjhunu district over the weekend highlighted the need for water conservation and a shift towards less water-intensive crops, while calling for technological applications for higher crop yield and ensuring remunerative prices for agricultural produce.
– While the participants expressed concern over decline in groundwater level in the region, it was pointed out that Shekhawati's first groundwater recharge well had been built in Chirawa tehsil's Ismailpur village. With the construction of tankas (tanks) in houses, digging of ponds and irrigation by sprinklers, Ismailpur has emerged as a role model for water conservation. https://www.thehindu.com/news/cities/kolkata/fair-highlights-water-conservation-higher-crop-yield-technologies/article30954148.ece  (01 March 2020)
Some welcome words from this Rajasthan Water Summit: – Ajitabh Sharma, principal secretary, energy department, who also served as secretary of water resources department in the past, said it would be difficult to achieve sustainability by following a linear approach: "Technology, engineering, projects, implementation, and bringing in large capital will not lead to sustainability if the community is not involved. Water is not scarce, there is plenty of it. It all depends how you use it. We have to start thinking beyond the engineering prospective. So, it has be a circular economy. We have to treat the water, have treatment standards for different uses which is not there now. In India, we have not started thinking about nature-based solutions for treatment of water, and we have to understand the aquifers for their recharge,"
– H. Balasubramaniam, managing director, Xylem Water Solutions India Pvt Ltd said, "Rather than building new projects, we have to take maximum advantage of the existing ones. The second thing we tell the state governments is that they do not go for immediate high capex projects. On the other hand, I think the problem of water needs to be taken to the roots. Can the government make a policy and enforce it strictly to ensure that a hotel, for an example, recycles the water it uses so that it does not load the burden on the public."
– Director of Central Ground Water Board S K Jain said Rajasthan has ground water which can be replenished up to 12 bcm (billion cubic metre) but we withdraw 17 bcm annually: "To make it water positive, we need 5 bcm more. Storage of water, creating recharge structures, targeting Chambal basins, recycling and using less water and managing the water used in the agriculture sector will be the key to meet the shortfall and make Rajasthan water positive." https://timesofindia.indiatimes.com/city/jaipur/making-raj-water-positive-is-need-of-the-hour-feel-experts-officials/articleshow/74431682.cms  (02 March 2020)
Here is an overview from Chief Secretary  https://timesofindia.indiatimes.com/city/jaipur/groundwater-overuse-is-major-concern-chief-secy/articleshow/74431676.cms  (02 March 2020)
GROUNDWATER
Goa 34% groundwater drawn: CGWB According to the latest analysis by the central groundwater board, state utilises only 34% of its groundwater and continues to be in the safe zone where groundwater usage is concerned. Water resource department chief engineer Shrikant Patil said the state's groundwater drawal is low compared to neighbouring states like Karnataka, where utilisation is upto 200%.
-As the density of population and built structures is increasing in the state, there are concerns that the state could be under threat of overexploitation of groundwater. But Patil said that as per the 2017 findings of the central groundwater board, Goa only extracts 60,000 hectare meter annually.
– "The CGWB monitors 85 wells in the state," said Patil. There are 6,502 wells and 1,025 borewells currently registered with the WRD.  The CGWB's report states that the overall groundwater availability scenario in Goa remains safe, but a 'negligible to moderate' fall in water level was recorded during the premonsoon season.
– It shows that groundwater consumption has gone up in Goa. Of the stations (observation wells) analysed, 54% showed a fall in water level, while 46% showed a rise in water level. Rise in water levels of 0 to 2m was observed in parts of Sanguem, Quepem, Canacona, Salcete, Sattari, Bicholim and Pernem taluka. Fall in water level of 0 to 2m was observed in almost all talukas. The fall in general is negligible to moderate.
– "It indicates that groundwater consumption has picked up over the years in almost the entire state," states the report 'Groundwater Resources of Goa – March 2017'. https://timesofindia.indiatimes.com/city/goa/only-34-groundwater-drawn-out-in-goa-wrd/articleshow/74274603.cms  (24 Feb. 2020)
Haryana CM on Feb. 27 said the state govt is soon coming with a bill for setting up Ground Water Authority in the state for management of groundwater. https://www.aninews.in/news/national/general-news/haryana-govt-to-come-with-bill-for-setting-up-ground-water-authority-khattar20200227230908/  (27 Feb. 2020)
Gaon Connection Village wells disappearing from memory  Many decades back, wells were not only the chief source of drinking water and irrigation but also a part of villagers' culture and tradition. However, depleting groundwater level is changing all that. https://en.gaonconnection.com/village-wells-becoming-just-memories/  (19 Feb. 2020)
URBAN WATER
Chandigarh Control water pollution or face ₹10 lakh fine a month from April: CPCC Chandigarh Pollution Control Committee (CPCC) on Feb. 18 warned the municipal corporation to reduce pollutants in water discharged from STPs or pay environmental compensation of ₹10 lakh every month from April 1, as directed by NGT.
-The report stated it was evident from the data that the condition of these STPs had deteriorated in terms of prescribed norms. "Despite numerous directions from NGT and CPCC, STPs in Chandigarh are not meeting with requisite norms. Hence, MC is requested to take remedial action to achieve the target pollution norms otherwise environment compensation will be levied upon from April 1 as per NGT directions," read the report.
– Despite such CCPC warnings in the past, MC has failed to resolve the matter as experts say the civic body's processes are too slow. Even as the MC commissioner ordered installation of an aeration system, among other remedial measures and approached the Nagpur-based National Environmental Engineering Research Institute (for help, there has been no major difference in quality parameters of these STPs, the report added.
– CPCC is pressing MC to bring down BOD levels as the pollutants present in treated sewerage water are being discharged into the city's seasonal rivulets and then on to the Ghaggar river. Part of the treated water is meant for maintaining the city's greenery. It is also mandatory for people owning houses of one kanal or more to take tertiary water connections to prevent use of potable water for irrigating lawns. https://www.hindustantimes.com/chandigarh/control-water-pollution-or-face-10-lakh-fine-a-month-from-april-chandigarh-mc-warned/story-SqFSTVwm2Sq0FGihIgK7iN.html  (16 Feb. 2020)
Mumbai Pawai lake has not been cleaned for over a year  A prime water body in the city and a popular tourist destination, the Powai lake hasn't been cleaned for over a year. In March 2019, the BMC had floated tenders to appoint a cleaning contractor for a period of five years. However, the tenders with a base price of Rs 11 crore were scrapped by then Additional Municipal Commissioner Praveen Darade due to overpriced bids.
– The civic body has floated no fresh tenders since last year. As a result, its desilting machines and hyacinth harvesters meant for the lake have been lying idle. The BMC is also not well-paced in constructing the intercept chambers to stop the flow of sewerage into the lake through seven floodgates. It has also not followed through on its plans to build a STP at the lake. As a result, the water body is fast degenerating.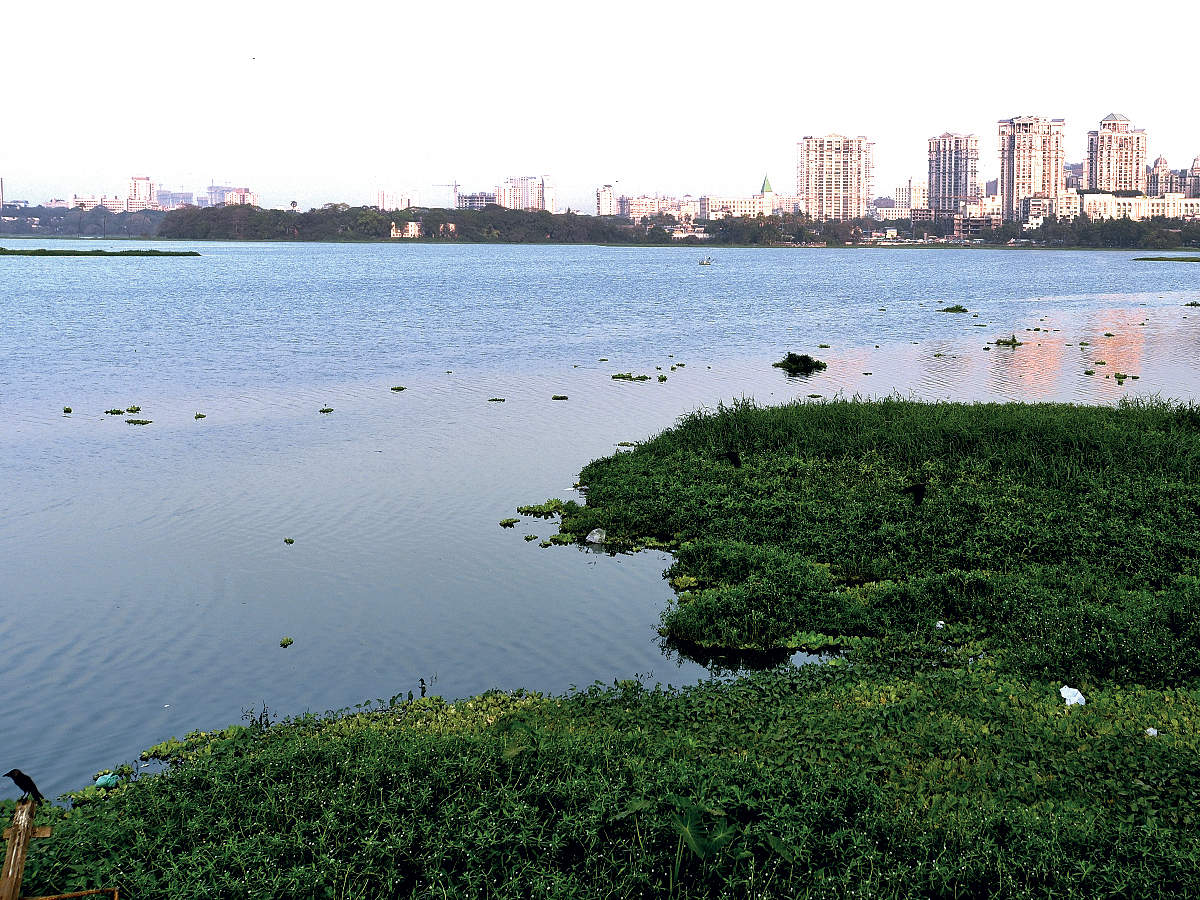 – Spread over 220 hectares, the Powai lake is overrun by weeds and water hyacinth, and there are plastic bottles and garbage floating on its surface. Water hyacinth is one of the most harmful plants that form a dense layer on ponds and lakes, depleting oxygen levels in the lake and restricting the penetration of sunlight required by the aquatic animals.
– Until February 2019, when the lake's previous three-year cleaning contract ended, two truckloads of hyacinth were removed every week. In other words, the lake has 104 truckloads of weeds and garbage in it.
– Environment activist D Stalin, who runs NGO Vanashakti, said such humongous amount of hyacinth would now require more time, money and manpower. He said, "This could soon kill the aquatic life here. There is no point spending crores of rupees on civil works when the lake itself is not clean." He said Vanashakti had asked the Maharashtra Pollution Control Board to intervene as the lake feeds the ponds in the adjoining Sanjay Gandhi National Park.
– BMC wants to compare benefits and harmful effects of water hyacinths before undertaking the project A senior civic official admitted the delay in appointing a new contractor and said that the exponential hyacinth growth is damaging the lake. However, he refused to comment on why the BMC hasn't deployed any house staff to clean it. The residents of housing societies in the neighbourhood have been regularly complaining that the civic body has instead spent Rs 50 crore on beautification of the lake since 2010 – LED lighting, musical fountains and walkways.
– An artificial water body, the Powai lake was built in 1890 and named after Framaji Kavasji Powai, who was the vice-president of the Agricultural and Horticultural Society of Western India in the early 19th century. Its objective of supplying drinking water to the city was abandoned due to hue and cry over the quality of water due to rampant growth of weeds and water hyacinth and untreated sewage. The problem has been continuing and has required the municipalities over the years to clean it to at least maintain its beauty and biodiversity.   https://mumbaimirror.indiatimes.com/mumbai/civic/powai-lake-hasnt-been-cleaned-for-over-a-year/articleshow/74409725.cms  (29 Feb. 2020)
Maharashtra Ahead of Summer, Osmanabad and Latur stare at water shortage The Manjra irrigation project in Latur and Sina Kolegaon project from Osmanabad currently show no live storage, whereas Lower Dudhna in the district of Parbhani, district is showing 6% live storage. Many parts in the region, including Latur, Osmanabad & areas of Parbhani, are faced with a scarcity this summer. https://timesofindia.indiatimes.com/city/aurangabad/ahead-of-summer-scarcity-stares-at-latur-osmanabad/articleshow/74291168.cms  (25 Feb. 2020) 
Tamil Nadu Packaged drinking water firms launch indefinite strike Packaged drinking water firms in Tamil Nadu launched an indefinite strike on Feb. 27 after the Madras High Court directed the state to take action against unlicensed units and illegal extraction of water.
– The packaged drinking water companies have called a strike, highlighting the need for no objection certificates needed to extract groundwater. The newspaper reports that 1,612 units around Tamil Nadu were in possession of requisite licences while only 600 of these had no objection certificates from the Water Resources Department.
– The Greater Tamil Nadu Packaged Drinking Water Manufacturers' Association has said that while they await no objection certificates from the government, they are only drawing limited quantities of water. The state on average sells around 25 crore litres of drinking water.  https://www.thenewsminute.com/article/packaged-drinking-water-firms-across-tamil-nadu-launch-indefinite-strike-119102  (28 Feb. 2020)
As the indefinite strike announced by packaged drinking water firms in Tamil Nadu enters its fourth day on March 1, no respite seems to be in the offing with Tamil Nadu Municipal Administration Minister SP Velumani asserting that the State would follow the Madras High Court directive in the matter on Feb. 29.
– Over 1,700 packaged drinking water firms in Tamil Nadu announced an indefinite strike on Feb. 27against the Madras High Court directive to the State to take action against unlicensed units and illegal extraction of water. The striking firms had highlighted the need for no objection certificates (NOC) needed to extract groundwater. https://www.thenewsminute.com/article/packaged-drinking-water-demand-strike-enters-fourth-day-tn-119230  (01 March 2020)
Dindigul Kodaikanal lake revamp does nothing to tackle waste management, pollution State govt and municipality has planned revamping of Kodaikanal a man made lake in the hills of the Dindigul district which includes new paving blocks, high quality lamps on the circumference, introduction of battery operated cars. CM Edappadi K. Palaniswami has also announced that the government will fund Rs 100 crore to help make the lake more attractive. The work has begun for it and is in a nascent stage.
– But greens have questioned the aesthetic attempt to make it more attractive for tourists without addressing the basic problems of waste dumping and increasing siltation. According to environment activists, the lake needs enhancement in terms of cleaning it up from inside and reduction in pollution. The master plan for the lake spread over 60 acres included 15 silt drops that filtered silt from water that was entering the lake.
– However, these areas have become a place of dumping garbage over the years as there was a lack of maintenance and resulted in closing down. From a tourist and environmental perspective, it was also highlighted that the lake needs a solid waste management plan as without it and a concrete policy, the beautification of lake exteriors become useless. Dumping waste in the lake is should not be allowed. https://www.financialexpress.com/lifestyle/travel-tourism/kodaikanal-lake-revamp-popular-tourist-spot-makeover-does-nothing-to-tackle-waste-management-pollution/1884863/  (29 Feb. 2020)
Chennai Chennai Water Situation better this year than in 2019  This discussion shows that Chennai may not face the repeat of 2019 water crisis this year. http://chennai.citizenmatters.in/video-interview-with-weather-blogger-tamil-nadu-weatherman-on-monsoon-and-water-crisis-13868  (20 Jan 2020) 
Here is more information about Chennai water situation in 2020.  http://chennai.citizenmatters.in/metro-water-promises-for-chennai-2020-13822  (27 Jan 2020)
The long-delayed Thervoy Kandigai reservoir, created by combining two lakes Thervoy Kandigai and Kannankottai in Tiruvallur district near Chennai is expected to be completed by this April, according to reports. When filled twice a year, this Thervoy Kandigai-Kannankottai reservoir can hold up to 1000 mcft. Thervoy Kandigai-Kannankottai reservoir will receive its water from Krishna River and the rains. Once completed, it will supply 65 MLD water to the city.
The new reservoir is a Rs 380 crore project that was first flagged off in 2013, expecting to be completed in 2015. But this project came to a standstill in just a year due to land acquisition problems. Reportedly, Rs 160 crore was spent to acquire lands from the Thervoy Kandigai and Kannankottai villages. Spread across 1495 acres, it included 806.73 acres of Patta lands, 633.67 acres of Poramboke lands and 54.60 acres of Reserve Forest area.
Work restarted in 2018 and was expected to be completed before the North-East Monsoons last year. However, this deadline too passed without the reservoir being completed, this time the challenge coming in the form of rains. Now, almost 7 years since it was first proposed, the reservoir is nearing its completion.
Water from this reservoir will be conveyed through 66 km long pipeline to Poondi reservoir, and from here it will be used to supply drinking water to the city. According to Water Resources Organisation, this additional storage will serve 30 days of drinking water supply to Chennai City.
Chennai, so far receives its water from four main reservoirs – Poondi, Cholavaram, Redhills and Chembarambakkam. The storage capacities of each total up to 11,257 million cubic feet (mcft). Now, the fifth reservoir will raise this capacity by 1000 mcft. https://www.thenewsminute.com/article/chennais-5th-reservoir-nearing-completion-what-does-mean-city-119254  (01 March 2020)
Guwahati Only 30% of Guwahati residents have municipal piped water supply. The rest depend on borewells/tubewells or private water tankers to meet their water needs. Excessive exploitation of groundwater is leading to its depletion in several localities in the city, increasing the risk of water insecurity in the long run. Projects to lift water from the Brahmaputra river are already delayed. https://en.gaonconnection.com/only-30-per-cent-of-guwahati-residents-have-municipal-piped-water-supply/  (29 Feb. 2020)  
Bengaluru Panel to study Ulsoor lake pollution The southern bench of the NGT has directed the constitution of a joint committee to take samples of water from Bengaluru's Ulsoor lake and neighbouring areas to ascertain whether the lake is being polluted due to illegal activity and tasked the panel with also carrying out an analysis of the water in the lake.
– The NGT bench comprising Justice K. Ramakrishnan and expert member Saibal Dasgupta made a suo moto direction based on a report in The Hindu in 2016 after schools of fish in the lake were found dead. https://www.thehindu.com/sci-tech/energy-and-environment/panel-to-study-ulsoor-lake-pollution/article30926931.ece  (27 Feb. 2020)
Lake breach plugged The decades-old Devirammanni Lake in K.R. Pet town of Mandya district, constructed by the royal family of Mysuru, had developed cracks late on Feb. 3 which resulted in huge loss of water. The lake is named after Devirammanni, one of the queens of the Mysuru dynasty. It has been supplying water for agricultural purposes since several decades. The lake was also the sole drinking water source for downstream areas for many decades. Nevertheless, the water has been used only for wetting farm lands now. https://www.thehindu.com/news/national/karnataka/lake-breach-plugged/article30745077.ece  (05 Feb. 2020)
WATER
National 21st-century India needs a pragmatic water policy J Harsha of CWC on the review of National Water Policy. "Hence, reformation and realignment of water organisations in line with policy goals and strategies is the key for success of any future national water policy."  https://www.thestatesman.com/opinion/21st-century-india-needs-pragmatic-water-policy-1502859133.html  (24 Feb. 2020)
Madhya Pradesh Right to water law drafted The state Govt drafts right to water law, promises 55 litre/day. https://www.hindustantimes.com/india-news/mp-drafts-right-to-water-law-promises-55-litre-day-to-each/story-RhtiSV3oWJKmpTSjuPEW0L.html  (25 Feb 2020)
DELHI WATER
NGT suspends EC to housing complex near DU NGT on Feb. 27 suspended the environmental clearance granted to the construction of a housing complex adjacent to the Delhi University campus and constituted a committee to study the viability of the project. The court said there was no application of mind by the State Environment Impact Assessment Authority (SEIAA) while granting the environmental clearance (EC).
– "We find merit in the contention on behalf of the appellant that there was hardly any application of mind by SEIAA to the available data and to the impact of the project on environment, before granting EC. To give effect to Sustainable Development and Precautionary principles, EC cannot be granted without such assessment and evaluation, which is also known as 'Carrying Capacity Assessment'.
– "Such assessment becomes all the more necessary when the available data shows that environmental norms are in excess of prescribed parameters," the bench said.
– Applying the "precautionary principle" of environmental law, the NGT on January 8 had directed Young Builders (P) Ltd in north Delhi that no construction activity should be carried out. https://realty.economictimes.indiatimes.com/news/regulatory/ngt-suspends-environmental-clearance-to-housing-complex-near-delhi-university/74367259  (28 Feb. 2020)  
MONSOON
IMD Summer 2020 to be hotter than usual The summer months from March to May are poised to be hotter than normal, a forecast by the India Meteorological Department (IMD) said on Feb. 28. The forecast indicates that the MAM (March-May) season averaged temperatures are likely to be at least half a degree hotter than normal over northwest, west and central India and some parts of south India. The season averaged maximum temperature is likely to be warmer than normal in Himachal Pradesh, Uttarakhand, West Rajasthan and Arunachal Pradesh.
– It is likely to be warmer than normal by over 0.5C to <1C over Jammu and Kashmir, Haryana, Chandigarh and Delhi, west Uttar Pradesh, east Rajasthan, east and west Madhya Pradesh, Chhattisgarh, Odisha, sub Himalayan West Bengal, Gujarat, Saurashtra and Kutch, Konkan and Goa, central Maharashtra, Marathawada, Vidharbha, north interior Karnataka, coastal Karnataka, Rayalaseema and Kerala.
– Above normal heat wave conditions are also likely in the core heat wave zone during the season (March-May), the weather department said.
– The core heat wave zone covers the States of Punjab, Himachal Pradesh, Delhi, Uttarakhand, Haryana, Rajasthan, Uttar Pradesh, Gujarat, Madhya Pradesh, Bihar, Chhattisgarh, Jharkhand, West Bengal, Odisha and Telangana and parts of Maharashtra and coastal Andhra Pradesh.
– A hot summer, experts say, is a key factor to a timely monsoon. However, the impact of a warming ocean and its impact on the monsoon is likely to be more apparent around April when the IMD issues its first forecast for the monsoon.
– The southwest monsoon in 2019 (June to September) delivered rainfall 10% above average in the country — the highest in 25 years. In 1994, the rainfall was 110% during the June-September period. Before that, over 10 % above average rainfall was witnessed in 1990 (119%). https://www.thehindu.com/todays-paper/tp-national/summer-to-be-hotter-than-usual-says-imd/article30947291.ece  (29 Feb. 2020)
– Winter is officially over and the coming summer promises to be warmer than normal in most subdivisions of northwest, west and central India and some parts of peninsular India. And according to the weather office, at this point in time, chances of El Nino, a weather phenomenon associated with deficient monsoons in India, are low.
– The forecast also said that warm El Nino Southern Oscillation (ENSO)-neutral conditions are prevailing over equatorial Pacific Ocean and that the latest forecast indicates cooling of sea surfaces temperatures in summer leading to ENSO neutral conditions. El Nino is a weather phenomenon characterised by warm ocean temperatures in the equatorial Pacific Ocean. El Nino years are characterised by a weak monsoon and more episodes of heat waves in India.
"The El Nino conditions may be neutral but the global warming trend is associated with above normal temperatures. The forecast will be updated in March", IMD added. https://www.hindustantimes.com/india-news/march-may-may-be-warmer-than-normal-imd/story-IxjqOIlhLNiyXG3aCQQyEK.html  (29 Feb. 2020)   
FLOOD
Report 72 lakh hectares of farmlands hit by flood and disaster As per the report of Inter-Ministerial Central Teams (IMCTs) constituted by the Centre, it has been informed that about 63.99 lakh hectares of farmland has been affected by floods in 15 states, while 7.91 lakh hectares of agricultural land has been hit by drought in two states so far in the ongoing 2019-20 crop year (July-June). The states affected by floods are Assam, Bihar, Chhattisgarh, Gujarat, Karnataka, Kerala, Madhya Pradesh, Maharashtra, Odisha, Punjab, Rajasthan, Tripura, Uttar Pradesh, Uttarakhand and West Bengal while Rajasthan and Manipur have been hit by drought. https://www.thehindubusinessline.com/economy/agri-business/72-lakh-hectares-of-farmland-hit-by-floods-and-drought/article30794400.ece   (11 Feb. 2020)
ENERGY OPTIONS
Report Cultivable land has highest wind energy potential: NIEW India's cultivable land areas have the potential for installing wind energy projects at an estimated 347 gigawatt (GW) at 120 metre above ground level, according to a report by the National Institute of Wind Energy. It added that out of India's total estimated wind potential of 695 GW, 340 GW is possible in wasteland, 347 GW in cultivable land and 8 GW in forest land. India has an estimated offshore wind energy potential to generate about 70,000 megawatt power and is planning to develop the first offshore wind energy project of 1 GW capacity off the coast of Gujarat. https://energy.economictimes.indiatimes.com/news/renewable/indias-cultivable-land-has-the-highest-potential-for-wind-energy-generation-niwe/74308824  (26 Feb. 2020)
ENVIRONMENT
National MOEF proposes 10 years plan to protect birds The Environment Ministry has released the draft Visionary Perspective Plan (2020-2030) for the conservation of avian diversity, their ecosystems, habitats and landscapes in the country. The draft has been put in public domain for seeking comments from the stakeholders. The plan proposes steps to protect migratory birds, conserve wetlands and focus on birds in urban areas. Along with this, the draft plan has also recommended bird surveys in select landscapes to identify new Important Bird & Biodiversity Areas (IBAs) and suggested mapping and assessment of critical wintering and stop-over sites for migratory birds in the country. https://india.mongabay.com/2020/02/indian-government-proposes-a-10-year-plan-to-protect-birds/  (07 Feb. 2020)
Rajasthan Mt Abu Residents Meet NGT Panel, Flag Master Plan Problems A committee appointed by the NGT met local residents in Mt Abu on January 17, as part of proceedings in a matter challenging the town's Master Plan-2030. Many residents who attended the meeting raised concerns about the construction proposed in the plan that puts the ecologically sensitive area at risk.
In May 2016, Mt Abu resident and well known medical doctor of the town Arun Sharma, also a member of the first committee to monitor the eco-sensitive area, approached the NGT seeking cancellation of the Master Plan. Dr Sharma's petition noted that the Mt Abu Wildlife Sanctuary had been notified in 1960; it spreads over 290 sq km. A notification of 2009 from the Government of India had declared the area around the sanctuary an Ecologically Sensitive Zone. The next hearing of this matter in the NGT is scheduled for March 27.  https://www.newsclick.in/Mt-Abu-Residents-Meet-NGT-Committee-List-Problems-Master-Plan  (25 Feb. 2020)
Report SBM Phase 2 to cost 52000 crores, gets cabinet nod The cabinet has on Feb 19, 2020 given its approval to the second phase of the Swachh Bharat Mission with an estimated central and state budget of Rs 52,497 crore. The second phase will be implemented on a mission mode between 2020-21 and 2024-25 and will focus on Open Defecation Free Plus (ODF Plus), which includes ODF sustainability and solid and liquid waste management (SLWM). Further, the ODF Plus programme will converge with MGNREGA, especially for grey water management and will complement the newly launched Jal Jeevan Mission. https://www.indiatoday.in/india/story/swachh-bharat-mission-second-phase-approved-cost-1648077-2020-02-19  (19 Feb. 2020)
Workshop 'Investigating and Reporting on the Political Economy of Land' on February 29, 2019.
CLIMATE CHANGE
Gujarat 'Dholavira is the most spectacular Indus Valley site in India; its demise was connected to climate change'  FASCINATING: Anindya Sarkar says:
– "More importantly they adopted a very advanced water conservation and harvesting system from building series of connected reservoirs, stone and terracotta drainage pipes to wells. They also built dams on the two rivers Mansar and Manhar which flowed around this city during this time. The dry river beds of these rivers can be seen even today. During this long period, the climate changed severely from a good monsoon to weak monsoon. But they sustained themselves by adopting water conservation techniques, suggesting their resilience and participatory nature of the society."
– "Surprisingly, when we analysed the Early to Mature Harappan molluscs (2,700 year BCE old), it looked that they grew in a water that is only possible if glacial meltwater mixes in the mangrove. The seasonality was high. This clearly suggested that a glacier fed river was debouching in the Rann of Kutch. But then isotopes in the molluscs from terminal part of Mature to late Harappan from 2,300 to 2,100 years BCE indicated that the glacial contribution disappeared and seasonality reduced. This is the time that exactly coincides with the decadence and fall of the city of Dholavira, as indicated by the archaeological evidence and the onset of the newly-proposed Meghalayan stage (a division of geological time) by an international body of geologists and stratigraphers. The monsoon was anyway declining. When the Meghalayan drought came lasting a few centuries, the whole city collapsed."
– "Not only this, they changed their crop pattern from water intensive crops like rice to millets. Just think about their modern outlook. Even today we cannot change the crop pattern in drought prone areas with all our mighty technology, satellite surveys and communications… This seems like fiction but it teaches us two important lessons. One, we must learn quickly how to cope up with the reduced monsoon and water deficit due to climate change, specially our agriculture. Second, if we do not learn then a catastrophe is waiting for us." https://timesofindia.indiatimes.com/blogs/Addictions/dholavira-is-the-most-spectacular-indus-valley-site-in-india-its-demise-was-connected-to-climate-change/  (26 Feb. 2020)
Book Review 'Journey of a Civilization: Indus to Vaigai' review: The route from Harappa to Keezhadi This review mentions nothing of water management practices and traditional water harvesting systems of the ancient civilization.
– Journey of a Civilization is an essential, necessary read for anyone interested in India's history, especially its cultural history. It is also a must for anyone who wants to grasp the significance of the discoveries being made at the Keezhadi archaeological site on the banks of the Vaigai in Tamil Nadu.
– Using this distinctive attention to climatic and geographic detail, Balakrishnan studied the mentions of 'winds' — northwind, southwind, eastwind, etc. — in the literature and came to an interesting observation. The number of times the literature mentions 'chill wind' from the north and 'hot wind' from the west dwarf the mentions of the 'southern breeze' and the 'Monsoon wind' from the east. But these descriptions and weightages of different winds do not fit the current landscape of Tamilakam, while they do fit the Gujarat landscape — as is evident from the mentions of the average windspeeds and direction at Ahmedabad and Chennai that the book carries! https://www.thehindu.com/books/books-reviews/journey-of-a-civilization-indus-to-vaigai-review-the-route-from-harappa-to-keezhadi/article30949976.ece  (29 Feb. 2020)
West Bengal Climate experts warn of longer monsoon in Sundarbans The monsoon in Sunderbans is likely to last longer and get more intense, according to a fact sheet titled "The Sunderbans and Climate Change", which was made public during the Convention on the Conservation of Migratory Species of Wild Animals. "Climate specialists have predicted that as climate change progresses, monsoon seasons in the Sundarbans will become longer and more intense. Conversely, drought conditions will also become more pronounced, presenting further challenges for agricultural producers in particular and ecosystems in general," said the document released during the Conference of Parties (COP) being held at Gujarat. https://www.thehindu.com/news/national/monsoon-in-sunderbans-likely-to-get-longer-warn-climate-experts/article30890907.ece  (22 Feb. 2020)
Opinion No country for climate refuges The climate crisis is uprooting more people than war and it's time to get serious, says Nidhi Adlakha. What we need is a clear classification of who qualifies as a climate refugee, plausible causes that grant him/her that status, the countries to approach and assessing their economic and climactic conditions, among several other factors.
The IOM report has analysed that there have been substantial developments in global migration governance in recent years. However, 'an overarching framework has not yet fully emerged to provide policy guidance where human mobility and environmental stressors, including climate change, intersect'.
The UN's January declaration is a step in the right direction, and we can only hope that it leads to an international law to help tackle the massive climate crisis and help the affected people.  https://www.thehindu.com/opinion/columns/how-the-climate-crisis-is-uprooting-more-people-than-war/article30942108.ece  (28 Feb. 2019)
Opinion Locusts outbreak serious threat to agriculture in India A moderate infestation from across the border chomped through crops in an estimated 300,000 hectares in Rajasthan and Gujarat in January. The authorities say they are preparing to conserve crops during the upcoming summer-sown kharif season, which is most at risk.
– An upsurge in locust attacks since last year is being attributed to favourable breeding weather caused by a large number of cyclones in East Africa. India, China and Pakistan face the most risk in Asia. Pakistan has already declared an agricultural emergency, according to an Indian official.
– The locust upsurge is linked to climate change, UN secretary general Antonio Guterres had said in a global briefing at Addis Ababa on February 8. "Warmer seas mean more cyclones generating the perfect breeding ground for locusts. Today the swarms are as big as major cities and it is getting worse by the day," he said. "The situation remains extremely alarming in the Horn of Africa, specifically Kenya, Ethiopia and Somalia, where widespread breeding is in progress and new swarms are expected to form in the coming weeks," an FAO alert issued to nearly 53 countries, including India, on February 24 said.
– Heavy cyclones made for favourable breeding conditions also in the southern Arabian Peninsula for at least nine months (June 2018 to March 2019), allowing "three generations of breeding that was undetected and not controlled", the FAO said. Pest specialists are drawing on standard strategies, such as maintaining sufficient reserves of melathion, the principal insecticide, adequate vehicle-mounted sprayers and experimenting with drones for early warning. "If they invade by night, by morning you will find whole farms are gone. Large swarms can cover several districts," said JN Thakur, a former chief of locust monitoring at the agriculture ministry.
– According to Thakur, India has an experience of fighting the pest from two previous outbreaks, in 1950 and 1993, but the country lacks large insecticide-spraying aircraft, which are the most effective way of dealing with a large-scale crisis. On February 25, agriculture secretary Sanjay Agarwal chaired a high-level meeting on desert locust control with officials from Rajasthan, Gujarat, Punjab and Haryana, the external affairs ministry and the Hindustan Insecticides Limited. The Union government has decided to conduct awareness campaigns and training for farmers and officials from these states.
– In December last year, India held preparatory meetings with Pakistani teams on the India-Pak border in Munabao and Khokhapar in Rajasthan's Barmer district, an official said. "We are scheduling more talks with Pakistani representatives during the entire June to September kharif (summer-sown) season," said KL Gurjar, deputy director at India's directorate of plant protection. Gurjar was one of the participants at the border talks in December. A report of a senior locust forecasting officer of the FAO to the government noted that "swarms would be present in Haryana and Punjab, moving east towards Bangladesh similar to 1950 when there were devastating plagues that lasted up to 14 consecutive years."
– Locusts can fly up to 150km in a day and a one-square-kilometre swarm can eat as much food as 35,000 people, in terms of weight, in a single day, according to the Food and Agriculture Organization (FAO)'s Desert Locust Information Service bulletin. https://www.hindustantimes.com/india-news/locusts-pose-severe-threat-to-agriculture-in-india/story-b7ALAyNKWbN1anUL1gLXFN.html  (01 March 2020)
Australia Fire out but not climate disaster He was still dizzied by what Australia's increasingly volatile climate had already delivered: first a drought, then a devastating bush fire, then a foot of rain from a tropical storm. They are confronting a cycle of what scientists call "compound extremes": one climate disaster intensifying the next.
– "Addressing climate change isn't something that is any responsibility of the Reserve Bank of Australia, but what we do have a responsibility to do is to understand the economic and the financial implication of climate change," Philip Lowe, Governor of the Reserve Bank of Australia said. "The economic implications are profound."
– Lucinda Fischer, 32, said the government was "kind of the blind leading the blind." The only way forward, she said, is for the public to get more involved, and for officials to step back and assess what went wrong, and what needs to happen next time. https://www.nytimes.com/2020/02/23/world/australia/climate-change-extremes.html  (23 Feb. 2020)
ASIA
MEKONG International Rivers Thai cabinet terminates rapids blasting project Earlier this month, the Thai cabinet formally called for the cancellation of a project to dredge and blast the river into a year-round highway for 500-tonne freighters. The project had been in consideration for two decades. And surely the blasting project would have progressed if not for allies like Niwat Roykaew of the Chiang Khong Conservation Group, who said this of the decision: "In the early days, locals asked how ordinary people like us could fight to protect the Mekong, but this proves we can do it." It's a welcome and hard-fought victory for people's movements in Southeast Asia and the world over. https://www.internationalrivers.org/blogs/254/victory-on-the-upper-mekong-thai-cabinet-terminates-rapids-blasting-project  (06 Feb. 2020)
Also see, how China is choking Mekong.  https://www.washingtonpost.com/graphics/2020/world/the-mekong-river-basin-under-threat/  (28 Jan. 2020)
THE REST OF THE WORLD
US Amid drought in California, reservoir near San Jose ordered to be drained The FERC and the state's Division of Safety of Dams Since 2009, the 240 ft high Anderson dam's water level has been kept at a maximum of 74% of capacity because of an assessment that it could be damaged in a magnitude 6.6 earthquake centered at the Calaveras Fault or a 7.2 quake with an epicenter as far as a mile away. On Monday, as the possibility of another drought loomed in California, Anderson Reservoir was just 29% full. Anderson Reservoir, also known as Anderson Lake, was built in 1950 between San Jose and the community of Morgan Hill to the south. The lake can hold close to 90,000 acre-feet of water. Director of the FERC's Division of Dam Safety and Inspections, wrote in a letter on Feb 20, 2020 to the Santa Clara Valley Water District, which owns the reservoir.
– If the dam collapsed, runoff could damage cities and rural areas from the San Francisco Bay through Monterey Bay to the south, the water district said. In 2017, more than 14,000 residents had to be evacuated as water from swollen Coyote Creek, downstream of Anderson Reservoir, flooded homes and temporarily shut down a portion of a freeway.
– Camacho said the preferred solution would be completing the reservoir's seismic retrofit project, which has been in the works for years but complicated by additional safety and design requirements. Construction is expected to begin in 2022. https://www.usatoday.com/story/news/nation/2020/02/25/anderson-reservoir-california-draining-ongoing-drought/4873725002/  (25 Feb. 2020)
Research aim to tame atmospheric river risks WOW: The mission was to investigate an atmospheric river, a massive stream of water vapor and wind that condenses into rain and snow when it rises to flow over mountains. Knowing where and when these storms are going to hit and how much rain or snow they're likely to drop is key. That's why scientists like Anna Wilson, field research manager with the Centre for Western Weather and Water Extremes (fascinating to know such a centre exists) at Scripps Institution of Oceanography, have teamed up with the Hurricane Hunters and the National Oceanic and Atmospheric Administration to collect data during atmospheric river fly-overs.
– "The presence or absence of atmospheric rivers can mean the difference between a drought year or a non-drought year," said Wilson, who followed the Hurricane Hunters' flight from the ground. But, she said, "Too many, or too strong, you can get into hazards." Right now, forecasters can see an atmospheric river coming a few days ahead of time. But the details are foggier. The forecast's location, for instance, can miss the mark by around 200 miles, which can mean rain water going to two or more different rivers. If you want to predict an atmospheric river, Ralph (Director of the Centre for Western Weather and Water Extremes) said, "We need to know where it is at the beginning." Atmospheric river research from the sky already helps that balancing act through a pilot project at Lake Mendocino, the Mendocino County reservoir that resulted from the completion of the Coyote Valley Dam in 1958.
– Starting with $2 million in 2015, the Corps has now received roughly $30 million to explore using atmospheric river forecasts to improve reservoir operations. Several millions were provided for the National Oceanic and Atmospheric Administration and the Air Force to fund atmospheric river research. In California, lawmakers created an atmospheric rivers research, mitigation, and climate forecasting program within the Department of Water Resources. And the state chipped in millions of taxpayer dollars to help fund the research, including $9.25 million in the current budget.
– In 2016, a policy update gave the Corps permission to consider forecasts in their plans for managing flood risk, rather than requiring decisions solely based on the water on the ground. But the Corps needed to figure out the right strategy, first. That's where Lake Mendocino comes in. It's the site of an experimental effort called Forecast Informed Reservoir Operations, or FIRO — a proof-of-concept that incorporates weather and water forecasts into the Corps' decisions to release water from the reservoir or hold on to it. "This is going to be an evolution of water management in California," said Michael Anderson, state climatologist with the Department of Water Resources and one of the people leading the effort at Lake Mendocino. So far, the program seems to be working; a dry-run in drought-busting 2017 showed that releasing water in advance of potential storms — rather than based on the manual's rigid schedule — would have actually boosted the lake's capacity to manage floodwaters. It also would have increased the water stored behind the dam by at least 5,500 acre-feet. This year, thanks to the new program, the Corps held on to an extra 11,250 acre-feet of water.
– In the meantime, the program is rolling out to other parts of the state: to the Yuba-Feather Rivers system east of Lake Mendocino, the Prado Dam in Southern California, and even, potentially, a dam in the Pacific Northwest. The forecast-informed reservoir operations at Lake Mendocino is like a savings account. "If that paycheck doesn't come in, you still have something in reserve to get you by that next year." https://lostcoastoutpost.com/2020/feb/25/drought-or-dangerous-flooding-research-aims-to-tam/  (25 Feb. 2020)
Washington State takes bold step to restrict companies from bottling local water Washington has taken a major step toward becoming the first US state to restrict companies looking to extract, bottle and sell local water supplies.
On Feb. 17 night the state senate passed a bill that would ban new permits for water bottling operations. SB 6278 states "any use of water for the commercial production of bottled water is deemed to be detrimental to the public welfare and the public interest" and would apply retroactively to new permits filed after 1 January 2019. The move was hailed by water campaigners, who declared it a breakthrough moment in the fight against the privatization of such a valuable public asset. https://www.theguardian.com/us-news/2020/feb/18/bottled-water-ban-washington-state  (18 Feb. 2020)
UK Rewilding project aims to give Thames its flood plain back The dangers of building on flood plains have been exposed more than ever in recent weeks, as a series of storms left hundreds of homes and businesses deluged by water across the UK. The Guardian has revealed that more than 11,000 homes in England will be built on land with a high risk of flooding in the coming years and in some of the areas most affected by the recent floods, up to one in five homes built between 2015-2018 were built in flood zones.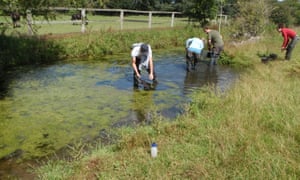 – As a result, only 10% of flood plains in England are now fit for purpose, as infrastructure has hindered their ability to store water and act as a natural sponge to soak up deluges.
– With the climate crisis set to bring more heavy rains and rising sea levels, the river along the Arcadian stretch in Richmond is just one of many waterways increasingly breaching its restraints and flooding open areas that fall within its natural flood plain.
– Despite flood plain land making up 12% of England's landscape, the Environment Agency says most people have no "general awareness" of of their existence.
– Historically the Thames has been controlled by building flood defences such as the Thames Barrier, often in response to specific events such as the 1953 North Sea flood that claimed hundreds of lives. But a report says London has become the most vulnerable city in western Europe to floods as a result of climate breakdown, meaning this method is no longer sustainable, unless residents are happy to see huge walls built along their riverbanks. Debney says: "You can either have that flood defence and be completely disconnected from the river, or you can have a rewilding process, and keep the character of the river." Healthy flood plains also bring other benefits, as they are a natural habitat for many species and act as a carbon sink. https://www.theguardian.com/environment/2020/feb/27/rewilding-project-aims-give-thames-flood-plain-back  (27 Feb. 2020)
Chile Wild Rivers Law Initiative to protect the rivers. https://laderasur.com/articulo/ley-de-rios-salvajes-los-aportes-al-ecosistema-y-al-desarrollo-local-que-urgen-avanzar-en-la-proteccion-de-los-rios-en-chile/  (28 Jan. 2020)
International Rivers How people of Namibia are fighting against the Dam on Kunene river. https://www.internationalrivers.org/blogs/1259/with-a-new-dam-proposed-on-the-kunene-river-the-himba-people-mobilize-to-permanently  (27 Feb. 2020)
Turkey Gokce Sencan, a Turkish water policy researcher based in California, shares the experience from her recent visit to the ancient town of Hasankeyf along the Tigris River in southeastern Turkey. Hasankeyf, which has been continuously inhabited for the last 12,000 years, is slowly being drowned as the reservoir behind the recently completed Ilisu Dam is filled. https://www.internationalrivers.org/blogs/352/for-hasankeyf-the-bell-tolls-guest-blog-by-gokce-sencan (13 Feb. 2020) 
New Zealand 5 years long project to study sediment control Under five-year MBIE-funded program, 'Smarter Targeting of Erosion Control' (STEC) researchers are working on farms to learn more about effective erosion management techniques. The STEC programme is sampling in four river catchments across New Zealand to collect data for building new modelling tools: the Manawatū, Whanganui, Oreti in Southland, and Wairoa near Auckland. Researchers have recently collected samples from erosion sources in the Oreti River catchment.
"These sampleswill provide new data about the source soils contributing sediment to the river network and affecting water quality," says Smith. "The soil samples will be used to 'fingerprint' the sources of sediment in the Oreti River, in collaboration with NIWA researchers, who will collect suspended sediment samples at their river gauging stations." "We have also made the first set of measurements of the rates at which earthflows are moving in the upper Tiraumea catchment, a tributary of the Manawatū River. This work is based on a network of survey pegs installed in each earthflow. Initial data show earth movements of up to 8 metres in one year," he adds. https://www.landcareresearch.co.nz/publications/newsletters/putaiao/issue-1/getting-smarter-about-sediment-control 
CONGO Earth's Deepest River Conceals an Evolutionary Mystery The lower Congo River's depths have made it a natural lab for convergent evolution, yielding fish with unexpected features. https://www.nytimes.com/2020/02/25/science/congo-river-fish.html  (25 Feb 2020)
Compiled by SANDRP (ht.sandrp@gmail.com)
Also see: DRP News Bulletin 24 Feb. 2020 & DRP News Bulletin 17 Feb. 2020  
Follow us on: www.facebook.com/sandrp.in; https://twitter.com/Indian_Rivers