River carrying capacity is such a crucial factor in deciding if certain areas will be flooded and with what severity. This capacity is constantly changing, more so in tropical climate and high silt carrying rivers of South Asia, as new research shows. However, most models that are used in India, including by CWC, assume steady state situation. Nor are there constant and credible efforts to assess the river cross sections and river conveyance capacities and put them in public domain. The study shows how important it is that we wake up to this reality and ensure credible, consistent monitoring and assessments by credible independent agencies at the earliest. This has become even more urgent, the study underlines, since in changing climate, the rainfall patterns are changing fast. 
Study Rivers are changing affecting their capacity to contain floods  New research reveals that the capacity of rivers to keep water flowing within their banks can change quickly – and in failing to acknowledge this, some flood models and defences may be under-equipped to deal with the consequences when they do. Floods are partly caused by the amount of rain falling, partly by the moisture that is already in the ground, and partly by the capacity of rivers to contain water within their channels. This means that if the capacities of river channels change, then two identical rainfall events falling on similarly wet ground can cause flooding of very different severity.
– Most rivers are forever changing. They are shaped by the sediments and water they carry. Humans have modified most of the world's rivers in some way. In some cases this is through direct influence, such as dam construction or river engineering. Other influences are indirect – building on nearby land reduces the capacity of ground to absorb water, agriculture draws water from rivers, and deforestation leaves more water to flow elsewhere.
– Rivers respond to changes in climate as well. During drier periods, less water flows through river systems. This means that there is often less energy to move the sediments at their beds, so riverbed levels may progressively rise, decreasing the capacity of the river. Abundant plant growth within the channel can also reduce a river channel's capacity by slowing the flow.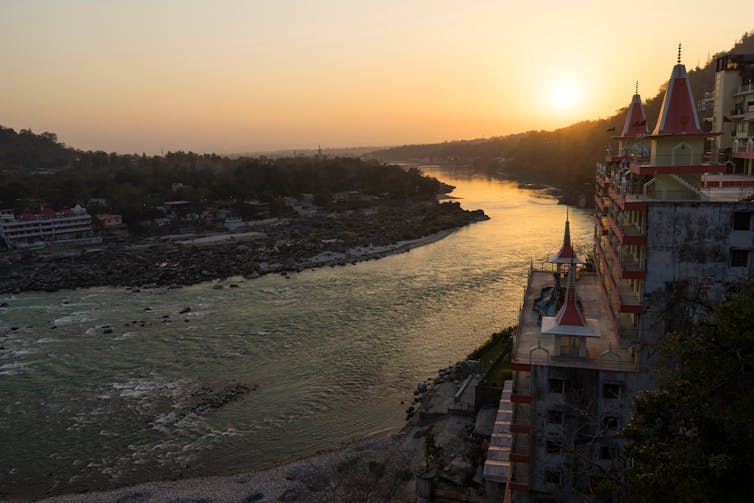 – But it is not always easy to predict how rivers will change. Extreme shifts in channel shape and capacity can occur very rapidly. After a recent flash flood in Spain, one river rose almost a metre as huge volumes of sediment from upstream were displaced and dumped further along. In tropical river systems, which tend to carry more sediment than temperate rivers, these changes can be several metres.
– Unfortunately, such changes are typically ignored by flood engineers and modellers, who generally treat the channel as a fixed feature. If rivers actually change their capacity in space and time, then estimates of flood probability may be incorrect, putting people and property at risk. Motivated by these concerns, we investigated the pace at which channel changes occur, and to what extent these alterations might be driven by climate. We began with a simple conceptual model: climate controls rainfall, rainfall affects river flow, and river flow shapes channel capacity.
– Direct observations of this link were lacking in river systems over short timescales. So, we took 10,000 measurements of the capacity of 67 rivers in the US, covering a period of nearly 70 years. We also gathered rainfall and river flow data, to assess how climatic changes affected the capacity of the rivers. We discovered that temporary shifts in river capacity, lasting years to decades, were far more frequent than had previously been assumed. Overall, river capacity tends to increase during periods that are wetter than average due to greater erosion of river channels, and decrease in drier periods.
– We also found that multi-year climate cycles that affect regional precipitation patterns – such as the El Niño Southern Oscillation – can cause channel capacity to expand and contract too, perhaps on a global scale. Armed with this knowledge, we may eventually be able to predict how the capacity of rivers changes, and hence better understand flood risk.
– In temperate regions such as the UK, where rivers tend to be vegetated, heavily engineered and relatively stable, delicate changes in channel capacity are hard to detect and unlikely to be life threatening. However, in river systems that carry high volumes of sediment, or in parts of the world where rainfall varies considerably during the year, sudden reductions in river capacity may dramatically increase flood risk for nearby settlements. For example, the Ganges-Brahmaputra river in India and Bangladesh falls under this category. Its capacity is already changing, and its floodplains are some of most densely populated in the world.
– Unfortunately, we still have very poor understanding of the nature and causes of channel capacity changes in most regions – and it is the most at-risk places that tend to have the least data. To better understand what's happening, we need to use satellite imagery to monitor how fast rivers are responding to changes in the climate. What we can't yet do though is monitor river adjustment in real time. Developing technologies that do this would greatly improve our understanding of how changes in river shape and capacity affect flood risk across the world. Until this information becomes apparent, flood models and defence structures should build this uncertain risk into their designs. Doing so could make all the difference for those living in vulnerable areas.  https://theconversation.com/rivers-are-changing-all-the-time-and-it-affects-their-capacity-to-contain-floods-126659  (12 Nov. 2019)
HYDRO POWER PROJECTS
SANDRP Blog Saving the Dalai Lama's Cranes: An adventure, swift as the river!  Neeraj Vagholikar's book "Saving the Dalai Lama's Cranes" is a swift river adventure! SANDRP's Review: "While working on issues related to environment and reading everyday about the tragedies that befall our forests and communities, we somehow lose touch with the sheer joy that wilderness infuses in us and in our children. We become preachy, despite our best intentions.
Read Saving the Dalai Lama's Cranes. Its for you and for the kids. Nothing brings us together like a good story. Let the river meander into curious hearts and minds on its own, without sermons." Happy Children's Day!  https://sandrp.in/2019/11/14/saving-the-dalai-lamas-cranes-an-adventure-swift-as-the-river/  (14 Nov. 2019)
Arunachal PradeshSubansiri Hydel Project: Disaster On The Cards?  For several organisations, the 2000-MW project in one the most seismologically active areas in the world is a disaster waiting to erupt. Independent experts have been voicing concern over the pot­ential impact downstream of the project on the fast-flowing Subansiri, a wild tributary of the Brahmaputra, where people had been prospecting for gold for centuries. The govt  says too much time has been lost.  https://www.outlookindia.com/magazine/story/india-news-subansiri-hydel-project-disaster-on-the-cards/302347  (13 Nov. 2019)
Himachal Pradesh Opposition to this destructive project continues.
DAMS
Sardar Sarovar Dam People Displaced by Sardar Sarovar Dam Begin New Satyagraha  Around 1,500 people displaced and affected by the backwaters of Sardar Sarovar Dam reached Bhopal on Nov. 16 and began an indefinite protest, demanding adequate compensation and rehabilitation, in front of the Narmada Valley Development Authority's (NVDA's) office.
The protestors included people from different districts of Madhya Pradesh, including Barwani, Dhar, Khargone and Alirajpur. Their satyagraha is led by Narmada Bachao Andolan (NBA) leader Medha Patkar, who has been fighting for the last 34 years, first against the construction of the dam and now for the dam's operations to comply fully with the Supreme Court orders, the Narmada Water Dispute Tribunal award of 1979 and the state government's rehabilitation policy.
"We have been forced to come to Bhopal as there has been a violent attack on our Narmada Valley carried out by the callousness of Gujarat and central government," Patkar told The Wire. "We have come to ask questions related to the human rights and livelihoods of the affected people and will not return unless the government answers them." https://thewire.in/environment/people-displaced-by-sardar-sarovar-dam-begin-new-satyagraha  (16 Nov. 2019)
"Those ousted are living a miserable life. We will continue our protest till our demands are met. Hundreds of families have been ruined by the filling of Sardar Sarovar Dam in the catchment area of the reservoir in Madhya Pradesh," she said.
Most protesters spent the chill dewy on Nov. 16 night under the sky, wrapping themselves up with blankets, making a poignant sight.
The previous BJP government had, on oath, presented a misleading picture of rehabilitation efforts before the Supreme Court to help Gujarat government to fill up the Sardar Sarovar dam reservoir, Patkar said, adding that the fate of 32,000 families in Madhya Pradesh has been hanging in balance due to previous Shivraj Singh Chouhan govt's "deceit" and Gujarat government's "insensitivity".
A much larger area than projected in the MP government's plans has come under submergence. As a result, the areas marked for rehabilitation have also been inundated, ruling out resettlement of the project-affected people.
The Kamal Nath government had in Sept agreed to review the rehabilitation issue afresh as the pre-condition for the NBA leader Patkar to end her indefinite fast. Patkar, who had ended her fast on September 3, held talks with the state government and secured assurances for early resolutions to the issue. Things have, however, not gone according to the activists' understanding with the government. https://www.timesnownews.com/india/article/narmada-bachao-andolan-back-on-indefinite-protest/516439  (18 Nov. 2019)
Dam-hit families say they were caught unawares The govt had told the families that they would be alerted six months in advance. "But we were caught unawares…At sites of rehabilitation, drinking water and electricity hasn't reached yet." Referring to several riverine islands that had come up after the waters rose, Dadu, of Ekalbara, said: "The way to our fields is blocked now. What was just a kilometre away is now at a distant 18-20 km."
"Instead of following the Supreme Court orders in 2000, 2005, 2017 and the rehabilitation policy, the Narmada Valley Development Authority had let 178 villages submerge. This shows the govt's callous attitude towards us," said Kamla Yadav, a farmer from Chhota Barda in Barwani district. "While the affected in Maharashtra and Gujarat had got a fair share, those in Madhya Pradesh had to do with bread crums," said Pema Bhilala, a farmer from Avalda village in the district. https://www.thehindu.com/news/national/other-states/dam-hit-families-say-they-were-caught-unawares/article30000634.ece  (18 Nov. 2019)
PAFs suffering of hunger  What to talk of compensation, project affected families are even struggling to get basic human necessities. It has been 12 days since food from the shelter's authorities has stopped coming through. Kanchan Bai, 60 years old now, has been living on rice gruel and watery dal for the last week. The camp is located near the now-submerged Nisarpur village of Madhya Pradesh's Dhar district. It houses over 400 families that share a similar fate. Already impoverished agricultural labourers are rapidly running out of options for even a square meal – leave alone fair compensation.  https://thewire.in/rights/sardar-sarovar-dam-families-displaced-homeless-starvation-nwdt  (12 Nov. 2019)
Opinion An India where dams are no longer the new temples There is skepticism about big dams from newer quarters like Down To Earth. "The Jal Shakti ministry has an unenviable task of setting right a system that is mortgaged to the Nehruvian model of big dams and green revolution. Pushed to the wall, this is an opportunity for a strict clampdown on redundant investments on big projects…
– The dam safety ordinance of 2019 adds insult to injury as it looks at the physical stability of structures while lives, investments, and ecology are overlooked. This needs a relook and all dams that delivered the performance of less than 50 per cent, need to go for re-engineering — not necessarily physical dismantling (optional) but conversion to managed aquifer recharge structures or ecological water sanctuary, by adopting appropriate modifications…
– Ridiculous as it may sound, politicians and engineers are working towards limiting rivers from emptying themselves into the ocean. The ministry has to understand that while this is a rash idea, it is also against the laws of nature and a recipe for an ecological disaster. Oceans hold 96 per cent of the earth's water resources and are a critical component of nature's water cycle… The clout of the water market cannot and should not be accepted as a necessity but a failure of policies, projects and governance mechanisms." https://www.downtoearth.org.in/blog/water/an-india-where-dams-are-no-longer-the-new-temples-67715  (13 Nov. 2019)
– The best locations for dams and borewells have been exhausted and only marginal sources are left. Since the best options have ceased to exist, new projects are prone to huge risks.
– Most of us might not realise that even though India is water-scarce, we export almost 15 per cent of our water as 'virtual water' through agri-products. Likewise, 10 per cent of all food procured is allowed to decay that can suffice to meet all rural drinking water demand. Export of virtual water in the form of sugarcane, cotton, basmati rice, flowers, horticulture crops need to be swapped with less water-intensive and rain-fed crops to unlock close to 10 per cent of the country's water entrapped in these products. The legitimacy of water export for profits by a few traders, even as India suffers from serious water shortages, calls for a moralistic perspective. Food grains rotting in warehouses is in reality a depletion of water. Ten per cent of the total water used in agriculture is lost because of a lack of storage facilities. This also raises the fundamental question: Do we need more dams to produce more grains that we do not care about anymore?
– Dry rivers beds, encroached flood plains and re-modeled river-fronts tell a story of grief and disruption of the natural processes. Keeping the rivers under siege/dry is not only a hydrological disruption of nature's processes but an ecological outrage. The shakti (power) in the rivers should not be contained. They need to be harnessed by ensuring minimum environment flow and never to be substituted by treated sewage.
– Using treated sewage instead of precipitous flow is an affront to the aquatic systems and its bio-diversity. Groundwater recharge from riverbeds through treated sewage shall contaminate groundwater quality for several generations. Be it the Ganga or other rivers, their natural flow should principally be precipitation with allowable substitution of not more than 25 per cent during high flow regime with treated sewage (assured tertiary treatment to drinking water standards).
-The dam safety ordinance of 2019 adds insult to injury as it looks at the physical stability of structures while lives, investments, and ecology are overlooked. This needs a relook and all dams that delivered the performance of less than 50 per cent, need to go for re-engineering — not necessarily physical dismantling (optional) but conversion to managed aquifer recharge structures or ecological water sanctuary, by adopting appropriate modifications. https://www.thehansindia.com/hans/opinion/news-analysis/an-india-where-dams-are-no-longer-the-new-temples-580955  (14 Nov. 2019)
Chhattisgarh दुधावा बांध में सौ से ज्यादा बंदर तीन महीने से फंसे  कांकेर जिले के दुधावा बांध में सौ से ज्यादा बंदर तीन महीने से फंसे हुए हैं। आसपास के ग्रामीणों के अनुसार ये बंदर पास की पहाड़ी में रहते हैं और हर साल पानी कम होने पर बांध के टापू में जाते हैं फिर कुछ दिन में लौट आते हैं। लेकिन इस बार पानी जल्दी बढ़ने और खंड वर्षा के कारण ये वहीं फंस गए। दरअसल, कुछ मछुवारे शुक्रवार को मछली पकड़ने गए थे इसी दौरान उनकी नजर टापू पर फंसे बंदरों पर पड़ी। फिर उन्होंने वन विभाग को इसकी जानकारी दी। बांध के टापू में फंसे बंदरों को बाहर निकालने के लिए वन विभाग अब लकड़ी का पुल बनाने की योजना बना रहा है। इस आधा किलोमीटर के पुल को बनाने में लगभग 3 दिन लगेंगे। वन परिक्षेत्र अधिकारी कैलाश ठाकुर ने कहा कि बंदरों को निकालने के लिए लकड़ी का पुल बनाया जाएगा। पुल बनने तक रोज सुबह शाम 10-10 बोरी फल की व्यवस्था की जाएगी।  https://www.bhaskar.com/chhattisgarh/bastar-jagdalpur/news/chhattisgarh-news-more-than-monkey-trapped-in-the-island-of-dudhwa-dam-forest-department-engaged-in-delivering-fruits-070645-5950552.html  (16 Nov. 2019)
INTERSTATE WATER DISPUTES
CAUVERY RIVER WATER SHARING DISPUTE Cauvery authority to get full-time chief The Union ministry of water resources invited applications from the prospective candidates on Nov. 9, a year after TN govt moved Supreme Court following differences cropped up with Karnataka over obtaining permission for Mekedatu dam project. "Former Central Water Commission chairman S Masood Hussain was appointed as chairman in-charge of the authority in the beginning. No meeting had taken place ever since Hussain retired in June this year, as Centre did not notify the appointment of full time chief nor in-charge for the post," said an official. The release of water from Karnataka reservoirs is monitored by Cauvery water regulation committee, a technical committee.
– The new chairman will hold the post for five years or till 65 years of age, whichever is earlier. He will be a senior and eminent engineer with wide experience in water resource management, handling inter-state water sharing issues, construction, operation and maintenance of irrigation projects. "As per Cauvery scheme notified in the gazette, the Centre could also appoint an IAS officer in the rank of secretary or additional secretary to govt  of India, with experience in dealing water resources and inter-state water sharing disputes," the official said.  https://timesofindia.indiatimes.com/city/chennai/cauvery-authority-to-get-full-time-chief/articleshow/72027625.cms  (12 Nov. 2019)
South Pennar River Water Sharing Dispute  After Cauvery, Karnataka and Tamil Nadu in a new river dispute Karnataka and Tamil Nadu are bracing for another long legal battle over the Dakshina Pinakini (South Pennar, Pennaiyar) river. After Tamil Nadu approached the Supreme Court to prevent five ongoing water projects on the river in Karnataka, the apex court directed it to approach the Central Govt  to have an Inter-State River Waters Disputes Tribunal.
– The Supreme Court in its judgement refused to stay the ongoing projects in Karnataka stating "it is prima facie evident that the project in question was undertaken after receiving all requisite sanctions and permissions. The issue was engaging the attention of the authorities for a while; the construction work began few years back; and as of now 75 per cent work is complete. Therefore, in our prima facie view, no case is made out for granting any interim relief."
– Among the five projects in Karnataka objected to by Tamil Nadu includes the diversion of surplus waters of Varthur lake in Bengaluru to Narsapur tank in Kolar district. Tamil Nadu cited the 1892 Madras-Mysore Agreement according to which the latter had to take consent of the former to take up any new irrigation works on 15 inter-state rivers. https://bangaloremirror.indiatimes.com/bangalore/cover-story/after-cauvery-karnataka-and-tamil-nadu-in-a-new-river-dispute/articleshow/72078902.cms  (16 Nov. 2019)
IRRIGATION
Tamil Nadu Govt expands phase-II of irrigation project  The State govt  has cleared the inclusion of 16 more sub-basins of rivers at a revised cost of ₹649.55 crore under the World Bank-assisted state Irrigated Agriculture Modernisation Project (TNIAMP-II). Under phase-I, work is in progress on 18 sub-basins, for which a sum of about ₹744 crore has been set aside. Also, emergency rehabilitation of tank systems, affected during the 2015 floods, is nearing completion. An amount of ₹43.63 crore has been sanctioned.
– TNIAMP-II, which is estimated to cost ₹2,962 crore totally, will bring 66 sub-basins under its fold. The aim of the project is to increase the coverage of ayacut and food production. Among the projects to be implemented are rehabilitation and modernisation of system tanks [which are being served by water releases from rivers], non-system or rain-fed tanks, anicuts and supply channels in the sub-basins.  https://www.thehindu.com/news/national/tamil-nadu/tamil-nadu-expands-phase-ii-of-irrigation-project-the-world-bank-assisted-tamil-nadu-irrigated-agriculture-modernisation-project-tniamp-ii-scheme-will-go-on-till-2024/article29976246.ece  (15 Nov. 2019) 
URBAN RIVERS
Nasik 'Reducing air and river pollution are my top priorities' The regional officer of MPCB, Nashik region, J B Sangewar tells about the major initiatives being taken to control the air and water pollution levels in the city. Excerpts On steps to reduce river pollution: The Bombay high court has already given a judgement in this regard. A committee headed by the divisional commissioner is monitoring whether different stakeholders are complying with the norms. Instructions have been given to the civic body to upgrade the 9 old STPs.
On situation of air and water pollution in the industrial estates  Both Satpur and Ambad industrial estates of MIDC fall in NMC's jurisdiction. There are around 140 plating and powder coating units, which don't have their own effluent treatment plant (ETP). A common ETP has been proposed, but the operation is getting delayed. https://timesofindia.indiatimes.com/city/nashik/reducing-air-and-river-pollution-are-my-top-priorities/articleshow/71998212.cms  (12 Nov. 2019)
Mumbai Dev Diwali at Banganga   About Dev Diwali celebration at Banganga Talao, one of the most picturesque heritage structures in Walkeshwar of South Mumbai.  https://timesofindia.indiatimes.com/city/mumbai/mumbaikars-flock-to-banganga-on-dev-diwali/articleshow/72038620.cms  (13 Nov. 2019)
Nagpur BMC's garbage dumping yard poses threat to farmers The Butibori Municipal Council (BMC), around 25km from the city, has developed a new garbage dumping yard, allegedly in an unscientific manner by violating norms. The yard is posing a threat to agricultural land, cattle and the environment. The scenario has also become extremely unhygienic for residents. Farmers and social activists have demanded immediate closure of the dumping yard.
– Around 12 farmers from Dudhala, Rampur and Bori, near Butibori, have lodged a complaint with collector Ravindra Thakre and the MPCB. They alleged that the dumping yard came up on land meant for agriculture. It is also covering part of the road connecting Butibori with Umrer.
"BMC used to dump garbage in an unscientific manner on the bank of the Vena river. After a series of complaints, the MPCB acted. The BMC had taken the agricultural land of a tribal family on lease for dumping garbage on Umrer Road. https://timesofindia.indiatimes.com/city/nagpur/butibori-mcs-garbage-dumping-yard-poses-threat-to-environment-farmers/articleshow/71986645.cms  (10 Nov. 2019)
Chandigarh Cleaning of Patiala ki Rao: No private company shows interest in Nayagaon MC's bids In November last year, the MC Nayagaon invited the bids from private companies to clean the rivulet. The MC officials also approached some companies based in Lalru but the companies did not show any interest. Nayagaon MC's Estate Officer J S Shahi said that they would again try to rope in the company to clean the rivulet. Asked why no company came forward so far, Shahi said that they invited applications and also approached the companies personally but nobody was interested.
– According to the MC officials, the first bid was invited in October, second in November and third in December 2018. An MC official told that the rates were not finalised by the MC which is creating problems and nobody is coming forward. He added that the rivulet had not been cleaned for the past 30 years.
– Patiala ki Rao is a seasonal rivulet which originates from the foothills of Shivalik and enters Mohali and Chandigarh. After crossing a distance of around 30 km, it merges into Ghaggar river at Chuni village after crossing through Nayagaon, Kharar, Chapparchiri and Landran. The river was the source of discharge of rainwater in Ghaggar from the areas of Kharar and Landran and around 26 villages, including Masol, Tanda, Tandi, Karoran, Nayagaon, Mullanpur Garibdas, Behlolpur, Balongi and Chapparchiri located around the banks of the rivulet.  https://indianexpress.com/article/cities/chandigarh/cleaning-of-patiala-ki-rao-no-private-company-shows-interest-in-nayagaon-mcs-bids-5560552/   (30 Jan. 2019)
Panchkula Singh Nullah to make way for lake in P'kula  Very disturbing trend and revealing report. Shivalik streams being converted into lakes. Singh Nullah is next in line after Sukhna choe and Kuashyalaya river. Sukhna lake is facing severe siltation and lack of water availability problems. Kuashlaya dam built costing over 200 crore to provide water to Panchkula city is useless post damage of pipeline last year. Meanwhile Panchkula is meeting all its 6 MGD demand via Kajauli Water Works which gets Sutlej river water from Bhakra dam.
– Singh Nullah passing through the city will attract tourists in future as the choe will be turned into a lake. At present, the rainwater-fed nullah passes through Sector 1, 2, 4, 12, 12-A and the Industrial Area, Phase I, before going towards Zirakpur. The plan is to construct a check gate to stop rainwater from going into the nullah.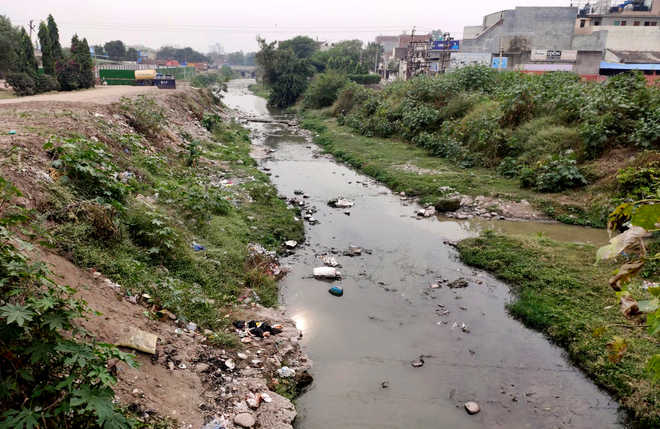 -Local MLA and Haryana Assembly Speaker Gian Chand Gupta has directed officials of the administration and the Haryana Tourism Department to prepare a detailed project report in this regard. Gupta said some green spaces would be developed on both sides of the choe so that people could stand or rest near the future lake. Restaurants will be set up and tracks will be laid near the lake.
– Gupta said he had also asked the officials concerned to check the feasibility of setting up a lake near Kaushalya Dam on the lines of Sukhna lake in Chandigarh to attract tourists. He said the dam was built to provide water to Panchkula but the town was not getting water from the dam after the pipeline was damaged due to cracks on the road near Amravati Enclave nearly a year ago. He said now, the town was getting 6 MGD of water from the Kajauli Water Works, which was enough. He said a lake near the dam would be a stopover for tourists travelling on the Panchkula-Shimla highway. He said he wanted to develop Panchkula as a tourist destination and with the setting up of lakes, the govt  would not generate revenue.  https://www.tribuneindia.com/news/chandigarh/singh-nullah-to-make-way-for-lake-in-p-kula/860854.html  (15 Nov. 2019)
RIVERS
Andhra Pradesh Govt ends Amaravati project with Singapore consortium A govt order issued on Nov. 11 night said the agreement with the Singapore consortium to develop the greenfield start-up area had been terminated, and orders had been issued to the AP Capital Region Development Authority (CRDA) not to proceed with the project.  https://indianexpress.com/article/india/andhra-govt-ends-amaravati-project-with-singapore-consortium-6116875/  (13 Nov. 2019)
Kerala Intensive checks to prevent river water pollution in Kozhikode A joint checking drive with the support of various government departments and local self-government institutions is under way in Kozhikode district to track those recklessly dumping waste into rivers or covertly engaging in activities resulting in water contamination. Officials from the PCB are supervising the drive, which will also ensure prompt action on various confidential complaints received from the public.
The checking squad has already tracked a trader who allegedly let septic waste from his shop into the Poonoor river. He has been slapped a fine of ₹1 lakh by the Koduvally municipal authorities to compound the offence. The shop will be allowed to function again only after getting clearance from the PCB. https://www.thehindu.com/news/cities/kozhikode/intensive-checks-to-prevent-water-pollution-in-kozhikode/article29986831.ece  (15 Nov. 2019)
BRAHMAPUTRA Assam Felling trees for bridge over Brahmaputra: Guwahati residents erupt in protest  Around 300 people staged the protest on the bank of the mighty river at Machkhowa area by forming a human chain as part of "Save Tree and Riverfront" campaign. The residents are enraged that over 200 trees will be felled, most of which stand tall at the Sankardev Park. The approach road to the proposed bridge will pass through the park that faces the river. https://www.newindianexpress.com/nation/2019/nov/10/felling-trees-for-bridge-over-brahmaputra-guwahati-residents-erupt-in-protest-2059835.html  (10 Nov. 2019)
GANGA Centre Bill to be introduced in Winter Session of Parliament Polluting or "obstructing the flow" of Ganga may attract a penalty of up to five years imprisonment and a fine as high as Rs 50 crore under the proposed "The National River Ganga (Rejuvenation, Protection and Management) Bill, 2019", which the government plans to introduce and pass during the Winter Session of Parliament beginning Nov. 18. "Offences under this Act to be cognizable and non-bailable for causing pollution in river Ganga," states the draft Bill circulated by the Ministry of Jal Shakti for Cabinet approval.
According to sources, the draft Bill, which comprises 13 chapters and three schedules, lists graded penalties, depending on the severity of the offence, under a dozen sections. These include activities like illegal construction of ports or jetties; storage or diversion of water by any means causing obstruction to the flow of water; mining, stone quarrying or extracting ground water; and spoiling or defacing the ghats of the Ganga and its tributaries.
A maximum fine of Rs 50 crore has been proposed for causing obstruction to the flow of the Ganga without prior permission, said sources. Similarly, the maximum imprisonment of up to five years has been proposed for construction of permanent residential or commercial structures in the active floodplains of Ganga and its tributaries, said sources.
According to sources, a provision has been made for regulating activities like mining, stone quarrying or extracting ground water, which may attract imprisonment of up to two years and/ or fine of up to Rs 10 lakh. Spoiling or defacing the ghats of the Ganga or its tributaries will be punished with imprisonment of up to one year and/ or fine up to Rs 10,000 or cost incurred for restoration (whichever is higher).
According to sources, the proposed Act also has a provision for setting up a Ganga Protection Corps, which will have the power to arrest any person found violating the provisions of the Act and produce the person before the local police station.  "The central government will constitute an armed force called the Ganga Protection Corps. The Ganga Protection Corps is to be provided by the Ministry of Home Affairs," said sources. The aim of the Bill is to prevent and control pollution of the Ganga and ensure continuous flow of water so as to rejuvenate the river to its natural and pristine condition.
The proposed Bill also provides for constitution of a National Ganga Council, under the chairmanship of the PM, which will include the CMs of Uttarakhand, Uttar Pradesh, Bihar, Jharkhand and West Bengal along with central ministers.  https://indianexpress.com/article/india/ganga-pollution-govt-plans-5-year-jail-rs-50-crore-fine-winter-session-parliament-6123448/  (17 Nov. 2019)
Uttar Pradesh About Bijnor's Ganga Fair Lakhs of pilgrims visit the fair and take a dip in the cold water of the sacred river to wash their sins, apart from performing other rituals on Kartik Purnima. This time, the fair started on Nov 8 and will go on till Nov 12. https://timesofindia.indiatimes.com/city/meerut/bijnors-ganga-fair-where-story-of-communal-camaraderie-unfolds-every-year/articleshow/72013127.cms  (12 Nov. 2019)
YAMUNA Delhi Akshardham Temple structure on floodplain NGT has asked the Centre to submit a status report on a plea filed by the Akshardham Temple management seeking compliance of the tribunal's 2016 order asking a committee to decide whether the expanded structure fell within the Yamuna floodplain. A bench headed by NGT chairperson Justice Adarsh Kumar Goel directed the Union ministry of Jal Shakti to furnish the status report in the matter before November 25 through e-mail.
The green court had in 2015 quashed two office memoranda of the Union environment ministry dealing with the issue of clearances for major and minor projects, saying they suffered from infirmity of "lack of inherent jurisdiction and authority". Taking into account its order, the tribunal had later slapped a fine of 5% of the total cost incurred in the expansion of the temple complex, located on the Yamuna bank along NH 24. https://timesofindia.indiatimes.com/city/delhi/akshardhams-structure-enters-yamuna-floodplain/articleshow/72014331.cms  (12 Nov. 2019)
Uttar Pradesh Birdwatching along Betwa: Threatened by Developmental Activities, Sand Mining  Comprehensive description of avian diversity documented and existing and emerging threats observed during 10 days Betwa river walk undertaken as part of Veditum's Moving Upstream fellowship, from 11 to 20 January, 2019 between Orai in Uttar Pradesh and Orccha in Madhya Pradesh. The region is a relative void when it comes to bird related data. Periodic monitoring would help in establishing baselines. Involving the local population would make these efforts more sustainable. However, it is a challenging aspiration for the Bundelkhand region that suffers poor governance, low human development indices, low education levels and deep-rooted superstitions and beliefs.
– Small initiatives combined with efforts in related spheres such as inculcating natural history school curriculum, awareness activities with gram sabhas, integrating environmental aspects in livelihoods and raising the standard of living could show long-term results. Specifically, environmentally conscious govt al and non-govt al groups could plan activities such as an annual 'Bundelkhand Bird Festival', birdwatching clubs and setting up of vantage points, restoration of sand banks and native tree growth in patches close to the river, training of young women and men as naturalists, and introducing environment tourism initiatives in suitable villages. Worldwide, waterfowl surveys are some of the most popular and well-documented bird monitoring activities, and promotion of the same in Bundelkhand could see a lot of worldwide attention, along with the flow of resources into the region. https://www.veditum.org/upstream/birdwatching-betwa-birds-abundance-threatened-by-developmental-activities/?   (15 Nov. 2019)
RIVER BIODIVERSITY
Gangetic dolphins struggle to communicate as their underwater homes get noisy India's Ganga is a noisy river. There's the churning of sediment, the hums, grunts and growls of fishes and turtles. There are the cacophonous stretches of cities and industries breathing and dumping their waste into the river. Then there's the constant din of boats and ships, and the clamor of heavy machinery dredging the riverbed.
These noises are only getting louder. And that's stressing the Ganga River's iconic dolphins (Platanista gangetica) and changing how they communicate, a new study has found. This is a matter for concern, researchers say, since the Indian government has plans to expand the Ganga waterway, increasing the number and frequency of the ships that ply the river. https://india.mongabay.com/2019/11/gangetic-dolphins-struggle-to-communicate-as-their-underwater-homes-get-noisy/  (18 Nov. 2019)
Abstract:- In riverine 'soundscapes', complex interactions between sound, substrate type, and depth create difficulties in assessing impacts of anthropogenic noise pollution on freshwater fauna. Underwater noise from vessels can negatively affect endangered Ganges river dolphins (Platanista gangetica), which are 'almost blind' and rely entirely on high-frequency echolocation clicks to sense their environment. We conducted field-based acoustic recordings and modelling to assess acoustic responses of Platanista to underwater noise exposure from vessels in the Ganga River (India), which is now being transformed into a major waterway. Dolphins showed enhanced activity during acute noise exposure and suppressed activity during chronic exposure. Increase in ambient noise levels altered dolphin acoustic responses, strongly masked echolocation clicks, and more than doubled metabolic stress. Noise impacts were further aggravated during dry-season river depth reduction. Maintaining ecological flows, downscaling of vessel traffic, and propeller modifications to reduce cavitation noise, could help mitigate noise impacts on Ganges river dolphins. https://www.nature.com/articles/s41598-019-51664-1  
Kerala Western Ghats still home to a rainbow of butterflies The Western Ghats is still home to a kaleidoscope of butterflies. A survey that ended in the Wayanad Wildlife Sanctuary on Nov. 11 could sight 191 species, 12 of which are endemic to the biodiversity-rich region.
– The first-time sighting of Silver forget me not, Common three ring, and Brown onyx was also recorded. The sighting of Silver forget me not was reported only from the Chinnar Wildlife Sanctuary in Idukki district of the State. The three-day survey was done jointly by the Forest and Wildlife Department in association with the Ferns Nature Conservation Society.  https://www.thehindu.com/news/national/kerala/the-western-ghats-still-home-to-a-rainbow-of-butterflies/article29956417.ece  (13 Nov. 2019)
FISH, FISHERIES, FISHERFOLKS
Kerala New signal fish discovered off Kerala coast Called Pteropsaron indicum, it is the first one of the genus recorded in Indian waters.  https://www.thehindu.com/news/national/kerala/new-signal-fish-discovered-off-kerala-coast/article29947500.ece  (11 Nov. 2019)
SAND MINING
Maharashtra In a first, sand mafia slapped with MCOCA In a first, Pune rural police filed cases under the stringent Maharashtra Control of Organised Crime Act (MCOCA) against three men accused of illegally extracting sand from riverbeds on Nov. 12. The action comes after the Nagpur bench of Bombay High Court asked the state govt  in August whether the MCOCA could be invoked against the sand mafia to curb their activities. The accused identified as Hanumant Mohan Shelke (35), Ganesh Mohan Shelke (32), both resident of Bhigwan in Indapur, and Sunil Jalindar Kale (35) from Deshmukh Nagar at Karjat taluka in Ahmednagar district.
Narayan Shirgaonkar, sub-divisional police officer, Baramati division, said, "The trio and their other accomplices are known to excavate the river basins during night. In many cases, because of nexus with local revenue authorities, they manage to get away with it. We invoked MCOCA after Indapur police on Monday arrested them. They were arrested from the highway while moving towards Solapur in sand filled trucks," he said. Shirgaonkar further said that the gang targeted and damaged the basins of Bhima, Sina, Nira and Mula rivers across Pune, Solapur and Ahmednagar districts. https://punemirror.indiatimes.com/pune/civic/in-a-first-sand-mafia-slapped-with-mcoca/articleshow/72046350.cms  (14 Nov. 2019)
State makes use of artificial sand mandatory in govt works The state govt has made it mandatory for all Govt  construction work undertaken by the Public Works Department to use at least 20 per cent artificial or manufactured sand in the total sand mix. A govt  resolution issued on Nov 13 said PWD undertakes large number of construction works of govt  buildings, roads and bridges, and many of these involve concretisation.
– Natural sand has been in great demand in the construction sector, leading to illegal dredging from riverbeds. In view of this and a shortage of natural sand leading to non-completion of road and building projects, the govt  was inclined to encourage greater use of artificial sand, the GR said. https://mumbaimirror.indiatimes.com/mumbai/other/state-makes-use-of-artificial-sand-mandatory-in-govt-works/articleshow/72079558.cms   (16 Nov. 2019)
Haryana
Uttar Pradesh Illicit sand mining in Ramganga busted, 20 vehicles confiscated Moradabad, police on Nov. 14 confiscated 20 vehicles including 17 bullock carts, two earth-movers and a loading vehicle, while they were being used to illegally mine sand from the Ramganga riverbed.
– Last month, UP Pollution Control Board (UPPCB) had cracked down on illegal denim factories for discharging chemical effluents in the Ramganga. The board had ordered 13 factories to shut operations for flouting pollution norms and imposed Rs 1.50 crore on them. In September, UPPCB slapped Rs 18 crore as fine on Moradabad Nagar Nigam for discharging untreated sewage directly into the Ramganga.  https://timesofindia.indiatimes.com/city/bareilly/illicit-sand-mining-in-ramganga-busted-20-vehicles-confiscated/articleshow/72061886.cms  (15 Nov. 2019)
Workers launch stir against ban on boat in sand mining Sand mine workers of Prayagraj and Kaushambi under the banner of All India KIsan Majdoor Sabha (AIKMS) have launched a massive campaign against the state government's order dated 24 June 2019 of stopping sand mining by boats from river ghats, informed Suresh Nishad, vice president, AIKMS, Prayagraj on Nov. 17. He said they will distribute one lakh pamphlets in support of their demand and would launch a massive agitation if the order was not withdrawn. "Even then if the government refuses to withdraw this illegal order the sand workers will be forced to defy the order and start mining by boats," he said.
"The Allahabad administration has been arguing that it is NGT which has ordered that mining by boats be disallowed but there is no such order by the NGT nor is this a condition in the NGT bye laws for granting no objection certificate," he claimed. "The order signed clearly states that this has been passed on the basis of rule 41 G of the 1963 mining rules. Rule 41 G states that while mining in the riverbed the miner is permitted to dig up to 3 metres depth or where water level is reached, whichever is less. Obviously this applies to dry river beds. The director geology and mining has applied this to in-stream mining in flowing rivers and has snatched the livelihood of more than 1 lakh sand mine workers," claimed Pathik.  https://www.hindustantimes.com/cities/workers-launch-stir-against-ban-on-boat-in-sand-mining/story-PIeDQrPA3Wy4NhxQTqbx1K.html  (18 Nov. 2019)
Karnataka Illegal sand mining dominates poll campaign in Ranebennur In the Ranebennur constituency in Haveri district, one of the seats heading to the bypolls, the drama appears to be centred on illegal sand mining, with opposing candidates alleging the involvement of each other in the activity. The River Tungabhadra scythes through the taluk and the banks of the river for roughly 25km, from Kuppelur to Choudayyadanapur has huge deposits of quality soil. Residents allege that officials of the district administration and local officials are hand in glove with those involved in the illegal extraction of sand.
– Contractor Malatesh Veerapur pointed to the noticeable absence of the word 'development' in most election speeches. "It is not the dominating theme in the campaign here. The contestants are telling the people that they will put a stop to illegal sand mining if they win the election," Veerapur said.
– Chief of the Ranebennur unit of the Karnataka Rajya Raitha Sangha Hanumanthappa Kabbar alleged that illegal sand mining was rampant in Makanur, Mudenur, Kuppelur, Mustur, Haranagiri and Anveri villages in Ranebennur taluk. "It is the people in these villages who are bearing the cost of this illegal activity going on unchecked," said Kabbar. State president of Karnataka Rajya Raitha Sangha and chief of the Akhandanand wing of Hasiru Sene Shivaputra Malladad said that the miscreants extracting sand illegally were emboldened by the failure of the law enforcement authorities to initiate legal action. https://timesofindia.indiatimes.com/city/hubballi/illegal-sand-mining-dominates-poll-campaign-in-ranebennur/articleshow/72099137.cms  (18 Nov. 2019)
Gujarat Man attacked for telling officials about illegal sand mining in Narol A 43-year-old man, Mukesh Darbar of Jetalpur, who had informed mines and minerals department officials about illegal sand mining in Narol, was beaten up by Kuldeepsingh Parmar, his brother Sanjaysinh Parmar and Devalsinh Parmar. The incident took place on Nov. 14 and a complaint was lodged on Nov. 15.  https://timesofindia.indiatimes.com/city/ahmedabad/man-attacked-for-telling-officials-about-illegal-sand-mining-in-narol/articleshow/72078710.cms  (16 Nov. 2019)
Madhya Pradesh Will deploy sadhus to stop illegal mining: Computer Baba Computer Baba, a Self-proclaimed godman and chairman of the river trust for Narmada, Kshipra and Mandakini announced that he would deploy 2000 sadhus on the banks of rivers to keep a check on illegal mining. On a two-day visit to Budelkhand's Tikamgarh, Panna, and Chattarpur district, Baba visited the banks of Ken river to apprise himself of the illegal sand mining taking place along the water body. Holding meetings of officials and local MLAs, he also discussed a plantation campaign around the river.  https://timesofindia.indiatimes.com/city/bhopal/computer-babas-big-surprise-for-sand-mafia-says-2000-sadhus-will-be-deployed-to-check-illegal-mining/articleshow/72090460.cms  (17 Nov. 2019)
Telangana Admin grants permission for sand mining in Karimnagar A district-level sand committee meeting was conducted in the District Collectors chamber on Nov. 16. The Collector said that four applications were received for sand mining in the assigned lands in Mandarna village of Bodhan mandal under the government administration. Collector that accordingly, a joint inquiry under the aegis of the relevant departments of Revenue, Irrigation, Agriculture, Mines and others was conducted for sand mining. https://www.thehansindia.com/telangana/admin-grants-permission-for-sand-mining-in-karimnagar-581880  (17 Nov. 2019)
Odisha 
Rajasthan खान विभाग काे मिले बॉर्डर होमगार्ड के जवान खान एवं भू विज्ञान विभाग के सचिव दिनेश कुमार व निदेशक गौरव गोयल ने जिला कलेक्टर सभागार में संभाग के खनि अभियंताओं व लीज होल्डर की बैठक ली। लीज होल्डर ने समस्या रखी कि संभाग में अवैध खनन के मामले बढ़ते जा रहे हैं। अधिकारियों ने कहा कि केंद्र से बॉर्डर होमगार्ड के जवान मिल गए हैं। जल्द ही इन्हें फिल्ड में लगाया जाएगा। इन जवानों के अाने के बाद अवैध खनन पर राेक लगेगी।
बैठक में खातेदारी लीज के ऑक्शन काे लेकर विरोध हुअा। खातेदारों का कहना था इसमें बनाए नियम से ताे ग्रांट बंद हाे जाएगी। इस पर सचिव ने कहा कि अभी तक इसके अधिकारिक आदेश नहीं अाए हैं। आदेश अाने पर ही निर्णय लिया जाएगा। प्रदेश के बाहर जा रहे क्वाटर्स व फेल्सपार के चूरे व दाने काे लेकर लीजधारक एक नहीं दिखे। कुछ व्यापारियों का कहना था कि प्रदेश के बाहर बाल मिल के काम अाने वाले दाने पर लगाई गई राेक हटाई जानी चाहिए ताकि इस कार्य में लगे व्यापारियों काे फिर से व्यापार मिल सके। जबकि कुछ का कहना था कि यह आदेश निरस्त हाेने से प्रदेश की बाल मिलें प्रभावित हाे जाएगी।  https://www.bhaskar.com/rajasthan/ajmer/news/rajasthan-news-border-home-guard-jawans-found-from-mines-department-now-illegal-mining-will-be-curbed-064040-5898341.html  (9 Nov. 2019)
WETLANDS, LAKES, WATER BODIES
Karnataka Bellandur Lake to be desilted in 2020 Bangalore Development Authority (BDA) has decided to desilt the entire lake and if all goes as planned, the work will begin in the New Year. Desilting is among the various remedies suggested by NGT and a committee headed by Justice N Santosh Hegde to rejuvenate the lake. On Nov. 13, urban development department additional chief secretary EV Ramana Reddy, accompanied by BDA, BBMP and BWSSB officials, inspected Bellandur and Varthur lakes to review their condition and measures taken by the three civic agencies.
BDA was asked to take up silt removal. "Engineers are in the process of preparing a detailed project report. It would be completed in a month. BDA is also looking for a place to dump the silt as it shouldn't violate NGT guidelines. Silt removal will begin in the New Year once the project report is ready," BDA officials explained. During the four-hour visit, BBMP was asked to deploy marshals at both the lakes to ensure their banks are not littered. The marshals have been asked to report to BDA engineers though they will be paid by BBMP, an official added. Around 54 CCTV cameras have been installed at Bellandur Lake, while BDA was directed to prepare an estimate for installing such cameras at Varthur Lake.  https://timesofindia.indiatimes.com/city/bengaluru/bengaluru-bellandur-lake-to-be-desilted-in-2020/articleshow/72047984.cms  (14 Nov. 2019)
Kerala Vembanad ecosystem undergoing rapid ecological decay, notes study A recent study has confirmed that the Vembanad backwaters, Kerala's largest wetland ecosystem, is undergoing rapid ecological decay due to a range of reasons including unauthorised construction activities, violation of coastal regulation zone (CRZ) norms, intense pollution and heightened tourism activities. The new findings are alarming and call for speedy govt  action.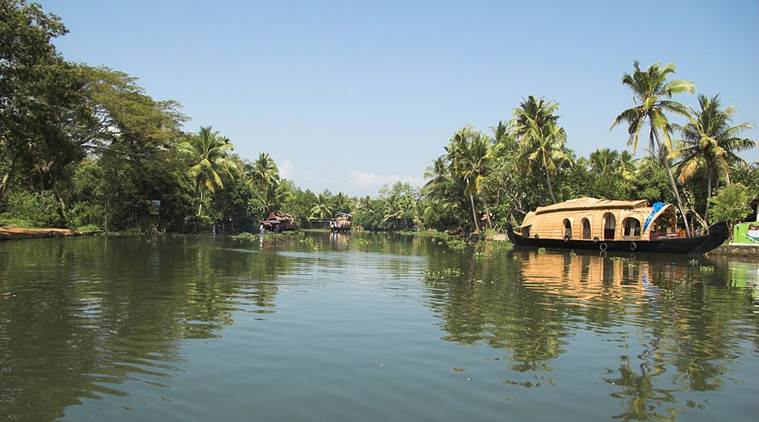 One of the striking findings of the study is that there has been a concentration of heavy metals like zinc, nickel and copper in aquatic organisms, lending a major threat to the ecosystem. The marked decline in the clam fishery in the estuary is a case in point.
The study also cites the effect of the unscientific construction of the Thaneermukkom barrage in 1975 on the coastal ecosystem. The barrage may have been built to prevent saline water intrusion from the sea, but it has resulted in gross changes in the physical, chemical and biological entity of the wetland system. https://indianexpress.com/article/india/kerala/kerala-vembanad-backwaters-pollution-ecological-decay-study-6119996/  (14 Nov. 2019)
Maharashtra Jasai which is being reclaimed in Uran Jasai is the fourth waterbody in Uran which is being reclaimed. The govt has been accused of flouting coastal regulation norms by building concrete structures in no-development zones. https://www.timesnownews.com/videos/mirror-now/society/save-maharashtras-wetland-jasai-which-is-being-reclaimed-in-uran-mirror-now-campaign/45811  (10 Nov. 2019)
Rajasthan Illegal salt mining under scanner for mass death of birds at Sambhar Lake  In the four days since the tragedy came to light, a number of theories have been postulated. Preliminary reports prepared by microbiologist A.K. Kataria, professor at Bikaner's Rajasthan University of Veterinary and Animal Sciences, suggest avian botulism as the cause, based on the symptoms.
– However, Dr Arvind Mathur, a veterinary doctor specialising in wildlife medicine who has been brought in from Jaipur Zoo to assess the situation, tells this writer that a possible cause for the deaths could be high sodium levels in the birds leading to paralysis.
– Research from wildlife biologists in other countries points to the fact that food sources for migratory birds could greatly decline with low water levels and high salt content in salt water lakes that could have led to the mass deaths. This, coupled with Mathur's assessment, seems to point fingers towards illegal mining.  https://theprint.in/environment/illegal-salt-mining-under-scanner-for-mass-death-of-birds-at-rajasthans-sambhar-lake/321869/  (15 Nov. 2019)
More than 1,000 migratory birds found dead near Sambhar Lake  Mass level migratory birds death reported in Sambhar lake. https://scroll.in/latest/943418/rajasthan-more-than-1000-migratory-birds-found-dead-near-sambhar-lake-in-jaipur  (12 Nov. 2019)
Just days before the deaths of about 15,665 migratory birds was observed at Sambhar Lake, the Rajasthan environment department's health card for the lake said its water was highly alkaline, saline, of poor quality, and prone to bacterial growth – pointing to damage inflicted by pollution.  https://www.hindustantimes.com/india-news/a-month-ago-raj-health-card-found-sambhar-lake-to-be-highly-polluted/story-O19qcDEpa1HjaYJuRLAWHO.html  (18 Nov. 2019)
राजस्थान की सांभर झील में अज्ञात बीमारी से पक्षियों के मरने का सिलसिला जारी है। रविवार को नागौर जिले में झील के नावां एरिया से 5309 मृत पक्षी निकाले गए और 67 पक्षी रेस्क्यू किये गए। वहीं, जयपुर जिले की सीमा से 386 पक्षी मृत मिले हैं। यहां 33 पक्षियों को जिंदा निकाला गया, जिनका इलाज जारी है। अब तक सांभर झील में 17,270 पक्षी मारे जा चुके हैं। हालांकि पक्षियों की मौत का स्पष्ट कारण अभी तक सामने नहीं आ सका है। अधिकारी कह रहे हैं कि 20 नवंबर को बरेली से आने वाली रिपोर्ट से ही मौत के कारणों का पता चल सकेगा। तब तक मृत पक्षियों को झील क्षेत्र से हटाने का काम तेजी से किया जा रहा है।  https://www.downtoearth.org.in/hindistory/Death-of-birds-in-Sambhar-lake-Avian-botulism-disease-feared-67769  (18 Nov. 2019)
WATER OPTIONS
Southern cities must learn from Cholas water management wisdom Three part report series on impressive water management work by Chola Kingdom through construction and participatory management of tanks:- Civilisations throughout history have struggled to deal with the rain's whims, but the Chola figured out they could control their fickle water supply by building tanks throughout their terrain, expanding a technique practiced by other south Indian kingdoms, according to a 2017 paper published in The Anthropocene Review.
– Reservoirs gave the Chola thousands of local water sources. People drank from these tanks, picked fruit from trees along their banks, and caught fish to eat or sell. According to Soorya Vennila, an expert on participatory water management at Anna University in Chennai, one member of each Chola family tended their local reservoir, which ensured that no one forgot the importance of water. https://www.thenewsminute.com/article/why-southern-cities-must-move-away-british-water-management-and-return-cholas-112113  (11 Nov. 2019)
Part 1 Though the Chola's tanks have eroded with time and disuse, evidence shows they have helped people survive climatic shocks hundreds of years after the kingdom faded. The catastrophic drought of 1878 killed around 1.5 million people across South India, but spared a surprising number who were surrounded by water tanks in what used to be the center of the Chola empire, according to the 2017 paper in The Anthropocene Review.
– "The Cholas were always doing planned development," said Jothiganesh Shanmugasundaram, one of the paper's co-authors. "That's why we are able to see their vision even after 1000 years."
Jothiganesh said deepening lakes is only the start of reengineering a more natural relationship between cities and the water that flows through them, but he can see a future in which Chennai and others look to the past to begin freeing themselves from constant water crises. https://www.thenewsminute.com/article/lessons-cholas-return-past-could-help-chennai-s-water-woes-111110  (24 Oct. 2019)
Part 2 Tanks in south India are full of sediment and surrounded by animals and plants, all of which can be turned into "additional income," according to the authors of a paper on how the Chola used manmade lakes to weather changes in climate, which was published in a 2017 edition of The Anthropocene Review. People make pots from the silt, catch fish to eat or sell, and forage for fruit. Restoring those lakes, wrote the authors, can provide "environmental capital suited to sustaining long-term agricultural and societal resilience."
– Much of the Chola's terrain was rural, but their use of lakes may serve as a model for modern cities as large as Bengaluru or Chennai, both of which are already buckling under the twin pressures of drought and booming population. Revitalising lakes could provide a way for struggling families to build a life in these places even as rainfall becomes more erratic. But that would mean thinking of lakes as more than a natural respite for people who spend their weekdays tapping at laptops in office buildings. https://www.thenewsminute.com/article/how-fight-drought-and-build-livelihoods-karnataka-lake-offers-blueprint-111176  (25 Oct. 2019)
Tamil Nadu Farmers repurpose bore wells for rainwater harvesting  Farmers are on a voluntary drive to convert the abandoned borewells into rainwater harvesting structures. https://www.villagesquare.in/2019/11/11/farmers-repurpose-bore-wells-for-rainwater-harvesting/  (11 Nov. 2019)
Desilted water body helps recharge groundwater The Kolathupalayam Lake located along Karur Bypass Road at Ganapathipalayam village is brimming with water helping in the recharge of groundwater in and around villages in the area. https://www.thehindu.com/news/cities/Coimbatore/desilted-water-body-helps-recharge-groundwater/article29994717.ece   (17 Nov. 2019)
Residents of Vanniya Nagar are rejoicing as their efforts to bring back to life Ismail Khan Lake a neglected lake have given result. https://www.thehindu.com/news/cities/Coimbatore/villagers-rejoice-as-lake-fills-up-after-20-years/article29994787.ece  (17 Nov. 2019)
GROUNDWATER
Punjab Groundwater unsafe for drinking in state: Study The groundwater contamination in the state has reached alarming proportions. While the Majha region has high arsenic contamination, Doaba is afflicted by selenium and groundwater in Malwa has high uranium content.
These are the findings of a recent research conducted by physicist Hardev Singh Virk. The study points out how Punjab is facing a crisis situation due to high levels of heavy metals and uranium in groundwater. The research is based on the findings of the Punjab Water Supply and Sanitation Department report, which had collected samples from 2,080 habitations.  https://www.tribuneindia.com/news/groundwater-unsafe-for-drinking-in-state-study/862195.html  (18 Nov. 2019)
Nasik Heavy rain swells groundwater level With Nashik district receiving 156% of its annual rainfall this year, the ground water level has increased and lesser number of villages are likely to face shortage of water during summer. "The only exception is Yeola taluka where the groundwater level has registered a drop of 0.42 metre below its five-year average level," a senior official from the groundwater survey and development agency (GSDA) said.
The GSDA has 185 observation wells spread across the district and they define the water sheds in the area. The average groundwater level for the district stood at 2.86 meter, as per the data collected for October 2019. However, the five-year average water level, including levels up to October 2018, stood at 3.63 meter. "The difference between the water levels and the five-year average was 0.77 meter, which is a significant. The difference last year (for 2018) was 0.05 meter only. This is a major respite for large number of villages that require tankers during the summers," the official said.
He, however, cautioned that the rise in water level does not mean that none of the village in a taluka would require tankers for drinking water. "The figures are indicative. The only thing that can be noted is that the numbers of tankers required and the numbers of villages requiring them will be significantly lower than last year," the official clarified. The groundwater level was 0.58 meter in Trimbakeshwar, while it was worst in Deola at 5.30 meter. Interestingly, the biggest change in water level was observed in Baglan taluka where it went up by 2.61 meter against the five-year average. The tauka has received 172% of its annual rainfall. https://timesofindia.indiatimes.com/city/nashik/heavy-rain-swells-groundwater-level-in-nashik-dist/articleshow/72045602.cms  (14 Nov. 2019)
URBAN WATER
Shimla 6 companies show interest in water project  Shimla Jal Prabhandan Ltd floated tender for Rs 350 crore project to provide round the clock water supply to the growing town and major tourist hub. As per proposal 67 MLD water would be lifted from Sutlej river for Shimla. The construction of the project is expected to be completed by 2022-23. World Bank is funding it and has agreed to implement it by 2024. Water from Sutlej would be tapped at Shakrori near Sunni and brought to Sanjauli storage point in the town.
Shimla's current population is 3 lakh which is expected to go double by 2050. In addition, the city receives an average of 3.6 million tourists per year. Present water sources capable of providing 40 MLD water. Demand is already 56 MLD. By 2050 water demand will grow to 107 MLD. 
Shimla has one of the oldest lift water supply system in India. The system is around 135 year-old and pumps at an average head of 1470 meters. The first water supply scheme in Shimla was started in 1875 with the capacity of 4.54 MLD, catering to a population of 16,000. Company awarded the project would complete the project of drawing water from Satluj river to Sanjauli storage point in three and half years period and then run it for 10 years. https://timesofindia.indiatimes.com/city/shimla/six-companies-show-interest-in-shimla-water-project/articleshow/72036596.cms   (13 Nov. 2019)
Bengaluru City sitting on groundwater time bomb The city will face a shortfall of 217 million cubic metres of water in 2021, with the shortage expected to balloon exponentially to 518 million cubic metres by 2041, an expert committee has informed the NGT. As of now, the Bangalore Water Supply and Sewerage Board (BWSSB) is supplying 1450 mld/day for the city, for the population of 1.25 crore.
– NGT had sought a report from an expert panel comprising members of the CPCB, MoEF and Bureau of Indian Standard about the status of groundwater in 24 cities, including Bengaluru, where groundwater extraction is very high and due to fast depletion of groundwater, Bengaluru has to source 94% of its water from surface water by 2021, warned the report.
– According to the report, Bengaluru is among 12 cities where the rate of groundwater extraction is more than 100%. With an extraction rate of 141%, the city is in 12th place while Jalandhar in Punjab occupied the top slot with 472%.  https://www.deccanherald.com/city/top-bengaluru-stories/bengaluru-sitting-on-groundwater-time-bomb-775765.html  (13 Nov. 2019)
Pune Wagholi looks at old well for water needs A group of locals in Wagholi have found a solution for the problem of water scarcity which has plagued that area, one of the most populated suburbs of Pune. Wagholi has been facing a water problem for a decade with the proposed Bhama-Askhed project stuck in limbo. The Maharashtra Jeevan Pradhikaran water supply has also been inadequate for many societies who have been forced to spend on tankers.
In the midst of this, the group located an 80- year-old well which was lying abandoned for the past 20 years. In the past, it was the only source of water supply to Wagholi village. The well is located in Vadjai, near Wagholi's Gaothan area. The group tested the water in state-run lab and found that its water was fit for consumption. Now, these people submitted a proposal to the gram panchayat which was approved on Nov. 15 following an inspection. The well will supply water to 100 societies and households situated on Baif Road, one of the most crowded areas.
https://punemirror.indiatimes.com/pune/others/wagholi-looks-at-old-well-for-water-needs/articleshow/72089475.cms  (17 Nov. 2019)  
Tap water in Mumbai safe for drinking. Delhi, Chennai, Kolkata fail all tests Out of 20 state capitals where the study was conducted, all 10 samples of tap water from Mumbai were found to comply with all 11 parameters, while other metro cities of Delhi, Kolkata and Chennai failed in almost 10 out of 11 quality parameters tested by the BIS which is under the aegis of the Consumer Affairs Ministry. Similarly, samples drawn from 17 other state capitals were not as per the specification 'Indian Standard (IS)-10500:2012' for drinking water. https://www.indiatoday.in/science/story/tap-water-in-mumbai-safe-for-drinking-delhi-chennai-kolkata-fail-all-tests-govt-study-1619705-2019-11-16  (16 Nov. 2019)
Bhubaneswawr Chloramines in Piped Water Will Make Denizens Prone To Pneumonia, Influenza & Cancer: WHO For the smart city denizens, the tap water of Bhubaneswar figuring as the second safest after Mumbai in the safe piped water list is not comforting. Because, the one contaminant, chloramines, detected in excess to the safe limits in Bhubaneswar tap water (piped water) is enough to give jitters to the common man.
As per the Bureau of India Standards (BIS) report released on Saturday, one sample of piped water in the Smart city was found to be having excess of a compound called chloramines than the permissible limit. The permissible limit of chloramines in piped drinking water as per the BIS- 10500:2012 is 4 mg/litre. But the sample from Bhubaneswar was found containing the compound in excess.  https://odishatv.in/odisha/chloramines-in-bhubaneswar-piped-water-will-make-denizens-prone-to-pneumonia-influenza-cancer-who-415961  (17 Nov. 2019)
Hyderabad Tap water second safest in India Tap water being supplied to Hyderabad households is second safest for drinking in India, according to a report released by Union consumer affairs minister Ram Vilas Paswan. According to the report, only one of the samples in Hyderabad failed on the safety parameters during tests carried out in laboratories. The samples were tested on 28 parameters as prescribed for drinking water standards of BIS notified in 2012. https://timesofindia.indiatimes.com/city/hyderabad/hyderabads-tap-water-second-safest-in-india/articleshow/72091514.cms  (17 Nov. 2019) WATER POLLUTION
CPCB Use treated effluents for irrigation with caution CPCB guidelines are a result of directions of NGT which in May 2019, while hearing a case, held that "no industry can be permitted to dispose treated effluents on land for irrigation, plantation or horticulture/gardening by prescribing standards applicable without assessment of adequate availability of land and impacts of such disposal on agricultural/crops /plants and the recipient groundwater."
– The NGT order elaborated that while granting approvals for using industrial waste water in irrigation, the impact of precipitation levels needs consideration and Zero Liquid Discharge (where an industry entirely recycles effluent instead of discharging it) needs to be considered with respect to use of effluents in the industrial processes, not in terms of its disposal on land or farm. "Therefore, the CPCB needs to look into this aspect with the help of experts and issue appropriate guidelines in this regard," NGT had noted.
– Following that, the CPCB, which is India's top pollution watchdog, constituted an expert group that included members from the Indian Institute of Technology (IIT), Delhi, National Environmental Engineering Research Institute (NEERI), Delhi and CPCB to formulate such guidelines. So far, there have been no national-level guidelines for safe usage of wastewater from industries for irrigation.
– Risks of using industrial wastewater for agricultural irrigation involve changes to physicochemical and microbiological properties of soils that impact crop growth and water retention capacity of the soil, which in turn could be harmful to health. https://india.mongabay.com/2019/11/use-treated-effluents-for-irrigation-with-caution-advises-cpcb/  (13 Nov. 2019)
WATER
Jal Shakti Committee to draft new National Water Policy Union Water Resources Ministry has finalized a committee to draft a new National Water Policy. It will be chaired by Mihir Shah, who is a former Planning Commission member and a water expert. The committee has 10 principal members, including Shashi Shekhar, a former secretary of Water Resources, and A.B. Pandya, former chairman of the Central Ground Water Board. The committee is expected to produce a report within six months.
– The NWP currently in force was drafted in 2012. Among the major innovations in the 2012 policy was the concept of an Integrated Water Resources Management approach that took the "river basin/ Sub-basin" as a unit for planning, development and management of water resources. It also proposed that a portion of river flows ought to be kept aside to meet ecological needs.  https://www.thehindu.com/news/national/committee-to-draft-new-water-policy/article29947099.ece  (11 Nov. 2019)
Op-Ed India must not look at its water crisis in isolation India is the world's largest user of groundwater, extracting 250 cubic km of groundwater annually, and has 20 million wells and tube wells. Most of our cities depend on groundwater, and our irrigation is overwhelmingly groundwater dependent. The risk of linking our water crisis to climate change is that policymakers can throw their hands up and say that there is little that they can do. And that's a dangerous road, because, so much of our water crisis originates from misplaced policies.
– First, India's cities. In almost all our cities, wetlands, lakes and ponds have been encroached upon, and this, when added to mostly concrete surfaces, drastically reduces groundwater recharge, causing the kind of water crisis we saw in Chennai this past summer, and also paradoxically, urban floods of the kind that Mumbai witnessed this year, and every other year. We need policies that incentivise urban municipalities to implement nature-based solutions such as rejuvenating water bodies, to demarcate areas where recharge happens as protected places, and provide incentives to urban residents and industries to undertake rainwater harvesting and reuse waste water. https://m.hindustantimes.com/analysis/india-must-not-look-at-its-water-crisis-in-isolation/story-jAT9c56RYKKq8hFnTU3f2K_amp.html  (13 Nov. 2019)
Telangana Water supply stopped for 2,400 villages in 3 districts With the Singur water expected to exhaust in the next two months, residents of erstwhile Medak have begun to feel the upcoming water crisis already. The government has decided to suspend the supply of water under Mission Bhagiratha scheme to rural areas of Sangareddy, Medak and Kamareddy. With the municipal elections round the corner, locals allege that the decision to cut the supply of rural areas was done to not invite flak from the urban areas.
Narayankhed division Mission Bhagiratha Deputy EE P Narender said that water level in Singur project has reached dead storage levels thus the water supply through the mission has been suspended for 415 villages in Sangareddy, 873 villages in Medak, and 1,250 villages in Kamareddy. The water available in the project would only be sufficient for the next two months if supplied through the mission. The EE added that water is being supplied to rural areas through transportation and agriculture borewells. https://www.newindianexpress.com/states/telangana/2019/nov/17/water-supply-stopped-for-2400-villages-in-3-telangana-districts-2062933.html  (17 Nov. 2019)
As per another news report, Mission Bhagiratha project for providing tapped drinking water to every household in the State is fast nearing completion in erstwhile undivided Nalgonda district.  It will also provide piped water to some 3,100 government schools also. https://www.thehindu.com/news/national/telangana/bhagiratha-water-to-flow-out-of-taps-in-old-nalgonda-soon/article29994675.ece  (17 Nov. 2019)
Kerala KSHRC pulls up KWA over water disruption State human rights commission (KSHRC) has sought explanation from the Kerala water authority (KWA) over water supply disruption in Kanaka Nagar and Nathancode. SHRC chairman justice Anthony Dominic has asked executive engineer of KWA to give an explanation within four weeks on why the residents in these areas were not getting drinking water on a regular basis.
The petitioner, S S Arunkumar representing residents of Kanaka Nagar and Nathancode areas, had alleged that they used to get regular supply of water during the time of byelection and not anymore. The petitioner said that the supply was not regular and in the days they get water, it lacked force. The petitioner expressed apprehension that KWA was diverting water to some high-rise apartments in Kanaka Nagar.  https://timesofindia.indiatimes.com/city/thiruvananthapuram/kshrc-pulls-up-kwa-over-water-disruption/articleshow/72100353.cms  (18 Nov. 2019)
DELHI WATER
Bhalswa lake, once famous for water sports, fighting for existence This lake, in north-west Delhi, was originally shaped liked a horseshoe, spreading over a 59-hectare area, arguably one of the largest water bodies of the city. The lake shot to its peak popularity in 1992 when the Union sports ministry started water sports here. The sports activities had to be stopped because of high pollution levels. In 2015, the government officially issued an order suspending such recreational activities. Today, the size of the lake has been squeezed to just 34 hectares.
A landfill site standing next to the lake has been releasing toxic gases and producing unbearable stench for anyone to venture around. Also, thousands of litres of sewage water, cow dung and other waste generated by the adjoining dairy farms has reduced the lake to a waste dumping site. Locals said that the size and shape of the lake have seen change over the years as major portions of the water body have been consumed and encroachment by slums that have come up in the vicinity.
In 2017, the Delhi government had drafted a proposal to revive boating, angling, and other recreational activities in the lake but the plan could not take off because of the pollution. The government has also allocated Rs 390 crore for making a new lake and rejuvenating existing water bodies. https://www.indiatoday.in/mail-today/story/delhi-bhalswa-lake-fighting-for-existence-1619928-2019-11-18  (18 Nov. 2019)  
DJB nod to revival of Timarpur pond The Delhi Jal Board has cleared the second phase of the lake development project, as part of which the defunct and dry Timarpur pond would be revived and a biodiversity park would be developed around it. The cost of the project has been pegged at Rs 34 crores. While the area earmarked for the project spans 45 acres, 38 acres have been allocated for developing the wetland and biodiversity park. A wetland-based sewage treatment plant will come up on the remaining seven acres.
"Developed in the 1940s, the pond fell into disrepair and has been dry for long. The construction of the wetland-based sewage treatment plant, which will generate 25 million litres of treated water per day, had been approved earlier. The plant will come up at a cost of Rs 64 crores. The 2nd part – development of the lake and landscaping of the area – was approved on Nov 15, 2019," a DJB official said. https://www.newindianexpress.com/thesundaystandard/2019/nov/17/delhi-jal-board-nod-to-revival-of-timarpur-pond-2062826.html  (17 Nov. 2019)
Centre will rejuvenate around a dozen small waterbodies connected to the Yamuna at a cost of ₹9 cr, said BJP chief Manoj Tiwari  said on Nov. 12.  https://www.thehindu.com/news/cities/Delhi/centre-to-rejuvenate-11-waterbodies-connected-to-yamuna-tiwari/article29956786.ece  (13 Nov. 2019)   
MONSOON 2019
IMD 32% rise in number of cyclones in past 5 years The number of cyclones and severe cyclones in the Arabian Sea and the Bay of Bengal has risen by nearly 11% in the last decade, with an alarming 32% increase recorded in the last five years, data from India Meteorological Department (IMD) reveals. Back-to-back cyclones have caused havoc and affected weather patterns recently. But the sharp rise in the past five years in comparison with the previous decades could be an alarming pointer to the calamitous effects of global warming.
– There were seven cyclones each in 2018 and 2019, the highest since 1985, when too seven cyclones were recorded. Similarly, six severe cyclones each hit India in 2018 and 2019, the highest since 1976, when seven were recorded.
– This year, the extremely severe cyclonic storm Fani devastated Odisha and the extreme southern parts of Gangetic West Bengal in April. Vayu, another very severe cyclone, delayed the monsoon's onset over parts of the country.
– On average, four cyclones affected India each year during this decade (2010-2019), higher than the average of three in the previous decades since 1980, Anupam Kashyapi, head of weather, IMD, Pune, said.
"The average number of cyclones for the last five years is five and that for severe cyclones around three, indicating an increase in the number and severity of cyclonic storms in recent years," he added.
– Cyclones and its variants this year have been affecting life and property in India. The first to hit India this year was cyclone Pabuk which emerged in the north Indian Ocean region over Andaman Sea in January. It did not cause any devastation.
– Fani, which formed over east-central equatorial Indian Ocean and adjoining southeast Bay of Bengal, from April 26 to May 4 was the most intense cyclonic storm crossing Odisha coast during the pre-monsoon season since 1965. Some areas are still coping with the devastation Fani caused.
– Vayu, which formed from June 10 to June 17 in the Arabian Sea, depleted all the moisture from the south peninsula and parts of Maharashtra after the monsoon had set over Kerala. "The storm significantly delayed the monsoon in these parts as its current took time to recover," Kashyapi said.
– Kyarr in October brought heavy to very heavy rain along the west coast in Karnataka, Maharashtra, and south Gujarat while Maha did something similar towards the end of October and early November when it usually does not rain with such intensity.
– "Maha caused intense rain and moisture incursion into Maharashtra and south Gujarat. The huge amount of moisture has delayed the progress of winter-like temperatures in Maharashtra," Kashyapi added. The most recent very severe cyclonic storm Bulbul took a toll on life and property in southern parts of Gangetic West Bengal in the Sundarbans.
– The recent cyclones and consequent untimely rains have also caused significant damage to kharif crops in various locations in Maharashtra, Gujarat, Gangetic West Bengal, north Odisha.  https://timesofindia.indiatimes.com/india/32-rise-in-number-of-cyclones-in-past-5-years-imd/articleshow/72031005.cms  (13 Nov. 2019)
FLOOD 2019
Opinion Colonial Hangover; Engineering season of flood  Amitangshu Acharya rightly says that outdated ideas of shackling rivers with dams and embankments have resulted in annual floods across South Asia and instead of disciplining rivers, we need to discipline ourselves and learn how to live with them. Otherwise, we will continue to engineer a season of floods. River engineering solutions are crafted by those who do not live on the floodplains. Floodwaters do not lap at the foot of their beds at midnight. The poor who live by the banks experience the river differently. They know its cycles and rhythms. They know when a river will overflow its banks simply by observing the colour of the water or the behaviour of fish. River engineering plans exclude such granular understanding of rivers acquired through lived experience. The late ecologist and conservationist Dhrubajyoti Ghosh had termed this "cognitive apartheid"—a systematic exclusion of the knowledge of the poor by the educated elite. This is a replication of the colonial system, creating a hierarchy based on privileging the lettered over the unlettered.
– Seventy-two years after independence, the understanding of rivers in India continues to remain trapped in colonial engineering-thinking. If the British enthused us to build embankments, the Soviets and the Americans inspired us to build gargantuan dams. A subcontinent with a civilizational history of 8,000 years (according to the latest archaeological research) has failed to script its own vision for living with rivers. Remarkably, the discourse on dam building has undergone a 180-degree turn in the West. Ninety-nine dams were removed in the US alone in 2018 to restore the free flow of rivers. Meanwhile, in India, we are adding more to a current list of more than 900 dams and barrages on the Ganga and its tributaries in the upper reaches.
– In the wake of the uncertainty brought about by climate change, incautious infrastructure development will amplify risks, and as always, the poor will suffer the most. But using uncertainty as a bugbear, policymakers across South Asia are pushing for more river engineering through dredging, interlinking, dams and embankments. If this leads to more floods and ecological catastrophes, the blame will be directed towards climate change. https://epaper.livemint.com/Home/ShareArticle?OrgId=afb8a534&imageview=0&fbclid=IwAR0IjrB6G_9OeIccVd4Xl4jNme_Y7oPOtxPJQF3BzSMeNhttipRiD8yloxk   (16 Nov. 2019)
Andhra Pradesh Experts worried about safety of Srisailam dam The crest gates of Srisailam dam had to be lifted eight times in the last five and a half months to release flood water. Every time the gates are lifted, thousands of cusecs of water drops from a height of 250 feet to pound the apron. The scouring or erosion caused by the water was enormous.
– In 2009, the dam, designed for a maximum flood of 19 lakh cusecs, endured a flood of 25.5 lakh cusecs. According to a survey conducted last summer (2018), the scouring resulted in the formation of a huge pit in the apron downstream the dam. And a structure protecting the 'toe' and foundation of the main dam has weakened.
– Former Irrigation Superintending Engineer K. Haranath said that "protection works" and repairs should be undertaken every year, but in the case of the Srisailam dam no such effort has been made since 2003. Engineers who undertook an inspection last year found the steel cylinders of the coffer dam that protected the toe and foundation of the main dam lay exposed, Mr. Haranath said. No effort was made to replace the concrete apron after its erosion. The rock below the apron was relatively soft "quartzite interbedded with a shale band" that was getting scoured easily, he explained. A cavity of 4,500 cubic metres (CuM) was found in blocks 8 to 11 of the apron in 2002, but only 143 CuM could be filled, Mr. Haranath said.
– On Oct 3, 2009, the dam was subjected to maximum stresses for the first time after its commissioning in 1983-84. The dam tilted towards downstream by 4 mm & the tilt reached a maximum of 8.8 mm on Oct 8, 2009. Fortunately, it returned to normal after the flood receded.
– With climate change, it was becoming harder to predict the intensity and interval between floods. The National Institute of Oceanography, Goa and Visakhapatnam, conducted a detailed survey last summer, but the report is yet to be made public, Mr. Haranath said. In the event of the Srisailam dam bursting, the Nagarjuna Sagar and Pulichintala dams, Prakasam Barrage and half of Vijayawada and Amaravati would be washed away, and Rayalaseema would become a desert, he added. https://www.thehindu.com/news/cities/Vijayawada/experts-worried-about-safety-of-srisailam-dam/article29987390.ece/amp/   (16 Nov. 2019)
Anxiety mounts as discharge from major river systems continues The Godavari, Krishna and Vamsadhara rivers have discharged a total of 4,386.56 tmcft into the Bay of Bengal since June 1. On Nov 10, 2019, the three rivers discharged about one lakh cusecs into the sea. About 98,000 cusecs was released from the Nagarjuna Sagar Project. According to the Water Resources Dept logs, 137 tmcft was utilised to irrigate crops in Godavari Delta, 113 tmcft in Krishna delta and 19 tmcft for irrigating the Left and Right main canal areas of Gotta Barrage on the Vamsadhara River. About 900 TMC was stored in the reservoirs. The Irrigation Department staff are struggling to fill the tanks in the drought-prone Rayalaseema region. https://www.thehindu.com/news/national/andhra-pradesh/anxiety-mounts-as-discharge-from-major-river-systems-continues/article29939236.ece  (11 Nov. 2019)
Tamil Nadu Mettur dam full for 4th time this year The water level of the Stanley Reservoir of Mettur dam attained the 'Full Reservoir Level' (FRL) for the fourth time this year on Nov. 11 night. According to PWD officials, the Reservoir has earlier recorded FRL on Sept 7 and 24 and on October 23 this year. https://www.thehindu.com/news/cities/Coimbatore/mettur-dam-full-for-the-fourth-time-this-year/article29951499.ece  (12 Nov. 2019)
Flooding in Moola Vaigai River, after nearly a decade The flooding follows heavy rains in Meghamalai and Vellaimalai hills; officials have instructed people living along the banks to not venture into the river. The inflow to the Vaigai dam has subsequently increased to 2,017 cusecs on Nov. 1 from 1,210 cusecs on Nov. 15.
Catchment areas of the Periyar Dam including Thekkadi, received good rainfall and the inflow to the dam increased to 4,581 cusecs from 595 cusecs. Rain was also reported in other areas of Theni district including Bodinayakanur, Periyakulam, Sothuparai, Uthamapalayam and Veerapandi. https://www.thehindu.com/news/national/tamil-nadu/flooding-in-moola-vaigai-river-after-nearly-a-decade/article29991384.ece   (16 Nov. 2019)
Heavy rain led to flash floods and landslips in and around Coonoor on Nov. 17 morning. https://www.thehindu.com/news/national/tamil-nadu/rain-results-in-flooding-landslips-at-14-locations/article30001928.ece  (18 Nov. 2019)
River Kallar at Odenthurai Level Forecast site in Coimbatore on Nov. 17 reached at 330.37 m breaching previous HFL 329.95 M attained on 16 Aug. 2018.  http://india-water.gov.in/ffs/hydrograph/  
Also see Daily Flood Situation summary dated 17 Nov. 2019.  http://cwc.gov.in/sites/default/files/cfcr-cwcdfb-17112019.pdf
DROUGHT 2019
Rajasthan 1388 villages declared drought affected The Rajasthan govt  has issued notification declaring 1388 villages of 13 tehsils of Barmer, Jaisalmer, Jodhpur and Hanumangarh as drought affected.  https://timesofindia.indiatimes.com/city/jaipur/1388-villages-declared-drought-affected-in-rajasthan/articleshow/72009159.cms  (11 Nov. 2019)
AGRICULTURE
Saving soil: ICAR organizes global conference  A five day-long "International Conference on Soil and Water Resources Management for Climate Smart Agriculture and Global Food and Livelihood Security" was inaugurated at the National Agricultural Science Centre Complex in New Delhi on Nov 5, 2019. Dr.Trilochan Mohapatra, Secretary (DARE) & Director General (ICAR) inaugurated the global event. The conference is being organized jointly by the Soil Conservation Society of India in association with World Association of Soil and Water Conservation (WASWAC), China and International Soil Conservation Organization (ISCO), U.S.A. http://www.indiancooperative.com/agriculture-2/saving-soil-icar-organizes-global-conference-in-delhi/  (10 Nov. 2019)
Centre Zonal committees set up to monitor key programs of land resources dept Under the Pradhan Mantri Krishi Sinchayee Yojana, the department undertakes development of rainfed portions of net cultivated area and cultivable wastelands in association with states. Digital India Land Record Modernization Programme (DILRMP) is a 100 per cent grant scheme from the centre. https://economictimes.indiatimes.com/news/economy/policy/four-zonal-committees-set-up-to-monitor-key-programmes-of-land-resources-department/articleshow/72020261.cms  (12 Nov. 2019)
ENERGY 
133 thermal power units switching off due to Low demand  As on Nov 11, of the 262 coal, lignite and nuclear units reported to be out-of-service for a variety of reasons, nearly half — or 133 – were shut as operators were faced with low demand or were unable to ink pacts with distribution utilities for sale of power. Of the country's total installed generation capacity of 3,63,370 MW, the peak demand met was a little less than half at just around 1,88,072 MW on November 7, according to official data available with grid managers.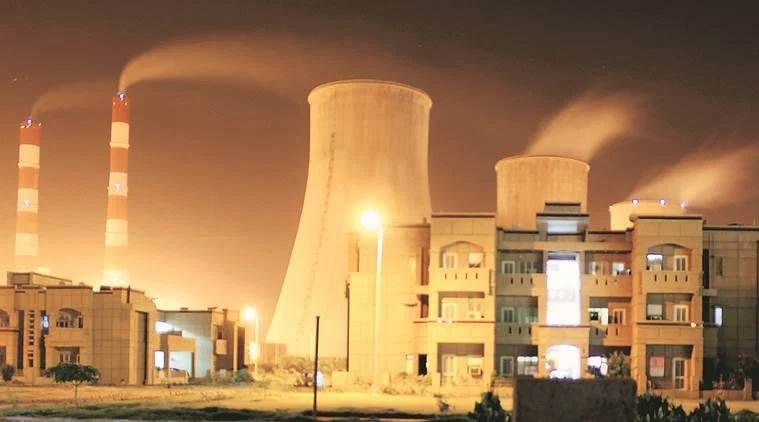 – A total of 119 thermal units across mostly India's northern and western heartland were faced with "reserve shutdown," a technical term for a unit shut down due to lack of demand, while another 14 units on account of developers not managing to ink power purchase agreements with electricity distribution utilities. Grid managers point to this being indicative of tepid industrial & commercial load.  https://indianexpress.com/article/business/133-units-switching-off-low-demand-behind-half-of-thermal-power-plants-shutting-down-6122166/  (16 Nov. 2019) 
ENVIRONMENT
Interview 'People must engage with govts to save environment' Madhav Gadgil interview. People, unfortunately, have to realise that there will be no policy-level initiatives in the direction they want. It has to be a gradual build-up of pressure from below. The govt s will not respond positively. It has never done so far and increasingly less so now.
– On landmark Western Ghats report Govt s are still in the grip of a number of vested interests. In Kerala, for example, there is a lot of anger against many of the stone quarries. But many of them are actually, as per the report of a Kerala legislature, illegal. All the govt  has done is to legalise them. In Kerala, there is enough people's pressure partly because there the Kerala Shastra Sahitya Parishat has prepared a Malayalam translation of the report. Now people have access to it, they have been reading it, and that's one of the reasons they know what's actually in the report. Politicians are also now paying lip service. Goa also had huge problems with floods. Beginning from the Konkan region of Maharashtra till Kerala, we have had serious problems along the Western Ghats.
– Environment campaigns losing hope? Many campaigns end up in protests and court cases. People should be involved in decision-making. We have a number of provisions for involving people in decision making. The 73rd and 74th amendments to the constitution, the Biological Diversity Act open up these possibilities. The Forest Rights Act also allows for citizen initiative and constructive action.
– On Clean Ganga Mission Actually nothing has improved as far as Ganga River pollution is concerned. There is data to show that nothing much is done. Investments are made, there are effluent plants all over. But they are not being run. It has actually not demonstrated any concrete effect on the ground as far as we are aware.
– On Yettinahole project Why are govt s now keen on water diversion projects? Local people were against the Yettinahole project. Large-scale engineering projects generate a lot of money and unfortunately, there are many good evidences that there is a lot of mismanagement and corruption. Large projects allow this kind of misappropriation of funds. So they are very popular with govts. https://www.deccanherald.com/national/people-must-engage-with-govts-to-save-environment-775485.html  (12 Nov. 2019)
Report 'WASTELAND CONVERSION THREATENS LIVELIHOODS, ECOLOGICAL BALANCE' India's conversion of more than 14,000 square km of 'wasteland' — mostly dense scrub, glacial areas, sands or marshland — into productive use between 2008-09 and 2015-16, and the government's target to restore 26 million hectares of wasteland and degraded land by 2030 risks affecting the livelihoods of pastoralists, fishermen and nomadic farmers who are often dependent on these traditional "commons" lands, caution environmental policy researchers and social activists. These 'commons' also act as a buffer against floods, droughts and pollution for a wider population, they point out.
"The idea of a wasteland is itself a political construct," said Kanchi Kohli, a senior researcher at the Centre for Policy Research. "Many of these have been common areas for centuries and to regard them as unproductive is a problem. When you classify shifting cultivation or common grazing lands as wasteland and try to convert them into crop land, plantations or solar parks, it is endorsing a hierarchical idea of livelihoods. Why the pastoralist is considered less productive than the farmer?" she asked.
In southern India, these areas have traditionally been called 'poromboke' land which is communally owned, cannot be bought, sold or built on. In Karnataka, the gomal lands are common grazing areas. In other regions, village forests and pastures, or gram panchayat lands, have played a similar role from medieval times.
"It was the East India Company that first categorised these areas as wasteland, as they produce no tangible revenue," said Nityanand Jayaraman, a Chennai-based social activist. He noted that Tamil Nadu's capital city Chennai had paid a heavy price for converting wastelands such as the Pallikaranai marsh or the Ennore creek backwaters, into industrial, built-up areas. "The flooding you have seen in recent seasons happened because marshland was treated as waste rather than a valuable buffer. The backwaters protect inland water resources from encroaching salinity and seawater inundation, as well as storing water for dry seasons." https://www.thehindu.com/news/national/wasteland-conversion-threatens-livelihoods-ecological-balance/article29994100.ece  (17 Nov. 2019) http://www.zuccess.in/uploads/news/NOVEMBER-2019/1573965233823.pdf  
Uttar Pradesh Threatened with NSA, says pollution whistleblower A tweet by a differently abled student to draw attention to an instance of stubble burning in his Bareilly neighbourhood backfired recently, with the local police inspector allegedly threatening to charge him under the National Security Act instead of acting on the complaint.
Irshad Khan, a differently abled first-year law student, had tweeted on Nov 9 about a farmer in his neighbourhood burning crop stubble from his field in violation of the law. The state police — who boast of an active presence on social media — did respond, but not in the way expected.
In a two-minute audio clip released by Irshad Khan, police inspector Surendra Singh Pachauri is purportedly heard threatening to file a case against him for taking to Twitter on the issue. "How could you tweet without my permission? Come down to the police chowki and I will teach you the law," the voice on the other side says. "Tera dimaag kharab ho gaya hain kya (have you lost your mind)? Are you mentally sound? I will get a case filed against you and have you sent to jail."  https://www.ndtv.com/india-news/threatened-with-national-security-act-says-up-pollution-whistleblower-2132541  (14 Nov. 2019)
CLIMATE CHANGE
Slovenia Floods Venice Floods Threaten Priceless Art And History, Submerge 70% Of City According to experts, it's a sobering preview of how climate change, accelerated by human behavior (and exacerbated by political corruption), will not just complicate Venetian's unique and fragile way of life but wash it away entirely.  https://www.ndtv.com/world-news/venice-floods-threaten-priceless-art-and-history-submerge-70-of-city-2134116  (18 Nov. 2019)
Flooding in Venice is not a new phenomenon, but the deluge that temporarily sank the "Floating City" this week was the worst Venetians have experienced in more than 50 years. As high tide came in on Nov. 12 night, amidst heavy rain and strong winds, water levels reached 6 feet above sea level in parts of the city.
Hundreds of ground-floors homes, shops, restaurants, and hotels throughout the city were inundated. Tables and chairs floated around public squares, and water taxis became stranded along the plazas. Italy has declared a state of emergency in Venice as the city assesses the damage and braces itself for continued high tides in the coming days.  https://grist.org/article/what-happened-when-venice-the-floating-city-sank/  (15 Nov. 2019)
SOUTH ASIA
Bangladesh West Sundarbans hit hard by Cyclone Bulbul Around 4500 trees, including Sundari plants have been affected by Cyclone Bulbul in the Sundarbans, largely in the western side of the world's largest mangrove forest, according to a primary assessment report of the forest department.
Of the 4,589 trees uprooted, which is worth Tk 50.35 lakh, 4,002 trees were damaged in the west zone while 587 others in east zone of Sundarbans, a Unesco world heritage site, after the Cyclone Bulbul wreaked havoc in the country's coastal districts in the early hours of Nov 10. Of the trees damaged in west zone, 874 are Sundari, and 1,534 Geoa trees.  https://www.dhakatribune.com/bangladesh/nation/2019/11/17/west-sundarbans-hit-hard-by-cyclone-bulbul  (17 Nov. 2019)
CHINA
YANGTZE RIVER  Three Gorges dam's legacy: "Heyday of the large dams has passed" Protecting the Yangtze has become a priority for China after President Xi Jinping promised to end big and "destructive" development along the river, which stretches 6,000 km from Tibet to Shanghai, supplies water to 400 million people and irrigates a quarter of the country's arable land.
Beijing has allocated more than 600 billion yuan ($86 billion) since 2011 to alleviate the dam's long-term impacts on villages like Muhe and bring the region's deteriorating environment under "effective control". But many problems are unresolved, and the govt has promised to spend another 600 billion yuan by 2025, said Xie Deti, a member of the Chongqing delegation of the National People's Congress who lobbied the govt to release more funds in March.
Since Xi's orders in 2016, local govts have dismantled dams, dredged plastic junk from the water, relocated factories, banned waste discharge and restricted farming and construction along the river. But the region has been unable to evade the earth-shattering impact of the dam itself, which sits near two fault lines and has been blamed for a surge in earthquakes and the fragmentation of ecosystems, among myriad other problems.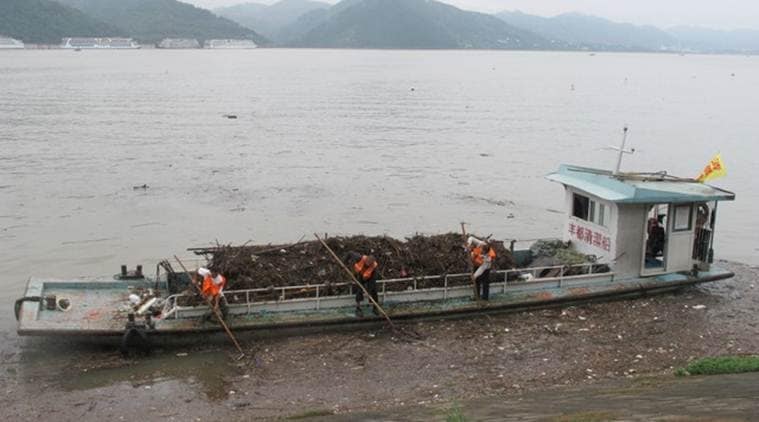 China's environment ministry said the region saw 776 earthquakes in 2017, up 60% compared with a year earlier, with the highest magnitude at 5. The total number has risen significantly since the project began, with one study from the China Earthquake Administration showing a 30-fold increase between 2003 and 2009, when the reservoir was filled.
Xie, who is also a professor at Chongqing's Southwest University, said other challenges include algae blooms caused by fertiliser, and wastewater from tributaries polluting the river. Sediment accumulating near the dam threatens to undermine flood control. A specialist research team has been examining the problem in the Three Gorges region for more than 30 years and China has built two giant dams upstream to block silt.
The massive reservoir, which absorbs more heat than dry land, has also been blamed for increasing regional temperatures. Warmer water and the fragmentation of habitats have wreaked havoc on local fish stocks, with the Yangtze sturgeon close to extinction. The dam has also caused water levels to dwindle at Poyang lake, a habitat for the critically endangered Yangtze finless porpoise. Since the dam was built in 2006, some leaders have distanced themselves from the project. Wen Jiabao, premier from 2003 to 2012, openly criticised how it was built and castigated officials for failing to take care of more than a million displaced residents.
"The issue is obviously very complicated, and it is not black and white," said Ma Jun, founder of the Institute of Public and Environmental Affairs, a non-govt organisation in China that tracks water pollution.  "It does have both flood control and power generation functions, but on the other hand, whether the cost is too high, whether there are alternatives, I think those are what we need to study," Ma added. "For good or bad, the heyday of dams has passed."  https://indianexpress.com/article/world/china-yangtze-river-project-xi-jinping-6119550/  (14 Nov. 2019)
ASIA
People's Power: Anti-Dam Movements in Southeast Asia Growing dam resistance by riverine communities. The coalition and network of anti-dam movements across Thailand and ASEAN have been on the rise. In Thailand, the community movement against Kaeng Sue Ten dam in the north is widely known. It is hailed as a "successful anti-dam model," whereby thousands of communities have delayed dam construction on the Yom River in Kaeng Sue Ten for more than 30 years. It is the most delayed dam in Southeast Asia. It could be said that the framing of Kaeng Sue Ten dam as a project that threatens the only golden teak forest reserve in Thailand largely explains the movements' success. Communities express strong solidarity and continue to protect their sacred forest.
– Communities celebrated the 30th anniversary of their fight against Kaeng Sue Ten on Nov 2. The celebration included the organizing of a tree ordinance, a River Prayers ceremony to pay respect to the guardian spirits and ask for protection, and a community forum to share strategies across networks and alliances. Kamnan Chum, one of the charismatic leaders of the anti-Kaeng Sue Ten Dam movement expressed that "our fight against Kaeng Sue Ten dam has demonstrated our strong solidarity and unified stance among our communities who would like to pass on our treasures of land and resources to the next generation." "Our home is nothing without trees, lands and river resources… this is our heritage," Kamnan continued.
– The Kaeng Sue Ten movement has connected with other networks whereby an accountability agenda and business and human rights are the cornerstones. Activism has involved demanding accountability from the dam investors and financers (such as World Bank in the past), as well as the accountability of foreign investors (such as Thai and Chinese developers) in the region. The Kaeng Sue Ten network demonstrates close interlinkages with the advancement of human rights and development as well as community rights.  https://thediplomat.com/2019/11/peoples-power-anti-dam-movements-in-southeast-asia/  (8 Nov. 2019)
THE REST OF THE WORLD
US Aging dams pose risk to thousands  A two-year Associated Press investigation identified nearly 1700 high-hazard dams in 44 states and Puerto Rico that are listed in unsatisfactory or poor condition. Several states, including Texas, did not provide complete data. The dams are considered high hazard because of the likelihood that people could die if they failed. One estimate puts the total price tag at $70 billion dollars to repair the nation's 90,000 dams.
– California boosted its dam-safety budget by $7 million following the 2017 spillway failure at Oroville dam, the nation's tallest. A post-failure review of the lake Dunlap Dam in Texas found that the steel hinges on a spillway gate had rusted. But when the Guadalupe-Blanco river authority announced that it would drain several lakes with similarly-aged dams, homeowners sued and won an injunction. Both sides have agreed to keep boaters and swimmers away from the dams while they study how to repair them – and who will bear the multimillion-dollar cost.  https://timesofindia.indiatimes.com/videos/international/aging-us-dams-pose-risk-to-thousands/videoshow/72025301.cms  (12 Nov. 2019)
Study Nile river 6 times as old as previously thought The Nile river flowing through Egypt could be six times as old as previously thought, according to a study which estimated it to have originated at least 30 million years ago. The study, published in the journal Nature Geoscience, assessed the links between the geographical and physical features—or topography—of the Nile river to the flow of molten rocks in the Earth's mantle.
– The researchers, including those from the University of Texas (UT) at Austin in the US, connected the tilted nature of the Nile's topography to a conveyor belt of mantle rock pushing up against the Ethiopian Highlands in the south, and pulling the surface down in the north. This gentle gradient, they said, keeps the Nile on a consistent northward course from its beginning to the end.
– The study said the Nile would have turned west long ago—probably changing the course of history along with it—if it weren't for the mantle movement keeping the river on course.
According to the researchers, the slow movement of the deep mantle is one of the key forces shaping the Earth's landscape and geological processes. The Earth's mantle is composed of solid rock flowing like a fluid over long periods, and different areas of the mantle have different circulation patterns, they said.
– As part of the study, the researchers traced the geological history of the Nile by studying ancient volcanic rock in the Ethiopian Highlands and correlating it with the huge deposits of river sediment buried under the Nile Delta. Based on the findings, the researchers said the Ethiopian Highlands have remained at a similar height for millions of years due to the support of the mantle rock from below. "We know that the high topography of the Ethiopian plateau was formed about 30 million years ago," said study co-author Thorsten Becker from UT.
– It was unclear how the landscape retained its physical features until now, the researchers said. When the scientists ran computer simulations to re-create 40 million years of the Earth's plate tectonic activity, the model showed the arrival of a hot mantle plume which likely led to the outpouring of lava that formed the Ethiopian Highlands, while also activating a conveyor belt in the mantle that persists to this day.
– The researchers said the simulation reproduced changes in the landscape almost exactly as they had expected, along with small details in the landscape such as whitewater rapids found along the length of the Nile. Combining diverse geological data with state-of-the-art, landscape modeling was key for the study, the researchers said, who now hope to apply the same technique to other rivers such as the Yangtze and Congo. "I think this technique gives us something we didn't have in the past," said study co-author Petar Glisovic from the University of Quebec in Canada.  https://www.tribuneindia.com/news/nile-river-six-times-as-old-as-previously-thought-study/859802.html  (12 Nov. 2019)
Compiled by SANDRP (ht.sandrp@gmail.com)
Also see: DRP News Bulletin 11 Nov. 2019 & DRP News Bulletin 04 Nov. 2019  
Follow us on: www.facebook.com/sandrp.in; https://twitter.com/Indian_Rivers