A pond dug a few years ago in Jignanda village of Hamirpur district still holds plenty of water despite scanty rainfall (Photo by Soumya Sarkar)
In a remarkable campaign during the ongoing general elections, Bundelkhand villages have demanded PONDs for Votes. This is exactly what is required for Bundelkhand, and not the destructive, costly and contractor driven Ken Betwa link that BJP has been trying to push here. Congratulations to the Bundelkhand people and People's Science Institute that has led this campaign.
Bundelkhand wants its ponds in return of votes As Lok Sabha polls draws closer, the people in Bundelkhand have started raising their voice against water scarcity in the region. Persistent draught and migration have led the residents to a coin a slogan: 'Gaon-gaon talab banega, tabhi humara vote milega' (Will vote only after getting ponds in ech village). The villagers have formed an outfit 'Jal Jivan Sangathan' to raise the issues.
The Bundelkhand region comprises 14 district of Madhya Pradesh and Uttar Pradesh. Almost all villages in these districts face water crisis in summers. Each election sees political parties promising the people to solve their water woes, but nothing tangible has happened.
The Lok Vigyan Sansthan of Dehradun is running an awareness campaign in Panna district under which village-level committees — Gram Swaraj Samiti — have been formed. Members of village panchayats are also members of these committees. Representatives of three panchayats — Fatepur, Birampura and Bilpura — have decided to mount pressure on all candidates.-https://www.business-standard.com/article/news-ians/bundelkhand-wants-its-ponds-in-return-for-votes-119041201349_1.html    (12 April 2019)
बुंदेलखंड में गूंजा नारा, 'गांव-गांव तालाब बनेगा, तभी हमारा वोट मिलेगा' EXCELLENT Campaign in Bundelkhand, lead by People's Science Institute Group, including Seema Ravandale.
लोकसभा चुनाव की तरीखें नजदीक आते ही बुंदेलखंड इलाके में मतदाता अपनी आवाज बुलंद करने लगे हैं।   सूखा, पलायन और जल संकट से जूझते लोगों के बीच इन दिनों एक नारा बुलंद हो रहा है, 'गांव-गांव तालाब बनेगा, तभी हमारा वोट मिलेगा।' इस नारे को बुलंद करते हुए ग्रामीणों ने मिलकर 'जल-जीवन संगठन' गठित किया है।
पन्ना जिले में देहरादून का लोक विज्ञान संस्थान लोगों में जल संरक्षण के प्रति जागृति लाने के लिए अभियान चला रहा है। इसके तहत हर गांव में ग्राम स्वराज समितियां गठित की गई हैं। इन समितियों के सदस्य आमसभा के सदस्य होते हैं। इनमें से तीन ग्राम पंचायतों -फतेपुर, बिरमपुरा और बिलपुरा- की समितियों के प्रतिनिधियों ने पिछले दिनों बिलपुरा पंचायत के सिहारन गांव में एक बैठक की। इसी बैठक में राजनीतिक दलों के उम्मीदवारों पर दबाव बनाने के लिए 'गांव-गांव तालाब बनेगा, तभी हमारा वोट मिलेगा' अभियान चलाने का फैसला हुआ।
लोक विज्ञान संस्थान देहरादून की सीमा रवंदले बताती है, "यह इलाका जल संकट से जूझ रहा है। स्थानीय लोगों ने मिलकर अपने हक के लिए यह अभियान चलाने का संकल्प लिया है। जल (राज) नीति का यह अभियान गांव के लोगों को उनका हक दिलाने में मददगार साबित हो सकता है।"
सीमा बताती हैं, "लंबे अरसे से बुन्देलखंड में सूखे की स्थिति है। पिछले पांच साल के बुन्देलखंड के वर्षा के आंकड़ों से यह बात सामने आती है कि जलवायु परिवर्तन के कारण इस क्षेत्र में अनियमित वर्षा, उच्च तीव्रता की जोरदार बारिश होने लगी है। मॉनसून वर्षा के दिन 50-60 से घटकर 20-25 हो गए हैं। ऐसी स्थिति में अगर सामान्य बारिश हो भी जाए, तो भी खेती का अकाल और पीने के पानी का संकट बढ़ता जा रहा है। ऐसे में बुंदेलखंड में तालाबों का महत्व और बढ़ गया है। अफसोस इस बात का है कि बुंदेलखंड पैकेज के तहत आई राशि में से सिर्फ तीन प्रतिशत राशि ही तालाबों पर खर्च की गई।"
उपलब्ध आंकड़ों के अनुसार, बुंदेलखंड में कभी 10,000 तालाब हुआ करते थे। मगर अब यह आंकड़ा 1,000 से 2,000 के बीच ही रह गया है। जल संकट गहराने का कारण ही तालाबों का खत्म होना माना जा रहा है। इसीलिए अब तालाबों की आवाज बुलंद हो चली है।
बुंदेलखंड क्षेत्र में मध्य प्रदेश के चार -टीकमगढ़, खजुराहो, सागर व दमेाह- और उत्तर प्रदेश के चार -झांसी, जालौन, हमीरपुर व बांदा- संसदीय क्षेत्र आते हैं। https://hindi.newsd.in/bundelkhnd-men-gaunjaa-naaraa-gaaanv-gaaanv-taalaab-bnegaaa-tbhi-hmaaraa-vot-milegaaa/   (12 April 2019)
HYDRO POWER PROJECTS
Uttrakhand Economic analysis of Singoli-Bhatwari Hydro Project Bharat Jhunjhunwala does economic analysis of Singoli Bhatwari HEP. https://gangatoday.com/en/articles/233-economic-analysis.html   (28 March 2019)
With no water or electricity, a village 150 km from Nainital stuck in time Another instance of how hydropower projects DO NOT HELP the local people even in terms of providing electricity. This village, just 9 km from Tanakpur Hydropower project, does not have either power or water. https://energy.economictimes.indiatimes.com/news/power/with-no-water-or-electricity-a-village-150-km-from-nainital-stuck-in-time/68824962   (11 April 2019)
National Weak power demand points to more slowdown Electricity demand and generation growth in Jan-Feb 2019 lowest in 2 years, March seems to show same signs.  https://energy.economictimes.indiatimes.com/news/power/indias-weak-power-demand-points-to-more-slowdown/68828003   (11 April 2019)
Arunachal Pradesh Monks trying to rewrite election history Indeed, one hopes the Buddhist monks win and create a history. https://www.eastmojo.com/in-depth/2019/04/09/the-monks-who-are-trying-to-rewrite-election-history-in-arunachal    (9 April 2019)
DAMS
Maharashtra Govt scrapped dam project illegally: Tribunal SMELLS OF A FIXED MATCH? A tribunal has set aside a notice of termination for the Balganga irrigation project in Raigad district, and asked the Kokan Irrigation Development Corporation (KIDC) to pay almost Rs 287 crore to the contractor, FA Enterprises. The amount is to be paid within 60 days. In addition, KIDC and Cidco have been directed to pay Rs 15 lakh each to F A Enterprises towards the cost of tribunal proceedings.
– The high court in July 2015 referred the matter to an arbitral tribunal headed by Justice V G Palshikar, and comprising arbitrators appointed by F A Enterprises (Justice A V Sawant), the state government (H T Mendegiri), Cidco (C S Modak), and KIDC (D M More). The five-member tribunal on Tuesday gave its order for Rs 287 crore against the firm's claim of Rs 537 crore. The tribunal also quashed the water resources department's October 2016 order terminating the firm's contract. "The preamble of the government resolution (GR) refers to 12 projects and then it refers to the direction to terminate 41 contracts, which includes F A Enterprises. There is no specific finding in respect of any illegality or irregularity in the contract awarded to FA… It is obvious from the bare reading of the government resolution that several irrelevant and extraneous considerations have weighed with the state government while issuing the GR. In our view, the exercise of power is absolutely casual, wholly malafide and without jurisdiction, Hence, it is null and void in the eyes of law," the tribunal observed. While terminating the contract, a reference was made about forest clearance for the project. The tribunal has observed that steps required for obtaining forest clearance have to be taken by the authorities and there is nothing to be done by F A Enterprises. https://timesofindia.indiatimes.com/city/mumbai/government-scrapped-dam-project-illegally-tribunal/articleshow/68804854.cms      (10 April 2019)
Sardar Sarodar Dam Abandon coal-based power plants, dams on Narmada river Madhya Pradesh Civil Society organisations, along with NAPM demand that no new thermal, hydro or nuclear power projects be taken up in the Narmada basin, environment flows be maintained, stop displacement, sand mining etc along the river.   https://www.counterview.net/2019/04/abandon-coal-based-power-plants-dams-on.html      (12 April 2019)
The report by Medha Patkar shows the reality of Sardar Sarovar Project in Gujarat. https://www.counterview.net/2019/04/modi-model-not-to-construct-narmadas.html  (15 April 2019)
In Gujarat now boating facility for the tourists around the statue of Unity, without again any impact assessment or involvement of local people.   https://www.financialexpress.com/lifestyle/travel-tourism/boating-near-statue-of-unity-jetty-coming-up-to-ferry-tourists-around-worlds-tallest-statue-check-details/1545271/     (11 April 2019) 
INTERLINKING OF RIVERS
Tamil Nadu ILR in election politics the project is back in the news as the DMK has declared its mission to inter link the rivers of the country. The Dravida party has waxed eloquence on the project in its 2019 manifesto and has assured the people of Tamil Nadu that it would give top priority to it. The Congress manifesto is silent at the ILR. However, Karti Chidambaram, the Congress candidate from Sivaganga in Tamil Nadu, assured the voters in Sivaganga that he would  take steps to interlink the rivers to bring water to the parched regions.  https://www.dailypioneer.com/2019/india/karti-contradicts-rahul.html    (8 April 2019)
RIVERS AS NATIONAL WATERWAYS 
National Waterways of India: Disrupting Riverine Ecosystems This comprehensive video report by Manthan Adhayyan Kendra on the impacts on national waterways project.  These waterways represent possibly the largest intervention in and disruption of our rivers, second only to large dams.
While waterways are being pushed as cost-effective and environment-friendly mode of transport, there is hardly any discourse on the adverse effects of waterways on the environment, especially on riverine ecosystems. https://www.youtube.com/watch?v=UsA8uVcZ8kE  (8 April 2019) 
URBAN RIVERS
Musi; Hyderabad NGT issues orders for Musi water survey The NGT on April 5 issued interim orders to the CPCB and Telangana State PCB to conduct a hygiene survey of Musi River with experts to find out if pathogenic bacteria are present in the river. The NGT ordered that experts should submit a report by July 31 this year.
The NGT also asked PCB to submit a report on the status of operation of sewerage treatment plants (STPs) in and around Musi River. Currently, out of the 1,400 million litres per day of waste discharged into the catchment of Musi, there is installed capacity to treat only 592 mld. https://timesofindia.indiatimes.com/city/hyderabad/ngt-issues-orders-for-musi-water-survey/articleshow/68802287.cms   (10 April 2019)
If Sabarmati, Bhadra can be revived, why not Musi, asks HC  One wonders where did the HC Judges get the notion that Sabarmati and Bhadra have been revived? Its a totally baseless notion and one wonders what is the basis of that conclusion. https://www.thehindu.com/news/cities/Hyderabad/if-sabarmati-bhadra-can-be-revived-why-not-musi-asks-hc/article26786366.ece    (10 April 2019) 
RIVERS
National NGT sets up Central monitoring panel in a bid to reduce pollution stretches NGT has constituted a Central Monitoring Committee to undertake a national initiative by way of preparation and enforcement of a national plan to make river stretches pollution-free. Senior representatives of NITI Aayog, Secretaries of the Ministry of Water Resources, Ministry of Urban Development, Ministry of Environment, Forest and Climate Change will be a part of the committee, apart from the Chairman, Central Pollution Control Board and Director General, National Mission for Clean Ganga. Additionally, the Union Environment Ministry was directed to consider a policy and scheme by June 30, for giving "environmental awards" to institutions and States that comply with orders and ensure reduction in pollution.
– The CPCB, along with the respective State pollution control boards and pollution control committees, was directed to launch a nationwide programme on biodiversity monitoring and indexing of the rivers to "assess the efficacy of river cleaning programmes." "Further, for the safety of human health and maintaining sanctity of the rivers, regular hygienic surveys of the rivers should be carried out with reference to fecal coliform and fecal streptoccoi, as indicated in the primary water quality criteria for bathing water," the Bench said. https://www.thehindu.com/news/national/ngt-sets-up-central-monitoring-panel-in-a-bid-to-reduce-pollution-stretches/article26798585.ece   (10 April 2019)
Ghaggar NGT directs states to monitor action plan Taking note of the pollution in Ghaggar river, NGT has directed the chief secretaries of Himachal Pradesh, Haryana, Punjab and Chandigarh adviser to the administrator to monitor the action plans proposed by the green court.
During the hearing it was pointed out that a study is necessary in respect of cumulative deposition impact on soil and ground water. In view of the contents of the effluents, metals and chemicals need to be separated from the sludge. It was also stated that STP sludge treatment was important to check wide contamination of ground water.
The tribunal had constituted an executing committee headed by a former judge of Punjab and Haryana HC, Justice Pritam Pal. The panel was to furnish an interim report to the tribunal. Accordingly, a report was received on March 1 and was taken up for consideration on April 11. https://timesofindia.indiatimes.com/city/shimla/ghaggar-pollution-ngt-directs-states-to-monitor-action-plan/articleshow/68880572.cms  (15 April 2019)
In Augt. 2018, the tribunal has directed the chief secretaries of Haryana, Punjab, Himachal Pradesh and Chandigarh to constitute a special task force (STF) within a month to clean the river. In its order issued on August 7, the NGT has also called for a stern civil and criminal action against officials of the pollution control boards of these states for "shielding the violators".
For ensuring the compliance of its order, the tribunal has also constituted an "executing committee" comprising Justice Pritam Pal, former judge of the Punjab and Haryana HC, a senior Scientist from the MoEF and a senior engineer or scientist from the CPCB. The committee was asked to submit its interim report on or before January 31, 2019.
The amicus curiae in the case Katyayani had described in her report as to how pungent odour and stink that emanates from the Ghaggar at Ratia in Fatehabad or nearby Mansa and Sardulgarh in Punjab has become nauseating and unbearable. The report observed that in Ratia town in Fatehabad district, there was no water and only black colour effluents were flowing. Froth was floating on top of the stream along with plastics and other wastes. https://www.tribuneindia.com/news/haryana/pollution-in-ghaggar-ngt-orders-setting-up-of-stf/635901.html  (10 Augt. 2018)
Tamil Nadu  High Courts stay NGT orders?  The Madras HC on April 9 granted an interim stay on the ₹100-crore penalty imposed by the NGT, South Zone, on the Tamil Nadu govt for its failure to restore the Adyar and Cooum rivers and the Buckingham canal. – The order lacks non-application of mind and was based on mistake of facts and contrary to the principles of natural justice and was arbitrary and unreasonable, the government said. https://www.thehindubusinessline.com/news/national/hc-stays-ngt-penalty-on-tamil-nadu-govt/article26784876.ece  (9 April 2019)
Uttarakhand Thirsty residents in the land of rivers Uttarakhand has vast water resources and is a lifeline for millions of people living in downstream areas. However, many areas in the state are facing a water shortage. https://india.mongabay.com/2019/04/uttarakhands-rivers-quench-the-thirst-of-millions-while-its-residents-face-water-shortage/     (8 April 2019)
SANDRP Blog Yamuna Jayanti 2019: Will the agony of the River & People speak in Elections? On the occasion of Yamuna Jayanti, the Yamuna Nadi Mitra Mandli (YNMM) a voluntary group of villagers and concerned; established along the length of Yamuna by Yamuna Jiye Abhiyan is highlighting the issues affecting the Yamuna river and riparian communities which have remained unaddressed during past five years and none of the political parties even now have remotely focused on these. 
They also warn that ignoring the problems of Yamuna and dependent community will soon affect every state and dependent people in a significant way apart from endangering the river itself.  https://sandrp.in/2019/04/11/yamuna-jayanti-2019-will-the-agony-of-the-river-people-speak-in-elections/     (11 April 2019)
Meanwhile there was a 2.9 rector scale earth quake at Badkot in Yamuna valley on April 13. The area also felt termers in Jan. 2019. In past the valley has seen destructive quakes.  https://www.jagran.com/uttarakhand/uttarkashi-earthquake-tremors-in-uttarkashi-19131654.html  (14 April 2019)
YAMUNA Haryana Govt told to identify, shut units polluting Yamuna at once The NGT team monitored water quality at Wazirabad in Delhi, Palla village in Sonepat, Panipat, Yamunanagar besides drains — Ditch drain, Panipat drain, drain No. 8 at Sonepat and drain No. 2 at Panipat — from December 24 to 27 last year without informing HSPCB officials. The teams assessed and identified the sources of pollution during the period and prepared the report, said the sources.
The team observed that the Yamunanagar drain, Panipat drain and drain Nos. 2, 6 and 8 carried untreated waste water of various industrial units located in the three districts. The river water failed to meet the primary criterion — bathing water quality standard — at all monitored locations, said the sources.
Following the report, the CPCB Chairman has directed the HSPCB to identify and shut non-complying industrial units in the three districts with immediate effect. It has also directed the HSPCB to submit a compliance report to the CPCB within two months. https://www.tribuneindia.com/news/haryana/haryana-told-to-identify-shut-units-polluting-yamuna-at-once/757043.html  (12 April 2019)  
Industrial effluents continue to deteriorate Hindon river Hindon, an important river in the western region of Uttar Pradesh, has been one of the most polluted rivers in the region, for years, with no visible progress towards its cleaning.
The river is contaminated with industrial effluents being discharged into it, particularly from leather, paint, pesticides and sugarcane units. The catchment area of the river falls in six parliamentary constituencies of western U.P. that are going to polls on April 11 in the first phase of the 2019 elections.    https://india.mongabay.com/2019/04/video-industrial-effluents-continue-to-deteriorate-hindon-river/  (9 April 2019)
Uttar Pradesh Storm water drains case: reply sought from authorities NGT has directed the Ghaziabad Development Authority, Ghaziabad Nagar Nigam and other State government authorities to respond to recommendations made by an NGT-appointed committee pertaining to storm water drains in industrial areas.
A Bench headed by NGT judicial member Justice Raghuvendra S. Rathore directed the Uttar Pradesh Industrial Development Corporation, UP PCB, UP Jal Nigam and the District Forest Officer to file a "point-wise reply," with respect to the recommendations made by the committee.
The committee, in its report dated October 2017, had noted: "The natural storm water channel of Sahibabad has been turned into a sewage drain carrying the waste from the entire area …Only a small fraction of the wastewater from the drain is diverted to the STP in Indirapuram. Thus, the drain is a major cause of pollution in Hindon river and downstream Yamuna." The Uttar Pradesh Pollution Control Board has also been directed to submit the lab analysis report of samples taken by the NGT-appointed committee.  https://www.thehindu.com/news/cities/Delhi/storm-water-drains-reply-sought-from-up-authorities/article26824890.ece  (13 April 2019)
Delhi Green tribunal seeks status of sewage facilities at Paryavaran Complex NGT on April 5 directed the South Delhi Municipal Corporation (SDMC) to inform it about the status of sewage facilities being provided at the Paryavaran Complex. A Bench headed by NGT judicial member Justice Raghuvendra S. Rathore directed the municipal corporation to furnish an affidavit stating the progress of work carried out.
The Bench stated: "We are informed by the petitioner that earlier a statement was made on behalf of the SDMC that 70% of the work has been done. According to the petitioner, hardly 30% of the work has been done. The counsel for the SDMC shall file an affidavit of the officer concerned stating whether work has been completed, and if not, how much still remains." The green tribunal's orders came on a plea moved by a city resident Charvi Mehra who had sought directions to stop discharge of sewage from neighbouring houses. https://www.thehindu.com/news/cities/Delhi/green-tribunal-seeks-status-of-sewage-facilities-at-paryavaran-complex/article26751624.ece  (6 April 2019) 
FISH, FISHERIES, FISHERFOLKS
Kerala Fish continue to die in Periyar as authorities pass the buck Incidents of fish deaths in the Periyar river passing through Kerala's Ernakulam district have become quite frequent over the past months, raising concerns about the pollution levels in the water body. However, despite numerous protests by environment activists as well as the fishing community, no concrete action has been taken. In the most recent incident, about hundred Indian anchovies (Kozhuva) were found dead along the banks of the Muttar river, a tributary of the Periyar, at Manjummel on 8 April morning.
According to Kerala State PCB officials, the fish deaths are a result of eutrophication. Eutrophication happens when a water body becomes excessively rich in nutrients, promoting algae growth. This results in depletion of oxygen in the water for organisms such as fish. However, the KSPCB has passed the buck to the Irrigation Department on the matter. The latter is in charge of operating the regulator-cum-bridge that regulates the quantity of water in the Muttar.
"The water quantity in the river was less, and with the shutters of the Pathalam regular-cum-bridge not being opened, it's possible that organic waste got accumulated in the river's downstream leading to eutrophication," explained PB Sreelakshmi, environmental engineer of KSPCB's surveillance centre in Eloor. "Operating the shutters of Pathalam regulator-cum-bridge on a daily basis is the only way to solve the problem," she added. Reacting to the blame by KSPCB, the Irrigation Department officials told TNM that it was not possible for them to operate the shutters of the regulator daily.  https://www.thenewsminute.com/article/kerala-continues-see-fish-deaths-periyar-authorities-pass-buck-99681  (8 April 2019)
Gujarat Massive fish die-off witnessed in Sabarmati Hundreds of fishes in the Sabarmati have died due to pollution and water stagnation in the river. With no release of fresh Narmada water, severe algae bloom has occurred depleting dissolved oxygen in the river. At the same time, summer temperatures have affected the water which is heating faster locally due to stagnation and lack of current causing fishes to die. https://timesofindia.indiatimes.com/city/ahmedabad/massive-fish-die-off-witnessed-in-sabarmati/articleshow/68712483.cms  (4 April 2019)
Goa Sattari fish species under threat due to check dams Years after the water resources department completed the construction of a chain of check dams called 'vasant bandharas' on the Mhadei to meet the state's water needs during summer months, the ecological fallouts of these well-meaning structures are coming to light. Studies are now showing that damming of the river is affecting breeding of various indigenous fish, including shellfish, many varieties of which are no longer easily available in markets. No EIAs were done of the check dams. https://timesofindia.indiatimes.com/city/goa/sattari-fish-species-under-threat-due-to-check-dams/articleshow/68786548.cms   (9 April 2019)
West Bengal Mission Statement of Small Scale Fish Workers' Consolidation DMF Mission statement on Riverine fisher people. Fisheries resources are under tremendous pressure. Indiscriminate encroachments, pollution and consumptive use of water are killing our coastal and inland waters and with that the fish resources they harbour. Over and destructive fishing by mechanised boats and trawlers have made the near shore waters of India's 8,000 kilometre long coastline barren of fish. https://dc.icsf.net/en/component/dcnews/articledetail/13601.html  (11 April 2019)
SAND MINING
Haryana Yamuna may change course during floods The mining mafia has reportedly carried out excessive illegal mining in the bed of the Yamuna in Tajewala village, making the riverbed level lower in Haryana than in Uttar Pradesh.
Uncontrolled mining in the riverbed was done on left side of the right lower down-stream embankment (RLDSE), the right side of which was badly damaged with mining done up to 50 feet in depth. The right bank of the Yamuna is in Haryana and the left bank in Uttar Pradesh. The 19,600-foot-long RLDSE, constructed close to the old Tajewala headworks, was repaired at a cost of Rs 3398.43 lakh between 2011 and 2013.
– The excessive illegal mining had led to the possibility of damage to the Hathnikund barrage, about 3.5 km upstream of the old Tajewala headworks, and wreaking havoc in the area. https://www.tribuneindia.com/news/haryana/yamuna-may-change-course-this-monsoon/758087.html   (14 April 2019)
Breach threat as mining mafia damages Yamuna embankmentBesides, the mining mafia has carried out illegal mining on hundreds of acres close to RLDSE in connivance with landowners. The involvement of authorities of irrigation, mining and other departments cannot be ruled out. The RLDSE area falls under the Water Services Division, Dadupur.
When Executive Engineer Haridev Kamboj was transferred to this division a few months ago, he wrote twice (on March 14 and April 1) to Yamunanagar DC Amna Tasneem, apprehending a breach in the RLDSE, damage to Hathnikund Barrage and loss of human life and property in the future. Sources say the local administration has held very few meetings in the past and taken no concrete step to curb illegal mining. https://www.tribuneindia.com/news/haryana/breach-threat-as-mining-mafia-damages-yamuna-embankment/755969.html  (10 April 2019)
– SANDRP in March 2016 has raised same issue of how unsustainable mining was posing threat to Hathini Kund Barrage. https://sandrp.in/2016/03/02/unabated-riverbed-mining-in-saharanpur-up-puts-delhis-water-supply-under-threat/  (2 March 2016)
Local administration is now waking upto the issue.
NGT set up committee to look into sand mining threats in Sonipat STRANGE, NGT forms committee of very govt dept against whom complained is made. Following a plea alleging erosion of the Yamuna floodplain in Sonipat due to movement of heavy vehicles in the area, the NGT has constituted a committee to look into the allegations and submit a report on the same.The committee will comprise Principal Secretary of the Haryana Irrigation and Water Resources Department, Member Secretary of the Haryana State Pollution Control Board and Director of the Mines and Geology Department, said a Bench headed by NGT Chairperson Justice Adarsh Kumar Goel.
The directions came when the green panel was hearing a plea which said that the policy of permitting heavy vehicles in the embankments of the river is "destructing the ecology." "At the behest of mining companies, the Irrigation and Flood Control Department is not taking remedial action and permitting heavily loaded trucks to operate in the embankments of the river. Though there is a provision against operation of vehicles from July to September, this safeguard is also not being observed… This is a violation of 'precautionary principle' of environment law," the plea alleged. Directing the committee to submit a joint report, the NGT said that it has to be submitted within one month. https://www.thehindu.com/todays-paper/tp-national/tp-newdelhi/plea-on-erosion-of-yamuna-floodplain-ngt-forms-body-to-look-into-matter/article26776652.ece  (9 April 2019)
Uttar Pradesh 'Submit report on environmental damage caused due to illegal mining' The NGT has directed the CPCB to submit a report on the environmental damage caused due to illegal mining. An NGT-appointed joint committee comprising members from the apex pollution monitoring body and the Union Environment Ministry in its report had revealed environmental damage caused due to illegal mining.
Taking note of the report dated January 2018, a Bench headed by NGT judicial member Justice Raghuvendra S. Rahore said, "A perusal of the [report] reveals the excavation done by mining beyond permissible depth, in stream mining and the damage caused due to mining done by using machines." https://www.thehindu.com/todays-paper/tp-national/tp-newdelhi/ngt-seeks-report-on-damage-due-to-illegal-mining/article26833323.ece  (14 April 2019)   
WETLANDS, LAKES, WATER BODIES
National Coastal wetlands get two big protectors A memorandum of understanding (MoU) was signed between the Space Applications Centre (SAC), Ahmedabad under Indian Space Research Organisation (ISRO) and Indian Council of Agricultural Research- Central Marine Fisheries Research Institute (ICAR-CMFRI), Kochi on April 8 to map, validate and protect wetlands that are smaller than 2.25 hectares across India's 7,516.6km coastline, to build resilience against the impact of climate change. As per the MoU, the institutes aim to identify and demarcate wetlands, and protect them through coastal livelihood programs.
The two institutes will develop a smartphone application and webcast their conservation efforts to coastal stakeholders, the MoU said. "Our primary aim will be to organise a network to help local communities find economical gains using these wetlands. Activities such as aquaculture and crab farming will be promoted and these communities will also upload wetland information on our servers," said Grinson George, senior scientist, ICAR-CMFRI, Kochi. Meanwhile, SAC said they will be enhancing existing data from their National Wetland Atlas, 2011.  https://www.hindustantimes.com/mumbai-news/coastal-wetlands-get-two-big-protectors/story-g2BYqWh6zuHq7LXS9EUjbI.html  (12 April 2019)
Maharashtra Once a 300 acre of wetland, now turns barren and dry 300 acres of Panje wetland in Uran, was once flourishing with greenery used to be the perfect feeding ground for over 250 birds that use to come here. A part of this wetland has been converted into a holding pond, which is flood controlling mechanism used in order to control water during high tides. Wherein, environmentalist and locals say that this holding pond is being used as an obstruction to stop the water entering this wetland.
The wetland is a part of Navi Mumbai Special Economic Zone (NMSEZ) and in the entire wetland area, a boundary has been created by the NMSEZ, which is also one of the reasons why water from other creeks has stopped flowing in, as a result of which it has turned into a completely barren land. Meanwhile, the Bombay HC says that they have ordered CIDCO to keep the sluice gates open to ensure an uninterrupted flow of water. Reports too mention that the court has also ordered for the demolition of these illegal gates. https://www.timesnownews.com/mirror-now/in-focus/article/save-our-mangroves-once-300-acre-of-wetland-now-turns-barren-and-dry-land/396404  (8 April 2019)
Haryana NGT seeks report from pollution body over illegal dumping of waste This shows, how growing waste problem is adding into water pollution and affecting water sources in countryside. Following a plea alleging unscientific dumping of municipal solid waste near a pond in Meghpur village of  Palwal district, the NGT has directed the Haryana SPCB and the civic body to furnish an action taken report.
The plea claimed that the waste being dumped was affecting the village pond and sought directions to authorities to remove the legacy waste present. "It is submitted that daily officials of the [civic body] are digging the land up to 10-15 feet and dumping unsegregated garbage on the said land. 10-12 trolleys filled with garbage are brought to the site and dumped on a daily basis," the plea had contended.  https://www.thehindu.com/todays-paper/tp-national/tp-newdelhi/waste-dumping-ngt-seeks-action-report/article26833322.ece  (14 April 2019)    
Uttrakhand NGT asks Govt to submit 'a factual report over Nainital NGT on April 12, 2019 directed the Uttarakhand Pollution Control Board, district magistrate, Nainital and secretary, urban development, Uttarakhand to submit a factual and action taken report within two months of time period on the deteriorating situation of the water body and the town on concerns such as landslides, water scarcity and breach of carrying capacity.  https://timesofindia.indiatimes.com/city/dehradun/submit-a-factual-and-action-taken-report-over-nainital-and-naini-lake-ngt-to-state-government/articleshow/68861868.cms   (13 April 2019)
Uttar Pradesh 26-year-old engineer helps bring 10 ponds back to life The report highlights some good work done in Greater Noida in protection of water bodies. https://timesofindia.indiatimes.com/city/noida/26-year-old-engineer-helps-bring-10-ponds-back-to-life-in-greater-noida/articleshow/68758989.cms   (7 April 2019)
GROUNDWATER
Study Usable groundwater 'rapidly depleting' in north, east India A team from IIT-Kharagpur, West Bengal and Athabasca University, Canada, between 2005 and 2013, compiled the first estimates of usable groundwater storage (UGWS) at the state-level across India using both in situ and satellite-based measurements. Groundwater-level data was used from 3,907 in situ monitoring wells and estimate shows rapid depletion of UGWS in Assam, Punjab, Haryana, UP, Bihar and West Bengal.
In these areas, increases in agricultural food productions have resulted at the cost of non-renewable loss in groundwater volume at an alarming rate, the researchers wrote in the study published in the journal "Advances in Water Resources". On the other hand, southern and western states like Andhra, Maharashtra, Gujarat and Chhattisgarh show replenishing usable groundwater storage trends.
Assam, which was regarded as water-affluent, has lost two per cent of its usable groundwater resource, and is at the brink of suffering drought and famine in impending years. Haryana, which gets an annual precipitation of 689 mm, holds the highest levels of usable groundwater with 3,593 cm, while Himachal with a precipitation of 1,147 mm per year has the lowest UGWS level of 520 cm. https://www.tribuneindia.com/news/nation/usable-groundwater-rapidly-depleting-in-north-east-india/756487.html  (11 April 2019)
URBAN WATER
Faridabad 73% water samples fail test The Health Department collected samples from 988 tubewells and booster pumps between January 1 and April 5 to check if those were properly chlorinated. According to the results, officials did not find any chlorination in 727 samples out of the total of 990.
The city has a total of 1,477 tubewells and booster pumps. He said chlorinators installed by the MCF at the majority of tubewells and pumps were either dysfunctional or had no chlorine when the samples were collected. The collected samples are put through an 'Orthotolidine Test' in which the level of free and combined chlorine residuals are determined. https://www.tribuneindia.com/news/haryana/73-water-samples-fail-test-in-faridabad/755408.html  (9 April 2019)
Kochi 12 booked for carrying water exposed to sun The Motor Vehicles Department sleuths have booked 12 vehicles for carrying drinking water cans and bottles exposed to sunlight in city limits in the past three days. According to MVD officials, there were strict directions that the bottles or cans should not be carried during these hours exposing to the high heat. The vehicles were booked under 138 B of the Motor Vehicles Act.
Many plastic bottles co-ntain a chemical known as bisphenol A (BPA). When exposed to heat, the heated plastic leaches the BPA into the water. This can cause serious health issues. "The temperature this summer is very high. When water is exposed to sun even for few minutes, it can become toxic," an MVD official said. https://www.deccanchronicle.com/nation/current-affairs/100419/kochi-12-booked-for-carrying-water-exposed-to-sun.html  (10 April 2019)
WATER
SANDRP Blog India Water Challenges in the context of 2019 elections SYNOPSIS: Everyone concerned agrees that India is facing unprecedented and worsening water crisis. Some of the key aspects of water sector challenges include: Lack of reliable water information, need for restructuring of institutions, groundwater lifeline in distress, politicians and institutions pushing more large dams when evidence shows they do not work, the need for attention to maintenance of massive water infrastructure, the increasing footprint of Urban water sector, State of our rivers in general and Ganga in particular, water management for agriculture, governance and changing climate, among others.
Unfortunately, these challenges do not seem to get reflected as electoral issues and all parties are equally to be blamed for this. The current Union government has very poor report card on almost every one of the water sector challenges, and its seems like a series of missed opportunities. https://sandrp.in/2019/04/14/india-water-challenges-in-the-context-of-2019-elections/  (16 April 2019)
An edited version of this was published in Economic and Political Weekly dated April 13, 2019. https://www.epw.in/journal/2019/15/commentary/challenges-water-governance.html  (13 April 2019)
Report India's 'Silent' Water Crisis High in the Mind of Voters World biggest national survey finds Indian voters concerned by drinking water scarcity. Parties promise radical change through infrastructure development, more incisive regulations.
The availability of safe drinking water ranks third among the issues voters care about in India, but citizens getting ready to go to the polls aren't happy with what the government has done so far to address the problem. https://news.bloombergenvironment.com/environment-and-energy/indias-silent-water-crisis-high-in-the-mind-of-voters  (8 April 2019)
Under NDA, rural drinking water takes a back seat Since 2014, the NDA has cut funding for rural drinking water and focused more on sanitation, leaving millions without access to safe and assured water.  https://www.livemint.com/politics/policy/under-nda-rural-drinking-water-takes-a-back-seat-1554649311653.html   (8 April 2019)
Gujarat  No water supply, no vote, say villagers of Songadh So this village faces water scarcity, just 30 km from the Ukai dam and has decided to boycott the polls to press for their demand. PM to address a rally here on April 10, 2019.  https://in.news.yahoo.com/ls-polls-no-water-supply-003200407.html   (10 April 2019)
DELHI WATER
List action taken to stop illegal water supply The NGT has asked the Delhi Pollution Control Committee (DPCC) to submit details on action being taken against illegal supply of water at Jamia Nagar. The tribunal had earlier sought a report from the DPCC, which told the bench that the SDM has been asked to take action and compensation of Rs 50,000 was assessed.
The NGT was hearing a plea filed by city resident Shahid Khan who alleged that illegal business of water supply was going on at a house at Joga Bai near a public library in Jamia Nagar. The green court had earlier directed the Delhi government to act against unauthorised water extraction in the capital and directed it to seal the illegal borewells. It had also directed the authorities to mark the borewells discharging contaminated water in red colour to apprise people that the water was unfit for consumption.  https://timesofindia.indiatimes.com/city/delhi/list-action-taken-to-stop-illegal-water-supply-ngt/articleshow/68880360.cms  (15 April 2019)
AGRICULTURE
Haryana, Punjab Untimely rain leaves farmers worried  – Untimely rain accompanied by strong winds in the key wheat-growing States of Punjab and Haryana on April 8 has left farmers worried as it could damage crops and delay harvesting.
– P.S. Rangi, an agriculture expert and former adviser to the Punjab State Farmers' Commission, said the current spell of rain would not have damaged the standing crop extensively.
– "However, the crop which has already been harvested and is lying in the fields may have been damaged," he said, adding that if overcast conditions prevail and it continues to rain in the coming days, the wheat crop would absorb the moisture and harvesting could get delayed.
– Sanju Gudeyana, a farmer leader with the Bhartiya Kisan Union in Haryana's Yamunanagar, said rain and strong winds lashed Bilaspur, Chahrauli, Sadora and Naraingarh regions in the morning, flattening standing crops and causing extensive damage. "Farmers are at the receiving end due to this untimely rain," he said.
– Punjab is expecting a bumper wheat crop touching 180 lakh tonnes this year. Last year, the wheat output was 177 lakh tonnes, according to data from the State agriculture department. https://www.thehindu.com/todays-paper/tp-national/tp-otherstates/untimely-rain-leaves-farmers-worried/article26776684.ece  (9 April 2019)
AGRICULTURE
Madhya Pradesh पातालकोट में बीजों की रिश्तेदारी Interesting account of how Bhariya tribal group in PATALKOT in Chhindwara in MP are also trying to protect traditional seeds.  http://vikalpsangam.org/article/babamayaram-patalkot-beej/#.XLLaP5MzZsM   (11 April 2019)
DROUGHT
Maharashtra Marathwada, villagers depend on tankers for water Marathwada region is in the grip of arguably the worst drought since 1972. The situation is compounded by the proliferation of sugarcane cultivation in the region, which has also suffered due to poor rains in 2018.
Those who have lived through the severe drought in 1972, which gave birth to Maharashtra's landmark employment guarantee scheme, remember there was a shortfall of foodgrains, not water.
Over the years the tanker lobby, the borewell industry and now the many small reverse osmosis filter plants, which supply drinking water in towns continue to make a killing. 
The major cities and towns in the region like Aurangabad, Jalna, Beed and Osmanabad get water once in a week or once a fortnight. There, plastic cans for sale with filtered water and water ATMs in some places ease the water scarcity. But it is in the villages that the impact of the drought is stark. Overall the situation reflected poor management and a lack of planning. https://scroll.in/article/918908/in-drought-hit-marathwada-villagers-depend-on-tankers-for-water-farmers-cut-down-fruit-trees  (8 April 2019)
Marathwada: Nothing escapes tentacles of drought Marathwada is facing one of the severe droughts, with just 5.68 per cent live storage left in 964 dams and groundwater levels already depleting to the extent that borewells dug up to even 300-500 ft are not getting a drop of water.
– Frequent droughts and crop failure have not only disrupted the economy of one of the backward regions in the State, but also inflicted many a human tragedy on local inhabitants. Drought is not just about deficient rainfall, dry dams, tankers and crop failure, its tough choice between life and death.
– Drought means ruined childhood for thousands of girls who spend their summer vacation in search of water. It means backbreaking strife for women who wander in search of water. Drought means a tough choice between life and death for farmers, drought means life without dignity for thousands like Babasaheb Salve, who was the sarpanch of his village but migrated to Mumbai in search of a livelihood and now works as a chowkidar (security guard) in a Mumbai hospital. https://www.thehindubusinessline.com/economy/agri-business/marathwada-nothing-escapes-tentacles-of-drought/article26772434.ece  (8 April 2019)
Maharashtra Pradesh Congress Committee's president Ashok Chavan on April 14, 2019 accused CM Devendra Fadnavis of worsening the acute water crisis in the Marathwada region. https://indiablooms.com/news-details/N/48850/maharashtra-chavan-blames-fadnavis-for-worsening-water-crisis-in-marathawada.html  (14 April 2019)
Mr Chavan, former chief minister of the state said: "The chief minister Devendra Fadnavis has planned to make the Marathwada region a desert by diverting water of the Upper Painganga towards Vidarbha." http://www.uniindia.com/chavan-accuses-fadnavis-of-worsening-water-crisis-in-marathawada/election/news/1563948.html  (14 April 2019)
Wombless women of Beed Shocking report Women in Vanjarwadi, where 50 per cent of the women have had hysterectomies, say that it is the "norm" in villages to remove the uterus after having two or three children.
The majority of these women are cane cutters and migrate to the sugar belt of western Maharashtra during the cane cutting season; with the drought intensifying, the number of migrants multiplies. "The mukadam (contractor) is keen to have women without wombs in his group of cane cutters," says Satyabhama, another cane-cutter.
Lakhs of men and women from the region migrate to work as cane cutters between October and March. Contractors draw up contracts with the husband and wife counted as one unit. Cane cutting is a rigorous process and if the husband or wife takes a break for a day, the couple has to pay a fine of ₹500 per day to the contractor for every break.
Menstrual periods hinder work and attract fines. The answer, in Beed, is to go in for a hysterectomy so the women no longer have them. "After a hysterectomy, there is no chance of menstrual periods. So, there is no question of taking a break during cane cutting. We cannot afford to lose even a rupee," says SatyaBhama. Contractors say that during menstrual periods, women want a break for a day or two and work is halted. https://www.thehindubusinessline.com/economy/agri-business/why-half-the-women-in-maharashtras-beed-district-have-no-wombs/article26773974.ece  (8 April 2019)
The National Commission for Women has issued a notice to the Chief Secretary over the report about women getting their wombs removed to avoid absenteeism at work and fines due to menstruation. https://www.thehindubusinessline.com/news/womb-removal-in-beed-ncw-issues-notice-to-maharashtra/article26798920.ece  (10 April 2019)
Dainik Bhaskar, Hindi daily report of 14 April 2019 highlights the pain of women in arranging potable water in drought affected Marathwada. 
Rajasthan Ecological distress across Thar desert Strange phenomenon, Barmer district has registered an increase in average rainfall over the years but also had to face drought almost every year in the last decade has posed a challenge in this largely rainfed agricultural region. While the average rainfall of the district was 275 mm in the last 10 years, it is 343 mm at present.
– Pradeep Pagariya, a scientist at Krishi Vigyan Kendra in Barmer, says the region has been receiving more rainfall since past few years, but across a shorter period. Away from the normal monsoon of four months, the region now receives rainfall only for two months, which could even be limited to only a month at times.
Barmer in 2017 received 95 mm rainfall in June and 245 mm in July, but only 18 mm in August and saw no rain in September. Some parts of the district, approximately 208 villages of Dhorimanna, Gudamalani, Sindhary, Balotra and parts of Sheo tehsil received excess rainfall and faced flood situation, which also affected the crops.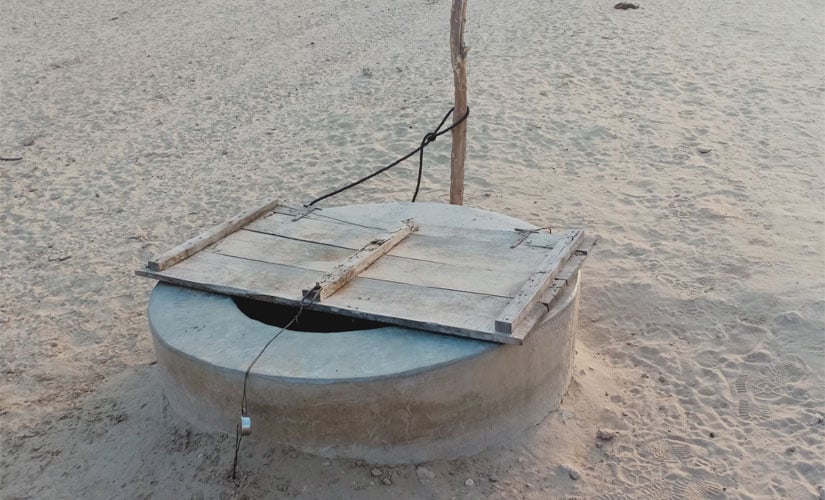 – Rainfall data of the last 100 years shows the Western Rajasthan region encompasses of Jalor, Barmer, Jaisalmer, Jodhpur and Bikaner districts has dealt with famines in 61 seasons, of which 24 were severe famines, while the rest were medium.
– Barmer was declared 'over exploited' region in the Ground Water Assessment Report 2013 prepared by Central Ground Water Department, which revealed the overdraft at 123.85 percent per annum. Six out of total eight blocks were categorised as 'over exploited' while one was declared 'critical'. Baitu block in the district, with 226 percent overdraft, was notified as 'Dark Zone'.
– With easy access to pumping instruments, groundwater is being drafted at an alarming rate. Approximately 2,000 tube wells have been dug in this region and high dependency on groundwater has resulted in its over-exploitation, says Pagariya.
– Another alarm in the report was that while the district's groundwater recharge rate was 278.01 million cubic metre, the consumption rate was 312.14 million cubic metre. The groundwater level in the district has been declining at a rate of 5-6m each decade, according to the report.
– The government initiatives, like the Desert Development Programme (DPP) launched around two decades ago to control desertification and adverse effects of drought, have only added to climate woes, according to experts. Sand dunes accounted for 54 percent area of the state in 1990, which has now come down to 48 percent. https://www.firstpost.com/india/drought-in-rajasthan-poor-groundwater-situation-erratic-rains-in-barmer-indicate-ecological-distress-across-thar-desert-6306931.html  (23 March 2019)
Gujarat Kutch water situation in election year – Nature's vagaries have compounded the people's hardships in the form of the "tanker raj" — a powerful water mafia and diversion of drinking water for irrigation purposes.
– "I haven't experienced such drought conditions ever. Of the 97 villages in Rapar block, only 17 villages are getting water from the Narmada and the rest are dependent on check dams and talavs (ponds)." assistant BDP M D Parmar said.
– The condition of the people on the peripheral hamlets closer to the Greater Rann is worse. While most of the Narmada canals in these zones are dry, some of the village folks make do with underground water tanks—water harvesting structures—with 15,000-litre storage capacity. At Dungrani vaand, the last hamlet in Dholavira village before the vast expanse of the Greater Rann begins, these 'water harvesting structures' are the only sources of water, especially when the nearest Narmada canal is 35 km away at Amrapar. https://www.newsclick.in/BJP-Sops-Promises-Drought-People-Kutch-Vote-Lotus   (13 April 2019)
Wells being filled with groundwater The Hindi report of Dainik Bhaskar dated 8 April 2019 shows that ponds and wells have dried up in Kotda Sangani village of Rajkot in Sourashtra as a result village women facing great difficulties in searching for water. To ease the situation wells are being filled by tanker water.
Andhra Pradesh Indiscriminate borewells digging causing water crisis in Prakasam  The title says it all. It is surprising that departments dealing with surface, groundwater sources and water schemes have no geologists with them.
– Across the 56 mandals under the Prakasam district, borewells appear to dot the landscape, some located barely centimetres away from the other. Prakasam is one among the nine drought-affected districts in Andhra Pradesh, with a 58% deficient rainfall and a 47.19% drop in groundwater. Despite the drop in groundwater level in the district, the state government through incentives and schemes have encouraged haphazard digging of borewells across the district and across the state.
– At Ramasamudram, which comes under Tripuranthakam mandal, villagers estimate that over the years, 1,000 borewells have been dug in and around the village. Only 10 of them have water now. The officials on the other hand estimate that the mandal with 16 villages could together have "roughly 2,000 borewells with perhaps 20% of them still functional".
-Almost all villages in the district now rely on tankers for their water, sourced from a few agricultural and private borewells. The water tankers are hired on contract by the state government and paid using World Bank funds.
– "Prakasam district received Rs 100 crore from the World Bank that was divided equally among the mandals. This approach by the state government is wrong, the funds should have been spent based on the need for the area," according to a senior official with the Watershed Department.
– In 2011, the state government launched the Indira Jala Prabha scheme to dig borewells in 10 lakh acres belonging to five lakh BPL families of SC and ST communities to provide a permanent solution to their livelihood problem. The same year the NTR Jala Siri scheme was also launched that incentivised digging borewells, and using sprinklers and drip irrigation systems that are solar-powered.
– At many fields in Prakasam, the pipes for the drip irrigation have been bundled together and remain neglected as none of the borewells has water. Apart from the state government schemes, the Members of Parliament from the state have together recommended over 1,416 borewells under MPLADS. The number could be much higher as data on PRS is not up-to-date.
– "There is no scientific way of doing things here. There is political interference at many levels. The farmers approach the MPs directly and get funds thought MPLADS. Our department doesn't have geologists nor are there enough geologists with the water board," says the official, adding that "some farmers take the service of priests who predict water sources using unscientific methods such as using a coconut. The borewell is dug where the priest drops the coconut," the official says, laughing. https://www.thenewsminute.com/article/how-indiscriminate-digging-borewells-has-driven-aps-prakasam-water-crisis-99745  (9 April 2019)
Karnataka Tankers supplying drinking water in 26 districts According to the State Emergency Operation Centre, a total of 996 villages in 26 districts are being supplied drinking water through tankers as a relief measure. This is in addition to 815 villages which are getting drinking water supply from 1000 private bore wells hired by district authorities. Tanks managed by the minor irrigation department are also running short of water. A majority of the districts have more than 50% dry tanks.
Among the worst hit districts are Tumakuru, Vijayapura, Chitradurga and Chikkaballapura having more than 100 villages. While Tumakuru is the worst hit with 142 villages serviced by these tankers, Chitradurga and Vijayapura have 112 villages each. Bengaluru Urban district has 18 villages while Bengaluru Rural has another 82 villages needing this emergency service.
For urban areas, a total of 244 wards are supplied water through 180 tankers. Even here, Tumakauru is the worst affected with 46 wards along with Kolar having the same number of affected wards. Bengaluru Urban is among the worst hit with 25 wards receiving water through tankers. while Bijapur has 10 wards and Koppal 13 wards.  For the entire 2018, while 21 taluks got excess rainfall across the state, 73 taluks had deficient rainfall and two taluks had scanty rainfall. The rest 80 taluks had normal rainfall. https://www.thenewsminute.com/article/acute-water-scarcity-karnataka-tankers-supplying-drinking-water-26-districts-99752  (9 April 2019)    
Water shortage haunts pockets of Bengaluru Urban district With groundwater table plummeting below 1,000 ft, residents are digging beyond 1,200ft in search of water. According to officials, Bengaluru Urban district has around 4,434 borewells, dug by the zilla panchayat, to meet water needs in times of crisis. However, 1,355 of them have dried up.
– The entire Anekal taluk is affected due to depleting groundwater resources. An official said that of the 230 borewells dug during 2018-19, 29 have already run dry. "We have planned to dig around 75 new borewells in affected areas. As Anekal taluk is the worst hit, we have decided to earmark Rs 50 lakh to dig new borewells here. For the other taluks, Rs 25 lakh each has been sanctioned," he added. https://timesofindia.indiatimes.com/city/bengaluru/water-shortage-haunts-pockets-of-bluru-urban-dist/articleshow/68768873.cms     (8 April 2019) 
SOUTH ASIA
Can South Asian rivers be 'regional public goods'? A multi-sectoral and multilateral approach to South Asia's rivers could provide sustainable development, but it needs to include those already marginalised by a narrow development path. https://www.thethirdpole.net/en/2019/04/03/can-south-asian-rivers-be-regional-public-goods/ (3 April 2019)
Pakistan China to build $2bn dam on Pakistan's Swat River State-owned China Gezhouba Group Co (CGGC) will work with a Pakistan company on the 800MW Mohmand hydroelectric scheme in the northwestern province of Khyber Pakhtunkhwa in Pakistan, which involves building a dam on the Swat River. The consortium includes CGGC and Descon of Pakistan, with stakes of 70% and 30%, respectively. The scheme includes flood control, irrigation, drinking water, and hydropower benefits. http://www.globalconstructionreview.com/news/china-build-2bn-dam-pakistans-swat-river/    (8 April 2019)
Policy Options for Ensuring Food Security in Punjab They key takeaways from this policy brief are:      Information flow should be efficient, widespread and information needs to be available at zero cost
Farmers need to be equipped with the skills to reclaim salt affected lands, through physical, chemical, and biological approaches
Education enhances the capacity of women to improve management of water. Integrating a gender perspective is thus an important consideration, while devising Punjab's climate change policy
There is an urgent need to introduce early warning system related to climate change, on issues such as droughts, flooding and food insecurity. This will enable stakeholders to take necessary measures in advance to minimize associated risks.
There is an urgent need to allocate resources for climate resilient development in Punjab, commensurate with its vulnerability to the emerging water and food crises. http://www.lead.org.pk/lead/Publications/40%20-%20Future%20Climatic%20Impacts%20on%20Water%20-%20Policy%20Options%20for%20Ensuring%20Food%20Security%20in%20Punjab.pdf
Rain, snowfall and consequences Insightful piece on how recent floods in Pakistan were worsened by human factors like encroachment on flood plains, building of embankments to protect the buildings constructed on such encroached lands, lack of maintenance of canals and barrages and climate change. It does not mention role of dams, or degradation of catchment or advance warning and preparedness. https://www.dawn.com/news/1476108/rains-snowfall-and-consequences  (15 April 2019)
Who benefits from Dam Jihad Interesting narrative of what is happening in Pakistan on Dam Jehad initiated by former Supreme Court Judge. "As we see from this story, the crowd-funding campaign was used as propaganda tool, while the real money for mega-dams come from the coffers of Pakistan government, which will then  have to borrow from international sources. Then this money end up in the pockets of Chinese state-owned corporations and Pakistani companies affiliated with ruling elite…." http://www.transrivers.org/2019/2602/  (13 April 2019)
Nepal Who will buy hydropower?  With the falling costs of renewables and aggressive dam building in South Asia, Nepal's plans to develop hydropower for export look increasingly precarious. It is increasingly clear international investors are not interested in investing in large hydropower in Nepal because domestic electricity demand is not high, and the future for regional power and regulatory mechanisms are still unclear.
– Therefore, Nepal should instead focus on diversifying its energy mix by combining peak run-off-river and a medium sized storage hydropower, grid interconnection with renewables, upgrading the transmission and distribution system and reducing its energy loss. https://www.eco-business.com/opinion/who-will-buy-nepals-hydropower/    (9 April 2019)
Study Special Measures Needed To Check Declining Fish Stocks In Rivers  Special measures are needed in hydro and irrigation projects of Nepal to arrest rapidly declining fish stocks in the country's rivers, according a study by the Asian Development Bank. "Early findings of this study suggest that the fish population in Nepal's river basins with dams are on the sharp decline" said Deepak Bahadur Singh, ADB's senior environment officer and co-author of the study entitled 'The Impact of Dams on Fish in the Rivers of Nepal'.
"Some technical considerations in building dams or other such projects can go a long way in saving the fish population. Providing a fish ladder, building a fish passage, and a fish bypass channel, are some examples." The study assessed the impact of projects including the construction of dams on aquatic biodiversity, apart from assessing the operation of selected hydropower and irrigation systems with dams to divert water. https://www.nepal24hours.com/special-measures-in-need-to-check-declining-fish-stocks-in-countrys-rivers-adb-study/ (12 April 2019)
Bangladesh Early flash floods in the haor region: A new normal? A flash flood in early April of 2017 devastated the boro crops in six haor districts that were worth Tk 13,000 crore. Since then, a shadow of anguish engulfs millions of farmers every time there is a grey cloud in the northern sky in early April. This year too, according to news reports, rain accompanied by hailstorm damaged crops on vast tracts of paddy fields in Kishoreganj and Moulvibazar districts during the first week of April.
In general, yearly floods in the haor region occur during late April and last for several months. Boro crop is harvested after Bangla New Year around April 15 or so. Any early hailstorm and flash flood during late March or early April cause havoc for farmers. In addition to damaging the boro crop, the flood in 2017 also devastated poultry, fisheries, and livestock in Netrokona, Sunamganj, Sylhet, Moulvibazar, Habiganj, and Kishoreganj districts.  https://www.thedailystar.net/opinion/environment/news/early-flash-floods-the-haor-region-new-normal-1726942    (9 April 2019)
Surma River dying slowly The Surma, known as the lifeline of Sylhet, is ailing due to severe pollution, land encroachment and sand extraction. But the authorities concerned are doing little to save the river. When contacted, the Sylhet Water Development Board said the Surma river banks in the city areas are recorded as khas land.
So, it is the duty of the deputy commissioner's (DC) Office to take a decision on starting eviction drives, it noted. But the DC said the responsibility of protecting all rivers, including the Surma, fell under the jurisdiction of the Bangladesh Water Development Board (BWDB). http://m.theindependentbd.com//post/194794  (7 April 2019)
ASIA
Iraq Seeks to Reassure Over Reservoirs and Dam Pressures Weeks of rain — compounded by melting snowcaps in neighboring Turkey and Iran — have almost filled Iraq's four central reservoirs and swelled its two main rivers, the Tigris and Euphrates.
The Dukan reservoir in the northeast is holding more than its seven billion cubic meter capacity, with excess flowing out, Diab said. Dukan dam manager Hama Taher said the structure "had not witnessed water levels this high since 1988" and called on people living nearby to leave.
The country's largest reservoir, held in place by the Mosul dam, holds nine billion cubic meters of water, some two billion short of capacity, Diab noted.
Heavy rainfall this winter led to floods in Iraq that killed dozens and forced hundreds of families to flee, while also destroying crops and farmland. Floods in neighboring Iran have killed some 70 people in recent weeks. https://www.voanews.com/a/iraq-seeks-to-reassure-over-reservoirs-and-dam-pressures/4868429.html  (9 April 2019)
Since March end both rivers are in spate while in Feb. 2019 both were battling pollution and low flows. https://www.aljazeera.com/programmes/aljazeeraworld/2019/02/iraq-dying-rivers-190204063305182.html  (6 Feb. 2019)    
Mesopotamia Water Forum To Save the Tigris Mesopotamian Water Forum be held from 6-8 April 2019 at the University of Sulaimani in Sulaymaniyah, Kurdistan Region of Iraq, and will involve civil society actors from the entire region of Mesopotamia within the states of Iraq, Iran, Turkey, Syria. The Mesopotamian Water Forum is based on the social forum model, and is part of the global world social forum process. https://www.savethetigris.org/international-mesopotamian-water-forum/
THE REST OF THE WORLD
USA Trump EPA weighs reviving massive Mississippi flood project The Trump administration said on April 3, 2019 that it is giving another look to a long-dead flood control and drainage project in the Mississippi Delta that had been killed by the George W. Bush administration, using clean water act, a rare instance, because of its potential impact on wetlands and wildlife. The project, which the late Sen. John McCain once called "one of the worst projects ever conceived by Congress," had called for huge pumps to be built at the confluence of the Yazoo and Mississippi Rivers in Mississippi. It was rejected by the Bush administration in 2008. Opponents say the pumps could worsen flooding downstream.
– Following lobbying by Mississippi governor, Environmental Protection Agency Administrator Andrew Wheeler confirmed on April 3 to a Senate Appropriations subcommittee hearing that his agency is now reconsidering that 2008 decision. Communities along the lower Mississippi River have been dealing with flooding for nearly two months. More than 0.20 m ha are submerged in the region, including more than 80,000 ha farmland.
– Bob Irvin, president of the American Rivers conservation group, said in an email Wednesday that the EPA was moving to revive a "zombie" project. "Nothing has changed since the first Bush administration recognized that the Yazoo Pumps project was an environmental disaster and an economic loser," Irvin said. https://www.thenewstribune.com/news/business/article228796209.html   (3 April 2019)
Using flood water for Managed Aquifer Recharge Flood Managed Aquifer Recharge (or Flood MAR) is a strategy to use high flows for groundwater recharge and doing it in a way that provides terrestrial ecosystem benefits as well as aquatic ecosystem benefits.  The Corps of Engineers Hydrologic Engineering Center, back as early as 2002, published a report called Consumptive Use for Flood Protection, where they estimated about 1 MAF per year on average could be put into the ground just by reoperating the terminal reservoirs.  https://mavensnotebook.com/2019/04/10/ca-water-commission-using-flood-water-for-managed-aquifer-recharge/    (10 April 2019)
Report Humans play a large role in the disruption of the hydrologic cycle
The excessive building of dams prevent rivers from distributing mineral-rich water to areas which are dependent on the nutrients for plant growth.

Pollution caused by large factories can render freshwater sources such as lakes and rivers unusable.

The constant paving of roads seal the surface of the ground, preventing it from soaking up rainfall and replenishing the underground aquifers, a very vital part of the hydrologic cycle.

Excessive drilling into the ground can disrupt the structure of the bedrock, potentially allowing fresh groundwater to be contaminated with seawater.

Bottled water privatization creates a monopoly on a resource that should otherwise be available to the people who live in the region where the water is located. https://worldwaterreserve.com/water-crisis/water-scarcity-facts/ (14 Nov. 2018)
WWF Emergency action plan for the world's freshwater species  In less than 50 years, we have seen a drop of 83% in global populations of freshwater vertebrates. Freshwater species are less publicly celebrated than their ocean or forest cousins. But they are no less wonderful or important.
And thriving freshwater species are an indicator of healthy rivers and wetlands, which are crucial to anyone who drinks water or eats food. https://medium.com/@WWF/its-our-planet-too-emergency-action-plan-for-the-world-s-freshwater-species-f6470e13b6d3  (7 April 2019)   
Study Life on Earth may have arisen from ponds, not oceans Study by MIT has proved that primitive ponds may have provided a suitable environment for brewing up Earth's first life forms, rather than large oceans. Researchers report that shallow bodies of water, on the order of 10 centimetres deep, could have held high concentrations of nitrogen, which many scientists believe to be a key ingredient for jump-starting life on Earth. The early life on Earth depends on the form of nitrogen present in the water bodies. https://www.indiatoday.in/education-today/gk-current-affairs/story/life-on-earth-may-have-arisen-from-ponds-not-oceans-study-1502077-2019-04-15  (15 April 2019)   
CLIMATE CHANGE
Study Earth's glaciers are melting much faster than scientists thought A new study published in NATURE finds Earth's glaciers are melting much faster than scientists thought. They are losing 369 billion tons of snow and ice each year, more than half of that in North America.
Michael Zemp, director of the World Glacier Monitoring Service at the University of Zurich, says the most comprehensive study of glaciers worldwide found that those giant masses of snow and ice have lost about 18 percent more mass than an international panel of scientists calculated in 2013. https://www.thehindu.com/sci-tech/energy-and-environment/earths-glaciers-are-melting-much-faster-than-scientists-thought/article26796612.ece     (10 April 2019) 
ENVIRONMENT
Delhi India's stinking scandal: a 'Mount Everest' of filth Facts about Gazipur landfill site.
It is spread over 70 acres of land and is growing every day.

The dump reached its capacity 17 years ago in 2002 but still the lorries come, delivering up to 2,000 tons a day.

It is officially 213 ft high and one of India's tallest landfill site.

It was first opened 35 years ago, in 1984, when it was in the countryside, but the town had since grown around it.

It now has 14 million tons of rubbish over 72 acres, equal to about 48 football pitches.

In 2017, heavy rain caused a landslide in landfill site killing two people.

A study by Jawaharlal Nehru University from 2012 to 2013 found the soil around one major landfill contained pollutants at 158 times the permitted level.

1,500 desperately poor families who work as unofficial litter pickers and risk their long-term health collecting recyclable scrap.

Every day 2,000 tons of waste is dumped here of which 1,500 tons collected from homes and 500 tons which is the residue from a waste-to-energy plant.

The landfill is causing severe air pollution and contaminating groundwater and surface water.

Plastic is everywhere, fraying in the wind and sun, on course to become micro-plastic and even smaller nano-plastic that can enter the food chain.

Across India, we produce more than 115,000 tons of plastic waste every year – much of it burned in open fires.

PM Modi has led green initiatives, including his Clean India Mission, and last year he pledged ambitiously to eliminate all single-use plastic by 2022.

But in the meantime, the Mountain of Waste keeps on growing and it is a towering symbol of the life-threatening pollution engulfing India. https://www.express.co.uk/news/world/1111118/india-pollution-mountain-of-garbage-delhi-dump  (7 April 2019)  
Loksabha Election 2019 Are Election Manifestos 'Green' Enough? Bahar Dutt compares Congress and BJP manifestos on environment issues. https://www.thequint.com/voices/opinion/bjp-congress-election-manifestos-2019-air-pollution-environmental-issues   (9 April 2019)
Maharashtra Congress unit comes out with a manifesto on Environment: Preservation of rich biodiversity of western ghats, comprehensive land and water use policy, ban on import of waste and stopping of discharge of effluents in the river are among the 18-point "environment manifesto" released by the party. https://indianexpress.com/elections/congress-maharashtra-unit-releases-manifesto-exclusively-for-environment-5665825/  (9 April 2019) 
Compiled by SANDRP (ht.sandrp@gmail.com)
Also see: DRP News Bulletin 8 April 2019 & DRP News Bulletin 1 April 2019  
Follow us on: www.facebook.com/sandrp.in; https://twitter.com/Indian_Rivers