This week multiple reports warned of how India is already facing climate change impacts, how the groundwater, India's water lifeline could be under threat under climate change, how India's monsoon, the other water lifeline of India is under threat.
In fact, we should be bracing up for the drought that the summer will bring, but as yet there is no signs of any preparedness or plans.
The Dam floods in Indonesia and the Brazil's disaster due to breach of mine tailings dam should be additional warnings, but our Dam Safety Bill that is before the Parliament does not recognise either of them.
The World wetlands day 2019 later this week has slogan of: "We are not powerless against climate Change… stop draining wetlands", connecting climate change and wetlands. But the news from Indian wetlands governance is scary.
The day before the World Wetlands Day the Vote on Accounts will be presented before the Parliament as full budget cannot be presented in light of forthcoming Parliament elections. But is there any hope that either the Budget or the elections will deal with the climate change or the environment issue with any sense of seriousness?
The iconic Ardh Kumbh event is going on, but the govt has paid no attention to the fast by Swami Atmabodhanand, even after the death of Prof GD Agarwal for the same cause of Ganga.
HYDRO POWER PROJECTS
Arunachal Pradesh Panic as NEEPCO moots total Ranganadi shutdown  A circular by the North Eastern Electric Power Corporation Limited (NEEPCO) regarding 3 month (from Feb 1 to Apr 30) shutdown of the Ranganadi (Panyor) Hydro Electric Plant (RHEP) in Yazali under Lower Subansiri district, by diverting the water downstream, has created panic in the area. Two organisations-the All Kimin Youth Welfare Association (AKYWA) and the Lichi-Cher Ranganadi Project Affected Area Management Committee (LCRPAAMC) said that they would not allow the shutdown as it would mean release of silts into the river.
-Deputy Commissioner Dr Joram Beda has called a meeting of the affected downstream people, organisations and the RHEP next week. The RHEP authorities have been asked to share their standard operating procedure during the meeting. SDO Likha Tejji further wrote that water should not be released between 15 January and 31 March as it is the picnic season.
– The NEEPCO asked the villagers residing in and around the reservoir area as well as on the bank of Panyor on the downstream of diversion dam and Pare, downstream of Powerhouse not to go near the reservoir or on the banks of the rivers. It further said that domesticated animals should be kept away from the river and picnicking should be avoided. The corporation further says that it shall "not take any responsibility for any loss/damage to life and property etc in case of any accident owing to violation of the notice". https://arunachaltimes.in/index.php/2019/01/24/panic-as-neepco-moots-total-ranganadi-shutdown/      (24 Jan.2019)
Report Hydro power in India growing at slowest pace, renewables picking up fast In spite of some glaring blunders here, some key points: – The hydel sector is unlikely to have a turnaround in the near future.
– Banks are wary of lending to such projects. "Banks are not comfortable lending for more than seven years"
– Building a hydel plant can cost Rs 7-9 crore per MW, compared with Rs 4.5-5 crore/MW for thermal power and Rs 3.5-4 crore/MW for solar energy. Hydel projects can also take around eight years to be completed, twice as long as thermal projects; solar plants can be up and running in 1.5-2 years.
– Even globally, hydropower capacity additions declined from 43 GW in 2013 to 25 GW in 2017, according to the International Energy Agency.
– India is building 37 hydel power projects with a capacity of over 12,000 MW, of which 16 projects with a capacity of nearly 6,000 MW are stalled due to a variety of reasons, from lack of funds to environmental concerns.
– Getting private companies to take another bet on hydel power will be hard and capacity addition is bound to be glacial. https://energy.economictimes.indiatimes.com/news/power/hydro-power-in-india-is-growing-at-the-slowest-pace-renewables-surging/67706350  (27 Jan. 2019)
DAMS
Study Dams in central Western Ghats affecting catchment of perennial rivers  A study has found that unplanned developmental activities and land use are reducing the evergreen forest cover and perennial streams in central region of Western Ghats. The study focussed on Kali river that originates in Uttara Kannada district in Karnataka and joins the Arabian Sea. The river is as old as Western Ghats, has six major dams, 325 species of flora, and 190 species of fauna.
Using remote sensing data, the researchers found that between the years 1973 and 2016, the forest cover has reduced from 85% to 55%. In addition, land use pattern in the region has changed during 1980–2000 period due to developmental projects such as dams built on the river Kali, Kaiga nuclear plant and Dandeli paper mill. The paper mill has led to large-scale conversion of forests to crops.
Evergreen forests have shrunk from 62% to 38.5% during this period, and large water reservoirs have been constructed at the expense of forest cover, the study notes. https://www.thehindubusinessline.com/news/science/dams-in-central-western-ghats-affecting-catchment-of-perennial-rivers-study/article26059847.ece (22 Jan. 2019)
Mekedatu Dam Karnataka submits DPR to Centre  A Detailed Project Report (DPR) has been submitted by the Karnataka govt to the Central Water Commission (CWC) regarding the Mekedatu reservoir/drinking water project. The DPR will now be brought before the Cauvery Water Management Authority (CWMA). If approved, it will then be taken to the Advisory Committee of the Union Ministry of Water Resources to further determine if and how the project will be implemented.
According to reports, a letter was sent to the Chief Engineer of the CWC's Project Appraisal Organisation by the Karnataka state Principal Secretary of Water Resources Department on January 18. In the letter, the Karnataka govt claimed that an initial report had been submitted to Tamil Nadu, Kerala and Puducherry, but that none of the co-basin states had replied.
It has been estimated that the total cost for the project will amount to around Rs 5900 crore, according to some sources. Earlier, on Friday, January 4, the Karnataka state govt filed a counter to Tamil Nadu's application with the Supreme Court which sought to prevent Karnataka from proceeding with the DPR for the Mekedatu project. https://www.thenewsminute.com/article/karnataka-submits-detailed-project-report-centre-mekedatu-reservoir-95439 (22 Jan. 2019)
Andhra Pradesh NGT asks MoEF to clarify on EC to Purushothapatnam LIP An advocate should not act as mere post office and be ready on legal issues after ascertaining facts, the NGT has said while expressing dissatisfaction over a lawyer's inability to assist it.
The green panel's observation came while hearing a plea by Jammula Choudharaiah and others seeking injunction against construction activities undertaken by the Andhra Pradesh govt in the Purushothapatnam Lift Irrigation Project allegedly without environmental clearance.
The NGT noted that since the matter has been pending for more than two years, instead of going into technicalities, the MoEF should take a decision in the matter within one month and decide if the project is in violation of laws. The MoEF may furnish its action taken report in the matter before the next date by e-mail, the tribunal said.
The counsel for the Andhra Pradesh argued that the project is not irrigation project so as to be covered by the Environmental Impact Assessment Notification, 2006 and it does not envisage construction of any dam, barrage, canal and so on.
The petition had contended that the project is located at the Akhanda Godavari Left Bank at 40.800 km near Purushothapatnam Village in Seethanagaram in East Godavari District, Andhra Pradesh which involves diversion of flow of Godavari river to Yeluru river.  https://www.business-standard.com/article/pti-stories/lawyer-should-be-ready-on-legal-issue-not-act-as-mere-post-office-ngt-119012201040_1.html (22 Jan. 2019)
Telangana Palamuru LIP gets final forest clearance  The MoEF on Jan 25, 2019 gave the final forest clearance permission for Palamuru Ranga Reddy irrigation project, one of the major projects in Telangana. The project is to irrigate 12.3 lakh acres in erstwhile Mahabubnagar, Ranga Reddy, Nalgonda districts. Nearly 1,000 villages will also get drinking water. The state govt had requested the Centre to accord permission for allocating 205 ha forest land. The project intended to draw water from Jurala Project on Krishna River and lift and store the water in three reservoirs.
– On June 11, 2015, the Chief Minister laid foundation stone for the project to be built at a cost of Rs 35,200 crore. Later the project works were divided into 18 packages and tenders were called. In 2017, the National Green Tribunal (NGT) appointed an independent commission to look into alleged irregularities and illegalities in the project's construction work. The NGT was hearing a petition by one Harshvardhan Reddy, who claimed that the state had not followed the rules while going ahead with first phase of the project, which passes through Amrabad-Srisailam-Nagarjunasagar Tiger reserve areas. The petitioner reportedly alleged at the time that the PRLIS was an irrigation project, being labelled as a drinking water project, and added that the state govt cut down roughly 279 hectares of forest, without permission.  https://www.thenewsminute.com/article/telanganas-palamuru-lift-irrigation-project-gets-final-forest-clearance-centre-95681     (26 Jan. 2019)
Good days for NSP Left Canal ryots?? The Sita Rama Lift Irrigation Project will draw water from Godavari River upstream of the existing Dummugudem Anicut. The Dummugudem Anicut is located at Dummugudem village, 20 km upstream of Bhadrachalam town on river Godavari. The project is hoping to provide lift irrigation to 2 lakh acres of Nagarjun Sagar Left Bank Canal Command in Khammam district from Aug 2019. https://telanganatoday.com/good-days-for-nsp-left-canal-ryots       (25 Jan. 2019)
Renuka Dam 6 states ink pact to up river water flow 6 northern states Haryana, Himachal Pradesh, Rajasthan, Uttar Pradesh, Uttarakhand and Delhi on Jan. 11 have signed the agreement for this ambitious project which would ensure more availability of water for Delhi and other beneficiary states. The multi-purpose project, will be built on Giri river in the upper Yamuna basin.
Located about 250 km from the national capital, the project had hit roadblock since an agreement was signed in 1994. It envisages construction of 148 meter high rock-filled dam for supply of 23 cusecs (525 million gallons per day) water to Delhi and other basin states. Stored water of Renukaji Dam will be used by Uttar Pradesh, Haryana and Delhi from the Hathnikund Barrage, Delhi from Wazirabad Barrage and UP, Haryana and Rajasthan from Okhla Barrage.
This is the second dam project which the participating states have signed to increase water availability in Yamuna. The agreement for building the Lakhwar multi-purpose project in Uttarakhand has been signed and on Jan. 12 the participating states were to ink the agreement for Kishau project on Tons river in Uttarakhand.
"The ministry will soon take up the issue of all the three projects to cabinet for approval and subsequently tenders will be floated for construction work," Gadkari said. The minister said water availability in Yamuna will increase by 160%, once the projects are completed. It will take at least six years to complete the works from the day construction starts.
The project is proposed to be executed by HPPCL. Himachal would get about 200 million units of electricity at Rs 0.30 per unit only. It would earn a net revenue of about Rs 60 crore per annum to HPPCL and Rs 12 crore to the state govt in its first year of operation. Haryana chief minister Manohar Lal Khattar said with the construction of three water storage dam projects — Lakhwar multi-purpose dam, Renukaji multi-purpose dam and Kishau multi-purpose dam, Haryana would get 47.82% water as its share. https://timesofindia.indiatimes.com/city/shimla/6-states-ink-renukaji-dam-pact-to-up-river-water-flow/articleshowprint/67497759.cms (12 Jan. 2019)  
INTERLINKING OF RIVERS
Godavari- Cauvery to be linked with steel pipes?? – Addressing a meeting of BJP workers in Amaravati, Gadkari says that instead of canal, LOW THICKNESS STEEL PIPES would be used to link the rivers.
– "The detailed project report for linking rivers Godavari-Krishna-Pennar-Cauvery is ready. We will soon present it to the Cabinet for approval. Thereafter, we will raise finances for the project either from the World Bank or the Asian Development Bank as the project cost is about Rs. 50,000 crore to Rs. 60,000 crore," Mr Gadkari said.
– "Every year, about 1,100 tmc ft of Godavari water is going waste into the Bay of Bengal while there is a dispute between Tamil Nadu and Karnataka… So we have taken the decision to take Godavari water to Tamil Nadu and that will resolve all water issues among four states," Mr Gadkari noted.
– A special technology, suggested by a US-based AP engineer, of using steel pipes would be used for linking Godavari and Cauvery. "We have decided not to use canals as it results in water (evaporation) losses. Low thickness steel pipes with a special treatment will be used that will also save the project cost significantly," the Union Minister said.
– Mr Gadkari reiterated that the Centre would spend "100 per cent" cost of the ongoing Polavaram multipurpose project. https://www.ndtv.com/india-news/centre-to-soon-link-godavari-and-cauvery-union-minister-nitin-gadkari-1981030   (21 Jan. 2019)
RIVERS AS NATIONAL WATER WAYS
IWA vice-chairman is wrong that inland waterways project won't choke rivers Pravir Pandey is vice chairman of Inland Waterways Authority of India and project director of the World Bank-funded Jal Marg Vikas Project says here: The Inland Waterways Authority of India (IWAI) is developing standardised vessels for the National Waterway 1 that have a shallow draft and high carrying capacity of (up to 2000 tonnes). These vessels will need a depth of 2.2 to 3 metres and a channel width of 45 metres.
– He says: "Only maintenance dredging will be done to desilt 20 % bed load silt even as 80% of silt is in suspension." But wont bother to say what will be the impact, because such impact assessment has not even been done.
– He claims: "However, a detailed green assessment has still been undertaken by IWAI for each and every proposed component in JMVP, as per the Environmental and Social safeguards Policy of the World Bank which is providing financial and technical assistance to the project." He wont bother to say that the so called assessment has not gone through any appraisal by statutory body, has not gone through public hearing process, it has not statutory management plan, no statutory monitoring and no statutory compliance requirements. They do whatever they want to do.
– He claims: "IWAI has got wildlife clearance for navigation through the Kashi Turtle Sanctuary, Varanasi, from the National Board for Wildlife (NBWL) and the Coastal Regulation Zone clearance for Multi-Modal Terminal at Haldia from the MoEF&CC on November 6, 2017." But these are not public hearing or statutory public consultation or independent processes. The NBWL is chaired by Union Minister, and we all know he will tow the govt line. NBWL has no credible independent persons on it. Same is the case with CRZ.
– He claims: "The results of a study, 'Impact assessment of coal transportation through barges along the National Waterway No.1 (Sagar to Farakka) along river Ganga', by ICAR-Central Inland Fisheries Research Institute (ICAR-CIFRI), Barrackpore has revealed no significant changes in water quality parameters." But everyone concerned knows that CIFRI has become consultant driven body that is not known to have done any credible work to protect either the river, its biodiversity or the people dependent on it.
– His claim "Dredging is not being carried out in the entire stretch of Vikramshila Gangetic Dolphin Sanctuary." does not stand to scrutiny and his implicit assumption that the dredging done upstream and downstream from the sanctuary wont affect the sanctuary wont be followed by the river.
– His claim "JMVP will help rejuvenate the river Ganga by creating a Room for River, a model that has proved to be an effective flood mitigating and river conservancy measure" is most ill-founded, and unscientific, and refuses to understand the realities and governance of rivers in other countries. https://www.hindustantimes.com/analysis/the-inland-waterways-project-won-t-choke-rivers/story-3CTflDhyTxijS5AAqlQeqO.html (24 Jan. 2019)
URBAN RIVERS
Gomati, Uttar Pradesh ED raids multiple location in connection with the money laundering probe Gomati River Front Development Scam:- The Enforcement Directorate (ED) on Jan. 24 conducted searches at 10 locations in Uttar Pradesh, Delhi, Rajasthan and Haryana in connection with the money laundering probe into the Rs 1,500-crore Gomati riverfront development project in Lucknow.
– The Rs 1,500-crore project involved construction of a rubber dam to maintain its water level, a stadium, an ampi-theatre for 2,000 people, cycle and jogging tracks, a play area for children and a musical fountain. Official sources said only 60 per cent of the planned work was complete but a much bigger portion of the allotted amount had been spent so far.
Chronology of the issue:– March 2017, New Govt inspect the site.
– April 2017, Govt formed 3 member probe committee
– May 2017, Committee prima facie report indicated irregularities
– June 2017, State Police registered a case
– July 2017 Govt recommended a CBI probe
– Nov 2017 CBI took over the case. No information on what happened all through 2018.https://www.hindustantimes.com/lucknow/gomti-river-front-ed-raids-in-up-delhi-rajasthan-haryana-in-connection-with-the-money-laundering-probe/story-D0kpLHX1FXzVEQv1kv3R3J.html (25 Jan. 2019)
Bandi River, Rajasthan Farmers should be compensated for soil damage: NGT panel NGT appointed high power committee has recommended compensation to farmers based on per unit area loss of money due to deterioration of soil health. A "predominantly green tinge" was present in raw as well as finally discharged effluent into the stream, the committee found.
The NGT had in Dec., 2018 set up a team of scientists led by Dr Ajit Pratap Singh, dean, BITS Pilani, to visit Pali, its industrial areas, river Bandi, Nehda dam and the Common Effluent Treatment Plants (CETP) in the area. The committee's findings also show that the entire effluent discharge from the CETP-6 is being discharged into the river Bandi.
The team visited six CETPs of which most were non-complying with standards and not achieving zero liquid discharge. "Polluted water flowing in river Bandi is a constant threat for health of villagers and to the agriculture," the report states.
The committee report provides a reality check on an issue that requires serious attention. The report calls into question the status of treatment plants itself, their effectiveness in treating effluents and provides a feedback mechanism before more investments are made to use similar models elsewhere in the country. Running parallel to this is the effect wastewater has on the people and the crops grown in the area. https://indianexpress.com/article/india/farmers-should-be-compensated-for-soil-damage-ngt-panel-5553161/ (24 Jan. 2019)   
RIVERS
SANDRP Blog Ithikkara River in Kerala: Tampering with Nature – a recipe for negative NPV   Very interesting Guest Blog by Jacob Chandy Varghese, about how human interventions have destroyed Ithikkara River and its estuary, and thus the natural fish cycles in Kerala and how the consequences were seen during Aug 2018 floods too.    https://sandrp.in/2019/01/25/ithikkara-river-in-kerala-tampering-with-nature-a-recipe-for-negative-npv/     (25 Jan.2019)
GANGA Uttrakhand Matri Sadan saint stakes his life for Ganga  Now 26-years old Brahmachari Atmabodhanand, who hails from Kerala, is on fast for GANGA since October 24, 2018 as a sequel to Prof Agrawal's fast at Matre Sadan in Haridwar, which Prof Agrawal had chosen as the site of his fast.  https://www.counterview.net/2019/01/now-young-ascetic-from-kerala.html      (25 Jan.2019)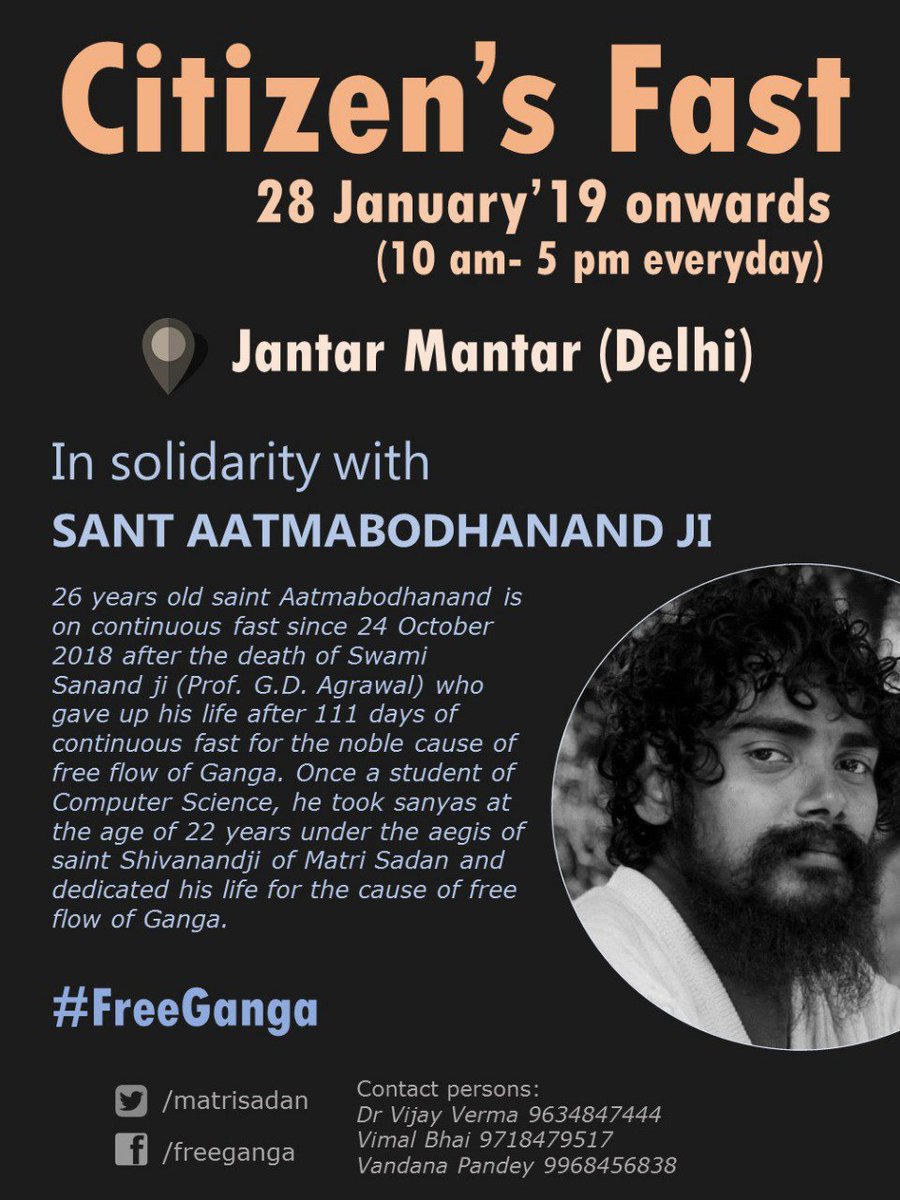 In support of the saint fast, one day protest movement has been organized in Delhi on 28 Jan. 2019.
NAPM has also written to PM, Nitin Gadkari and CM of Uttrakhand demanding them:-
Stopping the following dams under construction on Ganga at Tapovan-Vishnugad on Dhauli Ganga, Vishnugad-Pipalkoti on Alaknanda and Singoli-Bhatwari on Mandakini.

Forthwith Implementing CPCB order dated December 06, 2016 issued vide letter no. PCI-SSI/direction-DM/SSP, Haridwar/2016 prohibiting mining and stone crushers within 5 km from either side of Ganga up to Raiwala 2, Bhogpur, Haridwar, up to Raighati and issue directions to halt.

Saints have and are sacrificing their lives in an unbroken chain of amaran anshan at Matri Sadan. The concerned authorities must immediately engage with them to resolve the demands. https://www.facebook.com/sandrp.in/posts/2444576892236636?__tn__=K-R (28 Jan. 2019)
YAMUNA Uttar Pradesh NGT debars Govt from carrying out work on Yamuna riverbed in Vrindavan NGT on Jan. 21, has directed the UP govt to remove all construction material from the Yamuna riverbed in Vrindavan and debarred it from carrying out any further work without its approval.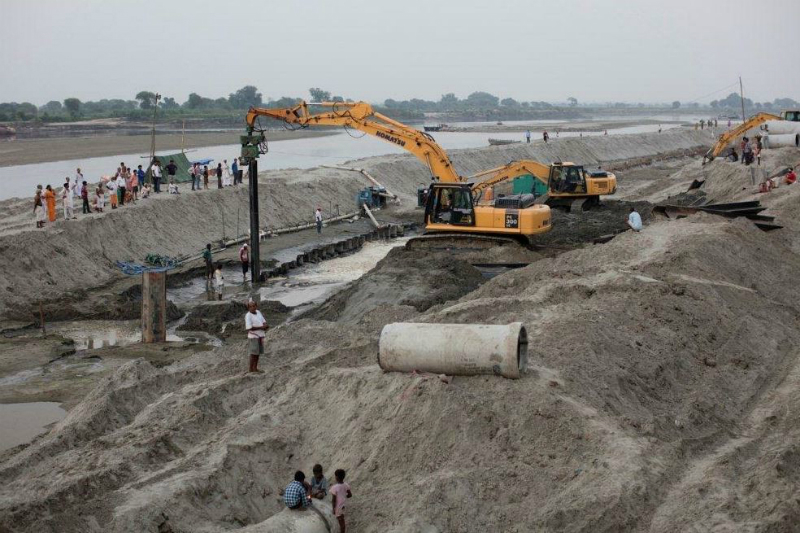 A bench ordered that the work being carried out by the Uttar Pradesh Irrigation department for Artificial Riverfront project and underwater intercept drain project can only proceed after getting approval from Taj Trapezium Zone (TTZ) authority and No Objection Certificate (NOC) from the UP Pollution Control Board.
The state govt, under the Vrindavan rejuvenation project, had proposed "expansion, renovation and beautification" work on 3 km riverfront from Kesi Ghat to downstream of the Yamuna river. The project, which proposes expansion of Kesi ghat by 750 metres into the river floodplain, also involves a mechanism to clean tributaries entering the river and construct interceptor drains to counter overflow of sewer into the river. https://timesofindia.indiatimes.com/city/agra/ngt-debars-up-government-from-carrying-out-work-on-yamuna-riverbed-in-vrindavan/articleshowprint/67645306.cms (22 Jan. 2019)
Clean Yamuna water within 15 months: Gadkari  Laying stone of 4 projects, Nitin Gadkari said on Jan. 23 that residents of Mathura will get clean Yamuna water within 15 months. The four projects in Mathura would be completed at cost of Rs 511.74 crore, according to an official release issued here. These include two sewerage projects.
The first is an integrated sewerage infrastructure for the city on Hybrid Annuity Mode with 'One-City-One-Operator' approach and reuse of treated sewage water in Mathura refinery at a cost of Rs 460.45 crore, it said. The second project is rehabilitation of sewerage infrastructure and augmentation/upgradation of STP in Vrindavan at a cost of Rs 33.82 crore, the release said. Gadkari said by Feb. 15 an airboat service would start from Delhi to Praygraj. https://www.news18.com/news/india/mathura-residents-will-get-clean-yamuna-water-within-15-months-gadkari-2011811.html (23 Jan. 2019)
Activists float paper boats to remind Gadkari his promise  Activists demanding revival of Yamuna river in Agra floated paper boats to remind Nitin Gadkari of the promises he made in 2015 to have ships and steamers ferrying in the river.
The minister visited Agra on Jan. 23 to inaugurate and lay the foundation for the Namami Gange project. Gadkari had in 2015 ordered a study to check feasibility of waterway on the 143-year-old Agra Canal stretching from Delhi's Okhla to Agra. https://www.hindustantimes.com/lucknow/gadkari-promised-steamers-on-yamuna-activists-float-paper-boats-to-remind-him/story-bqaTA7GIBoZkoVIipVIN5H.html (22 Jan. 2019)
RIVERS BIODIVERSITY
Statue of Unity Crocodile being removed from Narmada  Interesting piece on Crocs in Narmada and as vehicle of goddesses: Now they are being  removed so that sea planes can land! https://indianexpress.com/article/explained/this-word-means-crocodylus-palustris-5554271/      (25 Jan. 2019)
Authorities face mammoth task of moving 500 crocodiles from Sardrar Sarovar dam premises  Shifting of crocodiles from Pond No 3 (called  Panchmuli Lake), the largest of the four such ponds between SSP reservoir and main canal, has started, strangely, the crocs are released into SSP reservoir, from where they are likely to come back to the pond. This is for landing of seaplanes which requires at least 900 m long and 6 ft deep water body.    https://www.financialexpress.com/india-news/seaplane-to-statue-of-unity-authorities-face-mammoth-task-of-moving-500-crocodiles-from-sardrar-sarovar-dam-premises/1454576/      (25 Jan.2019)
FISH, FISHERIES, FISHERFOLKS
SANDRP Blog Book Review:Kings of the Yukon the fish did not change we changed  Parineeta Dandekar reviews this iconic book by British writer Adam Weymouth's Kings of the Yukon (US Edition by Little, Brown 2018). It is a book about the King Salmon: a fish which travels nearly 3,200 kilometers upstream the Yukon River from the Pacific Ocean to spawn and die in the same river pools where it was born. She draws very striking parallels between Salmon and Hilsa and the rivers they swim in. Very striking and interesting. Plz read and share. https://sandrp.in/2019/01/28/book-review-kings-of-the-yukon-the-fish-did-not-change-we-changed/  (28 Jan. 2019)
SAND MINING
SANDRP Sand Mining Overview 2018: Rajasthan SC Banned Riverbed Mining through 2018: Centre & State Show No Concern   Throughout 2018, the Supreme Court Ban on riverbed sand mining remained effective in Rajasthan, but neither state nore central govt showed the concern or seriousness to stop the destructive sand mining.  This overview provides details of what happened on this issues in Rajasthan in 2018. Plz read, share and  comment.      https://sandrp.in/2019/01/27/rajasthan-sc-banned-riverbed-mining-through-2018-centre-state-show-no-concern/   (27 Jan.2019)
Punjab Sand Mining 2018 Overview: SAD SAGA OF STATE FAILURE   An overview of sand mining in Punjab in 2018 provides a shockingly sad story of how the governance has totally failed on this vital issue. Please do read and share.  https://sandrp.in/2019/01/25/punjab-sand-mining-2018-overview-sad-saga-of-state-failure/  (25 Jan.2019)
Other Sand Mining Reports 
Madhya Pradesh 'District Mineral Foundation's implementation half-hearted'  In a report on revenue receipts, tabled in the state assembly on January 10, 2019, the Comptroller and Auditor General of India (CAG) has indicted the Madhya Pradesh mineral resources department for the "half-hearted implementation" of District Mineral Foundation (DMF).
While the new sand mining policy, announced in December 2017, prescribed that Rs 50 per cubic metre out of the royalty on sand shall be paid to the DMF, the state govt did not prescribe any contribution to the DMF in respect to other minor minerals until April 2018. CAG auditors also highlighted that the department was working with insufficient manpower and doesn't have an Internal Audit Wing or Departmental Manual.
The performance audit also highlights the failure of the department to monitor compliance to the conditions laid down by the State Environmental Impact Assessment Authority while granting environmental clearances for sand mining.
Auditors further highlighted the abysmal state of affairs on the implementation of environmental management plans, since the department failed to ensure submission of quarterly returns prescribed for monitoring the same. Thus, the department exhibited scant commitment to assess the impacts of sand mining activities on the environment, observed the CAG.
CAG auditors flagged that instances of illegal mining cannot be ruled out since the department has, so far, not evolved any system or module for submission of quarterly returns by mineral carriers, although the same was envisioned more than a decade ago as per Rule 5A of Madhya Pradesh Minerals (Prevention of Illegal Mining, Transportation and Storage) Rules, 2006 — which was amended in 2012.
It's important to note that former CM Shivraj Singh Chouhan's govt kept sitting on this CAG audit report—which was sent to the govt on August 3, 2018—deliberately, and did not table any of the CAG audit reports that should have entered public domain in 2018. https://www.downtoearth.org.in/news/mining/-district-mineral-foundation-s-implementation-in-mp-half-hearted—62933 (23 Jan. 2019)
Uttar Pradesh Sand Mining Scam: ED files 2 new cases The ED has registered two more cases of money laundering in its ongoing probe into the illegal sand mining cases in Kaushambi and Shamli districts. The cases were registered under the Prevention of Money Laundering Act (PMLA) against several officials, a senior probe agency official told news agency IANS.
The development comes a week after the probe agency filed a case based on an FIR by the Central Bureau of Investigation (CBI) into the role of bureaucrats and politicians in Hamirpur district. In the Hamirpur case, the probe agency had named the then District Magistrate B Chandrakala and 10 others. https://www.ndtv.com/india-news/in-up-sand-mining-scam-probe-agency-files-2-new-cases-1982841 (24 Jan. 2019)
The ED registered an Enforcement Case Information Report (ECIR) against politicians and bureaucrats from UP for allegedly laundering proceeds of crime earned through illegal allotment of sand mining licences in Hamirpur between 2012 and 2016.
The ED case is based on a CBI FIR where the latter said it would also examine the role of ministers who held the charge of the mining ministry during the period of the alleged scam. Yadav held charge of the mining ministry until Prajapati became mining minister in 2013. https://indianexpress.com/article/india/up-sand-mining-ed-files-money-laundering-case-5543911/ (18 Jan. 2019)
Tamil Nadu Concerns rise as ban on sand mining at Palar goes The five-year blanket ban on sand mining along the Palar river in Kancheepuram district has gone and the govt has commissioned a scientific study to resume sand mining in the district. This has raised concerns among environmentalists who say the indiscriminate mining will deplete water sources.
The blanket ban on sand mining was imposed by the state govt in Kancheepuram district following directions issued by the Madras high court, which had ordered a CBI probe into the illegal sand stockyards in Kancheepuram and Tiruvallur districts during 2013.
Though the district administration extended the ban for a year, it was virtually lifted in Nov. 2018 after it was found that the authorities in Kancheepuram district did not comply with the ban. The blanket ban helped replenish the river course with sand in the past six years, besides increasing the sand deposits at multiple locations. https://timesofindia.indiatimes.com/city/chennai/concerns-rise-as-ban-on-sand-mining-at-palar-goes/articleshow/67564142.cms (17 Jan. 2019)
Kerala FAC clears proposal to remove sand and silt at Pampa-Triveni FAC in its meeting on Jan 15, 2019 approves proposal for "Removal of Sand and Silt accumulated at Pampa-Thriveni near Sabrimla, Kerala State" as one time case saying, "The FAC observed the special nature of the issue, which was a result of unprecedented flood in Kerala in the last season." No cost of NPV or Compensatory Afforestation. http://forestsclearance.nic.in/writereaddata/FAC_Minutes/111211217121911_20190121192001153.PDF  (15 Jan. 2019)
Manipur Activists intercept nine trucks transporting river sand, stones  Manipur groups work to save rivers from unsustainable sand mining: https://www.thehindu.com/news/national/other-states/activists-intercept-nine-trucks-transporting-river-sand-stones/article25861672.ece    (29 Dec. 2018)
WETLANDS, LAKES, WATER BODIES
Manipur Protest against proposed bird sanctuary State govt's plan to set up a bird sanctuary at the Loktak lake in Bishnupur district has met with stiff opposition from the villagers in nearby areas. A large number of residents of Thingnunggei village took out a massive procession against the govt's proposal on Jan. 20.
Earlier, the villagers of the lake islets had agitated against setting up of the Keibul Lamjao National Park, the natural habitat of the endangered brow-antlered deer. They wanted the land demarcated for the park to be made available to them for cultivating paddy.
Birdwatchers blame human intrusion, bird poaching and hydroelectric power project near the lake for the decline in the number of migratory birds and brow-antlered deer in the Keibul Lamjao national park in the vicinity. https://www.thehindu.com/news/national/other-states/protest-against-proposed-bird-sanctuary-in-manipur/article26055282.ece (22 Jan. 2019)
Kerala Wetland filling for Technopark to be probed – NGT has ordered the District Collector to look into the alleged mass destruction of wetlands and a pond as part of the expansion works of the phase 3 of Technopark in Thiruvananthapuram. As per the order appropriate action has to be taken within one month, non-compliance of which is actionable by way of punitive action, including prosecution.
– The order was issued following an online complaint filed by Thomas Lawrence, a city native, a few months ago. "The area in question comes under the Taurus Downtown Trivandrum project. The wetland was one of the largest groundwater recharging sources in the city, which has now been filled and topped with interlocking tiles. When alternative space is available, such valuable wetland should not have been diverted. It could worsen flooding in the area. Also, the Technopark is primarily meant for IT companies, while a large part of the land in this project is being used for commercial and residential purposes," says Mr. Lawrence.
– The agricultural officer of Attipra had in January 2018 submitted a report to the RDO saying that the reclamation is harmful to the environment. A local-level monitoring committee, consisting of 12 agriculture officers and 12 village officers, too said the same in its report to the district administration.
– On December 28, the Attipra agricultural officer again inspected the site, following which it submitted a report to the RDO that the area under survey numbers 358 and 359 of block 17 is being converted rapidly. "This wetland ecosystem is part of the National Wetland Atlas prepared by the Space Applications Centre (ISRO), which has to be protected," says Mr. Lawrence. https://www.thehindu.com/news/cities/Thiruvananthapuram/wetland-filling-for-technopark-to-be-probed/article26054373.ece (21 Jan. 2019)
Odisha HC asks govt to start demolishing illegal prawn gheries in wetlands Odisha High Court has directed the govt to start the demolition process of illegal prawn farms in Bhitarkanika National Park and the Chilika Lake under the supervision of the committee formed for the purpose.
While issuing the direction on Jan. 21, the high court has set March 18 as the date for taking stock of the work. It has also directed the govt to lodge criminal proceedings against the offenders.
The Supreme Court had issued on April 3, 2017, asked the chief justice of high courts in 15 states to take up the issue of conservation of ecology of important wetlands. Of the 26 major wetlands located in the 15 states, two are in Odisha.
In pursuance of this, the high court had taken up the issue by suo motu registering a PIL in September 2017 for restoration of the ecology of the two wetlands – Bhitarkanika in Kendrapada district and the Chilika Lake, encompassing areas in Puri, Ganjam and Khurda districts.
Subsequently, it had appointed Mohit Agarwal as amicus curiae to assist it. As part of the adjudication process, the amicus curiae filed a report raising six issues to be considered by the high court for preservation of the two wetlands — illegal prawn culture, pollution, uncontrolled boat operation and oil spills, siltation, depletion of mangrove forest in Bhitarkanika and prawn culture by illegal Bangladeshi migrants and poaching. According to the amicus curiae's report, 'in total, 23,000 acres are under illegal prawn culture' in Bhitarkanika and Chilika Lake. https://timesofindia.indiatimes.com/city/bhubaneswar/hc-asks-govt-to-start-demolishing-illegal-prawn-gheries-in-wetlands/articleshow/67647062.cms (23 Jan. 2019)
National No water body from Karnataka in draft national plan Some key facts here: The draft national action plan (NAP) to protect wetlands in the country that plays host to birds from far off regions of Eurasia and Siberia does not include a single site from Karnataka.
– The Ministry has identified 20 major wetlands and nine wetland clusters across the country. This includes eight sites from Maharashtra, nine from Tamil Nadu, three each from Andhra Pradesh and Puducherry and five from Rajasthan.
– As per a study by Sálim Ali Centre for Ornithology and Natural History, Karnataka has 622 wetlands that are bigger than 52.25 hectares of which 21 were qualified to be assigned as 'Ramsar sites',
– Chief Wildlife Warden C Jayaram acknowledged that the draft does not include sites in Karnataka due to lack of documentation. "We have already taken up a census and Dr S Subramanya is heading it. Once we get figures, we will propose to the Centre to notify the sites as conservation sites of migratory birds," he said. https://www.deccanherald.com/state/no-water-body-from-Karnataka-in-draft-national-plan-715141.html (26 Jan. 2019)
GROUNDWATER
Telangana Groundwater level falls, state faces crisis by March – Officials claimed that 70 per cent of agriculture is based on groundwater (tube wells). Despite most mandals receiving abnormal rainfall, the farmers have been drawing groundwater through about 22.5 lakh pump sets across the state.
– Groundwater levels are depleting at the rate of 0.25m every month and if this continues, the state could face severe drinking water crisis from March, which even the Telangana state government's flagship Mission Bhagiratha cannot help.
– Groundwater levels have dipped in around 70 per cent of mandals because of scanty rainfall. Officials said that out of 31 districts only 13 districts have received normal rain and the rest received deficit rain. The state received 699mm of rain against the normal of 845mm.
– According to a state govt's executive summary report, out of 584 mandals in the state, 27 have received excess rain (20per cent or more), 204 mandals received deficit rain (20 per cent to -59 per cent) and 13 mandals received scanty rainfall (above -59 per cent).https://www.deccanchronicle.com/nation/current-affairs/210119/groundwater-level-falls-telangana-faces-crisis-by-march.html  (21 Jan. 2019)
India Water Portal No water security without water quality A study points out that pit latrines with onsite sanitation systems are a source of groundwater contamination. Almost 75 percent of Indian households with toilets within premises rely on onsite sanitation systems. Under the Swachh Bharat Mission, an additional 80 million toilets have been built in the last four years.
Most are presumably onsite sanitation systems. These two statistics may seem unconnected but that's only because the impact of groundwater and sanitation on health have not been studied well.  https://www.indiawaterportal.org/articles/no-water-security-without-water-quality (16 July 2018)
Op-Ed Knee-Jerk Reactions Won't Solve India's Groundwater Crisis  Given the drastic fall across the country, the long-pending model groundwater bill must be put up for review by the public and experts and enacted at the earliest says Nitya Jacob.
– The Central Ground Water Board (CGWB) data shows a rapid fall in water tables over the past decade. Droughts from 2014 to 2017 as well as a 9.4% rainfall deficit in 2018 have accelerated the decline. In 2007-17, the water level in just 30% wells rose more than 2 metres, while it dropped by the same amount in 43% of the wells.
– For most farmers, groundwater is the first source of irrigation water. Surface irrigation systems are notoriously unreliable. There are competing uses of water, notably industry and energy and water from irrigation systems is being increasingly diverted for non-agricultural use. The Bisalpur Dam in Rajasthan, made to help farmers irrigate their crops, now supplied water to Jaipur. Water from the Hirakud Dam is being diverted for industry use – this was built for irrigation purposes. Therefore, the agriculture sector resorts to groundwater to ensure the survival of crops.
– Various estimates put the number of tube wells at more than 30 million across India. A majority of them are for agricultural use, installed by individuals or the government. The combined groundwater draught is calculated at nearly 60% of the total groundwater available for use. This is dangerously close to the threshold for overuse, which according to CGWB is 70%, given the observed long-term drop in aquifers. https://thewire.in/environment/knee-jerk-reactions-wont-solve-indias-groundwater-crisis (23 Jan. 2019)
WATER
Uttar Pradesh 50 boys in Hathras to auction themselves on R-Day With Republic Day right around the corner, a number of youngsters from the Hathras district have decided to auction themselves as a mark of protest. Speaking to media outlets, the boys said that they will use the money acquired through the auction to supply drinking water to all houses that are located in the Maho area.
Members of the group which is organising this auction under the banner of the Yuva Jan Kalyan Samiti claim that they wrote letters to several top officials including the President of India narrating their plight, however, they received no response. We have zeroed in on 'Sabhi Kharidar Amantrit Hain' as the tagline for this auction, added the boys. https://www.timesnownews.com/mirror-now/civic-issues/article/uttar-pradesh-hathras-maho-nagla-maya-village-auction-boys-protest-drinking-water-shortage/351877 (22 Jan. 2019)
Haryana Overflowing sewage in Gurugram confines residents in homes  Breakdown of sewage disposal machinery in Palam Vihar of Gurugram, on Jan. 22 inundated the area three feet with sewage and rainwater resulting in confining the local residents inside their homes for one full day.
Same locality faced similar problem in July 2017 also. It appears that construction work of flyover had damaged the sewage pipeline which was not repaired properly then. https://www.timesnownews.com/mirror-now/civic-issues/article/haryana-gurugram-gurgaon-c1-block-palam-vihar-pwd-gmda-sewage-water-confines-residents/352698 (23 Jan. 2019)
WWF Report Indian banks vulnerable to financial risks of impending water crises 39% of the credit exposure of Indian banks is to sectors that 'face high levels of operational water risk', according to a report of the WWF India. The report identifies sectors such as agriculture, power, metals, textiles and wholesale trade as those for which water is a critical resource.
Among the sectors, the report noted, the banks' exposure to agriculture, at 13%, is the highest. "With more than 90% of total water consumption in India coming from the agricultural sector, water scarcity and drought are key issues for this sector," it said.
Citing instances of full or partial shut-downs of power plants due to water shortages, the report said that the power sector, too, remains vulnerable. Decreasing river flows, floods, downstream water demands and legal actions by civil society groups, could also affect the power sector. The report concluded that 75% of banks do not have a mechanism to evaluate their water risks before making lending decisions. https://thewire.in/banking/indian-banks-vulnerable-to-financial-risks-of-impending-water-crises-report (24 Jan. 2019)
DELHI WATER
Govt proposes to set up body to protect wetlands  Delhi Environment Dept to set up body to protect wetlands. https://www.hindustantimes.com/delhi-news/environment-department-proposes-to-set-up-body-to-protect-delhi-s-wetlands/story-YDXcuteCEZotg7oOJzTVnL.html   (4 Jan. 2019)
Also see video report on Rajokri pilot project a lake revival plan that includes a mini natural sewage treatment plant, water conservation plan.
AGRICULTURE
Madhya Pradesh Farmer saving our heritage of seeds  Babulal Dahiya of Satna district was awarded Padma Shri (Jan 26, 2019) for his seed conservation work.  Here is a story about him by Baba Mayaram, done some years back. http://www.vikalpsangam.org/article/a-farmer-saving-our-heritage-of-seeds/#.XEyIJ88zbR1     (7Jan.2016)
10 farmers have been awarded the Padma Shri for their outstanding work in making farming sustainable and profitable. https://www.gaonconnection.com/desh/padma-awards-2019-know-why-these-farmers-getting-padma-award-43296 (26 Jan. 2019)
Here is the list of other farmer Padma awardees this Jan 26, 2019:
– Hukum Chand Patidar(Jahalawar, Rajastan)
– Bharat Bhushan Tyagi (Bulandahahr, UP)
– Seed saver and literature personality, Babulal Dahiya (Satna, Madhya Pradesh)
– Kanwal Singh Chauhan – Haryana
– Vallabhbhai Vasrambhai Marvaniya – Gujarat
– Jagdish Prasad Parikh – Sikar, Rajasthan
– Ram Saran Verma – Uttar Pradesh
– Venkateswara Rao Yadlapalli – Andhra Pradesh
– WOMEN FARMERS: Kamla Pujhari of Koraput for
commendable work for promoting sustainable farming.
– Rajkumari Devi, of Muzaffarpur, Bihar
– Saalumarada Thimmakka of Karnataka,
– Jamuna Tudu of Jharkhand,
– Chinna Pillai of Madurai, Tamil Nadu
DROUGHT
Tamil Nadu Chennai stares at massive drought  The city of Chennai is headed towards a drought worse than 2016 this summer but its residents, according to authorities controlling water supply, remain in denial. With the water in reservoirs which the city depends on seeing a deficit of 77.37% compared to last year, experts point out that it is about time residents begin using the limited resource judiciously.
Sources in the water supply board tell TNM that authorities are extremely worried about how people are going to manage the short supply of water and state that the situation is worse than it was in 2017, a year in which Tamil Nadu was touted to have witnessed the worst drought in 140 years.
"The problem this time is that the groundwater has reduced too. So, when we reduce supply, the situation will become doubly worse," says an official under the condition of anonymity. "We have 180 MLD of water from two desalination plants and we get 30 MLD of water from quarries. In addition to this, we will draw from the Veeranam lake. But we still be short and the public that is dependent on groundwater is likely to suffer," he adds. https://www.thenewsminute.com/article/chennai-stares-massive-drought-residents-denial-fear-authorities-95619 (25 Jan. 2019)
Maharashtra Farmers face poor winter harvest after failed rains Farmers in several districts of the state are facing a bleak rabi crop (winter crop) due to a lack of rainfall. Small and even large landholding farmers in the state's Marathwada region as well as surrounding areas are facing this problem. Low rainfall has forced many farmers to leave their land empty, except those few who have dedicated irrigation systems or whose crops are less dependent on an abundant supply of water. The two percolation tanks in the region, including one spread over 20 hectares, have gone almost dry. Farmers in nearly 10 villages surrounding it are suffering this year.
The fact that monsoon rains are a whole six months away and will follow a scorching summer in large parts of India, especially the peninsular areas, the govt needs to act fast and allocate funds to prevent water scarcity. But ultimately, the rain gods also need to sing, because otherwise the agrarian crisis will continue in Maharashtra. http://www.atimes.com/article/maharashtra-farmers-face-poor-winter-harvest-after-failed-rains/amp/ (25 Jan. 2019)
12,006 farmer suicides from 2015 to 2018  According to the data compiled by the relief and rehabilitation department, Maharashtra saw 12,006 farmer suicides between January 2015 and December 2018, the tenure of the current state government. While the National Crime Record Bureau (NCRB) states the total number of suicides in the state in 2015 was 16,970, the data for the entire four-year period is unavailable. From 2010 to 2014, NCRB recorded 80,904 suicides in the state, of which 8,009 were farmers.
The state reported 2,761 farmer suicides in 2018, compared to 2,917 in 2017. The number stood at 3,063 in 2016 and 3,263 in 2015. Although not satisfactory, the officials attributed the dip to loan waiver, which was announced in 2017, but implemented in 2018.
In 2018, the spate of farmer suicides continued in drought-prone backward districts of Vidarbha (1,297 cases in 11 districts) and Marathwada (947 cases in 8 districts). Of the 2,761 cases, 1,330 were eligible for ex gratia of ₹1 lakh, while 1,050 were held ineligible. The remaining cases are awaiting decision by the district administration. https://www.hindustantimes.com/mumbai-news/maharashtra-saw-12-006-farmer-suicides-from-2015-to-2018/story-nUGELA03xsI2O60Nn3vkTK.html (23 Jan. 2019)
Gujarat Narmada river water for rabi crops cut by 30% At the beginning of the rabi season in November, the govt had said that 19,000 cusecs of irrigation water will be released till the harvest of the crops. As per the official figures with The Indian Express, of the total 17,654 cusecs of water being released into the Narmada Main Canal from the Sardar Sarovar dam, 13,500 cusecs has been allotted for irrigation — 28.9% less than the promised amount.
2,500 cusecs is for drinking purposes, 1,600 cusecs for Rajasthan and 107 cusecs for industrial use. As per the figures of the Agriculture Department, there has been a dip of 17 per cent in the area sown by farmers this rabi season as compared to last year — from 34.33 lakh hectares in 2017-18 to around 28.37 lakh hectares.
Currently, the live storage in Narmada dam is 1.17 MAF (million acre feet) which is more than the 0.3 MAF which existed at the same time last year," the SSNNL official said. The govt has also stopped lifting water from the Mahi Right Bank Canal and pumping it into the Narmada Main Canal, thus augmenting the supply of water in the Narmada command area. https://indianexpress.com/article/cities/ahmedabad/narmada-water-for-rabi-crops-cut-by-30-5557388/  (28 Jan. 2019)
Irrigation dept to curb water supply to south Gujarat industries Ukai dam to stop supply of water to industries due to limited water available in the dam, reserved for drinking and irrigation water. https://timesofindia.indiatimes.com/city/surat/irrigation-dept-to-curb-water-supply-to-south-gujarat-industries/articleshow/67679566.cms (25 Jan. 2019)
Op-Ed India stares at water scarcity  When droughts and elections intersect, the PM and CMs cannot keep farmers and public unaware of the prevailing drought situation in country. Addressing the deepening drought, agrarian distress and water-management are critical not just for our governments to survive but for us to survive our govts writes Gopalkrishna Gandhi.
Which govt would like to tell farmers that suffering lies at their threshold? Who would like to tell them that water will be scarcer than before, that aquifers will plummet, crops wither, livestock go thirsty? Which govt would, just weeks before the elections, tell us that with reservoirs drying up taps will sputter to a stop and that we may well be looking at water-rationing?
The truth is, none of them will say that. This is where, as Amartya Sen has told us time and again, the media comes in, and comes in redemptively. It is India's great good luck that public awareness, nudged and prodded by public discussions on meteorological data and media reportage, has kept droughts from deepening into famines in our country.
The IMD report on scant rains has received scant attention so far, with exceptions being provided by P. Sainath's relentless warnings and observations of experts of the calibre and veracity of Ramchandra Sable, agro-meteorologist, and D.M. More, Secretary of the Second Maharashtra Irrigation Commission, reported in The Hindustan Times (Jan 6, 2019).
To turn to the facts. The actual deficit last monsoon was modest — barely 10%. But the post-monsoon rainfall (October to December, 2018) or PMR as it is called by meteorologists has registered a 44% deficit. This national average deficit conceals shortages in some regions where it is much higher. In Marathwada, according to the IMD, the deficit is 84%, in Vidarbha, 88%.
There is an urgent need to conserve a range of non-forest ecosystems. India has a Forest Department, but no dedicated entity for grassland, marine and coastal, wetland, mountain, and desert conservation." https://www.thehindu.com/opinion/lead/india-stares-at-water-scarcity/article26063544.ece (23 Jan. 2019)
ENERGY OPTIONS
Karnataka Falling tariff takes sheen off rooftop solar plants  Following drop in tariffs, the numbers and capacity of newly installed roof top solar plants in Bangalore is dropping since last 3 years. https://energy.economictimes.indiatimes.com/news/renewable/bengaluru-falling-tariff-takes-sheen-off-rooftop-solar-plants/67653686    (23 Jan.2019)
SOUTH ASIA
India-Pakistan Indus water treaty faces intense pressure   Some good stuff here but, war mongering – its  peg – has no basis. It does not even mention when and how India has accused Pak of violation of the Indus Treaty.   https://www.ndtv.com/india-news/indus-waters-treaty-between-india-and-pakistan-faces-intense-pressure-as-rivers-run-dry-1983694     (26 Jan. 2019)
India-Nepal India agrees to sell additional 100 MW power  India had agreed to sell 50-100 MW more electricity to Nepal during the ongoing Nepal-India energy secretary-level  joint working group talks, also called the Joint Steering Committee (JSC) meeting, in Pokhara held on Jan 23, 2019. The JWG has agreed to forward Nepal's proposal to the JSC meeting scheduled for Jan 24. Nepal is currently importing 521 MW power from India out of its peak demand of 1105 MW.    https://thehimalayantimes.com/business/india-agrees-to-sell-additional-100-mw-power/ (24 Jan. 2019)
Nepal Locals affected by Kaligandaki 'A' Hydropower protest The people affected by the Kaligandaki 'A' Hydropower at Beltari area in Syangja district have demonstrated by putting forth various demands. They have blocked the road leading to the project powerhouse.
Their demands include that they should be provided electricity generated from the project rather than others. Irrigation facility and concrete road from Beltari Chowk to Irikhola are other demands. The locals also accused the concerned authority of cutting facilities provided to them by the Nepal Electricity Authority. http://therisingnepal.org.np/news/28583 (27 Jan. 2019)
Bhutan The irregularity of the hydropower sector The findings of the Public Accounts Committee on unresolved irregularities are disturbing. There are still Nu 4.3 billion (B) worth of pending audit issues to be resolved. A bulk of it, Nu 3.95 B is with the hydropower projects. The Royal Audit Authority and Comptroller and auditor general of India pointed out the irregularities. When the irregularities are related to excess payment, recruiting more than what is needed or unrealistic payment amounting to billions, people become suspicious. Building hydropower projects should be clean.  http://www.kuenselonline.com/the-irregularity-of-the-hydropower-sector/      (23 Jan. 2019)
CHINA
Secretive Chinese mission shows a desperate need for environmental agreements   China, for its part, is reportedly conducting a secretive cloud-seeding program designed to artificially increase rainfall in the Tibetan Plateau, one of the most arid regions of its territory. According to reports, China's system consists of peppering the plain of the Tibetan Plateau with silver iodide furnaces, sometimes referred to by media as "chemical rainmakers," that will release the silver iodine into the air and trigger the formation of new clouds as the southern monsoon winds from the Indian Ocean sweep the particles up in the sky. But solutions like these are poised to strain the fragile relationship between China and India, and the countries' political and military tensions are also morphing the risk into a more complex threat.
– Some observers of China's cloud-seeding plan say it could dangerously change the region's hydrology. As reported, the process is estimated to bring an additional 10 billion cubic meters of rain per year, accounting for 7 percent of China's total water consumption.
– With climate change at a tipping point and population growth spiraling, erratic weather and water scarcity are poised to become main drivers of conflicts of unprecented scale. It's time for environmental diplomacy to be taken seriously before it's too late.  https://medium.com/s/story/this-secretive-chinese-mission-shows-a-desperate-need-for-environmental-agreements-30a9aa2c50d  (14 Dec. 2018)
ASIA
DAM FLOODS IN INDONESIA Overflowing dam kills at least 30 in Indonesia  Torrential rains overwhelmed Bili-Bili dam and caused landslides that killed at least 30 people and displaced more than 2,000 in central Indonesia on January 23, 2019, 25 People are still missing. There was no warning prior to water release from the dam, reports say. https://uk.reuters.com/article/us-indonesia-flood/overflowing-dam-kills-at-least-30-in-indonesia-idUKKCN1PI0WS     (24 Jan. 2019)
South Sulawesi Governor Nurdin Abdullah told local media that siltation of the dam and deforestation of the upstream watershed had worsened the floods. https://www.independent.co.uk/news/world/asia/indonesia-dam-disaster-flood-overflow-death-toll-evacuation-landslide-a8743831.html (25 Jan. 2019)
Cambodia Lost World  Video report on impact of sand mining by Kalyanee Mam For over a decade, the govt of Cambodia has granted several private companies concessions to mine these mangrove forests for sand. Each year, millions of metric tons of sand are shipped to Singapore to enlarge this island nation's land mass, while Cambodia destroys its only natural protection against erosion, rising sea levels, tsunamis, and hurricanes and lays waste to a vital and fragile ecosystem that thousands of families depend on for their livelihood.  https://emergencemagazine.org/story/lost-world/  (Sept. 2018)
THE REST OF THE WORLD
Brazil Dam Disaster Tailing dam failure unleash disaster Another catastrophic tailings dam failure in Brazil, at Feijão mine, seems worse than 2015 Samarco dam disaster. Seven have died, about 200 people missing. https://www.theguardian.com/world/2019/jan/25/brazil-dam-collapse-news-latest-mining-disaster-brumadinho (25 Jan. 2019)
UPDATE: More dead bodies, 412, mostly employees and contractors missing, with chances of their survival minimal, officials say.
– Vale's chief executive, Fabio Schvartsman, said on Jan. 25 that one dam containing iron ore waste – known as tailings – had failed and another overflowed. Brazil's environment ministry had earlier said three dams were involved in the disaster.
– "The mud still has not reached the town. The mud formed a barrier stopping the river and the town is on alert about what could happen,"
– the 86-metre (280ft) dam, built in 1976, held 11.7m litres of mining waste and had condition-of-stability declarations from an international company called TÜV SÜD. It was no longer in operation, was regularly inspected and was being decommissioned, the company said.
– Environmentalists said Brazil had failed to learn from the Mariana disaster 4 years back (another tailings dam collapsed in Minas Gerais, killing 19 people in what was Brazil's worst environmental disaster. That dam was operated by Samarco, which at the time of the disaster was jointly owned by Vale and the Anglo-Australian mining firm BHP Billiton.), in which 375 families lost their homes. They are yet to be rehoused. The three companies that operated the Mariana dam – Samarco, Vale and BHP Billiton – spent more than $1bn (£760m) on a cleanup and relief operation and paid millions of dollars in fines over the disaster, but no individual has been convicted.
– Greenpeace, Brazil: "Cases like these are not accidents but environmental crimes that should be investigated, punished."  https://www.theguardian.com/world/2019/jan/25/brazil-dam-collapse-news-latest-mining-disaster-brumadinho (26 Jan. 2019)
More updates: – On Jan. 27, another dam was facing risk of collapse, 24000 people were asked to go  to higher grounds. The risk, it was later announced, had been averted.
– By now 58 are confirmed dead and 300 are still missing. Search operations to resume now.
– It is not clear how toxic is the sludge released by dam collapse. https://www.cbc.ca/news/world/brazil-vale-mine-dam-collapse-1.4994744  (27 Jan. 2019)
Dave Petley on Brazil Dam Disaster.
– The dam was 87 m high, impounding almost 13 million cubic metres of waste.
– But this event is indicative of a much larger global issue. The impacts of tailings dam collapses on people and the environment can be catastrophic, as this event illustrates. As such it must be incumbent upon operators to ensure that collapses cannot and do not occur under any foreseeable circumstances. But we repeatedly experience tailings dam failures – recent examples include Cadia in Australia (2018), Mishor Rotem in Israel (2017), Henan Xiangjiang Wanji in China (2016), Samarco in Brazil (2015), Mount Polley in Canada (2014), Xichuan Minjiang in China (2011) and Kolontor in Hungary (2010), amongst many, many others. No other area of geotechnical engineering would tolerate a failure rate like this, and no other area of geotechnical area would be allowed to operate in the area of the risk / consequence matrix occupied by tailings dams. That this situation is allowed to continue is an absolute disgrace. https://blogs.agu.org/landslideblog/2019/01/27/brumadinho-1/ (27 Jan. 2019)
More Information:- Brazilian rescue workers searched for hundreds of people missing and feared dead under a sea of mud after a tailings dam burst at an iron ore mine owned by Vale SA, killing at least 34 people and halting mine operations.
The dam ruptured on Jan. 25, releasing a torrent of mud that tore through the miner's offices and cut through a nearby town, leaving a roughly 150-meter-wide (500-foot-wide) wake of destruction stretching for miles (km).
The Minas Gerais state fire department, which gave the latest confirmed death toll, also said 23 people had been sent to hospitals. Some 250 people remained missing, according to a list released by Vale. All of those missing are Vale employees or contractors, a police spokesman said.
During a news conference, Zema said the mining complex had all its permits in order and it was unclear what caused the collapse of the dam, which had been inactive for years. German auditor TUV SUD said on Jan. 26, it had inspected the tailings dam in Sept. 2018 and found it to be operating well.
The National Mining Agency ordered Vale, the world's largest producer of iron ore, to halt operations at the Corrego do Feijao mine, located near the town of Brumadinho.
State courts in two separate actions froze a total of 6 billion reais ($1.59 billion) in Vale's accounts to eventually pay for damages. Environmental agency Ibama fined Vale 250 million reais for regulatory violations, while state environmental agency Semad fined the miner 99 million reais.
Minas Gerais is still recovering from the 2015 collapse of a larger dam that killed 19 people in Brazil's worst environmental disaster. That dam, owned by the Samarco Mineracao SA joint venture between Vale and BHP Group Ltd, buried a village and poured toxic waste into a major river.
The latest dam burst could undercut new President Jair Bolsonaro's promise to cut regulation in the sector and could make investors already wary of investing in Brazil's mining sector even more hesitant. https://www.livemint.com/news/world/brazil-dam-collapse-34-dead-hundreds-missing-as-rescue-mission-continues-1548561536638.html (27 Jan. 2019)
Russia Bureya: blasting started to clear the landslide-dam  Valley blocking landslide on Bureya river that created the reservoir on Dec 11 2018 is now being removed using explosives. https://blogs.agu.org/landslideblog/2019/01/23/bureya-reservoir-landslide-dam/    (23 Jan. 2019)
Australia Darling River crisis: the farms without safe drinking or washing water – For months there has been a red alert for blue-green algae in the Lower Darling as the river ceased to flow and temperatures regularly topped 45C. The river has stopped running last August and the remaining waterholes have turned an ugly bright green. The river has become undrinkable, unswimmable and unsuitable for bathing. The govt warnings say that, when it reaches a red alert, contact should be avoided.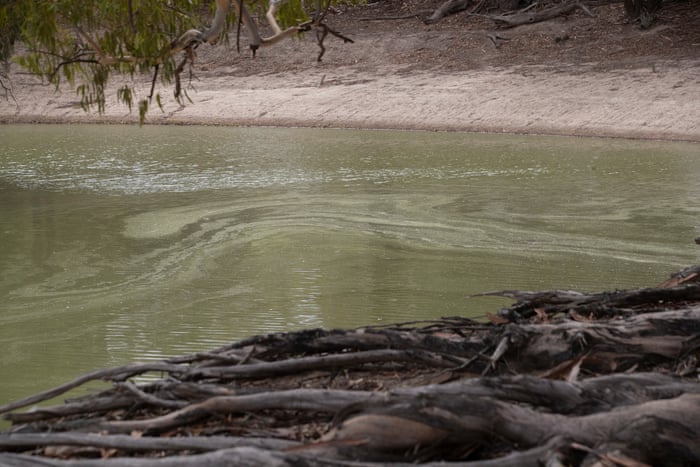 – "Blue-green algae, or cyanobacteria, are the most ancient of all photosynthetic organisms," the NSW Water website warns. "Some produce poisons harmful to humans and possibly fatal to domestic animals and fish – neurotoxins and liver toxins, and skin allergens.
– But for families that live along the Lower Darling on properties, there is often little choice, as that is the sole source of water for their homesteads, apart from very limited rain water.https://www.theguardian.com/australia-news/2019/jan/24/darling-river-crisis-the-farms-without-safe-drinking-or-washing-water (24 Jan. 2019)
Sydney's water desalination plant switched back on as dam levels drop Sydney's desalination plant has officially been switched on, returning it to operation for the first time in seven years. But the plant's finished product will not be flowing out of the city's taps until at least April.
Sydney's dam storage dropped below 60% on Jan. 27, triggering the long-awaited restart procedures and putting the plant back in operation for the first time since 2012.  The NSW water minister, Don Harwin, said there was no reason to be alarmed about Sydney's water because the dams still had more than two years' worth of water supply.
Under its contract, the desalination plant must operate for a minimum of 14 months under the metropolitan water plan and potentially until dam levels return to 70%. Sydneysiders can expect their annual water bills to increase by about $30 as a result. https://www.theguardian.com/environment/2019/jan/27/sydneys-water-desalination-plant-switched-back-on-as-dam-levels-drop (27 Jan. 2019)
Study Microplastic fibres found in groundwater Scientists have found microplastics contaminating a groundwater source that accounts for 25% of the global drinking water supply. Microplastics are already known to contaminate the world's surface waters, yet scientists have only just begun to explore their presence in groundwater systems. The study, published in the journal Groundwater, identified microplastic fibres, along with a variety of medicines and household contaminants, in two aquifer systems in the U.S.
"Plastic in the environment breaks down into microscopic particles that can end up in the guts and gills of marine life, exposing the animals to chemicals in the plastic," said John Scott, a researcher at the Illinois Sustainable Technology Center in the U.S. "As the plastics break down, they act like sponges that soak up contaminants and microbes and can ultimately work their way into our food supply," said Mr. Scott.
The researchers collected 17 groundwater samples from wells and springs — 11 from a highly fractured limestone aquifer near the St Louis metropolitan area and six from an aquifer containing much smaller fractures in rural northwestern Illinois. All but one of the 17 samples contained microplastic particles, with a maximum concentration of 15.2 particles per litre from a spring in the St Louis area, researchers said. "It is estimated that 6.3 billion metric tonnes of plastic waste have been produced since the 1940s, and 79% of that is now in landfills or the natural environment," he said. https://www.thehindu.com/sci-tech/science/microplastic-contamination-found-in-groundwater/article26105346.ece (27 Jan. 2019)
CLIMATE CHANGE
Report  Losses caused to India doubled due to change in climate The decadal data shows that about 16 extreme climate events took place on average every year between 1998 and 2017 compared to 10 events annually between 1978 and 1997, according to a new report published by Action on Climate Today (ACT), a UK-based initiative that works with South Asian governments to build resilience against climate change. The report, titled 'Assessing India's Mounting Climate Losses to Financial Institutions',published on January 18, warned that the count of extreme weather events has been continuously increasing in India. Economic losses to India from extreme weather events climbed to $45 billion in 2008-2017 from $20 billion between 1998 and 2007.
– Among the 328 events listed in the EM-DAT database between 1998 and 2017, almost half were floods, which were responsible for the highest economic losses ($45.7 billion), more than losses resulting from storms, landslides, drought and natural disasters. "Both globally and in South Asia, the frequency and intensity of floods and droughts is increasing. In the coming years, the bulk of extreme weather events in India will be floods and heat stress", said NH Ravindranath, climate scientist from Indian Institute of Science (IISc).  https://www.hindustantimes.com/india-news/losses-caused-to-india-doubled-due-to-change-in-climate/story-Fa6agqIHvTYlCXWvX0iHIJ.html  (24.Jan.2019)
Report India forget to review them through a climate change lens  Excellent article . It rightly says: "But are any of them being screened against the biggest existential threat humanity has ever faced – climate change? Unfortunately, the answer is NO."
With this one blemish: Its assumption is here is not borne by scrutiny: "Under the National Action Plan for Climate Change (NAPCC), there are eight missions under relevant ministries that are doing solid work." https://timesofindia.indiatimes.com/blogs/toi-edit-page/make-india-climate-smart-we-have-big-infrastructure-plans-but-forget-to-review-them-through-a-climate-change-lens/     (24 Jan .2019)
Report Climate Change is destabilizing Indian Monsoon As per findings by The Atlantic, now, Climate Change has been ruining quite a few things such and Indian Monsoon might be one of them. The available records of climate and rainfall in India have aided scientists to reconstruct the behavior of Monsoon in the past six decades and the results have been surprising as well as complex. Since the year 1950, average summer rains in India have declined by around 7 percent. https://www.skymetweather.com/content/weather-news-and-analysis/here-is-how-climate-change-is-destabilizing-monsoon/   (25 Jan. 2019)
People migrating from Sundarbans as climate threat soars People in the Sundarbans have started migrating towards cities with increasing vulnerability from climate change and shrinking opportunities for livelihood. https://www.nationalheraldindia.com/environment/people-migrating-from-sundarbans-as-climate-threat-soars (27 Jan. 2019)
Study Scientists warn of climate "Time Bomb" for world's groundwater  – Groundwater reserves are already under pressure as the global population explodes and crop production rises in lockstep, according to a study published in Nature Climate Change.
– The extreme weather events such as drought and record rainfall — both made worse by our heating planet — could have another long-lasting impact on how quickly reserves replenish.
– "The effect we are having now is going to have this really long lag-time in terms of climate change. There's a memory in the system — and the memory is very large in some places," said Mark Cuthbert, from Cardiff University's School of Earth and Ocean Sciences.
– The team found that only half of all groundwater supplies are likely to fully replenish or re-balance within the next 100 years — potentially leading to shortages in drier areas. "This could be described as an environmental time bomb because any climate change impacts on recharge occurring now, will only fully impact the baseflow to rivers and wetlands a long time later," Cuthbert said.
– The process through which rainwater is filtered through bedrock and accumulated underground can take centuries and varies greatly by region. As climate change delivers longer droughts and bigger superstorms, the extremes of rainfall become more pronounced, impacting groundwater reserves for generations to come.
– The team found that reserves in arid areas took far longer — several thousand years in some cases — to respond to alterations in climate than reserves in more humid parts.
"Parts of the groundwater that's underneath the Sahara currently is still responding to climate change from 10,000 years ago when it was much wetter there," Cuthbert said. "We know there are these massive lags."
– The team said their research showed one of the "hidden" impacts of climate change, and called for immediate action to ensure future generations aren't left high and dry. https://www.ndtv.com/science/scientists-warn-of-climate-time-bomb-for-worlds-groundwater-1981163 (22 Jan. 2019)
Study Global forest growth limited by scarcity of water as climate warms up Another study suggests that lack of water is playing a major role in limiting global forest growth as the climate warms. According to the research published in the Journal of Science Advances, the effect is most evident in northern climates and at high altitudes where the primary limitation on tree growth had been cold temperatures.
"Our study shows that across the vast majority of the land surface, trees are becoming more limited by water," said first author Flurin Babst. "This is the first time that anybody has projected the tree growth responses to climate at a near-global scale," he added.
As part of the study, the researchers compared the annual growth rings of trees during two time periods, 1930-1960 and 1960-1990. The growth rings are wider when conditions are better, narrower when conditions are worse. The ring-width measurements were taken from trees at about 2,700 sites spanning every continent except Antarctica. The finding has implications for future forest and tree growth and for forest management, said Frank, one of the lead researchers. https://www.thehansindia.com/posts/index/Life-Style/2019-01-21/Global-forest-growth-limited-by-scarcity-of-water-as-climate-warms-up/479254 (21 Jan. 2019)
Study Greenland's rapid ice melt persists even in winter In the latest troubling study regarding how the climate crisis is affecting the world's iciest regions, a new report by the Scottish Association for Marine Science (SAMS) found that the second-largest ice sheet in the world is currently melting even in winter.
The study follows a report released earlier in Dec. 2018 showing that Greenland's ice melt rate is currently faster than it's been in about 7,000 years. The island's 650,000 cubic miles of ice is melting 50 percent faster than it did in pre-industrial times. https://www.ecowatch.com/greenland-ice-melting-2624505064.html (27 Dec. 2018)
Research Paper A global map of mangrove forest soil carbon at 30 m spatial resolution Abstract:- With the growing recognition that effective action on climate change will require a combination of emissions reductions and carbon sequestration, protecting, enhancing and restoring natural carbon sinks have become political priorities.
Mangrove forests are considered some of the most carbon-dense ecosystems in the world with most of the carbon stored in the soil. In order for mangrove forests to be included in climate mitigation efforts, knowledge of the spatial distribution of mangrove soil carbon stocks are critical.
Current global estimates do not capture enough of the finer scale variability that would be required to inform local decisions on siting protection and restoration projects. To close this knowledge gap, we have compiled a large georeferenced database of mangrove soil carbon measurements and developed a novel machine-learning based statistical model of the distribution of carbon density using spatially comprehensive data at a 30 m resolution.
By utilizing remotely-sensed mangrove forest cover change data, loss of soil carbon due to mangrove habitat loss between 2000 and 2015 was 30–122 Tg C with >75% of this loss attributable to Indonesia, Malaysia and Myanmar. The resulting map products from this work are intended to serve nations seeking to include mangrove habitats in payment-for- ecosystem services projects and in designing effective mangrove conservation strategies. https://iopscience.iop.org/article/10.1088/1748-9326/aabe1c/meta (30 April 2018)
ENVIRONMENT
Maharashtra Govt proposes declassification of 500 acre eco-sensitive belt in Mumbai  The state govt has proposed declassification of 500-acre land, which was earlier marked as a 'natural area' (NA) and 'no development zone' (NDZ) in Mumbai's new Development Plan (DP). In other words, the land was unbuildable when classified as NA and NDZ.
The new reservations proposed on the land enable the private owner to avail more than the full FSI that would be permissible on any other unreserved plot. Incidentally, the landowners have entered into consent terms with real estate conglomerate – the Sahara India Commercial Corporation (SICC) – transferring about 106 acre of the land.
The move will unlock the land for construction, the CM-led Urban Development (UD) department has now reserved a bulk of the land for the National Law University and other courts (human rights courts, family courts, Motor Vehicle Tribunal, etc). Clearing decks for more construction activity on the land, it has also proposed a Metro rail car shed and an 18-metre road on it. In fact, sources said a proposal for a wider road is under consideration.
According to sources, about 98 hectare has been reserved for the university and other courts and another 221 hectare for the car shed. In fact, senior govt sources confirmed that the contentious new land-use reservations have been proposed on a total of about 350 acres of the land. https://indianexpress.com/article/india/mumbai-500-acre-eco-sensitive-belt-unlocked-for-new-law-university-courts-5549229/ (22 Jan. 2019)
Compiled by SANDRP (ht.sandrp@gmail.com)
Also see: DRP News Bulletin 21 Jan. 2019 & DRP News Bulletin 14 Jan. 2019
Follow us on: www.facebook.com/sandrp.in; https://twitter.com/Indian_Rivers