The coastline between Chavara and Alappad in Kollam district of Kerala, has a decades-long story of people's battle for survival against mining companies. This stretch in Kerala is where the extensive mineral beach sand mining has been happening since the 1960s. The abandoned buildings are the remains of people's failed agitations and indefinite strikes. One by one the villages in the area are vanishing from the map of Kerala.
– In Alappad panchayat, activists estimate that more than 6,000 fishermen families have vacated over the years due to beach erosion, drinking water scarcity and lack of fish availability. Sooner or later the panchayat will also be turned in to a sand bund, remaining residents say.
– The remaining families in this 23 kilometres stretch of coastal region (Kollam Neendakara to Kayamkulam) are under the threat of eviction; for the last few years, they have been expecting a massive coastal erosion that can engulf their villages. Most of the people have been forced to leave their houses, even without any compensation from the authorities or the mining companies. https://www.thenewsminute.com/article/villages-vanish-keralas-kollam-coast-they-succumb-sand-mining-94762  (9 Jan. 2019)
Save Alappad the anti-mining campaign has got support from actor Tovino and Vijay fans.
– In 1968, two public limited companies, Indian Rare Earth, which comes under the Centre, and Kerala Minerals and Metals Limited, under the state government, began mining beach sand in the region. According to reports, while a litho map of Alappad village showed 89.5 square kilometre of land in the area, this shrunk to a mere 8 sq km of land by 2019.
Meanwhile, 40 km away from the town, aggrieved fisherfolk from the coastal hamlets of  Alappad have gathered at a village called as Vellana Thuruthu and are on a relay hunger strike which saw its 68th day on Jan. 7.  https://www.thenewsminute.com/article/anti-mining-campaign-kerala-thats-got-support-actor-tovino-and-vijay-fans-94680 (8 Jan. 2019)
Fishermen claim hamlet after hamlet was 'disappearing' from the map due to mining activities by the Indian Rare Earth (IRE), a central Public Sector Undertaking, and state government-owned Kerala Minerals and Metals Limited (KMML).
Seeking to save their remaining villages, the people of Alappad and nearby hamlets under the banner of Anti-mining People's Protest Council have been on a relay-hunger strike at Vellanathuruthu near here for the past over two months demanding a complete halt to the mining activities. However, an official of the IRE, when contacted, said the company was following all mining norms.The two firms together have been engaged in mineral sand mining along the beach off the Kollam coast since the 1960s. https://www.business-standard.com/article/pti-stories/alappad-a-tale-of-lost-land-to-mineral-sand-mining-119011100385_1.html (11 Jan. 2019)
Also see, great to see that the video message by a 17 year old girl has started Kerala talking and doing something about unsustainable sand mining. https://indianexpress.com/article/india/17-year-olds-video-gets-kerala-talking-of-impact-of-sand-mining-5532847/  (11 Jan. 2019)
Karnataka Police-politicians accuse each other of illegal sand mining Legislators and police at logger-head over illegal sand mining issues. While D Shekhar BJP MLA from Goolihatti tried to immolate himself in front of a police station in Hosadurga on Jan. 6 night alleging local police of being involved in illegal sand mining, another BJP MLA M Chandrappa threatens that he and his supporters would picket police stations and "torch" them if the police did not take concrete steps to stop illegal sand mining in Chitradurga district.
– Contrary to their version, police say D Shekhar was demanding release of 4 tractors caught for carrying illegally mined sand, but police officials refused to do so. https://timesofindia.indiatimes.com/city/bengaluru/bjp-mla-attempts-suicide-over-illegal-sand-mining/articleshow/67431688.cms  (8 Jan. 2019)
– Launching a tirade against Police Superintendent Dr Arun M of being corrupt, Chandrappa alleged that the SP wanted to increase the quantum of bribe. Hence, he would be strict in the beginning. However, now he is hand-in-glove with illegal sand miners. He added that the police were seizing tractors and carts used by poor people to transport sand for the construction of their houses.  http://www.newindianexpress.com/states/karnataka/2019/jan/08/stop-illegal-sand-mining-or-will-torch-police-station-mla-1922041.html  (8 Jan. 2019)
Madhya Pradesh Despite change in Govt. no respite for rivers:- Large scale illegal sand mining through heavy machines happening in Ken river in Panna and Chhatarpur district of Bundelkhand since last week of Dec. 2018. Sources said that ever since the Congress has come to power, its local leaders are keen to get their share of sand.
Illegal sand mining has intensified in Chhatarpur and Panna in Bundelkhand region.  Since last week of December, illegal sand mining is taking place on a large scale at Banjari and Hinota sand mines in Ken river through heavy machines in Luvkush Nagar tehsil of Chhatarpur. 
Sources said that ever since the Congress has come to power, its local leaders are keen to get their share of sand. Incidents of firing are being reported thick and fast in these areas, which is also witnessing a new trend- of armed private security guards of mafias opening fire before mining sand, sources said. A sand mining company has also registered a complaint of loot of more than Rs. 2 lakh, the ASP said. https://timesofindia.indiatimes.com/city/bhopal/illegal-sand-mining-continues-unabated/articleshow/67427582.cms  (8 Jan. 2019)
In Nov. 2018, over 300 farmers including around 50 women, started 'Jal Satyagrah' by entering the waters of the Ken river to protest against sand mining in the area due to which their crops are getting damaged," in Ken river near Kolawal Raipur in Girwan area of the Bundelkhand region. As per Naraini SDM Awadhesh Kumar Srivastava, the company involved in the sand mining deviated from the allotted place and has also made a temporary bridge on the river to make passage for the sand-laden trucks. https://www.business-standard.com/article/pti-stories/jal-satyagraha-against-sand-mining-in-ken-river-118110100758_1.html (1 Nov. 2018)
Gujarat Govt keen on drones with night-vision to track illegal sand mining  8 months after its launch, the government's UAV (Unmanned Aerial Vehicle) surveillance project to track illegal sand mining across the riverbeds has reported 48 per cent success. However, with most of the missions returning unsuccessful due to difficulty in operating after dusk, the Geology & Mining Department is now looking to source drones with infrared capability. In the 22 successful missions, the department has imposed a penalty of Rs 13.96 crore and filed four FIRs.
According to officials, the UAV missions were flown after the department received "intelligence" about illegal mining happening on the river-beds. However, most of the missions returned without success, especially from the Sabarmati riverbed, as most of the mining activity is happening during the night, officials said. To combat these issues, the department is planning to get drones with infrared vision.
Apart from surveillance of the river beds and mines, the department is planning to conduct a volumetric analysis of the pits that have already been dug by illegal miners in the rivers. Sabarmati river will be the first where such a volumetric analysis is being planned. https://indianexpress.com/article/cities/ahmedabad/government-keen-on-drones-with-night-vision-to-track-illegal-sand-mining-5536206/  (13 Jan. 2019)
Punjab Sand mafia threaten a farmer Panchkula farmer threatened by sand mafia for objecting to illegal sand mining.  Police on Jan. 6 registered a case under Arms Act and criminal conspiracy against six sadn mafias for threatening a resident of Jalouli village in Chandimandir. Complainant, Sanjeev Kumar, a farmer alleged that the accused threatened to kill him after brandishing weapons including pistol and gun which the accused persons possessed.
This is not the first instance when the sand mafias have threatened and assaulted a person in Panchkula district. On Sept. 30, 2018, mining officer Panchkula received a threatening call from the sand mafia to stop doing checking in his area.  https://timesofindia.indiatimes.com/city/chandigarh/told-to-stop-illegal-mining-armed-men-attack-farmer/articleshow/67412904.cms (7 Jan. 2019)
Meanwhile, opposition party in Punjab demanded an inquiry by a sitting high court judge to establish why no action was being taken against the sand mafia despite CM's instructions. https://timesofindia.indiatimes.com/city/chandigarh/sad-demands-judicial-probe-into-illegal-sand-mining-in-punjab/articleshow/67478832.cms (11 Jan. 2019)
In Nov. 2018, the Punjab Mining and Geology Department has decided to deploy drones to curb illegal sand mining in the state by borrowing the drones from the state police. The dept. has also decided to keep surveillance on the illegal mining through satellite mapping. https://www.business-standard.com/article/pti-stories/punjab-to-use-drones-to-keep-check-on-illegal-mining-118111401144_1.html (14 Nov. 2018)  
HYDRO POWER PROJECTS
Himachal Pradesh HC refuses to stay land transfer to hydro facility  The Himachal Pradesh High Court has refused to stay the transfer of forest land to an Asian Development Bank-funded hydropower project in the state's Kinnaur district being executed by the state-run Himachal Pradesh Power Corp Ltd. However, local residents, activists and environmental groups, who are opposing the project, said the court order for the 130 MW Integrated Kashang Stage II and III project is "disappointing".
It was passed "without looking into the merits of the case, which include violations of constitutional laws like Panchayat (Extension to Scheduled Areas) Act of 1996 and Forest Rights Act of 2006", they said in a statement to the media on Jan. 12.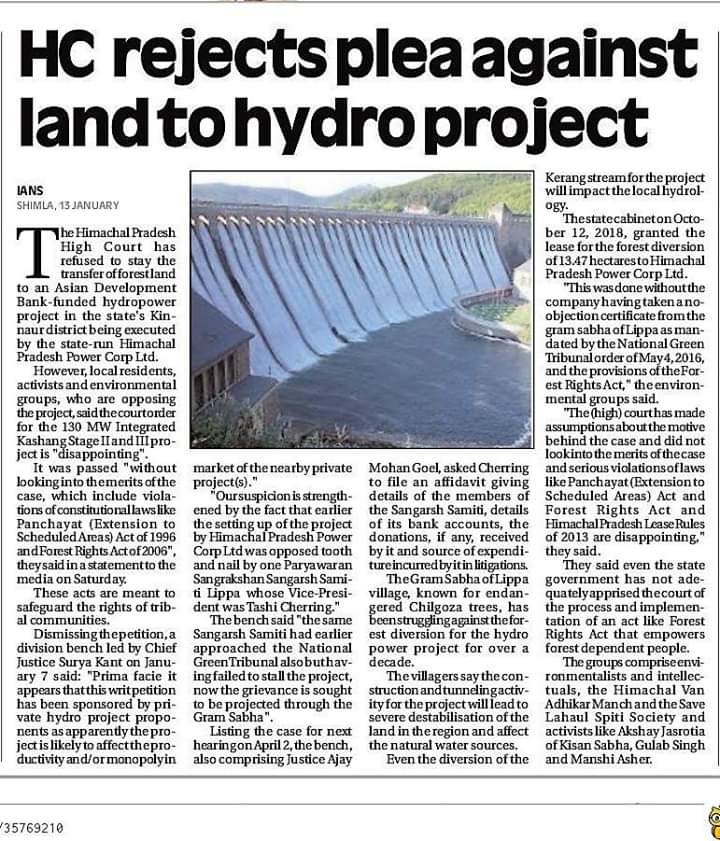 The Gram Sabha of Lippa village, known for endangered Chilgoza trees, has been struggling against the forest diversion for the hydro power project for over a decade. The villagers say the construction and tunneling activity for the project will lead to severe destabilisation of the land in the region and affect the natural water sources. Even the diversion of the Kerang stream for the project will impact the local hydrology.
The state cabinet on October 12, 2018, granted the lease for the forest diversion of 13.47 hectares to Himachal Pradesh Power Corp Ltd. They said even the state government has not adequately apprised the court of the process and implementation of an act like Forest Rights Act that empowers forest dependent people. https://www.business-standard.com/article/news-ians/himachal-hc-refuses-to-stay-land-transfer-to-hydro-facility-119011300240_1.html (13 Jan. 2019)
Arunachal Pradesh Book: Saving Lama's cranes Must read for little readers. We are happy to announce an exciting new children's story book by Kalpavriksh, Saving the Dalai Lama's Cranes. It is written by Neeraj Vagholikar and illustrated by Niloufer Wadia.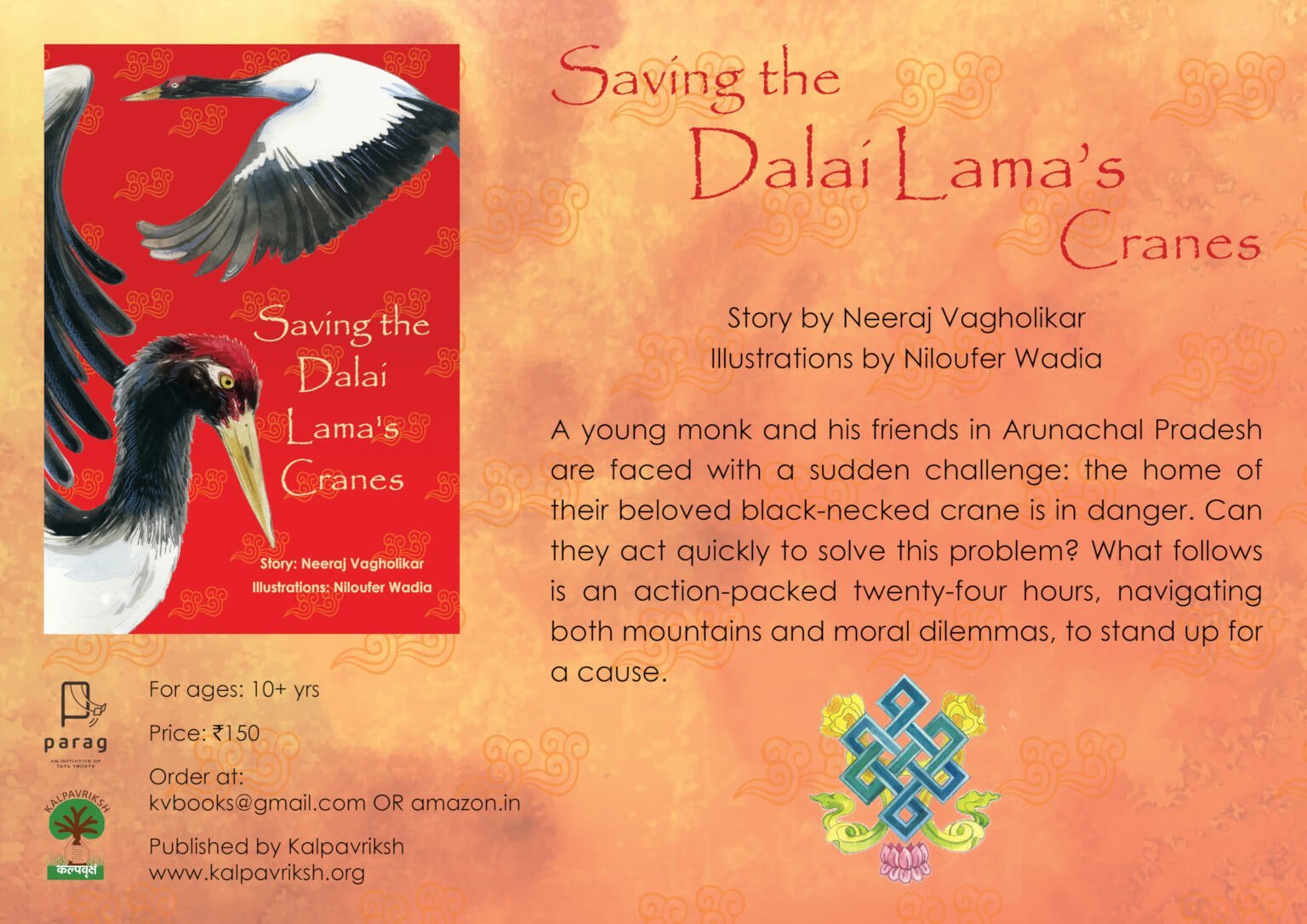 You can order your copy by writing to us at kvbooks@gmail.com or buy online here: amzn.to/2EMz4zJ 
Centre Policy for revival of 5950 Mw hydro projects on the cards According to the Central Electricity Authority estimates, the annual loss of energy generation from these stalled hydro projects is about 18,761 Million Units. This is basically reiteration of past statements on this issue. https://energy.economictimes.indiatimes.com/news/power/5950-mw-hydro-projects-stalled-policy-for-revival-on-the-cards/67407463  (6 Jan. 2019)
BBMB Best performing utility in hydro power sector??  ​​The national level award has been awarded outstanding performance of BBMB that run 6 power houses having installed capacity of 2918.73 MW. In addition BBMB's Beas Project Unit-1 (i.e. BSL Project) & Beas Project, Unit-2 (i.e. Beas Dam at Pong) were awarded as "Best Maintained Projects, (functional for more than 10 years) in a CBIP function at Delhi on 4th Jan 2019. THESE ARE ESSENTIALLY INHOUSE AWARDS, NOT INVOLVING CLEARLY DEFINED CRITERIA, INDEPENDENT JURY, COMPREHENSIVE APPRAISAL OR TRANSPARENT PROCESS. https://energy.economictimes.indiatimes.com/news/power/bbmb-awarded-best-performing-utility-in-hydro-power-sector/67403552  (6 Jan. 2019)
DAMS
Lakwar Dam NGT asks EAC for re-appraisal of the project Congratulations to petitioners, lawyers and everyone who supported this effort for achieving this NGT order dated January 10, 2019 on Lakhwar Dam on Yamuna, asking for stay till full appraisal is done. One only hopes the EAC will work with science and ecology in mind and not like dam ideologues that they are prone to.
One hopes NGT will also ensure full and proper EIA, public consultation, Cumulative Impact Assessment and appraisal before allowing project to go ahead. https://ercindia.org/sites/ercindia.org/files/ngt%20order.pdf  (10 Jan. 2019)
"…direct the EAC to appraise the project afresh in terms of EIA notification 2006 and impose additional general and specific conditions as may be considered necessary. EAC will be free to call for any reports which it may consider necessary. EAC is further directed to complete the appraisal by 15.04.2019. Till the project is reappraised status quo shall be maintained," a bench headed by Justice Raghuvendra Rathore noted.  https://indianexpress.com/article/india/ngt-stays-lakhwar-project-asks-panel-to-appraise-it-afresh-5533345/ (11 Jan. 20169)
The green panel also took note of a study undertaken by an expert body, following Supreme Court orders after the 2013 disaster. "It was brought to the notice of the expert body that clearances to start work had been granted recently to the Lakhwar and Vyasi projects. This is in violation of the spirit of the SC's August 2013 order. It is also noticed that these projects were approved more than 25 years ago. Consequently they do not have any EIA/EMP/DMP studies that are mandatory today," the report which was submitted to the Centre in 2014, said.
Further the report added, "Without conducting cumulative impact assessments and disaster management studies of Yamuna and Kali basins, no such projects should be allowed at the risk of fragile ecology, biodiversity and lives of people living in and around project sites." https://www.thehindu.com/todays-paper/tp-national/tp-newdelhi/maintain-status-quo-on-lakhwar-project-till-reappraised-by-panel/article25975854.ece (12 Jan. 2019)
Renuka Dam MoWR has entered into an agreement with six states — Delhi, Himachal Pradesh, Haryana, Rajasthan, UP and Uttarakhand — for the construction of the Renukaji Multi-Purpose Dam project in the Upper Yamuna Basin.  The project is yet to receive the Stage-II forest clearance from the MoEF. About 1,508 hectares in the territory of Himachal Pradesh will be submerged by the project.
The project envisages construction of a 148-metre-high rock filled dam for supply of water to Delhi and other basin states. The project will also generate 40 MW of power during peak flow. The Himachal Pradesh Power Corporation Ltd. (HPPCL) will execute the project and its total live storage is 0.404 MAF. Stored water of the Renukaji Dam will be used by UP, Haryana, Delhi and Rajasthan from Hathnikund Barrage, Wazirabad Barrage and Okhla Barrage.
Speaking on the occasion, Nitin Gadkari said that the government will try to get Cabinet approval as soon as possible and all proposed dam projects, once completed will ensure more flow in River Yamuna which is the need of the hour. "A consensus on the Kishau Multi Purpose project on River Yamuna has also been developed and soon an agreement for it will also be signed," he said. http://www.newindianexpress.com/nation/2019/jan/12/six-states-sign-pact-for-dam-in-himachal-pradesh-1923993.html  (12 Jan. 2019)
PIB PR on Jan 11, 2019 says: – Gadkari "said that the government will try to get the Cabinet approval as soon as possible.He added that a consensus on Kishau Multi Purpose project has also been developed and soon an agreement for it will also be signed. He also informed about the Lakhwar Multi Purpose project for which agreement was signed on August 28th, 2018 among six basin states."
– "The live storage of Renukaji MPP is 0.404 MAF and total submergence area is about 1508 hectares in the territory of HP. After the construction of the dam, the flow of river Giri will increase (in lean season?) about 110% which will meet the drinking water needs of Delhi & other basin states up to some extent in lean period. Stored water of Renukaji Dam will be used by UP, Haryana & NCT of Delhi from Hathnikund Barrage, by NCT of Delhi  from Wazirabad Barrage and by UP, Haryana and Rajasthan from Okhla Barrage."
– "The total cost of the project was estimated on Price Level 2015 is Rs. 4596.76 Crores out of which the cost of irrigation/drinking water component is Rs. 4325.43 crores and the cost of power component is Rs. 277.33 crore. The 90% cost of irrigation/drinking water component of the project i.e. Rs. 3892.83 crore will be provided by the Central Govt. and rest 10% of the above cost i.e. Rs. 432.54 crore will be provided by the basin States of Haryana, UP/UK, HP, Rajasthan & NCT of Delhi in the proportion as allocated in MoU dated 12.05.1994 signed by the CMs of the basin states for the allocation of surface water of river Yamuna up to Okhla Barrage.
The shares of these states viz. Haryana, UP/UK, HP, Rajasthan and NCT of Delhi are 47.82%, 33.65%, 3.15%, 9.34% and 6.04% respectively. Govt. of NCT of Delhi has agreed to fund 90% of the cost of power component of the said project. All the mandatory clearances in respect of Renukaji dam project except Stage-II forest clearance, invest clearance and approval from CCEA have been obtained." http://pib.nic.in/PressReleseDetail.aspx?PRID=1559576 (11 Jan. 2019)
– As per The Print, 4 Jan. report, MoWR has fixed new deadlines and revised budgets of three suspended multi-storage projects — Lakhwar, Kishau and Renukaji — in Uttarakhand and Himachal Pradesh. The projects were suspended at different stages since 1992 due to concerns over financial viability and environmental clearances from the basin states.
With revised budgets and deadlines, the three will now cost approximately Rs 22,000 crore. The budget of each of the projects could be revised, but the 90:10 cost-sharing ratio between the Centre and the states will remain, said the ministry. https://theprint.in/governance/delhis-water-shortage-problem-finally-has-a-solution-3-dams-across-yamuna/171994/ (3 Jan. 2019)
Uttrakhand For Ganga revival experts urge Govt to do away dam and hydro projects  Ganga is a melting pot of many rivers that originate in the snowy mountains and make their journey through forests (about 45% of the State is forest) it hosts a diverse microbial life. This gives it anti-bacterial characteristics. Several research papers, and a 2015 report by the NEERI attest to the presence of 'phages', organisms that feed on bacteria, keeping the river clean and conducive to sustaining a spectrum of life forms — fish, turtles and dolphin.
But several dams built over the decades, first on the Bhagirathi and now increasingly on the Alaknanda, obstruct the flow of water. This accelerates siltation, chokes the oxygen supply in the recesses of the river, and eventually harms aquatic life. There is a ripple effect. The water loses its momentum lower down the course when the river extends beyond Haridwar, and from there it cannot deal with the immense volumes of sewage and industrial effluents released in Kanpur, Unnao and Allahabad. It leads to staggering levels of pollution, which extends all the way into Bihar and West Bengal. https://www.thehindu.com/society/and-quiet-flows-the-ganga/article25970106.ece (12 Jan. 2019)
जमरानी बांध की डीपीआर पर दिल्ली में मंथन, 48 साल से चल रही प्रक्रिया जमरानी बांध की डीपीआर पर दिल्ली के केंद्रीय जल आयोग में मंथन चल रहा है। केंद्रीय जल आयोग व उत्तराखंड सिंचाई विभाग के अफसर डीपीआर की जांच कर कमियां दूर करने में जुटे हैं। जल्द ही दोनों महकमों के आला अफसरों के बीच डीपीआर पर अंतिम निर्णय होने के साथ ही बांध निर्माण को हरी झंडी मिलने की उम्मीद जताई जा रही है। समझौते के मुताबिक बांध का 43 फीसद पानी का उपयोग उत्तराखंड करेगा, जबकि 57 फीसद पानी उत्तरप्रदेश को देना होगा। https://www.jagran.com/uttarakhand/nainital-meeting-held-in-delhi-to-make-dpr-on-jamrani-dam-18816668.html  (4 Jan. 2019)
Hirakud Dam Mismanagement can worsen Odisha extreme rainfall events Account of how Dams like Hirakud could create additional disasters when not managed properly.  https://indiaclimatedialogue.net/2019/01/09/mismanagement-can-worsen-odisha-extreme-rainfall-events/   (9 Jan. 2019)
Mullaperiyar Dam Dispute Tamil Nadu govt moves contempt plea over dam plan The State Govt has filed a contempt petition in Supreme Court (SC) against C.K. Mishra, Union Environment Secretary; Dr. S. Kerketta, Member Secretary, Expert Appraisal Committee (EAC) for River Valley and Hydro Projects, MoEF&CC; Tom Jose, Kerala Chief Secretary; and K.H. Shamsudeen, Chief Engineer, Office of the Chief Engineer Investigation and Designs, IDRB. The petition said that Kerala's proposal for a new Mullaperiyar dam was in clear violation and utter disregard of a May 2014 Supreme Court judgment in the Mullaperiyar case. The court had specifically directed Tamil Nadu and Kerala to amicably agree to a new dam.
– The petition said the MoEF Secretary had responded in a letter on Nov. 8 that ToR were recommended by the EAC in view of the recent floods in Kerala and the condition of the existing dam which is 123 years old. "It was further stated granting ToR to the project does not necessarily mean that the project is eligible for getting Environmental Clearance (EC)…" the petition quoted the letter. The petition said the statement in the grant of ToR that the dam has "already outlived its useful life" amounts to contempt of the apex court judgment which had found the dam safe "in all respects". https://www.thehindu.com/news/national/tamil-nadu/tn-moves-contempt-plea-over-dam-plan/article25915489.ece  (5 Jan. 2019)
Polavaram Projects Guinness Book of World Record for concrete pouring?? The Polavaram project on Jan. 7 entered the Guinness Book of World by pouring 32,100 cubic metres of concrete in 24 hours. The project had recently bagged the Central Board of Irrigation and Power (CBIP) award for speedy execution of Polavaram multipurpose project and best implementation of water resources project for better planning, implementation and monitoring.
The officials informed the CM that nearly 63.27 per cent of project work has been completed so far. The erection of crest gates on the dam began recently. The CM said that the project would be completed by 2019 as decided. The state government has spent Rs 15,380.97 crore on the project so far; the central government is yet to release Rs 3,517.84 crore. https://indianexpress.com/article/india/andhra-pradesh-polavaram-project-enters-guinness-book-of-world-record-for-concrete-pouring-5526168/  (7 Jan. 2019)
INTERLINKING OF RIVERS
Krishna-Godavari-Penna Link NGT asks MoEF to submit report  The green tribunal has directed the MoEF&CC to submit a report on the alleged non-compliance with environmental norms in various river interlinking projects such as Pattiseema, Purushottapatnam, Chintalapudi and Godavari-Penna in Andhra Pradesh. The bench gave the direction after hearing the arguments pertaining to the petition moved by former minister Vatti Vasanth Kumar and member of Water Users Association K Trinath Reddy contending that the State government did not obtain mandatory clearances from the Central Water Commission (CWC) and MoEF for the said projects.
The NGT's four-membered Principal Bench, headed by justice Adarsh Kumar Goel, on Jan. 8 directed the MoEF to look into the issue and submit a report on whether or not the projects adhering to the Environmental Impact Assessment (EIA) notification, and if they require the environment clearances. The bench posted the matter to Feb. 22. The tribunal also directed the petitioners to write a letter to MoEF and AP Pollution Control Board (PCB) regarding their grievances.It said that the authorities concerned have to take a decision on the grievances raised within a week of receiving the complaint. http://www.newindianexpress.com/states/andhra-pradesh/2019/jan/09/river-linking-ngt-asks-moef-to-submit-report-1922708.html (9 Jan. 2019)
RIVERS AS NATIONAL WATER WAYS
NW-II Call for subsidy in Kolkata-NE cargo movement via waterways This shows Inlwand transport is neither cost effective nor cheaper:- Inland waterways cargo requires subsidy, at least till navigation in the protocol route via Bangladesh is smoothened to boost cargo movement to North East from Kolkata on the National Waterways-II, officials said.
"We are asking for some subsidy support for using NW-II, at least for a short term, till navigation issues in Bangladesh like dredging and installation of night navigation infrastructure are sorted out," Summit Alliance Port East Gateway (SAPEL) COO Tushar Biswas told PTI.
SAPEL is a Bangladesh-based port and shipping operator which has signed an agreement with Inland Waterways Authority of India for the operation and management of two terminals in Kolkata. https://www.business-standard.com/article/pti-stories/call-for-subsidy-in-kolkata-ne-cargo-movement-via-waterways-119010600459_1.html ( 6 Jan. 2019)
IRRIGATION
Karnataka Irrigation plans no solution to farming woes  DOES IT SMELL LIKE ANOTHER  IRRIGATION SCAM? Since 2002, Karnataka's irrigation allocation has steadily increased from a little over ₹1,600 crore to around ₹16,000 crore in the current fiscal, showing an average annual increase of around 6%. But this rise has not translated into a higher irrigated area. Area under irrigation in the state is around 3.1 million ha in 2016-17, which is below 30% of total farm area of 10.7 m ha. The area under irrigation increased from around 2.45 million hectares in 2002 to around 3.1 million ha in 2016-17 from all sources, including canals, tanks, lift irrigation, tube and borewells.
– Karnataka, home to the second most arid region in the country, has pumped in funds for the development of mega projects whilst neglecting traditional methods that researchers and experts say are a better bet. "Instead of pumping in mega billion dollars on big projects, importance should be given to traditional water harvesting systems," Devinder Sharma, agricultural expert and analyst said. https://www.livemint.com/Politics/hXeLXsckiRT3gOgPHOBtBN/Why-Karnatakas-irrigation-plans-are-no-solution-to-farming.html   (11 Jan. 2019)
RIVERS
Uttrakhand 20 सालों से नदी को बचाने में जुटे हैं भूपाल सिंह नैनीताल तहसील के मुझारचौरा निवासी भूपाल सिंह कठायत ऐसे व्यक्ति हैं, जो पिछले बीस साल से बुरसौल नदी को बचाने में जुटे हैं। बीस वर्ष पूर्व बुरसौल नदी एकदम सूखने के कगार पर पहुच गई थी। उन्होंने ऐसा भगीरथ प्रयास किया कि आज बुरसौल नदी उन्हीं की बदौलत सिंदा है। इसके लिए उन्होंने नदी के स्रोत से ऊपर दीपामाई मंदिर, जाड़ापानी और मुझारचौरा में चौड़ी पत्ती के पौधों का रोपण किया। बिना किसी सरकारी इमदाद के भूपाल ङ्क्षसह प्रतिवर्ष बुरसौल नदी के मुहाने से ऊपर  सौ मीटर की दूरी पर चौड़ी पत्ती के पौधों का रोपण करते आ रहे हैं।
इतना ही नहीं वे खेती-किसानी करने के बाद अपना अधिकांश समय नदी किनारे लगाए गए पेड़-पौधों की देखभाल करने में बिताते हैं। उन्होंने नदी में पानी को मापने का यंत्र भी लगाया है।  उन्होंने बताया कि उन्होंने इस उदगम स्थल से ऊपर दो सौ मीटर की दूरी पर तिमुल, कुरैणी, बांज, फलयांट समेत बहुजातीय प्रजाति का जंगल विकसित किया है। जिससे बुरसौल नदी अब सदानीरा बनी हुई है। उन्होंने बताया कि कुरैणी जलीय पौधा है। इससे काफी पानी मिलता है।इसे बहुतायत में लगाया जाना चाहिए। https://www.jagran.com/uttarakhand/nainital-bhopal-singh-is-busy-saving-the-river-for-20-years-18819047.html (4 Jan. 2019)
Uttar Pradesh सूख गई स्याही नदी, किसानों को सिंचाई के लिए पानी नहीं, पेयजल संकट भी गहराया Hindi report on drying up of Syahi river and its impact on village farming community:-  यूपी के देवरिया और बिहार के गोपालगंज जिले के 150 से अधिक गांवों के लाखों लोगों की जीवनरेखा स्याही नदी सूख गई है। एक दशक से इस नदी में पानी नहीं है। इस कारण इसके तट पर बसे गांवों के लोगों को सिंचाई, पीने के पानी की दिक्कत का सामना करना पड़ रहा है।
एक दशक से अधिक समय से नदी के जलविहीन होने से इस इलाके में भूमिगत जल स्तर नीचे चला गया है और लोगों को हैण्डपम्प और ट्यूबवेल को बहुत गहरे तक बोर कराना पड़ रहा है। स्थानीय लोगों ने नदी की हालत के बारे में प्रशासनिक अधिकारियों के समक्ष धरना-प्रदर्शन कर कई बार ज्ञापन दिया लेकिन प्रशासन ने कोई कार्रवाई करना तो दूर इस समस्या के विषय में लोगों से बातचीत तक शुरू नहीं की है. http://gorakhpurnewsline.com/dryed-siyahi-river-farmers-not-getting-water-for-irrigation-deep-water-crisis/ (8 Jan. 2019)
GANGA Report '66 of 97 towns along Ganga have at least 1 drain flowing into river' – About 78 per cent of towns in West Bengal along the river Ganga have nullahs (drains) flowing directly into the river, a third party inspection of all 97 Ganga towns across five states has revealed. Overall, 66 of the 97 towns had at least one nullah draining into the Ganga, 31 of those were in West Bengal. West Bengal has the largest chunk of towns (40) along the river, followed by Uttar Pradesh (21), Bihar (18), Uttarakhand (16) and Jharkhand (2).
The assessment undertaken by the Quality Council of India over a period of six weeks focused on four major priority areas for the Ministry of Housing and Urban Affairs — overall cleanliness, solid waste management services, nullahs and screens, and availability of a municipal solid waste plant in the town. The survey was carried out between November 1 and December 15, 2018. https://indianexpress.com/article/india/66-of-97-towns-along-ganga-have-at-least-one-drain-flowing-into-river-5531107/ (10 Jan. 2019)
Editorial Water and waste water woes  The Edit explains the reasons, citing Quality Council of India report, why Namami Gange is likely to be a failure like the previous such efforts, for the same reason as the failure of earlier efforts: Top Down, non participatory, mega STPs and in attention to decentralised options. https://indianexpress.com/article/opinion/editorials/waste-and-water-clean-ganga-river-mission-5532698/  (11 Jan. 2019)
Kumbh Mela 2019 Kumbh without holy water of Ganga and Yamuna? This article raises some key questions about Ganga water that people will worship at Kumbh this year. https://gangatoday.com/en/articles/215-ganga-and-yamuna-in-kumbh.html  (8 Jan. 2019)
Ahead of the Kumbh mela, 206 engineers have been employed to monitor 227 drains that flow into Ganga to keep the holy river clean for the devotees. The project started by UP govt to ensure clean water for bathing during Kumbh began on December 15 last year and will continue till June this year. https://www.timesnownews.com/mirror-now/in-focus/article/kumbh-2019-almost-one-engineer-for-every-drain-to-help-keep-ganga-clean-uttar-pradesh/344981(10 Jan. 2019)
YAMUNA Delhi 3 New STPs for treatment of drains  3 new STP of 166 MLD capacity will be developed in the city for the treatment of highly polluted 61 drains directly discharging in river Yamuna. An amount of Rs. 857.26 crore will be spent on the development of these 3 STP und the rehabilitation of Agra sewerage scheme.
A 100 MLD capacity facility will be developed at Dhandupure, 31 MLD at Jaganpur and 35 MLD at Peeli Pokhar. Besides the STPs, construction of 10 small decentralized STPs of 9.38 MLD and renovation of 2 existing STPs, renovation of sewer pumping station, interceiptio of drains and other major steps will be undertaken unde the scheme. https://timesofindia.indiatimes.com/city/agra/three-new-stps-for-treatment-of-drains-discharging-in-river-yamuna/articleshow/67444105.cms (9 Jan. 2019) 
Aeroboats Project on Yamuna not feasible Meanwhile, referring to some assessments, Nitin Gadkari accepts that Yamuna water quality is so bad that starting hybrid aeroboats from Delhi to Agra many not be a reality in near future. Recentluy, the union water minister had said his ministry was looking at the possibility of using these boats druing Kumbh Mela next year and on Yamuna for a visit to Taj Mahal from Delhi. He had also said that the trial run could be undertaken before Jan. 26. https://timesofindia.indiatimes.com/city/delhi/dirty-yamuna-could-nix-plan-for-delhi-agra-aeroboats/articleshow/67479484.cms (11 Jan. 2019)
FISH, FISHERIES, FISHERFOLKS
Telangana 3rd largeset state in water spread, but 6th in fish production Telangana has the country's third largest water spread with 5.73 lakh sq km coverage in various water bodies including reservoirs but with 3.5 lakh tonnes of fish produced in 2018, it is the sixth largest in terms of fish production. http://www.newindianexpress.com/states/telangana/2019/jan/11/ts-has-third-largest-water-spread-but-sixth-in-fish-production-1923545.html  (11 Jan. 2019)
WETLANDS, LAKES, WATER BODIES
Karnataka Workshop on lakes, wetlands and civic interventions in Bengaluru – A participatory planning workshop was recently held by Sensing Local-Living along with Biome Trust, Varthur Rising and Whitefield Rising, bringing together the various stakeholders to discuss and arrive at the appropriate guidelines for designing the Varthur Lake wetlands. The objective was to adopt the right approach for the development of the wetlands around the lake, arriving at the right size, depth, capacity as well as appropriate type, so as to impact positively its biodiversity.
The workshop witnessed representatives from four neighbourhoods, presenting their experience with rejuvenating their neighbourhood lake. These included Agara Lake, Puttenahalli Lake, Jakkur Lake and Lower Ambalipura Lake which had been revived with the active involvement of the local neighbourhoods and currently feature as fine examples of what citizen involvement and partnership can do to the city's waterbodies. The workshop also had a lengthy presentation by T.V. Ramachandra, professor from IISc, on various components of wetland design, its type, biodiversity and the plant typologies best suited for it. https://www.thehindu.com/life-and-style/homes-and-gardens/lakes-wetlands-and-civic-interventions/article25970930.ece  (11 Jan. 2019)
Kaggadasapura Lake froths; residents fume Kaggadasapura Lake, near CV Raman Nagar in east Bengaluru, on Jan. 9 began frothing, sending foam flying into the neighbourhood. Residents from areas abutting the water body were forced to close their doors and windows. After Bellandur, Varthur and Kalkere lakes, Kaggadasapura Lake is the fourth water body in Bengaluru to froth at its surface.
Residents from the neighbourhood said the lake had frothed a few times earlier. Locals alleged that industries in Pai Layout and Versova Layout were the major cause. "These industries release waste into the lake and these effluents are the major cause for the frothing," said Krishnamurthy Iyer, a resident of Versova Layout.
Spread over 47 acres, the lake in under the custody of Bruhat Bengaluru Mahanagara Palike (BBMP). According to the Koliwad committee report, 3 acres 24 guntas of the lake bed have been encroached. "We have given 5 acres to BWSSB for installing an STP at the lake and work is under way," said BBMP commissioner N Manjunatha Prasad.
Locals had written to the Karnataka State PCB about the problem, following which a team was sent to inspect the water body. The PCB team said, "The primary source of water are storm water drains from its catchment area. The PCB also identified three major industries which could be the cause of the pollution. https://timesofindia.indiatimes.com/city/bengaluru/kaggadasapura-lake-froths-residents-fume/articleshow/67461657.cms (10 Jan. 2019)
Gujarat With dried Nalsarovar, livelihoods also dry up  SAD situation at Nalsarovar:- But this January, there is none — neither the colony of birds nor the swarming tourists. Nearly 300 boatmen, who ferried tourists from one side of the lake meandering through flocks of brahminy ducks and purple moorhen, are sitting idle. The lake has dried up completely, revealing its cracked and blackened bed.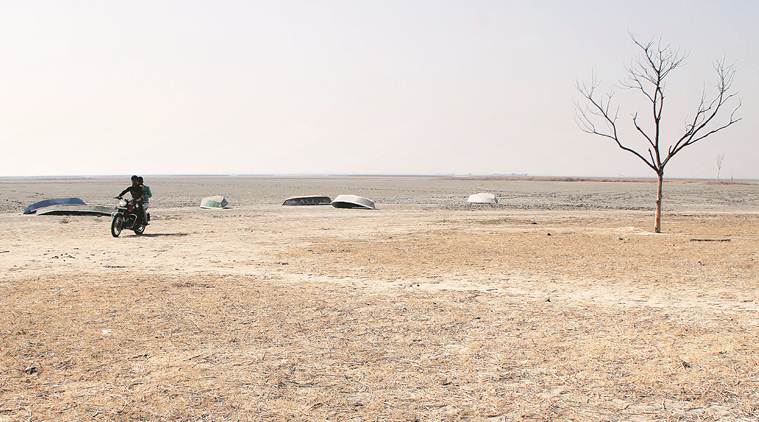 The last time, the lake and the adjoining marshes had witnessed a drought like this was in 2002, according to the people in the area. Satellite images of the wetland from the US government agency, United States Geological Survey (USGS), show how in the last three years, the watery areas of the wetland has severely shrunk. https://indianexpress.com/article/cities/ahmedabad/near-ahmedabad-livelihoods-dry-up-with-a-dried-wetland-5526078/ (9 Jan. 2019)
Telangana Experts slam govt for apathy to water bodies In a workshop 'Frothing Lakes: Causes and Mitigation,' organised by CSIR-NEERI on Jan. 9, experts and concerned have criticized state govt. careless attitude towards water bodies alleging that situation would soon be worse than Bengaluru if corrective measure are not taken.
– As per activist Dr Lubna, the govt has ordered that there is no need to restore the Bum Rukn Ud Dowla because there is no need for that drinking water source, after the project Bhagirathi. Bengaluru water bodies are distributed in a linear model but in Hyderabad, it is in a radial model which puts the latter in a much pernicious situation than the former, warned B V Subba Rao, faculty at ESCI Hyderabad.  https://www.thehansindia.com/posts/index/Telangana/2019-01-09/Experts-slam-Telangana-State-government-for-apathy-to-water-bodies/472310 (9 Jan. 2019)
WATER OPTIONS
SANDRP Blog Uffrenkhal's Legacy of Recharge Pits Ensures Water Security 
Inspiring tale of three villages in Thalisain tehsil (Pouri Garhwal district, Uttarakhand) which have been putting in sustained efforts for years in creating recharge pits, plantation and forest protection that has ultimately resulted in revival of water sources and Gadganga a small stream part of East Nayaar River basin. https://sandrp.in/2019/01/12/uffrenkhals-legacy-of-recharge-pits-ensures-water-security/  (12 Jan. 2019)
Maharashtra US-Based engineer help village save 200 Cr litres of water  – He may be a resident of California's Santa Clara with a lucrative annual package as the Director of Engineering for Yahoo USA, but Halgara (Six kilometres away from the Maharashtra-Karnataka border lies the tiny village of Halgara in Latur district) remain close to his heart for a very important reason. it was due to this young man that the drought-hit village embarked on the path of becoming jalyukt or drought-free in the last three years.
– Datta returned to Halgara with his family and spent almost three lakh rupees from his own pocket to start the watershed activities. His idea was simple. To preserve every drop of rainfall in his village by helping it seep into the ground and recharge the groundwater table, rather than allowing it to run off. The first step was desilting the 20 km canals in Halgara. It was only when the silt covering the riverbeds was cleared, that the water seeped into the layers of the ground below.
"Even if we manage to ensure that 30 per cent of this water (that runs off from the river beds into the sea) recharges groundwater tables, we can bring over 50 per cent of Indian agricultural land under the secure water zone," informs Datta. They also used about 1,500 hectares of farmland to create compartment bunds to store water during the monsoons. The impact of the project is visible in how the groundwater level of Halgara, which was previously at a depth of 800 ft has now risen to 100 ft. https://www.thebetterindia.com/169271/latur-swades-real-story-water-drought-village-maharashtra/  (11 Jan. 2019)
Monga Bay report Restoring tank irrigation can strengthen rural climate resilience –Since India's Independence, tank water irrigation has declined in the country due to a combination of reasons: policies, neglect, population rise and the shift to groundwater. Tank water harvesting and irrigation offer a host of benefits such as replenishing groundwater levels, providing drinking water for rural communities and livestock, conserving top-soil and harbouring fish.
– Both tank and groundwater irrigation must be treated as complementary methods rather than substitutes and must be integrated at the watershed level, say researchers in recent research papers. Tanks should be designed to be climate resilient to tackle future floods and droughts. Tanks can help to be climate resilient to tackle future floods and droughts. https://india.mongabay.com/2019/01/08/restoring-tank-irrigation-can-strengthen-rural-climate-resilience/  (8 Jan. 2019)
Madhya Pradesh Check dams brought back hope to Jhabhua district To address the inadequate supply of water in the area, an integrated watershed project built 23 new check dams and revamped six existing dams in the region. https://yourstory.com/2019/01/jhabhua-check-dams-drought-harvest/  (6 Jan. 2019)
GROUNDWATER
Op-Ed Politicians must recognise that groundwater plays big role in farmers' crisis by K A S Mani:– India's farm economy can be sustained only if its groundwater distress is properly assessed and ecological solutions implemented. The farm crisis is more serious in ecologically fragile regions, which are drought-prone, witness high temperatures with poor irrigation facilities and depend chiefly on groundwater irrigation. And it only become worse with climate change. In effect, politicians have to factor the global implications of the problems in their backyard into their manifestoes and promises.
Politicians can initiate schemes at the watershed level, through local institutions like the gram panchayat. Such schemes can be aimed at improving soil fertility, soil moisture, organic content, arrest degradation, reducing flash floods and manage pest impact.
A lot of farmers are indebted because of failing wells and falling groundwater levels, especially in the absence of a sustainable groundwater management policy. Moreover, the economic value of groundwater in food production hasn't been assessed yet.
One reason for this is that the irrigation ministry seems obsessed only with engineering structures, and the science of groundwater hydrology has been neglected. For example, India is the world's largest extractor of groundwater but doesn't have a reliable database on the wells in the country nor a record of how much groundwater are used by different crops. https://www.thewire.in/environment/politicians-must-recognise-that-groundwater-has-a-big-role-in-farmers-crisis (12 Jan. 2019)
Tamil Nadu Monsoon fails and groundwater level dips in 20 districts –Tamil Nadu is staring at a serious water crisis this summer. While on the one hand, the northeast monsoon failed the State, on the other groundwater levels have dipped remarkably. Analysis of December 2018, data – released by the State Ground and Surface Water Resources Data Centre of the Water Resources Department – reveals that the situation is much worse than the peak summer months of April-May.
A whopping 20 out of 32 districts in the State are in the red and the depletion rate is recorded as high as 4.32 meters in Perambalur district. Though, the data does not disclose Chennai's groundwater levels, it is obvious that the capital city will be at the top among the worst-affected districts as the monsoon season ended with a 55 per cent deficit in rainfall. http://www.newindianexpress.com/states/tamil-nadu/2019/jan/10/monsoon-failure-groundwater-level-dips-in-20-tn-dists-1923083.html (10 Jan. 2019)
Toxic threat to Chennai's groundwater A cluster of tanneries based in Pallavaram are working to lay a 13.5 km-long underground pipeline to transport treated effluents to the Perungudi Sewage Treatment Plant. Because the Zero Liquid Discharge system — that they are required to use — "costs a lot to maintain" and encounters "technical glitches". The pipeline project, pegged to cost about `40 crore — has received a No Objection Certificate from the TNPCB. Construction is likely to begin in April. While industrialists have welcomed the move, ecologists are worried about the potential damage it can cause to water bodies and groundwater.            
Currently, there are 130 tanneries in the Pallavaram cluster that generate close to 2 MLD of effluents, which is treated at the Common Effluent Treatment Plant that has a capacity of 3 MLD. But that is not enough. To adhere to the pollution control board norms, tanneries must maintain a low rate of Total Dissolved Solids (TLD). They are supposed to send the treated effluents to a Zero Liquid Discharge (ZLD) system to completely eliminate any discharge.
But the Pallavaram Tanners Company has not been doing that. The (ZLD) system installed at their premises 10 years ago is not being used anymore. They are currently dumping the treated effluents into Adayar River. But since this does not solve the problem of maintinating a "low TLD rate", they have come up with the pipeline idea. Their effluents will now be taken to Perungudi sewage treatment plant, mixed with domestic sewage and then released into Buckingham Canal.
A highly placed source privy to the matter explained the issue the tanners have with ZLD. Due to high contaminants in the reject water, the zero liquid discharge system is unable to turn the effluents completely into salt crystals. Instead, it turns into a paste-like consistency. "This is because of improper biological process. Reject water will have five times more toxins than the effluents. If the effluents are treated more rigourously, salt formation will not be a problem," says the source.   
The tanners have a different theory: "To be environmentally friendly, we did try to use the ZLD system. As we convert only semi-finished goods unlike other tanneries in the State, our effluents have low levels of dissolved solids — at 6,000 mg/l. Because of this, the salt in the effluents does not crystallise and instead turns into a paste," says Mohamed Nazeeb, MD of the Pallavaram Tanners Industrial Effluent Treatment Company (PTIET).
Remember the 2012 Tondiarpet oil leak? A major leak was detected then in one of Bharat Petroleum's pipeline transporting crude oil from Chennai Port to refineries. The accident severely contaminated groundwater table. Experts fear a similar scenario could occur here — industrial waste, though treated, contains contaminants that can pollute groundwater and damage human health.
Interestingly, of the 14 CETP facilities across the State, only the ones in Chennai do not follow the Zero Liquid Discharge model. In the ZLD model, toxic effluent is converted into salts. This will prevent it from being released into water bodies or farmlands and thereby harming human or animal health. In this process, 80 per cent of tannery waste is treated through reverse os mosis method while 20 per cent is evaporated to obtain salts. http://www.newindianexpress.com/cities/chennai/2019/jan/11/toxic-threat-to-citys-groundwater-1923497.html (11 Jan. 2019)
Rajasthan State faces water crisis with declining groundwater A decadal average study counted from Nov. 2008 to Nov. 2018 by CGWB on 928 station has inferred that there has been  decline in groundwater by 62.70% in the state with only 37.20% rise. Rise is mostly in south to south central, north western, western and west central parts of the state. About 62.70% stations, scattered mostly in eastern, south western, north eastern and north central parts, shows decline in water level. https://timesofindia.indiatimes.com/city/jaipur/state-faces-water-crisis-with-decline-in-groundwater/articleshow/67428351.cms (8 Jan. 2019)
West Bengal Oppn flags groundwater concerns, demands intervention of mayor With three lakh people in Kolkata affected by depleting groundwater level — which is also triggering arsenic threat — Left Front councillors on Jan. 10 sought mayor Firhad Hakim's intervention in the matter. From Shakuntala Park and Sarsuna in Behala to Subhaspally in Garia, the scene is the same everywhere.
KMC water supply department officials were in a dilemma over the replacement of the tube-well as the civic top brass a couple of years ago had drafted a policy banning installation of tube-wells. However, having failed to supply filtered water to large parts of Behala, Jadavpur, Tollygunge or areas located off EM Bypass, the KMC is now forced to give sanction for installation of tube-wells. https://timesofindia.indiatimes.com/city/kolkata/oppn-flags-groundwater-concerns-demands-intervention-of-mayor/articleshow/67483860.cms (11 Jan. 2019)
URBAN WATER
Pune PMC seeks to hike water charges by 15 per cent – The Pune Municipal Corporation (PMC) administration has tabled a proposal to hike water charges by 15 per cent and introduce user charges for the processing of garbage in the next financial year. The civic administration has submitted its tax proposal before the civic body's Standing Committee, which would be taken up for discussion in a special meeting. According to the proposal, there will be no hike in property tax, but there will be a 15 per cent hike in water charges and the civic body will introduce user charges for garbage processing.
In 2017, the PMC had passed a resolution to increase water charges by 15 per cent every year, in order to raise funds for the implementation of its other projects: revamping the water supply system and ensuring 24×7 water supply to the city. https://indianexpress.com/article/cities/pune/pmc-seeks-to-hike-water-charges-by-15-per-cent-introduce-user-charges-for-garbage-processing/  (10 Jan. 2019)
Bengaluru Residents may soon have to pay 30 pc more for water The Bengaluru Water Supply and Sewerage Board (BWSSB) officials are now working on a proposal which recommends the increase in water tariff by 30-35% and officials say that the proposal will soon be sent to the Karnataka govt for approval. The water supply agency is also planning to recover some of the expenses it incurred in projects in the city by increasing the tariff.
BWSSB will have to hold public consultation before the proposal is sent to the government. Officials say that in March 2018, the Karnataka government rejected the agency's initial proposal made in October 2017 and had recommended that BWSSB hold public consultation. In 2014, the BWSSB had increased the minimum water tariff from Rs 48 to Rs 57 per month and the minimum monthly bill from Rs 83 to Rs 100 per month for domestic usage. https://www.thenewsminute.com/article/bengaluru-residents-may-soon-have-pay-30-pc-more-water-94821 (10 Jan. 2019)
Hyderabad Water crisis looms large Despite a bountiful monsoon, the city is heading towards a water crisis in the summer with levels in the Krishna river basin depleting at an alarming pace. On Jan. 11, water stood at 541 feet at Nagarjunasagar, and was depleting at the rate of a feet a week. Out of the 465 million gallons supplied to the city daily, Hyderabad receives 190.62 MGD from Nagarjunasagar.
The Water Board has decided to supply water from Manjira and Singur to conserve resources in the Krishna basin.  Board officials have written to the irrigation department to stop supply for irrigation and maintain minimum draw down levels in Nagarjunasagar and Srisailam. A high-level meeting would be held soon to discuss measures to overcome the crisis. If water is released for irrigation, emergency pumping will have to be started from February and the situation would worsen in summer. Explaining why water was scarce despite the rain, a Water Board official said TS had not received Krishna water from Karnataka. https://www.deccanchronicle.com/nation/current-affairs/120119/hyderabad-water-crisis-looms-large.html (12 Jan. 2019)
WATER POLLUTION
Karnataka Waste water use in agriculture: ball reaches SC  Vishwanath Srikantiah on this important development:- The SC has put a stay on the pumping of treated wastewater to Kolar tanks from the wastewater treatment plants in the Koramangala and Chalaghatta valley of Bengaluru, comes the news.
The stay means that this volume of treated wastewater will flow in the Dakshina Pinakini, mix with volumes of untreated wastewater and reach Kelavarapalle dam near Hosur in Tamil Nadu. These waters will then be used to irrigate 1085 acres of land to be cultivated by Tamil Nadu farmers. Some amount of the water will also be picked up by farmers in Karnataka through pumps for irrigation.
A city consumes vast volumes of water. That which is consumed for domestic purpose should reach wastewater treatment plants, be treated to standards prescribed by the pollution control board and then released into the environment or reused. The Govt has thought up a scheme to pump this water from the sewage treatment plants in the Koramangala and Challaghatta valley to fill 136 tanks in Kolar District. This will recharge aquifers in the surrounds and be used for agriculture is their thinking.
The petitioner's contention is that the treated wastewater has excess heavy metals, Faecal coliform and Nitrates/Phosphates and hence will be harmful for drinking purpose, as well as growing food crops. The High Court initially put a stay on pumping but later on cleared it. The Supreme Court now will hear the matter. http://bengaluru.citizenmatters.in/bangalore-waste-water-cannot-go-to-kolar-says-court-31133 (8 Jan. 2019)
Tamil Nadu Sanitation does not end with flushing a toilet  The Sanitation Cycle Students of a local school visit the Karunguzhi Faecal Sludge Treatment Plant in Kanchipuram district. Karunguzhi is one of some 7,000 towns in India with no underground sewage network, where untreated toilet waste is hazardously disposed of in undesignated areas. In building its faecal sludge treatment plant in 2017, Karunguzhi has been one of the first in the country to move towards the full cycle of sanitation.  https://www.indiaspend.com/sanitation-does-not-end-with-flushing-a-toilet-a-tamil-nadu-town-shows-how-to-complete-the-sanitation-cycle/  (7 Jan. 2019)
Thiruvallur's thermal plants shut down 3 thermal power plants in Thiruvallur downed its shutters after the Madras High Court prohibited the discharge of fly ash into the Vallur pond. This was confirmed by the Chief Executive Officer of NTPC Tamil Nadu Energy Company limited (NTECL) who wrote to TANGEDCO on Tuesday about the closure. TANGEDCO also maintained that fly ash will not be a problem moving forward since it has awarded contracts to sell fly ash produced by all its thermal plants. The thermal power plant at Vallur began operations in 2012.  https://www.thenewsminute.com/article/thiruvallur-s-thermal-plants-shut-down-tangedco-plans-buy-power-open-market-94853  (11 Jan. 2019)
AGRICULTURE
GDP estimate for 2018-19  SBI's Chief Economic Advisor estimates that agri growth rate in 2018-19 could be negative, worse in a decade. https://www.counterview.in/2019/01/gdp-estimates-for-2018-19-agricultural.html  (9 Jan. 2019)
FLOOD
Bihar Koshi flood affected people "not being compensated": NAPM writes to CM  Led by the Koshi Nav Nirman Manch (KNNM), people displaced by the Koshi embankment area have been on an indefinite dharna at the Supaul district headquarters since January 10, 2019, seeking government assistance, as they have had to leave their place of residence following the disaster that has struck them because of frequent floods leading to soil erosion.
NAPM says, "Before they were forced to sit on dharna, the district administration was communicated about their plight, and on August 30, a protest meeting was held, after which district office bearers promised to fulfill all their demands, but it this has remained a mere assurance. On December 21 they met Principal Secretary, Disaster Relief Department, and on January 7 they declared their intention to start dharna."
KNNM demands include a survey of the houses damaged due to floods, crop damage, providing compensation to the disaster affected people in accordance with SOP set by the government, providing people ration for the whole year to those who are deprived of food security, loans waiver to farmers, MNREGA work, and their resettlement and rehabilitation. https://www.counterview.in/2019/01/koshi-flood-affected-people-not-being.html (13 Jan. 2019)
Also see NAPM open letter to Bihar CM in Hindi here.  https://www.facebook.com/sandrp.in/posts/2421144594579866?__tn__=K-R (13 Jan. 2019)
DROUGHT
Gujarat Ahmedabad: Canal incomplete, water for farming ends up in river  The Dhatarvadi-II dam in Amreli district in Gujarat was completed in 2004 and is designed to irrigate around 2,600 ha. However, the command area development is hobbled by land acquisition issues. The water is released into the river for farmers to lift water from there. Water was released in a similar manner in 2014 and 2017.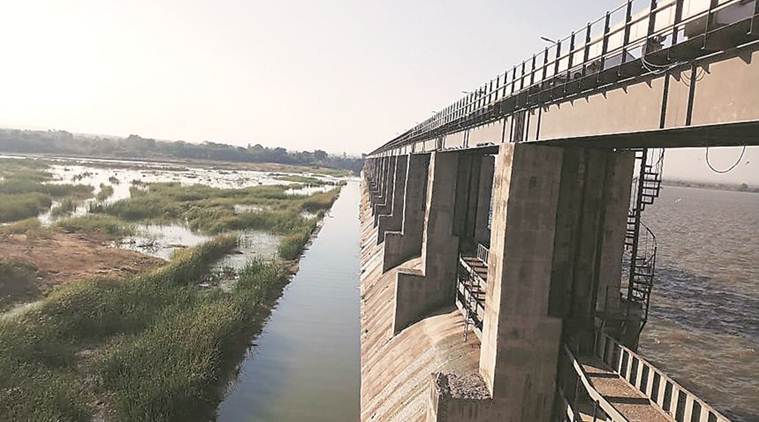 The government has not been able to complete the canal network despite two decades having lapsed. Dhatarwadi-II dam, located near Rajula town, has a gross storage capacity of around 360 mcft and live storage capacity of 262 mcft. Current storage in live capacity is about 50 mcft. https://indianexpress.com/article/cities/ahmedabad/ahmedabad-canal-incomplete-water-for-farming-ends-up-in-river-5531208/ (10 Jan. 2019)
Surat farmers march against water rationing Thousands of farmers marched on the streets of Surat on Jan. 8 against the ongoing water scarcity in the district and demanded the state government to supply water for irrigation for 80 days during the summer season instead of the 42 days as notified by the Irrigation Department. The farmers, under the banner of Khedut Samaj, also asked the government to rescind its circular asking farmers to not sow paddy next summer.
Following a deficient monsoon this year and less rainfall in the catchment areas, the water level in Ukai dam stood at 318.56 feet. Following which, the Irrigation Department decided that water from the dam will be released for 22 days in March and 20 days in April. The water from the dam supplies water for irrigation to farmers in Surat, Navsari, Bharuch, and Valsad districts. Last year, the water level in Ukai dam was 323 feet after monsoon, and the government had decided to supply irrigation water for 116 days on a rotation basis. https://indianexpress.com/article/india/surat-farmers-march-against-water-rationing/ (9 Jan. 2019)
To meet Rajkot city's water demand, Narmada water reaches Aji-I dam After the Rajkot Municipal Corporation (RMC) approached the state government with a request to pump more water in Aji-I dam to meet drinking water requirement during summer, the state irrigation department had started pumping 150 MLD water from Dholidhaja dam in Surendranagar to Aji-I dam via link-III of SAUNI (Saurashtra Narmada Avataran Irrigation) Yojana from the beginning of this month. The department expect to last this water till the end of April 2019 and as a precautionary measure, requested state govt to pump 600 million cubic feet more Narmada water.
This is the second time in three months that Narmada water is being pumped into Aji-I dam. The irrigation department had pumped 450 mcft water into the Aji-dam in October and November as the water level was very low following very little rainfall in its catchment area. Aji-I is the single largest local source of water for Rajkot. https://indianexpress.com/article/india/to-meet-rajkot-citys-water-demand-narmada-water-reaches-aji-i-dam-5527779/ (8 Jan. 2019)
Maharashtra Water stock in dams in Ghod sub basin drops below half way mark The latest state irrigation department data has revealed that water stock in Manikdoh and Yedgaon dams has dropped upto 14% and 16% while stock in Pimpalgaon Joge and Ghod were recorded at 32% and 33% respectively. Among the 7 dams, Dimbhe has the highest storage of 49% while stock in Visapur was at 7% which was the lowest. https://timesofindia.indiatimes.com/city/pune/water-stock-in-dams-in-ghod-sub-basin-drops-below-half-way-mark/articleshow/67436024.cms  (8 Jan. 2019)
SOUTH ASIA
India- Pakistan 'Breakthrough' as India greenlights Chenab hydropower projects inspection by Pakistan  Pakistani Commissioner for Indus Waters Mehr Ali Shah said a delegation of Pakistani experts will visit the two Indian project sites on Chenab River for an inspection, scheduled for later this month. "India has also given positive signals regarding inspection of other projects constructed on Chenab River," he revealed.  Pakistan has objections to the pondage and freeboard of Lower Kalnal, and pondage, filling criteria and spillway of Pakal Dul hydropower projects on Marusadar River — a right bank tributary of the Chenab. https://www.dawn.com/news/1456907  (11 Jan. 2019)
Nepal Way forward for hydropower development  The article says half of this potential is unviable. Much more is likely to be unviable. – Karnali and Mahakali river basins have a catchment area of 48,811 km2 and 16,097 km2, with approximate hydropower potential of 36,180 MW (the watershed area of the Mahakali River lies in India and Nepal)
– Gandaki river basin has a catchment area of 36,607 km2 and approximate hydro potential of 20,650 MW. Koshi river basin has a catchment area of 57,700 km2 and hydro potential of 22,350 MW (the watershed area lies in Tibet/China and Nepal)
– Other river basins (i.e., southern rivers) have a catchment area of 3,070 km2 and hydro potential of 4,110 MW. https://www.hydroworld.com/articles/2019/01/hydro-review-the-way-forward-for-nepal-s-hydropower-development.html (11 Jan. 2019)
Bangladesh Teesta, Dharla turn into canals 12 small rivers have already dried up and two major rivers — Teesta and Dharla — have been turned into canals in the district due to lack of water flow from upstream India.
– Mile of chars have developed on the rivers, causing problems for the char people as they have to cross many kilometres of sandy char land to go to the mainland.
– As the two major rivers have turned into canals, almost all of the 300 boatmen and over 2,000 fishermen, who depended on the rivers to earn their livelihood, have became unemployed. They are searching for other jobs in the Teesta and Dharla river char areas. https://www.thedailystar.net/country/news/teesta-dharla-turn-canals-1685923  (11 Jan. 2019)
Pakistan SC imposes Re 1 per litre charge on mineral water, beverage firms – In a landmark decision, SC on Jan. 12 imposed a levy of Re 1 for every litre of surface water extracted by companies selling mineral water and beverages, according to a media report.
The judgement was issued on a suo motu case pertaining to selling by the companies of water extracted from underground sources without any charge as well as the quality and fitness of the same for human consumption, Dawn newspaper reported.
The revenue so collected will used for construction of the Diamer-Bhasha and Mohmand dams. The apex court made it clear that the funds so collected would not be diverted in any circumstances to any other purpose other than construction of dams and water-related activities. https://indianexpress.com/article/world/pakistan-supreme-court-imposes-per-litre-charge-on-mineral-water-beverage-firms-5535269/  (12 Jan. 2019)
ASIA
Malaysia Johor to severely punish sand-mining operators for pollution The Johor govt will take harsh action against sand-mining operators in the state for failing to maintain their mining areas, causing pollution to rivers that supply raw water to be processed. Johor International Trade, Investment and Utilities Committee chairman Jimmy Puah Wee Tse said the state government will not compromise with those who pollute water sources. https://sg.news.yahoo.com/johor-severely-punish-sand-mining-050839737.html (7 Jan. 2019)
THE REST OF THE WORLD
Study Social and environmental costs of hydropower are underestimated, study shows The warning comes from an article by researchers at Michigan State University published in Proceedings of the National Academy of Sciences (PNAS). The lead author is Emilio Moran, a visiting professor at the University of Campinas (UNICAMP) in São Paulo State, Brazil. "We argue that if the construction of large dams in developing countries is to continue, it must always be preceded by a painstaking assessment of their real cost, including the environmental and social impact they have," Moran said.
– "When a large dam is built, the result is a downstream loss of a great many fish species that are important to riverine populations. These communities will have to continue somehow making a living despite dwindling fish stocks for 15 or 20 years, for example, and the costs of these projects don't take such economic and social losses into account."
– "The cost of removing a dam once its useful life is over is extremely high, and should be taken into account when computing the total cost of a new hydro development," Moran said. "If the cost of removal had to be included, many dams wouldn't be built. It would be far more expensive to produce a kilowatt-hour of electricity via a hydro complex with a useful life of 30 to 50 years, like those under construction in Brazil." https://phys.org/news/2019-01-social-environmental-hydropower-underestimated.html  (11 Jan. 2019)
Easter Island statues: mystery behind their location revealed  Mystery of the Easter Island Statues:-The huge stone figures of Easter Island have beguiled explorers, researchers and the wider world for centuries, but now experts say they have cracked one of the biggest mysteries: why the statues are where they are.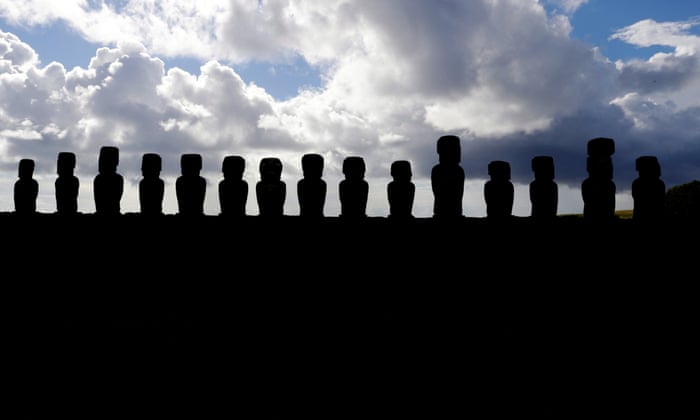 Researchers say they have analysed the locations of the megalithic platforms, or ahu, on which many of the statues known as moai sit, as well as scrutinising sites of the island's resources, and have discovered the structures are typically found close to sources of fresh water. They say the finding backs up the idea that aspects of the construction of the platforms and statues, such as their size, could be tied to the abundance and quality of such supplies. https://www.theguardian.com/science/2019/jan/10/mystery-of-location-of-easter-island-statues-revealed (10 Jan. 2019)
ENVIRONMENT
Op-Ed A National Law for Urban Trees VERY useful article from RITWICK DUTTA on: However, unlike forest, wildlife, water, and air, there exists not even a single central legislation for the protection of trees in areas that are not a part of the forestland. Protection and preservation of trees is governed only through state-specific tree preservation laws of the respective states. This article examines the basic structure of the tree preservation laws, and appraises how effective these have been in protecting trees in certain instances where these were invoked.
In addition, it focuses on the judicial response to the felling of trees in non-forest areas in the country. It also identifies key areas for policy and legal reform so far as tree protection is concerned. https://www.epw.in/journal/2019/1/commentary/national-law-urban-trees.html   (5 Jan. 2019)
Study 99% MGNREGA funds "exhausted", Govt makes no additional sanctions
A letter, addressed to Prime Minister Narendra Modi, and prepared by senior activists led by Aruna Roy on behalf of the Peoples' Action for Employment Guarantee (PAEG), and signed, among others, by 80 members of Parliament, has regretted that, despite repeated public statements by his government promising employment and job creation that will boost the country's growth, the country's only employment guarantee programme, Mahatma Gandhi National Rural Employment Guarantee Act (MGNREGA), "is being systematically undermined. https://www.counterview.net/2019/01/99-mgnrega-funds-exhausted-govt-of.html  (12 Jan. 2019)
Call to support IIM-Bangalore professor, censured for seeking action against Uniliver Great to Dr Deepak Malghan raising such issues at IIM, and sad to see the punishment he is facing. https://www.counterview.net/2019/01/call-to-support-iim-bangalore-professor.html   (9 Jan. 2019)
Compiled by SANDRP (ht.sandrp@gmail.com)
Also see: DRP News Bulletin 7 Jan. 2019 & DRP News Bulletin 31 Dec. 2018   
Follow us on: www.facebook.com/sandrp.in; https://twitter.com/Indian_Rivers