Best Advertisement of What Dam Building can do. Great Expose by NYT: "The dam sits under the glare of an active volcano, with columns of ash spewing toward the sky. Officials had warned against the dam for decades. Geologists said an earthquake could wipe it away. Now, only two years after opening, thousands of cracks are splintering the dam's machinery. Its reservoir is clogged with silt, sand and trees.
And the only time engineers tried to throttle up the facility completely, it shook violently and shorted out the national electricity grid. This giant dam in the jungle, financed and built by China, was supposed to christen Ecuador's vast ambitions, solve its energy needs and help lift the small South American country out of poverty. Instead, it has become part of a national scandal engulfing the country in corruption, perilous amounts of debt — and a future tethered to China. https://www.nytimes.com/2018/12/24/world/americas/ecuador-china-dam.html  (24 Dec. 2018)
READ MORE: Nearly every top Ecuadorean official involved in the dam's construction is either imprisoned or sentenced on bribery charges. That includes a former vice president, a former electricity minister and even the former anti-corruption official monitoring the project, who was caught on tape talking about Chinese bribes.
Then there is the price tag: around $19 billion in Chinese loans, not only for this dam, known as Coca Codo Sinclair, but also for bridges, highways, irrigation, schools, health clinics and a half dozen other dams the government is scrambling to pay for. It doesn't matter whether Ecuador can afford them. China gets paid either way. To settle the bill, China gets to keep 80 percent of Ecuador's most valuable export — oil — because many of the contracts are repaid in petroleum, not dollars. In fact, China gets the oil at a discount, then sells it for an additional profit.
What applies to Ecuadorean Dam applies to almost every BIG dam that we are building.
HYDRO POWER PROJECTS
SANDRP Blog Inquiry into Srinagar HEP Canal Leak Reveals Poor Quality of Construction The power channel of 330 Mw, Srinagar Hydro Electric Power (HEP) project has been leaking since December 16, 2018 affecting Surasu, Mangsu, Naur and Supana villagers in Srinagar, Uttrakhand. Villagers were alarmed when the gushing water started reaching fields, cowsheds and some village homes. They staged a protest and demanded that canal be repaired within three days. Following complains to local MLA Vinod Kandari, a team from Uttrakhand Irrigation Department and Public Work Department (PWD) inspected the affected areas. https://sandrp.in/2018/12/26/inquiry-into-srinagar-hep-canal-leak-reveals-poor-quality-of-construction/ (26 Dec.2018)
The report says an important meeting was held by PMO over fate of stalled hydro projects on Ganga and its tributaries in Uttrakhand: गंगा व उसकी सहायक नदियों पर प्रस्तावित जल विद्युत परियोजनाओं के भविष्य पर गुरुवार को प्रधानमंत्री कार्यालय में अहम बैठक होने जा रही है। इस बैठक में परियोजनाओं को लेकर राज्य की ओर से मजबूती के साथ अपना पक्ष रखा जाएगा।
2500 मेगावाट क्षमता के 25 प्रोजेक्ट पर करीब 25 हजार करोड़ का बजट खर्च होना है। अधिकतर प्रोजेक्ट गंगा व उसकी सहायक नदियों से जुड़े हैं। इनपर यूजेवीएनएल, एनएचपीसी समेत कई केंद्रीय उपक्रमों की ओर से काम होना है। राज्य की परियोजनाओं पर रोक को दबाव बढ़ रहा है। पूर्व में भी इको सेंसटिव जोन से जुड़ी नौ परियोजनाओं को राज्य सरेंडर कर चुका है। 80 मेगावाट क्षमता के नौ प्रोजेक्ट पर करीब 940 करोड़ खर्च होने है। 90 करोड़ खर्च हो चुके थे। प्रधान सचिव पीएमओ नृपेंद्र मिश्रा के समक्ष ब्यौरा रखा जाएगा। http://epaper.livehindustan.com/textview_15360_97655202_4_1_1_27-12-2018_135_1.html (26 Dec. 2018)
On the other hand, Raini villagers known for Chipko movement (Joshimath) accuse 14 MW Rishganga HEP developers of grabbing village land. The project was closed in 2016 after Rishiganga Hydro Power Construction Company declared itself bankrupt. The project was then taken over by Kundan Group.
Meanwhile, Tapovan-Vishanugad HEP affected villagers with their 20 demands including employment and rehabilitation sitting on protest for last 20 days. Dialogue with NTPC failed and protesters have threatened to stop barrage construction work: https://spiderimg.amarujala.com/assets/images/epaper.amarujala.com/2018/12/25/img_5c2220b464a2b.jpg
Himachal Pradesh No takers for hydro power projects in Chenab basin ANOTHER CASE OF UNVIABLE LARGE HYDRO PROJECTS: There are no takers for power projects in the Chenab basin at Lahaul-Spiti. The IPPs said that HEPs were unviable: "The cost of producing 1-MW electricity from hydropower has reached Rs 10 crore," they added. Independent power producers (IPPs) have surrendered seven projects allotted to them, saying high cost of power generation and lack of infrastructure had made those unviable.
The IIPs are now pressuring the state government to pay them the upfront premium, which the latter refused, saying the term and conditions did not permit them to do so. "As a result, the IPPs – Reliance, Tata, Moser Baer, Larsen and Toubro — have moved court, which has sabotaged the government's plan to seek bids for these projects," sources said.
– Reliance was the first to surrender the 300-MW Purthi project located in Pangi, Chamba district. Then it surrendered 34-MW Schling and 90-MW Tailing in the basin. The company has cited that the projects have become unviable. Moser Baer, which was allotted the 400-MW Seli power project near Udaipur town of Lahaul-Spiti district, also surrendered the project. Tribals had been opposing the Seli project as they feared that it would submerge the green forest of mini-Manali near Udaipur.
– Tata surrendered the 450-MW Duggar power project located in the Pangi area this year. The project was allotted to it in 2007-2008.
– Larsen and Toubro surrendered the 190-MW Sach Khas and 400-MW Raili-Dugli project downstream of Udaipur on the Chenab.
– ABG energy surrendered the 126-MW Bardang project.
– DCM Company which was allotted the 100-MW Chatru project, world's highest on the Chandra river, also wants to surrender the project. https://www.tribuneindia.com/news/himachal/no-takers-for-hydro-power-projects-in-chenab-basin/705492.html (29 Dec.2018)
At the same time, on the issue of rehabilitation and resettlement of the affected families, whose houses were acquired for the implementation of a project of National Hydro Power Corporation, Himachal Pradesh high court has observed that the amount of compensation fixed per housing unit by the divisional commissioner, Kangra at Dharamshala, lacks a pragmatic, practical and progressive approach. The court said it appears prima facie, that the land owners whose properties, including the residential houses, have been acquired for implementation of the project of National Hydro Power Corporation cannot be treated at par with landless/house-less persons for the purpose of rehabilitation. https://energy.economictimes.indiatimes.com/news/power/rehabilitation-of-nhpc-project-rs-1-42-lakh-per-housing-unit-too-low-says-hc/67307793 (30 Dec. 2018)
Industry NHPC partners with IIT Roorkee for R&D collaboration WOW. What does "an ambassador of hydropower development" do? Lobby FOR hydropower development? So IITR has no qualms about it? What do the other academia think? Is this ok? Or is this unacceptable for an academic institute?
"The MoU was signed to create a NHPC Professorial Chair with a one-time contribution of Rs. 2 crores. The NHPC Chair Professor will act as an ambassador of hydropower development in the country to catalyze innovation, research and development in hydropower sector in IITR and Indian academia… Speaking about the MoU & MoA, Prof. Ajit Chaturvedi, Director, IIT Roorkee, said, "I am very happy that NHPC has come with the shared vision… " http://indiaeducationdiary.in/nhpc-partners-iit-roorkee-rd-collaboration-also-establishes-nhpc-professorial-chair/ (27 Dec. 2018)
Similarly, the statements here from JSW are totally fake, since they have not constructed ANY big hydro in India. The statement from PwC suggests they are working as part of hydro lobby. "Whatever government support is required will be given as a part of the policy package," says AK Bhalla, Power Secretary. https://www.fortuneindia.com/enterprise/jsw-energy-harnessing-hydropower/102806 (24 Dec.2018)
DAMS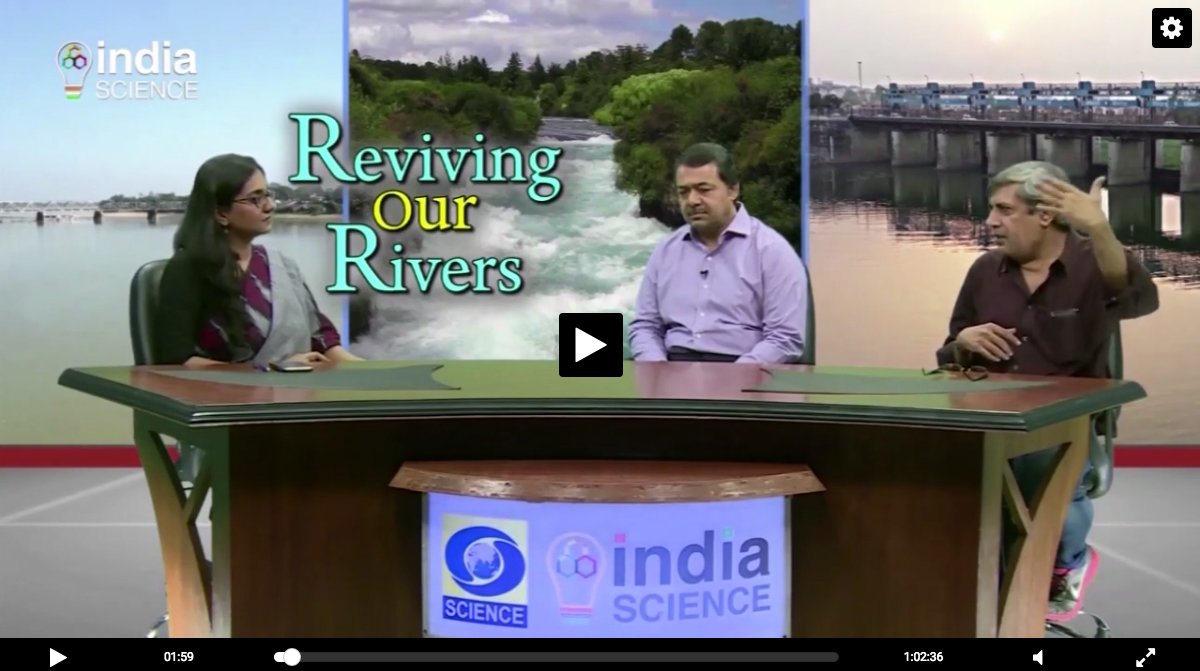 Hour long discussion on REVIVING OUR RIVERS on INDIA SCIENCE, a Union Ministry of Science and Technology initiated OTT TV channel. Moderated by Shalini Verma and panel includes former water resources secretary Shri Shashi Shekhar and Himanshu Thakkar of SANDRP. https://www.indiascience.in/videodetails?id=5c1a1166c8954
Jharkhand PM Modi to lay foundation of Mandal dam project on Jan. 5 PM Modi will lay the foundation of North Koel Reservoir, also known as Mandal Dam Project in Palamu on January 5. The project on North Koel River flowing through Palamu and Garhwa districts in Jharkhand was started in 1972. It was, however, stopped by the forest department, Bihar, in 1993. The union cabinet in August 2017 approved a proposal to complete the remaining work of the project. The total cost of the project assessed on the date was Rs 2,391.36 crore and an expenditure amounting to Rs 769.09 crore has been incurred till date. The project would benefit both Jharkhand and Bihar. It is expected to irrigate 1.11 lakh ha, including over 91,000 ha in Bihar and 20,000 ha in Jharkhand.
– The PM would also lay foundation of a water pipeline project for two dry districts of Jharkhand, Palamu and Garhwa. "Water from Sone river will be brought to the two districts through the pipeline. The project would cost around Rs 1,138 crore. Feasibility tests has been done and the detailed project report is being prepared," said Jharkhand CM Das.
– The Prime Minister would also lay foundation of a project – Sujalam Sufalam – for rejuvenation of 5,000 ponds across the state. He said the Jharkhand government had signed MoUs with Bharatiya Jain Sangathan for increasing water storage capacity in dams, ponds and lakes to fight against droughts. https://www.hindustantimes.com/ranchi/pm-modi-to-lay-foundation-of-mandal-dam-project-in-jharkhand-s-palamu-on-january-5/story-KlNUV3EmU6XF8YrRf1YaPL.html (29 Dec.2018)
Andhra Pradesh Tatipudi reservoir touches dead storage level This is the pathetic situation that never occurred in the past 50 years. Tatipudi reservoir, constructed across river Gosthani, one of the main water source for farmers in Vizianagaram district and drinking water source for Vizag city, is reached to dead storage level now. The project is aimed to provide water to Vizag municipal corporation along with irrigation water to 16,000 acres in Gantyada and Jami mandals. https://www.thehansindia.com/posts/index/Andhra-Pradesh/2018-12-28/Tatipudi-reservoir-touches-dead-storage-level/465685 (28 Dec.2018)
Tamil Nadu HC seeks report on damage to check dams A division bench of Justices K.K. Sasidharan and P.D. Audikesavalu of the Madras High Court Bench in Madurai has directed the Madurai Collector to inspect the condition of four small check dams constructed near Karumathur and file an action taken report since a PIL claimed that miscreants had damaged the structures.
The petition filed by R. Kasinathan, a Madurai-based agriculturalist, said that 4 small check dams were constructed at a cost of ₹ 17 lakh to store water from the Vaigai at the Chettikulam 'kanmai.' https://www.thehindu.com/news/cities/Madurai/damage-to-check-dams/article25827269.ece (25 Dec. 2018)
INTERSTATE WATER DISPUTES
Mekedatu Dam Dispute Gadkari to call CMs' meet on Karnataka's water project Union Minister Nitin Gadkari will convene a meeting of Karnataka and Tamil Nadu Chief Ministers on the implementation of the controversial Cauvery river project at Mekedatu for drinking water supply, said an official on Dec. 26.
Karnataka has sought the Central govt's approval to build a dam at Mekedatu on the river near Kanakapura in Ramanagaram district, about 100km southwest of Bengaluru, for storing and supplying its water to the parched districts of Chikkaballapur and Kolar districts.
Kumaraswamy also sought Gadkari's intervention to make Goa allow Karnataka utilise the Mahadayi river water for drinking purpose in the four drought-prone districts in the state's northwest region. Objecting to the project fearing denial of its share of the river water, Tamil Nadu has also petitioned the Central government and the Supreme Court not to allow Karnataka to build the balancing reservoir at the goat's leap gorge. https://www.outlookindia.com/newsscroll/gadkari-to-call-cms-meet-on-karnatakas-water-project/1447170 (27 Dec. 2018)
New Dam on Tungabhadra River CWC nod needed for new dam on Tungabhadra river: Telangana to Karnataka Karnataka irrigation officials have proposed to construct a new dam with a capacity of 40 tmcft on Tungabhadra river as the present Tungabhadra dam's capacity was reduced considerably due to siltation and desilting was impossible. The Karnataka officials made this proposal at the Tungabhadra Board meeting held on Dec 27, 2018.
The Tungabhadra dam was catering to the needs of Andhra Pradesh, Telangana and Karnataka. The Telangana irrigation officials present at the meeting said that the proposal of Karnataka could not be approved at the Board meeting, as it should be decided by the State governments and should be referred to the Central Water Commission.http://www.newindianexpress.com/states/telangana/2018/dec/28/cwc-nod-needed-for-new-dam-on-tungabhadra-ts-to-karnataka-1917522.html (28 Dec.2018)
URBAN RIVERS
Centre Industrial effluents, sewage major source of river pollution Discharge of untreated and partially treated industrial effluents and sewage from cities, major source of pollution in 323 rivers, says Minister of State for Environment Mahesh Sharma in Loksabha on Dec. 21. https://indianexpress.com/article/india/discharge-of-untreated-industrial-effluents-sewage-major-source-of-river-pollution-5504595/ (21 Dec. 2018)
RIVERS
Himachal Pradesh Sirsa river facing ecological disaster Himdhara Environment Research and Action Collective has asked the River Rejuvenation Committee and the Special Environment Surveillance Task Force to look into ecological issues facing the Sirsa river, a tributary of the Satluj river. In a memorandum on Dec 28, 2018 to state-level bodies set up by the NGT, Himdhara has highlighted that industrial effluents from Baddi, Barotiwala and Nalagarh industrial areas in Solan district, the discharge from a common effluent treatment plant, illegal dumping of garbage and unlawful sand mining are the chief sources of threat to the Sirsa river.
– In Sept., the CPCB in its report "River Stretches for Restoration of Water Quality" identified 351 polluted stretches on 323 rivers. In Himachal, seven river stretches have been identified as "critically polluted": Sukhana, Markanda, Sirsa, Ashwani, stretches of the Beas, Giri and Pabbar. Following the CPCB report, the NGT on Sept. 20 issued order to states to form the River Rejuvenation Committees for identifying the sources and nature of pollution of rivers and make time-bound action plan for reviving them.
– In a follow up order on December 19, the NGT gave all states two months time to complete their action plans. https://www.tribuneindia.com/news/himachal/sirsa-river-facing-ecological-disaster-green-group/705771.html (29 Dec.2018)
Kerala Nitta Gelatin's plant facing closure over Chalakudy river pollution The Nitta Gelatin Action Council (NGAC), a group which has been protesting against the company for the alleged pollution of the Chalakudy river, air and soil in the nearby regions, has blocked the water supply to the company from the river since August 14 and the plant has remained shut since then. https://www.thenewsminute.com/article/350-workers-livelihoods-risk-if-keralas-nitta-gelatin-plant-shuts-over-no-water-94182 (29 Dec. 2018)
GANGA SANDRP Blog Char Dham Road Project Kills 8 Labours: Will State & Central Govts Wake Up Now?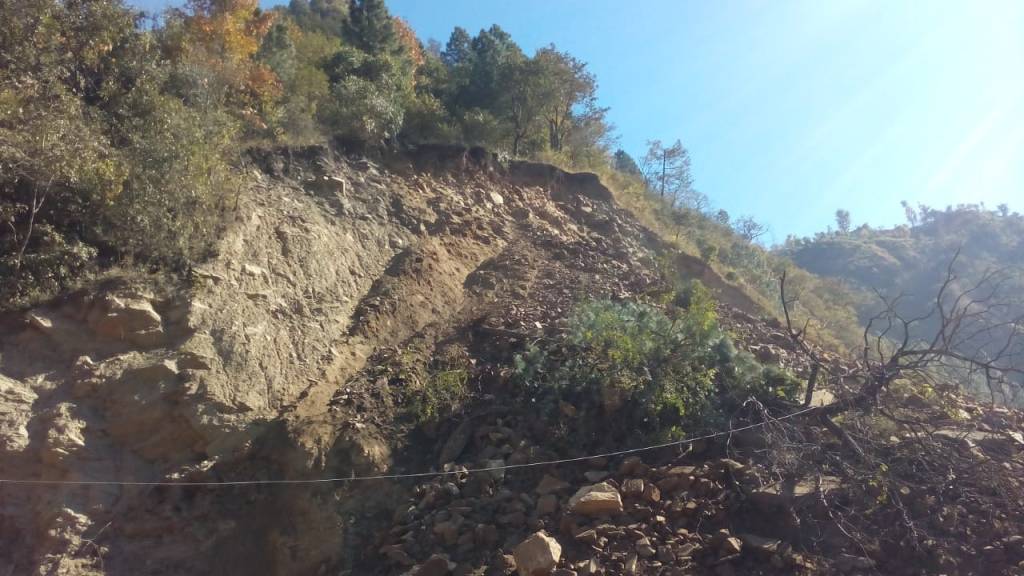 The landslide incident on under construction Char Dham All Weather Road Project in Rudraprayag district of Uttrakhand has killed 8 labours on 21 December 2018 around 12.30 pm near Banswada in Ukhimath Bhiri area on the Rudraprayag-Gaurikund national highway (NH 107). On 22 December 2018, body of a 19 year old worker was recovered. https://sandrp.in/2018/12/24/char-dham-road-project-kills-8-labour s-will-state-central-govts-wake-up-now/ (24 Dec.2018)
Char Dham All Weather Road Project creates another landslide this time on Badrinath Rishikesh Highway near Farasu Mandoli village in Srinagar.
The work is damaging the roads causing difficulties for local commuters who are also getting injured during night time. People say debris and stones are falling continuously disrupting the traffic for hours. http://epaper.livehindustan.com/imageview_8333_112982592_4_137_23-12-2018_t_1.pagezoomsinwindows.php (23 Dec. 2018)
2019 Kumbh Mela UP Govt's plan to manage solid waste is substandard: NGT NGT has pulled up the UP state government for failing to address solid waste management concerns at the Kumbh mela which in 2013 was believed to be the largest gathering of human beings on planet earth.
A committee of the NGT headed by Justice DP Singh on Dec. 24, expressed its displeasure with the state government for failing to plan solid waste management for the massive event which is slated to take place for a major part of January- February 2018.
The committee made its observation following a report by the Uttar Pradesh Solid Waste Management Monitoring Committee (UPSWMMC) which said that the state government's plans were "neither sufficient nor at par with the norms of waste management". https://www.timesnownews.com/mirror-now/in-focus/article/uttar-pradesh-allahabad-prayagraj-yogi-adityanath-maha-earth-kumbh-2019-ngt-solid-waste-management/336913 (26 Dec. 2018)
Since Dec. 26, THDC releasing 210-215 cumecs water from Tehri Dam for Kumbh Mela:-
http://epaper.livehindustan.com/textview_15330_95707546_4_1_4_27-12-2018_137_1.html (27 Dec. 2018)
YAMUNA Delhi RSTV Program on Yamuna pollution Basically Govt speak dominated RSTV program on Yamuna. They took 15 minutes bite from me and used a few seconds of general statement rather than the critical comments I gave. Seems like RSTV is also afraid of including any critical comments. https://www.youtube.com/watch?v=NGX8ERd7yUM&feature=youtu.be
PIB PR on Yamuna Action Plan function on Dec 27, 2018 The plan is still dominated by mega STPs, though there is one component of decentralised STPs of 2.5 MLD capacity. Decentralised STPs need to be the norm. http://pib.nic.in/PressReleseDetail.aspx?PRID=1557531 (27 Dec.2018)
RIVERS BIODIVERSITY
Study River Dolphins go missing in Sunderbans due to rise in water salinity Rise in salinity in the water system that makes the Indian Sunderbans has resulted in the decrease of population of the Ganges River Dolphins in the region.
A recent study covering 100 km of rivers and channels around the Sunderbans have revealed that the national aquatic animal is no longer sighted in the central and eastern parts of the archipelago. Only in the western part of Sunderbans, where the salinity is lower, could researchers find some evidence of the species.
The details of the study have been published in Journal of Threatened Taxa, in an article titled Possible Range Decline of Ganges River Dolphin Platanista Gangetica in Indian Sundarban. The paper, authored by Sangita Mitra and Mahua Roy Chowdhury, states that "sighting records in the present study reveal that distribution of GRD (Ganges River Dolphin) is influenced by the salinity level of the waterways".
In the study, the researchers noted a higher rate of encounter with the species in rivers and stretches that had limited use of motorised boats, less river traffic and more country boats. The encounter rate was higher by almost 55 % in such stretches, the publication stated.
Researchers and experts pointed out that the sighting of the Ganges River Dolphin has decreased over the years in the 534-km stretch from Farakka Barrage to Sunderbans. The rise in sea level, triggered by climate change, is one of the reasons for the increase in salinity of waters of rivers and channels. https://www.thehindu.com/news/national/other-states/river-dolphins-go-missing-in-sunderbans-as-water-salinity-rises/article25843625.ece/amp/ (27 Dec. 2018)
FISH, FISHERIES, FISHERFOLKS
DMF PR Dec 26, 2018 Save Bhandardaha Bill Campaign; Demands Restoration of Bhandardaha Bill; Implores Concerned Citizens to Unite with Fisher People
About 400 to 500 years ago Bhagirathi River flowed through Bhandardaha. In course of time with shifting of the course of river large water bodies like Bhandardaha were created in the Bhagirathi-Padma-Jalangi basin.
Bhandardaha has been a very important water body of Murshidabad. Its contributions to natural environment and historical sites of the district are undeniable. Thousands of fishers earn their livelihood from this water body. Once a source of large amounts of fish, Bhandardaha played a very important role in the food security and nutritional status of local population. The farmlands around are watered from this water body. Now water inflow from Padma and adjoining areas has almost stopped. Silt, water hyacinth and pollution have devastating effects on the water and fish resources of the bil. Without getting fish the fishers are incessantly roaming around in search of livelihood. There are reports that a fund of Rupees 400 crores had been been sanctioned for restoration of Bhandardaha, but nothing happened on the ground. Most of the fishermen's cooperatives that had come up around Bhandardaha have been usurped by people with vested interest. The water areas under these cooperatives are illegally sub-leased and general fishermen members are deprived of livelihood opportunities. Administrative indifference and delay-dallying make the situation worse.
In this situation Dakshinbanga Matsyajibi Forum, as the organisation of small fish workers, organised a big cycle rally and campaign for restoration of Bhandardaha from 16th to 18th December 2018. The campaign started from Kharibona-Nasipur of Akhriganj in Bhagobangola-II Block and ended at Tungi of Naoda Block. The campaign concluded with a Citizens' Meet and Press Conference in the city of Baharampur.
SAND MINING
Karnataka Official mowed down by truck for trying to stop sand mafia In another testimony to the rapid rise of the sand mafia in Karnataka, a village official was killed in broad daylight while he was conducting a raid against the same in a village in the Raichur district. The accountant was conducting a survey when he suspected a lorry to be carrying illegal sand from Tungabadra River. He tried to stop the vehicle when he was run over by the driver. The villagers tried to rush him to the nearest hospital but he succumbed to his injuries by the time any treatment could be administered to him.
In the recent past, there have been multiple cases of illegal sand mining near the Krishna and Tungabadra rivers and officials have often been attacked on duty. Last year, the Deputy Commissioner, Priyanka Mari Francis, and the then Assistant Commissioner Shilpa Nag raided the illegal sand mining activities in Kandlur village and were assaulted by a gang of people. In 2016, the sand mafia was suspected to be involved the incident where thirteen crest gates of the Hingani barrage were broken and a large amount of water saved for irrigation and drinking had gone to waste. https://www.timesnownews.com/mirror-now/crime/article/karnataka-shocker-official-mowed-down-by-truck-for-trying-to-stop-sand-mafia/335981 (24 Dec. 2018)
-The Krishna and Thungabhadra rivers flow into Raichur and the sand on the banks of these two rivers have been fodder for sand mafia for many years now. Sources in the district administration said that their efforts to curb illegal mining had failed to yield desired results since many involved in sand mining had strong political connections.
– Sand mafia in Raichur appears to be thriving because of the ever rising demand for sand from other cities in the state, and from neighbouring Telangana and Andhra Pradesh. The miners charge Rs. 60,000 to Rs. 70,000 per truckload of sand and are reportedly walking off with handsome profits.
– Sources said that, while the authorities had identified 18 locations along the journey of the two rivers in the district where they suspected illegal sand mining to be rampant, there were 100 such places. https://timesofindia.indiatimes.com/city/hubballi/sand-mining-rampant-in-raichur/articleshow/67220993.cms (24 Dec. 2018)
Tamil Nadu Install CCTV camewras at quarries to prevent illegal sand mining :HC The Madurai bench of the Madras high court has laid down a set of guidelines which have to be followed by licensed quarry operators mining gravel in Virudhunagar district, after concerns were raised about indiscriminate and illegal mining in Gundaru river sand before the court.
The court observed that quarrying cannot be below two metre depth and periodic inspections have to be conducted by the authorities, adding that mining will be done only between 11 am and 4 pm. The license holders have also been ordered to email details of the trucks ferrying the savudu sand every day before 11 am the concerned authorities. https://timesofindia.indiatimes.com/city/madurai/install-cctv-cameras-at-quarries-to-prevent-illegal-sand-mining-hc/articleshow/67237446.cms (25 Dec. 2018)
Uttar Pradesh Red flag against 36 UP sand mining projects NGT has withheld the environmental clearance (EC) given to at least 36 sand mining projects in Uttar Pradesh on the ground that it was obtained in violation of rules specified in the Environment Impact Assessment (EIA) notification of 2006.
The mines, located in the floodplains of the Ken, Yamuna and Betwa rivers, had got a "Regional Environmental Impact Assessment (REIA)" done by a private consultant. Based on the REIA, many projects were granted environmental clearance by the Statelevel Environment Impact Assessment Authority (SEAC).
But according to the EIA 2006 notification, there is no concept called REIA. Each sand mining project is required to submit an individual EIA report, which is to be appraised individually by the SEAC. Some lawyers and competitors of the private EIA consultant who did the REIA had noticed the aberration and informed SEAC about it. https://www.pressreader.com/india/hindustan-times-st-mumbai/20181223/281840054779503 (23 Dec. 20118)
Maharashtra Illegal sand mining eroding Kihim Beach near Mumbai Illegal sand mining at Kihim Beach, near Alibaug, has been going on unchecked for a decade and is leading to soil erosion and loss of tree cover, according to Awaaz Foundation which on Dec. 24 filed a complaint with the Konkan commissioner and district administration of Raigad in this regard and attached week-old pictures of bullock carts transporting sand away from the beach.
Maharashtra recorded 26,628 cases of illegal mining in 2017, the highest across the country, according to data from the Ministry of Mines. This year, data up to June showed 2,751 cases. Between 2013 and 2018, 2,228 people were booked for illegal mining, one court case was filed, and 163,366 vehicles were seized. The fines collected for illegal mining over six years was ₹36,502 lakh.
In 2014, the NGT had banned sand mining in coastal regions of many states, including Maharashtra, identifying that it was harming the environment. In 2016, the ban was lifted in Maharashtra's coastal districts of Sindhudurg, Ratnagiri, Raigad and Thane, after the state government promised the NGT that it will ensure that mining will not affect the environment. https://www.hindustantimes.com/mumbai-news/illegal-sand-mining-on-kihim-beach-near-mumbai-eroding-it-says-ngo/story-K1lCCkIOzI6z29RRvCNSIM.html (26 Dec. 2018)
Gujarat Raids at Valsad dam site reveal rampant illegal sand mining The Mines and Mineral Department officials of Valsad on Dec. 29 carried out raids at Valsad Nagar Palika-run water works and found that sand-mining activities were in progress near the dam built on Auranga river.
The officials demanded documents from a person present at the spot, Kalidas Mangela, who failed to submit the necessary papers following which they seized six pipes, two boats, and other equipment, all worth Rs 3 lakh. Kalidas in his statements confessed that sand mining work was in progress since the last ten days and the sand taken out from the dam has been sold in the market, officials said.
Sources said that Valsad Nagar Palika had given contract to a private agency a few days ago to carry out cleaning work of the dam and water works so that the water-carrying capacity of the dam increases. https://indianexpress.com/article/cities/ahmedabad/ahmedabad-raids-at-valsad-dam-site-reveal-rampant-illegal-sand-mining-equipment-seized-5515451/ (30 Dec. 2018)
Uttrakhand NGT bans quarrying on Nandhaur river The NGT has put a stop on quarrying on the Nandhaur river citing its proximity to the Nandhaur Wildlife Sanctuary in Nainital district, barely a month after the process of extracting sand and gravel for construction purposes had begun for the current season.
The Forest Development Corporation (FDC) had in late April allowed the quarrying following the state government's repeated attempts at seeking necessary clearances from the Union ministry of forest and environment after the 10-year lease for quarrying had ended in 2016.
But the NGT, which was looking into a plea challenging the quarrying on the banks of the river, accepted the petitioner's contention that the site of quarrying was within 10km of the sanctuary, whose boundaries establishing the limits of eco-sensitive zone had still not been determined by the state government. Petitioners Nandan Singh and Bahadur Singh of Chorgaliya have said that the government must define the eco-sensitive zone of the wildlife sanctuary, which was created in 2012. https://www.hindustantimes.com/dehradun/ngt-bans-quarrying-on-nandhaur-river-in-uttarakhand/story-HkelUksjB2m7wDvRtpueoK.html (20 Dec. 2018)
On the other hand, 115 years old British era bridge on Tons river in Birpur, Dehradun collapsed on Dec. 28 morning killing two people. The incident occurred while overloaded sand truck was passing through it.
The bridge connecting around 50 villages was damaged during June 2013 floods and was opened after repair. As per reports sand laden trucks and other heavy vehicles were using the single lane bridge on daily basis. https://epaper.jagran.com/epaper/29-dec-2018-105-garwal-edition-garwal.html (29 Dec. 2018)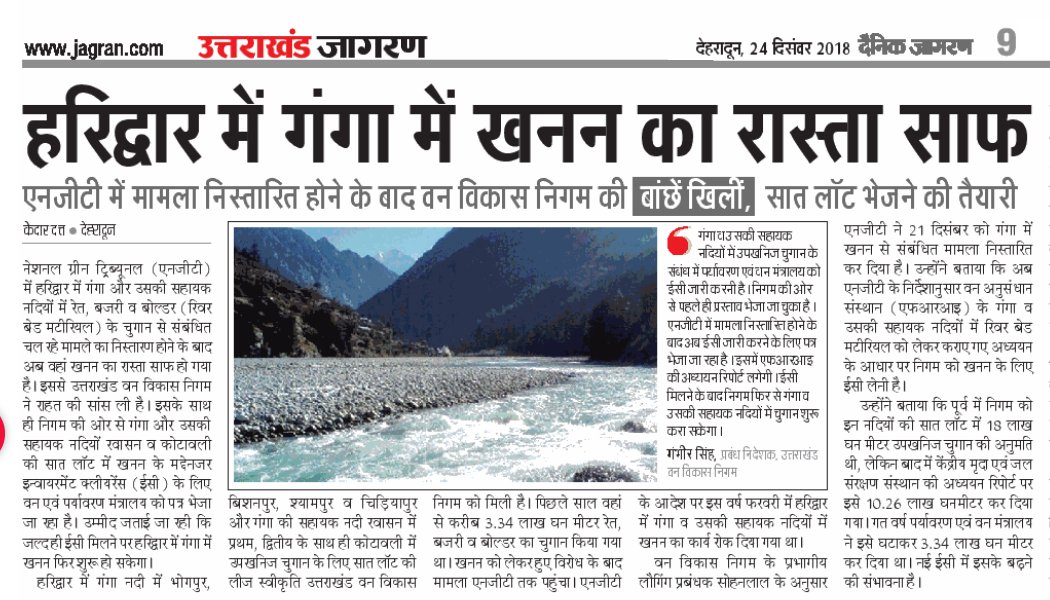 Meanwhile, the Forest Development Corporation says that on Dec. 21, NGT has disposed of Ganga riverbed mining case allowing it to start riverbed mining after getting Environmental Clearance from MoEF on the basis of FRI study. https://naidunia.jagran.com/national-mining-issue-cleared-in-ganga-and-its-tributaries-in-haridwar-2725945 (24 Dec. 2018)
At the same time, the Matali villagers in Uttarkashi staged protest against stone crushers in Bhagirathi river: https://epaper.jagran.com/epaper/26-dec-2018-105-garwal-edition-garwal.html (26 Dec. 2018)
Punjab One arrested for illegal sand mining in Ravi river The Ajnala police have arrested Rajbir Singh, a resident of Dabbar village, on charge of illegal sand mining. Assistant mining officer Manjit Kumar arrested him from Sarandev village, where he intercepted the truck bearing registration No. PB-23-F-5324 carrying sand, which was illegally excavated from the Ravi river belt.
The suspect failed to produce any documents when asked by the mining official regarding legal permission for the excavation of sand. The police also confiscated the truck with the 150 cubic feet sand. A case under Section 379 of the Indian Penal Code and Section 21 (1) of the Mining and Mineral Act has been registered in this regard. https://www.tribuneindia.com/news/amritsar/one-arrested-for-illegal-sand-mining/703608.html ( 25 Dec. 2018)S
GROUNDWATER
SANDRP Article Groundwater Governance: Why Dec 12, 2018 CGWA notification would be disastrous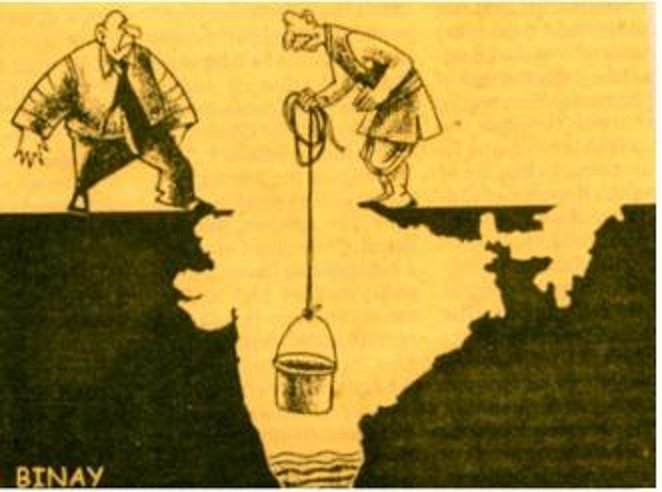 On December 18, 2018, the principle of Bench of the NGT, called the Central Groundwater Authority notification gazetted on Dec 12, 2018 as against "national interest". The trouble is can we even expect CGWA and their parent, MoWR to get us out of the deep murky groundwater pit that we are in today? This article provides a critique and possibly way forward. Please Read, Share. https://sandrp.in/2018/12/31/groundwater-governance-why-dec-12-2018-cgwa-notification-would-be-disastrous/ (31 Dec. 2018)
An edited version of this was published in THE TRIBUNE on Dec 31, 2018: https://www.tribuneindia.com/news/in-focus/deep-trouble-on-water-front/706239.html (31 Dec. 2018)
EPW Subsidy and Efficiency of Groundwater Use and Power Consumption in Haryana High power subsidy, along with assured minimum support price and procurement by public agencies, has changed the cropping pattern in favour of water-intensive crops, especially paddy, in Haryana and Punjab. This has placed groundwater resources under severe stress and also increased the demand for energy for extraction of water.
The continuation of high levels of power subsidy is not allowing crop diversification programmes to take off. It is argued that there is a need for redesigning this subsidy in such a way so as to encourage a sustainable cropping pattern suited to the agroclimatic conditions in the region, and save both water and energy. https://www.epw.in/journal/2018/50/special-articles/subsidy-and-efficiency-groundwater-use.html (22 Dec. 2018)
URBAN WATER
Chandigarh Poor sewage management worries residents The water pollution level in Chandigarh is worrisome. As per CPCC most of STPs are operating with BOD level exceeding the limit of 5 PPM. As per TC Nautiyal, member secretary CPCC, Chandigarh generates 82 MLD waste water while the city has installed capacity to treat only 48.8 MGD. https://timesofindia.indiatimes.com/city/chandigarh/as-water-pollution-levels-go-up-poor-sewage-management-worries-residents/articleshow/67265234.cms ( 27 Dec. 2018)
WATER POLLUTION
Punjab NGT team visit villages hit by water pollution On Dec. 24, NGT Team visited Chamiara, Gazipur, Athaula, Balerkhanpur, Gurdwara Tahli Sahib, Fatehpur and Nawa Pind Khalewal villages in the Jalandhar district which are affected by water pollution.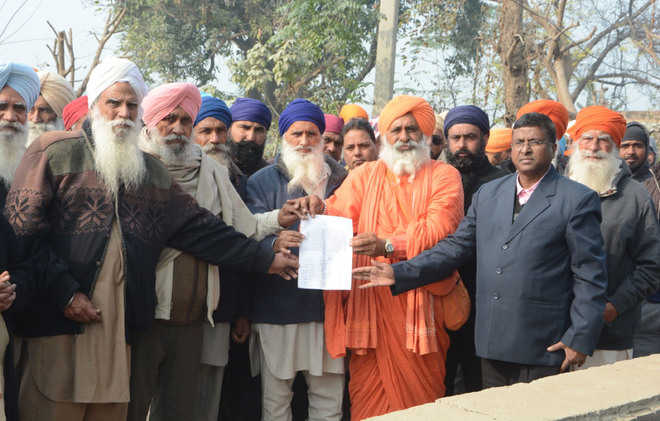 Led by NGT's supervisory committee member Chander Babu, the team members visited the Kala Sanghian drain and the Chitti Bein. While environmentalist Balbir Singh Seechewal had recently raised the issue of pollution in the drain, he had also written to the NGT on the defunct STPs across the state which were adding to untreated water and creating pollution in the state.
Villagers living on the banks of the Kala Sanghian drain gave a long declaration to the NGT. Detailing their experiences, they said they could not go to any other village now. They complained that they were facing troubles in marrying their children as no one wanted to marry their kin in a village which was affected by diseases. They said a large number of people in the villages were dying of cancer and hepatitis. Residents of Nawa Pind Khalewal said there had been over 10 deaths in the village due to cancer. https://www.tribuneindia.com/news/jalandhar/ngt-team-visits-villages-hit-by-water-pollution/703336.html (24 Dec. 2018)
Gujarat HC notice to govt over water pollution The Gujarat high court on Dec. 26 issued a notice to the state government and the Gujarat Pollution Control Board (GPCB) over a PIL complaining about water contamination in three villages near Dholka town in Ahmedabad district due to the release of drainage water and industrial discharge into an open canal. The HC has sought reply from authorities concerned by January 24, when it will take up the matter for further hearing.
The petitioner has complained that Dholka municipality discharges drainage water and chemical and pharma companies in the area release industrial discharge into an open canal that passes through Trasad, Bhetavada and Nesda villages. He said that the polluted water leaks from the canal and flows into farms and houses affecting crops and drinking water. Villagers are fleeing due to water contamination in the area, he said.
The villagers have complained about water pollution to GPCB many times. GPCB has not initiated any action against violators. The PIL has urged to the HC to direct the government to stop the release of dirty water and chemicals into the canal, to direct authorities to arrange for water for drinking and agriculture because water has been contaminated in borewells. It also requested that Dholka municipality be told to start its STP, which was built a few years ago but has not been used. The petitioner has also demanded extraction of polluted water from the fields. https://timesofindia.indiatimes.com/city/ahmedabad/hc-notice-to-govt-over-water-pollution/articleshow/67263055.cms (27 Dec. 2018)
Tamil Nadu CPCB shuts petrochemical plant over pollution allegations Manali Petrochemicals Limited petrochemicals firm was instructed by the Central Pollution Control Board (CPCB) to shut down one of its plants in Manali Dec. 25. The company was served a notice on Dec. 17 for abnormal levels in the treated effluent water discharged by the plant. CPCB officials told the plant had not removed waste water from the old damaged lagoon and had not even provided proper storage area for solid waste. The plant can resume operations only if compliance is achieved. https://www.timesnownews.com/mirror-now/in-focus/article/cpcb-shuts-petrochemical-plant-in-tamil-nadu-over-pollution-allegations/337790 (27 Dec. 2018)
WATER
Uttarakhand 40 parched villages threaten to boycott election People from about 40 villages in Pauri Garhwal district have threatened to boycott the 2019 Lok Sabha elections if water crisis in their area is not solved. The villagers from Kot block held a protest outside the district magistrate's office on Dec. 29, demanding a drinking water scheme.
As per DM Sushil Kumar, the villages are now provided water under Ramkund drinking water scheme but that is not sufficient to meet needs of all the villages and they want a separate drinking water scheme for their area. https://www.hindustantimes.com/india-news/no-water-no-votes-poll-plan-of-villagers-in-uttarakhand-district-in-2019/story-u7ynHk1ALByZ5aJoe0A5QN.html (30 Dec. 2018)
DELHI WATER
Delhi Govt's Mega For Lake Revival DJB on Dec 24, 2018 approved Rs. 453 crore to recharge and rejuvenate 159 lakes in the national capital and create to lakes. The Delhi Jal Board said over 350 acres in the national capital will be covered by water bodies, which would be able to hold 135 million gallons of water and help recharge groundwater. DJB also approved Rs 77 cr for creating two mega lakes in Rohini and Nilothi. https://www.ndtv.com/delhi-news/delhi-city-of-lakes-arvind-kejriwals-mega-plan-sets-sail-1967633 (25 Dec. 2018)
This cover 159 lakes, first 10 to be covered in four months. Small lakes will be fed by treated waste water with BOD around 10 ppm from decentralised STPs. A pilot project at Rajkori is already a success. The total area of all the lakes will be 350 acres, with capacity to hold 1581 million litres of water. The lakes would have floating plants, mechanised aeration as appropriate. https://indianexpress.com/article/cities/delhi/delhi-159-dying-lakes-to-get-fresh-lease-of-life-as-jal-board-begins-ambitious-rs-376-crore-project-5508352/ (25 Dec. 2018)
AGRICULTURE
Andhra Pradesh Some farmers return to their roots Key message: Even as the people of Anantapur were trying to survive one of the worst droughts in living memory, rains finally arrived in October last year. The initial delight led to another sombre experience, as the heavy rains led to flooding and even the death of a child. The district received its heaviest single-day rainfall in 15 years.
To deal with such extreme weather, many farmers in Anantapur as well as the rest of Andhra Pradesh are going back to farming as they used to before high-yield crop varieties, hybrid seeds, synthetic fertilisers and pesticides became the norm. They have found that crops grown the traditional way, with a little bit of agro-ecological innovation, have a better chance of survival in this errant climate."
– Despite an understanding of the need for this diversity, government policy is still largely an obstacle rather than an enabler for CSA. There is a lack of proper crop insurance mechanisms for multi-crop systems. Systems in India are geared towards promoting mono cropping and growing certain prevalent crops. As Kuruganti says, "If I want to grow millets, for instance, I won't get bank credit with a good scale of finance for it but if I do the wrong kind of cropping, I'll get at least INR 10,000 (USD 154) more on my Kisan Credit Card. https://indiaclimatedialogue.net/2018/12/26/indian-agriculture-tries-adapt-climate-change-2/ (26 Dec.2018)
Telangana Govt shows an alternative to farm loan waivers Govt's Rythu Bandhu scheme, an alternative to farm loan waiver, is not without criticism. Telangana farmer groups have demanded that 1.5 million tenant cultivators be included in it. A senior official from the Telangana agriculture department, requesting anonymity, said since the flagship scheme was announced, cheques worth ₹5,256 crore were disbursed.
"There was some delay in cheque distribution for the rabi season because the model code of conduct was in place before the assembly elections. More than 5 million farmers have been given cheques out of the total 5.8 million. Some may not have received it due to problems with their land records, or they may have been absent when cheques were distributed."
– "Income support is the future of subsidy transfer to agriculture, wherein the Aadhaar ecosystem can be effectively used… but it may not be enough to address the price collapse problem which is hurting farmers immensely," said Siraj Hussain, a former secretary at the federal agriculture ministry. "But I fear politicians will not forego the potential of a loan waiver promise, which has immediate electoral benefits." https://www.livemint.com/Politics/2719Mq7Dqo8c5xJ6s9xnJP/Telangana-shows-an-alternative-to-farm-loan-waivers.html (26 Dec.2018)
DROUGHT 2018
Karnataka Nearly 90% of taluks drought-hit again The Govt has on Dec. 26 declared that close to 90% of the state's taluks were drought-hit in the Rabi season. 156 out of 176 taluks across 30 districts were declared drought-hit based on central government guidelines.
The drought condition in the state has deteriorated since September, when 100 talukas across 23 districts were declared drought-hit. The state has been facing three successive years of drought leading to low agricultural produce, and has already sought central government assistance of Rs 2,434 crore.
To meet drinking water needs, the government is supplying water to 283 villages through 524 tankers and 315 private borewells (through pipelines) in 17 districts. For the next 90 days, the restriction on the supply of drinking water through tankers has been removed.
According to the crop survey as on December 21, 26.03 lakh hectares have been sown, against the target of 31.80 lakh hectares. In 2017, by December 21, 29.09 lakh hectares had been sown. This comes after an equally bad Kharif season, when only 89% of the target set according to the south-west monsoon projection could be sown. 9 lakh hectares of land remained unsown. https://www.thenewsminute.com/article/after-3-consecutive-years-drought-nearly-90-k-taka-taluks-drought-hit-again-94035 (27 Dec. 2018)
The govt on Dec 26, 2018 declared 156 out of the 176 talukas of the state drought hit in the wake of a failed northeast monsoon. The Karnataka state natural disaster monitoring centre on Wednesday said the dry spell continued unabated during the northeast monsoon (1 Oct. to 26 Dec.) and the state recorded 49% deficit in rainfall. North interior Karnataka, which accounts for 90% of rabi sowing, recorded a deficit of 66%, it said. https://www.livemint.com/Politics/we4v5MvF7mj6ZWG0kiC8gJ/Farm-crisis-deepens-in-Karnataka-156-talukas-declared-droug.htm (28 Dec.2018)
Maharashtra To tackle drought & climate changes, govt plans crop mapping by drones and on ground All the four agriculture universities in Maharashtra have been roped in for the exercise. Almost 62,000 students studying in these universities and colleges under it would take part in the exercise along with Maharashtra officials and the recommendations based on it implemented in the next kharif season. Teams would fan out across 40,913 villages in Vidarbha, Marathwada, North Maharashtra, Western Maharashtra and Konkan for the exercise.
– The govt believes the crop audit is necessary in the state where 78 per cent of farmers have small and marginal land holdings. According to the agriculture census, "the average land holding of farmers decreased from 4.28 hectares (1970-71) to 1.44 hectares (2010-11). The average size of land holding for Scheduled Caste and Scheduled Tribe was 1.27 hectare and 1.80 hectare, respectively…" https://indianexpress.com/article/cities/mumbai/to-tackle-drought-climate-changes-govt-plans-crop-mapping-by-drones-and-on-ground-5509323/ ( (26 Dec.2018)
Andhra Pradesh Drought train' takes farmers to greener pastures Andhra govt declared 296 mandals in 6 districts out of 676 mandals in 13 districts. Migration from Kurnool has doubled. https://timesofindia.indiatimes.com/city/amaravati/drought-and-debt-kurnool-farmers-migrate-in-droves/articleshow/67213564.cms (24 Dec. 2018)
FLOOD 2018
Google now ready to give public 'flood alerts' Interesting effort in use of Machine Learning to forecast floods and provide the inundation maps/ maps of areas at risk. After Pilot in Patna and some work in Kerala, now the Google effort with CWC to expand next monsoon to more areas, not mentioned here. https://indianexpress.com/article/technology/tech-news-technology/google-now-ready-to-give-public-flood-alerts-5512705/ (28 Dec.2018)
ENERGY OPTIONS
Delhi Jamia to soak up the sun, go fully green Jamia setting an example? It has set up 2.25 MW Solar capacity and is now putting up STPs for treatment and recycle of sewage. https://timesofindia.indiatimes.com/city/delhi/jamia-to-soak-up-the-sun-go-fully-green/articleshow/67293598.cms (29 Dec.2018)
Lucknow University installs 1 MW Solar panels, following news of Jamia installing 2.25 MW of solar panels. https://energy.economictimes.indiatimes.com/news/renewable/lucknow-university-solar-push-to-pare-power-bills-by-rs-1-crore/67306775 (30 Dec. 2018)
SOUTH ASIA
Pakistan Groundwater laws in Indus Transboundary Indus Basin Groundwater policy brief from Lead Pakistan. Its of 2016, but these key takeaways remain valid: They key takeaways from this policy brief are:
Unsustainable groundwater use in the Indus basin threatens the quality and availability of the resource, and has far-reaching transboundary repercussions;
There is no legal arrangement between India and Pakistan – or any of the Indus basin's riparian States, with respect to groundwater;
International water law is moving towards promoting sustainable and equitable utilization of transboundary groundwater, in conjunction with surface water resources;
Control and regulation of groundwater is weak at the federal/union and province/state levels in India and Pakistan;
Reliable and shareable measurement, quantification and assessment of the Indus River plain aquifer is necessary for groundwater policy formulation and legal regulation of transboundary groundwater in the Indus basin.
. Further research needs to be conducted on all riparian States and socio-economic aspects of groundwater, including gender dimension. http://www.lead.org.pk/lead/Publications/Groundwater%20Laws%20in%20the%20Indus.pdf (MAY 2016)
India-Bhutan India promises Rs 45K cr to Bhutan Key facts: The 720 MW Mangdechu HEP to be completed soon and tariff finalised, but not mentioned. The two sides agreed to take forward Sankosh Project "as soon as possible" but no dates mentioned. https://timesofindia.indiatimes.com/india/doklam-fresh-on-mind-india-promises-rs-4500-crore-to-bhutan/articleshow/67294074.cms (29 Dec.2018)
Another article shows how important the tariff of 720 MW Mangdechhu Project is for Bhutan. The earlier gap between Bhutan demand of Rs 4.4 vs Indian offer of Rs 3.9 per unit has now narrowed to 4.27 vs 4.1, yet to be finalised. It seems there were seven earlier rounds of talks between officials of two govts and Bhutan argued that this is cheaper that Rs 6 that a new hydro in India offers and in line with cost plus approach India followed in Tala. This article also shows that Sankosh was third priority on Bhutan's agenda. https://indianexpress.com/article/opinion/columns/bhutan-prime-minister-lotay-tshering-india-visit-5512504/ (28 Dec. 2018)
On export tariff for Mangdechhu project, this report says: "Describing himself as "quite happy" with the outcome, he said that towards the end, India was asking for 4.1 ngultrum per unit, while Bhutan's proposal was for 4.27 ngultrum (1 ngultram = 1 rupee)." "So, there was not much difference actually… Whatever difference is there can be reached with increase in rates periodically over the new few years. This will be decided technically in a day or two," Dorji said. The tariff for Mangdechhu will be higher than the rates for power from five operational hydropower projects. This has been predicated on the financing structure of the Rs 5,000 crore Mangdechhu project. Unlike previous projects, the loan to grant ratio is 70 to 30, which means that more revenue will be diverted to service debt in the initial years.
– In his press statement, the Bhutan prime minister specifically mentioned the Indian prime minister's support for starting the Sunkosh project, which has received special focus from Thimpu as it will be the first reservoir hydropower project.
– The Bhutanese foreign minister revealed that there were discussions on one more stalled hydropower project. "(The) Kholongchu (power project) was also discussed. It had been paused due to India's cross-border guidelines," said Dorji. The foundation stone was laid by Modi in 2014, but Bhutan had refused the sign the concession agreement for the 600 megawatt project, which was to be a joint venture between the Druk Green Power Corporation (DGPC) and India's SJVN Limited. The point of contention was the 2016 Cross Border Trade in Electricity guidelines issued by the Indian power ministry, which Bhutan felt restricted access to Indian power exchange and also ability to execute tripartite projects. Ten days ago, the Indian power ministry issued a revised set of rules – 2018 Guidelines for Import/Export (Cross Border) of Electricity – which purported to address some of these concerns. "We have not been handed over the guidelines. We have seen it on the website and looked at it carefully. At first glance, it seems conducive," said Dorji. https://thewire.in/diplomacy/india-bhutan-mangdechhu-hydropower-project (29 Dec. 2018)
India- Nepal Govts agree to set up 'energy bank' India and Nepal have agreed to set up an energy banking mechanism to prevent spilling of electricity when production surpasses demand. The two countries agreed to the 'Nepal-India energy banking deal' at the 13th meeting of the Power Exchange Committee held in New Delhi on Dec 25, 2018. The Nepal Electricity Authority, and India's Central Electricity Authority have agreed to the draft guidelines, which would be presented for approval before the energy secretary-level joint steering committee's meeting in January.
The banking system would involve exchanging electricity for electricity instead of cash. Under this, one country exports electricity to the other when it has a surplus, and imports back the same amount of energy when it has a deficit. "This agreement is a milestone in the country's energy sector as it will secure the market for the surplus energy we are on track to produce within a few years," said NEA Managing Director Kulman Ghising. Ghising further stated in the report that Nepal would supply electricity to India during the wet season when the domestic output is high and import it back during the winter when domestic production is much lower than the demand. https://energy.economictimes.indiatimes.com/news/power/india-nepal-agree-to-set-up-energy-bank/67288280 (28 Dec. 2018)
THE REST OF THE WORLD
Leak causing 305.5-MW Reventazon HEP to be out of operation for 3-4 months Some top Hydro news of 2018 from Hydro World:
– METEC no longer contractor on 6,450-MW Grand Ethiopian Renaissance Dam project: Controversy swirled around the GERD project in Ethiopia for the entire year, and this news about the electromechanical and hydraulic steel structure work contractor for the facility was just a drop in the bucket. But obviously one that was of interest to many following this development. https://www.hydroworld.com/articles/2018/08/metec-no-longer-contractor-on-6-450-mw-grand-ethiopian-renaissance-dam-project.html (Aug 27, 2018)
– Leak causing 305.5-MW Reventazon hydroelectric plant to be out of operation for three months: Dams leaking are always news of interest. This story was particularly concerning given that the project had only been operating for less than two years when the leak was detected, and the intervention needed meant taking the plant offline for a period of time. https://www.hydroworld.com/articles/2018/02/crack-causing-305-5-mw-reventazon-hydroelectric-plant-to-be-out-of-operation-for-three-months.html Feb 22, 2018 (2 Feb 2018)
Australia Drought 10K native fish found dead in Darling river The Department of Primary Industries (DPI) is expecting more mass fish deaths with a blue-green algae bloom blamed for 10,000 dead fish in the Darling River. The dead fish, mainly native species such as bony bream, Murray cod, and golden and silver perch, were found along a 50-kilometre stretch of the river.
– "The prolonged dry period has resulted in poor water quality along much of the Darling River," a DPI spokesperson said. He said algal blooms were driven by high temperatures, low rainfall and a build-up of nutrients from agricultural run-off. With no end in sight to the drought, it's a stark reminder that the health of Australia's biggest river systems are reliant on summer rains. https://www.abc.net.au/news/2018-12-20/ten-thousand-fish-dead-as-darling-river-water-quality-worsens/10635730 (20 Dec. 2018)
Global Water treatment chemicals market outlook The Global Water Treatment Chemicals Industry valued approximately 39.70 billion in 2016 in the U.S. and is anticipated to grow with a growth rate of more than 6.40% over the forecast period 2017-2025.
According to Market Journal, major factors driving the growth are growing usage of water treatment chemicals in various industries to satisfy the escalating demand for chemically treated quality water at a reduced price. The other factors affecting the growth of the industry are increasing GDP, awareness about reuse of wastewater, global population, upgrading of economic conditions and rising number of new oil and gas sector discoveries. https://www.wwdmag.com/instrumentation-water-quality-monitoring/water-treatment-chemicals-market-outlook (25 Dec. 2018)
CLIMATE CHANGE
Himachal Pradesh Defence Ministry's no to drone mapping of glaciers Defence Ministry has refused to give permission to Himachal Pradesh Council for Science, Technology and Environment to map the glaciers of Himachal Pradesh using Drone, following approval of Rs 40 lakh project for the purpose by the Dept of S & T, Govt of India.
– A study of 302 glaciers in Kullu district by Dr SS Randhawa, senior scientific officer, between 1962 and 2002 has indicated 14 per cent deglaciation while during the period between 2002 and 2006, it was 8 per cent. This clearly indicates that the deglacaition is taking place at a faster pace. Even in case of Spiti, 21 per cent deglaciation had taken place between 1962 and 2000, while from 2001 to 2007, it was 8 per cent.
– On Dec. 24, the High Court had asked the Industries Department to explore the possibility of use of drones to check illegal mining. The court has sought the response of the state government after the Industries Department stated that the installation of closed circuit cameras at certain points had failed to serve the purpose. https://www.tribuneindia.com/news/himachal/defence-ministry-s-no-to-drone-mapping-of-glaciers/705493.html (29 Dec.2018)
ENVIRONMENT
Uttarakhand HC says biodiversity boards can impose fees on Ramdev's Divya Pharmacy Welcome Order from UKD HC: In a significant decision, the Uttarakhand High Court on December 21, 2018 has dismissed the writ petition filed by Divya Pharmacy founded by Baba Ramdev and Acharya Balakrishnan, challenging the demand of the Uttarakhand Biodiversity Board (UBB) imposing fees under the provisions of the Fair and Equitable Benefit Sharing (FEBS). The judgment delivered by Justice Sudhanshu Dhulia held that the Court is of the opinion that SBB has got powers to demand Fair and Equitable Benefit Sharing from the Divya Pharmacy.
Divya Pharmacy has claimed that UBB cannot raise a demand, under the head of "Fair and Equitable Benefit Sharing" (FEBS), as the Board neither has the powers nor the jurisdiction to do that and, secondly, the Divya Pharmacy also claimed that it is not liable to pay any amount or make any kind of contribution under the head of FEBS.
The main contention was that only a foreign entity was liable to pay under the FEBS and not an Indian entity. Since Divya Pharmacy is a 'purely Indian company', it was not required to pay any fees under FBES. In addition, unlike a foreign company, an Indian company was not required to obtain 'prior approval' from the National Biodiversity Authority but only 'intimate' the State Biodiversity Board.
The State Biodiversity Board however contented that there is no distinction between an Indian entity and a foreign entity and the only entities who are not liable to pay are growers and cultivators of biological resources including vaids and hakims.
– According to the Court: "The Indigenous and local communities, who either grow 'biological resources', or have a traditional knowledge of these resources, are the beneficiaries under the Act. In return for their parting with this traditional knowledge, certain benefits accrue to them as FEBS, and this is what FEBS is actually all about. This benefit the 'indigenous and local communities', get under the law is over and above the market price of their 'biological resources'." https://www.counterview.net/2018/12/uttarakhand-high-court-biodiversity.html (27 Dec.2018)
Govt gets drones to keep a check on illegal forest activities Uttarakhand becomes the first-ever state to get the Forest Drone Force, a security force to keep a check over state of forest. Uttarakhand Forest Drone Force to be equipped with a set of 25 drones to keep a tight vigil over illegal mining, tree felling, and poaching amongst other activities in the forest areas. The drones will be operated by senior Indian Forest Services officers from the state and experts from Drone Application Research Centre, Dehradun.
Currently, the security personnel are aided by 5 drones. 20 more drones are said to be added soon to the fleet. These drones will be covering regions of protected sanctuaries like Nanda Devi National Park, Kedarnath Wildlife Sanctuary and Corbett Reserve amongst various others. The department also plans to expand the initiative, it is planning to recruit 15 drone operators with high-end electronic set up to support the cause in the state. https://www.timesnownews.com/india/article/uttarakhand-forest-drone-force-dehradun-wildlife-protection-illegal-mining-poaching/336871 ( 26 Dec. 2018)
IUCN 6th NR Number of Indian species in endangered list going up The 6th national report, submitted on Dec. 29, lists habitat fragmentation, overexploitation of resources; shrinking genetic diversity; invasive alien species; declining forest resource base; climate change and desertification; impact of development projects; and impact of pollution as threats to genetic diversity. The list of animal species from the country under the international 'red list' in the critically endangered, endangered and threatened categories has been increasing over the years, according to the sixth national report (NR6) submitted to the United Nations Convention on Biological Diversity (CBD).
– India has a total of 683 animal species in the International Union for Conservation of Nature's (IUCN) critically endangered, endangered and vulnerable categories, as compared to 646 species in 2014 when the fifth national report was submitted, and 413 in these categories in 2009 when the fourth national report was submitted.
– About 3,655 floral and 1,693 faunal species have been added according to the CBD report 2018 since 2014. The report also states that India's marine ecosystems host nearly 20,444 faunal species communities. Of these, 1,180 species are threatened and listed for immediate conservation. https://www.hindustantimes.com/india-news/number-of-indian-species-in-endangered-list-going-up/story-qPqyu8T4R09xFCFA7a6GAL.html (31 Dec. 2018)
Meghalaya rat-hole mine incident: District admin, NDRF team waiting for powerful 100HP pumps for the past 3 days The search and rescue operations to look for 15 miners trapped since December 13 at a rat-hole mine in Meghalaya have stopped now. Two 25-horsepower (hp) pumps used to drain out the flooded illegal mine in the state's East Jaintia Hills were ineffective, officials said. Water from a nearby river kept flooding the mine, they said.
The district administration and the NDRF teams have been waiting for powerful 100 hp pumps to arrive for the past three days, officials said. The state government is yet to send them, people with direct knowledge of the matter said.
The mine is filled with 70 feet of water, making it inaccessible to rescue workers. Sources said water is still seeping into the mine from two sources — another abandoned mine in the adjacent area and a river nearby. https://www.ndtv.com/india-news/rising-water-as-rescuers-hunt-for-meghalaya-miners-trapped-in-rat-hole-mine-for-2-weeks-1967907 (25 Dec. 2018)
PARLIAMENT DIGITAL LIBRARY provides information about various parliamentary documents of Lok Sabha, the House of People. The debates of Lok Sabha, from the First Lok Sabha to the Sixteenth Lok Sabha are placed in this portal. The Reports of several
Parliamentary Committees, Presidential Addresses to Parliament, Budget Speeches, and several publications of the Lok Sabha Secretariat are also part of its collections. The treasured and historic legislative debates, tracing the growth and development of modern parliamentary institutions in India, from 1858 to 1952, thereby covering the period of 95 years, is being uploaded periodically. The portal provides the users a single window information retrieval technology with filtered and federated search from multiple searchable resources. http://eparlib.nic.in/
Compiled by SANDRP (ht.sandrp@gmail.com)
Also see: DRP News Bulletin 24 Dec. 2018 & DRP News Bulletin 17 Dec. 2018
Follow us on: www.facebook.com/sandrp.in; https://twitter.com/Indian_Rivers