Well-known ecologist Madhav Gadgil, founder of the Centre for Ecological Sciences at the Indian Institute of Science, Bengaluru, has described the devastating floods in Kerala as a man-made disaster and a reaction to the illegal excavations and stone quarrying done over a decade. https://www.hindustantimes.com/pune-news/illegal-forest-land-acquisition-major-reason-for-floods-in-kerala-says-ecologist-madhav-gadgil-calls-it-man-made-disaster/story-vMHPKUH623GEnjyQHI09NP.html  (19 Aug. 2018)
Further speaking to various regional media, Madhav Gadgil has said that irresponsible environmental policy is to blame for the recent floods and landslides in Kerala. He also called it a "manmade calamity". He said that the committee report had recommended to protect the resources with the cooperation of local self-govt and people, but those recommendations were rejected.
He also pointed out that quarrying is a major reason for the mudslides and landslides. Other environmentalists also point fingers at the extensive quarrying, mushrooming of high rises as part of tourism and illegal forest land acquisition by private parties as major reasons for the recent calamity. https://energy.economictimes.indiatimes.com/news/power/kerala-floods-the-ghost-of-past-environment-policy-returns/65436707  (17 Aug. 2018)
Dams should never be filled before the end of the monsoons. Because then one doesn't have any solution but to release the water in the surrounding areas: Himanshu Thakkar, SANDRP says as one of panellist discussing role of dams in aggravating Kerala floods.
https://twitter.com/ETNOWlive/status/1030487469320355840
Also see, NDTV discussion on Kerala flood crisis, it included SANDRP coordinator:
https://special.ndtv.com/kerala-floods-42/video-detail/kerala-floods-non-stop-special-coverage-of-the-unfolding-crisis-491815  (19 Aug. 2018)
Here is NDTV Hindi discussion on Kerala flood crisis, included SANDRP coordinator:
https://khabar.ndtv.com/video/show/ndtv-special-ndtv-india/ndtv-special-coverage-on-kerala-rain-crisis-491820  (19 Aug. 2018)
Here is admission about sudden, excessive releases and not foreseeing the coming disaster. The Kerala crisis could have been contained had the state "gradually released" waters from at least 30 dams, officials said, adding that the local authorities failed to foresee the imminent danger with high rain prediction. "Such floods have probably recurred after 100 years, exposing the state's unprofessionally run reservoir management system and unpreparedness on disaster mitigation and disaster resilience, an official pointed out. https://timesofindia.indiatimes.com/city/kochi/gradual-dam-water-release-could-have-contained-crisis/articleshow/65436339.cms  (17 Aug. 2018)
EXCELLENT PIECE: "The river has reclaimed its lost self," says Konthalam, 79, pointing to the swirling waters forcing their way through the fields, houses and chapaths (low-level bridges) a few kilometres down the Cheruthoni dam at Thadiyampad. As a young man, he had travelled from his native Chelliampara to Cheruthoni to work at the dam site. He married a girl from the locality, purchased an old thatched house on the barren banks of the now-dammed river, and settled here in 1978, two years after the dam was commissioned.
– More shutters of Chirutheni dam are opened this time, each shutter is opened more, and for much longer than every before.
– "If it continues to rain like this, there won't be any soil around the boulders in Idukki," says Shijo Thadathil, member of the Vazhathoppu panchayat. "There have been over 30 landslides in our panchayat alone. Shops at the Cheruthoni market have been washed away in the water from the dam. There aren't many bridges left and those still standing are rickety. This is a crisis and we don't know what's happening, as there's a power outage," he says.
– "We recorded an all-time high inflow of water into the reservoir lake and also the highest daily rainfall in its catchment area. The phenomenon is cyclical and reminiscent of the great flood of Malayalam Era 1099 (1924)," according to an official of the Kerala State Electricity Board (KSEB), which operates the reservoir. Back then, the showers had lasted over three weeks and while official figures are unavailable, over 1,000 people are said to have perished.
– James Wilson, Kerala's special officer for Interstate Water, contends that the situation now is a repeat of the 1961 floods, the second biggest to hit the State in a century. Had it not been for the ongoing devastating spell of rains that have forced the opening of 36 dams (13 of them on the Periyar) and the evacuation of over 1.5 lakh people as of August 15, it would have been manageable. A dam safety official, on condition of anonymity, says(THIS SOUNDS LIKE NON SENSE) that the dams did play a role in managing the floods, but the continued downpour that exceeded all predictions has turned the situation awry.
– Munnar remains cut off now, with the spill from the Madupetty dam destroying livelihoods.
– "A disaster management plan for dam failure should be in place. The Western Ghats, an eco-sensitive mountain range, is prone to degradation. Further, landslide-prone zones, mostly those receiving over 20 cm rainfall and at a 30-degree gradient, can be easily identified and people relocated," argues A.V. George, disaster management expert.
– Back in the Periyar basin, Purushan Eloor, research coordinator for the committee against river pollution, asserts that the unfolding disaster has been waiting to happen, thanks to naked encroachments even on the floodplains of the river. K.G. Tara, former head, Disaster Management Centre at the Institute of Land and Disaster Management, Thiruvananthapuram, says the time has come to carry out floodplain zoning on a war-footing. "The recent amendment to the Kerala Conservation of Paddy Land and Wetland Act which has eased the norms for the conversion of wetland for other land uses, would also prove disastrous, as paddy fields, even when left barren, would cushion the impact of flooding. Equally important is a policy to preserve the remaining hills and wetlands, as they serve as water storing systems," she points out. https://www.thehindu.com/news/national/kerala/trial-by-water/article24719470.ece  (18 Aug. 2018)
Some interesting thoughts here. Of course, as a result, the Uttarakhand and Kerala events may not have been completely avoidable but the adverse impact could have been minimised. This is because cascading events contribute to the severity of the situation more than the original events do. If there had been denser catchments, the rain's impact could have been mitigated and the flood-flows moderated. Soil erosion, landslides and silt loads in the water could also have been halted.
What the two floods have also demonstrated is the absence of any data on absolute elevation values. This is a crucial data point that must be made available to prevent disasters. Knowing the elevation of river beds, flood banks, roads, buildings and bridges, a flood zonation of vulnerable areas could have been carried out to identify danger zones and then evacuate the people there. https://thewire.in/environment/fighting-floods-is-hard-but-there-are-two-ways-to-make-it-more-democratic  (11 Aug. 2018)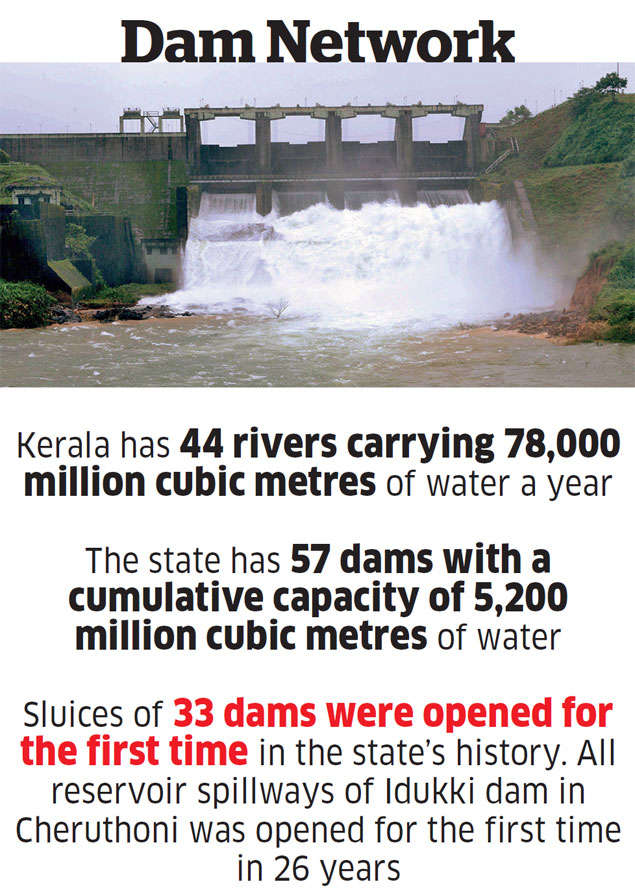 Only if water release from Vaigai dam ahead of schedule was preponed a few weeks, it may also have helped Kerala. It was in 1984 that water was released during the month.
After 34 years, water from Vaigai dam will be released for irrigating single crop area in Dindigul, Madurai and Sivaganga districts ahead of schedule. As per schedule, the single crop area gets water any time after September 15, provided enough storage is available. https://www.thehindu.com/todays-paper/tp-national/tp-tamilnadu/water-release-for-single-crop-area-ahead-of-schedule/article24733871.ece   (20 Aug. 2018)
As per reports, it was for the first time in history, the state had opened 35 of its 39 dams and a red alert was issued in all the 14 districts of the state. https://indianexpress.com/article/india/kerala-rains-live-updates-tamil-nadu-weather-kochi-airport-idukki-dam-mullaperiyar-5307286/  (18 Aug. 2018)
This article explains the complicated dam system in Periyar river basin in Kerala-TN. It of course does not answer the question as to why did Idukki and Idamalayar dams had to release water WHILE Kerala was in floods and if that could have been avoided. https://theprint.in/opinion/in-monsoon-battered-kerala-idukki-dam-has-stood-tall-to-prevent-floods/97579/  (18 Aug. 2018)
Amid historic flood, Ernakulam district is heading towards a severe drinking water crisis. The Kerala Water Authority (KWA) has been forced to stop pumping at all treatments plants in the district, including those in Aluva, Chovara, Maradu and Mooppathadam.  https://timesofindia.indiatimes.com/city/kochi/flooded-ernakulam-to-face-drinking-water-shortage/articleshow/65433150.cms  (17 Aug. 2018)
Around 4,000 families were moved to safer places in preparation for release of waters from Mullaiperiyar dam. Water was being let off from the dam through all its 13 shutters at the rate of 2200 cusecs a second. From the Cheruthoni dam, water was being released at the rate of 8.5 lakh litres a second.
– In Kozhikode over 7000 people were shifted to shelters. The shutters of the already opened Kakkayam dam will be raised to three feet if the rains continue, officials said. Since this is likely to flood the Kuttiyadi river, the district administration has cautioned people residing in the vicinity.
– River sluices shutters of Kanjirapuzha Dam in Palakkad district was to be opened to the maximum discharge on Aug. 15. Excess water would be discharged through Bharathapuzha's feeders Kanjirapuzha, Thootha and Karimpuzha. https://www.thehindu.com/news/national/kerala/kerala-rain-floods-heavy-rain-live-updates/article24695407.ece  (15 Aug. 2018)
On Aug 13, two gates of Idukki dam were closed and others' opening was reduced. However, on Aug 14, with heavy rains and inflows, all gates were again open.
– In Wayanad, the shutters of Banasura Sagar Dam were opened by 210 cm.
– Munnar and Palakkad were flooded as shutters of nearby Mattupetty and Malampuzha dams were opened. https://indianexpress.com/article/india/heavy-rain-in-kerala-after-two-day-lull-5307106/  (15 Aug. 2018)
Mullaperiyar Dam shutters were opened by TN at 2.30 am on Aug 15, 2018. https://www.thehindu.com/news/national/kerala/kerala-rains-live-updates-rains-continue-to-wreack-havoc-water-level-in-dams-rises/article24686486.ece  (15 Aug. 2018)
The Cochin International Airport Limited announced on Aug 15, that all flight operations at the Kochi airport have been suspended till 2 pm on August 18. This comes after the water in Chengalthodu canal, which runs near the airport, overflowed, causing inundation of the runways. https://www.thenewsminute.com/article/live-updates-33-dams-opened-kerala-floods-wreak-havoc-86598  (15 Aug. 2018)
Second shutter of Irattayar dam was opened on Aug 15
– Discharge from Idukki was 1200 cumecs at 11 am, 1500 cumecs at 2 pm on Aug 15. Water level at Idukki is at 2398.90 ft at 12 noon. Two gates opened at 2 m height while remaining 3 at 2.3 m.
– Chief Minister: "We're witnessing something that has never happened before in the history of Kerala. Almost all dams are opened. Most of our water treatment plants are submerged, motors are damaged. We're keeping all this in mind but our priority is to get drinking water to the people"
– Idamalayar water discharge increased to 1000 Cumecs. Making the flood situation worse, KSEB has stopped power generation from Idamalayar since Aug 15 afternoon
– Local people gherao phase III campus of Technopark alleging that its unscientific diversion of Thettiyar river caused flooding in the area
– 3 shutters of Thenmala dam in Kollam raised. 2 shutters raised by 225 cm and 1 by 180 cm. https://timesofindia.indiatimes.com/city/kochi/kerala-floods-live-updates-more-ndrf-teams-rushed-to-kerala-as-flood-situation-worsens/liveblog/65403405.cms?  (17 Aug. 2018)
This report seems a bit speculative, but this clearly suggests that the Idamalayar Hydro station is damaged. At one place it says the turbines have been damaged. Elsewhere it suggests that debris may have been stuck in the 3-km long tunnel, requiring dewatering and inspecting the tunnel. The cause of damage/ debris in tunnels is not known. It could be from the debris from dam going into tunnel or tunnel damage. KSEB is waiting for govt nod to dewater and inspect the tunnel. In the meantime, overflowing water may cause more damage to the structure, it says. Seems like the first news of Hydropower project getting damaged in current floods. https://energy.economictimes.indiatimes.com/news/power/kerala-floods-power-generation-stopped-in-idamalayar-hydro-dam/65415654  (15 Aug. 2018)
Another Hydropower project flooded, possibly damaged in Kerala: Murugappa Group company Carborundum Universal in a statement said the company's hydel power plant in Maniyar that generates power for captive consumption of its electrominerals division has been flooded and is currently not generating power. https://energy.economictimes.indiatimes.com/news/power/kerala-rains-dirupt-carborundum-universals-hydel-power-plant-operations/65425592  (16 Aug. 2018)
The shutters of Malampuzha dam were raised from 45 cms to 54 cms on Aug 14 morning. https://www.thenewsminute.com/article/kerala-rains-palakkad-inundated-shutters-malampuzha-dam-raised-further-86536  (14 Aug. 2018)
Officials in the forest division of Vazhachal persuaded the Dam Safety Authority to shut the gates of the Peringalkuthu dam for five hours to regulate the water flow at the dam in order to save the elephant. The wild elephant was seen near the Charpa Waterfall, above the popular Athirapally waterfall, in the Thrissur district of Kerala. Water level in the Chalakudi river rose when both the Sholayar and Peringalkuthu dams were opened after reaching full capacity. "Five hours later, the elephant crossed the river to reach a safe spot," an official with the forest division said. https://www.indiatoday.in/india/story/kerala-floods-elephant-trapped-chalakudi-1313534-2018-08-13  (13 Aug. 2018)
In a statement Kerala CM said, "What has occurred in our state has been the worst ever (disaster). A total of 444 villages have been affected." The worst affected parts have been Idukki and Wayanad districts. Palakkad, Malappuram, Kozhikode and Ernakulam too have been badly hit. https://www.ndtv.com/kerala-news/kerala-cancels-onam-celebrations-after-worst-floods-in-nearly-a-century-1900580  (15 Aug. 2018)
CM Pinarayi Vijayan further said that the heavy rains would continue for some more days, which will further worsen the situation. More than 1.5 lakh people have been lodged in 1067 relief camps across the State, he said.
– MULLAPERIYAR: Invitation to trouble: Tamil Nadu has declined Kerala's request to lower water level in Mullaperiyar dam. Citing Supreme Court orders, Tamil Nadu said the entire inflow will be discharged, but the level will maintained at 142 ft. In response to reports of Kerala Chief Minister Pinarayi Vijayan's letter to his Tamil Nadu counterpart Edappadi K. Palaniswami, requesting him to lower the level up to 139 ft, a senior official of the State govt in Chennai said that the "entire inflow" would be discharged and the water level maintained at 142 ft. The position was said to have been conveyed by the Principal Secretary (Public Works) S. K. Prabakar to his counterpart.
– Mullaperiyar dam at 8 pm on Aug 15, 2018:
– Water level: 142 ft (maximum capacity); storage: 12,758 mcft; inflow: 25,671 cusecs; discharge: 2,178 cusecs; surplus: 23,493 cusecs. 12 shutters of the dam have been raised to 6 ft by 7.30 pm.  https://www.thehindu.com/news/national/kerala/kerala-rain-floods-heavy-rain-live-updates/article24695407.ece  (15 Aug. 2018)
A video from Wandoor region in Malappuram shows a road crumbling into the gushing waters below, even as people stood by and watched in shock. This road in Malappuram is an important route for people commuting from Wandoor to Nilambur.
This happens when drainage system is encroached upon and given a miss during construction activities.  https://www.thenewsminute.com/article/remember-kerala-road-crumbled-rains-army-builds-makeshift-bridge-over-it-86496  (13 Aug. 2018)
As per reports, Kerala is battling worst floods since 1924. https://www.ndtv.com/india-news/18-dead-in-himachal-shimla-gets-highest-rain-in-117-years-10-points-1900117  (14 Aug. 2018)
Pilgrims traveling to Sabarimala have been instructed to not visit the temple as the river is flowing in full spate in the region. The Pampa Triveni bridge was submerged due to water gushing from the opening of two dams in the district. The shutters of the Kochupampa and Anathode – Kakki dams (which provide water to the Sabarigiri Hyderoelectric Plant) in Pathanamthitta district were opened. The shutters of the Anathode Kakki dam were been opened by 2 feet to release the water which is currently at 951.1 mts. Two of the 6 shutters of the Kochupampa dam too were opened by 1 feet. An alert has been issued to pilgrims and others visiting the Pampa and Kakki rivers. https://www.thenewsminute.com/article/sabarimala-cordoned-pamba-river-overflows-due-opening-dams-86495  (13 Aug. 2018)
Tamil Nadu Cauvery faces bigger flood threats now A flood alert was in place in 12 Tamil Nadu districts as the Cauvery river overflowed with excess water being released into it from the brimming Mettur dam and submerged houses in Namakkal district on Aug. 12.
Due to the heavy rainfall in the catchment area, the Mettur dam, receiving about 1.35 lakh cusecs of water from the KRS and Kabini dams, reached its full capacity of 120 feet by 1.45 p.m. on Saturday, forcing the water resources department to release 1.30 lakh cusecs into the Cauvery River in the night. This is the second time this year the Mettur dam has reached its full capacity of 120 feet and the 40th time since it was built in 1934.
Flood alert was in place for Salem, Erode, Namakkal, Karur, Trichy, Thanjavur, Thiruvarur, Nagapattinam, Cuddalore, Pudukkottai, Perambalur and Ariyalur districts and their district collectors advised people living near the river banks to move to safer places. As many as 276 people were evacuated from over 70 houses submerged in Kumarapalayam of Namakkal and sent to the temporary relief camps. https://www.hindustantimes.com/india-news/flood-alert-in-12-tamil-nadu-districts-as-mettur-dam-full-people-living-on-cauvery-banks-evacuated/story-zVWQztq0nzPCOwGXl9mkBJ.html  (12 Aug. 2018)
Bavanisagar dams wells for first time in 17 years This report gives somewhat different figures: With release of over 50,500 cusec from the Bavanisagar dam to the Bhavani river on Aug. 15, the river flooded for the first time in 17 years. After visiting the flood-hit areas of Bhavani town and Kodiveri dam area near Gobi, Collector S Prabhakar said that water level in the dam had reached full capacity of 120 ft and the entire inflow — 10,000 cusec last night to 43,984 cusec on Aug. 15 — was being let into in the river. The river would merge with Cauvery at Koodathurai in Bhavani. http://www.newindianexpress.com/states/tamil-nadu/2018/aug/16/bavanisagar-dams-wells-for-first-time-in-17-years-1858418.html  (16 Aug. 2018)
CAUVERY FLOODS: More than 200 people were evacuated from Thavittupalayam village near Thirumukkudal in Karur dist in Tamil Nadu on Aug 16, 2018. Its after more than 40 yrs that over 3 lakh cusecs flow is seen at this location, confluence of Cauvery, Bhavani and Amravati. Based on a CWC advisory, flood alert has been declared in 11 districts: a flood alert has been sounded in Krishnagiri, Dharmapuri, Salem, Erode, Namakkal, Trichy, Karur, Thanjavur, Ariyalur, Nagapattinam and Tiruvarur. https://timesofindia.indiatimes.com/city/trichy/high-alert-at-thirumukkudal-confluence-of-three-rivers/articleshow/65431763.cms?  (17 Aug. 2018)
Contrasting situation in Cauvery basin in Tamil Nadu: While cultivators staying just 4 km beyond the course of the Cauvery and its tributaries Bhavani and Amaravathi rue the lack of water for irrigation, those close to the banks have been forced to leave their homes or are living in fear of inundation as the rivers flow in all their fury. Most worried are the people living near the Mayanur check dam in Karur, the confluence of the Cauvery, Amaravathi and Bhavani. Here, the Cauvery is at its widest and the check dam measures 1,233 meters. It has 86 vents and 12 scour vents capable of discharging 4.63 lakh cusecs of water… at least 209 houses have been inundated, forcing 613 people into in the camp. In Erode alone, some 7,832 people are currently staying in 67 relief camps.
– PWD's Barrage Control Room facing washout: At Mayanur, a disaster management team was trying to arrest the erosion of the bank on Saturday. The base of the building housing the Public Works Department's control room, which operates the barrage's shutters, was getting washed away. By Saturday evening, around 2,22,000 cusecs of water was flowing through the dam with all its 86 vents opened. https://scroll.in/article/890972/in-western-tamil-nadu-farmers-and-labourers-bear-the-brunt-as-cauvery-overflows  (19 Aug. 2018)
Telangana Rain affects Kaleshwaram dam project work The Kaleshwaram project works at Medigadda, Annaram and Kannepalli were interrupted due to heavy rain but picked up on Aug. 16. However, heavy rain on Aug. 17 caused several interruptions to work, with rainwater coming into the work area. Officials were force to use pump to drain out the water. https://www.deccanchronicle.com/nation/current-affairs/170818/hyderabad-rain-leaves-water-bodies-in-spate.html  (17 Aug. 2018)
Heavy inflows into Srisailam continues from Tungabhadra even now. https://www.thehindu.com/news/national/telangana/another-bout-of-heavy-flood-srisailam-likely/article24667178.ece  (12 Aug. 2018)
As per latest report, Srisailam almost full, Almatti, Tungabhadra, Jurala are all full, as is Koyna. This may be another disaster invited in Krishna basin? https://timesofindia.indiatimes.com/city/vijayawada/srisailam-dam-almost-full-nagarjuna-sagar-on-the-way/articleshow/65445436.cms  (18 Aug. 2018)
The contrasting picture here means that while major reservoirs in Krishna basin in Telangana-AP have received significant inflows, minor are showing bleak storage level. In Godavari basin, Minor projects are more significantly full, while Major projects are showing low storages. https://www.thehindu.com/news/national/telangana/water-bodies-in-godavari-krishna-basins-present-contrasting-picture/article24698960.ece  (16 Aug. 2018)
"There are six dams across Penganga in Maharashtra called Isapur, Sapali, Adan, Arnavati and Upper Poos and Lower Poos," disclosed Adilabad Irrigation Deputy Executive Engineer Tulsiram Chennabathni. "The Isapur dam is located about 180 km from the Penganga bridge at Dollara," he added while trying to explain the dynamics of water flow upstream. "The maximum flood discharge at Penganga, 216.98 m was recorded on August 6, 2006 which had caused enormous damage. The maximum flood discharge on Aug 17, 2018 was only 212.9 m so there is no scope for worry," he explained. https://www.thehindu.com/news/national/telangana/heavy-flowing-penganga-threatens-to-breach-banks/article24719430.ece  (17 Aug. 2018)
West Bengal Ganga floods eroding several areas in Nadia, Malda Several areas of Nadia and Malda districts are experiencing severe erosion of riverbanks over the last couple of weeks, rendering hundreds of people homeless. Among the severely affected villages, three are in Nadia district while one is in Malda district. The area residents claim that they go through this ordeal almost every monsoon.
State Irrigation Minister Somen Mahapatra admitted that the govt does not have any information regarding the number of people affected by the erosion. He further alleged that despite being repeatedly urged by the State govt to chalk out a master plan to deal with riverbank erosion by conducting a joint survey, the Centre didn't even bother to respond to the letters by the State govt. https://www.thehindu.com/news/national/other-states/living-in-fear-of-the-ganga-in-bengal/article24719740.ece  (18 Aug. 2018)
Himachal Pradesh 19 killed in flood triggered by cloudburst In Himachal Pradesh, 19 people have died since Aug 12 evening, as the rains lashed various parts of the state due to cloudburst. The highest number of deaths have been reported from Solan district – 8; closely followed by the Mandi district of the state. The cloudburst happened in Katagala village of Kullu district, which also caused flash flood which damaged two houses.
– Another report stated that four people were buried alive in Kandaghat Town, due to landslides occurred by the cloudburst. It also stated that six national highways have been blocked due to landslides; whereas over 900 other state roads have been damaged. https://www.financialexpress.com/india-news/himachal-pradesh-19-killed-in-flood-triggered-by-cloudburst/1280509/  (14 Aug. 2018)
Bhakra Beas Management Board authorities released water from Pandoh Dam in view of the alarming situation of the silt in the reservoir as heavy rain has caused huge inflow in Beas River, the official said.  https://www.tribuneindia.com/news/himachal/water-being-released-from-pandoh-dam-warning-issued-to-tourists/636749.html  (13 Aug. 2018)
It is worth to mention that HIMACHAL PRADESH GOT 500% MORE RAINFALL during Aug. 13-14.  https://timesofindia.indiatimes.com/videos/news/himachal-received-500-more-rainfall-in-lsat-24-hours-923-roads-blocked-18-killed/videoshow/65397718.cms  (14 Aug. 2018) and SHIMLA RECEIVES HIGHEST RAINFALL IN 117 YEARS. https://timesofindia.indiatimes.com/city/shimla/himachal-pradesh-five-persons-die-60-animals-buried-alive-due-to-rains/articleshow/65395030.cms   (14 Aug. 2018)
Jammu & Kashmir A massive cloudburst and ensuing flash floods wreaked havoc in Tanghdar area of Kupwara district, damaging dozens of houses and shops besides road, power and telephone infrastructure.
The cloudburst in Shamsabari mountains caused flash flood in several low-lying areas of Tangdhar, including the town. https://www.greaterkashmir.com/news/front-page/cloudburst-flash-floods-wreak-havoc-in-tangdhar/293527.html  (15 Aug. 2018)
Bihar Kosi Floods 2008 Only 26% of houses destroyed in 2008 Kosi floods, worst in Bihar, built; World Bank loan "hasn't helped" Meeting on 10th anniversary of Kosi tragedy: Revealing this, a meeting of the Kosi Navnirman Manch in Patna sharply criticised the state govt for refusing to penalized anyone despite the report of the Judicial Commission investigating the tragedy. Speakers said that in the name of Kosi river basis development project, the Bihar govt has twice taken loan worth $200 million and $ 250 million, yet things have not changed in the basin. Even after a decade of the tragedy, those who suffered from the tragedy have not been fully compensated. Of the four-phase plan for rehabilitation, only two phases began, after which it was terminated, and the second phase was not completed. https://www.counterview.in/2018/08/only-26-of-houses-destroyed-in-2008.html  (19 Aug. 2018)  
Report 2005 & 2018 lessons: Airports near rivers prone to flooding The flooding of Kochi airport in the past week is the latest example of the vulnerability of major Indian airports that have sprung up in the floodplains of rivers. That vulnerability could rise, say experts, as climate change is projected to increase extreme rainfall events.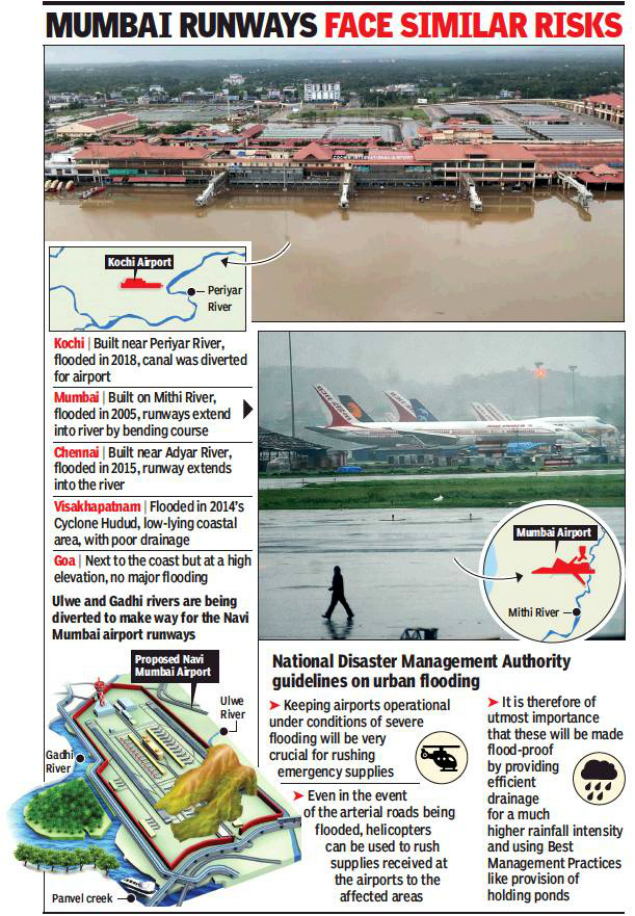 Cochin International Airport (CIAL) is expected to remain shut until August 28. The prolonged closure echoes what happened in Mumbai in 2005 and Chennai in 2015 when those cities were hit by floods due to unprecedented rainfall. Both cities saw their airport runways closed and operations affected for weeks following the flood. The airports were not only built near rivers but had expanded their runways into the nearby rivers.
– As Mumbai has seen, however, altering the course of a waterway can be disastrous. Both runways of the Mumbai airport were extended over the time across the adjacent Mithi River, squeezing the width of the channel. The second runway, built in the 1970s, created a right angle-bend in the river. The airport's expansion is widely held to have contributed to the 2005 floods, when the Mithi River overflowed after hours of intense rainfall. Airport authorities have since sought to mitigate the problem by doubling the width of the Mithi as well as dredging the riverbed to make it deeper.
– Despite the 2005 experience, the Maharashtra govt has decided to locate the region's second airport near two rivers. Workers are already leveling a hill and diverting the Ulwe river for the Navi Mumbai airport. Officials say the Ulwe River's mouth will be widened and the airport located above flood level. But surrounding villages are already complaining of more flooding.
– In Chennai, too, the second runway was extended in 2011 across Adyar River on a bridge supported by closely-stacked pillars that block water flow. Although the airport has flood retaining walls and a raised runway, they were no proof against the water released from Chembaramkkam dam after the 2015 intense rainfall. Authorities have since widened part of the river and regularly desilt the channel near the bridge.
– Not every airport near a water body is vulnerable. Goa airport is a coastal one but is on a plateau with cliffs on two sides, deep storm water drains and the runways have water spilloff channels. Mysuru airport is near two lakes and a stream but it is upstream of the water bodies and is not so vulnerable.
– With 100 new airports proposed, experts say it's vital to plan them well. "Ideally, you should not have critical infrastructure in a floodplain, but if you do, you need to design it properly for drainage," says Gupta. "You need to build infrastructure to survive at least a 100-year-flood." https://timesofindia.indiatimes.com/city/mumbai/2005-2018-lessons-airports-near-rivers-prone-to-flooding/articleshow/65466293.cms  (20 Aug. 2018)
MONSOON 2018
Where has the monsoon gone WHAT WILL HAPPEN TO POLICE COMPLAINT BY FARMER AGAINST IMD FOR MISGUIDING WITH PREDICTION OF NORMAL MONSOON? On August 7, Manik Kadam, a farmer and president of Marathwada division of Swabhimani Shetkari Sanghatana, a farmers' organisation in Maharashtra, had filed a police complaint in Parbhani against the India Meteorological Department (IMD), alleging that the department had misguided farmers about monsoon rainfall and that the tillers were now staring at a drought-like situation and huge crop losses. http://www.dnaindia.com/analysis/column-where-has-the-monsoon-gone-2649402  (14 Aug. 2018)
A 2014 Indian Institute of Tropical Meteorology study based on rainfall data since 1900 had said that intensity of the monsoon rains was increasing and one of the factors for it was global warming. Another 2017 IIT Bombay study held deforestation mainly responsible for the phenomenon. https://www.hindustantimes.com/india-news/what-is-behind-the-kerala-monsoon-fury/story-2NxvHfTDAmS10k9hHofiiO.html  (17 Aug. 2018)   
Here are some useful information about Kerala rains this SW Monsoon. https://www.thehindu.com/news/national/kerala/kerala-floods-explained-in-six-visuals/article24703647.ece?homepage=trueKerala  (16 Aug. 2018)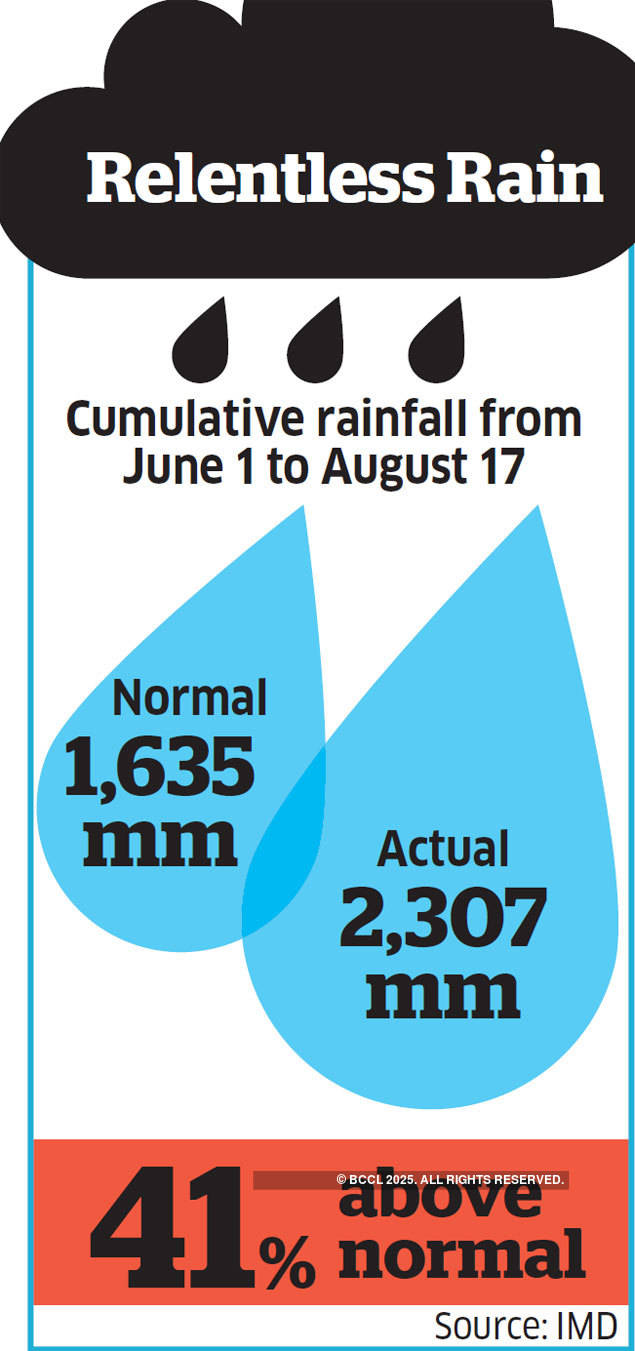 Some very interesting facts and figures about Kerala floods this year and earlier. https://energy.economictimes.indiatimes.com/news/power/kerala-floods-a-snapshot/65457939  (19 Aug. 2018)
Also see, IMD Press Release (Aug 19 2018) about abnormally high Kerala Rainfall. http://www.imd.gov.in/pages/press_release_view.php?ff=20180819_pr_311 
Gujarat Govt drops the plans for artificial rains through cloud seeding The govt went in for a consultation with the neighbouring state of Maharashtra & IMD and got negative feedback from both. http://www.dnaindia.com/ahmedabad/report-gujarat-govt-drops-the-idea-of-artificial-rain-2649523  (14 Aug. 2018)
DROUGHT 2018
SANDRP Report Gujarat facing water crisis after years of misplaced priorities Successive govts have pushed Narmada Dam as a lifeline for the state, in the name of drought-prone areas of Kutch, Saurashtra and North Gujarat. But a decade since water supply from the Narmada Dam started, it has become clear that the Gujarat govt's priority is to use SSP's water for urban areas and industries, farmers in central Gujarat and, as a last priority, if there is any water, then the drought-prone areas of Kutch, Saurashtra and North Gujarat.
The biggest casualty of these wrong priorities and the simultaneous neglect of local water systems is groundwater – the water bank that we can fall back on when rains fail. In that sense, sustainable groundwater, recharged by living local water systems, is the real water lifeline. Its neglect will continue to haunt Gujarat, not only in mismanaged years like 2017, 2018 and now likely 2019, but for a long time to come. Meanwhile, this year and possibly next, Gujarat will suffer the sins of mismanagement during the pre-elections period of 2017. http://www.atimes.com/modis-home-state-facing-water-crisis-after-years-of-misplaced-priorities/  (20 Aug. 2018)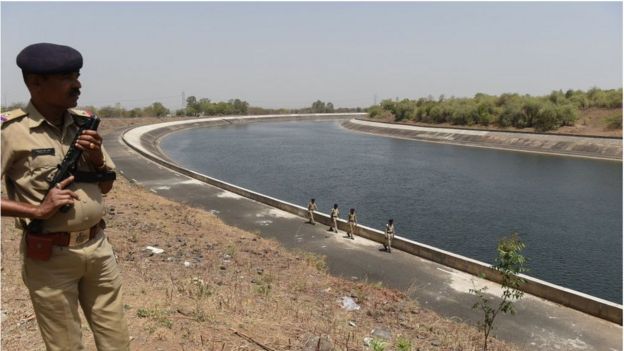 Also see Himanshu Thakkar, artlicle on Gujarat water mismanagement publish by BBC Gujarati. ગુજરાત પર તોળાતા જળસંકટનું આ છે કારણ
The IIT study prepared a high resolution ecosystem resilience map of India from 2000 to 2014 and found that only 241 of the 634 districts, or 38%, were resilient to droughts. Using data based on remote sensing from National Aeronautics and Space Administration (NASA)'s Moderate Resolution Imaging Spectroradiometer sensor, the two members prepared a high resolution ecosystem resilience map of India from 2000 to 2014. The study considered daily rainfall records from 6,955 rain gauge stations across India from 1901 to 2015 by the IMD.
– During the study period, 68% of the area was unable to support vegetation in a drought year. Of the 30 states and Union territories considered for the analysis, only 10 showed more than 50% resilience. While Rajasthan and Chhattisgarh had no resilient district, all four districts in Sikkim were found resilient. A resilient ecosystem can absorb hydro-climatic disturbances such as drought by increasing or maintaining its efficiency to use water that helps in sustaining its productivity. The study 'District-level assessment of ecohydrological resilience to hydroclimatic disturbances and its controlling factors in India' was published in the Journal of Hydrology on July 31.
– A 2017 IIT-G study by the same team found that only one out of four river basins in India – or six of 22 river basins – can support crops and vegetation during drought. "Terrestrial ecosystems pl- ay a very important role in supporting human life on earth. The productivity of an ecosystem is linked to crop production and food security," said Manish Kumar Goyal, lead investigator and associate professor, civil engineering, IIT-I.
– A 2016 study co-authored by the Indian Institutes of Technology at Gandhinagar and Kanpur found that the severity and frequency of droughts have not only increased in the recent decades but also shifted towards the Indo-Gangetic area, central Maharashtra and coastal south-India plains that are important for agriculture. A 2014 analysis by the India Meteorological Department, Pune, revealed that 57 of 103 weather stations recorded heat waves from March to July. https://www.hindustantimes.com/india-news/60-districts-in-india-cannot-stand-drought-says-study/story-UhNPCjLQQPaVcLSQpRiTiL.html  (15 Aug. 2018)
HYDRO POWER
Arunachal Pradesh No more hydro projects in Lumla, says MLA Tashi Local legislator Jambey Tashi has asserted that all the hydropower projects in Tawang and Lumla have been scrapped and no such projects would be entertained in the region in the future. Tashi's assertion came during his speech on the occasion of Independence Day. https://nenow.in/north-east-news/arunachal-pradesh-no-hydro-projects-lumla-says-mla-tashi.html  (17 Aug. 2018)
Center Govt's plan to revive hydropower projects in limbo due to lack of funds The govt's plan to revive stalled hydropower projects through a bailout package of Rs 160 billion is lying in a limbo for a year now. Lack of funds through budgetary support is a major reason for the delay, as the finance ministry asked the ministry of power to rework the scheme. Last year, the Centre drafted Rs 160 billion package to revive projects with a capacity of nearly 11,000 Mw. This includes 4 per cent interest subvention to projects totalling 11,639 Mw, creating a Hydro Power Development Fund (HPDF).  Another futile attempt to push Big Hydro projects, now with budgetary support. This will clearly NOT help. https://www.business-standard.com/article/economy-policy/govt-s-plan-to-revive-hydropower-projects-in-limbo-due-to-lack-of-funds-118081401483_1.html  (14 Aug. 2018)
Himachal Pradesh FAC cleared 219 MW Luhri HEP Minutes of FAC meeting held on July 26, 2018 that also considered and cleared the 219 MW Luhri HEP of SJVN on Sutlej river in Himachal Pradesh, requiring 98.1 ha of forest land without detailed scrutiny, cleared in very first meeting it was considered.  http://forestsclearance.nic.in/writereaddata/FAC_Minutes/81110121212171Minutes.pdf  (13 Aug. 2018)
Here is agenda for the 17th meeting of MoEF's Expert Appraisal Com on River Valley and Hydropower projects to be held on Aug 27, 2018:
Saundatti IRESP Storage Project, Saundatti Taluka, Belagavi Dist, Karnataka by M/s Greenko Solar Energy P Ltd- For amendment of Scoping Clearance (ToR).

Pinnapuram Integrated RESP-Storage Project in Tehsil Nandyal, District Kurnool, Andhra Pradesh by M/s Greenko Energies Private Limited – reg.
For amendment of ToR / Scoping Clearance
Luhri Hydroelectric Project Stage-I (210 MW) on river Sutlej to be developed by M/s SJVNL – For reconsideration of EC

Construction of Adi Badri Dam on Somb Nadi and its piped link to Saraswati Nadi and Saraswati Reservoir by Irrigation and Water Resources Department, Govt. of Haryana, Haryana – For consideration of Fresh ToR

Construction of Sindh (Seondha) Barrage Project across river Sind near Seondha village of Datia district, Madhya Pradesh by Water Resources Dept, Govt. of Madhya Pradesh to irrigate in an area of 43,275 ha CCA – reg. amendment of ToR. http://environmentclearance.nic.in/writereaddata/Form-1A/Agenda/14082018X9N30QEV17thEACAgenda2782018.pdf (Aug. 2018)
Jharkhand- West Bengal DVC plans 1,500-Mw pumped storage facility The Damodar Valley Corporation (DVC) is planning to set up a 1,500-Mw pumped storage facility in at Lugu Pahar Jahrkhand's Bokaro at an estimated cost of Rs 5,200 crore, an official said. A pre-feasibility study has been completed and a detailed project report will be prepared by an agency at a cost of around Rs 40 crore, according to him. The report will be completed in the next two years. The power utility, along with its partner NTPC Vidyut Vyapar Nigam (NVVN), recently won a supply contract of 300 mw of power for a 15-year time period. https://energy.economictimes.indiatimes.com/news/power/dvc-plans-1500-mw-pumped-storage-facility-to-cost-rs-5200-crore/65441015  (17 Aug. 2018)
CEA India's peak power deficit in April-July stood at 0.9 per cent 0.9% peak deficit can certainly be taken care of through peak demand management. India is still not power surplus as envisaged because peak power deficit in April-July was 0.9 per cent, while overall electricity deficit stood at 0.6 per cent during the 4-month period this fiscal. As much as 170.76 GW electricity was supplied during peak hours against the demand of 172.38 GW during April-July this fiscal, resulting in a deficit of 0.9 per cent, as per the Central Electricity Authority's (CEA) latest power supply data. According to the CEA data, overall 433.48 Billion Units (BU) of electricity were supplied against the demand of 436.14 BU during the 4-month period, which indicated a deficit of 0.6 per cent. https://energy.economictimes.indiatimes.com/news/power/indias-peak-power-deficit-in-april-july-stood-at-0-9-per-cent-cea/65463268  (20 Aug. 2018)
DAMS
Madhya Pradesh 11 Swept Away In Flash Flood; Over 40 Rescued Eleven people who were out on a picnic at a waterfall in Shivpuri district were swept away by sudden strong currents on Aug. 15. The police said all of them are feared dead.
Forty-five others who were trapped at several locations at the rocky base of the waterfall have been rescued, the police said. Is this due to DAM? Could be, from other reports, though this one does not mention it. https://www.ndtv.com/bhopal-news/on-camera-11-swept-away-34-trapped-near-waterfall-in-madhya-pradesh-1901079?pfrom=home-topscroll  (16 Aug. 2018)
Polavaram Dam SC to decide if Polavaram design is as per award SC to decide if Polavaram dam design is as per award The Supreme Court has framed questions about Polavaram dam, in view of the pending petition, but this seems to leave out key issues. https://www.thehindu.com/todays-paper/tp-national/tp-andhrapradesh/sc-to-decide-if-polavaram-design-is-as-per-award/article24700358.ece  (16 Aug. 2018)
INTER LINKING OF RIVERS
Ken River Walk Walking along the Ken: a multimedia report by Sidharath Agarwal of VEDITUM. A walk along the majestic Ken River in central India, now part of a contentious river-linking project, shows how essential it is to the communities living around it. The walk along the River Ken was organised by SANDRP and Veditum India Foundation.  http://indiaclimatedialogue.net/2018/08/20/walking-along-the-ken-a-multimedia-report/  (20 Aug. 2018)
Centre Govt OKs DPR for Rs 648 crore river link project The water ministry has given its go-ahead to link the Pennaiyar and Palar rivers in Tamil Nadu. The project worth Rs 648 crore envisages diversion of 86 million cubic metre of floodwater from Pennaiyar river to Palar river by a canal stretching 54 km. The project will be implemented by the state govt and will cover Krishnagiri and Vellore districts. Also, the link canal would help in the recharge of the existing command area of 9,850 hectares and provide drinking water to 1.52 lakh people en route. https://timesofindia.indiatimes.com/city/chennai/centre-oks-dpr-for-rs-648cr-river-link-project/articleshow/65370710.cms  (12 Aug. 2018)
INTER STATE RIVERS WATER DISPUTES
Mahadayi Water Dispute Tribunal gives order  Nearly 8 years after it was set up to mediate the dispute over sharing of Mahadayi (or Mhadei) river water, the Mahadayi Inter-State Water Disputes Tribunal on Aug. 14 brought a temporary end to a battle between the BJP govt in Goa and Congress-govt Karnataka. It ordered that Karnataka will get 13.4 thousand million cubic feet (TMC) of water from the river, while Goa and Maharashtra's share will be 24 TMC and 1.33 TMC, respectively.
The tribunal also directed the Centre to set up the Mahadayi Water Management Authority to implement its report and final decision. In its 12-volume judgment, the tribunal awarded Karnataka 5.4 TMC for consumptive use and the remaining 8.02 TMC for power generation, subject to further clearances. It ruled that total water availability in the basin at 75 per cent dependability was 188.06 TMC. It also noted that the present level of utilisation of water of Mahadayi river basin is not more than 5 per cent. https://indianexpress.com/article/india/mahadayi-water-battle-ends-goa-says-victory-as-it-gets-24-tmc-karnataka-farmers-happy-with-13-4-5307222/   (15 Aug. 2018)
According to a report, the role of the agency that will give effect to the Mahadayi Water Tribunal's award is likely to be made even more difficult by the fact that Northern Karnataka is drought-prone. The agency will need to perform a balancing act between meeting the imperatives of Goa's ecology and the livelihood needs of Karnataka farmers. https://indianexpress.com/article/opinion/editorials/karnataka-goa-mahadayi-water-dispute-5314708/  (20 Aug. 2018)
RIVERS AS NATIONAL WATER WAYS
Kerala Waterways on the front burner again With the Centre unclogging fund flow for inland waterways, the state govt has put the 610-km project connecting its northern and southern parts in the fast lane. Boosting its prospects is the Inland Waterways Authority of India's (IWAI's) decision to pick up a majority stake in the Kerala Waterways Infrastructures Ltd (KWIL), the special purpose vehicle that is implementing the Rs 2,300-crore West Coast Canal (WCC) project. Earlier, Kerala has had a rethink on its inland waterways project which it had been soft-pedalling, given the views of planners like E Sreedharan that it could cost a humongous Rs 10,000 crore. https://www.financialexpress.com/infrastructure/keralas-waterways-on-the-front-burner-again-this-rs-2300-cr-project-could-take-over-100-trucks-off-states-roads/1285614/  ( 20 Aug. 2018)
URBAN RIVERS
Gujarat Industrial waste in Sabarmati river off Vasna barrage: The other side of "prestigious" Ahmedabad riverfront We were stunned to see the condition of our holy Sabarmati just beyond Vasna barrage — industrial effluents of Naroda, Odhav, Vatva and Narol industries were being discharged into the river. And, the pipeline has been laid under a contract between industries associations and Ahmedabad Municipal Corporation (AMC)! Our domestic drainage water is also discharged here only. The river passes through at least 100 villages. https://www.counterview.net/2018/08/industrial-waste-in-sabarmati-river-off.html  (16 Aug. 2018)
On the other hand, the Airport Authority of India has identified five locations in Gujarat where seaplane project is feasible, including SSP Dam, Dharoi Dam, Sabarmati River Front Project. AAI says they need about 6 ft depth of water, 800-900 m length, about 2 acres (land for terminal building) for the project to be feasible. http://www.dnaindia.com/ahmedabad/report-five-spots-in-gujarat-feasible-for-seaplane-project-2649124  (13 Aug. 2018)
Gomati River , Uttar Pradesh On World Photography Day, Same spot different timelines:
River Gomti in Lucknow, the first picture is taken by Vanketash Dutta in 2009 while the second picture is of August 2018 taken by Mukul post Riverfront development project. The water hyacinth chocking river and much of the bank side lost to deep concrete walls. And you call it development!
RIVERS
Report India lost 1-3 of its coastline from erosion, gained almost as much
– There are many factors at play here, including what we are doing to rivers and its silt.
-The National Centre for Coastal Research surveyed 6,031 kms of India's 7517 km long coast line during 1990 to 2016 and found 33% has undergone erosion, 29% accretion. https://timesofindia.indiatimes.com/india/india-lost-one-third-of-its-coastline-from-erosion-gained-almost-as-much-report/articleshow/65373127.cms  (12 Aug. 2018)
Tarun Bharat Sangh Press Release:  राजस्थान के अतिजल संकट जिले करौली की तहसील मासलपुर में आज 27 गांव के लोगों ने इकट्ठे होकर जलंरक्षण के लिए सैरनी नदी संसद का निर्माण किया है। यह संगठन अपनी नदी सैरनी को पुनर्जीवित करने हेतु संकल्प बद्ध हुआ। आज 27 गांव के लोगों ने मिलकर अपने-अपने गांव को पानीदार बनाने का संकल्प लिया और काम शुरू करने के लिए सामुदायिक तैयारी की। आज की यह सभा सुरेश गुर्जर गांव खूण्ड़ा की अध्यक्षता में आरम्भ हुई। अन्त में पूरी नदी के 27 गांव से गांवों की जनसंख्या के अनुसार दो प्रतिनिधि से लेकर 9 प्रतिनिधि तक चुने गये। इस संसद में 27 गांवों के लोगों ने रेक सिंह को अध्यक्ष तथा श्री शम्भूनाथ मीना को मुख्य संचालक चुना।
GANGA Study Ganga water levels going down as groundwater storage around river depletes
Some disturbing findings:-
– The study, titled 'Groundwater depletion causing reduction of baseflow triggering Ganges river summer drying', noted summer drying in the summer months of 2015-17. It reports, "…the observed summer drying in recent years, in the studied reaches of the river, pose a much bigger crisis, possibly suggesting an impending surface water crisis in the region, in conjunction with the already well documented, ongoing 'groundwater drought' in the Indian subcontinent." The study was co-authored by Abhijit Mukherjee from IIT-Kharagpur, Soumendra Nath Bhanja from the University of Edmonton, Canada, and Yoshihide Wada from Utrecht University, the Netherlands.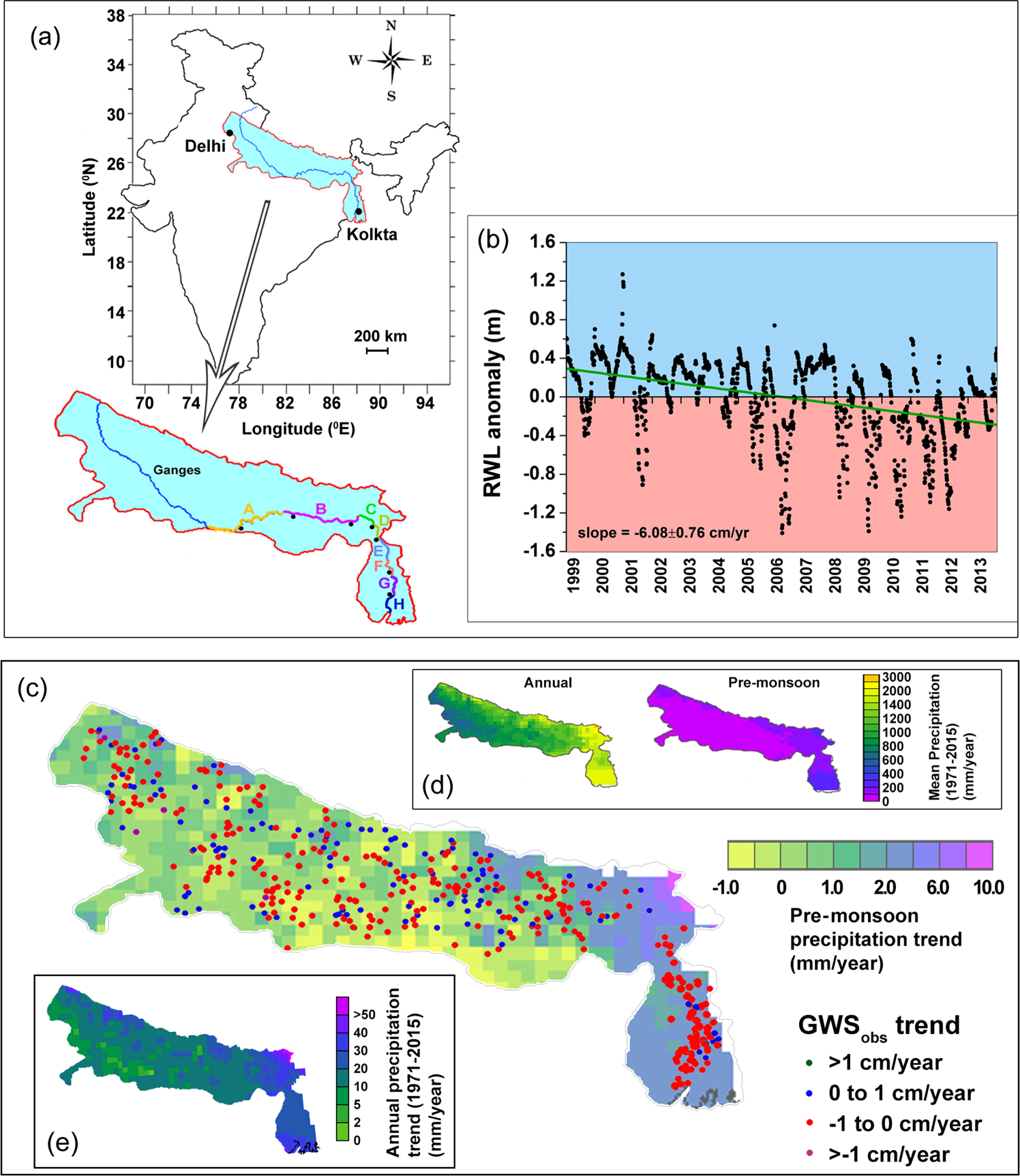 – "In summer (pre-monsoon) of recent years, low water level among the last few decades, has been observed in several lower Indian reaches of the Ganges (with estimated river water level depletion rates at the range of -0.5 to -38.1 cm/year between summers of 1999 and 2013 in the studied reaches)," it stated.
– Under increasing stress over its water quality, the Ganga has over recent years also witnessed "an unprecedented low water level and flow in the middle and lower reaches" of the river, the study has found.
– The study notes that there is unavailability of discharge data in public domain given the nature of the Ganga, a trans-boundary river. "Notwithstanding this data unavailability…for the first time, we demonstrate the river water depletion trend…from in situ, daily-scale, long-term river water level measurements. We also observed depleting pre-monsoon water levels in Ganges through remote sensing observation obtained from 28 locations on Ganges river," it noted. The study found that the river showed decreasing estimates in 19 of 28 locations. https://indianexpress.com/article/india/ganga-water-levels-going-down-as-groundwater-storage-around-river-depletes-finds-study-5307137/  (15 Aug. 2018)
Gadkari outlines Ganga revival plan for river Will dredging revive Ganga before 2019 Kumbh:
-According to ANI, Gadkari said that he will provide funds to the UP govt to clean the drains leading up to the river and will send four dredgers from Allahabad to Varanasi for cleaning purposes.
– Gadkari says that an amount of Rs. 1700 crore will be provided in the dredging of the Ganga and 4 river ports will be constructed in Allahabad. http://zeenews.india.com/india/clean-and-pure-ganga-is-our-priority-gadkari-outlines-revival-plan-for-river-2132712.html   (13 Aug. 2018)
– There is also information of Govt starting Ganga cruise services in Varanasi from next week. In the first phase, the cruise will run between Assi Ghat Panchganga Ghat.
– The charges would Rs 750 plus GST per passenger for the ride, said director Manoj Poddar one of the directors of the Varanasi-based start-up venture. The Rudhrabhishek package would cost Rs 75,000 plus GST.  https://timesofindia.indiatimes.com/india/cruise-on-ganga-in-a-luxury-vessel-soon/articleshow/65393991.cms  (14 Aug. 2018)
OFFICIALS CONFESS RELEASING ABOUT 65 MLD SEWAGE INTO GANGA WITHOUT ANY TREATMENT:
THIS IS SO REVEALING: Mounds of solid waste generated in Haridwar during Kanwar Yatra. 
– About 4 crore Kanwariyas (official figure) visited Haridwar during forenight Kanwar Yatra.
– The were just 170 mobile toilets installed in entire Haridwar  which were totally insufficient.
– Most of the pilgrims practiced open defecation along river banks for both reasons by preference and lack of toilet facility.
– Residents say it has become annual affair adding to Ganga pollution massively. 
– Apart from solid waste and open defecation, around 65 MLD liquid sewage also released in Ganga without treatment.
– As per Jal Sansthan officials, he city generates around 80-85 MLD sewage in naormal days which touches to over 100 MLD during the Kanwar Yatra. Since the sewage treatment plant at Jagjitpur has capacity of treating only 45 MLD sewage, rest of the sewage is released into the Ganga directly.
Ajay Kumar, ececutive enginner of maintenance unit (Ganga) of the Jal Sansthan, told, "Our capacity for treating sewage is limited. During high pressure times like the Kanwar Yatra when more sewage is generated, we have no option but to release the extra sewage into the Ganga river without treatment. However, we take care to ensure that it does not contain anything which is harmful for the river."   https://timesofindia.indiatimes.com/city/dehradun/ganga-left-polluted-with-human-waste-as-kanwariyas-defecated-in-open-during-yatra/articleshow/65392408.cms  (13 Aug. 2018)
Meanwhile, scientists and engineers are about to begin the monumental task of mapping the vast stretch of the Ganges river that runs through India in unprecedented detail. Their goal is to create the most comprehensive picture yet of the topography of the river and the human settlements that surround it. "It's a race against time," says Girish Kumar, who heads the Survey of India in Dehradun, which is leading the project. Mapping is expected to take eight months.
– A fleet of small aircraft equipped with lidar instruments will soon start scanning — one metre at a time — the 2,525-kilometre stretch of river that passes through five Indian states. Lidar is a technique similar to radar, in which instruments bounce laser pulses off the ground. The researchers will use it to produce digital elevation models of the watercourse and the hundreds of thousands of buildings that sit up to 10 kilometres either side of the riverbank. If the schedule goes to plan, the 3D maps should be available by the end of next year.
– The project will also produce high-resolution maps of the drainage systems of major cities along the Ganges — the network of drains that release sewage and commercial waste water into the river. "Right now, we do not even have a simple topography of the basin," says Tare. Govt officials also hope to use the maps to improve understanding of how cities develop along the riverbank, and of how the bank is being eroded. This will help local govts to manage risks such as floods. The mapping project will cost 870 million rupees (US$12.7 million). "It is expensive, but compared to what we will be spending to address the pollution problem, it is hardly anything," says Tare. https://www.nature.com/articles/d41586-018-05872-w  (7 Aug. 2018)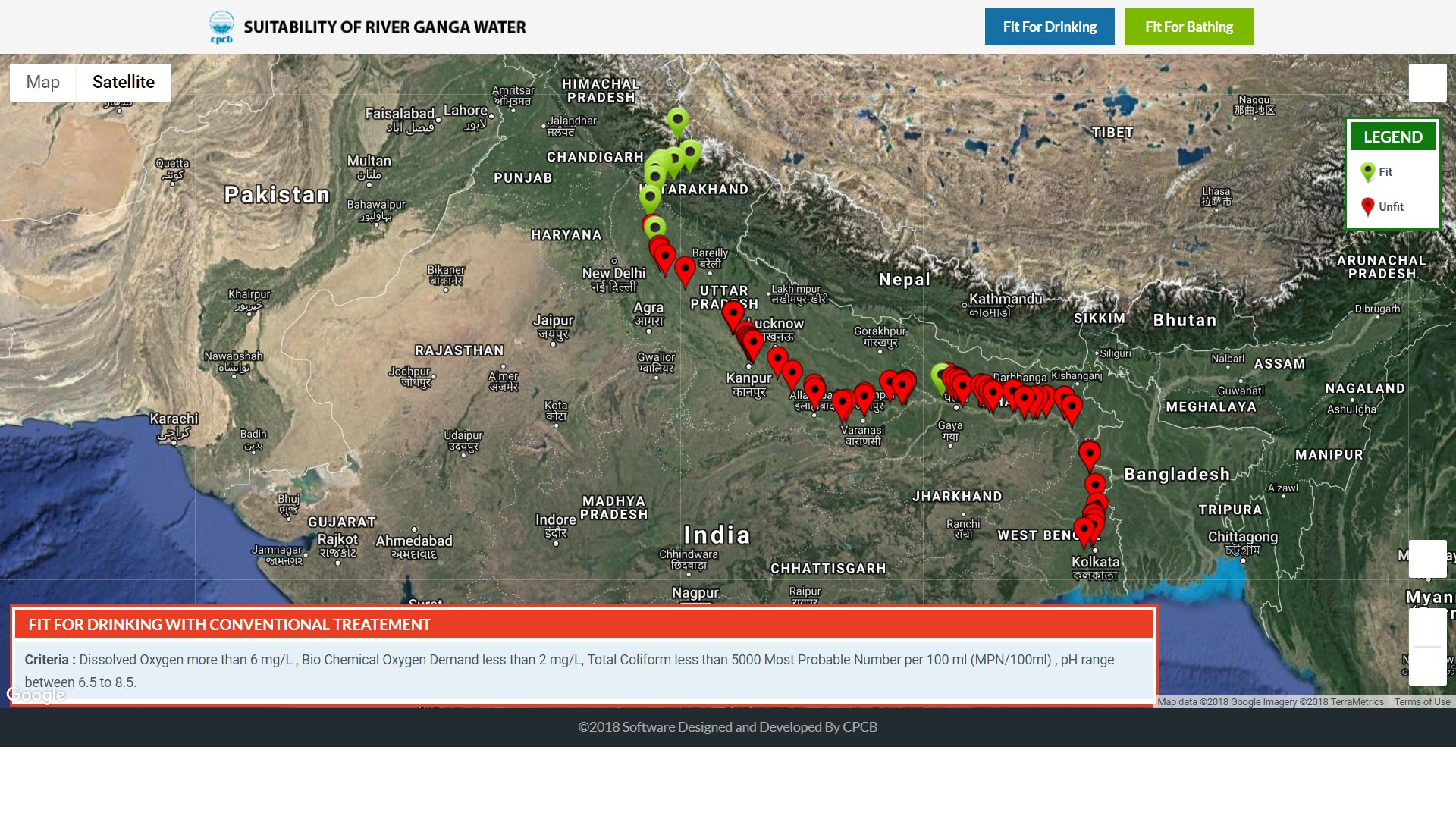 At the same time, the CPCB, probably for the first time has put map Ganga Water Quality Monitoring result on its website: (http://125.19.52.219/wqi/) http://cpcb.nic.in/
The CPCB terms it the 'Sustainability of River Ganga Water' and uses the criteria of dissolved oxygen (more than 6 mg/litre), bio-chemical oxygen demand (less than 2 mg/litre), total coliform levels (5000 most probably number per 100 ml) and pH (range between 6.5 to 8.5) to assess the health of the river.
Noting that the CPCB website has now put a map of Ganga and showing the whole area in red, he said, "Now the success test for committee is if you are able to make the water fit for drinking. We have given them one year. These are very complex issues, I don't assure you quick success.
The NGT has also set up committees on Ganga, Sutlej, Yamuna and other rivers in July 2018 month. But will this work? https://indianexpress.com/article/india/in-cpcb-map-on-ganga-water-quality-more-red-than-green-5305354/  (14 Aug. 2018)
Similarly, NGT is going to introduce online access to justice or online decision-making to provide access to far-off areas. As per NGT chairperson Justice A K Goel, the tribunal is working out how best to implement this. Notably, NGT has been riddled with vacancies since late last year. Can this and video conferencing help without NGT having enough Judicial and expert members? https://indianexpress.com/article/india/soon-send-email-to-seek-justice-from-ngt-chairperson-5305394/   (14 Aug. 2018)
YAMUNA Delhi Govt plan to mix treated sewage with Yamuna water risky Yamuna Jiye Abhiyan convener Manoj Misra has written to LG Anil Baijal and CM Arvind Kejriwal, explaining how the plan entails risk. Other experts also have raised concerns. https://www.hindustantimes.com/delhi-news/delhi-govt-plan-to-mix-treated-sewage-with-yamuna-water-risky-activists/story-KQFIP5RN6oiSyT18MaF2oJ.html  (14 Aug. 2018)
SAND MINING
Tamil Nadu Govt says pending cases on sand mining won't affect new leases  State govt has now taken a stand that a batch of cases pending in the Madras HC since 2015 in connection with illicit beach sand mining in Thoothukudi, Tirunelveli, Kanniyakumari, Madurai and Tiruchi districts do not preclude the govt from granting fresh mining leases. The shift in stand could bring to end a five-year-old ban imposed by the govt on beach sand mining in 2013, when it formed a team to probe allegations of large-scale illicit mining of beach sand minerals by the lessees in the five districts.  https://www.thehindu.com/news/cities/chennai/pending-cases-on-sand-mining-wont-affect-new-leases-govt/article24699004.ece  (16 Aug. 2018)
WETLANDS, WATERBODIES, LAKES
Odisha BJD opposes water aerodrome on Chilika Good to see Odisha, including a BJD MLA of Odisha are opposing the proposal for water aerodrome on Chilika lake, since it can affect livelihood of lakhs and also impact ecosystem. The question is, WHY THERE IS NO IMPACT ASSESSMENT OF THE WATER AERODROME PROJECT ANYWHERE?  https://indianexpress.com/article/india/bjd-opposes-water-aerodrome-on-chilika-5307054/  (15 Aug. 2018)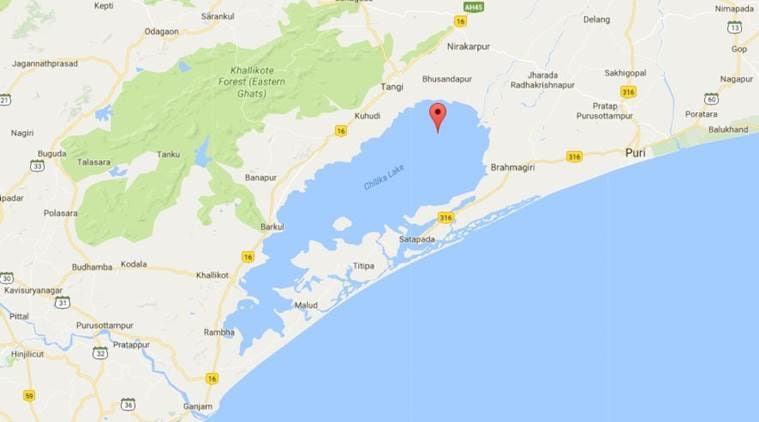 Valid questions here, relevant for all the water aerodrome projects. https://www.thehindu.com/news/national/other-states/green-activist-opposes-water-aerodrome-project-in-chilika/article24694052.ece  (15 Aug. 2018)
GROUND WATER
National WATER GUZZLER PLANTS SUCK SEVERAL STATES DRY The packaged drinking water sector is over-exploiting groundwater resources in the absence of a proper regulatory framework. The data of Ministry of Water Resources shows that a large number of licences have been given in the States, where the groundwater levels are already declared critical. Packaged drinking water plants are extracting 13.3 Million Cubic (m3) Metres of groundwater annually. State wise figures are given.
– Tamil Nadu leads the pack with the maximum 374 units with 895 m3 per day withdrawal, followed by Rajasthan having 172 units with 60 m3 per day withdrawal. Uttar Pradesh has 111 units that withdraw 941 m3 per day.
– The data also shows Karnataka has 63 such units that withdraw 60 m3  per day ground water while Andhra Pradesh has 41 units which extract 55 m3 per day. Gujarat has 24 units that withdraw 8 m3 per day.
– According to officials of the Ministry, at least 18 packaged drinking water units have been allowed to be set up in 'Semi-Critical' areas of Andhra Pradesh, Gujarat, Haryana, Karnataka, Maharashtra, Punjab, Tamil Nadu, Uttar Pradesh and Uttarakhand, which together extract 2552 m3 of ground water every day.
 "Besides, one unit each in 'Critical' areas of Chhattisgarh, Uttar Pradesh and Uttarakhand have been permitted to withdraw as much as 825 m3 water per day," officials said.
– As per reports, ground water has reached 15 to 40 metres below ground level (M BGL) in semi-critical and critical zone areas in these States. In the western parts of the country, deeper water level is recorded in the depth range of 20-40 M BGL and more than 40 MBGL. In some parts of Haryana, and Delhi and almost major parts of Rajasthan, water level of more than 40 M BGL is recorded.
– The data further shows there are 115 water packaging units in Haryana, out of which 39 are in Faridabad. These units are mostly scattered. In Punjab, 15 packaging water industries are operating with permission of the State Pollution Control Board. They are extracting approximately 90 million litres per day of water. In Himachal Pradesh, 11 units are provisionally registered.
– The data shows that the State Govts have provided 4114 licences while the Centre provided 830 licences to firms to extract ground water for packaged drinking water purposes. https://www.dailypioneer.com/todays-newspaper/water-guzzler-plants-suck-several-states-dry.html  (16 Aug. 2018)
URBAN WATER
Deprived of Yamuna water, Gurugram residents turn to private tankers The wait for the supply of canal water from the Yamuna continues for people settled in private residential societies, spanning sectors 81 to 115, along the Dwarka Expressway. There are around 170 residential societies of which 50 are fully and partially occupied — nearly one lakh people shifted around two and a half years ago. The residents are heavily reliant on water supplied by the Gurugram Metropolitan Development Authority (GMDA) and also have to fall back on the water mafia, which extracts water illegally from borewells and supplies it though private tankers.
Residents said that the tanker operators have a strong network and enjoy a monopoly in selling water at a princely sum in peak summer. Each tanker is filled with 1,000 litres of water, which is sold for anywhere between Rs 2,000 and Rs 2,500 in summer, residents said. To put this in context, 1,000 litres of water supplied through tankers, by the GMDA, would only cost 7 paise per litre. Depending on the occupancy rate, the average water bill of every society comes to somewhere between Rs 8 lakh and Rs15 lakh.
Developers said they had applied for water and sewer connections with the Haryana govt as per norms, two years ago. Residents voiced their misgivings with the GMDA as well. Residents lashed out at the GMDA saying it is unwilling to provide water connections. They said although the supply by private tankers helps the residents meet their daily household needs, there are concerns over the quality and quantity of water dispensed thus.
All the residential projects along the Dwarka Expressway were launched in 2009-'11 and the govt started issuing occupation certificates from 2016 onwards, without making provisions for water and sewer connections.
After the draft rules under the Real Estate Regulatory Authority (RERA) were notified on July 28, 2017, it became binding on developers to ensure provision of water and sewer connections before applying for occupation certificates. The GMDA officials said that they were working to provide water and sewer connections at the earliest. https://www.hindustantimes.com/gurugram/deprived-of-yamuna-water-gurugram-residents-turn-to-private-tankers/story-Ri9m62PnifufGtneW2OOsM.html  (13 Aug. 2018)
WATER
CAG National Rural Drinking Water Programme failed to achieve target According to a report by the Comptroller and Auditor General (CAG), the National Rural Drinking Water Programme has been unable to achieve its target of supplying safe drinking water to all rural habitations, govt schools and anganwadis by 2017. The scheme was envisaged to provide potable drinking water to 50 percent rural population and household connections to 35 percent rural households. The failure in achieving targets has been attributed to lack of proper planning and poor funds management which has led to undue delays in completion of various schemes and cost overrun of Rs 2,212 crore. http://www.india.com/news/agencies/national-rural-drinking-water-programme-failed-to-achieve-target-cag-3210062/  (7 Aug. 2018)
DELHI WATER
Plea against govt's scheme on free water quota  The Delhi HC on Aug. 13 sought the city govt's stand (by Nov. 19) on a petition opposing its scheme to provide 20,000 litres of free water per month to each household in the Capital. The petitioners, advocates Tajinder Singh and Anurag Chauhan, have said in their plea that water, being a fast-depleting resource, ought not to be given away free in such huge quantities, especially when several areas in the city do not have water pipelines and depend on tankers for supply.  https://www.thehindu.com/todays-paper/tp-national/tp-newdelhi/plea-against-govts-scheme-on-free-water-quota/article24684296.ece  (14 Aug. 2018)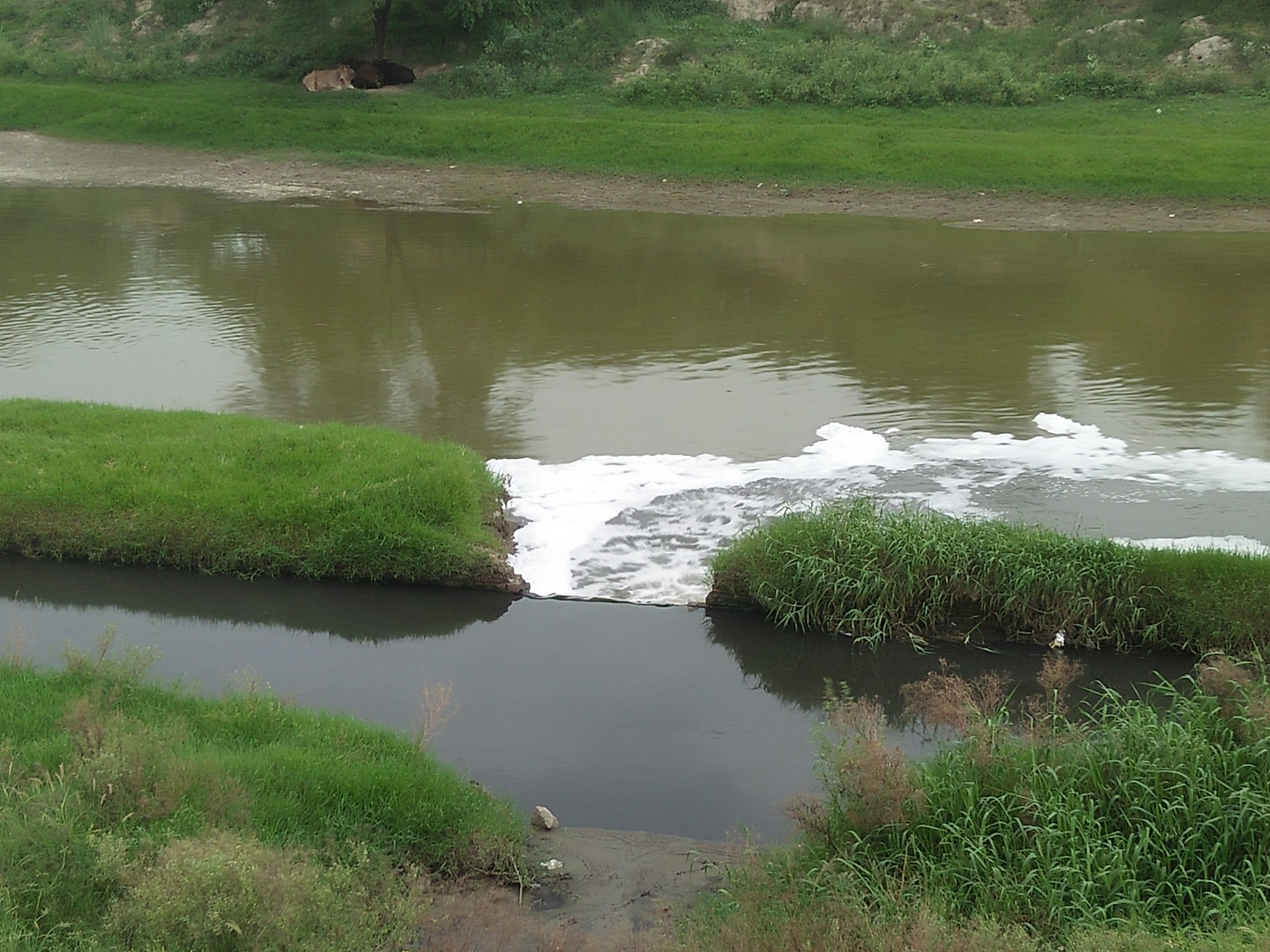 Drain no. 6 carrying toxic industrial effluents from Sonipat areas, polluting drain no. 8, which carries potable water to Delhi.  (Image by Bhim Singh Rawat, SANDRP) 
AGRICULTURE
PIB Press Release Status of Organic Farming in India This provides a lot of information on current position of organic farming w.r.t. area covered across the country in lakh hectares  under the schemes Paramparagat Krishi Vikas Yojana (PKVY), Mission Organic Value Chain Development for North Eastern Region (MOVCDNER) and National Programme  of Organic Production (NPOP).  http://pib.nic.in/newsite/PrintRelease.aspx?relid=181608  (7 Aug. 2018)    
SOUTH ASIA
India-Bangladesh DMF Press Release about Pollution in Mathabhanga-Churni rivers on Aug 14, 2018: NGT order of Aug 6, 2018, on petition ongoing since 2014: "We are now satisfied that the only course left to this Tribunal is to take coercive measures… As a last opportunity we grant one month time to the Chief Secretary of West Bengal Govt to ensure that real and effective steps for setting up the necessary plant are taken, failing which we will be left with no option but to direct prosecution and other coercive measures against the Chief Secretary and also require his personal appearance before this Tribunal for further action".
It is worth to mention that the fishermen and the nature care activists fighting for a solution of Mathabhanga and Churni river's pollution caused by a Bangladeshi sugar mill at bilateral level between India and Bangladesh, have decided to file a petition before the NGT against the centre as it allegedly so far does not bother to execute a verdict of the Tribunal that delivered to solve the problem of pollution.
On Sept 30, 2016, while delivering a judgment on a petition filed by lawyer Madan La of Ranaghat on issue of pollution of the two rivers allegedly caused by a Bangladeshi Sugar mill, the NGT directed the Ministry of External Affairs to talk to the Bangladesh Govt for setting up of an effluent treatment plant.
But, the fishermen alleged that even after expiry of about two years, the centre has done nothing, even though meanwhile, a number of petitions were submitted for the problem being faced by about thirty thousand fishermen living on the banks of these two rivers in Nadia district. http://newsfromnadia.in/fishermen-to-move-ngt-against-centre-for-mathabhanga-churni-pollution/  (23 July 2018I)
SANDRP has also highlighted the issue through blog: "On 10th April 2018 around 500 fishers assembled at Majhdia, a town bordering Bangladesh in the district of Nadia (W Bengal), to publicly voice their protest against killing of rivers Mathabhanga and Churni. Majhdia town reverberated with the slogan Save River, Save Fish, Save Fisher People!" https://sandrp.in/2018/04/17/fisher-people-lead-save-mathabhanga-churni-river-campaign-in-w-bengal/  (17 April 2018)
India-Bhutan Locals join across border to manage a river The experience of managing the Saralbhanga (also called Swrmanga) River, which flows from Bhutan to India, shows the importance of peoples' participation for effective cooperation in transboundary rivers. There are as many as 56 rivers that flow down from the Himalayan kingdom of Bhutan to the eastern state of Assam in India to meet the Brahmaputra River. The hills of Bhutan are covered with lush forests, but on the Indian side of the border are vast tracts of dry plains with occasional patches of severely denuded forests.
– All the rivers flowing from Bhutan to India have changed their behaviour dramatically in the last decade – long periods of dryness, shallow flow and then repeated flash floods, followed by massive amount of silt, sand, sediments, stones and boulders hurtling downstream across the border into India, constantly altering the river's course and causing hardships and misery to people on both banks and both side of borders. Downstream riparian communities in Assam have been regularly raising alarms about these developments, worried that the plans to build more dams in Bhutan will lead to increased flooding, erosion and more destruction than good. The Bhutanese govt and their Indian dam consultants were dismissive about these objections in the past, but the rapid and extreme changes in weather patterns in the recent past has upset all predictions and is now shaping the future course of the river and Bhutan's relationship with India.
– The flash floods in Bhutan's Sarpang district in 2016 had wreaked havoc in downstream areas in Assam's Kokrajhar and Chirang districts, with the excessive silt turning large tracts of farmland into desert. The silt flow was so huge that the hundreds of farmers in Patgaon, located around 30bkm to the north and close to National Highway 31, cannot cultivate rice even now.
– On July 21, 2017, the town of Sarpang Bazar was entirely washed away by floodwaters, when the Sarpang River broke its banks again, cutting off the road to the border town of Gelephu. There were 52 families that were left homeless after continuous and heavy rainfall.
– The Saralbhanga River (also called Swrmanga) that flows from Sarphang district of Bhutan to Assam in India. About 500 farmers from five villages close to the international border contribute to building, repairing and maintaining this check dam on the river, a traditional diversion based Irrigation system of the Bodo tribe, which is called the Dongo or Jamfwi system. The Jamfwi or Dongo irrigation system channels water across the border in India through a labyrinth of small canals to irrigate rice and vegetable farms. Communities on both sides of the India-Bhutan border consume the produce. Anarsingh Iswari, a leader of the Akhand Buryogari Bandh Committee in Navnagar, grows paddy, kaala dal and ginger using the traditional irrigation system. When the Bhutan govt put an embargo on building of check dams, Anarsingh and Raju Kumar Narzary, executive director of the Northeast Research and Social Work Networking (NERSWN), a Kokrajhar-based NGO and members of All Bodo Students Union, Bodo Women's Forum for Peace and Development, met the officials of Bhutan India Friendship Association (BIFA) to raise the concerns of the farmers. The BIFA officials facilitated an urgent meeting with the Deputy Commissioner (DC) of Sarphang district of Bhutan and after understanding the plight of the farmers, the Bhutanese officials agreed to allow the farmers to continue to build check dams and also decided help the farmers divert the water of Saralbhanga River for irrigation purposes, which they have been doing for centuries. This has given a huge relief to at least 5,000 farmers.
Nepal-Bangladesh GMR, Bangladesh to sign power purchase pact
A bit misleading? There is no PPA, not even rate is finalised.
– GMR Upper Karnali Hydropower, the Indian company building the 900 MW Upper Karnali Hydropower Project located in western Nepal, is close to signing a power purchase agreement (PPA) with the Bangladeshi govt to export electricity generated by the plant. Under the PPA, GMR will export up to 500 MW to Bangladesh using Indian transmission lines. GMR and the Bangladesh Power Development Board (BPDB), a statutory body of the Bangladeshi govt, have agreed to the commercial terms of the PPA.
The BPDB has sent the agreement to the office of the Bangladeshi prime minister for approval, according to a highly placed GMR source."After their govt approves the commercial terms, we will start negotiating the power purchase rate with the tariff committee, a secretary-level body of the Bangladeshi govt," said the source. "Once the tariff rate is finalised, we will sign the PPA with the Bangladeshi govt." The entire process, according to the source, will take around three to four months. http://kathmandupost.ekantipur.com/news/2018-08-14/gmr-bangladesh-to-sign-power-purchase-pact.html  (14 Aug. 2018)
Nepal Power generation to increase by 750 MW The hydropower plants that are slated to come online are the 456 MW Upper Tamakoshi, 40 MW Khani Khola-I, 27 MW Dordi Khola, 25 MW Upper Dordi A, 23.5 MW Solu Khola, 25 MW Kabeli B-I, 22.2 MW Upper Chaku A and 22 MW Bagmati Khola Small, among others. The combined installed capacity of these schemes exceeds 1,850 MW. The hydro projects currently operating in the country have a total installed capacity of around 1,100 MW. Once the hydropower plants nearing completion start churning out energy, the country will not need to import power from India anymore. http://kathmandupost.ekantipur.com/news/2018-08-17/power-generation-to-increase-by-750-mw.html  (17 Aug. 2018)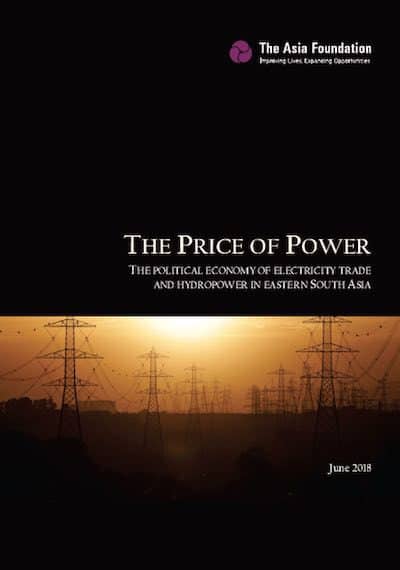 Report THE POLITICAL ECONOMY OF ELECTRICITY TRADE AND HYDROPOWER IN EASTERN SOUTH ASIA In a new report from The Asia Foundation, The Price of Power, authors Aditya Valiathan Pillai and Sagar Prasai analyze the political, economic, and environmental imperatives that may herald a new pragmatism in regional energy cooperation in South Asia. https://asiafoundation.org/wp-content/uploads/2018/07/The-Price-of-Power-The-Political-Economy-of-Electricity-Trade-and-Hydropower-in-Eastern-South-Asia.pdf  (June 2018)
SOUTH EAST ASIA
Laos Dam Disaster Don't make dam business solely about profits The tragedy has prompted the Lao govt to set up panels to find the cause of the incident and exactly who should be held responsible. It has also ordered safety checks on every dam in the country. But most importantly, it has decided to suspend the building of new dams and is reviewing its ambitious plan to become the "Battery of Southeast Asia". If it weren't for this tragedy, certain facts would not have been revealed – the complex transboundary investment that has eluded local regulations and compromised accountability and transparency. http://www.nationmultimedia.com/detail/big_read/30352407#.W3jGna4FzUg.twitter  (18 Aug. 20180
THE REST OF THE WORLD
California Feds Settle to Protect Eight California Rivers A federal judge in Los Angeles approved a settlement on Aug 17, 2018 requiring the Trump administration to prepare and implement plans to protect eight "wild and scenic" rivers in Southern California. The settlement comes in response to a lawsuit filed by the Center for Biological Diversity on March 27, which claimed the U.S. Bureau of Land Management and the U.S Forest Service violated a 1968 federal law protecting the "natural condition" of wild rivers by delaying management and protection plans. According to the lawsuit, Congress designated segments of the eight California rivers for protection under the Wild and Scenic Rivers Act in 2009, requiring the agencies to install protection plans for the rivers by 2013. https://www.courthousenews.com/feds-settle-to-protect-eight-california-rivers/  (18 Aug. 2018)
Report Fracking water use skyrockets, creating 1440% more toxic wastewater The controversial gas and oil drilling method threatens to exacerbate a looming crisis over water. https://www.huffingtonpost.in/entry/fracking-water-use-wastewater_us_5b732df4e4b03d52e4912942  (15 Aug. 2018)
Report Should Rivers Have Rights? This is a kind of a futile debate? Inspired by indigenous views of nature, a movement to grant a form of legal "personhood" to rivers is gaining some ground — a key step, advocates say, in reversing centuries of damage inflicted upon the world's waterways. https://e360.yale.edu/features/should-rivers-have-rights-a-growing-movement-says-its-about-time  (14 Aug. 2018)
Report Woman walked 25K km to raise awareness on water pollution Mandamin set out in 2003 to journey around the lake with the goal of spreading awareness about how human actions are polluting our water, thus making it and, in turn, ourselves sick. Since then, the amazing Mandamin has walked an estimated 25,000 km the equivalent of half of Earth's circumference to promote the importance of saving our water. https://www.onegreenplanet.org/news/woman-walked-equivalent-half-earths-circumference-awareness-water-pollution/  (13 Aug. 2018)
ENVIRONMENT
Conference State of Nature in India An interdisciplinary conference conceptualised with Ravi Agarwal. 23 – 25 Aug 2018. The aim of the conference is to better understand the complexities of anthropogenic processes and critique what it means through a focus on India. For schedules, speaker details and registration information, please see https://tinyurl.com/sonin-mum — with Amar Kanwar, Janaki Lenin, Sheba Chhachhi, Annapurna Garimella, Ram Ramaswamy, Maya Kóvskaya, Himanshu Thakkar, Rahul Srivastava, Nancy Adajania, Aveek Sen, Rohini Devasher, Aruna Chandrasekhar and Amruta Nemivant at Goethe-Institut/Max Mueller Bhavan Mumbai. https://tinyurl.com/sonin-mum
PIB Press Release "PARIVESH" – an environmental single window hub for Environment, Forest, Wildlife and CRZ clearances launched The PM Modi, launched PARIVESH (Pro-Active and Responsive facilitation by Interactive, Virtuous and Environmental Single-window Hub) on the occasion of World Biofuel Day, here today. PARIVESH is a Single-Window Integrated Environmental Management System. http://pib.nic.in/newsite/PrintRelease.aspx?relid=181791  (10 Aug. 2018)
On other hand, the MoEF has come out with standard environment clearance conditions for 25 major sectors including coal, oil and gas, cement and hydropower projects. The ministry believes that the standard conditions will lead to a uniform, transparent process which will be free of corruption and any arbitrariness. It will lead to ease of business and cut down delays in time taken for granting clearances.
Environmentalists feel it is yet another dilution of green laws that has been brought by the NDA govt before the 2019 general elections and are questioning the role of the environment ministry as a regulator. It seems the downhill journey in environment governance continues. https://india.mongabay.com/2018/08/16/govt-comes-out-with-standard-conditions-for-environment-clearances/  (16 Aug. 2018)
In another shocking development it is revealed that the MoEF agrees to clear a new high road project through Jim Corbett National Park for which SC has objected to. It is surprising why is WII bent on destroying whatever credibility it has?
The state govt is pushing this despite the fact that in 2005, the Centre and the states of Uttarakhand and Uttar Pradesh had agreed to an alternative route between Kotdwar and Ramnagar under the supervision of the SC to safeguard Corbett. https://indianexpress.com/article/india/sc-said-no-to-highway-in-jim-corbett-but-moef-institute-agrees-to-help-clear-it-5312675/  (20 Aug. 2018)
Amid this, former MoEF minister Jairam Ramesh speaking at the launch of book "On Jim Corbett's Trial: And Other tales from the Jungle", written by country's foremost conservationist AJT Johnsingh, said that the ministers of environment since 2014 have been "ministers of approval", and argued that the job of the minister was to protect the environment and "not necessarily clear proposals". Jairam Ramesh is only partly right. The date should be 2011 and not 2014. https://energy.economictimes.indiatimes.com/news/coal/since-2014-ministers-of-environment-have-become-ministers-of-approval-jairam-ramesh/65466880  (20 Aug. 2018)
Punjab Ludhiana inmates write to jail chief, say pollution killing us Non stop air & water pollution by dyeing units around Ludhiana Central Jail has turned the lives of jail inmates & families of staff MISERABLE: https://indianexpress.com/article/cities/ludhiana/ludhiana-inmates-write-to-jail-chief-say-pollution-killing-us-5302495/  (12 Aug. 2018)
Compiled by SANDRP (ht.sandrp@gmail.com)
Please also see DRP News Bulletin 13 Aug. 2018 & DRP News Bulletin 6 Aug. 2018
Follow us on www.facebook.com/sandrp.in; https://twitter.com/Indian_Rivers