Traditionally, our river management strategies are mainly focused on the water flows, including flood management, and these have resulted in various interventions such as dams, barrages, canals and embankments. Most of these interventions have had very little consideration for sediment transfer and even if they did, they were generally defunct within a few years of their operations either due to improper design or inadequate maintenance.
A long-term sediment management strategy has never been a part of any protocol of river management, not just in India, but in several other parts of the world. It is amply clear that sediment management must form an important component of management strategies for the Himalayan rivers. The Union Water Ministry has recently circulated a draft policy on sediment management.
The draft policy document has put forward several important suggestions and has also proposed a set of useful guidelines, which if implemented, can bring phenomenal change in the health of the rivers. However, the policy is heavily tilted towards promoting navigation rather than focusing on improving river health, so much so that the navigation requirements can overrule several guidelines.
Instead, sediment management plans must be based on a strong understanding of sediment dynamics aimed at improving river health for which detailed studies may have to be initiated, wherever needed. Sediment management plans should also be linked to river health assessment and habitat suitability. Several plan form characteristics define the ecological habitats, including longitudinal connectivity in the river that is severely affected by excessive aggradation.
Also, several tributaries of the Ganga are trans-boundary rivers, and therefore, it is important to engage Nepal and Tibet in designing long term sediment management strategies, particularly those related to soil erosion and mass wasting processes in the hinterland which are major sources of sediment flux in the river. It is equally important to involve and train the local community not only for reducing soil and bank erosion processes, but also to encourage utilization of silt for agricultural and other applications.
Finally, a strong capacity-building programme on sediment management is recommended for field engineers who are ultimately responsible for implementing sediment management plans. Until a full understanding of sediment dynamics is available, the 'precautionary principle' should be applied on the basis of perceived threats as described above. http://www.currentscience.ac.in/Volumes/115/03/0367.pdf  (10 Aug. 2018)  
Also see, Government to Evolve River Sediment Management Policy soon http://pib.nic.in/newsite/PrintRelease.aspx?relid=159400  (17 March 2017)
Centre's draft sediment management policy suggests forming of River Basin Authority http://www.newindianexpress.com/nation/2017/sep/17/centres-draft-sediment-management-policy-suggests-forming-of-river-basin-authority-1658696.html   (17 Sept. 2017)
HYDRO POWER
SANDRP Blog Role of Doyang Dam in bringing unprecedented floods in Golaghat Did Doyang Dam have a role in bringing unprecedented floods in Golaghat district? It seems it has! Please Read and Share. Feedback is welcome. https://sandrp.in/2018/08/07/role-of-doyang-dam-in-bringing-unprecedented-floods-in-golaghat/  (7 Aug. 2018)
Also see, Reply to CWC response on SANDRP's article on CWC's flood forecasting in NE India Central Water Commission has posted a 3-page response to SANDRP blog on CWC Flood Forecasting in North East India. Here is SANDRP reply to CWC, welcoming CWC reply, and providing point wise response. https://sandrp.in/2018/08/08/reply-to-cwc-response-on-sandrps-article-on-cwcs-flood-forecasting-in-ne-india/  (8 Aug. 2018)
Himachal Pradesh Power generation disrupted at Pong dam, Mukerian hydel project With heavy rainfall in Chakki Bank Khadd (local water stream in Pathankot), power generation at Mukerian hydel project and Pong dam at Talwara, which is on Beas river, stopped due to non-release of water from Pong dam. Nearly 20 power generation machines, which together generate 621 MW (6.21 lakh units per hour), were closed since Aug. 5.
Dam officials said there was a demand of release of 8,000 cusecs of water from Pong dam by irrigation department, but 20,000-24,000 cusecs of water had entered Beas river from Chakki Bank Khadd on Sunday due to which dam water was not released.
As per an official, due to disruption in generation, several unannounced power cuts were imposed for the past couple of days in rural belts of Jalandhar and Hoshiapur districts affecting paddy farming. Executive Engineer (water regulation) at Pong dam, Jasbir Singh, conceded that power generation was affected.  https://indianexpress.com/article/india/power-generation-disrupted-at-pong-dam-mukerian-hydel-project-5296700/  (8 Aug. 2018)
DAMS
Himachal Pradesh State Govt to give conditional NOC for 3 dams on Yamuna Rivers The state govt has yielded to Centre's demand of issuing NOC to pave the way for the setting up of Renuka, Lakhwar and Kishau dams to meet the growing water needs of Delhi. The Cabinet at its meeting held on Aug. 9 agreed to issue the NOC but on the condition that Himachal would be allowed to draw its share from a convenient site and not having to spend extra to ferry the water from a distant place. Union Minister Nitin Gadkari is very keen that there is no further delay and the NOCs are issued by all the 7 partner states of Delhi, Rajasthan HP, Haryana, Punjab, Uttarakhand and UP.  https://www.tribuneindia.com/news/himachal/state-gives-conditional-noc-for-dams/635432.html  (10 Aug. 2018)
Tamil Nadu Rs 35-crore dam damaged by floods awaits renovation This is so revealing news report proving how mismanagement of dam operations is resulting in wastage of tax payers' money: In this case, the tallest check dam project costing Rs. 35 crore is lying defunct & devastated for 3 years following 2015 floods. Now 4.5 crore rupees are needed to make it stand again. The concerned dept has not passed the budget and the cost may further go up by 21. 85 crore due to inflation:
The Thirukandalam check dam across Kosasthalaiyar river in Tamil Nadu, built to benefit eight villages and agricultural lands on the flood banks, remains in a dilapidated state for almost three years now. The 35 crore dam was broken down by the historic floods that struck the state in 2015. The abandoned dam is now home to miscreants and nothing more.
The structure was built to save Krishna water for irrigation purpose. With a width of 175 metre and height of 5.5 metre, it is one of the tallest check dams in the state. The check dam, constructed almost 30 km from Chennai, had a capacity to store 160 mcft water. Completed in September 2014, it fell victim to the force of water released from Poondi lake during the floods a year later. when over 83,000 cusecs flowed through Kosasthalaiyar, causing the structure to crumble. http://www.newindianexpress.com/thesundaystandard/2018/aug/12/tamil-nadu-rs-35-crore-dam-damaged-by-floods-awaits-renovation-1856556.html  (12 Aug. 2018)
MONSOON 2018
NASA satellite image showing very heavy to heavy rainfall occurance at several places across India on Aug. 12:
FLOOD 2018
SANDRP Blog Idukki Dam releases water when Kerala is in Floods: Could this have been avoided? Kerala is facing serious floods. Why are Idukki and Idamalayar, both having live storage capacity above a Billion Cubic Meters, releasing water NOW, when whole of Kerala is facing floods due to recent excessive rains? Could this have been avoided? Yes, it seems. Please read and share. Feedback is welcome. https://sandrp.in/2018/08/10/idukki-releases-water-when-kerala-is-in-floods-could-this-be-avoided/  (10 Aug. 2018)
Amid this, Kerala Tourism Development Corporation (KTDC) is constructing 12 cottages and other buildings at Kuruvan Mala, just 80 metres from Idukki dam, without bothering to obtain the necessary permissions. For any construction within 100 metres of the dam, approval of Dam Safety Authority is mandatory.
In fact, the cottages, coming up as part of Eco Lodge project, a centrally-funded project, don't even have permission from a local body, in this case Vazhathoppu grama panchayat. Environmentalists point out that the area is prone to mudslips and landslides and such construction activity and the increased flow of tourists would make it more vulnerable to natural disasters. https://timesofindia.indiatimes.com/city/kochi/disastrous-ktdc-cottages-coming-up-right-next-to-dam/articleshow/65371260.cms  (12 Aug. 2018)
As per another news report, the maximum damage inflicted by monsoon in the past ten days were in Wayanad and Idukki. Areas like Munnar, Thamarassery, Vythiri and Thiruvambady were classified under ESZ as per the WGEEP report.
Kerala has 15 taluks under zone-I, two in zone-II and eight within Zone-III. Idukki districts topped the zone-I list and yet maximum illegal buildings came up here. Wayanad followed the 'Munnar model' and nature hit back with a vengeance. https://timesofindia.indiatimes.com/city/kozhikode/crisis-arose-due-to-destruction-of-ecologically-sensitive-zones-in-w-ghats/articleshow/65371244.cms  (12 Aug. 2018)
Meanwhile, the Kerala State Electricity Board (KSEB) in Wayanad district has come under severe criticism for not following the standard operating procedures (SOP) before raising all the four shutters of the Banasura Sagar dam on Aug. 8, which resulted in worsening of the flood situation in the district.
According to a reports, residents and people's representatives of the Padinjathapura panchayat of Wayanad have accused the KSEB officials of not issuing proper warnings to the people before raising all the shutters of the dam, which resulted in large-scale flooding in the panchayats of Padinjathapura, Panamaram and others. https://www.thenewsminute.com/article/did-kerala-eb-issue-proper-warnings-opening-wayanad-dam-shutters-86452  (13 Aug. 2018)
Similarly concerned have felt that the impact of the miseries on account of the opening of the Idukki dam could have been minimised if the shutters of Idamalayar dam were opened earlier. Former KSEB chief engineer and a dam safety expert N Sasidharan said the Idamalayar could have held a substantial quantity of water discharged from the Idukki dam if its shutters were opened early.
He said that the decision to delay the opening of the shutters of Idamalayar also could have posed a danger to the dam. If the water level had crossed 169 feet, it would have overflown causing bigger damage to the people in the downstream.
Experts are also dismayed by the extensive floods caused by the rain during this season. Noted environmentalist C Jayakumar said that the rain had not caused this much damage in 2013 when the state received 47 percent excess rainfall. The excess during the current monsoon is only 17 percent according to IMD officials at Thiruvananthapuram. Atmospheric scientists view this as a result of the global warming as well as local factors. https://www.firstpost.com/india/unrelenting-rains-force-kerala-authorities-to-open-dams-shutters-experts-blame-poor-planning-for-scale-of-spate-4940501.html  (11 Aug. 2018)
The excess rain in Coimbatore district resulted in the breaching of the bund of the Moolathara Dam, under renovation in Chittur Taluk of Palakkad district in Kerala, along the Tamil Nadu border late on Aug. 9 night. This led to the submerging of a few bridges and crops downstream near Chittur and flooding along Chitturpuzha and Bharathapuzha. Out of the 13 sluice gates, 11 were damaged.
The dam was constructed in the year 1963 under the Moolathara Scheme. This is the fourth time the right bank protection structure of the dam, part of the inter-State Parambikulam Aliyar Project, had breached. The earlier instances were in 1960, 1979, 1992.
The Kerala govt started renovating these and the protection structures at ₹45 crore last year. Work was on in full swing for the past four months. It had been decided that the renovation would be completed in a record 21-month period. https://www.thehindu.com/news/cities/Coimbatore/moolathara-dam-bund-breaches-causes-flooding/article24660830.ece  (11 Aug. 2018)
MORE NEWS REPORTS ON UNPRECEDENTED FLOODS IN KERALA
In an unprecedented development, shutters of 24 dams in different parts of the state were opened following incessant rains causing rivers in the region to swell. The CM termed the situation as never seen before and very grim. Large-scale damage had also been reported from various parts of the state. http://zeenews.india.com/kerala/kerala-rains-death-toll-rises-to-26-third-red-alert-issued-24-dam-shutters-opened-2131903.html  (10 Aug. 2018)
For only the third time since the Idukki dams system was commissioned in 1975, one of the 5 shutters at Cheruthoni was opened Aug. 9 (the earlier occasions were in 1981 and 1992) after water in the reservoir rose to 2,399.04 ft, precariously close to its full storage level of 2,403 ft.
On both earlier occasions, the Idukki dam was opened in October, during the northeast monsoon. This was the first southwest monsoon that has seen the dam being opened, and when the Edamalayar dam too, had been opened. 
The lake sprawls across Kerala's lifeline Periyar river, and was created by the arch dam of Idukki, and the smaller Cheruthoni and Kulamavu dams. The Kulamavu dam has penstock pipes that carry water to an underground power station at Moolamattam 43 km away. The water from the reservoir is used to run six generators with a total installed capacity of 780 MW. https://indianexpress.com/article/explained/why-for-only-third-time-idukki-dam-is-open-kerala-5299797/   (10 Aug. 2018)
Amid this, Moolathara Dam on Bharathapuzha river breached submerging few bridges & crops downstream near Chittur and flooding along Chitturpuzha and Bharathapuzha. This is the 4th time the right bank protection structure of the dam, part of the inter-State Parambikulam Aliyar Project, had breached. The earlier instances were in 1960, 1979, 1992.
The dam was constructed in the year 1963 under the Moolathara Scheme. A total of 45,000 acres of agricultural lands in Chittur taluk and adjoining areas in Kerala were irrigated through two canals from the dam. Out of the 13 sluice gates, 11 were damaged.
The Kerala govt started renovating these and the protection structures at ₹45 crore last year. Work was on in full swing for the past four months. It had been decided that the renovation would be completed in a record 21-month period. https://www.thehindu.com/news/cities/Coimbatore/moolathara-dam-bund-breaches-causes-flooding/article24660830.ece  (11 Aug. 2018)
Heavy rainfall in Kannur district has caused a landslide that killed 22 people in the state. The water level in the Idukki dam touched 2,396.96 feet and after 26 years, it was opened due to heavy rainfall. Idamalayar dam was put on red alert and which is issued when the water goes above 2,399 feet. https://www.timesnownews.com/india/article/kerala-rains-two-dead-in-kannur-district-due-to-landslide-after-heavy-rainfall/266707  (9 Aug. 2018)
As per a report, the water storage in the hydel dams managed by the KSEB is at a record high for recent years with combined storage standing at 95 per cent full to capacity, which is adequate to generate 3,940.08 million units (MU). http://www.newindianexpress.com/states/kerala/2018/aug/10/kerala-rains-water-level-in-hydel-dams-filled-to-95-per-cent-capacity-1855658.html  (10 Aug. 2018)
With the water level at Idukki reservoir, Asia's highest arch dam, rapidly drawing close to the danger mark of 2,403 feet, (the water level at 11pm on Aug 9, was 2400.28 feet), the govt on Aug. 9 thought prudent to open one of the five shutters of the connected Cheruthoni dam by 50 cms.
Even with just one shutter opened partially, 50,000 litres of water were discharged in one second, indicating the kind of unpredictable impact the release of all five shutters would have on heavily populated towns, villages and even big cities downstream. Authorities have issued an alert saying that on Aug 10, 7am onwards, the water discharge rate will be doubled to 1lakh litres per second. https://timesofindia.indiatimes.com/city/thiruvananthapuram/24-dams-opened-rains-leave-a-trail-of-destruction/articleshow/65346764.cms  (10 Aug. 2018)
Shutters of the dams at Peringalkuthu, Sholayar, Peechi and Vazhani were raised further following incessant rain, triggering anxiety among the people staying in the downstream areas. There were also reports of landslides near Kuthiran area where two tube tunnel are being constructed to smoothen the traffic flow on the national highway stretch between Mannuthy and Wadakkanchery. https://timesofindia.indiatimes.com/city/kochi/dams-opened-as-catchment-areas-receive-rain/articleshow/65335695.cms  (9 Aug. 2018)
In the wake of the decision to open the shutters of Idamalayar dam, the district administration warned people against venturing into Periyar River and its tributaries. The irrigation department opened 21shutters of Purapallikavu bridge-cum-regulator, 9 shutters of Manjummel bridge-cum-regulator and 13 shutters of Pathalam bridge-cum-regulator located in Periyar river. The average width of Periyar river is between 100-200m in most places. https://timesofindia.indiatimes.com/city/kochi/district-readies-water-release-response/articleshow/65330937.cms   (9 Aug. 2018)
There was a threat to both the reservoirs getting full at the same time calling for a need to immediately reduce the water levels in Idamalayar dam reservoirs. In 2013, when the Idamalayar was opened, about 900 cumecs of water was released. The district administration has begun the process of alerting the residents living on the banks of Periyar on the water surge. https://timesofindia.indiatimes.com/city/kochi/red-alert-issued-at-idamalayar-dam-as-idukki-water-level-reaches-2396-90ft-at-noon/articleshow/65320515.cms  (8 Aug. 2018)
The Kerala govt decided to open the dam shutters of the Idukki reservoir on Aug. 9 at 12:30 pm. The water level in the reservoir at 10 am on Aug. 9 stood at 2398.80 feet, with the reservoir hitting full capacity at 2403 feet.
The main Idukki dam has no shutters or openings and the water can only be released through the Cheruthoni dam where it will flow into the Cheruthoni river, a tributary of the Periyar. The KSEB issues three levels of alert. Code Green for when the water level in Idukki hit 2390 feet and Code Orange when the levels rose to 2395 feet. And Code Red when the water level reach to 2399 feet.  https://www.thenewsminute.com/article/idukki-dam-shutters-be-opened-trial-run-water-level-just-below-2399-ft-86240  (9 Aug. 2018)
Consequent to the opening of the Amaravathi dam to discharge excess inflow for the second time within a month, Karur Collector T. Anbalagan on Aug. 9 issued a fresh flood warning to the people living along the Amaravathi dam. Similarly, the Collector said that the inflow into the Cauvery was likely to touch beyond 50,000 cusecs in one or two days due to the heavy inflow into Mettur dam. https://www.thehindu.com/todays-paper/tp-national/tp-tamilnadu/amaravathi-dam-opened-karur-collector-issues-fresh-flood-warning/article24649247.ece  (10 Aug. 2018)
Tamil Nadu Cauvery in spate, flood alert in 9 districts In Trichy, following heavy inflow into the Cauvery River at Mukkombu (Upper Anicut) from Mettur reservoir, the PWD authorities have started to release excess water into the Kollidam river. The quantum of release that stood at 18,000 cusecs on Aug. 11 evening had been enhanced to 71,000 cusecs on Aug. 12 evening. It is the highest discharge of water into Kollidam since 2013. A total of 80,000 cusecs was released then, they said. Due to heavy rainfall in Karnataka, the Mettur reservoir has attained its full capacity of 120 feet for the second time this year. https://timesofindia.indiatimes.com/city/chennai/cauvery-in-spate-flood-alert-in-9-tamil-nadu-districts/articleshow/65381079.cms  (13 Aug. 2018)
The water level in Vaigai dam and Mullaperiyar dam is also increasing due to heavy rain. https://timesofindia.indiatimes.com/city/madurai/vaigai-dam-level-touches-60-ft-mark-30ft-more-than-last-years/articleshow/65370722.cms  (12 Aug. 2018)
With the discharge from Mettur Dam into River Cauvery stepped up to 1.13 lakh cusecs on Aug. 12, over 50 houses in Bhavani and Kodumudi were flooded and residents were moved to safer locations. The situation remains critical in Palakarai in Bhavani where flood water entered many houses located along the banks of the river. While most of the residents were moved to safe locations along with their belongings, a few people refused to move. https://www.thehindu.com/news/national/tamil-nadu/discharge-from-mettur-dam-houses-flooded-in-bhavani-in-erode-district/article24670210.ece  (12 Aug. 2018)
For the first time after its inauguration in 1974, 71,100 cusecs of water was released from the Kabini dam on Aug. 9, following heavy rainfall in the Wayanad region. The water release led to heavy inflow in to the Cauvery since Aug. 8 night. Until now, the record release of water from Kabini was 68,300 cusecs in 2009. Following heavy rainfall in Kodagu and surroundings areas, inflow into the KRS dam also increases.
With more than 20K cusecs of water likely to be released from Krishnaraja Sagar dam any time, the Cauvery Neeravari Nigam Limited (CNNL) has sounded an alert, warning people living downstream. Meanwhile, farmer leaders are unhappy with the state government as the irrigation department is not taking steps to fill water bodies, including village tanks. https://timesofindia.indiatimes.com/city/mysuru/rivers-swell-as-outflow-from-kabini-krs-dams-goes-up/articleshow/65347145.cms  (10 Aug. 2018)
Himachal Pradesh Cloud burst wreaks havoc in remote Spiti village A cloudburst in Shichling village of remote Spiti valley wreaked havoc on Aug. 5 night, when water and debris entered many houses and people had to climb the rooftops to save their lives. Sources said a chunk of Shimla-Kaza road was also washed away in the flood and traffic to many villages of the valley, including headquarter Kaza, had come to a halt. Shichling village is located on Shimla-Kaza road, just below famous Dhankar monastery.  https://timesofindia.indiatimes.com/city/chandigarh/cloudburst-wreaks-havoc-in-remote-spiti-village/articleshow/65299307.cms  (7 Aug. 2018)
The rise in Satluj river level has damaged a local market place at Pavari as per this Hindi report. https://epaper.jagran.com/ePaperArticle/09-aug-2018-edition-SHIMLA-page_15-46209-7039-98.html  (9 Aug. 2018)
Uttrakhand Song river recovers its course after 25 years Houses built in the course of Song river face severe flooding in Raiwala, Dehradun: 300 hundred families in Gaur Maafi village in Raiwala on the outskirts of Dehradun encaging residents inside houses for 5 days.  The approximately 40 m wide seasonal river was in spate after continuous rain in Dehradun.  Gauri Maffi is flanked on one side by Ganga and another by Song river.
A single road connects it to the district and that has been flooded with water from Song for the past few days. The village was flooded last year as well. 2 years ago a wall built to protect the village from the flooded waters of the river collapsed. The district administration deployed four bulldozers to rebuild a temporary wall along the river but they have been unable to function because of heavy flow of water. https://timesofindia.indiatimes.com/city/dehradun/300-families-stranded-as-houses-flooded/articleshow/65297725.cms  (7 Aug. 2018)
This video report states that Song river has reclaimed its flowing course after 25 yrs:
Uttar Pradesh River Gandak, eroding away human settlements in Kishinagar कुशीनगर जिले में बड़ी गंडक नदी की कटान से तमकुही तहसील के एपी तटबंध के पास का अहिरौलीदान का कचहरी टोला पूरी तरह से नदी में समाता जा रहा है. एक सप्ताह में गांव के 30 घर नदी की कटान से कट गए. तीन दर्जन से अधिक लोगों ने अपने घर खुद तोड़ दिए हैं. गुरुवार को अपना घर तोड़ते समय मलबे में दब जाने से 3 लोग घायल हो गए जिसमें से एक व्यक्ति की अस्पताल ले जाते समय मौत हो गई.
जुलाई महीने में अहिरौलीदान के चार टोले के 30 घर नदी की कटान की जद में आकार खत्म हो गए. इन गांवों में पहले से 200 से अधिक घर नदी में समा चुके हैं. अगस्त महीने में नदी सबसे अधिक कचहरी टोले में कटान कर रही है. इस तोले में तमाम लोगों के पक्के मकान थे जो नदी की कटान में कटते जा रहे हैं. http://gorakhpurnewsline.com/badee-gandak-nadee-mein-samaata-ja-raha-hai-kachaharee-tola/  (10 Aug. 2018)
DROUGHT 2018
Gujarat Narmada: Over-dependence, tapering supply worries govt EXCELLENT PIECE REVEALING IT ALL: Now Gujarat Govt is realizing that over-dependence on the Sardar Sarovar Narmada dam and the decreasing precipitation in the Narmada basin is a major worry and it needs to reform its policy and planning to ensure water security for the state.
ON CURRENT WATER CRISIS:- On Aug. 8, the state cabinet discussed the rainfall deficit and alarmingly low volume of water in reservoirs in the state. According to the estimate presented at the state cabinet meeting, 4.5 crore people of the state's 6.5 crore population are directly dependent on the Narmada project for drinking water throughout the year.
Except for Surat, all the municipal corporations — Ahmedabad, Vadodara, Rajkot, Jamnagar, Bhavnagar, Junagadh and Gandhinagar —dependon Narmada water. A further 168 towns, 9,300 villages and 14 lakh hectares of farmland depend on Narmada water.
ON OVER DEPENDENCE ON NARMADA RIVER WATERS:- A senior officer privy to the developments said, "Serious concern was expressed at the state cabinet meeting over the looming water crisis. For the first time, the over-dependence on Narmada water was discussed. Various options to tackle the water crisis were also discussed. The state will have to revisit its current policy under which the project supplies between 69% to 80% of the water needs of the state. The need for long-term solutions was also discussed. The government will soon prepare a draft policy to introduce new sources of water, to cut the over-reliance on the Narmada, as precipitation in the Narmada basin has also been decreasing over the years."
ON FUNDAMENTAL MISTAKES IN ESTIMATING & DEVELOPING COMMAND AREA:- A sources in the government added, "Earlier, the command area was not developed much and the low yield from the Narmada basin was not noticeable. In those years, some mistakes were made in planning. The command area of the Sardar Sarovar project is 18 lakh hectares against the 9 million acre-feet (MAF) of water that is the share of Gujarat. Thus the delta available is just 42cm, which works out to about three waterings a year. This translates to just one season and that too for crops that are not water intensive. The command area of the Sardar Sarovar project was thus designed for water-economical crops and for just one season. In the earlier stages, as the command area was not fully developed, upstream regions were provided ample amounts of water and farmers there switched to water intensive crops like banana, sugarcane, paddy, etc."
"As the command area developed, it has become impossible to take them back to the original cropping pattern. Moreover, certain areas like those in the vicinity of the Fatewadi and Kharicut canals, which were outside the designed command area of the Sardar Sarovar project, also received water when the command area was not developed. Subsequently, they have become a liability, due to political compulsions.
ON NARMADA RIVER BASED DOMESTIC WATER SUPPLY- Similarly, for domestic water supply, the state depended on Narmada water to the extent of 80%, as the water was viewed as surplus in the old days when the command area was not developed. Now, the basin has come under stress because of the cumulative demand. The stress has now become too high.
ON NEW SCHEMES PROPOSED FOR SURPLUS BUT EATING INTO MAIN WATER SHARE:- Schemes like Sujalam Sufalam and Sauni yojana, which claimed to be utilizing surplus water are actually eating into the regular resources. Last year, when Gujarat's share was just 5.8 MAF, the schemes received water and the command was deprived of it. Thus, this is a case of a planned water crisis. It is time we take 360 degrees view on our over-dependence on the Narmada and stop the ostrich approach. The major concern for the state is the steadily falling yield of water in the Narmada basin." https://timesofindia.indiatimes.com/city/ahmedabad/narmada-over-dependence-tapering-supply-worries-govt/articleshow/65329204.cms  (9 Aug. 2018)
The Sardar Sarovar Narmada Nigam Ltd (SSNNL) reduced the outflow of water from the reservoir beginning Thursday even as it snapped illegal connections by farmers drawing water from the canal.
From 6,299 cusecs that flowed out against 3,320 cusecs inflow on Aug. 9, the dam authorities reduced the outflow to 2,761 cusecs on Aug. 10 when the inflow was 3,743 cusecs. On Aug. 11, the level of water in the dam was 110.95 metres. The inflow in the dam on Friday was 2,331 cusecs and outflow was 3,106 cusecs.
Meanwhile, police have been deployed along the Kutch Branch Canal (KBC) and scores of pipelines installed by farmers to draw water from the canal have been removed as the SSNNL is trying to fill up the Tappar dam to meet drinking water requirements of the arid Kutch district. https://indianexpress.com/article/india/outflow-from-sardar-sarovar-dam-reduced-gujarat-stares-at-water-crisis-says-official-5301372/  (11 Aug. 2018)
– As per the State Govt data, out of the 203 dams in the State, 114 dams have a water storage level less than 40 per cent of its gross storage capacity. The storage level has depleted to 25 per cent or less in 85 dams as on August 6, 2018. The Sardar Sarovar Dam on Narmada river has only 37 per cent water of its gross storage, which has triggered a wave of concern.
– North Gujarat has been the castor heartland but this year sowing progress has been dull with only 15,200 hectares bring brought under the crop in the region, as against 48,500 hectares around same time last year.
– So far the State has received 453.80 mm rainfall, which is about 45 per cent deficit from the normal of 831 mm. For the North Gujarat region, the rainfall deficit is about 72 per cent, and in Kutch region the deficit is 89 per cent till date as on August 6.
– Highest rainfall is witnessed in the district of Gir Somnath with 131 per cent of normal and Navsari with 91 per cent, while lowest is in the districts of Kutch with 11 per cent and Surendranagar with 20 per cent of the normal rainfall so far.  https://www.thehindubusinessline.com/news/national/gujarat-stares-at-water-shortage-on-deficient-rains/article24621169.ece  (7 Aug. 2018)
– The Sardar Sarovar dam, the lifeline of the state, has 28% less water than at the same time last year. The water level in the reservoir is at 111m, which means the reservoir is holding just 40% of its 9,460 million cubic metres (MCM) capacity. This figure was 55% at the same point in 2017.
– At present, the water available in the 4 dams on the Narmada is just 5 million acre-feet (6,167 MCM), which is a cause of concern.
– The other 203 dams have 37% of their 15,760 MCM storage capacity. The 5,781 MCM of water stored is nearly 3,548 MCM less than the storage level at the same time last year.
-The 20 dams in Kutch have only 9.6% of their 332 MCM capacity. The storage situation is better in central Gujarat, where the water storage is about 51% of the 2,347 MCM capacity of the 17 dams in the region. https://timesofindia.indiatimes.com/city/ahmedabad/28-less-water-than-2017-in-sardar-dam/articleshow/65314800.cms  (8 Aug. 2018)
– Worried by the rain deficit, the state got decided to increase power supply to the agriculture sector from eight hours to 10 hours. The move will add a Rs 500 crore burden to the state exchequer.
– Govt officials said crop quality has been affected and has been recorded in areas where sowing was carried out in May or early June. As per them, North Gujarat, Surendranagar, Morbi, and Ahmedabad are facing crop failure.
– Sowing in the state has been only around 82% so far. Against the seasonal average sowing of 85.65 lakh hectares, sowing has covered only 70 lakh hectares. Last year, sowing in this period covered 76 lakh hectares. https://timesofindia.indiatimes.com/city/ahmedabad/power-supply-boost-for-gujarat-farmers/articleshow/65314833.cms  (8 Aug. 2018)
With no sign of any significant rain activity predicted in the state in the near future and poor rain in catchment areas of Narmada in Madhya Pradesh and Ukai dam in Maharashtra, the state govt went public with its worries over a looming water crisis.
For the first time, a critical situation has arisen in the state. It is worrying that 44 talukas in the state have received less than 125mm this monsoon so far," said deputy CM Nitin Patel. He said that due to scanty rainfall in the 1,200 km catchment area of Narmada, water inflow was very little.
CM Vijay Rupani ordered the immediate release of 500 million cubic feet of water from the Sardar Sarovar dam to fill up the Tappar dam in Kutch district. The govt decided to adopt austerity steps to ensure drinking water supply in case rain remains poor in August and September.
The state as a whole has recorded a 19% rain deficit, it has received 336mm rain instead of 441mm as expected, as per IMD data. The most affected districts are Kutch (-78%), Gandhinagar (-70%), Surendranagar (-66%), Ahmedabad (-62%), and Patan (-65%). https://timesofindia.indiatimes.com/city/ahmedabad/sky-in-dry-state-too-no-cheer-from-heaven/articleshow/65314848.cms  (8 Aug. 2018)
In wake of low inflow of water into the Ukai dam over Tapi river, South Gujarat farmers advised by irrigation dept to delay sowing of sugar crop for at least one month:
The dam currently filled upto 27.51 % of its total capacity. Dam authorities expect fresh water flow by September. They said that only after the dam is filled 50% of its capacity or more, water or irrigation could be released.
The present water level in dam in 300.16 feet, 45 feet below the full capacity level. The dam currently has 2040 million cubic metre (MCM) of water against capacity of 7,414 MCM.
S Mahakal, superintending engineer of Surat irrigaton circle said, "There is no forecast of rainfall in catchment areas of Ukai dam in Madhya Pradesh and Maharashtra for another 10 days. So we have advised farmers not to sow any new crops.
Ukai dam has never faced such situation since 1982 when the dam levels had reached 298.94 feet. Irrigation officials said that situation is worse in catchment areas of Maharashtra where people fare finding it difficult to get water for drinking. https://timesofindia.indiatimes.com/city/surat/no-water-for-new-sugar-cane-crop-state-irrigation-dept-tells-farmers/articleshow/65314054.cms  (8 Aug. 2018)
Video report on Dharoi dam Mehsana where water level decreased to 596.66 ft. https://www.youtube.com/watch?v=_lBxbAsCDMA   (8 Aug. 2018)
Maharashtra Shadow of drought looming over Marathwada Water stock in the drought-prone Marathwada region in central Maharashtra stands at just 20 percent. In July, Marathwada received only 54 percent of the normal rainfall. Districts such as Latur, Beed and Aurangabad got only 41 percent, 42 percent and 43 percent rain respectively.
If the rains do not pick up over the next 2 months, the region may be staring at another year of water scarcity in 2019. The Jayakwadi dam, the lifeline of Marathwada, has just 32 percent stock compared to over 51 percent water stock the previous year, data from the water resources department shows. All regions, except Marathwada (20.13 percent) and Amravati (35.39 percent), have more water stock than they did last year.
Currently, villages across Marathwada are still relying on 339 tankers of a total of 500 deployed in the state, to get drinking water. At present, Aurangabad, Jalna and Nanded are reeling under a water crisis.  The Konkan region, which includes Mumbai, has more than 85 percent of the water it needs till the next monsoon, Pune has 68 percent, Nashik, 45 percent, and the Nagpur region has 38.16 percent water stock in reservoirs. https://www.moneycontrol.com/news/india/drought-prone-marathwada-staring-at-another-year-of-water-scarcity-2808541.html  (6 Aug. 2018)
Contrary to this, the collective stock in the four dams supplying water to the Pune city increased up to 88.41% on Aug. 7 evening, prompting the state irrigation department to restart release of water from Khadakwasla dam in to the Mutha river. https://timesofindia.indiatimes.com/city/pune/4-reservoirs-88-full-water-released-from-khadakwasla/articleshow/65314125.cms   (7 Aug. 2018)
Andhra Pradesh Water a scarce commodity in Prakasam village Villages in Prakasam, Andhra are facing drought for fifth consecutive years says this report: Thanks to indiscriminate sinking of borewells and climate change, almost all the borewells had gone bone dry, villagers say while pleading for extension of the Ongole Branch Canal (OBC) of the Nagarjunsagar Right Bank canal to their village to fill up the water tank, which surplus in 2010 when Prakasam coast was struck by cyclonic storm Laila.
Tangutur and 21 other mandals received scanty rainfall so far, while 29 other mandals received deficit rainfall, according to Agriculture Joint Director. Crop coverage was a mere 51,500 hectares as against 87,000 hectares during the corresponding period last year, he says. The district as a whole received 81 mm rainfall so far as against the normal rainfall of 164 mm during the period, he adds.  https://www.thehindu.com/news/national/andhra-pradesh/water-a-scarce-commodity-in-prakasam-village/article24636956.ece  (9 Aug. 2018)
National Dams aflush in South, dry in North The CWC figures show that the basins of the Krishna, the west flowing rivers of South Godavari, the Mahanadi and Cauvery appear to be doing well, while the Indus, Tapi, Sabarmati and Narmada are deficient.
"Himanshu Thakkar from the SANDRP observed: "In the Cauvery basin, rainfall is 3% below average and yet all the reservoirs are full. This could be signs of catchment degradation. Historically, this has not happened, dams are not full during the southwest monsoon. The catchment is the capacity to hold rainfall which requires forests, local water bodies and wetlands." Thakkar says that this could be an indication that all is not well with the area surrounding the dams. "The rest of the monsoon also does not look promising."  https://indianexpress.com/article/explained/water-reservoirs-india-monsoon-south-india-cheruthoni-idduki-dam-shutter-open-kerala-flood-5299792/  (10 Aug. 2018)
INTER LINKING OF RIVERS
Center 'Govt trying to start 5 river inter-linking projects in FY19': Nitin Gadkari A number of important assertions here:
– Ken Betwa, Par Tapi Narmada and Damanganga Pinjal consensus has been reached, agreements to be signed after current parliament session.
– World Bank and ADB aid to be sought for Rs 2 lakh crore project.
– Work to be started in current FY on all these and two more.
– New Legal provision to allow sand mining, dredging in rivers. http://www.dnaindia.com/india/report-govt-trying-to-start-5-river-inter-linking-projects-in-fy19-union-minister-nitin-gadkari-2646410  (6 Aug. 2018)
INTER STATE RIVER WATER DISPUTES
Krishna River Waters Dispute KRMB orders release of 10 tmc more water from Nagarjuna Sagar to Andhra Pradesh  At a time when the farmers of Telangana are struggling for water to save their standing crops, the Krishna River Management Board (KRMB) on Aug 6 ordered for release of 10 tmc more water from Nagarjuna Sagar Project (NSP) to Andhra Pradesh to meet the drinking water needs of Krishna, Guntur and West Godavari districts under Krishna Delta System (KDS) in AP.
The water will be released through power houses so as to derive power generation benefits in 50:50 ratio between AP and Telangana, the KRMB order stated. These releases are in addition to 52 tmc water released for drinking water needs for AP and TS on July 27.
But, the fact is that AP has been accused of diverting huge quantity of Godavari water through Pattiseema project for Krishna Delta System. Telangana has been contending that as per Bachawat award, it should be allocated 45 tmc extra water above NSP, as AP is diverting Godavari water to KDS.
But, surprisingly, KRMB allocated 10 tmc water for KDS. Telangana alleged several times in the past that KRMB was biased towards AP. However, KRMB order stated that the order to release 10 tmc for AP has been issued after having a telephonic discussion with officials of both AP and Telangana on August 3. Officials of Telangana were not available for comments. http://www.newindianexpress.com/states/andhra-pradesh/2018/aug/07/krishna-river-management-board-orders-release-of-10-tmc-more-water-from-nagarjuna-sagar-to-andhra-pr-1854406.html  (7 Aug. 2018)
IRRIGATION
Telangana Farmers stage protest for irrigation water Farmers blocked a road at Basava Circle in Manvi in Raichur district and demanded water to tail end farm lands from the left bank canal of Tungabhadra dam and right bank canal of Narayanpur dam.  As per Swaraj India Party State President Chamarasa Malipatil said that there has been only 30 % sowing in Raichur district due to shortage of rain.
He also alleged that 1.5 lkh acre of land from the 0 km to 69 km along the left bank canal of Tungabhadra dam were being illegally irrigated and due to this, water was not reaching Manvi and Raichur taluks. An irrigation official of Yermarus section came to the spot and said that water management had become difficult due to staff shortage. He assured to resolve the issue in two days.  https://timesofindia.indiatimes.com/city/hubballi/farmers-block-road-for-water/articleshow/65298016.cms  (7 Aug. 2018)
Similarly, the stalemate continued over row of water release from Sriramsagar project (SRSP), a lifeline to the north Telangana district. The state government has denied release water and tighten the security arrangements at project as well as sensitive areas. Intereststingly, water level in SRSP is reached 1062.10 feet with 16.069 tmc on Aug. 6.
Water level on the same day last year was mere 1055.30 feet and 9.508 tmc. Farmers recalled that around 200 cusecs of water was released last year under severe shortage. Earlier, SRSP officials take decision of water release as per the local requirements. Presently, centralized decision making is led to controversy in water release, they said.  https://www.deccanchronicle.com/nation/current-affairs/070818/stalemate-continues-over-sriramsagar-water-release.html  (7 Aug. 2018)
Meanwhile it is revealed that Govt not releasing SRSP water for maintaining reservoir level to meet potable water demand under Mission Bhagirathi:
SRSP has become a war zone with clashes between police and farmers since the past three days. Farmers have been demanding to release water from the project to save their standing crops from withering away but officials have been rejecting this on the ground of maintaining minimum level in dam for Mission Bhagiratha. Though 16TMC of water is available in the dam, the officials are not heeding to the farmers' demand to release 0.5 TMC water to save crops.
The govt issued instructions to officials of irrigation department in all districts, to maintain minimum water levels in all dams, to ensure water supply for Mission Bhagiratha. Farmers are on a warpath demanding that available water be released from dams to save their standing crops as there has been no adequate rain since two months. However, officials expressed helplessness to do so as they are mandated to ensure water for Mission Bhagiratha first. https://www.deccanchronicle.com/nation/current-affairs/070818/bhagiratha-fuels-water-wars-in-telangana.html  (7 Aug. 2018)
With deficit rainfall giving way to dry weather conditions, farmers under the command area of the Sripada Yellampalli Project (SYP) in Ramagundam mandal are hoping for release of water from the project to protect standing crops from withering.
The construction and fixation of floodgates of the barrage was completed in 2016 and stored around 10 tmcs of water. The authorities had released water for irrigation in the last rabi season when the project had only 9.48 tmcs of water. Sensing that the authorities would release water for the kharif season too, the farmers cultivated paddy in the command area of the project.
But the officials refused to release water to the Manthani, Vemulawada, Choppadandi assembly segments. The SYP waters are being utilised by the NTPC Ramagundam, Singareni Jaipur thermal power station, and for drinking water purpose in Hyderabad and under Mission Bhagiratha works in Ramagundam and Peddapalli assembly segments. https://www.thehindu.com/news/national/telangana/hopes-pinned-on-syp- water/article24627072.ece (7 Aug. 2018)
Tamil Nadu Tail end areas in delta crying for Cauvery water Reaching water to tail-end Cauvery delta districts remains a major problem even in surplus years not because there are no rivers and canals, ponds and lakes in the districts, but because of poor irrigation and water resource management.
Consider the reality: Mettur dam has surplus, i.e. crossed its full level of 120-ft twice this year that too within a short span of time-on July 23 and now again on Aug. 11. (Water level touched 120 ft on Aug. 10 evening. Inflow into the dam was 1,32, 755 cusecs). But demand for water comes from farmers in tail-end areas, more so Pudukkottai and Tiruvarur districts. In Tiruvarur district, water has not reached many areas and farmers have announced agitations demanding water. Farmers of Pudukottai district also have been demanding water. https://deccanchronicle.com/nation/current-affairs/120818/tail-end-areas-in-delta-cry-for-cauvery-water.html  (12 Aug. 2018)  
RIVERS
Uttar Pradesh NGT orders FIR against 124 units on banks of Hindon, other rivers The NGT on Aug. 8, directed the state PCB to initiate prosecution proceedings against 124 industrial units mainly on the banks of Hindon and also near Kali and Krishna for releasing highly toxic pollutants into the rivers. Of these, 30 factories have been ordered to shut down completely while many others have been served show-cause notices. The board has been given 60 days' time to comply with the tribunal's order. Of the 124 polluting industries, Ghaziabad has 69, Gautam Budh Nagar 32, Muzaffarnagar 12, Saharanpur 9, Meerut 1 and Baghpat 1.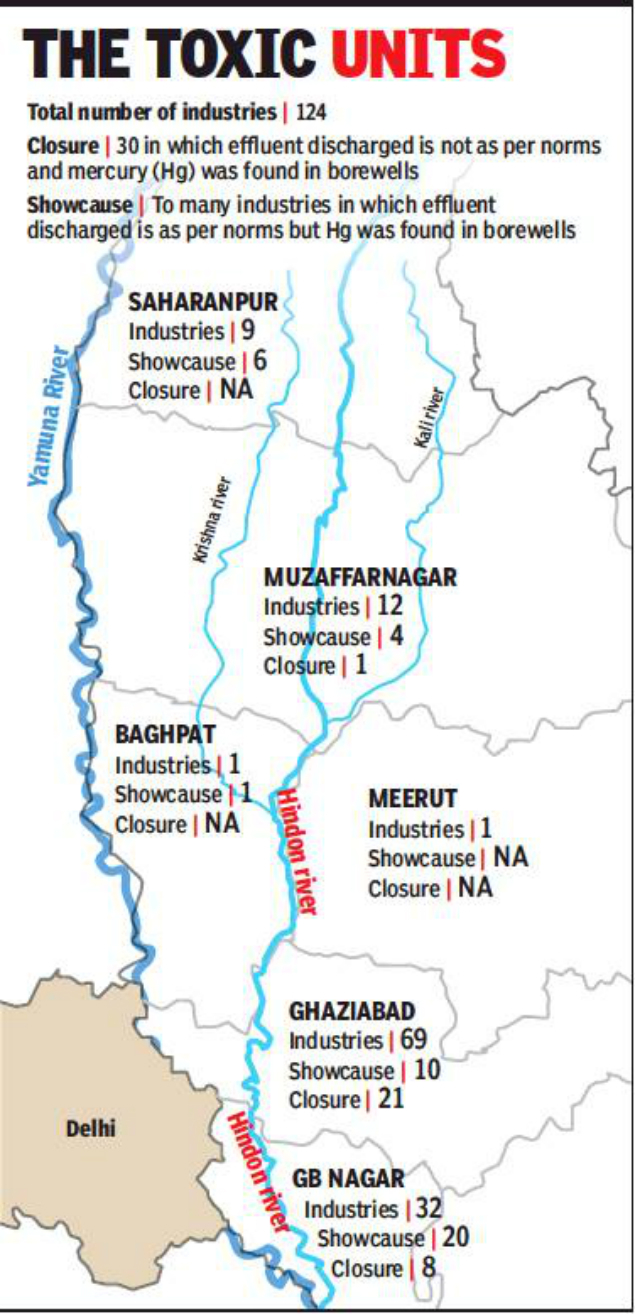 The tribunal also asked the Union and state govts to start a special health scheme for people affected by contaminated water and also consider providing jobs to those rendered disabled. The offending industrial units would be liable for prosecution at the special court in Lucknow for violating Section 44 of The Water (Prevention and Control of Pollution) Act, 1974, it said.
The orders were issued by NGT's principal bench headed by Justice Adarsh Kumar Goel while hearing a petition filed by an NGO, Doaba Paryavaran Samiti (DPS), in October 2014. The rivers Hindon, Krishna and Kali flow through seven districts—Ghaziabad, Gautam Buddh Nagar, Shamli, Saharanpur, Baghpat, Muzaffarnagar and Meerut. These rivers ultimately join the Yamuna. https://timesofindia.indiatimes.com/city/noida/fir-against-124-polluting-units-on-hindon-banks-other-rivers/articleshow/65329999.cms  (9 Aug. 2018)
Odisha पुरी में मिले लुप्त हो चुकी नदी के निशान Hindi report on relics of water channel presumed to be of Sarda river, recently found in Puri city of Odisha: भारतीय वैज्ञानिकों के ताजा अध्ययन में ओडिशा के पुरी शहर में पानी के एक पुराने प्रवाह मार्ग के निशान मिले हैं, जिसके बारे में शोधकर्ताओं का मानना है कि ये निशान लुप्त हो चुकी सारदा नदी के हो सकते हैं, जिसका उल्लेख ऐतिहासिक ग्रंथों में मिलता है।
उपग्रह चित्रों, भूगर्भशास्त्र, ग्राउंड पेनिट्रेटिंग राडार (जीपीआर) के उपयोग से किए गए अध्ययन में वैज्ञानिकों को पानी के घटकों का अस्तित्व होने के संकेत मिलते हैं। इन संकेतों में वनस्पति पट्टी, लहरों से जुड़े चिह्न और ऐसी स्थलाकृति शामिल है, जिसके बारे में वैज्ञानिकों का मानना है कि यह नदी घाटी हो सकती है। http://vigyanprasar.gov.in/isw/disappeared_river_puri_hindi_story.html  (9 Aug. 2018)
GANGA Op-Ed Making river Ganga divine again by K Jayakumar, Former CS, Kerala  Some Facts:- 12,000 MLD of sewage enter the river. The real volume will far exceed this official estimate. The existing treatment capacity along the river is 4,000 MLD. It is reported that 94 treatment plants, which would treat 1,900 MLD, are under various stages of implementation.
In a complex project like Namami Gange, the importance of stakeholder consensus and commitment cannot be overemphasised. Though some funds are apparently earmarked for this, half-hearted and mechanical stakeholder consensus-building will not yield results. The moment cleaning Ganga is reduced to an officially-driven programme, its fate is foretold. http://www.newindianexpress.com/opinions/2018/aug/10/making-river-ganga-divine-again-1855701.html   (10 Aug. 2018)
Some more facts on Ganga pollution in Kanpur, Banaras and Allahabad: The capacity of CETPs & STPs to clean industrial waste and sewage produced by cities, respectively, is simply not enough to handle all the wastes generated and whatever capacity has been built is not always functional.
For example, against the 400 MLD sewage generated in Varanasi city, the built capacity of STPs is only one-fourth. Bhagwanpur plant, near Banaras Hindu University, has a capacity of 8 MLD, Deenapur plant has a capacity of 80 MLD and Konia plant has a capacity of 150-200 MLD but works at only 30-40% of its capacity. When the plants are out of order or there is no electricity, the waste flows directly into the river untreated.
Assi River, parts of which completely covered, discharges 80 MLD of untreated sewage and Varuna river with 80-90 MLD of sewage discharges 75-80% of it untreated into Ganga. Parts of Assi and Varuna, two rivers from whom the city derives its name, are also used by Nagar Nigam as landfills. Seepage from these garbage heaps also pollutes the rivers.
Kanpur city produces 600 MLD of sewage and industrial waste whereas the built capacity to treat waste is hardly 200-250 MLD.
Corruption also has a role to play in this pollution. Employees of Municipal Corporation or State Pollution Control Boards, responsible for looking after the CETPs, allow the industrial waste to directly flow into the river bypassing the treatment plants by accepting bribes. When the manufacturing units increase their production capacity they don't inform the PCBs officially. The extra waste generated is also allowed to join the river in exchange for bribes.
For example, none of the CETPs built in Ahmedabad are functional, reason for the extremely polluted water of Sabarmati river downstream of city. The water itself comes from Narmada canal as upstream from the city the river has dried up.
Only the contractors benefit from construction of STPs and CETPs. Govt's motivation to clean Ganga seems lacking and therefore Swami Sanand has sat on a fast unto death to demand a law for conservation of the river. https://countercurrents.org/2018/08/11/why-is-the-central-government-silent-on-swami-gyan-swaroop-sanands-fast/  (11 Aug. 2018)
NGT The green panel formed a committee comprising former judge of Allahabad HC, to be nominated by chief justice of the high court, nominees from the CPCB and the IIT and directed it to submit a quarterly report on the work done." https://www.moneycontrol.com/news/trends/current-affairs-trends/ngt-forms-committee-on-ganga-cleaning-says-meticulous-monitoring-required-2809811.html  (6 Aug. 2018)
Ganga in Parliament 'Debris of 30m pile up at originating point of Ganga' Debris of 30 metre have piled up at the mouth of the Ganga, but there has been no significant change in the course of the river, the Rajya Sabha was informed on Aug. 6. https://www.outlookindia.com/newsscroll/debris-of-30m-pile-up-at-originating-point-of-ganga/1363472  (6 Aug. 2018)
Uttrakhand Atomic Radiation Polluting the Ganga? Leftover plutonium from a failed 1965 intelligence mission may be polluting the Ganga. This concern was raised by Uttarakhand Tourism Minister Satpal Maharaj to PM Narendra Modi. In 1965, a joint Indian-US team left behind a nuclear-fuelled generator and plutonium capsules on Nanda Devi peak after a blizzard forced them to abandon their mission. Maharaj says that radiation from the plutonium capsules could be polluting the snow trickling down from the Nanda Devi range into the Ganga. https://timesofindia.indiatimes.com/city/dehradun/atomic-radiation-may-be-polluting-ganga-satpal-maharaj-tells-pm/articleshow/65297495.cms  (7 Aug. 2018)
YAMUNA Delhi Delhi would not see 1978 like floods This report seems to suggest that given the embankment works in Delhi, a repeat of 1978 floods is not possible.1978 was worst-ever flood Delhi had witnessed. At that time, the river was flowing 2.66 metres above the danger mark at the old railway bridge. The level touched the 207.49-metre mark, which still remains unbeatable. The embankments that existed back then were good to hold only low-intensity flooding.
"Work on embankments that stand today started around the 1960-70s. When the 1978 floods struck, they were still not strengthened. Water entered several low-lying areas through breaches at locations," said Omesh Saigal, former chief secretary of Delhi.
Now, the embankments on both sides of the river are complemented by about 20 shanks (concrete structures) and 10 bunds. To make the city safer, the height of the embankments has been increased since 1978, said an official of the irrigation and flood control department. https://www.hindustantimes.com/delhi-news/why-yamuna-s-waters-have-stopped-entering-delhi-after-1978-flood-fury/story-AQOSgQ3NTiHEfVzbVs5ttK.html   (4 Aug. 2018)
SAND MINING
Bihar  An Industry, a Mafia, an Environmental Disaster West Champaran district is in the news for floods every monsoon, as is most of northern Bihar. But the district also sees many floods in the non-monsoon months, many of which go unreported, and often, ignored by flood-relief schemes as well. The natural explanation for the flash floods is that the region is at the foothills and rivers from the hills of bordering Nepal flow through it.
But the floods are not entirely a result of natural phenomena. Over the years, excessive sand mining in the river beds has led to ecological imbalances, making rivers and streams flood and even change their course, wreaking havoc in the villages along their banks. https://www.videovolunteers.org/sand-mining-in-bihar-an-industry-a-mafia-an-environmental-disaster/ 
Maharashtra Sand divers risking lives for a  few 100 rupees Recently Babban Bartade, daily wager involved in mining sand, died accidently  at Vasai Creek, one of the two main distributaries of the Ulhas River. Manual sand dredging from the bottom of the creek has become a deadly trade that fuels the booming construction industry. Despite official crack down it continues at several places in Mumbai.
As per a report, about 75,000 men, many from poor areas, were risking their lives and health by spending up to 12 hours a day diving 40 feet (12 metres) into pitch-black waters with iron buckets to fill with sand. In response, the Maharashtra government promised to end illegal mining along the creek, impose regulations, and provide alternate jobs. Almost one year later, there are far fewer sand mining boats on the creek, but the promised jobs have not materialised with officials at different levels of government passing responsibility for the employment plan on to others. https://www.ndtv.com/india-news/sand-miners-risk-injuries-and-even-death-for-a-few-100-rupees-more-1899429  (13 Aug. 2018)
Tamil Nadu HC ordered EIA into illegal sand mining In an interim order, the Madras High Court on Aug 11 directed the govt to stop sand mining in the Puzhal and Kannigaiperu lakes. While Puzhal lake is a drinking water source for Chennai, the Kannigaiperu provides water for irrigation.  The HC also directed authorities to assess the environmental impact of the illegal quarrying, and directed the Inspector of Police to provide police protection to the petitioner, who said he was threatened by the sand mining mafia.
The petitioner alleged that by using 30-40 pumps, each of 5 Horsepower, water is pumped out of the North Western part of Puzhal lake, enabling quarrying. Advocate M. Purushothaman, who appeared on behalf of the petitioner, said that the government should allow desilting only in the summer and not in the monsoons. The State's representative said that the documents granting quarrying permissions will be produced on Tuesday.  https://www.thehindu.com/todays-paper/tp-national/tp-tamilnadu/stop-sand-mining-in-puzhal-and-kannigaiperu/article24668789.ece    (12 Aug. 2018)
Plea to check illegal sand mining Farmers of Pethanayakkanpalayam block have urged the district administration to form special village level monitoring committees to check the illegal sand mining activities in River Vasishta. The official machinery, following repeated complaints of indiscriminate sand mining in River Vasishta by people with vested interests, convened a tripartite meeting of revenue and police officials and farmers' representatives of Pethanayakkanpalayam block at Ethapur police station.
The farmers' representatives led by Thumbal Baskaran, leader of the district Uzhavar Mandra Koottamaippu, participated in the meeting. The meeting decided to issue a warning to the people indulging in the illicit mining of sand in rivers Vasishta and Vellar in Pappanayakkanpatti; Panamadal; Thumbal; Idayapatti; Panamadal and Ethapur.  https://www.thehindu.com/todays-paper/tp-national/tp-tamilnadu/plea-to-check-illegal-sand-mining/article24674026.ece  (13 Aug. 2018)
Punjab 4 cases of illegal mining registered in Naraingarh Officials have discovered illegal mining activities in Roon river in Naraingarh area. The mining officials found these sites while inspecting Toka, Taparia, Mianpur and Sangrani villages in Naraingarh block. They found that machines have dug up huge pits and extracted a large quantity of minerals from the river. Acting on a complaint by mining officials, the Ambala district police have registered four cases of illegal mining. https://timesofindia.indiatimes.com/city/gurgaon/four-separate-cases-of-illegal-mining-registered-in-naraingarh/articleshow/65326020.cms   (8 Aug. 2018)
India Water Portal How sand mining impacts ecosystem Sand is in high demand in the construction sector. By 2020, 1.4 billion tonnes of sand will be required in India. Sand mining is thus a lucrative business and fuels illegal extraction.
Illegal and unscientific sand mining is turning out to be one of the biggest ecological disasters in modern India. Around 26 people, including journalists and police officers, lost their lives in 2017 while trying to stop illegal sand mining. http://www.indiawaterportal.org/articles/how-sand-mining-impacts-ecosystem  (24 July 2018)
WETLANDS, LAKES, WATER BODIES
Karnataka Govt feels KSLDA unable to take lakes responsibility At a meeting on Aug. 6 to discuss restoration and rejuvenation of lakes in the state, CM is learnt to have rejected a proposal by the minor irrigation department to hand over 35,000 lakes to KSLDA. The CM and other senior Congress ministers said the KSLDA is still not ready to take the responsibility, though it has been two years since its formation.
The CM said this after attending a detailed powerpoint presentation made by the department officials, exhorting him to hand over all the lakes to the department for rejuvenation and restoration. In fact, many senior ministers from Kumaraswamy's cabinet, including revenue minister RV Deshpande and RDPR minister Krishna Byregowda, ridiculed the proposal. https://timesofindia.indiatimes.com/city/bengaluru/lake-authority-not-ready-to-take-responsibility-cm/articleshow/65301209.cms  (7 Aug. 2018)
Bellandur Lake Meanwhile, taking exception to what he called the 'apathy of the previous in the state to the deteriorating condition of Bellandur Lake', BJP MLA from Mahadevapura, Arvind Limbavali urged his party-led govt at the Centre to intervene and take up work on rejuvenating the frothing waterbody as well as Varthur and Rampura lakes.
Varthur Lake is downstream Bellandur Lake in southeast Bengaluru, while Rampura Lake is to the east of the city. All three lakes have been contaminated due to a poor sewage system and industrial effluents, leading to foam and fire in the waterbodies, the memorandum said, demanding a permanent solution to the problem and also central funds to bring them back to life.
The BDA, which prepared the DPR, said setting up of sewage treatment plants, underground drainages and other development works at Bellandur Lake would require Rs 381 crore. However, the DPR was prepared in 2009 and rejected by the Centre as it didn't reflect the lake's current status. Similarly, the state govt had sought Rs 178 crore to rejuvenate Varthur Lake, but this too was done by sending an outdated DPR, Limbavali claimed. This DPR too was shot down by the Centre, he added.
WATER OPTIONS
Report Tracing the country's history of water management and crucial, destructive shifts in policy While India has three major sources of water – the rain, the ice and snow in the mountains, and the groundwater — rain in India has never been an everyday occurrence. As the World Bank puts it: India has a 'highly seasonal pattern of rainfall', with 50 percent of precipitation falling in just 15 days and 90 percent of river flows occurring in just four months'.
This means water management has been, more than in other places, central to the functioning of Indian civilisations. Our ancestors have learned to eke out the water that was given by the monsoons over the remaining dry months in the year. The exposed brickwork of the surviving sites of the Indus Valley Civilisation acts as a mute witness to their expertise, as do the tanks, the step wells and the Kallanai or Grant Anicut that the Cholas built around 1800 years ago. https://www.firstpost.com/india/indias-water-crisis-tracing-the-countrys-history-of-water-management-and-crucial-destructive-shifts-in-policy-4895721.html  (8 Aug. 2018)
Tamil Nadu Community driven efforts to revive Chennai's waterbodies The Environmentalist Foundation of India (EFI) has partnered with the Greater Chennai Corporation (GCC) to work on the eco-restoration of seven water bodies in North Chennai. This includes water bodies in the ecologically sensitive regions of Madhavaram and Ennore. E.F.I has initiated works to scientifically restore:
Efforts in restoration include a detailed soil/silt analysis, aquifer analysis followed by removal of invasive weeds, trash and construction debris from the water bodies. This is followed by calculation-based deepening and bunds strengthening of the water body. Each water body is restored based on its hydro-geomorphology and socio-economic impact of the current day.
The inlet-outlet regulation is a critical part of the restoration, which helps maintain the inflow and outflow. The native species plantation and documentation of endemic lives in this habitat also help device and design an ecological restoration plan. The recharge trenches, percolation pits and constructed wetlands that are introduced in these water bodies help stabilise groundwater and also play a key role in localised temperature regulation.
Restoration efforts are underway in full swing, complimenting these efforts are the ongoing community engagement activities. By effectively involving the local community the project sustainability is ensured. From sensitising the public on the need for the restoration to how it is being done is critical as it creates the much-needed neighbourhood interest in the project.
Restoration of the water body is not limited to the structural changes, it includes the extensive sensitisation of the local community. Without their participation and buy in these projects are incomplete. All these water bodies will be restored in time for the upcoming North East Monsoons and Chennai is finally getting there to establish her Hydro-Identity. https://www.youthkiawaaz.com/2018/08/eco-restoration-of-north-chennai-ponds/   (7 Aug. 2018)
GROUND WATER
Punjab State drawing 15 times the water that goes into ground Findings of new study titled "Emerging Water Insecurity in India: Lessons from an Agriculturally Advanced State", written by eminent agro-economist RS Ghuman and Rajeev Sharma calculated that overall the state is drawing 49 per cent more water than is being recharged in the ground from rain or natural and manmade water bodies.
– As much as 77 per cent of the cultivable area in the state is irrigated by tubewells, while the rest is from canals or dependent on rain. Study points out that in 1970-71, Punjab had 1.92 lakh tubewells, which increased to 14.14 lakh by 2015-16. The result was that between 1996 and 2016, the ground water level in different districts declined between 6 and 22 metres.
– The highest draft, of more than double the recharge, is happening in four districts — Sangrur, Jalandhar, Kapurthala and Moga, mainly in the central plain zone, where paddy is the main crop during the kharif season. Among the other high-drawing districts are Barnala (94 per cent more than the recharge), Fatehgarh Sahib (91%), Patiala (89%), Ludhiana (62%), and Faridkot (60%).
– Only two districts, Pathankot and Hoshiarpur, have a draft less than the recharge, thus ensuring the ground level is maintained. Around 80 per cent of the water consumption in Punjab is for rice production, which is largely meant for the Central grain pool. https://www.tribuneindia.com/news/punjab/-dry-punjab-draws-1-5-times-the-water-that-goes-in-ground/635178.html  (10 Aug. 2018)
Comparative analysis of MoWR recent study data, The Tribune finds that Haryana states has topped the chart among states in North India where ground water table is falling fast, where as contamination in Punjab has become very serious. The other states in the region concerned are Himachal Pradesh, Jammu & Kashmir and Uttarakhand. https://www.tribuneindia.com/news/haryana/groundwater-contamination-haryana-punjab-top-chart-in-the-region/636232.html  (12 Aug. 2018)
The invisible and capricious nature of groundwater has resulted in so much exploitation and overuse leading to a very visible and consistent crisis argues Rohini Nilekani: https://www.livemint.com/Leisure/7ztndZVQNjFd9HVtfn9vnI/Rohini-Nilekani–Making-invisible-water-visible.html  (10 Aug. 2018)
Parliamentary Panel Groundwater like 'fixed deposit', allow limited use only Describing groundwater as a bank "fixed deposit", a parliamentary panel has suggested to the government that it should allow its limited use in extraordinary situations only. The panel made the remarks in view of the increasing demand for potable water and the depleting groundwater level. https://www.outlookindia.com/newsscroll/groundwater-like-fixed-deposit-allow-limited-use-only-par-panel/1365715  (12 Aug. 2018)
INFORMATIVE: The country's groundwater levels are being monitored four times in a year by CGWB through a network of 22,339 monitoring wells during the months of January and the pre-monsoon months of March, April and May. The monitoring began in 1969 and at present the CGWB has a network of 22,339 observation wells, out of which 16,190 are dug wells and 6,149 are piezometers. http://www.newindianexpress.com/thesundaystandard/2018/aug/12/groundwater-sinks-to-new-low-1856508.html  (12 Aug. 2018)
Odisha State govt signs 1150 cr MoU with NABARD The Department of Water Resources Odisha govt signed MoU with the National Bank for Agriculture and Rural Development (NABARD) for a massive groundwater recharge project. The approximately Rs 1,115 crore project will be implemented in 15 districts across the state in five years.
The South Korea-based Green Climate Fund will provide $34.36 million (approximately Rs 232 crore) to the state government as financial assistance through NABARD. This will be the country's first project from the Green Climate Fund.
To address the adverse impact of climate change on the water sector, the state government had submitted a proposal to Green Climate Fund. Under the project, 10,000 ponds will be renovated and the recharge structure will be constructed to conserve surplus rainwater.
"Apart from renovation and improvement of 10,000 ponds, the project envisages shafts to recharge water to the aquifers, development of 1,000 deep bore wells with solar pumping based micro irrigation and capacity building of farmers," said the Chief Minister."   https://timesofindia.indiatimes.com/city/bhubaneswar/rs-1150-crore-to-recharge-groundwater-government/articleshow/65363495.cms  (11 Aug. 2018)
Hyderabad Groundwater level plummets in Visakhapatnam district Scanty rainfall during the last two months and overexploitation have led to fall in groundwater levels, particularly in the areas in and around the city. Though there appears to be not much of a deviation in the overall rainfall — against a normal of 350 mm for June and July, the actual was 337 mm with a deviation of 4 % — the spread is not even. Only 5 mandals in the district have received excess rainfall, 22 normal and 16 suffered a deficit.
It's a double impact of needing more supply owing to lack of rain and consequently more utilisation leading to overexploitation and lack of recharge leading to fall in water table, he explains. https://www.thehindu.com/news/cities/Visakhapatnam/groundwater-level-plummets-in-visakhapatnam-district/article24627504.ece  (8 Aug. 2018)
WATER POLLUTION
Madhya Pradesh Bairagarh gets sewage in water Leakage in sewage line running parallel to drinking water supply, causes contamination of potable water supply to 15 K residents of Bairagarh, Bhopal: BMC Bairagarh water work supervisor GS Gohiya claimed, "There is no permanent solution to the problem. If the issue has to be solved on a permanent basis, there should be enough distance between the two pipelines." https://timesofindia.indiatimes.com/city/bhopal/bhopal-bairagarh-gets-sewage-in-water/articleshow/65331802.cms  (9 Aug. 2018)
Bihar State Pollution Control Board (BSPCB) to receive grant of Rs 11 crore under the Centre's Namami Gange program to conduct a research on water pollution: https://timesofindia.indiatimes.com/city/patna/pollution-control-board-to-get-rs-11-crore-for-research/articleshow/65358805.cms  (11 Aug. 2018)
URBAN WATERS
Karnataka Water projects take a beating as land acquisition turns costly An executive engineer of KHB said since the board is expected to provide sites at an affordable price, acquiring land as per the new Act becomes financially unviable. "If at all we acquire land as per the Act's provisions, we'll be left with no option but to pass on the burden to buyers, which is not feasible," he said, adding that many govt departments are facing this problem. The Upper Krishna Project 3, under which the height of Almatti dam has to be raised to 524, and Yettinahole drinking water project have been in limbo for the same reason as the government has to shell out more than Rs 30,000 crore just to acquire land. https://timesofindia.indiatimes.com/city/bengaluru/high-compensation-land-acquisition-hurdle-hits-development-projects/articleshow/65298654.cms  (7 Aug. 2018)
WATER
Study Power sector may account for over 90% additional water withdrawal and consumption b/w 2010-2035 With India's power sector expected to account for 98 per cent of additional water withdrawals and 95 per cent of additional consumption between 2010 and 2035, reuse of treated water is essential for sustainable water management, suggested a recent ASSOCHAM-KPMG joint study.
Considering that water is a state subject, it is imperative that government of India makes it mandatory for each state to have a state water policy. "This should focus on innovative technological approaches across various consumers of water for implementation, operation and maintenance and mandate establishment of a water regulatory authority."
The study also highlighted need to improve water efficiency for irrigation infrastructure in India as agriculture sector requires 800 billion cubic meters of water annually out of which 60 per cent is dependent on rain and nearly 40 per cent is through assured water supply (irrigation).
Besides, lack of capacity building of the utilities in managing water infrastructure is leading to poor service delivery. Thus, the study suggested for involving community (end beneficiary) in the process of infrastructure management for optimum use. https://timesofindia.indiatimes.com/business/india-business/power-sector-may-account-for-over-90-additional-water-use-between-2010-2035/articleshow/65321573.cms  (8 Aug. 2018)
DELHI WATER
IIT Delhi Report How to make Delhi drainage system efficient A long-awaited report on 'How to Make Drainage Work in the National Capital Territory of Delhi', prepared by Professor A K Gosain and his team from IIT Delhi, has just been submitted to the Department of Irrigation and Flood Control of the government of Delhi. The report spells out what is needed to ensure that the drainage system in Delhi works efficiently.
There are three major drainage basins in the NCT of Delhi — Najafgarh, Barapullah and Trans-Yamuna basins — and, there are 22 natural drainage systems in these basins which outfall into the Yamuna somewhere during its 46 km-run through Delhi. There are 201 sub-segments of the natural drains in these networks. These "drains" are actually the waterways that carry the run-offs from the plains to the river Yamuna and also recharge groundwater, besides supporting biodiversity.
The IIT team reports that many of these channel drains have been encroached and are disappearing: 19 out of the 201 natural drains mentioned in the 1976 Master Plan of the Delhi Government cannot even be traced today. Of the rest, some are filled with solid waste and, sometimes, construction debris; Others carry sewage and hence function as sewers. https://indianexpress.com/article/opinion/monsoon-rains-weather-delhi-flooding-drainage-system-development-authority-5285343/  (1 Aug. 2018)
AGRICULTURE
Punjab Brar the cotton region shifted to paddy farming Informative report on how farmers though feeling climate change effects are left with less choices to bring changes in farming practices in Punjab and Madhya Pradesh. https://www.excavate.in/indiaspend-climate-change-crisis-why-fatuhi-khera-in-punjab-changed-from-cotton-to-rice/  (17 July 2018)
ENERGY OPTION
Kerala State tops State Energy Efficiency Preparedness Index Kerala has emerged on top in the recently published inaugural edition of the State Energy Efficiency Preparedness Index, brought out jointly by the Bureau of Energy Efficiency (BEE) and NITI Aayog. The state scored 77 points to top the charts, followed by Rajasthan with 68 points and Andhra Pradesh with 66.5 points.
The three states plus Maharashtra and Punjab have been listed as front-runner states in the quest for energy efficiency. The index assessed state policies and programmes aimed at improving energy efficiency in five key sectors: buildings, industries, municipalities, transportation, and agriculture and electricity distribution. http://www.newindianexpress.com/states/kerala/2018/aug/09/kerala-tops-state-energy-efficiency-preparedness-index-with-77-points-1855270.html  (10 Aug. 2018) 
SOUTH ASIA
Nepal The importance of local voices in hydropower projects The trouble is, in hydropower decisions, these or any other communities dependent on rivers have no role, there is no question of even their rehabilitation or compensating their losses. They are not part of cost benefit calculations, or options assessment. "For some of Nepal's most fragile communities, like those living in Badi, rivers not only support livelihoods, but are the sole lifeline. As new development and hydropower projects take shape in West Nepal, threats to many of these communities are intensifying as river and water resources are subject to change." https://www.thethirdpole.net/en/2018/08/08/the-importance-of-local-voices-in-nepals-hypropower-projects/  (8 Aug. 2018)
SOUTH EAST ASIA
Laos Dam Disaster Govt suspends new dam projects following catastrophe The Laos govt will suspend approval of new dams while it reviews more than 50 current projects following the catastrophic collapse of a hydropower facility late last month.
Kanya Khammoungkhoun, Deputy Director General of the Laotian Ministry of Foreign Affairs, told that a wide scale review of the country's dam projects would be launched in the wake of the disaster, which killed scores of people and displaced more than 10,000 others in two countries. On July 23, an auxiliary dam at the Xe Pian Xe Namnoy dam cluster collapsed unleashing five billion cubic meters of water onto downstream villages in Attapeu province's Sanamxai district. https://www.voanews.com/a/laos-dam-project-on-pause/4518337.html  (8 Aug. 2018)
Civil Groups and researchers are calling on the Lao Govt to ensure transparency in its investigations on Lao populations affected by massive flooding from a breach in a hydropower dam wall that left more than two dozen people dead last month in southern Laos. Local bodies have been vocal opponents of Laos' rush to hydro development without adequate assurances over the social and environmental impacts from such projects. https://www.voanews.com/a/environmental-groups-lao-dam-breach-highlights-fears-over-massive-projects/4515503.html   (6 Aug. 2018)
As Laos hits the pause button on its huge hydropower dam building spree, this is an opportunity to push for other forms of renewable energy – solar and wind – that Laos is well-placed to use, argues Brian Eyler. https://www.thethirdpole.net/en/2018/08/10/moratorium-on-new-mekong-dams-in-laos-provides-window-of-opportunity/  (10 Aug. 2018)
CHINA
How Taming the Mekong Could Give China Unprecedented Power Greater control over the Mekong — known as Lancang in China — through to southern Vietnam gives Beijing a bigger say over the use of the river's key resources, and leverage to press countries to fall into line on its politics.
"The full brunt of this influence has not yet been demonstrated but, if exercised, it has the power to create famine, civil unrest, and potentially topple governments," said Elliot Brennan, a Bangkok-based research fellow at the Institute for Security & Policy Development.
"China's increasing influence over the river system, both through upstream dams and joint venture dams on the Lower Mekong, is the other half of its so-called salami-slicing strategy in Southeast Asia," he said referring to the strategy of incremental build-up of a chain of artificial islands, infrastructure and military capability.
With China having already built six major dams on the upper part of the river, and with plans to build another 21, its ability to store and release water during the dry season and in times of drought is set to increase. https://www.bloomberg.com/news/articles/2018-08-06/damming-up-the-mekong-comes-with-strategic-strings-for-china  (7 Aug. 2018)
THE REST OF THE WORLD
Research Amazing Map Shows How California 'Breathes' Water Throughout the Year Researchers at the California Institute of Technology compiled hundreds of satellite images collected between 1992 and 2011 to measure how the ground in California rises and falls during the wet and dry seasons.
When the images are put together, the result is a dramatic animated graphic showing the land seeming to inhale and exhale water." https://phys.org/news/2018-08-animation-based-satellite-southern-california.html  (10 Aug. 2018)
River Network Lessons From the Latest Wild & Scenic Success: East Rosebud Creek On August 2, 2018, H.R. 4645, the "East Rosebud Wild and Scenic Rivers Act" was signed into law, designating segments of the East Rosebud Creek in the State of Montana for protection in the National Wild and Scenic Rivers System. The designation is a victory for a diverse coalition of local and regional stakeholders who worked together for nearly a decade.
"This victory is a testament to the ability of water to unite rather than divide us," says Nicole Silk, President of River Network. "By focusing on what matters at the local level, we can find a path forward that includes healthy rivers too." https://www.rivernetwork.org/lessons-from-the-latest-wild-scenic-success-east-rosebud-creek/  (6 Aug. 2018)
Australia Adani spent a year trying to hide this information on its reef spill Adani has been fighting to hide details of what it told the Queensland Govt about the risk of pollution to the Great Barrier Reef ahead of Cyclone Debbie in 2017. Now, conservationists say documents and a series of emails obtained through freedom of information laws appear to show the company and the Queensland Government knew the pollution would be so bad it would break the law. The details are revealed in an exchange over the company's temporary pollution licence and it starts on March 27, 2017. http://www.abc.net.au/news/2018-08-10/adani-spent-a-year-trying-to-hide-reef-spill-details/10090632  (10 Aug. 2018)
Global The ultra pur, super secret sand that makes your phone possible Another least known aspect & use of SAND: In the 21st century, sand has become more important than ever, and in more ways than ever. This is the digital age, in which the jobs we work at, the entertainment we divert ourselves with, and the ways we communicate with one another are increasingly defined by the internet and the computers, tablets, and cell phones that connect us to it. None of this would be possible were it not for sand. But its impact is immeasurable. https://www.wired.com/story/book-excerpt-science-of-ultra-pure-silicon/  (8 July 2018)
CLIMATE CHANGE
Study Global Warming to increase water in South Asian rivers The South Asia region will see a 20 – 30 per cent increase in mean annual runoff for the period 2046–2075 relative to the study baseline period of 1976–2005, says Hongxing Zheng, corresponding author of the study published in August 2018 in the Journal of Hydrology: Regional Studies. The study was carried out by the Commonwealth Scientific and Industrial Research Organisation, Australia.
– "A spike in mean annual runoff of about 10 per cent is projected for the Indus, Tibetan Plateau and Arakan Coast regions, and about 15 per cent in the Ganges-Brahmaputra, Deccan Plateau and Ghats Coast regions," Hongxing says, adding that the spike will be over 20 per cent in the Narmada-Tapti region and Sri Lanka.
– The change will be driven by higher temperatures from global warming, leading to more rain, the study says. Average daily temperatures would rise by 2.9 – 4 degrees Celsius in 2046—2075 relative to the baseline. It also says the winter season will be slightly warmer and the summer seasons may see noticeably higher temperatures especially in the northern (high altitude) regions. https://www.scidev.net/asia-pacific/disasters/news/global-warming-to-increase-water-in-south-asian-rivers.html  (6 Aug. 2018)
ENVIRONMENT
Sikkim Khangchendzonga Biosphere Reserve enters UNESCO list The Khangchendzonga Biosphere Reserve (KBR) of Sikkim, the highest biosphere reserve in the country that includes the third highest mountain peak in the world, Kanchenjunga (8,586 m), has been included in the UNESCO's World Network of Biosphere Reserve (WHBR).
With the inclusion of the KBR, one of the highest ecosystems in the world, reaching elevations of 1,220 m to 8,586 m above sea level, the number of biosphere reserves from the country included in World Network of Biosphere Reserves has increased to 11.
The last biosphere reserve to be included was the Agasthyamalai Biosphere Reserve in Kerala in 2016. The Nilgiri Biosphere Reserve was the first reserve from the country to be included in the WNBR. India has 18 biospheres reserves, of which 11 have been included in the WNBR.
The Khangchendzonga Biosphere Reserve is one of the world's 34 biodiversity hotspots that has good species diversity with high levels of endemism, with many mountains, peaks, lakes, caves, rocks, stupas (shrines) and hot springs. https://www.thehindu.com/sci-tech/energy-and-environment/khangchendzonga-biosphere-reserve-enters-unesco-list/article24659847.ece  (10 Aug. 2018)
Maharashtra Aarey shed for Metro-3 stays off track in Mumbai The Supreme Court (SC) on Aug. 6 refused to lift the NGT stay to allow the Mumbai Metro Rail Corporation Limited (MMRCL) to restart the construction of Metro-3 car shed at Aarey Milk Colony in Goregaon.
In June 2015, environment groups Vanashakti and Aarey Conservation Group (ACG) filed a petition with NGT's western bench in Pune, seeking protection for the area as a forest and demanding the car shed be shifted. On May 14, Delhi NGT upheld an August 2015 order by Pune NGT that called for a stay on construction and restrained the MMRCL from carrying out any debris dumping, reclamation of land and cutting of trees in the area allotted (30 hectares) for the Colaba-Bandra-SEEPZ Metro car shed until further orders.
Last week, MMRCL filed a special leave petition in the Supreme Court, seeking interim relief from the NGT order. Denying relief, the SC bench comprising Justice Rohinton Nariman and Justice Indu Malhotra disposed of the matter and transferred it back to NGT in Delhi. https://www.hindustantimes.com/mumbai-news/aarey-shed-for-metro-3-stays-off-track-in-mumbai/story-nLcQDAzlrrCai42mqzFvnJ.html  (7 Aug. 2018)
Goa Clearance to controversial coal terminal based on outdated rules The terminal run by JSW Group at the Mormugao port, which had opened in 2004, was subsequently authorised to handle an annual import of 5.5 million tonnes of coal. But the State Pollution Control Board found that since 2011, the JSW Group had actually handled up to 10 million tonnes of coal per annum, nearly double the sanctioned quantity. It withdrew the project's consent to operate on January 9.
What further sealed the Board's decision in March was its finding that the project's environmental clearance, which was issued by the Ministry of Surface Transport in 2001, had lapsed. However, in June, the company produced a letter from the MoEF stating that the project's environmental clearance was still valid. https://scroll.in/article/888576/clearance-to-controversial-coal-terminal-in-goa-is-based-on-outdated-rules-from-the-1990s  (9 Aug. 2018)
Haryana Industrial waste in Aravali's leopard corridor Heaps of industrial waste and traces of leachate were spotted inside dense Aravali forests, barely 100 metres from NH-8 and 500 metres from Govt Polytechnic in Manesar. Locals alleged they had seen a dozen of trucks and tractors, carrying industrial waste allegedly from industrial units at IMT-Manesar, coming into the forests at night.
According to a survey conducted by WII in 2017, the parts of the Aravalis that fall in Manesar are one of the most sensitive areas. Moreover, the forest department, in its response to an RTI query, had revealed that the area was part of a leopard corridor and housed as many as 15 big cats and nine other carnivorous species — all protected under the Wildlife Protection Act, 1972. https://timesofindia.indiatimes.com/city/gurgaon/industrial-waste-in-aravalis-leopard-corridor/articleshow/65330329.cms  (9 Aug. 2018)
Delhi Qutub Minar Gets Competition from a Tower of Garbage
In a recent report on landfills in Delhi, a panel of the parliament noted that the height of Ghazipur landfill site has reached as high as 65 metres, just eight metres shy of the height of Qutub Minar. https://thewire.in/environment/delhi-qutub-minar-competition-tower-garbage-ghazipur  (13 Aug. 2018)
Himachal Pradesh Baddi MC turns site of Rs 9.7 cr proposed Waste Management Facility into illegal dumpyard Severely affected by solid and liquid waste (industrial), Baddi villagers Himachal Pradesh form a civil group to ensure their plight is heard by administration: https://himachalwatcher.com/2018/08/09/baddi-mc-turns-site-of-rs-9-7-crores-proposed-waste-management-facility-into-illegal-dumpyard/  (9 Aug. 2018)
Compiled by SANDRP (ht.sandrp@gmail.com)
Please also see, DRP News Bulletin 6 Aug. 2018 & DRP News Bulletin 30 July 2018
Follow us on www.facebook.com/sandrp.in; https://twitter.com/Indian_Rivers