The outgoing year 2020 is likely to be remembered as Corona year as Covid 19 pandemic has been the most influential aspect of the year. However, there have been many positives of the outgoing year. We identify five biggest positives as we see them.
Firstly, the complete lockdown that we experienced during March-April 2020, to slow down the spread of the Covid 19 infection showed, among many other things that it is indeed possible to clean up our rivers and also indicated the way forward: tackle industrial pollution. Unfortunately, those clear lessons have not been learnt by the government, its been busy in ease of doing business, not even understanding that in changing climate, clean rivers are going to be a major resource that will help people adapt.
The second notable positive was the major across the country protests, particularly from the younger generation against the government's attempt to bulldoze the completely anti- environment amendment to the EIA notification. The protests along with the judicial orders have so far stopped the amendment from getting implementation. The government will do well to abandon any attempt to push them.
Similar to the protests against amendments to EIA notification were the protests against trying to bulldoze the massive Etalin Hydropower project in Dibang Valley in Arunachal Pradesh, at the cost of lakhs of trees and biodiversity rich forest and river and against the wishes of the people of Arunachal Pradesh and North East India. Here again it was good to see that the campaign has so far been successful.
India Rivers Week 2020 organised Zonal and National dialogues on river sand mining in India, in which large number of groups and stakeholders from across the country participated and has created a new wave of awareness and energy on this very important but so far largely ignored issue. We are hopeful that this energy will lead to change in governance of river sand mining in India.
Finally, the month-long ongoing and increasing farmers protests against the three farm laws that the government brought without any worthwhile consultation with any of the stakeholders, is an important landmark of outgoing year. Lakhs of farmers are on the roads at Delhi border, braving the severe cold and Covid. The agriculture sector has major water and environment footprint. The protests provide hope that farmers will continue to fight for what is just, sustainable and equitable.
So as we say goodbye to the outgoing year 2020, let us draw positive energy from these developments. We are sure others will have different choices of five such positive developments, we welcome all such feedback as we wish everyone a happier 2021!!
HYDRO POWER PROJECTS
MoEF Agenda of the Expert Appraisal Committee meeting of MoEF for the River Valley Projects, to be held on Dec 30, 2020:
1. Rongnichu HEP (115 MW) by Madhya Bharat Power Corp, Sikkim for Environment Clearance.
2. Ujh Multipurpose (196 MW) Project in Kathua Dist of Jammu & Kashmir by J&K State Power Development Corp for Env Clrance.
3. Sunni Dam HEP in (382 MW) in Shimla & Mandi Dist of Himachal Pradesh by SVJN for Env Clearance http://environmentclearance.nic.in/writereaddata/Form-1A/Agenda/23122020XE0QICFYAgenda_for_5th_meeting_of_EAC_hydro.pdf
Himachal Pradesh SJVNL gets 3 more hydro projects The projects — 104 MW Tandi, 130 MW Rashil and 267 MW Sach Khas hydroelectric projects — are located in the Chenab river basin in the hill state's Chamba district, SJVNL Chairman and Managing Director Nand Lal Sharma said. Currently, the SJVNL has three projects –430 MW Reoli Dugli, 210 MW Purthi and 138 MW Bardang hydro projects, all in the Chenab basin. https://energy.economictimes.indiatimes.com/news/power/sjvnl-gets-three-more-hydro-projects-in-himachal/79941910  (24 Dec. 2020)
Is Hydropower Good For Environment? The article by Urvi Shrivastav in Business World asks some right questions about hydropower projects. It may also have noted the generation performance of hydropower projects and its claims vs reality about providing peaking power. http://www.businessworld.in/article/Is-Hydropower-Good-For-Environment-Food-For-Thought/28-12-2020-358675/  (28 Dec. 2020)
DAMS
Himachal Pradesh Dam Evacuees Wait 50 Years For Rehabilitation In January 2021, the Supreme Court will hear a petition seeking the rehabilitation of thousands of families displaced more than five decades ago by the Pong Dam in Kangra district. The dam had submerged the lands of over 30,000 families who were promised rehabilitation in Rajasthan, in areas irrigated by the dam's waters. About 8,000 families are still awaiting rehabilitation. The expansion of large dams is being proposed even as rehabilitation is yet to be completed for most of India's early dam projects, said Himanshu Thakkar of the SANDRP, a non-profit critical of large dams. The judiciary is the final hope for those seeking the completion of rehabilitation in legacy cases such as Pong Dam, he added. "Just rehabilitation is an eminently justiciable issue. Indian judiciary is so highly regarded. So why can't they step in and ask why rehabilitation is not happening?" asked Thakkar. https://www.indiaspend.com/land-rights/himachal-dam-evacuees-wait-50-years-for-rehabilitation-704996 (23 Dec. 2020)
Polavaram Project Chhattisgarh govt approached SC Chhattisgarh has approached the Supreme Court against the Indira Sagar Polavaram Dam in Andhra Pradesh as no public hearing has been held in the state's villages which will be affected by it, Water Resources Department Minister Ravindra Choubey said on Dec 24, 2020. The Minister told the Assembly that the 'daiphragm' (water blocking) walls in the project will make water flow into Shabri affecting more villages on the banks. Keeping these in view, the Chhattisgarh government has moved the apex court.
– Along with Chhattisgarh, Odisha and Telangana have also approached the apex court. Dr Renu said the project will benefit only Andhra Pradesh and those affected in Chhattisgarh will be the most primitive and endangered tribes of Dorla and Koya. Around 13 km of area will be submerged, mainly villages and forests. Choubey said the three blocks of Sukma, Konta and Chindgarh will be affected. The matter has also been raised before the Godawari Tribunal. https://www.dailypioneer.com/2020/state-editions/chhattisgarh-will-be-hit-by-polavaram-dam.html (25 Dec. 2020)
Centre pegs Polavaram project cost at ₹55,549 cr The Centre, through the Union Jal Shakti Ministry, has indicated that the cost of the Polavaram project is ₹55,548.87 crore (at 2017-18 price level) in its annual statement and has stated that Rs 2234 Cr will be released by Nabard in 2020-21. An expenditure of ₹17,327 crore has been incurred for the project works as of March 31, 2020. https://www.thehindubusinessline.com/news/centre-pegs-polavaram-project-cost-at-55549-crore/article33426237.ece (26 Dec. 2020)
Kaleshwaram Project NGT puts onus on Centre for environment violations The NGT's order issued on Dec 22, 2020 regarding expansion of the Kaleshwarm from utilisation of 2 TMC per day to 3 TMC per day stated that the matter must be dealt with the Ministry of Jal Shakti. The order read, "It is clear from the order already passed that the matter is to be dealt with by the Ministry of Jal Shakti and the State is to proceed in accordance with the decision of the said Ministry. No further order is called for except that the applicant may take up the matter with the concerned Ministry/government, as per law." The NGT had then said it cannot accept the stand of Telangana government that the expansion of Kaleshwaram project by extraction of 3 TMC water per day instead of 2 TMC does not involve any infrastructural changes and therefore environmental clearance was not required. The NGT had also pointed out that as per a letter from the Minister of Jal Shakti to the Telangana Chief Minister, the State government should not proceed with the project without obtaining necessary permissions from the Godavari River Management Board (GRMB), the Apex Council and CWC. With that order, NGT disposed off the petition. https://www.newindianexpress.com/states/telangana/2020/dec/24/kaleshwaram-green-norm-violation-ngt-puts-onus-on-centre-2240336.html (24 Dec. 2020)
Telangana Dam oustees struggle to find a place for the dead Tragic case. Those displaced due to the Kondapochammasagar reservoir in Siddipet district are not able to find even a burial place for the dead. https://www.thehindu.com/todays-paper/tp-national/dam-oustees-struggle-to-find-a-place-for-the-dead/article33414433.ece (25 Dec. 2020)
Sardar Sarovar Project Oppose inclusion of areas around Statue of Unity under ESZ: ex-BJP MLA Vasava, who also leads the BJP party's tribal cell in the state, has asked the sarpanches of 121 villages in Narmada district of Gujarat to use the upcoming gram sabhas in the villages to pass resolutions against the government order under 2016 MoEF notification, using PESA. Earlier Bharuch BJP MP Mansukhbhai Vasava also wrote on same lines. https://indianexpress.com/article/india/oppose-inclusion-of-areas-around-statue-of-unity-under-eco-sensitive-zone-ex-bjp-mla-to-sarpanches-7118978/ (25 Dec. 2020)
Karnataka Proposed Mekedatu dam on Cauvery endangers four threatened species The isolated Cauvery valley, the last stretch of the free-flowing mystic river in Karnataka where the arboreal grizzled giant squirrels still screech from the forest canopy, herds of elephants cross the river as crocodiles bask in the distance, otters frolic on the sand banks and fish eagles perch high above. You may see a sloth bear foraging for food beneath boulders or a porcupine hurrying to take shelter in the thickets. If you look hard enough, you may chance upon a leopard vanishing behind the shadow of the hills as scores of spotted deer and four-horned antelopes stand alert in their stiff posture – the Cauvery valley is a veritable paradise.
With a predominantly dry climate – albeit rich with water from the Cauvery, the Palar and several streams – the river system is unique in this stretch of the Cauvery. This setting imparts much-needed life into the river systems and unleashes a wealth of diversity with profuse fish populations and an abundance of other life forms. In lieu of its isolated nature, the Cauvery Wildlife Sanctuary was instituted in the year 1987 providing safe passage to the Cauvery river meandering through it.
However, the past few decades have seen an increasing clamour to divert water from rivers and prevent it from flowing into the sea. Using this logic, it is proposed to again dam the Cauvery river, which provides Bengaluru about 1,350 million litres of water per day, and permanently alter this ancient landscape. Government analysis estimates that Bengaluru will require 2,285 million litres of water per day by the year 2030, which can be met if the 67 tmc capacity Mekedatu dam project is implemented successfully. More than 50 square km of land will be submerged as a result of a balancing reservoir in the proposed Mekedatu project. Tellingly, only six villages are scheduled to be flooded while the remaining area is mostly forested. https://www.thenewsminute.com/article/how-mekedatu-dam-project-cauvery-valley-endangers-four-threatened-species-140376  (27 Dec. 2020)
RIVERS AS NATIONAL WATER WAYS
NGT asks MoEF whether clearance needed for waterway projects on Ganga NGT has ordered the MoEF to submit a report on whether the Environment Impact Assessment (EIA) is necessary for inland waterway projects in Ganga river in the stretch from Varanasi to Haldia which is also called the National Waterway 1. The direction came while hearing a petition filed, as per which EIA is required for the project that envisages developmental activities such as river terminal, jetties and locks and barrages and multimodal river water terminals along with necessary dredging. https://www.newindianexpress.com/nation/2020/dec/18/ngt-asks-environment-ministry-for-report-on-whether-clearance-needed-for-inland-waterway-projects-in-2238070.html (18 Dec. 2020)
Gujarat Seaplane Service Fails to Take Off The Airports Authority of India (AAI) has said that revealing information about the seaplane service between Ahmedabad and Kevadia and the expenses incurred in launching the project would "directly affect strategy and economic interest of the state" as well as "commercial confidence" in the state. "The project is still under development. The total expense can only be provided on completion. The capital expenditure for this project is being borne by Govt of India under the UDAN scheme," the RTI reply said. The body also refused to share the feasibility test report and said that the test was conducted but "the development of these Water Aerodrom is still underway. Any information regarding this, shared at this stage would directly affect strategy/and economic interest of the state." https://thewire.in/government/pms-much-touted-seaplane-service-in-gujarat-fails-to-take-off (24 Dec. 2020)
URBAN RIVERS
Musi; Hyderabad Encroachments, government apathy taking toll on Musi banks Musi river, once the lifeline of Hyderabad city, is in a sad state, with increasing encroachments shrinking its bed across the city. The situation at Nagole is getting worse by the day. At least 60% of buffer zone of the river is encroached upon by private establishments, residential complexes, deplore environmental activists. Many are utilising the riverbanks for parking and other purposes. https://www.thehansindia.com/news/cities/hyderabad/encroachments-govt-apathy-taking-toll-on-musi-banks-663403 (24 Dec. 2020)
As much as Rs 314 crore was pumped into a project to drain sewage and other filth from the Musi river in Attapur and surrounding areas and divert the same to sewerage treatment plants (STPs). However, the purpose is not achieved, and all that precious money seems wasted. The drain canal project at Attapur Musi stretch is not preventing filth from spilling directly into the water body. https://www.thehansindia.com/news/cities/hyderabad/hyderabad-a-stinking-shrinking-stretch-at-many-places-663691 (25 Dec. 2020)
RIVERS
नदी अमृतें वाहाविया Parineeta Dandekar article (Marathi) in Loksatta on Dec 26, 2020. https://www.loksatta.com/bara-gaoncha-pani-news/article-about-river-management-rivers-in-india-zws-70-2365261/ (26 Dec. 2020)
Odisha Fear over River Water Diversion to Industries Sparks Protests in Kendrapara Odisha Over the past few months, numerous public protests have rocked Kendrapara in Odisha – from Jal Satyagrahas to human chains – against a state government Rs 754 Cr project to divert water from Kharasrota river in the district and provide it to the adjoining Bhadrak district for drinking purposes.
– Through this project, water from the Kharasrota will be tapped at Rajkanika block of Kendrapara and will be transported through a pipeline to cater to the needs of a population of 6.16 lakhs (as per 2011 census) in four blocks of Bhadrak. A maximum quantity of 86 million liters per day (MLD) water will be diverted from Kendrapara in the ultimate design year of the project, that is, the year 2050. The maximum capacity of the water treatment plant being set up in Bhadrak is 106 MLD. The project has been designed to provide 85 liters per capita per day (lpcd) of water to the targeted population.
Local residents and activists have been protesting against the project under the banner of Kharasrota Banchao Sangharsh Samiti, which has also been actively supported by the leaders of opposition political parties. It has also been alleged that large quantities of water diverted from the river will presumably be diverted for industrial use in and around Dhamra Sea Port in Bhadrak district. The state government has denied this allegation. The Kharasrota is a tributary branching off the Brahmani River near Jenapur in Jajpur district, which is adjoining to Kendrapara. The tributary merges with the main river, after travelling through Kendrapara district, just a few kilometres ahead of its mouth in the Bay of Bengal. https://www.newsclick.in/Fear-River-Water-Diversion-Industries-Sparks-Protests-Odisha-Kendrapara (24 Dec. 2020)
Meghalaya Khasi Students' Union demands inquiry into 'blue' colour in Lukha River The Narpuh unit of the Khasi Students' Union (KSU) has demanded for an independent inquiry into the 'blue' coloured water of the Lukha River in East Jaintia Hills district. The KSU has written to the East Jaintia Hills Deputy Commissioner (DC) to initiate an inquiry into the matter. In its letter to the DC, the KSU has stated that the river started to change its colour into 'blue' every winter since 2007. "Thousands of fish died and the water is no longer fit for drinking," the KSU stated in its letter.
The KSU alleged that the Lukha River changing colour into 'blue' is due to the release of effluents by cement factories and coal mining in the region. "Many in the area blame the cement factories for the changing colour the river water, coal mining for over 30 years in the area may also be one of the reasons," the KSU said, while demanding an independent inquiry to unravel the truth. The KSU further demanded that the probe should be completed within three weeks.
Notably, many studies were undertaken during the last few years to study the changing colour of Lukha River. All the studies revealed that limestone mining activities around the area have adversely affected the water quality. Since 2005, there has been major limestone mining activities near Umdoh and Lumshnong areas in East Jaintia hills district. The area has the highest density of cement factories. Meghalaya has around 15,100 million tons of limestone reserves, and exploitation limestone has been taking place on a large scale since 2005.
Lukha flows in the southern part of East Jaintia Hills, and was always rated as one of the most beautiful and finest clean water rivers in Northeast India. The river flows by Sonapur village and then descends into the Surma valley and ultimately ends up in the flood plains of Bangladesh. It receives water from the rivulet Lunar (Wah Lunar) and small streams draining from the Narpuh Reserve Forest and the undulating hills of the area while flowing down. https://nenow.in/north-east-news/meghalaya/meghalaya-khasi-students-union-demands-inquiry-into-blue-coloured-water-of-lukha-river.html (22 Dec. 2020)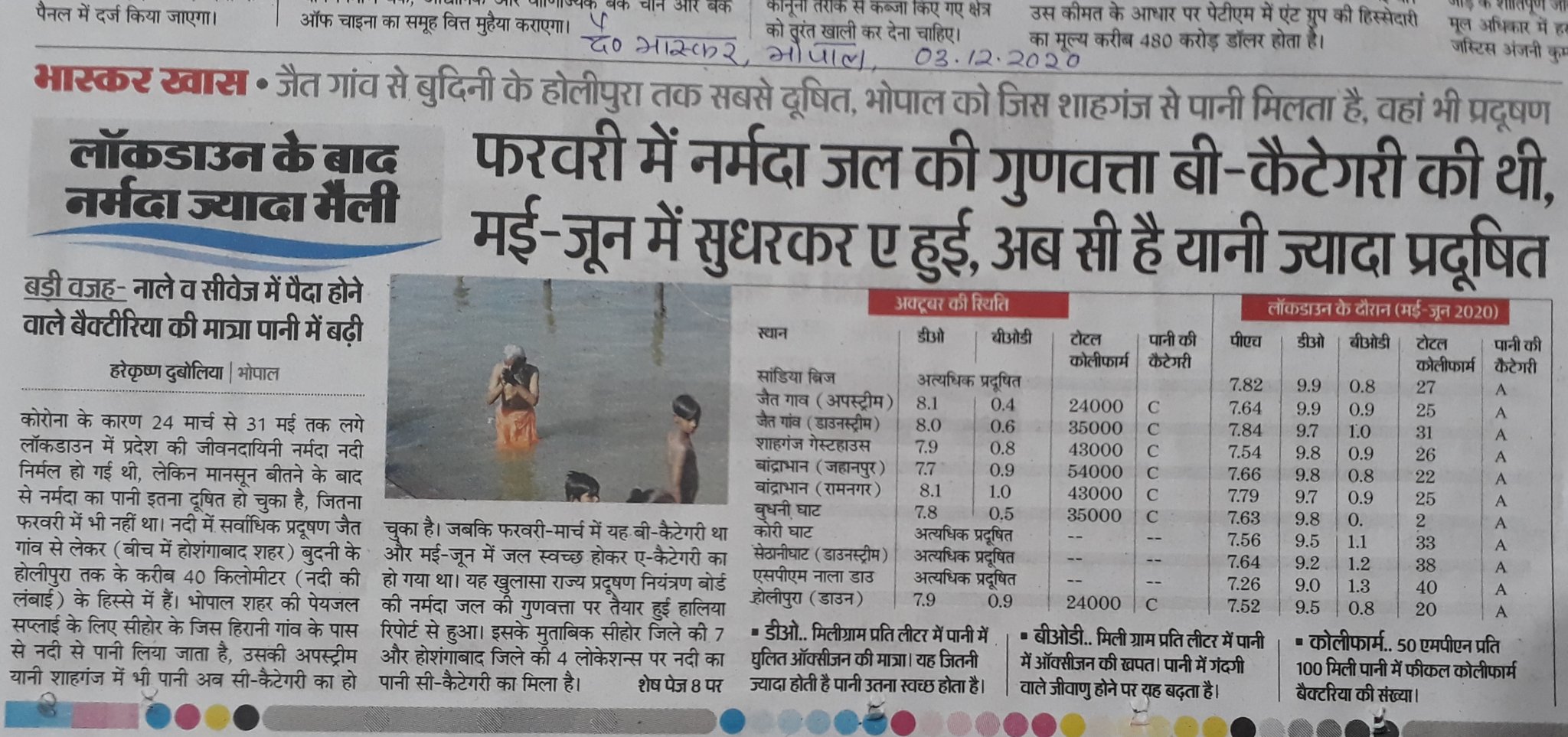 Madhya Pradesh Pollution level which had come down in Narmada river during initial lockdown months has increased again. भोपाल शहर की पेयजल सप्लाई के लिए सीहोर के जिस हिरानी गांव के पास से नदी से पानी लिया जाता है, उसकी अपस्ट्रीम यानी शाहगंज में भी पानी अब सी-कैटेगरी का हो चुका है। जबकि फरवरी-मार्च में यह बी-कैटेगरी था और मई-जून में जल स्वच्छ होकर ए-कैटेगरी का हो गया था। यह खुलासा राज्य प्रदूषण नियंत्रण बोर्ड की नर्मदा जल की गुणवत्ता पर तैयार हुई हालिया रिपोर्ट से हुआ। इसके मुताबिक सीहोर जिले कीे 7 और होशंगाबाद जिले की 4 लोकेशन्स पर नदी का पानी सी-कैटेगरी का मिला है। https://www.bhaskar.com/local/mp/bhopal/news/narmada-water-quality-was-of-b-category-in-february-improved-in-may-june-it-is-now-c-which-means-more-polluted-127973744.html (03 Dec. 2020)
GANGA संकट में हैं भूजल और नदियों का रिश्ता भूजल की कमी से, पर्यावरणीय प्रवाह और मछलियों जैसे जलीय प्रजातियों के पारिस्थितिक परिणामों की शायद ही कभी जांच की जाती है। हमने देखा है कि भूजल हमारी नदियों में पर्यावरणीय प्रवाह का एक प्रमुख स्रोत है। जल स्तर में गिरावट के साथ, बारहमासी नदियाँ मौसमी होती जा रही हैं। गंगा की कई सहायक नदियाँ हैं जिनमें पिछले पचास वर्षों में प्रवाह में 30 से 60 प्रतिशत की गिरावट आई है। प्रमुख कारणों में से एक भूजल स्तर में गिरावट और आधार प्रवाह में वियोग है। कृषि के लिए भूजल पंपिंग एक प्रमुख कारक है, जो वैश्विक मीठे पानी के पारिस्थितिक तंत्र की गिरावट का कारण बनता है। पानी की स्थायी उपलब्धता और पारिस्थितिक तंत्र के संरक्षण के लिए सतही जल के उपयुक्त प्रबंधन के साथ साथ एक्वीफर्स को रिचार्ज करना बहुत आवश्यक है। https://www.downtoearth.org.in/hindistory/river/ganga/relations-of-ground-water-and-rivers-are-in-crisis-74775 (24 Dec. 2020)
धरती की धमनी, मैं गंगा हूं भूमिगत जल का पुनर्भरण नहीं हो पाता है। तुम लोग ना तो यह सोचते हो कि जलचक्र खंडित होने से हम नदियां रुग्ण हो जाएंगी। तुम्हारे दिमाग में यह भी नहीं आता कि इससे विपन्न लोगों का जीवन दुभर हो जाता है, वे अन्याय में पड़ जाते हैं। प्रकृति के साथ प्रेम से बातचीत करने वाले कुछ सच्चे लोगों ने जल संरक्षण संबंधी स्थानीय सत्प्रयास भी किए हैं, लेकिन ये हमारी बिगड़ती अवस्था को संवारने के लिए यथेष्ट नहीं हैं। हमारे बहाव-मार्ग का अतिक्रमण कर इन्हें तुम लोगों ने संकीर्ण कर दिया है। इस से तुम्हारे शहर अव्यवस्थित, कुरूप व प्रदूषित हो गए हैं, हरियाली विहीन उजाड़-उजाड़ से। बासिंदामैत्री तो कतई नहीं हैं। अब तो ऐसे शहरों में भी बाढ़ की विभीषिकाएं देखी जाने लगी हैं, जहां कभी जल आपूर्ति का संकट हुआ करता था। और ऐसी घटनाएं निरंतरता सी लेने लगी हैं। मुसलाधार बारिस होने के बाद जब हम हाहाकारी वेग के साथ बहते हैं तो बरबस ही तुम संकट में पड़ जाते हो और फिर हमें गालियां देने लगते हो– अपनी बर्वादी का रोना रोते हुए। लेकिन कुछ ही दिनों बाद फिर सब कुछ भूल जाते हो। जल-सुशासन स्थापित करने के मामले में तुम लोग चूक गये हो। अधिक क्या कहूं, बस इतना समझ लो कि हमपर की जाने वाली मनेमानी अंततः मानव जाति के लिए ही अहितकर होती है। https://www.gaonconnection.com/read/story-of-ganga-which-is-vein-for-land-of-indian-sub-continent-48282 (10 Nov. 2020)
YAMUNA Delhi Yamuna Jiye Abhiyaan to Delhi LG and CM on Sanjay Lake related issues, on Dec 28, 2020:
To,
Sri Anil Baijal
Hon'ble Lt Governor Delhi
Sri Arvind Kejriwal
Hon'ble CM Delhi
Respected Sirs,
Greetings from Yamuna Jiye Abhiyaan.
Sir, the recent media reports about DDA plans on reviving its abandoned construction plans around the so-called Sanjay Lake in East Delhi are disturbing and ignorant of the ground realities to say the least. Please permit us to explain.
First of all how have the reasons that persuaded DDA in 2015 to abandon these plans near Sanjay lake disappeared or lessened now?
Sir, Sanjay Lake is not any other lake. It is the ox-bow water body of river Yamuna existing on the latter's previous channel. Its floodplain sensitivities are as grave as the river Yamuna's. So any highrise on it is highly susceptible to damage and destruction from liquefaction in the event of a serious earthquake. Let us not remain oblivious to the fact that as per experts the entire Himalayan region including Delhi NCR is due for a trembler of an unprecedented intensity on account of pent up forces within and for all we know the decade of 2020s could be the decade for it.
So the DDA as the city's planner should be more concerned with urgent structural audit of existing vulnerable high rises in east Delhi than adding to their number?
Were the DDA planner's from early 1970s, 80s wiser than todays who went for buildings no higher than 3-4 stories while developing Mayur Vihar phases 1 and 2.
Moreover the Sanjay Lake requires a restoration plan that secures its catchment for it can't continue to remain propped up through ground water extracted and put into it from its very floodplains as if it were an artificial water body?
Just because there is a TOD policy and it requires to be implemented does not mean that it can be carried out anywhere no matter the risks involved. Making high sounding noises about planned green buildings and reuse of waste water produced etc cannot take away the fundamental risks involved in such constructions at such vulnerable sites…Also there is yet to be designed any quake 'proof' high rise anywhere in the world. And what they claim as quake resistant highrises have failed even in countries like Japan where keeping to details and a general sense of application is well known.
Sir, our humble submission is that these plans in Lake's floodplains in East Delhi (which itself is part of original floodplains of Yamuna and Hindon) as made by the DDA be please reviewed and put through strict third party evaluation before they are taken forward. Also the public must be kept fully informed of the pluses and minuses (risks involved) of these plans through detailed public reports (and not just few news items) so that the public could make informed decisions about them for ultimately it would be the people who come to occupy these high rises that would suffer in the event of a disaster like the one happened in Lalita park in east Delhi in 2011. It is not known if the inquiry ordered by your office in that disaster was ever completed or any follow action/s on it was carried out?
With warm regards,
manoj misra Convener Yamuna Jiye Abhiyaan
16-member panel to be set up under LG for floodplain conservation  For the conservation, protection and restoration of the Yamuna floodplains in Delhi, the Delhi Development Authority (DDA) has proposed to set up a 16-member panel- 'River Yamuna Management Committee'- that will be chaired by the lieutenant governor. It was last year that the NGT had ordered the constitution of special purpose vehicle for the rejuvenation of the river that could become a model for 351 polluted river stretches in the country.  The committee will formulate policies, norms and guidelines to protect the floodplain ecosystem from the adverse impact of development and coordinatewith various agencies and stakeholders to achieve its aims and objectives. https://timesofindia.indiatimes.com/city/delhi/16-member-panel-to-be-set-up-under-delhi-lg-for-yamuna-floodplain-conservation/articleshow/79841294.cms  (21 Dec. 2020)
YMC raises issues on river pollution The Yamuna Monitoring Committee (YMC), in its fifth report submitted to the NGT noted that the works to clean the river was "nowhere near the achievement of the milestones and timelines laid out by NGT".
About the Delhi Jal Board (DJB), which is supposed to handle sewage generated in the city, the report said: "YMC has found the system of monitoring ineffective. There is no evidence that bottlenecks had been brought to the notice of the Board and of the government or the intervention of higher authorities sought."
DJB does not seem to be maintaining a separate account for different Yamuna Action Plan (YAP) III projects. "The admission that funds do get transferred for other purposes like salary operating under different financial heads is militating against accounting principles which are applicable for such time bound externally funded projects," the report said. https://www.thehindu.com/news/cities/Delhi/yamuna-monitoring-panel-raises-several-issues-on-river-pollution/article33397604.ece (23 Dec. 2020)
Uttar Pradesh Irrigation department denies permission to Noida authority for creation of landfill site in 30 acres of Hindon river floodplain. https://newstrack.com/uttar-pradesh/irrigation-department-shocks-the-authority-permanent-dumping-ground-plan-in-noida-736545.html (23 Dec. 2020)
RIVER BIODIVERSITY
Tamil Nadu Awareness rally on saving bird habitats District collector V Vishnu was among the participants of 'Pedal for Birds' bicycle rally organized here on Saturday (Dec. 20) to create awareness on conserving bird habitats in the region. Covering four important irrigation tanks – Nainarkulam, Rajavallipuram, Palamadai and Kalkurichi – the event was organised by ATREE's Agasthyamalai Community Conservation Centre along with a few other organisations.
Senior research associate at the centre M Mathivanan said that the Tamirabarani River that originates from Pothigai Hills symbolises a unique biodiversity. The river and its nearly 700 well-connected irrigation tanks have not only made Tirunelveli, Tenkasi and Thoothukudi districts cultivable but also attract a large number of water birds in the winter. "In the 2011 water bird census we documented more than 100 species in the Tamirabarani wetland complex," he said. Many of them migrate from northern Europe and Russia and help provide important ecosystem services such as pest control. Their droppings support good fish yield and increases crop productivity, he added. https://timesofindia.indiatimes.com/city/madurai/awareness-rally-on-saving-bird-habitats/articleshow/79819407.cms (20 Dec. 2020)
FISH, FISHERIES, FISHERFOLKS
Manipur State fish introduced in cage culture For the first time, Manipur's state fish 'Pengba' (Osteobrama belangeri) has been introduced in cage aquaculture on a trial basis in an attempt to enhance table fish production to meet the increasing demand of fish and its conservation. Similarly, the cage culture was being introduced to different fish varieties even in other northeastern states such as Assam Tripura, Meghalaya and it can also help in meeting the increasing demand of fish in the context of Manipur as and when the on-going experiment is successful.
The new initiative has been taken up after successful induced-breeding of 'Pengba', which used to be found abundantly in Loktak Lake and Nambul River in particular, ended in its wild habitat and is now only bred in farm ponds due to habitat degradation, pollution and introduction of non-native fish species etc. Manipur, home to more than 200 fish species, has seven endemic fishes among the 15 endangered freshwater fish species, mentioned in the Red list of the International Union for Conservation of Nature's threatened species report on the status and distribution of freshwater biodiversity in Eastern Himalaya. https://www.hindustantimes.com/environment/manipur-s-state-fish-introduced-in-cage-culture-to-enhance-production-and-conservation/story-K14UH2JlXxHSDotJLRnE8I.html (25 Dec. 2020)
SAND MINING
MoEF Minutes of the Forest Advisory Committee meeting held on Nov 25, 2020 (available now on Dec 21, 2020), some relevant decisions:
1. FAC DILUTES SAND MINING CLEARANCE CONDITION, ALLOWS PLYING OF HEAVY VEHICLES ON RIVERBED: Revision of the specific condition no, (i) of the decision taken in FAC meeting held on 21.09.2020: Approval for use of 54.668 ha. of forest land for extraction/collection of sand, stone and bajri from bed of river Yamuna by Randeep Singh, Mauza and Mohal Bhagani, District Sirmour, within the jurisdiction of Paonta Forest Division, District, Sirmour Himachal Pradesh: The condition in the clearance read: "Extraction of minor mineral shall be carried out manually. Further, heavy vehicle and heavy machineries shall not be used for extraction and transportation of sand, stone and Bajri from the river-bed."
FAC AGREED TO DILUTE IT HUGELY TO: "Extraction of minor minerals shall be carried out manually. Further, the State Government shall ensure that there is no erosion and change in river course due to extraction/collection of sand, stone and Bajri from the riverbed. All Guidelines of Ministry of Environment, Forest and Climate Change issued in respect of extraction/ collection of sand, stone and Bajri from the river-bed shall also be followed." http://forestsclearance.nic.in/writereaddata/FAC_Minutes/121121124712111MoMofFACheldon25-12-2020.pdf
Uttarakhand Govt seeks approval for riverbed mining in forest area "There is no replenishment study for these rivers where mining has been going on for decades. There is no district survey or mining plan either. The Uttarakhand government keeps saying that mining should be done to remove excess riverbed material and to prevent flooding but where is the study showing that mining can prevent flooding? It's particularly worrying because this is forest land and there is very little monitoring of whether mining is carried out only in the area approved for mining and at the depth mentioned," said Himanshu Thakkar, coordinator of the SANDRP, a Delhi-based advocacy organisation. https://www.hindustantimes.com/india-news/uttarakhand-seeks-approval-for-riverbed-mining-in-forest-area/story-ZbBylxD9MpXaATZqS6GmnI.html (21 Dec. 2020)
Bihar Sand mafia gobbles up Sher Shah's causeway The five-century-old and 4km-long stone causeway built across the Sone river by emperor Sher Shah Suri (1486AD-1545AD) as part of the famous Grand Trunk Road was considered to be the most significant archaeological find in Bihar after Independence. It was virtually intact when Archaeological Survey of India (ASI) officials discovered it in 2016. Today, the sand mafia is destroying it with impunity. They have wantonly damaged the causeway at many places; several portions of the structure are collapsing under the weight of huge sand-carrying vehicles and earthmovers.
The causeway, located between Dehri in Rohtas district and Barun in Aurangabad district, is also being used as a jetty to illegally mine and load sand from the river. Mounds of sand are stacked along the causeway. Several huge stone slabs used in the structure are missing. The locals say they are being stolen to feed the stone-crusher units illegally active in the vicinity. Armed gangs roam around the area, dissuading common people from going anywhere near the causeway.
The causeway, which had got buried under sand on the riverbed, was discovered when copious amounts of water released by the Bansagar Dam in Madhya Pradesh washed away the sand in 2016. The causeway was found by ASI deputy superintending archaeologist Shanker Sharma as part of the Uttarapath mapping project that now figures on the tentative list of the Unesco World Heritage status.
Then ASI director-general Rakesh Tewari, under whose tenure the structure was found, asserted that the onus of its protection was on the state government. "It is not a protected monument of the state or the Centre. However, its protection is the responsibility of the state government and the local administration. The causeway is a very important structure discovered by us," Tewari said.
Since bridges of such span were not constructed in the 16th century, the causeway was an engineering marvel that allowed people and animal-drawn vehicles to cross the river. Surkhi-chuna (burnt clay and lime) mortar was used to connect the stone slabs of the structure. https://www.telegraphindia.com/india/sand-mafia-gobbles-up-sher-shahs-causeway/cid/1801647 (26 Dec. 2020)
Madhya Pradesh NGT asks govt to constitute committee; submit report in 6 weeks The NGT has also issued notice to the mineral resources department and has asked to respond within six weeks. One Rupesh Nema had filed a petition with the NGT against illegal and massive sand mining on the embankment areas of river Narmada in Raisen and Sehore district in an unabated manner causing grave danger to lives of thousands of residents. This illegal mining is said to be in operation in violation of 'Enforcement and Monitoring Guidelines for Sand Mining' issued by the MoEF.
The NGT has instructed to constitute a committee consisting of collector Sehore, collector Raisen and a representative of MP PCB. The committee has been instructed to submit a factual and action taken report within six weeks to the NGT. Madhya Pradesh PCB will be the nodal agency for compliance. https://www.freepressjournal.in/bhopal/narmada-illegal-sand-mining-constitute-committee-and-submit-report-in-six-weeks-says-national-green-tribunal (24 Dec. 2020)
रेत माफिया ने किसान की हत्या की राईखेड़ी में गुरुवार (Dec. 24) काे दाे पक्षाें में हुए खूनी संघर्ष में एक घायल किसान चंदन सिंह की माैत हाे गई। झगड़ा खेत के पास से अवैध रेत से भरी ट्राॅली निकालने से मना करने पर हुआ था। परिजनों ने शुक्रवार (Dec. 25) शाम 5 बजे मंगलवारा चौराहे पर शव रखकर विराेध जताया। मृतक चंदन सिंह के परिजन पंचम सिंह और लखन सिंह ने आरोप लगाया भाजपा नगर मंडल अध्यक्ष बलराम ठाकुर के छाेटे भाई सूरज ठाकुर, पिपरिया विधायक प्रतिनिधि अर्जुन चौहान खुलेआम रेत का अवैध काराेबार कर रहे हैं। थाना मंगलवारा में पदस्थ स्पेशल ब्रांच के नरेश मलिक और थाना स्टेशन रोड के आरक्षक शुभम दुबे घर में आकर हमें धमकाते हैं कि रेत चोरी को लेकर अपना मुंह बंद रखो। https://www.bhaskar.com/local/mp/hoshangabad/news/the-sand-mafia-killed-the-farmer-the-family-said-bjpp-involved-128052434.html (26 Dec. 2020)
In a major crackdown against illegal sand mining being carried out on the Gambhir river and Gambhir dam backwater area, administration and police team led by sub-divisional magistrate Dr Yogesh Bharsat, mining officer, tehsildar, naib tehsildar, revenue officials and police personnel raided several places and seized large and small boats at different places. Team seized two large boats weighing about 20 tonnes.
Meanwhile, locals claimed that even though local administration and police are leaving no stone unturned to curb illegal mining menace in the area, illegal sand mining continues unabated in the area. Rampant extraction of sand and its smuggling from the riverbed of Chambal, Gambhir, Kshipra, Luni and other tributary rivers in the area and its adjoining village has apparently taken a toll on the ecological balance here.
Blame it on the alleged nexus between some officials and a local contractor and politicians here, the extraction of sand beyond permissible limits continues unabated in the region. Sources said one trolley of sand fetches at least Rs 10,000 in the state, however, in this region, sand is as cheap as between Rs 1,000 and 1,200 per trolley and this entire amount goes in the pocket of corrupt officers. Thus, sand mafias are concentrating on this part of the state to make a fast buck. https://www.freepressjournal.in/indore/madhya-pradesh-crackdown-against-illegal-sand-mining-in-barnagar (23 Dec. 2020)
Goa Illegal sand extraction, transportation continues in Priol Following Sunday's (Dec. 26) accident wherein a sand-laden truck overturned at Apewal-Priol, the locals have expressed fear that such accidents could prove fatal in future. According to locals, despite the ban on sand mining, illegal sand extraction and transportation continues in Priol. During transportation, the drivers hurry up and this results in accidents, which could even prove fatal.
Locals said, "No doubt the government officials, including those from the Mines Department, conduct raids but despite this sand extraction continues." They demanded that either government put an end to the sand theft and its illegal transportation at night time or commence legal sand mining. According to locals, there is ban on sand mining as the issue is pending in court. https://www.heraldgoa.in/Goa/Illegal-sand-extraction-transportation-continues-in-Priol-/169139 (28 Dec. 2020)
Karnataka In pursuit of sand thieves of Kengeri A group of volunteers, who fight for human rights are trying to put an end to the illegal sand mining in Kengeri on Vrishabhavathi river bed along with the geological department. The sand gets extracted in the night and is smuggled during the early hours. Hemant, a member of Rise Up for Rights, said that the group had been closely following the sand mining activities in Kengeri. https://bangaloremirror.indiatimes.com/bangalore/crime/in-pursuit-of-sand-thieves-of-kengeri/articleshow/79980900.cms (28 Dec. 2020)
WETLANDS, LAKES, WATER BODIES
Jammu & Kashmir Bid to stop urban flooding claims wetland casualty A flood management plan, drawn up to protect the capital of Kashmir after record rainfall in 2014 caused widespread damage and about 150 deaths, is drying out an internationally protected wetland near Srinagar. The two-stage plan, started in 2018, includes dredging and deepening an existing drainage channel that diverts water from the River Jhelum around the city, through the Hokera wetland and back into the river in Baramullah dist to prevent flooding. The flood spill channel in Hokera has now been excavated down to an average of 15 feet (4.6 m) in the first phase of the plan, and is expected to help ward off minor flood threats.
– But the work has also dried out about half of the 1,375-ha internationally recognised wetland, as more water runs off into the channel, putting wildlife and nature at risk, according to wetland wildlife warden Ifshan Dewan. Because the wetland is an internationally recognised Ramsar conservation site, the government plan to expand a flood channel passing through it should have raised a red flag. At the wetland, which lies 12 km (7.5 miles) west of Srinagar city centre, people now walk across land where previously boats were needed to navigate the water. Animals graze and boys play cricket amid mounds of dumped material. https://news.trust.org/item/20201224050214-hlwya/ (24 Dec. 2020)
Chandigarh WWF to make management plan for Sukhna lake wetland free of cost The World Wide Fund (WWF) Thursday (Dec. 10) agreed to prepare a management plan for the Sukhna lake wetland free of cost. The decision was taken during a virtual meeting held between the UT Environment department officials and the WWF. Sources said that though earlier it was being expected that the WWF will charge money for the wetland management plan, its representatives eventually decided to not charge a single penny from the UT Administration.
The management plan includes water conservation, tourism activities around and inside the wetland, ways to stop deficit water in the wetland, preservation of the local flora and fauna, and controlling and regulating the boating pressure. A major threat to Sukhna is the discharge of pollutants from the neighboring states. The WWF was the knowledge partner of UT administration for declaring Sukhna lake as a wetland. Though Sukhna lake was declared a wetland in 1989, the UT Administration again issued a wetland notification in 2019 under the 2017 rules. Sukhna Wetland is spread over 565 acres. The catchment area of Sukhna Wetland spreads over 10,395 acres, including 2,525 acres of Haryana and 684 acres of Punjab, as per the Survey of India. With this, various activities will be prohibited, regulated and promoted both in the wetland as well as the catchment areas. https://indianexpress.com/article/cities/chandigarh/wwf-sukhnalake-wetand-wetland-conservation-chandigarh-7100462/ (11 Dec. 2020)
Goa Banastarim, Parra lakes closer to wetlands category State Wetlands Authority is preparing a brief document for nine other waterbodies in Goa. Once the document is ready, a draft notification will be issued for these lakes too to be declared as wetlands. These nine waterbodies include Parra lake, Banastarim lake, Vodle tollem and Dhakte tollem in Benaulim, Sapu tollem in Velim, Maimollem lake in Mormugao, Curca lake, Canturlim in Malebhat and Gawali-Moula waterbodies in Curca.
The Goa State Wetlands Authority had issued a draft notification in November, proposing to declare as wetland Sarzora lake in Salcete, Toyyar or Chimbel lake, Dashi lake in Revora, Saulem lake in Pilerne and Xeldem lake in Quepem. Of the 35 waterbodies the authority is working on to declare as wetlands, 20 are at the initial stage where they have been just identified as potential wetlands. After a body is declared as wetland, several activities will be prohibited in and around them as per the Wetlands (Conservation and Management) Rules, 2017 of the central government. The process of declaration as wetlands requires that a draft notification be issued, where the authority calls for any objections or suggestions within a period of 60 days to the draft notification of the waterbodies being declared wetlands. https://timesofindia.indiatimes.com/city/goa/banastarim-parra-lakes-inch-closer-to-wetlands-category/articleshow/79887665.cms (23 Dec. 2020)
Ladakh Tso Kar now a wetland of international importance India has added Tso Kar Wetland Complex in Ladakh as its 42nd Ramsar site, which is a second one in the Union Territory (UT) of Ladakh. The Tso Kar Basin is a high-altitude wetland complex, consisting of two principal waterbodies, Startsapuk Tso, a freshwater lake of about 438 hectares to the south, and Tso Kar itself, a hypersaline lake of 1800 hectares to the north, situated in the Changthang region of Ladakh, India. It is called Tso Kar, meaning white lake, because of the white salt efflorescence found on the margins due to the evaporation of highly saline water. The Tso Kar Basin is an A1 Category Important Bird Area (IBA) as per Bird Life International and a key staging site in the Central Asian Flyway. The site is also one of the most important breeding areas of the Black-necked Crane (Grus nigricollis) in India. This IBA is also the major breeding area for Great Crested Grebe (Podicepscristatus), Bar-headed Geese (Anserindicus), Ruddy Shelduck (Tadornaferruginea), Brown-headed Gull (Larusbrunnicephalus), Lesser Sand-Plover (Charadriusmongolus) and many other species. https://www.pib.gov.in/PressReleasePage.aspx?PRID=1683303; . https://www.tribuneindia.com/news/nation/ladakhs-tso-kar-now-a-wetland-of-international-importance-188831 (24 Dec. 2020)
Haryana Tourism dept approves Karan Lake's facelift The Haryana Tourism Department has given its nod to the project of facelift and renovation of Karan Lake, presently spread on 17 acres, to Karnal Smart City Limited (KSCL), a special purpose vehicle looking after the Karnal Smart City project. Now, the KSCL will prepare a detailed project report and will call the tenders. Presently, Karan Lake is dependent on Western Yamuna Canal for water, which is seasonal and gets water from July to August. In a highly questionable move, plan is to install two tube-wells to ensure round the year water supply. https://www.tribuneindia.com/news/haryana/tourism-dept-approves-karan-lakes-facelift-188603 (24 Dec. 2020)
WATER OPTIONS
Rajasthan Young water experts quench thirst of parched communities Bhujal Jankaar is a Hindi phrase that describes someone who knows a lot about groundwater —invaluable knowledge in a place with unreliable rainfall. Several communities in the northwest Indian states of Rajasthan and Gujarat are already home to some of these young water experts, trained up by the MARVI project, a cooperation between the University of Maharana in Rajasthan and the University of Sydney.
– Small teams from the university pass on the necessary scientific knowledge to Bhujal Jankaars, who combine it with their own working expertise. Many of the village residents didn't go to school but now, as qualified Bhujal Jankaars, they're training others in water management. The Bhujal Jankaars monitor precipitation, measure groundwater levels in local wells and pass the information on to scientists who give advice in return, including on which crops are best to plant when water is sparse.
– Farmers taking part in the project haven't experienced any crop failures since it started back in 2012. The scientists say they want to expand the program to other parts of India. A film by Manish Mehta and Tabea Mergenthaler. https://www.dw.com/en/indias-young-water-experts-quench-thirst-of-parched-communities/a-55949569 (21 Dec. 2020)
Karnataka भेड़ बेचकर बना डाले 16 तालाब एक छोटे से गांव में रहने वाले 72 साल के चरवाहे कलमाने पिछले कई सालों से अपने क्षेत्र में तालाबों के निर्माण में लगे हुए हैं और चार दशक में वे अपने दम पर 16 तालाबों का निर्माण भी कर चुके हैं। इसके लिए उन्होंने अपने और अपने बेटे के लगभग 10 लाख रूपए खर्च कर दिए हैं। उन्होंने ये पैसा अपनी कई भेड़ों को बेचकर भी इकट्ठा किया है। https://www.navjivanindia.com/videos/meet-kalmane-kamegowda-who-spent-his-own-money-to-fight-against-water-crisis  (23 Dec. 2020)
GROUNDWATER
Uttar Pradesh Register to extract groundwater, Bijnor industrial units told Ramakant Pandey, Bijnor district magistrate, said uncontrolled and rapid extraction of groundwater has resulted in water levels in many parts of the state to drop drastically. Now, under the Uttar Pradesh groundwater (management and regulation) Act, 2019, aimed at ensuring continuous management of quantitative and qualitative groundwater in critical areas of the state, it would be mandatory for existing commercial, industrial and infrastructural units to register on a portal prescribed for the use of groundwater. The Act would not be applicable to domestic and agricultural users of groundwater, he added.
Under the Act, applicants would have to deposit a fixed fee of Rs 5,000 for registration for commercial use of groundwater. Anyone found extracting water without registration would be penalized, he warned. Citing government data, officials said around one-third districts in UP have been declared as "dark zone" areas with extremely low groundwater level. A total of 271 development blocks in 22 districts of the state have been identified with fast depleting groundwater level. Of the total blocks in the "dark zone", 113 are placed in "over exploited" category, 59 in "critical" and 99 in "semi critical" category. In west UP, groundwater table is dipping by 25cm to 30cm every year because of over-exploitation, the officials said. https://timesofindia.indiatimes.com/city/meerut/register-to-extract-groundwater-bijnor-industrial-units-told/articleshow/79844646.cms (22 Dec. 2020)
Water table at Ghaziabad falls 12m in 4 years The groundwater level in Ghaziabad has depleted by almost12 metres in the past four years. Four of five blocks in Ghaziabad have been put under the "notified" category, which means that water here has been extracted at a much higher rate than it has been recharged. The extraction rate of Ghaziabad city itself is more than 260%. The pre-monsoon level in the district to be 18.7m in 2016. In the next four year, it has gone down to 30.6m, a drop of 12m.
– Officials have, however, pinned their hopes on the Uttar Pradesh Ground Water (Management and Regulation) Act, 2019, which mandates a fine of up to Rs 20 lakh and a maximum imprisonment of seven years for illegal extraction of water. "Earlier, the groundwater policy was governed by the Central Ground Water Authority, but it lacked teeth. Under the new law, there are provisions to levy a penalty and punishment for overuse of groundwater. ," Sharma said. https://timesofindia.indiatimes.com/city/ghaziabad/sinking-deep-water-table-at-ghaziabad-falls-12m-in-4-years/articleshow/79973302.cms (27 Dec. 2020)
Haryana MCG to reclaim landfill site to build waste-to-energy plant The civic body has asked Ecogreen to submit its reclamation plan. The proposed land for waste-to-energy plant at Bandhwari is occupied by leachate storage ponds, legacy waste and machinery that need to be cleared. After they are cleared, MCG will demarcate land for the plant, officials said. As per the plan prepared by Ecogreen, nearly 10 acres of land is required for the plant. In order to start work in time, officials said that leachate treatment should be done by February 2021 and treatment of legacy waste should be done by April, 2021.
"There is around 2 lakh metric tonnes of legacy waste and around 15,000 to 20,000 cubic meters of leachate at the landfill site, which needs to be cleared to establish the waste-to-energy plant. Moreover, the trommels installed at the proposed plant site will have to be shifted to start the work. All of this would take at least three months," said an MCG official privy to the matter. Every day around 2,000 tonnes of solid municipal waste — 1,200 tonnes from Gurugram and 800 tonnes from Faridabad — is being added to the Bandhwari landfill site, which already has around 35 lakh tonnes of untreated waste. https://timesofindia.indiatimes.com/city/gurgaon/construct-waste-to-energy-plant-time-bound-manner-cm-tells-mcg/articleshow/79805902.cms (19 Dec. 2020)
URBAN WATER
MoEF Minutes of the Forest Advisory Committee meeting held on Nov 25, 2020 Use of 127.6712 ha of forest land for Song Dam Drinking Water Project in Districts Dehradun and Tehri Garhwal of the State of Uttarakhand. For Drinking Water for Dehra Dun city. It involves felling of 8781 trees. Further 4611 trees are affected, but wont be felled. Project area within 8.7 km from Mussoorie Wildlife Sanctuary. APPROVED. http://forestsclearance.nic.in/writereaddata/FAC_Minutes/121121124712111MoMofFACheldon25-12-2020.pdf
Ludhiana MC again invites villagers to sell land for water treatment plant While the Punjab cabinet has given its nod for the 24×7 surface/canal-based water supply project in the city which will be funded by the World Bank, the municipal corporation (MC) is struggling to find 50 acres of space in nearby villages to set up a water treatment plant. The process of finding the land was delayed amid the pandemic. In September, a few villagers had stepped forward to sell their land, but the proposals were rejected due to the high rates quoted by them.
Now, MC has again issued a public notice inviting villagers to sell their land situated near Sidhwan Canal, Sirhind Canal or Ludhiana-Ambala GT Road. Those interested can submit their quotations with MC joint commissioner Kulpreet Singh at MC's Zone-D office till January 15, 2021. The project had been planned due to the depleting level of ground water in the city. Water in the city is currently supplied through over 1,000 tube wells. https://www.hindustantimes.com/cities/24-7-canal-based-water-supply-project-ludhiana-mc-invites-villagers-to-sell-land-for-water-treatment-plant/story-YSpzdSSeRNtBLU34wiHH0O.html (24 Dec. 2020)
Navi Mumbai Cidco's Hetawane dam water pipeline bursts near Uran A water pipeline of Cidco's Hetawane dam suffered a major rupture near Dighode village of Uran on Thursday (Dec. 17) afternoon. Around 20 feet vertical water jet from the pipeline could be spotted from a distance of 1 km as huge quantity of potable water flooded the road. The incident disrupted the vehicular movement in the area. Later, Cidco's technical team swung into action and plugged the leakage by replacing the ruptured valve of the water pipeline. https://timesofindia.indiatimes.com/city/navi-mumbai/navi-mumbai-cidcos-hetawane-dam-water-pipeline-bursts-near-uran/articleshow/79781536.cms (17 Dec. 2020)
JJM/ RURAL WATER SUPPLY
Madhya Pradesh L&T bags EPC orders for rural piped water supply schemes The projects, which are estimated to be worth ₹2,500-5,000 crore, are part of the Jal Jeevan Mission and cover the districts of Guna, Ashoknagar, Shivpuri, Agar Malwa and Singrauli, the company said. The schemes will cater to the drinking water requirement of 3,103 villages covering a population of 48 lakh. The projects are part of the government's ambitious plan to provide piped water supply to every rural household by 2024.
The project scope includes design and construction of intake structures, water treatment plants of aggregate capacity 377 MLD, transmission & distribution pipelines of length 17,513 km, 23 master balancing reservoirs of aggregate capacity 17.5 ML, 1,313 overhead service reservoirs of aggregate capacity 193 ML, 46 number of sump & pump house of aggregate capacity 46 ML, 6.5 lakh house service connections and associated electromechanical & instrumentation works, including 10 years of operation & maintenance. The project also involves automation and measurement of water quantity and quality through SCADA system. https://www.thehindubusinessline.com/companies/lt-bags-epc-orders-for-rural-piped-water-supply-schemes-in-mp/article33407961.ece (24 Dec. 2020; . https://www.ndtv.com/business/jal-jeevan-mission-l-t-bags-multiple-large-contracts-for-its-water-and-effluent-treatment-business-2343899 (26 Dec. 2020)
19 cr rural households to get tap water by 2024 Since its launch in August 2019, the Centre's ambitious flagship scheme Jal Jeevan Mission (JJM) has achieved 32.3% coverage of tap connections in rural India. In 2020-21, a sum of ₹23,500 crore has been allocated for the implementation of the JJM. Besides this, in 2020-21, 50% of 15th Finance Commission Grants to Rural Local Bodies, that is, ₹30,375 crore as a tied grant, will be utilised for water supply and sanitation. https://www.thehindu.com/news/national/19-crore-rural-households-to-get-tap-water-by-2024/article33425948.ece (26 Dec. 2020)
WATER
MoES plans to measure depth of Himalayan glaciers to assess water availability The Ministry of Earth Sciences is planning to measure the depth of glaciers in the region to assess their volume and gauge the water available in them. The project will start next summer and will be executed by the National Centre for Polar and Ocean Research (NCPOR). The aim of the study is to understand the volume of the glaciers, the availability of water and whether the glaciers are increasing or shrinking. The plan is to first study seven glaciers in the Chandra river basin using radar technology. Once successful, subsequent studies would be carried out in the rest of the Himalayas. https://www.livemint.com/news/india/india-plans-to-measure-depth-of-himalayan-glaciers-to-assess-water-availability-11608468819623.html (20 Dec. 2020)
POST MONSOON 2020
Punjab Water level 53% below normal in dams The water level in major reservoirs across the northern region remains low this year, with the present storage being 53 per cent below normal in Punjab and 25 per cent below normal in HP. The current water level in the Thein Dam reservoir on the Ravi in Punjab is 498.35 m against the upper limit of 527.91 m with the available storage being 0.567 billion cubic meters (BCM), according to the data released by the Central Water Commission (CWC) yesterday. This means the available storage at Thein is only 24 per cent of its total capacity. The figure was 69 per cent at this time last year, while the average storage during the past 10 years was 52 per cent.
At Bhakra Dam on the Sutlej in Himachal Pradesh, the water level was 492.40 m against the maximum of 512.06 m, with the water holding being 2.898 BCM. This implies the current storage is 47 per cent, against last year's 67 per cent and 10-year average of 69 per cent. Pong Dam on the Beas in Himachal recorded the water level at 410.62 m against the maximum of 423.67 m. The current storage of 3.012 BCM is 49 per cent of its total capacity, which was 72 per cent last year and average 58 per cent over the past 10 years. https://www.tribuneindia.com/news/punjab/water-level-53-below-normal-in-punjab-dams-189467 (26 Dec. 2020)
POST FLOOD 2020
Bihar कोसी की धारा मोड़ने के लिये दूसरे दिन नाव से सर्वे बिहपुर प्रखंड के गुवारीडीह में मिल रहे पुरातात्विक अवशेष देखने के लिए बीते रविवार (Dec. 20) को सीएम नीतीश कुमार आये थे। इस दौरान कटाव से इलाके और अवशेष स्थल को बचाने के लिए कोसी नदी की धारा मोड़ने का निर्देश दिया था। इसके बाद मंगलवार (Dec. 22) को दूसरे दिन अधिकारियों ने नाव से इलाके का सर्वे किया।
मुख्यमंत्री के निर्देश के आलोक में जल संसाधन विभाग नवगछिया के एसडीओ विजय कुमार अलबेला के नेतृत्व में जेई कविरंजन, रंजीत, अनिल, विजय कुमार ने बताया कि कटाव रोकने के लिए गुवारीडीह और बैनाडीह में पायलट चैनल शुरू करने को लिये नाव से सर्वे किया गया है। अधिकारियों ने बताया कि पूर्व में कोसी की धारा जिस बैनाडीह धार में बहती थी। अब पायलट चैनल के द्वारा कोसी को पुरानी धारा में परिवर्तित किया जाएगा। https://www.livehindustan.com/bihar/bhagalpur/story-bihpur-survey-by-boat-on-second-day-to-divert-the-kosi-stream-in-guwaridih-3700205.html (23 Dec. 2020)
DROUGHT
URBAN FLOODS
Study Maintaining Chennai's 'eris' crucial for flood prevention This paper 'Investigation of role of retention storage in tanks (small water bodies) on future urban flooding: A case study of Chennai city, India' published in the journal Water informs that coastal areas of Chennai city located in the Adyar basin suffer from frequent flooding during monsoon, due to heavy rainfall and the low-lying terrain. Poorly maintained storm drains, encroachment of natural drainage systems such as rivers and canals and formation of sand bars at the river mouth further worsen the situation.
The study finds that: Traditional tanks in the upstream catchments greatly help in controlling or preventing floods in a downstream city, when the initial storage in the tanks is minimum or when there is an insignificant wet spell prior to occurrence of the extreme rainfall. Thus developing an accurate short-range rainfall forecasting system for the Adyar basin can greatly help the authorities in charge of the tanks to plan beforehand and release excess water in the tanks to downstream areas or store it in secondary reservoirs. https://chennai.citizenmatters.in/chennai-groundwater-eris-temple-tanks-flood-prevention-22594 (22 Dec. 2020)
ENVIRONMENT
Opinion Ministerial panel questions NGT, but forgets NGT is always on Centre's side Well Known lawyer Ritwick Dutta shows how the MoEF is treating NGT has a govt department and demanding answers on govt committee report within the day. This is when NGT has rejected appeals against environment clearance for 31 of the 34 appeals in 2020, mostly on procedural grounds or saying it is govt prerogative. As Dutta says, this behaviour of NGT is what has possibly led the govt to treat the way it is doing. https://theprint.in/opinion/ministerial-panel-questioning-ngt-mandate-but-forgets-the-body-is-always-on-centres-side/571184/ (22 Dec. 2020)
Tamil Nadu Ex- CS's selection as NGT expert member challenged The appointment of former chief secretary Girija Vaidyanathan as an expert member of NGT has been challenged in the Madras High Court. G Sundarrajan of Poovulagin Nanbargal filed the writ petition on Tuesday (Dec. 22) stating that NGT Act mandates a person to have administrative experience of 15 years, including experience of five years in dealing with environmental matters in the Central or a State government or in reputed national or State-level institution.
In contrary, the Appointments Committee of the Cabinet has approved proposal for appointment of Girija Vaidyanathan although she does not possess mandatory requirement of experience of five years in dealing with environmental matters, the petitioner said. Girija Vaidyanathan played a key role in the formulation of rules for the Land Acquisition, Rehabilitation and Resettlement Act, 2013. "However, her complete bio-data posted in the official website of Department of Personnel and Training shows she has experience in environment and pollution control for less than four years. She served as secretary and joint secretary in environment and pollution control department from December 1, 2001 to May 27, 2005," Sundarrajan said. https://www.newindianexpress.com/states/tamil-nadu/2020/dec/23/ex-tamil-nadu-chief-secretary-girija-vaidyanathans-selection-as-ngt-expert-member-challenged-2239896.html (23 Dec. 2020)
Tamil Nadu What Could an Environmental Justice Manifesto Look Like? Nityanand Jayaraman prepared the following manifesto at the behest of a few political parties in Tamil Nadu. https://science.thewire.in/environment/at-the-dawn-of-2021-what-could-an-environmental-justice-manifesto-look-like/ (20 Dec. 2020)
Commentary The two faces of environmental regulation This contradictory nature of environmental regulation raises the question if reporting frameworks like BRSR and commitments to ESG investing are sufficient in the face of diminishing benchmarks set by the government, asks the author of this commentary. https://india.mongabay.com/2020/12/commentary-the-two-faces-of-environmental-regulation/ (21 Dec. 2020)
Uttarakhand When 'Development' Marches Through Himalayan Forests Uttarakhandi wildlife is currently battling new highways, railway lines, deforestation, airports—and apathy. All under the guise of 'developing' a state whose calling card is clean mountain air and wildlife. The denotification of the elephant reserve is a legal way out for the authorities determined to expand the airport. What's the way out for elephants? https://www.bloombergquint.com/opinion/uttarakhand-denotification-when-development-marches-through-himalayan-forests (27 Dec. 2020)
CLIMATE CHANGE
Study Himalayas act like an 'aerosol factory' Aerosols are not entirely well understood. Most cool the planet, some have a warming effect. Some make clouds last longer, others make them disappear. Just about 10% are human-generated and the rest, naturally occurring, are barely understood. But scientists have now found that nearly every day for centuries now, winds blasting up from the forests on the foothills of the Everest, through the valleys to the sky-piercing summit, have been working up an "aerosol factory."
A study by 29 scientists from Finland, Italy, Switzerland, the US, France, Estonia and China published in 'Nature Geoscience' last week recorded observations from the remote Nepal Climate Observatory Pyramid station at 5,079m above sea level, a few kms from the summit. "The concept of the Himalaya aerosol factory is that you need processes to form particles — the trees, the mountains, the wind," lead author Federico Bianchi from the University of Helsinki in Finland told TOI. So far, it had been assumed that there might be aerosols that high up but measurements have been extremely limited.
"Plants at the foothills of the Himalayas emit large quantities of gases. These are transported by the wind through the valley to high altitudes. These gases (while they are transported) react in the air with atmospheric oxidants and form tiny particles," Bianchi said. The initial size of these particles is 1-2 nanometre. But, by the time they approach the summit, they reach the size of 50-100 nm and become seeds for clouds. So far, the general scientific consensus is that the cooling effect of aerosols has been able to partially counter the warming effect of greenhouse gases since the late 19th century. Dr Bianchi added, "This new source of particles can now be used in climate models for better climate change predictions and modelling future scenario." https://timesofindia.indiatimes.com/home/environment/himalayas-act-like-an-aerosol-factory-study/articleshow/79983791.cms (28 Dec. 2020)
SOUTH ASIA
SANDRP Blog Why is India not demanding TEIA for the Great Bend Hydro proposal of China? While one can never be too sure what is the exact meaning of Chinese whispers, a thoughtful response has to take into account the available facts and the context regarding the latest episode of Chinese proposal for the Great Bend Hydro project. This report tries to provide key facts & context and tries to separate the wheat from the chaff. And suggests a way forward. Plz Read and Share widely. https://sandrp.in/2020/12/23/why-is-india-not-demanding-teia-for-the-great-bend-hydro-proposal-of-china/ (23 Dec. 2020)
Rethinking Transboundary Water Governance In this reflective piece, Dr. Venkatesh Dutta presents the conception of multilevel water federalism as key to stimulate broader deliberations and scholarly inquiry relating to the transboundary water governance in South Asia. This conception, he suggests can help water, ecosystem, and communities re-emerge stronger and resilient. https://soanas.org/rethinking-transboundary-water-governance/ (23 Dec. 2020)
Solar energy can reduce water pollution in South Asia Generating electricity from renewable energy sources such as the sun can help mitigate the water pollution issue in South Asian countries like India. However, as powerful as the sun is, it cannot tackle this problem by itself. There are many other factors, such as the absence of sewage control, intensive agriculture and improper garbage disposal that need to be addressed as well. https://indiaclimatedialogue.net/2020/12/07/solar-energy-can-reduce-water-pollution-in-south-asia/ (07 Dec. 2020)
Podcast Weathering Ecological disruption In this episode, our guest is Dr. Shiraj Wajih from Gorakhpur. He suggests that we need to begin narratives about the challenges that the new but degraded local riverine ecology across the India-Nepal border pose. Local communities across the border must come together to co-produce sustainable water solutions. https://www.youtube.com/watch?v=K-a4tHoxEOo (15 Dec. 2020)
India Nepal Nepal to export 30 MW electricity to India Nepal hopes to export 30 MW power to India from June-Nov 2021. The final decision on price has not been made yet. https://myrepublica.nagariknetwork.com/news/nepal-to-export-30-mw-electricity-to-india/ (20 Dec. 2020)
Bangladesh Why should we conserve freshwater pangas? VERY interesting to read that PANGAS, a river fish has again been found in abundance this year in Padma river in Bangladesh, largely a byproduct of Hilsa conservation efforts. "Hilsa yield has increased over the last few years due to various programmes taken by the government, including proper conservation of juvenile and brood hilsa. As a result of the hilsa conservation programme, other fishes, including pangas, have also increased in the river. Moreover, USAID-funded Worldfish's ECOFISH II project has been carrying out various awareness programmes for conserving pangas for the last several years." https://thefinancialexpress.com.bd/views/why-should-we-conserve-freshwater-pangas-1608631729 (22 Dec. 2020)
ASIA
Climate change; bad water policies threaten Asia's security & prosperity Excessive groundwater extraction is the top threat to sustainability. India tops the list with 251 trillion litres extracted each year, followed by China with 112 trillion litres. A report by the International Institute for Applied Systems Analysis suggests China, India and Pakistan combined will be responsible for 86 per cent of groundwater extraction in the region by 2050. https://www.scmp.com/comment/opinion/article/3114900/how-climate-change-and-bad-water-policies-threaten-asias-security (23 Dec. 2020)
THE REST OF THE WORLD
Green warriors of 2020: Six people who led the charge This article includes Parineeta Dandekar of SANDRP among six green warriors of 2020. https://thefederal.com/the-federal-year-end/green-warriors-of-2020-six-people-who-led-the-charge/ (28 Dec. 2020)
Dam Watch International Dam Watch International (DWI) is an evolving international alliance network of hydro-impacted communities, researchers, activists, artists, advocates, and social justice and environmental organizations. More info from its website, www.DamWatchInternational.org. The work of the network is coordinated by three sub-groups, namely, 1) Action & Education, 2) Research & Funding, and 3) Policy. https://damwatchinternational.org/who-we-are/dam-watch-international/
Europe Movement grows to remove river barricades There's more than one barrier per mile on average in Europe's rivers, which chokes off life in these critical arteries. But public awareness is sparking calls to take out small dams, weirs, and ramps. https://www.nationalgeographic.com/environment/2020/12/european-rivers-littered-with-barricades-but-movement-grows-to-remove-them/ (17 Dec. 2020)
Germany covers almost half of its 2020 power needs with renewables Green power to reach 46% of gross electricity consumption in Europe's largest economy in 2020 (it was 42% in 2019 and 38% in 2018) amid lower power demand due to Covid-19, preliminary figures show. https://www.rechargenews.com/transition/germany-covers-almost-half-of-its-2020-power-needs-with-renewables/2-1-931566 (15 Dec. 2020)
Can probiotics solve aquaculture's water pollution issues? The research team notes that though probiotics can mitigate many water pollution issues in aquaculture, there isn't much evidence on how to optimise their use. Key information for producers – like which strain of bacillus is best suited for a specific issue, the optimum water temperature or method of delivery – are still unknown.
The authors argue that researchers must now focus their efforts on understanding bacillus' genetic makeup and how the microbes interact with their surrounding environment at the molecular level. This in-depth information would let producers use probiotics more efficiently – ensuring they remain a cost-effective solution to a range of production issues. https://thefishsite.com/articles/can-bacillus-probiotics-solve-aquacultures-water-pollution-issues (08 Dec. 2020)
Compiled by SANDRP (ht.sandrp@gmail.com)
Also see: DRP News Bulletin 21 Dec. 2020 & DRP News Bulletin 14 Dec. 2020
Follow us on: www.facebook.com/sandrp.in; https://twitter.com/Indian_Rivers