Tribals of large number of villages from Seoni Malwa Tehsil of Hoshangabad district in Madhya Pradesh have been strongly opposing the Morand Ganjal dam for several years now, as they again came out in large numbers this week on Dec 17, 2020, also remembering their rally exactly a year ago on Dec 17, 2019. They has simple demand: plz first provide all the information about the project in Narmada Valley and get approval of all the involved villages as required under the law. But the arrogant administration has not even responded to basic demand of all the relevant information.
Under the Rs 2813 Cr project, dams are to be built on Morand river near Morghat village of Seoni Malwa tehsil and on Ganjal river near Jawardha village of Rahatgaon tehsil-Harda district with the objective of irrigating 4,617 ha of land in 28 villages of Hoshangabad, 17,678 ha in 62 villages of Harsud tehsil-district Khandwa, and 29,910 ha in 121 villages of Harda, Khirkiya, Sirali and Rahatgaon tehsils of Harda district. The project was approved in 2017. Some 23 villages and over 3000 ha of land is facing submergence, affecting Korku tribals in Hoshangabad, Harda and Betul districts, but there is no rehabilitation plan in place as per the Narmada Valley R&R policies.
Dams are no longer delivering promised benefits and the age of building dams is over. But the political economy of massive funds spent on a major project keeps driving the politicians and officials to keep pushing more projects. The least one can expect from the government is to provide all the relevant information to the affected people in manner and language they can understand, have public consultation and approval in each affected village in front of an independent panel. Without such due process pushing such dams are bound to raise more conflicts, confrontations and opposition.
Madhya Pradesh Tribals protest against Morand-Ganjal dam project. https://www.facebook.com/sandrp.in/posts/4077900055570970
HYDRO POWER PROJECTS
Arunachal Pradesh Pacts for 2 hydro projects with EDCL arm terminated Energy Development Company Ltd (EDCL) on Dec 18, 2020 said Arunachal Pradesh has terminated pacts for execution of two hydropower projects with an associate firm. "The Govt of Arunachal Pradesh has issued the letter of termination for the Memorandum of Agreement for execution of 24 MW TSA-CHU-I Lower Hydro Electric Project on Tsa Chu River in Tawang dist and 15 MW Pakkebung-II Hydro Electric Project on Pakke Bung river in East Kameng dist…," it said in a BSE filing.
– The projects are being developed by subsidiaries of Arunachal Hydro Power Ltd, which is an associate company of EDCL. Arunachal Hydro Power is considering legal options to contest the termination of the agreements. https://www.thenortheasttoday.com/current-affairs/states-news/arunachal-pradesh/arunachal-pradesh-terminates-pact-for-2-hydro-projects (19 Dec. 2020)
MoEF Key decisions in the Minutes of the EAC meeting for RVP held on Dec 2, 2020 (now available on Dec 17 2020): The last two items were not on the agenda first published for this meeting by MoEF.
1. Completion of Balance Works of Two Units (2×115 MW) at Lower Sileru Hydro Power House and Improvement of Power Canal Works in East Godavari, Andhra Pradesh by V. Surya Lakshmi for ToR: APPROVED
2. Lakhwar Multipurpose Project in Dist Tehri Garhwal of Uttarakhand by M/s UJVNL for Env Clearance: APPROVED
3. Kundah Pumped Storage Hydro Electric Project (4×125 MW) in tehsil Udhagamandalam, district The Nilgiris, Tamil Nadu by M/s TN Gen & Distribution Corp for Env Clearance: More Info Sought
4. Wakurde Lift Irrigation Scheme, Dist Sangli, Mah by SE, Kolhapur for Ext of Validity of EC: Approved 3 yr ext from 19.8.2010? To 19.8.2013? So the project does not have EC since 19.8.2013?
5. Gandhi Sagar Off-Stream Pumped Storage Project, District Neemuch, Madhya Pradesh by M/s Greenko Energies Pvt Ltd for Amendment in ToR: APPROVED
6. Badaun Lift Canal Project dist Badun, UP by Eastern Ganga Canal for EC: APPROVED
7. Gyspa Hydro Power Project (300 MW) on River Bhaga in Lahaul Spiti Dist-Himachal Pradesh by HPPCL for ToR: More Info sought
8. Dugar Hydroelectric Project in Chamba District of HP for amendment of ToR: APPROVED
9. Khairibhandan Barrage Project at village Anlabeni, Tehsil – Jashipurin, Mayurbhanj, Odisha for EC: APPRVED
10. Simsang Dam Project (65 MW) in South/ East Garo hills district of Meghalaya-Regarding ToR: APPROVED http://environmentclearance.nic.in/writereaddata/Form-1A/Minutes/17122020I4SYXARI4thEACRVHEPMoM.pdf (02 Dec. 2020)
Agenda for the Forest Advisory Committee meeting to be held on Dec 22, 2020. Some relevant projects:
1. RENEWAL for 628.8 ha forest land OF COLLECTION OF MINOR MINERALS FROM 628.8 HA FOREST LAND OF SONG RIVER 1, 2, 3 AND JAKHAN 1, 2 FOR 10 YEARS UNDER DEHRADUN FOREST DIVISION, UTTARAKHAND
2. 680.1 HA (INSTEAD OF 1100 HA.) OF FOREST LAND for JKSPDC FOR UJH MULTIPURPOSE HYDRO ELECTRIC PROJECT IN DIST KATHUA, JAMMU & KASHMIR
3. 13.24 HA OF FOREST LAND FOR SHAHPURKANDI DAM in DISTRICT KATHUA, JAMMU & KASHMIR http://forestsclearance.nic.in/AgendaDetail.aspx?id=247!dis1
DAMS
Report Purpose of dams 'failing', yet govt keeps spending thousands of crores to build them By Piyush Khaitan, Second year management student at IIM-Ahmedabad https://www.counterview.net/2020/12/purpose-of-dams-failing-yet-govt-keeps.html (17 Dec. 2020)
World Bank Dam safety project in India approved BIG WORDS on Dam Safety project funded by the World Bank: "This is the world's largest dam management program. Its objective is to break the costly cycle of 'build-neglect-rebuild' which characterizes the operations and maintenance of infrastructure across sectors," said Junaid Ahmad, World Bank Country Director in India. "The expected outcomes will be game-changing: sustaining the livelihoods and food security of millions of Indians who depend on irrigated agriculture and enabling farmers to shift out of pumping groundwater, thereby, reducing energy consumption and greenhouse gas emissions. This program can act as a lighthouse for other countries tackling the challenge of managing hydraulic infrastructure."
– "The ongoing DRIP-1 project is helping to set-up institutions, build capacity, and put in place procedures for dam safety. To build on these achievements, further measures are needed to channel scarce funds towards the dams at highest risk," said Chabungbam Rajagopal Singh, Senior Water Resources Management Specialist and Halla Maher Qaddumi, Senior Water Economist and the task team leaders for DRIP-2. "The project will introduce risk-informed dam safety management, establish sustainable mechanisms for financing dam safety, and enhance the capabilities of institutions to manage dam assets."
– Incidentally, Durgawati barrage under the World Bank funding faced disaster last month due to lack of maintenance of the gates. https://www.waterpowermagazine.com/news/newsworld-bank-approves-dam-safety-project-in-india-8415705 (17 Dec. 2020)
Polavaram Project First gate of to be erected A total of 48 gates will be installed at the project, which will be operated hydraulically on the spillway at a height of 55 metres. Engineers of Polavaram Project say this is the first time in the country that hydraulic gates are being installed at a project. The 98 cylinders required for gates have been imported from Germany.
According to engineers, work on the first gate will start on Monday (Dec. 21) and completed by the same evening. Each gate will be 20.835 metres height and 15.96 metres in width. There will be eight arm-girders for each gate. Total 384 arm-girders and 192 horizontal girders with a height of 16 metres each will be installed. Skin plates will be fixed after the work on girders is over. Recently, CM Y. S. Jagan Mohan Reddy visited the project area and announced that the project will be completed by 2021 December and water released for the Kharif 2022 crops. https://www.deccanchronicle.com/nation/in-other-news/201220/first-gate-of-polavaram-project-to-be-erected-today.html (21 Dec. 2020)
INTERLINKING OF RIVERS
Inter-linkages of River Avoidable and Flawed Concept, says Manoj Misra https://www.youtube.com/watch?v=_G3hH2m6z3o (08 Dec. 2020)
Plan to Link Rivers is Fraught With Huge Risks and Little Gains by Manoj Misra: https://thedialogue.co.in/article/xeDOzx0zR8KELLzT21zA (19 Dec. 2020)
Sopan Joshi on UP – MP dispute on water from the proposed controversial Ken Betwa project. https://hindi.theprint.in/opinion/government-ken-betwa-is-a-wrong-step-but-can-not-be-taken-back-now/187840/ (11 Dec. 2020)
INTERSTATE WATER DISPUTES
Krishna River Water Sharing Dispute Centre for new tribunal between Andhra, Telangana Union Jal Sakti minister Gajendra Singh Shekhawat in his letter to Telangana CM K Chandrasekhar Rao on Dec 11, 2020 indicated that the Centre is considering setting up a new tribunal to decide the sharing of Krishna river water between Telangana and Andhra Pradesh. Alternatively, the Centre will refer the matter to the existing second Krishna Water Disputes Tribunal (KWDT-II), after obtaining legal opinion.
– The Centre referred the matter to KWDT-II again under Section 89 of the AP Reorganisation Act, 2014, asking for project-wise allocation of the Krishna water, but the tribunal did not take it up, on the ground that its terms of reference did not permit the same.
– Telangana chief minister in his letter to the Centre on October 2 this year requested that the matter be referred to a new tribunal or again to KWDT-II under Inter-State River Water Disputes Act of 1956 so that fresh allocations be made to the two states. https://www.hindustantimes.com/india-news/centre-for-new-tribunal-for-krishna-water-sharing-between-andhra-telangana/story-4KDodqPuiSEL2HQCj68ubN.html (14 Dec. 2020)
The Union minister also pointed out that it can consider referring the water allocation to the new state of Telangana either to Krishna water tribunal or to the new tribunal only when the Telangana government withdraws its case in the Supreme Court. In fact, Telangana chief minister had agreed to withdraw the case in the apex council meeting but has not been done so far, Shekhawat said. Stating that the DPRs have not been submitted despite the chief ministers of both states agreeing to submit them, in the October 6 apex council meeting, the union minister said both states cannot go ahead with works on Pothireddypadu head regulator expansion and Rayalaseema Lift Irrigation Scheme in AP, and seven irrigation projects as part of drawal of three tmc ft water from Kaleshwaram project in Telangana.
– Regarding setting up of telemetry systems, it was agreed that both states would meet the costs of setting them up. Even after repeated reminders and requests from Krishna River Management Board (KRMB), both the states did not respond and have not paid their full share of expenditure due to which the installation of telemetry is not completely done. "If the states clear their pending payments. KRMB would immediately get them installed and can do the required monitoring," the union minister said.
– With regard to Godavari water, in the apex council meeting, both states agreed to send requests to Central Government asking for setting up a tribunal under Section-3 of ISWRD-1956 and as agreed in the meeting, Central government will take a positive decision in this regard after receiving such request from Telangana government, Shekhawat stated in the letter. "With regards to Godavari waters, in the Apex Council meeting, both the states agreed to send requests to Central Government asking for setting up a tribunal and as agreed in the meeting, Central Government will take a positive decision in this regard after receiving such request from you," Shekhawat stated in his letter to CM KCR. https://timesofindia.indiatimes.com/city/hyderabad/centre-can-resolve-water-dispute-if-ap-t-fulfil-assurances/articleshow/79711263.cms (14 Dec. 2020)
Stop works on seven irrigation projects, KCR told Union Jal Shakti minister Gajendra Singh Shekhawat has asked CM K. Chandrashekar Rao not to proceed with the construction of seven irrigation projects that are being objected by Andhra Pradesh unless and until the mandatory appraisal is done by Godavari River Management Board (GRMB), Central Water Commission (CWC) and the Apex Council.
The Union minister was replying to Rao's October 2 letter outlining various issues of Telangana state pertaining to share and utilisation of waters in Krishna and Godavari rivers. He reminded that during the Second Apex Council meeting of the Jal Shakti Ministry, Chief Ministers of TS and AP agreed to submit DPRs of their respective irrigation projects for approval of the concerned wings of the ministry.
Shekhawat pointed out that as per the AP Reorganisation Act 2014, both states were bound to submit DPRs of new projects to the KRMB for appraisal and technical clearance and sanction by the Apex Council. https://www.deccanchronicle.com/nation/politics/141220/stop-works-on-seven-irrigation-projects-kcr-told.html (14 Dec. 2020)
IRRIGATION
Gujarat Bhadbhut dam on Narmada was being pushed in the name of farmers and water to people, but now most of the water is allocated to industries. https://developers.facebook.com/docs/plugins/embedded-posts/
Farms affected as Narmada canal overflows in Morbi in Gujarat. https://gujarati.news18.com/videos/kutchh-saurastra/morbi-morbi-due-to-canal-overflow-water-of-narmada-river-turned-back-to-the-farm-causing-damage-to-crops-1055978.html (17 Dec. 2020)
J & K Dying Dadi canal needs attention The Dadi Canal takes its water from the River Lidder at Liver, Pahalgam. It is 19 Kilometers long and irrigates thousands of acres of land of the villages of Kathsu, Budroo Sakhras, Loiseer, Srigufwara, Viddy, Darigund, Hitigam, Mahind, Nowshera, Sirhama, Aupzan, Katoo, Sheetipora, Khiram, Shalgam, Wagham, Marhama, Dado, Haari etc.of the Pahalgam and Bijbehara Sub- divisions of the Anantnag District and a few villages of Pulwama district.
– Besides the irrigation canal, it is the source of many water schemes through which a major chunk of population gets the drinking water, the main source of water for pesticide and fungicide sprays of apple fields through out the year, a beautiful tourist attraction and the place of great solace in the hot summer for the local people. The Dadi Canal is to the most of the villages of Dochnipora, what the Indus was to the Harappan Civilization and Nile to the Egyptian Civilization. It is this canal which has formed/ turned the fortunes of the people of this area. We are witnessing a great upward trend in the human development index of the those villages which are associated with this rich canal. Now such amount of importance has achieved by this canal that so many lift irrigation plants have been positioned on this canal through which more and more land is being irrigated.
– The water of the canal is highly polluted due to letting of sewage/sullage, industrial effluents and agricultural/ horticultural runoff carrying toxic chemicals, dumping of garbage and dead animals and human defecation along the canal banks. The canal is also damaged and needs urgent repair. https://countercurrents.org/2020/12/dying-dadi-canal-needs-attention/ (14 Dec. 2020)
URBAN RIVERS
Kharo; Junagarh Manavadar to get a riverfront Manavadar, a town in Junagadh district and part of the constituency of Tourism Minister Jawahar Chavda, is set to get a riverfront along the banks of the Kharo river, for which the Tourism Corp of Gujarat Ltd has floated tenders.
The TCGL, under the state tourism department, has floated tenders for developing a riverfront on the east bank of Kharo river that flows on the eastern periphery of Manavadar town. The project cost is estimated at Rs 25 crore, to be completed in 18 months.
The riverfront will cover the riverbank stretch beginning from the historic Navnala Bridge to Kharo veer 2.1 km downstream. The TCGL will construct a retaining wall, reclaim land and develop a flower garden, an amphitheatre, a walkway, an open-air yoga centre and three toilet blocks. An officer privy to the project said, "The plan is to follow the model of Sabarmati riverfront in Ahmedabad."
Manavadar is set to become the second town in Saurashtra region to have a riverfront. Rajkot Municipal Corp is also in the process of developing Aji riverfront. The TCGL has also floated tenders for developing Choreshwar waterfalls on Madhuvanti river near Mendarda town of Junagadh. The TCGL proposes to develop a garden, a sitting area, a parking lot and a toilet block at the cost of Rs 2.73 crore. Choreshwar is associated with the mythology of marriage of Lord Krishna to Rukmini. https://indianexpress.com/article/india/gujarat-manavadar-to-get-a-riverfront-6608368/ (24 Sep 2020)
Rispana; Dehradoon River 'rejuvenated' only on paper 'Rispana Rejuvenation', an ambitious project initiated by the state a couple of years ago, seems to be limited only on paper as the river continues to be a dumping zone. Locals are not just grappling with the stink but also the heaps of trash.
Rispana is one of the two main rivers that feeds Doon. Illegal mining on the riverbed is also a huge worry. Residents and activists claim that not only the rejuvenation plan has failed to take off, huge walls near the riverbed erected as a part of another ambitious riverfront project a few years ago are "safeguarding" illegal mining activities and keeping the trash away from public sight.
Reenu Paul, a conservation activist and lawyer, said, "The riverbed has become a hub for all kinds of illegal activities. Despite orders from the court, rapid human settlement and construction has taken place at the source of the Bindal river during the lockdown. The authorities must also put a check and discourage drinking water sources from turning into picnic spots." https://timesofindia.indiatimes.com/city/dehradun/doons-lifeline-rispana-river-rejuvenated-only-on-paper/articleshow/79251026.cms (17 Nov. 2020)
Adyar; Chennai PWD looks to widen river course The PWD is looking at various options to save excess water from the Chembarambakkam reservoir and plans to take measures to reduce inundation in residential areas along the Adyar river course after the monsoon.
During heavy rain, a senior PWD official said, excess water released from the Chembarambakkam reservoir through the surplus course joins the Adyar in the Tiruneermalai area. At this confluence point, the existing course is unable to take large quantities of water released from the reservoir and many low-lying areas along the stretch get inundated.
To be able to take in an adequate quantity of water, the PWD authorities said, the existing course needs to be widened by at least 60m and a swathe of land along the stretch had to be acquired. Widening the surplus channel will help avoid flooding in the surrounding residential localities and will also leave access to the industrial estate in Tirumudivakkam unaffected. This has been a long-time request of residents in the area, said the official.
As far as saving excess water from the Chembarambakkam reservoir is concerned, there is a possibility to store it. A sluice channel to take the excess water to the Sikkarayapuram quarries exists, but a covered channel needs to be laid, he said. A Metrowater official said the existing channel was able to only take a small quantity of excess water to the quarry. To be able to execute the two projects, the PWD plans to take up a three-month study before approaching the state government for financial sanction. Once begun, the two projects can be completed in a year, said the official. https://timesofindia.indiatimes.com/city/chennai/pwd-looks-to-widen-adyar-river-course/articleshow/79829390.cms (21 Dec. 2020)
RIVERS
Haryana The mysteries and marvels of the Thapana river The Shivaliks, the southernmost and youngest mountains of the east west Himalayan range often get underplayed in comparison to the majestic snow-clad peaks which form the headwaters of famous rivers like the Ganga and Yamuna. It is well known that these mighty rivers had to work hard to cut through the almost uninterrupted range of the Shivaliks to access the Indo Gangetic plains. A not so well-known fact is that the southern slopes of the latter has given rise to a large number of rivulets, locally called 'raus' to act as perennial and seasonal tributaries to these mighty rivers. Still poorly appreciated is that the porous and thirsty bhabar tract on the foothills of Shivaliks sucks in huge amount of monsoon waters to emerge down the gradient as perennial aquifer streams and marshy tracts in what is called the Terai belt running almost parallel to the hill range. Thapana is one such gift of the Shivaliks, offering tributes to the river Somb and in turn to the river Yamuna. https://turnslow.com/the-mysteries-and-marvels-of-the-thapana-in-haryana/ (19 Dec. 2020)
Maharashtra Section 144 invoked in Nashik for cleaning of Godavari river Following the direction of the Bombay High Court to make the Godavari river pollution free, deputy commissioner of police of city police Amol Tambe has invoked section 144 of the Code of Criminal Procedure until February 5, 2021. As per the order, a total ban has been put on activities such as washing of clothes, utensils, motor vehicles or animals at the river bank as well as dumping of garbage and plastic bags in the river basin. The Godavari river passes through Bhadrakali, Sarkarwada, Panchavati, Gangapur and Adgaon areas under the limits of Police Commissionerate Circle-1.
http://www.uniindia.com/section-144-invoked-in-nashik-for-cleaning-of-godavari-river/west/news/2264793.html (16 Dec. 2020)
Odisha To save Mahanadi river, NGT orders setting up expert panel to lay down norms Taking a dim view of Naveen Patnaik government's attempts to reclaim the river bed of Mahanadi near Cuttack to expand the SCB Medical College and Hospital, the NGT has formed a panel of experts from the Central Water Commission, National Institute of Hydrology and state and CPCB for laying down norms to ensure that the construction of the medical college and river front development takes place without damage to the flood plains of the river.
"The (Mahanadi) riverbed is likely to be affected by setting up of the medical college or other permanent constructions in the floodplain of the river. Encroachment of Kathajodi and Mahanadi rivers and construction in floodplain area may adversely affect the riverine ecology. There is a need to prevent irreversible damage to the riverine ecology by enforcing the applicable rules. Flood plain zones need to be identified and demarcated in the light of such norms. The Committee may identify the extent of floodplain zone/active floodplain zone from the edge of the river. The committee may complete its exercise within four months," the four-judge bench of NGT headed by chairperson Justice Adarsh Kumar Goel said.
The NGT order came in response to a petition filed by Dilip Samantray, a Cuttack-based citizen to the state government's plan of transforming the state-run SCB Medical College and Hospital into an "AIIMS Plus" institute with an expenditure of Rs 1000 crore earlier this year. Samantray in his petition had alleged that illegal construction activities such as Panchamukhi Hanuman Temple, paddy threshing ground and proposed structures such as toilet, graveyard, market complex, Kalyan mandap and other activities adversely affect the river ecology and disturbed the flow of Mahanadi river.
"The reclamation of land from our lifeline Mahanadi has created once in a lifetime opportunity to breathe fresh life into the core of our ancient city," chief minister Naveen Patnaik had said while unveiling the plan in January this year. As per the plan, 424 acres of land were to be reclaimed from Mahanadi river for expansion of the medical college though the state government in its affidavit before the NGT said a new campus of SCB medical college is proposed on 25 acres of land reclaimed from the river.
The NGT said there is no central legislation to regulate the flood plains, except an October 2016 notification issued by the Ministry of Water Resources with respect to Ganga river, under the Environment (Protection) Act, 1986, prohibiting any construction in the active floodplain area of river Ganga or its tributaries.
"The Water Resources Ministry circulated a model Bill on the subject in 1975 but the same did not fructify into law. There are some State Acts like Manipur Flood Zoning Act, 1978 and the Uttarakhand Flood Plain Zoning Act, 2012. The Wetlands (Conservation and Management) Rules, 2017 prohibit any permanent constructions within 50 meters of the Wetlands, from the mean high flood level in the past 10 years from the commencement of the rules. In Maharashtra, there are norms for demarcating regulatory and prohibitory zones in the floodplains of the rivers. There are also similar restrictions in certain Master Plans like the Revised Master Plan of Bangalore restricting constructions in catchment area of the lakes," said the NGT bench observing that Odisha did not appear to have any legislative and administrative measures regulating and prohibiting activities in the floodplain zones of the rivers in the state. https://www.hindustantimes.com/india-news/to-save-mahanadi-river-ngt-orders-setting-up-expert-panel-to-lay-down-norms/story-sL4SUwQklBXBfCiTz17NoO.html (20 Dec. 2020)
Gujarat Toxic waste secretly dumped into Vishwamitri Highly toxic industrial waste was being disposed off clandestinely in Vishwamitri, the river that passes from the heart of the city and known for its healthy population of crocodiles. The Gujarat Pollution Control Board (GPCB) on Thursday (Dec. 17) busted the racket near Vadsar and lodged an FIR against five persons at Manjalpur police station. The accused were caught disposing the acidic waste into the river using a flexible hose pipeline.
GPCB acted on complaints that sarpanches of three gram panchayats – Karali, Khalipur and Maretha – had made to the district collector and the Vadodara Municipal Corporation (VMC) in October this year. A stretch of nearly eight km from Vadsar to Maretha has been badly affected. "When we started checking samples from Maretha to the upstream of the river, we came across the spot where the industrial waste was being disposed of illegally at Vadsar," said Henil Padaria, assistant environment engineer, who lodged the complaint.
Even in 2018, an offence was registered against Bhikha, his son Dipak and nephew Mahesh for running the racket at the same spot. The trio had then formed a closure with tin shades and piles of garbage bags so that the illegal act cannot be suspected. https://timesofindia.indiatimes.com/city/vadodara/toxic-waste-secretly-dumped-into-vishwamitri/articleshow/79802490.cms (19 Dec. 2020)
Tamil Nadu Why Not Invoke Goonda Act Against Those Who Are Polluting Water Bodies: Madras HC Considering the seriousness of the issue, the Madras High Court (Madurai Bench) on Wednesday (Dec. 02) took suo-motu cognisance of a news report about pollution of the Amaravathi River, and directed the District Legal Services Authority (DLSA), Karur to conduct an inspection of the River and le a report regarding the same.
The Bench of Justice N. Kirubakaran & Justice B. Pugalendhi observed, "Most of the water bodies in India, including perennial rivers, are polluted. The pollution of water bodies is a pollution of the entire land as it affects human beings, animals, birds, plants and thereby, causing an environmental imbalance."
The Court further remarked, "Though India is developed industrially, no proper steps or plans have been made regarding pollution control. Though the Pollution Control Board is monitoring the pollution, there are no proper infrastructures for treating the sewage and industrial effluents."
Though the Court took Cognizance of a news report about untreated effluents being discharged from the dyeing units and other companies (in Karur District) into the River Amaravathi, the Court noted that throughout the country, the industries are polluting the water bodies by letting in untreated industrial effluents.
The Court took notice that many water bodies are completely polluted and they have become sewage channels. "When the water bodies are polluted, not only the water, but soil is also polluted and the water becomes unfit for drinking purpose as well as for cultivation", noted the Court. That apart, the Court said, because of pollution, the fishes and other living creatures in the water bodies are also killed and the water bodies become unfit to be a living place for those creatures. Importantly, the Court opined, "Pollution of the water bodies causes a lot of health hazards to the people and it also affects the environment as well. Therefore, serious and emergent steps have to be taken to prevent and control the pollution of water bodies." https://www.livelaw.in/news-updates/madras-high-court-goonda-act-polluting-waterbodies-pollution-166745 (03 Dec. 2020)
Report Ecological survey of six major Indian rivers Wildlife Institute of India, Dehradun will be conducting ecological survey of six major rivers of India — Mahanadi, Periyar, Godavari, Kaveri, Narmada and Barak. The survey will be conducted under National River Conservation Plan to assess ecological status of the rivers and ecosystem around these rivers. Dhananjai Mohanz director of the WII said, "This will help in determining health of the rivers and further conservation efforts. The survey of all six rivers will take at least a year. Teams are being formed and survey will start soon."
The six rivers are in Madhya Pradesh, Maharashtra, Karnataka, Kerela and northeastern states. The survey will be focussing on determining 'Ecological Status' of all the six rivers which includes flora and fauna, level of pollution and effect of human intervention on ecosystem.
In September, according to a report released by CPCB, water quality of five major rivers in the country, including the Ganga, deteriorated during the lockdown. Meanwhile, an improvement is witnessed in water qualities of Brahmaputra, Cauvery, Godavari, Krishna, Tapi and Yamuna. According to the report, the quality of water in seven of the 19 rivers monitored by State Pollution Control Boards (SPCBs) improved during the lockdown period. The CPCB said it had asked SPCBs to assess water quality of Ganga, Yamuna, Godavari, Krishna, Narmada, Beas, Brahmaputra, Baitarani, Brahmani, Cauvery, Chambal, Ghaggar, Mahanadi, Mahi, Pennar, Sabarmati, Sutlej, Suwarnarekha and Tapi. https://www.newindianexpress.com/nation/2020/dec/16/ecological-survey-of-six-major-indian-rivers-2236918.html (16 Dec. 2020)
GANGA Battle to save Ganga marred by tragedies, 'broken promises' on government's part The battle to save India's most famous river has been marred by tragedies and broken promises on the government's part.
– Unsustainable and mechanized riverbed excavation of minerals would prove invitation to an environmental disaster. Apart from inflicting severe damages on aquatic ecosystem, quarrying in excess impacts the natural flow path and pattern of the river thus leading to breach of embankments and causing floods in adjacent areas during monsoon. Unabated and deep excavation of the riverbed would also lower the groundwater and destabilize the river banks. Unfortunately, we have yet to see a credible Environment Impact Assessment of sand mining, nor is there any worthwhile public consultation process. There is nothing in the name of achieving compliance of the environmental norms, and implementation of environmental management plans. https://www.counterview.net/2020/12/battle-to-save-ganga-marred-by.html (17 Dec. 2020)
Char Dham Project From Char Dham to char daam Everything has a price – potentially. It depends on one's view. Solitary caves in Kedarnath where wandering sadhus practiced meditation, today are expensive meditation suites only available on pre-booking; free-flowing rivers racing to the sea are frivolities that can be dammed and squeezed into rupees four per unit; pilgrim towns offer peace but at profitable rates, and spiritual tourism is the legitimate term for this money-spinning of devotion; the Himalaya yet breathing in the silent, pure air of its peaks needed to be woken to the frenzy of modern society — and so we build the Char Dham route, taking us from the value of a thing to its price; in effect from a Char Dham to a Char daam. https://sanctuarynaturefoundation.org/article/the-road-from-char-dham-to-char-daam
Geological instability & blasting causing landslides in Tota Ghati The Tota Ghati example warns us that stable, hard rock dominated valley slopes, if not investigated critically for their geological fragility, lead to unprecedented slope instability having a cascading impact on the terrain. It is a classic example that we must learn from so that such tragedies are not replicated in other valleys. Similar geological tragedies are reported from Tanakpur to the Pithoragarh sector (NH-125), which has near-identical geological and structural settings. Therefore, any hard rock valleys that are yet to be widened for the Char Dham road project need to be critically evaluated for geological & structural stability before subjecting them to large-scale mechanical excavation and blasting. https://www.downtoearth.org.in/blog/environment/char-dham-how-geological-instability-and-blasting-are-causing-landslides-in-tota-ghati-74677 (17 Dec 2020)
Centre modifies hilly road width citing India-China border link The Union road ministry on Dec. 15 has increased the sanctioned width of hilly roads of national strategic importance that provide connectivity to India-China border to 7 m. The move will impact the Char Dham road project by nearly restoring its original width which was reduced by the Supreme Court to 5.5 m. In a modification issued to its 2018 regulation for highways in hilly areas, the ministry said the width of the road should be 7 m carriage way. In 2018, the ministry had reduced the width of main carriageway of roads on hilly terrains to maximum 5.5 m to reduce the impact on the environment due to road development. In Sep 2020, the SC upheld the 2018 ministry regulation. https://www.hindustantimes.com/india-news/centre-modifies-hilly-road-width-citing-india-china-border-connectivity/story-EwLoDYrpOop84bmsxnymGK.html (17 Dec 2020)
Uttarakhand CS reviews Namami Gange projects Chief secretary (CS) Om Prakash on Dec 14 while reviewing the extensive plantation to be done in and around the catchment area of the river, told the officials to submit a detailed report on plantation done in 2017-18, 2018-19, and 2019-20 and also its progress report. He also asked to ensure a speedy progress of works related to solid and liquid waste management and waste reuse in the towns adjacent to Ganga. The CS also directed the Urban Development Dept and Drinking Water Corp to complete the tasks of household connectivity under septage management in Devprayag, Gangotri and Badrinath, and said that where septage connection vehicles should be made available where they are required. https://timesofindia.indiatimes.com/city/dehradun/cs-reviews-projects-under-namami-gange-directs-authorities-to-complete-work-within-set-timeframe/articleshow/79726504.cms (15 Dec. 2020)
YAMUNA Uttar Pradesh River front planned along Yamuna from Mathura to Agra Govt has asked the Yamuna Expressway Industrial Development Authority (YEIDA) to develop a tourism zone & a river front corridor along the Yamuna river from Mathura to Taj Mahal in Agra.
According to YEIDA officials, the river front project spread across 109.7 ha includes the development of golf course, amusement park, sports complex, naturopathy and wellness centres, and amphitheatres, among others, near ancient city of Vrindavan. On the other hand, the tourism zone project, which will have five star hotels, guest houses, service apartment, heritage centre, convention centre, old age home and other commercial projects, is planned on 731.13 hectares scattered in different sites of Mathura, Vrindavan, Barsana, Nandgaon, Gokul, Agra and Fatehpur Sikri, the officials said.
The officials said that the authority will soon hire a consultant to prepare the layout of river front and tourism zone projects. "We have already started the process to hire a consultant and the work on detailed project report of these two projects will start soon," said Arun Vir Singh, chief executive officer, YEIDA.
In its 69th board meeting held on Monday (Dec. 14) at its administrative building in Sector Omega-I, YEIDA approved a proposal regarding these two projects, the officials said. YEIDA has to create required facilities along the Yamuna so that national and international tourists flock to Mathura and Vrindavan and enjoy the spiritualism in these ancient cities related with Lord Krishna, said the officials.
YEIDA has also planned to develop a heritage city along the Yamuna Expressway so that the tourists have ample options to engage with during their journey in this region from Greater Noida to Agra that is home to Taj Mahal, they said. "Taj Mahal already attracts the tourists from world over and if we provide the facilities along Yamuna river, then they will enjoy the serenity and it will boost growth in this part of the country," said the YEIDA CEO.
The authority has also fixed rates to acquire land for the development of these projects. "We have fixed Rs 2,300 per square metre along with 7% of total land acquired as compensation to buy the land along the expressway. The board has given approval to this proposal," said Singh. YEIDA board also approved proposals related to development of Jewar international airport, Film City project and other projects on which it is already working, the officials said. https://www.hindustantimes.com/cities/tourism-zone-river-front-planned-along-yamuna-from-mathura-to-agra-to-boost-tourism/story-QoXonYtE32rjYYSmFQlu4H.html (14 Dec. 2020)
YEIDA on Dec. 14 secured the approval of senior UP govt officials to start work on the development of the riverfront under its second phase of expansion plans within Raya urban centre. At its board meeting the authority tabled several important proposals before the senior officers for approval.
The authority was also asked to go ahead with its plan to develop a logistic hub and freight complex in the Tappal-Bajna cluster. Meanwhile, the rates at which the authority will purchase land from farmers in GB Nagar have been increased from Rs 1,827/sqm to Rs 2,300/sqm. Those wanting to take developed plots measuring 7% of their land will be offered Rs 2,068/sqm instead of Rs 2,300/sqm. Also, in a breather for entrepreneurs, the time given to execute lease deed for industrial plot owners allocated land in sectors 32 & 33 will have time up to June 30, 2021 to execute the deed. https://timesofindia.indiatimes.com/city/noida/yeida-sets-wheels-rolling-for-riverfront-heritage-city/articleshow/79728966.cms (15 Dec. 2020)
CPCB asks Delhi, UP, Haryana to ensure treatment of sewage The CPCB on Dec. 6 raised concern on pollution and frothing in Yamuna River and asked Delhi and other states to implement effective sewage treatment. CPCB observed froth forming in the river Yamuna and an increase in the level of ammonia in it as a result of untreated sewage being discharged into the river. Non-operation of existing STPs, improper functioning of ETPs installed by the industries and CETPs located on the banks of Yamuna have also contributed to the rising pollutants in the river.
The CPCB has asked DJB to submit an action plan that could be achieved in a certain amount of time. The Board is also asked to ensure that the plan is complying with the norms given by the STPs and that untreated sewage is not discharged into these drains. Additionally, the DPCC had also been asked to take action against CETPs and other industrial units. The Haryana SPCB and Uttar Pradesh PCB have also been directed to take same actions. Keeping in mind the significance of the problems, the concerned agencies have been reminded today to submit their action plan reports by December 15, 2020. https://www.livemint.com/news/india/delhi-cpcb-raises-concerns-on-pollution-in-yamuna-river-11607261448670.html (06 Dec. 2020)
Delhi YMC pulled DJB for inefficiency in reducing Yamuna pollution In a 448-page report submitted to the National Green Tribunal last week, the two-member Yamuna Monitoring Committee appointed by the tribunal in July 2018 severely criticised the DJB for its ineffective system to monitor projects around the river Yamuna. The report carries details of the various aspects of pollution in the Yamuna, including the status of floodplain management projects, sewage treatment plants, and maintenance of drains.
This is the fifth report prepared by the YMC, commissioned by the NGT on 6 July 2020. The responsible authorities can now submit their responses to the panel, which will then make further observations to the NGT by 15 January 2021.
The report said the executive director of the National Mission for Clean Ganga, in a meeting held with the committee and subsequently through a note, had said despite a number of review meetings held at the NMCG and follow-up communications, including demi-official letters issued to the senior-most officers of the Delhi government and the DJB by the secretary of the Ministry of Jal Shakti and DG NMCG, there had been "nil response".
Considering the repeated lapses in project implementation, the committee recommended that the processes for decision-making within DJB need to be examined. It alleged that the DJB CEO did not attend meetings, barring one. In all other meetings, the DJB was represented either by the member (drainage) or a chief engineer — officers who do not hold the authority to make decisions. The committee recommended that there is a need for complete overhaul of the internal oversight systems, also alleging that the establishment does not seem to have the capability to do this effectively.
"Oversight of timely implementation should not be left to only engineers who lack the capacity for anticipating problems, trouble-shooting, raising levels, following up with key links in the chain to get results," the report said. The committee pointed out that the need for organisational restructuring in the DJB has been highlighted once before — in a report prepared under the board's chairperson in 2017. It also recommended that a performance audit be carried out by the Comptroller and Auditor General of India to bring out the systemic problems and suggest corrective action.
The last time a performance audit of the DJB had taken place was in 2012. "The board does not have a strong project monitoring mechanism and no accountability is being assigned to the Project Management Consultants (PMC) — external consultants, paid from project funds — or construction agencies, who are bound under the terms of contract to achieve the milestones within prescribed timelines," the report said. https://theprint.in/environment/ngt-constituted-panel-pulls-up-delhi-jal-board-for-inefficiency-in-reducing-yamuna-pollution/569438/ (18 Dec. 2020)
Haryana yet to restore normal water level of Yamuna: Chadha Delhi Jal Board (DJB) vice chairman Raghav Chadha on Monday (Dec. 14) said the water level of the Yamuna has been falling continuously, but the Haryana government is yet to take any concrete action despite several reminders. "The continuous fall in the level of the Yamuna is a matter of grave concern. We"ve been requesting the Haryana government for their cooperation, and hope to come to an amicable solution," he said in a statement.
The normal level of the Yamuna near the Wazirabad pond should be 674.50 feet, but it has dropped to 672.20 feet, which is "alarming", the DJB vice chairman said. https://www.outlookindia.com/newsscroll/despite-several-reminders-haryana-yet-to-restore-normal-water-level-of-yamuna-chadha/1992897 (14 Dec 2020)
RIVERS BIODIVERSITY
Gujarat Plastic clean-up brings crocodiles back to river Sneha led a campaign to clean up the filthy river, stuffed with plastic waste, that winds its way through the campus of Maharaja Sayajirao University of Baroda in Gujarat, India. Ridding the river of plastic had an unexpected outcome – bringing crocodiles back.
"We used to joke about how there can be a crocodile in our college's stream, 'it's not possible, it's not safe!' Then we realized it not being there was the issue … not the other way around. It's his habitat and we've ruined it and we ought to do whatever we can to revive this ecosystem," she told the United Nations Environment Programme (UNEP) in an interview. https://moderndiplomacy.eu/2020/12/16/plastic-clean-up-brings-crocodiles-back-to-indian-river/ (16 Dec. 2020)
FISH, FISHERIES, FISHERFOLKS
Goa Fishermen stand against scooping of Sal riverbed The traditional fishermen gathered to protest against the digging process after a dredger was seen in the river. According to media reports, this was not a move to desilt the river, but, a case of 'capital dredging' to remove the virgin soil from the sea bed to create smooth navigational channels for larger ships. https://thelogicalindian.com/environment/river-sal-dredging-25381 (11 Dec. 2020)
SAND MINING
SANDRP Blog Blood on sand: River sand mining in South Asia Summary report of South Asia Sand Mining Webinar held on Dec 11, 2020. The insightful River sand mining focused South Asia meeting titled "Blood on the sand: dangers of riverbed mining in South Asia" was one of the off shoots of the IRW 2020 held dialogues on River Sand mining in India. One of the underlining theme that reverberated through the presentations was again that people on ground must have a role in governance of sand mining. https://sandrp.in/2020/12/14/blood-on-sand-river-sand-mining-in-south-asia/ (14 Dec. 2020)
Goa Honour sand mining order unfailingly, HC tells govt The high court of Bombay at Goa has issued showcause notice to the government over the non-compliance of its orders on illegal sand mining and asked the chief secretary to personally ensure that the court's orders are strictly implemented. The HC asked the government to treat the matter "with utmost seriousness since the issue is just not relating to the compliance of the directions of this court, but concerns the serious environment hazards".
The court directed the government to provide details of cancellation of registration of canoes/boats, trucks, arrests, seizures, confiscation, fines or other steps that may have been taken after advocate general Devidas Pangam stated that the action is being taken by the government to prevent illegal mining. "The material placed on record, at least, prima facie, indicates that illegal sand mining has returned with vengeance and the authorities, who, in the past had done commendable work in preventing it, appear to have let down the guard," stated the division bench comprising Justices Mahesh Sonak and M S Jawalkar.
"In the said circumstances, we are constrained to issue notice to the respondents to show cause as to why action under the Contempt of Courts Act be not initiated against them. In addition, we now direct the chief secretary to personally ensure that our orders in relation to illegal sand mining are complied with in letter and spirit, not only by him, but, also by the authorities who were directed to take specific steps to prevent the sand mining or in any case, this rampant illegal sand mining," the court stated in its order. The court called for replies to be filed by January 11, 2021 without seeking any extension of time. https://timesofindia.indiatimes.com/city/goa/honour-sand-mining-order-unfailingly-hc-tells-govt/articleshow/79787160.cms (18 Dec. 2020)
Andhra Pradesh NGT directs govt to act against those involved in illegal sand mining The NGT, Southern Zone, Chennai comprising justice K. Ramakrishnan and expert member Saibal Dasgupta, while issuing an order on Monday (Dec. 14) on petitions filed by Devineni Rajasekhar and T. Srinivas, challenging regulations and notifications by several departments on sand mining, said that no act of sand mining in the guise of desilting or dredging is to be permitted in the river, reservoir, lakes and pond beds.
The NGT directed the AP to conduct regular survey of sediment deposit on the water bodies before undertaking the work of declining and dredging as part of maintenance of these water bodies. It ordered that the state follow the guidelines provided by the Union ministry of environment and forests and also the guidelines of Sustainable Sand Mining and Management, 2016 and also Enforcement and Monitoring Guidelines for Sand Mining issued in January, 2020.
The NGT directed the AP to have adequate control mechanism and monitoring mechanism on activities like mining/desilting/dredging by providing all necessary infrastructure including technical assistance. It asked for providing proper monitoring mechanism for transport of miners extracted from the point of dredging/desilting/mining to the point of destination to avoid misuse of minerals for unauthorised purpose. It asked for registration of vehicles permitted for transport and also installation of GPS facility in the vehicles.
The NGT asked the AP to set up a permanent EAC in each district for the purpose of carrying out the work of conducting replenishment study and for preparation of District Survey Report. It asked for installation of CCTVs in the places allotted or identified for dredging/desilting/mining so as to monitor the activities scientifically and to curb illegal mining. https://www.deccanchronicle.com/nation/in-other-news/151220/ngt-directs-andhra-pradesh-to-act-against-those-involved-in-illegal-sa.html (15 Dec. 2020)
Kerala NGT raps SPCB over black sand mining in Alappad The NGT has rapped State Pollution Control Board (SPCB) over its "incompetence" to decide environmental impact of sand mining in a coastal village in Kollam district. The NGT said the SPCB is entrusted with the statutory obligation to enforce the environmental norms which include application of 'Polluter Pays' principle.
"We are surprised that the Board should express its incompetence to decide the issue. If the Board has any difficulty in determining any particular question, it can always take the assistance of any department, including the mining department and expert body, such as the CPCB, NEERI etc.," the NGT said. A bench headed by NGT Chairperson Justice Adarsh Kumar Goel directed the board to consult the matter with concerned departments or experts and file a further report before February 10, 2021 by e-mail.
The KSPCB told the tribunal that it is not competent to assess the other legal aspects of mining, which come under the Department of Mining and Geology, Atomic Mineral Division, Government of India, and causes of beach erosion. The accused companies raised objection that destruction of beach is not entirely due to the beach mining but there are several reasons for which they demanded an extensive study. "Similarly the companies report that they are conducting mining as per the mining plans and Government lease issued to them. However the units, even though applied for, have not obtained Environmental Clearance, for beach mining," the board said. https://www.thenewsminute.com/article/alappad-mining-ngt-raps-kerala-pollution-control-board-over-black-sand-mining-132870 (11 Dec. 2020)
Tamil Nadu Rampant sand mining killing Sholavaram lake: Residents Residents of Sholavaram, Alamathi, New and Old Erumaivettipalayam villages claim that unbridled sand mining of Sholavaram lake is not only ruining the lake, but has also claimed lives of many villagers. "The lake has been plundered for the last 15 years. There are now 10-15 feet gouges in the lakebed. This will exert pressure on the bunds and may result in a breach," said Kothandan, a resident of Alamathi for the last 53 years. He has led protests on issue several times.
Once filled with water, these pits become difficult to spot. Over the last three years, at least five locals, including two 15-year-old boys who got into the water have lost their lives after misjudging the depth of pits. Around 15 buffaloes who came for a drink have died after being unable to make their way out of the muddy gouges, said the locals. As on June this year, 540 hectares have been permitted to be mined where a truck is allowed 2 units of sand a day, according to the lorry permission slips. The authorised individual or company may take sand for a period of around 50-60 days. According to local residents, around 80-90, 10 cubic metre trucks carry sand during the permitted time, taking over double the permitted sand. https://www.newindianexpress.com/cities/chennai/2020/dec/16/rampant-sand-mining-killing-sholavaram-lake-residents-2236835.html (16 Dec. 2020)
Maharashtra Rural Pune sees 50% rise in illegal sand smuggling this year Illegal sand mining has seen a sharp rise along the Indrayani, Ghod and Mula-Mutha rivers in the rural parts of Pune district between January and October this year. In this period, 145 cases were registered, compared to 78 cases last year. A total of 91 cases were registered in 2019, police said. AS many as 323 people have been arrested in this 145 cases, a steep increase compared to the 184 held under similar charges last year.
Curiously enough, illegal sand mining appears to have thrived despite the lull in real estate activity for a large part of this year because of the coronavirus pandemic, especially the pea lockdown period of March-June. Pune rural superintendent of police Abhinav Deshmukh said the numbers were higher this year as the revenue department did not grant licences of float tenders for sand mining in the rivers. "In such a situation, any person digging sand from river basins is considered to be involved in illegal sand mining," Deshmukh said. https://timesofindia.indiatimes.com/city/pune/rural-pune-sees-50-rise-in-illegal-sand-smuggling-this-year/articleshow/79710799.cms (14 Dec. 2020)
Madhya Pradesh Sand Mafia slaps cop, tries to snatch gun in Bhind Mining mafia attacked a constable and tried to snatch the gun in Bhind after they were they were stopped at a checkpoint for carrying illegal sand from Sind river.
https://tvid.in/1xp3jaw69u/toi
The incident took place at a short distance from Baberi Nak in the rural police station area. The victim cop has lodged an official plaint. https://timesofindia.indiatimes.com/videos/news/caught-on-cam-sand-mafia-slaps-cop-tries-to-snatch-gun-in-bhind/videoshow/79534334.cms (02 Dec. 2020)
एसडीएम की टीम पर रेत माफिया का हमला खनिज अधिकारी चोटिल निवाड़ी जिले के सिमरा थाना क्षेत्र में प्रशासनिक टीम पर हमले की घटना सामने आई है। पृथ्वीपुर एसडीएम तरुण जैन के नेतृत्व में सकेरा खुर्द में रेत के अवैध कारोबार पर छापामार कार्रवाई करने के लिए बुधवार (Dec. 16) को दोपहर बाद टीम पहुंची थी। यहां संयुक्त टीम ने दो ट्रैक्टर-ट्रॉली जब्त किए, लेकिन माफिया ने टीम पर हमला कर दिया और एक ट्रैक्टर-ट्रॉली लेकर भागने में कामयाब हो गए। जब्त ट्रैक्टर-ट्रॉली को सिमरा पुलिस थाना में रखवाया गया है। आरोपियों के खिलाफ शासकीय कार्य में बाधा सहित तमाम धाराओं में केस दर्ज किया गया है। https://www.bhaskarhindi.com/city/news/sdms-team-attacked-sand-mafia-mineral-officer-injured-195394 (17 Dec. 2020)
Murder-attempt charge for sand mining: minister Kamal Patel Those found illegally mining sand from Narmada river will be booked for attempt to murder under Section 307 of the IPC, agriculture minister Kamal Patel issued a warning on Wednesday (Dec. 16). He also said that there was 'almost no illegal mining in Hoshangabad.' Illegal mining has been a major issue throughout the Narmada river belt. Patel who belongs to Harda, a district on the banks of the river Narmada said, "Madhya Pradesh had accorded the status of living entity to the river. And all the laws applicable for the violence on humans are applicable on Narmada also."
He said that after his initiative "99 people including the owners of the trucks and dumpers were booked under Section 379 (theft) and 411 (receiving stolen material) in Hoshangabad district after complaint of illegal mining. When asked in what capacity he made the announcement, since he is not the mine and mineral resources minister, Patel said, "I am the minister in charge of Harda Hoshangabad, Narsinghpur, Katni, Dindori, Mandla and Narmada flows in all these districts. It is my duty to check the illegal mining." https://timesofindia.indiatimes.com/city/bhopal/murder-attempt-charge-for-sand-mining-madhya-pradesh-minister-kamal-patel/articleshow/79790616.cms (18 Dec. 2020)
Uttar Pradesh Road caves in after sand truck overturns on Nishatganj bridge The approach slab connecting Gomti Bridge to Birbal Sahni Marg and Nishatganj Road caved in under the weight of a truck laden with sand on Friday (Dec. 11). As a result, traffic flow on the busy Indranagar-Charbagh route remained affected throughout the day. The traffic congestion on Hazratganj-Nishatganj route also had a cascading effect on University Road, Laxman Mela ground and Baikunth Dham Road.
Sub-inspector of Mahanagar Abhay Pratap Singh said, "Four persons — the driver, cleaner and two labourers — who got stuck in the vehicle came out of it on their own. They later told cops that as soon as truck crossed the bridge, the road caved in. One wheel of the truck got stuck in the crater and vehicle overturned." However, the PWD blamed the dense fog for the accident. https://timesofindia.indiatimes.com/city/lucknow/road-caves-in-after-truck-overturns-on-nishatganj-bridge-traffic-severely-hit/articleshow/79690029.cms (12 Dec. 2020)
Bihar कर्मनाशा नदी बने स्टील ब्रिज से ट्रक गिरने से बचा चंदौली में कर्मनाशा नदी पर शुक्रवार (Dec. 18) सुबह बड़ा हादसा होते-होते टल गया. सैयदराजा में शुक्रवार को यूपी बिहार के अंतर प्रांतीय बार्डर नौबतपुर में कर्मनाशा नदी पर बने स्टील ब्रिज पर बिहार के डेहरी आन सोन से बालू लादकर वाराणसी जा रहा ट्रक स्टील ब्रिज की रेलिंग तोड़ते हुए पुल से नीचे लटक गया. गनीमत रही कि समय रहते ही चालक और खलासी किसी तरह ट्रक से बाहर निकल गए, जिससे उनकी जान बच गई.
बिहार के डेहरी ऑन सोन से बालू लादकर 14 चक्का वाहन वाराणसी बालू मंडी जाने के लिए स्टील ब्रिज से गुजर रहा था. स्टील ब्रिज पर बिछे स्टील के चादर पूरी तरह से फट चुके हैं. फटे स्टील के चादरों के बीच ट्रक का पहिया फंस गया जिस वजह से ट्रक अनियंत्रित हो गया और रेलिंग तोड़ते हुए नदी की तरफ लटक गया.
गौरतलब है कि कर्मनाशा नदी पर बने पक्के पुल के क्षतिग्रस्त होने के बाद बिहार से यूपी में आवागमन के लिए स्टील ब्रिज का निर्माण कराया गया, जिससे ओड़ीसा, पश्चिम बंगाल,असम और बिहार का संपर्क यूपी से बना रहे. 50 टन क्षमता वाली इस ब्रिज पर 80 से 100 टन वजन लादकर रोजाना 500 से 600 गाड़ियां पार हो रही थे. जिससे पुल क्षतिग्रस्त हो गया है. पुल पर लगे स्टील के चादर की वेल्डिंग हर जगह से छूट गई है और चादर भी बीच-बीच में बुरी तरह से फट चुके हैं. जो कभी भी किसी बड़ी दुर्घटना को अंजाम दे सकते हैं. पुल की खस्ता हालत देख पिछले 3 दिनों से बिहार में ओवरलोड बालू पर पाबंदी लगा दी गई है. https://smart.livehindustan.com/varanasi/news/steel-bridge-on-karmnasha-river-prevents-truck-from-falling-driver-saves-life-by-jumping-81608296784392.html (18 Dec. 2020)
WETLANDS, LAKES, WATER BODIES
Andhra Pradesh Kakinada: NGT panel begins probe into alleged mangroves destruction NGT, Chennai team made a thorough investigation regarding the destruction of the mangroves at house sites in Kakinada on Thursday (Dec. 9). MOEF&CC, Chennai Scientist Dr Pandey inspected the salt creek lands, house sites and destruction of mudflat by the GMR group at Kakinada coast. Joint Collector Dr G Lakshmisha, Smart City CEO and MD and Kakinada Municipal Commissioner Swapnil Dinakar Pundkar, RDO AG Chinni Krishna, MRO Sathish and other officials were present on the occasion.
Dr Pandey made an exhaustive study and enquired about the mangroves in the place. He obtained full details from the Joint Collector G Lakshmisha as well as other revenue officials. The NGT team looking at the levelled grounds wanted to know where exactly the mangroves were existed prior to the levelling of the ground. Pandey asked revenue officials to bring at least one or two plants of mangrove trees to confirm their existence in the ground. Local NGO leader Rambabu explained regarding the presence of several mangrove trees in the area. He further remarked that by destroying the mangroves they have caused immense harm to the environment. https://www.thehansindia.com/andhra-pradesh/kakinada-ngt-panel-begins-probe-into-alleged-mangroves-destruction-661225 (10 Dec. 2020)
Kakinada: NGT team inspects aqua ponds, sand mining The team elicited information pertaining to the illegal excavations of the aqua ponds and sand digging. The officials informed the NGT team that for the last 5 years there were aqua activities, but off late the activities came to halt. They also explained in detail regarding the problems prevalent there. The joint committee on Dec 8 began the field level inquiry into the case in which the ONGC & the GAIL were the respondents. https://www.thehansindia.com/andhra-pradesh/kakinada-ngt-team-inspects-aqua-ponds-sand-mining-activities-661056 (10 Dec 2020)
Tamil Nadu Activists protest wetland encroachment by PSUs Central & state Public Sector Units (PSUs) have encroached upon 656 acres of the Kosasthalai River's backwaters in Ennore since the disastrous floods of 2015, as per a report by Save Ennore Creek Campaign.
Released on the eve of Home Minister Amit Shah's visit to Chennai, the report highlighted the fact that central govt PSUs, including Kamarajar Port, NTECL Vallur & Bharat Petroleum had converted 417 acres into industrial real estate since 2015. Shah's program in the city includes the inauguration of a new berth in Kamarajar Port. TIDCO's poly park – a plastics industrial estate – encroached into the remaining 239 acres of tidal wetlands. https://chennai.citizenmatters.in/psus-encroach-667-acres-of-ennore-pulicat-wetlands-21546 (20 Nov 2020)
Maharashtra Navi Mumbai: Greens hail re-inspection of Uran wetlands The city greens have hailed the latest move by the Konkan division commissioner to form a sub-committee that will re-examine the wetland sites in Uran. This development happened after the recent controversy of Raigad district administration declaring that there are no wetlands in Uran taluka. The Bombay high court appointed Wetlands and Mangrove Committees chairman has asked Raigad collector to appoint a sub-committee to ascertain the status of the wetlands in Uran. Wetlands and Mangrove Committee member secretary Neenu Somraj has asked Raigad collector Dr Nidhi Chaudhary to have the sub-committee set up and submit report within 15 days. The committee will have representatives from the collector, environment dept, police, apart from Stalin D of NGO Vanashakti. https://timesofindia.indiatimes.com/city/navi-mumbai/navi-mumbai-greens-hail-re-inspection-of-uran-wetlands/articleshow/79783520.cms (17 Dec. 2020)
Tankers being used to drain water from Uran wetlands; more security cabins set up at Panje Following a site visit to Uran in Navi Mumbai on Dec. 10, environmentalists have revealed that unidentified persons are drying up wetland patches using water tankers to drain large water bodies. The unidentified persons are also creating bunds inside the wetland to restrict water from flowing out and ensuring that it gets evaporated. The techniques were identified by the Bombay HC appointed wetland and mangrove grievance redressal committee member Stalin D and environmentalist Nandkumar Pawar.
Additionally, 10 new security cabins at the threatened Panje area in Uran have been set up. Both environmentalists took photos of the violations and shared them in a complaint before various bodies of the Maharashtra govt on Dec. 11. The alleged destruction of wetlands was highlighted a day after the Raigad district administration informed the HC-panel on Dec, 9 that there were no wetlands in Uran taluka as per the definition of the new 2017 wetland rules.
"Emboldened by the collector's stand that there are no wetlands in Uran, the land mafia is working overtime to destroy all traces of wetlands in Uran. Despite 13 wetlands being identified by scientific experts and the National Wetland Inventory Atlas, Maharashtra 2011, today only five remain (two sites at Belpada, and one each at Bhendkhal, Sawharkar, and Panje), which are also being squeezed further," said Stalin, "Time has run out for Uran wetlands only due to inaction of the collector and active support from the City Industrial Development Corp (Cidco)."
In a separate letter to the Konkan divisional commissioner on Friday (Dec. 11), Stalin pointed out that about six years ago, the then chief conservator of forests (mangrove cell) N Vasudevan had submitted a report to the Bombay HC that the Bhendkhal wetland was being reclaimed, and needed to be protected. https://www.hindustantimes.com/cities/mumbai-tankers-being-used-to-drain-water-from-uran-wetlands-more-security-cabins-set-up-at-panje/story-OaWhtZPi7ESypJbOqIZ9zH.html (13 Dec. 2020)
Uttarakhand Govt decides to legally register wetlands According to the Forest Survey of India data, Uttarakhand is home to over 221 wetlands spread in around 54,000 ha. This will be the first time in the state that wetlands will be physically inspected and put on the records on the basis of their 'type'. Till now, all the inspections used to take place through satellite surveys and analysis. "In our working plans, we already know where all these wetlands exist. The new plan is just to renew things in a more tech-savvy manner." said a senior forest department official who did not wish to be named.
The revenue department along with the forest department will soon kickstart the initiative under which, a ground inspection of the spot is to be done and the marshy land is to be 'geo-tagged'. Also, the exact location and other information would be registered.
A rapid assessment done by the World Wide Funds in Uttarakhand in 2012-13 indicated that there are 116 wetlands within an altitude range of 300 metres to over 5,000 metres. Back then, 42 wetlands were prioritised for conservation. Since the report, the issue of conservation of flora and fauna of wetlands has been raised several times by conservationists at NGT and high court. In fact, NGT, too, had ordered the state govt to take swift action to protect its wetlands. https://timesofindia.indiatimes.com/city/dehradun/ukhand-govt-decides-to-legally-register-wetlands/articleshow/79612320.cms (08 Dec. 2020)
WATER OPTIONS
Maharashtra Returning to traditional practices to save Vidarbha's 'Lake District' The 300-year-old lakes of Bhandara face two prominent problems among others: proliferation of invasive species of fish leading to decrease in local species and habitat destruction. A bird-enthusiast turned development worker, an older Dheevar (fisherfolk community) and a gutsy young woman from the same community have fallen back on traditional wisdom and encouraged local participation to safeguard their livelihood.
The triumvirate of Malgujari lake conservation in eastern Vidarbha has not just rejuvenated over five dozen lakes and water bodies in Bhandara and Gondia districts but have also given a new hope to the local community, especially the women, of a dignified life. https://india.mongabay.com/2020/12/returning-to-traditional-practices-to-save-vidarbhas-lake-district/ (16 Dec. 2020)
Karnataka Man combats water scarcity by building ponds Kalmane Kamegowda, a 72-year-old shepherd who never attended school, says he's spent at least $14,000 from his and his son's earnings, mainly through selling sheep he tended over the years, to dig a chain of 16 ponds on a picturesque hill near his village, 120 km west of Bengaluru.
Kamegowda — known as "Pond Man" — says they're "scientific" in nature, with the water flowing on a slope, enabling the ponds to avoid drying up even in summer months. Birds and wild animals such as bears, leopards, deer and foxes use the ponds to quench their thirst.
Kamegowda, who sports tidy black hair and a gray beard, was once dismissed as mad by other villagers. They mocked him for claiming that he had learned from his father, also a shepherd, the art of identifying ground moisture and using it to create bodies of water. He relied mostly on shovels, spades and pickaxes to create the water bodies, and rented excavating machines when he could afford them. https://www.hindustantimes.com/it-s-viral/karnataka-man-combats-water-scarcity-by-building-ponds/story-QI2DomAlO1ekaXKiRFVkrN.html (20 Dec. 2020)
Gujarat Surat generating massive revenue by selling treated water to industries "We are treating 930 MLD water at 11 locations in Surat. We sell this water to industries at a rate of Rs 28.55 per 1,000 litres. Now we are expanding our capacity to treat 1,600 MLD water," Amit Singh Rajput, Chairman, Drainage Committee, Surat Municipal Corporation said. "We have installed 12 STPs to ensure that treated water goes into the river. We have made 24,400 intercepting points to make sure that plastic does not enter river. We are providing 115 million litres per day (MLD) water to local industries. We are generating revenue of Rs 140 crores from recycled water," Surat Municipal Commissioner Banchhanidhi Panii said. http://www.businessworld.in/article/Surat-generating-massive-revenue-by-selling-treated-water-to-industries/17-12-2020-354614/ (17 Dec. 2020)
Odisha Faecal sludge management policy for small towns The policy environment on Faecal Sludge Management (FSM) was getting congenial in the country. In light of this, the Government of Odisha (GoO) initiated work to draft state policies that would facilitate the creation of an enabling environment for the implementa­tion of FSM initiatives. The Housing and Urban Development Department (H&UDD), GoO prepared the Odisha Urban Sanitation Policy (OUSP) and revised the Odisha Urban San­itation Strategy (OUSS) in 2017, with technical assistance from the Centre for Policy Research (CPR) under Project Nirmal.
These efforts have enabled Odisha to become a front runner among states with a comprehensive policy framework that ensures compliance with national environment, health and safety laws as well as those prohib­iting manual scavenging. Further, to fa­cilitate adoption of FSM by Urban Local Bodies (ULBs), the GoO also prepared Odisha Urban Septage Management Guidelines in 2016 and Model Faecal Sludge and Septage Management Regula­tions in 2018. https://www.indiawaterportal.org/article/faecal-sludge-management-policy-environment-small-towns-taking-wider-view (18 Dec. 2020)
North East Traditional means to harvest rain water In Mizoram, Meghalaya, Nagaland and Tripura, people store and harvest rain water through traditional means. https://www.waterpowermagazine.com/news/newsworld-bank-approves-dam-safety-project-in-india-8415705 (27 Feb. 2020)
GROUNDWATER
India's groundwater crisis Databaaz tries to explain India's Groundwater issue. https://www.youtube.com/watch?v=DTaEfT7cCk0&t=22s (15 Dec. 2020)
Haryana RTI: Of 15, only one developer extracting groundwater legally In what appears to be an eye opener for the Central Ground Water Board and Haryana State Pollution Control Board, only one out of 15 licenced builders of Panipat is drawing water with due permission from authorities. The remaining 14 projects are drawing water without permission. This came to light after a local resident sought details from the HSPCB and called for action against defaulters. "In fact, we had sought the details under various heads. As of now, we have only got details of developers. We have sought action against them," said Amit Rathee, an activist.
The Pollution Control Board has forwarded the list of such defaulting licencees to CGWB and has asked all regional officers of the Board to provide details of industries, entrepreneurs and developers extracting ground water. S Narayanan, member secretary of the board admitted the report submitted by Panipat & Board's move about preventing illegal extraction of water, especially in dark zones. https://timesofindia.indiatimes.com/city/chandigarh/rti-of-15-only-one-developer-extracting-groundwater-legally/articleshow/79818895.cms (20 Dec. 2020)
Andhra Pradesh Opposition to oil exploration plan Geologist & Andhra University retired Prof Krishna Rao said that the EIA report did not speak on the land subsidence, which earlier occurred due the oil & gas exploration in East Godavari dist. Studies by Andhra University on the KG basin, IIT-Banaras on Vedanta group's Ravva fields had exposed land subsidence. The air pollution data shown in the report were far from the ground reality, he said.
The APPCB would conduct a public hearing on the project at Tarakturu village in Guduru mandal in Krishna district on Dec 17. 35 villages would be affected by the project in the four mandals of Movva, Guduru, Kalidindi and Machilipatnam.
AP Human Rights Forum group comprising its State secretary Y. Rajesh, Krishna district convener P. Amar and co-convener G. Rohit launched a campaign creating awareness of the hazards due to "fracking method" in the oil exploration. "We have already covered the entire stretch of Guduru and Machilipatnam mandals, where people are unaware of the consequences of oil exploration and its impact on the groundwater, prospects of agriculture in the Kaza block in future," said Mr. Rajesh. https://www.thehindu.com/news/national/andhra-pradesh/opposition-to-oil-exploration-plan-in-ap/article33310214.ece (12 Dec. 2020)
URBAN WATER
Delhi DDA starts work to revive 30 water bodies in its parks The Delhi Development Authority has started the work to rejuvenate 30 out of 50 water bodies in its parks. DDA has prepared a site-specific plan for these water bodies and work on close to 10 water bodies has already begun. There are 122 water bodies under DDA's jurisdiction of which 50 are located under its horticulture dept which is responsible for the maintenance of its district and regional parks and other green spaces.
Rajeev Kumar Tiwari, principal commissioner (horticulture), DDA, said, "We have already prepared a detailed plan for the rejuvenation of 30 out of 50 water bodies under our horticulture department. We are trying to revive the water bodies by channelising stormwater from drains as per site conditions and also by using treated water." Work is going on at Mehrauli Archaeological Park where the agency is reviving three water bodies spread over 6-7 acres using phytoremediation — a bioremediation process. https://www.hindustantimes.com/delhi-news/dda-starts-work-to-revive-30-water-bodies-in-its-parks/story-9fnuFh5VkEdbOYscFtDV3L.html (18 Dec. 2020)
Eluru Tests disclose presence of pesticide residues in drinking water Reports of water samples tested by a Vijayawada-based private laboratory at the instance of Eluru Municipal Corporation indicated that the drinking water supplied to areas like Gandhi Colony, Ramachandra Rao Peta, Pension Line Area and JP Colony contained high quantities of various pesticide residues, thousands of times more than the permissible limits.
According to the official, parts of Eluru town get water supply from Godavari river and Krishna river through canals. Water samples from these canals were also tested and they were found to have residues of Alachlor and Methoxychlor to the extent of 10.88 mg/litre to as high as 17.64 mg/litre.
Ever since the mysterious disease surfaced in Eluru town on Saturday (Dec. 5) night, the municipal corporation authorities have been making efforts to find out the source of contamination of water. Preliminary inquiries revealed that the trouble could have started after the heavy rains and floods in October and November.
"There were flash floods to Tammileru river near Eluru, resulting in the breach of bund and flooding of crops and aquaculture ponds. While there is a heavy usage of pesticides in these crops and bromine in aquaculture, the run-off water could have entered the municipal water storage tank at Denduluru on the outskirts of Eluru town," the municipal corporation official quoted above said. https://www.hindustantimes.com/cities/andhra-mystery-illness-latest-tests-disclose-presence-of-pesticide-residues-in-drinking-water/story-0ijMz4H1sUZ1hVCEKiQEdL.html (09 Dec. 2020)
Hyderabad Jalpally civic body struggling to clear stagnant water at Osman Nagar Jalpally Municipality is finding it nearly impossible to drain out water that is stagnant on the roads at Osman Nagar. Several streets remain completely inundated. The municipality is neither getting any cooperation in rehabilitation works nor any financial assistance. Despite its keenness to get heavy-duty motors from Visakhapatnam to discharge the water, it could not procure the same for want of budget. Left with no choice, they began diverting water from Burhan Khan Talab to Pedda Cheruvu by opening the sluice.
Municipal Chairman Abdullah bin Ahmed Saadi said the Burhan Khan Talab, which is spread over 250 acres, has shrunk to 72 acres. He said "our Municipality is comparatively small and has a total budget of Rs. 4.5 crore. We have spent Rs. 32 lakh for discharging rainwater and disbursing aid to flood victims." He said "We have urged the Municipal department to allocate housing units under a two-bedroom housing scheme to those families whose houses were submerged. We have also demanded allocation of special funds to the tune of Rs. 5 crore to avoid such situations in the future. However, we did not get any response from the government. We have started the work of draining out water from the pond using pipelines from Thursday. We hope to clear the water from the streets within the next 10 days." https://www.deccanchronicle.com/nation/in-other-news/181220/jalpally-civic-body-struggling-to-clear-stagnant-water-at-osman-nagar.html (19 Dec. 2020)
Water pipeline burst leads to heavy spillage at Retibowli A major water pipeline burst near pillar no. 53 of PVNR Expressway near Retibowli Saturday afternoon led to heavy water spillage and traffic snarl. The incident occurred when Bhagyanagar Gas launched digging operations for laying gas pipelines. Reportedly, digging works began without taking note of the water pipeline that was exactly at the same spot. Almost immediately, gallons of water gushed out and flooded the busy Mehdipatnam-Attapur road. https://www.deccanchronicle.com/nation/in-other-news/201220/water-pipeline-burst-leads-to-heavy-spillage-at-retibowli.html (20 Dec. 2020)
Chennai CRZ violation: ECR residents served de-occupation notice The city corporation has started serving de-occupation notices to buildings between Neelankarai and Uthandi on East Coast Road that were constructed in violation of the Coastal Regulation Zone (CRZ) norms. The corporation official said the civic body had identified around 800 buildings which were allegedly constructed in violation of CRZ norms. In the notices served to the residents, the corporation said the owners of the unauthorised buildings did not produce an approved plan copy in the stipulated time and hence a lock and seal notice was issued.
Resident groups have alleged that this is a vindictive move by Greater Chennai Corp as residents on the stretch were the ones who had dragged the civic body to court over the construction of a network of stormwater drain channels in the area. The allegedly unauthorised buildings are already the subject of cases in the Madras high court, residents of the area said. The residents are currently engaged in a court case with the corporation in the Southern Bench of the NGT over the construction of a storm water drain project in the areas adjoining the beach. The project is being funded by German kfW bank. In a letter to the bank on December 16, the residents' collective had alleged that the drain project itself was in violation of the relevant CRZ norms. https://timesofindia.indiatimes.com/city/chennai/crz-violation-chennais-ecr-residents-served-de-occupation-notice/articleshow/79806999.cms (19 Dec. 2020)
Tanks full but unpotable About 78% of water bodies maintained by the public works department in Chennai and its three neighbouring districts have reached full storage capacity, but not a drop of surface water in most lakes and ponds on the city's fringes is potable. Most such facilities within 50km of the city have turned into sewage drains and dump yards. A TOI visit to various water bodies in the suburbs has shown them up as classical examples of hotspots of encroachments. https://timesofindia.indiatimes.com/city/chennai/tamil-nadu-water-water-everywhere-but-not-a-drop-to-drink/articleshow/79808325.cms (19 Dec. 2020)
Rains improve groundwater levels The lockdown and the recent rains caused by two cyclones seem to have helped improve Chennai's groundwater level. Also, after last year's drought, a lot of people installed Rain Water Harvesting systems in their apartments/homes to recharge groundwater. https://www.newindianexpress.com/cities/chennai/2020/dec/15/recent-rains-improve-chennais-groundwater-levelsthiru-vi-ka-nagar-records-biggest-rise-2236655.html (15 Dec 2020)
Mumbai Traces of Coronavirus found in sewage water The development came to light as a part of the report based on a study of samples collected by the Indian Council of Medical Research (ICMR) between 11 and 22 May 2020. However, senior officials of the BMC said that there is no risk to human beings.
The COVID-19 outbreak has been rampant in Mumbai since the end of March. Against this backdrop, ICMR collected sewage samples from six areas of Mumbai – Dharavi, Kurla, Shivajinagar, Malad, Kanjurmarg, and Wadala between May 11 to 22 and classified them scientifically. However, no such virus traces were found in samples collected in March.
The officials said that the virus found in sewage doesn't come into direct contact with humans, since sewage goes into the sea unprocessed. The civic body also said that there is no such danger to the employees involved in the work of the STP. https://mumbaimirror.indiatimes.com/coronavirus/news/traces-of-coronavirus-found-in-sewage-water-in-mumbai/articleshow/79752223.cms (16 Dec. 2020)
JJM/ RURAL WATER SUPPLY
National Hydrology Project mid term progress reviewed This claim of the Union Minister of State Shri Rattan Lal Kataria is interesting: "Acknowledging progress made in data collection, he informed that since the initiation of NHP, 12,273 surface water stations have been mapped in the Water Resources Information System compared to mere 878 in the year 2016. In addition, within a span of 4 years 70,525 ground water stations have also started sharing data." Not sure where these are mapped, but does it reflect the failure of the National Hydrology Project I?
– This should be WOW: "A lot of data-driven developments are expected to follow naturally over the course of time in the government as well as the private sectors and academic and research institutions, that hold the potential of transforming the water sector of the country from an age-old experience-based system depending largely on personal judgement to an optimised, transparent system where it is possible to holistically assess the impact of decisions across the sectors in advance, before they are actually made." The politicians always knew what will be the impact in advance of the decisions, is it not? https://pib.gov.in/PressReleasePage.aspx?PRID=1681164 (16 Dec. 2020)
WATER
The coming water crisis Based on interview of SANDRP coordinator by an IIM Ahmedabad student, Piyush Khaitan. https://countercurrents.org/2020/12/the-coming-water-crisis/ (14 Dec. 2020)
POST MONSOON 2020
Tamil Nadu Dams in southern districts reach maximum storage level Major dams in southern Tamil Nadu have reached their maximum storage level, thanks to the northeast monsoon and rainfall brought in by cyclone Burevi in the catchment areas, PWD officials said on December 20.
Speaking to The Hindu, officials said copious rainfall along the western ghats had benefited districts like Tirunelveli, Tenkasi and Theni. While Tamirabharani river in Tirunelveli district was in spate since Saturday (Dec. 19) , the Vaigai river had reached the tail end in Ramanathapuram district after passing through Theni, Dindigul, Madurai and Sivaganga. Interestingly, many of the dams — both big and small — received copious water after five to seven years.
The Tamil Nadu Vivasayigal Sangam (Farmers' Association) members in Sivaganga district thanked the government for the "kudimaramathu" project, which had facilitated the desilting of tanks and "ooranis" since 2016-17. The generally bone-dry Ramanathapuram district too had benefited from the project. The rainfall, in addition, had resulted in the Big Tank getting good inflow of water.
According to K. Veera Raghava Rao, who was till recently Collector of Ramanathapuram district, a lot of effort was put in, to revive and restore water bodies in the last two years. Out of 640 PWD tanks, 150 were taken up for desilting in 2018-20; out of 1,112 Minor Irrigation tanks, a little over 200 were worked on; and 998 ooranis out of 3,500 were desilted. One lakh farm ponds came up in the district, for which it bagged the Skoch award. The district, which reeled under drought in 2016, 2017 and 2018, was able to save rainwater in the subsequent two years, Mr. Rao said and attributed it to the government's schemes.
The good efforts of the then Collectors, Shilpa Prabhakar Satish in Tirunelveli and Sandeep Nanduri in Thoothukudi, hastened the tanks and water bodies desilting process in the respective regions. Farmers in Tirunelveli, Thootukudi, Kanniyakumari and Tenkasi welcomed the rainfall and attributed the sufficiency of water to the sustained efforts of officials. Not only had conservation of water become a reality, but value additions like fish culture were made possible due to farm ponds, they said. https://www.thehindu.com/news/national/tamil-nadu/dams-in-southern-districts-of-tn-reach-maximum-storage-level/article33377888.ece (20 Dec. 2020)
POST FLOOD 2020
Assam Brahmaputra eroding away lives and livelihoods Newslaundry travelled in Assam and Bengal to get a sense of how the lives of common folk have been upturned by two of the deadliest natural disasters to hit the country in 2020 – the Brahmaputra floods and the cyclone Amphan – which together took at least 221 lives.
– Assam has lost 4,270 sq km of land – more than Goa's total area – to river erosion since 1950, and 2,500 villages have been wiped out. At least 3,800 sq km of the eroded land was "highly productive farmland", according to a draft report prepared five years ago by the state's environment department, which identified continuous changes in the Brahmaputra's course as a key reason. Yet, it is only this year that erosion has been pushed to be considered a natural calamity, so that populations affected by it are entitled to state compensation. "Funds allocated under the Disaster Damage Repairing Scheme do not reach the erosion-affected people," according to a report in NENow. In fact, the state government does not even have "any account of the number of displaced people, especially in lower Assam". https://www.newslaundry.com/2020/12/16/treacherous-river-how-the-brahmaputra-is-eroding-away-lives-and-livelihoods-in-assam-2 (16 Dec. 2020)
URBAN FLOODS
Chennai Several parts inundated following opening of Chembarambakkam dam shutters Madichur and Varadharajapuram areas of Chennai, on Nov. 26, 2020, reported inundation after water was released from the Chembaranbakkam dam on Nov. 25, 2020. The shutters of the reservoir were opened after five years on Wednesday (Nov. 25) following the threat by the Nivar cyclonic storm. Many other areas including the Amudam Nagar and some parts of Varadharajapuram were also flooded on Thursday (Nov. 26). According to media reports, these areas had hip-level water, following which, the NDRF teams started rescue operations in the area. The officials said that despite several warnings of evacuation, the people in the flood-affected areas had refused to leave their houses and had only shifted to the first floors. https://www.timesnownews.com/chennai/article/several-parts-of-chennai-inundated-following-opening-of-chembarambakkam-dam-shutters/687045 (26 Nov. 2020)
AGRICULTURE
The protesting farmers in Delhi have started a new YouTube channel called Kisan Ekta Morcha. https://youtube.com/channel/UC4mGFTV86AR8VeJmusu1QWQ
ENVIRONMENT
Himachal Pradesh Afforestation making livelihoods of Gaddi pastoralists more vulnerable A study finds that plantations in Himachal Pradesh have replaced fodder species with unpalatable trees; contributed to the spread of invasive species, disrupted migratory routes and changed Gaddi access to pasture lands.
A greater representation of Gaddi pastoralists and other local communities in forest policy development in the region will help in addressing these issues and increase the resilience of vulnerable livelihoods. However, one expert said that the spread of invasive species is due to lopping and overgrazing and that plantations are a minor factor among the drivers affecting pastoral livelihoods. https://india.mongabay.com/2020/12/afforestation-is-making-the-livelihoods-of-gaddi-pastoralists-in-the-himalayas-more-vulnerable/ (18 Dec. 2020)
Uttarakhand Conserving the grass on Himalayan slopes A research and conservation centre in the Himalayan state has grown more than 70 grass species to promote awareness among masses. Grasslands play an important role in the ecosystem and provide precious resources to humankind. Grasses are as important as any other plant species but receive far less attention. https://india.mongabay.com/2020/12/conserving-the-grass-on-himalayan-slopes/ (04 Dec. 2020)
Goa Youths from various parts of Goa coming into Panjim detained by Goa Police https://www.youtube.com/watch?v=qNrC2uKf_gk&feature=youtu.be (19 Dec. 2020)
GOVERNANCE
SC issues notice seeking appropriate guidelines in appointing executives to SPCBs A Division Bench of the Supreme Court consisting of Justice Vineet Saran and Justice S. Ravindra Bhat on Dec 17, 2020 issued notice in a contempt petition filed in non-compliance of an earlier direction passed by the Court on 22.09.2017. The petitioner was aggrieved by the non compliance of the judgment in the case of Techi Tagi Tara v. Rajendra Singh Bhandari & Ors. (2017) passed by a bench of Justice Madan B. Lokur and Justice Deepak Gupta directed the Executives of all States frame appropriate guidelines or recruitment rules in accordance with the requirement of State Pollution Control Board with a deadline of six months.
– This direction came in the view of ensuring suitability of experts and professionals in the SPCBs. The bench took note of the Bhattarcharya Committee (1984), Belliappa Committee (1990) and the Menon Committee (2005) and granted liberty to the public spirited persons for issuing quo warranto writs against Chairman or members of the said SPCBs. The direction was issued in the backdrop of an appeal to the Top Court from a 2016 order passed by the NGT in Rajendra Singh Bhandari v. State of Uttarakhand directing State Govts to reconsider the current appointments in SPCBs & further laying down new guidelines. https://www.livelaw.in/top-stories/supreme-court-contempt-of-courts-act-recruitment-state-pollution-control-board-167408 (18 Dec. 2020)
Centre gets notice for environmental appraisal of power, mining projects notification Delhi High Court on Dec 16, 2020 issued a notice on a petition challenging Centre's notification constituting the EAC for environmental appraisal of thermal power and coal mining projects. According to the petitioner Manoj Mishra, a retired Indian Forest Services officer, Union of India through Ministry of Environment, Forests and Climate Change on July 10, 2020, reconstituted the EAC for the environmental appraisal of thermal power and coal mining projects under the EIA notification, 2006. The bench of Justice DN Patel and Justice Prateek Jalan after hearing the submission of petitioner's Advocate Ritwick Dutta, issued notice to the respondents and slated the matter for January 22, 2021. No 'expert' has been appointed despite the mandatory requirement that the EAC should comprise of 'experts'. The EIA notification does not make any reference to 'officials' and 'non-officials', and any such appointment or classification is dehors the statutory scheme. The order states that a total of 15 members have been appointed, of which nine are 'non-officials', which is completely alien to the statutory scheme, the plea further added. https://m.hindustantimes.com/india-news/delhi-hc-issues-centre-notice-for-environmental-appraisal-of-power-mining-projects-notification/story-GbseRJUvcw5HBBy1aUFVfN_amp.html (16 Dec. 2020)
CLIMATE CHANGE
Pitfalls of Tree Planting Without Understanding Ecosystem A joint paper by a number of faculty members of various universities, senior members of institutions and environment experts from different countries including the United States, Sweden, Nepal and India, highlights the expense, risk, and damage that poorly designed and hastily implemented tree plantings are imposing on ecosystems and people. Through their paper, "Pitfalls of Tree planting Show Why We Need People Centred Natural Climate Solutions", they have urged the policy makers to shift their focus to the needs of the rural and indigenous people who manage ecosystems for their livelihoods and can render climate solutions effective.
Forrest Fleischman, assistant professor in the Department of Forest Resources at the University of Minnesota and one of the co-author of the paper told NewsClick, "People-centred climate solutions, which align carbon storage with the interests and needs of local users of natural resources, are the most effective means of storing carbon in nature. Implementing them requires giving local people decision-making power over resource management. Our research in India shows that the current focus on top-down government and corporate led tree planting initiatives is not very effective."
The paper also explains the various pitfalls of the plantation drives. It points out that planting in ecosystems with naturally sparse tree cover, such as savannas and peatlands is proving destructive for biodiversity & counterproductive for addressing climate change. https://www.newsclick.in/pitfalls-of-tress-planting-without-understanding-ecosystem (24 Nov 2020)
SOUTH ASIA
India-Bangladesh Discussion on sharing of Teesta waters during virtual summit: MEA India and Bangladesh on Dec 17, 2020 discussed sharing the waters of Teesta and other rivers, as well as issues related to fisheries. These were discussed during the virtual summit between PM Narendra Modi and Bangladesh PM Sheikh Hasina.
Hasina highlighted the need for early signing of an interim agreement for sharing of the Teesta waters, as agreed upon by both the governments in 2011.
During the summit, the two leaders underscored the need for early conclusion of Framework of Interim Agreement on sharing of waters of six joint rivers, namely, Manu, Muhuri, Khowai, Gumti, Dharla and Dudhkumar. Both sides agreed to hold an early meeting of the Joint Boundary Conference to prepare a new set of strip maps along the stretch of Icchamati, Kalindi, Raimongol and the Hariabhanga Rivers from Main Pillar 1 to Land Boundary terminus, with a view to finalizing the delineation of the boundaries as fixed. It was agreed to carry out necessary work to convert the International Boundary along Kuhsiyara river into a fixed boundary. Bangladesh reiterated the request for 1.3 km Innocent Passage through river route along with River Padma near Rajshahi District.
On Teesta, while Bangladesh has demanded 50 % of the river's water supply from Dec to March, India has claimed a share of 55 %. https://in.news.yahoo.com/india-bangladesh-discuss-sharing-teesta-152134393.html (17 Dec 2020)
India looking to export hydropower to Bangladesh India said it is looking to export surplus hydropower from its northeastern states to Bangladesh and Myanmar. Virtually addressing a meeting where chief ministers of eight northeastern states were present, Foreign Secretary Harsh Vardhan Shringla said Bangladesh is importing 1,160 MW of power and the hydropower of the Himalayas has been used for the joint benefits of the North East and its neighbours through hydroelectric projects in Bhutan. https://www.thedailystar.net/india/news/india-looking-export-hydropower-bangladesh-2014009 (19 Dec. 2020)
Nepal Urja developers and IFC sign an early stage project agreement Urja Developers Pvt. Ltd signed an Early Stage Project Services Agreement with the International Finance Corporation (IFC), a member of the World bank Group, on Dec 18, 2020. Managing Director of Urja Bhanu Pokharel and the IFC Country Manager for Nepal, Bangladesh and Bhutan Wendy Jo Werner signed the agreement to this effect. The company aims to develop 1 GW through hydropower and other renewable energy sources by 2030.
– So far, Urja and its subsidiaries have established a portfolio of 350 MW total capacity as small and medium hydropower projects, at varying development phases since its incorporation four years ago. Of those, Mai Beni (9.51 MW) and Lower Jogmai (6.2 MW) are expected to be commissioned by mid 2021. Another company within the Urja group, Mewa Developers Pvt. Ltd. has begun the construction of a 49 MW Peaking Run-of-River (PRoR) Middle Mewa Hydropower Project in Taplejung. https://myrepublica.nagariknetwork.com/news/urja-developers-and-ifc-sign-an-early-stage-project-agreement/ (19 Dec. 2020)
India-Nepal Death comes before justice for Koshi flood victims in Nepal In 1968, the Koshi river swept away hundreds of homes, destroying land and livelihoods, yet generations later villagers in Nepal's Sunsari district are still waiting for help from the Indian and Nepali governments. https://www.thethirdpole.net/2020/11/10/death-comes-before-justice-for-koshi-flood-victims-in-nepal/ (10 Nov. 2020)
CHINA
New flashpoint in India-China stand-off Tsering is hopeful that the issue of water security in Asia will be addressed at least in part under Washington's Tibetan Policy and Support Act, which passed the US House of Representatives in January and may pass the Senate before the end of this year. The Act acknowledges Tibet's role in providing water to surrounding countries in Asia and requires the secretary of state to encourage a regional framework on water security and to pursue collaboration with China and international institutions to monitor the environment on the Tibetan plateau. https://bylinetimes.com/2020/12/18/war-over-water-the-new-flashpoint-in-the-india-china-stand-off/ (18 Dec. 2020)
Opinion Hazardous ideas for the Himalayas C.P. Rajendran In this mad rush of one-upmanship, both countries ignore how unviable such 'super' dams projects are, given that they are being planned in an area that is geologically unstable. It is high time that India and China sat together to deliberate on the consequences of such misadventures in an area where massive earthquakes are bound to take place.
Rather than engaging in unsustainable dam-building activities, India and China, would be well advised to seek ways of transforming this 'roof of the world' into a natural reserve for the sake of humanity. Carbon neutrality should not be at the expense of the environment. https://www.thehindu.com/opinion/op-ed/hazardous-ideas-for-the-himalayas/article33322132.ece (14 Dec. 2020)
THE REST OF THE WORLD
Norway urges EU to revise plan risking hydropower's green status Norway seems to be acting like a hydropower lobby here?: In Nov, the European Commission published a proposal for its financial taxonomy, a system of classifying activities that can be marketed as sustainable, and which acts as a powerful funding tool for achieving climate change objectives. Norway is worried that proposed screening criteria for hydropower, including detailed instructions on life-cycle CO2 emissions as well as on the use of water and marine resources, could rob the industry of its green status.
– The criteria for hydropower were more comprehensive and detailed than, it added. Instead, it called for a simplification as most sustainability criteria were already reflected in existing legislation such the EU's Renewables Directive and Water Framework Directive. "The Taxonomy Regulation should not be an instrument to put constraints on the future financing of renewable and flexible hydropower," Norway said.
– Norwegian industry lobby Energi Norge warned earlier in Dec that the current criteria could cut access to risk capital for future hydropower investments and risked higher costs of lending. https://energy.economictimes.indiatimes.com/news/power/norway-urges-eu-to-revise-plan-risking-hydropowers-green-status/79800930 (19 Dec. 2020)
Report Protecting Rivers and Rights Essential for a just and Green Recovery A new report from International Rivers and Rivers without Boundaries, 'Rivers for Recovery: Protecting Rivers and Rights as Essential for a Just and Green Recovery',. The report explores the urgent need for river protection during the pandemic and beyond, overcoming the troubling legacy of large dams, and the availability of truly sustainable and just energy and development options.
The report supports the global campaign in demanding a recovery that is rooted in climate justice and that protects our rivers as critical lifelines –- supporting biodiversity, water supply, food production, Indigenous peoples, and diverse populations around the world –- rather than damming and polluting them in pursuit of profit and economic growth. https://www.internationalrivers.org/resources/reports-and-publications/rivers-for-recovery-protecting-rivers-and-rights-essential-for-a-just-and-green-recovery/
USA Despite court victory, basin farmers give flowage easements to govt Changes made in the management of the Missouri River basin contributed to extensive flooding and led to millions of dollars in property takings, including crops and farm infrastructure through the years, a federal judge ruled this week. However, no compensation was awarded for lost crops in the ruling by U.S. Court of Federal Claims Judge Nancy Firestone in a long-fought case filed by hundreds of farmers in the basin.
– Instead, the judge ruled repeated floods dating back to 2007 resulted in a taking of farmers' flowage easements without compensation in violation of the Constitution. The court ruled farmers should be compensated for the loss of flowage easements. Firestone said changes made to basin management by the U.S. Army Corps of Engineers in 2004 was to blame.
– "Based on the foregoing, the court finds that the government's actions … and the flooding of the three representative plaintiffs' properties constitutes the taking of a permanent flowage easement under the Fifth Amendment, and that the plaintiffs are entitled to just compensation for that taking," the judge said in her ruling.
– Plaintiffs' attorney R. Dan Boulware said he hopes the ruling will lead to changes in how the Corps of Engineers manages the basin. "I would hope that the decision prompts changes in the river for everyone," Boulware said, "not just our clients but for the communities and farmers and citizens and businesses that are located along the river. "They've changed the river and it's prone to flooding. Now the Corps wants to deny that, but we've been through two lengthy trials now and they've lost on that."
– Anthony Schutz, associate dean for faculty and associate professor of law at the University of Nebraska-Lincoln, said that property owners essentially gave up land without a choice. "One thing that I'm not sure many people realize is that this payment constitutes a payment for a permanent flowage easement," he said. "That means the property owner will not be able to complain again. In other words, the landowner is selling — involuntarily — to the government the right to carry on the current program and flood at a duration and frequency that occurs under that plan." "Nothing in these opinions will require the Corps to change its management plan," he said.
– In 2018, the court ruled the Corps was responsible for recurring floods that severely damaged Ideker's farm — for several years post-2004, except 2011 — and on March 11, 2019, the court moved to the compensation portion of the case. Ideker's farm was again underwater in 2019 as a result of the heavy flooding in the basin.
– The lawsuit accused the Corps of Engineers of making changes to its flood manual that led to unprecedented releases from Gavins Point Dam in South Dakota following heavy spring rains and snowmelt in Montana in 2011. The Corps released large volumes of water from that dam in 2011, and all the levees along Ideker's farm were destroyed. The 2011 flood caused an estimated $2 billion in damage in several states. The Corps had to make unprecedented water releases from northern dams, flooding farms and communities in the lower basin and bringing into question whether the Corps handled the situation correctly. Many landowners downstream blamed the Corps' water release for exacerbating the flood. A task force later found the Corps did all it could to manage the water.
– Firestone ruled in 2018 that, in five of the six years in question dating back to 2007, the Corps of Engineers violated the Fifth Amendment by not compensating farmers for flood-damaged land. She disallowed flood claims from 2011. Firestone ruled in 2018 the Corps deprioritized flood control in 2004. In 2004, the Corps instituted the Missouri River Recovery Program to accelerate changes to the river to enhance wildlife habitats.
– The court found that, since 2007, flooding has been among the worst in the history of the river, and the Corps' changes in management either caused or contributed to the flooding. In the summer of 2016, the U.S. Government Accountability Office issued a report saying the Corps is falling short on the system in place to update water-control manuals. Corps regulations state water-control manuals should be reviewed at least every 10 years. Both sides have decided to appeal against the latest judgement. https://www.dtnpf.com/agriculture/web/ag/news/business-inputs/article/2020/12/17/despite-court-victory-basin-farmers (17 Dec. 2020)
Study Groundwater Is the "Hidden Connection" Between Land and Sea Understanding the contribution of groundwater to oceans is important because fresh groundwater is rich in nutrients and solutes like carbon, iron, silica, and nitrogen that impact coastal ecosystems.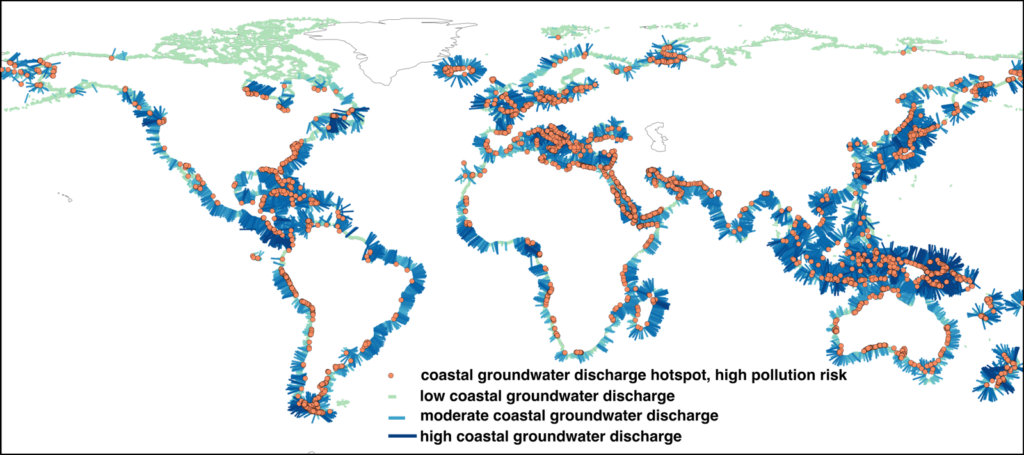 In a paper recently published in Nature Communications, researchers developed the first global computer model of fresh groundwater flow into oceans. The flow was "supervariable," said Elco Luijendijk, a geologist at the Georg August University in Göttingen, Germany, and lead author of the study. Of the total groundwater flux worldwide, "about 10% of the coastline takes up 90% of the total amount of water."
This percentage means that at a global scale, coastal groundwater discharge accounts for around 1% of fresh water flowing into the ocean. But in some locations, including sensitive coastal ecosystems like estuaries, salt marshes, and coral reefs, groundwater fluxes are larger and more important and could potentially impose risk for pollution and eutrophication into these systems. https://eos.org/articles/groundwater-is-the-hidden-connection-between-land-and-sea  (28 April 2020)
Compiled by SANDRP (ht.sandrp@gmail.com)
Also see: DRP News Bulletin 14 Dec. 2020 & DRP News Bulletin 07 Dec. 2020
Follow us on: www.facebook.com/sandrp.in; https://twitter.com/Indian_Rivers