The Maharashtra government submitted an affidavit in High Court that the state has 15865 wetlands, down from 44714 in 2010. How did 28849 wetlands disappear from the very definition of wetland? While all of these wetlands may not have disappeared from ground, their disappearance from govt papers as wetlands means that they are now open to all kinds of abuse and encroachments. It along with other wetlands related stories here shows how little the governments are concerned about the wetlands.
Maharashtra 29K sites lost to new definition In 2010, 44,714 wetland sites were identified in state. A decade later, their numbers have shrunk to approximately 15,865. The state environment department gave this information in an affidavit filed before the Bombay high court this past week. The drastic fall in the numbers is on account of change in definition of wetlands under the 2017 Wetland Rules, said D Stalin, conservationist with NGO Vanashakti.
– The severity of the problem can be gauged from the depletion of wetland sites in one district alone. In Satara district, of a total of 7,909 wetland sites, there are only 719 in existence, states the affidavit. The 7,909 sites were identified by the Space Application Centre, Ahmedabad. The ground reality is that there are merely 719 sites in existence, said Joy Thakur, under secretary, environment department, in his affidavit. "For four years, the government did nothing despite the high court ordering them to draw up a list in 2013. The loss of wetlands is worrisome, especially in a state that regularly suffers from drought," alleged Stalin. https://timesofindia.indiatimes.com/city/mumbai/new-wetland-definition-does-not-apply-to-29000-sites/articleshow/73913086.cms  (04 Feb. 2020)
Green sees red over wetlands exclusion Environmentalists are gearing up to file objections against Thane district administration's action of excluding two major birding areas—Training Ship Chanakya and NRI Complex—from the final wetland list as it would clear the way for a golf course and a residential colony with 17 towers in Seawoods.
– While environmentalists alleged that the 2017 coastal regulation zone rules are being misused to appease builders, the district officials said this was not the final wetland list, and asked citizens to file their objections and suggestions with the state government. Only three wetland sites were identified in Thane—Darawe and Jewel in Nerul, and one in Ghansoli. https://timesofindia.indiatimes.com/city/navi-mumbai/navi-mumbai-greens-see-red-over-wetland-exclusion/articleshow/74075547.cms  (11 Feb. 2020)
Powai lake only wetland in the city to be notified The city will have only one major notified wetland, divided into four zones across 181.9 hectares, at Powai Lake, as per the amended wetland rules 2017. This would effectively open up construction on salt pans and other areas, which were earlier identified as coastal wetlands.
– On January 30, the state had submitted 59 verified potential wetland zones (10 in the city and 49 in the suburbs) before the Bombay HC. Of these, the Mumbai suburban district administration proposed only the four zones, varying 113.6ha, 46.6ha, 14.3ha, and 7.4ha within Powai lake for final notification as wetlands under the Wetland (Conservation and Management) Rules, 2017. Mumbai city administration has not proposed any wetland under its jurisdiction for the final notification.
– The National Wetland Atlas 2011 (Maharashtra), made under the 2010 wetland rules, had marked 475 wetlands in city – 412 in the suburbs and 63 in south Mumbai – spread across 14,045 ha. This means Mumbai will witness a 98.7% decrease in recorded wetland area documented from 2010 rules to the 2017 rules. https://www.hindustantimes.com/cities/wetland-at-powai-lake-only-one-to-be-notified-across-city/story-aDDSaSGQte12LC8C9kWpsJ.html  (02 Feb. 2020)
HYDRO POWER PROJECTS
Himachal Pradesh Villagers seek jobs in Parbati HEP Residents of Largi village in the Sainj valley (HP) have been on a chain hunger strike for the past few days, demanding employment in the Parbati project of the NHPC in Sainj. Largi panchayat president Kanta Devi said the NHPC's power house, administrative building, switchyard, sub-station, shaft, old office and other buildings had been set up in Larji. She said about 150 persons had been employed in these but only 13 persons of the local panchayat had been given employment. She alleged that the NHPC was misleading the administration and the government. Former minister Satya Prakash Thakur had met villagers and assured them all support. Former Kullu MLA Maheshwar Singh also assured the villagers that their demand was valid and he would raise the issue with the CM. https://www.tribuneindia.com/news/villagers-seek-jobs-in-parbati-hydropower-project-at-kullu-40936   (12 Feb. 2020)
Manipur Mapithel dam-affected villagers call for 48 hrs strike The Mapithel Dam Affected Headmen, Chiefs and Elders Organisation (MDAHCEO) on Feb. 11 calls for a 48-hour-long total shutdown along Ukhrul to Imphal road via Mapithel Dam road with effect from the midnight of February 16 till the midnight of February 18. Speaking to media persons at Manipur Press Club, MDAHCEO informed that they were forced to take such decision protesting against the state government for neglecting their long-pending demands of providing rehabilitation and resettlement.
On January 24 this year, the dam affected people submitted an 'ultimatum' to the authorities concerned demanding to materialise the memorandum of agreement signed between the state government and the organisation, however, till date submitted memorandum is yet to take any action, they said. The organisation also appealed to all CSOs, NGOs and the public of the state to support the total shutdown. Mapithel Dam, the Thoubal Multipurpose Project was first proposed in 1980 at an estimated cost of Rs 47.25 crore. However, as per the report, this ambitious power project began only in 1990. https://www.eastmojo.com/manipur/2020/02/11/manipur-mapithel-dam-affected-villagers-call-for-48-hours-strike  (11 Feb. 2020)
Jammu Kashmir Roadshows to attract investors, Hydro power in focus The J&K administration is gearing up to conduct roadshows in six states of the country starting February 17 to attract investors to set up businesses in the newly carved Union Territory with hydropower being one of the major focus area, first such initiative since Aug 5. roadshows will be conducted in Bengaluru and Kolkata on February 17, Mumbai on February 21, Hyderabad on March 2, Chennai on March 5 and Ahmedabad on March 9. https://energy.economictimes.indiatimes.com/news/power/jk-roadshows-from-tomorrow-to-attract-investors-hydro-power-in-focus/74156758  (16 Feb. 2020)
NHPC Powers capex outlay, but investors remain on the sidelines The subdued reaction can be explained by NHPC's poor execution record. There is also a question mark about economic viability of hydropower projects. -NHPC's poor execution record, delays in completion, cost over runs keeping investors at bay:- The subdued reaction can be explained by NHPC's poor execution record. Further, some analysts worry that rising capital expenditure (capex) will suppress return ratios in the near term. Capex in FY20 is projected to double to ₹4,640 crore, and rise to ₹5,300 crore in FY21.
– Besides, the fear is that rising capex can impact NHPC's cash flows. The company is estimated to generate a return on equity of 10% in FY20. "Capex run-rate is expected to increase on account of investment in new projects. However, their commissioning remains 4-5 years away, implying potential drag on near-term free cash flows/return on equity," said analysts at Motilal Oswal Financial Services Ltd in a note.
– The NHPC stock is trading at a discount to its book value and at eight times FY20 earnings estimate. For valuations to catch up with the market average, the company has to deliver on execution. https://www.livemint.com/market/mark-to-market/nhpc-powers-capex-outlay-but-investors-remain-on-the-sidelines-11581445636862.html  (12 Feb. 2020)
Arunachal Pradesh BHEL commissions 2 units of Kameng HEP BHEL on Feb. 10 said it has commissioned two units of 4×150 mw Kameng HEP which is a run-of-the river scheme and will utilise the flow from Bichom and Tenga rivers. Being developed by NEEPCO, the greenfield hydro project is located in West Kameng district.  https://www.thehindubusinessline.com/companies/bhel-commissions-two-hydro-power-units-in-arunachal-pradesh/article30782058.ece  (10 Feb. 2020)
DAMS
Maharashtra 16 farmers booked for stealing water A day after a group of 16 farmers were caught lifting water from Jayakwadi dam and its backwater in an unauthorized manner, mixed reactions started pouring from all quarters in connection with the unusual crackdown on Feb. 9. Acting on a complaint from the Water Resources Department, the Paithan police on Feb. 8 registered offences against a group of farmers for illegally stealing water. – Nathsagar, the dam reservoir has scores of unauthorized electric pumps that are used to lift water without due permission. While water management experts and activists have welcomed the crackdown, the farmer activists and political elements have expressed dissent against such action. https://timesofindia.indiatimes.com/city/aurangabad/16-farmers-booked-for-stealing-water-from-dam/articleshow/74050238.cms  (10 Feb. 2020)
Maharashtra Irrigation Scam Fresh offences registered A day before the daily hearing on a PIL seeking CBI probe in the alleged irrigation scam would begin the state's anti-corruption bureau's (ACB) units at Nagpur and Amravati filed 14 offences in fresh cases on Feb 12, 2020.
– For the first time an offence has been registered against M/s SMS Infrastructure run by the prominent Sancheti family which has a major stake in irrigation contract business has been named in a case. Former BJP Rajya Sabha member Ajay Sancheti also known to be close to Union transport minister Nitin Gadkari and Pawar as well was once in the company's management. He quit after becoming Rajya Sabha member around eight years ago. Rather the first complaint with the ACB that led to the whole probe was against SMS Infrastructure. In most of cases including that against SMS Infrastructure the alleged crime mainly involves misrepresentation of facts by contractors or that of favouring them by Vidarbha Irrigation Development Corporation. (VIDC) officials. https://timesofindia.indiatimes.com/city/nagpur/fresh-offences-registered-in-maharashtra-irrigation-scam-case/articleshow/74103245.cms  (12 Feb. 2020)
No Central probe into clean chit to Ajit Pawar: HC The High Court said it found no legally sustainable basis for impleading the central agencies as respondents in the case and added they need not be joined as respondents right now while posting the matter for further hearing on March 13. https://www.hindustantimes.com/mumbai-news/no-central-probe-into-clean-chit-to-ajit-pawar-in-maharashtra-irrigation-scam/story-iKPOtQ6qnqAS5eFQRuXzMJ.html  (13 Feb. 2020)
ACB booked 7 members of Sancheti family Along with the Sanchetis, the ACB has also booked members of the Thakkar family from Mumbai. Those booked included Pravin Nathlal Thakkar, Vishal Pravin Thakkar and late Jigar Pravin Thakkar. All are former or current directors of D Thakkar Construction Private Limited, which had a joint venture with the Sanchetis' firm. The Purna barrage project dates back to 2008-09 and is still incomplete. https://indianexpress.com/article/india/irrigation-scam-acb-books-ajay-sancheti-family-members-6267022/  (14 Feb. 2020)
MoEF Minutes of the FAC meeting held on Jan 23, 2020, some relevant decisions:– Non-forest use of 45.278 ha. of forest land for construction of Tendua Nalla Dam Project, Chhatarpur District Madhya Pradesh. APPROVED.
– Use of 275.04 ha. of forest land for Bhawsa Medium Irrigation Tank Project, in Burhanpur District of Madhya Pradesh. SHOCKING DECISION OF FAC: Forest Advisory Committee recommended for revocation of condition no. (iv) "The State Govt. shall submit rehabilitation plan for 42 villagers along with the consent of the persons getting relocated prior to Stage-II approval as per the stipulated condition of Stage-I approval". http://forestsclearance.nic.in/writereaddata/FAC_Minutes/2111712412111DOC170220-17022020110226.pdf 
INTERLINKING OF RIVERS
Krishna Godavari Cauvery Linking Draft DPR ready Statement by Rattan Lal Kataria, Union Minister of State for Jal Shakti in Rajya Sabha. -"The cost of the project has been estimated as Rs 60,361 crore at the financial year 2018-19 price level by National Water Development Agency (NWDA)," the minister told the upper house. He further said that the stage of implementation of a project would be finalised only after the final DPR is prepared. This would be done with the consensus of the concerned states and only after the requisite statutory clearances are obtained. He also said that the pooling of resources will be decided after completion of the final DPR. https://www.financialexpress.com/infrastructure/godavari-kaveri-river-linking-project-draft-dpr-for-linking-godavari-krishna-kaveri-ready/1863596/?  (10 Feb. 2020)
Ken Betwa Linking Vultures population down from 4 crores to 4 lakhs in 3 decades Yes, but govt projects like the Ken Betwa river link are going to destroy vultures habitat without even credible impact assessment. How about abandoning them? https://m.timesofindia.com/home/environment/flora-fauna/vulture-population-down-from-4-cr-to-4-lakh-in-3-decades/amp_articleshow/74072567.cms  (11 Feb. 2020)
RIVERS AS NATIONAL WATER WAYS
Uttar Pradesh IWAI scraps tender for Varanasi multi-modal terminal The Inland Waterways Authority of India (IWAI) has scrapped a tender to select a private firm to operate, manage and develop (OMD) a multi-modal terminal at Varanasi on National Waterway 1 due to lack of response from bidders, dealing a blow to the government's efforts to attract private funds in running waterway projects. A new tender is expected to be floated after changing some of the conditions. Request for Proposals were invited in July 2019. The first phase of the multi-modal terminal at Varanasi, built by the IWAI with an investment of ₹200 crore (excluding land cost) with a capacity to handle 1.26 million tonnes (mt) of cargo, is one of the three terminals built by the waterways development agency on the 1,400-km-long Varanasi to Haldia stretch on NW 1 with World Bank funding. The other two such terminals are located at Sahibganj and Haldia. The terminals at Varanasi and Sahibganj have started commercial operations, while the Haldia terminal is slated to be inaugurated soon.
– Under the tender terms, the winning bidder will operate and manage the terminal having road connectivity to NH 7 for seven years, after which it will be responsible for developing the second phase of the terminal with an investment of ₹334.38 crore. The second phase will have rail connectivity with an investment of ₹85 crore. The project with a final rated capacity of 3.85 mt will have a concession period of 30 years and can be extended by another 30 years. The bid was to be decided on the basis of the highest royalty per tonne quoted by the bidder.
– In a separate yet related development, Shipping Minister Mansukh Mandaviya told Parliament in a written reply on February 6, 2020, "Based on the outcome of the techno-economic feasibility and the detailed project reports (DPRs) for the 106 new national waterways undertaken by the IWAI, only 20 NWs have been found technically feasible for shipping and navigation". https://projectstoday.com/News/IWAI-scraps-tender-for-Varanasi-multi-modal-terminal  (10 Feb. 2020)
Varanasi-Haldia most economically viable waterways project? Union shipping minister Mansukh Lal Mandaviya claims the waterway between Allahabad in Uttar Pradesh and Haldia in West Bengal has been identified as the most economically viable waterway projects across the globe by the World Bank. The government plans to go ahead with setting up small community jetties along the Ganga. This initiative is part of the Arth Ganga plan, which aims to boost economic activities along the holy river and benefit people living in adjoining areas.
– "We are maintaining at least 3.5 metre depth from Haldia to Sahibganj (900 km) and 2.5 metres on the Sahibganj-Patna stretch round the year. Similarly, between Patna and Varanasi there will be assured minimum 1.5 metre depth for movement of vessels," he added. Mandaviya said the cargo volume has increased from 30 lakh tonnes to 70 lakh tonnes in the past two years and the vessels inflow has increased from 300 to 700.  https://timesofindia.indiatimes.com/india/small-community-jetties-along-ganga-set-to-bring-rare-treats-to-distant-cities/articleshow/74124033.cms  (13 Feb. 2020)
Mansukh Mandaviya, while addressing the press conference highlighted that Inland Waterways is one of the most important pillars of "Arth-Ganga"project, which will result into inclusive growth and play a key role in generation of enormous employment opportunities in the National Waterways stretch. https://orissadiary.com/arth-ganga-will-channelize-economic-activity-along-the-banks-of-ganga-river/  (13 Feb. 2020)
Gujarat Shipping ministry to form empowered group to restart Ro-Ro ferry service The Union Shipping Ministry on Feb 13, 2020 decided to form an "empowered group" headed by an additional secretary of the Government of India and will consist of officials from both the Centre and the Gujarat government, as well as experts. Officials from the Dredging Corporation of India, experts from IIT-Chennai which is already studying the siltation in Gulf of Khambhat have been taken on board. The group will find solutions to re-start the stalled Ro-Ro ferry service in Gujarat & submit report in 7-10 days. In a high-level meeting chaired by Union Shipping minister Mansukh Mandaviya in New Delhi, the issues surrounding dredging — that caused the ferry service to be stalled for the last four months — was discussed threadbare. Officials from the Gujarat Maritime Board and representatives from the ferry operator Indigo Seaways Pvt Ltd were present. The ferry services launched by Prime Minister Narendra Modi in October 2017 was suspended on September 24, 2019, after Gujarat Maritime Board (GMB) cited heavy siltation from the river Narmada. The official release on Feb 13 stated that the state govt has asked "technical help" from the Shipping ministry.
– The ferry service launched by PM Modi between Gogha in Bhavnagar district and Dahej in Bharuch district have seen frequent breakdowns due to lack of dredging in the navigational channels. The ferry has carried 2.8 lakh passengers between the two destinations since October 28, 2018 and September 24, 2019 when it was suspended due to "heavy siltation" from an overflowing Narmada dam. Apart from passengers, the ferry has also transported about 45,000 cars, 12,500 trucks and close to 26,000 two-wheelers. https://indianexpress.com/article/cities/ahmedabad/ahmedabad-shipping-ministry-ro-ro-ferry-service-6266999/  (14 Feb. 2020)
Issues surrounding dredging have caused the Ro-Ro ferry to break down four times within a period of 12 months. The ferry operator is incurring a loss of Rs 17 lakh per day.
– When asked why the state government wants to give up the project, Kumar said, "Because we are not able to handle the situation. Things are changing dramatically out there (in the Gulf). This kind of maritime dynamics was not forecast earlier. That is why force majeure clause was invoked (a fortnight after the suspension of ferry service). We did not expect this kind of siltation to happen in the navigational channels," he added. The problem of siltation is the highest at the Dahej terminal, which is sitting on the mouth of the Narmada river. "The Narmada dam had overflown after six years (last monsoon). The quantum of silt it will bring was not forecasted. The overflow to the tune of 9-10 lakh cusecs (cubic meter per second) and siltation changed the maritime conditions. The currents (in the Gulf of Khambhat) have changed course in the last three months and the siltation patterns have also changed," said Kumar. Rising cost of dredging is cited as one of the major reasons causing the project to bleed. "We had estimated almost Rs 20 crore of maintenance dredging to happen in a year. This year alone, we have spent more than Rs 90 crore and we are still spending," Kumar said. Indigo Seaways, which will be participating in the meeting in Delhi on Thursday, pointed out that the dredging needs to be done on a daily basis as there was a siltation to the tune of 15-20 thousand cubic metre at Dahej and Ghogha.
– "After GMB ended its last dredging campaign, they gave us sounding charts on January 16, 2020, which showed a draft of five metres and less in the turning circle at Dahej. Our survey carried just a couple of days later showed that the draft at the turning circle at Dahej was just around three metres. There were also shallow patches of 3.5 metres in the navigational channels. Did so much of siltation happen so quickly?," an official from the Surat-based firm said requesting anonymity. https://indianexpress.com/article/india/shipping-ministry-meeting-today-to-decide-fate-of-ro-ro-ferry-service-6265521/lite/  (13 Feb. 2020)
URBAN RIVERS
Noyyal, Tiruppur Textile City killing river
Residents and farmers have alleged that the dyeing and bleaching units in the city discharge dangerous chemical effluents directly into the Noyyal river under cover of darkness or when it's raining. https://thewire.in/environment/australian-open-tiruppur-dyeing-bleaching-groundwater-contamination-agriculture-noyyal-river  (12 Feb. 2020)
Pune, Mula NGT panel to inspect encroachments on natural stream NGT has ordered a joint inspection by a three-member expert panel, headed by the Pune district collector, to verify the factual aspects of a plea alleging encroachments and construction of road on a 130m stretch of a natural stream that originates from the Bhamburda hills and merges into the Mula, covering a 4km distance.
The assistant commissioner of Pune Municipal Corporation's (PMC) encroachment department and a nominated official of the Maharashtra Pollution Control Board (MPCB) are the other two members of the panel that has to submit its report to the green tribunal by March 19.
Gokhale road residents Devraj Bhatia and Vivek Bartake have claimed in the plea that the natural stream is seen as a water body in the existing land use survey map (2007-27) for the city's Development Plan. The NGT's prinicpal bench in New Delhi, comprising Justice S P Wangdi and expert member Sidhanta Das, said in an order on February 13, "We are satisfied that substantial question relating to environment has been raised in the present case, considering the facts and circumstances set out in the application and on hearing the counsel for the applicant." https://timesofindia.indiatimes.com/city/pune/ngt-assigned-panel-to-inspect-encroachments-on-natural-stream-linking-bhamburda-hills-with-mula-river/articleshow/74165510.cms  (17 Feb. 2020)
Kochi 128 families along canal asked to vacate homes, residents on strike Konthuruthy colony, situated in Thevara, just about five kilometres away from the city centre, is a heavy residential area along the canal called Konthuruthy river. The canal, measuring about 620 metres, connects the Thevara canal with the Vembanad Lake. The canal, which was having an original width of 48 metres, has been rampantly encroached over the years and at certain points, it is not more than five meters.
– The issue of encroachments came to light when a public interest litigation (PIL) was filed in the Kerala High Court in 2016 by a Kochi native. In November 2019, the court passed an order, directing the Kochi Corporation to remove the encroachments and to retain the width of the waterbody as 48 metres.
– Like the Konthuruthy river, encroachments are rampant in the other major canals in the city and the district administration is on a mission to rejuvenate the canals through its project called Operation Breakthrough. The blocked pathways and the encroachments of the canals in the city are said to be the main reasons behind the flooding the city had witnessed last year.
– On January 27, based on an eviction order from the Kerala High Court, Ernakulam District Collector S Suhas visited the Konthuruthy colony and asked the 128 families living on the encroached land to vacate their houses within one month. On February 2, the Collector, along with the revenue officials, reached the colony again, measured the land encroached upon and fixed the boundary stones.
Meanwhile, the residents have been sitting on an indefinite protest, demanding to stop the eviction. These residents have been living in the colony for more than 50 years and their livelihoods are based in and around the region. Now, with this eviction order, the residents are in limbo, anxious about what to do or where to go. https://www.thenewsminute.com/article/128-families-along-canal-kochi-asked-vacate-homes-residents-strike-117968  (11 Feb. 2020)
Patiala District Admin, PDA to prepare river rejuvenation plan Patiala dist admin, Patiala Dev Authority working on DPR to complete technical formalities of Badi Nadi, Chhoti Nadi (river) & other water bodies rejuvenation project at an estimated cost of ~₹550 cr.
-Presently, both the water bodies are in a bad state and carry sewage waste and industrial waste. In May, the Union ministries of finance and urban development had given a green signal to the Patiala MC's ₹650-crore canal-based water supply system project for the city. Both the ministries' officials concerned had approved the project and termed it physically and financially viable. Even the Niti Ayog had given its go-ahead to the project following which the tenders have already been floated by Patiala MC. The project will be financially sponsored by the Asian Development Bank.
– In 2018, after the central government gave its clearance to canal-based water supply system, Punjab CM Captain Amarinder Singh had directed the Patiala municipal corporation (MC) and the district administration to initiate a comprehensive project for river rejuvenation. The aim is to facilitate a smooth shift to the canal-based water supply system. The CM had instructed the DC to work out modalities of the offer made by the TATA Sons Group to revive the said waster bodies.
– Earlier, the project was to be carried out and maintained by the Tata Sons, but then the Punjab government decided to continue with the in-house entity and has assigned the department of housing and urban development to go ahead with planning and execution of the project. In its General House meeting in January, the MC has already passed a resolution to handover its land adjacent to both the main water bodies to the PDA officials for beautification, and setting up of sewerage treatment and effluent treatment plants.  https://www.hindustantimes.com/chandigarh/district-admn-patiala-development-authority-prepare-report-for-rejuvenation-of-rivers/story-xDxle9sVmLzQHUbrYUyGRI.html  (13 Feb. 2020)
Dehradun नदी किनारे बने आशियानों पर चलेगा बुलडोजर देहरादून के 1300 मकानों पर बुल्डोजर चलेगा। यह ऐसे मकान हैं, जो कि डूब क्षेत्र यानी नदी किनारे बने हुए हैं। इनकी मुकदमों की सुनवाई पूरी हो चुकी है। पहले चरण में 205 मकान मालिकों को नोटिस जारी किए जा चुके हैं। 50 से अधिक पट्टाधारकों के चालान किए गए हैं। डूब क्षेत्र के मुकदमों में सुनवाई पूरी होनेे के बाद अब इनकी बेदखली होगी। हाईकोर्ट के आदेश के बाद शुरू हुई कार्रवाई के बीच पिछले दिनों गढ़वाल आयुक्त ने भी प्रशासन को बेदखली प्रक्रिया शुरू करने को कहा था।
– जून 2019 में हाईकोर्ट (नैनीताल) के आदेश के बाद श्रेणी-132 (नदी, जोहड़, आदि) की भूमि पर बने निर्माणों की पड़ताल शुरू हुई थी। आदेश हुए थे कि डूब क्षेत्र होने के कारण यहां से लोगों को बेदखल कर निर्माण ध्वस्त किए जाएं। प्रशासन की पड़ताल में जिले में ऐसे 1365 निर्माण पाए गए। इनमें 40 निर्माण सरकारी पाए गए। प्रशासन ने सभी को नोटिस भेजे और संबंधित एसडीएम कोर्ट में मुकदमों का दौर शुरू हुआ। सरकारी निर्माणों पर कार्रवाई करने को प्रशासन शुरू से ही उहापोह की स्थिति में रहा। जिसकी वजह से इन निर्माणों पर आज तक भी फैसला नहीं हो पाया है। https://www.amarujala.com/dehradun/bulldozer-will-destroy-1300-houses-near-river-in-dehradun  (10 Feb. 2020)
RIVERS
SANDRP Blog Experience of Narmada Parikrama in 2020: a 3500 km pilgrimage along the river this fascinating Guest blog, Jubin Mehta describes the experience of undertaking a Narmada Parikrama (walking around 3500 kilometres on foot around the Narmada river), a sacred and yet eye opening journey. Parikrama is a Sanskrit word derived from the root 'pari' meaning around and 'krama' meaning going.
And hence, Narmada Parikrama means circumambulating the river. This is a spiritual/religious tradition of the Hindus existing from centuries wherein pilgrims start walking from any point along the river after collecting Narmadaji's water in a vial and start walking with the river to their right. Please Read and Share. https://sandrp.in/2020/02/11/experience-of-narmada-parikrama-in-2020-a-3500-km-pilgrimage-along-the-river/  (11 Feb. 2020)
NARMADA Madhya Pradesh About river's multi-coloured, soap-like marbles The famous Marble Rocks are within a gorge along part of the river that lies close to the city of Jabalpur. Earlier, the gorge was said to be so narrow in size that monkeys could cross over from one side to the other. The narrow portion was locally known as 'Bandar Kudni' – the place where monkey's can jump across.
– The white marble on either side of the gorge are rich in magnesium, but not as hard as the marble in other areas. As a result, the Narmada marble can be carved and is as soft as soap stone. This softness allows them to be carved into beautiful artifacts. The area also contains other shades of marble as well – these are shades of blue and brown coloured marble.
– A visit to see the Marble Rocks is high on the list of tourists. A cable car takes visitors across the gorge, where a large number of row boats wait to take people for guided tours of the river downstream, to see the waterfalls. It has been said that the view of the rocks rising from the waters is similar to that of the Grand Canyon. https://www.hindustantimes.com/travel/river-narmada-s-multicoloured-soap-like-marbles-make-for-beautiful-artifacts/story-RqJalINcoZwgZwLAY7CLvN.html  (14 Feb. 2020)
Gujarat Govt fails to set up STPs as per SC deadline of Feb 22, 2020 Top Gujarat-based environmental organization, Paryavaran Suraksha Samiti (PSS), Vadodara, in a letter to the Secretary, Ministry of Environment, Forests and Climate Change, Government of India, has complained that, despite frequent reminders and meetings with senior officials in Delhi and Gujarat, issues related to existing Sewage Treatment Plants (STPs) across Gujarat and India as prime source of pollution of the rivers remain unresolved.
Signed by PSS activists Rohit Prajapati and Krishnakant and sanitation science engineers Upendra M Raval and Shakti Bhatt, the letter regrets that the authorities in in India continue to ignore the Supreme Court order February 22, 2017 in Writ Petition (Civil) No 375 of 2012 (Paryavaran Suraksha Samiti & Anrs V/s Union of India & Ors), which makes it mandatory for making new STPs functional by February 22, 2020. https://www.counterview.net/2020/02/gujarat-fails-to-come-up-with-new.html (15 Feb. 2020) 
BRAHMAPUTRA Arunachal Pradesh Documentary film Voice of Siang explores tales surrounding the river Filmmaker Joor Baruah's documentary film Voice of Siang was recently screened to critical acclaim at the Mumbai International Film Festival.
Baruah's film provides an insight into the undiscovered Northeast and the various tales surrounding the river Siang as it is known in the Arunachal Pradesh, and as the Brahmaputra in the lower reaches, that shapes much of the region's geography, as well as its culture. The documentary primarily focuses on the indigenous Adi tribe of Arunachal Pradesh inhabiting the foothills of the Eastern Himalayas in Northeast India. https://thenewsmill.com/documentary-film-voice-of-siang-explores-tales-surrounding-the-river/  (13 Feb. 2020)
India's longest bridge to impact millions of lives The Union cabinet has approved the construction of the Rs 5000 Cr Dhubri-Phulbari bridge over the Brahmaputra, which, when completed, will become India's longest bridge. The 19.8-km-long bridge had been proposed four years ago by the National Highways and Infrastructure Development Corporation Limited (NHIDCL), which falls under the Ministry of Road Transport and Highways, to reduce the distance between Dhubri in Assam and Phulbari in Meghalaya. 25 Dolphins have been observed at the site of the proposed bridge. NHIDCL asked Sunil Choudhary to advise and Choudhary has suggested measure, including stoppage of work whenever Dolphin is seen at the construction site as observed at specially set up observation tower, and not making the water turbid. https://theprint.in/india/governance/indias-longest-bridge-set-to-come-up-between-assam-meghalaya-impact-millions-of-lives/202665/  (08 March 2019)
Assam Major plantation drive along Siang river A major plantation drive to be held on 15th February along the riverbank of Siang river at Borguli, which is one of the most affected village from flooding Siang river. Several hectares of land along left bank of Siang have been washed away by erosion of flooding Siang River during monsoon season.
– The renown Forest Man of India, Jadav Payeng an environmental activist and forestry worker from Jorhat, Assam and much revered member of the Bugun indigenous group, Indi Glow who is also known for his conservation-and community-friendly eco-tourism business at Eaglenest Wildlife Sanctuary in West Kameng District are gracing the day as Chief Guest and Guest of Honour. https://arunachal24.in/arunachal-major-plantation-drive-along-siang-river-at-borguli-to-be-held-on-feb-15/  (13 Feb. 2020)
CAUVERY Tamil Nadu What does Delta a 'Protected Agricultural Zone' mean?  The significance of the announcement from the CM lies in the claim that it will prevent the implementation of projects deleterious to agriculture or farmers in the region. It also comes at a time when the farmers in the delta have been constantly agitating against permission granted to oil and natural gas companies to undertake hydrocarbon exploration projects in the region. It means that apart from agriculture and activities related to cultivation, the region is closed for other activities, including the proposed hydrocarbon projects. It must be noted that one of the main concerns that the farmers have been raising is that the hydrocarbon exploration will dry the land out and leave it barren forever, thus, in turn, impacting their livelihood.
– A senior officer from the Department of Agriculture tells TNM that the guidelines are expected to be framed soon. "Since the announcement has just been made, we will soon examine the issue and frame guidelines accordingly. We hope to address all the issues and provide clear direction," says the officer. Gopinath, meanwhile, points out that while framing guidelines, it would prove productive to involve agriculture researchers, farmers and activists in the process so that the government is appraised of all possible issues and address them at the early stage itself.
– Meanwhile, the state government, on Feb. 10, told the media that it is expecting a favourable response from the Centre in a few days. Speaking to reporters from New Delhi after meeting central ministers and submitting a letter regarding the Protected Agricultural Zone, D Jayakumar, Tamil Nadu Minister for Fisheries, said that since the Chief Minister himself made the announcement, this is a policy decision of the government. "I cannot reveal what was spoken in the meeting. We will get a good decision in four days," he said. https://www.thenewsminute.com/article/cauvery-delta-protected-agricultural-zone-what-tn-can-expect-tag-117937  (11 Feb. 2020)
Protected agri zone tag welcome but celebration premature Proposals to establish two mega oil refineries within the Cauvery delta raises doubts of whether the delta environment may just be moving from the frying pan into the fire, writes Nityanand Jayaraman.
– However, a day before this announcement, the CM declared with some sense of achievement that the long-dormant proposal for a petrochemical refinery in Cuddalore – one of the delta districts — would be revived with a Rs 50,000 crore investment by Haldia Petrochemicals. Meanwhile, plans are afoot to replace the existing 1 million tonne per annum (mtpa) Cauvery basin refinery in Nagapattinam, with a 9 mtpa refinery complete with a mega polypropylene plastics manufacturing unit. https://www.thenewsminute.com/article/tn-cm-s-declaration-protect-cauvery-delta-welcome-celebrating-it-premature-118019  (12 Feb. 2020)
GANGA Uttarakhand Another seer sits on fast A week after Matri Sadan seer Padmavati, who had been on an indefinite fast for the cause of 'Clean Ganga', was lifted by the police and admitted to Doon Hospital, another seer, Gopal Das on Feb. 8, announced to sit on a hunger strike to push for the same demands.
– Das had been on a similar indefinite hunger strike in October, 2018 as well. In the same year, he had also written to PM Modi in blood to protect the river. However, after nearly 165 days of fasting, he was lifted by police and taken to PGI Chandigarh and later to AIIMS Delhi. Subsequently, he went missing and was thereafter found in South India. However, Matri Sadan ashram functionaries said that they are not associated with Gopal Das. https://timesofindia.indiatimes.com/city/dehradun/another-seer-announces-hunger-strike-for-the-ganga/articleshow/74033955.cms  (09 Feb. 2020)
Before this, on Jan. 30, 2020 night, woman seer Padmavati, who had been on an indefinite fast for the cause of 'Clean Ganga' for over 40 days, was lifted forcibly by the police and admitted to Doon medical college hospital amid tight security. The seer refused to take any medical treatment at the hospital and all her vitals were reported to be normal. Thereafter, she was sent back to Matri Sadan and she reached the ashram safely. Another Ganga crusader and Matri Sadan seer Aatmabodhanand sat on hunger strike beginning on Jan. 31 in her place. Aatmabodhanand had earlier last year concluded his 194-day-long hunger strike on May 4 after getting assurance from the National Mission for Clean Ganga director that all the demands of professor GD Agrawal would be met. https://timesofindia.indiatimes.com/city/dehradun/fasting-for-47-days-woman-seer-picked-from-matri-sadan/articleshow/73814812.cms  (01 Feb. 2020)
Polluted river stretches increased from 5 to 9 in 3 years CPCB in its report has identified four more polluted stretches of rivers in state in the period between 2015 and 2018. With this, the total number of polluted stretches of rivers has shot up to nine, up from five recorded by the board in 2015. The charts showed that Uttarakhand featured among the few states where the number of polluted stretches had increased from five (Bhela, Dhela, Suswa, Ganga and Kosi) in 2015 to nine including Kichha, Kalyani, Nandour and Pilkhar in 2018.
– Referring to the rise in number of polluted stretches in Uttarakhand, social activist Udit Ghildiyal said, "This revelation means that the civic and industrial wastes are not being handled at the village and city level. For instance, Suswa river gets all the civic waste of Dehradun before joining Song River which further joins Ganga in Haridwar." Echoing a similar view, environmentalist Ravi Chopra added, "More and more stretches of rivers are getting affected because of the increasing civic waste being dumped into the rivers and their tributaries. The state government must focus on decentralizing the waste water management system so that the untreated civic waste can be treated in smaller towns." https://timesofindia.indiatimes.com/city/dehradun/4-new-polluted-stretches-of-rivers-in-ukhand-in-3-yrs-cpcb/articleshow/67933374.cms  (10 Feb. 2019)
Govt NGP has improved Ganga river water quality There is improvement of Ganga river water quality in 2019 as compared to 2014, the Rajya Sabha was informed on Feb 10, 2020. The dissolved oxygen levels have improved at 27 locations along the river"s course, biological oxygen demand (BOD) levels and faecal coliforms have also improved at 42 and 21 locations, respectively. Union Minister of State for Jalshakti & Social Justice and Empowerment, Rattan Lal Kataria, in Rajya Sabha stated.
As per the minister, BOD has been found within the acceptable limits except marginal exceedance (BOD: 3.15 to 4.2 mg/L) in locations/stretches viz. in Kannauj Downstream (D/S), Bathing Ghat (Bharoghat) to Kala Kankar (Rai Bareilly), Kadaghat (Prayagraj), Mirzapur D/S, Chunar and Varanasi D/S (Malviya Bridge) to Tarighat (Ghazipur) and in West Bengal stretch/location from Tribeni to Dakshineshwar and Garden Reach. https://www.outlookindia.com/newsscroll/ngp-has-improved-ganga-water-quality-govt/1730874  (10 Feb. 2020)
YAMUNA Delhi Construction waste, debris dumped in huge amount beneath Nizammudin Bridge, Delhi. Around 5 acres of Yamuna river floodplain levelled under 4 feet debris there. https://twitter.com/Indian_Rivers/status/1228996893709086723  (16 Feb. 2020)
Haryana Can bio-diversity park treat industrial pollution Acting on NGT's recent directions to all states and UTs to identify polluted river stretches and rejuvenate them, the Haryana govt has decided to have huge biodiversity parks along its two rivers – Ghaggar and Yamuna – besides taking other time-bound steps.
– The Haryana pollution control board's (HPCBs) plans include increasing the capacity of waste water treatment plants (both domestic and industrial effluent), tapping of sewage in unapproved areas, prevention of dumping of solid waste in rivers and creation of biodiversity parks and recharging of riverine ecosystems through phyto/bio remediation.
– The NGT has also appointed an executing committee under the chairmanship of former Punjab and Haryana High Court judge justice Pritam Pal (retd), and former chief secretary of Haryana, Urvashi Gulati for monitoring of implementation of Ghaggar action plan. Likewise, for Yamuna river, the monitoring committee has Shailaja Chandra, former chief secretary, Delhi, and B S Sajwan, former member, NGT, as members. https://www.hindustantimes.com/chandigarh/haryana-s-solution-for-river-pollution-biodiversity-parks-to-come-up-for-rejuvenation-of-yamuna-ghaggar/story-71J8lhnpSKLdBu1CF3iOXK.html  (06 Feb. 2020)
RIVERS BIODIVERSITY
Madhya Pradesh Pics of gharial in Chambal River carrying young ones on its back A picture of an adult gharial crossing a river with its young ones on its back is making rounds on the internet. The now-viral picture, captured by one Dhritiman Mukherjee, shows the heartwarming moment of an adult gharial crossing the Chambal river. https://indianexpress.com/article/trending/trending-globally/gharial-endangered-species-chambal-river-river-crossing-6258866/  (09 Feb. 2020) 
FISH, FISHERIES, FISHERFOLKS
Something fishy happening in Assam Fishery department Certainly something fishy is going on in the Assam State's Fishery department that has a large number of ponds only in office files but not on the ground, and ponds shown as new in the office files turn out to be the old ones on the ground. And funds have already been released against all such ponds according to their status in the office files, not on their actual status on the ground. If this is the ground reality in the department, how can the 'Ghore Ghore Pukhuri, Ghore Ghore Maas' scheme announced by Chief Minister Sarbananda Sonowal two years ago meet its goal?
– Assam has 430 registered beels covering around 60,000 hectares of land, and around 700 unregistered ones. Apart from them, there are around 3.70 lakh ponds and tanks and around 5,000 km river fisheries. The total annual production of fish in the State is around 3.50 lakh metric tonne which cannot meet the fish demand of the State that imports annually around 12,000 metric tonne of fish, draining out a huge amount of funds from the State every year. https://www.sentinelassam.com/top-headlines/something-fishy-happening-in-the-fishery-department/  (12 Feb. 2020)
Meghalaya From deep dark cave, explorers bring to light 'world's largest' subterranean fish Story of how the largest known subterranean fish is discovered in caves. Its an as yet un-named fish without eyes.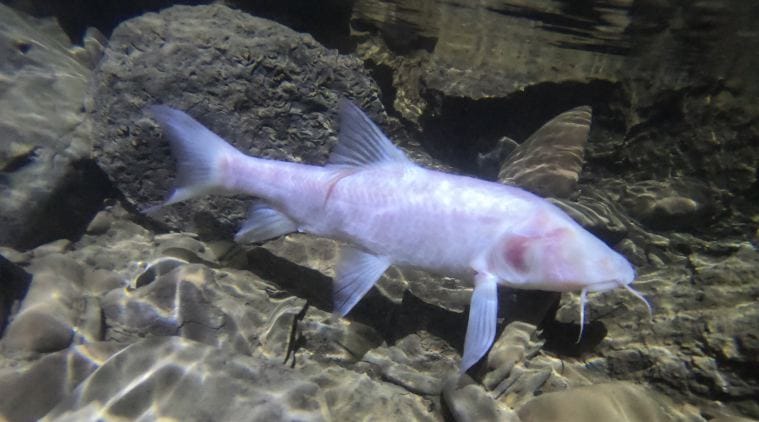 Several new species have been discovered from the 1500 identified and many more unexplored caves of Meghalaya where since 1992, an caving expedition called "Caving in the abode of clouds" is organised. There are in fact 21000 subterranean species in all! https://indianexpress.com/article/north-east-india/meghalaya/from-deep-dark-meghalaya-cave-explorers-bring-to-light-worlds-largest-subterranean-fish-6266800/  (14 Feb. 2020)
SAND MINING
Telangana Farmer beaten to death 5TH INCIDENT OF CITIZENS BEING MURDERED FOR OBJECTING TO ILLEGAL SAND MINING OPERATIONS:- An activist farmer was beaten to death in Yadadri Bhongir district allegedly for reporting illegal sand mining to police. The victim has been identified as D Pandu, 45, an activist with the Madiga Reservation Porata Samithi. He was on his way back to his village when he was attacked from behind allegedly by two men who held a grudge against him.
– B Ravinder, 32, and N Naresh, 33, both drivers by profession, have been arrested and taken into police custody. They were hired at Lingarajupally village to transport sand from the Musi river banks with Revenue Department permission. But after the duo had collected the permitted amount of sand, they had attempted to smuggle out more sand from the river bed last year, police said.
– Pandu had alerted Revenue Department officials and made the duo dump the sand back onto the riverbed. "Since then both men had a grudge against Pandu," said Narayana Reddy, Deputy Commissioner of Police, Bhongir. On the night of January 30, "the two men saw Pandu, about six kms away from his village under the Valigonda police station limits and attacked him with logs," the official added.
– Brutally injured, Pandu was taken to Gandhi Hospital where he succumbed to his injuries that same night. "They hit him twice on the back of his head," added the officer. There was a mild protest on the roads and at his village after his death. Pandu is survived by his wife and two children. https://www.thenewsminute.com/article/telangana-farmer-activist-beaten-death-allegedly-reporting-illegal-sand-miners-117483  (04 Feb. 2020)
Jammu & Kashmir Sand Strom At the peak of internet blockade, UT administration e-auctioned around 100 sand blocks along the Jhelum river and some of its tributaries. Most of these blocks were bagged by non-locals leaving thousands of families surviving on sand digging for generations without a livelihood. It has also started hitting the real estate sector hard, reports Saima Bhat. https://kashmirlife.net/sand-storm-issue-45-vol-11-223571/  (12 Feb. 2020)
Companies from Punjab, Uttar Pradesh & Rajasthan have participated in public auctions and won leases to mine J&K's reserves of coal, marble and limestone. The increased competition is yielding up to 60 per cent higher returns for J&K, say officials in the administration. However, the local business community feels it has been placed at a disadvantage competing against bigger players who make bids they just can't seem to match. https://theprint.in/india/outside-firms-enter-mining-race-in-jk-lease-earnings-touch-crores-from-lakhs/360175/ (06 Feb. 2020)
Punjab Drug smugglers running sand mining biz, Ferozepur DC writes to chief secy Allotment of a 'khud (quarry)' in Ferozepur district has come under scanner after the deputy commissioner wrote to the chief secretary to immediately stop sand mining in the area, claiming that "drug and arms smugglers quarrying sand along the Indo-Pak border could pose a threat to the national security". The quarry in contention is situated at Kaamal Wala village falling in Ferozepur assembly constituency from where Sutlej river enters into Pakistan.
– The January 31 letter by deputy commissioner Chander Gaind to the chief secretary says he acted on the complaints by some locals naming four history-sheeter brothers — Kuldeep Singh Billa (in jail), Iqbal Singh, Sukhwinder Singh, Kewal Singh Fauji (all from Kaamal Wala), and Jagga Singh from Bhangu Wala — involved in sand mining. Gaind joined as Ferozepur DC on February 2. It could not be ascertained immediately whether the history-sheeters named out by the DC are doing the mining on behalf of the company — Prime Vision Industries Ltd — that has the mining rights at the site or were doing on their own in an illegal manner. https://www.hindustantimes.com/chandigarh/drug-smugglers-running-sand-mining-biz-ferozepur-dc-writes-to-chief-secy/story-4RF4Mrj4bJ0h06eUdswDeI.html  (06 Feb. 2020)
Uttarakhand Govt eases commercial mining on private land State govt has empowered district magistrates to permit commercial mining on private land in the state. Earlier, the permission was given by the state government itself. The decision was taken by the government during its cabinet meeting led by CM Trivendra Singh Rawat at state secretariat on Feb. 12. There were 13 proposals which were discussed; out of these, 10 were approved while remaining three were kept for further discussion in the next cabinet meeting.
– However, activists who have been working against illegal mining in the state claims, the move is to "favour the mining mafia." Raghunath Singh Negi, Uttarakhand-based environmental activist and founder of Jansangharsh Morcha said, "The decision is clearly to facilitate the mining mafia operating in the state. Now, it would be easy for the mafia to seek permission as the power to do so is with the district magistrates only." He added, "Earlier the state government made some decisions to that went in favour mining mafia including increasing the limit of depth for mining from 1.50 metre to 3 metre in riverbeds."
– Madan Kaushik, cabinet minister also informed that cabinet approved changes in boundaries of eco-sensitive zone around Corbett Tiger Reserve in the state. Kaushik said, "In most of the places the radius for eco-sensitive zone has been kept at least one kilometer from the boundary of the Corbett Tiger Reserve, but villages which are attached to the boundary of the reserve have been kept outside the ESZ." "In very few cases like Dhela village and other nearby villages, the distance has been reduced to zero kilometer to exclude them from the eco-sensitive zone. But more or less, maximum distance of ESZ is more than one kilometre in most cases," said Rahul, field director of Corbett Tiger Reserve, who uses his first name. https://www.hindustantimes.com/india-news/uttarakhand-govt-eases-commercial-mining-on-private-land-empowers-district-magistrates-to-give-permission/story-tK0HFl3TXmawJFjfUCf93J.html  (13 Feb. 2020)
Madhya Pradesh Notice to mining firm over illegal extraction Dewas district collector has issued notices to a sand mining company asking why a fine of Rs 300 crore should not be imposed on it for illegally transporting sand, officials said on Feb. 7. District collector Shrikant Pandey issues two notices to Digiana Industries Pvt Ltd, Indore, on Feb 3 and 6 asking why fines of Rs 142 crore and Rs 163 crore should not be imposed for illegal sand transportation. Pandey said the company director has been asked to reply within seven days of the receipt of the notices. "Otherwise, action will be taken," he said.
– The notice on Feb 3, 2020, issued to the company director, Tejinder Pal Singh, said that 1.02 lakh cubic metre of sand from a mine at village Dhundhyakhedi in Dewas district, was illegally extracted. This was revealed during an inquiry conducted on Feb 2, 2020. The notice said: "Since the said amount of sand was supposed to be illegally transported why not a fine of Rs 81.92 crore in case of compounding and Rs 163 crore in case of non-compounding be imposed."
– In his response, Singh said, "The fact is I have paid more royalty to the government on the sand stocked. There is no charge of illegal mining against me as mines were allotted to me. Surprisingly, I have been asked to pay penalty despite the fact I have abandoned the mines." He said, "I will certainly reply to the notices and if the collector doesn't listen to my side I will be free to move the court." https://www.hindustantimes.com/india-news/notice-to-mining-firm-over-illegal-sand-extraction-in-mp/story-ZIEQiWYjAzWrleX0Wga6KK.html  (08 Feb. 2020)
Maharashtra Govt to deploy drones to identify illegal mining spots State government will use drones or unmanned aerial vehicles (UAVs) with advanced cameras to identify the illegal sand mining hotspots, following the Centre's directives. A state government official said using the drones would help keep a track on the sand mafia as well as calculate the sand used for infrastructure projects. "We had tried the drones on a pilot-basis for some districts and would replicate it now in other parts," a senior state government official, working in the sand mining department, said.
– It was only recently that the state, with its huge number of infrastructure projects, had put an order to use artificial sand to address the sand requirement in the state. "Such directives had been issued earlier as well. But, the present one has called for detailed guidelines to form teams that would involve both police and traffic police, which would be good to curtail any illegal activities," the official said.
– The state government said illegal sand mining was much lesser in Maharashtra as compared to the other states. But, cases of illegal sand dredging, especially along creeks, were on the rise. Extraction of sand from rivers, coastal marine areas, lakes, reservoirs, agricultural field, among others, lead to pollution, flooding, lowering of water aquifers, beach erosion, destruction of important ecological habitats and frequent droughts, an official said. https://timesofindia.indiatimes.com/city/pune/state-to-deploy-drones-to-identify-illegal-sand-mining-hotspots/articleshow/73944406.cms  (05 Feb. 2020)
WETLANDS, LAKES, WATER BODIES
Assam Shrinking Deepor Beel The area of the beel was about 6,000 hectares in the late 1980s, hydrological experts said. "Satellite imagery makes it apparent that Deepor Beel is shrinking fast and since 1991, at least 35% of its water coverage area has declined. This is primarily because the wetland is losing connectivity with small rivers like Kalmoni, Khonajan and Basistha that used to flow via the Mora Bharalu channel," Bibhav Talukdar of green group Aaranyak told The Hindu. Expansion of the city, encroachment upon the natural channels through Guwahati and from the hills around and a municipal waste dump at Boragaon almost on the edge of the wetland are factors, he added. https://www.thehindu.com/news/national/other-states/conservationists-concerned-over-assams-shrinking-ramsar-site/article30724405.ece  (03 Feb. 2020)
Kerala CRZ violations: CM called meeting The arduous task of refining the tentative list of over 26,000 Coastal Regulation Zone (CRZ) violations stares at the State government with the Supreme Court cracking its whip on such violations. The apex court on Feb. 10 had asked the State government to submit the list of CRZ violations in six weeks. The court directive came on a petition filed by filmmaker Major Ravi, who lost his apartment when one of the Maradu flats was demolished. For filtering the draft list, the State needs to segregate the buildings into residential and commercial ones and mark the distance of each building from the high tide line of the nearby waterbody. The plinth area of the buildings also should be ascertained. The date of construction of the structures has to be obtained to find out the rules applicable to them.  https://www.thehindu.com/news/national/kerala/crz-violations-cm-calls-meet-tomorrow/article30786528.ece  (11 Feb. 2020)
Maharashtra Bridge to Madh after 10 years, waiting for ECs BMC has appointed TP Engineering Ltd to build a 1.5- km bridge between Versova and Madh Island at an estimated cost of Rs 350 crore and its completion is expected to take a year after acquiring environmental clearance.
– The bridge was first proposed in 2009 but fishermen from Madh Koli village opposed it as it would have landed right next to their houses. Looking at it as a disruption to their life, they demanded realignment to avoid the Koli settlements. The BMC then modified the project by increasing its length to keep its landing away from the village. The geotechnical survey for the realigned project has already been completed. However, the BMC still needs to face its biggest challenge of getting fresh environmental clearance from the Ministry of Environment, Forest and Climate Change and the Maharashtra Coastal Zone Management Authority. https://mumbaimirror.indiatimes.com/mumbai/civic/bridge-to-madh-makes-headway-after-10-years/articleshow/74126685.cms  (14 Feb. 2020)
SC expresses concern about flamingos, asks Bombay HC to seek expert view The SC was hearing an appeal by NGO Vanasakthi against an interim order of the high court, lifting the stay on enforcement of environmental clearance for expansion of the Kanjurmarg landfill in Thane in Maharashtra. Expressing concern over the fate of the flamingo population in Thane Creek Sanctuary if a solid waste landfill comes up in its proximity, the Supreme Court on Friday asked the Bombay HC to obtain the report of an expert body before it decides a pending petition which has challenged expansion of the landfill project. https://indianexpress.com/article/india/supreme-court-expresses-concern-about-flamingos-asks-bombay-high-court-to-seek-expert-view-6268866/  (15 Feb. 2020)
Chandigarh Sukhna still not declared wetland UT administration has hit another hurdle regarding issuing a final notification for declaring Sukhna Lake as wetland under the Wetland (Conservation and Management) Rule, 2017, as the Survey of India has turned down UT's request of providing lake's latest map with the scale of 1:5,000. Recently, the UT administration had written to the Survey of India for latest map of Sukhna Lake and its catchment area that will be used in the final notification declaring Sukhna as a wetland.
– In the draft notification, the Chandigarh administration had used Survey of India's 2004 map, according to which, the area was surveyed and assessed in 1996-97. But one of the objections the UT received was the use of old map. Thereafter, the administration had written to Survey of India to provide latest map with the scale 1:5,000. However, sources have revealed that the Survey of India, in its response to the administration, has stated that such a map does not exist with them. Sources added that the UT administration would now look for other options to get a latest map of the lake.  https://timesofindia.indiatimes.com/city/chandigarh/sukhna-lake-wetland-notification-hits-another-hurdle/articleshow/73973729.cms  (06 Feb. 2020)
Residents object to UT's Sukhna move Terming the UT's draft notification for declaring Sukhna Lake as wetland as a violation of the Wetland (Conservation and Management) Rule, 2017, residents of Kansal have now approached the Union minister of environment Prakash Javadekar. The residents, who have also submitted their objections to the UT's draft notification, also wrote a letter to the Union minister stating that the draft notification by the UT administration was contrary to the Wetland (Conservation and Management) Rule, 2017, and devoid of scientific inputs.
-The letter reads, "The MoEF guidelines clearly states the case of Trans boundaries, it shall be endeavour of all the state/UT along with stakeholders to have mutual consultation to decide upon the subject. In both (Sukhna Wildlife Sanctuary and Sukhna Wetland) cases there appears no consultation or coordination committee." The residents alleged that on account of lack of consultation and agreement between the UT, Punjab and Haryana, there were different views. https://timesofindia.indiatimes.com/city/chandigarh/ut-has-violated-wetland-rules-for-sukhna-kansal-residents/articleshow/74034753.cms  (09 Feb. 2020)
Haryana Land or wetlands: state at cross roads A large portion of the Najafgarh wetland, which squats across the Delhi-Gurugram border, could dry up if a check dam is built there as the Haryana government finds itself at the intersection of local land owners' demands and concerns about a major environmental loss.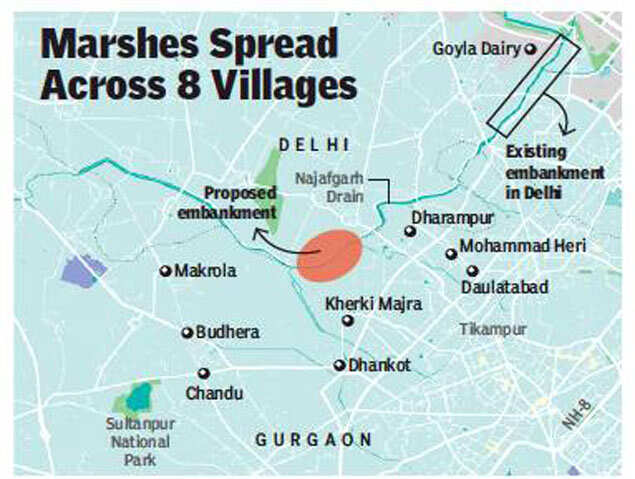 – However, every government record and map, including that of the Delhi Development Authority, state gazetteers, flood-control department of Delhi, NCR regional plans MoEFCC  and ISRO wetland documents, mentions that the wetland dates back to 1807, and in 1865, the government dug a 51-km channel from the eastern end of the lake to the Yamuna, which came to be known as the Najafgarh drain. "After the floods of 1964, the Najafgarh drain was widened to accommodate the flood discharge. Delhi built an embankment on its side of the lake to prevent flooding of its areas," said Bhatnagar. Also, an INTACH study shows the Najafgarh basin is part of the centuries-old Sahibi Nadi, a dying ephemeral river that would flow through Rajasthan, Haryana and Delhi before draining into the Yamuna.
– Instead of killing the wetland by building embankments and dams, green activists have proposed a slew of measures, including treating wastewater before releasing it into the lake, to revive and protect it. Bhatnagar said the wetland should be declared an area of permanent waterspread and farmers can be compensated to save the lake for groundwater recharge.
– Manu Bhatnagar from INTACH, who had filed a petition with NGT last year against the proposed embankment, said, "The government is absolutely backtracking on its stand. That is why we filed an execution application in April 2019 as the state government has not done anything yet to notify Najafgarh lake as a wetland. The proposed bund is contrary to notification of the wetland. There is a need to understand that the destruction of the wetland will have a major impact on the groundwater level in Delhi-NCR, apart from destroying the entire ecology." https://timesofindia.indiatimes.com/city/gurgaon/land-or-wetland-haryana-at-a-crossroads/articleshow/74155698.cms  (16 Feb. 2020)
Goa NGT asks govt to identify all wetlands before January 2021 NGT has directed the state government to complete the process of identification of wetlands in the state by January 2021. Further, it has asked for a progress report to be submitted on a quarterly basis. The state government had requested NGT for a one-year extension to identify the wetlands in the state.
– In an affidavit, the state government told NGT that work towards implementing the Wetland (Conservation and Management) Rules, 2017, has already commenced and that various committees have been constituted under the Goa State Wetland Authority (GSWA). Further, the government said the process of compiling information pertaining to pre-existing rights involves interaction with the local people which includes owners, tenants and other stakeholders. https://timesofindia.indiatimes.com/city/goa/state-must-identify-wetlands-by-jan-21/articleshow/73621271.cms  (26 Jan. 2020)
Tamil Nadu Coimbatore wetlands: overall bird population on the decline: Survey Resident species outnumbered migrants when a total of 162 species of birds were spotted in the wetlands of Coimbatore in the recently concluded Asian Waterbird Census (AWC). Of the 162 species, 125 were resident and 37 migrant; comprising 103 land birds and 59 waterbirds. The total number of birds spotted in the census was 5,996.
The census held between January 5 and 20 covering 26 wetlands also saw an increase in terms of the number of species spotted compared to the results of census in previous years. Meanwhile, the census data showed that the overall bird population declined in the last three years from 7,079 in 2017 to 5,996 this year. This was attributed to the drop in migrant bird population by 34 % while residents showed a steady population. https://www.thehindu.com/news/cities/Coimbatore/wetlands-in-coimbatore-home-for-162-bird-species-says-recent-survey/article30813889.ece  (13 Feb. 2020)
WATER OPTIONS
West Bengal Glimpses of Tanks, locally called pukurs, from Sarsuna ward in South West Kolkata. Most of them are in use, though in various stages of degradation. Fascinating visit on Feb 12, thanks to Jaladisha group's volunteers.
https://www.facebook.com/photo.php?fbid=10158096951928523&set=pcb.10158096953133523&type=3&theater  (14 Feb. 2020)
GROUNDWATER
Telangana Farmers raise pharma pollution issue Following a number of complaints from the villagers of Choutuppal village, the Member-Secretary of Telangana State Pollution Control Board (TSPCB) Neetu Kumari Prasad convened a meeting with farmers and others from Choutuppal and nearby villages to discuss the problems they were facing due to pharma industry.
– As many as 50 farmers and social activists attended the meeting and expressed their issues with the member secretary. Issues like groundwater contamination, air and soil pollution and many other issues were raised. The farmers said the issues were raised a number of times and alleged that all PCB officers colluded with industries and did not take any action.
– Jala Venkatesh Yadav, a farmer from Choutuppal, said: "15 years ago our fields and areas nearby were covered green crops and greenery but now the farmers are not able to cultivate in the same fields due to excess pollution." "Due to protests by people manufacturing of drugs was discarded in Kakinada. However, the plight of people persists in Choutuppal. With the existing pharma plants there is a lot of pollution and the government is planning to set up more which is a matter of concern to all the locals", he added further. https://www.thehansindia.com/telangana/hyderabad-farmers-raise-pharma-pollution-with-pcb-in-sanathnagar-603555  (08 Feb. 2020)
Pharma industries deny charges  Days after several farmers from Dothigudem village in Pochampally mandal staged a protest at the TSPCB office seeking action against polluting pharma companies in their area, representatives of these companies claim the allegations are false. They even accuse villagers of trying to extort money from them. In the past, villagers have made several complaints, stating that water and air in their area is highly polluted because of illegal dumping of toxic waste by these pharma companies. Following these complaints, on Feb. 8, TSPCB had asked representatives of the nine companies — which are set up in and around Dothigudem — to give explanations.
-"TSPCB officials have verified our compliance reports. Most companies are not flouting any rules. Only one or two did not have a proper permit to operate, so the PCB has identified them and has asked them to rectify the same," said Ram Reddy, a representative of Archimedis Laboratories Private Limited. Responding to the villager's allegation, he added that there was no weight in these allegations, else the TSPCB would have already detected it.
– "The villagers are making these allegations to extort money from pharma companies. They are threatening us for their personal gains, because of which we are facing inconvenience," said a representative of Optimus Pharma Pvt Ltd, Sada Shiv Reddy. The representatives also claim that they are developing Dothigudem village by providing employment to people and are also putting up free water purifiers in the village.
– When villagers were asked to respond to the money extortion allegation, Damodar Reddy, a farmer, and protestor from the village said, "If they are not polluting our water, then why are they providing us with water purifiers for free. We do not want any money, we only want these toxic companies to go away from our villages immediately." https://www.newindianexpress.com/states/telangana/2020/feb/10/not-dumping-toxic-waste-pharma-companies-in-deny-allegations-of-water-pollution-in-telangana-2101383.html  (10 Feb. 2020)
AMD confirms high uranium level in groundwater The Atomic Minerals Directorate for Exploration and Research (AMD) under Department of Atomic Energy has found high levels of uranium concentration in the groundwater in the erstwhile Nalgonda district. It tested the samples collected from 25 private tube wells/hand pumps, from November, 2018, to July, 2019, around Lambapur-Peddagattu region in Nalgonda district, as part of the environmental baseline data collection. It was found that uranium values in the sample locations vary from 1 to 2,618 parts per billion (ppb).
-13 of the 25 samples have uranium content less than 60 ppb, which is the prescribed safety limit by the Atomic Energy Regulatory Board (AERB), according to a reply given by Union Minister of State for Jal Shakti Rattan Lal Kataria in Lok Sabha on Feb. 6. This means that the uranium content is higher than the prescribed safety limit in 12 samples.
-The Union Minister was replying to a question raised by Nalgonda MP and PCC president N Uttam Kumar Reddy on the levels of uranium concentration in the groundwater in Nalgonda district. "The AMD has communicated the analytical data of groundwater of the entire Telangana region to the State government," the Union Minister said. https://www.newindianexpress.com/states/telangana/2020/feb/07/uranium-levels-in-groundwater-found-to-be-high-in-telanganas-nalgonda-2100222.html  (07 Feb. 2020)
Uttar Pradesh Groundwater regulation bill passed Cabinet has approved the UP Groundwater (Management and Regulation) Rules – 2020, to protect and regulate the usage of groundwater after the water table dipped to alarming levels in the state, which currently has 82 overexploited, 47 critical and 151 semi-critical blocks.
– The rules provide for formation of different regulatory mechanisms at the state, district, block/village and municipal level. According to officials of the UP groundwater department, the rules have been formed after the government notified the UP Groundwater (Management & Regulation) Act, 2019, which came into force on October 2, 2019.
– The rules approved by the UP cabinet on Feb. 11 also provide for the levy of penalty and punishment for overuse of groundwater resources. Under the rules, different areas will be categorised as notified and non-notified and all groundwater users will have to register with the respective authorities. The rules also provide for capping the groundwater usage by commercial, industrial, infrastructure and bulk users and stipulate a fee on usage.
-In case of any violation, users will be penalised with fines ranging from ₹2 lakh to ₹5 lakh and/or imprisonment ranging from six months to a year, for a first offence. However, agricultural and general residential users do not come under the ambit of penalty clauses. "A second offence would entail an imprisonment of two to five years, along with a penalty of ₹5 lakh to ₹10 lakh. A provision for imprisonment of five to seven years along with penalty of ₹10 lakh to ₹20 lakh has been made for those caught polluting/exploiting groundwater a third time," the official said.
– According to the UP groundwater department statistics, the two development blocks of Bisrakh (149.19% groundwater usage) and Jewar (108.81%) in Gautam Budh Nagar are already in the overexploited category. The Dadri block (84.50%) is semi-critical while the Dankaur block (99.84%) is in the critical category. Similarly, four development blocks of Bhojpur (140.89% groundwater usage), Loni (132.92%), Razapur (110.24%) and Ghaziabad city (263.35%) are in the overexploited category while only one block, Muradnagar (88.23%), is in the semi-critical category.
– "The condition of groundwater in both districts is alarming and there has been heavy and unchecked usage of groundwater over a period of time. Groundwater extraction has been exploited by bottling companies that are flourishing in small localities of Khoda, Vijay Nagar and Sahibabad. There is absolutely no check on groundwater usage. Apart from that, the rainfall over the years has also decreased, thereby making it difficult for groundwater recharge," Akash Vashishtha, a city based environmentalist and lawyer, said. https://www.hindustantimes.com/cities/up-draws-up-rules-to-regulate-groundwater-usage-fixes-fines-for-violations/story-XYYiJqF3VihwZm3cG4xYNO.html  (12 Feb. 2020)
The copy of act can be seen here. http://upgwd.gov.in/MediaGallery/GWDact2019En.pdf 
Haryana Pond of Panchkula So interesting story on worrying situation of Bataur village pond in Panchkula created for water security but has been severely flooding farms areas for long courtesy groundwater abuse, lifestyle change, drain concretization. Sadly, Bataur is neither first nor last village, this common story of 100s of villages in Punjab, Haryana.
– Indian agricultural lands have for long time suffered due to the lack of water their fields receive, but Bataur must be the first village, where early-adopted methods to save their fields from lack of water, have now become a threat to its fertile land.
– Bataur is a small village with 4,000 voters, most of whom are farmers who have been struggling for the past ten years as their fields continue to get flooded with water from a pond that was built to help them in case of water scarcity.
– "It was during the inception of this village that our fathers decided to plough a johad (pond) in the centre of our village, which gets filled up with the nullah water that flows out of the homes of our village. But overtime, as the population of the village increased and the village adapted to luxurious lifestyles with cemented drains and use of excessive water for basic necessities, we realised that the pond that we dug for our vantage had become a curse. The johad is now full to the brim all 365 days of the year, overflowing especially during winters and monsoons", said Laxman Dass, sarpanch of Bataur village.
– Make-shift arrangements and attempts at fixing the problem on their own, have all been tried but to no avail. The crops that are on the verge of ripening, are destroyed overnight by the overflowing water. https://indianexpress.com/article/cities/chandigarh/the-wetland-of-panchkula-6257457/  (08 Feb. 2020)
URBAN WATER
Chennai Billions dollar projects for sustainable growth The State government will launch 'Chennai City Partnership', a unique model of development co-operation with the World Bank, to ensure continued sustainable growth of Metropolitan Chennai, said Deputy CM O. Panneerselvam. Presenting the Budget on Feb. 14, he said that the project comprises three major pillars — urban mobility, water resilience and urban governance and finance. "The World Bank assistance indicated for the Chennai City Partnership is $1 billion. Approvals will be obtained for specific programmes and projects during the year 2020-21," said Mr. Panneerselvam.
– A provision of ₹350 crore has been made in the Budget estimates for 2020-21 "in anticipation of early approval" for the 'Integrated Storm Water Drain Network' covering a distance of 765 km in the extended areas of Chennai in the Kosasthalaiyar river basin at a total cost of ₹2,518 crore. "The Greater Chennai Corporation has prepared a project and sent it to the Asian Development Bank for assistance," he said.
River eco-restoration:- "The work on eco-restoration of the Cooum river is nearing completion and that of the Adyar river is in progress. In the next stage, the government will take up the ecorestoration of the Buckingham Canal and its drains and all the drains of the Cooum and Adyar at a total cost of ₹5,439.76 crore," he said.
In the first phase, the government has already sanctioned an amount of ₹1,001 crore for sewage mitigation schemes. The overall outlay includes a sum of ₹3,339.90 crore for construction of dwelling units by the Tamil Nadu Slum Clearance Board.
– The Chennai Coastal Flood Warning System (C-FLOWS) has been developed for issuing multi-hazard early warning in the Greater Chennai Corporation areas in association with the National Centre for Coastal Research. The government has proposed the Comprehensive Flood Mitigation Project for Greater Chennai to the World Bank and Asian Infrastructure Investment Bank at a total cost of ₹3,000 crore as a follow-on project to the Coastal Disaster Risk Reduction Project, which will be coming to a successful completion. In the Budget estimates for 2020-21, a sum of ₹1,360.11 crore is provided for disaster management," he said.
Desalination plants:- Metrowater has taken up the construction of a 150-MLD seawater reverse osmosis (SWRO) desalination plant at Nemmeli with KfW assistance at a cost of ₹1,259 crore. In the Budget, ₹500 crore has been provided. The government has accorded administrative sanction for the implementation of 400-MLD SWRO plant at Perur near Chennai at a project cost of ₹6,078.40 crore, with funding assistance of ₹4,267.70 crore from the Japan International Co-operation Agency (JICA). A consultant for detailed design has been appointed and works on the project will commence shortly, he said.
– "There is an urgent necessity to improve the water supply system in the city to minimise water losses. The underground sewerage system needs to be extended to 14 more added areas of Chennai city. Tertiary treatment facility will be established to treat 260 MLD of secondary treated sewage. To fulfil the requirements, Metrowater has prepared the Climate Resilient Urban Water Supply and Sanitation Project at a cost of ₹4,500 crore and posted it to the Asian Infrastructure Investment Bank for financing," Mr. Panneerselvam said. https://www.thehindu.com/news/cities/chennai/a-billion-dollar-project-for-sustainable-growth-of-the-city/article30825109.ece  (15 Feb. 2020)
Bengaluru Experts object to Bellandur, Varthur lakes de-silting, de-watering Eight environmentalists including Dr AN Yellappa Reddy and Prof Harini Nagendra have cautioned against implementing two measures suggested by the NGT-monitored committee for rejuvenating Bellandur and Varthur lakes. They believe the plan to desilt and dewater these water bodies is impractical and unscientific.
– "The rejuvenation approach of diverting approximately 500 million litres of toxic wastewater entering Bellandur lake to Varthur lake and subsequently to Dakshina Pinakini river, seems to us that the polluting matter is being pushed downstream, thus translocating pollution. Rejuvenation of one waterbody should not spell a death knell to other water bodies. This activity is in contravention of Section 24 of Water Act.
– People downstream of Bellandur tank also have the right to clean and healthy environment," Yellappa Reddy, noted environmentalist and chairman of Bengaluru Environment Trust said in an open letter written to various government departments. The BDA has already made provision to divert wastewater from Bellandur Tank to Varthur lake. Similar works are underway at Varthur lake. Environmentalists, however, want the government to immediately pause and take course correction after preparing an environmental impact assessment.
– The letter, which is undersigned by many environmentalists, has also opposed the proposal to desilt both the lakes. "For the past 50 years, both Bellandur and Varthur lakes have been recipients of municipal solid waste, industrial solid waste, construction and demolition debris, hospital waste, plastic and raw sewage. Based on precautionary principle, one can deduce that 19.4 million tonnes of silt and slush on Bellandur lake bed and 7.8 million tonnes of silt and slush on Varthur lakebed is hazardous in nature both biologically and chemically," the letter states.
– The environmentalists believe it would take 53 years to completely de-silt Bellandur lakebed, even if the government removes 1000 tonnes per day. They said only 1.8% of the total toxic silt and slush could be removed if the de-silting were to be carried out for an entire year. They demanded an environment impact assessment and cost benefit analysis before carrying out the mammoth task. The letter has urged the government to prepare a lake ecosystem management programme which is rooted in science with quality water data, clearly defined goals and measurable objectives aligned with financial resources. https://bangaloremirror.indiatimes.com/bangalore/civic/do-not-desilt-dewater-bellandur-varthur-lakes/articleshow/74106570.cms  (13 Feb. 2020)
The Bangalore Environment Trust, has questioned the merit and practicality of desilting the lakes by spending crores of rupees, without stopping sewage entering the lake. Incidentally, this move by BET has made another section of activists unhappy as they feel all the work done over the last year, as per the current plan, will be undone if it is delayed and if the desilting work is not finished by the monsoon. https://www.thenewsminute.com/article/bellandur-lake-cleaning-experts-divided-over-desilting-diverting-polluted-water-118097  (13 Feb. 2020)
Godrej properties to challenge NGT order Realty firm Godrej Properties said it will challenge the NGT order quashing environmental nod granted to one of its housing project in Bengaluru, saying no construction work has been done in the buffer zone of lake. https://www.moneycontrol.com/news/business/godrej-properties-to-challenge-ngt-order-quashing-green-nod-for-housing-project-in-bengaluru-4939101.html  (13 Feb. 2020)
Kochi Tanker lorries drawing contaminated water Operation Pure Water, a drive to provide clean drinking water to all, has turned out to be a non-starter as tanker lorry operators continue to supply drinking water drawn from unidentified and untested wells. This happens at a time when the Kerala Water Authority (KWA) has set up 45 hydrants across the district. And, most of them are lying idle, according to KWA officials. Though the district administration had recently convened a meeting on the capacity of the KWA to provide the required amount of water to tanker lorries, no concrete decision was taken, leaving tanker operators free to draw water from contaminated wells.
– Incidentally, the district administration too had allowed tankers to use private wells, holding that the KWA was not capable of providing sufficient quantity of water. Even after the Pollution Control Board (PCB) had said that most wells were found contaminated with e.coli and coliform bacteria above the permissible levels, water drawn from them is still being supplied to users. https://www.thehindu.com/news/cities/Kochi/tanker-lorries-drawing-contaminated-water/article30786956.ece  (11 Feb. 2020)
Coimbatore TNPCB report indicates high level water pollution in Vellalore The result of a study the Pollution Control Board (TNPCB) conducted in and around the Coimbatore Corporation's dump yard in Vellalore in November 2019 indicates high level water pollution. The Board had shared the result in response to an RTI query filed by K.S. Mohan, secretary, Kurichi-Vellalore Pollution Prevention Action Committee. The result showed that of the 15 locations tested, the total dissolved solid (TDS) reading in eight places, chlorides at seven locations, sulphate at a place and total hardness at eight places were higher than the drinking water standards. https://www.thehindu.com/news/cities/Coimbatore/tnpcb-report-indicates-high-level-water-pollution-in-vellalore/article30706693.ece  (01 Feb. 2020)
Hyderabad Not good days for Kapra lake Mere removing water hyacinth by irrigation department would not revive the Kapra lake. The report also says a temporary structure was razed to make way for permanent one in the lake area for visitors. https://www.deccanchronicle.com/nation/current-affairs/140220/achhe-din-for-kapra-lake.html  (14 Feb. 2020)  
Ghaziabad Residents live in fear as cancer-causing chemical contaminates groundwater Residents in Raj Nagar have raised concerns as taps in their area are giving out 'yellow' water. The residents have filed a complaint with the administration, claiming that groundwater in their area has been contaminated. The residents have claimed that a chemical known as hexavalent chromium is present in the water. Hexavalent chromium causes cancer and also harms kidneys and liver.  https://www.timesnownews.com/mirror-now/civic-issues/article/ghaziabad-residents-live-in-fear-as-cancer-causing-element-contaminates-groundwater/546882  (30 Jan. 2020)
AGRICULTURE
Maharashtra Human cost of sugar Oxfam India Report on 'Human Cost of Sugar in Maharashtra' of Feb 2020: "The sector relies on informal workers, migrating from drought-prone Marathwada region, working as cane-cutters. Living and working conditions of these workers are exploitative, which keep them in a vicious circle of poverty and indebtedness.
Women and children face the hardest brunt of these exploitative conditions with basic rights and dignity denied. This paper is an attempt to highlight the systemic issues in the Maharashtra sugar supply chain to trigger discussions and action from key stakeholders." https://www.oxfamindia.org/workingpaper/human-cost-sugar-1  (03 Feb. 2020)
Report The terrifying science behind the accelerating locust plague It's the worst locust outbreak to strike Africa in decades, and Pakistan and India's border states too have been badly affected. And the problem is about to get a lot worse—the insect population could boom by a factor of 500 by June. Unlike other species, a rapidly-warming planet present an advantage to locusts.   https://www.ecologise.in/2020/02/11/the-terrifying-science-behind-the-locust-plagues-of-africa/  (11 Feb. 2020)
DISASTER
Uttarakhand Unexpected forest fires Huge forest fires happening in Joshimath forest areas in Chamoli district. Given better snowfall & widespread winter rains this year its unusual and worrying.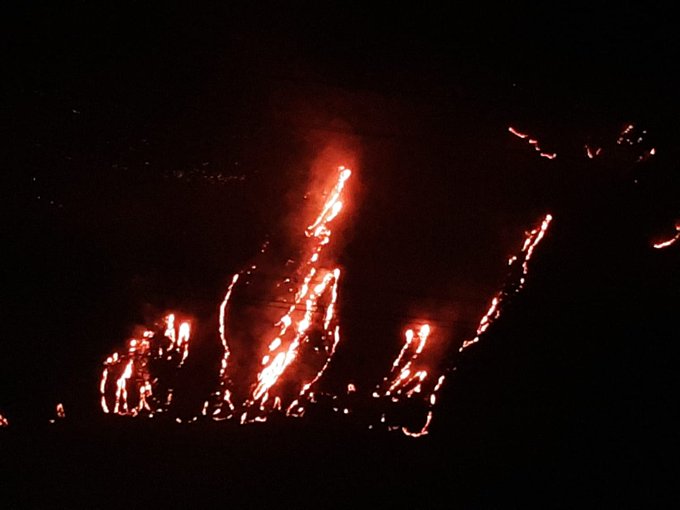 https://twitter.com/kamaljoshimath/status/1228000863765123072  (13 Feb. 2020)
-More than 100 ha of forest area in Urgam valley of Joshimath has burnt enveloping entire area with thick smoke. As per Feb. 13 report, forest fire was still spreading to other areas. Villagers, forest officials trying best to control it. https://www.jagran.com/uttarakhand/chamoli-fire-in-urgam-vailly-20027354.html  (13 Feb. 2020)
-Forest areas on fire are part of Nanda Devi National park. Animals in large numbers r reportedly affected, green vegetation burnt to ashes. Forest dept has so far failed. People complaining of respiratory problems.  https://www.amarujala.com/dehradun/fire-broke-out-in-nanda-devi-national-park-forest-uttarakhand  (13 Feb. 2020)
Meanwhile state government has sanctioned budget of Rs 16 crore to fight forest fires as the fire season kicked off on February 15. The fire season in the hill state is from February 15-June 15. The department had completed the precautionary exercise of rotational burning and controlled burning to prevent the outbreak of forest fire out of control in February 2019.
In rotational burning, forest areas infested with dry mass full of weeds are burned out whereas in controlled burning forest waste is disposed of off to prevent forest fire. The exercise was completed till February 15, 2019, with more than 1.50 lakh hectares of area with rotational burning while controlled burning is still on in patches. Total of about 8700Kms of fire lines has also been cleared to avoid forest fire incidents. https://www.newindianexpress.com/nation/2020/feb/16/uttarakhand-government-sanctions-rs-16-crore-to-fight-forest-fire-2104267.html  (16 Feb. 2020)
Earthquake damages houses On Feb. 9 morning at 6.30, a 4.7 Richter scale earthquake with epicenter in Gogina in Bageshwar had hit the state. Tremors of the quake were felt in several areas of Garhwal and Kumaon including Karnprayag, Srinagar, Chamoli, Pithoragarh, Bageshwar and Nainital districts. A house in Bageshwar was damaged due to the earthquake. There was no information about the loss of life and property from anywhere in the district. https://english.newstracklive.com/news/earthquake-tremors-felt-in-uttarakhand-today-morning-one-house-collapsed-mc23-nu-1068661-1.html  (08 Feb. 2020)
-Some more details on impact of quake here. Some damages reported to houses & facilities. 2 reportedly injured. No loss of life. https://www.amarujala.com/dehradun/earthquake-tremors-felt-in-uttarakhand-today-morning-one-house-collapsed  (08 Feb. 2020)
-Here is another warning of big due earthquake in state. Citing IIT Kanpur study, this report claims Kaladhungi area in Ramnagar as potential epicenter. Min of Earth Sci informed & some experts to visit Nandpur village to study tilting in Indian plate on Feb 25. https://www.livehindustan.com/uttarakhand/story-uttarakhand-to-face-big-earthquake-due-to-tilting-of-tectonic-plate-in-kaladungi-in-state-3022806.html  (13 Feb. 2020) 
ENVIRONMENT
Himachal Pradesh Amid Debate Over SC Ban, Govt Approved Felling 83,000 Trees Since 2014 for Highways Even as a debate rages on in State over Supreme Court's March 2019 order banning fresh green felling, it has come to light that since 2014, felling of 83,320 trees has been approved for highway expansion in eight stretches under Forest Conservation Act, 1980. Of these, 33,000 trees have already been cut down.
In contrast, felling of 17,237 trees has been approved for village development across 1,959 activities under Forest Rights Act, 2006. The information has been obtained under the RTI Act by Himdhara. https://www.news18.com/news/india/amid-debate-over-sc-ban-govt-approved-felling-83000-trees-since-2014-for-highways-in-himachal-2500515.html  (14 Feb. 2020)
The report can be seen here. https://www.himdhara.org/2020/02/14/report-missing-the-forest-for-trees-%e0%a4%b9%e0%a4%bf%e0%a4%ae%e0%a4%be%e0%a4%9a%e0%a4%b2-%e0%a4%ae%e0%a5%87%e0%a4%82-%e0%a4%b5%e0%a4%a8-%e0%a4%85%e0%a4%a7%e0%a4%bf%e0%a4%95%e0%a4%be%e0%a4%b0/
Western Ghats, Karnataka Developmental projects spell environmental disaster An excellent analysis by former Karnataka Forest Dept Chief on how power & infra Dev has fragmented & ruined Western Ghats, & why that should end now. But, as is wont with most Forest officials, the solution proposed is not slow-growth or de-growth; it's growth in what they consider is "degraded" lands. And here Singh makes a positive case about the Pavagada Solar Park, which is, in fact, not what he presents it as.  https://www.deccanherald.com/opinion/main-article/developmental-projects-in-western-ghats-spell-environmental-disaster-biodiversity-under-threat-805365.html?  (16 Feb. 2020)
ENERGY
India witnesses first drop in coal-fired power generation in 13 years The International Energy Agency (IEA) in its Global CO2 emission 2019 report published earlier this week noted that in calendar year 2019 India's coal-fired electricity generation fell for the first time since 1973.
– The country's electricity generation from coal power plants declined 3 per cent to 780 Billion Units (BU) during the April-December period of the current financial year (2019-2020) as compared to the generation in the same period last fiscal. This was the first recorded decline in generation from coal plants for the April-December period since 2006-2007. PLF of thermal plants fell to 56 per cent during the April-December period of 2019-20 as compared to 60 per cent recorded in the corresponding period a year ago. Moreover, in calendar year 2019, PLF of thermal power plants fell to an average of 57 per cent from an average of 61 per cent in 2018. https://energy.economictimes.indiatimes.com/news/power/india-witnesses-first-drop-in-coal-fired-power-generation-in-13-years/74146510  (15 Feb. 2020)
CLIMATE CHANGE
IMD India to work on issuing decadal climate prediction Research for this soon-to-be-launched programme will be carried out by scientists at IITM while later works will also be shared by India Meteorological Department (IMD) and National Centre for Medium Range Weather Forecast (NCMRWF). "Works on climate change projections till 2070 or 2080 are complete. But now, there is an increasing focus on decadal predictions, India, too, shall focus on decadal time scale predictions," said Rajeevan, Secretary, Union Ministry of Earth Sciences at the sixth edition of the International Conference on Climate Services (ICCS), organised at Indian Institute of Tropical Meteorology (IITM). This is the first time India is hosting ICCS. The Centre for Climate Change Research (CCCS), led by R Krishnan, already has climate predictions till 2100. https://indianexpress.com/article/india/india-to-work-on-issuing-decadal-climate-predictions-6264218/  (12 Feb. 2020)
NASA Climate change could trigger more landslides in Asia More frequent and intense rainfall events due to climate change could cause more landslides in the High Mountain Asia region of China, Tibet and Nepal, according to the first quantitative study (by NASA/Goddard Space Flight Center) of the link between precipitation and landslides in the region.
– In summer 2019, monsoon flooding and landslides in Nepal, India and Bangladesh displaced more than 7 million people. Most significantly, the study concluded, the border region of China and Nepal could see a 30-70% increase in landslide activity. https://www.sciencedaily.com/releases/2020/02/200211121512.htm  (11 Feb. 2020)
SOUTH ASIA
Bhutan No comprehensive study done on flashfloods in Wangdue A flash-flood occurred in Wangdue's Athang gewog in August 2019. The formation of an artificial lake upstream caused the small stream, Phangruchhu, to swell. As a result, there was massive structural damage and loss of human lives. Punatsangchhu Hydropower Project II suffered a loss of Nu 7.5 billion. Home Minister Sherub Gyeltshen said that although the authorities concerned had carried out assessments at the site of the incident, there was no solid finding due to capital and human resource constraints.
The report submitted by the specialists from the National Centre for Hydrology and Meteorology, Department of Disaster Management (DDM) and Department of Geology and Mines had concluded that the flashflood was caused by an outburst of an artificial lake formed by a convective cloudburst. The report was not comprehensive since the specialists couldn't visit the source due to challenges related to the location of the area, Lyonpo said. "Topographical and geographical mapping couldn't be conducted."  https://kuenselonline.com/no-comprehensive-study-done-on-flashfloods-in-wangdue/  (15 Feb. 2020)
Nepal Upper Karnali HEP: PPA to be signed by May The Upper Karnali Hydropower Project (UKHP) is likely to sign the Power Purchase Agreement (PPA) within three months as developer GMR has received the letter of intent (LoI) from the government of Bangladesh on Jan 30, 2020. Nepal will receive 27% free equity and 12% free energy from the Upper Karnali project. https://myrepublica.nagariknetwork.com/news/upper-karnali-hydropower-project-likely-to-sign-ppa-by-may/  (10 Feb. 2020)
Economic Digest Coronavirus outbreak in neighboring China has affected the work on the Nyadi Hydropower Project in Lamjung. There are 61 Chinese nationals working in the project, out of which, 57 had gone to China and only two managed to return. "With 55 of our workers stuck in China, work on the project has stopped for now," the project officials said. The project, being constructed on the Nadi River, has been stalled for about a month. https://english.khabarhub.com/2020/13/75291/  (13 Feb. 2020)
Bangladesh LoI to GMR to ink PPR granted The Bangladeshi government has granted letter of intent (LoI) to GMR to ink the power purchase agreement to buy 500 megawatts of electricity from the 900-megawatt Upper Karnali Hydro Electric Project (UKHEP). "The LoI means that the Bangladeshi government has finalised all necessary legal issues to materialise the plan to buy energy from us," KK Sharma, project head, UKHEP clarified. As per the cabinet decision on Dec 18, 2019, Bangladesh will import 500MW of electricity through Indian firm GMR at a tariff rate of 7.72 cents (Rs 8.80) per unit for a period of 25 years. "If everything moves ahead as planned then we will be able to ink the power purchase agreement by June and we also plan to complete the process of engineering, procurement and construction (EPC) and award the contract to the selected firm by March," Sharma informed. https://thehimalayantimes.com/business/bangladesh-grants-letter-of-intent-to-gmr-to-ink-ppr/  (10 Feb. 2020)
ASIA
MEKONG Thailand Damming the Lower Mekong, Devastating the Ways and Means of Life Thailand funded the first dam on the river in Laos, and it is Thai towns, farms and fisheries that are suffering. The water is so clear on the Mekong River in northeastern Thailand that the sunlight pierces through to the riverbed, transforming the waterway into a glinting, empty aquarium. It is beautiful but it means death. At this time of year in Thailand, this stretch of the world's most productive river should be brown and swollen with silt. Instead, a prolonged drought and a huge new dam over the border in Laos, the first on the lower Mekong, have stolen the nutrients needed to sustain life. On another bend, the Mekong almost disappears entirely, a trickle of stagnant water surrounded by a lunar landscape of sere hillocks and desiccated roots. This is the season that fish normally spawn here, but there is no water.
– With about 10 more dams planned for the mainstream Mekong's lower reaches and hundreds more on its tributaries, a lifeline for 60 million people is being choked. Tens of millions more will be affected as farms and fisheries are compromised, even as the rich and powerful across the region profit from the hydropower business.
– "When you build dams and steal sand," the monk said, "you change the course of a river and you change the course of life." https://www.nytimes.com/2020/02/15/world/asia/mekong-river-dams-thailand.html  (15 Feb. 2020)
THE REST OF THE WORLD
Report Record 90 dams in 26 states removed in 2019 A record 26 states removed a total of 90 dams in 2019 to revive rivers and strengthen communities and ecosystems around the country, American Rivers announced. Working in partnership, non-profit organizations and state and federal agencies removed the dams to reconnect more than 973 upstream river miles.
This effort comes at the heels of a growing movement of environmentalists and activists seeking to restore rivers to their natural state.  https://weather.com/science/environment/news/2020-02-14-a-record-90-dams-in-26-states-were-removed-in-2019  (14 Feb. 2020)
Australia Fears remain after dam bursts There were fears on Feb 15, 2020 of a major flooding event in southern Queensland after a failed dam began to gush water, threatening nearby properties. An emergency was declared and nearby residents were evacuated when water began flowing from a crack in Bolzan Quarry Dam, about 30 kilometres north of Warwick, southwest of Brisbane. The 440 megalitre private dam at Talgai was at capacity after recent heavy rainfall when a large hole, about 3.5m by 1.5m, was spotted at its base on Feb 14 night. About half a metre of water had been lost by about midday on Feb 15. On Feb 15 afternoon engineers said the risk of major flooding had decreased.  https://www.news.com.au/national/queensland/news/wild-weather-qld-dam-bursts-and-thunderstorms-hail-lash-parts-of-victoria/news-story/4ac4caf46220e02bbe5b4de52e76100d  (16 Feb. 2020)
US Wetland project to mitigate flooding, preserve environmental habitats The Harris County Flood Control District is expected to begin construction of a new wetland mitigation bank near Katy Hockley Road in Cypress by the summer of this year. The new wetland area will serve as a natural flood mitigation tool while meeting the U.S. Army Corps of Engineer's requirements for nature preservation, according to Rick Howard, Project Manager and Ecologist for the HCFCD.  https://www.chron.com/neighborhood/katy/news/article/Harris-County-Flood-Control-District-s-wetland-15042859.php  (10 Feb. 2020)
Report World SHP development The global installed SHP capacity for plants up to 10 MW is estimated at 78 GW according to the World Small Hydropower Development Report (WSHPDR) 2019, an increase of approximately 10 per cent compared to data from the WSHPDR 2013. SHP represents approximately 1.5 per cent of the world's total electricity installed capacity, 4.5 per cent of the total renewable energy capacity and 7.5 per cent (< 10 MW) of the total hydropower capacity. https://www.unido.org/our-focus-safeguarding-environment-clean-energy-access-productive-use-renewable-energy-focus-areas-small-hydro-power/world-small-hydropower-development-report 
Press Release Vast amounts of energy, nutrients, water could be recovered from world's wastewater– Vast, valuable amounts of energy, essential agricultural nutrients, and water could be recovered from the world's fast-growing volume of municipal wastewater, says the United Nations University.
– A newly-published study reveals a staggering 380 billion cubic meters (m3 = 1000 litres) of wastewater are produced worldwide each year — five times the volume of water passing over Niagara Falls annually. That much water would fill Africa's Lake Victoria in just under seven years, Lake Ontario in just over four years, and Lake Geneva in less than three months.
– And the volume of wastewater is increasing quickly, with a projected rise of roughly 24% by 2030, 51% by 2050. By the mid-2030s, wastewater worldwide will roughly equal the volume of water flowing each year through the St. Lawrence River.
– Among major nutrients, 16.6 million metric tonnes of nitrogen are embedded in wastewater produced worldwide annually, together with 3 million metric tonnes of phosphorus and 6.3 million metric tonnes of potassium. Theoretically, full recovery of these nutrients from wastewater could offset 13.4% of global demand for them in agriculture.
– Beyond the economic gains of recovering these nutrients are critical environmental benefits such as minimizing eutrophication — the phenomenon of excess nutrients in a body of water causing dense plant growth and aquatic animal deaths due to lack of oxygen.
– The energy embedded in wastewater, meanwhile, could provide electricity to 158 million households — roughly the number of households in the USA and Mexico combined. https://wle.cgiar.org/vast-amounts-energy-nutrients-water-could-be-recovered-world%E2%80%99s-wastewater-says-new-report  (13 Feb. 2020)
Compiled by SANDRP (ht.sandrp@gmail.com)
Also see: DRP News Bulletin 17 Feb. 2020 & DRP News Bulletin 03 Feb. 2020  
Follow us on: www.facebook.com/sandrp.in; https://twitter.com/Indian_Rivers