This week's news bulletin has a number of examples of Better Water Management Options that India has, let us focus on the example from state. These examples come from Kerala (achieving a barren land free constituency & KERI study showing the need for desilting of Malampuzha reservoir), Tamil Nadu (lessons from implementation of System of Rice Intensification in large parts of cultivable land and also declaring the Cauvery Delta as protected agriculture zones that will help stop the problematic hydrocarbon exploration project as also, hopefully other destructive projects), Odisha (govt filing affidavit in the Supreme Court asking it to stop work on Polavaram Dam of Andhra Pradesh is hugely belated but right move), Telangana (rejecting the Godavari Cauvery River Linking proposal of NWDA for its shoddy water balance), Uttarakhand (Dehradun DM accepting in affidavit to High Court that 270 acres of river bed land is encroached in the district), Kashmir (drive to remove encroachments of Khushal Sar lake, even if selective, hopefully it will be a beginning), NGT (cancelling the township coming up in lake eco sensitive area in Bengaluru) among others. We have listed only the welcome initiatives from the govt. Even if these initiatives are taken to logical conclusion and also emulated by other states, it can go a long way in moving towards better water management.
Kerala Story of first barren-land free constituency  It was in September 2019 that Parassala was declared the first barren-land-free constituency in Kerala. All the nine panchayats of Parassala were able to achieve the tag. Around 30 km from Kerala's Thiruvananthapuram and 35 km from Tamil Nadu's Nagercoil is the town of Parassala. A rural area located below the Neyyar Dam, Parassala is surrounded by canals and ponds filled with water from the Neyyar river, leaving the town green most of the year.
– Since 2016, a joint effort by the Haritha Keralam Mission and the state Agriculture Department under the 'Thalir' project has encouraged farmers, self-help groups and Kudumbashree units to start cultivation in barren and unused lands in nine gram panchayats in the constituency. Haritha Keralam is a mission integrating waste management, organic farming and water resources management. https://www.thenewsminute.com/article/agri-revolution-story-keralas-first-barren-land-free-constituency-117445  (04 Feb. 2020)
Tamil Nadu Learnings from an Irrigated Agriculture Management Project Abstract: In Tamil Nadu, the extreme variation in rainfall had reduced the availability of water to agriculture and caused the groundwater table to fall by 37%. The production of rice, an important crop, had become particularly precarious. A well-designed upscaling strategy boosted and sustained the production of rice; it also helped the build-up of organic matter and improved soil fertility. This experience shows that the System of Rice Intensification offers an attractive opportunity for increasing food production per unit of water and improving efficiency.  https://www.epw.in/journal/2020/2/special-articles/sustainable-sri-and-rice-production.html (11 Jan. 2020)
HYDRO POWER PROJECTS
Arunachal Pradesh Lower Subansiri HEP wrongly claimed near completion This seems to parrot the official line, but provides a misleading picture.  https://thediplomat.com/2020/02/controversial-hydel-project-in-indias-northeast-on-way-to-completion/  (06 Feb. 2020)
DAMS
Pancheshwar Dam  India Budget allocates funds to finalise DPR The Indian government through its budget for 2020-21 has allocated INR 7.5 billion to finalise the detailed project report (DPR) of the Pancheshwar Multipurpose Project (PMP) and also to prepare DPR of the Sapta Koshi High Dam project and Sub-Koshi Diversion Project. The budget has stated that it will also cover the Sunkoshi-Marin Diversion Project, which is being developed for flood control purposes. On December 1 last year, high-level officials from both countries had agreed to extend the tenure of the team of experts of the PMP by one year to December 2020 to finalise the DPR of the PMP.
– On Kosi project, the 16th meeting of the joint team of experts was not able to make any concrete decision regarding the DPR of the project, among other issues. The meeting had reviewed the progress made in areas of environmental impact assessment studies, resettlement and rehabilitation plan, Glacier Lake Outburst Flood studies, power potential studies, power system and power evacuation studies and drilling activities at Koshi High Dam site. https://thehimalayantimes.com/business/india-allocates-rs-12-billion-to-finalise-dpr/   (03 Feb. 2020)
Himachal Pradesh 5 decades on, Pong Dam oustees await rehabilitation Even after five decades, more than 8,000 families displaced due to the construction of the dam are awaiting rehabilitation.
– Resettlement of the affected people due to development projects is not a happy experience anywhere, but in this case, it is complex and painful—here the land donor state is not a beneficiary of irrigation facilities or electricity.
– The construction of the dam started in 1961 on the Beas near Pong village in Kangra district (then a part of Punjab), so that waters from its reservoir could be taken to the desert lands of Rajasthan and feed the extensive network of canal irrigation system there.
– A total area of 75,000 acres, spread over 94 villages in Nurpur and Dehra tehsils, was acquired for the reservoir. Of the acquired 339 tikkas (revenue estates), 223 were submerged fully and 116 partially, displacing 20,722 families and 1.5 lakh population. The submerged area was the most fertile in Kangra district called Haldoon (granary) Valley. https://www.hindustantimes.com/chandigarh/five-decades-on-pong-dam-oustees-await-rehabilitation/story-RxeZbd7EPZ2sHt0gF3sNyM.html  (21 Jan. 2020)
Rajasthan govt rejects claims of 5,442 Pong Dam oustees On Nov. 2, 2018 Rajasthan Govt had rejected the claims of 5,442 Pong Dam oustees, it is learnt. The issue cropped up at a meeting of a high-powered committee, comprising representatives of Himachal Pradesh, Rajasthan and the Union Government.
– The Rajasthan Govt maintained that of the 16,300 oustees 'recognised' by Himachal Pradesh, they had not received claims by these 5,442 oustees. Hence, it was not liable to pay compensation to them. The Himachal Government, on the other hand, maintained that it had submitted the claims of all oustees to Rajasthan time and again. About 51 per cent Pong Dam water goes to Rajasthan's Sriganganagar and Bikaner districts.  https://www.tribuneindia.com/news/archive/rajasthan-govt-rejects-claims-of-5-442-pong-dam-oustees-680881  (10 Nov. 2018)
Polavaram Project Odisha govt files affidavit against dam in SC The Odisha government has submitted a 71-page affidavit before the Supreme Court seeking stay on construction works of Polavaram project. The Odisha government brought to the notice of Supreme Court that the maximum flood flow at the project site is much higher than the AP government's projections. It stated that there is no clarity over the extent of land to be submerged in Odisha state on account of Polavaram project.
– Quoting a team of experts from IIT-Roorkee, which conducted its survey at the project site, the Odisha government claimed that the flow would peak at 58 lakh cusecs at the time of floods. It further said that if the survey report are correct, the area along Sabari and Sileru in Odisha state would be submerged as water level would rise to 200 feet. In such a scenario, the Polavaram dam would not be able to withstand such an extent of floodwater since the design spillway capacity is 50 lakh cusecs, up from 36 lakh cusecs mentioned in Tribunal award. The Odisha government further said that the number of villages to be submerged was initially put at 412 in 2005 and the number was reduced to 371 in 2017. There is no clarity on the number of villages to be submerged, it said. Keeping in view the injustice that can potentially be caused due to the Polavaram project, the Supreme Court should pass orders staying construction of the project, the Odisha government appealed. It expressed concern over the possible problems created by backwaters due to collection of silt and asked the apex court to conduct backwater study for calculating the maximum flood level. https://www.telugu360.com/polavaram-shocker-to-ap-odisha-govt-files-affidavit-in-supreme-court-against-project/  (09 Feb. 2020)
Kerala KERI study says around 30 million cubic metres of sediment is needed to be removed from the Malampuzha dam. It estimated that 8 million cubic metres of sand could be extracted, which would allow the government to earn ₹ 800 crore from the sale of river sand. ( The Hindu, 10 Feb. 2020) 
INTERLINKING OF RIVERS
Godavari-Krishna Link Projects Water balance at Inchampalli not acceptable for Telangana: Centre The water balance at the Inchampalli Dam site on the Godavari basin for the proposed Godavari-Krishna Link Projects is not acceptable for the Telangana government, said Union Minister of State for Jal Shakti, Rattan Lal Kataria in the Rajya Sabha on Feb 3, 2020. He added that the National Water Development Agency (NWDA) had prepared a detailed project report (DPR) for the Godavari(Inchampalli/Janampet) and Cauvery (Grand Anicut) Link Project consisting of three links — namely Godavari (Inchampalli/Janampet) and Krishna (Nagarjunasagar), Krishna (Nagarjunasagar) and Pennar (Somasila), Pennar (Somasila) and Cauvery (Grand Anicut).
After the completion of the report, the NWDA had sent it to the party states in March, 2019. As per the draft DPR, the link project would be of benefit to about 9.38 lakh hectares of land in Telangana, Andhra Pradesh and Tamil Nadu. Of the seven states concerned, four states have furnished suggestions/comments on the draft DPR.
– "No project involving the inter-linking of rivers has reached the implementation stage yet," he said.  https://www.newindianexpress.com/states/telangana/2020/feb/04/water-balance-at-inchampalli-not-acceptable-for-telangana-rattan-lal-kataria-2098759.html  (04 Feb. 2020)
URBAN RIVERS
Rispana, Bindal Dehradun MMDA's riverfront development project hit roadblock The ambitious plan of the Mussoorie Dehradun Development Authority (MDDA) to develop the riverfront of both the Rispana and Bindal rivers has hit another roadblock as the proposal to transfer the land rights to the authority has been pending with the state govt since Jan 2019.
– According to senior officials of MDDA, the authority has the management rights of the land but the ownership has to be granted by the state government. "As long as we do not have the ownership rights of the land, we cannot continue with the project. We had sent a proposal to the government in January but the government is yet to give us the ownership," an official said. MDDA vice-chairman Ashish Kumar Srivastava however said that they are hopeful that much of the formalities for transfer of land rights will be completed very soon. "A committee under the chairmanship of the chief secretary has been formed for the transfer of land rights and the proposal is expected to be introduced before the cabinet very soon," he said, adding that the project may start within a month.
– The project which aims to develop around 17 km area of Rispana and 19-km of Bindal has been a flagship project of the MDDA. On pilot basis, the authority is planning to develop a 1.7-km stretch of Rispana and 2.5-km-stretch of Bindal at a cost Rs 750 crore. However, the project has faced many roadblocks since its inception. First, no party was interested in taking up the project as the authority received just one bid even after floating the tenders thrice, finally settling for NBCC, the lone bidder and a central government PSU.
– MDDA has been planning to develop the riverfront along the lines of Sabarmati riverfront in Gujarat and has signed an MOU with NBCC to execute the project. The authority has also hired Sabarmati Riverfront Development Corporation for technical assistance on the project. However, all these steps were taken in 2018 and since then, no major development has happened. https://timesofindia.indiatimes.com/city/dehradun/now-mddas-riverfront-devp-project-hits-land-roadblock/articleshow/71070899.cms  (11 Sept. 2019)
270 acres of river land encroached in Doon valley: DM About 270 acres of riverbed and bank area has been encroached upon in the Dehradun valley. The Dehradun District Magistrate acknowledged this in an affidavit submitted in the High Court of Uttarakhand during hearing in a case pertaining to encroachment in rivers, lakes and nalas in Dehradun. In its report submitted in the court, the Government has averred that the encroachers are being identified and removed. Objecting to this, the counsel for the petitioner alleged that in the name of anti-encroachment drive, the poor are being targeted while encroachments by the influential persons are not being touched.
– Hearing the arguments, the division bench of chief justice Ramesh Ranganathan and justice Alok Verma directed the petitioner to file a counter-affidavit in the court. The municipal councillor of Rajpur in Dehradun, Urmila Thapa, had filed PIL in the High Court stating that ravines and nalas in Rajpur area had been encroached upon and constructions made in such areas. In the course of the hearing, the Dehradun District Magistrate submitted an affidavit stating that 270 acres of river land has been encroached upon in the Doon valley. This includes about 100 acres encroached in Dehradun, 140 acres in Vikasnagar, 15 acres in Rishikesh and 15 acres in Doiwala. Responding to this, the petitioner stated that the area encroached upon is as big as 205 football fields. https://www.dailypioneer.com/2019/state-editions/270-acres-of-river-land-encroached-in-doon-valley–dm.html  (23 Nov. 2019)
Ranipur Rau; Haridwar For years, civic agency dumping MSW in river Indiscriminate waste dumping, going on for several years now, has been contaminating the seasonal Ranipur Rau river, which flows through the Rajaji Tiger Reserve in Haridwar. According to locals, Shivalik Nagar municipal committee has been using the river to dump unsegregated plastic and other domestic wastes. This polluted river later meets the Ganga river in Laksar.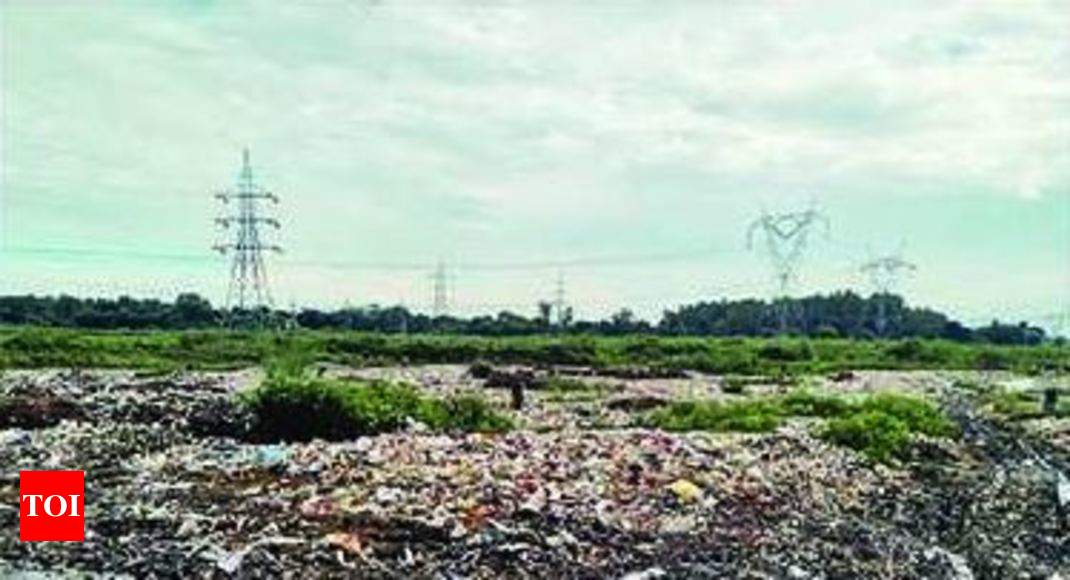 -While officials of Shivalik Nagar municipal committee blamed the residents of BHEL Township for dumping waste into the river,, BHEL Township administrator Naveen Uniyal termed the accusations as baseless. Incidentally, neither Shivalik Nagar area nor the BHEL Township has a solid waste management plant where waste can be dumped, segregated, and treated scientifically.  https://timesofindia.indiatimes.com/city/dehradun/waste-dumping-polluting-ranipur-rau-river-in-haridwar/articleshow/71411862.cms  (03 Oct. 2019)
Shimla Sewage polluting streams, water supply "Some locals shared these videos with HW complaining that untreated sewage from the treatment plant built on a khud (near Shimla Havens Hotel) in Summerhill, Shimla, is being released. Water of this khud is later lifted for drinking and irrigation purpose." https://twitter.com/HimachalW/status/1223261648988725248  (31 Jan. 2020)
Hindon, Greater Noida Untreated industrial effluents being discharged in Hindon river continuously as seen today at Momnathal village, Greater Noida. The villagers heath livelihood has been suffering in multiple ways. They have previously complaint to CPCB but nothing has changed. After some random tests, no action taken report, no solution, things fall back to business as usual. https://www.facebook.com/sandrp.in/videos/786830441821945/?t=7  (05 Feb. 2020)
Comments on SANDRP FB post:- Paras Tyagi Sadly, the noose of urbanization is killing the very community those provided the land and other resources for development.
Varun Gulati One can find these situation everywhere…even you can find several grossly polluted industries in Delhi which are discharging untreated effluent in drains and sewers without treating it…even our CETP are not capable enough to clear this contaminated water , you can find cadmium, lead and mercury in that water which is being treated through CETP , due to these metals found people getting affected through respiratory diseases, reproductive abnormalities, kidney failure and cancer, these industries I am mentioning comes under red category but DPCC is issuing them consents under orange category for some monetary favours…. I have several evidence to show but DPCC is not interested to curb pollution but getting pockets filled with piles of money from polluters.
Gomti, Lucknow "Mapping of the river Gomti and the floodplains started. Thank you NGT for this great step."
Harmu, Ranchi  https://twitter.com/MishraVn/status/1226447223648587776
RIVERS
Third (Marathi) article by Parineeta Dandekar in series "Baragaoncha Pani".  https://www.loksatta.com/bara-gaoncha-pani-news/living-lessons-of-river-revival-abn-97-2079233/  (08 Feb. 2020)
Parineeta Dandekar of SANDRP participating in this edition of River Dialogues held at India International Centre, Delhi on Feb 7, 2020, along with Bengali author Sumana Roy. It was moderated by Author and Journalist Kishalay Bhattacharjee.
Assam Fishing, agriculture impacted by burning river in Upper Assam: Residents More details about RIVER ON FIRE near Dibrugarh on one of the tributaries of Buri Dihang, which turn is tributary of Brahmaputra. https://www.downtoearth.org.in/news/environment/fishing-agriculture-impacted-by-burning-river-in-upper-assam-residents-69155  (04 Feb. 2020)
Himachal Pradesh One of biggest rivers of Sirmaur, Jalal dries up before meeting Giri Due to increasing demand, delayed monsoon, 7 km stretch of Jalal river before it merged with Giri river, dried up, in July 2019. The ecologists blame it partially on climate change and rest on mismanagement by local residents and authorities. Ecologist and founder of local organization People's Action for People in Need, Kuldeep Verma, "The water flow was decreasing in the river since past couple of years which has been aggravated by the late monsoon. Though with few showers, the river is likely to get some flow. However, it had never dried up like it did this year. It is a matter of grave concern."
– He said that that water availability in the Jalal has much to do with the water discharge from glaciers but also to the gross misuse by the locals. "A number of hotels and small eating outlets have mushroomed in the city, who extract water from the river through tankers for their daily needs. Similarly, new residential colonies and commercial buildings are being constructed around the stream for which river water is used without any restriction," he said.
-The ecologists also feel that as the local people stopped agriculture practices and took to hotel business or tourism at large so they stopped bothering about the river. The green fields which were helping in water recharging were replaced with concrete buildings. "People don't seem to be bothered or mindful about the river disappearing as they feel it is happening because of harsh summer or scant rainfall. They don't see that wrongdoing by humans is much more responsible for it and they can do something by acting on this issue. Unfortunately, people are busy going to the buzzing market areas or boarding buses for their destinations at the bus stand while few notches down the bridge, Jalal has dried up silently," said Verma. https://timesofindia.indiatimes.com/city/shimla/jalal-one-of-biggest-rivers-of-sirmour-dries-up/articleshow/70150685.cms  (10 July 2019)
CAUVERY Tamil Nadu Govt declares Cauvery delta a protected agricultural zone CM on Feb. 9 said eight Cauvery delta districts including the rice bowl, Thanjavur, will be categorised as a special protected agricultural zone and assured that permission will not be given for hydrocarbon projects. Asserting that steps will be taken to enact a separate law to confer the protected status to the delta districts, he said here that only agro based industries will be encouraged on a need basis in the river Cauvery fed regions.
-CM's announcement assumes significance in In the wake of continued opposition to projects like those involving hydrocarbon at places, including Neduvasal in Pudukottai district. Apparently referring to opposition from farmers to oil exploration and extraction projects in the delta region, Palaniswami said he understood the travails of riots since he himself was a farmer. To guard the delta areas and end farmers' ordeals, the special protection will be bestowed on Thanjavur, Tiruvarur, Nagappattinam, Pudukottai, Cuddalore, Ariyalur, Karur and Tiruchirappalli districts, he said. Making the announcement, he assured that permission will not be given for any new projects like those related to hydrocarbons. "We will not give permission for any project that may affect the livelihood of farmers," he said. https://www.hindustantimes.com/india-news/tamil-nadu-declares-cauvery-delta-a-protected-agricultural-zone/story-Xu1rVqg7eFoJza6wrKrJAK.html  (10 Feb. 2020)
– Mr. Palaniswami said the State government would hold consultations with legal experts, and steps would be taken to enact special legislation. "The Cauvery delta region is an important agriculture region in Tamil Nadu and farmers continue to do agriculture, despite climate challenges. It is just and reasonable that projects like hydrocarbon exploration have raised concerns among farmers and other agriculture-based labourers. Since the delta region is close to the sea, there is a need to safeguard the region. To ensure that agriculture is not affected, the Cauvery delta regions in Thanjavur, Tiruvarur, Nagapattinam, Pudukottai, Cuddalore, Ariyalur, Karur and Tiruchirapalli will be converted into a Protected Special Agriculture Zone," he announced. https://www.thehindu.com/news/national/tamil-nadu/cauvery-delta-to-be-declared-a-protected-agriculture-zone/article30778695.ece  (10 Feb. 2020)
GANGA Uttarakhand Forest fire, tourism causing Gangotri Glacier to melt faster
The concentration of black carbon on Gangotri glacier has almost doubled in the past few years primarily because of the raging forest fires, said a research done by Dehradun-based Wadia Institute of Himalayan Geology. https://www.hindustantimes.com/india-news/forest-fire-tourism-cause-of-high-black-carbon-concentration-on-gangotri-study/story-ct8hG6TQxTqVYC6rLQl0sL.html   (04 Feb. 2020)
Avalanche in Uttarkashi village blocks flow of Ganga-Bhagirathi river With temperatures soaring in the hills, an avalanche took place near Mukhba village in Harsil valley of Uttarkashi district on March 29, 2019 afternoon and blocked the flow of Ganga-Bhagirathi river for nearly 10 to 15 minutes. However, no one was reported injured and the water current washed away large chunks of ice subsequently. Meanwhile, Hrasil valley recoded maximum temperature at 14 degrees Celsius and minimum at 5 degrees on same day. Notably, the IMD had a day ago predicted rise in temperatures across state from the first week of April.  https://timesofindia.indiatimes.com/city/dehradun/avalanche-in-uttarkashi-village-blocks-flow-of-ganga-bhagirathi-river/articleshow/68637144.cms  (30 March 2019)
YAMUNA Delhi NGT allows DMRC to construct bridge on flood plains NGT has allowed the Delhi Metro Rail Corporation (DMRC) to construct a bridge on the Yamuna flood plains under Phase-IV of the project. The tribunal passed the order after noting the recommendations of the Principal Committee which said that the project can be approved subject to certain conditions. The tribunal does not have any assistance to any rival viewpoints to deal with the present issue so as to go into any possible objection to legality – substantive or procedural, it said.
To ensure further environmental safeguards for river Yamuna and its flood plains on account of such activities in future, besides individual evaluation of such projects on environmental yardstick, cumulative impact assessment (CIA) is required to be carried out, it said. CIA would be able to capture holistic picture in terms of impact of such future developmental activities and the required mitigation measures, it added.
"The Principal Committee may also consider setting up of artificial wetlands, bio-diversity parks and other necessary mitigation measures, including phyto-remediation at the mouth of drains leading to the river, at the cost of project proponents. The study may be got conducted by Principal Committee, by apportioning the cost amongst project proponents based on quantum of development and their environmental footprints," the bench said. The Principal Committee had recommended that all the construction activities should be carried out by DMRC with minimum effect on the flood plains. https://www.livemint.com/news/india/delhi-metro-phase-4-ngt-allows-dmrc-to-construct-bridge-on-yamuna-flood-plains-11580981446056.html  (06 Feb. 2020)
RIVERS BIODIVERSITY
SAND MINING
Odisha RTI activist found dead in Kendrapada This is fourth such murder in the month of Jan. 2020:-  A 40-year-old RTI activist was found dead in Kendrapada early on Feb. 1. Police suspect that Ranjan Kumar Das, convener of the district unit of Odisha Suchana Adhikar Abhijan, was killed by some miscreants on Jan. 31 night. His body was found on a road in Berua village under Marsaghai police station in the district. It bore several injury marks. Many social workers and RTI activists too suspect that he might have been killed as he had raised his voice against illegal sand quarrying, brick kiln owners and some allegedly venal NGOs and officials in the district and its nearby areas.
– An RTI inquiry filed by him two years ago had exposed the illegal construction of a tourist resort by government-run Odisha Tourism Development Corporation (OTDC) in Kendrapada's Bhitarkanika National Park. Das had brought to the fore the brazen violation of law by OTDC in building a tourist resort in the park's core area where no such construction is allowed. "Last year, Das had blown the lid off the embezzlement of about Rs 25 lakh of the integrated coastal zone management (ICZM) funds by an NGO in the district in a clear nexus with the forest officials of the Bhitarkanika National Park by not planting mangrove trees in the forest," Amarabara Biswal of Kendrapada, said.
– "On December 10 last year, RTI activist Abhimanyu Panda (54), who was spearheading an anti-liquor movement was shot dead in broad daylight at Baliguda in Kandhamal district. In 2015, two RTI activists Krupasinghu Sahoo and another one from Niali block in Cuttack district were also killed. In 2014, RTI activist Ganesh Panda was killed," Pradeep Pradhan the state convener of Odisha Suchana Adhikar Abhijan, said. https://timesofindia.indiatimes.com/city/bhubaneswar/rti-activist-who-protested-against-illegal-sand-mining-found-dead-in-kendrapada/articleshow/73852437.cms  (02 Feb. 2020)
Andhra Pradesh Illegal procurement of sand continues unabated in Chittoor In spite of the new sand policy of the government in force, the illegal procurement of sand and its transport is going on unabated in V.Kota mandal of Palamaner Assembly constituency.
– Farmers of a dozen of villages abutting rivulets and streams expressed their concern that indiscriminate lifting of sand to the tune of hundreds of tonnes every day and leaving huge pits in the rivulet beds would endanger the groundwater table.
– Farmers at Pamuganipalle observed that almost all the villages in V.Kota mandal are facing the problem of depletion of groundwater. While most of the district saw good rainfall during the north-east monsoon, it was either nil or deficient in V. Kota and surrounding mandals, up to Kuppam. Several farmers and household members dug borewells till more than one thousand feet to fetch water, but in vain.
– As per reports, the illegal sand transport operators are said to be active at the areas of Pamuganipalle, Peddavanka, Gangamma Yeru, Enumula Cheruvu, Gonumakula Palle, Jetivanka, and rivulets connected to Palar river, apart from small rivulet and stream beds. Poor surveillance at the rural areas has enabled them to deploy tippers and private workers at their convenience to lift sand round the clock.
– The sand material from V.Kota mandal is finding its way through the markets in Karnataka, where there is a huge demand, the farmers alleged. Though some of them had brought it to the notice of the mines and geology department officials and the local police, no tangible steps were to be seen, they complained. https://www.thehindu.com/news/national/andhra-pradesh/illegal-procurement-of-sand-continues-unabated-in-chittoor/article30727418.ece  (03 Feb. 2020)
Illegal quarrying, transportation of sand rampant in Kadapa Despite CM YS Jagan Mohan Reddy is keen on preventing illegal quarrying and transportation of sand in the district it was unabated due to various reasons. Seizure of 56o tones of sand on 31-1-2020 conducting raids by Vigilance& Enforcement officials on sand dump at Amritha Nagar area in Prodaturu town witnessed the intensity of the situation.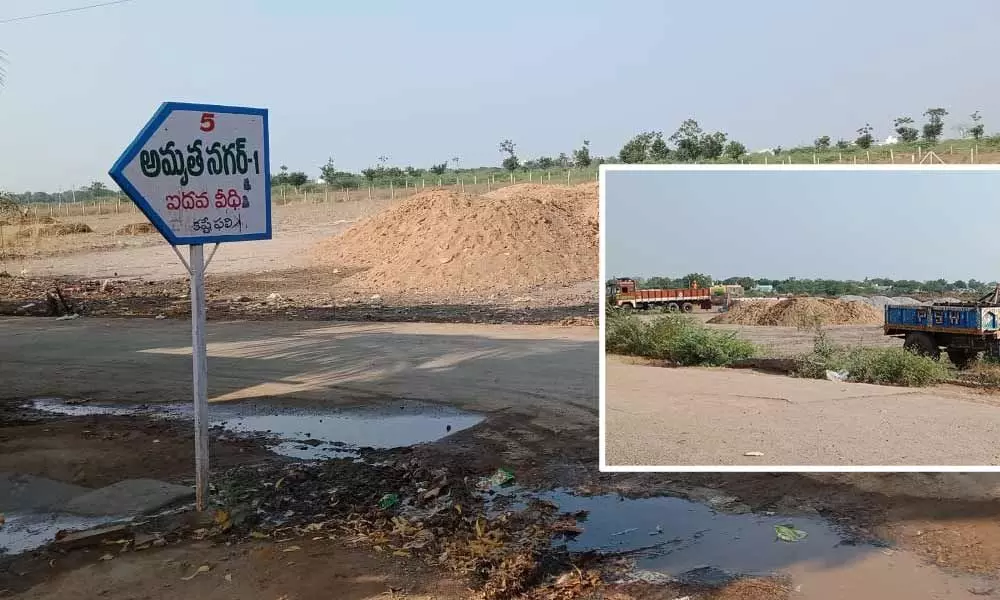 – "Though it is an open secret official least bothered over the issue because as they turned behest at the ruling party leader. I myself take pains by informing the matter over hiding sand dump at the Amrutha Nagar in Proddaturu. There number such dumps in various pockets in the district as no one feel responsible. Twice week sand is being illegally transported to Bangalore and Chennai but no one feels responsible said BJP Proddatur town convener G. Srinivasulu to Hans India.
– "We are spending sleepless nights due to illegal quarrying of sand day and night from Penna river. In case we tried to restrict the smugglers we should face dire consequences from them. There are several instances that villagers being manhandled by sand mafia when tried to stop the illegal quarrying" said A.Prathap Reddy Mudhunuru mandal told. https://www.thehansindia.com/andhra-pradesh/illegal-quarrying-and-transportation-of-sand-is-rampant-in-kadapa-district-603368  (07 Feb. 2020)
Himachal Pradesh Thural villagers protest land lease for mining Hundreds of villagers in Thural on Dec. 31, 2019 protested the decision of the state government for allotting a part of the Neugal for mining saying that it would be a health hazard. Villagers in a large number assembled at Thural and threatened dharna if the authorities would not cancel the site inspection conducted by the SDM, Dheera a day earlier.
– Later, a deputation of residents of Thural, headed by ex-MLA Jagjivan Pal, called on DC, Kangra, Rakesh Prajapati and submitted him a memorandum, demanding the cancellation of land lease for mining. They told the DC that if mining was allowed, it would result in large scale environmental degradation and pollution. It would also damage the water supply schemes, water-running saw mills and cremation ground. The DC assured them that he would respect public sentiments and no mining would be allowed.
– Information gathered by The Tribune revealed that the NGT had banned mining in the Neugal for three years. Therefore, no part of the river could be leased for mining. Besides, the High Court had also directed the government that no land could be leased without public auction. https://www.tribuneindia.com/news/thural-villagers-protest-land-lease-for-mining-19995  (01 Jan. 2020)
Uttarakhand Activists to approach court over govt decision of increasing mining depth limit from 1.5 m to 3 m at riverbeds Ajay Gautam, who has filed multiple public interest litigations in Uttarakhand High Court regarding ecology, environment including cleanliness of Ganga river said, "The decision is going to hurt rivers of Uttarakhand and will prove harmful for Uttarakhand in long run. The disaster of 2013 was a warning for us but the government seem to have forgotten that."
– In March 2017, Uttarakhand High Court had directed the state government to take a strict stand on illegal mining and put a stop on such activities in Kosi and Dabka riverbeds with immediate effect.
In August 2018, Uttarakhand high court had directed the state government that no licenses be issued for establishing stone crushers/ screening plants till further orders, without assessing the carrying capacity of Kosi and Dabka rivers.
In July 2019, the HC had directed the state government and state forest development corporation to inform the court about the steps taken to check illegal extraction of river-bed material from the Kosi river a Kumaon river that originates in Almora and flows through Ramnagar. https://www.newindianexpress.com/nation/2020/feb/05/activists-to-approach-court-over-uttarakhand-increasing-mining-depth-limit-from-15-m-to-3-m-at-rive-2099442.html  (05 Feb. 2020)
WETLANDS, LAKES, WATER BODIES
Manipur Loktak Lake chokes from a catastrophic project flagged off 50 years ago How NHPC's 105 MW hydropower project destroyed the Loktak lake, a Ramsar site. Loktak is not just a lake. For Manipuris she is Loktak Lairembi (Goddess Loktak), and for the several thousands of fishermen who depend on her for their livelihood, she is ema (mother). And although she is the fountainhead of Manipuri culture, her own identity has been in a state of flux for decades.
– Legend has it that Loktak was formed when gods wooed the valley's people. The lake has witnessed the very idea of Manipur take shape. It was on its shores that the beloved Meitei folklore of princess Thoibi and Khamba and their timeless romance came to life. Poubi Lai, a mythical creature integral to the Meitei belief system, is believed to reside in the heart of the lake. https://www.thehindu.com/sci-tech/energy-and-environment/manipurs-loktak-lake-chokes-from-a-catastrophic-project-flagged-off-50-years-ago/article30759633.ece  (08 Feb. 2020)
Kerala Vembanad stifling under human intervention, gasps for breath For the majority who depend on it, Vembanad Lake now provides no more than a meagre living as the fish wealth is getting depleted by about 7,500 tonnes every year. As per estimates, about six to seven lakh people are dependent on the lake system for a living even as the number of fish species has declined markedly over the years. The annual Vembanad Fish Count (VFC) conducted by the Ashoka Trust For Research in Ecology and the Environment (ATREE), in collaboration with the Kerala University of Fisheries and Ocean Studies, in the past two years noted a steady decline in diversity of almost all kinds of fin and shell fishes.
– While the VFC in 2018, carried out at six locations – three each on the north and south of the Thannermukkom bund- recorded 117 fish species, the number fell to 98 last year. Of the total species spotted in 2019, 50 were found in the northern side and 48 in the other. "Even if seasonal and spatial factors are to be considered, the difference is huge when compared to the 153 species recorded in a study in 1980," explained Anu Radhakrishnan, programme officer of ATREE. This sharp fall is primarily attributed to the annual closure of the bund, which causes disruptions in the hydrological cycle, sedimentation, and compromises migration of fish from the ocean.
– "The silt that reaches the lake bed through the river affects organisms in the deeper habitats, forcing them to move out. Adding to this is the widespread use of stake net in the Kochi side during high tide, which scoops up even the brooding organisms," added Mr.Radhakrishnan. Of greater concern are the unrestrained extraction of the fishery and high toxic situations caused by agro-chemicals in the run-off water and petrochemical exhausts from boats, leading to biodiversity loss. A recent study by the Kerala University of Fisheries and Ocean Studies in the 76.5 sq km Alappuzha-Thannermukkom sector of Vembanad reported 4,276 tonne of plastic garbage in the bottom sediments, which works out to 55.9 tonne per sq/km.
– The study also pointed to the shrinking depth profile of the lake, from eight to nine metres in 1930s to the present 1.6 to 4.5 metres. As Vembanad, stifling under human intervention, gasps for breath, experts have called for urgent intervention by the authorities concerned in conserving the wetland system, which covers an area of over 2,033.02 sq km. https://www.thehindu.com/todays-paper/tp-national/tp-kerala/vembanad-stifling-under-human-intervention-gasps-for-breath/article30779394.ece  (10 Feb. 2020)
– The Budget proposes to get Vembanad Lake rid of plastic waste with the help of fisherfolk. Besides, the absorption capacity of the backwaters will be enhanced by mechanised lifting of muddy sludge from the backwater swamp. A sum of ₹10 crore has been earmarked for the purposes. https://www.thehindu.com/news/national/kerala/kerala-budget-2020-2400-cr-package-brings-cheer-for-kuttanad/article30765557.ece  (07 Feb. 2020)
Punjab Water hyacinth not the only threat to Kanjli biodiversity Kanjli Lake in a Ramsar site is under threat of several invasive species. https://www.tribuneindia.com/news/water-hyacinth-not-the-only-threat-to-kanjli-biodiversity-35079  (03 Feb. 2020)
Fall in number of winged guests at four wetlands The annual waterbird census conducted from January 4-22 revealed that barring two wetlands, the bird count had gone down in the remaining four. The census was carried out in Nangal, Ropar, Ranjit Sagar Conservation Reserve, Keshopur-Miani community reserve, Harike and Kanjli. There has been a drop of about 25 per cent in the number of migratory birds at the region's largest wetland — Harike, also known as Hari-ke-Pattan — this year as compared to the previous year.
– While rare sightings have increased in all six wetlands, the number of birds has declined as compared to the last year. However, department officials claimed that the changing weather and climate pattern across the world had hampered bird movement from Russia and other countries.
– As compared to the sighting of 6,113 birds of 26 species last year in Nangal, the count is down to 5,631, but with an impressive 52 species. In the Ranjit Sagar Conservation Reserve, the count was 1,529 birds of 53 species in 2020. Last year, it was 1,631 of 48 species. In the Keshopur-Miani Community Reserve, the count in 2019 was 23,023 birds (73 species) which declined this year to 20,883 (74 species). In Harike-Pattan, 91,025 winged guests were recorded this year against 1.23 lakh in 2019. Meanwhile, the birds' arrival in Ropar went up from the 3,034 (56 species) in 2019 to 3,808 birds (56 species) in 2020, while in Kanjli, 712 birds from 34 species were counted this year as against the 381 birds of 20 species in 2019. https://www.tribuneindia.com/news/fall-in-number-of-winged-guests-at-four-wetlands-32535  (29 Jan. 2020)
Drastic decline in avian guests at Harike wetland The region's largest wetland at Harike may not be the preferred destination of winged guests from overseas, if the latest bird census trends are any indication. The 2019-2020 survey of the Forest and Wildlife Preservation Department conducted by the World Wildlife Fund (WWF) in collaboration with various bird clubs pointed towards a "drastic" fall of around 32,000 birds in comparison to last year. The two-day survey conducted on January 18 and 19 with the assistance of bird club teams from Chandigarh, Amritsar, Faridkot, Jalandhar, Ludhiana and Jagriti Samiti, Nangal, has reported the total count to be 91,025 comprising of 94 species.
In 2018-19, the WWF had recorded 1,23,128 birds at the wetland. Every year, lakhs of winged guests from Siberia, Russia, Kazakhstan and other low temperature regions flock this bird sanctuary from mid-October to December as lakes freeze in their native regions in winters. The winged visitors stay here till March. Late arrival of winter apart from smog could be the reason behind the reluctance of the avian guests in choosing this region's wetland.  https://www.tribuneindia.com/news/drastic-decline-in-avian-guests-at-harike-wetland-30093  (23 Jan. 2020)
Uttar Pradesh 70% of Lucknow water bodies encroached: Research scholars During a visit to the water body like Haibatmau Lake, it was found that major portion of it has been filled with garbage and several housing colonies have come up on the lake. The raw sewage from these settlements is also being flown directly into the lake." Earlier, a team from the varsity went to map the Haibatmau lake near PGI and Kathauta Jheel near Chinhat and later they organised the workshop in Gomti Nagar to raise awareness about the importance of wetlands in sustainable urban future.
– "More than 70% of Lucknow's water bodies were encroached by illegal plotting. Water bodies like Moti jheel, Shautal jheel and Ekana wetlands are facing the onslaught of urban development. Wetlands and smart cities can co-exist, provided we give importance to wa  ter bodies in urban planning," said Venkatesh Dutta, a research scholar at the workshop.  https://epaper.hindustantimes.com/Home/ShareArticle?OrgId=5826d3d1&imageview=1&fbclid=IwAR3r51Y1AV9TBKIB0x7Jm7l5eYrgOstXDRU_0kCJM9FTFr4IzldXF7r0T7g  (3 Feb 2020)
Kashmir Massive Anti-Encroachment Drive To Clear Khushal Sar Lake  The Srinagar administration has begun a large-scale anti-encroachment drive in and around the Khushal Sar Lake in the older parts of the city. The drive began Feb. 1 with the removal of 25 structures and compounds and the subsequent retrieval of more than 30 kanals (approximately 3.75 acres) of lake area. According to officials this significant – and overdue – step followed extensive preparations over the past few months, including inspections, verification and notices to squatters and encroachers.
The drive will continue till the more than 300 structures that have been identified are removed and those areas of the lake are reclaimed, Deputy Commissioner Shahid Iqbal Choudhary was quoted as saying by news agency PTI, urging people to report all cases of land-grabbing and illegal constructions on public or government land and water-bodies. https://www.ndtv.com/india-news/massive-anti-encroachment-drive-to-clear-srinagars-khushal-sar-lake-2174140  (03 Feb. 2020)
Haryana Farmers want GMDA to raise dam to protect their land from perennial water-logging by open Najafgarh drain Farmers from 8 villages near the Najafgarh drain submitted a memorandum Badhshahpur MLA Rakesh Daulatabad on Jan. 2, asking for a dam to be built to prevent the drain overflow from inundating their agricultural land. The letter claimed that nearly 5,600 acres of agricultural land have been water-logged on the Gurugram-Delhi border along the Najafgarh drain.
– Around 388 million litres of sewage discharge from Gurugram meets Najafgarh drain through Badshahpur drain, effectively creating a lake on the land around it every year, they said. There is already a border on the Delhi side of the border. "We want the Haryana government raise a dam on the periphery of the border from the Gurugram side so that water does not spread onto our land. We used to cultivate on the land 15-20 years ago, but it is now water-logged and useless for us," said Ramesh Vashisth, a farmer from Budhera village.
– VS Kundu, chief executive officer, Gurugram Metropolitan Development Authority (GMDA) and Daulatabad, along with the group of farmers, visited the wetland on Jan. 2. "We requested Kundu for the visit so that the authority can think of raising a dam from the Gurugram side as well, so that farmers' land can be protected from being water-logged every year. Kundu also agreed that the land needs to be protected since farmers used to grow crops here until two decades ago. But the rising population of Gurugram and a consequent increase in sewage disposal has led to this being converted into a wetland," Daulatabad said. "Only by raising a dam can we can streamline water to flow into Najafgarh drain," he said, adding that he will also raise the issue in the state Assembly.
– Villages affected by waterlogging include Makdaula, Chandu, Budhera, Kherki Majra, Dhankot, Mohammad Hedi, Daultabad and Dharampur located on the outskirts of the city, roughly 2km from the Dwarka expressway. "We have also suggested that the GMDA divert the city's recycled water to the Gairatpur Bas side, as there is the possibility of developing a lake like area using recycled water, and will also reduce waterlogging on the Najafgarh side," Daulatabad said. https://www.hindustantimes.com/cities/farmers-want-gmda-to-raise-dam-to-protect-their-land-from-perennial-water-logging-by-open-najafgarh-drain/story-v3Az35jKSEtPkyCtKF6eGO.html  (03 Jan. 2020)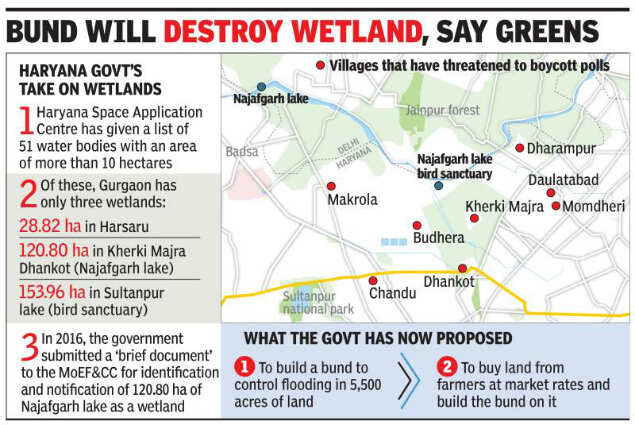 While govt remains tight lipped in declaring it as wetlands, such demands are being raised for past some times. In Jan 2019 state forest min Rao Narbir Singh had proposed to build bund on portion of marshes to reclaim land. https://timesofindia.indiatimes.com/city/gurgaon/najafgarh-lake-to-be-dammed-alarm-bells-ring-for-wetland-flooding-prone-city/articleshow/67373464.cms  (04 Jan. 2019)
Chandigarh 11 years on, Rs 73 crore not sought for Sukhna, HC asks why After 11 years and 120 hearings by 30 different benches, the Punjab and Haryana high court has reserved its judgment on the conservation of the Sukhna Lake catchment area. But the UT must explain why it waited so long to ask the Centre for help.
Passing the interim order on Jan. 16, the high court divison bench of Justice Rajiv Sharma and Justice H S Sidhu not only rapped the UT administration for its "lethargic attitude" that has delayed the sanctioning of Rs 73.51 crore but also gave it two weeks to reopen talks with the environment ministry for this de-siltation and catchment area treatment project. The bench told the ministry to look into matter and consider sanctioning the money.
– The bench also opined that the Chandigarh authorities must consider the method of dredging and take it to ground, where de-silting of the lake is an urgent requirement. It told the officials to divide the lake into blocks for the preservation effort of dredging. During the resumed hearing, the high court asked the UT administration why it had never tried dredging of the lakebed, to which the UT senior standing counsel replied that experts from the National Institute of Hydrology had stated in report that its was unviable.
– The high court also observed that its various order had failed to prompt the administration to bring about any tangible change to the state of the Sukhna catchment. It stressed that if the Sukhna was to be conserved and preserved, the problem of desilting must be solved. The Chandigarh administration cannot allow the situation to deretiorate. The UT wants a 2-km eco-sensitive zone in the Sukhna's catchments, while the Punjab government is trying to keep it to just 100 metres. https://timesofindia.indiatimes.com/city/chandigarh/sukhnas-11-yr-money-drought-hc-asks-why/articleshow/73309998.cms   (17 Jan. 2020)
Pondicherry Photographers highlight Puducherry's ecology On World Wetlands Day, as part of Pondicherry Heritage Festival 2020, a free photography contest was organised to raise public awareness on the cultural and natural heritage value of regional wetlands by the French Institute of Pondicherry, on the theme of Wetlands and Biodiversity in Tamil Nadu and Puducherry.
The contest included five categories: Landscape and Nature, Landscape and Humans, Fauna, Small Fauna and Flora. Here are the winners from each, as well as the grand prix winner across all categories. The photographs are on display at French Institute of Pondicherry, till March 2. https://www.thehindu.com/sci-tech/energy-and-environment/on-world-wetland-day-witness-the-wetlands-of-pondicherry/article30726812.ece/photo/3/  (03 Feb. 2020)
WATER OPTIONS
Chennai Once-dying lake restored by the community The Perumbakkam lake was facing damages due to dumping of garbage, construction rubble and water extraction through wells. Alarmed over the deteriorating condition a group of residents made efforts to stop sewage/ garbage dumping, prevent private suppliers drawing water from the farm wells.
– In October 2019, the lake got a makeover, centuries of mud deposit was scooped out and collected into a high bund along the open side of the lake. With the generous rainfall that followed, the lake basin filled up and plants grew on the sides as the water body waited for fish and birds to re-discover it. The 2-kilometre causeway is now a beautiful trail, whether you walk it for work or leisure. https://www.thehindu.com/news/cities/chennai/two-roads-diverged-on-a-narrow-bund/article30725171.ece  (03 Feb. 2020)
Puduthangal lake near Tambaram gets a new lease of life The water body, spread across 50 acres, was rejuvenated, thanks to the joint efforts of the Rotary Club of Madras, the Sun Foundation and the Care Earth Trust. Like several other water bodies in the southern fringes of the city, the Puduthangal lake was contaminated by the release of sewage and the dumping of trash. https://www.thehindu.com/news/cities/chennai/puduthangal-lake-near-tambaram-gets-a-new-lease-of-life/article30766486.ece  (08 Feb. 2020)
Assam Villagers building its own tank for safe water during floods Using traditional purification methods along with modern technology, the tank is expected to provide arsenic-free drinking water to 236 villages in Majuli island.
– "Clean, drinking water is probably the biggest challenge during the floods every year. And the small water bottles were not making much of a difference. I wondered how we could solve the problem," Haren Narah, a resident of Majuli, who has been a social activist for 15 years and was at one point the president of Takam Mising Porin Kebang, or the Mising tribe student union.
– Months later, the answer can be found in a patch of land 46-year-old Narah donated to his community. On it now is being built a community water tank of thousand-litre capacity. "The aim is to provide clean drinking water during floods to the 236 families of the five sapori (island) villages in Majuli and North Lakhimpur," says Narah.
– The tank, Narah hopes, will prove most useful during the annual flood season in July and August. A reinforced cement concrete (RCC) structure has the tank placed at 1.8 metres above ground level. It comes with a staircase and safety railing. The team is also testing the tank to see if the water is arsenic-free. "In Majuli, most areas have a high level of arsenic," says Narah.
– "We did some research on the traditional Mising houses of Majuli —1.8 meters is the safety mark, and most families store their belongings at that height." says Ankur Choudhury, an architect and faculty member at the North East Hill University, who helped design the tank. Choudhry and his partner Sneha Doijad were also involved in Maati Community's Living Art Festival 2020 — an art festival which promotes community engagement in Majuli.
– The architects, who have worked on a number of rural community projects, refer to the tank as an "indigenous knowledge-based water tank", which uses traditional water purification methods practised by the villagers — a three layered water filter consisting of coal from burnt timber or bamboo, small pieces of stone, and river sand. https://indianexpress.com/article/north-east-india/assam/how-an-assam-village-is-building-its-own-tank-for-safe-water-during-floods-6254793/  (06 Feb. 2020)
GROUNDWATER
India Water Portal Perils, politics and prospects of groundwater in India How can India change the game on groundwater management to deal with its overexploited aquifers?  https://www.indiawaterportal.org/articles/perils-politics-and-prospects-groundwater-india  (05 Feb. 2020)
URBAN WATER
Centre to bar domestic RO systems in places where tap water meets BIS norms MoEF has published a draft notification that effectively prohibits users from installing membrane-based water purification, mainly reverse osmosis, systems in their homes if the water has been sourced from a supply that meets the Bureau of Indian Standards' drinking water norms. https://www.thehindu.com/news/national/centre-to-bar-domestic-ro-systems-in-places-where-tap-water-meets-bis-norms/article30728356.ece  (04 Feb. 2020)
Comments on SANDRP FB:- Vishwanath Srikantaiah This is the most ridiculous state intrusion into homes. This will be policed ? How ? Hilarious if not for the tragic comic governance we have lapsed into. First we need universal connections of water supply in every home, second we need 24/7 water supply of BIS 10500 quality. Third we need to hold our institutions accountable to this. Fourthly we need to price water at ecological cost pricing. Then automatically RO systems disappear.
Himanshu Thakkar The toughest part is this, how do we achieve this: "Third we need to hold our institutions accountable to this."
Juhi Chaudhary Haven't read the piece but guess it's fair. NGT also had passed a similar ruling earlier. RO wouldn't be needed if salinity is under control and other forms of purifiers would do which don't waste water.
Iqbal Syed Not related, but they should seriously crack down on residential houses selling borewell water.
Bengaluru NGT cancels eco-clearance for Godrej high rise project near Bengaluru lake NGT on Feb. 3 cancelled the EC granted by SEIAA to Godrej Reflections (phase-1) and Godrej Lake Gardens (phase-2) project near Kaikondrahalli Lake in Bengaluru.
– P Ramprasad, who led the arguments against the EC given to these projects, told TNM, "The project was touching the lake on the southern side. It was in violation of environmental norms, municipal corporation norms and buffer zone regulations. Despite this, SEIAA granted permissions illegally. We challenged this before the NGT."
– There were 2 matters before the NGT regarding the environmental violations around the eco-fragile Kaikondrahalli Lake. The one pertaining specifically to the Godrej project was filed by HP Rajanna. The other, which is wider in scope and targets multiple structures around the lake for violating environmental norms, municipal rules, and buffer zone regulations was filed by the NGO MAPSAS. The NGT on Feb. 3 clubbed the two matters and pronounced the order cancelling the EC of the Godrej residential apartments.
– The advocate also alleges that in the past one year when the Godrej project was in the foundation stage, it has already tampered and endangered the ecology of the area. He placed these arguments before the NGT as well. "To build a high-rise apartment project, they need to excavate a large quantity of earth. That's what they have been doing since the past one year," he says.
– "There is a natural storm water drain whose the hydrology was altered because they were trying to cement the natural water stream itself. There are buffer zones along the natural water stream as well, where they were dumping waste. The environment load of the project is beyond the carrying capacity of the fragile ecosystem there. This tampered with the ecology and hydrology of the area," Ramprasad says.
– It's not just the Godrej project, but structures have also encroached on the Kaikondrahalli Lake as well as the lake's buffer zone. A joint inspection report pertaining to the environmental violations happening around Kaikondrahalli Lake was submitted to the NGT by a 4 member committee in September 2019. The committee consisted of members from the CPCB, Karnataka SPCB, BBMP and BDA. The report states that according to the Revised Master Plan 2015, there is a 30-metre buffer of 'no development' zone around water bodies. Apart from the Godrej project, the report alleged that many other establishments were also found to be within the Kaikondrahalli Lake buffer zone. These include the Renuka High School with playground and toilet, Sports Centre, Raksha Car Service, Kidzee School, some other shops and commercial establishments. Interestingly, all of these properties had obtained environmental clearances from SEIAA.
– MAPSAS's case was against all of the buffer zone violations around Kaikondrahalli Lake and restoration of the lake area. The NGT also ordered action to be taken based on the joint committee's report on the larger issue of violations in the buffer zone within one month, and also expanded the scope of the matter to the nearby Kasavanahalli Lake as well.
– As per MAPSAS the area between Kaikondrahalli and Kasavanahalli Lakes has been constructed on rapidly. This, even as two lakes had a valley zone marked under the Comprehensive Development Plan 2015. According to the Revised Master Plan 2015, a valley zone may only be used for laying down sewage lines, water treatment plants, roads, culverts, pathways etc. given that they do not obstruct the movement and course of the water.
– While Kasavanahalli Lake is the upstream lake, Kaikondrahalli is the downstream one. Due to the rampant construction, the surrounding areas have seen flooding during heavy rains as the rainwater doesn't make way directly into the lakes as it should have. Had the wetlands between the two lakes been left in the natural state, this would not have happened. https://www.thenewsminute.com/article/ngt-cancels-eco-clearance-godrej-high-rise-project-near-bengaluru-lake-117574  (05 Feb. 2020)
Lake pollution causing river pollution Once a pristine water body, the Chikkabanavara Lake is now fast turning into a dead lake. Earlier, the water was used for drinking. However, now it is no longer safe for consumption. It has turned into a dumping ground. Residents have complained about a foul stench emanating from the area but nothing has happened so far. They have pointed out if the lake is developed, it can become a model lake and also be a tourist spot. But the government needs to take the initiative. Additionally, this lake is also one of the catchment areas for the Arkavati River as the overflowing water reaches the river. With sewer water flowing into the lake unchecked, this can be potentially hazardous as it can pollute the Arkavati River, which is a tributary of Cauvery River. https://bangaloremirror.indiatimes.com/bangalore/civic/a-once-pristine-waterbody-is-now-a-dumpyard/articleshow/74049645.cms  (10 Feb. 2020)
City lakes awaiting aid The Bruhat Bengaluru Mahanagara Palike (BBMP), which recently received custody of lakes from Bangalore Development Authority (BDA) and the Forest Department, is facing staff crunch to handle the mammoth responsibility. The lake division, mostly consisting of civil engineers, also lacks manpower with expertise in ecology. https://bangaloremirror.indiatimes.com/bangalore/civic/city-lakes-are-awaiting-aide/articleshow/74015756.cms  (08 Feb. 2020)
BWSSB pushes for treated water As summer approaches, Bangalore Water Supply and Sewerage Board (BWSSB) is actively pushing the use of treated water for purposes other than drinking to reduce dependence on depleting groundwater and Cauvery water, which has to be pumped from outside the city.
-The board "intends to supply treated water through tankers of 6,000-litre capacity at a cost of Rs 360," which means customers pay 6 paise per litre of treated water. This water, the board argues, can be used for landscape irrigation, toilet flushing, construction, floor washing and air conditioning, and will reduce use of Cauvery or borewell water.
– At present, BWSSB has the capacity to treat about 100 MLD of sewage. Currently 90MLD – 60 at STP at Devanahalli; 10 at Yelahanka; 15 at Jakkur; 4 at Cubbon Park and 1.5 at Lalbagh – is being treated. BWSSB says the capacity can be enhanced once the demand goes up. And, all these STPs meet the standards set by the CPCB. https://timesofindia.indiatimes.com/city/bengaluru/bwssb-pushes-for-use-of-treated-water-in-bengaluru/articleshow/74039357.cms  (09 Feb. 2020)
Navi Mumbai Taloja residents reel under water crisis; CIDCO drags its feet More than 5,000 residents in Taloja phase 2 have been facing repeated disruption in water supply for past six months. Locals alleged that such instances keep happening once or twice a month.
– Taloja and Kharghar get 65 mld water against the requirement of 75 mld. Taloja, which Cidco has been planning as an extension to Kharghar, has many housing projects coming up in the node.
– Samdarshi Pali, 45, a resident from Taloja, said, "We are dependent on tanker water supply. Also, there is monopoly of few tanker water supply from whom we have to purchase water. Outside water tankers are not allowed." "Residents are forced to pay whatever amount they charge. The water source is not clean leading to health ailments," said Pali.
– Sudhir Chavan, 45, a resident of Arihant Amodini at Taloja, said, "In the past six months, we have paid around ₹18 lakh for tanker water supply. This is not a one-day problem but a perennial issue which we have been facing for six months." Activist Sudhir Dani said, "Cidco has failed in providing amenities in its node. They give permission to upcoming housing and other projects without planning for water supply and other civic amenities. It is always the residents who suffer."  https://www.hindustantimes.com/cities/taloja-residents-reel-under-water-crisis-cidco-drags-its-feet/story-UhdEUxQ3XZhXijR2n5f90H.html  (06 Feb. 2020)  
WATER
SANDRP Blog Water-Environment Sectors disappointment in Budget 2020 The Water & Environment sector, including the Agriculture, Environment & Forests, Urban Development, Ganga and & Other Rivers, Water Resources Ministry, Rural Employment Program and Rural Drinking Water Mission, seems to have seen disappointment from the allocations in Union Budget 2020-21 presented by the Union Finance Minister Smt Nirmala Seetharaman to the Parliament on Feb 1, 2020, most independent observers have concluded.  https://sandrp.in/2020/02/07/water-environment-sectors-disappointment-in-budget-2020/  (07 Feb. 2020)
India Spend Report 'Reducing Access To Water-Related Data Is A Regressive Move'  Key point: "Access to water data has reduced in the past year," he said, and called it a "regressive measure" that has hit civil society organisations and researchers. Unless the government provides access to data, their quality will not improve, he said.
– The separation between previously separate divisions such as the Central Ground Water Board (CGWB) and Central Water Commission continues. The existing dynamics I think will remain until there is an institutional change management. The erstwhile sections under the newly formed ministry will otherwise still run in silos.
– National Aquifer Mapping and Management Programme (NAQUIM) has not been able to provide anything useful to the scheme in terms of mapping groundwater at the gram panchayat scale. "… the incentive to move from extractive behaviour [in groundwater] towards management-dominated behaviour is very poor."
– Also, while 55 litres per capita per day is a humane quantity, the [government must plan for] competition from irrigation and industry, and plan for providing water in summers and during droughts. Thirdly, when long-distance pipelines are built based on water resources that are located far away, there is neglect of local water resources even if funds are provided for their maintenance. Experience from Gujarat also shows that due to muddy and unclean water, thousands of villages are rejecting surface water pipelines and going back to the local groundwater sources. Lastly, providing high-quality water at such scale is going to be a challenge unless the root cause of the contamination is addressed. One option could be to delink water for domestic use from drinking water, in which case only a small amount of high-quality drinking water needs to be provisioned.
– NAQUIM is better designed as a participatory initiative with barefoot geologists. But the progress of this programme is slow with very less transparency of information. The alternatives could have been to deploy a network of geologists, geophysicists along with barefoot and community-based workers to map aquifers. It is doable if we can involve relevant [government] institutions and colleges, take it forward as a one-time initiative over a course of two or three years. But it is difficult, particularly when an organisation [like CGWB] has not handled a project at a large scale which requires the involvement of many people. The data NAQUIM generates cannot be accessed and nothing much has materialised.
– Now hardly any data are granular and available on the IMIS. Also, it seems that earlier data have been changed. We have noticed that when we compare the data that we had accessed earlier and compare them to the data available for the same period now, they are different. We are back to the situation that existed a decade back and there is an urgent need to bring back data transparency.  https://www.indiaspend.com/reducing-access-to-water-related-data-is-a-regressive-move/  (03 Feb. 2020)
Centre Jal Jeevan Mission target is to add 11.5 million household tap connections by March 2021, an allocation of Rs 11500 Cr has been made for this in the 2020-21 budget, and low hanging fruits (incomplete schemes close to completion) is the strategy.
Maharashtra  Water plant on forest land: Dahanu villagers oppose MMRDA's bid to cut trees This struggle has all the elements of tribal deprivation, MoEF functioning not bothered about the judiciary, the environment governance institute created through an SC order that MoEF wants to dissolve, taking water supposedly meant for the tribals, but they never got it and now being taken for Urban areas that provide the worst example of water management. And the tribals are again trying to save the forest, the trees, the water and the environment governance.  https://indianexpress.com/article/india/water-plant-on-forest-land-dahanu-villagers-oppose-mmrdas-bid-to-cut-trees-6249738/  (04 Feb. 2020)
DELHI WATER
DJB told to test quality of water being used in parks Yamuna Monitoring Committee in a report to DJB asks for independent checking of quality of treated water supplied for irrigating parks, setting up decentralised STPs near parks as has been done by South Delhi MCD in Vasant Kunj and a few other areas. https://timesofindia.indiatimes.com/city/delhi/test-quality-of-water-used-in-parks-djb-told/articleshow/74051837.cms  (10 Feb. 2020)
Sanitation worker dies while cleaning sewer in Shahdara A 24-year-old sanitation worker died and another sustained injuries after they inhaled toxic fumes while cleaning a sewer without any safety gear in Shahdara area on Feb. 2, PTI reported. Police said the incident took place at the CBD ground in Karkardooma. A private contractor had hired five workers to lean a 15-feet-deep sewer. The work to clean the manhole was given by the Delhi Development Authority.
– A case was registered at Anand Vihar police station against the private contractor based on a worker's complaint. Their contractor allegedly told the workers that they would be paid Rs 350 per day for the job. Police said the contractor is currently absconding and an investigation has been initiated into the matter.  https://scroll.in/latest/951966/delhi-sanitation-worker-dies-while-cleaning-sewer-in-shahdara-another-critical  (03 Feb. 2020)
NGT prohibits construction of housing complex near DU NGT has once again restrained the real estate developer from any activity. Applying the "Precautionary Principle" of environmental law, the NGT on January 8 had directed Young Builders (P) Ltd in north Delhi that no construction activity should be carried out. The builder then challenged the order in the apex court, which set aside the order and asked the tribunal to expeditiously decide the matter.
– The plea challenged the order of the SEIAA granting EC for the housing complex located at 1 and 3 Cavalry Lane and 4 Chhatra Marg at Civil Lines here. It said EC could be granted by the Ministry of Environment and Forests and not by SEIAA as the project is within 10 km from a critically polluted area, notified by CPCB.
– "Najafgarh, Naraina, Wazirpur and Anand Parbat are critically polluted areas. The project is in Silence Zone being within 100 m from Delhi University and Patel Chest Institute. The area is in water scarcity zone. The sulphate content of groundwater is above the specified limit.
– "As per the project proponent's own report, the project is susceptible to subsidence and liquefaction during major earthquake. Geo-Technical investigation needs to be carried out which has not been done. Traffic plans/congestion filed by the project proponent with the application is based on the statistics of July 2011," the plea said. https://realty.economictimes.indiatimes.com/news/regulatory/ngt-prohibits-construction-of-housing-complex-near-delhi-university/73949840  (05 Feb. 2020)
On Jan. 28 the Supreme Court has set aside the direction of NGT ordering status quo on construction of housing complex adjacent to the Delhi University campus by Young Builders (P) Ltd. A bench, comprising Justices R Banumathi and AS Bopanna, said that when the counter affidavit along with the documents was available on record, a detailed consideration was necessary by the tribunal. Only if any further report was required, the question of constituting a committee would have arisen, the bench said. However, such consideration is not indicated in the NGT order before constituting joint committee for evaluation, it said. https://www.ndtv.com/delhi-news/top-court-sets-aside-ngt-order-on-construction-of-housing-complex-in-delhi-2171583  (29 Jan. 2020)
The NGT on Jan. 8 has ordered status quo on construction of a housing complex adjacent to the Delhi University campus.
Applying the "Precautionary Principle" of environmental law, a bench headed by NGT Chairperson Justice Adarsh Kumar Goel said evaluation of relevant data is required by a joint committee comprising representatives of the CPCB, MoEF&CC and IIT Delhi.
– "In the meanwhile, no further construction activity may be undertaken and status quo as on today may be maintained. It will be permissible for the applicant as well as to the project proponent to furnish their viewpoint to the Member Secretary, CPCB for consideration by the committee within two weeks," the bench said.
– The green body said CPCB will be the nodal agency for coordination and compliance. "The Committee may also undertake carrying capacity study of the area with reference to the project in question based on the relevant data. The study may be completed preferably within two months," the bench said. https://www.ndtv.com/india-news/national-green-tribunal-stops-housing-complex-construction-next-to-delhi-university-campus-2163277  (13 Jan. 2020)
ENERGY
Report Solar storage tariff spells trouble for coal The latest auction of storage-based solar project with assured peak-hour supply may have driven another nail into the coffin for coal by setting a world record for cheapest solar storage power — with the added commitment of almost round-the-clock supply costing 8 per cent less than thermal power to break the affordability barrier for storage-based energy solutions. In the latest instance, Hyderabad-based GreenKo won 900MW of the 1,200MW solar storage project auction by SECI Ltd. GreenKo quoted a peak tariff of Rs 6.12 per unit and average tariff of Rs 3.89 for 100MW and Rs 3.93 for 800MW. ReNew offered a peak tariff of Rs 6.85 a unit and average tariff of Rs 4.07. A SECI executive said ReNew was opting for battery-storage and GreenKo for pump-storage backup in Andhra Pradesh, Madhya Pradesh, Karnataka and Rajasthan.
– This works out to an effective peak tariff of Rs 6.37 per unit and off-peak rate of Rs 2.95. The average tariff of both peak and non-peak hours will work out to Rs 4.04, including trading margin. These compare well with the Rs 4.24 per unit tariff discovered at a recent auction of stressed thermal capacity auctioned for a tenure of three years by PFC and Rs 4.34 in a bidding round conducted by NHPC earlier. https://energy.economictimes.indiatimes.com/news/renewable/solar-storage-tariff-spells-trouble-for-coal/74054463  (10 Feb. 2020) 
Study India's national transmission grid must urgently modernise to increase rate of renewable energy adoption However renewable energy is intermittent, requiring balancing from peaking power supply, electricity storage like batteries and pumped hydro storage, and/or demand response technologies, as well strong interstate grid connectivity. The complexities of India's grid mean that transmission is a major hurdle and is materially slowing the adoption of renewable energy, the study mentions. https://energy.economictimes.indiatimes.com/news/renewable/indias-national-transmission-grid-must-urgently-modernise-to-increase-rate-of-renewable-energy-adoption-study/74054299  (10 Feb. 2020)
Centre 7,592 MW of renewable energy commissioned up to Dec 2019: R K Singh Minister of new and renewable energy, R K Singh, on Feb. 4 said about 7,592 MW renewable energy capacity has been commissioned in the year 2019-20, up to December 2019. "Another 34,160 MW RE capacity is under various stages of implementation. It is expected that renewable energy capacity addition in the year 2019-20 will exceed the capacity addition achieved in the year 2018-19, which was 8,532 MW," he said while replying to a question in the Rajya Sabha. https://energy.economictimes.indiatimes.com/news/renewable/7592-mw-of-renewable-energy-commissioned-up-to-dec-2019-r-k-singh/73936499  (04 Feb. 2020)
National Electricity supply rises after five straight months of decline India's electricity supply rose 3.25 per cent during the month of January after five straight months of decline, provisional government data showed, in a relief for power producers. Power supply rose to 106.36 billion units in January, up from 103.01 billion units last year. https://energy.economictimes.indiatimes.com/news/power/indias-electricity-supply-rises-after-five-straight-months-of-decline/73894760  (03 Feb. 2020)
ENVIRONMENT
National NTCA Forms Teams to Check If Infrastructure Projects in NP are Going by the 'Law of the Jungle' The National Tiger Conservation Authority (NTCA) – the statutory body in-charge of Project Tiger – has formed monitoring committees to review and examine compliance of conditions laid down during clearances, in over 100 projects across 16 states. According to the NTCA's memorandum on the issue, the committees will be headed by seven retired Indian Forest Service officers. They have been assigned the task of examining compliance of conditions and mitigation measures recommended by the NTCA and have to submit a report to the authority after three months. To begin with, the committees will examine compliance of projects cleared between 2016 and 2018.
– A list of 109 projects, on which the NTCA provided its views or recommendations, has been provided to the committees. Of these projects, the NTCA recommended significant conditions in 30, most of them situated in protected areas. These 30 comprise railway expansion projects, erection of transmission lines or power line corridors, irrigation projects, the Ken-Betwa river interlinking project and road expansion projects. NTCA officials said they have chosen the period 2016-2018 to begin with because it was in 2016 that the environment ministry came out with a policy document on putting in safeguards for wildlife while clearing infrastructure projects. "There was a discussion within the ministry on this issue and it was felt that since projects are being expedited on the basis of these safeguards, their compliance, too, needs to be examined," said an NTCA official. https://www.news18.com/news/india/tiger-authority-forms-teams-to-check-if-infrastructure-projects-in-national-parks-are-going-by-the-law-of-the-jungle-2491883.html  (07 Feb. 2020)
Uttarakhand NBWL approves road connecting Corbett & Rajaji reserves After years of back and forth, work on the controversial Laldhang-Chillarkhal road may soon get started as the National Board for Wildlife (NBWL) has given a go-ahead to the project. The road, proposed to cut down travel time between Garhwal and Kumaon, will cut through the reserve forest area of Rajaji Tiger Reserve (RTR) which has a healthy wildlife population. The 11.5-km-long road also includes a 4.5 km stretch from Chamaria Bend to Siggadi Sot — which is the sole wildlife corridor between Corbett Tiger Reserve (CTR) and RTR, which are the two premier sanctuaries of Uttarakhand.
In June last year, the project had been put on hold by the Supreme Court which had directed the state government to first get clearance from NTCA and NBWL before commencing with the motor road project. Subsequently, the NTCA asked WII to submit its observations on the project. Scientists at the Tiger Cell of WII recommended a "status quo" on the stretch between Chamaria Bend and Siggadi Sot. WII recommendations, read, "Status quo should be maintained on the stretch between Chamaria Bend and Sigaddi Sot. Black topping should be avoided in this route considering wildlife movement in the area. However, the forest department may maintain this portion regularly by using 'murram' so as to allow passage of vehicles."
Notwithstanding WII suggestions, NTCA approved the project stating that a 100-metre-long underpass can be constructed after every one kilometre road on the stretch. After NTCA's approval, NBWL also gave a green light to the project and extended the limit for the length of underpass from 100 metres to 150 metres after every kilometre. https://timesofindia.indiatimes.com/city/dehradun/national-board-for-wildlife-approves-road-connecting-corbett-rajaji-reserves/articleshow/73912769.cms  (04 Feb. 2020) 
Karnataka Govt inducts mining baron into wildlife board  The state government notification on the reconstitution of the State Wildlife Board dated January 18, 2020 doesn't provide any reason for removing four of the members. However, conservationists and activists were shocked to see the name of Dinesh Kumar Singhi, the CEO and Managing Director of Bharat Mines & Minerals and CEO of BMM Ispat Ltd, as a new member of the board.  https://www.deccanherald.com/state/karnataka-politics/govt-inducts-mining-baron-into-wildlife-board-801535.html  (04 Feb. 2020)
Sophia Kehau Keller comment on FB post Oh, horrible. Despite Modi Govt's public trumpeting about improving the tiger population, behind the scenes it is avidly hawking undeveloped land — especially wildlife preserves — to industries.
Chhattisgarh Ancient tribes battle to save their forest home from mining The Hasdeo Arand is one of the largest contiguous stretches of dense forest in central India, covering about 170,000 hectares (420,080 acres) of the state of Chhattisgarh. It is rich in biodiversity, contains many threatened species and is home to elephants, leopards and sloth bears. It is also home to the Gond, one of India's Adivasis, the name given to the country's original indigenous peoples. Unfortunately for Porte, the Gond and other Adivasis forest dwellers, the Hasdeo Arand sits on top of more than a billion metric tonnes of coal reserves.
Despite at one time being declared offlimits to mining, a new government in 2011 granted mining permission for the first coal blocks in Hasdeo Arand. By 2013 the Parsa East and Kante Basan open cast mine operated by Adani – and which adjoins Porte's village – was a reality. It currently produces 15m tons of coal per annum. Now more open cast mines have been approved by the government of Narenda Modi. An estimated 80% of the entire forest area – and 30 villages – may be lost, according to Bipasha Paul, programme officer for Chhattisgarh-based NGO Janabhivyakti, which is working with the Hasdeo Arand residents. Fearing their way of life is threatened by these mines, the Gond are fighting to stop them. https://www.theguardian.com/environment/2020/feb/10/indias-ancient-tribes-battle-to-save-their-forest-home-from-mining  (10 Feb. 2020)
Report 3 species from India among 10 to be on global endangered list Ten endangered species of migratory animals/birds from across the globe, including three from India (Great Indian Bustard, Asian Elephant and Bengal Florican), will be included in a special global list for protection under the 'Convention on Conservation of Migratory Species' (CMS) — an international treaty to protect such species throughout their range countries. Different countries have submitted their proposals to a UN body which will decide on a range of issues affecting migratory species at a conference in Gandhinagar from February 15 to 22.
CMS listing makes member countries responsible to work towards protecting these animals/birds, conserving their habitats and controlling other factors that might endanger them. Currently, 173 species from across the globe are listed in CMS Appendix I, which deals with migratory species threatened with extinction. This triennial UN conference on conservation of migratory species of wild animals (COP13) will be opened by PM Narendra Modi on February 17, marking India's commitment to tackle loss of biodiversity and protection of vulnerable species. India has been member of the convention since 1983. https://timesofindia.indiatimes.com/home/environment/flora-fauna/modi-to-open-global-meet-on-conservation-of-endangered-migratory-species-in-gandhinagar-on-feb-17/articleshow/74048697.cms  (10 Feb. 2020)
Aravalli Story of a dying mountain range The Aravallis, with its vast landscape and biological diversity, have shaped the northern landscape of India in more ways than one. They guide the monsoon clouds and also act as a groundwater recharge zone — making them important for the long-term ecological security of the cities.
But despite all this, the mountain range is under severe threat from mining and large-scale real estate developments. The degradation of the Aravallis has lead to decline in habitat wildlife, adding to the animal-human conflict in nearby areas. https://www.downtoearth.org.in/video/environment/aravalli-story-of-a-dying-mountain-range-63986  (15 April 2019)
CLIMATE CHANGE
National NIO launches study on changing monsoon trends With climate change changing the monsoon pattern, the Goa-headquartered National Institute of Oceanography (NIO) has launched a study into the factors that caused the change and their impact. "We have launched a study into the cyclonic events that occurred in the Bay of Bengal and Arabian Sea from 1960 to 2019," said NIO Emeritus Scientist S Prasannakumar. The study is to be completed in eight months. "Kerala used to receive around 70 per cent of the Southwest Monsoon rainfall during June-July (period). However, this has shifted to August-September of late. The withdrawal of Southwest Monsoon was also delayed this time, which adversely affected the onset of Northeast Monsoon. These changes need to be examined closely," said Prasannakumar.
– The NIO will study the changes in the surface water of Arabian sea, up to a depth of 100m, which could have affected the monsoon pattern and created conditions favourable for cyclonic storms. "The Arabian sea witnesses a process called upwelling during the monsoon season that brings plankton from the depth of the sea to the surface. This attracts sardines and mackerel to the coastal sea supporting the livelihood of fishermen. The change in temperature of surface water and upwelling process might have led to the depletion of fish stocks," he said. https://www.newindianexpress.com/states/kerala/2020/feb/10/national-institute-of-oceanography-launches-study-on-changing-monsoon-trends-2101301.html  (10 Feb. 2020)
Report No instance of climate-induced migration in India Govt on denial mode? There have been no observed instances of migration within India that can be directly attributable to global warming of anthropogenic origin, Union Minister of State in the MoEF&CC, Babul Supriyo told the Rajya Sabha on February 3, 2020. https://www.downtoearth.org.in/news/governance/as-told-to-parliament-february-3-2020-no-instance-of-climate-induced-migration-in-india-69161  (04 Feb. 2020)
Study Most cities in India turning into "urban heat islands" A16yr long study of 44 Indian cities by CORAL, IIT-KGP says water bodies conservation, green areas expansion in and around cities could be effective strategy to curb effects of urban heat islands. https://economictimes.indiatimes.com/news/politics-and-nation/most-cities-in-india-turning-into-urban-heat-islands-study/articleshow/74002253.cms  (07 Feb. 2020)
Editorial Locust attacks must be taken seriously From HT Editorial: "This outbreak, scientists believe, can be linked to the climate crisis. In 2019, the monsoon started six weeks ahead of time (first week of July) in western India. It also lasted till November, instead of the usual September/October cycle. Extended rains created breeding conditions and also produced natural vegetation on which they could feed. FAO officials believe that this attack will probably not set a migration trend, but add that this depends on normal monsoon winds. Unfortunately, among many natural processes the climate crisis has affected, monsoons could also be one. This means India should take the locust outbreak seriously." https://www.hindustantimes.com/editorials/the-locust-attacks-must-be-taken-seriously-ht-editorial/story-LXhHBwCU1khSFNUACsj7KJ.html  (05 Feb. 2020)
Also see, how a single locust becomes a plague https://www.bbc.co.uk/news/resources/idt-84994842-8967-4dfd-9490-10f805de9f68  (07 Feb. 2020)
Study India rivers basin drying up due to climate change According to the study, published this month (May) in Global and Planetary Change, vast areas served by 16 of 24 river basins face lowered soil moisture levels, posing sustainability risks to croplands with implications for the country's food security. The findings indicate that 66 per cent (more than one million square kilometres) of the country's croplands are vulnerable.
– "Analysing climate data [from] the 1982-to-2010 period, the research team concluded that the majority of the 24 river basins are extremely vulnerable to vegetation droughts (defined as negative impact on vegetation growth due to prolonged deficit in water availability) because of shifting/declining rainfall patterns and surging average annual temperatures, and are incapable of recovering from fallouts," Manish Kumar Goyal, associate professor at the Indian Institute of Technology, Indore, and one of the authors of the study, tells SciDev.Net.
– The researchers studied 10 different types of vegetation cover in the 24 river basins, including croplands and forest lands, for resilience. Among major basins marked as increasingly vulnerable to vegetation droughts were the Indus, Ganges, Brahmaputra, Cauvery, Godavari, Krishna, Mahanadi, Pennar, Mahi, Tapi, Sabarmati and Narmada.
– At least a third of the areas around 18 river basins is non-resilient to vegetation droughts and over 50 per cent of each vegetation type is vulnerable, says the study, pointing to the fragility of the country's terrestrial ecosystems. The study is based on climate data of mean monthly temperatures obtained from the Indian Meteorological Department, precipitation data from the 1901-to-2010 period and soil moisture data from 1982 to 2010, available with the Earth System Research Laboratory of National Oceanic Atmospheric Administration. Vegetation productivity data was extracted from the Global Inventory Modelling and Mapping Studies. https://www.scidev.net/asia-pacific/climate-change/news/india-s-river-basins-drying-up-from-climate-change.html  (24 May 2019) 
SOUTH ASIA
India Bangladesh Trans-Boundary River Management: Understanding the Tipaimukh Dam Controversy This brief offers a way to rethink the ongoing dispute between India and Bangladesh over the former's plan to build a high dam on River Barak (known as Surma-Kushiyara and Meghna in Bangladesh) at Tipaimukh in the state of Manipur. It identifies the origins of different sources of water for Bangladesh's Haor, the region that is widely feared to be under threat by India's planned dam. The brief recommends the conduct of a comprehensive study for assessing the potential impact of the project on the Haor in order to separate the myths from the facts and inform decision-making around the project. https://www.orfonline.org/research/india-bangladesh-trans-boundary-river-management-understanding-the-tipaimukh-dam-controversy-60419/  (18 Jan. 2020)
Bangladesh Shitalakshya River dying slowly The Shitalakshya River, known as the lifeline of Narayanganj, the Dundee of East is ailing due to severe pollution, land encroachment, and sand extraction. The city stands on the bank of the river. Until the road connections were fully developed almost 15 years ago, trade and communication heavily depended on waterways.
Now, the country's one of the most important rivers has almost lost her navigability, especially in winter, with the fall of water levels. Sources said more than 2,000 industries on the banks of the river stretching from Kanchpur to Narayanganj. https://www.dhakatribune.com/bangladesh/nation/2020/01/30/shitalakshya-river-dying-slowly  (30 Jan. 2020)
Jamuna banks eroding near Bangabandhu bridge Erosion of river banks has become a major issue affecting local communities who blame indiscriminate sand lifting from the river by powerful dredgers as one of the main reasons behind the erosion in the area. https://www.thedailystar.net/backpage/river-erosion-jamuna-banks-eroding-near-bangabandhu-bridge-1793215  (31 Augt. 2019)
India Nepal BHEL wins order for HEP BHEL has won an order for the ElectroMechanical (EM) works for the 40 MW Rahughat Hydroelectric Project, an NEA project in Myagdi district of Nepal. The project is majority funded by EXIM Bank of India in the form of a soft loan, along with funding from NEA and the Govt. of Nepal. WAPCOS, India is the project consultant. https://www.equitybulls.com/admin/news2006/news_det.asp  (03 Feb. 2020)
Last year, it had won an order for 900 MW Arun-3 HEP, which is presently under construction.  https://energy.economictimes.indiatimes.com/news/power/bhel-bags-order-for-second-hydroelectric-project-order-in-nepal/73904581  (03 Feb. 2020)
The Financial Closure for 900 MW Arun-3 Hydro Power Project has been achieved on Feb 6, 2020. The total debt tied up with the Banks is INR 6,333.48 crores (NPR 10,134 crore) which includes INR 1420.86 Crore (NPR 2274 crore) (stand-by line of credit, if required). The debt portion of Indian Banks is INR 5374Crore (NPR 8600 Crores) and INR 960 Crores (NPR 1536 Crores) debt portion has been committed by Nepalese Banks. As on date, investment of around INR 875 crore (NPR 1400 crore) has already been made.
-Arun-3 Hydro Power Project was awarded to SJVN Limited through International Competitive Bidding by Government of Nepal. The Memorandum of Understanding (MoU) for execution of this project on BOOT basis was signed with Government of Nepal on 2nd March 2008. Accordingly, SJVN Arun-3 Power Development Company (SAPDC) Pvt. Ltd. was incorporated and registered on 25th April 2013 as a private limited company under the Nepalese Companies Act 2063.The Project Development Agreement (PDA) for the execution of the project was signed between SAPDC and Investment Board of Nepal (IBN), Government of Nepal on 25th November 2014. All major works i.e. Civil, Hydro-Mechanical and Electro-Mechanical works of the Project were awarded by April 2018. The foundation stone for the project was jointly laid by the Hon'ble Prime Minister of India and Hon'ble Prime Minister of Nepal on 11th May 2018. http://www.psuconnect.in/news/Financial-Closure-For-SJVN-900-MW-Arun-3-HEP-Achieved/21347/  (06 Feb. 2020)
On the Mahakali contractors move in to eat the river Under the new Nepali Constitution promulgated in 2015, a federal the local government at the municipal level have received the authority to collecting and sell river resources. They need to give a certain amount of revenue to the provincial government. The local governments have outsourced this to contractors, and this forms the main source of income for the local government. This, though, is now changing as local governments have started hiring contractors for the jobs of collecting stones, pebbles and sands, and fishing. With the loss of income has also come rampant criminality and over-exploitation.
-The Mahakali municipality has announced a call for tender, and the Bhimdatta municipality has already hired contractors. The Bhimdatta municipality has given authority to Bhawani Construction to collect stones, pebbles and sands, and to collect revenues from others who collect the river resources.
– According to 'Environment Conservation Regulation, 1997′ stones, pebbles and sands can be collected from the river only after an Initial Environmental Examination (IEE) report is carried out. Bhimdatta Municipality has prepared such a report. The Mahakali municipality – which covers Nepali lands on the next side of Mahakali River – has not prepared the IEE report. The Regulation directs that upto 250 cubic meters of sands and pebbles can be collected everyday once the IEE report is prepared. While collecting materials no machines like excavator can be used, they should be collected manually.
– The company hired by the Municipality has not limited itself to collect only to 250 cubic meters of river resources as recommended by the 'Environment Conservation Regulation, 1997'. It needs an Environmental Impact Assessment (EIA) report to collect more than 250 cubic meters of sands and pebbles. Without an EIA this is no understanding of what bit can be exploited safely, and which but will of the river system will be endangered. No one has monitored the work to see what amount of river resources are collected every day, how they have been collected, what kind of machines or equipment have been used, what measures have been taken to minimise risks for labour.
-River resources have been exploited on both sides of the river, due to which river banks are deepening, and the middle parts of the river are raised like islands. The river water is now flowing from low lying banks of the river. https://www.thethirdpole.net/en/2020/02/03/on-the-mahakali-contractors-move-in-to-eat-the-river/  (03 Feb. 2020)
Bhutan Diversify financing sources and investment beyond hydropower: WB Key messages from the World Bank's systematic country diagnostic: For Bhutan, however, there are risks. Future is becoming ever less certain due to climate change. Considering innovations such as the growth of battery storage technologies in the coming years, the future development of hydropower could become irrelevant due to higher costs, environmental and social factors. "However, it has become more difficult to raise financing from India for new hydropower projects," says the report.
– The government's high-level committee that reviewed Bhutan's future hydropower development plans is yet to make the findings public. What this means is that Bhutan's development model, built around hydropower, could witness a significant change. Investing in small, medium-sized as and mega hydropower projects could help reduce the risk of depending too heavily on a few mega-projects. https://kuenselonline.com/diversify-financing-sources-and-investment-beyond-hydropower-wb/  (08 Feb. 2020) 
ASIA
Thailand Country suffering worst drought in 40 years -Thailand has been hit with what may be its worst drought in 40 years, pummelling sugar production in one of the world's biggest exporters of the sweetener. Sugar output may tumble about 30% to 9 million-10 million tonnes, while cane output is forecast to fall below 90 million tonnes from about 130 million in the previous season because of the dry weather, according to an industry body.
– "It's worse than we thought," Sirivuthi Siamphakdee, vice-chairman of Thai Sugar Millers Corp, said yesterday (Feb. 7). "This will likely be our worst season in five years." The severe drought is adding pressure to Thailand's struggling economy and its agricultural sector, which employs 11 million people. It may also further raise global sugar prices that have surged about 35% in the last five months on concerns that adverse weather is threatening crops from India to Mexico. https://www.bangkokpost.com/business/1853069/thailand-tackles-worst-drought-in-40-years   (08 Feb. 2020)
NILE River GERD No Egypt without Nile "The most absurd thing you ever heard" says Seleshi Bekele, Ethiopia's water minister about Egypt's claims to the Nile. The negotiation to reach an agreement by Feb end are going on in Washington, with mediation involving the White House & the World Bank. The two sides are scheduled to reconvene in Washington on Feb. 13, 2020. The $ 4.5 Billion Grand Ethiopian Renaissance Dam (GERD), the root of current conflict, is to start filling in July 2020. GERD is on Blue Nile, the main tributary of Nile, about 2000 miles upstream from Egypt. Egypt justified its dominance over the river by citing a colonial-era water treaty and a 1959 agreement with Sudan. But Ethiopia does not recognize them.
– A study published in August 2019 by researchers at Dartmouth College found that while rainfall is likely to increase in the Upper Nile basin over the coming century, the incidence of hot and dry years could increase by a factor of two or three — even if global warming is limited to 2 degrees Celsius. Ethiopia argues that storing the water upstream will help, because it is less prone to evaporation than in Egypt, which is drier. "The dry years will be more severe, in that they will be hotter and more frequent," said Ethan D. Coffel, the paper's lead writer. "Life is going to get much harder for farmers on the Nile."
– A famous pop singer, Sherine, was prosecuted in 2017 & was eventually acquitted, perhaps partly because her jab hit home: Egyptians abuse the Nile as much as they revere it.
– "For how long will the river flow down taking everything with it, even the branch of a tree?" goes one song taught to Ethiopian schoolchildren.
– Semegnew Bekele, the project manager of GERD, was in 2018 found slumped behind the wheel of his Toyota Land Cruiser, a gunshot wound to the head. The police ruled it a suicide. A few weeks later the dam's main contractor was fired over accusations of widespread corruption.
– "Without the Nile," said a 16 year old fisherman said at Ras el-Bar, a seaside town on Egypt's north coast, "there is no Egypt."  https://www.nytimes.com/interactive/2020/02/09/world/africa/nile-river-dam.html  (09 Feb. 2020)
The dispute between Egypt and Ethiopia over the $4.5 billion GERD project Africa's largest, with a reservoir about the size of London — has become a national preoccupation in both countries, stoking patriotism, deep-seated fears and even murmurs of war. https://indianexpress.com/article/world/for-thousands-of-years-egypt-controlled-the-nile-a-new-dam-threatens-that-6258451/  (09 Feb. 2020)  
THE REST OF THE WORLD
Study Planned hydropower dams threaten fish in the tropics Environmental researchers at Radboud University, PBL Netherlands Environmental Assessment Agency, Stanford Natural Capital Project and others now provide evidence by mapping how future dams affect the habitats of 10,000 fish species. They publish their findings in Proceedings of the National Academy of Sciences of the United States of America (PNAS) in the week of February 3, 2020. "In the US and Europe, there are plans for the removal of decommissioned dams to restore the connectivity of the rivers. Some dams have already been removed," says Barbarossa. "Our global maps can help to prioritize locations for restoration measures, such as dam removal and installation of bypasses."  https://phys.org/news/2020-02-hydropower-threaten-fish-tropics.html  (03 Feb. 2020)
Research Impacts of riverine sand mining on freshwater ecosystems: A review of the scientific evidence and guidance for future research This review has only considered biophysical impacts on river systems. The socioeconomic implications, positive, neutral, and negative, for riverine communities and other stakeholder groups need to be considered in defining sustainable mining regimes.
Broader research needs include understanding how shifting flow and sediment runoff patterns due to climate change, combined with increased development and urbanization will affect sand mining as an economic activity, and environmental threat over the coming decades. https://onlinelibrary.wiley.com/doi/full/10.1002/rra.3586  (05 Feb. 2020)
Opinion Global cooperation needed to save world's rivers Minus the anti China rhetoric and absence of any critique of what Indian govt is doing, a good article by Brahma Chellaney: "As for the rivers that are already damaged, action must be taken to restore them. This includes artificially recharging rivers and aquifers with reclaimed wastewater; cleaning up pollution; reconnecting rivers with their floodplains; removing excessive or unproductive dams; and implementing protections for freshwater-ecosystem species. The world's rivers are under unprecedented pressure from contamination, damming, and diversion. International cooperation can save them, but first we must recognize the consequences of doing nothing." https://www.livemint.com/opinion/online-views/it-will-take-global-cooperation-for-us-to-save-the-world-s-rivers-11581264051991.html  (09 Feb. 2020)
Report First global look finds most rivers awash with antibiotics Almost two-thirds of the rivers studied contained enough antibiotics to contribute to the growing problem of antibiotic-resistant bacteria. https://www.nationalgeographic.com/environment/2019/05/hundreds-of-worlds-rivers-contain-dangerous-levels-antibiotics/  (29 May 2019)
Report How Do Sewer Systems Work? Is urban waste water disposal (sewer) system a wonder of modern engineering? https://interestingengineering.com/how-do-sewer-systems-work  (02 Feb. 2020)  
Compiled by SANDRP (ht.sandrp@gmail.com)
Also see: DRP News Bulletin 03 Feb. 2020 & DRP News Bulletin 27 Jan. 2020
Follow us on: www.facebook.com/sandrp.in; https://twitter.com/Indian_Rivers