A number of welcome developments around dams appear in this week's DRP News Bulletin from SANDRP. The prominent is the Brihanmumbai Municipal Corporation declaring that it may not need Pinjal Dam, which SANDRP had said in its report way back in 2012-13 and the then BMC commissioner had agreed to in an interview to NDTV. This should also lead to cancellation of the Damanganga Pinjal River Link proposal. The Maharashtra govt decision to review the need for Human dam is also welcome. The Kerala State Information Commissioner's decision to direct that the Dam Break Analysis should be in public domain is also a useful precedent that all states and CWC need to follow immediately and also amend the proposed Dam Safety Act to include a provision that all Dam Safety related information, including meeting minutes, agenda, decisions, status reports etc will be in public domain.
Mumbai BMC may scrap Pinjal dam project The Brihanmumbai Municipal Corporation (BMC) is not keen on constructing Pinjal dam in Palghar district any more. It was to supply 880 MLD. Instead, the BMC wants to focus on treatment of sewage water for non-potable uses to reduce dependency on potable water. Considering the huge costs, time, permissions required, time taken for land acquisition, and rehabilitation of the affected people, the civic body is not keen on Pinjal dam.
– "The consensus is, looking at the time taken by Gargai dam itself, we can instead look at harnessing treated waste water under the Mumbai Sewage Disposal Project (MSDP)-II to make up for the deficit. This water can be used for non-potable uses and the potable water can be used to meet the additional demand," said Shirish Dixit, chief engineer, water supply projects, BMC. Under MSDP-II, the civic body is supposed to build seven sewage treatment plants in the city.
– However, the BMC will still carry out an environment and social impact assessment of Pinjal dam, based on which it will take a final decision. If Pinjal is scrapped, it raises a question on the river linking project as Pinjal dam is a crucial part of it. https://www.thehindu.com/news/cities/mumbai/bmc-may-scrap-pinjal-dam-project/article30678574.ece  (29 Jan. 2020)
Maharashtra Human dam not at the cost of tigers 4 member NTCA committee in its November 2014 site appraisal report had recommended three options if at all the project was to be taken up. The recommendations included shifting the project 5km upstream from present site at Sirkada. The other two options were procuring private land and rehabilitating villages to restore structural corridor of 2-3km downstream, and convert it into forest by planting native species, or develop lift irrigation schemes, barrages, small dams etc instead of a major dam.
– However, the irrigation department ruled out the other two options and insisted on Option II by pitching to develop 1km corridor by acquiring 200 hectare land. It was not ready to talk about the other two options.
– Sources said since no solution was working out, some experts of the state wildlife board asked the CM why Option I was not being implemented? "If the dam is shifted 5km upstream, the project will generate 6 TMC water, 3 TMC less than what has been proposed. So, what is the harm? It will save tigers and corridor, and project will also come up," said sources.
– To this, Thackeray agreed and asked the irrigation department to come up with a fresh proposal. Sources said irrigation officials will now work out five separate proposals, with scenarios for the project shifting 5km to 1km upstream. While making these proposals irrigation officials said they will have to get forest clearance afresh. To this, Thackeray is learnt to have said that Mungantiwar can expedite it with the BJP government at the Centre and state will play its role here.  https://timesofindia.indiatimes.com/city/nagpur/human-dam-not-at-cost-of-tigers-corridor-govt/articleshow/73595390.cms  (25 Jan. 2020)
'Compensate villagers who lost their land in construction of Gunjwani dam' NGT on Jan. 23 granted two months to the district collectorate to provide resettlement land for the people to compensate for the area that was given up for construction of Gunjawan dam.
The dam in Velha, about 72 km from Pune, was submerged in 2018. However, as per the norms, the residents of a dam area need to be rehabilitated six months before the dam is submerged. "Over 60 villagers stand deprived of their basic rights and were left homeless when the dam was commissioned. Despite repeated attempts to meet their demands, the beneficiaries could not get their rightful land," said advocate Suresh Palande, representing the affected villagers.
The NGT sought a report in 2018 and found gross non-compliance of the government norms to provide land to the people who were affected by the project. The green court also demanded the resettlement be done immediately, and the additional collector and secretary to be present for the hearing and submit a report. https://punemirror.indiatimes.com/pune/civic/compensate-villagers-who-lost-their-land-in-construction-of-gunjwani-dam/articleshow/73561189.cms  (24 Jan. 2020)  
Kerala SIC for putting dam-break analysis in public domain The State Information Commission (SIC) has stressed the need for putting the dam-break analysis prepared for the Mullaperiyar and Idukki dams in the public domain.
– Information Commissioner S. Somanatha Pillai made the observation on Jan. 1 while disposing of a petition seeking disciplinary action against the Public Information Officer of the Water Resources Department for denying information on the dam-break analysis to an RTI activist. A plea for getting the analysis report submitted by RTI activist D.B. Binu had been rejected by the State Public Information Officer of the Water Resources Department.
– The commissioner said one of the major objectives of the analysis was to assess the impact in case of a breach in the dams, so that the government and its instrumentality could prepare plans in advance and equip themselves for mitigating the damage to life and property and keeping such damage to the minimum.
– The commissioner said people likely to be affected by such a possible debacle would be mentally and physically prepared for self evacuation at short notice if they had information on the issue. It would also help restrain them from encroaching on the banks of the rivers downstream and putting up structures. It was therefore highly essential in the interest of public safety that the results of the study be disseminated to the public.  https://www.thehindu.com/news/national/kerala/sic-for-putting-dam-break-analysis-in-public-domain/article30453958.ece  (1 Jan. 2020)
Uttarakhand 4 hydro projects violating Ganga flows norms: CWC At least 4 of the 11 projects on Ganga mandated to release minimalist flows are flouting norms, says a report by the Central Water Commission (CWC). The non-compliant ones are: Maneri Bhali Phase 2 ,Vishnuprayag Hydroelectric project, Srinagar Hydroelectric project and the Pashulok barrage project. "After monsoon period many of the projects are not meeting the mandated e-flows," the CWC report says. Power company GVK, which runs the Srinagar project, has challenged the e-flow notification in the Uttarakhand High court. D.P. Mathuria, a senior official in the National Mission for Clean Ganga, said the government would be sending notices to the offending companies. Violating the e-flow norms can mean closure of the project or a hefty fine but the government isn't contemplating such action yet.  https://www.thehindu.com/news/national/four-hydro-projects-violate-ganga-flow-norms-cwc/article30695064.ece  (31 Jan. 2020)
HYDRO POWER PROJECTS
Himachal Pradesh Power generation drops by over 75% Power generation has dropped by over 75 to 80 per cent due to a fall in the discharge of water into rivers. Almost all water sources have frozen as intense cold wave is sweeping the region. The state is procuring power through banking and bilateral arrangements with the neighbouring states to meet the domestic demand of all categories of consumers.
– Sources in Himachal Pradesh Area Load Dispatch Centre said the state required about 310 lakh units of power daily. "But it is producing about 32 lakh units to 35 lakh units from its own sources, depending upon the availability of water in the power projects," they added. The 1,500-MW NJPC project, 412-MW Rampur project, both run by the SJVN, and the Karcham-Wangtoo power project of the JSW have also witnessed a sharp drop in electricity generation.
– According to the Directorate of Energy, three-month data from November to January 3 shows a decrease of 12.3 lakh units this year as compared to the production in 2018-19. "In the first three days of 2020, the generation of electricity has shown a marginal decrease of 2.62 per cent, while there was an increase of 4.74 per cent in December as compared to 2018-19," the sources said. The state generated 323.68 million units in November and December (2019) and till January 3 (2020), whereas the generation was 324.91 million units in 2018-19.
"The discharge in the Sutlej has shrunk to a dismal 80 cusecs. Same is the case with the Chenab, the Beas and the Ravi and their tributaries," said power projects engineers. "There is no significant drop in the production of electricity in power projects as compared to last year," said Director, Directorate of Energy, Manasi Sahay Thakur. Sunil Grover, managing director, Himachal Pradesh Area Load Dispatch Centre, which is responsible for the distribution of energy in the state, said Himachal had made bilateral and banking arrangements with the other states to meet the demand. https://www.tribuneindia.com/news/electricity-generation-drops-by-over-75-21942  (6 Jan. 2020)
Centre NTPC Board okays acquisition of govt stake in NEEPCO, THDC– NTPC on Jan. 27 said its board has given in-principal approval to acquire government"s 100 per cent stake in North Eastern Electric Power Corporation Ltd(NEEPCO) and 74.5 per cent stake in THDC India Ltd.  https://www.outlookindia.com/newsscroll/ntpc-board-okays-acquisition-of-govt-stake-in-neepco-thdc/1719198    (27 Jan. 2020) 
DAMS
Maharashtra Posers on wish to get Tata Dam water for district While Ajit Pawar stands discredited for his inaction on this when he was minister earlier, the way officials are talking non sense in favour of the Tatas to shoot down such an important issue is amazing. There will be no violation and Mumbai and Konkan get a lot of rainfall if they were interested, and why should Tatas continue to profit at the expense of drought prone areas? But officials have no interest in facts. There will be ABSOLUTELY NO VIOLATION of the Krishna Tribunal and all the downstream states will only benefit. https://energy.economictimes.indiatimes.com/news/power/maharashtra-posers-on-wish-to-get-tata-dam-water-for-district/73754267  (30 Jan. 2020)
Kerala Survey studies sediments in Malampuzha dam The sedimentation study by an expert team from the Kerala Engineering Research Institute (KERI) continued in the reservoir of the Malampuzha dam to assess quantity of mud, soil two floods brought into the reservoir. The amount of silt in the dam's reservoir will be measured on the basis of the amount of water currently available. Malampuzha Dam, whose water is used both for drinking and irrigation, has a total capacity of 226 million cubic metres. The survey team uses sonars for echo sounding and Differential Global Positioning System (DGPS) for accuracy. Data is collected at every two-metre interval. The data collected through DGPS and echosounder will be analysed using a computer software to get the exact volume of water.
– The last sedimentation study in the Malampuzha reservoir was done in 2014-15. Although that study was not an exhaustive one, many concerns have risen since, especially in the wake of the two floods of 2018 and 2019.
– An opposite impact:- Although the general perception is that the floods caused by the landslips had brought a huge quantity of mud and soil into the reservoir, dam and irrigation experts have raised another theory that the heavy inflow and the spillage of muddy waters could have actually reduced the silt in the dam. "It is possible. We have found it in our studies in Peechi," said Ms. Shini. She said they did not expect a major increase in the volume of silt in the dam in spite of two major floods in successive years.
– Malampuzha Dam, with its 145-sq km catchment area, has not been desilted since it was erected in 1955. The attempts to desilt the dam in 2010-12 had failed. Experts said desilting a dam like Malampuzha, which caters to the drinking needs of Palakkad and neighbouring places, would involve lots of technicalities. Desilting can even render the water undrinkable for a certain period. According to experts, nowhere in India has a dam been desilted successfully.
– In the sedimentation study done in 2005, Malampuzha reservoir was found to have 30 million metre cube silt in it. The results of the current study will throw light on the volume of mud and soil that reached the reservoir in the last 15 years. https://www.thehindu.com/news/national/kerala/survey-studies-sediments-in-malampuzha-dam/article30561615.ece  (13 Jan. 2020)
Tamil Nadu Kurumbapalayam residents request PWD to restore check dam across Manjapallam river Residents of Kurumbapalayam, near Madukkarai, have urged the Public Works Department (PWD) to restore the damaged check dam that is present across the Manjapallam river. With a portion of the check dam reportedly damaged due to strong water current, residents claim that excess water is now going waste.
Despite there being no major farming activity in the surrounding region, the water stored in the check dam helps in replenishing the groundwater level, they added. The Manjapallam river emanates from the hills near Kovaipudur and snakes through Kurumbapalayam, Madukkarai, Pachapalayam, Kumittipathi, Velanthavalam and enters Kerala. There are around 10 check dams built across the river in total. Residents say about three check dams have got damages in as last three years and administration on was not repairing them. A senior PWD official in-charge of the project said the department is expecting funds from the State government and would carry repair work after that. https://www.newindianexpress.com/states/tamil-nadu/2020/jan/07/kurumbapalayam-residents-request-pwd-to-restore-check-dam-across-manjapallam-river-2086227.html (7 Jan. 2020)
Telengana CM for construction of check dams on all streams CM K. Chandrasekhar Rao during a review meeting on utilisation of small and minor irrigation resources with Minister G. Kamalakar, CMO and Irrigation officials, at Pragathi Bhavan, on Jan. 3 has instructed the officials to build the required number of check dams on all streams in the State. The number of check dams required should be identified and half of them be constructed this year, and the rest, the next year and for this, tenders should be called by January 15.
The tanks that were revived under Mission Kakatiya should also be maintained every year and adequate budgetary provision would be made for construction of check dams and maintenance of tanks. He also wanted the officials to examine proposals to construct a lift irrigation scheme to supply water from Palair to Nagarjunasagar Project ayacut in Miryalaguda division. A survey be taken up for this purpose.
State's share of Godavari waters would be utilised through Kaleshwaram, Devadula and Sitarama projects. Kaleshwaram project alone would provide over 500 tmc ft of water to fill Yellampally, Mid Manair, Lower Manair, SRSP and also Mallannasagar, Kondapochammasagar, Baswapur reservoirs – that are being constructed. All the tanks would be filled under various projects and this would ensure water availability in all areas across the State for cultivation of abundant crops, he said. In the process of releasing water to the ayacut lands, water would flow down along with rain water through several streams and rivulets and to impound this water, check dams should be constructed, Mr. Rao said.
He instructed that during summer itself, Yellampally waters should be transferred to SRSP as in the beginning of the rainy season itself water from Kadem reservoir would reach Yellampally. Measures should be taken to ensure that there is no water scarcity for the SRSP ayacut. All the reservoirs in the State should be filled to the brim by October, Mr. Rao said.
In view of the transformed irrigation system in the State, the Irrigation Department would be brought under the jurisdiction of five to six Engineer-in-Chiefs and accordingly the department should be reorganised, the CM. The E-in-Cs would supervise and monitor all kinds of water resources under their respective jurisdiction. The Irrigation Department should work as one department without the differentiation as small, medium and major irrigation departments, he said.  https://www.thehindu.com/news/cities/Hyderabad/kcr-for-construction-of-check-dams-on-all-streams/article30474183.ece  (4 Jan. 2020)
Gujarat CM Rupani approves building of 24 check dams in Dangs Vijay Rupani, on Jan. 31, gave an in-principle approval to build 24 check dams in the tribal district of Dangs in south Gujarat, at a cost of Rs 26 crore, said an official release. The district gets excess rain but the rainwater gets washed away due to its geographical situation, resulting in low groundwater levels after monsoon.
The check dams will be built on four major rivers in Dangs — Poorna, Gira, Khapri and Ambika, and their tributaries. The 24 villages where the check dams will be built are in Ahwa, Subir and Waghai talukas of the district. The release said that due to the geographical situation of the district, it is also not possible to build big water storage projects.
The initiative to construct 24 check dams has been given a green signal by the CM after a feasibility study by concerned officials in the district, it added. It further stated that after completion of the check dams, a significant amount of water will be stored that will result in better supply of water for irrigation purposes.  https://indianexpress.com/article/india/gujarat-cm-rupani-approves-building-of-24-check-dams-in-dangs-6245240/  (1 Feb. 2020)
INTERSTATE WATER DISPUTES
Mullaperiyar Dam Dispute Kerala to hold talks; Tamil Nadu expressed displeasure Kerala government will initiate steps to hold discussions with the Tamil Nadu government and convince the latter on the need for a new dam at Mullaperiyar, once the baseline study for the Environmental Impact Assessment (EIA) report is completed. "The baseline study is progressing. But the government will hold discussions with Tamil Nadu before the EIA report is submitted to Ministry of Environment for final approval. It is necessary that they understand the need to replace the 123-year-old dam," Irrigation Department Chief Engineer Shamsudeen K H told TNIE.
– As per the details prepared by the state, the EIA study includes the determination of baseline conditions and an assessment of impact on the environment due to the proposed irrigation project. It will also make recommendations on preventive measures to be taken to minimise the environmental impact to acceptable levels. The baseline study will consist of three seasonal studies (premonsoon, monsoon and winter seasons) and will include the catchment and submergence areas.
– According to senior government officers, while granting terms of reference (TOR) for the construction of the new Mullaperiyar Dam on November 14, 2018, the Ministry of Environment, Forest & Climate Change (MoEF & CC) had laid down a condition that "mutual agreement between Government of Kerala and Tamil Nadu should be submitted before the issue of Environmental Clearance".
– "We need to work in close coordination with the Tamil Nadu government to submit the mutual agreement before the Ministry for final approval," the officers said. However, they added that the task would not be easy as Tamil Nadu had already expressed its displeasure with the EIA study. It may be recalled that the Tamil Nadu government had filed a contempt petition before the Supreme Court against the Union and Kerala governments for undertaking a study for the new dam.  https://www.newindianexpress.com/states/kerala/2020/jan/08/state-to-hold-talks-with-tamil-nadu-on-need-for-new-mullaperiyar-dam-2086634.html  (8 Jan. 2020)
IRRIGATION
SANDRP Blog Economic Survey: Where is the ground reality? One of the key objective of the Economic Survey is to provide an accurate account of ground realities on various aspects affecting the Economy of the country and also what has the govt been doing to address the issues that such an account throws up. From a look at the key issues that SANDRP focuses on, it seems that the Economic Survey for 2019-20 that was released on January 31, 2020 does not even attempt to provide an account of the ground realities. https://sandrp.in/2020/02/01/economic-survey-2020-where-is-the-ground-reality/  (01 Feb. 2020)
Gujarat Surendranagar-Banaskantha Narmada canal damaged, water wasted Surendranagar-Banaskantha's Wawa diaconate was damaged in Narmada Canal, wasting thousands of liters of water and damaging the standing crop. For the second consecutive day in Surendranagar, the Narmada canal was torn apart.  https://www.vtvgujarati.com/news-details/narmada-canal-water-farmer-problem  (27 Jan. 2020)
URBAN RIVERS
Musi, Hyderabad Satellite pictures show River being encroached A digital survey of the Musi River flowing within Hyderabad was done using Google Earth historical satellite imagery from 2014 to 2019. The activist says the pictures show how over the years dumped garbage and waste by the river bed was leveled and eventually encroached upon in areas such as Shankar Nagar. A field survey of Shankar Nagar where the land was being encroached upon was also done by Lubna who is associated with Save Our Urban Lakes (SOUL), an organisation working to save lakes in Hyderabad.
The digital survey showed landfills by the river bed and also showed the inflow of waste from the north and south of the city. The activist alleges that the satellite images revealed that over the past few years the wastewater inflow into the river has increased.
The activist says she has sought the court to direct Telangana state Water, Land and Tree Act (WALTA) authority to evict the encroachers and submit an action plan to restore the Musi River. The activist has asked the court to direct the Musi River Development Corporation to submit their report on the work done so far in restoring the river.
"The location where the encroachment is happening is right next to the Telangana High Court. The Chief Justice has been vocal about the poor performance of the GHMC to try and protect the lakes in the city, we urge the courts to hold the officials accountable also," says Lubna, who also asked the court to hand over the lake and rivers in the city to the care of the public. "If the GHMC is unable to prevent encroachment and the dumping of waste into the lakes and rivers, then let the public take over the protection. As a citizen am ready to work pro bono for the lake and river protection in Hyderabad," she adds. https://www.thenewsminute.com/article/satellite-pics-show-hyderabad-s-musi-river-being-encroached-117204  (31 Jan. 2020)
Shimla
Vaigai; Madurai Hundreds clean river as part of 'Namma Madurai' Hundreds of Corporation conservancy workers, students and volunteers took part in a massive clean up drive along the Vaigai as part of 'Namma Madurai', a two-day cultural event organised by Madurai Corporation, which began on Feb. 01. The 600 conservancy workers, along with volunteers, began cleaning along the Vaigai from Alwarpuram near the AV bridge to the causeway on Kuruvikaran Salai. Minister for Cooperation Sellur K. Raju inaugurated the cleaning drive.
Addressing the participants, Corporation Commissioner S. Visakan said that the main aim of the drive is to create awareness among residents of the preservation of the Vaigai. "Earlier the legendary Kiruthumal river and the Vaigai were the main rivers which flowed through the city. But, today, Kiruthumal has become a carrier of waste and sewage. Hence, there is an urgent need to preserve the Vaigai,' he said. He also urged the residents to not dump waste along the Vaigai and said that the drive aims to bring a behavioural change among them. https://www.thehindu.com/news/cities/Madurai/hundreds-clean-vaigai-as-part-of-namma-madurai/article30714131.ece  (01 Feb. 2020)
Sabarmati, Ahmedabad CM 'lied' on Gandhi martyrs day: Environmentalist Taking strong exception to Gujarat chief minister Vijay Rupani stating during his poll campaign in Delhi on January 30 that Sabarmati river has become clean after the Riverfront Development Project was implemented, senior environmental activist Mahesh Pandya has said it doesn't augur well for him to "lie of the Gandhi martyrs day." https://www.counterview.net/2020/02/sabarmati-not-polluted-gujarat-cm-lied.html  (1 Feb. 2020)
Mula, Akole
RIVERS
River Dialogue Will be great to meet friends around Delhi on the 7th Feb.
National Rivers in India: A reality check Excellent photo report from World Environment Day, 5 June 2019 presenting a reality check on eight rivers of India including Ganga, Brahmaputra, Yamuna, Cauvery, Gomti, Musi, Cooum, Ulhas.  https://www.thehindu.com/news/national/rivers-in-india-a-reality-check/article27510799.ece/photo/1/  (5 June 2019)
Assam River On Fire For 2 Days After Crude Oil Pipeline BurstsA tributary of Burhi Dihang river, in turn a tributary of Brahmaputra, is on fire for two days, since Feb 1, after a crude oil pipeline in the area exploded during the night between Jan 31 and Feb 1.
https://www.ndtv.com/video/embed-player/?site=classic&id=539578&autostart=false&autoplay=0&pWidth=420&pHeight=315&category=embed
Oil India authorities said that the leakage took place because of a "rare instrumentation error" in the central tank pump where the crude oil from all Oil India fields in upper Assam region is collected. They alleged the local people may have ignited the fire! https://www.ndtv.com/india-news/assam-dibrugarh-river-on-fire-for-2-days-after-crude-oil-pipeline-bursts-2173948  (03 Feb. 2020)
Rajasthan HC notices over Luni riverbed encroachment High Court on Jan. 22 issued notices to the divisional commissioner (Jodhpur), district magistrate (Barmer) and other officials seeking a reply on encroachments in Luni river by the land mafia by January 27. In a PIL, petitioner Sumer Gaur said the land mafia had encroached huge land parcels in Luni river and constructed houses on the plots.
– "Not only this, they have also started sand mining in the river, which was detrimental for the water body," the petition said, alleging that repeated complaints against rampant encroachment to revenue officials of Balotra, district magistrate of Barmer and the divisional commissioner of Jodhpur fell on deaf ears.
– The petitioner also submitted facts and records in support of the petition after which the division bench of justice Sangeet Lodha and justice P S Bhati admitted the petition and issued the notices to the divisional commissioner (Jodhpur), district magistrate (Barmer), SDM (Balotra) and tahsildar and nayab-tahsildar seeking a reply by January 27.  https://timesofindia.indiatimes.com/city/jodhpur/hc-notice-over-encroachment-in-luni/articleshow/73532062.cms  (23 Jan. 2020)
Maharashtra
Also see,  Comprehensive study of polluted river stretches of Bhima river for MPCB.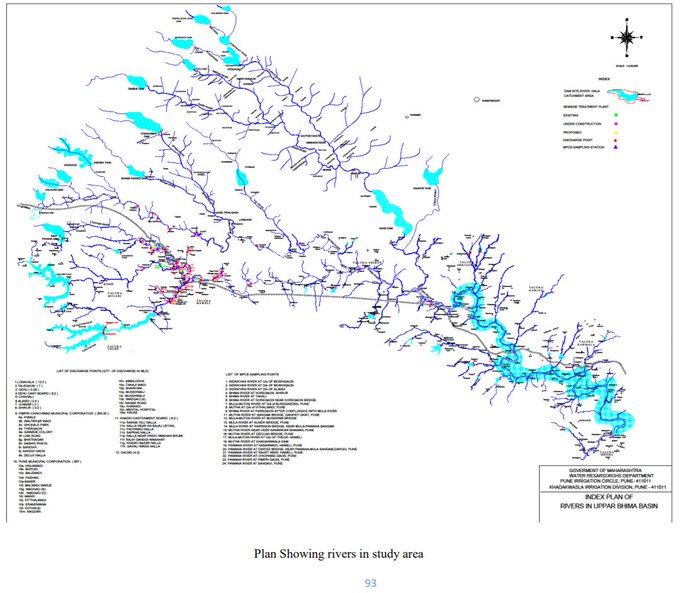 Click to access BhimaRiverReport%20_CPCBguidelines%2018thNovember15.pdf
Jharkhand Liquid waste, poisonous oil dumped makes river lethal Damodar river is one of the most polluted rivers in India and the world. Several promises have been made to clean the river and save it. To add to its pollution are many coal factories in the region. These coal factories allegedly dump hazardous fluids in Damodar river. A large amount of liquid waste is dumped in the river at Tenu Ghat in Bokaro, Jharkhand. This severely pollutes the river.
– The consumption of the polluted waters of the river can render thousands of people ill and diseased. This contamination of Damodar can affect the people living in the area of Jharia coalfields.The animals grazing in the area are also not able to drink the water. River fish are also dying because of the polluted water. It was reported that industrial lubricants are being dumped in Damodar river making the water poisonous. https://www.indiatoday.in/india/story/damodar-river-pollution-waste-oil-jharia-coalfields-bokaro-1609744-2019-10-16  (16 Oct. 2019)
NARMADA Madhya Pradesh Narmada Jayanti (birthday) of river is being celebrated toady at many locations in Madhya Pradesh.  https://hindi.webdunia.com/sanatan-dharma-history/narmada-jayanti-2020-120013100048_1.html  (31 Jan. 2020)
GANGA Centre  WII survey team to hold in-depth river habitat assessment of Ganga basin with hi-tech tools In a unique in-depth study of country's rivers, as part of river habitat initiative, a survey team will use state-of-the-art scientific tools and techniques such as laser-based distance measurement units for channel width determination, sonar-based channel depth estimator, doppler-based river flow determination, GPS and GIS technology in combination with the local traditional knowledge of the riverside communities for river conservation.
– The initiative will include 10 rivers and cover more than 4,000 km of rivers in eight states in the Ganga basin. The rivers to be mapped by Doon-based WII, including Ganga, Ramganga, Yamuna, Gomti, Ghagra, Gandak, Koshi, Son, Chambal and Rupnarayan — from source to their respective confluences.
– Director-general of NMCH, Rajiv Ranjan Mishra, in the first national Ganga council meeting held recently at Kanpur had stressed on the need to safeguard the biodiversity of the important species of Ganga such as Gangetic dolphin, which is considered an important indicator of Ganga's robust aqua system. This project has been assigned to WII for scaling up the aquatic species conservation in the Ganga basin.
– Director of WII, Dhananjai Mohan, said that the convergence of state-of-the-art scientific tools, techniques and community involvement makes the assessment unique and one of its kind in the country. Project in-charge SA Hussain and Ruchi Badola said that the assessment will generate baseline data on river habitat conditions based on which a roadmap will be prepared for aquatic biodiversity conservation in Ganga basin for ensuring 'Nirmal Dhara and Aviral Dhara' of not only Ganga but also in its tributaries. https://timesofindia.indiatimes.com/city/dehradun/wii-survey-team-to-hold-in-depth-river-habitat-assessment-of-ganga-basin-with-hi-tech-tools/articleshow/73675217.cms  (28 Jan. 2020)
Bihar Ghat makeover through riverfront project The riverfront project entails the development of 5.7 km long and 15ft wide walkway along the 16 ghats in the city which will have amenities like decorative street lamps, public lavatories, 500 seating benches and green cover, built under the Namami Gange project of the National Mission for Clean Ganga. In Sonepur, a town in Bihar, located on the banks of the River Gandak and Ganges, many new ghats have been built under the NMCG programme. The town hosts the world's largest cattle fair and attracts lakhs of devotees who take a dip in the holy river every year.  https://www.indiatoday.in/india/story/river-ganga-gets-a-makeover-in-bihar-through-riverfront-project-1637640-2020-01-17  (17 Jan. 2020)
RIVERS BIODIVERSITY
Madhya Pradesh NBWL defers proposal for drawing water from Chambal river While government push for drawing fresh water from Chambal river, home to critically endangered ghariyals and the dolphins, National Board of Wildlife (NBWL) has turned down the proposal saying it will adversely impact the wildlife and has asked the state government to explore alternative sources of water.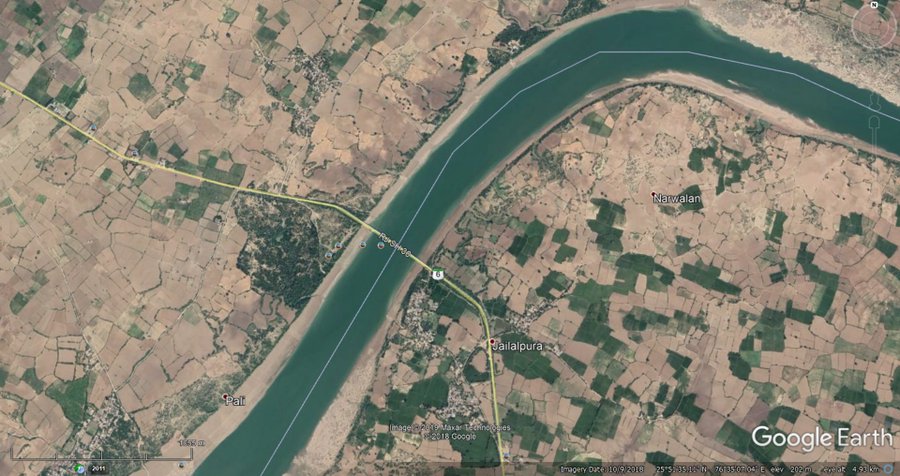 – The Standing Committee of NBWL in its meeting held last month decided to defer the proposal for use of 1.267 hectares of land from the National Chambal Sanctuary for construction of Intake Well in the Chambal River and for laying of drinking water pipeline to Sheopur in MP. The IGF (WL) stated that the state's Chief Wildlife Warden has not recommended the proposal considering that the intake well is proposed to be constructed in close proximity of the habitat of crocodile, gharial, Indian skimmers, turtle and dolphin.
– In 2011, the Wildlife Institute of India (WII) suggested that the minimum flow required to sustain the ideal habitat for gharial in the Chambal river is 151-165 m3/sec while for the dolphin the minimum flow required to sustain the ideal habitat is 266.42 -289.67 m3/sec. But in December 2017, the WII again monitored the discharge of the Chambal which was found to be 67 m3/sec. "So, taking water from the river will affect the wildlife adversely in the long run for sustaining viable population of critically endangered schedule I species. The Standing Committee of the NBWL in 2011 decided that no new projects could be considered by the said committee in future for taking water from the Chambal river," the wildlife board was informed.  https://www.newindianexpress.com/nation/2020/jan/25/mp-govt-proposal-for-drawing-water-from-chambal-river-turned-down-by-green-panel-to-protect-local-species-2094344.html  (25 Jan. 2020)
Study Climate change to hit 150 native fish species in hill states An internal study of Wildlife Institute of India reported in media in August 2019 has revealed that climate change will affect around 150 native fish species of the Himalayan states, including Uttarakhand, Himachal Pradesh, Jammu and Kashmir and Arunachal Pradesh. Common snow trout, found in Himalayan region and much sought after as a food fish, alone would lose around 21% of its existing space of 16,251 square kilometres.
– Scientists say that "continuous stalking of natural habitat by human being" is one major factor that is adding upon the miseries of Himalayan fishes. Other factors include pollution, global warming, the damming of rivers and introduction of exotic fish. Brown trout, an invasive fish species, which was introduced in the Himalayas in 1860 by the British, has also emerged as a major threat to native fish species.
– Dr Vineet Dubey, project scientist, Wildlife Institute of India, said, "Brown trout is a gift of the British to us. They introduced it in Jammu and Kashmir in 1860 for enjoying their fishing sport and also to add one more delicacy for their taste buds. However, it has turned out to be a major threat to the common snow trout and around 150 Himalayan fish species."
– The invasive breed is found at a high altitude in cold water rivers and is carnivorous whereas the native common snow trout is found in cool water in the mid-altitude rivers of the Himalayas and is herbivorous. "The rising temperature would push the native fishes to move upwards in search of comfort, which is where the conflict will arise among Himalayan fishes and brown trout. And the carnivorous fish would dominate the Himalayan rivers," said K. Sivakumar, senior scientist and professor, department of endangered species management, Wildlife Institute of India.
– According to the scientists, over 200 major Himalayan dams also pose a grave risk to the habitat of the native fish species. Aashna Sharma, senior research fellow at WII, said, "Our study also found that these high-altitude fishes survive nicely in their natural habitat in the areas where damns have not been built, like Tirthan river in Himachal Pradesh. Similarly, Mahseer is thriving in the undammed Nayaar river in Uttarakhand's Pauri Garhwal. Our research work indicates that, by 2050, the snow trout will vanish from 400 square kilometres of the Himalayas from Jammu and Kashmir to Arunachal Pradesh." https://timesofindia.indiatimes.com/city/dehradun/climate-change-to-hit-150-native-himalayan-fish-species-including-trout/articleshow/70847564.cms  (27 Aug. 2019)
Study Fish getting skin cancer due to pollution Study by College of Fishery Science, Jabalpur finds polluted water bodies are causing cancer among fish The institute tested samples of dead fishes over a span of past four years and concluded that fishes developed cancer—- especially skin cancer and died. The problem is more pertinent in fishes of stagnant water bodies, but those in rivers are also under threat.
– Fish samples were taken for study after the state's fishermen societies and Krishi Vigyan Kendras asked the institute to look into reasons for fish deaths in water bodies across the state. Institute studied samples of dead fishes from different water bodies of Mandla, Dindori, Seoni, Balaghat, Jabalpur, Rewa among other places. The study also found fishes to be more prone to skin cancers and once a fish develops cancer, the entire group in the environment are at a high risk of developing it. Experts also pointed the problem is not common in any specific fish, but fishes found in stagnant waters like Magur and Singhi are more exposed to polluted water, thus being more at risk.
– Dean of the college, Shashikant Mahajan said, "Cancer develops in fishes found in water bodies with high level of heavy metals and plastic." 'Release of metals, plastic in water bodies causing cancer in fish'. If any human consumed a fish with the disease, they would also fall ill due to hydro aquatic bacteria and may have problems like vomiting, upset stomach and diarrhea," Mahajan said. "Major reason of disease in river fishes is mining, slowing down the natural filtration process", Mahajan added.
– A common symptom of the deadly disease in a fish is reduction in natural shine of the fish. Reddishness in body parts changes to whiteness and a pale white layer over eyes. In water, the movement of fish with disease also gets slower, he added-.While the release of heavy metals, plastic, sewage leading to reduction oxygen levels in water is the chief cause of cancer in fish of still water, sand mining is also among the major reasons of polluted river water leading to deadly disease in fishes. https://timesofindia.indiatimes.com/city/bhopal/Polluted-water-bodies-cause-cancer-death-among-fish/articleshow/70300190.cms  (20 July 2019)
Study Mystery river snail reveals dispersal events into Indian subregion The mystery snails found in India belong to a subfamily known as Bellamyinae and are distributed throughout the Indian subregion. This distribution suggests that either mystery snails diversified from a common ancestral species from India or there could have been multiple dispersal events from outside into India.
The latter theory, called 'into-India' dispersal, in general, emphasizes the movement of flora and fauna from adjoining land masses during the collision of the Indian and Asian plates millions of years ago.  https://researchmatters.in/news/mystery-river-snail-reveals-dispersal-events-indian-subregion  (28 Jan. 2020)
Research Rare fish-eating crocodile confirmed nesting in southwest Nepal after 37 years The fish-eating crocodile was once widespread across the rivers of the northern part of the Indian subcontinent. But now the gharial (Gavialis gangeticus) is on the brink of extinction, thanks to the loss and degradation of its riverine habitat, depletion of fish stocks in rivers, and accidental drowning in fishing nets. https://news.mongabay.com/2019/11/rare-fish-eating-crocodile-confirmed-nesting-in-southwest-nepal-after-37-years/  (21 Nov. 2019)
FISH, FISHERIES, FISHERFOLKS
Kosasthalaiyar, Chennai River reality: Health a concern for Ennore fishermen Not only livelihoods, no stop pollution has severely affected health of fishermen:- Due to excessive water pollution, most fish in the river has disappeared, and the remaining fish too are highly filled with chemical content. This also pushed many fishermen to catch these worms, which they later export as prawn feed to Odisha and Andhra.This type of fishing has come with myriad health issues, mainly skin related problems like rashes, lesions typically psoriasis and hives. ''To catch these worms, we stay in chest-deep water for almost eight ours daily and earn about 500 or 600 a day,'' tells Kumaresan, to this reporter sitting on a boat opposite to him. Narrating his sorrow tale, he said, out of his three sons, one died allegedly of cancer three months ago while the other son faces severe rain-related problems. He puts all the blame on the contaminated water and fish caught in the river.
– According to the Journal of Toxicology and Health published in 2017, the Kosasthalaiyar River is ''awash with toxic chemicals like paraffin, aromatics, copper and nickel'' which may cause "permanent disturbances to the marine ecosystem, leading to ecological degradation, by not just affecting the flora and fauna but also humans through the food chain.''
''All of us in the Kattukuppam village eat the contaminated fish. This doesn't sell in the market as it tastes sour,'' adds Kumaresan. The story is the same for hundreds of other fishermen, who are seen standing chest-deep in the River to catch 'Poochi', which is illegal as it disturbs the food chain. G Dhanaraj, (39), a fisherman comes out of the water and shows his face to click a photograph. There's a black patch just above his cheeks. In his leg, the patches are bigger. He then says it is some type of a skin-disease for which he's getting treated. ''It has developed over the years getting inside the water. No amount of skin creams were helpful and I have only wasted thousands of rupees in medicine,'' says Dhanaraj. Since there are no government hospitals in nearby except for few Public Health Centres, Ennore fishermen need to travel ten kilometers to go to Stanley or RSRM hospital in Royapuram.
– The travel expenditure adds to their medical costs putting them further in poverty. ''We don't get to save anything from the Rs 600 we earn daily as medicine costs reach Rs 5000 a week,'' adds Dhanaraj. Unable to pay fees for their children, the kids mostly end up dropping out, leading to them also entering into fishing at a young age.
– Facing health hazards and livelihood crisis, many fishermen have left their traditional livelihood and started seeking employment in the nearby industries. But only a few have had the luck.''All the industries are in north Chennai but they rope in labourers from North India for work,'' says M Raja (43), a fisherman. However, he is not very keen on leaving fishing but wants his river and livelihood back. Traditional fishes don't come here anymore, say fishermen. https://www.newindianexpress.com/cities/chennai/2020/jan/05/river-reality-health-a-concern-for-ennore-fishermen-2085249.html  (5 Jan. 2020)
Adyar Scientists Find out What Caused 2017 Fish Apocalypse Studying yet another instance of the adverse effects of pollution on habitat and environment, researchers led by Vinitha Ebenezer from the Centre for Climate Studies, Sathyabama Institute of Science and Technology, Chennai, have found that chromium toxicity and low salinity caused the mass death of fish in Adyar estuary, two years ago.
– In November 2017, hundreds of dead fish washed up on the shores of the Adyar estuary located at the mouth of the Adyar River, creating panic across the city, especially among the local fishermen. The fishermen blamed the discharge of untreated sewage into the water body for the mass death. This was the second such occurrence within three years, the first having taken place in December 2014.
– While environmentalists and researchers proposed several plausible reasons for this, a detailed explanation was not available before this study. Ebenezer and her team analysed the water collected from the estuary and determined the concentration of heavy metals in it. The concentration of chromium in the water immediately stood out, being more than thirty times higher than the maximum permissible limit.
– Talking about the possible cause of increased chromium in the estuary, Umer Khalifa S.R., the lead author of the study says, ​"It is most likely from the release of a leather industry which uses chromium in the tanning process." Tanneries use toxic mixtures of chromium salts for tanning animal skins to obtain leather. Along with increased chromium, low salinity in the estuary made matters worse. Optimum salinity or salt content in water prevents the accumulation of heavy metal ions. ​"Increased chromium alone could not have caused the mass death of fish in a short time span. Low salinity was the compounding factor," says Khalifa. https://thewire.in/science/something-fishy-an-environmental-mystery-solved  (1 Nov. 2019)
1,000s of fish 'poisoned' to death in Tiruneermalai lake Rampant pollution, allegedly caused by industries in the vicinity, resulted in the death of thousands of fish in the Tiruneermalai Lake on Nov. 23, 2019. Catla fish, varying from two to four feet, were found floating dead in the lake early in the morning. Residents who spotted the fish said the water in the lake had turned deep black in colour due to the release of industrial waste.
TNIE had reported twice in 2018 and 2019 about how chemical water filled up the lake. Only temporary measures were taken up to plug sewage while a permanent solution is awaited. In a similar incident in July, the lake turned completely green in colour after the continuous discharge of industrial effluents. https://www.newindianexpress.com/cities/chennai/2019/nov/17/1000s-of-fish-poisoned-to-death-in-chennais-tiruneermalai-lake-2062847.html  (17 Nov. 2019)
Periyar, Ernakulam From fishing to toxic hotspots Nestled between Periyar river and its tributary Muttar river in Ernakulam district, the island municipality of Eloor has often been in the news for the massive fish deaths along the river stretch. It is only around Eloor — an industrial hotspot with about 247 chemical industries — that the Periyar river has shown visible effects of pollution, including fish deaths and change in water colour. In fact, just a week ago, the Muttar river witnessed another major fish kill, where hundreds of fish surfaced dead on the river.
– For many, it is hard to comprehend that Eloor — once a pristine fishing and agricultural village — is currently choked by the hundreds of functioning and defunct factories, with some even emitting toxic pollutants and radiation.
– The Centre for Developmental Studies in Thiruvananthapuram has managed to trace Eloor's transition from a fishing hotspot into one of the world's toxic hotspots. The team has recorded their findings in a 128-page booklet titled: 'Why Do People Deny Environmental Destruction? The Pollution of the Periyar at Eloor, and Local-level Responses'.  https://www.thenewsminute.com/article/how-pristine-kerala-island-transformed-world-s-top-toxic-spot-116980  (28 Jan. 2020)
Kerala Fishermen Release Endangered Whale Shark Back Into Water A group of fishermen released an endangered shark that was trapped in their nets back into the sea. Whale sharks are the largest fish in the ocean and can reach up to 40 feet in length. Distinguished by their white spots, this shark is on International Union for Conservation of Nature's list of endangered species.
https://www.ndtv.com/video/embed-player/?site=classic&id=539303&autostart=false&autoplay=0&pWidth=420&pHeight=315&category=embed
According to Wildlife Trust of India, whale sharks were added to Schedule I of India's Wild Life (Protection) Act in 2001. This species has therefore been accorded the highest level of protection in the country. https://www.ndtv.com/offbeat/kerala-fishermen-release-endangered-whale-shark-back-into-water-win-praise-2172174  (31 Jan. 2020)
RIVERBED MINING
MoEF  Guidelines to monitor, check illegal sand mining This came under pressure from NGT and the MoEF has shown zero interest in implementing these, or having any role for communities in monitoring and compliance.  https://indianexpress.com/article/india/govt-releases-guidelines-to-monitor-check-illegal-sand-mining-6240249/  (29 Jan. 2020)
The guidelines can be seen here. http://moef.gov.in/wp-content/uploads/2020/01/EM_Guidelines_Sand-Mining.pdf 
This comes four years after the government's 'Sustainable Sand Management Guidelines 2016', which was unsuccessful in putting an end to rampant illegal sand mining across the country.  http://www.indiaenvironmentportal.org.in/files/file/Final%20Sustainable%20Sand%20Mining%20Management%20Guidelines%202016.pdf 
According to the Sand Mining Framework 2018 of the central government's ministry of mines, in India, there is a shortage of sand in the country, similar to the situation in other developed and developing countries. It estimated that the demand of sand in the country is around 700 million tonnes (in the financial year 2017) and it is increasing at the rate of 6-7 percent annually even as the quantity of natural generation of sand is static.  https://www.mines.gov.in/writereaddata/UploadFile/sandminingframework260318.pdf 
https://india.mongabay.com/2020/01/no-mining-zones-to-protect-river-ecosystems-from-sand-mining/  (30 Jan. 2020)
The MoEF&CC said the guidelines were based on various court orders. The Supreme Court in July 2019 pulled up the Centre for not being able to curtail illegal sand mining across Tamil Nadu, Punjab, Madhya Pradesh, Maharashtra, and Andhra Pradesh.
In a first, states have also been directed to quantify future demands for sand over the next five years, based on a market survey to compare demand and supply (factoring in illegal sand extraction). This needs to be done under the mining plan for each district.
A ministry official pointed out that a separate chapter on manufactured sand had been prepared under the latest guidelines, and inventories needed to be developed under the mining plan at the district level.
Rampant illegal sand mining in India fetches  ₹1,611 crore in profits every year, a documentary by the Australian Broadcasting Corporation (ABC) found in 2018. The Maharashtra government said illegal sand mining was much lesser in the state as compared to other areas, but cases of illegal sand dredging, especially along creeks, was on the rise. https://www.hindustantimes.com/mumbai-news/use-camera-drones-to-curb-illegal-sand-mining-identify-erosion-union-environment-ministry/story-S6sLaDXBakUawCLL8iHMPL.html  (30 Jan. 2020)
Highlighting the best practices of the operation wing of the Tamil Nadu government in effectively managing sand quarries, the minister has directed other states to replicate the models to check indiscriminate mining. It also raised concerns about safety of the officials and stated that "many officers lost their lives while attempting to curb illegal mining".
The new set of guidelines focusses on effective monitoring of sand mineral resources right from dispatch and end use by consumers and using technologies for surveillance of the mining operations at every step, said the ministry. It also emphasised on a periodic environment audit.
"There are 10 quarries operational in the state. We are conducting inspections and monitoring the water level four times a year (pre-monsoon, monsoon, post monsoon and winter)," said a senior official in sand quarrying operation wing of Tamil Nadu public works department. The report, he said, has been submitted to the state environment impact assessment authority and TN pollution control board.
A similar system of audit has been recommended by the high level monitoring committee formed by the Madras high court to inspect the existing quarries in Tamil Nadu. The wing has been checking the groundwater level during sand quarrying operations by monitoring a network of existing wells around the quarries.  https://timesofindia.indiatimes.com/city/chennai/tamil-nadu-to-go-hi-tech-to-stop-sand-mining/articleshow/73723315.cms  (29 Jan. 2020) 
Odisha Young anti-sand mining activist found dead in Rashgovindpur Tension flared up in Rashgovindpur after the body of a local youth, who had been opposing illegal sand mining in the area, was found on the bed of Jambhira river on Jan. 9 morning. The deceased 32-year-old Mantu Tarei of Susumari village was a social activist and spearheading protests against illegal sand mining on Jambhira river bed.
Brother Pintu Tarei alleged that Mantu was murdered by sand mafia. "My brother had gone to the river bed on Jan. 8 night to stop the smugglers who were illegally lifting sand. The mafia crushed him to death under a JCB machine as his body bore several grievous injuries," he alleged. Locals said that due to movement of heavy sand loading vehicles, the village road had been damaged to such an extent that it was no more usable. Schoolchildren and emergency vehicles faced a lot of difficulties to commute due to the bad road condition. https://www.newindianexpress.com/states/odisha/2020/jan/10/young-anti-sand-mining-activist-found-dead-in-odishas-rashgovindpur-2087545.html  (10 Jan. 2020)
Bihar Sand mining complainant shot dead in Patna Police recovered the bullet-ridden body of one Pankaj Kumar (32) from Katarhi village under the Rania Talab police station area in Patna district's Paliganj sub-division on Jan. 4. According to sources, Pankaj had lodged complaints with mines and geology department against illegal sand mining at his village, Janpara in Bikram block, some months back apart from filing several RTIs regarding the issue.
SHO of Rania Talab police station Indrajeet Singh said preliminary investigations revealed that Pankaj, who had gone to his maternal aunt's residence on Jan. 3, did not return home. Pankaj was shot in neck from a close range. He owned a general store at the village. He said police have so far not received any written complaint from the family members as they were busy cremating the body of the victim. Paliganj DSP Manoj Kumar Pandey said Pankaj used to post contents on his social media profile regularly against sand-laden trucks passing through his village, much to the inconvenience of common people and schoolchildren. https://timesofindia.indiatimes.com/city/patna/sand-mining-complainant-shot-in-patna/articleshowprint/73103079.cms  (5 Jan. 2020)
Kerala JCB knocks down man in Thiruvananthapuram Sand mafia killed a man with the mechanical arm of JCB for resisting mining from his compound at Kattakada on Friday morning. Sangeeth of Sreemangalam in Keezharooril was hit with the machine in front of his family.  https://www.newindianexpress.com/cities/thiruvananthapuram/2020/jan/24/sand-mafia-jcb-knocks-down-man-in-thiruvananthapuram-for-resisting-mining-from-his-land-2093934.html  (24 Jan. 2020)
Penalty for illegal sand mining to go up twentyfold The Cabinet meeting on Jan. 29 decided to amend the Kerala Protection of River Banks and Regulation of Removal of Sand Act, such that the penalty for violators will be raised from Rs 25,000 to Rs 5 lakh. The additional fine for subsequent violations will be upped to Rs 50,000 from Rs 1,000 per day. The existing provision is to sell the seized sand to the Kalavara store run by the Kerala State Nirmithi Kendra, as per the rate fixed by the Public Works Department. This will be amended so that the district collector can auction off the sand to individuals or institutions.  https://www.newindianexpress.com/states/kerala/2020/jan/30/penalty-for-illegal-sand-mining-in-kerala-to-go-up-twentyfold-2096342.html  (30 Jan. 2020)
The fine for continued offence will go up from ₹1,000 a day to ₹50,000. The Bill also empowers the District Collector to fix the price of the sand confiscated from offenders and auction it to individuals or institutions. Currently, the confiscated sand is sold to Nirmiti Kendra at a price fixed by the Public Works Department. https://www.thehindu.com/news/national/kerala/govt-imposes-heavy-penalty-for-illegal-river-sand-mining/article30685375.ece  (29 Jan. 2020)
Intel report had alerted govt on sand mining gang threat The intelligence wing had recently alerted the government about the increase in activities of sand and soil mining gangs in the state, but not much follow-up actions were taken on the report. As per trusted sources, the State Special Branch had apprised the government of the extend of the activities of the gangs, most of them working as organised criminal groups. The report was discussed in detail during a high-level meeting attended by the district collectors here last month.
The Special Branch report had given an exact number of gangs operating in each district. "Specific instructions were given on the measures to be taken against mining rackets. But the instructions have not percolated down to the lower ranks," said a senior officer, who was privy to the meeting.
Sources said the reason for the tepid response of the authorities towards the issue is the proximity that the mining mafia enjoys with politicians. "A lot of illegal mining gangs enjoys political patronage at the grassroot level. This helps them evade police net," said an officer. In certain cases, police officials were found to be hand in glove with the mining mafia. Special Branch sources said they have filed a report in this regard with State Police Chief. https://www.newindianexpress.com/states/kerala/2020/jan/28/intel-report-had-alerted-govt-on-sand-mining-gang-threat-2095373.html  (28 Jan. 2020) 
'Entrust PSU with beach sand mining work' The CPI leader and chairman of public undertakings committee C Divakaran asked the government to ensure that mining of mineral-rich beach sand found along the coast of Kollam and Alappuzha be retained in the hands of the public sector undertaking Kerala Minerals and Metals Ltd (KMML.
The mineral-rich beach sand is invaluable and can in a big way support the state's economy. Since the recommendations for scientific mining of mineral-rich beach sand did not get due consideration, private mining lobbies have been trying to wrest control over this, and many a time, the government has acted soft on such attempts, he said. https://timesofindia.indiatimes.com/city/thiruvananthapuram/entrust-psu-with-beach-sand-mining-work/articleshow/73103394.cms  (5 Jan. 2020)
Uttarakhand Cabinet amends RBM policy The Cabinet on Jan. 30 also approved an amendment in the Uttarakhand Minor Mineral Concession Rules 2001, according to which now riverbed material (RBM) can be mined up to a depth of three metres. According to earlier rules, RBM could be mined up to a depth of 1.5 metres. https://www.hindustantimes.com/india-news/uttarakhand-govt-to-bring-in-ordinance-to-shut-down-slaughterhouses/story-es8oyPJU4C4nQgaePhRXsO.html  (30 Jan. 2020)
Uttar Pradesh Gangster held A gangster linked with sand mining mafia and accused of opening gunfire on a deputy collector in 2006 was arrested here on Sunday by the Special Task Force (STF), officials said. Brajanad Nagar (53), is a native of Faridabad in Haryana and was held at around 4 pm in Sector 168 by the Noida unit of the STF with the support of the local force from Expressway Police Station, a senior officer said.
"Nagar works for the Randeep Bhati gang and has been previously booked under the Gangsters Act. He is also accused of illegal sand mining on the banks of the Yamuna river and also for selling plots along the river bank illegally," Deputy Superintendent of Police, STF, Raj Kumar Mishra said.
Nagar had sold plots along the river bank and got their registries done for at least 200 gullible people, as per preliminary information, the STF officer said. In 2006, the then deputy collector of the area had visited the Yamuna floodplains to stop illegal sand mining. Nagar had opened fire at the deputy collector, who had survived the attack and an FIR was lodged against the gangster. "That case is still pending in the court," Mishra said.
He said that during Nagar"s arrest, his vehicle was impounded and some documents were recovered. "The documents detail transactions related to gangsters Randeep Bhati, mining mafia Sanjay Momnathan, Satpal Mujhedi, etc." Mishra said. https://www.outlookindia.com/newsscroll/gangster-who-once-shot-deputy-collector-over-illegal-sand-mining-held-stf/1706795  (12 Jan. 2020)
Goa Chief secy orders clampdown on illegal sand mining Chief secretary Parimal Rai on Jan. 15 directed officials to ensure that strict vigil is maintained on areas where illegal extraction of sand takes place, and to keep a lookout for the transportation of the sand. He issued instructions to various departments including transport, police, revenue, mines and PWD, at a meeting held at the secretariat to review the situation. Rai also asked the authorities to strictly comply with orders of the high court on the illegal extraction of sand.
The meeting was attended by the collectors (North and South Goa), the superintendent of police (North and South Goa and coastal), director of mines and geology, director of environment, director of information and publicity, director of transport and deputy director of the captain of ports department. The control room/ helpline numbers for lodging complaints pertaining to extraction and transportation of sand/ minor minerals, 0832-2225383/2225083 for North Goa district and 0832-2794100 for South Goa district, were announced. Complaints can also be lodged on emergency services number 100. https://timesofindia.indiatimes.com/city/goa/chief-secy-orders-clampdown-on-illegal-sand-mining/articleshow/73282000.cms  (16 Jan. 2020)
WETLANDS, LAKES, WATER BODIES
SANDRP Blog World Wetlands Day 2020: Positive stories from India On February 2, the World Wetlands Day is celebrated globally. The theme of 2020 is Wetlands and Biodiversity to emphasize the critical roles the wetlands plays for wildlife, aquatic life, and native vegetation. They also play crucial role in harvesting rainwater, recharging groundwater, providing livelihoods, acting as carbon sinks and providing cushion against flash floods thus they hold immense significance in changing climate. https://sandrp.in/2020/02/01/world-wetlands-day-2020-positive-stories-from-india/  (01 Feb. 2020)
SANDRP Blog Punjab Wetlands Overview 2019: More Ramsar Tags no guarantee for Wetlands protection  Punjab government has been successful in getting three more wetlands declared as Ramsar sites of international importance. The state already has three wetlands with Ramsar tags namely Harike, Kanjli and Ropar wetlands. The government in October 2019 had proposed a total of five sites including Ranjit Sagar conservation reserve and Hussainiwala wetland for Ramsar tags. The new wetlands selected for the tag are Keshopur-Miani community reserve, the Beas conservation reserve and Nangal wildlife sanctuary.  https://sandrp.in/2020/01/29/punjab-wetlands-overview-2019-more-ramsar-tags-no-guarantee-for-wetlands-protection/  (29 Jan. 2020)
Study India lost one-third of its natural wetlands in four decades India has lost nearly one-third of its natural wetlands to urbanisation, agricultural expansion and pollution over the last four decades, a study by non-government organisation Wetlands International South Asia (WISA) has found.
According to the report released on Jan. 30 ahead of the World Wetlands Day on February 2, Mumbai has lost maximum weltands (71%) — from 1970 to 2014. Other major cities that faced wetland loss include Ahmedabad (57%), Bengaluru (56%), Hyderabad (55%), Delhi and National Capital Region (38%), and Pune (37%). Mumbai wetland cover has gone down from 4.58 sq km to 1.3 sq km and Delhi-NCR's from 2.21 sq kms to 1.36 sq kms during this period. WISA's report is based on analysis of satellite images of land use and land and ground data of 22 cities and towns.
WISA director Ritesh Kumar underlined wetland loss needs to be seen not just as a biodiversity crisis but as a development crisis manifesting into increased water, food and climate insecurity. "An ecosystem health assessment of wetlands under a 100-day programme of the Centre indicated that one in every four wetlands had low to a very low ecosystem health and high to very high threats," he said, referring to overall ecological health of wetlands in the country.
A draft report of the environment ministry reported by HT in December 2019 had listed 42 of the 100 top wetlands in the country in high risk category facing threat from encroachment and high human interference.
India has maximum wetlands in South Asia—7.7 lakh—covering the country's 4.6% geographical area, according to Wetland International, the parent body of WISE. The number of wetlands in India is only next to Japan and China in Asia. India is home to 37 Ramsar sites or wetlands designated to be of international importance under the Ramsar Convention that are home to over 5,000 species of flora and fauna. They represent at least 23% reptiles, 13% amphibians, 23% fish, 65% birds, and 26% of mammalian species in the country, according to environment ministry website. https://www.hindustantimes.com/cities/india-lost-one-third-of-its-natural-wetlands-from-1970-to-2014/story-QmhTehlWAcep0cSHdbzufI.html  (31 Jan. 2020)
National 10 more wetlands declared as Ramsar sites The 10 new ones are Nandur Madhameshwar, a first for Maharashtra; Keshopur-Miani, Beas Conservation Reserve and Nangal in Punjab; and Nawabganj, Parvati Agra, Saman, Samaspur, Sandi and Sarsai Nawar in Uttar Pradesh.
The other Ramsar sites are in Rajasthan, Kerala, Odisha, Madhya Pradesh, Himachal Pradesh, Assam, West Bengal, Jammu and Kashmir, Andhra Pradesh, Manipur, Gujarat, Tamil Nadu and Tripura. With this, a total of 37 sites in the country have been recognised under the international treaty. Wetlands declared as Ramsar sites are protected under strict guidelines. https://www.thehindu.com/sci-tech/energy-and-environment/37-indian-wetlands-declared-sites-of-international-importance-under-ramsar-javadekar/article30675881.ece  (28 Jan. 2020)
Maharashtra 'Mumbai lost 71% of its wetlands in 44 yrs' Among 22 Indian cities, Mumbai has lost the maximum number of wetlands – 71% – between 1970 and 2014, according to a national study by a non-profit group, Wetlands International South Asia (WISA). The wetland loss from 4.58 sqkm to 1.3 sqkm was a result of the increase in built-up area to 1074 sqkm from 149 sqkm, stated the study.
The latest data from the state environment department, which was submitted before the Bombay HC in an affidavit on Jan. 29, showed 57 wetland areas have been verified across Mumbai suburban (48) and city (9). Of these, the state environment department is yet to notify wetlands under the Wetland (Conservation and Management) Rules, 2017. This is a sharp drop from 475 wetlands identified in Mumbai under the National Wetland Atlas Maharashtra state, with 412 wetlands in Mumbai suburbs and 63 in south Mumbai.
"The identification and notification of wetlands is taking time as different states are interpreting the rules differently. While manmade wetlands will not be notified under the Wetland (Conservation and Management) Rules, 2017, it doesn't mean that these sites are not going to be recognised as wetlands or that they don't need to be protected. It is just that they would be notified under different rules and not under the wetland rules. We are writing to these states clarifying these issues," said Manju Pandey, joint secretary MoEF&CC.
On August 26, 2018, the MoEF&CC had directed states to prepare a list of wetlands for priority restoration in the next five years and asked them to submit their respective integrated management plan. While 130 wetlands were identified by all states, the MoEF&CC proposed the concept of 'Wetland Health Card' for each of those 130 wetlands. Two wetlands from Mumbai, Vihar and Powai Lakes, were rated A+ and D – the best and worst in Maharashtra. While Vihar is located within the boundaries of a sanctuary, Powai is surrounded by encroachments, fallen prey to illegal fishing and high water pollution. "The first phase has been completed and management plans for restoration ready. Now, the second phase will begin, wherein, two wetlands from each district will be proposed by each state for priority restoration," said Pandey.  https://www.hindustantimes.com/mumbai-news/mumbai-lost-71-of-its-wetlands-in-44-yrs/story-FeJ9uNuD3nzQvQ2NFysRiP.html  (31 Jan. 2020)
HC summons 3 DCs over error in the number of wetlands The Bombay HC on Jan. 27 pulled up the state government yet again for allegedly "lying" on oath regarding the number of wetlands in Parbhani, Nagpur and Nandurbar districts. The court also summoned the collectors from these districts next week to explain their change in stand. A division bench of justices SJ Kathawalla and BP Colabawalla was hearing an 8 year old PIL, filed by NGO Vanashakti through its director Stalin Dayanand, to identify wetlands within the state to enable their protection. While advocate Kruti Venkatesh appeared for Vanashakti, advocate GW Mattos appeared on behalf of the state.
According to an affidavit filed earlier this month by the Under Secretary of the environment department, not a single wetland was found in any of the three districts. Vanashakti had raised serious concerns, especially in the light of the numbers shown in the NWA for Maharashtra, prepared by Ahmedabadbased Space Application Centre and the Maharashtra Remote Sensing Application Centre. https://mumbaimirror.indiatimes.com/mumbai/other/hc-summons-three-district-collectors-over-error-in-the-number-of-wetlands/articleshow/73752352.cms  (30 Jan. 2020)
Remove debris from Bhendkhal wetlands in 15 days: Panel to CIDCO A Bombay HC appointed state wetland and mangrove panel has directed the City Industrial Development Corpo-ration Ltd (CIDCO) to clear within 15 days waste dumped illegally on Bhendkhal wetland, which falls in Uran's eco-sensitive area.
The committee in its December 9 meeting had taken note of the complaints on the alleged destruction of 150 acres of the 160-acre wetland under Navi Mumbai Special Economic Zone (NMSEZ) and directed CIDCO  and Raigad district collector to remove the debris and soil dumped at the site within a month. However no action was initiated by CIDCO authority throughout January. A second deadline to clear the area was issued to CIDCO at the committee's 10th meeting on January 30. https://indianexpress.com/article/india/remove-debris-from-bhendkhal-wetlands-in-15-days-panel-to-cidco-6245350/  (1 Feb. 2020)
West Bengal Kolkata civic body starts razing illegal buildings on wetlands Mayor Firhad Hakim announced on Monday that Kolkata Municipal Corporation (KMC) would demolish illegal structures on East Kolkata Wetlands (EKW). But pulling down the illegal structures that have dotted the Ramsar site in the past decade and a half had already begun a week prior to the mayor's announcement. "We started demolishing two buildings in Ward 108 under Anandapur police station on December 23. This is the first major drive against encroachment in EKW in a long time and will be followed by several more," a KMC official told ToI on Jan. 1.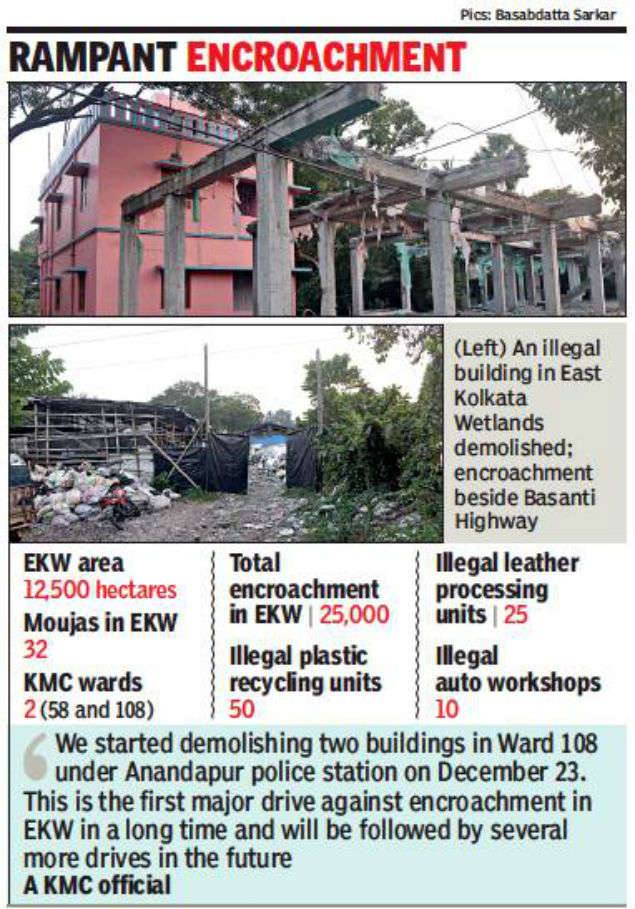 The action taken last time against encroachment in EKW was in January 2012 when East Kolkata Wetland Management Authority (EKWMA), KMC and Kolkata Police had in a joint move pulled down a wall that had been built around Collector's Bheri near Heritage School. While the action then came following the initiative of the chief technical officer at EKWMA and consistent pressure from green action groups in the city, this time the initiative for razing the illegal structures has been forced by a NGT order.
Bonani Kakkar of the environment action group, Public, said the drive needed to be systematic and sustained to undo the encroachment that threatened the character of EKW. Kakkar's PIL at Calcutta High Court in 1992 had led to the formal regulations for protection of EKW and its ultimate listing as a Ramsar site in 2002. Legal activist Subhas Datta, whose petition before the NGT had led to the setting up of a task force under the chairmanship of state chief secretary to implement the law, too called for a continued action. Till now, 357 FIRs have been filed against encroachment on EKW. Total number of encroachments on the sprawling wetlands has been pegged at over 25,000.   https://timesofindia.indiatimes.com/city/kolkata/kolkata-civic-body-starts-razing-illegal-buildings-on-wetlands/articleshow/73068556.cms  (2 Jan. 2020)
Assam 
Goa  NGT accepts plan to hasten process  NGT has accepted the timeline submitted by the State Wetland Authority (GSWA) that work will be expedited on the 35 wetlands already identified and will be completed within six months. The identification of the remaining wetlands will continue simultaneously where the entire work will be concluded within one year.
The tribunal has directed quarterly progress reports to be filed on the identification and demarcation of wetlands. Kashinath Shetye, the applicant, stated that in July 2018 the government took a decision in GSWA to engage the National Centre for Sustainable Coastal Management (NCSM) which had already executed certain works.
However, the GSWA member secretary stated the work executed by NCSM is for identification and demarcation of coastal zones and did not cover wetlands which may be beyond the said zone. "Since NCSM had delayed in responding to GSWA's proposal and that a lower rate was quoted by National Institute of Oceanography (NIO), the work has been assigned to NIO," the tribunal noted.  https://timesofindia.indiatimes.com/city/goa/wetlands-ngt-accepts-plan-to-hasten-process/articleshow/73684044.cms  (28 Jan. 2020)
Kerala Vembanad ecosystem study to begin soon The State Pollution Control Board (PCB) will soon start work on a major research project on the deteriorating ecological condition of Vembanad lake in Ernakulam. The board is expected to submit the proposal before the CPCB. It had earlier conducted a similar study on the Alappuzha stretch of the lake. Designated as a Ramsar site by the UNESCO, the lake is also classified as an 'Ecologically Sensitive Zone'. The study assumes significance at a time when the waterbody is bearing the brunt of the increasing anthropogenic activities.
The lake, which extends for a distance of 96 km from Azheekode in the north to Alappuzha in the south with a northwest-southeast orientation, is spread across the three central districts of the State including Ernakulam in the north, Kottayam in the east, and Alappuzha in the south.
A major focus of the proposed study will be the declining water quality levels in the lake following the spike in human activities. Studies conducted by the board in Alappuzha had revealed that waste water and untreated sewage were being dumped into the lake at several locations in Ernakulam. The high density of population along the banks of the lake had resulted in the growing level of water contamination, it had said.
The research will highlight the impact of the violation of coastal regulation zone norms on the lake. Board officials said untreated sewage from households and slaughter houses in Ernakulam were reaching the lake through various natural and artificial canals. Local bodies along the lake, which have a greater role to play in preventing pollution, have not been able to act against violators, they said. https://www.thehindu.com/news/cities/Kochi/vembanad-ecosystem-study-to-begin-soon/article30707370.ece  (1 Feb. 2020)
Madhya Pradesh Water cultivators facing existential crisis The Kusum Sagar talaab (water body) supports a variety of foods that grow in water, like water chestnuts, lotus stem and kishurua, a sweet-tasting fruit that grows in the roots of water plants.
Wheat and paddy are also grown in the lake bed when most of the lake is drained for irrigation. The story of the 100 families of the Raikwad community dependent on the Kusum Sagar Talab in Imlaha, a village in Chhatarpur district. https://india.mongabay.com/2020/01/water-food-cultivators-in-madhya-pradesh-face-existential-crisis/  (27 Jan. 2020)
Jammu & Kashmir 
Chandigarh Sukhna Lake's latest map to feature in notification UT administration has decided to use Survey of India's latest map of Sukhna Lake and its catchment area in the final notification declaring Sukhna as a wetland under the Wetland (Conservation and Management) Rule, 2017. Sources revealed that in the draft notification, the Chandigarh administration had used Survey of India's 2004 map, as per which the area was surveyed and assessed in the period 1996-97. But one of the objections the UT received had challenged the old map.
The UT administration had received only four suggestions and objections against the draft notification of Sukhna as wetland. The Wetland Act implies that encroachments, setting up of any industry, dumping of waste, discharge of untreated waste and effluents from industries and any construction of permanent nature within 50 metres of the wetland will be banned. https://timesofindia.indiatimes.com/city/chandigarh/wetland-sukhna-lakes-latest-map-to-feature-in-notification/articleshow/73082705.cms  (3 Jan. 2020)
Haryana More water birds, species recorded at Najafgarh wetland Fifty-four species of waterfowl, including six species red-listed by the IUCN, were recorded in a census at the Najafgarh jheel in Gurugram. The number is up from 31 species, including four red-listed birds, recorded in last year's census. The population has also gone up from 1,679 birds in 2019 to 9,453 birds this year.
Conducted on January 4, as part of the 2020 Asian Waterbird Census (AWC) by Netherlands-based Wetlands International, the census also recorded healthy populations of winter migratory birds. A report shared with HT by TK Roy, an ecologist and Delhi state coordinator for the AWC, notes that 1,337 specimens of bar-headed geese were recorded, besides 1,057 specimens of gadwall, 3,738 Eurasian coots, 684 common teals and 780 northern shovelers, all of which migrate from Central and Northern Asia. https://www.hindustantimes.com/cities/more-water-birds-species-recorded-at-najafgarh-wetland/story-lws6v65M8fQQ9MFJYjxsnJ.html  (15 Jan. 2020)
Uttar Pradesh Farmers complaining against overflow in Mamor Jheel a Yamuna Oxbow lake in Kairna affecting their crops on annual basis.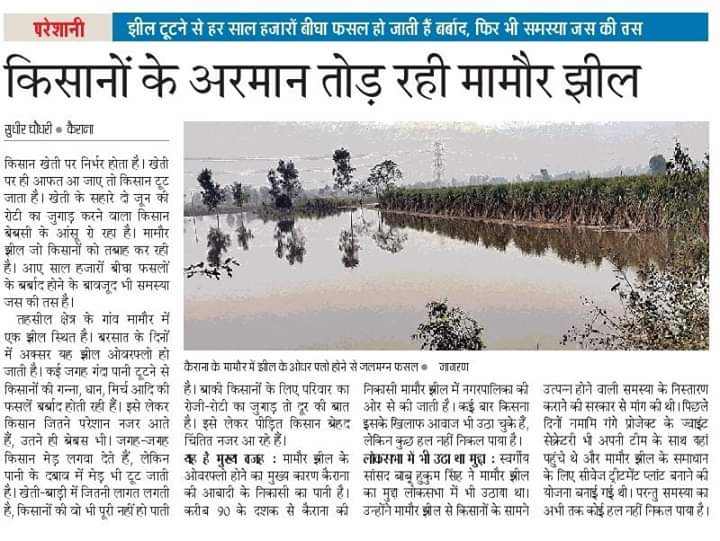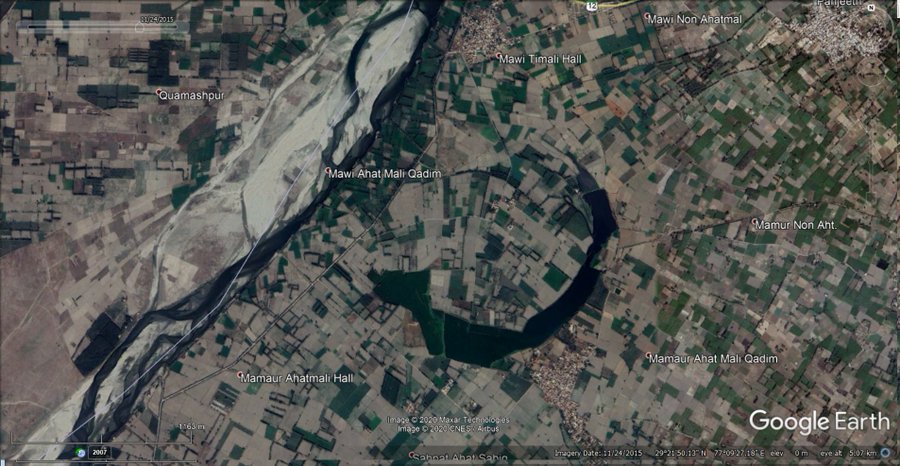 WATER OPTIONS
Maharashtra Recognition after decades of work for water warrior When Popatrao Pawar took over as sarpanch of Hiware Bazar in 1989, the village was beset by frequent drought-like conditions, low agricultural yield, paucity of resources and a high migration rate. https://m.timesofindia.com/city/pune/recognition-after-decades-of-work-for-water-warrior/amp_articleshow/73620782.cms  (26 Jan. 2020)
West Bengal Story of a restored forest that restored lives Villagers in Purulia were suffering from a groundwater crisis coupled with hot and humid weather conditions till two decades ago. They eventually found a solution to their woes and have grown a lush green forest on a barren mountain which has reduced their problems and made the place biodiversity-rich.  https://india.mongabay.com/2020/01/the-story-of-a-restored-forest-that-restored-lives/  (27 Jan. 2020)
GROUNDWATER
Study Relation between loss of access to groundwater and decline in agricultural income In what is purportedly one of the first evidences of the medium- to long-term impact of large-scale, permanent environmental deterioration on rural populations in developing countries, a study has found a "dramatic decline" in agricultural income following the loss of access to groundwater owing to the drying up, or failure of the first borewell.
The paper, 'Way Down in the Hole: Adaptation to Long-Term Water Loss in Rural India', was published in the American Economic Review this month. The authors of the paper are David Blakeslee, New York University, Abu Dhabi; Ram Fishman Tel Aviv University, Israel, and Veena Srinivasan, ATREE, Bengaluru.
Studying the effects of increasing water scarcity in India, their analysis is based on villages in Karnataka where groundwater is a vital source of irrigation but has been depleted by a combination of a prolonged, multi-year drought, and intensive extraction. https://www.thehindu.com/news/cities/bangalore/study-finds-relation-between-loss-of-access-to-groundwater-and-decline-in-agricultural-income/article30582569.ece  (17 Jan. 2020)
The study can be seen here.  https://www.aeaweb.org/articles?id=10.1257%2Faer.20180976&&from=f&fbclid=IwAR3n9oC0bZNCEfjroc4N66jvFm5A9F6YUTUGTNzNAah1cVvMo-Sh2W7XPvg
Haryana NGT seeks response from Centre on plea for supply of water in Rewari NGT on January 27 sought response in two weeks from MoEF&CC and CGWA , State Pollution Control Board and others on a plea seeking execution of its order to make arrangements for supplying drinking water in a village in Rewari district as underground water in the area was contaminated.
– The plead had sought direction to authorities concerned to take appropriate action with respect to the management of the polluted state of groundwater and to provide drinking water in the affected nearby villages. The plea had also sought action against two industrial units in the area for extracting groundwater without permission and restoration of the damaged property or environment.
– The tribunal was hearing a plea filed by local resident Raghunath Singh seeking execution of the May 13, 2019 order which directed the Central Ground Water Authority (CGWA) and the Haryana State Pollution Control Board to make arrangements for supplying drinking water in a village in Haryana's Rewari district. https://www.moneycontrol.com/news/india/ngt-seeks-response-from-centre-on-plea-for-supply-of-water-in-rewari-4864001.html  (27 Jan. 2020)
URBAN WATER
Pune PMC plans to 'purchase' dam from irrigation dept In order to avoid conflicts regarding water distribution in the city, municipal commissioner Shekhar Gaikwad, who presented the draft budget on Jan. 27, said that Pune must have a dedicated dam for water supply. For this, he has proposed purchasing a dam from the irrigation department.
"Instead of fighting over water and paying huge amount as water fees, we can purchase a dam from the irrigation department. I have instructed the administration to begin dialogue with them. As there is no site available to construct a new dam, we can purchase one. We haven't finalised on any particular dam yet," said Gaikwad.
Deputy CM Ajit Pawar said, "The proposal is good. The government is planning to use water from Mulshi dam for Pune and Pimpri-Chinchwad. There is no space to construct a new dam. Tata is generating electricity using water from Mulshi. We will try to use this water in Pune too." According to officials, the PMC is lifting 16 TMC water per annum rather than the approved 11.5 TMC from the Khadakwasla reservoir. This is creating problems for water distribution. Recently, the irrigation department sent a Rs 300 crore bill to PMC as water fee.  https://www.hindustantimes.com/pune-news/pmc-plans-to-purchase-dam-from-irrgation-dept-for-even-water-distribution/story-ZElILxtWLA0CPDZIbEneNK.html  (28 Jan. 2020)
Mumbai NGT disposes of plea challenging exclusion of Aarey in SGNP ESZ NGT disposes the plea challenging the exclusion of parts of Aarey Milk Colony from the eco-sensitive zone (ESZ) around Sanjay Gandhi National Park (SGNP). The decision came as a surprise since the case was before the western, rather than principal, bench and was due to be heard in March. City-based NGO Vanshakti, which had filed the application, has said it will challenge the order in SC.
On December 5, 2016, MoEFCC announced the creation of an ESZ which ranged in width from 100 metres and 4km around the boundary of SGNP. The notification excluded 165 ha of Aarey to allow construction, including the Metro-3 car-shed. Vanashakti challenged the declaration, alleging the final notification was different from the draft (circulated on January 22, 2016), which had no mention of 165 ha being excluded. The NGO's application also alleged the notification had arbitrarily excluded large parts of Aarey to facilitate construction in the area.
Previously, on October 10, 2019, an NGT bench had asked MoEFCC to explain how the ESZ area was had been identified and why the 165 ha was excluded. The ministry submitted its reply on December 12, 2019. The final order, issued on Jan. 24, caught both applicants and respondents by surprise as the hearing of the case had been scheduled for March 3. On January 23, the NGT registry had informed both parties that the case would be heard before a bench headed by the NGT chairperson. https://www.hindustantimes.com/mumbai-news/ngt-disposes-of-plea-challenging-exclusion-of-aarey-in-sgnp-esz/story-gf3ndzLT4xjlRN5RVs42zO.html  (29 Jan. 2020)
Chennai In 3 months, extraction of groundwater will be monitored To assess variations in the city's water table and the extent of extraction, Chennai Metrowater will soon launch a project for real-time online monitoring of the groundwater levels. The agency will sink borewells at 200 locations across the city and monitor changes in the water table. Officials said borewells will be sunk according to soil conditions and digital water level recorders will be fitted. This will help Metrowater observe the levels at fortnightly and monthly intervals.
– Metrowater engineers will also be able to plan drinking water distribution in accordance with the water table in a particular ward. If the level is low in a particular area, engineers may increase water supply accordingly. Similarly, audit of groundwater extraction in each ward and rainwater harvesting will also be done. The data will help in assessing the need for recharge and level of exploitation in an area and help check excessive pumping of water, officials said. Tenders have been called and the project may to be launched in three months.
– Real-time monitoring of groundwater is one of the many schemes planned this year. The agency plans to map water supply and sewerage network on GIS platform. The ₹5.99-cr. project aims to gather information on maintenance of the network immediately and strengthen basic infrastructure for future needs. This year, plans are afoot to provide a water supply network to 12 added areas, including Mugalivakkam, Pallikaranai, Manali, Perungudi, Chinnasekkadu and Kottivakkam.  https://www.thehindu.com/news/cities/chennai/in-3-months-extraction-of-groundwater-will-be-monitored/article30474251.ece  (4 Jan. 2020)
Bio-medical waste dumped near Vandalur lake Activists and residents continue to find bio-medical waste being dumped at random locations on highways outside Chennai. On Jan. 26, activist Pugalventhan Venkatesan discovered used syringes, expired medicines and other medical waste dumped near Manivakkam lake in Vandalur off Outer Ring Road. The waste was disposed of in such a way that it would get concealed under mud.
-This is the second such finding in a month. In the third week of December 2019, biomedical waste was found to be similarly dumped in Vandalur. Pollution Control Board (PCB) is responsible for monitoring all healthcare facilities and ensuring that the used syringes and medicine boxes are disposed of properly. However, the onus of penalising for such violation falls on the local bodies. TNPCB officials had in the past accepted that only a fraction of hospitals and clinics in the city might be disposing of biomedical waste properly while others dump it indiscriminately.
-Companies which collect bulk waste from generators across the city have already complained to civic bodies that some agencies collect waste from residents or commercial establishments and dump it across roads. Complaints have been received from residents in areas like Tiruneermalai, Anankaputhur, Kundrathur and Vandalur about dumping of waste in open grounds and also water bodies. Once medical waste was found dumped on the banks of Adyar river. Hospitals, meanwhile, say there is a shortage of facilities approved to process bio-medical waste. https://timesofindia.indiatimes.com/city/chennai/tamil-nadu-new-biomedical-waste-dump-emerges-near-vandalur-lake/articleshow/73787038.cms  (31 Jan. 2020)
Avadi Corporation aims to manage waste sustainably Avadi Municipal Corporation plans to reclaim its dump yard in Sekkadu and find a sustainable solution to the garbage issue in a year's time. Like many local bodies, the Avadi Corporation too was fast running out of space to dump its waste in Sekkadu, located 10 km away from Avadi. In a bid to re-mediate the dumpsite, the civic body has accelerated initiatives and awareness campaign to turn Avadi into a zero-waste locality.
On an average, the Corporation generates 90.71 metric tonnes of garbage daily. The quantity of waste dumped in Sekkadu site has reduced by 60% in the past few months as the Corporation has implemented bio-mining project in the dump yard with the technical assistance of Anna University, officials said.
The Corporation continue to face challenges in source segregation and tackling dry and non-saleable plastic, which contributes to nearly 30% of the waste generated. Residents of some areas complain that the Corporation also needs to focus on the issues at grassroots level for better solid waste management. Though the corporation was engaged in zero waste efforts, door to door garbage collection was still poor, they said. While the Corporation wants to turn Avadi into a bin-free locality, residents note that the erratic door to door collection and absence of bins lead to throwing of waste in public spaces and stormwater drains. https://www.thehindu.com/news/cities/chennai/avadi-corporation-aims-to-manage-waste-sustainably/article30720576.ece  (03 Feb. 2020) 
Also see, With 3 rivers & 5 wetlands, why is Chennai staring at ecological collapse?  http://chennai.citizenmatters.in/chennai-rivers-wetlands-marsh-environment-heritage-1577  (06 Feb. 2017)
Bengaluru Ground water is deep and dirty With 81 per cent of Bengaluru's landscape covered with paved surfaces, groundwater recharge is vastly impeded. So when 45 per cent of the city depends on ground water, it should surprise no one that bore wells are plumbing new depths.
Dr T V Ramachandra of the Centre for Ecological Sciences at IISc says a major cause of the plunging of ground water depths in Bengaluru is the slow erasure of lakes from its landscape. Once upon a time, lakeside localities could strike water 200-300 feet. Then the depths went down to 600-700 feet and now in some places you have to dig as deep as 1900 feet. https://www.deccanchronicle.com/nation/in-other-news/020220/why-bengalurus-ground-water-is-deep-and-dirty.html  (02 Feb. 2020)
Hyderabad GHMC gets 6 FTC to clean lakes, but will this solve pollution? The Greater Hyderabad Municipal Corporation (GHMC) is going ahead with its plan to acquire six floating trash collectors at a cost of Rs 10 crore, to clean the surface of lakes under its jurisdiction. The GHMC is following in the footsteps of the Hyderabad Metropolitan Development Authority (HMDA), which already owns such garbage collectors and is also planning to acquire more.
– However, experts have globally stated that such floating trash collectors do not serve the purpose. In September 2018, Boyan Slat, a Dutch entrepreneur, had rolled out a 2,000-foot floating trash collector into the Pacific Garbage Patch, which is a collection of marine debris in the North Pacific Ocean. Many experts raised concerns if the boom would suffer structural damage and trap marine animals. In the first week of January 2019, the device was rolled back after it suffered a breakdown due to metal fatigue.
– Activists in the city also argue that the floating trash collectors and drones are a burden on the exchequer and do not really solve the problem of pollution in Hyderabad's water bodies. This is because, while the floating trash collectors and drones are able to control pollution on the surface, the water body continues to be polluted underneath. Experts point out that deploying devices to clean the lake superficially will remain ineffective as long as concrete measures to prevent pollution in the first place are not in place. Activists say that the solution to cleaning up the city's lakes is in controlling the sewage that enters the waterbodies from both residential and commercial establishments.
– Incidentally, municipal officials concur with the criticisms and concerns raised by the activists.  The sewerage master plan, which is being prepared by the Hyderabad Metropolitan Water Supply and Sewerage Board (HMWSSB), is still in the works, with no definitive timeline. "It is an ambitious project. We will cover the entire city and its suburbs, which is an area as big as New Delhi. We cannot put a timeline on it yet," a source in the HMWSSB said. https://www.thenewsminute.com/article/hyderabad-gets-floating-trash-collectors-clean-lakes-will-solve-pollution-116956  (28 Jan. 2020)
Greater Noida Apartments likely to get Ganga water by Aug 15 With the Greater Noida authority having laid pipelines over a distance of 17km, against a target of 23km, it has fixed a target to start supplying Ganga water to apartments by August 15 this year, officials said. The authority will supply 210 MLD of Ganga water under this ambitious project so that residents do not have to depend on groundwater. As of now, Greater Noida's 10 lakh population depends on groundwater for all their water requirements.
The project has been delayed by six years, owing to farmers not giving up land for the project. The authority said now that all issues pertaining to land have been sorted, it hopes to complete work at the earliest. The 291.77 crore Ganga water project was started in 2010 and was scheduled to be completed by 2013 but has missed several deadlines since then. In April 2016, the authority had set March 2018 as the revised deadline for the project, but work again got delayed. At present, residents depend on hard groundwater for drinking, which is often saline. https://www.hindustantimes.com/cities/greater-noida-apartments-to-get-ganga-water-by-2020-end/story-bdZico11I80On6si6QeVBO.html  (22 Jan 2020)
NGT to review groundwater use for golf course NGT has formed a committee comprising the CGWA, DM, PCB and the CPCB to review the use of groundwater in Noida Golf Course on Captain Shashi Kant Marg in Sector 38. The decision was taken on Jan. 27. The team will submit a report before the next hearing on March 13.
– The applicant had submitted that despite depleting groundwater across Noida, five tubewells were being used for allegedly illegally extracting groundwater and maintaining the lawns of the golf course without the required permission and no-objection certificate (NOC) from CGWA. The applicants also asked NGT to direct the authorities to cease the operation of the golf course till they obtain the required NOC as per the CGWA guidelines, 2015. They said UPPCB should also levy environmental compensation.
– "Our aim is to ask the golf course to use only treated STP water provided by Noida Authority instead of extracting groundwater for its operations. Noida's groundwater is already overexploited and treated water can easily be used for maintaining lawns and the golf course. We have estimated that more than four lakh litres of water is being used every day for this, which can be saved," said Vikrant Tongad, the main applicant in this case. According to the applicants' estimates, about 492,103 liters of groundwater is used through a network of approximately 3,000 sprinklers for daily maintenance of a typical 18-hole golf course. https://timesofindia.indiatimes.com/city/noida/national-green-tribunal-to-review-groundwater-use-at-golf-course/articleshow/73747202.cms  (30 Jan. 2020)
Gurugram Saved from destruction, baoli now lies abandoned Adjoining Gurgaon's Sohna road, beyond the main market of Badshahpur village, runs a sector road that was set to be the cause of certain death for a baoli (stepwell) in the area two years ago. After historians raised concerns regarding its endangerment, the structure was saved in January 2018, with officials choosing to realign the plan so that the road would run alongside the baoli.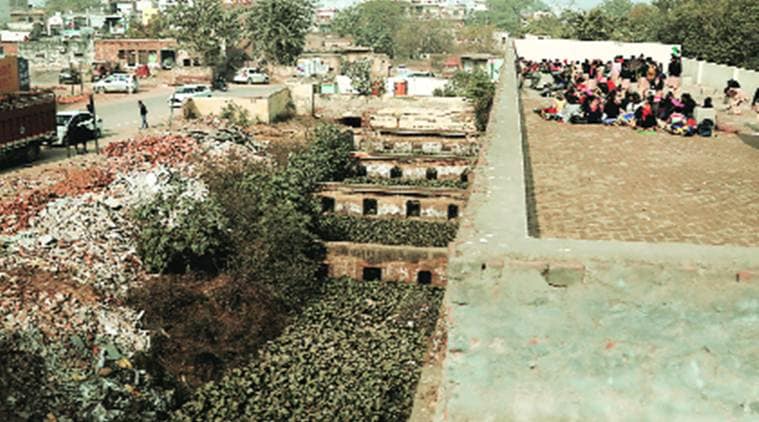 – Later on January 23, 2018, Haryana Department of Archaeology claimed it would take over the structure and "restore it to its original glory". Two years later, however, while the area around the baoli has been transformed with heavy flow of vehicles through the day, the structure itself has remained the same – abandoned and neglected. https://indianexpress.com/article/cities/delhi/gurgaon-saved-from-destruction-baoli-now-lies-abandoned-neglected-6237013/  (27 Jan. 2020)
Faridabad Plea on untreated sewage water: NGT warns of action Following a plea seeking remedial action against the discharge of untreated sewage water which was causing groundwater contamination in Faridabad, the NGT has warned of coercive action against senior officials. The directions came when the green panel was hearing a plea moved by Awasiya Jan Kalyan Samiti that alleged that the untreated sewage being discharged was adversely affecting public health in Faridabad. An action-taken report dated January 2019 had said that due to choked sewer lines in Sector 48 and 49, there was an overflow of sewer and that no adequate remedial measures were taken by the authorities. Following observations, the Tribunal had directed the State government to take action and furnish an action-taken report.
– Taking note of a status report by authorities, a Bench headed by NGT chief Justice Adarsh Kumar Goel said, "The report shows equal lack of concern on the part of the authorities dealing with the situation. Contrary to the earlier directions, instead of taking immediate action, long term plan is being proposed with no concern for the immediate remedial measures." https://www.thehindu.com/news/cities/Delhi/plea-on-untreated-sewage-water-ngt-warns-of-action/article30670202.ece  (28 Jan. 2020)
WATER POLLUTION
National NGT tells boards of all States to file report on pollution by dairy farms NGT has directed pollution control boards of all States to obtain information from all local bodies pertaining to pollution caused by dairy farms and submit relevant data to the CPCB. The State pollution control boards and pollution control committees were also directed to furnish factual and action-taken reports to the apex pollution control body by April 2020. The directions came when the green panel was hearing a set of pleas seeking remedial action for compliance of environmental norms by the dairies. https://www.thehindu.com/news/cities/Delhi/ngt-tells-boards-of-all-states-to-file-report-on-pollution-by-dairy-farms/article30697047.ece  (31 Jan. 2020)
WATER
Union Budget 2020-2021 What came in the kitty of Water In the union budget of 2020-2021, approximately 39,029 crore INR are proposed to the water domain that spreaded across the Ministry of Jal Shakti, Ministry of Agriculture and farmers' welfare, ministry of rural development, ministry of housing and urban affairs. This allocation is around 6% more than the last financial year's proposed budget. Interesting to note, during the 2019-2020 financial year against the proposed 36,883 crore INR, the revised budget allocation had decreased to 31,110 crore INR, which is around 16% decrease in the allocation. Budget provision to Pradhan Mantri Krishi Sinchai Yojna (PMKSY), the flagship scheme under the consecutive NDA regime had been 11,506 crore INR, which is around 11% higher than the last year's allocations. https://paaniwalibaat.wordpress.com/2020/02/01/union-budget-2020-2021-what-came-in-the-kitty-of-water/  (01 Feb. 2020)
FLOOD
Report Comparing Kerala and Himalayas floods Quotes SANDRP and uses SANDRP language extensively. https://www.epw.in/journal/2020/5/perspectives/comparing-floods-kerala-and-himalayas.html  (1 Feb. 2020)
ENVIRONMENT
SANDRP Blog DRP 2019 through the eyes of the Cartoons They say a cartoon can say a lot more than what words can say. This is pretty evident from the selected cartoons of last one year to illustrate the state of India's Rivers and People. Enjoy, Share. https://sandrp.in/2020/01/27/drp-2019-through-the-eyes-of-the-cartoons/  (27 Jan. 2020)
National SC asks mining companies to restore vegetation for animals Supreme Court has asked the Centre to make it mandatory for mining companies to restore grass and other vegetations necessary as fodder for the survival of herbivores. Noting that that an area which is mined results in complete elimination of grass which in turn denies fodder to herbivores, a Bench headed by Chief Justice of India SA Bobde said the only solution can be re-grassing of such mined areas.
– It asked the Centre "to impose a condition in the mining lease and a similar condition in the environmental clearance and the mining plan to the effect that the mining lease holders shall, after ceasing mining operations, undertake re-grassing the mining area and any other area which may have been disturbed due to their mining activities and restore the land to a condition which is fit for growth of fodder, flora, fauna etc."
– The Bench ordered the Centre to file an action taken report in three weeks. It asked the Centre to devise methods for ensuring compliance of this condition. The order came on a PIL filed by Common Cause in 2014.  https://www.tribuneindia.com/news/sc-wants-mining-cos-to-restore-vegetation-for-animals-24080  (10 Jan. 2020)
"Land reclamation has been part of the environment clearance process but this direction would certainly strengthen it. However, the implementation of these rules remains a problem. There are so many abandoned mines across the country. There is no central data about mines abandoned or land reclaimed after mining is over," said environmental lawyer Rahul Choudhary.
It has also been a regular complaint of environmentalists and activists that mined out areas are abandoned or re-greening activities are not carried out once the mining is over. "If you see a forest as merely a stand of trees, mining a forest might seem a simple matter of removing trees, taking minerals out, and perhaps, putting the trees back in. But if you see the forest for what it actually is – a complex web of ecological relationships – destroying what exists is incredibly costly, and replacing what is lost is nearly impossible," said independent researcher MD Madhusudan.
"The ways in which a forest provides for a community are varied and complex. This cannot be reinstated simply by sticking trees back in the mud after ravaging a place. Proper ecological restoration is complex and arduous. While we are always happy to add stricter conditions to forest clearances when diverting forests, we almost never audit for compliance, or prosecute violations which are commonplace. I am not aware of any instance of systematic prosecution for violating conditions on which clearance was granted to them," said Madhusudan. https://scroll.in/article/951140/after-supreme-court-order-indias-forest-ministry-has-made-restoration-of-mined-out-areas-mandatory  (02 Feb. 2020)
Punjab NGT raps govt for not probing forest staff's role in illegal felling NGT on Jan. 10 pulled up state govt for failing to investigate role of forest officials in alleged felling of 24,777 trees under a project to widen the 800-km-long Bist-Doab canal during the SAD-BJP rule in 2016.
– Taking a serious note of the failure on part of the state to comply with the directions passed by the Tribunal and the Supreme Court, a double Bench of the NGT, comprising Justice Raghuvendra S Rathore and member Satyawan Singh Garbyal, observed that no counsel on behalf of the state through its Chief Secretary and anyone on behalf of the Punjab Irrigation Department through its secretary appeared before it.
– The Tribunal has directed the Chief Secretary to file a personal affidavit as to why the directions issued on August 16, 2018, have not been complied with. The Secretary, Punjab Irrigation (Water Resources Department), has been asked to be present on the next date of hearing i.e. January 27. In December last year, an application was moved by Nishant Kumar Alag against the state government for not implementing the NGT orders for one-and-a-half-years.
– The NGT, in its August 16, 2018, order, had stated that a former principal chief conservator of forests and a divisional forest officer had deliberately ignored the fact that the trees stood in the area demarcated as protected forest and it was a willful violation of the Forest Conservation Act. In the same order, the state government and the Forest Department had been asked to undertake compensatory afforestation on an area equivalent to the forest area destructed. The cost of the afforestation had to be recovered from the Irrigation Department, the agency that widened the canal. https://www.tribuneindia.com/news/ngt-raps-govt-for-not-probing-forest-staff%E2%80%99s-role-in-illegal-felling-24396  (11 Jan. 2020)
The three senior most Indian Forest Service (IFS) officers in Punjab are involved in an open, no holds barred attack on each other as two of them fight for the top post of Principal Chief Conservator of Forests, Head of Forest Force (PCCF, HOFF) amid allegations and counter allegations over illegal felling of 24,777 trees for Bist Doab Canal (BDC) project in 2016-17.  https://indianexpress.com/article/india/punjab-forest-department-mess-24777-felled-trees-3-senior-ifs-officers-and-a-fight-for-top-post-6239385/  (28 Jan. 2020)
SOUTH ASIA
SANDRP Blog Bhutan DRP Overview 2019 Dams, Rivers Development in Bhutan in 2019 There is a lot of fascinating stuff here. Please, Read, Share.   https://sandrp.in/2020/01/28/bhutan-drp-overview-2019/  (28 Jan. 2020)
SANDRP Blog Nepal DRP Overview 2019 Major developments on Rivers, Dams, Hydro projects, River Mining, Indo Nepal Cooperation, China Nepal Cooperation of 2019 are captured in this overview. We hope this is useful. Please Read, Share. https://sandrp.in/2020/01/30/nepal-drp-overview-2019/  (30 Jan. 2020)
India Nepal Govt says if India can resolve boundary issue with Bangladesh, why not Kathmandu Asked about the status of Kalapani and boundary issue with India, Nepal, Foreign Minister Pradeep Kumar Gyawali on Jan. 24 said that the core issue is a baggage which was handed over by the history to both the countries. "Nepal's current boundary was demarcated, fixed by the Sugauli Treaty of 1816 and the consecutive complementary treaties of December 1816, 1860 and 1875," he said.
– He added that there are three other agreements which are related to the treaty which categorically says that Nepal's western border is demarcated by the Kali river, so in the historical evidence, documents and maps that Kali, in Nepal it's called Mahakali river, is the western boundary river of Nepal. "So, Nepal wants to settle this unresolved or pending issue according to the Sugauli Treaty and other correspondence at that time, historical maps, evidences," Gyawali said.  https://www.outlookindia.com/newsscroll/nepal-says-if-india-can-resolve-boundary-issue-with-bangladesh-why-not-kathmandu/1716822  (24 Jan. 2020)
Nepal Youth crushed to death by tipper for protesting illegal mining When 24-year-old Dilip Kumar Mahato of Sripur in Dhanusha's Mithila Municipality protested illegal sand mining from Aurahi river near his house, the sand miners first threatened him, then tried to bribe him.
When Dilip did not back down, they killed him in early hours on January 10, 2020 under the wheels of the truck. Following the incident, locals obstructed the East-West Highway protesting Dilip's murder.  https://kathmandupost.com/province-no-2/2020/01/10/youth-crushed-to-death-by-tipper-for-protesting-illegal-extraction-of-riverbed-materials-in-dhanusa  (10 Jan. 2020)
ASIA
Philippines China-backed dam threatens Indigenous people The Pulangi River flows through the remote Pantaron range of central Mindanao, where the Manobo Indigenous people move between their small riverside encampments by boat; their livelihood depends on growing food and medicinal plants in mountains they consider sacred.
But an $800m China-backed hydropower dam project is set to drastically change this landscape in the southern Philippines, displacing dozens of Indigenous communities who call this tranquil river basin in Bukidnon province home. Local Indigenous leaders do not want to move. But they say their voices have been muzzled by the militarisation of Mindanao, which has made communities fearful of organising to protect their ancestral lands.
The proposed 250-megawatt South Pulangi Hydroelectric Power Plant project, located about three hours north of Davao City, the hometown of President Rodrigo Duterte, will mean the construction of a 143-metre dam and a reservoir that will flood about 2,833 hectares (7,000 acres) of Indigenous land in four towns, according to documents obtained by Al Jazeera. https://www.aljazeera.com/news/2020/01/china-backed-dam-threatens-indigenous-people-philippines-200115050855015.html  (19 Jan. 2020)
THE REST OF THE WORLD
Study Mitigating Floods for Managing Droughts through Aquifer Storage This case study from the World Bank presents two complementary forms of intervention that transform water hazards (floodwater) into a resource (groundwater) to boost agricultural productivity and enhance livelihoods. The first intervention, holiya, is simple and operated by individual farmers at the plot/farm scale to control local flooding in semiarid climates. The second is the underground transfer of floods for irrigation (UTFI) and operates at the village scale to offset seasonal floods from upstream in humid climates.
Rapid assessments indicate that holiyas have been established at more than 300 sites across two districts in North Gujarat since the 1990s, extending the crop growing season and improving water quality. UTFI knowledge and experience has grown rapidly since implementation of a pilot trial in western Uttar Pradesh in 2015 and is now embedded within government programs with commitments for modest scaling up. Both approaches can help farmers redress the multiple impacts associated with floods, droughts, and groundwater overexploitation at a range of scales from farm plot to the river basin.  https://reliefweb.int/sites/reliefweb.int/files/resources/Mitigating-Floods-for-Managing-Droughts-through-Aquifer-Storage-An-Examination-of-Two-ComplementaryApproaches.pdf 
Report Giant river animals facing extinction Populations of the great beasts that once dominated the world's rivers and lakes have crashed in the last 50 years, according to the first comprehensive study. Some freshwater megafauna have already been declared extinct, such as the Yangtze dolphin, and many more are now on the brink, from the Mekong giant catfish and stingray to India's gharial crocodiles to the European sturgeon. Just three Chinese giant softshell turtles are known to survive and all are male. Across Europe, North Africa and Asia, populations have plunged by 97% since 1970.
– The killing of the animals for meat, skins and eggs is the cause of the decline, along with humanity's ever growing thirst for freshwater for crops, its many dams, as well as widespread pollution. The scientists assessed 126 species, covering 72 countries, and found numbers had plunged by an average of 88%. Many of the creatures are keystone species in their ecosystems, such as beavers, and the researchers said their loss will have knock on effects on all fauna and flora and on the many millions of people that depend on the waterways for their livelihoods.
– Freshwater animals are declining much faster than land animals and the loss of river and lake megafauna also endangers smaller creatures and plants. Disruption of delicate food chains causes damage, as does the loss of pools maintained by beavers and crocodiles. https://www.theguardian.com/environment/2019/aug/10/giant-river-animals-on-verge-of-extinction-report-warns  (10 Aug. 2019)
Report Mission River Conservation OVERVIEW OF RIVER CONSERVATION ISSUES GLOBALLY: "WWF's Living Planet Report shows that the freshwater population declined by an average of 83 percent from 1970 to 2014. Meanwhile, another study by Leibniz Institute of Freshwater Ecology and Inland Fisheries, Germany, shows that freshwater megafauna populations declined by 88 percent worldwide from 1970 to 2012, with the highest declines in the Indomalayan and Palearctic realms (−99 percent and −97 percent respectively). Although the scenario remains grim, there are some examples that ignite hope for our rivers. Over the years, countries like the US, Canada, Australia, and Ecuador have taken solid legislative measures for river conservation whereas countries like Columbia and New Zealand have provided legal entity status to Atrato River and Whanganui River, respectively. Similarly, the high court of Bangladesh also declared Turag River as a "legal person" or "living entity" in 2019, stating that killing a river was virtually collective suicide. Even in the neighboring state of Bhutan, a hydropower committee set by the cabinet has sanctioned a shift in hydropower development, suggesting that Bhutan go slow and smart on new hydropower projects and recommended that at least two river basins remain free of hydropower projects."
NEPAL SITUATION: "Although preparations are being made, only the implementation of these plans will ensure the successful conservation of our rivers. While rivers fall under the purview of the Ministry of Energy, Water Resources and Irrigation, it is focused primarily on using water for hydropower and irrigation. Meanwhile, the Ministry of Forests and Environment responsible for the protection of rivers is mainly focused on conserving forests and protected areas. While the Department of National Park and Wildlife Conservation protects rivers within Protected Areas (PA), there is no government institution in place to oversee river systems outside protected areas. This raises the question of who the custodian of these rivers is. Furthermore, assessing the health of the rivers to strategically identify rivers that need protection measures should become a top priority. Efforts also need to be made to determine and declare rivers with the highest conservation value as protected areas." https://myrepublica.nagariknetwork.com/news/mission-river-conservation/  (02 Feb. 2020)
California New water recycling projects will help battle Central Coast's seawater invasion For decades, California's coastal aquifers have been plagued by invading seawater, turning pristine wells into salty ruins. But the state's coastal water agencies now plan to get more aggressive in holding back the invasion by injecting millions of gallons of treated sewage and other purified wastewater deep underground. The additional groundwater will both enhance potable water supplies and help prevent saltwater from seeping further into coastal California's massive subterranean reservoirs. A decade ago, Orange County was the first in California to successfully employ this tactic. Now, two Northern California water districts are following suit. Seawater intrusion is in about 70% of the populated coastal regions of the world that rely on groundwater.  https://www.santacruzsentinel.com/2020/01/26/new-water-recycling-projects-will-help-battle-central-coasts-seawater-invasion/   (26 Jan. 2020)
Chile Privatization of rivers The Chilean government has continued with the mercantile treatment of common goods, putting several rivers in the Bio Bio Region up for auction, despite ongoing social unrest. The practice of auctioning off rivers is legally supported by the 1981 water code. By conceiving of water as an economic asset, this code has made rivers mere objects for energy exploitation; the state hands over access through a resolution that enables private parties to harness rivers for commercial hydropower. https://theecologist.org/2020/jan/22/privatization-rivers-chile  (22 Jan. 2020)
Compiled by SANDRP (ht.sandrp@gmail.com)
Also see: DRP News Bulletin 27 Jan. 2020 & DRP News Bulletin 20 Jan. 2020  
Follow us on: www.facebook.com/sandrp.in; https://twitter.com/Indian_Rivers