Interrogating Cauvery Calling N Ram questions Jaggi Vasudev's Cauvery Calling, asks why it shifts goal posts Speaking at Interrogating Cauvery Calling seminar in Chennai, N Ram said that various state governments and the central government that endorses the project should also be questioned.
 "Now a very serious issue that must cause concern is the raising of public interest and public money for this project. Truly mega, in terms of money involved – 242 crore trees, 11,000 crore rupees. That is the kind of money involved. Only 0.5% collected. There is still time to put checks on this and prevent this from going further," he said. "What is the management of this money? Who oversees it? There is no transparency, no verifiable document, no clear management structure for huge amount targeted. It is a matter of great concern."
– N Ram also said that various state governments and the central government that endorses the project should also be questioned. "As a political journalist, this is the question that occurs to me. Who gave the Isha Foundation the right, the jurisdiction to transgress on what should be the commons. And why are governments being subservient to this idea? Apart from the risks, probable negative outcomes and over simplification of solutions for Cauvery, this is what is worrying," he concluded.  https://www.thenewsminute.com/article/n-ram-questions-jaggi-vasudevs-cauvery-calling-asks-why-it-shifts-goal-posts-112838  (24 Nov. 2019)
"The main reason that agroforestry would not work for a campaign like this is because biomes behave differently in varied environments and sometimes could potentially obstruct the flow of the river," said Shrinivas Badiger, Fellow at Ashoka Trust for Research and Ecology. "Planting trees would be of no use unless destructive activities near the river or catchment area are stopped," Mihir Shah, Chair in Committee to draft National Water Policy said.
As groundwater is already scarce and contaminated, unregulated activities like extracting minerals and crude oil would certainly make the situation worse, opined G Sundarajan of Poovulagin Nanbargal, an environmental organisation based out of Tamil Nadu. He added that in addition to these, carrying out hydrocarbon projects are detrimental to bringing back the glory of Cauvery. His fellow panelist, Piyush Manush, a conservationist from Salem district, pointed out that the mining lobbies only get stronger by the day, unless people voice out against them.
The effect of Jaggi Vasudev's simple, seemingly logical solutions and the cultural significance of the Isha Foundation may limit people from looking past a Rs 42 donation, but it is important to trace the trail and ensure that the money reaches the cause, said activist Nityanand Jayaram. He reasoned that his skepticism in engaging with Cauvery Calling arose from the lack of accountability and verifiability, especially when a huge sum of almost Rs 10,000 crore is involved. When Jayaram raised issues with the Isha Foundation and Rally for Rivers about the exact figures of some aspects of the project, no explanatory response was given, he said.
Going beyond just questioning the credibility of the movement, Henri Tiphagne of People's Watch, Madurai, hinted at the need to question the governance and judiciary in upholding people's interests. Several panelists in the seminar agreed that the idea of planting trees per se is not wrong, but the reason for which it's done is important to take note of, and a highly influential project of such magnitude must be scientifically backed up and transparent.  https://www.thenewsminute.com/article/planting-trees-optimal-solution-revive-cauvery-112862  (24 Nov. 2019)  
The seminar was organized on Cauvery on Nov 23, 2019. Also share and help disseminate: Here is video Messages About "Interrogating Cauvery Calling: Issues of Ecologies, Cultures and Livelihoods" a national seminar in Chennai on Nov 23, 2019:  https://esgindia.org/new/events/video-messages-about-interrogating-cauvery-calling-issues-of-ecologies-cultures-and-livelihoods-a-national-seminar/  (21 Nov. 2019)
Here are more links related to the Chennai meeting: https://t.co/QQomE1vCCY
https://twitter.com/thenewsminute/status/1198559385103941632
https://www.newindianexpress.com/states/tamil-nadu/2019/nov/24/experts-discuss-viability-of–cauvery-calling-2066214.html
https://www.thenewsminute.com/article/n-ram-questions-jaggi-vasudevs-cauvery-calling-asks-why-it-shifts-goal-posts-112838
Watch the highlights from Panel 1 – "Hydrological and Ecosystem Dynamics of Cauvery" – of the national seminar on "Interrogating 'Cauvery Calling': Issues of Ecologies, Cultures and Livelihoods". bit.ly/2OAWOdy    
https://tamil.asiavillenews.com/article/interrogative-cauvery-calling-environmental-activist-nithyanand-jayaraman-21684
https://tamil.asiavillenews.com/article/cauvery-calling-is-a-biggest-scam-says-piyush-manush-21676
https://tamil.asiavillenews.com/article/interrogative-cauvery-calling-environmental-activist-poovulagin-nanbargal-sundarrrajan-21686
Video of the Seminar: https://www.asiavillenews.com/live-page/interrogating-cauvery-calling-issues-of-ecologies-cultures-and-livelihoods-983
https://www.facebook.com/ACJofficial/videos/vb.264497373717059/747100242433846/
RIVERS
Tamil Nadu Petroleum, Gas ministry gets notice on hydrocarbon exploration plans in Cauvery delta Petitioner submitted that farmers in Cauvery delta, the `granary' of Tamil Nadu, are presently facing the danger of being deprived of their livelihood by the implementation of the "ill-advised projects." Despite Tamil Nadu's government's stand against the projects and its decision not to give clearance for projects to produce Cold Bed Methane (CBM), based on recommendations of expert technical committee, Union Environment Ministry had allotted two hydrocarbon blocks in the State as part of Open Acreage Licensing Policy to Vedanta, with first block measuring 1,794 sq. km in Villupuram and Puducherry and the second block covering 2,754 sq km in Nagapattinam, Karaikal and in Bay of Bengal, in 2018.
– Subsequently, the ministry granted Terms of Reference for drilling 341 off-shore and on-shore oil and gas exploration wells in and around Tamil Nadu, to a unit of Vedanta in the large tracts of lands in Cauvery delta. The main reason for choosing Cauvery river basin is the availability of water and sand. Alleging that hydraulic fracturing process would certainly destroy Cauvery river basin and consequently affect rice production and drinking water for millions of people, the petitioner said the dangers of hydrocarbon exploration resulted in public protest. Alleging that if the lands used to produce food are allowed for exploration and production of hydrocarbon, agricultural lands will shrink in the process which would eventually lead to denial of access to food and Right to livelihood guaranteed in the Constitution. https://www.newindianexpress.com/states/tamil-nadu/2019/nov/09/petroleum-and-gas-ministry-gets-notice-on-hydrocarbon-exploration-plans-in-cauvery-delta-2059469.html  (9 Nov. 2019)
A revival plan for Cauvery delta  State government has prepared a feasibility report of 'Nadanthai Vazhi Cauvery' (Eternal Cauvery) project, on the lines of Modi's Namami Gange, and submitted it last week to the Union water resources ministry seeking financial assistance of Rs11,000 crore. It is an administration-driven project. "EPS is keen on implementing it, repeatedly reminding the Centre in whichever forum possible," says a minister. EPS has also set up a 16-member panel to implement the project given that yield of the Cauvery at Lower Kollidam Anicut is 740 thousand million cubic feet (tmcft).
– The report also recalls TN's plans for improvements and rehabilitation of irrigation system with nine components in Cauvery basin at Rs17,552 crore, for which Central Water Commission granted in-principle approval. But that remains on paper. Tamil Nadu All Farmers' Association state coordinator P R Pandian says the state should take up measures to check pollution on a war footing, as it is receiving huge funds from the Centre to strengthen infrastructure. "Cauvery has become poisonous due to unchecked pollution. While we wage a legal battle to get our share of water with Karnataka, the flip side is that the river is becoming a sewage carrier," says Pandian.  https://timesofindia.indiatimes.com/city/chennai/cauvery-2-0-a-revival-plan-for-the-delta/articleshow/71912922.cms  (5 Nov. 2019)
India Rivers Day 2019 India Rivers Forum organized India Rivers Day, 2019 on 23rd Nov. 2019. For more information please see. https://indiariversforum.org/
Environment and Vegan outreach on occasion of India River Day at Greenwood School in Gonda. भारतीय नदी दिवस के अवसर पर गोण्डा शहर स्थित ग्रीनवुड स्कूल में जागरूकता कार्यक्रम आदि। हमने नदियों को बचाने के लिए जलीय जैवतंत्र में किसी प्रकार के मानवीय हस्तक्षेप को रोकने के लिए विद्यार्थियों को जागरूक किया।
नदी के जीवों जैसे कछुए, मछलियां आदि के कार्यों पर चर्चा हुई तथा नदियों को बचाने के लिए इन जीवों को बचाने का निर्णय लिया गया। साथ ही सरयू नदी स्वच्छता अभियान एवं मनवर नदी स्वच्छता अभियान के उद्देश्यों पर चर्चा के साथ टेढ़ी नदी के संरक्षण के लिए भी आगे आने का आह्वान किया गया।
KRISHNA Uranium Mining Centre says it won't permit excavations The Center has announced that uranium mining will not be allowed in the Nallamala forests. The Center responded to a question raised in the Lok Sabha on Nov. 20 by Srikakulam TDP MP Kinjarapu Rammohan Naidu on permits for uranium mining in Nallamala. The Minister of Atomic Energy, Jitendra Singh has replied to this. https://www.thehansindia.com/andhra-pradesh/centre-clears-air-on-uranium-mining-in-ap-and-telangana-says-it-wont-permit-excavations-583179  (21 Nov. 2019)  
GANGA Centre Govt plans 5-year jail, Rs 50 crore fine Polluting or "obstructing the flow" of Ganga may attract a penalty of up to five years imprisonment and a fine as high as Rs 50 crore under the proposed "The National River Ganga (Rejuvenation, Protection and Management) Bill, 2019", which the government plans to introduce and pass during the Winter Session of Parliament beginning Nov 18, 2019. The aim of the Bill is to prevent and control pollution of the Ganga and ensure continuous flow of water so as to rejuvenate the river to its natural and pristine condition. The proposed Bill also provides for constitution of a National Ganga Council, under the chairmanship of the Prime Minister, which will include the chief ministers of Uttarakhand, Uttar Pradesh, Bihar, Jharkhand and West Bengal along with central ministers.
– The draft Bill circulated by the Ministry of Jal Shakti for Cabinet approval include graded penalties for activities like illegal construction of ports or jetties; storage or diversion of water by any means causing obstruction to the flow of water; mining, stone quarrying or extracting ground water; and spoiling or defacing the ghats of the Ganga and its tributaries. The maximum imprisonment of up to five years has been proposed for construction of permanent residential or commercial structures in the active floodplains of Ganga and its tributaries. A provision has been made for regulating activities like mining, stone quarrying or extracting ground water, which may attract imprisonment of up to two years and/ or fine of up to Rs 10 lakh. The central government will constitute an armed force called the Ganga Protection Corps. The Ganga Protection Corps is to be provided by the Ministry of Home Affairs.  https://indianexpress.com/article/india/ganga-pollution-govt-plans-5-year-jail-rs-50-crore-fine-winter-session-parliament-6123448/  (17 Nov. 2019)
Replying to a question during Question Hour, Union Minister, Gajendra Singh Shekhawat said a total of 305 projects have so far been sanctioned at an estimated cost of Rs. 28,613.75 crore, out of which 109 projects have been completed and rest are at various stages of implementation. He said 379 MLD new sewage treatment capacity has been added in last three years of which 169 MLD has been achieved during last one year. The present sewage treatment capacity is 1954 MLD. https://www.news18.com/news/india/govt-sanctions-305-projects-for-clean-ganga-mission-to-improve-water-quality-gajendra-shekhawat-2395171.html  (21 Nov. 2019)
Uttar Pradesh NGT Fines Govt, 22 Tanneries NGT has fined the state govt for failing to check sewage discharge containing toxic chromium into Ganga at Rania and Rakhi Mandi in Kanpur and imposed a penalty of 280 crore on 22 tanneries for causing pollution.
A green bench also held the UP government liable and charged a penalty of Rs. 10 crore on it. It also held UPPCB liable and directed it to pay Rs. 1 crore for ignoring illegal discharge of sewage and other effluent containing toxic chromium directly into Ganga.
– The green panel said the problem has not been tackled for the last 43 years and it has resulted in contamination of ground water affecting the health and life of the inhabitants. The environment compensation of Rs. 280.01 crore was assessed by the state pollution control board. https://www.ndtv.com/india-news/green-court-fines-uttar-pradesh-tanneries-rs-280-crore-for-polluting-ganga-with-sewage-toxic-dischar-2134579  (18 Nov. 2019)
YAMUNA Delhi Yamuna Jiye Abhiyaan Letter on Nov 25, 2019:
To: Dr UP Singh,
Secretary, Department of MoWR,RD and GR &
Chairperson,
NGT appointed Principal Committee on river Yamuna (Maily se Nirmal Yamuna case)
New Delhi
Respected Sir,
Greetings from Yamuna Jiye Abhiyaan.
This is in continuation of our earlier (9 and 11 Nov 2019) communications (carried below) in the matter addressed to Hon'ble LG and CM, Delhi, with a copy marked to you.
As was then mentioned that media reports inform about the PWD, GNCTD plans to construct an elevated 22 km long road bang in the river bed (Zone O) parallel to the Ring Road in Delhi ostensibly to decongest the Ring Road.
We at the Yamuna Jiye Abhiyaan, find these plans to be extremely problematic, undesirable, in the teeth of legal prohibitions and with viable alternatives in place.
We request your honour to kindly provide us with an opportunity to present before the Principal Committee our views, as and when this proposal comes up before it. Notice fairly in advance may kindly be given to us in the matter.
With regards and best wishes,
manoj misra. Convener, Yamuna Jiye Abhiyaan
NCR 30 drains pouring effluents into Kondli drain polluting Yamuna, no action plan yet  Like Najafgarh and Shahdra, Kondli is another big drain polluting river Yamuna in NCR. According to the CPCB, the monitoring agency, the estimated sewage generation in Noida is 216 MLD, of which only 152 MLD is being treated. The remaining 64 MLD of untreated effluent flows through the Kondli drain into the Yamuna. Besides these 30 drains, a number of smaller drains also continue to flow into the Yamuna, carrying sludge.
-The 40-year-old 20km long Kondli drain originates from Kondli village in Delhi and enters Noida (via Ghaziabad) near the Hari Darshan police post in Sector11, and after travelling for about 17km through Noida's sectors 11, 12, 22, 50 and 168, it empties into the Yamuna near Chak Mangrola, in Sector 168. The drain width varies from a minimum of two metres, at the point where it enters Noida, to a maximum of 12 metres in Barola, Sector 50.
– The problems created by the polluting Kondli drain is being heard by NGT since 2017, and the matter is now listed for January 2020, after the last hearing on November 4 was cancelled owing to the lawyer's strike. The petition on groundwater pollution and effluent discharge in Yamuna through the Kondli drain was filed by Abhisht Kusum Gupta, a resident of Sector 137, Noida. https://www.hindustantimes.com/cities/30-drains-pouring-effluents-into-kondli-drain-polluting-yamuna-no-action-plan-yet/story-biMVYfLpXF5lg9hmQ5f1DI.html  (12 Nov. 2019)
While there may be various reasons for the icy look, one thing is certain: the froth on the river surface reflects the deadness of the water and indicates nil dissolved oxygen in it.  https://timesofindia.indiatimes.com/city/delhi/a-frozen-river-in-delhi-no-its-yamuna-full-of-toxic-froth/articleshow/72150721.cms  (21 Nov. 2019)
URBAN RIVERS
Coonoor River, Coimbatore Encroachment free drive The Revenue Department and Coonoor Municipality are inspecting a 1.5-km stretch of Coonoor River, after the river water flooded surrounding areas on Nov. 17. https://www.thehindu.com/news/cities/Coimbatore/encroachments-along-coonoor-river-being-identified-to-prevent-flooding/article30020411.ece  (20 Nov. 2019)
RIVERS BIODIVERSITY
West Bengal Dolphin fleeing Ganga filth dies An endangered Gangetic dolphin, which was fleeing the Ganga's filthy waters and got stuck in a shallow and polluted canal at Basudevberia in East Midnapore, was found dead on Nov. 17. Wildlife officials said the dead Gangetic dolphin had strayed into the Udbadal canal at Basudevberia through the Rupnarayan river, around 130 km from Kolkata on Nov. 16, but it could not return to the river due to heavy obstruction of fishing nets laid across the canal. The water was also polluted as plastic, thermocol and other wastes were dumped in the canal. As a result, the dolphin could not get enough oxygen from the canal water, wildlife officials said. https://www.thestatesman.com/bengal/dolphin-fleeing-ganga-filth-dies-1502823218.html   (17 Nov. 2019)
DAMS
Madhya Pradesh फूट सकता था गांधी सागर डैम, रूस के चेर्नोबिल परमाणु संयंत्र जैसा हादसा हो जाता  Revealing statement by State Water Resources Minister Hukum Karada. He says that in Sept. Gandhi Sagar Dam could have collapsed flooding Nuclear Energy Plant in Rawatbhata. He also says that to save the nuclear plant and dam, gates were suddenly opened causing devastating floods without rain in three districts including Bhind, Murena नीमच-मंदसौर जिले में सितंबर में हुई भीषण बारिश के दौरान गांधी सागर डैम के गेट खोलने के मामले में प्रदेश के जल संसाधन मंत्री हुकुमसिंह कराड़ा ने बड़ा खुलासा किया। उन्होंने पहली बार माना की बांध के गेट यदि समय रहते नही खोले जाते तो इसके फूटने का खतरा बढ़ गया था। और यदि ये फूट जाता तो राजस्थान स्थित रावतभाटा परमाणु ऊर्जा संयंत्र में पानी घुस जाता। इससे रेडिएशन फेल सकता था और यह हादसा रूस में चेर्नोबिल परमाणु हादसा जैसा हो जाता। कोटा सहित कई शहरों में तबाही मचती और हालात बेेकाबू हो जाते।
– कराड़ा ने मीडिया से बात करते हुए आगे कहा कि लगातार डेम में पानी आने की स्थिति को लेकर लोकसभा स्पीकर ओम बिड़ला (कोटा सांसद), प्रधानमंत्री कार्यालय से लेकर मप्र व राजस्थान सरकारों की सांसे फूल गई थीं। परमाणु त्रासदी होने से बचाने के लिए तत्काल डैम के गेट खोलकर पानी को भी भिंड-मुरैना की तरफ मोड़ दिया गया। इससे वहां के तीन जिलोंं में बगैर बारिश हुए बाढ़ झेलना पड़ी और कई मकान पानी में बह गए। उल्लेखनीय है सितंबर में हुई तेज बारिश के दौरान मंदसौर-नीमच जिले के कई गांव उजड़ गए। 25 हजार लोगों को रेस्क्यू कर बचाना पड़ा। https://www.bhaskar.com/mp/bhopal/news/gandhi-sagar-dam-could-have-erupted-an-accident-like-russia-s-chernobyl-nuclear-plant-01690153.html  (19 Nov. 2019)
At the time of incident SANRP had raised question over mismanagement of the dam aggravating the crisis:- These are just some indications of the massive floods that resulted due to the National crisis at Gandhi Sagar Dam and in which the mismanagement of dams played a big role. They clearly violated rule curve and failed to take advance action to avoid the crisis.
– CWC and our dam operators are clearly not ready for the changing rainfall pattern that dams are experiencing. The rule curves of the dams need to change. Most importantly, concerned persons from CWC and dam operators need to be held accountable for the wrong operation of dams. https://sandrp.in/2019/09/24/man-made-national-crisis-that-gandhi-sagar-dam-faced-in-sept-2019/  (24 Sept. 2019)
Sardar Sarovar Dam Indefinite protest demanding relief relaunched Narmada Bachao Andolan has once again launched an indefinite protest demanding relief. The protest that began on Saturday (Nov 16) has continued after the state government failed to put on record any assurances to help the oustees by bringing pressure on the Gujarat govt.  https://www.dailypioneer.com/2019/state-editions/indefinite-protest-demanding-relief-relaunched.html  (19 Nov. 2019)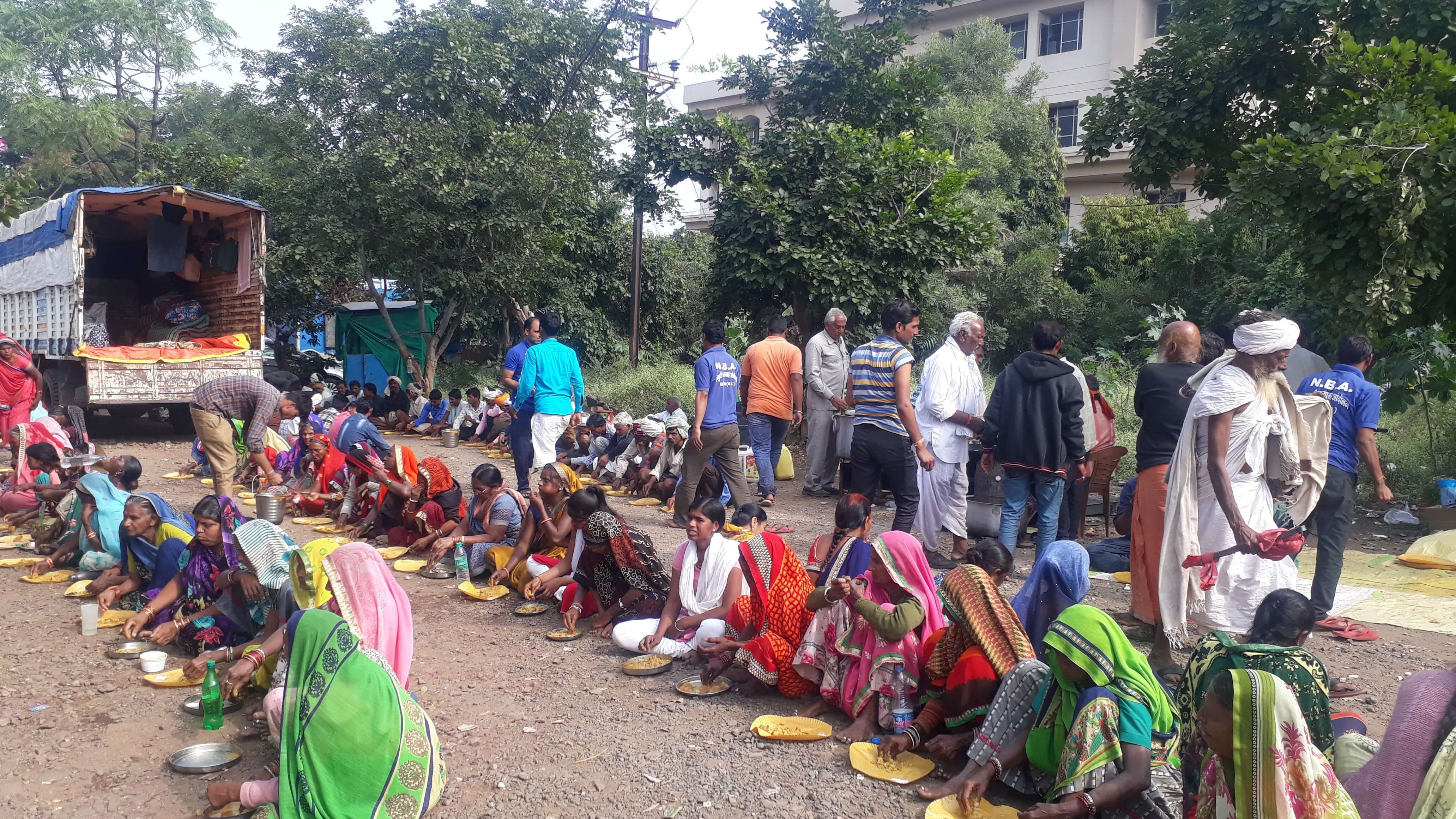 Meet the unsung heroes on NBA Malakar has given 20 years of his life to the protest. He, along with others, cooks for about 1,000-1,500 people thrice a day during protests. https://www.newsclick.in/Meet-Unsung-Heroes-Narmada-Bachao-Andolan  (20 Nov. 2019)
Medha Patkar to lose passport? RPO seeks details Mumbai Regional Passport Office (RPO) on October 18 issued Patkar a showcause notice as to why her passport should not be impounded for not disclosing pendency of cases against her. In the notice, the Mumbai RPO stated that nine criminal cases registered against her — three in Barwani, one in Alirajpur and five in Khandwa district of Madhya Pradesh — were pending adjudication and sought an explanation in 10 days. Most of the cases pertained to rioting and obstructing govt servants from carrying out their duty. In March 2017, she was reissued a passport which is valid till March 29, 2027.
Patkar told TOI over phone, "I had sent a reply to the RPO saying that at the time of application, there was no case pending against me. After I sent the reply, they (RPO) sent another notice giving me 15 days to produce documentary evidence for the cases. I have the documents of some of the cases but not all." She added that all the cases were filed during the NBA agitation which began in 1985. "These were not cases against me alone but against a large group of people. I don't even remember appearing in Khandwa," said Patkar. https://timesofindia.indiatimes.com/india/medha-patkar-to-lose-passport-rpo-seeks-details/articleshow/72151723.cms  (21 Nov. 2019)
The 64-year-old activist, who was in Bhopal for the past five days agitating over the Sardar Sarovar Dam issue, said, "This is a deliberate attempt to target activists and challenge their morality."  https://www.news18.com/news/india/deliberate-attempt-to-target-activists-medha-patkar-on-passport-office-notice-over-pending-cases-2395687.html  (21 Nov. 2019)
Kaleshwaram Project Andhra Govt taking U turn on National Project status A 'national status' tag for major irrigation project being planned by Telangana, was opposed strongly in the Supreme Court by the Andhra Pradesh government – despite the fact that Jagan himself was a chief guest at the Kaleshwaram inauguration by KCR just a few months back. https://www.thenewsminute.com/article/why-jagan-forced-make-slow-u-turn-his-friendly-approach-kcr-112562  (19 Nov. 2019)
BHEL has commissioned 2 more pumping units each at Package-6 (7×116 MW) and Package-8 (7×139 MW) of the mega Kaleshwaram Lift Irrigation Scheme (LIS). With this, BHEL has commissioned all 14 pumping units of these packages within a period of 6 months. Each of these pumps is designed to lift 89 cumecs of water against a head of 100 to 125 metres. https://www.thehindubusinessline.com/companies/bhel-commissions-two-more-pumping-units-of-kaleshwaram-lift-irrigation-scheme/article30014115.ece  (19 Nov. 2019)
Gujarat Rann Sarovar proposal for Kutch runs into rough weather Central agencies, including the Central Water Commission (CWC), the Council of Scientific and Industrial Research (CSIR) and the Central Ground Water Board (CGWB) have raised doubts about the proposal to create a Rann Sarovar in Little Rann of Kutch on technical and environmental grounds.  https://www.counterview.net/2019/11/discussed-with-modi-gujarat-rann.html  (24 Nov. 2019)
Kerala Revenue dept stalls dam safety HQ construction On the basis of a meeting convened by CM Pinarayi Vijayan on Jan. 1, 2018, a piece of land, which is jointly owned by public works and irrigation departments, was identified in the heart of the capital. As per the government order issued, it was finalized to set up the dam safety headquarters on this land at a cost of Rs 29 crore. When the work on the project was launched, the revenue department intervened and stalled, citing the rules that the custodian of all government land is revenue department, and any inter-departmental land transfer can be done only through the revenue department.
However, public works department sources said the objections raised by revenue department are not even technically correct. "Only if there is a transfer of land from one department to the other, the intervention of revenue department is mandatory. In this case, the land where the dam safety authority building is being constructed is jointly owned by PWD and irrigation departments. Since the DRIP project is undertaken by irrigation department in the land co-owned by PWD, the PWD said that it has no objection in using the land," a top official said.  https://timesofindia.indiatimes.com/city/thiruvananthapuram/revenue-dept-stalls-dam-safety-hq-construction/articleshow/72213954.cms  (25 Nov. 2019)
INTERLINKING OF RIVERS
Ken Betwa Interlinking Centre nudging States The govt has said it is pushing Uttar Pradesh and Madhya Pradesh to make progress on the Ken Betwa river interlinking project, according to a response to a question in the Rajya Sabha last week. "The govt is pursuing the interlinking program in a consultative manner. Vigorous efforts have been made by the Central govt for generating consensus between the concerned states," Minister of State, Jal Shakti, Rattan Lal Kataria, said in a written response to a query in the Rajya Sabha.
– A senior official in the Jal Shakti Ministry told The Hindu, on condition of anonymity, that the project was "still on" but posed environmental challenges. "Other than states, there are outstanding environmental obstructions too. It is not an easy road ahead."  https://www.thehindu.com/news/national/other-states/centre-nudging-madhya-pradesh-uttar-pradesh-on-ken-betwa-river-interlinking-project/article30070097.ece   (25 Nov. 2019)
INTERSTATE WATER DISPUTES
South Pennar River Water Sharing Dispute SC says Tamil Nadu can request the central government to intervene and set up an interstate river water dispute tribunal within four weeks of the order for further action. Markandeya river is a tributary of Thenpennai river which joins the main river after travelling for around 30 kilometres inside Tamil Nadu, near Krishnagiri reservoir. The rights of the riparian states in using Thenpennai water is put down in an agreement entered into between the State of Madras and Mysore, the predecessor states of Tamil Nadu and Karnataka, in 1892. The agreement specifies how to use, control and distribute the waters of the inter-state river. This agreement was modified in 1933.
– The Karnataka Urban Water Supply and Drainage Board has been constructing a dam of 500 Mcft storage capacity across the Markandeya river in order to meet the drinking water requirements of Malur, Kolar and Bangarpet towns and 45 villages along the river's route.
The Markandeya dam project, near Yargol village in Bangarpet taluk, was approved in 2007 at an estimated cost of Rs 240 crore. Of the Rs 240 crore, Rs 160 crore is to be pitched in by the government of Karnataka and Rs 79.92 crore is to be granted by the Central government. The government of Karnataka began the construction in 2013 and is 75-80% complete, as per the affidavit filed by the counsel of the government of Karnataka.
– In effect, the court meant that the project has been going on since its approval stage in 2007 and since it began construction in 2013 and no efforts have been taken by either of the states involved — Tamil Nadu and Karnataka — to request the Centre to set up a separate tribunal. The court can now do nothing but to allow construction of the dam across Markandeya river. However, Tamil Nadu can request the central government to intervene and set up an interstate river water dispute tribunal within four weeks of the order for further action.  https://www.thenewsminute.com/article/sc-allows-k-taka-build-dam-across-thenpennai-river-tributary-explainer-112422  (16 Nov. 2019)
Mahadayi River Water Sharing Dispute Greens irate as minister feigns ignorance of K'taka hydro project Union Environment Minister feigns ignorance of a dam project on Mahadayi before the Goa delegation, who alleged that the MoEF is working to give advantage to BJP in upcoming by-elections. https://energy.economictimes.indiatimes.com/news/renewable/goa-greens-irate-as-minister-feigns-ignorance-of-ktaka-hydro-project/72152325  (21 Nov. 2019)
LOCAL WATER SYSTEMS
Tamil Nadu Check dam across Palar river increases groundwater table The Department of Atomic Energy, Water Resources Department of State PWD, District Administration and Indian Institute of Technology, Madras have technically and administratively finalised the alignment near Voyalur- Kadalur villages for construction of check dam with sub-surface dyke for harnessing flood water after detailed study and analysis. The project at an estimated cost of Rs 32.50 crore was administratively sanctioned by Department of Atomic Energy (DAE) for full funding.
An MoU was entered between General Services Organisation of DAE and Water Resources Department of State PWD and the bhoomi pooja was performed on 25 February 2019. The work was proposed to be completed within a year on or before 31 March 2020, whereas the work was completed ahead of the envisaged schedule to store flood water in current season itself. Now it is witnessed that the newly built check dam filled up, following a three-day spell of rain in the last week of October and the perennially dry river Palar is brimming with water for a stretch of 4 km on upstream side of newly built check dam, the release said.  https://newstodaynet.com/index.php/2019/11/23/check-dam-across-palar-river-increases-ground-water-level/  (23 Nov. 2019)
FISH, FISHERIES, FISHERFOLKS
SANDRP Blog World Fisheries Day 2019: Fish, Fisheries Update from India Every year, November 21 is celebrated as World Fisheries day across the world. SANDRP with the help of selected media reports, presents an overview of key developments and problems affecting riverine fisheries and fisher folks in India and South Asia.  https://sandrp.in/2019/11/21/world-fisheries-day-2019-fish-fisheries-update-from-india/  (21 Nov. 2019)
WFD 2019: Mass fish death due to pollution, dry rivers This compilation shows there have been multiple mass fish deaths incidents across the country from Dhanas lake in Chandigarh to Dhanushkodi backwaters in Tamil Nadu. Fish deaths were also reported in Narmada, Sabarmati, Godavari, Indrayani and Pavana rivers due to lack of water and pollution. Similarly the fish diversity is seen facing severe threats in Gomati, Krishna and Cauvery rivers due to riverfront development, increasing pollution, dams depriving the rivers of ecological flows. https://sandrp.in/2019/11/24/wfd-2019-mass-fish-kill-incidents-due-to-pollution-dry-rivers-in-india/  (24 Nov. 2019)
West Bengal 18.5kg fish caught from the Ganges was sold for this much  A jumbo Bhetki fish weighing 18.5 kg was caught from the Ganges in Howrah district's Uluberia on Tuesday, fetching a whopping price of Rs 12,000. https://www.hindustantimes.com/it-s-viral/18-5kg-fish-caught-from-the-ganges-was-sold-for-this-much/story-2rTVQWdEKmfE2JohKL8koK.html  (19 Nov. 2019)
SAND MINING
SANDRP Blog Rampant unsustainable mining in Yamuna Basin Will the judiciary particularly National Green Tribunal take urgent action on the issue? Given the scale of unsustainable ongoing riverbed mining, silence of Upper Yamuna River Board, NGT Committee and basin states on ecological disaster in the making, is disturbing.  https://sandrp.in/2019/11/22/rampant-unsustainable-riverbed-mining-in-yamuna-basin/  (22 Nov. 2019)
Haryana 3 makeshift passages removed from Yamuna The authorities of Irrigation department damaged three unauthorised makeshift passages constructed on the Yamuna in Jathlana area of Yamunanagar district to undertake mining activities on the river bed. "Representatives of mining agencies (contractors) constructed three unauthorised makeshift passages in Gumthala, Rao and Nagli villages. We removed those makeshift passages yesterday," said Sher Singh, Executive Engineer, Hathni Kund Barrage, Division Jagadhri of Irrigation Department.
He said the villagers informed that the representatives of the mining agencies were rebuilding the passages that were removed the previous day. "Today, I have written a letter to the mining officer of Mines and Geology Department, Yamunanagar, requesting him to take stringent action against the persons who are re-constructing the passages. If the violators don't stop then we'll be forced to lodge FIRs against them," said Singh.
According to information, there are several legal mining sites in Jathlana area of Yamunanagar district, but the mining contractors and mining mafia construct unauthorised makeshift passages across the Yamuna to undertake mining activities. Sources said such makeshift passages or bundhs could not be constructed across the Yamuna as they created obstruction in the mainstream of the river. https://m.tribuneindia.com/article/news-detail/863389/amp  (30 Nov. 2019)
Study Demand for sand in urban India is 60mn metric tonnes per year A study by the Indian Institute of Technology-Bombay (IIT-B) has estimated that the annual demand for sand in urban India is 60 million metric tonnes. To put the amount in perspective, the national demand for sand stands at an average of 1kg per person per day in urban India, according to IIT-B.
– The research estimated the amount of urban solid waste generated by India in 2019 so far has been about 78 million metric tonnes, generated by close to 40 crore urban population, and also provides data on urban legacy waste over the past 38 years (presently locked in dumpsites scattered all over the country), which stands at approximately 1,200 million tonnes during 1981-2019. https://www.hindustantimes.com/cities/demand-for-sand-in-urban-india-is-60mn-metric-tonnes-per-year-study/story-wjl78UaUMeuTwXfrrz7DfN.html  (21 Nov. 2019)
Maharashtra Sumaira Abdulali on alternative to natural sand Substitutes for natural sand may consist of crushed stone, recycled debris, recycled plastic or industrial waste such as slag. Many of these materials are already used in various parts of the world. In England, crushed slag is used for road construction and in other European countries, debris from demolition of construction is recycled to replace freshly extracted natural sand.
– The use of recycled plastic in road construction was pioneered in India and has been notified as mandatory. The latest GR of Maharashtra government mandating manufactured sand for Public Works Department projects is welcome, although it contains no details of mechanisms for implementation on the ground or for expansion to other government departments, private builders , etc. https://mumbaimirror.indiatimes.com/opinion/city-columns/time-to-embrace-manufactured-sand/articleshow/72118233.cms  (19 Nov. 2019)
Sand Mafia try to mow down cop The driver of a dumper carrying illegally-dredged sand tried to run over a constable on Nov. 17 after an impromptu police raid on the sand mafia in Virar. The incident highlights how illegal sand mining continues unabated in the Mumbai Metropolitan Region, especially in its far corners, and how daring mafia members have become. https://timesofindia.indiatimes.com/city/mumbai/sand-mafia-try-to-mow-down-cop-during-night-raid-in-virar/articleshow/72134558.cms  (20 Nov. 2019)
Telangana State's sand mining policy unscientific A recent inspection report by Central and State pollution control boards on desiltation conducted by the government in sand reaches along the Godavari River, highlights the lack of scientific validity and ecological sustainability in the State's approach towards sand mining.  During inspection, it was found that although the thickness of the Godavari River was between 1.5 to 3 metres, excavation of sand was being conducted till a depth of 3 metres everywhere, with no scientific basis. This is harmful to the river's ecology.
The inspection report, emphasises the need for the govt to review its sand mining policy and align it on par with the Sustainable Sand Mining Guidelines of MoEF. The inspection was conducted along the 39 km stretch of the Godavari, where the State govt has been excavating sand as part of the 'desiltation' process, over an area of 1,400 hectares in 28 sand reaches under the submergence areas of Annaram and Medigadda barrages. As of June this year, 3.35crore cubic metres of sand have been excavated here. https://www.newindianexpress.com/states/telangana/2019/sep/09/telanganas-sand-mining-policy-unscientific-says-report-2030936.html  (9 Sept. 2019)
Andhra Pradesh WRD proposes sand excavation from Godavari According to an engineer of WRD, a detailed special survey is needed to get the actual sand stocks in the Godavari river and as per barrage security committee the dredging or digging cannot be taken up below three kilometres of the barrage. The department has not yet taken up dredging operations as tenders in this regard have not been finalised.
-The quality of sand accumulated in the river is 2.5 fideness modues Value (FMV). The sand is rough, and it is in a good demand. The department has already sent proposals for dredging operations in the river and waiting for approval. Meanwhile, the daily usage of sand in the district is 22,000 to 24,000 metric tonnes and at present only 19,000 metric tonnes of sand is being made available a day. https://thehansindia.com/andhra-pradesh/rajamahendravaram-wrd-proposes-to-excavate-sand-from-river-godavari-582809  (20 Nov. 2019)
Seeking intervention Srikakulam residents allege illegal mining Shantinagar colony, with more than 400 households and several apartments, is facing threat of floods due to excessive sand mining that has been allegedly happening for over two months. According to residents, sand excavation is being done near human habitation from the riverbed of the Nagavali river which passes through the town, and the sand is being transported in bullock carts. https://www.thenewsminute.com/article/residents-ap-s-srikakulam-allege-illegal-sand-mining-seek-official-intervention-112544  (19 Nov. 2019)
First illegal sand mining conviction The first conviction in illegal sand transportation case was reported from Kadapa, CM YS Jaganmohan Reddy's home district, on Nov. 22. One Nandyala Subbarayudu (20) was sentenced to 3 years imprisonment and a fine of 10,000 by the first class additional judicial magistrate of Kadapa on charges of illegal sand mining and transportation, and causing damage to Papagni riverbed. The state government had recently decided to impose hefty fines and jail term on those indulging in illegal storage, sale/resale and transportation of sand to curb illegal sand mining in the state. https://timesofindia.indiatimes.com/city/vijayawada/man-gets-3-yr-jail-in-first-illegal-sand-mining-conviction-in-ap/articleshow/72191045.cms  (23 Nov. 2019)  
Madhya Pradesh Computer Baba Keeps "Vigil" Near Narmada River To Prevent Sand Mining Chairman of a Madhya Pradesh river trust and self-styled godman, Computer Baba, and some seers are maintaining a "vigil" close to the Narmada river banks in Sehore district to prevent illegal mining of sand. The erstwhile BJP government had bestowed the minister of state status on Baba alias Namdev Tyagi, and also appointed him on a panel to clean the Narmada river.  https://www.ndtv.com/india-news/computer-baba-keeps-vigil-near-narmada-river-to-prevent-illegal-sand-mining-2137890  (24 Nov. 2019)
Last week, Computer Baba had announced that he would deploy 2000 sadhus on the banks of rivers to keep a check on illegal mining. https://timesofindia.indiatimes.com/city/bhopal/computer-babas-big-surprise-for-sand-mafia-says-2000-sadhus-will-be-deployed-to-check-illegal-mining/articleshow/72090460.cms  (17 Nov. 2019)
WETLANDS, LAKES, WATER BODIES
National MoEFCC sanctions 3-year study to map migratory bird pathways across India The Union environment ministry has approved a three-year Rs 3.9 crore study called the 'Bird Sensitivity Mapping Tool' to chart the pathways of migratory bird under the Central Asian Flyway (CAF) across India. The study proposed and to be conducted by Bombay Natural History Society, will look at 77 locations over 17 states. The study was announced on the sidelines of the International Conference on Wetlands and Migratory Waterbirds of the Asian Flyways in Lonavala on Nov 18, 2019. The study will help policy development for proposed infrastructure projects and civil aviation bird alert issues. Said Deepak Apte, director, BNHS. "The aim is to enhance conservation practices across 77 locations (46 wetlands and 31 land sites including grasslands, forests, etc.)."
– Flyways are used by groups of birds or species during their annual cycle to travel to breeding areas, stopovers and wintering zones. Globally, nine migratory flyways have been identified under the Convention of Migratory Species. CAF is one of them covering migratory bird routes across 30 countries with maximum routes passing through India.
– "…This government is responsible for the loss of more wetlands over six years than declaring new protected areas," said Sunjoy Monga, naturalist writer, and ornithologist. https://www.hindustantimes.com/cities/moefcc-sanctions-3-year-study-to-map-migratory-bird-pathways-across-india/story-TTPWBIPXKMYC1ZLqks5VGO.html  (19 Nov. 2019)
Karnataka SC rejects govt plea on NGT's Bellandur lake order SC on Nov 22, 2019 dismissed a plea filed by govt challenging NGT order asking it to deposit Rs 100 crore in an escrow account for failing to check pollution and encroachment of Bellandur Lake.  https://www.deccanherald.com/state/top-karnataka-stories/sc-rejects-ktaka-plea-on-ngts-bellandur-lake-order-778721.html  (22 Nov. 2019)
Rajasthan Sambhar lake is among 8 worst-rated wetlands in the country when it comes to ecosystem management, according to a draft report prepared by the environment ministry in consultation with several independent experts. The environment ministry in August started the process of preparing a health index of 100 major wetlands in India. An environment ministry official, requesting anonymity, said the final peer-reviewed report is likely to be released by the first week of December.  https://www.hindustantimes.com/india-news/sambhar-s-ecology-among-worst-report/story-WbT5MBaTrHifrcDLKwjSFL.html  (20 Nov. 2019)
Environment minister to head wetland body The State Wetland Authority, to be set up after the mass death of birds at Sambhar Salt Lake, will be headed by state environment minister. The body will also include government officials from various departments. The authority would comprise chief secretary, additional chief secretary (ACS), urban development and housing (UDH), ACS (revenue) and principal secretary (tourism), principal secretary (local self-government) and senior officials and experts from 12 departments. The authority, as the draft on it suggests, will also include one expert each in the field of wetland ecology, hydrology, fisheries, landscape planning and socio-economics to be nominated by the state government.
According to sources, CM Ashok Gehlot had issued orders for the State Wetland Authority to be made operational at the earliest. On April 10, 2018, the environment department, Rajasthan issued orders to constitute the authority, sources said.
Lakes in Rajasthan, including Sambhar Lake and Keoladeo Ghana National Park that have the prestigious tag of 'Wetland of International Importance', by the Ramsar Convention on Wetlands , are been largely neglected by successive state governments. Following the mass death of migratory birds at Sambhar Lake, the lake has once again caught national attention, forcing the government to act. https://timesofindia.indiatimes.com/city/jaipur/environment-min-to-head-wetland-body/articleshow/72203953.cms  (24 Nov. 2019)  
Maharashtra Nashik wetland may become the state's first Ramsar site  The state may get its first Ramsar site – 800-hectare Nandur Madhyameshwar in Nephad tehsil, Nashik – by next month. Another 366-hectare wetland site, Lonar Crater Lake in Buldhana that houses 109 bird species, is also likely to be declared a Ramsar site by February or March 2020, according to officials of the state forest department who were part of the International Conference on Wetlands and Migratory Waterbirds of the Asian Flyways in Lonavala.
A senior official from the Union environment ministry said, "Nandur Madhyameshwar was proposed to be a Ramsar site in August 2012. A decision on Nandur Madhyameshwar is expected in December and Lonar by February." Forest officials pointed out that there were a few threats to the wetland. "The Nasik Municipal Corporation and irrigation department have been releasing excess water and chemical effluents in the wetland zone," said Bharat Shinde, assistant conservator of forest, Nandur Madhyameshwar wildlife sanctuary.  https://www.hindustantimes.com/cities/nashik-wetland-may-become-the-state-s-first-ramsar-site/story-2IKFYQ2yUFVbKmAbetGtrJ.html  (21 Nov. 2019)
'Mumbai has best and worst wetlands' A country-wide wetland health report card found Mumbai has wetlands belonging to the best and worst categories. While Vihar Lake received an A+ rating, Powai Lake was rated D. Both wetlands are in Mumbai. Earlier this year, MoEFCC directed states to prepare a list of wetlands for priority restoration in the next five years. Altogether, 130 wetlands were identified across the country and the MoEFCC proposed the wetland health card on August 26.
Explaining the spectrum spanned by the wetlands in Mumbai, Ritesh Kumar, director, Wetlands International (South Asia), said, "Vihar is in good condition as it is a protected area, but Powai needs urgent attention since it is an urban lake with water quality issues." In addition to Vihar and Powai Lakes, two proposed Ramsar sites, Nandur Madhyameshwar in Nashik (B-) and Lonar Crater Lake in Buldhana (B+) were also ranked. Other ranked wetlands in Maharashtra include Dhamapur Lake in Sindhudurg (C+), Ujni reservoir across Pune and Solapur district (C-), and Rankala Lake in Kolhapur district (C-). "We cannot interpret wetland status for an entire state based on seven wetlands, but these seven proposed by Maharashtra seem to be doing better than other states in India," said Kumar. https://www.hindustantimes.com/mumbai-news/mumbai-has-best-and-worst-wetlands-study/story-nxxoouzr2wN6As3AyR6toM.html  (24 Nov. 2019)  
WATER OPTIONS
World Toilet Day From Sukhoi to septic water tank, how a Kovai entrepreneur has touched lives  Manickam understood that pollution is a serious concern, and built a bio-digestive septic tank which would recycle the waste water and make it fit for reuse. "It costs only one-third of what it costs to install a conventional septic tank, and the running cost is one-tenth of what it takes to maintain a septic tank. If you treat human waste right at home, wherever it is generated, then there is no question of sewage water," he says, and adds that as many as 2000 such tanks have been installed in various houses, schools and colleges in Coimbatore, and are working well.
The water thus recycled can also be used to recharge the groundwater table in areas, and will be of use during drought season, he says. "This system will be of great use for cities like Bengaluru, Chennai, Coimbatore etc. This is going to be the order of our future to solve the water shortage problem, and we should be equipped for all kinds of eventualities," he notes. https://www.thenewsminute.com/article/sukhoi-septic-water-tank-how-kovai-entrepreneur-has-touched-lives-112529  (18 Nov. 2019)
On occasion of World Toilet Day, re-posting SANDRP review of Sopan Joshi's Jal, Thal, Mal book:- शुचिता और शौचालय निर्माण में मूल अंतर है। शुचिता के व्यापक अर्थ में मानव और घरों की स्वच्छता से लेकर नदी और खेती की स्वस्थ्ता भी मायने रखती है। शुचिता और शौचालय आधुनिकता और परंपरा का टकराव नहीं अपितु दोनों के मध्य सामाजस्य है। एंटी-बायोटिक दवाओं और सफाई में प्रयुक्त रसायनों से जीवाणु और रोगाणु में पनपी प्रतिरोधी शक्ति भविष्य में चिंता का सबब बनने जा रही है। शुचिता की परख असल में हमारा प्रकृति के साथ संबंधों की पड़ताल है। ईकोसैन शौचालय मनुष्य के शरीर को खेत से जोडता है। यह काम लद्दाख के छागरे भी करत हैं। डीवाटस् का तरीका हमें जल स्रोतों के विनाश के अधर्म से बचाता है। पूर्वी कोलकाता और मुदिअली के मछुआरों के परंपरागत तरीके से नई समस्या के मौलिक समाधान करत है।  https://bit.ly/37kY2C3 
Part 2:- जल दोहन, नदी स्वच्छता, मैला प्रथा उन्मूलन, जैविक खेती आदि विषयों पर काम करने वाले समाजिक संगठन अपनी अपनी मुहिम अलग अलग चलाए हुए है जबकि सबके मुद्दे एक दुसरे सरोकार रखते हैं। यही हाल सरकारी विभागों का है। शौचालय बनाने वाली, पानी आपूर्ति करने वाली, मैला साफ करने वाली, नदी की सफाई एवं खेती मंत्रालय एवं विभाग एक दुसरे की योजनाओं और उनसे होने वाले दुष्परिणामों से या तो अनभिज्ञ हैं या फिर बिना सामाजस्य के काम कर रहे है। https://bit.ly/2QwQlmD
GROUNDWATER
Jal Shakti 22% of India's groundwater dried up or in critical state: Shekhawat Almost 22% of groundwater (assessed units) in the country has either dried up or is in the 'critical' and 'over-exploited' categories, Jal Shakti minister Gajendra Singh Shekhawat said as he emphasised the need to focus on efficient use of water resources and noted that 10% of water saving in the agriculture sector now would make it available for all users for the next 50 years.
The minister, who visited Israel last week to take part in the WATEC conference, said there were many things which India could learn from Israel's experience and replicate. He said works on aquifer (underground layer of water-bearing rock) mapping was going on at full pace to delineate and characterise groundwater aquifers and develop suitable management plans. "Aquifer mapping of all 256 water stressed districts (covering nearly 5,500 blocks) will be completed by March. It will help us make farmers and other users aware of water availability and tell them how they should use it," Shekhawat said.
The 'Dynamic Ground Water Resources of India' report of the Central Ground Water Board (CGWB) showed that 1,499 out of 6,881 assessed units (blocks/mandals/taluks) in 2017 came under 'over-exploited' (1,186 units) and 'critical' (313 units) categories. The report sought immediate change in extraction pattern of groundwater and surface water interventions. The highest number of water stressed blockswere in Tamil Nadu (541) followed by Rajasthan (218), Uttar Pradesh (139), Telangana (137), Punjab (111) and Haryana (81). https://timesofindia.indiatimes.com/india/22-of-indias-groundwater-dried-up-or-in-critical-state-gajendra-singh-shekhawat/articleshow/72215191.cms  (25 Nov. 2019)  
URBAN WATER
Urban Water; Chennai Why land of rivers, lakes facing water crisis KM Vedapuri, a hydro-geologist, explains how pollution, encroachment of surface water sources like lakes, tanks, rivers is the root cause of reoccurring water crisis in the city. The 42-km long Adyar river has meager flow throughout the year, but it is flooded during the Northeast monsoon season, when there are heavy spells of rainfall. It is estimated that 10% of the untreated sewage generated in the city is let into Adyar river.
– The Cooum, which isn't very polluted until it enters Chennai, becomes highly polluted within the city due to the discharge of sewage water from hospitals, factories and commercial complexes. Around 30% of the untreated sewage is let into this river. The rest of the city's sewage goes into the unfortunate Buckingham canal, a manmade channel originating in the north in Nellore district of Andhra Pradesh, which drains through the city. Besides these, there are many small drains that join the rivers or the canal and are used as only sewage carriers. In many areas, the storm-water drains are used as sewage carriers and are also choked with plastic material. This will again directly pollute the rivers.
– Chennai is among the large metros blessed with excellent reservoirs of water such as the Redhills lake, the Cholavaram tank, Chembarambakkam tank and Porur tank. These tanks that have been traditionally the city's water sources are now at risk – the Velachery and Ambattur tanks for instance are being encroached upon by legal and illegal constructions and the limited water left is being polluted due to the disposal of sewage from both residential clusters and industries in the area. Even the temple tanks have not been spared.
– If these tanks and lakes are properly maintained and desilted during summer, sewage disposal and garbage dumping prevented, they could not only store quality water to meet the needs of the nearby localities, but also serve as huge sources of recharging the groundwater. A regularly desilted lake of an area of 100 hectares can provide recharge of around 20,000 cubic metres per day. On a conservative estimate this can take care of the water needs of 20 to 30,000 families. https://www.thenewsminute.com/article/blessed-rivers-yet-perennially-short-why-chennai-sees-annual-water-crisis-112628  (20 Nov. 2019)
Apartments get smart to save water Residents of apartment complexes are taking to smart water metering systems, which allow them to monitor their exact daily consumption, even while they are at work or on a holiday. Industry sources said many builders, who are constructing multi-storeyed apartments on Old Mahabalipuram Road and East Coast Road which face scarcity of groundwater, are incorporating the smart water meters at the planning stage itself.
Apartment complexes, which have installed the app, say there has been a 20-30% cut in consumption. Khurinji Westeria apartments in Kumaran Nagar, Shollinganallur, which has 20 apartments, has reduced its water consumption by around 42,000 litres a month after installing a smart water meter. This is a 20% decrease in its consumption. Sreshtha Varuna Apartments in RA Puram, which has 18 residents, has brought down its use by 59,300 litres a month, a 14% drop. Not only does this bring down the water bill, it also helps save on power use by motors. Residents need to install a separate plumbing network for this, which may take around 21-30 days. Companies are also willing to offer a monthly subscription rate for payment towards the meters, residents said. https://timesofindia.indiatimes.com/city/chennai/apartments-get-smart-to-save-water/articleshow/72203742.cms  (24 Nov. 2019)
KCR Valley Project Why domestic wastewater from Bengaluru is being sent to Kolar and Chikkaballapur Mixed responses to the KC Valley project benefits. Some terms it as game change, other raising issues of poor treatment, toxic chemicals, groun water pollution. EIA study must be conducted to assess pros and cons:-
The water samples collected have heavy metals (cadmium, chromium, copper, lead, cobalt and zinc) above the standard levels and treated water has high ortho-phosphate (indicating pollution), nitrate and organic content, noted a September 2019 report of Centre for Ecological Sciences at Indian Institute of Science. The contamination occurs because the STP does not have the capability to remove it, said T V Ramachandra, a senior scientist at the Centre for Ecological Sciences and lead author of the report. "In principle I am not against the project," he said. "I am against the government agencies doing improper treatment of sewage water."  https://scroll.in/article/944539/why-domestic-wastewater-from-bengaluru-is-being-sent-to-kolar-and-chikkaballapur  (24 Nov. 2019)  
WATER POLLUTION
Gujarat Solar Power to breathe life into defunct STPs The Gujarat govt's urban development department has initiated a pilot project to run STPs in eight municipalities and water treatment plants (WTPs) in 15 towns on solar energy instead of the conventional electricity. Officials said that the detailed project report for the eight STPs and 15 WTPs is expected to be ready in a month after which work orders will be issued to develop solar energy mechanism.  https://timesofindia.indiatimes.com/city/ahmedabad/gujarat-solar-power-to-breathe-life-back-into-defunct-stps/articleshow/72121478.cms  (19 Nov. 2019)
Punjab Canal water pollution Punjab, the land of the five rivers, known for its extensive network of canals that helps it subsist as the food bowl of the country, is witnessing the declining purity of its waters. Toxic water with a foul smell is reported to be flowing through the Kotla branch canal in Sangrur district, triggering health concerns. Villagers claim that waste continues to be discharged into the canal. They are especially worried as the water is used for farming. The excessive use of fertilisers and insecticides has already led to the contamination of groundwater, a probable reason behind the high incidence of cancer in some districts. Earlier, dead fish were found floating in canals, apparently due to toxicity and the declining level of oxygen in the water.
The waters of Gung and Indira Gandhi canals, distributaries of the Sutlej that flow into Rajasthan, have not been deemed fit for consumption earlier too, because of the discharge of toxic effluents into the river near Ludhiana. As the Sutlej crosses Ludhiana, the waste pumped into it through the Budha Nullah and the pollution have caused concern in south-west Malwa as the river waters are used to meet the drinking needs of about 15 districts. The polluted waters from the Sutlej and Beas that enter Rajasthan through the Indira Gandhi Canal affect eight districts in west Rajasthan.   https://www.tribuneindia.com/news/editorials/canal-water-pollution/865536.html  (25 Nov. 2019)
WATER
Call for Public Consultation: Draft Water Sector Strategy AIIB has put up its draft water sector strategy for consultation, accepting written submissions until the 10th Dec, 2019. India currently accounts for $2.9 billion (proposed and approved) investments from AIIB. AIIB, which commenced operations in India in 2016, has 13 projects in India, the second-largest shareholder for AIIB in infrastructure, transport, energy, water, & finance sectors. Two pipeline projects in the water sector are USD 381.50 million investment in Karnataka Rural Water Supply Project & USD 144.7 million in West Bengal Major Irrigation & Flood Management Project. (Message from Centre for Financial Accountability)  https://www.aiib.org/en/policies-strategies/operational-policies/public-consultation-draft-water-sector-strategy/index.html 
SC refuses to interfere with NGT's order prohibiting use of RO water purifier SC on Nov. 22 while refusing to interfere with the NGT order, asked the association of RO manufacturers to approach the Central Govt & also directed the govt to consider its representation. The NGT had passed an order prohibiting the use of reverse osmosis purifiers when TDS in water is below 500 mg per litre. https://www.livemint.com/news/india/sc-refuses-to-interfere-with-ngt-s-order-prohibiting-use-of-ro-water-purifier-11574429053996.html  (22 Nov. 2019)
-In May this year, NGT asked MoEF to frame rules for the use of RO filters and also banned the use of RO purifiers in locations where TDS was low. According to NGT, RO purifiers lead to the wastage of almost 70-80 percent water during the purification process. It asked the RO manufacturers to ensure that they are able to recover about 75 percent of the water. In early Nov, NGT found that its order was still not being implemented. Following this, the Water Quality India Association moved the SC to seek a stay on the RO ban. NGT has given time till Dec 31 to MoEF to frame relevant rules.  https://www.moneycontrol.com/news/business/companies/ro-purifier-ban-water-quality-association-meets-environment-ministry-4665921.html  (22 Nov. 2019)
DELHI WATER
Water to be pumped into Bhatti Mines to raise groundwater levels DJB will recharge 15 abandoned pits in the Bhatti Mines area using 10 million litres of treated water from the Okhla Treatment Plant. Rejuvenation of four water bodies at Rasulpur, Bindapur, Dhichau Kalan and Tikri Kalan using phytorid treatment technology is also in the pipeline.  https://www.newindianexpress.com/cities/delhi/2019/nov/20/water-to-be-pumped-into-bhatti-mines-to-raise-groundwater-levels-2064341.html  (20 Nov. 2019)
AGRICULTURE
National Fasal Beema a story of dashed hopes Farmers, reeling under crop losses, feel the Centre's crop insurance scheme is merely helping insurance firms make profits. Radheshyam Jadhav reports. https://www.thehindubusinessline.com/specials/india-file/fasal-bima-a-story-of-dashed-hopes/article30009090.ece  (19 Nov. 2019)
27.77 lakh ha is covered under organic farming in the country, says the govt agency. http://www.indiancooperative.com/co-op-news-snippets/28-lakh-hectares-under-organic-farming-farmers-gain-hugely/  (20 Nov. 2019)
FLOOD 2019
Himachal Pradesh Flash floods fail to warn govt This report shares the study (by Indian Himalayas Climate Adaptation Programme (IHCAP) on climate change effect in Kullu) highlighting increasing risks of flash floods in Himachal Pradesh: "It revealed an increase in formation of supra glacial lakes from 12 (1989) to 77 (2014) in Parvati valley catchment."  https://www.thestatesman.com/cities/shimla/flash-floods-fail-warn-hp-1502826040.html  (24 Nov. 2019)   
Karnataka Hulimavu lake breaches in Bengaluru, over 350 houses inundated More than 350 houses and several streets in Bengaluru were left inundated after a lake flowing within city limits breached Nov. 24 afternoon. At least 193 people have been rescued so far by two teams of the National Disaster Response Force (NDRF) deployed in the area.
Mayor Kumar told indianexpress.com that the incident took place after the embankment of the lake was damaged by an earthmover. "Some people were allegedly trying to lay a pipe when the lake-bund was damaged, reportedly due to the carelessness of a JCB driver. BBMP will investigate the matter," he said. BBMP officials told that an initial survey of the affected places indicated some areas were flooded from 2 to 5 feet.   https://indianexpress.com/article/cities/bangalore/hulimavu-lake-breaches-in-bengaluru-houses-streets-inundated-ndrf-evacuates-people-6134960/  (25 Nov. 2019)
Bengaluru lake breaches capacity after overnight rainfall Doddaabidarakallu lake in Nagasandra, off Tumakuru Road in north Bengaluru, breached its capacity after heavy rainfall in the early hours of Oct. 10. Rainwater entered stormwater drains and even some houses in low-lying areas. According to Bruhath Bengaluru Mahanagara Palike (BBMP), more than 300 families living in areas near the lake were affected.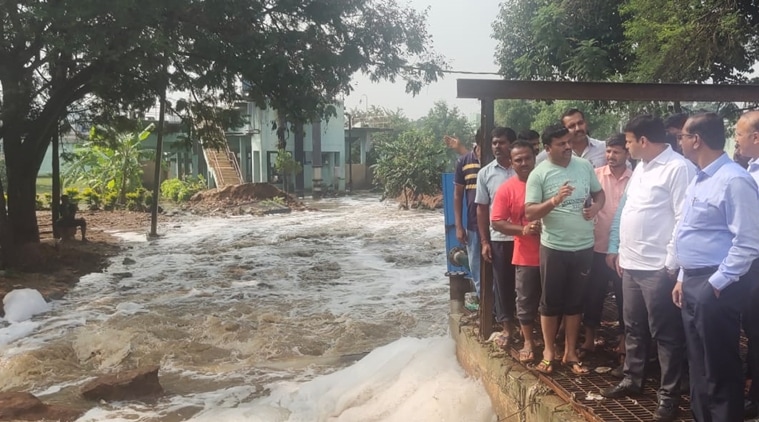 "Doddaabidarakallu lake was recently handed over to the BBMP and we will reconstruct the damaged tank bund. Due to rains, the bund of the Doddabidarakallu lake has given way flooding Andanappa Layout," BBMP Commissioner B H Anil Kumar said. According to State Natural Disaster Monitoring Centre (KSNDMC), Doddabidarakallu received 110 mm of rainfall on Oct. 9 night. Chikkabidarakallu, Bagalakunte, Peenya, Jalahalli, Dasarahalli  Peenya Industrial area and other areas in North Bengaluru received 140 mm of rainfall. https://indianexpress.com/article/cities/bangalore/bengaluru-doddaabidarakallu-lake-breaches-capacity-low-lying-areas-affected-6062105/  (10 Oct. 2019)
ENVIRONMENT
'Bad environment can not be good economics': SC Judge "Bad environment can never be good economics. It is only in a healthy environment that there can be a good economy. More damage has been done in the name of sustainable development than benefit. Sustainable development meant that you will bring in such industry and development that does not cause harm to the environment or where it can be re-compensated in real terms," Supreme Court Judge Justice Deepak Gupta said when Union Minister Piyush Goyal among others was present. "The figures (of compensatory afforestation) would be less than 10 per cent of the actual proposed afforestation," he said. "When there is development, there is always going to be a conflict. But if two views are possible, then the view in favour of environment must prevail."  https://indianexpress.com/article/india/bad-environment-cannot-be-good-economics-supreme-court-judge-deepak-gupta-6123459/  (17 Nov. 2019)
CLIMATE CHANGE
Climate resilient water management need of the hour The research institutes and governments need to focus on climate resilient water management.  https://timesofindia.indiatimes.com/home/education/news/climate-resilient-water-management-need-of-the-hour/articleshow/72119821.cms  (19 Nov. 2019)
Climate change a key feature in new forest policy It's going to be the country's fourth forest policy after the ones launched in 1894, 1952 and 1988. More than 30 years after it was last launched, a new national forest policy that would deal with issues such as climate change and human-wild life conflict is now on the anvil, a key official said. DG of the Indian Council of Forestry Research and Education Suresh Gairola said the revised draft — finalised after the MoEF examined public comments — is under the consideration of the government. https://www.business-standard.com/article/pti-stories/new-forest-policy-on-anvil-climate-change-among-key-features-119111901121_1.html  (19 Nov. 2019)
Study Climate change may double GHGs emissions from freshwater lakes Climate change may cause the levels of greenhouse gases emitted by freshwater northern lakes to increase by 1.5 to 2.7 times, according to a study. Researchers from the University of Cambridge in the UK noted that small shallow lakes dominate the world's freshwater area, and the sediments within them already produce at least one-quarter of all carbon-dioxide, and more than two-thirds of all methane released from lakes into our atmosphere.
– Since the same microbes can make greenhouse gases from many different organic molecules, the diversity of organic molecules was shown to be more closely linked with levels of greenhouse gas concentrations than the diversity of the microbes. An elevated diversity of organic molecules may elevate greenhouse gas concentrations in waters because there are more molecules that can be broken down by sunlight penetrating the water.
– The study assumes that "Climate change will increase forest cover and change species composition, resulting in a greater variety of leaves and plant litter falling into waterways. We found that the resulting increase in the diversity of organic molecules in the water leads to higher greenhouse gas concentrations," said Tanentzap. But that assumption may not be valid all over Northern Hemisphere. https://www.thehindubusinessline.com/news/science/climate-change-may-double-greenhouse-gas-emissions-from-freshwater-lakes-study/article30015008.ece  (19 Nov. 2019)
SOUTH ASIA
Bangladesh Nepal GMR finalise PPA rate of UKHEP Bangladeshi govt and GMR, developer of the 900 Mw Upper Karnali Hydro Electric Project (UKHEP), have finalised the power purchase agreement rate to purchase 500 MW from Nepal. The proposal for the as yet undisclosed rate of power purchase by the Bangladesh govt is now submitted to the Cabinet and will be made public after Cabinet approval.  https://thehimalayantimes.com/business/gmr-bdesh-finalise-ppa-rate-of-ukhep/  (21 Nov. 2019)
Nepal PM inaugurate China funded hydro project PM KP Sharma Oli on Nov 18, 2019 inaugurated a China-funded 60MW Upper Trishuli 3A Hydropower Project which had started producing electricity recently. Developed by Nepal Electricity Authority, and constructed by China Gezhouba Group Company, it is located at the border of Rasuwa and Nuwakot districts in the central region. The project will run in full capacity for eight months in a year and it will produce 45MW in the remaining four months. http://www.xinhuanet.com/english/2019-11/18/c_138564821.htm  (18 Nov. 2019)
Earthquake hits near India-Nepal border An earthquake magnitude 5.0 on the Richter scale struck Nepal's Khaptad National Park on Nov. 19 evening. Tremors of the earthquake were reported from Uttarakhand and Uttar Pradesh. According to initial information, the epicentre of the earthquake was near the India-Nepal border. United States Geological Survey in its assessment, said that the epicentre of the earthquake was located just 1.3 km below ground. https://www.indiatoday.in/india/story/earthquake-tremors-delhi-ncr-north-india-1620590-2019-11-19
Earlier this month, a 4.5-magnitude earthquake shook western Nepal at 3:51 am on Nov. 1, the country's seismological department said. https://www.news18.com/news/world/4-5-magnitude-earthquake-hits-western-nepal-no-casualties-reported-2370069.html  (1 Nov. 2019)
Led by UC Riverside, a team of researchers has determined a new geometric model for the fault that will allow officials to better prepare for future shakers. The team's work is detailed in a paper published today in Nature Geoscience. "This is the most high-resolution model of this fault structure to date," said Abhijit Ghosh, a UCR associate professor of geophysics. "With this knowledge we can better explain why the quake happened the way it happened, and better estimate the stress points along the fault that may act as birthplaces for future large damaging earthquakes."
The team found that the Himalayan Thrust, which runs more than 1,000 kilometers from Pakistan to Myanmar, is built in a shape known as a duplex in the area where the magnitude 7.8 earthquake occurred in 2015. "It consists of two horizontal planes connected by a complex structure bounded by many not-quite-horizontal faults," Ghosh explained.
The team concluded the fault is still accumulating stress, and that the 2015 event may have increased the likelihood of another big earthquake nearby. This last point may be of interest to Californians. Accumulated stress from the Nepalese earthquake may be adding stress to parts of the underlying fault that haven't ruptured yet, and the same may be true of faults in Southern California. "The moral of this story is if you live anywhere near a fault, get your earthquake kit ready," Ghosh said. "That is always the moral of the story." https://phys.org/news/2019-11-earthquake-people.html  (12 Nov. 2019)
Nepal earthquake: Waiting for the complete rupture In April 2015, Nepal — and especially the region around the capital city, Kathmandu — was struck by a powerful tremor. An earthquake with a magnitude of 7.8 destroyed entire villages, traffic routes and cultural monuments, with a death toll of some 9,000. However, the country may still face the threat of much stronger earthquakes with a magnitude of 8 or more. This is the conclusion reached by a group of earth scientists from ETH Zurich based on a new model of the collision zone between the Indian and Eurasian Plates in the vicinity of the Himalayas.
Using this model, the team of ETH researchers working with doctoral student Luca Dal Zilio, from the group led by Professor Taras Gerya at the Institute of Geophysics, has now performed the first high-resolution simulations of earthquake cycles in a cross-section of the rupture zone.
"In the 2015 quake, there was only a partial rupture of the major Himalayan fault separating the two continental plates. The frontal, near-surface section of the rupture zone, where the Indian Plate subducts beneath the Eurasian Plate, did not slip and remains under stress," explains Dal Zilio, lead author of the study, which was recently published in the journal Nature Communications.
Normally, a major earthquake releases almost all the stress that has built up in the vicinity of the focus as a result of displacement of the plates. "Our model shows that, although the Gorkha earthquake reduced the stress level in part of the rupture zone, tension actually increased in the frontal section close to the foot of the Himalayas. The apparent paradox is that 'medium-sized' earthquakes such as Gorkha can create the conditions for an even larger earthquake," says Dal Zilio.
Tremors of the magnitude of the Gorkha earthquake release stress only in the deeper subsections of the fault system over lengths of 100 kilometres. In turn, new and even greater stress builds up in the near-surface sections of the rupture zone.
According to the simulations performed by Dal Zilio and his colleagues, two or three further Gorkha quakes would be needed to build up sufficient stress for an earthquake with a magnitude of 8.1 or more. In a quake of this kind, the rupture zone breaks over the entire depth range, extending up to the Earth's surface and laterally — along the Himalayan arc — for hundreds of kilometres. This ultimately leads to a complete stress release in this segment of the fault system, which extends to some 2,000 kilometres in total.
Historical data shows that mega events of this kind have also occurred in the past. For example, the Assam earthquake in 1950 had a magnitude of 8.6, with the rupture zone breaking over a length of several hundred kilometres and across the entire depth range. In 1505, a giant earthquake struck with sufficient power to produce an approximately 800-kilometre rupture on the major Himalayan fault. "The new model reveals that powerful earthquakes in the Himalayas have not just one form but at least two, and that their cycles partially overlap," says Edi Kissling, Professor of Seismology and Geodynamics. Super earthquakes might occur with a periodicity of 400 to 600 years, whereas "medium-sized" quakes such as Gorkha have a recurrence time of up to a few hundred years. As the cycles overlap, the researchers expect powerful and dangerous earthquakes to occur at irregular intervals.
However, they cannot predict when another extremely large quake will next take place. "No one can predict earthquakes, not even with the new model. However, we can improve our understanding of the seismic hazard in a specific area and take appropriate precautions," says Kissling.
The two-dimensional and high-resolution model also includes some research findings that were published after the Gorkha earthquake. To generate the simulations, the researchers used the Euler mainframe computer at ETH Zurich. "A three-dimensional model would be more accurate and would also allow us to make statements about the western and eastern fringes of the Himalayas. However, modelling the entire 2,000 kilometres of the rupture zone would require enormous computational power," says Dal Zilio. https://www.sciencedaily.com/releases/2019/01/190116115518.htm  (16 Jan. 2019)
Bhutan Thirsty Thimpu Authorities are struggling to meet the water needs of the fast growing capital, especially when Wang Chhu its main river freezes in the winter. The river is known as Raidak in W Bengal & Bangladesh d/s. https://www.thethirdpole.net/en/2019/11/21/thirsty-thimphu-in-water-rich-bhutan  (21 Nov. 2019)
CHINA
China to impose new restriction on small hydro plants Even China now understands the futility of building more small hydro projects, when will we wake up? China will ban the construction of small hydropower plants in regions that already have an electricity surplus and encourage new dams in poor and remote locations with little grid access, its energy regulator said in proposals published on Nov.13.
China's National Energy Administration said the draft rules aim to promote the orderly development of the hydropower sector after decades of rampant and poorly planned capacity growth. The regulator said small hydro plants would be banned in forest parks, scenic spots, habitats for rare fish and other "ecologically fragile" zones. It would also be restricted in regions where large amounts of power are wasted because of limited access to the grid.
China's hydropower sector has a capacity of about 350 GW or around 18% of the country's total. A third of the hydropower is classified as "small", with less than 50 MW capacity. China started demolishing hundreds of small dams throughout the country last year to restore water flows and comply with new rules banning industrial development in nature reserves.
The campaign came after an investigation showed there were at least 24,100 small hydropower plants along the Yangtze river and its tributaries, many causing severe environmental damage. The crackdown was also aimed at addressing complaints by state power utilities about how the proliferation of small, privately-owned hydropower plants had hurt their profits. https://www.nytimes.com/reuters/2019/11/13/world/asia/13reuters-china-hydropower.html  (13 Nov. 2019)
THE REST OF THE WORLD
EDF Study 100+ hydro plants have greater warming impacts than fossil fuels Hydropower facilities could increase greenhouse gas emissions, according to a new study from the Environmental Defense Fund (EDF).
– Reservoirs attached to these facilities can emit carbon dioxide and methane due to decomposing vegetation under the water, meaning that "hydropower isn't necessarily a low-carbon energy source," Ilissa Ocko, one of the authors of the report, said. The study examined 1,500 facilities — representing half of hydropower generation in the world — and found that more than 100 of them cause more warming than fossil fuels.  https://www.utilitydive.com/news/hydropower-emissions-fossil-fuels/567572/  (19 Nov. 2019)
Compiled by SANDRP (ht.sandrp@gmail.com)
Also see: DRP News Bulletin 18 Nov. 2019 & DRP News Bulletin 11 Nov. 2019
Follow us on: www.facebook.com/sandrp.in; https://twitter.com/Indian_Rivers