Since the beginning of 2019, there have been couple of incidents of hailstorm in Haryana and Punjab. The region has also seen good rainfall in January. The hilly states of Jammu & Kashmir, Himachal Pradesh and Uttrakhand have been repeatedly facing heavy snowfall events gripping the large parts of North India in cold waves.
The initial rains and snowfall were seen usual events and considered as beneficial for rabi crops and water demands. However the unusual hailstorm accompanied by heavy rainfall In January 2019 and again on Feb 7-8, 2019 have caused significant damage to standing crops in large part of Haryana, Punjab and Western parts of Uttar Pradesh.
Impacts on Crops As Farmers Told SANDRP on February 12, 2019
Punjab:- As per Jarnail Singh a farmer from Sangrur the hailstorm event was highly scattered and damaged the crops at different locations in the district. "There was heavy hailstorm in parts of Bhatindia, Ludhiana and Kapurthala districts affecting the standing crops" says Harjant Singh farmer from Bhatinda.
Haryana:- Kiran Pal Rana a farmer from Yamuna Nagar told SANDRP that the rainfall was beneficial but the associated hailstorm and wind has damaged the mustard and sugarcane crops in the district.  
Uttar Pradesh:- "There was not much hailstorm in Saharanpur and Muzzafar Nagar districts. The wheat sown early has received damages as well the vegetables crops otherwise the rainfall has largely been helpful for the crops so far" say Sompal Singh and Iqbal, farmers in Ramda village of Kairana.
Radhey Shyam of Syaich village the hailstorm also stated that hailstorm has damaged the potato crop severely in Bah district causing huge losses to farmers.
As per IMD district rainfall data about 63 districts in North India received rainfall around and above 20mm on the 8 Feb. 2019. The rainfall was largely excessive in most of districts falling in Uttrakhand, Himachal Pradesh and Jammu & Kashmir states.
District wise rainfall distribution (Source: IMD)
SN
State/ District
Rainfall 8 Feb. 2019

Actual (mm)

Normal (mm)

%Dep.

Uttar Pradesh

4.1

0.6

579%

East Pradesh

2.8

0.7

294%

West Uttar Pradesh

6.1

0.3

1930%

1

Sant Ravidas Nagar

19.0

0.5

3700%

2

Bijnor

21.2

0.7

2929%

3

Muzaffar Nagar

31.7

0.1

10000%

4

Sharanpur

25.3

0.6

4122%

Uttarakhand

28.4

1.3

2082%

5

Almora

21.6

1.2

1696%

6

Bageshwar

23.3

1.2

1844%

7

Chamoli

25.3

1.4

1704%

8

Dehradun

32.4

0.7

4525%

9

Nainital

25.5

1.0

2450%

10

Pauri Garhwal

34.5

0.3

10000%

11

Pithoragarh

27.9

1.4

1896%

12

Rudraprayag

40.6

1.2

3286%

13

Tehri Garhwal

47.8

0.9

5211%

14

Udham Singh Nagar

19.0

1.2

1479%

15

Uttarkashi

29.6

2.0

1380%

HARYANA

7.1

0.1

6951%

16

Ambala

18.8

0.4

4588%

17

Kaithal

28.0

0.3

9233%

18

Yamuna Nagar

25.0

1.0

2402%

19

CHANDIGARH

33.1

0.2

10000%

DELHI (UT)
11.3
0.1
10000%

20

North Delhi

39.4

0.1

10000%

21

South West Delhi

23.9

0.1

10000%

PUNJAB

22.7

0.4

5577%

22

Fatehgarh Sahib

27.0

0.6

4400%

23

Gurudaspur

82.6

1.5

5410%

24

Hoshiarpur

84.2

0.6

10000%

25

Jalandhar

24.1

0.4

5920%

26

Kapurthala

42.3

0.1

10000%

27

Ludhiana

27.8

0.5

5456%

28

Nawashahr

66.4

0.4

10000%

29

Patiala

32.1

0.2

10000%

30

Rupnagar

58.5

1.5

3798%

31

Sas Nagar

18.5

0.8

2212%

HIMACHAL PRADESH

62.9

2.5

2415%

32

Bilaspur

77.7

1.5

5077%

33

Chamba

68.9

1.5

4491%

34

Hamirpur

97.4

1.9

5027%

35

Kangra

71.8

2.6

2662%

36

Kinnaur

48.0

2.5

1820%

37

Kullu

62.6

2.7

2219%

38

Lahul & Spiti

55.0

4.1

1241%

39

Mandi

48.7

1.4

3376%

40

Shimla

41.2

1.9

2070%

41

Sirmaur

65.4

0.9

7169%

42

Solan

62.6

1.2

5114%

43

Una

62.3

0.6

10000%

JAMMU & KASHMIR

46.4

2.4

1832%

44

Anantnag

53.6

2.4

2132%

45

Badgam

19.0

1.7

1015%

46

Bandipore

NA

2.0

47

Baramula

33.3

5.1

552%

48

Doda

77.4

2.3

3265%

49

Ganderwal

18.8

1.6

1075%

50

Jammu

30.4

1.2

2429%

51

Kargil

18.8

0.7

2586%

52

Kathua

73.5

0.2

10000%

53

Kistwar

NA

2.3

54

Kulgam

61.2

1.8

3300%

55

Kupwara

18.0

3.6

400%

56

Pulwama

40.5

0.4

10000%

57

Punch

NA

5.5

58

Rajouri

37.6

1.7

2112%

59

Ramban

75.1

4.8

1464%

60

Riasi

36.6

0.6

6000%

61

Samba

27.0

1.2

2150%

62

Shopian

NA

1.5

63

Srinagar

43.4

1.6

2612%

64

Udhampur

49.5

2.3

2052%
The few media reports available online and compiled here highlight the impact of Feb. hailstorm and snowfall on crops and people.
Haryana & Punjab Crops damaged due to heavy rainfall, hailstorm Heavy rainfall and hailstorms in north-west India have damaged the oilseeds and other perishable crops, mainly potatoes, cauliflower and peas in the region. But the main rabi crop wheat may have scraped through the stormy weather.
Hailstorm and strong breeze have caused damage in the districts of Hisar, Sirsa, Mahendergarh, Bhiwani Kaithal, Palwal and Gurugram. Therefore the state government has decided to conduct a review of damage to the crops. On the other hand, in Punjab, preliminary reports indicate crop losses in Ludhiana, Patiala, Fatehgarh Sahib, Mohali, Hoshiarpur and Ferozepur.
Haryana:- While the rainfall will help reduce the cost of irrigation for the wheat crop, they are set to affect the yield of oilseeds. A senior official of the Haryana agriculture department said, "Mustard is affected by heavy rainfall as well as strong breeze in several districts". As a result, growers of potato, peas and cauliflower have experienced huge losses as their crops were badly affected by the hailstorm.
Punjab:- While mustard crop was affected in Haryana, the sudden rainfall has damaged the potato crop in Punjab. Meanwhile, wheat is likely to gain from the rainfall, though there could be a minor yield loss in hailstorm-affected regions. An official of Punjab's agriculture department said as the wheat crop had not achieved height, the storm and rain could not affect it. He added that "But hailstorm has affected all the crops." Officials have alerted the growers about the risk of yellow rust that generally dwells in wet climate.
KS Pannu, Punjab's principal secretary of agriculture said, "There are preliminary reports of damage to crops, mainly the perishable ones, but it will take a few days for the evaluation of the extent of loss". The state government in Punjab has announced a survey to evaluate the losses, in order to start a process to provide compensation to the farmers affected by it. https://economictimes.indiatimes.com/news/economy/agriculture/rain-hailstorm-damage-mustard-vegetable-crops-wheat-largely-unaffected/articleshow/67918439.cms (09 Feb. 2019)
Heavy rains, hailstorm damage crops in northwest India Heavy rains, accompanied with hailstorms, hitting northwest India for past three days have damaged standing crops, raising concerns over the overall output and the quality this season.
Punjab Thunderstorm with isolated hail reported from Rajpura, Nabha, SAS Nagar, Moga and Ludhiana districts. Similarly, thunderstorm with isolated hail was reported in Chandigarh and Kurukshetra, and western Uttar Pradesh. The stormy weather hit standing crops in many parts of both agrarian states and the governments have directed their revenue departments to conduct 'girdawari' (assessment of crop damage), mainly wheat, officials said. "The standing wheat crop, which would have been harvested in mid-April, has been flattened by the rain and strong winds. The damaged crop cannot be retrieved," Gurmit Singh, a farmer near Ropar town said.
Wheat, maize, peas are the major Rabi crops that have reported substantial damages in Punjab. Jasbir Bains, Director of the state Agriculture Department, said an assessment of the damages would be done once the rains stop.
Haryana Karnal-based farmer Manoj Munjal said the wheat crop can be damaged if the rainfall exceeds 20 mm and water does not recede from the fields in two to three days time. Even in third week of Jan. 2019 there was severe rainfall and hailstorm event in part of Haryana.
Uttar Pradesh In other parts of north India, farmers said horticulture crops, particularly, potato were badly damaged while the impact on wheat and mustard crops would be known after a few days. Harpal Singh from Muzaffarnagar, said potato harvest in his area would be very low this time due to the incessant rains coupled with hail hitting the fields for past two days.
"Farmers in our region were earlier worried over price fall. Now, the crop has been damaged due to hailstorm and water-logging," he said. Singh further said potato output would not just lower but the quality would also suffer.
Ministry of Agriculture A senior Agriculture Ministry official said the thunderstorm will have a negative impact on the major crops like mustard, maize, and wheat that were still in the flowering stage. "Wherever, these crops have passed the flowering and fruiting stages, the rains may not damage them much. Those still in the initial stage of cultivation would certainly be impacted," said the official.
Skymet Mahesh Palawat, director of private weather agency Skymet, said the western disturbance over Jammu & Kashmir and Himachal Pradesh and cyclonic circulation over Punjab were the factors for the thunderstorm. Thttps://mumbaimirror.indiatimes.com/news/india/heavy-rains-hailstorm-damage-crops-in-northwest-india/articleshow/67889988.cms (7 Feb. 2019)
Impact on rabi crop Rains at this point are undesirable for the mustard, chana (chickpea) and potato crops that are in late-maturity/early-harvesting stage, while may not be all that bad for wheat.
The mustard crop that is normally planted during the first half of October is now in the crucial pod-filling stage, with flowering and seed-setting already completed by January-end. Rains during this time – when the kernels are still accumulating starch, fat and protein matter – can impact yields.
Rajasthan "We only hope that the rains don't persist, as that can also be conductive to fungal diseases (which lead to the crop's premature ripening or the pods producing shrivelled or discoloured seeds)," said Pramod Kumar Rai, head of the Directorate of Rapeseed-Mustard Research at Bharatpur, Rajasthan. The real damage, according to him, would be to the crop that may have been sown towards the last week of Sept.
The risk of untimely rains and hail now – when the standing rabi (winter) season crops are in grain-filling or ripening stages – is no less for chana, masur (lentil), potato, jeera (cumin-seed) and dhania (coriander), which are also harvested during February-March.
Haryana "There may be some places where planting would have taken place in the last week of October and the baali (earheads) has started emerging from the tillers. That crop could have suffered damage from hailstones. But the timely or late-sown (after mid-November) wheat will have no such problems," pointed out Pritam Singh Hanjra, a farmer from Urlana Khurd village in Madlauda tehsil.
Ministry of Agriculture For farmers, the worst case scenario is a repeat of March 2015. That month the wettest March in 48 years saw unseasonal rains, accompanied by hailstorms and gusty winds, lash large swathes of north, west and central India. The Union Agriculture Ministry estimated the total area where the standing or just-harvested rabi crop got affected at 182.38 lakh hectares. https://indianexpress.com/article/explained/explained-what-impact-will-the-thundershowers-hailstorm-have-on-the-rabi-crop-5575150/ (8 Feb. 2019)
Rain, hail & snowfall lash north India The Kashmir region remained cut off for the second consecutive day due to heavy snowfall. The arterial Srinagar-Jammu road was closed after snow accumulated around the Jawahar Tunnel and landslides at several places in Ramban district. Authorities issued an avalanche warning for 16 of the 22 districts of Jammu and Kashmir for the next 24 hours. In Uttarakhand, cold conditions intensified as the hilly districts received fresh snowfall and the lower areas were lashed by rains. It was raining intermittently in Dehradun since Feb. 6 evening. Schools and colleges in several districts remained closed in view of the inclement weather, officials said.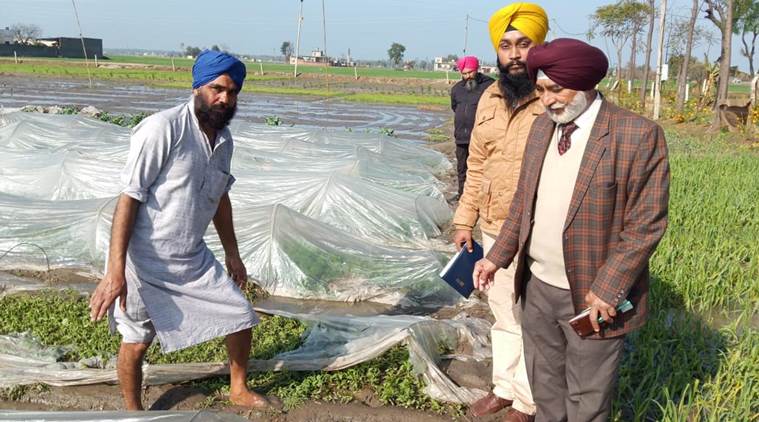 Moderate-to-heavy rains also lashed parts of Punjab, Haryana and Chandigarh, the meteorological department said. Punjab CM Amarinder Singh ordered assessment of possible crop damage. In Uttar Pradesh's Mathura district, a hailstorm damaged potato crops in over half-a-dozen villages, said Buddha Singh Pradhan, state vice-president Bharatiya Kisan Union. https://www.business-standard.com/article/pti-stories/rain-hail-snowfall-lash-north-india-119020701425_1.html (7 Feb. 2019)
Punjab Weather change beneficial for growing crops The rainfall brought smiles on the faces of some farmers in the Bhatinda district. However, some farmers were worried. They said if the rains are accompanied by a hailstorm, then it might cause crop loss.
Notably, the kinnow crop is also being harvested and the heavy rain may damage it too. https://www.tribuneindia.com/news/bathinda/weather-change-beneficial-for-growing-crops/725946.html (8 Feb. 2019)
Notably, during Jan. 21 and 22 hailstorm a crop area of about 3150 was damaged in Sangrur district. The worst affected villages include Manki, Bapla, Sandaur, Panjgrain, Mithewala, Ferozepur Khurd and Dulma. Baldev Singh said, "We found upto one foot of hailstones deposited in the fields and on roadsides. Now it has melted and the water is retaining in the fields. The affected crops include potato, barseem, mustard and wheat. If water drains out in two-three days, there are chances that crop can be saved, otherwise not."
Chamkaur Singh, a farmer in Fatehgarh Panjgrain, said his 15 acres of wheat farm was affected. Singh said, "I saw the crop and there are no chances that it can be saved. I had taken the land on contract and my hard earned money has gone down the drain. No idea about the compensation process as it never comes in name of the person who does contract farming." https://indianexpress.com/article/cities/ludhiana/punjab-hailstorm-damages-crops-on-3150-acres-in-sangrur-5554563/ (25 Jan. 2019)
Revenue Minister Sukhbinder Singh Sarkaria on Feb. 4 had announced compensation for crop damage due to hailstorm in some parts of the state. The compensation amount was being raised to Rs 12,000 from the existing Rs 8,000 per acre, he said. https://www.business-standard.com/article/news-ians/punjab-to-compensate-farmers-for-hailstorm-damage-to-crops-119020401173_1.html (4 Feb. 2019)
SNOWFALL AFFECTS LIFE IN HIMACHAL, JAMMU & KASHMIR
Himachal Pradesh 9 buried under avalanches rescued Two avalanches buried nine people in Lahaul and Spiti, stranded hundreds of vehicles and snapped water and power supply lines as the season's heaviest snowfall overnight. Snowflakes measuring up to 4cm that started falling in most places after 10pm on Feb. 7 and continued till the wee hours of Friday.
While tribal areas of the state received up to 90cm of snow in 24 hours, lower areas like Mandi and Sundernagar too witnessed snowfall after three decades. Bharmour recorded 90cm snow, while Keylong in Lahaul received 55cm more snow. Snow accumulation at Keylong has reached over 100cm. Kothi and Solang in Manali received 65cm snow, Kufri near Shimla got 55cm. Dalhousie received 50cm more snow, while Shimla recorded 36cm overnight snow. Manali has received 35cm fresh snow, Kalpa 29cm, Theog 29, Janjehli 20cm, Mashobra 20cm and Sarahan 17cm overnight.
Lahaul valley has been hit by many avalanches in the last 48 hours. One such avalanche at Gondhla village of Lahaul buried a community hall and trapped four Nepalese. All four were rescued in a nightlong operation.
Another avalanche in Spiti valley buried five labourers. Spiti additional deputy commissioner Vikram Negi said the labourers were clearing snow from Kaza-Sagnam road with help of a dozer when an avalanche struck the area. Snowfall also blocked 1,093 roads for traffic and affected 415 water supply schemes. Hundreds of vehicles were stranded.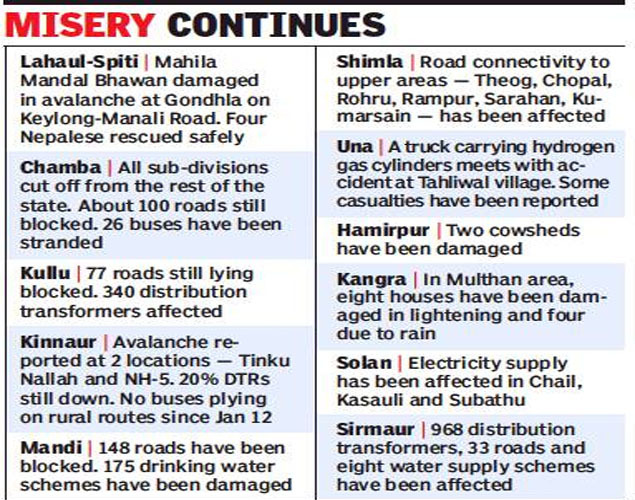 CM Jai Ram Thakur, who chaired a meeting with senior officers to review the situation, said the government had released Rs 35.17 crore to ensure speedy restoration of essential services. He directed the officers to ensure that all the essential services are restored immediately, and all roads opened to traffic by Saturday evening.
Hundreds of villages plunged into darkness as snow snapped power transmission cables. Supply to major towns including Manali was restored but it will take time to erect the collapsed poles and lines in many areas. In Kullu district, nearly 900 transformers were lying defunct. Around 500 transformers were fixed by evening. Snow & landslides uprooted hundreds of trees & triggered landslides. Water pipes have frozen. https://timesofindia.indiatimes.com/city/shimla/9-buried-under-avalanches-rescued/articleshow/67909770.cms (9 Feb. 2019) 
Jammu & Kashmir Heavy snowfall severely effects plane movements in Srinagar Heavy snowfall severely affected flight operations at the Srinagar Airport on Feb. 7 and a majority of flights have been cancelled.
Even the road traffic between Kashmir and rest of the country is severely effected. The Jammu-Srinagar highway remained closed for the second consecutive day. https://www.oneindia.com/india/heavy-snowfall-severely-effects-plane-movements-in-srinagar-many-flights-cancelled-2848163.html (7 Feb. 2019)
WATER LOGGING, TRAFFIC JAM
Chandigarh MC's tall claims go down drain The 18.6 mm rain that lashed the city on Feb. 7 submerged most of its roads, washing away the tall claims of the municipal corporation of cleaning storm water drainage system. https://timesofindia.indiatimes.com/city/chandigarh/city-at-sea-mcs-tall-claims-go-down-drain/articleshow/67891199.cms (8 Feb. 2019)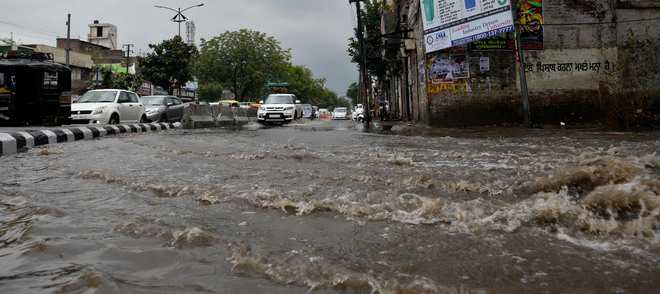 Ludhiana Rain submerges Heavy rain and hail storm that lashed the town on Feb. 7 turned low-lying areas into ponds. https://www.tribuneindia.com/news/ludhiana/rain-submerges-most-areas-water-enters-shops-houses/725756.html (8 Feb. 2019)
DELHI NCR Hailstorm caused traffic jam The hail storms created a ruckus in Delhi NCR, as traffic was largely affected, especially in Noida. As a result of the rain and hail storm the air quality in Delhi NCR improved to "moderate" levels on Feb. 7 due to western disturbances, rain, and the high speed of wind. https://timesofindia.indiatimes.com/travel/destinations/are-there-more-weather-surprises-in-store-for-delhi-ncr-today/as67898786.cms (8 Feb. 2019)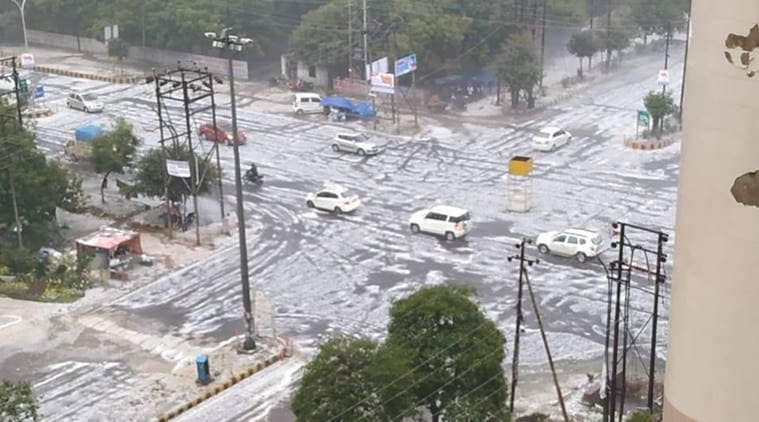 Here are the photos of unprecedented hailstorm events in Delhi NCR.
Reasons Behind Recurring Hailstorm and Snowfall
Unusual cold indirectly caused by Polar Vortex: Experts "There is no direct relation between the Polar Vortex and Indian weather but the Arctic winds are pushing various weather systems, including the western disturbance, downwards. It has indirectly resulted in severe and extended winters. The intensity and frequency of western disturbance have also increased," Mahesh Palawat, of Skymet said adding that this would continue till mid-February. Noting that frequency and intensity of the western disturbances (WDs) were very high this time around, he said India has already witnessed six such instances so far which have resulted in heavy to moderate snowfall.
D.S.Pai, head of climate research and services division of the IMD Pune, largely concurred. "It not actually the Polar Vortex that affects our climate in J&K and central India. It is the weakening of the mid-latitude Westerlies resulting in Southwest shift of the WD activities causing above normal snowfall and precipitation over northern India including J&K. It also results in below normal temperatures over northern and central India. "Actually the weakening of the Westerlies is not only seen over Indian region only. It is also seen over other parts of the globe," Pai explained.
"In Jan. and Feb., on an average 5 WDs are normally active in the Himalayan region each month. After a long gap, we are seeing the occurrence of western disturbances in the state one after another this time and their occurrence is also timely and widespread," Shimla-based IMD Director Manmohan Singh, adding that the coldest place in Himachal Pradesh this winter was Keylong at minus 15 degrees Celsius around the same as in previous years.
However, Vikram Singh, Director of the Meteorological Centre at Dehradun, did not find any significant abnormality in the heavy snowfall in the past fortnight in the Himalayan region of Uttarakhand. "Yes, the snowfall was heavy this season and lashed at even some places which were at low altitudes such as Malti in Uttarkashi district. But I find no abnormality. Even in 2013, we had received good snowfall at Mussoorie and other areas," Vikram Singh told IANS.
Dr. R S Rawal, who heads the Pandit Gobind Pant Himalayan Environment and Development Institute at Almora, did not find any distinct change in the weather phenomenon this year. The northeast has been left untouched by the Polar Vortex, which according to an official had an impact in North India. https://www.business-standard.com/article/news-ians/unusual-cold-in-north-india-indirectly-caused-by-polar-vortex-experts-119020400750_1.html (4 Feb. 2019)
Compiled by Bhim Singh Rawat (bhim.sandrp@gmail.com)