Four different news on River Sand Mining catch our eye, with common underlying theme of NEXUS of government and miners on the one hand and IMPUNITY of the sand miners in indulging in mindless violence. In Madhya Pradesh and Uttar Pradesh, no less than the Supreme Court (SC) and National Green Tribunal (NGT) respectively expose nexus between the state government and illegal sand mining. In Agra (UP again) the sand miners have again shown impunity in attempting to crush the forest officials trying to stop incessant illegal river sand mining from Yamuna River, they managed to run away, as usual. In Tamil Nadu, the High Court has appointed an advocate to ascertain the extent of illegal mining.
On any day, and in any sector, this should have been seen as eye widening affairs. It indeed should. But in sand mining this seems like regular dog biting man kind of news. One hopes it is not and that serious consequences follow. Kind of consequences that would not only help bring commensurate punishment to those responsible, but before that the identification of the guilty. And that punishment will be exemplary enough to bring some fear into the sand miners and those indulging in corruption in sand mining. It's a bit tall order, but not unwarranted.
Madhya Pradesh 'Surprising': Top court on MP govt supporting illegal miners who paid fine The Supreme Court on Dec 3, 2020 urged the Centre and states to adopt a stern approach against illegal mining, as it called the Madhya Pradesh government supporting the contention of some violators "very surprising". The apex court took umbrage that the MP government wanted the violators not to face criminal prosecutions only because they had paid monetary fines.
– "We are of the opinion that the violators cannot be permitted to go scot free on payment of penalty only. There must be some stringent provisions which may have deterrent effect so that the violators may think twice before committing such offences and before causing damage to the earth and nature," said a Supreme Court bench led by Justice Ashok Bhushan. Authoring the judgment, Justice MR Shah reminded the State that they are the custodian of mines and minerals in the country, and said they should be more sensitive towards protecting the ecological balance by ensuring stern action against the violators. It pointed out that although provisions in the Mines and Minerals (Development and Regulation) Act (MMDR Act) empowered the state to withdraw prosecution for illegal mining after imposing fines, they would do well to acknowledge the growing concern regarding environmental damages and its grave consequences.
– The observations came as the top court dismissed a clutch of appeals for quashing as many as 14 FIRs registered in Madhya Pradesh's Mandsaur district against illegal sand mining and their transportation. While the FIR was lodged on a directive from the judicial magistrate concerned, the violators proceeded to settle the charges under the MMDR Act by paying monetary fines. These petitions were dismissed by the high court.
– The state government, which had initially supported the magistrate's order on FIRs, took a U-turn before the Supreme Court and said the prosecution under the Indian Penal Code (IPC) for theft and abetting concealment of stolen properties cannot go on after these violators have already settled the case by coughing up fines. The bench called the state government's support to the "violators" "very surprising", and held that the criminal prosecution under the IPC is independent of the settlement proceedings under the MMDR Act. The court said that even if a state government decides to withdraw cases under the MMDR Act, investigation under the IPC shall go on in accordance with the law. The bench, therefore, allowed quashing of the charges under Section 23A of the MMDR Act but clarified the prosecution for theft etc will continue in all the 14 FIRs. https://m.hindustantimes.com/india-news/surprising-top-court-on-mp-govt-supporting-illegal-miners-who-paid-fine/story-jviJnycd9DbPQvdYPJJbAK_amp.html (4 Dec 2020)
Uttar Pradesh Collusion of authorities in allowing illegal sand mining suspected: NGT This provides details of a case where NGT has hinted at collusion of higher authorities in UP in allowing the illegal mining to continue in Shamli, in spite of adverse reports and orders. https://www.scconline.com/blog/post/2020/11/05/ngt-collusion-of-authorities-in-allowing-illegal-sand-mining-suspected-tribunal-directs-to-not-merely-recover-loss-of-royalty-but-also-for-loss-to-environment/  (05 Nov. 2020)
Tamil Nadu HC appoints advocate to check illegal sand mining The Madras high court has appointed an advocate commissioner to inspect and submit a report, in a plea which sought to prevent illegal sand mining in Thamirabarani river in Tuticorin district. The court was hearing a petition filed by K Balakrishnan. A division bench of justices N Kirubakaran and B Pugalendhi appointed M Kalaivanan, an advocate and retired joint director of geology and mining department as the advocate commissioner. The judges directed the commissioner to inspect the place and ascertain the quantity of sand quarried from Thamirabarani river.
The petitioner's counsel submitted that due to recent rains, some of the portions are waterlogged and it is easy to destroy the evidence. Taking cognizance of the submissions, the judges directed the commissioner to assess the volume of sand quarried using advanced scientific methods like satellite images and others. The judges directed the commissioner to file a report along with photographs in this regard and adjourned the case to December 3. https://timesofindia.indiatimes.com/city/madurai/hc-appoints-advocate-to-check-illegal-sand-mining/articleshow/79482508.cms (30 Nov. 2020)
SAND MINING
SANDRP Blog Public Trust Doctrine Must in Sand Mining Governance: Jus. Madan Lokur at IRW 2020 Justice (Retd) Madan Lokur of the Supreme Court of India graced the Annual function of India Rivers Week 2020 on Nov 28, 2020, and gave key note address on the theme of IRW 2020: "Is River Sand Mining Killing Our Rivers?" This blog provides full text of what Justice Madan Lokur said in his KEY NOTE address at the National Dialogue on River Sand Mining on Nov 28, 2020. Plz Read, share. https://sandrp.in/2020/12/05/public-trust-doctrine-must-in-sand-mining-governance-jus-madan-lokur-at-irw-2020/  (05 Dec. 2020)
It is possible to satisfy sand demand through legal mining, but will it be allowed? The political economy of sand mining, with funds of major political parties coming from illegal sand mining was one of the focal points of the National Sand Mining Dialogue held on Nov 28, 2020 under India Rivers Week 2020.
The Article on Rich Panel Discussion, where the key note address was given by Justice Madan Lokur and eminent panel included Shri Shashi Shekhar, Ritwick Dutta, Sumaira Abdulali and brilliant journalist M Rajshekhar. The Lively discussion was moderated by Dr Amita Baviskar and Manu Bhatnagar. Plz Read, Share. https://sandrp.in/2020/12/04/irw-2020-national-dialogue-on-river-sand-mining/
Madhya Pradesh Chambal river's gharials migrate to Kuno as sand mining disturbs habitat Rampant illegal sand mining in the Chambal river that has allegedly disturbed the habitat of gharials is suspected to be the reason that forced a female gharial to travel 15 km to lay eggs on the banks of Kuno river, a forest official said Sunday (Nov. 29). The Kuno is a tributary of the Chambal.
According to the forest department data the gharial population in Chambal river had fallen to 1,255 in 2017 from close to 1,800 in 2015. For the 2019 census, the department decided to include Parbati river also, and therefore, the number of gharials in Chambal river basin increased to 1,681. Although the exact reason for migration is yet to be ascertained, experts said a number of factors including illegal sand mining is responsible for the migration. The illegal mining disturbs the gharials' nesting sites, said the scientist.
A forest officer who did not wish to be named, said the migration is happening due to rampant illegal sand mining in the area. "The colonies and pools of gharials are being destroyed by the illegal sand mining mafia. The gharials are not finding sandbanks to lay eggs as illegal sand miners have installed heavy machines on the banks to excavate sand from the river. Gharials are not finding safe habitat and that's why they are moving up towards Kuno and Parbati," he said.
A retired scientist of Deori Eco Center in Morena and Chambal sanctuary, RK Sharma warned that illegal sand mining was damaging the environment. "This is good that gharials are finding safe habitat for nesting but at the same time it is a cause of concern for Chambal river. The authorities should understand that illegal sand mining is causing loss to the environment and also affecting the quality of water. If it continues, it will disturb the ecological balance."
According to South Asia SANDRP, Madhya Pradeshw had emerged at third place in illegal sand mining activities with 16,405 cases in 2018-19. Most of the cases were from Chambal and Narmada river basins. Locals are also not happy with the migration of gharials as they feel that it will affect the footfall of tourists. https://www.hindustantimes.com/india-news/chambal-river-s-gharials-migrate-to-kuno-as-sand-mining-disturbs-habitat/story-dnjvmN6DnAzggKRXNFQISL.html (29 Nov. 2020)
Uttar Pradesh 8 killed after sand laden truck hit a car Eight people were killed after a truck overloaded with sand toppled over and fell on a car on Tuesday night in Kaushambi on Wednesday (Dec. 2). The accident took place at Deviganj intersection under Kadhadham Kotwali police station of the district. Two people sustained injuries in the accident and are undergoing treatment at a local hospital, police said.
-The deceased, including six women and two children, were returning after attending a wedding ceremony, police added. All possible help will be provided to the family of the victims, District Magistrate Amit Singh said. "Initial reports suggest the truck driver lost control after one of its tire burst. The tragic mishap is being further investigated," he added. https://www.hindustantimes.com/india-news/8-killed-after-truck-overloaded-with-sand-topples-over-and-falls-on-car-in-up-s-kaushambi/story-LUW4ah8qv46EcB1xqMDkUI.html (03 Dec. 2020)
बाह में वन दारोगा और वन रक्षक को ट्रैक्टर-ट्राली से कुचलने की कोशिश आगरा के बाह में वन विभाग, पुलिस और प्रशासन की आंख में धूल झोंककर खनन माफिया यमुना नदी से बालू का खनन करने में जुटे हैं। बेखौफ खनन माफिया के गुर्गे ने शुक्रवार सुबह पहुंचे वन दारोगा और वन रक्षक को ट्रैक्टर चढ़ाने से कुचलने का प्रयास किया। हालांकि इस हमले में वे बच गए। उन्होंने दौड़कर जान बचाई। वारदात के बाद चालक ट्रैक्टर-ट्राली छोड़कर भाग निकला। उन्होंने ट्रैक्टर-ट्राली जब्त कर ली है। मामले में थाना बाह में तहरीर दी गई है। पुलिस का कहना है कि आरोपित की तलाश में दबिश दी जा रही है। उसके खिलाफ मुकदमा दर्ज किया जाएगा।
-वन दारोगा सज्जन सिंह और वन रक्षक रामदीन के मुताबिक शुक्रवार (Nov. 6) सुबह छह बजे जैतपुर के कछपुरा में यमुना के घाट से बालू के अवैध खनन की सूचना मिली थी। इस पर दोनों बाइक से मौके पर पहुंच गए। वन दारोगा के मुताबिक वहां कछपुरा निवासी दिनेश ट्रैक्टर-ट्राली में बालू लादकर ले जा रहा था। उसे रोकने का प्रयास किया तो उसने ट्रैक्टर दौड़ा दिया। इस दौरान ट्रैक्टर-ट्राली से उनकी बाइक को कुचलने का प्रयास किया गया। वनकर्मियों ने बाइक छोड़कर जान बचाई। वन दारोगा के मुताबिक इसके बाद पीछा करने पर दिनेश ट्रैक्टर-ट्राली को छोड़कर भाग निकला। https://www.jagran.com/uttar-pradesh/agra-city-mining-mafia-attempts-to-mount-tractors-on-forest-department-team-illegal-mining-of-sand-was-taking-place-from-river-yamuna-sandloaded-tractor-trolley-seized-21036129.html 07 Nov. 2020)
HYDRO POWER PROJECTS
Arunachal Pradesh Multiple tigers recored in 680 Mw Atunli project affected Apali A video circulated widely on social media apps Facebook and WhatsApp show definitive records of the presence of multiple tigers in Apali village on the Etalin-Maliney road in Dibang Valley district. The video, uploaded on 16 October, 2020, and shot days prior, shows fresh tiger pugmarks next to a half-eaten carcass of a mithun. The person making the video shows the site where two tigers had been seen over the past days eating the carcass. Apali is a project affected village of the proposed 680 mw Atunli hydropower project, which is immediately upstream of the 3097 mw Etalin project on the Talon river. Both the projects are being developed through a joint venture of the Jindal Power Limited and the Hydro Power Development Corporation of Arunachal Pradesh Limited. In 2019, the Wildlife Institute of India had conducted a four-month study of the areas impacted by the Etalin hydel project and concluded that no tigers were present in the river valley. https://arunachaltimes.in/index.php/2020/12/04/multiple-tigers-recorded-in-680-mw-atunli-project-affected-apali/ (04 Dec. 2020)
Subansiri HEP cost upto Rs. 20K cr The cost of u/construction 2000 MW L Subansiri HEP has gone up to Rs 20 000 Cr and NHPC hopes to commission it by March 2022. Union power ministry's secretary Sanjiv Nandan Sahai, Arunachal chief secretary Naresh Kumar and the company's chairman and managing director A K Singh visited the Subansiri Lower Hydro Electric project sites on Dec 4, 2020 and inaugurated the restart of the power-house works, NHPC said in a statement. The construction was halted from December 2011 to October 2019 due to protests by locals and many groups fearing about safety and the adverse impact on the downstream of the river. https://www.livemint.com/companies/news/nhpc-to-commission-2-000-mw-hydropower-project-on-subansiri-by-march-2022-11607189394075.html (05 Dec. 2020)
Arunachal Pradesh CM held a meeting with Delegates of Union Power Ministry (Secretary SN Sahai and Jt Secy (hydro) Tanmay Kumar and hydropower developers including NHPC, Powergrid and NEEPCO CMDs to discuss the state of hydropower development in Arunachal Pradesh. The projects discussed included the proposed projects on Siang and Dibang basins. Lok Sabha MP, Rajya Sabha MP and local MLA were also present. http://www.uniindia.com/meeting-discusses-on-hydropower-in-arunachal/east/news/2254314.html (Dec 4 2020)
J&K LG clears Rs 5,300 cr Ratle HEP J&K Administrative Council headed by LG Manoj Sinha on Nov 27, 2020 approved the 850MW Ratle Hydroelectric Project in joint venture between National Hydroelectric Power Corp (NHPC) and JK Power Development Corp (JKPDC). The Rs 5300 Cr Plant will be a run-of-the-river project on the Chenab River, downstream of the village near Drabshalla in Kishtwar district. https://timesofindia.indiatimes.com/india/jk-lg-clears-rs-5300-crore-ratle-hydroelectric-project/articleshow/79453298.cms (27 Nov. 2020)
Athar Parvaiz about why rapid hydropower development in J&K is cause of concern. https://india.mongabay.com/2020/12/are-forest-rules-used-against-tribal-people-in-jammu-and-kashmir/ (01 Dec. 2020)
Kerala Rehabilitating adivasis for hydro project: Take action if land alienated, says HC State government should take action if land allotted to adivasis displaced to build lower Periyar hydro-electric power plant have been alienated. Justice Alexander Thomas also ordered the government to use its machinery to ascertain the identity of 12 adivasis or their legal heirs who could not prove their identity as required by law to claim the one hectare of land government each issued as per an order of 1992. https://energy.economictimes.indiatimes.com/news/power/rehabilitating-adivasis-for-hydro-project-take-action-if-land-alienated-says-kerala-hc/79540085 (03 Dec. 2020)
DAMS
Tamil Nadu Work on Kottarai dam nearing completion Construction of Kottarai Dam across the Marudaiyar in Perambalur district has resumed and is nearing completion. The work was delayed due to COVID-19 lockdown, officials said.The project, announced in 2013 by former CM Jayalalithaa, was allocated ₹108 crore. The reservoir would have a capacity to hold 211.5 million cubic feet capacity. Work on the project began in 2016, but many impediments caused its suspension. From 2016 to 2019, 70% of the work was completed. "Due to monsoon, flowing water would weaken any construction. The work will be done in January, and by February, the reservoir will be opened," the official added.
"The project was supposed to have been completed in two years, but we still do not have a reservoir," local farmers said. Nearly 500 acres of land was acquired from farmers in 2016 and ₹6 lakh per acre was given as compensation. "The money is spent and many of us are unemployed or working as labourers," said Rajanandham, a maize farmer in Kottarai. "I married off my daughter with that money, while many men spent it on alcohol. If the land was still ours, we would have been able to grow crops and reap its benefits each year. Now, we have no income," he rued. https://www.thehindu.com/news/cities/Tiruchirapalli/work-on-kottarai-dam-nearing-completion/article33216076.ece  (30 Nov. 2020)
Uttarakhand
INTERLINKING OF RIVERS
Madhya Pradesh Vulture radio-tagging project begins in Panna NP An ambitious project of radio-tagging vultures in Panna national park was launched to study the movements and habits of scavenger birds. 25 birds will be radio tagged in the first phase of the project launched by the Wildlife Institute of India scientists in the park. This radio tagging study also assumes importance ahead of the controvertial Ken Betwa link project KBLP as almost sixty per cent of the vulture nests are likely to be submerged in it.
– There were about 650 vultures of six species reported in the tiger reserve in the year 2018. Of these four are resident species while three are migratory. Out of the nine vulture species found in the country—Oriental White-backed Vulture, Long billed Vulture, Egyptian Vulture, Indian Griffon Vulture, Himalayan Griffon, Cinereous Vulture, Slender billed Vulture, Red Headed Vulture and Bearded Vulture or Lammergeier—the first six are found in the Panna Tiger Reserve, including the endangered White-backed Vulture and Long billed Vulture.  https://timesofindia.indiatimes.com/city/bhopal/vulture-radio-tagging-project-begins-in-panna-national-park/articleshow/79477224.cms  (29 Nov. 2020)
IRRIGATION
Rajasthan Parwan Dam water tunnel to be ready by Jan. 2021 One of country's longest water tunnel (Cost: Rs 299 Cr) will become operational by January 2021. The 8.75km-long tunnel will pass through the hilly tract connecting Jhalawar till the border of its neighbouring Baran district. The tunnel will connect the dam at Ahawad Kalan village. From here the water will be supplied through canals to 2.5 lakh households and 1.41 lakh ha of land in Baran & Kota districts. https://timesofindia.indiatimes.com/city/jaipur/countrys-longest-water-tunnel-to-be-ready-by-jan/articleshow/79357884.cms (23 Nov. 2020)
Gurjars again on warpath for water On Dec 3, representatives of various communities submitted a memorandum to district collector of Karauli detailing that around 3,000 villages in Karuali, Gangapur, Wazirpur, Shri Mahavir ji, Bamanwas, Toda Bhim, Nadauti, Hinduan, Bayana, Weir, Rupbas, Ucchain and Bharatpur are facing acute shortage of drinking and irrigation water. The memorandum said that TDS level in water in these areas has gone up from 3,000 to 5,000, which makes water not only poisonous but also promote congenital diseases in next generation. "We have detailed our problem to the district collector and have demanded an action plan in 90 days time on how the administration plan to resolve this. If they are unable to come up with the plan or does not act on our request than protest is always become voice of unheard," Vijay Bainsala said.
Gurajrs and other communities are demanding that water from Chambal river should be supplied to Panchana Dam, Jaggar Dam and in the river bed of Gambhir River so that water level in the area can be supported sustainably. Panchana dam is situated in Gudla village in Karauli at the junction of five rivers namely – Bhadrawati, Barkheda, Ata, Machi and Bhaisawar. It was completed in 1989 with the financial help of USA to become the biggest earthen dam in India. Gurjars are not letting water flow in canal attached to this dam as they want to hold water to benefit ground water recharge in local area. Jaggar is another earthen dam near Hinduan city built in 1957 to provide water for drinking and irrigation.
Gambhir river, which is also known as Utangan river, flows from Mhow in Madhya Pradesh to Hinduan city and further towards Toda Bhim before it enters Uttar Pradesh. It enters Rajasthan again in Dholpur district and finally falls in Yamuna near Mainpuri in Uttar Pradesh. Gambhir river supplies water to world famous Keoladeo National Park in Bharatpur also.
To solve the problem of water scarcity in eastern Rajasthan, an ambitious project namely Eastern Rajasthan Canal Projects (ERCP) is planned to harvest surplus yield available in the southern Rajasthan rivers and transfer to deficit basins in south-eastern Rajasthan. According to official estimates, the diversion of 5068 million cubic meter (MCM) water available at 50 per cent dependability from Rajasthan's own catchment is proposed in this scheme. The Project area covers 23.67 percent area and 41.13 per cent population of Rajasthan. Total cost of this scheme is estimated about Rs 40,451 crore. https://www.timesnownews.com/india/article/gurjars-in-rajasthan-are-again-on-warpath-this-time-for-water/690806  (05 Dec. 2020)
Gujarat 980 cusecs of water released outside SSP command Government on Nov 25, 2020 decided to release 980 cusecs of water for farmers of the Kharicut and Fatehwadi canal command areas. Farmers in the command areas of these two canals will be able to receive water for irrigation until March 15. An official statement said that the water will be supplied through the Narmada main canal. About 25,000 ha in Daskroi, Bavla, Sanand, Dholka and Viramgam will receive water from the Fatehwadi canal. The statement informed that another 2,800 hectares of land of Bareja, Daskroi and Matar talukas will be irrigated from the Kharicut canal. The statement added that if there is a demand from farmers of north Gujarat, all lakes directly connected to the Sujalam Sufalam project will also be filled with water. https://timesofindia.indiatimes.com/city/ahmedabad/980-cusecs-of-water-released-for-rabi-crop/articleshow/79416613.cms (26 Nov. 2020)
World heritage irrigation structure tag for 4 sites Four sites in India– Cumbum Tank, Kurnool-Cuddapah Canal, Porumamilla Tank (Anantharaja Sagaram) in Andhra Pradesh and 490-year-old Dhamapur Lake in Maharashtra's Sindhudurg district have received the World Heritage Irrigation Structure (WHIS) tag this year.
– On the lines of World Heritage Sites recognised by the UNESCO, the International Commission on Irrigation and Drainage (ICID), a global network of irrigation, drainage, and flood management experts, annually recognises irrigation structures of international significance. Other globally recognised sites this year include four structures in China, two from Iran and three in Japan. https://www.hindustantimes.com/india-news/four-sites-in-india-get-world-heritage-irrigation-structure-tag/story-n8P4HNaHuPdQQXT8VKQGyJ.html
URBAN RIVERS
People power to clean up Pune river, bit by bit Over the past three years, volunteers led by the NGO Jeevitnadi, have been cleaning small stretches of the Mutha river in Pune. Aditi Deodhar, founder-director of Jeevitnadi, a Mathematics graduate who worked in the IT industry for a while, realised the extent of pollution in Pune rivers after a course at the Ecological Society of India, Pune. During her leisure time, she would research about the issues of rivers with an aim to create an informal group of people to do something to address the pollution.
Professionals working in the environmental sector were roped in to amp up the cleaning efforts and techniques like using stones to channelise the water and adding aquatic plants, to improve the flow of water in streams and reduce pollution. Three years on, efforts have now started showing results. The streams are providing cleaner water to the river, stench from the rivers has reduced and the perception of locals towards the wetland has also changed, with regular visitors along the stretch. https://india.mongabay.com/2020/12/people-power-to-clean-up-pune-river-bit-by-bit/ (02 Dec. 2020)
Mula-Mutha; Pune PMC constitutes expert panel to check river pollution The panel, formed by the Pune Municipal Corporation (PMC), comprises PMC officials, environmentalists and engineers. The team will monitor river pollution and will share a progress report. A senior official working with the civic body said that the details of the committee will be ready within two days. The official said that the committee could not be formed initially as the code of conduct for the graduate constituency elections was imposed. The civic body plans to take up the issue of pollution in the Mula and Mutha rivers through the project.
As per the official, the project will be funded by international funding agency JICA. He added that a total amount of Rs 990 crore was sanctioned by the Union government in January 2016. Apart from preventing river pollution and improvement of the river bed. Other areas of focus are infrastructure and solid waste management. The municipal corporation also intends to build 11 new solid waste treatment plants in the city. https://www.timesnownews.com/pune/article/pune-civic-body-constitutes-expert-panel-to-check-river-pollution-mula-mutha-river/689934 (03 Dec. 2020)
Assi, Varanasi Numbers on Assi pollution 3.5 kms length of the Assi river. It meanders through some very densely populated built up areas that directly discharge wastewater into the river. All along there has been severe encroachment of the river bed and channel and in the absence of adequate solid waste collection much garbage and sewage find their way into the river and ultimately the Ganga.
400 million litres sewage generated in the city of Varanasi each day. Only 102 MLD is treated at the 3 sewage treatment plants currently in operation. Untreated sewage drains into the Varuna and Assi rivers and ultimately flows into the Ganga. 70 million litres estimated sewage that drains into the Assi river each day. The Wazidpur drain carries around 54 MLD comprising mostly industrial waste. The polluted water from both the river/drain ultimately end in the in Ganga. 50 MLD capacity of the Ramana STP proposed to be set up to treat sewage before it enters the Assi river. The project will be implemented as part of the Namami Gange programme for Varanasi. https://numerical.co.in/numerons/collection/5fbfc25fc2414cc017d70d95
RIVERS
Report The Tragic Song Of Our Rivers Of Hope It is universally acknowledged that rivers are the crucibles of civilization. From time immemorial, settlements have sprung up alongside rivers owing to the easy availability of water and associated means of sustenance. Over time these settlements metamorphosized into the towns and cities we see today.
With the passage of time, especially after the advent of the industrial era, the association of the riverside communities with the rivers has undergone a perceptible transformation. Urbanization has resulted in a change in the nature of dependence on the rivers. It has become indirect. This has diminished the value of rivers among the denizens of the cities. https://www.outlookindia.com/website/story/opinion-the-tragic-song-of-our-rivers-of-hope/366405 (06 Dec. 2020)
BRAHMAPUTRA Journey through Assam The Brahmaputra makes one of its most interesting journeys in Assam. The river divides the state into two halves, also creating a distinct north and south bank.
The tributaries of the north bank descend from high mountains, and travel through rocky terrain, over boulders and pebbles. On the south, it has a flatter trail with deep meandering turns. The Brahmaputra also flows through and is instrumental in the creation of over six wildlife havens in the state. https://round.glass/sustain/photo-story/brahmaputra/ 
Tamil Nadu River pollution: HC initiates suo motu proceedings Taking a serious view of effluents from dyeing units and other industries being discharged into Amaravathi river in Karur district, the Madurai Bench of the Madras High Court on Wednesday (Dec. 2) initiated suo motu proceedings and sought a response from the authorities concerned. A Division Bench of Justices N. Kirubakaran and B. Pugalendhi asked why stricter sentences should not be imposed on those indulging in such acts.
The judges stressed the importance of preserving waterbodies for future generations. The court put forth a series of questions to the State in order to take effective steps in restoring the river. It sought to know the number of dyeing units and industries that were discharging effluents into the river. The court also sought to know if Karur Municipality too was discharging sewage into the Amaravathi. Directing Karur District Legal Services Authority members to inspect the river and file a report, the judges adjourned the case till December 4. https://www.thehindu.com/news/national/tamil-nadu/river-pollution-hc-initiates-suo-motu-proceedings-karur-madurai/article33233382.ece (02 Dec. 2020)
Maharashtra MPCB shuts down 4 industries; pulls up civic body over river pollution Acting on a series of complaints of pollution in Ulhas and Waldhuni rivers, the Maharashtra Pollution Control Board (MPCB) has directed four industries to close down and issued show cause notices to local municipal bodies.
Environment group Vanashakti, petitioners before the SC, had flagged violations through three major complaints between November 26 and November 28 wherein a large stretch of Waldhuni river along the Ulhasnagar railway station was spotted foaming with effluents. Industrial effluents were also discharged into Waldhuni near Vriddhashram Pipeline Road at Ambernath, leading to a reddish layer over the water, and the third complaint pertained to a stench at night near Ambreshwar Shiv temple at Dombivali Maharashtra Industrial Development Corporation (MIDC) where untreated effluents were entering Waldhuni. "Acids and hazardous chemicals are being discharged into the river. There is no fear of the law among the polluting industries of various MIDCs in the Ulhas-Waldhuni influence zones," said Vanashakti director Stalin D.
On November 3, the SC bench of justices DY Chandrachud and Indira Banerjee, while hearing Vanashakti's application, had pulled up the Maharashtra government for shoddy efforts to address water pollution at Ulhas and Waldhuni rivers based on a two-day inspection report of both rivers by the Central Pollution Control Board and National Environmental Engineering Research Institute in September. The report found at least 139 industrial units to be responsible for causing pollution, and suggested 25 specific recommendations to improve water quality.
The SC bench directed immediate implementation of the report suggestions and the state chief secretary to oversee it. Subsequently, the state govt submitted an affidavit confirming that suggestions would be implemented, and squads had been made to detect pollution and nab offenders. It also stated that these squads would commence action from November 18. However, a series of violations have now been unearthed by petitioners, and confirmed by MPCB. The matter before the SC is listed to be heard on December 11. https://www.hindustantimes.com/india-news/maharashtra-pollution-board-shuts-down-4-industries-pulls-up-civic-body-over-river-pollution/story-dQRzLw7Sxn77k3KP90f7kI.html (07 Dec. 2020)
Himachal Pradesh Why Bahl Valley Shouldn't Be Acquired for Airport "Balh", is a pahadi connotation referring to flat land in the local dialect. It is also the name of the area in Mandi district, where an international airport is proposed and an unequivocal resistance is built by the residents of the region. They demand that an airport should not be made in one of the most fertile lands of the state. In case this international airport is made, nearly 10,000 people in eight villages, comprising peasants belonging to dalits and OBCs, will lose their agricultural lands in the most fertile valley of the state. The reasons for opposing include ecological, social, and economic and all of them are linked to the sustainability of the livelihoods of the people living in that region. Moreover, this is the region which is a designated flood zone and the area has several times been flooded. Despite that, the proposal is to construct an airport at such a place.
– The water table is quite high (almost 10-15 feet) and the land is very fertile. The peasants after receiving land (through land reforms) switched over to cash crops and produced off season vegetables throughout the year, which enhanced their incomes substantially. The Indo-German agricultural project in Bangrotu in Balh valley made a big impact in this transformation. https://www.newsclick.in/himachal-pradesh-bahl-valley-shouldnot-acquired-airport (01 Dec. 2020)
Haryana 'Ensure better coordination on Saraswati revival project' Union Jal Shakti Minister Gajendra Singh Shekhawat has ordered officers of Haryana and Himachal Pradesh to ensure better coordination between them on Saraswati river revival project. The Haryana government started the project to revive the mythical Saraswati river. In the first phase of the project, two dams will be built in areas of Haryana and Himachal Pradesh with the latter providing 20 cusecs of water to the river. The Haryana Saraswati Development Board and irrigation department have been directed to complete the technical drawing of the project by March 31, 2021. https://www.outlookindia.com/newsscroll/union-minister-directs-hry-hp-to-ensure-better-coordination-on-saraswati-revival-project/1981077 (23 Nov. 2020)
Uttarakhand State lost 50,000 hectares of forest cover in 20 years Uttarakhand, the birthplace of India's major rivers like Ganga and Yamuna and home to the Himalayan ranges, is rapidly losing its forest land to commercial activities. Data of forest department exclusively accessed by TOI has revealed that the state, which has over 70% forest land, has lost about 50,000 hectares (ha) of its forests to various developmental activities in the past 20 years.
The top six activities for which around 21,207 hectares of forest land in the state has been diverted are mining, hydropower plants, road construction, power distribution lines, water pipelines and irrigation. The highest amount of forest cover has been lost to mining (8,760 ha) followed by road construction (7,539 ha), power distribution lines (2,332 ha) and hydropower plant projects (2,295 ha). Other smaller activities together claimed 20,998 hectares of forest cover, the data reveals. The other activities comprise of laying down of optical fibres, railways, defence works, rehabilitation, construction of buildings etc.
A district-wise analysis (from November 2000 to March 2020) shows that Dehradun (21,303 ha) lost the maximum forest area, followed by Haridwar which lost 6,826 hectares , Chamoli (3,636 ha), Tehri (2,671 ha) and Pithoragarh (2,451 ha). This diversion of forest land for commercial activities is alarming when seen in the backdrop of the latest report of the Forest Survey of India (India State Forest Report 2019) which indicates that three districts — Nainital, Udham Singh Nagar and Haridwar — have seen negative growth in their forest cover — of -6.4%, -4.2% and -2.7% respectively — from 2017 to 2019. https://timesofindia.indiatimes.com/india/uttarakhand-lost-50000-hectares-of-forest-cover-in-20-years/articleshow/79599261.cms (07 Dec. 2020)
Lawyers ask HC to take suo moto note of move to denotify Shivalik Elephant Reserve In the wake of the state government proposing the felling of more than 10,000 trees in the Shivalik Elephant Reserve for the expansion of Dehradun's Jolly Grant Airport, more than 85 lawyers from different parts of the country have now urged the Chief Justice (CJ) of the Uttarakhand HC to intervene in the matter and protect the Himalayan state's lone elephant reserve.
The lawyers, who are from different high courts across the country, urged the Uttarakhand high court to "take suo moto cognisance of the entire situation in interest of the natural environment and conservation of wildlife and further quash the thoughtless decision of the Uttarakhand State Wildlife Board to denotify the Shivalik Elephant Reserve and restore the protection granted to the habitat and corridors of the wild Indian Elephants in the state of Uttarakhand." The lawyers said that they felt "deeply disturbed and concerned about the reckless decision of the state wildlife board to denotify the Shivalik Elephant Reserve for the purpose of developmental activities and expansion of Jolly Grant Airport." https://timesofindia.indiatimes.com/city/dehradun/lawyers-from-across-the-country-write-to-ukhand-hc-ask-court-to-take-suo-moto-note-of-move-to-denotify-shivalik-elephant-reserve/articleshow/79596066.cms  (07 Dec. 2020) 
YAMUNA Haryana Panel for action over misleading information on discharged effluents The Haryana Yamuna Monitoring Committee has recommended action against government department officials for submitting misleading information to the panel regarding discharge of effluents into the Yamuna.
The HYMC has inspected the operational status of STPs and CETPs located in catchment areas of Yamuna. The status reports submitted by the government department officials mentioned that these STPs and CETPs were complying with the norms. However, in its report, the HYMC mentioned that various discrepancies were found during the inspection. The information about these projects provided by the panchayat department, urban local bodies department and Haryana Sehri Vikas Pradhikaran was either not complete or incorrect. The urban local bodies department has been asked to provide names of officials, who provided misleading information, at the earliest.
S Narayanan, member secretary of SPCB, said, "We need to collect the information from individual departments about these officials (who provided misleading information). We are also placing it as one of the agenda items for review at chief secretary level meeting which will be held soon", he added. The committee also revised timelines for the projects of various departments which could not be completed in the action plans submitted to the NGT. The committee has also sought progress reports from concerned departments on management of e-waste, bio-medical waste, plastic waste and hazardous waste management and solid waste. https://www.hindustantimes.com/cities/panel-for-action-over-misleading-info-on-discharged-effluents-in-yamuna/story-omZqL2TZbzooyqCeWN5wMP.html (01 Dec. 2020)
Delhi Only 3 ETPs meeting standard: YMC Expressing concern over the issue, the NGT panel has asked the Delhi government agencies to take short-term measures to improve the functioning of the plants. Also, it asked them to "explore strategies" to deal with effluents being discharged from non-conforming industrial areas. https://www.hindustantimes.com/delhi-news/only-three-effluent-treatment-plants-along-yamuna-meet-standards-ngt-appointed-panel/story-VLnrg4RG3lhcN1JpWRJbYL.html
RIVERS BIODIVERSITY
Study Plastic pollution from fishing nets threatening wildlife in Ganga In the study, published in the journal Science of The Total Environment, surveys along the length of the river, from the mouth in Bangladesh to the Himalayas in India, show levels of waste fishing gear are highest near to the sea. The researchers noted that fishing nets — all made of plastic — were the most common type of gear found.
Interviews with local fishers showed high rates of fishing equipment being discarded in the river — driven by short gear lifespans and lack of appropriate disposal systems, they said. "The Ganges River supports some of the world's largest inland fisheries, but no research has been done to assess plastic pollution from this industry, and its impacts on wildlife," said Sarah Nelms from the University of Exeter in the UK. "Ingesting plastic can harm wildlife, but our threat assessment focussed on entanglement, which is known to injure and kill a wide range of marine species," Nelms said.
The researchers used a list of 21 river species of "conservation concern" identified by the Wildlife Institute of India in Uttarakhand. They combined existing information on entanglements of similar species worldwide with the new data on levels of waste fishing gear in the Ganges to estimate which species are most at risk.
"There is no system for fishers to recycle their nets. Most fishers told us they mend and repurpose nets if they can, but if they can't do that the nets are often discarded in the river," said Nelms. "Many held the view that the river 'cleans it away', so one useful step would be to raise awareness of the real environmental impacts," she said. https://www.hindustantimes.com/india-news/plastic-pollution-from-fishing-nets-threatening-wildlife-in-ganga-study-finds/story-Ma4r298OWOb3pO8NsW5x7L.html (30 Nov. 2020)
WETLANDS, LAKES, WATER BODIES
Securing wetlands for safe passages of migratory birds INTERESTING ACCOUNT: The Brahmaputra valley has a distinctive natural environment that depends largely on wetlands. The innumerable freshwater lakes (locally called beels), ox-bow lakes, marshy tracts and thousands of ponds and tanks used to hold water almost throughout the year and are vital to water needs and food production. A number of factors have been responsible for the rapid decline in wetland ecosystem that include urbanization, siltation, overfishing, human interference, land and water grabs, decrease in freshwater inflow, choking of lagoon mouths due to silt deposition, fragmentation and degradation of habitat, environmental contaminants, hunting, land use patterns, changes in aquatic vegetation, pollution and development projects. Migratory waterbirds – ducks, geese and swans, cranes and rails, storks, ibises and spoonbills, flamingoes, gulls, terns, skimmers, pelicans, grebes, cormorants, herons and egrets, gannets, divers, waders, tropic and frigate birds – ecologically dependent on wetlands for at least a part of their annual life cycle.
– Assam comes seventh in terms of the area covered by wetlands, while it tops the list when it comes to freshwater wetlands in the whole of India – according to the study Ardrabhumi Aru Asom (Wetlands and Assam) by Prof Kaliprasad Sarma of the Department of Environmental Science, Tezpur University. Some 1,367 are facing serious threats to their existence. The most rapid has been the decline in natural wetlands, the study found. https://nenow.in/environment/securing-wetlands-for-safe-passages-of-migratory-birds.html (03 Dec. 2020)
Karnataka Submit offer made to Infosys on lake revival, HC tells govt The High Court of Karnataka on Tuesday (Dec. 1) directed the State government to produce the offer made to the Infosys Foundation to rejuvenate and maintain Hebbal lake in Mysuru while observing that perhaps the government would have got better offers if it had issued public notice inviting corporate entities to come forward to assist in taking care of State's lakes. Even if the law permits allowing corporate entities to maintain lakes, the process of allowing their participation must be fair and transparent, the court said, while directing the government to produce the process followed before entering into Memorandum of Understanding (MoU).
– The court, in March, had restrained the government from signing more MoUs while observing that prima facie, by way of the MoUs, the government wants to shift its obligation to corporate entities. The government had told the HC that it had signed an MoU with Infosys Foundation for Hebbal lake in Mysuru in 2016; and five more MoUs were signed between 2017 and 2020 with Bharat Electronics Ltd., Biocon Foundation, Titan Company Ltd., Say Trees Environmental Trust and CMR University for rejuvenating and maintaining Doddabommasandra, Hebbagodi, Veerasandra, Nallurahalli and Chagalatti lakes in the city, respectively.
– Observing that it is the duty of the State government to stop those works not permitted as per the 2012 order of the High Court based in Justice Patil Committee Report, the Bench directed the government to submit the details of extent of works carried out and whether the corporate entities have complied with the terms of the MoU. https://www.thehindu.com/news/national/karnataka/submit-offer-made-to-infosys-on-lake-revival-hc-tells-govt/article33226084.ece (02 Dec. 2020)
NCR Crucial to bird migration, India's wetlands are under threat Wetlands in Delhi and Haryana, home to hundreds of species of birds, face serious threats from pollution and encroachment; official recognition could be an important step towards conservation. https://www.thethirdpole.net/2020/11/19/crucial-to-bird-migration-indias-wetlands-are-under-threat/ (19 Nov. 2020)
Bihar 'Community, govt participation key to conservation of wetland' Officials and experts emphasised on joint efforts of community and government to conserve and protect wetlands in Bihar during a webinar on 'Vulnerabilities of wetlands and its impact on climate change', organised by the Centre for Environment Energy and Climate Change (CEECC)-ADRI.
Delivering the keynote address, principal secretary (forests, environment and climate change) Dipak Kumar Singh said community participation will play an instrumental role in conservation of wetlands. He said an action plan to conserve and restore the wetlands in Bihar was essentially required. He also talked about the roadmap of the newly constituted Wetlands Authority of Bihar.
Meenakshi Dhote, professor, environmental planning, School of Planning & Architecture, New Delhi shared her views on the vulnerabilities to the urban wetlands. She also highlighted how the urban development activities are deteriorating the urban wetlands in the city areas in a very fast rate, along with providing the mitigation measures to be implemented for protection of urban cities in Bihar. Ritesh Kumar, director, South-Asia, Wetlands International, shared his views and knowledge about the climate change impact on wetlands and how wetlands can play a role in climate change adaptation. https://timesofindia.indiatimes.com/city/patna/community-govt-participation-key-to-conservation-of-wetland/articleshow/79571173.cms (05 Dec. 2020)
GROUNDWATER
Study States with stressed groundwater trade most cereals States with critically low groundwater reserves were responsible for 41%, or about 38.6 million tonnes of India's domestic cereal trade. This worked out to nearly 39% of India's total groundwater being used up in producing and trading cereal among States. Moreover, a further 21% (19.6 Mt) of domestically produced cereals were exported from six States with 'semicritical' to 'critical' groundwater status equivalent to 32% of groundwater, according to an analysis by scientists spanning multiple institutions in India and abroad. The study appears in the peer-reviewed Environmental Research Letters.
Previous studies of embedded-water flow in agricultural production have usually focussed on international movements, for instance the amount of water that was lost when a country imported a food crop from another, whereas this focussed on domestic movements and incorporates the role of the public distribution system as well as international outflows, the authors note.
Trade patterns varied between PDS and non-PDS cereals. The majority (58%; 58.0 Mt) of interstate cereal trade occurred through the PDS. The total volume of embedded water traded through PDS rice and wheat amounted to 54.3 cubic km of green water and 36.7 km3 of blue water. As the main PDS contributors, the States exporting the most water through the PDS were Punjab (20.9 km3), Andhra Pradesh (12.6 km3) and Madhya Pradesh (9.9 km3). In addition, 35.8 Mt of non-PDS cereals were traded between States, corresponding to 45.1 km3 of green water and 17.3 km3 of blue water. https://www.thehindu.com/news/national/states-with-stressed-groundwater-trade-most-cereals-find-study/article33255740.ece (05 Dec. 2020)
URBAN WATER
Mumbai 'No dam needed if desalination unit at Manori gets off ground' The proposed 200 MLD desalination plant at Manori will do away with the need to construct the Gargai-Pinjal dam and help save three lakh trees that may have to be cut for the dam project, said additional municipal commissioner (projects) P Velarasu on Tuesday (Dec. 1). Velarasu further said while the decision to not construct the dam will be taken at the CM's level, the desalination plant provides an "excellent alternative" to the large dam project which would be environmentally more harmful, requiring submergence of land and forests.
The Gargai-Pinjal dam, estimated to provide 880 MLD to the city, has been delayed by more than three years. The state government and the BMC had planned two dams, Gargai and Pinjal, besides a river-linking project, Damanganga-Pinjal. The river link was to add another 1,586 million litres. By 2041, the city's water demand is projected to increase to 5,960MLD. Currently, the city gets 3,800MLD.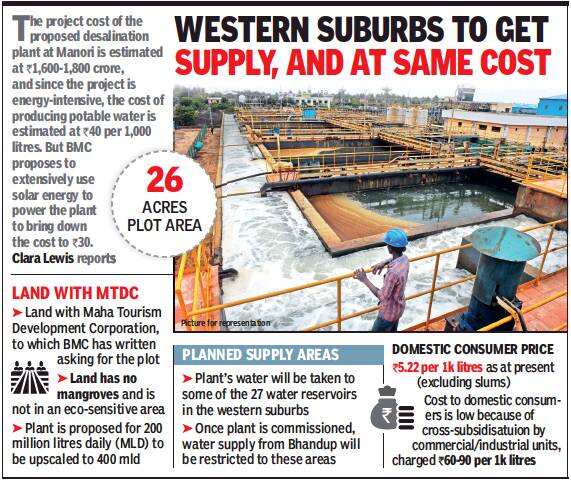 The civic corporation has already written to the Maharashtra Tourism Development Corporation (MTDC) to hand over 26 acres at Manori for the desalination plant project. "The land has no mangroves and is not in an eco-sensitive area. It was given to the MTDC several years ago, which has so far not developed it. Also, the quality of sea water here is much better," said Velarasu. In 2009, when a similar project was proposed, the cost of producing potable water was estimated at Rs 48 per 1,000 litre and it was rejected by the then municipal commissioner Jairaj Phatak, terming it as too expensive. Nearly a decade later, the BMC has decided to go ahead with the project, pointing out that technology has improved and costs can be cut.
The BMC has opted for membrane technology as against thermal energy technology as the latter is energy-intensive. It will set up solar panels at Modak Sagar (Lower Vaitarna) and solar energy will be transmitted to the plant using transmission lines of MahaTransCo and MahaDiscom. Velarasu said BMC will use solar energy to a great extent, which will bring down the cost of producing potable water from Rs 40 per 1,000 litres to Rs 30 per 1,000 litres. The BJP has opposed the plan, saying the BMC should instead invest in cleaning the over 8,000 wells in the city, implement rainwater harvesting rigorously as the city gets 2,500mm annual rainfall, and fix leakages. https://timesofindia.indiatimes.com/city/mumbai/no-dam-needed-if-desalination-unit-at-manori-gets-off-ground/articleshow/79530871.cms (02 Dec. 2020)
Pune PMC starts trial run of Bhama Askhed dam water supply project The Pune Municipal Corporation (PMC) has finally started the trial run of the long delayed Bhama Askhed dam water project, which entails drawing water from the dam and supplying it to the eastern parts of the city. The areas that will benefit from the project are Kalas, Sangamwadi, Yerawada, Lohegaon, Dhanori, Kalyaninagar, Vadgaonsheri and Kharadi. "The 200 MLD project is expected to meet the water supply needs of the region till 2041, when the local population is estimated to have increased to 14.5 lakh. The project was started in 2013 and has been completed now after facing a lot of hurdles, mainly due to protests by residents of villages where the pipeline was laid. The work had to be completed under police protection in some places," City Engineer Prashant Waghmare said.
The water, drawn from the dam, will be supplied to 27 overhead tanks in Nagar Road area, which will then supply it to various localities. "There will be a separate trial run for each tank… the old water connection will be discontinued only if the new connection is found to be satisfactory. The entire area will be covered by March," said Waghmare.
While Pune city has been getting a major share of its water supply from Khadakwasla dam, 11 km from the city, now it will get a sizeable amount from a dam much farther away, as Bhama Askhed dam is located 42 km from the city. "The project has only one pumping station in the backwaters of Bhama Askhed dam, which sends water to a tank located 8 km from the dam. Then the water goes to a treatment plant, and then across the stretch of Nagar Road. This will save at least 15 percent of recurring cost of the water supply system…," said Yuvraj Deshmukh, superintendent engineer of PMC. https://indianexpress.com/article/cities/pune/finally-pmc-starts-trial-run-of-bhama-askhed-dam-water-supply-project/ (02 Dec. 2020)
Madurai CM Palaniswami to lay foundation stone for water project State Minister for Cooperation Sellur K Raju, while inspecting the preparatory works ahead of CM's visit to the district, addressed media persons and said that Edappadi K Palaniswami, during his visit, would lay the foundation stone for Rs 1,295 crore worth water supply project under the Atal Mission for Rejuvenation and Urban Transformation (AMRUT) scheme. Saying that the project would draw 125 million litres of water from Mullaperiyar Reservoir, the minister claimed that the project is a boon for the residents in the city who face water shortage. https://www.newindianexpress.com/states/tamil-nadu/2020/dec/03/madurai-cmpalaniswami-to-lay-foundation-stone-for-water-project-2231127.html (03 Dec. 2020)
Vadodara Flouride-laced groundwater threatens Gen-next Barodians Barodians are staring at a parched future, caught between municipal corporation's turbid tap water and the highly unhealthy groundwater. While the tap water is rendered unfit for consumption owing to leakages and other pipeline issues, citizens face a bigger health hazard from the underground water table, claims a study done by Anuva Saha and Priyal Gandhi, students of MS University's environmental science department, with support of Gujarat Ecology Society (GES). This revealed that the high fluoride concentration will pose several health risks such as fluorosis, ligament calcification, developmental disorder in children, liver and kidney dysfunction as well as nerve weakness.
A similar study done by GES in 2014 shows that in these areas the fluoride concentration was 1 mg/l or even less than that, but the study of 2019 shows that the fluoride concentration is in the range of 1.5-2 mg/l. "In some parts the water table has decreased to the level of the lower aquifer where fluoride concentration is high. This concentration will continue to remain high until groundwater is recharged," said Dr Deepa Gavali, director of GES, adding that groundwater recharge has also reduced as the city is losing urban wetlands.
Gavali further said that Vadodara city has lost 40 hectares of urban wetlands since 2005. "This area is equal to the size of eight Sursagar ponds," she said. While the problem of TDS in water can be resolved through the household RO systems, fluoride concentration cannot be reduced through RO or boiling. "High fluoride concentration will lead to several health disorders if the groundwater quality goes unchecked," Gavali warned, adding that health risk appraisal already indicates fluoride carcinogenicity high in children than in adults and negligible in infants. The fluoride concentration can be checked only if the groundwater is recharged, she added. https://timesofindia.indiatimes.com/city/vadodara/flouride-laced-groundwater-threatens-gen-next-barodians/articleshow/79067040.cms (06 Nov. 2020)
Hyderabad A 'fighter' for the cause of environment, preservation of water bodies Dr Lubna Sarwath is a fighter for the cause of environment, specifically preservation of water bodies. She is the lone candidate representing her Socialist Party (India) for the elections to the posts of corporators in the Greater Hyderabad Municipal Corp. https://www.counterview.net/2020/11/a-fighter-for-cause-of-environment.html (30 Nov. 2020)
WATER
Rajasthan थार के संसाधनों पर मंडराता अस्तित्व का खतरा थार क्षेत्र केवल बालू की भूमि ही नहीं है, बल्कि कुदरत ने इसे भरपूर प्राकृतिक संसाधनों से भी नवाज़ा है। लेकिन धीरे धीरे अब इसके अस्तित्व पर संकट के बादल गहराने लगे हैं। यह संकट मानव निर्मित हैं। जो अपने फायदे के लिए कुदरत के इस अनमोल ख़ज़ाने को छिन्न भिन्न करने पर आतुर है। यहां की शामलात भूमि (सामुदायिक भूमि) को अधिग्रहित कर उसे आर्थिक क्षेत्र में तब्दील किया जा रहा है। जिससे न केवल पशु पक्षियों बल्कि स्थानीय निवासियों को भी भूमि और जल के संकट का सामना करना पड़ रहा है।
इसका एक उदाहरण बाड़मेर जिले की पचपदरा तहसील का कोरणा गांव है। जहां वर्ष 2016 में विद्युत विभाग का सब ग्रीड स्टेशन बनाने के लिए तालाब के आसपास की भूमि प्राप्त करने के लिए ग्राम पंचायत से अनापत्ति प्रमाण-पत्र मांगा गया। 2800 बीघा इस शामलात भूमि पर छोटे-मोटे करीब 18 तालाब हैं, जिनसे इन्सान एवं मवेशी पानी पीते हैं। विद्युत विभाग की ओर से 765 के.वी. का ग्रीड सब स्टेशन बनाने के लिए गांव की कुल शामलात भूमि में से 400 बीघा जमीन अधिग्रहण के लिए चिन्हित की गई। भूमि चिन्हित करने से पूर्व ग्राम समुदाय और पंचायत से राय तक नहीं ली गई। https://hindi.indiawaterportal.org/content/thar-kay-sansadhanon-par-mandrata-astitva-kaa-khatra/content-type-page/1319336021 (24 Nov. 2020)
POST MONSOON 2020
Andhra Pradesh Water released from Kalyani dam The spillway gates of Kalyani dam near Rangampete in Chittoor district opened for the first time in 15 years. https://timesofindia.indiatimes.com/city/vijayawada/water-released-from-kalyani-dam/articleshow/79585119.cms (06 Dec. 2020)
Tamil Nadu Palar river in Vellore flows again, after 3 years Palar river flowed for the first time in three years, thanks to rains brought by cyclone NIVAR in catchment areas of tributaries like Ponnai, Mallataru, Agaram and Koundinya in Andhra Pradesh brought copious flows into Palar. Many people gathered on Polur Subramanian Bridge and Katpadi Old Bridge to witness water gushing through Palar river.
– Ambalur Ashokan, Palar river activist and Rivers of Ecology, committee member, Vellore district, said that this flow would have washed away the garbage dumped by tanneries, the Municipal Corporation and village panchayats on the river bed. "Now groundwater is available only at 1,500 feet. If we build more check dams and retain water, we will be able to get water at 300 feet," he said. Sand mining is a major reason for the depletion. https://www.thehindu.com/news/national/tamil-nadu/palar-river-in-vellore-flows-again-after-three-years/article33200294.ece (28 Nov. 2020)
Water was released from Chennai's second largest reservoir, the Red Hills reservoir after five years. Two sluice gates were lifted and 500 cusecs of water was released by PWD authorities. https://timesofindia.indiatimes.com/videos/city/chennai/chennai-red-hills-reservoir-full-sluice-gates-opened-for-first-time-in-5-years/videoshow/79577997.cms (05 Dec. 2020)
After several locations in the city recorded intermittent moderate to heavy spells of rain in the past 24 hours, India Meteorological Department said the cloud bands from the weakened system may bring rain to the city at least for the next 24 hours. https://timesofindia.indiatimes.com/city/chennai/more-rain-in-offing-for-chennai-says-imd/articleshow/79589462.cms (06 Dec. 2020)
Cyclone Nivar The initial losses estimated in the agricultural and other sectors are around Rs 400 crores in Puducherry. Tamil Nadu reported four deaths, damages to 118 houses and 10,000 hectares of farmland, and uprooting of 1086 trees. Over 40,000 houses were flooded in Chennai. In Andhra Pradesh, eight people died and over 4.91 lakh hectares of agricultural land was damaged. https://india.mongabay.com/2020/12/though-cyclone-nivar-had-a-soft-landing-floods-hit-coastal-districts/ (01 Dec. 2020)
ENERGY OPTIONS
REC trading pause to impact discoms' ability to meet RPO targets: Power exchanges Further suspension on trading of renewable energy certificates (RECs) would impact state power distribution utilities' ability to meet renewable purchase obligation (RPO) targets, electricity exchanges PXIL and IEX said, stressing that the trade should be resumed at the earliest. REC market is a key avenue for obligated entities such as captive power producers, discoms and open access consumers to fulfil their RPO requirements. Owing to the pause in REC trade since the last five months (July 2020), and compliance year coming to an end in the next four months, any further delay in resuming the trade will greatly impact their ability to meet their RPO targets in a timely manner. Trading of RECs was suspended in July this year after the Appellate Tribunal for Electricity (APTEL) decided to postpone trading by four weeks while hearing three separate petitions related to issue of fixing floor and forbearance prices of RECs by the Central Electricity Regulatory Commission, this stay was extended till final judgement.
– According to a CERC order passed in June, the floor price of solar and non-solar RECs was reduced to zero from Rs 1,000 earlier. Similarly, the forbearance (ceiling) price of solar and non-solar RECs was reduced to Rs 1,000 from Rs 2,400 and Rs 3,000, respectively. The forbearance price and floor price fixed by CERC are effective from July 1, 2020 to June 30, 2021 or until further orders of the commission. In June, the Supreme Court had refused to entertain Green Energy Association's appeal on stopping revision of REC price by the CERC. Industry experts were of the view that higher REC prices put additional burden on consumers. https://energy.economictimes.indiatimes.com/news/renewable/rec-trading-pause-to-impact-discoms-ability-to-meet-rpo-targets-power-exchanges/79478267 (29 Nov. 2020)
ENVIRONMENT
Coal mines become unprofitable This raises an important issue about the massive disruption that unplanned closure of coal mines is causing for the lives and livelihoods of very large number of people. The govt must ensure that there is planned closure with alternative livelihood options. https://timesofindia.indiatimes.com/blogs/toi-edit-page/energy-transition-and-just-transition-must-go-hand-in-hand-as-coal-mines-become-rapidly-unprofitable/ (28 Nov. 2020)
CLIMATE CHANGE
Study In tree rings warning for Brahmaputra floods Key finding of this new study (https://www.nature.com/articles/s41467-020-19795-6#Sec17) titled "Seven centuries of reconstructed Brahmaputra River discharge demonstrate underestimated high discharge and flood hazard frequency": The Executive summary says: "Here we use a new seven-century (1309–2004 C.E) tree-ring reconstruction of monsoon season Brahmaputra discharge to demonstrate that the early instrumental period (1956–1986 C.E.) ranks amongst the driest of the past seven centuries (13th percentile). Further, flood hazard inferred from the recurrence frequency of high discharge years is severely underestimated by 24–38% in the instrumental record compared to previous centuries and climate model projections. A focus on only recent observations will therefore be insufficient to accurately characterise flood hazard risk in the region, both in the context of natural variability and climate change." https://indianexpress.com/article/explained/in-tree-rings-warning-of-brahmaputra-floods-7075932/
Kashmir University gets centre of excellence for glacial studies The Department of Science and Technology, Government of India, has awarded the Kashmir University with an ambitious Centre of Excellence for Glacial Studies (CoEGS) in the Western Himalaya. DST Secretary Prof Ashutosh Sharma on Dec 4, 2020 e-inaugurated the ambitious CoE, budgeted at approximately Rs 8-crore, to boost the glaciological research activities in the Indian Himalayan Region (IHR). The CoEGS at KU is among three Centers of Excellence awarded by the DST as part of its National Mission for Sustaining the Himalayan Ecosystem (NMSHE). Two other CoEs have been set up at Sikkim and Tezpur universities. Prof Romshoo is the Principal Investigator of the CoEGS, even as its multi-disciplinary research team comprises four more scientists, all faculty members at the University, and 16 scientific staff, including post-doctoral fellows, involved in conducting the proposed studies. https://www.greaterkashmir.com/news/latest-news/kashmir-university-gets-centre-of-excellence-for-glacial-studies/
Threats to Himalaya that rose and retreated this year  Of course, nowadays it has become convenient to blame everything on "global warming," from unseasonal storms to viral diseases, often without much scientific evidence.
Gradual increases in average temperatures and accompanying changes in humidity are difficult to discern or measure, but there is no doubt that these are causing significant environmental degradation. Himalayan glaciers are probably the most visible evidence, as almost all of them are in retreat and some at an alarmingly rapid pace. https://lifestyle.livemint.com/news/big-story/the-threats-to-the-himalaya-that-rose-and-retreated-this-year-111606808546381.html  (02 Dec. 2020)
SOUTH ASIA
Pakistan Death of a river How Riverbed mining (for 870 MW Suki Kinari Hydro Power Project among other works), encroachments and dumping is destroying the picturesque Kaghan River Valley in Khyber Pakhtunkhwa in Pakistan.
– Writer Amit Kalantri once wrote, "A river doesn't just carry water, it carries life." (Nov 29 2020, by former administrator of Karachi) https://www.dawn.com/news/1592896 (29 Nov. 2020)
Bangladesh must strengthen its river diplomacy EDIT in Bangladesh Paper on Dec 3, 2020: "There are, therefore, reasonable grounds to be concerned about the construction of large-scale dams on the River Yarlung Zangbo, which flows as the Brahmaputra through India and the Jamuna through Bangladesh, for hydropower… The projects of India and China, as Bangladesh government experts suggest, may hurt the river's ecology and people dependent on the Jamuna and the Brahmaputra for their livelihood. Bangladesh should, therefore, immediately raise the issue with China, saying that such projects involving trans-border rivers require dialogues and support of all riparian states… Experts are concerned that Bangladesh is kept in the dark about the plans and insist that the government should immediately make an impact assessment of the proposed dams… Bangladesh must, therefore, raise the issue with China and India that they have taken up the projects in a clear breach of relevant conventions and demand that they should share their plans with Bangladesh for a proper impact assessment." https://www.newagebd.net/article/123226/bangladesh-must-strengthen-its-river-diplomacy (03 Dec. 2020)
Theorizing The teesta River Water Dispute On Teesta water dispute: It is these people who are losing their livelihoods, lands, and the allied opportunities but have been kept away from the major procedure of decision making. The sufferers are none but the environment itself whose course is being decided by the humans and also, the humans – but only the ones that are dependent upon the same environment for their livelihood opportunities. Rest that remains is the politics! https://moderndiplomacy.eu/2020/11/28/theorizing-the-teesta-river-water-dispute/ (28 Nov. 2020)
Report from Bangladesh narrates the conflict between different ministries in supplying water from Halda river to industries. https://www.newagebd.net/article/122794/rift-in-govt-on-water-supply-from-halda (27 Nov. 2020)
India-Nepal In a virtual discussion between the concerned bodies with the Ministry of Energy of Nepal and India, the Indian side said that it was willing to buy Nepal's surplus electricity. NEA has asked the Indian side to make a proposal and necessary preparations for the purchase of electricity within three months. NEA states Nepal will have surplus electricity after the completion of 456 MW Upper Tamakoshi Hydropower Project, expected within the current fiscal year. NEA has met the domestic demand by importing 1.72 billion units from India out of a total of 7.74 BU in 2019-20. The value of electricity imported from India is Rs 13.58 B.  https://myrepublica.nagariknetwork.com/news/india-sends-a-positive-signal-to-purchase-electricity-from-nepal/
China using Tibet's water against India According to Jiandao, which comprises media professionals, analysts and technical experts: "The Motok hydropower station will use the 50 km straight section of the river bend to build a giant tunnel to divert water, and then lay out 6 large hydropower stations each with an installed capacity of 10 million kilowatts. There is a 400-meter drop between each power station, with a total drop of up to 2,400 meters".https://www.hindustantimes.com/analysis/china-is-using-tibet-s-waters-against-india/story-F80hWeMRt1JMTCUSIlSduJ.html
Threats from China's weather modification system China's State Council has announced its plan to expand the weather modification system which would enable it to control weather conditions. The system would cover a total area of 5.5 million square kilometers for artificial rainfall. The State Council further said that hail suppression would be beyond 580,000 square kilometers. The system is expected to be fully developed by 2025. "The emergence of ambitious geoengineering technologies could exacerbate tensions and even hostility between nations such as India and China. Without regulation, one country's efforts could affect other countries," stated Dhanasree Jayaram, assistant professor, Centre for Climate Studies, Manipal Academy of Higher Education.
– Jayaram explained that such a weather modification system would "unpredictably affect local and transboundary ecosystems, precipitation patterns, and even the long-term regional climate. These variables could raise the importance of information and data sharing (transparency) that is at times held hostage by geopolitical dynamics. Researchers at National Taiwan University said in a paper that the lack of checks can and balances to facilitate the implementation of potentially controversial projects could lead to situations like 'rain stealing' between neighboring countries. https://eurasiantimes.com/china-threatens-india-with-a-weather-modification-system-than-is-1-5-times-larger-than-india/ (05 Dec. 2020)
SCMP: Chinese plans to build hydropower plant on Yarlung Tsangpo River are at early stage and impact will be assessed, China's embassy in Delhi says. It urged against overreactions.
– It quoted SCMP published Reuters report (https://www.scmp.com/news/asia/south-asia/article/3112163/india-plans-brahmaputra-dam-after-china-unveils-tibet) about Indian plans to build a 10000 MW project on the river. https://www.scmp.com/news/china/diplomacy/article/3112424/river-deep-tensions-high-china-assures-india-over-dam-plans
Asked about China's plans to build the dam over the river near the Line of Actual Control (LAC) near Arunachal Pradesh where the Brahmaputra enters India, Chinese Foreign Ministry spokesperson Hua Chunying told a media briefing on Thursday that the "hydropower development in the lower reaches of Yarlung Zangbo river is China's legitimate right". The 14th Five-Year Plan (2021-2025) was adopted by Plenum – a key policy body of the CPC in October this year. Details of the plan were expected to be released after the formal ratification by National People's Congress (NPC) early next year. https://www.tribuneindia.com/news/nation/will-have-good-communication-with-india-china-on-its-plan-to-build-big-dam-over-brahmaputra-river-179443
TOTALLY ill informed, misleading, wrong statements here. https://www.thecitizen.in/index.php/en/NewsDetail/index/4/19696/The-Dams-That-India-Did-Not-Build (04 Dec. 2020)
Bit strange to see Third Pole talking about a dam on Dibang to offset Chinese proposal on YT in Tibet. https://www.thethirdpole.net/2020/12/04/chinas-plans-for-gigantic-brahmaputra-dam-strains-relations-with-india-further/ (04 Dec. 2020)
One hopes this is not true, Indian govt does not go ahead with such plans. It will not help anyone. Chinese plans are not even known to be confirmed plans with any movement on ground. https://energy.economictimes.indiatimes.com/news/power/india-plans-dam-on-brahmaputra-to-offset-chinese-construction-upstream/79522260 (02 Dec. 2020)
China to build a major hydropower project on the Yarlung Zangbo river in Medog, the last county in Tibet, bordering Arunachal Pradesh. The proposed location of the 60 million kWh dam is just 30 km from the Indian border, on the Brahmaputra's Great Bend, a stunning canyon where the river drops ferociously close to 1,000 metres before changing course towards India. The canyon itself is about 320 km long and almost 5 km wide. "At present, the downstream development of the Yarlung Zangbo river is still in the state of preliminary planning and demonstration. There is no need to over-interpret it," Chinese Embassy spokesperson Ji Rong said in New Delhi. The deputy secretary general of the China Society for Hydropower Engineering, an influential pro-hydropower advisory group, described the Brahmaputra as the country's "last great energy hope". [This report has its usual share of inaccuracies.] https://www.indiatoday.in/india-today-insight/story/why-china-s-new-brahmaputra-dam-plan-should-worry-india-1746428-2020-12-03 (03 Dec. 2020)
More than anything else, this reflects poorly on China as an upstream country. Something that is equally relevant in the context of Brahmaputra. https://editorials.voa.gov/a/indo-pacific-conference-on-strengthening-transboundary-river-governance/5670646.html ( 22 Nov 2020)
GLOBAL TIMES of China unleashes propaganda: "China and other neighboring countries have already established friendly and mutually beneficial relationships which have played an important role in alleviating drought in some Southeast Asian countries… In addition, China also has energy export considerations for building this large hydropower project. High-voltage transmission lines to Nepal are being built up. Once the hydropower project is launched, it will provide much needed energy to boost the development of China's neighboring countries." But Nepal is talking about exporting electricity to India this year itself! https://www.globaltimes.cn/content/1208604.shtml
This EDIT in HT is talking about impact of China dam on water availability in the downstream area, but that is unlikely to be a major issue, considering the huge water flow in Brahmaputra from the area beyond the catchment of that China planned dam. https://www.hindustantimes.com/editorials/convey-concerns-on-china-s-dam-building/story-KNQGagHwUolKVUR0pmZKON.html
An official of the Medog government confirmed with the Global Times on Monday that the project will be built in Medog county, Southwest China's Tibet Autonomous Region. The Global Times also learned from a source that the project will be designed by the Chengdu Engineering Corp under the Power Construction Corp of China, or POWERCHINA. The Chengdu company is helping Medog to build the second highway entering the remote county, according to the company's official website. The project aims to maintain water resources and domestic security according to an article on the WeChat account of the Central Committee of the Communist Youth League of China on Nov 29.
– The facility could provide power to northeast India and boost its economy, which is suffering from power shortages and poor generation equipment, said Liu. "Given that China currently has almost enough power within its borders, it is expected that a large portion of the electricity generated from the project could be exported to neighboring countries." [If China does not even need power from the project, why is it building it?]
– More propaganda: "Analysts said that China has always been a responsible country on the ecological and environmental issues of hydropower projects, considering its mature technology and measures to protect animals and plants in the process… China hopes to tap the rich hydropower resources of the Yarlung Zangbo River, and the projects won't dam the river and will not cause any water shortage downstream." https://www.globaltimes.cn/content/1208552.shtml
South China Morning Post Report: Yan Zhiyong, chairman and Communist Party secretary of the Power Construction Corporation of China, said the latest five-year plan, which runs until 2025, made it clear the project would be implemented. "I think the hydroelectric development in the lower reaches of Yarlung is not solely a hydroelectric project, but five projects combined," Yan said. Yan made these remarks at a meeting to mark the 40th anniversary of the founding of the China Society for Hydropower Engineering on Thursday, Nov 26, 2020.
– Xu Liping, an expert in Southeast Asian studies at the Chinese Academy of Social Sciences' National Institute of International Strategy, acknowledged that the project would have an impact on people lower down the river. https://www.scmp.com/news/china/diplomacy/article/3111841/tibet-hydropower-plans-will-boost-international-cooperation (29 Nov. 2020)
A report in the Chinese media said the State-owned hydropower company POWERCHINA had last month signed "a strategic cooperation agreement" with the Tibet Autonomous Region (TAR) government to "implement hydropower exploitation in the downstream of the Yarlung Zangbo River" as part of the new Five-Year Plan (2021-2025). Yan Zhiyong, POWERCHINA's chairman said this 50-km section alone offered the potential of developing 70 million kWh "which equals more than three Three Gorges power stations". It remains unclear whether technical feasibility studies for the downstream dams will be approved, as POWERCHINA is not the first hydropower company to push for ambitious dams downstream on the Zangbo. https://www.thehindu.com/news/international/china-hydropower-company-plans-first-downstream-dam-on-brahmaputra/article33206687.ece (29 Nov. 2020)
This has been front paged by the Hindustan Times on Nov 30, 2020. What is the basis for this report. Seems like very thin basis.
– China will build the dam, the state-run tabloid Global Times said on Sunday (Nov 29 2020) evening. The news regarding the new dam was published on an official social media platform of the ruling Communist Party of China's (CPC) Youth League last week.
– [this could be wishful thinking] the project… will be a historic opportunity for the Chinese hydropower industry," Yan Zhiyong, chairman of the Power Construction Corp of China, or Powerchina said at a conference last week. The initial work on the dam began with Powerchina on October 16 signing a strategic cooperation agreement covering the 14th Five-Year Plan with the TAR government.
– Yan said, the plan put forward in the proposals for formulating the country's 14th Five-Year Plan (2021-25) and its long-term goals through 2035 made by the CPC's Central Committee. According to Yan, the 60 million kWh hydropower exploitation at the downstream of the Yarlung Zangbo river could provide 300 billion kWh of clean, renewable and zero-carbon electricity annually.
– "Hydropower projects on cross-border rivers cannot be developed without communication and cooperation between upstream and downstream countries," Lin Boqiang, director of the China Center for Energy Economics Research at Xiamen University, told the tabloid Global Times. https://www.hindustantimes.com/world-news/china-to-build-a-super-dam-on-its-part-of-brahmaputra-river/story-i4No1OJ9JuxMEJEwCtNrTO.html
ASIA
MEKONG Nail in coffin for Lao dam? In a meeting on local Mekong River management in Bangkok on Tuesday (Nov. 24), Somkiat Prajamwong, secretary-general of the Office of National Water Resources, told the media that Thailand disagrees with the project and the country is considering not purchasing electricity from this dam. The official, who is also the chairperson of the Joint Committee under the Mekong River Commission (MRC), also noted that Thailand's power surplus is so large that it does not need to buy more from Laos.
According to Mr Somkiat, Thailand's cabinet was concerned about the ecological impact of the Sanakham Dam and it is going to reverse its decision and conduct public hearings in eight Thai provinces along the Mekong River. If that were not enough, two days later Deputy Prime Minister Prawit Wongsuwon, while attending a water management forum, insisted that Thailand supports the inclusive Mekong River water project which "leaves no one behind". Yet, the real concern over the Sanakham Dam stems more from national security as its location might affect the river's water ridge, which serves as a natural border between Thailand and Laos. https://www.bangkokpost.com/opinion/opinion/2026607/nail-in-coffin-for-lao-dam- (28 Nov. 2020)
Thai officials warn Laos of power purchase from controversial dam The Thailand PM Prayut Chan-o-cha's cabinet had grave concerns about the impact of the Sanakham dam project on the ecological system of the Mekong River, as well as the livelihoods of those living along its banks. He said Thai authorities were also concerned that the location of the dam was too close to the river, which demarcates an 800-kilometer stretch of its border with Laos. The Ministry of Energy felt the country had an oversupply of power and didn't need to buy any more from Laos. The 684-megawatt project will be constructed by a subsidiary of Datang International Power generation, a Chinese state-owned power company, and is expected to be completed by 2028. The four-nation Mekong River Commission (MRC) officially began its six-month prior consultation phase for the Sanakham project on 30 July, when other governments are able to raise concerns about dam projects. In June of this year, the Bangkok Post wrote in an editorial, "The proposed Sanakham dam is expensive, unnecessary and risky – and should be cancelled."
– "The people of Laos, Cambodia, Myanmar, Thailand and Viet Nam who rely on the Lower Mekong are not looking to the MRC to conduct additional assessments," Marc Goichot of the World Wildlife Fund wrote ahead of the MRC Council meeting. "They need urgent action to enhance the health of the river, which is the foundation of their societies and economies." https://thediplomat.com/2020/11/thai-official-warns-laos-on-power-purchases-from-controversial-dam/; https://www.bangkokpost.com/thailand/general/2025023/govt-warns-over-lao-dam-plan
Earlier (Aug 3 2020) report on public hearings about the Sanakham Dam: https://www.bangkokpost.com/thailand/general/1962023/agencies-told-to-find-ways-to-mitigate-laos-dam-impact
Philippines EDIT in Manila Bulletin After the flood waters subsided, the people started returning to their homes, Then Magat Dam officials found they had to release some of the huge volume of water which now threatened the dam's structure. This caused a new flood in the downstream areas, and people demanded an investigation into the actions of the dam officials. https://mb.com.ph/2020/12/01/dams-in-the-news-in-wake-of-floods/ (1 Dec. 2020)
Sumatra Dam threatening world's rarest great ape faces delays After an international pressure campaign, the Bank of China this summer abandoned its plan to finance the Batang Toru hydropower project, which would further reduce the tiny habitat of the Tapanuli orangutan (Pongo tapanuliensis), officially recognized as a separate species only 3 years ago.
– The bank did not respond to requests for comment from Science, and the company building the project, P.T. North Sumatra Hydro Energy (NSHE), declined to confirm the decision. A spokesperson said the bank is "only one of several lenders" and that construction, already underway, will proceed as planned. But Ikhsan Asaad, megaproject director at Indonesia's National Electricity Company, the owner of the project, told local media in June that the bank's withdrawal—which he said was because of environmental issues and the COVID-19 pandemic—might cause the project to be postponed to 2025. https://www.sciencemag.org/news/2020/12/dam-threatening-world-s-rarest-great-ape-faces-delays (Dec. 2020)
THE REST OF THE WORLD
USA Experts warn New Mexico dams are time bombs Some 18 months after the U.S. Army Corps of Engineers rated some 200 dams in New Mexico as being in "poor" condition, dam experts told members of a legislative committee things haven't improved much.
– A dam expert — Executive Engineer Jerry Lovato of the Albuquerque Metropolitan Arroyo Flood Control Authority — used alarming language to describe the problem of safety of New Mexico (one of the states of USA) Dams: He called the dangerous dams "little time bombs hiding in plain sight." The price tag to fix the problem: at least $300 million. https://www.santafenewmexican.com/news/local_news/experts-warn-new-mexico-dams-are-time-bombs/article_b9957db2-3356-11eb-963a-cfa7136ee7e1.html
Hidroituango probe snares 28 top officials executives Former Colombian presidential candidate Sergio Fajardo is one of 28 officials and company executives formally accused of irregularities related to the troubled Hidroituango mega-dam project, the comptroller's office stated on Dec 3, 2020. Those under investigation also include current Antioquia governor Aníbal Gaviria, former Medellín mayor Alonso Salazar Jaramillo and ex-Antioquia governor Luis Alfredo Ramos. In addition, the comptroller's office named executives and directors of project owner EPM and its contractors. In a press conference, deputy comptroller Julián Mauricio Ruiz said the accused were being probed for alleged "actions or omissions" that led to extensive cost overruns and delays. https://www.bnamericas.com/en/news/hidroituango-probe-snares-28-top-officials-executives
Study Drinking water from rusted pipes can cause cancer This is according to a study by engineers at the University of California, Riverside. The component that it produces is called carcinogenic hexavalent chromium. Chromium is essentially a metal that is naturally present in the soil and groundwater.
It is common to find small amounts of trivalent chromium in everyday drinking water as it is also added to iron to make it more resistant to corrosion. However, some chemical reactions can alter the atoms of chromium and turn it into a hexavalent form that can cause a genetic mutation in the cells, causing cancer. https://www.indiatimes.com/technology/science-and-future/rust-in-chromium-alloy-in-pipes-can-react-with-water-chemicals-to-cause-cancer-528980.html (06 Dec. 2020)
Compiled by SANDRP (ht.sandrp@gmail.com)
Also see: DRP News Bulletin 30 Nov. 2020 & DRP News Bulletin 23 Nov. 2020
Follow us on: www.facebook.com/sandrp.in; https://twitter.com/Indian_Rivers