There are a number of stories here that shows that India's environment governance continues its downhill journey. The first is a Third Pole story that narrates how Indian govt, through the Minister of State of MoEF misled parliament about the state of decline of biodiversity in India. The second is how MoEF is trying to bypass public hearing and public consultation process in oil and gas exploration projects even in the face of the severe consequences India experienced in the Assam episode of similar mis-governance in the past. The third one is how Kerala govt has failed to assess the impacts of tunneling in Western Ghats. These are only some of the signs. There are much bigger warning writ all over. Until and unless people rise up against these, there is little hope of any change here.
Government misleads Parliament on wildlife decline Babul Supriyo, the Minister of State in the MoEF told the Lok Sabha this September in response to a question that the government had no data to say that endangered bird populations in the country were in a state of continuous decline. Seven months ago, however, the State of India's Birds Report 2020 – which analysed data from 15,000 birdwatchers on the eBird platform – painted a different picture. The report measured the abundance and distribution of 867 bird species, and concluded, "Of the 261 species for which long-term trends could be determined, 52% have declined since the year 2000, with 22% declining strongly. In all, 43% of species showed a long-term trend that was stable and 5% showed an increasing trend. Current annual trends could be estimated for 146 species. Of these, nearly 80% are declining, with almost 50% declining strongly. Just over 6% are stable and 14% increasing."
– Under the Wildlife (Protection) Act, 1972, flora and fauna are catalogued under six schedules – from I to VI; and wildlife crimes against top-schedule species (especially schedules I and II) are dealt stiffer punishments.
-But the classification, scientists say, is often unscientific and disconnected from an animal's conservation status. "There are 159 species of freshwater fish threatened by extinction in India, but none of them are listed under the Wildlife Protection Act," Rajeev Raghavan, professor at the Kerala University of Fisheries and Ocean Studies and an IUCN SSC Freshwater Fish Red List Coordinator told The Third Pole, "If the fish are not protected by law, the purpose of assessing and prioritising them is quite pointless."
– "In India, all we have done is a static exercise of listing species under the various schedules of the Wildlife (Protection) Act," Abi T. Vanak, Senior Fellow at the Ashoka Trust for Research in Ecology and the Environment told The Third Pole. A number of species with stable populations, marked as 'least concern' by the IUCN, are listed under Schedule I of the legislation, he says, and several endangered species are lower down in priority. According to Vanak, India's wildlife laws, particularly the Wildlife Protection Act is not designed to monitor endangered species. "The law doesn't outline what needs to be done to revive the species."
– The Indian government is misleading Parliament about the state of the natural world and providing inaccurate, confusing data about its wildlife – all of this taking place as global and national biodiversity assessments suggest that India's flora and fauna, like everywhere else, is in free fall. https://www.thethirdpole.net/2020/11/09/as-wildlife-declines-indian-government-misleads-parliament-on-crisis/ (09 Nov. 2020)
Public Voices Increasingly Ignored In Environmentally Sensitive Projects Petitions against clearances given to two oil and gas exploration projects in northern Assam's Tinsukia district, currently being heard at the NGT, underline the importance of public hearings in the environmental appraisal of high-risk ventures. Exempting companies from these hearings could lead to bad project decisions with insufficient contingency measures to deal with accidents and emergencies, experts say.
Public hearings, a platform where local residents express their views on projects that impact lives and livelihoods, were mandatory for all oil and gas exploration and development projects till January 2020, under the EIA Notification 2006. A few specific exemptions were allowed for small mining and industrial activities.
However, in January, in response to requests from oil and gas companies, the environment ministry amended the notification to exempt all oil and gas exploration projects, onshore and offshore, from public consultations. The ministry also proposed the same exemption in the Draft Environmental Impact Assessment Notification 2020 published for public comments in March, which is under consideration by the ministry.
Since the January amendment, 14 applications for environmental clearance have been filed for onshore and offshore oil and gas exploration–nine in Assam, and one each in Madhya Pradesh, Maharashtra, Rajasthan, Uttar Pradesh and West Bengal, according to an IndiaSpend review such applications on the Environmental Clearance webpage of the Ministry of Environment, Forests and Climate Change. Of these, seven applications are from the Oil and Natural Gas Corporation Ltd (ONGC), three from Oil India Limited, three from Vedanta and one from Adani Welspun Exploration Limited. https://www.indiaspend.com/public-voices-increasingly-ignored-in-environmentally-sensitive-projects/ (11 Nov. 2020)
RTI reveals Govt didn't apply for EC for Western Ghats tunnel RTI plea reveals that the state government has had zero correspondence with the union Ministry of Environment, Forest and Climate Change regarding the project. It was also revealed that the state has not even submitted an application for an Environmental Clearance.
N Badusha, President of the Wayanad Prakruthi Samrakshana Samiti (Wayanad Committee for Protection of Nature), said that it was a "betrayal" by the state government. "What is stopping them from applying for a clearance 30 days later?", he asked. He added that, although there were news reports stating that experts had visited the site to conduct a survey for Detailed Project Report or DPR, the state had not sought any permission from the union to do such a survey.
"DPR typically involves small amounts of mining, inspecting soil, rocks etc to check if the site is suitable for the project to be implemented. In this case, most of the land is forest land and in order to do a survey, the experts will have to take prior permission from the Ministry, which as per the RTI, they have not," Badusha added.
Allegedly, there has been no EIA study, feasibility report, sociological studies or public consultation done prior to announcing the project. More worryingly, the government allowed the Konkan Railway Corporation – the firm which is constructing the tunnel – to also conduct Environmental Impact Assessment, scientific studies and feasibility tests for the project. This is a bias in itself and also violated environmental laws in the country, point out experts. https://www.thenewsminute.com/article/rti-reveals-kerala-didnt-apply-environmental-clearance-western-ghats-tunnel-137596 (13 Nov. 2020)
Breach in embankment halts Kahalgaon power production Four power production units at Kahalgaon Super Thermal Power Station (KhSTPP) were shut down after breach in the fly ash dyke embankment early Saturday (Nov. 7) morning. It hit total 1420MW power production from unit number 3 and 4 (210MW each) and units 5 and 6 (500MW each).
Executive director of NTPC (Kahalgaon), Chandan Chakraborty, told this newspaper that a technical committee has been constituted to look into the issue. "NTPC experts from New Delhi will reach Kahalgaon on Sunday to probe the issue. We are working on a war footing to restore power generation," he said and added, "Electricity is being generated from the two other units. The four units have been shut down as preventive measures only." https://timesofindia.indiatimes.com/city/patna/breach-in-embankment-halts-kahalgaon-power-production/articleshow/79105626.cms (08 Nov. 2020)
Chandrapura Thermal Power Station fails to dispose oil one year after oil spillage One whole year after the oil spillage incident at the Chandrapura Thermal Power Station (CTPS) in Jharkhand, the collected oil and the oil-soaked fly ash have not yet been disposed of by the power station, shows a recent inspection report by the Jharkhand State Pollution Control Board (JSPCB). As per the report, on October 15th, 2019, 2.7 KiloLitres of oil had leaked during the process of unloading. However, why was the committee's visit not planned earlier, instead of a year later is a question asked by many. https://www.indiejournal.in/article/jharkhand-s-chandrapura-thermal-power-station-fails-to-dispose-oil-one-year-after-oil-spillage/ (08 Oct. 2020)
HYDRO POWER PROJECTS
Kerala Over 1,800 rainforest trees to be axed for Anakkayam HEP The Anakkayam Small Hydro Electric Project, proposed in the Vazhachal-Sholayar forests of Thrissur district and close to the proposed Athirapilly dam, is a tail-race development project to generate electricity from the water that flows out of the Sholayar dam.
The 7.5 MW project has both greens and local tribal communities worried. Eight hectares of forest land will be diverted for the project. More than 1800 rainforest trees will be axed to make way for ground excavations to lay a tunnel for the Anakkayam SHEP.
The area also supports a lot of biodiversity, including breeding populations of the great and Malabar pied hornbills, and is also a source of livelihood for the local Kadar community. Tribal leaders say that they will resist the Anakkayam SHEP, just as they did the Athirapilly hydel project. https://india.mongabay.com/2020/11/over-1800-rainforest-trees-to-be-axed-to-for-hydropower-project-near-athirapilly-dam/ (12 Nov. 2020)
MoEF Key decisions in Minutes of the EAC meeting for River Valley Projects held on Oct 29, 2020, now available:
1. NGT order dated 20.10.2020 in Appeal 20/2018 (Md. Hayath Udin v/s UOI and Ors.) – for Kaleshwaram Lift Irrigation Scheme (KLIS) project in Karimnagar District of Telangana: EAC opined that let Ministry take up the matter separately for constitution of the Committee however, it was suggested that one additional member from the Expert Appraisal Committee dealing with Violation cases in the Ministry, may also be included in the Committee.
2. Saundatti HEP (1200 MW) Integrated Renewable Energy with Pumped Storage Project by M/s Greenko Solar Energy Pvt. Ltd. at village Karlakatti, TehsilSaundatti, District-Belgaum, Karnataka for EC: APPROVED.
3. Lower Orr project at village Didoni in Shivpuri Dist, MP by NWDA for EC: Asked More Info.
4. Shongtong-Karcham HEP in Dist Kinnaur of HP by HP Power Corp Ltd.- revalidation of the install capacity vis-à-vis Satluj River Basin Study: PP absent.
5. Bhagpur Lift Irrigation Scheme in Jalgaon dist, Mah by Lift Irrigation Construction Division, For validity extension of EC: Apply for Fresh TOR. http://environmentclearance.nic.in/writereaddata/Form-1A/Minutes/11112020KU3MG7AN3rdEACRiverMoM.pdf
DAMS
Parineeta Dandekar's article (Marathi) on how dams impact river fish. https://www.loksatta.com/bara-gaoncha-pani-news/article-about-river-fishermen-issues-world-fish-migration-day-zws-70-2328508/ (14 Nov. 2020)
Madhya Pradesh:Note from तापी पंचायत (Nov 12, 2020) जल, जंगल, जमीन पर अधिकार बचाये रखने के लिये चिल्लूर बांध का विरोध करेंगे ग्रामवासी तापी नदी पर प्रस्तावित चिल्लूर बांध के संदर्भ में विचार विमर्श के लिये आयोजित सभा में सभी गावों के प्रतिनिधियों ने सर्वसम्मति से बांध का विरोध करने का निर्णय किया है। सभा में लोगों की राय बनी कि यह परियोजना विकास के लिये नही बल्कि आदिवासी समाज को डुबोने और जल, जंगल, जमीन पर उनके अधिकार छीनने का प्रयास है। इस बांध के लाभ के दावें झूठे है। हमारा जीवन जिस खेती, नदी और जंगल पर निर्भर है, उसे हम नही छोड सकते।
मध्यप्रदेश सरकार द्वारा बैतूल जिले के भैसदेही तहसील में तापी नदी पर ताप्ती (चिल्लूर) सिंचाई परियोजना के नामसे चिल्लूर बांध बनाने की योजना है। योजना के अनुसार चिल्लूर बांध में 1378 हेक्टेअर निजी भूमि और 1073 हेक्टेअर वनभूमि और अन्य मिलाकर कुल 2785 हेक्टेअर जमीन और 17 आदिवासी गांव डूबेंगे। दाबिदा रैयत, बालू, नाहरपूर, कामोद, चिल्लूर, बोरी, कुनखेडी, खैरा, उतरी, ढोढरा, आंखी रैयत, ढेंगना, धारा गोहन, बिजोरी, वासींदा चोहटा पोपटी आदि 16 राजस्व ग्राम और पलिंगा वनग्राम मिलाकर 17 ग्राम प्रभावित होंगे। राजस्व ग्राम के अंतर्गत ढानों की गिनती के अनुसार ढानों की संख्या 25 से भी अधिक हो जाती है। यह सभी आदिवासी ग्राम है।
आजतक बडे बांध के लाभ के दावे सही साबित नही हुये। लाभ क्षेत्र और लाभ लागत रेशो बढा चढाकर दर्शाया जाता है। अब तो सच्चाई यह है कि सिंचाई के नामपर बनाये गये बांध का पानी बडी बडी कंपनियों के हवाले करने का काम जारी है। पीने के पानी के साथ साथ सिंचाई के लिये भी कंपनियों द्वारा पानी बेचने की योजना है। इसके लिये कानून बनाये गये है।
चिल्लूर बांध के लिये सरकार जिसे डूबोंना चाहती है, वह एक सुंदर स्थान है। दोनों तरफ पहाडी है। घना जंगल है। तापी नदी में कई सारी छोटी छोटी नदीयां आकर मिलती है। आदिवासी समाज के अधिकार के साथ साथ पर्यावरण रक्षा के लिये प्रकृति की गोद में स्थित इस सुंदर क्षेत्र को बचाये रखना जरुरी है। साथ ही गांवकेंद्रित जलनियोजन के नये प्रयोग के लिये यह एक उपयुक्त स्थान है, जिससे स्थानिक लोगों की सिंचाई की आवश्यकता पूरी हो सकती है।
20 साल पहले महाराष्ट्र सरकार ने तापी नदी पर खारिया घुटीघाट बांध बनाने की योजना बनाई थी। तापी पंचायत ने तापी नदी के इस सबसे बडे बांध का विरोध किया था। भलेही राष्ट्रीय स्तर पर इस सफलता की चर्चा नही हुई हो और असफल संघर्षों की ही चर्चा जादा हुई हो लेकिन तापी पंचायत के 6 साल के दिर्घ संघर्ष के बाद खारिया घुटीघाट बांध रद्द करने के लिये सरकार को बाध्य होना पडा था।
अब महाराष्ट्र की पिछली सरकार द्वारा वहां भी तापी मेगा रिचार्ज बांध का प्रस्ताव तैयार किया गया है। जो सिंचाई के नामपर कंपनी उद्योगों को पानी देने के उद्देश से बनाया जा रहा है। तापी पंचायत तापी मेगा रिचार्ज परियोजनाओं का विरोध कर रही है और हमे विश्वास है कि हम इस संघर्ष में भी जितेंगे।
इस समय तापी पर प्रस्तावित चिल्लूर बांध के विरोध के लिये दो तीन महीने से गांवों में बैठके जारी है। तापी पंचायत में चिल्लूर बांध के विरोध के लिये कई कार्यक्रम तय किये है। प्रत्येक प्रभावित गावों मे ग्राम समिति बनाई जायेगी। सभी गावों में ग्रामसभाके प्रस्ताव पारित किये जायेंगे। सभी प्रभावित लोगों के हस्ताक्षर द्वारा मध्यप्रदेश सरकार को चिल्लूर बांध विरोध का निवेदन सौपा जायेगा। बैठकों में बांध विरोध के लिये कई कार्यक्रमों पर विचार किया गया है। यह संघर्ष बांध परियोजना रद्द होने तक जारी रहेगा।
विवेकानंद माथने तापी पंचायत 9822994821 https://www.spsmedia.in/current-news/opposition-to-the-chillur-dam-to-preserve-rights-on-water-forest-and-land/ (13 Nov. 2020)
Polavaram Project TDP opposes plan to reduce dam height Strange that TDP opposes the Andhra Pradesh govt's possible plan to reduce the Polavaram dam height from 150 ft (45.72 m) to 135 ft (41.15 m) with a view to reduce displacement and also reduce cost of rehabilitation from Rs 27000 Cr to Rs 3500 Cr and calls it ulterior motive, very strangely. The storage capacity would reduce from current 194 TMC, but what if any impact it will have on project benefits is not even mentioned. https://www.newindianexpress.com/states/andhra-pradesh/2020/nov/14/retain-height-of-polavaram-dam-at-150-ft-says-tdp-leader-devineni-umamaheswara-rao-2223593.html (14 Nov. 2020)
Karnataka Rs 130 cr approved for desilting Harangi dam The Cabinet in the meeting held on Nov. 12 in Bengaluru under CM B.S. Yediyurappa has approved irrigation and other water projects worth Rs. 3,500 crore including Rs. 130 crore Harangi desilting project at Somwarpet Taluk in Kodagu District. Harangi is the main Cauvery water supply reservoir from the catchment areas to Krishna Raja Sagar (KRS) Dam in Mandya, the lifeline of South Karnataka and Tamil Nadu.
During the natural calamity that hit Kodagu in 2018 and last year, several landslides had occurred in Harangi Basin area. Thousands of tonnes of sand and rocks mixed with trees were washed away from Hattihole and Madapura regions during the floods and massive landslides. The landslides had led to the accumulation of a huge amount of soil in Kootupole, Hattihole and Madapurahole which are prime water sources of River Harangi.
As a result, the water storage capacity had declined in the river. Also, the farmers had been urging the authorities to remove the silt to increase water storage capacity. Without desilting, much of the water will run waste during rainy season. Over one tmcft of silt has accumulated at Harangi Dam. As there is a heavy silt deposit, enough water cannot be stored, leading to annual water shortage, the CNNL had recommended to the Government to take measures to remove silt so that more water can be stored. https://starofmysore.com/state-cabinet-approves-rs-130-cr-to-desilt-harangi-dam/ (13 Nov. 2020)
RIVERS
SANDRP Blog River Stories, Walking Across India – Part III In this Guest Blog, Siddharth Agarwal provides photos of his last 400 km leg of Out of Eden Walk starting from Kishanganj in Bihar and ending in Gossaigaon, Assam in Brahmaputra basin. He provides photos of the various known and not so known rivers that they crossed during the walk. Plz Read, Share. https://sandrp.in/2020/11/10/river-stories-walking-across-india-part-iii/ (10 Nov. 2020)
Sikkim Rivers for life 8 Minute excellent documentary as to why Lepchas are opposing dams and hydro projects in Sikkim. They say Dzongu is like heart of Sikkim. If it is not healthy, can Sikkim survive? Ryongyung river is sacred here. Ryong means Lepchas and Gyung means prayer! So the river is a prayer!! https://www.youtube.com/watch?v=BpR7ZfQ7Y80 (06 Nov. 2020)
Assam Dong a centuries-old traditional method to tap river waters Dongs are channels that originate at rivers and form a community-managed water distribution system. This practice is primitive in the border side areas as it helps several people to cope up with the water crisis they have been facing since long.
"The practice of constructing dongs started from 1950. We make the Chawalkare Hastinapur Dong. The process is simple as we construct crude stone dams in Pagladia River, flowing along the Indo-Bhutan border of Assam. A triangular structure with wooden pole called Trikathi is erected in the river. Then boulders collected from the mountain river is put inside the Trikathi. Many such Trikathis are arranged in a series across the river with stones. This forms a crude dam which helps to channelise the river water into big canal which leads the clear river water into the village. These canals are dug manually," explained Prithivi Villas Bhattarai, Secretary Chawki Bandh Dong Committee.
Water flowing through the earthen canal is then distributed into respective villages through a chain of sub-canals, which are locally called the Shakhas and Prashakhas. There is a fixed time for the release of water into these sub-canals, which normally is done twice a day. One dong caters to the need of approximately 30 villages. "The main canal is approximately 20 kms long as the river is quite far from the village area. It is mandatory that one male member of every household should participate in construction of the dong. We go to the river and stay there for five to six days till the dong is constructed," said Bhattarai.
The dongs are constructed every year as water gushing down the mountain river during the rainy season washes them off. The water brought into the villages through dongs is being used for drinking and irrigation purpose. "We use the dong water to irrigate our vast expanse of Areca fields," he added. According the Dong Committee, participation in construction of the dong is compulsory and if someone fails to do so then he has to pay a fine of Rs 250 for each day. Similarly, there are relaxation for household which do not have male members or have people with any disability and elderly members. "The cases related to theft of water from the Prashakahs are handled strictly at the committee courts. Supply of water is stopped for a certain period of time as a penalty for the offence. Matters are resolved in the committee," said Bhattarai, adding that "The MLA and minister also need to participate in dong making process and if they cannot then they should send their representatives."
There are 14 dongs so far which act as an efficient water supply system and irrigation mechanism. It helps in improving the quality of life of at least 70,000 families in Baksa, Nalbari and Kamrup districts of Assam. The dongs have served a long history of cooperation between the people of Bhutan and Assam over the maintenance of dongs and an informal early warning system on floods. Villagers, NGOs and local administration from both sides of the border are proud of this long-standing cooperation. https://www.news18.com/news/india/what-is-dong-know-about-centuries-old-traditional-method-that-brings-river-water-into-villages-of-assam-3057092.html (08 Nov. 2020)
Gujarat Ghogha-Hazira ferry service? PM on Nov 8, 2020 virtually inaugurated the Ghogha-Hazira Ro-Pax ferry service in Gujarat. This will be the second such ferry service to be launched by the PM after the Ghogha-Dahej route three years ago, which is now dysfunctional. This explains why the Ghogha Dahej service is unviable and stands suspended. However, do not explain if the new Gogha Hazira service would meet the same fate or not. https://indianexpress.com/article/explained/explained-pm-modi-to-inaugurate-gujarats-ghogha-hazira-ferry-service-6980968/ (12 Nov. 2020)
Questions over PM's seaplane ride The recently launched seaplane service at the Statue of Unity in Kevadia, Gujarat, flouts the EIA notification 2006 and reflects the State government's priority of promoting tourism over tribal livelihoods. https://frontline.thehindu.com/the-nation/riding-rough-waters/article33073064.ece (03 Dec. 2020)
SpiceJet suspended India's first seaplane services three days after its launch citing "maintenance" of the aircraft. https://www.moneycontrol.com/news/india/spicejet-suspends-seaplane-services-days-after-launch-6068571.html (05 Nov. 2020)
Maharashtra Study group for water diversion to Marathwada region formed Government has formed a study group under the stewardship of the director-general of the Maharashtra Engineering Research Institute (MERI) to examine the suggestions regarding diversion of water to the Marathwada region from various river basins.
The study group is expected to provide a solution for river interlinking in synchronization with the Integrated Water Plan of the state government — by March 31, 2021.
– The task of the study group is to figure out how much water is available in which basin and how much water can be diverted from which basin. It will also plan interlinking of rivers and water diversion schemes in a step-by-step manner and finalize the criteria to be followed for construction of water diversion schemes.
– The study group has the chief engineers of the Tapi Irrigation Development Corporation (Jalgaon, Konkan Region, Mumbai), water resources department (Aurangabad, Nagpur and Pune), planning and hydrology (Nashik), and superintending engineer, Central Design Organisation (CDO) Nashik, as member secretary. https://timesofindia.indiatimes.com/city/nashik/study-group-for-water-diversion-to-marathwada-region-formed/articleshow/79199977.cms (13 Nov. 2020)
GANGA Uttarakhand Mountain to muck Priyadarshini Patel of Ganga Ahvaan shows the murky manipulations and violations in Char Dham Project even in the face of Supreme Court orders and SC appointed committee. https://www.sanctuarynaturefoundation.org/article/mountain-to-muck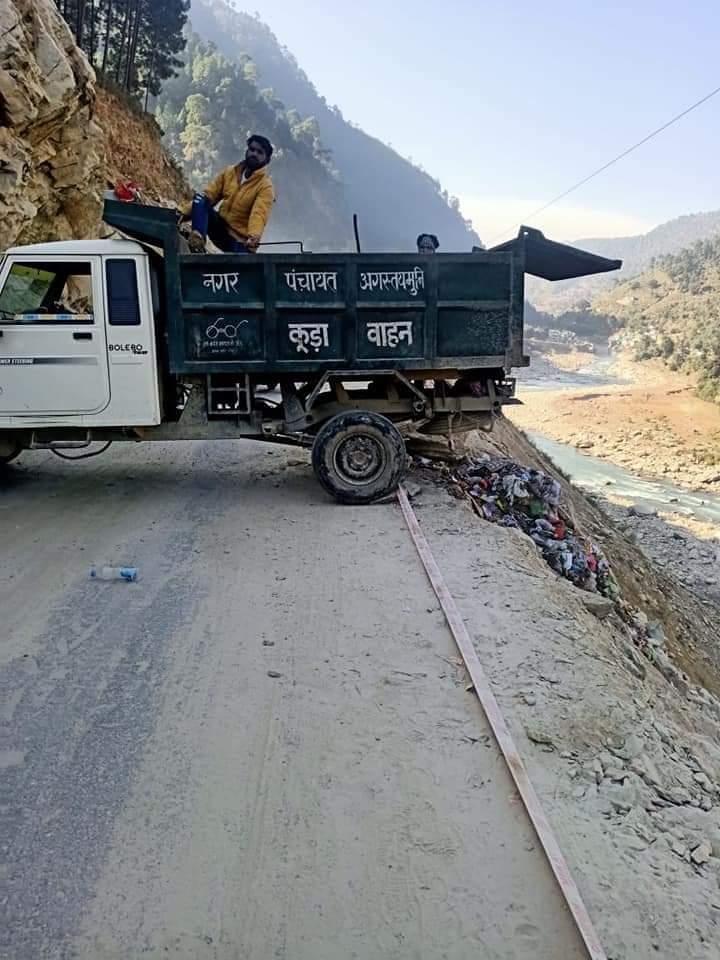 -We are failing to understand this. Waste is the next big challenge for our mountains & rivers. Seen here is the garbage van from Augustmuni village in Uttarakhand dumping all the waste in Mandakini river. https://twitter.com/sdcfoundationuk/status/1327150471778275331?s=20 (SDCF, 13 Nov. 2020)
Uttar Pradesh Rs 3 cr penalty on Varanasi plant The Namami Gange department of UP has slapped a fine of Rs 3 crore on a Varanasi-based company for callousness in running a STP. The action came on the directions of principal secretary of the department Anurag Srivastava. Sources said that it was brought up during a recent review meeting that some of the projects were going very slow and were delayed. "The desired results were missing," said the source, adding that the need for an "effective and strict" action was felt.
Teams of Namami Gange conducted raids at around 12 places across the state to check if STPs met the parameters and quality standard set. The first action was in Varanasi where Ramana STP was found not to be operating at the fixed parameters. Quality of sewage disposal was not up to the mark either. After completion of the probe, the Namami Gange department slapped the fine of Rs 3 crore on the company. https://timesofindia.indiatimes.com/city/varanasi/rs-3cr-penalty-on-varanasiplant-for-polluting-ganga/articleshow/79137786.cms (10 Nov. 2020)
YAMUNA Delhi Floodplain revival nears halfway mark The project, covering 200 ha land, to revive ecology, wetland, water conservation, and promoting flora and fauna in the riverbed at Asita west was launched following the direction of the NGT. Senior officials said that almost half the work is done. "About 93 Ha has already been developed of 200 ha land was earmarked for the project in Asita West from Old Railway Bridge to ITO Barrage and NH 24 to DND flyway. Remaining work on 107 ha is likely to be completed by June 2021," said an official.
It will also serve as public space for recreation. Total 100 ha land has been taken up for rejuvenation and restoration near DND Flyover. Around 80 per cent work including plantation there is completed and remaining is likely to be finished soon," said the official.
The DDA is also working on restoration and rejuvenation of about 1,500 ha of Yamuna floodplain on its eastern bank. The land-owning agency has already roped in experts, including ecologists, to spruce up landscaping, greening and carry out plantations for the restoration of wetlands and riverine ecosystems. The DDA had made a plan for the 1,476 ha riverfront development along Yamuna last year, where the entire stretch was divided into ten pockets. https://www.newindianexpress.com/cities/delhi/2020/nov/06/yamuna-floodplain-revival-nears-halfway-mark-2220057.html (06 Nov. 2020)
'Iconic structure' planned near Yamuna as part of Central Vista project The Central Public Works Department (CPWD) on Thursday announced a design competition to construct an "iconic structure" on the bank of the river Yamuna as part of the Central Vista redevelopment project to commemorate 75 years of independence.
-The structure would be part of the New India Gardens or the Nav Bharat Udyan that is proposed to come up on 20.22 acres on the western bank of Yamuna. It is expected to be unveiled to the public by August 15, 2022.
-According to the CPWD proposal, the new structure must come up on the central axis — which starts at the Rashtrapati Bhawan, moves on the central line between North and South Blocks and Rajpath and culminates at India Gate — thereby extending the axis from 2.9km to 6.3km. https://www.hindustantimes.com/india-news/iconic-structure-planned-near-yamuna-central-vista-length-to-double/story-UhTc80n4LDWgBetAZ1zVdO.html (12 Nov. 2020)
2 industries sealed, closure order sent to 15 The DPCC on Thursday (Nov. 12) sealed two industrial units and ordered closure of 15 others for polluting the Yamuna river due to froth formation. One industrial unit has also been issued a show-cause notice. A statement from the committee on the action taken said that inspections were carried out on November 11 and November 12 to identify industries causing water pollution in the national Capital.
The polluting units which were sealed included an automobile service station-cum-showroom in Patparganj industrial area and a jeans dyeing and washing unit in Lawrence Road industrial area which were found operating without effluent treatment plants. Twenty one units were inspected in Khayala redevelopment area, and directions for closure were issued to 15 of them for operating without effluent treatment plants, the Delhi Pollution Control Committee said. The show-cause notice has been issued to an automobile service and repair unit at Patparganj Industrial Area. https://scroll.in/latest/978451/delhi-two-industries-sealed-closure-order-sent-to-15-for-polluting-yamuna-river (13 Nov. 2020)
Detergents in untapped sewage major reason for frothing Majority of the detergents in the country don't have a certification by the ISO, which has capped the concentration of phosphates in the chemical substance, an official of the CPCB said. The primary reason behind the formation of the toxic foam was high phosphate content in the wastewater because of detergents used in dyeing industries, dhobi ghats and households, according to the official. "These detergents and other organic matter get deposited in the riverbed when the river is flowing normally. When more water is released upstream, it falls from a height on reaching the Okhla Barrage, leading to turbulence and churning which causes froth, he said. https://www.tribuneindia.com/news/delhi/frothing-in-yamuna-detergents-in-untapped-sewage-major-reason-164424 (01 Nov. 2020)
Experts believe the other reason behind the frothing to be the release of toxic gases that are formed when a certain type of bacteria become active in anaerobic conditions. https://www.moneycontrol.com/news/environment/watch-thick-layer-of-toxic-foam-covers-yamuna-river-in-delhi-6066301.html (04 Nov. 2020)
FISH, FISHERIES, FISHERFOLKS
J&K Fish species on decline, experts warn of extinction Dr. Imtiaz Ahmed Khan, a well-known Ichthyologist and Senior Assistant Professor Zoology University of Kashmir said that out of 13 Schizothorax (Kasheir Gaed), 8 species became extinct very early and among 5 species left out, the number of 2 is declining at present. https://kashmirpatriot.com/2020/11/06/fish-species-on-decline-in-jk-experts-warn-of-extinction/ (06 Nov. 2020)
SAND MINING
India Rivers Week: Third dialogue on "Is Sand Mining Killing Our Rivers?" covering West India Nov. 12 live face book recording. https://fb.watch/1JQQ3oze6u/
Uttar Pradesh NGT suspects Shamli authorities 'collusion' in illegal sand mining The NGT has slammed authorities in UP's Shamli district and also suspected their collusion after the lease of Haryana-based miners, who were accused of illegal sand mining on the Yamuna river bed, was extended and no action was taken against them.
"We are surprised that even after illegal mining, the lessee has been allowed to continue without any coercive measure and even without recovering the assessed compensation which is against the rule of law and arbitrary. Collusion of authorities allowing such action is not ruled out which needs to be looked into by higher authority," said the Principal Bench of the Tribunal comprising Justices Adarsh Kumar Goel and Sheo Kumar Singh among others. Now, the tribunal has formed a joint committee consisting officials of UPPCB and district magistrate of Shamli to file compliance report of the order. https://timesofindia.indiatimes.com/city/meerut/ngt-slams-authorities-in-ups-shamli-suspects-their-collusion-in-illegal-sand-mining-in-yamuna/articleshow/79026693.cms (04 Nov. 2020)
-It is not just severe pollution that is threatening the Yamuna river. Excessive and unsustainable sand mining along with instances of illegal mining are inflicting irreparable damage on the river. https://india.mongabay.com/2020/11/video-rampant-sand-mining-damaging-yamunas-ecology/ (16 Nov. 2020)
Young constable killed by sand mafia A police constable died in Uttar Pradesh's Agra on Sunday (Nov. 8) after he was allegedly run over by a tractor-trolley engaged by a local mining mafia for transporting illegally-mined riverbed sand, according to officials. Constable Sonu Kumar Chaudhary, in his 20s, was chasing the sand-loaded tractor-trolley on his motorcycle and had tried to stop its illegal movement when he was killed early in the morning, a senior official said. https://www.news18.com/news/india/up-police-constable-killed-as-sand-mining-mafias-tractor-runs-him-over-in-agra-3057350.html (08 Nov. 2020)
-आगरा के खैरागढ़ में खनन माफिया गे कुछ गुर्गों ने पुलिस टीम पर हमला बोल दिया। इस दौरान इन लोगों ने ट्रैक्टर चढ़ाकर सिपाही की हत्या कर दी और फायरिंग करते हुए फरार हो गए। अब पुलिस यहां पर लकीर पीटने में लगी है। https://www.jagran.com/uttar-pradesh/agra-city-police-constable-killed-in-mining-mafia-attack-in-agra-21040410.html (08 Nov. 2020)
Haryana Yamuna Plundered The absence of due punishment — a sore point with the residents and campaigners — has driven the dredgers to continue with the illicit act with impunity. Stringent strictures of the NGT and the Supreme Court, aimed at curbing the adverse impact on the ecology and aquatic biodiversity, don't seem to have deterred the sand mafia that is allegedly flourishing with political and official patronage. The shocking visuals and citizen activism have left the authorities red-faced. If the mafia still manages to manoeuvre its way out of the tight spot, it would be a great disservice to the efforts of well-meaning champions of social change. The trial should be fast-tracked; tardy probes, low conviction rates and little disciplinary action spur the money-minting practice of mining sand worth crores at the cost of the exchequer. https://www.tribuneindia.com/news/editorials/yamuna-plundered-166726 (06 Nov. 2020)
Protest over mining: 16 cops injured At least 16 police officials, including three women, were injured in violence that broke out between hundreds of villagers protesting against licensed mining at Rattewali village of Barwala in Panchkula and the district police around 2 pm on Tuesday. Three male police officials suffered serious head injuries in the attack by the villagers. The police also fired at least four rounds in air to scare away the protesters.
-The villagers have been protesting against mining citing various issues. "The mining is killing our land, our village. The village falls in a sensitive zone and the mining is making it even weaker. Cracks have been noticed in the mountains. Our tubewells are running out of water because of such activities and yet we have been robbed of our right to protest. The contractor has criminals on his payroll who man his mining activities and eve tease and molest our women. They have remained inside since such activities have begun in the village. The government does not care about us," added another villager, who has been at the forefront of the protests by the villagers.
-On the concerns of the villagers, Ahuja said, "Before the allotment, public hearings are ensured from the villagers and only then a decision is taken. If they have voiced their concerns, they must have been taken into consideration by the committee which allots the space for mining activity after public hearing. Water levels are not affected due to mining as the laws state that at least two metres of safety margin must be ensured above groundwater table."
-The Haryana government had in 2017 conducted an e-auction for grant of mining contracts of boulder, gravel and sand mining blocks in Panchkula districts. The contract for Rattewali mining had been won by M/s Tirupati Roadways through its proprietor Lakhmir Singh Sabharwal who had offered a bid of more than Rs 11.72 crore against a reserve price of Rs 8.18 crore for a period of seven years. The notice by the mines and geology department of Haryana had allotted a tentative area of 45 hectares in Panchkula to the said company. https://indianexpress.com/article/cities/chandigarh/protest-over-mining-in-panchkula-16-cops-injured-in-clash-with-villagers-14-booked-6938316/ (04 Nov. 2020)
-रत्तेवाली नदी में ठेकेदार ने 10 फुट खुदाई की मंजूरी लेकर 30 से 40 फुट खुदाई की थी। इसके बाद ठेकेदार द्वारा गड्ढों में पानी भर दिया गया। इसमें गिरने से एक पशु की मौत भी हो गई थी। गुस्साए ग्रामीण पहले भी धरने पर बैठे थे। इस कारण प्रशासन ने खनन लाइसेंस को सस्पेंड कर दिया था। कुछ ही दिन बाद प्रशासन ने जुर्माना वसूल कर सस्पेंड लाइसेंस को बहाल कर दिया और ठेकेदार की पूरी टीम रत्तेवाली नदी में खनन करने पहुंच गई। इसकी जैसे ही भनक ग्रामीणों को लगी, उन्होंने एकत्रित होकर खनन रुकवा दिया। ग्रामीणों ने ठेकेदार को चेतावनी दी कि वह किसी भी सूरत में खनन नहीं होने देंगे। ग्रामीणों ने स्टोन क्रेशर और स्क्रीनिग प्लांट के संचालकों को भी कह दिया है कि यदि किसी ने ग्रेवर खरीदा तो रत्तेवाली से टिप्परों को गुजरने नहीं देंगे। मामला तूल पकड़ने पर प्रशासन ने ग्रामीणों को धरने से जबरन उठाने का फैसला किया और मौके पर एसीपी राजकुमार और ड्यूटी मजिस्ट्रेट के नेतृत्व में रामगढ़ विनोद कुमार, बरवाला चौकी इंचार्ज राजबीर, मौली चौकी इंचार्ज मनदीप सिंह समेत दो बड़ी गाड़ियों में होमगार्ड एवं पुलिस कर्मचारी गांव में स्थित पंचायत सचिवालय में पहुंचे, लेकिन जैसे ही ग्रामीणों को इसकी सूचना मिली बड़ी संख्या में वह मौके पर एकत्रित हो गए। पुलिस ने धरना उठाने की कोशिश की, तो पुलिस ने कर्मचारियों पर हमला कर दिया। https://www.jagran.com/haryana/panchkula-villagers-protesting-against-mining-attack-on-police-16-jawans-injured-21014786.html (04 Nov. 2020)
Madhya Pradesh नर्मदा रेत खनन : जनता के साथ जलवायु का कबाड़ा Yamuna Sunny's article about River Sand Mining in Madhya Pradesh in Narmada River. https://www.spsmedia.in/land-forest-and-water/sand-mining-the-junk-of-climate-with-the-public/ (13 Nov. 2020)
Rajasthan अवैध बजरी खनन के नाम पर वसूली के लिए माफिया ने गांवाें में विकसित कर लिया समानांतर सिस्टम अवैध बजरी खनन करने वाले लोगों को ई रवन्ना देना होता है। सरकारी रिकार्ड के अनुसार 35 रु. प्रति टन के हिसाब से ये चुकाया जाता है और एक गाड़ी की 1200 से 1400 रुपए तक ई रवान्ने की पर्ची कटती है। ऐसे में अवैध बजरी भरकर ले जाने वाले ट्रक को 5 से 7 जगहाें पर 200-200 या इससे अधिक भी चुकाना हाेता है। यानी की एक ट्रक काे 1000 से 1800 रुपए तक गांवाें काे चुकाना पड़ता है। नदी से बजरी भरने का अलग खर्चा करना पड़ता है। इस लिहाज से अवैध वसूली की राशि कई बार सरकारी ई रवन्ना के बराबर हो जाती है।
-ऐसा इसलिए क्योंकि एक जगह मंदिर तो दूसरी जगह गोमाता के नाम से चंदा चुकाना पड़ रहा है। वहीं इस राशि की रसीद तक दी जाती है। उधर इस काम में जुटे युवाओं काे प्रतिदिन दाे से पांच हजार रुपए तक मिलते है। प्रति गांव में बजरी माफिया से इस तरह से लाखों रुपए की अवैध वसूली का खेल चल रहा है। https://www.bhaskar.com/local/rajasthan/jaipur/news/mafia-has-developed-parallel-system-in-villages-for-recovery-in-the-name-of-illegal-gravel-mining-in-rajasthan-127897788.html (08 Nov. 2020)
Tamil Nadu Journalist hacked to death The headlines mentions that reporter was probing illegal sand mining deals also but there is no detail of same in the report and its not clear whether the murder was caused by sand mafia. -G. Moses (26), a reporter with the Tamil television channel Thamilan TV, was hacked to death near his house at Naduveeranpattu Pudhunallur village near Tambaram in Kancheepuram district, Tamil Nadu, on Nov. 8. Moses had been exposing the shady deals of the land mafia and encroachers in the village and in its neighbourhood, which lie on the outskirts of Chennai city where real estate is a booming business.
Rights activists urged the State government to provide protection for working journalists. Said a Chennai-based social activist: "We have witnessed the murders of social workers and journalists who were actively involved in exposing illicit sand miners, encroachers of water bodies and the land mafia. Reporters have faced constant threats and abuses. A few of them have been manhandled. But Moses' murder was cold-blooded and gruesome," said a Chennai-based social activist. https://frontline.thehindu.com/dispatches/tamil-television-journalist-probing-shady-real-estate-deals-and-illegal-sand-mining-hacked-to-death-near-chennai/article33059723.ece (09 Nov. 2020)
HC takes a serious view of illegal sand quarrying near check dam The Madurai Bench of the Madras High Court has taken a serious view of the illegal extraction and transportation of river sand from nearby Vandala Odai dam in Kallidaikurichi in Ambasamudram, Tirunelveli district. It is said that a resident of Kerala was involved in the illegal extraction and transportation of sand. A Division Bench of Justices N. Kirubakaran and B. Pugalendhi observed that from the materials collected during the course of the investigation, it appeared that there was a nexus between the officials concerned and the accused, Manuel George, who had indulged in the commission of the offence.
The Sub-Collector also initiated a proceedings against the accused and penalties of ₹7.59 crore and ₹1.97 crore were imposed on him as cost of mineral under the provisions of the Tamil Nadu Mines and Minerals Concession Rules, 1959. Subsequently, the registration certificate issued was cancelled and a criminal case has been registered against him. The court took cognisance of the fact that an Assistant Engineer, Agricultural Engineering Department had also facilitated the offence and sought a response from the State on the involvement of the officials in the case and the action taken against them. The case was adjourned for hearing on November 18. https://www.thehindu.com/news/cities/Madurai/hc-takes-a-serious-view-of-illegal-sand-quarrying-near-check-dam/article33042703.ece (06 Nov. 2020)
Andhra Pradesh Central agencies get first priority in new policy The New Sand Mining Policy-2019 was introduced in September of that year and later necessary amendments were made to the AP Minor Mineral Concession Rules, 1966 (APMMC). Subsequently, the government constituted the GoM having felt the need to serve the customers better.
The GoM made recommendations for upgrading of the policy. Accordingly, the policy is upgraded as follows: sand excavation, storage and sale to be undertaken by the Central government agencies/Central government PSUs appointed on nomination basis on terms and conditions prescribed by the State government. The Central agencies/PSUs to be appointed with a premium amount fixed by the State government, which is payable (to the State) in addition to seignior age fee and other applicable levies. In case no response is received from the Central agencies/PSUs, sand operations to be entrusted to technically experienced, competent and financially strong agencies selected through technical and commercial bids with minimum auction premium fixed by the Government of A.P. in addition to seignior age fee and other applicable levies.
Reaches across the State have been classified into three packages: Package-1 Srikakulam, Vizianagaram, Visakhapatnam and East Godavari districts, Package-2 West Godavari, Krishna, Guntur and Prakasam districts and Package-3: Nellore, Anantapur, Chittoor, Kurnool and YSR Kadapa districts. First to third-order streams to be granted along with higher-order streams to competent agencies for excavation, storage and sale and the relevant, subject to the amendment of WALTA and APMMC Rules etc. https://www.thehindu.com/news/national/andhra-pradesh/central-agencies-get-first-priority-for-sand-mining-in-new-policy/article33095465.ece (13 Nov. 2020)
Ministry of Mines Cabinet to take up proposals on mining reforms soon This seems related to coal mining. Some useful information here. A committee will be set up to develop the National Mineral Index in which representatives of the state government will also be inducted. The National Mineral Index will determine the value of the mineral that will form the basis for calculation of royalty and other such levies of selected minerals.
The mines ministry also proposed to seek amendment the relevant provision of the Act and rules to make National Mineral Exploration Trust functioning fully as an autonomous body. It will also seek to amend rules to clarify the definition of illegal mining. At present, there is no distinction between illegal mining done outside the leasehold area and mining done in violation of various clearances and approvals inside a mining lease area. https://www.financialexpress.com/industry/cabinet-to-mull-mining-laws-reform-soon/2128293/ (14 Nov. 2020)
WETLANDS, LAKES, WATER BODIES
West Bengal Brazen attempt by plastic mafia to grab wetlands unused bheri The East Kolkata Wetland Management Authority (EKWMA) has asked police to look into an alleged attempt to convert a fish farm — or bheri — near Bantala into a plastic waste collection centre following a written complaint from an NGO that works among fish-farm workers in the wetlands. According to the complaint that was accompanied by photographs, trees have been axed and overgrowth has been cleared at Kari Ghosh Bheri in Dakshin Dhapa Manpur mouza in the heart of EKW — a Ramsar site — that is internationally recognized for its wise use in fish farming.
Residents of villages in Kheyadaha I & II and Tardaha gram panchayats said nearly 60 people on Friday (Oct. 2) and over 100 on Saturday (Oct. 3) descended on the bheri that has been lying unused for five years to clear the overgrowth on the land that was being used by some locals to grow vegetables.
According to the villagers, the men who had engaged the labourers were those who operated the illegal plastic stockyards along a 2.5-km stretch of Basanti Highway between Pragati Maidan fire station and Chowbagha bus stop. Following an order by the NGT this July, Kolkata Municipal Corporation (KMC) and Kolkata Police had launched an eviction drive in August-end to clear the area of illegal encroachments. The business had thereafter shifted 2.7-km down the highway and settled on the embankment next to the stormwater canal. https://timesofindia.indiatimes.com/city/kolkata/brazen-attempt-by-plastic-mafia-to-grab-wetlands-unused-bheri/articleshow/78468848.cms (04 Oct. 2020)
Bihar Kabar Lake declared state's first Ramsar site Kabar Lake, located 22km northwest of Begusarai town, has been declared Bihar's first Ramsar site. The declaration was made by the ministry of environment, forest and climate change (MoEFCC) on Nov 12, 2020, which was also celebrated as National Birdwatching Day. Union minister for environment, forest and climate change Prakash Javadekar shared this information on his Twitter. "Pleased to inform that Bihar has got its first Ramsar site. Kabar taal in Begusarai becomes a wetland of international importance. It is an important wetland of the Central Asian Flyway for its population of migratory birds and biodiversity. With this, India now has 39 Ramsar sites". Dipak Kumar Singh, principal secretary (environment, forest and climate change, Bihar) said, "The state government will work on its restoration. The area of the lake has shrunk a lot over the years".
– Spread over 2,620 hectares, the lake hosts 106 species of resident birds and is a nesting ground for 59 species of migratory birds. The site hosts five critically endangered species, including three vultures — Indian vulture (Gyps indicus), red-headed vulture (Sarcogyps calvus) and white-rumped vulture (Gyps bengalensis) — and two water birds — sociable lapwing (Vanellus gregarius) and baer's pochard (Aythya baeri). In addition, it has 46 species of fishes and supports a large number of flora and fauna. The Kabar Lake was notified under the Wildlife (Protection) Act of 1972. In 1989, the Bihar government declared it a bird sanctuary. It has been a proposed Ramsar site since 1987.
– Ashok Ghosh, chairman of Bihar State Pollution Control Board, in a survey report titled 'Kabar Lake- A Paradise Lost', had said the water of the lake was declining at an alarming rate due to severe eutrophication. "The depth of the lake is declining due to infestation of aquatic weeds. Besides, there is no inflow-outflow mechanism in the lake. Many people are dependent on the lake for livelihood, especially the Sahni fishing community," he said in the report. https://timesofindia.indiatimes.com/city/patna/kabar-lake-declared-bihars-first-ramsar-site/articleshow/79197393.cms (13 Nov. 2020)
Uttar Pradesh Agra bird sanctuary declared Ramsar site Soor Sarovar, a scenic lake, also called Keetham, just outside Agra on the Agra-Delhi highway (NH 2), has been declared a "Ramsar site" on the list of wetlands of international importance. This is the eighth wetland in Uttar Pradesh to be declared as a Ramsar site in India.
Declared a national bird sanctuary in 1991 by the state forest department, the entire lake – pentagonal in shape – is formed in a catchment area of 7.13 square km. With artificially created islands for shelter and breeding grounds to the migratory birds, the lake is home to more than 106 species of migratory and resident birds. The site is important for bird species which migrate on the Central Asian flyway, with over 30,000 water birds known to visit the reservoir annually. Besides supporting numerous resident and migratory birds, the sanctuary has around 300 pythons and more than 60 species of fish. https://timesofindia.indiatimes.com/city/agra/in-big-boost-to-conservation-agra-bird-sanctuary-declared-ramsar-site/articleshow/79214265.cms (14 Nov. 2020)
Maharashtra Lonar Lake declared Ramsar site The Lonar lake in Buldhana district has been declared as the 41st "Ramsar" site of India. It has effectively become the second Ramsar site in the state. There are 2,412 designated Ramsar sites in the world.
However, ecologist and academic Madhav Gadgil is sceptical about the development. He urged the government to first take steps at the local level failing which international intervention like Ramsar list may not help. "These protections need to be brought to life. For example, UNESCO heritage site Kaas plateau has been made worse after being declared a heritage site. I have never seen even one site which has gained an advantage after being protected by the forest department. At Lonar, the sewage is let into the lake. There are red algae blooms – it is getting spoiled. Tourism is also highly politicised. If we have to fix this then, we must take out the tourist lodges near the heritages sites and prevent sewage from entering the lake. Where is the political will for doing all this? Rivers like Mutha and Bhima have also turned into gutter Gangas. What's the use of giving international status? Maharashtra and the Central government climate change ministry should take it up seriously," said Gadgil.
"The sites are both threatened by household sewage and urban wastewater and by unsustainable tourism" reads the announcement further. The lake had made news in August when the water in the circular-shaped lake turned pink. The phenomenon was caused by salt-loving Haloarchaea microbes which lead to pigmentation, according to a report by Agharkar Research Institute (ARI) in Pune, an autonomous body under the department of Science and Technology. https://www.hindustantimes.com/pune-news/buldhana-s-lonar-lake-declared-ramsar-site-second-for-maharashtra-within-a-year/story-vhomyKcTPrNmbaRL5WgIPN.html (14 Nov. 2020)
WATER OPTIONS
Uttarakhand Women Revive Traditional Water Sources Village women have taken the lead in giving a new lease of life to aquifers and mountain springs in Almora. https://www.zenger.news/2020/11/06/women-revive-traditional-water-sources-in-uttarakhand (06 Nov. 2020)
Innovation UC Berkeley professor invents rapid way to purify drinking water Berkeley scientist Ashok Gadgil has created a cheap, quick and scalable method to cleanse arsenic from drinking water. The technology, which leverages the natural binding properties of arsenic, would be able to deliver water to about 50,000 people from a plant that fits in a small garage, according to Gadgil. https://www.dailycal.org/2020/11/11/uc-berkeley-professor-invents-rapid-way-to-purify-drinking-water/ (11 Nov. 2020)
Andhra Pradesh Kadapa's water harvesting efforts paying off The Kadapa district bagged the prestigious No.1 slot in the south zone under the '2nd National Water Awards' announced by the Jal Shakti Ministry for the year 2019. The district was known to have received deficit rainfall during the last seven years, which had a cascading effect on the cropping acreage in the ensuing Kharif season. As a result, the farmers had to dug more borewells to safeguard their standing crops. Notwithstanding the sprouting of 5000 to 8000 new borewells every year, around 25% of the older ones turned dry. According to statistics available, ground water level dipped from 9.15 metres to 19.33 metres from Oct 2001 to Nov 2019. Similarly, the water table witnessed a steady fall in the seven of the last eleven years viz., 2009-10 to 2019-20.
To tide over the situation, the district administration roped in geologists and water conservationists to build artificial water storage structures and got tank beds desilted to ensure better percolation. "In all, 289 check dams, 912 water storage tanks and 17583 farm ponds were built and 108.90 lakh cubic metre of silt removed during the year 2018-19. These apart, drip and sprinkler irrigation were promoted in a big way", says the Collector Ch. Hari Kiran. The district ensured recharge of a whopping 3.57 TMC of water through the various structures this year. 31994 acres of land was brought under cultivation, thanks to water recharge in 12797 bore wells. Also, 45.961 TMC has been stored through major projects like Telugu Ganga, Galeru Nagari and KC Canal, which indirectly helped recharge 65888 bore wells, benefiting cultivation in 1.64 lakh acres.
The best part was the use of technology. As many as 1,21,857 works were geo-tagged to ensure transparency and accountability, which included 52890 rain water harvesting structures, 23765 under renovation of traditional resources, 10823 on recharge structures, 28410 under watershed development and 5969 under intensive afforestation. https://www.thehindu.com/news/national/andhra-pradesh/from-barren-to-swampy-kadapa-shows-the-way-in-water-conservation/article33083806.ece (12 Nov. 2020)
Tamil Nadu, Maharashtra and Rajasthan for bagging the first, second and third prize at the National Water Awards ceremony. It is not clear who is the jury, how independent it is, what is the criteria based on these awards are decided. Wish there was transparency about these issues. https://indiaeducationdiary.in/vice-president-of-india-delivers-inaugural-address-virtually-at-the-2nd-national-water-awards-ceremony/ (11 Nov. 2020)
GROUNDWATER
Punjab Fine for illegal groundwater extraction Unauthorised extraction of groundwater without mandatory permission in the state would now attract a penalty between Rs 8 and Rs 22 per cubic metre per day. The regulation forms part of the draft groundwater guidelines prepared by the Punjab Water Regulatory and Development Authority (PWRDA), inviting public objection by December 17 before the guidelines are notified.
The guidelines say the PWRDA would give permission in over-exploited zones, subject to stringent water conservation measures or heavy charges. Earlier, the Central Ground Water Board (CGBW) had stopped permission for expansion and new units in the over-exploited zones.
The extraction of groundwater for agriculture, drinking and domestic usage has been exempt from the provisions. It has been proposed for volumetric charge of groundwater extraction and based on water meters to be installed by all users. To give relief to micro, small and medium enterprises, slab rates have been proposed, with minimal rates for small volumes of groundwater extracted up to 10 cubic metres per day.
The state has been divided into green, yellow and orange zones. The highest groundwater charges would apply to the orange zone, which is the most water stressed and the lowest charges would be in the green zone. Those opting for implementing water conservation measures would be eligible for a water conservation rebate in the charges. The gross charges range from a minimum of Rs 4 per cubic metre in green zone for the volume up to 10 cubic metre per day to a maximum of Rs 22 per cubic metre in the orange zone for the volume exceeding 100 cubic metre per day. https://www.tribuneindia.com/news/punjab/now-fine-for-illegal-groundwater-extraction-169929 (13 Nov. 2020)
URBAN WATER
Pune Residents may get Bhama Askhed dam water by December-end Six years since the Bhama Askhed water project began, the Pune Municipal Corporation (PMC) will finally begin testing the water pipeline and treatment plant. With eastern parts of the city facing water scarcity mainly Vimannagar, Kharadi, Ahmednagar road, Lohegaon and Vadgaonsheri areas, PMC had planned to lift water from Bhama Askhed dam located near Chakan Maharashtra Industrial Development Corporation (MIDC), Khed. The residents of these areas have to depend on water tankers even during the rainy season. Bhama Askhed dam is located 42 Km away from the city.
PMC executive engineer Suresh Kadu said, "PMC has connected the pipeline at jackwell and it has started functioning. Water has reached through the pipeline till Kurli where a new water treatment plant has been erected. PMC will carry out testing, cleaning and water quality check for one month, before starting the supply to residents." Pune is getting water from Khadakwasla, Panshet, Warasgaon and Temghar dams, mainly known as the Khadakwasla reservoir. Bhama Askhed dam will be the fifth once the water supply project is completed. https://www.hindustantimes.com/cities/pune-residents-may-get-bhama-askhed-dam-water-by-dec-end/story-LD9ScYjdjibEiYfMi1CJhK.html (10 Nov. 2020)
Nagpur NGT orders shutting down of plants bottling groundwater without permits The move came following the latest order of the NGT, which was hearing a petition based on a series of TOI reports. On Sept. 6, 2016, TOI, after visiting various units of unpackaged drinking water across the city, had exposed the unhygienic conditions in which the units were operating.
Extensively quoting TOI reports, petitioners Vijaysinh Dubbal, Dattatraya Bharne and Santosh Sinha stated that the water sold in unpackaged and unsealed chilled jars and cans was not potable and hazardous to human health. They further highlighted that the groundwater was withdrawn without the mandatory permission of Central Ground Water Authority (CGWA). The petition was filed through counsels Asim Sarode and Smita Sarode Singalkar. Taking serious note of this, the NGT has issued an order, directing immediate closure of such units. "No unit should be permitted to extract groundwater without CGWA permission. Necessary action should be taken against such units in addition to environmental compensation," the court stated. https://timesofindia.indiatimes.com/city/nagpur/ngt-orders-shutting-down-of-plants-bottling-groundwater-without-permits/articleshow/79119007.cms (09 Nov. 2020)
Vijaywada 24X7 drinking water supply in 9 divisions Vijayawada Municipal Corporation (VMC) has identified nine divisions out of the total 64 for providing round-the-clock drinking water supply to its residents. Initially, the officials have proposed to launch the project in 24 divisions of the city, however, it was reduced to nine due to the change in the project execution plan. Smart water meters will be fixed to water connections for calculating water charges after the completion of the project in proposed divisions. A DPR has been prepared by city-based Velko Infratek Projects Private Limited and the civic body has sent the same seeking approval from the Engineer-in-Chief department to execute the project.
On June 18, the Municipal Administration and Urban Development Department issued a GO with regard to launch of the project to replace old pipelines and install new ones at an estimated cost of Rs 100 crore under AMRUT scheme. As part of the project, Water Quality Sensors and Flow Regulating System will be adopted in nine divisions of the city on a pilot basis by replacing the defunct pipelines with new ones, he said. Elaborating further, the chief engineer informed that the project will be executed at an estimated cost of Rs 100 crore. Of the Rs 100 crore, the Centre's share is Rs 24.17 crore, State will bear Rs 14.5 crore and urban local bodies (ULBs) will spend Rs 57.24 crore. The VMC is making use of the 14th Finance Commission funds for materialising the project and quoted Rs 4.16 crore as excess amount for tendering procedure. https://www.newindianexpress.com/cities/vijayawada/2020/nov/11/24×7-drinking-water-supply-in-nine-vijayawada-divisions-2222259.html (11 Nov. 2020)
Delhi Delhi's 'lifeline' in troubled waters The DJB doesn't have any dedicated technology to treat ammonia. The DJB mixes raw water that carries a high concentration of ammonia with fresh water, and the amount of chlorine added to disinfect raw water is increased as per requirements to address the issue. The lack of a minimum ecological flow also means an accumulation of other pollutants.
The water treatment plants under the Delhi government are capable of treating ammonia mixed water till .90 ppm. When it goes above it, the plants are shut for chlorination. The process takes around three days. The reason primarily given by the Delhi government behind the rise of ammonia level is the industrial waste mixed in water from areas such as Panipat and Sonepat in Haryana.
"We are also discussing the issue with the Haryana government and collectively working to find an effective solution. We've also requested the UP government for its help," said Chadha. Last year, the CPCB had asked the Haryana irrigation and flood control department to construct a wall or embankment between the drain number 6 and 8, which carry wastewater and freshwater respectively. https://www.newindianexpress.com/cities/delhi/2020/nov/09/delhis-lifelinein-troubled-waters-once-again-2221284.html (09 Nov. 2020)
DJB begins new water supply line Considering the water crisis in some parts of the national capital, DJB on Sunday (Nov. 8) started a new water supply line for the central district.The move comes after a damaged pipeline had been affecting residents unnecessarily for an extended period of time in Inderpuri area of the national capital.
DJB has nine water treatment laboratories and eight sewage testing laboratories set up with adequate facilities and manned by qualified persons for inspection and evaluating the raw sewage and final effluent. Laboratories collect samples from sewage pumping stations and drains in its command area and conduct routine surveys of river Yamuna downstream from Wazirabad to Okhla barrage to monitor the quality deterioration. https://timesofindia.indiatimes.com/city/delhi/delhi-jal-board-begins-new-water-supply-line-in-delhi/articleshow/79111861.cms (08 Nov. 2020)
Ludhiana MC House approve 60% hike in water-sewer user charges The decision was taken during the General House meeting held at the Rose Garden on Tuesday (Nov. 10) afternoon. The House has also revoked the exemption on water-sewer user charges being given to houses on area up to 125 square yards. Now, the exemption will be available only for single-storey houses, on area up to 50 square yards.
Until now, the MC had been charging users according to the fixed slab rates. The system will continue until the water-metering system is introduced in the city. Once metering is introduced, residents will be paying a two-part tariff, including fixed charges and consumptions charges. The newly passed resolution also allows for a 3% annual hike in slab rates, with the possibility of further revision once 24/7 water supply starts in the city. Residents will also have to install water meters within the timeframe given by the MC, failing which they will be penalised.
Speaking on the hike, mayor Balkar Sandhu said, "It was necessary to increase the tariff as it is one of the conditions imposed by the World Bank before funding the 24/7 surface water supply project for the city. The resolutions approved by the House will be forwarded to the local bodies department for final approval." BJP councillors, including Sunita Rani, opposed the hike, stating that the residents are already reeling under economic hardships due to the ongoing pandemic. https://www.hindustantimes.com/cities/ludhiana-mc-house-approve-60-hike-in-water-sewer-user-charges/story-9KG7s2zdgWNVd40qHMzZeK.html (11 Nov. 2020)
Approvals given for abstracting groundwater With an aim to get clearance/NOC for the pending applications for groundwater abstraction from Central Ground Water Authority (CGWA), the Chamber of Industrial and Commercial Undertakings (CICU) organised a special camp for the industry at the CICU office in the Focal Point area on Monday (Nov. 2) in Ludhiana. CICU president, Upkar Singh Ahuja said, "Many industrialists had applied for the NOC but the cases were pending for a long time. We have been pursuing them and a special camp was organised to dispose of/clear the pending cases. Over 300 industrialists participated in the camp and many were given approval by the authorities." CICU general secretary, Pankaj Sharma said deliberations were also done to make it easier for the industry to get the NOC and more such camps will be organised in the coming days. https://www.hindustantimes.com/cities/ludhiana-approvals-given-for-abstracting-groundwater/story-oJaFhhcHacGbCxYKR4ygZN.html (02 Nov. 2020)
Bengaluru Actions taken to restore lakes found to be superficial The Bengaluru Environment Trust (BET), in its report "Citizen's Agenda for Bellandur/Varthur Catchment", has found that the plan to rejuvenate Bellandur, Varthur and Agara lakes in Bengaluru is "ad-hoc, illogical and not supported by well documented data and scientific facts." https://www.counterview.in/2020/11/actions-taken-to-restore-bellandur.html (09 Nov. 2020)
Link between lakes, livelihoods and local memories Bengaluru's trees, parks, lakes and open spaces once offered livelihood benefits. However, the city's dramatic growth has dealt a blow to these livelihoods. Putrid sewage that once filled up the 440-acre Varthur lake was recently drained, and the daily inflow of over 240 million litres of the city's sewage has been diverted.
The lake bed now hosts a small reservoir of freshwater collected during the recent monsoons and a vast expanse of grasses and greens which the local community harvests for consumption and sale. Encouraging livelihood along water bodies helps in biodiversity protection too. https://india.mongabay.com/2020/11/the-link-between-bengalurus-lakes-livelihoods-and-local-memories/ (13 Nov. 2020)
JJM/ RURAL WATER SUPPLY
J&K 41K households to benefit from JJM Under Jal Jeevan Mission, every household of Shopian district will be provided with an individual tap connection. The project has already commenced and will be wrapped by August 2021. This mission is expected to help 41,000 households with clean water through 61 well-drafted projects.
With the new plan, the government aims at replacing community tube wells with individual Tap Functional Household Connections for every household. Special attention is also being given to drought-prone and border areas, schools, Anganwadies, and health centres. https://www.zee5.com/zee5news/41000-kashmir-households-to-benefit-from-pms-jal-jeevan-mission-with-24-hr-water-connection/ (10 Nov. 2020)
WATER
Assam IIT-G, Oz university launch water centre IIT-Guwahati, along with University of Western Sydney and 21 partners from India and Australia, launched the Australia-India Water Centre. The water centre will be led by University of Western Sydney from Australia and IIT Guwahati from India, focussing on collaboration in transdisciplinary research, capacity building and knowledge and technology transfer, particularly on aspects of water and food security.
– Australia-India Water Centre was inaugurated virtually through a webinar on November 6. Dan Tehan, minister for education, government of Australia, Gajendra Singh Shekhawat, Jal Shakti minister, government of India, BC Patil, minister of agriculture, government of Karnataka, A Gitesh Sarma, Indian high commissioner to Australia, Barry O'Farrell AO, Australian high commissioner to India, prof TG Sitharam, director of IIT Guwahati, and other directors, vice-chancellors, deans of all partner institutions and many other dignitaries were virtually present on this occasion. https://timesofindia.indiatimes.com/city/guwahati/iit-g-oz-university-launch-water-centre/articleshow/79146260.cms (10 Nov. 2020)
Rahul Banerjee on FB comment: I hope they address the problem of deforestation in Arunachal Pradesh which is one of the causes behind the floods in monsoons and lack of lean season flow in the Brahmaputra and it's tributaries.
URBAN FLOOD
SANDRP Blog Missing roadmap to solve Urban Floods Puzzle About the the increasing frequency, intensity and spread (new cities getting affected) of urban floods in India. The reasons are mostly known: increasing and mostly unplanned urbanisation, rural-urban migration, encroachments of water bodies, concretization of flood plains and other lands, decreasing capacity to hold, store, recharge and drain the rainwater, increasing rainfall intensities with changing climate, wrong operation of big dams and deteriorating governance. The damages are going up, also because our forecasts are far from reliable, accurate, location-specific or with sufficient lead time. Because of our incapacity to learn lessons. Disaster preparedness or management is practically non-existent. There is no attempt to even systematically document the phenomena. Please Read, Share. https://sandrp.in/2020/11/13/missing-roadmap-to-solve-urban-floods-puzzle/ (13 Nov. 2020)
This blog has been republished here. https://en.gaonconnection.com/in-deep-waters-urban-local-bodies-need-to-take-the-initiative-to-mitigate-the-impact-of-floods-in-the-cities/ (16 Nov. 2020)
ENERGY OPTIONS
Jharkhand Jugaad provides free power to entire village Kamil Topno is no engineer. Yet, the undergraduate of Kharia Thakurain Dera village in Lohardaga has been able to light up at least 20 houses using river water that falls from a 100- ft hillock near his village.
Posted as lab technician at Bharat Cocking Coal Limited (BCCL) hospital at Dhanbad, Topno's 'jugaad' contraption – first he made use of rickshawwheels and then Pelton-wheel, (an impulse-type water turbine invented by American Lester Allan Pelton in the 1870s) to convert the energy of water falling from a height into electricity which is supplied 24×7 free of cost.
Power supply was introduced to the village in 2018, but it is so erratic that the villagers use the Topno supply to light their homes and charge mobile phones. When he got a smartphone, he bought a Pelton wheel and fitted it with a dynamo. This has been the source of electricity to the entire village since 2018, he said. https://www.newindianexpress.com/good-news/2020/nov/14/jugaad-provides-free-power-to-jharkhand-village-2223574.html (14 Nov. 2020)
SOUTH ASIA
Bangladesh Teesta quagmire: India's missed opportunity? The paper concludes: "However, it is also high time that India is proactive in its engagement vis-à-vis shared rivers and act in a resolute manner to usher a new era of hydro-diplomacy with Bangladesh. The Union Government in India just needs to exercise its constitutional mandate to be able to do so, something that it has long been hesitant to do and pressure from improving ties between Dhaka and Beijing may be just the push it needs." https://www.orfonline.org/research/the-teesta-quagmire-indias-missed-opportunity/ (11 Nov. 2020)
Ilish ban: 5,533 jailed, nets worth 243C seized More than 5,000 fishermen were jailed and illegal nets worth Tk243 crore were seized during the 22-day Ilish fishing ban. The government slapped a ban on catching, selling, hoarding, and transporting Ilish from October 14 to November 4, its peak breeding season. https://www.dhakatribune.com/bangladesh/2020/11/08/ilish-ban-5-533-jailed-net-worth-243c-seized (08 Nov. 2020)
Nepal PM To Go For Site Visit To Arun-III HEP PM KP Sharma Oli will visit the site of Rs 115 B (including Rs 11 B for the transmission line) Arun-III Hydropower Project at Sankhuwasabha District on Nov 11, 2020 to check the progress of Nepal's largest HEP being built by SJVN, 40% work is complete, the company says. Currently, the works are being done in two phases: Dam side and the powerhouse. Water is diverted through the tunnel. The planned deadline is 2022. The SJVN singed MOUR for the project in 2008 and will operate the high head 4 X 225 MW power plant for a concession period of 30 years, following which the ownership will be transferred to the GoN. It will provide 21.9% of free power to Nepal during the concession period. http://www.businessworld.in/article/Nepal-PM-to-go-for-site-visit-to-Arun-III-Hydro-Project-tomorrow/10-11-2020-341421/ (10 Nov. 2020)
ASIA
PHILIPPINES: DAM FLOODS: Question marks about operation of Magat dam in Philippines during the typhoon Ulysses.
– Interior Secretary Eduardo Año had proposed that during typhoons and other calamities, the National Disaster Risk Reduction and Management Council should be the one to approve the release of excess waters by dams. He said that depending on the rainfall forecast, the dam floodgates could be opened even before storms hit.
– The monitoring station of the Philippine Atmospheric, Geophysical and Astronomical Services Administration (Pagasa) in Bayombong town, Nueva Vizcaya province, which is upstream of Magat Dam, recorded 111.4 millimeters of rainfall for a 24-hour period on Nov. 11.
– "If we look at the whole river basin, Magat only contributes 15 percent," she said. "Even if Magat releases water, the other 85 percent also [come] from other rivers with varying drainage areas that flow toward the Cagayan River basin." It noted that Magat River is only one of 18 river tributaries of the whole Cagayan basin. The dam is a catch basin of 4,143 square kilometers of watershed connected to eight upstream rivers—the Alimit, Lamut and Ibulao in Ifugao, and the Abian, Matuno, Santa Cruz, Marang and Santa Fe in Nueva Vizcaya, according to the agency. https://newsinfo.inquirer.net/1361075/nia-slammed-for-releasing-water-from-magat-dam (16 Nov. 2020)
8 Hindu Kush Himalayan countries issue a united call The Hindu Kush Himalayas (HKH) may finally get a united eight-country voice to safeguard its ecosystem, if the governments of Afghanistan, Bangladesh, Bhutan, China, India, Myanmar, Nepal and Pakistan keep the promises made by their ministers and representatives at a virtual summit this October. Given past and present tensions between the countries, this is not going to be easy.
But at the summit convened by the ICIMOD, all eight countries recognised their fundamental and common dependence on the HKH. The meeting was attended by high level representatives from each country including Zhang Yaping, Vice President of the Chinese Academy of Sciences, Prakash Javadekar, Minister MoEF, India and Syed Fakhar Imam, Minister of National Food Security and Research, Pakistan. https://www.thethirdpole.net/2020/11/16/eight-hindu-kush-himalayan-countries-issue-a-united-call/ (16 Nov. 2020)
THE REST OF THE WORLD
SANDRP took part in the panel on 'Thirsty Crops in Dry Places', as a part of Berkeley Energy and Resource Collaborative Symposium, University of Berkeley held on Nov. 13. https://www.facebook.com/sandrp.in/posts/3979563835404593
USA Drone footage of Oxford dam overflow in North Carolina, USA on Nov 12, 2020. I do not remember seeing such footage of dam overflow in India. https://www.youtube.com/watch?v=E-UZvFpY8m8 (12 Nov. 2020)
Research Rivers of air in the sky are melting huge patches of Antarctic sea ice Diana Francis at Khalifa University in Abu Dhabi, United Arab Emirates, and her colleagues after combing satellite records and climate data, have looked at major polynya events in the Weddell Sea on the Antarctic coast in 1973 and 2017. They found that flows of heat and water vapour in the sky, known as atmospheric rivers, travelled huge distances, in one case moving from the south-eastern coast of South America down to the Weddell Sea in 2017. During September that year, one river increased air temperatures in the Weddell Sea by 10°C.
It isn't just that the rivers of heat start melting the ice pack, making it fragile and easily broken up by cyclones. "The atmospheric rivers also make the storms more intense because they provide more water vapour. They are linked, not independent," says Francis. https://www.newscientist.com/article/2259556-rivers-of-air-in-the-sky-are-melting-huge-patches-of-antarctic-sea-ice/ (11 Nov. 2020)
Brazil A river filled with garbage This incident is from Sarapuí River which lies to the west of Rio de Janeiro. The man without shoes is seen balancing well on the river filled with the filth. Apparently, the filth is extended to a national park which is a home to a good number of animals and birds. The video has been shared by a local news channel Edson Passos News. https://indianexpress.com/article/trending/trending-globally/video-of-a-man-walking-on-garbage-filled-brazilian-river-goes-viral-7047539/ (12 Nov. 2020)
Compiled by SANDRP (ht.sandrp@gmail.com)
Also see: DRP News Bulletin 09 Nov. 2020 & DRP News Bulletin 02 Nov. 2020
Follow us on: www.facebook.com/sandrp.in; https://twitter.com/Indian_Rivers