Dr Ravi Chopra, Chairman of the Supreme Court appointed High Powered Committee has hit the nail when he questioned if there is any rule of Environment Law for the Ministry of Road Transport and Highways in their implementation of the Char Dham Highway in Uttarakhand. One hopes the Supreme Court does stand up for the Rule of law SOON and takes strictest action against violations. The violations are also affecting the people, the Himalayas and even the Ganga River, in its birth place. There is not too much hope from the Environment Ministry, but one hopes the Supreme Court does stand for the Rule of Law.
Char Dham Road Project As if no rule of law: SC panel chief to govt on Char Dham 'violations' Pointing to "brazen" violation of forest and wildlife laws by the Char Dham Pariyojana of the Ministry of Road Transport and Highways (MoRTH), the chairperson of the Supreme Court-appointed High Powered Committee (HPC) has asked the Environment Ministry to take strict action.
-Underlining that laws have been violated "as if the Rule of Law does not exist", HPC chairperson Ravi Chopra, in an August 13 letter to the Environment Secretary, said the project has caused "incalculable and long-term damage to the Himalayan ecology" by felling trees, cutting hills and dumping muck (excavated material) without valid permission on various stretches. https://indianexpress.com/article/india/as-if-no-rule-of-law-sc-panel-chief-to-govt-on-char-dham-violations-6569980/lite/ (26 Aug. 2020)
Members of SC-appointed panel warn against haphazard excavations -"They have ignored our suggestions on identifying vulnerable slopes, doing hill cutting after making proper arrangements for dumping the muck, building footpaths and planting trees along the roads that fall under the project," Ravi Chopra, chairman of the panel said. The hill cutting on the slopes is being done irresponsibly with the muck rushing down into forests, fields and houses in the absence of a proper disposal mechanism, he said.
-"Excavations under the project are being done in an unscientific way without taking into consideration the geological constraints of the mountainous terrain," Navin Juyal, a geologist and member of the committee told PTI.
-"If slopes were excavated to this extent it would destabilise the entire valley which is already vulnerable to natural disasters like earthquakes, flashfloods and cloudbursts," he said. The manner in which the project is being implemented by ignoring suggestions made by experts on the basis of the topography and fragile ecology of the region, it will surely turn into a Himalayan blunder," Juyal warned. https://www.outlookindia.com/newsscroll/chard-dham-road-project-members-of-scappointed-panel-warn-against-haphazard-excavations/1923401 (26 Aug. 2020)
-There is brazen misuse of old clearances issued to the Border Roads Organisation (BRO) during 2002-2012 and over 200 km have been added on their basis. This is not only illegal but also defeats the regulatory purpose since the scope of work has changed drastically and the present road widening work requires major excavations into hill sides. Plus, there has been a violation of the apex court's directive as the Uttarakhand Government had said in an affidavit in April 2019 that stretches where work had not begun would be subject to the assessment of the Supreme Court. But in clear violation, at least 60 km of the stretch has been coopted into the site map. Besides, the Ministry disregarded the panel's view that the developer should not start new work and restore vulnerable slopes before the yatra season to avoid landslides. https://www.dailypioneer.com/2020/columnists/don—t-forget-kedarnath.html (28 Aug. 2020)
The Char Dham project should have proceeded with great caution especially as it passes through 529 landslide-prone areas, but it is being built without the mandatory Environmental Impact Assessment clearances. Neither the Ministry of Environment and Forests nor the state government conducted any detailed cumulative assessment of the impact of this project on this ecologically sensitive region in the catchment area of the Ganga.
-Dr. Ravi Chopra, former director, People's Science Institute, Dehradun, says that this area forms the central thrust region of the lesser Himalayan region. "This is where the Indian tectonic plate goes under the Eurasian tectonic plate, making the entire region susceptible to earthquakes and landslides," he says. The Geological Survey of India makes exactly the same point when it states that road construction in the mountains reactivates landslides as it disturbs the "toe of the natural slope of the hill".
In an attempt to contain this loss, Chopra, who was chairman of a Supreme Court-appointed High Powered Committee on the Char Dham highway, along with four other members, all specialists, have suggested that the road be restricted to a width of 5.5 metres, with a final width of 7 to 8 metres. But the remaining 21 members of the committee, who are largely government officials including eight district magistrates, have insisted that the original width of 12 metres should be retained. It is common knowledge that Prime Minister Narendra Modi is keen on early completion of this four-lane highway. Surprisingly, Chopra's stand has been corroborated by none other than the Ministry of Road Transport, which in a 2018 circular had stated that a 12-metre wide road is not suitable for the terrain of this hilly region. https://www.newsclick.in/India-Ignores-Experts-Build-Expressway-Fragile-Himalayas (29 Aug. 2020)
Excerpts from Ravi Chopra's interview:- There are direct and indirect impacts. During the road construction process, even though the rules say you cannot dump any muck or debris into the river, very often it is done. Sometimes it is done as a result of a crisis situation such as landslide and they push the debris down into the river to clear the roads for the traffic. Sometimes it happens because the retaining wall is not strong. Now, when the muck and debris enter the river its turbidity increases. Several organisms that dwell on the bed of the river or flow with the water, including autotrophs, they convert carbon dioxide from the atmosphere and emit oxygen. They cannot carry out photosynthesis reaction and it affects the dissolved oxygen content, this is an example of a direct impact.
-Indirect impact is that when you are cutting such large scale forests in hills, there are studies that suggest say that the special purification capacity of the Ganga is probably due to the vegetative matter and debris that rolls into the river from the slopes. Once the slopes are rendered barren, you are reducing the amount of material that is probably a major source of the special property of the Ganga. https://www.news18.com/news/india/serious-violations-of-forest-rules-in-modi-govts-flagship-char-dham-road-project-says-sc-panel-chief-2832257.html (30 Aug. 2020)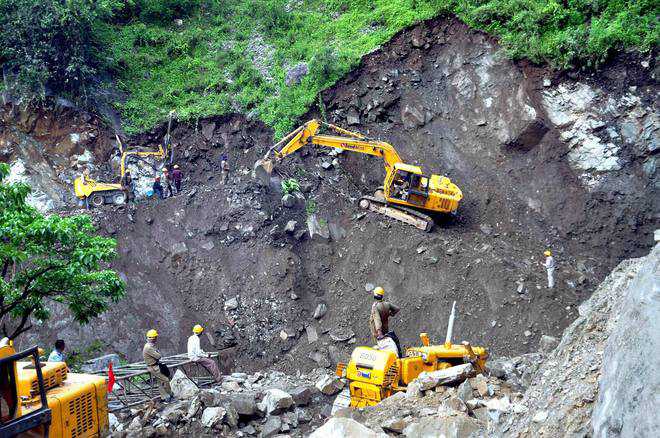 -Among alleged violations listed in his letter to the Environment Secretary are work going on without valid permission; misuse of old forest clearances that resulted in massive muck dumps along NH-125, where muck has just been pushed down the slope, posing serious threat to environment and local habitat; false declaration to dodge the National Board for Wildlife Board's (NBWL) scrutiny. https://indianexpress.com/article/india/on-scathing-letter-from-sc-formed-panel-uttarakhand-seeks-reports-from-depts-6574253/ (29 Aug. 2020)
Opinion by Ramachandra Guha "The Himalaya are India's most important natural asset. Without them, the country would not survive. These grand mountains are a barrier to invaders, the source of our greatest rivers, a rich reservoir of biodiversity, and home to our holiest shrines. Ecologically, economically, culturally, and strategically, the Himalaya are vital to the future of India as a nation. The politicians who now rule us claim to revere the Himalaya, yet, under their watch, these mountains are witnessing a savage attack on their integrity." https://www.ndtv.com/opinion/killing-the-himalaya-one-cut-at-a-time-by-ramachandra-guha-2287551 (30 Aug. 2020)
Very unfortunate state environment minister turning blind eye to large scale destruction and concerns raised by experts. https://www.jagran.com/uttarakhand/dehradun-city-construction-of-all-weather-road-is-necessary-in-national-interest-said-harak-singh-rawat-20685767.html (29 Aug. 2020)
Meanwhile a letter by 40 scientists, environmentalists and ecologists ahead of a Supreme Court hearing on Monday (Aug. 31) says the majority committee members were "misusing their membership to further an unfeasible agenda that wasn't in the public interest". The Chairman's recommendations, they say, had left the final decision on the road width to the Supreme Court and adheres to the "mandate of protecting the Himalayas". https://www.thehindu.com/sci-tech/energy-and-environment/halt-char-dham-project-environmentalists-petition-modi/article32475797.ece (29 Aug. 2020)
HYDRO POWER PROJECTS
EIA 2020 to give straight clearances for 239 dams -Experts at South Asia Network of Dams, River and People (SANDRP), in collaboration with ATREE (Ashoka Trust for Research In Ecology and the Environment), estimate that about 900 hectares of forest would submerge with the 240 dams proposed for hydroelectric and drinking water purpose across the country. The ecological impact of submerging these forests will remain unassessed.
-"A list of 239 dams has been identified out of which, works at some dams has already started while others are awaiting approval. But with the proposed draft of EIA notification, these approvals would no longer be needed," Amruta Pradhan, a PhD scholar at ATREE, said. Pradhan said thousands of people were about to lose their lands without being able to fight against it and this was clearly unjust.
-Experts feel that such examples are already present and have shown detrimental impacts on the environment. Parineeta Dandekar, a researcher with SANDRP, said, "Many big dam projects may get split like in the case of Mouneswar and Basavanna hydel projects and Greenko's 24.75 megawatt (MW) Perla Mini Hydel Project at Perla village near Bantwal, Mangalore."
-On her visit to the site, Dandekar found two different hydroelectric projects on a single dam built on the Nethravathi, hiding under the guise of mini-hydel projects. "The one at Perla was 24.75 MW, while the other was the 49.50 MW Shemburi project. The cumulative impact on the environment is huge. The move exempted the company to undergo environmental impact assessments and also getting the necessary clearances," she said.
-Dandekar said the 18.4-meter high dam caused the upstream areas to flood, with villages, including coconut and areca nut plantations, getting submerged. The residents could not even fight for their rights in a court of law, she added.
-There is a similar case from Gulbarga district in north Karnataka. "During the inspection of the project, it was found that though having different names — 24.75 MW Mouneswar Small Hydel Project and 24.75 MW Basavanna Hydro Project, both entities operate from a single dam / diversion weir across the Krishna river. The dams are downstream of the Narayanpur Dam," Dandekar said.
-"In actual terms, the project should be considered as a single 49.50 MW Hydel project and require environmental, social and legal scrutiny and further assessment," she added. Dandekar also learnt that people were misinformed about the project being for irrigation purposes. "The locals saw their homes getting submerged and water supply getting disrupted after assurances of development were given," she said.
-Pradhan said other examples included the Kalu Dam from Maharashtra, that has escaped EC requirement even though it is a 'big' dam, with over 5,000 hectares forest land submergence as it is proposed for drinking water purposes. Thus, no EIA has been required. "Damanganga Pinjal River Link and Yettinhole project in coastal Karnataka are some other projects that have similarly escaped the need for EC," Pradhan said. https://www.downtoearth.org.in/news/forests/eia-2020-to-give-straight-clearances-for-239-dams-73099 (28 Aug. 2020)
Telangana Powerhouse fire: Red flags raised over dam's poor upkeep, funds crunch in 2 states A deepening plunge pool — created by erosion of the natural river bed downstream of the dam due to heavy spillage of flood waters — at a distance of about 100 metres from the spillway has been flagged as a potential threat to the dam's long-term safety, even as the cash-strapped state power utilities of both Telangana and Andhra Pradesh have done little over the years to address safety issues. The poor financial situation of utilities also typically translates into irregular maintenance and upkeep of other parts of the power plant. https://indianexpress.com/article/cities/hyderabad/telangana-powerhouse-fire-srisailam-dam-death-toll-6564812/ (22 Aug. 2020)
Raju expressed satisfaction over the safety measures at the project, SRBHES chief engineer PVL Narasimha Rao said. https://www.newindianexpress.com/states/andhra-pradesh/2020/aug/27/after-telanganas-srisailam-power-plant-fire–andhra-counterpart-ap-genco-on-high-alert-2188810.html (27 Aug. 2020)
DAMS
SANDRP Blog Role of dams in Kerala floods: Distortion of Science In this Guest Article J.Harsha (Director, Central Water Commission) reviews the paper (published in Current Science issue of 10 March 2019) authored by K P Sudheer et al from Indian Institute of Technology, Madras. Harsha concludes: "The study by Sudheer et al., (2019) therefore reminds the statement "Garbage in, Garbage out" made by Darrel Huff in 1954. The inferences drawn from such model output are highly misleading and inconsequential from scientific point of view. Hence, attributing the floods of Kerala, to the extreme rainfall, and then exonerating the role of dams based on this distorted study of Sudheer et al., (2019) is inconclusive.
But what is alarming is the new trend of distorting science by authors from elite institutions in India that seemingly appear to defend the narrative of vested interests point of view of indicting nature through distortion of "science". If such articles are accepted as truth, suppressing the reality, it can result in untold negative consequences for the future of India's flood management. This cannot be allowed." This is very important issue, plz Read, Share. https://sandrp.in/2020/08/25/role-of-dams-in-kerala-floods-distortion-of-science/ (25 Aug. 2020)
Himachal Pradesh Renukaji dam faces fund crisis After facing multiple legal battles mainly citing environmental and rehabilitation concerns, Renuka dam project has now been experiencing paucity of funds to initiate construction, officials said on Sunday (Aug. 30). The 40-MW Renukaji multipurpose project in Sirmaur district is awaiting approval from the Cabinet Committee on Economic Affairs (CCEA) of the Central government an official said. https://economictimes.indiatimes.com/news/politics-and-nation/renukaji-multipurpose-project-the-himachal-dam-to-quench-delhis-thirst-faces-fund-crisis/articleshow/77832732.cms (30 Aug. 2020)
Photo Blog Destruction of temples in Narmada valley Fascinating photo blog by Nandini Oza about temples and culture of Narmada Valley that stands destroyed by the dams. https://www.raiot.in/photo-essay-who-remembers-the-temple-destructions-in-narmada-valley/
INTERLINKING OF RIVERS
Ken-Betwa PM Modi, since he was speaking (virtually) at Jhansi related function, he had to say things about Bundelkhand. So Ken Betwa would have been included by his speech writers. But he is right, there is no progress in six years in spite of being in touch with the states. https://timesofindia.indiatimes.com/india/pm-modi-pitches-for-river-linking-project-to-end-water-woes-of-bundelkhand-up-and-mp/articleshow/77830350.cms (30 Aug. 2020)
RIVERS AS NATIONAL WATER WAYS
Study 18 of 106 waterways fit for transporting cargo As per the study conducted by the Inland Waterway Authority of India (IWAI), out of the 106 national waterways notified in 2016, only 18 are feasible for cargo movement while 25 others are fit for ferry and cruise for tourism purposes. Earlier to 2016, only five national waterways were notified which included Ganga-Bhagirathi and Brahmaputra rivers. However, in 2016, the Inland Waterway Act was enacted to give national waterway (NW) status to another 106 rivers and canals in one go, taking the total number to 111. On the basis of feasibility studies and detailed project reports of the additional 106 NWS, the IWAI has found that rivers like Barak and Kopli in Assam, Mandovi, Zuari and Kumerjua in Goa, Narmada and Tapi in Gujarat can be used for cargo movement. https://timesofindia.indiatimes.com/india/18-of-106-waterways-fit-for-transporting-cargo-study/articleshow/77568814.cms (16 Aug. 2020)
Bangladesh-Tripura to be connected through Gumti river from September Bangladesh and India's Northeastern state of Tripura will be connected from September 03 via a 93 kilometres long inland waterway over River Gumti. A Bangladeshi company will send 50 MT of cement onboard MV Premiere from Daukandi to Tripura's Sonamura.
-This comes even as both countries expanded the ambit of "Protocol for Inland water trade and transit" (PIWT&T) or India-Bangladesh inland water agreement in May of this year to add two new routes, five new ports and two extended ports of call. The Sonamura-Daudkhandi stretch of Gumti river will be route number 9 and 10 of the protocol and will connect all the existing routes.
-The India Bangladesh protocol for inland waterways was signed in 1972 and aims to provide inland waterways connectivity between the two countries. The protocol was renewed in 2015 for five years and it has the provision of automatic renewal for further five years.
In the financial year 2019-2020, 3.5MMT of cargo was transported between the two countries via the protocol routes. https://www.wionews.com/india-news/bangladesh-and-tripura-to-be-connected-through-gumti-river-from-september-323214 (26 Aug. 20200
IRRIGATION
Maharashtra 3 barrages still on paper "The state water resources department (WRD) had proposed a barrage each at Pota Jodparali, Pimpalgaon Kute and Mamdapur. The official survey has stated that these barrages could have," storage capacity of 1.3 TMC he said. In a memorandum submitted to the state government, Dhanorkar has said that the construction of barrages could help Hingoli district in overcoming the irrigation backlog. https://timesofindia.indiatimes.com/city/aurangabad/3-barrages-still-remain-on-paper/articleshow/77727979.cms (27 Aug. 2020)
Tamil Nadu CM Orders Opening of Three Dams CM K Palaniswami on Sunday (Aug. 30) ordered release of water from Papanasam, Servalar and Manimuthar reservoirs from September 1 to facilitate agricultural activities and meet the drinking water requirements as well in Tirunelveli and Tuticorin districts. He ordered the release of water through the 11 canals in Tirunelveli's Tamirabarani river for 15 days from September 1. Also, he directed the Public Works Department (PWD) officials to open the Papanasam, Servalar and Manimuthar dams for a period of 46 days from September 16 to October 31. https://www.news18.com/news/india/tamil-nadu-cm-palaniswami-orders-opening-of-three-dams-from-september-1-2833577.html (31 Aug. 2020)
URBAN RIVERS
Godavari; Nasik In a First, a City Frees a River Using Funds Meant To Concretise It Excellent report on What is happening in Nashik on Godavari River Front Development Project in Nashik. https://science.thewire.in/environment/nashik-godavari-river-concrete-riverbed-embankments-flooding/ (28 Aug. 2020)
Adyar; Chennai Signs of recovery after years? According to a policy note tabled in Tamil Nadu assembly for the year 2019-20, the faunal diversity of the Adyar Creek has gone up. The report said as many 8 species of molluscs, 13 crabs, 170 insects, 12 fishes, 10 amphibians, 19 reptiles, 120 birds and 16 mammals have been recorded. In the estuary 57,000 mangrove and 35,000 terrestrial saplings have been planted after the removal of invasive species, debris and plastic waste. https://science.thewire.in/environment/chennai-adyar-river-recovery-pollution-investment/ (28 Aug. 2020)
RIVERS
Opinion Rivers choked with sewage The situation is expected to get worse, as according to a report by the CPCB, sewage generation in India is 61,000 MLD or enough to fill 24,800 Olympic-sized swimming pools daily. Against this, we have a paltry sewage treatment capacity of 23,277 MLD. https://www.dailypioneer.com/2020/columnists/india-is-choking-its-rivers-with-sewage.html (07 Aug. 2020)
Opinion A five-point action plan to manage waste effectively Years of neglect, lack of foresight and complete absence of urban planning has left India staring at mountains of waste-landfills, waste-choked drains, water bodies and rivers. This is called "legacy waste", a cumulative consequence of decades of neglect and lack of foresight.
-There are about 48 recognised landfills across India, together covering nearly 5,000 acres of land, with a total land value of about Rs 100,000 crore.
-India generates about 275 million tonnes of waste per year. With current waste treatment rates of about 20-25%, this leaves majority of waste untreated, in a heap, on landfills, and an equal amount in drains and river bodies.
-Drains and water bodies, emptying out into Indian rivers, also carry with them an unimaginable amount of waste. The Ganga is among the top 10 polluted rivers in the world, together accounting for 90% of the total ocean plastic pollution. https://www.hindustantimes.com/analysis/a-five-point-action-plan-to-manage-waste-effectively/story-0I1qoralrtVVYskwZGenIK.html (28 Aug. 2020)
Assam Guwahati ropeway over Brahmaputra malfunctions within 48 hours of opening. https://nenow.in/north-east-news/assam/guwahati-ropeway-over-brahmaputra-malfunctions-within-48-hours-of-opening.html (26 Aug. 2020)
Madhya Pradesh Holy waters, unholy outcomes! A study found that mass bathing events in the Kshipra river not only led to high pollution, but also to the presence of multidrug resistant pathogenic bacteria in its waters, posing a risk to health. https://www.indiawaterportal.org/articles/holy-waters-unholy-outcomes (28 Aug. 2020)
Odisha 2 more petitions filed against Baliyatra RFI project Two separate petitions have been filed before the NGT on the reclamation of Mahanadi river at Cuttack for the proposed Baliyatra River Front Improvement (BARFI) project. The reclamation of the river has been done by filling up the river bed or floodplain with dredged sand from Mahanadi barrage at Jobra and raising its level by six feet. In the process, the river has been forcefully pushed back into the middle and water stream is now at least 500 metre away from the bank.
-"The river front projects are ecologically dangerous and cosmetic projects that do not restore respect and enhance the vital river ecosystems that thrive, or once thrived in and around the river, restored and enhanced, regardless of how high the commercial and profit-making values add to the economy," Mohanty contends in his petition.
-Pattnaik has sought intervention against change of revenue status of river bed (nadi) to anabadi (patita) in the record to pave the way for the project. Both the petitions have expressed apprehensions that the city would become vulnerable to inundation during high floods due to reclamation of the river. In his petition, Mohanty said, "At times of a high flood in Mahanadi river, the water is likely to spill over the banks and enter the city and cause serious flood." https://www.newindianexpress.com/states/odisha/2020/aug/30/two-more-petitions-filed-in-national-green-tribunal-for-baliyatra-river-front-improvement-project-2190199.html (30 Aug. 2020)
NMCG Forestry intervention for 13 rivers Speaking about this move during state forests ministers' meeting, Union environment minister Prakash Javadekar on Monday (Aug. 17) said his ministry has assigned a technical study to Indian Council of Forestry research and Education (ICFRE), Dehradun, to assess the river landscape and prepare a Detailed Project Report (DPR) for forestry interventions required for rejuvenation of 13 major rivers. These rivers are Beas, Chenab, Jhelum, Ravi, Sutlej, Luni, Yamuna, Narmada, Godavari, Kaveri, Krishna, Brahmaputra and Mahanadi.
-As far as Ganga is concerned, the Centre through the National Mission for Clean Ganga (NMCG) had initiated "forestry interventions" programme in 2016 for five years with allocation of Rs 2,300 crore. Over 1.13 lakh hectares of land has been earmarked along the five main stem Ganga basin states – Uttarakhand, Uttar Pradesh, Bihar, Jharkhand and West Bengal – for afforestation. https://timesofindia.indiatimes.com/india/after-ganga-forestry-interventions-to-help-rejuvenate-13-other-major-rivers/articleshow/77604187.cms (18 Aug. 2020)
Jammu & Kashmir Anti-encroachment drive in ignores govt intrusions The authorities target encroachments on the Jhelum's floodplains ignoring its own buildings or permits to mine the riverbed. https://www.thethirdpole.net/hi/2020/08/28/kashmir-anti-encroachment-drive-ignores-government-intrusions/ (28 Aug. 2020)
GANGA Uttarakhand The bugyals or Himalayan alpine meadows The Himalayan alpine meadows, considered hotspots of Himalayan biodiversity, harbour several endemic species of plants and animals. These meadows, also known as bugyals, are facing threats because of several factors including anthropogenic pressure and climate change. The Uttarakhand government has taken up a unique way of restoration of these bugyals in Uttarkashi. https://india.mongabay.com/2020/08/the-bugyals-or-himalayan-alpine-meadows-a-treasure-trove-endangered/ (27 Aug. 2020)
Uttar Pradesh No meaningful action taken for cleaning Ganga tributary: NGT Hindon, a tributary of Ganga, is one of the polluted river stretches and no meaningful action has been being taken to clean it, the NGT said Tuesday (Aug. 11) while directing the UP chief secretary to ensure coordination for rejuvenation of the waterbody.
The green panel said instead of shifting of blame from one department to another, steps should be taken for the restoration of water quality of Hindon.
-"The river is practically dead and needs to be restored in the interest of the environment and public health. Meaningful progress must be achieved by the concerned departments including the Urban Development, Irrigation, Jal Nigam, and the Environment," a bench headed by NGT Chairperson Justice A K Goel said.
-The tribunal said all drains joining Kali, Krishna and Hindon should have in-situ remediation and plan for connectivity with the identified sewage treatment plant.The NGT had earlier ordered "intensive survey" of the Kali, Krishna and the Hindon river in western Uttar Pradesh and directed the inspection of 316 industries which are allegedly polluting the water bodies. https://www.newindianexpress.com/nation/2020/aug/11/no-meaningful-action-taken-for-cleaning-ganga-tributary-ngt-2182076.html (11 Aug. 2020)
What is siphoning the rivers in Amroha? One major contributor to the siphoned flow is groundwater depletion. The rivers get their flow contribution through rainfall. Water flows in the river once there are saturated aquifers that create surplus water for surface flow after the monsoon.
The area is marked by increasing population burden and irrigation water demand along with groundwater depletion in the alluvial aquifers of Amroha. The available porosity due to the depleted water table has created more room for rainfall to get saturated and has reduced the surface runoff that drains to the rivers.
There is a sharp increase in water-intensive crops like sugarcane in the region which puts pressure on the groundwater. Changes in groundwater availability in Amroha for the last 10 years as per the Water Resource Information System (WRIS) shows that groundwater level has gone down by twice in 2020 (17.17 m) when compared to its level in 2010 (8.54 m) in Amroha. https://www.indiawaterportal.org/articles/drying-veins-ganga-can-we-have-nirmal-ganga-dying-tributaries (27 Aug. 2020)
Clean water flowing in Krishna after years This mentions of completion of 75 % work under Krishna river revival project with a budget of Rs. 5.90 crore. The river channel has silted and bank raised higher. Though the water flow is mainly because of rains in catchment. https://www.amarujala.com/uttar-pradesh/shamli/clean-water-came-in-krishna-river-after-25-years-shamli-news-mrt4976484144 (23 Aug. 2020)
Bihar Work on new bridge The construction on a new four-lane bridge parallel to Mahatma Gandhi Setu (MGS) on the Ganga will start within a month as the bidding process for the project worth Rs1794.37 crore completed on Friday (Aug. 28), state road construction department minister Nand Kishore Yadav told TOI.
-Additional chief secretary (RCD) Amrit Lal Meena said the target is to complete the construction process in 48 months. Meena said the total length of the new bridge would be around 14km-long — from Zero Mile in Patna up to Ramashish Chowk at Hajipur. The length of its superstructure, excluding its approach road, is 5.63km. It is a part of PM Modi's special package for Bihar which he had announced before the 2015 assembly polls.
– Fresh tenders were floated for the construction of this bridge in June this year and seven firms had qualified for the financial bid. The SP Singla Construction Pvt Limited quoted Rs1,794.37 crore as the bid amount. Officials had cited technical errors for the cancellation of previous tender. However, sources said the reason for cancellation of previous tender was the partnership of Chinese firms in several of the companies which had participated in the earlier bid. https://timesofindia.indiatimes.com/city/patna/work-on-new-bridge-parallel-to-gandhi-setu-to-begin-next-mth/articleshow/77811688.cms (29 Aug. 2020)
YAMUNA Delhi Photos: Rain-fed Yamuna nears warning levels People fishing in Yamuna river near Signature bridge on Aug. 25. (Biplov Bhuyan/HT Photo) https://www.hindustantimes.com/photos/delhi-news/photos-rain-fed-yamuna-nears-warning-levels-in-delhi/photo-8QRfNXpOuKtJPAR6rDTDsL.html (25 Aug. 2020)
RIVERS BIODIVERSITY
Himalayas' shy otters India has three otter species and they are becoming increasingly rare outside protected areas (PA), especially in the Himalayan region. Human-caused disturbance such as the construction of hydropower projects, sand mining, and boulder collection harm the riverine habitats of otters that extend beyond PAs such as wildlife sanctuaries and national parks. https://www.youtube.com/watch?v=prqVUa_vkOE (21 Aug. 2020)
Cartoon on project dolphin https://www.facebook.com/sandrp.in/posts/3731484773545835
FISH, FISHERIES, FISHERFOLKS
West Bengal With depleting fish catch, Sundarbans fishers migrate to other coastal states About 500 traditional fishermen from the Sankizahan village in the Sundarbans region migrate to other coastal states in India for the better part of the year. This migration, that seems to have happened over the past five or six years, is fuelled by the depleting fish catch that is affecting the livelihood of the traditional fishing communities. Human intervention, including harmful fishing practices and pollution along with climate change are among the reasons attributed for the depleting fish stock. https://india.mongabay.com/2020/08/with-depleting-fish-catch-sundarbans-fishers-migrate-to-other-coastal-states/ (28 Aug. 2020)
Karnataka Scores of fish found dead in Phalguni river Hundreds of fish were found floating dead in River Phalguni at Dadelu in Nadthikallu, near Venoor, triggering an alarm that water had been poisoned. As the fish had died, the entire area reeked of a nauseating smell.
Hundreds of cattle drink water from the water body to quench their thirst. The residents fear spread of diseases from the rotting fish. They said animals and birds that drink from the river will die if the water is poisoned. The villagers, who were angry over the incident, said that the miscreants behind the poisoning of the river should be punished. https://www.deccanherald.com/state/top-karnataka-stories/scores-of-fish-found-dead-in-river-phalguni-832785.html (02 May 2020)
Maharashtra Fish die en-mass in Gandhi Sagar Preliminary investigation, however, has ruled out possibility of fish dying due to environmental reasons. Professional diver Jagdish Khare, who stays at the lake, said every year there is a similar phenomena wherein a large number of fish die during monsoon. This year, the number of dead fish is alarming, he said.
-Environment expert Kaustav Chatterjee explained that cloudy weather combined with night-time conditions deplete oxygen level which leave fish with reduced oxygen to persist. As per him this mainly affects big fish which need more oxygen to survive. Other reasons for fish deaths could be overcrowding, wherein species fight for food among themselves, said Chatterjee. https://timesofindia.indiatimes.com/city/nagpur/fish-dying-in-gandhisagar-nmc-to-seek-neeri-help/articleshow/77493154.cms (12 Aug. 2020)
SAND MINING
Odisha Mahanadi embankments eroding fast due to illegal sand mining Illegal sand mining has taken a toll on the embankments of Mahanadi river in the district. Even as sand mafia have been operating with impunity allegedly in connivance with revenue officials, erosion of the river bed now poses a grave threat to several villages in Tirtol and Kujang blocks and those along the Taladanda canal.
-Heavy machinery is used to lift sand from the river bed in the two blocks and several trucks and tractors used to transport them to Paradip where they are used in construction industries. Madhusudan Behera, a resident of Arada village said the embankment of the river near Jhulababa math in Tirtol panchayat collapsed recently as a result of which several fruit-bearing trees were washed away. Similar is the situation in Tentulipada, Manijanga, Jadatira, Pipalmadhab, Bodhei and other panchayats of Tirtol.
-The Taladanda canal, which has caved in three to four times since its construction, is on the verge of complete collapse. Sources said the 400 metre long and 250 metre wide embankment of Mahanadi river, just 700 metre from the canal, has caved in. Use of machines have been causing a change in the natural topography of the region. Deep digging and lifting of sand has led to formation of ponds giving rise to the threat of the river changing its course during floods. This can prove disastrous for villages in the two blocks. https://www.newindianexpress.com/states/odisha/2020/aug/23/mahanadi-embankments-eroding-fast-due-to-illegal-sand-mining-2187158.html (23 Aug. 2020)
Villagers lathi-charged over illegal sand mining protest Tension prevailed in Hinjili on Sunday (Aug. 23) over police lathi-charge on a group of villagers from Kolidaspur, who were protesting the arrest of five persons in connection with a vandalism incident.
-On Friday (Aug. 21) , a group of people had set fire to a tractor, a tipper, an excavator, and two motorcycles, that had allegedly been engaged in illegal sand lifting from the Rushikulya river bed near Kolidaspur village. Police on Saturday night (Aug. 22) arrested five persons in the connection.
-However, the villagers rose in protest and gheraoed the Hinjili police station demanding the immediate release of the arrested persons. They did not allow senior officers who had rushed to the spot to enter the police station and also resorted to stone pelting.In order to disperse the crowd, police resorted to lathi-charge as a result of which several of the protesters were injured. The police also detained eight other villagers. https://www.newindianexpress.com/states/odisha/2020/aug/24/odisha-villagers-lathi-charged-over-illegal-sand-mining-protest-2187495.html (24 Aug. 2020)
Punjab HC seeks report from govt on steps taken to curb illegal mining Dismissing the anticipatory bail applications of 17 people booked for theft and under MMDR (Mines Minerals, Development and Regulation) Act, the Punjab and Haryana High Court has sought a report from the state within three months regarding the requisite steps taken to curb illegal sand mining.
-A single bench of Justice Arun Kumar Tyagi passed the order on August 14 while hearing the anticipatory bail pleas of 17 drivers/owners of the tippers booked for alleged illegal mining of sand from riverbed of Satluj in the area of Shamashpur. As per Rahon police station, SBS Nagar district, a total of 50 people have been booked in the matter while 33 have already been arrested. The HC bench had granted interim bail to the petitioners on June 17, directing them to join investigation.
-Regarding the anticipatory bail plea, the HC observed, "Illegal mining/theft of sand from river beds not only involves loss of public exchequer but also endangers ecological balance resulting in enundating floods causing huge loss of lives and property and other devastating consequences. Persons involved have to be sternly dealt with and effective steps have also to be taken to deny the fruits of crime to them. Therefore, the Courts cannot be liberal in the matter of grant of bail to persons allegedly involved in offence of illegal mining/theft of sand." The bench held that though they have joined investigation, custodial interrogation of the petitioners is necessary for a proper and thorough investigation of the case. https://indianexpress.com/article/cities/chandigarh/hc-seeks-report-from-punjab-on-steps-taken-to-curb-illegal-sand-mining-6565934/ (22 Aug. 2020)
Illegal sand mining unabated in Fazilka -There is no legal sand quarry in Fazilka but illegal mining seems to be going on unabated in the district. The police booked two persons for illegal sand mining and recovered two sand-laden tractor-trailers in Noorshah village of the district on Saturday. On August 15, the police had booked two persons and confiscated two sand-laden tractor-trailers. On August 9, it arrested three persons and recovered two tractor-trailers and on August 5, it seized three trucks of sand in Fazilka town. SSP Harjeet Singh said 64 cases had been filed under the Mines and Minerals (Development and Regulation) Act in the district during the past six months and 44 persons had been arrested. https://www.tribuneindia.com/news/punjab/illegal-sand-mining-unabated-in-fazilka-44-held-in-6-months-130363 (24 Aug. 2020)
50 cases of illegal mining in Mohali in 3 years Illegal mining is rampant here despite 17 cases being registered in 2018; 21 in 2019 and 12 in 2020, when 20 other cases are being investigated, police records state. Around 50% cases in the past three years were registered in Mubarakpur, Dera Bassi.
– On July 16, the mining department conducted a raid at Gocher village and found that 5,000 cubic feet gravel had been extracted from privately owned land in the area. A stone crusher was also seized during the raid, but the revenue department claimed it had not identified the landowners even after a month.
-In July last year, the mining department had imposed a penalty of Rs 52 crore on 193 landowners in three villages of Mohali — Mianpur Changar, Kubaheri and Abhipur— for allowing illegal mining on their land. https://www.hindustantimes.com/chandigarh/50-cases-of-illegal-sand-mining-in-mohali-in-3-years-but-trials-still-on/story-HmzHo0iVtmm9SpbF4YobNI.html (18 Aug. 2020)
Illegal sand mining goes unabated in Ravi riverbed Incidents of illegal sand mining are rampant in the Ravi riverbed falling under Ajnala, Ramdass and Lopoke areas, if the recent seizures are anything to go by. Satnam Singh, a Jamhoori Kisan Sabha leader, said illegal sand mining had been going unabated in the Ravi riverbed areas because of the politician-police-mafia nexus. "Only the governments have changed in Punjab, the nexus continues to thrive without a dent," he said. https://www.tribuneindia.com/news/amritsar/illegal-sand-mining-goes-unabated-in-ravi-riverbed-132563 (28 Aug. 2020)
Himachal Pradesh Illegal mining endangers bridge A Rs 1-crore bridge on the Sukhar Khud on the Chauntra Dohg-Joginder Nagar road (Bhadhiyara panchayat) in Mandi district, which was constructed four years ago, is on the verge of collapse because of illegal mining in the riverbed. The large-scale unscientific mining has posed a threat to the bridge. The gushing water has eroded the foundation of the bridge and washed away its protection walls. https://www.tribuneindia.com/news/himachal/illegal-mining-endangers-bridge-near-chauntra-132462 (28 Aug. 2020)
Kerala Vigilance court orders probe into Pampa sand mining deal The Vigilance court here has ordered a probe into the mining of flood-accumulated sand from Triveni bank in Pampa. The order was issued on the basis of a complaint filed by Opposition Leader Ramesh Chennithala, who had knocked on the judiciary's doors after the state denied his demand for a Vigilance probe. He had alleged corruption in awarding the contract to a Kannur-based firm to mine and transport sand.
-The government, however, justified its action saying it decided to mine sand under the Disaster Management Act. The court, however, observed that it did not require the government's permission to order a probe. The Vigilance was also directed to file the preliminary report within 45 days. https://www.newindianexpress.com/states/kerala/2020/aug/27/vigilance-court-orders-probe-into-pampa-sand-mining-deal-2188734.html (27 Aug. 2020)
WETLANDS, LAKES, WATER BODIES
Uttar Pradesh 4 new gangetic wetlands discovered in Meerut A set of new wetlands have been "discovered" with the help of a government-directed remote sensing agency, and now it will be developed by the forest department of Meerut in UP.
According to forest officials, the size of these four wetlands ranges from 0.03 hectare to 2,563 hectares – all present in the vicinity of Ganga. The action plan funded by Namami Gange will involve removal of hyacinth, lantana weed, securing boundaries and introduction of biodiversity in a phased manner. At present, the largest wetland in the region is Haiderpur near Bijnor barrage which witnesses thousands of migratory birds every year. https://timesofindia.indiatimes.com/city/meerut/four-new-gangetic-wetlands-discovered/articleshow/77640695.cms (20 Aug. 2020)
Madhya Pradesh Bhopal's development plan could kill its upper lake Two proposed roads around its periphery could choke the water body designated as a protected site under the Ramsar Convention. https://www.indiatoday.in/india-today-insight/story/why-bhopal-s-development-plan-could-kill-its-upper-lake-1713381-2020-08-20 (20 Aug. 2020)
NCR Najafgarh Jheel countdown to rejuvenation or extinction Ritu Rao. a PhD scholar at Teri University working on urban water bodies and also working with INTACH on water bodies of Delhi, have created a group on Facebook on Najafgarh jheel which lies in Delhi and Gurugram. It is the largest water body after Yamuna in this region. Sadly like all urban water bodies, this jheel is on the verge of extinction. Request all concerned to join this group and help raise awareness about the plight of this water body. I would also request you to share this link with likeminded people. The link for this group is https://www.facebook.com/groups/231361664822750/?ref=share.
WATER OPTIONS
SANDRP Blog PATODI JOHAD: Narela Youth Rejuvenate a dry Pond The monsoon rains of August 2020 have brought a soothing smile on the faces of villagers working towards revival of Patodi Johad a traditional water body in Narela, a bustling sub-city in North Delhi. The greenery, cleanliness created over past one year around the pond with joint effort by youth, women, elderly and children have been now complemented by rainwater flooding the pond making it one of best locations in Narela where native plants, water body, blooming garden is thriving. https://sandrp.in/2020/08/30/patodi-johad-narela-youth-rejuvenate-a-dry-pond/ (30 Aug. 2020)
GROUNDWATER
Punjab RWH project in Jalandhar Administration will construct 15 rooftop rainwater harvesting systems in various blocks of the district during the financial year. The work on three rooftop rainwater harvesting systems in Nakodar has already been accomplished and construction on other sites would start soon. These rooftop rainwater harvesting systems are being constructed under the Integrated Watershed Management Programme in convergence with the Mahatma Gandhi National Rural Employment Guarantee Scheme. The entire project will cost around Rs 36 lakh.
-Deputy Commissioner Ghanshyam Thori said the groundwater table had been dipping constantly in the district and all 10 blocks of the district had been declared 'overexploited'. He said the rainwater harvesting systems would help recharge groundwater. He said the 15 systems would save 35 lakh litres of water annually. Thori said in August, three rainwater harvesting systems were installed in Nakodar and others would be built in Lohian, Shahkot and Phillaur. https://www.tribuneindia.com/news/jalandhar/rainwater-harvesting-projects-to-check-groundwater-depletion-127123 (17 Aug. 2020)
Telangana Over 80% of irrigation land depends on bore well Data from the Department of Economics and Statistics (DoES) has shown that only about 20 lakh acres of a total of 1.06 crore acres of arable land have irrigation support from the existing half a dozen major and about 30 minor and medium irrigation projects in the state. https://www.siasat.com/over-80-percent-of-irrigation-land-depends-on-bore-well-in-telangana-1958205/  (27 Aug. 2020)
URBAN WATER
Delhi River in basement Residents of Greater Kailash II are facing a strange problem these days. Their basements are getting flooded every day, with water seeping in from the ground and walls. Residents claimed that basements of houses in M, E, S and some other blocks are inundated in a foot and a half of water, but neither drains nor water supply pipes seem to be the source of the extra water.
-Worried that the stagnant water could damage the house foundations, Aggarwal took the matter to PWD. "My house is located next to M Block market, and I thought the PWD drains were leaking water," said Aggarwal. "But a PWD team physically verified the site and noticed no problems. I then contacted Delhi Jal Board to see if its newly laid supply line had developed leaks."
-When Aggarwal approached DJB, other residents of M, S and E blocks also reported basement seepage. Yotsna Attree, resident of M 83, was certain that DJB's new supply line was behind the seepage. Atree said, "The water oozed out as if from a tap and within no time, there was knee-deep water in my 300 sq ft basement."
-A DJB team investigated and an official said, "On residents' demand, we checked the water pipes and even dug up the roads in several places but detected no leakage." Flummoxed by the problem, the residents approached the local MLA, Saurabh Bharadwaj, and the Central Ground Water Board. The DJB official added, "CGWB has now taken over the matter and we are assisting them. We have shared maps of water pipelines with them."
-in the parks. "To our surprise, groundwater was available at a depth of a mere 15 feet. Some time back, it was at a depth of around 100 feet," said Sanjay Rana, president, GK II RWA. "CGWB officials have taken water samples and refused to come to any conclusion immediately. They have, however, written a letter to DJB asking them to shut down the new 600 mm supply line for 36 hours to help them ascertain the cause of the flooding." https://timesofindia.indiatimes.com/city/delhi/mystery-deepens-a-river-runs-through-basements-of-gk-ii-houses/articleshow/77683786.cms (22 Aug. 2020)
Bengaluru The Bangalore Development Authority (BDA) has decided to develop the two lakes of Komaghatta and Chikkabanavara soon as well as create new roads or upgrade existing roads in some of its layouts. he sewage in both Komaghatta and Chikkabanavara lakes would be removed and the wetland area will be increased, an official said. https://www.newindianexpress.com/cities/bengaluru/2020/aug/29/bangalore-development-authority-to-develop-two-lakes-take-up-road-work-across-layouts-2189901.html (29 Aug. 2020)
JJM/ RURAL WATER SUPPLY
Jammu & Kashmir Siltation affects water supply The accumulation of silt in the filtration plant has created a drinking water crisis, especially in many areas of the old city of Jammu. The water of the Tawi river goes to the filtration plant. Power cuts in these areas are also troubling people. According to the information, 65 million gallons of water is required daily in Jammu city and surrounding areas, while only 50 mgd of water is being supplied currently. https://www.jagran.com/jammu-and-kashmir/jammu-depletion-of-silt-at-the-filtration-plant-deepens-drinking-water-crisis-in-old-city-20666269.html (25 Aug. 20200
AGRICULTURE
Bihar Entrepreneur Grows 50% of India's Makhana While Empowering 12,000 Farmers "The way we are going, in the next 2 to 3 years, we will successfully be able to contribute 70 to 75 per cent of the total makhana production in the world." https://www.thebetterindia.com/236549/bihar-farmer-earns-lakhs-superfood-makhana-entrepreneur-lotus-seeds-fox-nuts-cultivation-farming-india-ana79/ (26 Aug. 2020)
MONSOON 2020
IMD August receives 25% more rainfall, the highest in 44 years India has received the highest rainfall in the month of August in the last 44 years, IMD data shows, as several parts of the country have witnessed floods. Until August 28, the month recorded a 25-per cent surplus rainfall. It has also surpassed the previous highest rainfall in August, which was recorded in 1983. In that year, August had recorded a 23.8 per cent excess rainfall.
-The IMD data shows that in August 1976, the country had recorded a 28.4 per cent excess rainfall. The country has so far recorded nine-per cent more rainfall than normal. Bihar, Andhra Pradesh, Telangana, Tamil Nadu, Gujarat, Goa have recorded excess rainfall while Sikkim has recorded a large excess. Many states have seen floods after the swelling of rivers.
– "Better than normal storage" is available in the basins of the Ganga, Narmada, Tapi, Mahi, Sabarmati, the rivers of Kutch, Godavari, Krishna, Mahanadi and the neighbouring east-flowing rivers, Cauvery and the neighbouring east-flowing rivers and west-flowing rivers of south India, the CWC said. The Union Territory of Jammu and Kashmir, Manipur, Mizoram and Nagaland have recorded a deficient rainfall. https://www.thehindubusinessline.com/economy/agri-business/august-receives-25-per-cent-more-rainfall-the-highest-in-44-years-imd/article32472998.ece (29 Aug. 2020)
Extreme rains flooding central India -Extremely heavy rain was recorded at Chhindwara, Seoni, Hoshangabad and Harda districts of Madhya Pradesh (MP). Chaurai in MP recorded 41 centimetres (cm) of rainfall. The threshold for extremely heavy rain is 20 cm. According to the Central Water Commission (CWC), eight dams have breached 100% capacity. Extreme flood situation is declared, when the highest flood level is breached.
-CWC on Saturday (Aug. 29) said the Mahanadi river at Kalma in Janjgir Champa and Surajgarh in Raigarh districts, respectively, in Chhattisgarh are flowing in extreme flood situation with a rising trend.
-The water level of Hirakud dam on river Mahanadi in Odisha is also rising because of the high precipitation in Chhattisgarh. The Wainganga river in MP's Seoni district continues to flow in extreme flood situation due to which very heavy inflows are coming into the Sanjay Sarovar dam. River Narmada at Gadarwara in Jabalpur, MP, is also flowing in extreme flood situation.
-A study published in the Nature journal in 2017 by the Indian Institute of Tropical Meteorology (IITM) had concluded that there was a three-fold rise in extreme rains along the west coast and central India between 1950 and 2015. https://www.hindustantimes.com/india-news/extreme-rain-flooding-rivers-in-central-india-more-rain-likely-says-imd/story-OJ937h15d9zGNRuZXgfB7J.html (30 Aug. 2020)
Delhi August Rainfall In Highest In 7 Years: IMD Delhi recorded 236.5 mm rainfall in August this year, the highest for the month in seven years, according to IMD data. The Safdarjung Observatory, which provides representative data for the city, recorded 236.5 mm rainfall against the normal of 245.7 mm till August 30, a deficiency of four percent. During this month, the precipitation on August 13 (68.2 mm) and August 20 (54.8 mm) accounted for more than 50 percent of the rains. The capital had gauged 119.6 mm precipitation in August last year, and 206.5 mm in 2018. It recorded 152.2 mm and 122.1 mm rainfall in August 2017 and 2016, respectively. The August rainfall in 2015 and 2014 stood at 195.4 mm and 139.1 mm. The rainfall in August 2013 was 321.4 mm. Overall this year, the city has gauged 555 mm precipitation against the normal of 521.8 mm since June 1, when the monsoon season starts. https://www.ndtv.com/delhi-news/august-rainfall-in-delhi-highest-in-7-years-weather-office-2287746 (31 Aug. 2020)
FLOOD 2020
SANDRP Blog Central India downpour brings unprecedented flows in Brahmani, Chambal, Godavari, Mahanadi, Narmada, Suvarnarekha A massive wave of flood is flowing down the rivers originating in Central India states from Odisha in East to Gujarat-Rajasthan in the west. At least fourteen river sites have seen breach of Highest Flood Levels (HFL) in last four days, a record by itself: 7 in Mahanadi, 5 in Godavari, 2 in Narmada and one each in Suvarnarekha and Chambal. https://sandrp.in/2020/08/31/central-india-downpour-brings-unprecedented-flows-in-brahmani-chambal-godavari-mahanadi-narmada-suvarnarekha/ (31 Aug. 2020)
Maharashtra All dams full, IMD predicts moderate rain in Pune till early next week "Southwest Monsoon has become vigorous, causing widespread rain over parts of Konkan and Madhya Maharashtra since August 28. This spell will continue till August 31," said an official from IMD Pune.
-Most areas of Madhya Maharashtra and Konkan reported moderate but widespread rain on Saturday. Cities where significant rainfall was recorded include Mahabaleshwar – 48mm, Mumbai (Santacruz) – 28mm and Dahanu – 34mm. Besides, a low-pressure system present over Madhya Pradesh is attracting moist westerlies over to the state and Madhya Pradesh.
-This year, rainfall recorded in Pune district is 41 per cent above normal. Similarly, the state has recorded 17 per cent surplus rain. All sub-divisions, except Vidarbha, have been placed under the 'excess rainfall' category.
-The dams supplying drinking water to Pune city — Khadakwasla, Panshet and Varasgaon — have reached full capacity. But the stock in Pavana dam, which supplies water to the twin town of Pimpri-Chinchwad, stood at 96 per cent on Saturday. Earlier, due to continuous rain, 3,000 cusec of water was released for the first time from Pavana this season. Other dams in Pune district also have healthy stock of water for the months ahead. Andhre, Kalmodi, Andra, Mulshi, Nira Devghar, Bhatghar, Veer and Nazhre reservoirs have reached full capacity. https://indianexpress.com/article/cities/pune/all-dams-full-imd-predicts-moderate-rain-in-pune-till-early-next-week-6575388/ (30 Aug. 2020)
Water level at Barvi dam rises; alert issued Thane collector has issued an alert to the municipal corporations and councils in its jurisdiction to alert the people residing near water bodies as there is a chance of gates being opened if the level rises further. The notice stated that on Friday (Aug. 28) around 3.30pm the water level at the dam was 71.95 metres. The overflow level of Barvi dam is 72.6 metre and once water level reaches 72.2m to 72.6m, the automatic gate will start discharging water.
-Last year, opening of Barvi floodgates had led to flooding in Diva, Thane, Ulhasnagar, Ambernath, Badlapur and Kalyan areas. Thane region reported 9.8mm of rainfall on Friday while Kalyan-Dombivli reported 12.4mm, Bhiwandi 11mm, Ulhasnagar 10.8mm and Ambernath 9.4mm. https://www.hindustantimes.com/cities/water-level-at-barvi-dam-rises-thane-collector-issues-alert/story-HMInf7zRypHj54kIKxt17L.html (29 Aug. 2020)
Gangapur starts discharge as dam storage crosses 94% With the water level in Gangapur dam going above 94%, the water resources department (WRD) on Sunday (Aug. 23) started discharge at 520 cusec at 1pm. "This is the first time that water from Gangapur dam is being released this monsoon. The discharge has been delayed this year because of lower rainfall in the catchment areas in Trimbakeshwar taluka," a WRD official said.
"Now that the dam is filled over 94%, the water had to be discharged given the safety protocol and reserve operations plan that will help accommodate more water due to rains in the next few days," the WRD said.
– Other than Gangapur dam, Kashyap dam and Gautami Godavari are currently showing live storage of 54% and 64% respectively. These three dams constitute Gangapur dam complex that provides drinking water to the NMC and various other local self-governing bodies other than for agriculture.
– The water from Kashyapi and Gautami-Godavari dams flow in through two separate channels into the Gangapur Dam. "We would have not released water from the dam if the live storage was not above 94%," the official said. The 23 major and minor dams across the district have 46,253 million cubic feet (mcft) of water or 70% of the storage which is lower than 59,252 (90%) mcft of water available at the same time last year. https://timesofindia.indiatimes.com/city/nashik/gangapur-starts-discharge-as-dam-storage-crosses-94/articleshow/77708138.cms (25 Aug. 2020)
Odisha As Mahanadi water levels rise, Hirakud dam opens 46 sluice gates With water levels of the Mahanadi river continuing to rise, Odisha's Hirakud dam has opened 46 of its 64 sluice gates, releasing the excess water flowing in from the upper catchment area of Chhattisgarh.
-According to officials, the water level in the Hirakud dam is increasing by 8 cm every hour. Water Resource Department chief engineer Jyotirmaya Rath said, "There is a risk of flooding in the districts of Mahanadi Basin. Around 10.5 lakh cusec floodwater released from Hirakud dam to the river will reach Mundali barrage by 5 am tomorrow. In view of this, all these districts have been placed on high alert. Flood waters are above the danger mark at Baitarani Akhuapada. The water level in other rivers is declining."
Special Relief Commissioner Pradeep Jena said, "The inflow of Hirakud is 8.78 lakh cusecs while the outflow is 7.57 lakh cusecs. The inflow capacity has increased by over 1 lakh cusec. The water level of the reservoir stands at 626.89 feet as against its full capacity of 630 feet."
The floodwaters are likely to cause flooding in Cuttack, Khordha, Puri, Jagatsinhpur, Kendrapada and Nayagarh districts. According to officials, over 4 lakh people in 1,276 villages under 54 blocks of Angul, Balangir, Balasore, Boudh, Cuttack, Jajpur, Dhenkanal, Nuapada, Deogarh and Sonepur districts have been affected by various rain and flood related incidents, with 12 deaths. https://indianexpress.com/article/india/as-mahanadi-water-levels-rise-hirakud-dam-opens-46-sluice-gates/ (30 Aug. 2020)
Weak embankments trigger flood fear While many villages in several blocks are water-logged due to incessant rainfall, the flood threat has triggered panic among hundreds of villagers whose houses are located near weak river embankments and its surrounding areas.
-Four rivers – Mahanadi, Chirotopla, Devi and Biluakhai – flow through Jagatsinghpur district. The embankments of Devi and Biluakhai have become weak at Nachipur, Narapari, Beherasahi, Mundilo, Ghadimula Gapada gheri, Eksudha, Patenigaon near Dhuleswar temple, Salanti Korua gheri, Kolar, Salagaon, Phulhar, Belabana, Tuembeswar, Kulasahi, Angeswarpada, Bachalo, Bhandisahi and Sikhar under Jagatsinghpur and Naugaon blocks.
-Similarly, the five-km embankment stretch from Balikani to Khosal and Termanpur to Manijanaga of Taldanada canal along Mahanadi river have been identified as vulnerable points. Besides, the Devi river embankment in Kulashai and Bhandisahi under Naugaon is in a pathetic condition.
-Though lakhs of rupees have been spent for its repair and maintenance, the embankment gets damaged every year. Sources said breaches have developed at many places of the embankment.
Expressing concern over the vulnerable embankments, locals said the repair work should have carried out before the rainy season. https://www.newindianexpress.com/states/odisha/2020/aug/29/weak-embankments-trigger-flood-fear-in-odisha-2189772.html (29 Aug. 2020)
Madhya Pradesh Newly built bridge washed away A bridge built at a cost of crores of rupees on the Wainganga river in Sunwara village of Seoni district has been washed away in the middle of heavy rains on intervening night of Aug. 29-30. According to the documents, this bridge was built at a cost of Rs 3 crore 7 lakh. The construction of the bridge started on 1 September 2018. The completion date for construction was set to 30 August. The bridge was already built before this and the people of the village have been using it for about a month, but before its inauguration. https://khabar.ndtv.com/news/india/bridge-collapse-in-madhya-pradesh-before-inauguration-2287591 (30 Aug. 2020)
Hoshangabad inundated as Narmada river swells. https://timesofindia.indiatimes.com/videos/news/mps-hoshangabad-inundated-as-narmada-river-swells/videoshow/77827098.cms (29 Aug. 2020)
Gujarat 23 gates of Sardar Sarovar dam opened As many as 23 out of 30 gates of the Sardar Sarovar Narmada dam in Kevadia Colony were opened to release 6.14 lakh cusec water as of 7 pm on Saturday (Aug. 29). Additionally, the dam is also generating electricity at the Riverbed Powerhouse (RBPH) and Canal Head Powerhouse (CHPH). Several villages along the Narmada River have been put on alert in the districts of Narmada, Bharuch and Vadodara.
The outflow of water through gates is 565000cusecs, RBPH is 33938cusec and CHPH is 15675 cusecs. The dam has an inflow of 5,02,322 cusecs. The gates of the dam were opened in a phased manner beginning late evening on Friday (Aug. 28), when the first 10 gates opened to release 50,000 cusecs of water to maintain the balance with the upstream inflow from the Indirasagar and the Omkareshwar dams in Madhya Pradesh. By Saturday morning (Aug. 29), 23 gates had been opened as the water level in the dam rose to 131.5 metres with a steady inflow of close to 2.8 lakh cusec water from Madhya Pradesh. https://indianexpress.com/article/india/23-gates-of-sardar-sarovar-dam-opened-6575489/ (30 Aug. 2020)
Alert issued for 108 dams as state gets over 94% rain this year Anand district Collector has issued a warning in villages along the Mahi river after the Kadana dam started releasing close to 2 lakh cusec water from Sunday (Aug 23, 2020) afternoon. About 20,000 cusec water was being released from the powerhouse of the dam, while the rest of the water is being released through the gates. Villages in Khanpur, Kherda, Aaklavadi and Rajupura in Anand taluka; Pratappura and Khorwad in Umreth taluka; Gajna, Salol, Kankapura, Nani Sherdi, Kathiyakhad, Dehwan, Badalpur and Vavlod in Borsad taluka; and Chamara, Baman, Umeta, Khodala, Sankyad, Kahan wadi, Aamrol, Bhanpur, Asarma, Navakhal and Bhetasiwata in Anklav taluka located along the riverbank of Mahi have been put on alert. https://indianexpress.com/article/india/alert-issued-for-108-dams-as-state-gets-over-94-per-cent-rain-this-year-6567192/ (24 August 2020)
Andhra Pradesh Inflows into dams fall With rains stopping in the last couple of days, particularly in the upper catchment regions, inflows into the major reservoirs on rivers Godavari and Krishna fell significantly in Andhra Pradesh on Monday (Aug. 24). A drastic reduction of over five lakh cusecs in the flood flow eased the situation in the marooned villages along its course in East and West Godavari districts and normalcy is expected by Tuesday (Aug. 25), according to sources in the State Disaster Management Authority here. https://www.outlookindia.com/newsscroll/inflows-into-dams-fall-significantly-in-ap-after-lull-in-rains/1921998 (24 Aug. 2020)
Uttar Pradesh Bhikaripur-Sakrour embankment facing repeated breach Flood havoc is not subsiding in Gonda district. On Wednesday (Aug. 19), erosion was seen at third site on the Bhikharipur Sakraur embankment in Taraganj threatening the safety of embankment. The Ghaghra river on Elgin Bridge was flowing 75 cm above the danger mark and Saryu river in Ayodhya 77 cm.
– Due to the rains in the midst of floods, the roads in the area were cut off affecting the life of 780 families living in 34 Majras. Traffic problems became worse due to damaged roads. The crops were submerged. Bhikharipur-Sakraur embankment was facing breach threat. There was about 100 meters breach near Vishun Purva, the third such site where part of embankment merged into the river. https://www.jagran.com/uttar-pradesh/gonda-flood-problem-increasing-20645478.html (20 Aug. 2020)
The embankment had also breached in first week of Aug 2020. https://www.jagran.com/uttar-pradesh/lucknow-city-820-villages-in-15-districts-affected-by-flood-in-uttar-pradesh-20588138.html (03 Aug. 2020)
The breach had affected around 50 villages then. https://www.livehindustan.com/uttar-pradesh/story-bhikharipur-sakraur-bandh-cut-due-to-pressure-of-saryu-river-water-entered-in-50-villages-3401375.html (06 Aug. 2020)
Another embankment Ring Bandh was facing breach threat in the district last week. https://www.jagran.com/uttar-pradesh/gonda-flood-problem-increasing-ring-bandh-also-danger-20632865.html (17 Aug. 2020)
Bihar Villagers loosing land to erosion With increase in Ganga water level, the erosion river bank has started in Sohra Panchayat of Badhra block in Bhojpur district. Villagers say in the last few years, about 800 acres of farm lands by the river has been lost to erosion and they have been, for 69 years, bearing the brunt of the Flood. Despite this, no precautionary measures have been taken by the government. https://hindi.news18.com/news/bihar/bhojpur-due-to-erosion-in-floods-800-acres-of-land-got-dissolved-in-ganga-people-will-boycott-votes-brvj-3210627.html (22 Aug. 2020)
Here is pictorial and descriptive report on impact of floods on people in Bihar. https://www.bbc.com/news/world-asia-india-53916612 (29 Aug. 2020)
Also see, visualisation of 2020 floods in state by Megh Pyne Abhiyaan. https://www.facebook.com/sandrp.in/posts/3721639071197072
Assam Dams and embankments worsen floods For centuries, people living close to the many rivers of the Brahmaputra basin have learnt to live with minor floods. They built their houses on stilts to let the floodwaters flow below and they profited from the fertile silt left behind when the floodwaters receded. But in recent decades, floods have become a cycle of disasters due to a combination of climate change, ill-planned dam building and embankments that stop minor floods but fail with the bigger ones.
Dams hold back or divert almost all the water in almost all the rivers of the basin now. Flood control is one of the stated reasons for building dams. But in recent years, dam managers have been forced to open the gates every monsoon to save the structures – and that leads to a more ruinous flood pulse than would have occurred otherwise.
The other huge problem with dams is that they stop silt. Being the youngest mountain range in the world, the Himalayas are still crumbling, and rivers flowing down from this range carry the crumbling rocks in the form of very fertile silt that used to rejuvenate the farmlands of south, southeast and east Asia for centuries. This is why the floodplains of the Ganga-Brahmaputra-Meghna, Aerawaddy, Chaophraya, Mekong, Pearl and Yangtze rivers have provided the world's most fertile farmlands.
Not anymore. With the silt stopped behind dam walls, floodwaters only scour out the riverbanks without building fresh land with the silt. On top of this erosion, the rushing floodwaters scoop out sand from the riverbeds and spread them over farmland, making the soil infertile when the water recedes. This imbalance between erosion and silt deposition in recent decades has now been documented from 1988 to 2015, through satellite imagery analysed by the Assam government's Brahmaputra Board. It found 798 sq. km had been eroded, while 208 sq. km of fresh farmland had formed through deposition. https://indiaclimatedialogue.net/2020/08/31/dams-and-embankments-worsen-floods-in-assam/ (31 Aug. 2020)
RIVERS CROSSING HFL
Madhya Pradesh River Wainganga in Seoni district has crossed previous HFL 440.8 attained on 21.07.1994 around 09:00 hours on August 29, 2020. Currently flowing at 442.72 which is 2 metre above previous HFL. https://www.facebook.com/sandrp.in/posts/3737960062898306
River Wainganga has crossed previous HFL 297.3 metre attained on 22.07.1994 around 06:00 hours on August 30. It remained above previous HFL for 7 hours and declined below the previous HFL around 13:00 hours on August 30. The new HFL set is 297.45 metre which is 0.15 metre higher than last HFL.
River Narmada at Handia site in Harda district has crossed previous HFL 274.46 metre attained on 2013-08-22 around 07:00 hours on August 30. The new HFL set is 274.9 metre.
Maharashtra River Kanhan at Satrapur site in Nagpur district has cross previous HFL 277.61 metre attained on 1994-09-06 around 22:00 hours on August 29. River level fell below previous HFL around 08:00 hours on August 30. The new HFL attained is 278.43 metre around 03:00 hours on August 30. The new HFL is about 0.82 metre higher than the previous HFL.
Chhattisgarh River Kharun at Pathardihi site in Raipur has crossed previous HFL 279.21 metre attained on 12.07.1994 around 14:00 hours on August 28, 2020. The new HFL peak 281.68 meter was attained on August 29, 2020 around 06:00 hours which is about 2.47 metre higher than previous HFL. The level has fallen but still slightly above previous HFL.https://www.facebook.com/sandrp.in/posts/3738021749558804
Mahanadi river at Kalma site in Janjgir-Champa district has crossed previous HFL 201.04 metre attained on 08.08.2018 around 13:00 hours on 28.08.2020. Its stilling flowing at 202.43 metre with rising trend which is about 1.39 metre above the HFL. https://www.facebook.com/sandrp.in/posts/3738407242853588
Odisha River Subernarekha at Mathani road bridge site in Baleshwar district crossed previous HFL 6.8 metre on 26.08.2020 around 22:00 hours rising to set new HFL 7.05 on 27.08.2020 at 04:00 hours. https://www.facebook.com/sandrp.in/posts/3738473289513650
Rajasthan River Parwati at Astha site in Sehore district has set new HFL 100.95 metre on August 30 around 02:00 hours. It remained above previous HFL for about 23 hours from 14:00 hours on August 29 to 13:00 hours on August 30 and stayed at new HFL for four hours from 02:00 hours to 06:00 hours on August 30. The previous HFL 100.32 metre was attained on 08.09.2019. The new HFL is 0.63 metre higher than previous one. https://www.facebook.com/sandrp.in/posts/3742971562397156
URBAN FLOODS
WRI Why Indian cities face recurring floods Urban India is continuously adding buildings, roads, flyovers for urban dwellers, often without adequate stormwater infrastructure. Large volumes of stormwater stagnate on these impervious surfaces causing repeated flooding. https://wri-india.org/blog/urban-india-going-underwater-again (05 Aug. 2020)
DISASTERS
Uttarakhand 2013 floods lie forgotten; new construction plans -The government must calculate the region's carrying capacity, and then draw up its development and tourism plans. In an era of the climate crisis, this road map is a prerequisite, not a choice. https://www.hindustantimes.com/editorials/the-2013-floods-lie-forgotten-in-uttarakhand-s-new-construction-plans/story-xlsHPfogboXTE2mfCRIIRO.html   (24 Aug. 2020)
Jammu & Kashmir Heavy rains hit normal life in valley Incessant rain pounded J&K since Monday (Aug. 24) causing landslides and flash floods. People residing along the river and in the higher reaches of Rajouri district have been advised to stay alert following heavy rain. Fifteen people were rescued on Wednesday after they were caught in flash floods in Ujh river in Kathua district of Jammu and Kashmir, the police said.  https://www.ndtv.com/india-news/jammu-and-kashmir-weather-heavy-rain-flash-floods-and-landslides-hit-normal-life-2286005  (27 Aug. 2020)
Concrete Bridge On River Collapses After Heavy Rain In Jammu A portion of a bridge in Jammu collapsed into a surging river after extremely heavy rain in the region. The strong currents of a swollen rivulet that flows into the Tawi river tore down half the bridge. A massive concrete block can be seen dragged away by the raging waters in a video.
-Jammu and Kashmir has been battered by heavy rain in the last few days. Landslides, flash floods and waterlogging have thrown life out of gear. Four people who had gone to the higher slopes in Reasi district in Jammu to graze cattle, on Monday (Aug. 24), died in a landslide. The 270-km Jammu-Srinagar national highway remained closed for the second day on Wednesday (Aug. 26) as heavy rain triggered fresh landslides at several locations in Ramban district. https://www.ndtv.com/india-news/watch-in-jammu-concrete-bridge-on-a-river-collapses-after-heavy-rain-2285643 (26 Aug. 2020)
LANDSLIDES
Jammu & Kashmir 3 nomads buried alive under Reasi mudslide Three members of a nomad family, including a couple, were buried alive along with their cattle under a mudslide in the remote Shadol area in the upper reaches of Gulabgarh in Reasi district during the intervening night of Aug. 24-25.
Meanwhile, the Jammu-Srinagar national highway was closed for traffic early on Tuesday (Aug. 25) morning after heavy rains triggered a massive landslide in the Dalwas area in Ramban district, snapping road connectivity to the Kashmir valley with the rest of the country. "Nearly 60-metre road stretch at Dalwas has been washed away after the landslides, closing the highway for traffic. Our men and machinery are on job and restoration work will take time. The traffic is most likely to be restored tomorrow," said Ajay Anand, DSP, Traffic (National Highway). https://www.tribuneindia.com/news/j%20&%20k/3-nomads-buried-alive-under-reasi-mudslide-131390 (26 Aug. 2020)
Sikkim Rock avalanche in the Yumthang Valley Some details of a recent rock avalanche in the Yumthang valley. The rock avalanche occurred between 20/01/2015 and 12/05/2015 (based on free Google Earth Imagery). The slope failure occurred on the western slope of the valley, and travelled about 1.4 km, damming the river and creating a lake with an area of 0.2 sqkm. https://blogs.agu.org/landslideblog/2017/06/22/yumthang/ (22 June 2017)
CLOUD BURSTS
Himachal Pradesh Cloud burst in Kinnaur village Apple orchards and fields suffered extensive damage in a cloudburst that struck Meeru village in Cholling of Kinnaur district late on Aug. 4 night. The debris entered the barracks of the Army and also blocked the Hindustan-Tibet National Highway. The house of a local, Ram Pal Negi, was damaged, reports said. https://www.tribuneindia.com/news/himachal/cloudburst-in-kinnaur-village-122651 (06 Aug. 2020)
Uttarakhand 1 killed in cloud burst in Chamoli A person died and three others got injured after cloudburst hit Tali-Ansari Village in Chamoli district following heavy rainfall in the region on August 24. https://timesofindia.indiatimes.com/videos/news/cloudburst-in-uttarakhands-chamoli-1-killed/videoshow/77744627.cms (25 Aug. 2020)
https://tvid.in/1xpyve1kk6/toi
Badrinath national highway has been closed since last 17 hours following landslide in Pursadi village of Chamoli district. National Highway was blocked on August 27 following heavy rains in Lambagar and Bhannerpani. https://timesofindia.indiatimes.com/videos/news/badrinath-national-highway-shut-following-landslide-in-uttarakhands-chamoli/videoshow/77802034.cms (28 Aug. 2020)
ENVIRONMENT
Study How racism and classism affect the existence of flora and fauna in cities A new paper in 'Science' explores environmental injustice in urban areas. Structural racism and classism could profoundly affect the existence of flora and fauna in our cities, according to a recent landmark publication in the academic journal Science. Urban ecosystems are made up of lots of complex interactions between social and natural systems. The result is a variety of environmental conditions that wouldn't exist without humans, such as industrial pollution, habitats lacking in biodiversity, and localised climate change in the form of urban heat island effects.
But these conditions can be unevenly distributed as a result of structural racism and classism. The disproportionate exposure of Black, Asian and minority ethnic and poor communities to unfavourable environmental conditions are referred to as "environmental injustice". This concept also highlights the variability in fairness and respect for social and ecological systems, which could have profound effects on both human and non-human organisms. https://scroll.in/article/971067/how-racism-and-classism-affect-the-existence-of-flora-and-fauna-in-cities (24 Aug. 2020)
THE 'ECOPOLITICAL' IMPERATIVE AND THE JANTA PARLIAMENT A journey of a thousand miles begins with a single step, goes an old Chinese saying. In the present context, that single step – and an absolutely essential step – for reclaiming the soul of India, is the coimng together of the social movements, non-party groups and the political parties – and this was accomplished in the six-day Janta Parliament held from 16-21 August as an online event. Organized by Jan Sarokar – a forum of 31 organizations and loose platforms ranging from Left aligned women's organizations, National Alliance of People's Movements (NAPM), National Campaign for Dalit Human Rights (NCDHR) and National Campaign for People's Right to Information, to loose networks like Not In My Name – the people's parliament managed to bring together many political parties together as well in the event.
As a kind of base paper, Jan Sarokar had prepared a comprehensive 75-page document entitled 'People's Policy for Post-COVID 19 Times' covering important and urgent policy initiatives on practically every aspect of economic and social life. Attended by representatives of the Congress, the Left parties, the RJD and AAP among others, the people's parliament session ended with the representatives of the parties present affirming support to the perspectives emerging out the resolutions adopted, which they felt could form the basis for a Common Minimum Programme not only for the political parties but also between parties and social / people's movements. https://kafila.online/2020/08/27/the-ecopolitical-imperative-and-the-janta-parliament/ (27 Aug. 2020)
EIA Draft 2020 Modi govt's 2020 draft makes EIA a mere formality, fails on transparency, study shows Despite its extensive legal framework governing environmental issues, India ranked 168th out of 180 countries in the Environment Performance Index of 2020. It scored low on all indicators of performance, whether it was a lack of sustainable solutions for growth, degrading soil, air and water quality or biodiversity loss. https://theprint.in/opinion/modi-govts-2020-draft-makes-eia-a-mere-formality-fails-on-transparency-study-shows/488561/ (25 Aug. 2020)
The environment law that mobilised 2 million Indians "Our site was down for 26 days when we were in the middle of the campaign. At the end of it we had collected 300,000 emails against the law," says Yash Marwah, 25, of LetIndiaBreathe, one of the blocked sites.
-It is not clear what will happen after the two million responses to the draft law are considered. The draft could be discussed further with wider consultation or put into cold storage. "All the objections and suggestions will be noted and considered and then we will finalise," Mr Javadekar says.
-But the most heart-warming thing will have to be this massive online mobilisation, say campaigners. "The amazing response is clearly a sign of how concerned people are. The pandemic lockdown has possibly given a lot of people a different experience of the world around them. They experienced blue skies and less pollution," says Dr Menon. https://www.bbc.com/news/world-asia-india-53879052 (25 Aug. 2020)
The Center for Environment, Climate Change and Sustainable Development (CECCSD) at Impact and Policy Research Institute (IMPRI), New Delhi, and the Department of Energy and Environment at the TERI School of Advanced Studies (TERI SAS), New Delhi, with the India Water Portal as a media partner organised a talk on 'Draft Environmental Impact Assessment Notification 2020: Reflections and the Way Forward'. https://www.indiawaterportal.org/articles/draft-eia-notification-2020-anti-environment (30 Aug. 2020)
Report Before we blame forest-dwellers for 'poaching' during the pandemic, we must recognise our own hypocrisy Forest communities are being seen as the primary drivers of denudation during lockdown, while we continue to ignore the impacts of fast-tracked environmental clearances for dams and mines. https://www.thehindu.com/sci-tech/energy-and-environment/before-we-blame-forest-dwellers-for-poaching-during-the-pandemic-we-must-recognise-our-own-hypocrisy/article32463554.ece (29 Aug. 2020)
Odisha Covid-19 takes primitive tribal groups into its tentacles After remaining untouched for long, primitive tribal groups of Odisha in remote habitations have reported half a dozen Covid-19 cases recently, triggering concerns over the infection spreading to other such tribals in the state.
-Five Didayi tribals in Oringi and Muduliguda villages have tested positive for the virus over the last couple of days, officials said. Didayi is a particularly vulnerable tribal group (PVTG). -The first case of infection among tribals was reported recently from Khairput block of Malkangiri district, where over 12,000 Bonda tribals, one of the 13 PVTG of Odisha, stay in hilltop villages. https://www.hindustantimes.com/india-news/covid-19-takes-odisha-s-primitive-tribal-group-into-its-tentacles/story-QkyFtNSFT3csaRTLxeAnhI.html (26 Aug. 2020)
Alert in Andamans over impact on 59-member Great Andamanese -9 cases of Covid-19 have been recorded among the Great Andamanese tribe, setting off alarm bells in the Andaman and Nicobar Islands administration. A Particularly Vulnerable Tribal Group (PVTG), the Great Andamanese now number only 59. While five of the coronavirus patients have recovered, the others are doing well, the officials said.
-What is worrying the authorities is that the four new cases have been discovered in the remote Strait Island where the tribe is based. On Friday (Aug. 28), a special community health officer will be reaching the island to keep a close watch on the tribe, as well as other PVTGs like the Jarawa, Shompen and Onge. https://indianexpress.com/article/india/andaman-tribe-coronavirus-covid-19-6572841/ (28 Aug. 2020)
CLIMATE CHANGE
Study Majority of groundwater stores resilient to climate change "Yet this new study, published in Earth System Dynamics, reveals that depletion is not as widespread as reported, and that replenishment of groundwater storage depends upon extreme rainfall that is increasing under global climate change."? https://phys.org/news/2020-08-majority-groundwater-resilient-climate.html (26 Aug. 2020)
Butterflies are migrating early in southern India this year -In a departure from the past, the annual migration of butterflies from the hill ranges of the Eastern Ghats towards the Western Ghats is an early phenomenon this year. Usually, butterfly migration in south India begins in October-November, with the onset of the northeast monsoon, from the plains to the Ghats, and in April-June, just before the advent of the southwest monsoon, from the Ghats to the plains.
-But this year, the first migratory sighting was recorded in the Parambikulam Tiger Reserve in Palakkad district by forest watchers on July 14. Later, butterfly enthusiasts in Salem, Erode, Tiruppur, Coimbatore and the Nilgiris observed their movement in large numbers from August 21, which is still continuing. Butterfly migration has also been recorded in Mysuru, Bengaluru, Kolar and Coorg districts in Karnataka.
-Observers noted that Blue Tiger and Dark Blue Tiger accounted for 90% of the butterflies involved in the early migration. "The change in rainfall pattern and a considerable increase in the number of sunny days may be the major reasons for the earlier migration," Mr. Vinayan added. https://www.thehindu.com/sci-tech/energy-and-environment/butterflies-begin-migrating-early-south-india/article32474699.ece (29 Aug. 2020)
Butterfly migration in the Western Ghats A surge of a million butterflies happens annually in the Western Ghats, as they migrate just before the onset of the Southwest Monsoon. "They move towards the plains and the Eastern Ghats to escape the rains. Sometimes, it is mere dispersal to cope with food scarcity, when there is a shortage of host plants. There is mass exodus to look for greener pastures," explains Isaac Kehimkar, who spent a major part of his life studying these fragile creatures during his tenure at the Bombay Natural History Society (BNHS). Isaac is also the author of The Book of Indian Butterflies and a sequel, Butterflies of India, both published by BNHS. https://www.thehindu.com/sci-tech/energy-and-environment/it-is-that-time-of-the-year-when-butterflies-migrate-moving-en-masse-in-a-bright-dramatic-surge-experts-tell-us-what-to-look-out-for/article31701802.ece (29 May 2020)
SOUTH ASIA
Webinar Experts from India – Bangladesh – Nepal and Myanmar come together for enhancing conservation of river Dolphins in the region paving way for regional cooperation In a webinar on "Exploring the impact of COVID-19 on the ecosystem health of rivers and its dolphin population: Present status and future strategy for conservation in India-Bangladesh-Myanmar-Nepal" organised by Inland Fisheries Society of India, ICAR – Central Inland Fisheries Research Institute, National Mission for Clean Ganga , Professional Fisheries Graduates Forum (PFGF) and Aquatic Ecosystem Health and Management Society. https://indiaeducationdiary.in/experts-from-india-bangladesh-nepal-and-myanmar-come-together-for-enhancing-conservation-of-river-dolphins-in-the-region-pavingway-for-regional-cooperation/ (26 Aug. 2020)
Pakistan Residents Fear Power Project Will Destroy Economy, Livelihood Hundreds of locals — including members of political parties and trade unions, students, and activists — joined a torch-bearing rally Monday (Aug 24, 2020) evening in Muzaffarabad against the diversion of two rivers flowing through the city. The Save the Rivers Campaign that organized Monday's protest blames the changes in river flow on a hydropower project, the Neelum-Jhelum Hydroelectric Project, that diverted one of the two rivers that flow through the city to a tunnel to generate electricity. A second one in the pipeline, the Kohala Hydroelectric Power Project, plans to similarly divert the other river. The 1,100-megawatt project is being built by a Chinese company, the China Three Gorges, at a cost of $2.4 billion.
– It is facing intense opposition from campaigners who say they have seen the negative impact of the first project and fear the collective effect of the two would completely destroy the river's ecology, the surrounding city's environment, and the tourism industry that supports the livelihood of many locals. https://www.voanews.com/south-central-asia/pakistani-kashmir-residents-fear-power-project-will-destroy-economy-livelihood (25 Aug. 2020)
PoK residents protest against construction of dams by Pakistan & China A massive protest was held against China and Pakistan in Muzaffarabad, PoK against the construction of dams in the area. The raised slogans against the Pakistan and China government and accused them if jointly plundering the wealth of the region. Chinese firms are all set to construct dams in the area which locals fear could affect the flow of the river itself, threatening its very existence.
http://content.jwplatform.com/players/59Ty8R3c-DstXr2OA.html
-Pakistan and China have recently signed an agreement to construct Azad Pattan and Kohala Hydropower Projects in Pakistan Occupied Kashmir on the Neelum-Jhelum river. The protest rally was organised by 'Darya Bachao, Muzaffarabad Bachao' group and over a thousand people took part in the protest. What also irks the locals is the high presence of the Chinese in the area. PoK residents believe that China and Pakistan are plundering the natural resources in the area in the wake of the China-Pakistan economic corridor. Resentment against the Pakistan & Chinese government is extremely high in this region that has been illegally occupied by Pakistan. https://www.hindustantimes.com/videos/india-news/watch-pok-residents-protest-against-construction-of-dams-by-pakistan-china/video-Zn1QFG3rWx5TfYNmUPrmGL.html (25 Aug. 2020)
Death and destruction following floods The death toll from the devastation caused by Tuesday's (Aug. 25) rain in the metropolis reached 11 as bodies of five drowning victims were found on Wednesday (Aug. 26). Several parts of the city received light rain as the weather system persisting since Aug 21 lost its intensity after causing widespread rain across Karachi. https://www.dawn.com/news/1576711/death-toll-rises-to-11-as-karachi-reels-from-devastating-rain-urban-flooding (27 Aug. 2020)
Videos show how heavy rains have wreaked havoc in Karachi Heavy rainfall continue to lash country's financial hub Karachi on Thursday (Aug. 27), inundating roads, paralysing business activities and leaving the city's one of the poshest areas underwater. Videos of the havoc caused by torrential rain has flooded social media and netizens have been tagging government officials to raise concern. https://indianexpress.com/article/trending/trending-globally/karachi-rains-flooded-videos-6572439/ (27 Aug. 2020)
Poor planning, poor governance, poor monitoring flood Karachi Substitute the names of the rivers, drains and political parties, and the same story is repeated in varying degrees across all the cities of South Asia – Rawalpindi, Mumbai, Delhi, Patna, Kolkata, Dhaka and on and on. For years, residents have been resigned to the mess and vented their ire on social media. Now they have started coming out on the streets – it happened in Kolkata after weeklong power failures in some suburbs following Cyclone Amphan; and it is happening in Karachi now. Perhaps the fact that the hardships have now spread from slums to tony neighbourhoods has something to do with it. The internet is back now, and the phones are working, but the protests continue. Their effect remains to be seen. https://www.thethirdpole.net/hi/2020/08/31/poor-planning-poor-governance-poor-monitoring-flood-karachi/ (31 Aug. 2020)
Afghanistan Nearly 80 Killed as Flash Floods Ravage City NYT reports that at least 80 people are killed in flash floods in Charikar town in Northern Afghanistan. Esmatullah Mohammadi, another member of the provincial council, said, "The government should haven't let these people build their houses there, because everyone knows that it is a route of flash floods." https://www.nytimes.com/2020/08/26/world/asia/afghanistan-floods-charikar.html (26 Aug. 2020)
Bangladesh Villagers build 'jungla dams' to prevent land erosion Over the years, the Meghna river has eroded entire villages, and displaced thousands of people in Bangladesh. To arrest land erosion, villagers have built 'jungla dams' with wood and bamboo as a temporary, but effective measure. But, 16 coastal districts of the country are at the risk of river erosion. https://en.gaonconnection.com/villagers-in-coastal-bangladesh-build-eco-embankments-using-wood-and-bamboo-to-prevent-land-erosion-but-for-how-long/ (28 Aug. 2020)
CHINA
China floods Heavy rain days are already more numerous and intense inside cities compared to suburban areas along the Yangtze, a study using rainfall records over two periods between 1961 and 2010 found. Such days increase by 30% on average in places like Suzhou, near Shanghai. https://theprint.in/opinion/china-is-facing-another-major-disaster-and-the-world-is-missing-it/490766/ (28 Aug. 2020)
At Chongqing, the Yangtze spilled over its banks for the fifth time this year and, on Thursday (Aug 20, 2020) afternoon, breached the historical high reached in 1981.
– The floods had already caused at least $26 billion in economic losses before this week. At a briefing in Beijing last week, Zhou Xuewen, the secretary general of China's flood control headquarters, said that at least 63 million people had been affected and 54,000 homes destroyed. At least 219 people have died or disappeared, he said.
– China's other great waterway, the Yellow River, has also experienced more flooding. The Ministry of Water Resources said in a statement that in Shaanxi Province on Friday, the river had reached the highest level since 1997. Nearly 700 smaller rivers and tributaries have also flooded, straining older dams and levees. https://www.nytimes.com/2020/08/21/world/asia/china-flooding-sichuan-chongqing.html (21 Aug. 2020)
Amazing, Breathtaking photos of China floods 2020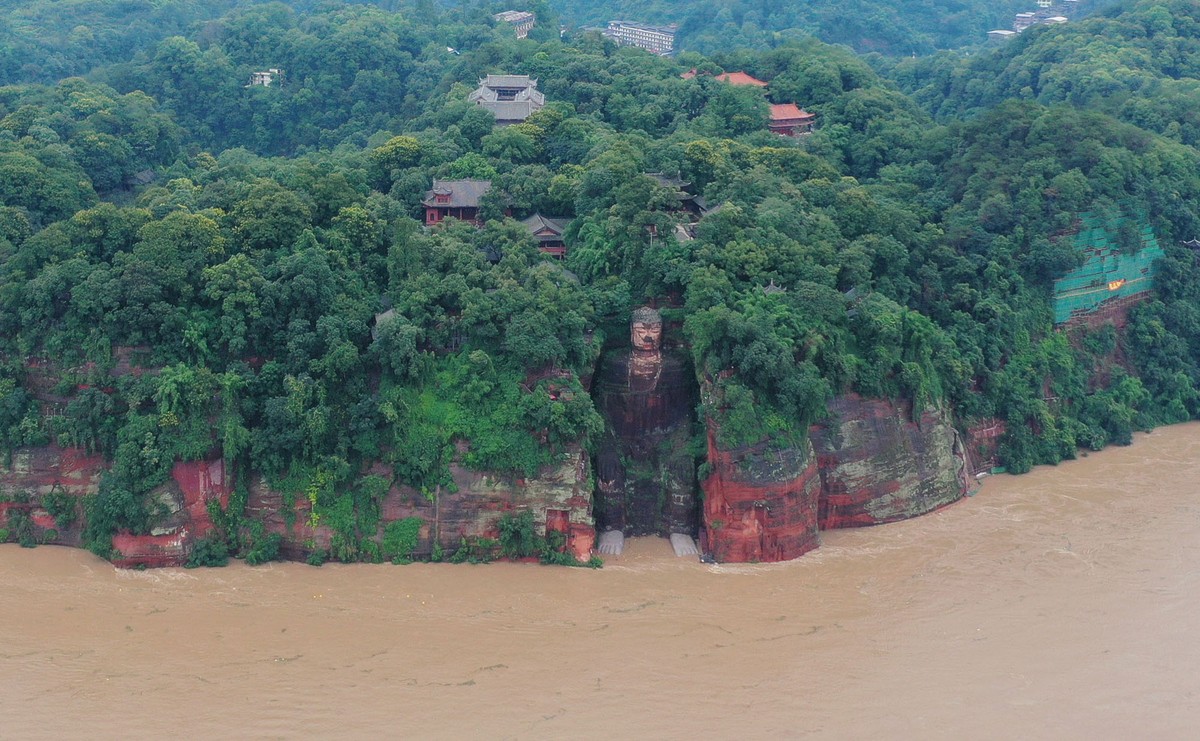 Floodwater reached the feet of the Leshan Giant Buddha in Leshan, on August 18, 2020. It is the first time since 1949 that the 71-meter-high statue, a UNESCO World Heritage Site, has been submerged to the toes. https://www.theatlantic.com/photo/2020/08/photos-chinas-summer-of-floods/615661/  (25 Aug. 2020)
THE REST OF THE WORLD
Colombia Turmoil At EPM Deepens As Colombia's Human Rights Tribunal Subpoenas General Manager Barely a week after the board of directors resigned in protest of a lack of governance and institutional controls along with meddling by Mayor Daniel Quintero, last Thursday, utility operator EPM (Empresas Públicas de Medellín) received a subpoena directed towards its general manager Álvaro Guillermo Rendón, demanding reasons for its lack of compliance with judicial orders from Colombia's peace tribunal, the JEP (Jurisdicción Especial de la Paz 'or Special Peace Jurisdiction). Failure to comply within 5 days would subject Rendón to arrest. The subpoena relates to EPM's troubled Hidroituango dam project in Ituango, Colombia. https://www.financecolombia.com/turmoil-at-epm-deepens-as-colombias-human-rights-tribunal-subpoenas-general-manager/ (25 Aug. 2020)
Brazil Pipeline rupture in a dam causes thousands to be evacuated The incident took place in the state of Ceara, where a pipe from Jati Dam burst on Aug. 22 causing a heavy flow of water. https://scroll.in/video/971263/watch-pipeline-rupture-in-a-brazil-dam-causes-thousands-to-be-evacuated (24 Aug. 2020)
-Rogério Marinho, minister of regional development, told The Associated Press that the people were told to leave home as a precaution late Friday afternoon after the concrete conduit broke open in the city of Jati, in Ceara state. He said water shooting from the ruptured conduit damaged about 40 meters (130 feet) of a 140-meter (460-foot) wall of the dam holding the reservoir fed by the pipeline. Workers needed about 4 1/2 hours to contain the spill, he said. https://www.nytimes.com/aponline/2020/08/22/world/americas/ap-lt-brazil-pipeline-rupture.html (22 Aug. 2020)
Surging fires threaten world's largest wetland Flames are tearing through Brazil's Pantanal, the world's largest wetland, coming close to the region's main highway and threatening endangered species, as the area records the most fires in 15 years for the month of August so far.
-Brazil's national space research agency Inpe has registered 3,121 fires in the first 15 days of August, nearly five times higher than the same period a year ago. At the current pace, fires could approach the all-time record for any month since records began in 1998.
-"It is extremely difficult to combat, control and combat again a fire with the dimensions that we have seen here in the Pantanal," said Paulo Barroso, president of the local firefighting committee. https://www.hindustantimes.com/world-news/surging-fires-threaten-world-s-largest-wetland-in-brazil/story-ZSLJc4HlhoECh6bhfIQwuL.html (18 Aug. 2020)
The Pantanal, whose name derives from the Portuguese word for "swamp," sprawls over more than 150,000 sq km in Brazil and also extends into Bolivia and Paraguay. The fires here are the worst in 15 years. The flames threaten the region's biodiversity, rich with tapirs, pumas, capybaras and the world's most dense population of jaguars. Hundreds of firefighters, environmental workers, park rangers and soldiers have worked 24 hours a day for weeks attempting to extinguish flames that have destroyed thousands of square kilometers of the Pantanal. https://www.ndtv.com/world-news/worlds-largest-wetland-brazils-pantanal-burns-from-above-and-below-2287472 (30 Aug. 2020)
Research The present paper provides a critical review of the literature and identifies future research prospects based on the current knowledge gaps in the area of nature-based solutions for hydro-meteorological risk reduction by using a systematic review. https://nhess.copernicus.org/articles/20/243/2020/ (20 Jan. 2020)
Compiled by SANDRP (ht.sandrp@gmail.com)
Also see: DRP News Bulletin 24 Aug. 2020 & DRP News Bulletin 17 Aug. 2020
Follow us on: www.facebook.com/sandrp.in; https://twitter.com/Indian_Rivers