This letter from SANDRP to MoEF and ETC on Etalin Project highlights how poor has been the EIA and E-flows reports of the Etalin Project and how flawed has been the Environmental Appraisal Process by the EAC. It also shows the shoddy Dibang Basin study for Cumulative Impact Assessment cum Carrying Capacity Study, shockingly done by the same consultant that also did the Etalin EIA, showing clearly that MoEF, EAC and CWC, all of whom were involved in the process, do not understand what is conflict of interest. The E flows study done by the CIFRI (Central Inland Fisheries Research Institute) does not even provide the list of fish they found in the Etalin project area! And shockingly, the EAC approved the biggest ever hydropower project of India based on such shoddy documents. The Environment Clearance approval needs to be reviewed, the EIA, E-flows and Dibang Basin CIA needs to be rejected and fresh studies need to be commissioned. https://sandrp.in/2020/05/23/open-letter-to-moef-river-valley-eac-review-recommendation-to-grant-ec-to-etalin-hep/  (23 May 2020)
Experts pan WII plan that could pave way for Arunachal dam project Peer review of Wildlife Institute of India report on Etalin Project exposes that WII mentioned African Bat species & butterfly species found only in other parts of India in Etalin Project Area. W. Longvah, the Inspector-General of National Tiger Conservation Authority (NTCA), and a member of the FAC sub-committee, said he did not go through the WII report and the FAC accepts the FAC sub com and WII report based on such endorsement by NTCA IG.  https://www.thehindu.com/news/national/other-states/experts-pan-wildlife-institute-of-india-plan-that-could-pave-way-for-arunachal-dam-project/article31656477.ece  (23 May 2020)
Why Commercial Viability of the Etalin HEP Is Suspect This shows in common sensical terms why Etalin project is even economically unviable compared to options of solar and wind with the cheap storage options now available. https://science.thewire.in/environment/why-the-commercial-viability-of-the-etalin-hydropower-project-is-suspect/  (23 May 2020)
HYDRO POWER PROJECTS
Arunachal Pradesh Illegal logging 'mafia' stripping hornbill habitat in Northeast India Illegal logging is driving the loss of forest that poses the biggest threat to rare hornbill species in the Eastern Himalayan forests of India's Arunachal Pradesh state. Hunting of the hornbills for their casques and meat was previously a major threat, but has been largely defused through a conservation program that engages the indigenous Nyishi community. The Papum Reserve Forest in which the birds are found doesn't have the same protections as India's national parks, and suffers from logging activity that goes largely unchecked by authorities. Indigenous activists working to protect the forest and its wildlife have come under attack from illegal loggers. https://news.mongabay.com/2020/05/illegal-logging-mafia-stripping-hornbill-habitat-in-northeast-india/  (22 May 2020)
Uttarakhand Concerns over UJVNL's huge debt pile Credit rating agency India Ratings and Research (Ind-Ra) has raised concerns over its large debt due to high capital expenditure. UJVNL is executing three small hydro projects (SHP) and two large hydro projects, of which Vyasi Hydroelectric project (VHEP) is the largest. Of the total borrowings of Rs 18.6 B in 2019-20, Rs 8.5 B pertains to VHEP and Rs 2 B to the other under-construction SHPs. Ind-Ra expects the tariff for the VHEP to be between Rs 7 per kilowatt hour and Rs 8 per unit, too high for commercial viability.  https://energy.economictimes.indiatimes.com/news/power/stable-outlook-for-ujvnl-concerns-over-huge-debt-pile-india-ratings/75963065  (25 May 2020)
MNRE India to have 70,000 MW of hydropower capacity by 2030: Official There are no grounds for such projections, the big hydro is even economically unviable. Just taking note of what govt official is saying.
-India will have an installed hydropower generation capacity of 70,000 Mw by 2030, Aniruddha Kumar, Joint Secretary at the Ministry of New and Renewable Energy said last week in a webinar organised by industry body ASSOCHAM.  https://energy.economictimes.indiatimes.com/news/power/india-to-have-70000-mw-of-hydropower-capacity-by-2030-official/75859241  (21 May 2020)
DAMS
Maharashtra Irrigation Dam Scam Leads and Misleads of Scam Sad fate of investigations into Maharashtra irrigation Scam. This article gives an over view and conclusion: Finally, on 20 May, 2020, the Bombay High Court discharges Anilkumar Gaikwad in charges of graft. The anti-corruption bureau (ACB) had booked Anil Kumar Gaikwad along with the partners of FA Enterprises, Fateh Mohammed Khatri, and his sons Nisar, Jaitun, Aabid, and Jahid, however, overruled the special court order on the ground of lack of evidence against Anilkumar Gaikwad and others. Well the case ends here but ACB needs to answer many questions to come clean in their operations.  https://www.afternoonvoice.com/leads-and-misleads-of-maharashtra-irrigation-scam.html  (21 May 2020)
Punjab Bhakra water damages land in Ropar villages While the authorities failed in repairing and strengthening the banks of the Sutlej since they were damaged during the floods in August, the water being released from the Bhakra Dam has started eroding the land of farmers in the area. Land owners of affected villages — Lodhipur, Burj, Ballowal, Hariwal, Mehndli Kalan and Chandpur — said they had been left at the mercy of fate again as they had suffered earlier due to lackadaisical attitude of officials concerned.
Ropar Drainage Department XEN Damandeep Singh said due to the pandemic, there was delay in taking steps in this regard. He said he had already earmarked spots where flood protection would start soon.  https://www.tribuneindia.com/news/punjab/bhakra-water-damages-land-in-ropar-villages-88189  (22 May 2020)
Farmers oppose flow of water into Pakistan Upset over the fact that water from Punjab was being "allowed" to flow into the Kasur area of West Punjab, a province in Pakistan, the Kisan Sangharsh Samiti (KSS) has sought intervention of Prime Minister Narendra Modi and Jal Shakti Minister Gajendra Singh Shekhawat into the matter. Due to poor management, thousands of cusecs of water was allowed to flow to Pakistan in May.  https://www.tribuneindia.com/news/punjab/farmers-oppose-flow-of-water-into-pakistan-87515  (21 May 2020)
Kerala KSEB allays fears over storage in its dams The storage levels in dams managed by the Kerala State Electricity Board (KSEB) do not give cause for concern at present, a meeting convened by Electricity Minister M.M. Mani concluded on May 20, 2020. The KSEB has been directed to closely monitor the water levels and issue alerts to the public.
The meeting decided to approach Tamil Nadu for regular updates on the water level in the Mullaperiyar dam. On May 19, the combined storage in the KSEB dams stood at 32% of the total storage capacity. This was adequate to generate 1,315.2 million units (mu). On the same day in 2018, the storage stood at 1,359.2 mu and 879.3 mu in 2019.  https://www.thehindu.com/news/national/kerala/kseb-allays-fears-over-storage-in-its-dams/article31635596.ece  (20 May 2020)
Karnataka Govt to build Tungabhadra balancing dam The state govt on May 17 asked Karnataka Niravari Nigam Limited to prepare DPR to construct the Navali Balancing Reservoir. We have worked out a new plan to address the storage problems of Tungabhadra reservoir due to the accumulation of silt in the reservoir's bed. This has resulted in less storage of water in the dam. Keeping this in view, the state cabinet has accorded permission to prepare the DPR to build Navali Balancing reservoir, Water Resources Minister Ramesh Jarkiholi said.
– The storage capacity of the Tungabhadra reservoir is 134.7 TMC water. However, due to mismanagement, the dam was never desilted since it was constructed in 1953. Due to the excessive silt accumulation, the storage capacity of the reservoir has reduced by 31 TMC.
-According to Manjappa, executive engineer of the Tungabhadra dam, the dam management authorities had to desilt the dam every year. Each year 0.5% silt gets accumulated. Since desilting has never been done, there is so much silt that entire villages would have to be acquired to dump the silt that is removed, Manjappa said.
-In 2017, the state government had called for global tenders to determine the feasibility of desilting the dam. Manjappa says the feasibility report stated that the project would cost Rs 5600 crore and it would require 67,000 hectares of land to dump the silt extracted from the dam.
-Due to this herculean task, none of the tenders floated by the government were taken up by companies. In 2010, global tenders were floated and two companies had submitted a desilting plan. However, the companies backed off due to technical and financial reasons.
-In 2012, a Kochi-based company, which had won the tender to desilt the dam, backed out of the project just a few weeks before the desilting process was to begin. A senior official with the Water Resources Department said that over the years, many tenders were floated and due to the logistical and financial difficulties, none of the companies were willing to take up the task. https://www.thenewsminute.com/article/after-10-yr-delay-karnataka-govt-begin-constructing-tungabhadra-balancing-dam-124788  (18 May 2020)
Gujarat 'Narmada water being diverted to Saurashtra dams, reservoirs' Govt has begun diverting 4,000 million cubic feet of Narmada water to dams and reservoirs in the water-scarce Saurashtra region under the Saurashtra Narmada Avtaran Irrigation (SAUNI) scheme, officials said on May 23. "CM Vijay Rupani has decided to lift 4,000 million cubic feet of water and divert it to 25 reservoirs, 120 lakes and ponds and 400 check-dams," said Ashwani Kumar, Secretary to the CM. https://indianexpress.com/article/india/gujarat-narmada-water-being-diverted-to-saurashtra-dams-reservoirs-6424417/  (24 May 2020)
Krishna Water Sharing Dispute Apex Council meet soon to discuss Andhra Pradesh and Telangana water dispute The Centre has decided to convene the Apex Krishna Basin Council meeting headed by Union Jal Shakti Minister soon. A communication to this effect was sent to the Secretaries of the Water Resources / Irrigation Departments of the two States (AP and Telangana) by the Ministry of Jal Shakti on May 21, 2020. The two States have been asked, once again, to send agenda points for the meeting on priority basis. After its constitution, the Apex Council meeting was held only once so far on September 21, 2016, without arriving at any consensus on the projects being taken up by the two States. https://www.thehindu.com/news/national/andhra-pradesh/apex-council-meet-soon-to-discuss-andhra-pradesh-and-telangana-water-dispute/article31645039.ece   (21 May 2020)
This development comes a day after the NGT, southern zone, on May 20 stayed the construction of a lift irrigation project proposed by AP. The apex council is likely to meet in June. Under-secretary of the ministry of jal shakti AC Mallick, in his letters, said: "As per the minutes of meeting held in January 2020 to discuss issues of Krishna River Management Board (KRMB) and Godavari River Management Board (GRMB), both states had agreed to submit their agenda points for the next meet. These are still awaited from both states." Meanwhile, a 3-member KRMB committee is meeting irrigation officials in Hyderabad on May 22.  https://timesofindia.indiatimes.com/city/hyderabad/t-ap-water-war-central-meet-in-june/articleshow/75877199.cms  (22 May 2020)
The KRMB has asked Andhra Pradesh not to draw water from the Nagarjunasagar Right Canal, Handri-Neeva and Muchhumarri lift irrigation schemes further since it has already availed water in excess of indents approved till the end of May, the current water year, and agreed upon share.
In a letter addressed to Engineer-in-Chief of Water Resources Department of AP on Tuesday, Member-Secretary of the river board A. Paramesham explained that AP had already availed 220.329 tmc ft water from Srisailam, including 169.668 tmc ft from Pothireddypadu (PRP) head regulator, 41.918 through Handri-Neeva, 5.410 tmc ft through Muchhumarri. Similarly, Telangana has availed 51.344 tmc ft, including 49.677 tmc ft through Kalwakurthy lift irrigation scheme. https://www.thehindu.com/news/national/telangana/krmb-asks-ap-to-stop-drawing-water-from-sagar-srisailam/article31626145.ece  (19 May 2020)
Andhra Pradesh has asked the GRMB to stop all irrigation projects in Telangana in Godavari basin immediately, including the Kaleshwaram LIP.     https://www.hindustantimes.com/india-news/water-wars-between-ap-telangana-escalate-ap-lodges-counter-complaints-against-telangana/story-rXK4km16DGAEZ2laKYxHFN.html  (18 May 2020)
-The ongoing water war between the two Telugu states took a new turn on May 18 with Andhra Pradesh dragging the prestigious Kaleshwaram Lift Irrigation Project (KLIP) and six other projects across the Godavari into the Krishna water dispute.
-Thus far both states have limited themselves to fighting legal battles over one river, never mixing the two. But for the first time, AP has dragged the Godavari issue into the Krishna dispute.
-While Telangana had raised objection over AP utilising Krishna water for Rayalaseema region, AP has petitioned before KRMB and Godavari River Management Board accusing Telangana of utilising both Godavari and Krishna waters in violation of the AP State Reorganisation Act. https://timesofindia.indiatimes.com/city/hyderabad/ap-ups-the-ante-asks-godavari-river-board-to-stop-kaleshwaram/articleshow/75815995.cms  (19 May 2020)  
The Union Ministry of Water Resources, River Development, and Ganga Rejuvenation on May 16, 2020 directed the Andhra Pradesh (AP) government to stop its latest bid to construct a lift irrigation scheme on the Krishna river and upgrade the Pothireddypadu head regulator canal system on the foreshore of Srisailam reservoir, which has triggered a water-sharing dispute with neighbouring Telangana. KRMB took note of the Telangana government's complaint and wrote to a letter to Aditya Nath Das, special chief secretary, irrigation, AP, on May 15, seeking an explanation on the proposed construction of new projects, as they are in violation of the Andhra Pradesh Reorganisation Act, 2014.
The board also cited that it had written two more letters to the AP government on earlier occasions this year – January 1 and May 13 – seeking the DPRs. However, the AP government is yet to furnish the details, it added. Andhra Pradesh Reorganisation Act, 2014, stipulates that no new projects on Godavari and Krishna rivers can be taken up either by the Telangana or Andhra Pradesh governments without obtaining sanction from the Apex Council on River Water Resources.  https://www.hindustantimes.com/india-news/centre-asks-andhra-to-stop-construction-of-new-schemes-on-krishna-river/story-Cl4emPCpuGJcsBxMnSAGML.html  (16 May 2020)  
The bone of contention between the two states is an order issued by the Andhra Pradesh irrigation department (GO Ms. No. 203) on May 5 according administrative approval to a series of schemes worth over Rs 7,000 crore aimed at drawing an additional quantity of six to eight tmc (thousand million cubic feet) of water per day from Srisailam reservoir on the Krishna river. As per the latest GO, the new schemes proposed by the AP government include construction of Rayalaseema lift scheme aimed at pumping three tmc of water from Sangameshwara into Srisailam Right Main Canal, upgradation of Pothireddypadu head regulator canal system to draw 80,000 cusecs of water from foreshore of Srisailam reservoir and other upgradation various works in existing canal system of Galeru-Nagari project to draw another 70,000 cusecs of water from Srisailam. AP said these schemes are only for utilising surplus water.
– While the Telangana government described the order as illegal, unilateral and against the AP Reorganisation Act, 2014, the Andhra Pradesh government defended the same stating that the new schemes were well within the state's rights. The AP government also accused Telangana of constructing projects like Palamuru-Ranga Reddy lift scheme which was in violation of the Krishna Water Dispute Tribunal.
– The issue is likely to figure in the meeting of Krishna River Management Board to be held on Wednesday through video-conferencing.  https://www.hindustantimes.com/india-news/tealangana-andhra-pradesh-face-of-over-krishna-river-water/story-PrTmh6t2VKvcGHhkvx6ZDN.html  (12 May 2020)
IRRIGATION
SANDRP Blog Augmentation canal breaches becoming new normal in Haryana The Augmentation Canal, the Western Yamuna Canal and other canals repeatedly breach, creating local disasters. Bhim Singh Rawat here provides detailed account of the recent breach of Augmentation Canal at Ramwar village in Karnal dist in Haryana. These are avoidable incidents with better maintenance and management of canals. Please Read, Share.  https://sandrp.in/2020/05/20/augmentation-canal-breaches-becoming-new-normal-in-haryana/  (20 May 2020)
The blog has been published in Hindi by India Water Portal here. https://m-hindi.indiawaterportal.org/content/haryana-mein-nehar-tootna/content-type-page/1319335715  (21 May 2020)
12000 residents of Ranwar village in Karnal district in Haryana woke up to find their houses submerged in 3 ft of water early in the morning. There was a 30 ft breach in irrigation canal, the irrigation dept took 10 hrs to plug it.  https://www.tribuneindia.com/news/haryana/karnal-village-flooded-after-canal-breaches-85972  (17 May 2020)
Villagers alleged that the canal banks had developed several weak patches over the years, but the authorities concerned did not take the matter seriously. Farmers are now demanding compensation for the loss of fodder they have suffered due to this breach. "We have suffered huge losses due to breach. The government should compensate," said a farmer. Bimla Devi, a resident of the village, said, "By the time we got up in the morning, water had filled the courtyard and also entered our houses."  https://timesofindia.indiatimes.com/city/gurgaon/haryana-breach-in-aaverdhan-canal-village-flooded/articleshow/75802106.cms  (18 May 2020)
-DC Yadav said the flow of water was stopped at Yamuna Nagar, but it will take some hours to reduce its level. About the cause of breach, he said the reason could not be ascertained yet, but in the initial findings it was revealed that it was due to weak lining of the canal. However, locals accused the government and administration of not taking the required measures to repair the banks of canal and claimed that the water was flowing above the canal capacity.  https://www.hindustantimes.com/cities/breach-in-canal-floods-karnal-s-ranwar-village/story-ehNHrJ3yJrDjMlS49HPC0I.html  (17 May 2020)
The breach in augmentation canal in Ramwar village in Haryana could be plugged 38 hours later by May 18 evening.  https://www.tribuneindia.com/news/haryana/day-later-canal-breach-in-karnal-village-plugged-86713  (19 May 2020)
URBAN RIVERS
Periyar, Kochi River water quality fails to improve during lockdown A comparative study of the river's water quality by the State Pollution Control Board (SPCB) before and during the lockdown revealed no major change in pollution levels. Sources in the board said settlement of organic matter was high on upstream Pathalam stretch while the downstream stretch had high concentration of chloride ions and water conductivity due to saline water intrusion.
"Since lockdown did not impact sewage discharge into the river, there was no significant reduction in pollution levels in the Periyar. KSPCB officials had inspected the industries along the river stretch to check for any discharge from the factories but found nothing," said a source. "Civic bodies have been asked to regulate the discharge of sewage from households into the river. However, no action has been taken," said a source. https://www.newindianexpress.com/cities/kochi/2020/may/23/periyars-water-quality-fails-to-improve-during-lockdown-2146816.html  (23 May 2020)
-TDS value is more than 25 times the acceptable limit and chloride content in the sample is more than 35 times the acceptable limit. There was no DO content in the samples, it said.
-Three samples indicated high level of turbidity in the water. The pollutants were seen in the waters even after opening of shutters but further downstream, as the waters mixed up, the water quality standards were in acceptable limits. The report said water pollution was more on the right bank of the regulator bridge.
-One of the reasons for unusual fish kill was the depletion of DO levels. DO values less than 3 mg/l generally affect the existence of aquatic organisms. But out of the seven samples analysed, only one sample showed no DO content while the rest of the samples had DO above 4 mg/l. https://timesofindia.indiatimes.com/city/kochi/periyar-remains-polluted-report/articleshow/75925493.cms  (24 May 2020)
RIVERS
Jal Shakti The Union Water Minister, on cleaner rivers in lockdown, plays down the impact of lockdown and still talks about data gathering! He accepts drinking water in households is a challenge in villages. https://www.hindustantimes.com/india-news/will-meet-piped-water-target-despite-outbreak-jal-shakti-minister/story-7FH7BFRRGeBKzjgYeQDjMI.html  (22 May 2020)
Punjab Excise officials dump 1.3 lakh litre of 'lahan' into Sutlej river Strange situation when govt officials are themselves putting pollutants to river.
https://www.tribuneindia.com/news/punjab/excise-officials-dump-1-3-lakh-litre-of-lahan-into-sutlej-river-87523  (21 May 2020)
GANGA Increase in biodiversity after lockdown Himanshu Thakkar of SANDRP told Aquatech online: "To sustain this improvement (in Ganga), the government needs to change the functioning of SPCBs and CPCB to ensure that no untreated or even semi treated industrial effluents enter the river. The changes needed are in terms of improving transparency, participatory management and accountability of these bodies as also of the urban municipal bodies. In addition, a lot of work is required to reduce the demand for water so that there are greater freshwater flows in the rivers." https://www.aquatechtrade.com/news/water-treatment/ganges-increased-biodiversity-after-covid-19-lockdown/  (18 May 2020)
-Asking for a detailed report on the issue, the green panel directed that once industrial and other activities resume, it should be ensured that all the environment laws are complied with.
-The NGT also directed all the states and UTs to ensure 100 per cent treatment of sewage entering water bodies and ensure action against violators. It directed all the states, which have not addressed all the action points with regard to the utilisation of sewage treated water, to do the exercise before June 30.
-The CPCB may furnish its report by September 15 giving the status of furnishing of action plans and their execution as on August 31 by e-mail, the NGT said. https://indianexpress.com/article/cities/delhi/ngt-directs-cpcb-to-submit-report-on-improvement-of-water-quality-in-ganga-yamuna-6424255/  (23 May 2020)
Uttarakhand Debris of Badrinath Highway widening work under Chardham project being dumped straight in Alaknanda river in Srinagar.
https://epaper.livehindustan.com/imageview_99433_54695804_4_137_22-05-2020_6_i_1_sf.html  (22 May 2020)
The highway has been suffering from perennial landslides due to road widening work. -In latest incident, shooting stones at Uttraon, Karanprayag damage shop shutters, give villagers sleepless night, walking, driving through become risky.
https://epaper.livehindustan.com/imageview_103655_114404686_4_137_25-05-2020_6_i_1_sf.html  (25 May 2020)
Uttar Pradesh No temporary dams as Ganga level maintained Secretary, Jalkal department, RB Rajput said since the water level of Ganga is maintained between 358 and 359 foot, therefore, the department is not raising the temporary dam. During the past few years, it had to raise a temporary dam to raise water level at pumping station.
-"For raising a temporary dam, the department used to make a wall in river stream by using gunny bags filled with sand for which it had to spend around Rs 10 to Rs 15 lakh. Moreover, almost every year, flood in river would wash away the temporary dam", he said. It is after 17 years that the Jalkal department will not be raising temporary dam in Ganga this year as water level of the river is maintained between 358 and 359 foot.
-In the past years, the department used to raise a temporary dam near Bhairoghat pumping station in Kanpur to raise level of water so that pumps at the pumping station could work properly and supply the required amount of water to the city. According to Jalkal department sources, since all factories were closed in the lockdown period, therefore, the demand of water has also reduced.
"The city faces water crisis every year from the month of March, but this year it is not so, otherwise the department have to press three to six dredgers in the river to make a depth channel for proper supply of water", he added.
The secretary stated that due to improved water quality, the Jalkal department was spending a very small amount on chemicals. "In normal days, it uses around 8 to 9 tonnes of alum and lots of chlorine but this year, due to lockdown, this expenditure has reduced due to improved quality of river water", he said . https://timesofindia.indiatimes.com/city/kanpur/no-temporary-dams-as-ganga-level-maintained/articleshow/75905723.cms  (23 May 2020)
RIVERS BIODIVERSITY
Research Insights into riverscape dynamics with the hydrological, ecological and social dimensions for water sustenance  Riverine ecosystems encompass ecological, social and economic processes (ecosystem functions) that interconnect biotic components and provide goods and services for the society. Degradation of these vital ecosystems has been the primary cause for increasing water insecurity, raising the need for integrated solutions to freshwater management.
"Spatio-temporal patterns of four neighbouring riverscapes in the central Western Ghats, India through land-use analyses using temporal remote sensing data (1973, 2018), reveals a decline in evergreen forests (41%) and fragmentation of intact or contiguous forests (60%). Hydro-ecological footprint illustrates that catchment integrity plays a decisive role in sustaining water for societal and ecological needs. This is evident from the occurrence of perennial streams in the catchment dominated by native flora with forest cover greater than 60%, highlighting the riverscape dynamics with hydrological, ecological, social and environmental dimension linkages and water sustainability. This helps in evolving strategies to adopt integrated watershed management to sustain anthropogenic and environmental water demand.
Source: Ramachandra T. V., Vinay S., Bharath S., Subash Chandran M. D. and Bharath H. Aithal, 2020. Insights into riverscape dynamics with the hydrological, ecological and social dimensions for water sustenance, Current Science, Vol. 118(9): 1379-1393  https://www.currentscience.ac.in/Volumes/118/09/1379.pdf
Uttar Pradesh 40 gharials released in Ghaghara river About 250 gharials have been released in the Ghaghara since 2014 according to Shailendra Singh, of TSA India, barring 2017-2018. "Considering their survival rate, we believe that about 1,000 gharials can be released," he added. The number of gharials is low in the wild and the species is facing a huge risk of extinction despite ongoing conservation efforts.
-A major chunk of gharials in India is found in the Chambal river, which has about 1,000 adults. However, there are satellite populations of less than 100 adults in the Girwa river (Katarniaghat Wildlife Sanctuary in Uttar Pradesh), the Ramganga river in Jim Corbett National Park and the Sone river.
-Gharials prefer sandbanks as suitable habitats. Currently, they are facing several threats. Dogs as well as humans often destroy their eggs. To conserve the population, the eggs are collected and hatched at Kukrail.
-Like Uttar Pradesh, Bihar too is releasing gharials in the Valmiki Tiger Reserve as part of restocking the wild population. Unlike crocodiles, gharials do not pose any danger to humans.  https://www.downtoearth.org.in/news/wildlife-biodiversity/40-gharials-released-in-ghaghara-river-amid-lockdown-71119   (14 May 2020)
Himachal Pradesh Rarest of the rare !
A Snow Leopard replenishing its thirst on the banks of Sutlej river in Himachal. Trust me, I was emotional, my body was shivering like a Harley Davidson engine and my mind was numb. A dozen of people have witnessed a Snow Leopard, a handful of them got the privilege to photograph them and only a few of them including me got the opportunity to photograph a Snow Leopard replenishing its thirst.
FISH, FISHERIES, FISHERFOLKS
Assam Despite ban, fishing continues in Golaghat Under the Assam Fishery Rule 2005, fishing during the months of May, June and July with fishing nets of a certain gauge is prohibited across the State. Despite the ban, egg-laden fish are being sold everywhere within the Golaghat district. Even multiple incidents of poisoning in the river Dhansiri were reported in the last couple of weeks. Villagers living on the Dhansiri riverside area said that they witnessed many incidents where fishermen put poisonous liquid in the river.
– He further said that he was even scolded by some government officials of the departments concerned in the district for repeatedly approaching them and asking for actions against the illegal fishing and poisoning activities in river Dhansiri. This signifies that some influential persons having strong political background might be behind this illegal fishing racket. Another catastrophic side of these frequent poisoning in the river is also causing concern. More than 50,000 families of Golaghat get drinking water from the water treatment plant situated in the heart of the town.
– On Monday (May 18, 2020), Numaligarh Police along with 'Macchya Mitra' Manoj Dutta raided Jathipotia (a riverside area of Dhansiri) and seized a large number of fishing nets, hooks and spears from the fishermen, who were caught red handed when they were fishing and catching egg-laden fishes in river Dhansiri.  https://www.sentinelassam.com/topheadlines/despite-ban-fishing-continues-in-golaghat-district-477532  (19 May 2020) 
SAND MINING
Bihar ON MAY 21 NIGHT, 4 GOVT STAFFS IN PATROLLING ESCORT VEHICLE CRUSHED TO DEATH UNDER HYVA TRUCK BY SAND MAFIA IN GAYA. https://www.jagran.com/bihar/patna-city-truck-collided-with-escort-vehicle-four-people-died-in-road-accident-in-gaya-20294549.html  (22 May 2020)
-Day before this, mining & police staff in Banka faced violent attack while acting against illegal sand mining in Chandan river which was damaging flood protection embankment.  https://www.bhaskar.com/local/bihar/bhagalpur/banka/news/fir-registered-on-55-unknowns-including-41-named-in-the-case-of-mining-officer-and-police-attack-on-baloo-ghat-127318631.html  (20 May 2020)
Madhya Pradesh Minister asks to file attempt to murder cases Agriculture and farmer welfare minister Kamal Patel on Sunday said Narmada river was a living entity and therefore collectors have been told to register attempt to murder cases against sand miners for causing harm to the water body. He said he would shortly be writing to collectors of other districts as well through which the river passes to register attempt to murder cases against illegal sand miners.
-Patel said he had ordered for the installation of CCTVs along the routes leading to the river and asked police to take action if trucks are found overloaded. Collectors have been asked to send daily reports in the action taken against sand miners, he said, adding that such moves would go along way in curb illegal sand mining and protecting and conserving the river. https://www.tribuneindia.com/news/nation/narmada-sand-mining-file-attempt-to-murder-cases-says-patel-86022   (17 May 2020)
Meanwhile 14 people involved in illegal sand mining from Tawa river in Betul have been arrested for attacking administration team on raid.  https://www.bhaskar.com/local/mp/hoshangabad/betul/news/14-accused-in-jail-illegal-mining-of-sand-found-in-2300-sq-ft-stone-pelting-on-government-team-127320551.html  (20 May 2020)
The fatal attack amid lockdown had injured some officials. The state has been seeing such violent attacks routinely. https://www.youtube.com/watch?v=qeGFkexV-wk  (18 May 2020)
Himachal Pradesh On May 19, sand mafia escaped to Uttarakhand after severely injuring 2 forest guards for acting on illegal riverbed mining in Yamuna river near Paonta Sahib. https://www.amarujala.com/shimla/crime/forest-guard-attacked-while-stopping-illegal-mining-badly-injured  (19 May 2020)
Uttarakhand In-stream mechanized river bed mining reported in Vikas Nagar, affecting, changing Yamuna flows which helpless villagers fear would impact them adversely during floods. With admin, govt failing to stop; this has become perennial problem there.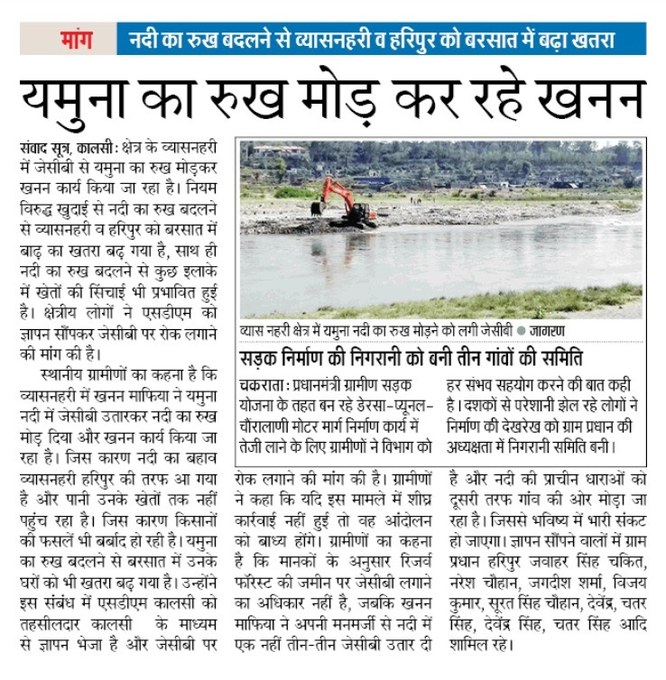 https://www.jagran.com/uttarakhand/dehradun-city-change-river-line-in-yamuna-20296197.html  (22 May 2020)
Uttar Pradesh Illegal, mechanized mining in Yamuna river also reported from Behat area, Saharanpur. Villagers said despite complaints admin took no action. Involvement of police officials also reported. https://www.amarujala.com/uttar-pradesh/meerut/illegal-mining-is-going-on-in-lockdown-in-saharanpur-sand-mafia-mining-yamuna-in-broad-daylight  (19 May 2020)
There was police raid following drone images revealing large scale illegal mining. https://www.amarujala.com/uttar-pradesh/meerut/saharanpur-police-raid-in-yamuna-river-for-illegal-mining-eight-arrests-case-field-against-seventeen  (20 May 2020)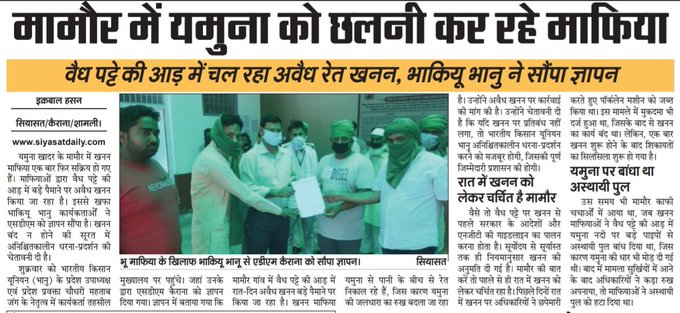 Similarly in Kairana, Shamli district farmers have objected to illegal mechanized mining in Yamuna river at Mamor. https://www.livehindustan.com/uttar-pradesh/shamli/story-illegal-sand-mining-under-the-guise-of-a-valid-lease-in-mamaur-3231514.html  (22 May 2020)
Kerala Allegation of sand mining in the name of river cleaning After the public protest at Ayyankunnu panchayat, the work was stopped on May 14 as residents and panchayat authorities alleged that in the name of cleaning they were planning to remove sand. "Panchayats have the right to collect the sand but here the company is taking it away the sand in the name of cleaning and the committee at the local body level has not been informed about this," said panchayat president Sheeja Sebastian. https://timesofindia.indiatimes.com/city/kochi/kerala-congress-alleges-sand-mining-in-the-name-of-river-cleaning/articleshow/75753501.cms  (15 May 2020) 
WETLANDS, LAKES, WATER BODIES
Maharashtra No need to declare Uran wetland as conservation reserve: JNPT to forest dept JNPT's letter highlighted the Wetland (Conservation and Management) Rules 2017 do not include river channels, paddy fields, human-made waterbodies, salt pans etc. as wetlands. "In view of the above, it is submitted that the port land appears to be erroneously termed as wetland. It is requested that this land should not be proposed as wetland under Wildlife Protection Act (WPA), 1972," the letter undersigned by SV Madabhavi, chief manager (port, planning and development), JNPT, read. It further added, "We assure you, utmost care will be taken at the time of development of nearby area in accordance with law."
-Environmentalists have identified mangroves being hacked at Sonari (Sawarkhar village) near Karal junction in Uran across a kilometre-long and 100-foot wide patch. A complaint was filed by Nandkumar Pawar, representing Vanashakti, alleging that the work was being done by JNPT.
-"These violations continue despite lockdown. Officials carrying out such illegal activities need to be booked," said Pawar. Members of the Bombay high court-appointed mangrove committee said they have taken cognisance of the complaint. "While we will not be holding any meetings during lockdown via video-conferencing, all complaints are being forwarded to the local district administration for further action," said a member of the committee. https://www.hindustantimes.com/mumbai-news/uran-not-a-wetland-no-need-to-mark-it-as-protected-zone-jnpt-tells-forest-dept/story-dMIEeQYalVJQREjjwOuINM.html  (19 May 2020) 
WATER OPTIONS
Himachal Pradesh Kuhl ki Kahani Story on an irrigation system designed 300 years ago that diverts water flowing from rivers through mountains into agricultural lands. An eco-friendly and cost effective method driven by the local community in Palampur, Himachal Pradesh. Made by Srishti Films, with Kalpavriksh, for Vikalp Sangam. https://youtu.be/uYRw3p1vPPY  (28 Jan. 2020)
GROUNDWATER
Punjab Farmers' to go for direct seeding of rice Farmers seeing lot of advantage in going for DSR technology for paddy cultivation this year.  https://www.thehindu.com/news/national/other-states/punjab-farmers-to-go-for-direct-seeding-of-rice/article31610222.ece  (17 May 2020)
The proposed reduction in the area to be covered under traditional water-guzzling paddy in Punjab this year due to labour shortage is likely to give some respite to already depleting groundwater table in the state.
-As per the target set by the state agriculture department, the department is expecting to reduce the area under paddy cultivation by at least 3 lakh hectares — from 29.3 lakh hectares last year to 26.3 lakh hectares this year.
-Of the total area under paddy cultivation, 4 lakh hectare (20% more than last year) is expected to be sown with lesser water consuming direct seeding of rice (DSR) technique this year, while 7 lakh hectare is likely to be covered under basmati varieties with the onset of monsoon. Last year, 6.5 hectare area was under basmati.
According to the Central Ground Water Board's 2019 report, state tops the country in over-exploitation of groundwater at 79%. https://www.hindustantimes.com/cities/targeted-reduction-in-paddy-area-in-punjab-to-save-groundwater/story-G7Exzt9tbEw0ZpG3UV1JHM.htm  (21 May 2020)
Haryana Congress backs farmers on paddy cultivation Congress supports farmers opposing restrictions on paddy cultivation in certain blocks due to groundwater depletion.  https://www.tribuneindia.com/news/haryana/congress-backs-farmers-on-paddy-cultivation-87624  (21 May 2020)
URBAN WATER
Bengaluru HC asks SPCB to maintain improved lakes status post lockdown? High Court on May 20 asked the Karnataka KSPCB to explain how it will keep Bellandur and Varthur lakes and Vrishabhavathi river as clean as they now are, during a hearing on a PIL filed by activist and advocate Geetha Misra.  https://www.newindianexpress.com/cities/bengaluru/2020/may/21/hc-how-will-you-keep-bengaluru-lakes-clean-post-lockdown-2146036.html  (21 May 2020)
AGRICULTURE
Uttarakhand Farmers Seek Compensation as Rain, Hail Damage Crop, Fruits in Hilly Areas This corroborates earlier SANDRP story on UKD crops getting damaged extensively. It also shows callousness of the UKD agriculture department. https://www.newsclick.in/Uttarakhand-Farmers-Seek-Compensation-Rain-Hail-Damage-Crop-Fruits-Hilly-Areas  (22 May 2020)
Survey 60% farmers suffered yield loss on their harvest The survey — aimed to evaluate the impact of the lockdown on agricultural production and livelihood — was conducted by the Harvard TH Chan School of Public Health, Public Health Foundation of India and Centre for Sustainable Agriculture from May 3 to May 15, 2020. Farmers across Andhra Pradesh, Bihar, Gujarat, Haryana, Karnataka, Madhya Pradesh, Maharashtra, Punjab, Rajasthan, Telangana, Uttar Pradesh and West Bengal were roped in for the survey.
Losses for 40 per cent of the farmers who experienced a yield loss, occurred from a lack of labour, storage or transport options, said the survey. Weather was also cited as a reason for the loss in yield by 80 per cent of the farmers. Around 30 per cent of them were unable to harvest their crops because of issues related to the lockdown, said the survey. https://www.downtoearth.org.in/news/agriculture/covid-19-60-farmers-suffered-yield-loss-on-their-harvest-shows-survey-71270  (21 May 2020)
FLOOD
Major reservoirs filled up to 165% of 10-year average SANDRP's warning about possibility of dam induced floods in coming monsoon has been highlighted by The Economic Times.  https://economictimes.indiatimes.com/news/politics-and-nation/major-reservoirs-filled-up-to-165-of-10-year-average/articleshow/75851549.cms  (23 May 2020)
Maharashtra Extremely Important issue raised by Pradeep Purandare Sir.
He has resigned from the Committee Constituted by the Government of Maharashtra to study and make recommendations about 2019 Maharashtra Floods.
Despite being a member of the Committee and an author of Reservoir Operation Schedule and Flood Zoning section of the Committee Report, he was not given the data about ROS or Flood zoning!
The Chapter that he wrote was omitted from the final Report without any discussion with him and when asked about it, Chairman Shri. Vadnere admitted undue pressure from "Superiors" to remove this Chapter.
This is entirely shocking and unacceptable state of affairs. Reservoir Storage in Maharashtra are remarkably high as compared to last year, IMD has forecasted a normal to above normal monsoon and yes, our Government is turning a blind eye to a problem which led to a disaster just a few months back!
Monsoons: Compounding the COVID-19 crisis Informative piece but it misses dam induced flood events:-There are several categories of flooding that often turn into disasters in this region. These include months of waterlogging due to drainage lines being blocked by river embankments, floods caused by water flows spilling over the river banks in rivers without embankments, severe floods caused by breaches in embankments, and flash floods caused by intense rains in the Himalayan hills, which often cause rivers to swell and change course.
-The most common occurrence across most flood categories is that water enters and fills up farmlands and habitations in villages. Flood waters rise high enough to drown the homes of people. Another occurrence—flash floods—are less common and the extent of loss to life and property usually depends upon the speed with which water enters and rises. There is very little scope to save much during a flash flood. https://idronline.org/monsoons-compounding-the-covid-19-crisis/   (19 May 2020)
Assam Double whammy in Assam with Covid-19 spike Cyclone Amphan, after wreaking havoc in West Bengal and Odisha, has been lashing the state with heavy rainfall since Wednesday evening, As a result, many rivers in the state are overflowing. Release of water by Kurichu dam in neighbouring Bhutan and the Neepco's Ranganadi project in the state has worsened the situation. The release of excess water from Kurichu dam in Bhutan, about 30km from Barpeta Road in Barpeta district at 5pm on Thursday caused the Beki, Manas, Pagladia, Kaldia and Pohumara rivers to swell which, in turn, affected the lower Assam districts of Nalbari, Baksa, Barpeta, Chirang and Bongaigaon.
– A message from Kurichu hydropower plant in Bhutan had on Thursday warned the Barpeta district administration of "high discharge" and asked it to take necessary action. "The Kurichu river reached an inflow of more than 800 cumecs at 5pm on Thursday. It may rise further and the same will be discharged through the spillway gates." A Barpeta district official told The Telegraph on Friday, "We thought that the excess water mentioned would not have much impact as the water levels of the rivers were below the danger level and maximum water bodies were more or less empty. But the dam official released more water than the official communication mentioned." The excess water released by Neepco Hydro Electric Project from its Ranganadi project on Friday also affected several villages in Lakhimpur and Dhemaji districts and washed away many footbridges. The floods are an annual woe for the villagers of Lakhimpur as an embankment breached three years ago has not been repaired yet. Any rise in the water level of the Ranganadi inundates nearly 100 villages on the western bank and the villagers lose their harvest on which they depend the entire year.  https://www.telegraphindia.com/states/north-east/double-whammy-in-assam-with-coronavirus-spike-and-cyclone-amphan/cid/1775027  (23 May 2020)
Amid COVID-19, many rivers cross danger-level mark Due to the incessant rains for the last couple of days in their sources and release of water from different hydroelectric projects, some of the leading rivers of the state, including Beki, Jiabharali, and Ranganadi, have started flowing above danger mark creating fear among people living along its path.
-The water level of the Beki river in Barpeta district crossed the danger level on May 22 evening. The condition has worsened with Bhutan reportedly releasing excess water from Kurichhu Hydroelectric Project on May 21 evening.
-In Sonitpur district, the Jia Bharali river is also flowing above the danger-level mark on May 22 evening. According to sources in the state government, 630 persons have been affected by the flood at Kalgachia area in Barpeta district of the state.
-It is also reported that a section of the road in the Rajaali village in Nagaon district has been damaged by the rising waters of the Borpani River and erosion was reported at three different areas in the Sonitpur district.
-The Ranganadi river was also flowing above the danger-level mark after water from NEEPCO dam at Panchnoi Bogolijan in Lakhimpur district of the state was released.  https://www.eastmojo.com/amp/story/assam%2F2020%2F05%2F23%2Famid-covid-19-many-assam-rivers-cross-danger-level-mark  (23 May 2020)
Annual lockdown drudgery "During a devastating flood in 1992, the Nadihing changed its course, separating Tengapani and putting it on Assam's border with Arunachal. Since then, the villagers observe a complete lockdown every year during the monsoon from June to September," Sarat Chetia, the village head, told this correspondent on May 17.  https://www.telegraphindia.com/states/north-east/an-assam-village-that-witnesses-annual-lockdown-drudgery/cid/1773842  (18 May 2020) 
Bihar मई के मध्य में कोसी नदी में उतरा लाल पानी, लोग बाढ़ की आशंका से डरे एक ओर जहां कोरोना महामारी को लेकर देश भर में लॉकडाउन लगा हुआ है, वहीं दूसरी ओर कोसी नदी में लाल पानी ने आकर बाढ़ का दस्तक देना शुरू कर दिया है। कोसी में लाल पानी उतरने को कोसी क्षेत्र के लोग बाढ़ आने की आहट मानते हैं। करीब 10 दिन पूर्व भी लाल पानी आया था, फिर रविवार को भी लाल पानी कोसी नदी में दिखा। इस दौरान कोसी नदी के पानी में उतार चढ़ाव शुरू होने की जानकारी लोगों द्वारा दी जा रही है।
तटबंध के अन्दर बसे गांव में बसे लोगों को अभी से ही कटनियां एवं विस्थापन का भय सताने लगा है। इस वर्ष ग्राम सुरक्षात्मक कार्य में हो रहै विलंब को लेकर ग्रामीण चिंतित हैं। लोगों ने बताया कि इस वर्ष ग्राम सुरक्षा योजना के तहत सभी संवेदनशील स्थलों पर बम्बू पाईिंलग का कार्य करवाया गया है, जो बाढ़ के समय के लिए पूर्ण सुरक्षित नहीं है। इधर दूसरी ओर प्रखण्ड के विभिन्न स्कूलों में बाहर से अपने गांव लौट रहे प्रवासी मजदुरों के लिए में क्वारंटाइन सेन्टर बनाया गया है। यदि सम्भावित बाढ़ आने तक क्वारण्टाइन सेन्टर चलता रहा तो बाढ़ के दौरान आश्रय स्थल की तलाश में प्रशासन को परेशानी उठानी पड़ सकती है। https://www.livehindustan.com/bihar/saharsa/story-red-water-landed-in-kosi-river-in-mid-may-people-scared-of-fear-of-flood-3223877.html  (18 May 2020)
DISASTER
Cyclone Amphan Biggest Storm in 20 Years Spurs South Asia to Evacuate Millions The biggest cyclonic storm over the Bay of Bengal in about two decades has slightly weakened before hitting the coasts of India and Bangladesh on Wednesday, with authorities making preparations to evacuate more than 5 million people to safer places.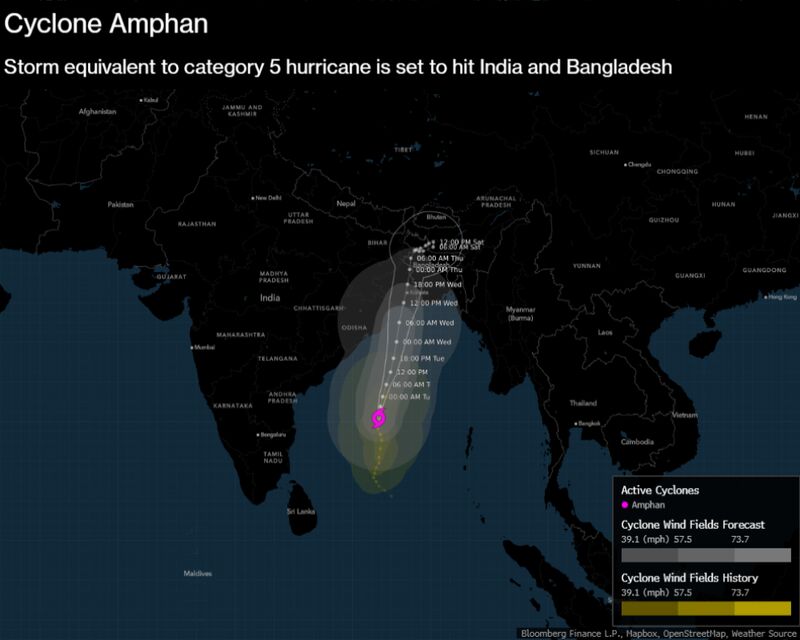 Cyclone Amphan, equivalent of a category 4 hurricane at present, is expected to have a sustained wind speed of 200 to 210 km (124-130 miles) per hour, according to the India Meteorological Department. The speed may rise as high as 240 km per hour, the weather office said.
Bangladesh is evacuating 2.2 million people from coastal districts, State Minister for Disaster Management Enamur Rahman said at a media briefing in Dhaka. The country plans to raise the danger signal to the maximum level at 6 a.m. Wednesday and it will be impossible to evacuate people after the "great danger signal" is announced, Rahman said. https://www.bloomberg.com/news/articles/2020-05-18/india-bangladesh-may-shift-millions-as-category-5-storm-nears  (18 May 2020)
According to a list maintained by Weather Underground, 26 of the 35 deadliest tropical cyclones in recorded have occurred here. Cyclone Amphan is the latest.
-The worst places for storm surges, say meteorologists, tend to be shallow, concave bays where water, pushed by the strong winds of a tropical cyclone, gets concentrated or funnelled as the storm moves up the bay.
-The Bay of Bengal is a "textbook example of this type of geography", Bob Henson, meteorologist and writer with Weather Underground, told me.
-What makes matters worse are high sea surface temperatures in the Bay of Bengal, which can trigger extremely strong cyclones. "It is a very warm sea," says M Mohapatra, head of India's meteorological department. https://www.bbc.com/news/world-asia-india-52718531  (19 May 2020)
-Cyclones gain their energy from the heat and moisture generated from warm ocean surfaces. This year, the BoB has posted record summer temperatures a fall-out, as researchers have warned, of global warming from fossil fuel emissions that has been heating up oceans.
-"The BoB has been particularly warm. Some of the buoys have registered maximum surface temperatures of 32-34°C consecutively, for the first two weeks of May. These are record temperatures driven by climate change — we have never seen such high values until now," said Roxy Mathew Koll, a scientist with the Indian Institute of Tropical Meteorology in Pune, who has also co-authored IPCC reports on oceans and the cryosphere.
-Cyclone Amphan intensified from a category-1 cyclone to category-5 in 18 hours, an unusually quick evolution. Last year Fani, a category 4 cyclone, which swept through the Odisha coast, was again fuelled by high temperatures in the BoB. While tropical cyclones in these seas are a typical feature of the summer months and play a role in aiding the arrival of the monsoon, Dr. Koll said warming around India is not longer restricted to just the BoB but also the Arabian Sea and the Indian Ocean. This makes storm prediction less reliable as well as disrupting monsoon patterns.
-Another researcher said the elevated ocean temperatures this year could, in part, be explained by the lockdown. Reduced particulate matter emissions during the lockdown meant fewer aerosols, such as black carbon, that are known to reflect sunlight and heat away from the surface. Every year, increased particulate pollution from the Indo-Gangetic plains is transported towards the BoB and this also influences the formation of clouds over the ocean, said V. Vinoj, Assistant Professor, School of Earth, Ocean and Climate Sciences at the Indian Institute of Technology in Bhubaneswar.
-"Fewer clouds and more heat in the Bay of Bengal may have amplified the strength of the cyclone," he told The Hindu. "We've observed that during the lockdown from March-April, BoB temperatures have been 1-3°C higher than normal. But the exact contribution from aerosols to this still to be determined." He and his colleagues are working on a research paper on these lines. https://www.thehindu.com/news/national/super-cyclone-amphan-threatens-odisha-west-bengal/article31617978.ece   (18 May 2020)
-Amphan, the most severe storm in the Bay of Bengal since the Odisha super cyclone of 1999, made landfall between 3.30pm and 5.30pm, flattening houses, uprooting trees and electric pylons, causing rivers to swell and breach their embankments, and killing at least three people in two states according to initial reports.
-I have received reports of embankment breaks from Sagar Island, Ramganga, Hingalganj and a few other places. Many embankments are seeing overtopping of water because the rivers have swelled up, these will break in days," said Tuhin Ghosh, director of the School of Oceanographic Studies at Jadavpur University.
-CM Mamata Banerjee said a task force constituted to assess the damage will meet on Thursday. She advised people in shelter homes not to step out for the next 12 days, saying there has been a "huge devastation". "Bridges and embankments in the Sunderbans have been damaged," she said.
-Experts said residents of the deltaic areas of the Sunderbans could face an impact on their livelihoods for years to come because of large-scale inundation and saline water intrusion onto their lands. "Saline intrusion will make soil infertile and damage crops. The soil may not be suitable for agriculture for three to five years. After cyclone Aila (in 2009), there a layer of salt had settled on the soil," Ghosh added. https://m.hindustantimes.com/india-news/destruction-in-odisha-wb-as-amphan-strikes/story-bjWpSNfAbeU5oZo55M3EkO_amp.html  (21 May 2020)
"We have grown used to damaged houses, uprooted trees and dead livestock after storms. We can rebuild houses but saline water is a monster that kills us slowly. Aila happened in 2009; some areas retained saline water for almost three years," Maity said. http://kalimpongonlinenews.blogspot.com/2020/05/death-knell-for-sunderbans-surge-in.html  (22 May 2020)
Cyclone Amphan would have washed away the south western localities of Bangladesh with 10 to 15 feet high tidal surge on May 20. But it was the 10,000 sqkm Sundarbans, nearly 32 times bigger than the Dhaka city, absorbed the force of the cyclone lessening its power to damage.
Like a fort protecting a kingdom, Sundarbans last year braced the ferocious Bulbul and shielded thousands of people on the coasts. According to the Bangladesh Meteorological Department, cyclone Amphan passed heavily on the forest, particularly in the west part in Satkhira district, with gusts of 72 to 148 kmph speed and tidal surges up to nine feet. https://tbsnews.net/environment/cyclone-amphan/sundarbans-shields-southwestern-bangladesh-again-84292  (21 May 2020)
ENERGY OPTIONS
Study India's current solar tariffs 30 per cent lower than existing thermal power costs The current solar tariffs in India, which are between Rs 2.50-2.87 per kilowatt hour (kWh), have stabilised at rates 20-30 per cent below the cost of existing thermal power in India and up to half the price of new coal-fired power, according to a latest study. It added that these prices would provide enormous opportunities to invest in the solar industry. https://energy.economictimes.indiatimes.com/news/renewable/indias-current-solar-tariffs-30-per-cent-lower-than-existing-thermal-power-costs-study/75887881  (22 May 2020)
Sales of renewable energy certificates tumbled over 35 per cent to 2.37 lakh units in April compared to 3.68 lakh in the same month a year ago, according to official data. One REC is created when one megawatt hour of electricity is generated from an eligible renewable energy source.  https://energy.economictimes.indiatimes.com/news/renewable/green-certificate-sales-down-35-pc-to-2-37-lakh-in-april/75962623  (25 May 2020)
ENVIRONMENT
SANDRP Blog Draft EIA 2020 will weaken every aspect of EIA process A critique of the Draft EIA Notification 2020: The changes proposed in the new draft are supposed to take into account the experience with the current EIA notification. It is supposed to take into account the new realities, like the changing climate or now even the issues related to Covid 19 crisis which has many environmental dimensions. The new draft is also supposed to take into account the relevant pronouncements of the judiciary and in this case NGT in the interim period since the previous notification. It is supposed to take into account the new scientific developments that has happened since Sept 2006 when the previous notification came into effect. The new draft is expected to include the lessons of special experiences say the Uttarakhand floods of 2013; increasing incidents of flood disasters, including urban floods; changing monsoon pattern; improved knowledge about the status of biodiversity in various agro climatic situations.
It is expected to include the requirements due to India's international environmental commitments. The experience of other countries can also be useful guide in improving our environmental governance. The new draft is also expected to follow the principle of non regression and also follow the basic tenets of the constitution including basic tenets of democratic functioning, Article 21, Article 48A, among others. The notification is also expected to take into account the public commitments of the government, including Ganga Rejuvenation and River Rejuvenation, Conservation of Himalayas and Western Ghats, among others. The draft notification is supposed to adhere to basic environment principles including those of precautionary principle, polluter pay principle, sustainable development principle and avoiding conflict of interest. A close reading of the draft and comparison with the existing notification shows that the draft fails on each and every one of these requirements. Please Read, Share, send feedback. https://sandrp.in/2020/05/19/draft-eia-2020-will-weaken-every-aspect-of-eia-process/  (19 May 2020) 
The article has been published here also.   https://mumbaimirror.indiatimes.com/mumbai/other/why-the-eia-process-needs-strengthening/articleshow/75814924.cms  (19 May 2020)
-The new 2020 notification, however, does away with this cardinal principle of prior environment clearance and permits post facto regularisation of environment violations by paying fines so long as the project is permissible in the area. This militates against the bedrock of India's environment outlook that is based on the 'precautionary principle'. Any shift from the 'polluter-pays-principle' to the 'pollute-and-pay' principle would wreak havoc. This window was hitherto not available in the 2006 notification.
-The new law also proposes to declare some areas as 'economically sensitive areas', on the recommendation of MOEF&CC, which would then be taken outside the ambit of the mandatory environmental and other clearances. But such a declaration would be sans any public or stakeholder consultation. This could pose a serious threat to delicate and highly unstable ecosystems like sacred groves, remnant forest patches and those that sustain critically endangered fauna…. Our attempt to increase our ranking in the 'ease of doing business' index might irrevocably damage our environment in the long run.
– Besides, the draft notification has not paid any heed to the 2016 CAG report that revealed serious inadequacies in monitoring by third-party agencies. Out of 216 projects, the terms of reference could be granted within the prescribed time limit of 60 days only in 14% of the projects; in others there were delays up to 365 days.
-The draft increases the validity of the environment clearances to 50 years for mining projects as against 30 years in the current law and 15 years for river valley projects as against 10 years, thus increasing the risk of irreversible environmental, social and health consequences on account of the project remaining unnoticed for long. https://www.newindianexpress.com/opinions/2020/may/20/many-problems-with-draft-green-impact-assessment-2145552.html  (20 May 2020)
Assam Please Share as extensively as possible: The Dehing Patkai is the largest rainforest in India. It stretches for 575 square kilometres across Tinsukia, Dibrugarh and Sivasagar districts in eastern Assam. This virgin forestland is also referred to as the 'Amazon of the East'. The biodiversity of this forestland is very rich and unique. Among the varied animal species living here are the hoolock gibbon, slow loris , pig – tailed macaque , stump-tailed macaque, capped langur, Indian leopard , Asian elephant, Bengal tiger, gaur, Chinese pangolin, Himalayan black bear, Himalayan squirrel, leopard cat, clouded leopard, porcupine, crab-eating mongoose, sambar, sun bear, binturong, barking deer, golden cat, and marbled cat. The Dehing Patkai also hosts around 293 different species of birds as well. Among the common reptiles found here are the rock python, king cobra, Asian leaf turtle, and monitor lizard. Moreover, as many as 30 species of butterflies and over 100 species of orchids thrive in this beautiful tropical vegetation.
Though the National Board of Wild Life (NBWL) has allowed the coal-mining project on April 7, 2020, but, illegal mining of coal has been going by the coal mafias, more since last 4 years, in the forest for long affecting the biodiversity of this virgin forestland. There cannot be a second Dehing Patkai ever.
Ministry of Environment, Forest and Climate Change has given clearance for hydrocarbon drilling to Oil India Limited at seven locations under the Dibru Saikhowa National Park in Assam's Tinsukia district at time when there is already a lot of criticism in the state over the centre allowing coal mining in the Dihing Patkai wildlife sanctuary, spread over Tinsukia and Dibrugarh districts. Dihing Patkai is known as the Amazon of the East.  https://www.ndtv.com/india-news/row-over-2-environment-clearances-in-protected-wildlife-areas-in-assam-2232444 (21 May 2020)  
Western Ghats Karnataka rejects draft notification of ESA: CM "The CM, expressing the state's opinion, said gram panchayats, taluk panchayats, zilla panchayats, elected representatives and the Cabinet have rejected the draft notification of ecologically sensitive areas according to Kasturirangan committee report in its present format," Karnataka CMO in a statement said. Environmental activists have demanded implementation of the Madhav Gadgil Commission report, formed in 2010.
The issue came up after CM BS Yediyurappa on May 21 participated in the video conference held by Javadekar on implementation of the report and discussed the draft notification on ecologically sensitive areas (ESA) in the Ghats.
-The CMs of Kerala, Karnataka, Goa, Maharashtra, Gujarat and Tamil Nadu also asked the Centre to expedite notification of ecologically sensitive areas during the same video interaction with the Union minister.
-Since every state has different problems and challenges, it is not for the central government to issue an identical notification for all states, the Chief Minister explained, adding that Javadekar expressed his consent on the matter and said that he would discuss the issue with the states individually. https://www.thenewsminute.com/article/karnataka-rejects-draft-notification-eco-sensitive-areas-western-ghats-cm-125068  (22 May 2020)
World Bees Day Importance of Honey Bees: Perspectives from India May 20 is World Honey Bees day. Watch why they are important.  https://www.youtube.com/watch?v=sNaOKY8yCvM  (20 May 2020)
SOUTH ASIA
India-China China initiates process of sharing hydrological data for Sutlej -Amid ongoing face-offs in Ladakh and Sikkim, China has initiated the process of sharing hydrological data since May 18-19 for the Sutlej river with India (an annual practice during the monsoon which is crucial for generating information on floods in north India), days before of scheduled date of June 1, officials said on May 22. Data sharing for the Brahmaputra river started from May 15.
-According to an agreement signed between the two countries, China shares hydrological data of the Brahmaputra and Sutlej rivers with India from May 15 and June 1, respectively, until the end of October.
-For the Sutlej river, known as Langqen Zangbod in China, data is shared from a station at Tsada, the officials said. The river, a major tributary of the Indus, originates in Tibet and enters India through Himachal Pradesh.
– Prior to the sharing of data, both sides check whether the existing data sharing systems are working fine. Accordingly, China sends a test mail with data that has to be acknowledged by India, signifying that the communication line is working fine. But this usually happens two to three days before the actual data sharing begins, the officials said.
– In 2017, China had stopped sharing the data citing that the hydrological data gathering sites were washed away due to floods. It resumed sharing data from 2018. https://www.hindustantimes.com/world-news/china-initiates-process-of-sharing-hydrological-data-for-sutlej-10-days-before-scheduled-date/story-OFBxcZIoEg6xCvZICnlaiO.html  (22 May 2020)
India-Nepal After 24 years, Mahakali irrigation project still doubtful As per the Mahakali agreement between India and Nepal, Nepal is entitled to get 1,000 Cusecs water from Tanakpur and the Project has the target of irrigating 33,000 hectares of land up to Malakheti of Kailali. However, the Indian side is not ready to give irrigation water to Mahakali Municipality (Dodhara Chandani) as per the terms of the treaty.
– "It is the unofficial view of the Indian side that they would give water to Dodhara Chandani only after the construction of Pancheshwar Hydroelectricity Project. It is almost eight years since Nepal submitted the detailed project report of Pancheshwar to India. Still, India has not done anything in that regard," Director of Mahakali Irrigation Project (third phase), Prachanda Dev Bishta added. A secretary level meeting of both countries including water resource experts had decided to settle the topic of giving water to Nepal from Sharada canal through consensus within six months. This deadline has been over around nine months ago. https://thehimalayantimes.com/nepal/after-24-years-mahakali-irrigation-project-still-doubtful/  (20 May 2020)  
Similarly, the Pancheshwar Dam progress to be affected due to India Nepal controversy on Kalapani border. https://timesofindia.indiatimes.com/city/dehradun/will-strategically-important-pancheshwar-dam-bear-brunt-of-india-nepal-tensions/articleshow/75902707.cms  (23 May 2020)
Nepal World Bank Urged To Invest In Upper Arun HEP The Ministry of Energy, Hydro Power and Irrigation has put forth a proposal before the World Bank to lead the investment for the 1,060-MW half-reservoir Upper Arun Hydropower Project to be constructed in Sankhuwasabha district. https://www.nepal24hours.com/world-bank-urged-to-invest-in-upper-arun-hydro-project/  (20 May 2020)
Pakistan WSC opposes Diamer-Bhasha Dam  In a statement, the World Sindhi Congress said the organisation believes that the Sindhis and indigenous people in the region are already suffering from the shortage of agriculture water and required discharge into the Arabian Sea to block the seawater intrusion into the mainland. The group said the dam construction will make the situation worse for the Sindhi people.  https://indiablooms.com/world-details/SA/24315/world-sindhi-congress-opposes-pakistan-govt-s-decision-to-build-diamer-bhasha-dam.html  (18 May 2020)
Bangladesh HC forms committee to protect Halda dolphins The High Court on May 19 formed a committee headed by the DC of Chattogram in order to protect biodiversity, environment, fishes and dolphins of Halda river in the district.
-The lawmakers elected from the areas near the banks of the river will act as advisers of the DC-led committee, and the committee will work with advice from the members of parliament, the HC said in the order.
-The High Court bench of Justice Obaidul Hassan came up with the order during the virtual hearing of a writ petition filed by SC lawyer Abdul Qaium Liton, seeking its directives on the authorities concerned of the government to prevent the killing of dolphins and protect them in Halda river. https://www.thedailystar.net/city/news/hc-forms-committee-protect-halda-dolphins-1904332  (20 May 2020)
THE REST OF THE WORLD
USA Dam Collapse in Michigan At least two rivers in mid-Michigan, the Tittabawassee River in Midland and the Rifle River near Sterling, reached their major flood stage on Tuesday afternoon, sending dams past their limits.
A slow-moving storm doused Michigan with heavy rains over the period of several days, triggering fear of imminent dam failure and flood warnings across the state.
After the Edenville Dam failed late Tuesday afternoon, worries have grown that the Sanford Dam, may also collapse. If this occurs, water will surge downstream toward Midland City and Freeland, Michigan.  https://www.accuweather.com/en/severe-weather/aerial-photos-capture-extent-of-michigans-disastrous-dam-failures/742939  (22 May 2020)
TWO DAMS BREACH IN MICHIGAN, THOUSANDS EVACUATED Michigan Gov. Gretchen Whitmer declared a state of emergency for one county after two dams failed in the area — following heavy rains and flash floods across the state. Both the Edenville and Sanford Dams breached May 19, 2020 night, the governor said in a news release, and urged residents to evacuate the affected areas in Midland County immediately.
– Residents should "seek higher ground" as far east and west of the Tittabawassee River as possible, according to the City of Midland website. "In the next 12 to 15 hours, downtown Midland could be under approximately nine feet of water," Whitmer said in a news conference. "We are anticipating an historic high water level."
– Mark Bone, Chairman of the Midland County Board of Commissioners, said he believes about 3,500 homes and 10,000 people have so far been affected by the evacuation notices. No deaths or injuries have so far been reported, he said.  https://edition.cnn.com/2020/05/19/us/michigan-dam-collapse/index.html  (19 May 2020)
Earlier on Monday (May 18), the National Weather Service had warned of flash flood warning in Gladwin country in the same area:
– The National Weather Service Gaylord office has issued a Flash Flood Warning for south-central Gladwin County along the Tittabawassee River below Secord Dam. Just after 3 pm Monday, Gladwin County dispatch reported high flows being passed through Secord and Smallwood Dams on the Tittabawassee River in Gladwin County. The imminent hazard is flash flooding from the Tittabawassee River downstream of the Secord Dam. The town of Secord is the closest town downstream of the dam at 2 miles away.  https://nbc25news.com/news/local/high-flows-from-secord-dam-in-gladwin-county-causing-flash-flooding   (19 May 2020)
A third dam has breached according to this video from local news channel. Towns of Edinville and Sanford have been evacuated too. The Edinville dam breached at 5.45 pm and news of Sanford on the verge of breach came at 7 pm.  https://www.youtube.com/watch?v=KeW8q2PnWAM  (19 May 2020)
Sept 12, 2018 report that provides details of FERC decision to revoke license for the Edenville Dam for lack of sufficient spillway capacity that was not built 14 yrs after promising to do so. https://www.abc12.com/content/news/FERC-revokes-license-for-Edenville-Dam-493090991.html  (12 Sept. 2018)
The designs for a remediation of the hazard were being prepared, with construction anticipated in the period 2021 to 2023.  https://nbc25news.com/news/local/2018-report-warned-of-dam-failure-if-massive-flood-was-to-happen  (20 May 2020)
Dave Petley on Edenville Dam breach: https://blogs.agu.org/landslideblog/2020/05/20/edenville-dam-1/  (20 May 2020)
Two rivers in Michigan, the Tittabawassee River in Midland and the Rifle River near Sterling, were in major flooding stage, the National Weather Service (NWS) said.  https://www.reuters.com/article/us-usa-flood-michigan/michigan-governor-declares-emergency-after-dams-collapse-idUSKBN22W071  (20 May 2020)
Edenville Dam is about 225 kms north of Detroit, and the Sanford Dam, about 11.26 kms downriver. Midland city with population of 42000 is 12.9 km downstream of Sanford dam. Dow Chemical Co.'s main plant sits on the city's riverbank.
– Emergency responders went door-to-door early Tuesday morning warning residents living near the Edenville Dam of the rising water. Some residents were able to return home, only to be told to leave again following the dam's breach several hours later. The evacuations include the towns of Edenville, Sanford and parts of Midland.
– In 2018, the Federal Energy Regulatory Commission revoked the license of the company that operated the Edenville Dam due to non-compliance issues that included spillway capacity and the inability to pass the most severe flood reasonably possible in the area. The Edenville Dam, which was built in 1924, was rated in unsatisfactory condition in 2018 by the state. The Sanford Dam, which was built in 1925, received a fair condition rating. Both dams are in the process of being sold.
– Flood warnings in Michigan were issued following widespread rainfall of 4 to 7 inches (10.2 to 17.8 centimeters) since Sunday. The Tittabawassee River was at 30.5 feet (9.3 meters) and rising Tuesday night – flood stage is 24 feet (7.3 meters). It was expected to crest Wednesday morning at a record of about 38 feet (11.6 meters). https://abcnews.go.com/US/wireStory/flooding-hits-parts-midwest-evacuations-michigan-70765462  (20 May 2020)
"Edenville Dam, along the Tittabawassee River, failed on May 19 evening in wake of heavy rainfall in the days before. It was one of the two dam failures in the US state as the Sandord Dam began to overflow shortly afterwards. Rising floodwaters unleashed by two dam failures submerged parts of the central Michigan town of Midland on May 20, displacing thousands of residents." https://www.ndtv.com/offbeat/pilot-captures-dramatic-aerial-footage-of-water-pouring-out-after-dam-burst-2232585  (21 May 2020)
The four lakes Task Force report of April 2019:  http://www.four-lakes-taskforce-mi.com/uploads/1/2/3/1/123199575/four_lake_level_study_final_full_report_20190426.pdf 
FERC order of Sept 10, 2018 explaining why the license to the Edinville dam to operate 4.8 MW hydro capacity was withdrawn.   http://media.graytvinc.com/documents/EdenvilleDamLicenseRevoked.pdf
-In total, there are more than 91,000 dams in the US, according to the National Inventory of Dams, a project of the US army corps of engineers. About 17% of them are classified as having high hazard potential, meaning the loss of human life is likely if the dam falls. Another 12% have significant hazard potential, meaning a failure probably wouldn't kill people but could cause "economic loss, environmental damage, disruption of lifeline facilities, or impact other concerns".
-About 20% of state-regulated high hazard dams do not have emergency action plans, Ogden said. Those plans would dictate how an owner should monitor for possible failures and warn officials downstream. https://www.theguardian.com/environment/2020/may/23/us-dams-michigan-report-infrastructure  (23 May 2020) 
Centuries-old irrigation system shows how to manage scarce water Acequias are mutually managed, irrigation channels that have been in continuous operation in the arid American Southwest since before the formation of the United States. This communal water system traces its roots to the Spanish conquistadors, who brought their traditions to the territory in the 1600s, and who themselves borrowed it from the Muslims who invaded Spain in the 8th century. Indeed, the word acequia (pronounced 'ah-seh-key-uh,' stress on the 'seh') is an adaptation of the Arabic as-saqiya, meaning water carrier.
There are close to 700 functioning acequias in New Mexico, according to the state's Acequia Commission, and a score more in Colorado. Many of these gravity-fed ditches that bring runoff from the mountains to the fields have been operating for three centuries, and some were likely dug long before that. https://www.nationalgeographic.com/environment/2019/05/acequias/  (17 May 2019)
Bills to strengthen rural groundwater rules die in Arizona Legislature In Maharashtra, Rules for the Groundwater Act 2009 are still not notified, in Arizona important Bills relating to conserving groundwater are being thwarted. Same Story, different places.
"Two bills that would make it easier for state regulators and county officials to limit well-drilling and groundwater pumping have died in the Arizona Legislature despite support from lawmakers and pleas from county officials who are asking for help to protect their rapidly declining aquifers.
Republican and Democratic legislators proposed 12 bills this year that would strengthen groundwater rules and oversight in rural areas where pumping is unregulated and where farms aren't required to report how much water they're using.
But some of the bills have faced opposition from the agriculture industry, and none of the proposals have reached a vote in the state House or Senate.
The powerful leaders of the House and Senate water committees have refused to allow votes on the bills and have declined to take up many of the proposals for discussion." https://www.azcentral.com/story/news/local/arizona-environment/2020/02/26/groundwater-bills-wont-get-vote-arizona-legislature/4863289002/  (26 Feb. 2020)
NILE GERD in Africa Worries the U.S. and China UN, US, China and Europe are trying to ensure that the dispute between Ethiopia, Sudan and Egypt over filling up of the GER Dam is resolved through negotiations. https://www.bloomberg.com/news/articles/2020-05-21/diplomatic-pressure-mounts-on-ethiopia-over-filling-of-giant-dam  (21 May 2020)
Norway Sovereign wealth fund drops major Brazil miner, utility from its portfolio Norway's sovereign wealth fund, the world's largest, has put Brazilian mining titan Vale and the utility giant Eletrobras on its exclusion list. The decision is a major blow to the two companies and a signal that European investors are taking a hard line against Brazil's backsliding on environmental protections. Vale was excluded for "serious environmental damage" and Eletrobras for contributing to "serious or systematic human rights violations" in Belo Monte Dam. https://news.mongabay.com/2020/05/norways-sovereign-wealth-fund-drops-major-brazil-miner-utility-from-its-portfolio/  (19 May 2020)
Study Number of People Affected by Floods Will Double Between 2010 and 2030 According to WRI study, which analyzed flood risks and solutions around the world, the number of people affected by riverine floods will rise from 65 million in 2010 to 132 million in 2030, and the number impacted by coastal flooding will increase from 7 million to 15 million. The amount of urban property damaged by riverine floods will increase threefold — from $157 billion to $535 billion annually. Urban property damaged by coastal storm surge and sea level rise will increased tenfold — from $17 billion to $177 billion annually.  https://www.wri.org/blog/2020/04/aqueduct-floods-investment-green-gray-infrastructure  (23 April 2020)
Compiled by SANDRP (ht.sandrp@gmail.com)
Also see: DRP News Bulletin 18 May 2020 & DRP News Bulletin 11 May 2020
Follow us on: www.facebook.com/sandrp.in; https://twitter.com/Indian_Rivers