On May 17, 2020 the residents of Ranwar village in Karnal woke up to find their village surrounded by gushing water current which was fast entering their homes. The cause of the flooding was a breach[i] in augmentation canal running close to the village.
The incident was allegedly caused by a small hole at 60.200 point on left bank of the canal around 03.00 am gradually turning into a 40 to 50 feet wide breach by the noon same day. Before the local administration could get into action, around 250 acres of farm lands around the village was flooded.
The breach was fully plugged[ii] after 35 hours around 02:00 pm on May 18, 2020, before this, the water had already spread as far as 4 km in the area, resembling a huge lake. The administration had to deploy pumps to remove water from stagnant pools into drain no. 1.
Villagers' life severely affected
The Ranwar village area went under 3 to 4 feet water following the breach impacting[iv] about 12,000 residents. Belongings of several villagers including home appliances, furniture, food grain, fodder have been completely destroyed[v] by the flooding. The water logging also disrupted essential services of water, power, roads, school, ATMs for long duration.
Villagers were so terrified[vi] that they were forced to spend May 17, 2020 night on rooftops. They feared collapse of houses as several of them had developed cracks. Water logging also forced them to shift their belongings to the rooftop and other higher places. About 10 families had to be evacuated from the area. A kutcha house was razed down and there were two incidents of non-poisonous snake bites.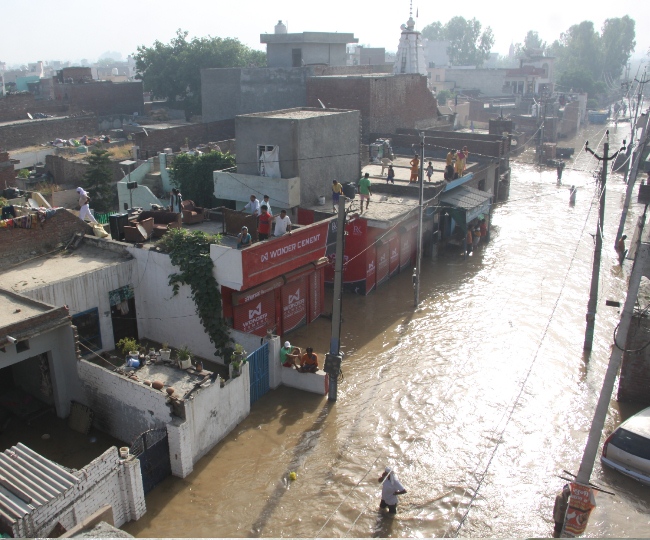 The brick kiln habitats close to the breach point were the worst hit. Similarly the poultry and pig farms built close to canal have suffered[vii] losses. Some farm animals have reportedly died. The water current was so strong that it destroyed part of road leading to Uncha Samna village. The water also reached the fields of nearby Gajon and Uncha Samna villages affecting vegetable crops and medical college campus in village Kuntel.
Water shortages in South Haryana
The augmentation canal water is reportedly supplied to the Bhiwani, Rewari and Gurugram areas in South Haryana. After the breach the water was diverted into Western Yamuna Canal (WYC) from Hamida Head in Yamuna Nagar and also in Yamuna river from Hathini Kund Barrage to plug the breach. As a result the canal dependent areas suffered water shortages which was compensated through Bhakara canal water joining Yamuna canal system at Munak head, Karnal.
Causes of breach
As per Nishant Kumar Yadav, deputy commissioner the initial findings revealed that breach was caused by weak lining[viii] of the canal.
Blaming Irrigation Department for the destruction, villagers alleged that the canal was running brim-full most of the times while its banks had developed several weak patches[ix] over the years, but the authorities had not taken the matter seriously.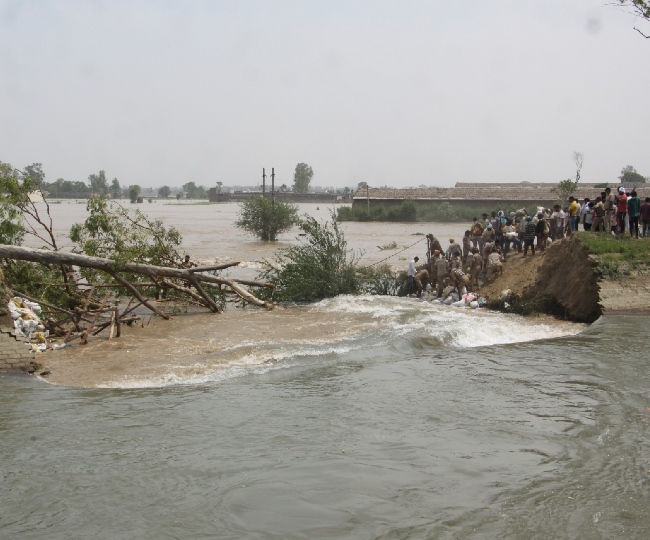 On the other hand, Navtej Saini, executive engineer, Irrigation Department blamed hole created by tree roots[x] leading to the breach. He also stated the canal renovation work costing around ₹ 489 crore were under tendering processes which has been delayed on account of lockdown.
As per another report, the augmentation canal was built to carry 4500 cusecs water but for want of maintenance[xi] its capacity has reduced & presently it was transporting 3200 cusecs water.
Plan to divert more water in augmentation canal
Notably, the state government has been proposing to increase the capacity[xii] of augmentation canal from 4500 cusecs to 6000 cusecs and to increase the capacity of WYC from 15,500 cusecs to 17,530 cusecs by the end of 2021 or early in 2022 at a cost of ₹ 604 crores.
Under the plan the 67 km long augmentation canal branching off from WYC at Hamida Head, Yamuna Nagar to again merging into WYC at Munak Head, Karnal has to be deepened and widened by reconstructing both banks.  
Water deprived WYC affecting farmers 
It is worth to mention that over the years, more and more water diversion is taking place into augmentation canal while WYC is being neglected between Hamida Head and Munak Head. Facing groundwater depletion and resultant effect on irrigational services in areas adjoining WYC in this stretch, local farmers had in early Feb 2020 warned[xiii] the department of stir if their demand of water release in equal amount in both canals is ignored anymore.
Canal breaches becoming a new normal
To run couple of hydro projects on augmentation canal, government has been allocating more water into it, which has also caused breaches in past.
In one such incident in April 2015, a 75 feet wide breach on right bank of augmentation flooded[xiv] vast tract of agricultural land in Yamuna Nagar.
The canal again breached[xv] in same area in May 2018 damaging the crop land. The farmers had informed the irrigation department in advance about the cracks which were not plugged properly leading to the breach.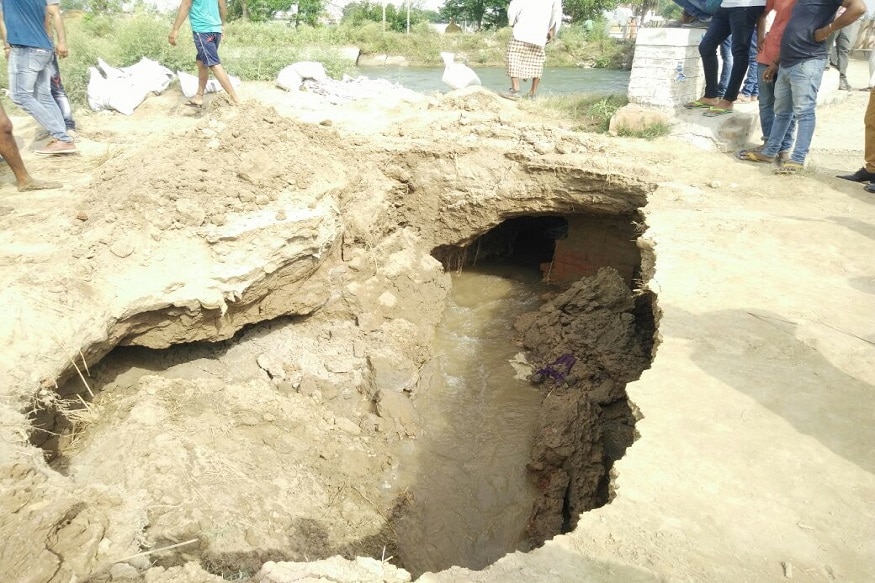 Then in July 2018, the augmentation canal developed leakages[xvi] around Nachroun area of Yamuna Nagar district causing panic among villagers and threats to farming land.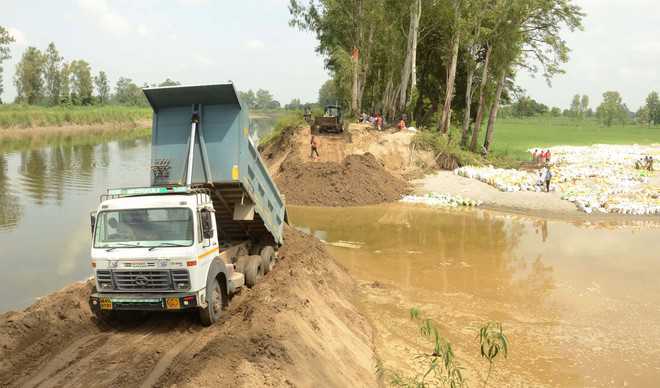 In Sept 2018, part of WYC had breached[xvii] near Shekhpura village flooding several villages and huge agricultural area. The farmers at that time had blamed illegal mining in canal responsible for the incident.
Government needs holistic approach and course correction
Going by the reports, it emerges that the structure of augmentation canal has been getting weak at several places in absence of maintenance by irrigation department. Despite this, more and more water is being diverted into the canal to run the small hydro projects and to save the seepage losses. On the other hand, the WYC with more accommodating capacity, is being kept running dry.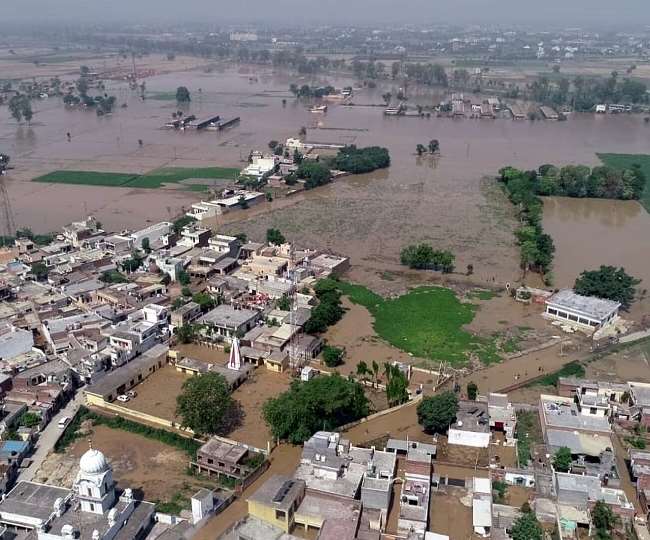 While the frequent breaches in augmentation canal have been flooding farming land in the command area, farmers along WYC have been suffering lack of water. Government's plan to increase capacity of both canals to transfer more water in faraway areas are unwarranted, unjustified and unsustainable as Yamuna river, the source of water has been turning seasonal on account of excessive diversion into canals. The villagers and farmers along the river are suffering in the process. Unless the government corrects its course, adopt to local water harvesting options and crop diversification, such breaches are going to become inevitable.
Bhim Singh Rawat (bhim.sandrp@gmail.com)
End Notes:
[i] https://www.bhaskar.com/local/haryana/news/haryana-karnal-news-awarthan-canal-break-water-entered-in-ranwar-village-127311183.html
[ii] https://www.tribuneindia.com/news/haryana/day-later-canal-breach-in-karnal-village-plugged-86713
[iii] https://www.bhaskar.com/local/haryana/karnal/news/stock-of-crops-destroyed-by-hail-storm-127317368.html
[iv] https://www.tribuneindia.com/news/haryana/karnal-village-flooded-after-canal-breach-86280
[v] https://www.jagran.com/haryana/panipat-aavardhan-canal-who-provides-water-to-the-people-of-south-haryana-broken-in-karnal-20281320.html
[vi] https://haryana.punjabkesari.in/haryana/news/haryana-news-canal-broken-at-karnal-and-flood-situation-in-many-villages-1167666
[vii] https://www.amarujala.com/haryana/karnal/canal-bridge-work-completed-karnal-news-knl31332373
[viii] https://www.hindustantimes.com/cities/breach-in-canal-floods-karnal-s-ranwar-village/story-ehNHrJ3yJrDjMlS49HPC0I.html
[ix] https://timesofindia.indiatimes.com/city/gurgaon/haryana-breach-in-aaverdhan-canal-village-flooded/articleshow/75802106.cms
[x] https://www.amarujala.com/haryana/karnal/abardhan-cannal-broken-gharaunda-news-knl31179084
[xi] https://www.jagran.com/haryana/panipat-aavardhan-canal-who-provides-water-to-the-people-of-south-haryana-broken-in-karnal-20281320.html
[xii] https://www.bhaskar.com/harayana/yamunanagar/news/haryana-news-capacity-of-magnification-canal-will-be-4500-to-6-thousand-times-090006-5047308.html
[xiii] https://punjabkesari.com/haryana-news/water-level-affected-due-to-release-of-water-in-magnification-canal-anger-among-farmers/
[xiv] https://sandrp.in/2015/04/17/yamuna-augmentation-canal-breach-man-made-disaster/
[xv] https://hindi.news18.com/photogallery/haryana/yamunanagar-canal-break-in-yamunanagar-1379584.html
[xvi] https://yamunanagarhulchul.com/2018/07/12/leakage/
[xvii] https://www.tribuneindia.com/news/archive/haryana/karnal-farmers-blame-illegal-mining-for-canal-breach-647830