The statement of Shri U P Singh, secretary, Union Water Resources Ministry, that "industry (private or public sector) could adopt small rivers" seems to suggest that the government is moving towards handing over the rivers to Corporate bodies. The example Mr Singh gave of Drayavati River of Jaipur is even more disturbing since that river has been completely destroyed by the project implemented by the Tatas. It should not surprise though, considering that no less than the Prime Minister has been giving the example of canalisation of Sabarmati as an example of rejuvenation of the river. If this is what the government means by rejuvenation, that even Ganga and Yamuna are facing major risks of destruction. Its not less shocking that while Nitish Kumar, the Chief Minister of Bihar has questioned Modi government's attempt to achieve Nirmal Ganga without attempting Aviral Ganga, his own government is basically following the same Sabarmati model on Ganga in Patna. If this is the example of "rejuvenation" of river according to the top most bureaucrat of of the government in charge of Water resources, nothing can save India's rivers except a people's movement against such moves wherever such destruction of rivers is attempted.
URBAN RIVERS
Dravyawati Jaipur  Government urges industries to adopt small rivers and rejuvenate them Dravyawati river in Jaipur has been destroyed by the Tata project in Jaipur. Underlining the role the corporate sector could play in water management, water resources secretary UP Singh on Jan. 24 said industry (private or public sector) could adopt small rivers and work to rejuvenate them. Though Tata Projects Limited has been involved with rejuvenating the entire stretch of the Dravyavati river in Rajasthan, the work was awarded to this private company for execution by the Jaipur development authority. It's not a case of adoption as part of corporate social responsibility.  
Experts, however, cautioned against handing over rivers to private players. "Asking industries to adopt rivers is both welcome and risky. Himanshu Thakkar of SANDRP on the other hand, said privatisation of rivers should be avoided. "Most importantly, to avoid privatisation of such rivers, we need to have a management committee for each such case in which over 50% members should be from local communities dependent on such rivers. The industry will have absolutely no rights directly or indirectly on the river. All this needs to be legally enforceable. Till this is achieved through a participatory way, this should not be implemented," he said.
As far as rejuvenation of Dravyavati river, which flows through Jaipur city, is concerned, the Rs 1,676 crore project being executed by Tata Projects Limited includes construction cost of Rs 1,470 crore and maintenance cost of Rs 206 crore for 10 years. The rejuvenation work was inaugurated by then Rajashthan CM Vasundhara Raje in 2018. Over the years, the 47.5 km long river had gradually converted into a waste water 'nallah' (drain) – known as Amanishah Nallah – in Jaipur.
"Dravyavati River Rejuvenation Project, with its 170 MLD sewage treatment plants, have transformed a 'nallah' to a beautiful river – thereby enhancing green cover and creating social infrastructure. Its a model for all river rejuvenation projects in India," said Satyanarayana K, COO of the Tata Projects.  https://timesofindia.indiatimes.com/india/government-urges-industries-to-adopt-small-rivers-and-rejuvenate-them/articleshow/73593927.cms  (24 Jan. 2020)
Cooum, Chennai Hundreds of families evicted River Restoration and social justice cannot be at odds with one another. The Chennai police and slum clearance authorities forcibly evicted around 3500 settlements along the Cooum river near Triplicane on Dec. 29, 2019. The move sparked protests among the residents, which included school-going children who have been left homeless overnight. There were around 3500 families living in Gandhi Nagar, Satyamoorty Nagar and Indira Nagar, along the Cooum river near Triplicane in Central Chennai. The eviction of settlements along Chennai's rivers are being done as part of the river restoration project in the city, in order to clean up and plug sewage flow into the Adyar, Buckingham Canal and Cooum rivers.
Residents settled along Cooum river near Triplicane told TNM that in November the authorities had promised that only one line of settlements along the river would be evacuated. However, officials gave residents no intimation on when the eviction drive would take place. The evicted residents have been ordered to shift to Housing Board colonies in Perumbakkam, located 27 kilometres away from their original settlements in Triplicane. The move, the residents say, will not only drastically affect their daily work, but will also trouble children living in these areas who attend schools in the neighbourhood and have exams to prepare for.
Instead of being displaced to a neighbourhood 27 kilometres away from the city, residents here ask what is stopping the government from building housing board units in the land that they have cleared. Meanwhile, many residents continue to sit near Cooum river where their houses stood until Sunday night, while others sit in their yet-to-be demolished houses sans electricity. They await a positive response from the government officials.  https://www.thenewsminute.com/article/will-affect-livelihood-education-hundreds-families-along-chennai-s-cooum-evicted-114998  (30 Dec. 2019)
Vishwatri, Vadodara CM 'fails' to address Vadodara river's eco-destruction by real estate developers Rohit Prajapati, environmental activist with the Paryavaran Suraksha Samiti, researcher and writer, in a letter to CM Vijay Rupani and senior officials of the MoEF&CC and their counterparts in the state has said taken strong objection to the taking a meeting with concerned authorities on Vishwatri riverfront project despite objections by legal authority.   https://www.counterview.net/2020/01/gujarat-cm-fails-to-address-vadodara.html  (21 Jan. 2020)
Sabarmati, Ahmadabad Ever eaten veggies grown in "black and red" chemical water? A joint investigation carried out recently by Paryavaran Suraksha Samiti, an NGO, and PCB on the rising pollution in the Sabarmati river revealed that the last 120 kilometers of the river comprises just industrial effluents and sewage. https://en.gaonconnection.com/ever-eaten-veggies-grown-in-black-and-red-chemical-water-people-in-gujarat-are-eating/  (25 Jan. 2020)
Gomti, Lucknow Swanky Riverfront, final nail in the coffin? Gaon Connection series on Gomati river issue. https://en.gaonconnection.com/lucknow-riverfront-another-nail-in-the-coffin-for-the-gomti/  (16 Jan. 2020)
RIVERS
SANDRP Report Parineeta Dandekar's Marathi article in Loksatta.  https://www.loksatta.com/bara-gaoncha-pani-news/article-about-river-revival-zws-70-2068730/   (25 Jan. 2020)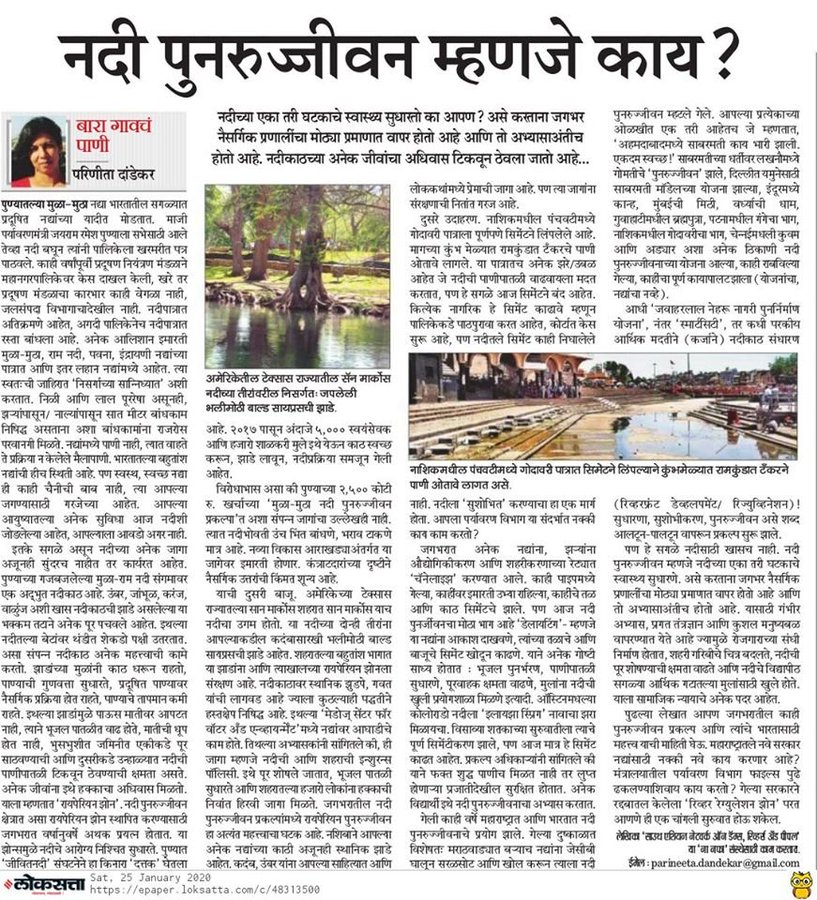 Western Ghats Neeru and the Nilgiris  Locally called Neeru, water of the Nilgiris in its springs and wetlands has been the fountainhead for two main rivers systems of South India. Today, with growing anthropogenic influences, there is a water crisis in the hills that needs our attention more than ever before. https://www.waterpractitioners.org/post/neeru-and-the-nilgiris  (23 Jan. 2020)
Yettinahole Project Land acquisition will cause biggest jump in project bill The Karnataka's ambitious Yettinahole drinking water project is staring at its cost more than doubling — from about ₹13,000 crore when originally planned to ₹25,000 crore now. While the steepest hike has come in the cost of land acquisition, other factors include Goods and Services Tax (GST) and the cost of canal work and roadwork.
The cost of land acquisition has jumped from about ₹460 crore to ₹4,105 crore. While the government estimated the acquisition cost at ₹4 lakh per acre acquired for construction of gravity canal, reservoir and lift area, the revised Land Acquisition Act of 2014 made the compensation payable four times the market value, drastically altering the scheme of things.
About 12,000 acres in Hassan and Tumakuru districts is to be acquired for the 248-km stretch of gravity canal. A top Irrigation Department official said, "The land acquisition cost, which was 150% to 200% of the land value, has shot up to about 400%. The cost of acquiring land for the reservoir at Koratagere is also to go up."
If the initial plan for the canal and feeder was to be open, it was decided to have pipes. Also, as the project gained pace, feeders to new areas in Ramanagaram and Bengaluru Rural were added. The net result is the escalation of cost of canal work from ₹4,514 crore to ₹7,981 crore. The feeder cost has gone up from ₹1,910 crore to ₹6,551 crore.
This apart, the introduction of GST midway through the project in 2017 has added ₹466 crore to the project (at a rate of 12%). This cost was not envisioned when the project was approved. Adding another ₹450 crore is the plan to develop roads. Sources in the Irrigation Department said they were now calculating the precise escalation of project cost and a report would be submitted to the government in about two weeks. While the project, when launched, had a completion deadline of June 2020, it is running behind schedule.
Not waiting for the project to be completed, the Irrigation Department now plans to pump water from Yettinahole from this monsoon. "The lift component part, including the pumps and power house, is ready. We want to take up a trial of lifting water from Yettinahole this monsoon and letting it [flow] to Hemavati reservoir at Gorur in Hassan from near Sakleshpur," an official source said. In about eight months, when the gravity canal is ready till near Arsikere area, water will be pumped into Vedavati river, a tributary of the Tungabhadra, which will flow into Vani Vilas Sagar reservoir in Hiriyur taluk of Chitradurga district.
The delay in the State government's decision on compensating the farmers of Koratagere, where a reservoir is planned at Bhairagondlu, remains a concern for concern for officials. For, by delaying approval of an additional burden of ₹300 crore, which will be the cost of meeting the demand of farmers in Koratagere, the State could be staring at an annual escalation of about ₹600 crore, an official said. While farmers in Doddaballapur are getting a compensation of ₹32 lakh an acre, the farmers of Koratagere are getting ₹8 lakh an acre, as the guidance values are ₹8 lakh and ₹2 lakh an acre, respectively.
However, another senior irrigation official said the government was worried that giving special treatment to farmers in Koratagere could lead to similar demands from farmers elsewhere. "Already, the Almatti project is affected as compensation for submergence of land if the height increases from 521 feet to 524 feet is to be about ₹40,000 crore," the official said.  https://www.thehindu.com/news/national/karnataka/land-acquisition-will-cause-biggest-jump-in-yettinahole-project-bill/article30660360.ece  (27 Jan. 2020)
CAUVERY Tamil Nadu Defiant Cauvery delta vetoes drilling With the Centre doing away with the need for environment impact assessment as a precondition to exploratory drilling operations, the waters in the delta region have been muddied, once again. Farmers who fear contamination of precious land and water resources are planning a series of protests. https://www.thehindu.com/news/national/tamil-nadu/tamil-nadus-defiant-cauvery-delta-vetoes-drilling/article30655280.ece   (26 Jan. 2020)
Govt Rejects Hydrocarbon EIA Exemption Acknowledging public sentiment against hydrocarbon exploration and production activities in the Cauvery delta, Edappadi K. Palaniswami, CM has requested the Centre to exclude the state from the Union environment ministry's recent exemption.
In a departmental order dated January 20, 2020, Palaniswami identified the Cauvery delta as "an ecological sensitive zone" and asked the Centre "to restore the Environment Impact Assessment Notification, 2006, vide number S.O.1533 (E), dated the 14th September, 2006, mandating prior Environmental Clearance & Public Consultation for 'Off-shore and On-shore oil and gas exploration, development & production projects' and categorise them under 'Category A' for the Cauvery Delta area." https://thewire.in/environment/tn-rejects-centres-hydrocarbon-eia-exemption-asks-for-status-quo-ante  (20 Jan. 2020)
Smart Cities Mission panel okays Cauvery riverfront development plan Trichy Corporation has obtained mandatory administrative and technical sanctions from a high-powered expert committee of the Smart Cities Mission program for developing and beautifying a portion of the Cauvery river bank in the city. The civic body will develop bathing ghats along the river banks pursuing traditional style of architecture at an estimated cost of Rs 2.94 crore.
– Stating that there was a persistent demand from the locals to develop bathing ghats along the Cauvery river banks that separate Srirangam island from mainland Trichy, the corporation mooted a proposal to develop the ghats. A stretch between Thillainayagam bathing ghat and vacant space opposite to the Oyamari electric crematorium has been identified to develop bathing ghats for a 200m stretch as part of the riverfront development proposal.
The bathing ghats envisaged at making provision for locals to offer prayers during auspicious days such as Adi Perukku will be implemented in three separate packages, with each costing Rs 98 lakh. "Lighting arrangements will be provided in the stretch identified under the Cauvery riverfront development. Initially, bathing ghats shall be established. Further beautification proposals are yet to be drafted," an official source with the corporation said.
– The corporation will float a tender inviting contractors to launch the civil work within a month. "Construction work for bathing ghats will be completed within six months of launching the civil work," the official added. Unlike the Uyyakondan canal riverfront development project which is under way at Rs 17.56 crore as part of the smart cities mission aimed at establishing public parks, walking tracks and recreational zones, the civic body said that Cauvery proposal will be plain as far as the amenities are concerned. https://timesofindia.indiatimes.com/city/trichy/smart-cities-mission-panel-okays-cauvery-riverfront-devpt-plan/articleshow/73395989.cms  (20 Jan. 2020)
Cauvery Calling Mass tree planting has scientists worried The Cauvery is not alone. Almost every river in India is in trouble, hit by multiple impacts including climate change, pollution, overexploitation, river-interlinking, mining, and damming. For the Isha Foundation, the solution to the declining health of India's rivers centers on tree planting. https://news.mongabay.com/2020/01/mass-tree-planting-along-indias-cauvery-river-has-scientists-worried/  (22 Jan. 2020)
Odisha Administration likely to revive dead Suku Paika river The Suku Paika river, which originates from Mahanadi at Ayatpur village, runs its course for 27 km only to rejoin the parent river at Bankola near Tarapur in the district. The river covers 425 villages of 26 panchayats under Cuttack Sadar, Nischintakoili and Raghunathpur blocks. In 1950s, the State Government had blocked the starting point of the river with an embankment, completely disconnecting it from Mahanadi, to check flood without considering its consequence on environment. Since then, the river has been lying dead. Only the rainwater in monsoon used to drain through the river. https://www.newindianexpress.com/states/odisha/2020/jan/21/administration-likely-to-revive-dead-suku-paika-river-in-odisha-2092324.html  (21 Jan. 2020)
Jharkhand Indian culture places rivers on the pedestal of a mother: Dr Dinesh Mishra Speaking during a discussion on the status of rivers, well known expert on rivers, writer Dr Dinesh Mishra observed, "Indian culture places rivers on the pedestal of a mother. Unfortunately, our inclination towards all things Western, has made rivers into a means of various material attainments. A mother can never be a means. When our elders used to bless us they used to say, 'May your lives be as long as rivers, jungles, hills and mountains exist.' This was the status tradition and culture gave to the rivers, jungles and mountains. But today, we are struggling to save these gifts of nature."
– Dr Mishra was speaking at a joint seminar of Yugantar Bharati, Swarnrekha Area Development Trust and Nature Foundation on the occasion of 15th Swarnrekha Mahotsav. Dr Mishra further stated, "Domohani is the meeting point of rivers Swarnrekha and Kharkai and the meeting point of any river is also a blending place of cultures of regions through which the rivers traverse. These rivers carry along the soil of various regions and different types of generic forms. The need now is to respect these rivers and let them remain in their natural environs." https://www.avenuemail.in/jamshedpur/indian-culture-places-rivers-on-the-pedestal-of-a-mother-dr-dinesh-mishra/143526/   (15 Jan. 2020)
Punjab Dyers hail NGT decision against MoEF NGT has ruled in favour of Punjab Dyers Association (PDA) in a petition in which the association had questioned the decision of the MoEF for discharging of water after treating it in the common effluent treatment plant (CETP). A few days ago, the ministry had set up a new condition for releasing Rs15 crore subsidy to PDA for CETP at Tajpur Road under which PDA was asked to make a canal system of their own for discharging of water after treating it in the CETP. The PDA had filed a petition before the NGT, challenging this order. https://timesofindia.indiatimes.com/city/ludhiana/dyers-hail-ngt-decision-against-environment-ministry/articleshow/73502063.cms  (22 Jan. 2020)
Only 21% of treated water being reused NGT on Jan. 10, noted "huge gap" in generation and treatment capacity of sewage water and stated as state is able to use only 21% of water treated by its STPs, or 11% of the total sewage it generates.
– NGT noted sewage generation in Punjab was 2,478 MLD and treatment capacity was 1,827 MLD. But, actual treatment was 1,355. Of this, only 280 MLD(20.7%) was being reused. It said state's proposal to use 1,450 MLD, or 58.51 % of the total sewage treated, was achievable only by 2024.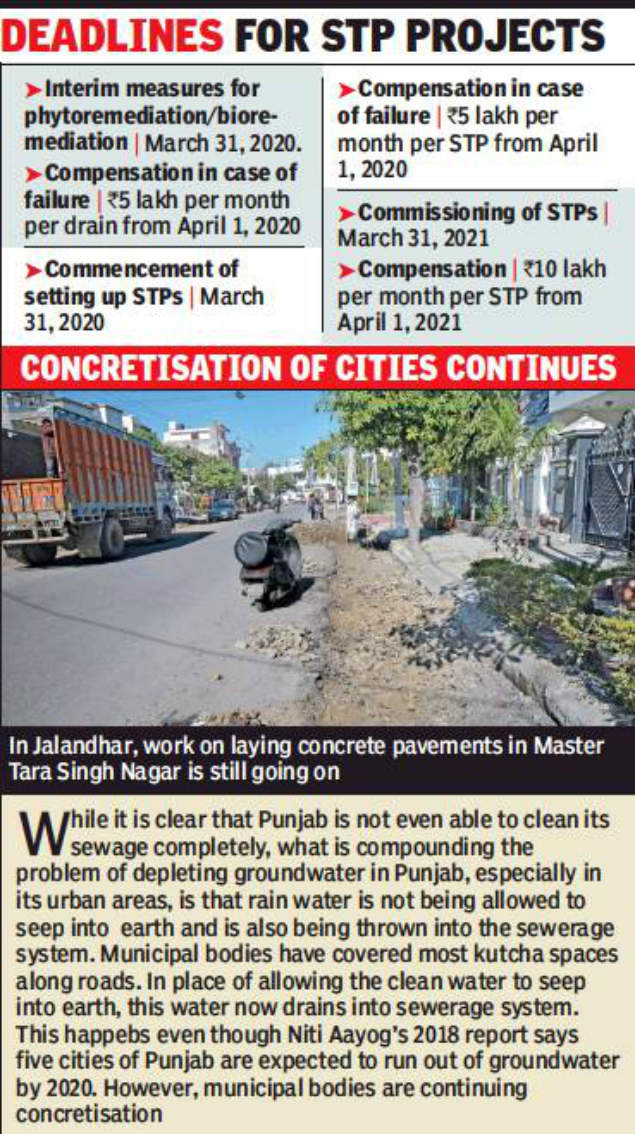 – Ordering that setting up of STPs must commence before the said date and be completed by March 31, 2021, NGT has laid down a compensation regime and said it "has to be strictly followed". It also asked chief secretaries to ensure adverse entries were made in ACRs of erring officers from April 1, 2020. The NGT also ordered that compliance reports be filed quarterly and first such report be filed by March 31, 2020, with a copy to Central Pollution Control Board, which would furnish gap analysis reports. https://timesofindia.indiatimes.com/city/ludhiana/only-21-per-cent-of-treated-water-reused-in-punjab-ngt-data/articleshow/73546738.cms  (23 Jan. 2020)
Madhya Pradesh नदी में छोड़ा औद्योगिक कचरा, पानी में केमिकल घुलने से एक किमी तक बन गया दूधिया झाग दिमनी क्षेत्र से गुजरी क्वारी नदी की जलधारा में बर्फ की चट्टानों जैसा दूधिया झाग इन दिनों स्थानीय लोगों की दिलचस्पी का सबब बना हुआ है। एक किमी तक फैले झाग को देखने आसपास के ग्रामीण बड़ी तादाद में पहुंच रहे हैं। दरअसल, यह पानी में छोड़े जा रहे औद्योगिक कचरे का असर है।
जीव वैज्ञानिक डॉ. विनायक तोमर ने बताया कि औद्योगिक कचरे में मौजूद सिलिकॉन का तेल या फेनिल एल्यूमिनियम पानी के साथ क्रिया करता है। इन केमिकल के पानी में घुलने के बाद वायु पानी के अंदर बुलबुले बनाने लगती है। जैसे-जैसे ताप बढ़ता है, यह बर्फ जैसा दिखने लगता है। https://www.bhaskar.com/mp/gwalior/news/industrial-waste-left-in-the-river-chemical-scorching-in-water-has-led-to-milky-foam-126580926.html  (23 Jan. 2020)  
GANGA West Bengal Pollution abatement projects to prevent sewage flow The Hooghly or Kati-Ganga flows south for about 260 km into the Bay of Bengal, through a heavy industrialised area with more than half of West Bengal's population. Household wastewater and industrial effluents flowing directly into the river are the major causes of its pollution. Tolly Nullah, a British-era canal, discharges a large quantity of sewage waste into the river. Under the pollution abatement and rehabilitation works, three sewage treatment plants will be set up with funds from the Namami Gange to stop the flow of sewage from Tolly Nullah into the Hooghly.
– Located on the banks of Hooghly, Barrackpur is now a densely populated city. It lacks sewage treatment plants, and consequently, its wastewater flows directly into the river. Under the Namami Gange programme, work on 150 km long sewage network is going on at a rapid pace. It will connect over 35,000 households. The city's household wastewater will be diverted to sewage treatment plants with capacities of 18 MLD and 6 MLD, which are under construction. The sewage treatment plants are expected to be operational by early 2020. https://www.timesnownews.com/mirror-now/in-focus/article/west-bengal-pollution-abatement-projects-to-prevent-sewage-flow-into-ganga/542720  (21 Jan. 2020)
YAMUNA Delhi When rivers dead fish will be fresher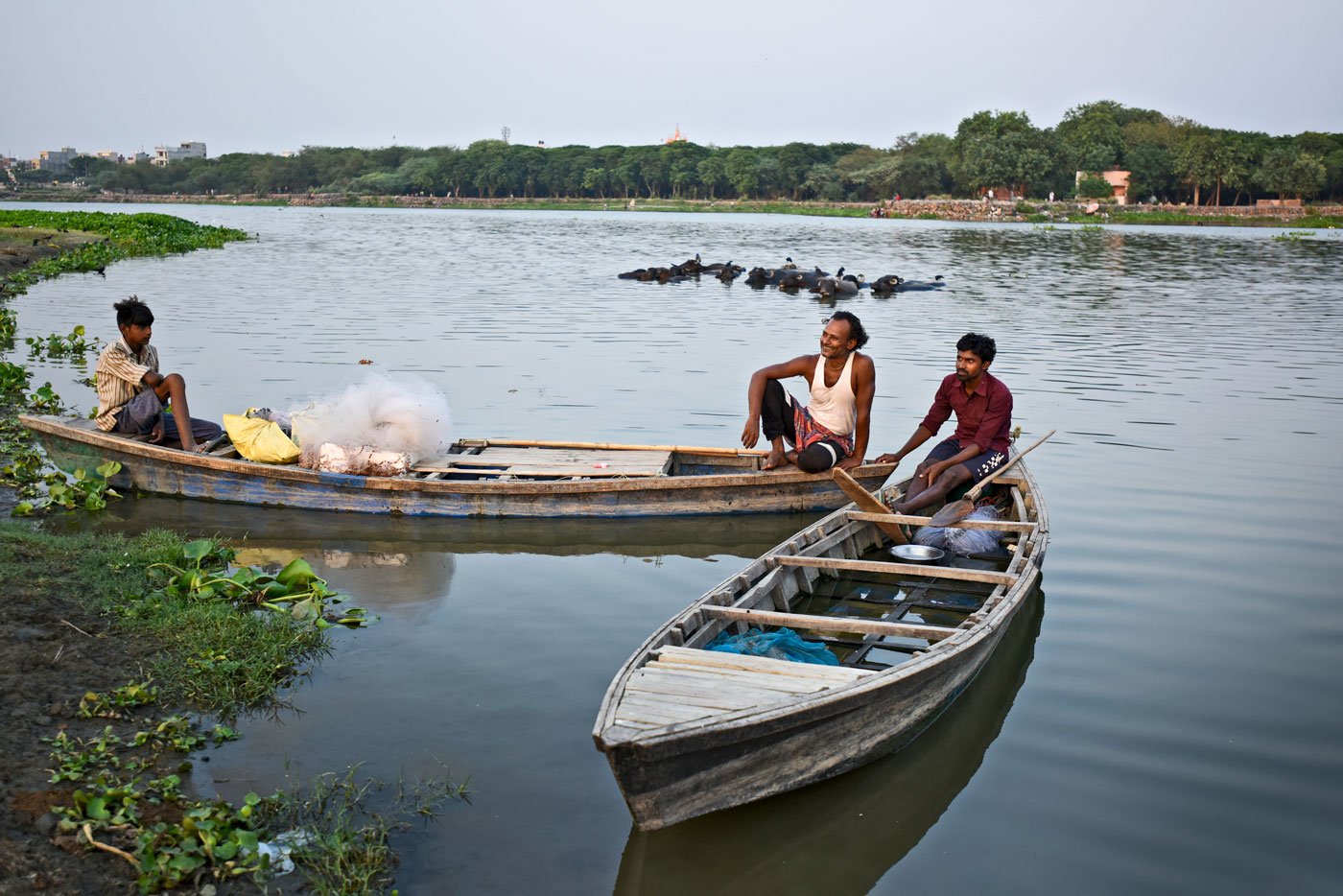 "We are the protectors of Yamuna," declares a smiling Arun Sahni, 75, who came to Delhi four decades ago from Bihar's Vaishali district leaving behind his family. Back in the 1980s-90s, he claims, he could get up to 50 kilograms of fish in a day, including varieties such as rohu, chingri, saul and malli. Now it's barely 10, at most 20 kilograms, on a good day.  https://ruralindiaonline.org/articles/when-yamunas-dead-fish-will-be-fresher/  (22 Jan. 2020)
NGT seeks DDA reply on setting up single authority for river cleaning On a suggestion by the Yamuna Monitoring Committee (YMC), NGT on Jan. 22 sought a report from the Delhi Development Authority (DDA) regarding constitution of a Work Front Management Authority, under the aegis of the urban planning body, to curb pollution on the Yamuna floodplains.
– A technical advisory group had earlier emphasised the need for riverfront development and suggested that the riverbed be developed as a biodiversity park with three zones. "Current status of the functioning of the Yamuna River Development Authority is not known. The YMC has suggested that a new mechanism may be developed under the aegis of the DDA to deal with all relevant issues relating to the riverfront," the Bench noted.
– Additionally, based on suggestions put forth by the monitoring committee, the green panel also sought a response from the Delhi Chief Secretary, the civic bodies, the PWD and other agencies on whether management of all drains in the Capital can be handed over to a single agency.
– In its report, the YMC stated: "With overlapping responsibility, unwillingness to confront sewage in stormwater drains or to recognise that it spreads unsanitary conditions and poses public health hazards… in effect the three civic bodies ignore the problem and the Delhi Jal Board says it has little role to play in the matter. The ownership and responsibility for sewage in stormwater drains has to be owned if projects for containment of sewage, done through external agencies, are to succeed."
– The green panel also directed Haryana to take remedial action to curb direct discharge of untreated sewage into the river. https://www.thehindu.com/news/cities/Delhi/ngt-seeks-dda-reply-on-setting-up-authority-on-yamuna-cleaning/article30628931.ece  (23 Jan. 2020)  
Haryana NGT wants report on violation of pollution norms by Faridabad units In its order given on January 8, the NGT has directed the CPCB, Deputy Commissioner, Faridabad, and the officials of the PCB to reply to the notice through a report to be prepared jointly by a committee consisting of the officials of the CPCB, DC and the local office of the HPCB regarding the allegation levelled in the contempt petition filed on December 11 last. The report is to be submitted within a month. The order comes in wake of a contempt petition filed by a local social activist.
– Varun Sheokand, the petitioner, had alleged that around 350 illegal dyeing units had been operating in the city, especially in the colonies and villages of Greater Faridabad and no action had been taken to close those down despite an order given by the NGT on September 29, 2016. He had lodged the petition in 2015. The NGT had ordered closure of 252 units operating at that time. DC Yashpal Yadav said that proper action would be taken into the matter as and when the copy of the NGT order is received by his office. https://m.tribuneindia.com/news/ngt-wants-report-on-violation-of-pollution-norms-by-f%E2%80%99bad-units-25939  (14 Jan. 2020)
Month-long plan to clean up Yamuna On paper, Haryana has the capacity to recycle about 80% of the domestic effluents it releases into the Yamuna river, but four years after the NGT first ordered a thorough clean-up of the river, the state continues to discharge at least 1140 MLD of untreated or partially treated sewage into the Yamuna.
Official numbers also indicate that Gurugram and Faridabad districts are the state's biggest polluters, discharging close to 55% of untreated or partially treated sewage into the river. This comes to about 620 MLD of sewage per day. Moreover, of the state's 11 polluting drains, five originate in Gurugram and Faridabad, as per a Yamuna monitoring committee report from last year.
A total of 79 STPs have been proposed in these districts, with a capacity to treat about 905MLD sewage (about 80% of the total 1,118 MLD generated by urban townships). However, the monitoring committee had observed last year that only 9 of these STPs were functioning effectively. About 29 were discharging partially treated effluents, while 41 were discharging untreated effluents or are yet to be constructed. The Haryana government's Yamuna Action Plan, which aims to make all STPs in Haryana's NCR districts fully functional, has been given a deadline of December 2020.  https://www.hindustantimes.com/gurugram/month-long-plan-to-clean-up-yamuna/story-HlkbUcEbAqw06ZEIwatC2K.html  (23 Jan. 2020)
Uttar Pradesh 
RIVERS BIODIVERSITY
Report Top predators Gharials may vanish in near future Gharials are the top predators of the river ecosystems but transboundary issues and dams are critically endangering this species of crocodile now found only in Bangladesh, India and Nepal.Dams, barrages, and water abstraction have altered the quantity and quality of water available to downstream river sections destroying its habitat. At present the population is approximately 800 gharials after conservation efforts begun in 2007.  https://economictimes.indiatimes.com/news/environment/flora-fauna/extinction-watch-which-species-may-vanish-why-gharial/articleshow/73575251.cms  (24 Jan. 2020)
HYDRO POWER PROJECTS
Uttarakhand NGT to NTPC: Keep Muck Disposal off the Rivers NGT has directed National Thermal Power Corporation Limited (NTPC) to take necessary action in the matter of muck disposal reaching the river system of Alaknanda and Dhauliganga. While hearing a petition filed by Gram Pradhan & Residents of Tapoban, the court observed that there is a clear possibility of muck reaching the river system, which needs to be prevented by levying adequate protective measures.
– The applicants also filed photographs for all the muck disposal sites that are nearly 300 to 600 meters away from the River. The concerned muck disposal sites are, Near TBM Adit, Dhak near ITI, Barrage site at Tapovan, Near BVC/ Pressure Shaft and Power House site at Animath and most of these muck disposal sites has completed their dumping 2-5 years back.
– The bench in its order further directed the constitution of an Expert Committee consisting of Himalayan Forest Research Institute, Shimla, Central Soil and Water Conservation Research and Training Institute, Dehradun and the State Pollution Control Board, and the report is to be furnished by 31.01.2020. However, compliance report is to be submitted by SPCB by 31.03.2020. https://www.indialegallive.com/constitutional-law-news/courts-news/ngt-ntpc-keep-muck-disposal-off-rivers-83422  (16 Jan. 2020)
Sikkim NHPC's Rs 165-crore bid for Rangit project gets lenders' nod NHPC has emerged as the successful bidder for insolvency-bound Jal Power Corporation's 120MW Rangit project in Sikkim with a bid of Rs 165 crore. "NHPC Ltd has been declared as the Successful Resolution Applicant by the Committee of Creditors (CoC) of Jal Power Corporation Limited (120 MW Rangit Stage IV HE Project) subject to approval of Resolution Plan by the Hon'ble National Company Law Tribunal, Hyderabad Bench," an NHPC statement said. NHPC is hopeful of completing the project in three-and-a-half years after the approval of PIB followed by the Cabinet Committee of Economic Affairs (CCEA). NHPC is hopeful of completing the project in three-and-a-half years after the approval of Cabinet Committee of Economic Affairs (CCEA). https://energy.economictimes.indiatimes.com/news/power/nhpcs-rs-165-crore-bid-for-rangit-project-gets-lenders-nod/73600706  (25 Jan. 2020)
NTPC may not conclude THDCIL, NEEPCO deal soon NTPC will not be able to complete the transaction of acquiring government stake in THDC India Ltd (THDICL), and North Eastern Electric Power Corporation Ltd (NEEPCO) this fiscal, the source said adding that the process itself will take a couple of months. The government was keen to complete the transaction in the ongoing fiscal to meet its overall disinvestment target of ₹1.05 lakh crore for 2019-20 fiscal.
The source further said that NTPC is awaiting evaluation of the deal by SBI Capital. The Department of Disinvestment and Public Asset Management (DIPAM) has engaged RBSA Advisors for evaluating NEEPCO and Deloitte for THDCIL transactions. Earlier in November last year, the Cabinet Committee on Economic Affairs (CCEA) had approved a proposal of the finance ministry for divestment of central government stake in THDCIL and NEEPCO. https://www.thehindubusinessline.com/companies/ntpc-may-not-conclude-thdcil-neepco-deal-soon/article30657555.ece  (26 Jan. 2020)
The term of the EAC for River Valley Projects is over, but the MoEF is so happy with all green lighting the panel that it has happily extended its term. So the next (30th) meeting of the EAC will happen on Jan 27, 2020, the agenda:
Dagmara Multipurpose Hydropower Project (IC: 130 MW) on Kosi River, District Supaul, Bihar by Bihar-State Hydro-Electric Power Corp- For ToR.

Expansion of Tubachi-Bableshwar Lift Irrigation Scheme (CCA: 52,700 ha) in Bagalkot District of Karnataka by M/s Karnataka Neeravari Nigam Ltd., Govt of Karnataka–For EC

Maa Ratangarh Multipurpose Project erstwhile Sindh (Seondha) Barrage project (CCA: 78,484 ha) in Datia District of Madhya Pradesh For EC

Modikunta Vagu Irrigation Project in Jayashankar Bhoopalpally District of Telangana by Irrigation & CAD Department, Govt of Telangana – For EC

Sondur Reservoir Project (12,260 ha) in Dhamtari, Chhatisgarh – For EC

Gunjawani Irrigation Project in Pune District, Maharashtra For amendment in EC

Kelo Major Irrigation Project (CCA: 22,800 ha) village: Lakha, Raigarh district in Chhatisgarh – For EC http://environmentclearance.nic.in/writereaddata/Form-1A/Agenda/16012020H79GECZW30AgendaRVHEP.pdf
Agenda for the Forest Advisory Committee meeting to be held on January 23, 2020, relevant agenda items:
TENDUA NALLA TANK Irrigation SCHEME in Madhya Pradesh for 45.28 Ha.

DIVERSION 275.04 HA. OF FOREST LAND IN FAVOUR OF WATER RESOURCES DEPARTMENT, FOR CONSTRUCTION OF BHAWSA MEDIUM IRRIGATION TANK PROJECT, IN BURHANPUR DISTRICT OF MADHYA PRADESH – REGARDING MODIFICATION OF CONDITION NO.(IV) OF THE STAGE-I APPROVAL LETTER DATED 05.03.2018. http://forestsclearance.nic.in/AgendaDetail.aspx
DAMS
Maharashtra  Want Human dam project to work out, but not at cost of tigers, says Uddhav CM Uddhav Thackeray and Water Resources Minister Jayant Patil struck a precautionary note at a meeting on Jan. 24 to discuss the proposed Human river irrigation project in Chandrapur and emphasised that the project must be implemented, but not at the cost of the district's tiger population. "Let me make it clear that my position in this matter is the same as that in the Aarey metro shed case. I am all for this project but it must not be done at the cost of tigers. Let's not do this hastily," said Thackeray, according to sources who attended the meeting.
– The CM presided over the meeting with senior officials of the Forest and Water Resources departments, which was attended by some wildlife activists such as Kishor Rithe, Bandu Dhotre and Pradeep Apte. Former state forest minister Sudhir Mungantiwar, who hails from Chandrapur attended the meeting on Jan. 24 and pitched strongly for the project. Activist Bandu Dhotre, who also attended the meeting, explained how the space for tigers was shrinking in the district and animals were being forced to live in areas near the Western Coalfireds Limited mines and Chandrapur Super Thermal Power Station.
– During the meeting, officials of the Water Resources department were told to explore the alternatives suggested by NTCA, like moving the dam site 5 km upstream to reduce submergence area and keep the wildlife corridor unaffected. "They were told that they should explore shifting it a shorter distance, if not 5 km," said a senior official. "The CM gave the department a month's time to respond to the idea," he added. https://indianexpress.com/article/india/want-human-dam-project-to-work-out-but-not-at-cost-of-tigers-says-uddhav-thackeray-6234212/  (25 Jan. 2020)
Human — dam or disaster? On January 13, the committee — comprising forest and irrigation officials and experts — set up by the state wildlife board (SBWL) discussed the issue, but experts warned that the major dam could spell doom for tigers and humans by flaring up man-animal conflict.
In the last decade, over 140 villagers have died in wild animal attacks in Chandapur district alone. As per the latest estimation, Maharashtra's tiger count has gone up from 190 in 2014 to 312 in 2018, with Tadoba's landscape having more than 88 tigers. Construction of Human dam would lead to deprivation of space for tigers.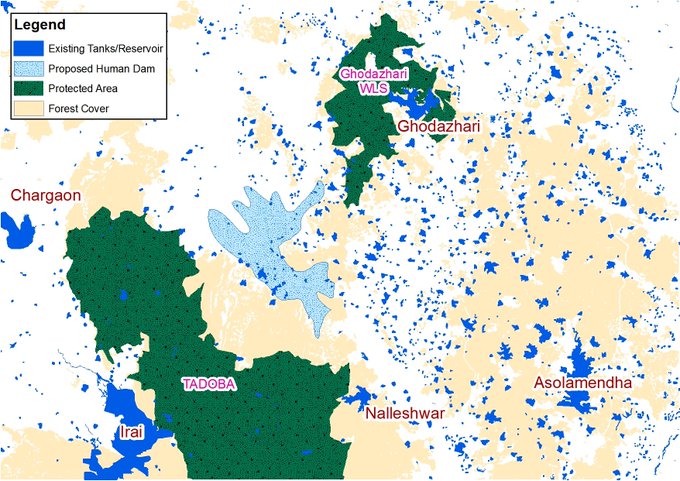 The major dam will need diversion of 1,925.55-hectare forest land and felling of 1,50,791 trees. The MoEFCC granted Stage-I in 2004, despite warning by the-then principal conservator of forests (PCCF), wildlife that the dam's canal and submergence area is a viable corridor used for free movement by animals between Tadoba-Ghodazhari-Bramhapuri.
"This corridor also assumes importance because the huge water body of Irai project near Mohurli has already deprived TATR of viable buffer zones, due to the submergence of pristine forests cutting off of the corridor to high forests of Bhadrawati. Construction of canals will restrict the movement of animals and even if passes are given, it is unlikely that animals will use them," the-then PCCF's report said.
Wildlife biologist Aditya Joshi said, "The submergence will break the only linking corridor for tiger movement between Tadoba-Ghodazhari-Umred-Karhandla. The tigers will be forced to cross the agricultural fields, which might in turn increase encounters with humans and lead to more conflict." Conservationist Prafulla Bhamburkar said, "The dam falls in the eco-sensitive zone (ESZ) of Ghodazhari, as well as TATR. Additionally, the Tiger Conservation Plan (TCP) of TATR has been approved and thus the proposed forest land is part of the legally notified corridor now." "Is there a need for an additional dam? Since the inception of this project in 1983, several irrigation schemes like Gosikhurd, Irai, Ghodazhari, Asolamendha, Nalleshwar, Chargaon and others have come up in Tadoba landscape. Massive mining activity around Tadoba has already destroyed corridors," said Deepak Dixit, chief of Prakruti Foundation. https://timesofindia.indiatimes.com/city/nagpur/human-dam-or-disaster/articleshow/73563551.cms  (24 Jan. 2020)
Jharkhand Crack worry at Chandil dam A prominent crack has surfaced on the pier of Chandil dam, prompting the water resources department to approach the Dam Safety Review Panel (DSRP) of Odisha, following orders from the Central Water Commission, New Delhi. A team of the safety review panel from Bhubaneswar is likely to inspect Chandil dam in a day or two to find out the reasons behind the cracks and suggest a review. Chief engineer Chandil dam Veerendra Kumar Ram said the crack was visibly prominent and needed immediate attention.
– "The crack has developed on the pier over gate 1. We approached the Central Water Commission and made a presentation before the panel on the crack." "There may be more cracks that may not be visible. After our presentation, the panel instructed us to approach the DSRP (safety review panel) in Odisha for sending over a technical team to Chandil to inspect the dam," Ram told The Telegraph.
– Located at Chandil in Seraikela-Kharsawan, the sprawling dam set up in 1983 irrigates vast parts of East Singhbhum district in Jharkhand beside parts of neighbouring Bengal and Odisha. The dam with a radius of 310km and water level of 179 metres from the sea level also meets drinking water and industrial needs of Jamshedpur.
Executive engineer (dam) Sanjiv Kumar, who is monitoring the crack, said the dam had 13 gates. "The crack is on the pier over gate 1 and we don't know how deep it is, which makes the dam vulnerable. We neither have the equipment to examine the crack nor does Jharkhand have a Dam Safety Review Panel like Odisha. This why the Central Water Commission asked us to approach Odisha for sending a team of experts to inspect the dam," Kumar said.  https://www.telegraphindia.com/states/jharkhand/crack-worry-at-chandil-dam/cid/1737444  (21 Jan. 2020)
Telangana Mid Manair project oustees left without rehabilitation Since mid-2018, several residents of Cheerlavancha in Sircilla district evicted for the construction of the Mid Manair dam have been living with their families in a government school. This is the case in many villages. In Kodurupaka, many out of the 1,300 families allege that they yet to receive adequate compensation. They say that officials hadn't done the assessment properly, resulting in loss of compensation. In Gowravaram too, there are allegations of inadequate compensation by the locals.
– Landless agricultural labourers from these villages stated that they were assured of getting land for agriculture but claimed that the same was not being fulfilled by the state government. Even in villages that have received compensation to a large extent, there are allegations of misuse of R&R funds. Lakshman Bhoomalla, who lives in the R&R colony of Kodimunja, has alleged misappropriation of funds to the tune of Rs 55 lakh.
– An RTI filed by him, shows that money sanctioned for the construction of three temples was misused and the layout of the plot in the R&R colony was also changed. He says that the approved layout was disregarded, to allow certain locals to occupy the land next to the highway, as the land rate of the plot closer to the road would be higher. The government has said that as the R&R process has stretched for over a decade, the delay has resulted in the process of compensation becoming unnecessarily complicated. https://www.thenewsminute.com/article/oustees-telanganas-mid-manair-project-116715  (24 Jan. 2020)
INTERSTATE WATER DISPUTES
SYL Water Sharing Dispute Punjab wants a fresh tribunal to assess river water availability All parties in Punjab on Jan. 23 passed a resolution stating the state does not have water to share. The state's argument is that more than 30 years ago, the Eradi Tribunal, "in a jiffy", determined the total amount of water available with Punjab at 17.17 MAF and there was no "evidence" of this availability. "Things have only worsened over the three decades. Where is this much water available now?" argued a state functionary. The state's argument is that world over, fresh tribunals are constituted after 20 years.
– CM Amarinder Singh has stated that water in Punjab rivers has reduced from 17 MAF, as listed by the Eradi Commission, to less than 13 MAF now. If Punjab has to share even this water, it will be sheer injustice for the state which is already fast turning into a desert. As much as 73 per cent of Punjab's agriculture land is irrigated by tubewells that pump out underground water. The rest 27 per cent is irrigated by rivers.
– The central groundwater department's report says several areas in Punjab could go dry by 2029. According to the state's own report, its underground water is overexploited to meet the agriculture requirements. As per the report, about 79 per cent area of the state is over-exploited. Out of 138 blocks, 109 are "over-exploited", two are "critical" five are "semi-critical" and only 22 blocks are in "safe" category.  https://indianexpress.com/article/explained/why-punjab-wants-a-fresh-tribunal-to-assess-river-water-availability-6232883/  (24 Jan. 2020)
The resolution read: "Punjab does not have surplus water and is facing a threat of desertification with declining availability of its river water and fast depleting groundwater. The state's groundwater that meets 73 per cent of its irrigation requirements has declined to alarming levels, threatening the livelihood of farmers and other poor people.
​"In such a situation, it is unanimously resolved that the Centre should ensure that Punjab river water is not in any way transferred from basin to non-basin areas of the Ravi, Sutlej and Beas as per internationally accepted riparian principle. Further, alternatives should be ascertained, including amendments to the proposed Inter-State River Water Disputes Act, to set up a new tribunal for a complete de novo assessment of availability of river waters before final decision, to harness, develop and provide adequate water to Punjab in a just and equitable manner in keeping with its total demand and securing livelihood of the future generations." https://www.tribuneindia.com/news/centre-should-not-allow-transfer-of-punjab%E2%80%99s-river-waters-to-non-basin-areas-resolves-all-party-meet-30528   (23 Jan. 2020)
Objecting to the move, Haryana CM said that the statement given by Punjab is not convincing, as the top court had ordered an amicable solution. "It seems that Punjab has backed out of the decision of settling the issue amicably. Now an affidavit will be filed in the Supreme Court by the Central Government that they have tried to resolve the matter but the consent has not been made. The decision will be held on how and who will be making it. https://www.ndtv.com/india-news/punjab-says-no-surplus-water-to-share-haryana-hits-back-2168856  (24 Jan. 2020)
Kerala Rubber check dams to be set up in Kasaragod Kasaragod is set to become the first district in the State to construct rubber check dams for water conservation and flood prevention. The project was approved by the district level committee of the Kasargod Development Package at a meeting chaired by District Collector D. Sajith Babu.
– As per Special Officer E.P. Rajamohan, in the first phase, rubber check dams would be built in five areas in the district. The project was being implemented by the Irrigation Department with technical assistance from the Indian Institute of Water Management, a Central Government agency under the ICAR of Bhubaneswar. The five areas were selected after a team of experts from the ICAR visited the sites and approved the construction of the dams, he said.
– The first phase of the project would be at the Madhu Vahini Puzha in Madhur panchayat; Alanthatta-Nappachal Thodu in Kayyu Cheemeni panchayat; Maniyattuthottu in Pilicode panchayat; Manjeswaram Puzha in Vorkady panchaya; and Manadukkam-Erinjalamkode Thodu in Panathady panchayat. He said that ₹2.43 crore had been set apart for the development of the check dams.
– The new concept of rubber check dam was implemented in Ooty and other places such as Odisha, he said. Unlike concrete dams, rubber check dams were more durable. The dam would last 15 to 25 years and it would have a storage height of 1.5 m to 2.5 m. "The biggest advantage of the dam is that when the water level rises during floods or heavy rain, it can be easily released," he said. The team of experts from the Irrigation Department had taken the decision to implement the project after a visit to the rubber check dam constructed in Ooty, Mr. Rajamohan said. https://www.thehindu.com/news/national/kerala/rubber-check-dams-to-be-set-up-in-kasaragod/article30618548.ece  (21 Jan. 2020)
IRRIGATION
Tamil Nadu Farmers want periodic maintenance of Perumpallam anicut With the entire water spread of Perumpallam anicut at Surampatti being covered with aquatic weeds, farmers urged the district administration to remove the weeds and take effective steps to control it.
– The anicut was constructed in 1966 with seepage from Lower Bhavani Project (LBP) canal being its main source of water. Release of water from the anicut helped irrigate about 2,450 acre till Modakurichi. Due to encroachments, mixing of sewage and poor maintenance, the anicut lost its glory and sufficient water was not available for irrigation.
– In 2016, the Madras High Court ordered the removal of encroachments in the water spread after which the farmers in the tail-end areas started receiving water. But the surface of the anicut was covered by hyacinth and other weeds affecting the water flow, said V. Muthu, a farmer in the area. He said that the water weeds had reduced the oxygen level causing the death of fishes a few years ago. He wanted the State Government to allot funds regularly to the Public Works Department for the maintenance of the anicut so that farming activity was not stopped.
– While aquatic weeds covered up the water spread area of the anicut, mixing of sewage continued to be a major concern for the farmers. "Sewage from households, effluents and dumping of garbage continue in the canal," said Kumaresan, a farmer at Nanjai Uthukuli. He wanted periodical maintenance carried out at the anicut and the canal so that the farmers, who depended on the canal, continued to carry out farming.  https://www.thehindu.com/news/cities/Coimbatore/farmers-want-periodic-maintenance-of-perumpallam-anicut/article30610032.ece  (21 Jan. 2020)
FISH, FISHERIES, FISHERFOLKS
Centre Govt drafting fisheries policy with `45,000 cr budget The newly carved out Fisheries Ministry is working on an overarching policy that would cover all aspects of the fishery sector, the sources said. "The fishery sector never had a policy. Now, a new policy is being made. It will focus on promoting marine, acquaculture and mariculture besides addressing the traceability issues. It will cover both catch and capture fishing," an official said. The draft policy will soon be placed before the Cabinet for approval. A budget of Rs 45,000 crore would be required for next five years for implementing the policy, the source added.
– At present, two fishery schemes are being implemented. One is Fishery Infrastructure Development Fund, which is a five year scheme. The other one is fishery development scheme funded partially by the World Bank. It is for eight years. The third scheme 'Pradhan Mantri Matsya Sampada Yojana' which was announced in July 2019 Budget is yet to get the cabinet approval. It aims to boost fish and aquatic products through appropriate policy, marketing and infrastructure support. http://www.navhindtimes.in/govt-drafting-fisheries-policy-with-45000-cr-budget/  (16 Jan. 2020)
SAND MINING
SANDRP Blog Haryana Riverbed Mining 2019: Yamuna Robbed of Minerals, Flows For past two years, large scale mechanized and illegal mining is happening in Yamuna River in Haryana state. The miners have created deep pits across the riverbed in Yamuna Nagar, Karnal, Panipat and Sonipat districts. Year 2019 has been a deficit monsoon year in Yamuna basin and the river had started shrinking unusually during October month. The rampant riverbed excavation has further robbed it of lean season flows. This detailed overview of river sand mining in Haryana in 2019 shows the severe impact of unsustainable and illegal mining practices on the river and villagers due to insensitive government and inefficient administration.  https://sandrp.in/2020/01/22/haryana-riverbed-mining-2019-yamuna-robbed-of-minerals-flows/  (22 Jan. 2020)
WETLANDS, LAKES, WATER BODIES
SANDRP Blog J&K Wetlands Overview 2019: New Threats Looming, Old Remain Unresolved Jammu and Kashmir has many wetlands of national importance and international recognition. These water bodies are critical source of livelihood and job opportunities for a large number of population in form of fishing, farming, tourism etc. Moreover, most of the wetlands in the region fall under Central Asian Flyway Zone (CAF) and visited by lakhs of migratory and endangered birds during their annual migration march. These wetlands areas also provide safe refuge to native vegetation and wild animals. Their protection is crucial to combat the dual impact of climate change, water scarcity and flooding.   https://sandrp.in/2020/01/26/jk-wetlands-overview-2019-new-threats-looming-old-remain-unresolved/  (26 Jan. 2020)
Jammu & Kashmir Wetlands, rivers at receiving end of solid waste It exposes how Municipal Solid Waste in Kashmir is dumped in different water-bodies by none other than the municipal officials themselves. The Migratory birds coming from East Europe , Central Asia and China are under threat. https://www.thethirdpole.net/en/2020/01/17/kashmirs-waste-epidemic-continues-untreated/   (17 Jan. 2020)
Report Encroachment of water bodies is endangering aquatic birds According to Pronoy Baidya, a researcher at Indian Institute of Science, Bengaluru, in recent years, the number of Curlew Sandpiper's migration to India has decreased drastically. The main reasons for the decrease is the encroachment of water bodies, he says, noting, "Many of the wetlands are turning into dumping grounds." Curlew Sandpiper (Calidris ferruginea) has been given 'star species' status by experts in order to conserve the species and its habitat, under the National Action Plan for Conservation of Migratory Birds and their habitats along CAF (2018 – 2023), under the Union Ministry of Environment, Forests and Climate Change.
– Flyways are migratory paths of birds, which travel from one part of the world to another in search of food and hospitable habitats, and these paths include breeding areas, stop-over areas and wintering areas. The 'Central Asian Flyway' (CAF), which largely passes through Indian sub-continent, is the shortest flyway in the world. "It passes through 30 countries and ends with Indian sub-continent," says S Balachandran, an ornithologist of BNHS and the author of 'Indian Bird Migration Atlas'.
– Close to 200 water bird species use the CAF, and this includes at least 30 threatened and near-threatened species. In India, in 17 states, where this flyway passes through, the scientists have identified 48 wetlands, which needs to be conserved immediately, he added. The observations comes during the 15 day Asian Waterfowl Census (AWC), a citizen science project carried across the continent. In India, the census is being carried between January 4 and 19. Started in 1987, the census forms a part of International Waterbird Census, which celebrated its 50th anniversary in 2017. The census aims to monitor the number of water bird species found in water bodies in the country and thereby ensuring the conservation of wetlands. "In Tamil Nadu, the water bird census is being carried from 1988. The Bombay Natural History Society (BNHS) was appointed as national coordinator and for every state in the country, a separate state coordinator was appointed," says KV Sudhakar, Tamil State Coordinator of AWC and president, Madras Naturalists Society (MNS).  https://thefederal.com/features/encroachment-of-water-bodies-a-threat-to-aquatic-birds/  (20 Jan. 2020)
Report Guidelines will allow states to decide what counts as prohibited activities Nearly two and a half years after it had notified the Wetlands (Conservation and Management) Rules, 2017 for conservation and management of wetlands in the country, the Indian government's Environment Ministry has now come out with guidelines to support state governments in the implementation of the rules. The guidelines come just ahead of February 2, which is celebrated as World Wetlands Day every year.
– The document aims to guide states in preparing a list of wetlands; identifying wetlands for notification under the Wetlands (Conservation and Management) Rules, 2017; delineating wetlands, wetlands complexes and zone of influence; developing a list of activities to be regulated and permitted; and developing an integrated management plan for wetlands, which are rich reservoirs of biodiversity.
– The guidelines clarified that all wetlands, irrespective of their location, size, ownership, biodiversity, or ecosystem services values, can be notified under the Wetlands Rules 2017, except river channels, paddy fields, human-made waterbodies specifically constructed for drinking water, aquaculture, salt production, recreation, irrigation purposes, wetlands falling within areas covered under the Indian Forest Act, 1927, Forest (Conservation) Act, 1980, Wildlife (Protection) Act, 1972 and the Coastal Regulation Zone Notification, 2011. https://scroll.in/article/949988/indias-guidelines-on-wetlands-will-allow-states-to-decide-what-counts-as-prohibited-activities  (22 Jan. 2020)
Tamil Nadu Fisherwomen use food to fight Adani's port expansion – Pulicat's fisherfolk are fighting against Adani group's port expansion, which will convert 1145 hectares of land and seawater to industrial real estate, possibly erasing close to 50 villages.
– The Adani Kattupalli port expansion project aims to expand the L&T port acquired by the company in the Kattupalli island here at a cost of Rs 53,031 crores, by converting 1145 hectares of land and sea in the critical Ennore-Pulicat wetland complex into industrial use. According to Adani's expansion proposal, the project will not displace any existing settlements and that vast stretches of "non-agricultural and highly saline barren land are available for development," says a Hindu report. Even if their villages aren't displaced, the project will reclaim land from the wetlands and shallow seas surrounding the lake, not only impacting the Pulicat-Ennore ecosystem but also hogging the fishing grounds of Pulicat's residents and severely affecting their livelihood.
– The impact of Adani's port expansion could mean that Pulicat's ecosystem could change from fishing to an industrial ecosystem, with fishers eventually having to give up this space, explains Nityanand Jayaraman, a Chennai-based writer and environmental activist. Presently, the entire economy around the Pulicat wetland is dependent on one thing – fish. "Most residents here earn their bread through fishing. The others have ancillary businesses such as ice sales, fish sales, labour, truck contracts to transport fish, tea and coffee shops etc which have cropped up with fishing money. If Adani's proposal gets cleared, all these businesses could vanish, leaving thousands without livelihoods. We are talking about 30,000 families here," he adds.
– Beyond the threat of losing their fishing grounds, the Kattupalli port's expansion could pose a big environmental hazard, eroding the sandy islands which separate Pulicat with Bay of Bengal. The breakwaters created for the port could stop the flow of sand and aid soil erosion, destroying the island villages that separate the Pulicat lake with the sea. Six seaside villages – namely Kattupalli, Korakuppam, Bhairavan kuppam, Karangan kuppam, Lighthouse kuppam and Goonangkuppam in Pulicat – will become the direct casualties of the erosion.
And if the lake merges with the Bay of Bengal, the sea would swallow the entire area, shifting the region from a wetland ecosystem to a marine ecosystem, Nityanand adds. "Not only would this drastically alter India's map, it will wipe away the species in these wetlands, and then proceed to destroy the fishers, their livelihoods and the economy in Pulicat. The destruction will come in waves, with the seaside villages being directly affected and the others later," he adds.
– With the wetlands and islands gone, the Ennore-Pulicat complex will no longer act as a buffer during heavy rains and cyclonic storms of the South West monsoon, potentially paving the way for a natural disaster such as flooding in Chennai and the state's hinterlands. By highlighting the importance of the Ennore-Pulicat wetlands, the Pulicat Seafood Festival tries to show how its fate in terms of water and flood security is inevitably tied to the existence of this ecosystem. To celebrate the World Wetlands Day on February 2, the Pazhaverkadu menu curated by the Pulicat fisherwomen will be on offer for three days from January 31 – 2, at Sea Salt in Nungambakkam, Chennai. https://www.thenewsminute.com/article/fisherwomen-tamil-nadu-town-use-food-fight-adani-s-port-expansion-116760  (24 Jan. 2020)    
Kamarajar port polluted Ennore region, to pay fine and plant trees The government-owned Kamarajar Port Limited and North Chennai Thermal Power station (NCTPS) has come under sharp criticism from the southern bench of the NGT for multiple violations of environment norms that have degraded the ecosystem in Ennore. The bench has further invoked the 'polluter pays' principle and ordered the Port to pay Rs 8.34 lakh to the Pollution Control Board (PCB) for 'environmental compensation', on Jan. 20.
– Additionally, as part of corporate social responsibility, the Port authorities have been ordered to undertake mass planting of mangroves and other plants specific to that region (33% of their total area). All other port activities in the Ennore region, too, will now be monitored and a detailed environmental management plan has to be carried out for handling dredged material and get the approval of TNPCB before disposal
The complete survey of the area was carried out by a committee comprising officials from the CPCB, PCB and IIT-Madras. They were given four tasks by the NGT — to find whether any damages have been caused to the soil on account of the violations, whether remediation methods adopted by the port are sufficient, what is the further remediation to be undertaken by them and to assess the environmental compensation for the violation and damages to the environment.
– The port authorities, meanwhile, claimed that a total of 83,533 cubic meters of dredged material has been removed following the NGT order on Monday. A total of 73,113 cubic meters of material was dumped in the CRZ notified area for the development of additional coal berths during 2015. https://www.thenewsminute.com/article/tns-kamarajar-port-polluted-ennore-region-pay-fine-and-plant-trees-116561 (21 Jan. 2020)
Process to build a bridge across Pulicat begins After a long wait, the tender for the construction of a bridge across the Pulicat lake to connect a small island with five hamlets, including Pasiyavaram, with the mainland has been floated. The 1,032-m bridge will have 20 spans, be two lanes wide and cost ₹18.2 crore to construct.
"The tenders will be opened in February and, hopefully, we expect the contractor to commence work in March. Residents of Sathankuppam, Edamanikuppam, Vairavankuppam, Edamani Colony and Pasiyavaram have been waiting for this bridge for a long time and since the island is located in the middle of a reserved forest, the processesinvolved were innumerable. But we managed to obtain all required permissions," said an official in the Highways Department.
Residents have been taking boats or walking for over a kilometre across the lake due to lack of connectivity. Pulicat panchayat president Malathi Saravanan said that every year children lose attendance during the monsoon. "There have been instances of boats capsizing. Since the residents are primarily fishers, they have to come to the Pulicat market to sell their catch. And it is a difficult for women to wade through the waters carrying their baskets," she said. https://www.thehindu.com/news/cities/chennai/finally-process-to-build-a-bridge-across-pulicat-begins/article30655233.ece  (26 Jan. 2020)
Kerala Greens oppose construction of road through wetlands, beach The Kozhikode District Environmental Committee has opposed the construction of a road by filling wetlands and destroying mangroves on the Thottada beach, which is under the Edakkad zonal office of the Kannur Corporation. A meeting presided over by activist C. Vishalakshan and attended by committee members Hari Chakkarakkal, Vinod Payyada, Asha Hari, P.K. Vasanth, V. Devadas, M.P. Pradeepan, and P.K Suhail Jan. 8, alleged that the road is being built with an eye on real estate business. "If the road is built, the entire ecological belt in Kannur district will be destroyed. The areas is home to several rare species of flora and fauna and is a habitat for migratory birds," said Mr. Vishalakshan.
– The meeting observed that the proposed road would lead to the collapse of the Thottada beach which was featured on the world tourism map. As part of their plan to launch an agitation against the move, the activists visited the area and filed a petition with the District Collector. On January 14, a biodiversity study will be conducted in the area led by V.C. Balakrishnan, a leading biodiversity researcher. The meeting urged the State Biodiversity Board and the Kerala Coastal Zone Management Authority to intervene urgently.  https://www.thehindu.com/news/cities/kozhikode/greens-oppose-construction-ofroad-through-wetlands-beach/article30514472.ece  (8 Jan. 2020)
Panel denies permission for reclaiming wetlands land A request for reclaiming nearly 90 acres of wetland at Kottukal, Thiruvananthapruam, which was "severely inundated" in the 2008 floods, for Vizhinjam seaport project has been declined citing ecological reasons. An expert report of the State Level Monitoring Committee (SLMC) of the Kerala Conservation of Paddy Land and Wetland Act 2008 turned down the application, besides flagging the illegal reclamation carried out at the site. The company wanted to fill up the area for putting up warehouses and constructing roads to the project site.
– In its report, the SLMC expert member noted that the "flood map of Vizhinjam panchayat prepared using the remote sensing data from Bhuvan, IRSO, clearly indicates that the site was severely affected during the August 2018 flood." The land is recorded as 'Nilam' (field) in the data bank and the permission was sought for filling up 35.6984 hectares. The two streams, 'nadu thodu' and 'valia thodu', that pass through the proposed site and the two ponds at the site shall be protected. The reclamation would reduce the water holding capacity of the region by 36 crore litres and lead to shortage of drinking water. The development of the site "can aggravate the future flood impact of the already flood-hit area," the report cautioned.
– The "large-scale land filling can affect the ground water retention capacity of that area and which in turn can lead to drought during summer months," besides leading to the loss of the wetland habitat, sea-water ingression to the land and contamination of the inland water bodies in the region, it was reported. The report also presented photographic evidences on the reclamation that has taken place in the area and the structures that were built there in violation of the wetland Act.
– If permitted, 10,286 coconut palms will have to be axed thus removing the massive carbon sequestration done by these trees. The removal of these trees "can negatively influence the carbon balance of the already climate change-challenged State. The area supports as many as 80 species of birds, including migratory and threatened ones. The reclamation would lead to "adverse ecological impacts," cautioned the report. The government had not acted on the report, said a communication from P. Jayakumari, the State Public Information Officer. https://www.thehindu.com/news/national/kerala/panel-denies-permission-for-reclaiming-wetland/article30444188.ece  (31 Dec. 2019)
Telangana "Quit post if you can't protect Hyderabad's lakes": HC Expressing displeasure over inaction of Greater Hyderabad Municipal Corporation officials in preventing pollution of lakes in the city, a division bench of the High Court on Jan. 20 asked the officials concerned, including the GHMC commissioner, to resign from their posts if they cannot discharge their duties properly. The court said that the people living in the surrounding areas have been suffering with health problems due to foul smell emanating from the pond. https://www.newindianexpress.com/cities/hyderabad/2020/jan/21/quit-your-posts-if-you-cant-protect-hyderabads-lakes-telangana-hc-to-ghmc-officials-2092318.html  (21 Jan. 2020)
NGT pulls up govt over pollution in Hyderabad's Hussainsagar, to form panel NGT on Jan. 22 pulled up the state govt for failing to take steps to control the pollution in Hyderabad's Hussainsagar, an iconic lake that is situated in the heart of the city. Hearing a petition by Lubna Sarwath, an activist from Save Our Urban Lakes (SOUL), NGT's Southern Bench in Chennai accused the state government of suppressing facts in its reports, while pointing out that there was no heavy metal analysis among the documents submitted to the tribunal.
– Pointing out that it had been five years since the petition was filed with it, the NGT asked the Telangana government if it had taken any concrete steps to restore the lake. The petitioner had alleged that industries in the city were discharging untreated effluents into the lake, in an indiscriminate manner, which had heavily polluted the water body.
– According to reports, the court is now planning to constitute a committee, which would include members from the Central and State Pollution Control Boards, Indian Institute of Technology Hyderabad (IIT-H), Ministry of Environment and Forest (MOEF) and the National Institute of Hydrology. The committee would be tasked with studying the quality of the lake water and submitting a detailed report. After hearing all sides, the court posted the matter to April 8 for the next hearing.
– During the previous hearing on December 12, 2019, the NGT had ordered, the state government, Greater Hyderabad Municipal Corporation (GHMC), Hyderabad Metropolitan Development Authority (HMDA) and Telangana State Pollution Control Board (TSPCB) to submit a status report "showing the present status of water quality in the lake and the nature of work so far done". However, in the hearing on Jan. 22, the bench expressed its displeasure in the reports filed by these agencies.
– The lake was originally built in 1563 under the rule of Ibrahim Quli Qutub Shah and fed by the Musi river. It was built over 1,600 hectares. Today, however, it stands at a pitiful 4.4 sq km. A thick stench of industrial effluents hangs in the air as one crosses it. https://www.thenewsminute.com/article/ngt-pulls-telangana-govt-over-pollution-hyderabads-hussainsagar-form-panel-116641  (23 Jan. 2020)  
Karnataka Fresh deadline issued for desilting Bellandur and Varthur lakes NGT committee after its visit to Bellandur and Varthur lakes in the city, on Jan. 21, to assess the progress in rejuvenating the lake issued a fresh deadline to Bengaluru Development Authority (BDA) to finish the desilting work within four months, which is by May. This early deadline is on account of the arrival of the monsoon, which would hamper the lake cleaning process. The previous deadline for desilting was September this year.
– BDA has reportedly decided to give the nutrient-rich soil to farmers, brick kilns, and for construction work. The report states that the silt from Bellandur lake could give 4.5 lakh truckloads for construction, while Varthur lake can give 2.6 lakh truckloads of silt, which can be used for construction purposes. They also said in their report that millions of bricks can be made from the silt.  https://www.thenewsminute.com/article/fresh-deadline-issued-desilting-bellandur-and-varthur-lakes-bengaluru-116646  (23 Jan. 2020)
Meanwhile, BBMP's horticulture department has earmarked Rs 5 crore for the development of the park on an eight acre land adjacent to Vengaiah Lake. However, residents of the area are puzzled with the lack of efforts for the lake adjacent to the park. "What is the use of developing a park near the lake that is full of sewage water and hyacinth weeds? A decade ago, Vengaiah Lake was a favourite destination for many residents. Now it is full of sewage water,'' said Balaji Raghottam, a lake volunteer. https://bangaloremirror.indiatimes.com/bangalore/civic/rs-5-cr-spent-on-park-but-adjacent-lake-forgotten/articleshow/73564803.cms  (24 Jan. 2020)
WATER OPTIONS
Invention IIT Bombay efficiently removes heavy metals from water Simultaneously removing heavy metals such as arsenic, chromium, cadmium and mercury from waste water with very high efficiency now appears possible, thanks to the work of researchers at the IIT Bombay. The carbon-based nanostructure that the team fabricated shows 80-90% adsorption efficiency for all the four heavy metals studied.
No electricity is required for the nanostructure to remove heavy metals from water as it allows for gravity-driven purification of the water. The nanostructures can be recycled and reused multiple times. While there is an initial drop of about 8% after the first cycle, the efficiency remains constant at 75-85% in the subsequent cycles. The carbon nanostructure is able to adsorb the heavy metals in the wide range of pH conditions — pH 2 to 13. The results were published in the journal ACS Applied Nano Materials.
To fabricate the carbon-based nanostructure shaped like a marigold flower, the team led by Chandramouli Subramaniam from the Department of Chemistry at IIT Bombay used dendritic fibre nanosilica spheres as template. The nanostructure is obtained through a single-step process of chemical vapour deposition followed by removing the silica template.  https://www.thehindu.com/sci-tech/science/iit-bombay-efficiently-removes-heavy-metals-from-water/article30595087.ece  (18 Jan. 2020)
Mizoram Revive springs for water security One such initiative in Sumsuih village, some 50 kilometres from the state capital Aizawl, has successfully demonstrated that community-led conservation efforts could ensure water security around the year. In the village of 240 households. To implement recharging of aquifers in Sumsuih village, a detailed hydro-geological mapping was conducted to identify specific recharge zones and interventions based on the properties of aquifers. Conservation structures such as pits, trenches and a weir were constructed after identifying the recharge points and zones, serving as more effective interventions for recharging aquifers.
– The German development co-operation agency GIZ is supporting spring-shed development and management as a climate adaptation measure in Mizoram. The work is being done in partnership with various state departments and a consortium of NGOs. GIZ has supported the building of trenches, recharge ponds, percolation pits and water storage structures, Gabien rocks and check dams to prevent runoff, after careful hydro-geological study for 20 springs in different villages of Mizoram that include Sihphir, Lamchhip, Hmuifang, Chamring and Sumsuih. The initiative started in 2018. GIZ has supported the building of trenches, recharge ponds, percolation pits and water storage structures, Gabien rocks and check dams to prevent runoff, after careful hydro-geological study for 20 springs in different villages of Mizoram that include Sihphir, Lamchhip, Hmuifang, Chamring and Sumsuih. The initiative started in 2018. https://indiaclimatedialogue.net/2020/01/24/revive-springs-for-water-security-in-mizoram/  (24 Jan. 2020)
Tamil Nadu Farmers reap benefits of farm ponds during low rainfall Though agricultural experts and the government have been advising farmers to create small farm ponds in their lands for years, as an effective method of rainwater harvesting, it is only now that farmers in the Pollachi region seem to be experimenting with the idea. https://timesofindia.indiatimes.com/city/coimbatore/farmers-reap-benefits-of-farm-ponds-during-low-rainfall/articleshow/73452563.cms  (21 Jan. 2020)
GROUNDWATER
Abstract India's depleting groundwater: When science meets policy A commonly applied policy to India's ongoing depletion of groundwater is feeder separation. Introduced in Gujarat as the Jyotigram Yojana (JGY) scheme, it provides a separate and rationed electricity supply to farmers and an unrationed power supply to non‐agricultural users. JGY is claimed to increase groundwater storage. By using Gujarat district‐level data from 1996 to 2011 and by separately applying difference‐in‐differences and Bayesian regressions, we find that groundwater storage has continued to decrease with JGY. We contend that our empirical results show that JGY has been implemented without adequate consideration of (1) a publication bias whereby researchers have a greater likelihood of having their results published if they are statistically significant and show a positive outcome and (2) a 'barrier' effect such that communicating evidence across science and policy divides means that evidence may not be accepted, even when true, and this limits policy advice and options. https://onlinelibrary.wiley.com/doi/full/10.1002/app5.269  (5 Jan. 2020)
Punjab Water table recedes fast in 109 administrative blocks Experts from the Central Ground Water Board have pointed to the massive rate of fall in subsoil water by a whopping 51 cm per year. – Data compiled by the CGWB between 2006 and 2017 point to groundwater decline up to two meters in 55% of wells, between two to four meters in 21% wells and above four meters in 7% wells in Amritsar, Tarn Taran, Kapurthala, Jalandhar, Ludhiana, Moga, Mansa, Sangrur, Barnala, Fatehgarh Sahib and Patiala districts.
To add to the worries, four major agriculture intensive districts of Ferozepur, Bathinda, Muktsar and Fazilka now suffer from water salinity. Scientists say close to 14.51 lakh tubes wells are operational in the state drawing 35.78 billion cubic metres of water annually. https://www.newindianexpress.com/nation/2020/jan/23/punjab-sounds-alarm-as-water-table-recedes-fast-in-109-administrative-blocks-2093203.html  (23 Jan. 2020)
Haryana NGT seeks report on petition alleging groundwater contamination NGT has directed the State Pollution Control Board (SPCB) to furnish a report on a plea which alleged that waste water being discharged had damaged crops and contaminated groundwater. Taking note of a Nov 2019 report furnished by the SPCB, NGT said, "Let further action be taken in terms of the recommendations and compliance report filed by the Board within one month."
-In a slew of recommendations, the report had suggested "PHED to improve operation and maintenance of STP and make arrangements for laying suitable drainage network for disposal of treated effluents" and "environmental compensation to be levied by HSPCB on PHED for period of non-compliance of Barwala STP as per approved guidelines".
– In its report, the HSPCB had said, "STP at Barwala, is not complying with the prescribed norms of the SPCB. The agricultural field of complainant is flooded with discharge of STP water. The STP is installed in a low-lying area and there is no drainage arrangement for the disposal of treated water."
-The Tribunal was hearing a plea moved by Sukhwanti who alleged that the discharged waste water had damaged crops, contaminated groundwater, led to the death of livestock and affected soil fertility. https://www.thehindu.com/news/cities/Delhi/green-bench-seeks-report-on-petition-alleging-groundwater-contamination/article30638081.ece  (24 Jan. 2020)
URBAN WATER
Chennai IIT Madras-Designed Check Dam Aids Palar River To Store Surplus Rainwater IIT Madras researchers have designed and overseen the construction of a check dam across Palar river that has resulted in the significant increase in storage of surplus rainwater in the river, according a statement released by the Chennai-based Institute.
– The design of IIT Madras researchers also resulted in a savings of nearly Rs. 49.5 crore for this project, which was funded under Corporate Social Responsibility (CSR) activities of the Madras Atomic Power Station (MAPS) at Kalpakkam. While a conventional weir-type check dam costs around Rs. 82 crore and takes up to one year for construction, this project was completed with a funding of Rs. 32.5 crore in six months, the Institute said. The construction of this check dam began in March 2019 and the structure was completed by August 2019, before the onset of monsoon.
– Palar river runs 390 km, including parts of Karnataka, Andhra Pradesh and Tamil Nadu but 80 per cent of the river is in Tamil Nadu – commencing in Vellore district.  https://www.ndtv.com/education/iit-madras-designed-check-dam-aids-palar-river-to-store-surplus-rainwater-2167007  (20 Jan. 2020)
Mapping water flow, Chennai follows Hyderabad method The city water board has begun its preparations to start mapping the city using Geographic Information System (GIS) technique. This is being done to bring the entire network of water and sewage pipes under one window.Using geographical images and real time data, the board plans to compile information from where the water is drawn to the end-consumer. The spatial arrangement of pipes, when shown visually, will help address leakage or repairs much faster than now.
– "Our biggest problem is that we can't visualise the condition of pipes now. After we have GIS maps, the network can be maintained much efficiently," said a senior official. Although Metro Water had a GIS mapping wing before, the project did not take off due to lack of technological inventions. Renewed efforts were initiated for the project six months ago. Officials have also been visiting Hyderabad to learn about the technique's practical challenges and its solutions.
– The World Bank has sanctioned Rs. 8 crores for this project . Moreover, Metro Water will be coordinating with TANGEDCO, for data about alignment of power cables, and the city corporation, for the basic foundation of the city. "Lakes from where Metro Water sources water will also be included. Once this map is ready, we can add further advancement like real time monitoring software to detect leaks, overflows and oversee lake levels," added another official.
– The GIS map, which will cover the city over an area of 426 sq km, will accurately tell the location and age of the pipe, if it carries water or sewage, the originating point, past records of repair work, and its destination.  https://www.newindianexpress.com/cities/chennai/2020/jan/22/mapping-water-flow-chennai-follows-hyderabad-method-2092771.html  (22 Jan. 2020)
AIIDB to fund the bulk of city's flood mitigation works Water Resources Department has finalised a tie-up with the Asian Infrastructure Investment Development Bank (AIIDB) for ₹3,000-crore flood mitigation flagship project. Of the total project cost, nearly ₹900 crore would be contributed by the State. Instead of assistance from the World Bank as expected earlier, about 70% of the project would be funded by AIIDB.
– The department has already taken up works and has mapped locations in northern coastal districts that were vulnerable to floods based on experiences in the past decade. The proposals include creating reservoirs, constructing canals to bridge missing links between lakes and improvement of surplus channels.
– Meanwhile, the WRD has sought ₹285.06 crore from State government to prioritise projects in areas vulnerable to inundation and speed up works. It has submitted 17 proposals to be taken up in the third phase of the long-term flood mitigation work in the city and peri-urban areas. The long-neglected Adambakkam lake is set to be rejuvenated as the department has allocated ₹13.90 crore. Work to modernise a link channel between Adambakkam lake and Veerangal Odai would also be taken up.
– Besides construction of check dams across Manamathy Maduvu in Tirupporur taluk, channels would be constructed to bridge the missing links between various waterbodies. This includes between Rajakilpakkam and Sembakkam lakes and Peerkankaranai and Irumbuliyur lakes. Paruthipattu lake, which was developed as an eco-restoration site in Avadi, would soon have a surplus course of its own at a cost of ₹28.94 crore. Vulnerable portions of surplus courses such as the drain from GST Road railway culvert to Tambaram-Mudichur Road, Kannadapalayam to Adyar river would also be formed. https://www.thehindu.com/news/cities/chennai/aiidb-to-fund-the-bulk-of-citys-flood-mitigation-works/article30628854.ece  (23 Jan. 2020)
Kochi Will it be State's first sponge city? The Irrigation Department is looking at Kochi as a potential candidate to be the State's first 'sponge city,' a Chinese initiative designed to equip urban localities to tackle floods and harvest rainwater efficiently.
– Sun Xiang, project manager, Shenzhen Water Planning and Design Institute Co. Ltd, China, is scheduled to present the sponge city concept at a two-day conference on 'policies and strategies for flood management in Kerala' being organised by the department on Jan.23- 24. He will also visit Kochi, senior Irrigation Department officials said. "We are looking at Kochi initially. Cities such as Kozhikode and Thiruvananthapuram can be included in later stages," Joshy K. A., Chief Engineer, Irrigation Design and Research Board (IDRB), said.
– The conference, which will discuss water resource-related issues and formulate policies, will be held on Jan. 23-24, Water Resources Minister K. Krishnankutty said on Jan. 20. Integrated water resources management is key to the State's future water security and the conference will discuss the issue in detail, Mr. Krishnankutty said. "The combined water resources of the 44 rivers in Kerala is 2,756 tmc. Resources in the catchment areas is 2,484 tmc and the volume of usable water is 1,510 tmc. By 2030 our water demand would go up by 300 tmc. At present we use only 300 tmc," the Minister said.
– The concept is one of several ideas being explored to tackle floods in the State, The Dutch 'room for river' concept and flood-control dams are also under consideration. Kuttanad is the ideal candidate for the 'room for river' program.
– Paul van Meel, an expert on Integrated Water Resources Management from the Netherlands, also is scheduled to address the conference. Flood-control dams are being planned in six river basins, namely Periyar, Achencoil, Meenachil, Chaliyar, Pampa and Chalakudy. https://www.thehindu.com/news/national/kerala/kochi-may-be-states-first-sponge-city/article30619126.ece  (21 Jan. 2020)
Ernakulam Untimely fall in Bhoothathankettu dam water level, leaves residents in the lurch The decrease in the water level in Bhoothathankettu dam has adversely affected water supply in many parts of Ernakulam leaving its residents in the lurch. The low water level has reportedly led to the increase of salt content in the Kadambrayar River, forcing Kerala Industrial Infrastructure Development Corporation (Kinfra) to curtail the supply of water to Infopark in Kakkanad over the last few days. Many companies were forced to direct their employees to work from home owing to the crisis.
– According to studies, despite the flooding over the last couple of seasons, the groundwater is not being recharged. As per the report, Water Resources of Kerala, 1974, the average annual runoff of all 44 rivers in the state was estimated at 78 bcm. Thus, Kerala stores only about 6.6 per cent of the average annual runoff, this is hardly enough to meet demand in lean summer months. https://www.newindianexpress.com/cities/kochi/2020/jan/20/bhoothathankettu-dam-water-level-dips-leaves-residents-in-the-lurch-2091782.html  (20 Jan. 2020)
Ernakulam staring at water crisis Shortage of water at the Bhoothathankettu barrage has affected water supply in areas of Ernakulam fed by the Periyar Valley irrigation scheme and led to rise in salinity in the Kadambrayar river, according to Irrigation Department officials. Tailrace discharge from the Idamalayar hydroelectric project mainly feeds the Periyar Valley canals that run a length of 750 km across Kothamangalam, Muvattupuzha, Aluva, Paravur, Kunnathunad and Kanayannur taluks. The canals mostly meet irrigation purposes in these areas when the barrage is opened in early January every year.
– Repeated requests to the Kerala State Electricity Board (KSEB) to increase power generation did not yield results till two days ago, when the level rose by around 40 metres. "The KSEB is required to ensure that the Irrigation Department's need of 4 million metre cube per day for the Periyar Valley canals is met, but they have cited repairs of a generator as the reason for shortage," another Irrigation Department official said. However, a KSEB engineer in charge of the Idamalayar dam maintained that electricity production levels had not dipped recently, and that they had experienced no shortage of water.
– Several rural water supply schemes under the Perumbavoor section, in which pump houses draw from the Periyar Valley canals, have been affected for the past few weeks, said a Kerala Water Authority (KWA) official. Water to Kochi could be indirectly affected by this shortage. Since the canals flow into the Kadambrayar and the Periyar, the shortage of water could lead to a reverse flow of saline water and a consequent increase in salinity in the two rivers. The recent water shortage at Infopark which relies partly on the Kadambrayar that has seen an inflow of saline water in the past few weeks, could be attributed to this, the Irrigation Department official said.  https://www.thehindu.com/news/cities/Kochi/ernakulam-staring-at-a-water-crisis/article30597178.ece  (19 Jan. 2020)
Faridabad 'Nearly half of all water connections are illegal' Dabua Colony in New Industrial Town (NIT) is among the most populous residential colonies with an estimated population of three lakh. Though the colony is mostly regularised, around two-thirds of the water connections there are illegal. Superintending Engineer, MCF, Bikram Kardam conceded that more than one lakh water connections in Faridabad were suspected to be illegal. He said that though 2,73,000 units paid property tax, only around 1,40,000 had a legal water connection.  https://www.thehindu.com/news/cities/Delhi/in-faridabad-nearly-half-of-all-water-connections-are-illegal/article30654885.ece  (26 Jan. 2020)  
WATER
Report India's refineries stare at a huge water crisis Many refineries in India are facing an acute shortage of freshwater and substantial work needs to be done for conservation and recycling of water, top officials of the ministry of petroleum and natural gas (MoPNG) said. Substantial work needs to be done for water management, starting from accounting, recycling, rainwater harvesting and recycling, said petroleum ministry secretary MM Kutty. https://energy.economictimes.indiatimes.com/news/oil-and-gas/indias-refineries-stare-at-a-huge-water-crisis/73421259  (20 Jan. 2020)
Chhattisgarh Abandoned mine turns as livelihood source for poor tribals A deserted mine, 200 m from a National Highway, of the Coal India Ltd (CIL) at Kenapara in Surajpur in Chhattisgarh, about 350 km north of Raipur, has been converted to yield promising scope on tourism and a good source of livelihood for the poor and tribals. Abandoned coal mine led to the creation of a huge water body covering an area of over 10.50 hectare with 1.75 km long stretch and a maximum depth of around 300 feet. A survey was undertaken by the district administration around mid-2019 and came up with an idea on fish farming through submerged cage culture, developing site for boating with a floating restaurant for tourists. https://www.newindianexpress.com/good-news/2020/jan/20/chhattisgarh-abandoned-mine-turns-as-livelihood-source-for-poor-tribals-2091758.html  (20 Jan. 2020)
Maharashtra Seawater Quality In Mumbai, Thane Districts Deteriorating: Report 'Water Quality Status of Maharashtra' for 2018-19, a report by Pollution Control Board (MPCB) shows that samples of seawater collected from Mumbai and Thane cities have consistently recorded a drop in the Water Quality Index (WQI) from bad to very bad. The report also shows that the seawater at Mumbai beaches falls in the range of medium to bad. Human settlements and industrial establishments around the creeks and places near Mumbai seashore are mainly held responsible for the deplorable condition of water. The report reveals how untreated and semi-treated sewage water generated from industrial areas of the two cities and human waste get mixed with water, thereby, causing quality of water to drop drastically.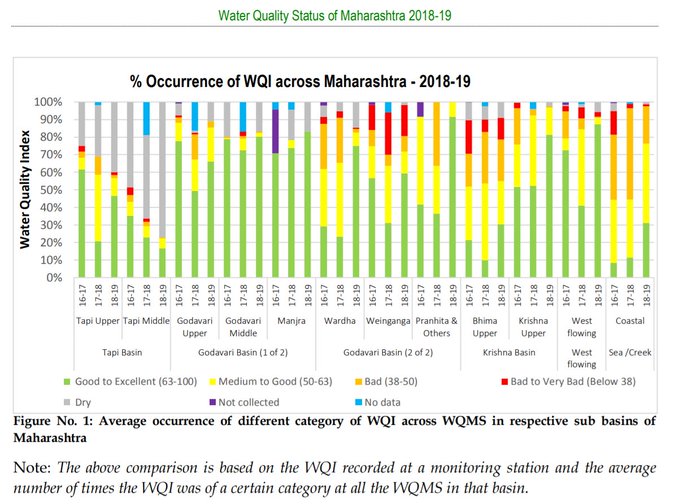 – Mithi River near Mumbai's Mahim bridge has the worst WQI, an average of 30, which is not suitable for drinking while seawater near Gateway of India averages 49, which means it is very bad quality. And overall Mumbai water samples, is at an average of 50.  https://www.ndtv.com/mumbai-news/seawater-quality-in-mumbai-thane-districts-goes-from-bad-to-very-bad-report-2168201  (22 Jan. 2020)
Full report can be seen here:- http://www.mpcb.gov.in/sites/default/files/focus-area-reports-documents/Water_Quality_Status_of_Maharashtra_2018_19_30092019.pdf 
MONSOON
IMD India has received 120% of January rainfall already Northwest and northeastern states have had an unusually wet January, with Manipur receiving 1603% of the normal rainfall for the month. Uttarakhand, Uttar Pradesh and Punjab have received over 300% of the normal precipitation in January. In the northeast, Tripura has received 670% of the normal rainfall and Mizoram 295%. "And, this month there have been a higher than usual number of WDs, with the one that is likely to bring precipitation to the Himalayan region this Tuesday (Jan 21) being the fifth one. There are predictions of three more WDs that are likely by the end of this month, taking the total number to eight," said RK Jenamani, senior scientist, IMD.  https://www.hindustantimes.com/india-news/country-has-received-120-of-january-rainfall-already-imd/story-oiLJfJSeNBWY5qkWCqwydL.html  (19 Jan. 2020)
FLOOD
Kerala Centre refuses to give more funds for flood relief The Centre will not allot any additional assistance to Kerala from the National Disaster Response Fund (NDRF) as it has failed to produce utilisation certificates for 50% of over ₹3,000 crore fund allotted to it after the 2018 floods, a senior Home Ministry official said on Jan. 23. The Kerala government had demanded an additional ₹2,000 crore from the fund after the 2019 floods. Kerala was hit by successive floods in 2018 and 2019.
– "The Kerala government has not been able to spend the amount released under the NDRF for the 2018 floods, nor they have been able to provide proof of the number of victims who were helped. Till April last year, they had spent only ₹900 crore out of ₹3,000 crore sanctioned funds," said the official. "Till the time the State government spends the assistance allotted to it for the financial year 2018-19, we cannot release any additional amount for 2019-20," the official said.
– As per the National Disaster Management Authority's website, as of December 31, 2019, the Centre's share allocated to Kerala under the SDRF is ₹168.75 crore of which ₹52.27 crore has been released. In the current financial year, the Centre has released ₹8,068.33 crore to 27 States as Central share from the State Disaster Response Fund (SDRF). The official said Kerala had around ₹300 crore in the SDRF kitty. Assistance under NDRF is released "in case of a disaster of severe nature, provided adequate funds are not available in SDRF".
Kerala's response:- "The State's contention is that its memorandum for 2019 has not been considered and approved for the amount permissible. The Centre has to sanction an amount to Kerala in view of the 2019 floods," said Venu V., Principal Secretary, Revenue and Disaster Management, Kerala. "Whether we have cash with us or not is the secondary question. The primary question is whether they have examined our memorandum and taken a decision on it," Mr. Venu said.  https://www.thehindu.com/news/national/centre-refuses-to-give-more-funds-to-kerala-for-flood-relief/article30640716.ece  (24 Jan. 2020)
DROUGHT
West Bengal Usharmukti project: A confluence of institutions for rejuvenating rivers Usharmukti, a project of the Government, is being carried out in collaboration with civil society organisations in the western part of W Bengal, to carry out watershed activities under MNREGA to conserve soil and water. In this note, Ashwini Kulkarni describes the main idea behind and working of the innovative project from her visit to the project area. https://www.ideasforindia.in/topics/environment/usharmukti-project-a-confluence-of-institutions-for-rejuvenating-rivers.html  (20 Jan. 2020)
ENERGY 
Report Renewables India 2019 https://allaboutrenewables.com/pdf/renewableenergyreport2019.pdf 
Meanwhile, the power demand and generation declined across the country for the fourth quarter in a row because of the slowdown in the economy. https://www.thehindubusinessline.com/economy/power-demand-continues-to-slide-for-4th-quarter/article30599603.ece  (19 Jan. 2020)
ENVIRONMENT
Report Forest Committee approves scheme to 'trade' in forests The proposed 'Green Credit Scheme', as it is called, allows agencies — they could be private companies, village forest communities — to identify land and begin growing plantations. After three years, they would be eligible to be considered as compensatory forest land if they met the Forest Department's criteria. An industry needing forest land could then approach the agency and pay it for parcels of such forested land, and this would then be transferred to the Forest Department and be recorded as forest land. "The participating agency will be free to trade its asset, that is plantation, in parcels, with project proponents who need forest land," say the minutes of the meeting held on December 19, but which have just been made public. "It does not solve the core problems of compensatory afforestation," Kanchi Kohli, who is with the Centre for Policy Research and investigates forest rights, told The Hindu. "It creates problems of privatising multi-use forest areas as monoculture plantation plots. Forests are treated as a mere commodity without any social or ecological character."   https://www.thehindu.com/news/national/forest-committee-approves-scheme-to-trade-in-forests/article30527065.ece  (9 Jan. 2020)
Tamil Nadu NGT says ECs must before starting construction projects  The Southern Bench of the NGT in a recent order, has insisted on the sanctity of getting necessary environmental clearances before starting construction projects. In its order, the NGT restrained a private builder from proceeding with constructing a 27-floor apartment complex in Tondiarpet, and asked authorities to take action against the builder for violating Environmental Clearance (EC) guidelines. The case was filed by K.R. Selvaraj Kumar of the Meenavar Nala Sangam, seeking action against Voora Property Developers Pvt Ltd, claiming the builder had proceeded to construct the property without obtaining Environmental Clearance.
– The State Environment Impact Assessment Authority (SEIAA) and the PCB were directed to form a joint committee, inspect the area and submit a factual report. The committee, after inspection, informed the NGT that the construction of the foundation work has been completed without obtaining the EC. Counsel for the builder submitted before the Tribunal that they had stopped the work and the application for the EC was pending with the SEIAA. The counsel submitted that the builder will proceed with construction only after getting the necessary EC.
– The Tribunal observed that there was already an admission that certain part of the construction activity had started without obtaining the EC and the application was pending with the SEIAA. The bench directed the builder to restrain from proceeding with further construction without getting the EC and meeting other required conditions and directed authorities to initiate action after giving the company a reasonable opportunity to respond. The bench also directed the Committee to assess the environmental compensation for the violation and submit a compliance report within two months.  https://www.thehindu.com/news/national/tamil-nadu/ngt-says-environmental-clearance-a-must-before-starting-construction-projects/article30613176.ece  (21 Jan. 2020)
CLIMATE CHANGE
Study Rising carbon dioxide levels put India at 5-10 times normal flood risk According to a recent study, the risk of extreme floods or storms could double every 13 years at the rate carbon-dioxide concentrations are building up in the atmosphere. The report, Impacts of Carbon Dioxide Emissions on Global Intense Hydro-meteorological Disasters appears in the January issue of Climate, Disaster and Development Journal.
The number of intense "hydro-meteorological" disasters could increase by 5.4% annually for an "average" country facing annually nearly one "extreme disaster" India faces 5-10 times as many extreme events as the average country. Only in 2019 India saw three major floods in Karnataka, Kerala and Bihar with 312 recorded deaths collectively between the three States. The sea level has risen globally by around 15 cm during the 20th century and is currently rising more than twice as fast – 3.6 mm per year – and accelerating.  https://www.thehindu.com/news/national/rising-carbon-dioxide-levels-put-india-at-5-10-times-normal-flood-risk/article30663317.ece  (27 Jan. 2020)
Nepal Farmers face up climate risks in South Asia How are small-scale farmers mitigating the growing risks of climate change? Sanjeet Bagcchi reports on India and Nepal. https://www.scidev.net/global/agriculture/feature/farmers-face-up-to-climate-risks-in-south-asia.html   (23 Jan. 2020)
SOUTH ASIA
SANDRP Blog HISTORIC COURT JUDGMENT: TREAT RIVES AS LIVING ENTITY\ In a historic judgment, the High Court (HC) of Bangladesh has declared Rivers as living entities and the NRPC (National River Protection Commission) as the legal guardian of all rivers. The HC said that river encroachers cannot run in any elections or get bank loans. The HC delivered the judgment in response to a petition (WP No. 13989/2016) by Human Rights and Peace for Bangladesh. The writ petition was filed on Nov. 7, 2016.
The HC also ordered the government to make a list of every grabber in the country and publish the list in the media to expose them to the public. The grabbers include powerful individuals, businesses and, ironically, government offices. The Gazipur City Corporation is among the grabbers, a judicial inquiry has found. The landmark verdict comes when river grabbing by influential groups seems unstoppable. Often, grabbers return to steal river land soon after being evicted. https://sandrp.in/2020/01/27/bangladesh-drp-overview-2019/  (27 Jan 2020)
Bangladesh Court orders 231 factories closed to save river High Court has asked authorities to shut down 231 factories surrounding the highly polluted main river in the nation's capital, lawyers and activists said. Manzil Murshid, who filed a petition with the court seeking its intervention, said the factories are mainly small dyeing, tanning and rubber plants operating without approval from the Department of Environment.
Such factories often are able to operate with the backing of influential politicians or by bribing government officials. The court's decision Monday (Jan 20. 2020) on the factories near the River Buriganga was hailed by environment activists despite some previous court orders that were not carried out by government authorities, Murshid said. https://apnews.com/669408ee151214f18b0fa74533d9674c  (21 Jan. 2020)
Boatmen mourn receding rivers Bangladesh has 700 rivers integral to the country's culture, but many of them are dying. Driven by changing weather patterns and the country's relentless push towards development, the crisis has become so critical that in July 2019 the supreme court declared all the country's rivers to be "living entities", with anyone damaging them subject to punishment. But for many of the communities whose lives depend on the waterways, the change of law has come too late. "They are the biggest losers. First of all, fishermen. Hundreds of fishing communities have been destroyed. Then the boatmen," said Sheikh Rokon, founder of the Riverine People network of environmental activists.
– He said the death of Bangladesh's rivers has been caused by encroachment, erosion, pollution and sand mining. All of these problems stem, he claimed, from decreased water flows that, while due in part to internal land barriers, are largely a result of restrictions on the flow by Bangladesh's neighbours, especially India. Dhaka's water bodies have shrunk by two-thirds over the past 20 years, according to a recent study by the Bangladesh Institute of Planners, and hundreds of factories and tanneries pollute the city's Buriganga river, according to activists. Bangladesh's progress has seen the country neglect its rivers in pursuit of resources, according to Rokon.
– "We have 38 rivers which are severely polluted and encroached. We have more than 80 rivers that are [suffering] under the sand-mining situation," he said. "The modern monster is sand-mining. It is cruelly killing our rivers." Sylhet has suffered because the sand and stone collected from its river beds, washed down from the hills in India, are used in roads and construction. The often illegal and excessive collection has diverted the flow of rivers, according to the government's forestry department. As one of the activists who campaigned for Bangladesh to recognise the legal rights of rivers, Rokon welcomed the supreme court's July ruling, but he is also sceptical that action will be taken. Rokon says there needs to be a cultural change in Bangladesh, where the traditional link to rivers has been forgotten. "People became detached culturally from the rivers. We have to revive the utility of the rivers," he said.
– Says Robi Das, part of a small Hindu community in Bangladesh's northern Sylhet district, in the town of Biswanath near the border with India, "The river was so much higher before. Now you see there are fields by the bank, but they used to all be part of the river." Only a month since the end of Bangladesh's rainy season, the river sits at less than half the level it did when it was a healthy tributary of the Surma, part of an extensive river system that stretches from India, breaking off and joining other rivers on the path southwards to the Bay of Bengal. https://www.theguardian.com/global-development/2020/jan/20/the-river-is-our-home-bangladeshi-boatmen-mourn-their-receding-waters  (20 Jan. 2020)
Pakistan Conference calls for 'hydro diplomacy' to address water issues "The people of Khyber Pakhtunkhwa do not get their share of water; 92 million acre feet of water passes under the Attock Bridge but Balochistan does not get its share, which is equal to Tarbela Dam," he added. Senator Kakar said that the people of Afghanistan already have concerns that Pakistan wants to occupy their water. He suggested Pakistan improve relations with Afghanistan, as Pakistan may otherwise face water issues. https://www.dawn.com/news/1530131  (24 Jan. 2020)
Nepal China not to alter course of rivers flowing into Nepal China has agreed not to deliberately change or cause to change the course of any trans-boundary rivers flowing into Nepal. This comes under an Agreement on the Boundary Management System reached with Nepal during the visit of Chinese President Xi Jinping to Kathmandu in October 2019. All the major rivers including the Karnali, Kali Gandaki, Budhi Gandaki, Trishuli, Sunkoshi, Bhotekoshi, Tamakoshi and Arun originate in the Tibet Autonomous Region (TAR) of China. Nepal as well as the northern part of India could be seriously affected if any dams or diversion projects are built in upper riparian Tibet. "Both sides shall, as far as possible, prevent the boundary rivers from changing their courses. Neither side shall deliberately change or cause to change the course of any boundary river," states Article 7 (1) of the Agreement.
– As per their agreement, Nepal and China shall have the right of utilizing cross-border waters without affecting the existing use and future needs, while also agreeing to take measures to protect the ecology and environment of such waters. "In case a boundary river changes its course, necessary measures shall be taken by both sides or after mutual Agreement, by either side, to restore the boundary river to its original course," reads Article 7(3) of the Agreement.
– The Nepali side last year voiced concern after the Arun River began changing its course in the Kimathanka area of Sakhuwasabha district after the Chinese side started constructing an embankment along the river on its side of the border without informing Nepal in advance. Locals in Kimathanka village had felt threatened that the construction work could inundate their entire village during the rainy season. https://myrepublica.nagariknetwork.com/news/china-not-to-alter-course-of-rivers-flowing-into-nepal/  (24 Jan. 2020)
THE REST OF THE WORLD
UK "Its dam vrs. Fish & dams are winning" Today, there are an estimated 2,000 dams in the Hudson River Estuary between New York City and Albany, N.Y. Many are small and obsolete, abandoned by long-shuttered factories and serving no purpose other than to thwart fish migration and harm river ecology. Now a growing band of environmentalists wants to restore the waters to their natural state. They are targeting dams for removal not only in the Hudson Valley but across New York and the United States. "Small dams are everywhere, and many of them just persist through inertia," said John Waldman, a biology professor at Queens College and the author of "Running Silver: Restoring Atlantic Rivers and Their Great Fish Migrations."
– A challenge for environmental activists like George Jackman, a former New York City police lieutenant who now works for the nonprofit group Riverkeeper, is convincing people that removing a dam will have payoffs for the fish and the landscape. Dr. Jackman has identified the Quassaick Creek, an 18-mile river in Orange County, about 60 miles north of New York City, as ripe for dam removal. He has dug through property records and talked to anyone who will listen about the wisdom of taking out the creek's 12 dams, which range in height from 4 feet to 10 feet. Riverkeeper will oversee the dismantling this summer of the first dam on the Quassaick. Soon after, the city of Newburgh plans to raze a second dam as part of a larger infrastructure project. And Dr. Jackman has commitments from at least one other dam owner to greenlight its removal. "A river should have its own sinuosity," Dr. Jackman said. "It should bend and curve and connect with the flood plain. Controlling these rivers is kind of like controlling a wild animal."
– "The most bizarre myth is the notion that if you remove the dam, there won't be any water in the stream," Dr. Gephard said. "It's as if they think the water is coming from this concrete. So many Americans don't understand the concept of a watershed or flowing water."  https://www.nytimes.com/2020/01/20/nyregion/its-fish-vs-dams-and-the-dams-are-winning.html  (20 Jan. 2020)
Environment agency warns that flooding can impact mental health for years Just the last year has been traumatic to so many communities in India. https://www.mirror.co.uk/news/uk-news/flooding-can-impact-mental-health-21323070  (21 Jan. 2020)
Brazil Brumadinho: the Expert Panel report on the failure of the Feijão tailings dam After one year of the Feijao Tailing Dam Failure (On Jan. 25, 2019) in Brumadinho:- Last month the official expert panel released its report on the disaster – there is a website dedicated to the findings, which includes the full report in English and all of the appendices. As expected, the report finds that the failure occurred as a result of static liquefaction. The investigation has deduced that failure initiated close to the crest of the dam but very rapidly progressed through the entire structure, allowing a comparatively shallow failure to develop. This was then followed by a series of retrogressive failures that released the large volume of mine waste.
There is a particularly interesting aspect of the report that will cause deep concern for those responsible for such structures:- "The failure is also unique in that it occurred with no apparent signs of distress prior to failure. High quality video from a drone flown over Dam I only seven days prior to the failure also showed no signs of distress. The dam was extensively monitored using a combination of survey monuments along the crest of the dam, inclinometers to measure internal deformations, ground-based radar to monitor surface deformations of the face of the dam, and piezometers to measure changes in internal water levels, among other instruments. None of these methods detected any significant deformations or changes prior to failure."  https://blogs.agu.org/landslideblog/2020/01/20/brumadinho-tailings-disaster/  (20 Jan. 2020)
From NASA: LONG-TERM DROUGHT IN AFRICA Parts of Africa have been plagued by dry seasons growing hotter and rainy seasons arriving later and with less water for crops and livestock. https://earthobservatory.nasa.gov/images/146179/etosha-pan-refills  (17 Jan. 2020)
Grand Ethiopian Renaissance Dam Avoiding a dangerous water war between Ethiopia and Egypt In a breakthrough, Ethiopia promised Egypt that it would only impound life-giving waters behind Africa's largest edifice – the US$4.2-billion Grand Ethiopian Renaissance Dam – gradually, and during future rainy seasons – not throughout entire years. Egypt's existence and prosperity depends on the flow of the Nile River to sustain its 101 million people.
Egypt threatened to bomb the dam and go to war if Ethiopia interrupted the steady coursing of highland waters that have enabled Egyptian life and livelihoods for at least two millennia. Ninety per cent of Egypt's drinking water comes from the Nile and nearly all of its wheat is grown along its banks. Pharaonic civilization depended on Ethiopian waters. (The Blue Nile fills two-thirds of the waters of the world's longest river, the White Nile the other third.)
– Ethiopia wanted to fill the lake behind the dam in six years. Egypt prefers an 11-year timetable. Yet, now, thanks to unexpected negotiations brokered by the U.S. Treasury in Washington, D.C., Ethiopia has quietly made a major concession to Egypt, and to peace.  https://www.theglobeandmail.com/opinion/article-avoiding-a-dangerous-water-war-between-ethiopia-and-egypt/  (22 Jan. 2020)
The latest talks to resolve the dispute between Ethiopia and Egypt over the future of a giant hydropower project on the Nile River are due to resume in Washington later. Last year a deadline of 15 January was set to solve the long-standing impasse but the latest round of talks, last week, ended in deadlock.
When complete, the Grand Renaissance Dam, which Ethiopia is building, will be Africa's biggest hydroelectric power plant. Its construction began in 2011 on the Blue Nile tributary in the northern Ethiopia highlands, from where 85% of the Nile's waters flow. However, the mega dam has caused a row between Egypt and Ethiopia, with Sudan caught in between, which some fear could lead to war, and the US is now helping to mediate. https://www.bbc.com/news/world-africa-50328647  (13 Jan. 2020)   
US Small farmers wait for California groundwater hammer to fall Detailed article on California's groundwater crisis: Farmers, large and small, are beginning to grapple with what the Sustainable Groundwater Management Act means for them. One by one, local sustainability plans are starting to go public. Many farmers expect to see cutbacks on pumping once the program is fully implemented in 2040. https://west.stanford.edu/news/blogs/and-the-west-blog/2020/small-farmers-wait-california-s-groundwater-hammer-fall  (22 Jan. 2020)  
Australia Ancient aquatic system older than the pyramids; revealed by bushfires Extensive water channels built by indigenous Australians thousands of years ago to trap and harvest eels for food have been revealed after wildfires burned away thick vegetation in the state of Victoria. The Budj Bim Cultural Landscape, consisting of channels, weirs and dams built from volcanic rocks, is one of the world's most extensive and oldest aquaculture systems, according to UNESCO. Constructed by the Gunditjmara people more than 6,600 years ago, it is older than Egypt's pyramids. While the aquatic system was known to archaeologists — it was added to UNESCO's World Heritage List last July — additional sections were revealed by the fires that have ripped through the state in December.
– UNESCO said Gunditjmara people used the system to redirect and modify waterways to maximize aquaculture yield. https://edition.cnn.com/2020/01/21/asia/budj-bim-australia-bushfire-intl-hnk-scli/index.html  (22 Jan. 2020)
Study Global river delta increasingly shaped by human The researchers use a recently developed tool known as the Aqua Monitor to determine land loss and land gain over the past 30 years from satellite imagery. While this shows that about 1,000 deltas worldwide, including the Mississippi Delta, are losing land, about 1,500, most of which are located in Southeast Asia, are actually growing due to increased sediment delivery. This is mainly due to deforestation that increases erosion rates. The study also offers a piece of information that is of particular interest for regions—such as the Mississippi Delta—that seek to rebuild coastal land. On average, for every square foot of new land, about 150 cubic feet of sediment is needed. https://phys.org/news/2020-01-global-river-deltas-increasingly-humans.html  (23 Jan. 2020)
Delta Dispatch The Bivalve that Could Help Save the Coast How oysters can purify water and save a coast, even after eating them! http://mississippiriverdelta.org/the-bivalve-that-could-help-save-the-coast/  (18 Sept. 2019)
Compiled by SANDRP (ht.sandrp@gmail.com)
Also see: DRP News Bulletin 20 Jan. 2020 & DRP News Bulletin 13 Jan. 2020  
Follow us on: www.facebook.com/sandrp.in; https://twitter.com/Indian_Rivers