Irked over "judicial impropriety" by some senior advocates in taking relief from its vacation benches by suppressing facts, the Supreme Court July 5 blasted them for "playing fraud" upon it. Terming this practice as "the height of judicial misconduct", a bench comprising Justices Arun Mishra and Navin Sinha said senior advocates were "not above the law" and such conduct reflected that "no morality" is left in some of them.
It also took exception to the passing of order by the vacation bench, which had stayed the demolition of some buildings in Kerala for six weeks. Hearing the matter earlier, a bench headed by Justice Mishra had directed on May 8 that these buildings be removed within a month as they were constructed in the notified Coastal Regulations Zones (CRZ), which is part of the tidally influenced water body in Kerala.
When the matter came up for hearing on July 5, the bench said it has "serious objection" to what has happened in the case as "height of judicial impropriety has been done". "During the vacation, the matter was mentioned before me but I refused to hear it. Then it came before another vacation bench. That bench should not have passed the order. You (lawyers) are permitting the court to commit judicial impropriety," the bench told senior advocate Kalyan Banerjee, who is also a Lok Sabha MP from All India Trinamool Congress.
"Should we draw contempt against senior advocates of this court? It is height of judicial misconduct. During vacation, I declined to hear then you people obtained orders from different bench by suppressing the facts," Justice Mishra said.
"It is the height of judicial impropriety. You took stay from a different vacation bench. You (senior lawyers) are not above the law. You are playing fraud with the Supreme Court," Justice Mishra said, adding, "You are scandalising the court"
The bench initially refused to accept the request of Banerjee that he would withdraw the petition and made it clear that such things should not happen in the court in future. However, the court later allowed the withdrawal of the petition.
"Everyday counsel is being changed and senior counsel is being hired for playing fraud. In Amrapali (home buyers case related to embattled Amrapali group), senior counsel has played fraud. No morality is left in senior counsel of this court," the bench said.
"Yes, you may criticise me but the bar should not do this. You should understand that you are a part of this fraud. No, this should not happen in this court. Not in this case only, in two-three cases, it has been done. If the government officers feel that they are above the law, they are not. Senior counsel are doing this," Justice Mishra said.
The bench further observed, "Is money everything for you (senior advocates)? How long can we protect you? We will be failing in our duty if we do not stop you from doing this".
Justice Mishra said that the two judges, who were part of the vacation bench which had stayed the demolition of buildings for six weeks, should not have passed the order. "Judicial propriety requires that they should not have touched it," the bench said.  https://timesofindia.indiatimes.com/india/sc-irked-over-judicial-impropriety-raps-senior-lawyers-for-playing-fraud/articleshow/70093573.cms  (5 July 2019)
https://www.thehindu.com/news/national/maradu-demolition-sc-judge-criticises-residents-for-pitting-order-of-one-bench-against-another/article28293209.ece  (5 July 2019)
https://epaper.timesgroup.com/Olive/ODN/TimesOfIndia/shared/ShowArticle.aspx (9 June 2019)
HYDRO POWER PROJECTS
Centre Govt targets at adding 1,190MW of hydropower capacity in 2019  This year, central sector NEEPCO aims at adding the highest capacity of 600 MW at Kameng Hydel Power project in Arunachal Pradesh. The government of Himachal Pradesh will be adding another 211 MW in the state. These would include three units of 33.33 MW by state government-owned BVPCL and three units of 37 MW by Himachal Pradesh Power Corporation NSE 0.77 % Ltd.
Three private sector companies are also scheduled to add around 379 MW. These are GMR's Bajoli Holi project in Himachal Pradesh with a total capacity of 3×60 MW, L&T's Singoli Bhatwari project in Uttarakhand with a total capacity of 2×33 MW and Sorang hydel project with a proposed capacity of 2×50 MW at Uttarakhand.  https://economictimes.indiatimes.com/industry/energy/power/government-targets-at-adding-1190mw-of-hydropower-capacity-in-2019/articleshow/70049520.cms  (3 July 2019)
Karnataka Hydel in jumbo habitats: SC notice to state, Centre The Supreme Court has issued notice to the Centre and the state government on a plea for issuance of specific guidelines for conservation of elephants and other wildlife and prevent human-elephant conflict in the state, particularly in Hassan–Kodagu forest area and Mysore. The petitioner sought a direction to remove mini-hydel projects operating in the wildlife sanctuary as per the report of the elephant task force. A bench of Justices S A Bobde and B R Gavai sought a response from the Centre and the Karnataka's chief secretary and principal chief conservator of forests on a writ petition filed by Ramanagar-based 'Nagarika Hakku Horata Samiti'.  https://www.deccanherald.com/state/hydel-in-jumbo-habitats-sc-notice-to-state-centre-744382.html  (2 July 2019)
Himachal Pradesh Cabinet allows 40 MW Baggi HEP The Himachal Pradesh Cabinet on July 3, 2019 decided to allow 40 MW Baggi Hydro Power House in favour of Bhakra Beas Management Board for its execution. https://in.news.yahoo.com/himachal-pradesh-cabinet-decides-abolish-state-administrative-tribunal-222606047.html  (4 July 2019)
Nagaland Wokha: 2 picnickers drown in Doyang Has NEEPCO's Doyang Dam converted the Doyang River a disaster zone? Is the drowning due to sudden releases from the dam? No information in this report about two deaths downstream of the project. https://morungexpress.com/2-picnickers-drown-in-doyang/   (5 July 2019)
Assam Flood-affected people demand compensation from NEEPCO People of Golaghat, led by KMSS, demand compensation for the flood damages due to NEEPCO's Doyang HEP in July 2018. https://www.sentinelassam.com/news/flood-affected-people-in-numaligarh-demand-compensation-from-neepco-stage-protest/  (5 July 2019)
DAMS
SANDRP Blog Tivare Dam Disaster: Surviving in the State with maximum dams Parineeta Dandekar of SANDRP analyses the implications of Tivare Dam Disaster in Maharashtra on July 2, 2019. https://sandrp.in/2019/07/06/tivare-dam-disaster-surviving-in-a-state-with-maximum-dams/    (6 July 2019)
Maharashtra, accounting for the largest chunk of India's big dams – 2,069 dams – also needs to rethink the utility of big dams amid recurrent droughts which demands age-proof, cost-effective and eco-friendly rainwater storage structures. https://timesofindia.indiatimes.com/blogs/toi-editorials/too-big-to-fail-the-ratnagiri-dam-failure-highlights-the-safety-risks-posed-by-large-dams-amid-official-negligence/  (5 July 2019)
The Dam Safety Organisation's Annual Health Status Report (2017-18) revealed that roughly 23 percent or 313 dams in Maharashtra have category two deficiencies. Only 13 of them have been rectified fully and 77 partly. The 2018-19 report is still under formulation. (Category one deficiencies are major and can lead to failure. Category two deficiencies can be rectified but they are in need of immediate attention. Category three deficiencies are those that have minor or no deficiencies.)
– A Special Investigation Team (SIT) has been formed to investigate the Tivare dam disaster in Chiplun block in Ratnagiri district.  https://www.moneycontrol.com/news/trends/current-affairs-trends/313-dams-in-maharashtra-require-immediate-attention-only-13-fully-rectified-report-4170251.html   (4 July 2019)
Similarly in July 1961, the under-construction Panshet dam breached early morning, following heavy rain. The collapse caused massive floods in Pune and surrounding areas. By the time the water receded, it left a trail of destruction. While there is no official count for the casualties, it is estimated that nearly 1,000  died in the floods. Nearly 65,000 people had to be rehabilitated. https://indianexpress.com/article/india/ratnagiri-dam-breach-triggers-memories-of-panshet-floods-that-killed-nearly-1000-people-in-pune-5812607/ 
Maharashtra Parineeta Dandekar of SANDRP's work on Konkan dams highlighted here.
Karnataka Mekedatu Dam to take away land from Cauvery wildlife sanctuary More than 60% of land needed for the Mekedatu Balancing Reservoir project will be in the core area of the Cauvery Wildlife Sanctuary, according a pre-feasibility report prepared in June. Of the 52.52 sq. km needed for the project, 31.81 sq. km comes in the Cauvery Wildlife Sanctuary, while another 18.69 sq. km is adjacent forest land. Just 2.01 sq. km is revenue or private land.
The pre-feasibility document offers a glimpse into environmental damage due to the project. Maps show that a linear path along the existing forest land along the river will be submerged, cutting off many wildlife and elephant migratory routes. The Cauvery Wildlife Sanctuary is part of the Mysore Elephant Reserve notified in 2002.
The sanctuary is the only habitat in the State for the near-threatened grizzled giant squirrel, apart from harbouring honey badgers, endangered and endemic Deccan Mahseer fish, smooth-coated otter and oriental small clawed otter, Indian Pangolin, the endemic Madras tree shrew, and the Kollegal ground gecko, among others, notes the report.
The project will also see the displacement of the Iruliga tribals and other residents of five villages: Madavala, Kongedoddi, Sangama, Bommasandra, and Muthathi villages. The report estimates that 250 buildings and houses will be submerged. https://www.thehindu.com/news/national/karnataka/mekadetu-project-to-take-land-away-from-cauvery-wildlife-sanctuary/article28264975.ece   (3 July 2019)
Yettinahole Diversion Project How Yettinahole project is adversely affecting the farmers With research pointing out the possibility of the project not being able to deliver the promised amounts of water, activists fear that the Yettinahole project might create more harm than good.
"The catchment area of Yettinahole river has been weakened further by rampant laying of pipelines and the construction of a dam. The project promises drinking water to Kolar and Chikkaballapur, but what of the people living in Dakshina Kannada, who depend on these streams for sustenance," questioned Dinesh.
Holla, an environmentalist from Mangaluru. Another fear is that the Government, faced with a shortage of water from the Yettinahole project, would start to look beyond this tributary of the Netravati river. "A 69-kilometre long area of the catchment of Kempu Hole or Yettinahole is now under threat because of the project construction. The developers have laid new roads near Bisle, away from the project site. This has made us unsure of the intentions of the government. We don't know if the government is also eyeing another tributary, the Kumaradhara," he said.
The Netravati is fed by tributaries, including the Bandaji, Mrityunjaya, Aniyuru, Sunala, Kapila, Kumaradhara and Ettinahole. Currently, the project scope involves tributaries of the Ettinahole which has been seeing a steady reduction in water with every passing year.  http://www.newindianexpress.com/states/karnataka/2019/jul/01/farmers-dread-monsoon-in-karnatakas-sakleshpur-1997706.html  (1 July 2019)
Though the project developing agency, Karnataka Neeravari Nigam Limited (KNNL) had claimed that the project may feed nearly 10 TMC of water, researchers claim that Yettinahole has nowhere near the projected capacity predicted by the project implementing agency. While the locals might have signed off on the project, new developments in the region, including the nod by the NGT for the project have the greens protesting.
In the last four years, a large amount of money has been sunk into the project, leaving heaps of mud dumped across the sensitive Western Ghats. The particular part of the Ghats, which falls in Sakleshpur of Hassan district, is home to several streams that feed the river Netravati, the lifeline of coastal districts in Karnataka.
For the last 20 years, one or the other project has always been in the planning pipeline for the Kempu Hole, also known as Yettinahole and Gundiya river. This river is one of the main tributaries of the Netravati and the drinking water project is the latest to the list of projects, already showing signs of destruction of the fragile ecosystem as predicted by the green-activists.
According to activists, the Yettinahole project is nothing but an offshoot of the Netravati River Diversion project which was first planned two decades ago. If the required water is not obtained from Yettinahole, the water can be drawn from other tributaries of Netravati and finally from the Netravati river itself. The researchers from Indian Institute of Science (IISc) have already challenged the claims of the government over availability of water from Yettinahole and its tributaries.
Activists point out that there could be more disaster waiting in the Ghats of Hassan district and adjoining areas and are questioning the sharing of Yettinahole water, which they allege will be used for industrial purposes in Bengaluru and for agriculture in more than three districts.
"The government is misleading everyone stating that the project is a drinking water project. But in real sense the project involves feeding a large agricultural area, industries and lakes. Any project that involves these parameters must obtain permission from the MoEF but in this case it has not been done. The way in which the Yettinahole project is being developed, one can list out several violations," HA Kishore Kumar, a conservationist from Hassan and petitioner in the Yettinahole project case, alleged.
The money involved in the project execution is another factor which has run into controversy ever since the project was implemented. The total cost of the project was estimated at Rs 13,700 crore in 2012 which is likely to escalate in the coming days.  "Till today Rs 4,000 crores has been spent and two out of seven dams are nearing completion. Studies done by the IISc have showed that the available water from Yettinahole may not reach Kolar and Chikkaballapur as planned.
"The project has already caused a big dent to the green cover in the Ghats and pipeline laying has also destroyed several patches of green cover in the region. The mud that has been extracted from the work site will now go and sit under river beds when the rains begin," Dr T V Ramachandra, of IISc. said. http://www.newindianexpress.com/states/karnataka/2019/jul/01/yettinahole-stream-diversion-project-wheres-the-water-1997703.html  (1 July 2019)
Task force recommends Article 371(J)-like special status for 11 Western Ghats districts  The final report, which recommends 33 points of action for the conservation of the Western Ghats, suggests that the State government pursue with the Centre for special status to these districts that have eco-sensitive forests. Special status would guarantee reservations in education and employment for those residing close to forests, states the report.
– Among the recommendations is to prohibit new projects in the Western Ghats. Currently, the State and Centre are planning a slew of road, railway, power, and river-diversion projects in the forests of the Ghats. "After the completion of the Yettinahole River Diversion project, there should be no more projects. Projects like the diversion of Sharavathi waters to Bengaluru should not be allowed," said Mr. Chandrashekar.
– The report recommends the regulation of heavy earthmovers and machinery through permits and mandatory installation of GPS, revision of the sand mining policy to exclude areas in the Western Ghats, conservation of sacred groves, development of an eco-tourism policy, establishment of elephant corridors, among others.
– Forest Minister Satish Jarkiholi, who accepted the final report, said the recommendations would be studied before implementation. "On the issue of special status, it will have to get the consent of the Chief Minister and the State cabinet before it can reach the Centre," he said. https://www.thehindu.com/news/national/karnataka/task-force-recommends-article-371j-like-special-status-for-11-western-ghats-districts/article28276226.ece   (3 July 2019)
Telangana EAC gives EC to Rs 2,121 cr dam project on Godavari The net water availability at the proposed barrage site has been worked out to be 407.4 TMC, of which 180 TMC is allocated for Kaleshwaram Irrigation project (peddha), 4.5 TMC for Kaleshwaram LIS (tank filling) and 100 TMC for the proposed PVNRKSSP. The sources said that the purpose of the proposed barrage is to raise the water level in the river to feed the existing irrigation scheme and canals for irrigating the ayacut, which are not getting sufficient water, and also to meet the drinking water needs of the region. https://www.businesstoday.in/current/economy-politics/centres-green-panel-gives-environment-clearance-to-telanganas-rs-2121-cr-dam-project-on-godavari/story/360120.html   (30 June 2019)
Polavaram Dam Completion deadline extended to 2022 The previous government announced that water would be released through gravity by December 2018 and the project would be completed December 2019. The Environment Ministry recently extended the construction period by two years. In 2011, the Union government asked the A.P. government to stop construction. In 2014, the NDA government declared Polavaram a national project and the ministry kept the 'stop work order' in abeyance to facilitate work.
– As per Polavaram Project Authority (PPA) Chief Executive Officer (CEO) Rajendra Kumar Jain the State government was yet to complete certain formalities with regard to submission of bills to the Centre, which initiated an audit into the expenditure incurred on the project in 2014. An audit relating to the expenditure of ₹1,300 crore on relief and rehabilitation (R&R) was still going on. The audit relating to the expenditure incurred by the State government on the project before it was declared a national one was also yet to be completed, he said. https://www.thehindu.com/news/cities/Vijayawada/polavaram-deadline-pushed-back-to-2022/article28288329.ece   (5 July 2019)
Meanwhile, the Odisha govt under BJD was NEVER serious about doing anything about Polavaram project, through it did go through  the pretensions of doing something on the issue from time to time. http://www.newindianexpress.com/states/odisha/2019/jul/01/bjds-stance-on-polavaram-issue-under-scanner-after-muted-reaction-to-centres-decision-1997750.html  (1 July 2019) 
BBMB Water level in Pong, Bhakra dam high, despite rain deficit "The water levels in the Bhakra dam"s Gobind Sagar reservoir and the Pong dam reservoir stood at 1,604.76 feet and 1,327.63 feet, respectively, as on today," an official of the Bhakra Beas Management Board (BBMB), which manages both the dams built on the Punjab-Himachal border, told .
– In the corresponding period of last year, the water level in Bhakra dam stood at 1,493.37 feet while in Pong dam it was 1,283.48 feet, the official added. https://www.outlookindia.com/newsscroll/water-levels-in-bhakra-pong-dams-high-despite-rain-deficit-water-woes/1565914   (1 July 2019)
Sardar Sarovar Dam Lakir Ke Iss Taraf, sheds light on the SSP If one room of your house was on fire, would you be able to sleep peacefully in the other? An 85-minute documentary titled Lakir Ke Iss Taraf (On This Side of the Line), made by Shilpa Ballal, highlights some of the concerns surrounding the Sardar Sarovar Project that led to the beginning of the Narmada Bachao Andolan in 1985. It enables viewers to understand the situation through the lens of the disadvantaged villagers, who were compelled to leave their ancestral property and witness the submergence of their homes, land and cattle. The film was screened for the first time on June 30 at the National Film Archives of India in Pune. https://indianexpress.com/article/lifestyle/art-and-culture/lakir-ke-iss-documentary-on-sardar-sarovar-project-5818817/   (7 July 2019)
INTERLINKING OF RIVERS
INTERSTATE WATER DISPUTES
Telangana- Andhra Pradesh Pumping water from Pattiseema to Godavari delta stopped However, the issue created a flutter in the farming community of West Godavari and the MLAs of West Godavari expressed their concern at a meeting in Eluru on June 30 over the release of waters to Krishna delta even before the Godavari Delta got water. The Deputy Chief Minister Mr Bose assured in the meeting that steps would be taken to stop diversion of Godavari waters to Krishna Delta, till it catered to the needs of Godavari Delta.
– The superintendent engineer of Pattiseema Project B.Veera Kumar said that on June 27, the Godavari flowed above 14 metres and according to the conditions and objects of Pattiseema project, if this was the case, the surplus waters should be diverted to Krishna Delta and the diversion of waters started with six pumps from Thursday.  He added that  gradually, the flow decreased and the lifting of Godavari waters was also reduced from 4 pumps and 2 pumps respectively for past two days. On Sunday, the water levels fell drastically and the diversion of Godavari waters to Krishna Delta from Pattiseema Project was stopped. But, this year, the officials released Godavari waters to Krishna Delta even before completion of seedlings in Godavari Delta ayacut. https://www.deccanchronicle.com/nation/in-other-news/010719/pumping-waters-to-delta-from-pattiseema-stopped.html  (1 July 2019)
Meeting between Telangana and Andhra Pradesh CMs:- The deliberations focused on diversion of Godavari water to the Srisailam project as it was considered a lasting solution for mitigating the water woes of Rayalaseema districts of AP and Nalgonda and Mahabubnagar districts of Telangana. Accordingly, officials were directed to prepare strategy and roadmap for the purpose. https://www.thehindu.com/news/cities/Hyderabad/kcr-jagan-vow-to-set-aside-differences/article28215966.ece  (28 June 2019)
Parameter set to lift Godavari water:- Sources also said that there would be separate teams to assess the demand for water and a smaller team would go and do the site selection and both the ENCs would come together and frame a report. Different teams have been given different tasks to save time and cut short unnecessary deliberations. "It is almost 200 km to 300 km of terrain drive and 150 meters of lift required to transfer Godavari waters, as Godavari is at a lower contour than Krishna, and take them to two reservoirs — NSP and Srisailam."  https://www.thehindu.com/news/national/telangana/parameters-set-for-lifting-godavari-water/article28230264.ece  (29 June 2019)
Maharashtra-Telangana Babli project gates lifted water released in Godavari Following SC order, Maharashtra irrigation dept in the presence of irrigation officials Telangana on July 1 lifted the 20 gates of Babli project across Godavari river and alerted downstream areas.   https://timesofindia.indiatimes.com/city/hyderabad/maha-lifts-babli-gates-releases-godavari-water/articleshow/70032022.cms  (2 July 2019)
As per the Supreme Court order of February 2013 the project gates must be kept open from July 1 to October 28 every year. https://www.thehindu.com/news/national/telangana/gates-of-babli-project-to-be-opened-today/article28236471.ece  (30 June 2019)
RIVERS AS NATIONAL WATERWAYS
GODAVARI Odisha Godavari river mouth to be dredged for navigation The Drainage division of Department of Water Resources will soon start dredging of the Govari river mouth in the district at a cost of around Rs 30 crore. The move is aimed at sprucing up the river bed and to facilitate movement of fishing vessels and tourist boats to the famous Hukitola island, said Executive Engineer of Drainage division, Marsaghai Tusharkanti Mohapatra. The Chief Engineer of Drainage division of Cuttack Manoj Patra along with other officials had recently inspected the 12 km long Govari river mouth from Jamboo to Hukitola. http://www.newindianexpress.com/states/odisha/2019/jul/02/odishas-govari-river-mouth-to-be-dredged-for-smooth-navigation-1998294.html  (2 July 2019)
IRRIGATION
Maharashtra Cost overrun of Rs 7,486 crore in 18 irrigation projects: CAG An audit of 18 irrigation projects under the Accelerated Irrigation Benefits Programme (AIBP) in the Maharashtra revealed a cost overrun of Rs 7,486 crore and a time overrun of five to ten years, the Comptroller and Auditor General's report for 2018 has revealed. The report was tabled in the state assembly on July 2, 2019.
The audit found that 89% of the projects had not been completed by the timeline, defeating the objective of accelerating the completion of irrigation projects under the AIBP. https://timesofindia.indiatimes.com/india/cost-overrun-of-rs-7486-crore-in-18-irrigation-projects-cag/articleshow/70044202.cms  (2 July 2019)
RIVERS
GANGA Union Budget 2019-20 Centre slashes funds for Ganga clean-up In the Budget document, the government's allocation to the 'National Ganga Plan and Ghat works' shows only ₹750 crore for 2019-2020, a sharp fall from ₹2,250 crore allotted last year. Last year, the government has only managed to spend ₹750 crore, the revised estimates for 2018-19 show.
In May 2019, The Hindu had pointed out that the NDA government has only finished 10 of the 100 sewage infrastructure projects commissioned after 2015 under the National Mission for Clean Ganga (NMCG). The bulk of the completed projects were those initiated in the tenure of earlier governments.
River-front development, cleaning ghats and removing trash from the river — the cosmetic side of the mission — make up about ₹1,200 crore of the mission outlay. As of May — the latest figures available — ₹28,451 crore has been sanctioned for various projects but only about ₹6,955 crore (about 25%) has been spent. Of the 298 projects, only 99 had been completed. https://www.thehindu.com/business/budget/union-budget-2019-20-centre-slashes-funds-for-ganga-clean-up/article28299271.ece  (5 July 2019)
Seven months after the plugging of Kanpur's infamous Sisamau drain, which once drained nearly 140 million litres of untreated sewage into the Ganga and was a symbol of pollution in the river — the river continues to be unfit for bathing or drinking, according to a perusal of water quality reports analysed by The Hindu.
Between June 2016 and November 2018, the NMCG completed a ₹63-crore exercise to divert sewage from the Sisamau drain to two treatment plants in different parts of Kanpur and stopped the expulsion of the drain, which once emptied out as a massive waterfall, into the river. https://www.thehindu.com/sci-tech/energy-and-environment/kanpur-drain-plugged-but-ganga-still-unfit-for-bathing/article28313757.ece  (7 July 2019)  
एनजीटी में हाल ही में पोल खुलने के बावजूद जलमंत्री ने दावा किया कि उत्तराखंड और झारखंड में गंदे नाले का पानी गिरना पूरी तरह रोक दिया गया है. https://www.downtoearth.org.in/hindistory/central-water-minister-gajendra-singh-shekhawat-says-no-more-pollution-in-ganga-65341   (29 June 2019)
YAMUNA Delhi Yamuna water harvesting: govt to rent land from floodplain farmers Government is considering to offer approximately Rs 50,000 per acre to farmers on Yamuna floodplain for the water harvesting project announced by CM Arvind Kejriwal. Currently, the AAP government plans to start the pilot project before monsoon hits the 1,000-acre floodplains.
– A five-member committee, constituted to reach a consensus with the farmers on the compensation amount, is yet to take the final call on the amount to be given. According to a high ranking official the committee which comprises officers from Irrigation and Flood department along with the revenue and finance departments will submit their report on July 8.
– Most of the floodplain land belongs to farmers along the river, so the government plans to rent it from them. Delhi government after conducting a detailed study said that for one monsoon season an estimated 2,500 million cubic metres of water will be collected after 15 cycles of precipitation. http://www.newindianexpress.com/cities/delhi/2019/jul/05/yamuna-water-harvesting-delhi-government-to-rent-land-from-floodplain-farmers-1999801.html  (5 July 2019)
Welcome plan of Delhi govt. Hope the Central govt will cooperate and provide prompt clearances. https://indianexpress.com/article/cities/delhi/government-plan-to-raise-water-table-rent-land-on-yamuna-floodplains-for-ponds-5811851/  (3 July 2019)
40 years ago environmental engineers on July 2, 1979 had predicted that pollution in Yamuna in Delhi would become worse: The city consumed 12 lakh kilolitres of water every day and generated 9,60,000 kilolitres of waste water.  https://indianexpress.com/article/opinion/editorials/forty-years-ago-july-2-1979-yamuna-as-sewer-5809743/   (2 July 2019)
FRI to revive 'almost dead' Yamuna by 2025 FRI scientists — who aim to revive the river by 2025 — told on July 5 that the biggest challenge would be to give it a facelift in Delhi and Haryana where it is contaminated with raw sewage and toxic waste.
Director of FRI, V S Rawat, said that anthropological pressure and pressure from irrigation had pushed the river into its present state. "Since independence, the population in the Yamuna basin has increased by 3.5 times. Currently, the irrigated area in the basin is twice of what it was in 1950."
Pollution control boards of respective states would work in tandem with the FRI for a clean Yamuna. The action plan has divided Yamuna into five segments: 172km-long 'Himalayan segment' from Yamunotri glacier in Uttarkashi to Tajewala Barrage; a 224km-long 'upper segment' from Tajewala to Wazirabad Barrage; 22km-long 'Delhi segment' from Wazirabad Barrage to Okhla Barrage; a 490km-long 'eutriphicated segment' from Okhla barrage to Chambal confluence; and a 468km-long 'diluted segment' from Chambal confluence to Ganga confluence.  https://timesofindia.indiatimes.com/city/dehradun/fri-to-revive-almost-dead-yamuna-by-2025/articleshow/70097493.cms  (6 July 2019) 
RIVERS BIODIVERSITY
Karnataka Mahseer may get 'state fish' tag Mahseer, the freshwater fish predominantly found in southern parts of India and now facing extinction, may soon get the 'state fish' tag, if the Karnataka government accepts the recommendation of the Western Ghats Task Force. https://www.deccanherald.com/state/mahseer-may-get-state-fish-tag-744615.html  (3 July 2019) 
FISH, FISHERIES, FISHERFOLKS
India Bangladesh 'Teesta' row takes away Bangladeshi Hilsas from Bengal palate While replying to a question raised by Mrs Rohima Mondal, Trinamul Congress MLA of Deganga constituency in North 24-Parganas during Question Hour, the chief minister Miss Mamata Banerjee said in the state legislative assembly today, "Bangladesh has stopped exporting hilsas to our country (since 2012) as they are not getting water of the Teesta.
Fish-loving Bengalis are being deprived of eating the prized fish of the neighbouring country. We have a good relation with Bangladesh because it's our neighbour as well as friend." Miss Banerjee said: "We are exploring how to breed Bangladeshi hilsa fish in some canals that have direct connections with the river Padma of Bangladesh." "We have already set up hilsa research centre at Diamond Harbour in South 24- Parganas district where fisheries experts have started work on how to breed the fish." https://www.thestatesman.com/bengal/teesta-row-takes-away-bangladeshi-hilsas-bengal-palate-1502773374.html  (3 July 2019) 
SAND MINING
Manipur Ban on sand mining in rivers High Court, as an interim measure, has imposed a total ban on unauthorized sand mining, stone quarrying and other polluting activities near all rivers of the state. The only exceptions will be in cases where a licence or lease is granted prior to such activities.
– A division bench of chief justice Ramalingam Sudhakar and justice Kh Nobin Singh passed the interim order on July 2 following a PIL by the Thoubal River Conservation Committee filed earlier this year. The organization had, in its petition, said the state government and concerned authorities had taken no action to stop the deterioration of Thoubal river – caused by mining of sand and stone from the riverbed.
– In a letter addressed to the chief justice, on the basis of which the high court had taken up the case suo motu, the organization had said the Thoubal river is the lifeline of several villages but its waters had turned muddy and turbid because of polluting activities. After hearing all parties, the high court expanded the scope of the PIL to cover all rivers of the state in its verdict. July 9 is the date for next hearing. https://timesofindia.indiatimes.com/city/imphal/manipur-hc-bans-sand-mining-in-riverbeds/articleshow/70068789.cms   (4 July 2019)
Himachal Pradesh Villagers protest illegal mining at Haroli village The residents of Kangar village in Haroli assembly constituency have protested against the illegal mining taking place in the area. The members of Kangar panchayat yesterday went to the Swan river bed and stopped the JCB machines engaged in illegal mining. The panchayat officials later submitted a complaint to the police officials to take action against people resorting to illegal mining in their area.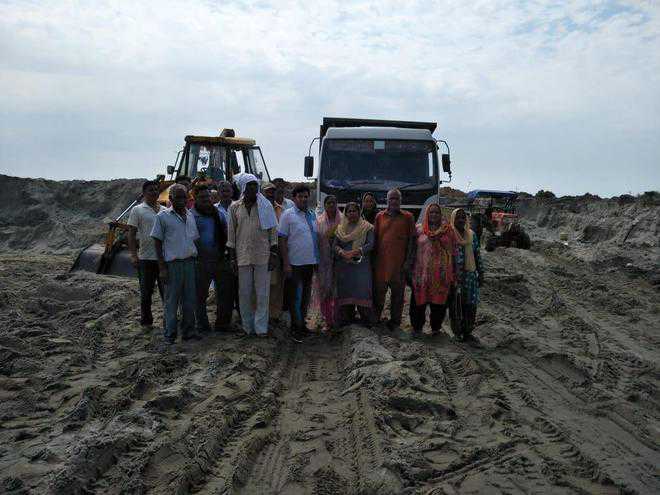 – Shashi Bala, pradhan of the village, while taking to The Tribune, said that the illegal mining of sand in their area was threatening Swan river canalisation work. In case the bundhs constructed along the Swan river breach in the monsoons, this would cause heavy damage to the land of villagers. https://www.tribuneindia.com/news/himachal/villagers-protest-illegal-mining-at-haroli-village/793607.html  (27 June 2019)
Punjab Hours after Rs 600 cr bid, bidder says it was a typo State government thought to have hit a jackpot on July 5 when its sand mining e-auction attracted bids worth Rs 700 crore for three sand clusters alone, but soon they were left in disappointment. The highest bidder who had bid Rs 600 crore for a single block wrote to the government a few hours later saying he bid the whopping amount by mistake.
Out of seven identified clusters, only three were put on auction. The government had expected a target of Rs 350 crore after auctioning seven blocks. But just three blocks promised an amount of Rs 700 crore when block 6 (Pathankot) witnessed the highest bid of a whopping Rs 600 crore against a reserve price of Rs 60.03 crore.
A few hours later, the bidder wrote a mail to the state government stating he had goofed up and filled the wrong amount. He has sought the government to cancel the bid. The government would take a call on it on July 8. https://indianexpress.com/article/cities/chandigarh/punjab-sand-mining-e-auction-hours-after-rs-600-cr-bid-bidder-says-it-was-a-typo-5817831/  (6 July 2019)  
The Punjab government has decided to go ahead with e-auctioning of sand clusters in four blocks for which it has received nine bidders. This even as it failed to attract any bidders for other three mining blocks in the state. The government had earlier postponed e-auction scheduled for July 1 to July 5. It decided not to postpone the entire auction but to hold the auction for rest of the clusters later.
This would be the first auction of sand clusters after 2017, when the state auctioned its mines earlier. During the last fiscal year it could not auction any mine, earlier for want of formulating a policy and then the policy was challenged in the High Court. https://indianexpress.com/article/cities/chandigarh/punjab-to-auction-4-blocks-for-sand-mining-today-5815835/  (5 July 2019)
Uttar Pradesh Farmers allege illegal sand mining in Yamuna Farmers of Dostpur Mangroli Bangar on June 30 alleged that despite complaints about illegal sand mining, contractors continue to mine sand on Yamuna floodplains not allotted to them. The Gautam Budh Nagar administration, however, refuted claims made by the farmers. https://www.hindustantimes.com/noida/farmers-allege-illegal-sand-mining-in-yamuna-floodplains-administration-denies-claim/story-Px89eQZTd8fA9dWTPruP4L.html  (1 July 2019)
चंदौली म बालू माफया ने कया IAS क गाड़ी पर हमला चंदौली जले म बालू माफया क गंडई ु इतनी बढ़ गयी हैक आज उहने एक आईएएस क गाड़ी पर ही हमला कर दया। इस हमले म आईएएस हष बाल-बाल बच गए। जानकारी के मुताबक, चंदौली के मुगलसराय के SDM कुमार हष आज जब नरण करनेपंचेतो पहले तो वहां हड़कंप मच गया। इस हड़कंप के बाद भी जब आईएएस नेनरण जारी रखा तो बालू माफया ने उनपर हमला कर दया। https://www.policenewsup.com/sand-mafia-has-attacked-an-ias-kumar-harsh-21102/  (5 April 2019) 
Tamil Nadu Revenue Dept vows to end sand mining in Noyyal Revenue Dept has warned of invoking provisions of Goondas Act against those who mine sand from Noyyal, the lifeline of Coimbatore. Also, taluk-level task force has been formed to conduct patrols and check sand mining. In addition, boards warning penal action against those engaging in sand mining have been erected at various parts of Perur taluk through which nearly 20 km of Noyyal passes. https://www.thehindu.com/news/cities/Coimbatore/revenue-department-vows-to-end-sand-mining-in-noyyal/article28255177.ece  (2 July 2019)
Karnataka 5 men held for illegal sand mining, 2 escape The Bengaluru Rural police on July 6 arrested five men, including two drivers, when they were involved in mining sand illegally at Nelamangala.However, two of the labourers managed to escape during the raid conducted by a special team. According to the police, during interrogation, the accused confessed that they were into sand transportation for four months and used to mine sand late at night.It is said that the villagers had complained to the gram panchayat members, but they did not act against the gang. http://www.newindianexpress.com/cities/bengaluru/2019/jul/07/5-men-held-for-illegal-sand-mining-2-escape-2000561.html  (7 July 2019)
WETLANDS, LAKES, WATER BODIES
Karnataka Disappearing lakes Bengaluru has come a long way from being the Land of a Thousand Lakes. BBMP (Bruhat Bengaluru Mahanagar Palike) puts the number of currently "live" lakes (that is, those still surviving on the map and with potential for reclamation) at 190. On the other hand, Karnataka ENVIS reports that only about 80 lakes remain, of which only 34 are actually "live".
Most of the lakes and canals have disappeared through encroachment by housing complexes, bus stands, malls, stadia, and what have you. Many that remain are choked with untreated sewage and effluents, while construction debris and garbage is also dumped there routinely. https://indianexpress.com/article/opinion/columns/bengaluru-lakes-water-pollution-ground-water-recharge-wastewater-management-bellandur-lake-5150448/  (25 April 2018)
WATER OPTIONS
Gujarat Govt to reuse treated sewage water Faced with an acute water shortage, the Gujarat government is planning to create regional grids to treat and transport sewage water to the nearest industrial cluster. The 1,000 MLD capacity grid is likely to be set within a year and the water will be sold to industries at Rs 20-30 per kilolitre.
Gujarat generates over 5,000 MLD of sewage of which only 43 MLD is being reused. The reuse of treated sewage is currently happening at Surat where water is being supplied to an industrial cluster. At Bhavnagar, water is being used for a thermal power plant and Rajkot is reusing treated water for the construction industry. Gujarat plans to reuse 70 per cent of the treated wastewater by 2025 and 100 per cent by 2030. https://indianexpress.com/article/cities/ahmedabad/gujarat-water-crisis-govt-to-create-regional-grids-to-reuse-treated-sewage-water-5805447/  (28 June 2019)
Telangana Mahabubnagar hamlets shows way to tackle water crisis Thimmaipally Thanda residents in drought-prone Mahabubnagar show how effective water harvesting methods can transform lives. https://telanganatoday.com/remote-hamlet-in-mahabubnagar-shows-the-way-in-tackling-water-crisis  (30 June 2019) 
Punjab Zirakpur, farmers use sewerage water to irrigate fields According to information, the farmers irrigate their fields by lifting the sewerage water from the main sewerage line which crosses through the villages with the use of small pumps. https://indianexpress.com/article/cities/chandigarh/zirakpur-farmers-use-sewerage-water-to-irrigate-fields-5806029/  (29 June 2019)
GROUNDWATER
Centre CPCB recommends penalties for groundwater exploitation  The Central Pollution Control Board (CPCB) has recommended penalty ranging from Rs. 10,000 to Rs. 100,000 for illegal extraction of groundwater. In addition, the pollution watchdog has suggested that no new water intensive industries should be allowed in areas where groundwater has been overexploited. These recommendations are part of a CPCB report that was submitted to the NGT on July 1. https://www.hindustantimes.com/india-news/cpcb-recommends-penalties-for-groundwater-exploitation/story-kmb2xhanQByYhuuBx9cUHO.html  (4 July 2019)
Rajasthan Depleting groundwater in Jaipur According to state government figures, in state capital Jaipur, of the 13 water blocks, 12 are in the dark zone – which means the underground water is in the danger of running out here.  Every year the ground water levels in Jaipur have been dropping by 1 metre. In some blocks the extraction is 600 times more than recharge. https://www.ndtv.com/india-news/jaipur-pays-the-price-for-overusing-groundwater-2061300   (29 June 2019)
URBAN WATER
Chennai Why the city ran out of water NITYANAND JAYRAMAN: The irony is that Chennai's vulnerability to floods and its water scarcity have common roots. Blinded by a hurry to grow, the city has paved over the very infrastructures that nurtured water. Between 1980 and 2010, heavy construction in the city meant its area under buildings increased from 47 sq km to 402 sq km. Meanwhile, areas under wetlands declined from 186 to 71.5 sq km. The city is no stranger to drought or heavy rains. https://www.bbc.com/news/world-asia-india-48797399  (2 July 2019)
It is ironical that these villages – Madura Mettur, Mettupalayam, Periya Colony, Gandhi Nagar, Kokkumedu and Marambedu – have reportedly been supplying drinking water to Chennai since the city's crisis began.
– Last week, about a hundred women from these villages, settled by about 5,000 people, protested at a site in Kokkumedu, where they claimed at least 11 bore-wells, dug only a few months ago, were draining groundwater to the detriment of their livelihoods. The ceaseless sound of tanker-lorries motoring nonstop through the narrow, dusty roads is something new to this part of the district, which remains largely untouched by its neighbour's rapid urbanisation.
– At Marambedu, villagers claim, a well that had served up water for over a century had run dry after the bore-wells came up. "We have never seen it dry, not even in the worst of times. For the past two months, it has become an oversized dust bin," Malliga, 65, a long-time resident of Marambedu, said. https://thewire.in/environment/thiruvallur-bore-wells-water-tankers-mafia  (5 July 2019)
– People living on the outskirts of this southern Indian metropolis are blocking roads and laying siege to tanker lorries because they fear their water reserves are being sacrificed so city dwellers, businesses and luxury hotels don't run out.
– "Private tankers have fitted more than eight bore wells in our village and are indiscriminately extracting thousands of litres of water every day," the Bangarampettai villagers wrote in a letter to a government official in the region a day after they stopped the tanker. https://in.reuters.com/article/india-water-chennai/villagers-accuse-city-of-seizing-water-as-drought-parches-indias-detroit-idINKCN1TX1BN  (2 July 2019)
Madurai Will construction of check dams be a boon or bane? Researchers & urban planners question usefulness of two check dams being built across Vaigai river under Smart City Mission at the cost of  ₹21 crore in name of groundwater recharge as the river is primarily filled with sewage and waste.
– Corporation is also undertaking work like developing a park along the river under the ₹85 crore-Vaigai Riverfront Development Project. The latter includes works related to the beautification along the banks of the check dams through construction of parks, pathways and lightings. https://www.thehindu.com/news/cities/Madurai/will-construction-of-check-dams-be-a-boon-or-bane/article28236722.ece  (1 July 2019)   
Gujarat Rs. 83 crore Narmada pipeline scam comes to light A scam of Rs 83.68 crore in installing Narmada canal pipeline project in Surendranagar is under investigation, state govt informed the assembly. https://ahmedabadmirror.indiatimes.com/ahmedabad/others/rs-83-cr-narmada-pipeline-scam-comes-to-light/articleshow/70064210.cms  (4 July 2019)
Nagpur The Gorewada lake, which supplies water to Nagpur, has dried up for the first time in 49 year. (Image by S. Sudershan) https://www.thehindu.com/todays-paper/tp-national/tp-otherstates/dire-state/article28256946.ece  (2 July 2019)
WATER
SANDRP Blog 2019-20 Union Budget ignores India's Water Management Crisis Elephants are known to love water. But even as Union Finance Minister Nirmala Sitharaman, in her maiden budget speech in the Parliament on July 5, 2019 inadvertently compared the government with an elephant, her budget speech did not have too much to do with water.
One expected her budget speech to have more on water particularly when Chennai and Tamil Nadu water crisis has been in the headlines and when the Dr Sitharaman's speech was full of repeated references to Tamil stuff. And also when even the Prime Minister highlighted need for water conservation in his very first Mann ki Baat in the new term. Strangely, FM's speech did not even mention water sector related words like flood, hydropower, irrigation (except in the list of GST rate reduction items) or even river or Ganga (except for cargo movement and when used in the erstwhile name of the Ministry of Jal Shakti).  https://sandrp.in/2019/07/06/the-2019-20-union-budget-ignores-indias-water-management-crisis/  (6 July 2019)
SANDRP Blog How India's WATER blessings are turning into disasters India's water resources establishment, led by the Big Dam ideologues at the Central Water Commission, has ensured that the government doesn't even acknowledge that groundwater is the country's water lifeline.
Unfortunately, the government treats water management as its exclusive monopoly. To call for a people's movement for water conservation in such a situation would be disingenuous, to say the least – particularly when the water-resources establishment is doing everything against sage advice. For example, the Ken-Betwa river interlinking project, the government's top priority among such projects, involves cutting down 46 lakh trees in drought-prone Bundelkhand and facilitate the export of water to other areas. Imagine how much water the 46 lakh trees can harvest.
Or consider this other example: Between April 25 and June 12, 2019, the Bhakra, Pong and Ranjit Sagar dams, on the Sutlej, Beas and Ravi rivers respectively, released over two billion cubic metres of water in non-agricultural season, most of which flowed away to Pakistan. This was of course against the public statements of Prime Minister Narendra Modi and the erstwhile Union water resources minister Nitin Gadkari, both of whom had said not a drop of water would flow out of India's share of Indus water to Pakistan. Leaving that aside, it is well-known that Punjab and Haryana suffer massive groundwater depletions every year. So why was the dam water not used to recharge groundwater? https://sandrp.in/2019/07/06/indias-water-management-crisis/  (6 June 2019) 
An edited version of this was published at: https://thewire.in/environment/the-four-ways-in-which-indias-water-blessings-are-turning-into-disasters  (4 July 2019)
It has also been published here. https://counterview.org/2019/07/06/why-indias-policy-makers-refuse-to-acknowledge-groundwater-as-indias-water-lifeline/  (6 July 2019)
SANDRP Coordinator's interview on India's Water Management Crisis: https://www.cnbctv18.com/economy/mission-pani-regulation-of-groundwater-use-intervention-at-catchment-level-needed-to-tackle-crisis-says-expert-3900971.htm  (4 July 2019)
Former Secretary, Ministry of Water Resources also talks about the importance of Groundwater recharge and traditional water management practices. https://www.thehindu.com/sci-tech/energy-and-environment/we-havent-allowed-sub-soil-water-to-recharge-this-is-insurance-water-shashi-shekhar/article28294103.ece  (5 July 2019)
Also see Saikat Datta's article on India's Water Crisis:- If glaciers melting by the year 2100 is bad news, the outlook is worse when it comes to ground water. Himanshu Thakkar, of SANDRP, has been tracking water policies for decades. "Every study on the availability of water has now confirmed that ground water is the biggest source of water in the subcontinent. However, most governments are refusing to accept this as a reality. As a result, we have seen a succession of bad policies that has made matters worse," he said.
Thakkar was part of a government committee in 2012 set up under the central planning commission, which used to design and implement India's five-year development plans. Another study headed by noted water and development expert Mihir Shah concluded in 2016 that two-thirds of India's irrigation needs depended exclusively on ground water."However, since most of the finances are geared towards surface irrigation methods such as dams and canals, government agencies refuse to accept a scientific fact. As a result we have a slew of bad policies that have no bearing on reality," Thakkar said. https://www.asiatimes.com/2019/07/article/india-staring-at-a-water-apocalypse/  (2 July 2019)
Turkey News Agency Anadolu: "India's urban water footprint is increasing by leaps and bounds, but unfortunately, a large part of our urban development is happening on the deathbed of water bodies," Himanshu Thakkar of SANDRP said. Thakkar believes that India needs a national URBAN water policy. "We urgently need a national urban water policy that will guide the urban water subsectors and define what is a water-smart city. The destruction of water bodies everywhere must urgently stop," he said. https://www.aa.com.tr/en/asia-pacific/southern-indias-alarming-water-crisis-not-ending-soon/1524535   (6 July 2019)
National Pricing would not save water The characterisation that pricing is the only problem with water management is clearly one dimensional and is a prescription for commodification of a common property resource. There are many other dimensions of this crisis. https://theprint.in/opinion/like-swachh-bharat-modi-wants-mission-save-water-stop-free-water-first/256636/amp/   (2 July 2019)
Water bodies need urgent attention Nothing short of a complete overhaul or rethinking the approach towards water bodies is needed if India were to fight its water crisis without paying too heavy price. https://www.indiatoday.in/india/story/india-water-crisis-rivers-lakes-schemes-governments-environment-1558254-2019-06-28   (28 June 2019)
Punjab Lopsided water police; a crisis waiting to happen Truely shocking state of affairs as this report says that even in agricultural season, the dilapidated canal system means that Punjab farmers continue to use tubewell water and the river water continues to flow to Rajasthan and Punjab. This report is about Ludhiana district. https://www.huffingtonpost.in/entry/punjab-water-crisis_in_5d196575e4b082e5536b7121  (1 July 2019)
Why and how Punjab has a water crisis The author says: "Fortunately, the state government now seems to be seized of the emerging water crisis, going by the convening of a brainstorming session on the problem by CM Amarinder Singh in Chandigarh on June 21. The meeting was attended by various stakeholders, including farmer leaders, representatives of the industry, experts and scientists, besides Cabinet ministers and senior bureaucrats. The in-principle approval by the CM to constitute the Punjab Water Authority — though long overdue — is certainly a step forward. The state needs to have comprehensive agriculture and water policies, organically linked with each other." https://www.tribuneindia.com/news/in-focus/why-punjab-has-a-water-crisis-and-what-now/795509.html  (1 July 2019)
Maharashtra Legislative Council chief directs ACB to inquire corruption allegations in water scheme Allegations have been levelled in 1,300 works done under the Jalyukt Shivar Abhiyan, a water conservation project involving widening of streams. MLC chairperson Ramraje Nimbalkar on July 1, 2019 asked state's Water Conservation Minister Tanaji Sawant to direct the Anti-Corruption Bureau to investigate allegations of corruption in works done under the Jalyukt Shivar Abhiyan, PTI reported. Earlier, CM Devendra Fadnavis had expressed displeasure over Sawant's statement in the House that there were irregularities in the project. https://scroll.in/latest/929077/maharashtra-legislative-council-chief-directs-acb-to-inquire-corruption-allegations-in-water-scheme  (1 July 2019)
Manthan Wide-spread Non-Compliance as Thermal Power Plants don't Meet Water Use Norms This new Note by Manthan Adhyayan Kendra brings out widespread non-compliance by thermal power plants with legally binding limits on how much water they are allowed to use. The Ministry of Environment, Forests and Climate Change had issued a Notification on 7 December 2015 to set legally binding limits on water to be used for each unit of electricity generated (i.e., Specific Water Consumption) by thermal power plants throughout the country. They had to comply by Dec 2017.
This Note is based on an ongoing study by Manthan Adhyayan Kendra using information accessed under the RTI Act 2005, and apart from the non-compliance, highlights several other issues of concern, and gives a set of recommendations to improve monitoring and implementation. These are also available on Manthan's website at https://www.manthan-india.org/work-theme/water-development-growth/ 
Piped drinking water to all households: Karnataka govt begins Rs 53,000 cr project Experts, however, note that the plan is not sustainable and the government has not yet conducted public consultation sessions.  https://www.thenewsminute.com/article/piped-drinking-water-all-households-karnataka-govt-begins-rs-53000-cr-project-104908  (5 July 2019)
DELHI WATER
Delhi Wetlands authority to preserve water bodies, govt tells HC The Delhi government informed the Delhi High Court on July 5 that the Lieutenant-Governor had constituted a wetlands authority to look after conservation and management of wetlands in the national capital. -The government had told the bench that the Chief Executive Officer, Delhi Parks and Gardens Society had allotted specific numbers to 969 out of the 1009 water bodies, which along with the geo-coordinates, had been uploaded on its website.  https://www.hindustantimes.com/delhi-news/wetlands-authority-to-preserve-water-bodies-delhi-govt-tells-hc/story-vu9RS8AwgfTsSEouehvG7K.html  (5 July 2019)
Green tribunal seeks fresh report on illegal groundwater extraction Following a plea alleging illegal withdrawal of groundwater in Rohini, the NGT has sought a fresh report from the North Delhi Municipal Corporation and the DJB.
Stating that a report furnished by the North body is "evasive and inadequate", a Bench headed by NGT Chairperson Justice Adarsh Kumar Goel said: "It [the report] does not furnish the actual information as sought. The status report shows that the order of this tribunal has not been taken seriously." "Sensitivity to check illegality is missing. Either competence is lacking or there is extraneous consideration on the part of persons giving the report, which needs to be looked into for upholding the rule of law," the Bench noted.
The directions came on a plea alleging that groundwater was being illegally extracted through a borewell in Rohini for the purpose of selling packaged drinking water.
Following submission by the civic body's counsel that the DJB is responsible for sealing of the borewell, the Bench noted: "Illegality cannot be allowed to continue unchecked merely by saying that it is up to one or the other authority to take action."
Warning of action against officials involved, the tribunal said: "Water is a scarce resource and a large number of people are deprived of access to drinking water. Illegal extraction of water must be taken seriously and if there is collusion of officers or inaction, they should also be required to pay the compensation for illegal benefit."
Directing authorities to submit a fresh report, the Bench said: "The report must include the steps taken for stopping the illegality as well as for recovering compensation for the illegal extraction of water by the concerned person till the closing of the illegal borewell."   https://www.thehindu.com/news/cities/Delhi/green-tribunal-seeks-fresh-report-on-illegal-groundwater-extraction/article28308454.ece  (7 July 2019)  
MONSOON 2019
Monsoon rain below average for straight fifth week India received 6% less rainfall than the 50-year average in the week ended on July 3, data from IMD showed. Country has received rain that is 28% less than average since the monsoon season began on June 1. https://www.thehindubusinessline.com/economy/agri-business/monsoon-rain-below-average-for-fifth-straight-week/article28280324.ece  (4 July 2019)
Driest June in 5 years  India had the driest June in five years, says IMD as monsoon gets delayed. If the rains don't improve over the next two to three weeks, India could be facing a crisis that hammers harvests and rural demand, analysts said. Farmers had planted crops on 14.7 million hectares as on 28 June, down almost 10 percent from the previous year, the farm ministry's data showed.  https://www.firstpost.com/india/india-had-the-driest-june-in-five-years-says-imd-as-monsoon-gets-delayed-country-stares-at-another-agriculture-crisis-6909371.html  (1 July 2019)
Due to late onset and the adverse impact of Cyclone Vayu, the first month of the monsoon season ended with a 32.8% deficiency in rainfall for the country as a whole — the worst in the last five years. The June deficiency was the worst since 2014, which saw a deficit of 42%. The rainfall in June last year was 5% below normal. As many as 30 of the 36 meteorological sub-divisions recorded below-normal rainfall in June.
With about 18% contribution, June accounts for the least amount of rainfall during the four-month monsoon season. July and August see the heaviest rainfall — accounting for about 33% and 30% respectively of the total rainfall. https://indianexpress.com/article/india/monsoon-rainfall-deficit-june-imd-weather-5809885/  (2 July 2019)
A prolonged dry spell in Punjab, Haryana and northern parts of Rajasthan and a delay in the onset of monsoon could impact the yield of cotton crop. Union Agriculture Ministry data show that in Punjab the cotton crop has been sown in a little over 4 lakh hectares during the ongoing season. In neighbouring Haryana, farmers have sown cotton in 6.7 lakh hectares. While in Rajasthan, the crop has been sown in 3.4 lakh hectares. The rain deficit in Punjab and Haryana stands close to 50% as the monsoon this year has been moving at a sluggish pace. https://www.thehindu.com/news/national/other-states/dry-spell-monsoon-delay-may-hit-cotton-crop-yield/article28313806.ece  (8 July 2019)
Urban Floods Mumbai This report by Kavitha Iyer shows where the disaster response of Mumbai this year was better than in 2005, but it also says:
– Urban Planning: River floods are different from floods caused by undue, sudden pressure on local drainage networks. In Mumbai, the 18-km Mithi, the 12-km Dahisar river, the 7-km Poisar river and the 7-km Oshiwara rivers have been turned into suburban nullahs, with encroachments along their banks reducing their width choking them entirely at places. Among the major recommendations of an extensive report by a fact-finding committee after the July 26, 2005 deluge was the restoration of the degraded rivers and river-banks, to probe pollution and encroachment problems for each river, identify specific boundaries for each river, establish buffer zones, etc. While a grand plan for the rejuvenation of the Mithi was initiated, no long-term revival of these rivers has been undertaken.
– Climate nay-sayers: While July 2 differs from July 26 starkly in the repeated allusions to climate change, among others by Municipal Commissioner Praveen Pardeshi and Sena youth leader Aaditya Thackeray, climate science is yet to inform urban planning or municipal budgeting in any concrete way.https://indianexpress.com/article/cities/mumbai/mumbai-2005-vs-2019-response-to-disasters-has-come-a-long-way-5811808/   (3 July 2019)
Municipal Commissioner Praveen Pardeshi said the 540 mm of rain was the highest over a two-day period in a decade, and blamed "climate change and changed geographical conditions" for water-logging at several places. The city received 91.9 mm rainfall on July 1 alone. https://www.thehindu.com/todays-paper/tp-national/officials-blame-climate-change-as-mumbai-goes-under-again/article28256559.ece  (2 July 2019)
Bhushi dam started overflowing on July 1 following heavy rainfall in Maval taluka over the past few days. The heavy downpour also helped in increasing the water level in Pavana dam, which supplies drinking water to Pimpri Chinchwad, along with the towns of Talegaon, Dehu Road and other downstream villages.
– The total rainfall for June currently stands at 344 mm. There was 41 mm rainfall recorded in the catchment areas of Pavana dam on July 1. As of July 1, there has been 15.10% water in the dam, which is expected to rise further if the intensity of the showers continued in its catchment area. https://timesofindia.indiatimes.com/city/pune/bhushi-dam-overflows-pavana-also-swells-following-heavy-downpour/articleshow/70032199.cms  (2 July 2019)
The almost unregulated 'development' (read reclamation and construction) post-independence, further shrank MMR's wetlands, damaging their water carrying and storage capacity. We, the governments and citizens, further compounded the problem with dumping of plastics, rubbish and construction debris wherever we found free wetlands. Every possible inch of mangroves was reclaimed to build slums, housing complexes, playgrounds, places of worship, roads and so on. https://mumbaimirror.indiatimes.com/opinion/columnists/by-invitation/we-need-wetlands-wetlands-need-us/articleshow/70049051.cms  (3 July 2019)
Gujarat Valsad records 203 mm over 10 hours The southern region of Gujarat has been witnessing a fierce revival of the monsoon with Valsad receiving 203 millimetres rainfall in 10 hours since June 30 morning, leaving several areas flooded, while nearby Vapi receiving 228 mm rainfall during the period. https://www.hindustantimes.com/india-news/heavy-rain-hits-parts-of-gujarat-valsad-records-203-mm-over-10-hours/story-FqzpMHsgHYVILmDaRK4mKI.html  (30 June 2019)
Ukai dam built over Tapi river has started receiving some water due to rainfall in its catchment areas in Tapi district on July 6.  The water level in the dam has risen by half-foot to 276.16 feet from its existing level. The water is flowing into the dam at the rate of 4,229 cusecs because of rainfall in Utchal and Songadh talukas of Tapi district.
Valsad district authorities have sounded a warning for people living in the villages situated on the banks of Damanganga as water at the rate of 35,000 cusecs was expected to be released from Madhuban dam near Silvassa into the river. https://timesofindia.indiatimes.com/city/surat/damanganga-villages-on-alert-as-madhuban-dam-may-release-water/articleshowprint/70110232.cms  (7 July 2019)
Kerala State to face severe water crisis if monsoon fails According to the weather office, Kerala has witnessed around a 30 per cent deficit in monsoon this June but it may intensify in the days to come.
– "Water in our dams will last for just one and half weeks, if the monsoon deficit continues," Minister for Water Resources K Krishnakutty told the assembly on July 2. Irrigation dams in the state are holding "just 28 per cent of their storage capacity", he further added. "When compared to the storage levels recorded on June 30 last year, the water level is down by 48.46 per cent," he said.
– At present, the state government has not implemented any restrictions for water supply to the industries or the agricultural fields for irrigation. The state generates 30 per cent of the total electricity that it consumes from 59 dams and it imports the rest. Many of these dams are fast nearing their maximum drawdown level beyond which water cannot be drawn.
– "With current electricity generation levels and inflow into dams, we may reach dead storage levels in 10-15 days. On July 2, the inflow into dams was just 170 million units, worse tha what it was in 2016 – 589 million units," Kerala State Electricity Board Chairman NS Pillai told NDTV. A high-level evaluation meet has been scheduled later this week to review the situation based on the forecast by weather office. https://www.ndtv.com/kerala-news/kerala-may-face-severe-water-crisis-if-monsoon-deficit-continues-says-water-minister-k-krishnakutty-2063475   (3 July 2019)
Manipur Farmers growing restless over scarcity of water, stage protest A group of farmers July 6 stormed the secretariat office in Imphal demanding immediate relief for those affected by the drought-like situation. The protestors held banners and placards saying, 'Take up urgent steps to relieve farmer's suffering', 'Do not leave us to farm on our fate', 'Infighting for power within the government is not state or people's issue' etc.
– As per an official report, Manipur received 41 per cent deficit in rainfall in the month of June. Despite this, the state is yet to be declared as drought-affected, citing that other parameters like agriculture crops sown area, hydrological index and vegetation index are yet to be fulfilled. https://indianexpress.com/article/north-east-india/manipur/manipur-farmers-growing-restless-over-scarcity-of-water-stage-protest-5818777/   (6 July 2019)
CM N Biren Singh on July 5 said that the state govt was consulting experts of the Central government to declare the state hit by drought. With the delayed in arrival of rains this year, farmers of the state are reeling from severe scarcity of water to cultivate their fields. Manipur and North East received 41% less rainfall than normal in the month of June. With no water in their fields, farmers were trying their luck by sowing rice seeds in their dry fields.
Singh claimed that the state government has taken up for functioning of 157 River Lift Irrigation (RLI) schemes. Some have already started functioning to provide water in the paddy fields, he added. He said that state minor irrigation department was working rigorously to provide irrigation facilities in various parts of the state. http://www.nagalandpost.com/manipur-cm-mulls-declaring-drought-if-no-rains-by-end-of-july/199346.html  (5 July 2019)
Due to erratic rains last year, paddy harvest was poor and the State is facing difficulty in supplying rice to BPL families. The government is trying to bring rice from the Food Corporation of India godowns in Assam and Nagaland before the onset of the monsoon. During the rains, landslides can affect transport along the National Highways 2 and 37, which are the lifelines of Manipur. The government has stopped tap water supply in most parts of the State as the rivers have dried up.  https://www.thehindu.com/news/national/manipur-battles-drought-like-situation/article28307086.ece  (6 July 2019)
DISASTER
Mizoram 3 apartment buildings partially collapse after being hit by a landslide  Away of the gaze of National media, on July 2, apartment buildings in Mizoram collapsed due to landslide. They were constructed by Govt of India's MoWR's NPCC as per this report, for the poor people and occupied only last year.
The construction was on a hazardous slope and slope modification also seems to be involved. Three people died and several others injured. Will there be independent investigation to find those responsible? https://blogs.agu.org/landslideblog/2019/07/03/mizoram-landslide-1/  (3 July 2019)
More about Aizawl landslides of July 2, 2019: https://blogs.agu.org/landslideblog/2019/07/05/aizawl-landslide/  (5 July 2019)
Uttrakhand Cloud burst leads to flash floods A sudden gush of floods hit Sarichamshil village in Rudraprayag district on, July 4. No loss of life and property was reported from the village in Augustmuni block. The rains also brought landslides near Gangnani area, blocking the Gangotri highway for a few hours. https://www.dnaindia.com/india/report-cloudburst-leads-to-flash-flood-in-uttarakhand-2768312   (5 July 2019)
ENVIRONMENT
West Bengal Calcutta High Court completely quashes forest clearance for the Turga Project :- After filing several supplementary affidavits, proving before the Hon'ble High Court at Calcutta, proof of illegal felling off trees and proving the locus standi of the petitioners, that they are indeed affected forest dwelling scheduled tribe, under the Scheduled Tribes and Other Traditional Forest Dwellers (Recognition of Forest Rights) Act, 2006 being the part of 234 ha. of proposed Turga Pumped Storage Project land in Ajodhya Hills, the Hon'ble Court was pleased to take up the Writ Petition filed by some of the affected villagers residing at Barlehor village, finally.
During the course of the hearing today, it was placed before the Hon'ble Court, how the Dist. Magistrate of Puruliya has issued a false, fabricated and concocted certificate claiming that all procedures have been followed for conducting Gram Sabhas, to have the majority (50%) consenting about the project including the settlement of rights of the affected villagers under the project, viz. a viz., how the Central Govt. has issued "in-principle" clearance of the project, without any application of mind. It is pertinent to mention herein that the State Govt. appearing for DM, Puruliya and DFO, Puruliya did not file any affidavit, controverting the allegation made in the Writ Petition, so as the case of the Central Government.
After hearing the counsel appearing for the petitioners, the Court was pleased to quash and set aside the certificate issued by the DM, Puruliya including the alleged resolutions of the 2 Gram Sabhas and as well as the "in-principle" FC Stage – I clearance issued by the Ministry of Environment, Forests & Climate Change (MoEF&CC), as being in contravention of the provisions of the Forest Rights Act, 2006. However, the counsel for the petitioner prayed for exemplary punishment of DM, Puruliya with costs, the same was declined by the Hon'ble Court.
A Bengali report on the issue is here. https://www.sangbadpratidin.in/bengal/calcutta-high-court-completely-quashes-forest-clearance-for-the-turga-project/  (30 June 2019)
Meghalaya SC asks Govt to deposit Rs 100 cr fine for illegal coal mining The Supreme Court July 3 directed the state govt  to deposit the Rs 100 crore fine imposed on it by the NGT for failing to curb illegal coal mining with the Central Pollution Control Board (CPCB). A bench of justices Ashok Bhushan and K M Joseph directed the state administration to hand over the illegally extracted coal to Coal India Limited (CIL) which will auction it and deposit the funds with the state government.
– The bench also allowed the mining operation to go on in the state on the privately and community owned land subject to the permissions from the concerned authorities. The NGT had fined the Meghalaya government on January 4. https://www.indiatoday.in/india/story/sc-asks-meghalaya-to-deposit-rs-100-cr-fine-for-illegal-coal-mining-1560983-2019-07-03   (3 July 2019) 
SOUTH ASIA
Bangladesh High Court declares Country's rivers "legal persons" The court on July 1, 2019 published a landmark verdict on a 2016 petition filed by a Dhaka-based rights group, saying all of the country's hundreds of rivers would now be treated as legal persons, litigator Manzil Murshid said. https://www.ndtv.com/world-news/bangladesh-high-court-declares-countrys-rivers-legal-persons-2063061  (3 July 2019)
The court appointed Bangladesh's National River Conservation Commission (NRCC), a government agency, as the legal guardian of rivers. Chairman Muzibur Rahman Howlader said the NRCC was framing policies that would take local communities into account. "Protecting the rivers also means protecting the entire eco-system, which includes fishermen and farmers who live on the banks. Their rights will also be protected," he told the Thomson Reuters Foundation. https://www.reuters.com/article/us-bangladesh-landrights-rivers/fears-of-evictions-as-bangladesh-gives-rivers-legal-rights-idUSKCN1TZ1ZR   (5 July 2019) 
CHINA
Flood Warning as China Opens Floodgates on Mekong River Dams  In Chiang Rai (Thailand), about 300 families in more than 20 villages on the Mekong River are also struggling from the sudden release of Chinese dam water. More than 200 families living in Laos' Bokeo province have suffered because of sudden increases in the height of the river, threatening their livelihoods.
– "Local people are then unable to fish, and seaweed that they have been raising for food or income gets destroyed or otherwise disappears because the water current is abnormally strong," the official said. The official said that his province is affected the most because of its proximity to Jindong dam, located in only 300 kilometers upstream. A recent opening of the floodgates causes water levels in the Mekong to increase as much as 3.7 meters in some places, the largest such increase in 37 years. https://www.chiangraitimes.com/flood-warning-as-china-opens-floodgates-on-mekong-river-dams.html  (5 July 2019) 
THE REST OF THE WORLD
Report Free Flowing Rivers WWF site on Freeflowing rives has many interesting aspects. No rivers from India features on their map of freeflowing rivers. The river that is used for illustration of benefits looks more like channeled river than free flowing river? http://freeflowingriver.org/about 
US West Virginia towns evacuated as 'unstable' dam threatens flood-ravaged community  Residents in at least two West Virginia towns were asked to evacuate Thursday (July 4) afternoon after the National Weather Service warned them that an "unstable" dam could collapse and threaten a region still recovering from a devastating storm last week. The agency issued a flash flood warning for several Randolph County towns as an earthen dam in Whitmer "has the potential to fail" and release even more water into the area. Whitmer and Harman were both being evacuated, the community of Dryfork could also be affected. https://www.nydailynews.com/news/national/ny-west-virginia-town-evacuated-dam-collapse-20190704-xewbbbgxubbe3grw6qu2hhqezy-story.html  (4 July 2019)
A highly oblique photo of the Mississippi River delta The Mississippi River watershed is one of the largest in the world, consisting of more than a hundred tributaries, including the Red, Ohio, and Missouri Rivers.
– The Mississippi watershed extends from the Appalachians to the Rocky Mountains and contributes to about 40 percent of the drainage in the continental United States. The river drains water and sediment from 31 U.S. states, delivering both to the Gulf of Mexico via the Atchafalaya and Mississippi River deltas. https://earthobservatory.nasa.gov/images/145286/long-view-of-the-mississippi-river-delta   (26 April 2019)
Strongest earthquake in 20 years, rattles southern California The 6.4 magnitude quake struck at 10.3 a.m. in the Mojave Desert, about 240 km northeast of Los Angeles, near the town of Ridgecrest, California. Lucy Jones, a seismologist with the California Institute of Technology's seismology lab, said the earthquake was the strongest since a 7.1 quake struck in the area on October 16, 1999.
"This has been an extremely quiet abnormal time," Ms. Jones said. "This type of earthquake is much more normal … The long term average is probably once every five or 10 years somewhere in Southern California." https://www.thehindu.com/news/international/strongest-earthquake-in-20-years-rattles-southern-california/article28291589.ece   (5 July 2019)
Compiled by SANDRP (ht.sandrp@gmail.com)
Also see DRP News Bulletin 1 July 2019 & DRP News Bulletin 24 July 2019  
Follow us on: www.facebook.com/sandrp.in; https://twitter.com/Indian_Rivers