A United Nations report released this week on Apr 26, 2022 has recommended that river sand needs to be considered by the governments as a strategic resource like water for its multiple roles in the environment and its extraction and use needs to be rethought. The UNEP report says sand is the second most exploited resource. And yet there are no credible governance guidelines or policies for the exploitation and use of this report, nor assessment of impact of unsustainable exploitation.
The report says: "Extracting sand where it plays an active role, such as rivers, and coastal or marine ecosystems, can lead to erosion, salination of aquifers, loss of protection against storm surges and impacts on biodiversity, which pose a threat to livelihoods through, among other things, water supply, food production, fisheries, or to the tourism industry."
The report says, new institutional and legal structures are needed for sand to be more effectively governed and best practices shared and implemented. Sand resources must furthermore be mapped, monitored and reported on. All stakeholders must be involved in decisions related to the management of sand to allow for place-based approaches and avoid one-size-fits-all solutions.
An international standard on how sand is extracted from the marine environment should also be developed, the report proposes. The report recommends that the extraction of sand from beaches be banned due to its importance for coastal resilience, the environment and the economy.
It is unlikely that our governments will pay any heed to this report on their own unless there is push from all concerned.
50bn tonnes of sand and gravel extracted each year 50 billion tons: enough to build a wall 27 metres wide and 27 metres high around planet Earth. This is the volume of sand and gravel used each year, making it the second most used resource worldwide after water. Given our dependency on it, sand must be recognised as a strategic resource and its extraction and use needs to be rethought, finds a new report by the United Nations Environment Programme (UNEP). The report, Sand and Sustainability: 10 strategic recommendations to avert a crisis, released today by UNEP's GRID-Geneva team, provides the necessary guidance gathered from world experts to switch to improved practices for the resource's extraction and management. https://www.unep.org/news-and-stories/press-release/our-use-sand-brings-us-against-wall-says-unep-report (26 April 2022)
The Guardian refers to SANDRP figures on sand mining violence and deaths in India: "A standards vacuum also has implications for the human cost of sand mining in parts of the world where governance and oversight is weak and the material is in high demand. More than 400 people in India – including government officials – are thought to have died in violence and accidents related to sand mining since 2020." https://www.theguardian.com/environment/2022/apr/26/50bn-tonnes-of-sand-and-gravel-extracted-each-year-finds-un-study (26 April 2022)
UNEP's Pascal Peduzzi who coordinated the report written by 22 authors said that some of the impacts of over-exploitation were already being felt. In the Mekong River – the longest in Southeast Asia -sand extraction was causing the delta to sink, leading to salinisation of previously fertile lands. In a Sri Lankan river, sand removal had reversed the water flow, meaning that ocean water was heading inland and bringing salt-water crocodiles with it, he told journalists. https://www.reuters.com/business/environment/sand-crisis-looms-world-population-surges-un-warns-2022-04-26/ (26 April 2022)
HYDRO POWER PROJECTS
Arunachal Pradesh VELCAN HOLDINGS suspends 571 Mw Hydropower projects: "During 2021, despite the many efforts and various attempts, the Group's existing hydropower concessions located in India (571 MW) did not make any progress due to long lasting administrative impediments faced notably in the land acquisition procedure and the hydroelectricity distribution regulatory framework. The crucial amendments of the concession agreements were not agreed to by the Government. Not seeing any possibility of further discussion with Government of Arunachal Pradesh, Velcan Holdings decided to suspend the projects, as they are not in a position to make any progress at all under such circumstances. An additional provision or Eur 7.5 million for 2021 was booked on the intangible value of the Indian projects, in addition to the previously booked provisions. This brought the total provision to Eur 15.0 million (100%)."
– "In India, after more than 5 years of discussions, the negotiation of the amendment of the concession agreements of the hydro projects came to a deadlock, as the Government of Arunachal Pradesh (GoAP) refused categorically to consider vital provisions, despite further exchanges and discussions between April and July 2021. The main amendments at stake relate to the allocated installed capacities, the administrative fees, the development timeframe, the conditions under which Velcan Holdings would be obliged to start the projects' constructions, the obligations of both parties, and the increase of the free power to the GoAP against the withdrawal of its potential equity participation in the projects. The GoAP only agreed on the later point, whereas Velcan Holdings considers the GoAP had initially no right to any equity participation in the projects."
– CEA CLEARANCE NOT VALID ANY MORE "In absence of the above-mentioned amendments, notably appropriate allotted capacities and development timeframe, the current concession agreements are inadequate and the Techno-Economic Clearances granted by the Government of India in 2015 are technically not valid anymore, as their renewal depends on the amendment of the concession agreements."
– SECTION 11 of LAND ACQUISITION EXPIRED "The surveys required by the section 192 of the land acquisition procedure were restarted in February 2021 by the government after 1 year of inactivity. The surveys and boundary marking were completed by the District Administration in March 2021. But as of the date of this report, the Group has not received the official survey report and list of land owners from the District Administration. Because Section 19 has not been completed, it is the understanding of the group that the section 11 of the procedure, which is crucial as it enacts the consent of the land owners to land acquisition, expired on 25th September 2021."
– NO PROGRESS ON OTHER FRONTS "As for the other project activities (access road, forest clearance and power purchase agreement) presented in detail in the annual report 2020 published in April 2021, no progress is to be reported for 2021."
– ENTIRE INDIAN OPERATIONS SUSPENDED, LOOKING FOR MAJORITY PARTNER: INDIAN HYDROPOWER MARKET NOT FAVOURABLE "The Group's entire Indian operations were suspended, and the Group's New Delhi Office as well as site offices have been shut down by the end of Q3 2021. The Group will continue to monitor the evolution of the Indian hydropower market, and although it is not favorable at the moment, has started looking for a possible majority partner to take over the projects and the development operations." https://www.globenewswire.com/news-release/2022/04/28/2431755/0/en/Velcan-Holdings-Annual-Results-2021.html (28 April 2022)
The 6th meeting of Dibang Downstream affected villages cum awareness campaign was held on Apr 30 2022 the Dibang Hydropower Project Downstream Area Affected Committee under Dambuk, Kangkong-Parbuk areas of Lower Dibang Valley Dist and under Lower Mebu (Monggu Banggo) area of East Siang Dist. https://arunachal24.in/arunachal-dhpdaacs-public-meeting-concludes-at-parbuk-village/ (01 March 2022)
Raja advocates coordination between power and hydropower depts The power & hydropower minister's adviser Balo Raja on Friday (April 29) advocated strong coordinated actions by the power and the hydropower departments to ensure proper running of the hydel stations in the state. It was apparent during the deliberation that, due to the lack of a suitable mechanism for inter-departmental coordination, there seems to have been communication gaps, causing coordination inefficiencies between the two departments. https://arunachaltimes.in/index.php/2022/04/30/raja-advocates-coordination-between-power-and-hydropower-depts/ (30 April 2022)
Meghalaya Govt cancels MoA signed with Athena Power, JayPee Group Power minister Prestone Tynsong on Apr 20 2022 informed that the government has decided to cancel the Memorandum of Agreement (MoA) signed with Athena Power Private Limited and JayPee Group for the construction of Kynshi stage 1 and Kynshi stage 2 Hydro Electric Power Project respectively. Tynsong said it was based on the project developers expressing their inability to continue the projects as they were not feasible. The project area belt also touches Uranium deposits. https://www.eastmojo.com/news/2022/04/20/meghalaya-govt-cancels-moa-signed-with-athena-power-jaypee-group/ (20 Apr 2022)
Himachal Pradesh Tribals Against Rs 5,700 Cr Hydel Project
Two landslides in Kinnaur last summer which claimed 22 lives have made the local population more aware of the ecological dangers posed by hydropower projects, such as the proposed Jangi Thopan Powari project. https://thewire.in/rights/himachal-pradesh-kinnaur-protest-hydel-project (25 April 2022)
Kishau dam project could drown livelihoods & biodiversity Under Kishau Dam project, 2,950 hectares of land will be submerged, 2.5 million trees, many of medicinal value, are likely to be submerged and 5,498 people will have to be relocated. The project has faced rejections for over 50 years for reasons including active seismic zone, absence of established economic viability etc. A fresh Detailed Project Report (DPR) is now expected in 2024. https://india.mongabay.com/2022/04/a-twin-state-hydropower-project-could-drown-livelihoods-and-biodiversity/ (27 April 2022)
Uttarakhand व्यासी बांध की झील में डूबे लोहारी गांव के लोगों की निराशा और तनाव कौन दूर करेगा बांध-बिजली के लिए बनाई गई झील में अपने घरों-खेतों को डूबते देख कर लोग बिल्कुल ही टूट गए। उन्हें गहरा मानसिक आघात लगा। सब परेशान हैं कि अब तक खेत से निकला अनाज खा रहे हैं लेकिन कल कहां से खाएंगे। कुछ लोगों की तबीयत बिगड़ने पर अस्पताल भी ले जाया गया। लोगों के सामने जीवनयापन का कोई ज़रिया नहीं बचा है"। https://hindi.newsclick.in/Eco-Anxiety-Who-will-remove-the-despair-and-stress-of-the-people-of-Lohari-village-submerged-in-the-lake-of-Vyasi-Dam (25 April 2022)
In home state living, flowing Yamuna river converted into human controlled system courtesy Vyasi dam causing steep unnatural fluctuation in flows within ~3/4 hours for past 3-4 days as seen near Haripur some 8 km downstream stressing aquatic life. (Video by Nishant Panwar, 28042022)
Jammu & Kashmir The Centre has approved Rs 4,526.12 crore for the 540 MW Kwar Hydroelectric Project on the Chenab river in Kishtwar district. The decision was taken at a meeting of the Union Cabinet chaired by PM Narendra Modi, Union Information and Broadcasting Minister Anurag Thakur told the media. https://www.tribuneindia.com/news/j-k/centre-approves-rs-4-500-crore-for-hydropower-project-on-chenab-389917 (28 April 2022)
Odisha Water level in reservoir leaves Upper Kolab HEP officials in a tizzy Power generation from the Upper Kolab Hydro Electric Project has plunged below 80 Mw against the capacity of 240 Mw due to deficient rain in the reservoir's catchment areas. Besides, rising temperature has also dried up the water body. At present, the water level of the reservoir stands at 846.320 meter which is close to the minimum reserve level of 845.820 meter in the dam. Last year, the cumulative rainfall was about 880 mm in the corresponding period while it is only 835 mm this year.
While in the past years, it rained for at least 10 days in the reservoir's catchment areas in Koraput, Semiliguda, Nandapur blocks in Koraput district in March and April, this year it has been a long dry spell. Sources said that the Kolab Irrigation Project engineers have proposed to reduce power generation to 5 MW daily from May 10 onwards to maintain the reservoir water level for kharif. Meanwhile, the district administration has also advised the project authorities to maintain water level for Rabi irrigation. https://www.newindianexpress.com/states/odisha/2022/may/01/odisha-water-level-in-reservoir-leaves-upper-kolab-hydro-electric-project-officials-in-a-tizzy-2448507.html (01 May 2022)
Industry Norway's Scatec aiming for hydropower assets Norwegian energy giant Equinor-promoted renewable energy company Scatec ASA aims to set up greenfield projects in India's hydropower sector along with opportunities for acquisitions of distressed assets, a senior company executive said. The Oslo-based company entered the hydropower sector last year by acquiring another Norwegian company SN Power. https://www.livemint.com/industry/energy/norways-scatec-aiming-for-hydropower-assets-in-india-11651173315152.html (29 April 2022)
INTERLINKING OF RIVERS
Madhya Pradesh Various kinds of irregularities highlighted by social worker Amit Bhatnagar related to Panna Tiger Reserve in Bundelkhand.
INTERSTATE WATER DISPUTES
Krishna Water Disputes KRMB concerned about safety of 3 dams How safe are Srisailam, Nagarjuna Sagar and Pulichintala dams? This issue would be one of the 16 items on the agenda that will come up for discussion at the Krishna River Management Board (KRMB) Board meeting to be held on May 6. The KRMB is keen that urgent measures are needed to ensure the safety of the three dams. The Board wants the officials of AP and TS to inform it about the actions taken. The Board may like to discuss the role and responsibility of dam owners as per the provisions of the Dam Safety Act (2021), the KRMB agenda, which was circulated to AP and TS on Tuesday, said.
– The agenda of the Board meeting will discuss handing over of Srisailam and Nagarjuna Sagar projects to KRMB, approval of detailed project reports (DPRs) of unapproved projects, issue of power generation and mismanagement of Srisailam reservoir and working arrangement for sharing of Krishna water between Andhra Pradesh and Telangana for the water year 2022-23. The agenda of the proposed KRMB meeting said: "Issues of Dam Safety concerns calling for priority attention. As per the provisions of the AP Reorganisation Act (2014), the newly formed States of AP and Telangana became owners of dam/ barrage/ anicut located within their territories." https://www.newindianexpress.com/states/telangana/2022/apr/27/telangana-krmb-concerned-about-safety-ofthree-dams-2446979.html (13 April 2022)
'Srisailam water level critical due to 'mismanagement'' KRMB said: "In current water-year, the mismanagement of Srisailam reservoir has led to a critical condition, with even drinking water becoming unavailable for upcoming months of acute summer." KRMB officials said that Srisailam reservoir stood at the historic low level of 803.4 feet with storage of mere 30.70 tmcft as on March 24, 2022. This critical situation has emerged despite the fact that inflow of current year (1,092 tmcft) had been much higher than the average annual inflows of last 10 years (690 tmcft). The major contributing factor leading to present critical condition has been the rampant operation of powerhouses by two States in violation of the directions given by KRMB, the Board officials felt.
– They added that about 641 tmcft of water has been drawn by the two powerhouses, of which about 502 tmcft pertained to the period when Srisailam dam had stopped spilling over. Cascading effect was that about 501 tmcft of water was spilled downstream Prakasam barrage into the Bay of Bengal, of which substantial quantum would have been saved with better management of the Srisailam reservoir. The situation of 'bad competition' for irrigation water has further compounded by the 'free-for-all' operation of powerhouses by two States.
– Presently, the gravity flow canal (through Pothireddypadu head regulator) and two lift schemes (Handri-Neeva LIS and Muchumarri LIS) se-rve the state of AP, while one lift scheme (Kalwakurthy LIS) serves the state of Telangana. In addition, the 215 tmcft capacity reservoir has two riverbed powerhouses of which one is with AP (770 MW) and the other is with TS (900 MW).
– "The State of AP has been drawing water exceeding 34 tmcft from the gravity flow canal ostensibly including the surplus flows (e.g. 134 tmcft in 2020-21). Moreover, both States operate their lift schemes for the larger part of water-year, rather than for the short periods of flood (say, for about 60 days) when surplus water may go waste to the sea.
These lift schemes are thus encroaching upon the already earmarked dependable flows of the river (e.g. in 2020-21, Handri-Neeva, Muchumarri, and Kalwakurthy had operated for 246 days, 88 days, and 228 days respectively drawing a total quantum of 76 tmcft. Thus, the KRMB wanted both the States to take corrective measures and decided to discuss the Srisailam water utilisation at the Board meeting on May 6. https://www.newindianexpress.com/states/telangana/2022/apr/29/srisailam-water-level-critical-due-to-mismanagement-says-krmb-2447690.html (29 April 2022)
Andhra worried, TS uses Sagar water for power generation The Andhra government would raise the issue of the Telangana government drawing water from Nagarjunasagar dam for hydel power generation – a violation of norms — at the Krishna River Management Board meet on May 6.
AP water resources department engineer-in-chief Narayana Reddy said, "Despite our request to KRMB to prevail upon the Telangana government not to resort to release of water from the Nagarjunasagar project for power generation, TS has been doing so. We are going to raise the issue once again at the KRMB meeting, so as to stop the drawal of water from the project and avoid a water crisis for both drinking and irrigation needs in parts of AP during the summer. https://www.deccanchronicle.com/nation/current-affairs/300422/ap-to-raise-drawal-of-krishna-water-by-ts-for-power-generation.html (30 April 2022)
RIVERS AS NATIONAL WATER WAYS
After 8 yrs; Rs 4,633 cr, Ganga waterway project's environment impact still unknown The question of an environmental clearance for the Jal Marg Vikas Project has been put off 14 times by the NGT by Avli Verma. https://scroll.in/article/1022589/after-8-years-and-rs-4633-crore-the-ganga-waterway-projects-environment-impact-is-still-unknown (01 May 2022)
IRRIGATION
Punjab According to this Dainik Bhaskar report of Apr 23, 2022, about 2000 cusecs of water is being released through two (of 31) gates of Hussainiwala barrage in Punjab all the time. This water is flowing into Pakistan. The reason is that the the Bikaner (capacity 3172 cusecs) and Eastern (capacity 2700 cusecs) Canals that start from the Hussainiwala barrage are silted uptil RD 45, and no water is flowing in these canals till RD45. At RD 45, the canals get water from Harike barrage, according to this report.
Contaminated canal water leaves orchards barren Besides causing many disorders in humans and livestock, contamination of canal waters is now posing a threat to even the citrus cultivation in the Abohar area of Fazilka district. Alkaline water is forcing farmers growing citrus fruit trees to uproot their orchards. Dharangwala, a small village, is one of the worst affected on this count. Orchards in nearly 500 acres in the village either have been uprooted or are bearing no fruit.
Farmers, who are adamant not to come out of horticulture, are left to face the fury of the water contamination. The Abohar branch of the Sirhind Feeder canal supplies water for irrigation purposes and farmers are mainly into drop irrigation in their orchards. As per the villagers, highly contaminated water of Buddha Nullah and sewage of municipal committee is thrown into the Satluj, which is pushed into Sirhind Feeder and thus to its branches. https://timesofindia.indiatimes.com/city/amritsar/punjab-contaminated-canal-water-leaves-orchards-barren-in-abohar-villages/articleshow/91227099.cms (01 May 2022)
Gujarat Narmada canals in Saurashtra-N Gujarat-Kutch are in badly damaged conditions already. Including the Kutch Branch Canal. https://www.youtube.com/watch?v=RqUEUwr10AY (29 April 2022)
Farmers of Kutch, Gujarat organised a tractor rally from Rudramata to Bhuj on Apr 27 2022, angry with the decision of Gujarat Govt to lay a pipeline rather than canal from Dudhai to Rudramata. https://gujarati.news18.com/news/kutchh-saurastra/amreli-thousands-of-farmers-take-part-in-tractor-rally-protesting-against-narmada-pipeline-kdg-kb-local18-1203458.html (27 April 2022)
URBAN RIVERS
Bengaluru Rivers Map by PAANI:- The objective is to bring perspective on the use and abuse of rivers. Waste flows in natural river corridors without exception and water in man-made pipelines.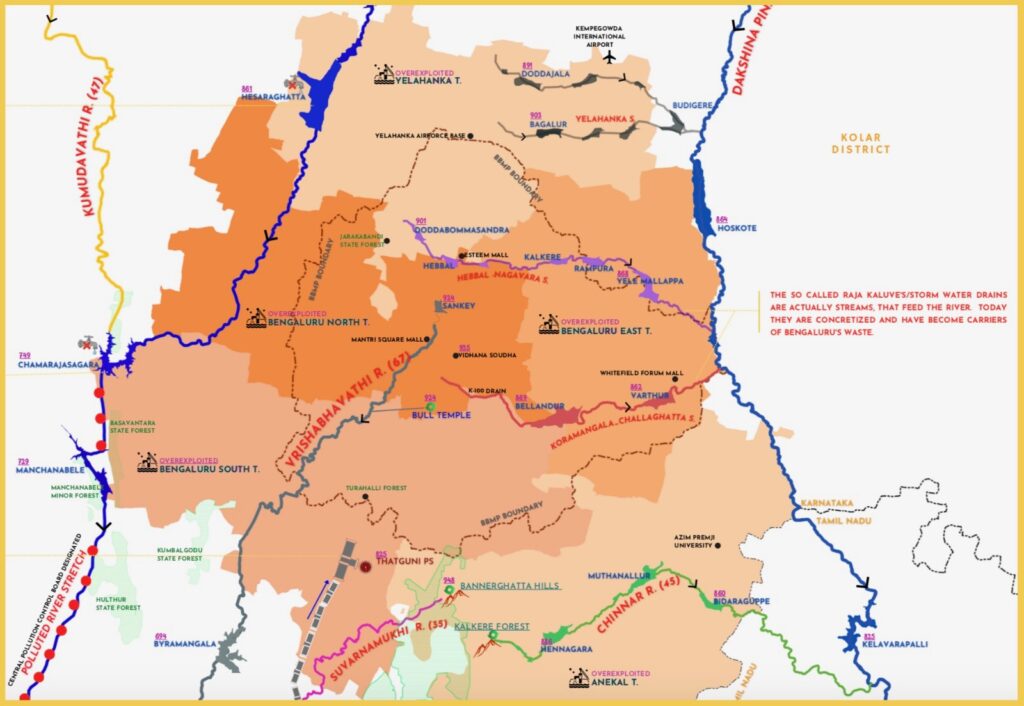 Both devoid of life, flow in opposite directions. The situation is especially stark for the rivers passing through the district: Vrishabhavathi, Arkavathi, Dakshina Pinakini, Chinnar and, Suvarnamukhi, as they are already converted into drains. Cauvery, the current drinking water source, is not spared either. Heavily polluted and altered, the river is in a dire state. Mostly forgotten in all this chaos, is wildlife. They need water just like us. https://paani.earth/regions/rivers_of_bengaluru/
Citizen Matters is organising an online panel discussion: "The future of Bengaluru's rivers, drains and lakes" in collaboration with BIC on April 29, 2022 at 06:00 pm. Registration link:- https://bit.ly/RiversofBengaluru; https://bengaluru.citizenmatters.in/webinar-arkavathi-and-her-sisters-79328
Chennai 250 MLD sewage let into rivers: Study About 250 MLD of raw sewage enters the city rivers including about 30 million litres from the Kodungaiyur and Perungudi landfills, both of which have functional STPs, a Metrowater study has found. Several of Metrowater's STPs are running below capacity, while others run at just 50% capacity due to illegal connections to drains and lack of pipelines under narrow lanes. Metrowater, plans to increase sewage treatment capacity by 450 MLD. The agency's plants have the capacity to treat 745 MLD, but treat only 599 MLD. "This gap will be plugged after interventions and by adding infrastructure this year," said executive director Akash P. The agency will also lay pipes in areas unconnected to main sewage lines.
"The agency should first admit that the sewage generated is more than 650 MLD. It claims it supplies 850 MLD of drinking water and that only 80% of it returns as sewage. But it doesn't acknowledge that two-thirds of the city's water comes from borewells. This means 1,300MLD of groundwater is drawn daily, increasing the sewage generated to 1,500 MLD-1,800 MLD. With the present 550 MLD capacity, the actual raw sewage entering water bodies will be five times more," he said. This is based on 'Domestic Sewage consumption in Chennai,' a study by A Vaidyanathan and J Saravanan which found only one-third of the city uses Metrowater's 850 MLD and the rest uses borewell water, bottled water or own water. https://timesofindia.indiatimes.com/city/chennai/250-million-litres-of-raw-sewage-let-into-chennai-rivers-daily-says-study/articleshow/91137347.cms (28 April 2022)
RIVERS
Report A New Index to Quantify River Fragmentation Himanshu Thakkar, a coordinator at the SANDRP listed some of the challenges as large-scale sand mining, deforestation, and dishonest environmental impact assessments. "We have to look at the totality of what is happening across a river's basin," he stressed. In fact, the 65 small hydropower dams on the Netravati analyzed in the new paper, Thakkar said, don't require environmental impact assessments at all. These dams produce fewer than 25 megawatts of power, and in India, hydropower facilities that produce fewer than 25 megawatts are classified as renewable energy projects and are exempt from environmental impact assessments. "There are no assessments for such projects, no public hearings [to take into account concerns of local communities], no monitoring and compliance. So how can such indices help?" Thakkar asked. https://eos.org/articles/a-new-index-to-quantify-river-fragmentation (27 April 2022)
Kerala Protest against move to divert water from Periyar Environmentalists have expressed concern over the decision to divert water from the Periyar River for industrial purposes for a project under the aegis of Kerala industrial infrastructure development (Kinfra). "The project was earlier conceived as a private industrial supply scheme at the Kerala global investors' meet. Under the new re-designed form, a major project is underway to use water from the Periyar on a commercial basis for industrial use. The (giant 45 MLD capacity) pump will be installed at the mouth of the Periyar between the existing Aluva water treatment plant and Chowara water treatment plant near Thottumugham," said CM Joy of Aluva environmental protection group, which has raised objections.
– "This will directly impact water supply to Ernakulam. There is a fall in the Periyar water level in summer and a threat of salinity intrusion. As of now, there is a huge shortage in water supply to nearly 300 industries in this region. People in Idukki, Ernakulam and Kottayam depend on this river and in summer, there is a huge shortage of drinking water," he alleged. https://timesofindia.indiatimes.com/city/kochi/protest-against-move-to-divert-water-from-periyar/articleshow/91223274.cms (01 May 2022)
CAUVERY Karnataka 'Gorge'ous Mekedatu
About Mekedatu Gorge with confluence of rivers Cauvery and Arkavathi. Mekedatu means Goat's leap and there are stories why the name. https://www.deccanherald.com/sunday-herald/sh-top-stories/gorgeous-mekedatu-1104688.html (01 May 2022)
Madhya Pradesh गंदी होती नदियों के बीच दिलासा देती है स्वच्छ सिंध देश में तेजी से गंदी होती नदियों के बीच मध्य प्रदेश की सिंध नदी उम्मीद बढ़ाती है। अधिकांश जगहों पर नदी का पानी पारदर्शी दिखता है यानी ऊपर से नीचे का तल दिख जाता है। लेकिन मानव बसावट के गंदे जल का सिंध में सीधा प्रवाह चिंता की बात है। केंद्रीय प्रदूषण बोर्ड द्वारा कुछ साल पहले जारी की गई प्रदूषित नदियों की सूची से सिंध बाहर है। इस सूची में मध्यप्रदेश की नर्मदा, चंबल, बेतवा और पार्वती समेत 22 नदियां शामिल हैं। मध्य प्रदेश में नदी किनारे होने वाले रेत खनन के चलते सिंध में भी प्रदूषण बढ़ने का खतरा बढ़ता जा रहा है। राज्य के कई इलाकों में नियमों को ताक पर रखकर नदी के पेट से रेत निकाली जा रही है। https://hindi.mongabay.com/2022/04/25/sindh-river-gives-hope-among-increasing-number-of-polluted-rivers/ (25 April 2022)
GANGA SANDRP Blog उत्तराखंड: सड़क मलबे में दफन होती रामगंगा की धाराएं
यह सचित्र रिपोर्ट इस बात पर प्रकाश डालती है कि कैसे उत्तराखंड में ग्रामीण क्षेत्रों में सड़क निर्माण दौरान उत्तपन्न मलबे को नियमों के विपरीत छोटी जलधाराओं, गदेरों में फेंक दिया जाता है जो नदी पर्यावरण तंत्र को तात्कालिक तौर पर नुकसान पहुँचाने के अलावा भविष्य में किसी बड़ी आपदा का कारक भी बन सकती है। https://bit.ly/3yek1KO (26 April 2022)
Gauchar Nagar Palika vehicle in Chamoli is seen dumping solid waste along Alaknanda river. Its common practice in the state as dumping yards have been created along the rivers. Some more detail on this here. https://www.etvbharat.com/hindi/uttarakhand/state/chamoli/gauchar-municipality-being-dumped-garbage-in-alaknanda-river-at-chamoli/uttarakhand20220421081311153153263 (21 April 2022)
6K deodar trees face axe in Bhagirathi ESZ Villagers and activists in Uttarkashi are up in arms against the state forest department for marking 6,000 deodar trees that are to be chopped off for widening of the Char Dham all-weather road. The felling of these trees in the ecologically-fragile Bhagirathi Eco-Sensitive Zone (BESZ) may lead to a "Kedarnath-like disaster" in the region, say locals of the area. While the authorities have been assuring people that the chopped-off trees would be transplanted as per the new central government directive, environmentalists say that transplanting so many deodar trees won't be easy as they are native to the Himalayas and need certain temperature levels and soil conditions to survive.
Some activists also point out that the actual number of trees that are to be chopped off is much more than 6,000. "The forest department will actually fell 2.8 lakh trees and several shrubs, some of them with medicinal value. The department has given the official number of 6,000 as they count only those trees that have a diameter of 10 metres or above," said Suresh Bhai, a member of the NGO, 'Himalaya Bachao Abhiyaan.' He added that the issue is "not just about a 25-km stretch but the biodiversity of the entire BESZ region, which includes 88 villages." "Almost 25 streams of the Gaumukh glacier would also get adversely affected due to the tree-felling," he added. Meanwhile, villagers have been consistently trying to convince ministers and officials to spare the trees. https://timesofindia.indiatimes.com/city/dehradun/6k-deodar-trees-of-bhagirathi-eco-sensitive-zone-to-be-felled-for-widening-of-char-dham-road/articleshow/91056619.cms (25 April 2022)
Dehradun residents protest felling of 2,200 trees for road widening A petition against widening the 14-km long Jogiwala-Pacific Golf Estate Road received support from more than 2,000 Dehradun residents within just 24 hours. The petition has been floated in the wake of the state government approving a proposal to widen the road from 7.5 metres to 20 metres. However, residents are opposed to the project as it would entail the felling of 2,200 trees. Therefore, the petition addressed to state chief secretary SS Sandhu suggests constructing an alternative road or a flyover without harming the trees. https://timesofindia.indiatimes.com/city/dehradun/doon-residents-protest-felling-of-2-2k-trees-for-road-widening/articleshow/91163970.cms (29 April 2022)
Uttar Pradesh Markets alongside Ganga to discourage illegal farming, fishing To encourage the local people in conservation of biodiversity, the Bijnor administration has decided to develop an open-air market and a craft bazar along the river in the area. The setting up of markets is also designed to discourage illegal farming on the river bed. "Villagers sow vegetable seeds and grow wheat crops by using pesticides harmful for wildlife and aquatic species," the official added. By providing them with alternate source of income, the state government also hopes to curb illegal fishing in Ganga, which flows through the Hastinapur Wildlife Sanctuary. https://www.business-standard.com/article/current-affairs/markets-alongside-ganga-in-up-to-discourage-illegal-farming-fishing-122042600245_1.html (26 April 2022)
The renovated 'Khidkiya ghat', popularly known as 'Namo ghat' because of three large sculptures in the form of hands folded in 'namaste', will soon emerge as a major tourist destination here, an official said on Wednesday (April 27) . The ₹34-crore project which is nearing completion, will become the 85th ghat in Varanasi. https://www.hindustantimes.com/cities/others/namo-ghat-to-emerge-as-tourist-attraction-in-varanasi-official-101651067406395.html (27 April 2022)
Exotic hotels by the Gangges. https://timesofindia.indiatimes.com/travel/hotels/beautiful-resorts-in-goa-for-an-intimate-wedding/photostory/90201388.cms (23 March 2022)
Bihar Riverfront construction work stopped Construction work of the Ganga riverfront in Bhagalpur district has been stopped by the forest department for violation of the Wildlife Sanctuary Act. The Ganga riverfront development is a part of the Bhagalpur Smart City projects. Till last week, Bhagalpur Smart City Limited officials, along with other private agencies, were constructing the riverfront in the area under the Vikramshila Gangetic Dolphin Sanctuary (VGDS) in Bhagalpur in violation of Wildlife Protection Act, 1972.
Last week, the construction work near Barari Pul Ghat in Bhagalpur was stopped because it was in violation of the Wildlife Sanctuary Act and did not have proper clearance and permission, said a forest department official April 27, 2022. For the last eight days, the construction work remained closed due to lack of no objection certificate (NOC) from the forest department as construction of the riverfront was in VGDS, an ecologically sensitive location in river Ganga, they added.
Construction of concrete buildings has been prohibited within 200 metres along the bank of Ganga, Singh said. In case of the riverfront construction in VGDS, it is a matter of serious concern. The NGT has also barred construction of buildings within 200 metres along the bank of Ganga. However, sources in Bhagalpur Smart City Ltd said the forest department decision to stop construction of the riverfront was informed to the concerned department in Delhi for early clearance to restart the work. https://www.downtoearth.org.in/news/governance/ganga-riverfront-construction-work-stopped-in-bihar-s-bhagalpur-for-violating-wildlife-sanctuary-act-82623 (29 April 2022)
Part of under-construction bridge caves in A portion of the superstructure of under-construction mega bridge on the river Ganga in Bihar, linking Khagaria with Bhagalpur, caved in near Sultanganj Friday (April 29) night allegedly under the impact of storm and rains that lashed the area, officials said. The four-lane bridge, located about 35 km west from Bhagalpur, is being built by SP Singla Constructions Limited for the Bihar Pul Nirman Nigam Limited (BRPNNL) at a cost of ₹1710.77 crore.
Reports said that 18 box girders on each side of the pillar number five from Sultanganj side, which were connected with steel ropes, slid down. As the incident took place in night, work was not in progress and hence no casualty has been reported so far. Engineers of Bihar government's road construction department (RCD) said it was not a minor accident. "Caving in of the slabs of an under-construction bridge is a major technical lapse. The casualty of life and damage to property would have been great had the accident taken place in areas of human activities," said a superintending engineer. https://www.hindustantimes.com/cities/patna-news/part-of-under-construction-bridge-on-ganga-in-bihar-caves-in-probe-ordered-101651333697369.html (23 April 2022)
YAMUNA Haryana Untreated waste water released into WJC In violation of orders of the NGT, untreated waste water of 66 MLD of twin cities Yamunanagar and Jagadhri is allegedly being released into Western Jamuna Canal (WJC) near Yamunanagar. As per the report filed by the Haryana Government through the Chief Secretary before the NGT in connection with the case of Chaudhary Ompal and others v/s State of Haryana (case related to pollution of ditch drain of Yamunanagar district) on April 4, 2022, it is claimed that untreated waste water of 66 MLD is being released into 'ditch drain.
The construction of 75 MLD common effluent treatment plant (CETP) has been proposed for the treatment of this effluent/sewage. According to the information, the Irrigation and Water Resources Department has started the construction work to make a portion of the ditch drain 'pakka' near Yamunanagar. However, before starting the construction work, the department reportedly didn't make appropriate arrangements to ensure the supply of the untreated waste water in the ditch drain ahead of its portion being constructed and let the supply of the said untreated waste water go into WJC.
According to information, a share from the water of the canal is reportedly supplied to Delhi through the Munak head situated in Karnal district and this water is used for drinking in Delhi. As per the report of the Chief Secretary, 68.5 MLD sewage of the 134.5 MLD of Jagadhri and Yamunanagar, is reaching up to the STPs and is being released into ditch drain/canals after treatment. However, the remaining is being released untreated into the ditch drain, which joins Dhanaura Escape in Karnal district and carries effluent of Yamunanagar, Jagadhri and Radaur town to the Yamuna. https://www.tribuneindia.com/news/haryana/ngt-orders-flouted-untreated-waste-water-released-into-wjc-389239 (25 April 2022)
Delhi Yamuna short of water Amid extreme weather conditions and an ongoing heatwave in Delhi, the water level in the Yamuna has gone down, with the shortage resulting in supply cuts in some parts of the Capital and forcing the Delhi Jal Board (DJB) to seek release of additional water in the river from neighbouring Haryana.
A senior DJB official said the water level at Wazirabad pond has gone below the normal level of 674.5 feet, dropping to a "critical low level of 673.7 feet" on Saturday (April 30). "Even the raw water flow through carrier lined canal (CLC) and Delhi sub branch (DSB) (two canals that carry water from Haryana to Delhi) is currently fluctuating… This has affected the lifting of 120 cusec of water from Wazirabad pond due to low pond level. This can affect water production adversely," said an SOS sent by DJB to the Haryana Irrigation department on Saturday.
The communication, a copy of which has been seen by HT, asked the Haryana government to supply additional 150 cusec of raw water through the Yamuna to ensure that 120 cusec of raw water reaches Wazirabad pond, noting that the city's water requirement is higher due to Covid-19 pandemic and peak summer season. The communication asks Haryana to release additional water till monsoon, when the water level picks up in the Yamuna. https://www.hindustantimes.com/cities/delhi-news/delhiyamuna-short-of-water-says-djb-asks-haryana-to-ramp-up-supply-101651341675950.html (30 April 2022)
DJB to target 998MGD peak water supply DJB is planning to increase the daily water production to approximately 1,000 MGD — its highest ever — mostly through groundwater sources to meet a water deficit of around 450MGD. Noting that the city sees peak water demand during summers, a senior DJB official said the DJB has set a target of producing 998MGD of potable water, an increase of 63MGD over last year's 935MGD. A senior DJB official said that the number of operational tubewells will be raised to 5,263 — an increase of 471 — to meet the increased target, adding that the water will be sustainably extracted from areas having high ground water level and located along the Yamuna floodplains or water treatment plants with high natural recharge.
Delhi is estimated to have a water demand of 1,380 MGD based on the norms of per day water requirement of 60 gallon per person. "The targeted production from the 9 water treatment plants will be pushed up to 861MGD instead of last year's peak summer production of 845 MGD. The extraction of water from sub-surface resources, such as ranney wells and tubewells, will be 137MGD — an addition of 47 MGD over last year," said a senior DJB official. https://www.hindustantimes.com/cities/delhi-news/summer-action-plan-djb-to-target-998mgd-peak-water-supply-101649961340932.html (15 April 2022)
Okhla barrage repair alters flow, birds flee parched sanctuary The forest department has written to the irrigation department, which is undertaking the repair work of the barrage, to speed up the job and have the Yamuna's water flowing back to Okhla. "The irrigation department has diverted the stream to other canals to facilitate the repairing of the barrage. Their officials said the repair work was essential," said P K Srivastava, divisional forest officer, Gautam Budh Nagar. It has been over six days now, and we have requested that the work be speeded up."
Okhla Bird Sanctuary is one of the 467 designated 'important bird areas' of the country and the only eco-sensitive zone of the district. It is spread over 400 hectares, of which 80% is a waterbody formed by the barrage across the Yamuna. In January, the annual census held here counted only 47 species of migratory and resident birds, against 73 species last year, the thinnest species density in five years. https://timesofindia.indiatimes.com/city/delhi/barrage-repair-alters-yamuna-flow-birds-flee-parched-okhla-sanctuary/articleshow/91221058.cms (01 May 2022)
Yamuna revamp: 2 projects completed With the first phase of two out of 10 projects now complete and most of the remaining initiated, the redevelopment of the Yamuna riverfront is on the right track. DDA has completed phase-I of the project "Asita East" — located on 90 hectares on the eastern bank of the river between Old Railway Bridge and ITO barrage, and Kalindi Aviral, located on 100 hectares land on the western bank between Nizamuddin Bridge and DND Flyway — and opened it to the public.
Being done on 1,476 hectares on the eastern and western banks at a cost of nearly Rs 800 crore, the rejuvenation project involves creation of new wetlands and waterbodies, restoration of old ones, construction of walkways, cycle tracks and eco trails, floodplain forests and grasslands, open congregational spaces and play area, redevelopment of ghats and construction of viewing platforms at several locations. https://timesofindia.indiatimes.com/city/delhi/yamuna-revamp-on-track-two-key-projects-completed/articleshow/91134027.cms (28 April 2022)
24 dams to help clean Yamuna: Water Minister Water minister Satyendar Jain on Thursday (April 28) said the work of cleaning the supplementary drain was going on in full swing. After it's done, there will be 80% reduction in the water pollution, he stated. Jain has directed irrigation and flood control department officials to expedite the cleaning of the river. "The minister directed them to only use natural materials like bamboo and koir for floating wetlands. The Delhi government has built 24 small dams in a natural way. This will help in reducing the flow of pollutants into the Yamuna," said the government in a statement. https://timesofindia.indiatimes.com/city/delhi/24-dams-to-help-clean-yamuna/articleshow/91160982.cms (29 April 2022)
Delhi Metro starts building 5th bridge over river Yamuna The Delhi Metro has begun work on a fifth bridge across the Yamuna river under phase four expansion of the Pink Line, which will see the corridor extending from Majlis Park to Maujpur, officials said on Tuesday (April 26). According to officials, the bridge will connect the Soorghat Metro station and the Sonia Vihar Metro station on the corridor, and is being built between two existing bridges – Wazirabad bridge and Signature bridge.
The corridor is slated to be opened by the middle of 2024 and the DMRC said the bridge work was progressing at a strong pace. "The total length of the bridge is 560 metres… Pile foundation work is near completion and approximately 50% of sub-structure has been completed. The construction of superstructure by balanced cantilever technique has also been started," said Anuj Dayal, principal executive director, corporate communications, DMRC. https://www.hindustantimes.com/cities/delhi-news/delhi-metro-starts-building-5th-bridge-over-river-yamuna-101650997436661.html (27 April 2022)
Uttar Pradesh Rubber check dam proposed on Yamuna to strengthen Taj foundation Taj Trapezium Zone (TTZ) Committee has come up with an answer to the reported threat to the existence of the Taj Mahal foundation. It has proposed to construct a rubber check dam on the river Yamuna to revive the water-filled riverbed at the back of the Taj Mahal. The committee has come up with the proposal in reaction to the news published in Hindustan Times in its Monday edition (April 25), in which the issue regarding the 'perennially dry Yamuna posing a threat to Taj foundation' was raised.
A proposal of having rubber check dam at 1.5 kms downstream of the river Yamuna in Agra was already under discussion and the matter was taken up later on Monday (April 25) when a regular meeting of Taj Trapezium Zone (TTZ) Committee was organised in Agra. The plan to construct a rubber dam came up in 2016 and CM Yogi Adityanth had laid the foundation stone for the project at Nagla Pema in Agra in year 2017, said sources. Commissioner Agra Division, Amit Gupta said NEERI had given clearance for rubber dam on river Yamuna.
"Before having permission from TTZ Committee, the proposal for rubber check dam on river Yamuna in Agra was sent to NEERI which gave permission but with a rider of compliance of certain terms for which a committee was constituted and Regional Officer (UPPCB) was named as the nodal officer," said regional officer (RO) for UPPCB Vishwanath Sharma. This committee named by NEERI will comprise representatives from Agra circle of Archaeological Survey of India, MOEF, NEERI, and the nodal officer will be the RO, UPPCB.
Sources said around three metres high rubber check dam would allow storage of 3.50 lakh cusec water behind the Taj Mahal. Moreover, environmentalists believe that this rubber dam will assist in raising the ground water level in Agra district where a dozen blocks, out of overall 15 blocks, are already in dark zone. To mention, Agra had a long futile wait for Agra Barrage, a similar project on river Yamuna for which foundation stone was laid by then CM ND Tiwari in year 1986-87 and again the then governor Romesh Bhandari laid the foundation stone for Agra Barrage in year 1993 for the same project but different location. However, the project could not be started. https://www.hindustantimes.com/cities/others/rubber-check-dam-proposed-on-yamuna-to-strengthen-taj-foundation-101650999537457.html (27 April 2022)
RIVERS BIODIVERSITY
SANDRP Blog 11 Gangetic Dolphins Found Dead since Jan 2021
Despite being declared National Aquatic Animal and provided highest level of protection under schedule I of Wildlife Protection Act, 1972, there are frequent incidents causing unnatural deaths to Gangetic river dolphins (Platanista Gangetica) in India. Previously SANDRP documented deaths for 10 Gangetic dolphins due to man-made reasons including getting trapped in canals, fishing nets and hunting during 2020. Here we are tracking the issue January 2021 onwards. https://sandrp.in/2022/04/29/11-gangetic-dolphins-found-dead-since-jan-2021/ (29 April 2022)
SAND MINING
Study Between January 2019 and November 2020, at least 193 people were killed in connection with illegal sand-mining, the SANDRP estimated in a 2021 report. Many of them – 95 – were people who drowned in the large pits that sand mining leaves behind on river beds. Workers have also died in the process of mining. https://thewire.in/environment/need-to-get-a-grip-on-sand-extraction-un-report-on-impending-global-sand-crisis (29 April 2022)
Madhya Pradesh Sand mining a threat to the mahseer and other aquatic species in the Narmada Sand mining has adversely impacted the ecology of the Narmada river, including threats to fish and other aquatic species. Despite interventions from the high court and the NGT, Bhopal, illegal sand mining continues in places like Dhar and Badwani. Sand mining affects the natural ecosystem of the river and impacts the fish and birds that are dependent on it. This in turn impacts livelihoods of fishers who rely on the ecosystem. https://india.mongabay.com/2022/04/sand-mining-a-threat-to-the-mahseer-and-other-aquatic-species-in-the-narmada/ (29 April 2022)
चंबल के घड़ियाल व बाटागुर कछुआ पर संकट:रेत माफिया ने तोड़ डाले उनके अंडे मुरैना के अधीन आने वाले धौलपुर बार्डर से सटे चंबल नदी के घाट पर रेत का अवैध खनन हो रहा है। यह खनन माफिया द्वारा बड़ी-बड़ी जेसीबी व हाईड्रा मशीनों से किया जा रहा है। इन मशीनों ने खुदाई करते समय चंबल के किनारे रेत में दबे बाटागुर कछुए तथा घड़ियालों के अंडो को तोड़ दिया है।
इन अंडो को तोड़ने से अब इन प्राणियों के विलुप्त प्राणी होने का खतरा मंडराने लगा है। यह दोनों ही प्राणी संरक्षित प्रािणयों की श्रेणी में आते हैं। बता दें, कि धौलपुर बार्डर से सटे घाट पर धड़ल्ले से रेत का अवैध खनन किया जा रहा है। यहां हर दिन डेढ़ हजार के लगभग ट्रेक्टर ट्रालियों द्वारा रेत का अवैध परिवहन किया जा रहा है। बड़ी-बड़ी जेसीबी मशीनें दिन-रात खुदाई करने में लगी हैं और ट्रेक्टर ट्रालियों द्वारा रेत मुरैना, धौलपुर व ग्वालियर ले जाया जा रहा है। https://www.bhaskar.com/local/mp/gwalior/morena/news/the-sand-mafia-broke-their-eggs-watching-the-forest-and-district-administration-became-mute-129734288.html (29 April 2022)
Goa HC seeks affidavits from Chief Secy, DGP by May 2 Taking note of illegal sand mining continuing unabated in Goa's Pernem area, the High Court of Bombay at Goa on Monday asked government officials, including the Chief Secretary and the Director General of Police (DGP), to file affidavits in the matter. Directing the Chief Secretary, the DGP, the in-charge at the Pernem police station, and the mamlatdar to file affidavits by May 2, the court asked them to explain "as to why despite all the mechanisms they claim they have put in place, such incidents continue unabated".
In a contempt petition filed by the Goa Rivers and Sand Protectors Network (GRSPN), the court observed: "At least, prima facie, we think that this is a serious matter, because, instances are on the rise to defy not only court orders but to unauthorisedly extract sand, thereby causing environmental degradation. From the rise in such instances, we get an impression, which we sincerely hope is wrong, that the authorities are not seriously interested in controlling this activity of unauthorised sand extraction. There is virtually a game of hide-and-seek going on and the impression that we get is that the authorities are not doing enough to prevent it."
"…The rampant sand mining taking place for a long time has led to the sinking of the Tiracol bed from around 60 metre to 160 metre. I say that coconut, mango and other plantations and farms of local villagers have been severely affected due to the land sliding that has occurred as a consequence of the illegal sand mining in Uguem," Mahale said in the affidavit. The judges also observed: "The onus cannot be put entirely on activists or environmentalists to point out such incidents, many a times, at the cost of risk to themselves and only thereafter, some modicum of action is reported. It is the duty of the state to prevent such activity in terms of the law." https://indianexpress.com/article/cities/goa/illegal-sand-mining-hc-seeks-affidavits-from-goa-chief-secy-dgp-by-may-2-7887208/ (26 April 2022)
Punjab Govt scraps mining contract in Ropar cluster The government has terminated the sand mining contract in Ropar cluster while forfeiting the security of contractors who were operating the Ferozepur and Amritsar clusters. The development comes days after the mining department had terminated the contracts of Ferozepur and Amritsar clusters while suspending the contracts in Ropar, Mohali and Hoshiarpur clusters. The agreement was scrapped as the contractor failed to settle the dues even after a representation before the department, officials privy to the development said.
The security amount in other two clusters was forfeited due to the contractors' failure to deposit the royalty. They had reasoned that the quantity of sand available at the mining sites was much lower than the estimates at the time of allotment of tenders. According to department officials, the defaulted royalty had mounted to ₹20-25 crore, while the security being forfeited stands at around ₹10 crore each. The Ferozepur cluster also covers Moga, Muktsar, Fazilka, Bathinda, and Faridkot districts, while the other cluster comprises Amritsar, Tarn Taran and Kapurthala. https://www.hindustantimes.com/cities/chandigarh-news/punjab-govt-scraps-sand-mining-contract-in-ropar-cluster-101651084327212.html (28 April 2022)
Kerala HC sets aside vigilance probe in Pampa sand mining deal High Court set aside the Vigilance probe in the mining of flood-accumulated sand from the Triveni bank of river Pampa. Earlier the Thiruvananthapuram Vigilance Court had ordered a Vigilance probe into the matter. The court set aside the vigilance court order on a review petition filed by the state government. https://theprint.in/india/kerala-hc-sets-aside-vigilance-probe-in-pampa-sand-mining-deal/931401/ (26 April 2022)
Karnataka 6 boats seized during raid on illegal sand mining racket Officials from the Mines and Geology department seized six boats during a raid on a thriving sand racket near Trasi and Movady in Gangolli police station limits on Wednesday (23 March). Following complaints from the public, officials led by geologist Sandhya rushed to the locations and seized the boats being used to mine sand illegally. Four boats were seized at Trasi and another two other boats were seized at Movady. The accused, however, managed to give officials the slip. https://www.deccanherald.com/state/mangaluru/six-boats-seized-during-raid-on-illegal-sand-mining-racket-1094077.html (23 March 2022)
Andhra Pradesh Tribal women fighting against admin, mining firm Vuralova Hill is tucked away in the interiors of V. Madugula mandal, which is under Anakapalle district after reorganisation. It is an uninhabited village with no proper demarcation or revenue records with the authorities. The farmers here are residents of Komira village, which falls in another mandal, but they cultivate cashew on Vuralova. The trek to the hill from the village is about 4 kilometres.
A group of tribal farmers is up in arms against the local authorities and a private mining company, which, they say, was given a section of "their land" on lease for mining. This piece of land is where the farmers claim they have been cultivating cashews for the past many decades. But the bone of contention between the parties is who has rights over the land. The local authorities deny that the farmers have been cultivating the disputed piece of land, and say the mining company was given the plot on lease after thorough checks. https://theprint.in/india/in-andhra-an-uninhabited-hill-pits-tribal-women-against-local-administration-mining-firm/926800/ (25 April 2022)
WETLANDS, LAKES, WATER BODIES
Report Green groups ask PM to save all atlas-listed wetlands Stating that PM Modi's plan of building 75 lakes in each district, as a 75th year of Independence endeavour is grossly inadequate, green groups have requested him to at least quadruple the target to save all wetlands — atlas-listed water bodies. The National Decadal Change Atlas has recently identified 2,31,195 wetlands across the country and if they are divided by the country's 765 districts, the figure works out to 300, NatConnect Foundation said in its communique to the PM.
"The water bodies are already existing and we do not have to make fresh efforts to construct them," NatConnect Foundation director B N Kumar said and appealed to Modi: "Let us just preserve and conserve them." "Thus, the PM could easily raise the bar four-fold and reset the target," it said. Kumar said the government could divide all the 2.3 lakh wetlands into parcels of 75 each, to retain the idea of Aazadi Ka Amrit Mahotsav as desired by the PM, and task the officials and people to preserve and conserve them. This is important in view of the disappearing wetlands under the guise of urban development and infrastructure development, he said. https://www.deccanherald.com/national/green-groups-ask-pm-to-save-all-atlas-listed-wetlands-1103955.html (25 April 2022)
Rajasthan Dist collectors fail to act in identifying and notifying wetlands Conservation of wetlands have taken a backseat in the state as majority of the district administrations has failed to implement the directions issued by the state wetland authority. On October 20, 2021, the authority directed to speed up identification and verification of wetlands and prepare the proposals for notification. However, majority of the district collectors in the state continue to sit on the directions. An official said, "27 district collectors have not sent the proposals. Only 6 collectors, including Udaipur, Banswara, Pali, Dungarpur, Chittorgarh, and Bhilwara, have acted on the directions."
The authority also directed 6 departments and district collectors to prepare and update the inventory of natural/artificial wetlands within a month. However, none of the department has submitted any report till date. Sources said the desert state should take these directions seriously as that the area of natural lakes and ponds in the state has shrunk by 844 hectares between 2006-07 and 2017-18 as per the 'National Wetland Decadal Change Atlas'. An official said in Rajasthan wetlands cover 2.3 % of the total geographical area. Dominant wetland classes are river/streams, reservoir/barrages and tank/ponds, covering 86% of total wetland area in the state during 2017-18. According to the report, the area of lakes and ponds covered 42,129 hectares in 2006-18, which is now reduced to 41,285 hectares. https://timesofindia.indiatimes.com/city/jaipur/dist-collectors-fail-to-act-in-identifying-and-notifying-wetlands/articleshow/91136187.cms (28 April 2022)
Tripura HC directs govt to form panel to supervise wetlands crucial for migratory birds In a significant judgment, the High Court of Tripura on Sunday directed the state government to constitute a panel of higher officials who will be responsible for the protection and preservation of the wetlands across the state where migratory birds roost during the winter season. Hearing PIL in connection with the unnatural deaths of over 100 migratory birds reported at Udaipur under Tripura's Gomati district, a Division Bench comprising Chief Justice Indrajit Mahanty and Justice SG Chattopadhyay suggested the state government to encourage organic farming in the cropland located in the vicinity of such wetlands so that possibilities of contamination could be warded off.
"There is a possibility that the migratory birds may have consumed pesticide used by the farmers in the said area but for that also they have no confirmed evidence thereof and soil samples appear to have been sent for testing to establish the said fact," the Bench said.
"In the present circumstances, we are of the considered view that as suggested by the learned amicus curiae the State should constitute a committee of responsible officers who shall supervise all such wetlands in the State of Tripura and in particular, the farming that is being done in the nearby areas and to try and encourage the local farmers to convert to organic farming as being promoted by the Government of India instead of using pesticides and/or chemicals," it added. The court passed the order after going through a report submitted by the Forest department of Tripura. https://theprint.in/india/tripura-high-court-directs-state-govt-to-form-panel-to-supervise-wetlands-crucial-for-migratory-birds/850948/ (27 Feb. 2022)
Maharashtra 2 new wetlands identified, to be part of flamingo sanctuary BNHS has added two more wetlands — one at Kharghar and the other at Seawoods — to the existing list of six water bodies to be conserved under the satellite wetland management plan for Thane Creek Flamingo Sanctuary (TCFS). The BNHS has already listed the wetlands at Belpada, Bhendkhal, Panje-Funde in Uran taluka, NRI and TS Chanakya in Nerul and the Bhandup pumping station for conservation to allow migratory and local birds to roost and nest. https://timesofindia.indiatimes.com/city/navi-mumbai/two-new-wetlands-identified-to-be-part-of-flamingo-sanctuary/articleshow/91192612.cms (30 April 2022)
Kerala Mangrove nursery comes up in Kozhikode to help protect wetlands There was a time when the Kottooly wetlands in the heart of Kozhikode city could boast of at least seven different varieties of mangroves. But now, the mangrove forest here is depleting, despite it being under the Coastal Regulation Zone. The newly set up mangrove nursery in Sarovaram Biopark is a tiny step towards preventing the depletion of mangroves from the ecologically sensitive region.
The mangrove nursery was set up under 'Paristhithikam', an ecosystem rejuvenation programme, being organised by the Directorate of Environment and Climate Change of the Government of Kerala through Darshanam Samskarika Vedi in the district. The first task under the programme, clearing the wetlands of plastic waste and setting up the nursery, was undertaken on Wednesday (April 20) with the help of environmentalis and the National Service Scheme volunteers of LISSAH College, Kaithappoyil. https://www.thehindu.com/news/cities/kozhikode/mangrove-nursery-comes-up-in-kozhikode-to-help-protect-wetlands/article65345270.ece (23 April 2022)
Tamil Nadu Wetlands on sticky wicket In the state Budget, the state wetland authority (TNSWA) was allotted Rs 100 crore, but before work begins on the ground its first challenge is to convince other government departments to give the goahead. Till now, water bodies in the state were managed by the water resources department, which is under the public works department (PWD). In 2021, the state wetlands authority became functional and was ready to take over the responsibility of wetlands, which are unique biodiverse areas, which may be flooded with water permanently or seasonally. The power tussle is between these two, say sources.
Work has to begin with classification of a priority wetland, which will ensure protection under the Wildlife Act. At present, overfishing, encroachments, illegal sewage disposal, solid waste dumping and unscientific restoration projects are the major threats to lakes, all of which would become an offence if the lakes are notified. A recent study by the Madras Institute of Development Studies stated that the ecological value of all the resources of nearly 80 priority wetlands in the state is more than Rs 17,000 crore per annum. And it would need just Rs 203 crore to restore them. https://timesofindia.indiatimes.com/city/chennai/why-tamil-nadu-wetlands-are-on-a-sticky-wicket/articleshow/91137469.cms (28 April 2022)
Punjab Baisakhi Mela back at Kanjli Wetland after 20 yrs While the idea of the mela is to make all possible efforts to redevelop the Kanjli wetland as a tourism hub, concerns that it might endanger the Wetland, which is a Ramsar Site, reign heavy among citizens. On one hand myriad stalls and an array of cultural events regaled visitors, on the other, the administration failed to care for the conservation of the ecology at the wetland. Despite being a Ramsar site, use of plastic disposables and plates was allowed during the fair at the Kanjli Wetland. Plastic disposables were strewn right along signboards of the Wetland which asked visitors not to pollute the environs. https://www.tribuneindia.com/news/jalandhar/baisakhi-mela-back-at-kanjli-wetland-after-20-yrs-388963 (24 April 2022)
WATER OPTIONS
Maharashtra Women spearheaded bid to make taluka drought-free Coro India NGO & 24 local organisations, with help from state govt & support of 90 local women, were able to make 6 villages in Maan taluka (Satara district, Maharashtra), drought-free & increase water levels by 14-15 feet, with four out of six villages in no need of water tankers. The initiative was launched in 2017. The Maharashtra government sanctioned Rs 1.44 crore to support the initiative. The aim, now, is to expand this initiative to 32 more villages in Maan taluka. https://theprint.in/india/defying-all-odds-how-women-in-maharashtras-maan-spearheaded-bid-to-make-taluka-drought-free/927206/ (23 April 2022)
Bihar Efforts by local community and Pankaj Malviya ji lead to rejuvenation of the water body in Betia dist in Bihar.
85 tribal families of Gavghat village in koakol sub division of Navada district on border with Jamui dist have constructed a check dam in cooperation with elected representatives, forest department and shri Pankaj Malviya.
GROUNDWATER
Maharashtra MWRRA directs district authorities to take action against misuse of groundwater For the first time in the state's history, its groundwater authority — Maharashtra Water Resources Regulatory Authority (MWRRA) — has directed the recently appointed district authorities to take legal and penal actions against various parties involved in illegal extraction and sales of groundwater mainly including the well and tanker owners.
A letter shot by MWRRA secretary Dr Ramnath Sonawane to the recently designated officers for such actions —- that include deputy collector in South Mumbai, and deputy divisional officers of eastern and western suburbs — has pointed out hundreds of cases of groundwater theft and illegal sale filed by groundwater activist Sureshkumar Dhoka.
Despite making effective the Maharashtra Groundwater development and management regulations since June 2014, there were no such officers to investigate several complaints related to groundwater theft in Mumbai and take legal action against those involved. However, in December 2021 such a job was allocated to officers at the level of collectorates and commissionerates.
It may be mentioned here that Mumbai police have registered probably India's first and biggest groundwater theft case worth over Rs 80 crore at Pandya Mansion in Bomanji Master Lane in South Mumbai. There are several cases of alleged water theft against the contractors working on various projects assigned by the government agencies.
Interesting to note that these officers now have powers to take lawful actions against those indulging in illegal extraction and commercial exploitation of groundwater without prior permissions from the groundwater and civic authorities. The officers can also recover environmental damage compensation from well and tanker owners indulging in illegal practices. https://timesofindia.indiatimes.com/city/mumbai/maharashtra-mwrra-directs-district-authorities-to-take-action-against-misuse-of-groundwater/articleshow/91132220.cms (27 April 2022)
Study Groundwater depletion could be significant source of atmospheric CO2 Humans may be adding large amounts of carbon dioxide to the atmosphere by using groundwater faster than it is replenished, according to new research. This process of groundwater depletion releases a significant amount of carbon dioxide into the atmosphere that has until now been overlooked by scientists in calculating carbon sources, according to the new study. The study's authors estimate groundwater depletion in the United States could be responsible for releasing 1.7 million metric tons (3.8 billion pounds) of carbon dioxide to the atmosphere every year. Based on these figures, groundwater depletion should rank among the top 20 sources of carbon emissions documented by the US Environmental Protection Agency (EPA) and the Intergovernmental Panel on Climate Change (IPCC). David Hyndman, a hydrogeologist at Michigan State University in East Lansing, Michigan is the co-author of the new study accepted for publication in Earth's Future, a journal of the American Geophysical Union.
– Soil carbon dioxide levels are up to 100 times greater than carbon dioxide levels in the atmosphere, because soil microbes degrade organic carbon into carbon dioxide. When rainwater percolates through Earth's rocks and sediments, the water dissolves extra carbon produced by these microbes. The United States alone sucks up nearly 80 billion gallons (303 billion liters) of water from the earth every day to supply drinking water and irrigate crops.
– Scientists know less about groundwater depletion on a global scale, but Wood and Hyndman predict groundwater depletion releases 9.7 to 13.5 million metric tons (21.4 to 29.8 billion pounds; US contribution is 1.7 MMT) of carbon dioxide to the atmosphere each year globally. https://www.sciencedaily.com/releases/2017/11/171116132655.htm (16 Nov. 2017)
Kerala Groundwater dept. launches 'well census' The State Groundwater Department has kicked off a 'well census' for listing all groundwater structures, including wells, in the State. The survey is being carried out with the support of the Kudumbashree Mission. Water Resources Minister Roshy Augustine released Neerarivu, a handbook prepared for Kudumbashree workers tasked with collecting the data, by handing over a copy to Kudumbashree Mission Director Asha Varghese.
The well census, which will cover groundwater structures, including wells, ponds (excluding naturally formed ponds) and tube wells, has been included in the World Bank-assisted National Hydrology Project (NHP), the Water Resources department said. The survey will be carried out in 243 panchayats in the first phase. The government has earmarked ₹6 crore for the exercise. The Kudumbashree workers will collect the data using a mobile app which has been named 'Neerarivu.' They will be trained by officials of the Groundwater department. https://www.thehindu.com/news/national/kerala/groundwater-dept-launches-well-census/article65345298.ece (22 April 2022)
Groundwater extraction: 3 blocks notified Regions under three blocks in Palakkad and Kasaragod district have been notified as 'overexploited' and 'critical' based on the status of groundwater extraction, as per a fresh notification issued by the State government. The new notification replaces the one issued in November 2005 which had notified five blocks – Athiyannoor in Thiruvananthapuram district, Kodungallur in Thrissur district, Chittur in Palakkad, Kozhikode in Kozhikode district and Kasaragod in Kasaragod district – in the 'overexploited' category. This notification now stands cancelled. However, in the new notification, Chittoor block has been retained in the 'overexploited' category while Kasaragod block has been brought down to the 'critical' category.
Activities related to groundwater extraction in the notified regions, including construction of wells, requires prior permission from the State Groundwater Authority, the State government said. Section 7 (1) of the Act notes; "Any person desiring to dig a well or to convert the existing well into pumping well, for his own or social purpose in the notified area, shall submit an application before the authority for the grant of a permit for the purpose and shall not proceed with any activity connected with such digging or conversion unless a permit has been granted by the authority." Of the 152 'units' assessed by the State groundwater department and the CGWB in 2017, 30 blocks were categorised as 'semi critical', while 119 blocks were deemed 'safe. https://www.thehindu.com/news/national/kerala/groundwater-extraction-three-blocks-notified/article65321429.ece (14 April 2022)
Punjab Rs 1,500 per acre bonus to farmers adopting DSR In a move aimed at checking the depleting groundwater table, CM Bhagwant Mann Saturday announced a bonus of Rs 1500 per acre to those farmers who will take up direct sowing of rice (DSR). Mann said the farmers can start sowing paddy through the DSR technique from May 20.
Meanwhile, Sukhdev Singh Kokrikalan, general secretary of BKU Ugrahan, welcomed the initiative but said that the incentive is too low. Echoing similar sentiments, Jagmohan Singh Dakaunda, general secretary of BKU Dakaunda, said that one should see that the incentive is less than MSP of one quintal of paddy crop. "In 2021-22, MSP of paddy was Rs 1940 per quintal. Yield of crop falls by 4-5 quintal per acre through DSR and hence they need to increase this incentive. Above all, they need to tell us as if they will provide us power supply from May 1 or not? If there is no power supply, what do we do with this technique?"
The farmers have demanded regular power supply for their land for irrigation purpose before May 20. They said that since agriculture supply is bare minimum, 16 farmer unions of Punjab have planned to gherao officers of executive engineers of Punjab state power corporation limited and canal department on May 2. Nirbhai Singh Dhudike, president of Kirti Kisan Union, said, "When they will not give us canal water and power in time, what will these incentives do? This is why we have planned a protest on May 2." Besides, on May 9, farmers' unions plan to march towards the houses of MLAs of Punjab on tractors and motorcycles. https://indianexpress.com/article/cities/chandigarh/manns-big-push-for-saving-water-rs-1500-per-acre-bonus-to-farmers-adopting-dsr-7895500/ (01 May 2022)
Haryana Groundwater harder than canal water in Karnal: Report Groundwater has more hardness than canal water. The finding on the tap water is within the required limit, but as per the experts, there is a need to monitor the quality of water sources. This has been revealed in a report of the state water testing laboratory of the Public Health Engineering Department, which says groundwater has higher content of total dissolved solids (TDSs), alkalinity and other minerals.
As per the report, the content of TDS in the water samples of Western Yamuna Canal and Bhakra Canal were 142 and 158 mg/litre, respectively, while it ranged between 406 and 427 mg/litre in different samples collected from water supply tubewells and from HSVP office. The hardness in the water samples of Western Yamuna Canal and Bhakra Canal was between 110mg/litre and 120mg/litre, while in the samples of tap water, between 200 and 210 mg/litre. https://www.tribuneindia.com/news/haryana/groundwater-harder-than-canal-water-report-390545 (30 April 2022)
Andhra Pradesh Water table rises despite early summer In spite of the early summer and heatwave conditions prevailing in the State, the groundwater levels in March were more than what they were in the same month the previous year. Compared to 8.65 metres below ground level (MBGL) in March 2021, the average groundwater level in the State in March this year was 8.03 MBGL, that is, an improvement of 0.62 MBGL.
Interestingly, the drought-prone Rayalaseema region has more improvement in groundwater levels compared to coastal Andhra districts. While year on year improvement of groundwater level in Coastal Andhra Pradesh in March was 0.39 MBGL, it was 1.16 MBGL in the Rayalaseema region. Anantapur tops the chart of the districts with the highest increase in groundwater levels compared to last year. The district recorded 2.96 MBGL improvement. https://www.newindianexpress.com/states/andhra-pradesh/2022/may/01/andhras-water-table-rises-despite-early-summer-2448501.html (01 May 2022)
Report New UN report looks underfoot, to solve global water crises While groundwater accounts for 99 per cent of all running freshwater on Earth, it is often undervalued, mismanaged, and overexploited, according to a report published on Monday by the UN scientific organization, UNESCO. Tapping more sustainably into groundwater is essential to meet the fundamental needs of an ever-increasing global population and to address the global climate and energy crises, the report contends. https://hwnews.in/national/new-un-report-looks-underfoot-to-solve-global-water-crises-1348851?infinitescroll=1 (22 March 2022)
URBAN WATER
Hyderabad With GO-111 revoked, developers eye real estate boom By revoking a 26-year-old government order (GO-111) that prevented big constructions and industries in the 10-km radius of two Nizam-era water reservoirs, Osman Sagar and Himayat Sagar, and its catchment on the city's outskirts, the Telangana government has unlocked as much as 1.32 lakh acres across 84 villages adjoining Hyderabad for development. This translates to as much as 538 sq. km of land close to an ever-expanding urban agglomeration called Greater Hyderabad, which in itself is presently spread across 650 sq. km. https://indianexpress.com/article/cities/hyderabad/with-go-111-revoked-hyderabad-developers-eye-real-estate-boom-old-govt-order-construction-industries-7894749/ (30 April 2022)
Mumbai Activists flag conditions in BMC's 'water for all' policy The BMC is all set to implement its 'Water for All' policy. But the conditions of an existing drainage system, to appoint licensed plumbers, and one connection for a group of 15 families have been opposed by slum residents and activists. Such conditions will only impede the policy and make it ineffective, asserted activists, who have asked for one connection for five families instead. https://www.freepressjournal.in/mumbai/mumbai-activists-flag-conditions-in-bmcs-water-for-all-policy (30 April 2022)
Prayagraj 8 blocks, Prayagraj areas in 'dark' zone As of now, eight blocks of the district, which has 23 blocks, and the city area are under the 'dark' zone category. According to former head of the department of Geography, Allahabad University, Prof AR Siddiqui, "The unabated extraction of underground water in the city and an imbalance between the amount of water extracted as compared to recharge of the same is scary and steps have to be initiated to address the problem within the limits when it's not too late. See for yourself, the number of water bottling plants that have mushroomed in the city in the past one decade, the picture will be clear to you." https://timesofindia.indiatimes.com/city/allahabad/groundwater-level-8-blocks-prayagraj-areas-in-dark-zone/articleshow/90410279.cms (24 March 2022)
Panchkula Struggles to meet water needs With the timings of power cuts coinciding with the water supply hours, residents of the city are struggling to do works of daily routine. A lack of coordination between the Haryana Shahri Vikas Pradhikaran (HSVP) and the Uttar Haryana Bijli Vitran Nigam is the key reason for this crisis, say residents. Officials of the UHBVN said the schedule of power cuts could not be altered as it had been prepared at the state level considering maximum consumption hours. https://www.tribuneindia.com/news/chandigarh/panchkula-struggles-to-meet-water-needs-390804 (01 May 2022)
Report India's garbage dumpsites burning The best way to deal with waste is to segregate it at the source itself — that is in our homes. "Incentivise segregating at the source. Give the people who segregate at home some monetary benefits because they are lowering the burden. Penalise those who don't. If this is done, management becomes easier and people will also take part in it," Ramachandra explains. Decentralised and scientific waste management is needed to ensure that landfills do not grow in size. "There is no point in taking the wastes 30-40 km and sending them to a landfill, (if we do that) then it is just a dumping site," Ramachandra observed. Sanitary landfills — where there is no seepage of wastes into the land or water — are the need of the hour. However, even in these landfills, management is a problem, he said. https://www.thehindubusinessline.com/news/why-are-indias-garbage-dumpsites-burning/article65363742.ece (28 April 2022)
JJM/ RURAL WATER SUPPLY
Jammu & Kashmir Firdousabad residents protest against shortage of drinking water Srinagar, Apr 30: Inhabitants of Firdousabad Batamaloo area here on Saturday (April 30) staged protest against PHE Department for failing to provide adequate water supply to them during ongoing holy month of Ramadhan. Scores of women from the locality blocked the road, causing traffic jam in the area. "For last one month, we are not getting adequate water supply. We have been given assurances by authorities, but nothing has been done in this regard," the protesting women said. They appealed Deputy Commissioner Srinagar and officials of the concerned department to look into the matter and redress their genuine demand at the earliest. https://www.greaterkashmir.com/srinagar/firdousabad-residents-protest-against-shortage-of-drinking-water (01 May 2022)
Rajasthan 15 किमी दूर नर्मदा नहर फिर भी नहीं पहुंचा मीठा पानी भारत-पाक बॉर्डर पर बाखासर क्षेत्र के भलगांव ग्राम पंचायत के तारीसरा गांव में पानी के लिए मची त्राही-त्राही के बीच पचास फीसदी लोग गांव से पलायन कर गुजरात चले गए है। यहां न तो सरकारी पानी की योजना पहुंची है और न ही पानी पहुंचाने के लिए कोई सार्थक प्रयास हुए है। यह गांव आजादी के बाद पानी के लिए संघर्षरत है। तारीसरा गांव में एक हजार की आबादी है। गांव से महज 15 किमी दूरी पर नर्मदा नहर का मीठा पानी पहुंच गया है, लेकिन पेयजल को लेकर कोई सरकारी योजना नहीं पहुंची है। https://www.bhaskar.com/local/rajasthan/barmer/news/15-km-away-narmada-canal-still-did-not-reach-sweet-water-50-people-migrated-to-gujarat-129733133.html (29 April 2022)
WATER
Report Ponds are fast disappearing Ponds once dotted the rural hinterland and were integral to the daily lives of villagers, who revered and protected them for both religious and drinking purposes. But, with the advent of handpumps and now piped water supply, these water bodies have been encroached upon by buildings, bhavans, playgrounds or putrefying garbage dumps. With changing climates and increased water stress, protecting and reviving the village ponds has become imperative. https://www.gaonconnection.com/read/ponds-conservation-india-water-crisis-drinking-health-rural-villages-pond-disappearing-data-talaab-encroachment-50685 (21 April 2022)
कभी तालाब ग्रामीण जन जीवन का एक जरूरी हिस्सा हुआ करते थे। पीने के पानी की जरूरतों को पूरा करने के साथ-साथ, वे उनके सामाजिक ताने-बाने से भी जुड़े थे। धार्मिक और पेयजल दोनों उद्देश्यों के लिए उनका सम्मान किया जाता था और उन्हें बनाए रखने की हरसंभव कोशिश भी। लेकिन जैसे-जैसे गांवों में हैंडपंप और अब पाइप से पानी आने लगा, ये स्थानीय जल निकाय धीरे-धीरे गायब होने लगे। असंख्य तालाबों पर अतिक्रमण कर लिया गया। जहां पहले तालाब थे, वहां अब इमारतें, घर, खेल के मैदान या कूड़े के ढेर हैं। बढ़ते जल संकट के साथ बदलते परिवेश में गांव के तालाबों का संरक्षण और पुनरुद्धार जरूरी हो गया है। https://www.gaonconnection.com/gaon-connection-tvvideos/ponds-conservation-water-crisis-rural-india-village-life-animal-husbandry-irrigation-talab-encroachment-50686 (21 April 2022)
Karnataka Contractors' body meets Bommai, flags corruption The Karnataka State Contractors' body met state CM on Apr 25, 2022 and asked him to put an end to the package system of awarding tenders and said there is rampant corruption in the state. Around Rs 20 000 Cr of dues are pending to contractors, majorly from water resources and PWD departments. It said the Karnataka Rural Infrastructure Corp (KRIDL) is functioning like a broker and suggested it be shut down. The practice of revised estimates is also promoting corruption. The corruption starts even before the tender is floated and continues till the bill is paid. They said all contracts above Rs 5 Cr amount should be vetted by a committee of govt. https://www.deccanherald.com/state/top-karnataka-stories/contractors-body-meets-bommai-flags-corruption-1103825.html (25 April 2022)
AGRICULTURE
Report Why data might be key to 2nd green revolution Interesting, use of drones, satellite imagery, data science, remote sensing, AI/ ML, with apps/ systems like FASAL/ Fasal Kranti (providing farm level macro climatic, micro climate and soil conditions), Cropin, etc. for farmers, agriculture. https://timesofindia.indiatimes.com/business/startups/trend-tracking/why-data-might-be-key-to-2nd-green-revolution/articleshow/91122628.cms (27 April 2022)
CSE Dramatic fall in organic fertiliser production In 2020-21, India produced 3.88 million tonnes of organic fertilisers, a dramatic decrease from 338.72 million tonne in 2017-18, a new report said adding that a targeted, ambitious, and well-funded nationwide programme is needed to drive the change towards organic and natural farming. https://www.thestatesman.com/india/dramatic-fall-organic-fertiliser-production-india-2017-18-2020-21-cse-report-1503064387.html (25 April 2022)
Chhattisgarh Government to celebrate Mati Poojan Diwas on May 3 to promote natural farming https://indianexpress.com/article/india/chhattisgarh-government-mati-poojan-diwas-7891436/ (28 April 2022) https://www.bhaskar.com/local/chhattisgarh/raipur/news/government-will-do-mati-puja-on-akti-big-event-in-the-capital-raipur-peoples-representatives-officers-will-go-among-the-farmers-in-the-districts-blocks-too-129730102.html (28 April 2022)
Uttar Pradesh अमरोहा शहर (Population 2.5 lakhs) से रोजाना निकलने वाले लगभग 70 मीट्रिक टन कूड़े के वैज्ञानिक ढंग से निस्तारण की योजना परवान चढ़ गई है। अकबरपुर पट्टी स्थित लिगेसी प्लांट रफ्तार भर रहा है। यहां कूड़े का जैविक निस्तारण कर प्रतिदिन 400 क्विंटल खाद बनाई जा रही है। उधर, डाइडेरा में फीकल स्लज ट्रीटमेंट प्लांट का निर्माण भी अंतिम चरण में है। इसके शुरू होने के बाद मल से भी जैविक खाद बननी शुरू हो जाएगी। https://www.jagran.com/uttar-pradesh/moradabad-city-400-quintals-of-manure-is-being-made-daily-from-garbage-in-amroha-22663711.html (27 April 2022)
SUMMER 2022
IMD Hottest April in 122 years for northwest, central India Northwest and central India experienced their hottest April in 122 years with average maximum temperatures reaching 35.9 and 37.8 degrees Celsius respectively, the weather office said on Saturday (April 30). Addressing a press conference, India Meteorological Department director General Mrutyunjay Mohapatra said northwest and west central parts of the country – Gujarat, Rajasthan, Punjab and Haryana – will continue to experience above normal temperatures in May as well. The average temperatures observed pan-India for April was 35.05 degrees, which was the fourth highest in 122 years, he said. Last month was the hottest March in India's recorded history since 1901. https://timesofindia.indiatimes.com/india/hottest-april-in-122-years-for-northwest-central-india-states-grapple-with-power-shortage/articleshow/91206793.cms (30 April 2022)
Jammu & Kashmir Farmers asked to avoid paddy crop cultivation this year Anticipating decrease in the water level in peak summer, the Department of Irrigation and Flood Control (I&FC) division Sopore has directed farmers to avoid paddy crop cultivation this year and instead cultivate some other crop. "As less snowfall was recorded this year, therefore, department will not be able to provide adequate water for irrigating paddy fields," reads the advisory issued by the executive engineer irrigation and Flood control division Sopore.
Citing increase in temperature another reason for avoiding paddy crop, the advisory says, following uncommon increase in temperature, the accumulated snow in upper reaches is fast melting which shows their will be comprehensive decrease in water level in the peak summer. The advisory has been issued for the farmers of more than 100 villages located across Baramulla district. https://www.greaterkashmir.com/kashmir/farmers-in-sopore-asked-to-avoid-paddy-crop-cultivation-this-year (28 April 2022)
MONSOON 2022
IMD Urban Meteorological Services For 50 Cities In One Year On the lines of Urban Meteorological Services for Delhi-NCR, the India Meteorological Department (IMD) on Apr 30, 2022 announced to start similar services for 50 cities in a year's time. On July 30, 2021, the Urban Meteorological Services for Delhi-NCR was launched to provide an integrated Early Warning System through a web portal and an App. It provides current weather observations, current air quality observations, weather forecast, air quality forecast, district-wise weather warnings and a Nowcast (forecast applicable for next three hours) too. https://ommcomnews.com/india-news/imd-to-start-urban-meteorological-services-for-50-cities-in-one-year (30 April 2022)
IMD Rainfall maps giving data of rainfall for two pre monsoon months: March-Apr 2022. The deficit rainfall in most of the country excluding parts of South India and North East India) have added to the heat wave conditions.
Below normal rainfall in March-Apr 2022 in most stages except a few in South India and North East India. https://timesofindia.indiatimes.com/india/pre-monsoon-rain-deficit-in-20-states/articleshow/91086038.cms (26 April 2022)
FLOOD 2022
Himachal Pradesh Debris From Flash Floods Has Made Half the Farmland Unusable 'We have no role in disturbing the climate. We are living peacefully, away from the daily hustle and bustle of urban life. But it is us who are suffering disproportionately from the effects of the changing weather,' says one villager.
In their recent representation, submitted online to National Commission for Scheduled Tribes (NCST) last week, they noted that almost 17 hectares of farmland have turned barren in the Gue village in Lahaul & Spiti; almost half of their total cultivable land. Chhoing told The Wire that flash floods in the region were not very frequent in the 20th century. Agricultural land was spread across mountains too. However, things took a turn for the worse in the last 10-15 years as the incidence of floods increased rapidly.
"Floods in the years 2006, 2010, 2013, 2016, 2017 and 2020 took a heavy toll on the Gue village in village and on the livelihoods of the 40-plus families living here," Chhoing said. He and the others in the village, who belong to Bodh tribe, hold climate change responsible for their current situation. Chhunit Chhering, another villager, told The Wire that earlier, rainfall in their region was scant. Now, the incessant rainfall in the area has disturbed its whole ecosystem. https://thewire.in/rights/himachal-pradesh-flash-floods-landslide-farmland-unusable (30 April 2022)
URBAN FLOOD
Report Urban floodplains must become biodiversity parks Excellent piece on Urban River Floodplains and how beneficial it will be to convert them into biodiversity parks. https://www.deccanherald.com/opinion/urban-floodplains-must-become-biodiversity-parks-1105153.html (29 April 2022)
Hyderabad Delay in payment to contractors impedes pre-monsoon works The non-payment of bills of previous works to contractors is impinging the pre-monsoon works in the city. The civic body is yet to clear pending bills to the tune of Rs 1,000 crore. Further, hike in prices of construction material has also made the tenders costly for the contractors.
Surender Singh, general secretary, GHMC Contractors Association said, "Currently, 339 tenders have been submitted by the GHMC, of which, 181 have been called for tenders. If the works need to be done before the monsoon, the GHMC has to increase the price and immediately complete the tender calling process by clearing the previous bills of all contractors." Adding that all monsoon preparation works like canal construction, drainage, desilting of nalas and others were pending in the city, he said that the drainage works which are supposed to be completed before the monsoon starts have not yet begun in many areas. https://www.thehansindia.com/news/cities/hyderabad/hyderabad-delay-in-payment-to-contractors-impedes-pre-monsoon-works-739643 (25 April 2022)
ENVIRONMENT GOVERNANCE
Tamil Nadu 'Mother Nature' is a 'living being' with legal entity: HC Holding that it is the right time to confer juristic status to 'Mother Nature', Justice S Srimathy of the Madurai Bench of Madras High Court invoked the 'parens patriae jurisdiction', and declared 'Mother Nature' as a 'living being' having the status of a legal entity. Justice S. Srimathy observed that the court is hereby declaring 'Mother Nature' a 'living being' having the status of a legal person with all corresponding rights, duties and liabilities of a living person, in order to preserve and conserve it. The court observed that 'Mother Nature' was accorded the rights akin to fundamental rights, legal rights, constitutional rights for its survival, safety, sustenance and resurgence in order to maintain its status and also to promote its health and well-being.
– The State and Central governments are directed to protect 'Mother Nature' and take appropriate steps in this regard in all possible ways. The court was hearing petitions filed by A. Periyakaruppan of Theni, who served in the Revenue Department. He had challenged an order passed by the Revenue Department, due to which the petitioner was not allowed to retire from service but put under suspension.
– The court observed that under the guise of sustainable development, humans should not destroy nature. If sustainable development destroys biodiversity and resources, it is not sustainable development as it is sustainable destruction. Phrases like 'sustainable development,' 'the polluter pays' and 'the precautionary principle' shall not be allowed anymore. https://www.thehindu.com/news/cities/Madurai/mother-nature-is-a-living-being-with-legal-entity-hc/article65367743.ece (29 April 2022)
Report Developers should pay a higher Net Present Value for cutting forests In January 2022, a Supreme Court-appointed committee criticised the current method of evaluating forests, calling it outdated. It recommended a substantial revision of the Net Present Value (NPV) of forests, fixing compensatory afforestation practices, and the creation of a new body to regulate forest diversion. However, in January 2022 itself, the union environment ministry revised the formula to calculate the NPV and increased it only by 1.5 times. The ministry ignored even the recommendations by another expert group that had asked for increasing the NPV by four times. Forest-sector experts have maintained that the non-revision of NPV for the past 15 years had led to "an undervaluation" of forests being diverted. Factors such as ecosystem services were not being considered. They believe that the latest revision ignores all such concerns once again.
– There is also the question if the hike in NPV alone will present a hindrance against unjustifiable forest diversions. https://india.mongabay.com/2022/04/analysis-developers-should-pay-a-higher-net-present-value-for-cutting-forests/ (26 April 2022)
Incremental Dilution of Environment Regulatory Regime for Benefit of Corporates? The MoEF&CC has been regularly undertaking policy dilutions in the environment through office orders and memoranda despite having been rapped on its knuckles by courts in the past. https://www.newsclick.in/incremental-dilution-india-environment-regulatory-regime-benefit-corporates (26 April 2022)
MoEF under the Union Minister Bhupendra Yadav continues to dilute the environment regulations under various pretext, illegally or improperly using section 3, national security and such other reasons. https://www.business-standard.com/article/current-affairs/amendments-in-eia-notification-can-the-govt-really-avoid-public-notice-122042500048_1.html (25 April 2022)
Maharashtra Green clearances for key projects in Dahanu declared 'null and void' The chairman of the newly-reconstituted Dahanu Taluka Environment Protection Authority (DTEPA) has declared green clearances for key infrastructure projects passing through Dahanu taluka in Palghar district as 'null and void'. These clearances were given by an ad hoc monitoring committee between November 2020 and October 2021. The projects include the National Highways Authority of India's (NHAI) Mumbai-Vadodara Expressway Phase-II, the MMRDA's Surya irrigation scheme, and the Dahanu Regional Plan.
– The Supreme Court (SC) established the DTEPA in 1996 to protect India's first notified eco-sensitive zone (ESZ) in Dahanu. More than a year after the passing away of its chairperson, retired high court justice CS Dharmadhikari in early 2019, the union environment ministry in 2020 moved the apex court seeking to scrap the DTEPA and establish a monitoring committee to perform the DTEPA's tasks for a three-year period in its place.
– "But the monitoring committee consisted of just three or four state government officers, who were reluctant to scrutinise infrastructure projects with due rigour. It is also a violation of the Supreme Court's direction that the DTEPA be overseen by a retired high court judge. The absence of any independent experts on the DTEPA sets a dangerous precedent for the region," said Debi Goenka, executive trustee of the Conservation Action Trust, which in 2020 filed an intervention application before the SC challenging the MoEFCC's move to disband the Authority. https://www.hindustantimes.com/cities/mumbai-news/green-clearances-for-key-projects-in-dahanu-declared-null-and-void-101650465705479.html (20 April 2022)
Why India's fossil wealth has remained hidden India has some of the most spectacular fossils on the planet, from vast beds of dinosaur eggs to strange prehistoric creatures new to science. But many are just sitting in the ground. https://www.bbc.com/future/article/20220113-why-indias-fossil-wealth-has-remained-hidden (17 Jan. 2022)
CLIMATE CHANGE
Long-term resilience through MGNREGS assets The recent working paper 'MGNREGS: Integrated watershed management and climate resilience' by Emilie Beauchamp and David Paul Pertaub explores whether the assets delivered under MGNREGS can contribute to long-term climate adaptation for India's rural poor. Using desk-based policy review triangulated by multi-stakeholder key informant interviews, it investigates the evolution of the policy framing and design features of MGNREGS. https://www.indiawaterportal.org/articles/long-term-resilience-through-mgnregs-assets (23 April 2022)
SOUTH ASIA
Pakistan will double its hydroelectric output in the next 7 years to meet its perennial power shortage and address the soaring electricity prices, a media report said on Saturday, amid a worsening energy crisis resulting in over 10 hours of load-shedding in the country. The Water and Power Development Authority (WAPDA) has devised a plan to increase the existing 9,406 megawatts (MW) to 20,591 MW by the year 2028-29.
The hydropower will be added in two phases. In the first phase, the share of the hydroelectric energy will be raised from 9,406 MW to 12,366 MW by 2025 and in the next phase, it will be jacked up to 20,591 MW, Pakistan's national news agency Associated Press of Pakistan (APP) reported. At present, the hydroelectric energy share in the overall energy mix stands at 31 per cent with an annual electric power generation of 37 billion units in Pakistan. https://www.ndtv.com/world-news/pakistan-heatwave-pakistan-to-double-hydroelectric-output-to-meet-power-shortage-report-2934829 (30 April 2022)
CHINA
The black soil that fed China is washing away In the ten years from 1990 to 2000, for example, the three provinces of northeast China added 2 million hectares of farmland, and today, the northeast region generates as much as 50% of China's japonica rice crop, 41% of its soybeans and 34% of its corn. In the 1950s, the soil was so rich "a pair of chopsticks would sprout in it," locals said. Now the organic matter in the soil has fallen by as much as 75%, and in some areas, the black soil layer is decreasing by 1 to 2 millimeters a year. Black soil exists in only a few places in the world — in central Eurasia and especially Ukraine, and in the Red River Valley in the U.S. and Canada — and it's so potent that occasionally criminals are busted for black-market trafficking in the stuff.
– Degraded soils, in return, are also bad news for the planet. Healthy and fertile soils work as important carbon sinks. When their fertility is lost, their ability to hold carbon also drops. In the 30 years from 1990 to 2020, the black soil's carbon stock has dropped by about 650 million tons in northeast China. It would take about 300 million hectares of U.S. forest a year to sequester that much carbon dioxide.
– Beijing has intensified its focus on food security, including efforts to protect the country's most precious soil. By 2025, China plans to improve the organic matter in nearly 6.7 million hectares of black soil by 10%. It's a good start, but would still be well below the levels enjoyed in the 1950s. https://www.deccanherald.com/opinion/in-perspective/the-black-soil-that-fed-china-is-washing-away-1104200.html (01 May 2022)
THE REST OF THE WORLD
USA Taking Stock of Methane Emissions From Reservoirs A growing body of research published over the past two decades has found that most reservoirs, including those used for hydropower, aren't emissions-free. "Hydroelectric reservoirs are a source of biogenic greenhouse gasses and in individual cases can reach the same emission rates as thermal power plants," Swiss researchers found in a 2016 study published in the journal PLoS ONE.
– Despite the green reputation of hydropower among policymakers, some reservoirs emit significant amounts of methane, along with much smaller amounts of nitrous oxide and carbon dioxide. That's bad news because we already have a methane problem. This short-lived but potent gas packs 85 times the global warming punch of carbon dioxide over 20 years. If we hope to stave off catastrophic warming, scientists say we need to quickly cut methane. But new data show that despite this warning it's still increasing at record levels — even with a global pledge signed by 100 countries to slash methane emissions 30% by 2030.
– In March 2022 organizers in USA started pushing regulators for more accountability. The groups, along with more than 100 others, have petitioned the Environmental Protection Agency to begin a rulemaking that would add dams and reservoirs under the Greenhouse Gas Reporting Program.
– The researchers in 2016 urged policymakers across the world to take note and concluded that global reservoirs account for just under a gigaton of annual carbon dioxide equivalents — about 1.3% of all global emissions. This was still likely to be an underestimate, they said. "Much more methane either bubbles out of reservoirs or is emitted just downstream from reservoirs than was previously known," found the researchers of a 2021 study that focused on developing a new framework for calculating reservoir emissions, called the G-res tool. When taking these factors into consideration, they found global reservoirs emit around 29% more greenhouse gas emissions per area than previously calculated.
– A 2014 study of an Ohio reservoir led by EPA scientist Jake J. Beaulieu found that mid-latitude reservoirs can have comparable methane emissions to those in the tropics.
– IPCC: A 2006 report from the IPCC on climate change included an appendix "that gave some crude method to estimate greenhouse gases from reservoirs," says Yves Prairie, an aquatic ecologist and the UNESCO chair in global environmental change at the University of Quebec at Montreal. "But because it was in an appendix, it was never formerly adopted as a method and countries didn't have to report their greenhouse gas emissions from reservoirs." However, the large body of scientific research done since then — including the G-res tool developed by Prairie and colleagues — led the IPCC to adopt a new methodology in 2019 that draws on these advances. It's expected that soon countries will be required to report their reservoir emissions in their annual greenhouse gas inventories, he says.
– USA: The EPA is already at work on the issue from other angles, including conducting a nationwide survey of greenhouse gas emissions from U.S. reservoirs. The four-year project, scheduled to be completed next year, "will improve our understanding of how reservoir greenhouse emission rates vary," he says. And the EPA has also included reservoirs in its national greenhouse gas inventory for the first time in a newly-published report. https://therevelator.org/methane-dams-reservoirs/ (25 April 2022)
NILE Satellite image of GERD from NASA Earth Observatory.
https://earthobservatory.nasa.gov/images/149699/keeping-a-satellite-eye-on-gerd
Report Restoring dammed rivers using artificial floods Artificial floods are controlled releases from dams that can help reverse the damage done to downstream rivers and aquatic ecosystems. They do this by mimicking natural flows to mobilise and transport sediment downstream, reshape the river and reinstate important habitats for native aquatic insects and fish. Improved outcomes can occur when these artificial floods converge with natural flows and sediment delivery from unregulated tributary streams further down the valley.
– Consoli, G. et al. (2022) 'Restoring dammed rivers using artificial floods' Water Science Policy, 3(7). https://dx.doi.org/10.53014/IGLF6030 ; https://watersciencepolicy.com/article/restoring-dammed-rivers-using-artificial-floods-97137dc0d532?language=English (14 March 2022)
Southwest Cities Learn to Thrive Amid Drought Facing a changing climate, southwestern U.S. cities such as San Diego, Phoenix, and Las Vegas have embraced a host of innovative strategies for conserving and sourcing water, providing these metropolitan areas with ample water supplies to support their growing populations. https://e360.yale.edu/features/a-quiet-revolution-southwest-cities-learn-to-thrive-amid-drought (26 April 2022)
5 dangerous rivers in world. https://timesofindia.indiatimes.com/travel/things-to-do/5-dangerous-rivers-in-world-you-should-never-step-in/photostory/91186801.cms (29 April 2022)
Compiled by SANDRP (ht.sandrp@gmail.com)
Also see: DRP News Bulletin 25 April 2022 & DRP News Bulletin 18 April 2022
Follow us on: www.facebook.com/sandrp.in; https://twitter.com/Indian_Rivers