The Hydropower lobby continues to push unsustainable, unviable, destructive hydropower projects. They want everyone to forget about the World Commission on Dams report and guidelines and the lobby keeps bringing out its own guidelines which has zero credibility. They are looking for new voices to sing their song, and have appointed Ashok Khosla, as the Chair of the Hydropower Sustainability Assessment Council but Ashok Khosla already stands discredited. He or his organisation is not known to be doing any credible work in the area of hydropower projects. He or his organisation Development Alternatives has never taken a stand on any public spirited campaign against destructive hydropower projects in India. So that voice is neither independent nor credible. So this new move by the hydro lobby is not going to help the cause of the lobby either in India or beyond. The write up below, as expected does not mention the WCD report or guidelines. Mr Khosla possibly does not even know about the existence of the WCD report or guidelines because he had no credible role to play there or in any hydropower related work in the past. The write up has loads of misleading and wrong statements too. But all these attempts are not going to help forget people about WCD guidelines as the only globally credible and accepted guidelines on dams and hydropower projects.
Shocking to see Ashok Khosla writing like a hydropower lobbyist. https://energy.economictimes.indiatimes.com/news/power/opinion-hydropower-development-in-india-can-and-should-be-sustainable/82100258 (16 April 2021)
HYDRO POWER PROJECTS
Meghalaya Why Are Locals Protesting Against Mega-Dam Project Especially for precious spots such as the Umngot river, which supports many in their day to day lives and is a national treasure; the marring of its beauty being a greater concern than it is currently assumed to be. As for the mainstream media, the emphasis needs to be on the amplification of the voices of the marginalised, especially when they are already weakened and silenced. https://feminisminindia.com/2021/04/15/umngot-river-dam-project-meghalaya/ (15 April 2021)
This report rightly asks why is the mainstream national media not covering this important issue? https://www.zee5.com/zee5news/why-is-media-not-covering-meghalaya-farmer-protest-over-dam-construction-on-umngot-river (12 April 2021)
Uttarakhand Chamoli in the Grip of Fear, Trauma and Sleeplessness "The Rishi Ganga barrage site where debris is accumulated is a sliding zone. It is quite perilous to conduct any operation here," Om Naresh, a company commandant of the National Disaster Response Force (NDRF), told The Wire Science. "We will have to create another approach road to reach the site and break the boulders and remove the debris. It will require permission from the district administration, and a long time."
– "Around 111 vulnerable villages have been relocated in Chamoli district in the past," Chamoli district magistrate (DM) Swati Bhadauria said. "As per the criteria, a geological survey of Raini village will be undertaken to ascertain if it is unstable enough [to warrant] relocation."
– Social activist and local political leader Atul Sati told The Wire Science, "The Rishi Ganga project was built at a precarious location, where it was bound to come in the way and as a result get swept away by swift currents or an avalanche," adding to the final damage. Today, villagers are determined to not allow the project to be set up again. But S.D. Kamath, CEO of the Kundan Group, also said a fresh start may be infeasible: they needed a lot of money and resources to clear the debris and admitted the region may have become too unstable as well.
– The walls of the Tapovan Vishnugad project used to scream safety messages, but a senior NDRF official said the plant's operators themselves had scant regard for human safety. According to him, both this and the Rishi Ganga project lacked any pre-warning systems, observation points, exit points and security arrangements at the Tapovan tunnel when the flood waters hit. One particular warning system that has been set up now is perhaps more ridiculous. An alarm has been installed near the Rishi Ganga river, and the village pradhan has been asked to inform the National Thermal Power Corporation (NTPC) and district officials "by phone when the alarm rings," i.e. if the water has risen above the two-metre-mark. "Here, the phone network is very poor, so it is not a reliable method. And the sound of the alarm will drown in the roaring sound of any flash floods happening in future," Rana, the pradhan, said. It also doesn't bode well that only one person is in charge of the whole system.
– That is, the families of Indian workers who lost their lives will get Rs 27 lakh each and those of the Nepali men will receive Rs 4 lakh each. Excavation of the 12.1-km long headrace tunnel continues at the Tapovan Vishnugad project site. "We are inching closer to the point where around 34 bodies are feared to be buried," a senior manager at NTPC said. "It will take us one week to 10 days to reach there." https://science.thewire.in/environment/two-months-after-floods-chamolis-people-live-in-trauma-fear-and-without-sleep/ (16 April 2021)
On April 15 a labour working in Vyasi hydro power project fell to his death at Hathiyari the location of power station. They allege lack of adequate safety gears and the work has reportedly been stopped since then.
Video report after labour death at Vyasi HEP. Workers say that despite repeated pleas companies and UJVNL not providing safety gears to labour and there are many vulnerable spots posing threat to their life. https://www.youtube.com/watch?v=pRJYWlws1t0 (18 April 2021)
ग्रामीणों का आरोप था कि कंपनी ने श्रमिकों की सुरक्षा के मानक पूरे नहीं किए हैं, जिससे श्रमिक हादसे का शिकार हो रहे हैं। https://www.jagran.com/uttarakhand/dehradun-city-post-martum-offter-mla-interfare-21565600.html (17 April 2021) https://www.jagran.com/uttarakhand/dehradun-city-the-farmers-cleaned-the-premises-on-tuesday-21448412.html (10 March 2021)
स्थानीय तहसील में सात सूत्रीय मांगों को लेकर अनिश्चतकालीन धरने पर बैठे किसान एकता मोर्चा कार्यकत्र्ताओं ने हथियारी में निर्माणाधीन व्यासी परियोजना का कार्य बंद कराने की चेतावनी दी। वर्ष 2016 से हथियारी परियोजना के विस्थापितों की अनुग्रह राशि के बकाया का भुगतान ब्याज सहित कराने और ग्राम पंचायत मटोगी की चरागाह भूमि पर हुए कब्जे को हटाने की मांग भी शामिल है। इसके अलावा डाकपत्थर से लेकर कुल्हाल तक शक्ति नहर के दोनों तरफ 15 फुट ऊंची रेलिग लगाने, हथियारी की व्यासी परियोजना क्षेत्र अंतर्गत खाली कराई जा रही दुकानों व मकानों की एवज में ग्रामीणों का शीघ्र विस्थापन करने तथा परियोजना निर्माण के दौरान विस्फोट से क्षतिग्रस्त मकानों का शीघ्र उचित मुआवजा देने की भी मांग की। उन्होंने चेतावनी दी है कि यदि नौ मार्च तक मांगें नहीं मानी गई तो मजबूरन बगैर सूचना दिए 120 मेगावाट की निर्माणाधीन व्यासी परियोजना क्षेत्र में चल रहे संपूर्ण कार्य बंद करा दिए जाएंगे। इस संबंध में मोर्चा ने तहसील प्रशासन के माध्यम से एक ज्ञापन भी मुख्यमंत्री को भेजा है। https://www.jagran.com/uttarakhand/dehradun-city-atention-on-th-protest-21425544.html (03 March 2021)
Report Migrant Workers Most Vulnerable to Himalayan Disasters Rishika Pardikar raises right questions here, there is absolutely no attempt to protect the rights of the migrant or even local workers. https://www.ecowatch.com/himalayan-disaster-migrants-2652503182.html (12 April 2021)
Nagaland Status of 3 proposed power plants Contrary to the report there is not much progress on the ground. The 22.5MW Hakchang SHP has been proposed to be set up at the Yijung River at Hakchang, Tuensang. The proposal to set up the small hydro plant (SHP) on Engineering, Procurement and Construction (EPC) mode was submitted by Harit Dynamics Pvt Ltd to the state government in mid-2017. The petition for determining generation tariff was filed in November 2017.
As per the proposal, the developer projected a 24-month completion period if it is undertaken. The approved capital cost was approved at Rs 9cr per MW as per 2017-18 rates for SHPs in the north-east region. The generation tariff was conditionally approved at Rs 4.69/kWh up to the 10th year and at Rs 2.49/kWh from the 11th year onwards. The developer was also directed to furnish loan agreements with financial institutions and other statutory financial paperwork. Power Purchase Agreements (PPA) for the Hakchang SHP and the solar plant in Jalukie have been signed between the project developers and the state government. The PPA for the latter was signed on September 25, 2017. https://www.morungexpress.com/nagalands-energy-potential-attracts-private-investment (13 April 2021)
Kerala Storage in state's hydel dams healthy The current water year will end in 44 days but the water storage in 16 major hydel dams in the state was recorded at a healthy 42% on Sunday (April 18), said KSEB officials.
According to KSEB officials, the continuous summer rains in the last three weeks in major parts of the state helped to reduce the power consumption in the state. "After repeated summer rains, the power consumption was reduced by nearly 10mu per day. The power generation of Moolamattom power plant was reduced to 6-7 mu per day whereas it was 13-15 mu last month. Besides, the summer rains provided additional 61mu worth water in the hydel dams," said officials.
KSEB chief engineer (dam safety and DRIP) Supriya S said, "A healthy storage of 42% is capable for the hydel power generation till the arrival of monsoon in June. IMD has already predicted normal monsoon this year and it will help to get proper water storage in the monsoon season." "As per the central water commission (CWC) the fixed rule curve for Idukki reservoir on June 10 is 2,373ft," she added. https://timesofindia.indiatimes.com/city/kochi/storage-in-states-hydel-dams-healthy/articleshow/82133772.cms (19 March 2021)
DAMS
Madhya Pradesh मान बांध : तीस साल में मिला मुआवजा Story of struggle and success in achieving rehabilitation for the Man Dam Affected people from Narmada Valley, led by the Narmada Bachao Andolan. https://www.spsmedia.in/people-movement/maan-dam-compensation-received-in-thirty-years/ (14 April 2021)
Polavaram Project 192 villages will be affected All those who have been displaced from 192 villages because of Polavaram Project are living in fear amid insecurity. They are all worried that the villages would be submerged in June or July because of cyclones and floods. They appealed to the Union and state governments to provide a relief and resettlement package to them, before the completion of Polavaram Project.
According to them, nearly 3.5 lakh people, from Schedule Tribe and Scheduled Caste, are facing a threat of their livelihood. According to sources, the government completed 70 per cent of Polavaram project works by the end of December but only four percent of the R & R package was implemented. The Chief Minister aimed at completing the project by the year-end. As per the 2017 statistics, 5,08,874 persons have been displaced and the number may increase. https://www.deccanchronicle.com/nation/in-other-news/110421/polavaram-will-render-people-from-192-villages-homeless.html (12 April 2021)
INTERLINKING OF RIVERS
Ken-Betwa project Ill-conceived rationale behind river-linking Article on the controversial Ken Betwa Link Project by SANDRP Coordinator in THE HINDU on April 18, 2021. https://www.thehindu.com/sci-tech/energy-and-environment/the-ken-betwa-project-reflects-the-ill-conceived-rationale-behind-river-linking/article34335304.ece (17 April 2021)
RIVERS AS NATIONAL WATER WAYS
NW1 गंगा में पानी कम होने की वजह से जून तक नहीं आयेंगे जलपोत वाराणसी-गाजीपुर सीमा से सटे चंद्रावती के पास गंगा नदी में मात्र 1.4 मीटर ही जलस्तर है। अब ऐसे में लगभग तीन महीने तक यानी जून तक जलपोत से माल ढुलाई करना असंभव हो गया है। बीते दिनों भी एक मालवाहक गंगा में आया तो सही लेकिन पानी कम होने से वह फंस गया। इसके बाद से ही माल वाहकों के संचालन पर संकट के बादल नजर आने लगे थे। अब नदी में पानी कम होने की वजह से तीन महीनों पर बंदरगाह के साथ ही नदी में भी कार्गो सेवाएं बाधित रहेंगी। इसकी वजह से नेशनल वाटरवे क्रमांक एक में संचालन पूरी तरह से प्रभावित रहेगा। https://m.jagran.com/uttar-pradesh/varanasi-city-ships-will-not-come-by-june-due-to-shortage-of-water-in-ganga-no-cargo-to-be-transported-by-ship-for-three-months-21554934.html (13 April 2021)
IRRIGATION
Opinion Ignored water crisis is at the center of farmer protest by Kabir Agarwal Farmers worry that through the new laws, the government will cut down its wheat and rice procurement. That system of procurement at minimum support prices (MSP) is critical for the livelihoods of farmers in the northern states of Punjab and Haryana in particular. It is farmers from these very states who are protesting.
– The laws themselves do not imply a change in the government's procurement practices. But farmers worry that is what the government intends to do. This fear stems from a series of reports and expert recommendations over the years that have suggested a shift away from the paddy and wheat cycle that dominates croplands in these two states. The transition is crucial because of the prevailing water crisis in both Punjab and Haryana. https://www.washingtonpost.com/opinions/2021/04/13/india-farmers-protest-punjab-haryana-modi-water-crisis-climate-change/ (13 April 2021)
Maharashtra Solar-powered water pumps in Marathwada are a mixed blessing Loopholes and improper implementation of the solar water pump scheme might harm the environment further. https://www.moneycontrol.com/news/trends/features-2/in-drought-prone-marathwada-solar-powered-water-pumps-are-a-mixed-blessing-6783861.html (18 April 2021)
RIVERS
SANDRP Blog Yamuna Jayanti 2021: River needs flows; not dam, mining & pollution Yamuna Jayanti the birthday of Yamuna river is celebrated every year on sixth day of summer Navratri. This year the day occurred on Sunday, April 18. On this occasion, Yamuna Nadi Mitra Mandlis from all along the river through pics, videos share the latest updates on the issues affecting the river health and riverine community's wellbeing. They also celebrate the river for its innumerable/ services and carry out activities to draw the attention of concerned governments and public at large towards gradual decline in river's health.
This year due to Covid 19 pandemic and resultant restrictions, they could not organize public gatherings and undertake river related activities as usual, however they have shared some relevant pictures and videos depicting present status of River Yamuna which are presented here in a descending order. https://sandrp.in/2021/04/19/yamuna-jayanti-2021-river-needs-flows-not-dam-mining-pollution/ (19 April 2021)
A group that came to celebrate Yamuna Jayanti was disturbed to find illegal mining on the riverbed. https://timesofindia.indiatimes.com/city/chandigarh/worshippers-find-ravaged-river-on-yamuna-jayanti/articleshow/82134731.cms (19 April 2021)
Research A River Is Not a Pendulum: Sediments of Science in the World of Tides Fascinating: By Debjani Bhattacharyya in March 2021 issue (Vol 112, Issue 1) of Chicago University Press Journals.
ABSTRACT: This essay explores the history of the silty sediments that make up the littorals of the Bengal Delta to see how they emerged as an object of scientific inquiry and as part of a hydrosocial and political history. By using the conceptual framing of hydrosociality, the piece investigates the political and legal possibilities of amphibious landscapes to document the colonial legal engagement with and scientific puzzlement over these silty sediments and their postcolonial afterlives. As temporary landscapes, silts and sediments pose a unique problem for historians, for they leave scanty archival traces. When they emerge in the state archive it is as sites of conflict, rather than sites of life. They also emerge as a problem for science to map and solve. This essay gathers some snippets of the fragmentary journey of shoals as they emerge and disappear in the scientific and legal archive. Focusing on three moments of interruption in the colonial and postcolonial encounters with the littorals of the Bengal Delta, it argues that the inability of scientific discourse to come up with a conceptual grammar was conducive to new legal articulations about these spaces. Unfortunately, the consequences of this are playing out in the contemporary moment as a humanitarian crisis.
– The Bengal Rivers oscillate in curves "whose extent is directly proportionate to the quantity of water flowing through the rivers."1 In one fell swoop, the river heaving to the Bay of Bengal and the surrounding littorals became an organic machine, whose quantity of water could be made proportionate to its movement. https://www.journals.uchicago.edu/doi/10.1086/713567
Assam The Struggles of a "River People" Fascinating: For decades, the Mising people, a minority group in Northeast India, have fought for tribal autonomy and cultural recognition. Today they face growing challenges to their way of life. "Mising means man (mi) of the water (asi)," Jeuti replied. To them, the name meant something different. It pointed to how the river had guided their community's migrations over the centuries and remained integral to their identities. I came to realize that if I wanted to understand what it meant to be Mising, then I needed to understand what the river meant to this community.
– Historically, the Mising, a community of around 700,000 people, have inhabited areas close to the Brahmaputra, earning them the label of "river people" by those who live on the mainland. Outsiders see the river as an unpredictable force—one that constantly brings in silt, disrupting the lives of the people who make their homes near it. The Mising, accordingly, are often portrayed by outsiders as people isolated from the rest of "civilization," living temporary, fluid existences.
– Since the 1950s, the Mising have been fighting for political recognition, land allocations, and cultural and linguistic freedom as part of a broader tribal autonomy movement in Assam. The Mising involved in this movement assert that their belonging in Assam has connections to cultures and regions woven together by the Brahmaputra River and its tributaries, which cut across contemporary postcolonial state boundaries in India.
– Today Mising people's understandings of tribe and Indigenousness cross this binary of hills and plains—like the river itself. In doing so, the Mising emphasize cultural and religious similarities with present-day tribal communities in the hills of Arunachal Pradesh while asserting their need for tribal autonomy in Assam. But the Mising have been unsuccessful so far in receiving the more protective Sixth Schedule status—a constitutional provision that helps tribal communities access resources while ensuring protections for their distinctive cultural practices.
– As Jeuti's son told me: "The river breaks (bhange) and makes (bonay)." Jeuti's char is relatively permanent and located in the Lakhimpur District. Since the early 2000s, Mising and other riverine communities have been protesting the construction of the Lower Subansiri hydropower project, which they claim could increase flash flooding and further disrupt downstream areas in the region of Lakhimpur. (BY NIMISHA THAKUR, a Ph.D. candidate in cultural anthropology at Syracuse University.) https://www.sapiens.org/culture/mising-river-people-assam-india/ (14 April 2021)
Andhra Pradesh NGT panel flags environmental violations by ONGC, GAIL in Krishna-Godavari basin Oil and Natural Gas Corp Ltd (ONGC) and GAIL Ltd prioritised production and extraction of oil and gas and did not pay attention to environmental and pollution mitigation measures in the Krishna-Godavari (KG) basin in Andhra Pradesh, flagged a report by the NGT April 13, 2021.
ONGC had on February 15 announced its plans to scale up gas production to two million metric standard cubic metres a day (MMSCMD) of natural gas from June-end from the $5.07 billion KG-DWN-98 / 2 project. But the joint committee of the green tribunal formed September 8, 2020 has flagged concerns: It did so on the basis of two site visits conducted between December 8 and 11, 2020, and February 24 and 26, 2021. https://www.downtoearth.org.in/news/environment/ngt-panel-flags-environmental-violations-by-ongc-gail-in-krishna-godavari-basin-76524 (16 April 2021)
Centre India-Netherlands Virtual Summit PM Narendra Modi and H.E Mr. Mark Rutte, PM of the Netherlands held a Virtual Summit today (April 9). During the Summit, the two leaders had a detailed review of the entire spectrum of bilateral engagements and exchanged views on further expanding and diversifying the relationship in trade and economy, water management, agriculture sector, smart cities, science & technology, healthcare and space.
The two Prime Ministers also agreed on instituting a 'Strategic Partnership on Water' to further deepen the Indo-Dutch cooperation in the water related sector, and upgrading the Joint Working Group on water to Ministerial-level. https://mea.gov.in/press-releases.htm?dtl/33790/IndiaNetherlands+Virtual+Summit (09 April 2021)
India and Netherlands strengthen partnership to check pollution in rivers -Both Modi and Rutte reviewed the ongoing projects in the water sector including the Dutch India Water Alliance for Leadership Initiative (DIWALI), the Local Treatment of Urban Sewage Streams for Healthy Reuse (LOTUS-HR) and the Indo-Dutch R&D projects under Namami-Gange Programme. The Department of Science and Technology (DST) and the Department of Biotechnology (DBT) have been working closely with the Netherlands Organisation for Scientific Research (NWO) on these projects.
-Both leaders also discussed the upcoming joint Indo-Dutch interventions like the R&D projects on 'water as leverage' in selected towns in Ganga Basin and another pilot project on 'pollution and effective waste management of textile industrial cluster' in Haryana's Panipat. They also noted the joint DST-NWO support to the consortium 'Water4Change' for designing integrated urban water systems formed during the 2019 Technology Summit in which the Netherlands was a partner country.
-"Innovation, technology and governance are key aspects of Indo-Dutch water cooperation. The two leaders agreed to further intensify and broaden the cooperation in new areas, including water budgeting, cost effective decentralised treatment technologies, converting wastewater to energy, application of AI in decision making, non-point pollution source assessment and abatement, mapping of ecosystem services, reclaiming river space basin protection against disasters and river hazard management," said Sandeep Chakravorty, the Joint Secretary looking after Western Europe in the Ministry of External Affairs.
-As innovation, technology and governance are key-players in Indo-Dutch water cooperation, respective institutions in both countries collaborate in several projects, including in setting up a waste2wealth approach to solid waste and wastewater in the Hindon Basin; in assisting leather industries in Kanpur and Unnao to adopt eco-friendly technologies; and in conservation of water through efficient agriculture practices in the sugarcane industry of Uttar Pradesh.. https://www.daijiworld.com/news/newsDisplay?newsID=822757 (11 April 2021)
Travelogue In the Land of Narmada: Visions From 50 Years Ago Wrongly justifying ravine reclamation project:- The Government's plan is to flatten these areas for making them cultivable and to smoke out the dacoits like wild rats. The name of the scheme is Chambal Valley Reclamation Scheme. Long live the Chambal project! https://indiacurrents.com/in-the-land-of-narmada-visions-from-50-years-ago/ (06 April 2021)
GANGA Recycling flowers: One man's mission to clean up river Ankit Agarwal's team, most of whom are women, pluck out the discarded flowers near the river bank and gather them from temples to repurpose them into paper and incense as well as water colours that can be used for the Hindu festival of Holi. https://www.moneycontrol.com/news/photos/india/recycling-flowers-one-mans-mission-to-clean-up-the-sacred-ganga-river-6667431.html (19 March 2021)
YAMUNA Delhi Experts raise alarm on DDA plans to mark floodplain The DDA is preparing a proposal to demarcate the boundaries of Zone O — the land planning zone which encompasses the Yamuna floodplains — to provide ownership rights to 76 unauthorised colonies that have come up along the river, senior officials aware of the matter said. The officials said the proposal will be submitted to the principal committee of the NGT. Experts, however, warned that any change in the boundaries of the already encroached-upon floodplain will spell doom for the Yamuna.
Manoj Misra, convener of Yamuna Jiye Abhiyaan, said, "The move will play havoc with the integrity of the river in the city and set a wrong and dangerous precedent… By delineating the boundaries of Zone O, efforts are being made to legalise all illegal constructions. I have written to Delhi L-G and DDA that this shouldn't be done."
Referring to the concerns of residents in 76 unauthorised colonies, Misra said, "The NGT judgment of January 2015 already provides for such exigencies suggesting that these areas be treated as a 'special area within Zone O' so that activities like laying of sewer lines, etc could be carried out there without requiring any change in the existing boundaries of the zone."
Shashank Shekhar, professor at DU's department of geology, said these colonies have come up illegally and delineating the zone 'O' will set a wrong precedent. "The aim should be to protect the floodplain. Before going to NGT with its proposal, DDA should get a study done by experts to explore and suggest possible environmentally sustainable options to the problem." https://www.hindustantimes.com/cities/delhi-news/dda-plans-to-mark-boundaries-of-yamuna-plains-experts-raise-alarm-101618257124036.html (13 April 2021) DDA had also tried to change O zone status in 2013. https://www.thehindu.com/news/cities/Delhi/ddas-proposal-to-redraw-yamuna-floodplain-criticised/article5031574.ece
Ensure illegal industrial units do not restart NGT to DPCC NGT directed Delhi Pollution Control Committee (DPCC) to maintain vigil to ensure that the illegal industrial units do not restart without compliance in various areas in the national capital. These units are in Mayapuri, Bawana, Khyala, Uttam Nagar and other adjoining areas here. A bench headed by NGT Chairperson Justice A K Goel also ordered that the process of assessing and recovering compensation be completed expeditiously, following due process of law.
The direction came after DPCC told the tribunal that power and water supply of the units were disconnected by BSES and Delhi Jal Board respectively and show cause notice for imposition of Environmental Damage Charges were also issued in February, 2021. DPCC had told the tribunal that it had served notices to eight industrial units for discharging waste in drains and it had also closed 43 units for polluting air and water.
"Closure directions were issued from time to time in all 43 premises and units were effectively closed. Power supply and water supply of the units were also disconnected by BSES and DJB respectively. Show cause notice for the imposition of Environmental Damage Charges were also issued in February 2021," the DPCC told the NGT. The tribunal was hearing a plea filed by city resident Varun seeking compliance of directions of NGT's earlier orders on industrial pollution in Mayapuri, Bawana, Khyala, Uttam Nagar and other adjoining areas in Delhi by certain industrial units. According to the applicant, the order has not been complied with. https://www.theweek.in/wire-updates/national/2021/04/13/lgd3-green-industrial-units.html (13 April 2021)
Uttar Pradesh हमीरपुर में नदियों किनारे प्राचीन मानव सभ्यता के प्रमाण मुस्करा विकासखंड के 73 राजस्व गांवों और मजरों में किए गए पुरातात्विक सर्वेक्षण में करीब 36 में नदियों के तट पर विकसित होती प्राचीन मानव सभ्यता के अवशेष मिले हैं। यहां हल स्वरूप में नुकीला पत्थर मिला है, जिससे प्रमाणित हो रहा है कि बुंदेलखंड में नदियों और नालों के किनारे मानव ने खेती की शुरुआत कर जंगली जानवरों का शिकार कम किया था। वैसे, छह से 12 हजार साल पुराने दांत भी मिले हैं, जिससे माना जा सकता है कि मानव यहां काफी समय पहले से ही प्रवास करता रहा है और वह विकास की ओर अग्रसर था। इससे अब यहां के पर्यटन विकास की संभावनाएं बढ़ी हैं।
क्षेत्रीय पुरातत्व अधिकारी डॉ.एसके दुबे ने बताया कि हमीरपुर में बेतवा व बिरमा नदी तट के गांवों में पुरातात्विक अन्वेषण का काम वर्ष 2017 से शुरू किया गया था। वहां मिट्टी के बर्तन समेत तमाम अवशेष मिले थे। वर्तमान में विकासखंड राठ, गोहांड, सरीला और मुस्करा के सभी गांवों का पुरातात्विक सर्वेक्षण काम पूरा हो चुका है। मुस्करा में ग्राम स्तरीय पुरातात्विक सर्वेक्षण कार्य उत्तर प्रदेश राज्य पुरातत्व निदेशालय के निदेशक डॉ. आनंद कुमार सिंह के निर्देशन में उनकी टीम ने किया। https://www.jagran.com/uttar-pradesh/kanpur-city-six-thousand-years-ancient-human-civilization-history-found-by-archaeology-department-in-hamirpur-up-jagran-special-21545197.html (10 April 2021)
FISH, FISHERIES, FISHERFOLKS
Tamil Nadu A film on fossil fuel exploration in the rice bowl The film Soru (Food) is about how India's dream of fossil fuel knocking the door of climate change and endangering onshore and offshore of the Cauvery delta region in our state in addition to the agrarian crisis," Prabhagaran explains the narrative. https://www.dtnext.in/News/TopNews/2021/04/12005239/1287036/A-film-on-fossil-fuel-exploration-in-the-rice-bowl-.vpf (12 April 2021)
Kerala Fishers Lives Lost in a Sea of Manifestos Who will rule Kerala? The coastal voters have a decisive role in answering this question. And among these voters, there are more women than men. During election campaigns, the most roadshows, rallies and so on are organised in the coastal areas. Every time without fail the political parties arrive with grand promises. But once the elections are over, they disappear into thin air, say the Fishers.
In 2018's Great Flood in Kerala, Fishers were the state's rescue force. The government called them Kerala's army for their altruistic acts of bravery. But no one is here to protect the community from the loss of their jobs and homes, to rescue them from their lives as refugees. https://www.nwmindia.org/blog/politics-in-coastal-kerala-lives-lost-in-a-sea-of-manifestos/ (19 April 2021)
Uttar Pradesh Mirzapur boatmen in troubled waters Members of the manjhi community in Mirzapur earn their livelihood by rowing their boats in Ganga and helping people commute. They have still not recovered from the impact of last year's lockdown. They fear another lockdown might just wipe them off. https://en.gaonconnection.com/mirzapur-lockdown-boatmen-ganga-covid19-coronavirus-economy-poverty-india/ (13 April 2021)
Uttarakhand इस बार नहीं आयोजित होगा जौनपुर का प्रसिद्ध मौण मेला This is June 2020 news on canceling of famous Maun Mela (fish fair) due to Covid 19. This festival is traditionally held in last week of June every year on Aglar river a tributary of Yamuna in Nainbag. Only on two earlier occasions the festival was not held first in 1948 due to dispute arising between villagers and Tehri ruler then in 2013 when it was not held to pay tribute to June 2013 Kedarnath disaster victims.
The fair is being held for past more than 150 years. More than hundreds villages participate in the festival. Earlier it was held at three more locations upstream river but not anymore. Given prevalent scenario there is uncertainty on the celebration even in this year. https://www.jagran.com/uttarakhand/tehri-garhwal-jaunpur-maun-mela-will-not-be-held-this-time-20444204.html (27 June 2020)
Report Indian fish farmers refute damning report A recent study has described Indian aquaculture practises as unhygienic and unhealthy. But farmers claim that the report is biased and risks causing economic damage to an industry that is trying to recover after the pandemic-induced lockdown. https://thefishsite.com/articles/indian-fish-farmers-refute-damning-report (31 March 2021)
SAND MINING
Uttar Pradesh छात्रा की ट्रक से कुचलकर मौत, हंगामा स्कूल से पढ़कर साइकिल से घर जा रही छात्रा की ट्रक से कुचलकर दर्दनाक मौत हो गई। यह हादसा बुधवार (Feb. 10) को दोपहर में पट्टी बाईपास पर हुआ। गम व गुस्से में डूबे स्वजनों व क्षेत्रीय लोगों ने तीन घंटे तक सड़क से शव को पुलिस को कब्जे में नहीं लेने दिया। वहां हंगामा होता रहा। पुलिस ने किसी तरह लोगों को शांत कराया।
कंधई थाना क्षेत्र के परमीपट्टी निवासी महेंद्र यादव की सबसे बड़ी पुत्री शगुन उर्फ शेजल यादव (15) नगर के बाईपास स्थित सेंट जेबी कान्वेंट स्कूल में कक्षा आठ की छात्रा थी। बुधवार को वह दोपहर लगभग 12:45 बजे स्कूल से छुट्टी के बाद साइकिल से घर जा रही थी। इसी दौरान एलआइसी ऑफिस के सामने गलत दिशा में खड़े रेत लदे ट्रक के ड्राइवर ने अचानक दरवाजा खोल दिया। इससे गिरकर शेजल साइकिल सहित सड़क पर चली गई। इसी दौरान प्रतापगढ़ की ओर तेज रफ्तार से आ रहा गिट्टी लदा ट्रक उसे कुचलता निकल गया। उसका सिर फट गया, मौके पर ही मौत हो गई। https://www.jagran.com/uttar-pradesh/pratapgarh-student-returning-from-school-crushed-to-death-by-truck-ruckus-21356991.html (10 Feb. 2021)
Telangana Dalit Farmer Allegedly Stabbed by Sand Mafia A Dailt farmer was allegedly stabbed for opposing illegal mining near Vadyala village in Midgul Mandal of Mahabubnagar district. Victims of the sand mafia are reportedly increasing in the southern state. Raising concern over the impact of illegal sand mining on agriculture, farmers and locals in the district have held several protests in the last few years.
On Friday (April 16), Dalit farmer Gaddala Madhu was allegedly stabbed several times by the accused Beerla Ramesh when the former tried to stop the purported sand mining near his village. Severely injured, Madhu is undergoing treatment in the district hospital. This is not the first time that a farmer was attacked in this regard. https://www.newsclick.in/telangana-dalit-farmer-allegedly-stabbed-sand-mafia-opposing-illegal-mining (17 April 2021)
Odisha Panel to probe illegal sand mining from Mahanadi river bed NGT on Friday (April 16) constituted a joint committee to probe into allegations of illegal extraction of sand allegedly by using excavators from Mahanadi river bed at Nuapatana under Tangi-Choudwar tehsil of Cuttack district. Srikant Pakal and another resident of the area had filed an application. The bench ordered for the joint inquiry after hearing the arguments of their counsel Sankar Prasad Pani. The petition alleged that remote sensing satellite pictures show extensive degradation of the river bed and extraction of sand illegally through mechanized means. https://www.newindianexpress.com/states/odisha/2021/apr/18/panel-to-probe-illegal-sand-miningfrom-mahanadi-river-bed-in-odisha-2291485.html (18 April 2021)
WETLANDS, LAKES, WATER BODIES
Jammu & Kashmir Degradation of deepest lake Manasbal lake is considered as deepest lake in Kashmir Valley. If people are not made aware of the situation and steps are not taken to overcome the pollution levels, then sooner or later the lake will be completely lost. A remarkable source of water and biodiversity would be lost. Hence periodic monitoring of Manasbal lake is necessary for assessing the quality of water. A well-planned strategy and action plan must be developed for the conservation and restoration of this important lake in Kashmir Himalayas. https://www.greaterkashmir.com/news/opinion/degradation-of-the-deepest-lake/ (12 April 2021)
Maharashtra NGT asks Navi Mumbai planning body to clear water inlets at Panje wetland The NGT on Thursday (April 16) instructed the CIDCO to ensure that all tidal water inlets to its 289 (ha) property in Uran are opened immediately to ensure flow of sea water to Panje coastal wetland and its mangrove forests https://www.hindustantimes.com/cities/others/ngt-asks-cidco-to-clear-water-inlets-at-panje-wetland-101618515852525.html (16 April 2021)
GROUNDWATER
NGT urges Centre to regulate groundwater use in Cricket fields NGT has directed the Ministry of Jal Shakti to consider the issue of regulating the extraction of groundwater for the maintenance of cricket fields for IPL and other tournaments. The bench headed by NGT Chairperson Justice Adarsh Kumar Goel said, "Every effort is required to save portable water for drinking and cricket or other such grounds may be maintained, as far as possible, from the sewage treatment plant of high quality having no pathogens and offensive components. Also, the rainwater harvesting and storage of such water may be ensured."
"That there can be no dispute with the proposition that conservation of water is a dire need of the current times." the bench added. Further, the NGT added, "We hope the concerned authorities will act with a sense of responsibility and duty to reduce environmental footprint and societal need for conservation of every drop of water."
The direction of the NGT came during the hearing of an application against the use of groundwater for maintenance of cricket playgrounds without availing the alternative of using STP treated water and installing rainwater harvesting systems for storing and recharge of groundwater. The alleged application given by Haider Ali raised the issue of using the groundwater for maintenance of cricket playground results in depriving people of portable water for drinking. Moreover, the petition raised the issue of Indian Premier League (IPL) cricket matches organised by the Board of Control for Cricket in India (BCCI) for commercial and entertainment purposes without concern for water conservation. https://pragnews.com/ngt-urges-centres-to-regulate-groundwater-use-in-cricket-fields/ (18 April 2021)
URBAN WATER
Ghaziabad NGT directs builder to permanently dismantle all borewells NGT has directed a builder in Ghaziabad to permanently dismantle all borewells and banned use of potable water for construction. A bench headed by NGT Chairperson Justice Adarsh Kumar Goel passed the order after perusing a report filed by a committee which found that there are illegal tube wells and fresh ground water was being used in the construction activity instead of using treated water.
"We do not find any reason not to accept the report. Accordingly, we direct further action in terms of the above report. We also direct that the same Committee may make assessment of the compensation within one month, following due process of law. "If the compensation is not paid within reasonable time, the State PCB may take coercive measures, including suspending the Consent under the Water (Prevention and Control of Pollution) Act, 1974 and the Air (Prevention and Control of Pollution) Act, 1981. The sealing of illegal borewells may be ensured by the District Magistrate, Ghaziabad," the bench said.
The tribunal had earlier formed a committee comprising officials from Central Pollution Control Board, State PCB, District Magistrate, Ghaziabad, Central Ground Water Authority (CGWA) and SEIAA, Uttar Pradesh and sought a factual and action taken report. The tribunal was hearing a plea filed by Rajpal Singh Kandhari and others against illegal extraction of ground water for the project Prateek Grand City in Siddhartha Vihar, Ghaziabad.
According to the plea, ground water extraction is in violation of Central Ground Water Authority Guidelines, 2015 and the Project Proponent has dug numerous borewells. The area is critical in terms of ground water availability and there is toxic contamination in the ground water, the plea said, adding that no permission for extraction of ground water has been or can be granted except for drinking purposes. The Environmental Clearance (EC) for the project is subject to the condition that ground water will not be extracted for construction, it said. https://realty.economictimes.indiatimes.com/news/regulatory/ngt-directs-prateek-grand-citys-builder-to-permanently-dismantle-all-borewells/82050488 (13 April 2021)
NGT has constituted a seven-member committee to look into a plea alleging illegal construction and unauthorised extraction of groundwater by a builder in Ghaziabad. https://www.thehindu.com/news/cities/Delhi/ngt-panel-to-look-into-groundwater-extraction/article34347281.ece (18 April 2021)
Gurugram Residents raise concerns over GMDA project to fill up ponds in Aravallis with treated water GMDA will install a pipeline from the Behrampur sewage treatment plant for releasing treated water in the existing water bodies, located on the stretch from Sakatpur to Gairatpur Bas village, in the foothills of Aravallis. https://www.hindustantimes.com/cities/gurugram-news/gmda-to-fill-water-bodies-in-aravallis-with-treated-water-101618423912465.html (18 April 2021)
Residents fall ill, water contamination suspected Members of at least 100 households of The View, a residential society in Sector 37 D's Ramprastha City, fell ill over the last three days, citing contamination of drinking water. https://www.hindustantimes.com/cities/gurugram-news/residents-fall-ill-water-contamination-suspected-101618769968843.html (18 April 2021)
Unable to find alternative sites for landfill, say MCG officials A week after the NGT asked the state government to closely monitor the waste remediation process at Bandhwari landfill, officials on Thursday (April 15) said that they have hit a roadblock in finding an alternative landfill site due to "not in my backyard syndrome" https://www.hindustantimes.com/cities/gurugram-news/unable-to-find-alternative-sites-for-landfill-say-mcg-officials-101618509371458-amp.html (15 April 2021)
Kolkata 3 die over 3 days in suspected water contamination zone A four-year-old girl from the Bhowanipore area, where drinking water is suspected to have been contamination, died on Monday (March 15) night after complaining of severe cramps in the stomach, which she started to get four days ago.
She is the third person from the area to have died of similar health complaints. Sources in the KMC confirmed the latest death, that of the child, who lived in a slum near Sashisekhar Bose Row. After she complained of severe stomach pain four days ago, she was taken to an NGO-run healthcare centre. But her condition deteriorated and she died on Monday night. https://timesofindia.indiatimes.com/city/kolkata/3-die-over-3-days-in-suspected-water-contamination-zone/articleshow/81537634.cms (17 March 2021)
JJM/ RURAL WATER SUPPLY
Haryana Tap water connection for all rural households by November 2022 Haryana and Odisha plan to provide tap water connections to all rural households by 1 November 2022, and 2024, respectively. This comes in the backdrop of 38% of India's rural population covered under the marquee Jal Jeevan Mission (JJM), with 21.4% such households provided tap water connection since the scheme's launch in 2019. https://www.livemint.com/news/india/tap-water-connection-for-all-rural-households-in-haryana-by-november-2022-11618378268043.html (14 April 2021)
SUMMER 2021
Himachal Pradesh Amid drought-like conditions, water crisis looms large The prevailing drought-like conditions in Himachal Pradesh are threatening perennial water sources and affecting around 700 water supply schemes across the hill-state. The water levels of major rivers have declined along with the amount of rain and snow received by the Himalayan state, which logged a 62% rain deficiency in March. The rising temperature has further caused the water levels in rivers and water reservoirs to deplete. There has been a 75% decline in water sources, which is bound to aggravate the water crisis in rain-fed areas.
The repercussions will be graver in rural areas. Around 9,526 schemes cater water to 50,566 habitations in Himachal, of which 2,789 habitations have been affected by the arid climatic conditions. There are around 32 water supply schemes in Mandi that are on the verge of drying up and nearly 80% water supply schemes have been impacted in Dharamshala zone. The water levels have dropped to 75 % and in 83 schemes the water levels vary between 25% to 75%. "In all, at least 220 schemes have been impacted by the dry spell. We are adopting adequate measures to meet the deficiency," said chief engineer (Mandi zone) Dharmender Gill, adding that people were being sensitised to conserve water.
The weather department has predicted that the weather is likely to remain dry in the April and May. "This is not unusual as there are few rain spells between April and May," said director, regional metrological department, Manmohan Singh. The arid climate in Himachal has already caused extensive damage to Rabi crops and delayed the vegetable sowing in the state. https://www.hindustantimes.com/cities/chandigarh-news/amid-drought-like-conditions-water-crisis-looms-large-over-himachal-101618255657910.html (13 April 2021)
Drought-like conditions ruin 10% water schemes in hilly areas The drought-like conditions prevailing in Himachal Pradesh have hit around 900 water schemes — 10% of the total 9,000 — to the extent of 5% to 30%. According to officials of Jal Shakti department, if the dry weather spell, the situation is likely to get worse.
In Shimla zone, over 400 water supply schemes have been hit by the drought-like situation, in Mandi zone over 220 schemes have been impacted, while in Hamirpur and Dharamshala zones 12 and over 73 drinking water schemes have been affected.
This is not the first time that the state has seen such a dry spell. In 2013 and 2018, too, the state had received less rain and snow during winter, leading to similar conditions. Weather department officials said this year the state has reported 70% less rainfall in January and February and much rainfall is not expected in April and May, but pre-monsoon showers in mid-June are likely to bring some respite.
Shimla Meteorological Centre director Manmohan Singh said that there is nothing unusual in the ongoing situation as it depends on the amount of rain and snowfall received in a year. He said that in January-February this year, the state had 70% deficit rainfall compared to 30% less rainfall last year and 45% excess rainfall in 2019. Similarly, the state had recorded 72% less rainfall in 2018, 4% excess rainfall in 2017 and 71% deficiency in 2016. https://timesofindia.indiatimes.com/city/shimla/drought-like-conditions-ruin-10-water-schemes-in-hilly-himachal/articleshow/82009935.cms (11 April 2021)
Uttarakhand Women block road in Bageshwar demanding regular water supply Hundreds of women and children blocked the streets of Mandalsera ward in Bageshwar to protest against the water crisis in the area. The vehicular movement in the area remained disrupted for hours due to the protest. "This water crisis has been going on for months now. We have asked the concerned officials to fix the hand pumps in the area multiple times but all in vain so far. We are forced to wait in queues for hours to get two buckets of water. Even the kids are losing on their crucial study hours as they have to wait in these queues. This water shortage is impacting our daily lives adversely," said Ganga Devi, a local.
Even as the Uttarakhand government has been making tall claims regarding the "Har Ghar Nal" (tap in every house) scheme, the residents of the ward say that they had been dependent on the hand pumps in their ward for years and even those have been lying dysfunctional for months now.
Locals in the Khatyari area of Almora are also dealing with a similar water crisis due to a lack of rain spells. Each household is provided with 10 litres of water by the Jal Sansthan Board. Irked with water shortage, locals met with department officials on Monday (April 5) and demanded that piped water should be provided in each household at the earliest possible. https://timesofindia.indiatimes.com/city/dehradun/women-block-road-in-bageshwar-demanding-regular-water-supply/articleshow/81918858.cms (06 April 2021)
Haryana Water crisis in Bhiwani, Hisar, Charkhi Dadri The potable water crisis has hit many towns in the region due to shortage in the supply of raw canal water to the waterworks.
Recently, several residents of Hanuman Colony were booked when they staged a dharna and demonstration outside the waterworks of the Public Health Engineering Department in Hisar against the issue. https://www.tribuneindia.com/news/haryana/water-crisis-in-bhiwani-hisar-charkhi-dadri-235162 (06 April 2021)
Delhi Parts of city to face week long supply shortage Water supply is likely to be impacted for about a week starting from Saturday (April 17) evening, the DJB has said, due to a reduction in water availability from the Upper Ganga Canal. In a statement, the DJB said supply will remain affected in parts of east, north-east, south Delhi and the New Delhi Municipal Council (NDMC) areas till the situation improves. https://indianexpress.com/article/cities/delhi/water-supply-to-be-affected-in-parts-of-delhi-for-a-week-7277730/ (17 April 2021)
Facing a water crisis due to "deliberate inaction" by Haryana government in containing discharge of pollutants in the Yamuna, the Delhi Jal Board has told the Supreme Court that this has resulted in rise of ammonia level in water which could not be purified in its treatment plants and sought a direction to the neighbouring state to immediate take steps to curb the pollution. https://timesofindia.indiatimes.com/city/delhi/deliberate-inaction-by-haryana-in-checking-pollutant-discharge-in-yamuna-djb-tells-sc/articleshow/82091592.cms (16 April 2021)
The SC decided to hear DJB's petition against the Haryana government on the water crisis in the national capital on Monday (April 19), turning down an appeal for an urgent hearing on the matter. The DJB had cited an "unimaginable level of Ammonia" in water supplied to Delhi as reason for its urgent appeal to the SC. https://www.ndtv.com/india-news/delhi-jal-board-moves-supreme-court-against-haryana-says-unimaginable-ammonia-levels-in-water-released-by-haryana-2414991 (16 April 2021)
DJB Vice Chairman Raghav Chadha today (April 13) said south, north, central, and west Delhi are going to be hit by water scarcity as neighbouring state Haryana is not supplying sufficient water to the national capital. https://www.livemint.com/news/india/delhi-to-be-hit-by-severe-water-scarcity-delhi-jal-board-11618319624946.html (13 April 2021)
IMD Pre-monsoon rain deficiency hits states The pre-monsoon season (March, April and May) has so far remained extremely dry in most parts of the country, the IMD has said. While northwest India reported a rain deficiency of 43 per cent between March 1 and April 12, Uttarakhand recorded a deficiency of 78 per cent. Likewise, western and eastern Uttar Pradesh registered a deficiency of 93 per cent while Haryana, Chandigarh and Delhi reported a shortage of 68 per cent during the same period, the weather body noted.
IMD Pune's Standard Precipitation Index for March and first week of April suggested that almost the entire northwest India and Indo-Gangetic Plains region remained mildly to moderately dry between April 1 and 7. The country as a whole recorded a rain deficiency of 42 per cent between March 1 and April 12 with 54 per cent rain deficiency over the southern peninsula, 30 per cent over the central region and 39 per cent over northeast and east India.
It is this rain deficiency that has led to several forest fires in Uttarakhand and high dust and particulate matter (PM) levels over the northern plains. Approximately, 8,550 forest fires have been recorded in Uttarakhand alone between April 1 and 12, according to data provided by Forest Survey of India's Fire Alert System. https://www.hindustantimes.com/india-news/premonsoon-rain-deficiency-hits-states-101618252357792.html (13 April 2021)
3rd warmest March in 121 years The IMD, in its review for the month, said the observed monthly average maximum, minimum and mean temperature for the country as a whole during March this year are 32.65 degrees Celsius, 19.95 degrees Celsius and 26.30 degrees Celsius, respectively, against the normal 31.24 degrees Celsius, 18.87 degrees Celsius and 25.06 degrees Celsius based on the climatology period 1981-2010.
"The all India average monthly maximum temperature during March 2021 with 32.65 degrees Celsius is the warmest in the last 11 years, and third warmest in the last 121 years with 2010 and 2004 as the ever warmest and second warmest month with 33.09 degrees Celsius and 32.82 degrees Celsius, respectively," the IMD said. Several parts of the country had recorded temperatures above 40 degrees Celsius in March. https://www.hindustantimes.com/india-news/india-saw-third-warmest-march-in-121-years-imd-101617629027282.html (05 April 2021)
MONSOON 2021
Skymet Monsoon to be normal Skymet expects the upcoming monsoon to be 'healthy normal' to the tune of 103% (with an error margin of +/- 5%) of the long period average (LPA) of 880.6mm for the 4-month period from June to September.
– Plains of North India along with few parts of the Northeast region are likely to be at risk of being rain deficient through the season. Also, interior parts of Karnataka face the scare of scanty rains in the core monsoon months of July and August. The onset month of June and the withdrawal phase of September is assuring good countrywide rainfall distribution.
– La Nina conditions prevailing in the Pacific Ocean since last year presage softening and are expected to remain neutral through the monsoon season. ENSO continue to wield a spike mid-way through the season suggesting a fresh phase of cooling, albeit marginal, over the Central Pacific Ocean. Therefore, the occurrence of El Nino which normally corrupts the monsoon is ruled out.
-According to Skymet, Monsoon probabilities for JJAS are:
• 10% chance of excess (seasonal rainfall that is more than 110% of LPA)
• 15% chance of above normal (seasonal rainfall that is between 105 to 110% of LPA)
• 60% chance of normal (seasonal rainfall that is between 96 to 104% of LPA)
• 15% chance of below normal (seasonal rainfall that is between 90 to 95% of LPA)
– On a monthly scale, the precipitation foreshadow is as follows:
* June – 106% of LPA (LPA for June = 166.9 mm)
* July – 97% of LPA (LPA for July = 285.3 mm)
* August – 99% of LPA (LPA for August = 258.2 mm)
* September – 116% of LPA (LPA for September = 170.2 mm) https://www.skymetweather.com/content/weather-news-and-analysis/skymet-weather-forecasts-healthy-normal-monsoon-for-india-in-2021/ (13 April 2021)
Monsoon rainfall was 110 and 109% of LPA in 2019 and 2020 respectively. If it is above normal this year, it will be a repeat of what happened during 1996 (103.4%), 1997 (102.2%) and 1998 (104%). La Nina is likely to pick up in Sept, leading to above normal rains.
DS Pai, senior scientist, IMD, Pune, said in January that in a few years, India may be entering an epoch of above-average monsoon rains. The 1945 to 1985 period was also an above-average rain epoch. But from 1985 onwards, it has been a below-average rain epoch. "In a few years, we are likely to transition to an epoch of above-average monsoon rains because monsoon follows epochs of around 31 years in these transitions. An above-average epoch will be good for the country and agriculture but would mean more extreme rainfall events for which we should prepare," M Mohapatra, director-general, IMD, said in January during a brainstorming session on monsoon forecast. https://www.hindustantimes.com/india-news/monsoon-likely-to-be-normal-at-103-of-long-period-average-skymet-weather-101618302520967.html (13 April 2021)
India had earlier three consecutive years of rainfall in 1996, 1997 and 1998. https://timesofindia.indiatimes.com/india/monsoon-likely-to-be-normal-for-third-consecutive-year-but-plains-of-north-india-may-face-deficit-says-skymet-weather/articleshow/82048190.cms (13 April 2021)
However, September is expected to bring "above-normal" rains (116 percent of the LPA) in most parts of the country, including the Northwest. Mahesh Palawat of Skymet Weather said the monsoon usually reaches Northwest around June-end. In those terms, June is generally dry apart from some pre-monsoon build-up.
"Last year, while Punjab reported rain surplus, Haryana recorded deficient rainfall. This year, the two states may report some deficiency between 10 to 15 per cent in July and August. However, September seems to be rain surplus ," Palawat said. https://www.tribuneindia.com/news/nation/india-to-have-normal-monsoon-this-year-238784 (14 Feb. 2021)
Whereas Skymet has forecasted a 'healthy normal' southwest monsoon rainfall this year, all eyes are now set on the IMD, which is expected to announce its monsoon 2021 forecast soon.
It also stated that Tamil Nadu is expected to receive below normal rains. Also, Gujarat, western parts of Madhya Pradesh and the Konkan region is likely to experience slightly deficient rains. https://en.gaonconnection.com/monsoon-2021-rains-forecast-weather-rainfall-delhi-mumbai-drought-farmers/?34534534 (13 April 2021)
I Sciences Global water forecast through to Dec 2021 predicts deficits in parts of North India, North East India and Central Rajasthan and surpluses in Gujarat, Deccan Platue and Andhra Pradesh. https://sandrp.files.wordpress.com/2021/04/2894c-isciences_global_water_monitor_and_forecast_watch_list_r202103_final.pdf (15 April 2021)
IMD Issuance of Long Range Forecast for 2021 Southwest Monsoon Season Rainfall https://www.youtube.com/watch?v=00KO_vvVuEk (16 April 2021)
IMD, on Friday (April 16) predicted overall 'normal' monsoon rainfall during June-September period across the country. It said the probability of the 2021 monsoon being 'normal' was 40% while there was 21% chance of it being 'above normal'.
"Quantitatively, the monsoon seasonal rainfall is likely to be 98% of the Long Period Average (LPA) with a model error of +/- 5%," said Madhavan Rajeevan, secretary, ministry of earth sciences (MoES) while making the IMD's long range forecast for the 2021 southwest monsoon public.
The IMD has this year adopted the most advanced and comprehensive system to arrive at its forecast, keeping in view demands from different users and government authorities for forecasts of spatial distribution of seasonal rainfall along with the regionally averaged rainfall forecasts for better regional level planning of activities.
For this specific purpose, Office of Climate Research & Services, IMD, Pune has now developed a Multi-Model Ensemble (MME) forecasting system based on coupled global climate models (CGCMs) from different global climate prediction and research centres including the Monsoon Mission CFS (MMCFS) being used by IMD.
"Multi-Model Ensemble (MME) is a universally accepted technique, which is used to improve the skill of forecasts and reduce forecast errors when compared to a single model-based approach. The performance improvements are completely attributed to the collective information of all models used in the MME forecasting system. For the first stage forecast, the existing statistical forecasting system and the new MME based forecasting system are used to generate forecasts," said M Mohapatra, director general, IMD.
He said, "The MME based forecasting system will also be used in the second stage forecasts in May for generating probabilistic forecasts for the country as a whole and four homogenous regions of India." https://timesofindia.indiatimes.com/india/imd-predicts-normal-monsoon-rainfall-farm-sector-and-overall-economy-to-get-major-boost-with-good-rainfall/articleshow/82098458.cms (17 April 2021)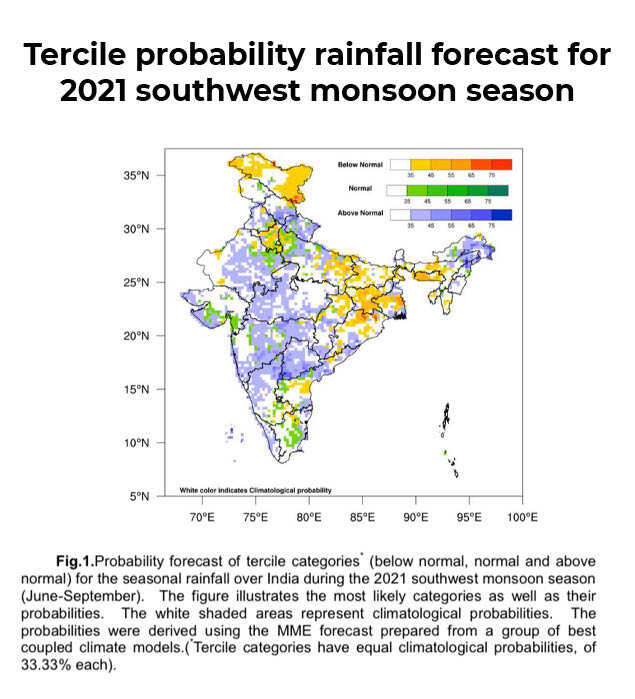 It also for the first time released a map at this stage, showing state-wise probability rainfall forecast for the 2021 southwest monsoon season. This map gives a broad idea as to how the monsoon is likely to perform in states/UTs during the four-month rainy season. https://timesofindia.indiatimes.com/india/many-firsts-from-imd-in-this-years-monsoon-forecast/articleshow/82119412.cms (17 April 2021)
The 2020 and 2019 monsoon was "above normal" at 110% and 109% of LPA respectively. During 1996, 1997 and 1998, monsoon was normal for three consecutive years at 103.4%; 102.2% and 104% respectively. https://www.hindustantimes.com/india-news/monsoon-likely-to-be-normal-at-98-of-long-period-average-imd-101618555694722.html (16 April 2021)
Report La Nina draws to a close as monsoon watch begins The 2020 La Nina in tropical Pacific has officially drawn to a close and could revert to the neutral phase (neither La Nina nor El Nino) while nearer home its twin, the Indian Ocean Dipole (IOD) index, is also expected to be neutral going forward setting the essential background for India's 2021 South-West monsoon.
Though there is no direct cause-effect relationship, the monsoon has thrived on the back of a La Nina (warmer West Pacific) and a positive IOD (warmer West Indian Ocean). These were in ample evidence in year 2020 (moderate to strong La Nina) and 2019 (a record-breaking positive IOD phase). Both these years delivered a surplus monsoon for India.
By the same coin, colder seas (El Nino in the Pacific and negative IOD in the Indian Ocean) usually signal dryness. Year 2019 was marked by a weak El Nino that followed a weak La Nina in 2018-19 but the strong positive IOD drove the monsoon to an extended peak during the latter part of the season. https://www.thehindubusinessline.com/economy/agri-business/la-nina-draws-to-a-close-as-monsoon-watch-begins/article34300823.ece (12 April 2021)
Tamil Nadu Water level in Sothuparai dam goes up by 9 feet in single day The water level in Sothuparai Dam in Theni district increased by nine feet due to heavy rains in its catchments in a single day. All the southern districts have been experiencing moderate rainfall for the past three days. In Theni district, rains in its catchments resulted in the rise in water level of Sothuparai dam. The maximum capacity of the dam is 126.28 feet.
The water level which had stood at 104.63 feet at 8 am on Thursday (April 15), went up to 113.16 feet on Friday (April 16). The dam had an inflow of 133 cusecs and three cusecs was discharged from it. Farmers in the region were happy that the rains were bringing a good inflow to the dams. Theni district received an average rainfall of 11.21 mm in the last 24 hours ending 8 am on Friday. Andipatti in the district received 41.8 mm, Sothuparai – 4 mm, Periyakulam -5 mm, Uthamapalayam 10.1 mm, Periyar dam – 28.6 mm. https://timesofindia.indiatimes.com/city/madurai/tamil-nadu-water-level-in-sothuparai-dam-goes-up-by-9-feet-in-single-day/articleshow/82106004.cms (16 April 2021)
Study Monsoon was stronger 7,000 years ago A study carried out by researchers from the Central University of Kerala has found that the monsoon was much stronger 7,000 years to 5,000 years ago and it underwent cyclic change caused by solar radiation. https://www.thehindu.com/news/national/kerala/monsoon-was-stronger-7000-years-ago-study/article34299443.ece (12 April 2021)
ENVIRONMENT GOVERNANCE
Chhattisgarh 2 villages stop public hearings Protesting industrial projects during separate public hearings for industrial development on Monday (April 12), residents of Chirga village in Sarguja district held an officer captive, while in Bastar's Chapka village the protesters chased out an MLA. Villagers in both tribal-dominated districts stopped the hearings.
At Chirga, 365 km from state capital Raipur, district officials called the hearing regarding Alumina Refinery & 3×10 MW Captive Cogeneration Power Plant proposed for the village. The hearing in Chapka was for the Rs 490-crore Mini Integrated Steel Plant, which will produce over 3.35 lakh TPA sponge iron.
At Chirga, villagers opposed to the project, who have written to several government departments against allowing it, started protesting about the public hearing being held despite increasing Covid-19 cases. Chirga residents there said they are protesting against the project not just for themselves but the entire district. Gangaram Painkra, a resident and convenor of Chhattisgarh Van Adhikar Manch, said: "The refinery is going to come up in catchment areas of the dam that supplies water to Ambikapur district. If the plant is built, there won't be water to drink for all of us."
In Bastar's Chapka village, a similar protest against a proposed sponge iron project was registered in the public hearing. One villager said, "The plant will obstruct the path of a tributary of Indravati, leading to flooding in our village. We will lose our land, which we anyway don't want to give for the company."
Alok Shukla, convenor of Chhattisgarh Bachao Andolan, said: "Sponge iron units are one of the heaviest polluting industries. While the previous government was against it, the present Congress government is encouraging these plants. In both incidents, the villages come under the Fifth Schedule, where one cannot go against wishes of the villagers. Why then would a public hearing be called in the middle of a pandemic?" https://indianexpress.com/article/india/officials-chased-away-two-chhattisgarh-villages-stop-public-hearings-on-industry-7270945/ (13 April 2021)
Report NGT does not have powers to strike down laws: SC This is just an observation and not an order as headline make it to be. https://www.business-standard.com/article/current-affairs/ngt-does-not-have-powers-to-strike-down-laws-says-supreme-court-121041301090_1.html (13 April 2021)
The SC on Apr 13, 2021 observed that the NGT does not have the powers to examine validity of laws or strike down laws (Environment Support Group v. National Biodiversity Authority). A three-judge Bench of Chief Justice of India (CJI) SA Bobde and Justices AS Bopanna and V Balasubramanian was hearing a case relating to challenge to Section 40 of the Biodiversity Act. Section 40 of the Biological Diversity Act, 2002 was challenged before the Karnataka High Court which transferred the case to NGT. The present case challenged the High Court order transferring the matter to NGT.
It was contended that the NGT does not have power to decide on vires of laws. The Supreme Court on Tuesday ordered stay on proceedings before NGT and posted the case for further hearing next week. https://www.barandbench.com/news/litigation/prima-facie-view-ngt-cannot-strike-down-law-supreme-court (13 April 2021)
Madras HC gives green signal for Girija Vaidyanathan's appointment to NGT The Madras High Court on Saturday (April 17) vacated an interim stay on appointment of former TN Chief Secretary, Girija Vaidyanathan as an expert member of NGT after stating that she holds the necessary qualifications for the post.
The court had earlier stayed her appointment citing eligibility issues. The petitioner G Sundarrajan of Poovulagin Nanbargal stated that NGT act mandates a person to have administrative experience of 15 years including experience of five years in dealing with environmental matters in the central or a state government or in a reputed national or state-level institution. https://m.timesofindia.com/city/chennai/madras-hc-gives-green-signal-for-girija-vaidyanathans-appointment-to-ngt/amp_articleshow/82117083.cms (17 April 2021)
Inside a quiet attempt to hobble the NGT How the central government, in a mostly unnoticed report by a ministerial group late last year, tried to curb the independent green court's powers. https://themorningcontext.com/chaos/inside-the-attempt-to-hobble-the-ngt (17 April 2021)
Assam Indigenous land was grabbed for a solar power plant The forceful takeover of Karbi and Adivasi farmers' land in the Mikir Bamuni Grant village of Nagaon district has sparked a major controversy and unrest in the area. https://www.eastmojo.com/opinion/2021/04/18/how-indigenous-land-was-grabbed-for-a-solar-power-plant-in-assam (18 April 2021)
Uttarakhand जलते हिमालय के लिए दोषी कौन? वर्ष 2018 में MODIS (मॉडरेट रेजोल्यूशन इमेजिंग स्पेक्ट्रो-रेडियोमीटर) सेंसर डेटा का उपयोग करके 37,059 आग की घटनाओं का पता लगाया गया था। 2004 में पहली बार MODIS डेटा के आधार पर फॉरेस्ट फायर अलर्ट का प्रसार शुरू हुआ, और 2010 में आग लगने पर एसएमएस अलर्ट की शुरुआत की गयी, साथ ही 2017 में फॉरेस्ट फायर अलर्ट सिस्टम 2.0 लॉन्च हुआ।
लेकिन ट्रेनिंग के अभाव में इन तकनीकों का इस्तेमाल व्यापक रूप से नहीं हो पाया फॉरेस्ट सर्वे ऑफ इंडिया, 2004 के बाद से नासा के एक्वा और टेरा उपग्रहों पर मोडिस सेंसर द्वारा आग की घटनाओं से राज्य के वन विभागों के नोडल अधिकारियों को सचेत कर रहा है। लेकिन आग को कैसे काबू में लाया जाए, इस पर समग्र नीति और प्रबंधन का अभाव है। https://www.downtoearth.org.in/hindistory/wildlife-biodiversity/forest/who-is-to-blame-for-the-forest-fires-of-uttarakhand-76459 (13 April 2021)
CLIMATE CHANGE
Report States in east India highly vulnerable to climate change Jharkhand, Mizoram, Orissa, Chhattisgarh, Assam, Bihar, Arunachal Pradesh and West Bengal, mostly eastern part of India, are 'highly vulnerable' to climate change, said the first of its kind national level state and district-wise climate vulnerability assessment report, released by the science & technology ministry on Saturday (April 17). It showed Maharashtra as the least vulnerable state in the country.
It noted that Assam, Bihar, and Jharkhand have, in fact, over 60% districts in the category of 'highly vulnerable' districts with Karimganj in Assam being the most vulnerable. The report – titled Climate Vulnerability Assessment for Adaptation Planning in India Using a Common Framework – noted that all districts or states are vulnerable, but some are relatively more vulnerable than others, requiring prioritised adaptation interventions to face the impact of climate change such as extreme weather events, stress on water resources, soil degradation and desertification. https://timesofindia.indiatimes.com/india/states-in-east-india-highly-vulnerable-to-climate-change-says-first-such-assessment-report/articleshow/82120839.cms (17 April 2021)
The authors have recommended a climate risk index to be developed for all states based on hazards and vulnerability of states. "The study reiterates the need for the 2020s to become a decade of climate action and building climate resilience. As a next step, it is also important to highlight the complexity and non-linearity of climate risks across Indian states. The focus needs to be on climate-proofing of geographies, economies and infrastructure at the state and district level. Council on Energy, Environment and Water (CEEW) analysis has already found that more than 75% of Indian districts are vulnerable to extreme climate events. Identification of risks at a granular level via building a climate risk atlas would be crucial," said Abinash Mohanty, Programme Lead, CEEW said responding to the DST report.
Another international study has flagged India's vulnerability to climate change this week. Monsoon rainfall in India is likely to become stronger and more erratic according to an analysis by a team of German researchers at the Potsdam Institute for Climate Impact Research (PIK) and Ludwig-Maximilian University in Munich, Germany (LMU) that compared more than 30 climate models. The study published in the journal of Earth System Dynamics predicts more extremely wet years in the future with grave consequences for India's economy, food systems and agriculture. "We have found robust evidence for an exponential dependence: For every degree Celsius of warming, monsoon rainfalls will likely increase by about 5%," said lead author Anja Katzenberger from the Potsdam Institute for Climate Impact Research (PIK) in a statement. https://www.hindustantimes.com/india-news/east-india-extremely-vulnerable-to-climate-change-analysis-101618725805562.html (18 April 2021)
SOUTH ASIA
Report Preparing for floods As a result, equal emphasis should be given to developing a network of hydrometeorological, seismic stations and landslide-detection systems with telemetry capability to build a data-driven decision-support system. Particularly, data from the weather stations that record heavy rainfall events, ultrasonic and radar-based sensors that monitor water storage and discharge in lakes and streams, geophones that detect debris flow, and advanced avalanche-mapping technology should be transmitted in real time to support a decision system to warn local communities of the impending danger.
The biggest challenge for this strategy is the lack of cellular connectivity in the remote Himalayan region that prevents telemetry support, rendering it unavailable. Instead, telemetry-based monitoring of the glacierized Himalayan catchment using satellite systems (e.g., the Narrowband Internet of Things) is needed to take timely actions during the next hydrological disaster. https://science.sciencemag.org/content/372/6539/232 (16 April 2021)
2 Water Manifestos of the 1990s South Asia's waterscape faces worrying trends in public health, infrastructure development, and climate change, posing major challenges for the people and governments. Here we present two documents, produced in the mid-1990s, that had already identified trends in public health and infrastructure development as problematic for the region then and which have gotten worse since. https://soanas.org/two-water-manifestos-of-the-1990s/
ASIA
MEKONG Feel the people's power flow This two-part series explores people living along the Mekong and its tributaries who have embarked on a crusade to save their source of life and livelihoods. https://www.bangkokpost.com/life/social-and-lifestyle/2099535/feel-the-peoples-power-flow (14 April 2021)
THE REST OF THE WORLD
Why I wrote a book about water The author of the book in his own words takes technocratic, top down, macro and hence mega project focussed view of the Water World. John Briscoe about whom he writes so much has had the same mega dam centric world view and did his best to undo the fantastic work of the World Commission on Dams. https://giulio-boccaletti.medium.com/why-i-wrote-a-book-about-water-d11dd2c4a8f7 (22 March 2021)
USA Southwest and most of Texas is facing severe water crisis prospects. https://www.triplepundit.com/story/2021/drought-water-technologies/721026 (13 April 2021)
How to heal a river ""The people who manage fish don't talk to the people who manage forests, who don't talk to the people who manage water, who don't talk to the people who manage linear development," he says. "It's like we are all in our little silos and that's not the way this works."
"When did confrontation benefit anyone?" Kulchyski asks, sharing the Hul'qumi'num phrase "mukw'stem 'o' slhihukw'tul" — "everything is interconnected." https://thenarwhal.ca/bc-koksilah-water-sustainability-plan (04 April 2021)
Raising Shasta Dam threatens McCloud River, sacred tribal lands and salmon https://calmatters.org/commentary/my-turn/2021/04/raising-shasta-dam-threatens-mccloud-river-sacred-tribal-lands-and-salmon/ (15 April 2021)
River Geomorphology Videos Official videos from the LRRD River Geomorphology educational DVD, part of a sponsored project by the Missouri Department of Natural Resources, created to help educate students and laymen about River Geomorphology. A description of each video is included. https://www.youtube.com/playlist?list=PLVa74th2F4P9p-mj-KIrlls8D5l6D1tb-
How a tiny grain could change the way humanity eats Chef Ángel León found eelgrass seeds have 50% more protein than rice – and the plant stores carbon far faster than a rainforest. Tests revealed its potential: gluten-free, high in omega-6 and -9 fatty acids, and contains 50% more protein than rice per grain, according to Aponiente's research. And all of it growing without freshwater or fertiliser. https://www.theguardian.com/environment/2021/apr/09/sea-rice-eelgrass-marine-grain-chef-angel-leon-marsh-climate-crisis (09 April 2021)
Compiled by SANDRP (ht.sandrp@gmail.com)
Also see: DRP News Bulletin 12 April 2021 & DRP News Bulletin 05 April 2021
Follow us on: www.facebook.com/sandrp.in; https://twitter.com/Indian_Rivers