(Feature Image:- Locals gather near the debris of the building which collapsed at Kachi Ghati in Shimla. Credit Amit Kanwar/ The Tribune Oct. 2021)
In a welcome development, National Green Tribunal (NGT) has put Shimla Draft Development Plan (SDDP) 2041 on hold finding it ill-conceived and in directly violation of its earlier order of regulating haphazard construction activity in the state capital. This is a major set back of present government which had been hoodwinking the judiciary to provide relief to unauthorized structures with Shimla Planning Area in view of upcoming state assembly election.
To push the SDDP, the government went on to challenge NGT's judicial power and even approached Supreme Court and chose to ignore the principle of sustainable development. The NGT order is a validation of the crusade launched by environmentalists and social organizations to save the Queen of Hills from further concretization and degradation.
The government has failed to get any relief from NGT, High Court and Supreme Court on the issue. Its time, the government wake up to the gravity of concerns and fragility of the hill station which has also been struggling to meet potable water demand and performing poorly on solid and liquid waste treatment front.
NGT has declared the Shimla Draft Development Plan 2041 approved by the poll bound HP cabinet as illegal, in violation of NGT order of Nov 16 2017 as it allowed construction in buffer and 17 no construction green zones. https://www.tribuneindia.com/news/himachal/its-illegal-ngt-sets-aside-shimla-development-plan-441913 (17 Oct. 2022)
The Green Bench considered the contention of the petitioner, Yogendra Mohan Sengupta, against the validity of the draft development plan, including permitting construction of more floors, new constructions in the banned core and green areas and permitting development in sinking and sliding area in violation of the earlier NGT order. The petitioner had contended that the SDDP was contrary to the sustainable development principle. https://www.tribuneindia.com/news/himachal/its-illegal-ngt-sets-aside-shimla-development-plan-441913 (17 Oct. 2022)
The order has come as a major setback to owners of unauthorised buildings who were hoping to get relief with the implementation of this document. There are more than 25,000 unauthorised buildings in the state, with almost 10,000, the highest being within the Shimla Planning Area.
The state government had from time to time assured the violators that their cases would be considered sympathetically. However, there seems to be no relief in sight after the NGT and the High Court came down heavily on the authorities concerned for allowing haphazard constructions in the state capital in violation of norms of the Town and Country Planning Act, 1977.
The NGT in its order of November 16, 2017 had imposed a complete ban on new constructions in the Cores and Green area and had restricted buildings to two and a half floors in rest of Shimla Planning Area. The NGT had clearly stated that no unauthorized buildings, raised in violation of the provisions of the Town and Country Planning Act, 1977, be regularized. The NGT had also ordered that it should be ensured that there is no felling of trees and constructions are not raised in sliding zones. https://www.tribuneindia.com/news/himachal/quashing-of-shimla-draft-plan-by-ngt-major-setback-to-violators-442275 (18 Oct. 2022)
On May 12, the NGT had considered the applicant's arguments against the plan's permitting more floors, new construction in the core and green areas, and development in the sinking and sliding zones, all of which violated the tribunal's orders.
The green tribunal noted that against its earlier judgement, the state filed a civil appeal diary before the Supreme Court, which had come up for hearing on July 8, 2019, but no stay was granted, so the draft plan remained illegal. The tribunal had even issued a notice to the state government and granted interim injunction against pursuing the draft plan. Later, the state filed a counter affidavit on July 20, submitting that the state could ignore the NGT's orders in exercise of its legislative powers. https://timesofindia.indiatimes.com/city/shimla/shimla-plan-illegal-at-odds-with-earlier-orders-ngt/articleshow/94930054.cms (18 Oct. 2022)
The question before the Tribunal was whether it was open to Himachal Pradesh to issue a 'development plan' in violation of the decree of the Tribunal. The further issue was whether such action could be justified on the ground that a copy of the plan was filed in some matter before the high court or that according to the state its action was justified. https://www.thestatesman.com/india/ngt-declares-draft-shimla-development-plan-illegal-1503122125.html (16 Oct. 2022)
The NGT bench in its May 12 orders, held the proposals and observations in the SDP to be illegal. Rebuking the state government, the NGT observed that the Himachal Pradesh government was "trying to assume jurisdiction of appellate authority over the NGT in breach of rule of law". "(It's) not expected from a lawful government which has to work as per law and the Constitution, and not at its fancies as appear to be the case," states the order while further stating that the chief secretary will be "personally held liable for prosecution for such patent illegal acts of the state authorities".
In 2018, NGT had dismissed a review petition by the state government seeking relaxations in construction ban orders. A year later, the state government had moved the Supreme Court against NGT orders banning construction. The matter is still pending in the apex court. https://timesofindia.indiatimes.com/city/shimla/national-green-tribunal-stay-on-shimla-development-plan/articleshow/91556746.cms (14 May 2022)
HYDRO POWER PROJECTS
Jammu & Kashmir New Ganderbal Hydropower Project non-starter Announced in 1996, the work on the much-awaited 93-MW New Ganderbal Hydropower Project is in limbo as the authorities have failed to start the construction work of the power project. Coming up on River Sindh, the New Ganderbal Hydropower Project was estimated to be completed at a cost of over Rs 800 crore. The project was conceived as a run-of-the-river scheme on Sindh Nallah with three units of 31-MW each.
Official sources said that in 2014, a two-stage bidding process was adopted for the selection of the Engineering, Procurement, and Construction (EPC) contractor for the project in which Hindustan Construction Company (HCC) emerged as the successful bidder with a negotiated cost of Rs 819.18 crore. However, for a variety of reasons HCC failed to implement the project till 2017. Subsequently, the contract was cancelled. A senior official said that the project was in the tendering process. "The date of submission of the bids was October 10, 2022, which has now been extended till October 31," the official said. "Work on the project will be started once the tendering process is completed." https://www.greaterkashmir.com/todays-paper/front-page/powering-growth-announced-26-years-ago-93-mw-new-ganderbal-hydropower-project-non-starter (18 Oct. 2022)
INTERSTATE WATER DISPUTES
Mahadayi Water Dispute No legal hurdle in lifting water from Mahadayi: Karnataka counsel Katarki Senior Supreme Court advocate and member of Karnataka legal team in the river water dispute, Mohan V Katarki, said there is no legal impediment in the lifting of water from Kalasa and Bandura (Banduri) streams to implement the Mahadayi project. Speaking at a workshop organised by Mahadayi Raithapara Horata Samithi at Karnatak Chamber of Commerce and Industry here on Sunday, he said lifting of water from an 11 metres high reservoir to draw 3.5 tmcft of drinking water and fill the Malaprabha river through canals is the best option available with Karnataka now, as it not only reduces the cost of the project by Rs 600 crore but also reduces the destruction of forest land from 587 hectares to just 50 hectares.
Goa may raise objections to the lift project, but the state has a good case to defend it and get a favourable verdict. "Only 42 per cent of the lift irrigation projects in India have succeeded so far. So, the engineers and the government has to make sure that they use best of technology to lift the water and also make sure that the heavy motor pumps get round the clock power supply," he said and added that getting a judgement in favour of inter-basin water project is difficult, so the government should not waste time and implement the lift project immediately. "If the project fails, we can very well revert back to the old plan," he said.
Katarki said the state is pursuing it separately in the Supreme Court to get the verdict in favour of drawing additional 7 tcmft of water from the surplus 183 tmcft of water available in the Mahadayi river for irrigation purpose. Former MLA N H Konaraddi said the state government should not have reduced the height of the reservoir from 28 mtrs to 11 mtrs and instead of the lifting of water, they should rely on gravitation force to draw water. https://www.deccanherald.com/state/karnataka-districts/no-legal-hurdle-in-lifting-water-from-mahadayi-river-karnataka-state-counsel-katarki-1156212.html (23 Oct. 2022)
RIVERS
Arunachal Pradesh GRK's weeklong river cleaning drive concludes Leparada-based NGO Gumin Rego Kilaju (GRK) organised its annual river cleaning drive and water conservation programme from 7 to 15 October. The event saw the participation of people from all walks life, including PRI members, GBs, villagers, SHGs, the women welfare association, the business community, youths, and students of the government model college here, and jawans of the Indo-Tibetan Border Police (ITBP). On the concluding day, around 100 students from the college participated in "river cleaning" at the confluence of the Kidi and the Hie rivers, the NGO said in a release. Apart from cleanliness drives at the rivers and streams, the GRK also conducted plantation drives, and awareness programmes on the importance of protecting catchment areas. https://arunachaltimes.in/index.php/2022/10/17/grks-weeklong-river-cleaning-drive-concludes/ (17 Oct. 2022)
Maharashtra Waregaon ash bund overflows again, destroys farmland There seems to be no end to the toxic pollution of fly-ash which is threatening food and drinking water. The overflow of Waregaon ash bund, where fly-ash slurry from Khaparkheda power plant is full to its brim, has destroyed agricultural fields of at least 13 farmers. The overflow of the bund has been repeatedly polluting water bodies including Kanhan river which is a drinking water source, resulting in water supply of the city getting severely affected.
When the bund overflowed on October 11, 12 and 13, the toxic slurry flowed inside farmlands and ended up destroying crops. When the sarpanch of Waregaon village complained in the environment surveillance committee's meeting held on October 14, the officials of Mahagenco denied any such incident.
The sarpanch of Pota Chankapur village also complained that ash-laden trucks passing through his village are causing immense dust pollution as the ash is not covered. During the meeting, she had demanded regular health check-up camps in the villages but Mahagenco officials denied stating that it was not their responsibility. "It was only after we all asserted that public health is being compromised due to unscientific handling of fly-ash that they finally agreed to put up a proposal for health camps. We have asked them to specifically conduct chest X rays and lung function tests," said Buddhe. https://timesofindia.indiatimes.com/city/nagpur/waregaon-ash-bund-overflows-again-destroys-farmland/articleshow/94925974.cms (18 Oct. 2022)
MahaGenco's negligence and failure in stopping the overflow of fly ash slurry from Waregaon ash bund after the recent heavy rains caused damage to the surrounding agricultural land. Sarpanch of Waregaon village raised the matter during the meeting of Environment Monitoring Committee that took place at Khaperkheda TPS on Friday. The meeting was chaired by R S Ghuge, Chief Engineer, Khaperkheda TPS. Crops of 11 farmers were damaged. However, MahaGenco denied this claim during the meeting. Tehsildar will conduct a panchanama on October 17. Members of the Monitoring Committee have urged MahaGenco officials to remain present. "During a meeting on Friday, MahaGenco officials denied the claim of the Sarpanch. https://www.thehitavada.com/Encyc/2022/10/16/Waregaon-fly-ash-overflow-causes-damage-to-crops-of-11-farmers-MahaGenco-denies.html (16 Oct. 2022)
As MahaGenco failed to take any measures to stop flowing of fly ash slurry into Kanhan river through Waregaon ash bund of Khaperkheda Thermal Power Station in last couple of days, the Maharashtra Pollution Control Board (MPCB) is all set to initiate stern action against the power generation company for non-compliance. A team of MPCB visited the overflow point of Waregaon fly ash bund on Wednesday. Due to heavy rains, fly ash is overflowing from the Waregaon ash bund and mixing with Kanhan river. The Orange City Water (OCW)-run Kanhan Water Treatment Plant (WTP) had stopped functioning due to mixing of fly ash into the water.
According to MahaGenco, "Raising of Waregaon ash bund height has been proposed by Khaperkheda TPS. The work is likely to cost Rs 109 crore. DPR for the same has been submitted to the Board. It will take about two-and-a-half years to complete the work." The press release also stated, "The incident took place only due to force measures that is overflow of Waregaon ash bund waste weir portion and outflow of excess rainwater from nearby area of Waregaon Ash bund because of heavy rain, which was uncontrolled, though sufficient infrastructure was available at ash bund." https://www.thehitavada.com/Encyc/2022/10/14/MPCB-to-act-tough-against-MahaGenco-as-fly-ash-continues-to-flow-into-Kanhan-river.html (14 Oct. 2022)
GANGA Uttarakhand Ban constructions near Kedarnath shrine: Scientists A multi-institutional team constituted to undertake geological, glaciological and geomorphic investigations around Kedarnath to ascertain the causes of recurring avalanche activity has sought a "complete ban on constructions on unstable and active debris slopes around the Himalayan shrine", report Gaurav Talwar & Shivani Azad. The panel of experts and scientists from the State Disaster Management Authority, Wadia Institute of Himalayan Geology and Indian Institute of Himalayan Geology carried out both aerial survey and ground investigation in the first week of October.
Acknowledging the "major threat" posed by avalanches in the high-altitude regions of the state, the committee recommended several measures to minimise risk in and around Kedarnath. Apart from the suggestion to "completely ban constructions of buildings or any form of shelters" near the holy shrine, the other recommendations included "construction of concrete wedges along the midslope of avalanche chutes to prevent and divert the force of descending ice mass". Avalanches are a major threat in the high-altitude regions of the state. As per official data, over 100 people have died in avalanche incidents over the past decade. https://timesofindia.indiatimes.com/city/dehradun/ban-constructions-near-kedarnath-shrine-scientists/articleshow/94998329.cms (21 Oct. 2022)
Uttar Pradesh Kali, Krishna, Hindon pollution is killing villagers Four years since NGT recommended measures, local authorities have only partially implemented them. Most of the polluting industries, mainly sugar mills, distilleries, electroplating workshops and slaughterhouses, continue to dump effluent into the rivers with little or no facilities put in place to treat industrial waste. The NGT had highlighted repeatedly how the UPPCB couldn't finish work on its recommendations: bio/phytoremediation of drains (using plants and micro-organisms to clean industrial effluents), covering drains, installing sewage treatment plants in water-polluting industries.
The NGT formed a supervisory committee in 2018 to monitor the implementation of its recommendations. The committee in its four reports since 2019 said no meaningful action had been taken by authorities to clean up the Kali, Krishna and Hindon Rivers. It accused Uttar Pradesh officials of "apathy" and even "stonewalling" its action plan and monitoring.
In its last directive – released in February 2021 and seen by Al Jazeera – the NGT notes that officials "did not comply" with most of its recommendations. The state government has not cooperated and its attitude was "disappointing", the NGT said. Out of the total of 133 sewage drains that needed to be covered, only 20 were covered and the remaining 113 are "in the process of being tapped", as the progress report submitted by the government mentions. The sewage drain tapping would help control the spread of diseases.
Some of the recommendations, such as the preparation of micro plans to prevent groundwater pollution by industrial effluents, and identify and deal with other sources of water pollution – covering the entire stretch of drains, and identifying causes of ailments like skin diseases, jaundice and cancer – were not complied with, according to the February 2021 NGT order. The only work that has been done to some measure is providing piped drinking water to more than 50 percent of the residents in these 150-plus villages, the committee said. https://www.aljazeera.com/news/2022/10/21/how-river-pollution-is-killing-people-in-an-indian-village (21 Oct. 2022)
Meerut: 1 feared drowned as boat with 15 people capsizes One person was feared drowned when a boat with around 15 people on board capsized in river Ganga here on Tuesday (Oct. 18) morning, officials said. The boat was enroute to Chandpur (Bijnor) from Hastinapur, when the incident occurred after it collided with a pillar, owing to the fast current in the river, and overturned. The district administration claimed that 14 of them have been rescued, while the rescue mission is underway to locate the one missing, a government school teacher.
The incident occurred at around 7:30 am. The capsized boat was overloaded and carried a motorbike as well, said one of the survivors. Notably, the new bridge built over the river that connects Hastinapur to Bijnor was rendered dysfunctional after the approach road had collapsed during the recent heavy rainfall, due to which locals had to use the boat to cross the river which is still in swelled state. Though the local administration claimed that all those on the boat had been accounted for except one, the villagers, on the contrary, claimed there were five to six more people on the boat. Hence, the number couldn't be confirmed due to conflicting claims. https://timesofindia.indiatimes.com/city/meerut/meerut-1-feared-drowned-as-boat-with-15-people-capsizes-in-ganga/articleshow/94953059.cms (19 Oct. 2022)
YAMUNA Delhi Committee set up to minimise froth formation during Chhat Puja A joint committee of stakeholders including NMCG, Upper Yamuna River Board (UYRB), DJB and DPCC has been constituted by the Ministry of Jal Shakti on Monday (Oct. 17) to oversee and coordinate efforts being made to control/minimise froth formation downstream of Okhla Barrage in river Yamuna during Chhat Puja.
"This is in addition to the efforts going on towards sewerage interventions and monitoring discharge of industrial effluents under Namami Gange programme, central schemes and state plan. In view of festive season, it has been felt to coordinate efforts of different departments/agencies in the efforts to try and contain the problem of froth in River Yamuna downstream of Okhla Barrage," the ministry added. https://www.livemint.com/news/india/committee-set-up-to-minimise-froth-formation-in-yamuna-during-chhat-puja-11666010366227.html  (17 Oct. 2022)
A debate competition on "Effect of Festivals on our Rivers", a poster making competition on "Clean Rivers" and a slogan writing competition on "River Yamuna: A Life Line to Millions" will be organised in all schools in Delhi. https://indianexpress.com/article/cities/delhi/delhi-school-competition-rivers-yamuna-awareness-diwali-8190901/ (05 Oct. 2022)
Uttar Pradesh Govt plans to start cruise services on river Government plans to start cruise services on Yamuna river a top officials of UP Braj Tirth Vikas Parishad States Destination Tirth Vikas Parishad said recently. An order has been placed with Cochin Shipyard by the Union government for two cruises. These cruises will be handed over to the Parishad, its Chief Executive Officer, Nagendra Pratap said. According to officials, the cruise service will commence from Jugal Ghat Vrindavan and terminate at 'Vasudeo Vatika' adjacent to Gokul barrage, with halts at various points. Under the scheme, more than half a dozen jetties would be developed for the 22 km journey from Vrindavan to Gokul, they added. The officials said the Union government is also developing similar river transport in Ayodhya and Varanasi. https://infra.economictimes.indiatimes.com/news/ports-shipping/government-plans-to-start-cruise-services-on-yamuna-river/95057192 (24 Oct. 2022)
RIVERS BIODIVERSITY
Bihar भागलपुर में गंगा के किनारे मृत मिली डाल्फिन  भागलपुर के नगवछिया इलाके में इस्माइलपुर थाना क्षेत्र के प्रखंड मुख्यालय के पास गंगा के किनारे मंगलवार (Sept. 13) को मृत डाल्फिन दिखने से हड़कंप मच गया। उस डाल्फिन के शरीर पर चोट के कई निशान दिखे हैं। लोगों ने उसकी हत्या की आशंका जताई है।
मालूम हो कि सुल्तानगंज से कहलगांव के बीच डाल्फिन सेंक्चुरियन घोषित होने के बावजूद भी डाल्फिन की सुरक्षा नहीं हो पा रही है। डाल्फिन सुरक्षा को लेकर डाल्फिन मित्र की नियुक्ति भी वन विभाग ने की है। इसके बावजूद छह महीने में तीन डाल्फिन मृत मिल चुकी हैं। मालूम हो कि इसी जगह पर बीते मार्च में एक डाल्फिन मृत मिली थी जिसको लेकर वन पर्यावरण विभाग के सचिव द्वारा जांच का निर्देश भी दिया गया था। उसमें अब तक उस पर कुछ भी नहीं हुआ है। https://www.jagran.com/bihar/bhagalpur-dolphin-centurion-dolphin-found-dead-on-the-banks-of-ganga-in-bhagalpur-forest-department-waiting-for-post-mortem-report-23068527.html  (14 Sept. 2022) Ganges river dolphins trapped in fishnets and false beliefs https://www.gaonconnection.com/lead-stories/bihar-river-dolphin-ganga-kosi-burhi-gandak-environment-climate-change-wildlife-fish-iucn-wwf-51347  (17 Oct. 2022)
FISH, FISHERIES, FISHERFOLKS
Hyderabad Dumped in city lakes, red-eared turtle pets kill native species Red-eared slider turtles, which are an exotic and invasive turtle species, are now being found in the native lakes and water bodies of Hyderabad which is a cause for concern as it not only destroys the aqua ecosystem but also carries bacteria which is harmful to the native species. These turtles are popular with pet lovers because of their small size but they grow and mature quickly and are known to be aggressive eaters. The animals, when released into the local water bodies, compete with the native turtles for food, basking and nesting sites.
Pradeep Prazz, Founder of Wild Telangana said, "Around 500 odd red-eared slider turtles were identified and observed in the water bodies of Telangana according to our survey. We have spotted these turtles in Ameenpur lake, Osmansagar, Hussainsagar and Osmania University in the city and in a few districts like Khammam, Warangal, Bhadradri Kothagudem and others." "Earlier we used to spot one-two adults near the water bodies but now these turtles have reached a stage where they are breeding on their own. We found two-three babies near Kapra lake. If their population continues to increase then the local ecology will be destroyed and also the native species which will be affected by the new bacteria ultimately affecting the human kind," says Pradeep Prazz. https://www.newindianexpress.com/cities/hyderabad/2022/oct/13/hyderabad-dumped-in-city-lakes-red-eared-turtle-pets-kill-native-species-2507540.html (13 Oct. 2022)
SAND MINING
Uttarakhand HC voids mining rule The High Court has quashed the State Government's mining rule that allowed it to allot mining leases to bhumidhars (landowners) by way of recommendatory procedure instead of a competitive bidding process. A bench led by Chief Justice Vipin Sanghi found the rule to be in contravention of the Supreme Court's judgment related to the allotment of 2G spectrum delivered in 2012. The 2012 judgment declared the government policy of first come first serve basis in grant of 2G licences to be illegal. It was declared as "unconstitutional and arbitrary" and the court quashed all 122 licences issued in 2008 by the then minister for communications and IT, A. Raja.
"It pains us to see the way in which the State is letting its valuable resource being exploited with hardly any return," the bench, also comprising Justice Ramesh Chandra Khulbe, observed. The 26 September 2022 order quashed the state's notification issued on 28 October 2021 that amended Rule 3 of the Uttarakhand Minor Minerals (Concession) Rules, 2001. The amended rule allowed a bhumidhar to use soil, sand, rock, boulders, gravel, etc excavated in his own property for the purpose of construction on his property.
In its defence, the state said the new rule was to facilitate clearing of agricultural lands that get affected during the rainy season. It said since most of the private land in Uttarakhand is situated at the foothill adjacent to rivers and other water bodies, garbage gets accumulated in the said area following the rains. However, the strict mining rule prevented the landowners from clearing their land for construction of houses and agriculture.
Dismissing the state's explanation, the HC said, "The minor minerals are the property of the State. Merely because the same gets deposited on the lands belonging to the bhoomidhars during the flooding season, it does not become the private property of the bhoomidhar." The court noted that it supported the state's objective behind the amendment, however, did not approve of the manner in which it intended to execute it. The bench said in the garb of permitting removal of the deposit to make the land available for farming, the state has actually granted substantial mining leases. https://theprint.in/judiciary/mining-minerals-govt-property-uttarakhand-hc-voids-state-rule-refers-to-2g-spectrum-case/1169905/ (16 Oct. 2022)
हल्द्वानी निवासी सतेंद्र तोमर ने याचिका दायर कर सरकार की नई खनन नीति को चुनौती दी थी। याचिकाकर्ता का कहना था कि नई नीति की वजह से खनन पट्टाधारकों को आर्थिक नुकसान हो रहा है। निजी नाप भूमि पर निजी व्यक्तियों को खेत समतलीकरण के बहाने चुगान तथा स्टोन क्रशर संचालकों को रिसाइक्लिंग की अनुमति देने से उनको नुकसान हो रहा है। नीलामी में बोली लगाने वाले पट्टाधारकों को बेहद अधिक दाम में रिवर बेड मैटीरियल आरबीएम बेचना पड़ रहा है, हर साल दस प्रतिशत रॉयल्टी बढ़ रही है जबकि निजी नाप भूमि के पट्टाधारक 70 से 85 रुपये प्रतिटन के हिसाब से खनन सामग्री उपलब्ध करा रहे हैं। इससे सरकार को राजस्व की भारी हानि हो रही है। https://www.jagran.com/uttarakhand/nainital-high-court-canceled-the-policy-notification-of-mining-in-uttarakhand-23139788.html (14 Oct. 2022)
हाई कोर्ट ने आरक्षित वन क्षेत्र में निजी लोगों को खनन कार्य की अनुमति दिए जाने के विरुद्ध जनहित याचिका पर सुनवाई की। मुख्य न्यायाधीश न्यायमूर्ति विपिन सांघी व न्यायमूर्ति आरसी खुल्बे की खंडपीठ ने पहले के आदेशों के आधार पर खनन पर रोक लगाते हुए सचिव वन को चार सप्ताह में जवाब पेश करने को कहा है। कोर्ट ने यह बताने को कहा कि पूर्व के आदेश का अनुपालन क्यों नहीं हो रहा है। निजी लोगों को आरक्षित वन क्षेत्रों में खनन की अनुमति कैसे दी जा रही है। अगली सुनवाई को चार सप्ताह बाद होगी।
बाजपुर निवासी रमेश कंबोज ने जनहित याचिका दायर कर कहा है कि राज्य सरकार रिजर्व फारेस्ट एरिया में खनन कार्य प्राइवेट लोगों को दे रही है या देने जा रही है। यह लोग मानकों के अनुरूप खनन नहीं करते हैं, जो उच्च न्यायालय के 2014 में दिए गए आदेश के विरुद्ध है। सरकार रिजर्व फारेस्ट में खनन कार्य प्राइवेट लोगों को नहीं दे सकती है, इसके लिए केंद्र सरकार की अनुमति लेनी आवश्यक होती है। सरकारी एजेंसियां ही खनन कर सकती है। इस मामले में 2015 में राज्य सरकार की विशेष अपील सुप्रीम कोर्ट से निरस्त हो गई थी। राज्य सरकार इस आदेश के बाद भी प्राइवेट लोगों को रिजर्व फारेस्ट में खनन के पट्टे दे रही है, इसलिए इस पर रोक लगाई जाए। https://www.jagran.com/uttarakhand/nainital-ban-on-mining-in-reserved-forest-area-in-uttarakhand-23107736.html (29 Sept. 2022)
HC stays new mining rules, issues notice to govt The Uttarakhand high court has stayed the new mining rules (Uttarakhand Minor-Minerals (Concession) (Amendment) Rules, 2021) notified by the state government on October 28 last year. The court has also issued notices to state government, director geology and mining unit (under industries department), district mining officer Nainital and sub-divisional magistrate Nainital. The respondents have been directed to reply to the notices within four weeks.
The division bench of acting chief justice SK Mishra and Justice Alok Kumar Verma gave these directions while hearing a petition filed by Nainital-based Satyendra Kumar Tomar in December last year. The petitioner said: "The notification is an attempt to indulgingly convert state mining policy of competitive bidding into a mutual consent cum recommendation." According to the petition, the notification was violative of Article 14, 19(1)(g) and 21 of the Constitution of India, as it provides for allotment of mining leases by way of recommendatory procedure rather than by way of competitive bidding in total disregard of the State Mining Policy of 2017.
"Despite issuance of another office on November 10, 2021 by the state government, which provides for a proper competitive e-tender/e-bidding even on affected abadi (residential) and agricultural land, mining interests purely on the basis of recommendations are still being handed out arbitrarily to vested interests on private lands", the petition added. https://www.hindustantimes.com/india-news/uttarakhand-high-court-stays-new-mining-rules-issues-notice-to-state-govt-101641579287401.html (07 Jan. 2022)
टनकपुर के खनन कारोबारियों ने चल्थी में हो रहे अवैध खनन और ओवरलोड वाहनों पर रोक लगाने की मांग की है। इस संबंध में उन्होंने एसडीएम के जरिए मुख्यमंत्री और डीएम को ज्ञापन भेजा है। शीघ्र अंकुश नहीं लगाने पर धरना प्रदर्शन की चेतावनी दी है। गुरुवार को खनन कारोबारियों ने एसडीएम हिमांशु कफल्टिया को ज्ञापन दिया। ज्ञापन में कहा है कि चल्थी से ओवरलोड वाहन स्वीकृत 90 कुंटल रवन्ने के बजाय 250 कुंतल से अधिक खनन सामग्री ला रहे हैं। आरोप लगाया कि चल्थी में अवैध खनन करके रात में ही स्टॉकों को भर दिया जा रहा है। जबकि इतनी खनिज सामग्री किसी भी स्टॉक में नहीं है। उन्होंने अवैध सामग्री से भरे स्टॉक को सीज करने की मांग की। खनन कारोबारियों ने शीघ्र मांग पूरी नहीं होने पर धरना प्रदर्शन करने की चेतावनी दी। https://www.champawatkhabar.com/demand-to-stop-illegal-mining-in-chalthi/ (06 Oct. 2022)
Madhya Pradesh रेत से भरे ट्रैक्टर के कुचलने से बच्चे की मौत बड़वानी के तलवाडा डेब में 4 वर्षीय बच्चे की ट्रैक्टर से कुचलने से मौत हो गई। वहीं पिता गंभीर रूप से घायल हो गया।आसपास मौजूद लोग पिता पुत्र को गंभीर हालत में प्राथमिक स्वास्थ्य केंद्र तलवाडा डेब लेकर पहुंचे, जहां चार वर्षीय बालक लक्की की मौत हो गई। जानकारी अनुसार नलवाय निवासी सचिन कहार अपने पुत्र लक्की को लेकर तलवाडा डेब आया हुआ था। तभी, अपनी बाइक पर नलवाय रोड किनारे खड़े पिता पुत्र पर अवैध रेत से भरा ट्रैक्टर का एक पहिया निकल गया। टक्कर से सचिन और पुत्र लक्की गिर गया और ट्रैक्टर के पहिए के नीचे आकर लक्की कुचला गया, घटना से गांव में शोक और परिजनों में कोहराम मचा हुआ है। https://www.bhaskar.com/local/mp/barwani/news/child-dies-due-to-crushing-of-sand-laden-tractor-in-talwara-deb-police-administration-reached-the-spot-130459013.html (19 Oct. 2022)
नदी के अंदर से निकाल रहे रेत, ट्रैक्टर पलटने से चालक की मौत जिले में रेत का अवैध खनन जोरों पर चल रहा है। करैरा-नरवर बेल्ट के साथ माफिया को जहां भी रेत मिलती है वे वहां से उसे निकालने में जुट जाते हैं। फिर इस रेत के खेल में भले ही किसी की जान भी चली जाए। कोलारस थाना क्षेत्रांतर्गत ग्राम भडौता में सोमवार (Sept. 06) की दोपहर गुंजारी नदी से अवैध खनन कर लौट रहा रेत से भरा ट्रैक्टर-ट्राली घाट पर चढ़ते समय पलट गया। हादसे में ट्रैक्टर चालक की ट्रैक्टर के नीचे दबने से मौत हो गई। यहां गुंजारी नदी से गांव के मजदूरों से तसलों से भरकर अवैध रूप से रेत निकलवाई जा रही है और फिर उसका परिवहन किया जा रहा है। फिलहाल इस मामले में पुलिस ने मर्ग कायम कर लिया है, लेकिन रेत के खनन पर चुप्पी साधी हुई है।
खास बात यह है कि ट्रेक्टर चालक रेत का अवैध खनन करके लेकर आ रहा था। यहां हो रहा रेत का अवैध खनन प्रशासन के जिम्मेदार अधिकारियों के संज्ञान में भी है बाबजूद इसके यहां से अवैध खनन रोकने के लिए कोई प्रयास नहं किया जा रहा है। इसी का परिणाम है कि आज यहां पर युवक की मौत हो करैरा क्षेत्र में भी सिंध नदी में पानी भरा हुआ है। इसके बाबजूद कई घाटों पर वहां अवैध खनन जारी है। सूत्र बताते हैं कि यहां पर तो रेत माफियाओं द्वारा नदी में पनडुब्बी लगाकर अवैध खनन किया जा रहा है। इस अवैध खनन की गवाही शिवपुरी जिले में हर रोज होने वाली रेत के डंपरों की सप्लाई भी दे रही है। जिम्मेदारों को पता है कि यह सभी डंपर बिना किसी रायल्टी के अवैध रूप से लाए जा रहे हैं। खनन भी वहां किया जा रहा है जहां पर रेत खनन की अनुमति नहीं है। https://www.naidunia.com/madhya-pradesh/shivpuri-sand-being-removed-from-inside-the-river-on-bhaouta-in-shivpuri-the-driver-died-due-to-overturning-of-the-tractor-7801566 (08 Sept. 2022)
सारनी क्षेत्र में रेत का अवैध उत्खन्न और परिवहन बैतूल जिले में रेत का कारोबार न्यायालीन प्रक्रिया में उलझ जाने से लोगों को रेत उपलब्ध नहीं हो पा रही है। वहीं अवैध रूप से उत्खनन और परिवहन कर उपलब्ध कराई जा रही रेत भी अत्यधिक महंगे दामों पर बेची जा रही है।
अवैध उत्खनन और परिवहन के खिलाफ कोई कार्यवाही नहीं की जा रही है।  ऐसी चर्चा है कि सारनी क्षेत्र के खैरवानी, लोनिया और ढोकली से अवैध रूप से रेत का खनन हो रहा है। https://khabarwani.com/illegal-sand-mining/  (17 Oct. 2022)
Nod to mining in Chambal sanctuary raises concerns Environmentalists are worried that it will regularise illegal sand mining happening within the sanctuary unabated for the past many years and provide incentive to for more illegal mining. https://www.hindustantimes.com/india-news/nod-to-mining-in-chambal-sanctuary-raises-concerns-101661971050791.html (01 Sept. 2022)
Odisha Duo attacked due to sand mining dispute in Cuttack, 1 dead Two persons were attacked by a gang of miscreants over previous enmity based on sand mining dispute, leaving one dead on the spot and other critically injured near Govindpur square under Tangi Police station limits on Oct. 23 evening. In the meantime, the police has initiated a probe into the matter to nab the miscreants involved in the brutal ambush and responsible for the death. https://kalingatv.com/state/duo-attacked-due-to-sand-mining-dispute-in-cuttack1-dead/ (23 Oct. 2022)
Uttar Pradesh रेत भरे ट्रैक्टर ट्रॉली ने स्कूल जा रहे छात्र को कुचला बरेली। अवैध खनन के ट्रैक्टर ट्रॉली ने स्कूल जा रहे छात्र को कुचल दिया। छात्र को उसके पिता जीपीएम स्कूल छोड़ने जा रहे थे। गंभीर हालत में छात्र को दिल्ली रेफर किया गया है। लोगों ने भागने की कोशिश कर रहे चालक को पकड़कर पुलिस के हवाले कर दिया। इस बावजूद कोतवाली पुलिस ने इस मामले में अज्ञात के खिलाफ रिपोर्ट दर्ज की है।
चाचा संजय शर्मा ने बताया कि पुलिस सुबह से ही मामले को दबाने का प्रयास कर रही है। वहीं कोतवाली पुलिस ने चालक को हिरासत में लेने के बाद भी अज्ञात में रिपोर्ट दर्ज की है। संजय शर्मा का आरोप है कि कोतवाली पुलिस ट्रैक्टर ट्रॉली को बदलने की कोशिश कर रही है। उन्होंने पता चला कि ट्रैक्टर ट्रॉली संजयनगर स्थित गुरुद्वारे के पास कारोबार करने वाले व्यापारी की है। पुलिस व्यापारी को बचाने की कोशिश कर रही है। उन्होंने आरोप लगाया कि घटना के बाद से पुलिस ट्रैक्टर ट्रॉली बदलने की कोशिश में लगी हुई है। इसके लिए एक व्यक्ति ने रकम भी दी है। जांच के दौरान पता चला है कि ट्रैक्टर ट्रॉली का इंश्योरेंस नहीं है। इसके अलावा रजिस्ट्रेशन नंबर भी उस पर नहीं है। जो चालक पकड़ा गया है उसके पास लाइसेंस भी नहीं मिला है। https://www.amarujala.com/uttar-pradesh/bareilly/illeagal-mining-tractor-trolly-hit-student-bareilly-news-bly4976081112 (15 Sept. 2022)
Bihar 5 feared drown after sand laden boat sinks in river Five people are feared drowned after a sand-laden boat with at least 13 people on board sank in the Ganga river after colliding with pillars of JP Setu at Sonepur near Digha in Vaishali on Sunday (Oct. 23), police said. The station house officer (SHO) of Digha police station, Shambhu Kumar, said that the incident occurred at around 7.45 am near Pahela Ghat and that the boat sank after it hit pillars number 10 and 11.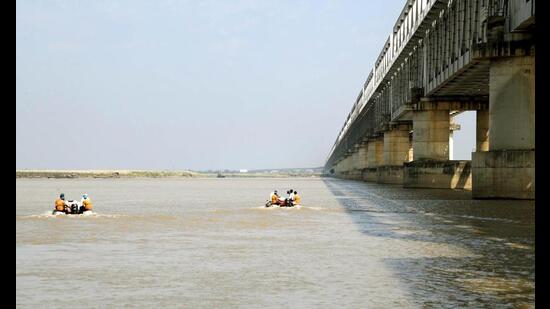 "13 people were on board the vessel when the incident occurred. Eight people have been rescued while five are feared drowned as the bodies have not been recovered during the searches conducted by the NDRF and SDRF teams," the SHO said. A survivor, identified as Arun Kumar, however, claimed there were about 15 people on the boat; out of which, 8 were rescued. "Five to six are still missing," he said. https://www.hindustantimes.com/cities/patna-news/five-feared-drown-after-boat-sinks-in-ganga-101666542058907.html (24 Oct. 2022)
बालू ठीकेदारों के लिए सरकार ने नियम किए सख्त प्रदेश के 28 जिलों में बालू घाटों के बंदोबस्त की प्रक्रिया अंतिम दौर में है। कुछ जिलों में 10 से 11 अक्टूबर के बीच टेंडर को अंतिम रूप दिया जाएगा तो कुछ जिलों में यह प्रक्रिया 17-20 अक्टूबर के बीच पूरी होगी। इस बीच खान एवं भू-तत्व विभाग ने ठीकेदारों के लिए बालू ढुलाई के नियम और सख्त कर दिए हैं। नई व्यवस्था में जिन ठीकेदारों को बालू घाटों की बंदोबस्ती मिलेगी उन्हें बालू की ढुलाई के पूर्व अपने सभी वाहनों पर जीपीएस लगान होगा। इसके साथ ही इसके साथ ही संबंधित वाहनों पर लोड शेल उपकरण भी अनिवार्य रूप से लगाना होगा। https://www.jagran.com/bihar/patna-city-government-made-strict-rules-for-sand-contractors-in-bihar-made-a-new-system-for-transportation-23129320.html (09 Oct. 2022)
सरकार ने एक अक्‍टूबर से राज्‍य के बालू घाटों पर खनन की अनुमति दे दी है। जिन बालू घाटों के लिए टेंडर हो गया है, वहां शनिवार से खनन कार्य शुरू हो जाएगा। दूसरी तरफ, सोन नदी के दियारा में अवैध खनन रोकने के लिए सरकार कांबिंग आपरेशन चलाने जा रही है। एडीजी मुख्‍यालय जितेंद्र सिंह गंगवार ने कहा कि बालू तस्‍करों पर लगाम लगाने के लिए कई थानों की पुलिस मिलकर अभियान चलाएगी। कुछ दिनों पहले पटना जिले के अंतर्गत बिहटा के अमनाबाद में बालू तस्‍करों के दो गुटों के बीच ताबड़तोड़ फायरिंग के बाद पुलिस मुख्‍यालय सक्रिय है। https://www.jagran.com/bihar/patna-city-sand-mining-in-bihar-starts-after-four-months-police-will-run-combing-operation-against-smugglers-23111448.html (01 Oct. 2022)
Kerala Protest against mineral sand-mining completes 500 days The indefinite relay satyagraha being staged under the aegis of the Karimanal Ghanana Virudha Ekopana Samiti against the mineral sand-mining at Thottappally completed 500 days on Saturday (Oct. 22) . On the occasion, members of the samiti staged a protest by blocking mining at the Thottappally fishing harbour. The samiti alleged that indiscriminate mineral sand-mining at the harbour and Thottappally pozhi had been causing serious health risks to the local population. It demanded an immediate halt to all mining activities.
Local residents have been alleging that the State government is engaged in large-scale mineral sand mining at the pozhi under the guise of flood mitigation in Kuttanad and at the harbour in name of its development. The coastline is prone to severe sea surges and coastal erosion. Residents fear the mining would prove detrimental to the people living along the shorelines from Valiazheekal to Punnapra. The removed sand is transported to Kerala Minerals and Metals Ltd and Indian Rare Earths Ltd. https://www.thehindu.com/news/national/kerala/protest-against-mineral-sand-mining-completes-500-days/article66044716.ece (22 Oct. 2022)
Telangana Bridge collapse at night; illegal sand mining, construction flaws suspected Rampant, illegal sand mining is alleged to have resulted in the collapse of a closed bridge near Andavelli in Kagaznagar mandal of Komaram Bheem Asifabad district in the wee hours on Wednesday (Oct. 19) morning. The bridge was constructed on Peddavagu river 20 years ago, connecting the three mandals. The bridge has 10 pillars and 11 slabs. Slabs 9, 10, and 11 collapsed with the 8th pillar sunk. Construction defects are also suspected. The buildings department had closed the bridge last month by erecting blocks at both ends as its safety was suspect. A pillar had sunk last year. According to sources, a tender had been called a few days ago for the repairs at a cost of Rs 2.90 lakh.
Activists say the bridge collapsed due to the rampant illegal sand mining from rivulets, streams, and rivers. Illegal sand mining is rampant along River Penganga in the Adilabad district and Godavari in Mancherial district. Contractors who took sand reaches are digging the sand against the permitted depth at the identified sand reaches in the Godavari, activists said and called on the authorities to take action to curb illegal sand mining under the bridges and near pillars.
Villagers of Bheemini and Dahegoam are suffering a lot due to the closure of the road 40 days ago, followed by the bridge collapse now. Road connectivity has been badly affected to nearly 40 villages of Bheemini, Dahegoam and Kagazangar mandals. Villagers on both sides have been having alternative transportation via country boats made of thermocol sheets to cross the river. A country boat carrying students and villagers overturned while crossing the Peddavagu river on September 22. All of them were saved by the boat's men. https://www.deccanchronicle.com/nation/in-other-news/191022/bridge-collapse-at-night-illegal-sand-mining-and-construction-flaws-s.html (20 Oct. 2022)
Andhra Pradesh No anomalies in sand mining, sales in: Director of M&G Sand mining and sales are being undertaken transparently, strictly adhering to the environmental norms and conditions laid down by the NGT, asserted Director of Mines and Geology VG Venkata Reddy. Stating that the Mines and Geology Department reached an agreement with Jaiprakash Power Ventures Ltd (JPVL), he clarified that the government has nothing to do with the sub-contracts. In fact, it is mentioned in the agreement that the firm (JPVL), which got the contract from the government for taking up sand mining is allowed to give sub-contracts. As far as the sand mining and sales are concerned, the Mines and Geology Department will only deal with JPVL, he explained.
Denying the reports in a vernacular daily that leaders of the ruling YSRC were controlling the sand mining operations in the State, Venkata Reddy maintained that no irregularities are taking place in the entire process. The government had also set up Special Enforcement Bureau (SEB) to look into complaints related to sand mining operations and curb irregularities if any. https://www.newindianexpress.com/cities/vijayawada/2022/oct/22/no-anomalies-in-sand-mining-sales-in-andhradirector-of-mines-and-geology-2510800.html (22 Oct. 2022)
The UNEP says urgent action is needed to avoid a 'sand crisis' in its Sand and Sustainability report. https://www.weforum.org/agenda/2022/06/global-sand-mining-demand-impacting-environment/ (30 June 2022)
WATER OPTIONS
Bengaluru BBMP begins to set up RWH pits to avoid floods and increase groundwater Following repeated instances of flooding and inundation in the city during heavy rainfall, the Bruhat Bengaluru Mahanagara Palike (BBMP) has now set a target to install 5,000 Rainwater Harvesting (RWH) pits in parks and roadside drains to smooth the flow of water and increase the groundwater table. The civic body has so far installed 1,000 RWH pits in the city and set a target of constructing 5,000 more in another three years across the city. The BBMP is planning to harvest at least two crore litre of rainwater annually. "According to experts, the city receives 600 mm to 1,000 mm rain annually and most of this rainwater gets wasted flowing into drains. Hence, the BBMP is installing RWH pits in parks and various places in the city which will contribute to the increase in groundwater," a BBMP officer from the horticulture department said.
The civic body says that the RWH pits are been installed with the help of various non-government organisations and under the Corporate Social Responsibilities programme scientifically. "We are now digging a 12-foot-deep RWH pit, which includes concrete rings, iron meshes and covering slabs at around the cost of ₹35,000 to ₹40,000," the officer explained. BBMP is already started implementing the project in phase by phase manner and last month, in the Basavanagudi assembly constituency, the civic body called a tender for implementing the RWH pits at the cost of ₹8.79 crore. According to BBMP, there are around four lakh RWH pits across the city, however, the BBMP has no data on how many are in good condition. https://www.thehindu.com/news/cities/bangalore/bbmp-begins-to-set-up-rainwater-harvesting-pits-to-avoid-floods-and-increase-groundwater-in-bengaluru/article65972546.ece (22 Oct. 2022)
GROUNDWATER
Study Researchers find that pumping draws young groundwater to new depths, potentially with contaminants in tow Scientists at UC Santa Barbara discovered that relatively young groundwater tends to reach deeper depths in heavily pumped aquifer systems, potentially bringing surface-borne pollutants with it. The study, led by recent postdoctoral fellow Melissa Thaw, appears in Nature Communications. "We usually think deep groundwater is safe from the contaminants found closer to the Earth's surface," said Thaw. "However, intensive groundwater pumping is pulling recently replenished groundwater to deeper depths, potentially pulling contaminants down, too."
Groundwater takes time to move about the subterranean world, flowing between soil particles and through crevices in the rock. Today's raindrops might not be tomorrow's well water; in fact, they might not even be next decade's well water. "Half or more of all the groundwater stored on the planet is rain and snow that fell more than 12,000 years ago," said Scott Jasechko, an associate professor in UC Santa Barbara's Bren School of Environmental Science & Management. Intuitively, the deeper you look, the older the water generally is.
Previous studies have uncovered pumping-induced downwelling at local scales; for instance, in Indonesia and California's Central Valley. However, this is the first to reveal the phenomenon at large scales. And the implications aren't simply academic. https://phys.org/news/2022-10-young-groundwater-depths-potentially-contaminants.html (04 Oct. 2022)
Report Invisible informal groundwater markets While informal groundwater markets cater significantly to the needs of smallholder farmers in India, they continue to be unacknowledged and understudied. https://www.indiawaterportal.org/articles/invisible-informal-groundwater-markets (17 Oct. 2022)
Haryana HWRA reviews plan to reduce groundwater gap Haryana Water Resources Authority (HWRA), Chairperson, Keshni Anand Arora held a meeting with Superintending Engineers, Irrigation and Water Resources Department (I&WRD) to review the progress of the Districts Water Resources Plan 2022-25 being prepared by all the 22 Districts as per the HWRA Act. During the meeting she also reviews a three-year action plan in order to reduce the water gap by 45 percent in three years that is 10 percent in the first year, 15 percent in second year, and 20 percent in the third year in water depleted as well as waterlogged areas.
Keshni Anand Arora lauded the efforts made by the District Administration of Yamunanagar and Ambala which are leading in their efforts. Besides this, she also directed the other districts to put in more effort and resubmit a comprehensive plan. During the meeting, the districts were directed to formulate an integrated and holistic three-year village-level water action plan and should incorporate sustainable use of surface water and groundwater and enhanced use of Treated Waste Water for non-potable purposes to reduce dependency on freshwater resources. http://www.millenniumpost.in/nation/hwra-reviews-action-plan-to-reduce-water-gap-496342 (18 Oct. 2022)
URBAN WATER
NCR Two lakh litres of water is being sprayed daily to purify the air. This will last for about three months. If water is sprayed at this speed, then about 250 lakh litres of water will be sprinkled in this process. With its proximity to Delhi NCR and its industrial activities, pollution in Bhiwadi always spikes around this time of year. https://www.timesnownews.com/mirror-now/in-focus/rajasthan-ncr-border-district-to-sprinkle-250-lakh-litres-of-water-to-deal-with-air-pollution-article-95049341 (23 Oct. 2022)
WATER POLLUTION
Karnataka Ballari to get task force to combat water contamination After two incidents of water contamination were reported in Ballari, the district administration is now looking at constituting a task force to deal with similar situations in future. The task force is being constituted at the taluk level, with its members being able to swiftly reach the scene of any incident. On August 6, an 11-years old girl lost her life to water contamination in Gonal village of Kampli taluk, and more than 100 residents were hospitalised. On August 17, 80 people were hospitalised in Ankanal village of Sandur taluk, and a week later, 30 people took ill in Siruguppa due to polluted water. In August, three incidents of water contamination were reported in Ballari district. We have been continuously conducting awareness drives, but unfortunately, a girl lost her life and more than 300 people had to be hospitalised," the DHO said. https://www.newindianexpress.com/states/karnataka/2022/sep/08/ballari-district-to-get-task-force-to-combat-water-contamination-2495975.html (08 Sept. 2022)
WATER
Report Economic tools at Govt's disposal for management of waterbodies In states like Karnataka, Self-Help Groups have a vital role in water resource management such as watershed management. This could be further explored to the next level by assigning them ownership rights for a certain period through provision of fund for water resource management. https://www.news18.com/news/opinion/a-deep-dive-into-management-of-water-bodies-and-what-are-economic-tools-at-govts-disposal-6226399.html (23 Oct. 2022)
In Ladakh, Unprecedented Tourist Rush Causing Environmental Issues, Water Shortage https://www.indiatimes.com/explainers/news/in-ladakh-unprecedented-tourist-rush-causing-environmental-issues-water-shortage-582162.html (16 Oct. 2022)
Arunachal Pradesh Geotagging of water bodies needed: Mallo "We need to take the Jal Shakti Abhiyan (JSA) seriously, and, keeping in view the availability of water in future, geotagging of water bodies is important to check encroachment due to urbanisation," said the central nodal officer for the 'JSA – Catch the rain' for Tawang district, Indra Mallo. https://arunachaltimes.in/index.php/2022/10/23/geotagging-of-water-bodies-needed-mallo/ (23 Oct. 2022)
MONSOON 2022
Pune Heavy rain batters city Intense rains hit the city after 9:30 on Monday (Oct. 17) as several areas reported severe waterlogging. The worst hit was south and central Pune where most areas experienced heavy rainfall, bringing back memories of the 2019 flash floods. According to private agency rainguage, Bibwewadi reported 102 mm rainfall in two hours since 9 pm. The IMD recorded 81mm rainfall till 11:30pm at Shivajinagar and 58mm (10.15 pm) at Hadapsar.
Anupam Kashyapi, head of weather forecasting department at IMD, said radar images show that the cloud mass is associated with cumulonimbus cloud that is the thunder cloud. "These cumulonimbus clouds have been developing for a long time in and around the city. So moderate to intense spells may continue. The cloud depth is around 11 km. Core areas of rainfall were Pune and Pimpri-Chinchwad where intense rainfall cells continued to bring rains," said Kashyapi. He added that till October 18, moisture incursion is likely to continue. "Moisture incursion will be there from both Arabian sea and Bay of Bengal side till October 18. On Tuesday, similar activity is likely on October 18 evening as well. Then slowly from October 19 onwards, rain activity will start to reduce marginally," said Kashyapi. He added that as rainfall is likely to continue till October 18, the withdrawal of southwest monsoon is likely to delay over Pune. "With rainfall continuing, it has dampened the immediate chances of monsoon withdrawal from Pune and Mumbai. It will be delayed for a couple of days," said Kashyapi. https://www.hindustantimes.com/cities/pune-news/heavy-rain-batters-pune-101666033403228.html (18 Oct. 2022)
"We have had a lengthy discussion with the irrigation department about the release of 23 TMC of water into the river, but since there is no way to hold this water, it is released into the Mutha river to flow into the Ujjani dam near Solapur," he said. https://www.hindustantimes.com/cities/pune-news/2305-tmc-water-released-from-dams-could-have-fulfilled-pune-city-s-needs-for-1-5-years-101666032826602.html (18 Oct. 2022)
URBAN FLOODS
Bengaluru Slow death of tech hub? The state government of Karnataka, where Bengaluru is located, said last week it would spent 3 billion Indian rupees ($37.8 million) to help manage the flood situation, including removing unauthorised developments, improving drainage systems and controlling water levels in lakes. "All the encroachments will be removed without any mercy," Karnataka Chief Minister Basavaraj Bommai told reporters. "I will personally go and inspect."
Authorities have identified around 50 areas in Bengaluru that have been illegally developed. Those included high-end villas and apartments, according to Tushar Girinath, Chief Commissioner of Bengaluru's civic authority. Last week, the state government also announced it would set up a body to manage Bengaluru's traffic and start discussions on a new storm water drainage project along a major highway.
Critics called the initiatives a knee-jerk reaction that could peter out. "Every time it floods, only then we discuss," said IISC's Ramachandra. "Bengaluru is decaying. It will die." https://www.reuters.com/world/india/traffic-water-shortages-now-floods-slow-death-indias-tech-hub-2022-09-15/ (15 Sept. 2022)
Way of water How Chikka Anekal Lake reclaimed itself as government buildings constructed on encroached lakebed flooded in recent heavy rain. https://bangaloremirror.indiatimes.com/bangalore/cover-story/way-of-water/articleshow/95054778.cms (24 Oct. 2022)
DROUGHT
Study Terrestrial ecosystem response to flash droughts The study facilitates the identification of flash drought hotspots in the country including the Indus basin, Southern river basins (Cauveri, EFRPCP, and EFRSCB basins), some parts of the Ganga basin, and the ability of an ecosystem to withstand such drastic conditions. These findings highlight the need to adopt essential drought mitigation measures to safeguard the sustainability of ecosystems. https://www.sciencedirect.com/science/article/abs/pii/S0022169421014529
CLIMATE CHANGE
Interview The Colonial Roots of Present Crises Amitav Ghosh offering a historical perspective on world events from the Pakistan floods to the war in Ukraine and the challenges ahead for green and progressive forces. https://www.greeneuropeanjournal.eu/the-colonial-roots-of-present-crises/ (19 Oct. 2022)
SOUTH ASIA
Pakistan 6 month wait for water to recede Millions of people in Pakistan are still deeply affected by catastrophic flooding which "is not going anywhere", UN relief agencies said on Tuesday (Sept. 20). https://news.un.org/en/story/2022/09/1127051 (20 Sept. 2022) Due to the presence of stagnant flood water, Sindh's Dadu and Jamshoro districts are facing a termite attack, adding to the woes of the Pakistani citizens, media reports said. https://www.business-standard.com/article/international/with-stagnating-flood-water-pakistan-s-sindh-districts-face-termite-attack-122102400044_1.html (24 Oct. 2022)
ASIA
Report How water has been weaponised in Ukraine Peter Gleick, a senior fellow at the Pacific Institute, a California thinktank that documents the impact of conflicts on water resources worldwide, said Russia has weaponised water since launching its full-scale invasion in February. "Ukraine's water infrastructure, from dams to water treatment and wastewater systems, has been extensively targeted by Russia," Gleick wrote in an email. International law, he noted, makes striking civilian infrastructure a war crime. In just the first three months of the war, Gleick said, he and his colleagues documented more than 60 instances in which Ukraine's civilian water supplies were disrupted and dams for both water and hydroelectric power attacked.
Ukraine, according to the Pacific Institute's database, has occasionally also used water as a weapon, cutting supplies off to Crimea after Russia seized the peninsula in 2014. While Kyiv had no legal obligation to maintain the supply "it could be argued that it would have been a humanitarian thing to do," Gleick said. Ukrainian troops released water from a Dnipro River dam to slow Russia's failed assault on Kyiv in February, according to the database. Residents in the eastern city of Donetsk, captured by Moscow-backed separatists in 2014, have also suffered water shortages. The Russian-installed government there did not immediately respond to a request for details of the situation.
After nearly a month without water, Mykolaiv city officials were forced to begin pumping yellowish, salty water from the Southern Buh River estuary to clear sewers and let residents flush toilets and wash. It emits a pungent industrial odour, foams in toilets, and makes soap hard to lather and rinse. Eventually, Dydenko said, the whole system will have to be replaced at a huge cost that Mykolaiv cannot meet, with factories idled and revenues from a dwindling population also down.
Bottles of water are available in stores, but many residents, impoverished by war, depend on bottled water donations from abroad, even as pools of water snake onto streets from leaking mains. "This is the fifth leakage in three days," said Vitalii Tymoshchuk, 45, a repair crew foreman, standing by a hole dug for his mud-smeared men to fix the pipe in a Mykolaiv suburb. Dydenko said he has no choice but to keep his crews patching leaks as long as possible because the salt water is untreatable. "Our task today is to preserve all of this and last through the winter," he said. "It will not be easy and there will be more problems." https://www.moneycontrol.com/news/world/how-water-has-been-weaponised-in-ukraine-9377011.html (22 Oct. 2022)
THE REST OF THE WORLD
Nigeria Floods Govt's mismanagement of dams is a major cause There has been severe flooding in Nigeria – the worst in a decade. Earlier this month, Nigeria's National Emergency Management Agency warned of catastrophic flooding for states located along the courses of the Niger and Benue rivers.
It noted that three of Nigeria's reservoirs were expected to overflow. The agency said the release of excess water from a dam in neighbouring Cameroon had contributed to the flooding. Olayinka Ogunkoya unpacks Nigeria's mismanagement of its dams. https://theconversation.com/nigeria-floods-governments-mismanagement-of-dams-is-a-major-cause-192777  (23 Oct. 2022)
Study Hydrography90m: a new high-resolution global hydrographic dataset In this study, we constructed Hydrography90m as a globally seamless and standardised hydrographic network with associated stream topographic and topological features. These latter supplementary layers were carefully developed to ensure consistency and compatibility among all of the presented hydrography layers.
The data validation procedures confirmed Hydrography90m as a more accurate representation of stream networks compared to HydroRIVERS, GRWL, and MERIT Hydro–Vector. Improved accuracy was achieved principally by employing a higher resolution DEM, the MD8 flow routing algorithm, and a markedly smaller flow accumulation threshold to initiate stream channels. With these characteristics, Hydrography90m provides a valuable basis for supporting a variety of freshwater-related research disciplines.
Moreover, Hydrography90m is currently being further processed to (i) exclude the DEM-derived headwater streams that are not hydrologically relevant, (ii) include a suite of high-resolution (both spatial and temporal) environmental attributes for each of the 726 million stream segments, and (iii) integrate standing water bodies within the hydrographic network. https://essd.copernicus.org/articles/14/4525/2022/ (17 Oct. 2022)
UNEP Plastics are piling up in soil across the world Plastics used in farming activities are accumulating in agricultural soil worldwide at an alarming rate, a new report by the UN Environment Programme (UNEP) published on Monday (Oct. 17) reveals. Plastics are used extensively in agriculture, from plastic-coated seeds to protective wraps used to modify soil temperature and prevent weed growth over crops.
These synthetic materials also added intentionally to biosolid fertilizer, which is spread on fields, and are used in irrigation tubes, sacks and bottles. While all these products have helped increase crop yields, there is growing evidence that degraded plastics are contaminating the soil and impacting biodiversity and soil health, the report warns. Moreover, microplastics, such as the one used in some fertilizers, are also impacting human health when transferred to people through the food chain. https://news.un.org/en/story/2022/10/1129597 (17 Oct. 2022)
Compiled by SANDRP (ht.sandrp@gmail.com)
Also see: DRP News Bulletin 17 Oct. 2022 & DRP News Bulletin 10 Oct. 2022
Follow us on: www.facebook.com/sandrp.in; https://twitter.com/Indian_Rivers